We took the train from the airport to the Hauptbahnhof, which took about 15 minutes, from which we walked to the hotel. Since we had no clue where the IC was I pointed to a building down the main street which looked like what I thought the IC looked like, based on pictures. As it turned out not only was that not it, but it was in the exact opposite direction. After about a 20 minute walk in beautiful weather (low 60's probably, so pleasant compared to Malta) we made it to the hotel, which is actually two separate buildings across the street from each other.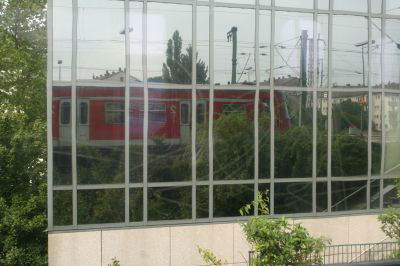 Reflection of the train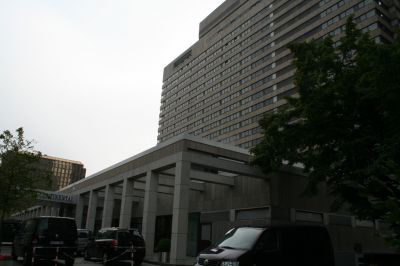 Exterior of the hotel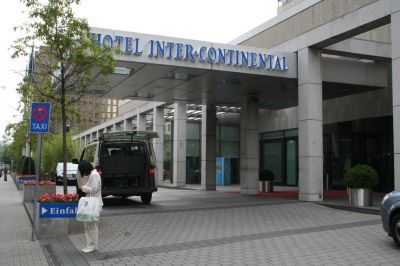 Entrance to the main tower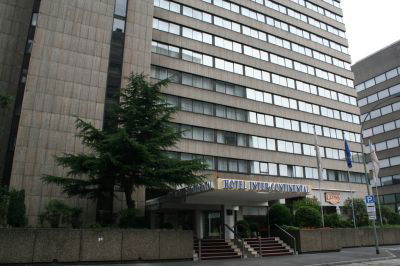 The other building
My first impression of the hotel wasn't particularly good. The lobby looked worse than any airport hotel I've stayed at in recent memory, and I've stayed at plenty of airport hotels recently on the airline's dime, and we know how notoriously mediocre those hotels are. It was shabby chic at best, with low ceilings and a total lack of natural light, not to mention a really dated feeling.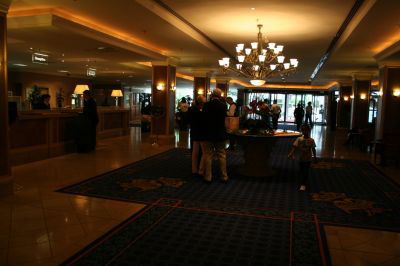 The check-in agent was exceedingly friendly and checked us in relatively quickly. She gave us a room on the ninth floor and said that we were upgraded to a suite. For the record, we booked a standard room and paid 112 Euro for it, so it was a good deal as far as I'm concerned.
We took the modern elevator to the ninth floor and turned right towards our room.
While the room was by no means a full suite, it was adequate. It had two beds, a nice desk, a nice seating area, and a relatively small bathroom. The design was pretty nice and not as "tired" as I've heard reports of in the past.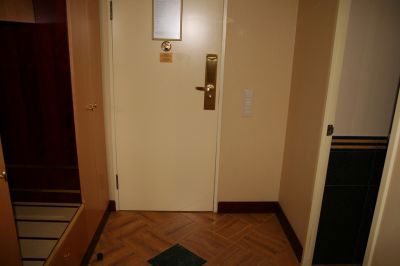 Entrance way
The beds were extremely comfortable, which was a huge plus.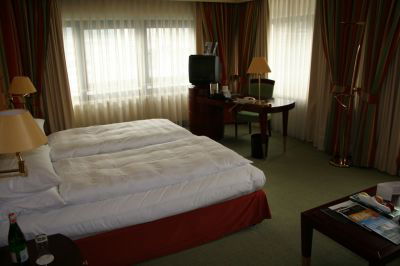 Beds and TV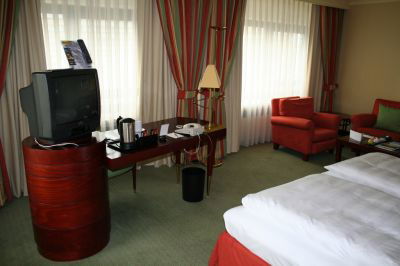 Sometimes I wonder why I even put captions….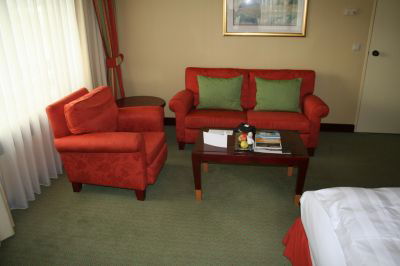 Seating area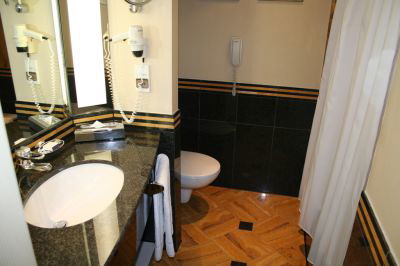 Bathroom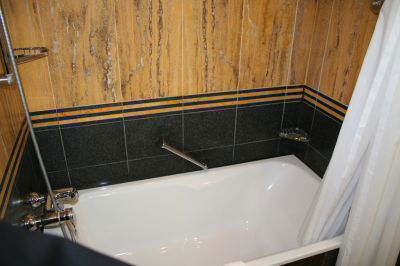 Bathtub/shower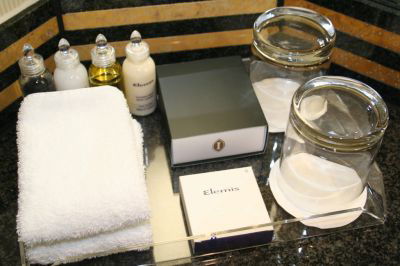 Elemis bathroom amenities… bleh
The view from the room wasn't particularly nice, compared to the nice river view rooms I've heard of.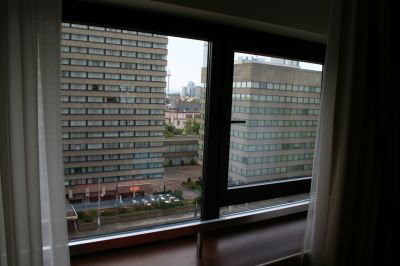 View from the room….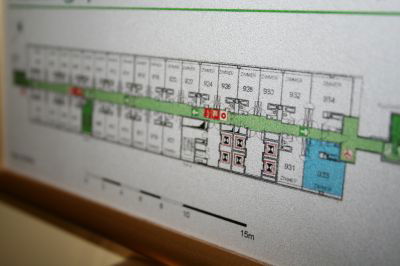 Our room shaded in blue
Of course the highlight of any room as a Royal Ambassador is the minibar, and this is where the IC Frankfurt did not disappoint. It was absolutely packed, and I counted over 30 drinks in there! WOW! The highlight for me? Without a doubt FANTA! Despite being in Europe for a week already, I hadn't had a Fanta. I hate Fanta in the US because it's so sweet, while it's my number one absolute favorite drink in the whole wide world when consumed in Europe. It's not as sweet and has a more sparkly, sour, crisp, bold taste to it. As soon as I popped open a Fanta I couldn't have cared less about the room, because it made my day. Ahhhh!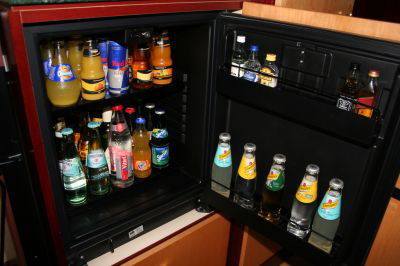 MINIBAR!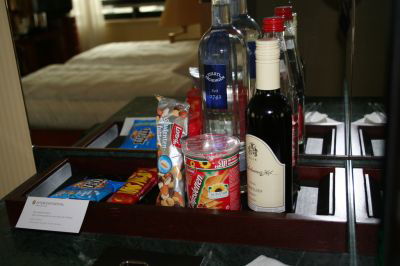 Other minibar items

The welcome gift consisted of a letter, a plate of fruit, and Coffeepeeling. I'm not gonna lie, I have zero clue what the use of "coffeepeeling" is, even after googling it. So much for the internet having answers to everything! I still don't know whether I am supposed to eat it, feed it to my dog, use it as laundry detergent, or sprinkle it over the grass to make it grow.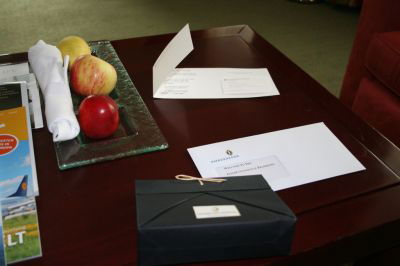 Welcome gift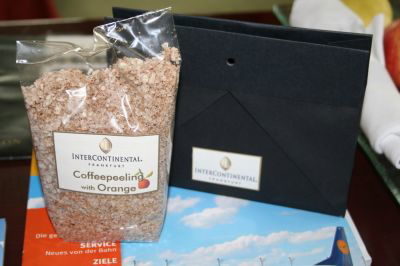 Coffeepeeling…. eh?
Once we settled in we headed right back to the Hauptbahnhof to take the train to Wiesbaden, where we would be meeting our aunt and her friends for the "Weinfest." After a 50 minutes train ride we made it to Wiesbaden, as the sun was slowly beginning to set.
I wish I had taken my camera because it was a great evening. Events like these are exactly what's missing in the US, in my opinion. Basically, all of the "Aldstadt," at least the pedestrian area, had benches, tables, and vendors, along with all kinds of music. It's a fun, relaxing time, and it's one of the many things I like about the German (and largely European) culture. You'd never have something as relaxing and community-like in the US, sadly.
We got back to the hotel at around 1 AM.
After a good night of sleep we woke up, showered, and at around 10 AM took the train to the airport once again, or in this case to the one place in the world that in no way, shape, or form resembles an airport — the First Class Terminal!
To be continued…