I stayed at the InterContinental Frankfurt a couple of years ago and wrote a pretty comprehensive review, so feel free to check out that review here, if you're interested.
In this case I spent the 3.80Euro for a train ticket from the airport to the Frankfurt Hauptbahnhof, which is a 15 minute train ride at most. From there I walked to the InterContinental, which is a ten minute walk away. It was a beautiful evening with incredible weather, so I was happy to get a bit of fresh air.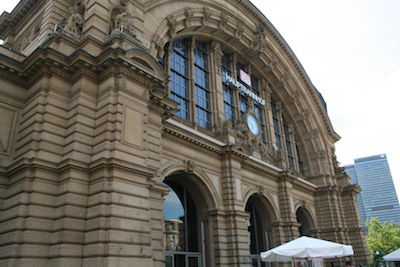 Train station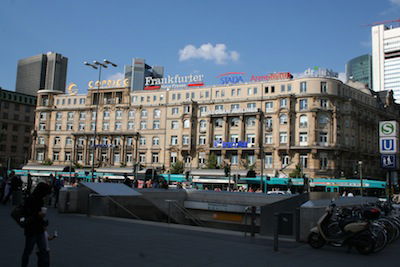 From train station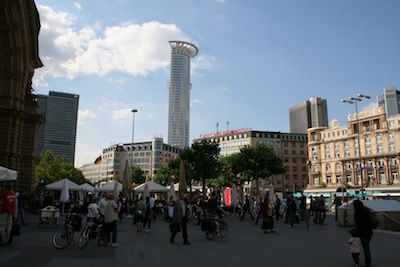 Beautiful afternoon
I arrived in the lobby at around 6PM and was promptly assisted by a friendly agent, who welcomed me as a Royal Ambassador. He explained that I had received an upgrade to a suite with club access, which is awesome given that I was using 30,000 Priority Club points for my stay. It's worth noting that unlike most hotel chains, Priority Club doesn't technically honor elite benefits on award stays, which can be rather frustrating. But in practice they often do honor the benefits, and in this particular case gave me a better upgrade than I received last time on a revenue stay.
Quick tip for Royal Ambassadors – while the InterContinental Frankfurt doesn't usually proactively offer Royal Ambassadors club access, they will grant access if you ask. In this particular case I didn't even have to ask, so not sure why that was.
My room was located on the 20th floor, and was a decent sized junior suite.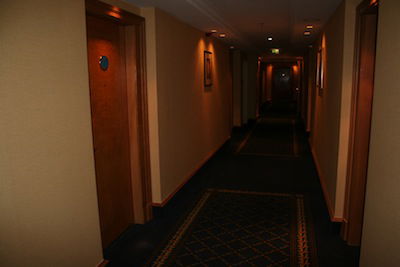 Hallway
While this hotel isn't the most modern in the world, it's very well maintained and a fantastic value, as the rates are usually quite reasonable.
My room had the bathroom, with tub and shower, right by the entrance. Then there was a small seating area with a couch, which was separated from the bed by a desk.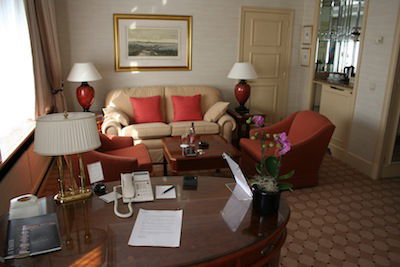 Living room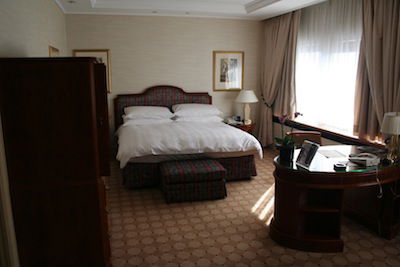 Bed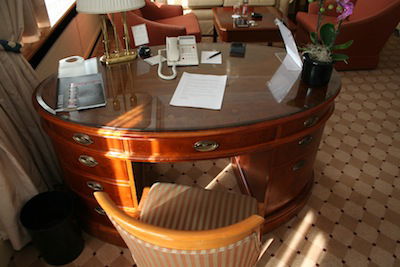 Desk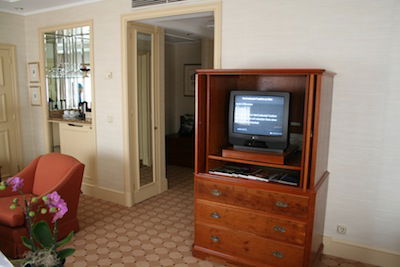 TV and entrance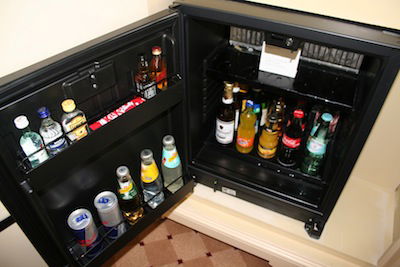 Minibar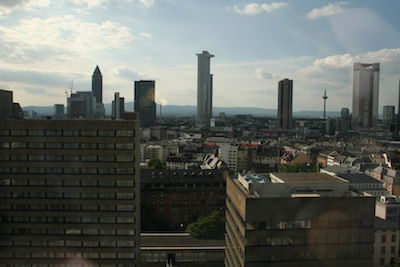 View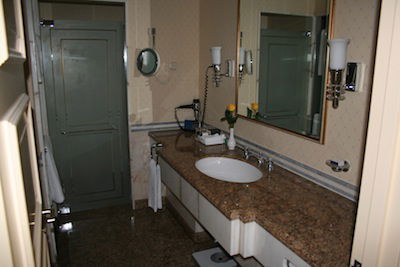 Bathroom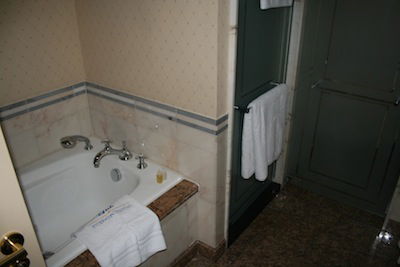 Bathtub
While this hotel doesn't offer Royal Ambassadors free internet, they do offer free internet in the lobby for three hours, as well as in the club lounge.
The Royal Ambassador welcome gift consisted of an organizer, a chocolate bar, and a large bottle of water.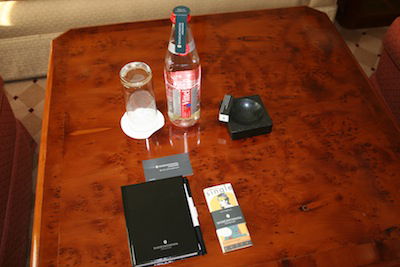 Welcome gift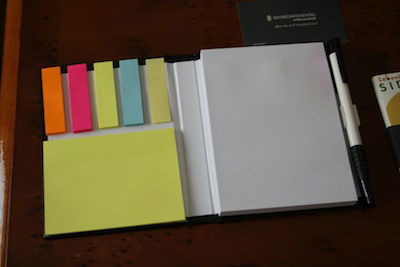 Organizer
I high-tailed it up to the club lounge to catch up on some emails.
The club lounge is located on the 21st floor and is staffed by some really nice agents.
While the club is quite small, there were never more than a few people in there.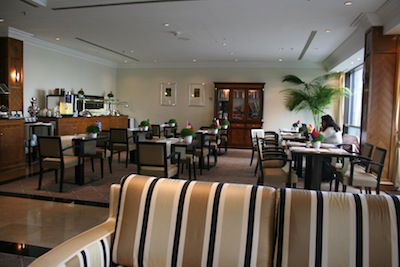 Club InterContinental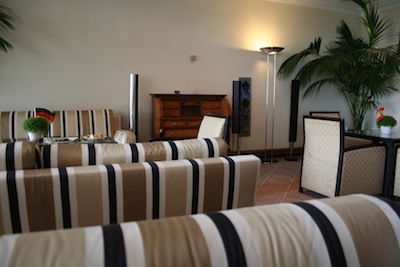 Club InterContinental
My favorite feature had to be the patio overlooking Frankfurt. The weather was just gorgeous, so I sat out there while catching up on email.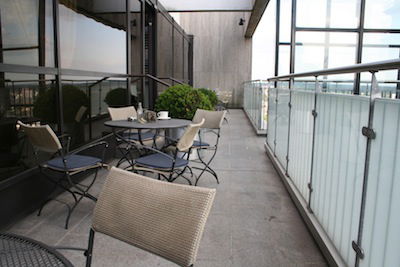 Patio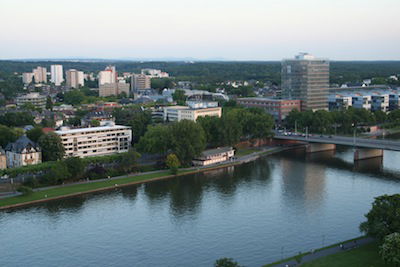 View from patio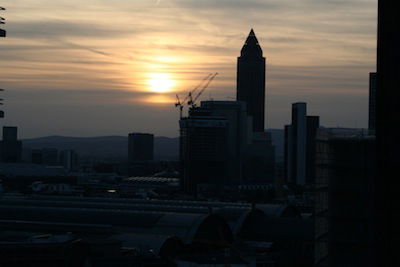 Sunset
I wasn't really hungry or thirsty, but I couldn't help but down a Fanta or three. As a German, one of the things I miss the most in the US is the European version of Fanta. It's not nearly as sugary as it is here in the US.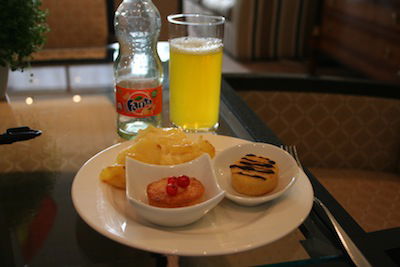 FANTA!!!!!!!!!!!!!
The evening spread was also quite nice, with a potato dish, plenty of meats, cheeses, breads, and desserts. It was definitely one of the better evening spreads I've seen.
At around 10PM I was back in my room and ready to sleep. The bed was extremely comfortable so I slept well, until I woke up at around 4AM due to jetlag. Usually I don't suffer from jetlag much, but the 12 hour time change followed by the redeye, followed by the long daytime flight, followed by the seven hour time change had me beat.
Of course there's plenty of fun stuff to do at 4AM in Frankfurt – like watch one of the funniest German TV shows, Zwei bei Kallwass. If you think Jerry Springer or Judge Judy is fake, you've really gotta see this show! The sunrise from the room was beautiful as well.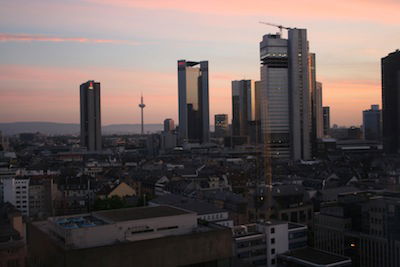 Sunrise
I showered quite early and at around 6:30AM headed to the club lounge for breakfast, as I wanted to be on the road to the airport by 7AM to allow a bit of time in Lufthansa's incredible First Class Terminal.
The breakfast spread was sinfully amazing. Other than Fanta, I also really really miss the fresh breads and rolls every morning in Germany. So I kind of went to town with them, and complemented them nicely with some Nutella.
Check-out was efficient, and by 7AM I was back on the road to the airport, ready for the final leg of my round-the-world journey.