---
After a 15 minute walk from the Thai Airways lounge we made it to gate 17, where boarding was well underway.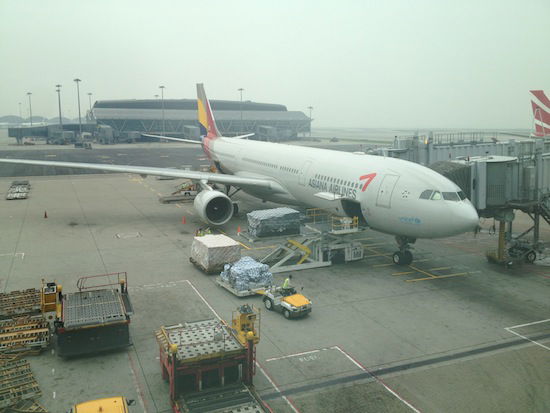 Our plane to Seoul Incheon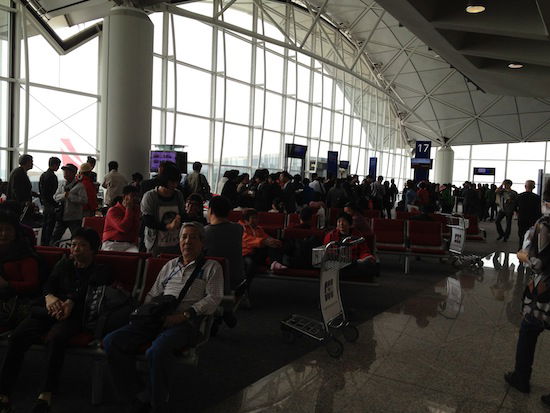 Our gate
Asiana 722
Hong Kong (HKG) – Seoul Incheon (ICN)
Friday, March 23
Depart: 1:30PM
Arrive: 5:50PM
Duration: 3hr20min
Aircraft: Airbus 330-300
Seat: 4H (Business Class)
Once aboard we were directed to the far aisle, where we were seated in the second to last row in business class. Asiana uses their old longhaul business class product for the route, so it really can't be beat for a three hour flight around Asia. The seats are angled flat with large entertainment screens.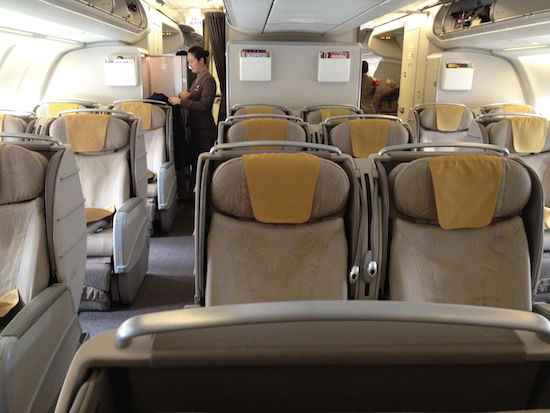 Business class cabin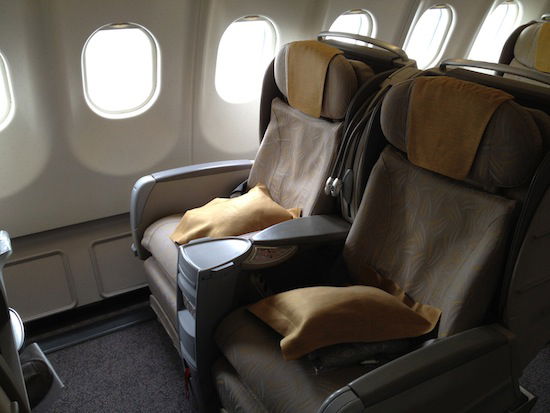 Our seats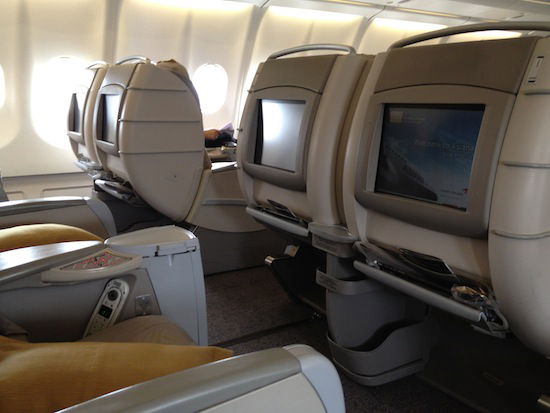 View from our seats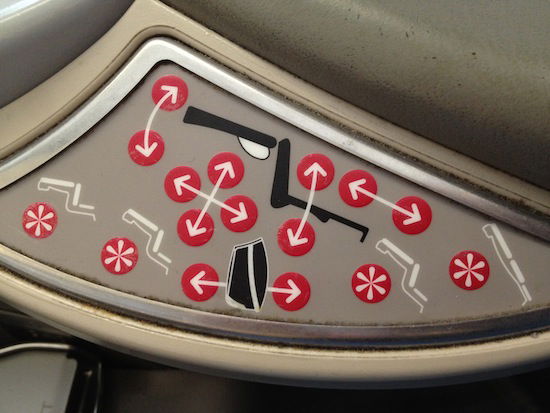 Seat controls
Within a few minutes of settling in we were offered pre-departure beverages, with the option between water, orange juice, and champagne.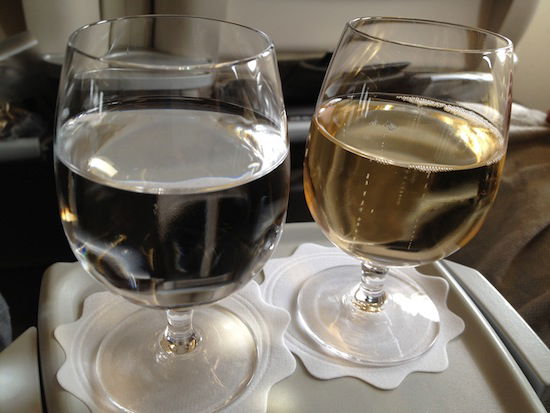 Pre-departure beverages
That was quickly followed by hot towels.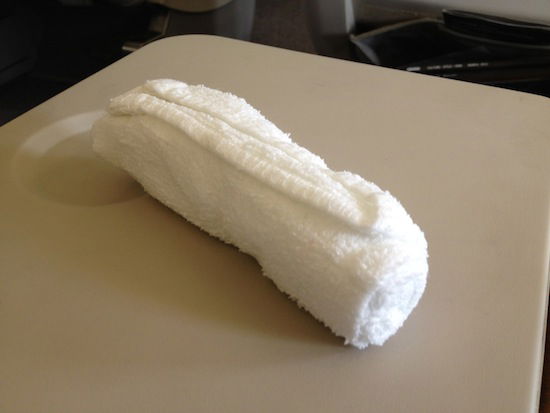 Hot towel
Within about 20 minutes the boarding process was complete and the doors were closed. Before we pushed back the captain came on the PA to advise us of our flight time of 2hr40min, anticipating an on-time arrival in Seoul Incheon.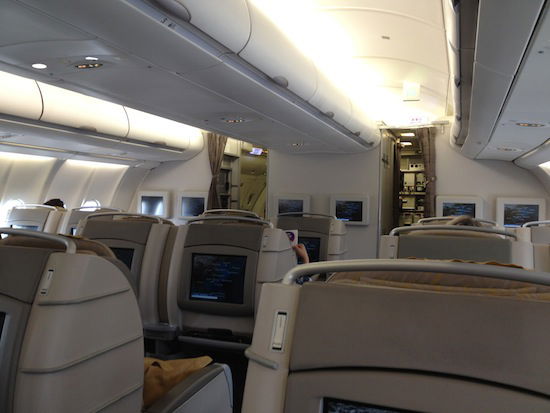 Cabin
After pushback we taxied to the runway where there was a bit of a queue for takeoff.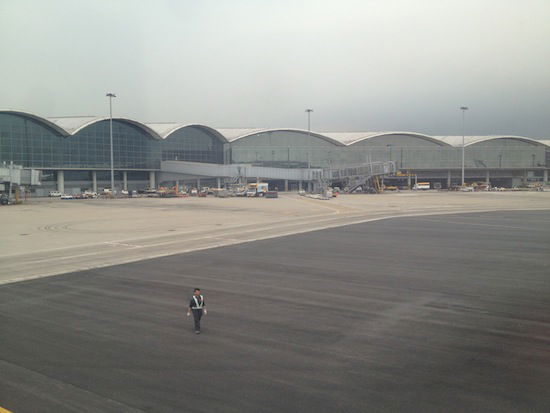 Terminal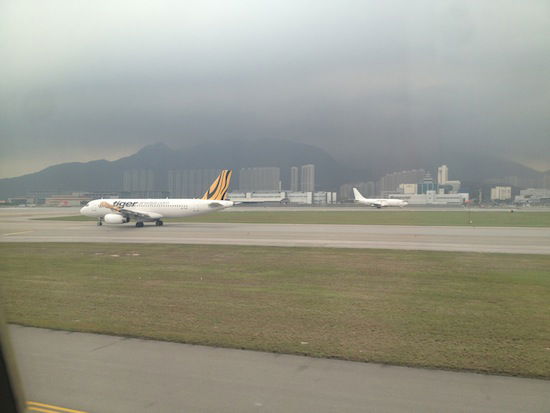 Taxiing to the runway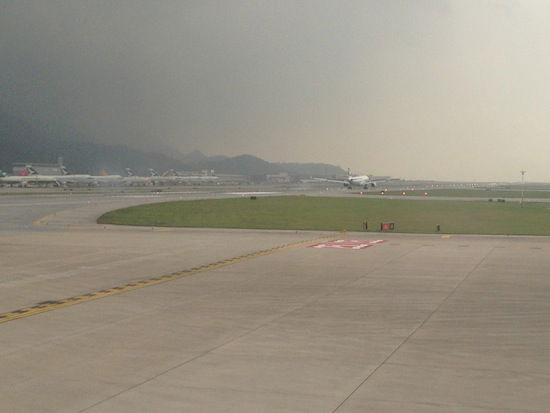 Cathay Pacific Airbus 330 landing
After holding short of the runway for about 15 minutes we were airborne with a rather abrupt "jerk" of the joystick.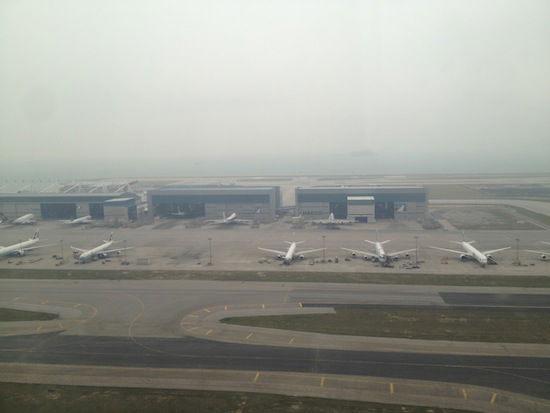 Climbing out
I started playing around with the entertainment system, though unfortunately I had seen most of the movies. In the end I settled on "Jack & Jill," which I hadn't seen before. It's a comedy starring Adam Sandler. I like comedies and I think Adam Sandler is funny, so it can't go that wrong, can it?
Well, it was a friggin' trainwreck. At least the first 20 minutes before I decided I just couldn't take it anymore. Someone please tell me this move is a bad joke.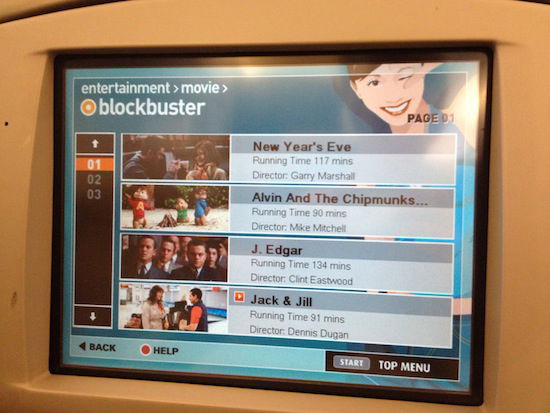 Entertainment system
About 15 minutes after takeoff the flight attendants came around the cabin with menus for lunch, which read as follows: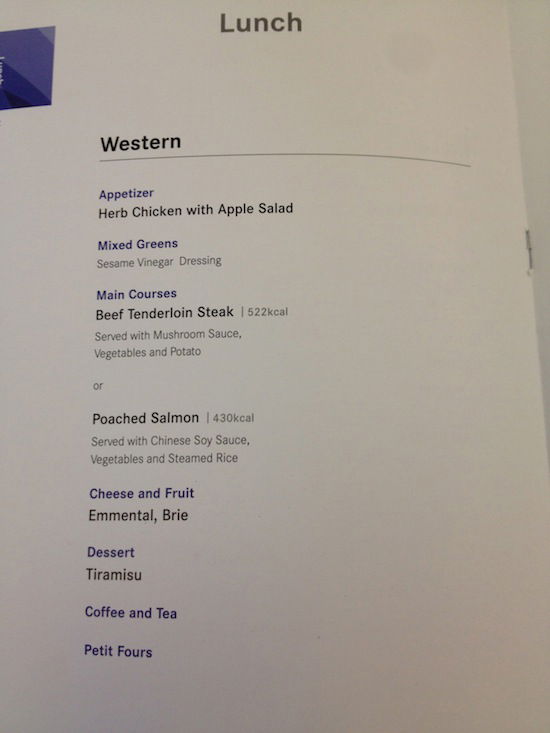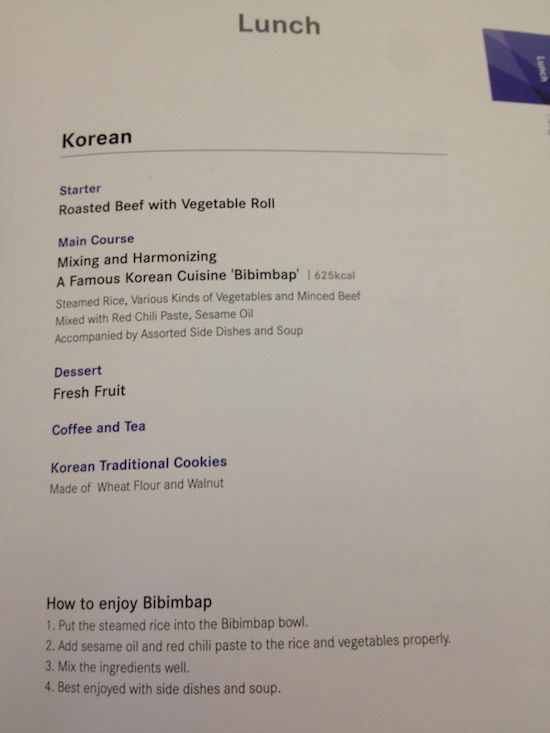 About five minutes after distributing menus the flight attendants came around to take orders. The only aspect of Asiana service that frustrates me is that they take away the menus as soon as they take meal orders. I can understand they maybe don't want people to keep the menus, but I always like to reference the menu as I'm eating since I rarely remember what exactly the description was. And there's often a language barrier with Asiana flight attendants, so they're not any help in describing food either.
As the flight attendant took my friend's order he asked if he could do the western appetizer and dessert, and then the Korean main course, which was met with a blank stare. She said she'd go ask the purser if that was alright, which I found a bit strange, given that the cabin was maybe 1/3 full, so I assume they had a decent amount of food catered.
Either way, the meal service was really impressive for a flight of under three hours.
The first course consisted of a chicken and apple salad along with a side salad. Both were delicious.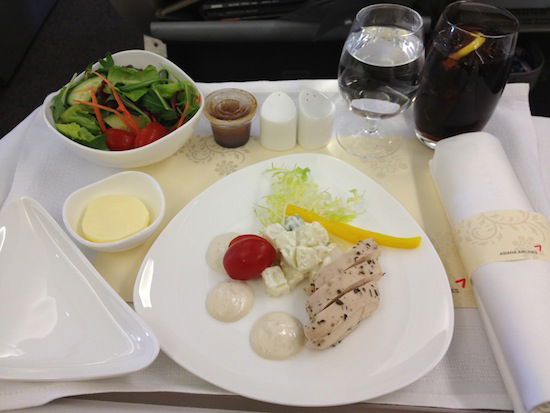 Starter and salad
After the starters and salads were served, the flight attendant came around with the breadbasket.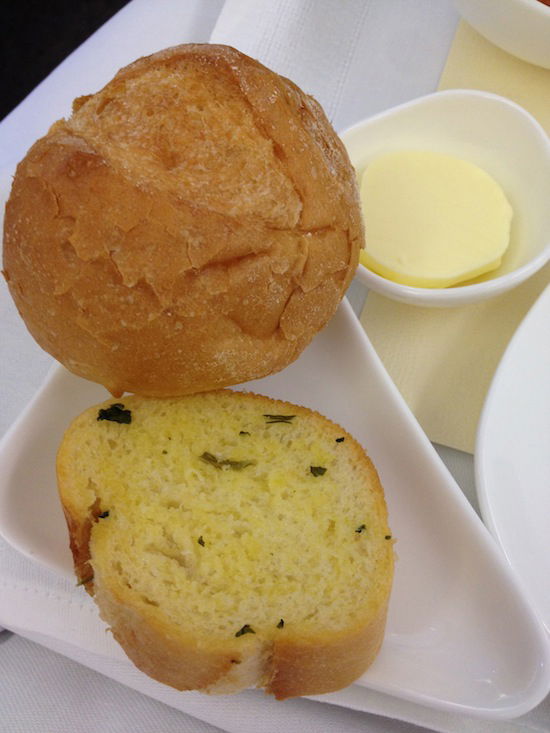 Bread
The flight attendants first cleared all the starter plates and then served the main courses.
My steak was delicious, as is usually the case on Asiana.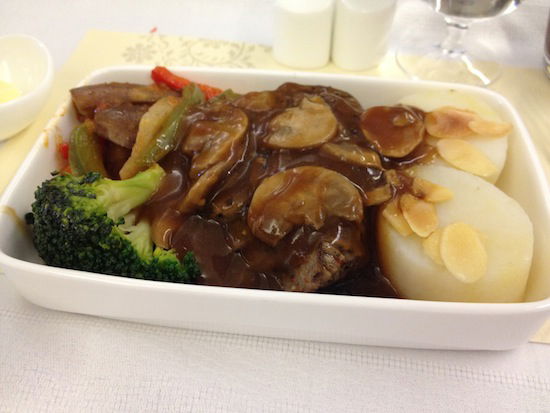 Steak
And my friend enjoyed the Korean Bibimbap as well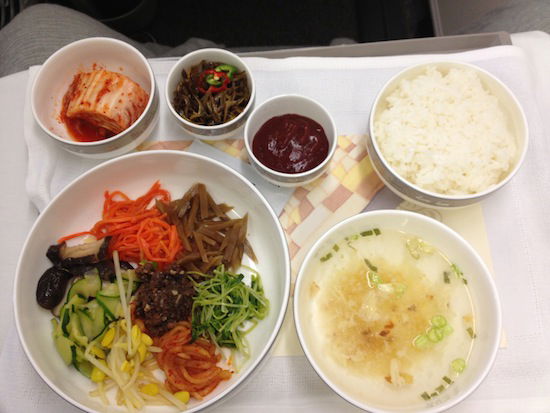 Korean Bibimbap
After plates were cleared the fruit and cheese plate was brought out, which was delicious.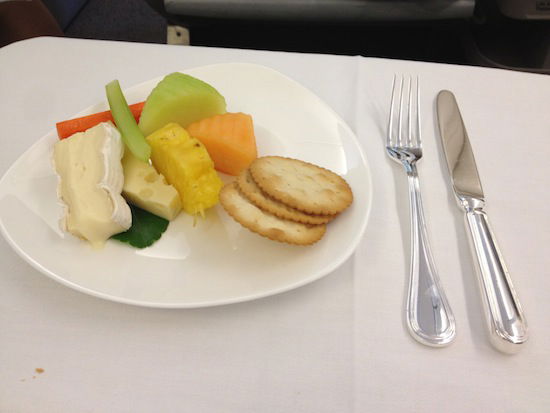 Fruit and cheese plate
And that was quickly followed by the dessert, which consisted of tiramisu.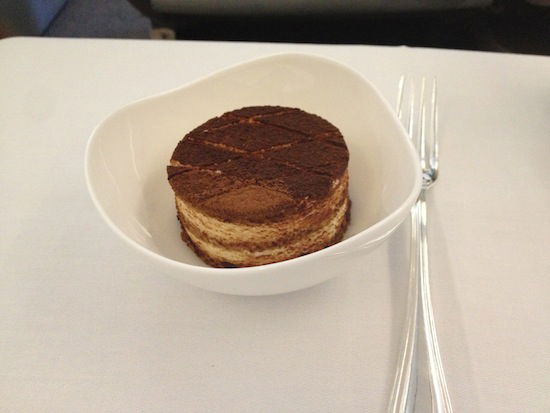 Tiramisu
And the meal was finished off with some pralines, which is pretty rare for business class.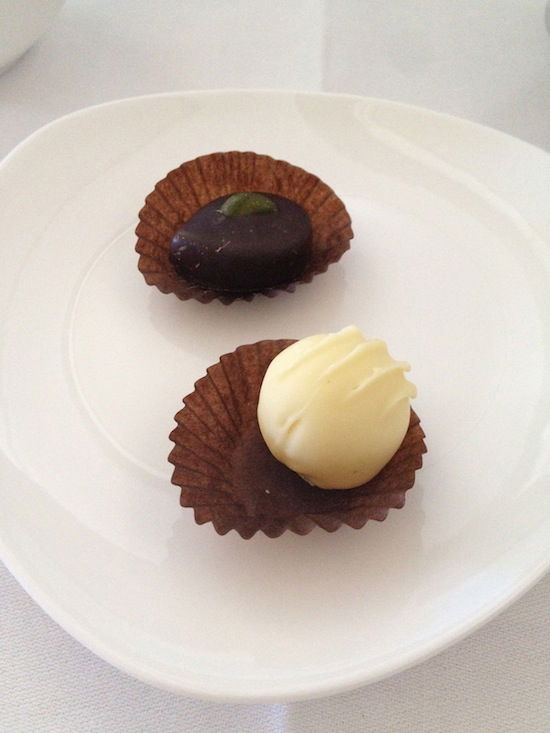 Pralines
On the whole I'd say Asiana's regional business class meal service is on part with the first class meal service on many airlines.
I also have to say that the crew was really friendly. They were constantly smiling, and also attentive and sincere. There is a bit of a language barrier on Asiana compared to the likes of Cathay Pacific and Singapore Airlines, but they more than make up for it with the effort they put into everything.
After a smooth touchdown and quick taxi to the gate, we headed straight for immigration where there were no queues, and then to the shuttle for the Hyatt Regency Incheon.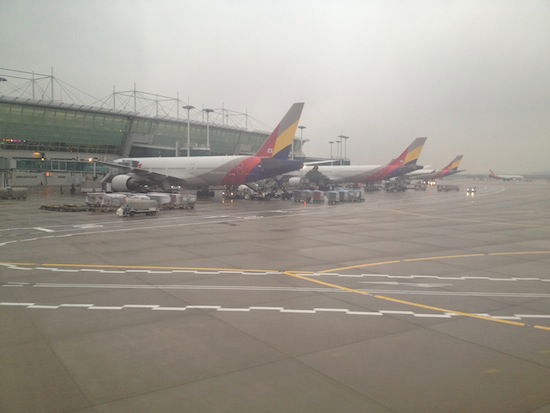 Terminal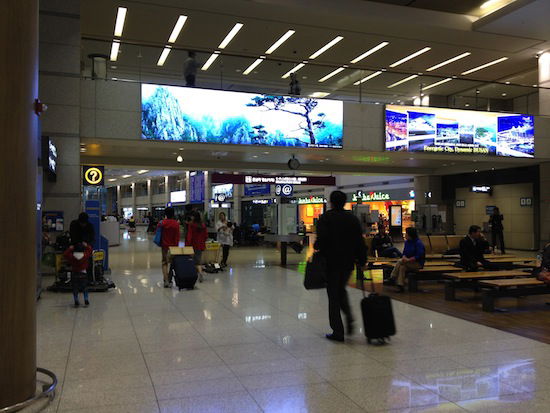 Baggage claim