---
Lately I've adopted a bad habit whereby I only get around to booking hotels for my trips within a few weeks of departure. Even though I had this trip planned ten months in advance, it was mid-February before I started looking at hotels in Hong Kong, and they were all outrageously priced. Little did I realize our stay coincided with some rugby matches, so just about everything in Hong Kong was booked out.
Furthermore, I do have to admit I've been dying to try out the Ritz Carlton Hong Kong, which is the tallest hotel in the world. It occupies the 102 through 118 floors of the new International Commerce Centre in Hong Kong, and opened less than a year ago. Furthermore, I stayed at the Park Hyatt Shanghai in January, which is the second tallest hotel in the world, so I just had to see what difference a dozen floors makes. 😉
So given that all hotels in Hong Kong were outrageously priced, this turned out to be a good opportunity to try the Ritz Carlton, since comparatively it wasn't that much more. In the end we paid a rate of about $650 per night for two nights for a harbor view club room. Yes, totally out of my budget, but when you're splitting costs it comes down to $325 per person per night. Still out of my normal budget, but you only live once and it was only for two nights. I tend to believe that in life you regret what you didn't do more than you regret what you did do.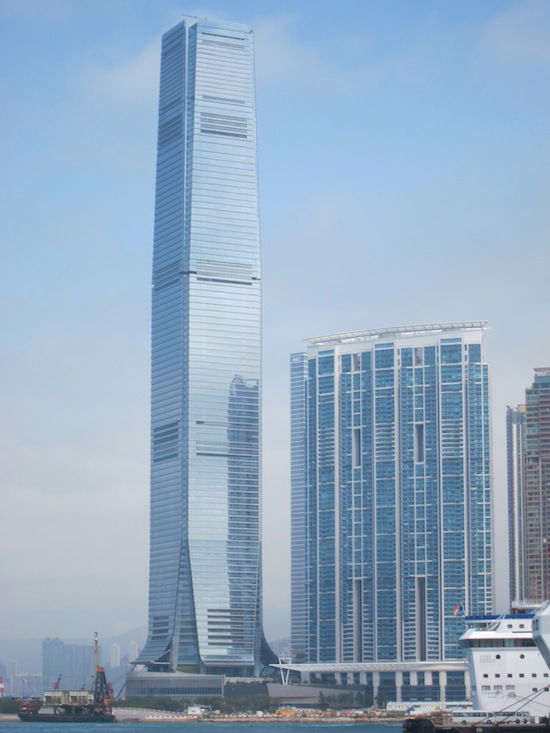 Hotel exterior
Anyway, we took a cab from the airport, which cost about $35USD and took about 30 minutes, and at shortly after 8:30PM pulled up to the hotel. As we pulled up several bellman took our bags for us, and one of the agents welcomed us and asked us for our names. We were directed towards the elevator, which we took to the lobby on the 103rd floor. It's apparently the fastest elevator in Asia, and takes about a minute to get to the top.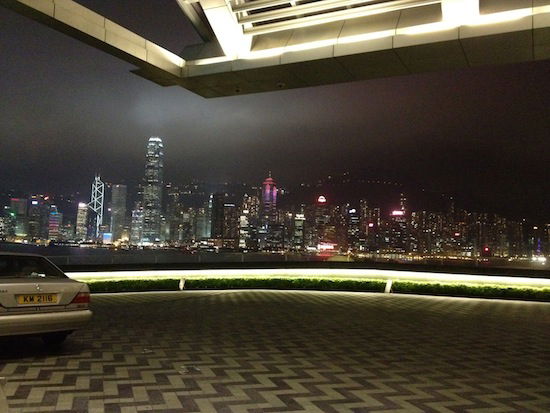 View of Hong Kong from hotel entrance
In the lobby we were directed to check-in, which consisted of a single long desk (as opposed to the Park Hyatt Tokyo or St. Regis Bangkok which have individual tables with chairs), though once they saw we were in a club room they escorted us to the club lounge for check-in, which is located on the 116th floor.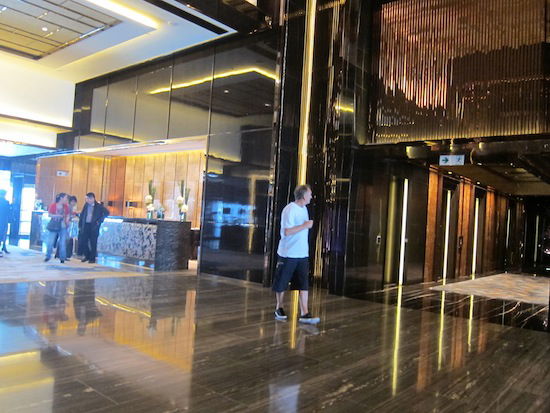 Lobby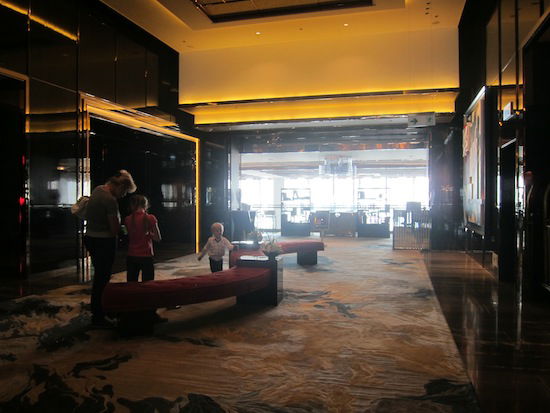 Lobby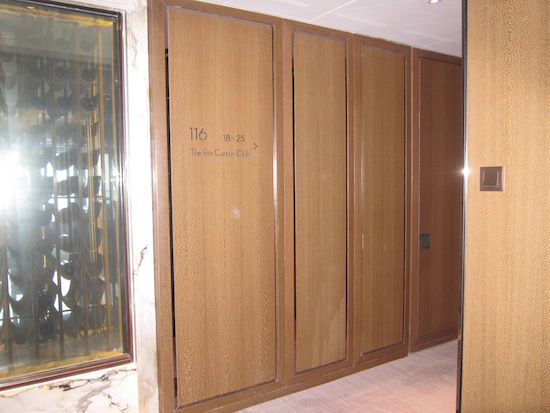 Ritz Carlton Club entrance
Once in the club we were asked for our passports, which I presented along with a credit card. We were invited to enjoy the lounge as they processed check-in, where we were offered a couple of glasses of champagne. They also had the dessert spread out, so I sampled a bit of everything.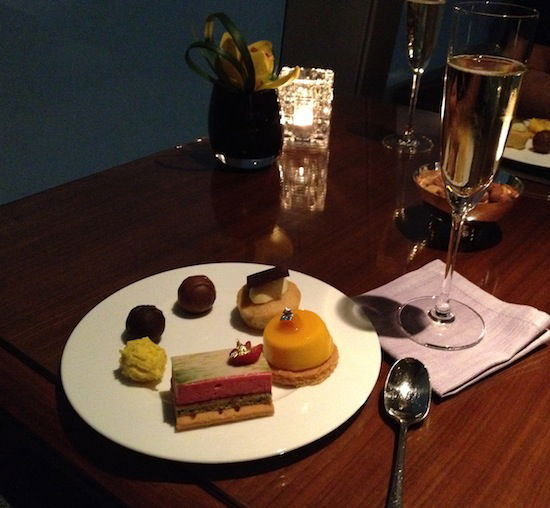 I had always been curious to try a Ritz Carlton Club for the service given how they're known for their six servings a day, though my first positive impression was that the club was huge and beautifully decorated.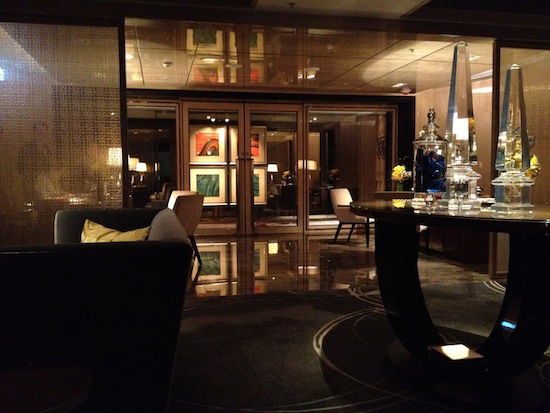 Ritz Carlton Club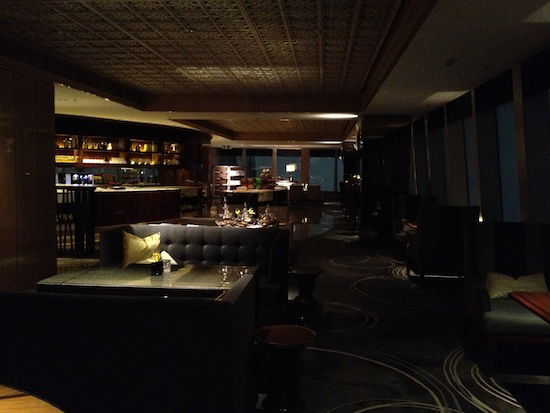 Ritz Carlton Club
Unfortunately in the evening it was foggy outside, so the views were non-existent.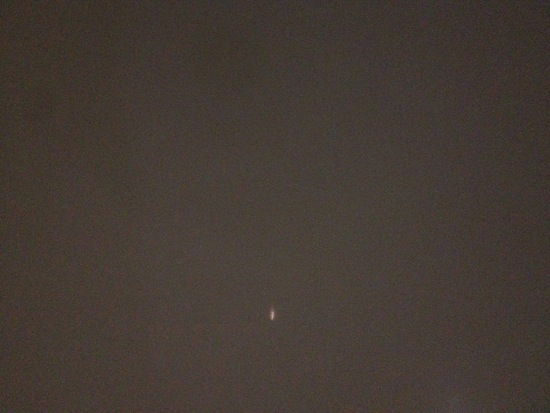 Views (or lack thereof)
We were explained the amenities of the hotel as well as the club lounge, which has the following schedule:
Breakfast 6:30am-10:30am
Light snacks 11:30am-2:00pm
Afternoon tea 3:00pm-5:00pm
Hors d'oeuvres 5:30pm-7:30pm
Dessert 8:30pm-10:30pm
Light night snacks 11:00pm-6:00am
After hanging out in the club lounge for a bit we were escorted to our room, which was on the 113 floor, room 11318.
The hotel has two sets of elevators — one which goes from the ground floor to both the lobby and Ozone Bar, and one which goes between the floors of the hotel. We took the latter elevator down to the 113th floor.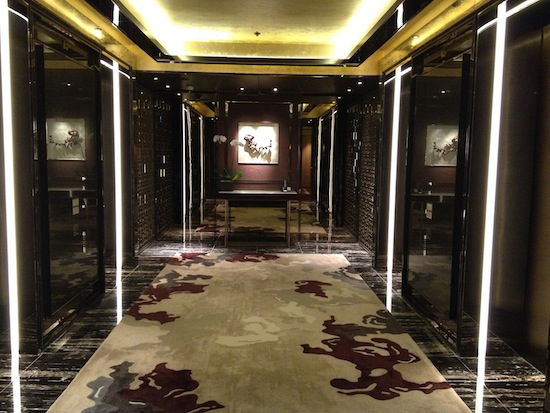 Elevators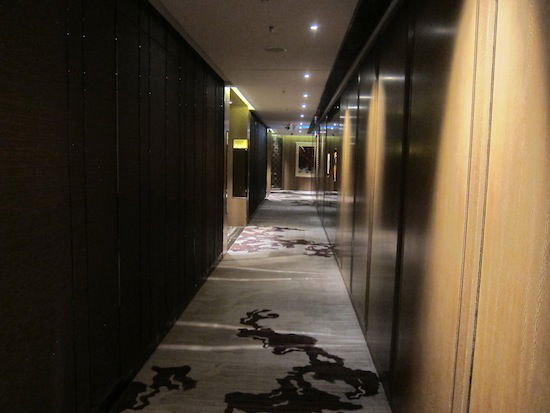 Hallways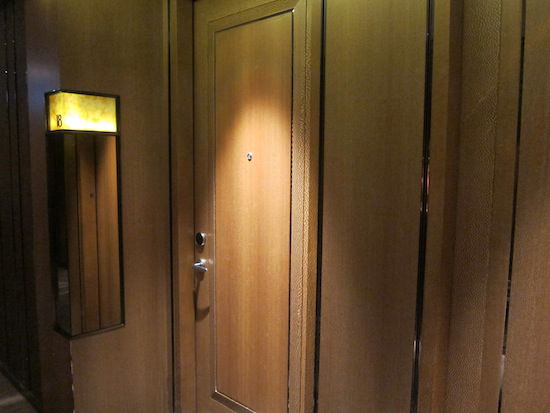 Our room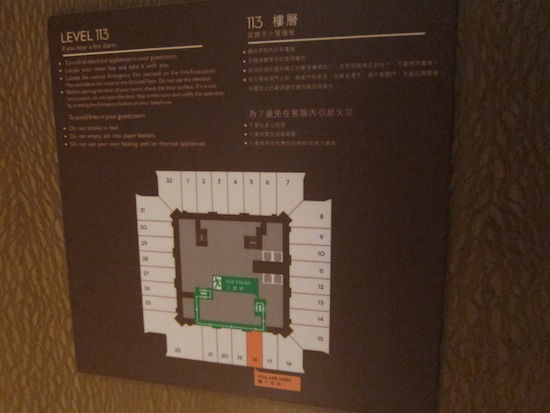 Hotel floor plan
While our room was a standard room (though with a harbor view), I thought it was spacious and beautifully decorated. At the entrance was a hallway leading into the bedroom.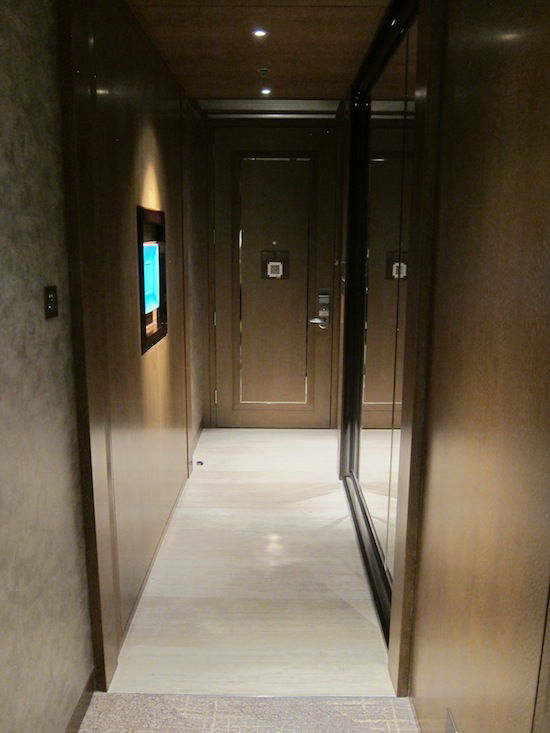 Hallway
The room featured a very soft bed, chair with ottoman, and desk, all of which faced a flat screen TV.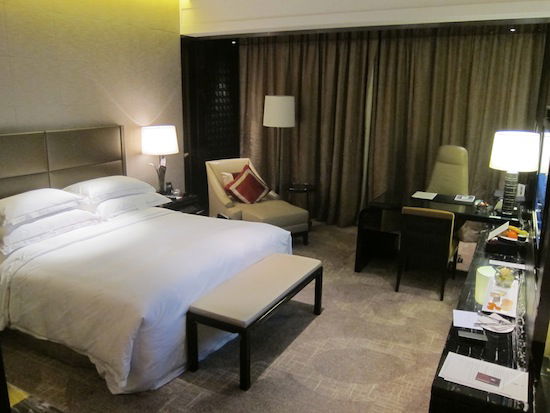 Harbor View Room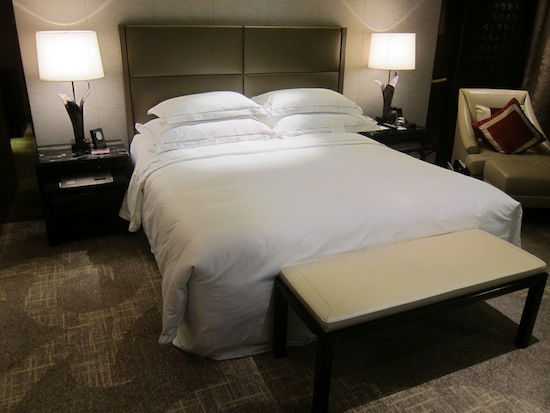 Harbor View Room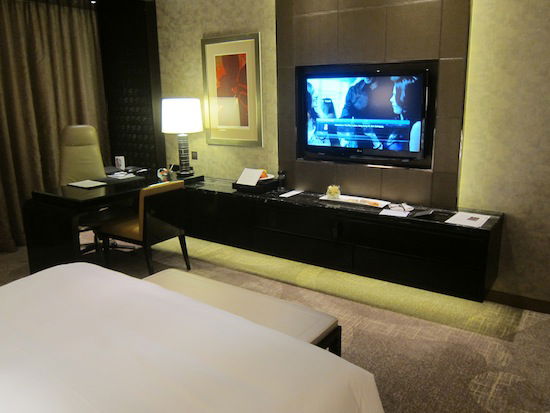 Harbor View Room
Since we arrived late, turndown service was already complete, which consisted of a bottle of Ritz Carlton branded water and a box of pralines.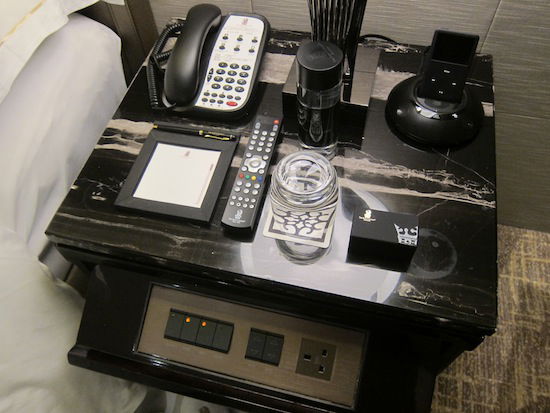 Harbor View Room
There was also a welcome amenity consisting of cheese and crackers, as well as a bowl of fruit.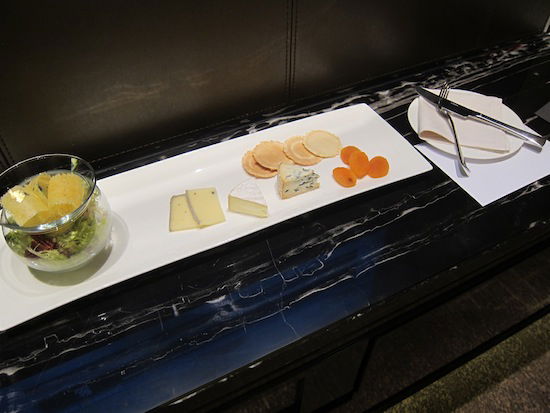 Welcome cheese plate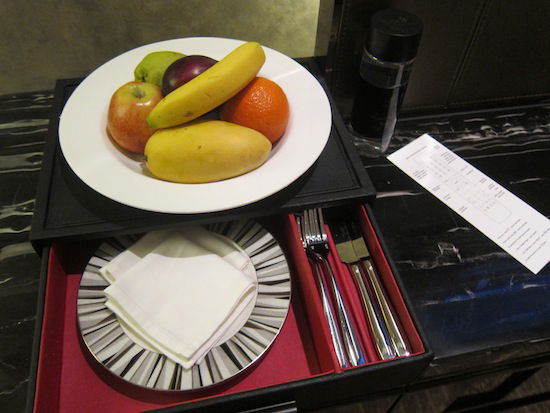 Welcome fruit plate
The room also featured a Nespresso machine as well as minibar.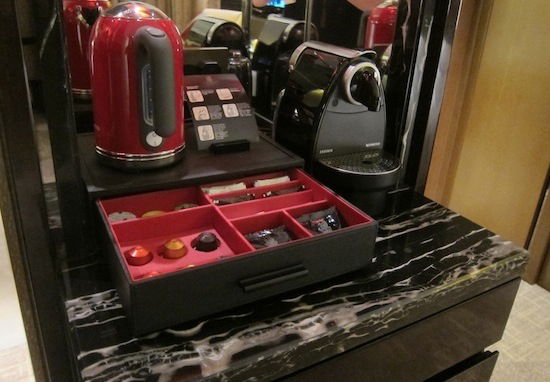 Nespresso machine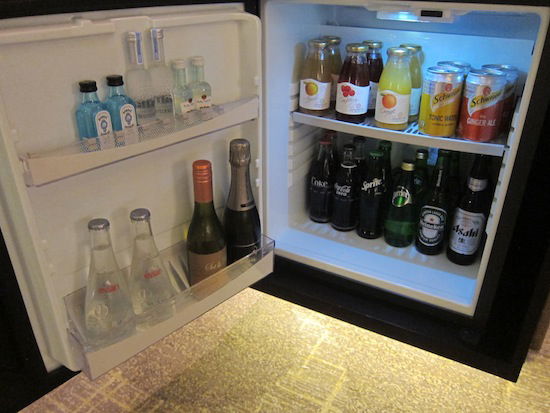 Minibar
While the views weren't great upon our arrival, they were stunning the following day. You really can't beat having a view of both Hong Kong Island and Kowloon from the same room. but then again, I guess that's the beauty of basically having an aerial view.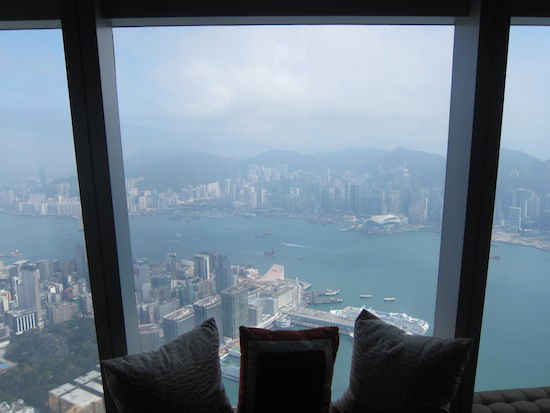 View from our room
The bathroom was also well designed, with double sinks, a tub, and a separate dual-head shower.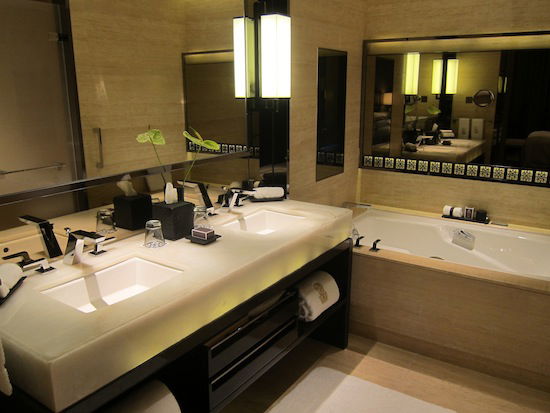 Bathroom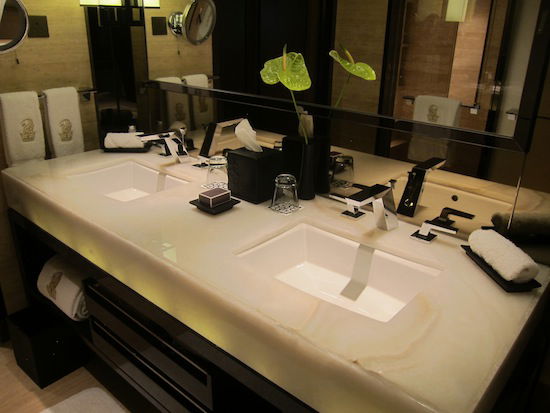 Sinks
I especially loved the fact that the tub had a TV built in along with what appeared to be a waterproof remote control.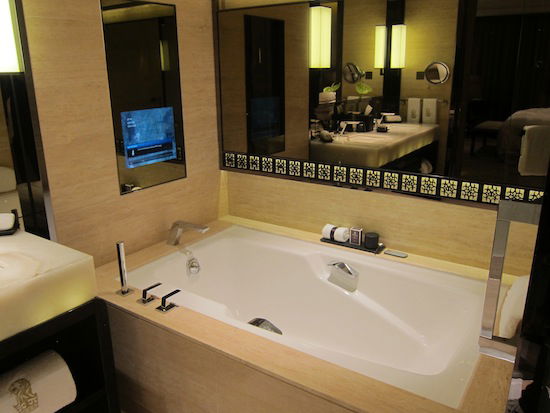 Tub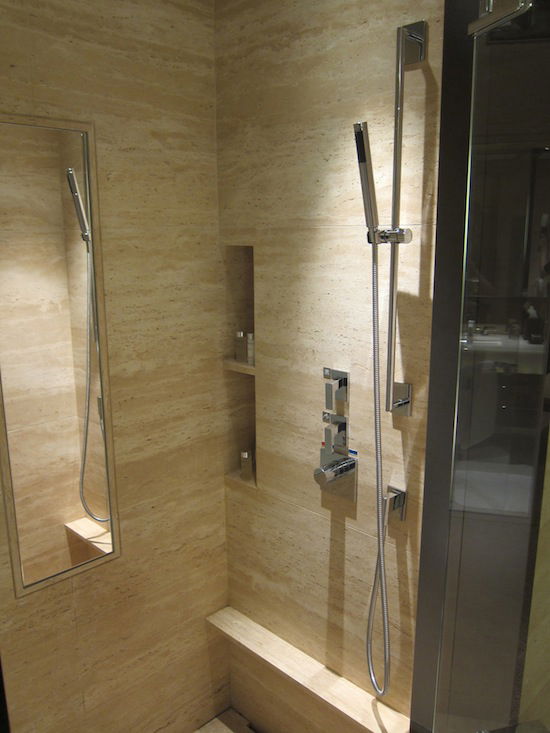 Shower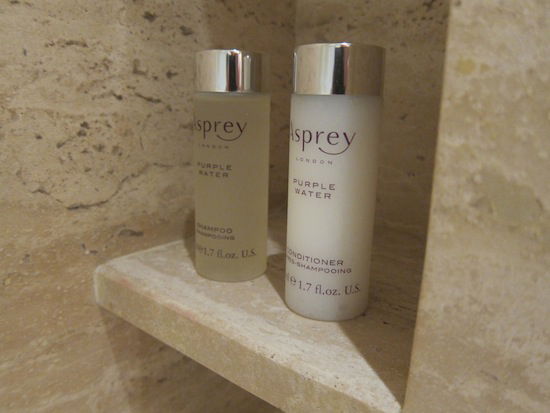 Asprey shower amenities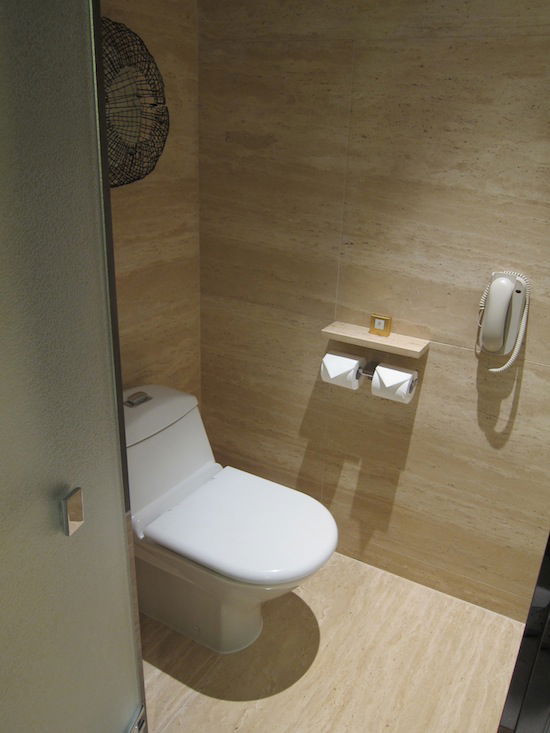 Toilet
So every aspect of the room was impressive and well thought out, which I rarely say about hotels (usually I find outlets to be misplaced, the design to be impractical, etc.). But then again, I guess one should kind of expect that at a newly built Ritz Carlton. It's also worth noting that Wi-Fi is free (and fast) at the hotel.
Equally impressive were the hotel's other facilities, starting with the pool and fitness center, which are located on the 118th floor.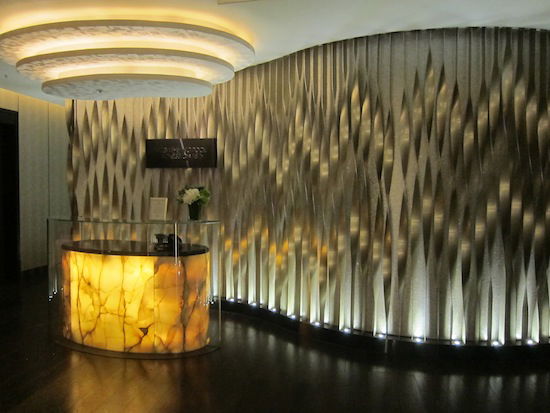 Pool and fitness center entrance
The fitness center has plenty of machines and also boasts great views of the city (weather permitting). While it's standard for equipment to have built in TVs, this one even had a built in web browser, so I was able to read the coolest website ever while working out (or something like that).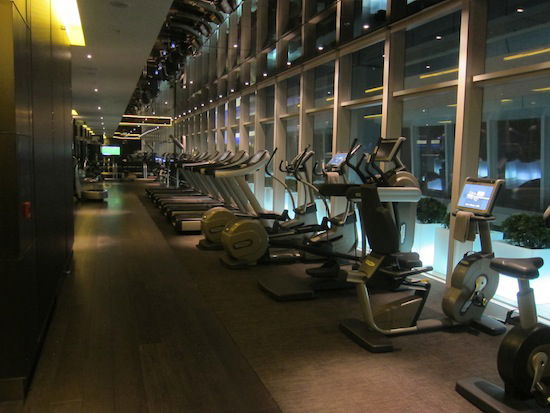 Gym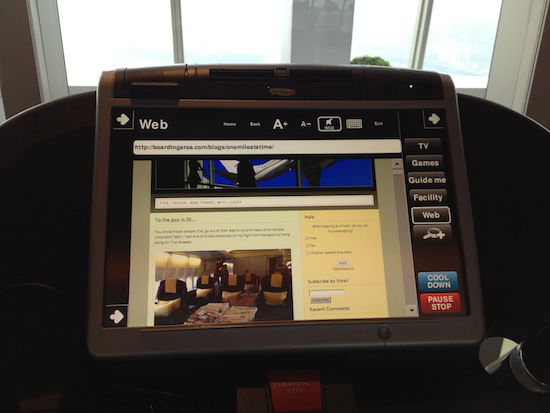 TV screen
Right past the gym was the pool, which was one of the most stunning pools I've ever seen, along with the one at the Marina Bay Sands Singapore. It featured nice lounge chairs around the pool, as well as two hot tubs, one of which was outdoors (yes, an outdoor hot tub on the 118th floor).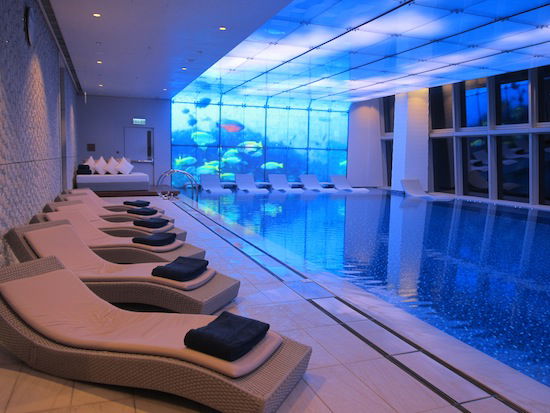 Pool at night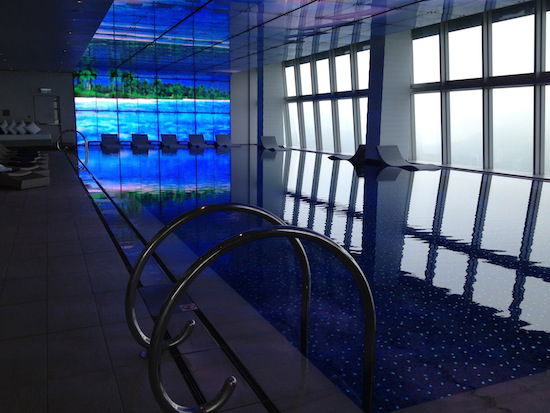 Pool during the day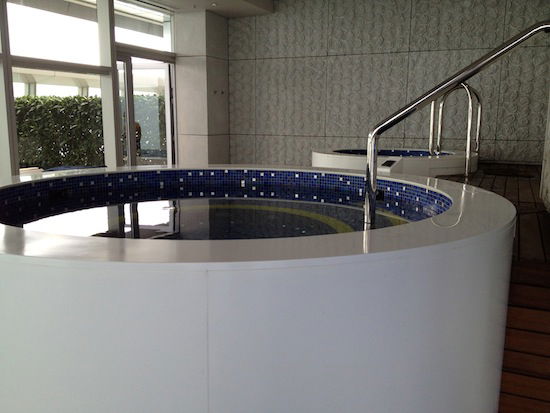 Hot tub
And then there was the club lounge. Wow. We had breakfast there both mornings, and the offerings were impressive. In addition to everything shown below, they had an omelet station. Service was also very attentive in the mornings.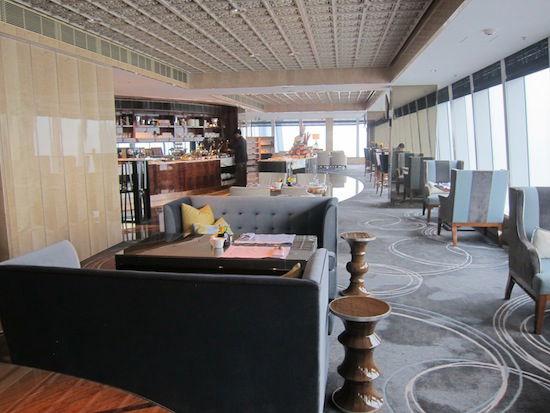 Ritz Carlton Club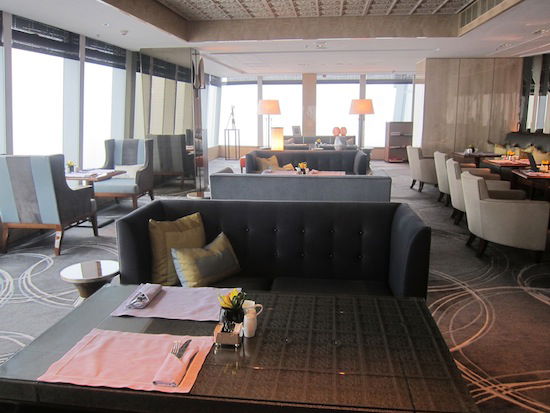 Ritz Carlton Club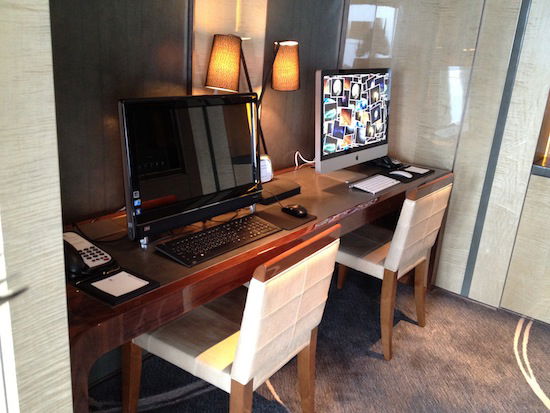 Computers in Ritz Carlton Club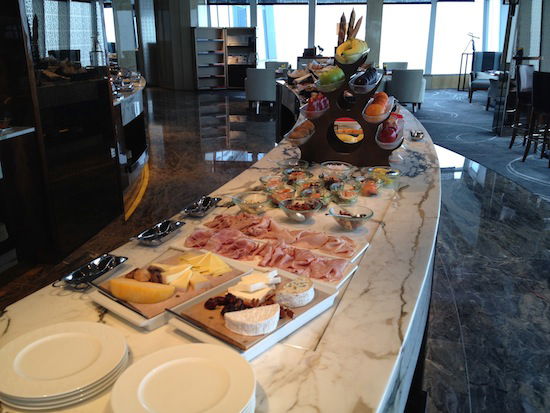 Breakfast spread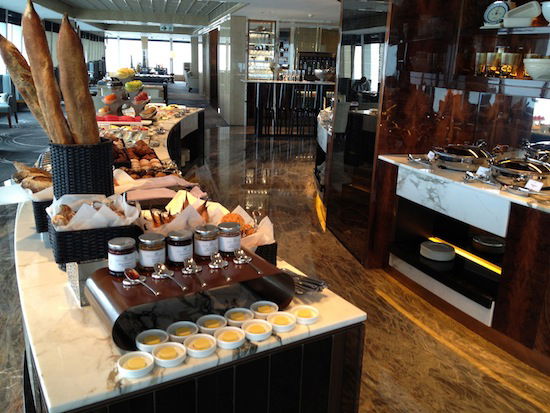 Breakfast spread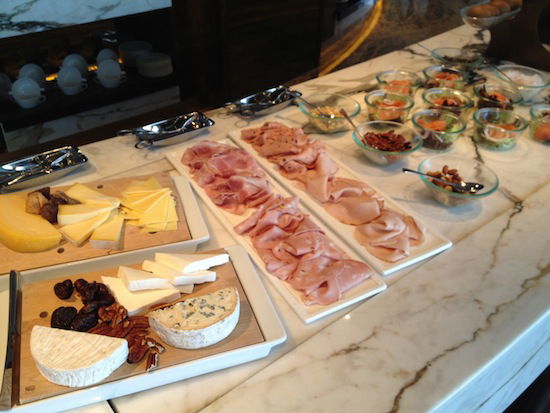 Breakfast spread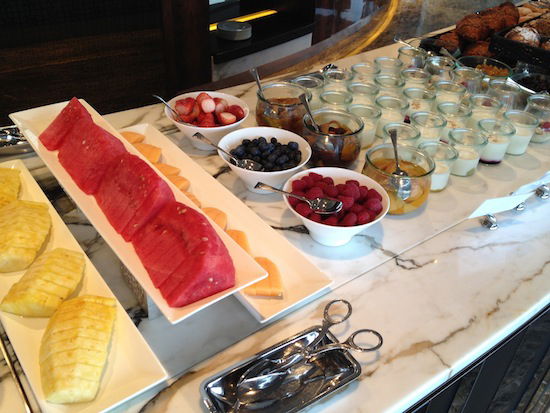 Breakfast spread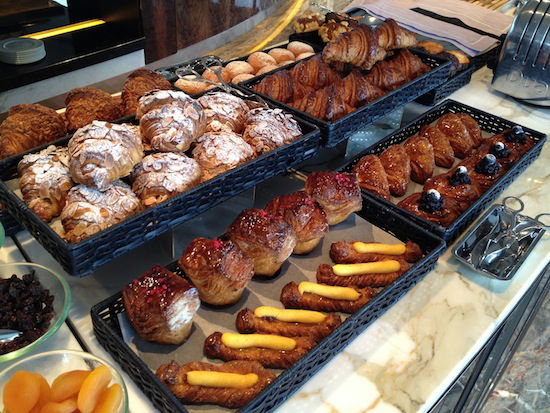 Breakfast spread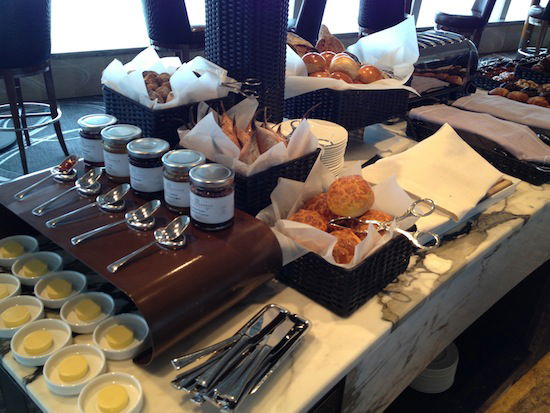 Breakfast spread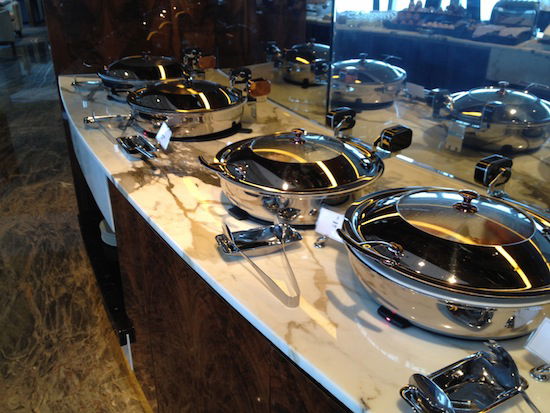 Breakfast spread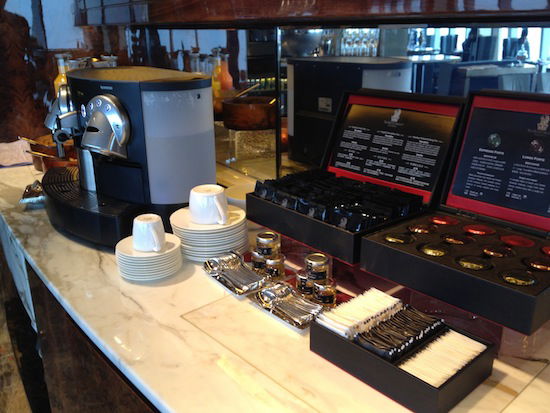 Breakfast spread
They even had champagne available at breakfast.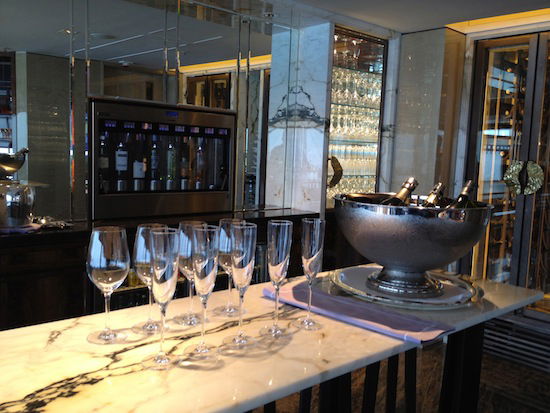 Champagne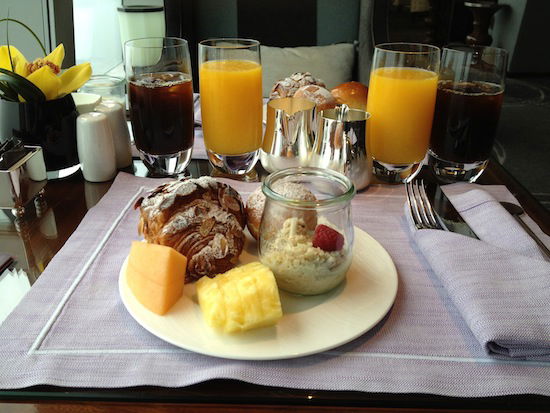 Breakfast first morning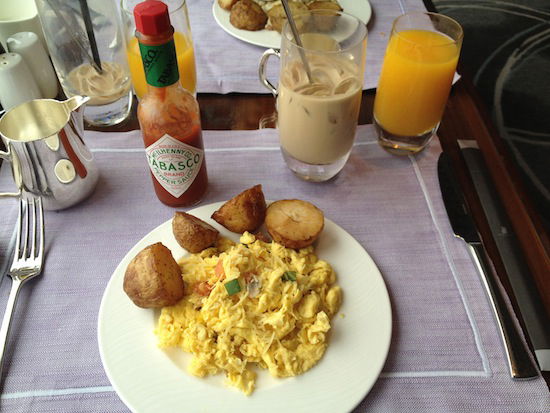 Breakfast second morning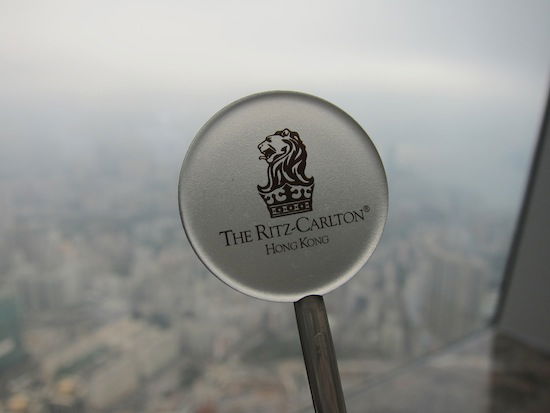 Iced coffee with a view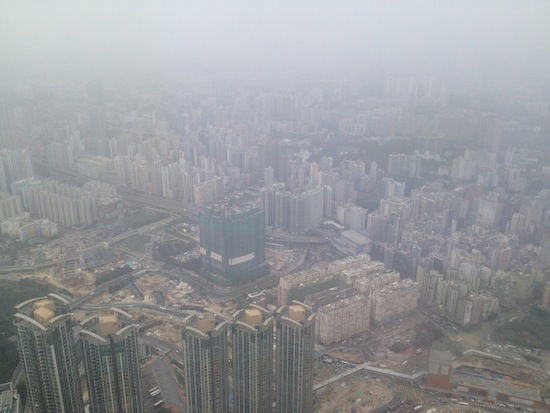 View from the Ritz Carlton Club in the morning
Around lunchtime they had a small buffet set up with salad, fruit, and desserts.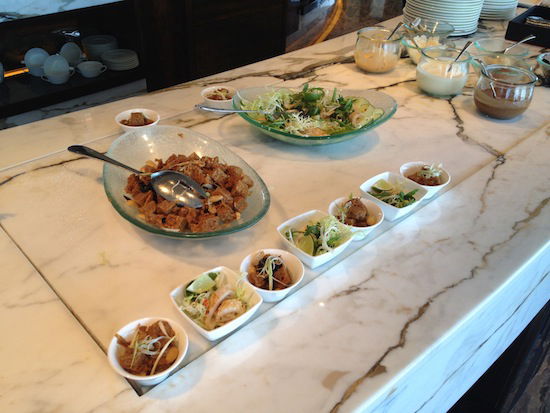 Lunch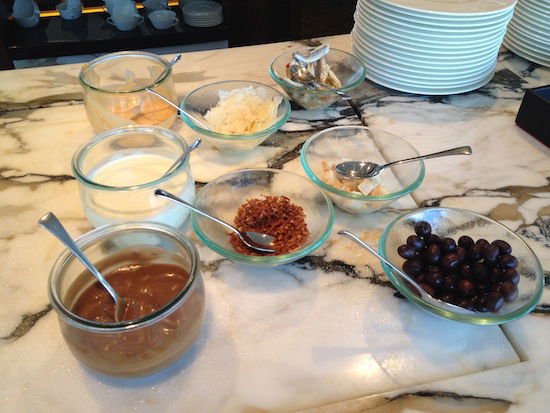 Lunch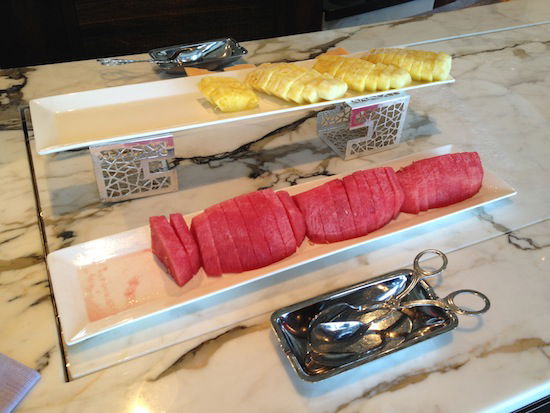 Lunch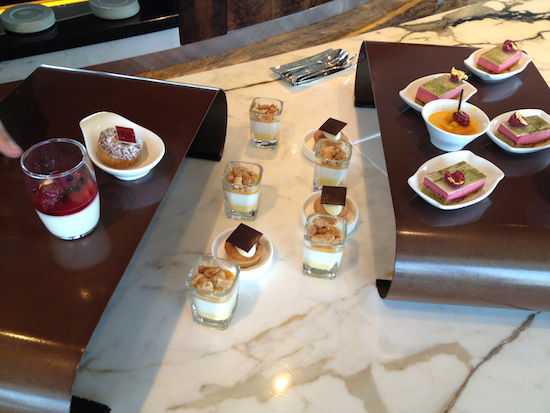 Lunch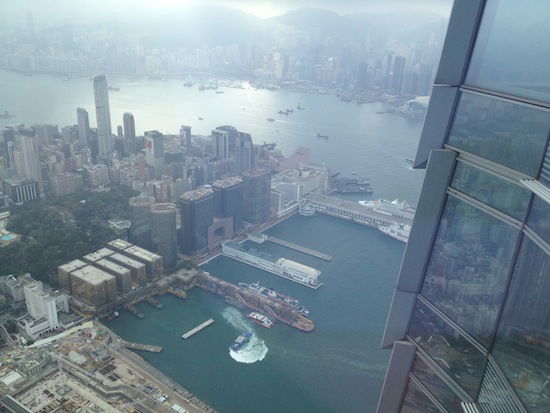 Midday view from Ritz Carlton Club
Then in the afternoons they had a really impressive afternoon tea spread consisting of finger sandwiches, mini-pizzas, sliders, and warm scones with jam and clotted cream.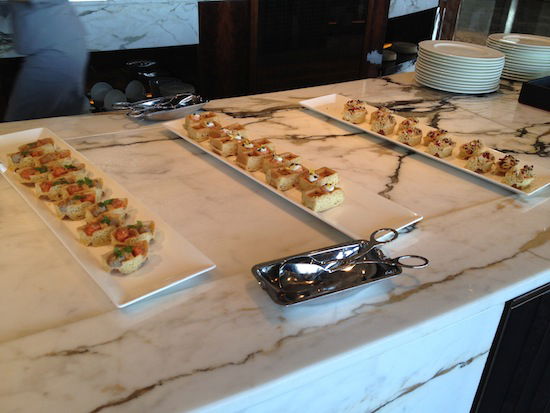 Afternoon tea sandwiches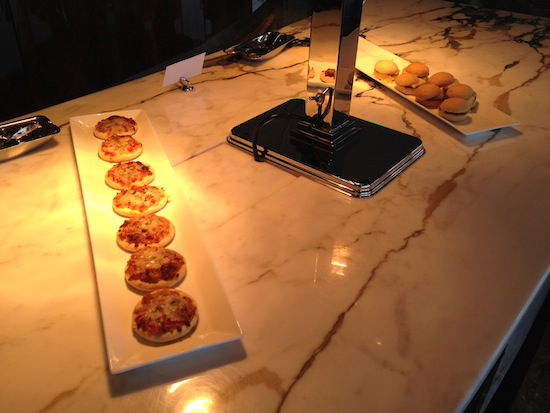 Afternoon tea mini-pizzas and sliders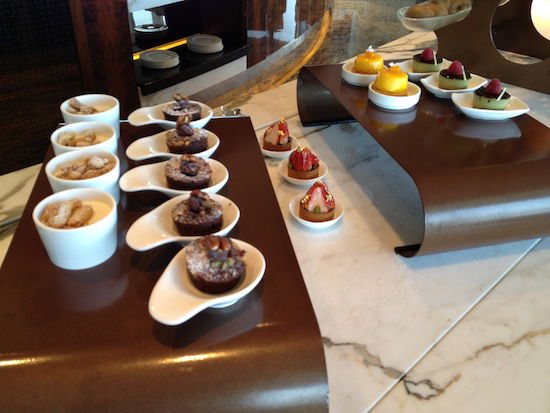 Afternoon tea desserts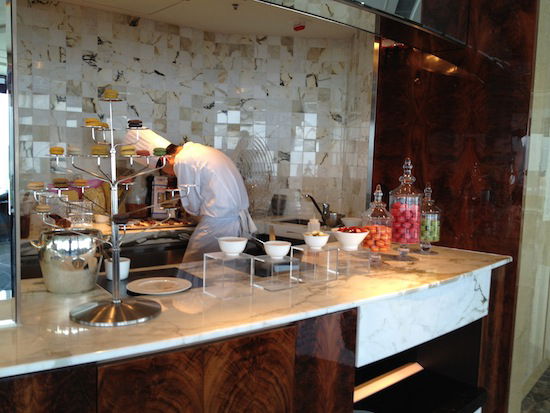 Afternoon tea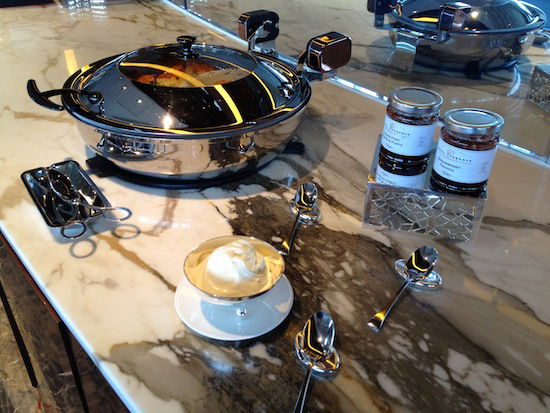 Scones, jam, and clotted cream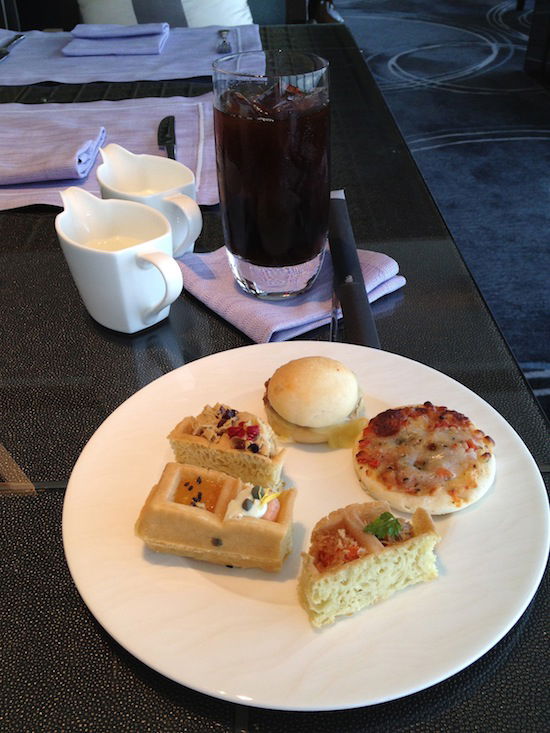 Afternoon tea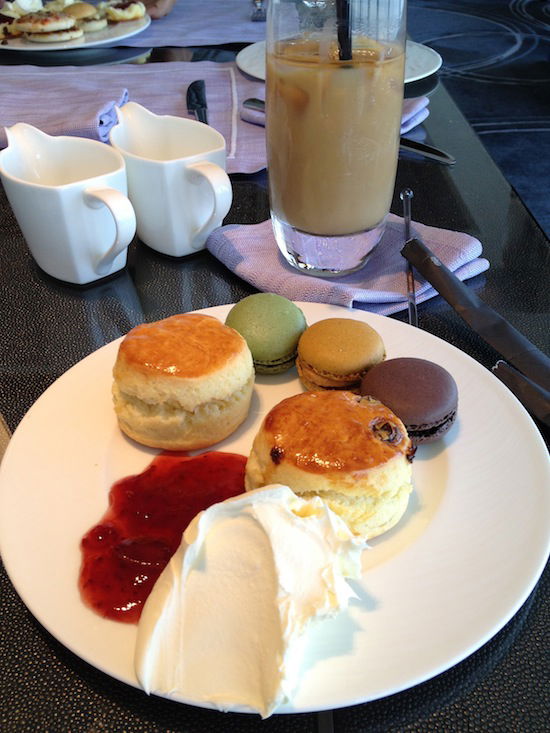 Afternoon tea
Then in the evenings between 5:30PM and 7:30PM they served hors d'oeuvres. While the spread was alright, I didn't think the offerings were as impressive as what they served earlier in the day, and I've seen better spreads at some more "mainstream" hotels. Of course the alcohol selection was a step up, but the food selection itself wasn't.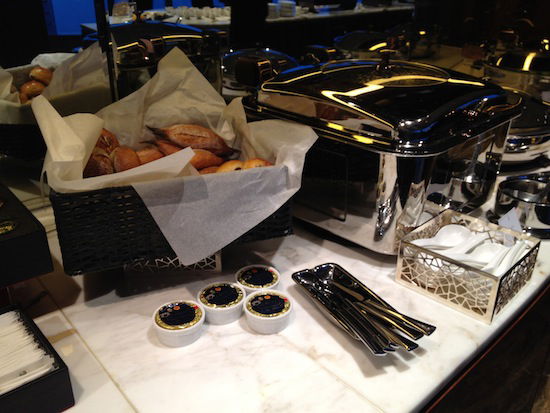 Evening spread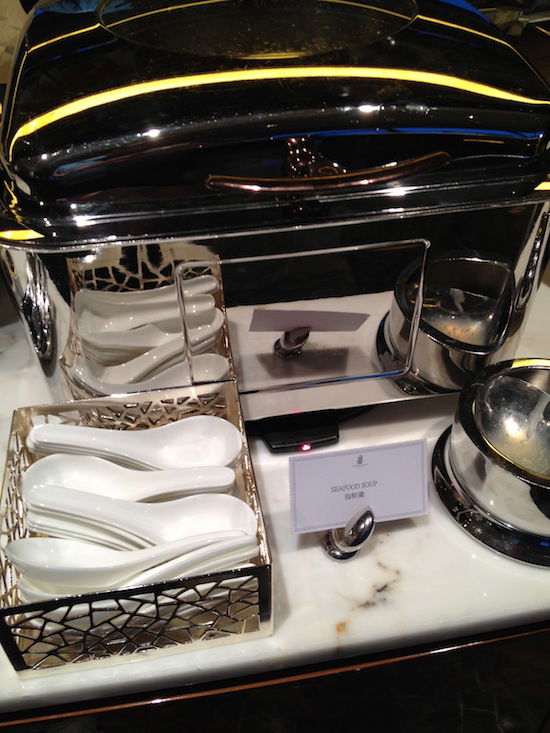 Soup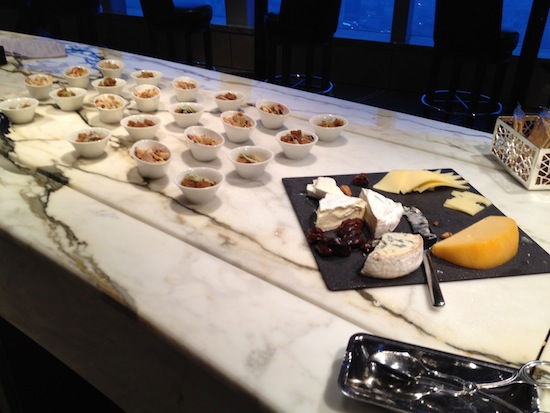 Evening spread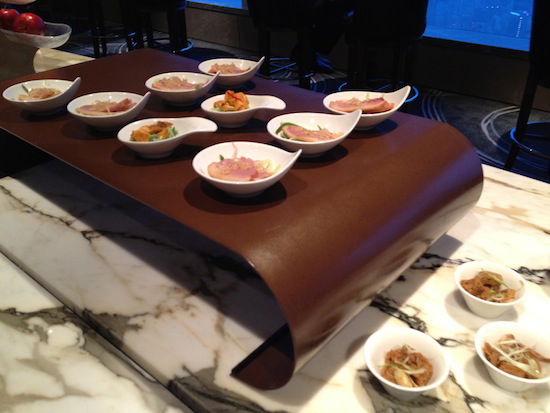 Evening spread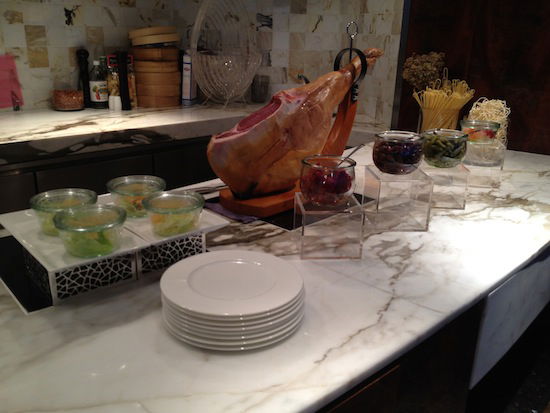 Evening spread
Then last but not least was the dessert spread, where almost every item was garnished with gold dust. Gotta love it!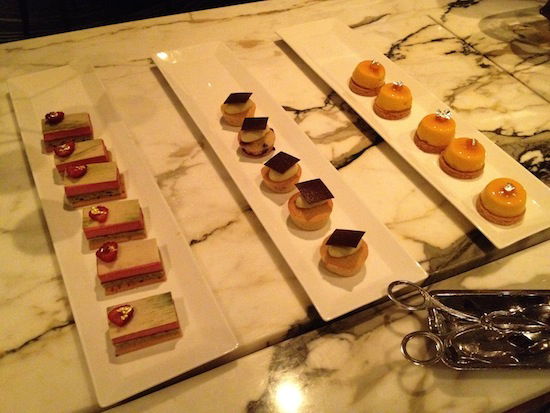 Dessert spread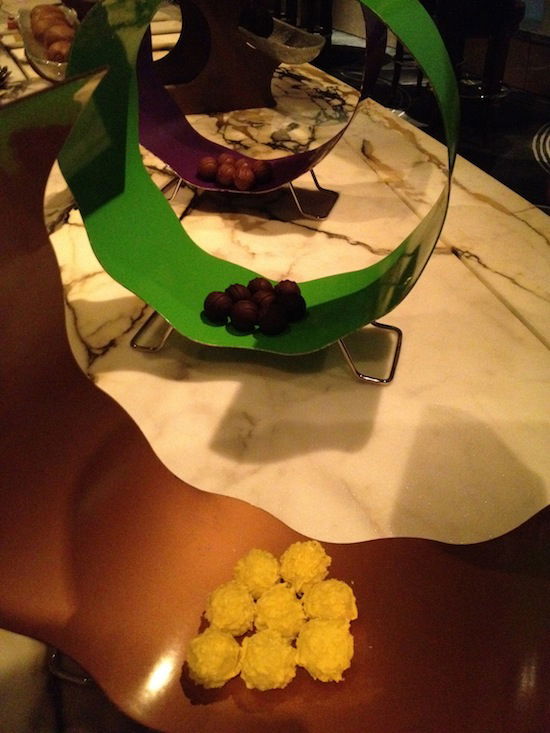 Dessert spread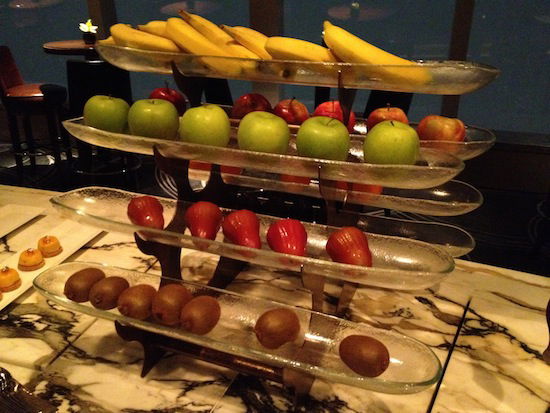 Dessert spread
Just a few final thoughts regarding my stay:
The Service
The service at the hotel was very, very good. Every employee I interacted with was sincere and polished, from the doormen to the concierge. When you got in an elevator with an employee they always held the door and started up a conversation. The housekeeping team paid a lot of attention to detail, and my clothes were always neatly folded after the room was serviced.
The employees were also fantastic at anticipating needs. One afternoon we were leaving the hotel and wanted a couple of recommendations, and one of the ladies working the elevator provided us with advice instead of sending us to the concierge desk immediately. Every single employee did everything with a sincere smile, without exception.
So while service was very, very good, I wasn't blown away by it in the same was I was at the Park Hyatt Tokyo. For example, when we arrived we were asked for our names on the ground floor and they were checked off a list. That could have been a good opportunity to phone upstairs and say we're arriving so we could be greeted by name. It's by no means expected, but Ritz Carlton is all about exceeding expectations, and that would have been an easy way to do so. Along the same lines, at no point were we addressed by name in the club lounge, which I've even had happen at properties n the US. The employees were all incredibly friendly and attentive, but it's just one of those small touches that would have made the difference between "really, really good" and "amazing." And that's by no means a complaint, but just a constructive suggestion. After all, the hotel is less than a year old, so I'm sure they're still working on "perfecting" the experience.
The Location
This one's a toughie for me. A lot of the hotel's guests are business travelers doing business in the International Commerce Centre, so obviously the hotel couldn't be more convenient for them since they don't even have to leave the building. At the same time, if you're a tourist you'll have to take a taxi no matter where you want to go. It's no big deal given that taxis in Hong Kong are cheap and plentiful, but expect at least a 10-15 minute commute to the Kowloon Ferry Terminal, which is where we always ended up taking a taxi (either to go to Hong Kong Island from there using the Star Ferry or to just walk around in Kowloon). Now, Hong Kong happens to be my favorite city on earth, and I usually leave the hotel in the morning and come back about eight hours later, so in the grand scheme of things it translated to 1-2 transfers per day. At the same time, I did miss the ability to just walk out of the hotel and right onto the Avenue of Stars, as is possible at the InterContinental Hong Kong.
The Views
I wrote a post recently comparing the views from the Ritz Carlton and from the InterContinental. Check it out for my thoughts of basically having a bird's eye view of the city vs. a cruise ship view of the city.
Overall
On the whole this is a stunning property and I'd say all around the best hotel in Hong Kong. While it's certainly out of my "normal" budget, I'm delighted to have tried it and would certainly recommend it for someone that has a few more zeroes in their bank account than me.