---
I've been wanting to stay at the Four Seasons Seattle for years now. I've heard great things about the service at the hotel, and it's one of the more reasonably priced Four Seasons in the chain. I've reviewed several other hotels in Seattle, including Hotel 1000, the Grand Hyatt Seattle, and the Hyatt at Olive 8, if you're interested in reading about those as well.
While Four Seasons doesn't have a loyalty program, you can get quite some extra benefits for your stay by booking either through Virtuoso, a Four Seasons Preferred Partner, or American Express Fine Hotels & Resorts. By booking through a Four Seasons Preferred Partner you get a $100 food and beverage credit, room upgrade upon availability, and full American breakfast served in-room or in the restaurant. By booking through American Express Fine Hotels & Resorts you get a $100 food and beverage credit, room upgrade upon availability, continental breakfast served in the restaurant, and 4PM check-out.
I booked through a Four Seasons Preferred Partner for the rate of $285 (I've seen the rate as low as $265 in the off-season), so for a one-night stay it's a pretty unbeatable deal, given the $100 food and beverage credit plus full American breakfast.
Anyway, I took the light rail downtown, and from there it was only a couple of blocks to the Four Seasons, which is located right next to Pike Place Market and right on the water, which is in my opinion the perfect location.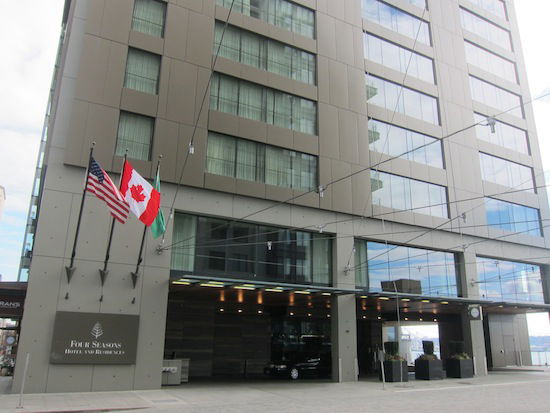 Hotel exterior
I headed straight for check-in, which is located at the far end of the lobby. The hotel has 147 rooms, though feels even smaller than that, since the public spaces feel very "boutiquey."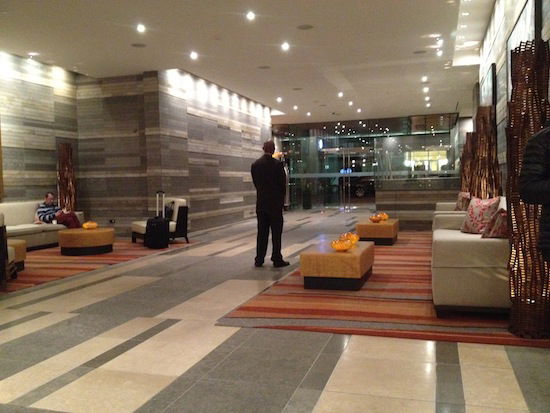 Lobby
Check-in was efficient and friendly, including being referred to by name at least a dozen times (with correct pronunciation no less!). I was assigned room 921, a deluxe bay view room.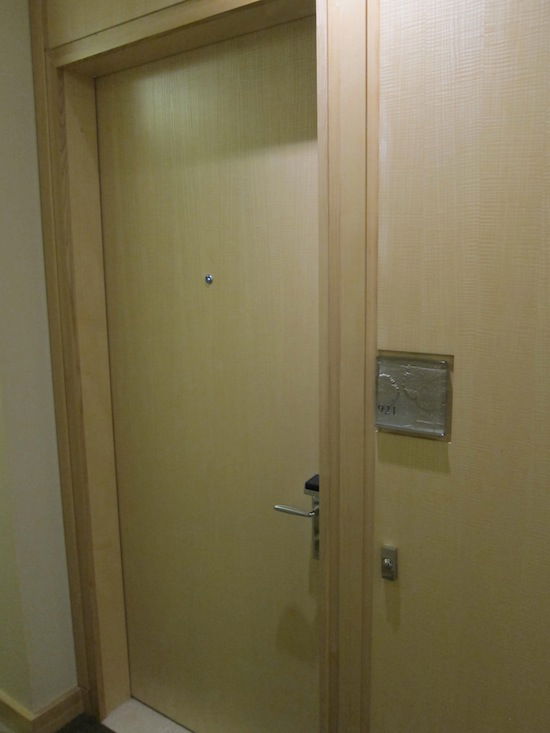 Room entrance
The room was large and felt spacious thanks to the lack of "clutter." First there was an entryway with the closet to the right and bathroom to the left.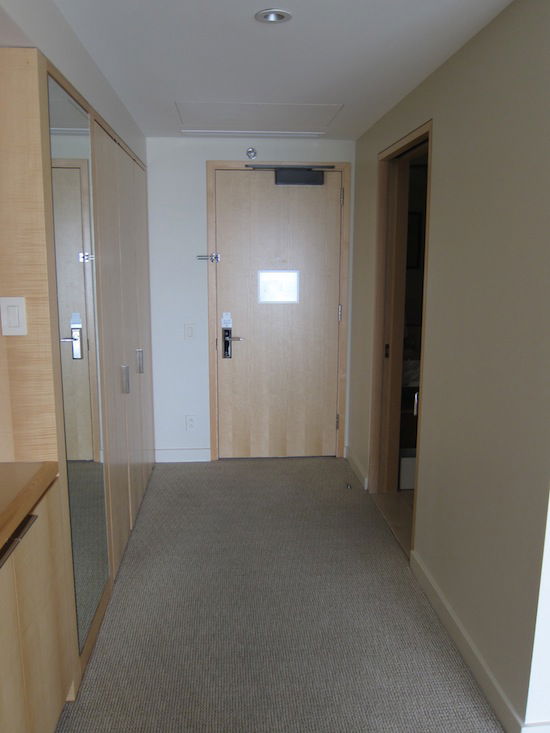 Entryway
That led into the room, which featured a king sized bed, along with a daybed of sorts next to it. Look, I'm a tough bed critic. I have a "W" bed at home, and I'm a huge fan of Westin beds. But this was literally the most comfortable bed I've ever slept in. That alone makes me want to return.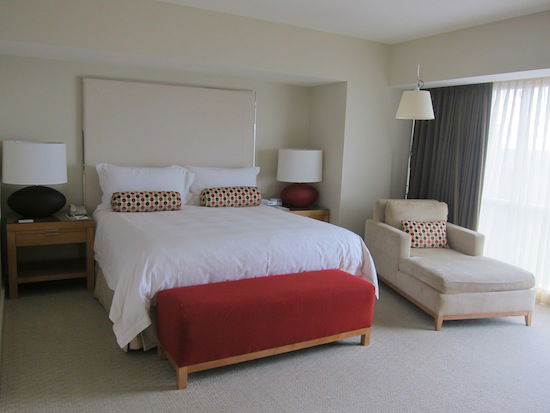 Room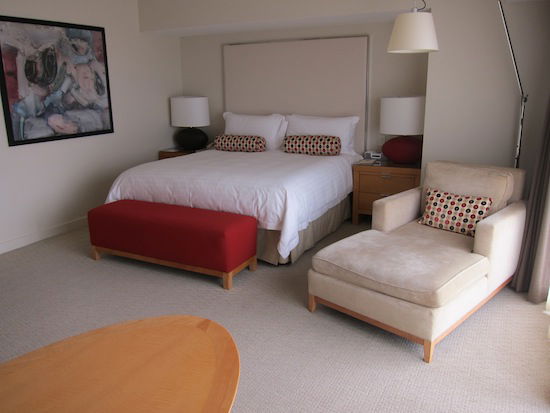 Room
On the other side of the room was a desk along with the flat screen TV. Again, I felt like everything was decorated in a very minimalistic way, which I like.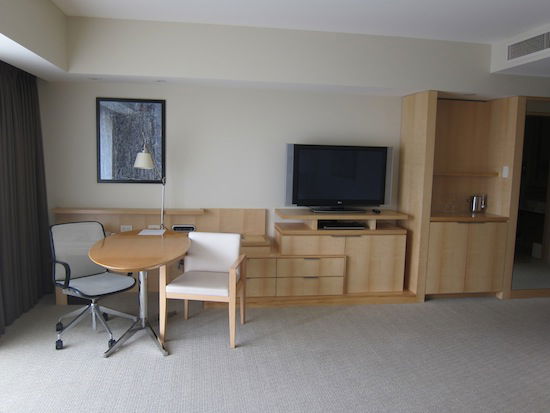 Desk and TV
The highlight of the room, though, had to be the views of Elliott Bay, which were stunning.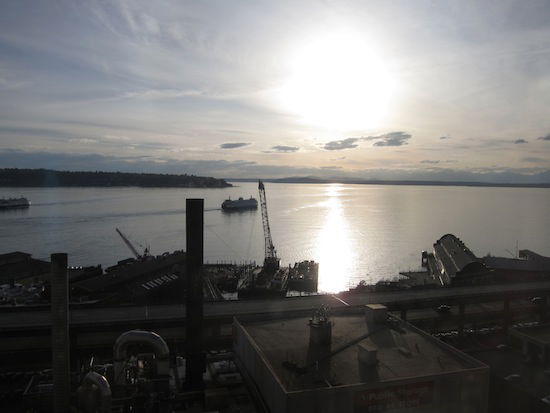 View from my room
At the entryway was the closet containing the minibar.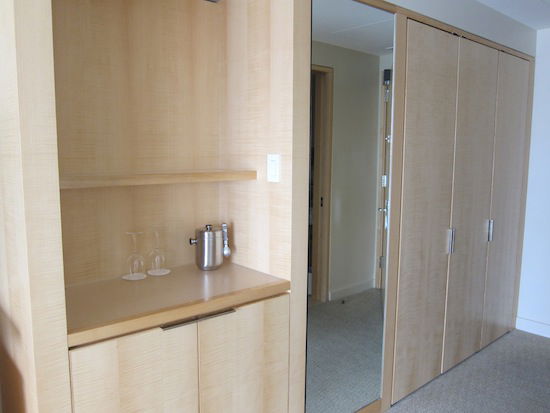 Closet and minibar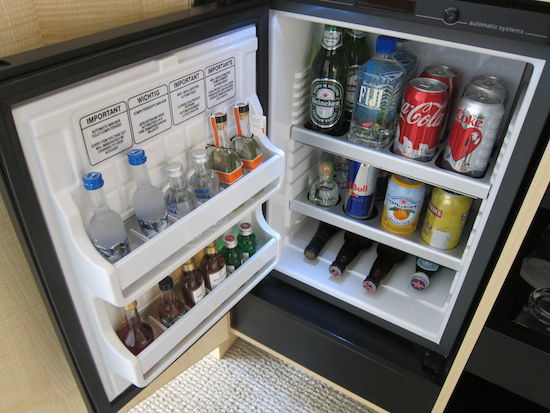 Minibar
The bathroom was also spacious, with a separate tub and shower with rainfall head, featuring L'Occitane amenities.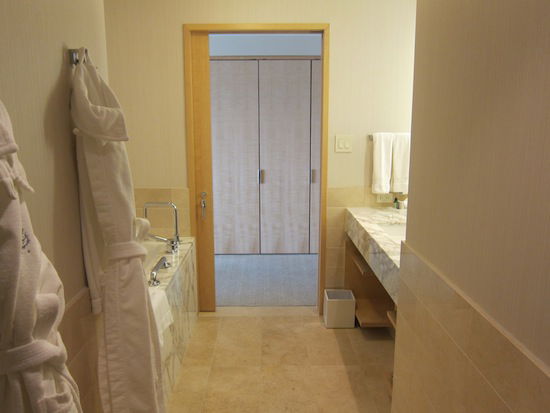 Bathroom
The sink even had a mirror with a built in TV.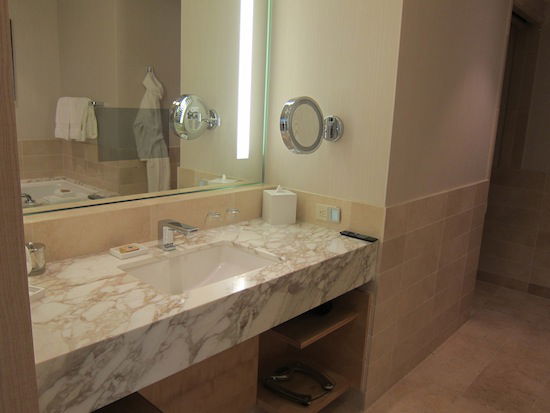 Sink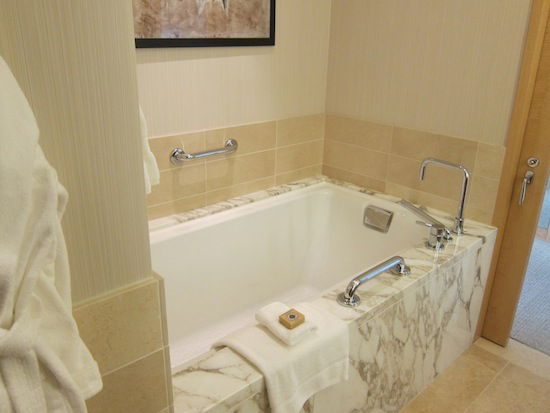 Tub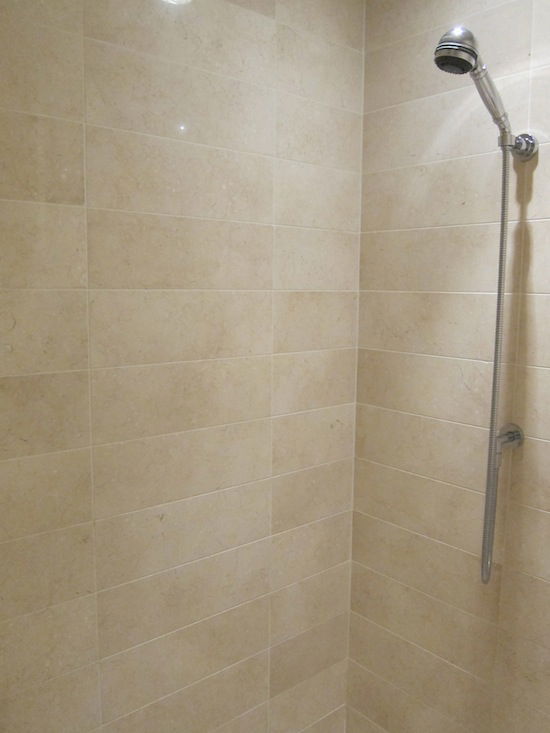 Shower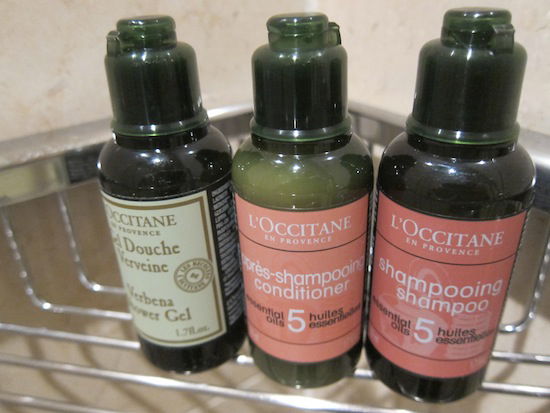 L'Occitane amenities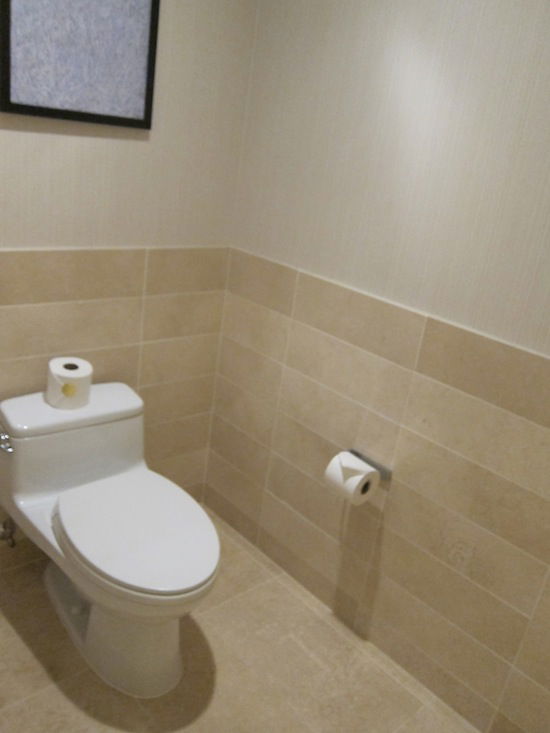 Bathroom
About half an hour after I got to my room a bottle of VOSS water and basket of fruit were brought up, along with a letter explaining the amenities I was entitled to through my Preferred Partner booking.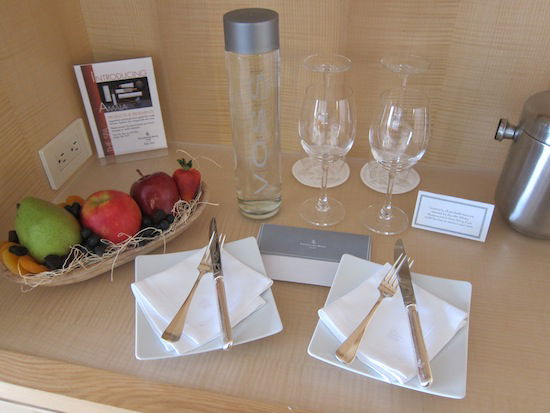 Amenity
As far as the hotel's facilities go, they have a very nice gym facing the pool.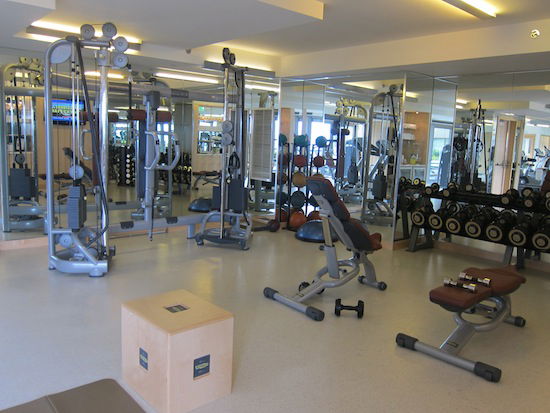 Gym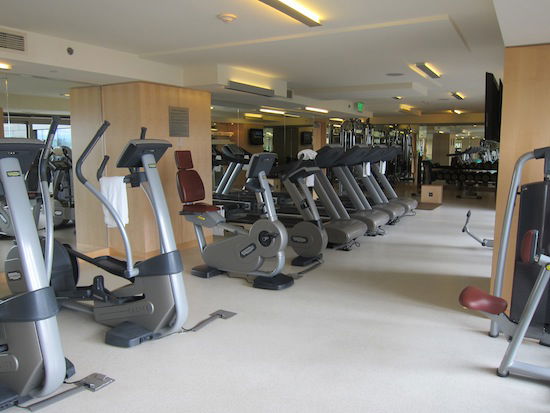 Gym
The highlight of the hotel had to be the pool area. I just wish it would have been a bit warmer. There's both a pool and hot tub, with a very nice deck for just lounging and enjoying the beautiful views of the Bay.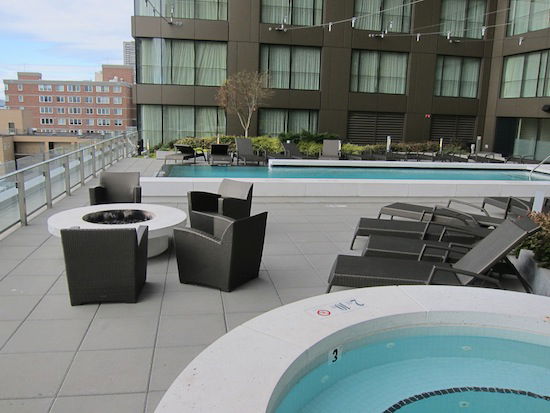 Pool and hot tub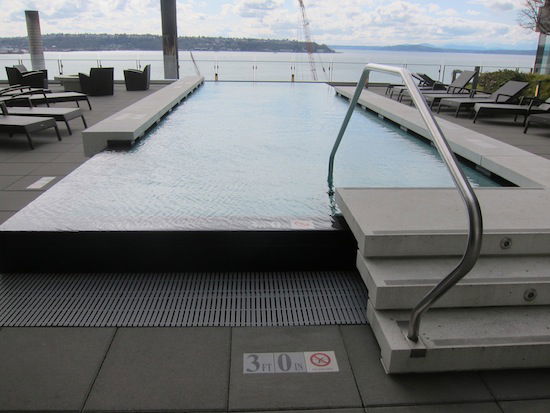 Pool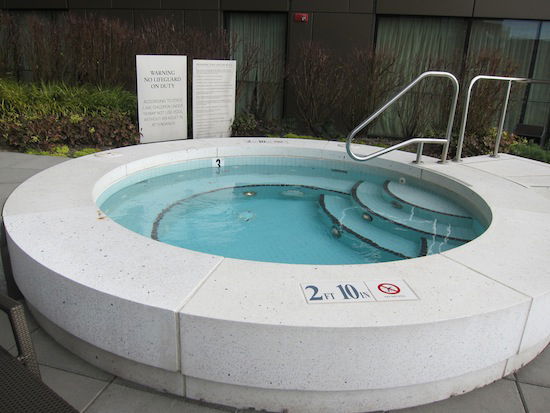 Hot tub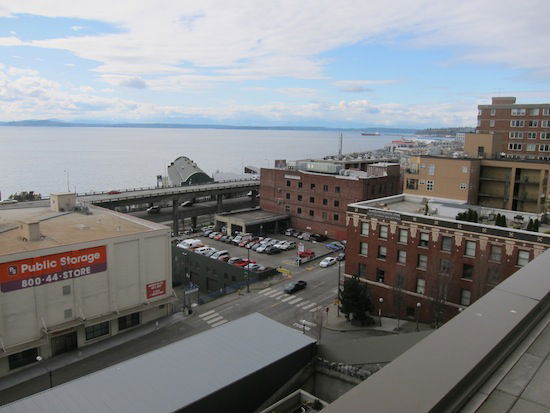 View from pool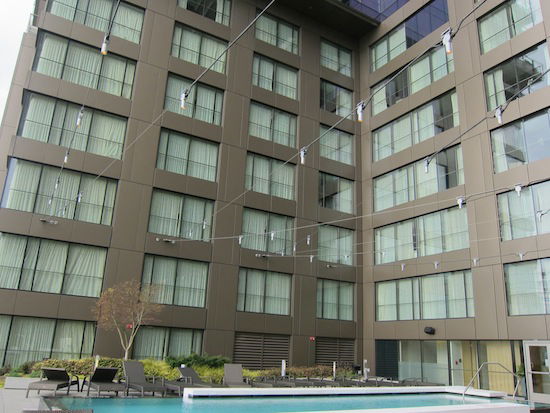 Hotel from pool
Since I had a $100 food and beverage credit, I decided to invite a friend for dinner at the hotel's restaurant, ART.
The restaurant had a very modern design and the service was phenomenal, so it was a really fun place to have dinner.
That being said, I felt the food itself was more style over substance.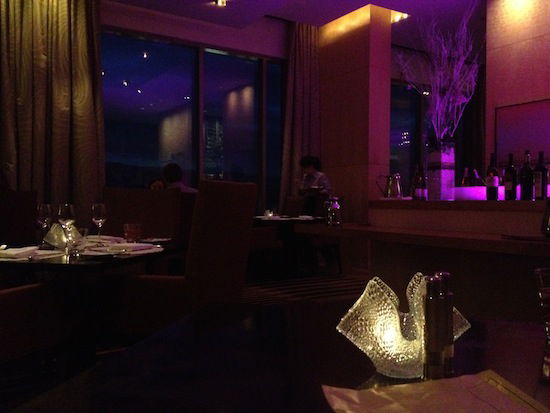 ART restaurant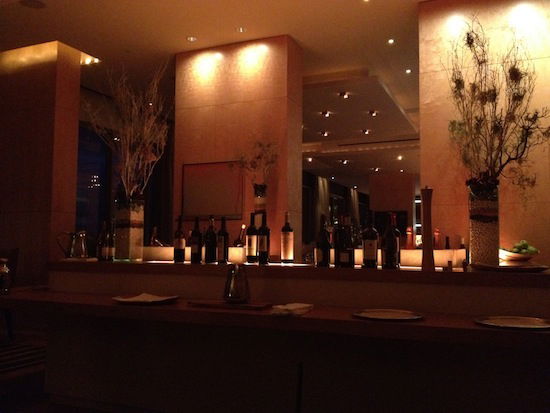 ART restaurant
To start they served potato chips in a bag (if I were a betting man I'd say they were Lays).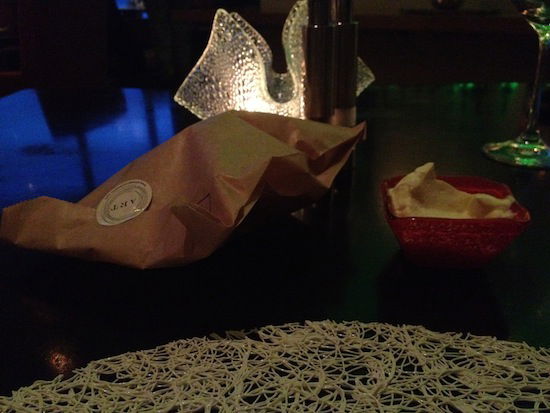 Chips
And that was followed by bread which was artfully displayed, and came with a tube of paste to use as "spread." The bread was rather stale and cold, though at least it was displayed nicely. I'm not sure if they've actually thought through the tube, but when two people are trying to eat bread, passing a tube back and forth isn't especially practical.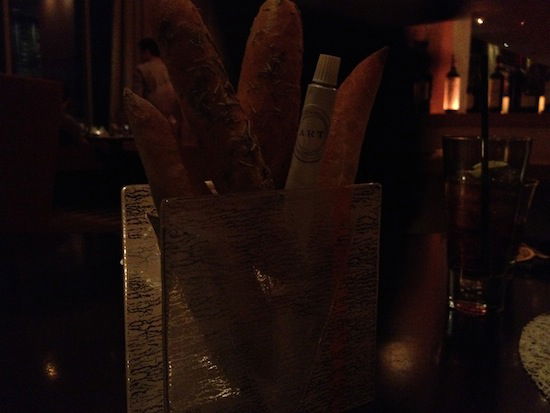 Bread
The restaurant offered three courses for $30, so I ordered that.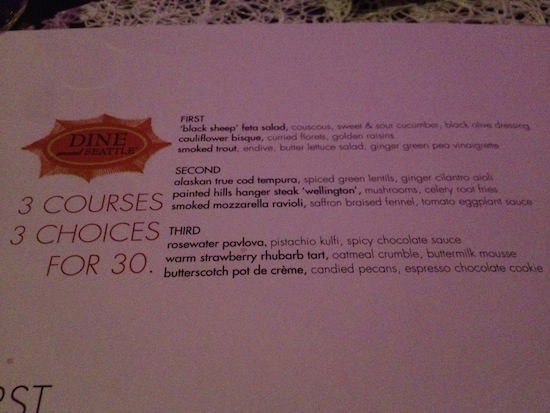 Menu
For the starter I had cauliflower bisque.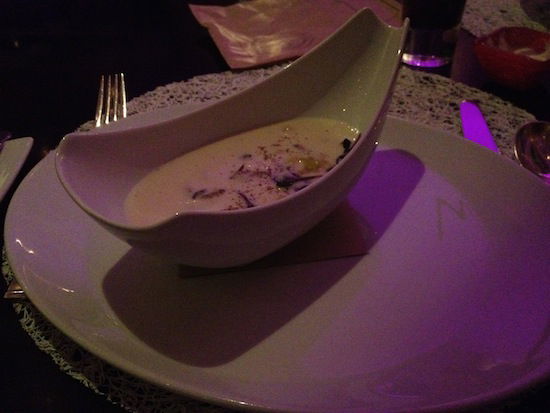 Starter
Then for the main course I had smoked mozzarella ravioli.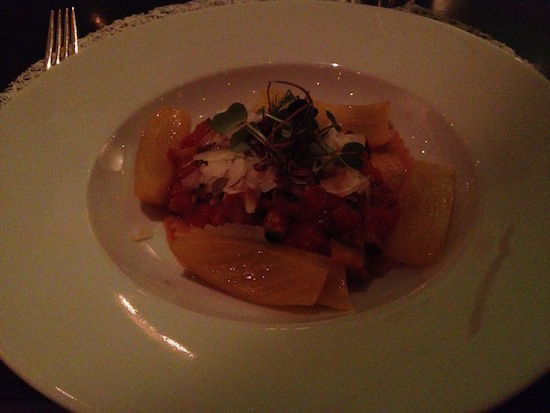 Main
And for dessert I had butterscotch pot de creme.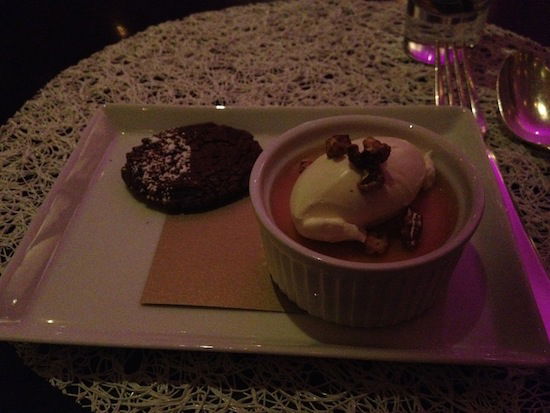 Dessert
Then when the check was brought out we were also offered two cookies. They could have come straight out of a Chips Ahoy bag based on the taste, so again, I felt they focused a bit too much on style over substance.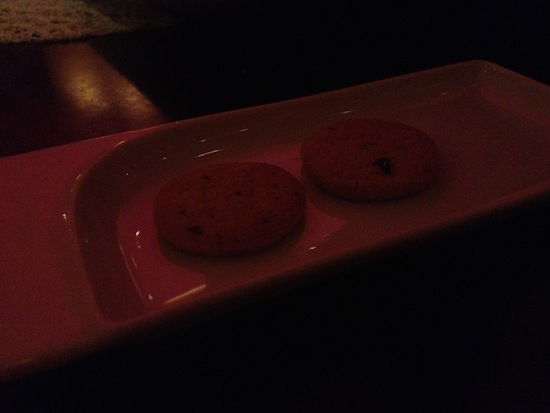 Cookies
Anyway, the restaurant is beautiful, the service is phenomenal, and the food was reasonably good. But the chips, bread, and cookies really threw me off. Then again, I assume others "get it" better than I do, or it wouldn't be part of the service.
Back to the hotel, which has both style and substance. Unfortunately the following morning I felt worse than I had ever felt before (I thought I had appendicitis), so at 7AM I decided to go to the hospital. The hotel couldn't have been better about the whole situation. I didn't want to burden them with it, but I called the front desk to ask where the nearest hospital was, and within a few minutes the manager on duty was at my door to bring me downstairs, where a cab was already waiting to take me to the nearest hospital. She said she'd extend my stay by a night in case I needed it (which I did). Fortunately it turned out to be nothing major, though I still felt sick and exhausted for another day, so did extend my stay. All of the employees couldn't have been more helpful, which speaks even more to the great people that work here.
I did end up booking a very early flight the following morning, so never had the opportunity to take full advance of breakfast. That being said, I did order the "15 minute breakfast" through room service, which was delivered in… you guessed it, less than 15 minutes.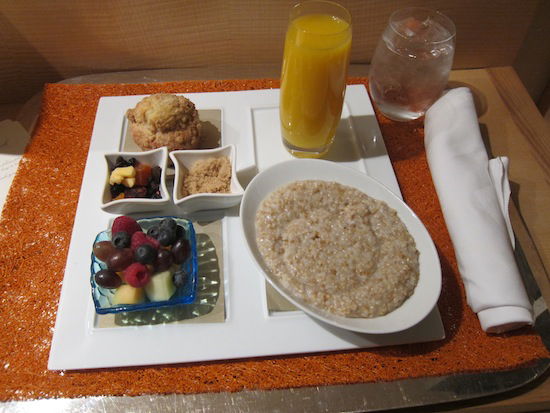 Breakfast
I can't say enough positive things about the hotel. I had heard nothing but great things about it before visiting, and I have nothing but good things to say after visiting. And I'd say it's actually a remarkably good deal, especially if you're booking through a Four Seasons Preferred Partner, Virtuoso, or American Express Fine Hotels & Resorts.
Seattle is also one of my favorite cities in the US, and there's no better location from which to explore the city than the Four Seasons, in my opinion.