---
Before I even start with the report, I should mention that I flew exactly the same flight from Seoul to Frankfurt a couple of years ago, and you can find my review from then here. The major difference was that the flight was operated by a 777 then, as opposed to the 747 that operates it now.
Asiana 541
Seoul (ICN) – Frankfurt (FRA)
Saturday, March 24
Depart: 12:50PM
Arrive: 4:35PM
Duration: 11hr45min
Aircraft: Boeing 747-400
Seat: 1A (First Class)
Our escort brought us all the way to the door of the plane, at which point she introduced us to the assistant purser, who directed us to our seats in row four. The nose of the 747 is configured with four rows of one seat on each side, and then a row in the center with two seats. We had selected the two center seats, 4E & 4F.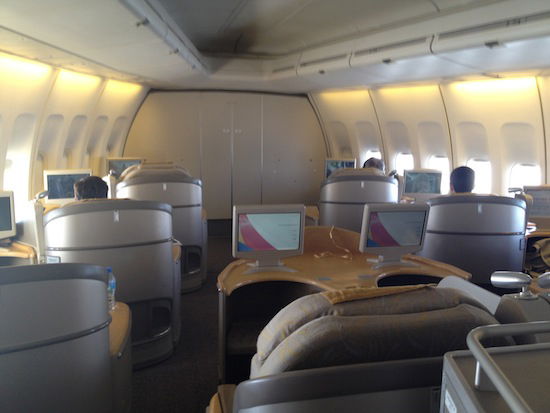 First class cabin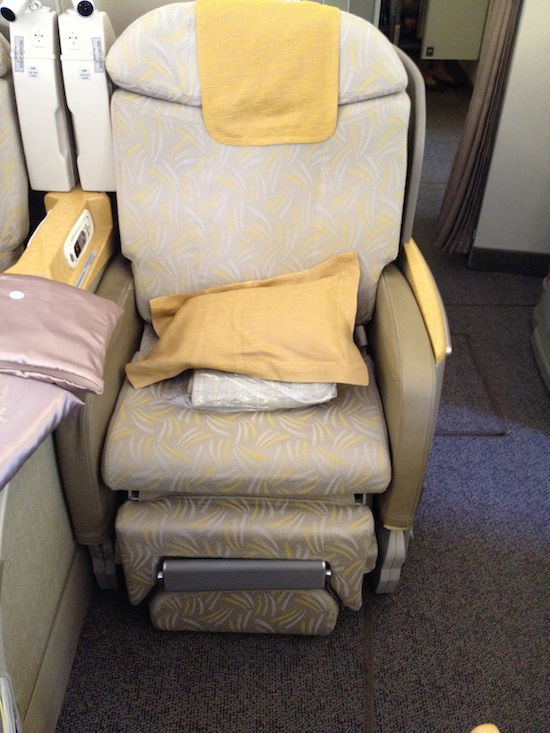 My seat, 4E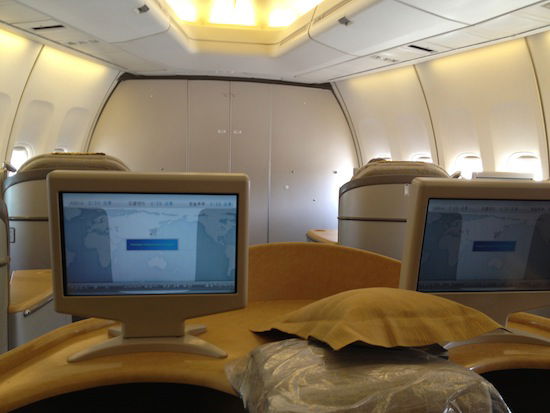 First class cabin from 4E
As soon as we were seated, though, we noticed just how cramped the center seats felt. The "suites" along the side of the aircraft are rather large, but you don't get that same feeling in the center seats. Furthermore, the actual ottoman was smaller, so we inquired as to whether the other two unoccupied first class seats would remain open.
The crew gladly informed us they would, so they assisted me with my move to seat 1A, which felt much more spacious.
Waiting at my seat was a day blanket and pillow. Within a minute of settling in one of the lovely flight attendants approached me to offer pajamas. They run small, so I went with the XLs.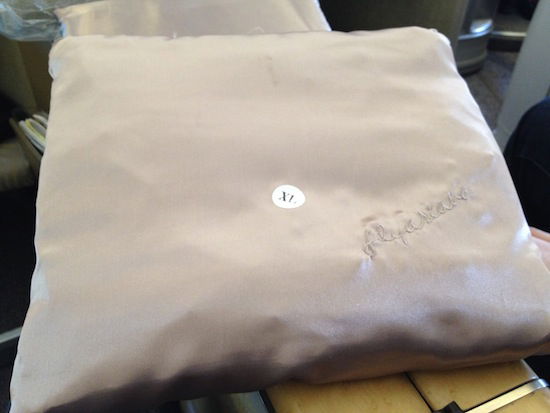 Pajamas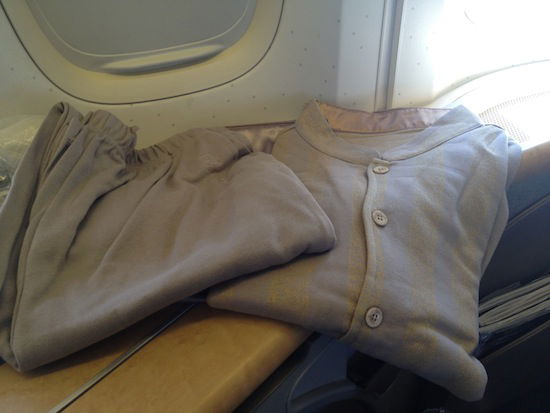 My fashionable pajamas
I was also offered an amenity kit, slippers, and Bose Quiet Comfort 3 headphones.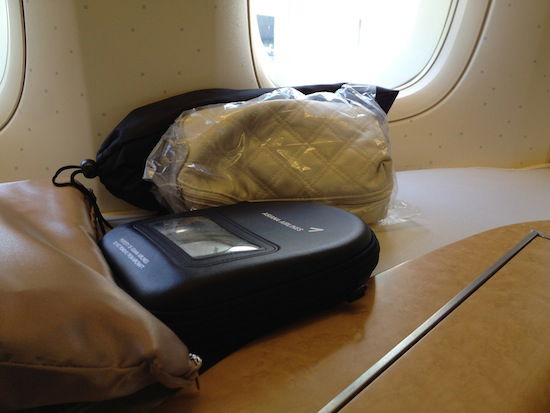 Amenity kit, slippers, and headphones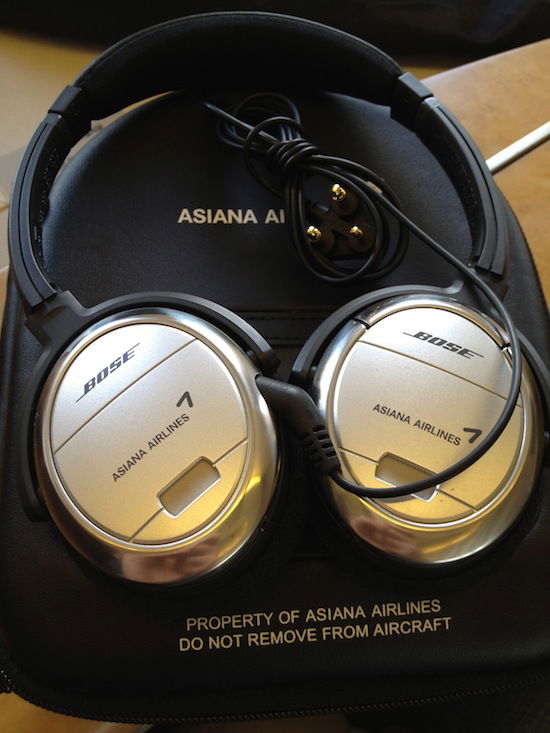 Quiet Comfort 3 headphones
The amenity kit consists of Bulgari amenities, which immediately makes it one of my favorites: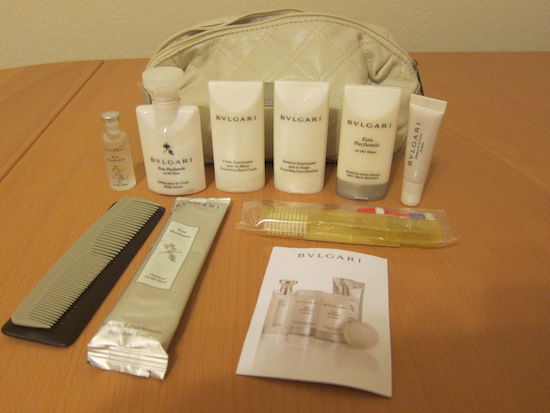 Amenity kit contents
The seats themselves are plenty spacious, though far from the most modern out there. The only aspect of their product that's appalling (in my opinion) is the color scheme.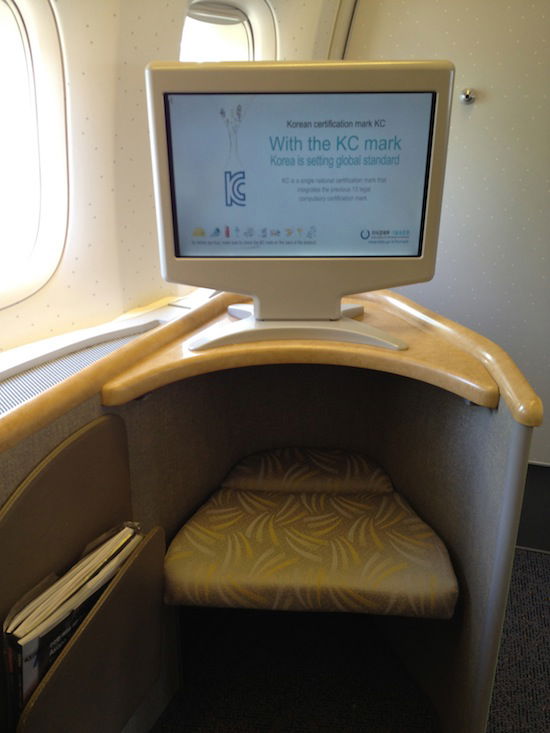 Ottoman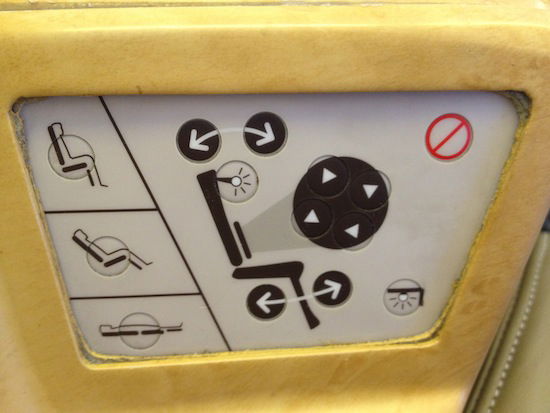 Seat controls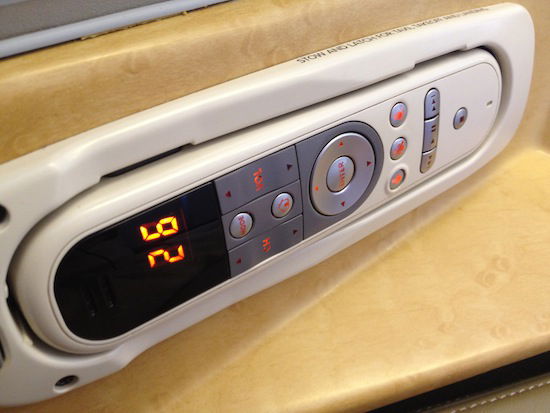 Entertainment controls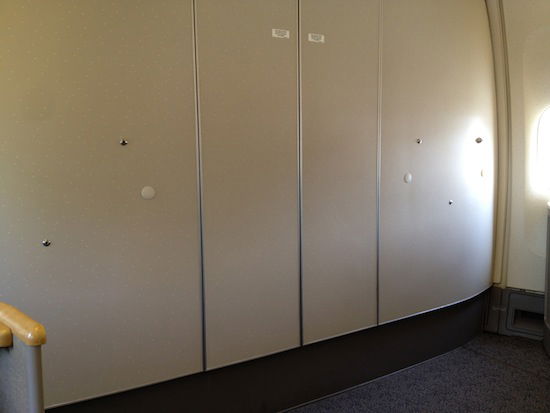 View of bulkhead from my seat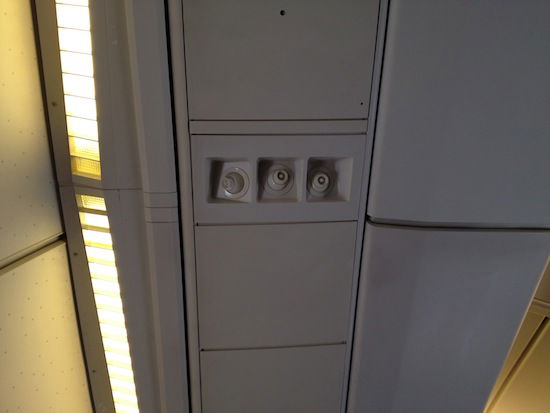 Best part of the seat — air nozzles, which are far too rare on foreign carriers
Anyway, what sets Asiana apart isn't the seat or painful color scheme, but rather the service and food, in that order.
Once I was settled in the flight attendant asked if I might like a pre-departure beverage. I ordered a glass of champagne, which was poured at my seat. The flight attendant also brought an empty ramekin and large bowl of nuts, from which she scooped at my seat. Now that's what I call personalized nut service! The only downside was that she gave me the smallest portion of nuts I've ever seen, though both champagne and nut refills were plentiful.
What sets a great airline apart from a good airline? They refill your glass of champagne before you even have the opportunity to refuse. And this was a great flight, since I rarely drink, but I was at glass four or five by departure time. Let's just say I thought the safety video was the most interesting in-flight entertainment of the trip.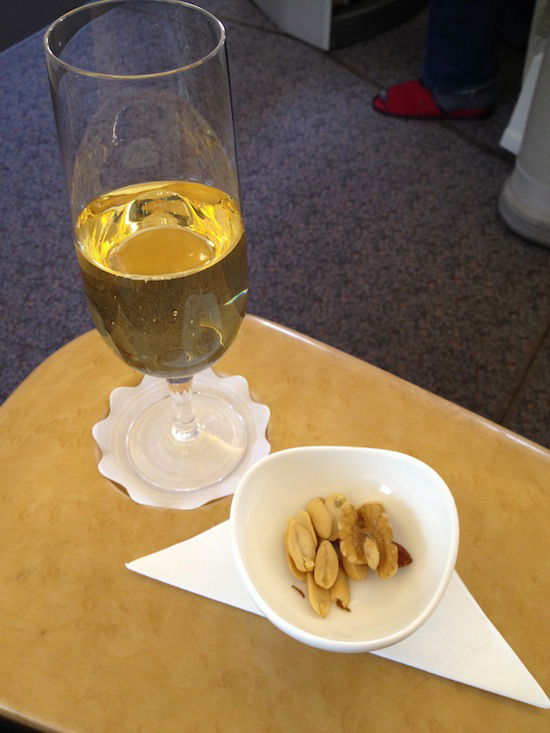 Pre-departure champagne and my paltry nuts

As departure time rolled around the captain came on the PA to advise us of our flight time of 11 hours, anticipating an on-time arrival in Frankfurt.
After pushback we had only about a five minute taxi to the runway (and trust me, Asiana pilots don't taxi at takeoff speed like the folks at Southwest), at which point we had a long takeoff roll before being airborne.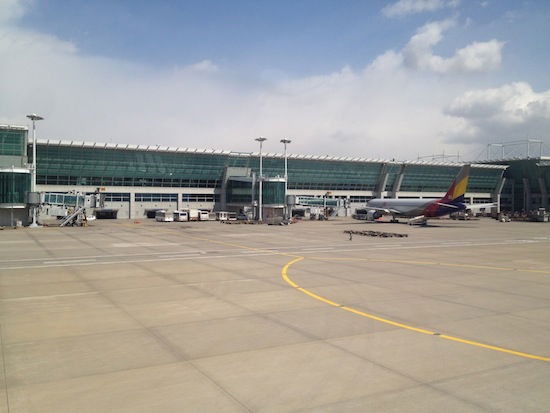 Pushing back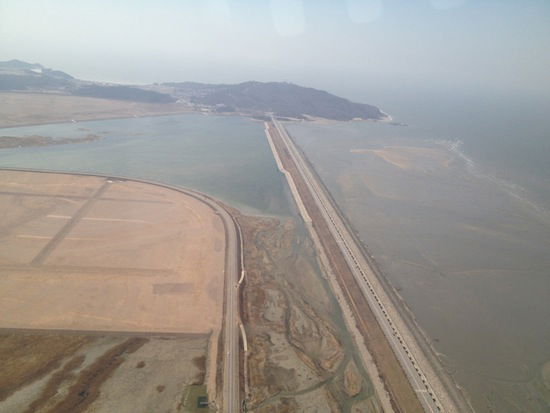 Airborne
About 10 minutes after takeoff the seatbelt sign was turned off, and I immediately changed into the pajamas. I did so before the curtains were closed, at which point I noticed that right behind first class is coach, as business class is only on the upper deck. Boy, the evil glares I got will scar me for life.
When I got back to my seat hot towels were distributed, followed quickly by the menus.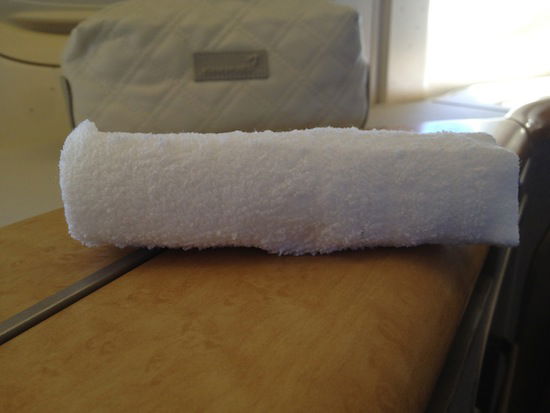 Hot towel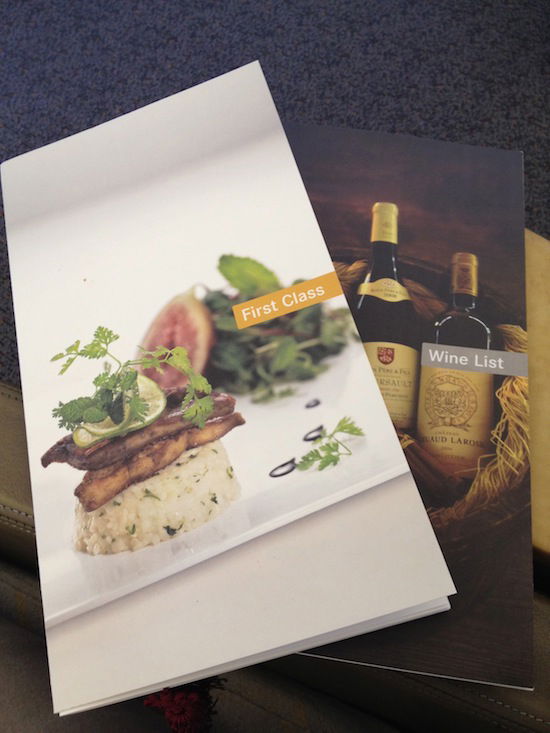 Menus
The lunch menu read as follows: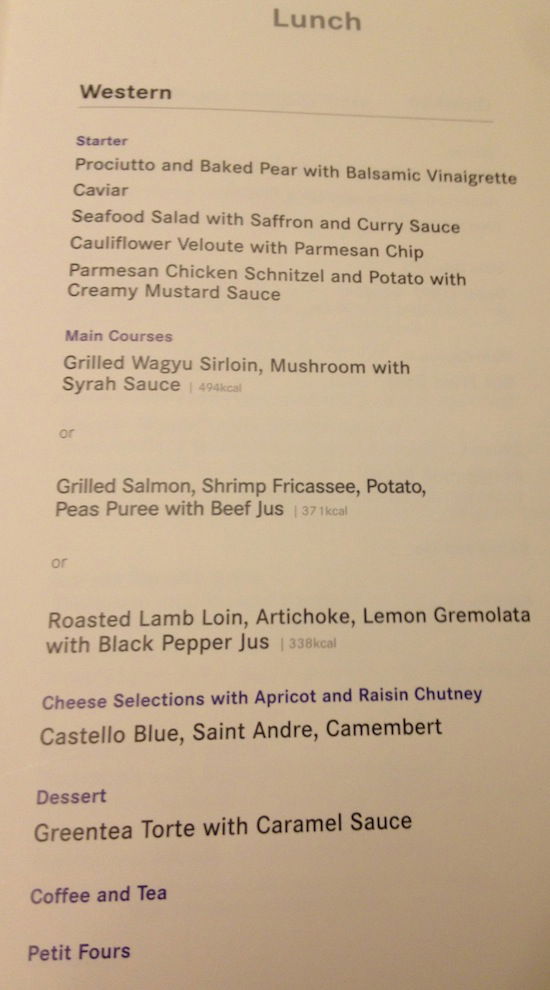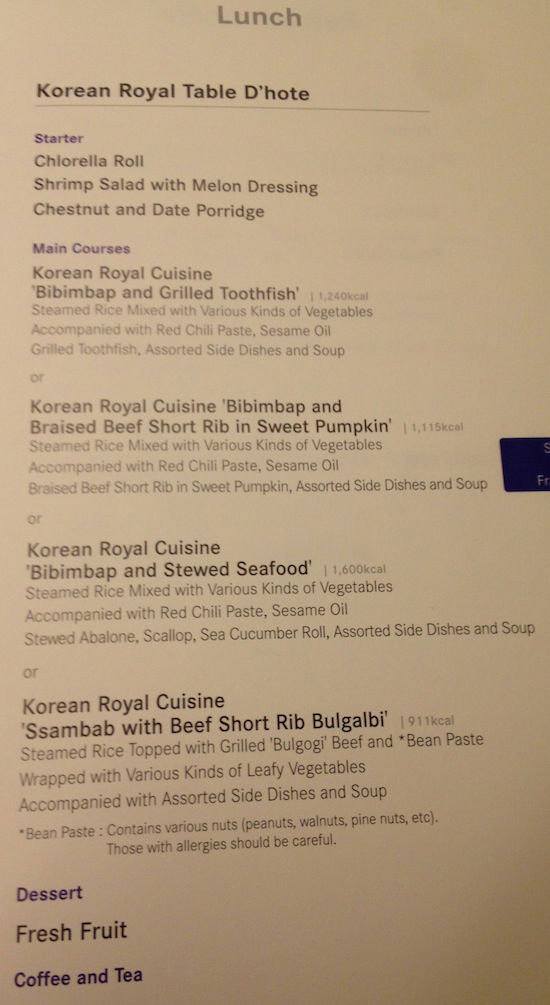 The only complaint I could possibly have about service on Asiana is that they distribute the menus, take meal orders three minutes later, and then immediately collect the menus. Ideally I like to keep the menus, but at the very least I like to be able to reference them while having an eight course meal so I have an idea of what I'm eating.
Other than that, the service was truly beyond spectacular on the flight. While Asiana flight attendants don't speak flawless English (admittedly my Korean could use just a bit of fine tuning) their sincerity, warmth, and smiles make the airline, in my opinion.
The meal service began with drinks and a prosciutto with baked pear starter, which was delicious.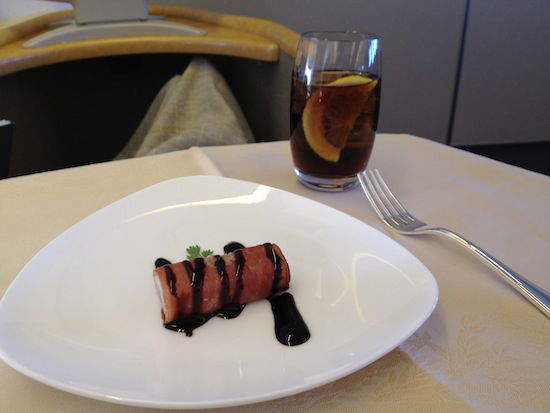 Prosciutto and Baked Pear with Balsamic Vinaigrette
After that the service really kicked into full gear, with caviar and a rose. Asiana serves full, sealed "tins" of caviar, unlike most other airlines which plate it for you. The breadbasket was offered along with it.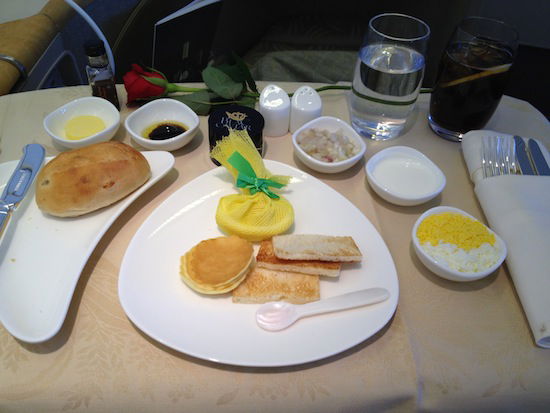 Caviar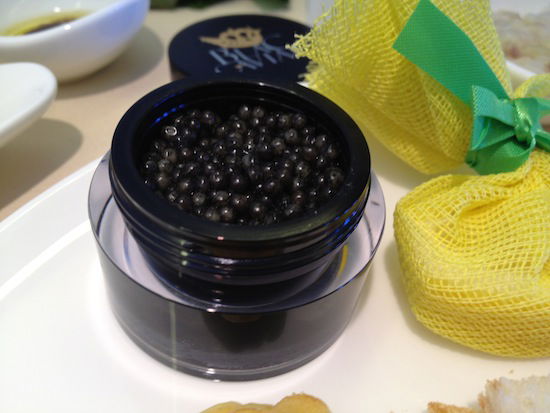 Caviar
The next course was a seafood salad, which was equally delicious.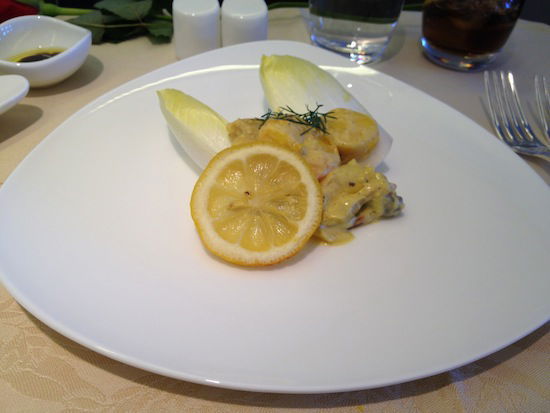 Seafood Salad with Curry and Saffron Sauce
As was the cauliflower soup.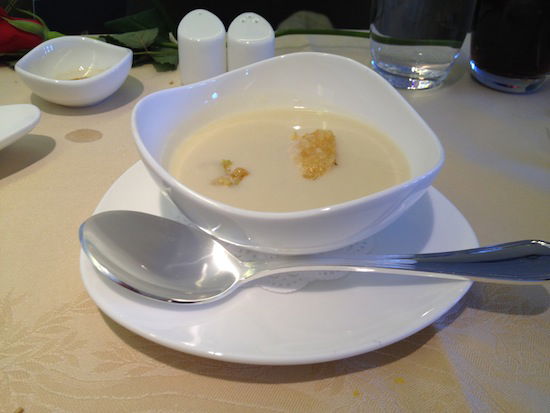 Cauliflower Veloute with Parmesan Chip
The next course was a chicken schnitzel. Again, it was very good.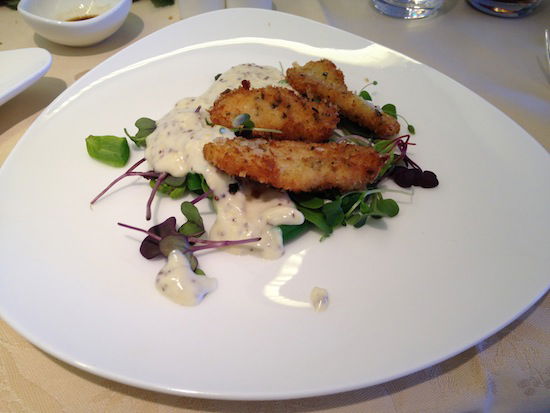 Parmesan Chicken Schnitzel and Potato with Creamy Mustard Sauce
The main course was a sirloin. One of my favorite aspects of the Asiana meal service is that they ask you how you want your steak cooked. Not many airlines do that, so it's a real treat when you can have a steak cooked to your liking on an airplane.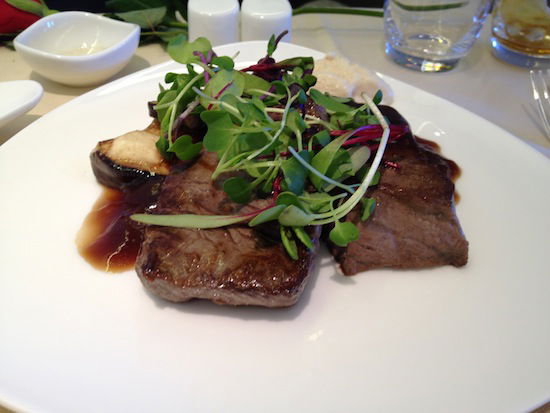 Grilled Wagyu Sirloin
After the main course I was offered a cheese plate with grapes and veggies.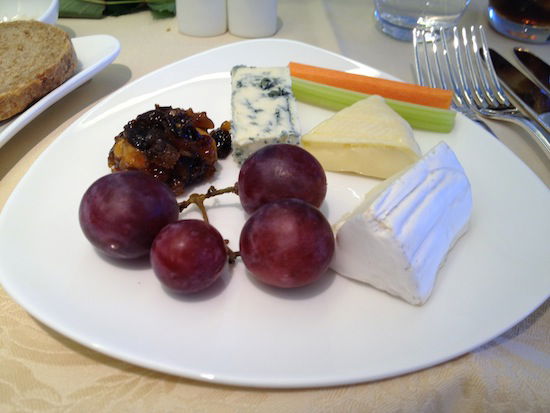 Cheese Selections with Apricot and Raisin Chutney
And to finish off the meal was a green tea cake, which was also very good, and I'm rarely a fan of green tea desserts. I accompanied it with a cup of coffee.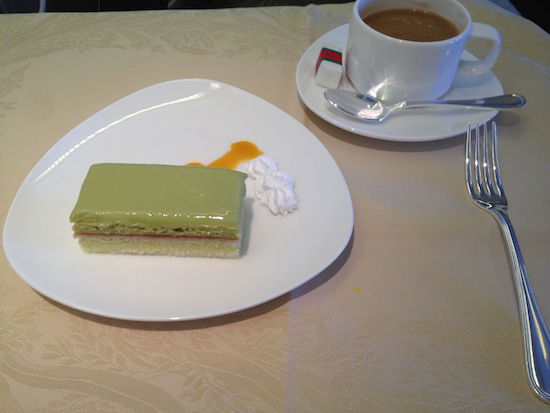 Green tea torte with caramel sauce
Not only was the food phenomenal, but the service was even better. Seriously, I can't say enough positive things about Asiana flight attendants. They were constantly smiling, incredibly attentive, and very detail oriented. For me the service is what makes a flight memorable, and the crew on this leg really shined.
For example, every time I went to the lav one of the flight attendants opened the door for me, and every time I exited they asked if there was anything they could get me.
As lunch finished up I requested turndown service, which was immediately provided.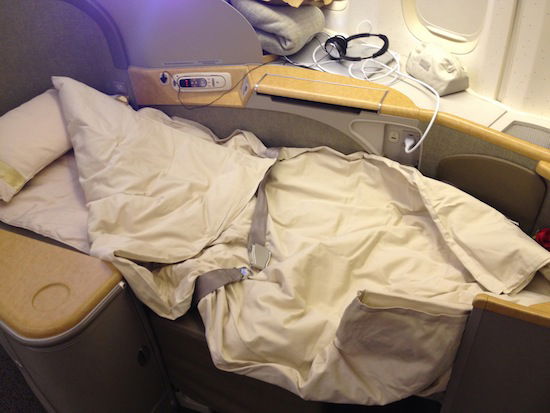 Seat in sleep mode
I was rather exhausted after such a whirlwind trip, so slept like a baby for about five hours, waking up with about four hours to go to Frankfurt. I figured I'd take a peak at the snack menu, which read as follows: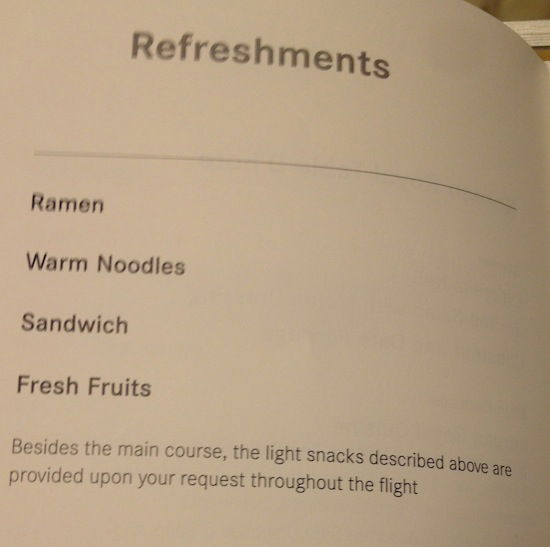 I ultimately decided on the soup, which took about 10 minutes to prepare.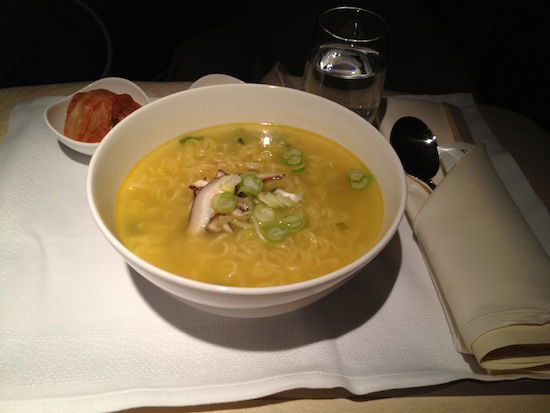 Soup
After that I was rather awake, so decided to watch a movie. I typically only like comedies. I never understood the point of fictional dramas. There's enough sad stuff going in the world, why watch a movie about something sad that's made up? Asiana's in-flight entertainment options are pretty lame with virtually no sitcoms, so I decided to watch "Abduction," a movie I had been putting off seeing for a long time.
And perhaps I shouldn't admit it, but it was a damn good movie, and I actually thought the acting was pretty good. I was about to kick someone's ass by the end of it, and I thought the plot was pretty exciting too. Anyone agree? Bueller? Bueller? Bueller?
By the end of the movie we were about two hours out of Frankfurt, and it was time for the pre-arrival meal.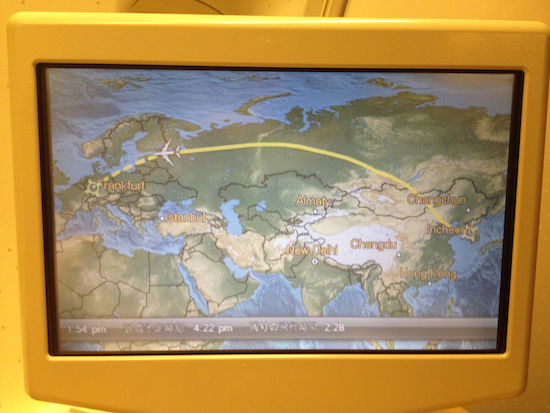 Airshow
The pre-arrival menu read as follows: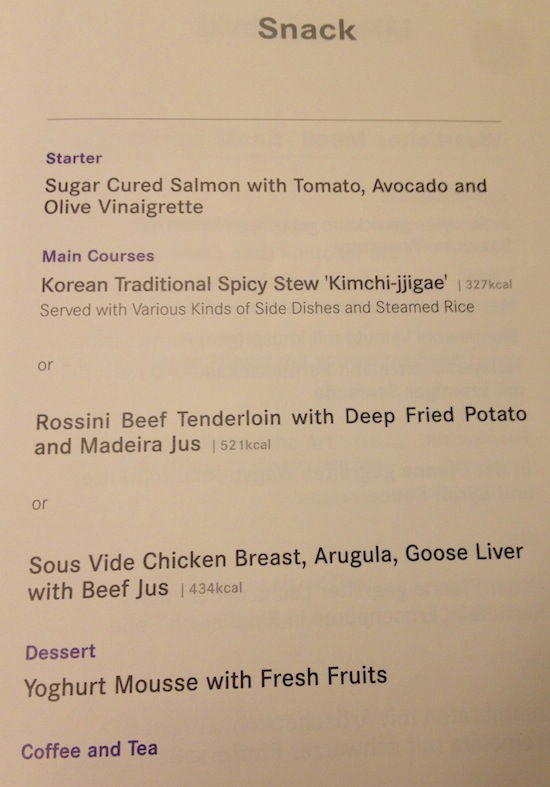 Service began with a variety of juices, so I went with orange juice.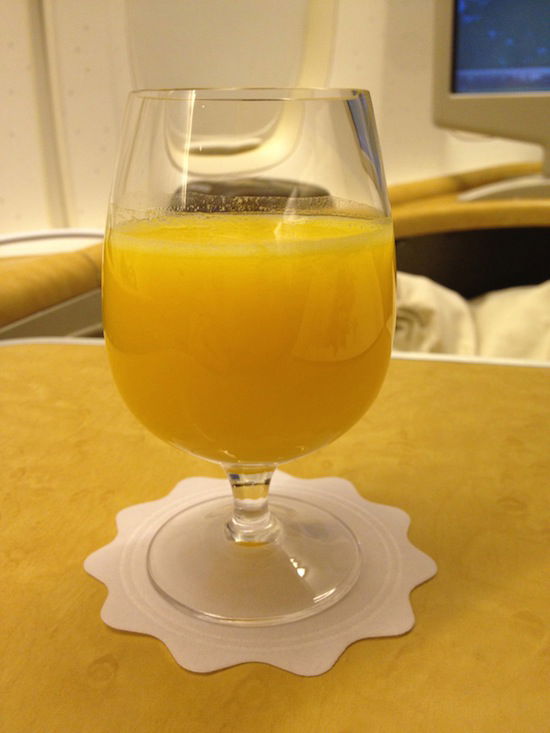 Orange juice
The first course was salmon with tomato and avocado.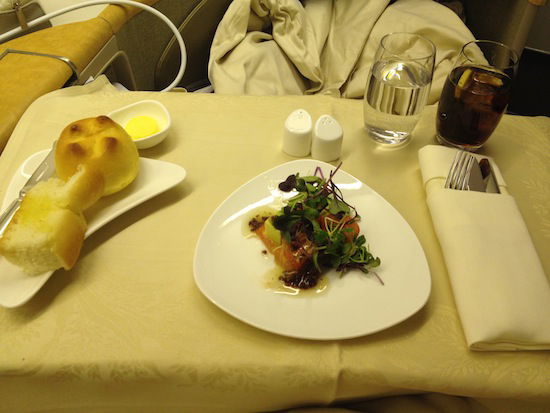 Salmon with Tomato and Avocado
I was a bit torn on the main course. I didn't want to go with the Korean option (if it's spicy by their standards, I'll be in tears by the end of it), and the goose liver pushed me away from the chicken, so I went with the steak. Yeah, I would have rather not had two steaks on one flight, but both were excellent, and in both instances I was asked how I wanted them cooked, so… 😉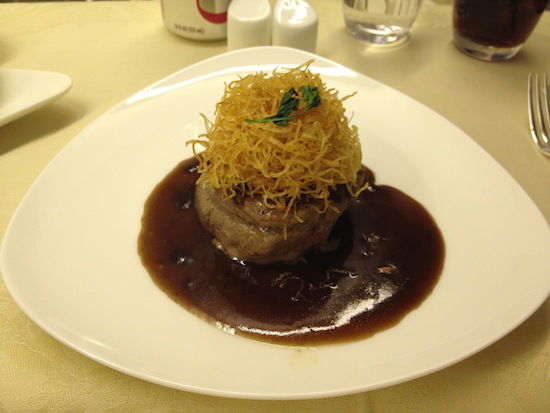 Rossini Beef Tenderloin
Then for dessert was a light but tasty fruit tart, with which I ordered some tea.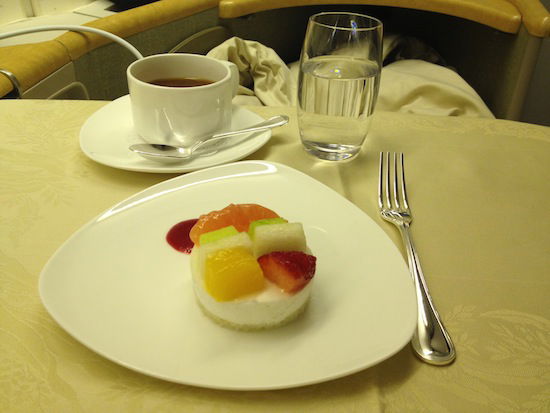 Yogurt Mousse with Fresh Fruits
About 30 minutes before landing the purser came around with gifts. Asiana is the only airline I know of that offers their first class passengers gifts, and I think it's a really nice touch. The options were an iPhone 4S case, a CD, or an Asiana duffel bag. I went with the iPhone case, as I actually don't have one. I mean, let's be honest, my iPhone is now totally cooler than everyone else's, given that it has the Asiana logo on it.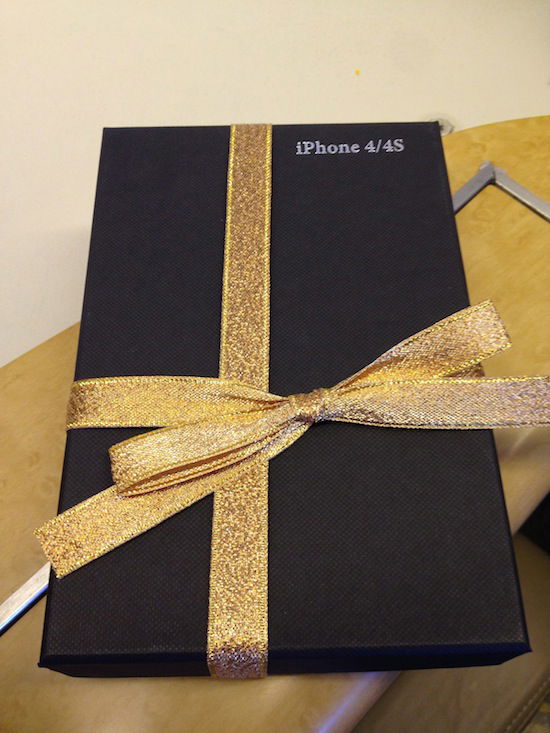 iPhone case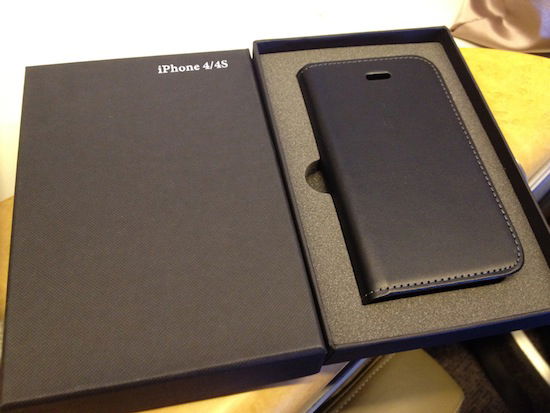 iPhone case
The seatbelt sign came on about 15 minutes prior to landing, and it was proving to be a beautiful afternoon in Frankfurt as we descended over the city.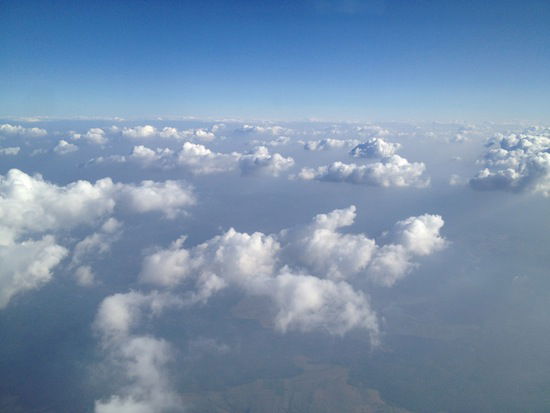 On approach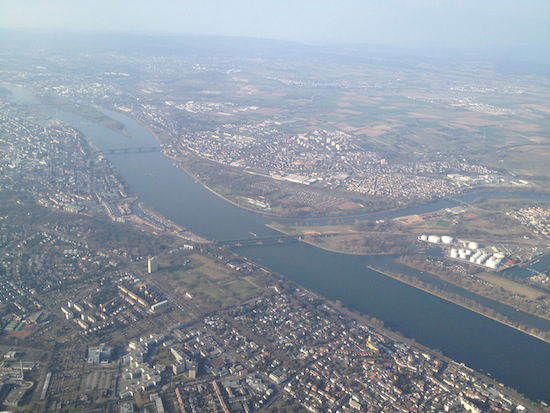 On approach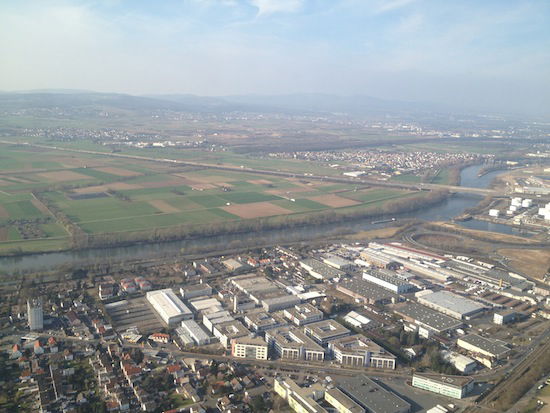 On approach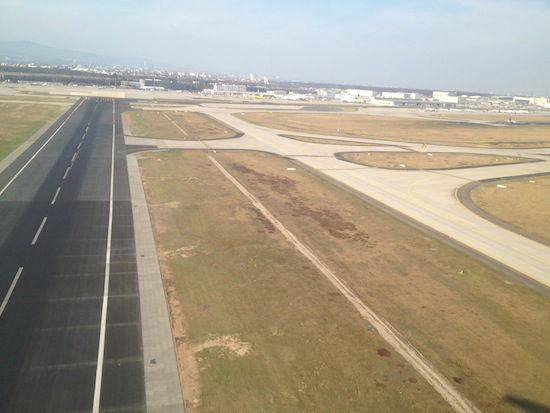 Short final
After a beautiful touch down and 20 minute taxi to the gate another lovely flight on Asiana was coming to an end.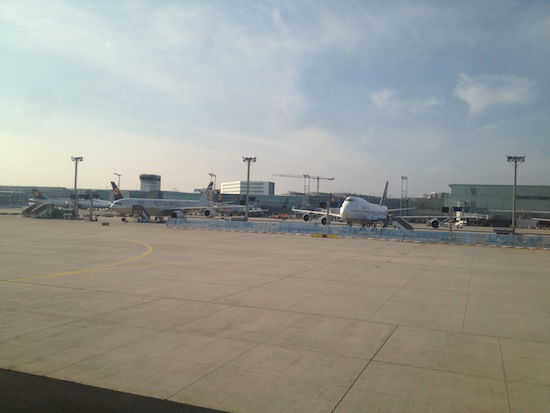 Taxiing in
It took a few minutes for the jet bridge driver to open the door, so I snapped just a few pictures of the first class cabin.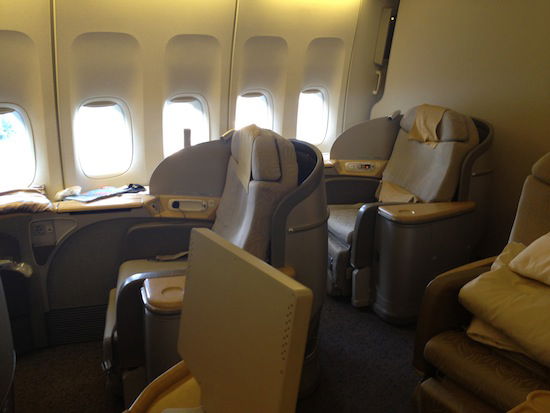 First class cabin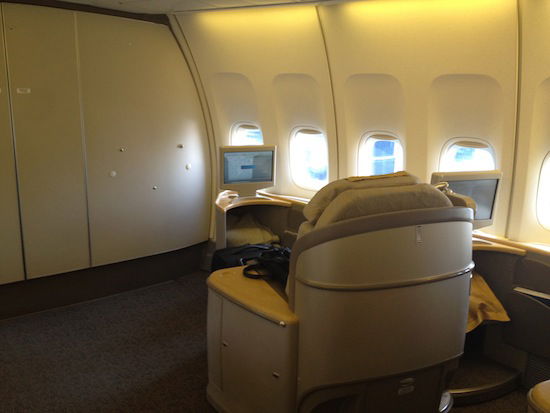 First class cabin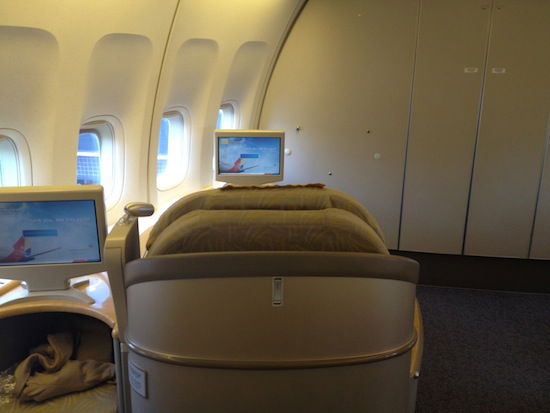 First class cabin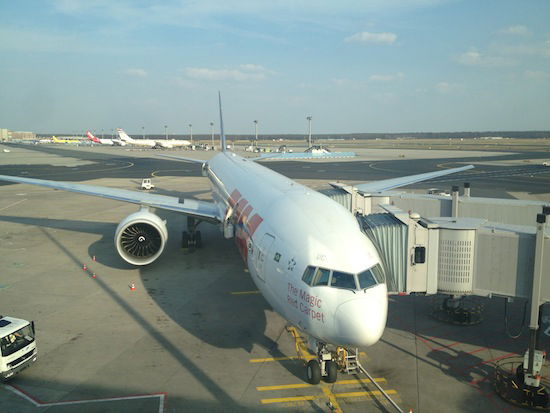 TAM 777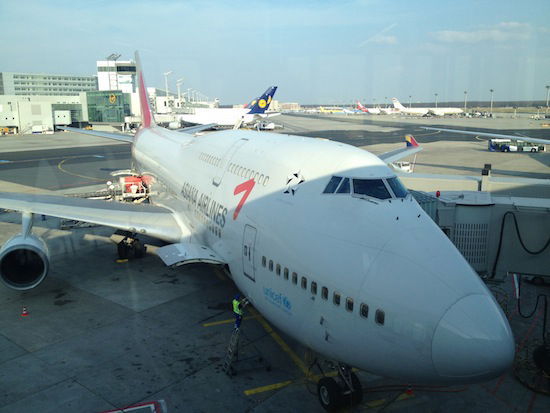 Our plane
The walk to immigration and baggage claim took about 10 minutes, at which point my friend's bag was the first off the belt, all wrapped up.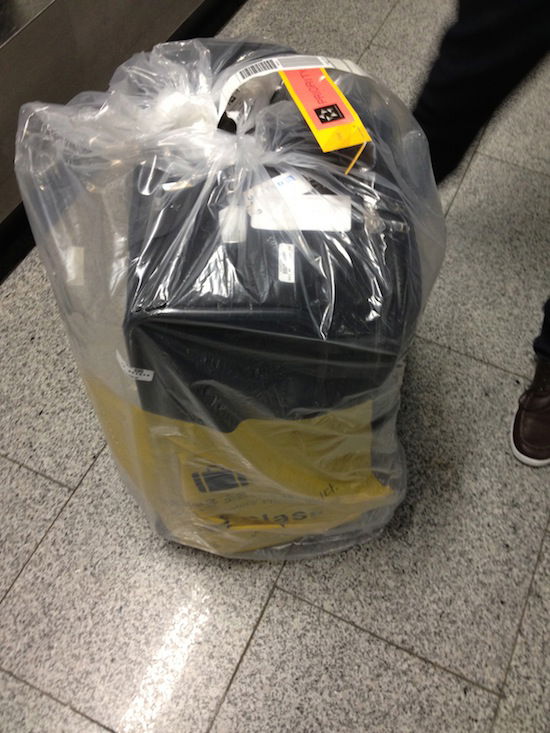 First class baggage "wrapping"
So as usual my flight on Asiana was spectacular. Like I said, they don't have the best in-flight entertainment or hard product, though the service and food are among the best in the sky.
I'll leave you guys with one question, though, because I'm torn on this one — do you consider the bag "wrapping" to be a benefit or inconvenience, given that you have to unwrap a ~60 pound bag the second it comes off the belt at your destination after a longhaul flight?