Along with the Lufthansa First Class Terminal in Frankfurt, the Thai First Class Lounge in Bangkok is one of my two favorite lounge experiences in the world. That's one of the reasons I love Thai's flight from Bangkok to Hong Kong so much. It's the shortest route on which they consistently offer a first class product, and as a first class passenger you get access to the same amenities as a longhaul first class passenger. In-flight Thai is good though not great, so I'd much rather take a short hop on Thai Airways and instead fly other airlines longhaul.
When you pull up to the airport there's a dedicated first class check-in area with bellmen that help bring your bags to check-in.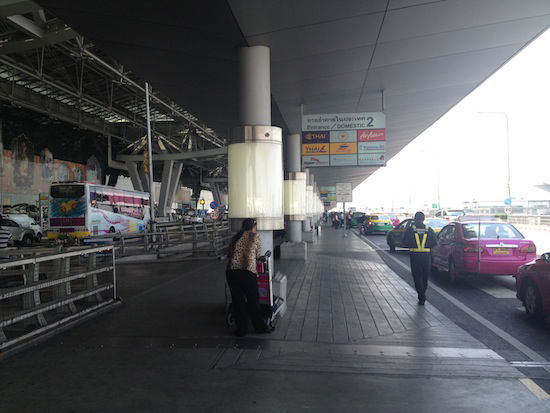 Terminal exterior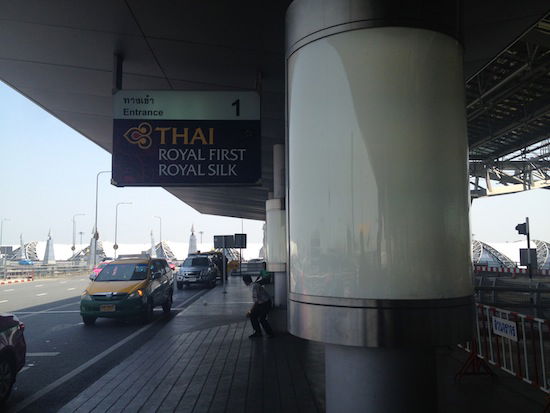 First class check-in
The first class check-in area is partitioned off from the rest of the terminal and has a seating area. While the agent processes check-in another agent comes and offers tea and cold towels.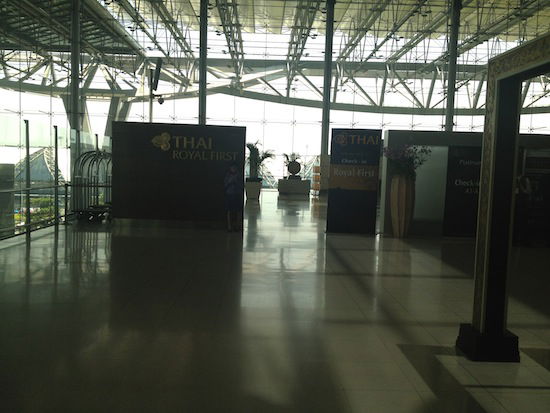 First class check-in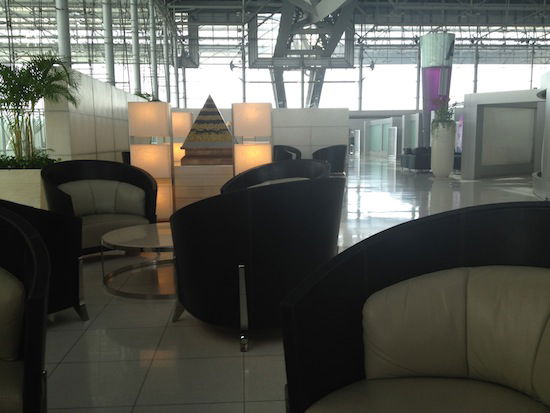 First class check-in seating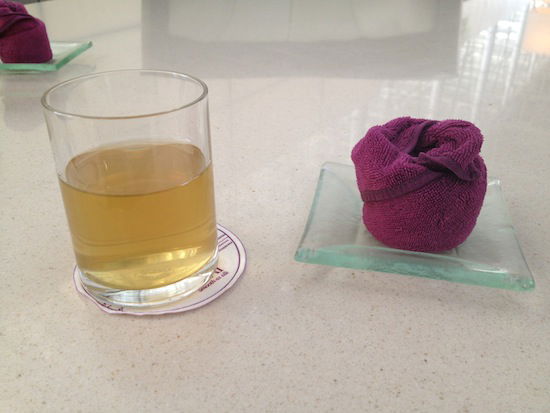 Tea and cold towels
Within a few minutes we were checked in and escorted towards immigration and security. Once through immigration and security we were driven in a golf cart to the first class lounge. This has to be one of the funniest parts of the experience, given that they literally drive you through the business class lounge to the first class lounge. The reactions are priceless, especially if you have the misfortune of being the person seated backwards.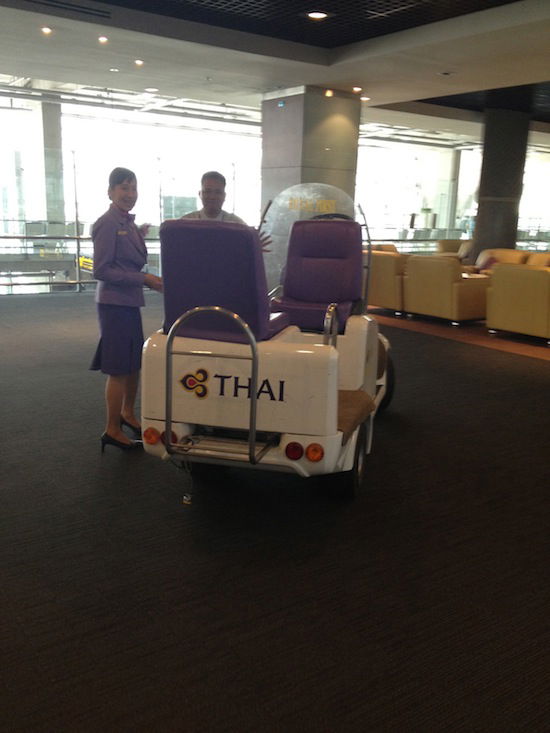 Golf cart to the lounge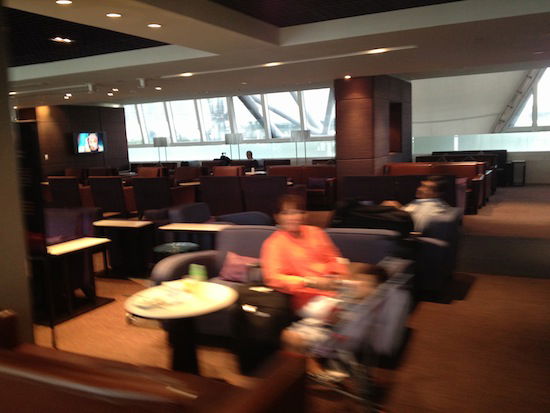 Waving to business class passengers
Once in the first class lounge we were offered a private "living room," and a few moments later a couple of waitresses showed up to offer us something to eat. I instead asked about the possibility of an hour-long massage, and she went to check on availability for me. Eventually we decided on a 1:30PM massage, which was about 30 minutes after we arrived.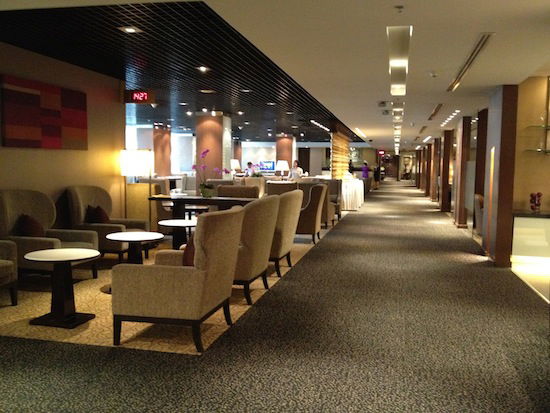 First class lounge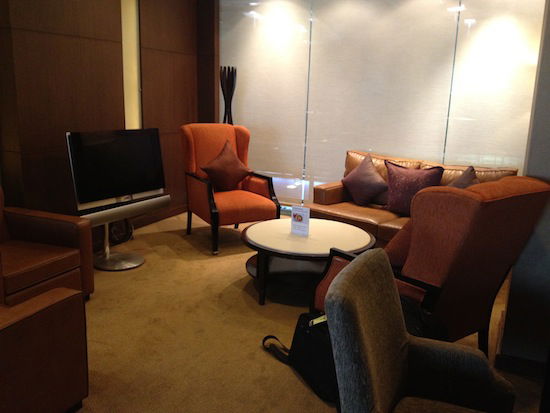 "Living room"
In the meantime I got caught up on some work. At 1:30PM I crossed over into the Thai Spa, which is right across the hallway. As a first class passenger you're entitled to an hour-long full body massage, while as a business class passenger you're entitled to a 30 minute back or foot massage.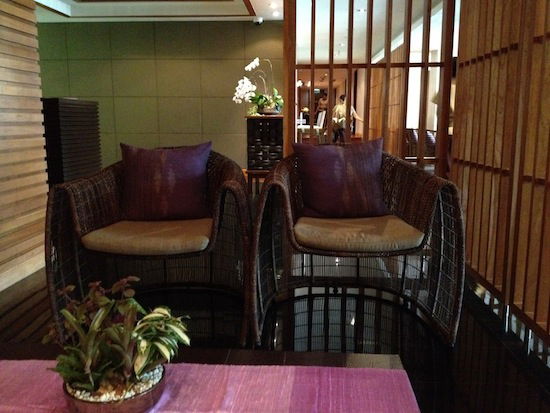 Spa reception
Once in the spa we had to fill out a form, accompanied by more tea and cold towels.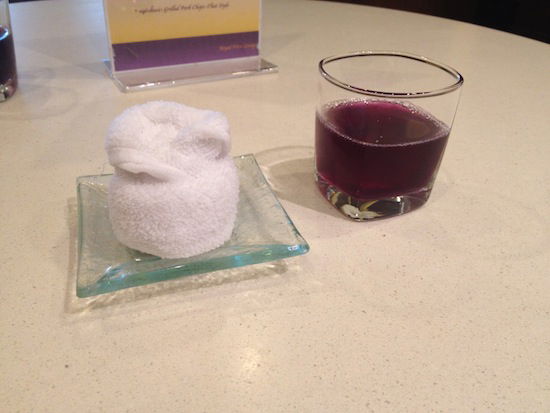 Tea and cold towel
Moments later the masseuses appeared and took us to our private rooms. The suites are decorated nicely with a separate shower and changing area, and then a tub and table.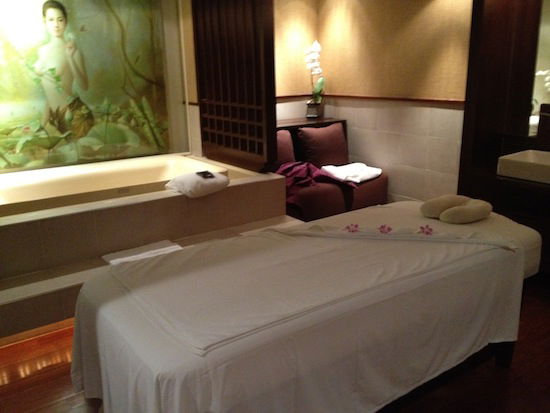 Spa room
As is customary in Asia, you change into "fishnet" underwear, which really doesn't serve much of a purpose if you ask me, since everything still hangs out.
The massage was great as usual, and once it was complete I showered and headed back to the first class lounge for lunch.
The food spread in the lounge is quite good. They have both an a la carte menu as well as a buffet, though you don't actually take anything from the buffet but rather just point to what you want, and the waitress brings it to you.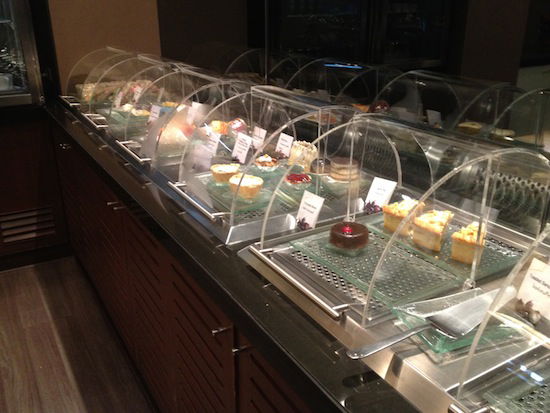 Buffet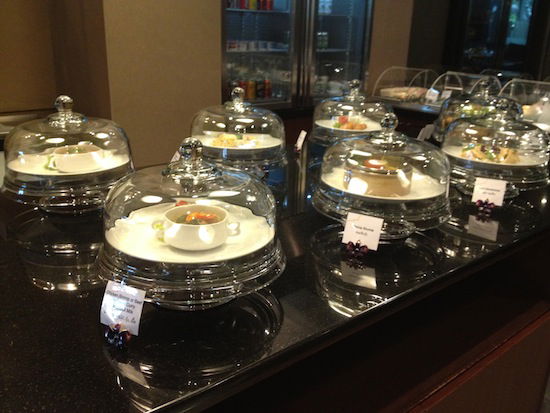 Buffet
I had some prawn cakes and also a chocolate bomb. Perhaps not the best name for a dessert in an airport, though it sure was delicious. My friend had some pad thai.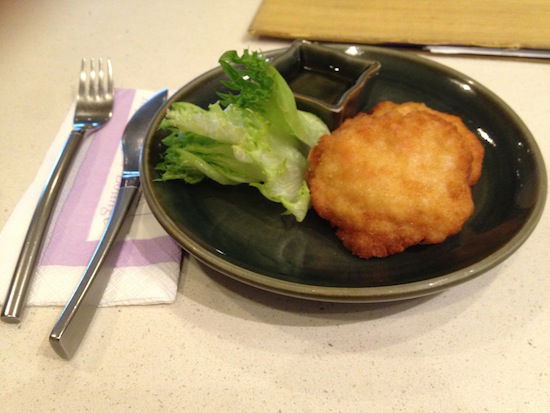 Prawn cakes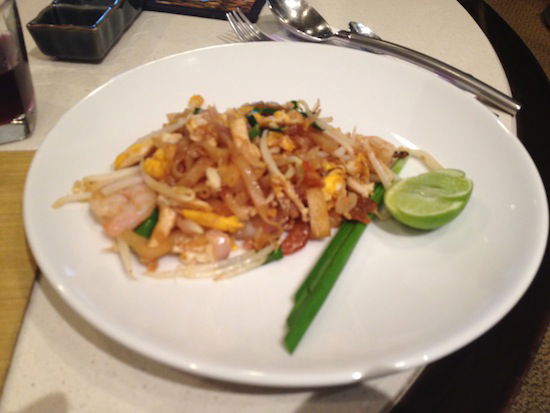 Friend's pad thai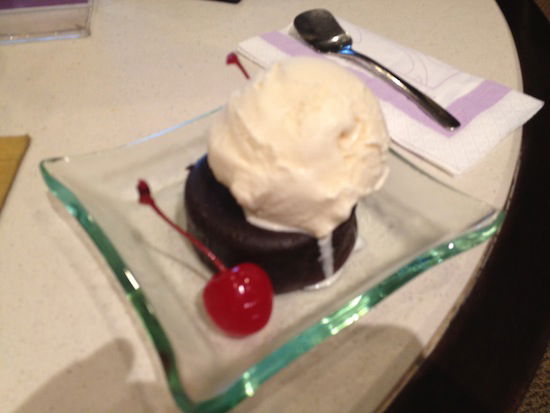 Chocolate bomb
Our departure was scheduled for 4PM, and at around 3:50PM an agent came to fetch us and drive us to our gate. As it turned out the gate was all the way at the other end of the airport, so it was about a 10-minute golf cart ride. The golf carts are designed in an interesting way in that one person sits facing forwards, while the other person faces backwards. I had the pleasure of sitting backwards, and got to watch as each pissed off person stared us down for nearly running them over. Fun stuff.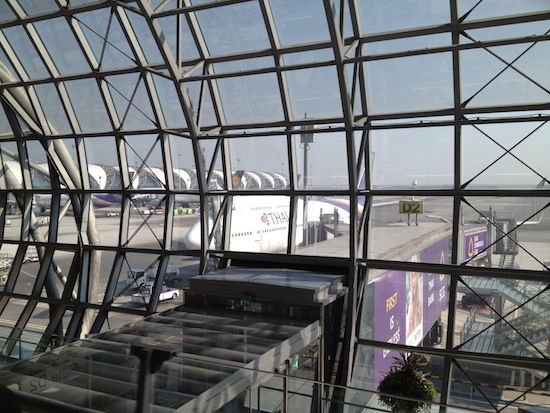 Enroute to the plane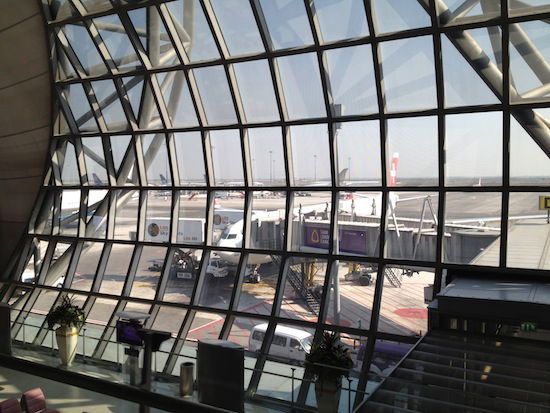 Plane from two days earlier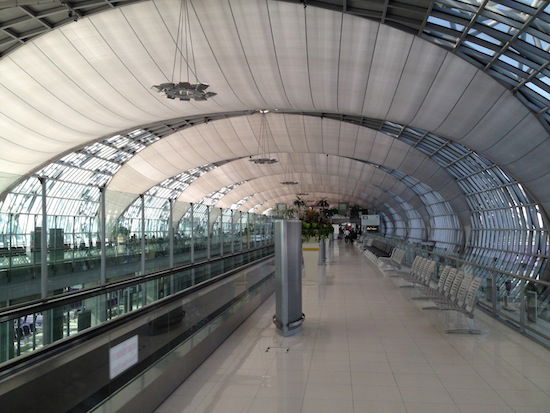 Terminal
When we arrived at our departure gate, E5, boarding was just already complete, so we were able to board immediately.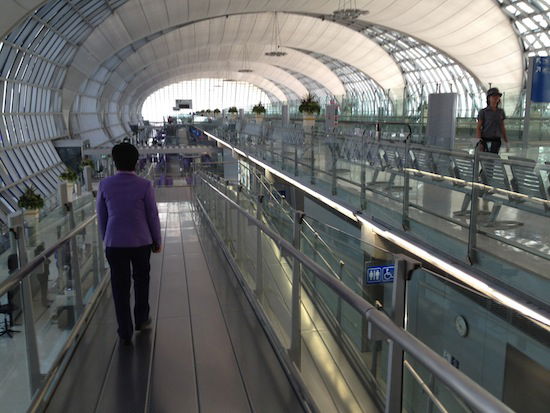 Gate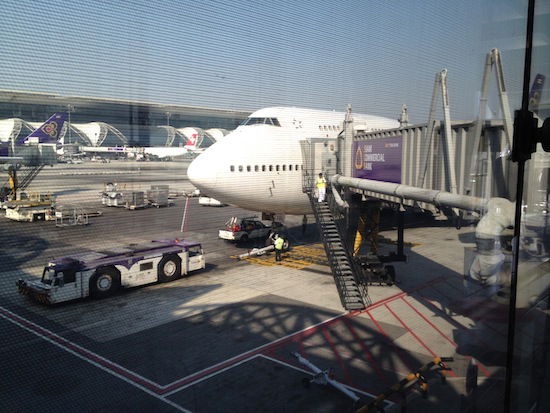 Our plane