---
Out of habit I've been staying at the InterContinental for years now when visiting Frankfurt, including during the outbound overnight of this trip. It's a fine hotel – by no means exciting, but always reasonably priced and they take good care of Royal Ambassadors.
Then last year I stayed at the Hyatt Regency Mainz. While Hyatt doesn't have a hotel in Frankfurt, they do have one in neighboring Mainz, which is where my aunt lives (which in and of itself is a reason to avoid Mainz). 😉
It's a very nice hotel if you want to be in the area, though given that we had about a 18-hour overnight I preferred to stick to Frankfurt.
So I figured it was about time to try out one of the Starwood hotels, and decided on the Westin. The Westin is actually an American Express Fine Hotels & Resorts property (though not Virtuoso), so I booked through them. The rate was 169 Euros for the night (the same as the rate being charged directly by Starwood), except the Fine Hotels & Resorts amenities were an 85 Euro food and beverage credit, complimentary breakfast for two, 4PM late check-out, and a room upgrade.
The last two amenities aren't worth anything to me given that I'm a Starwood Platinum member and get those benefits anyway. The 85 Euro food and beverage credit and restaurant breakfast are awesome, though.
We took a cab from Frankfurt Airport at around 3PM, and the ride to the hotel took about 20 minutes and cost about 25 Euros.
The exterior isn't as "grand" as the hotel's name suggests, though the lobby was quite nice, if not a bit neon-y.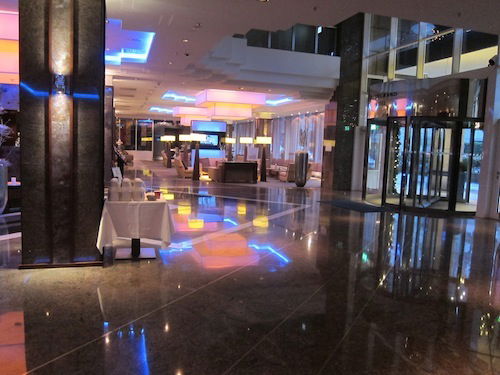 Lobby
The front desk agent was polite and advised me we had been upgraded to an executive room, though I asked about the possibility of a suite upgrade. After getting the front desk manager's approval we were assigned a junior suite without any argument. While it's frustrating that you have to ask at Starwood hotels for an upgrade (even though it should be automatic), it works out in the favor of savvy Platinum members, since it leaves more upgrades for us. What I take issue with is when you have to argue. So this experience was perfectly pleasant.
Our room was a junior suite on the 4th floor, all the way at the end of the hallway.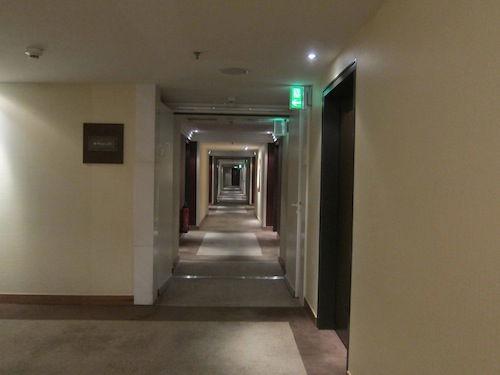 Hallway
The room featured a nice sized living room with a couch, two chairs, and flat screen TV.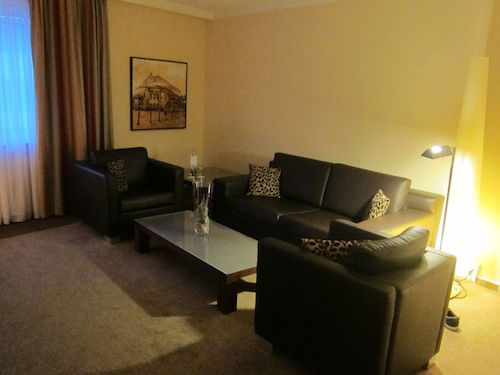 Living room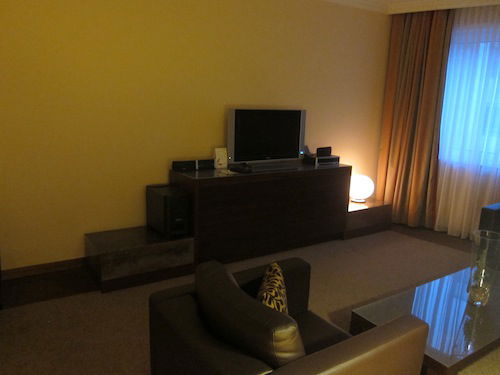 Living room
That led to a smaller room with a desk.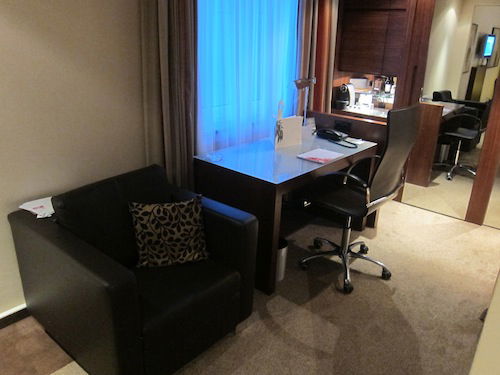 Desk
To the left was the bedroom, and to the right was the bathroom, featuring a shower tub and double sinks.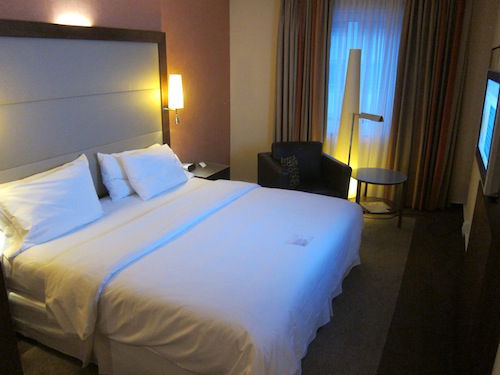 Bedroom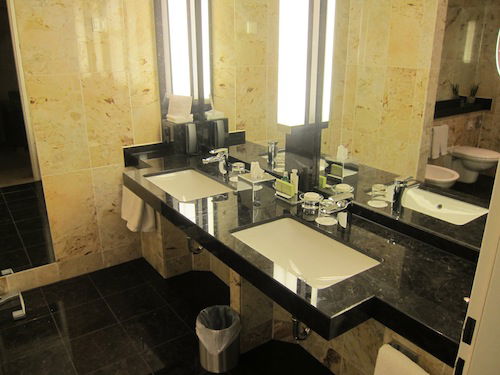 Bathroom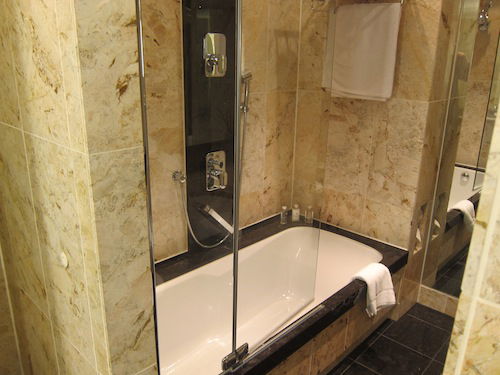 Shower
Now here's where it gets embarrassing for me as someone that stays at hotels partly for the purposes of reviewing them – I didn't visit the club lounge once, and I didn't use any part of the 85 Euro food and beverage credit.
I was so tired when I landed that I slept from 6PM to 11:30PM, at which point I went outside to see the fireworks. Then I went back to bed at about 1AM and slept till about 8AM, at which point I headed to the airport.
So yeah, the food and beverage credit and club lounge went to waste.
I will say this, though – this is definitely my go to hotel in Frankfurt now. I thought the rooms were very nicely decorated, not to mention modern, and it seems that suite upgrades are fairly easy to come by. The other Starwood property in town is the Le Meridien, and it's much more "old world" than this place.
So there's no doubt that the Westin will replace the InterContinental for me (a hotel that doesn't even have Wi-Fi or flat screen TVs), and being able to book through American Express Fine Hotels & Resorts and get an 85 Euro food and beverage credit per stay plus daily restaurant breakfast is just the icing on the cake.