---
We spent the night at the Hyatt Regency San Francisco Airport and requested late check-out. After being evicted from our room at 4PM we spent a couple of hours in the Regency Club catching up on work, before heading to the airport at around 6PM.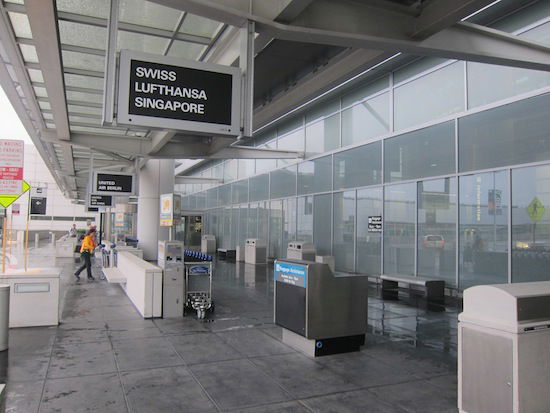 Terminal exterior
We arrived at the international terminal only to find that check-in wasn't opening until 6:45PM.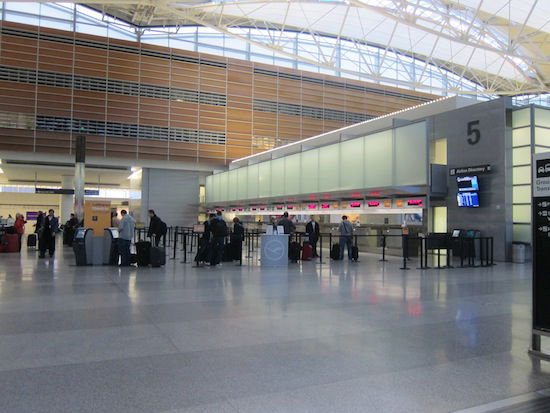 Lufthansa check-in
Lufthansa is interesting in that they let Star Gold members check-in with first class, while business class has a separate queue. I'll never quite understand that, since I would think someone on a $6,000 business class ticket would be more valuable to Lufthansa than a US Airways Gold flying in coach. Or maybe I have it wrong all along and they are prioritizing the business class queue, given that just as many US Airways flyers are in first class as in coach. 😉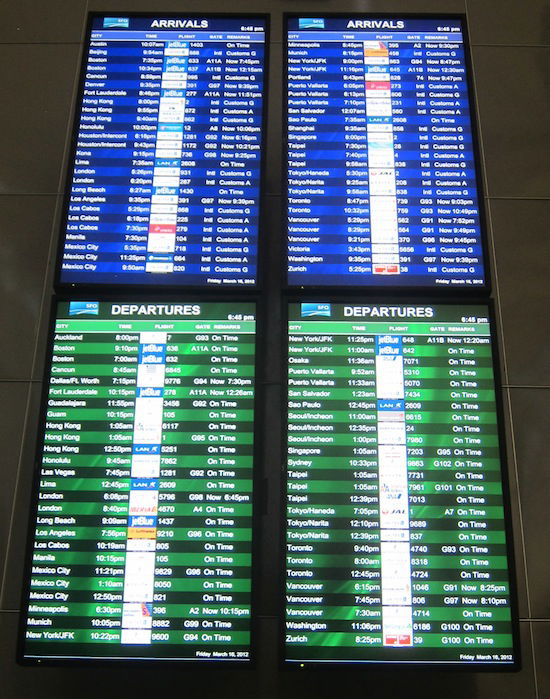 Departures board
Sure enough at 6:45PM check-in opened. They separated the first class line into those flying first class and those that were Star Gold members, which had to be about a dozen people. It was rather embarrassing how they did it, since we were probably last in the premium queue, though the only ones traveling in first class, so they called us to the front.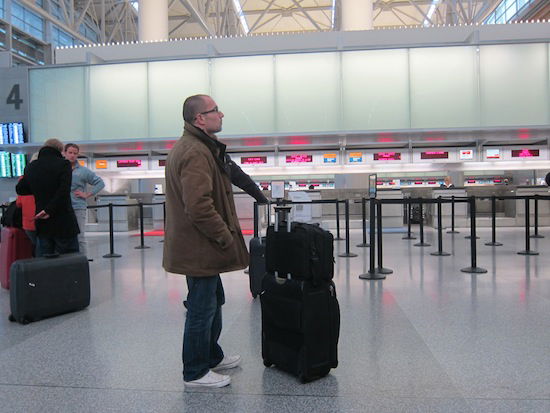 Premium check-in
Check-in was efficient and we were informed we would be escorted from the lounge to the gate towards the end of the boarding process. They explained that first class boards last since there's otherwise quite a bit of traffic through the cabin.
We headed for security where the general queue was very long, though the premium one had only about five people in it, so we were through in no time (in theory). Unfortunately they were playing the "game" whereby they tell you to say your name when they check your ID.
Perhaps I'm a bit stubborn or rely too much on principle, but I really object to this for a few reasons. First, at a certain point we all become "sheeple" and have to wonder about the logic behind the rules. Not that it's necessarily related, but I don't think you should even need an ID to get through security. After all, as long as you're properly screened, who cares who's in the "secure" area? But more importantly, at a certain point the TSA's orders just become absurd. If they tell me that they either need to touch my private parts or see a picture of my them in order to fly, would I comply? Oh wait, they already do that… nevermind.
Anyway, after talking to a few people with shiny badges and in suits I was through more-or-less unharmed.
The international terminals at SFO is one of my favorites, though I had some work to catch up on so headed straight for the United Global First Lounge, which is located near gate 100 towards the end of the concourse.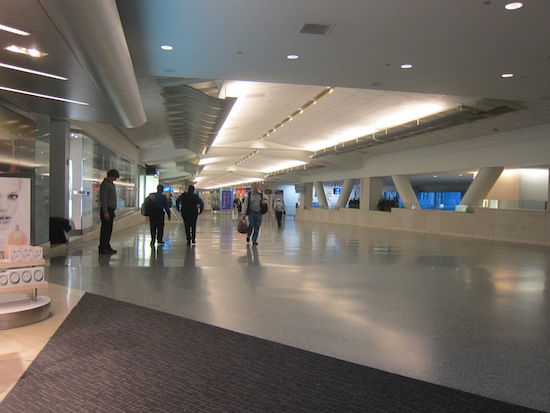 International terminal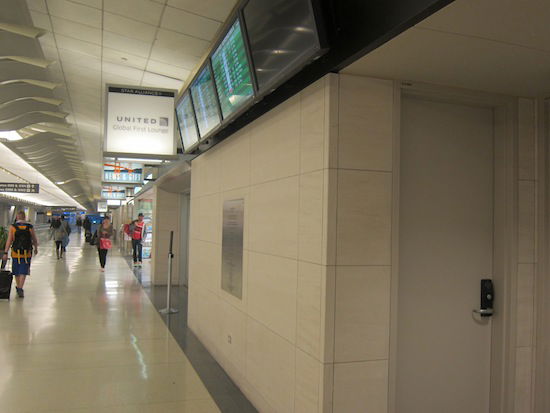 United Global First lounge
The ladies at the entrance were rather rude (some things never change), though I do find the Global First Lounge at SFO to be one of the nicer lounges in the US. It's very quiet, which is what's most important to me in a lounge, since I just want a place to get work done.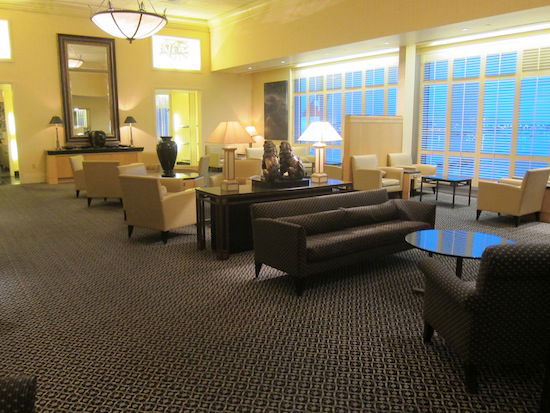 United Global First lounge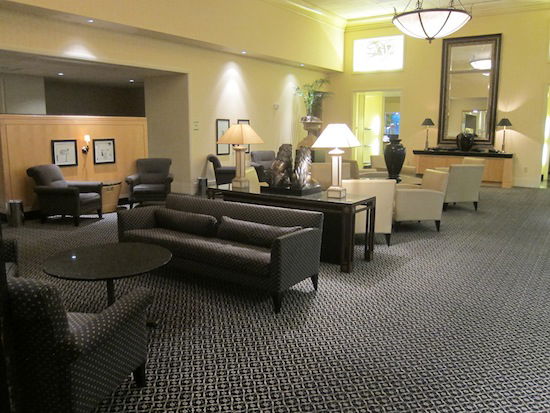 United Global First lounge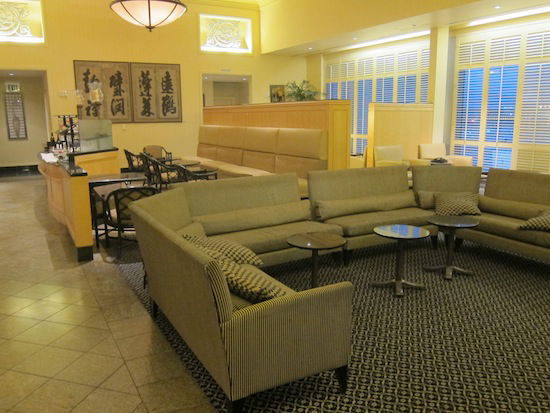 United Global First lounge
The buffet spread was decent, consisting of all kinds of snacks/appetizers. It included nuts, cheese, finger sandwiches, vegetables, cheesecake, etc., as well as a self serve bar.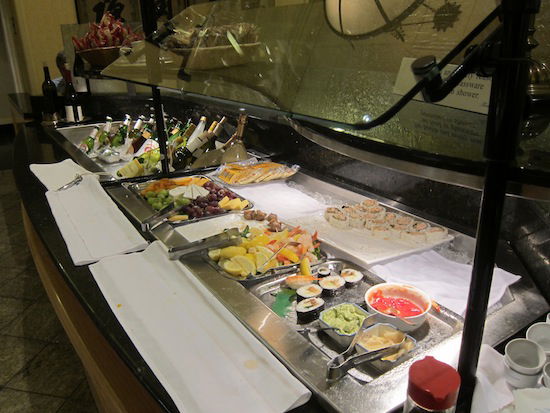 Spread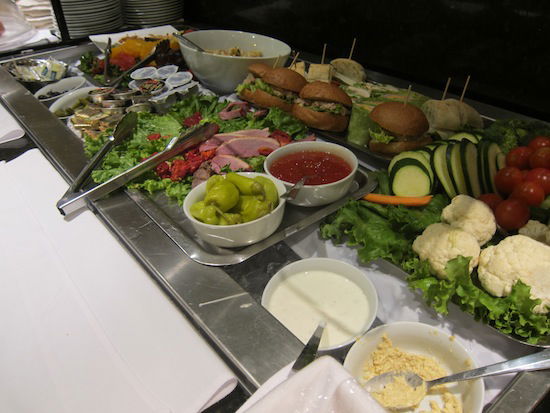 Spread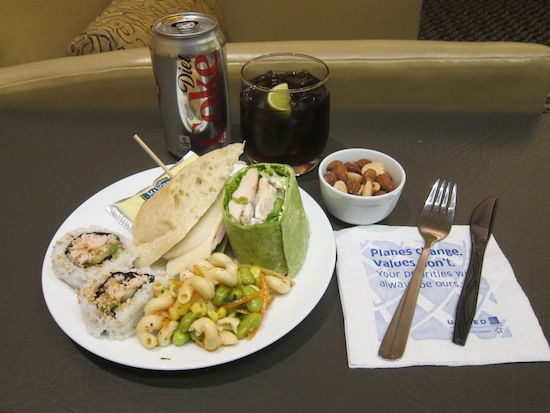 Dinner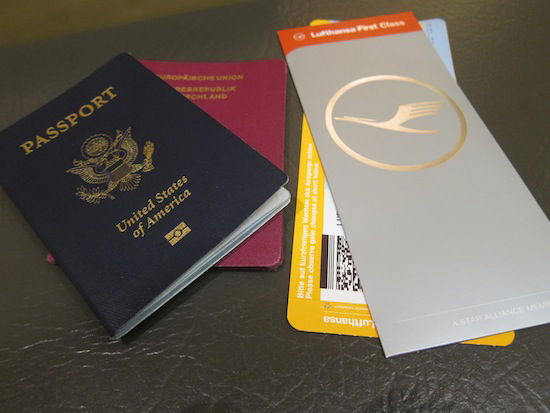 Ready to go!
At around 9:45PM we made the decision to go to the gate despite the Lufthansa escort not having arrived yet. As soon as we saw the queue (and 350 people pushing and shoving each other) at the gate we headed straight back to the Global First lounge.
At around 10PM the Lufthansa escort paged the Lufthansa passengers in the lounge. We headed upstairs, along with a couple of other people, and then the Lufthansa escort asked the United agent if she knew if anyone else was still in the lounge. The United agent rudely looked at her and said "how am I supposed to know?" She then asked if she could page for Lufthansa passengers one more time, and she said "you already paged, not again." Wow…
Anyway, we were walked to the gate by the very nice Lufthansa agent, who brought us all the way to the door of the plane. There were some rather pissed off looking business class passengers since they stopped business class boarding to let the five of us aboard.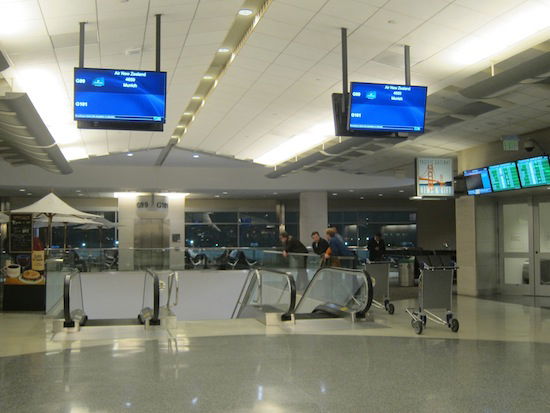 Departure gate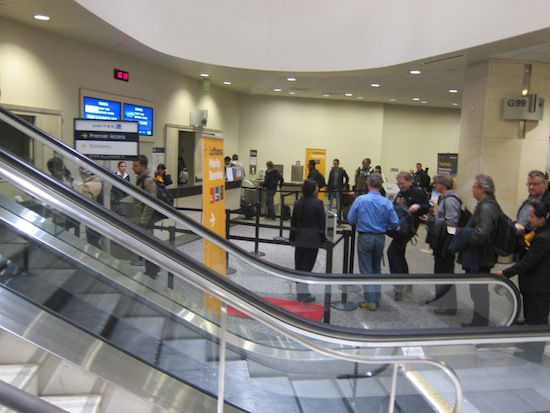 Boarding
While any flight in Lufthansa first class is a treat, I was especially looking forward to this one. I've always wanted to take one of their late night departures out of San Francisco or Los Angeles, since it's the perfect flight, in my opinion – about 10 hours and it's a late night departure which makes it great for sleeping.