---
We made it to the airport around 3PM and headed straight to first class check-in, which is partitioned off from the rest of the terminal. The agent had a good sense of humor, and when he saw we were going to Bangkok he said "oh, is it time for Hangover 3 already?"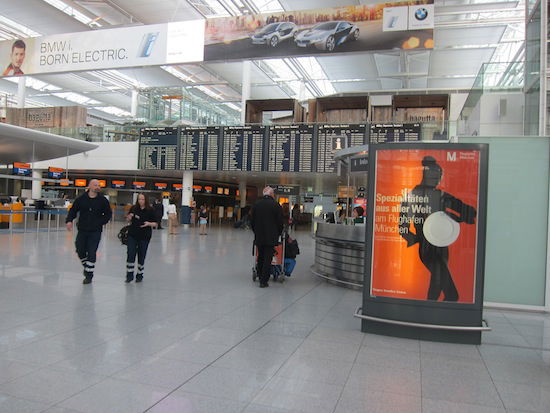 Terminal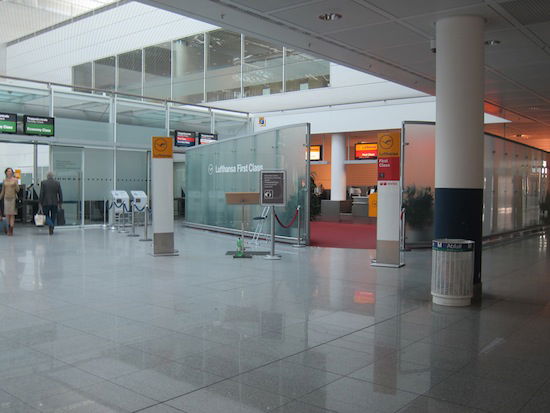 First class check-in
In no time we had our boarding passes, and proceeded to the dedicated premium security line located right next to the first class check-in area. We were through in less than five minutes, and took the three-minute walk to the First Class Lounge.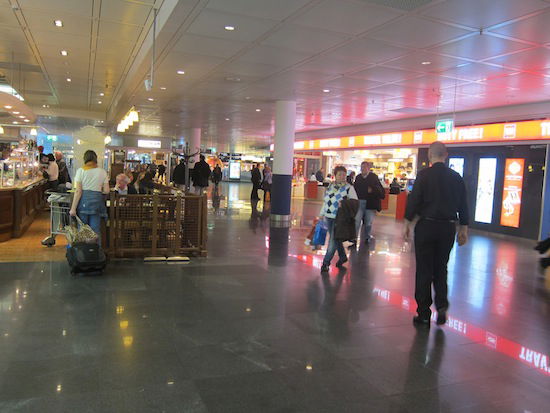 Terminal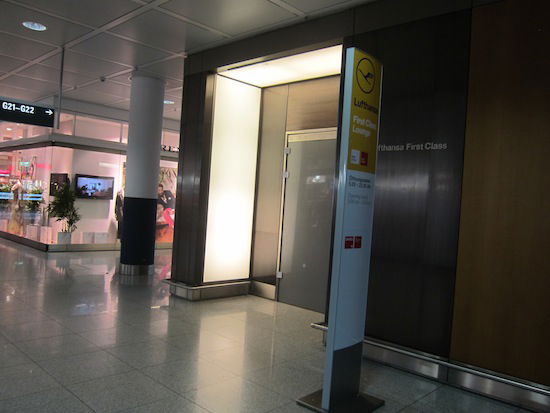 FCL entrance
Unfortunately our flight was leaving from a gate today, meaning we had to walk there (as opposed to the remote stands, where they'll drive you to the plane).
For once the FCL was fairly empty, which is a rarity given how small it is. The lounge is designed almost the same as the First Class Terminal in Frankfurt, with lounging areas, a restaurant area, a bar, a cigar room, and shower suites.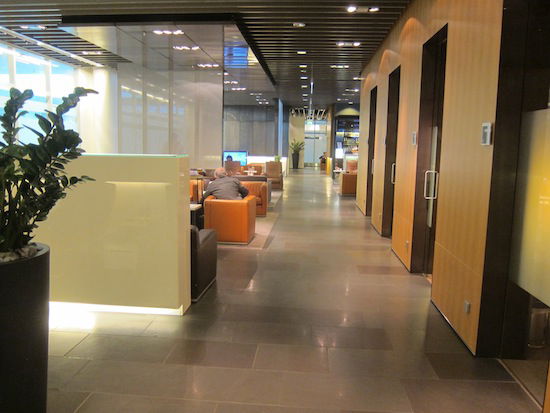 FCL
I checked out the buffet area though in the end only grabbed a pretzel, since I knew there would be lots more food that evening.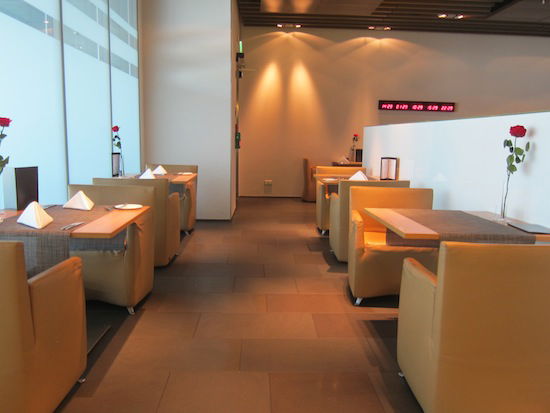 FCL restaurant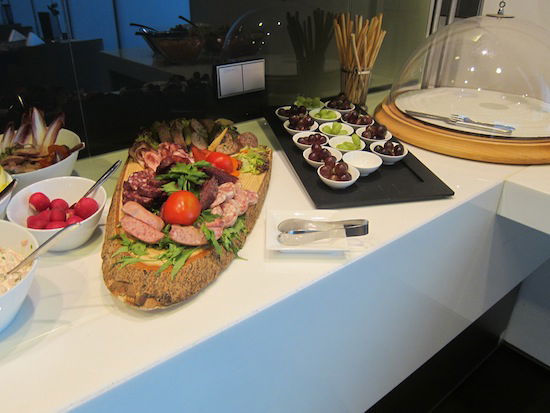 Buffet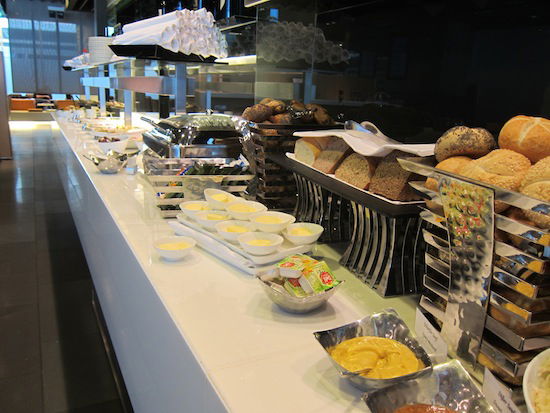 Buffet
I worked for about an hour, and at 4:30PM we headed to our departure gate, G44. Our flight was going to be operated by an Avro RJ100, which is one adorable little plane.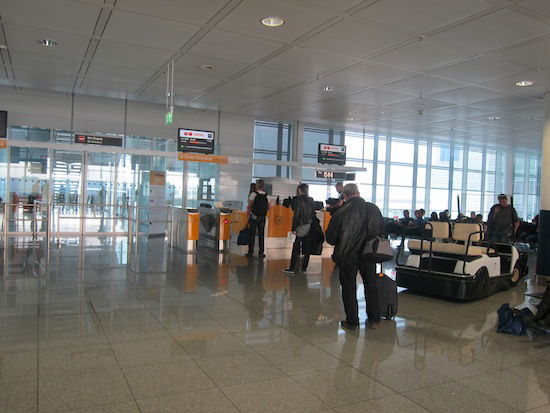 Departure gate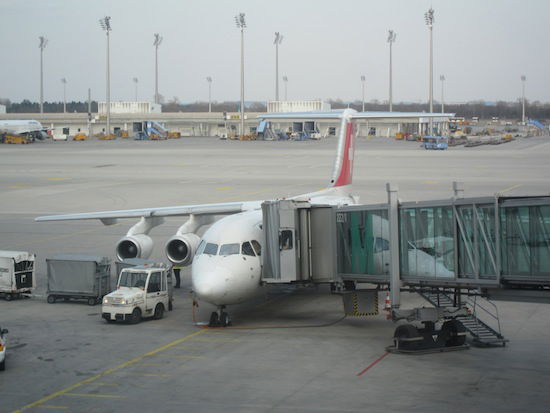 Mini-jet
Business class boarding was called almost immediately, so we headed aboard.
Swiss 1109
Munich (MUC) – Zurich (ZRH)
Sunday, March 18
Depart: 5:05PM
Arrive: 6:00PM
Duration: 55min
Aircraft: Avro 100
Seat: 4D (Business Class)
For those of you that haven't flown intra-Europe business class, it's simply coach with a blocked middle seat and better service. They do this in order to allow flexibility for revenue/inventory management, given that you can change the size of the business class cabin from flight-to-flight based on demand.
The RJ100 is unique in that it's in a 2-3 configuration, so if you're seated on the "2" side you don't get a blocked middle. As a result we selected the "3" side, so we would have an empty middle seat.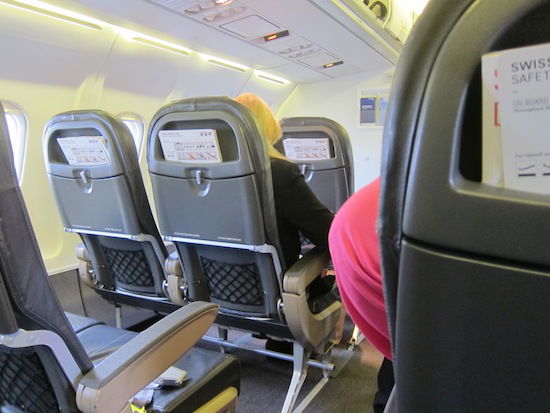 Business class
I found the seats to be a bit more comfortable than Lufthansa's, and certainly nothing to complain about on a 30-minute flight.
Within a few minutes of settling in the purser offered us a bottle of water and refreshing towel.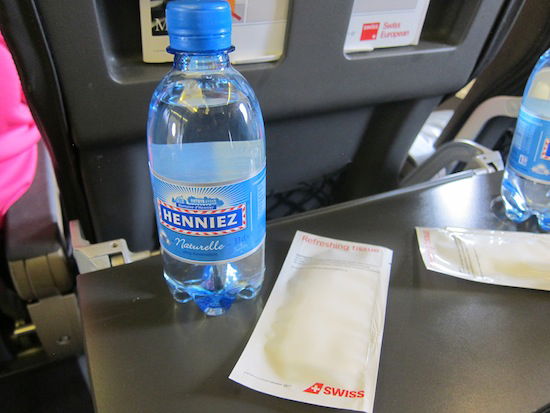 Water and towel
As our departure time rolled around the captain came on the PA to advise us of our flight time of 30 minutes, anticipating an on-time arrival in Zurich.
Sure enough we had a quick taxi to the runway, and within moments were airborne. The RJ100 is one heck of a powerful plane.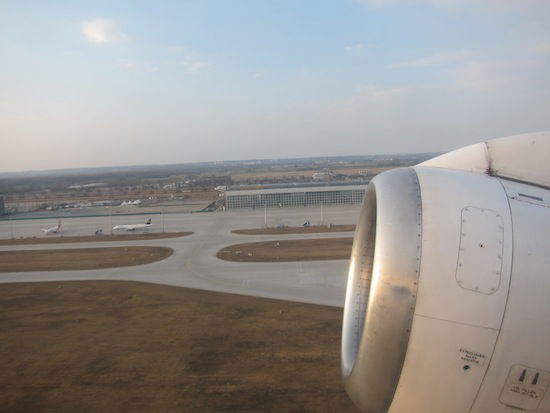 Shortly after takeoff
There was some chop on the way out, though within about five minutes the seatbelt sign was turned off and service commenced.
Unlike Lufthansa's intra-Europe catering, I found Swiss' to be excellent. The snack was a cold plate with chicken pesto, tomato and mozzarella, zucchini, two hot rolls, and some sort of custard dessert. I accompanied it with a Diet Coke. You really can't beat the quality (or quantity, for that matter) of food on such a short flight.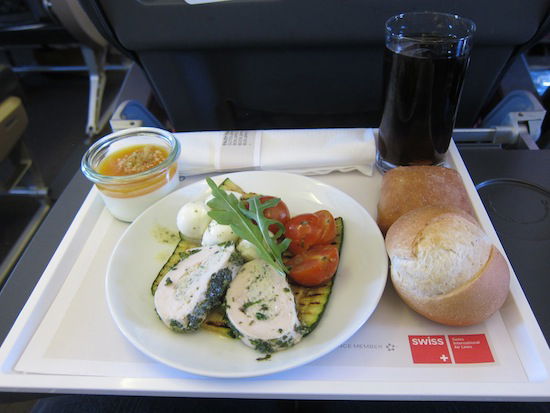 Snack
Just about as soon as we leveled off we began our descent, and about 10 minutes before landing the seatbelt sign was turned back on.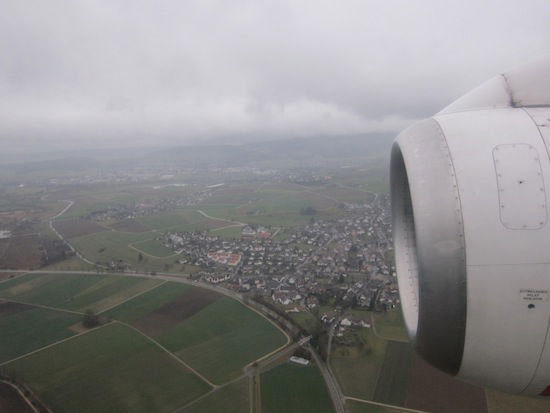 On descent
Unfortunately we were arriving at a remote stand, though this turned out to be a good thing. Swiss has business class only buses, which leave almost immediately and are very comfortable, not to mention they drop you off in the area of the terminal where the first class lounge is. So less than five minutes after the aircraft door opened we were already in the first class lounge – can't beat that!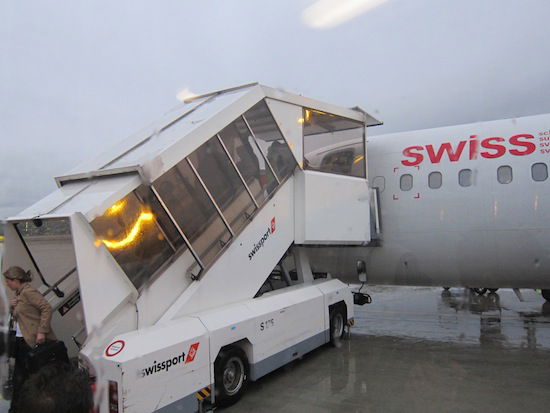 Our plane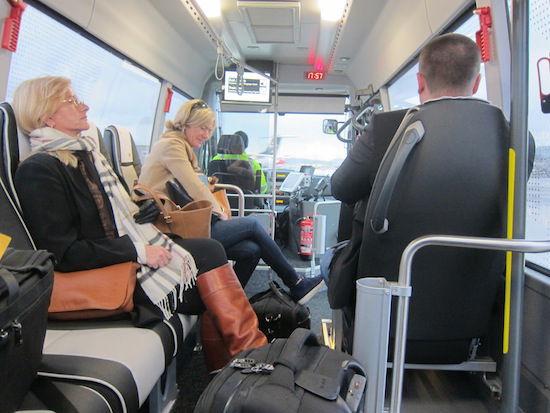 Business class bus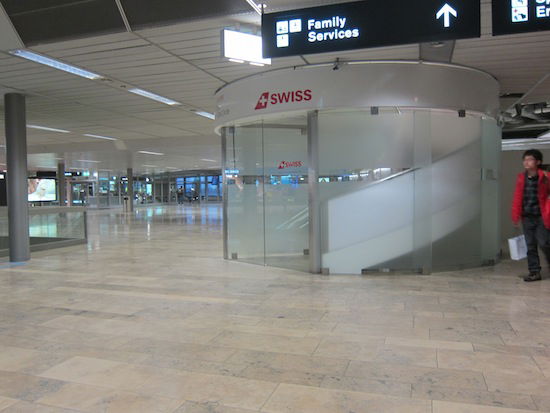 First class lounge entrance
And this is the part of the journey where it's supposed to get more fun…