---
Le Meridien is just a five minute walk from the train station, so from the airport to the hotel took about 50 minutes by train.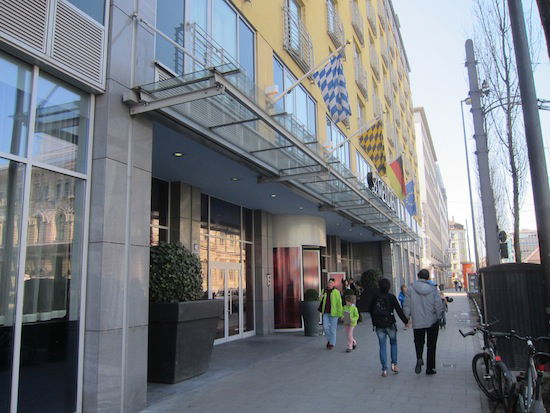 Hotel exterior
Once inside we proceeded to check-in, which was located towards the right. The agent was very friendly and I inquired about the possibility of a suite upgrade, though after checking she informed me they only had a king executive room available for an upgrade. As it turned out the executive room was really nice, so I was perfectly happy with that. She offered us a city map and asked which Platinum amenity we wanted. I was quite excited to finally be able to try Starwood's new breakfast amenity that kicked in on March 1, so we went with that. For the record we were staying on cash and points, so the rate was 4,800 points plus $90USD.
The lobby was pretty typical of Le Meridien hotels, with lots of neon lights and a bit of a funky design.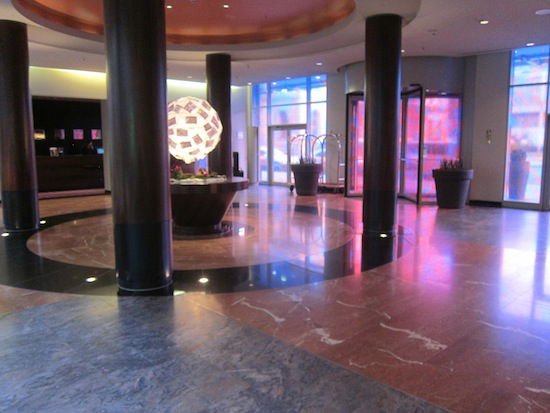 Lobby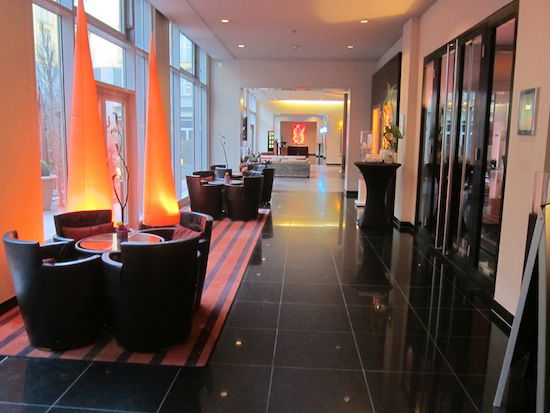 Lobby
We were assigned a room on the 6th floor right next to the elevator.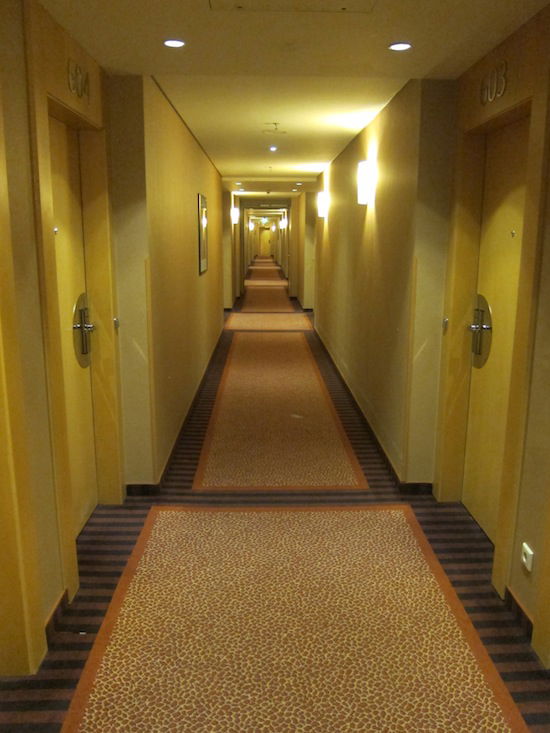 Hallway
The room was pretty big, especially by European standards, and had lots of "open" space. It featured a rather firm king bed facing a flat screen TV and desk.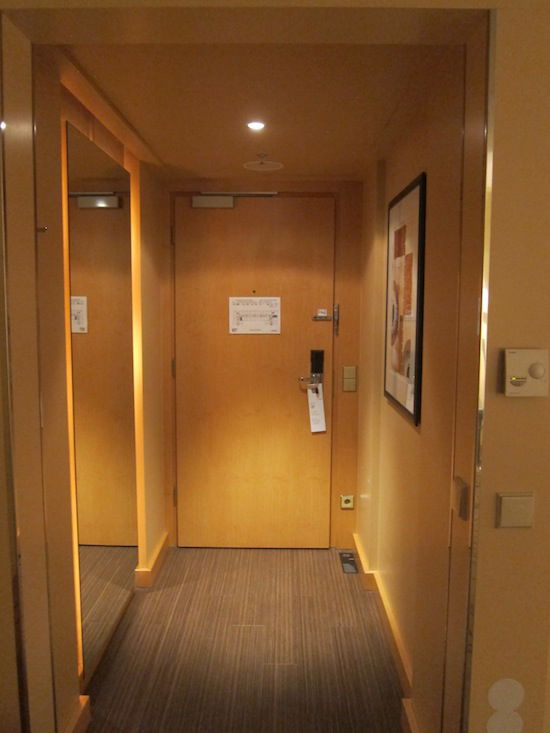 Entrance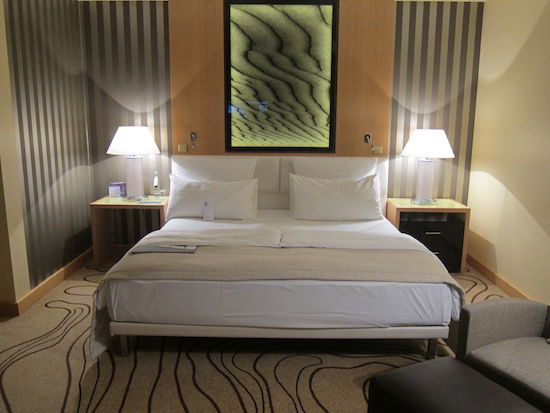 Bed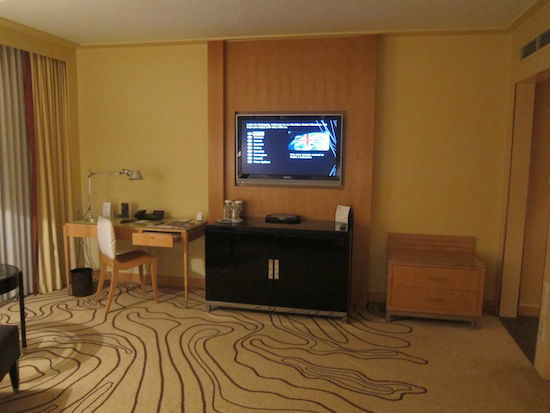 Desk and TV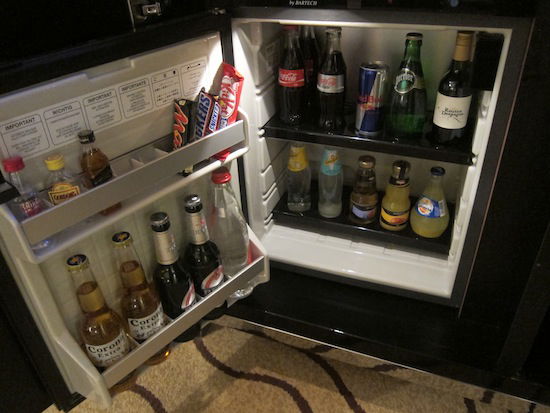 Minibar
The room had a window overlooking the courtyard, which worked out well since it meant there was virtually no noise coming from the outside.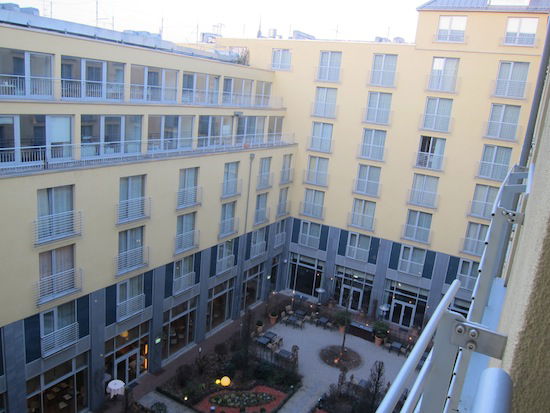 Courtyard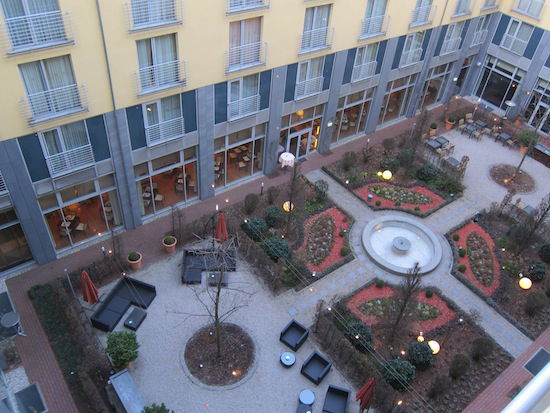 Courtyard
The bathroom featured both a tub and walk in shower, as well as a toilet and sink.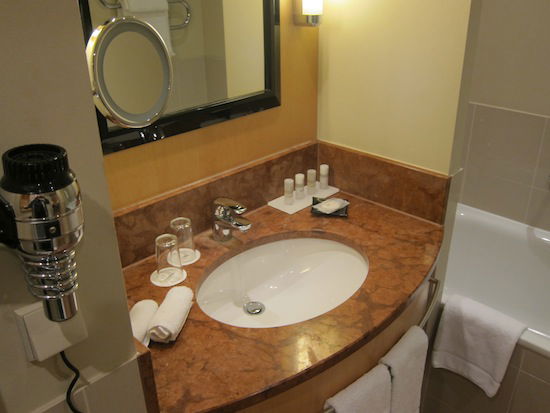 Sink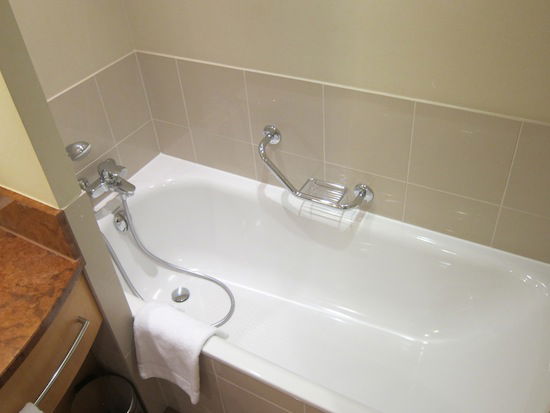 Tub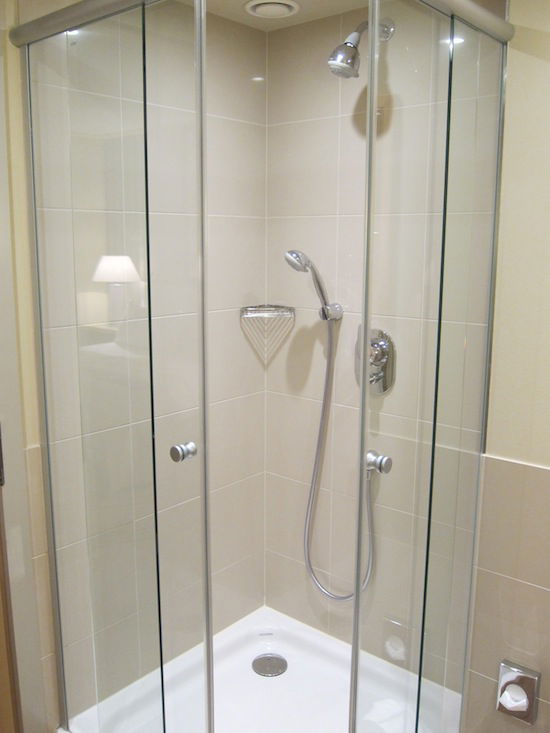 Shower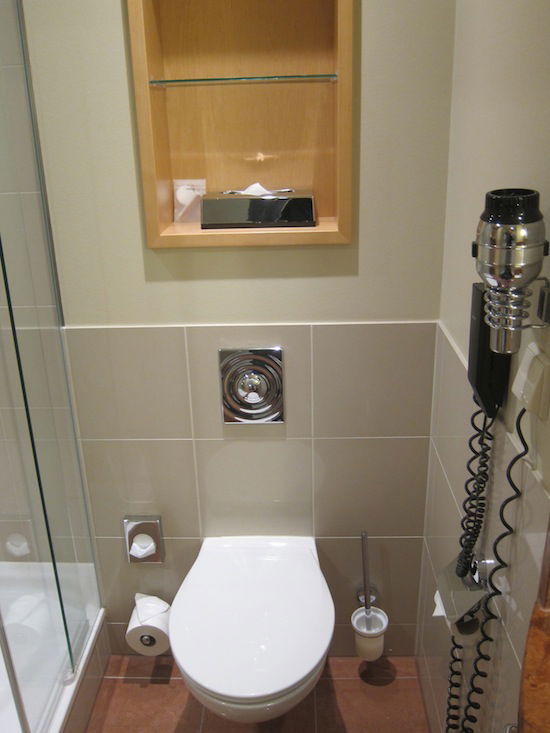 Toilet
My one major complaint about the hotel is that they only have wired internet in rooms. That's totally unacceptable in 2012, since it means you can only connect one device, not to mention have to sit at a desk. The only upside was that the internet was pretty fast.
We headed to bed fairly early, despite it being St. Patrick's Day, and woke up early as well. At around 7AM we headed down to the restaurant for breakfast, where we found out we'd have access to the full buffet as Starwood Platinum members.
The spread was spectacular, consisting of just about everything imaginable. Most importantly, they had pretzels. Mmm, pretzels. Service was also attentive, with plates constantly be cleared and drink refills being offered.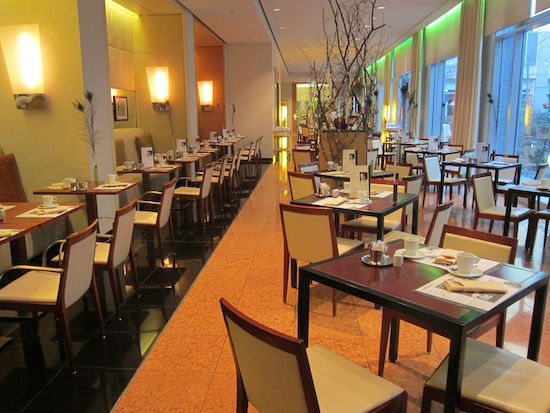 Restaurant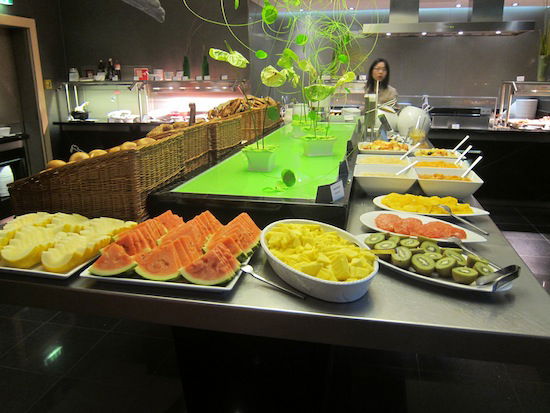 Breakfast buffet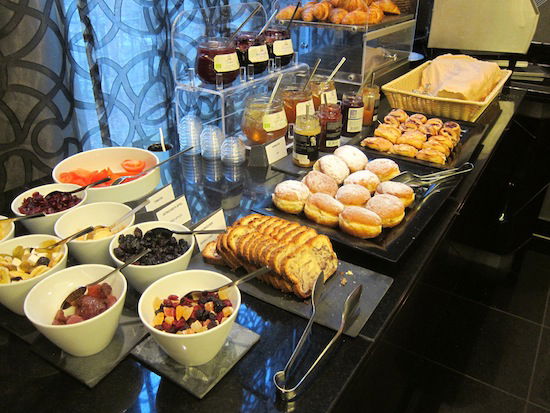 Breakfast buffet

Breakfast buffet
The hotel also featured a fairly nice gym on the ground floor, which I used once during our stay.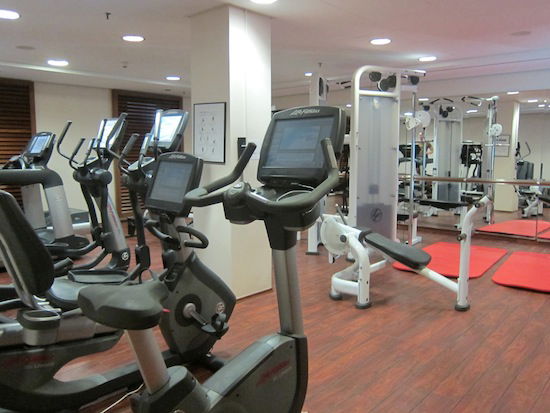 Gym
We only had a few hours to walk around Munich, and fortunately the weather was perfect. It was sunny and maybe 70 degrees, so what more could you ask for? We headed to the pedestrian zone in the city center (one of the nicest anywhere, in my opinion) where we sat down for some ice coffee.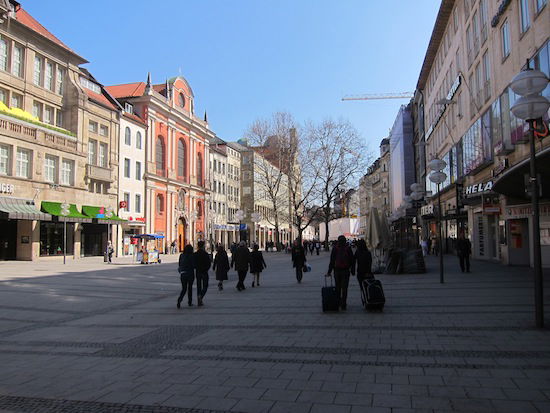 City center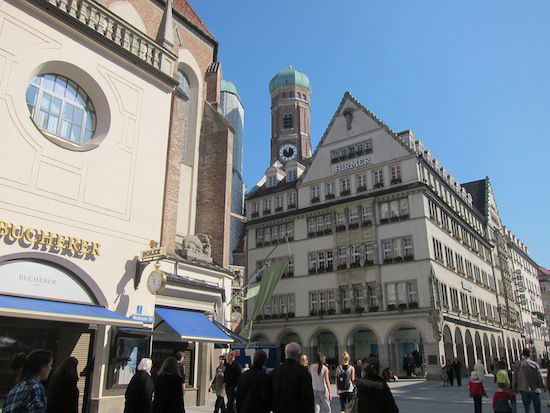 City center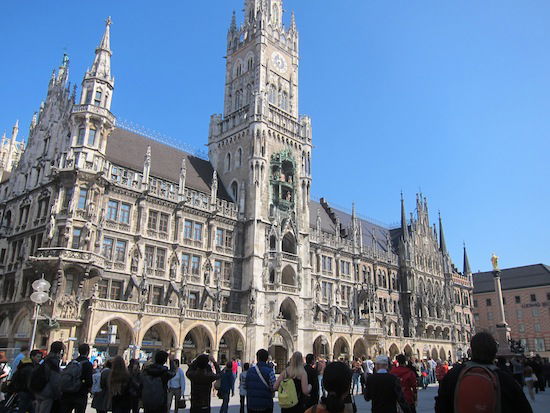 Rathaus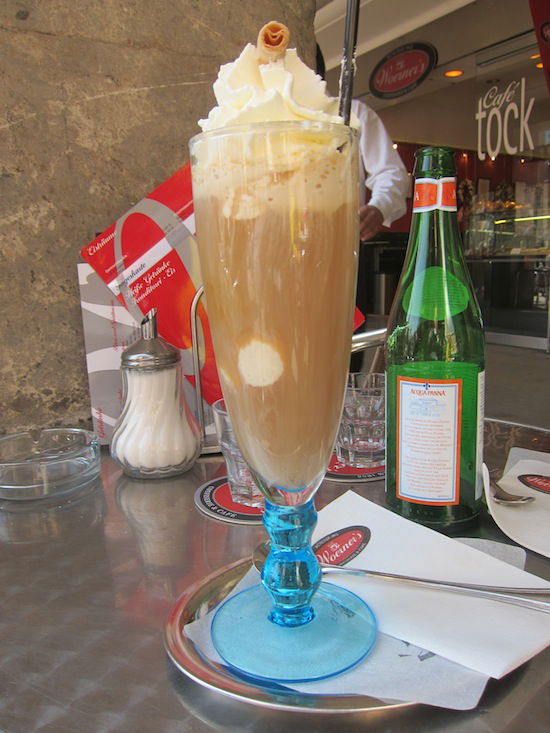 Ice coffee
By around 2PM we headed back to the train station to get to the airport by 3PM for our flight to Bangkok.
On the whole I'd say Le Meridien is a great value with a good location. Furthermore, as a Platinum member I felt their breakfast benefit was very generous. My only major complaint is that they don't have wireless internet, which I hope they'll change soon. But I'd return in a heartbeat and recommend this place.