---
Thai 606
Bangkok (BKK) – Hong Kong (HKG)
Wednesday, March 21
Depart: 4:00PM
Arrive: 7:45PM
Duration: 2hr45min
Aircraft: Boeing 747-400
Seat: 1A (First Class)
Once aboard we were welcomed by the senior but friendly crew and directed to our seats in the nose, 1A & 1K. Thai has a fairly spacious first class cabin with only 10 seats in the nose, so even though we were seated in the nose where the fuselage narrows, we really were pretty far apart.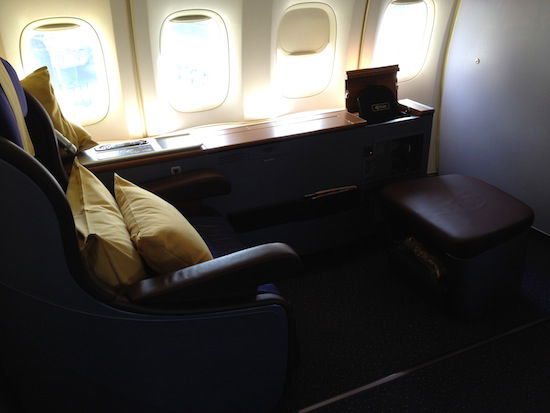 Seat 1A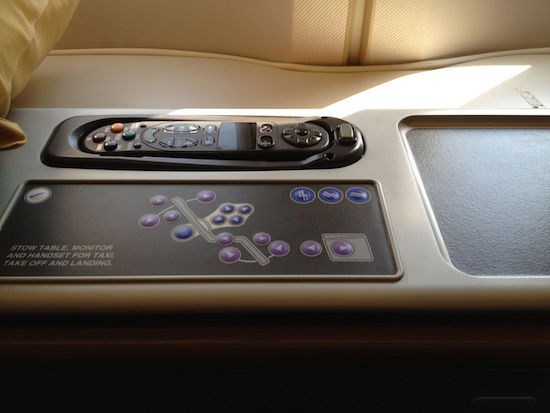 Seat and entertainment controls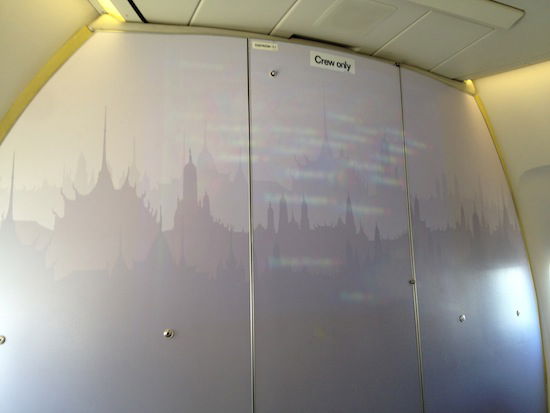 Bulkhead from 1A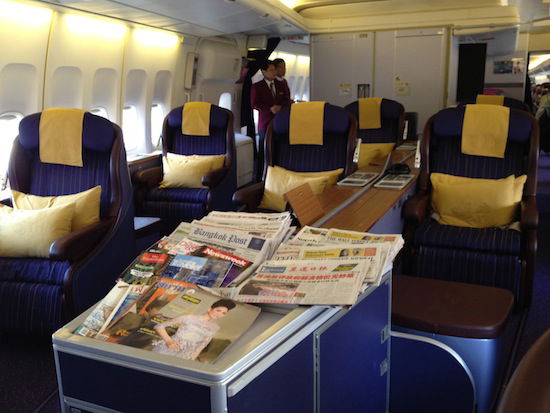 First class cabin
Within minutes of settling in we were offered hot towels and pre-departure beverages. I ordered a glass of champagne, which was poured at my seat. Shortly thereafter lunch menus along with the wine list were distributed.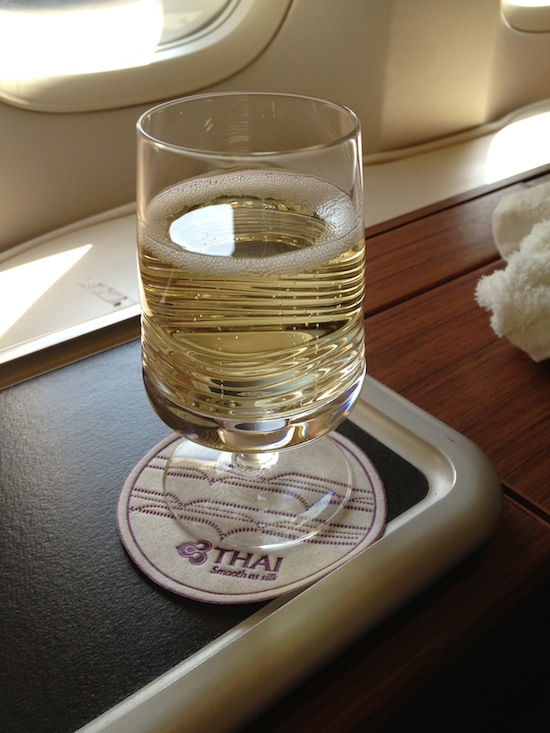 Champagne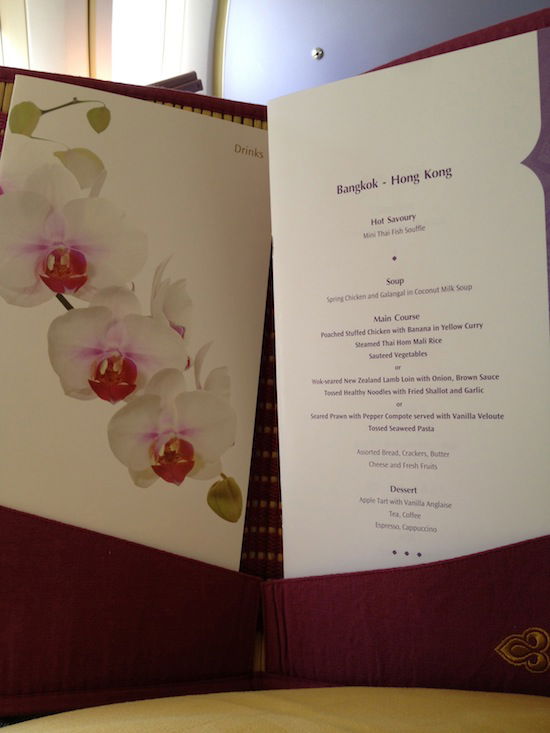 Dinner menu
At around 4:10PM the captain came on the PA to advise us we were waiting on one last passenger, and jokingly said we should give him a hand when he gets aboard so we can get underway. Sure enough at around 4:15PM the last passenger showed up, and he was seated in first class as well.
Around this time the guy seated in 2K came up to us and asked if we were FlyerTalkers. I guess the fact that we were taking pictures at least narrowed it down quite a bit. Too funny, since he was also on an Aeroplan round the world with his wife and son.
After pushback we had a really quick taxi to the runway. Once there we had one of the quickest take off rolls I've ever experienced. I guess that's what you get with an empty 747 on a two-hour flight.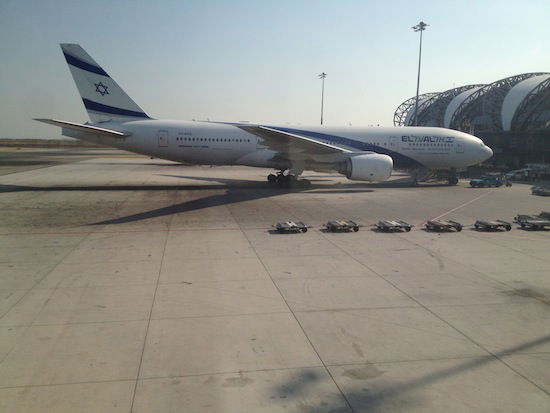 El Al plane parked next to us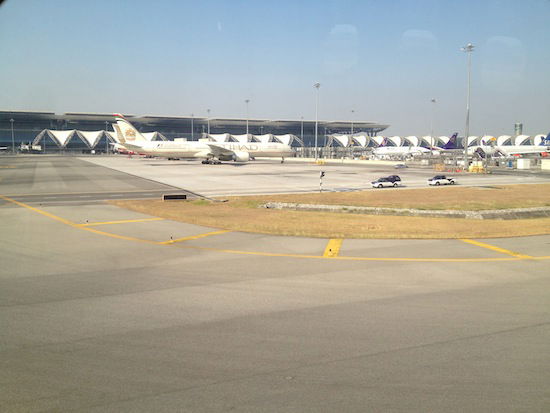 Terminal on taxi out
As soon as we were airborne I started playing around with the entertainment system, and decided on a couple of episodes of "The Big Bang Theory."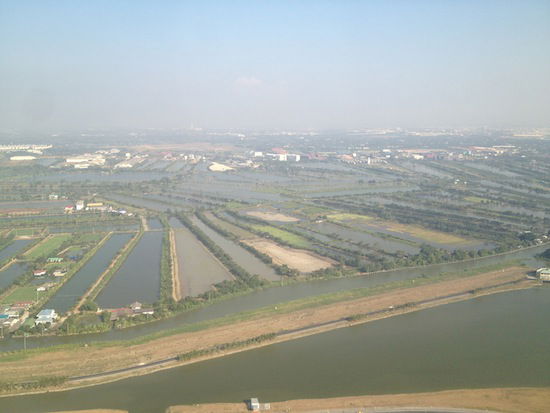 View on climb out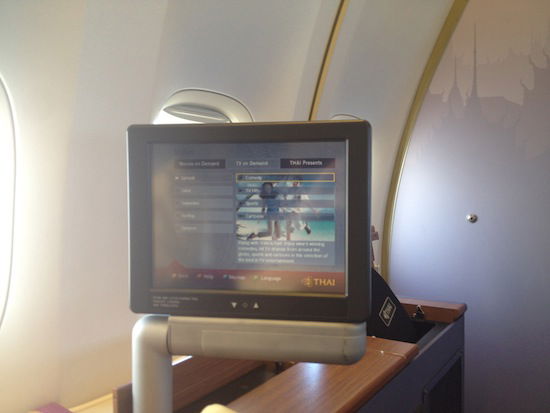 Entertainment system
After we passed through 10,000 feet the seatbelt sign was turned off and service commenced. The dinner menu read as follows: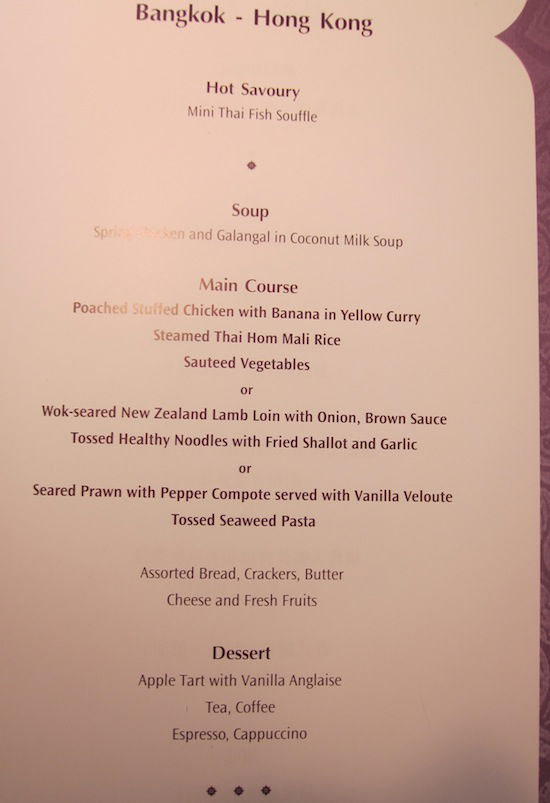 And the wine list read as follows: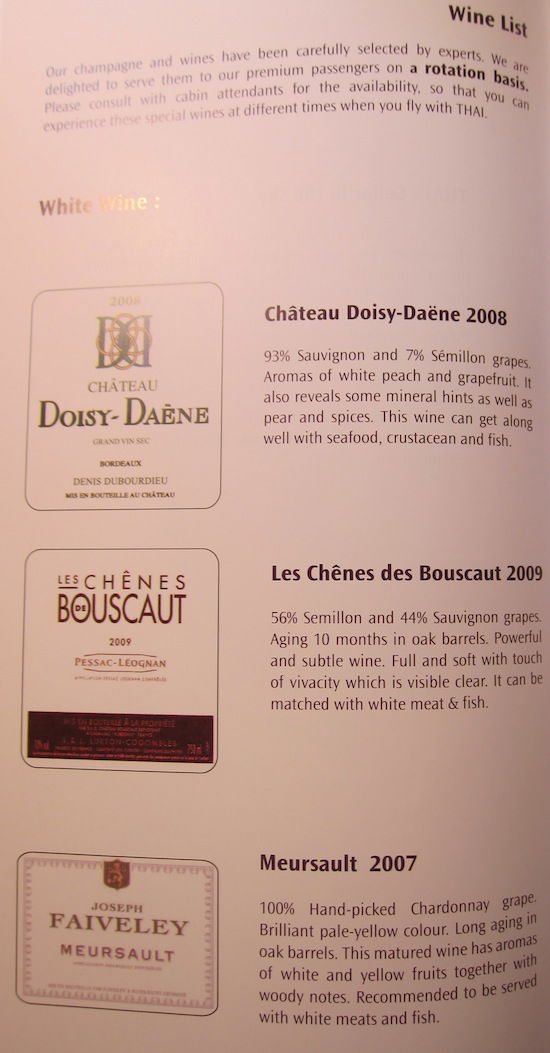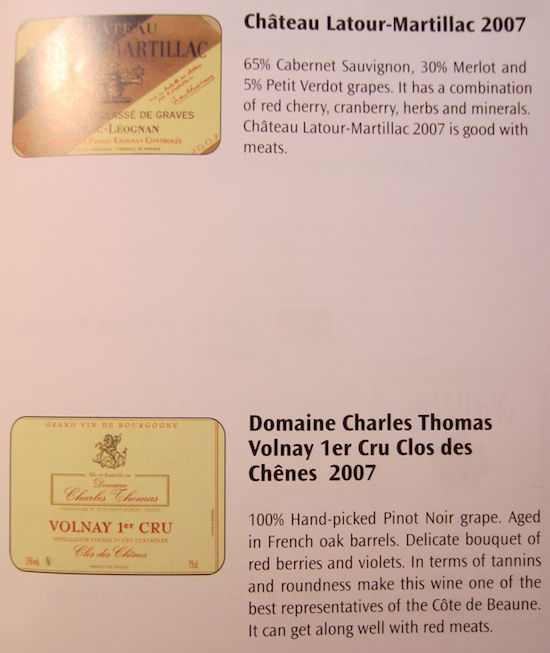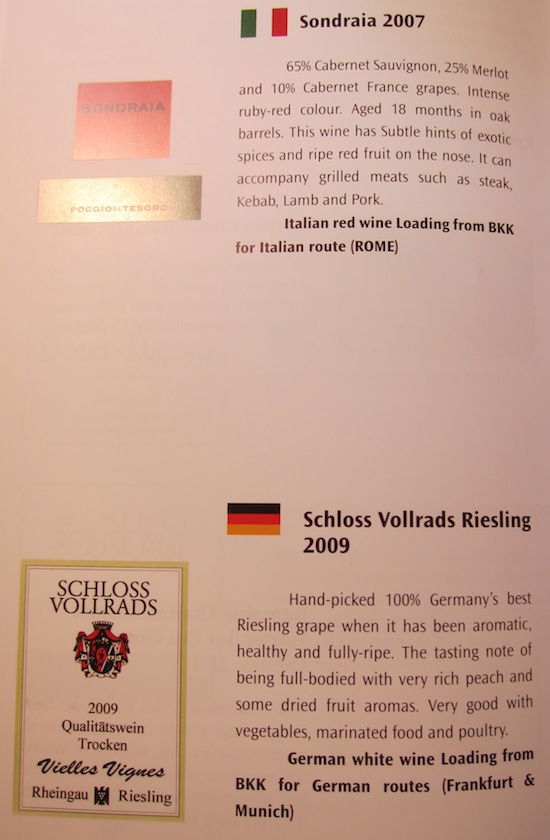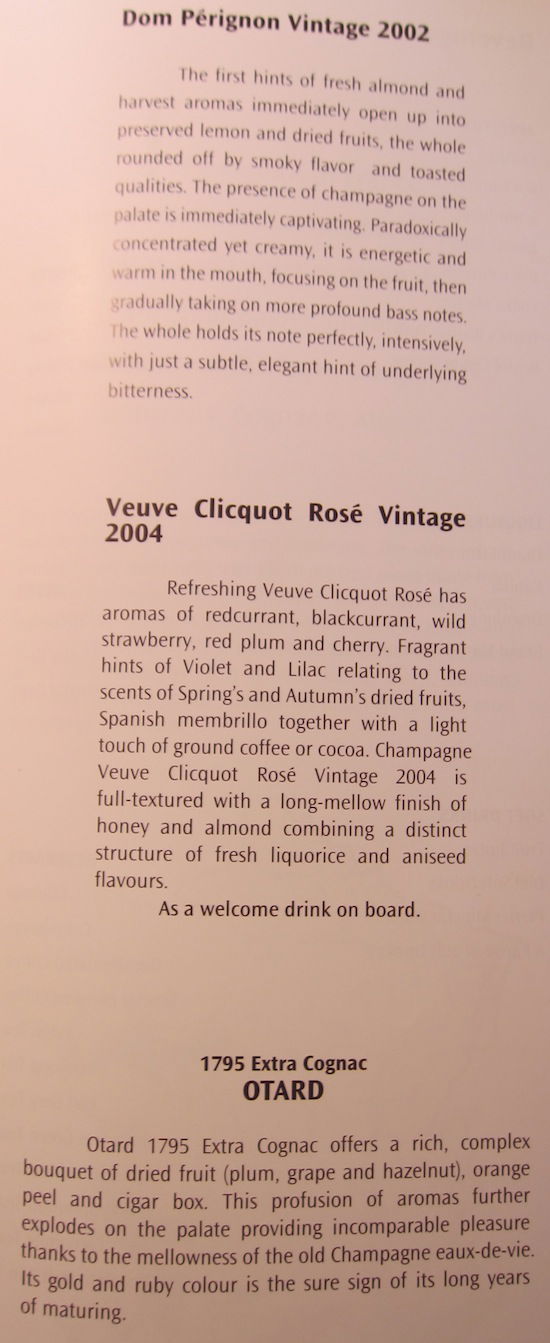 At that point drink and dinner orders were taken. I ordered a Diet Coke with lemon, which was served with some nuts.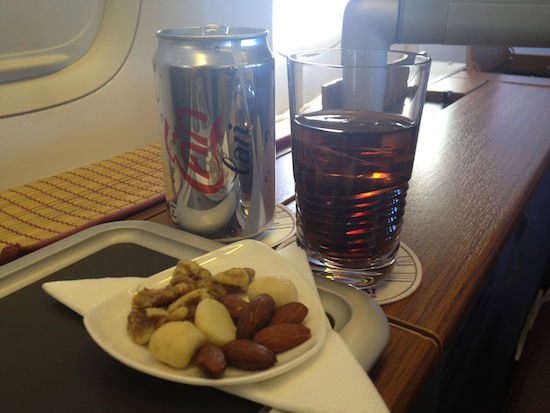 Diet Coke with lemon and nuts
That was quickly followed by the fish souffle starter, which wasn't especially tasty, in my opinion.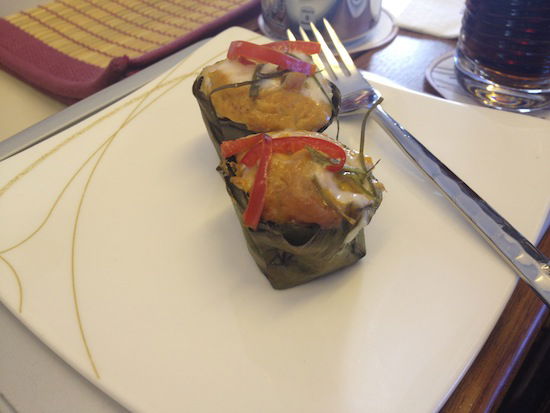 Mini Thai Fish Souffle

At that point the table was set and next course was served, which was a chicken and coconut milk soup.

Table setup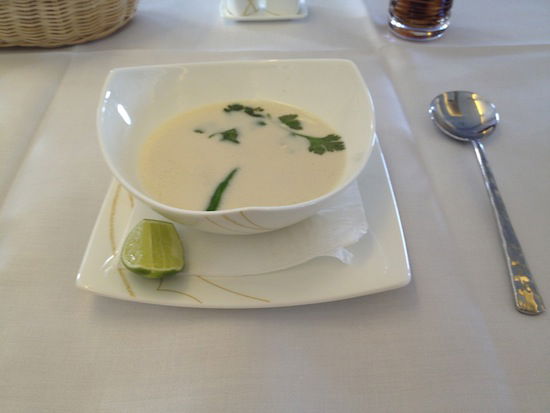 Chicken and coconut milk soup
For the main course I ordered the seared prawns with seaweed pasta, while my friend had pre-ordered the lobster thermidor. I wasn't especially hungry at this point so only nibbled at my dish, though my friend enjoyed his lobster thermidor.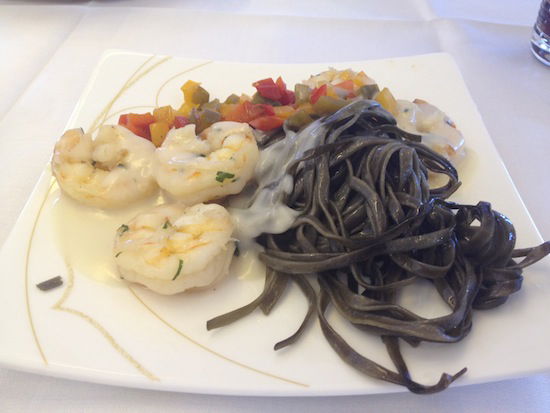 Seared prawns with seaweed pasta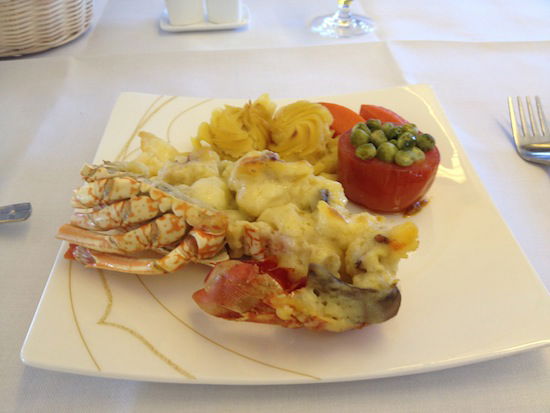 Lobster thermidor
After that a cheese plate was served.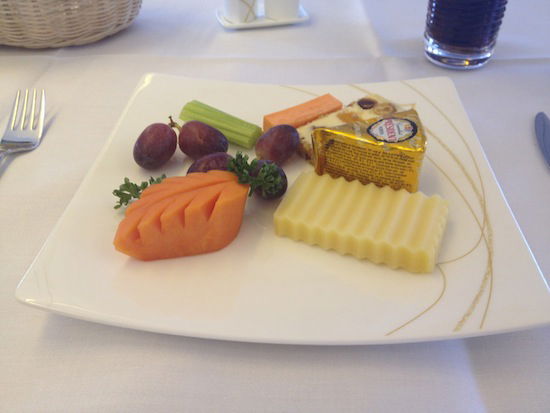 Cheese plate
The dessert was an apple tart with vanilla anglaise, which was delicious.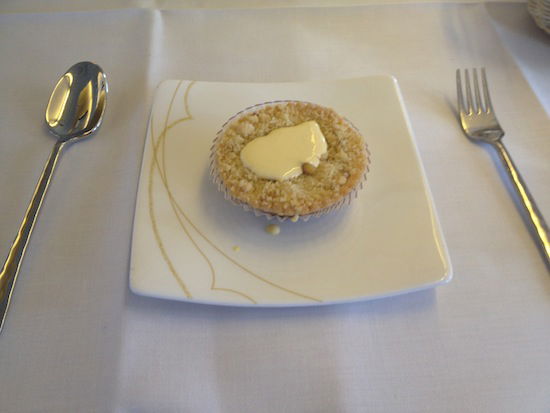 Apple tart with vanilla anglaise

After dessert I took a quick walk around the plane, and it occurred to me just how empty the plane was. Business class on the lower deck was empty, while business class on the upper deck only had seven passengers. What makes this plane pretty unique is that the galley takes up the entire right side of the business class cabin, so if you're seated in the center section of business class you're actually facing a wall to your right, which is rather interesting.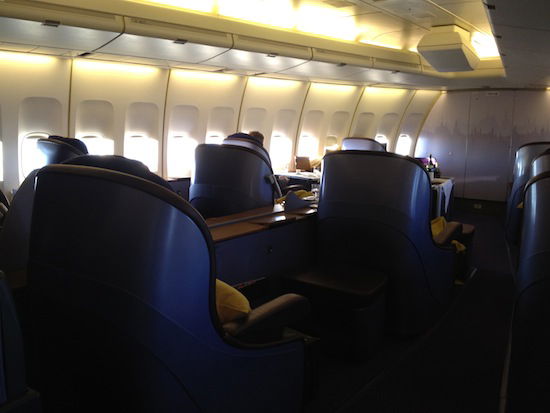 First class cabin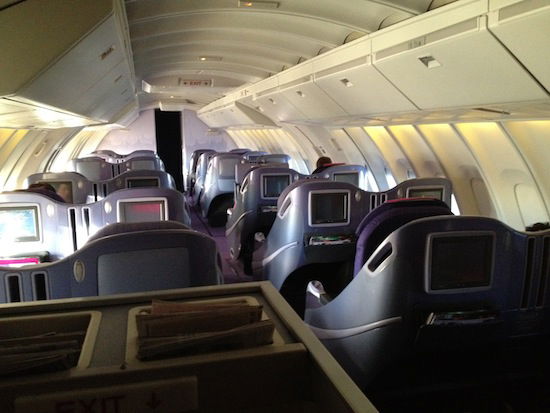 Upper deck business class
The crew was great all around and even entertained the FlyerTalk member's infant quite a bit (though he was especially well behaved). I talked to the FlyerTalker for a bit, and was sure to do so quietly. Unfortunately the guy that boarded late was a real jerk, since he loudly told the flight attendant to tell us to stop talking since he was trying to sleep. The guy was watching a movie and wasn't even reclined, so it was obvious he just wanted to be sure no one else was having any fun. Oh, joy.
About 30 minutes out we began our descent as the sun began to set, and we touched down in Hong Kong right on-time with the roughest landing I've had all year. I think Thai's "smooth as silk" slogan doesn't apply to their landings.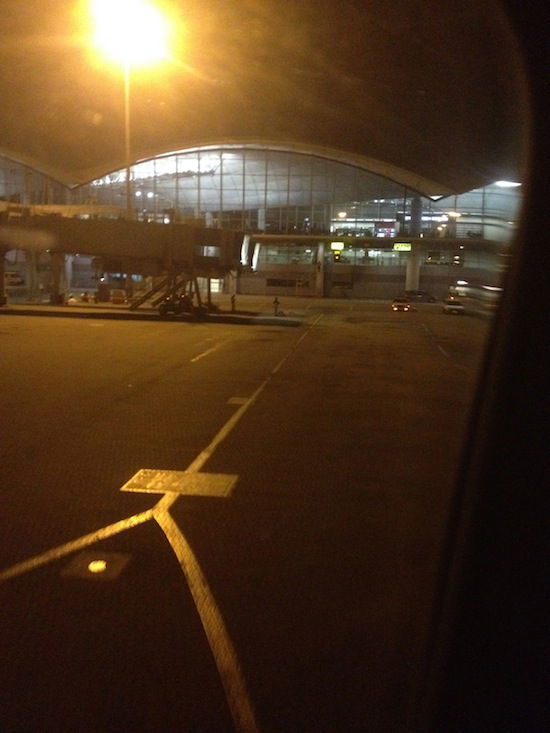 Our gate
Upon arrival the crew bid us farewell, and waiting at the jet bridge were three golf carts for first class passengers. The German couple in first class sat down in the first cart, we sat down in the second cart, and the rude guy sat down in the third cart. Unfortunately that left the FlyerTalker traveling with the infant without a cart, so the agent asked the rude guy to get in our golf cart. He loudly exclaimed "I'm not getting in a cart with them," but when he was forced to he managed to huff and puff the whole way to immigration.

Golf cart
Immigration queues took about 10 minutes, at which point we were in a cab to the Ritz Carlton.

Hong Kong arrivals hall
Another enjoyable flight on Thai Airways!