I tried, but it just didn't work out…
I was going to review the SWISS First Class Lounge
A couple of days ago I wrote about my plans to make a Lufthansa first class review more interesting on my current trip to Germany with my parents. In addition to crossing the Atlantic on the Lufthansa Airbus A380 (which only recently returned to service), I planned on making a quick "pit stop" in Zurich, to check out the two SWISS First Class Lounges.
I hadn't reviewed one of them in many years, and I had never reviewed the other one. Unless you have HON Circle status with Miles & More, You can only access them when flying Lufthansa or SWISS first class the same day. Since Lufthansa first class awards are available through partners but SWISS awards aren't, the choice was easy.
So my plan was as follows:
I'd fly from Frankfurt to Munich to Zurich on Friday evening, with a long connection, in case of any delays; the nonstop wasn't available, but it would allow me to review a Lufthansa and SWISS plane I hadn't flown before (the A319 and A321, respectively)
Then on Saturday I'd fly from Zurich to Munich to Boston in Lufthansa first class
I'd leave my parents in Frankfurt for a night to visit with friends, and then the next morning they'd go to the First Class Terminal, and fly Frankfurt to Munich to Boston, so we'd meet up again in Munich and enjoy the transatlantic flight together
This seemed like a good compromise in terms of making the journey as easy as possible for my parents, while also creating interesting blog content. Sounds great, eh? Well…
SWISS canceled my positioning flight
Yesterday evening I flew from Frankfurt to Munich, and the flight went off without a hitch.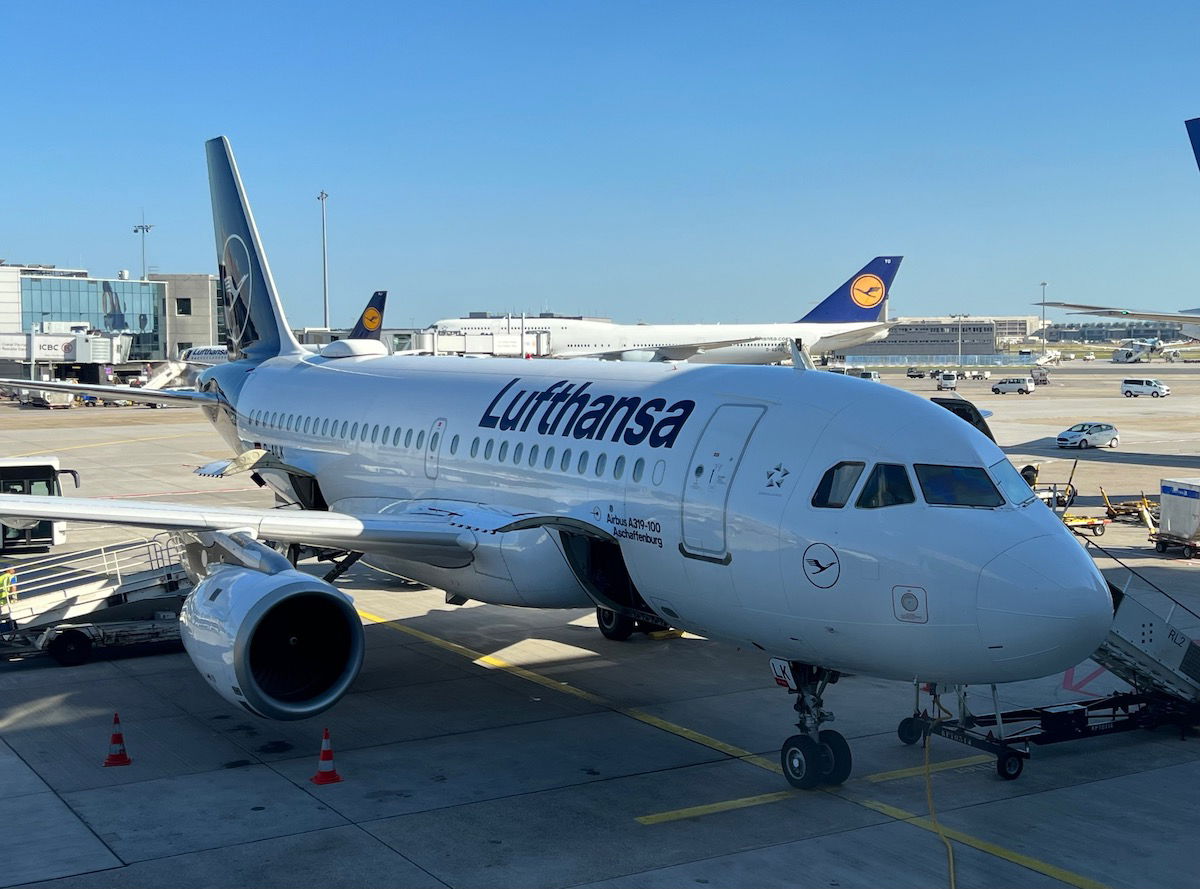 I visited the Lufthansa Business Lounge, and while sitting there, I got a text saying that my SWISS flight to Zurich had been canceled. It was the last flight of the night, so grrrr…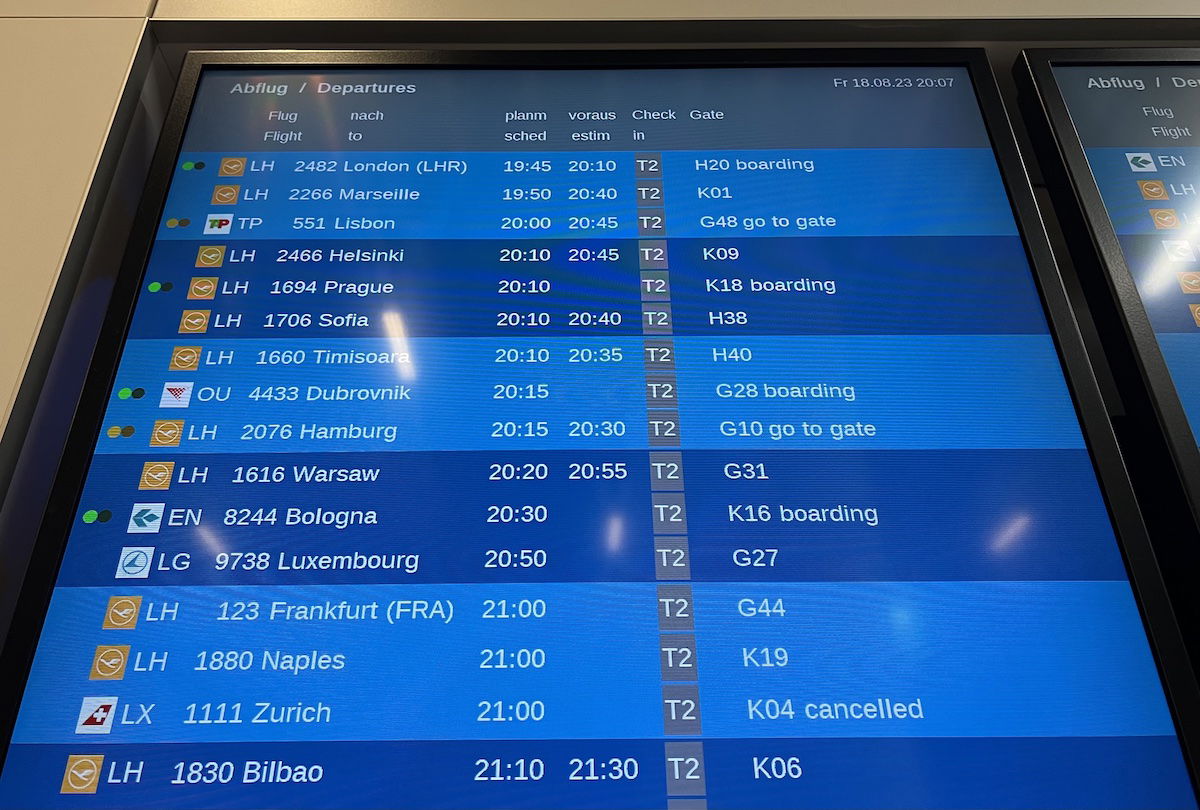 On the plus side, the flight was canceled for technical reasons, so I'm entitled to EU261 compensation (which is 250 euro in this case), plus SWISS had to take care of my hotel.
The bad news is that it completely eliminated the reason I took this portion of the trip, which was to have a morning to review the SWISS lounge setup in Zurich.
SWISS rebooked me on a Lufthansa flight to Zurich the following morning (today). Funny enough, the Zurich to Munich flight I was supposed to take to connect to Boston was the return portion of this flight. So now I'm flying from Munich to Zurich to Munich on the same plane, before continuing to Boston.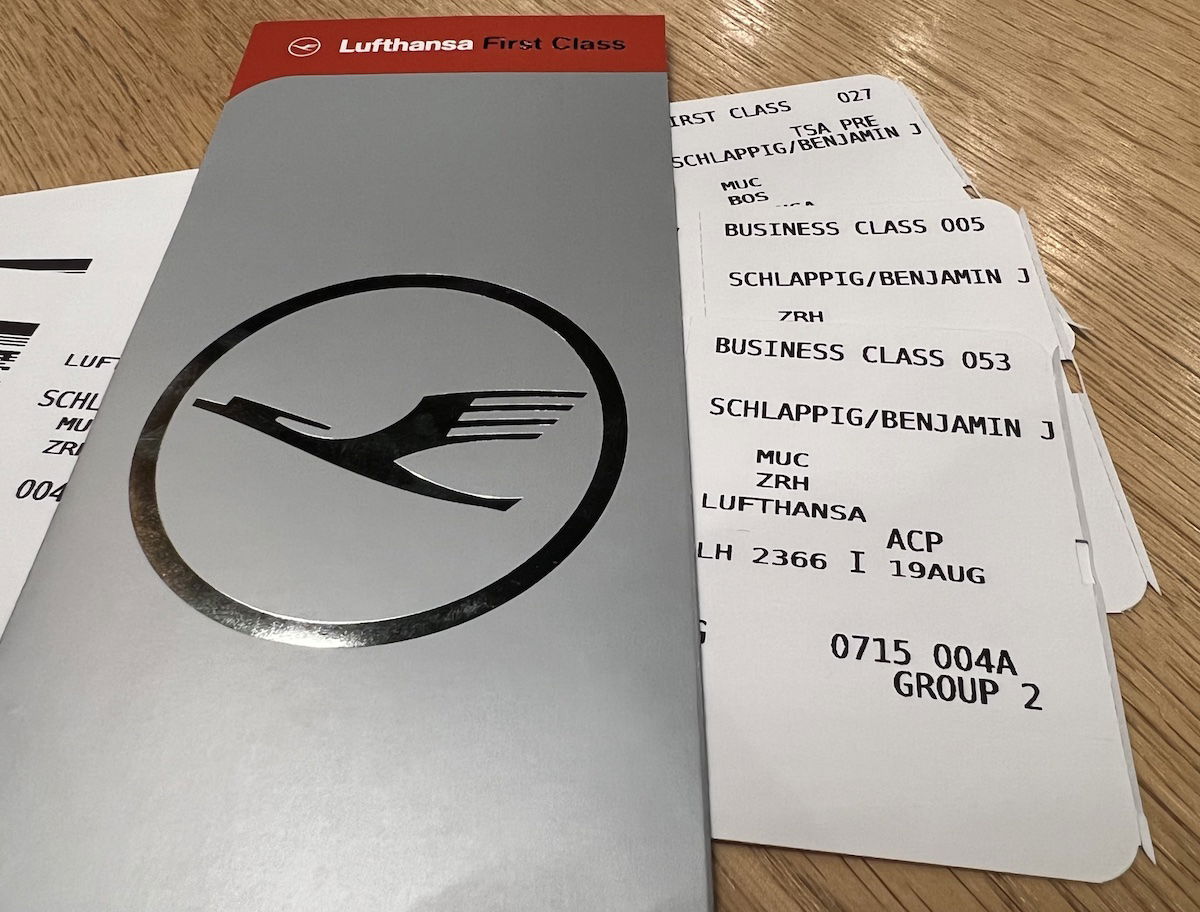 Some may ask "well why not just stay in Munich, and skip flying to Zurich and back?"
This was booked as two separate tickets through Air Canada Aeroplan. If I were to skip the segment from Zurich to Munich, it would cause my onward connection to be canceled. And while there's perhaps a way that the ticket could be reissued to eliminate that segment, it didn't seem worth the hassle, and the potential for things to go wrong, especially since Lufthansa uses married segment logic for awards.
Besides, the quick hop to Zurich and back allows me to review Lufthansa's CRJ-900 business class.
So unfortunately the return portion of this trip hasn't gone quite as planned. If I were traveling alone, I would have just delayed my return to the United States, but of course I want to enjoy the transatlantic flight in first class with my parents (we managed to snag four award seats on one flight). I did everything I could, but sometimes luck just isn't on our side. I guess I'll just have to try again soon with the SWISS first class plans.
Bottom line
While I was hoping to visit the SWISS First Class Lounge Zurich, a flight cancelation threw off my plans. Unfortunately I won't be reviewing the things I was hoping to review this time around, but there's always next time, so stay tuned!