In the interest of full disclosure, OMAAT earns a referral bonus for anyone that's approved through some of the below links. These are the best publicly available offers (terms apply) that we have found for each product or service. Opinions expressed here are the author's alone, not those of the bank, credit card issuer, airline, hotel chain, or product manufacturer/service provider, and have not been reviewed, approved or otherwise endorsed by any of these entities. Please check out
our advertiser policy
for further details about our partners, and thanks for your support!
To kick off our return journey to the United States, we flew SWISS business class from Geneva to Frankfurt on the Airbus A220 (one of my favorite planes). Let's take a look at what that experience was like.
How I booked our SWISS business class tickets
I booked our flight from Geneva to Frankfurt as a separate ticket from our Singapore Airlines flight from Frankfurt to New York the following day. Specifically, I booked the following in business class for 15,000 Aeroplan points plus $64.30 per person in taxes & fees:
04/06 LX1086 Geneva to Frankfurt departing 6:45PM arriving 7:55PM
Admittedly this is a short flight, so some might not find it worthwhile to redeem for business class (I booked business class largely because I wanted to review it). In this case, Aeroplan would have charged 7,500 points for economy class, so the price was double.
Aeroplan points are easy to come by, as the program partners with American Express Membership Rewards, Capital One, and Chase Ultimate Rewards. On top of that, in the United States, there's the new Aeroplan® Credit Card (review), which is pretty lucrative.
SWISS business class boarding
In the last installment I reviewed the SWISS Senator Lounge Geneva. Our flight was departing from gate D25, which is about as far from the security checkpoint as you can get.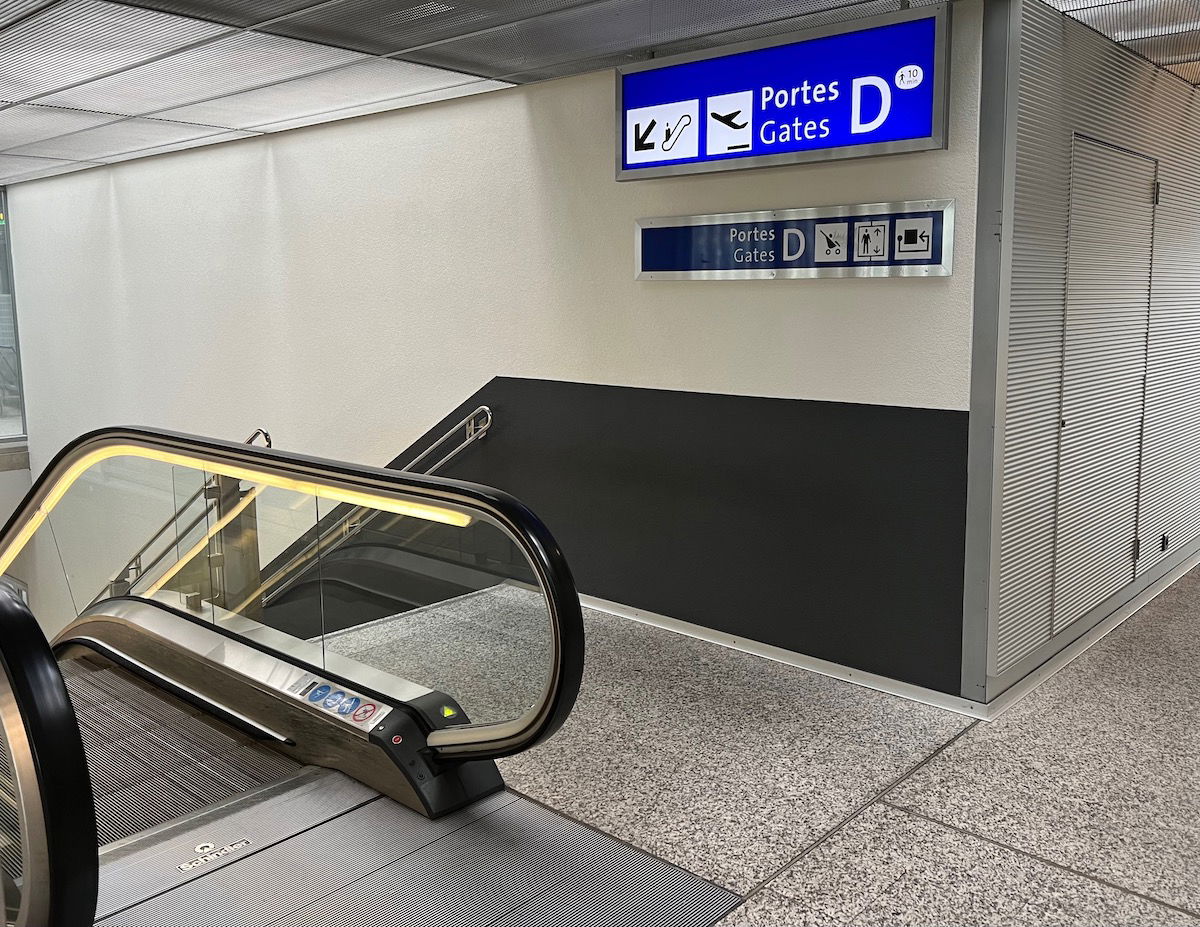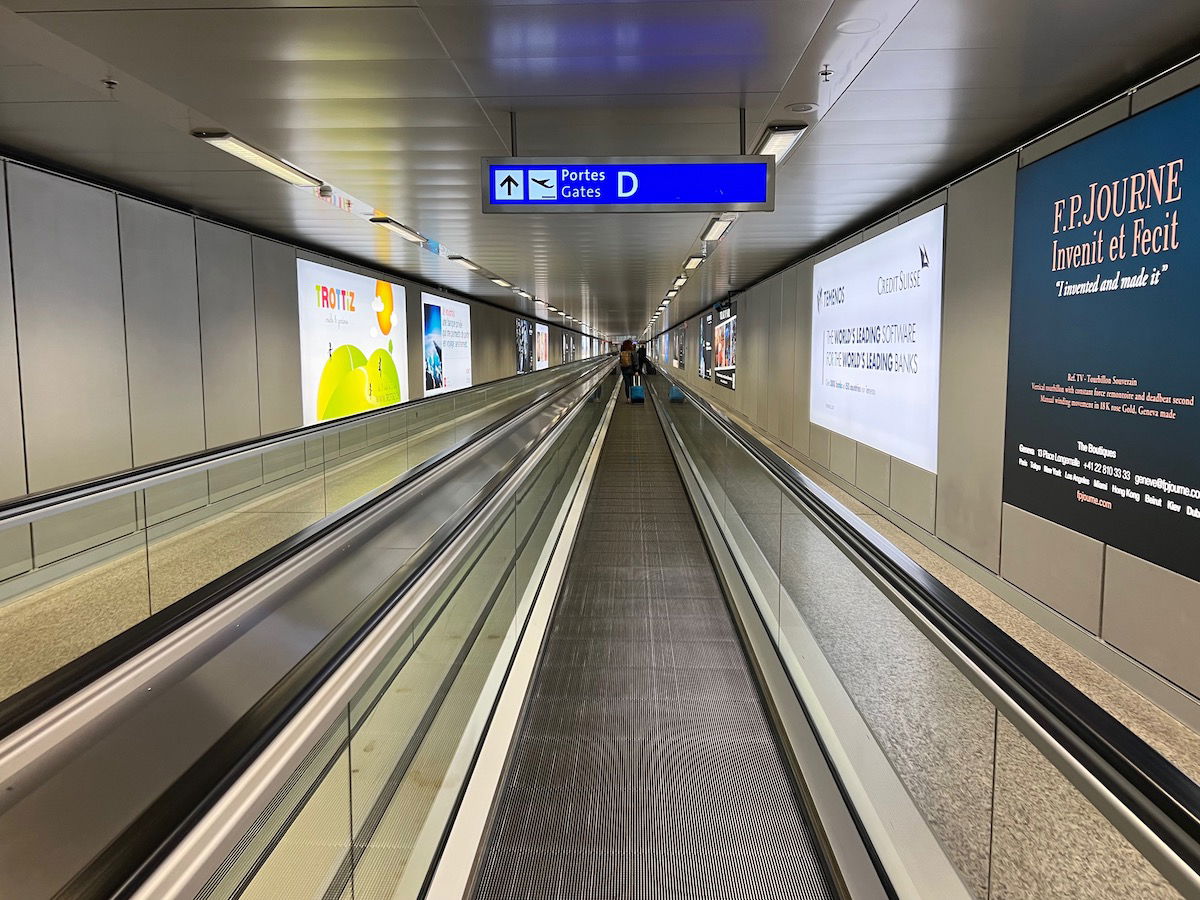 This is a unique setup, as it's essentially a circular terminal without jet bridges. Rather planes are parked outside with stairs, and you can walk right up to them. It's kind of a cool view with the floor-to-ceiling windows, if you ask me.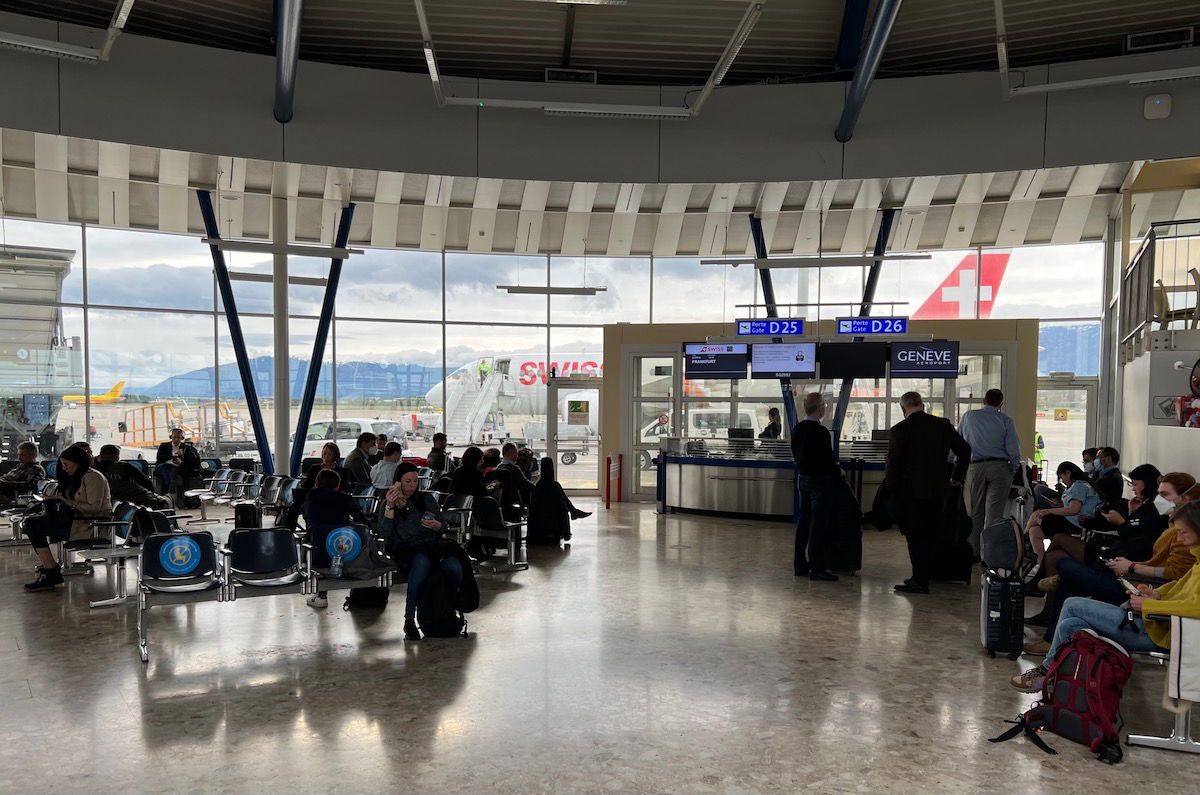 Boarding for our 6:45PM flight started at 6:20PM, with business class passengers being invited to board first. It was just a short walk from the terminal to the aircraft's stairs.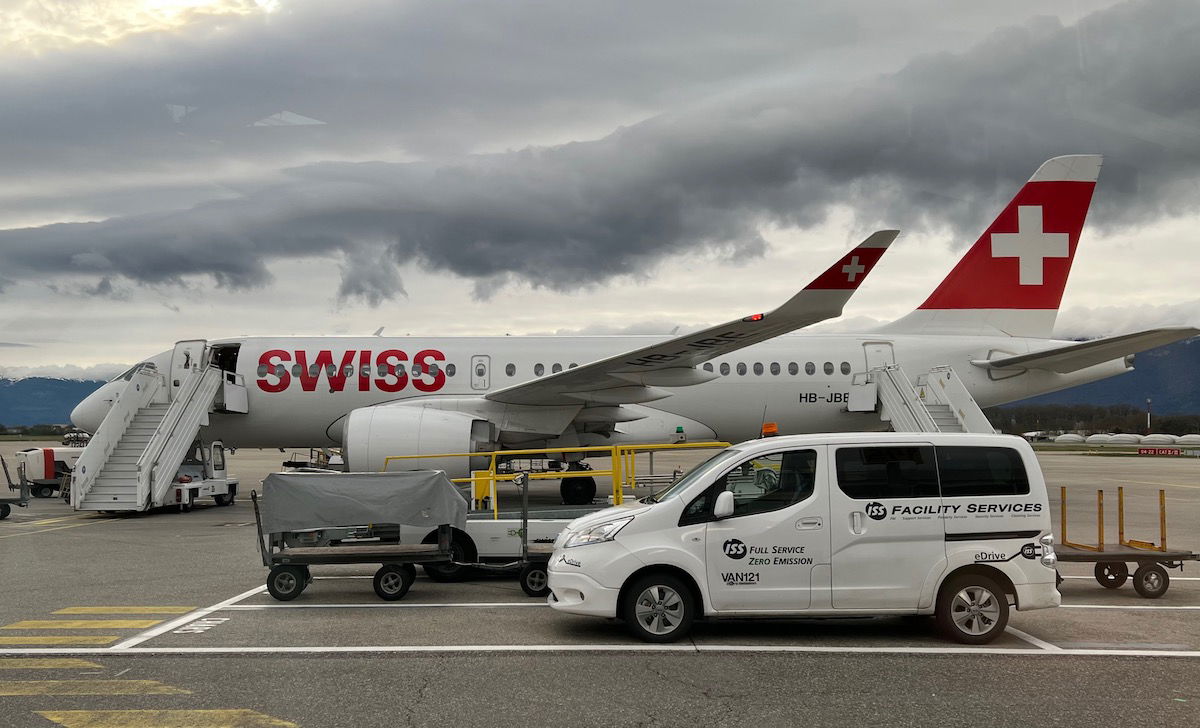 The A220 is such a gorgeous plane, and I loved the opportunity to walk right up to it.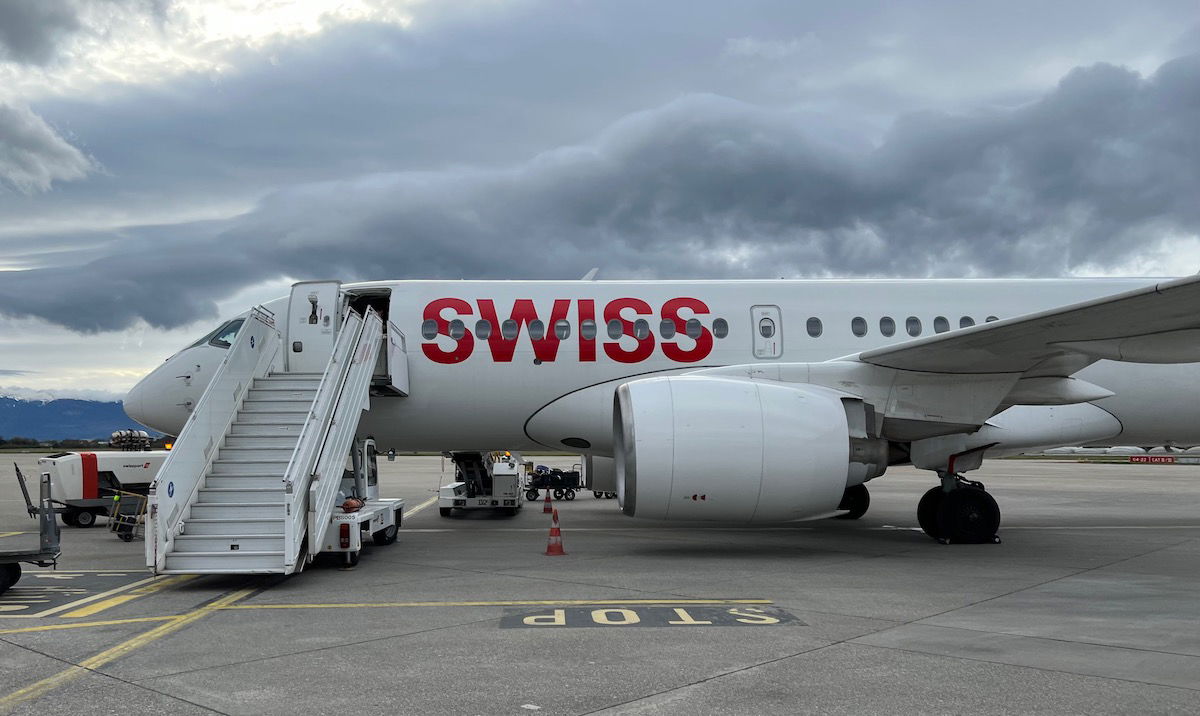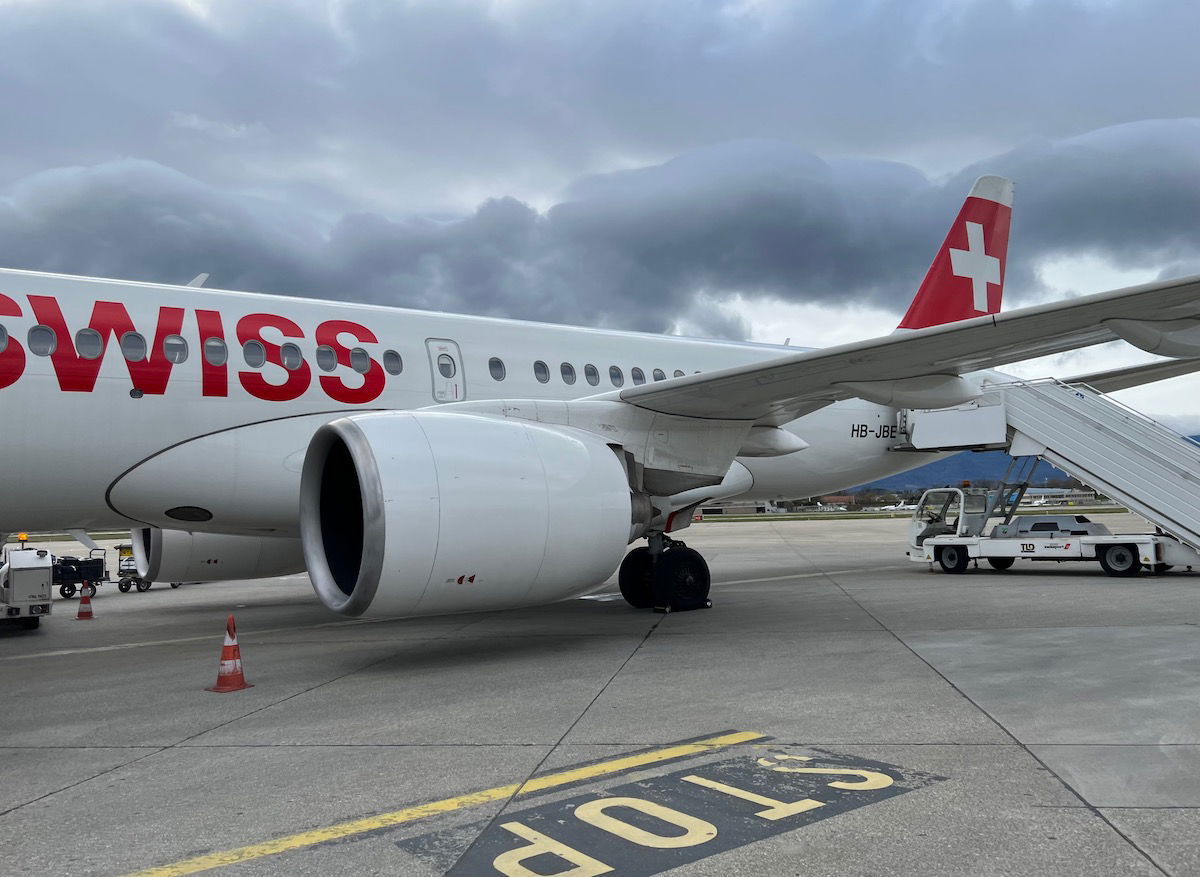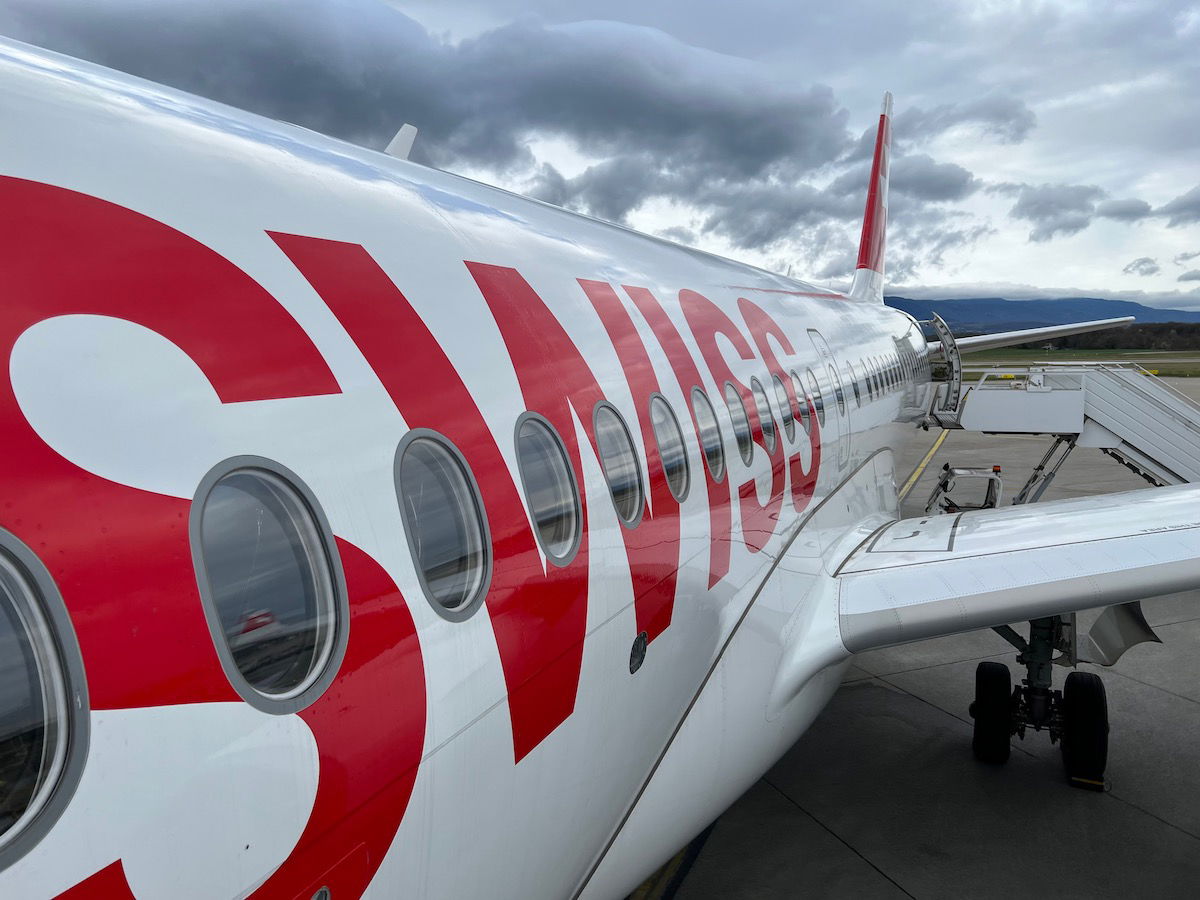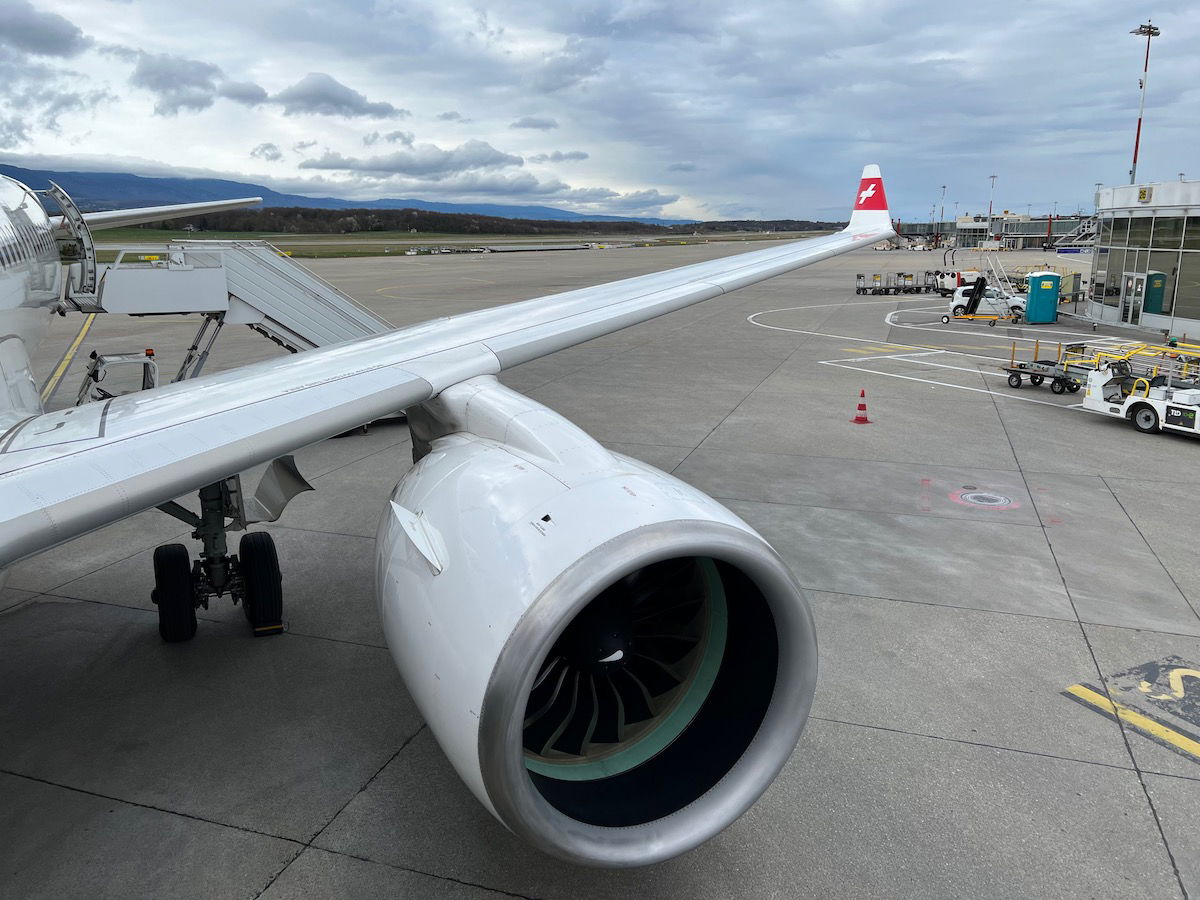 SWISS A220 business class cabin & seats
We were flying on a SWISS Airbus A220-100, which is the smaller of the two A220 variants. The SWISS A220 features 125 seats, spread across 25 rows in a 2-3 configuration. Not only does the A220 cabin feel incredibly modern and spacious, but you've gotta love the 2-3 layout from a passenger comfort standpoint, since there's only one middle seat per row.
As is standard on intra-Europe flights, economy and business class seats are identical, so the difference just comes down to seat blocking. On this particular flight, the first eight rows of the plane were business class.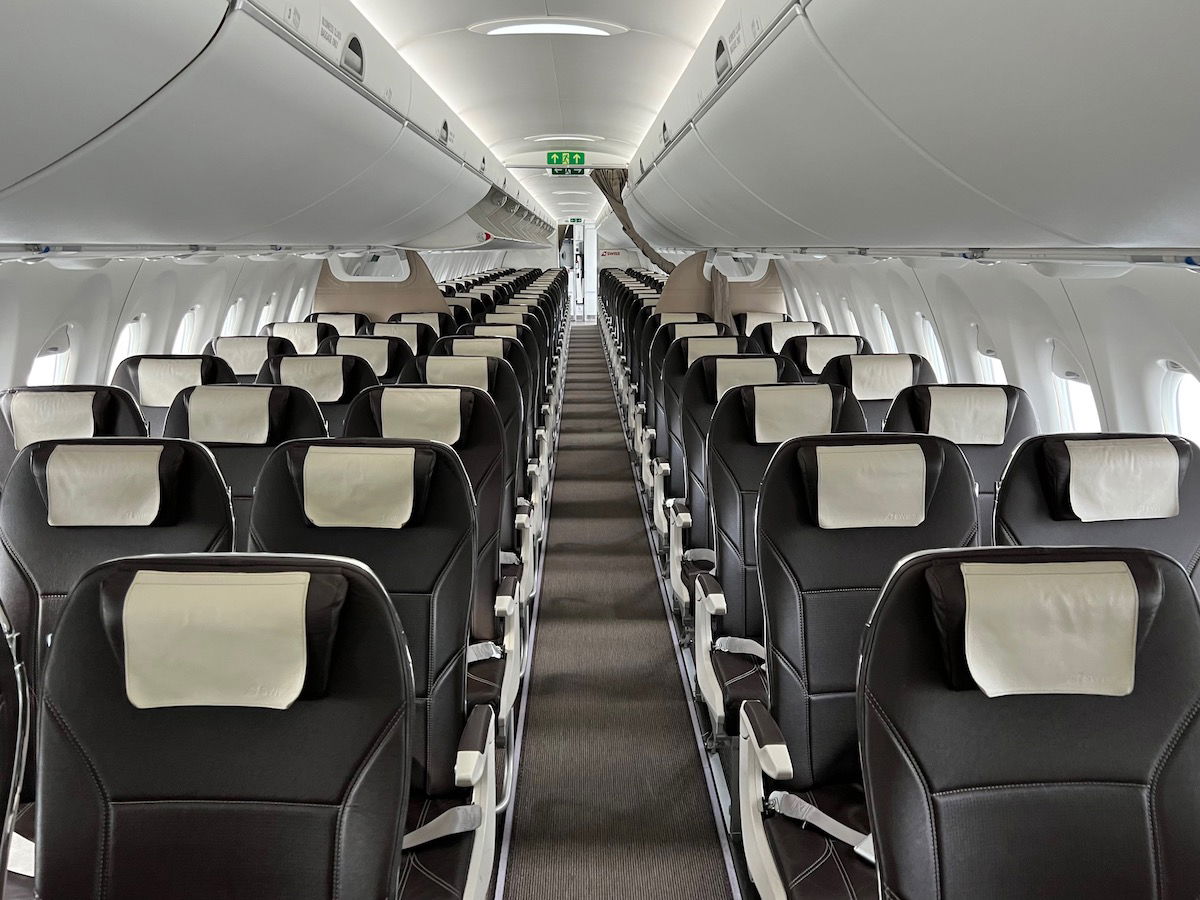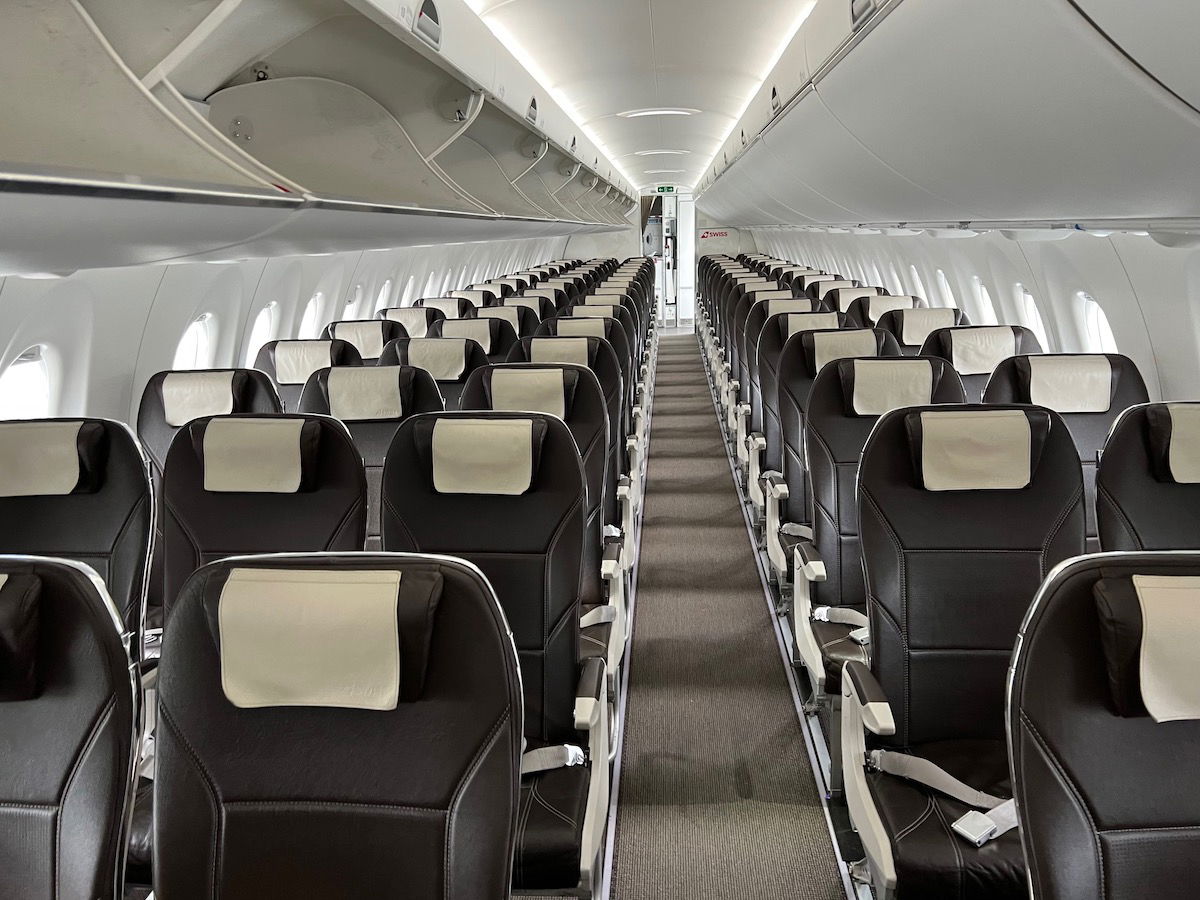 I assigned us seats behind one another on the left side. Since intra-Europe business class ordinarily has a blocked middle seat, this works out particularly well on the A220, as you get the set of two seats to yourself. So I had seats 7A & 7C, while Ford had seats 6A & 6C.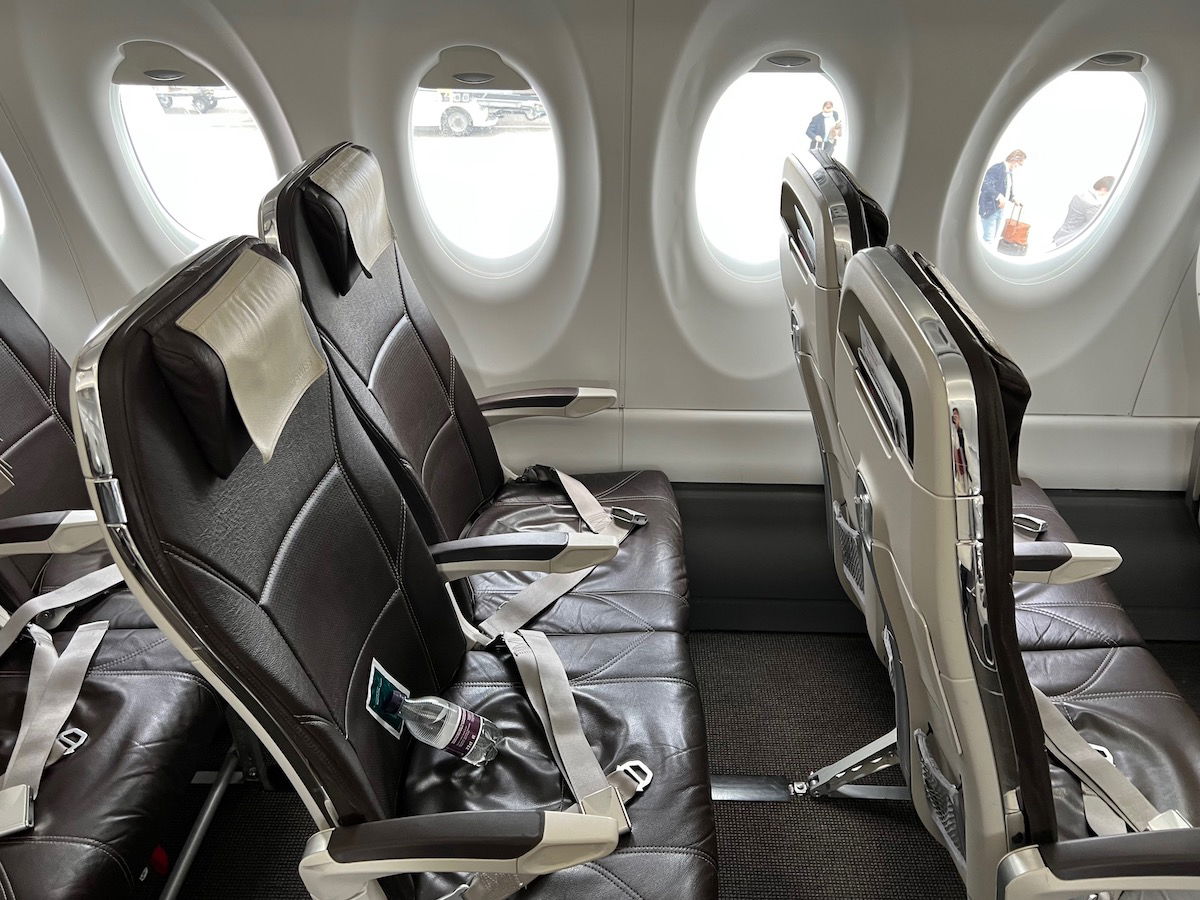 On the right side of the plane there are three seats, so in business class the center seat is blocked.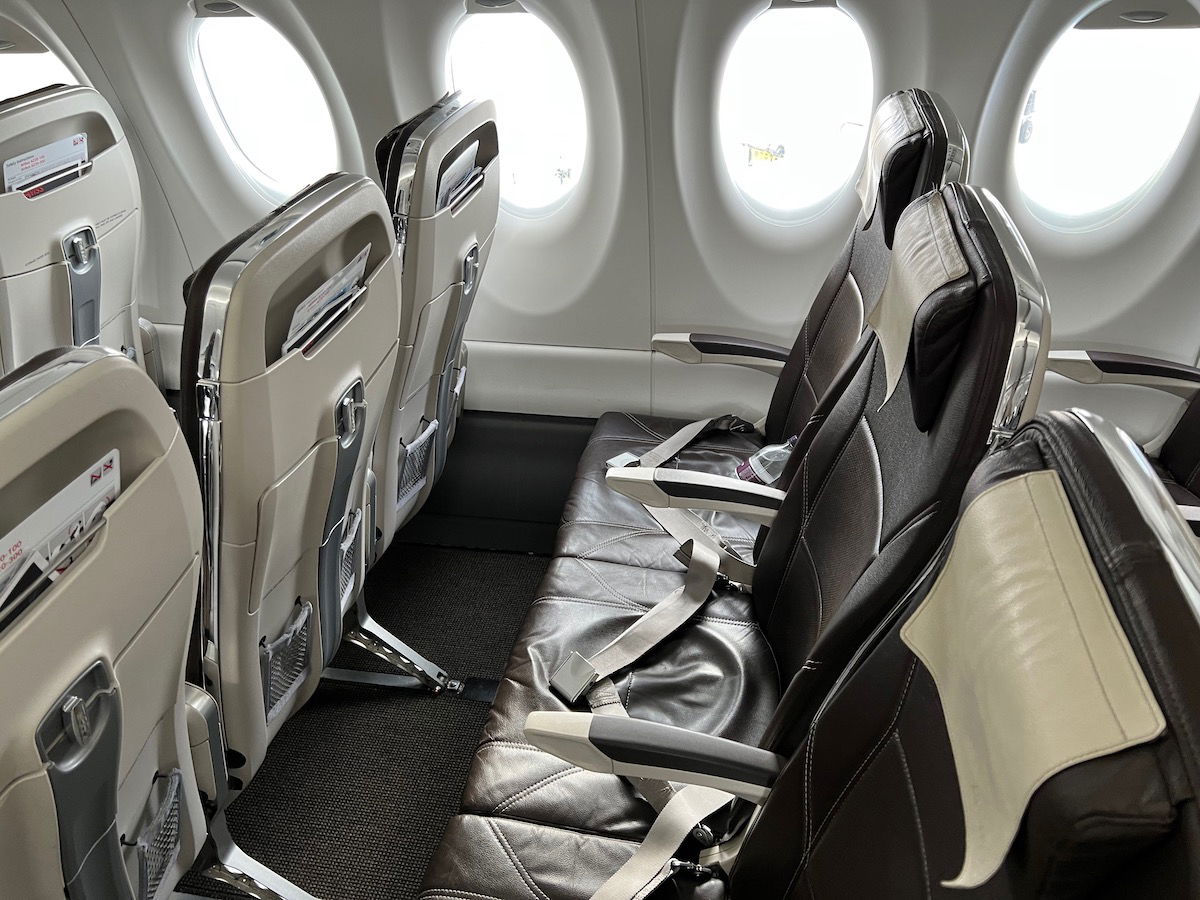 The A220 just feels so sleek across the board, including the seat backs.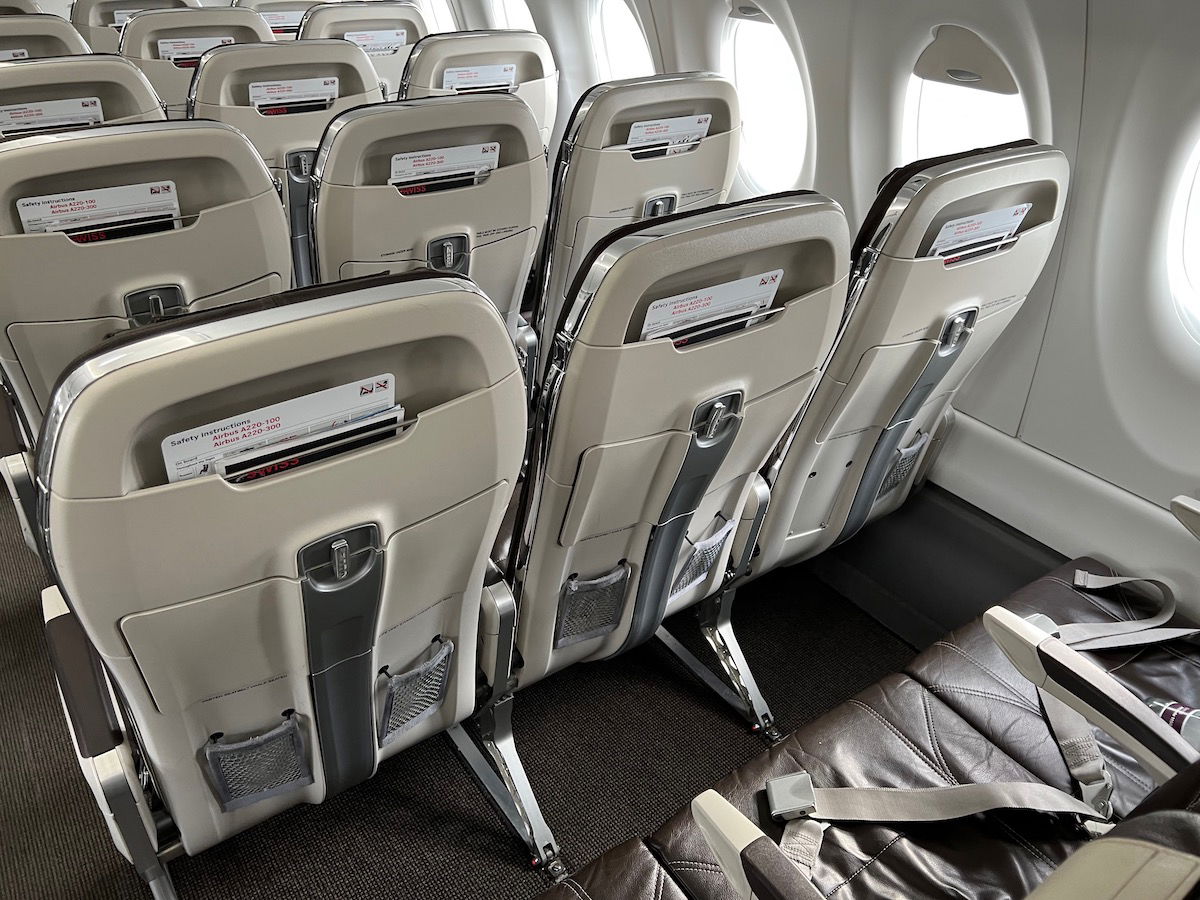 While the A220 is somewhere between your typical regional jet and your typical mainline jet, the overhead bins are a good size, big enough for a standard carry-on.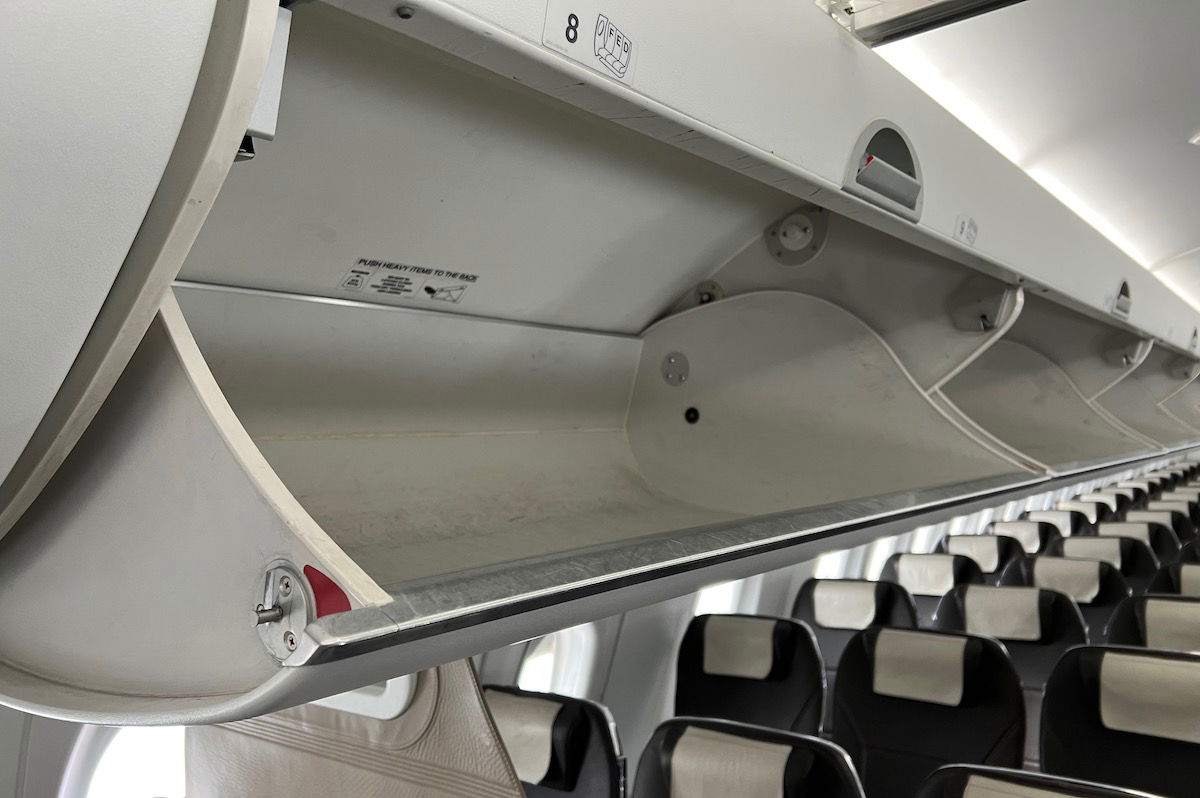 The seatback had a literature pocket and two pouches, which could be used for a water bottle, a pair of glasses, a smartphone, etc. (though on my seat, one of the pouches was missing). Then there's the tray table, which folds out from the seatback.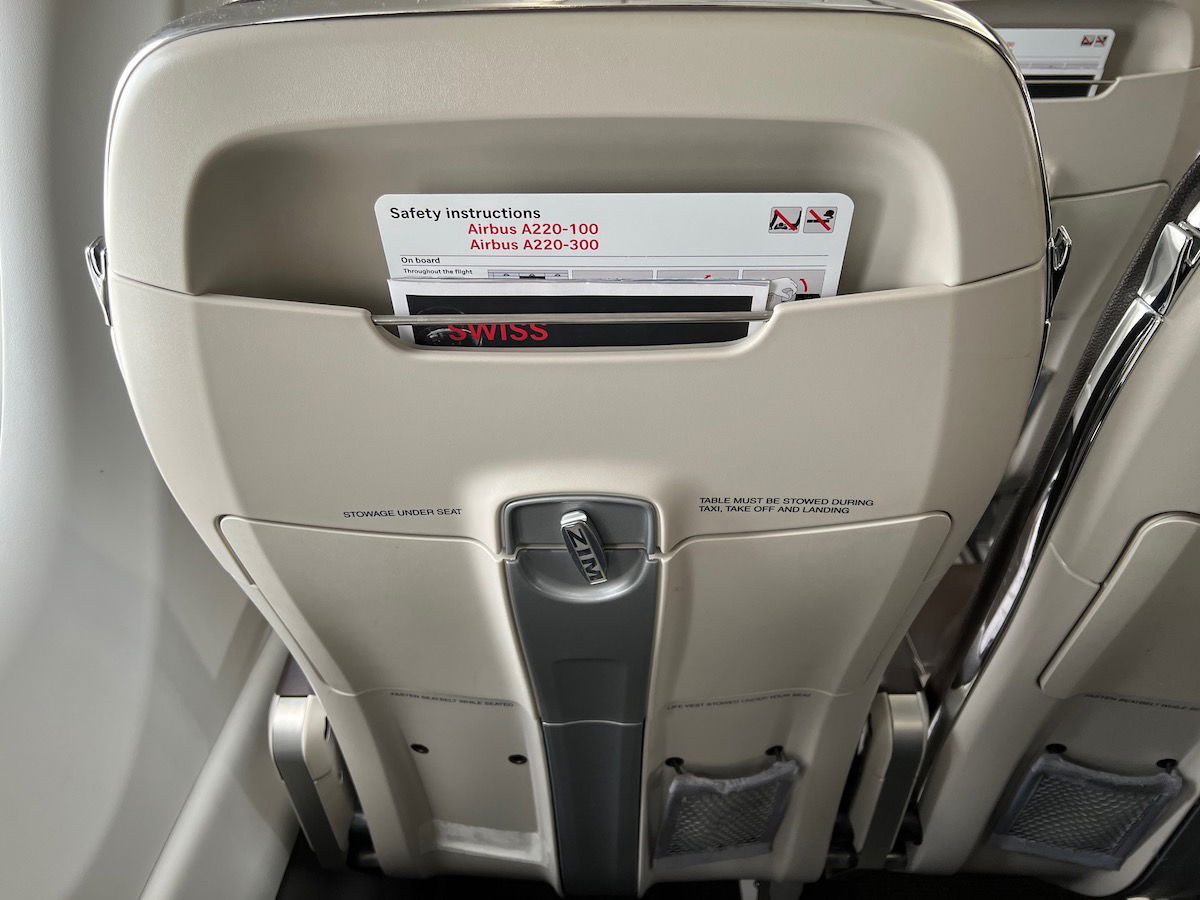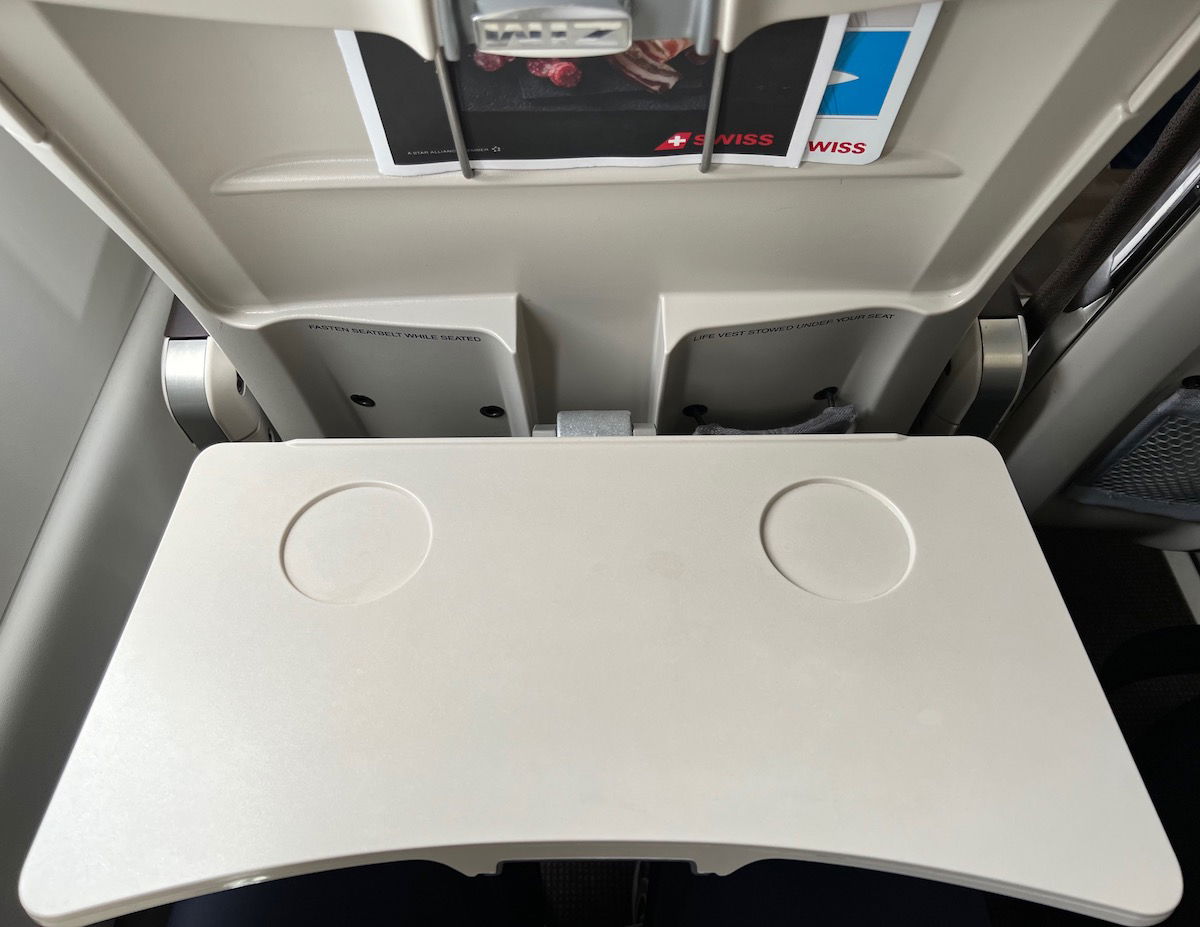 Another nice feature of the Airbus A220 is the windows, which are quite large, bigger than you'd find on a standard jet.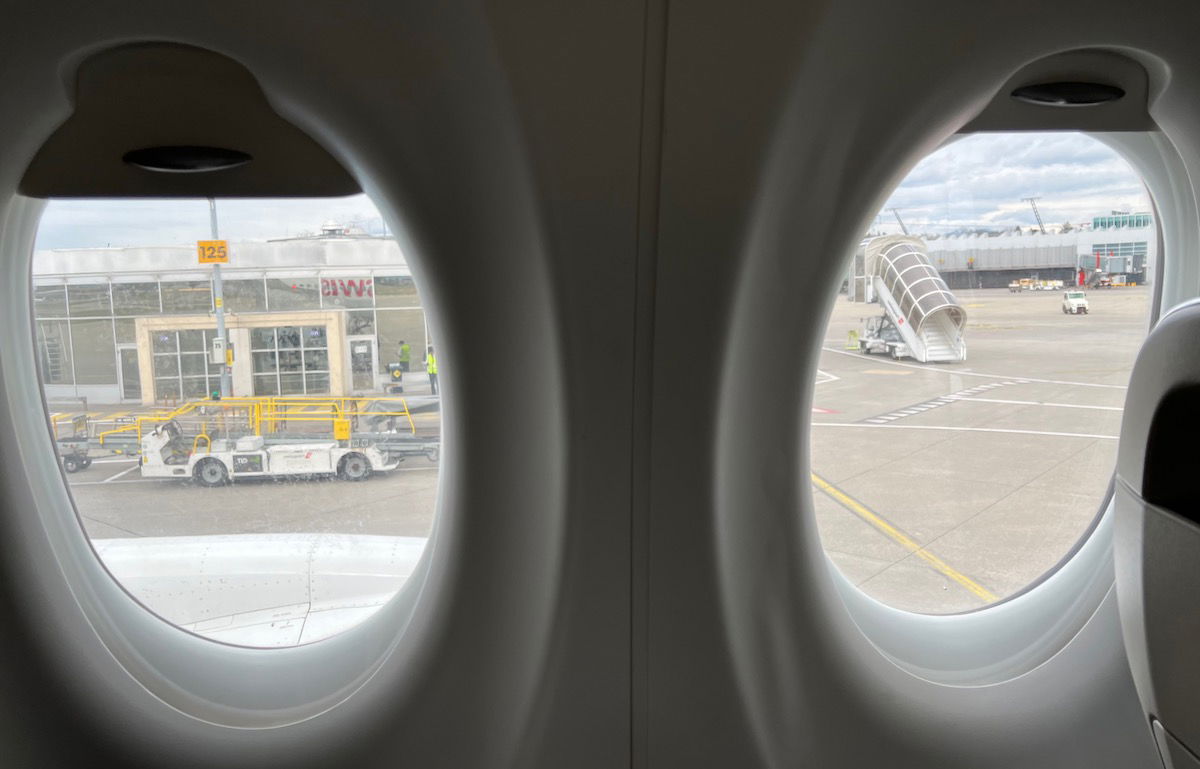 I also love the overhead consoles on the A220, which have reading lights, individual air nozzles, and even small screens that show the safety video and a flight map.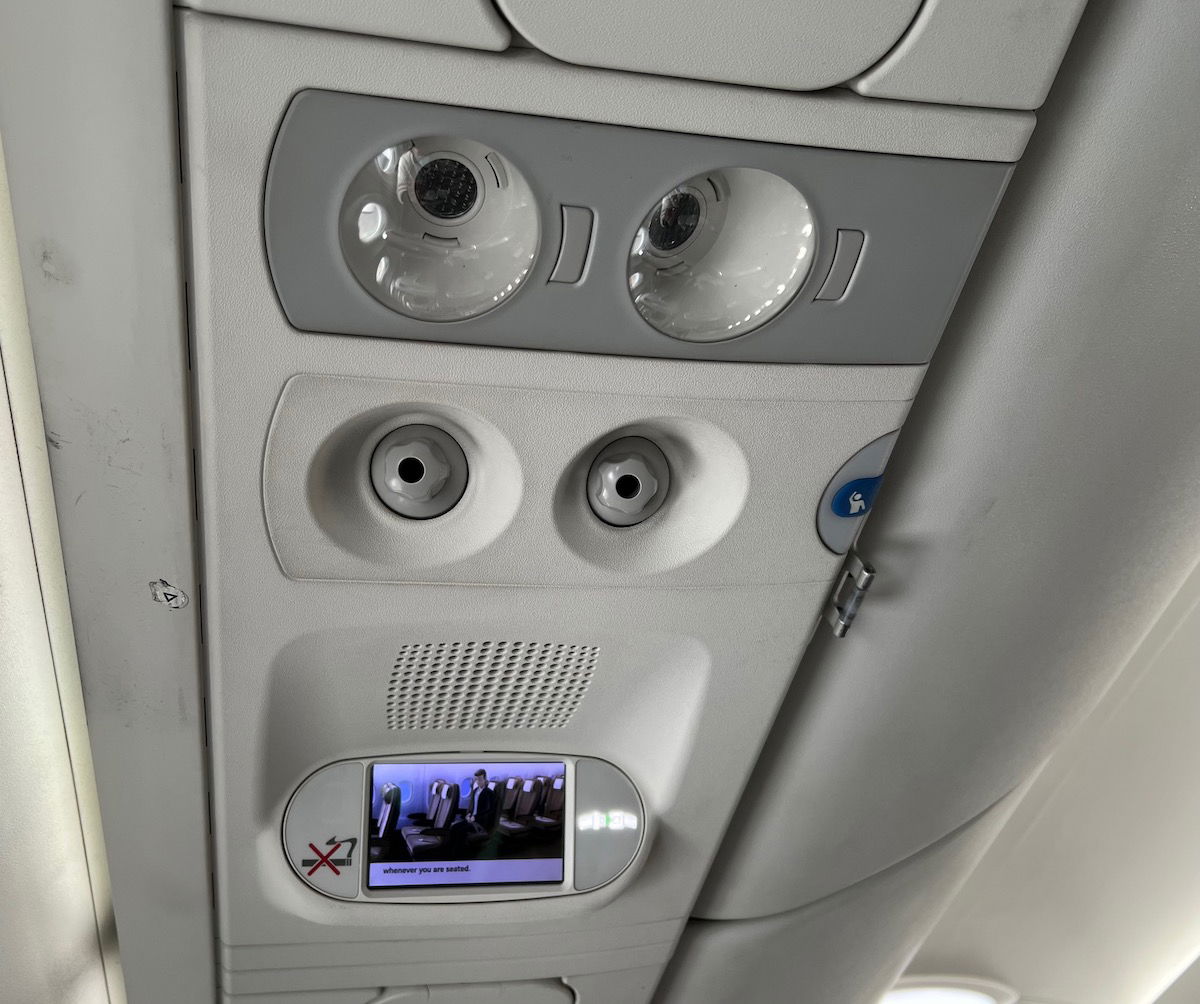 Now, while SWISS' Airbus A220 cabins are modern, there are two major downsides:
SWISS doesn't have power ports on Airbus A220s
SWISS doesn't have Wi-Fi on Airbus A220s
Both of these are standard amenities on newly delivered jets nowadays. In fairness, this isn't an issue on a 55 minute flight from Geneva to Frankfurt. I'd consider this more of an issue on a longer flight, though.
This flight was mostly full in both business class and economy class. Of the 24 business class seats, only three were empty.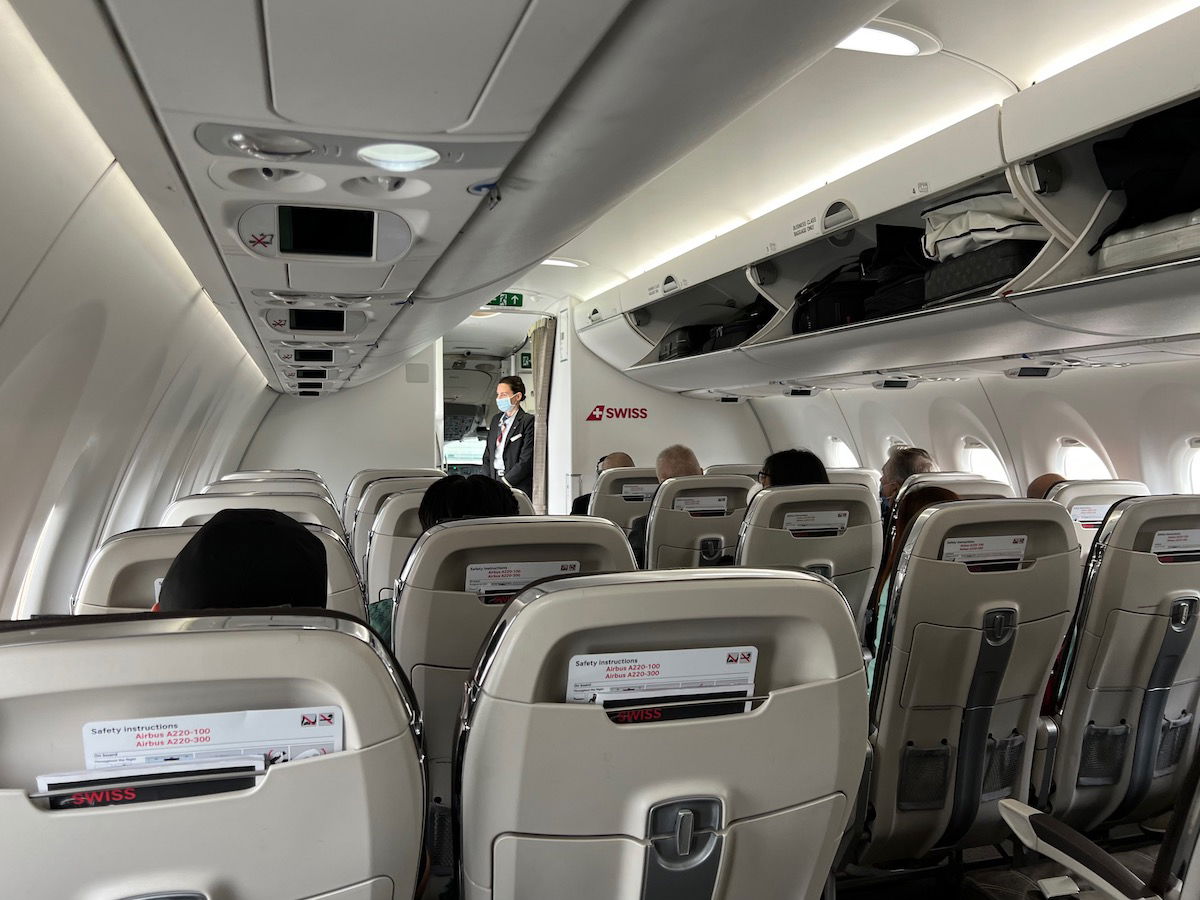 Waiting at each seat upon boarding was a bottle of water plus a refreshing towel.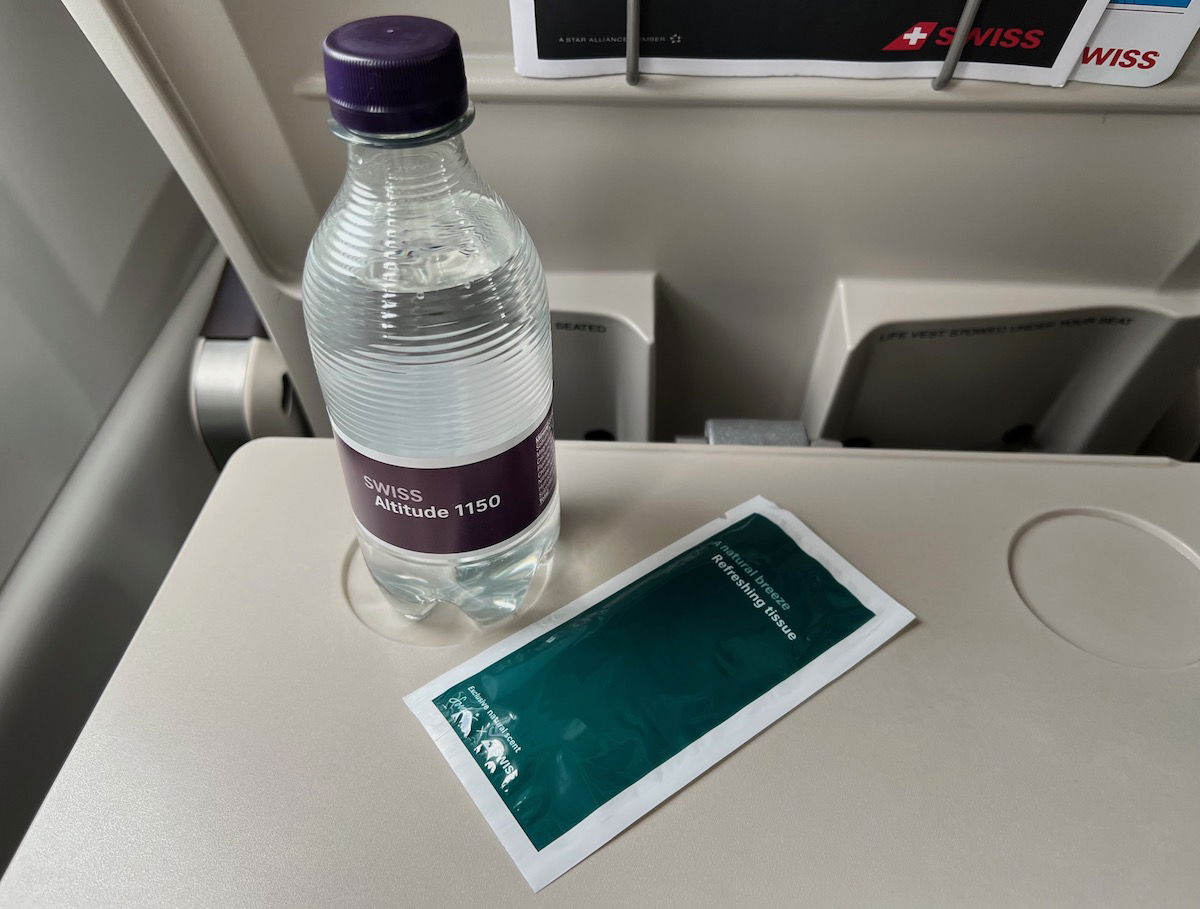 There was also a lavatory at the front of the cabin, which was spacious and nicely appointed (and so much nicer than the new lavatories you'll find on many 737s).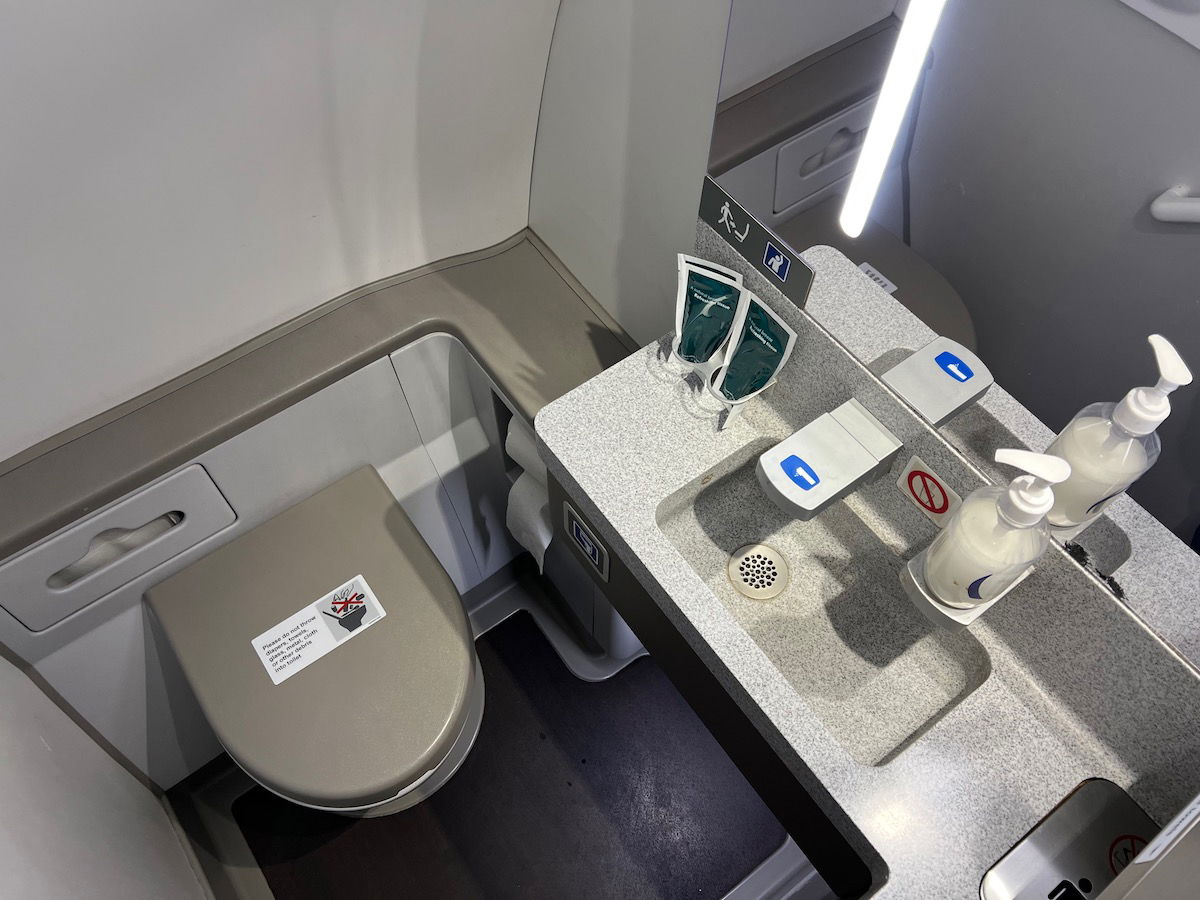 SWISS departure from Geneva
At 6:35PM boarding was complete, and at that point, the captain made his welcome aboard announcement, informing us of our flight time of 55 minutes. A couple observations:
All announcements were made in French, then English, and then German
Why do PAs on the A220 consistently sound like someone is talking in your ear? They're so clear and crisp yet loud
At 6:40PM the main cabin door was closed, and at that point the cabin manager made her welcome aboard announcement. At 6:45PM we started our engines and began our taxi (A220 engines are so loud and whiny when starting up). Due to how the stands at this part of the terminal are positioned, there's no need to push back, but rather you can just taxi straight ahead.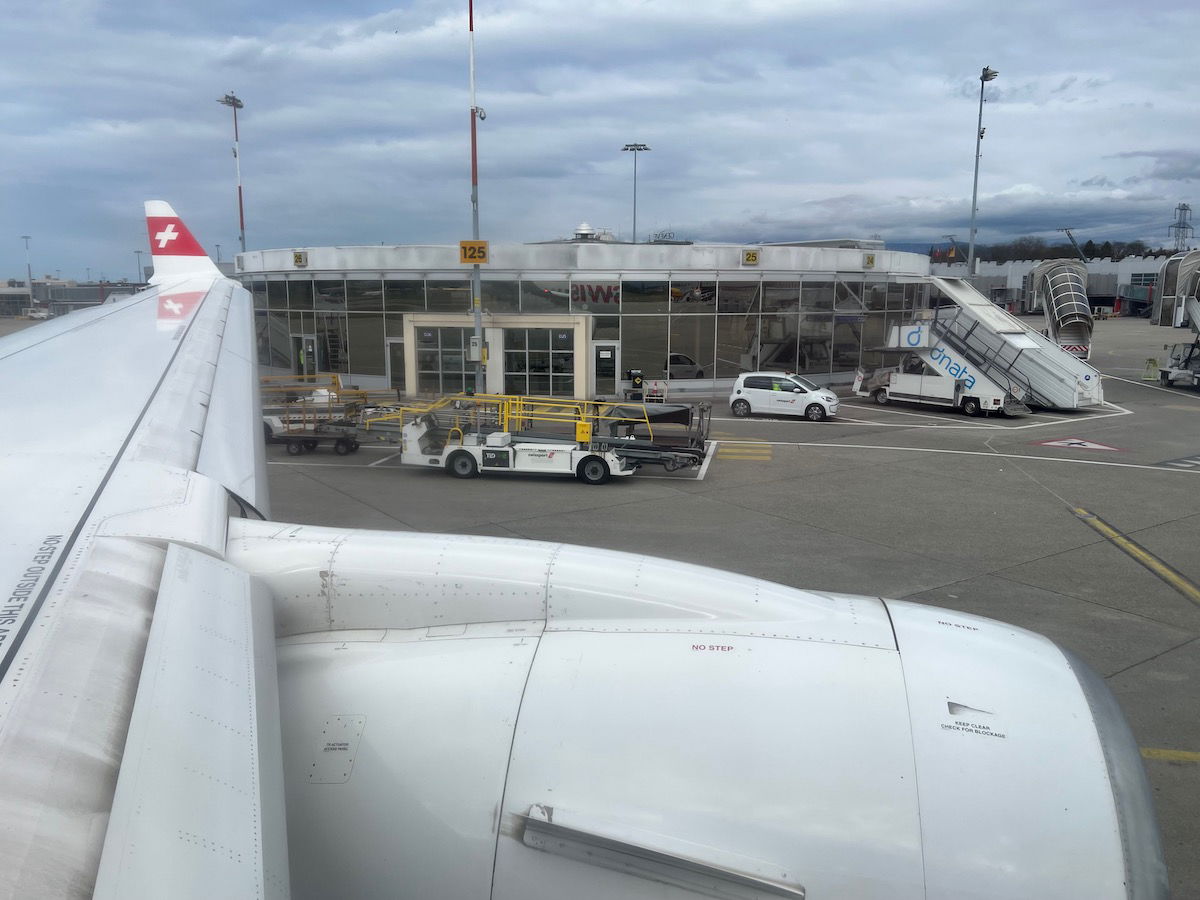 We taxied fast, but nonetheless it took quite some time to get to the runway.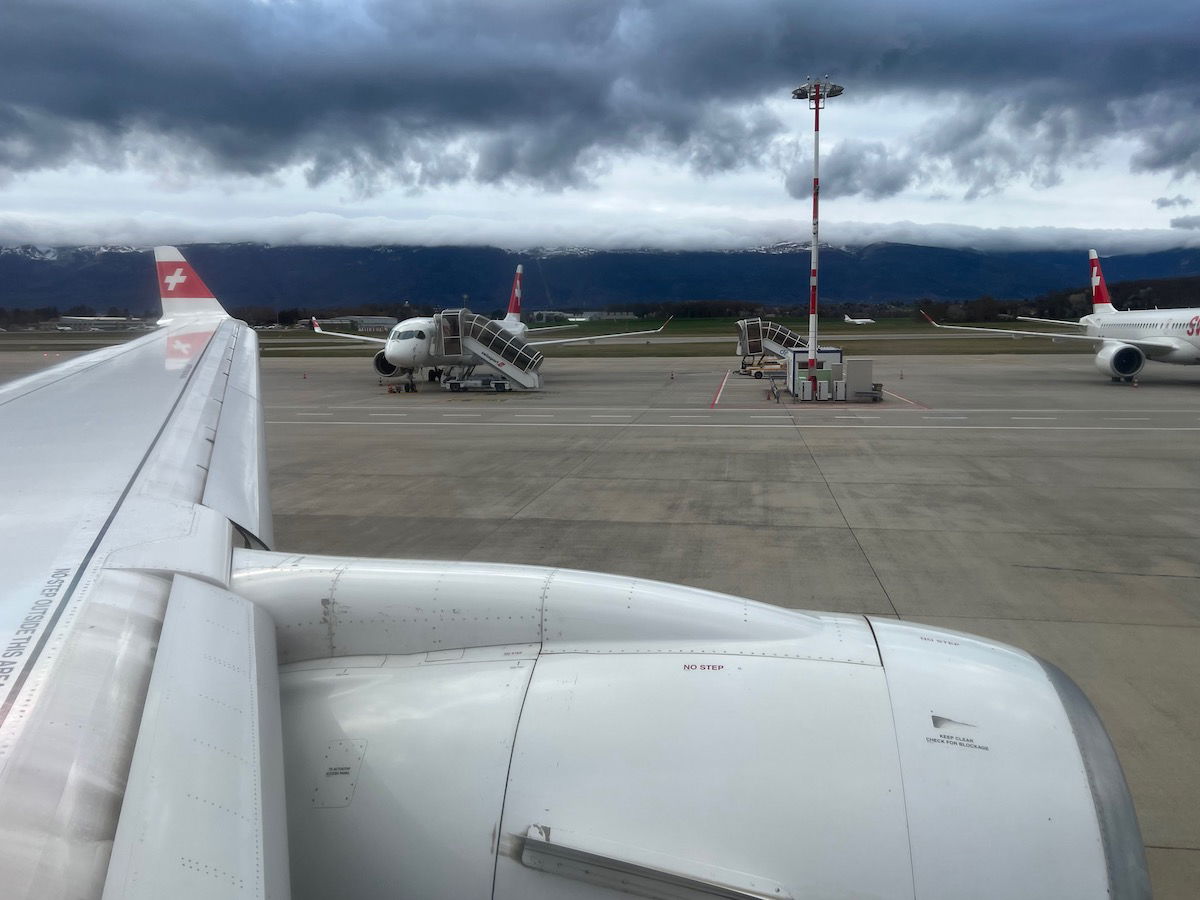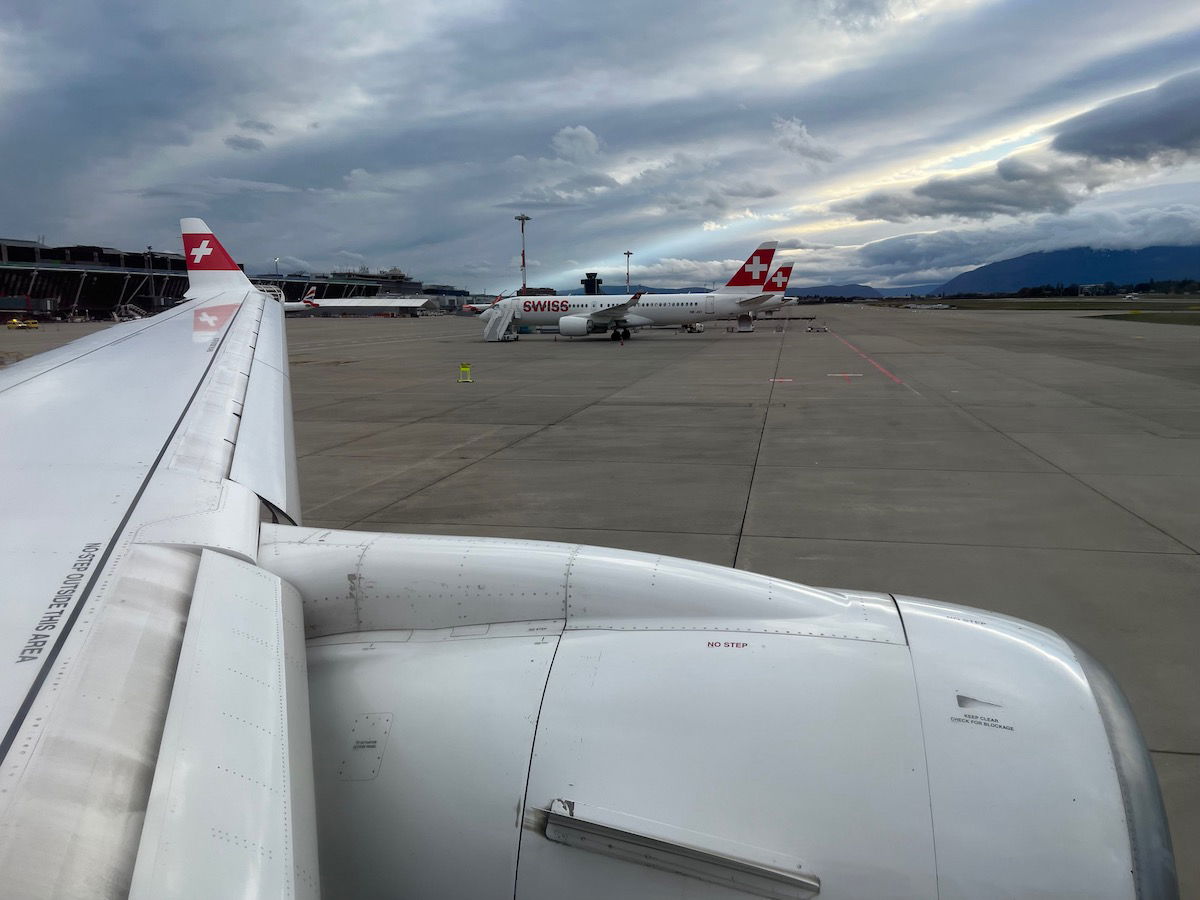 About 10 minutes later (at 6:55PM), we were short of runway 22, where we were cleared for takeoff.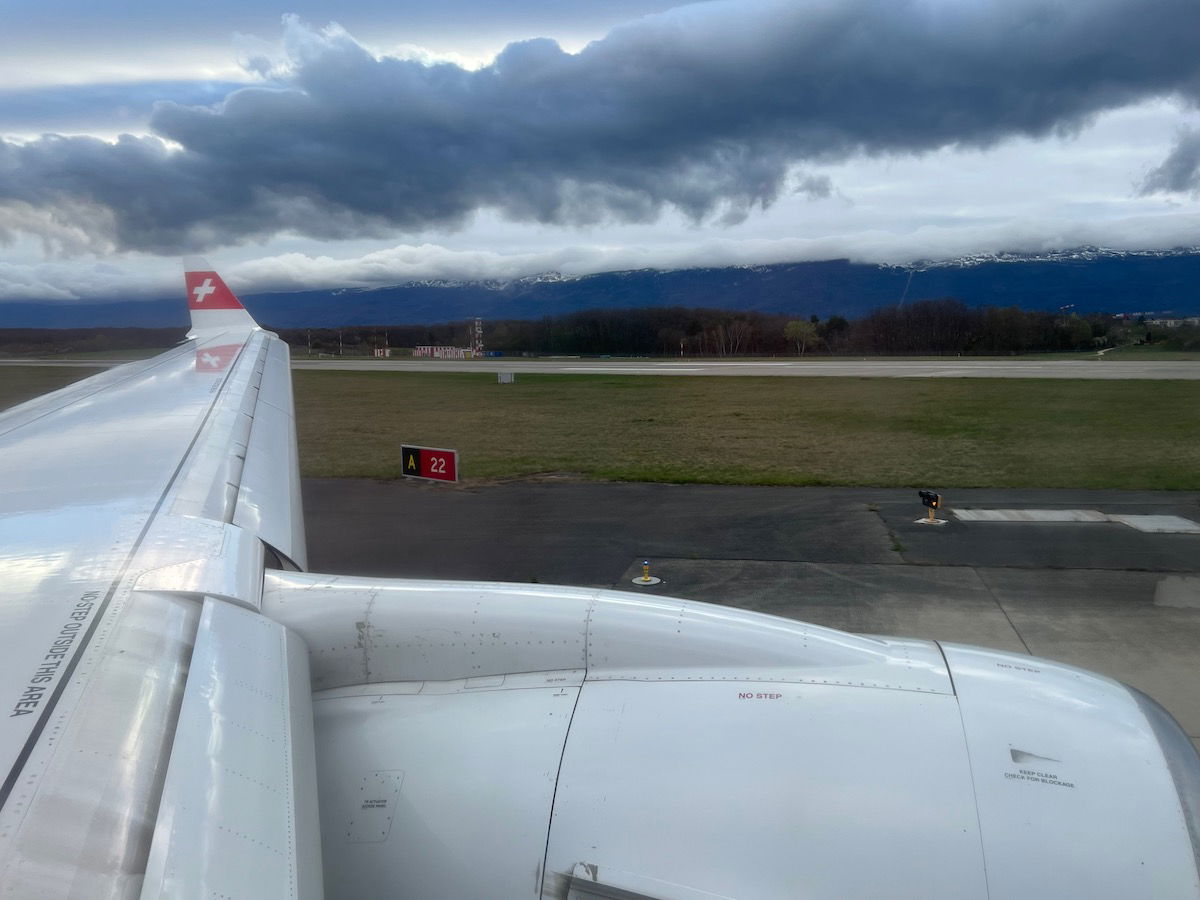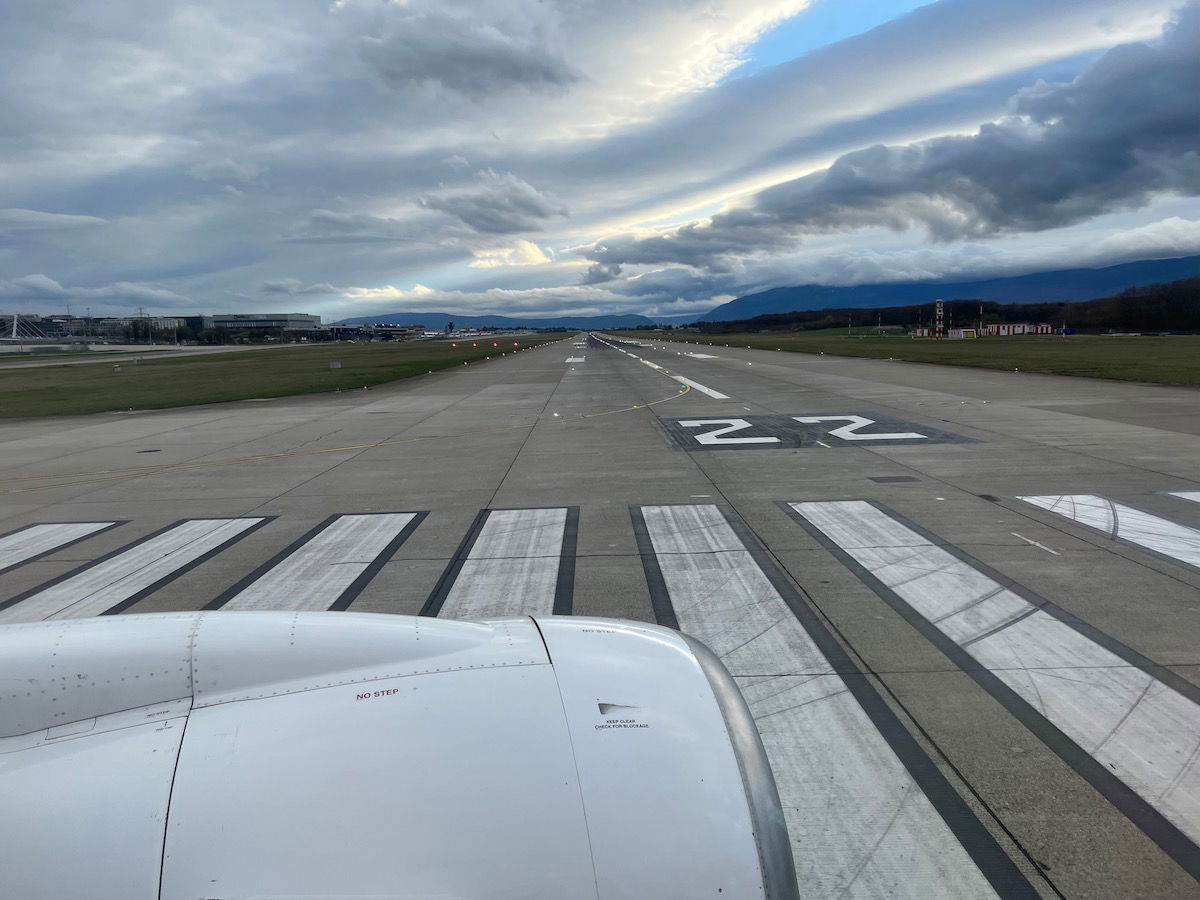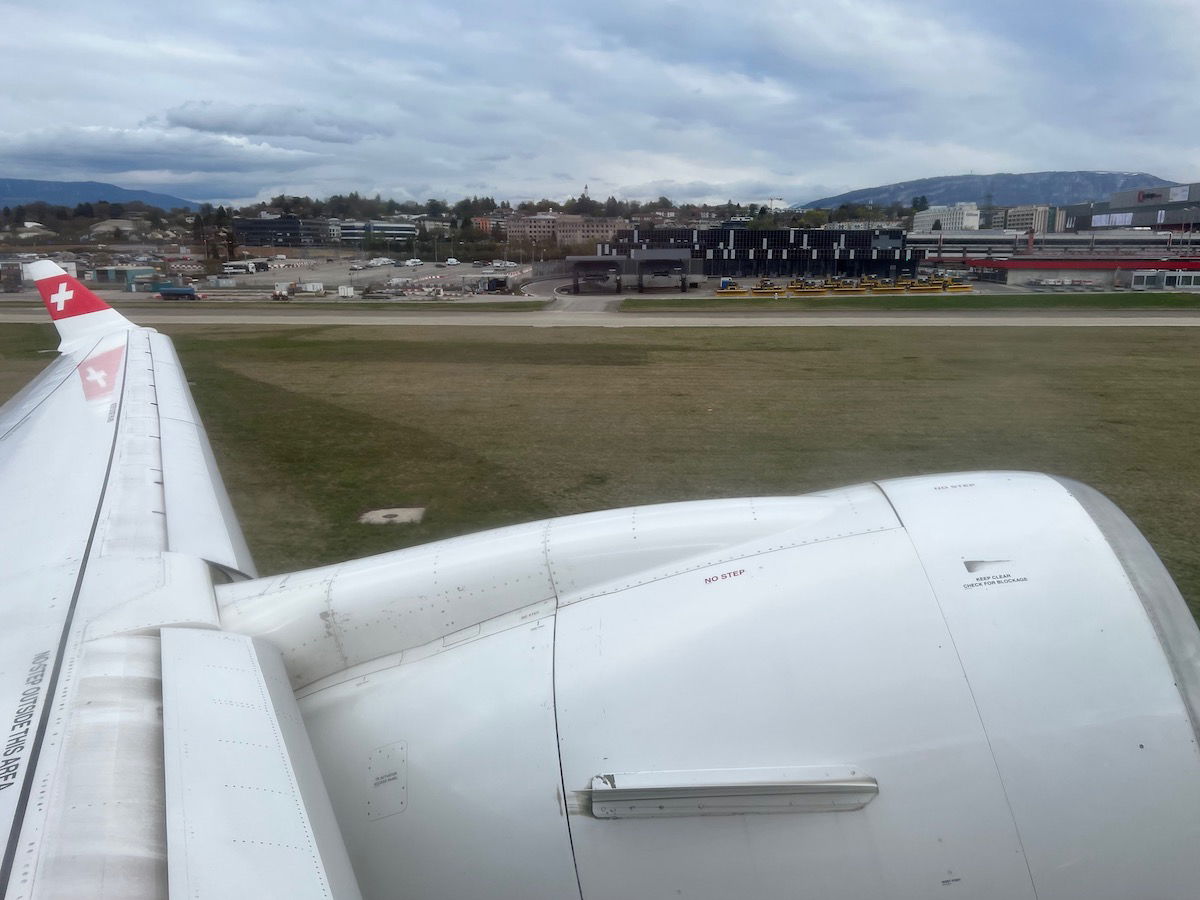 We had beautiful views of Geneva on our climb out…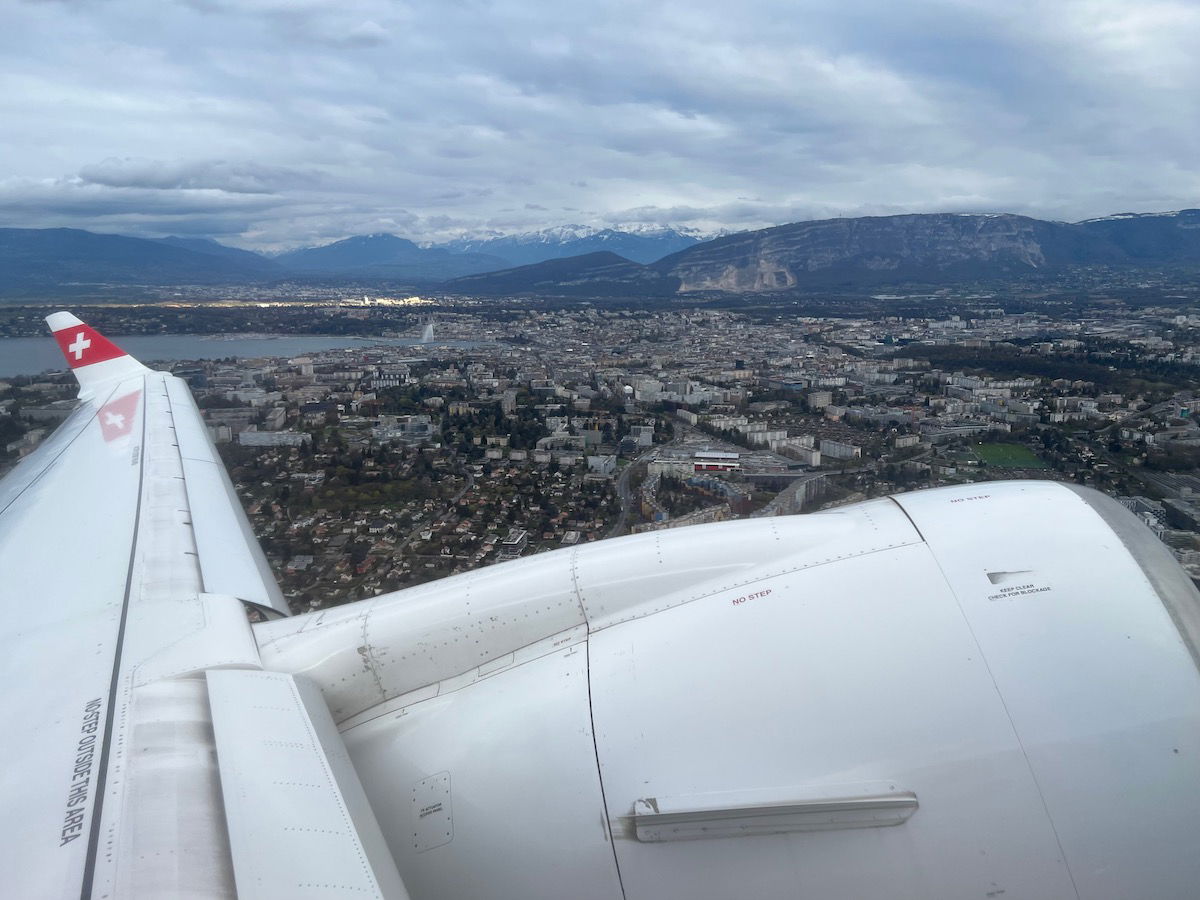 We hit some pretty serious chop after departure, given the thick clouds combined with the mountains. In particular, we hit one pretty big air pocket that made some passengers gasp.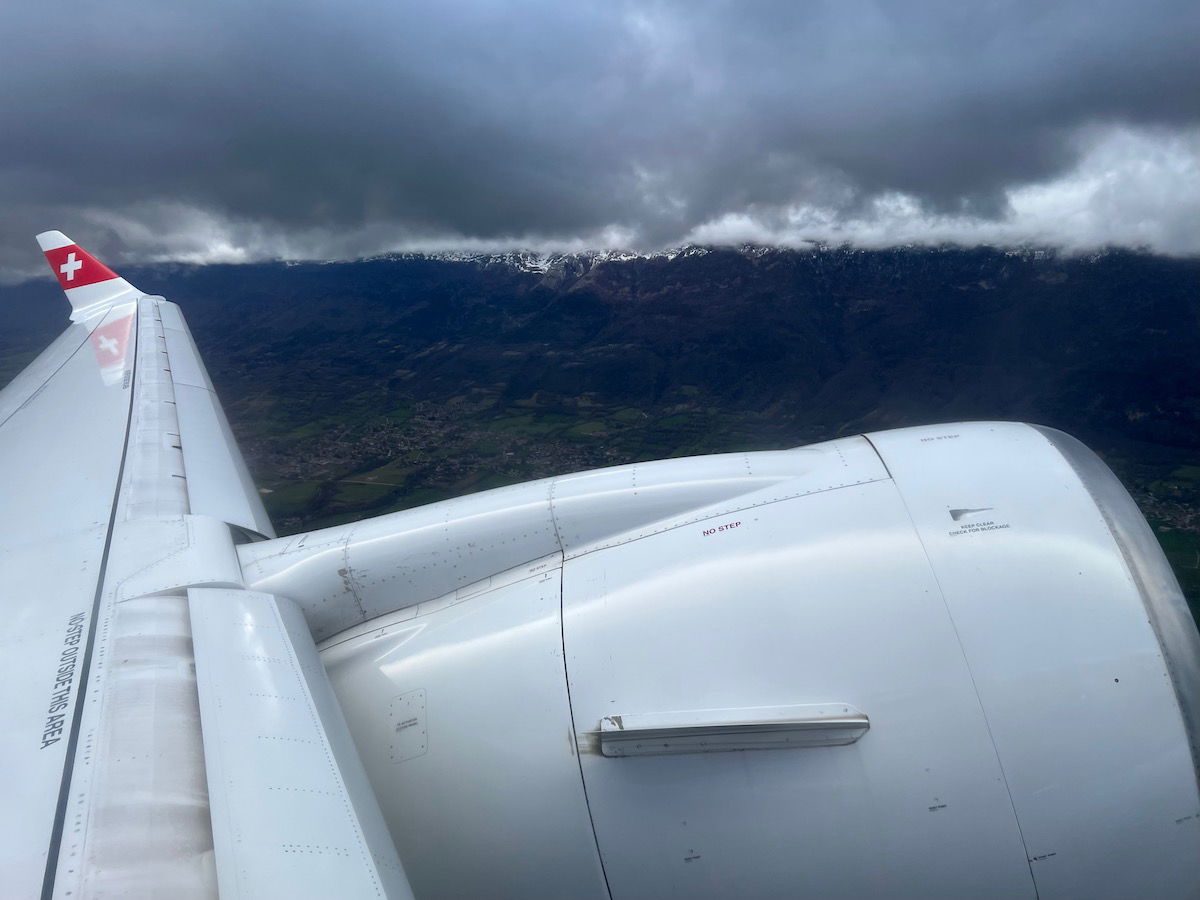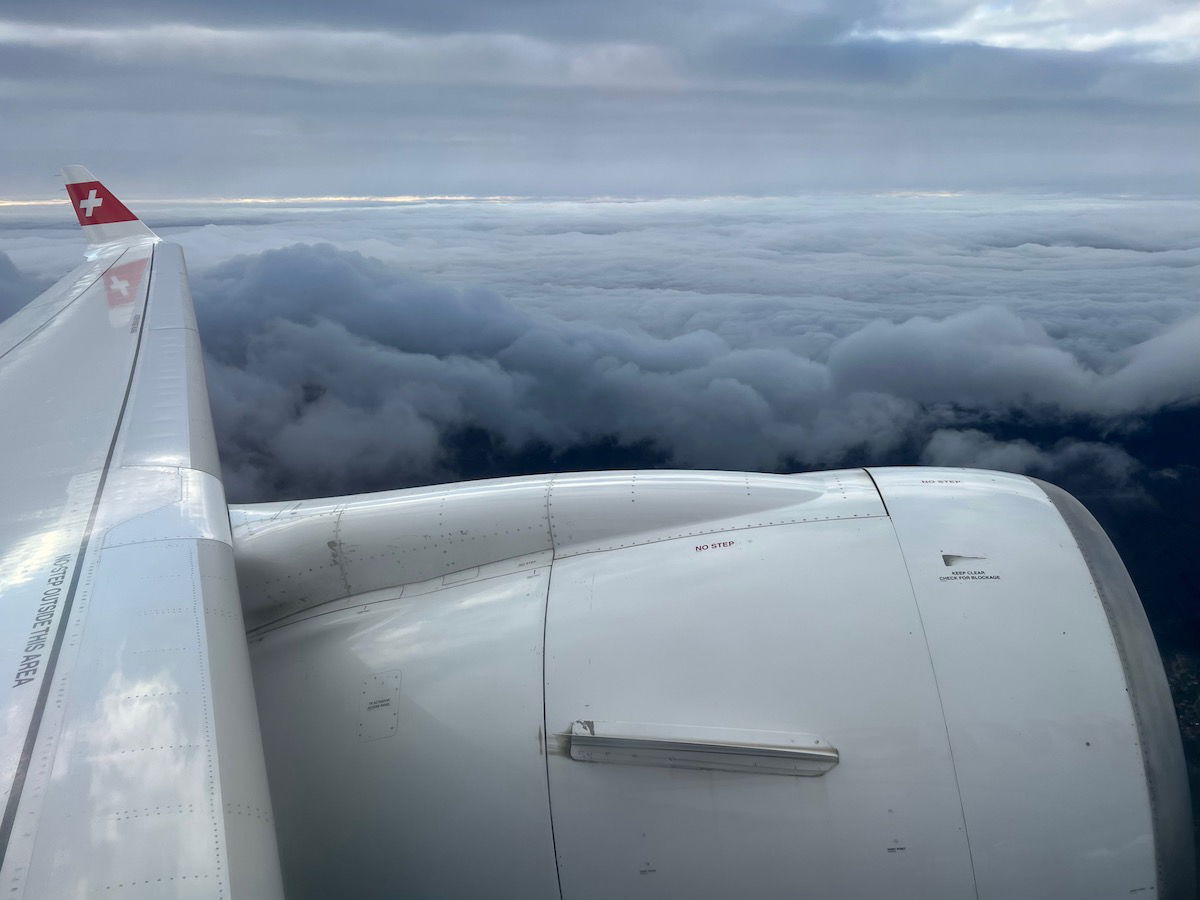 Fortunately it was a totally different story above the clouds, and about 10 minutes after takeoff the ride smoothed out, at which point the seatbelt sign was turned off.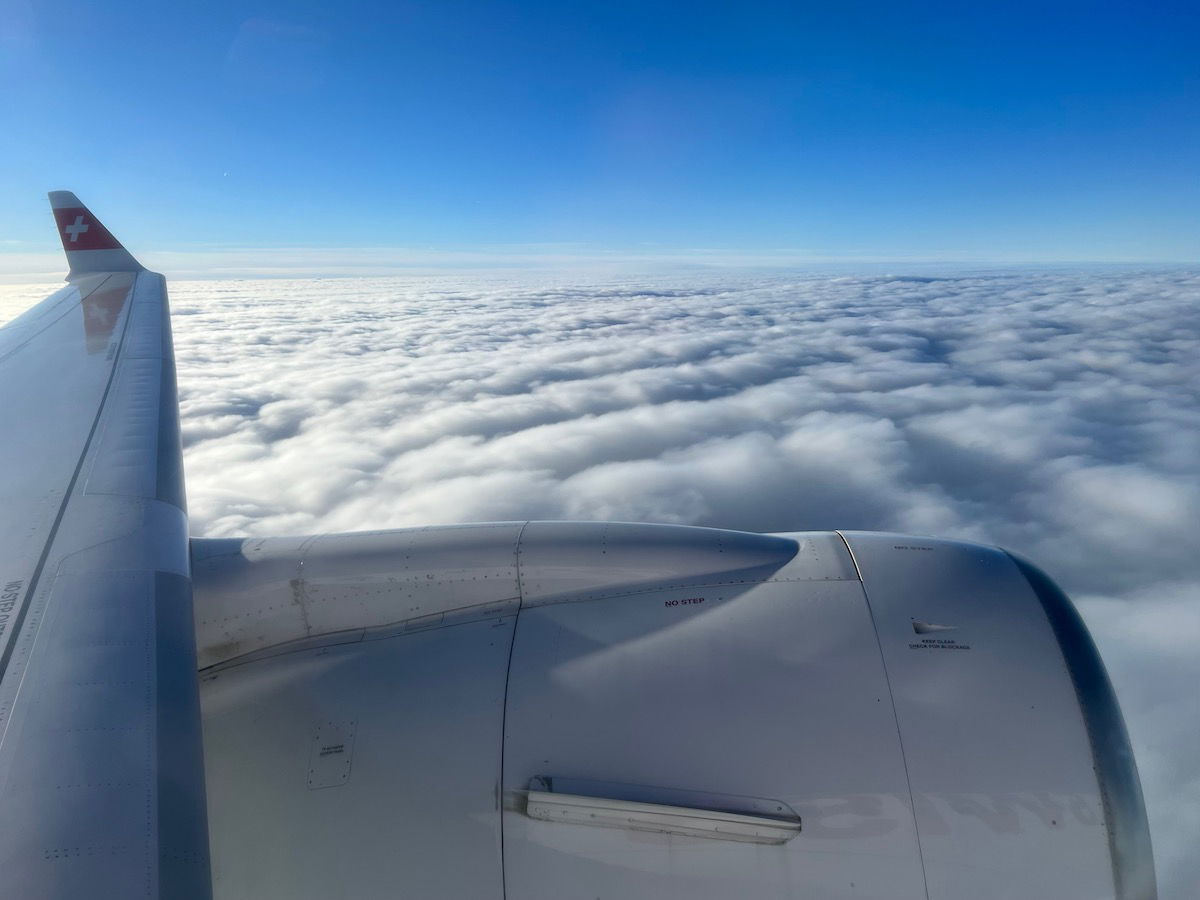 Once the sign was off, the crew first closed the curtains between cabins, and a few moments later, service began.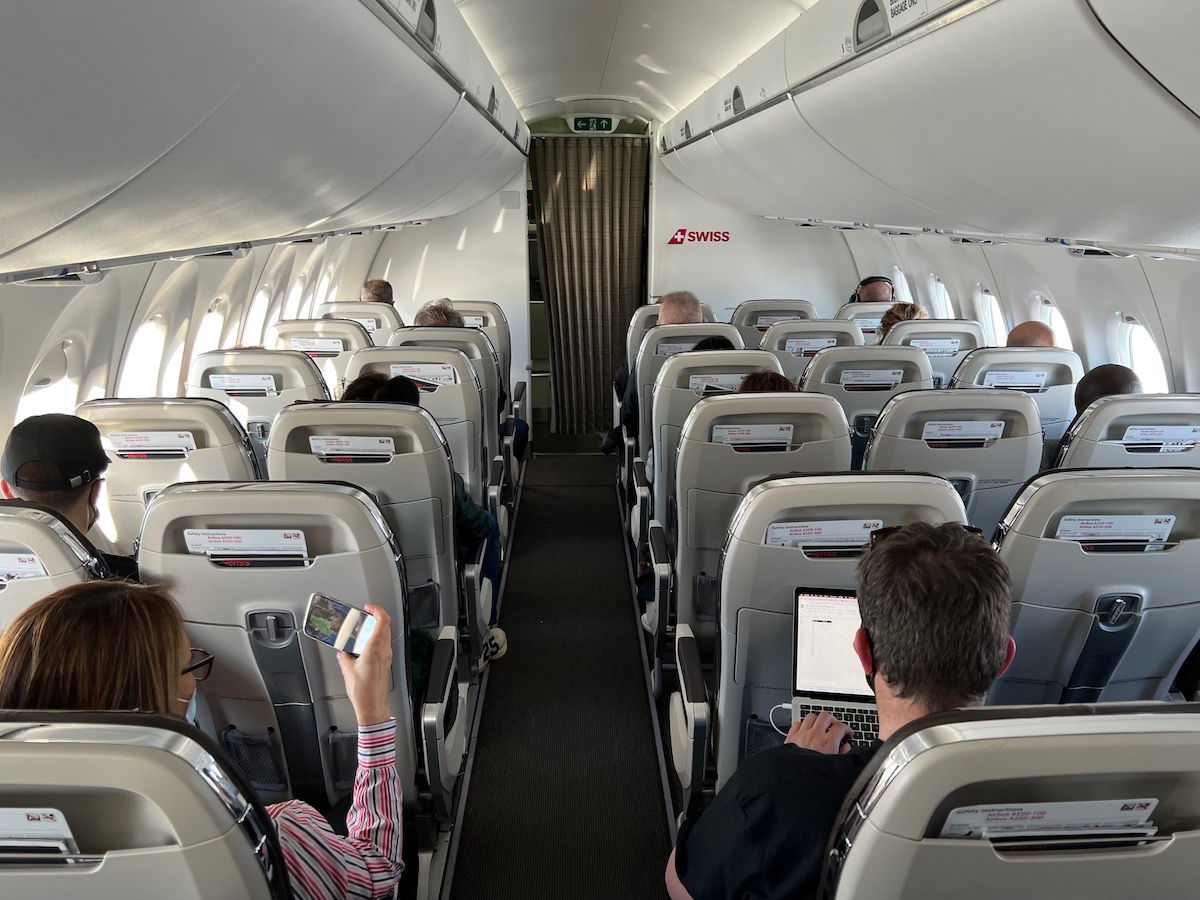 SWISS business class snack service
About 20 minutes after takeoff a light snack was served. There were no choices, but rather each passenger was offered a tray with two finger sandwiches (one had pork and cheese, while the other had beets… I think?), plus a dessert with a berry compote and crumble. It wasn't much of a snack, especially since I don't eat pork.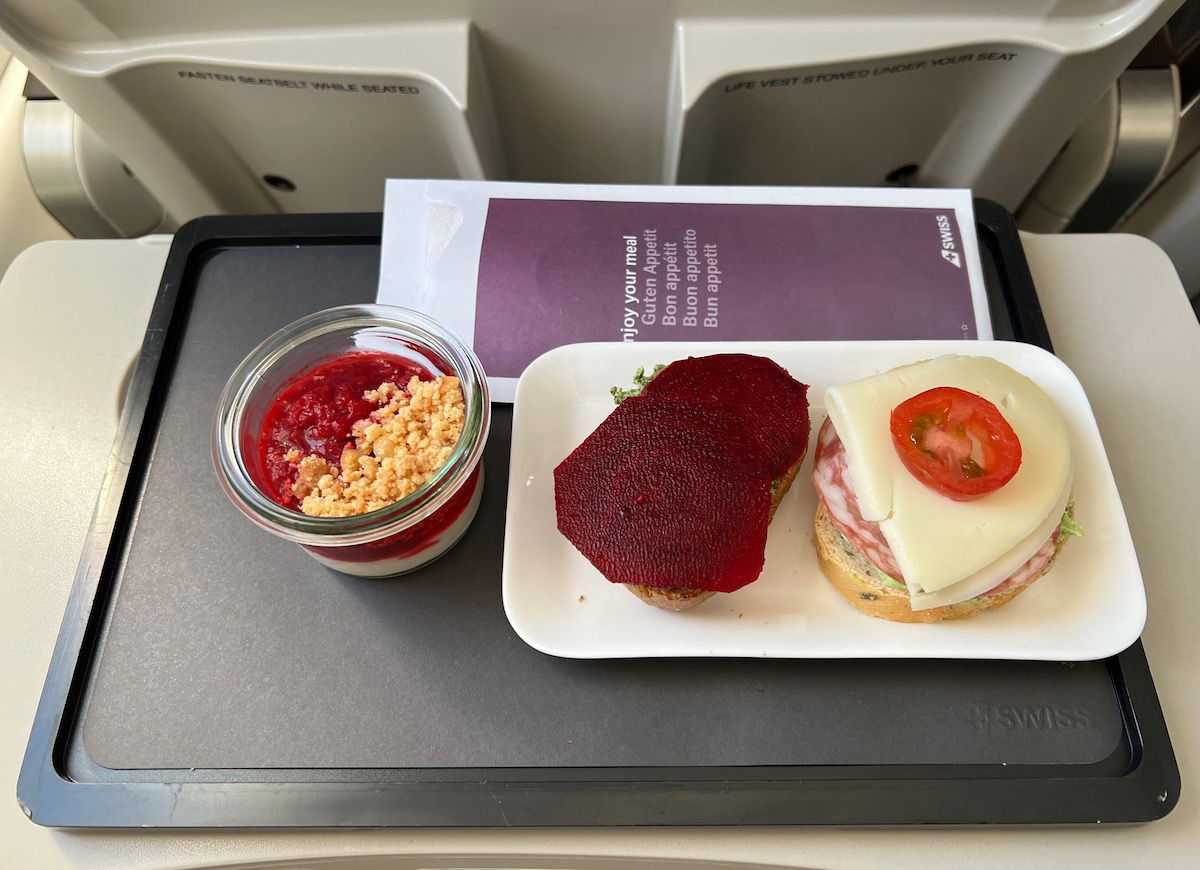 A separate cart was then brought out with drinks. I had a coffee and a sparkling water.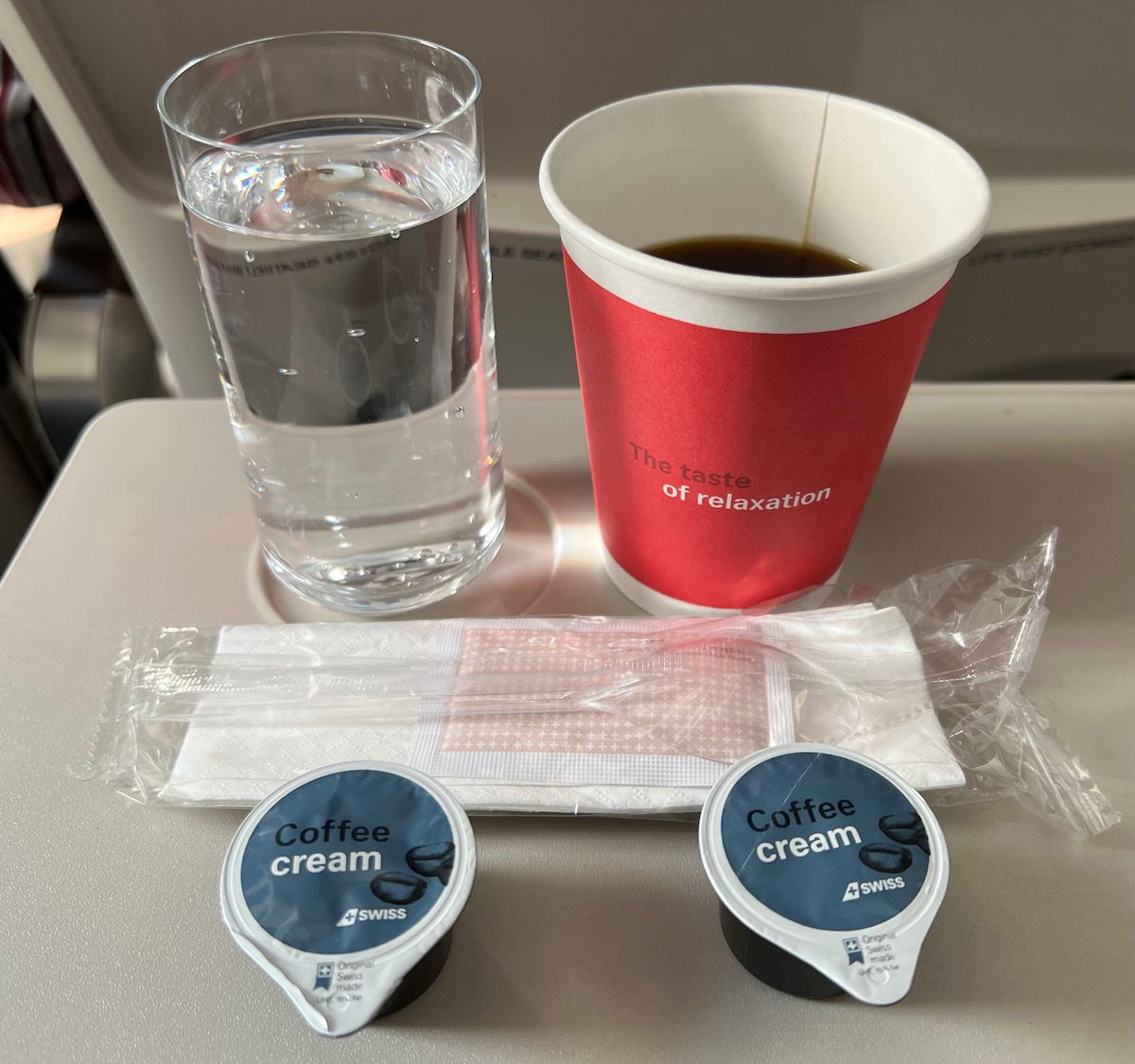 After that, chocolates were distributed, as is standard on SWISS.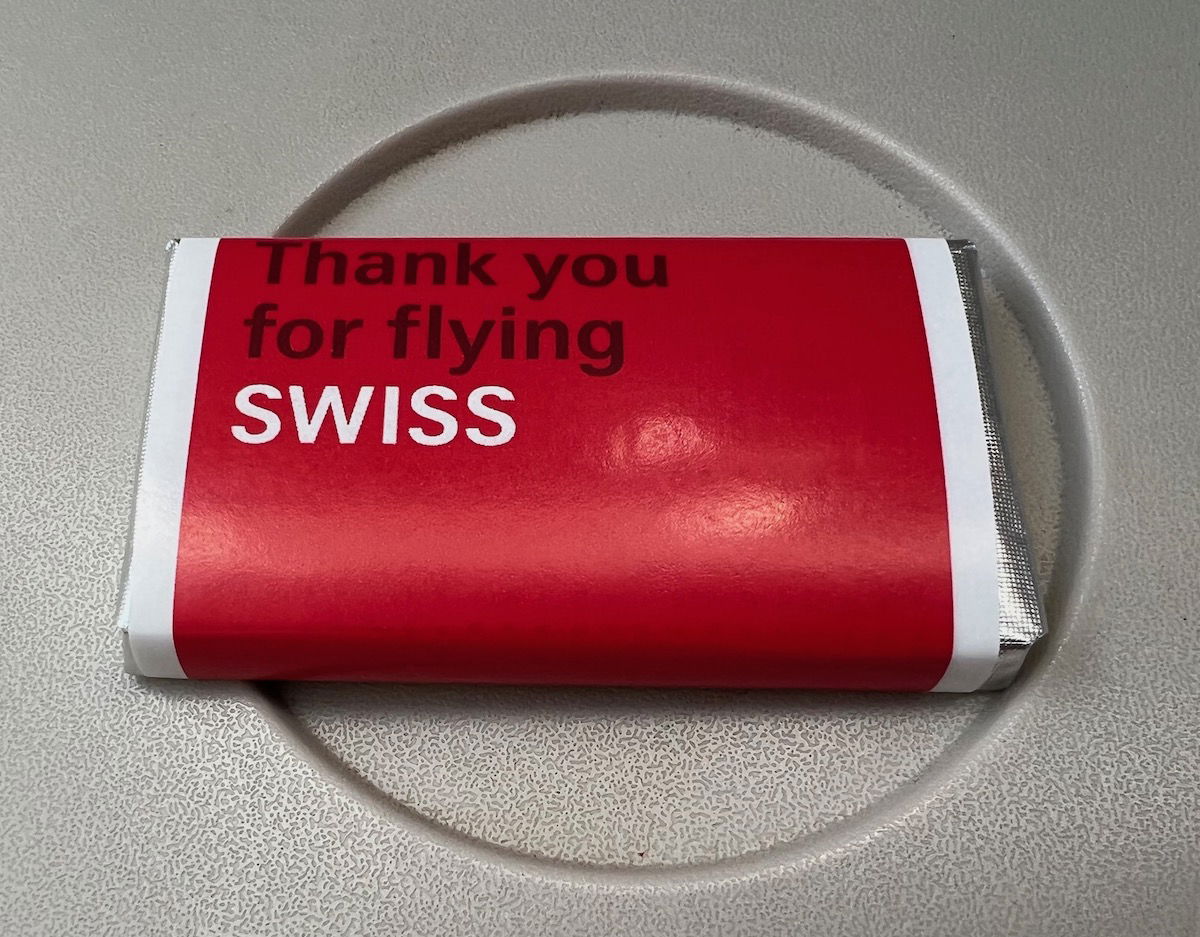 The crew was friendly and efficient, and was quick to clear service items as people finished up.
SWISS arrival in Frankfurt
20 minutes before landing, the first officer informed us that we were starting our descent to Frankfurt and should be landing at 7:50PM. It was a beautiful evening above the clouds, and it was nice to still see some sunshine.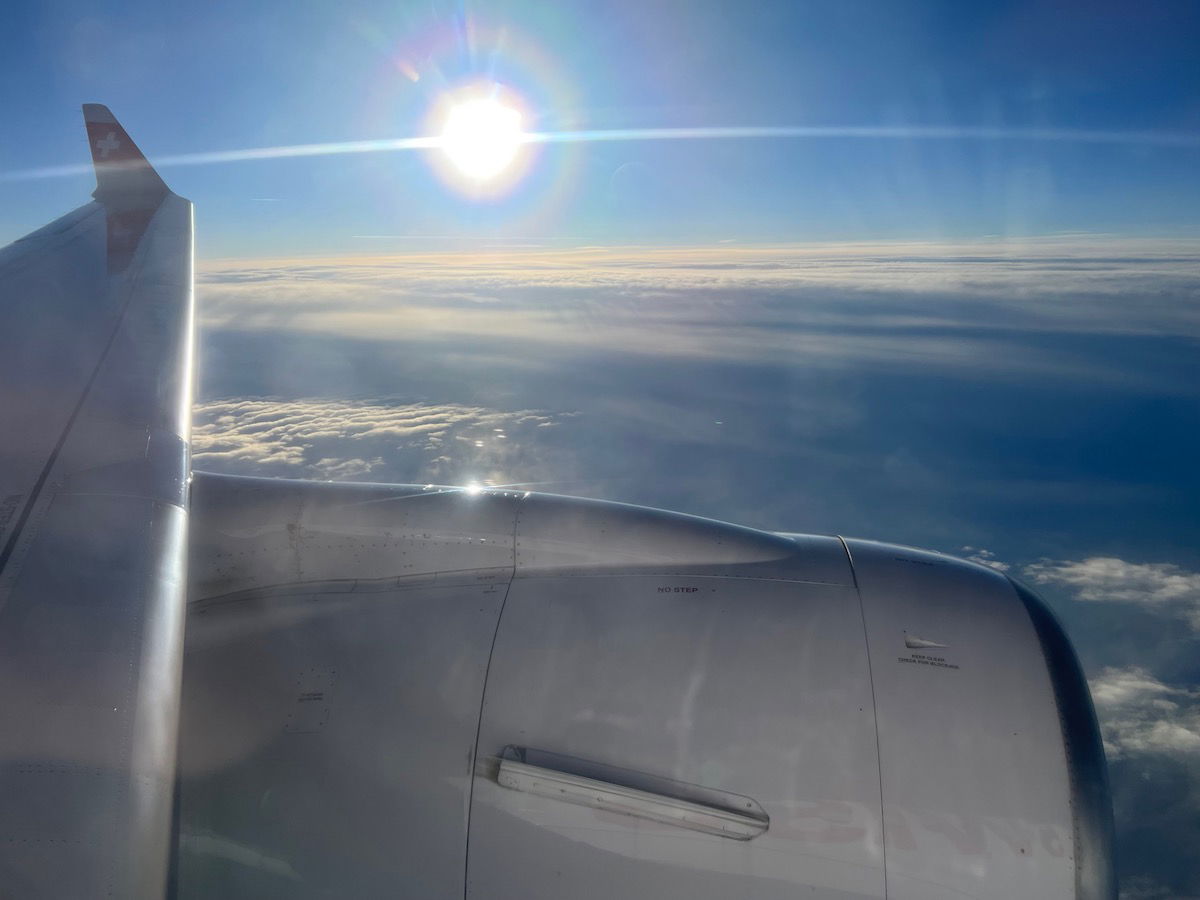 Just as on departure, it was a different story under a layer of clouds, though. Not only was the sun setting, but it wasn't particularly clear evening either.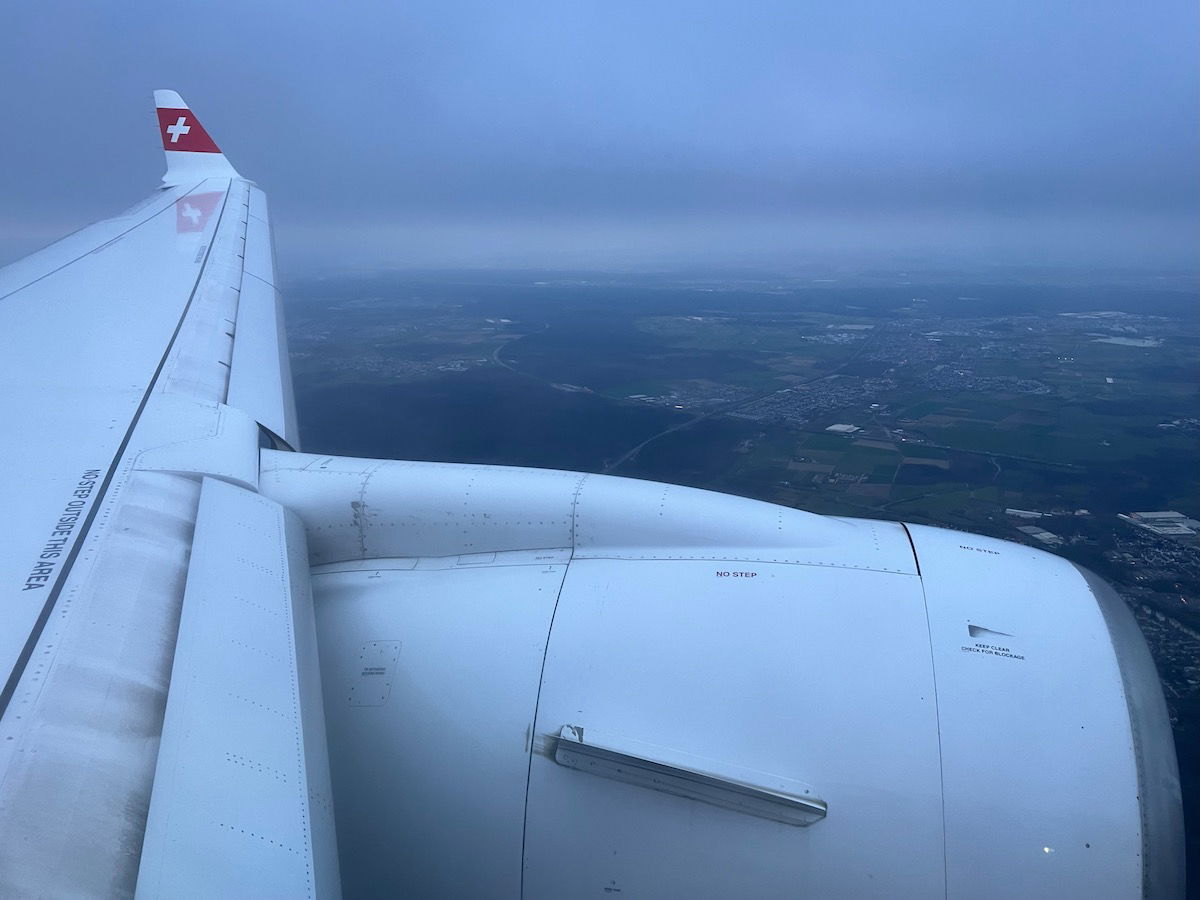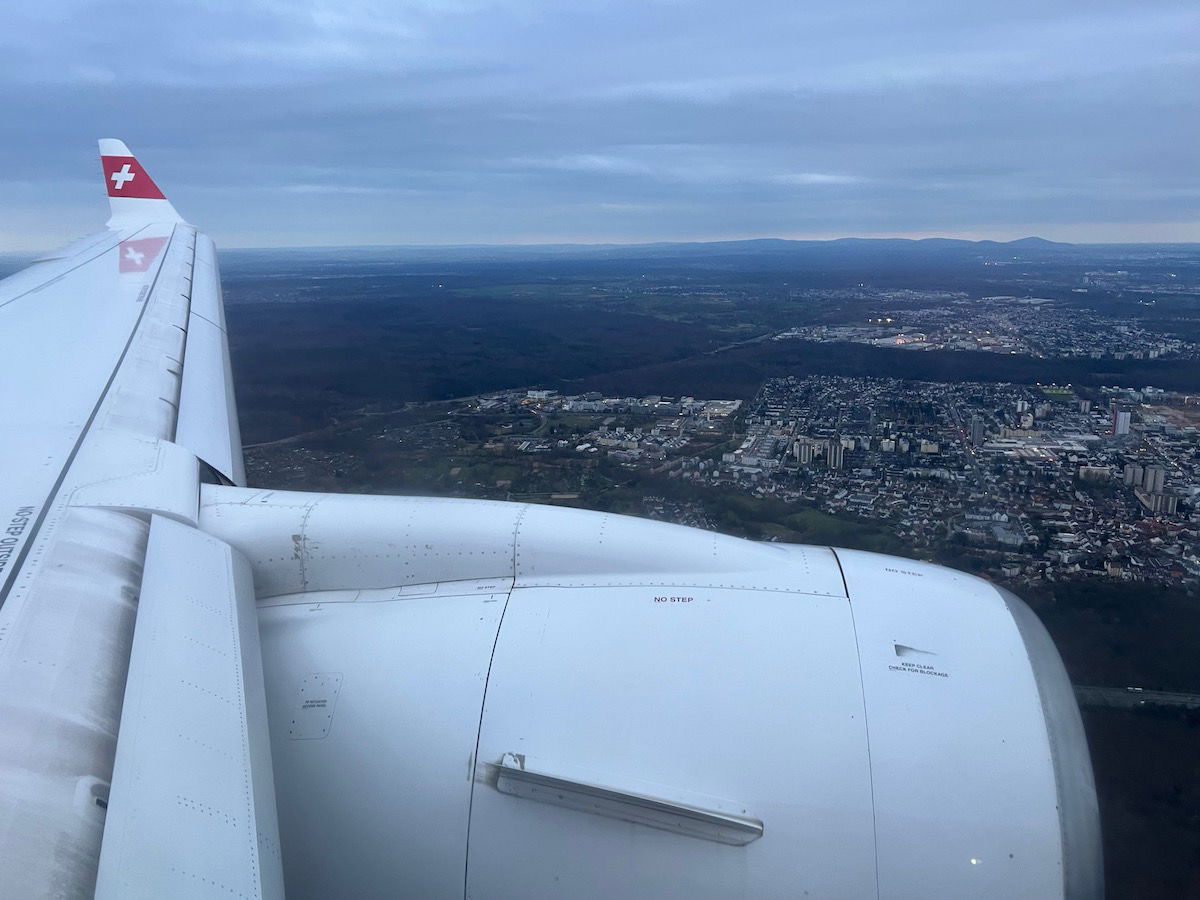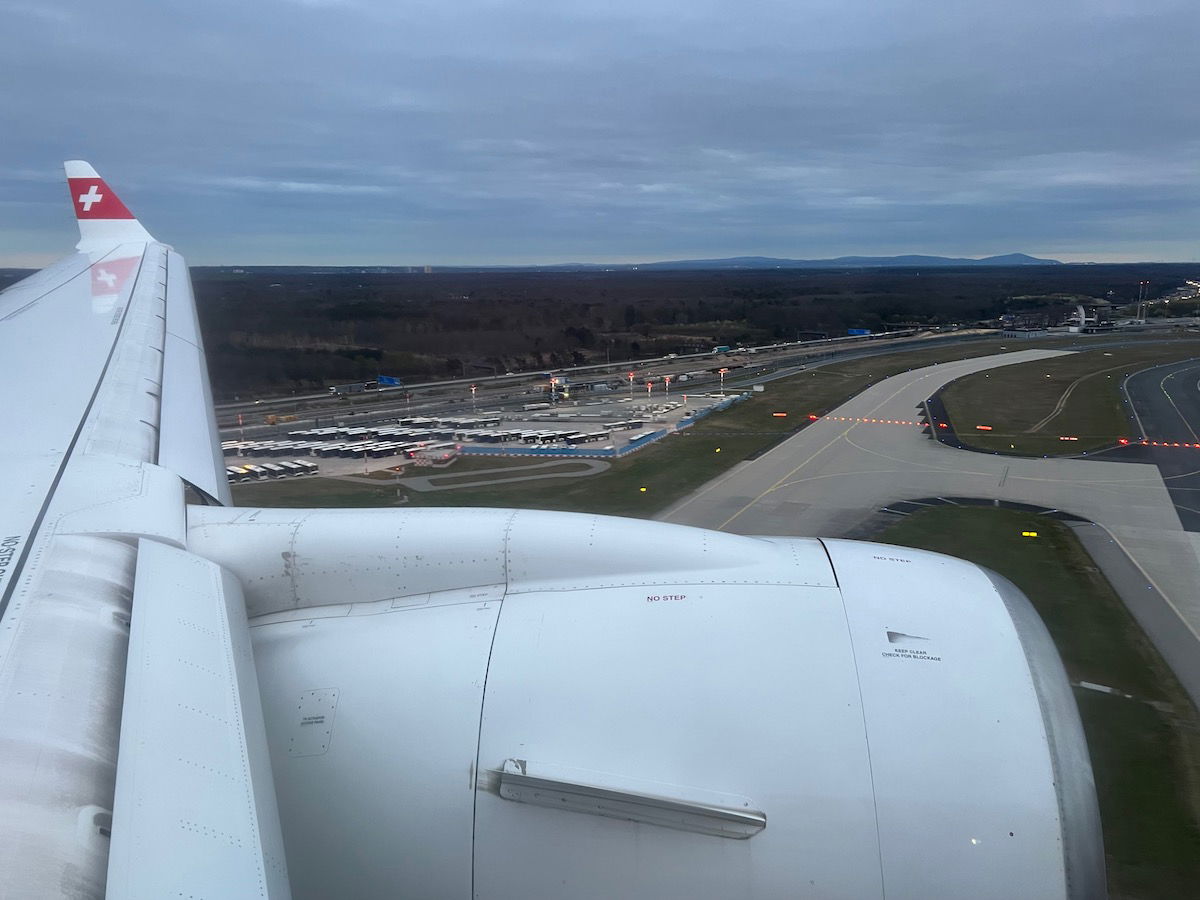 We ended up touching down in Frankfurt at 7:50PM.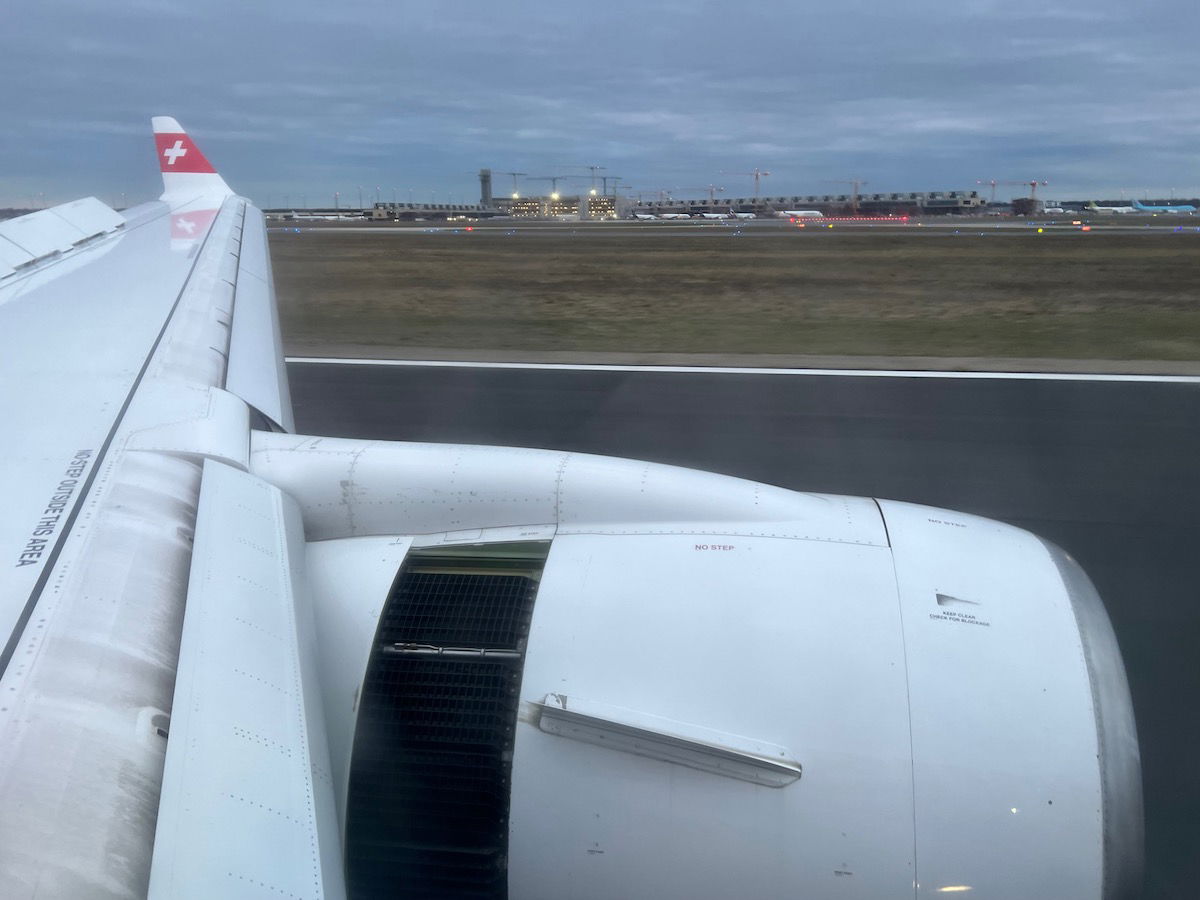 From there we had a literally one minute taxi to our remote stand, which might be a new record for me.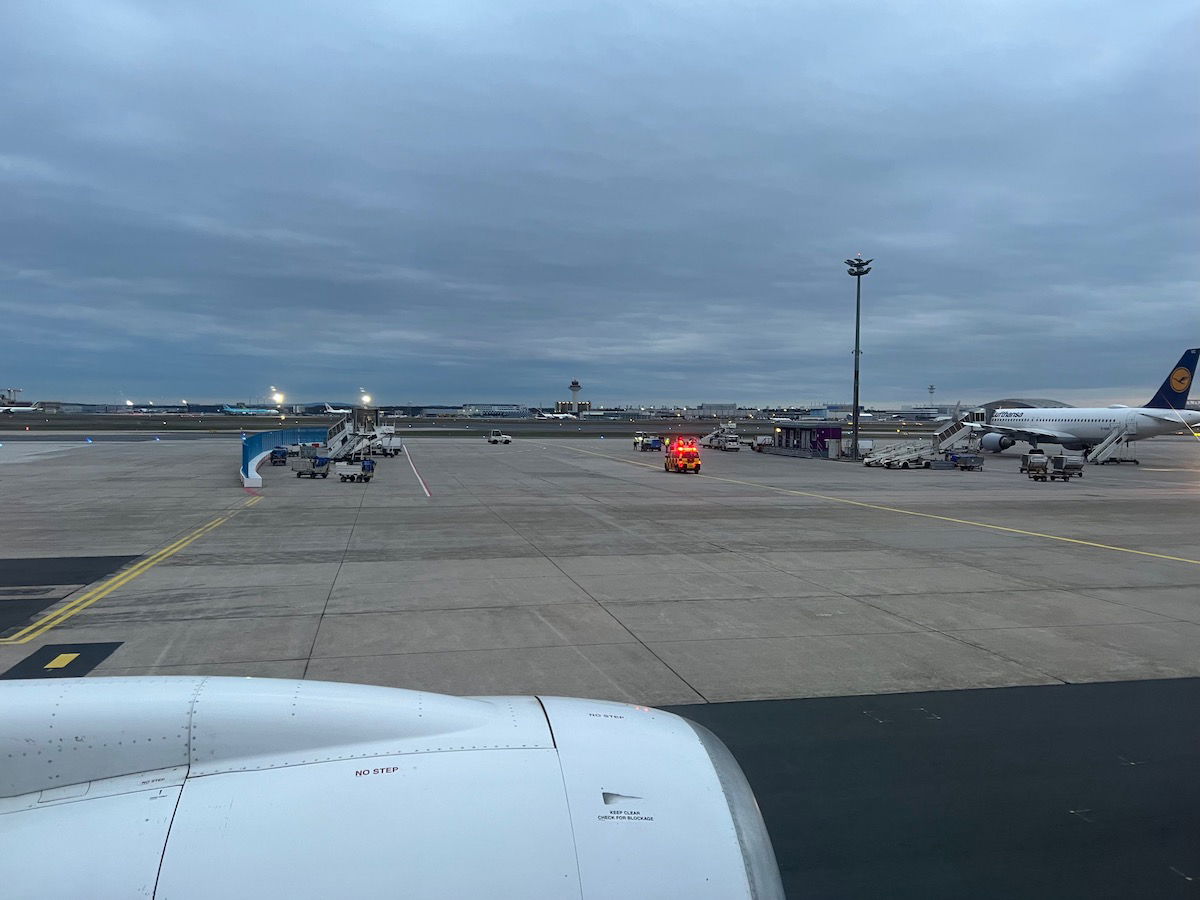 While I usually am not a fan of remote stands, I was impressed that there was a separate bus for business class passengers, so there was no long wait for the bus to fill up, and for that matter people weren't crammed in the bus either.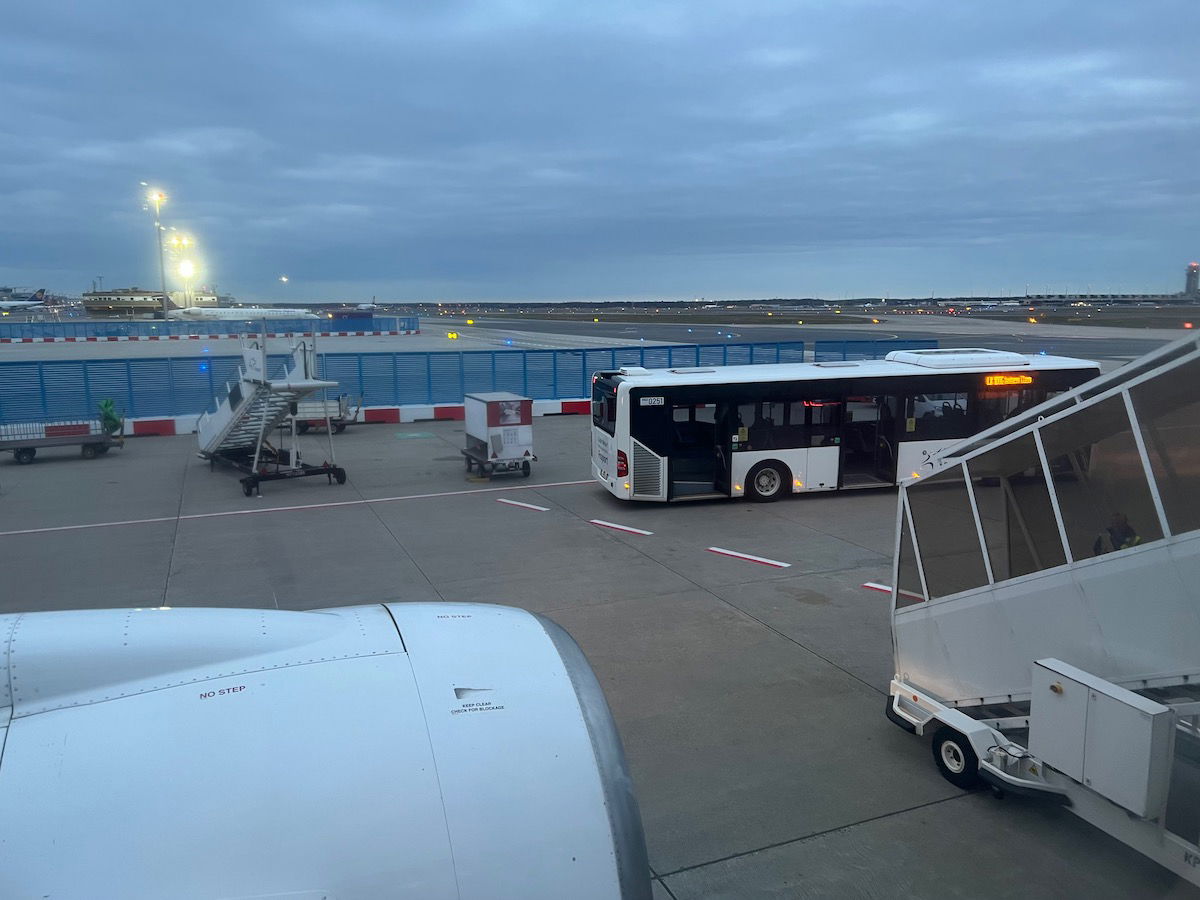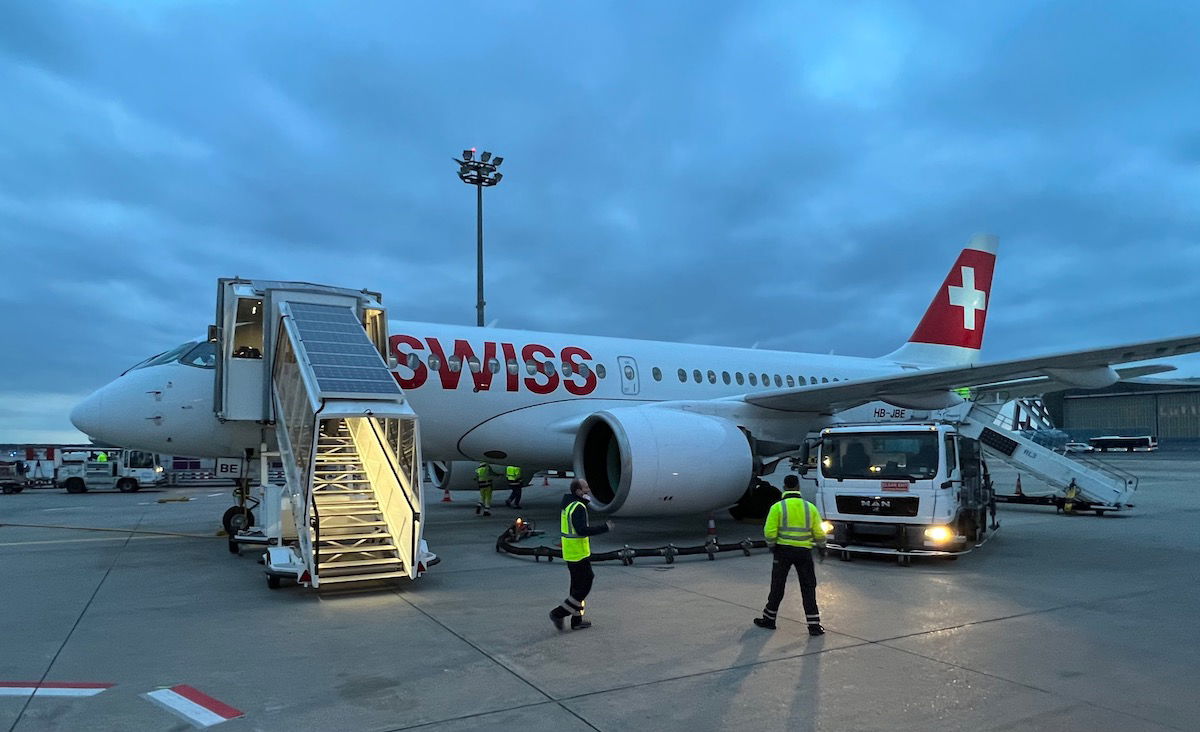 A few minutes later we found ourselves in the terminal. We just had to wait for our checked bag, which showed up within about 20 minutes.
Bottom line
The Airbus A220 is a joy to fly, as it's such a comfortable and spacious jet. In particular, you've gotta love the 2-3 layout, since in intra-Europe business class it means you can have both an aisle and window seat to yourself.
This flight was punctual, and the crew was friendly. My only real criticism is that SWISS hasn't really invested in the passenger experience of these planes beyond the features of the A220 as such. There are no power ports and no Wi-Fi. That's not at all an issue for such a short flight, but on a longer flight it would be a different story.
If you've flown SWISS' A220, what was your experience like?