EXTRA PERKS AVAILABLE
Enjoy breakfast, upgrades, & more
Want to take advantage of Virtuoso benefits at no extra cost, including a room upgrade, free breakfast, a hotel credit, and more? Contact Ford ([email protected]) for more details. He doesn't charge booking fees, and may even be able to help if you already have a stay booked.
We recently spent five nights at the 48-room Les Airelles Courchevel. You've probably never heard of this hotel, but it's easily the most over-the-top and indulgent hotel I've ever stayed at, and it ranks in my top five favorite hotel stays ever.
There's so much that makes this hotel special, from the fleet of Rolls Royce Cullinans that drive you around town, to the most generous half board I've ever seen (sure, I'll have lobster and black truffle, and how about one of those tableside tiramisus too?), to the maître chasseurs ("master hunters") who tend to your every need, while wearing the most distinctive hotel uniforms I've ever seen, to the most imaginative cocktails I've ever drank. While Courchevel is quite the scene, this hotel has substance as well, and delivers on service.
I truly felt like I was on a different planet for the five nights I spent in Courchevel, so hopefully I can transport y'all there with me in this review. Even if you're not a skier or would never stay at this property, think of it as hotel porn, because this place really is on a different level.
What makes Courchevel special
For those not familiar with Courchevel, it's located in the French Alps, and is part of the largest ski area in the world. That's because Les 3 Vallées (which Courchevel is part of) has around 600 kilometers of slopes, which doesn't exist in any other ski resort area in the world. While I'll save the details for the next installment, I (sort of) learned to ski on this trip, and it was quite something…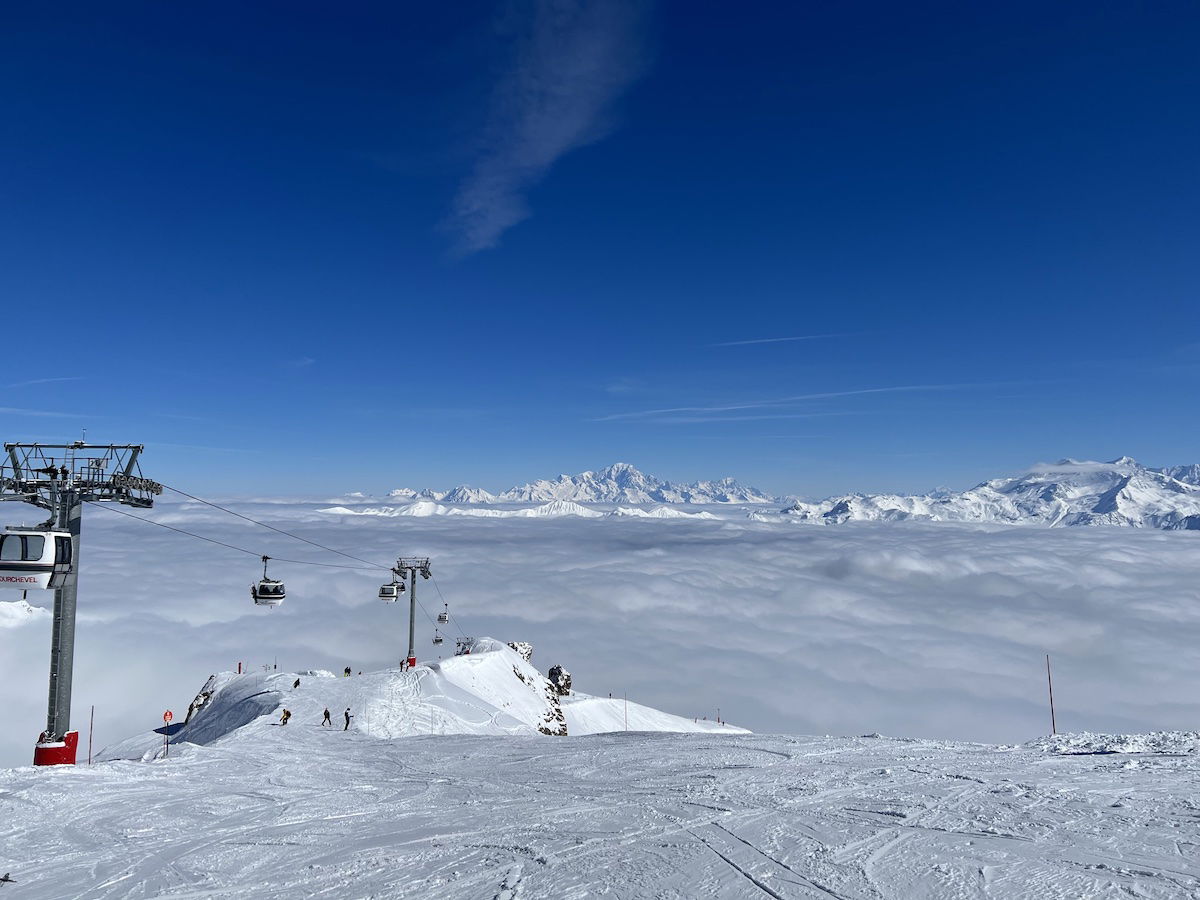 Even beyond the genuinely great skiing conditions, Courchevel is a luxury hotel powerhouse. Courchevel 1850 (with the "1850" referring to the altitude of the town in meters) has an unbelievable selection of luxury hotels:
There's Les Airelles Courchevel, which belongs to the French Airelles hotel group
There's Cheval Blanc Courchevel, which is a hotel group owned by LVMH
There's Aman Le Melezin Courchevel, which belongs to the famous Aman hotel group
There's L'Apogee Courchevel, which belongs to the Oetker Collection
There's Hotel Le K2 Palace Courchevel, which is (I believe) independent
Why did we decide on Les Airelles, given all of these excellent options? Well, it's regarded by many to be the best hotel there, the design looked kind of awesome, and it was actually the most reasonably priced of those options for our dates.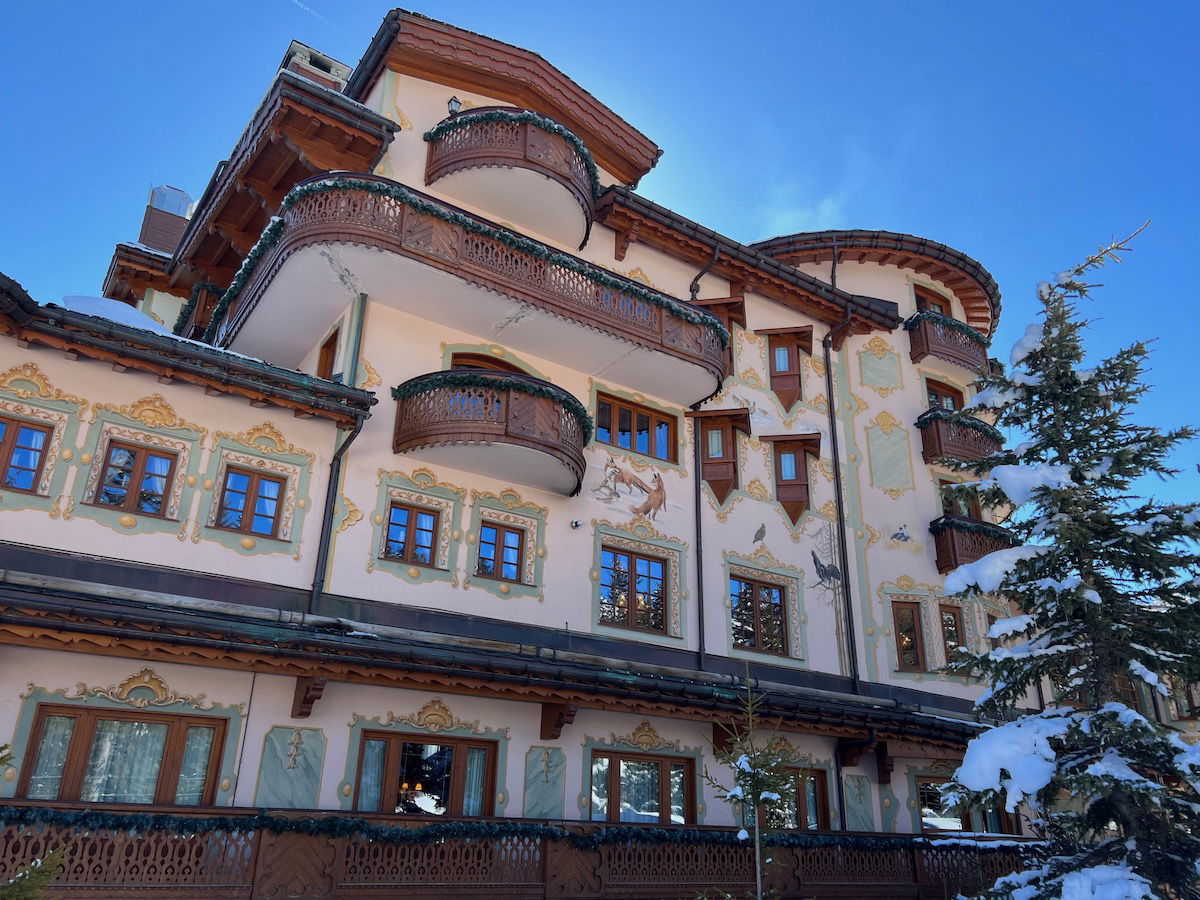 Speaking of Airelles, the brand has some other well regarded hotels in France, including in Gordes, Saint-Tropez, Val-d'Isère, and Versailles.
Booking Les Airelles Courchevel
Courchevel's top resorts are only open seasonally, generally from December through early April. They also often have a minimum stay requirement, which in this case was five nights.
We ended up staying for five nights in early April, and this ended up being perfect:
Rates are lower at the end of the season
Courchevel ended up being relatively quiet without feeling deserted, which was awesome
We lucked out so much with weather, and we were told that we had the best snow conditions they had had in several weeks; it snowed nonstop for our first three days, and there were perfect blue skies for our last two days
We ended up paying the going rate for an entry level classic room, which is 1,200 Euro per night. Ford booked us through Virtuoso, which came with additional perks, including an upgrade subject to availability, a $100 property credit, and more.
It's worth mentioning that the entry level rooms at Les Airelles are tiny, at 18 square meters (~194 square feet). Fortunately since Ford booked us through Virtuoso, we received a space available room upgrade to the next category, which was a deluxe room. At 32 square meters (~345 square feet), this was a much more comfortable size. And this also shows the value of booking through Virtuoso, since the deluxe room would have cost 1,000 Euro more per night if paying cash.
All rates at Les Airelles Courchevel include the following (and I'm copying and pasting here):
Gourmet buffet breakfast
Lunches or dinners in-house or in the slopes
Custom-made gifts in the room
Sweet and savoury minibar
Laundry service
Access to La Mer Spa
Relaxation lounge and detox juices
Fleet of Rolls Royce with chauffeur in Courchevel 1850
Bernard Orcel ski butlers
Private parking on reservation
Obviously this hotel is pricey, but when you think of the current state of luxury travel, the pricing wasn't that wild, and this hotel offers quite a bit of value in terms of inclusions. For example, earlier this year I redeemed points at the St. Regis Aspen, where a paid rate for a standard room would have been $2,000+ per night. The service and inclusions at Les Airelles are simply in a different league than at virtually any hotel in the United States.
Lastly, not that it should matter, but I think every couple has some sort of an arrangement with picking travel destinations. In this case this was somewhere Ford really wanted to go, and he fully paid for it — I just tagged along.
If you'd like any help with a Virtuoso booking here, you can reach out to Ford at [email protected].
Les Airelles Courchevel service
Usually I write about service at the end of my reviews, but in this case I can't help but start with it. Service at Les Airelles Courchevel is simply unreal, even before you arrive. Where do we even begin?
Ford was in touch with the concierge team before arrival several times for reservations, etc., and they couldn't have been more responsive; even months in advance they consistently got back to him within an hour
The hotel has what they refer to as "maître chasseurs" ("master hunters" — yes, this is absurd, I know), and they wear the most distinctive white uniforms with chef-style hats; they help you with just about everything, from driving you around town, to opening doors, to so much more
The attention to detail among these guys was remarkable — they remembered guests' names, they'd literally stand in the hallways waiting for someone to come down so they could open the door, when you called to be picked up at a restaurant they'd stand along the wall at the door to the restaurant (as if they were the Secret Service) and wait until you were ready, if you were being picked up in ski boots, they'd take your boots off for you as soon as you arrived in the lobby and put slippers on your feet for you (like Garuda Indonesia first class!), etc.
The staff at all the restaurants and bar were exceptionally good; they knew exactly who everyone was, and were charming, attentive, and proactive, and they also just knew which room to bill (so we typically didn't even have to sign); for that matter, there weren't even opportunities to tip on bills
The guys in the ski room literally put your shoes on and take them off for you, they proactively polish your goggles, and for that matter the ski room has all kinds of delicious (complimentary) food; this was my first time skiing, but Ford tells me this isn't normal, and I shouldn't get used to it 😉
What I appreciated most was that even though this hotel is very well regarded and has "Palace" status, the staff weren't at all arrogant or pretentious
While I wouldn't call this service, the attention to detail with design was amazing — for example "airelles" means lingonberry in French, and just about everything is branded with that logo, ranging from the seats of the Rolls Royce, to the Ladurée chocolate box that they give you at check-out
I've been incredibly lucky to stay at lots of amazing hotels over the years, but this definitely ranks in the top five ever in terms of service.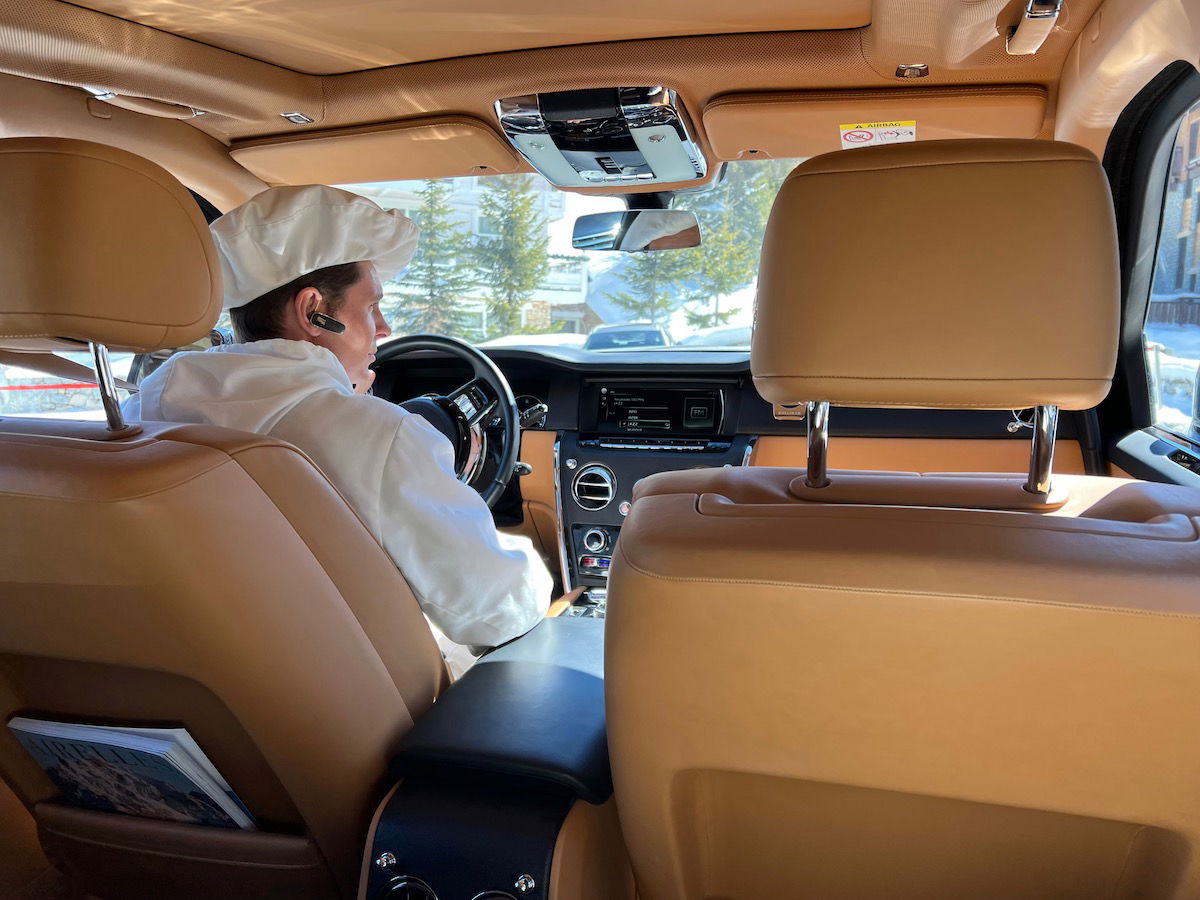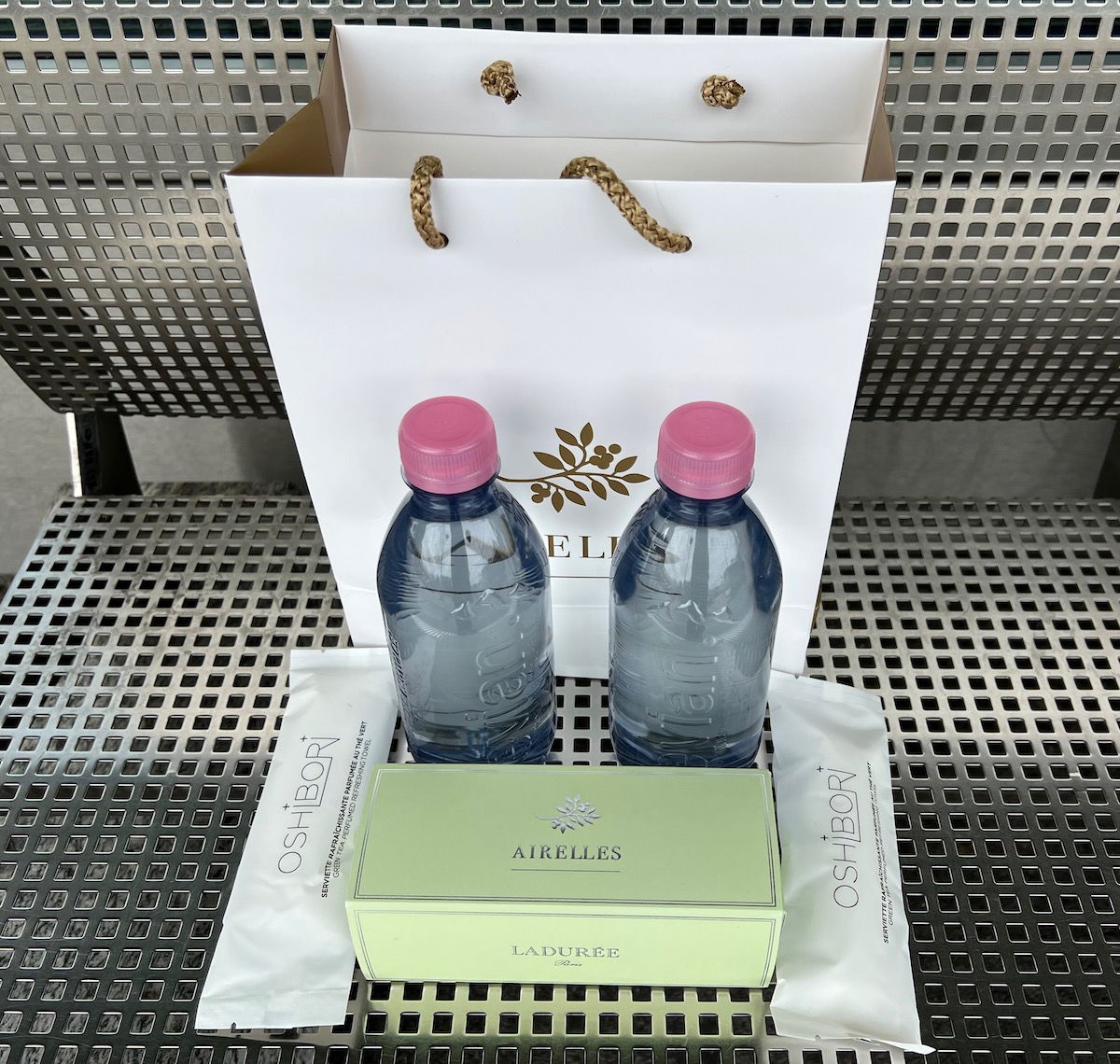 Les Airelles Courchevel location
Les Airelles is located on Rue du Jardin Alpin in Courchevel 1850, so it's at an altitude of over 6,000 feet. Courchevel 1850 is quite small, so there's not much differentiation between location, especially since all the good hotels are directly on the slopes, and also offer unlimited complimentary transfers within town.
How pretty is this, especially for early April?!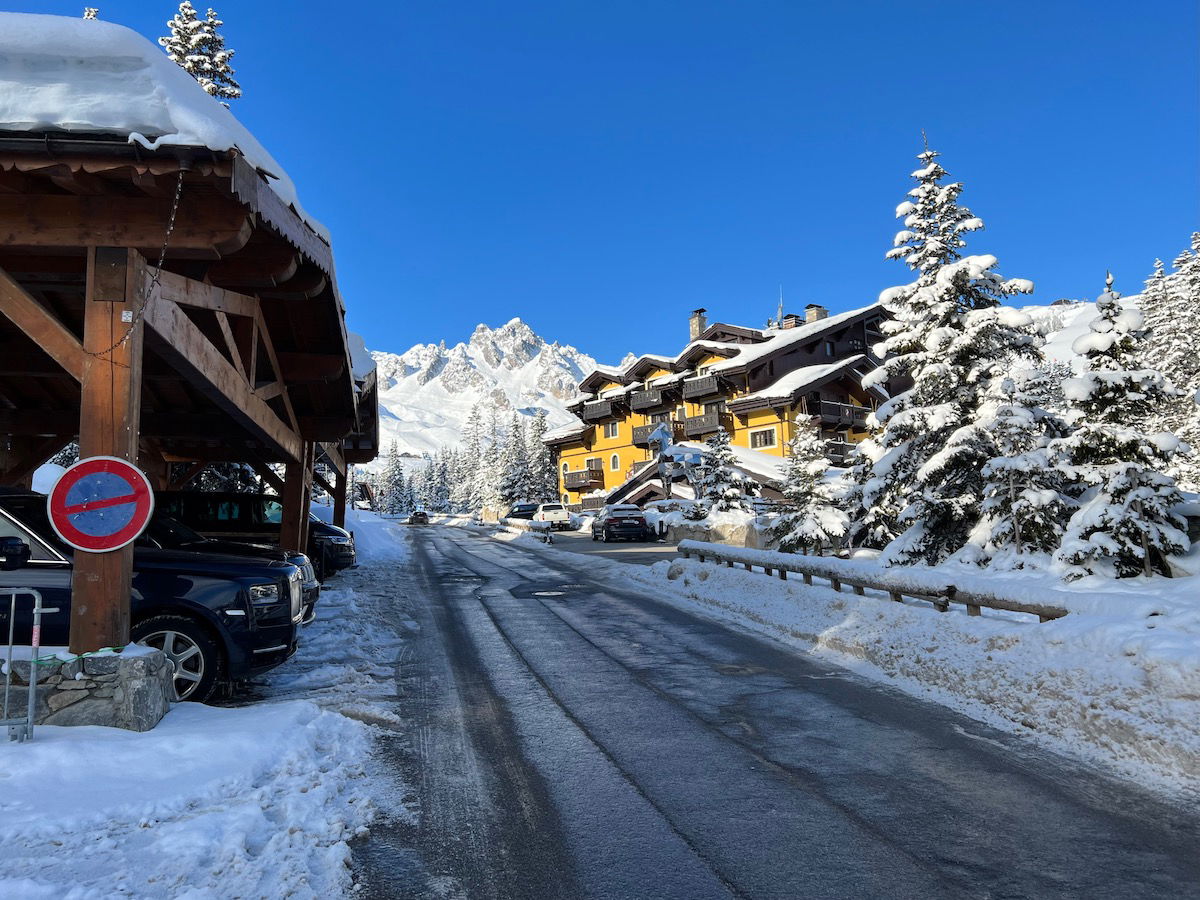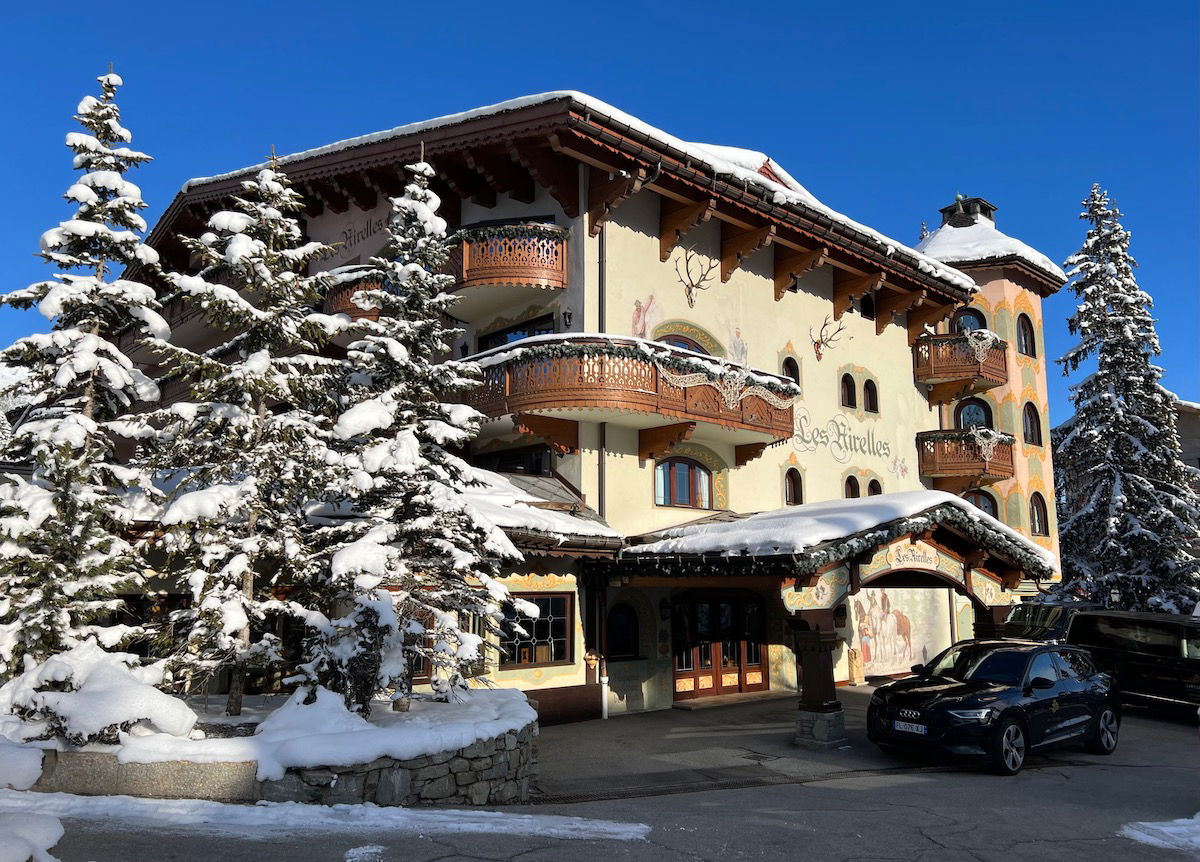 In terms of getting to Courchevel, the closest major airport to the area is Geneva (GVA), which is a roughly two hour drive away. If you're taking a train, your best bet is to go to Chambery, which is a roughly 90 minute drive away. In our case we took the train from Milan to Chambery on arrival, and then we flew from Geneva to Frankfurt on departure.
Les Airelles Courchevel check-in & lobby
Les Airelles has an incredible sense of place — the hotel feels classic while also being perfectly maintained. There's barely a scratch or chip anywhere. The ground floor of the lobby has all the restaurants and bars, plus reception. I'll talk more about the restaurants and bars later, but the reception is a pretty intimate area that just has a couple of couches.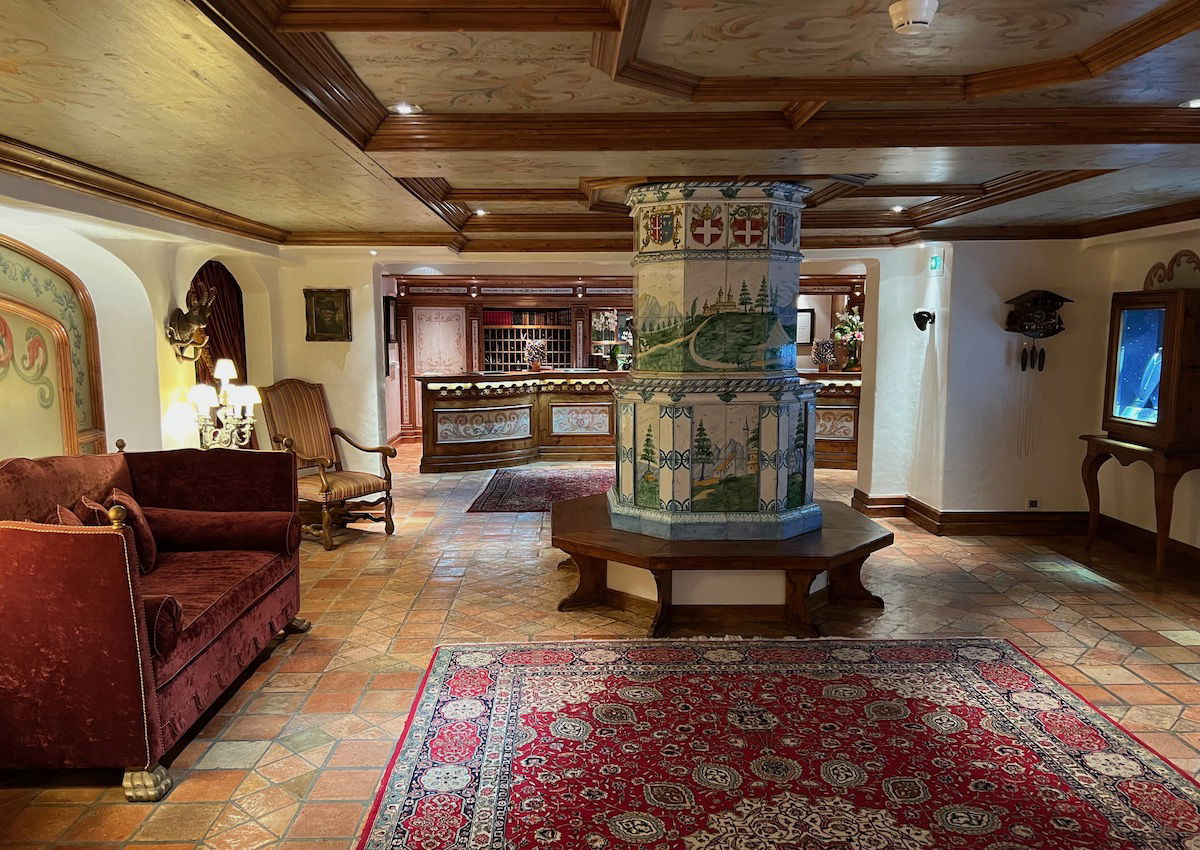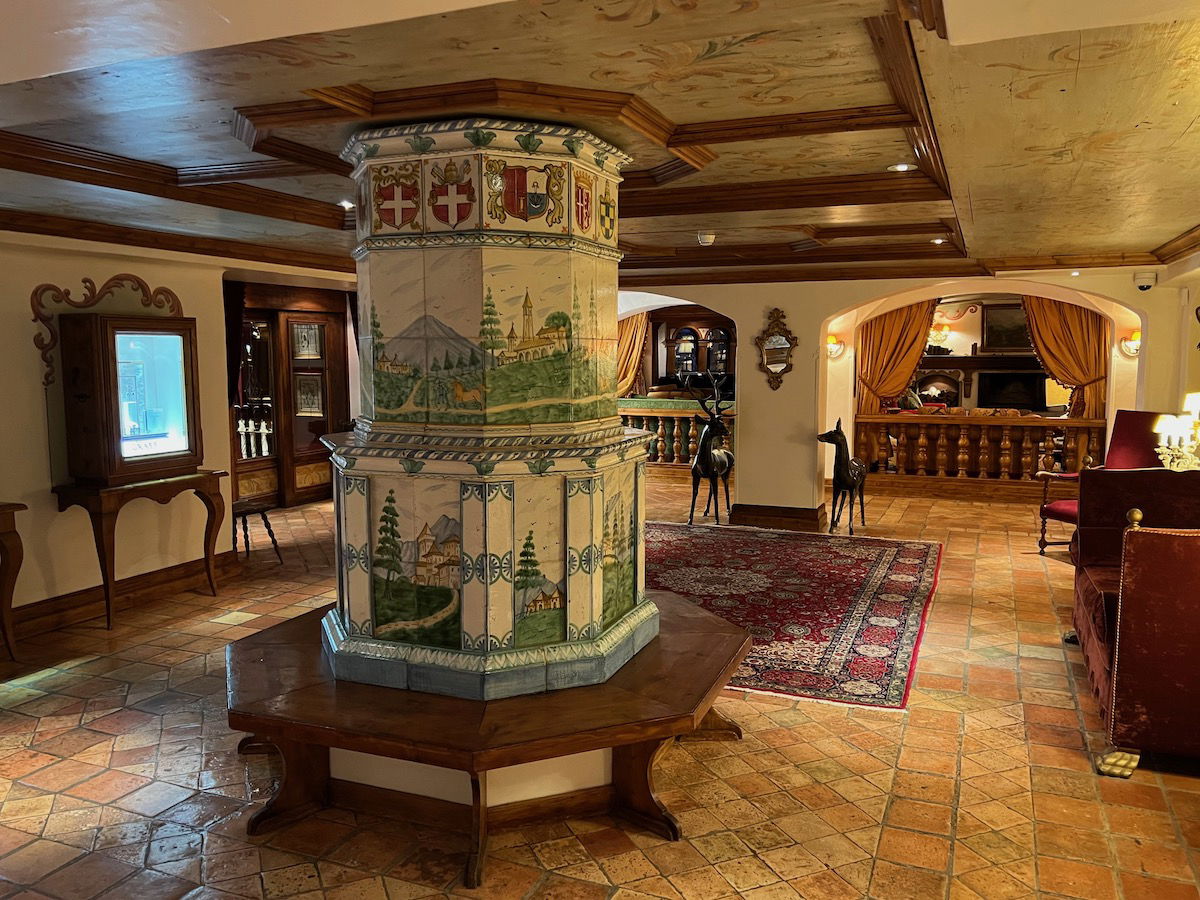 We arrived at the hotel in the early afternoon, but our room wasn't quite ready, so we just had a seat in the lobby lounge. Within about 30 minutes our room was ready, and we were escorted there.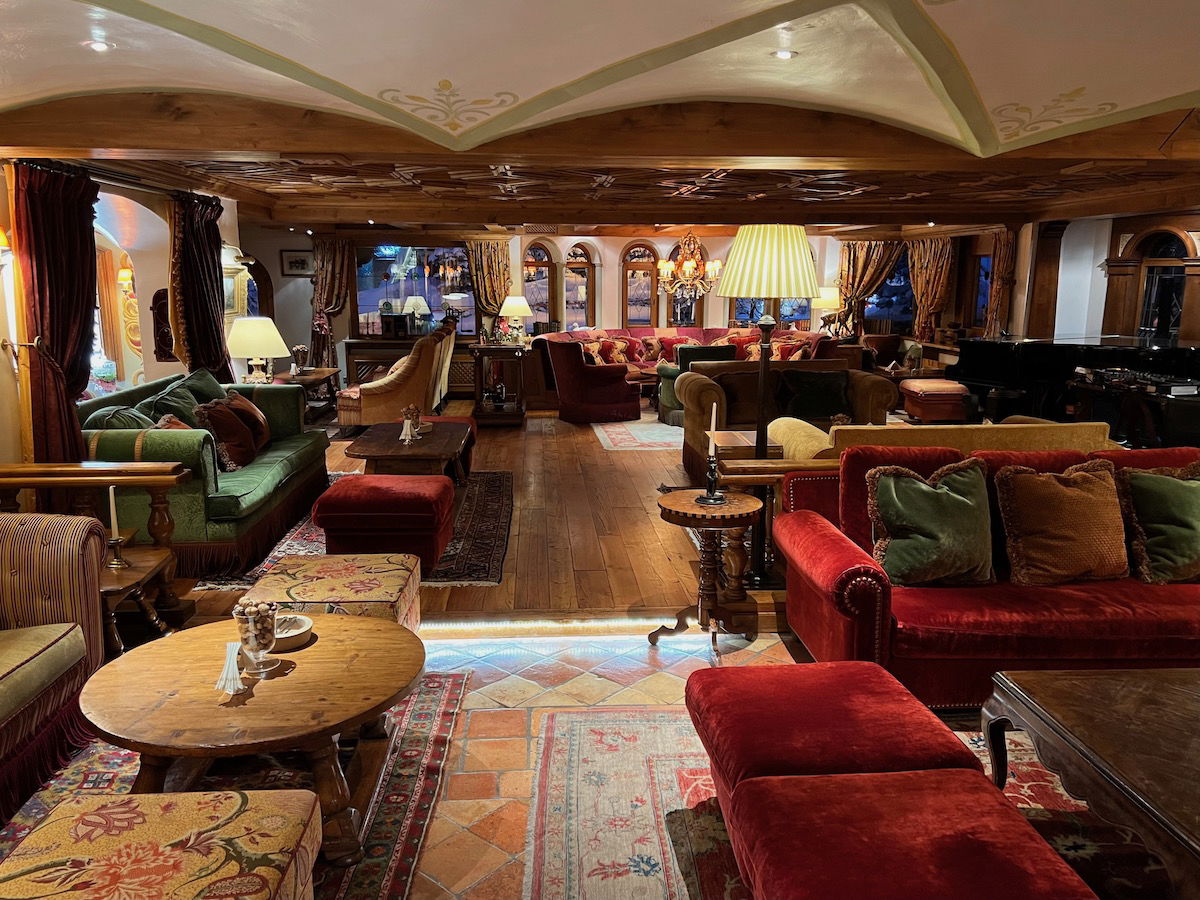 Les Airelles Courchevel deluxe room
Les Airelles' elevators are located next to reception, though there are also stairs. Since our room was located on the first floor, we typically took the stairs up.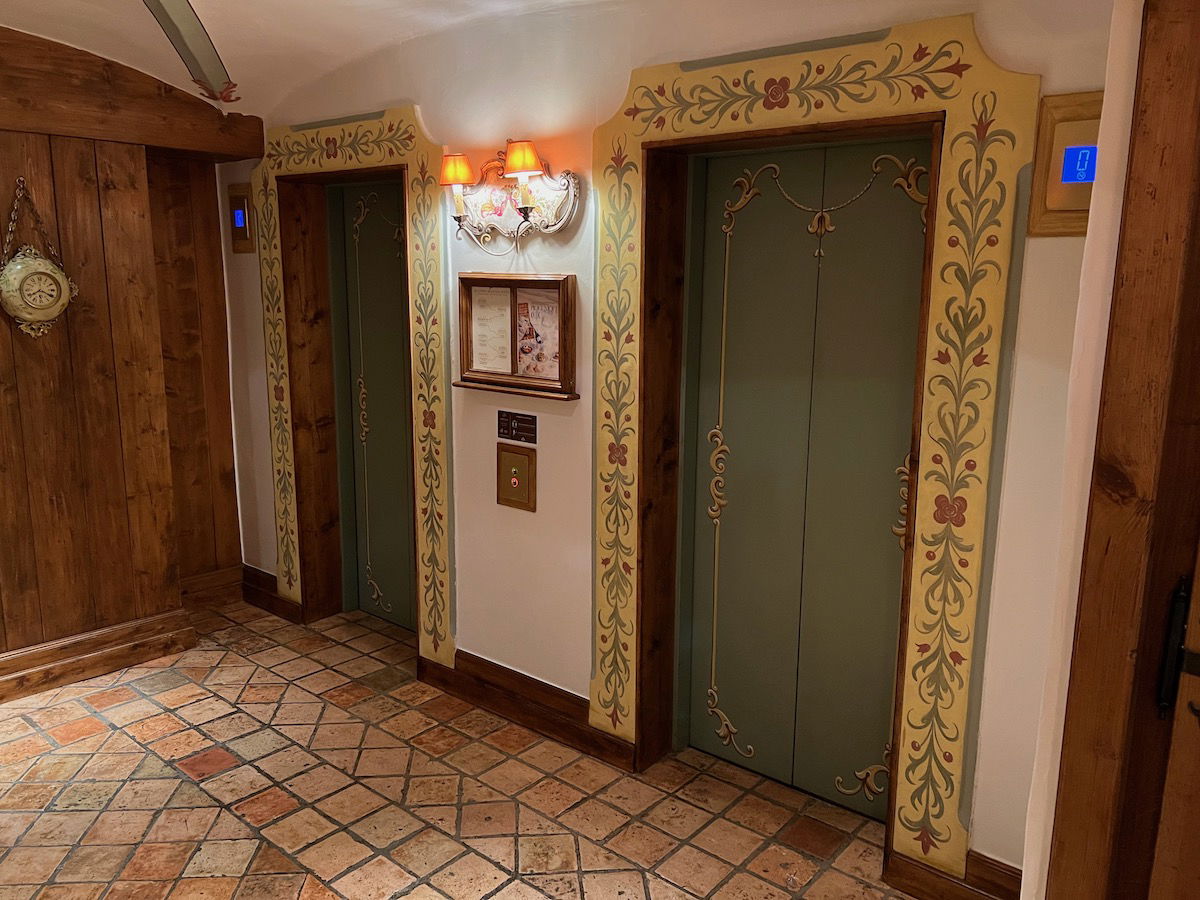 Again, you've gotta love the attention to detail in the design here, whether we're talking about the elevators or the hallways.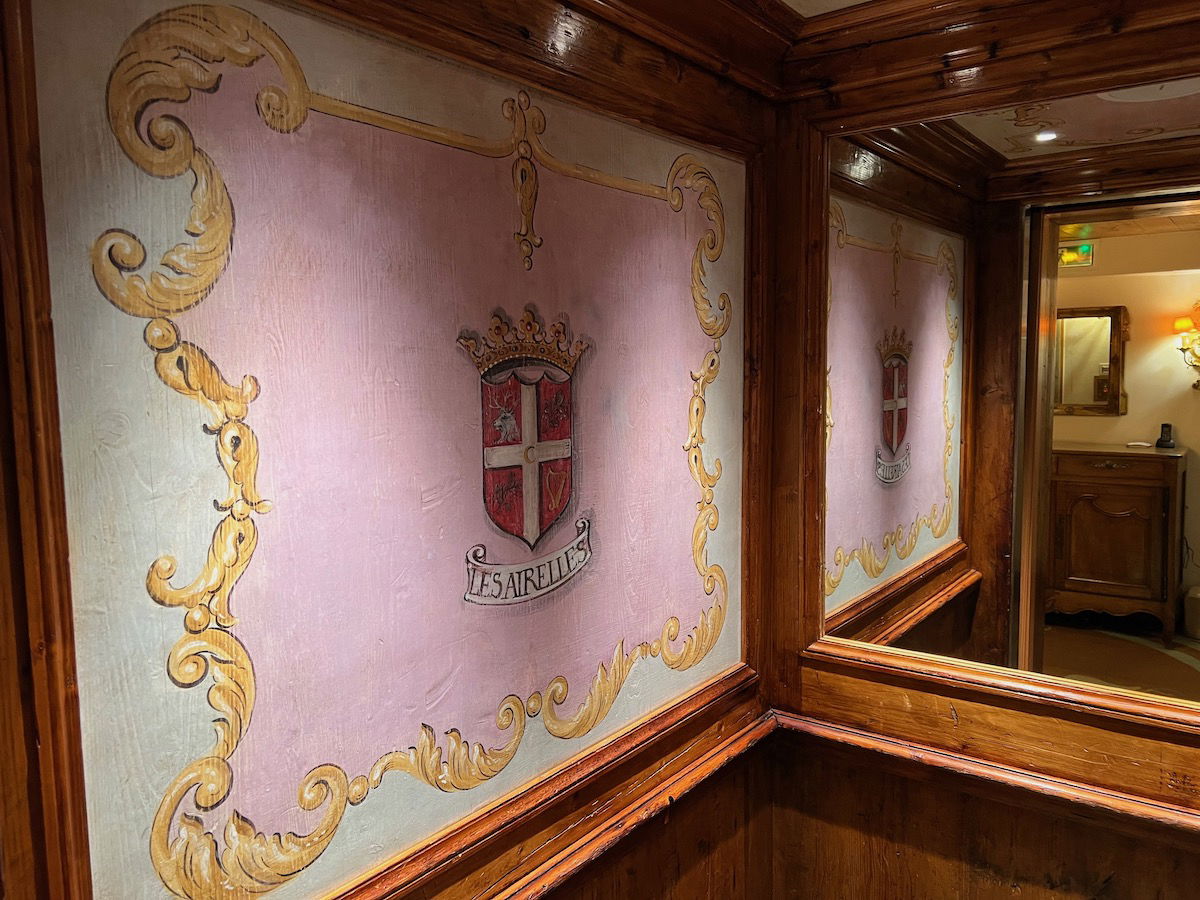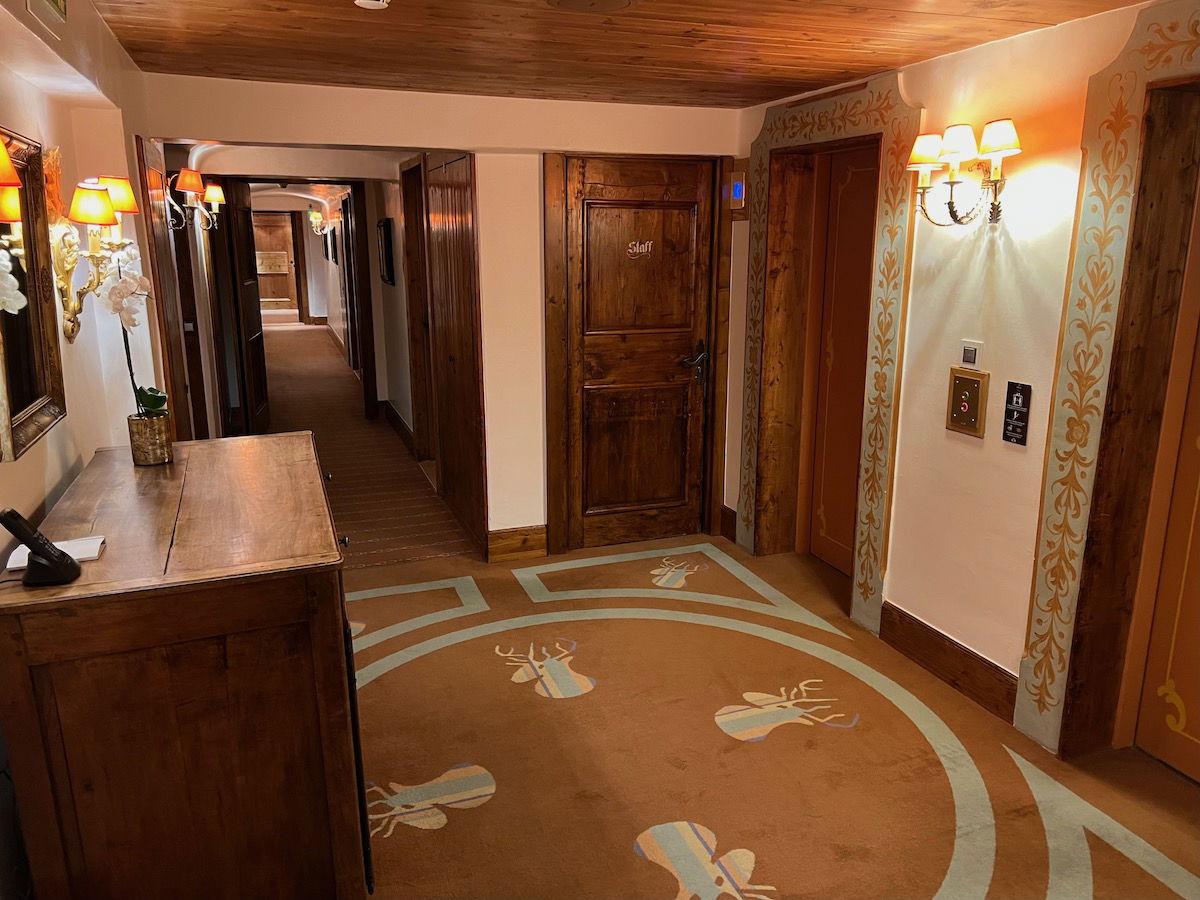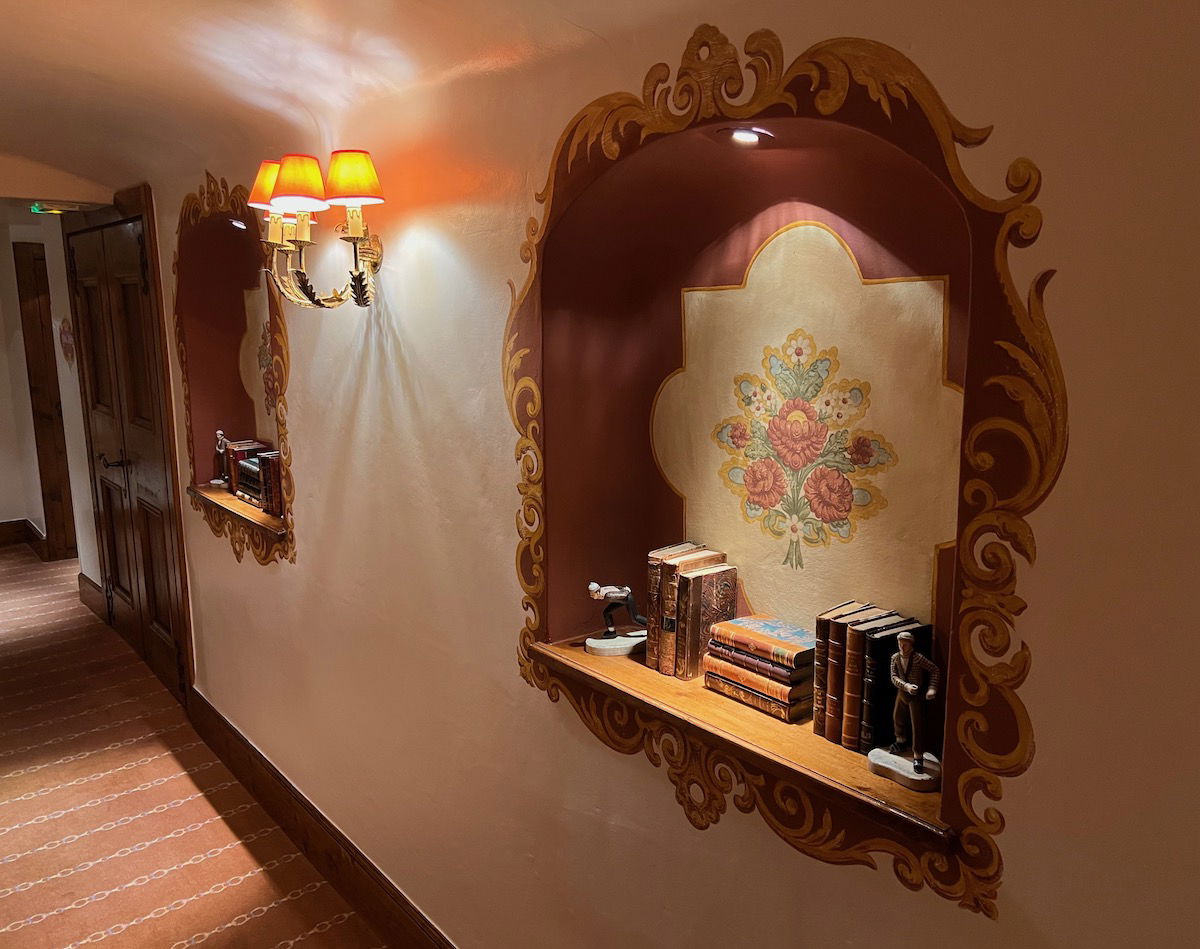 We were assigned room 106, located near the elevators and staircase.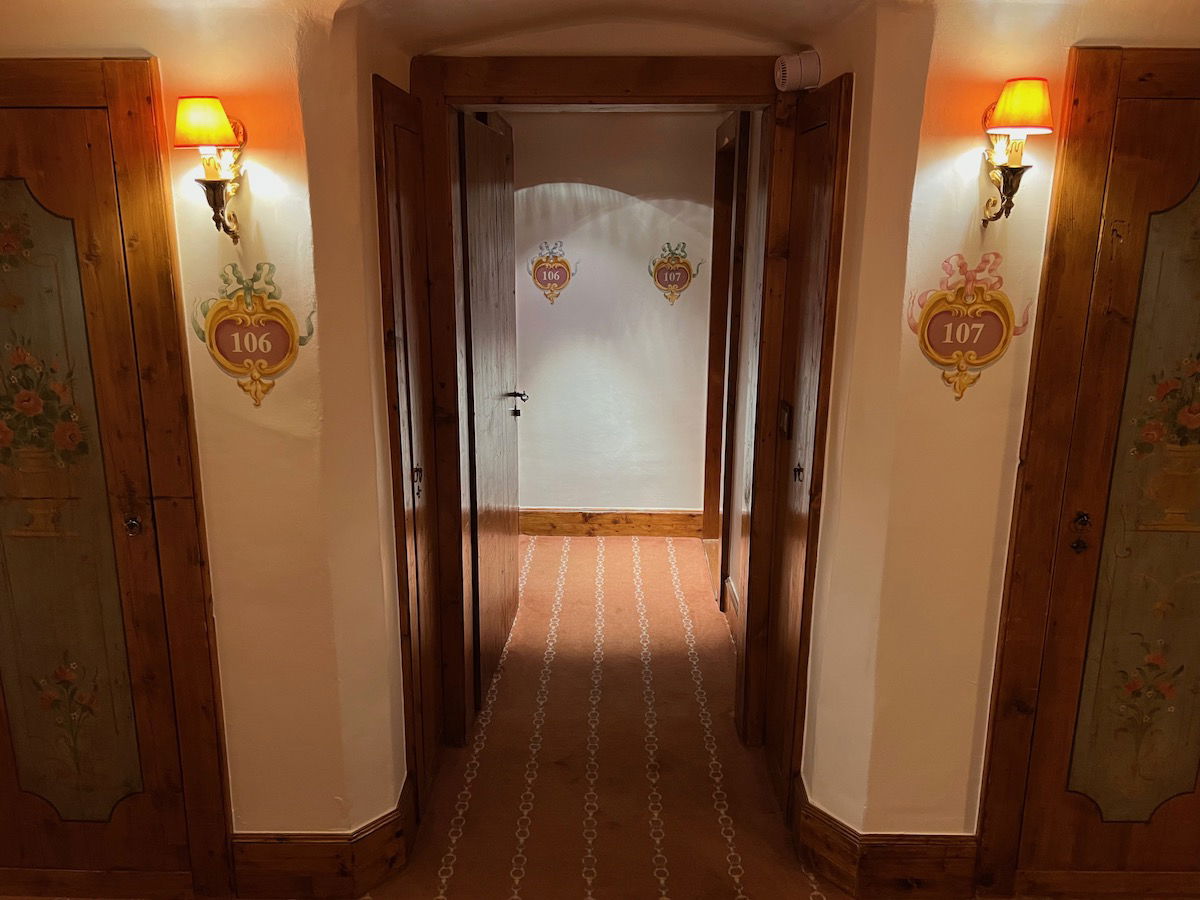 The rooms at Les Airelles are nice, but they're probably not going to blow you away (rather everything else will). The room had a king size bed, a sitting area with two chairs, and then a TV (which doubled as a mirror) and lots of closet space along the other side of the room.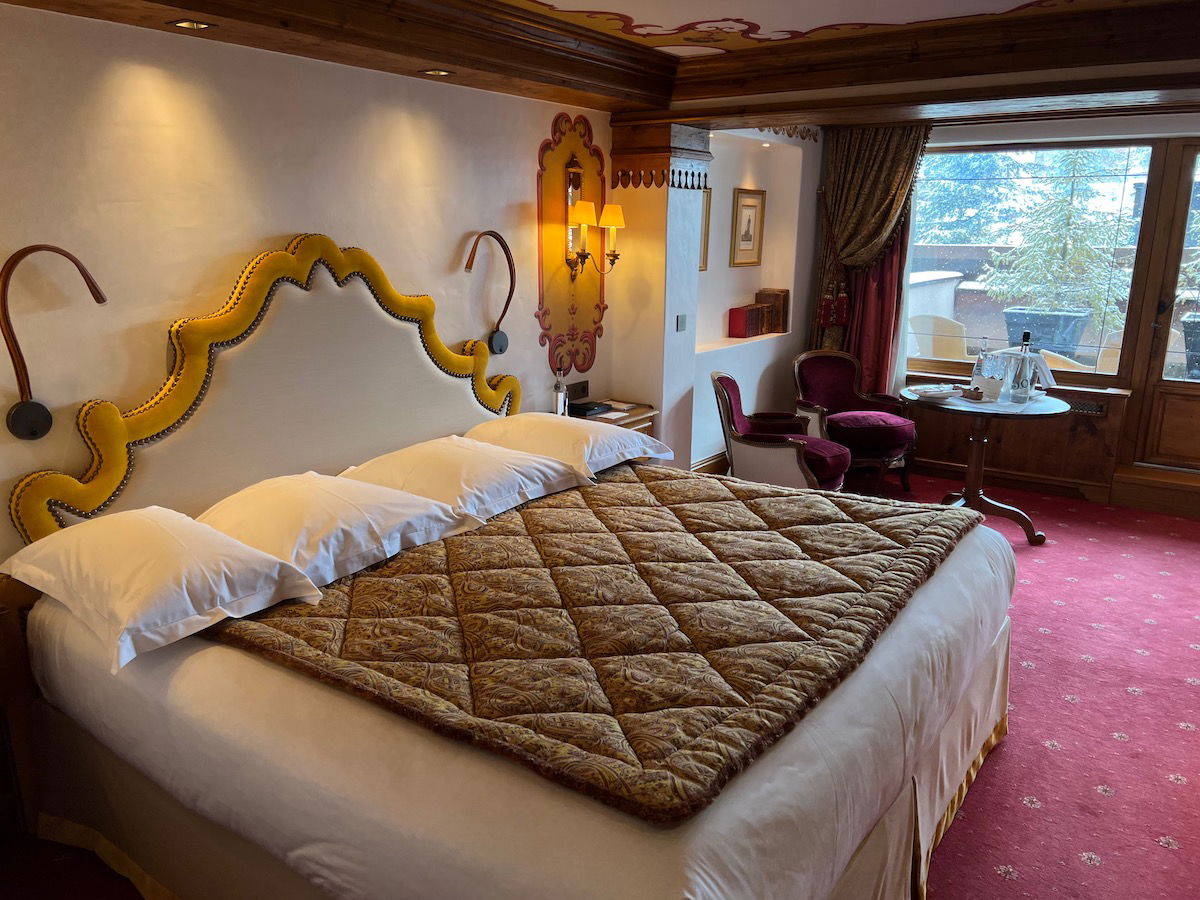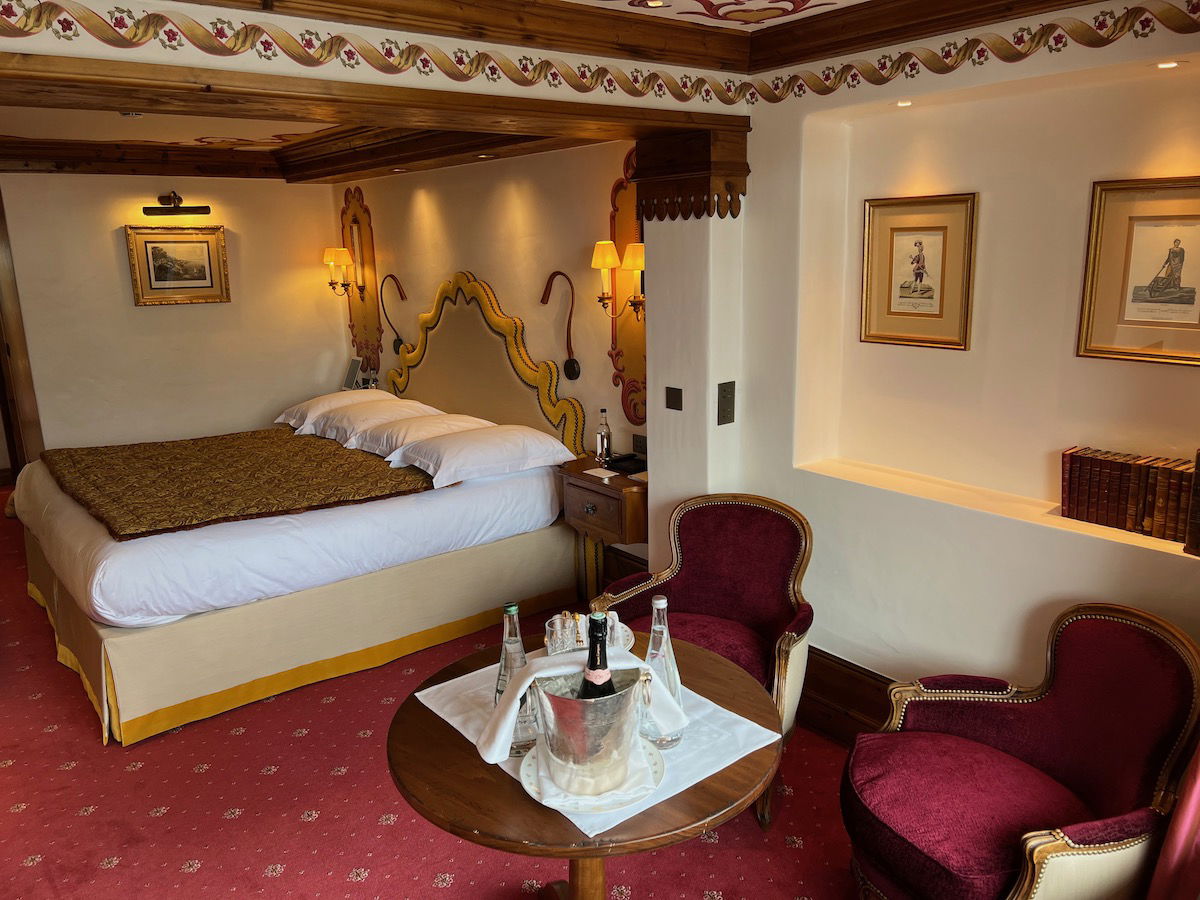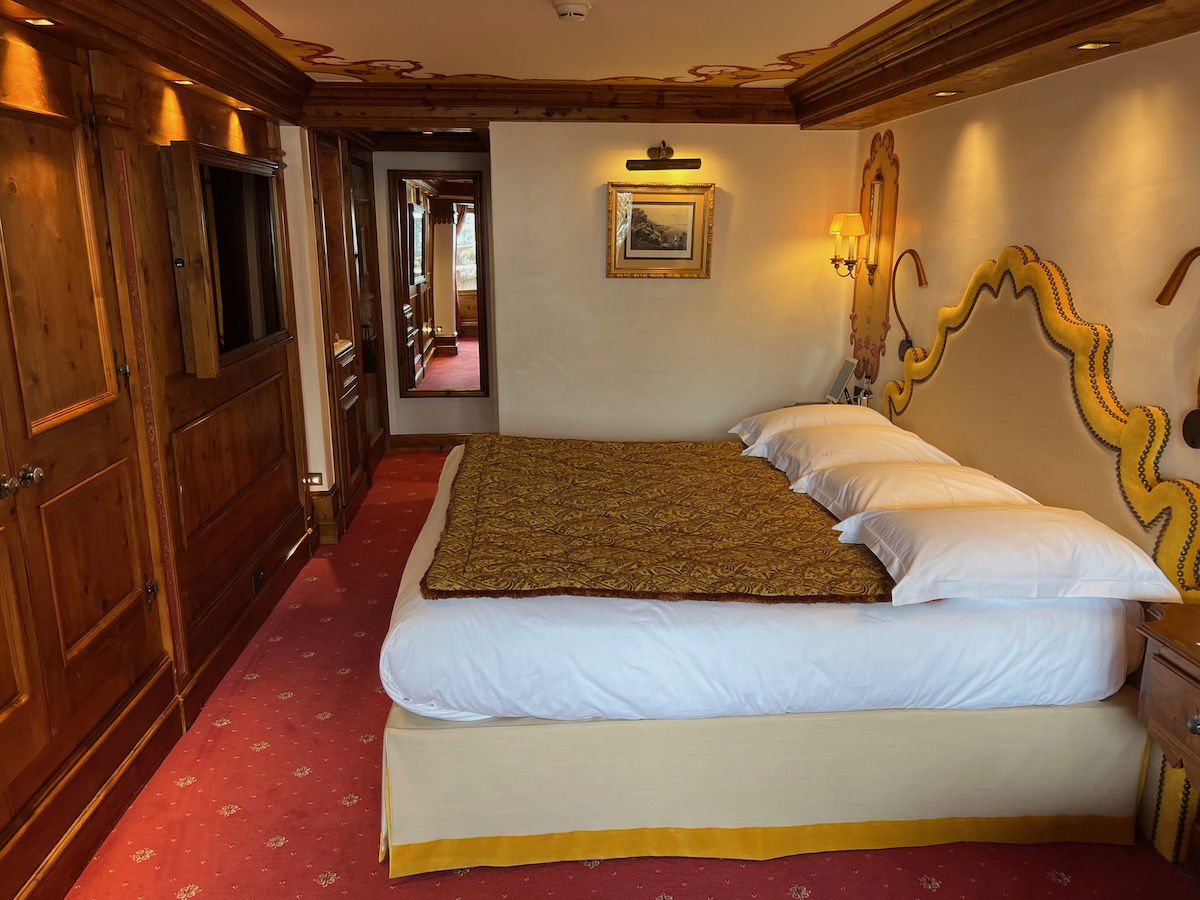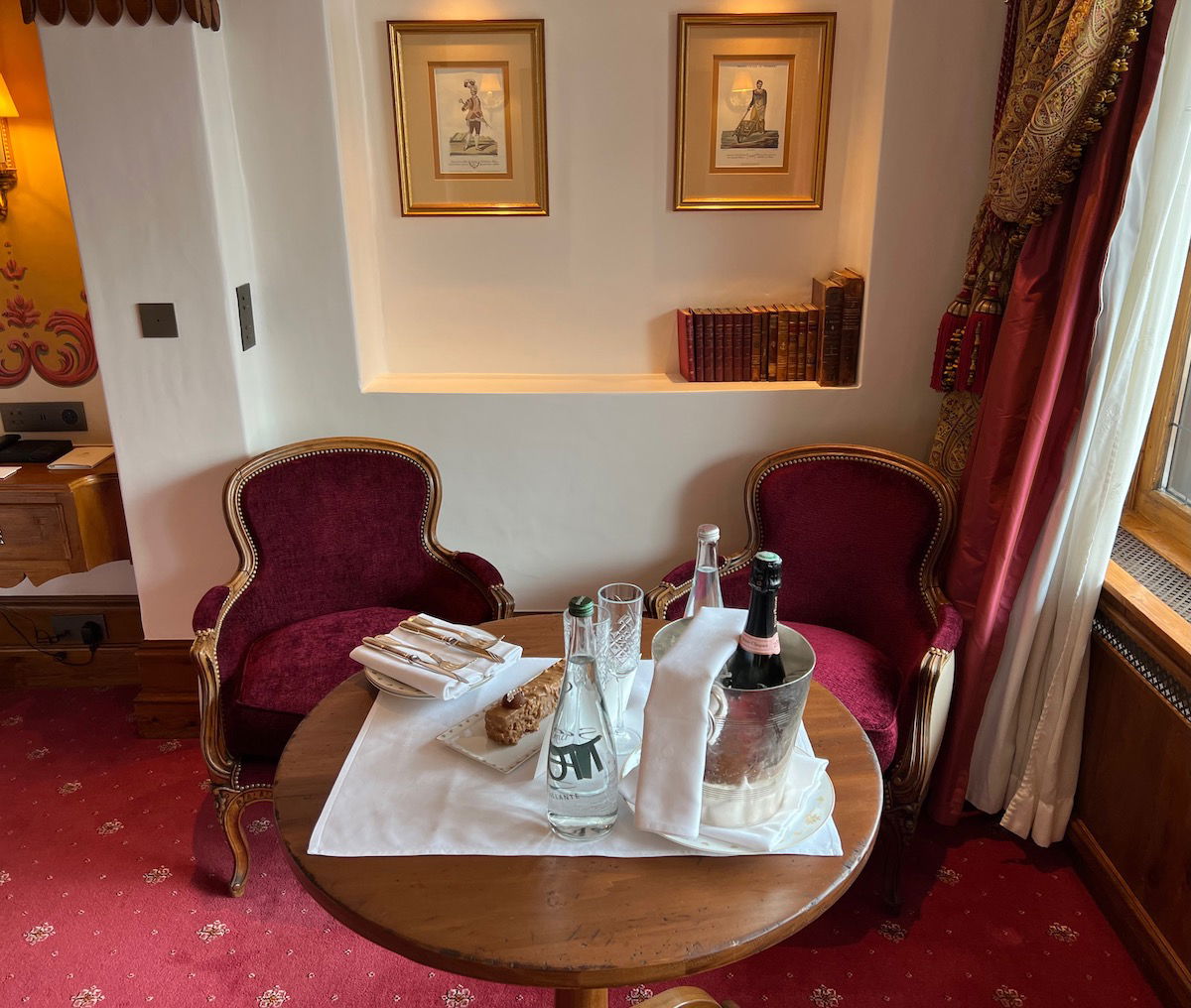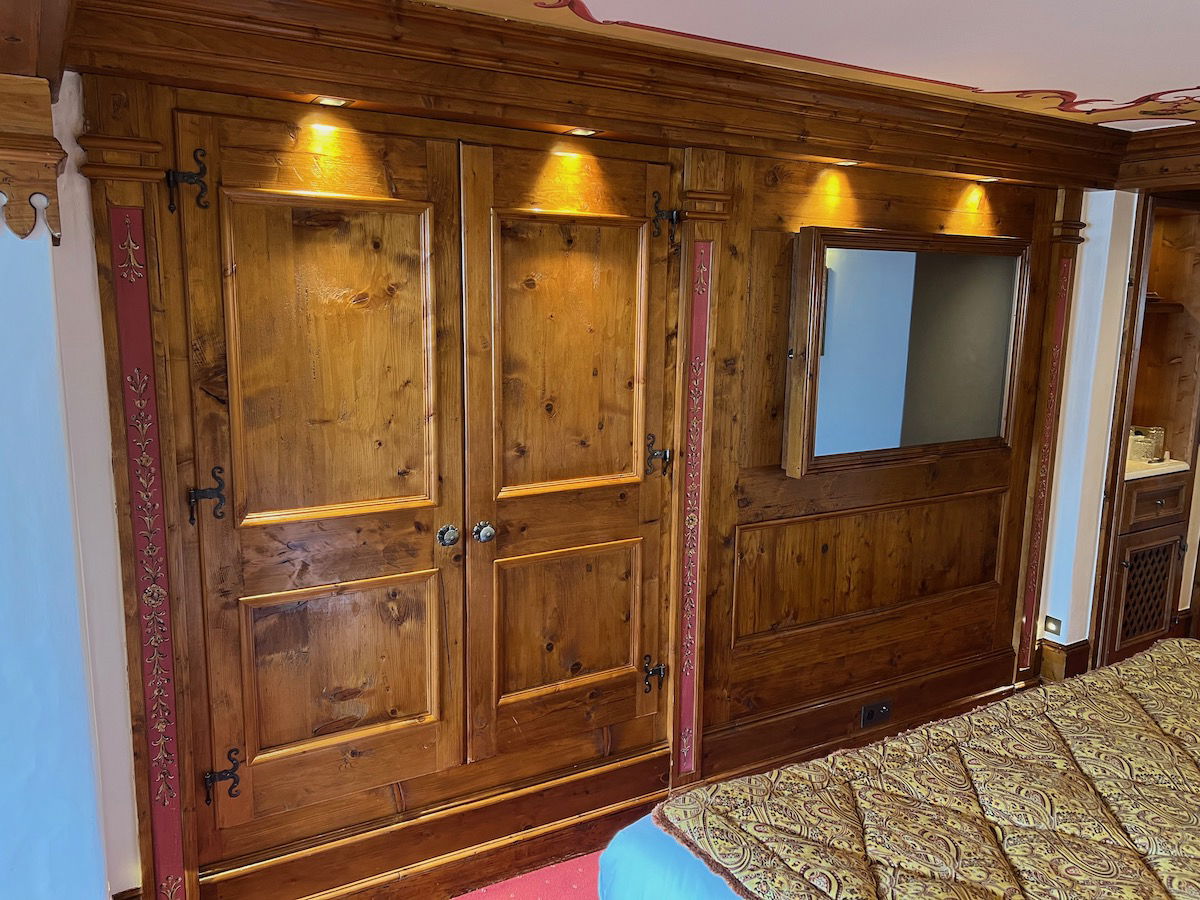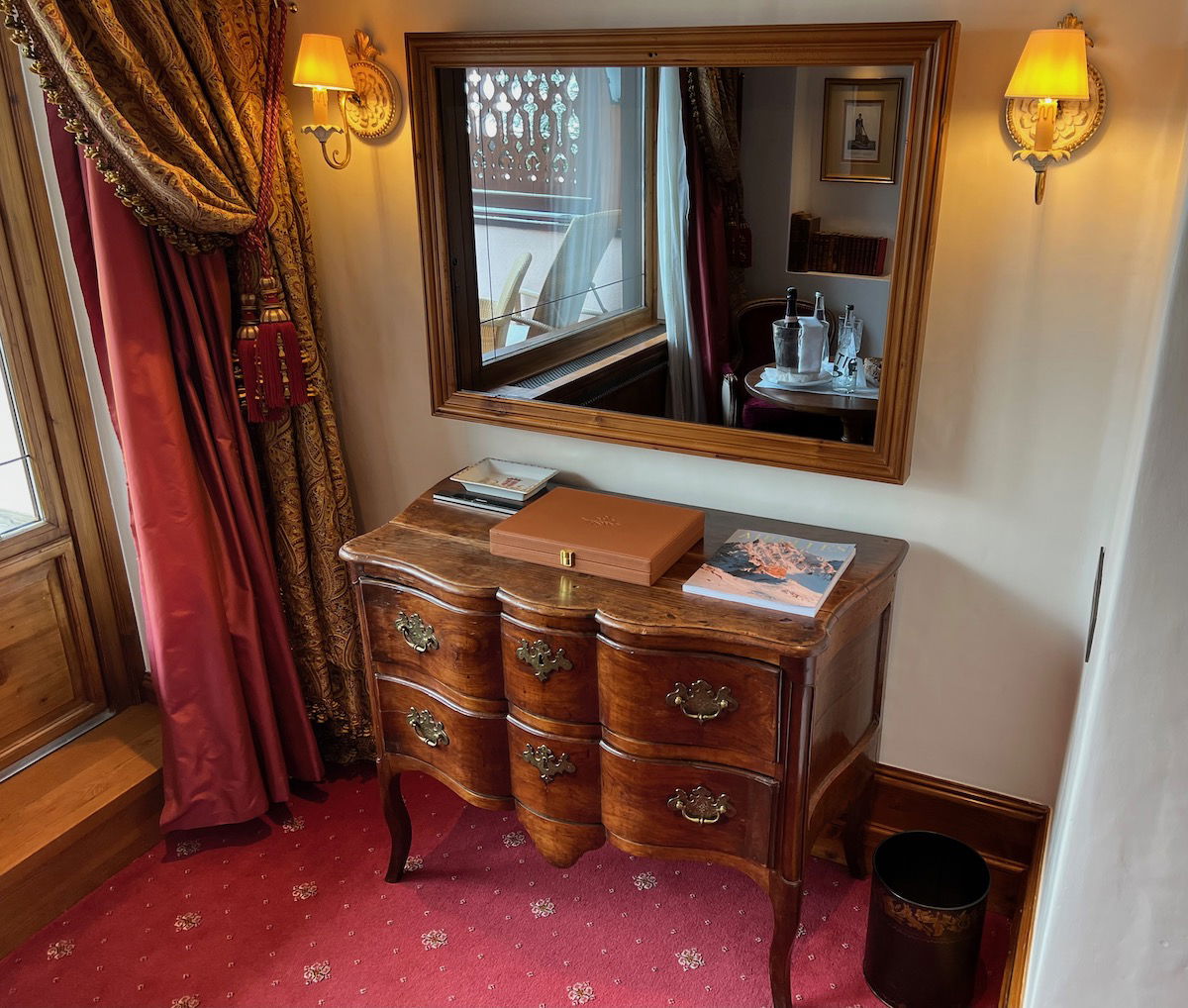 Back near the entrance was the minibar, all of which was complimentary, and replenished daily. This included a Nespresso machine, a kettle, bottled water, all kinds of juices and sodas, and a snack tray that rivals what you'd find in domestic first class on a US airline.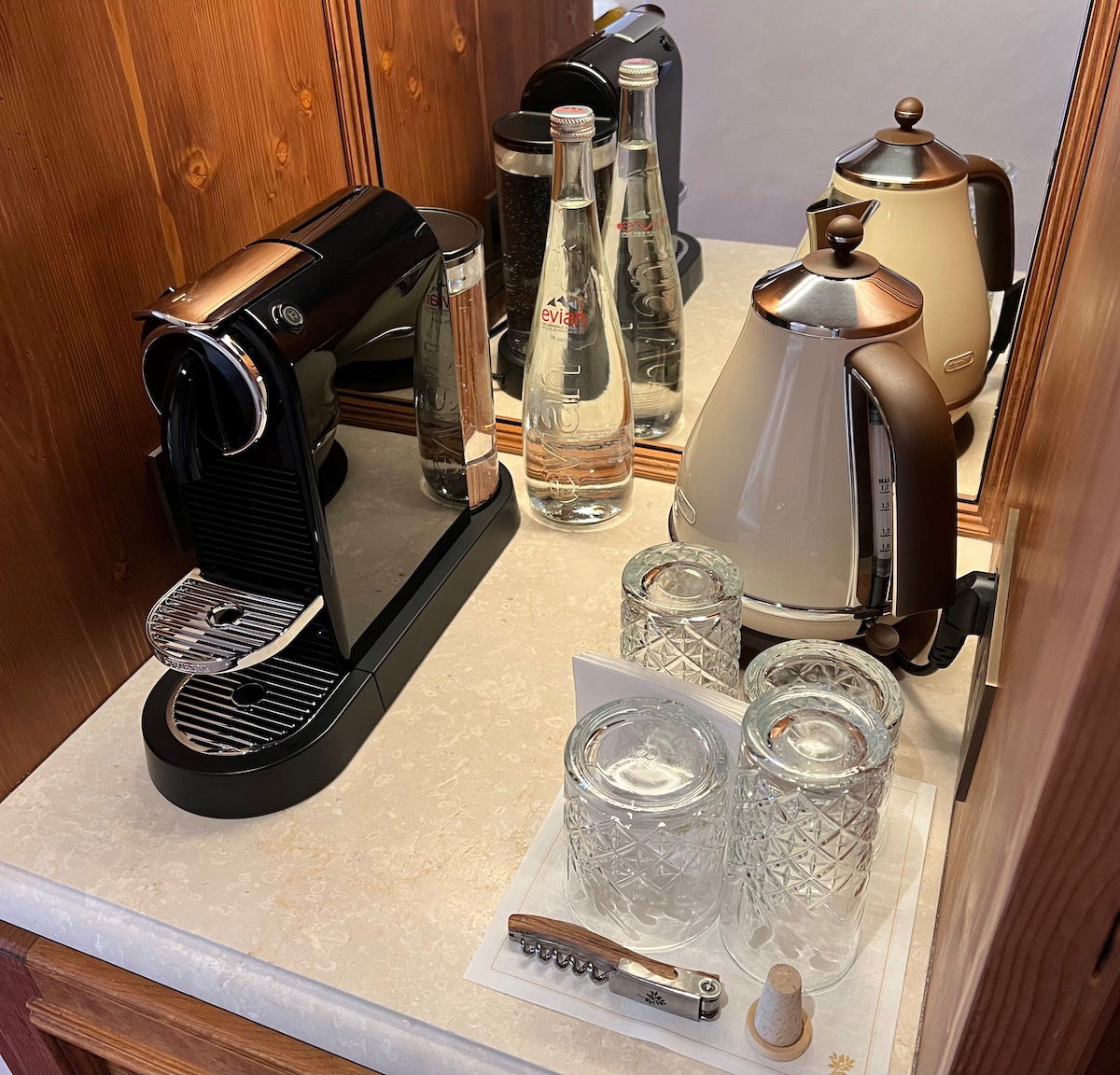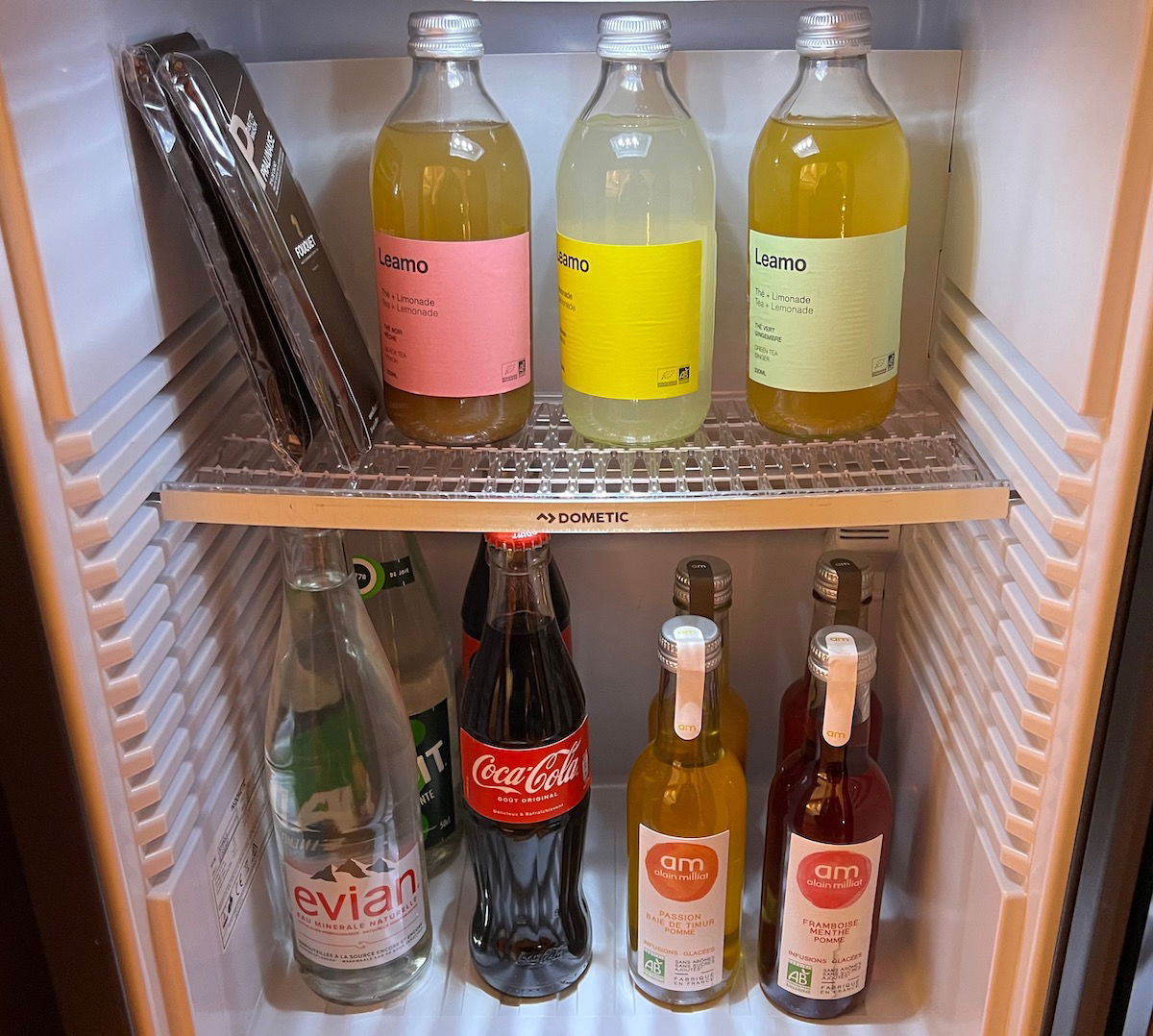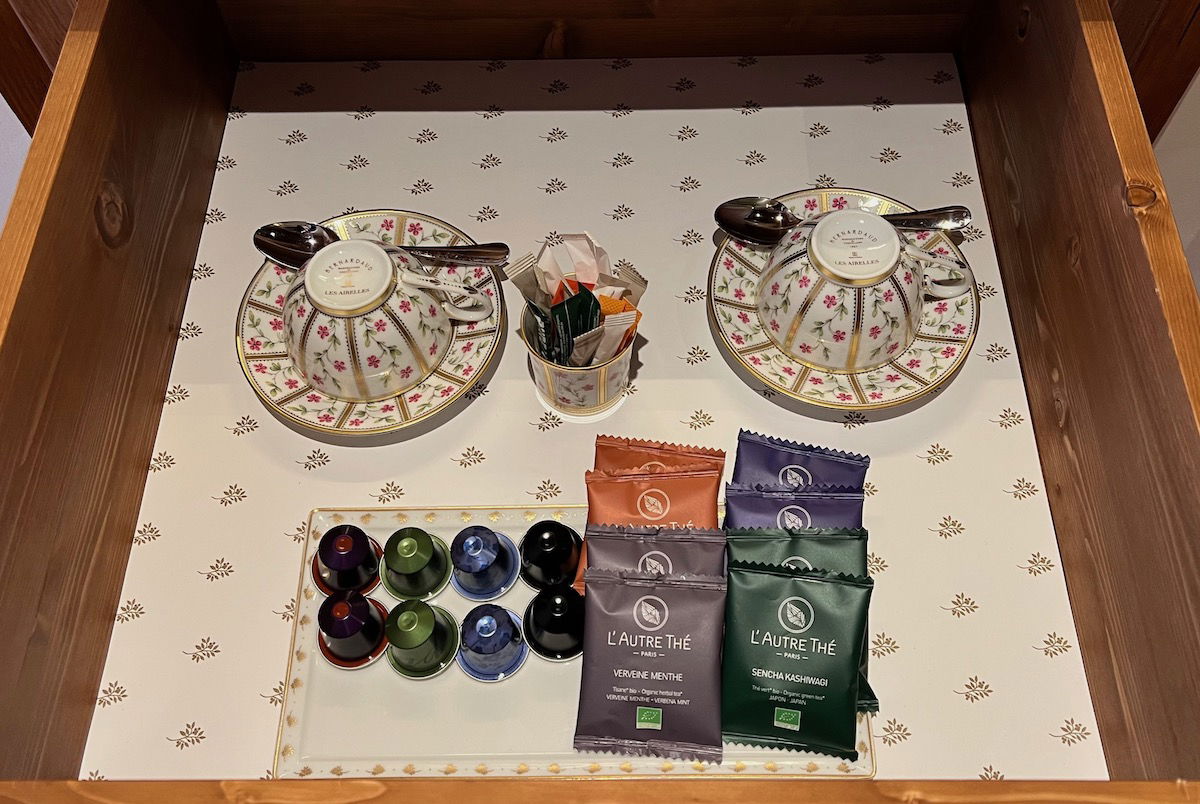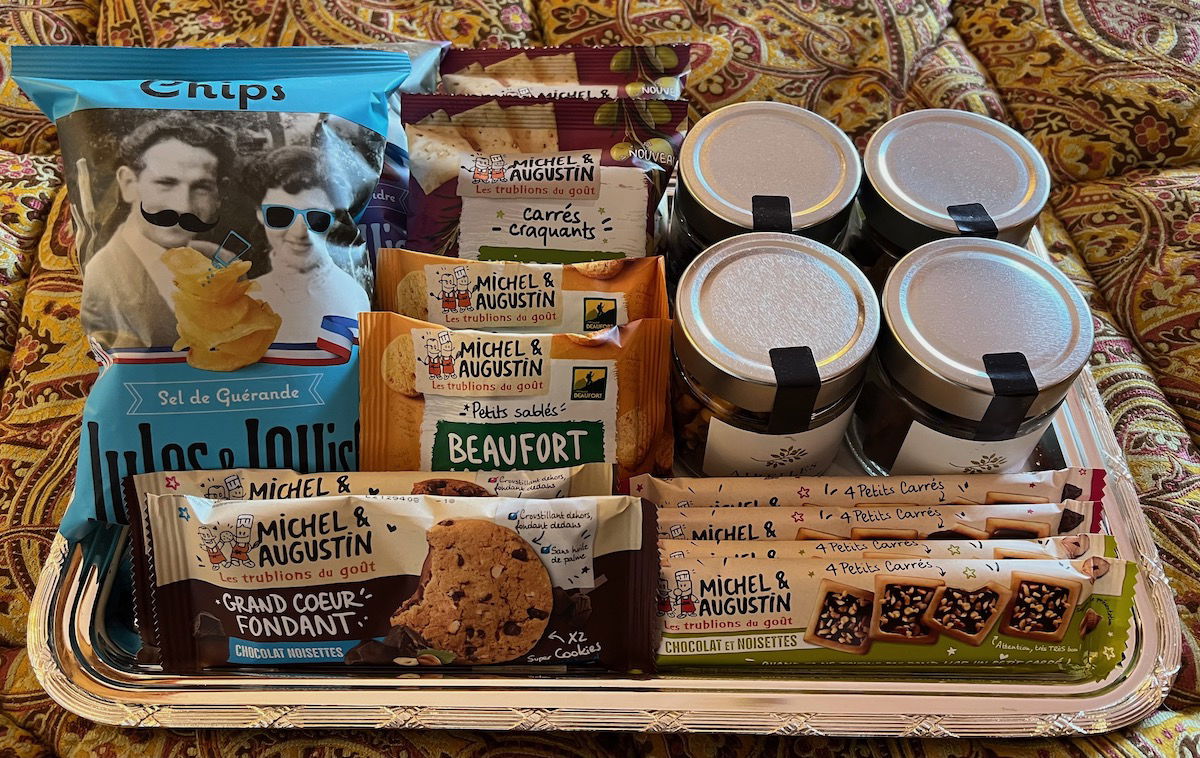 The bathroom was compact but well appointed, and had double sinks, a bathtub, a walk-in shower which was also a hammam (you just had to turn the feature on 15 minutes in advance), and a toilet and bidet.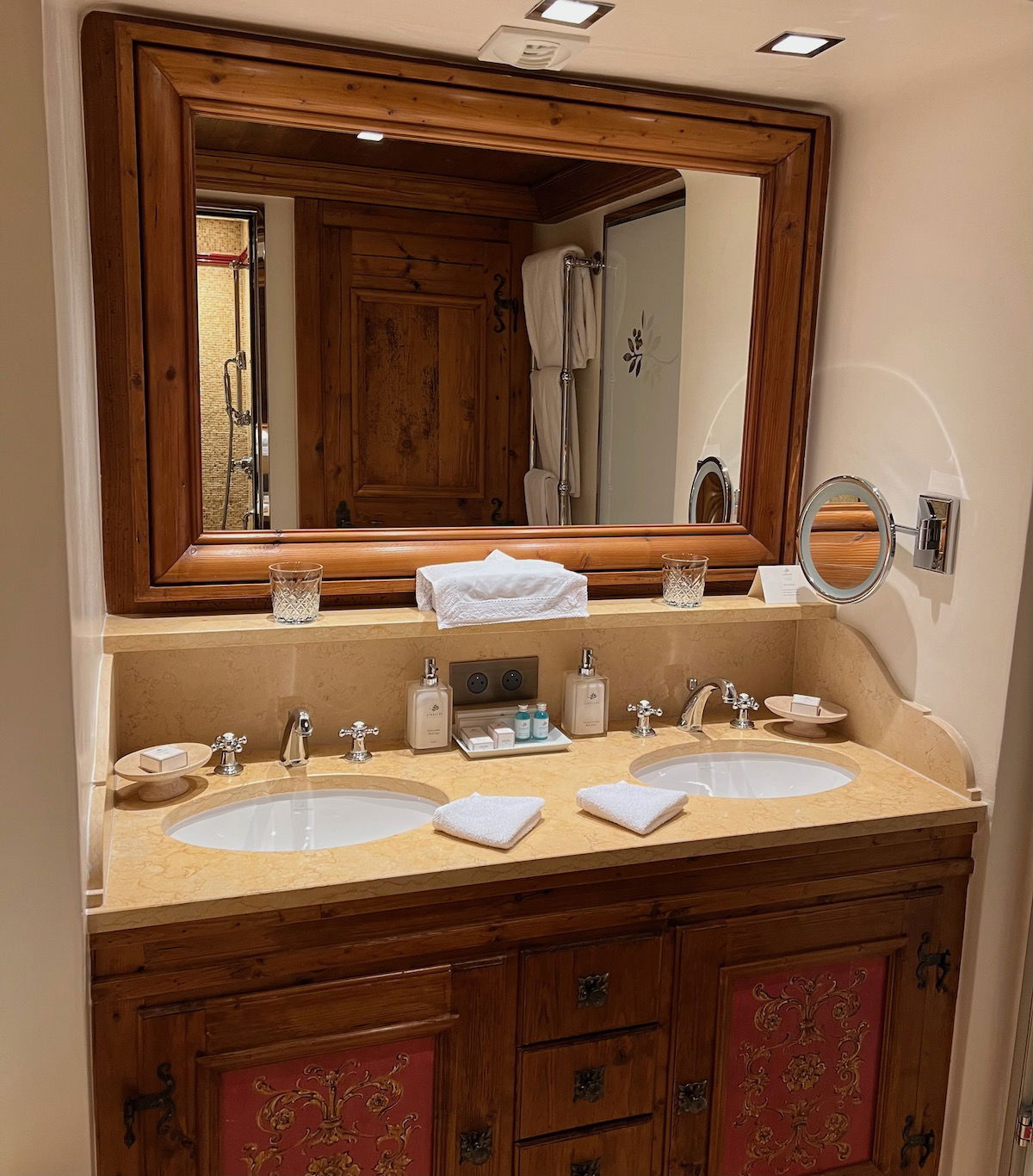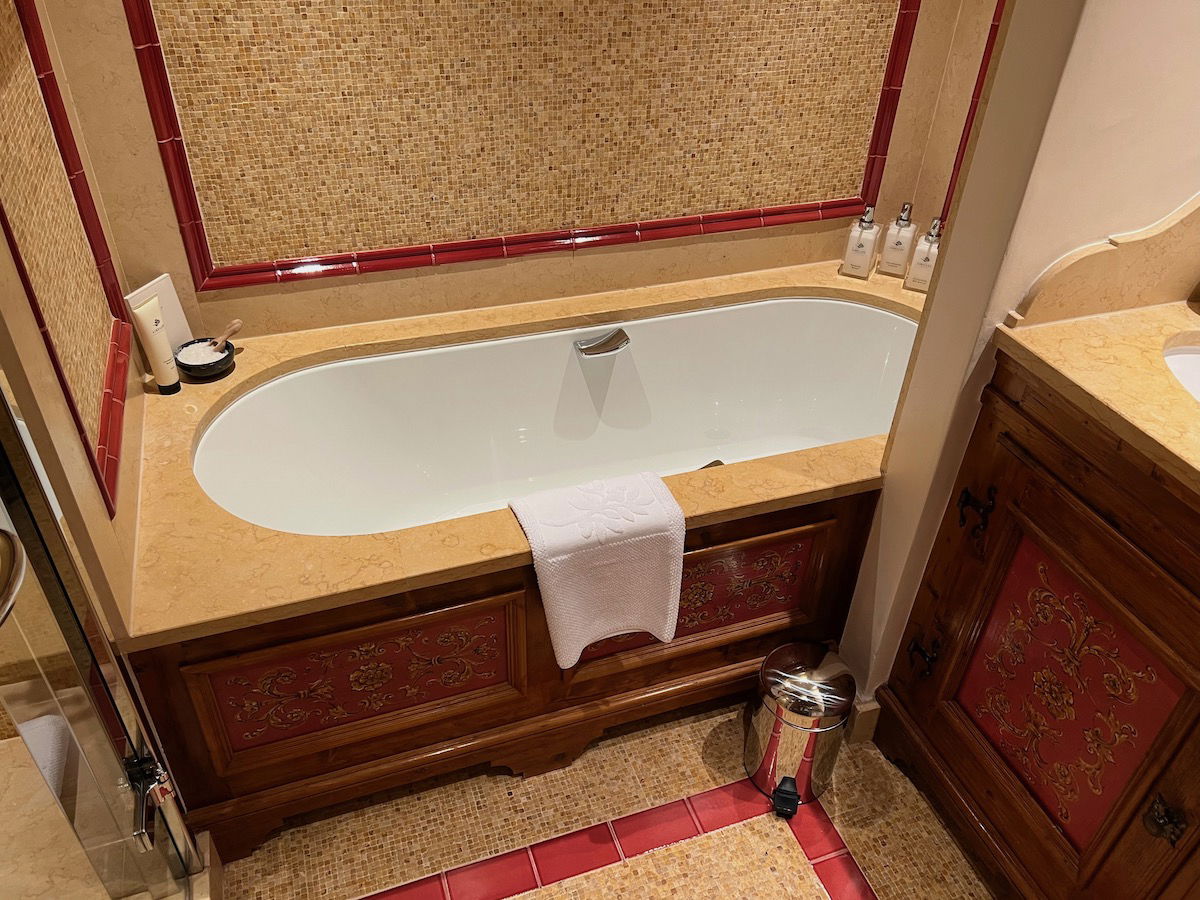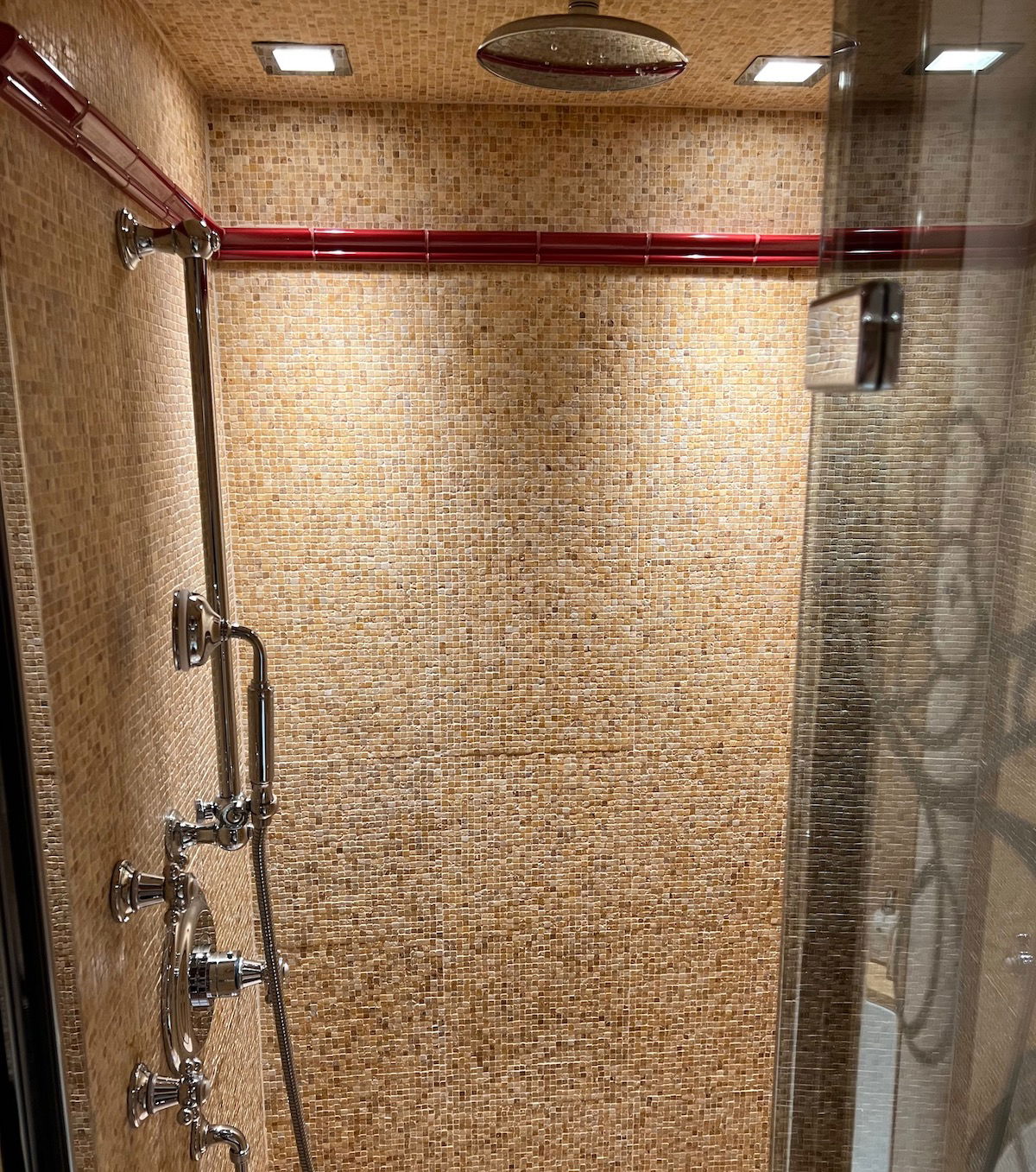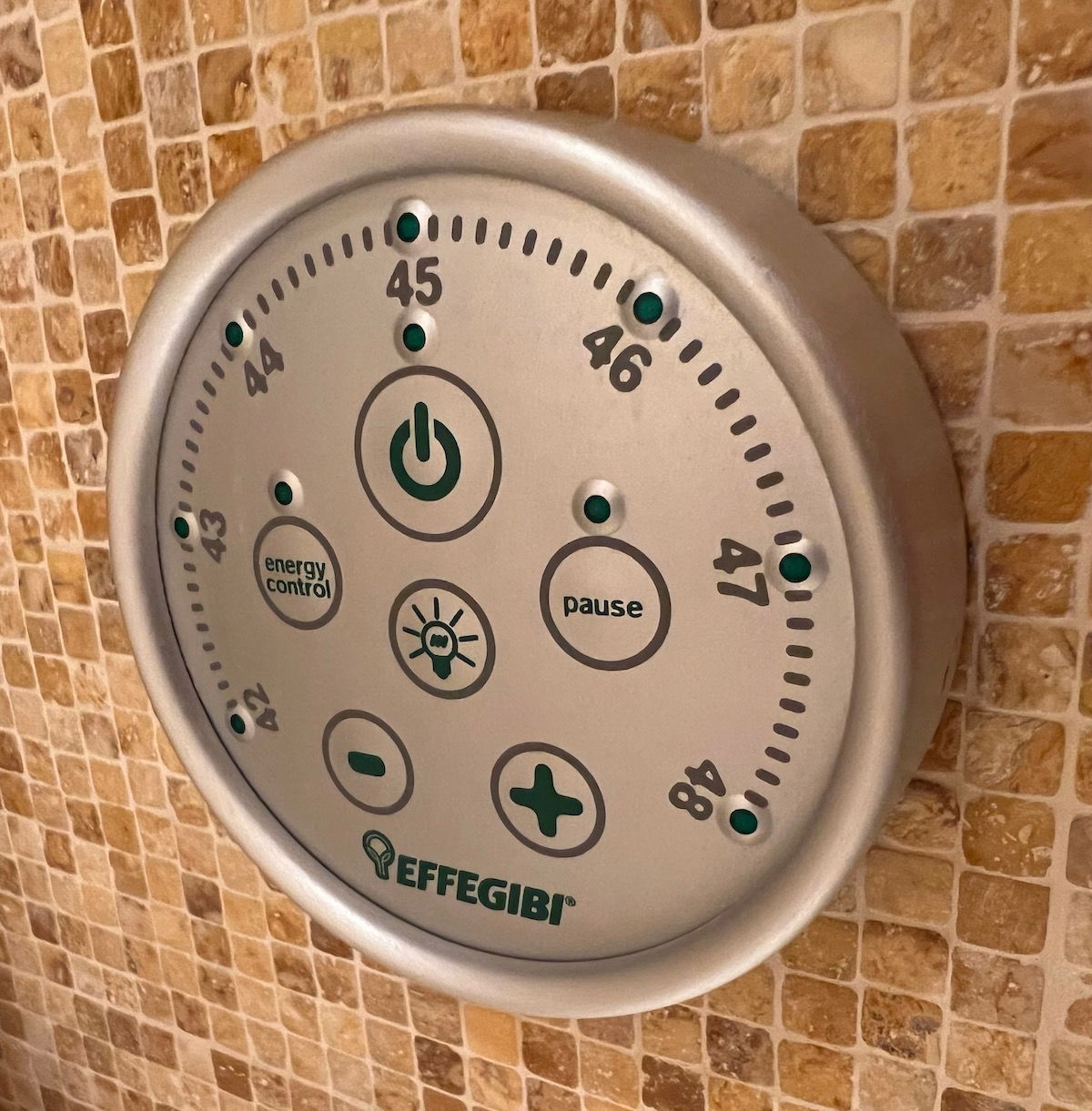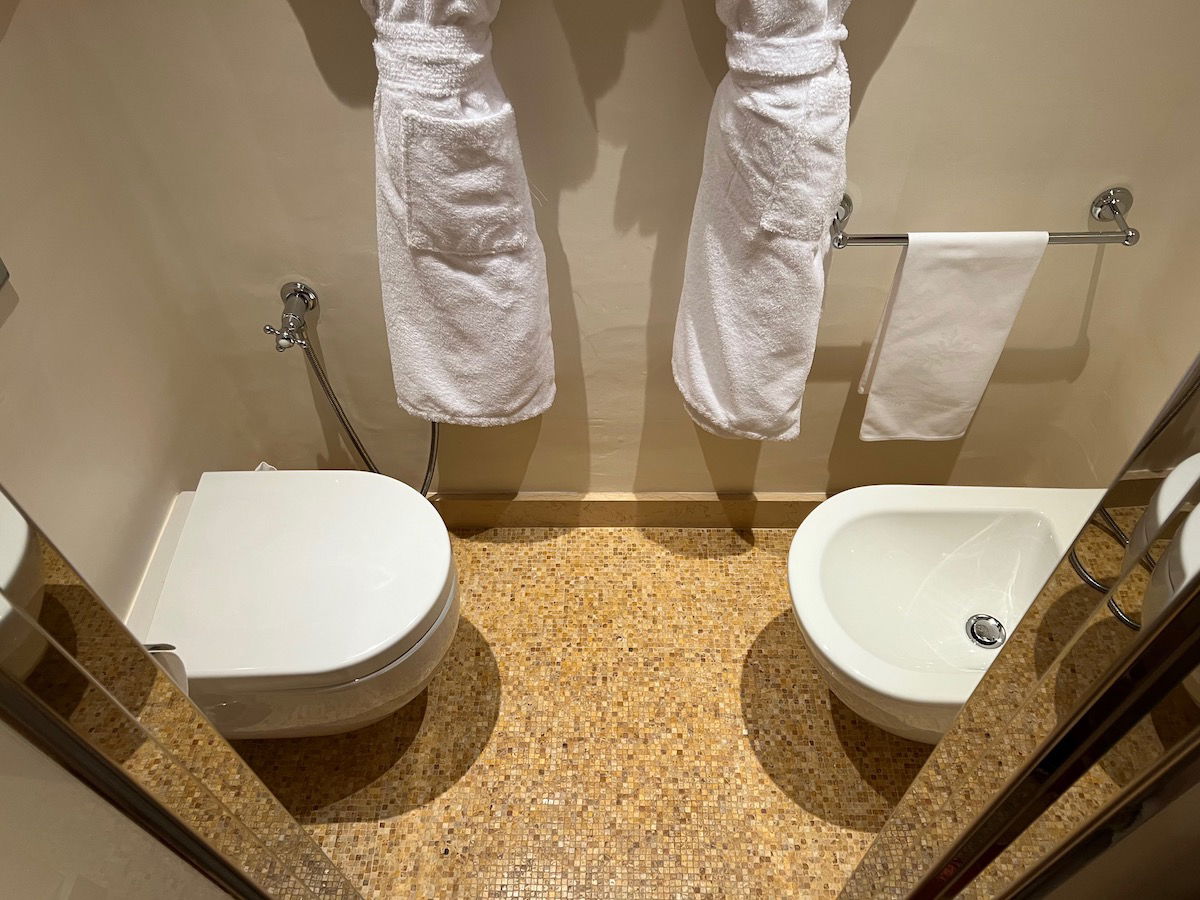 Toiletries were in hotel branded bottles, and were high quality. I was also impressed by the number of amenities in the room, ranging from dental kits to hair brushes.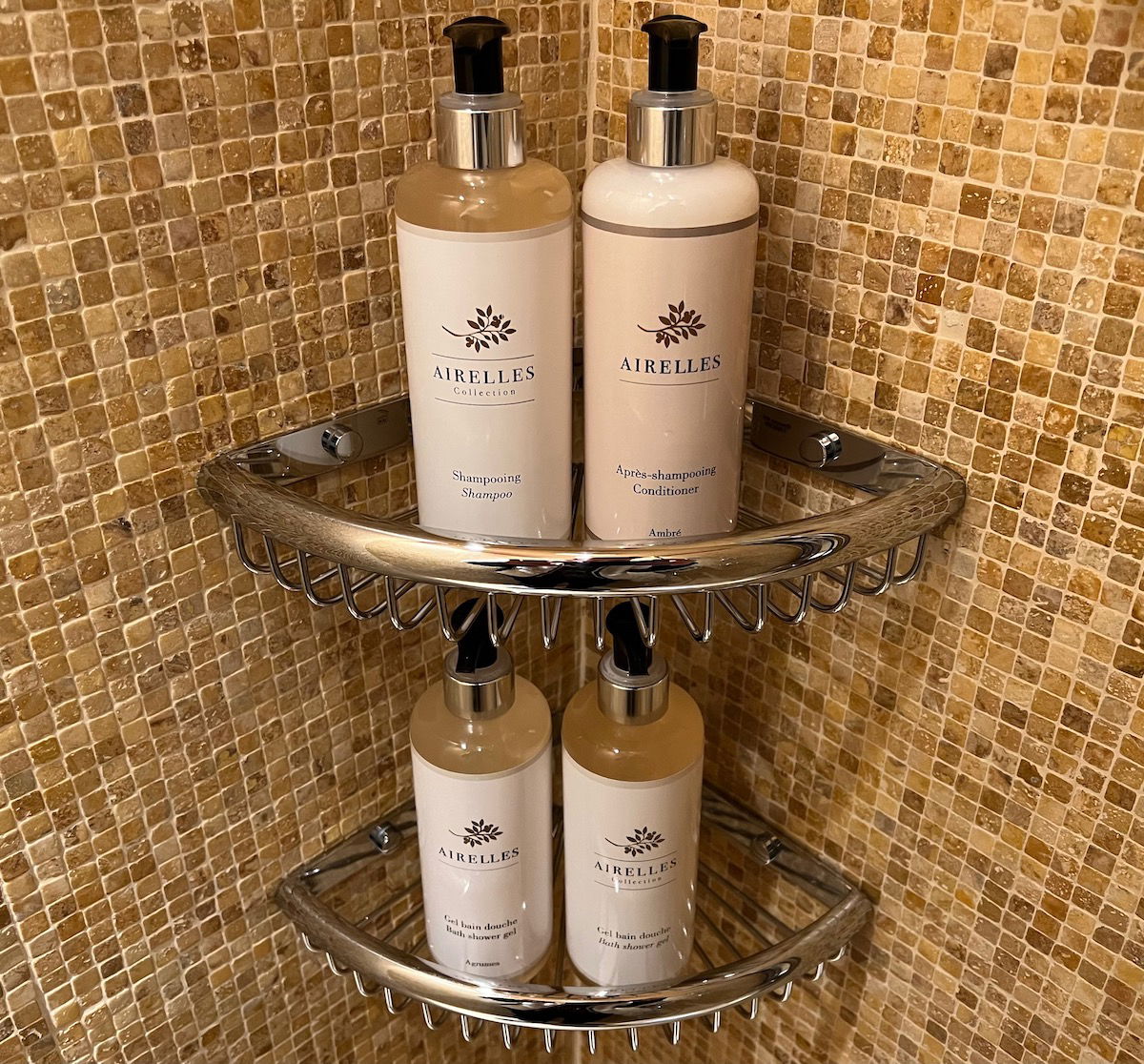 Our room had a beautiful balcony with a daybed and two chairs. What a view!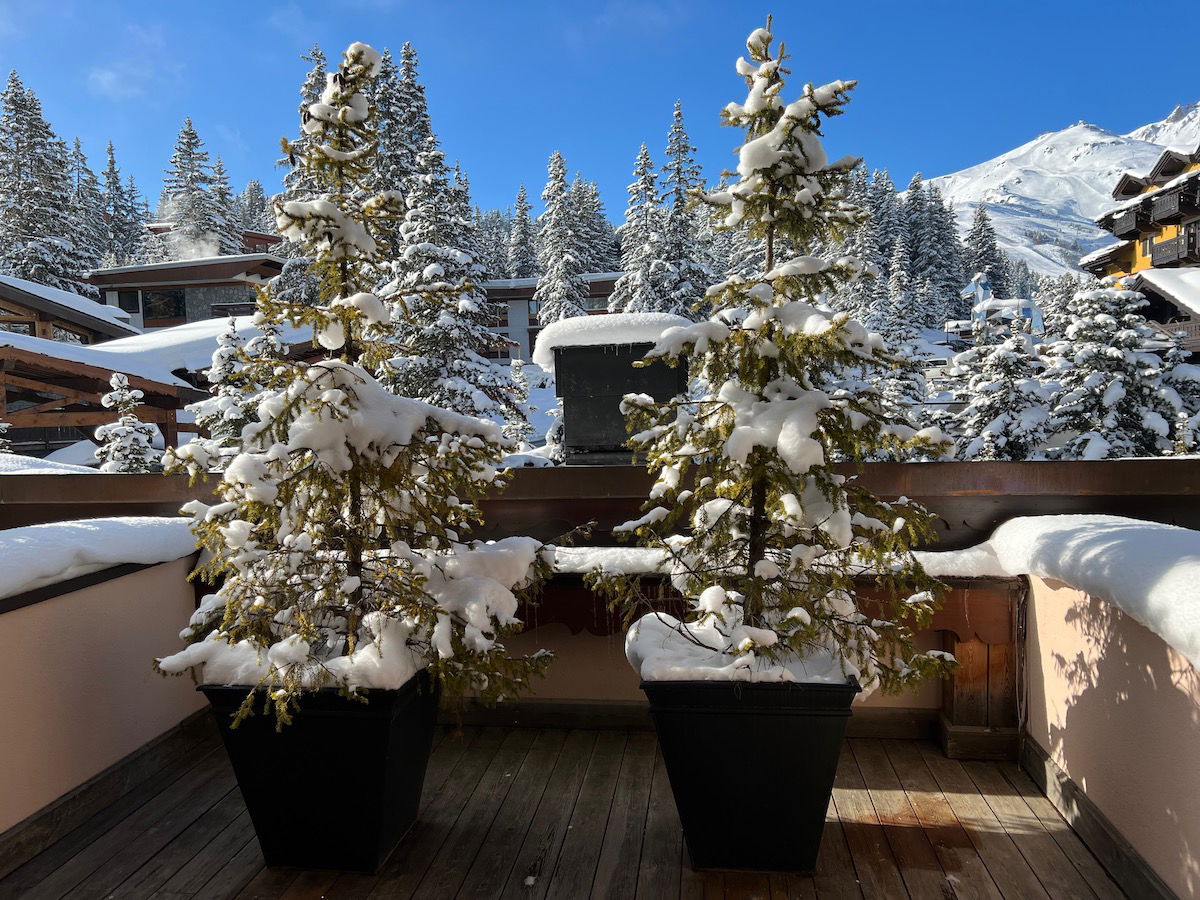 For what it's worth, that yellow building in the below picture is Cheval Blanc, which is right next door.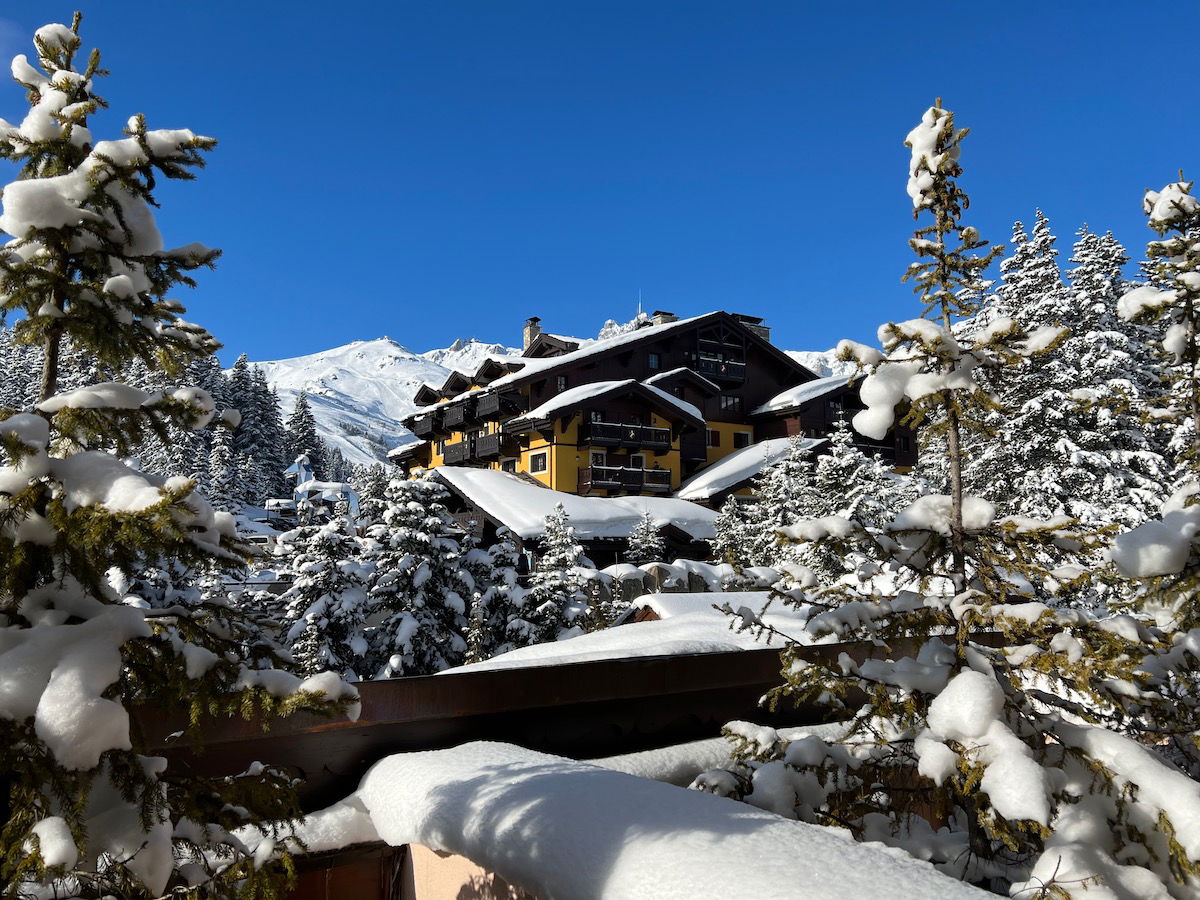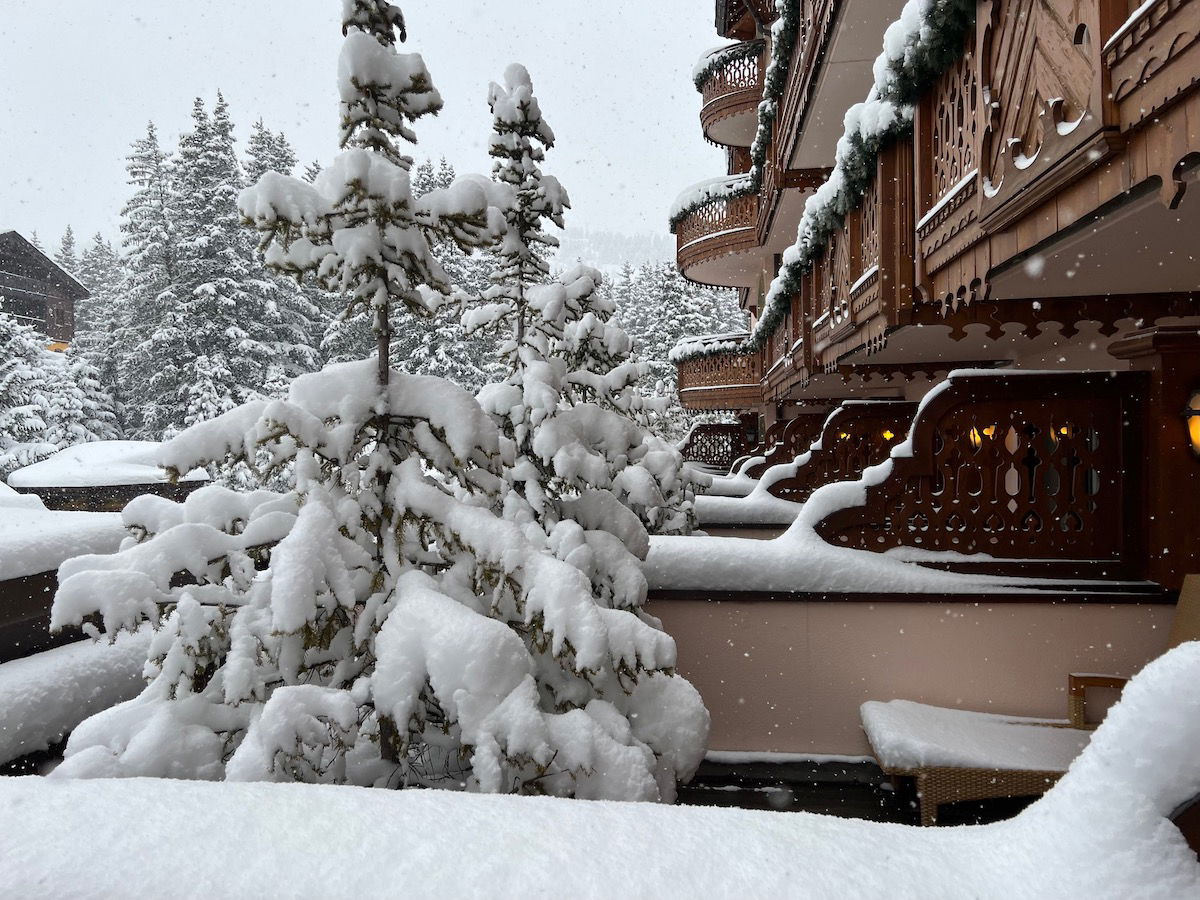 There was also a lovely welcome amenity waiting in the room, including a bottle of Veuve Clicquot Rose, a delicious cake, and two Les Airelles jackets that we could both use during our stay and take home with us.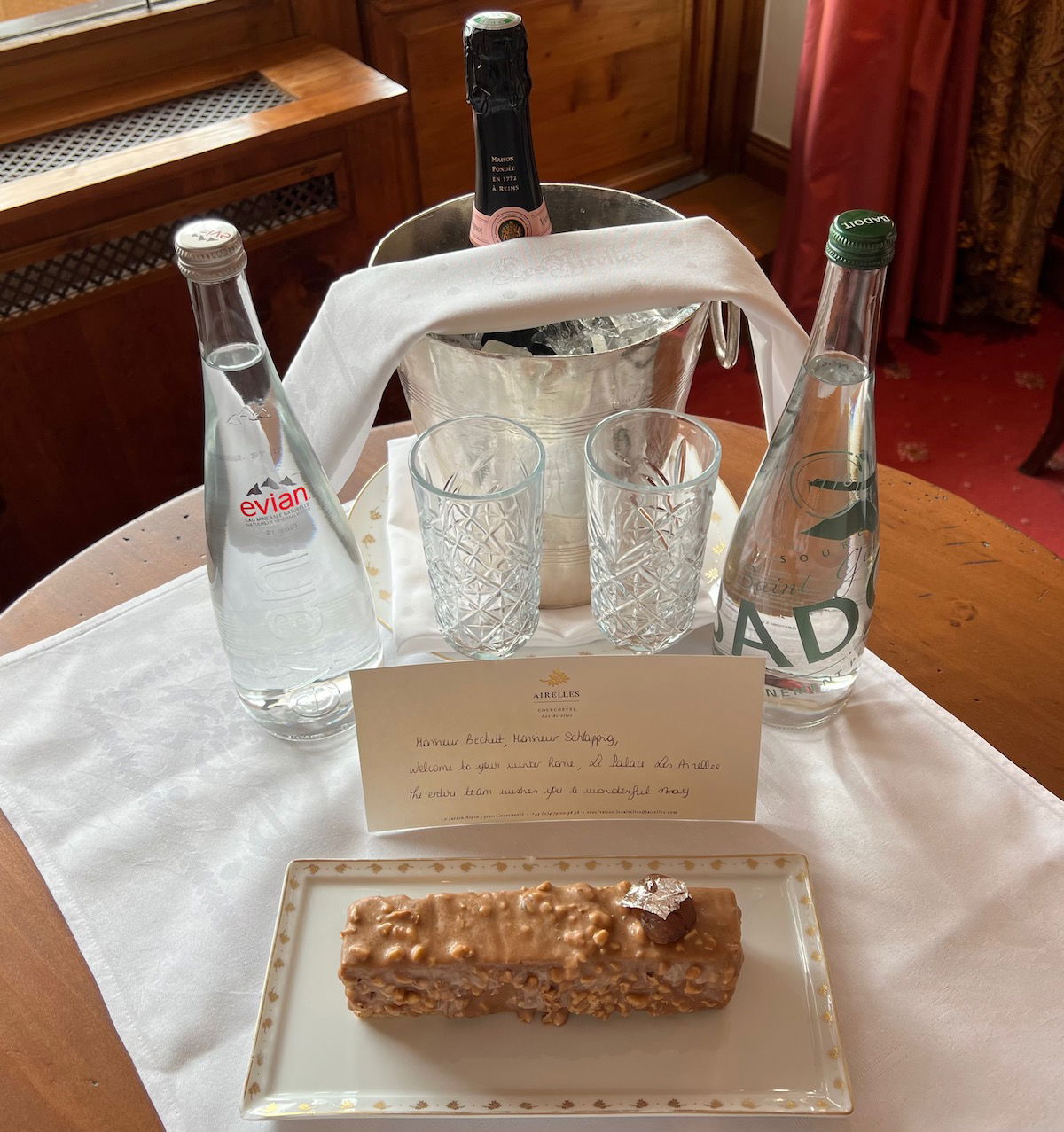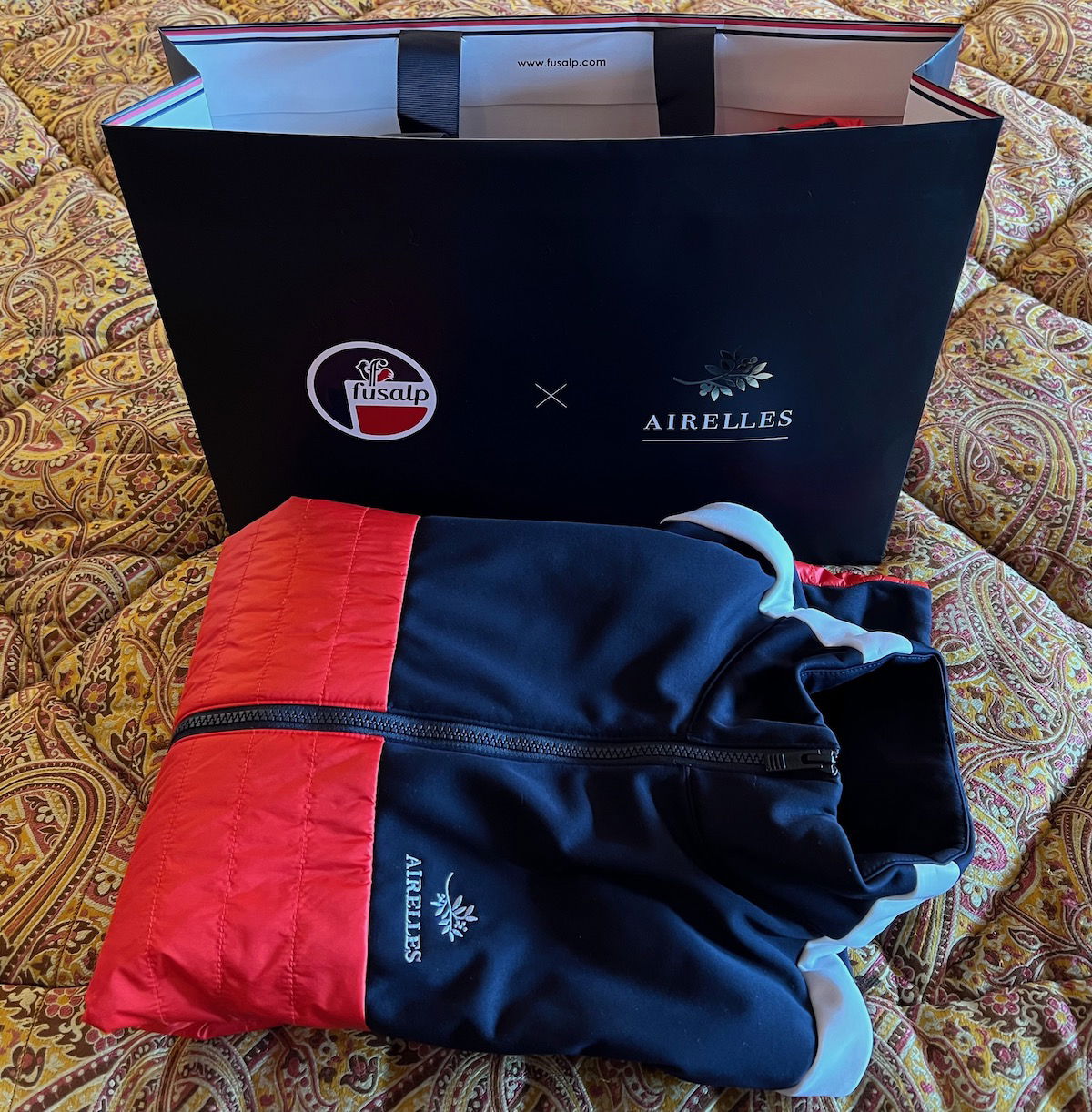 There was also a different gift at turndown every night, ranging from a coffee mug, to a search & rescue device, to ski socks.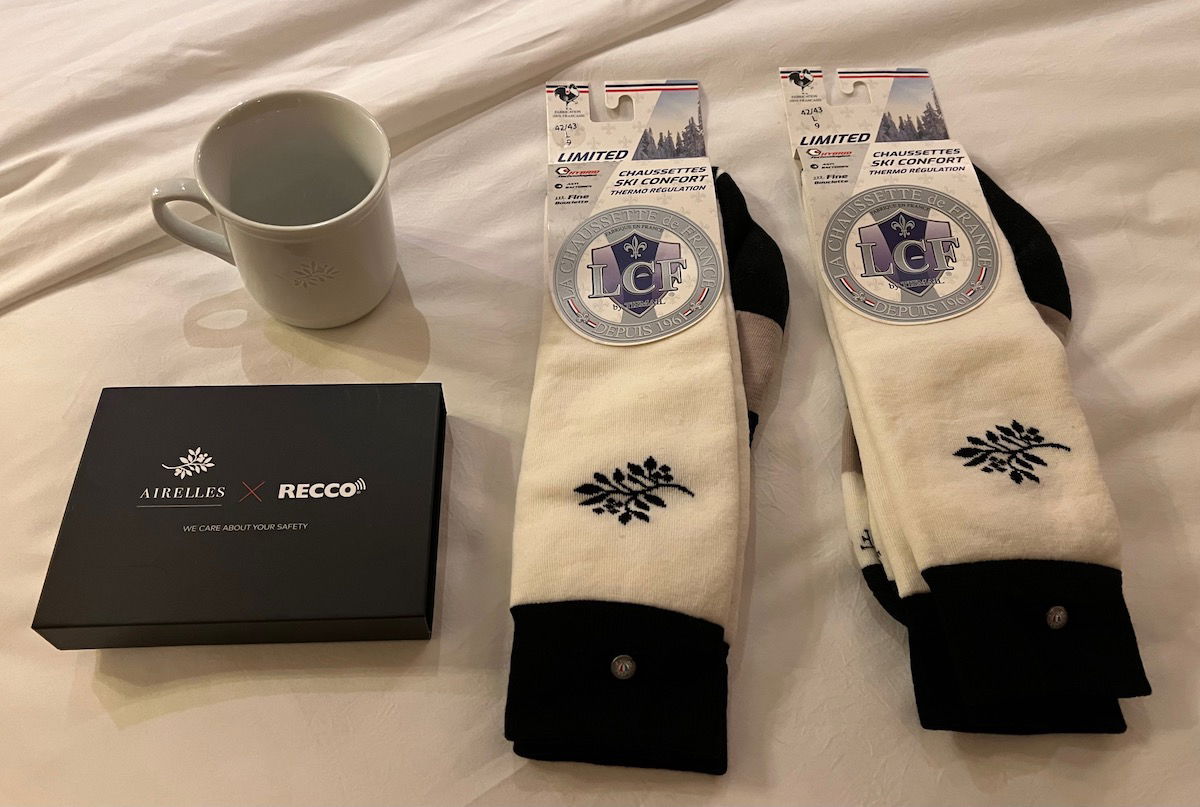 There was daily housekeeping and turndown service, and I maintain that this hotel has the world's most comfortable slippers, which were placed next to the bed each evening at turndown. They were so comfortable that I took several pairs home.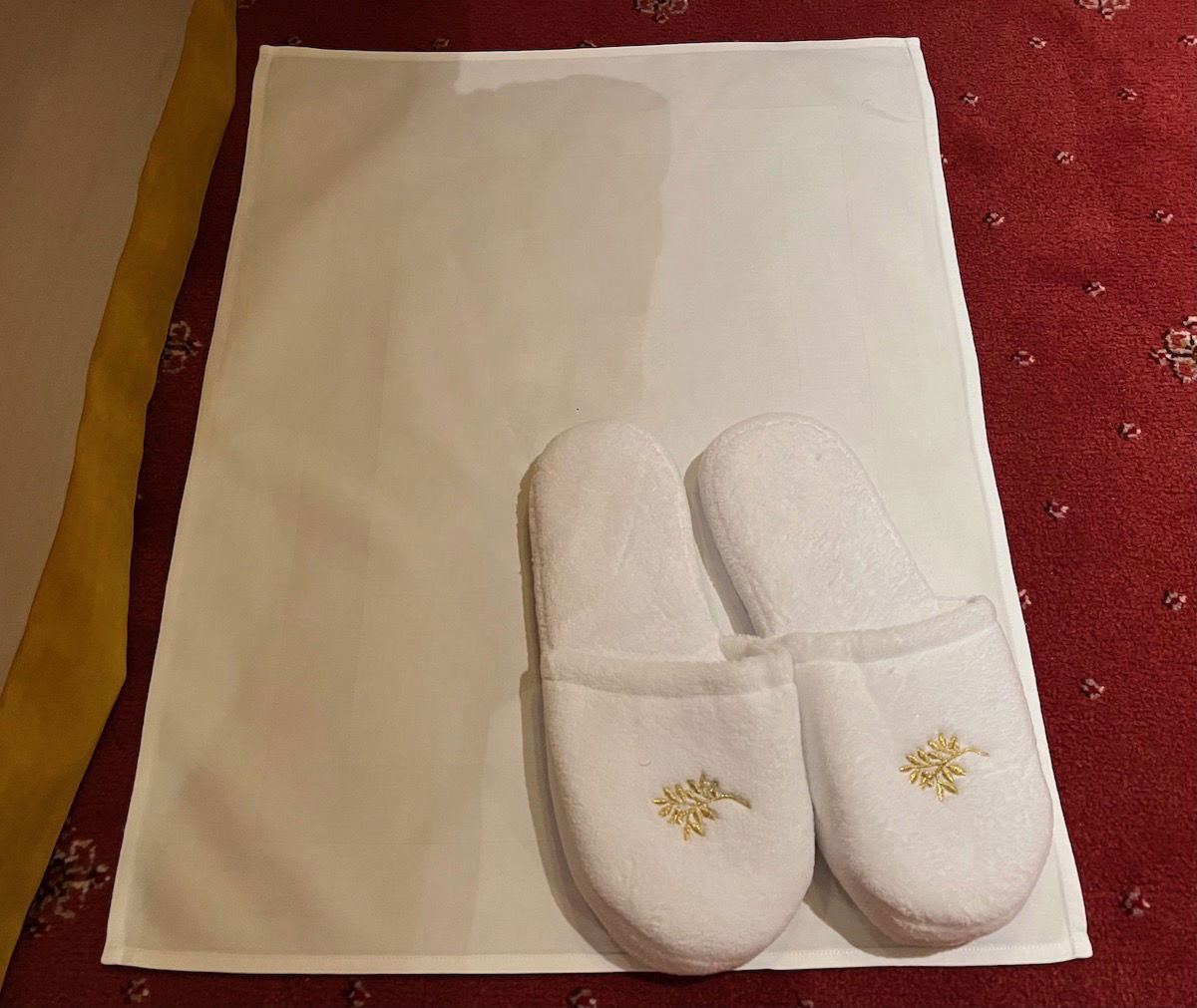 Wi-Fi in the room (and throughout the hotel) was fast and free.
Les Airelles Courchevel ski room & valet
Les Airelles Courchevel offers ski-in/ski-out. The hotel has a ski room on level minus two. Like I said above, I'm new to skiing, but I have been in some ski rooms (to say bye to Ford and beg him not to break any bones). Typically ski rooms feel like they're somewhere between a Best Western lobby and a locker room, even at a luxury hotel.
So I present to you the ski room at Les Airelles Courchevel…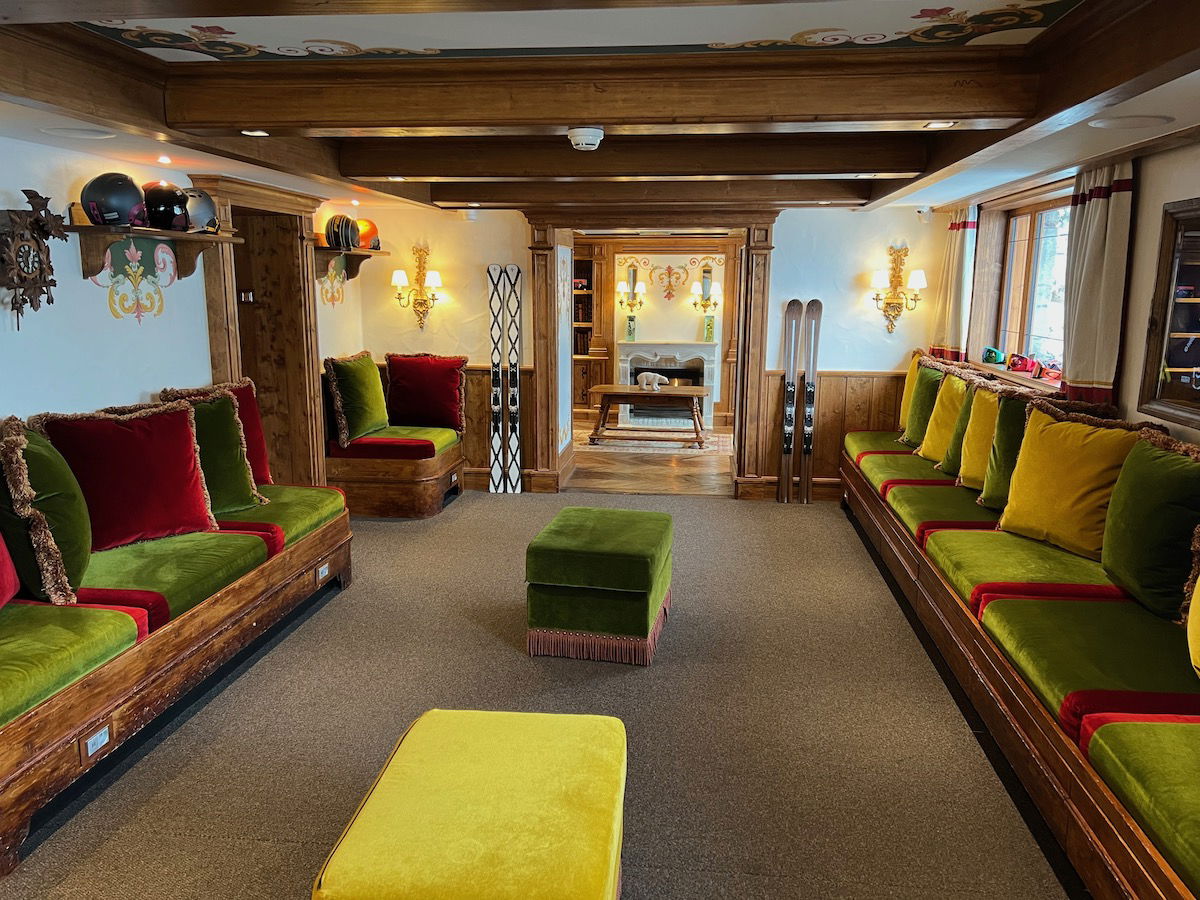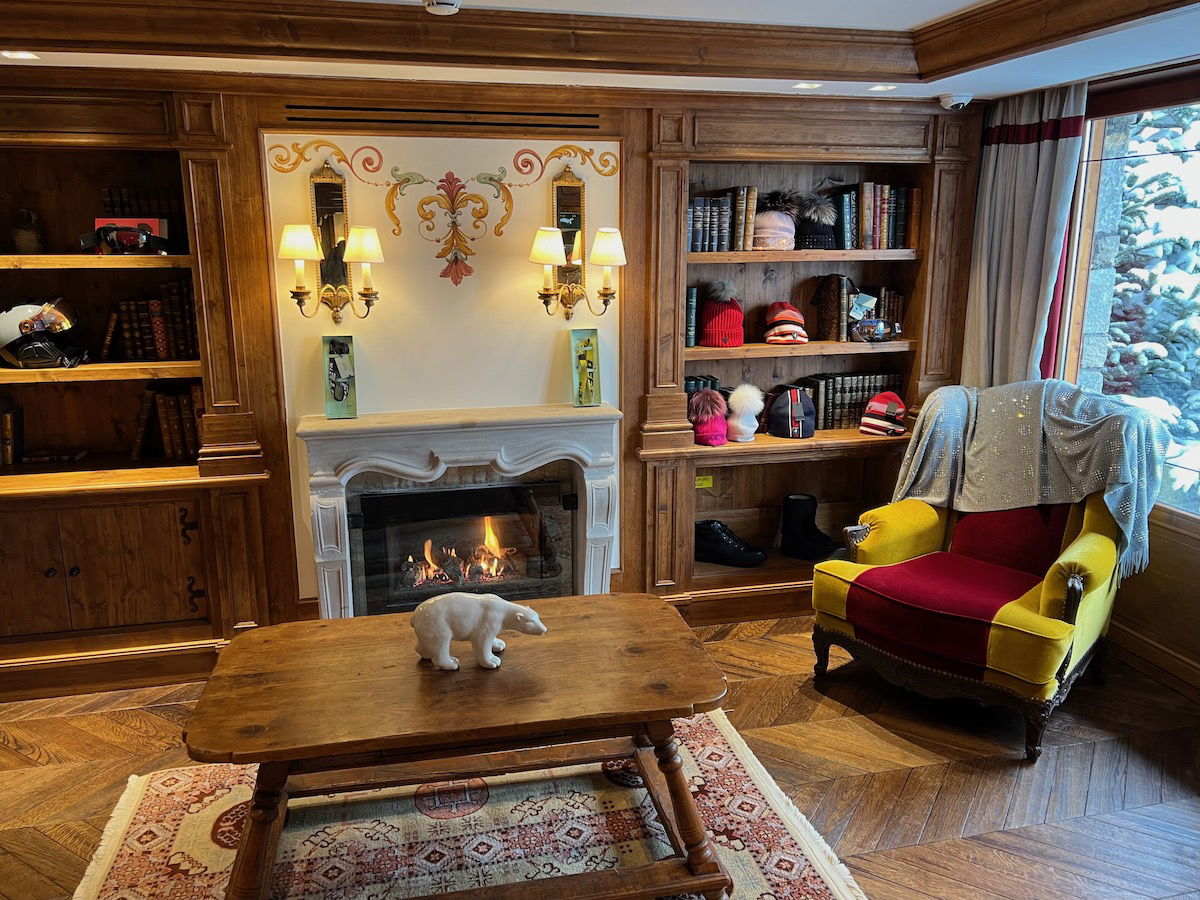 The ski valets do virtually everything for you, from putting on your skies to taking them off (and then placing slippers on your feet), to carrying your equipment out for you, to meeting you when you return and carrying your stuff back inside. Never mind the fact that the ski room has a rather tempting buffet, with everything from coffee and hot chocolate, to freshly baked cakes and tarts.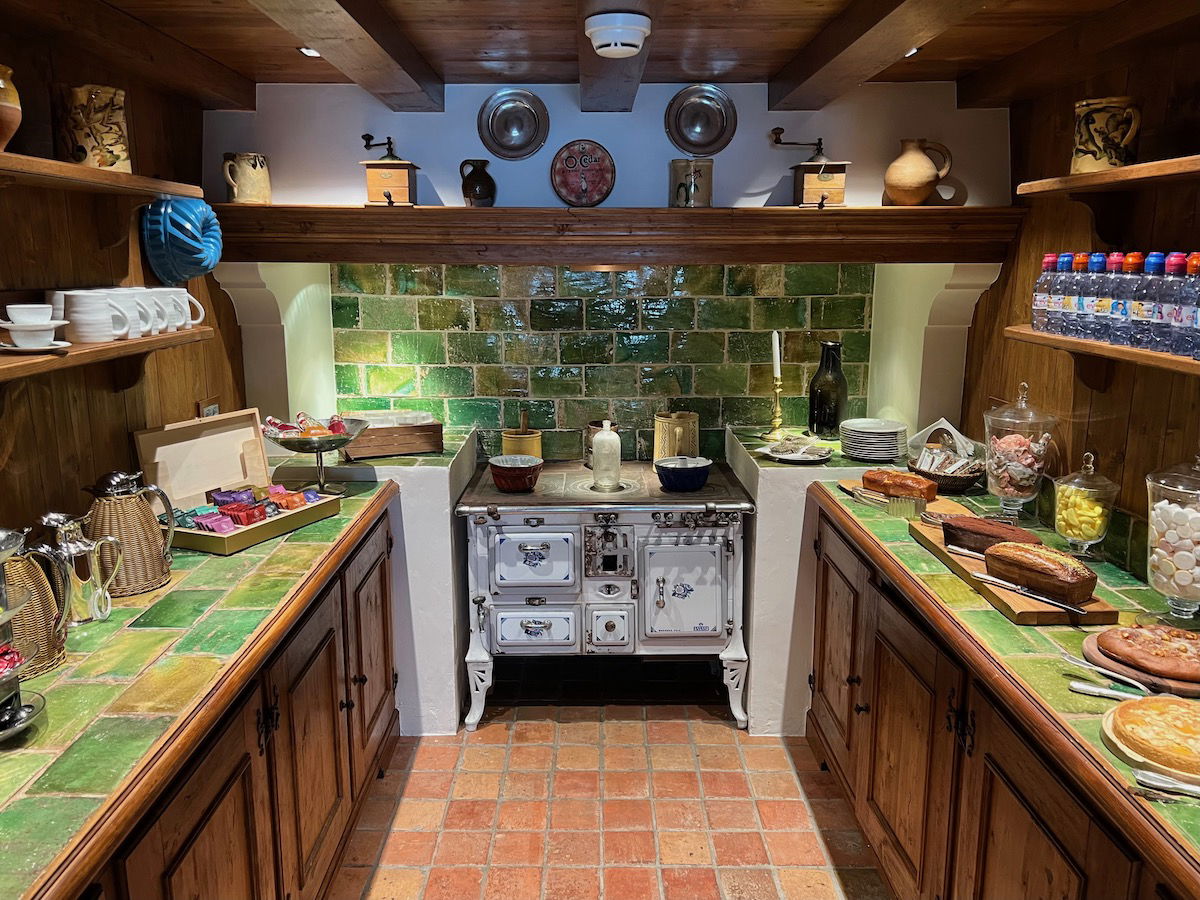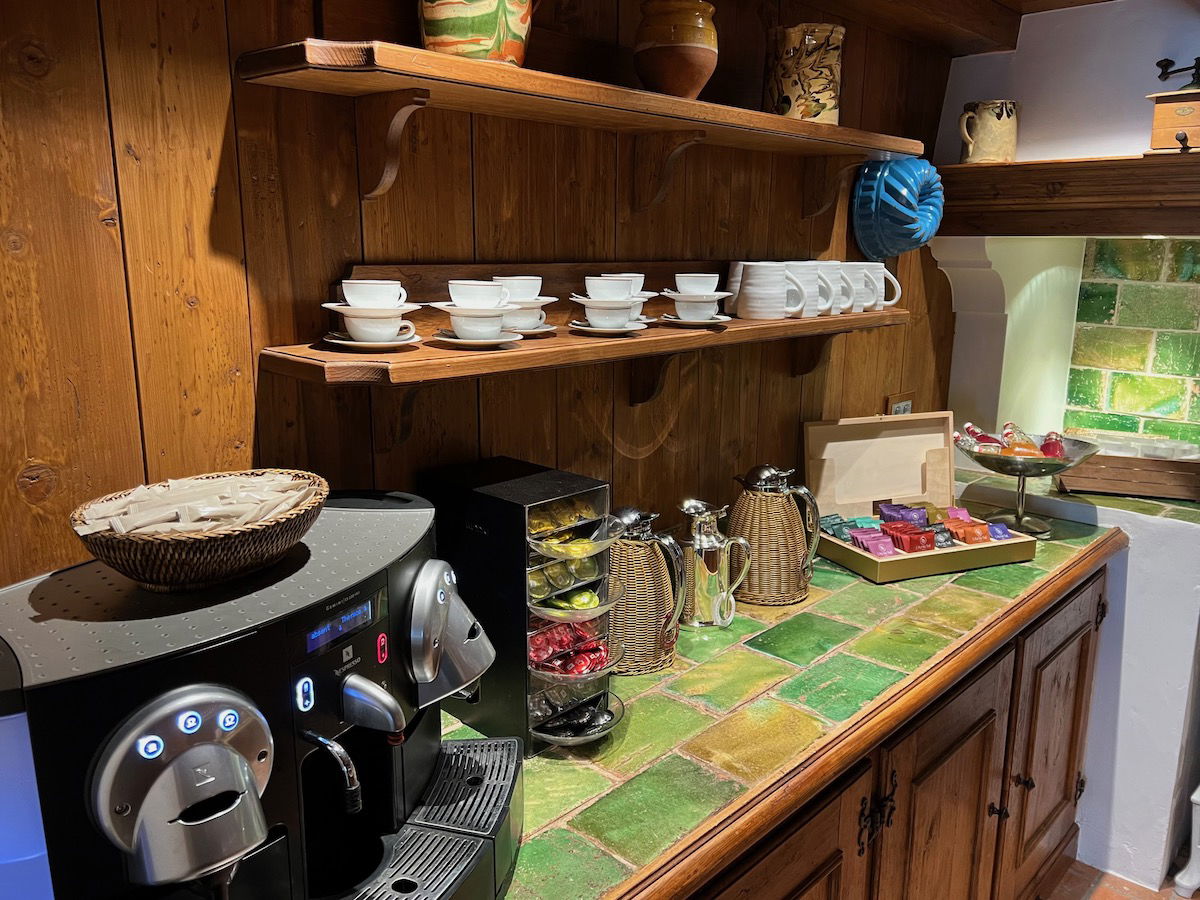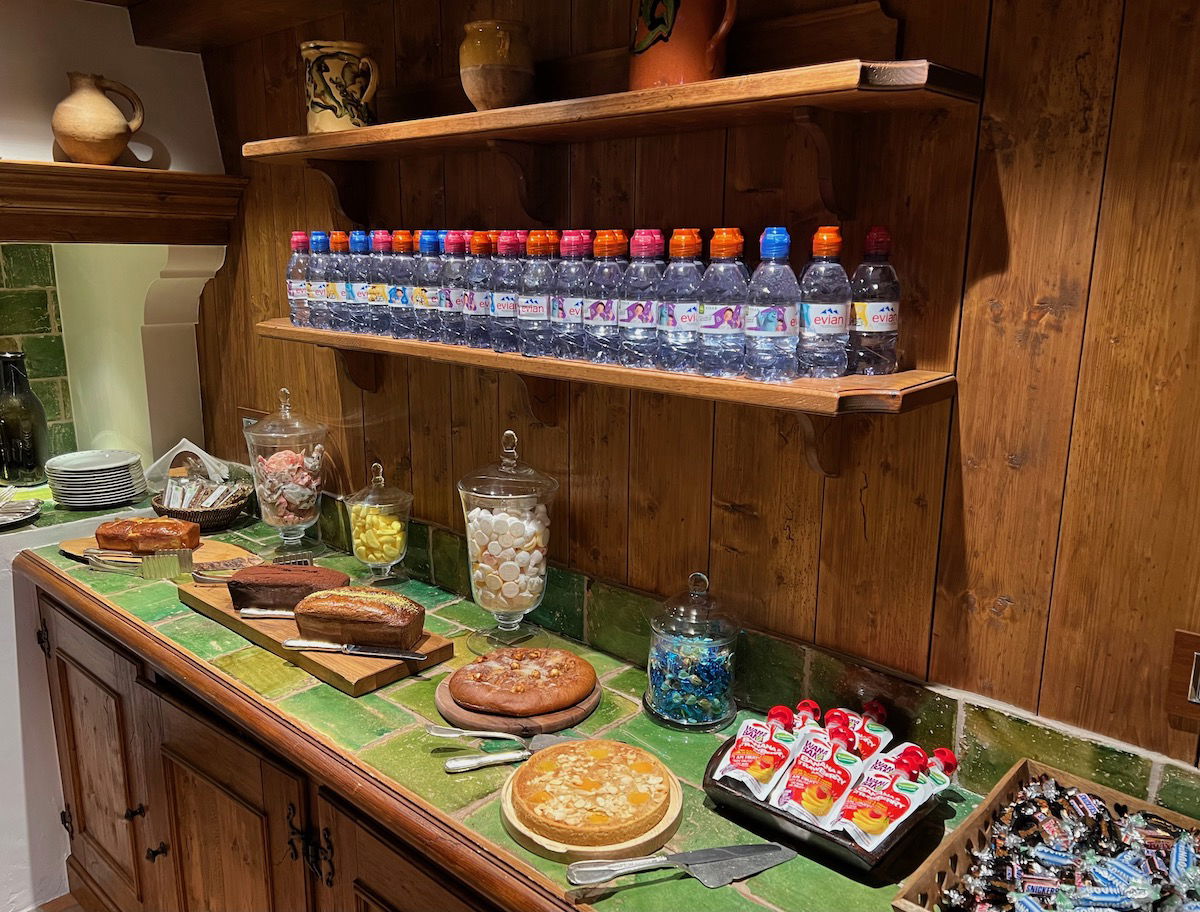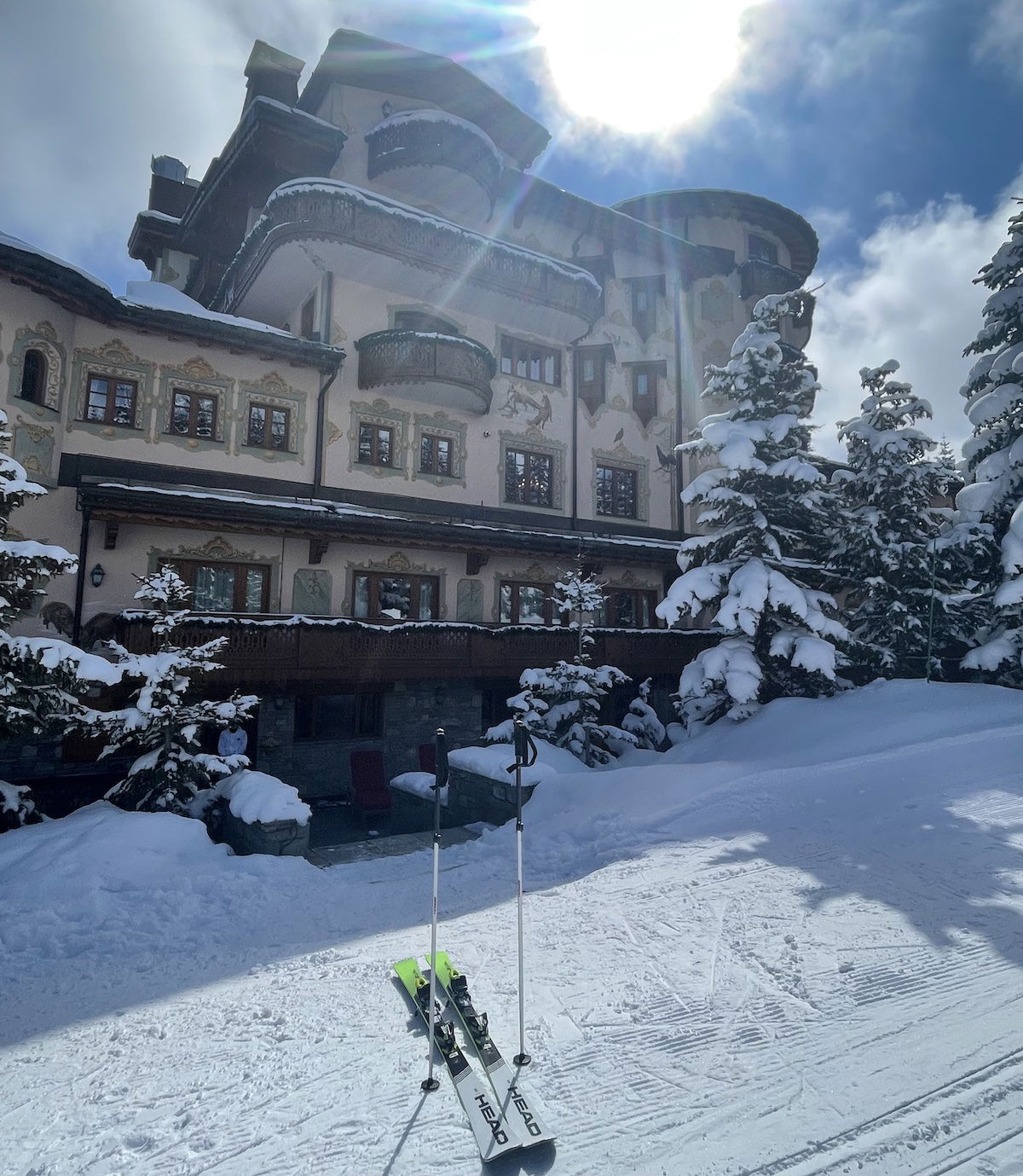 Les Airelles Courchevel spa & pool
Also on level minus two is Les Airelles' spa and pool area.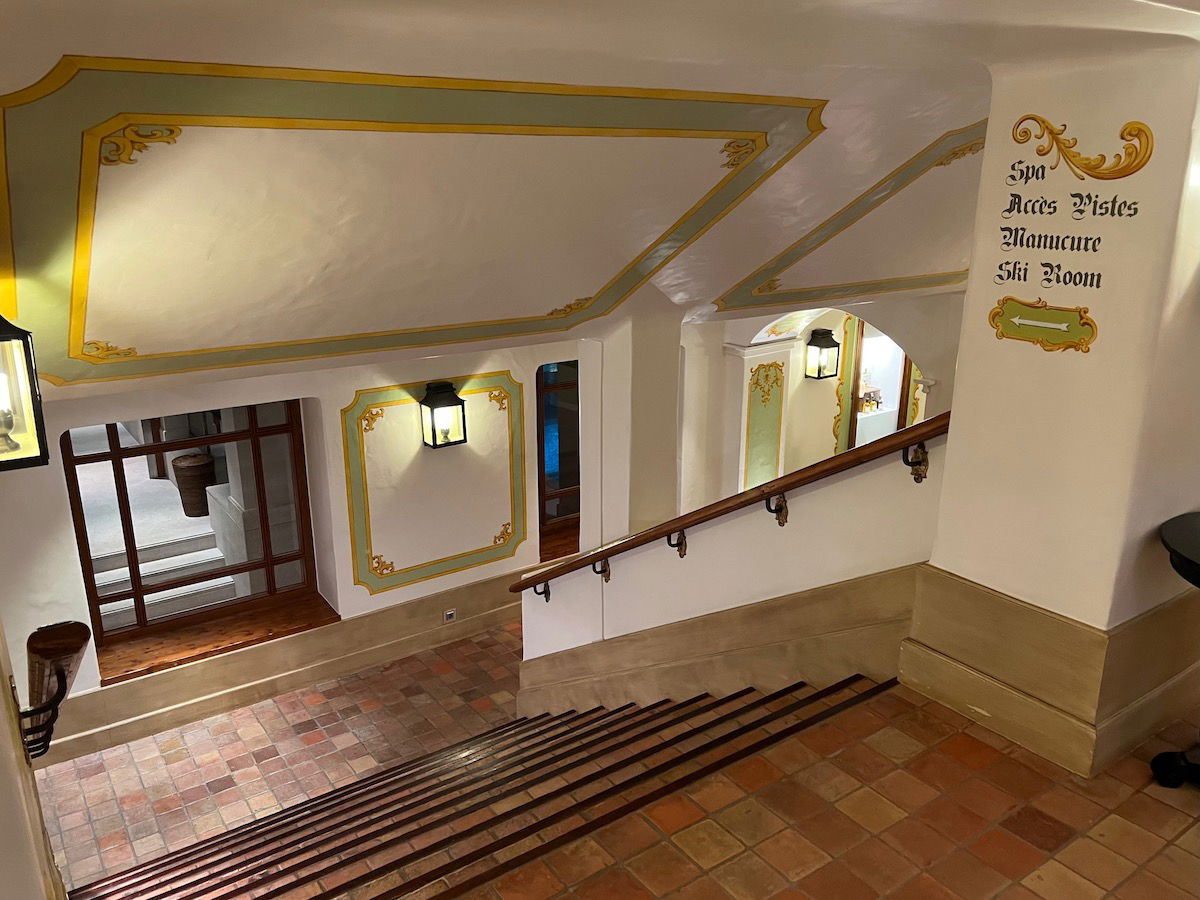 Les Airelles has a La Mer Spa, and you can find the treatment menu here. We didn't get any treatments, so I can't speak to the quality (though since everything else at this hotel is out-of-this-world, I assume the spa services are as well).
We did use the pool area multiple times, which was lovely. The pool was kept at 30 Celsius (~86 Fahrenheit), and the pool even got nearly nine feet deep, which you wouldn't expect.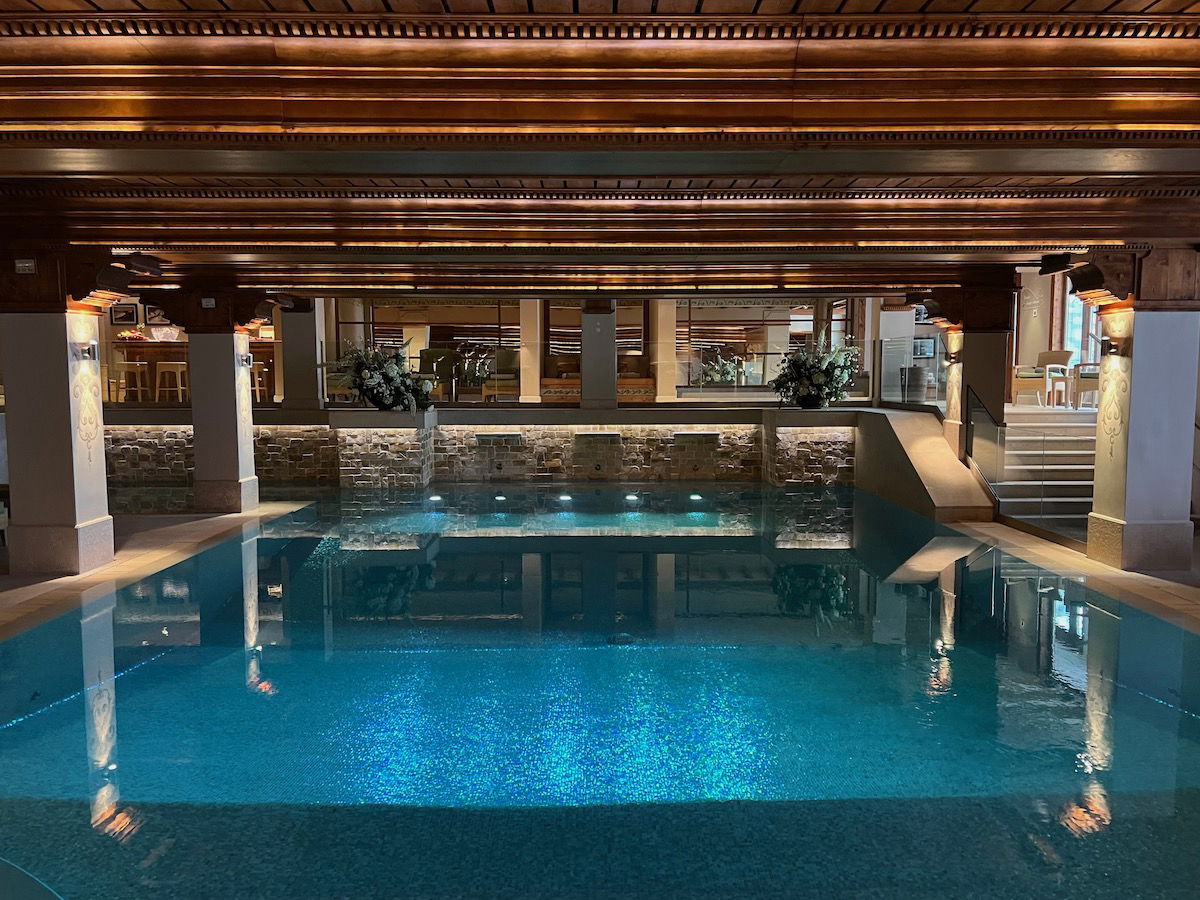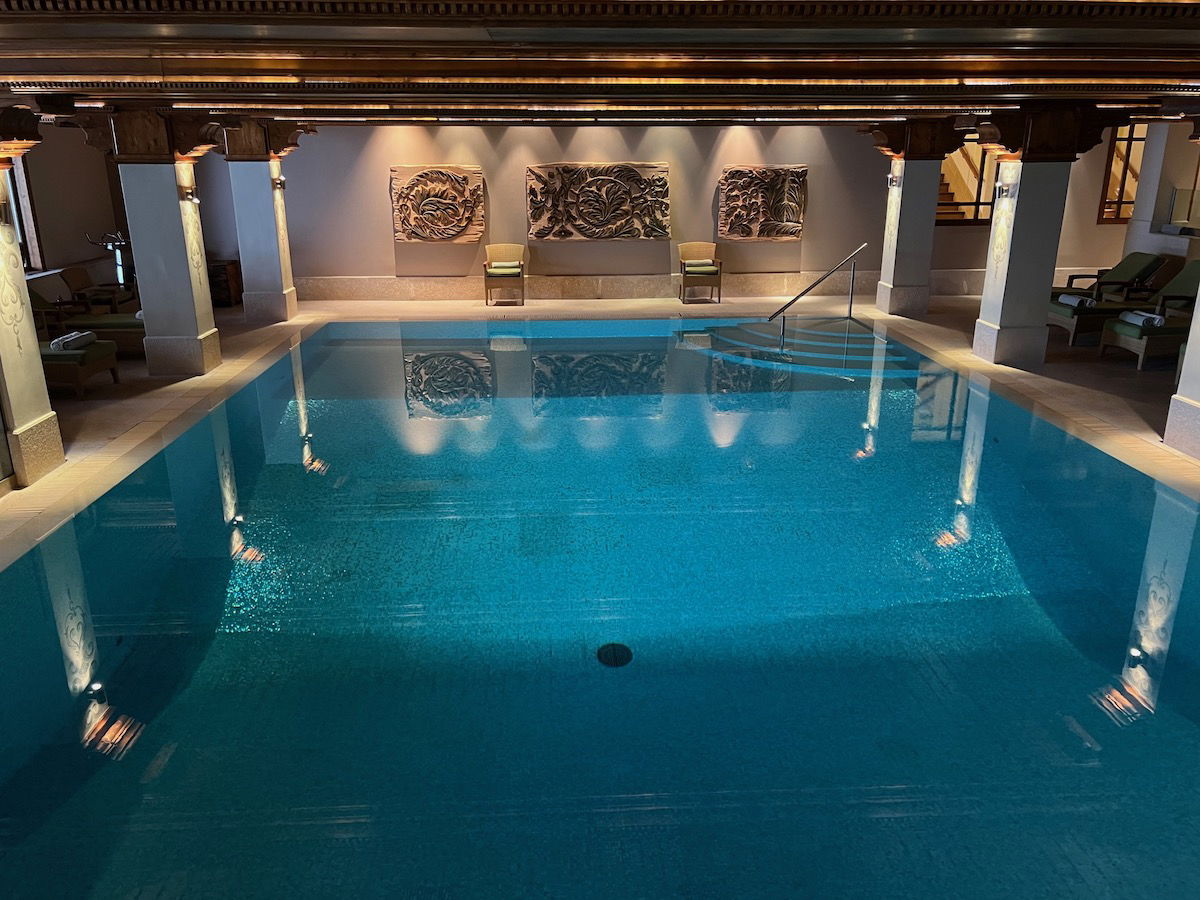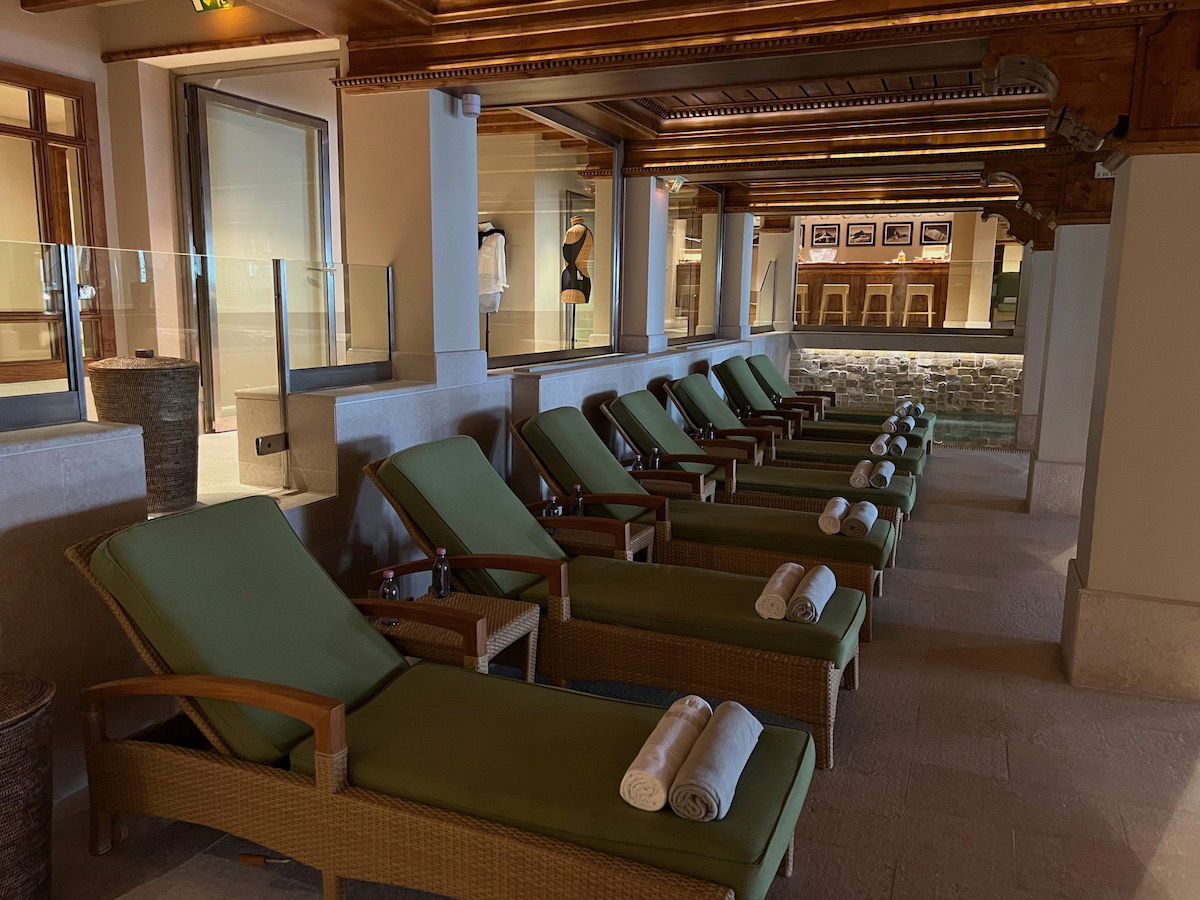 There was a bar with complimentary coffee, tea, water, detox juices, etc.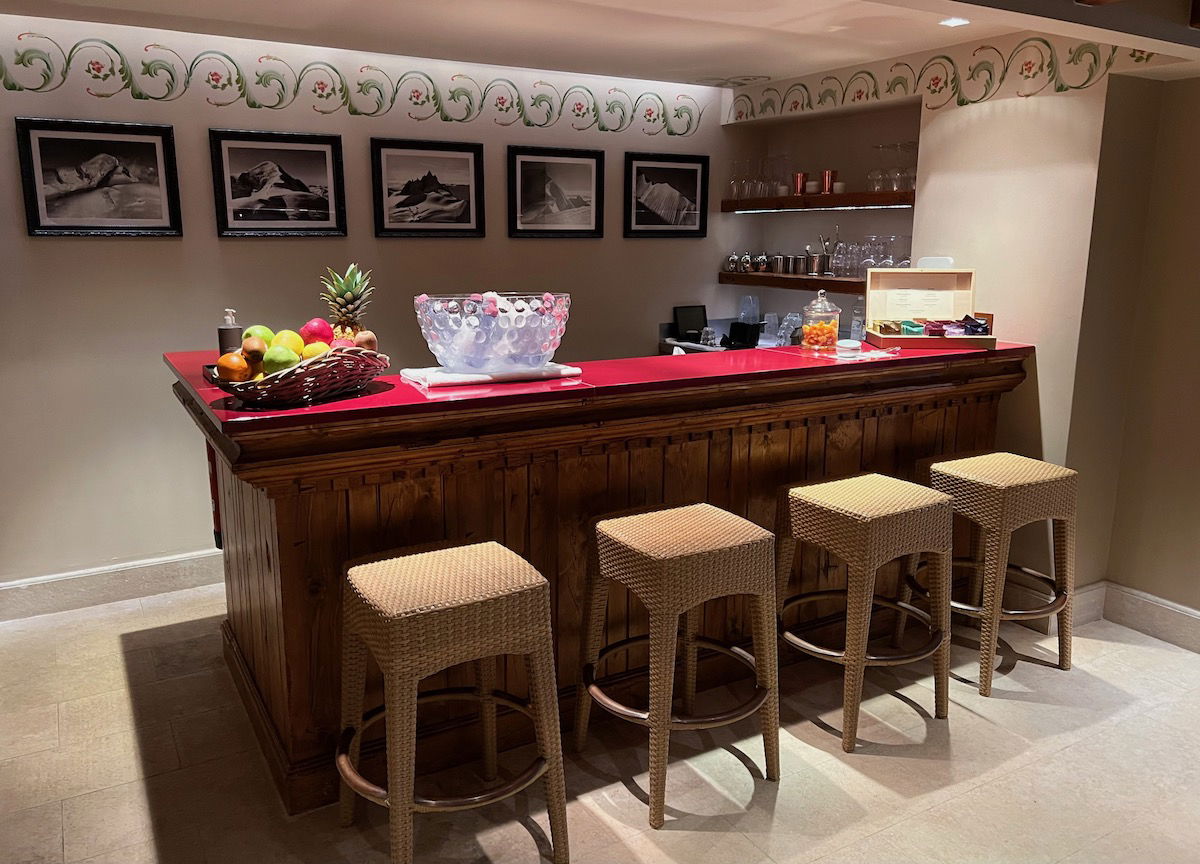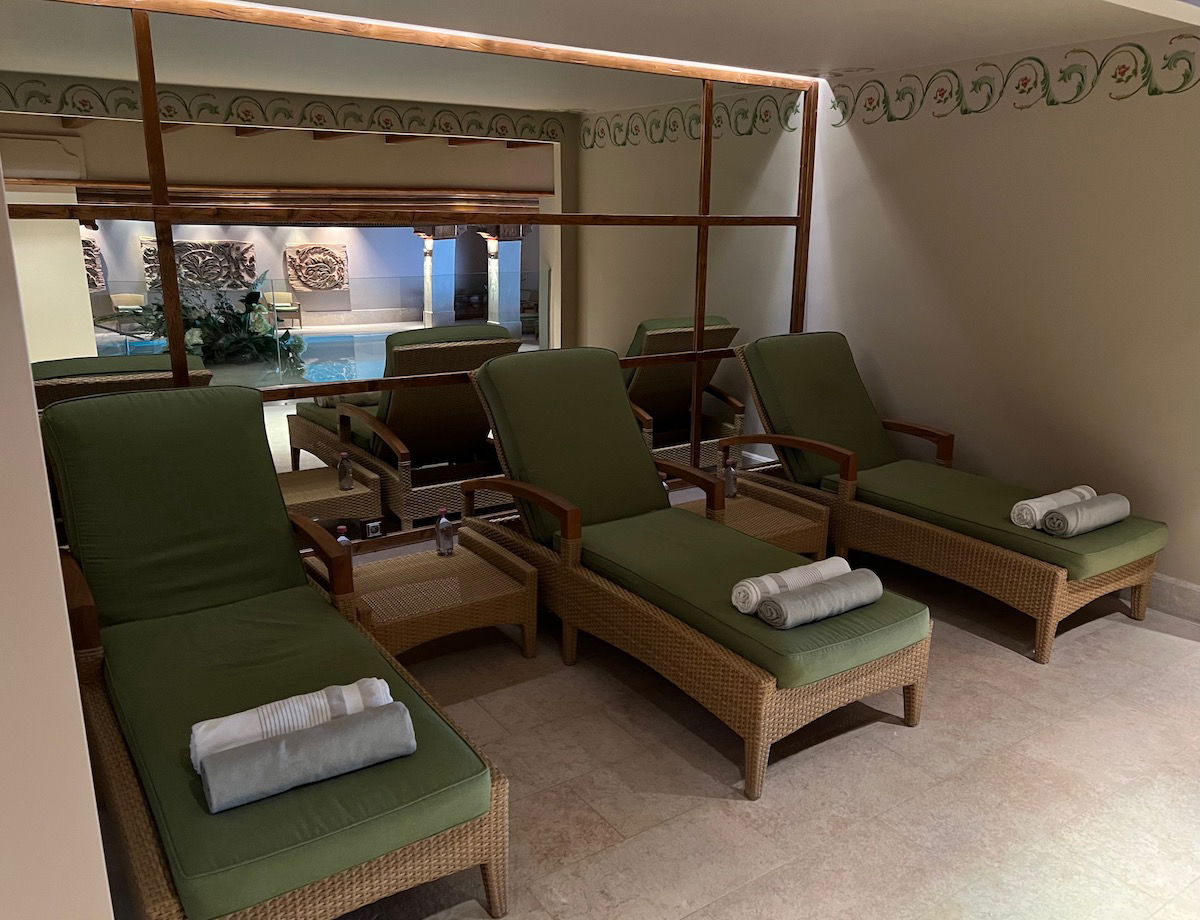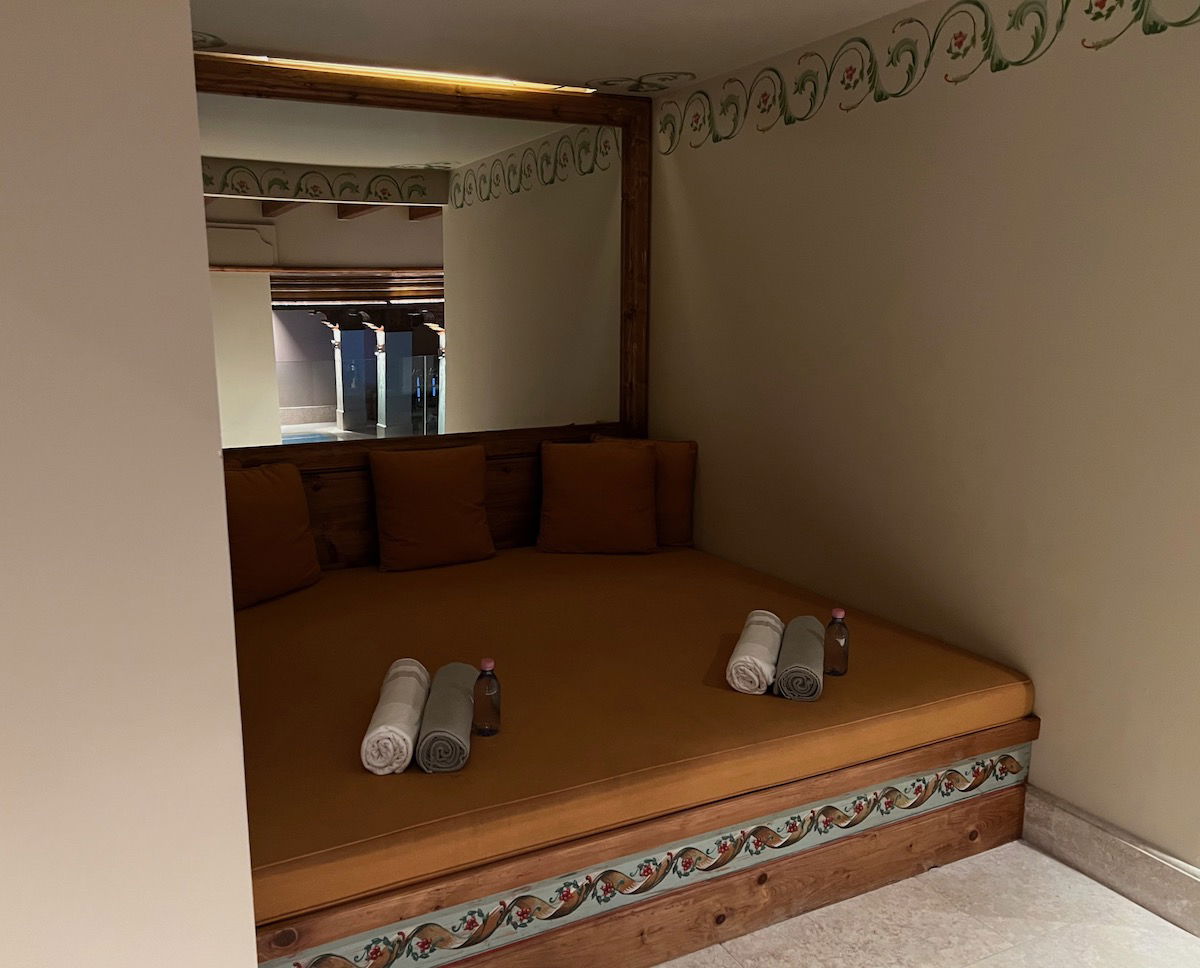 There was also an indoor whirlpool, which was kept at 40 Celsius (~104 Fahrenheit).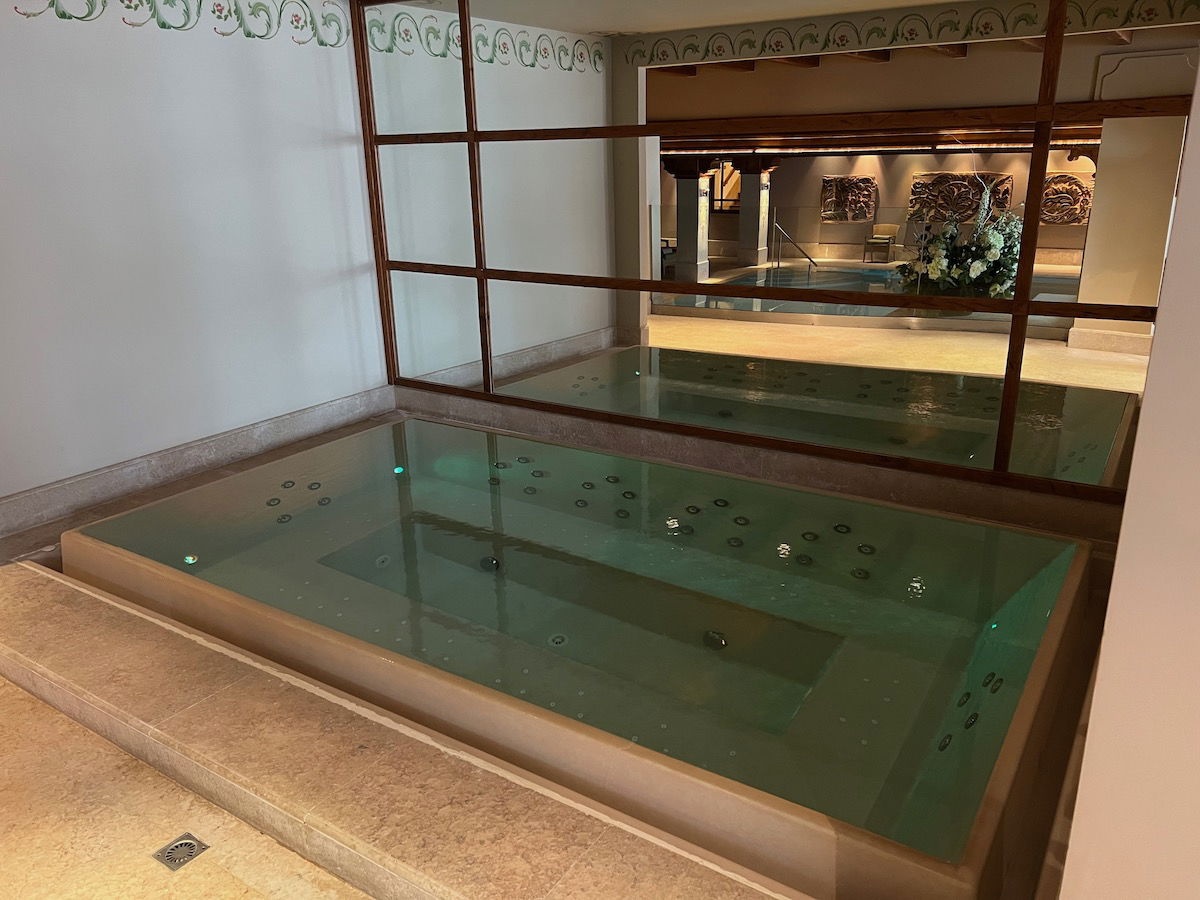 Then there were two saunas, a steam room, and a snow cave.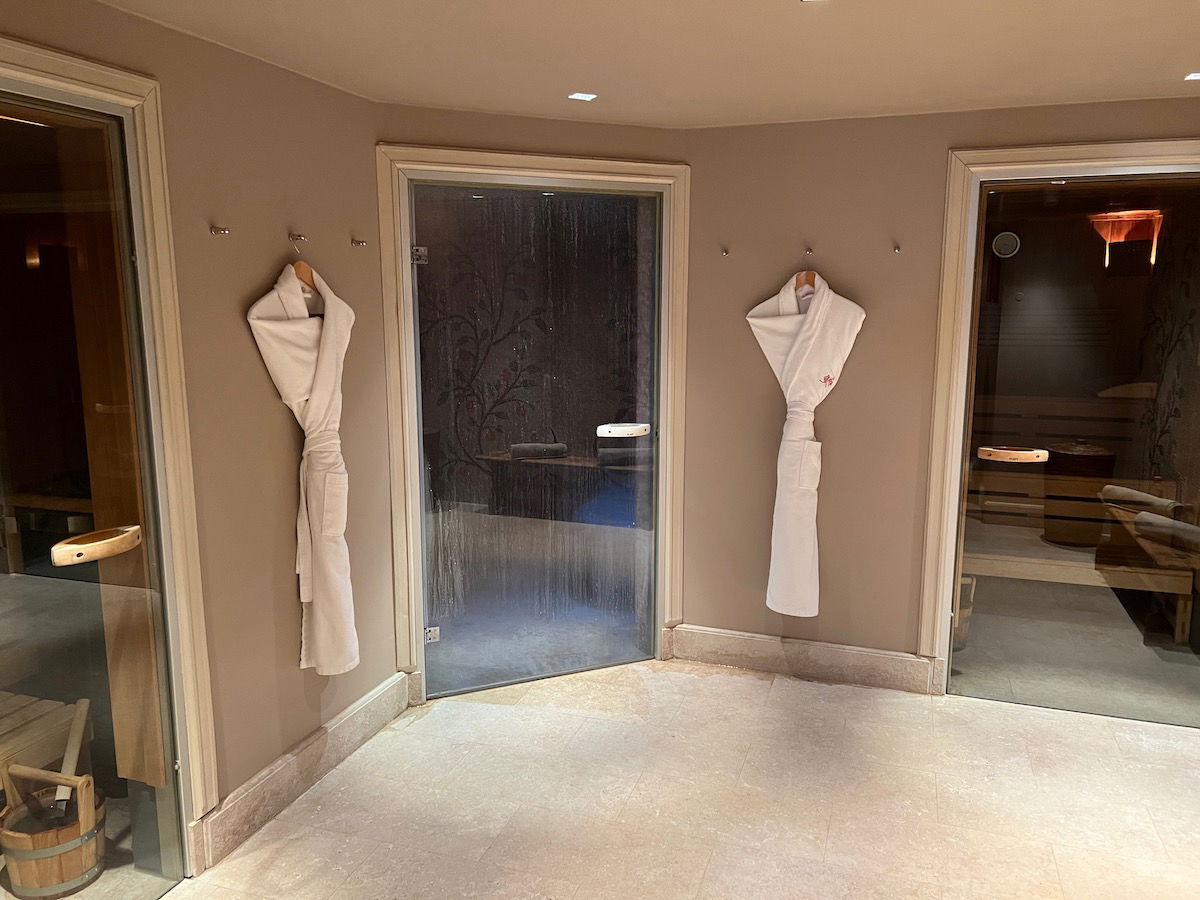 Yes, this hotel has a… snow cave. Why? I'm not sure. But it does, and it's kind of awesome.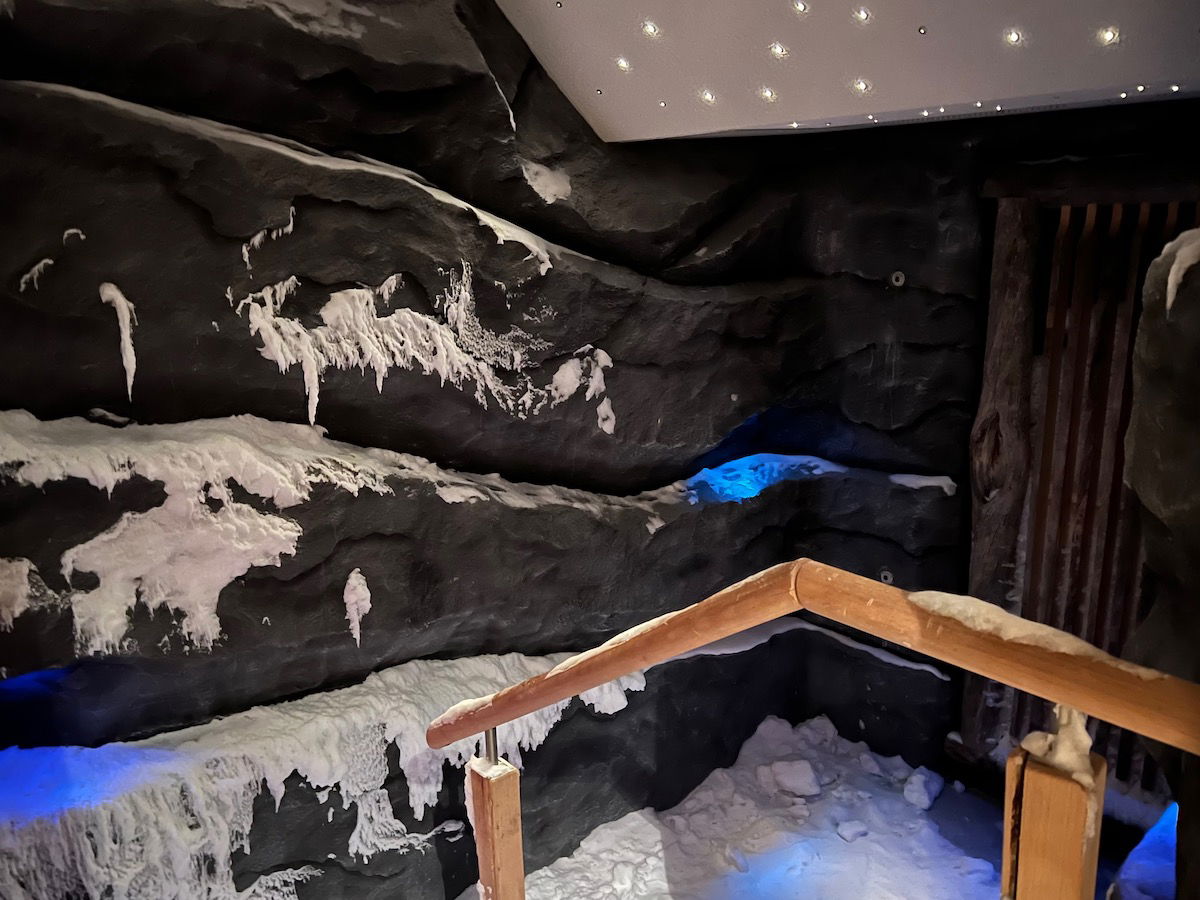 Lastly, there was an outdoor hot tub, which was where we spent the most time.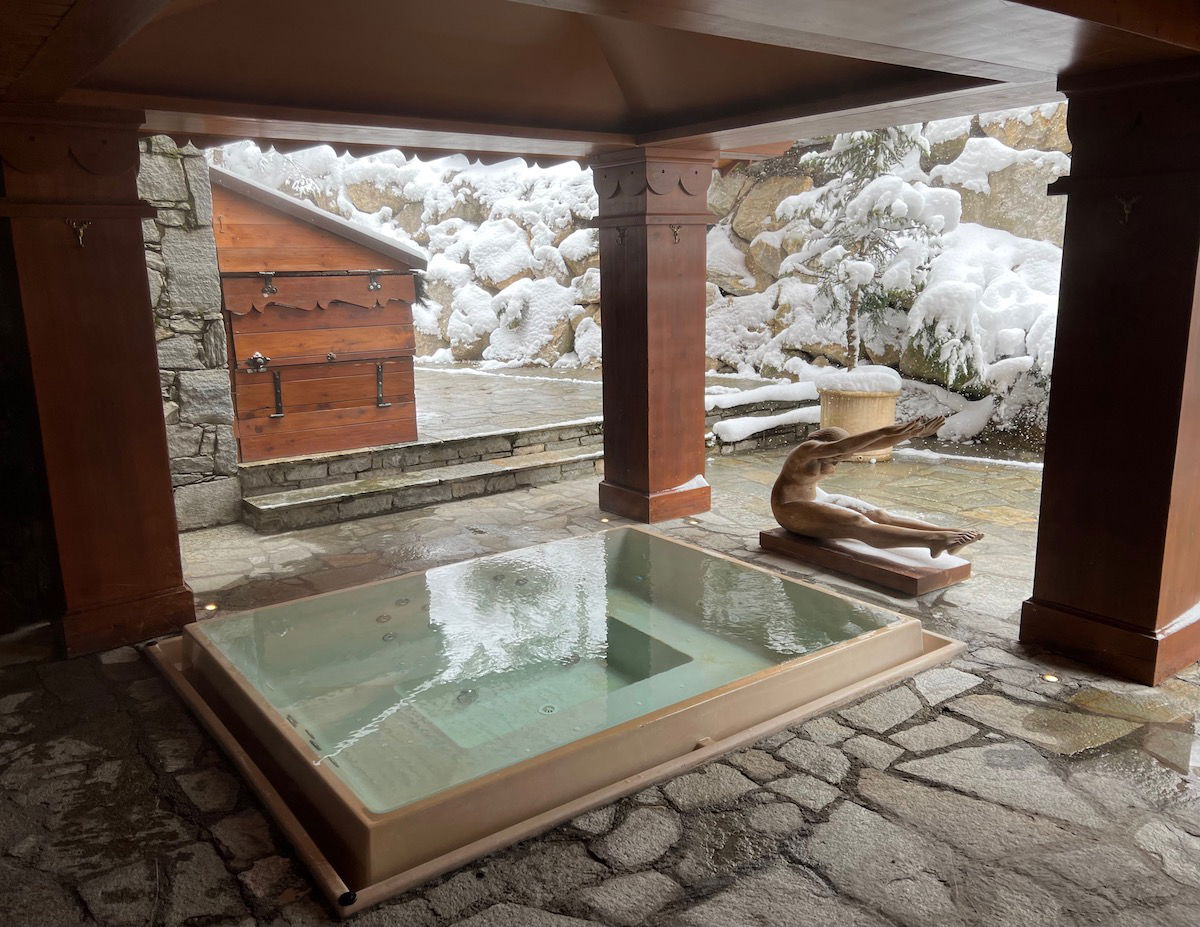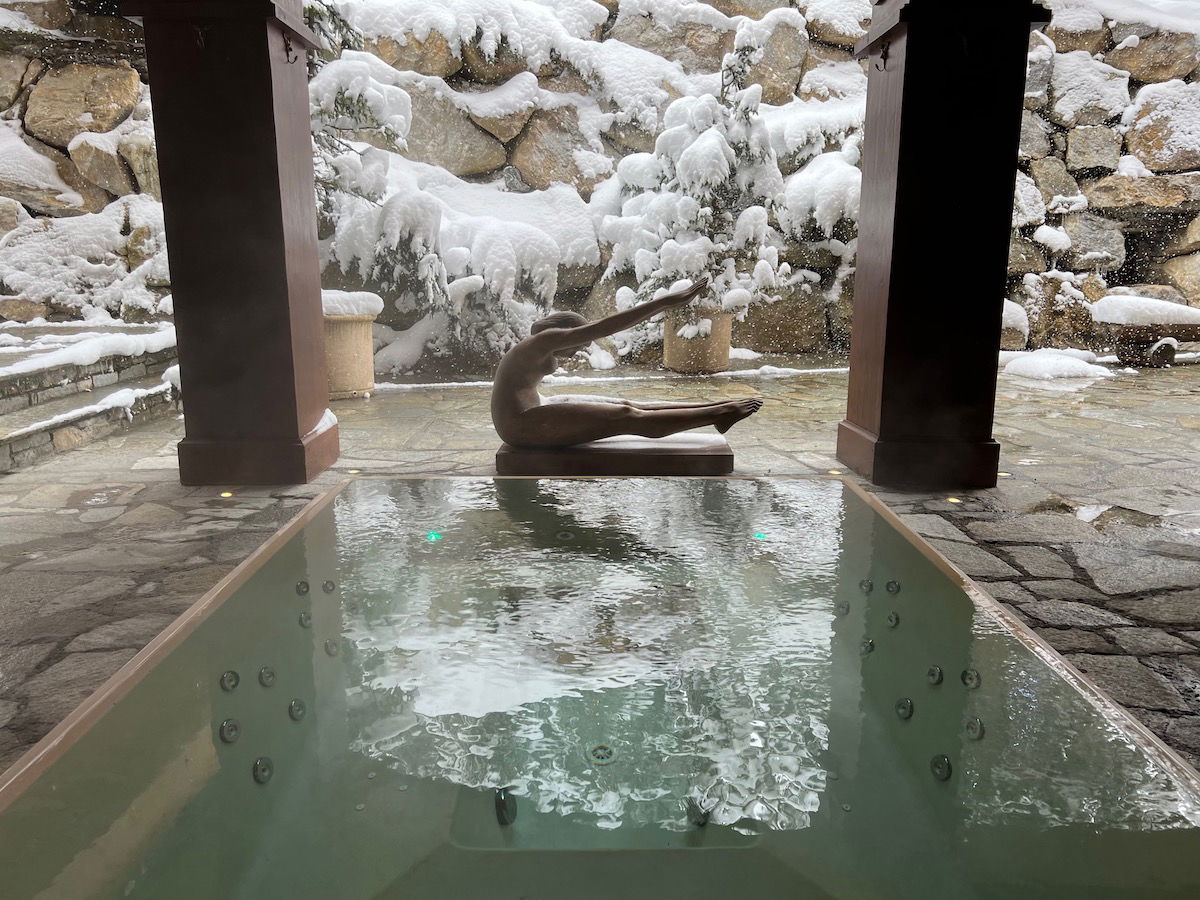 Les Airelles Courchevel gym
Les Airelles Courchevel has a small gym with good equipment. There were a few cardio machines, plus some weight machines. The gym also had granola bars, plenty of bottled water, and even perfume.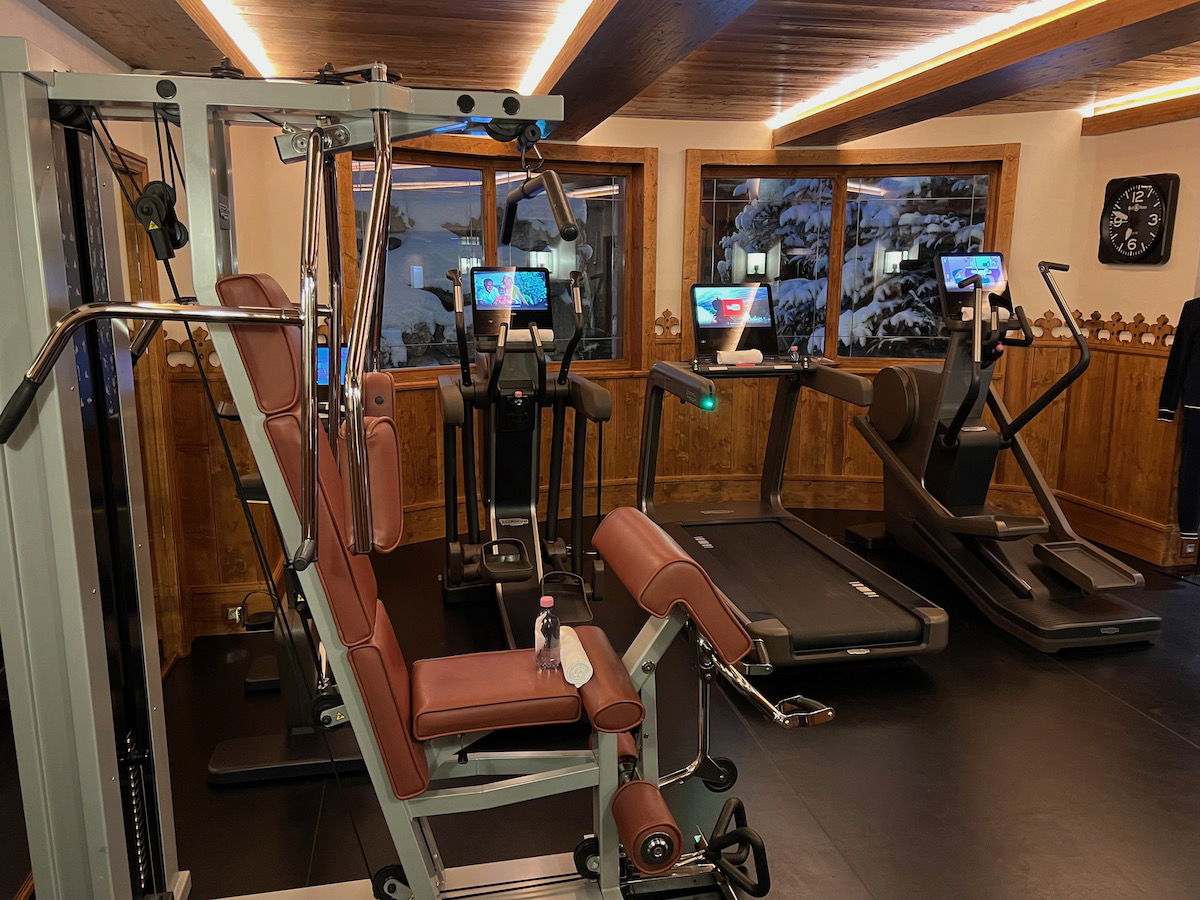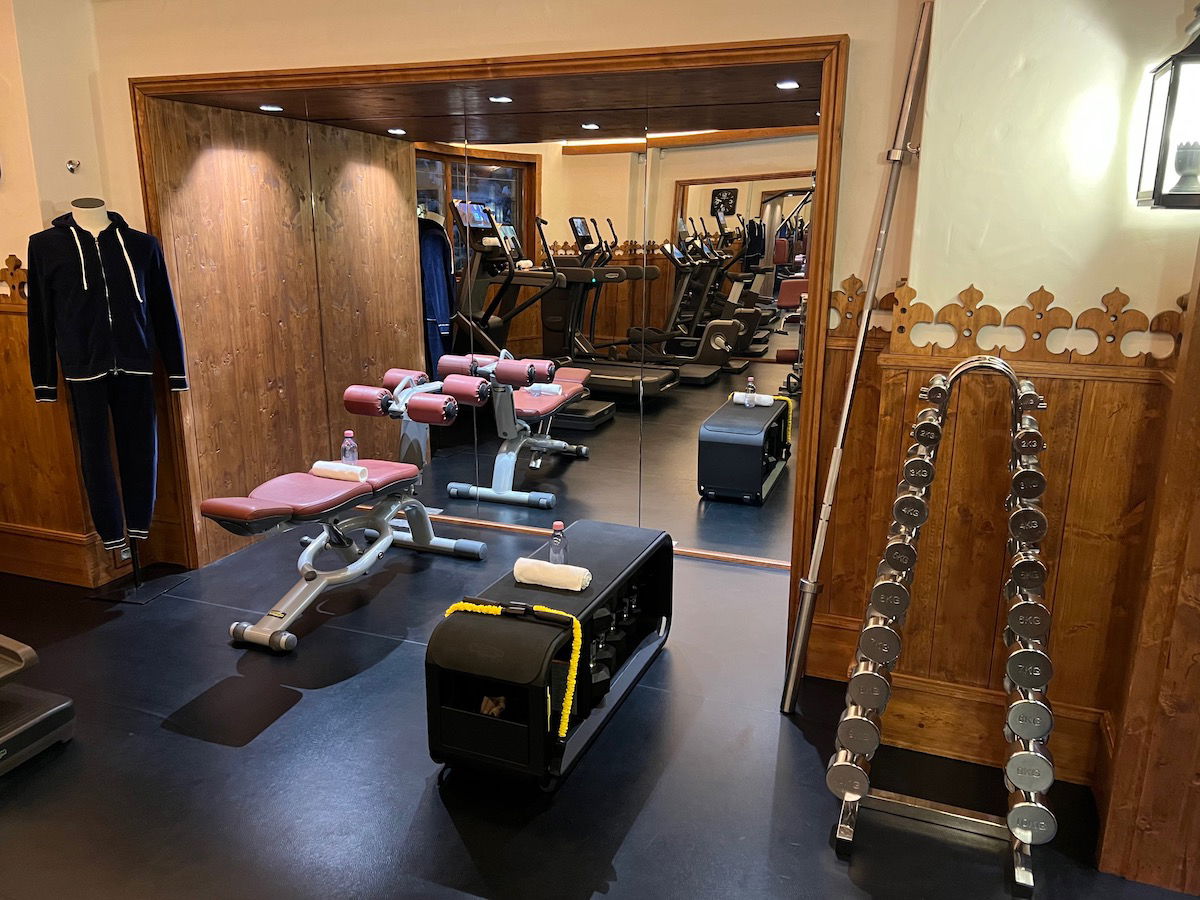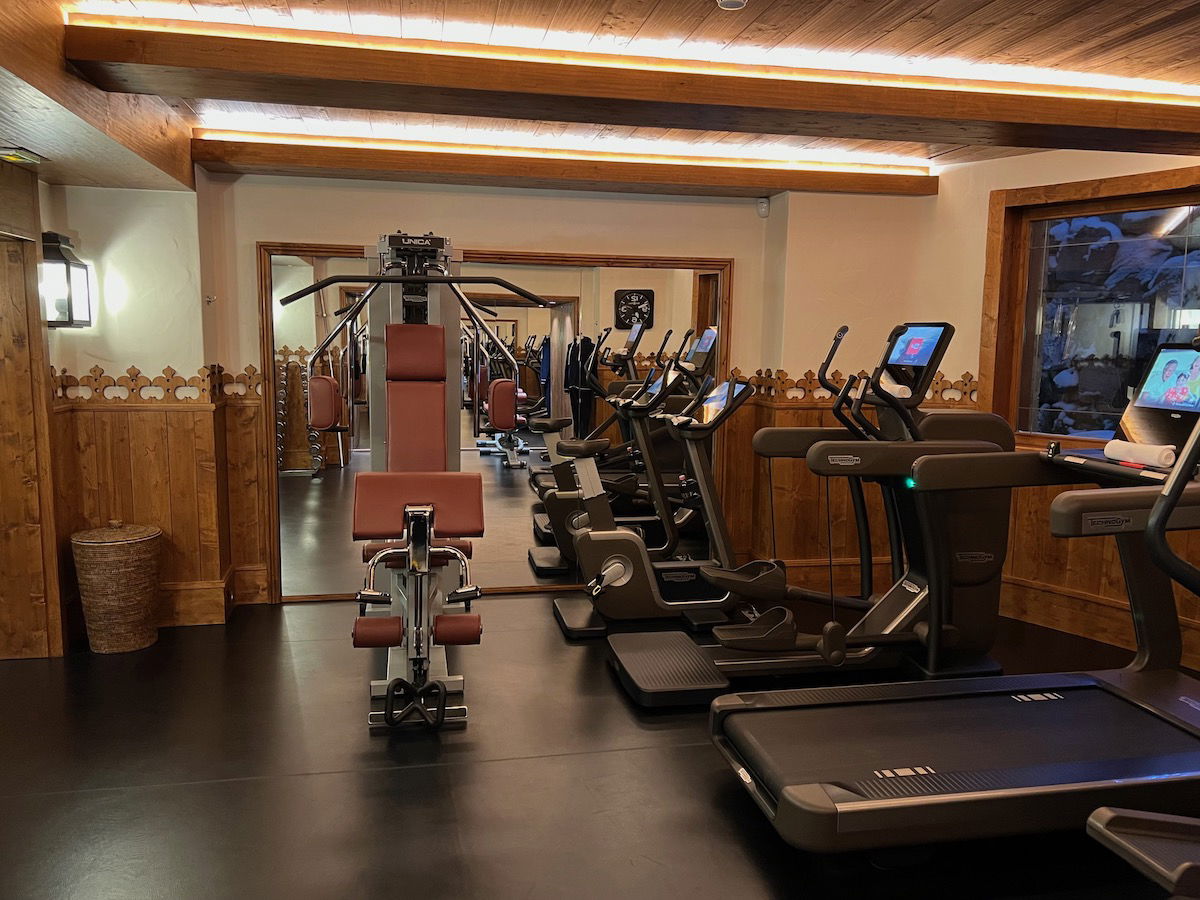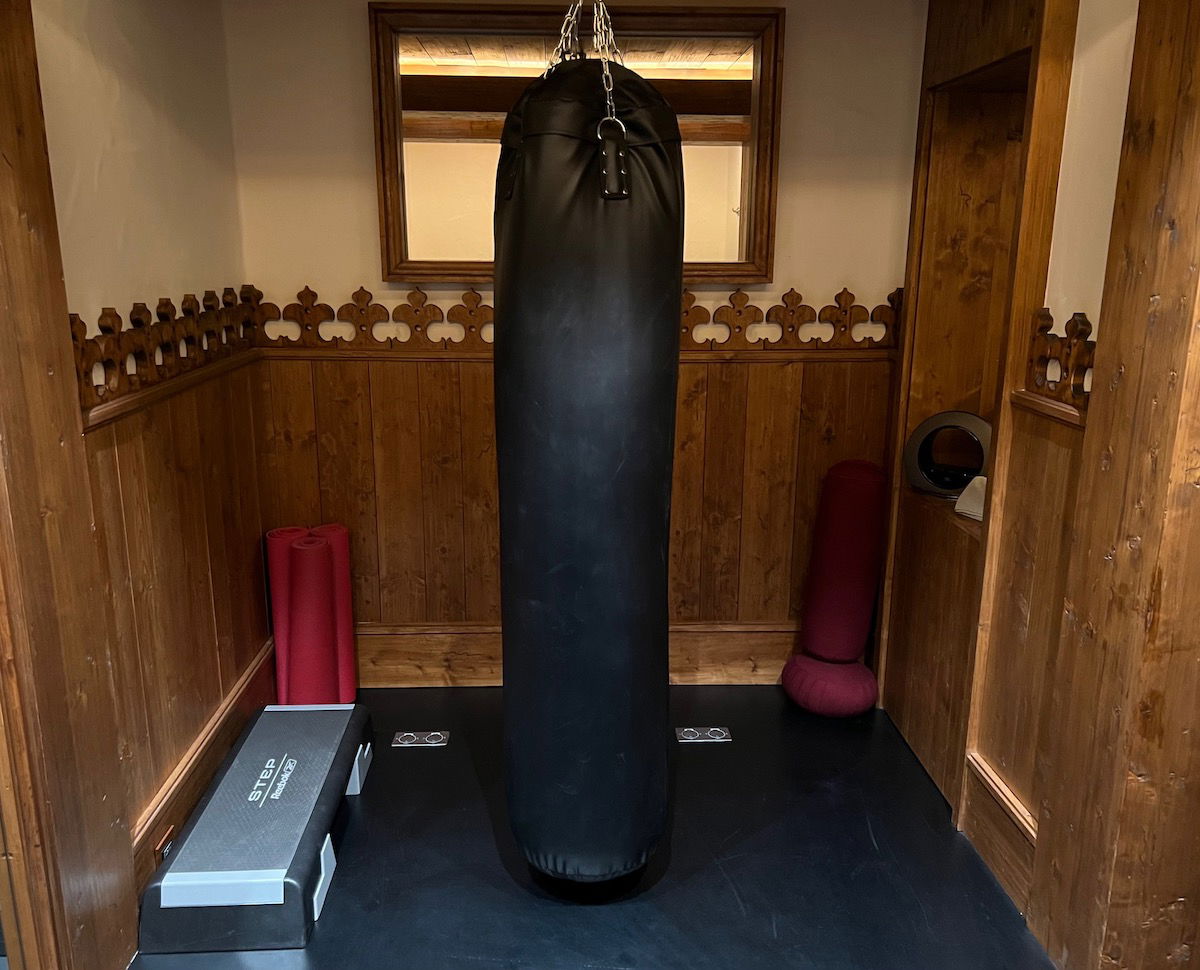 Les Airelles Courchevel game room & cinema
Les Airelles is a funny hotel. From the outside it looks so small, yet somehow I only discovered what level minus one had to offer on our last evening here.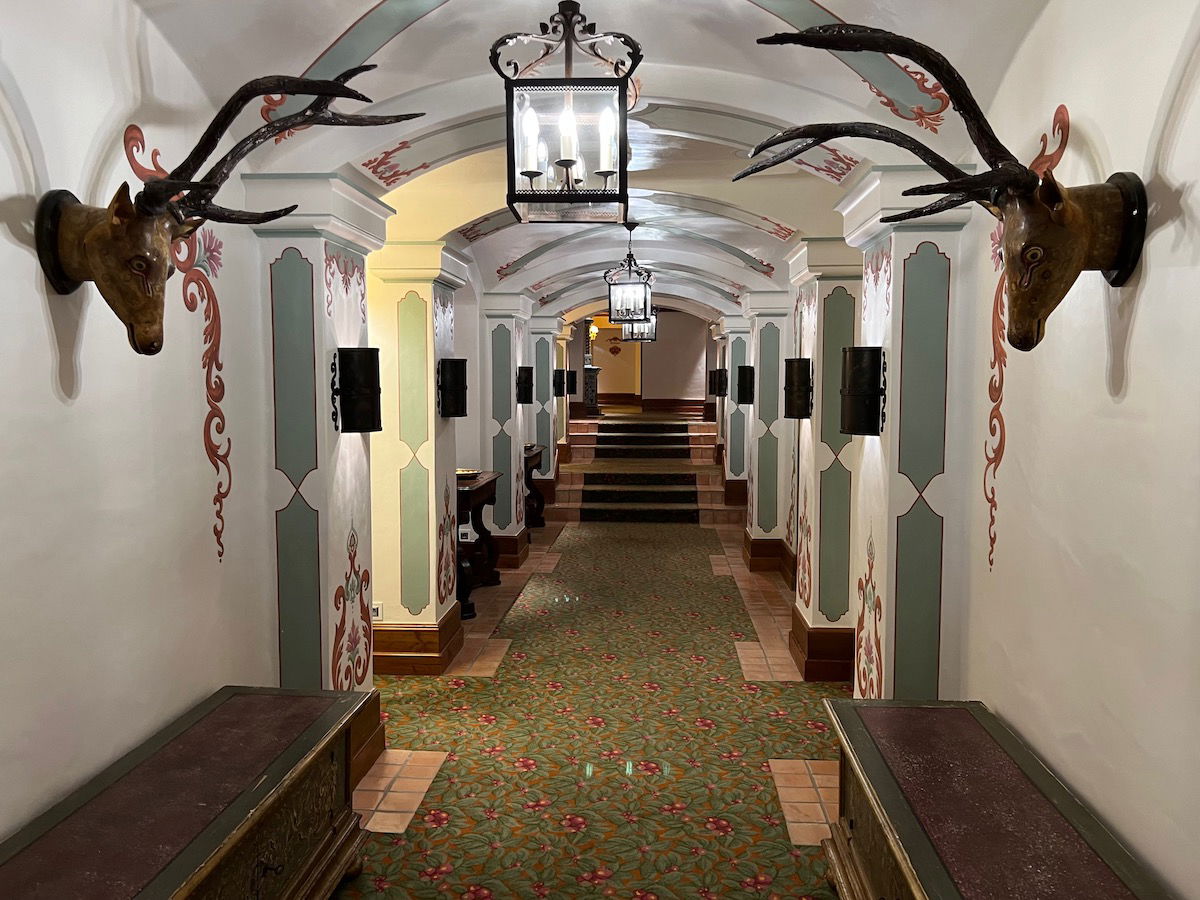 Whether you're a kid (or kid at heart), Les Airelles has a surprisingly huge game and arcade room.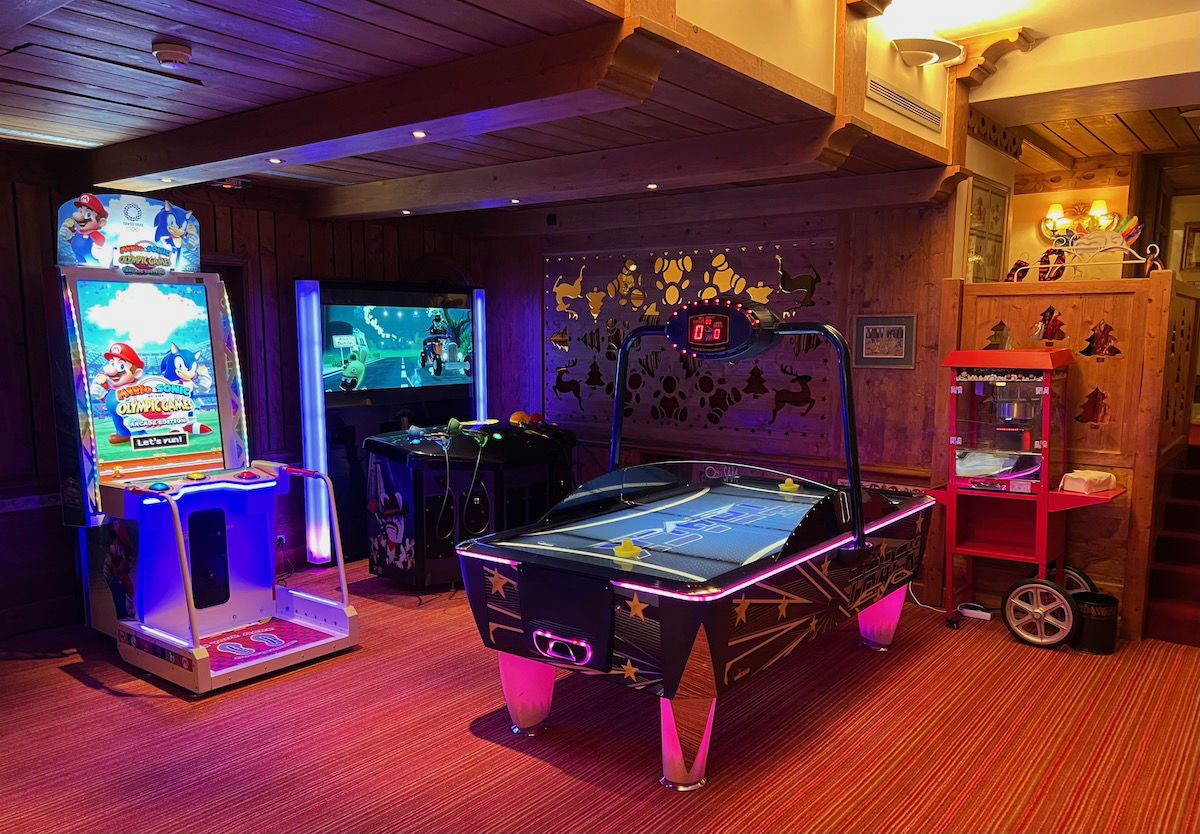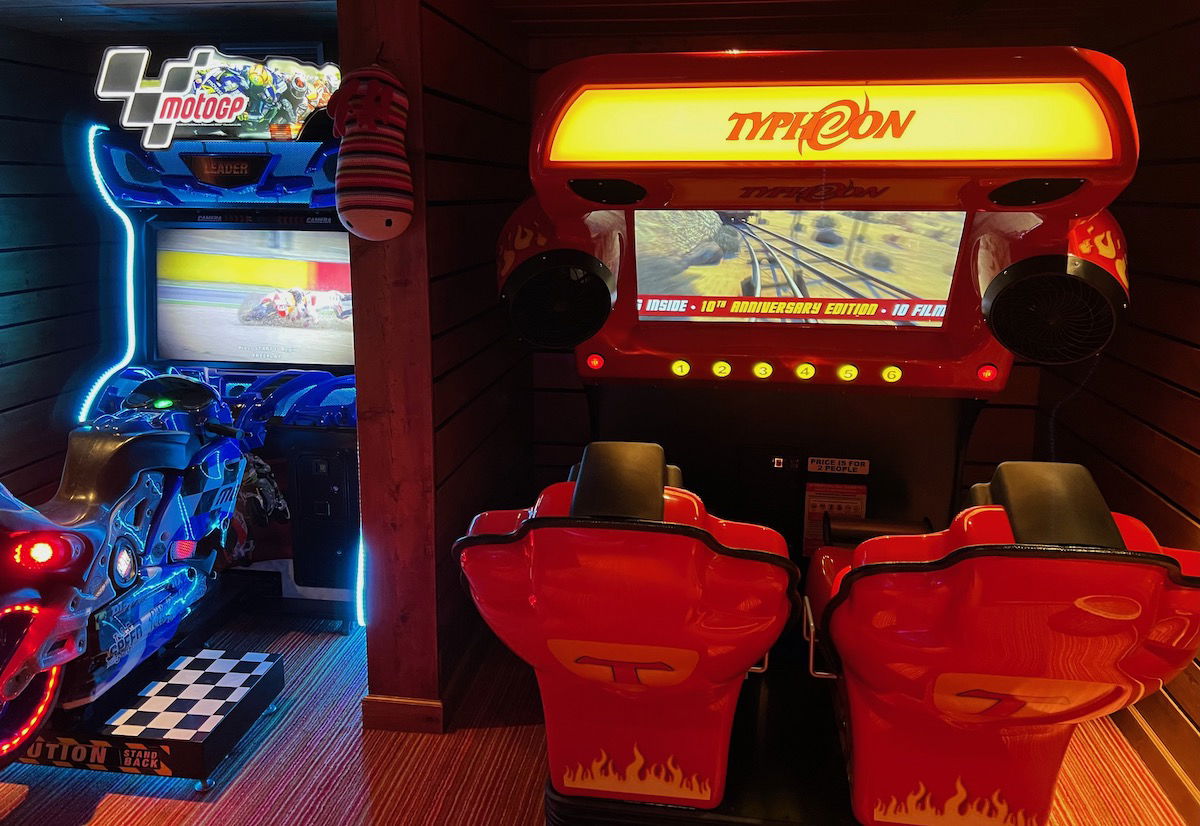 There's even a cinema where you can watch a movie.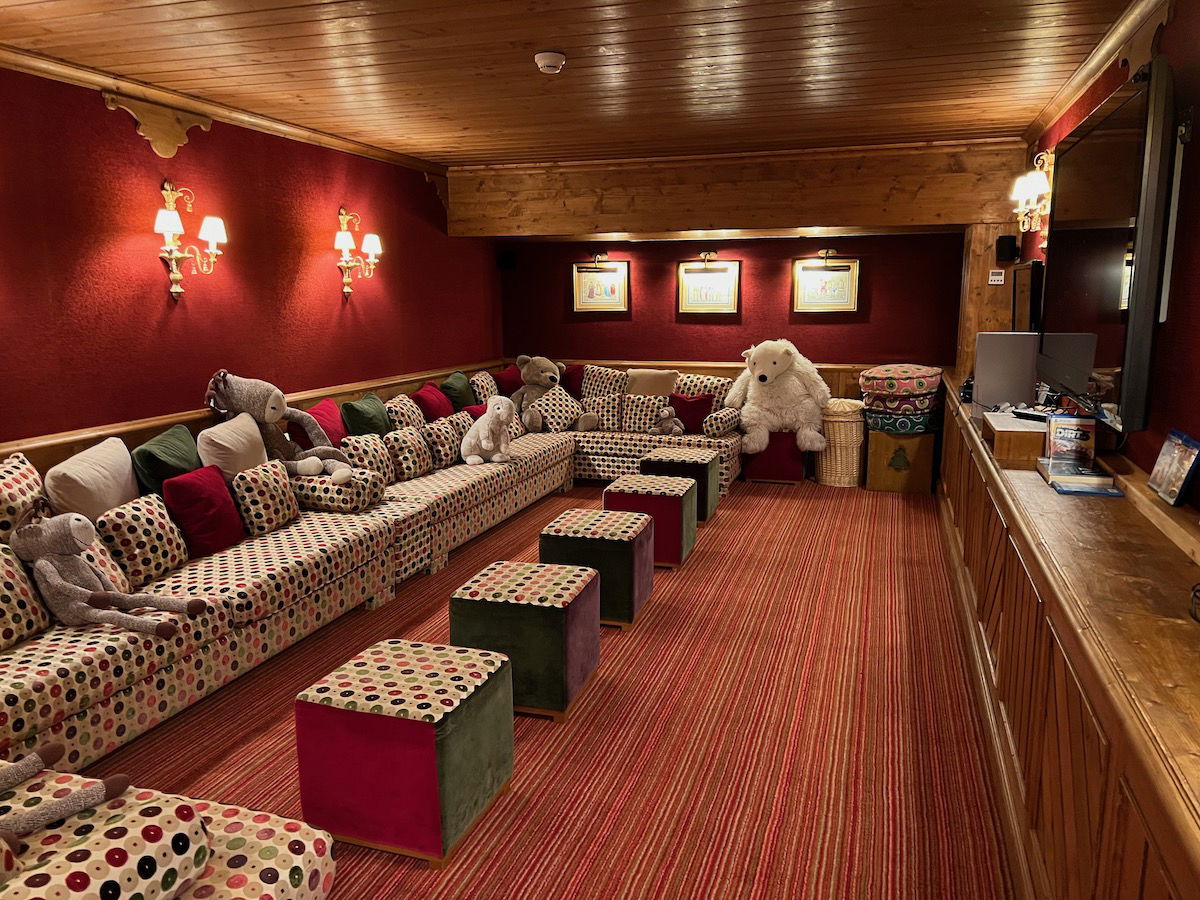 Les Airelles Courchevel Rolls Royce car service
Virtually all luxury hotels in Courchevel offer free rides around town. What differs between hotels is the car that you get. Les Airelles has a fleet of Rolls Royce Cullinans, which will make you want to leave the hotel as much as you can, just so you can get a ride in one of these.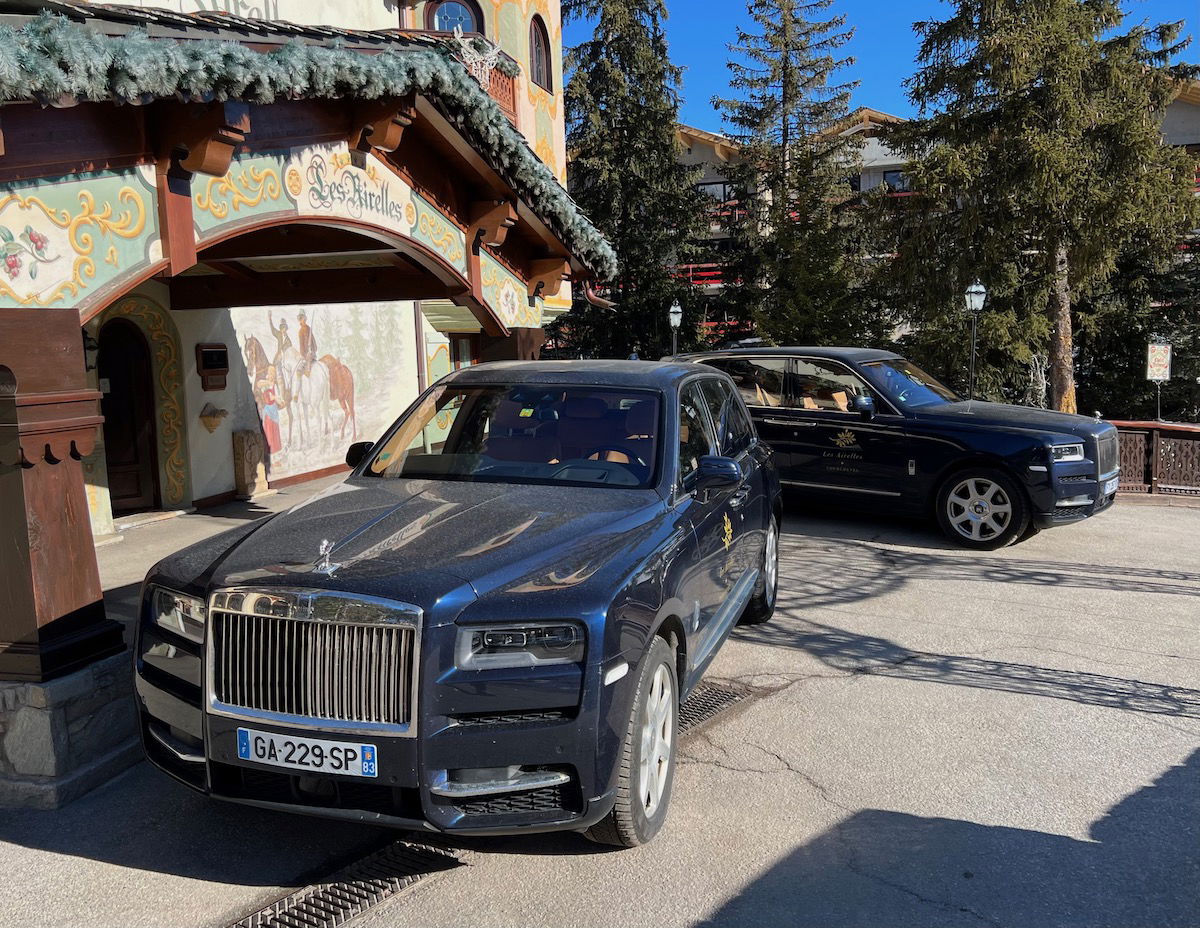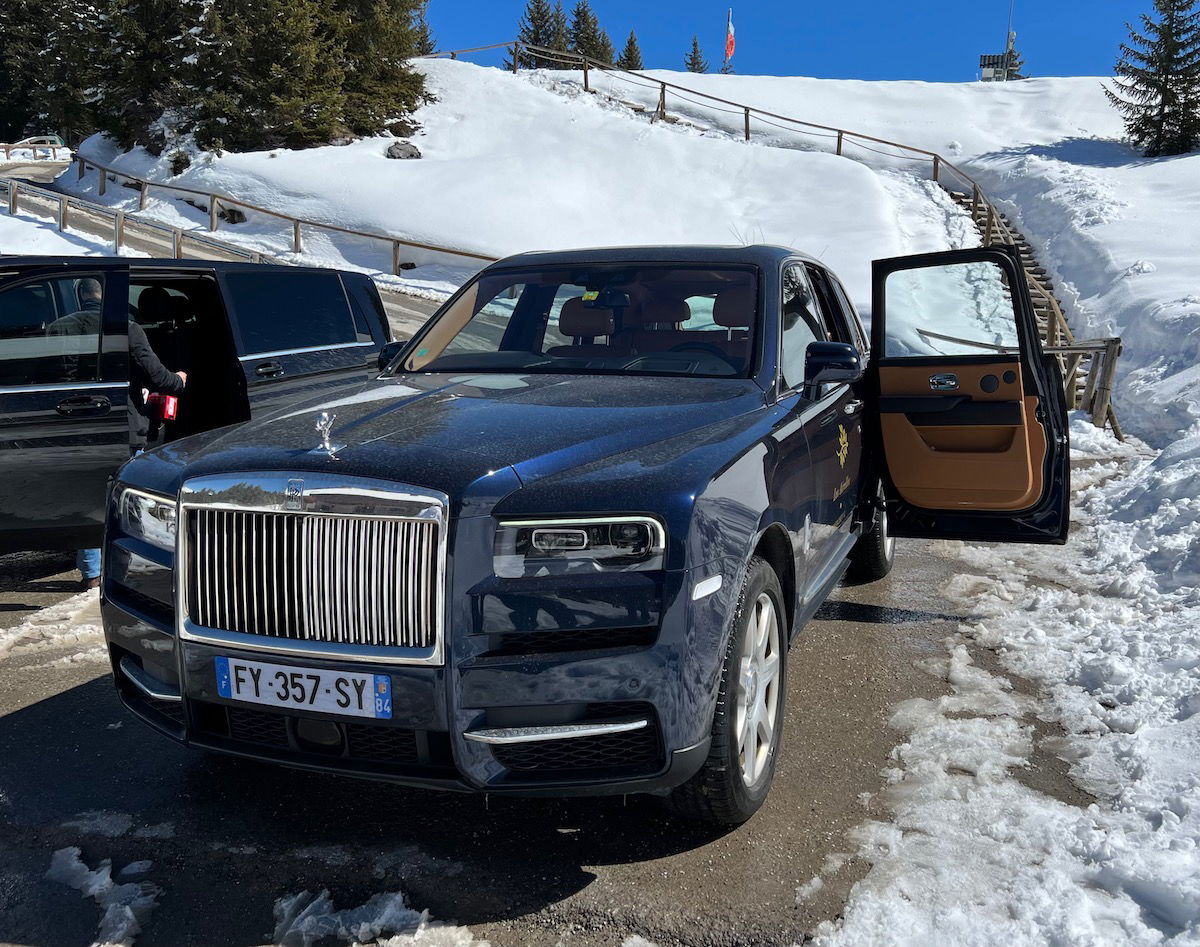 Again, the attention to detail and branding is amazing — rather than having the Rolls Royce logo on the headrests, they instead have the hotel's logo.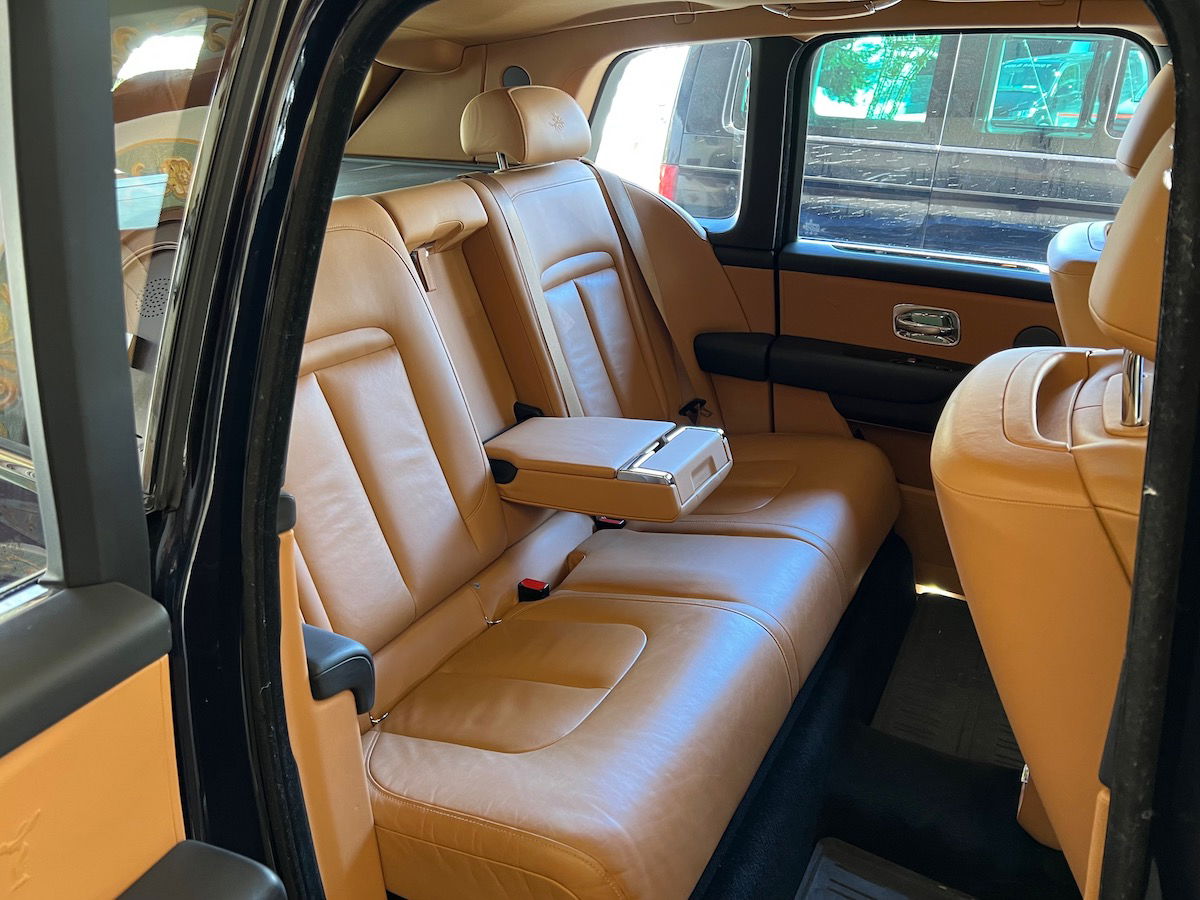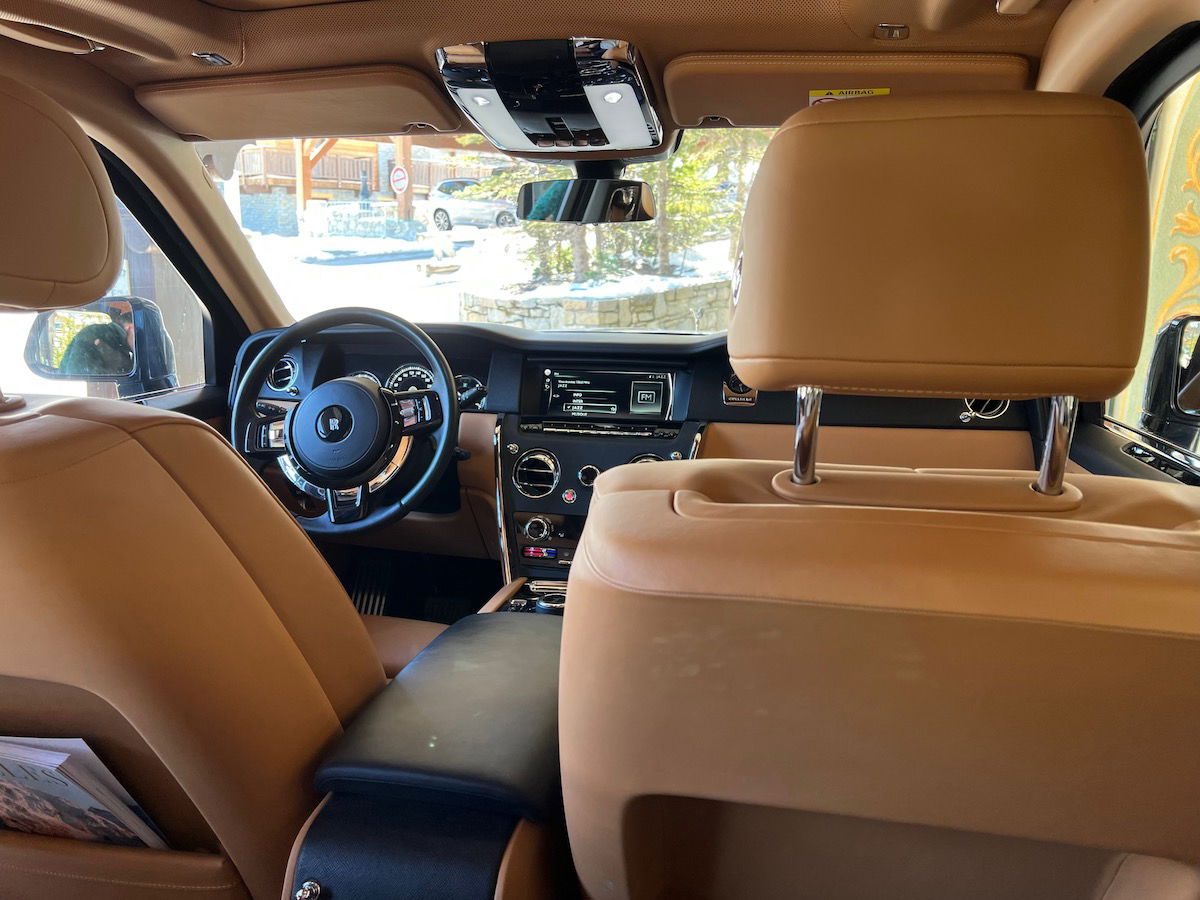 Now, there is some bad news — the Rolls Royces are only used when it's not snowing, or when it hasn't recently snowed. So for the first three days of our stay, there were no Rolls Royces in service. Rather they used (still very comfortable) VW bans for transporting people around town, since they're better in the snow.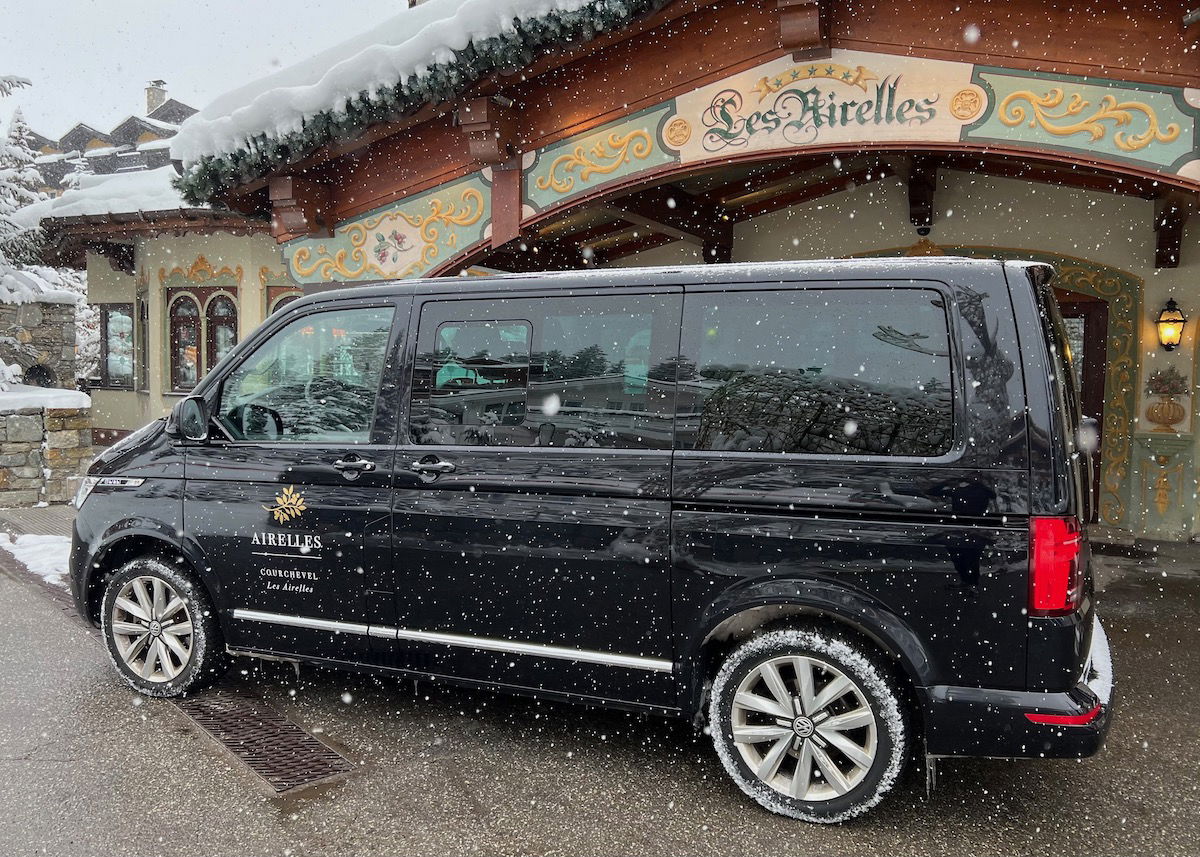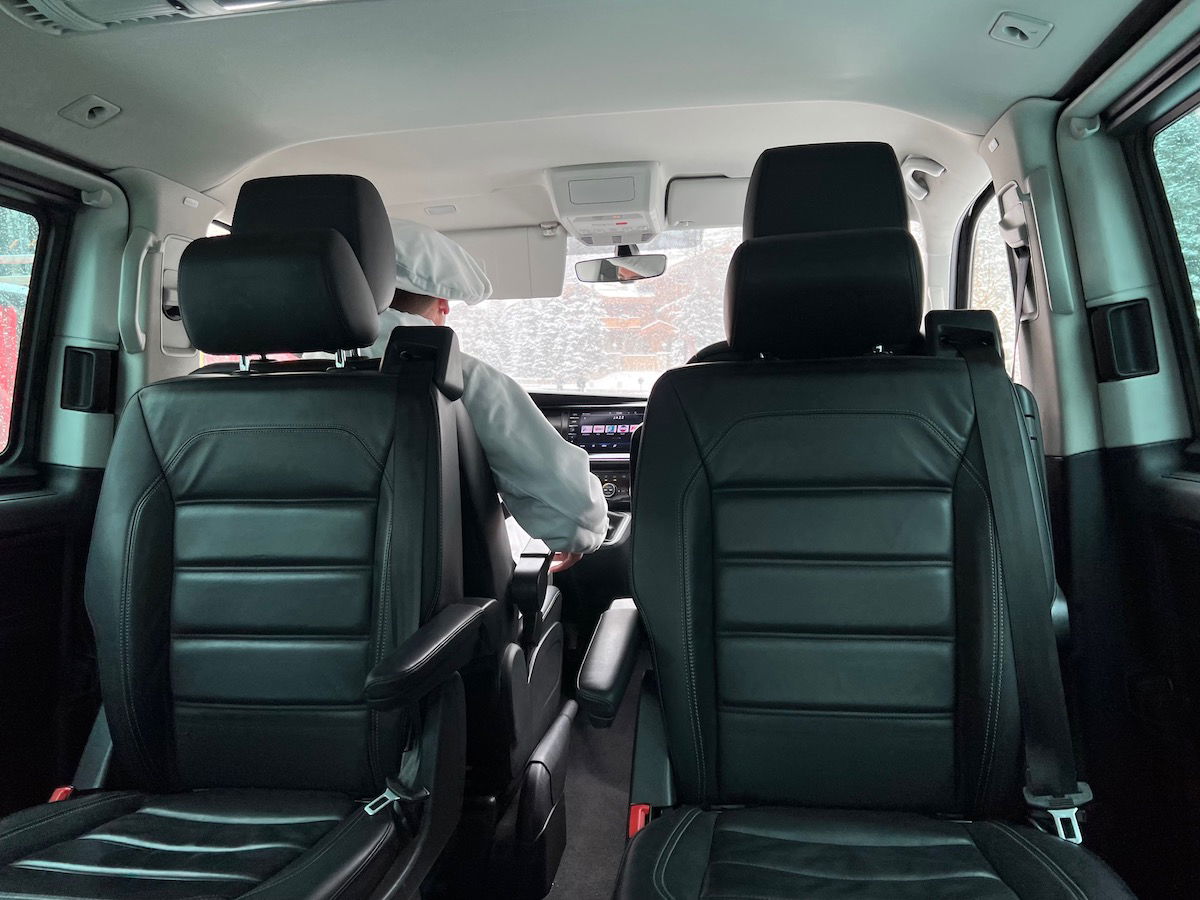 I think that probably qualifies as a "first world problem," but I do think it's worth mentioning since a ski destination does tend to get snow.
More than the cars as such, what impressed me was the speed of service. It didn't matter what time of day or night it was, a car always showed up wherever we were within minutes. And while I know this hotel is pricey, I do think it's worth putting some real value into getting unlimited free (private) transfers.
In many other places you'd pay an arm and a leg for this. And even places that offer complimentary transport often don't have nearly enough cars, so you end up waiting for long periods of time. That wasn't an issue here. Not once did we have to wait.
Dining at Les Airelles Courchevel
All rates at Les Airelles include half board:
You get breakfast at the hotel each morning
Then you can enjoy either lunch or dinner
You're not just limited to eating at the hotel, but there are several restaurants in town (including at other hotels) that you can dine at as part of the package
The lunch or dinner that's included with half board includes all food but no drinks; you're not limited to some small set menu, but rather you can order whatever you want, and everything is taken off
You'll be happy that half board is included when you see how much meals in Courchevel can cost otherwise 😉
I had some of the best meals of my life on this trip, so let me share a small sampling of what was offered.
Les Airelles Courchevel La Table des Airelles (breakfast)
Breakfast was served each morning at La Table des Airelles, which is located next to the lobby. This is a such a cozy dining room.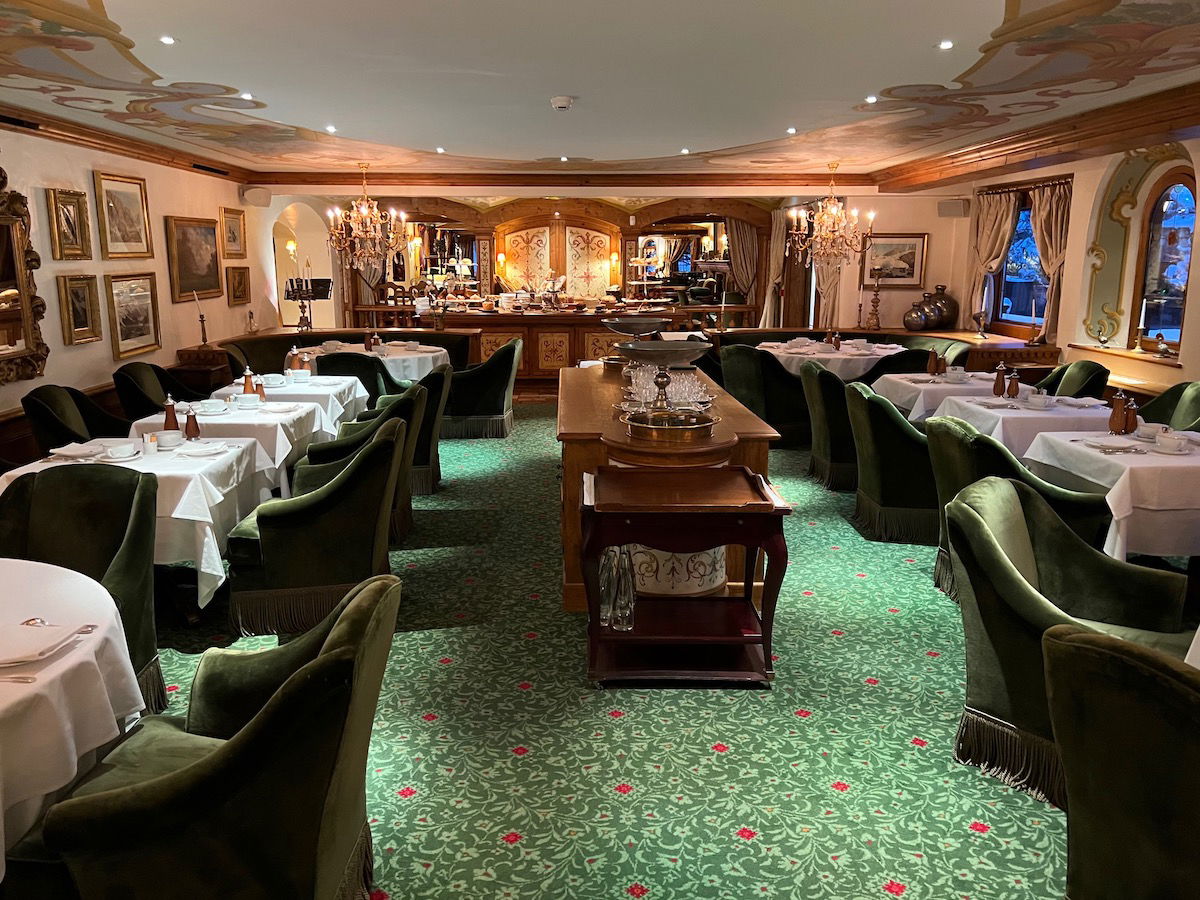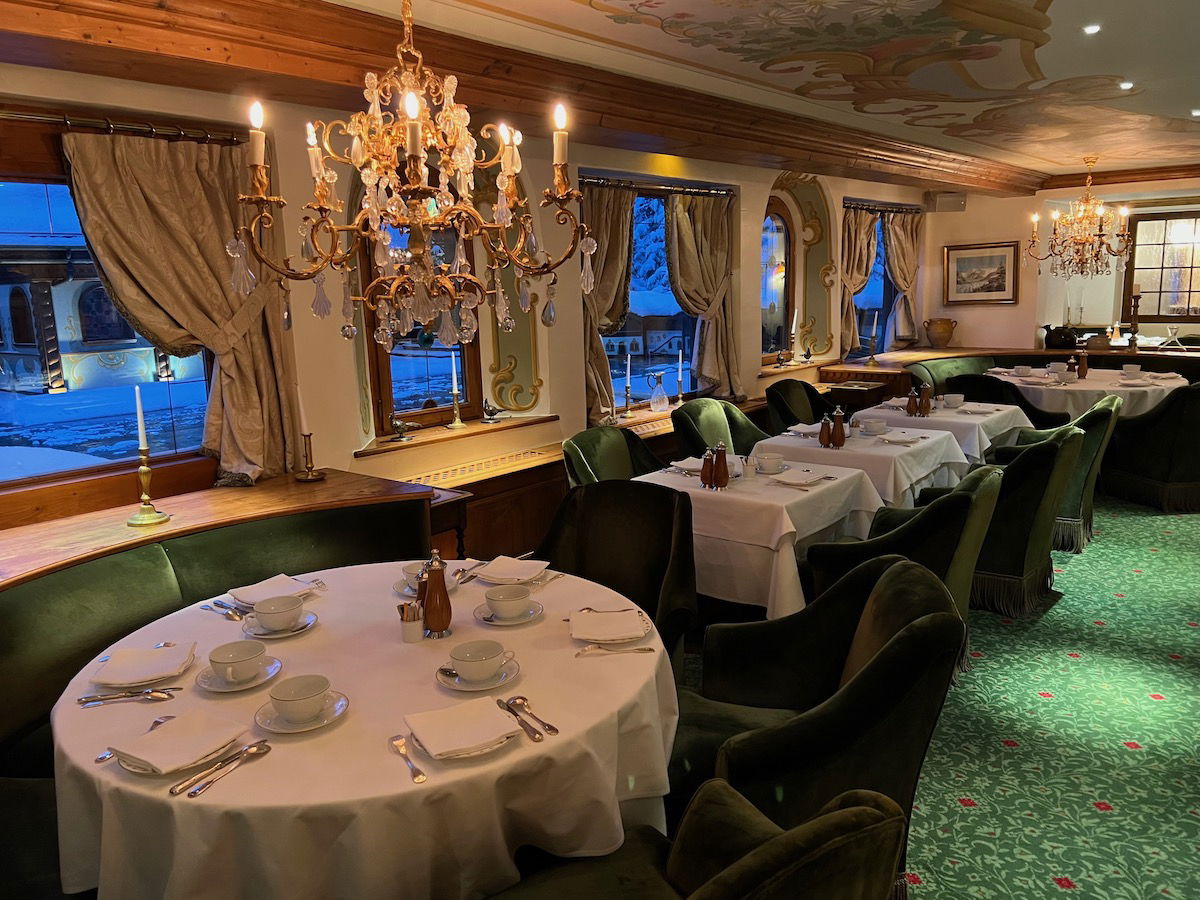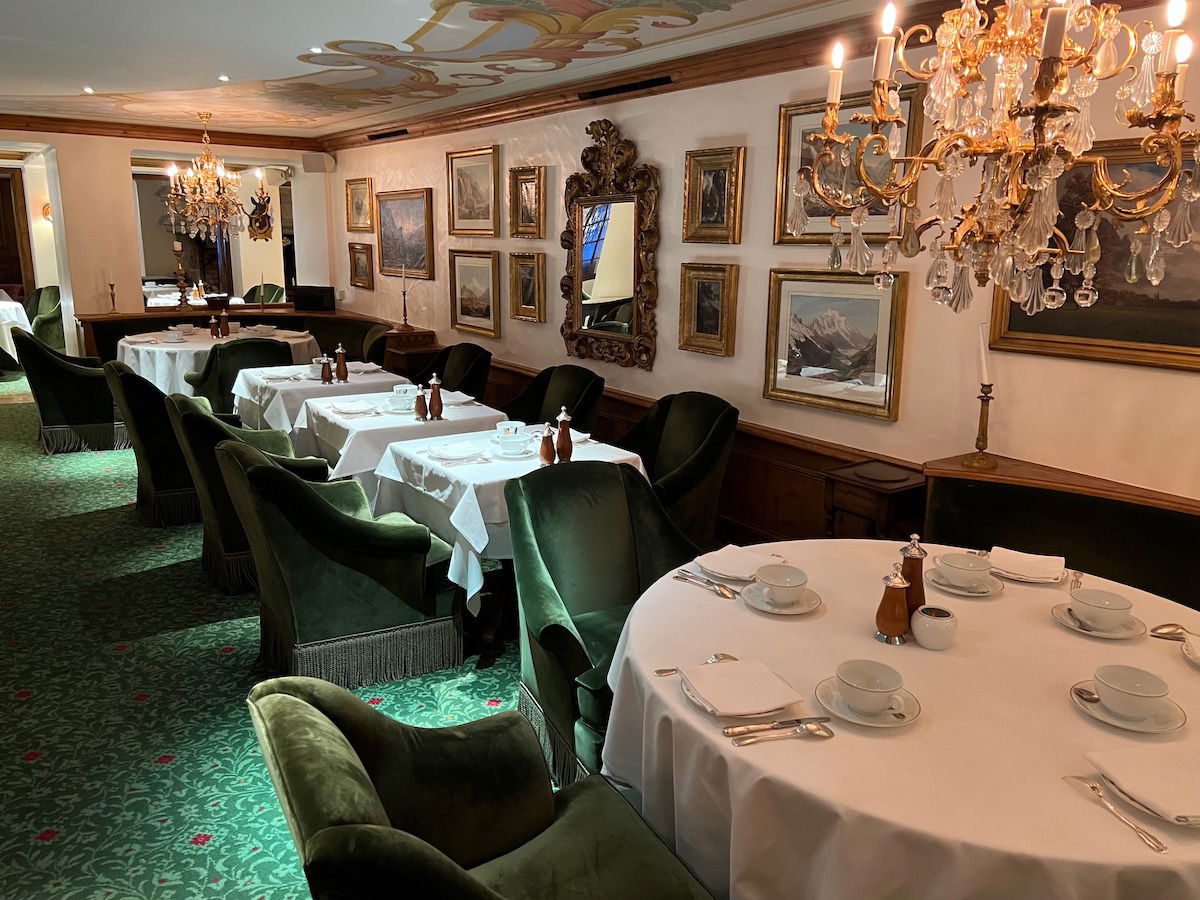 Breakfast consisted of a huge buffet, plus a variety of custom made items you could order. The buffet had a section with endless bread, pastries, croissants, etc., all of which were homemade.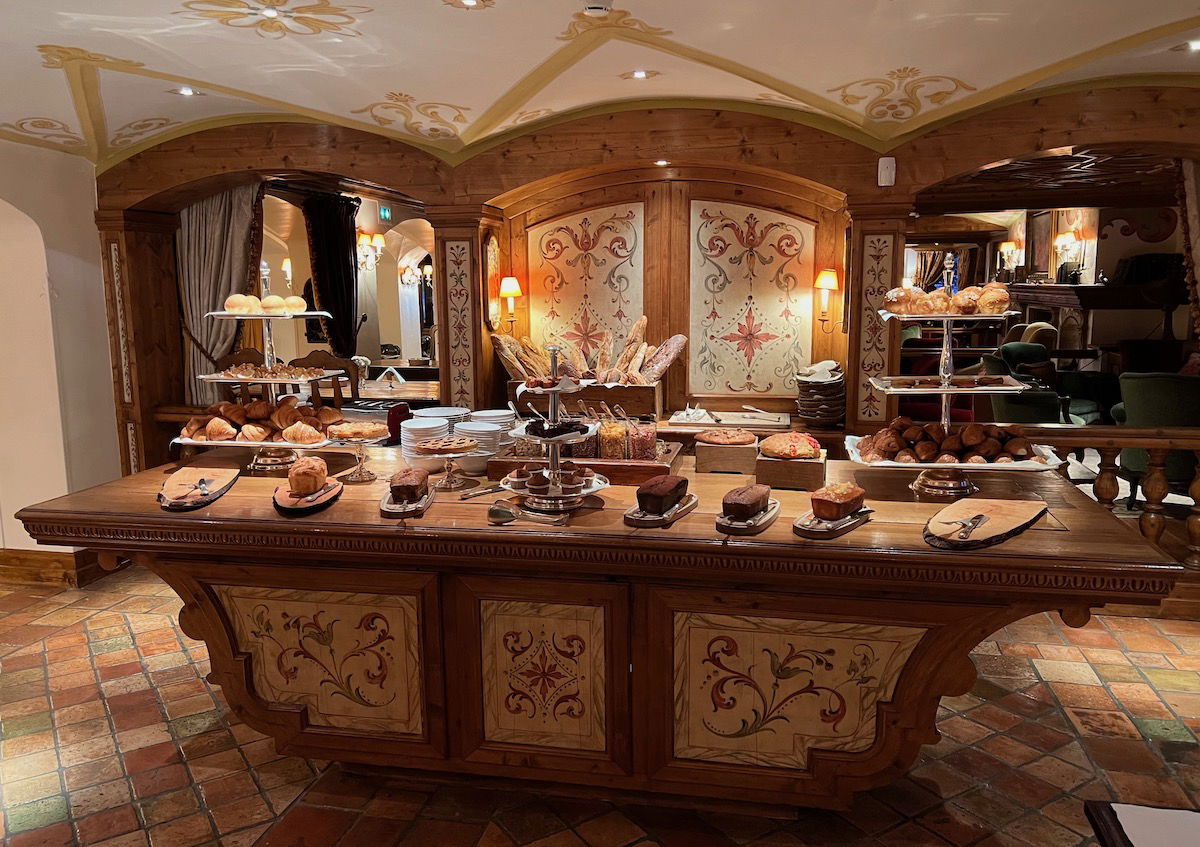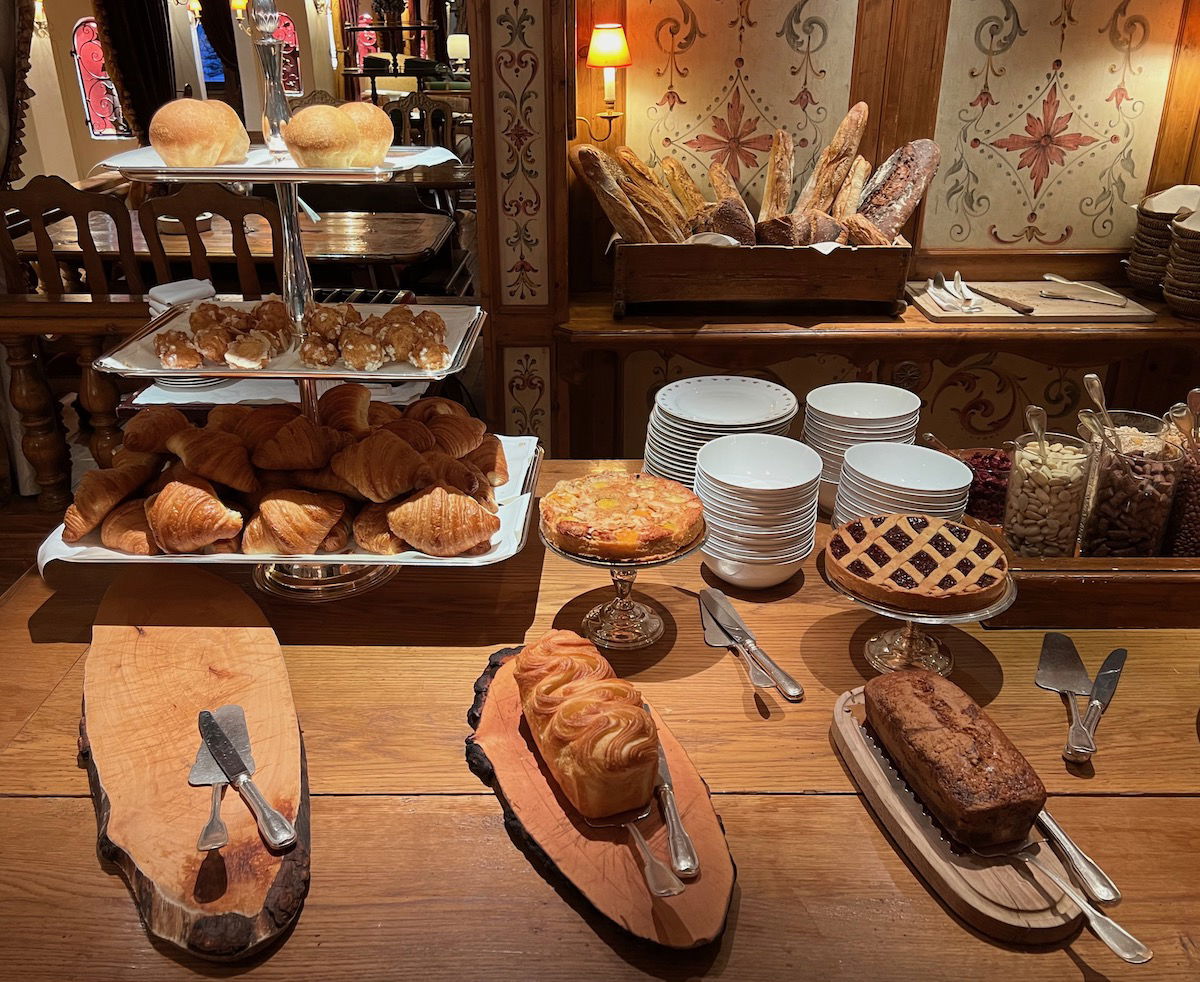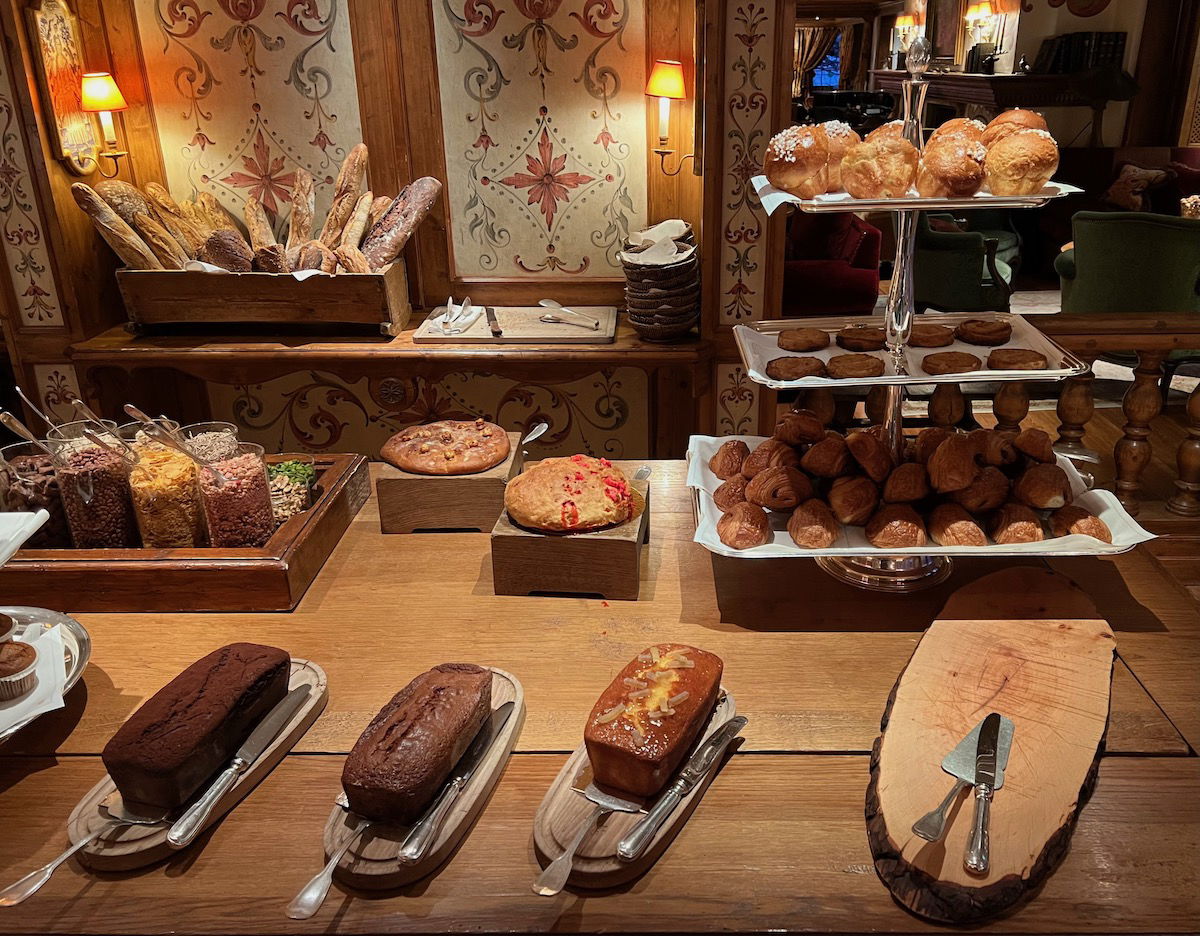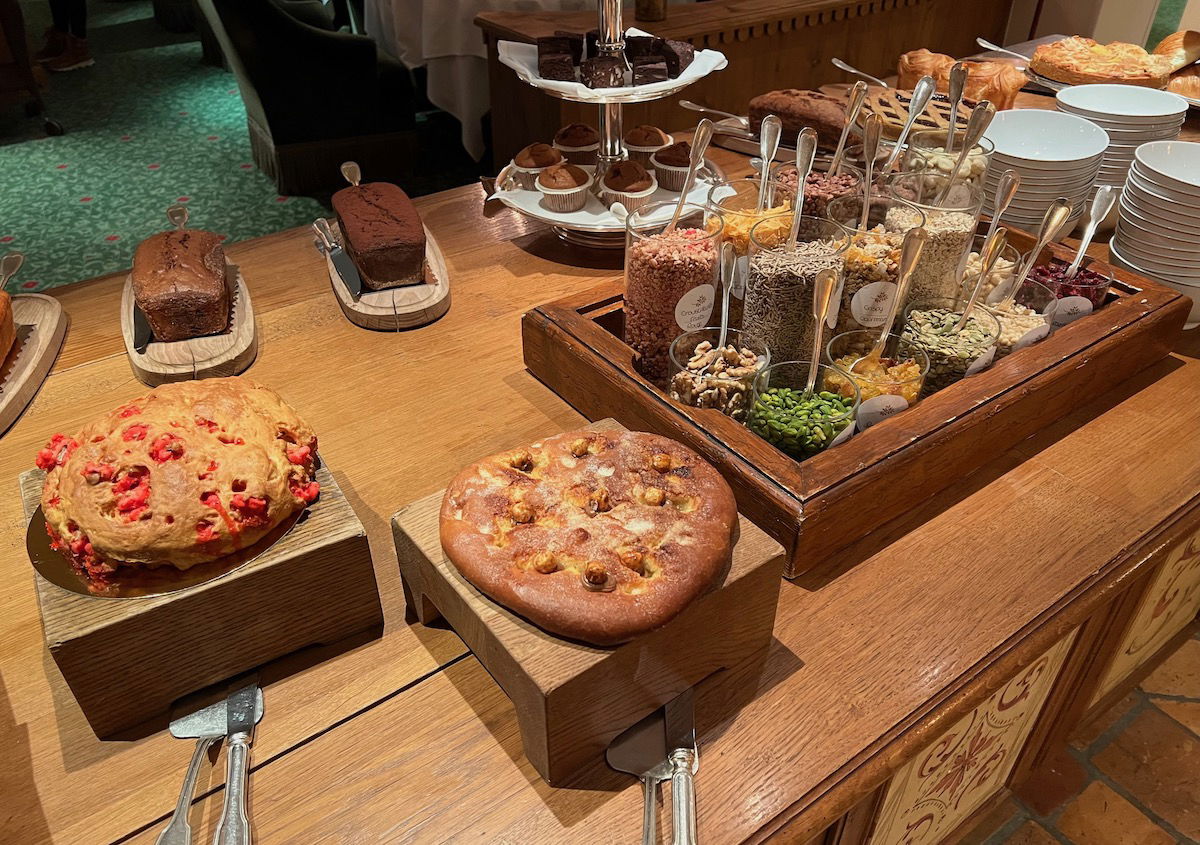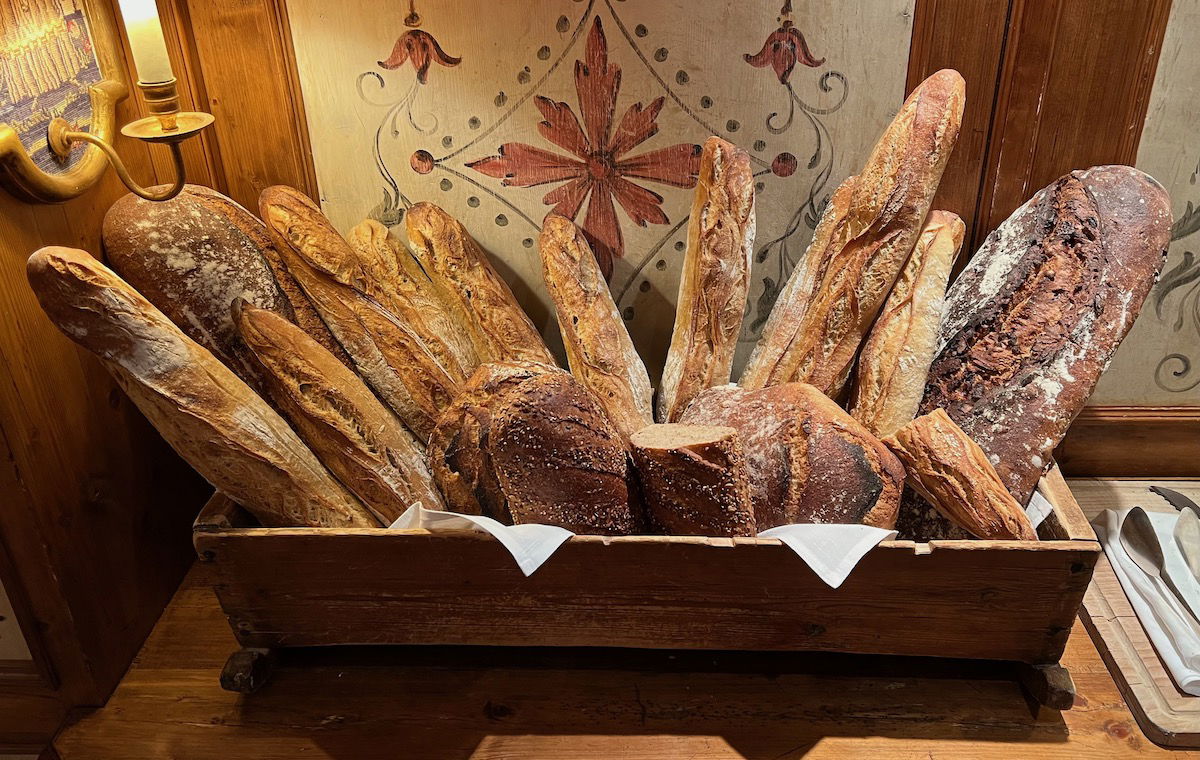 Down the hall was the main part of the buffet, which had all kinds of fresh fruit, yogurt, cold cuts, etc.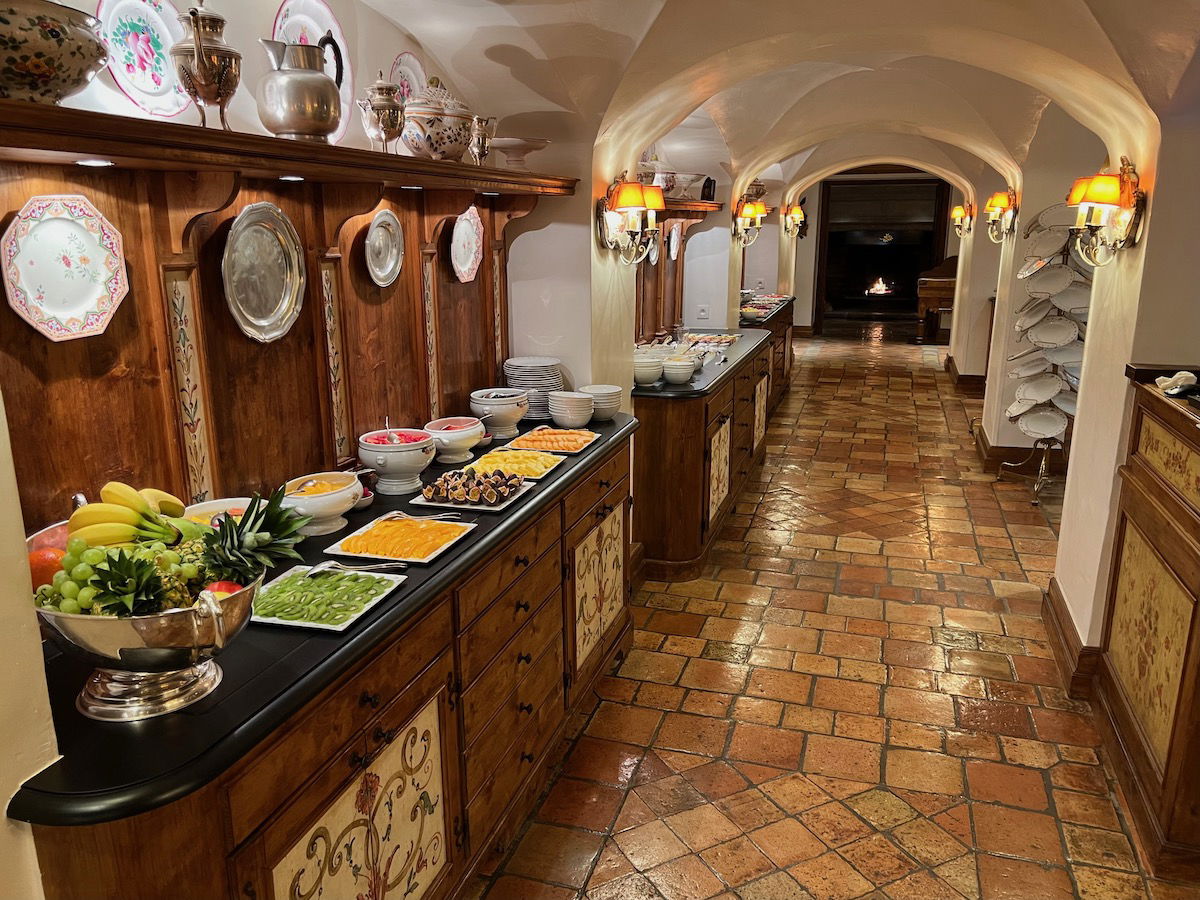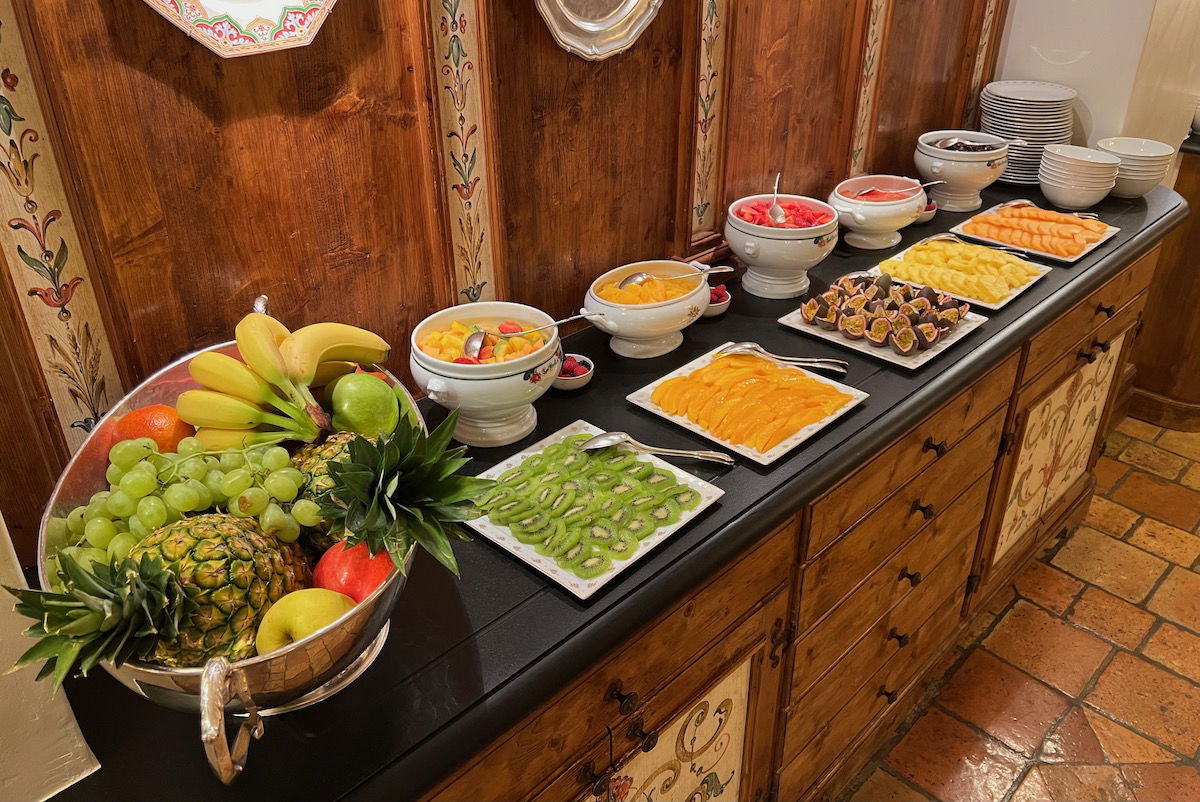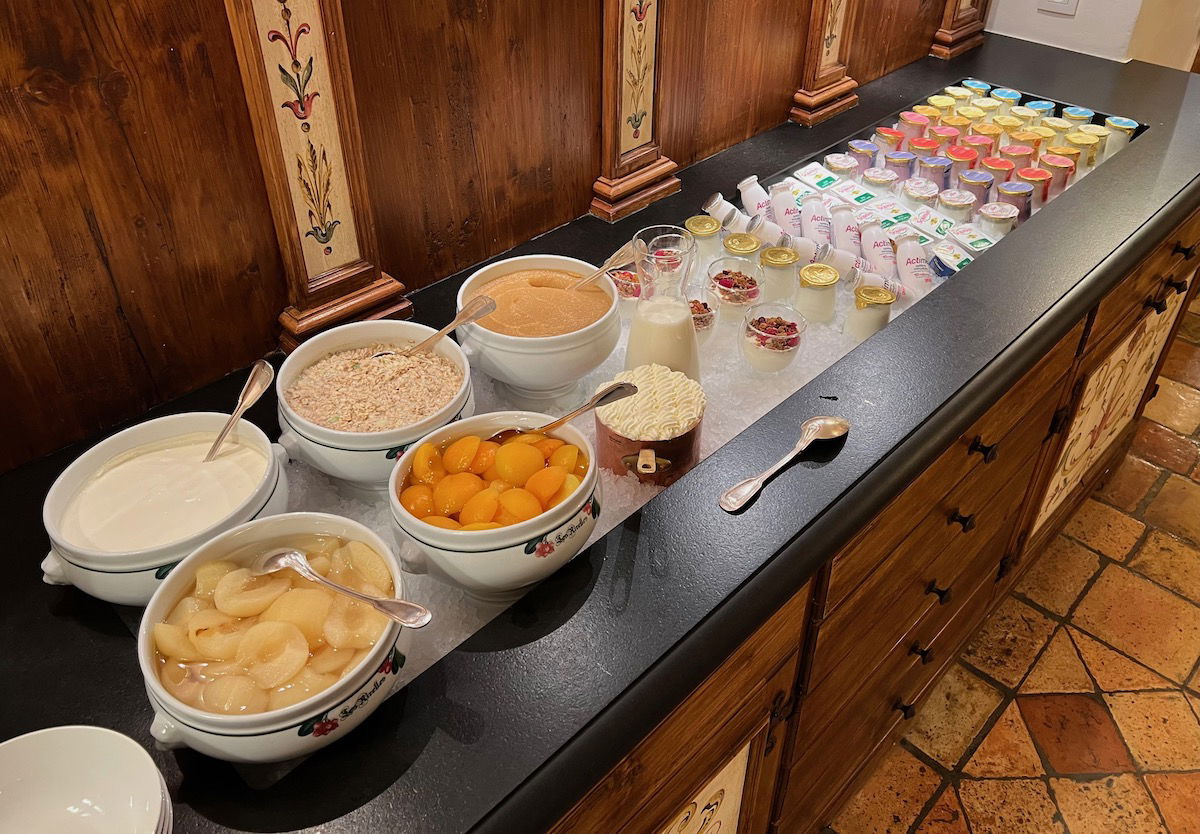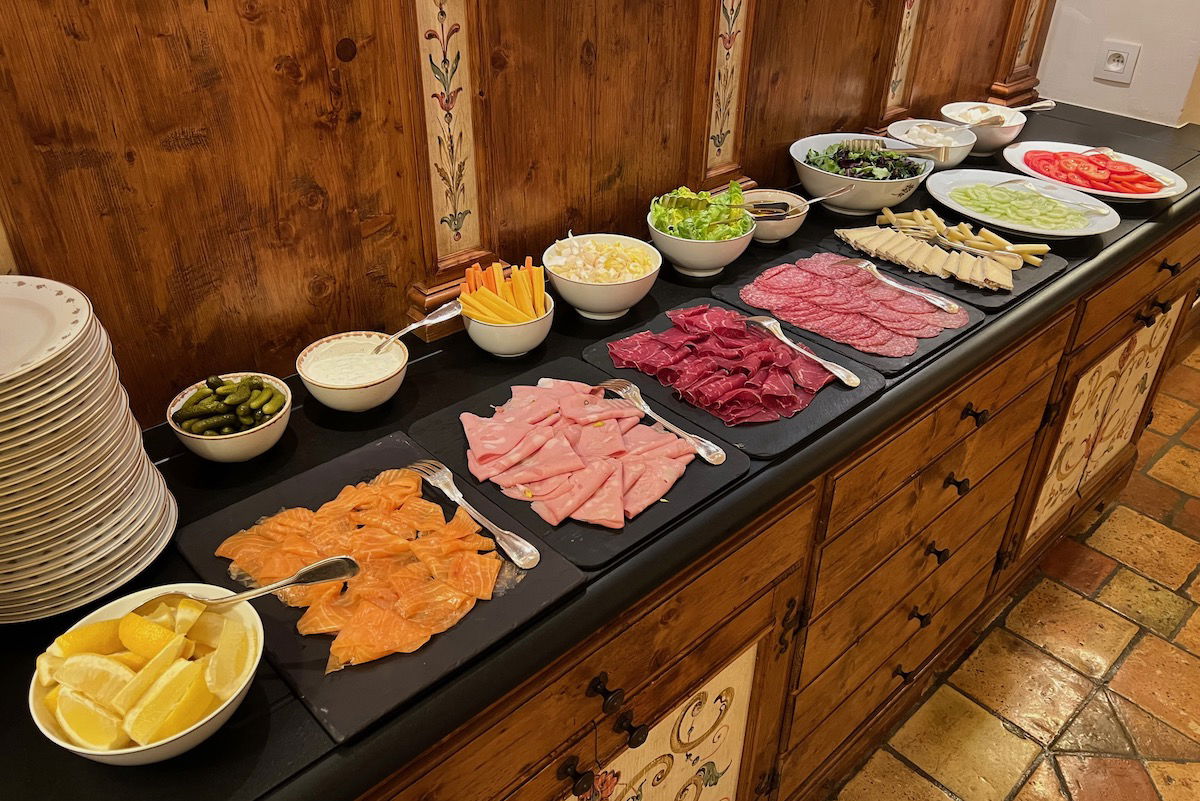 Then there was the cooking station, where you could order omelets, waffles, crepes, pancakes, etc. There were also some scrambled eggs, hash browns, sausage, and bacon.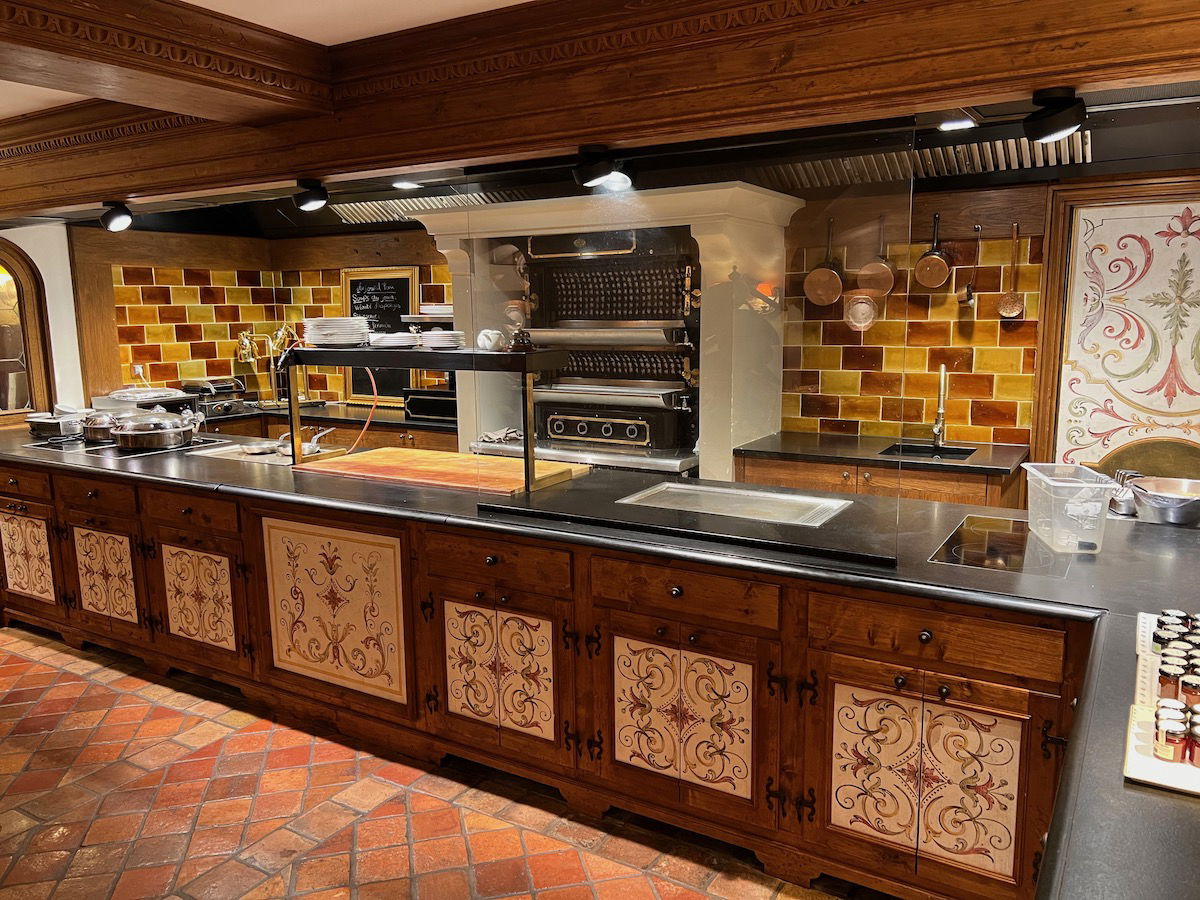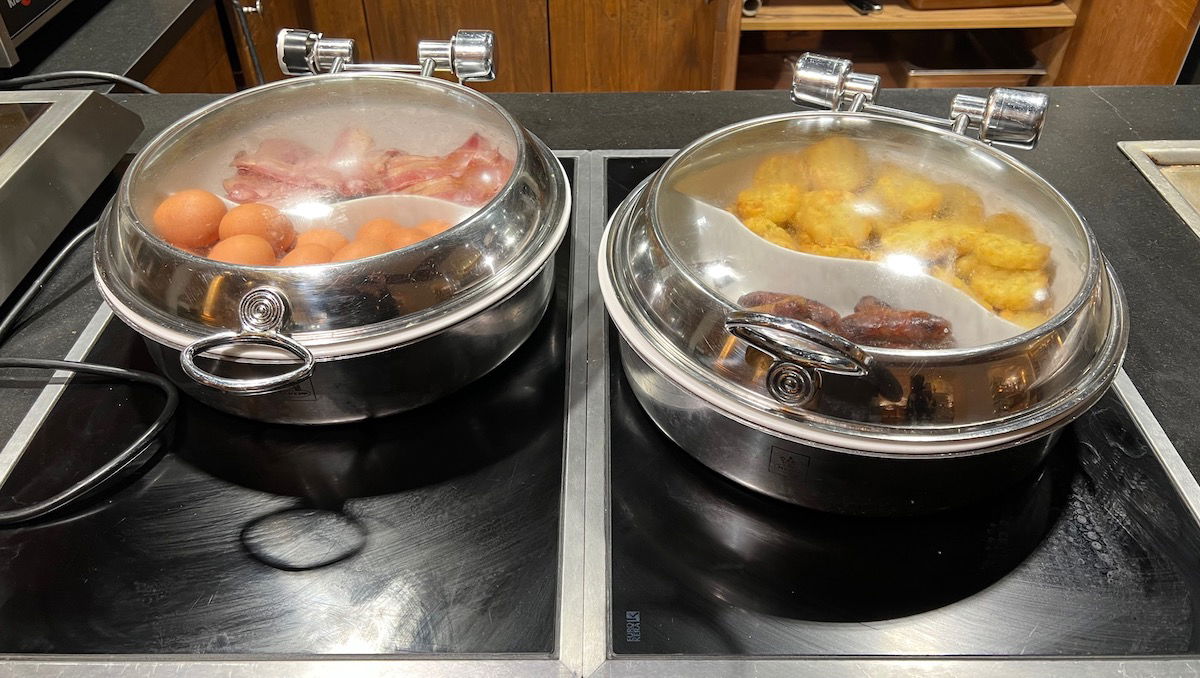 Service at breakfast was attentive, and coffee drinks of choice, plus fresh juices, were served by the staff.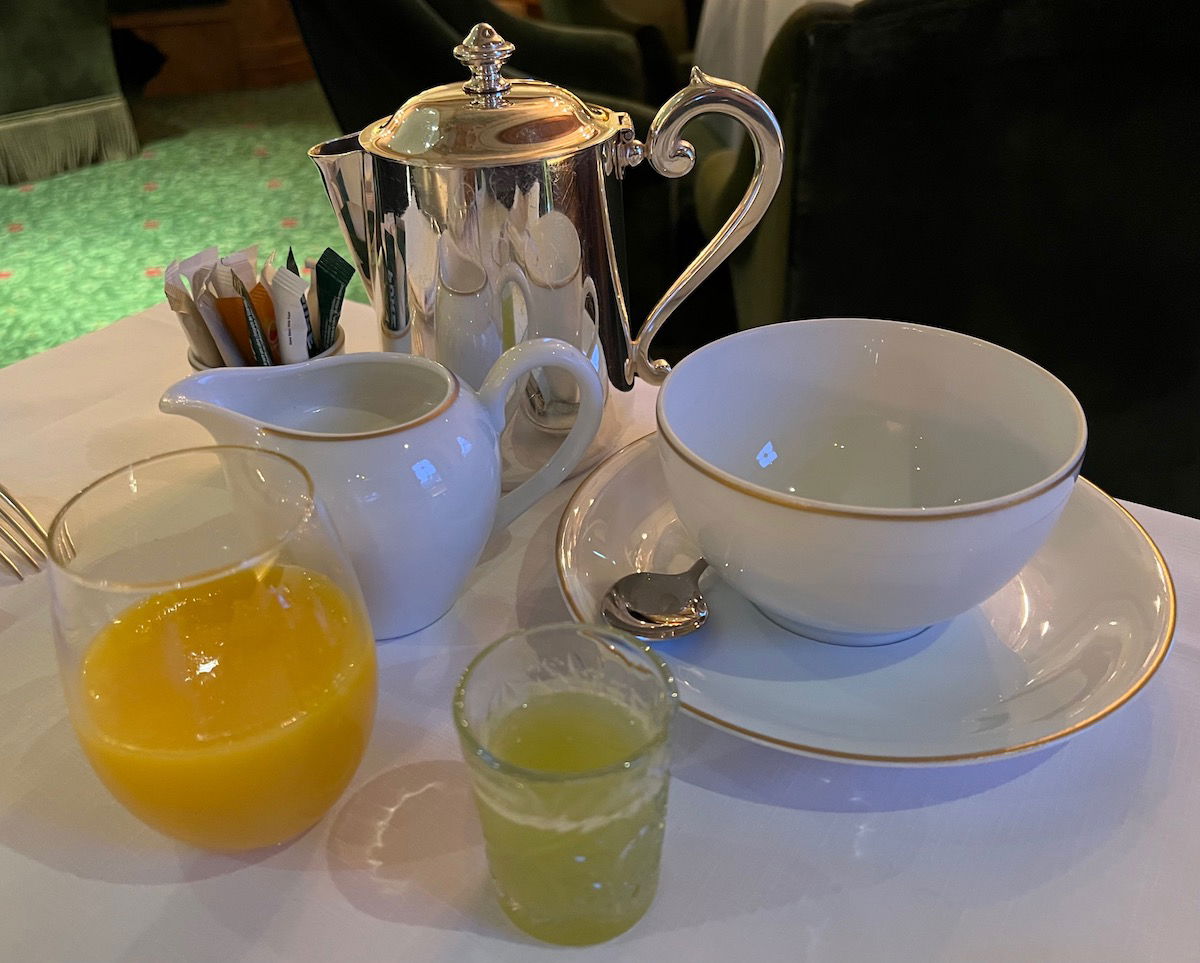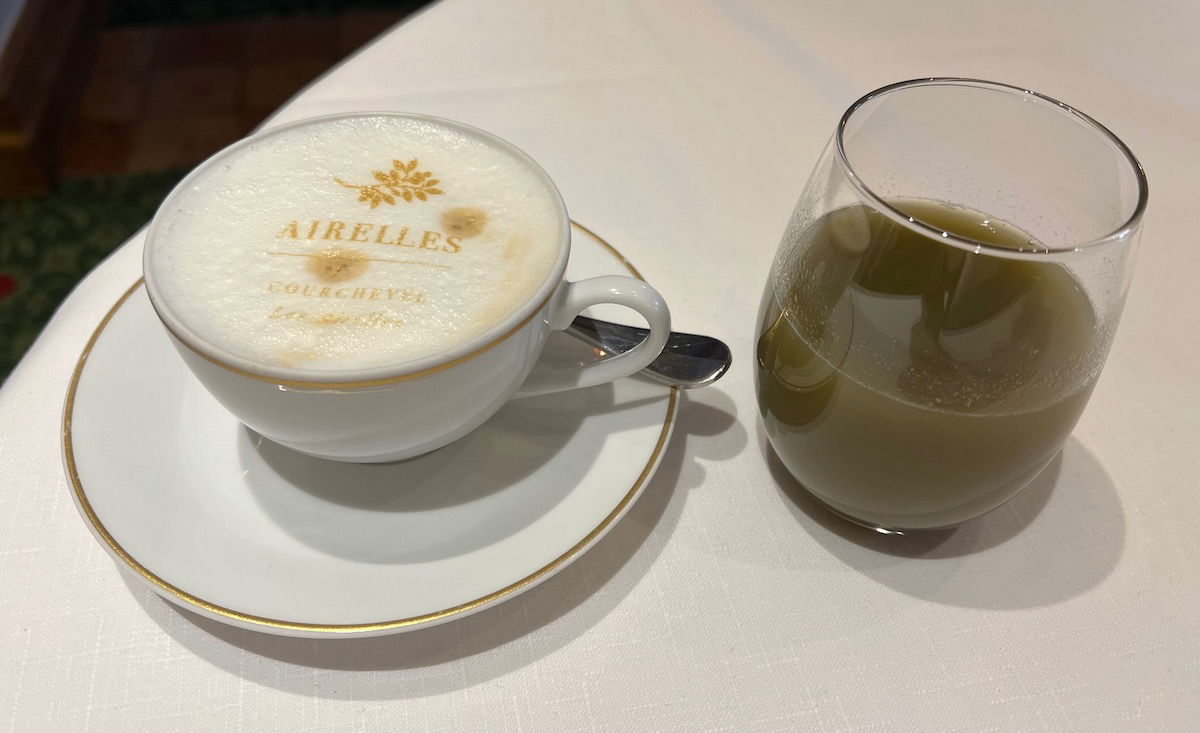 I particularly enjoyed the omelet and waffles.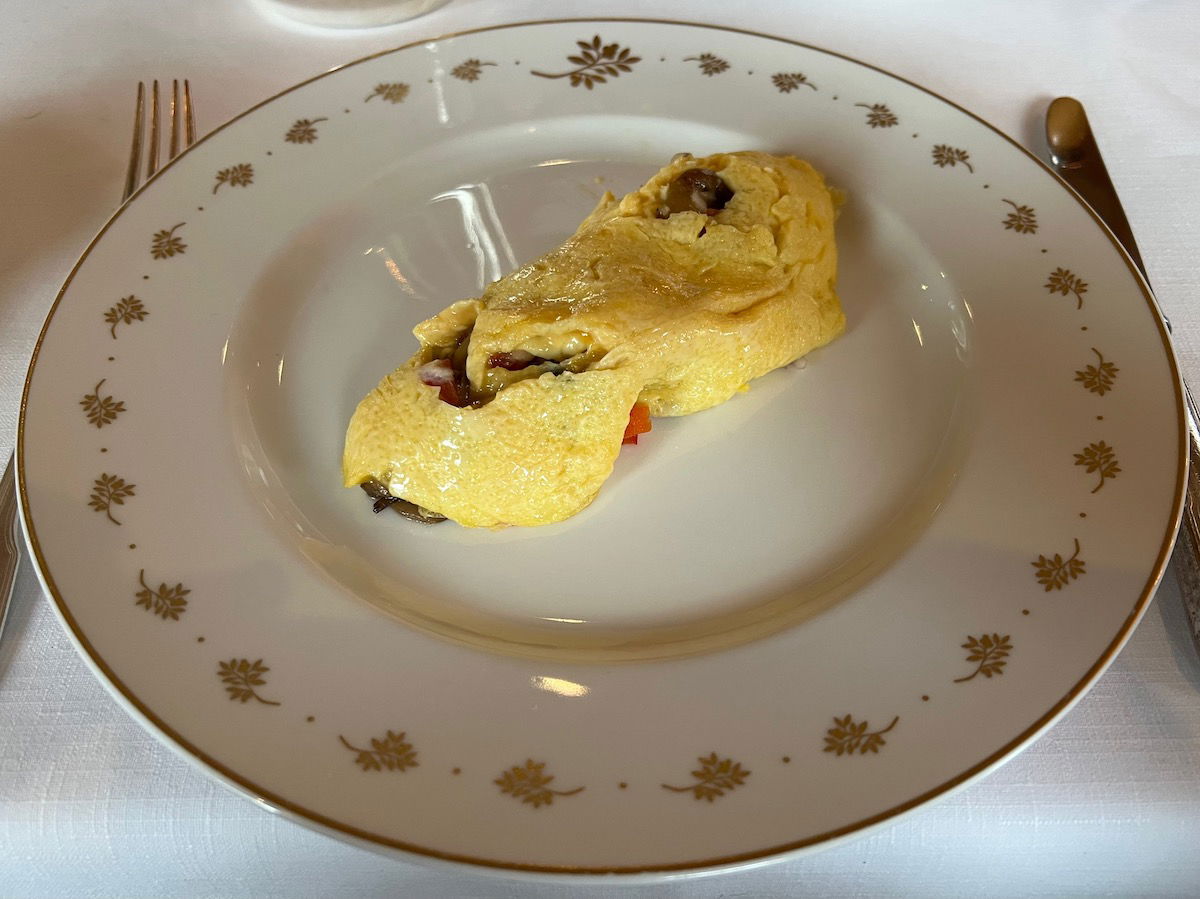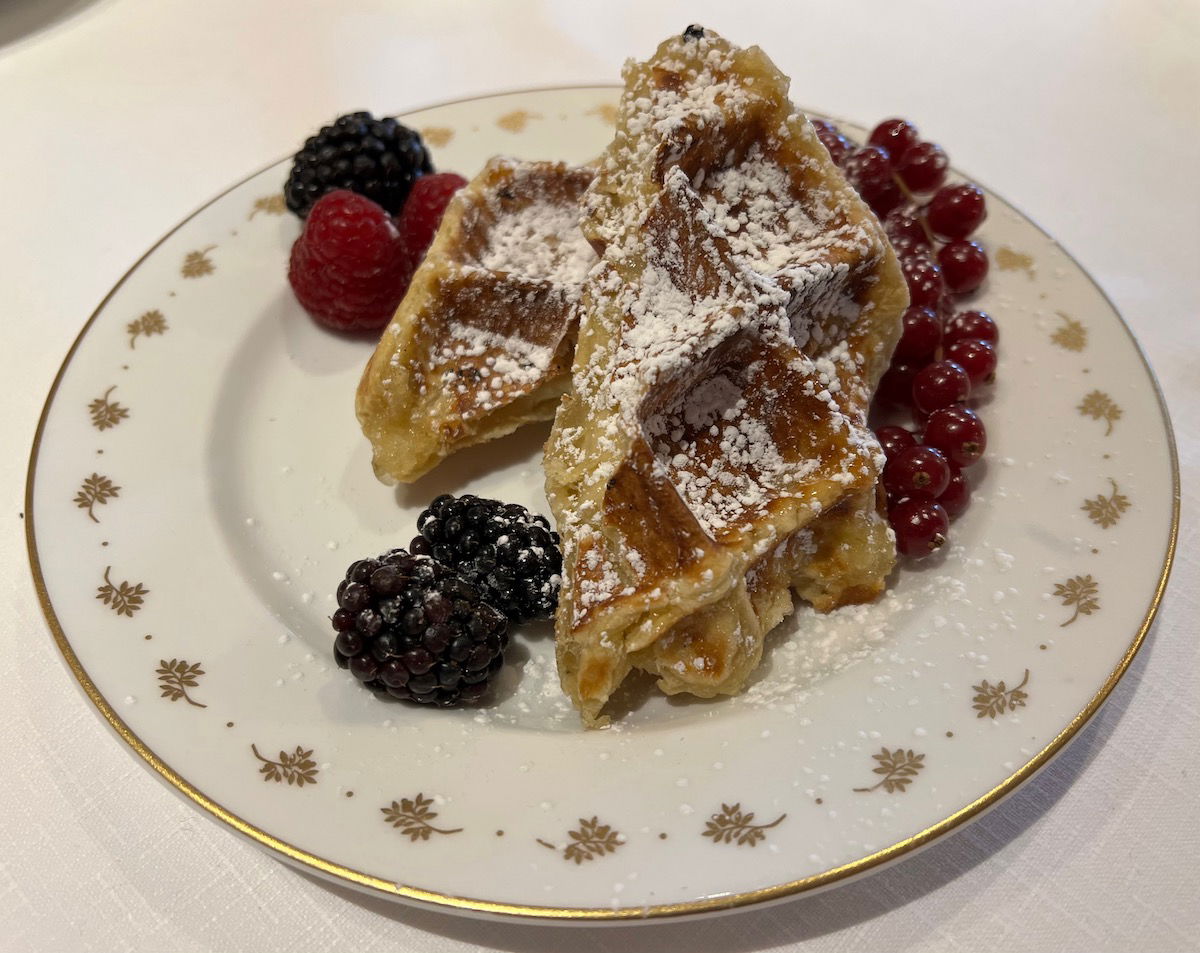 Les Airelles Courchevel La Table des Airelles (lunch)
Les Airelles has a lunch buffet at La Table des Airelles, the same restaurant that serves breakfast. Weather permitting you can sit outside, and much of the buffet is also outside. This buffet was remarkably good, with such a nice selection of light, healthy dishes (along with all kinds of heavier options).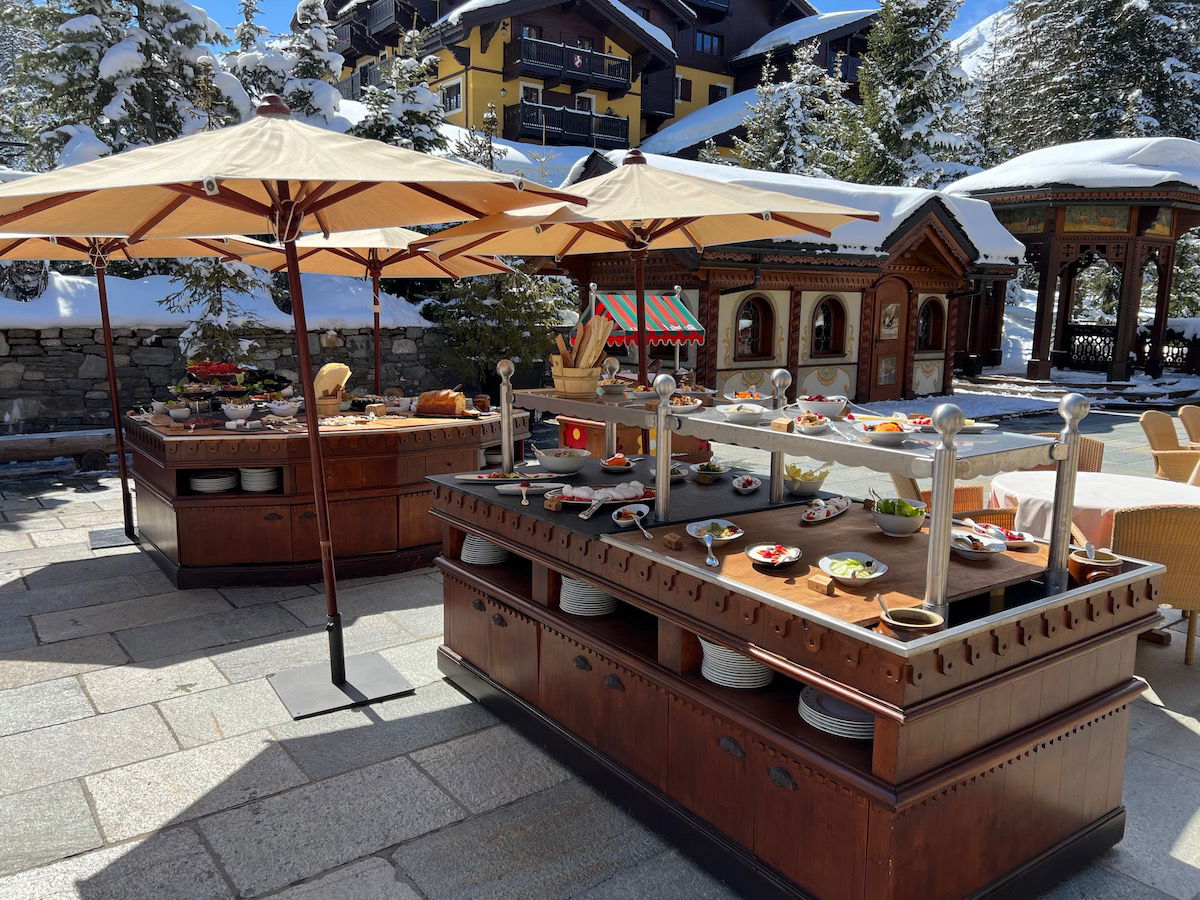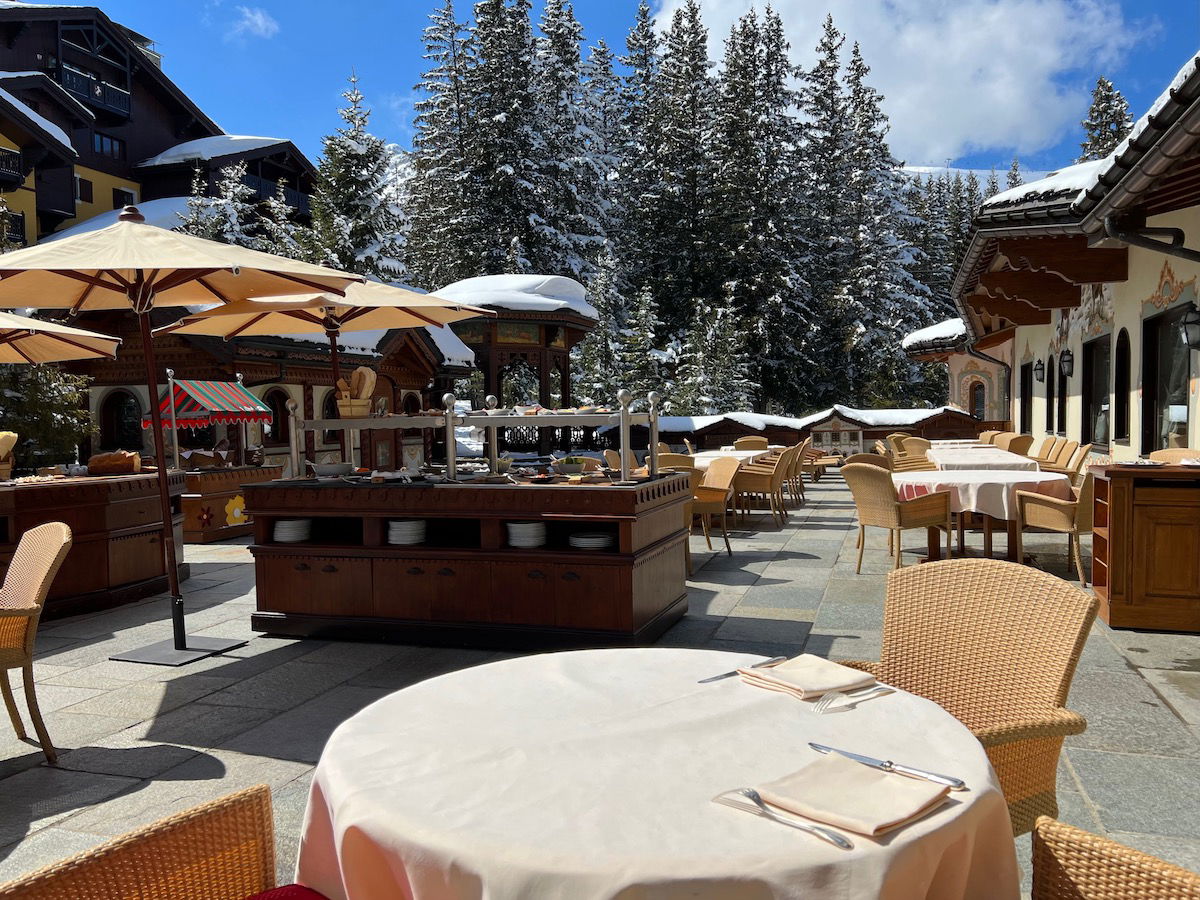 The outdoor portion of the buffet had veggies, cheese, cold cuts, crudo, lobster, sushi, bread, etc.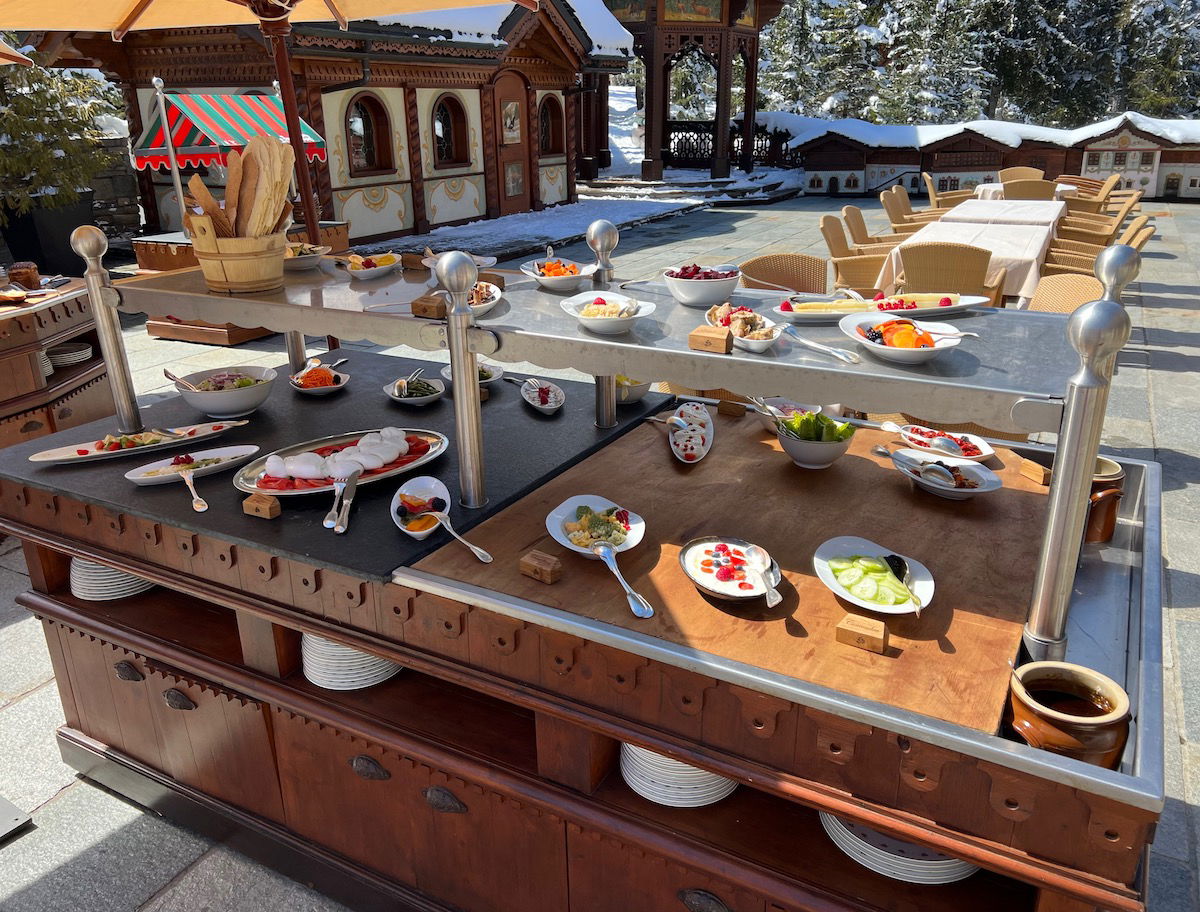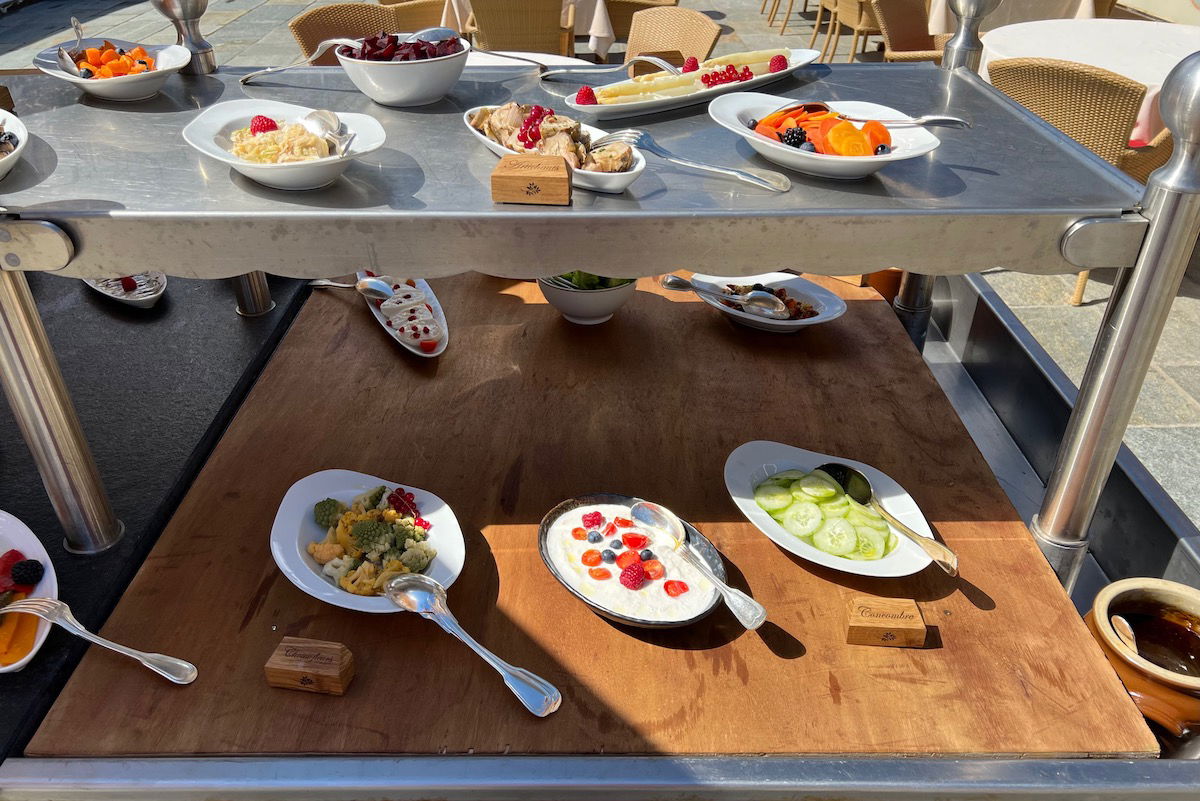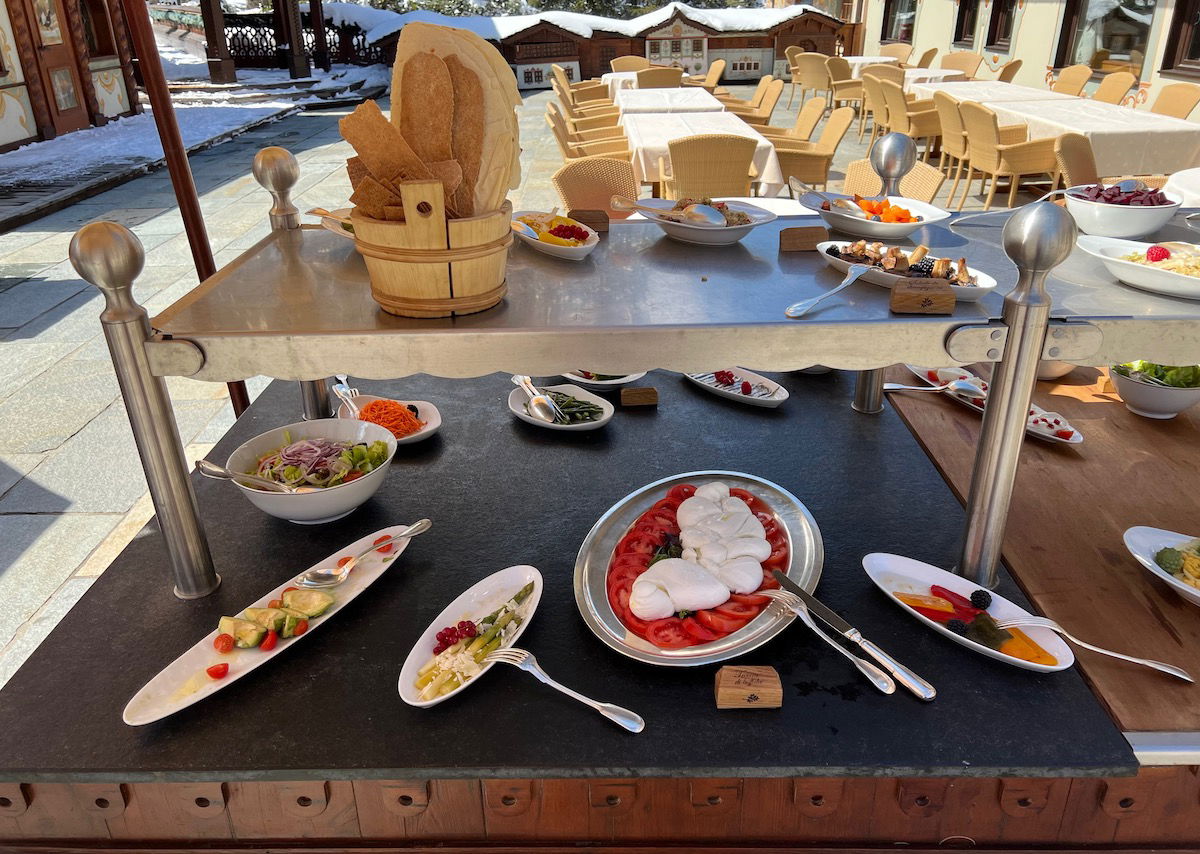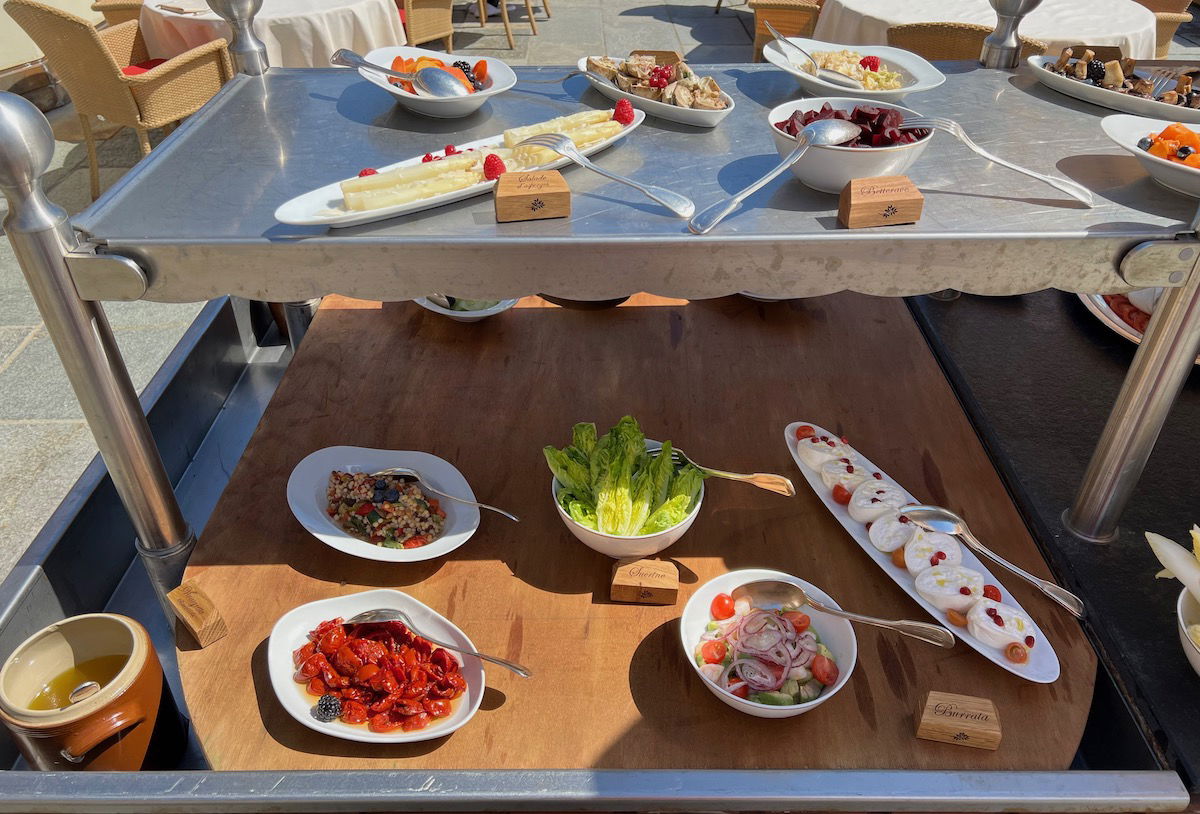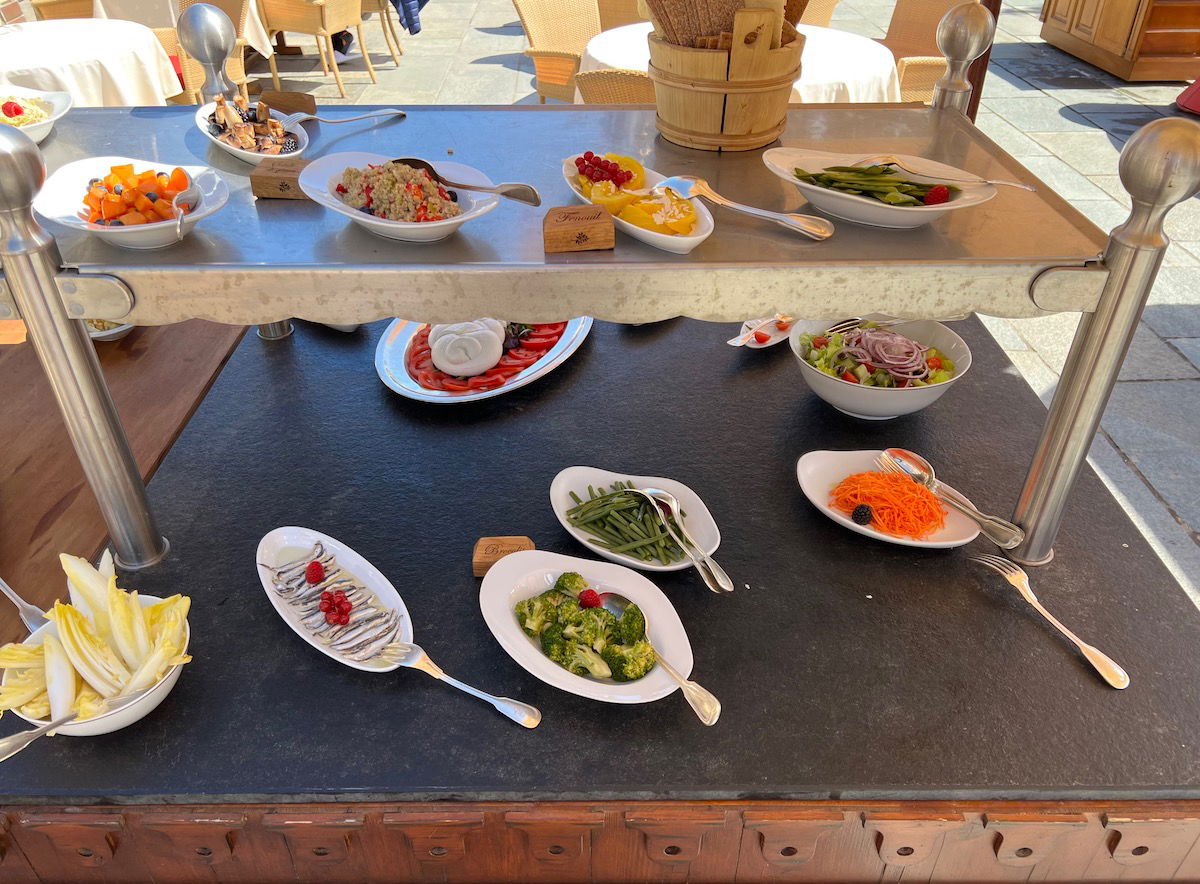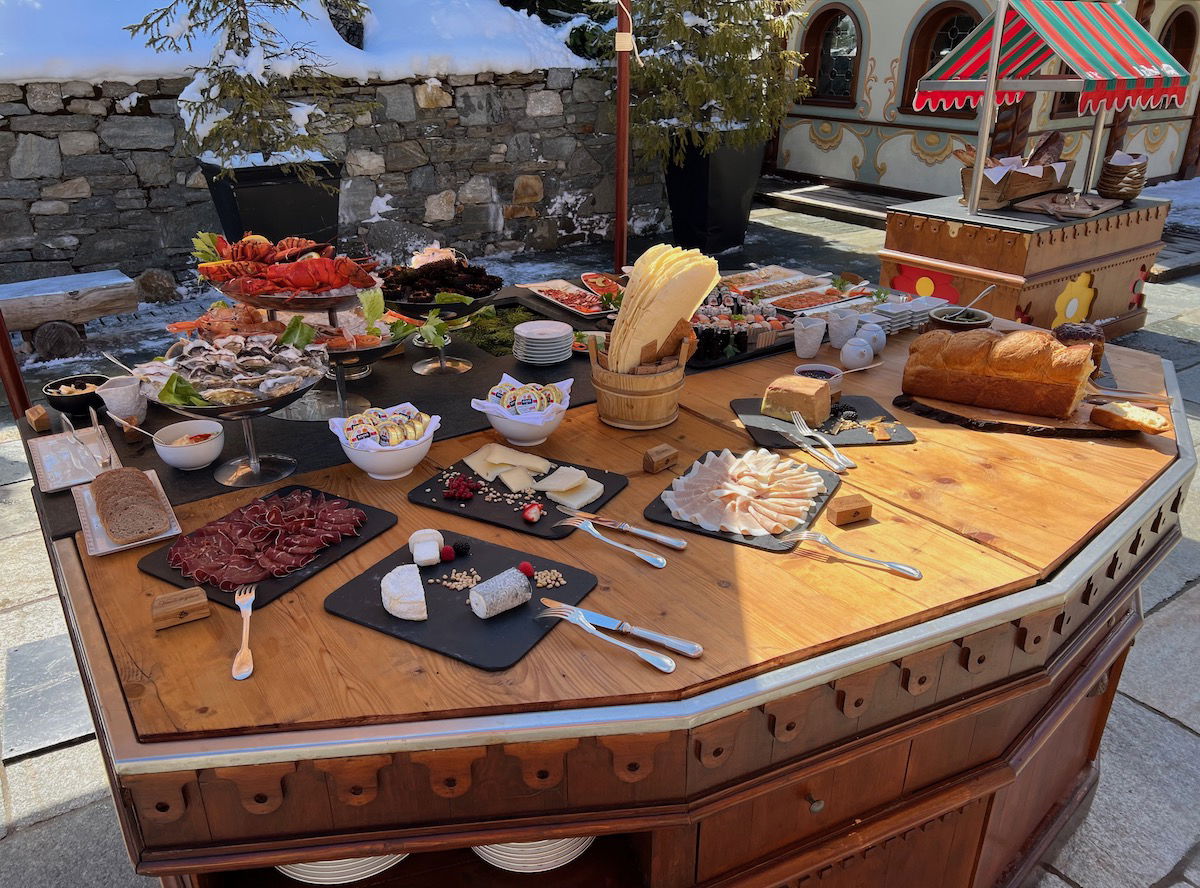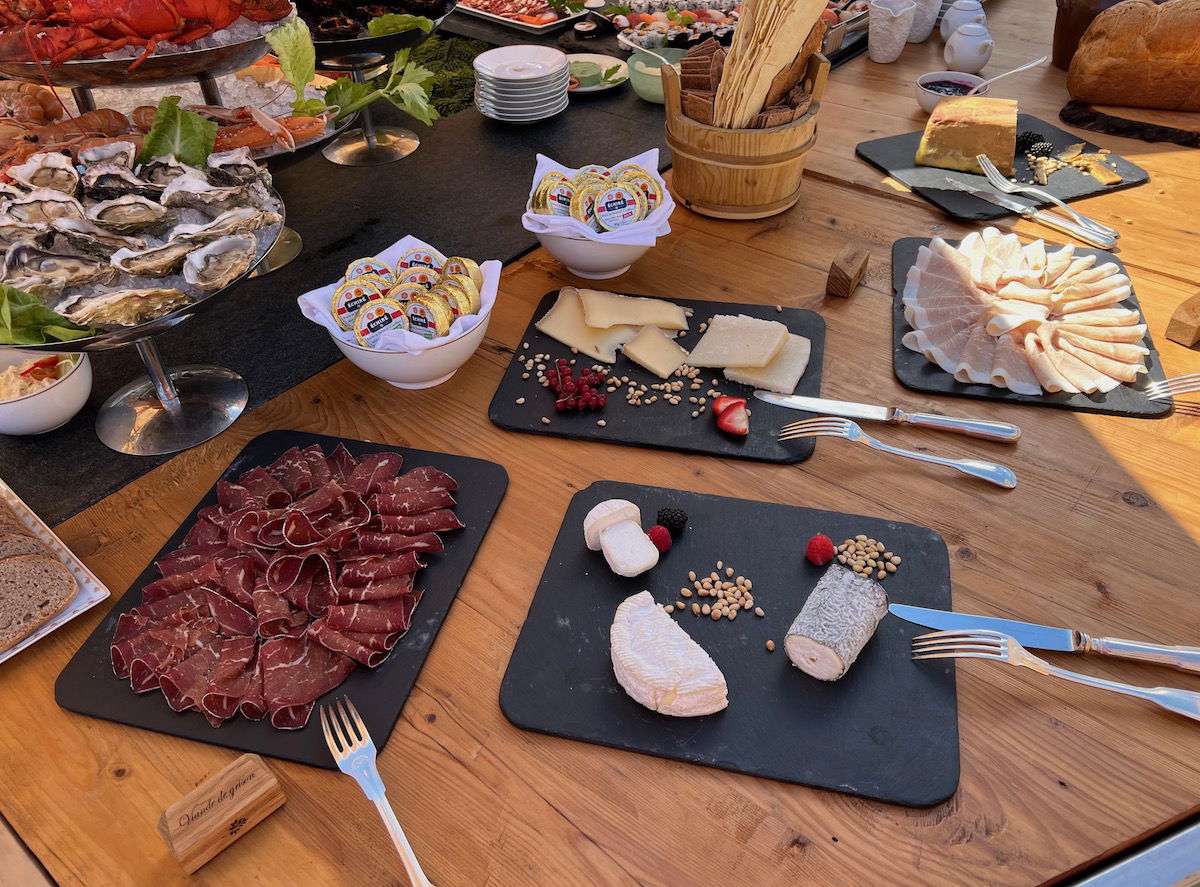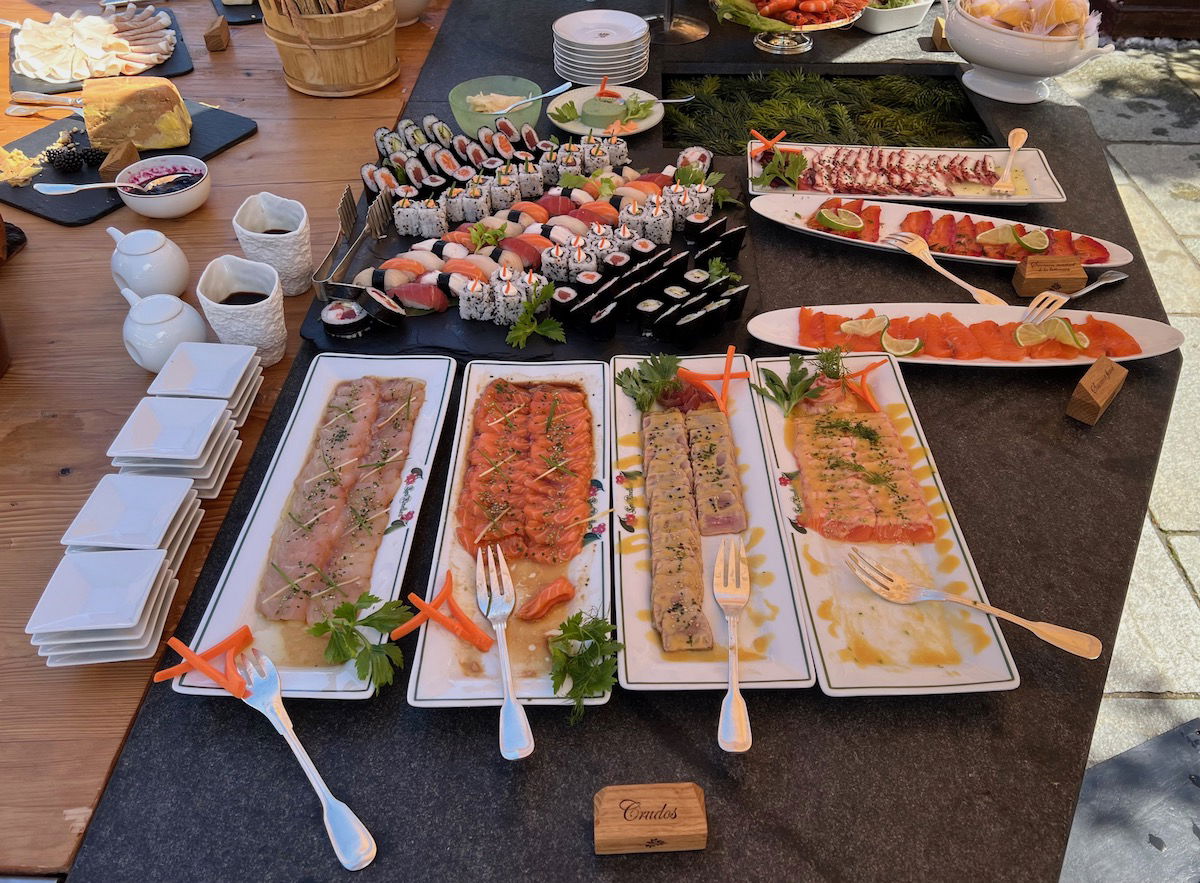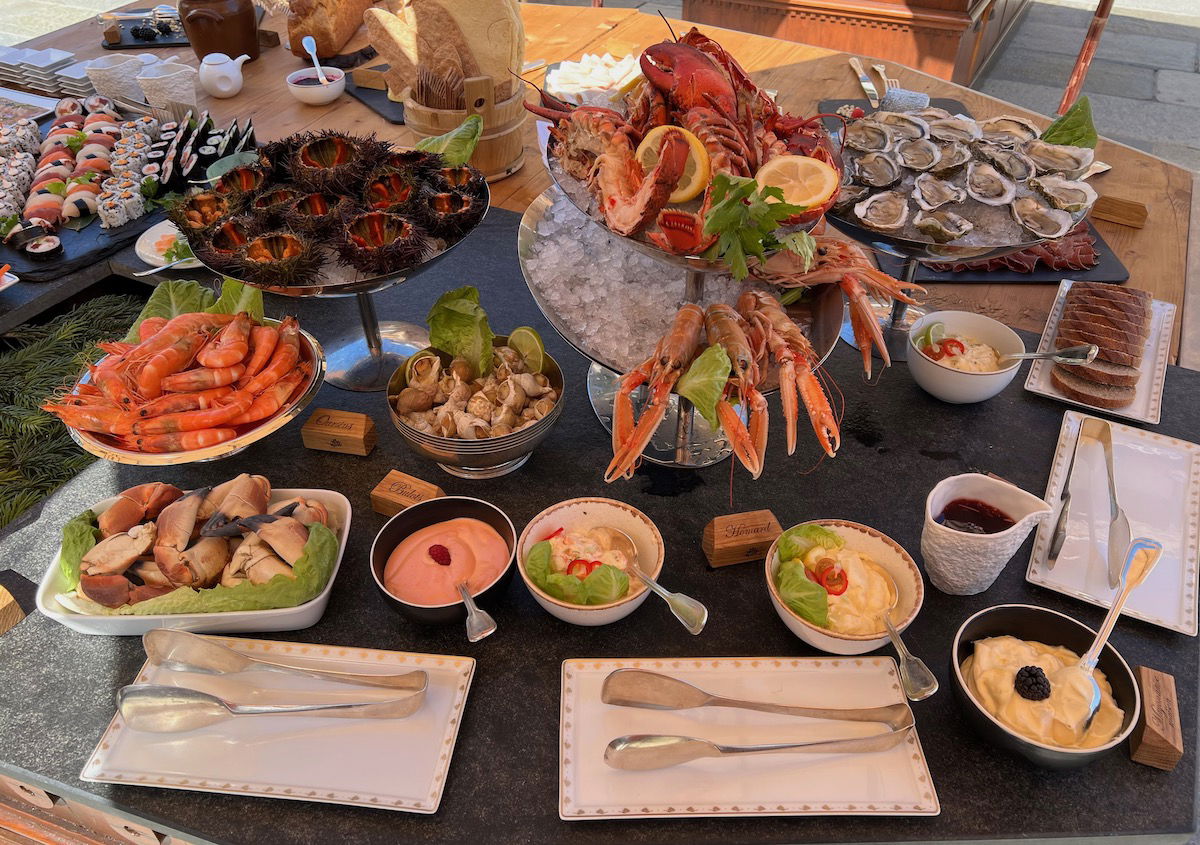 There was even a station where you could have cooked-to-order protein of choice.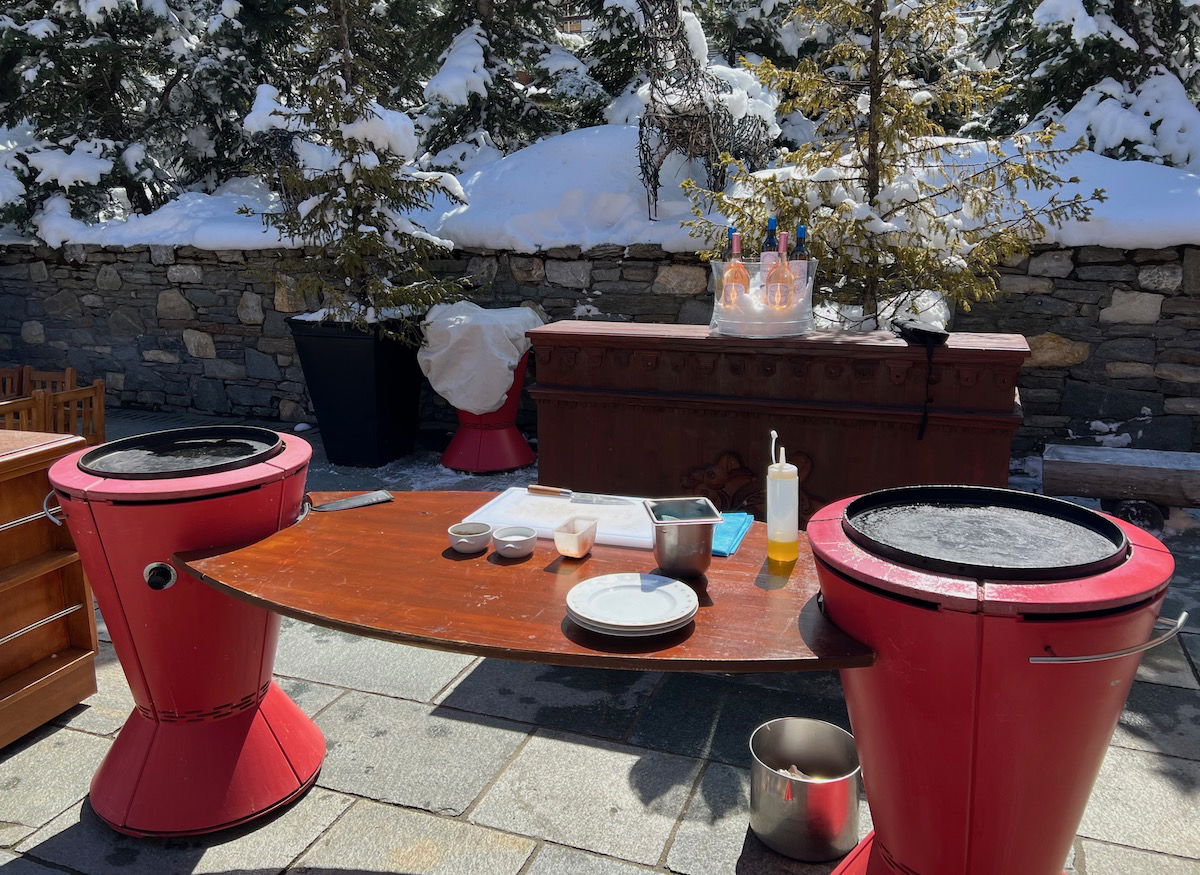 The rest of the buffet was indoors, and had everything from pizza, to all kinds of meat, to soup, to pasta.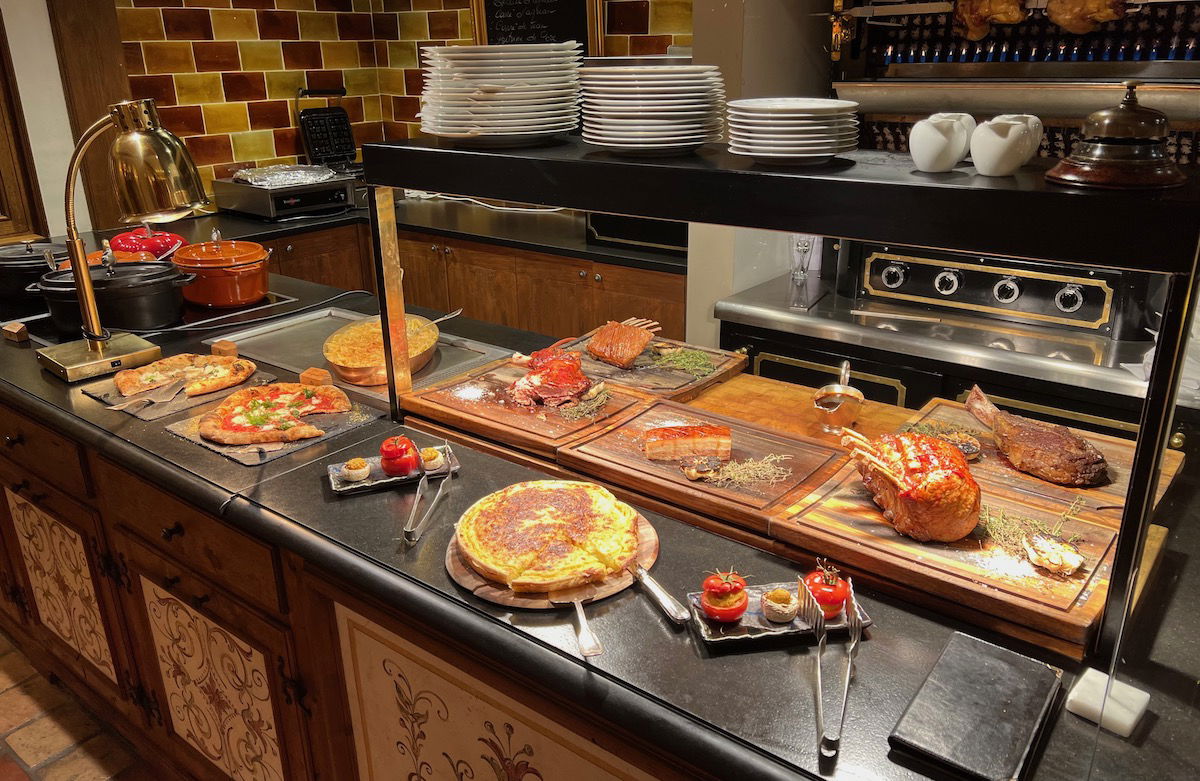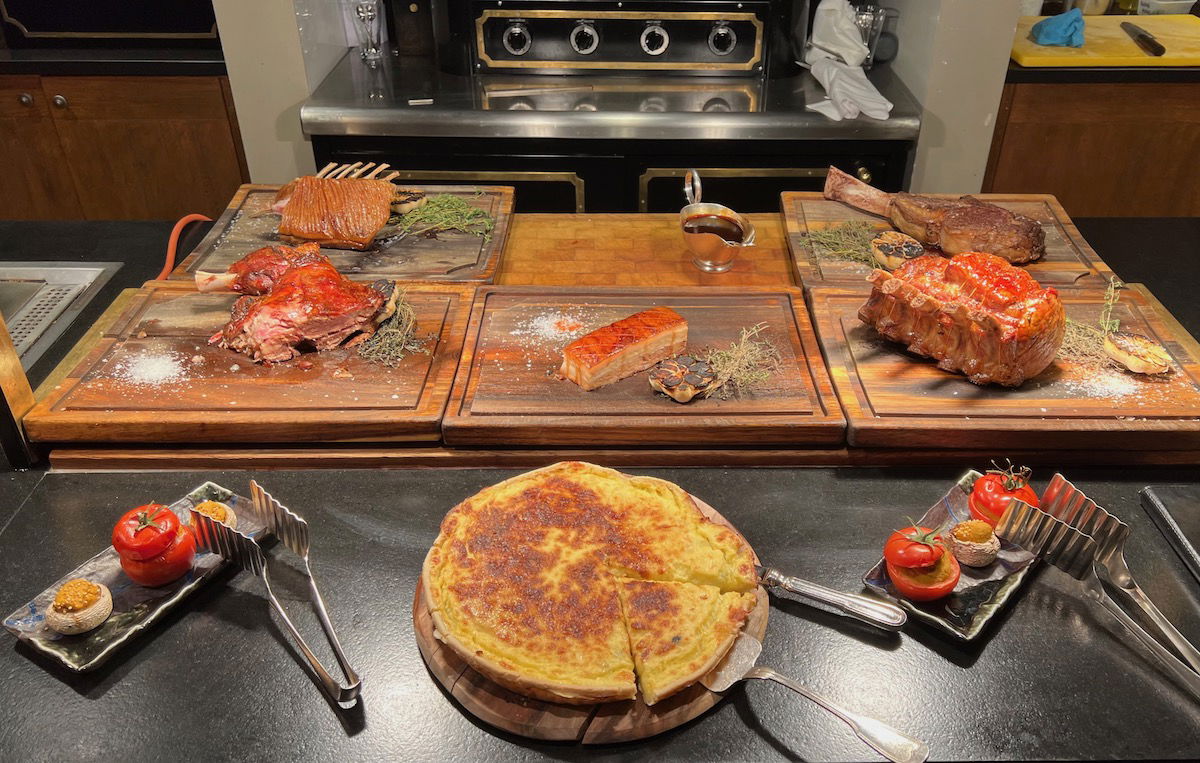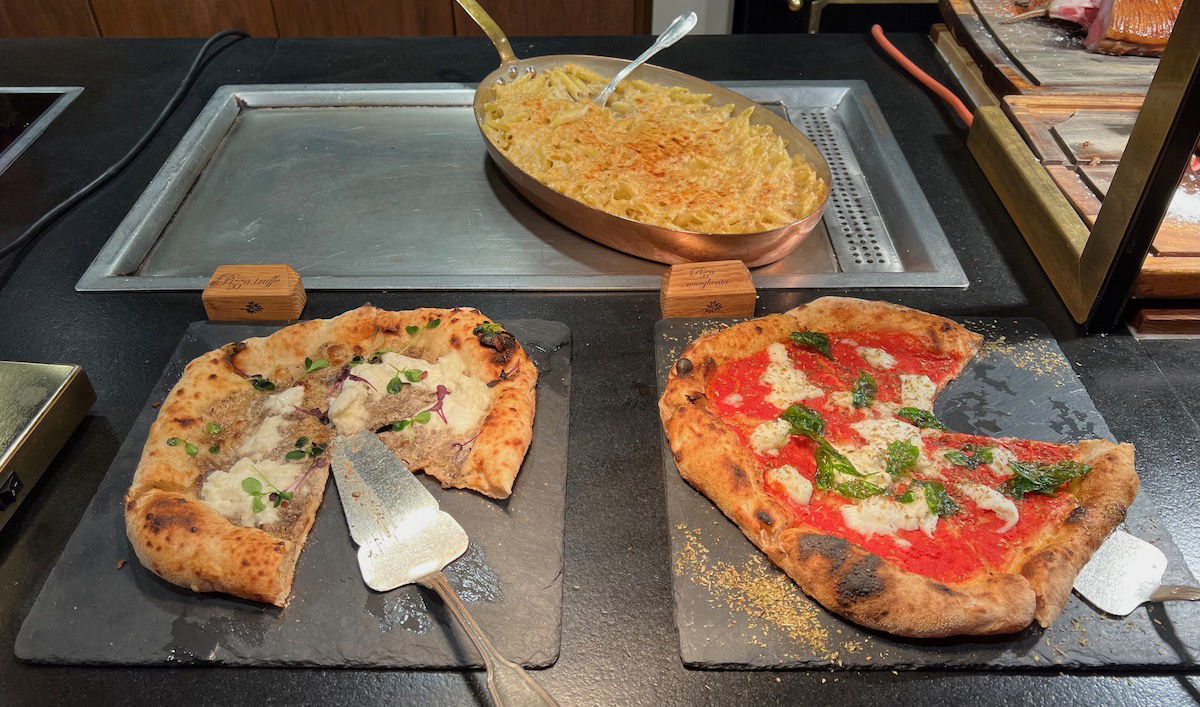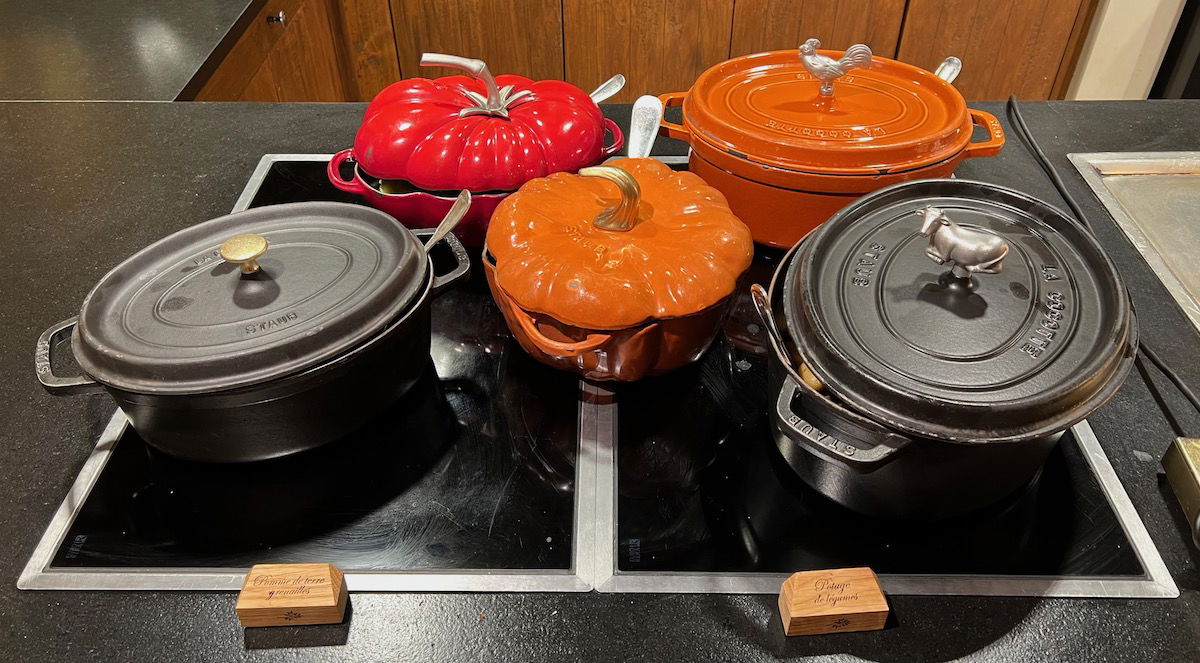 To top it all off, there was an over-the-top dessert selection as well.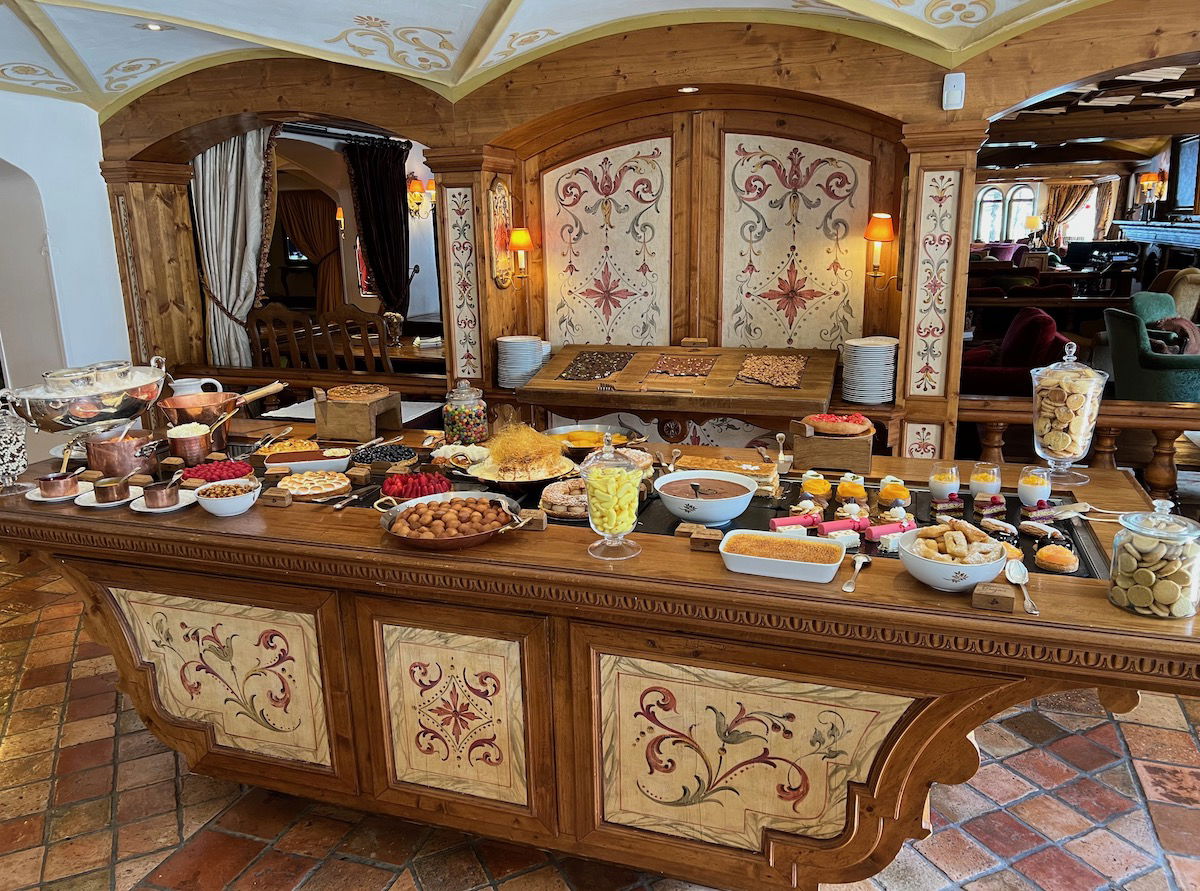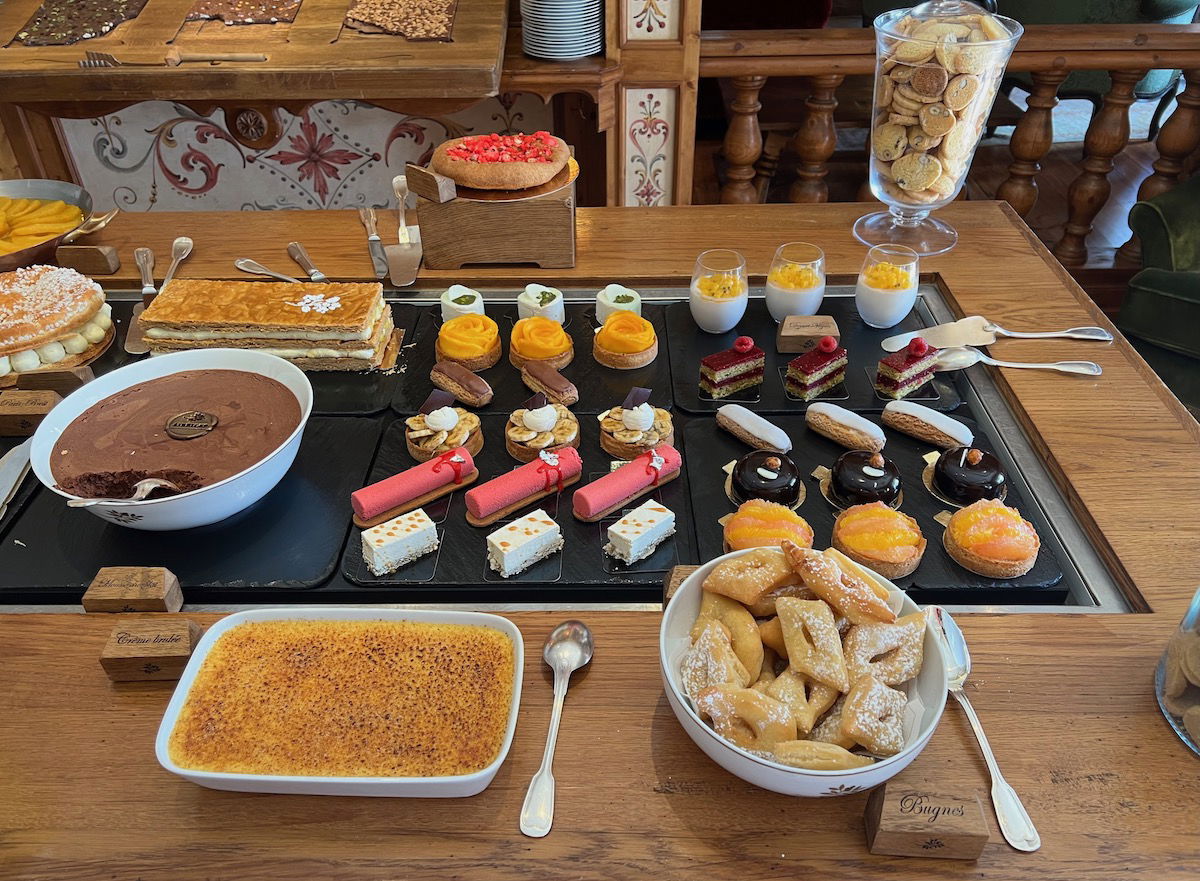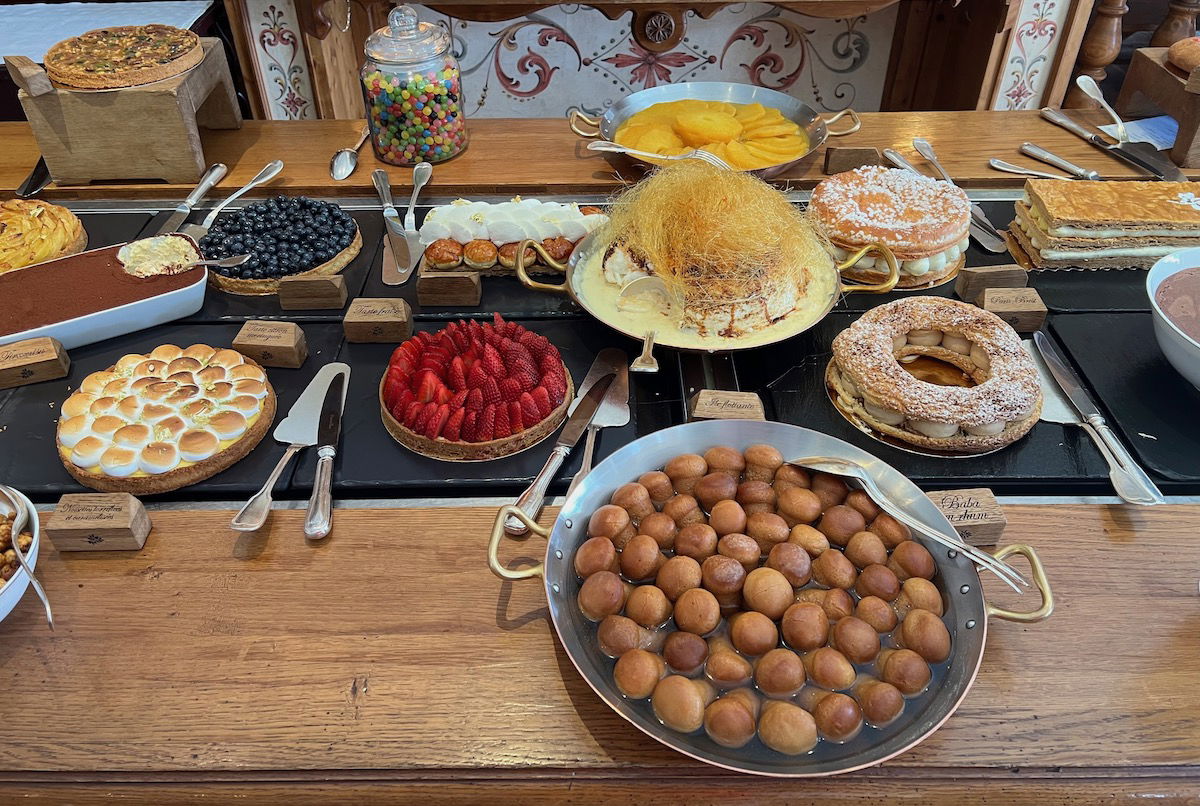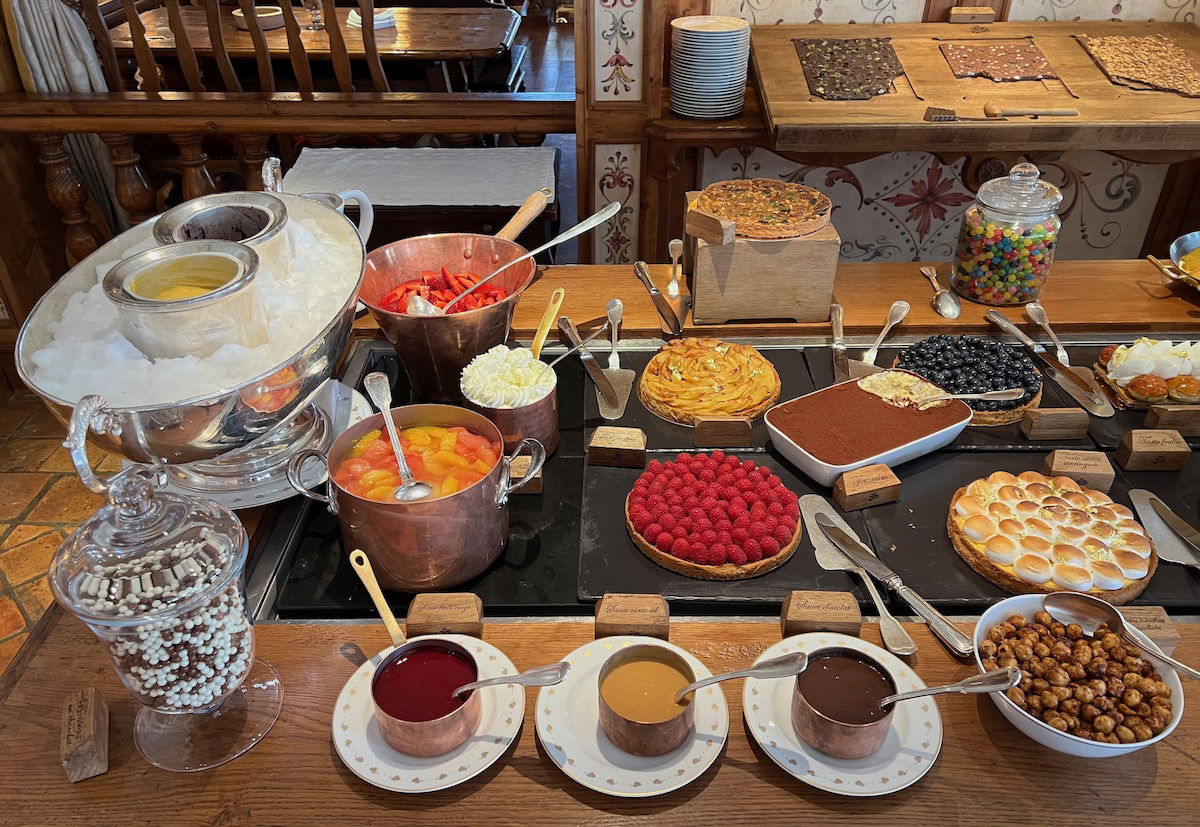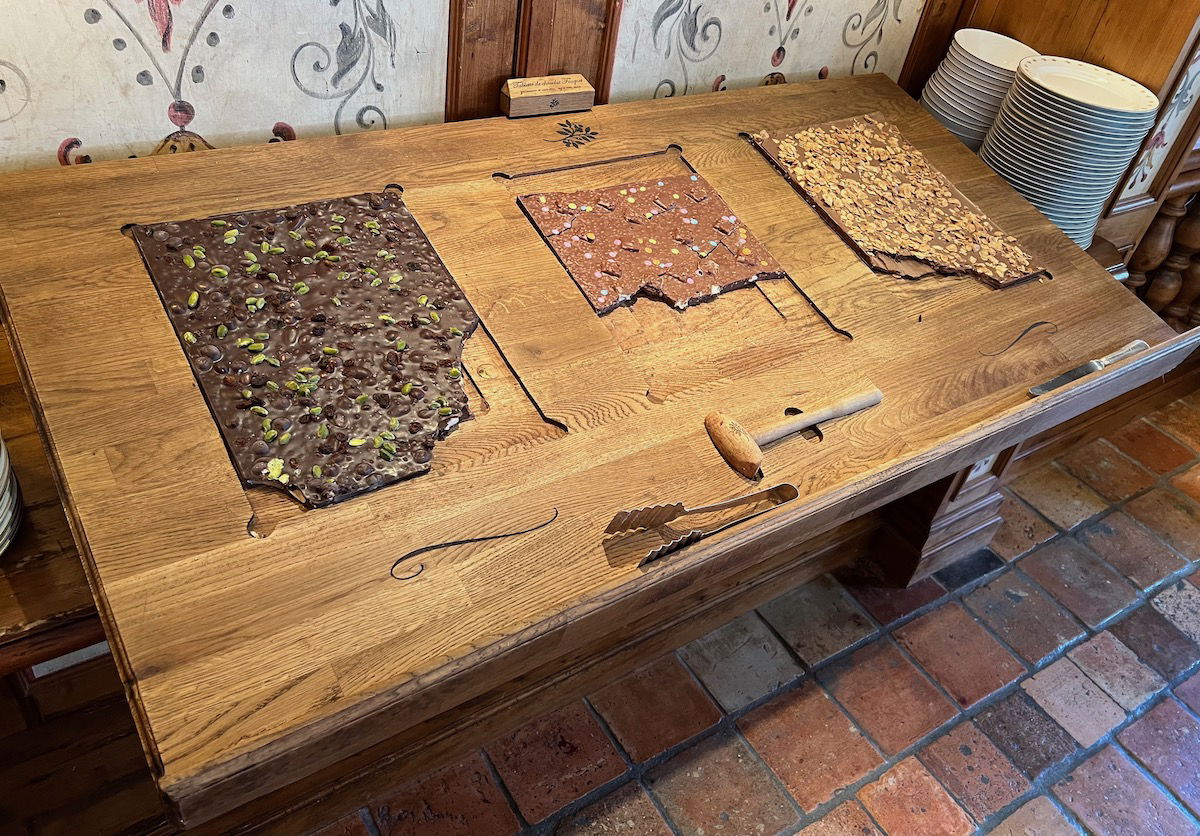 For what it's worth, if paying cash this buffet would have cost 195 Euro per person, but it can be included as part of the half board. Prices in Courchevel really are on a different level, so that's why the half board sure comes in handy.
Les Airelles Courchevel Piero (dinner)
Piero is Les Airelles' signature restaurants, and it's open for dinner. It's also located on the lobby level, just behind La Table des Airelles. The restaurant's chef is Marco Garfagnini, who has run restaurants at quite a few prestigious addresses. You can find the menu for the restaurant here.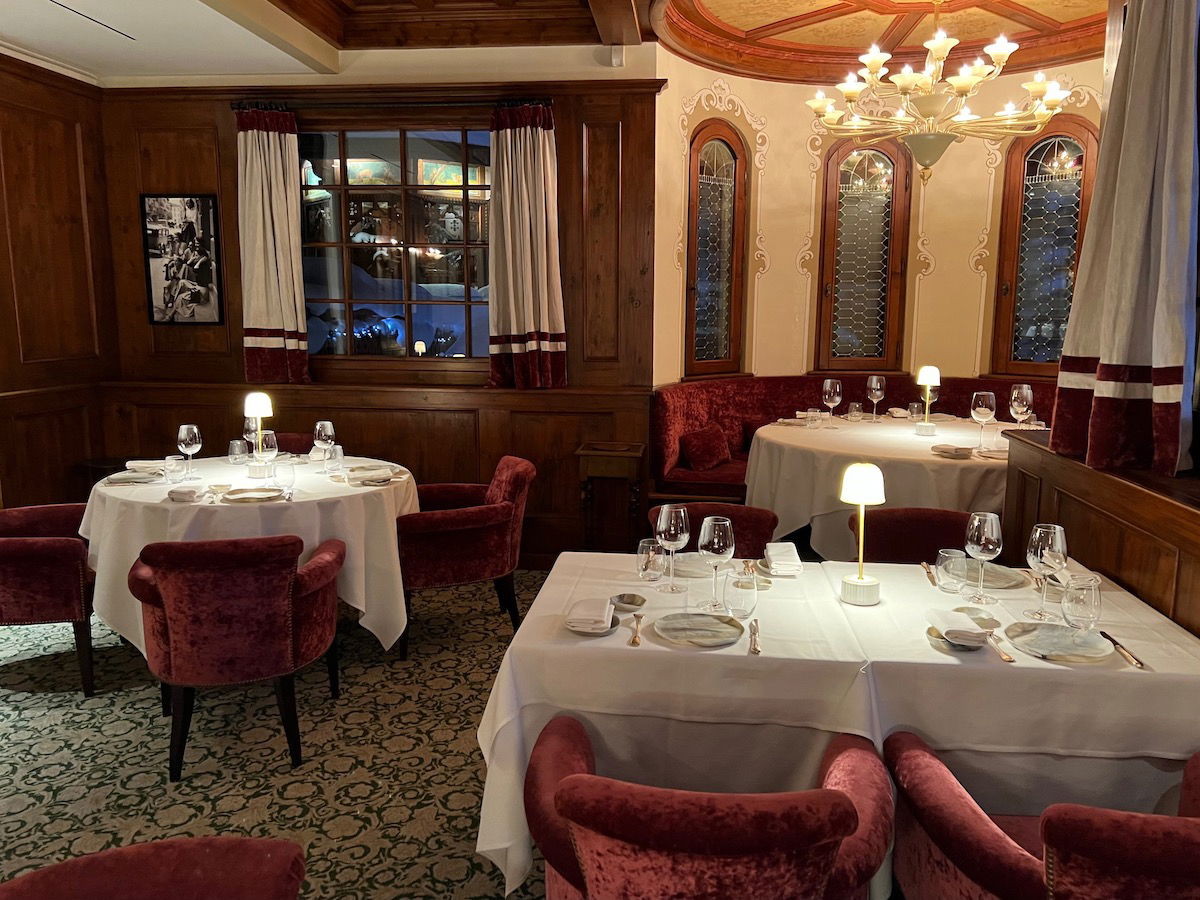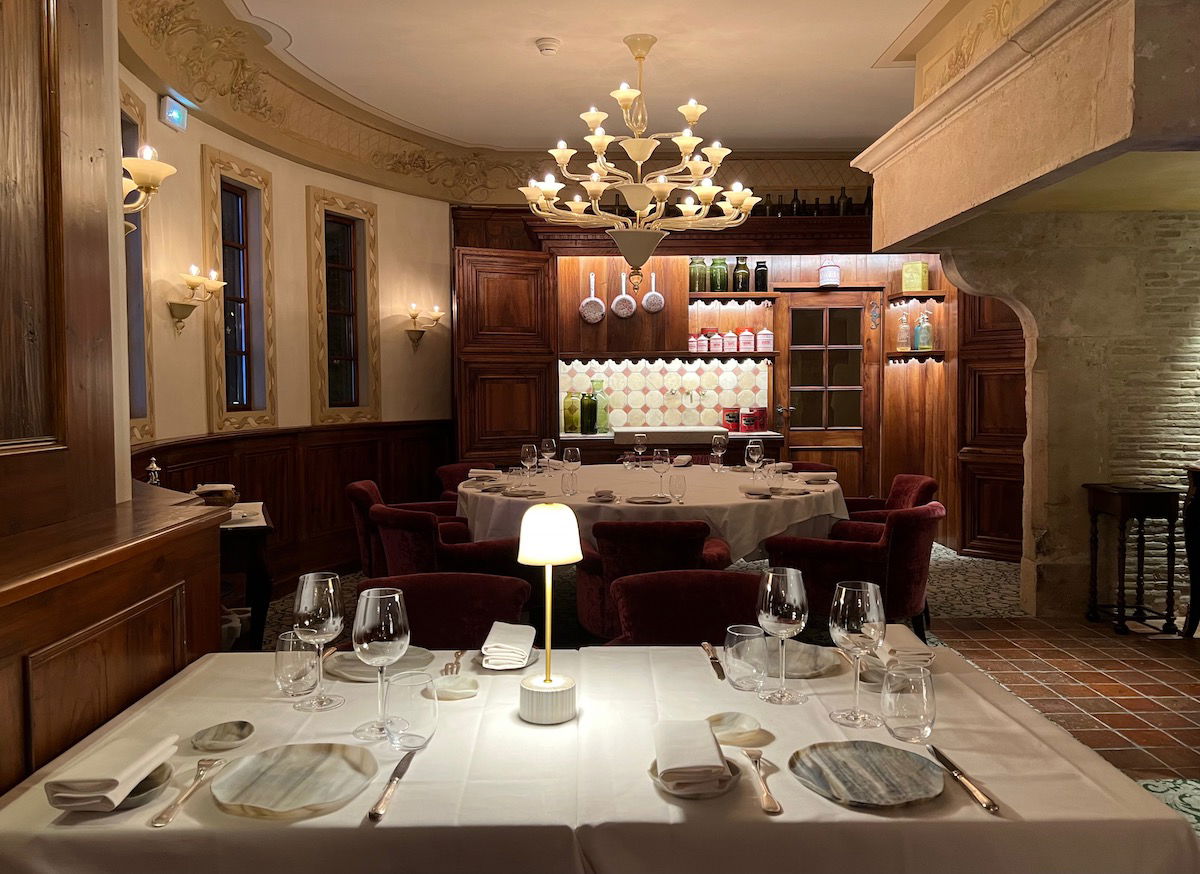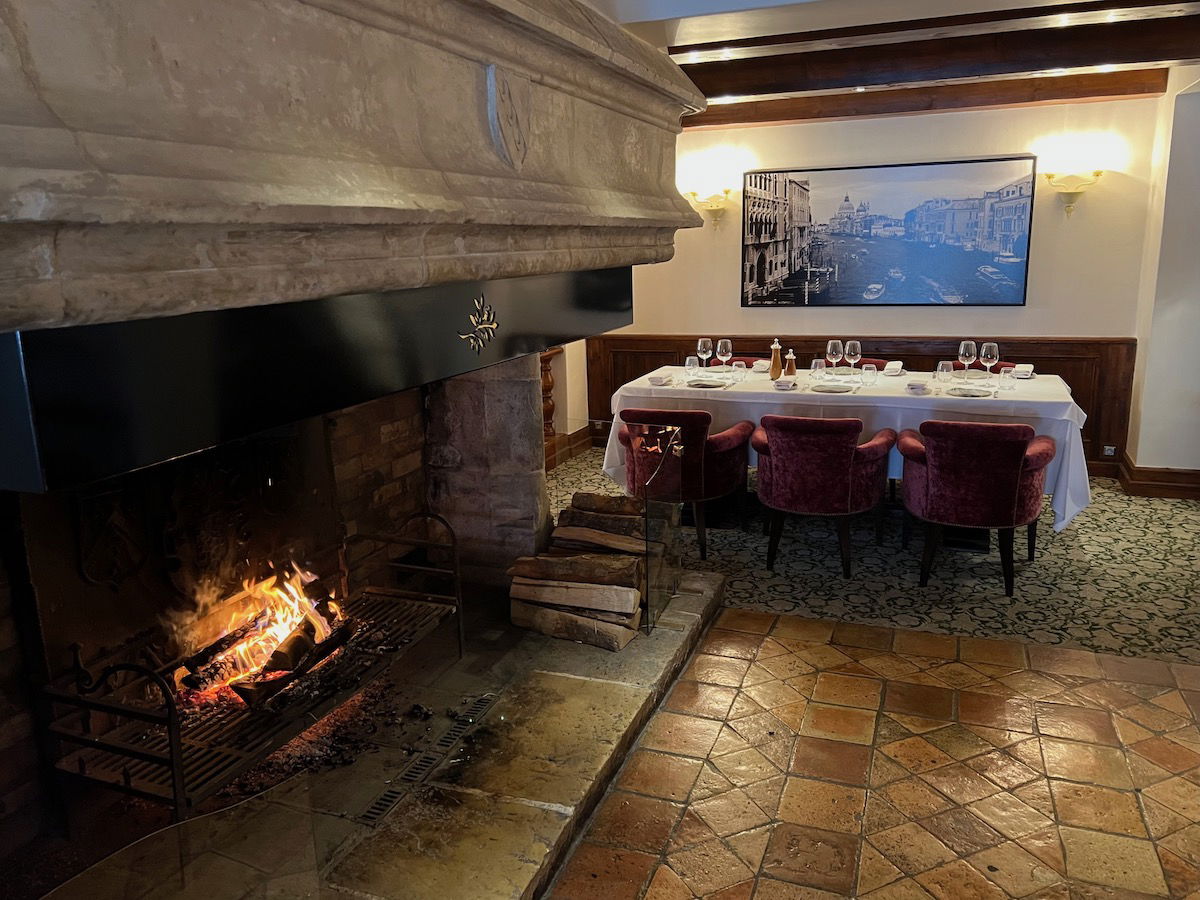 Shortly after sitting down we were offered a pizza with shiitake mushrooms and stracciatella — that's my kind of amuse bouche. 😉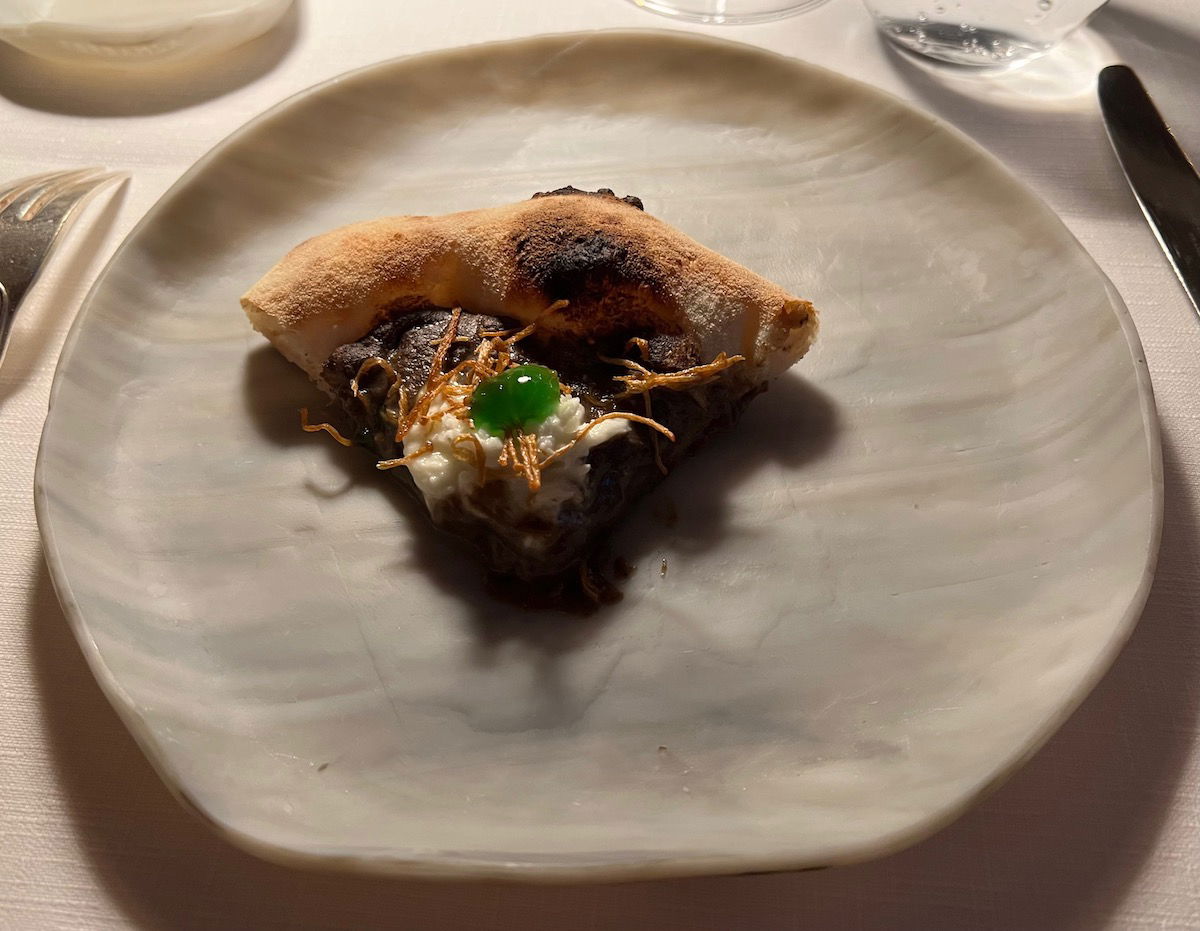 To start, we shared the king crab salad, plus the albacore tuna with truffle and sesame sauce.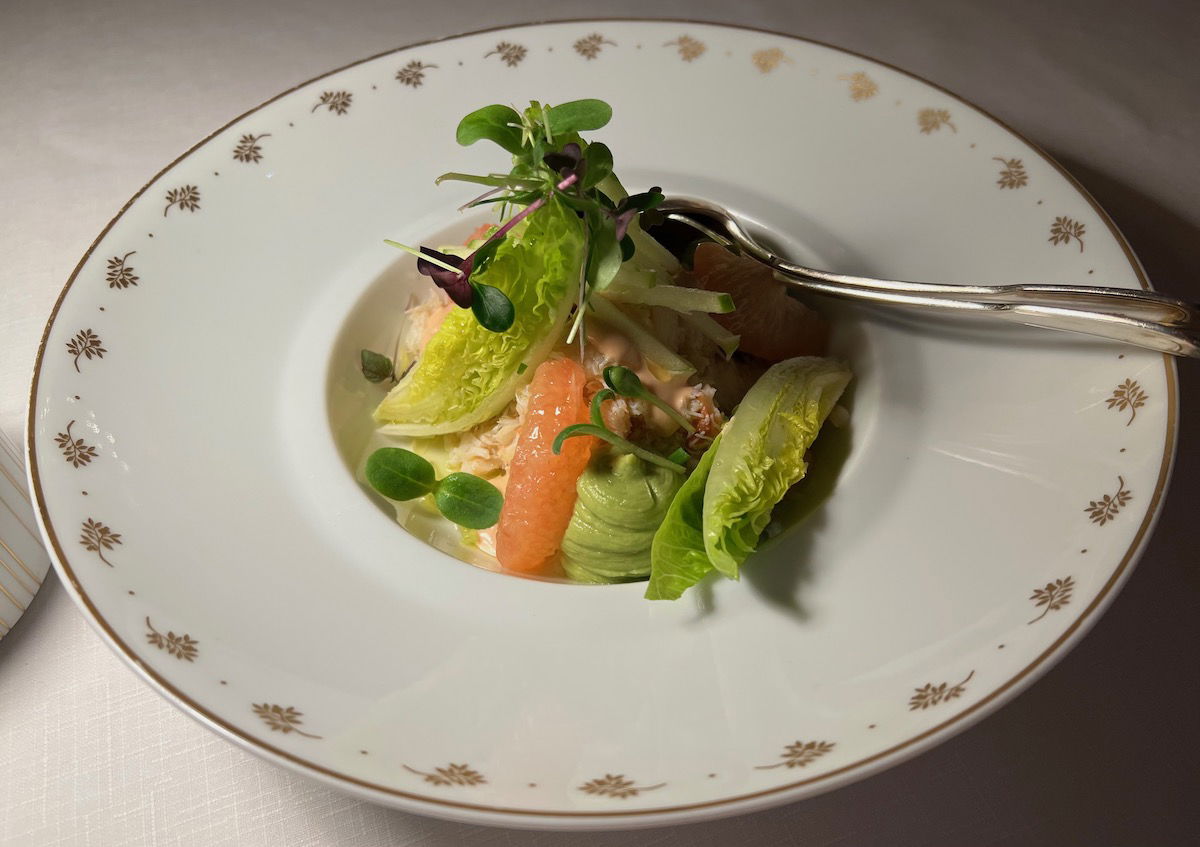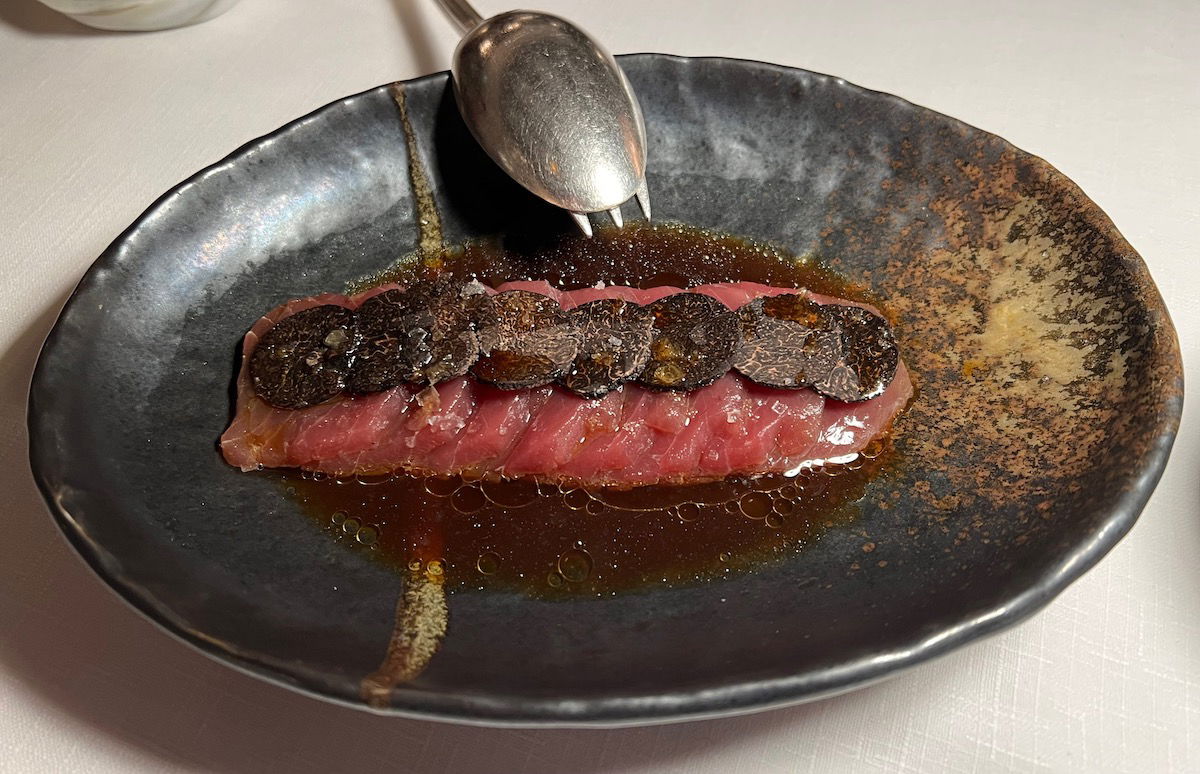 For our main courses we had the sea bass and the fillet of sole with a side of tomato salad and artichokes.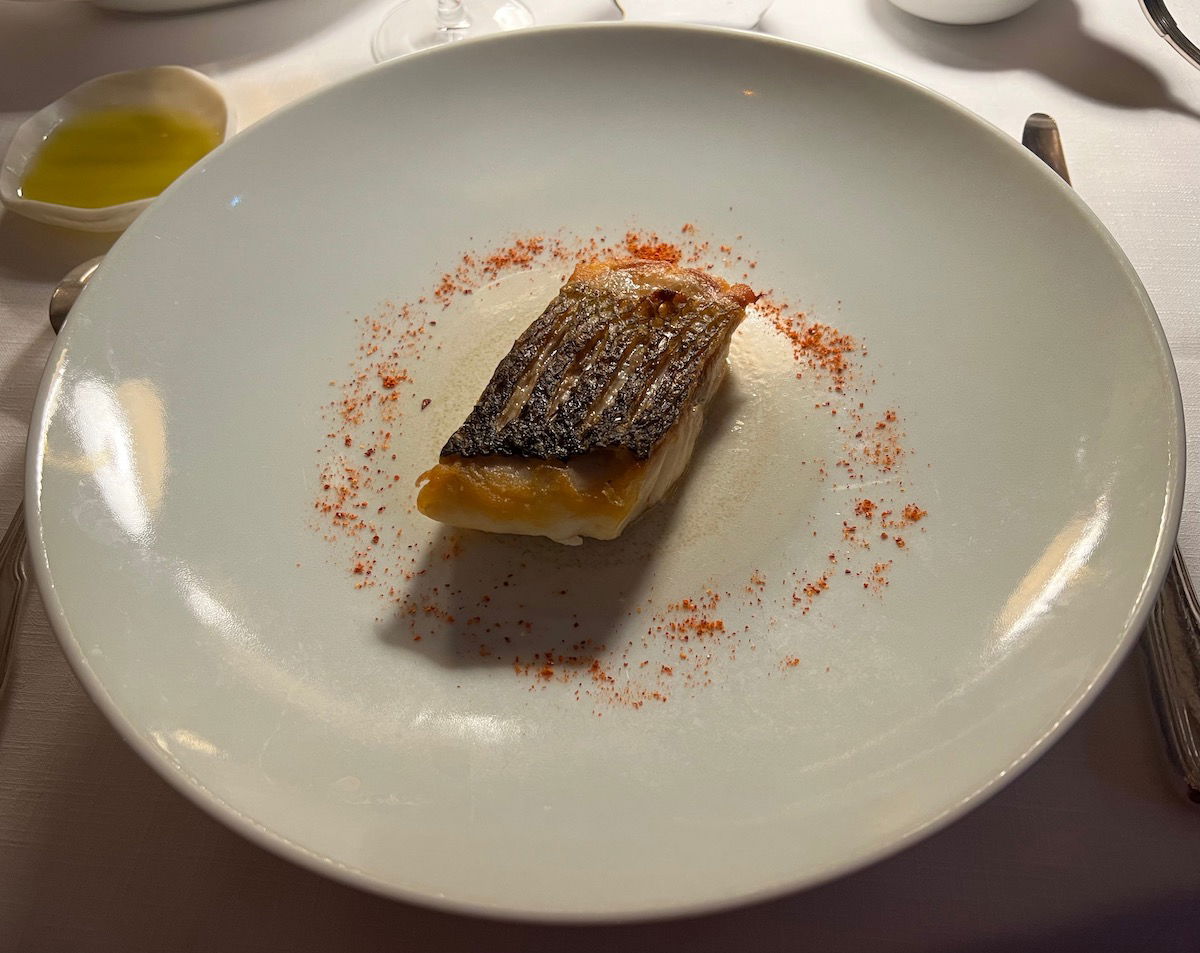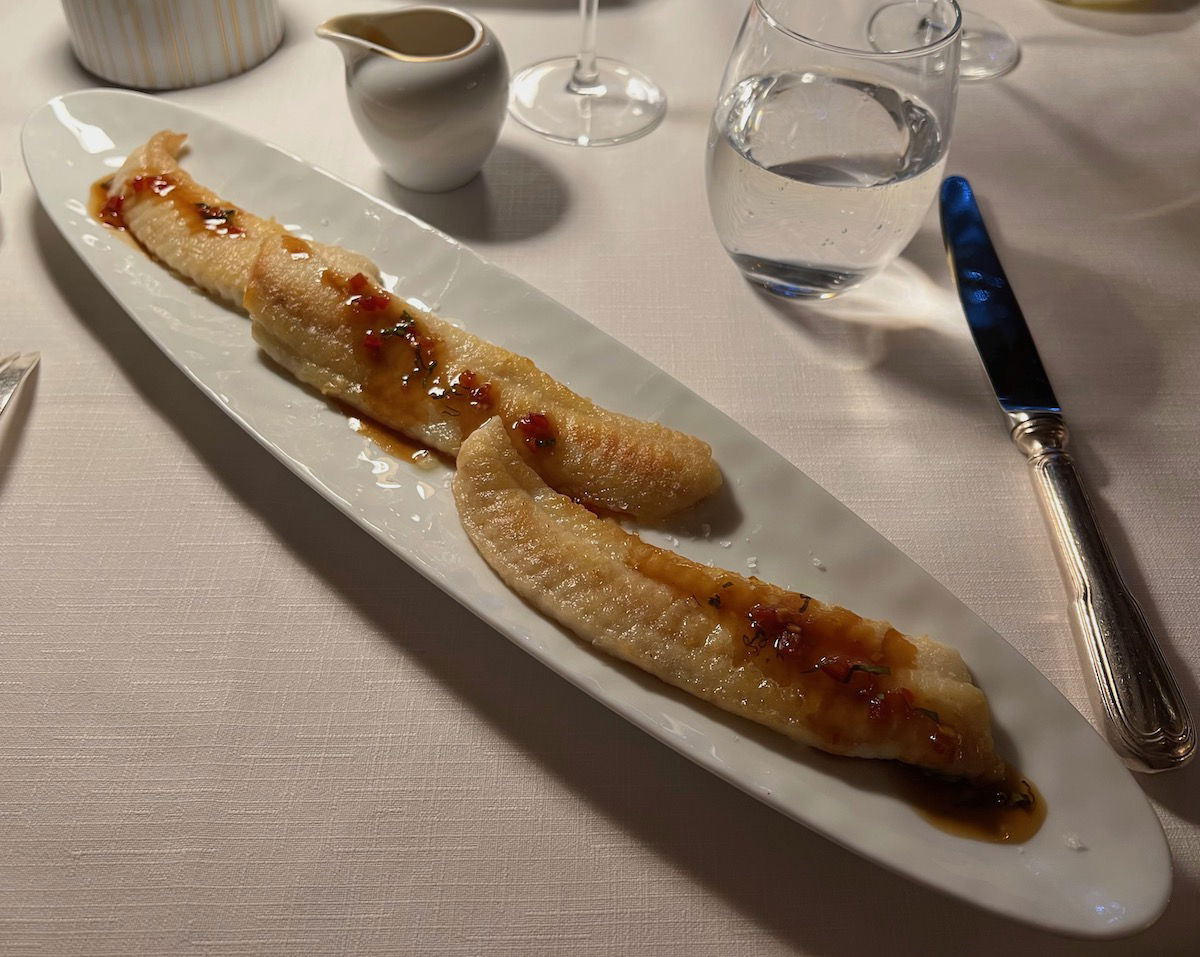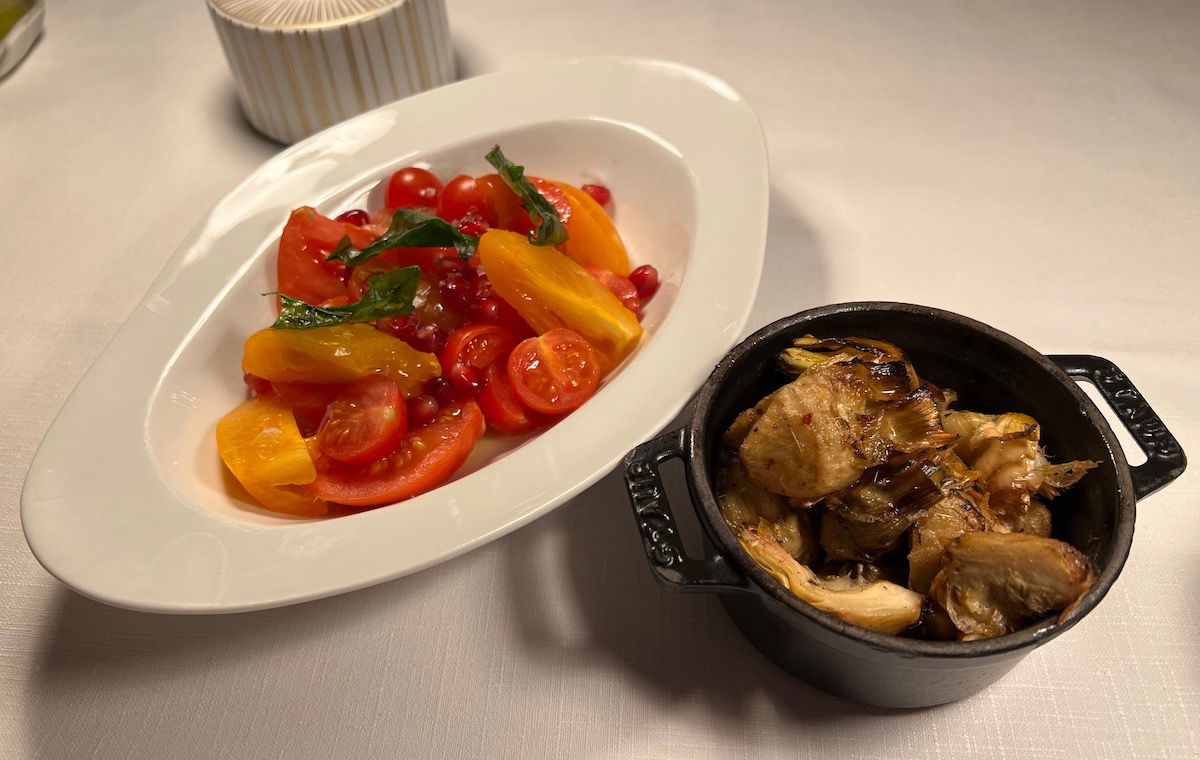 For dessert we shared a tiramisu prepared tableside. Not only was it delicious, but watching it being made in front of our eyes was a treat.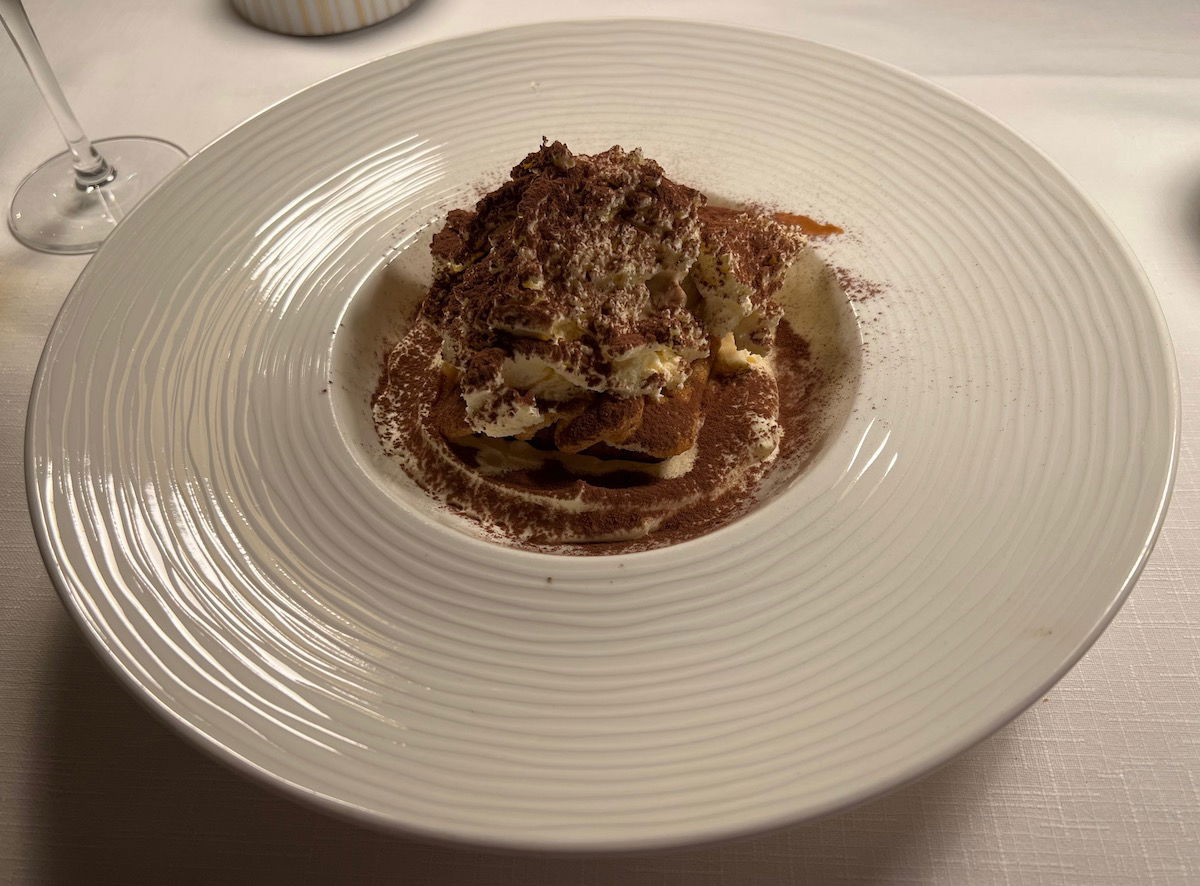 I simply can't say enough good things about this meal, from the quality of the food, to the service, to the ambiance. And best of all, the food was included as part of the half board (and we could have even ordered more, but we have our limits).
Les Airelles Courchevel Le Coin Savoyard (dinner)
Le Coin Savoyard is one of Les Airelles' other restaurants, and it's open for dinner. It's located on the lobby level, down the hall from Piero. This is a fondue and raclette restaurant, serving regional cuisine. You can find the menu for the restaurant here.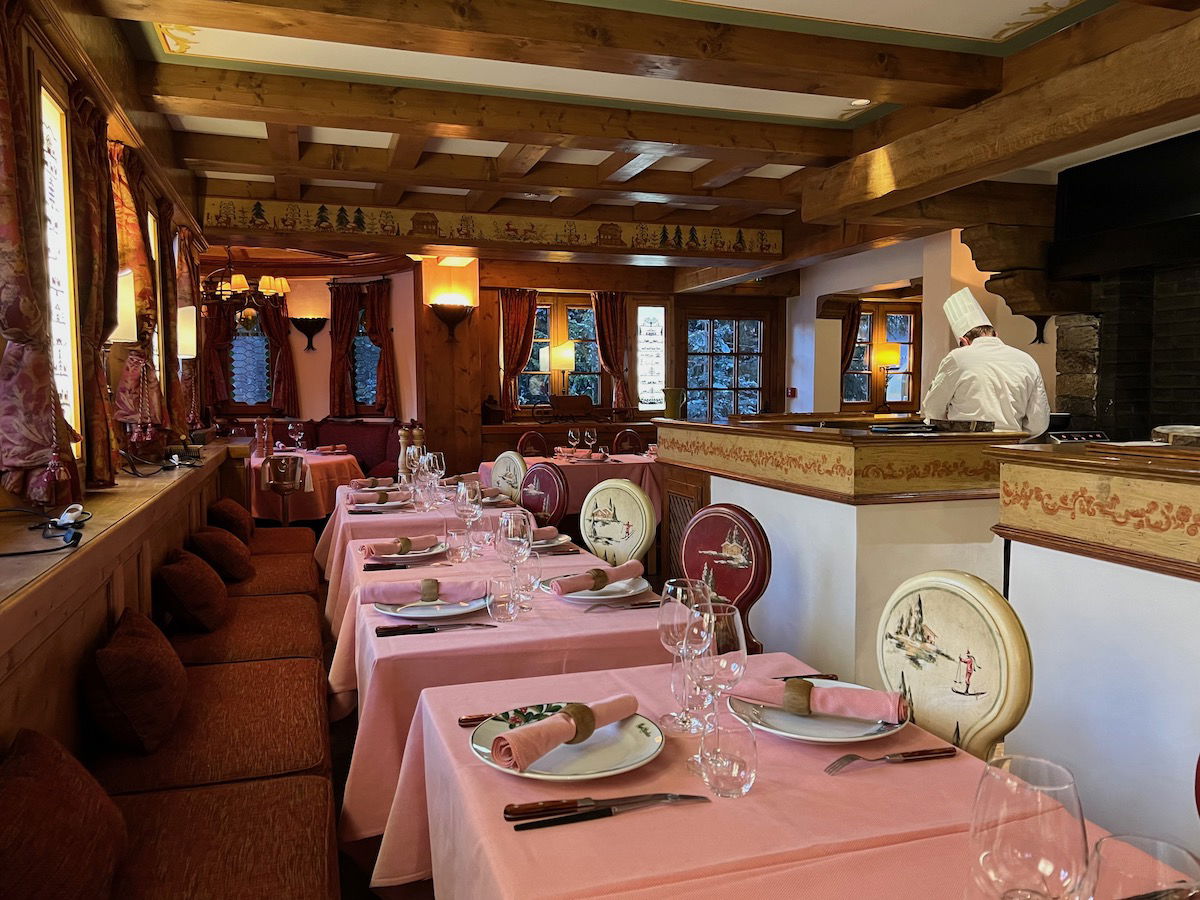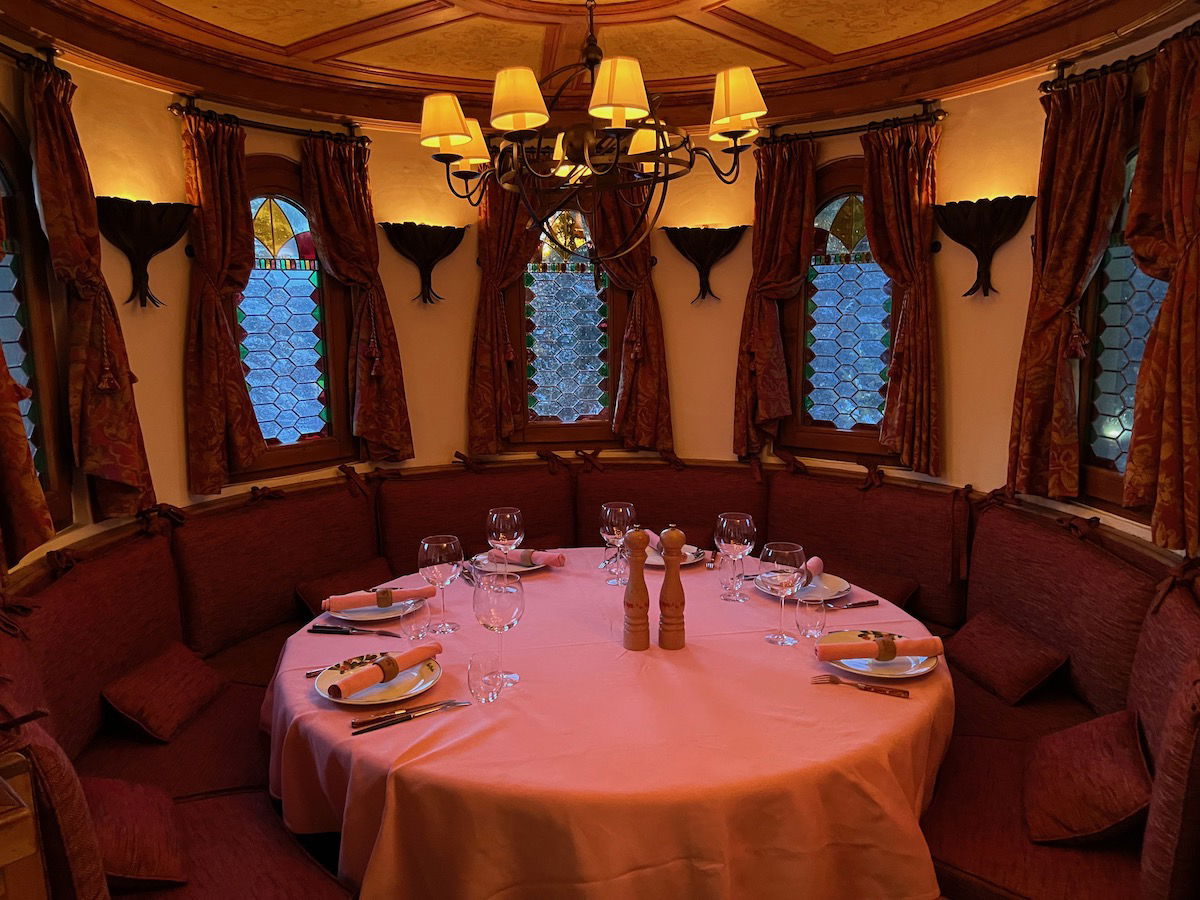 At the start of the meal we were brought some veggies, along with bread, lamb dip, and a tzatziki dip.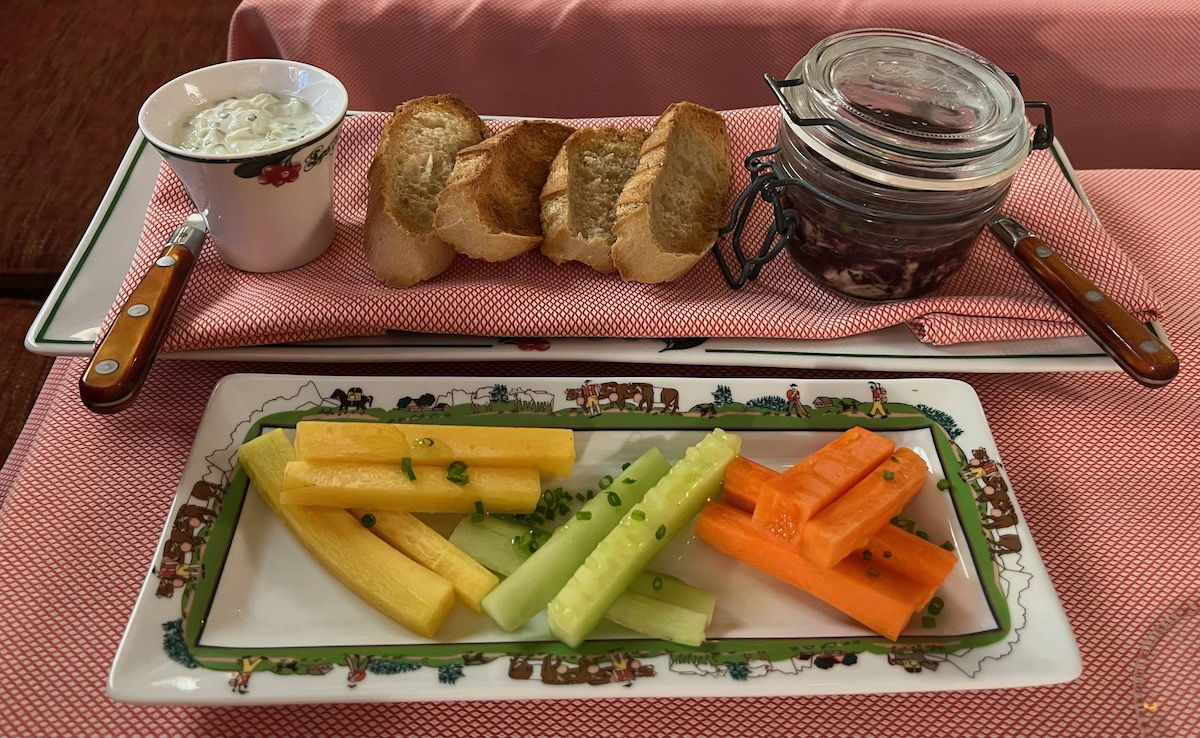 We split the black truffle fondue, which was served with some salted meat, bread, french fries, and salad.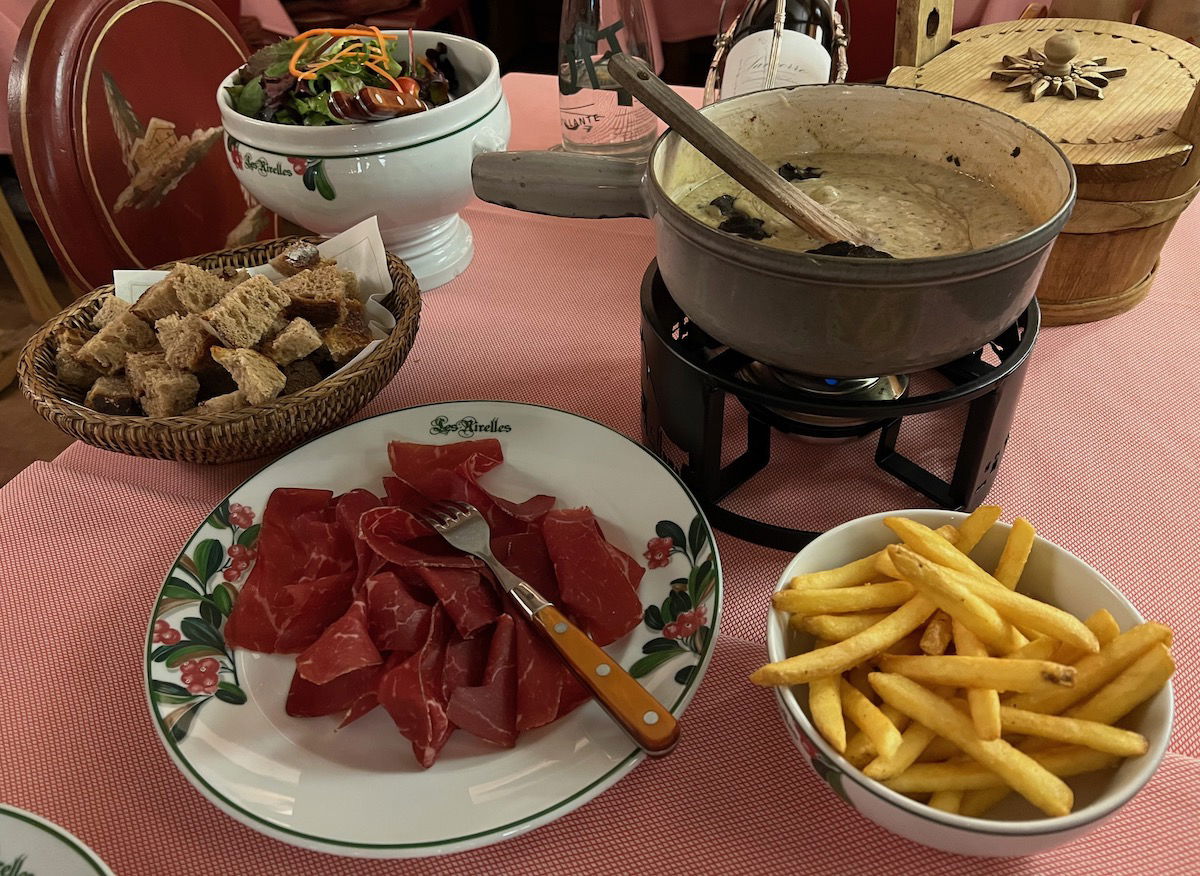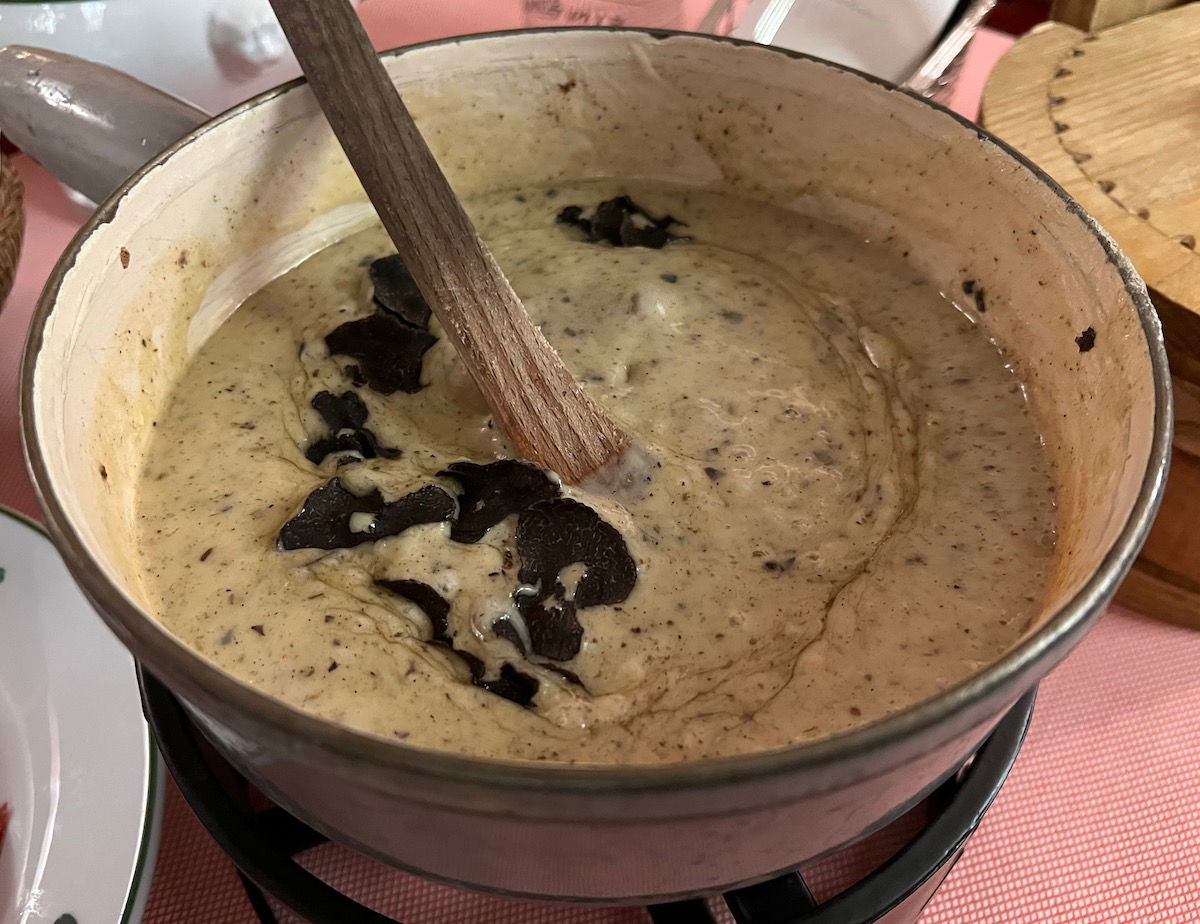 Of course fondue is ridiculously delicious, though it's also borderline sickening. We could barely finish half of the fondue, so we passed on dessert. Nonetheless they brought us some treats.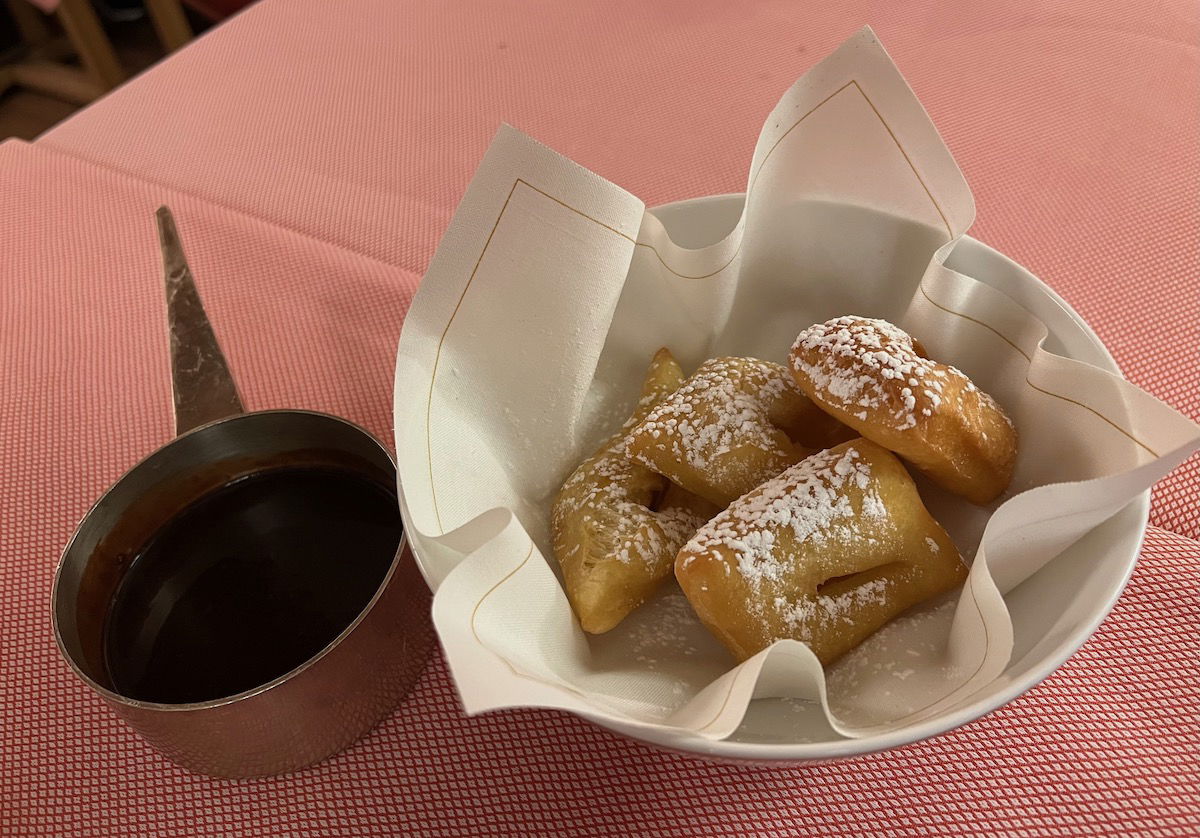 Les Airelles Courchevel Le Bar (drinks)
Le Bar is the most happening part of Les Airelles. It's open throughout the day, and serves everything from drinks to snacks. Each evening there's also live music, either in the form of a DJ or a singer. The entire bar area is just so cozy, with a fireplace and dim lighting. You can find the menu for the bar here.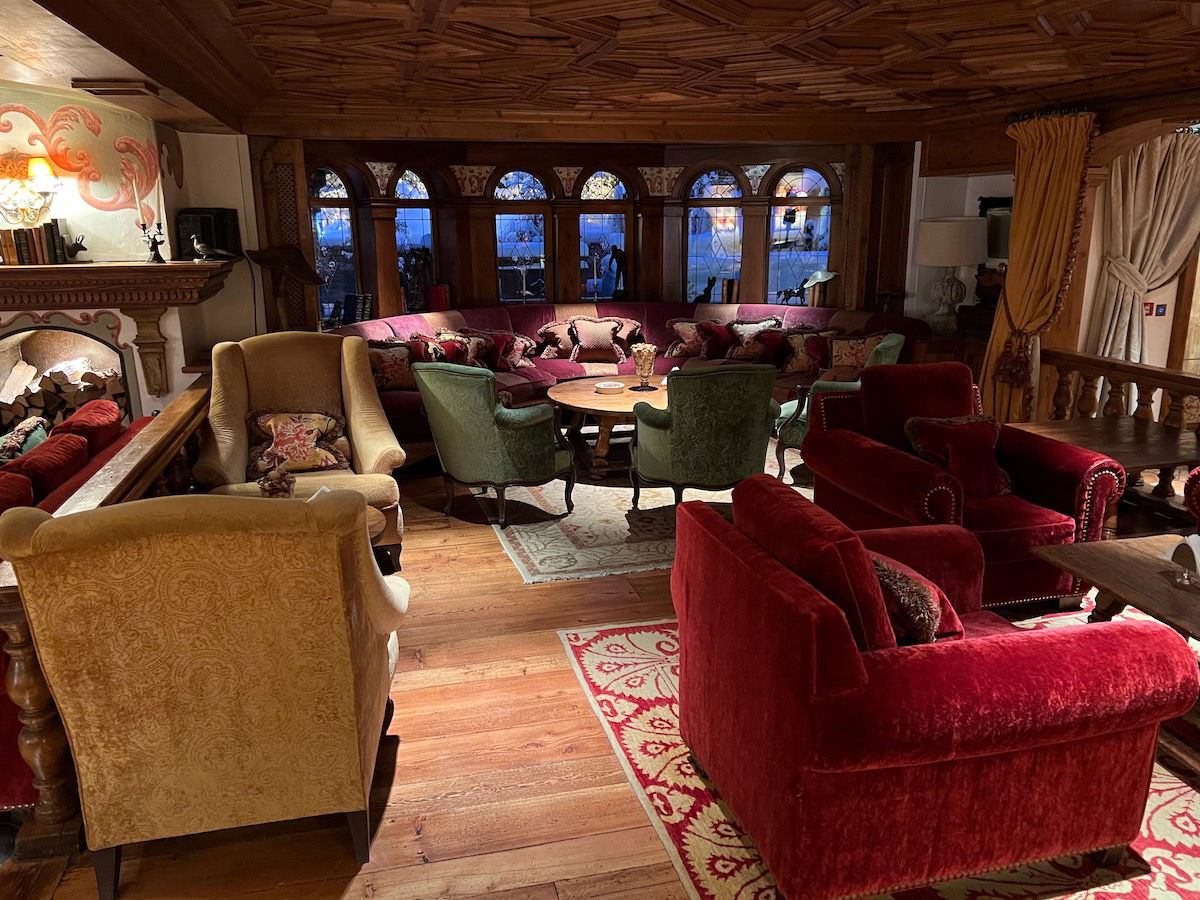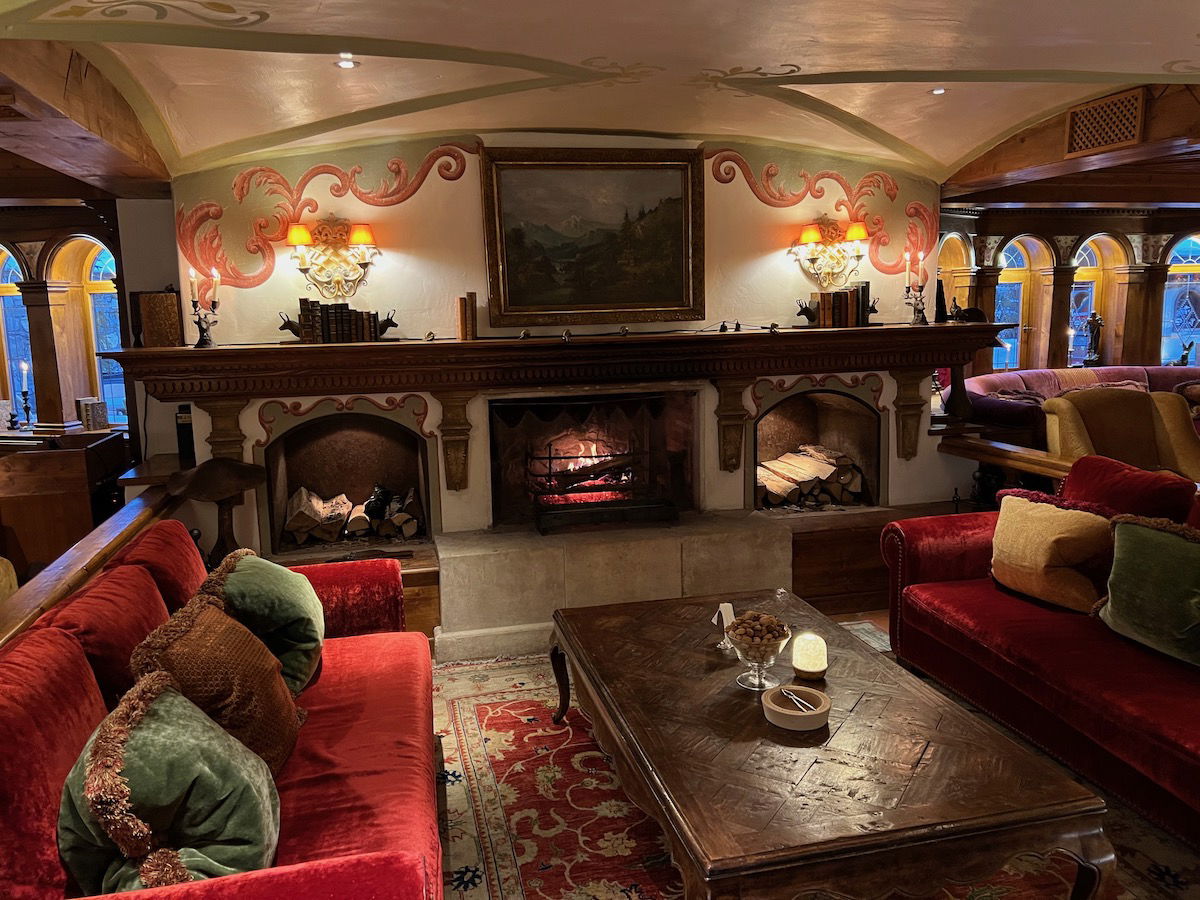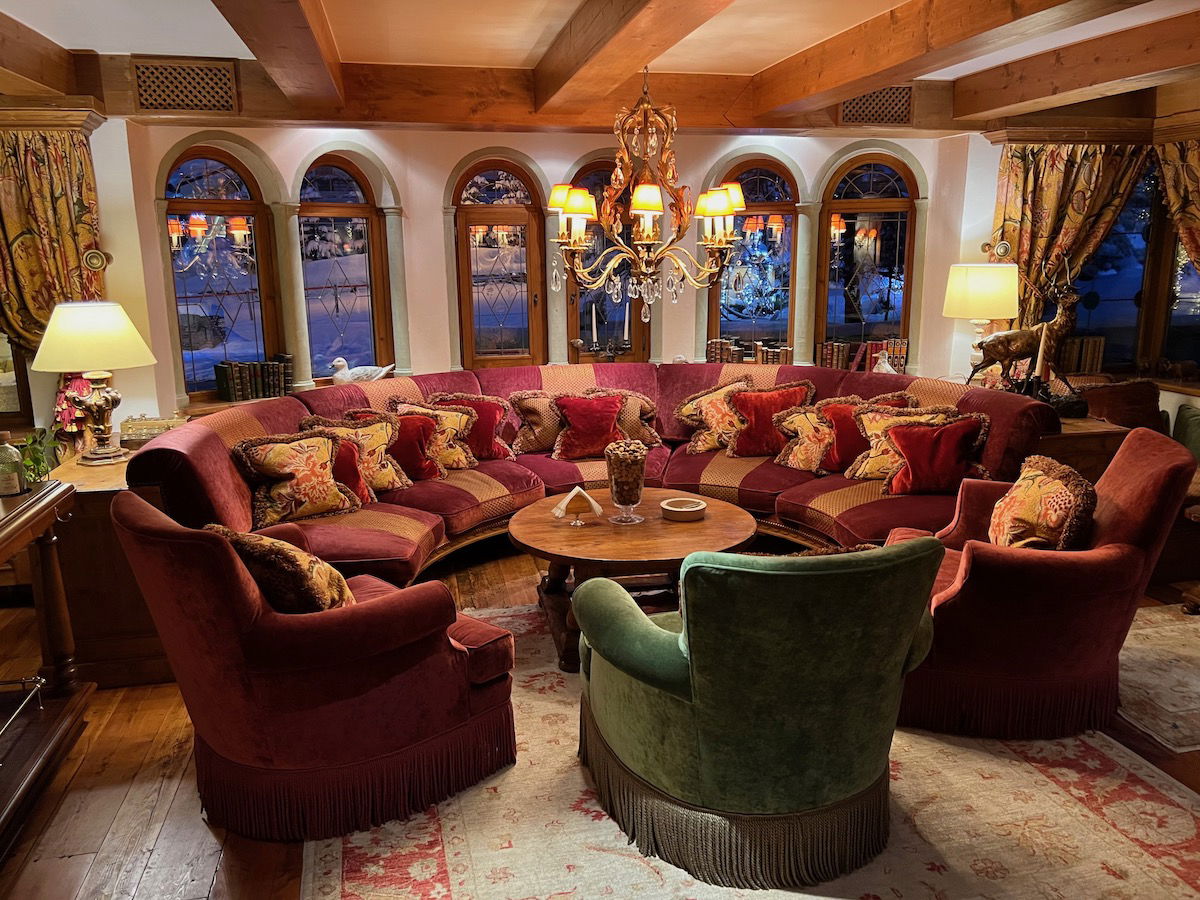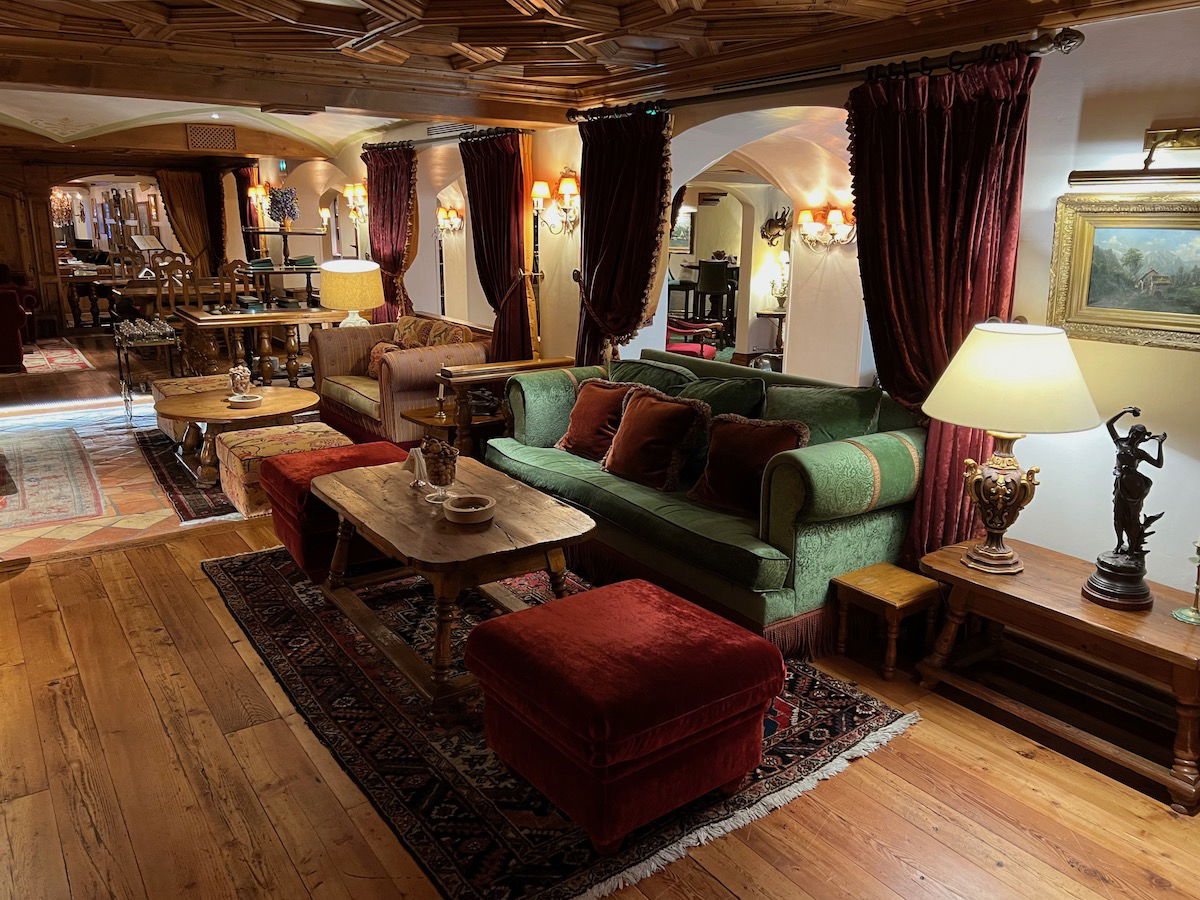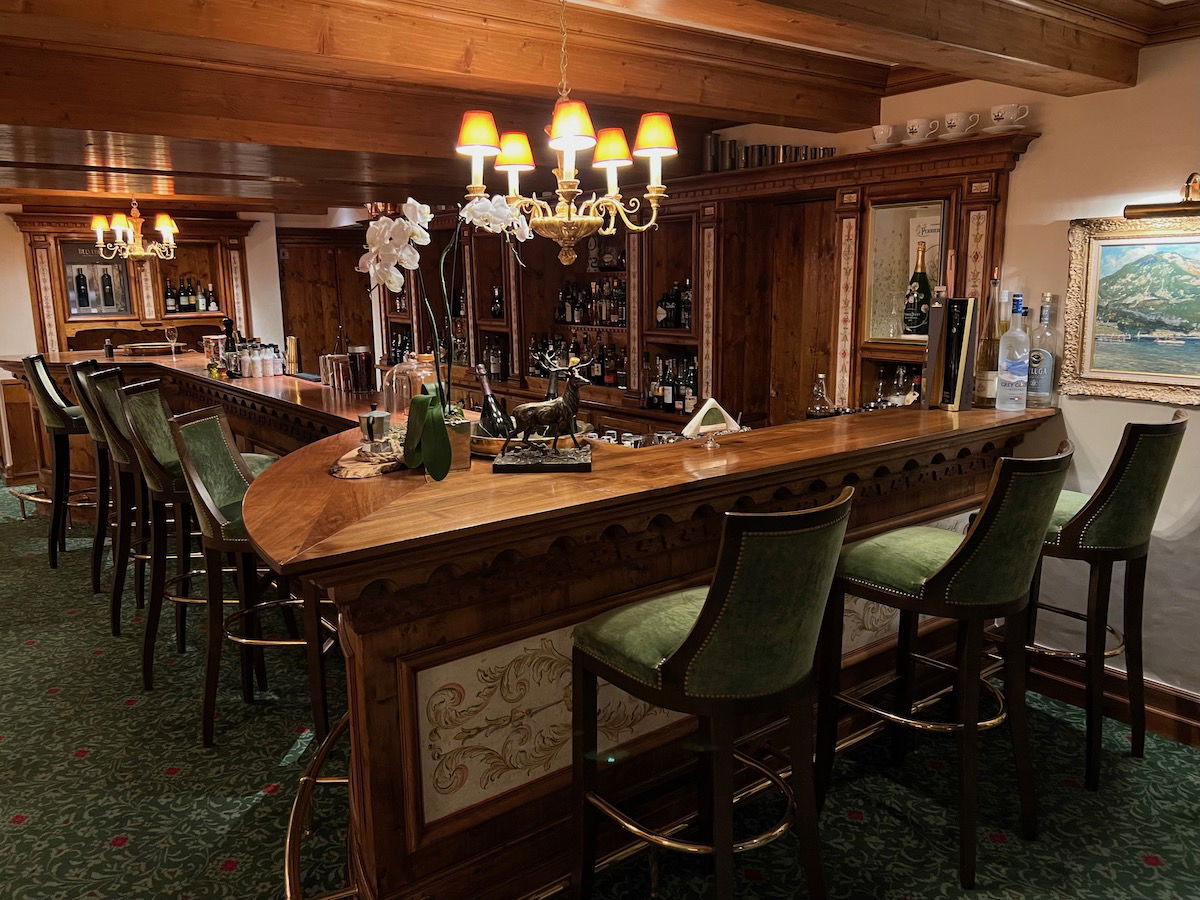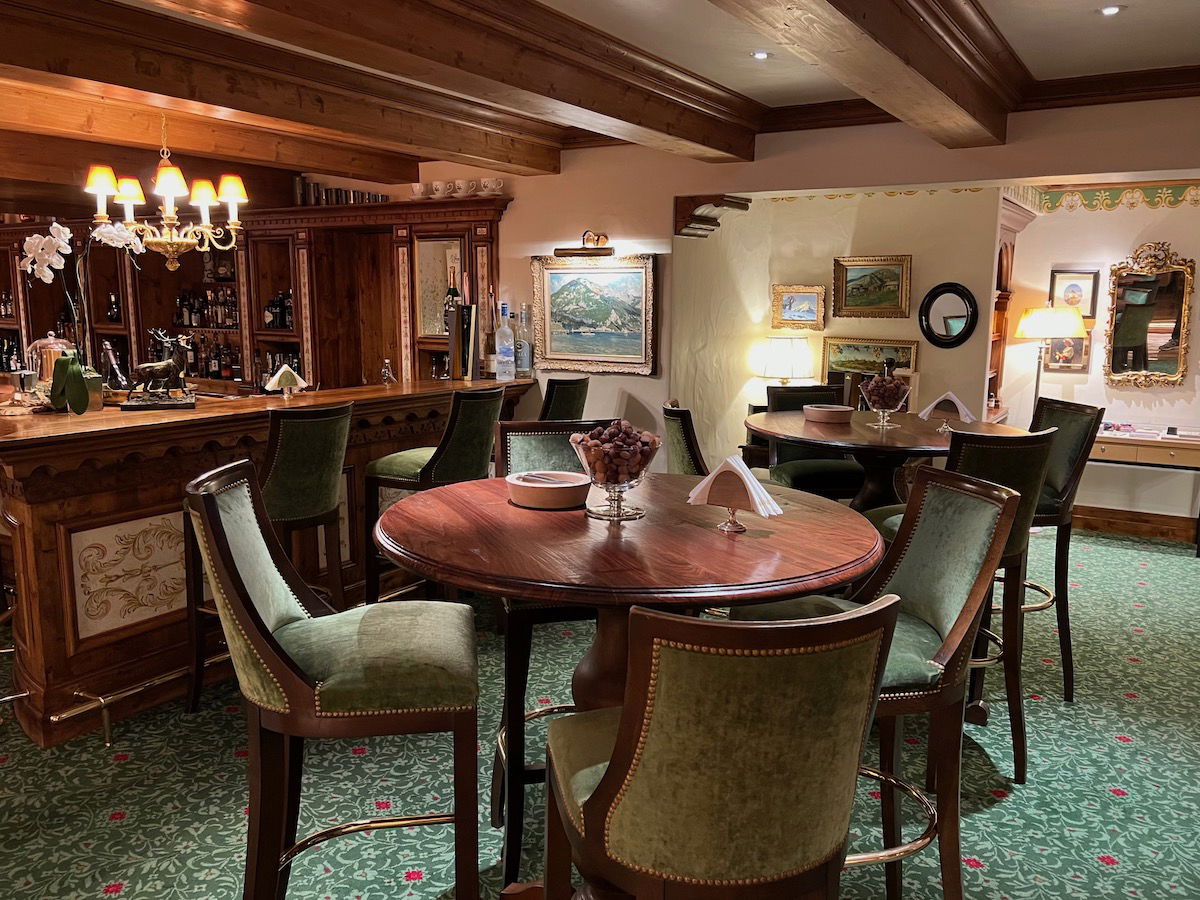 Drinks here are expensive, as you'd expect — most cocktails are roughly 35 Euro. At least the experience is incredible. First of all, whenever you order a drink, they bring you out a huge tray of nuts, plus a pizza. And if you finish a pizza, they'll bring you another one. It's kind of a problem, because by the time you have a drink here, you might have spoiled your appetite for dinner.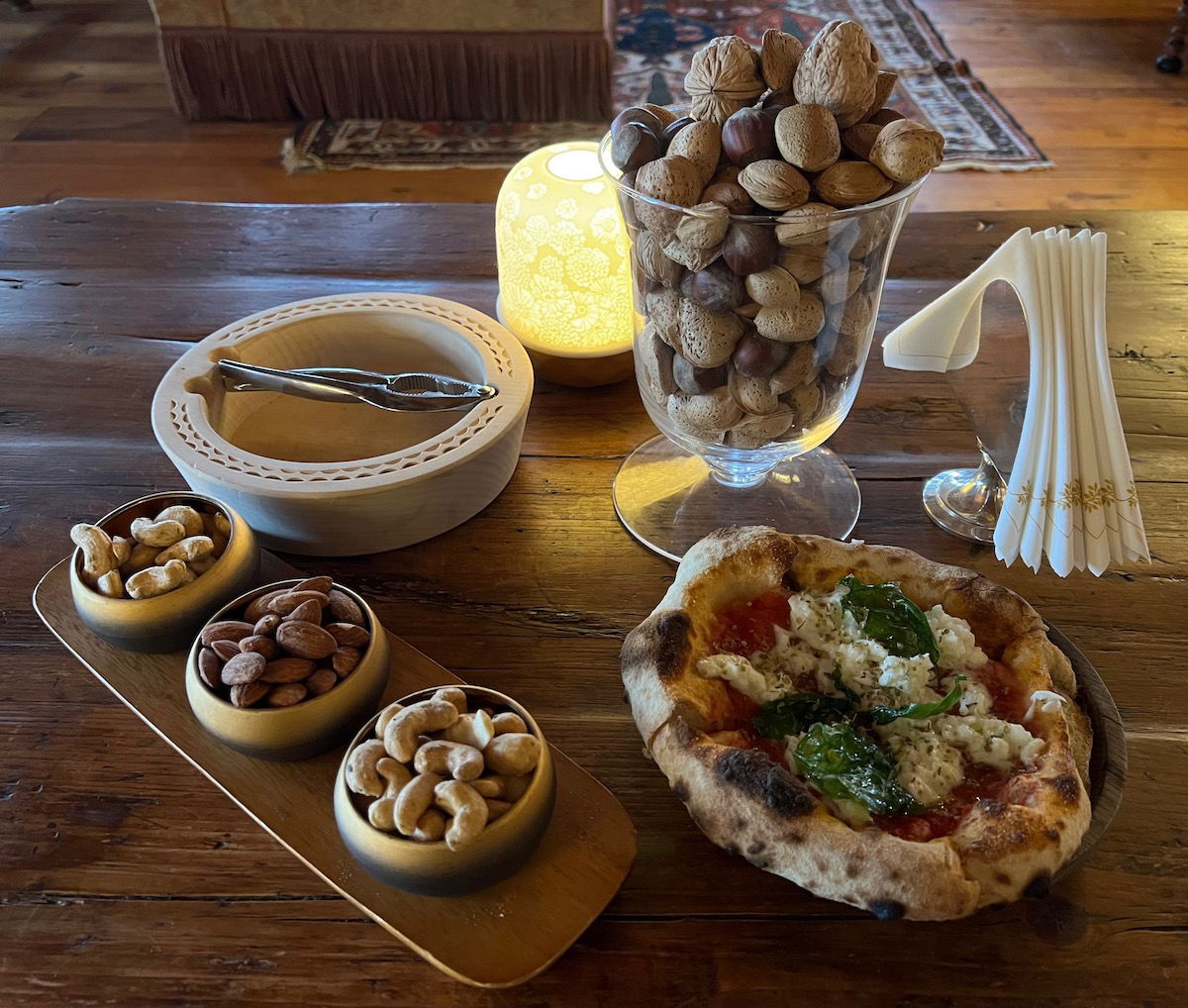 Beyond that, though, Les Airelles not only has excellent cocktails, but they're served in the most imaginative way I've seen anywhere.
For example, if you order a negroni, a glass will be brought out with an ice cube in it, and then the server also walks over with a book. The glass is placed down, then the book is opened, then a flask comes out of the book, and then the drink is poured from the flask.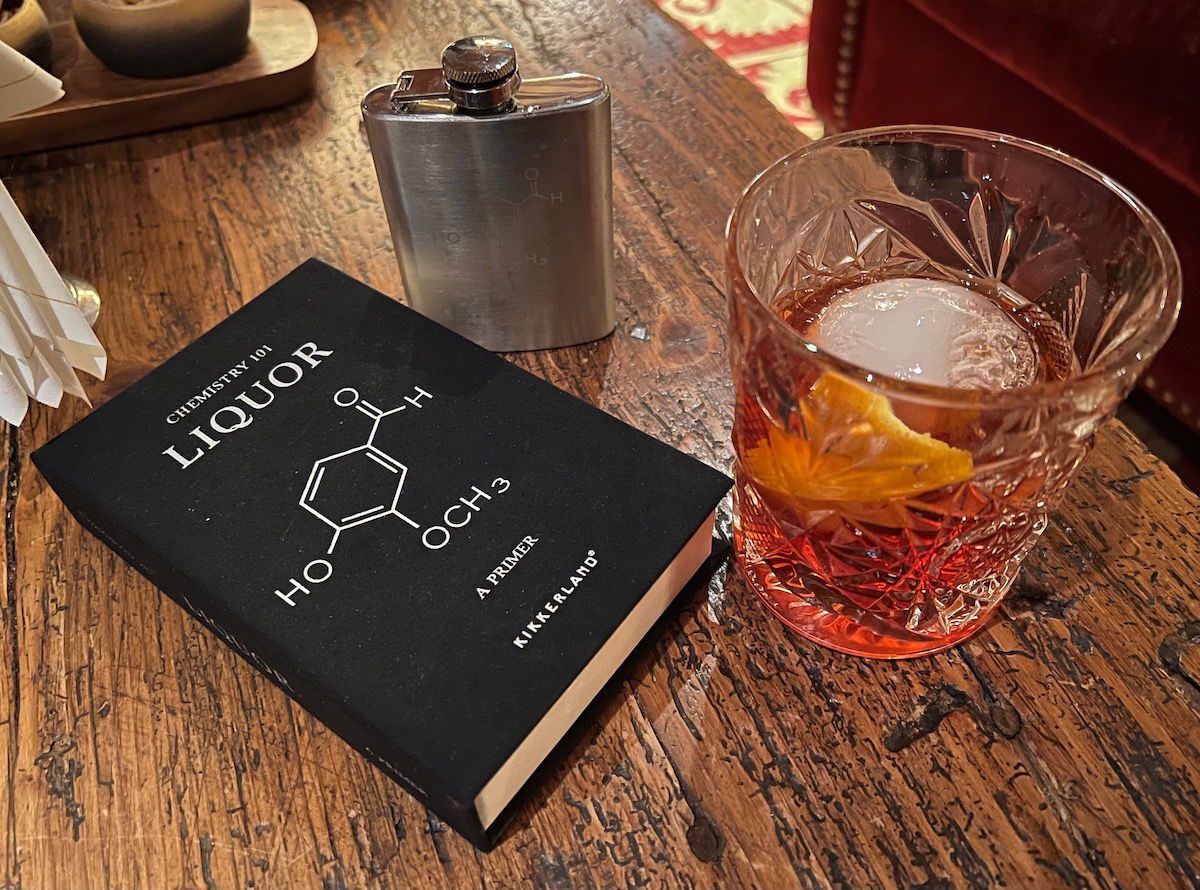 Then there are a variety of hot cocktails, which are basically made in front of your eyes. You're brought the below contraption, and initially there's just clear alcohol at the bottom. The flame then causes it to flow up to the top container, and then it flows back down, but it's a completely different color.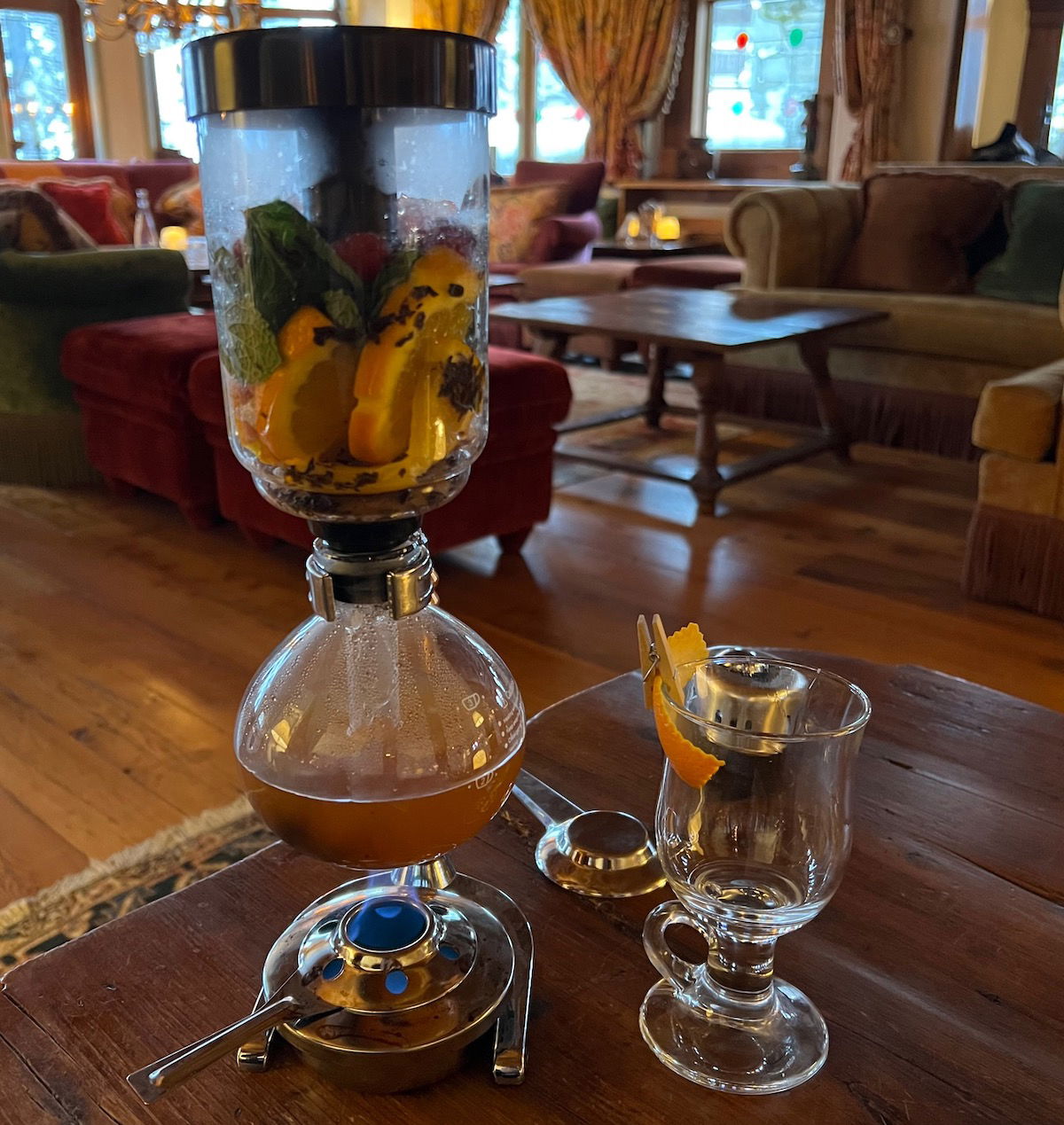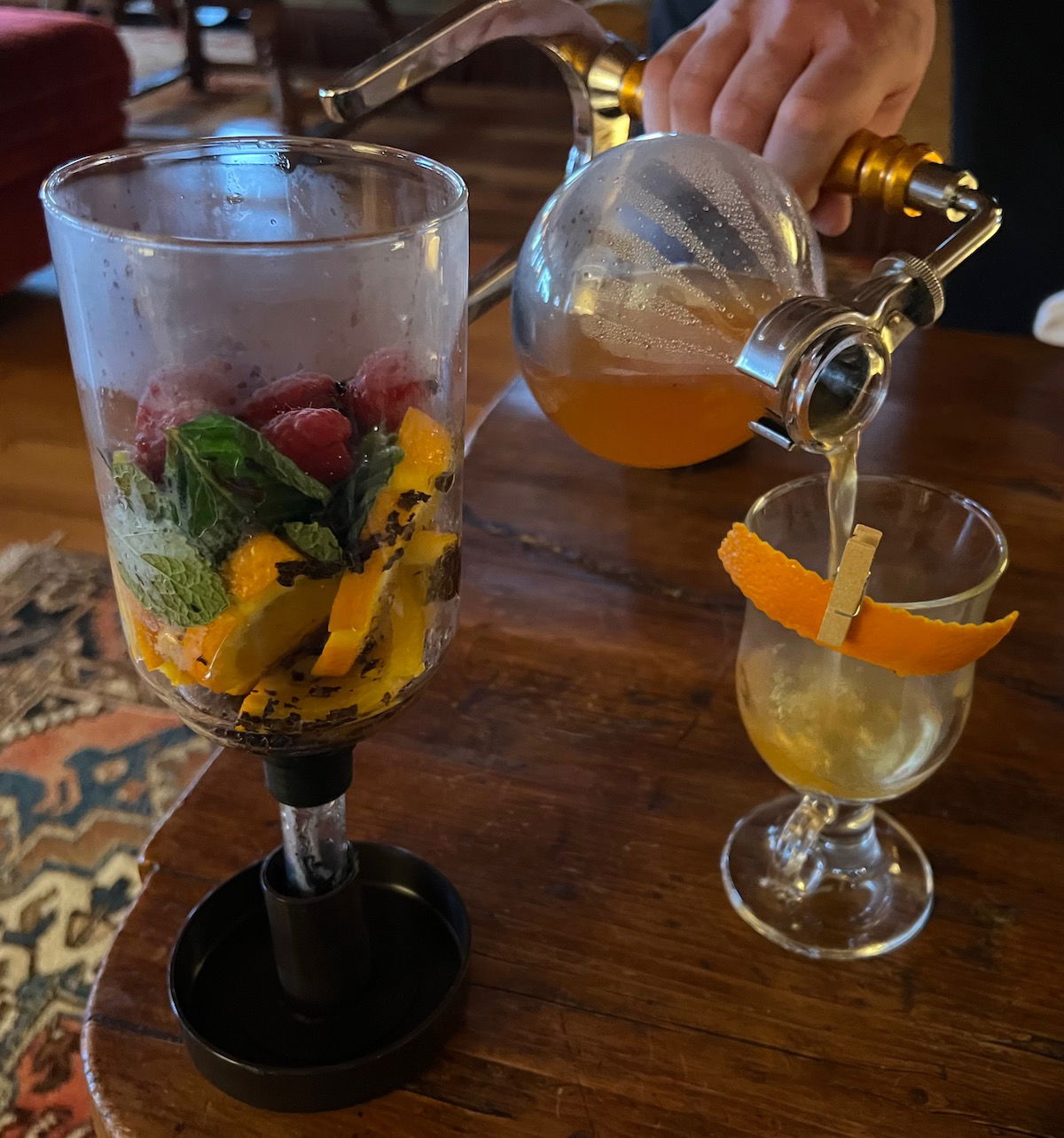 Other drinks are served with the below setup.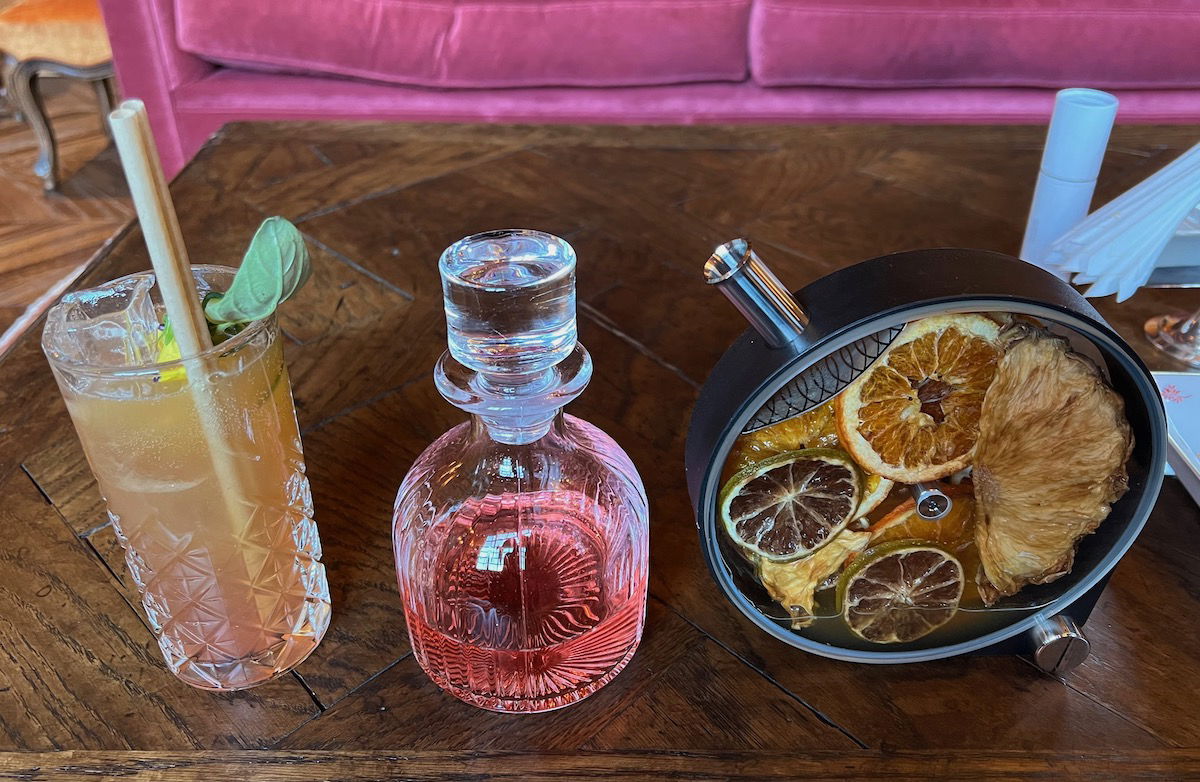 Then you have what might just be the most creative cocktail glass I've ever seen.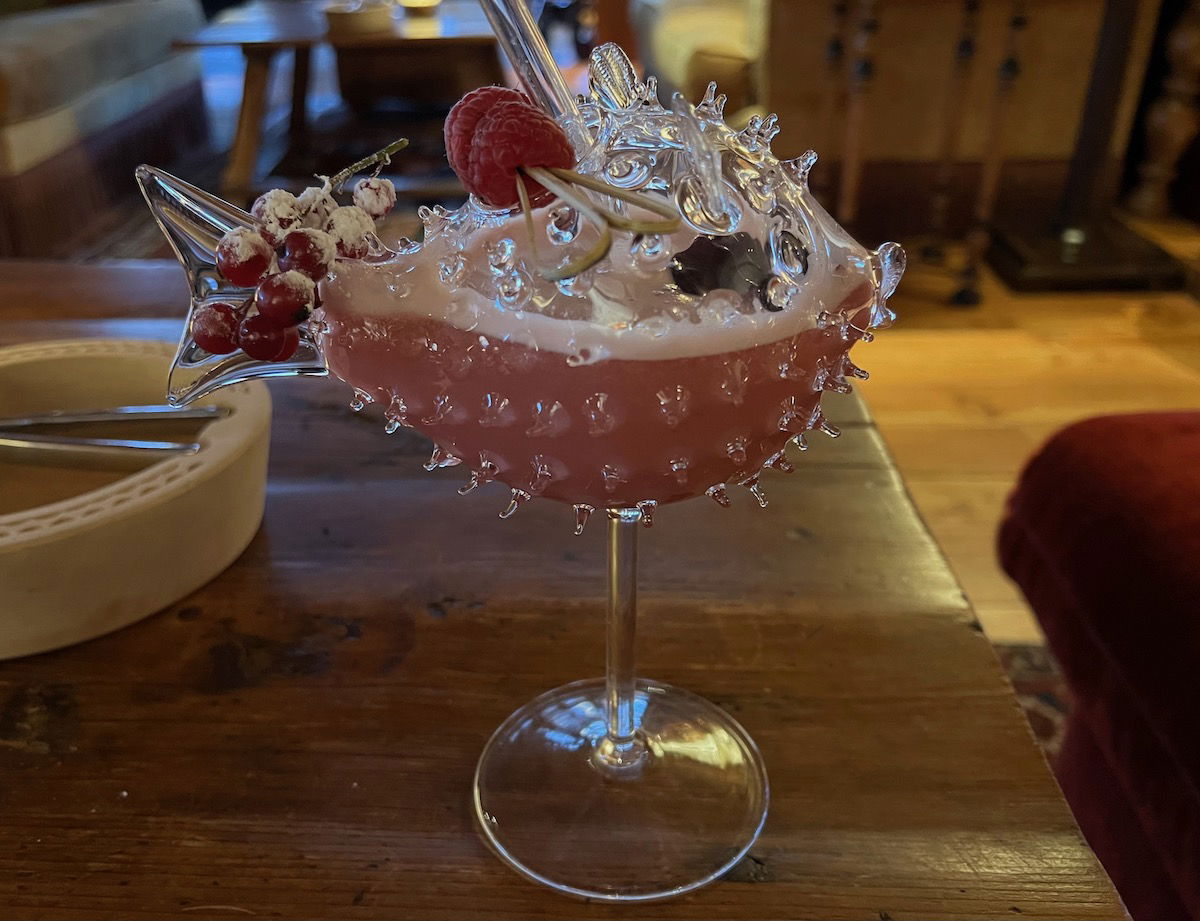 Other cocktails came with smoke…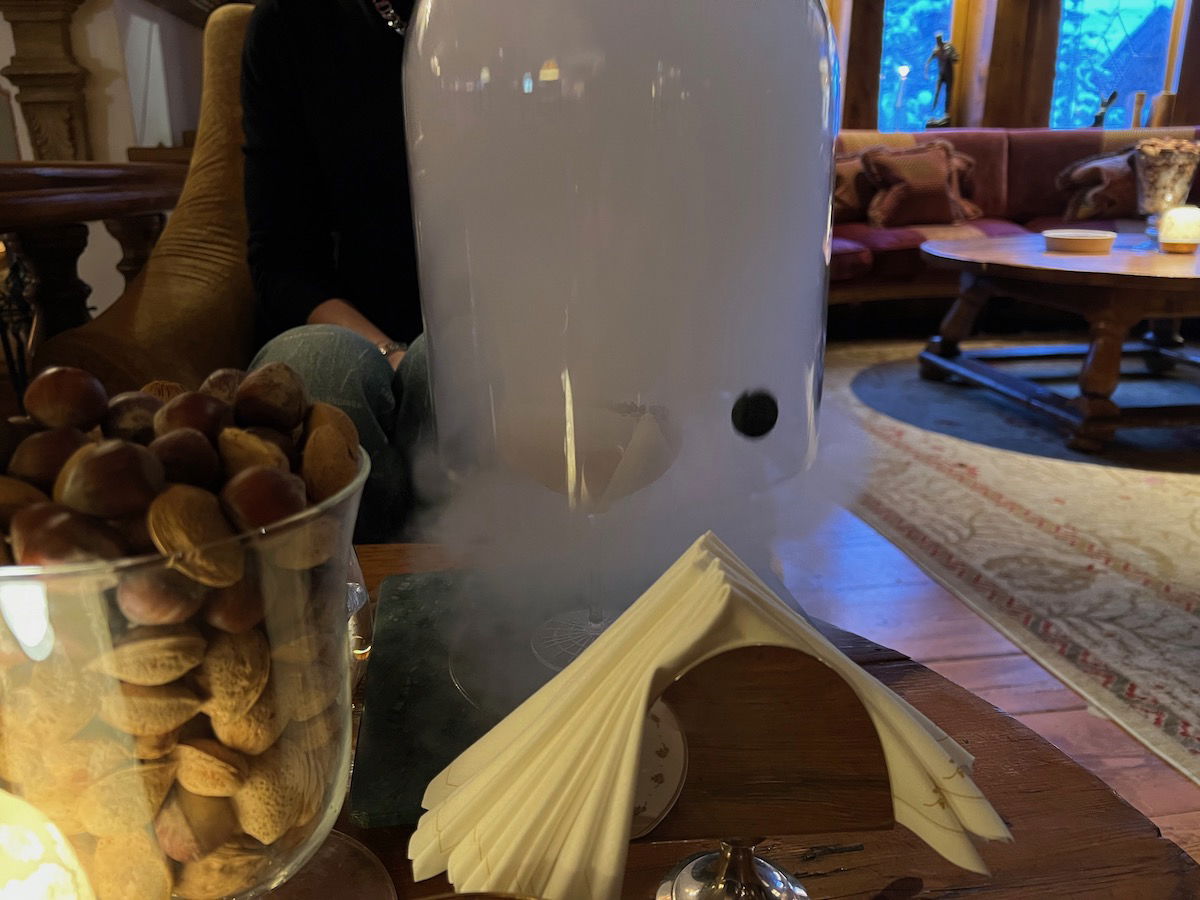 I don't make this statement lightly, but these are the best cocktails I've had anywhere in terms of taste and presentation.
Les Airelles Courchevel The Smokehouse (drinks)
The Smokehouse isn't a barbecue place (as you might assume based on the name), but rather is the hotel's smoking lounge. It's also located on the lobby level. You can sit here and have a cigar or cigarette, or you can just come in here if you want a quieter space and want to play a board game. I'm not a smoker, but enjoyed sitting in here and working sometimes, as it didn't even smell like smoke.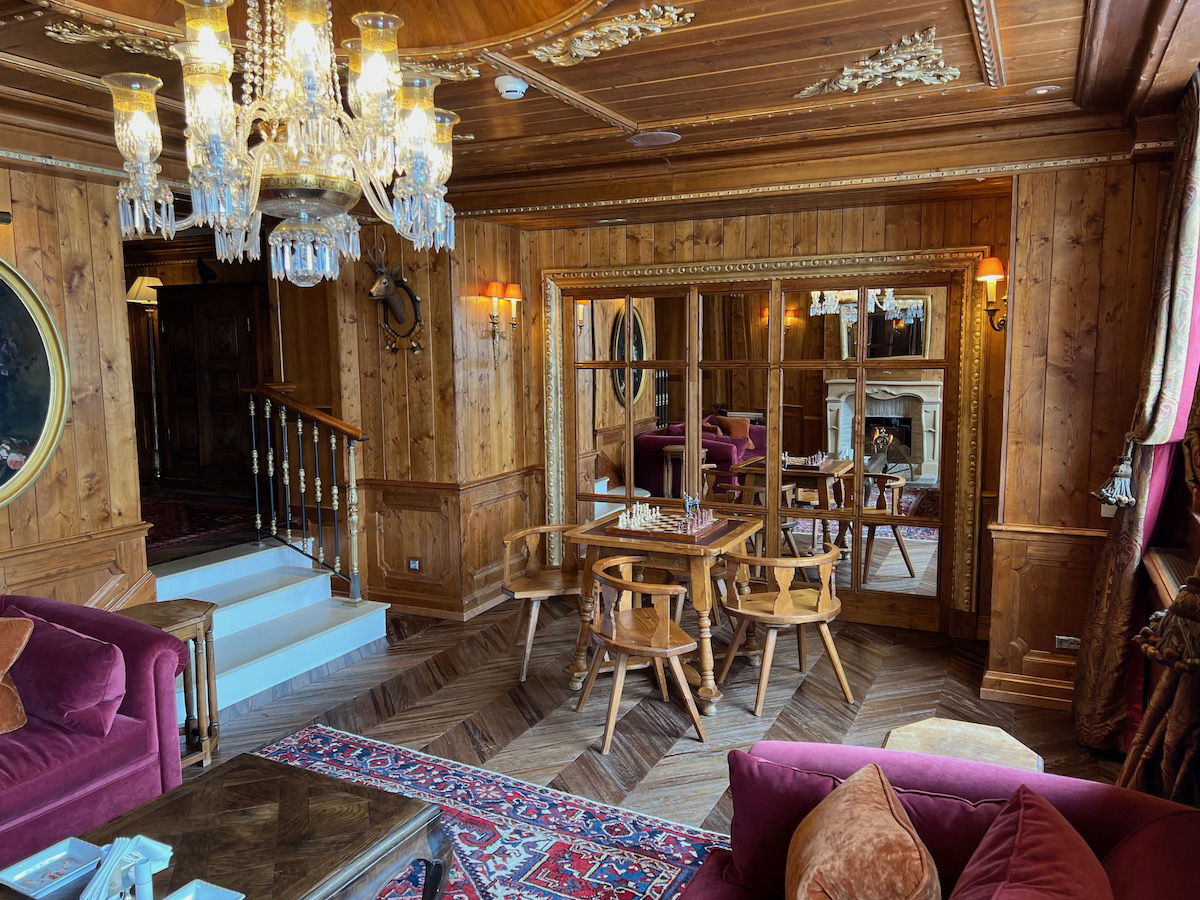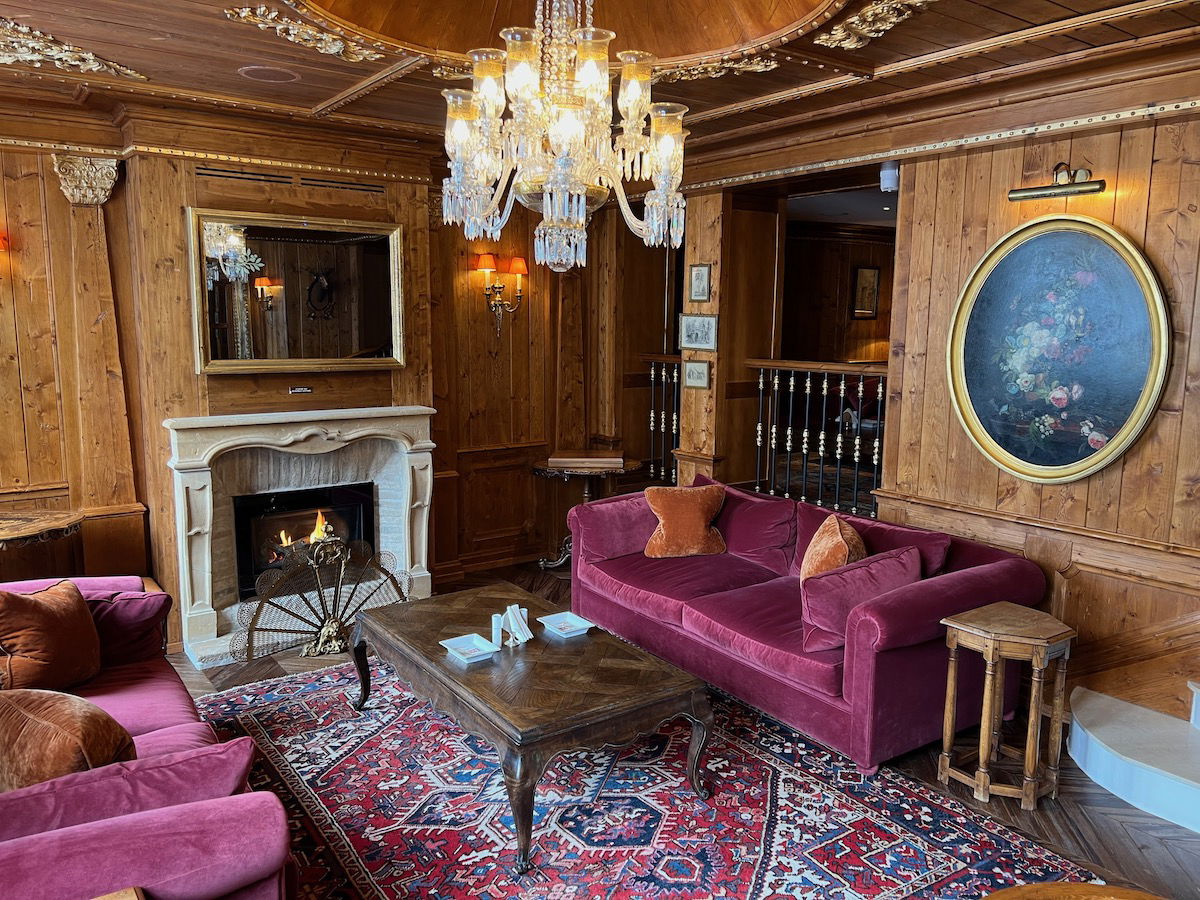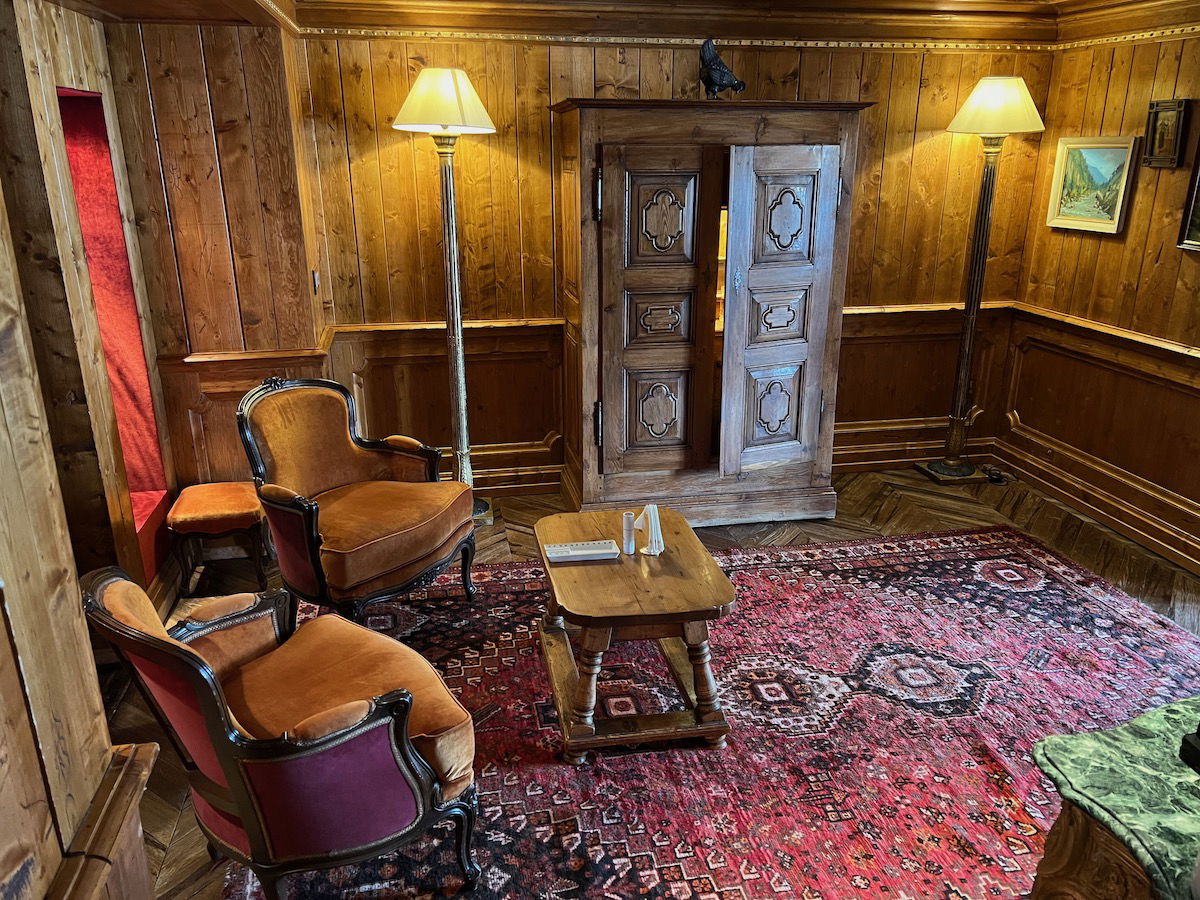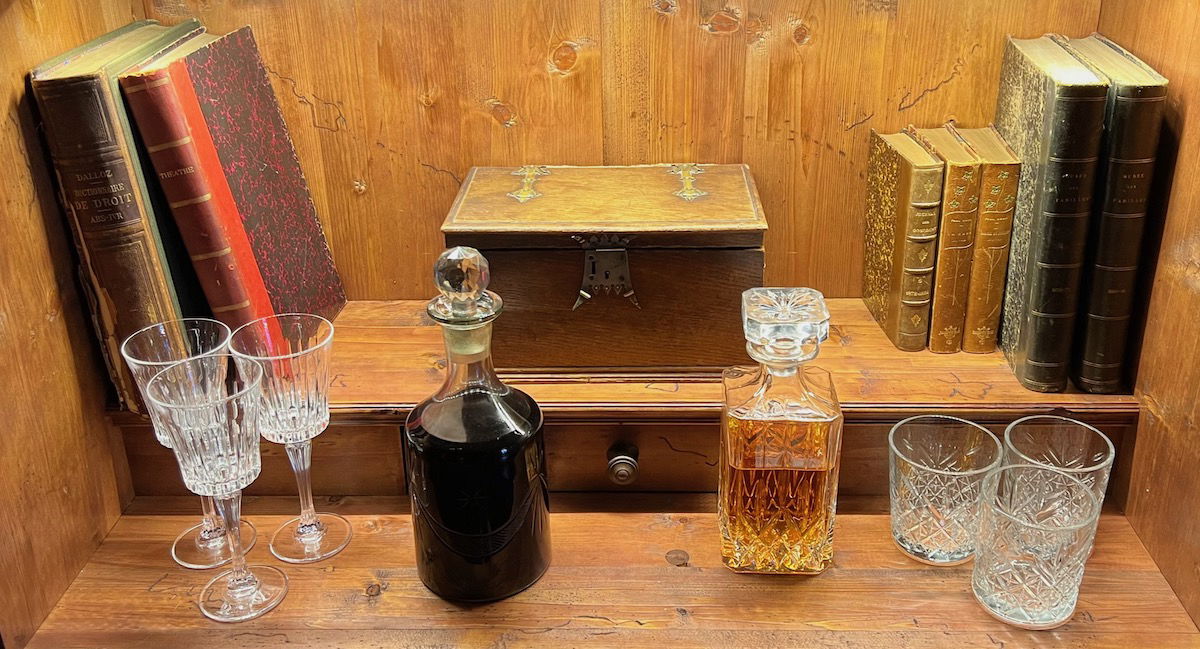 Dining around town in Courchevel
The half board package at Les Airelles also lets you dine at many restaurants in town, and it works the same as at the hotel — you just have the concierge make your reservation (which also helps with getting great tables), and then you won't be charged for any food that you order.
For example, we had lunch at Le Chalet de Pierres, located on the slopes.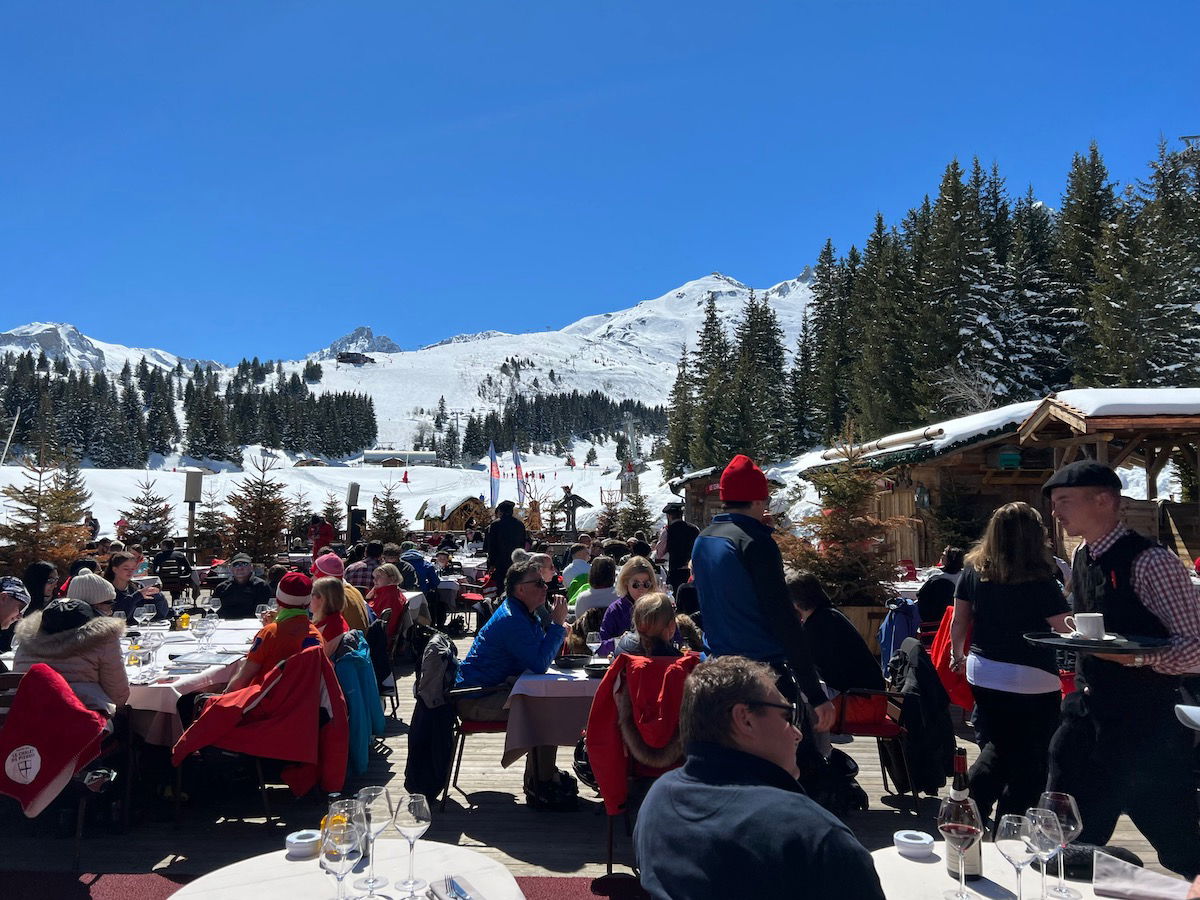 The Black truffle pizza, hummus, tuna steak with gnocchi, and truffle burger were all excellent.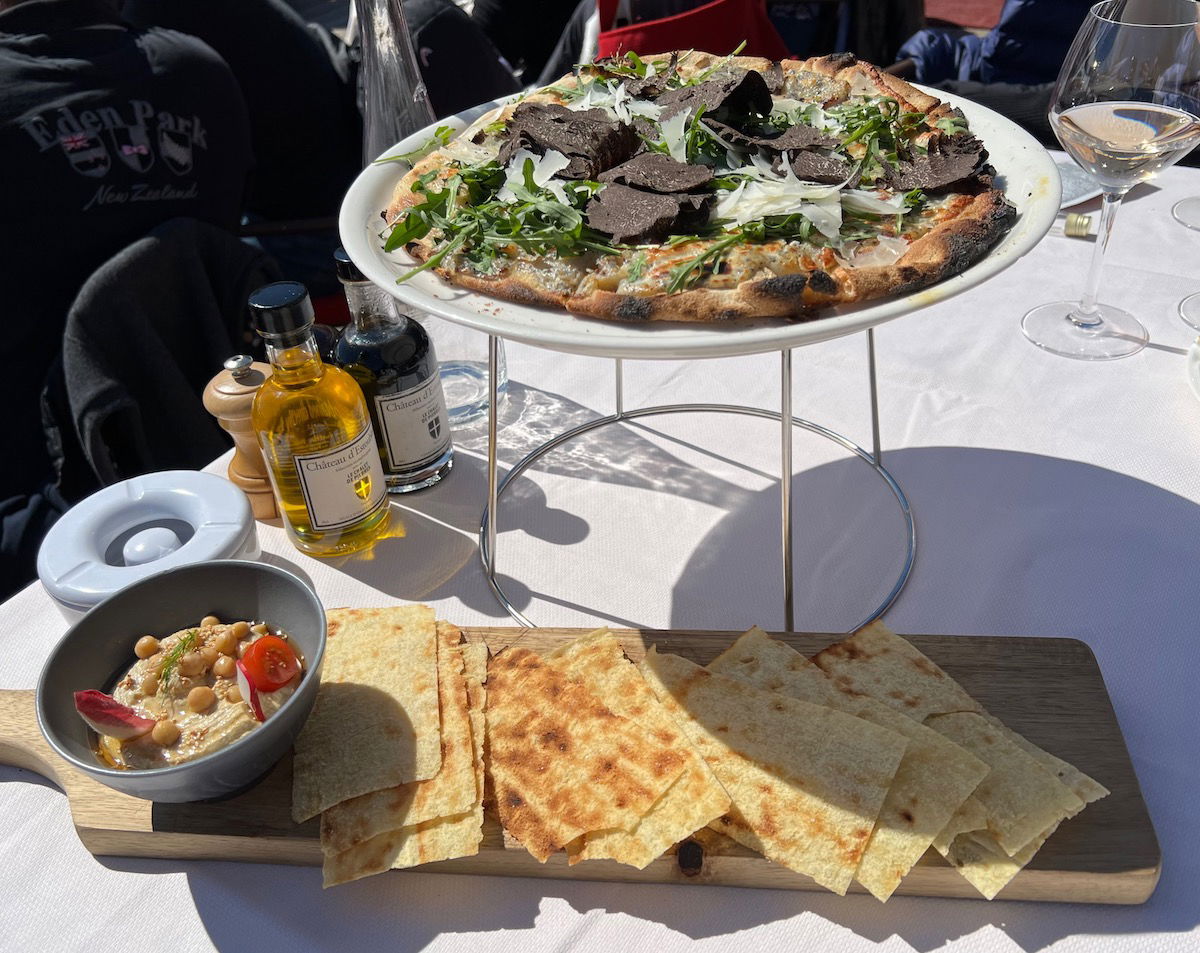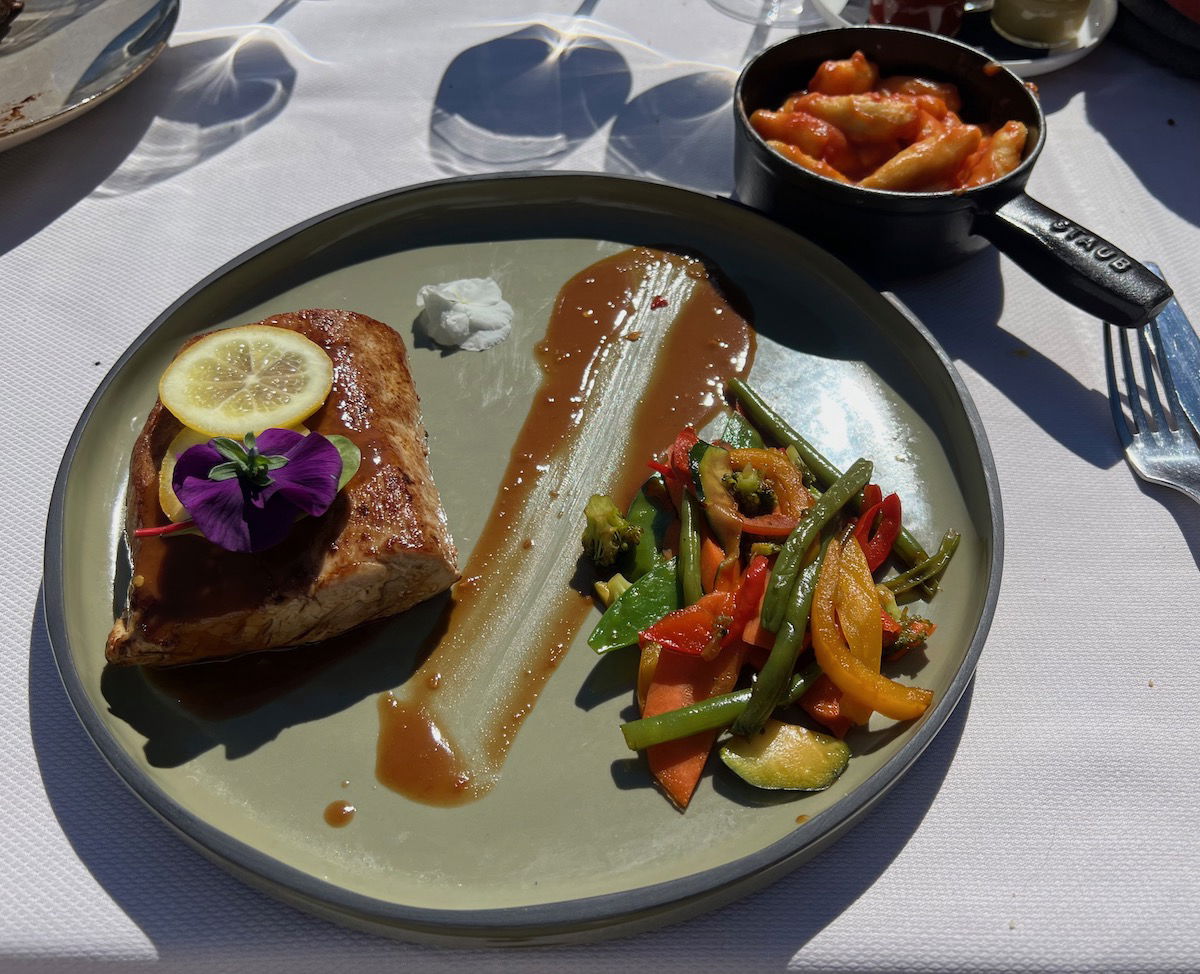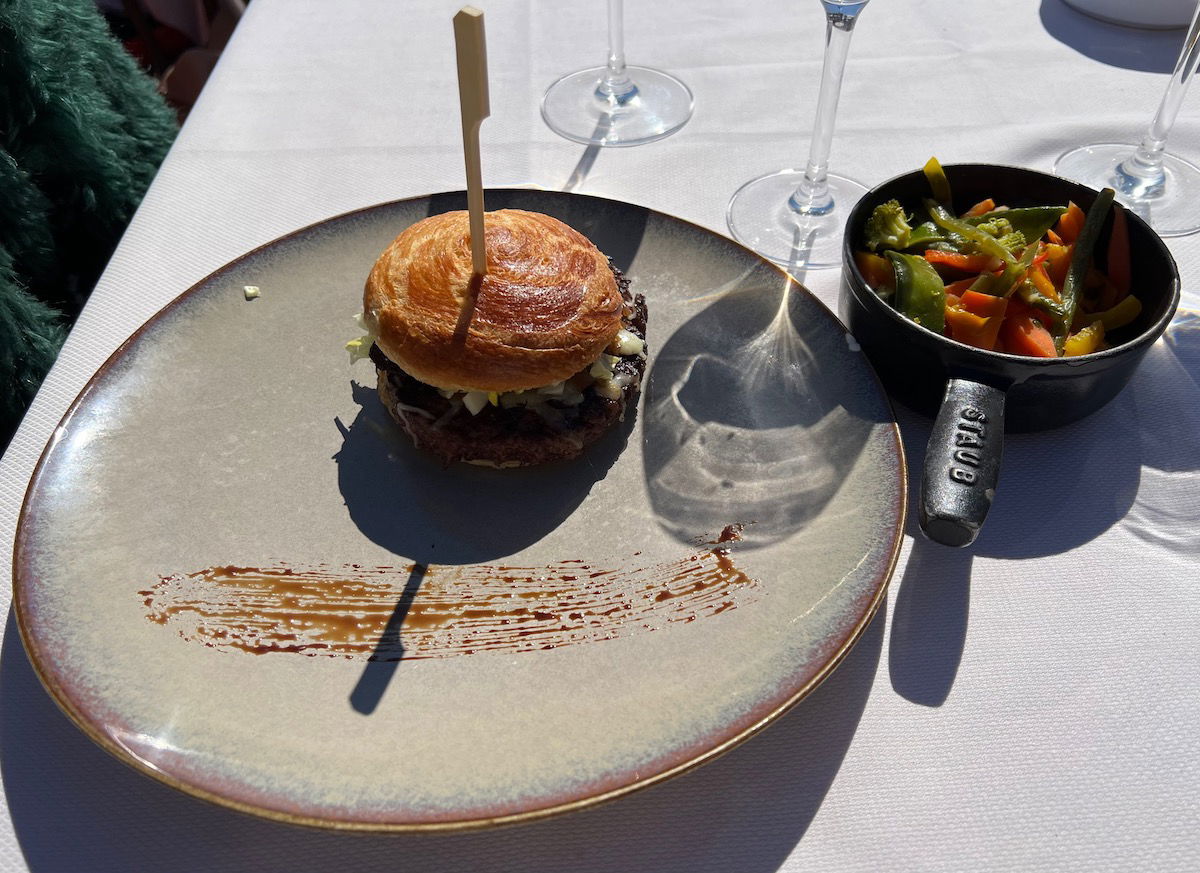 Then on top of that there's a dessert buffet, which is exactly what you need after a truffle pizza and truffle burger, right? 😉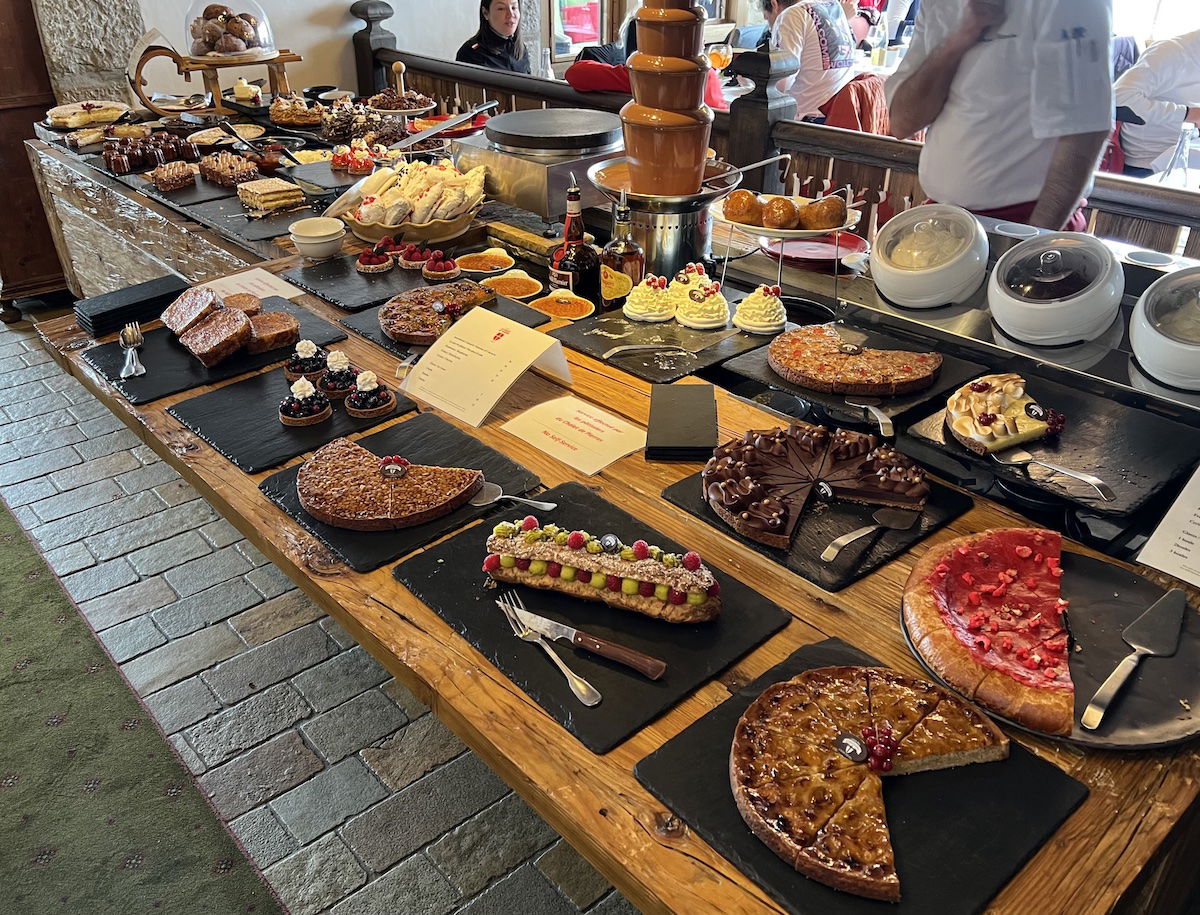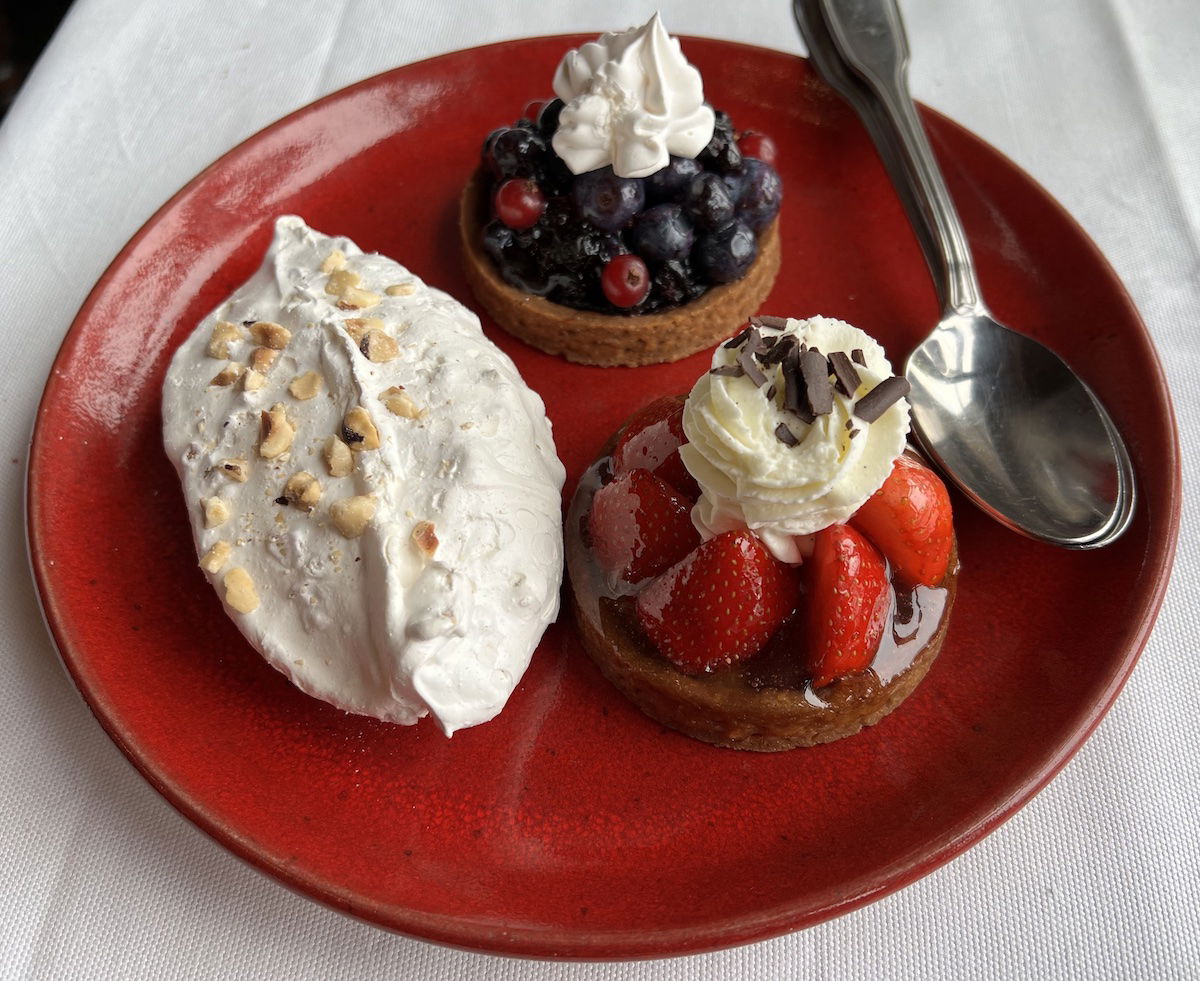 One evening we also had dinner at Nama, which is the Japanese restaurant at the Aman. I thought the restaurant was good, but this was probably the least exciting of the meals we had.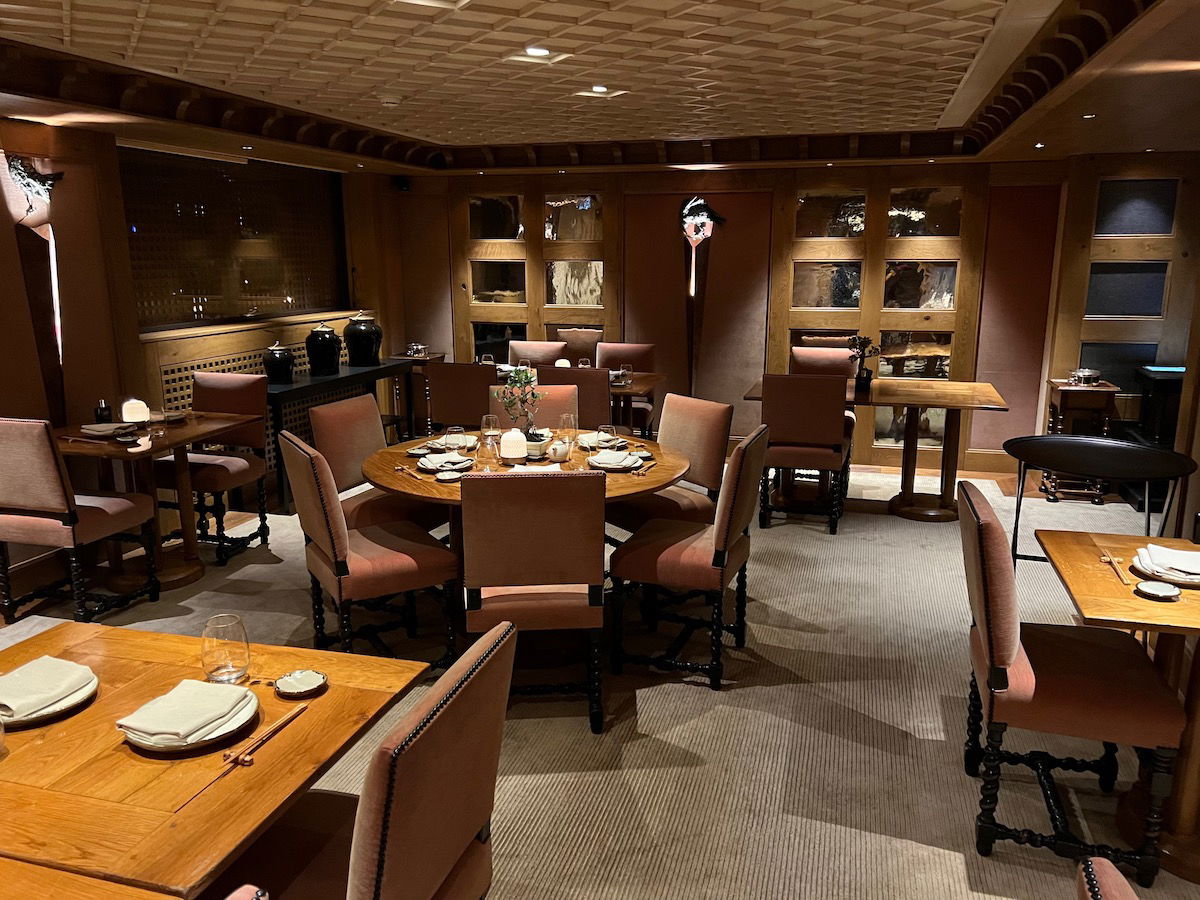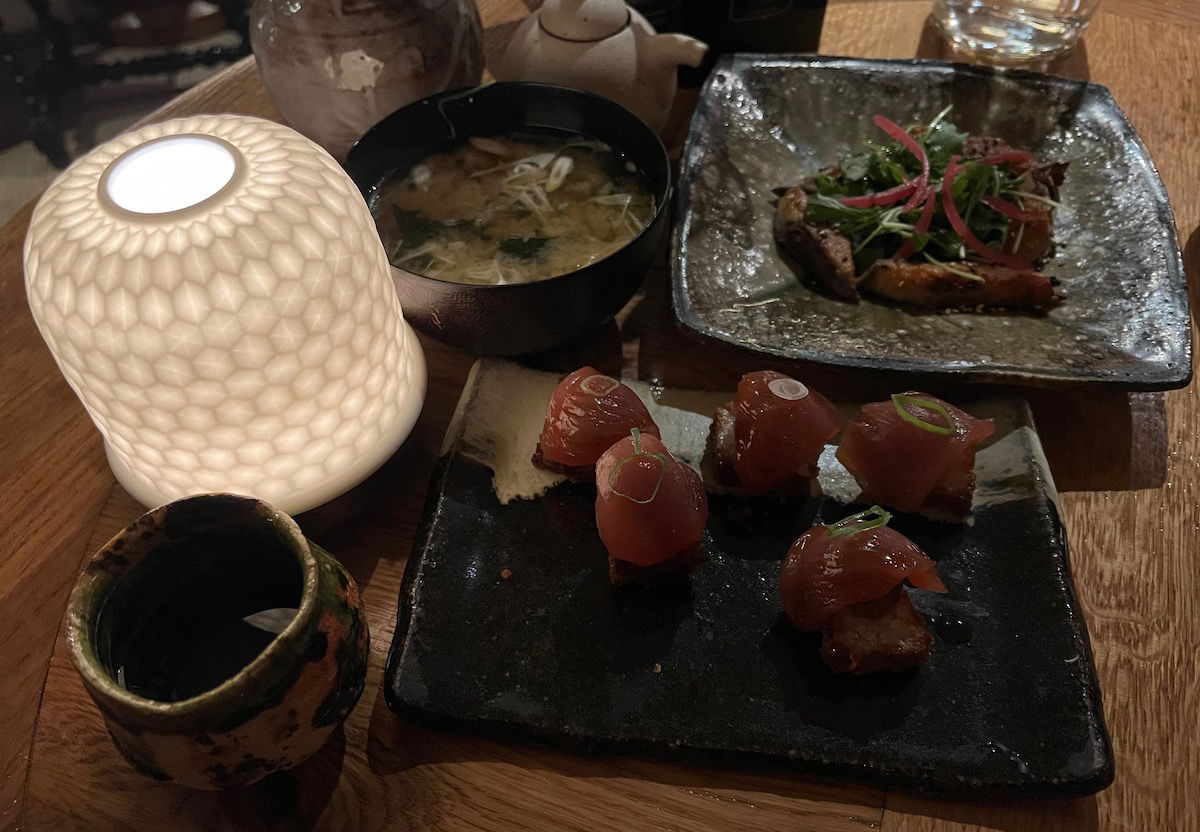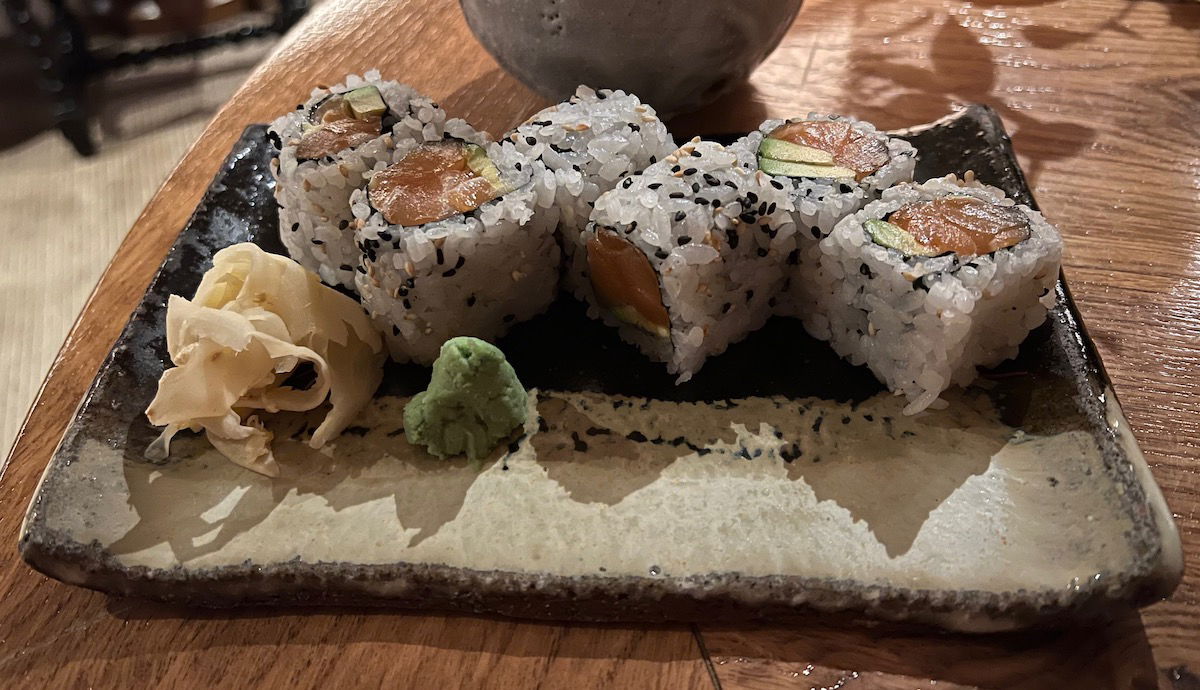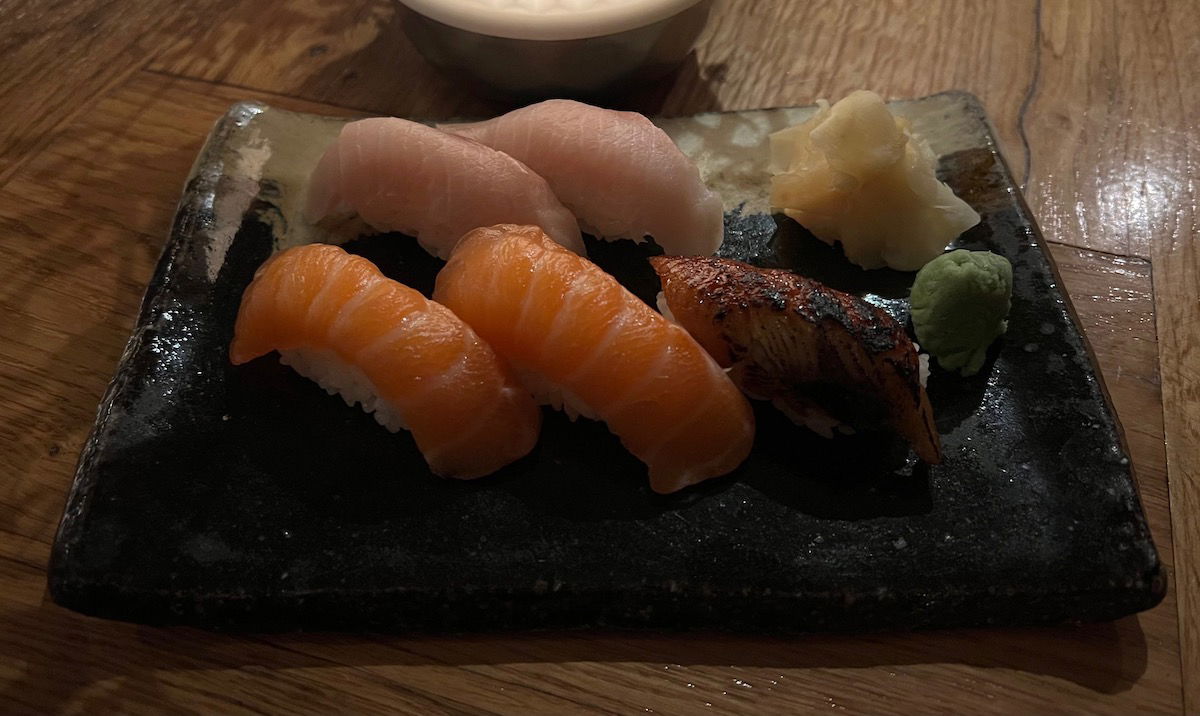 Bottom line
Les Airelles Courchevel is one of the most memorable hotels I've ever stayed at. Courchevel has some of the best skiing in the world, and Les Airelles is considered by many to be the best hotel there (though there's a lot of competition). The hotel has gorgeous design, flawless service, and some of the best food & drinks I've had anywhere. The Rolls-Royce house cars that whisk you around town don't hurt either.
Obviously this stay wasn't cheap, though I have to say that I thought the value was great compared to what you'd get for this price in the United States. In the United States, there are 300+ room resorts in ski destinations and in Hawaii that are retailing for $2,000+ per night for a base room. By comparison Les Airelles offers value, with half board, transportation around town, outrageously attentive service, and so much more.
I'm happy we visited at the end of the season, as Courchevel was definitely quieter, and it also meant the rate was a bit lower, we got an upgrade, etc. We also lucked out with the weather, as it couldn't have been better.
If you're a skier (or apres-skier) and love a great boutique hotel with unbelievably good service (and don't mind the price), visiting Les Airelles is a must.