After a couple of fun nights at the Bulgari Hotel Milan, we were off to Courchevel, France. The easiest way to get there was to take the train from Milan, Italy, to Chambery, France, and then to take a car service from there.
In this case we took Trenitalia executive class, and oh my gosh this was by far my best train experience ever. This was every bit as enjoyable as a great international first class flight, minus the $200 champagne and caviar. 😉 But seriously, I'm going to make a point of seeking out this experience in the future, because it was just so fun.
Booking Trenitalia executive class tickets
The train ride from Milan to Chambery takes around 3.5 hours, and there are two daily frequencies. This is part of the Milan to Paris train route (which takes around seven hours), and Chambery is roughly the halfway point.
There are a variety of pricing options (prices in the screenshots below are for two people):
You can book the standard cabin for 45 Euro per person
You can book the business cabin for 69 Euro per person
You can book the executive cabin for 145 Euro per person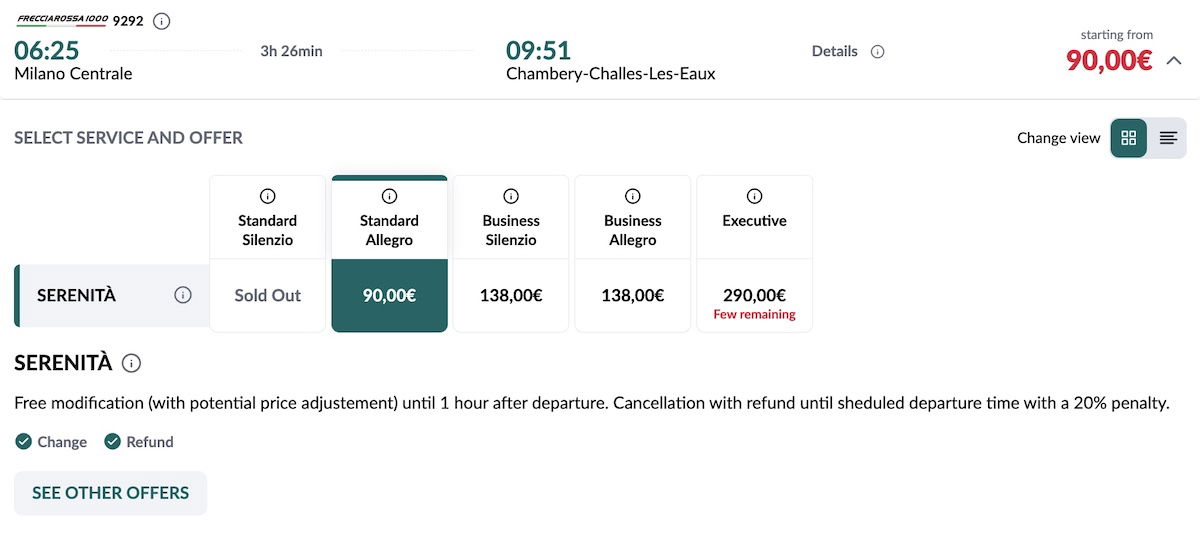 Obviously executive class is a lot more expensive than business class, but the experience is also totally different. Rather than being in a cabin with dozens of other people, you're instead in a cabin with a total of just 10 seats (and a conference room!), with a dedicated attendant, and unlimited food & drinks.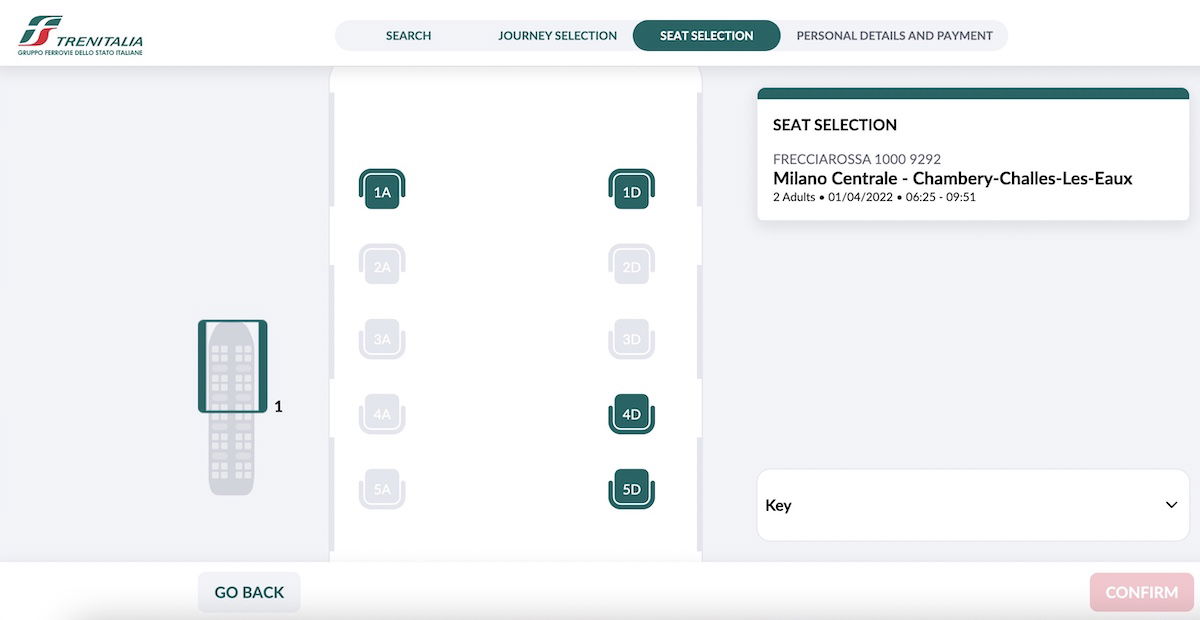 Milan central train station & lounge
Our train was departing from Milano Centrale (Milan's main train station) at 6:25AM. We remembered how huge the station was on arrival from Venice, so arrived unnecessarily early, at around 5:45AM. Milan's train station is an architectural masterpiece.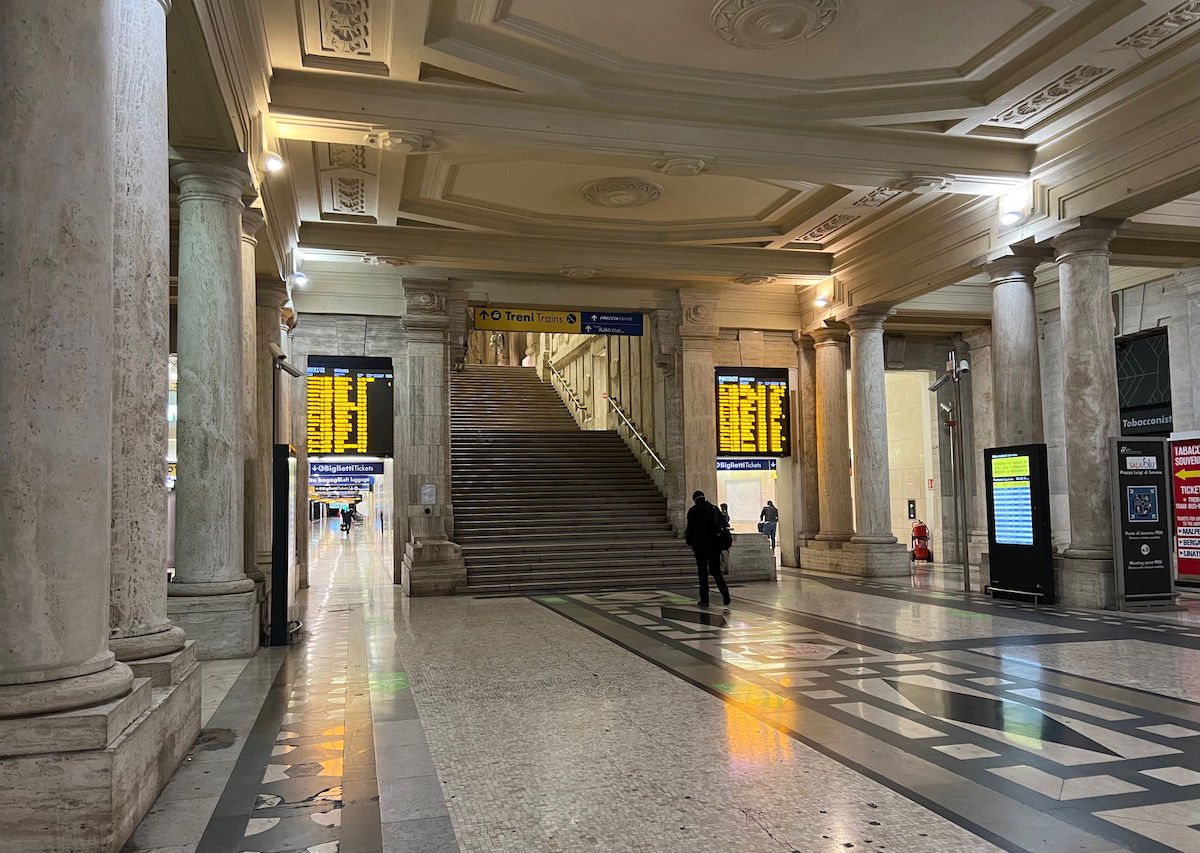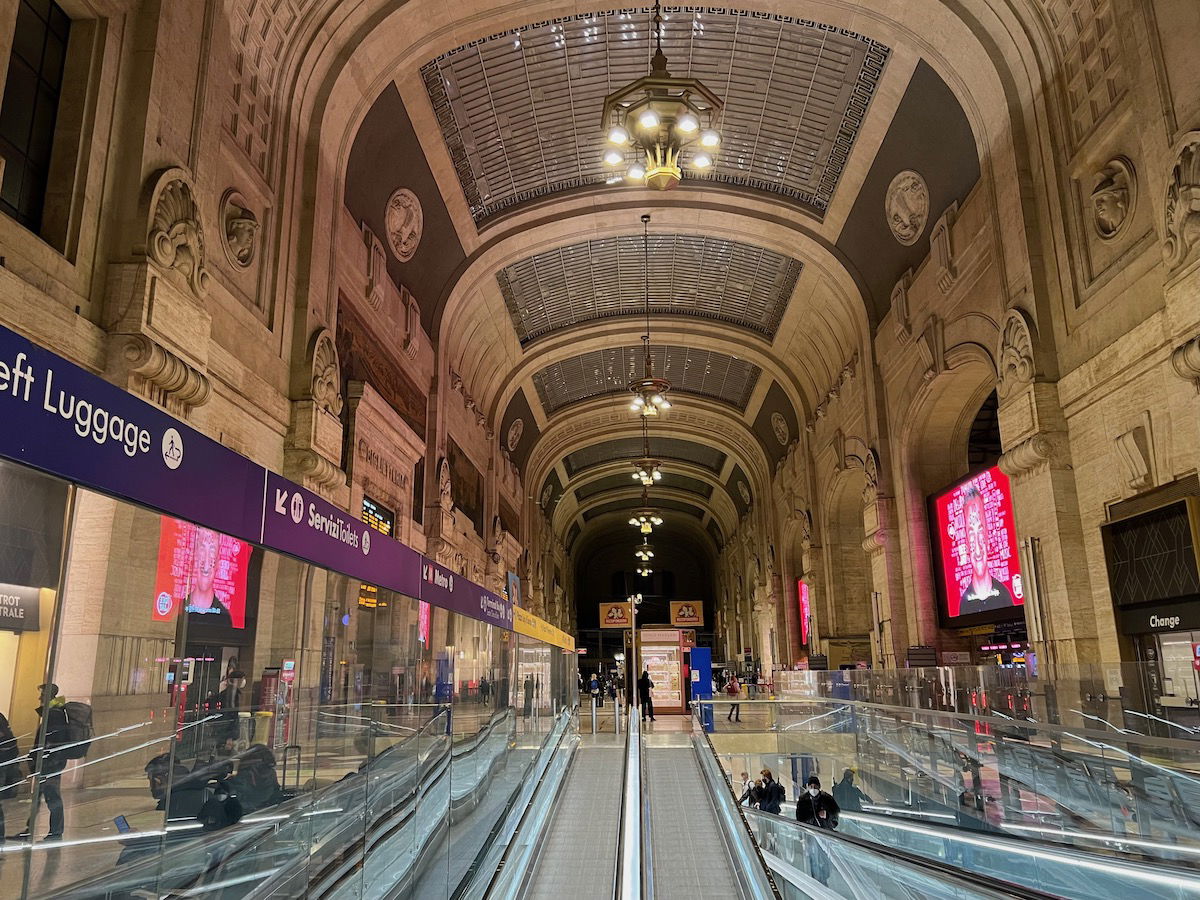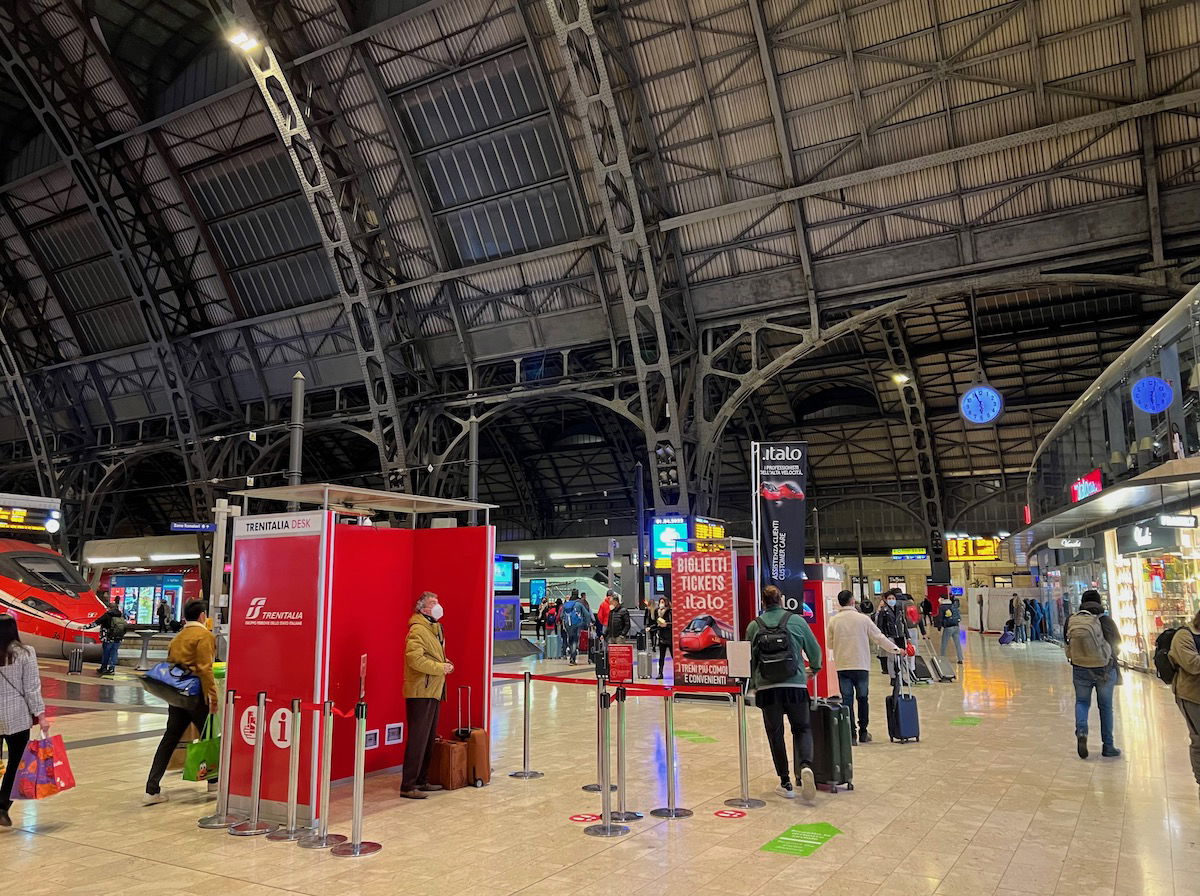 We headed up to the departures level, which first required going through a temperature check. Unfortunately the track for our train wasn't yet listed.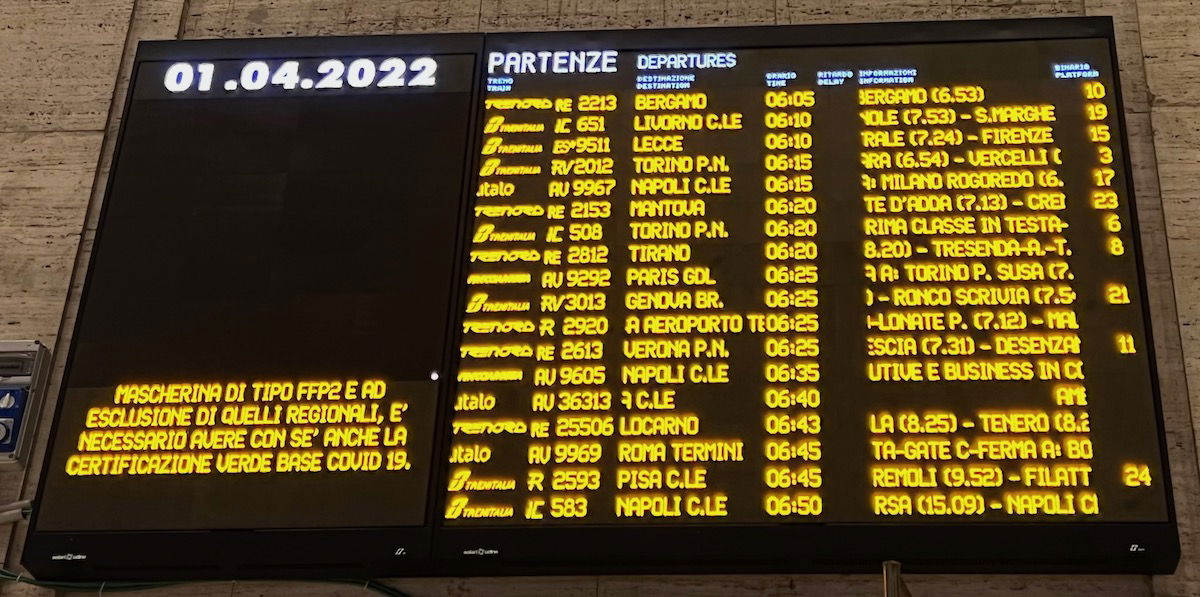 There wasn't a whole lot going on at the station at the time. While there's the Freccia Lounge that we'd in theory have access to, unfortunately it wasn't yet open for the morning.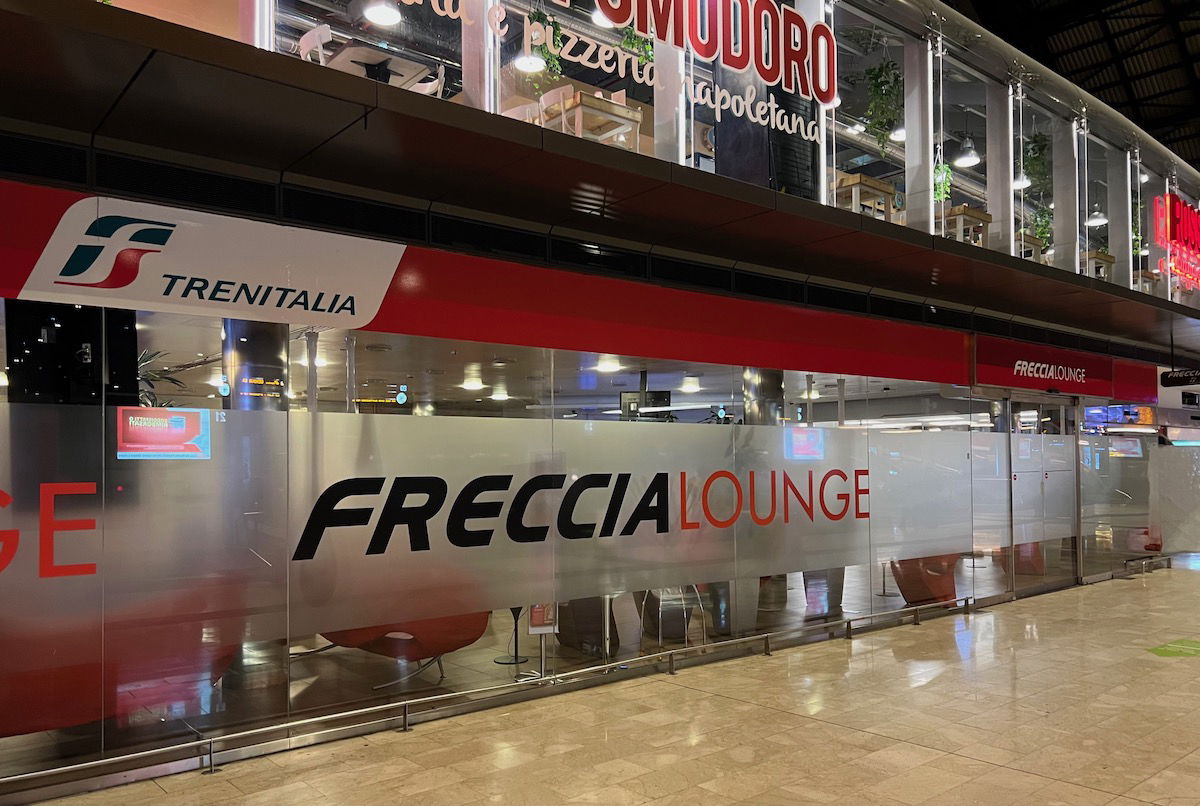 So instead we did some train spotting (I assume that's a thing, like plane spotting?).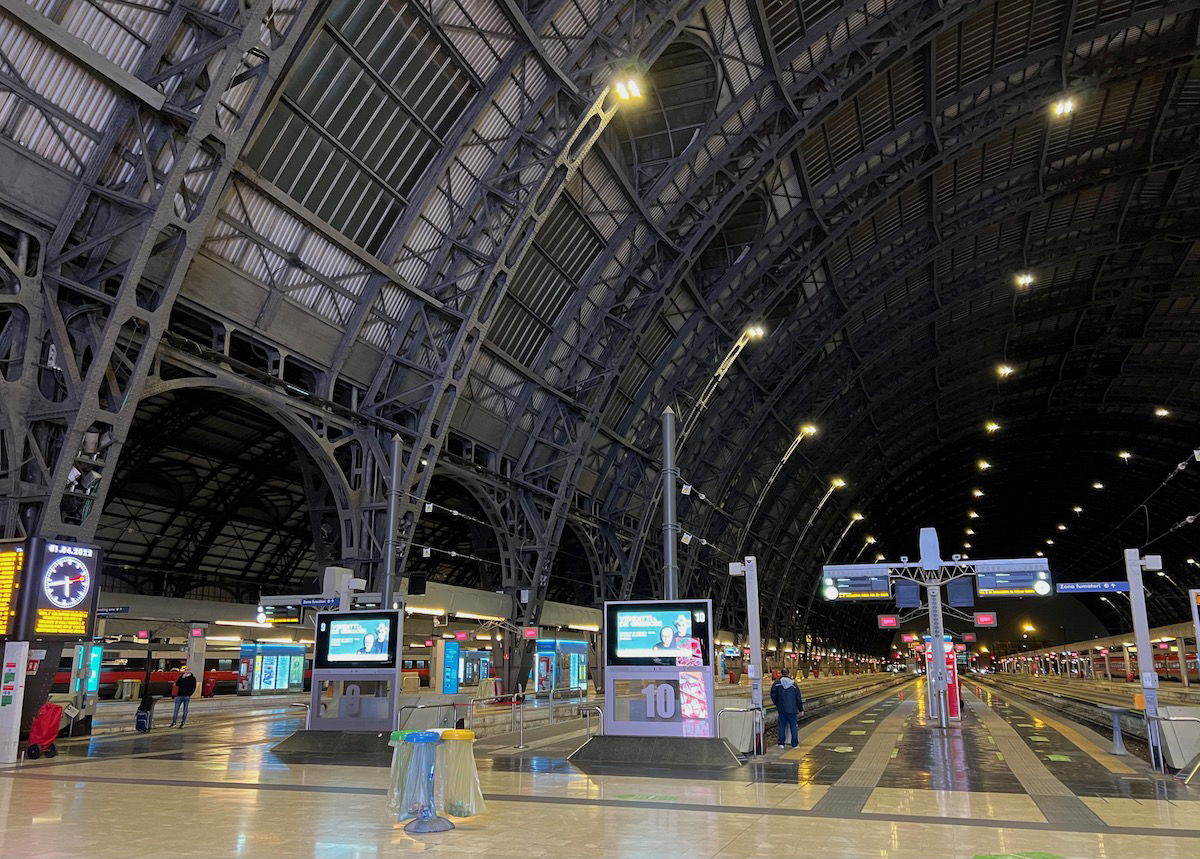 I don't know the first thing about trains, but they're still fun to look at!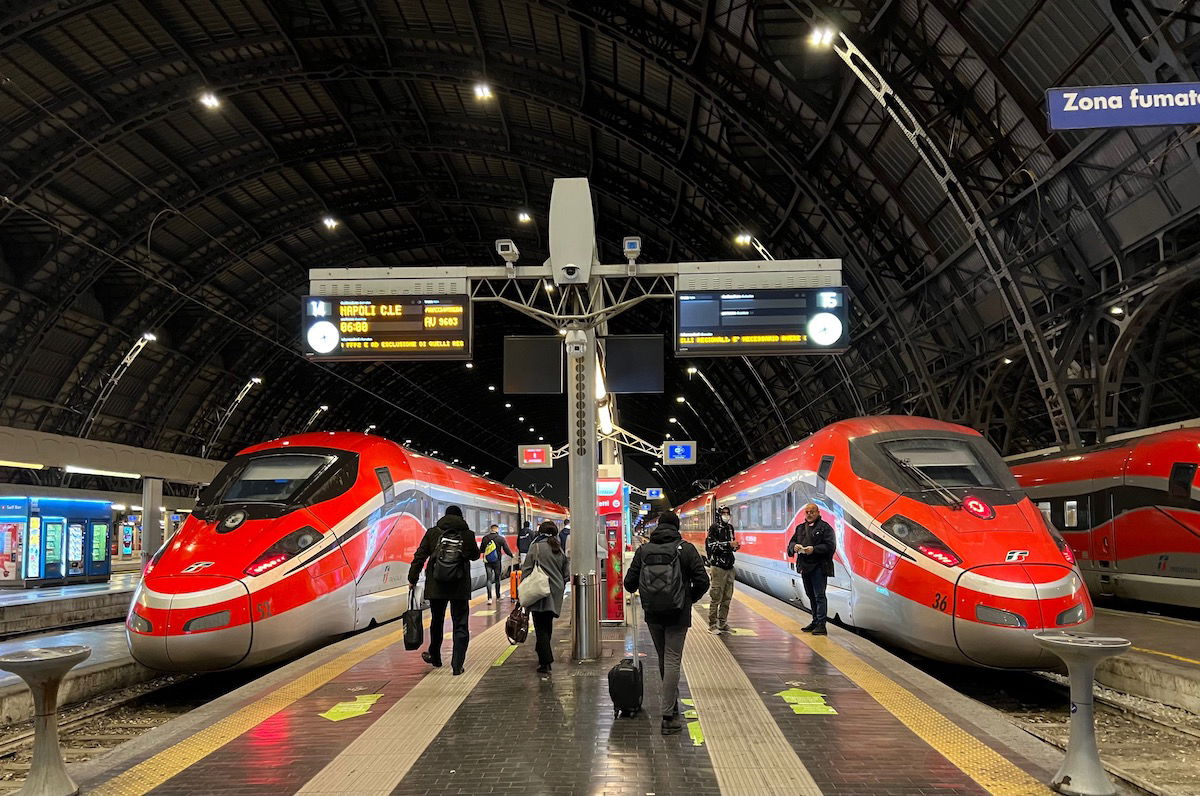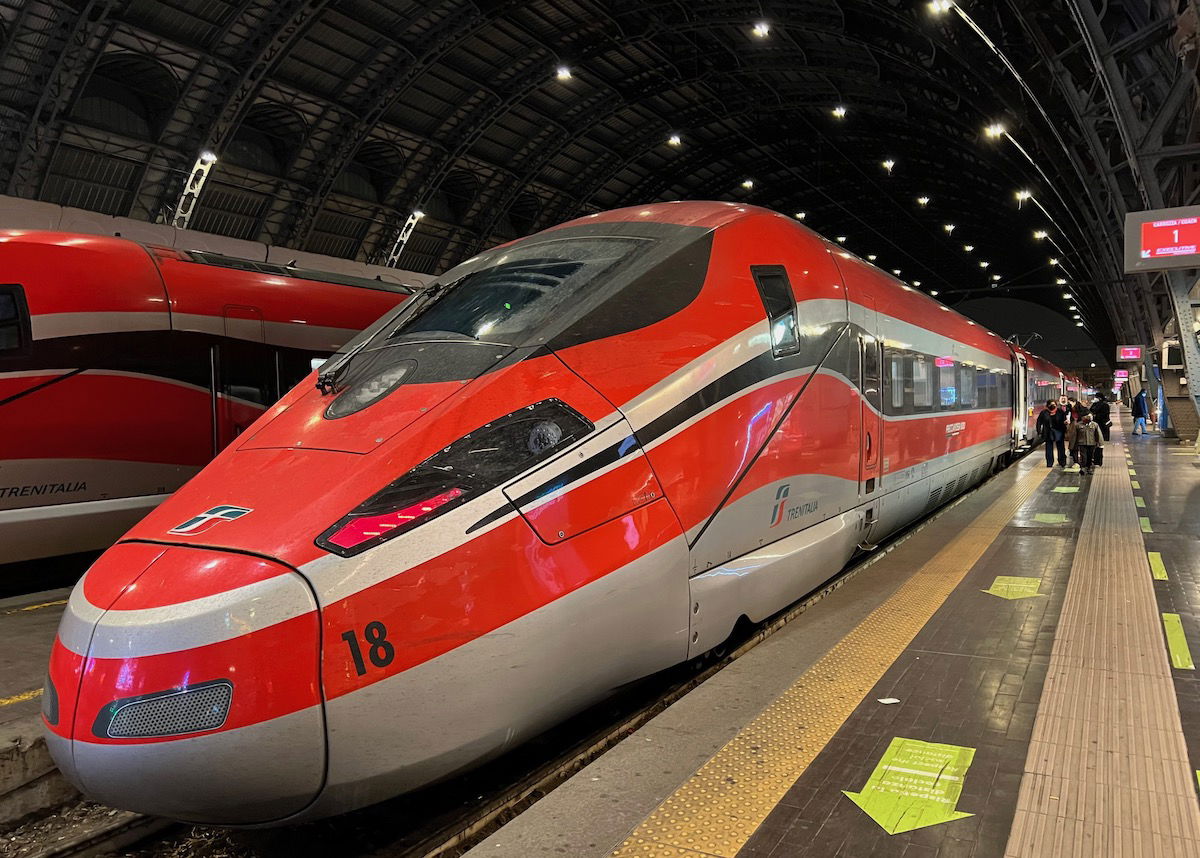 In addition to Trenitalia, there's also italo, which is Italy's private rail operator, and has a connection to Ferrari. While it's not what we were taking, the trains do look even sleeker, in my opinion.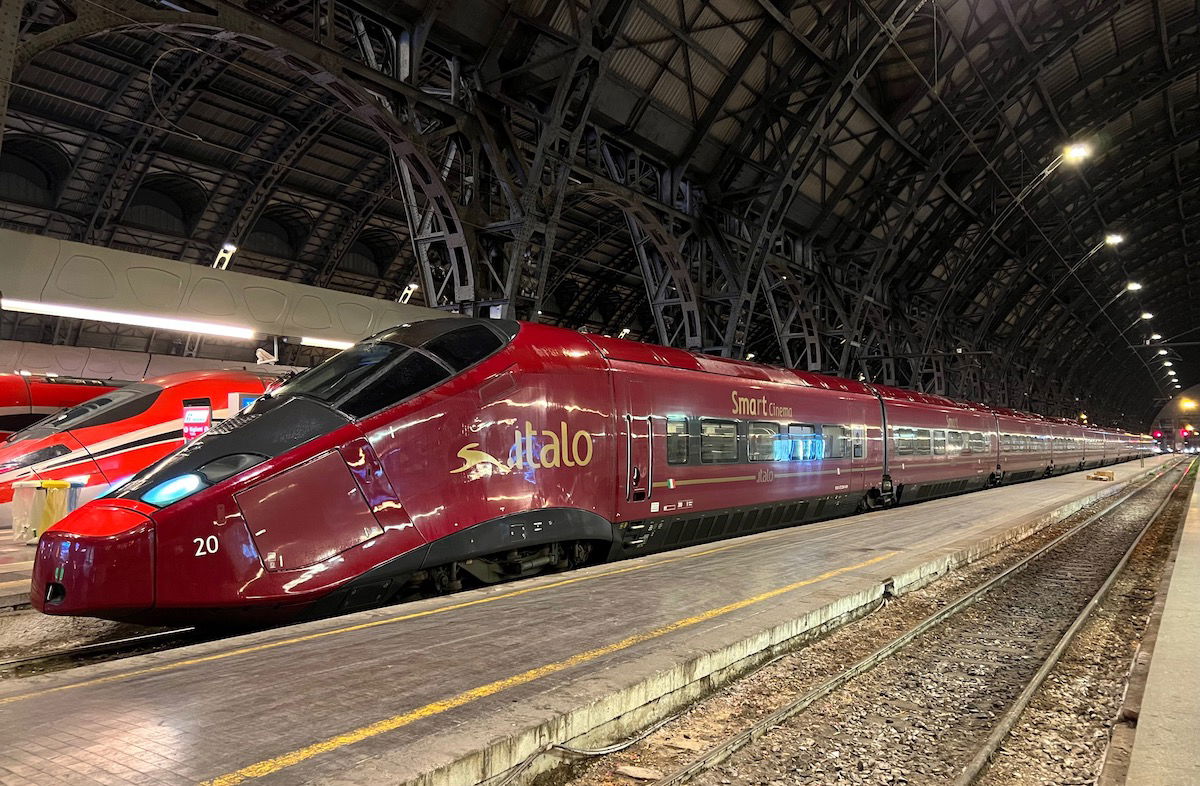 Trenitalia executive class cabin & seats
At around 6:10AM the departure track was posted for our train, and we headed over to track four. Our passports were checked at the tracks, which I found interesting, since that didn't happen on the last train. Is that because this is an international train (even if it's within the European Union), or…?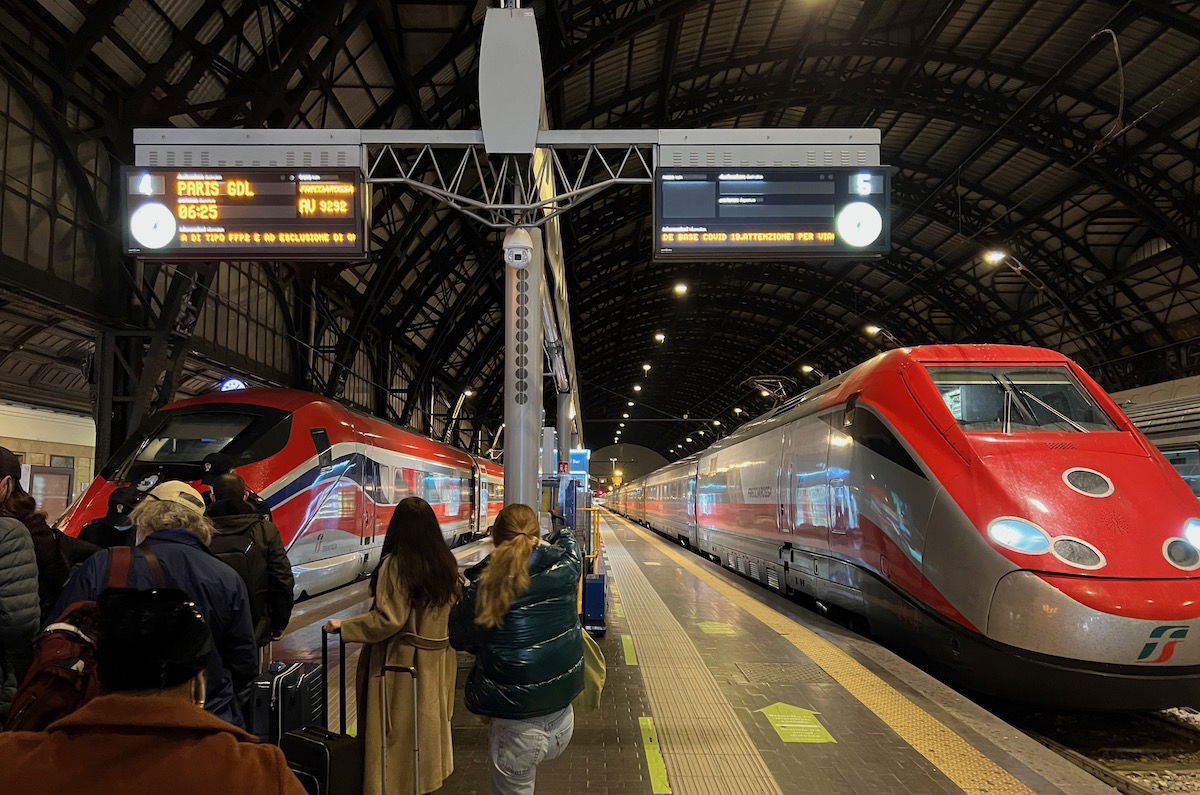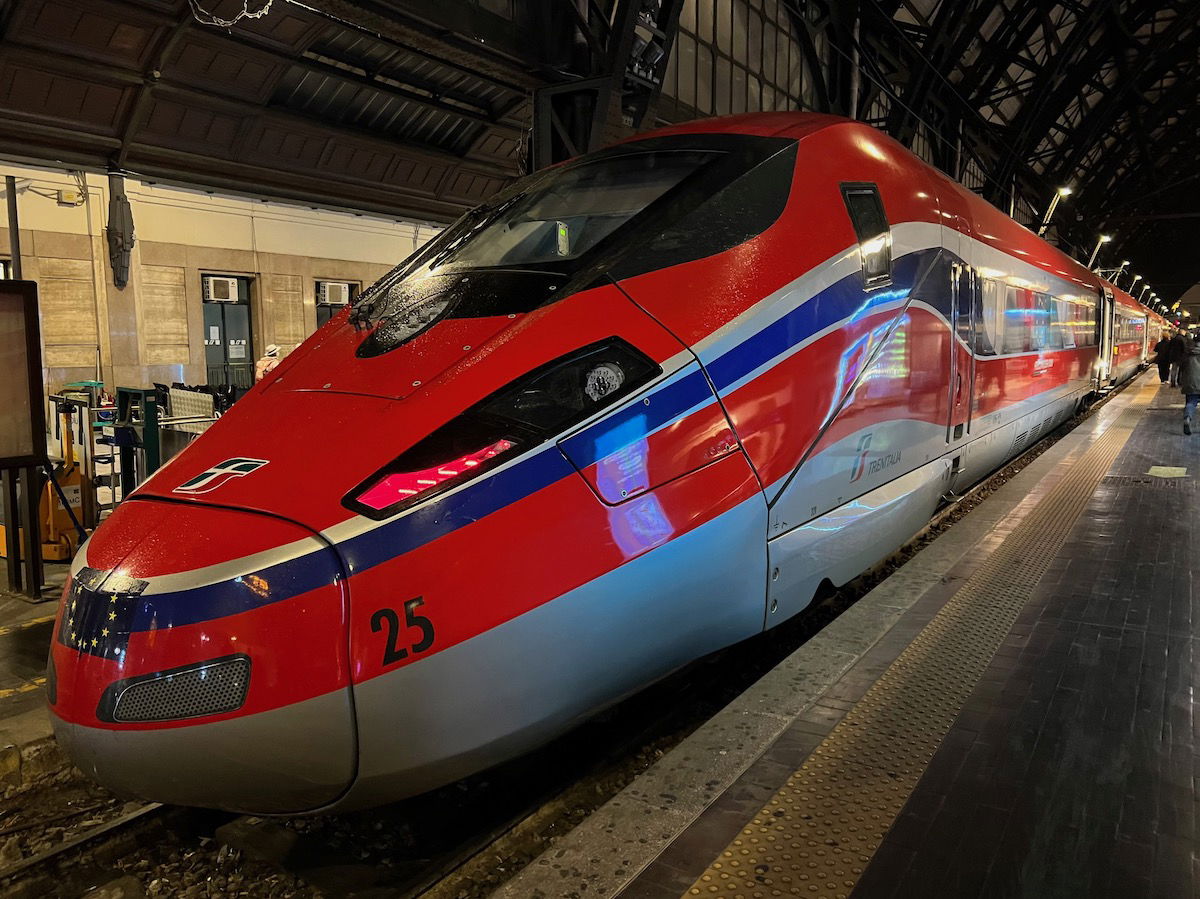 We were seated in the very first car (at the end of the track), and as we walked there I popped my head into the different classes. The standard cabin looked reasonably comfortable, with a 2-2 seating arrangement.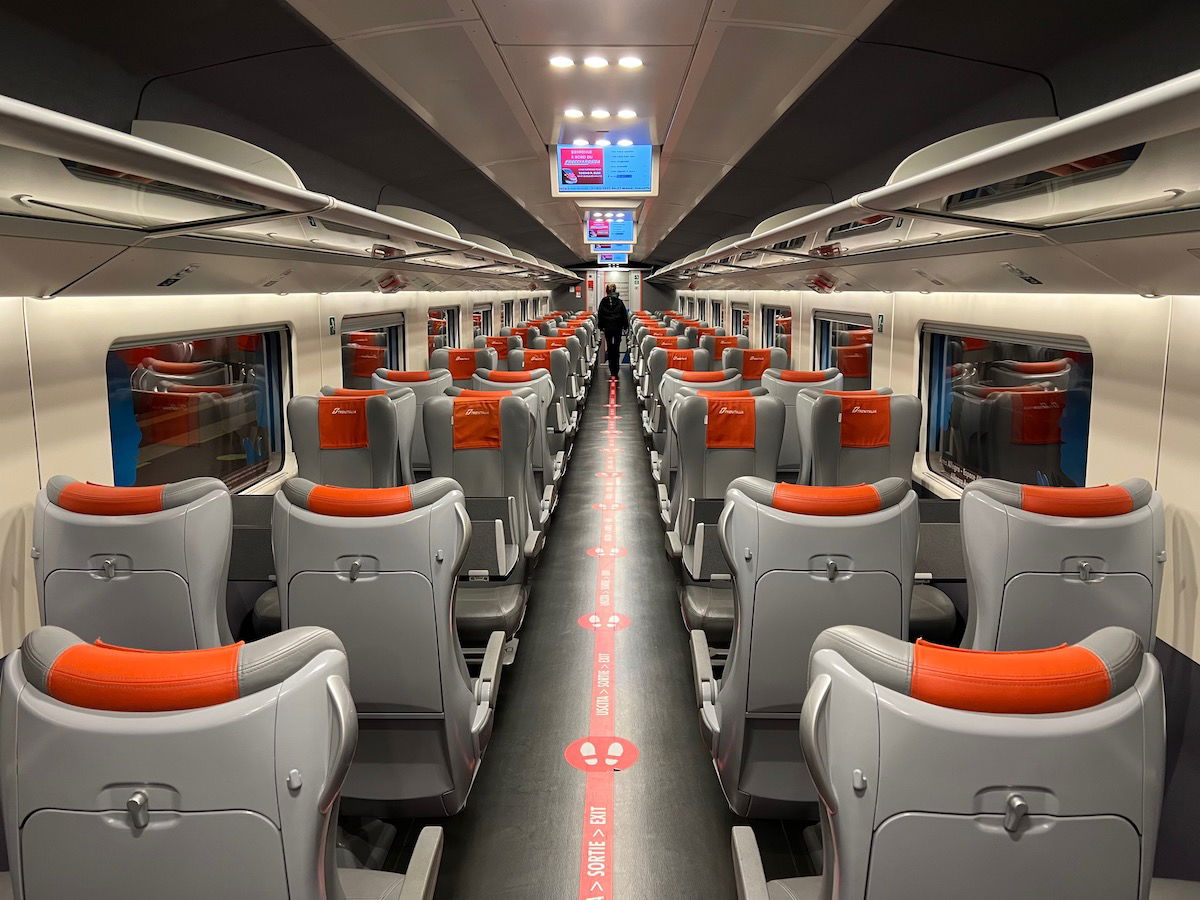 Then the business class cabin looked even nicer, and was in a 1-2 configuration, similar to what we had on our ride from Venice to Milan.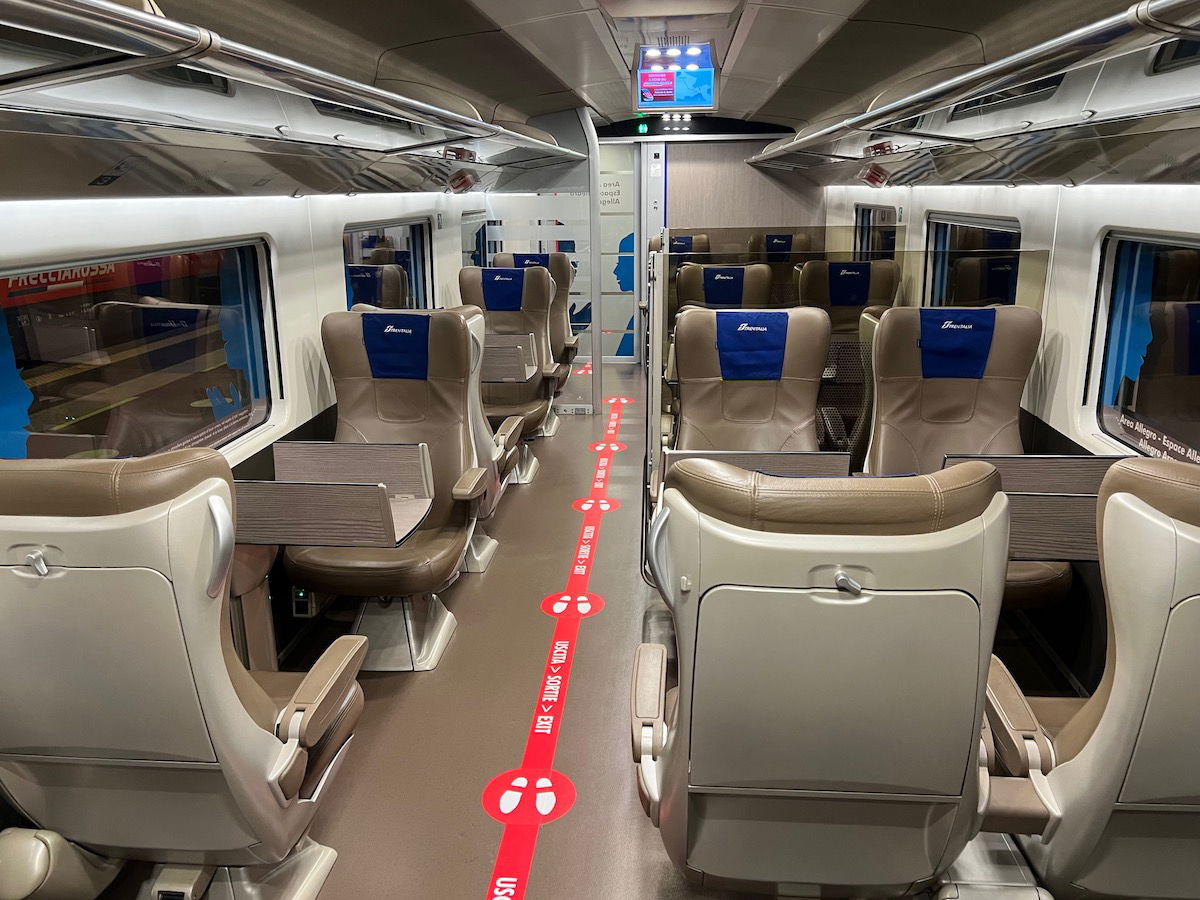 Then finally we arrived at the first car… are you ready for this?! Okay, maybe I'm just a little too excited…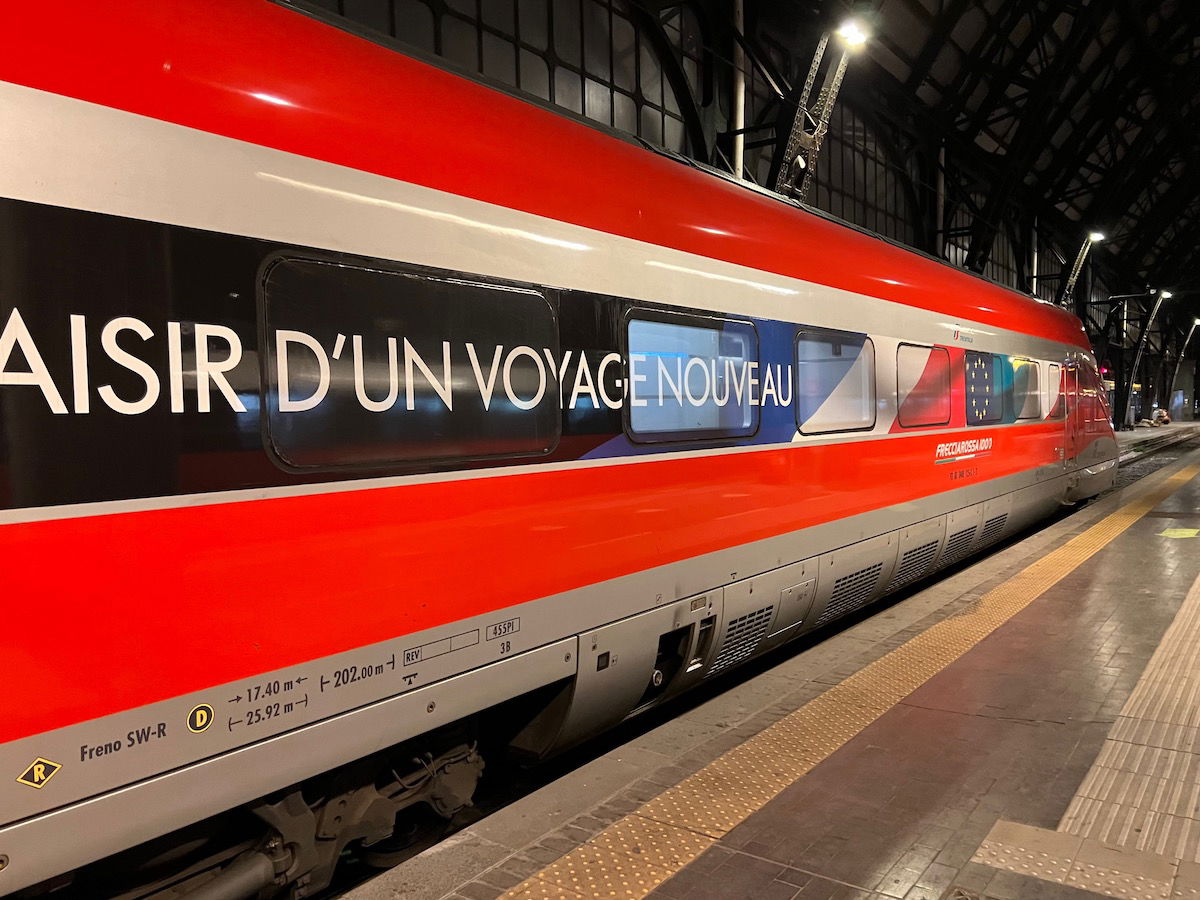 The executive class cabin has just 10 seats, in a 1-1 layout. WOW. In so many ways this reminded me of an old international first class cabin, and I just thought this was so awesome.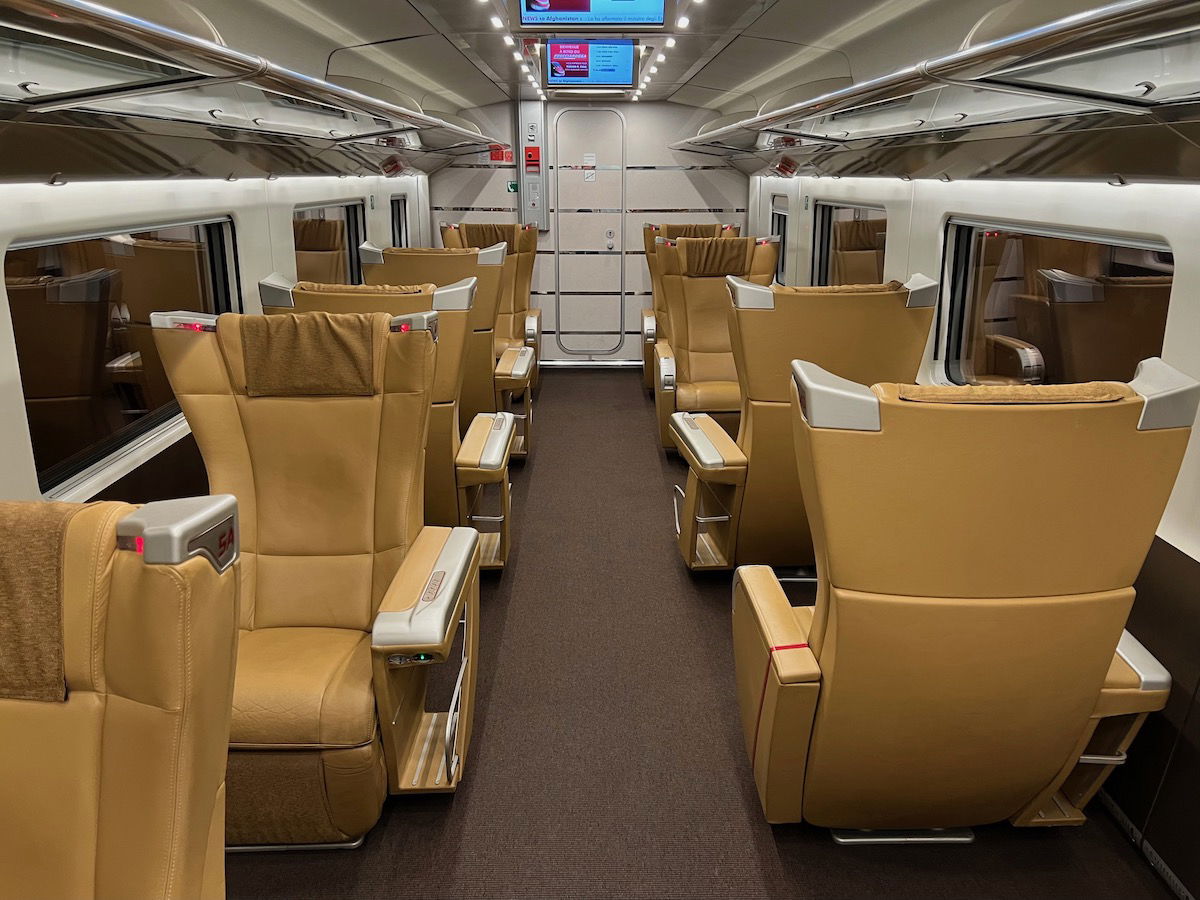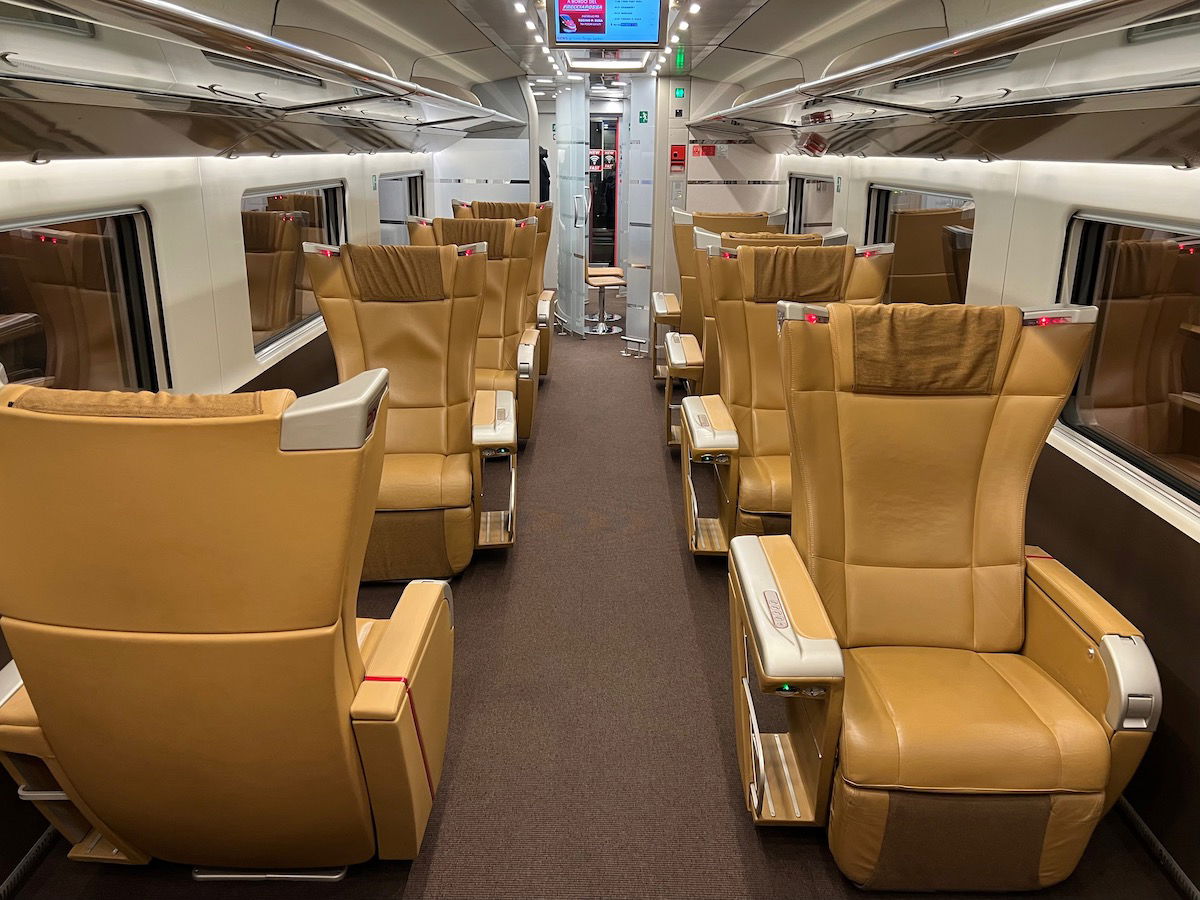 I assigned us seats 1A & 1D, as that's what was available at the time that we booked. Not only are the seats as such quite large, but they feature an endless amount of legroom.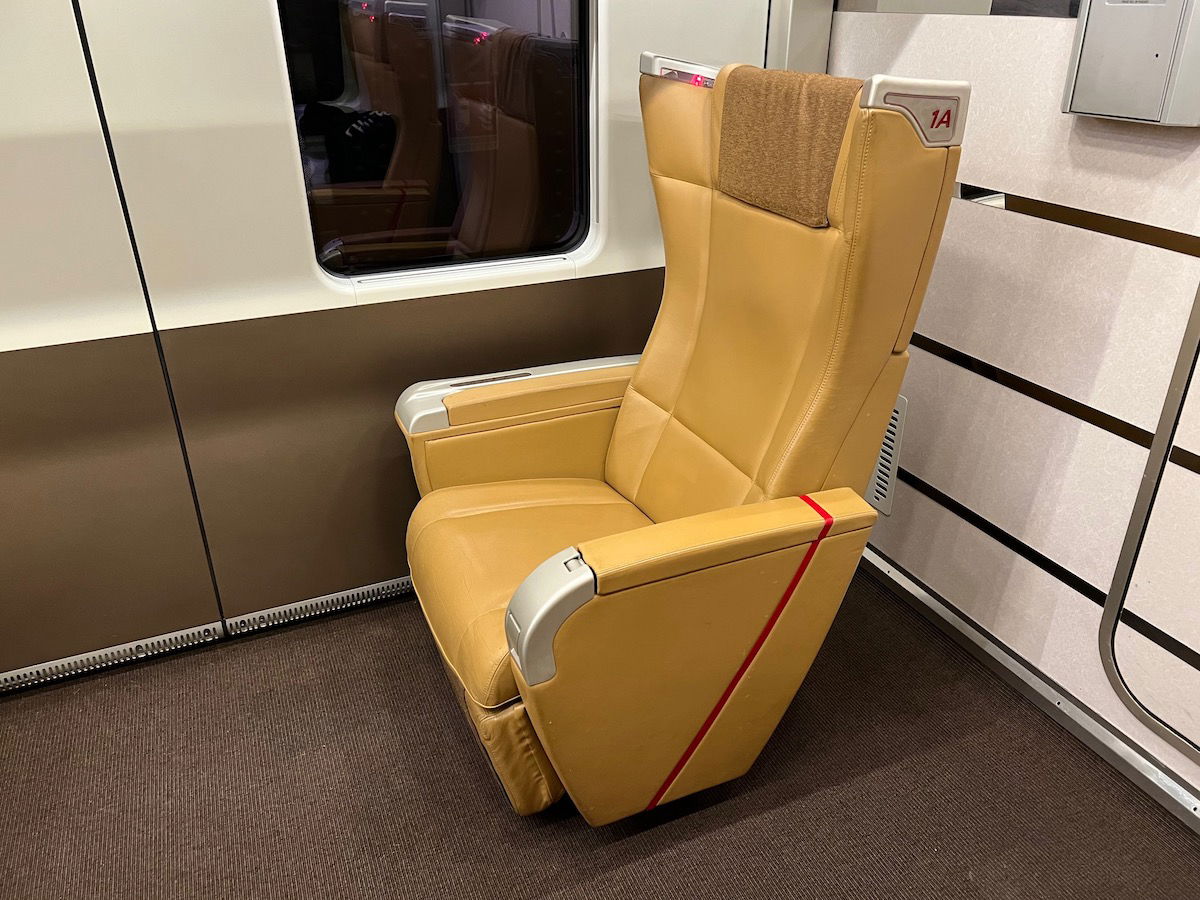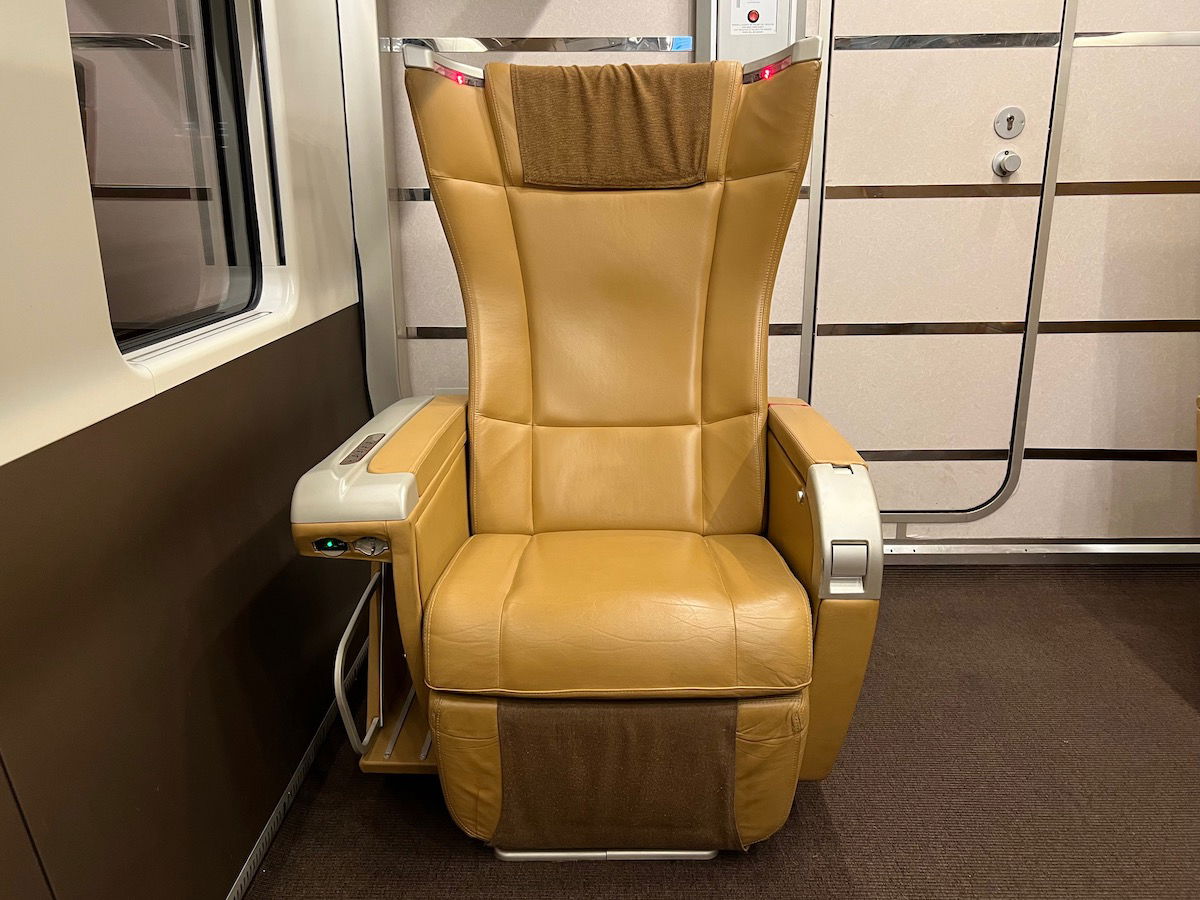 The seats have a swiveling feature whereby they can be turned in either direction. The exception is if you're seated in the first row, where you can only be faced toward the other seats. Ideally if you're traveling with someone you'll want to select seats behind one another (like 1A & 2A) so you can face one another if you'd like.
Fortunately it worked out for us, as the people in 2A & 3A plus the people in 2D & 3D were traveling together, so they faced one another. That meant no one was facing us in the first row.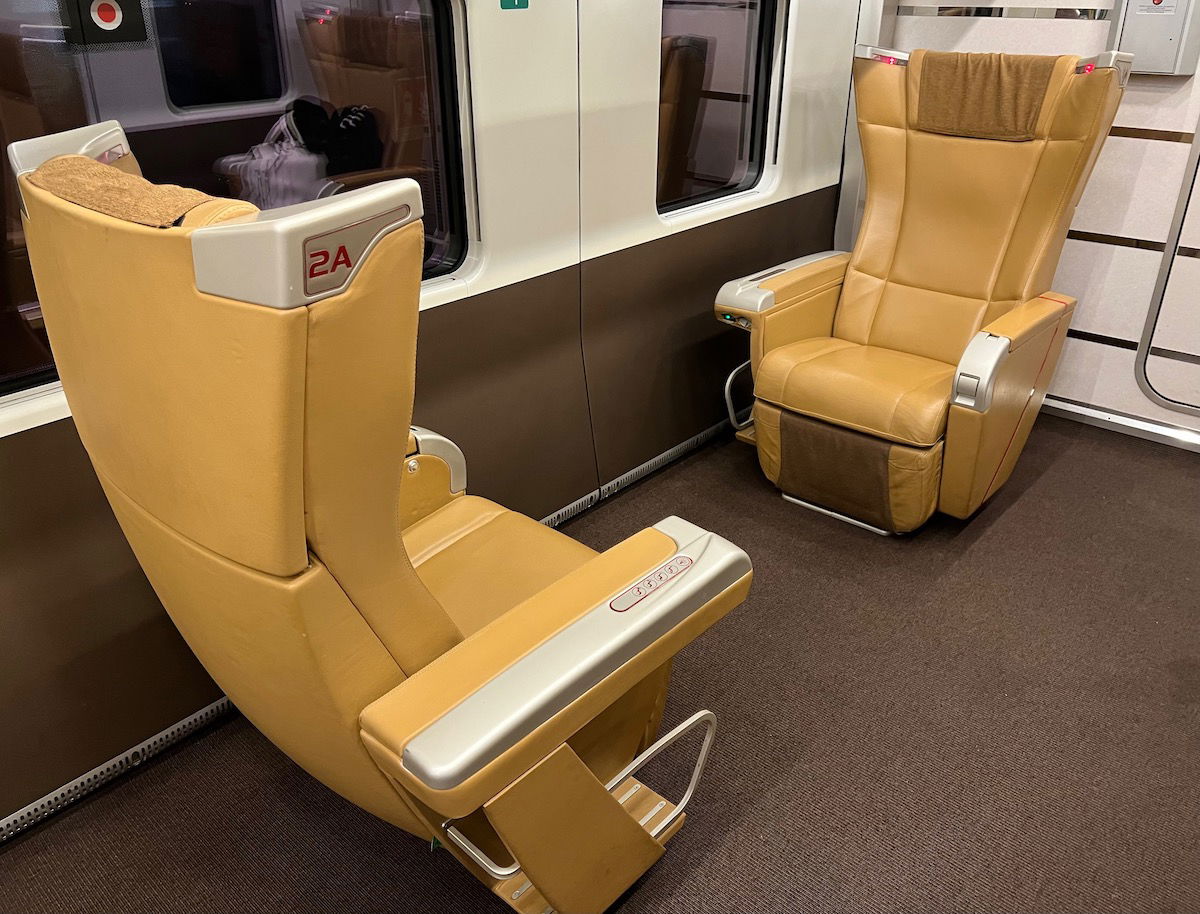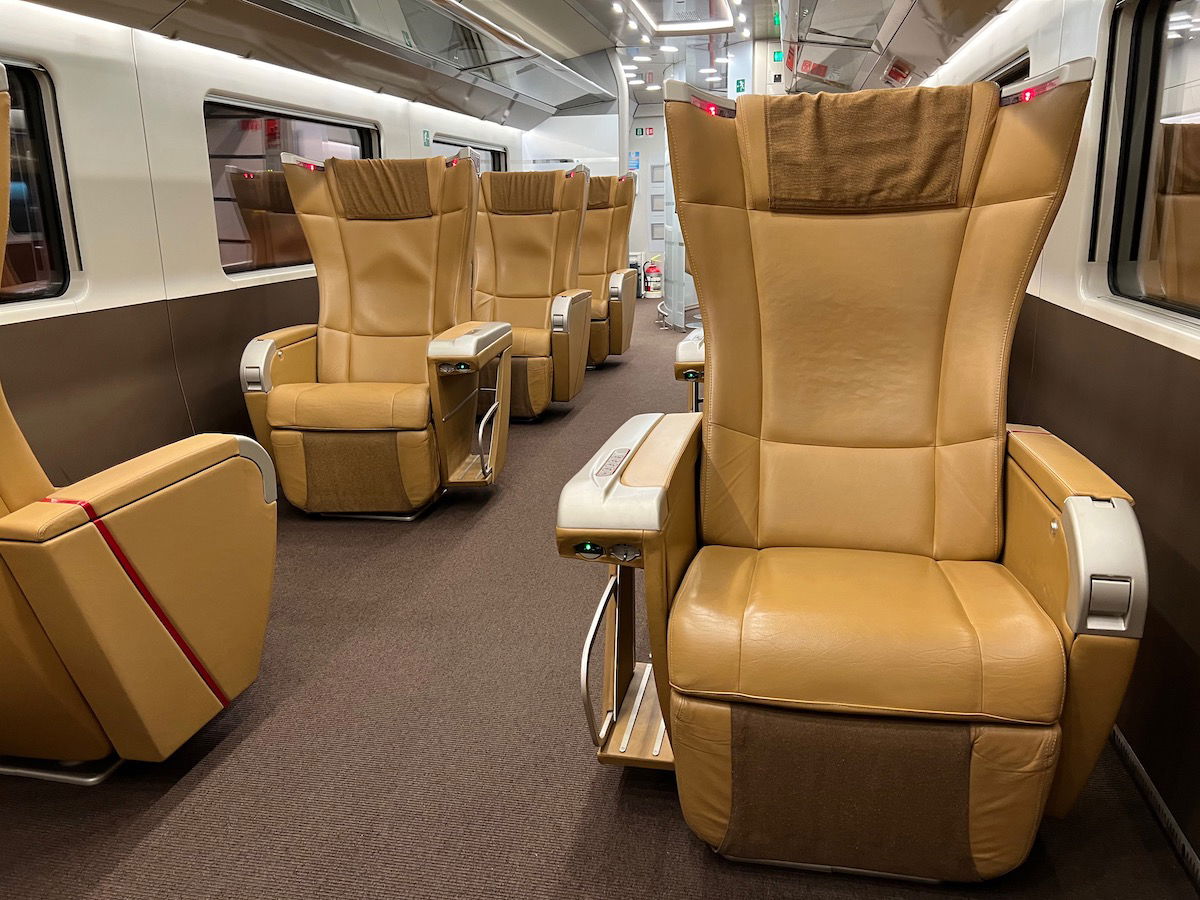 While the seat doesn't go fully flat, it does recline significantly, and also has a legrest.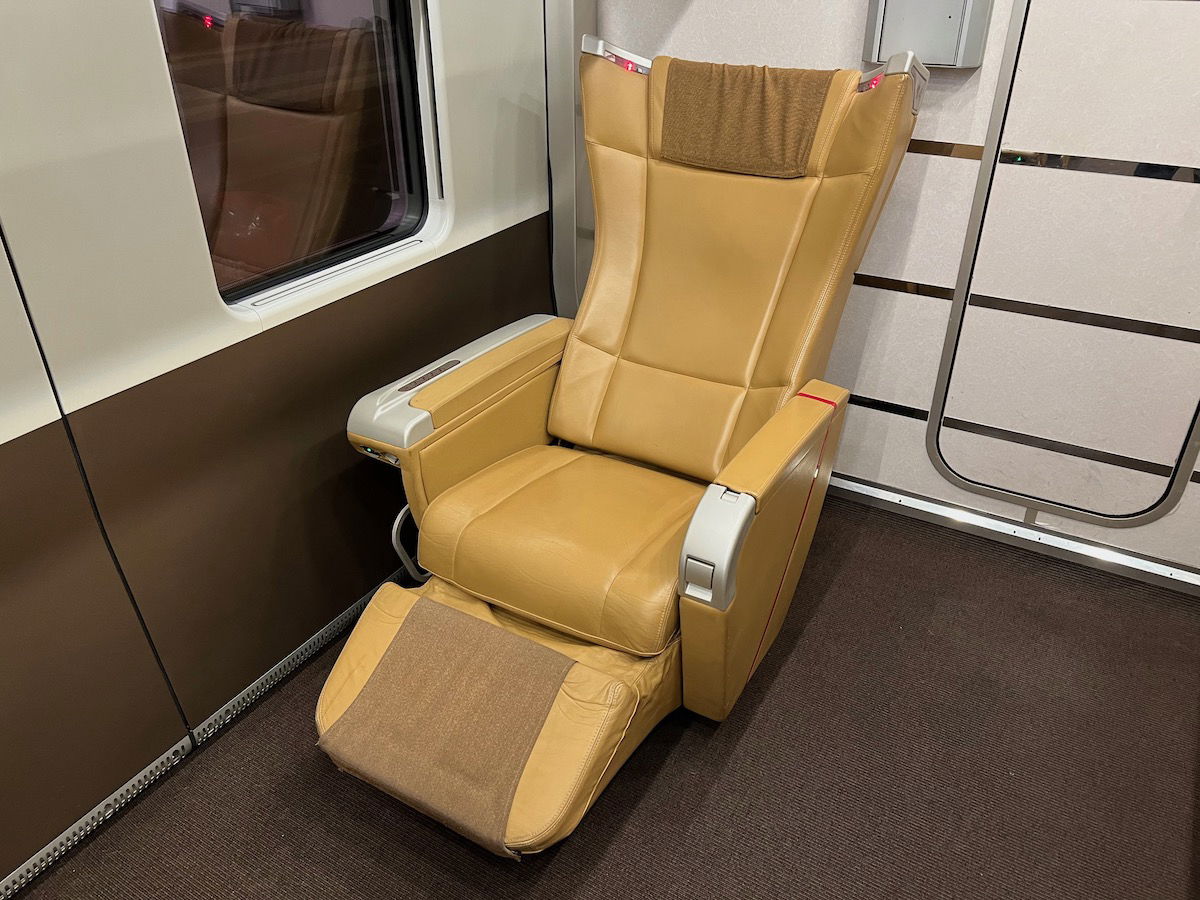 Seat functions can be controlled via a panel to the side of the seat.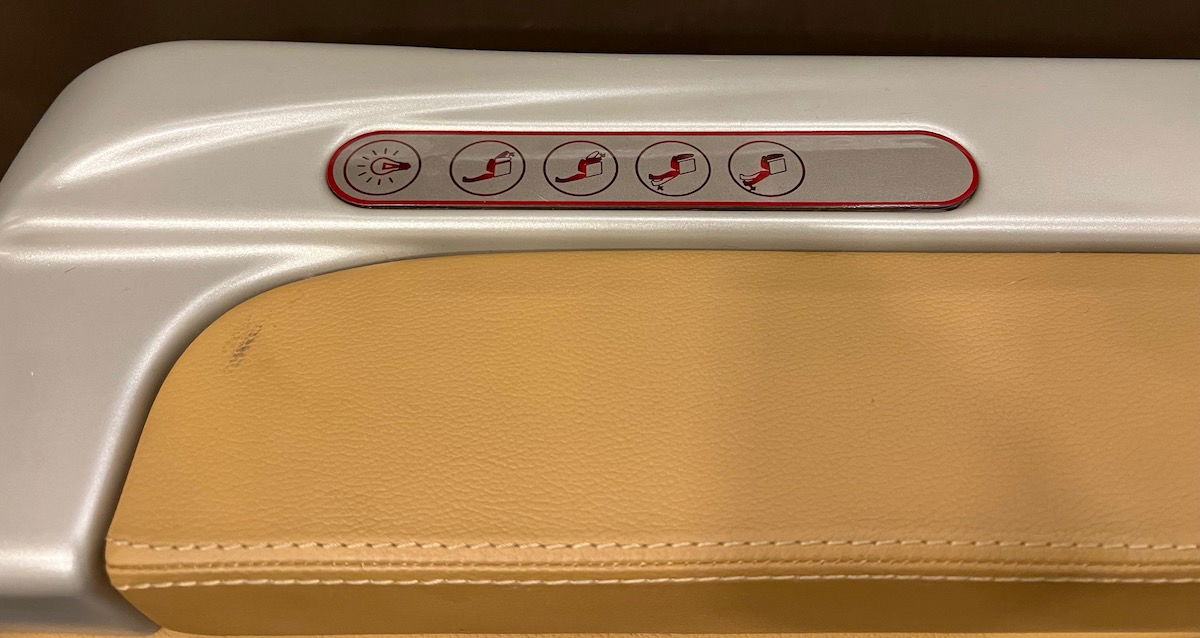 The swiveling feature can be controlled by a button at the opposite side of the seat.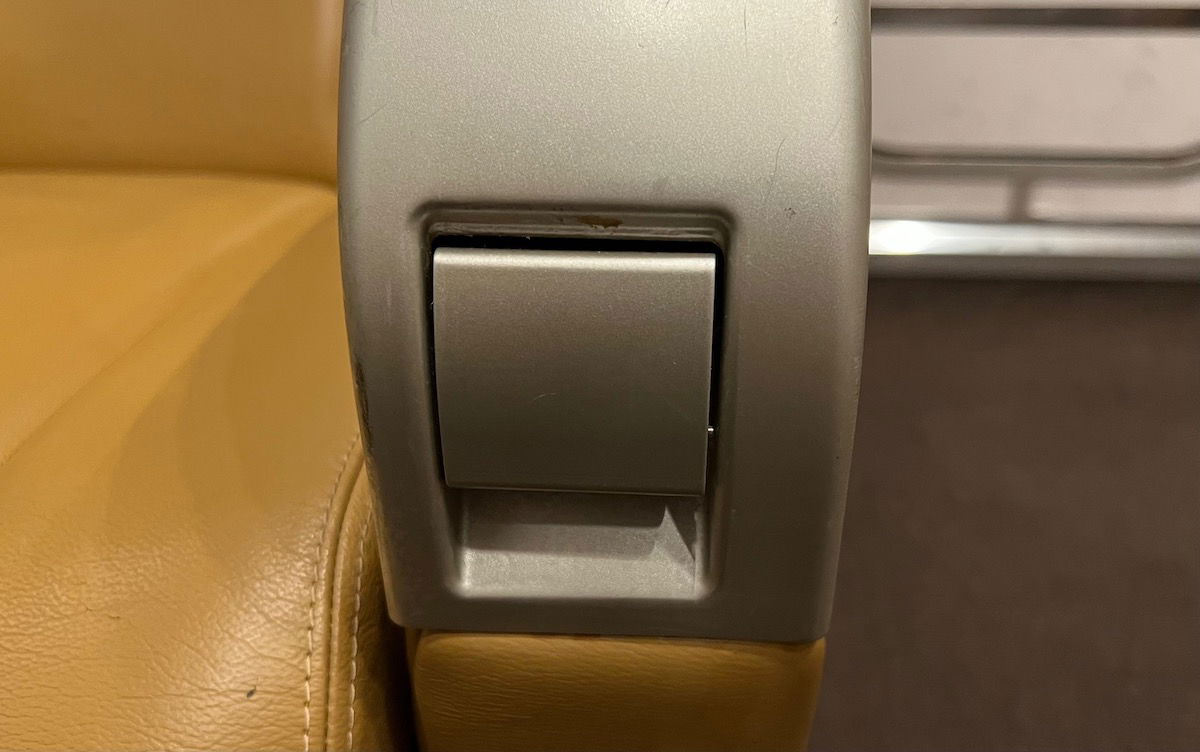 Underneath the seat and to the side were AC and USB power outlets, plus an exposed storage area where you could place a laptop or other item.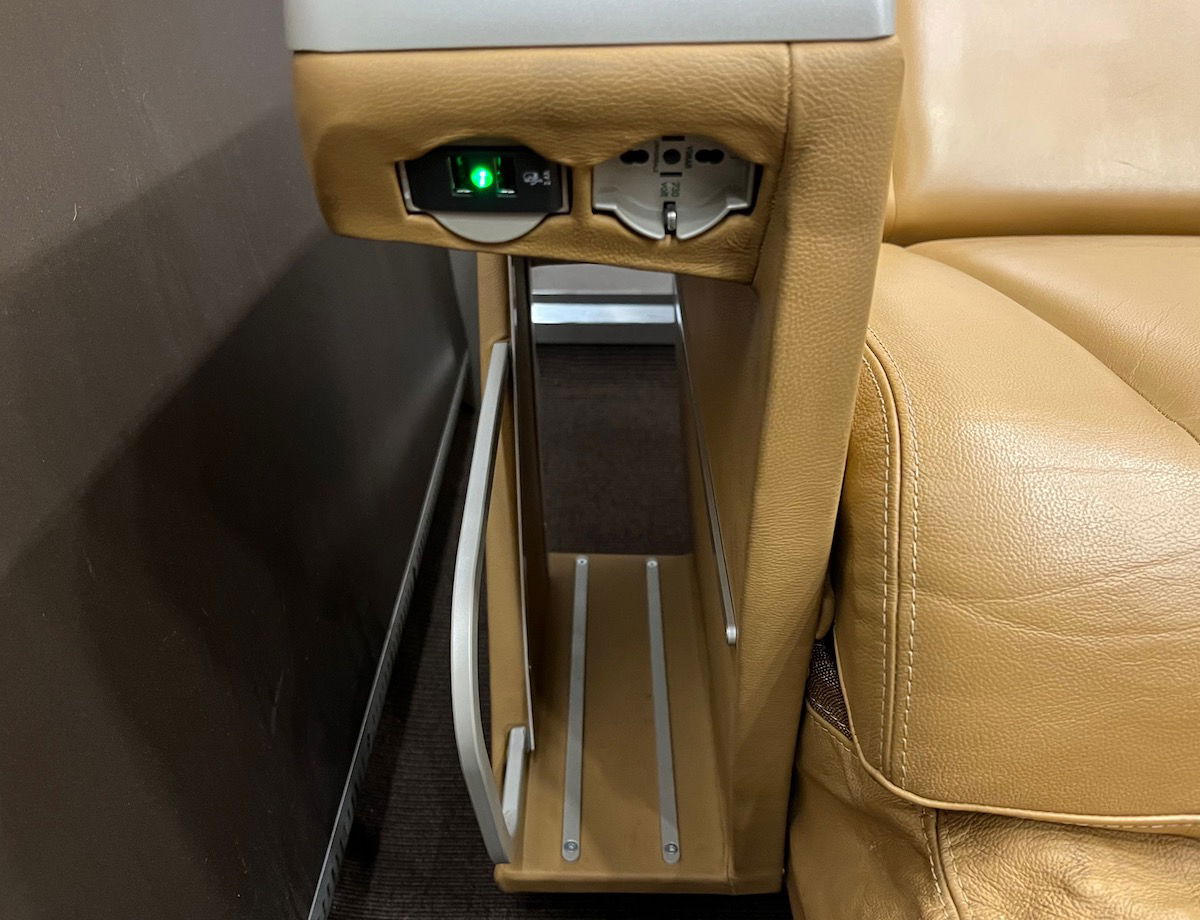 The seat also had a tray table, much like what you'd find on an airplane.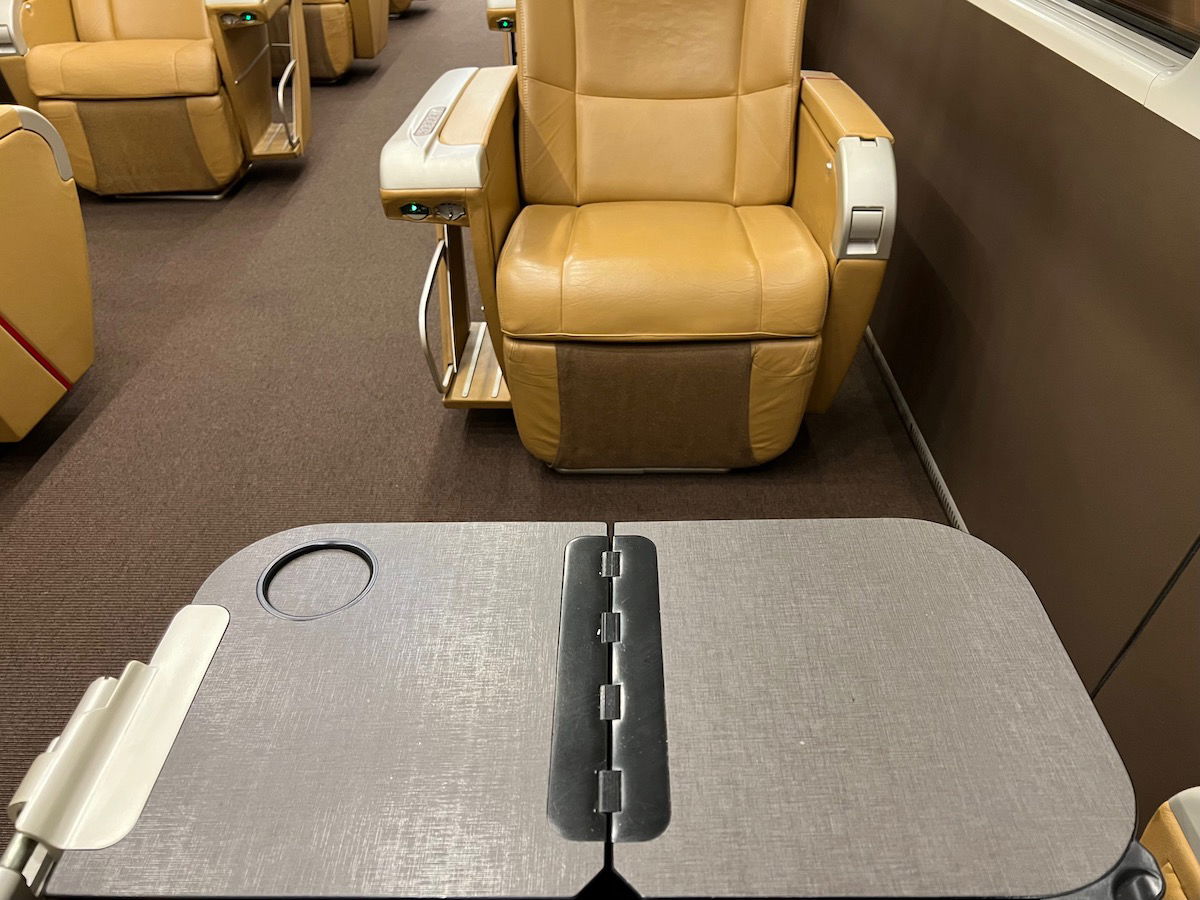 Luggage could be stored in the overhead racks, or otherwise could be placed in the conference room.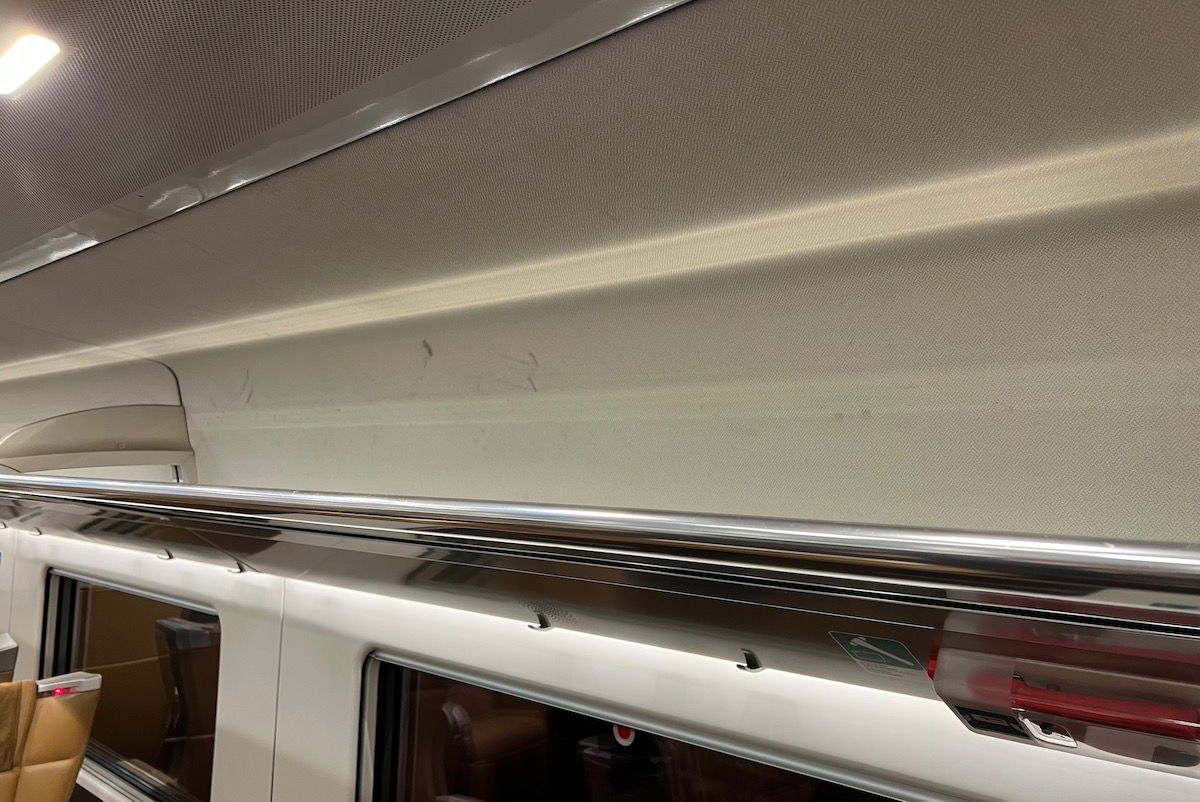 Wait, a conference room?! Yep, the executive class car has a conference room with seating for five, available for guests. I find this to be such a hilarious feature, given that there will be at most 10 passengers. Just for fun I ended up sitting here for a while with my laptop, because why wouldn't I?! It almost reminded me of "The Lobby" on the Etihad A380, back when that was a thing.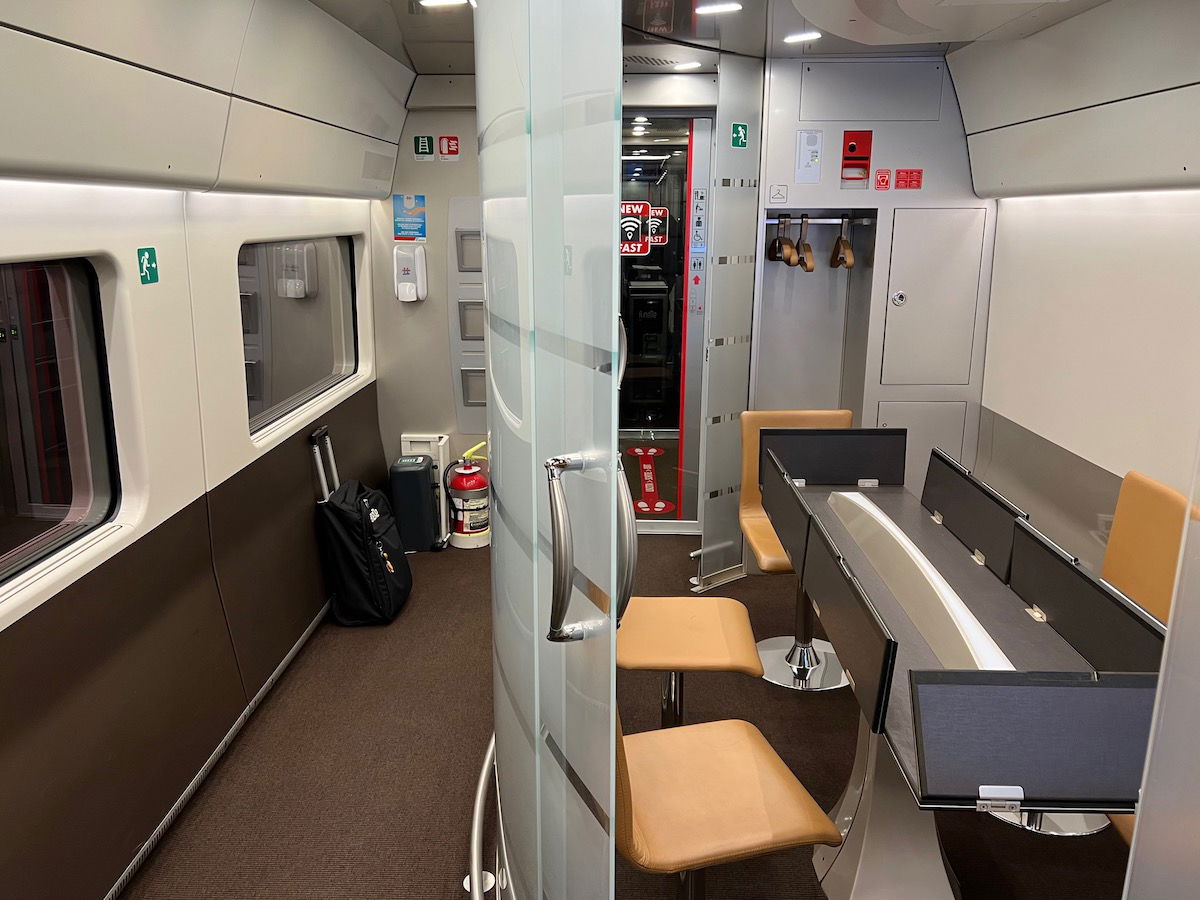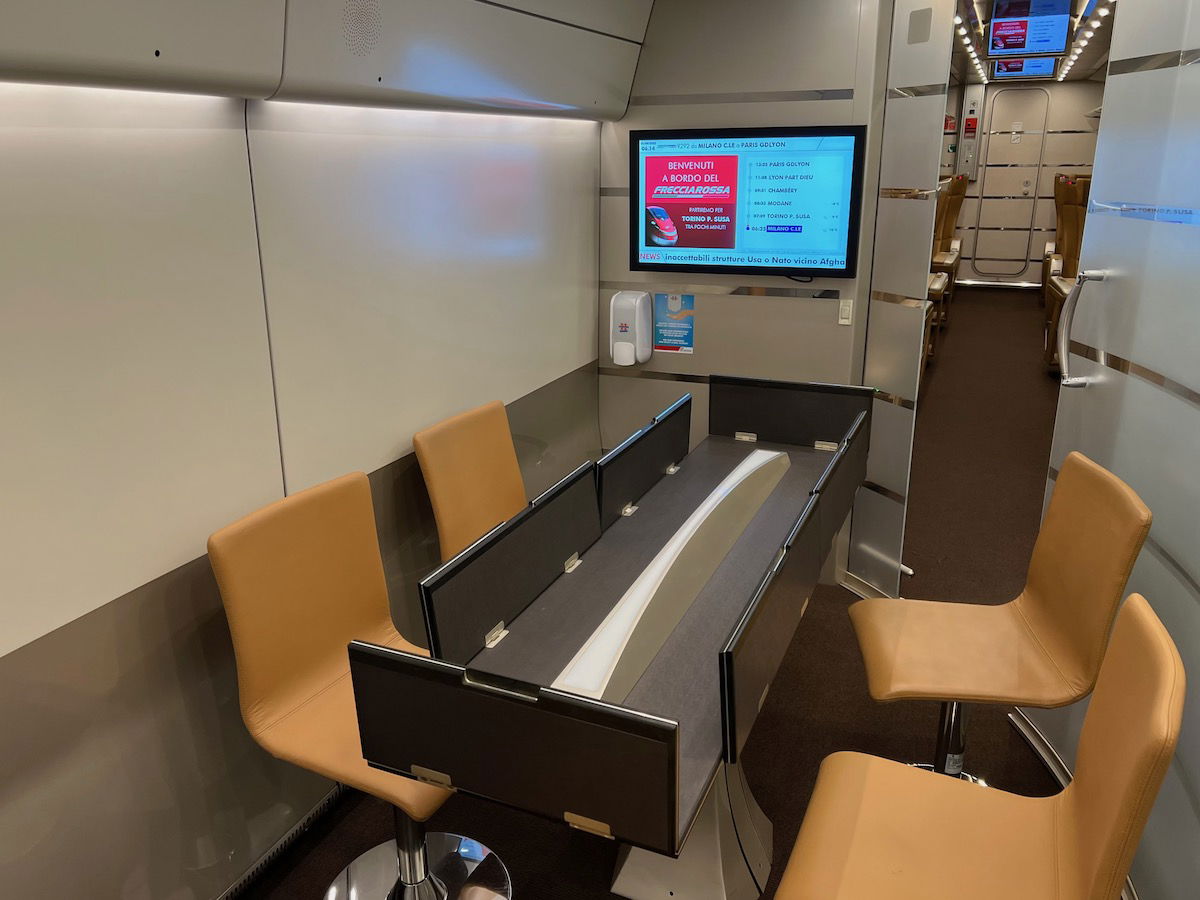 The executive class car also had a private bathroom, which is a nice feature when you consider how much use the other bathrooms on trains generally get, and how there can be a queue.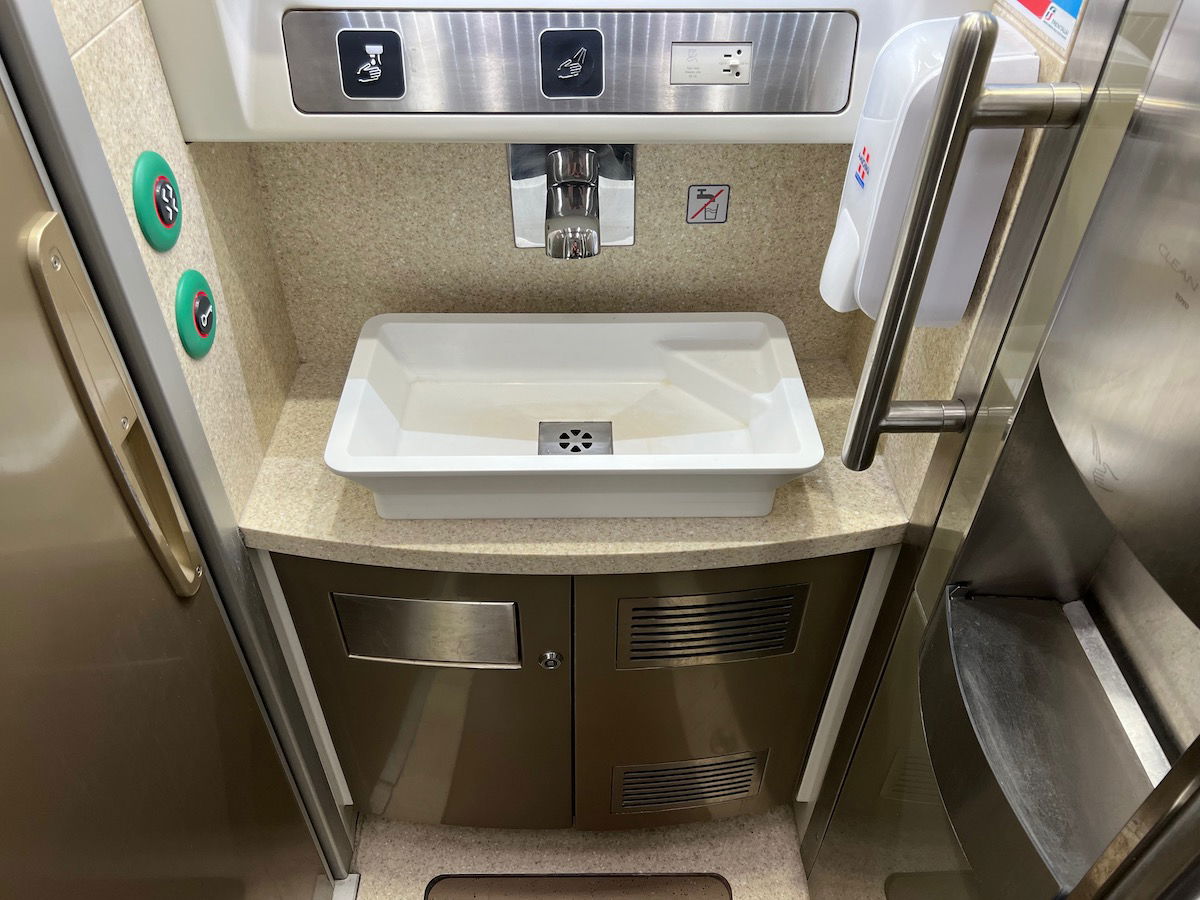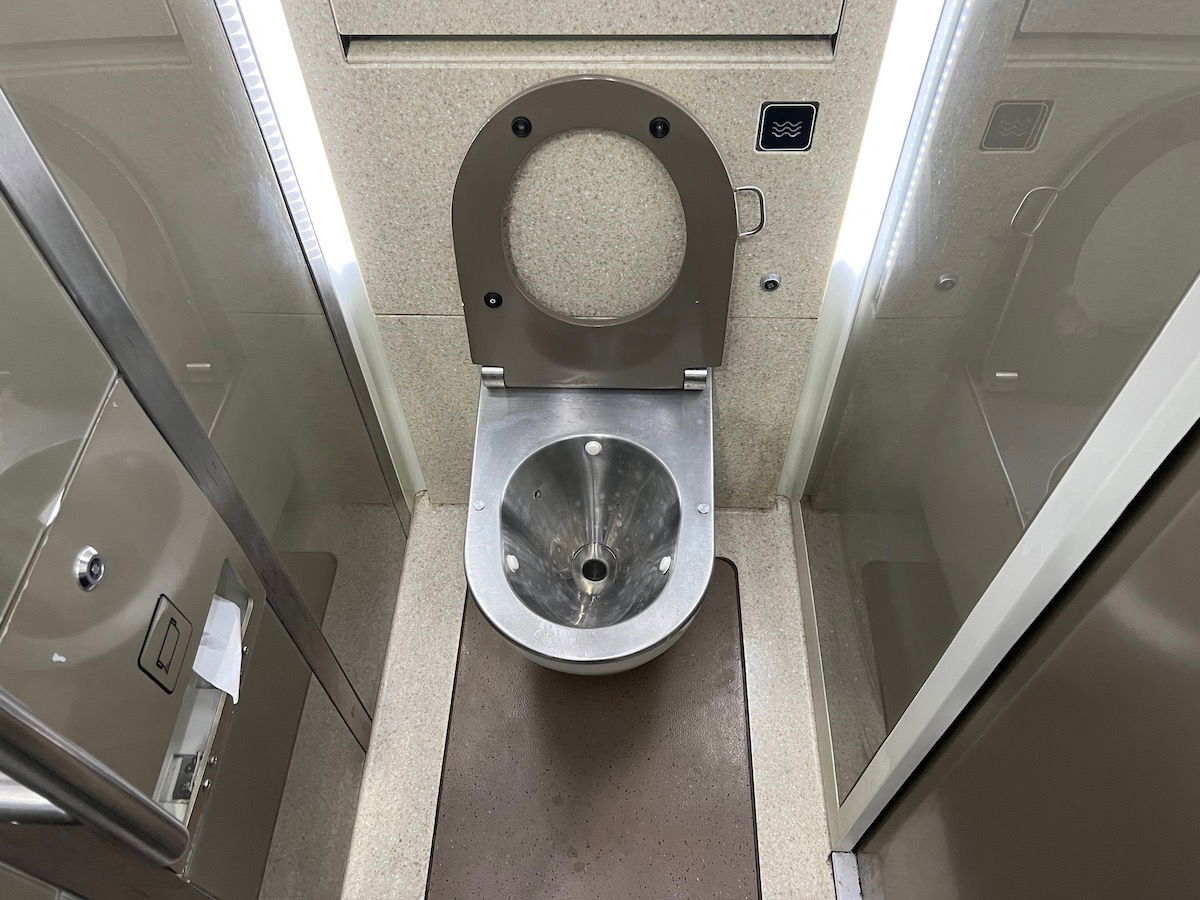 There was even a pretty swanky galley in the executive class car, which reminded me of an airplane galley. There was even an Illy espresso machine.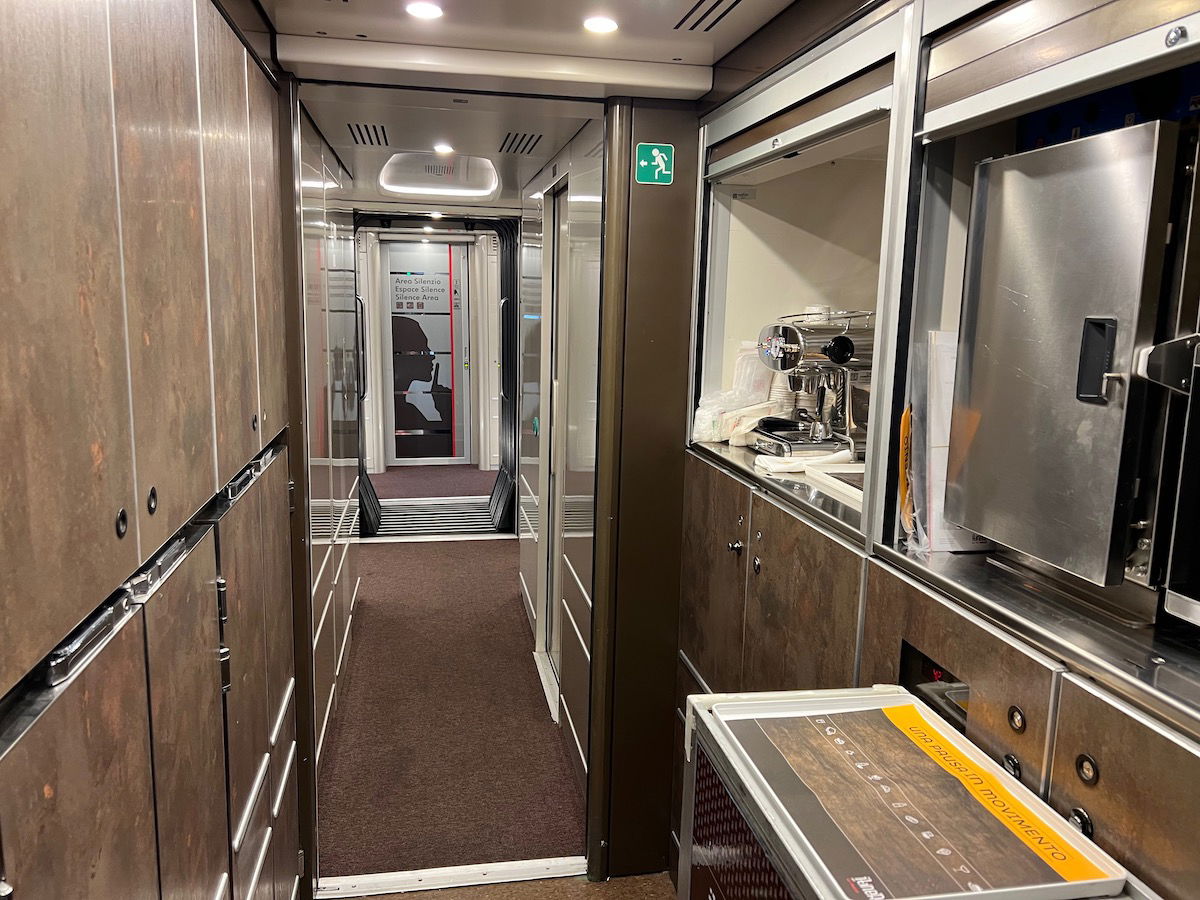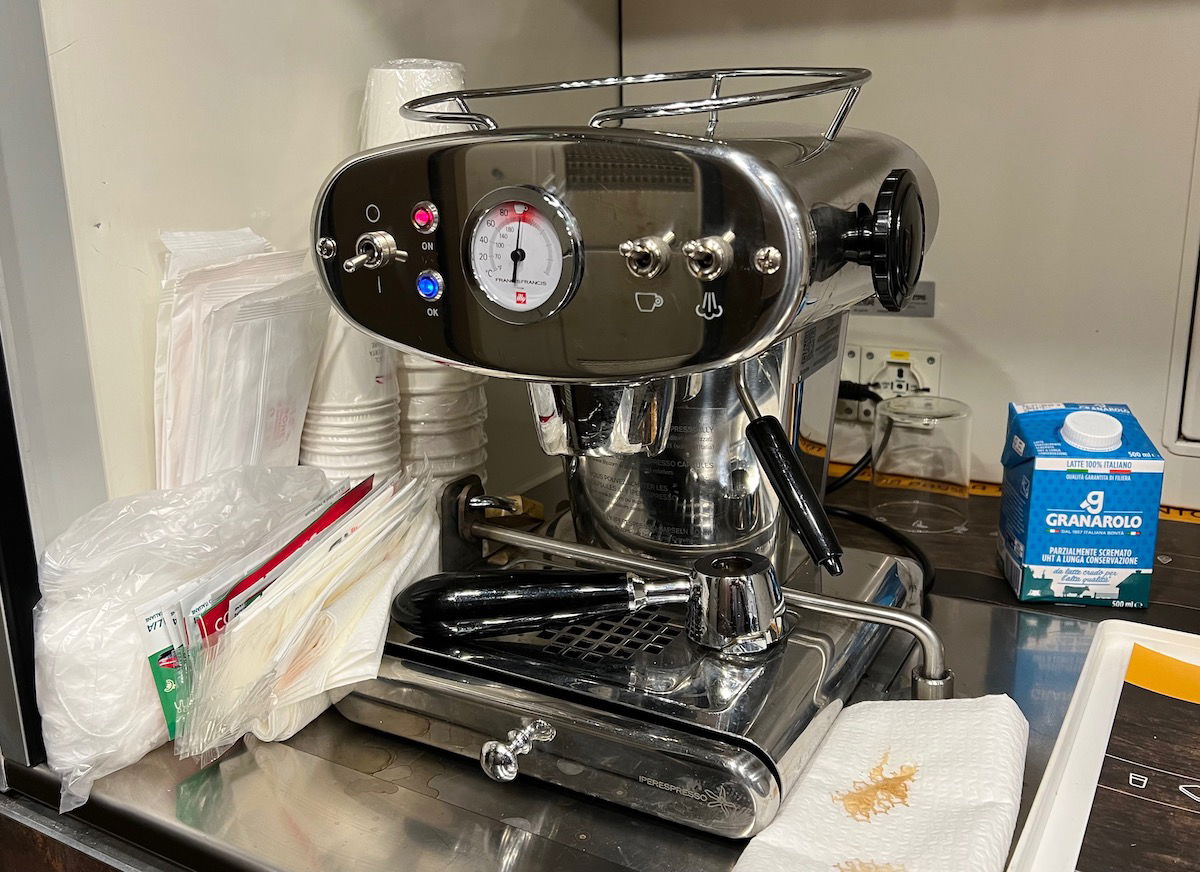 The executive class car initially had six passengers, but then two boarded during later stops, for a total of eight passengers.
Trenitalia executive class food, drinks, and service
The executive class car had a friendly attendant who introduced herself shortly after boarding. About 15 minutes after departure she brought out some basic snacks, including cookies and olive crackers, plus sanitizing towels and napkins.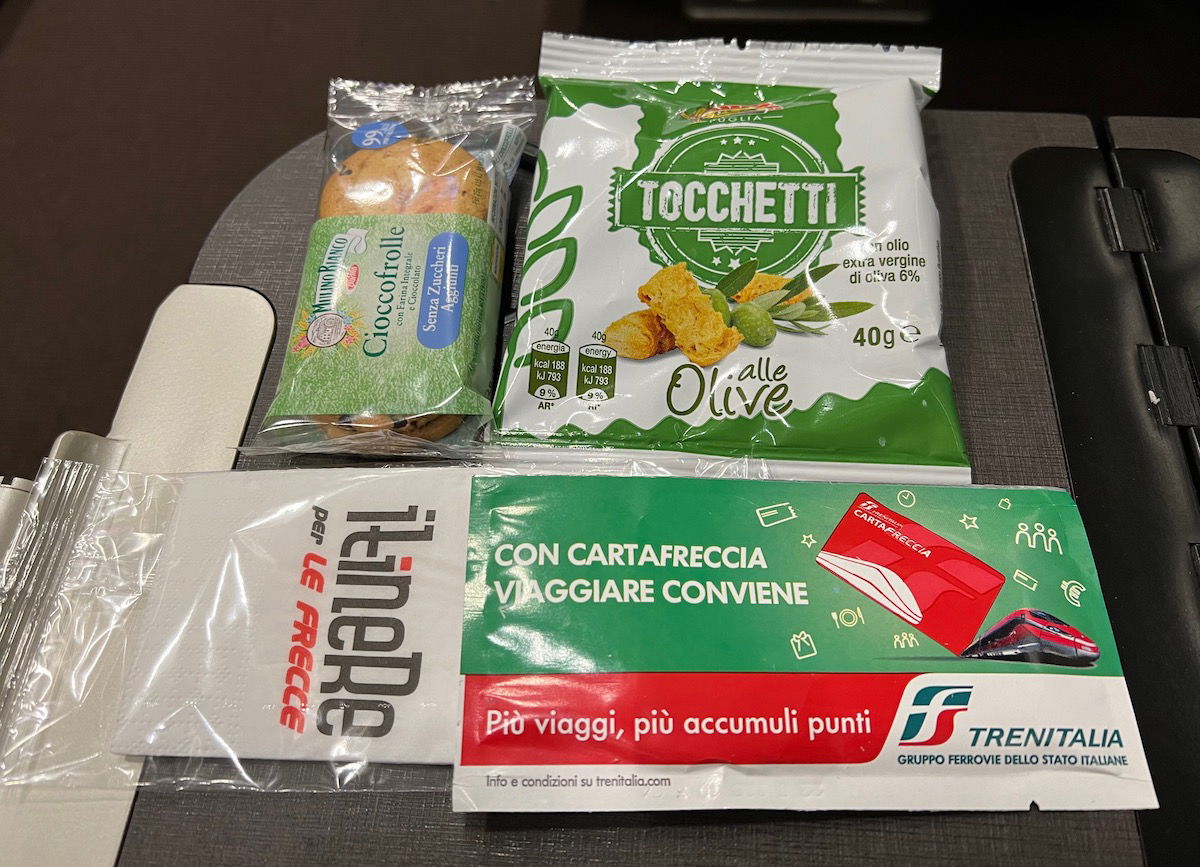 At that point the first beverage service was performed. I ordered an espresso and some water — the water came in a glass, while the espresso was served in a paper cup.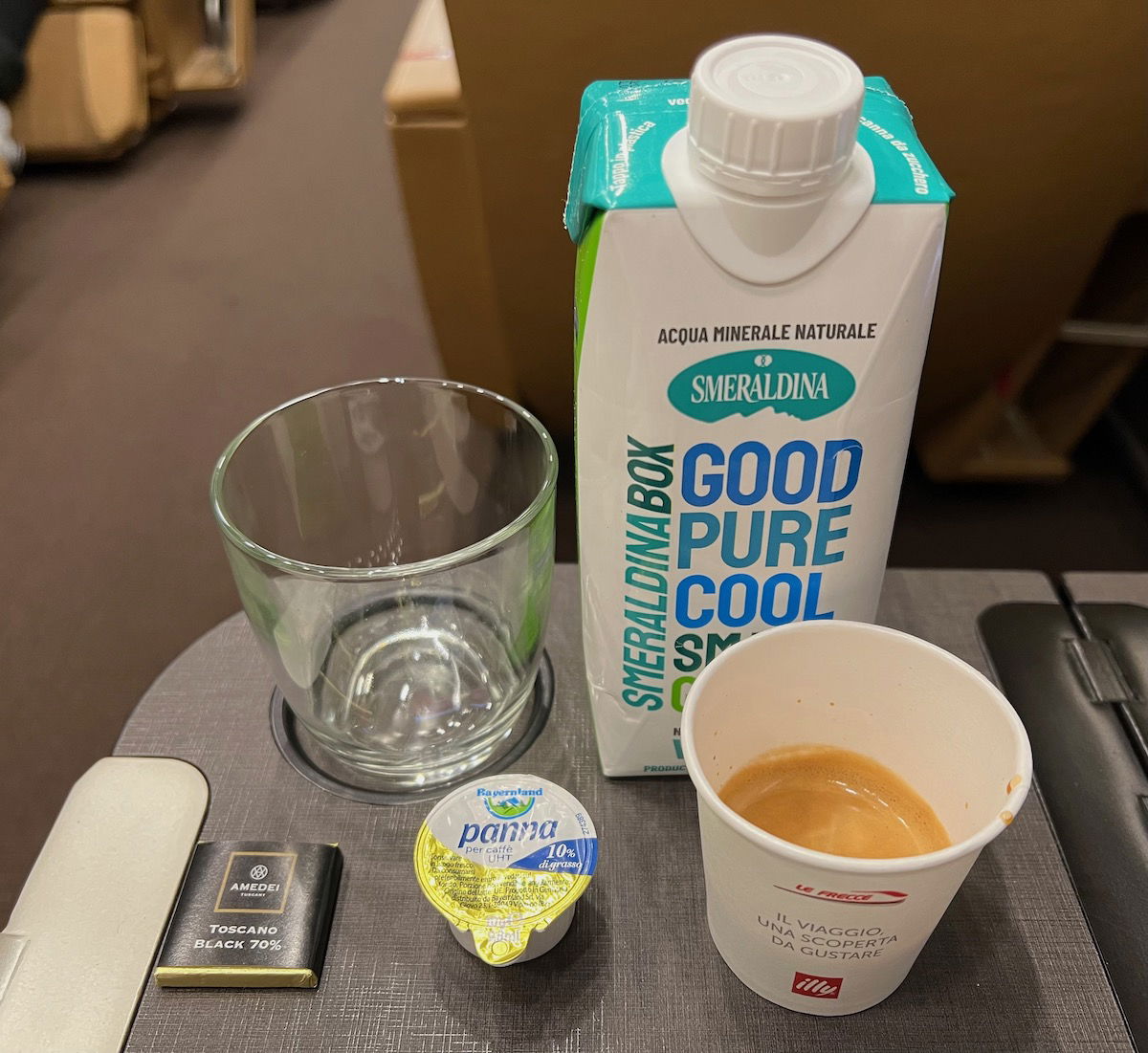 We were then presented with the menu for the train journey. It was explained that we could order whatever we wanted (from the breakfast, lunch, or dinner menu) whenever we wanted. This is pretty amazing — it's like a dine on demand concept on an international flight!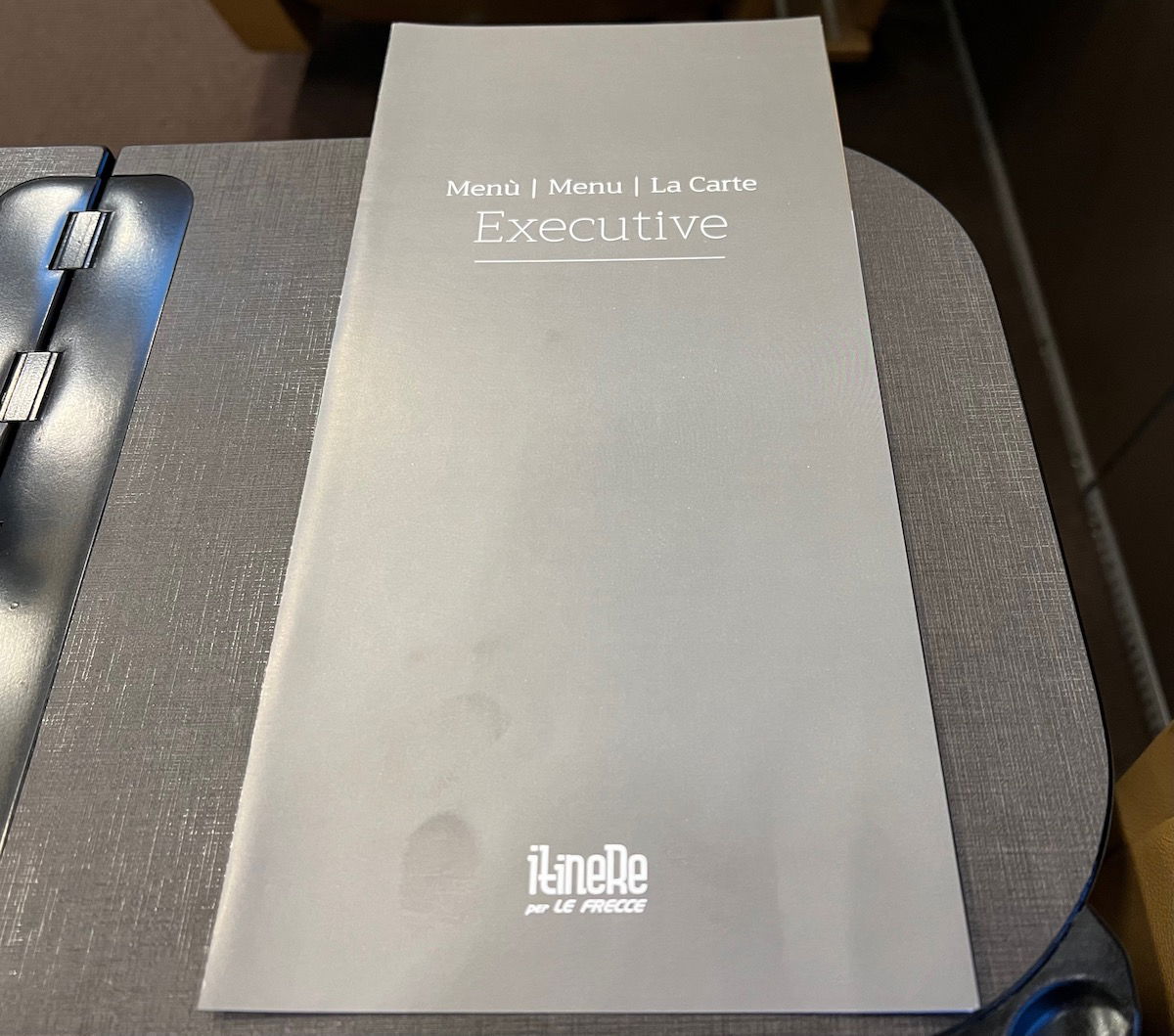 You can find the menu and drink list below.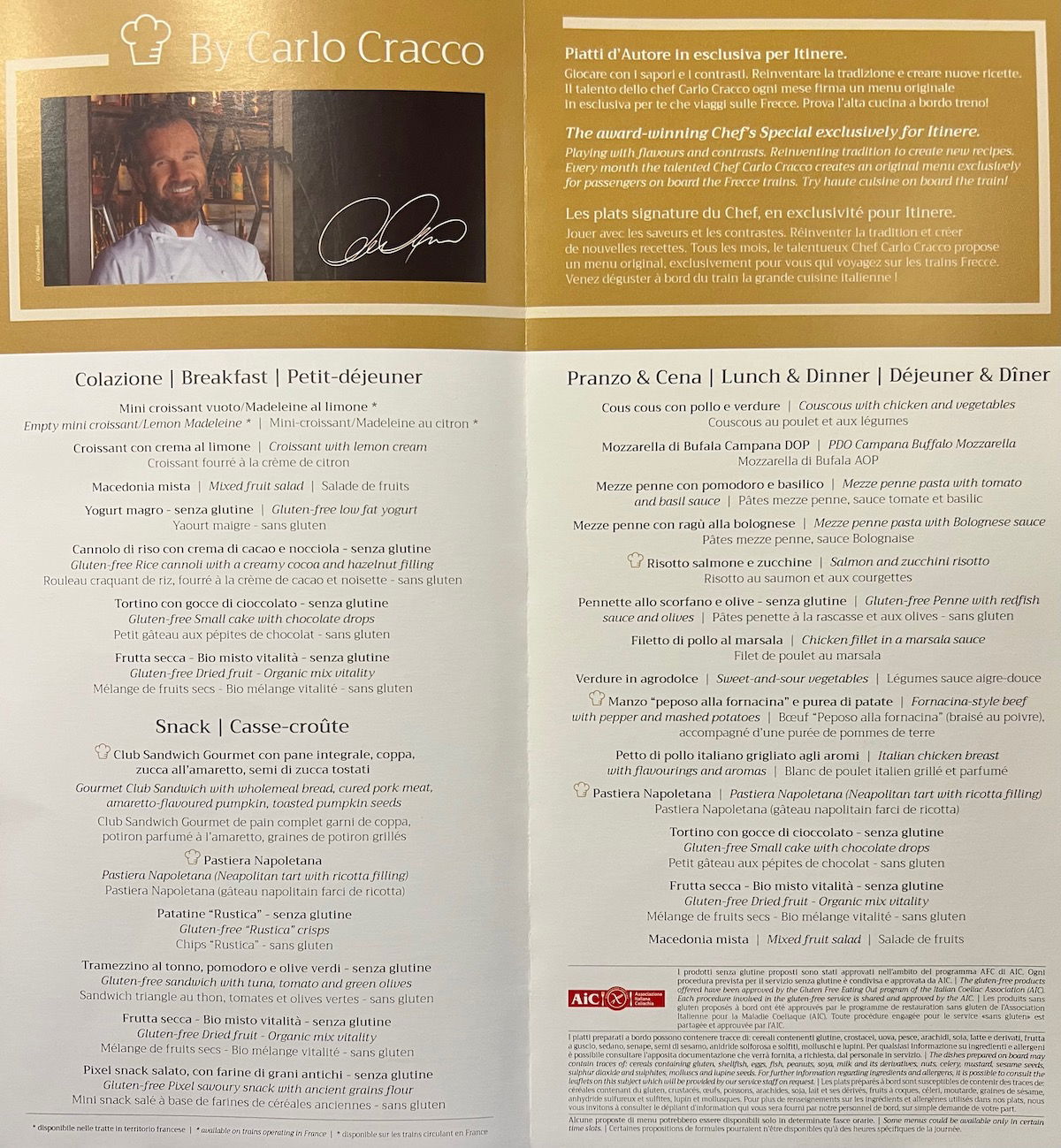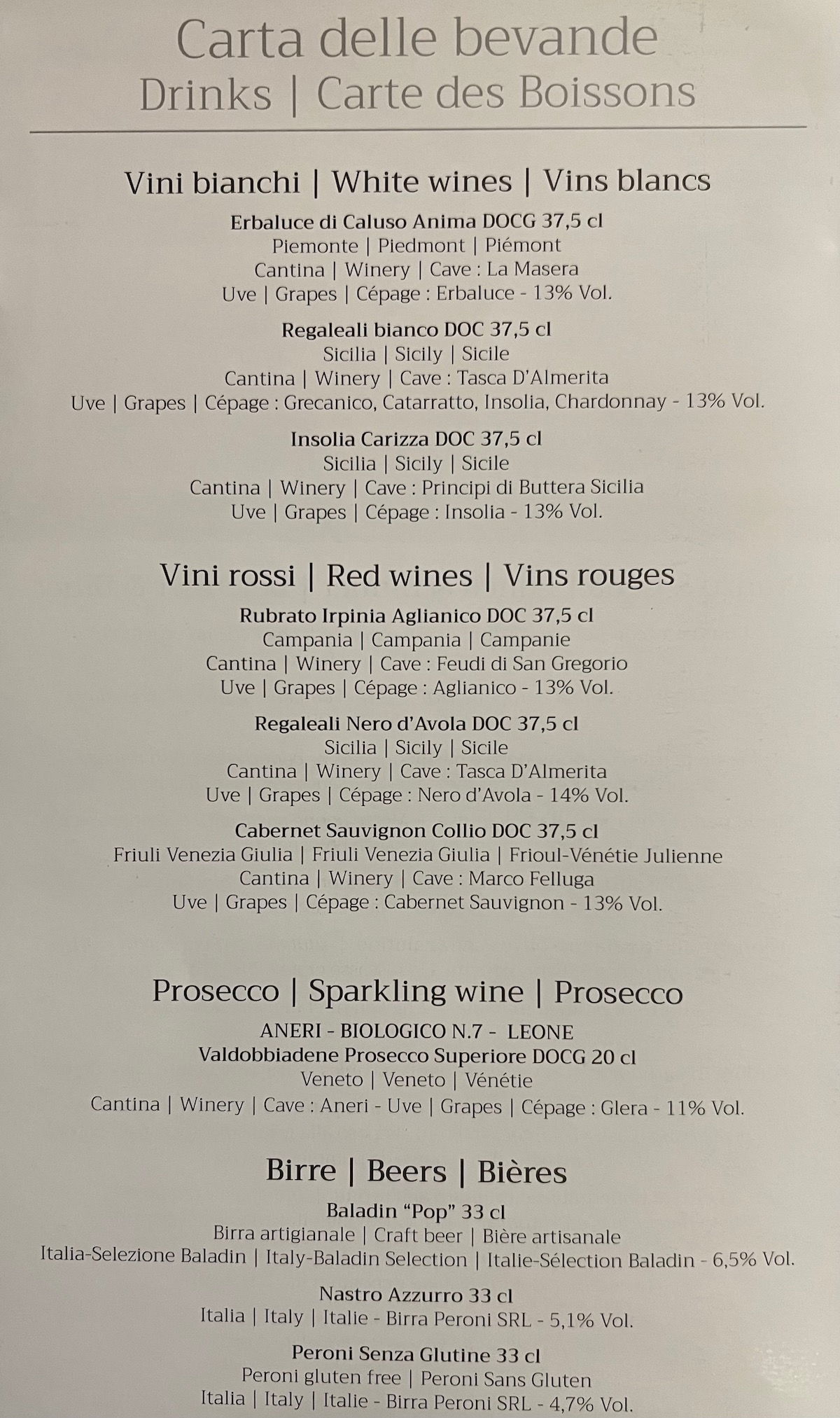 The attendant was great about keeping us hydrated, and offered several drink refills.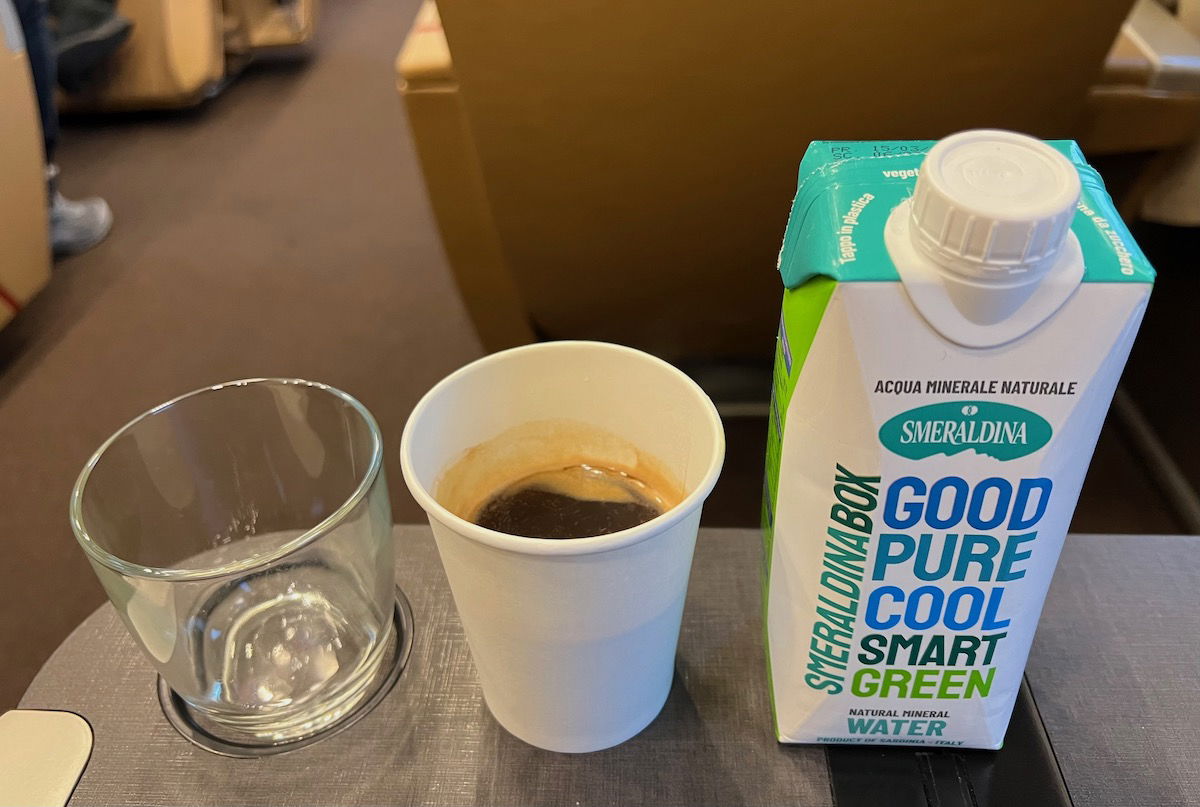 To be honest, I wish we were hungrier, but we had room service breakfast at our hotel in the morning, and there's only so much I can eat. Around 30 minutes before our arrival in Chambery I figured we had to take one for the team and order something. Even though it was only shortly after 9AM, I wanted to order a lunch option, given that I had been up for so many hours.
After placing our orders, we were first brought warm towels.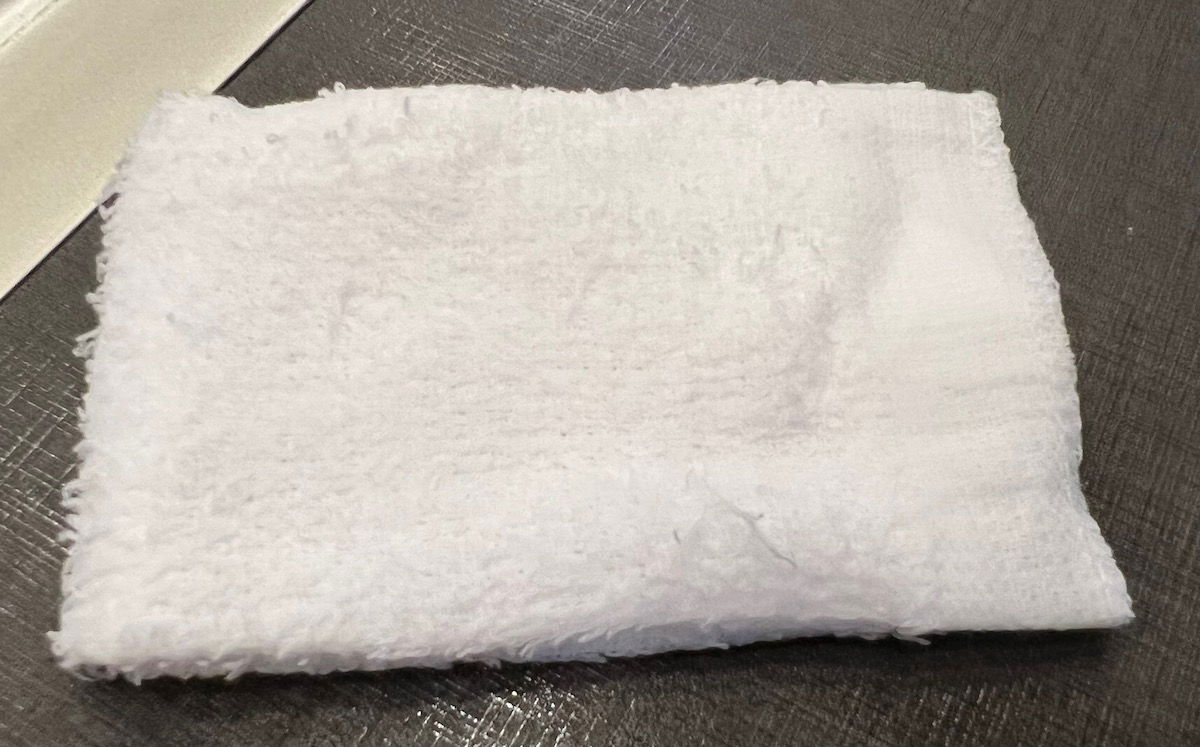 I decided to order the salmon and zucchini risotto. I was offered a bread basket to go along with it, plus also a Coke Zero.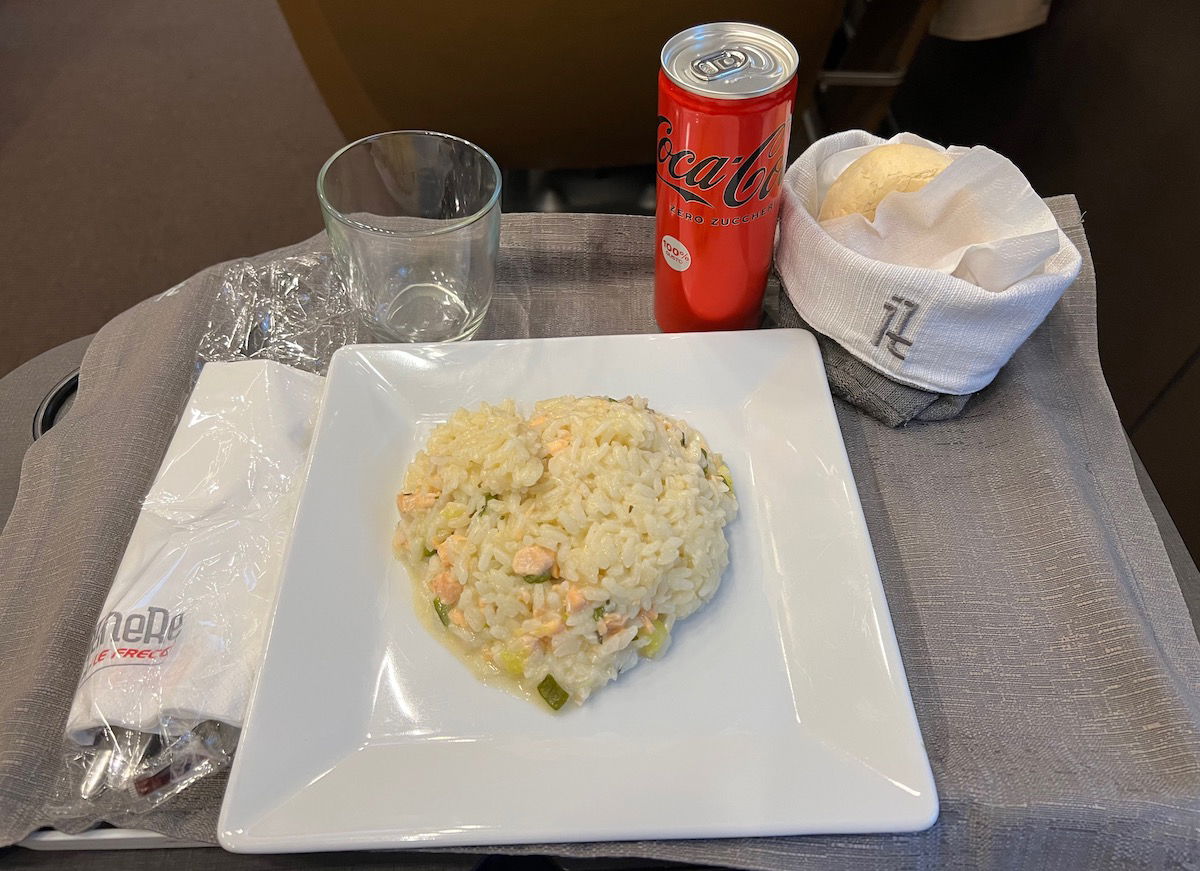 This was even presented with proper cutlery.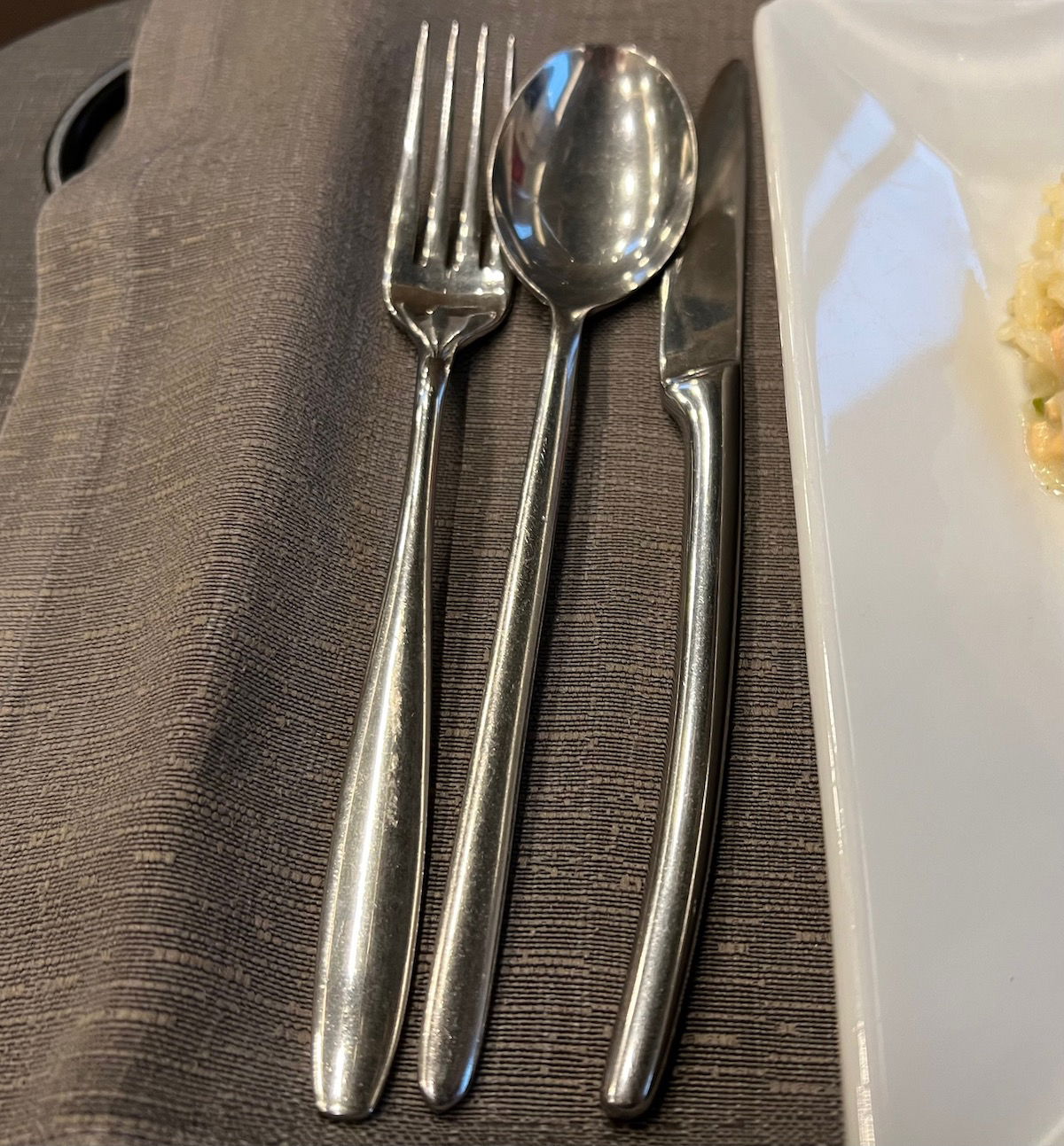 Ford ordered the couscous with chicken and vegetables, along with a sparkling water.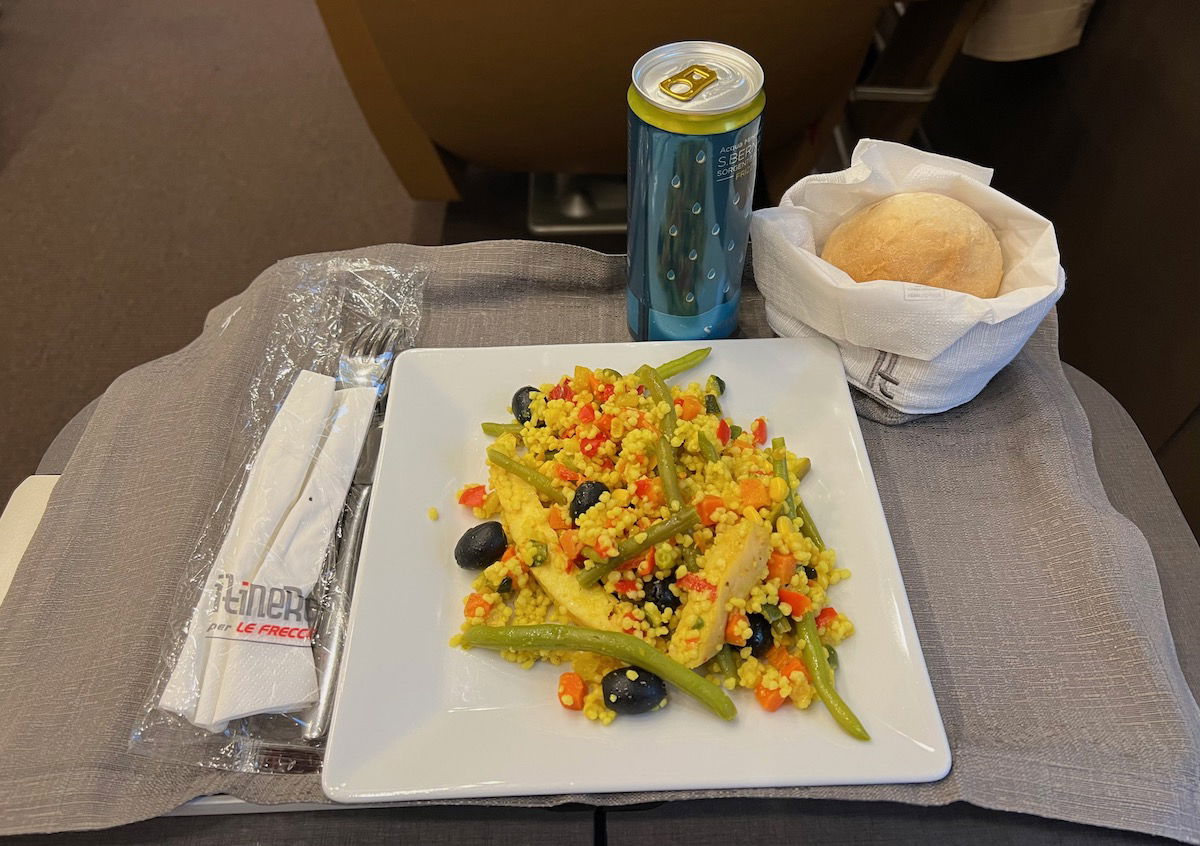 Was it the most gourmet food ever? No. But it was quite tasty, and we enjoyed it. Let me once again emphasize that you can order whatever you want (including food, alcoholic drinks, etc.), and it's all included with an executive class ticket.
Trenitalia executive class Wi-Fi
Trenitalia offers complimentary Wi-Fi, which is easy to connect to and quite fast. With limited exceptions, we had excellent connectivity throughout the journey.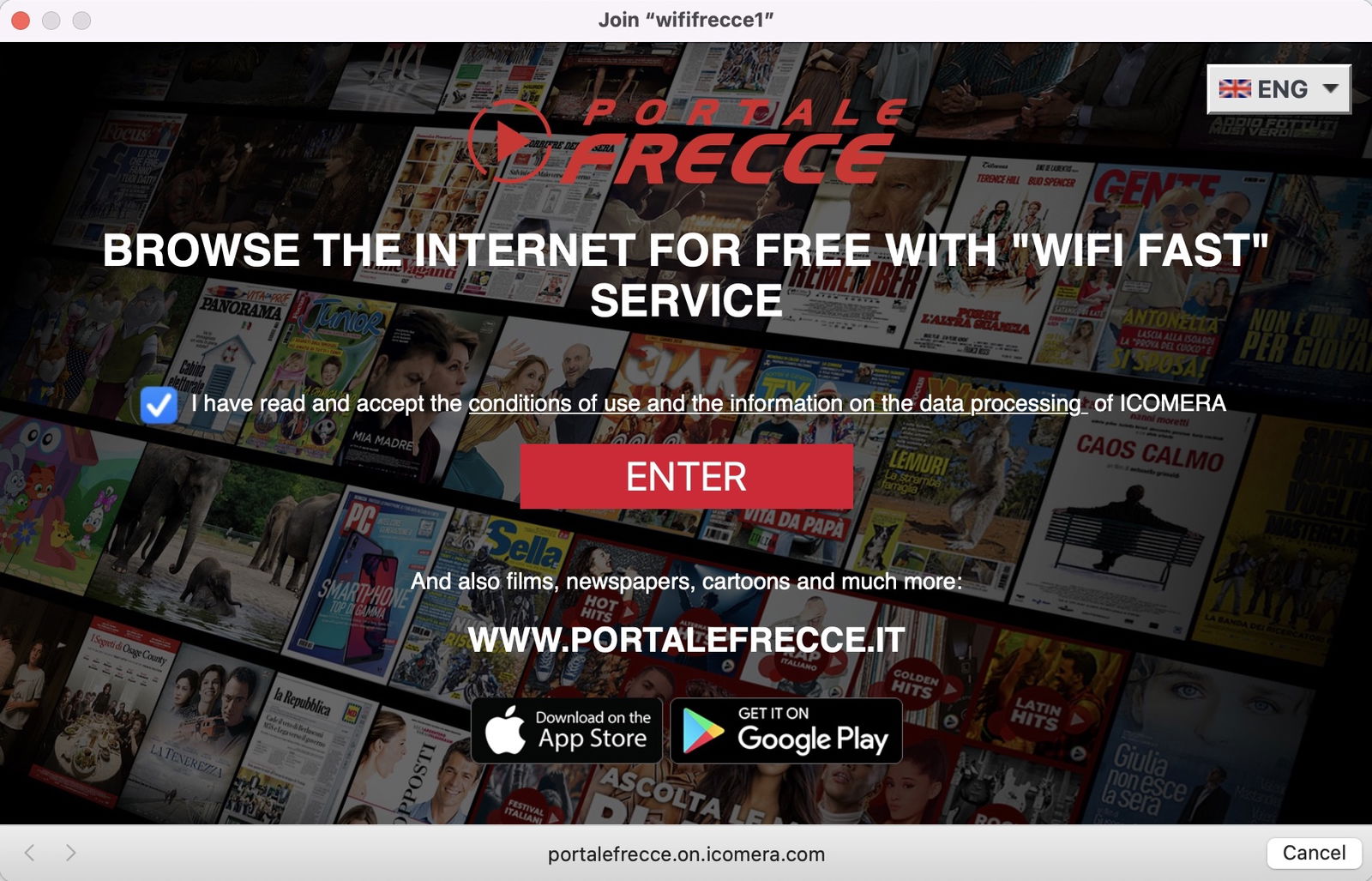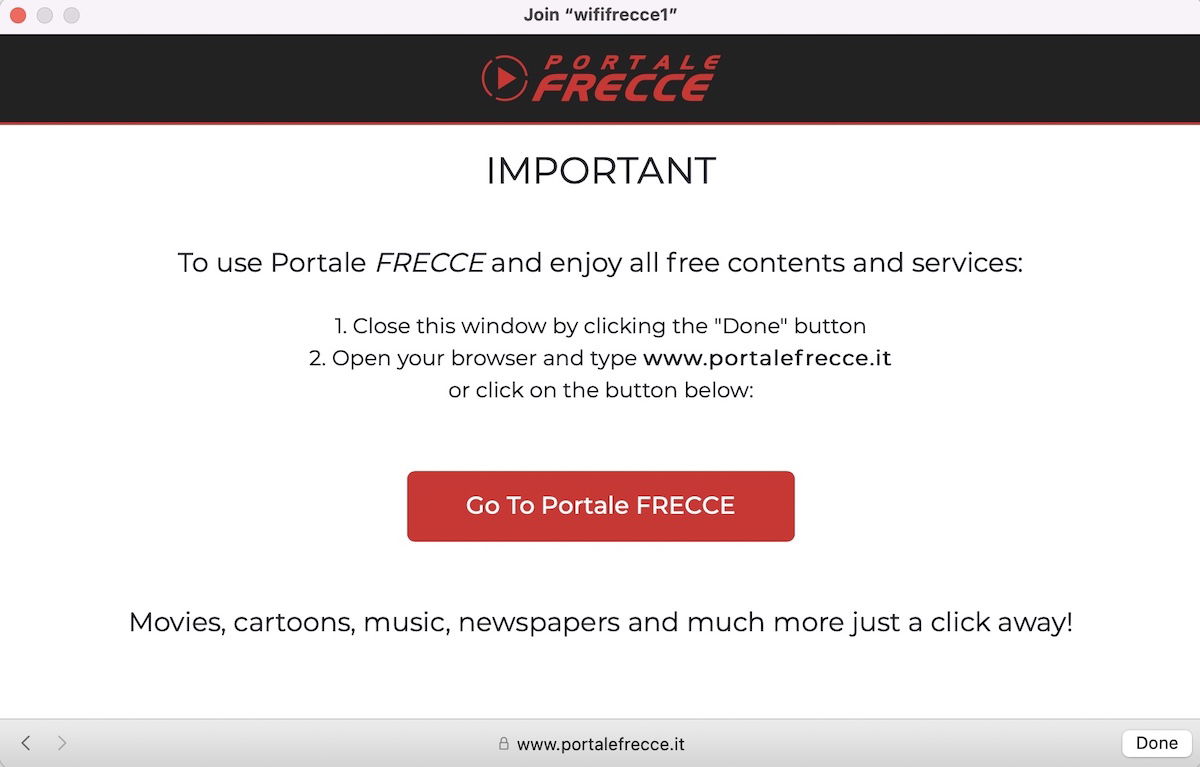 A punctual arrival at Chambery train station
There were overhead monitors constantly providing an updated status of our progress. The train was punctual, and we arrived at Chambery right on schedule.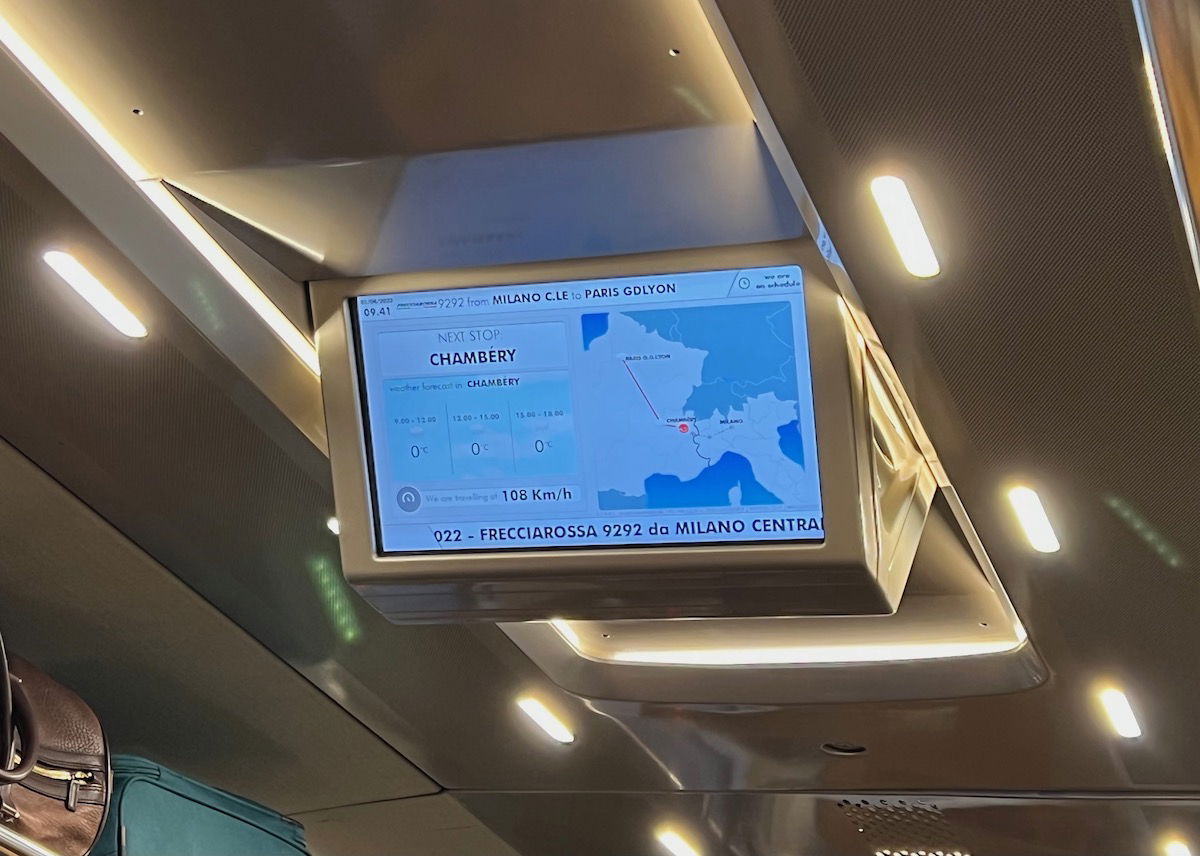 It was snowing pretty hard when we arrived, which you wouldn't usually expect for early April. That's awesome for skiing!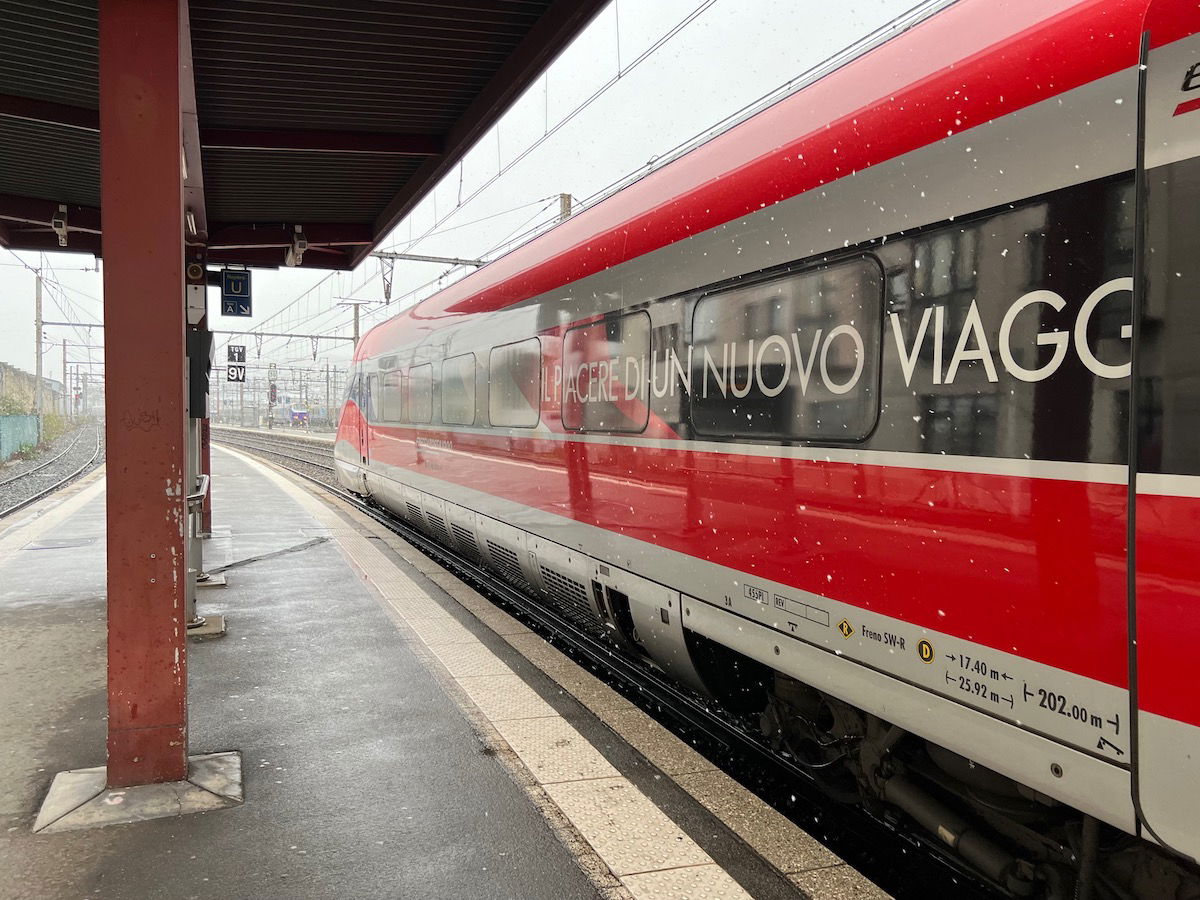 I enjoyed this train ride more than I can explain
Admittedly when it comes to transportation, I'm more of an aviation geek than anything else. However, I also really enjoy a nice train ride, and this might be my favorite train journey I've ever taken.
Planes and trains have a lot in common, in the sense that there's little I enjoy more in life than sitting in a comfortable seat on my laptop and watching the world go by. If someone is looking after me and offering me unlimited coffee and water, I'm an even happier camper.
This was just such a lovely journey, in terms of being able to watch the world go by, enjoying the sunrise, etc. And in many ways taking the train is so much better than flying — train stations are closer to city centers, you don't have to deal with many of the hassles of airports, there are no security checks, seating is much more comfortable, etc.
Even though the train from Milan to Paris takes seven hours, I'd absolutely take a train over flying in a heartbeat. I work when traveling, and there's no better "office" than something like this.
Bottom line
While the premium for Trenitalia executive class is significant, this is such a fun way to travel to & from Italy. Between the comfortable seats, the personalized service, and endless food & drink options, this is probably the least stressful and most enjoyable way I've gotten around Europe.
Having now taken Trenitalia's executive class, I'm viewing getting to & from Italy from other places in Europe in a completely different way. I'd gladly take a long journey in this cabin over flying. If you have the chance to experience Trenitalia's executive class, I can't recommend it enough.
If you've taken Trenitalia executive class, what was your experience like?