EXTRA PERKS AVAILABLE
Enjoy breakfast, upgrades, & more
Want to take advantage of Marriott STARS benefits, including a space available room upgrade, complimentary breakfast, a hotel credit, and more? Contact Ford ([email protected]) for more details. He may even be able to help if you already have a stay booked. This is valid for paid stays at BVLGARI, EDITION, Ritz-Carlton, Ritz-Carlton Reserve, and St. Regis.
After a night at the St. Regis Venice, it was time to spend three nights at The Gritti Palace Venice, a Marriott Luxury Collection property. This is a points property I've been wanting to check out for a long time. It's generally regarded as one of the best hotels in Venice, as it has a lot of history, a great sense of place, and is known for its food & beverage outlets.
Gritti Palace is a great hotel, don't get me wrong. But I think it's also a bit past its prime, and could use a refresh at this point. I might not have felt this way if I hadn't stayed at the St. Regis, but I definitely preferred that property in the end.
Booking Gritti Palace Venice
I redeemed Marriott Bonvoy points for our three night stay at Gritti Palace. The hotel was charging 85,000 Marriott Bonvoy points per night, and for context, I value Bonvoy points at 0.7 cents each.
I decided to apply a Marriott suite night award to our reservation, and was pleased that this was confirmed a couple of days in advance. The upgrade was to a Sestiere Suite, which is the hotel's standard one bedroom suite.
For context, for our dates a standard room was retailing for over 1,100 Euro per night.

Meanwhile the suite that our upgrade confirmed into was retailing for nearly twice as much, roughly 2,150 Euro per night.

Gritti Palace Venice location
The 82-room Gritti Palace is located right on the Grand Canal, near San Marco. Location-wise there's almost no difference between this and the St. Regis, as they're a short walk apart.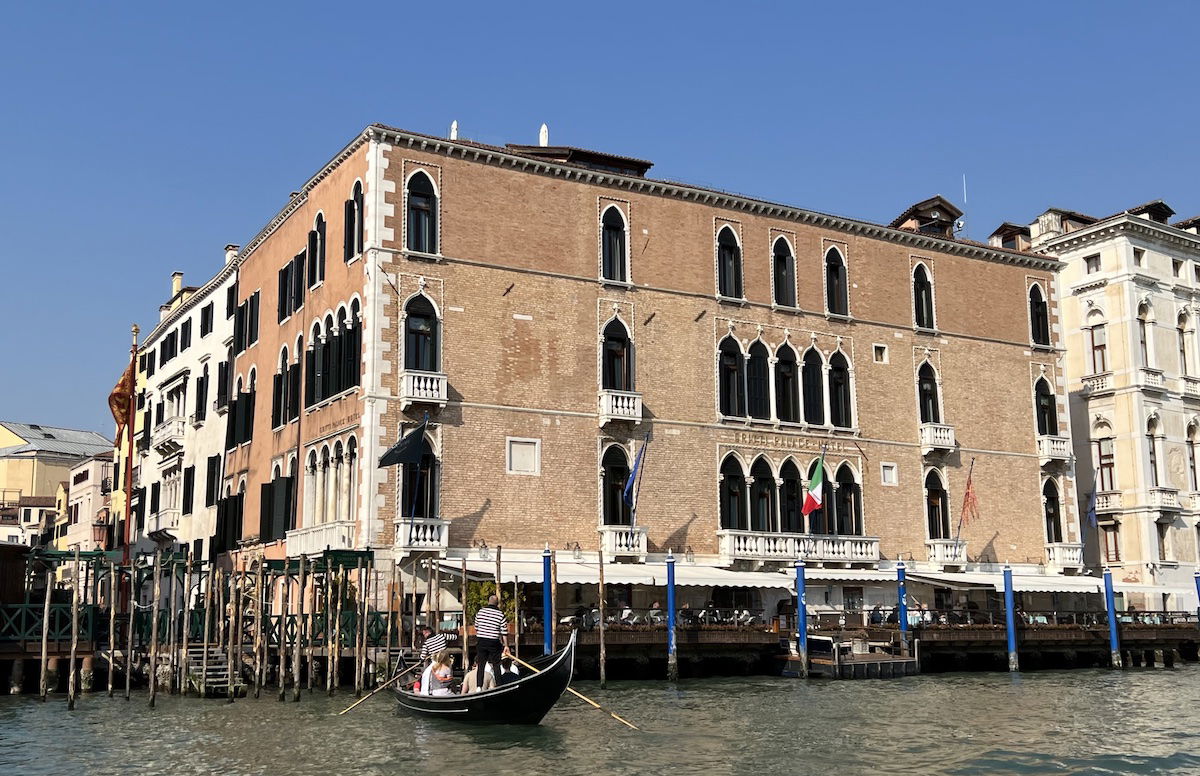 If arriving from the airport or train station, you'll have to take a water taxi, which is always a fun way to arrive at the hotel. You can expect that a water taxi from the airport will take around 40 minutes, while a water taxi from the train station will take around 15 minutes.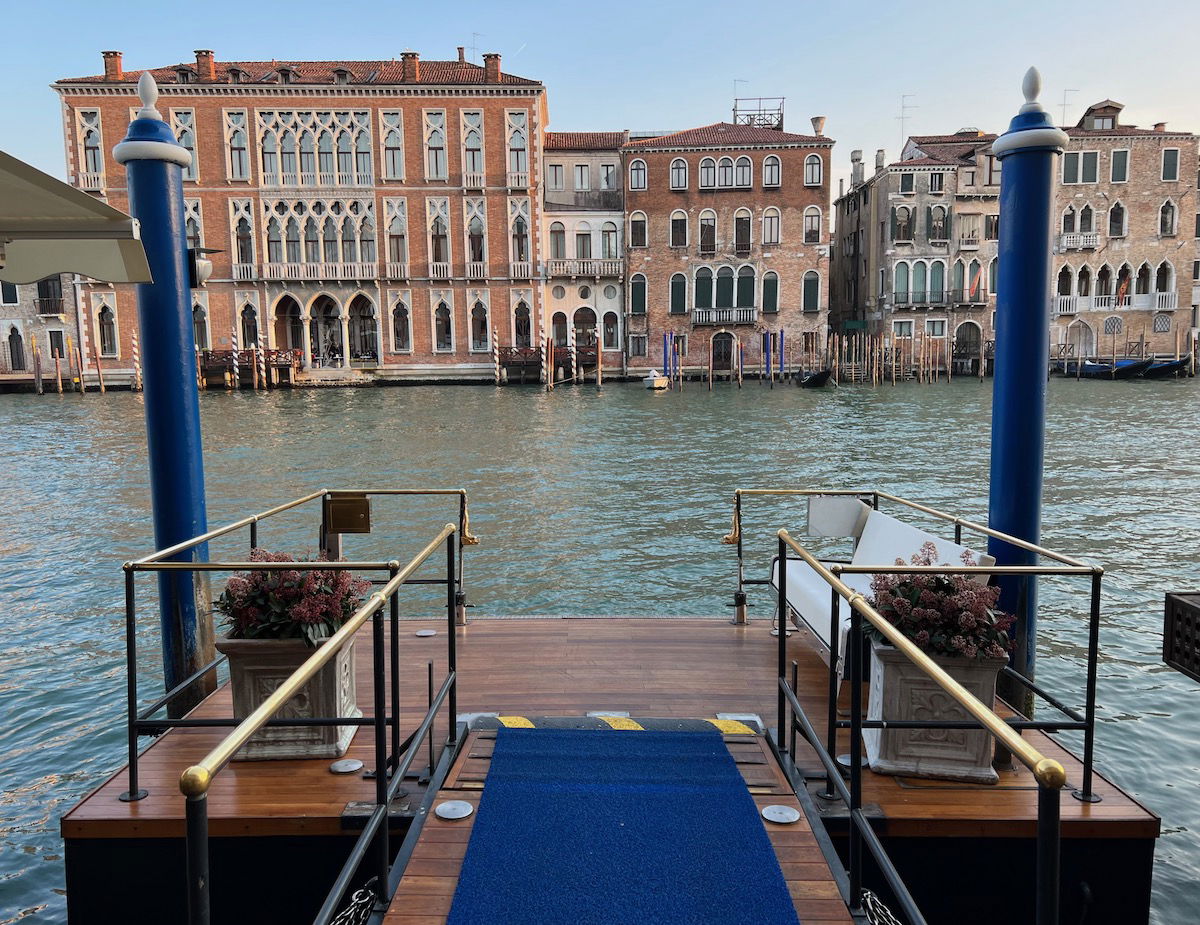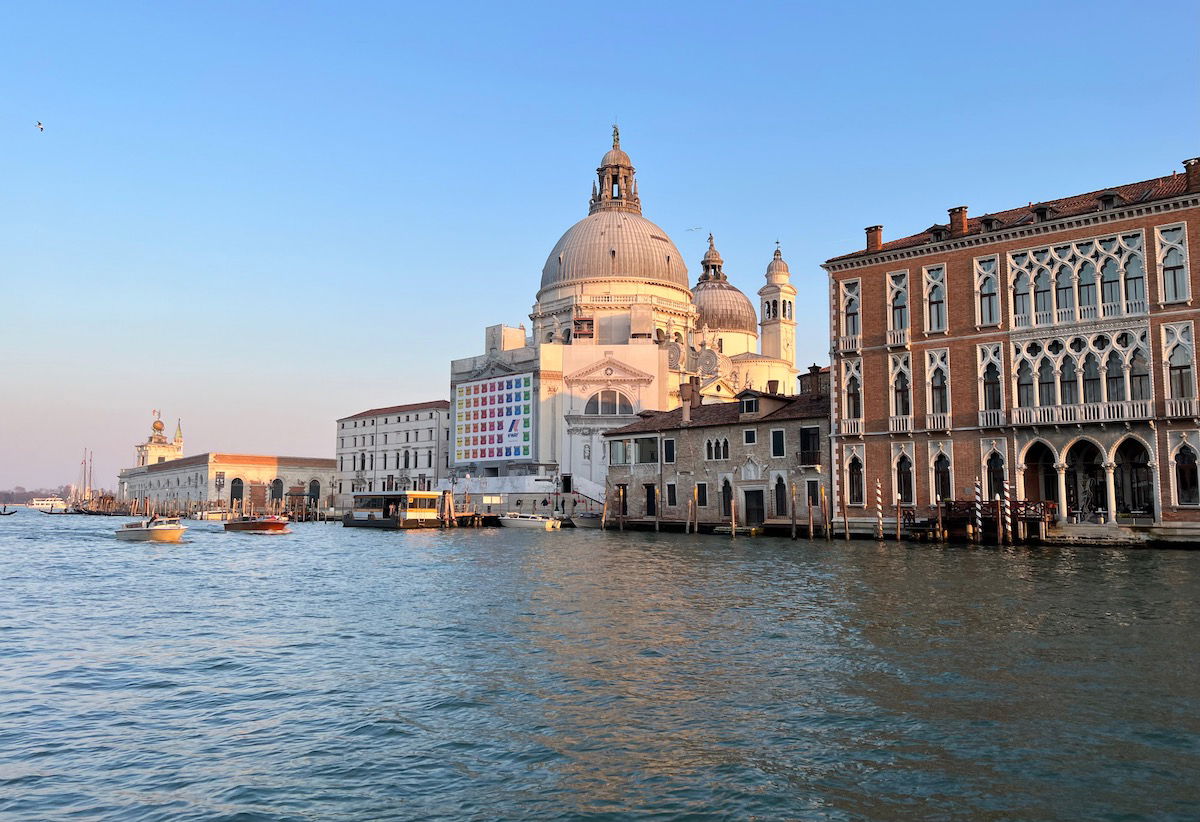 Gritti Palace can also be accessed from land, as there are paths and bridges connecting most of Venice. So if you're just going for a stroll, this is the way to access the hotel. As you can see in the below picture, Gritti Palace consists of several separate buildings, as the yellow, beige, and clay buildings are all the hotel.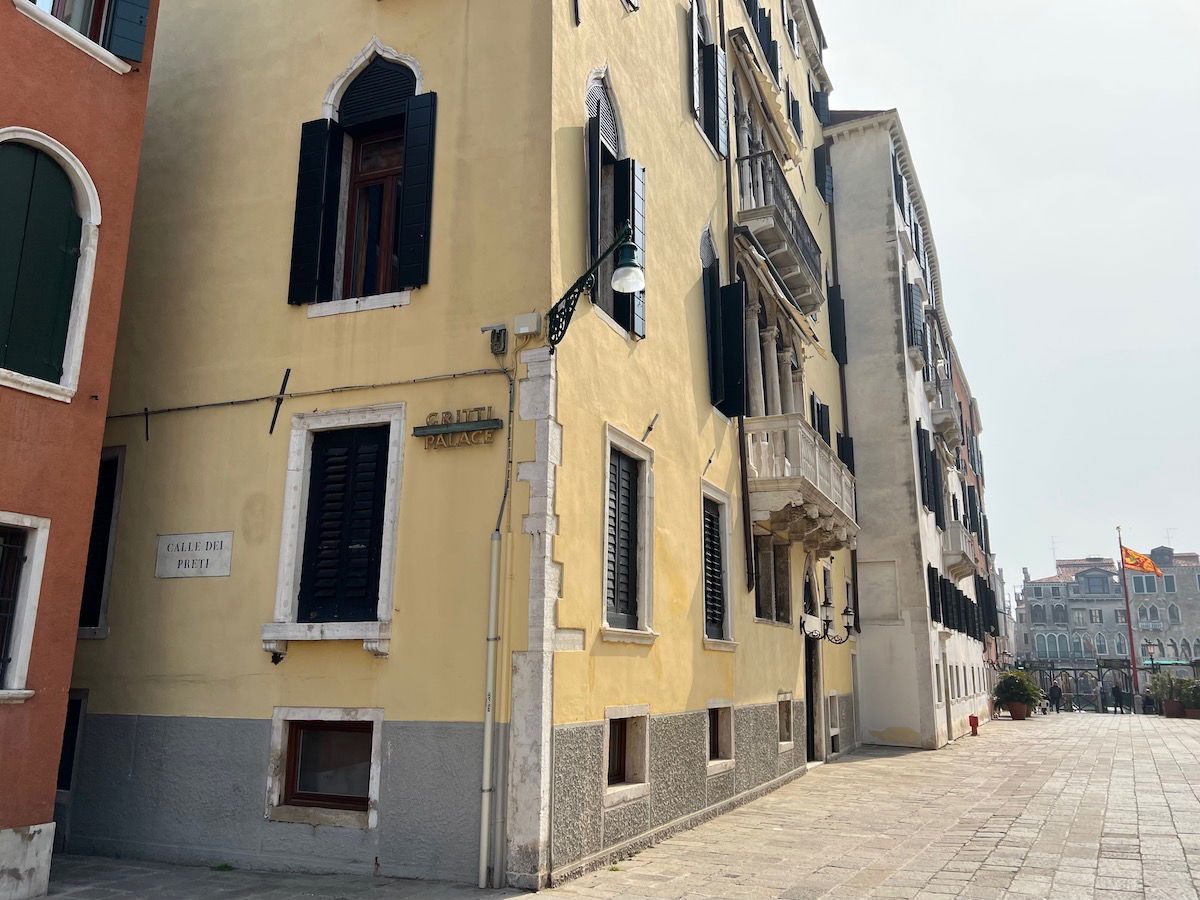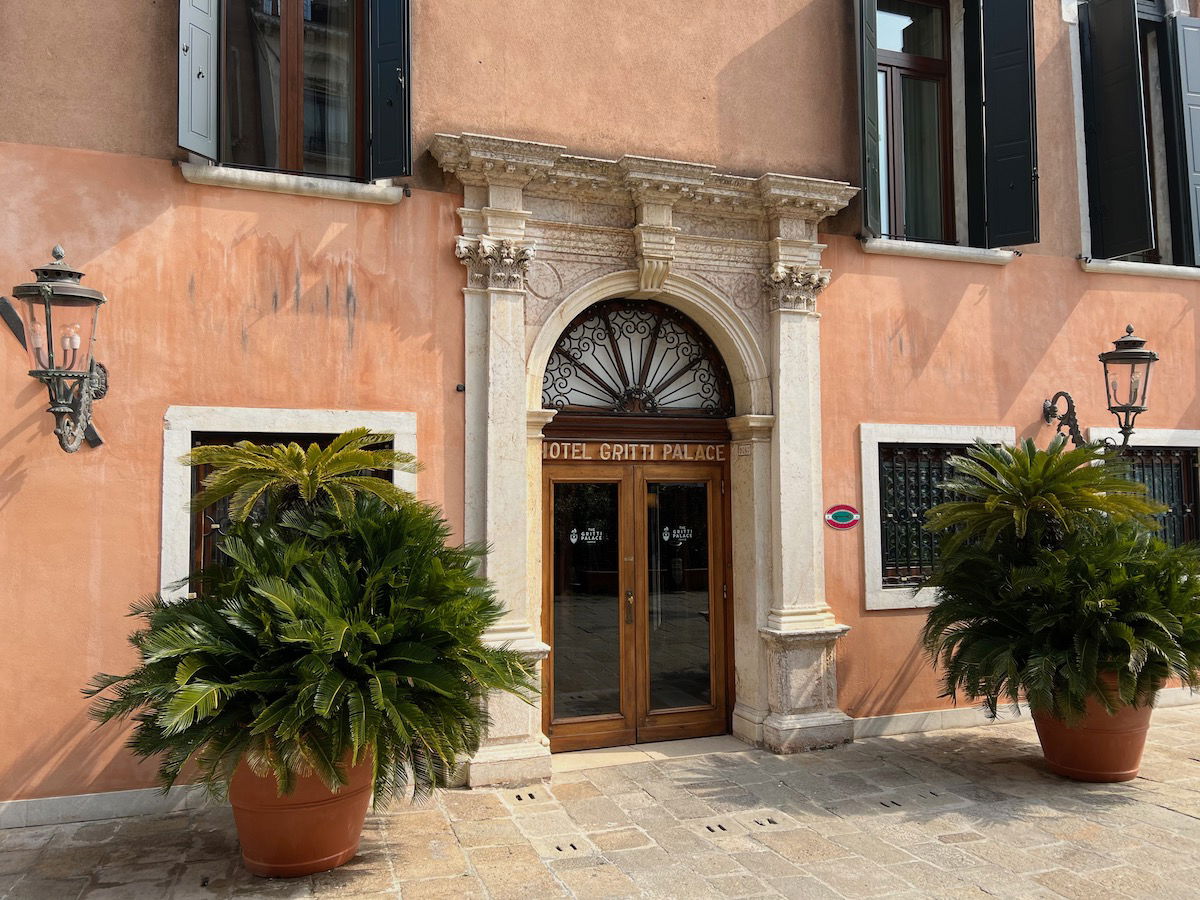 Gritti Palace Venice lobby & check-in
Okay, here's the issue with Gritti Palace. The hotel has a real sense of place, much more so than the St. Regis, and that's something I generally appreciate. As a matter of fact, my favorite kind of hotels are probably renovated classic hotels that maintain their charm.
The problem is that Gritti Palace is starting to feel a bit shabby chic. Like not awfully past its prime to the point that I feel like this place needed a renovation two decades ago, but rather past its prime to the point that it doesn't feel totally luxurious anymore.
For that matter, many areas of the hotel felt like they'd be beautiful as part of a museum (or haunted house?), but weren't necessarily cozy. Maybe the pictures will drive home that point, maybe they won't.
Inside the entrance to the hotel was the concierge desk on the right. This is an old school desk where all the room keys hang, so when you check-in, the front office associate escorts you to the concierge desk, where you get your key. Then when you leave the hotel you can also always leave your key there, since it's bulky.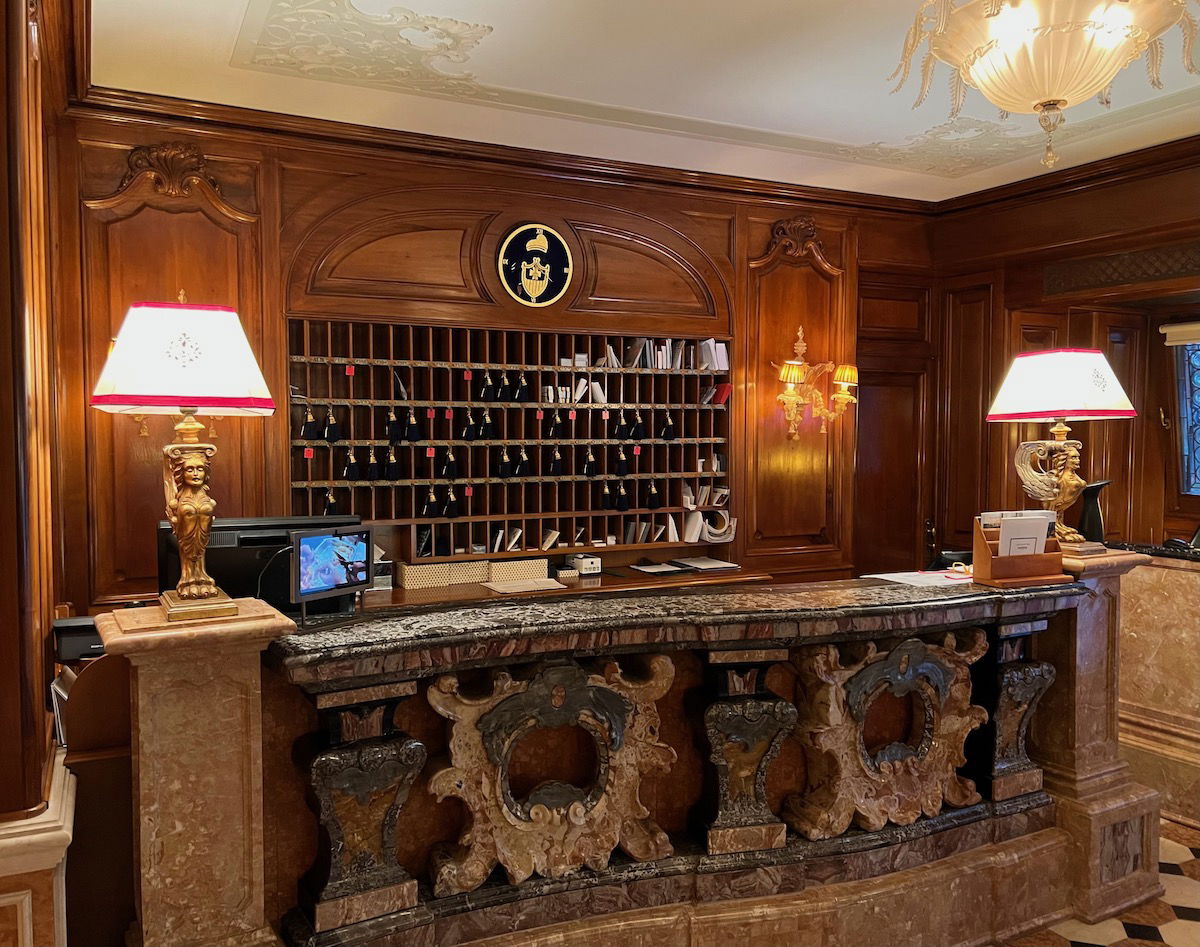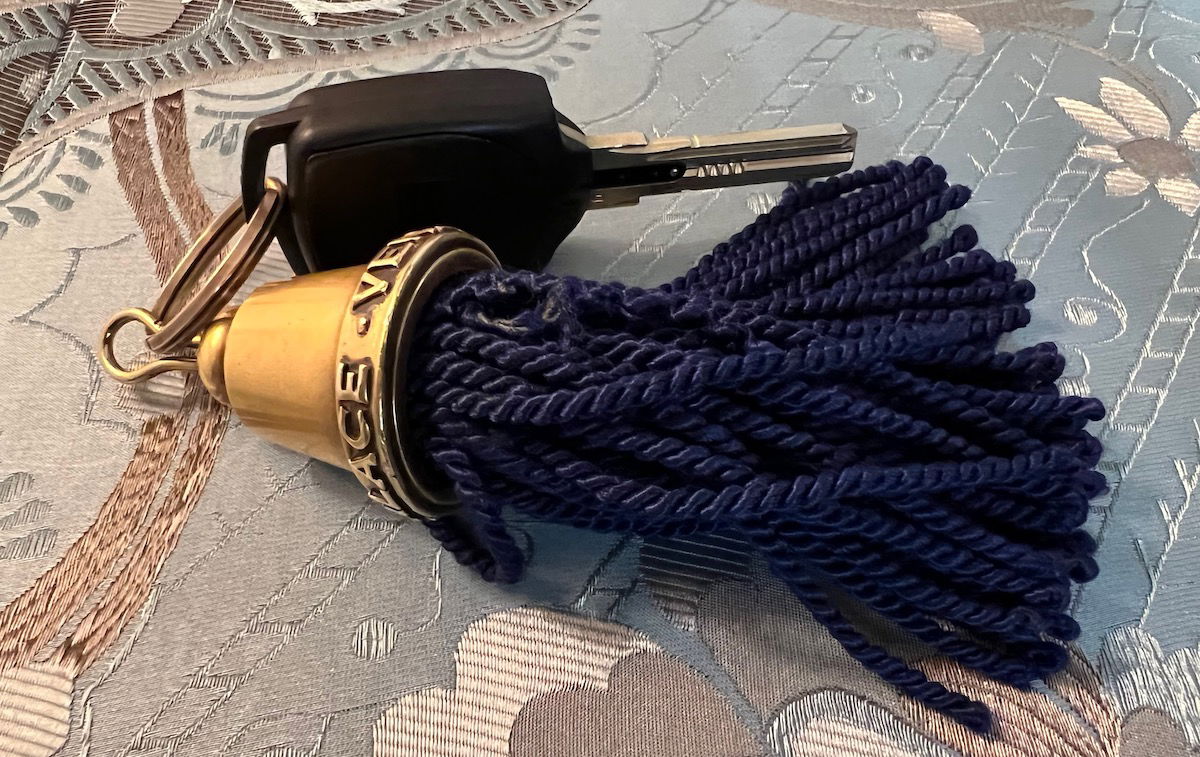 Reception was located across from the concierge desk, and consisted of two desks where guests could sit while being checked in.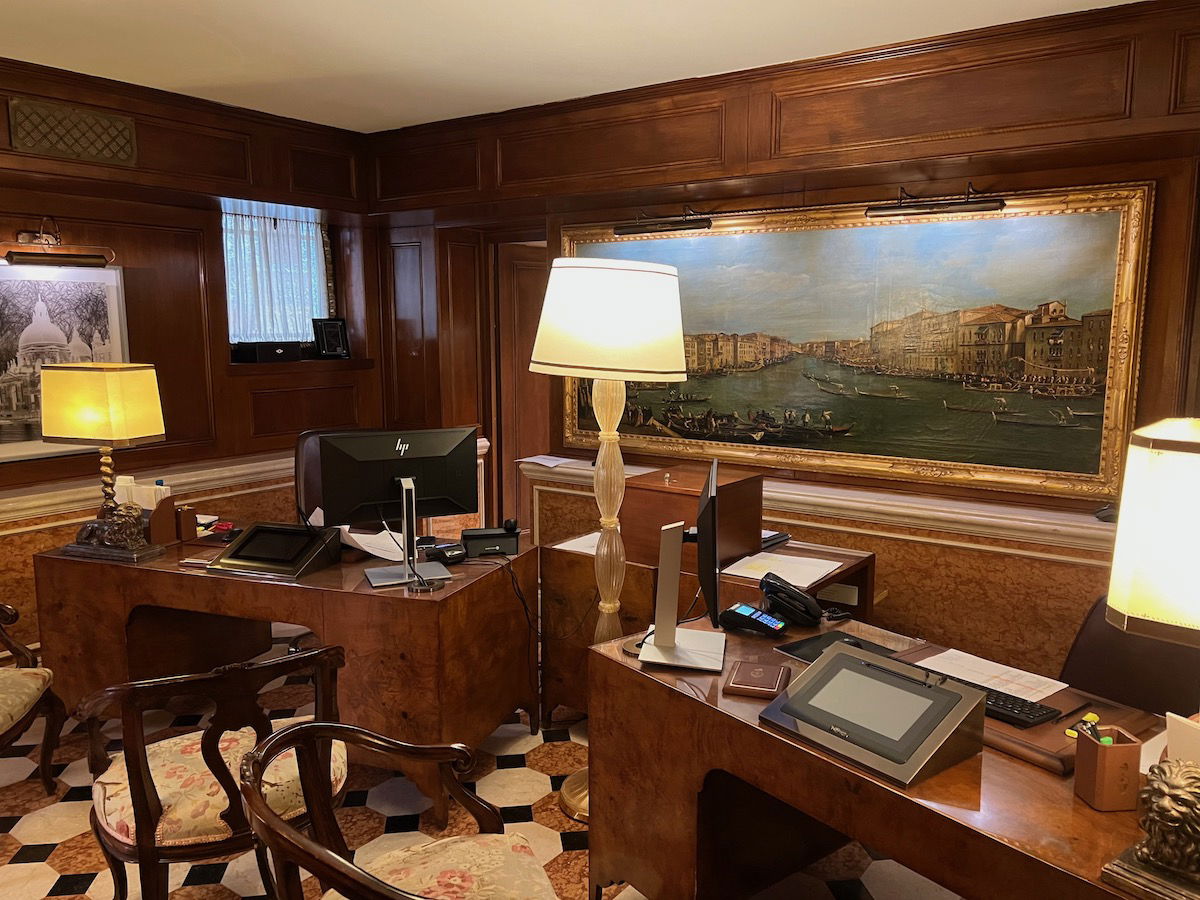 Past reception and the concierge desk is a room that feels more like an exhibit than somewhere to sit. This is also near the entrance to the hotel's bar.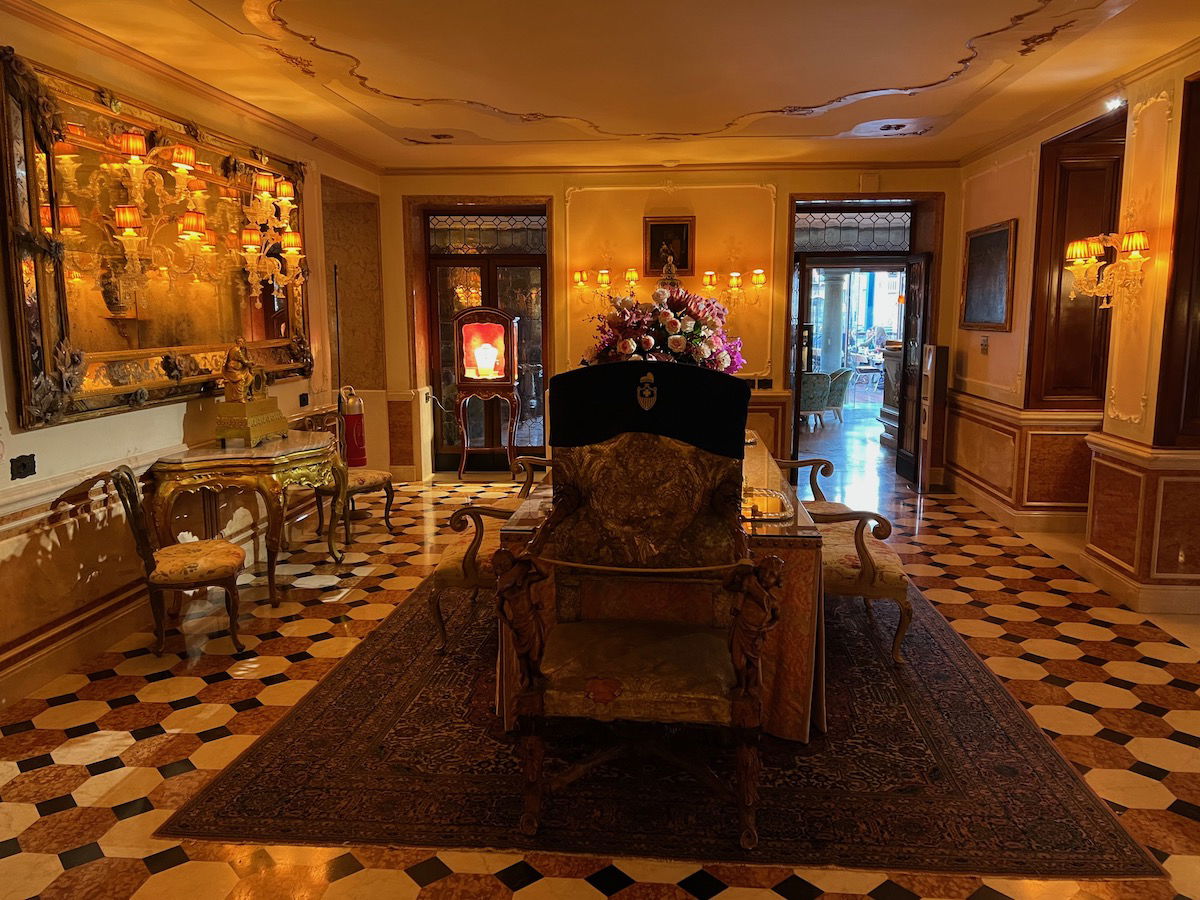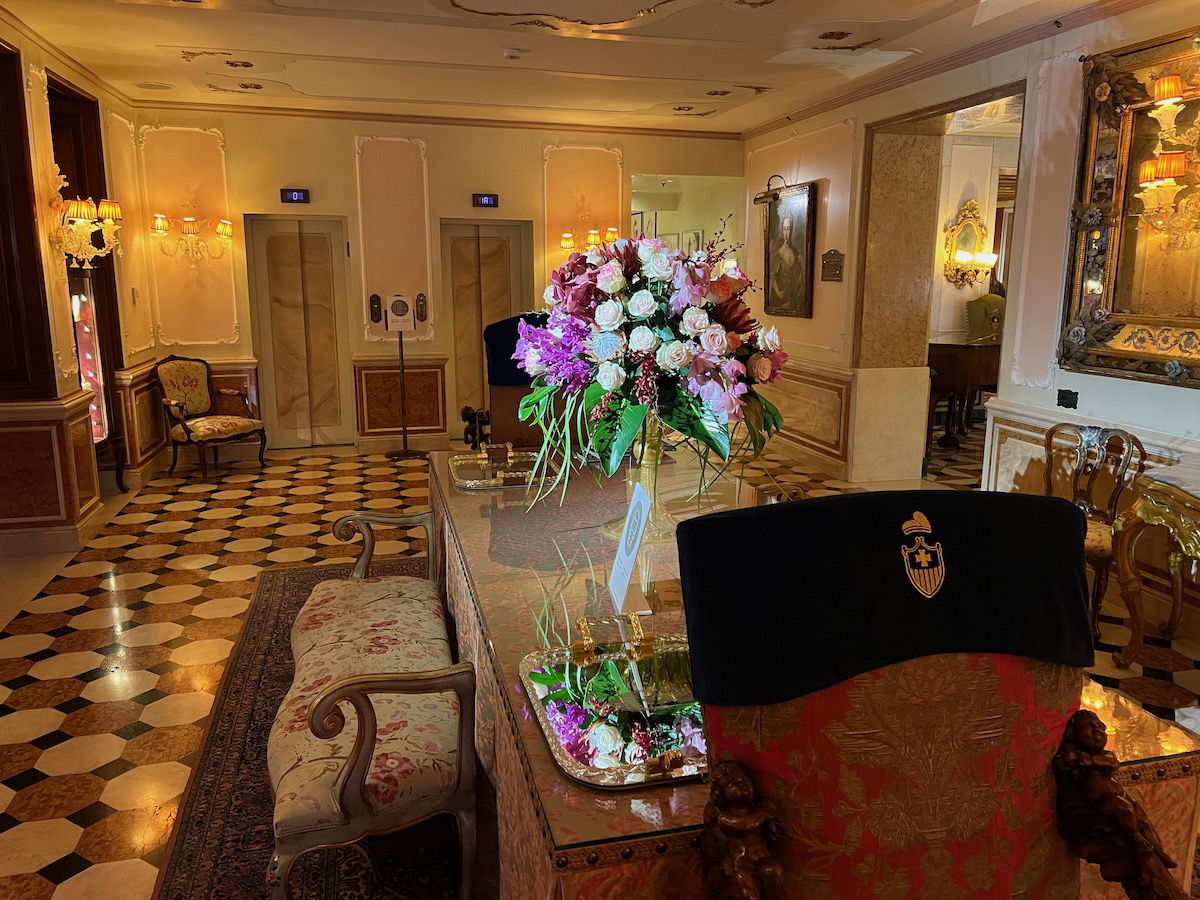 And then in the back is the biggest area of the lobby, which almost transforms you to a different world.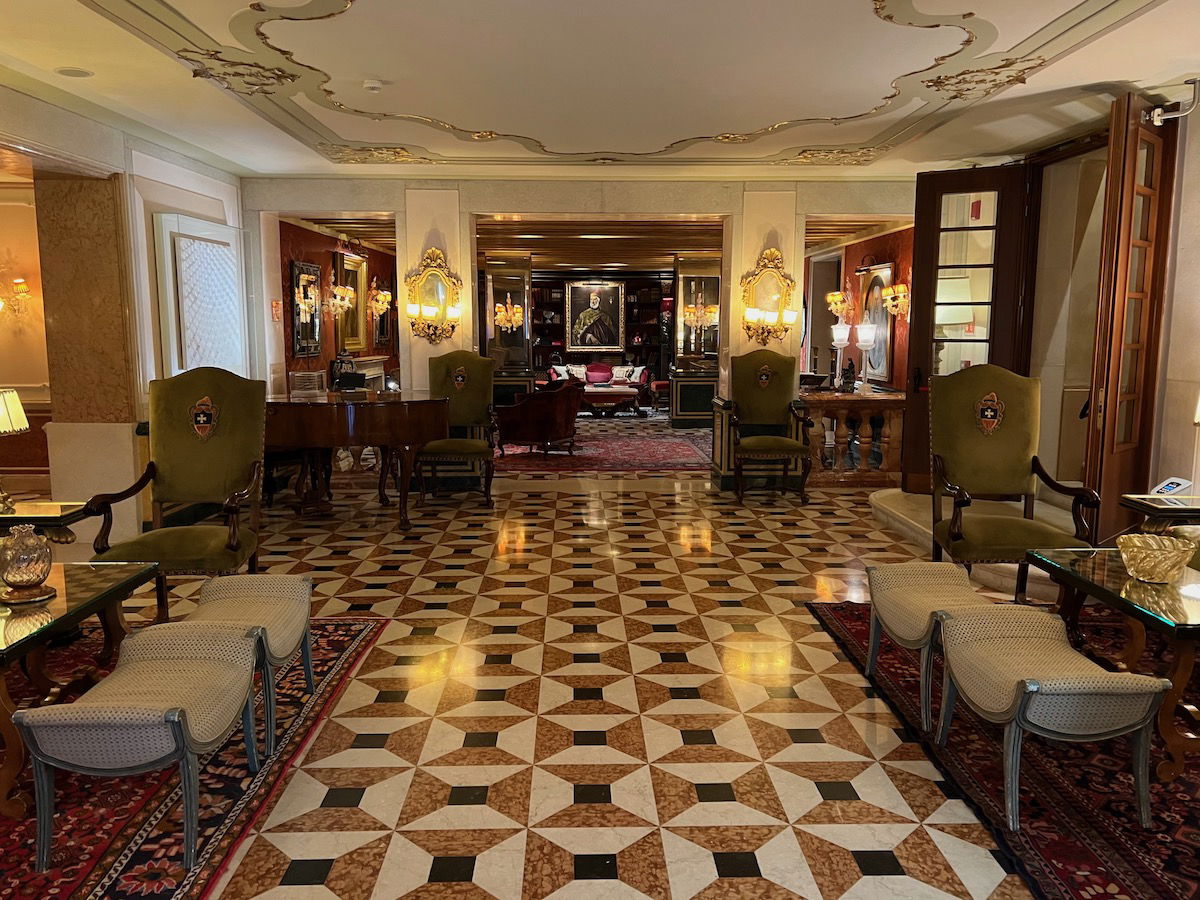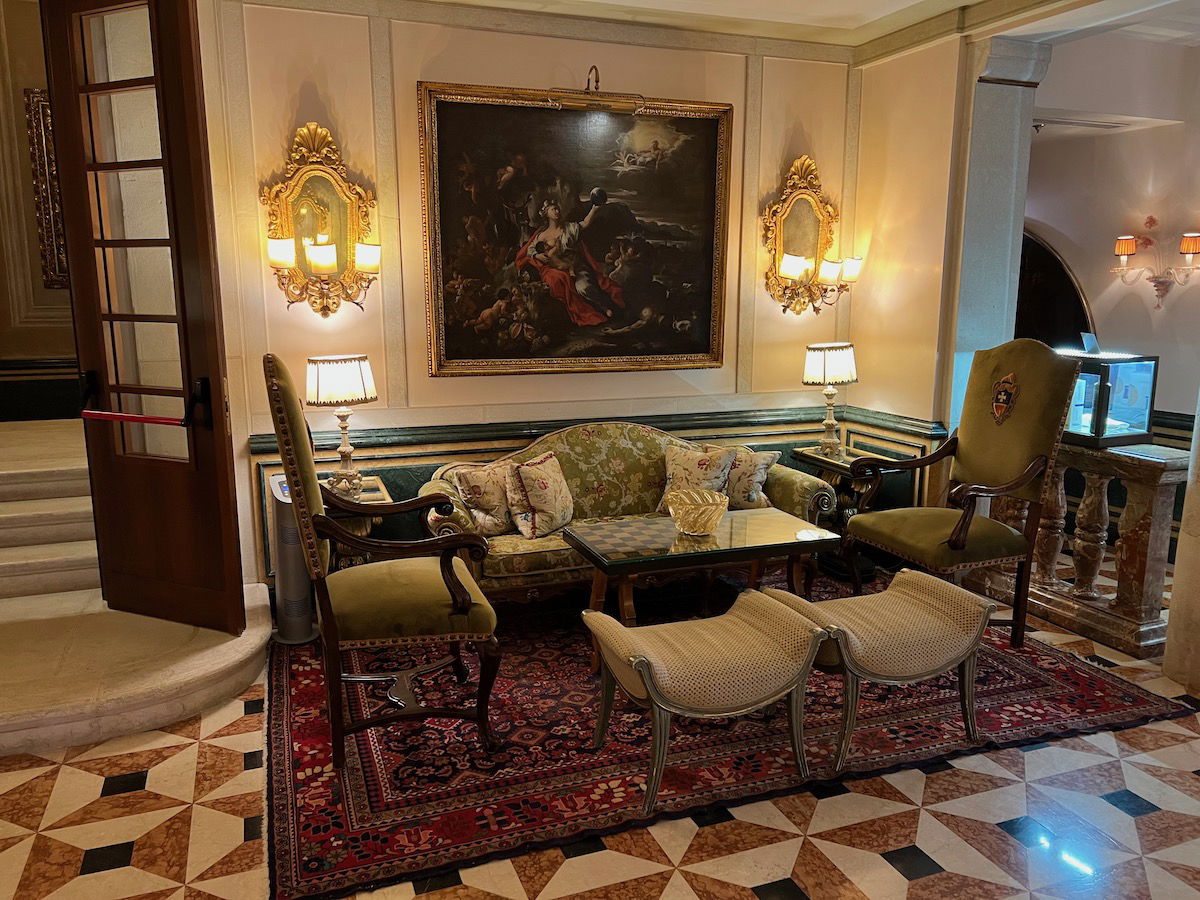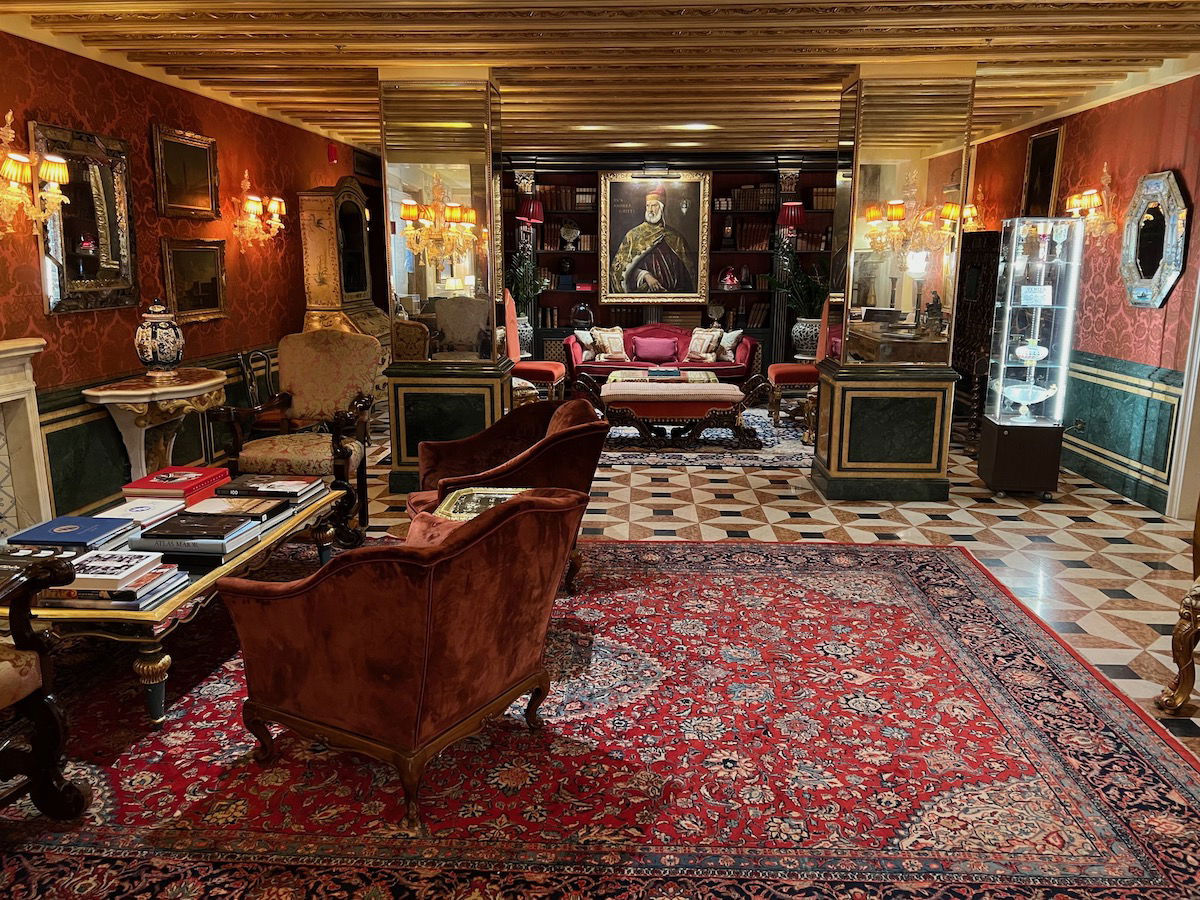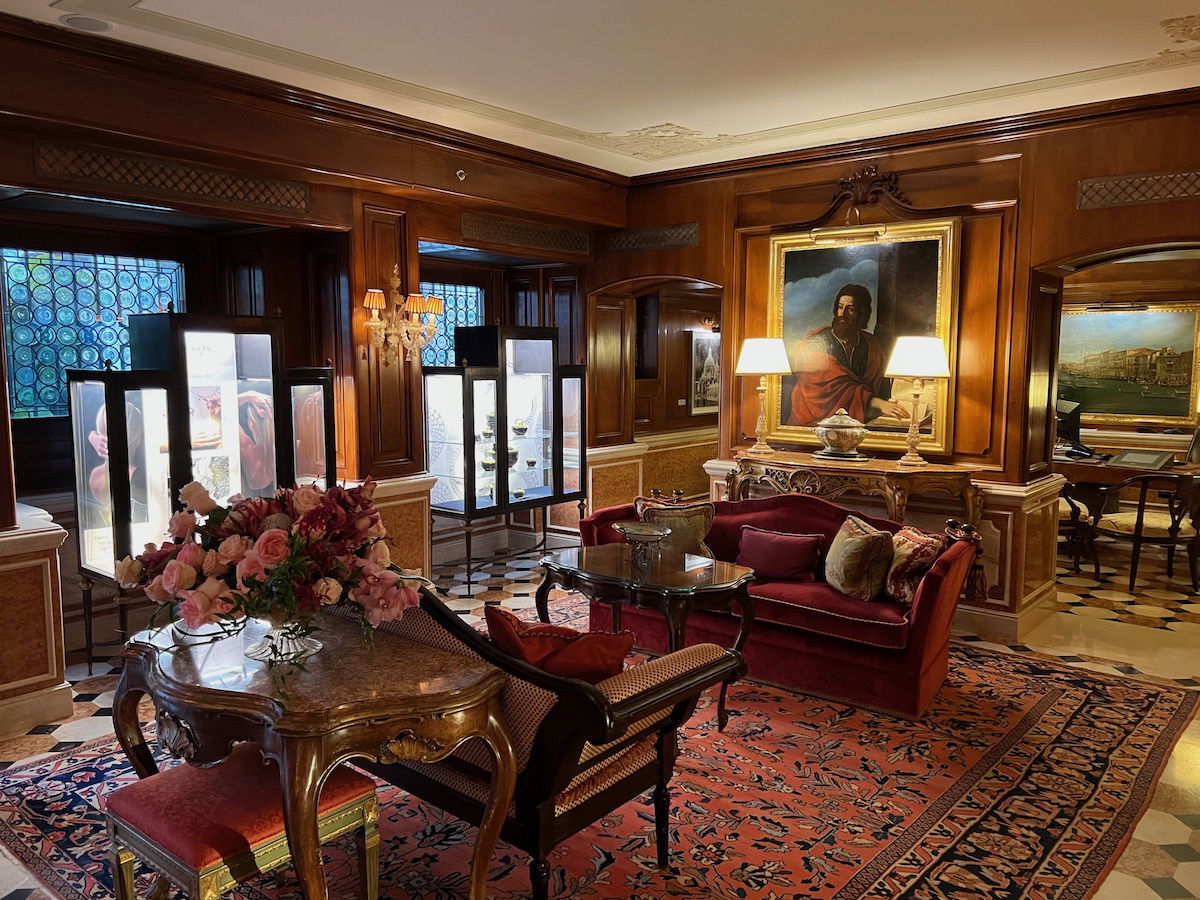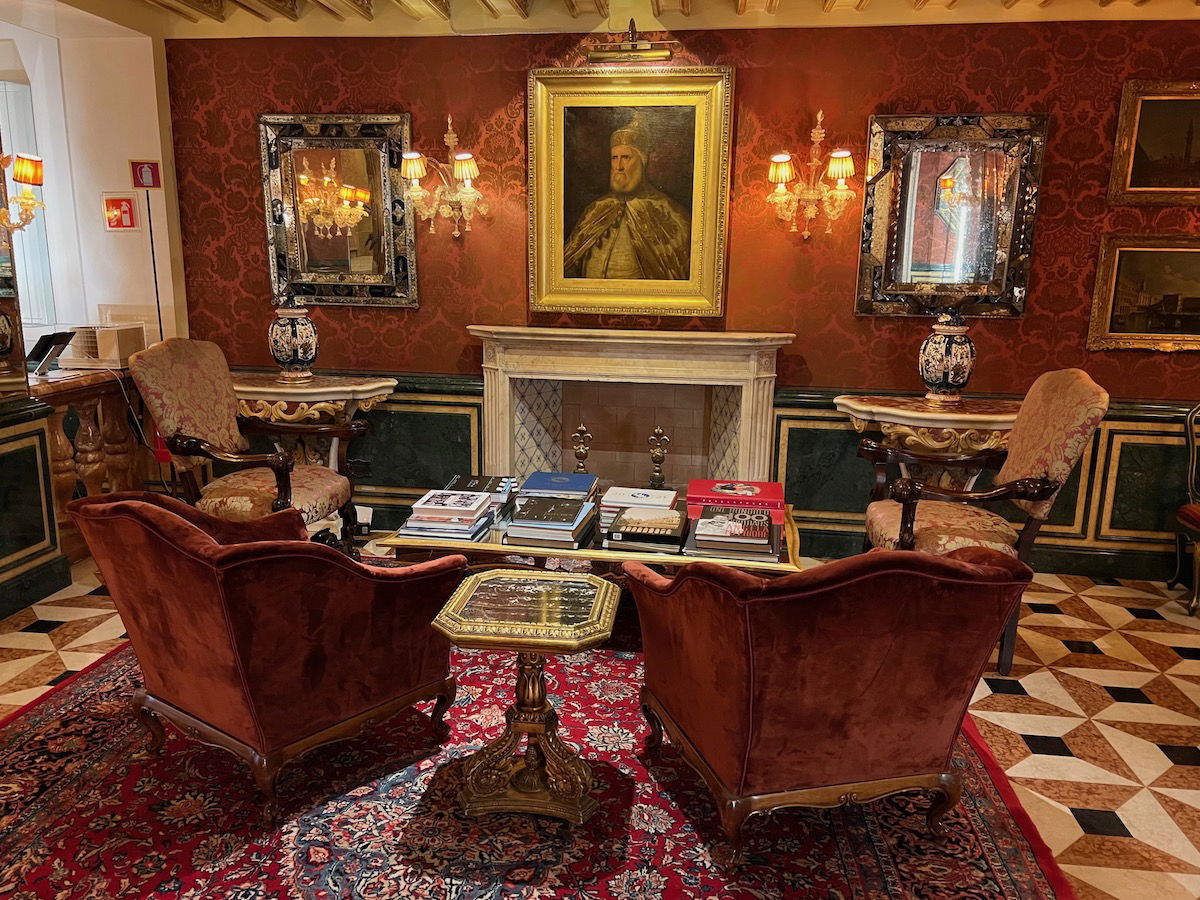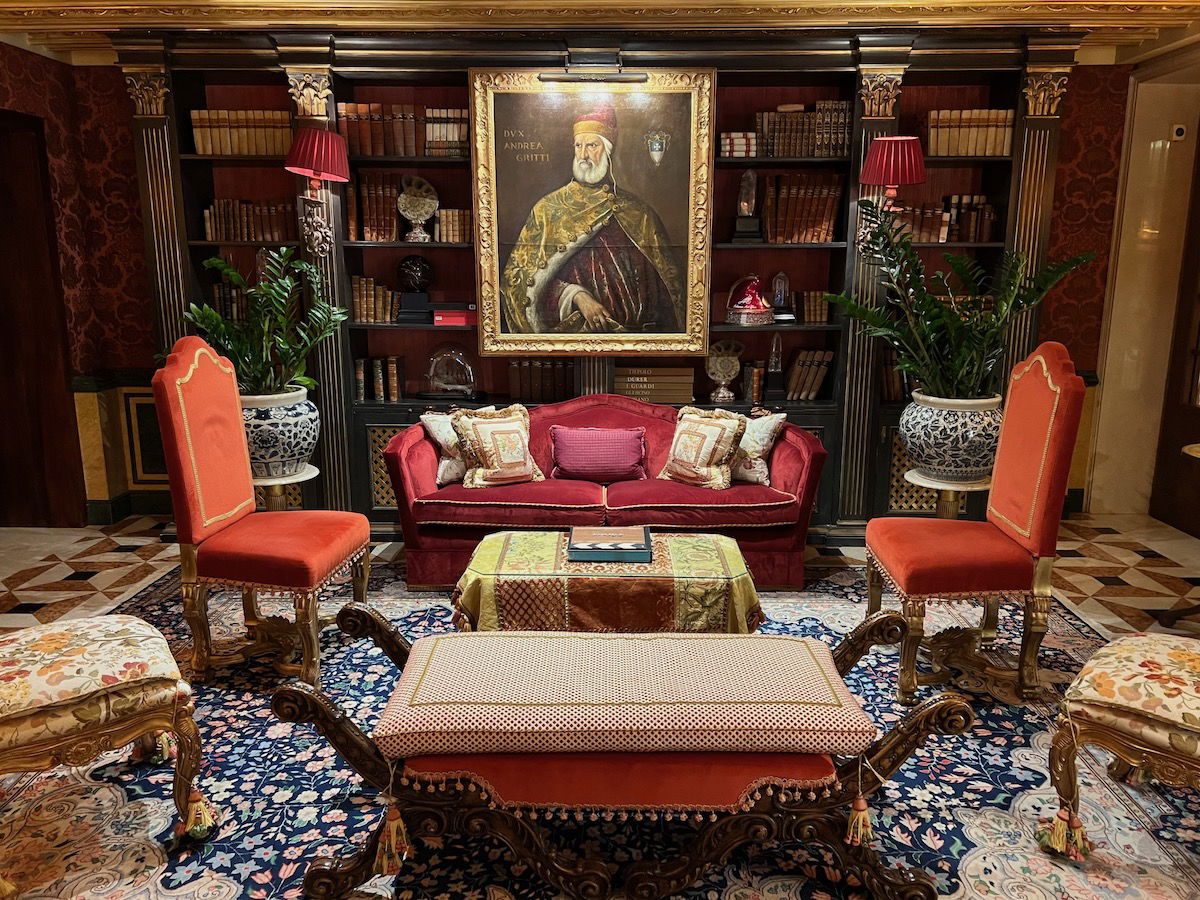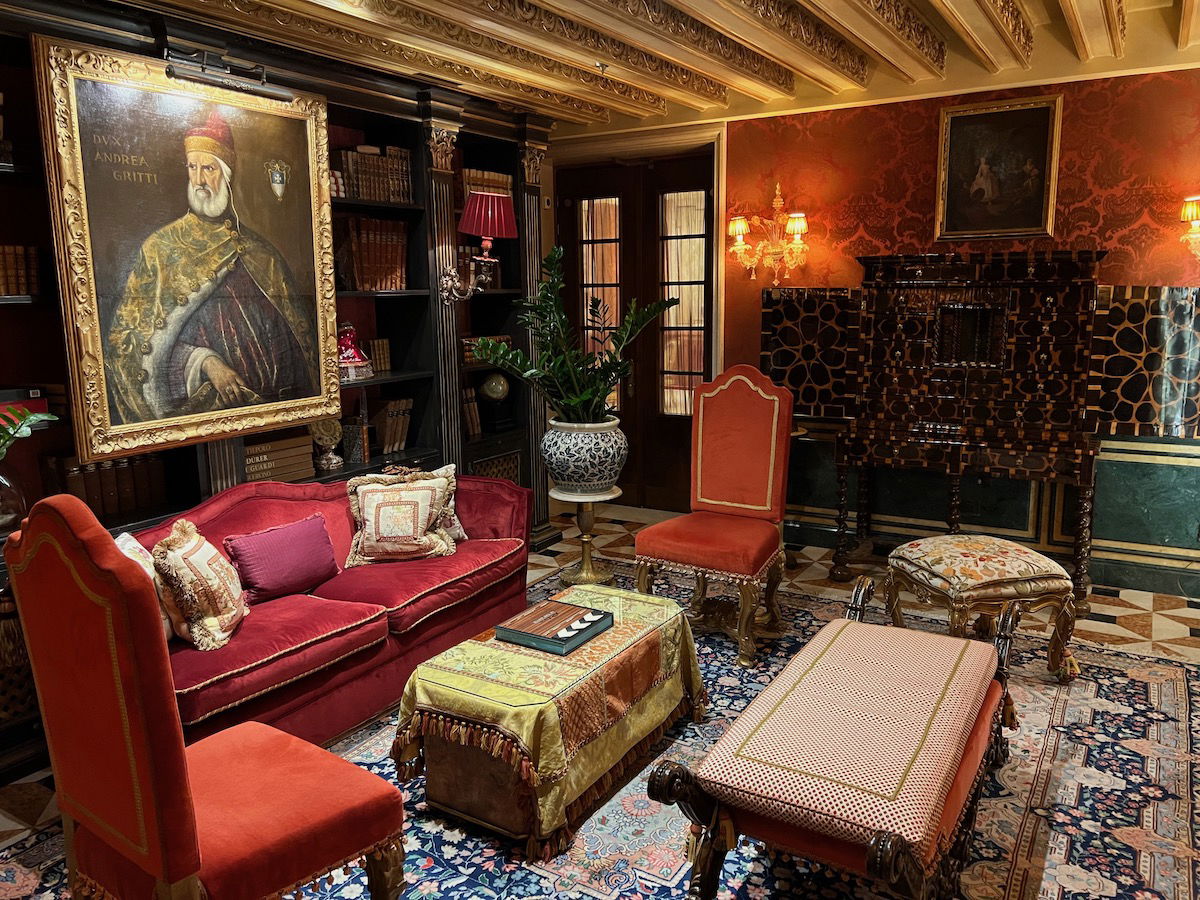 Gritti Palace Venice Sestiere Suite
Our check-in process was efficient, and within a few minutes we were escorted to room 104, a Sestiere Suite (one of the hotel's standard one-bedroom suites) on the first floor. Our room wasn't accessible via elevator, but rather just via the staircase next to the lobby.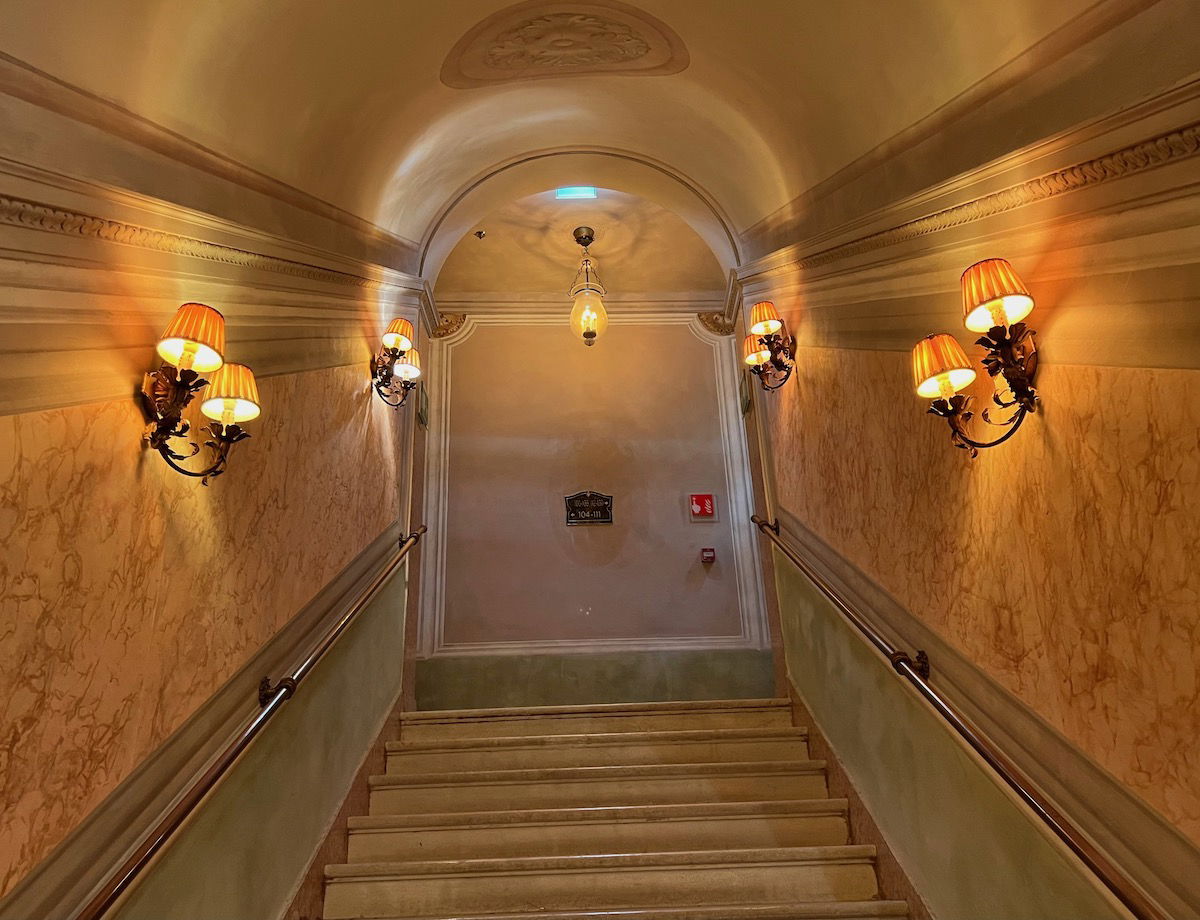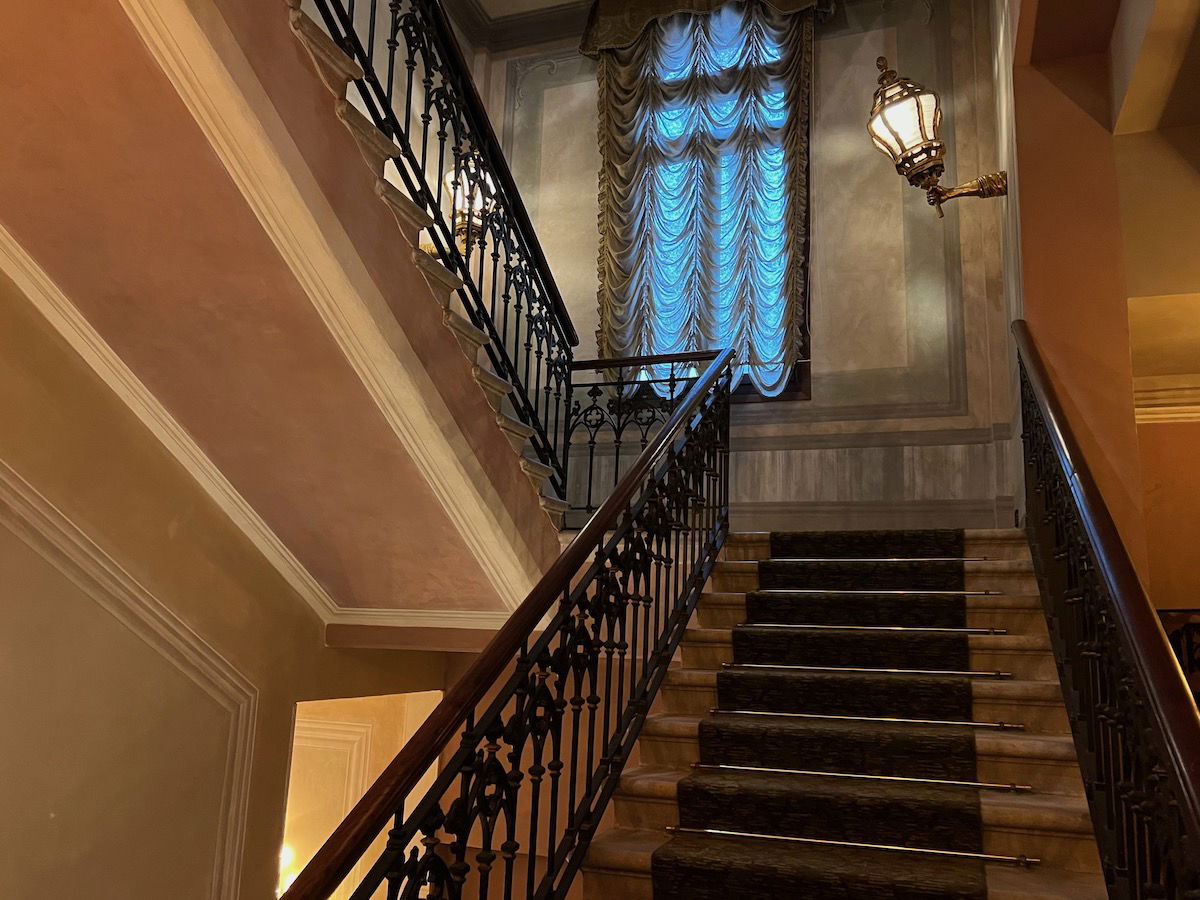 Am I the only one who finds this hallway setup to be strange? Is this space intentionally designed like this, or is this also being used for storage?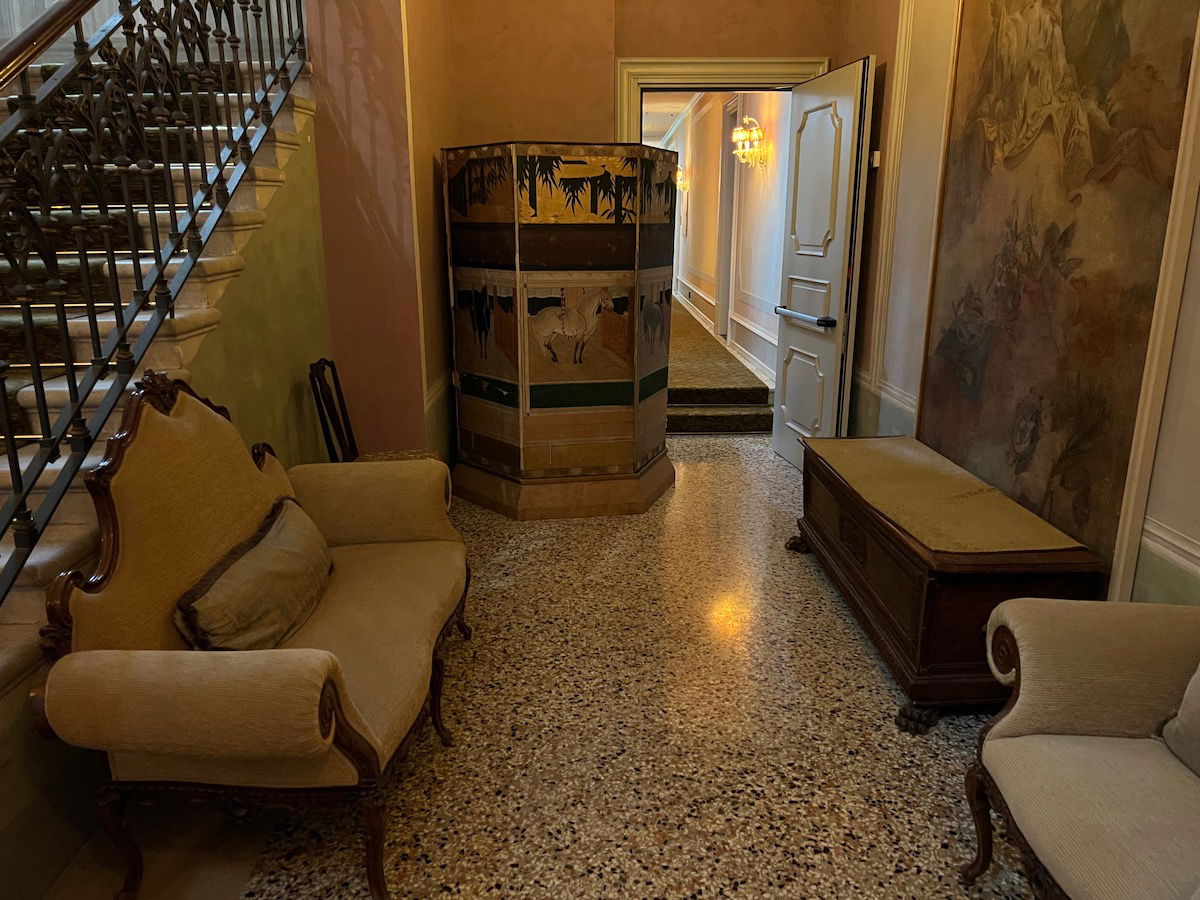 Our room was at the end of the hallway and on the right.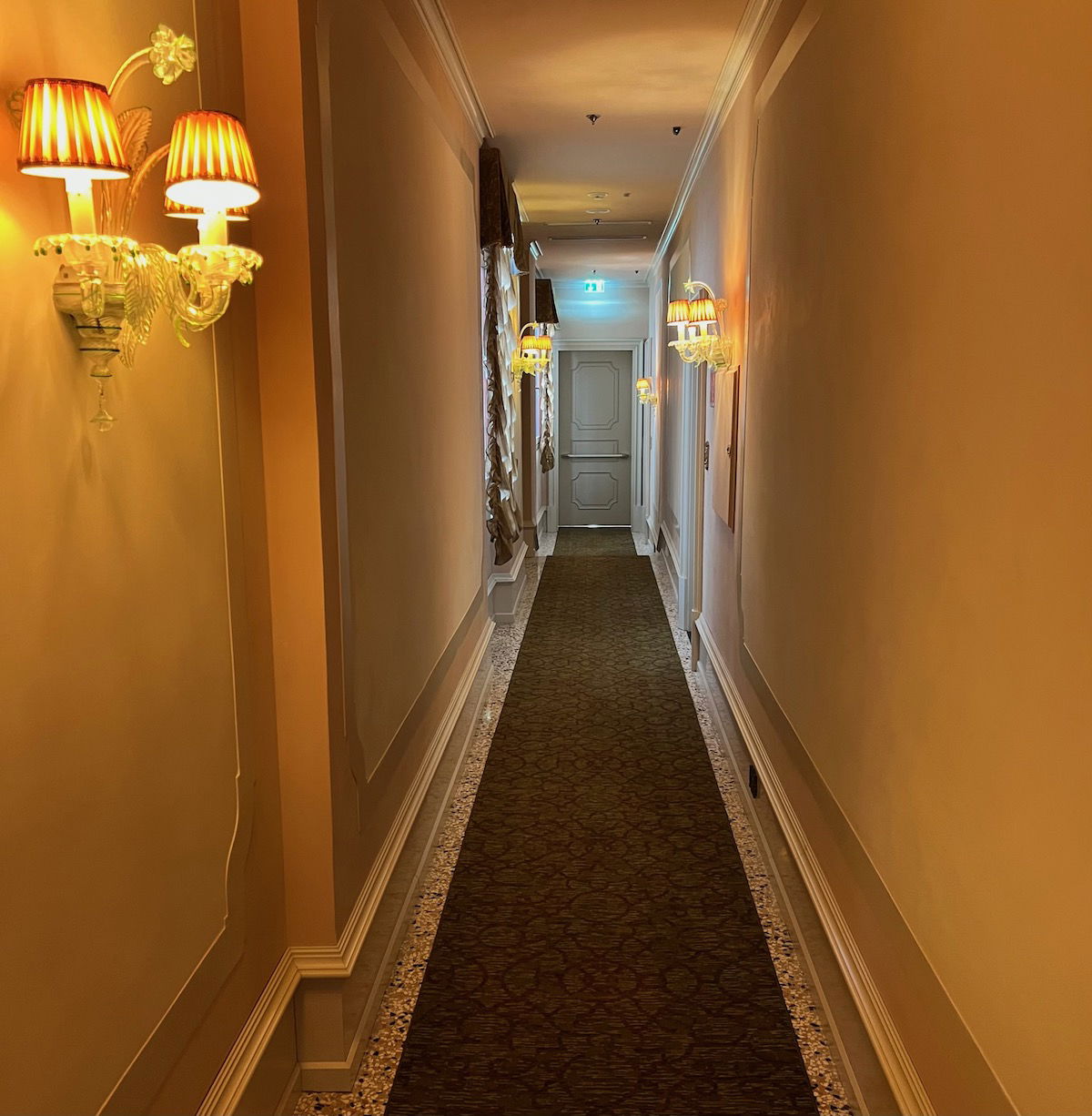 Each suite has a different name, and we were in the San Polo Suite.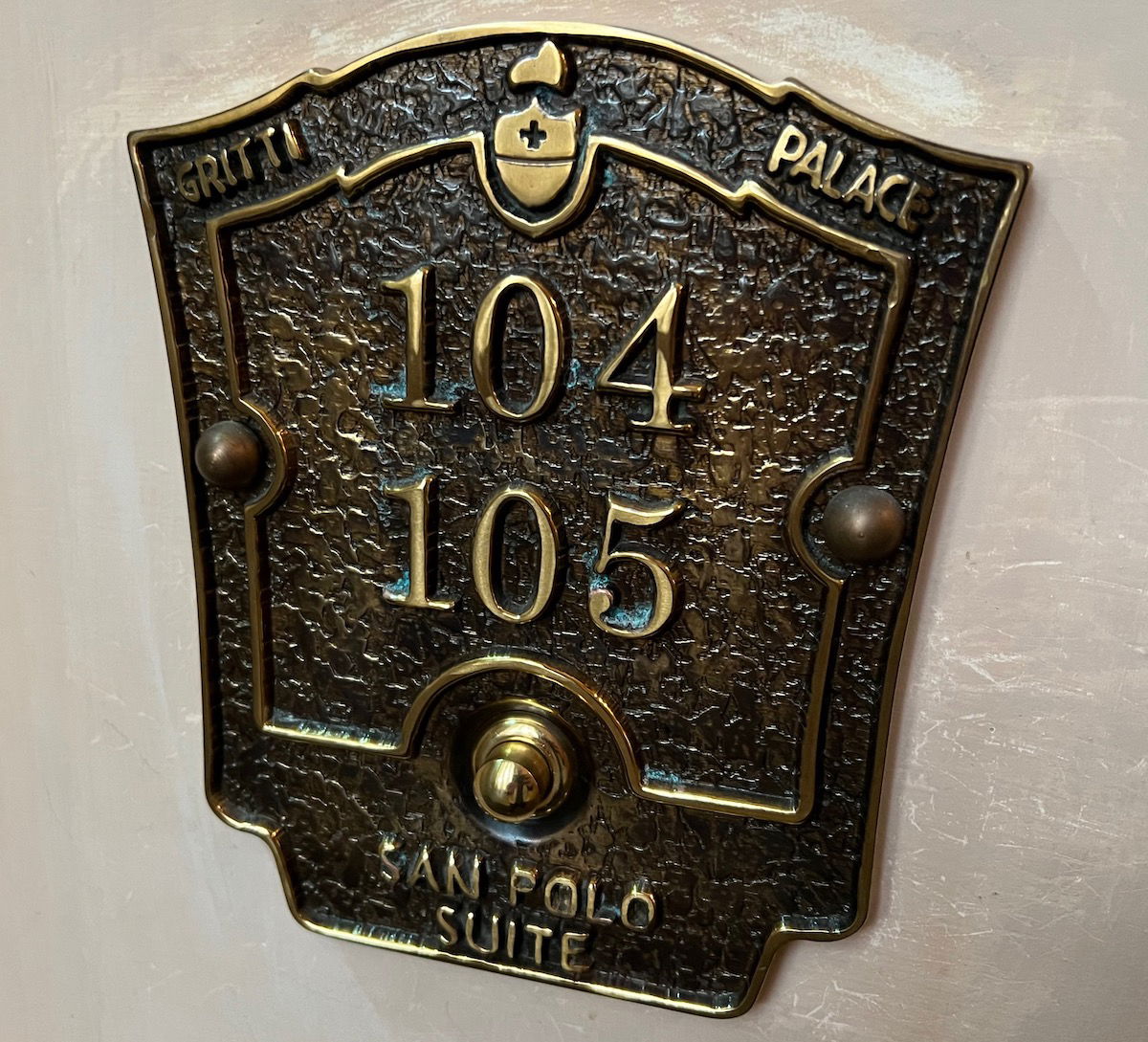 Space comes at a premium in Venice, so while our suite had two separate rooms, it was compact, and there wasn't actually a door between the two rooms (so I guess then maybe it's not actually two separate rooms?).
The living room had a sitting area with a couch and chair, a desk, a TV on top of a console, and a dresser.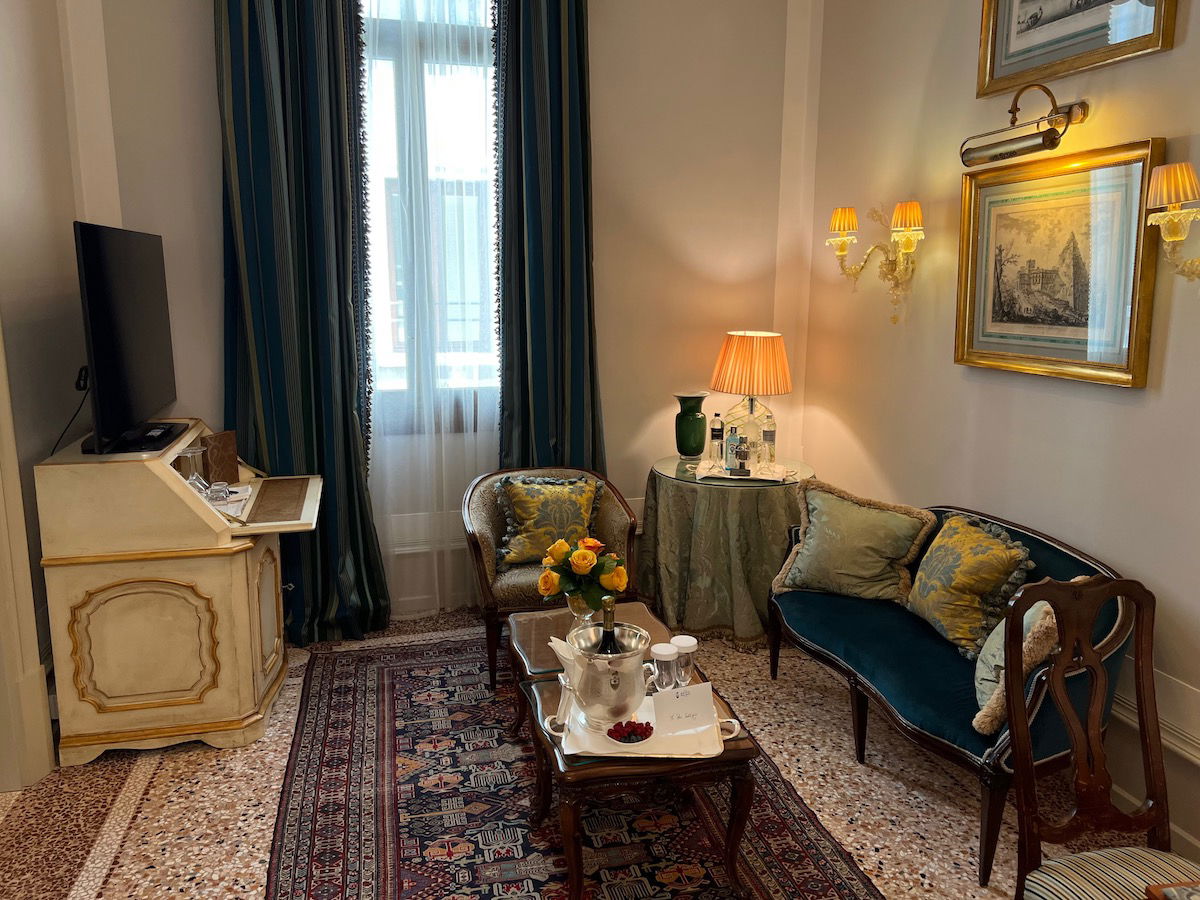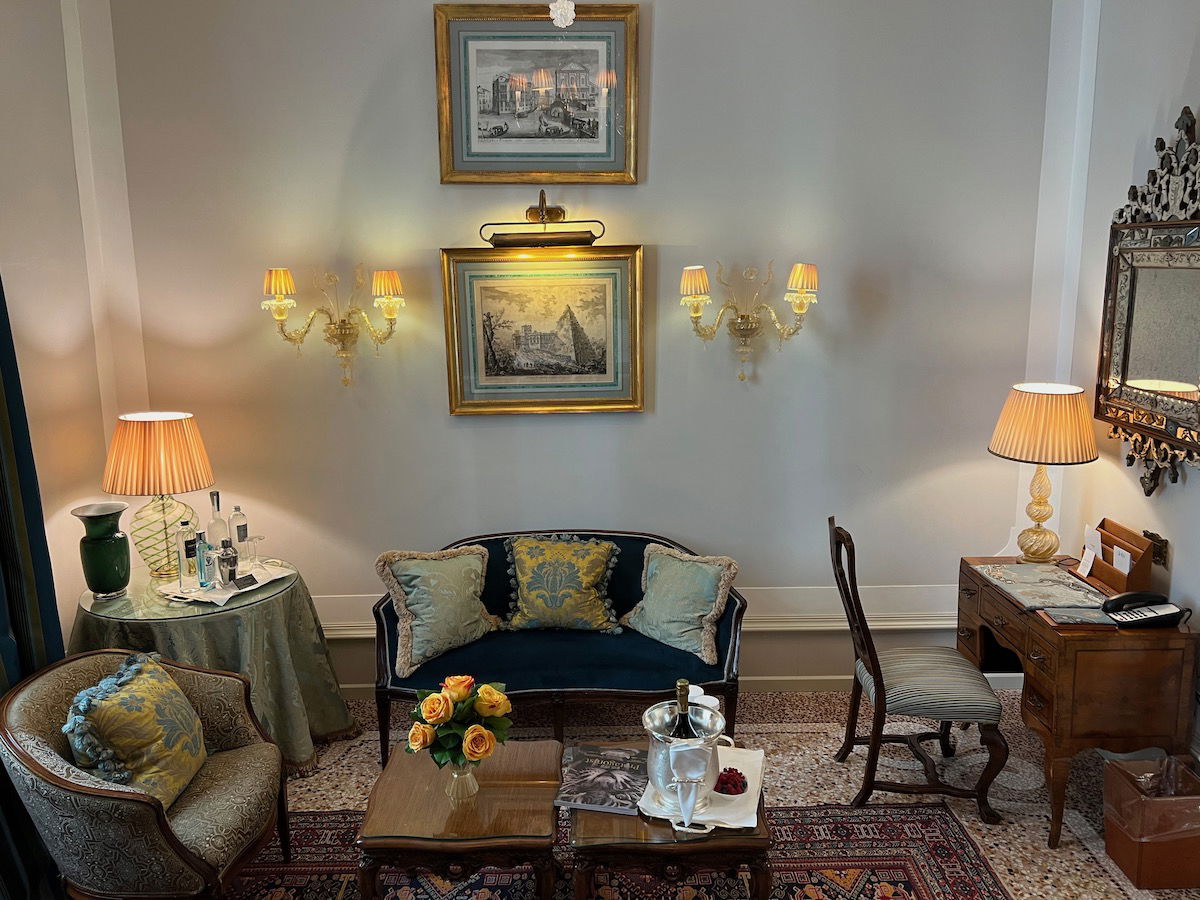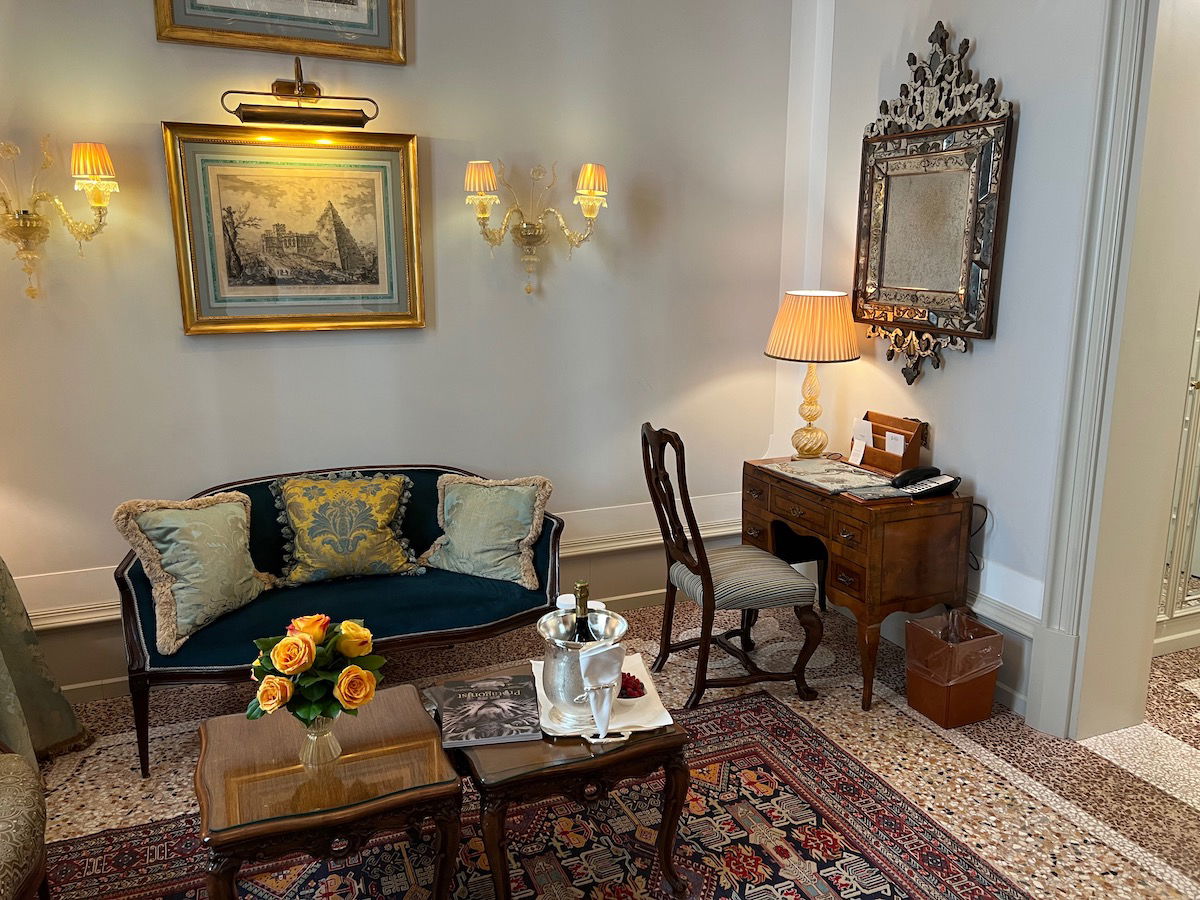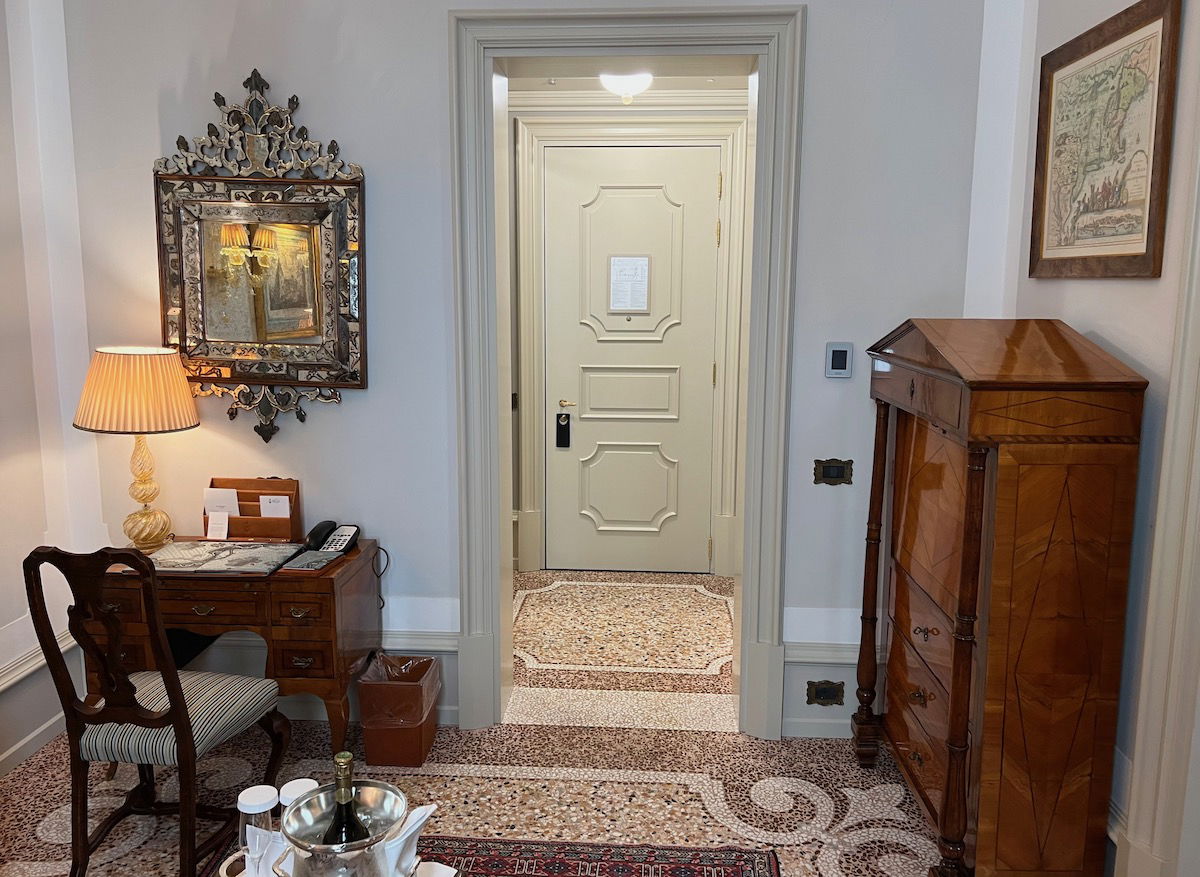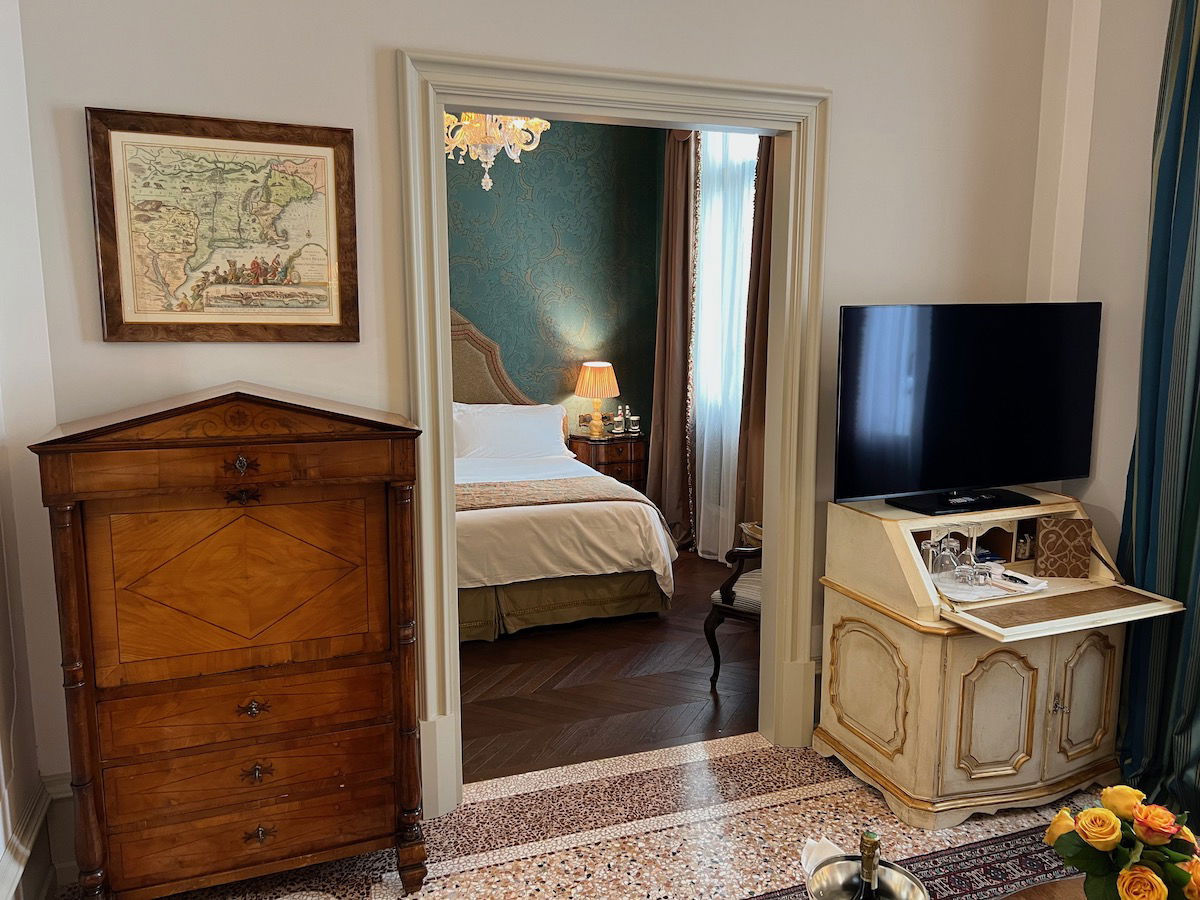 The suite had an extensive minibar, though oddly there was no in-room coffee machine.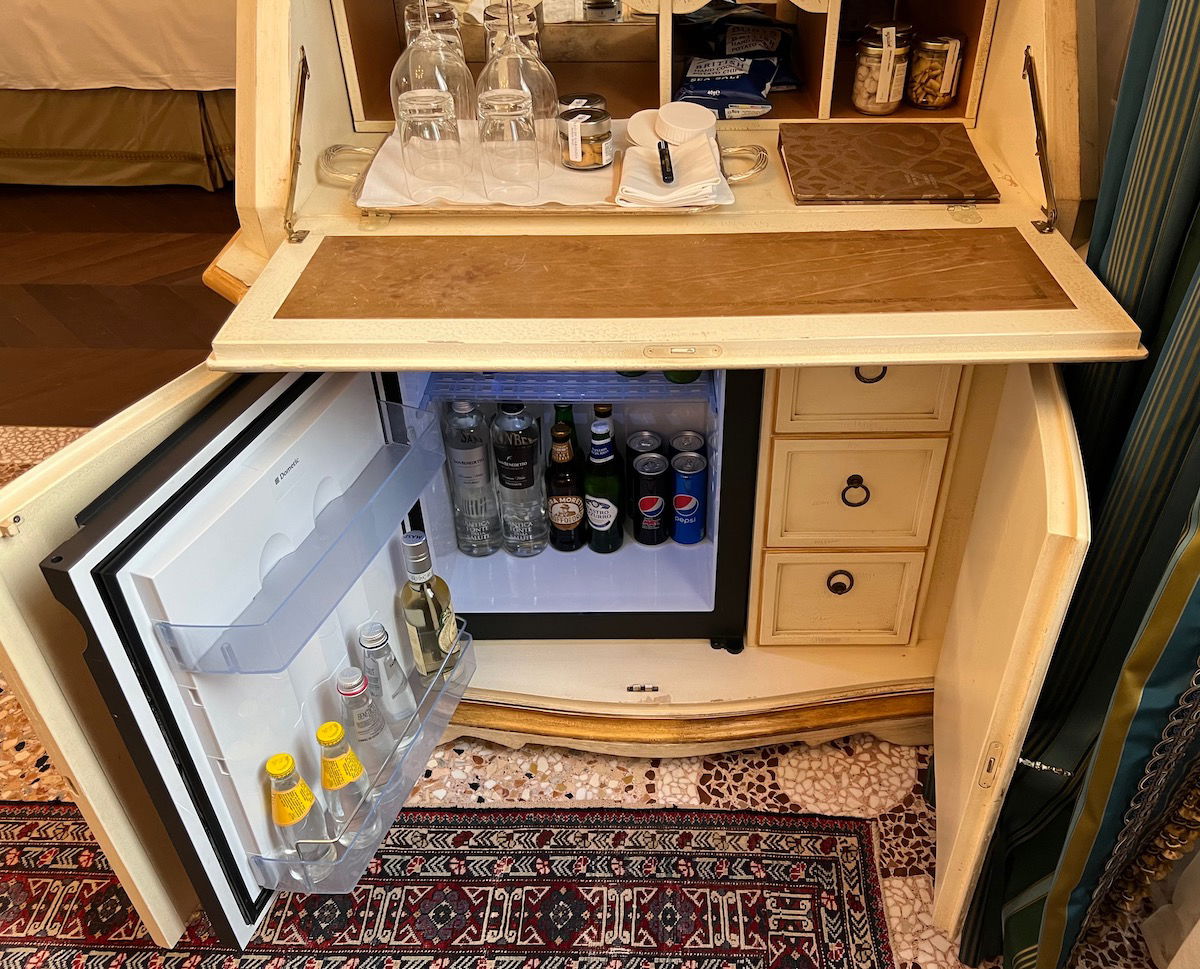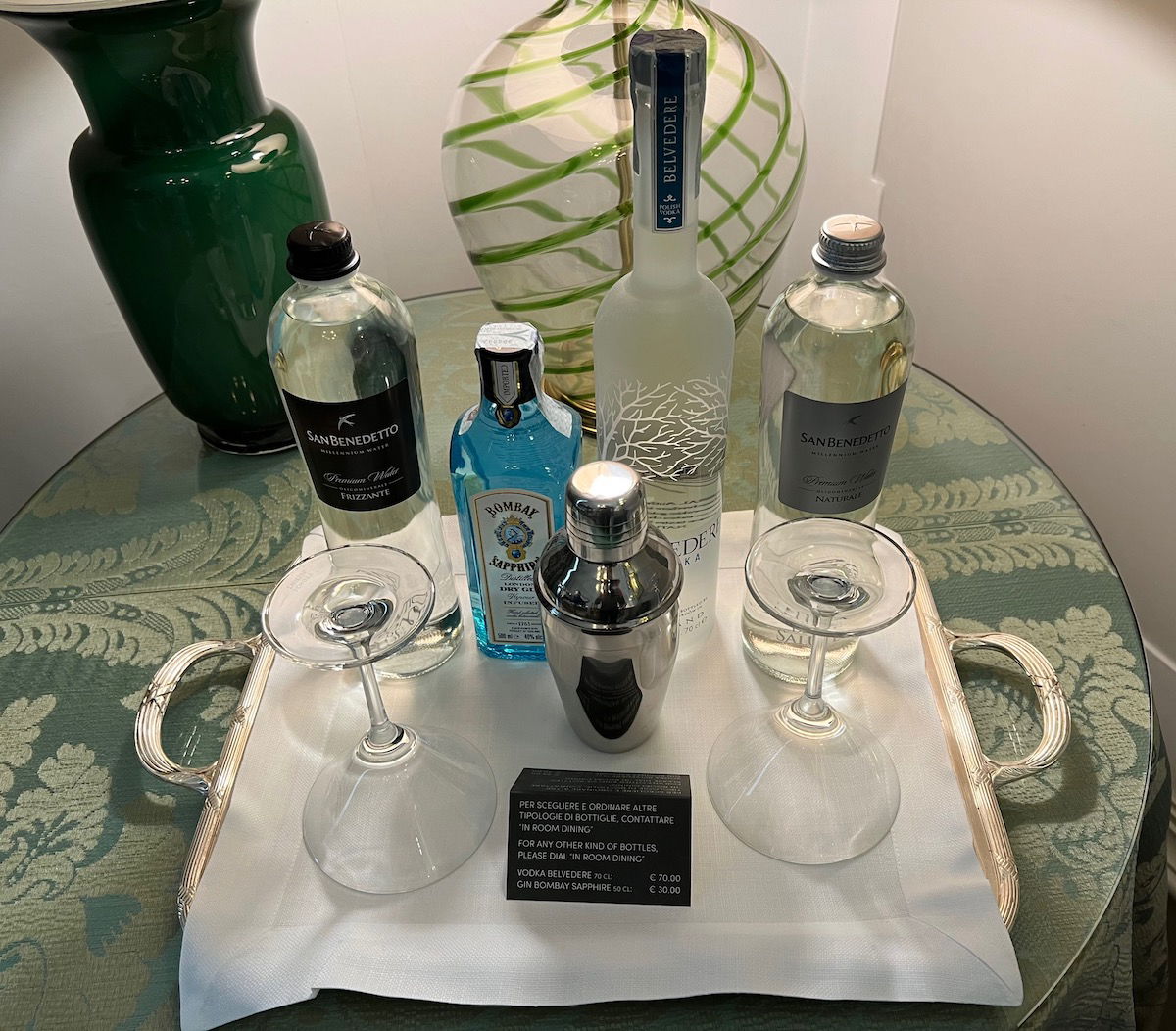 I appreciated that the suite had fresh flowers — that's a nice touch!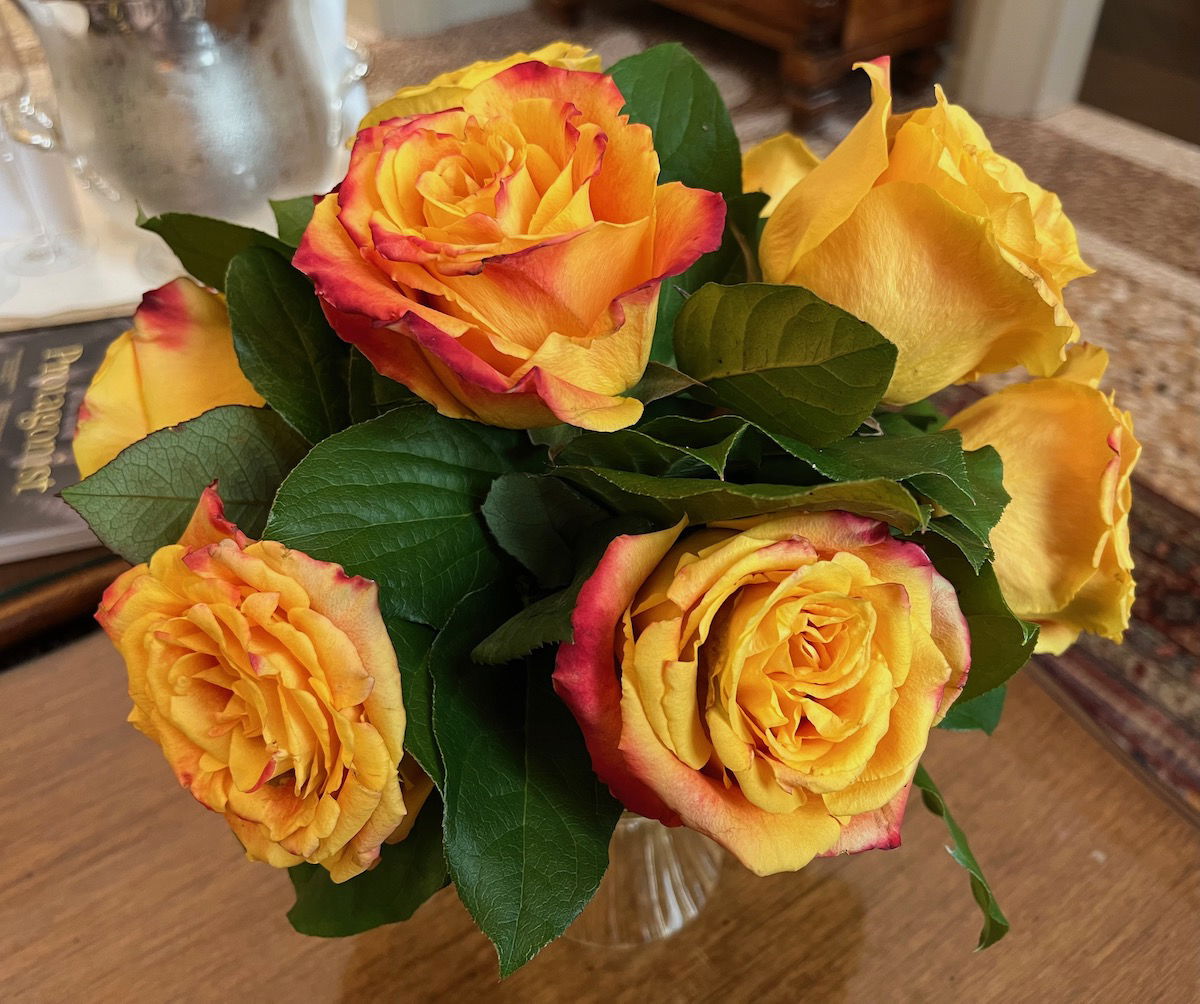 There was also a welcome amenity consisting of a bottle of prosecco and some berries.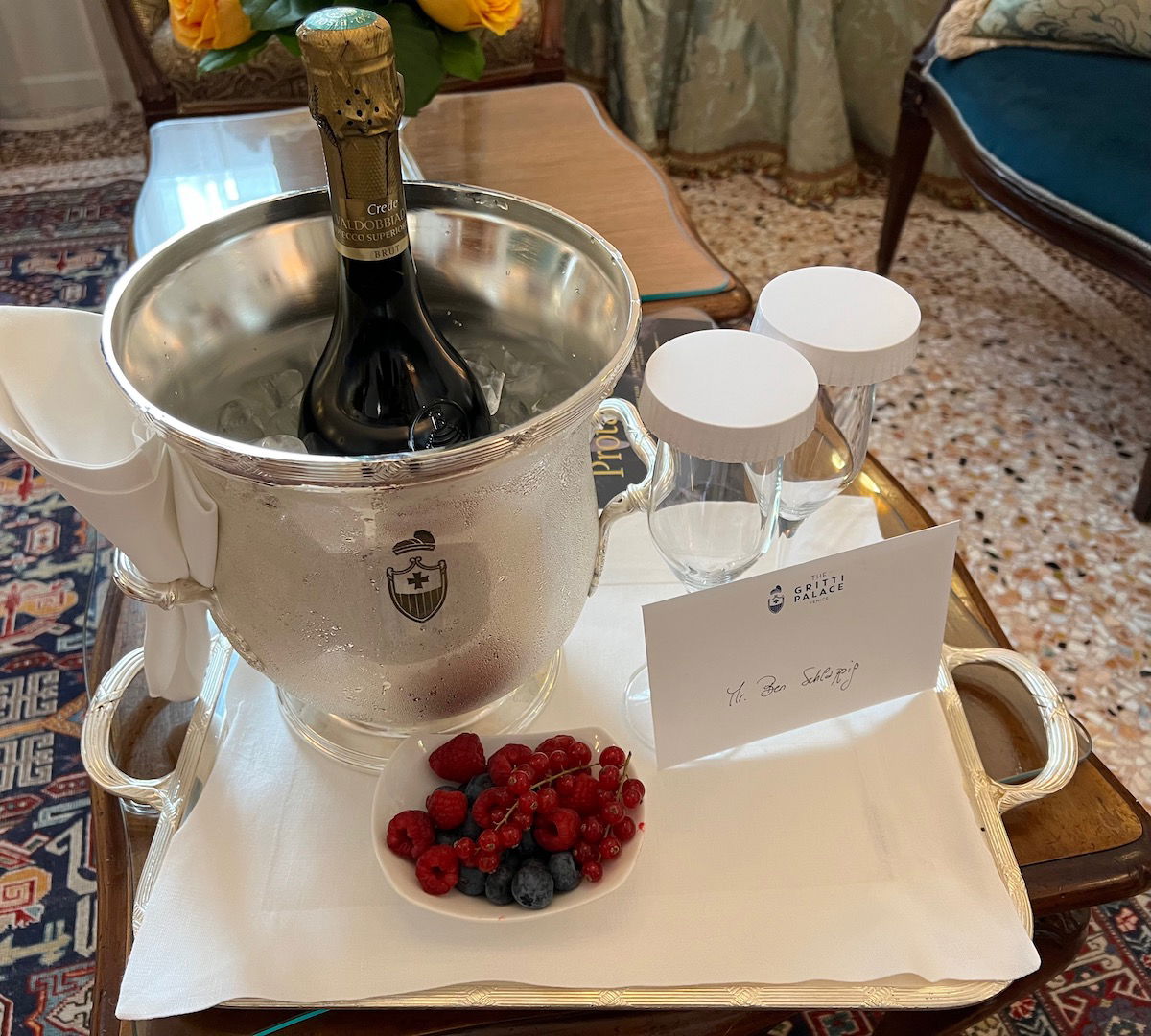 The suite bedroom featured a king size bed and two side tables, plus a TV in one corner and a chair in the other corner.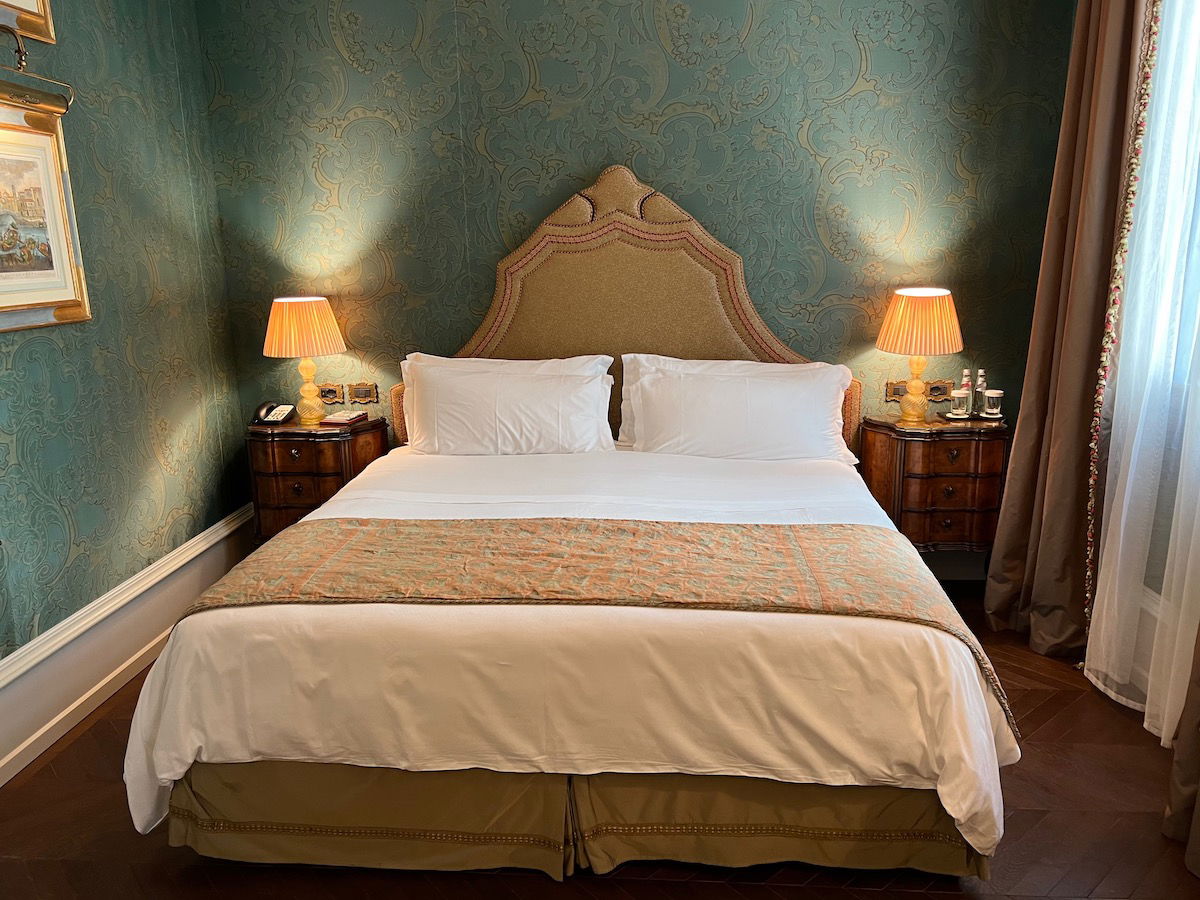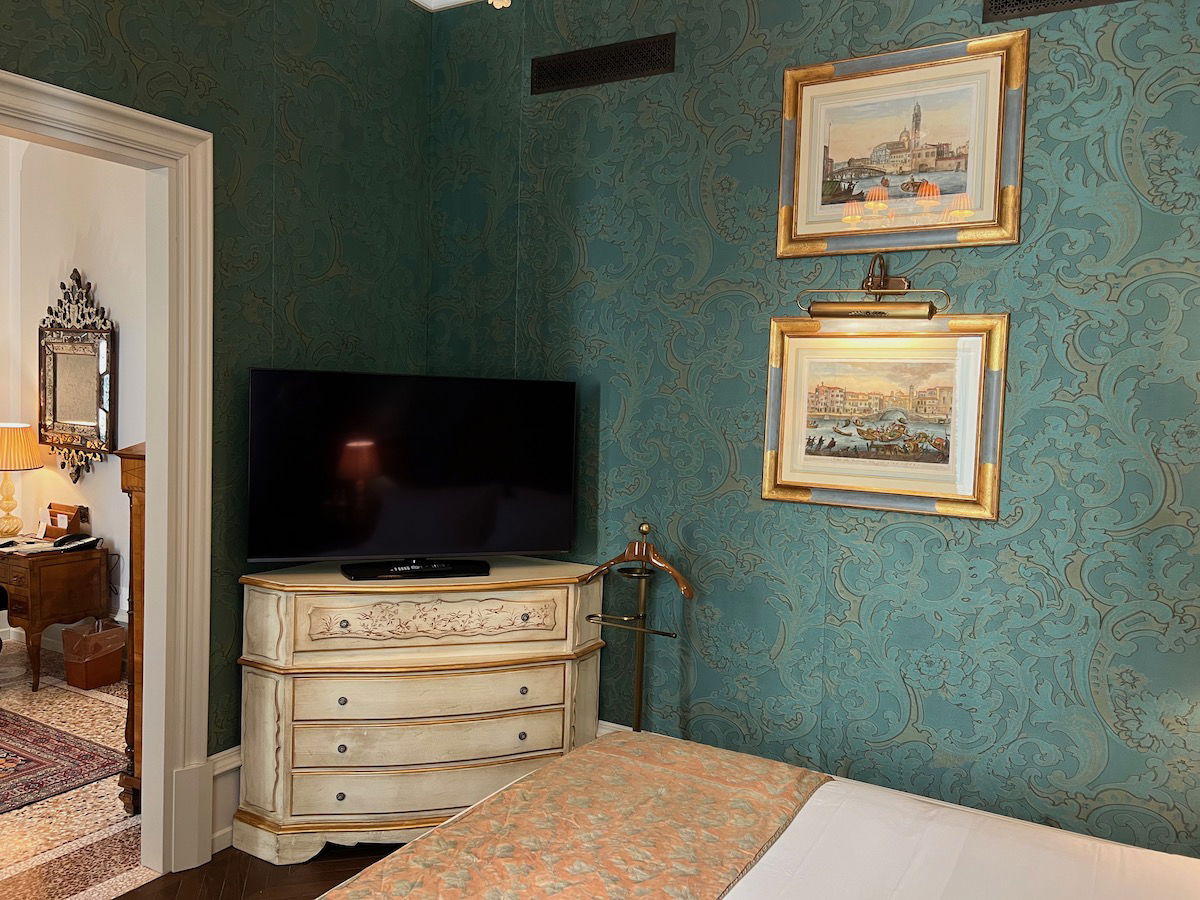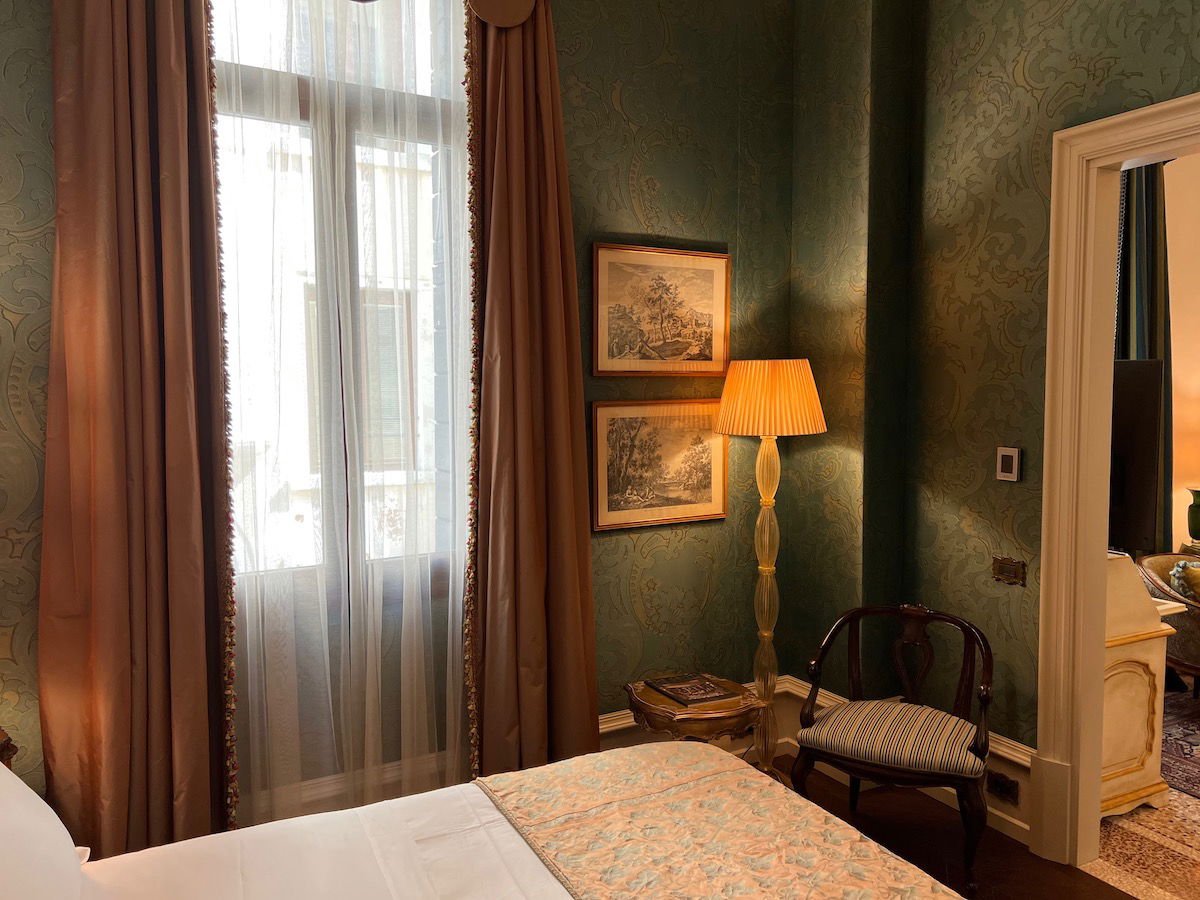 I loved some of the historic touches in the room…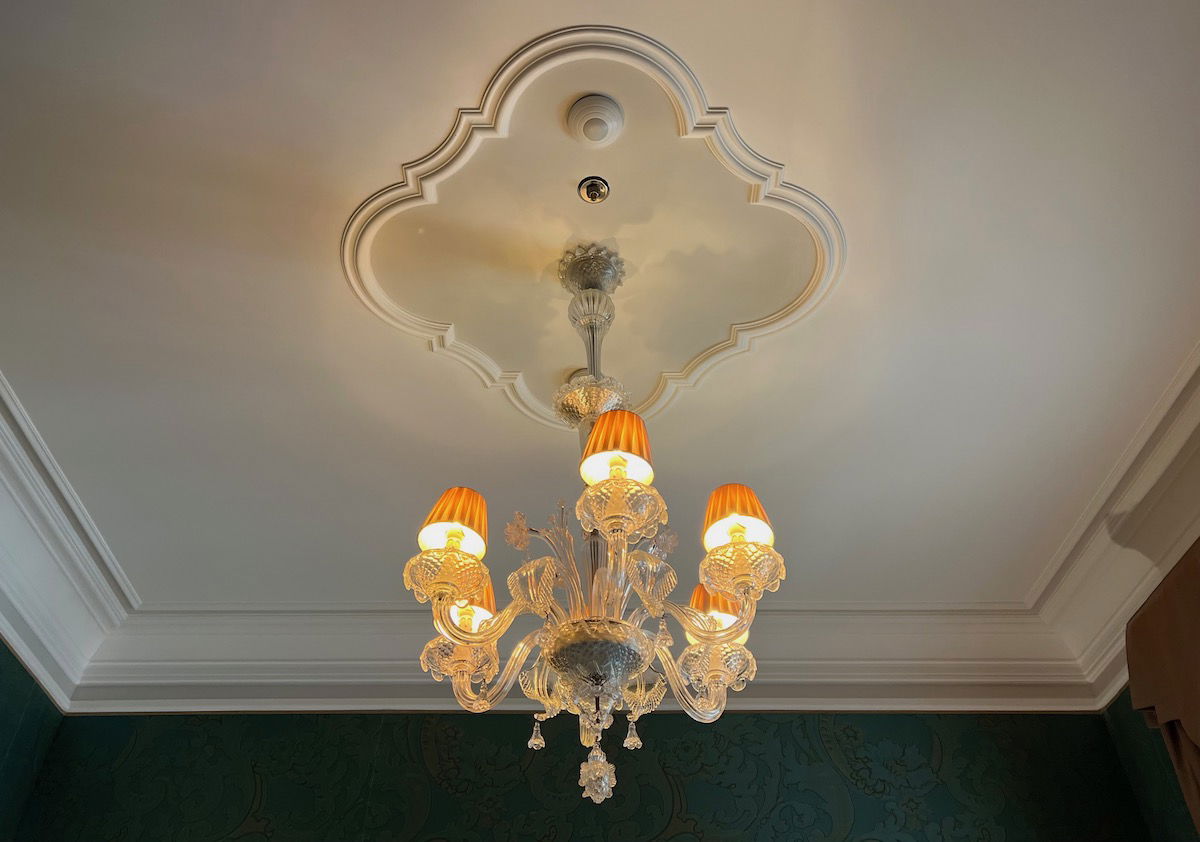 The bathroom was back near the entrance, and it had double sinks, a toilet, and a walk-in shower and bathtub.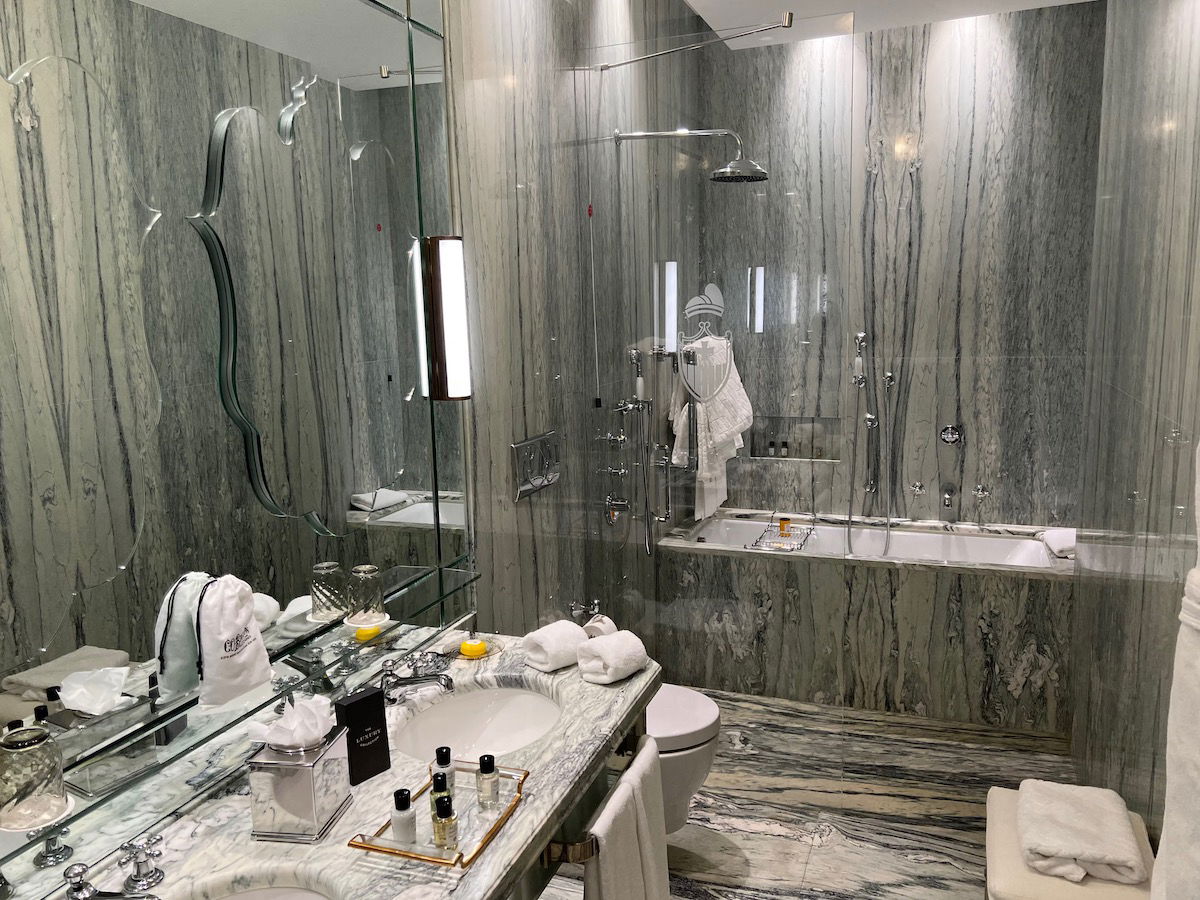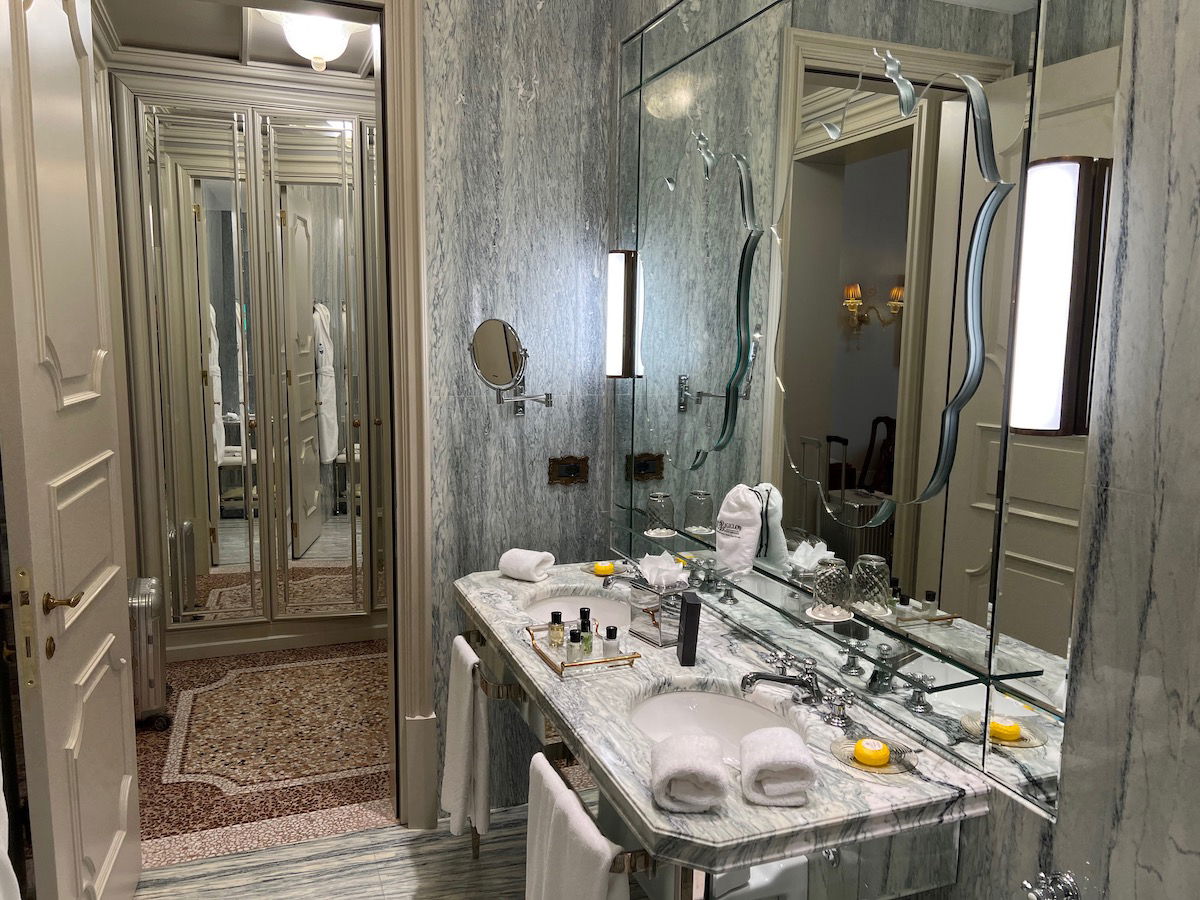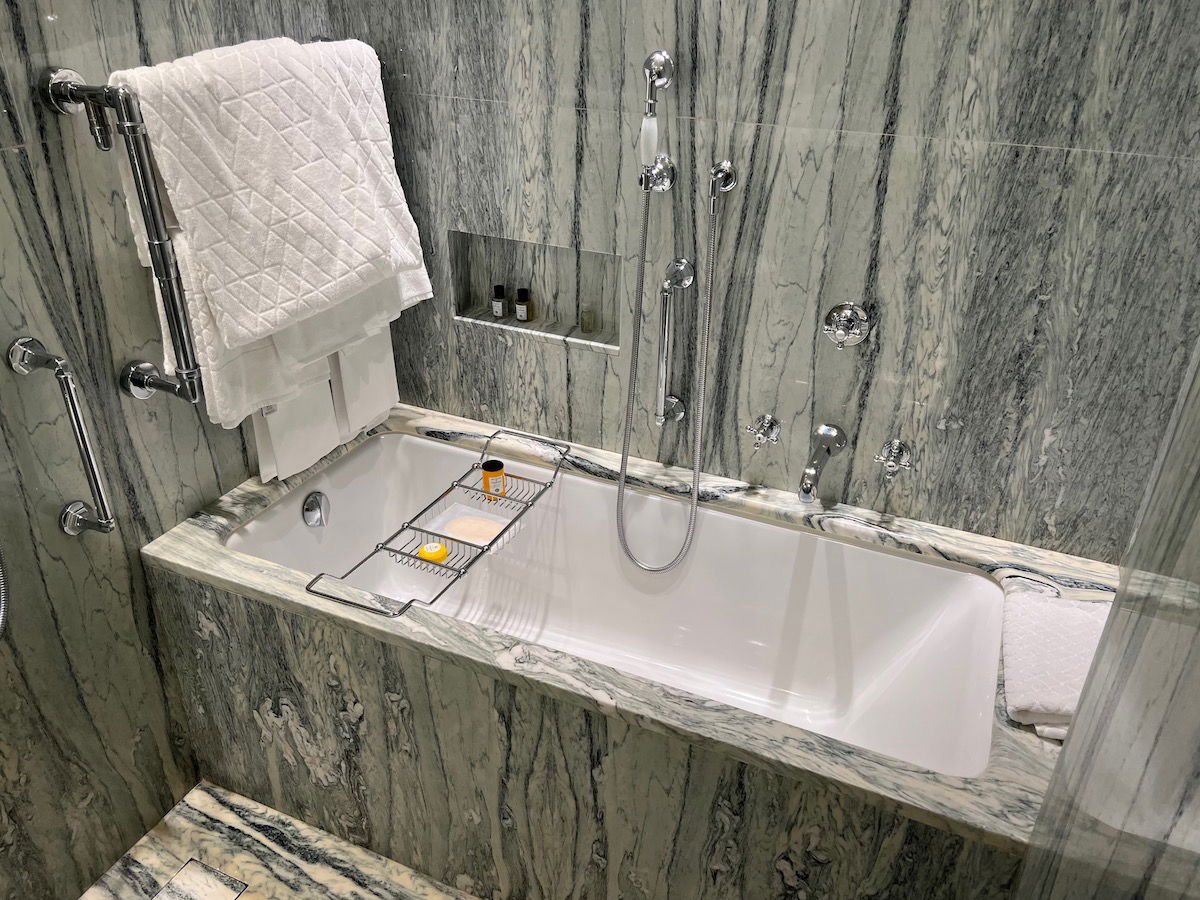 Toiletries at Gritti Palace were all from Acqua di Parma.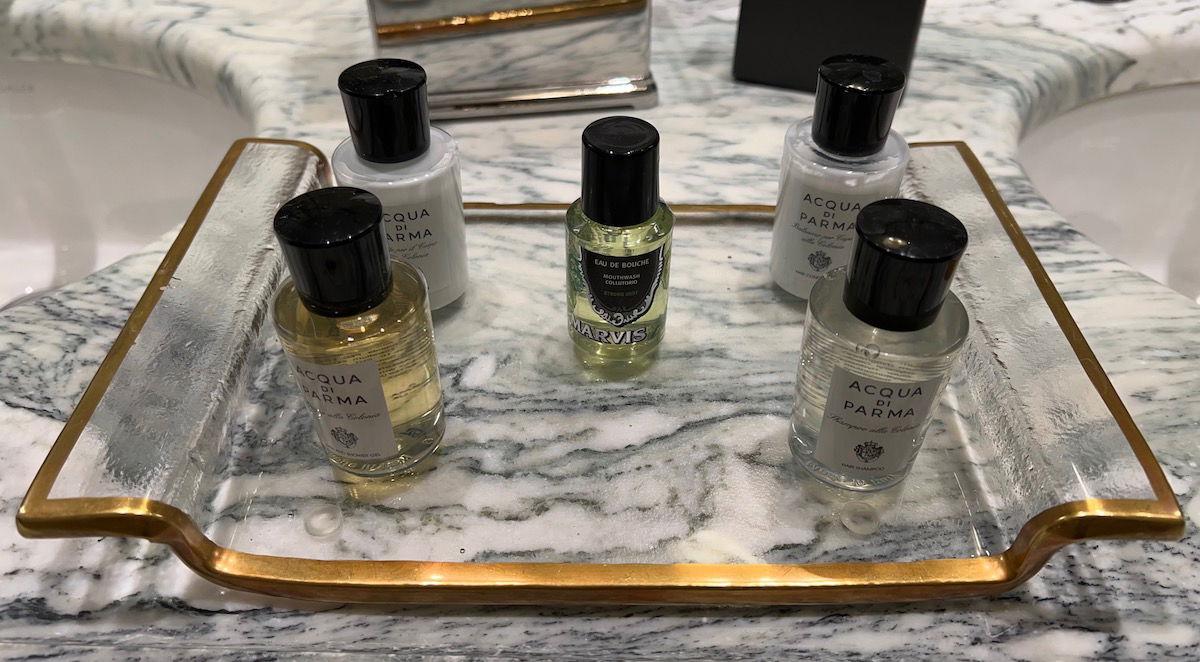 Also near the entrance was a closet.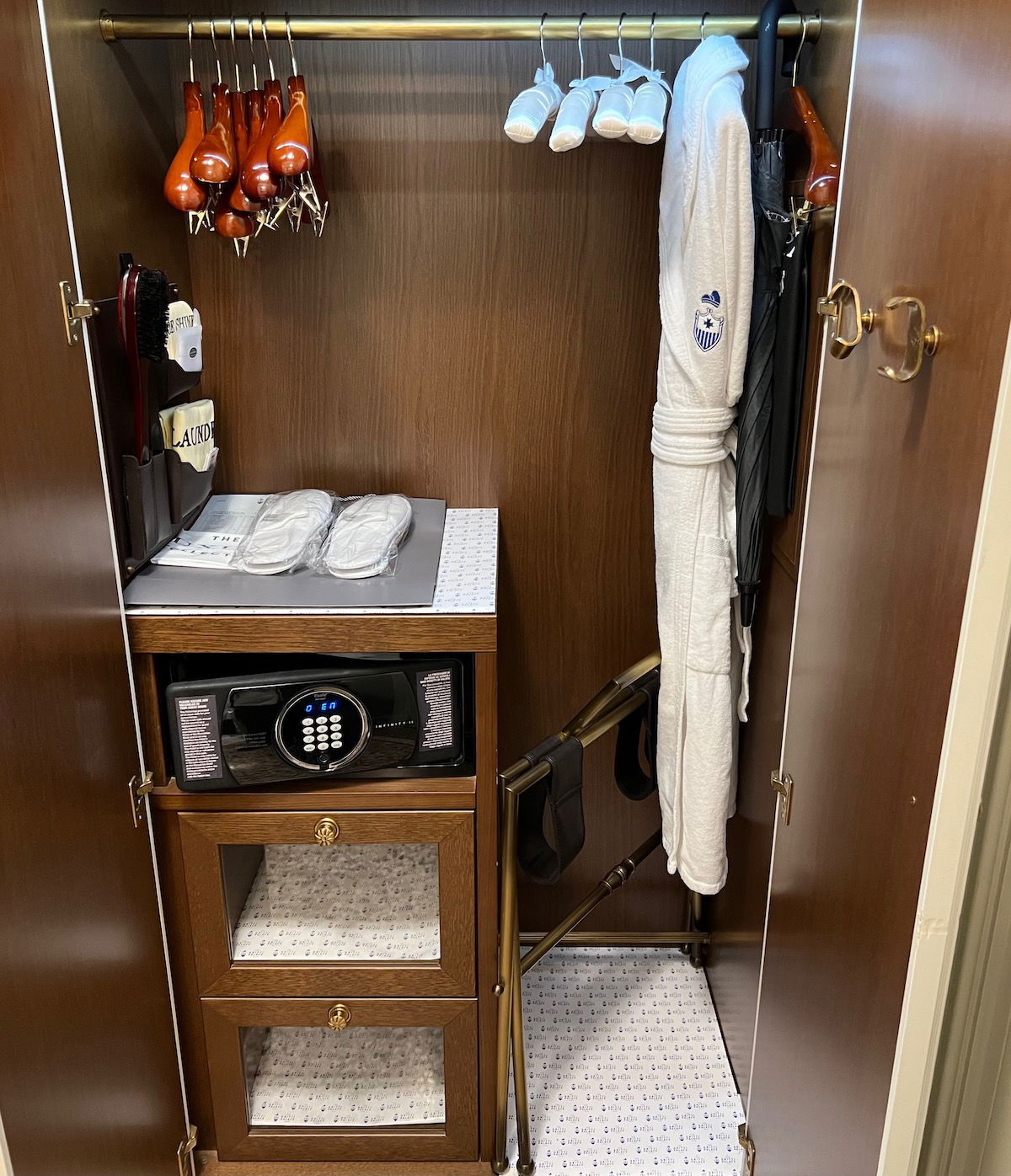 Arguably the highlight of the room was the view. Both the living room and bedroom had windows facing a smaller side canal, and if you turned your neck you could even see the Grand Canal. How cool!!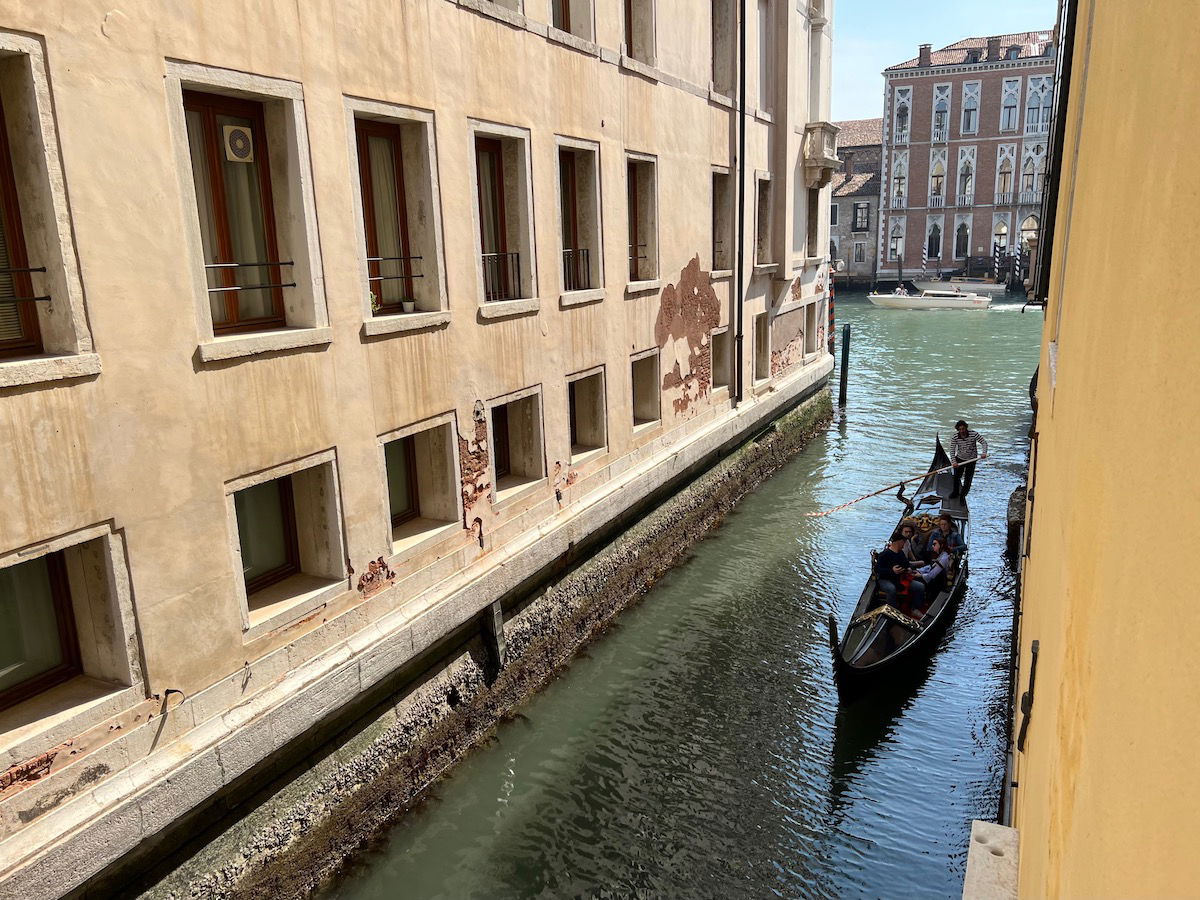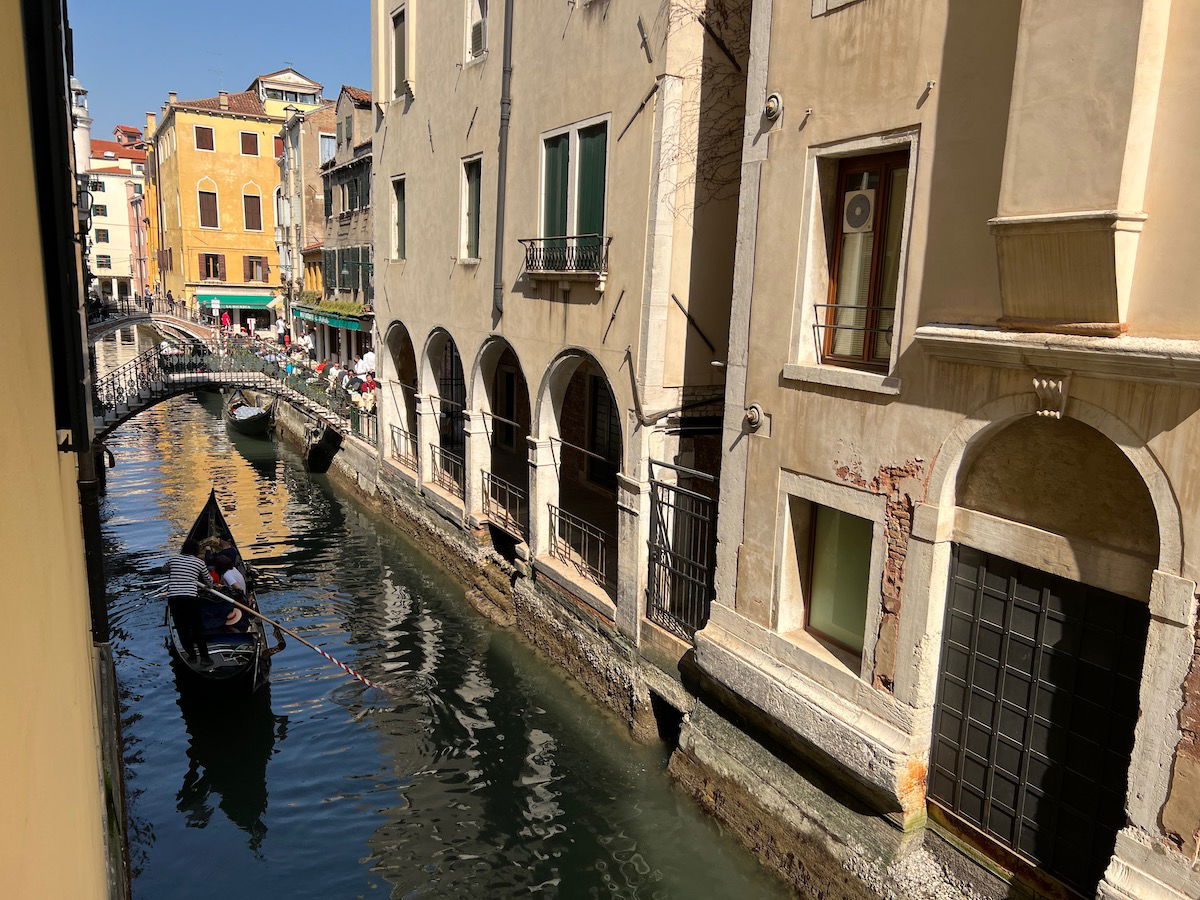 Both housekeeping and turndown service were provided daily, and at turndown some Sisley items from the hotel's spa were even left on the bed.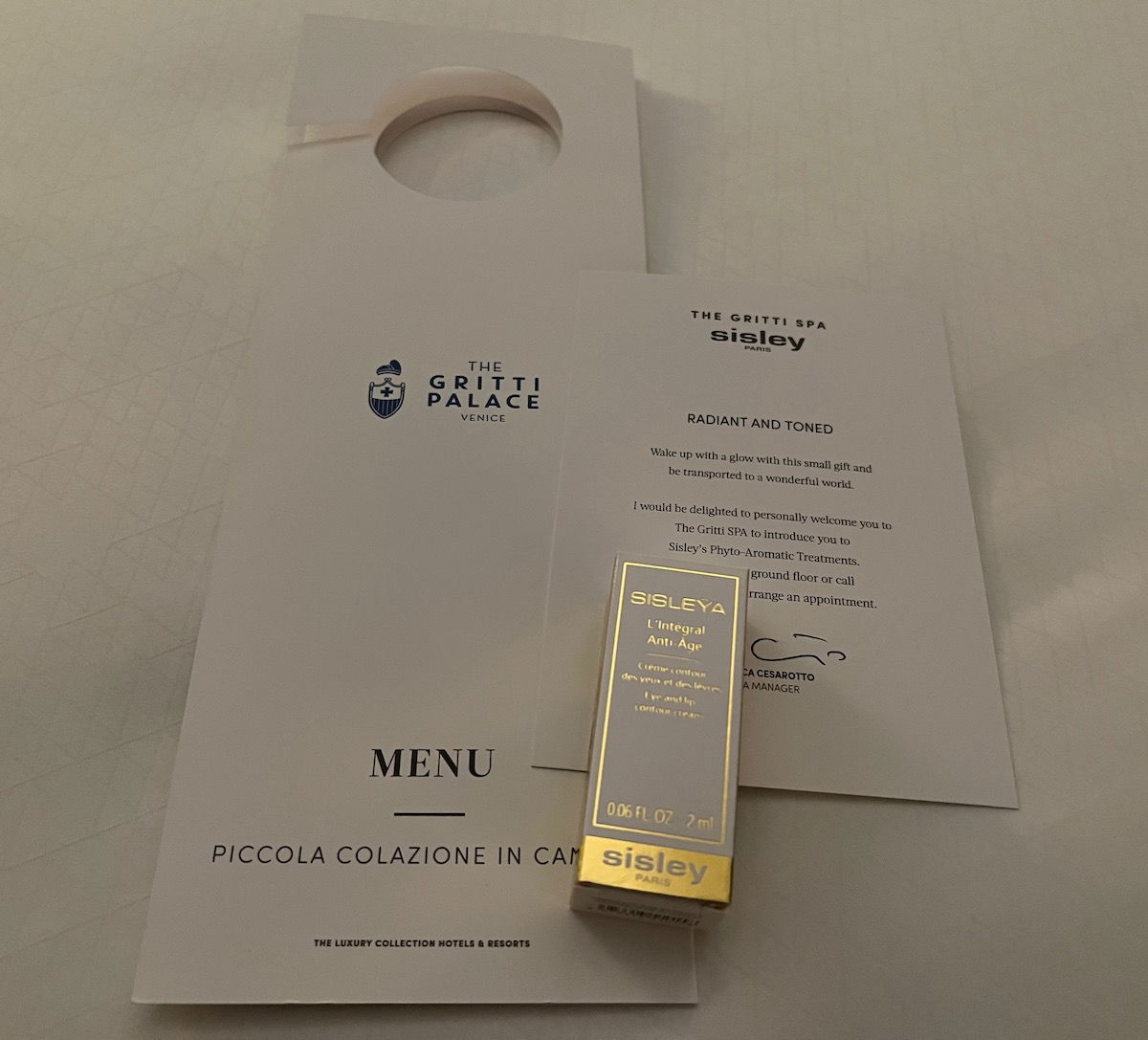 Gritti Palace Venice Club del Doge Restaurant
Club del Doge is Gritti Palace's main restaurant, and it's where breakfast and dinner are served. We decided to have dinner here one evening, since I figured it was worth reviewing. The restaurant consists of two large rooms.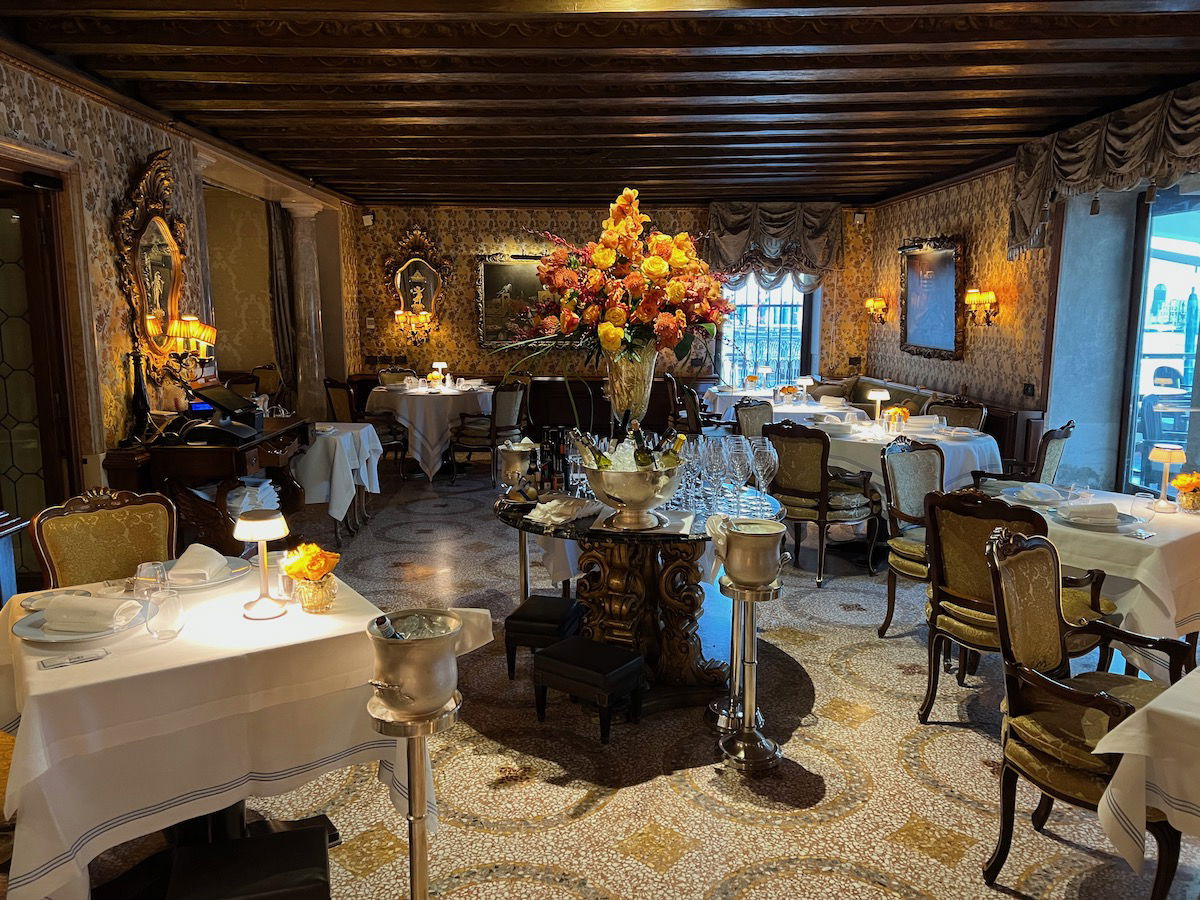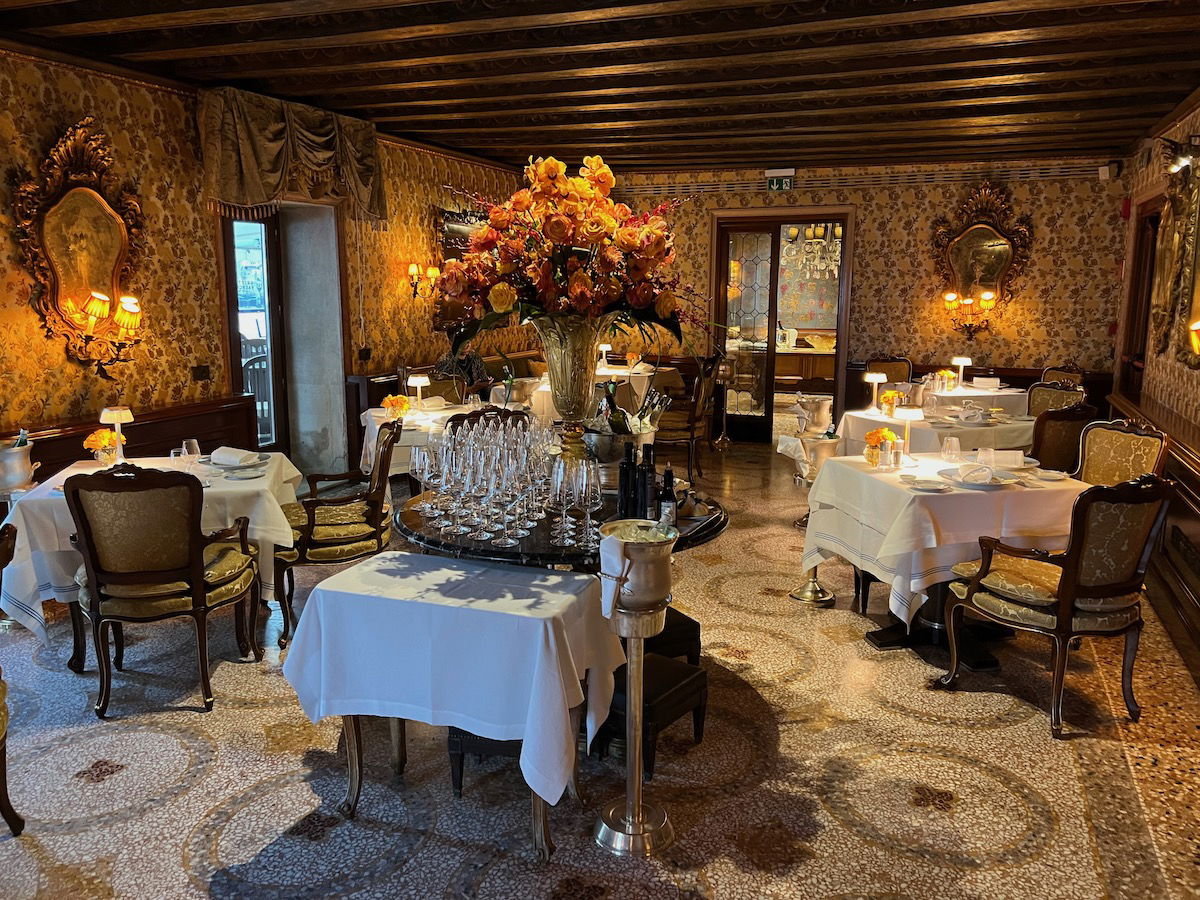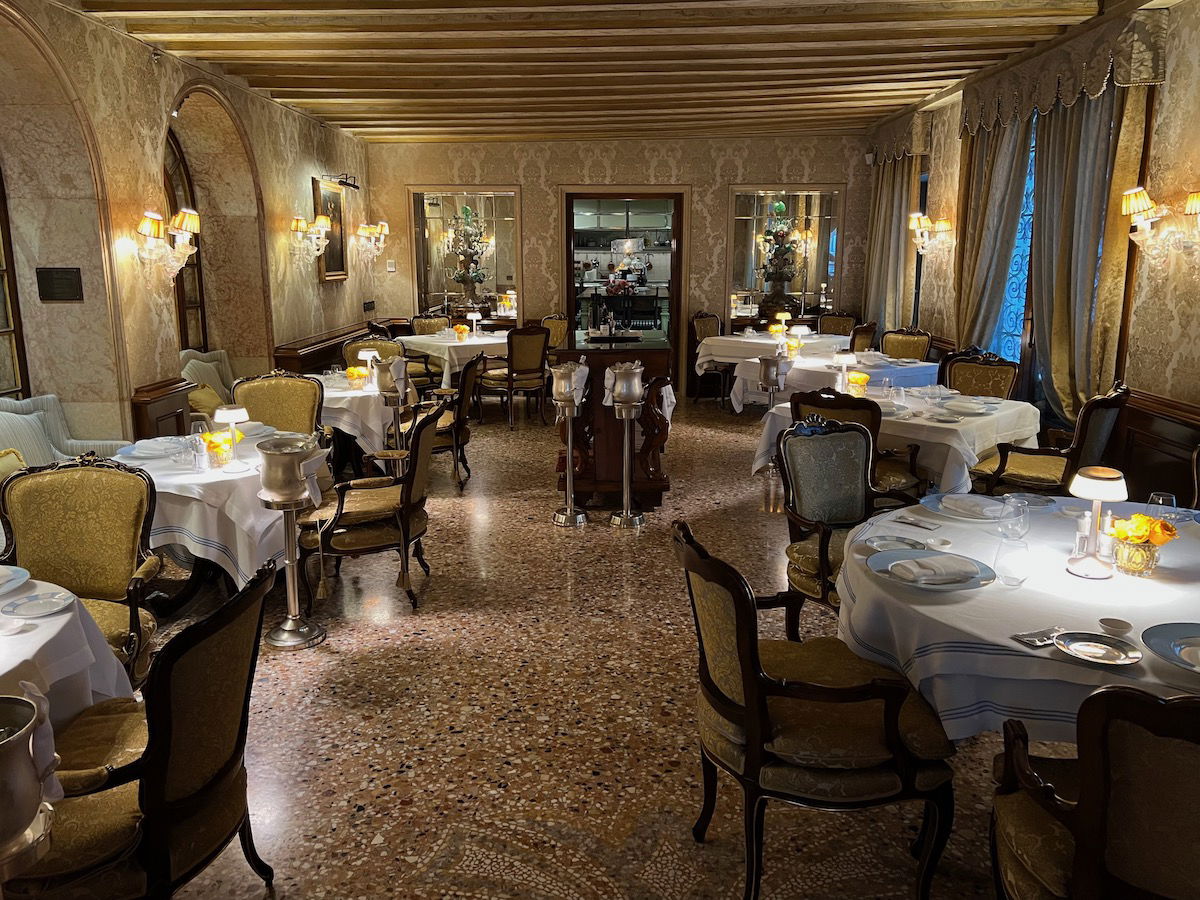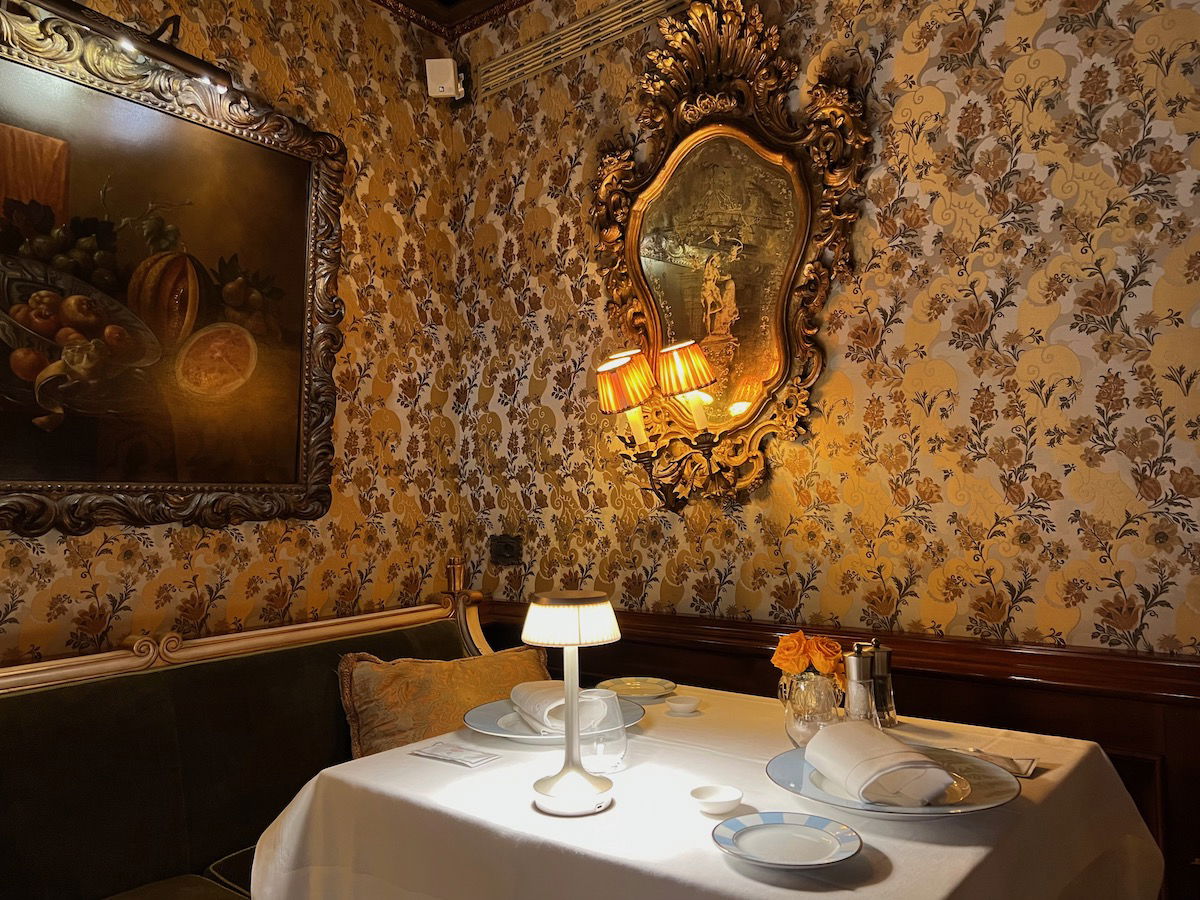 The restaurant markets itself as serving traditional Venetian cuisine. The restaurant is really pricey, though also offers a nice experience and high quality food. You can find the dinner menu below.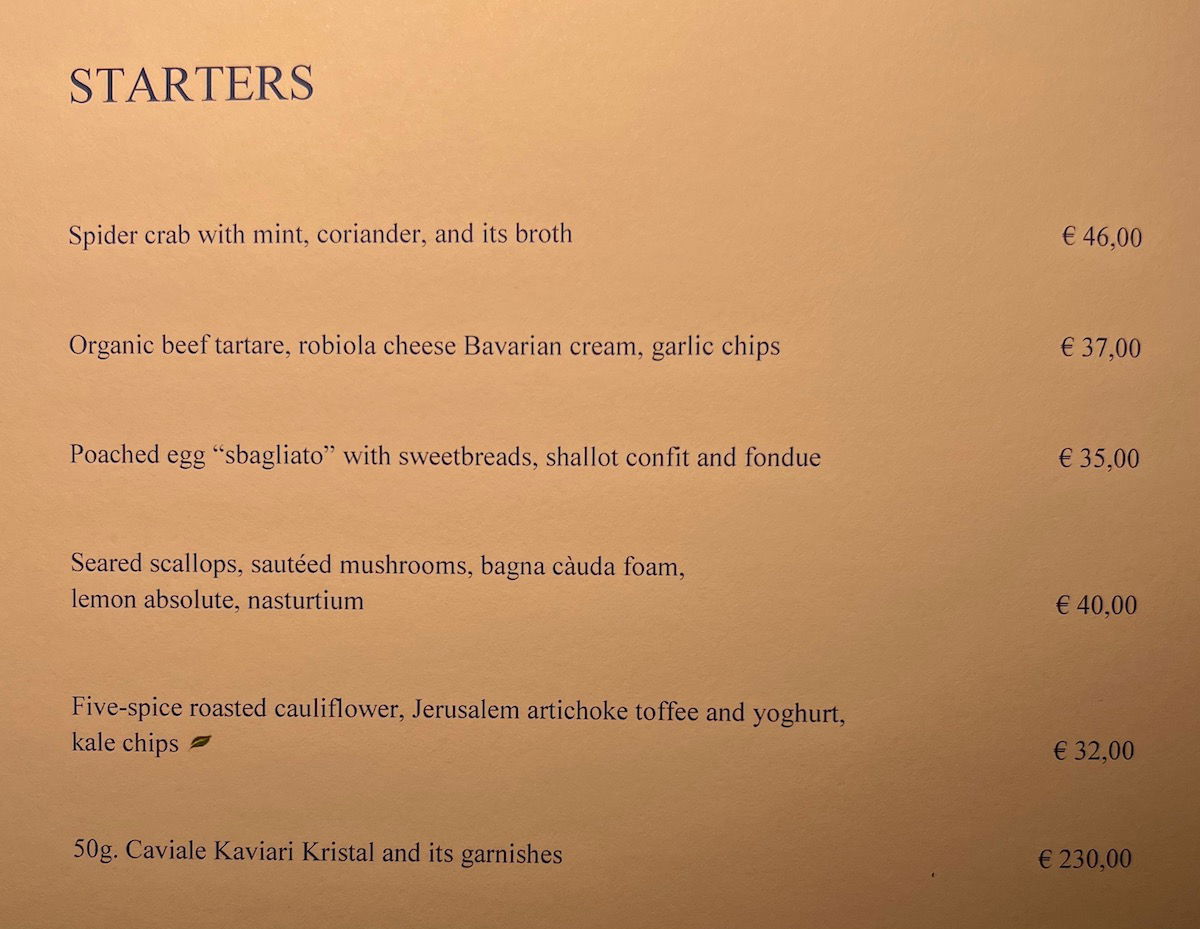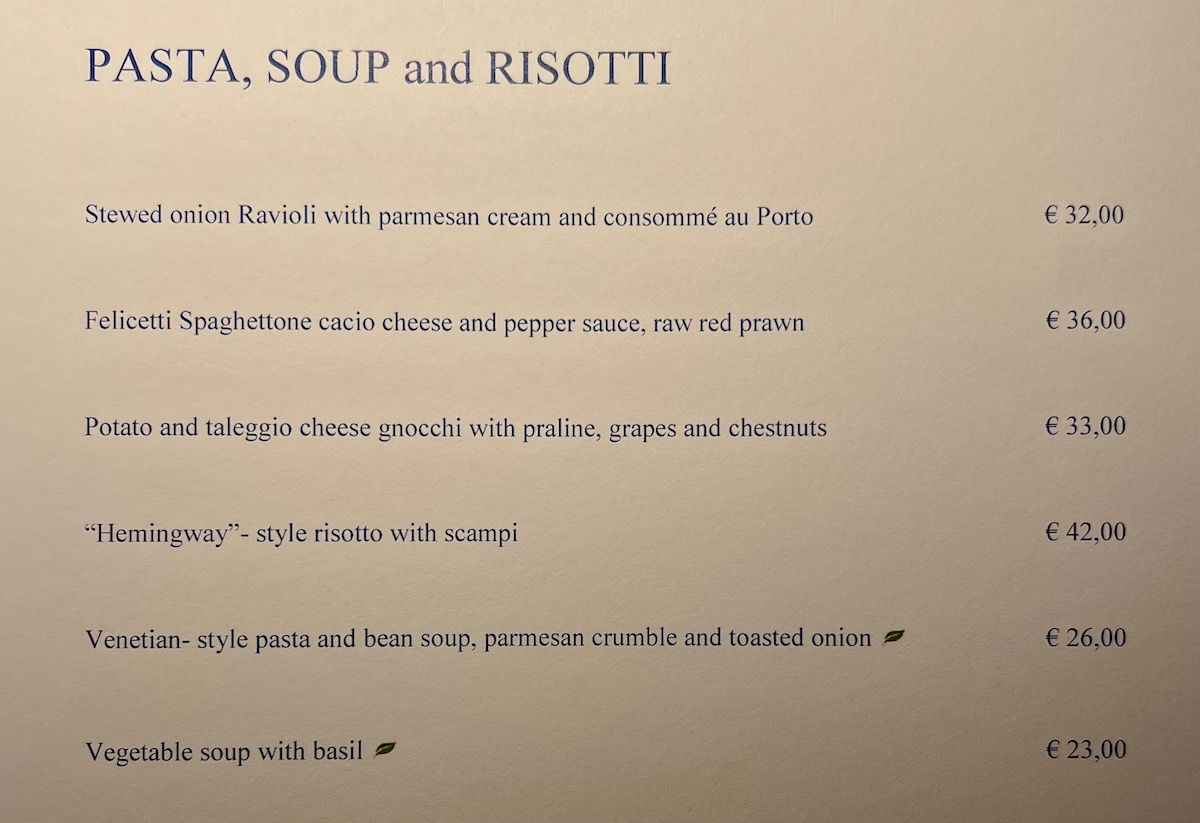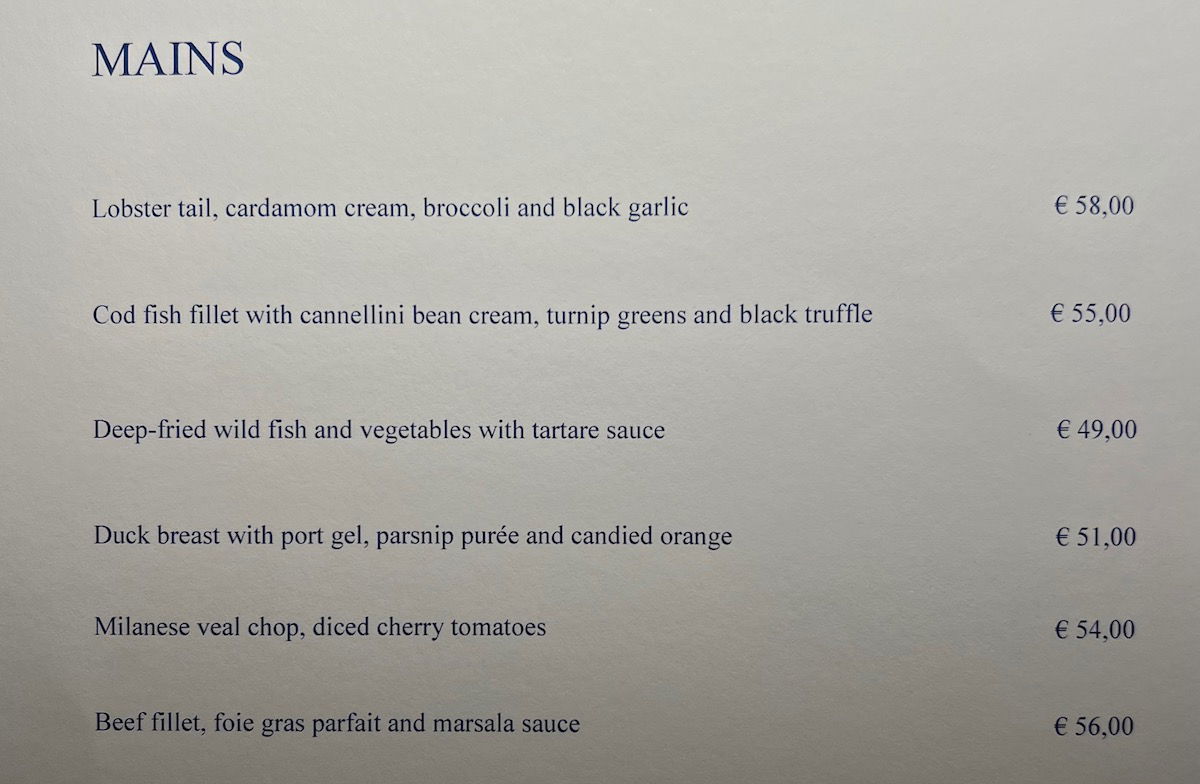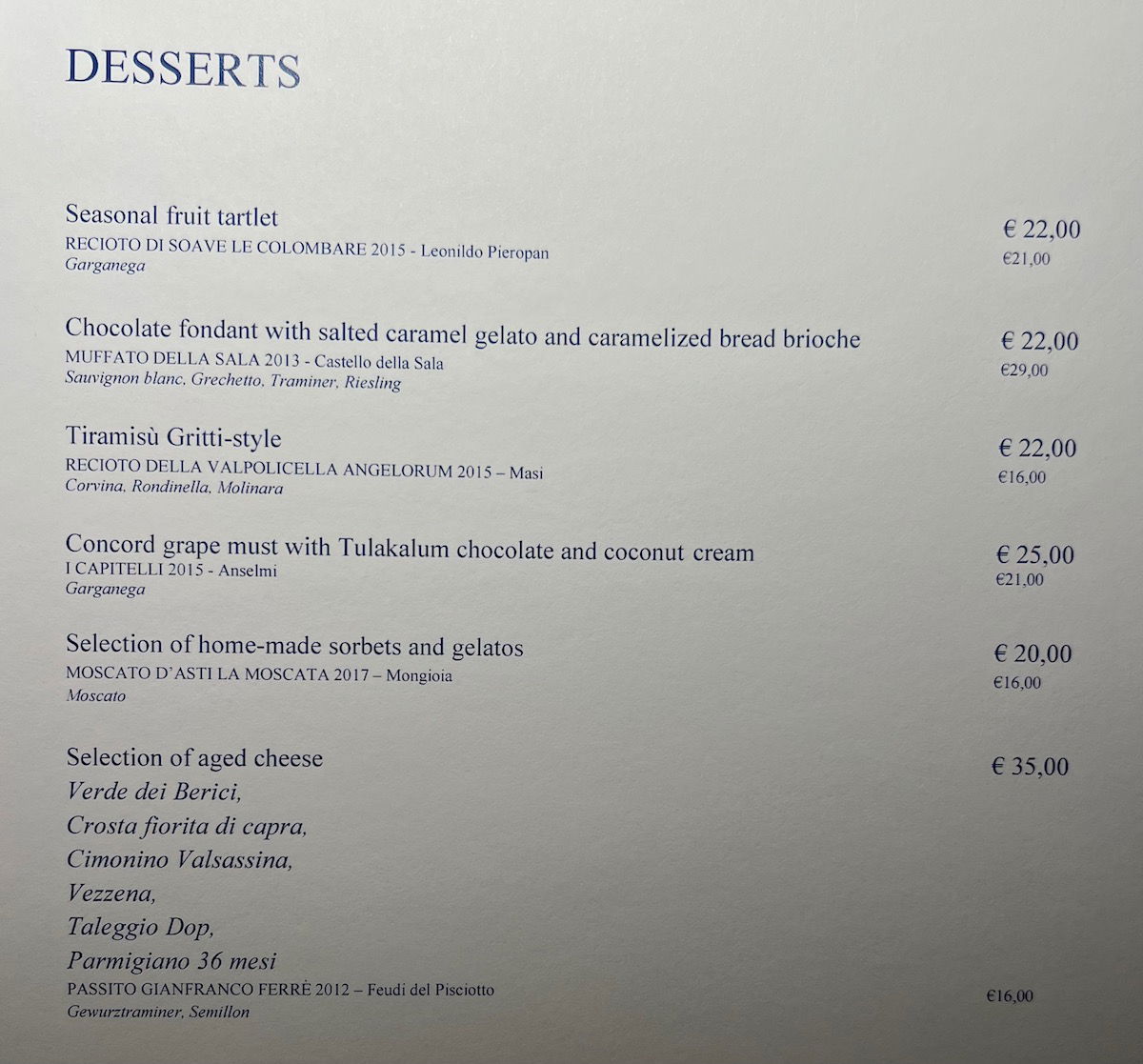 The meal started with some warm bread, plus an amuse bouche, described as spider crab ice cream with mayonnaise.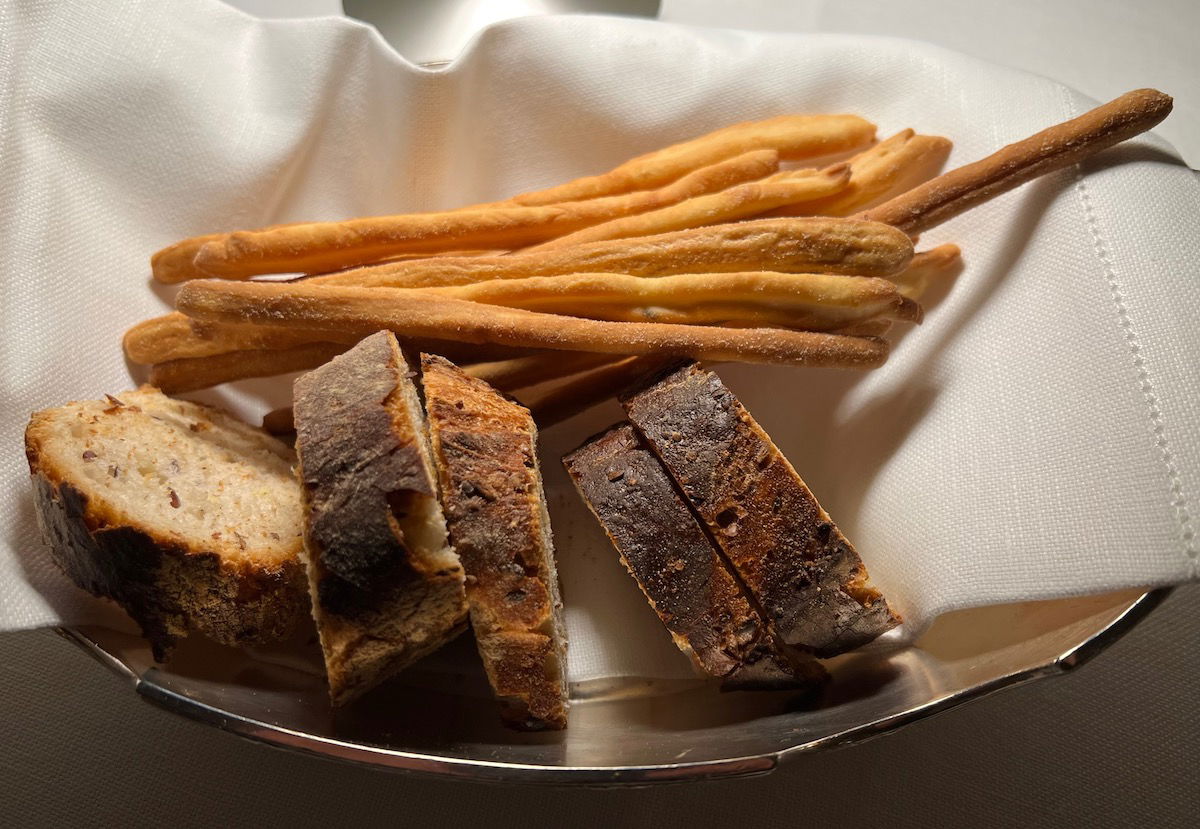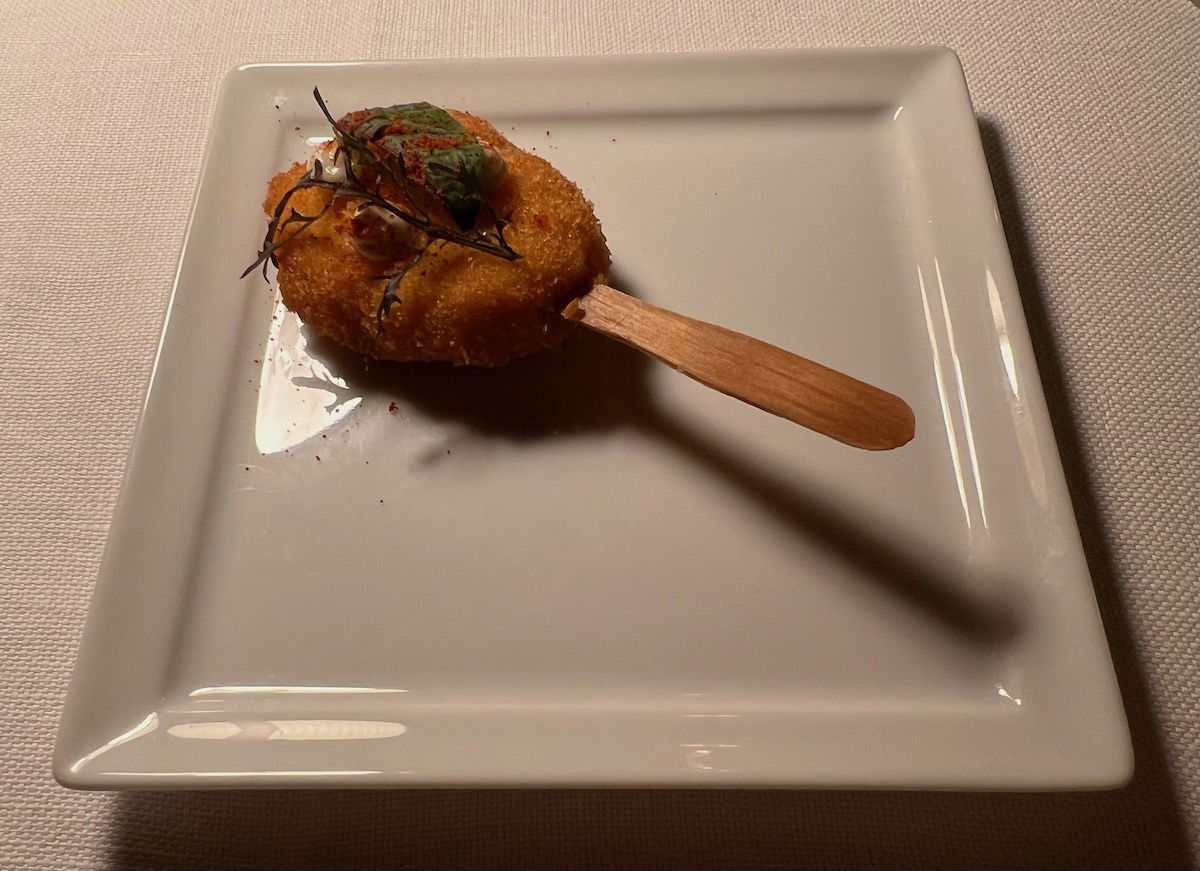 I ordered the potato and taleggio cheese gnocchi with praline, grapes, and chestnuts, while Ford ordered the Venetian-style pasta and bean soup.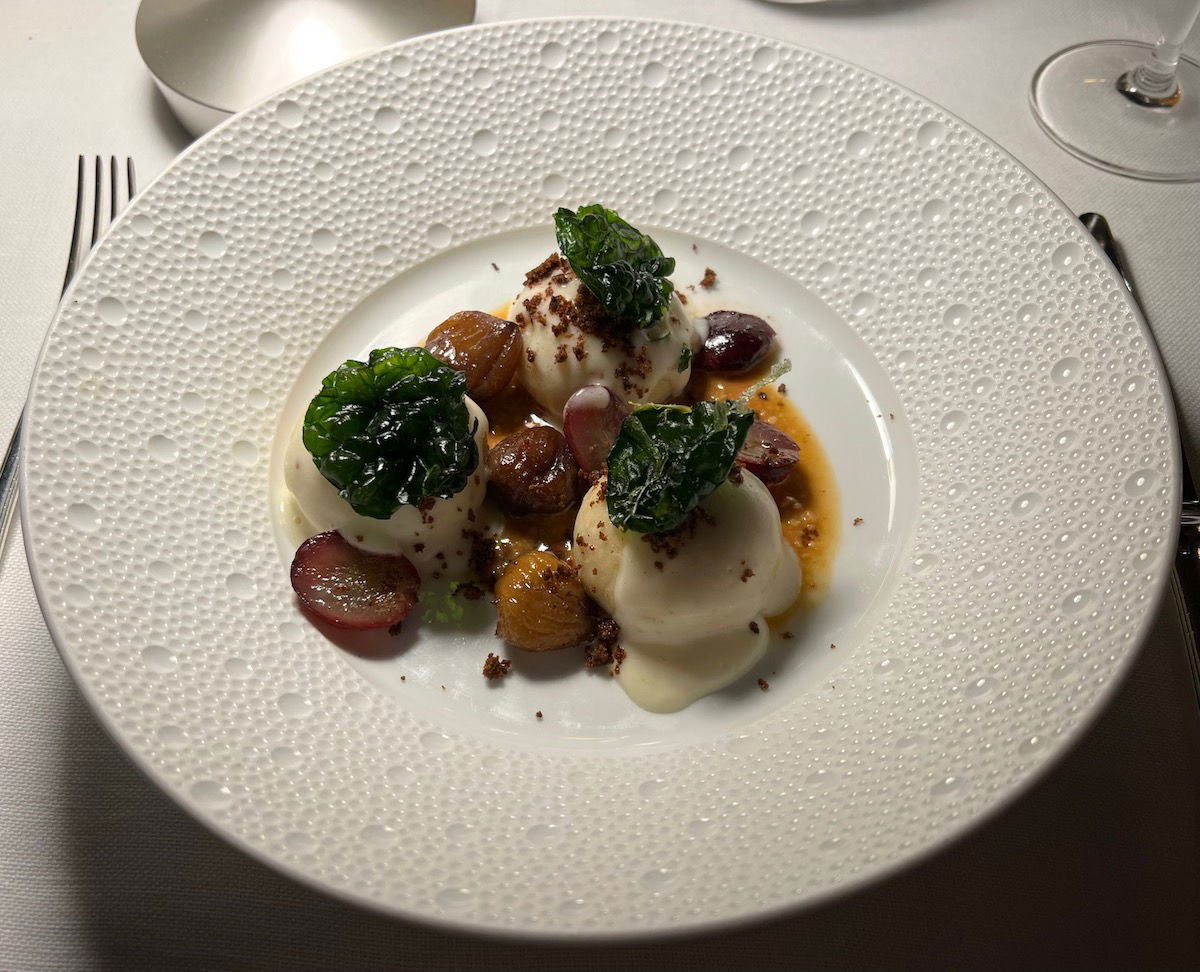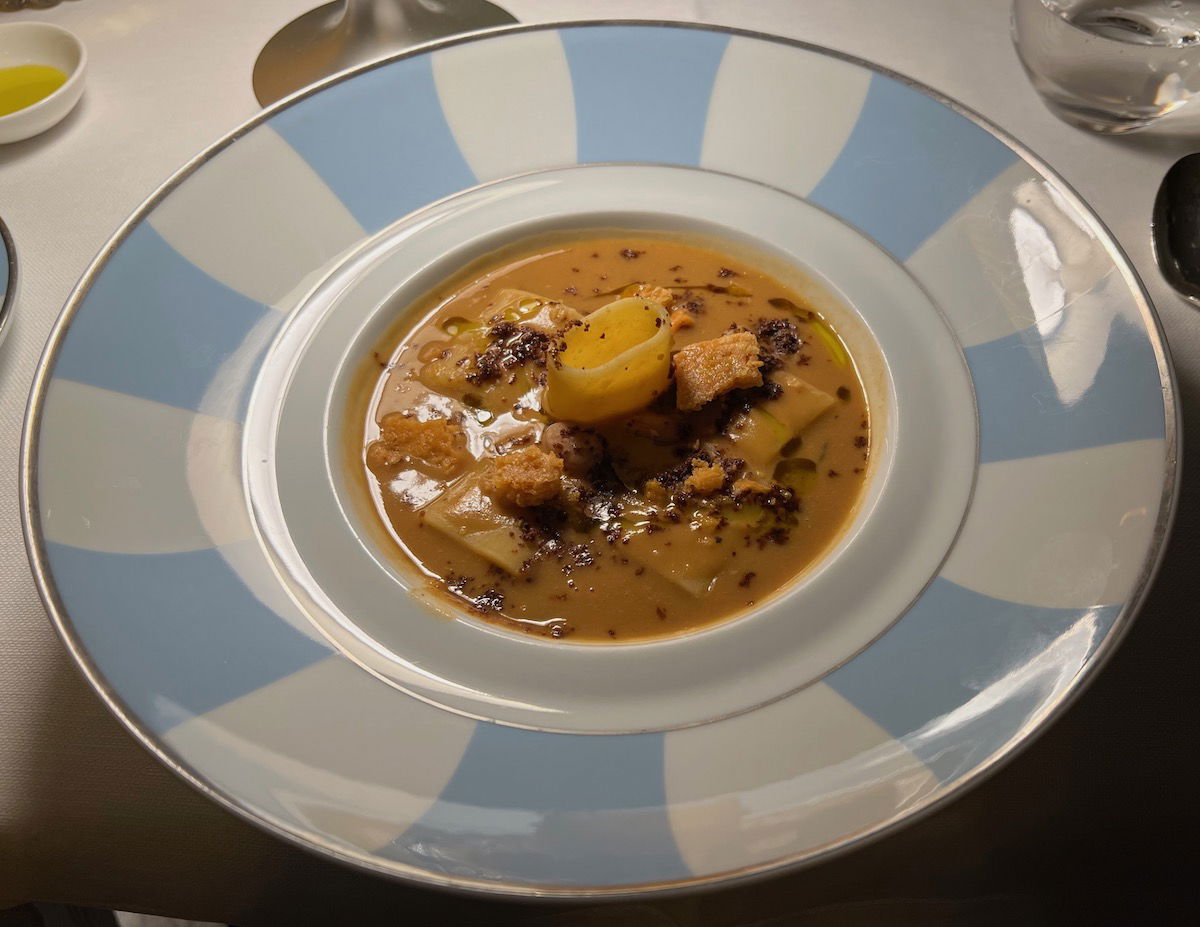 Then for our mains, I ordered the cod fish fillet with cannellini bean cream, turnip greens, and black truffle, while Ford ordered the beef fillet with a foie gras parfait and marsala sauce.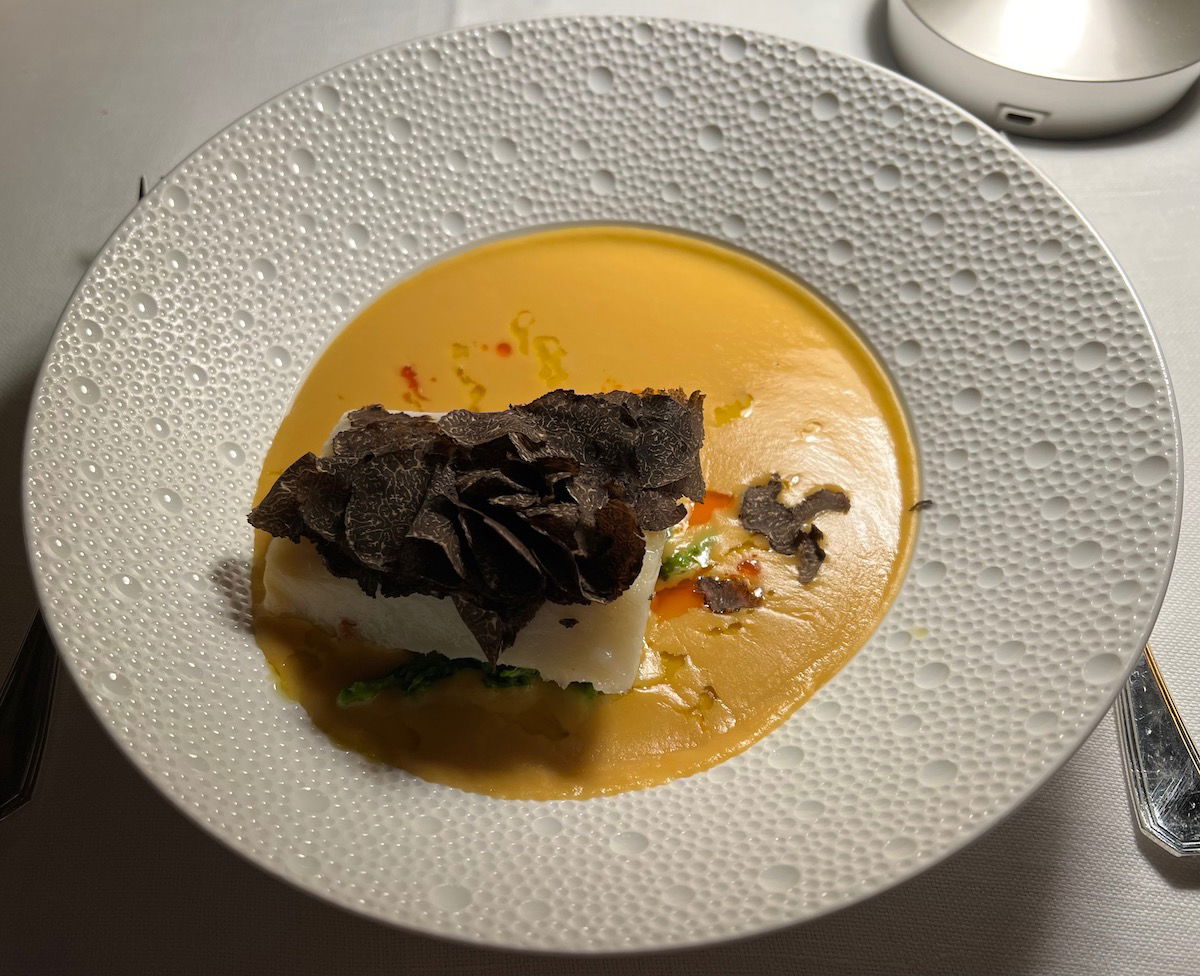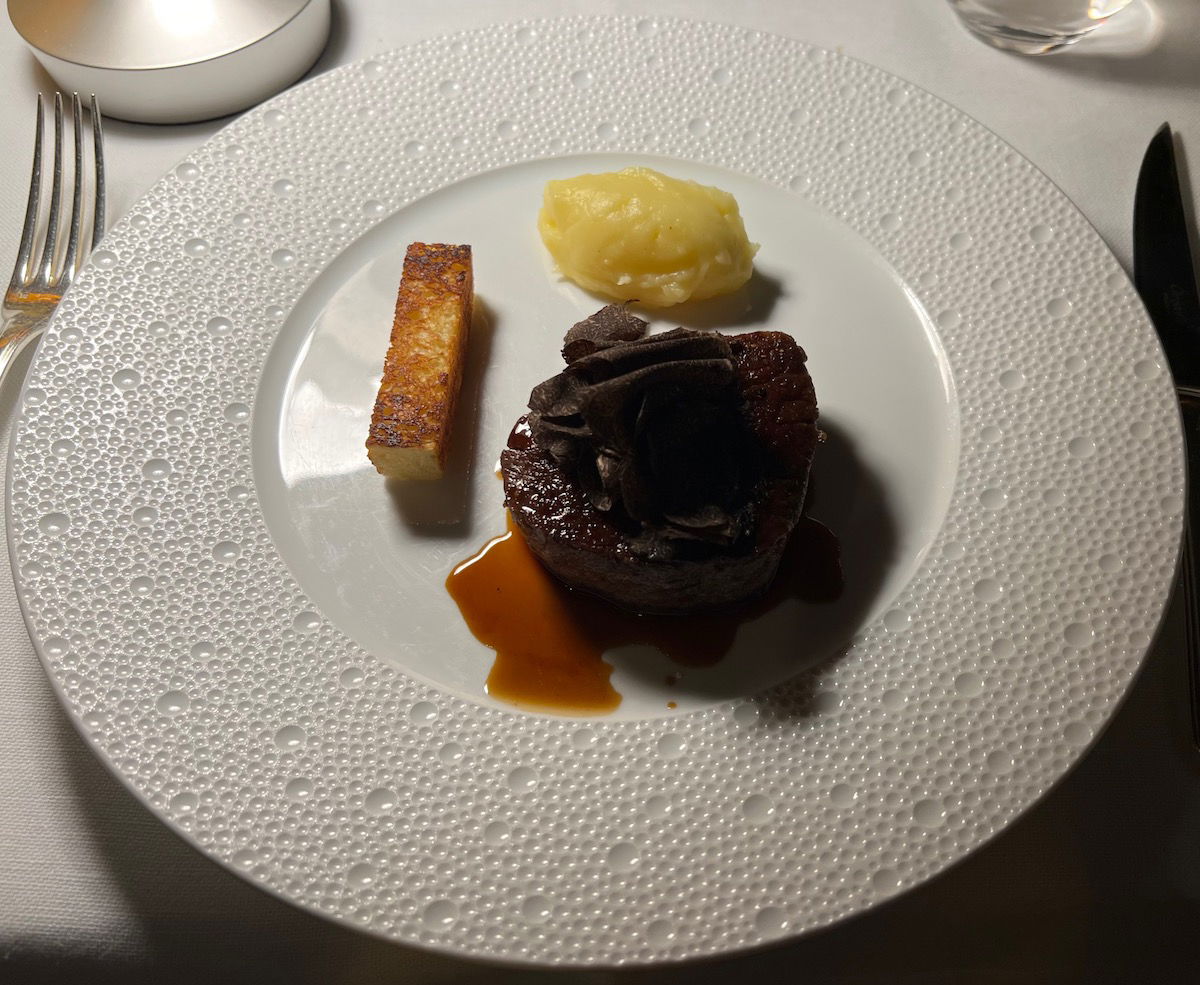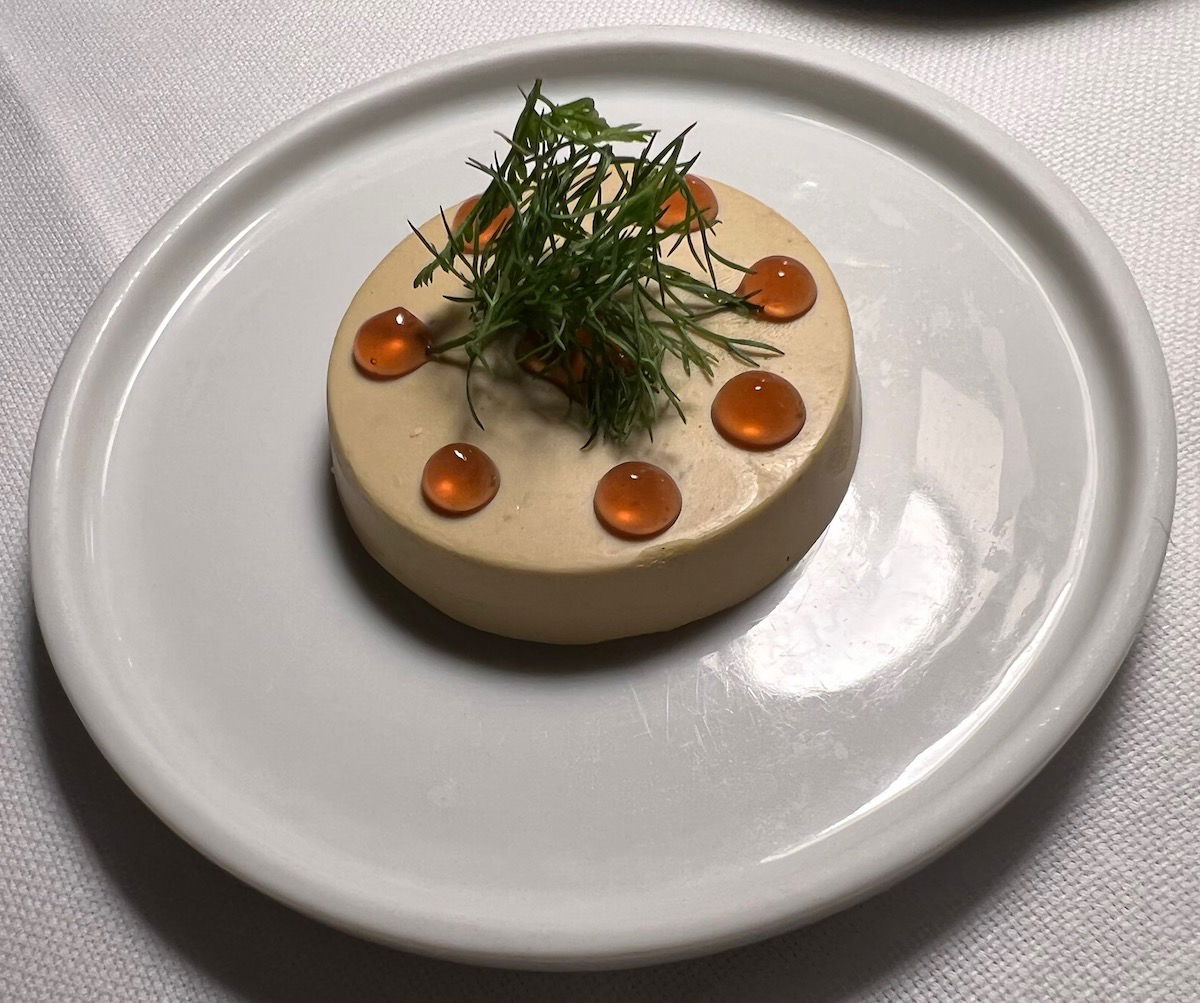 After dinner we were offered some petit fours.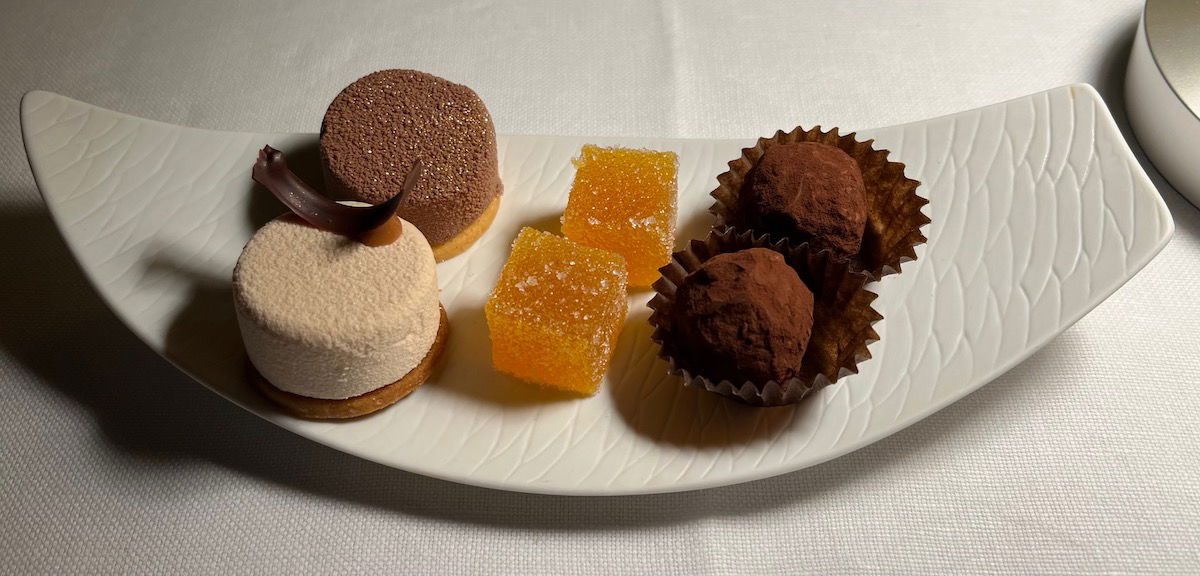 The food quality and service were excellent, though not surprisingly the meal was pricey. In general this property seemed to charge more than the St. Regis for its food & beverage outlets, probably thanks to the hotel's reputation.
Gritti Palace Venice breakfast
Breakfast at Gritti Palace Venice is served in the same restaurant, daily from 7:30AM until 11AM.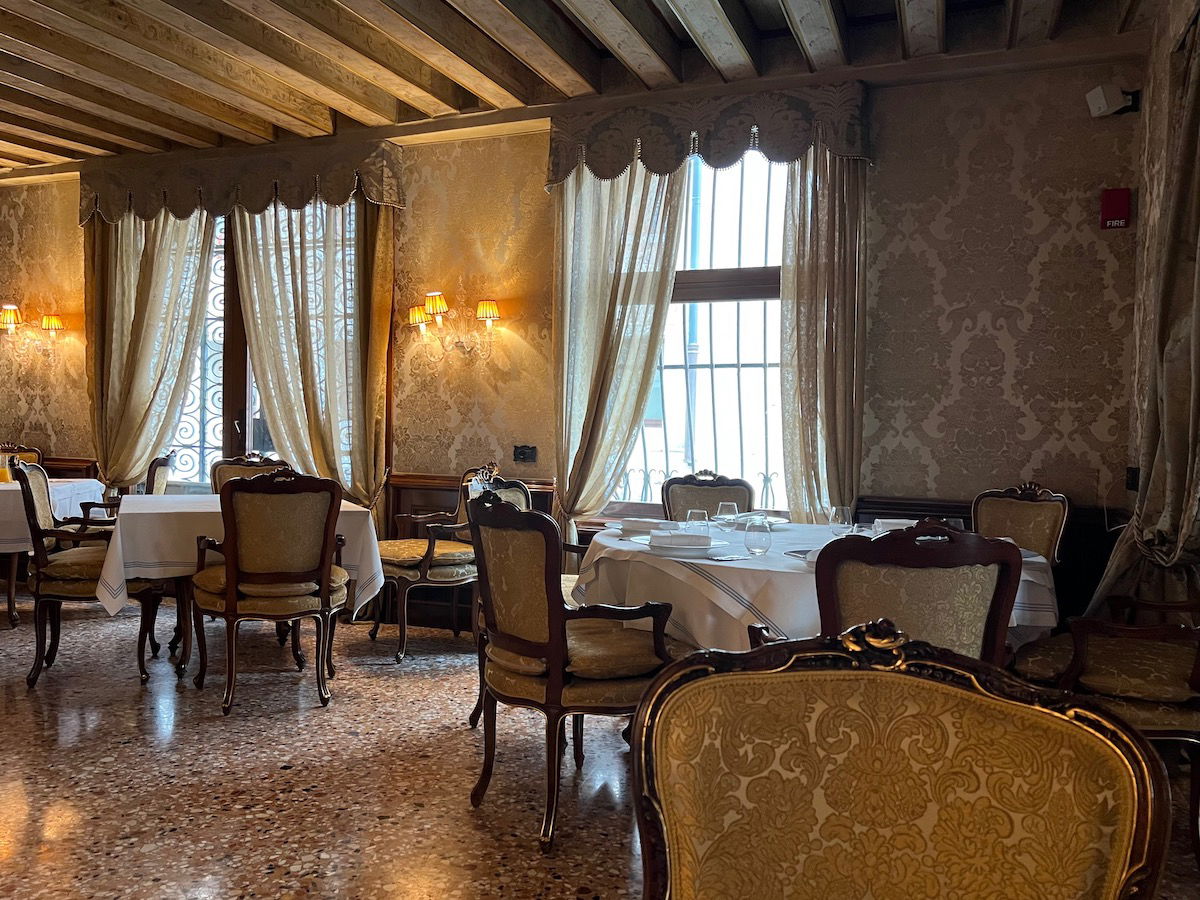 There's also an outdoor terrace at the restaurant, though I found this to be less pleasant than the terrace at the St. Regis Venice. That's because there weren't really heaters here, and while there were glass shields (presumably to keep out birds), the area wasn't otherwise warmed in any way. That's not an issue in summer, but other times of the year I think it's too cold to sit out here early in the morning.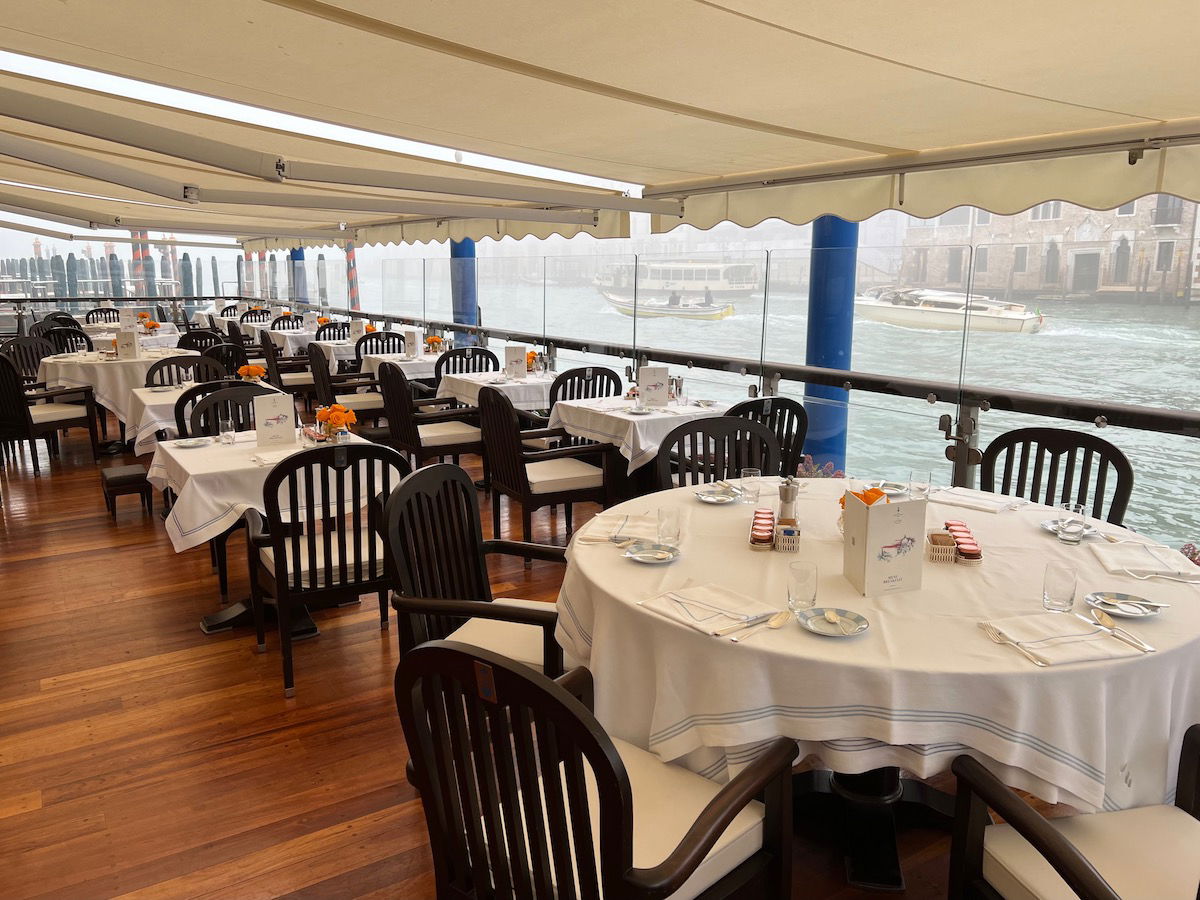 On account of my Bonvoy Titanium status, we had the choice of 1,000 bonus points or complimentary breakfast, and of course we chose the latter. Breakfast ordinarily costs 53 Euro per person, so that's quite a good value for being an elite member.
Breakfast includes a buffet, drinks of choice, plus a small selection of items from a menu.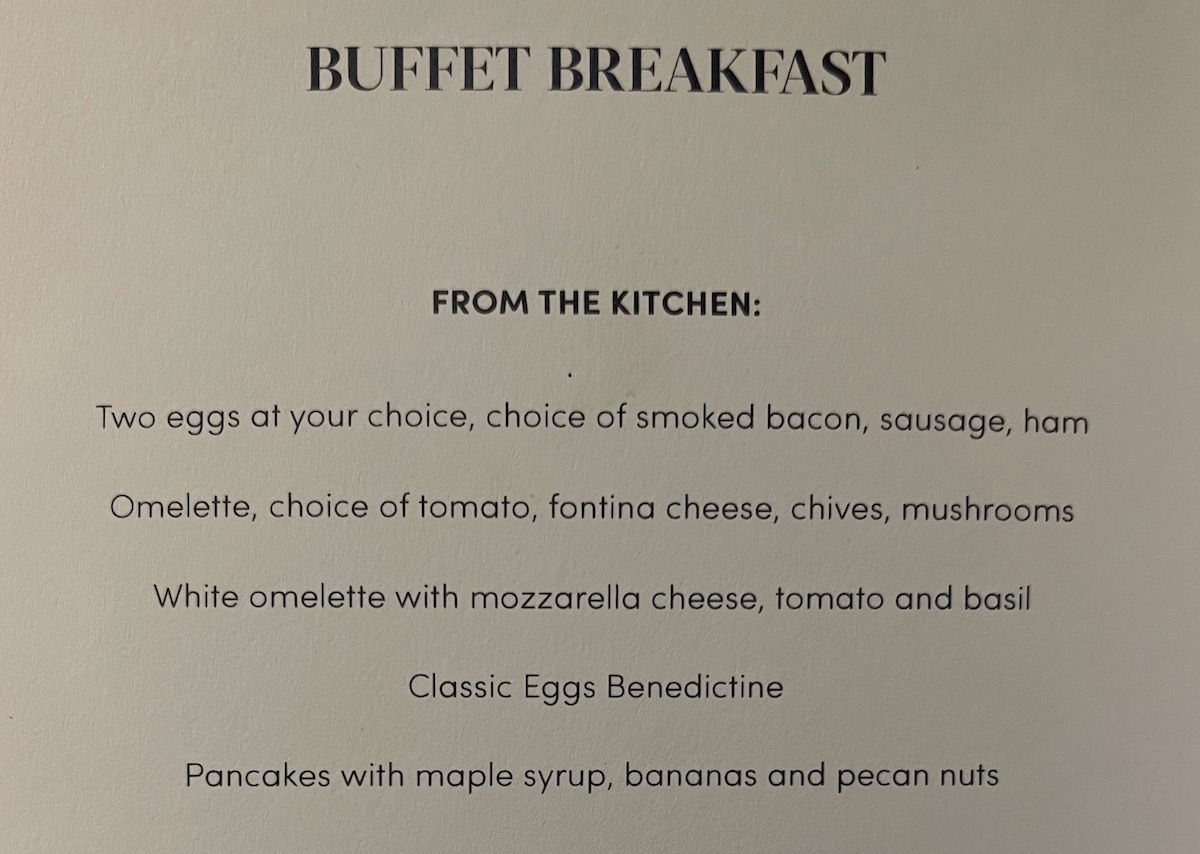 The buffet was located at the entrance to the restaurant, and the selection was small but good.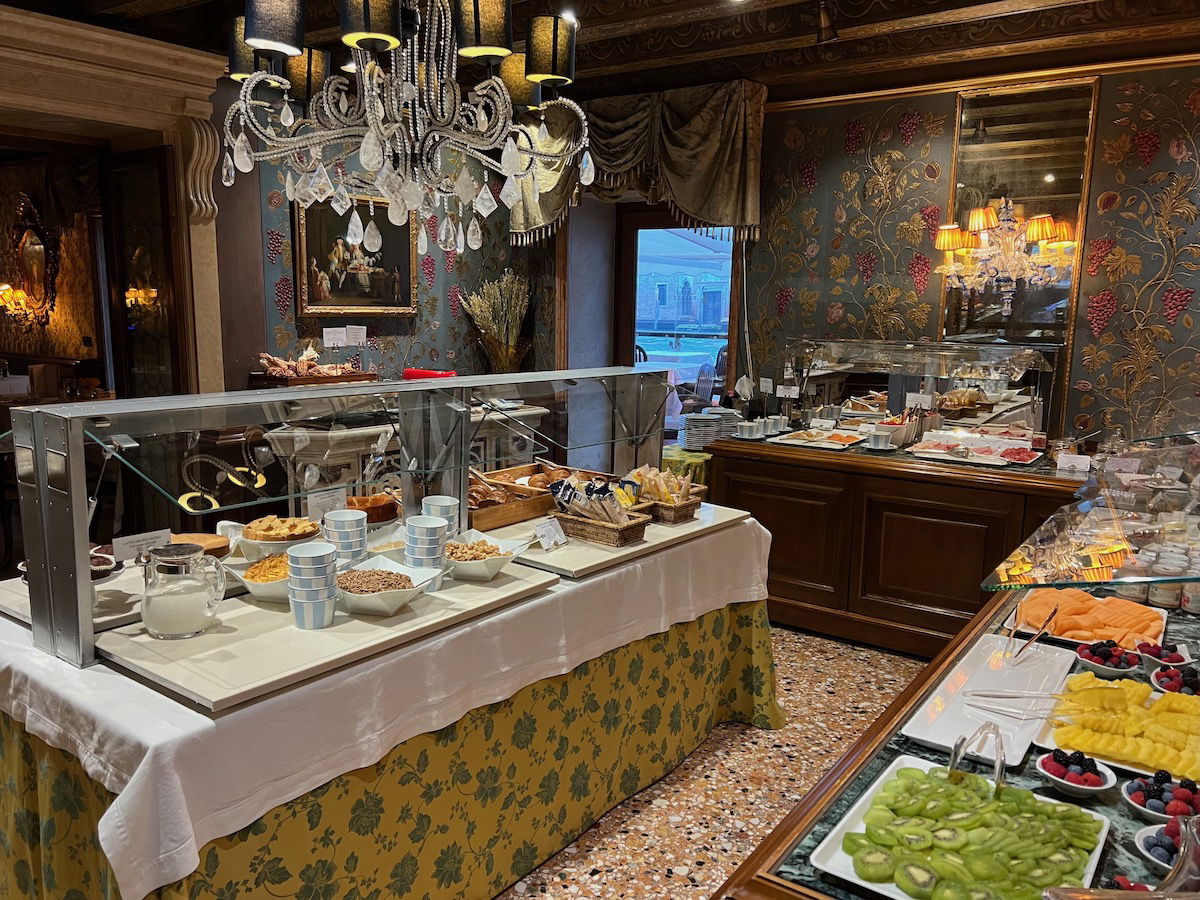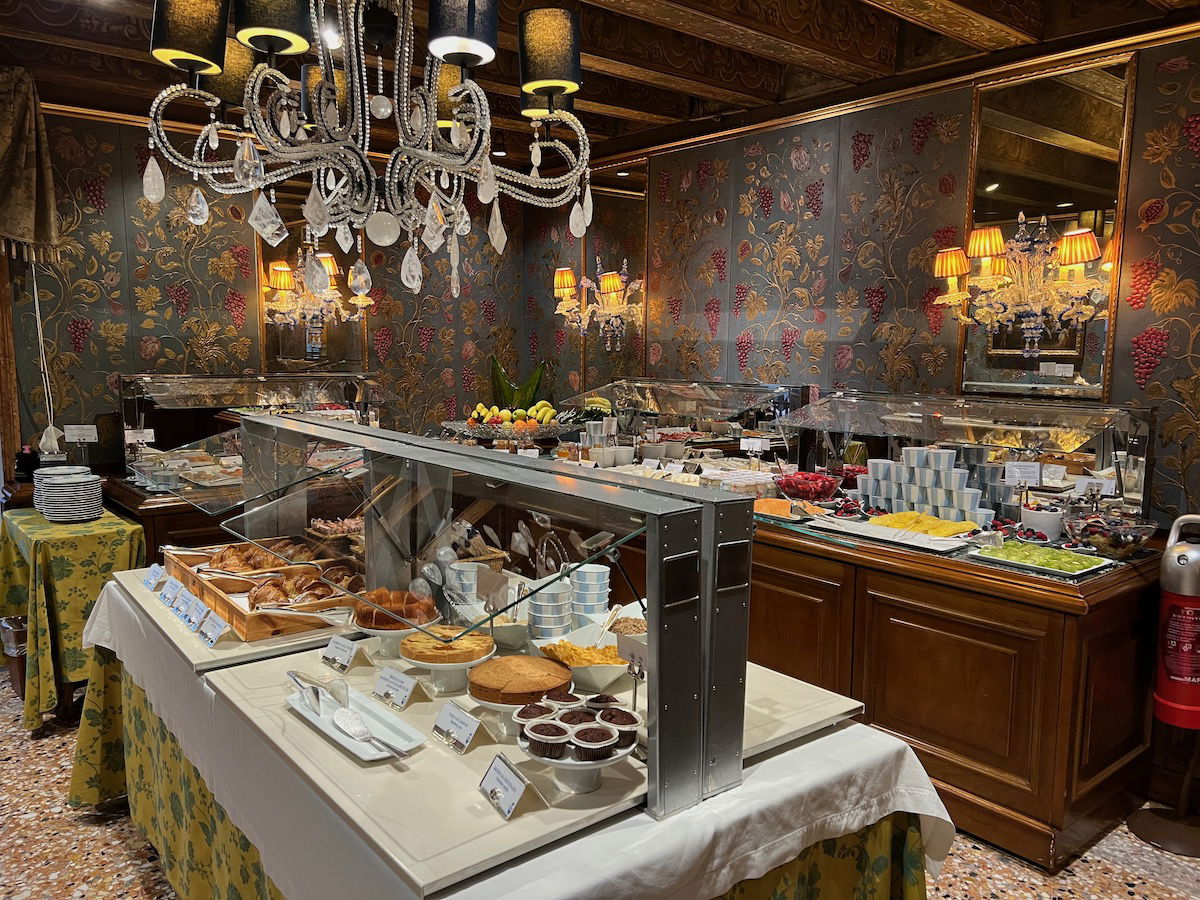 Buffet options included all kinds of fresh fruit, yogurt, cold cuts, cereal, pastries, bread, juice, prosecco, and more.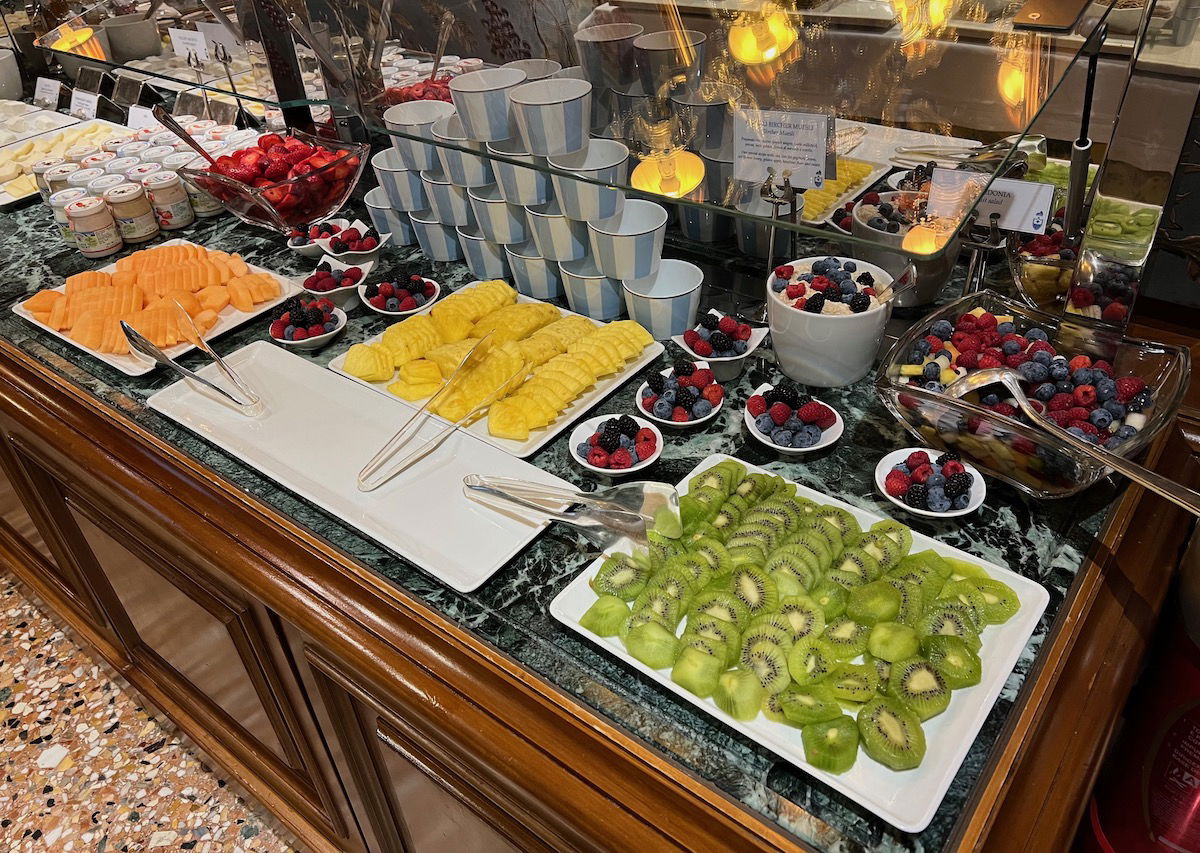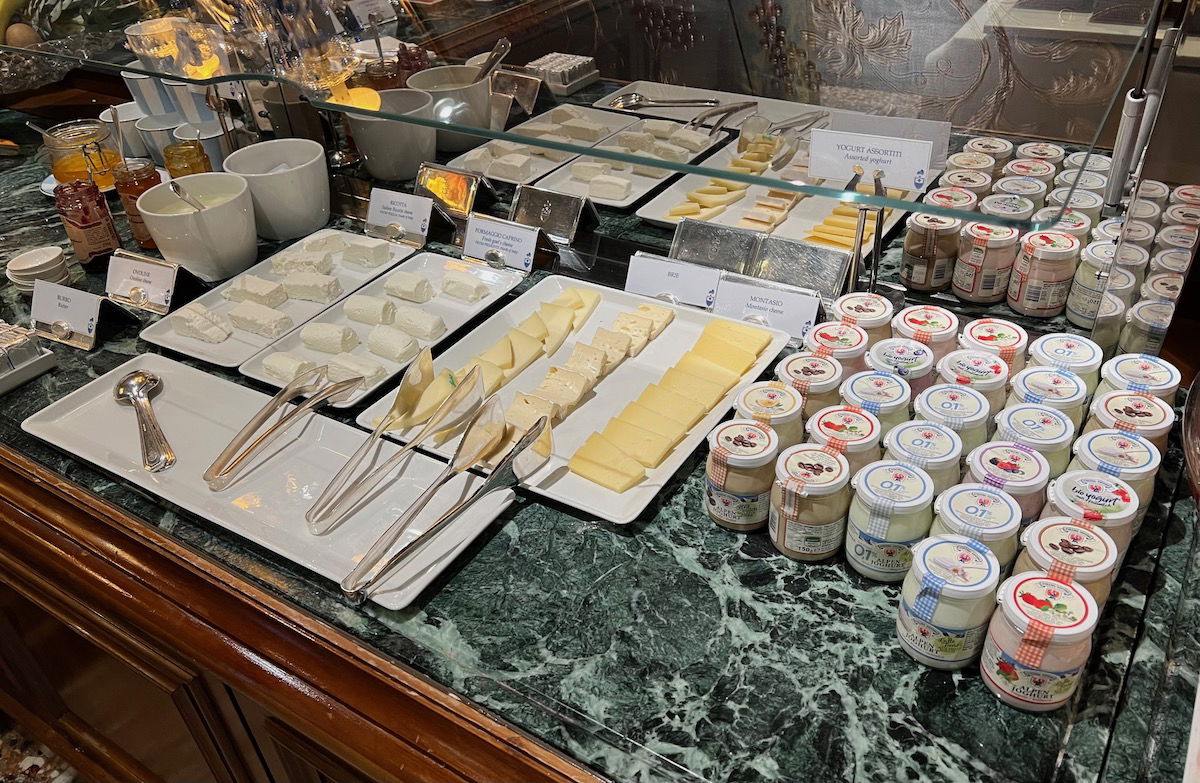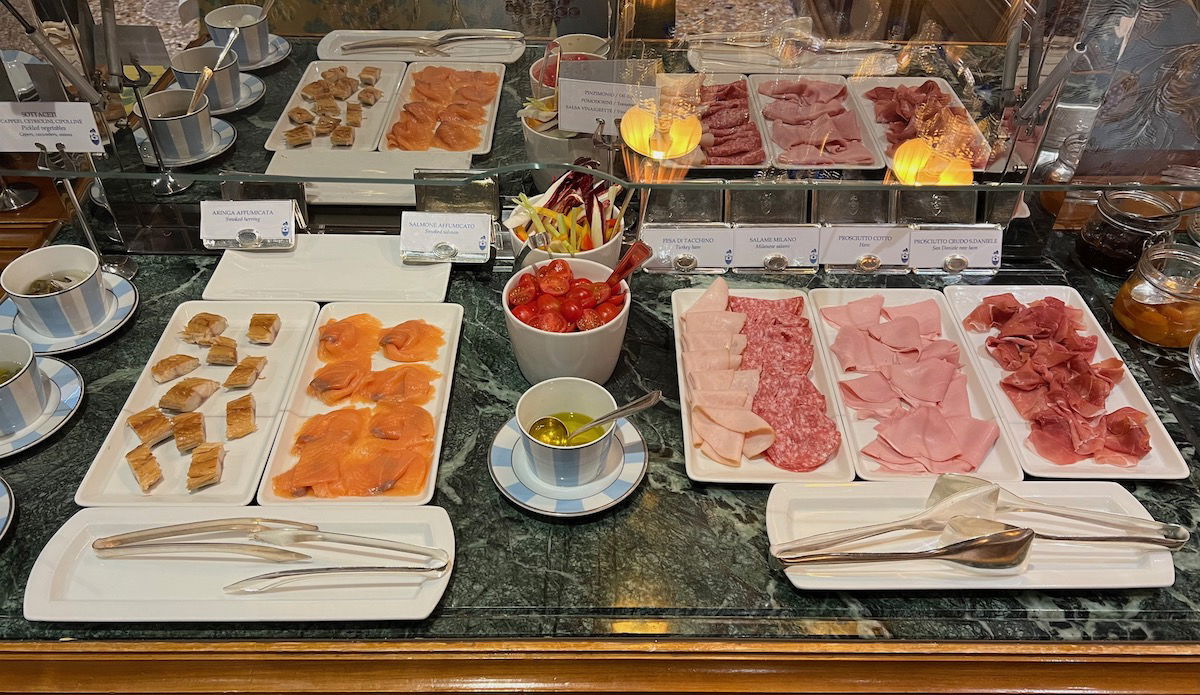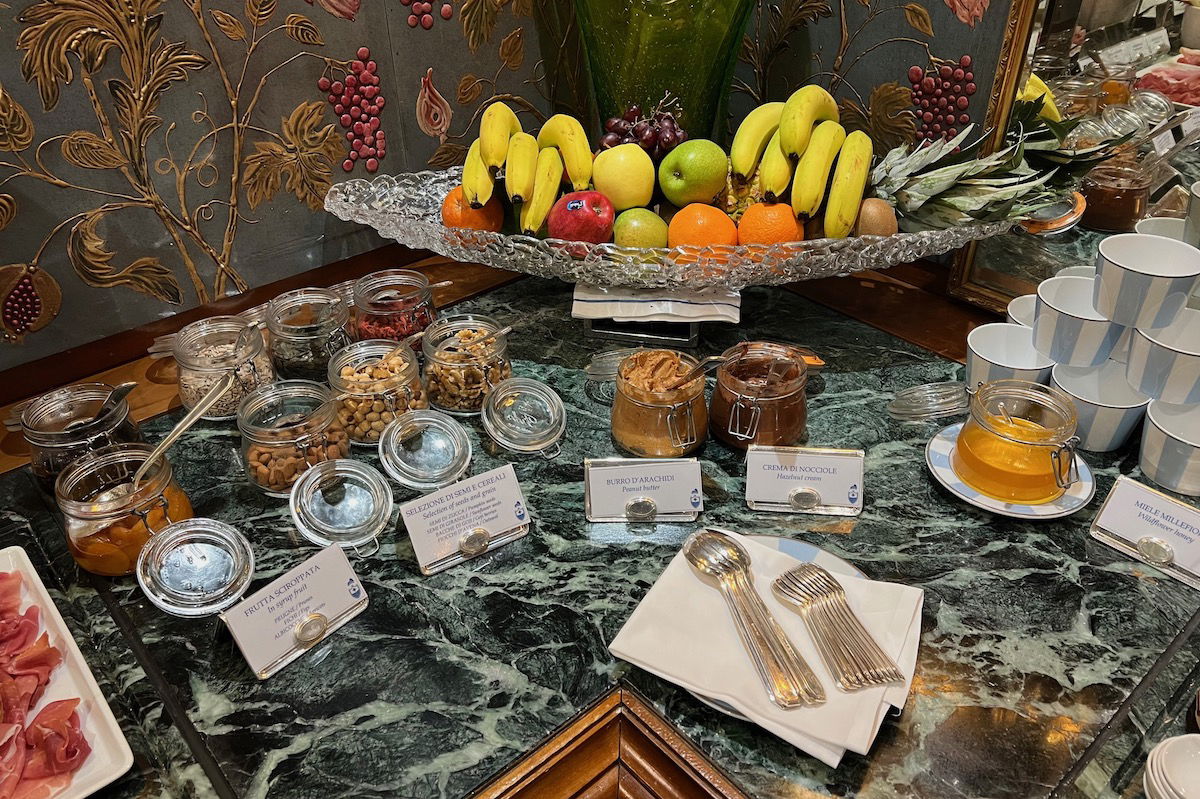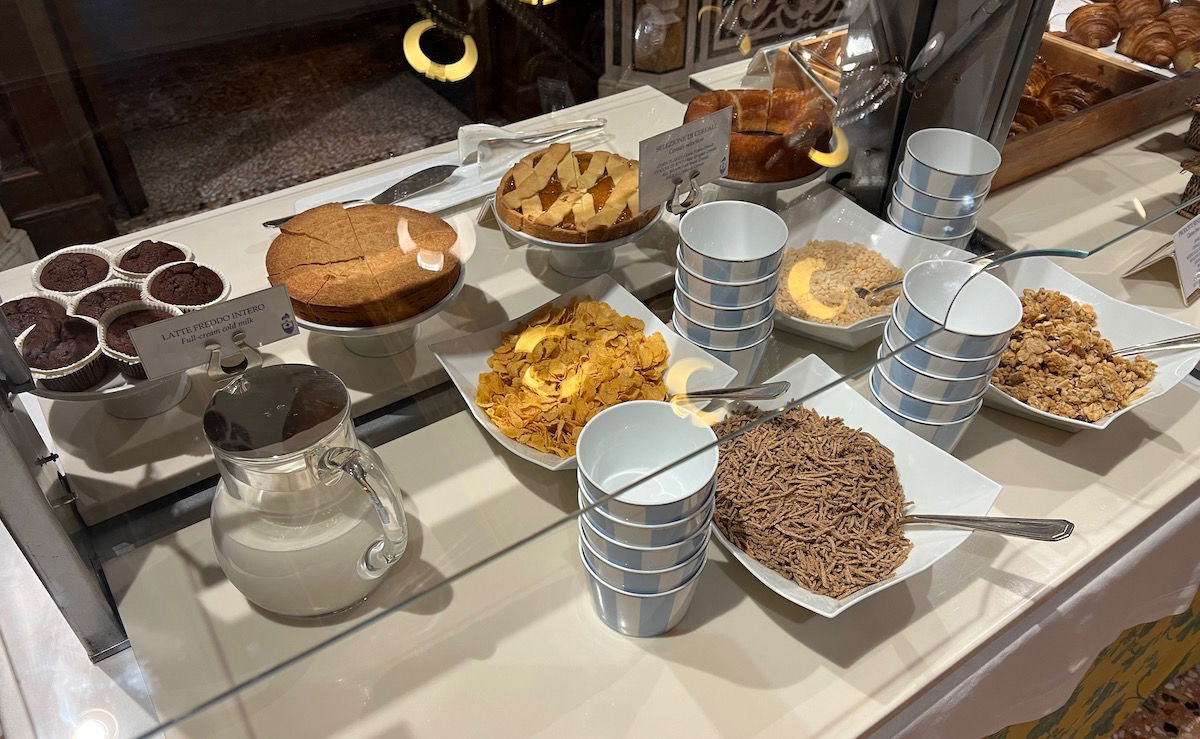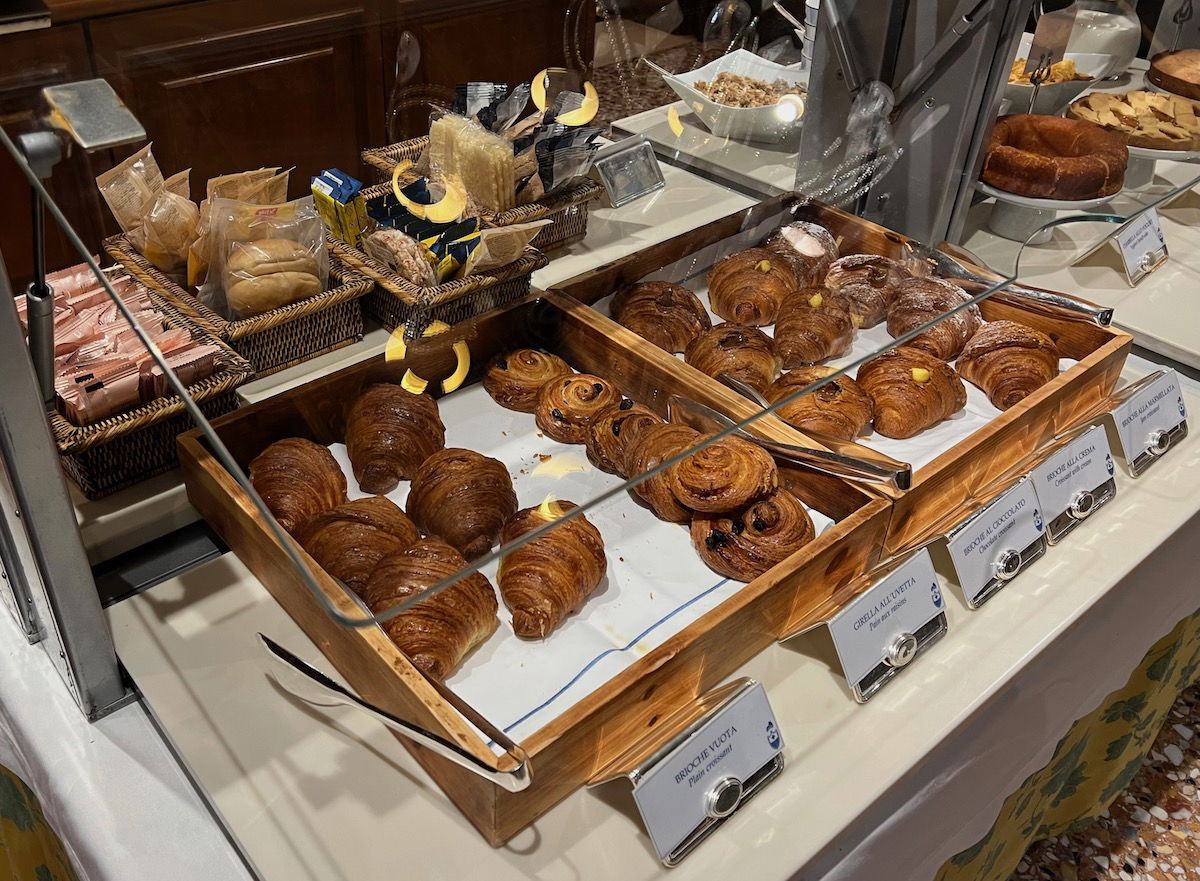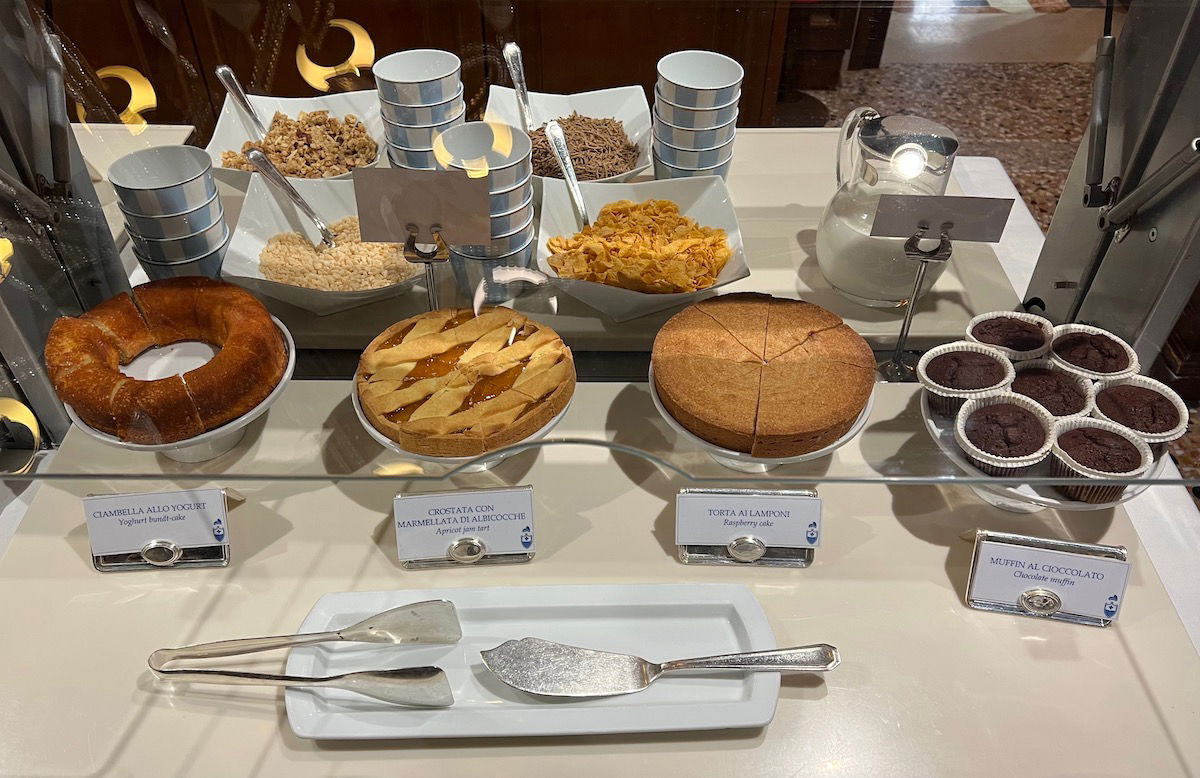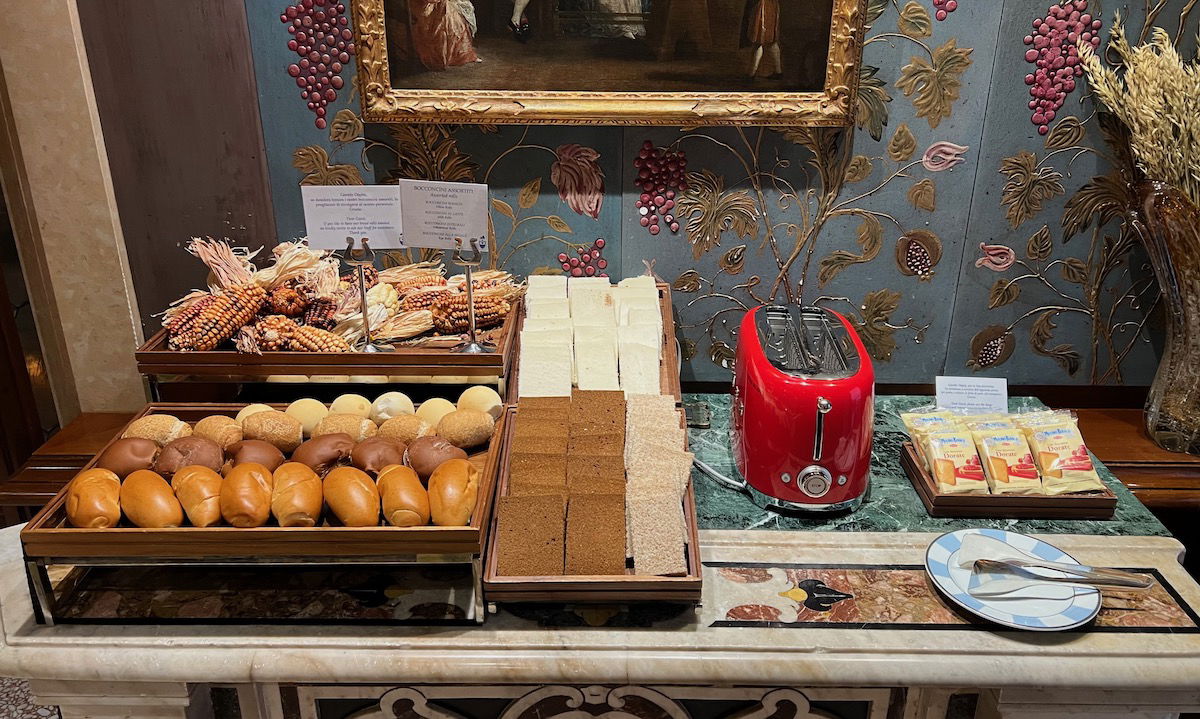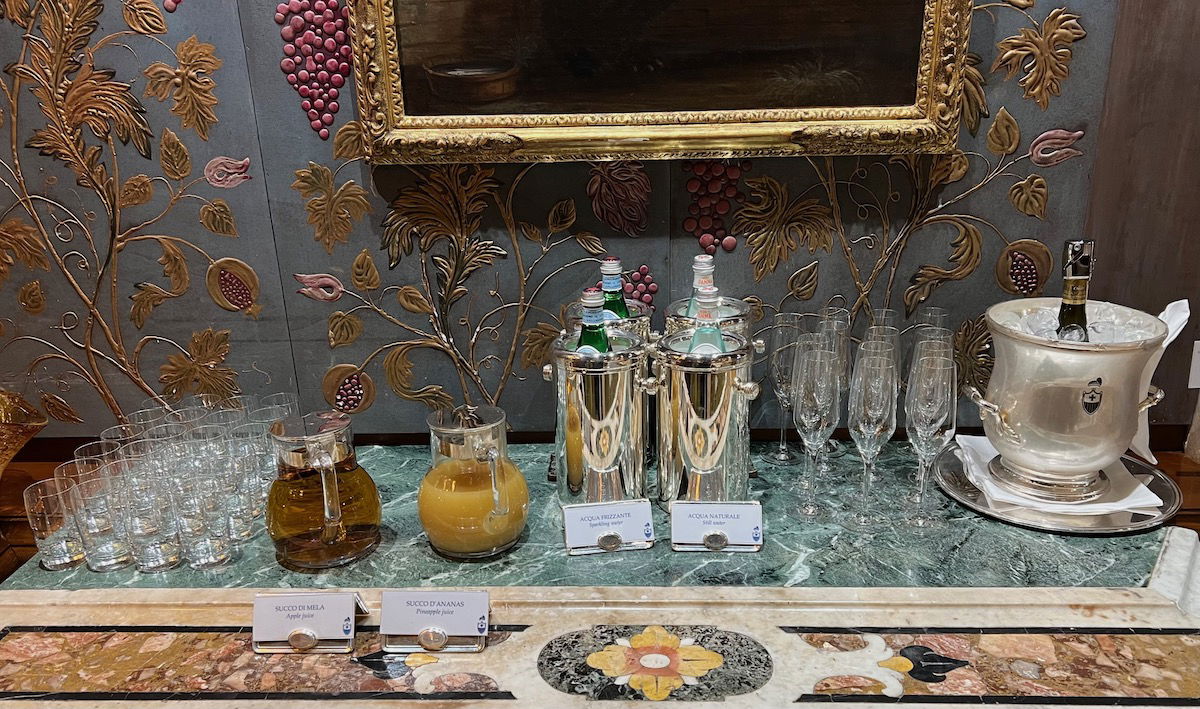 Servers offered us water, freshly squeezed orange juice, and coffee (Italian coffee is so much better than, well, coffee just about anywhere else).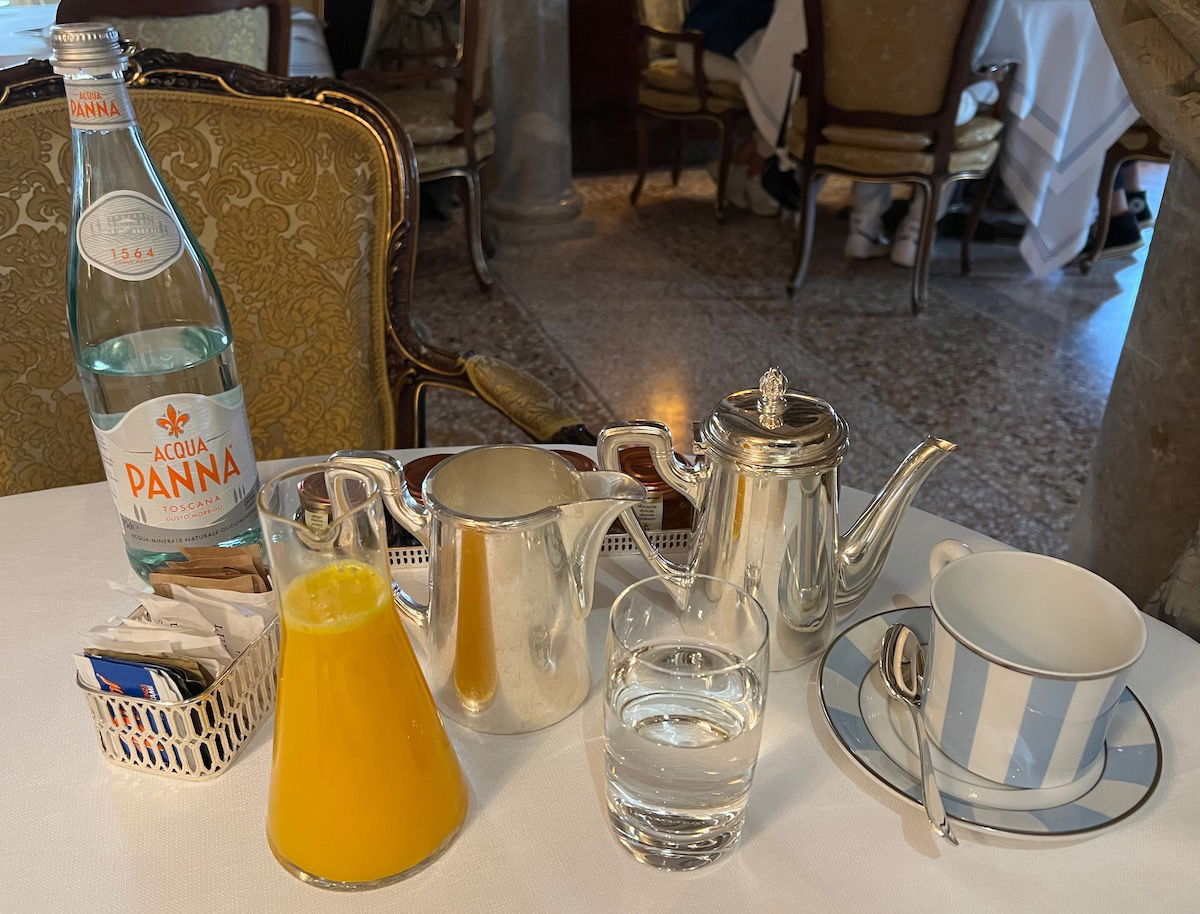 We also ordered an omelet two of the mornings, which was filling.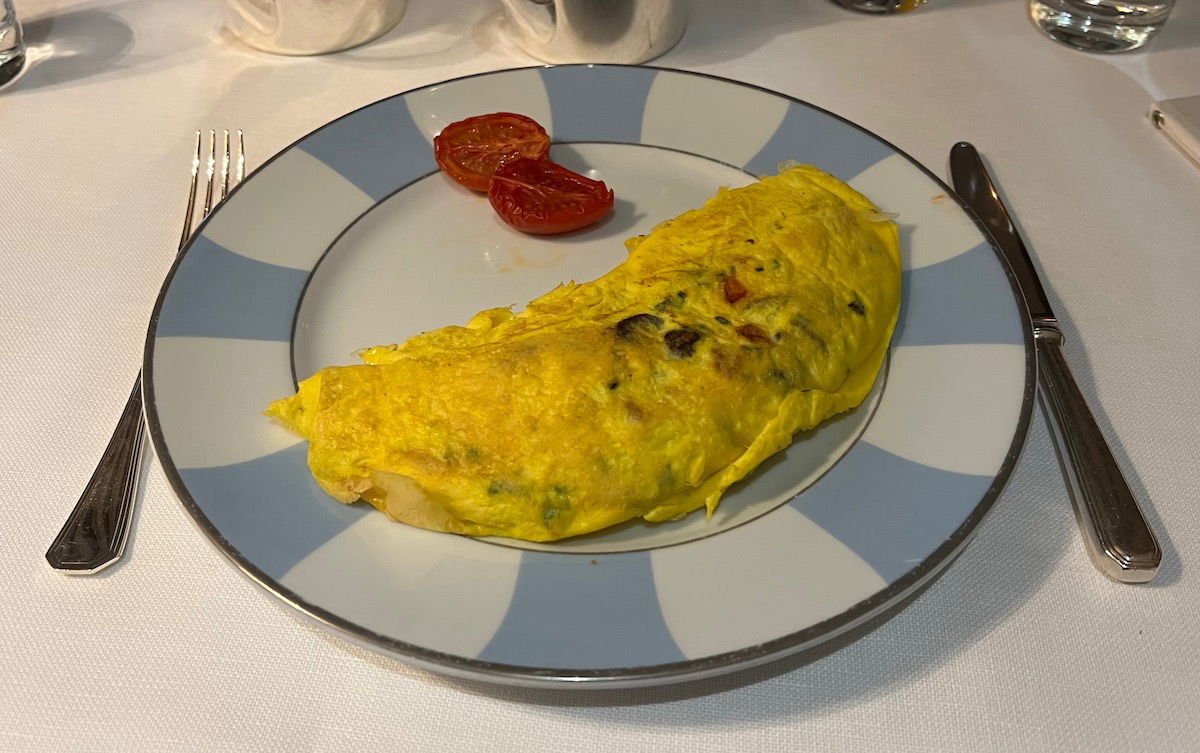 One other quirk to note, speaking of breakfast. As I mentioned above, the hotel doesn't have in-room coffee machines, and there's also no coffee setup in the lobby. For those of us who get up really early, coffee in the morning can be important.
On our last morning we wanted coffee but it was still a couple of hours before breakfast would start. I decided to order a pot via room service, and interestingly wasn't charged. I'm not sure if the guy working the night shift was just being nice, or if this is a courtesy the hotel offers, as it was never promoted.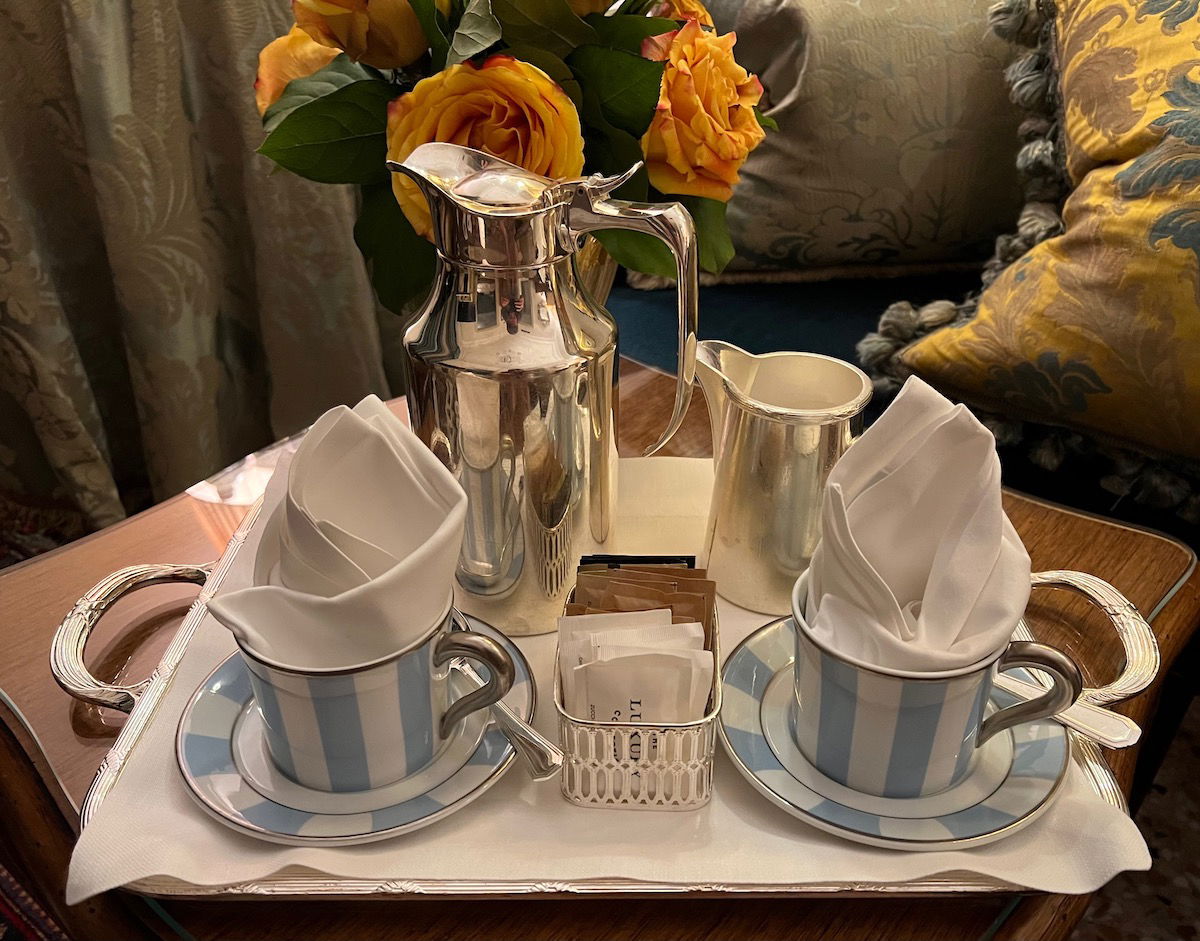 Gritti Palace Venice Bar Longhi
Bar Longhi is Gritti Palace's famous signature bar, and it's open daily from 11AM until 1AM. The bar has a cute indoor space, though the highlight is the outdoor terrace, which features Riva yacht themed chairs.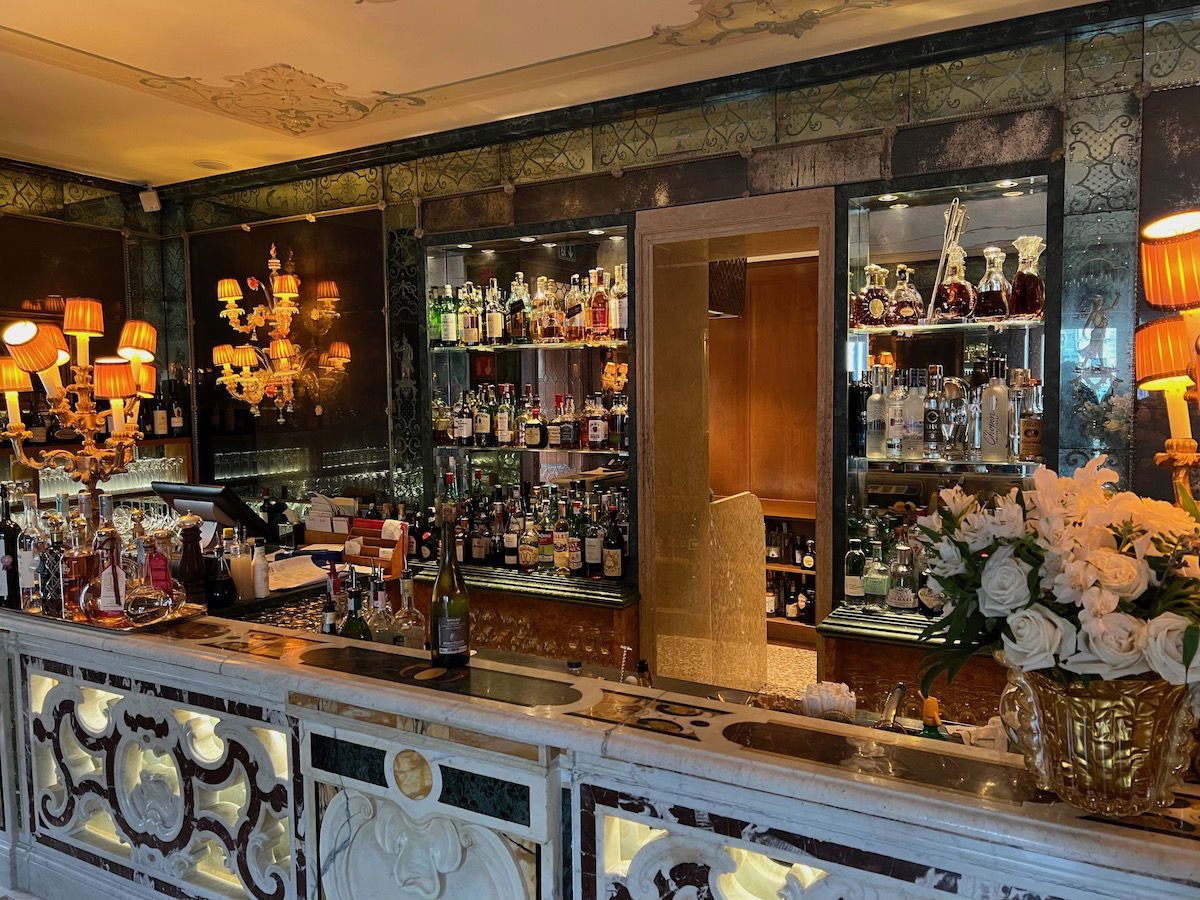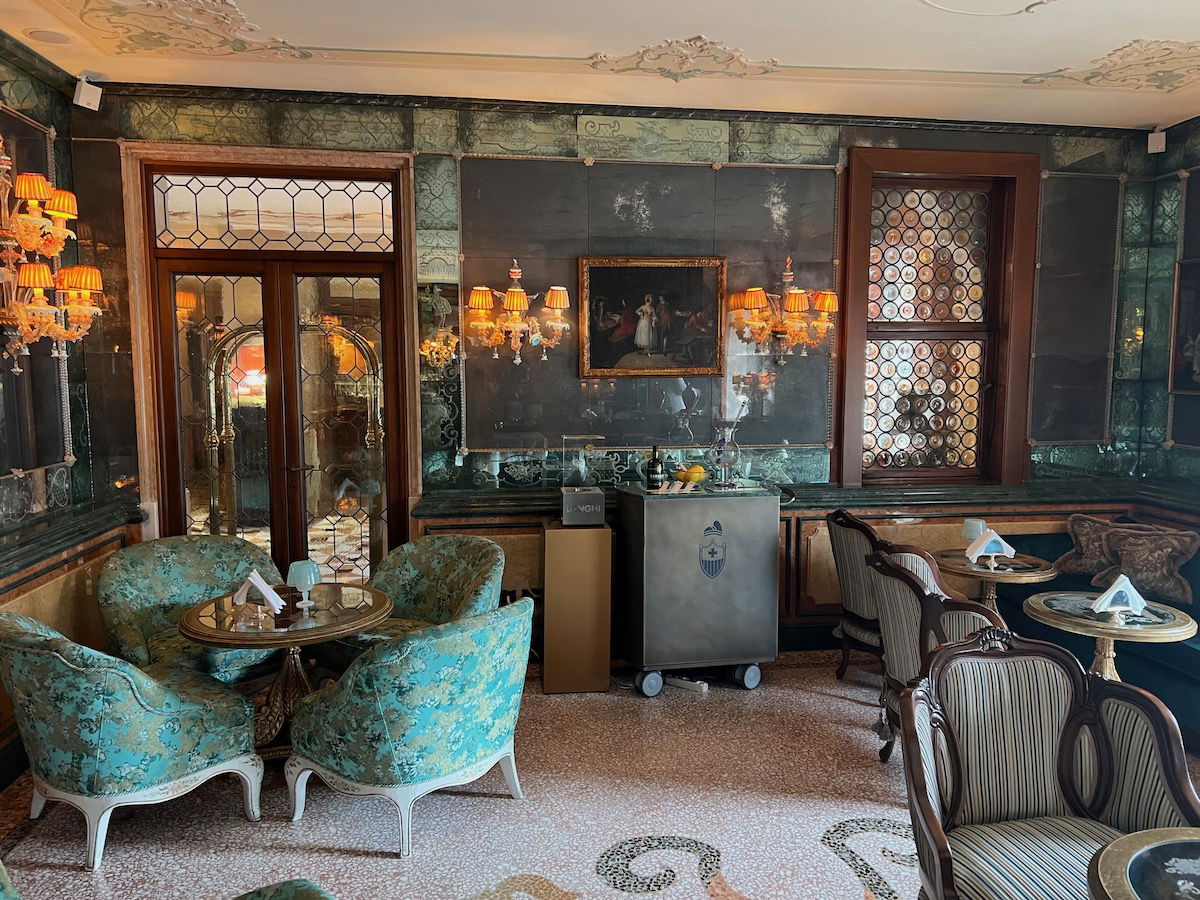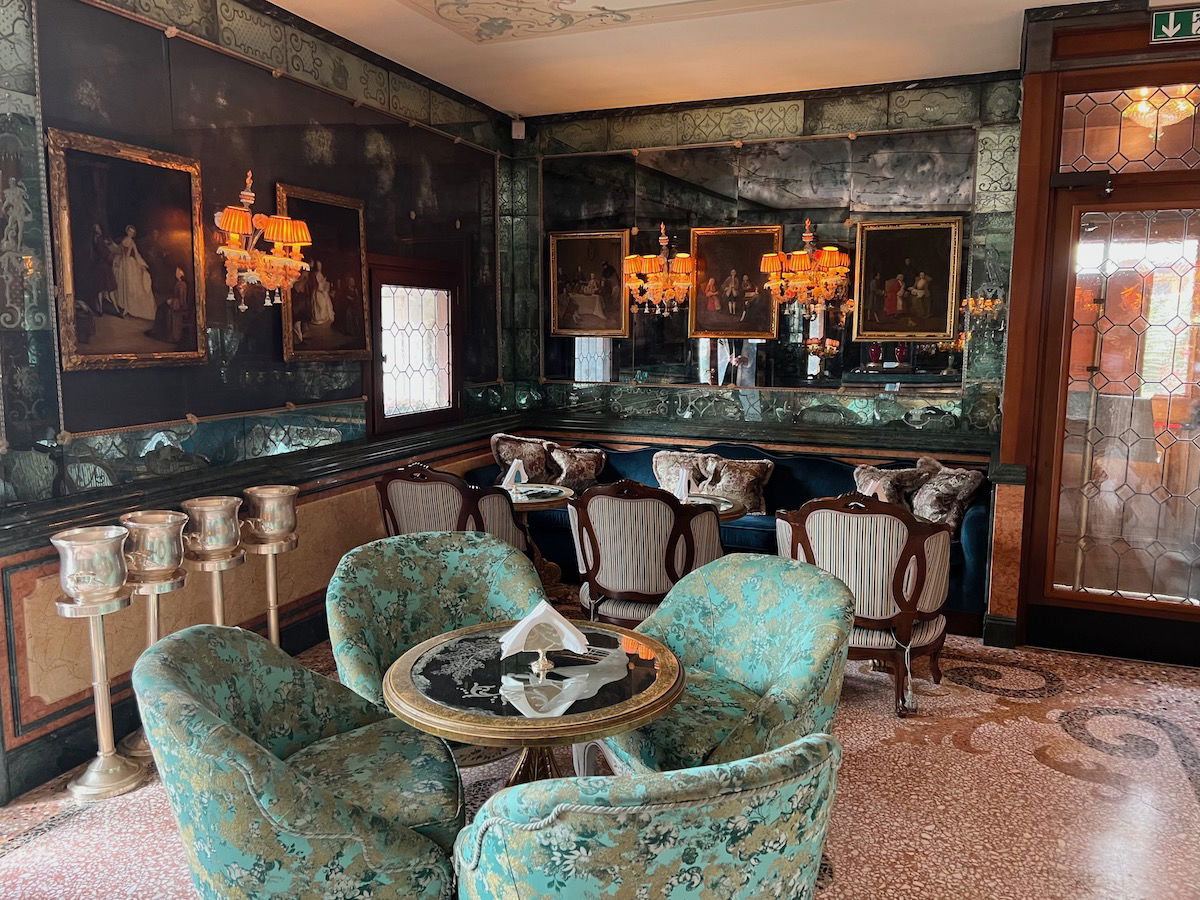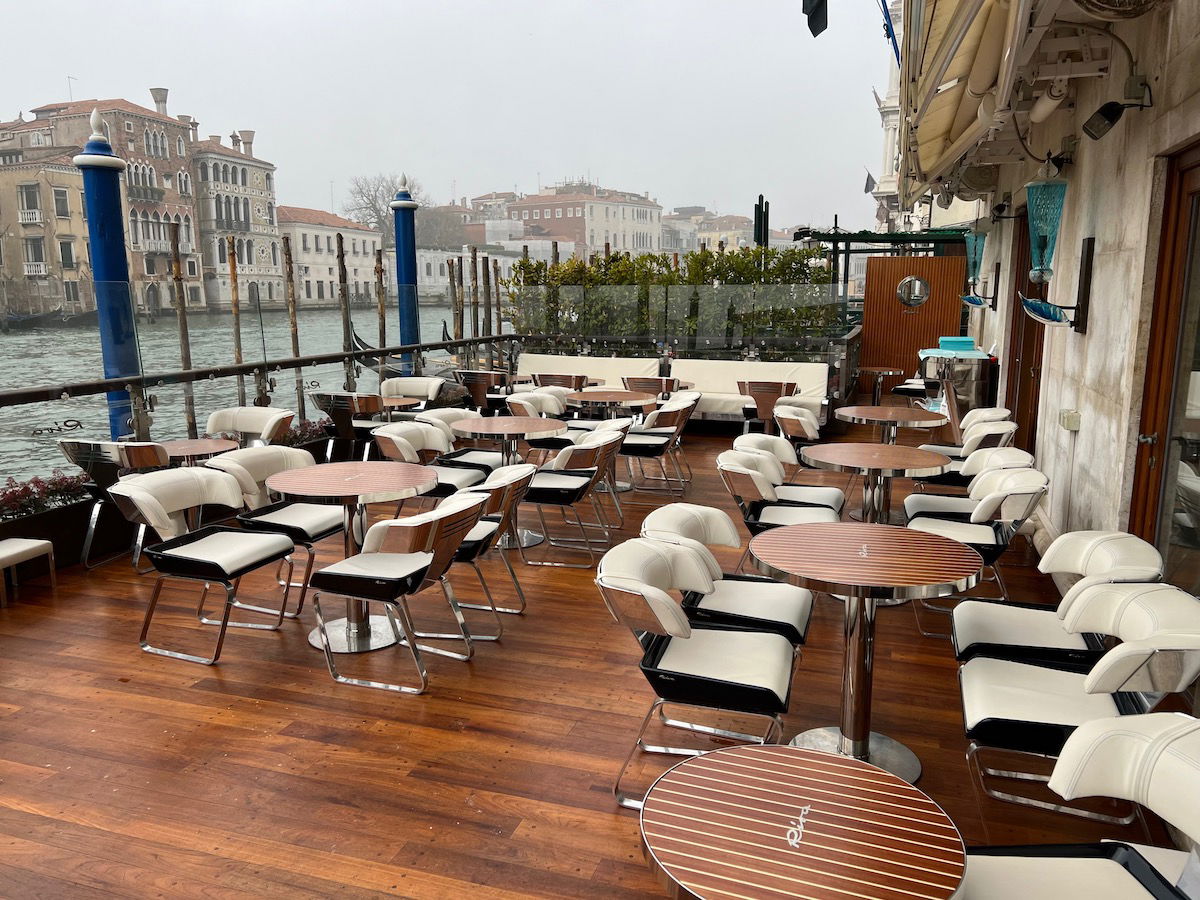 We had cocktails here one afternoon, and you can find the drink list below.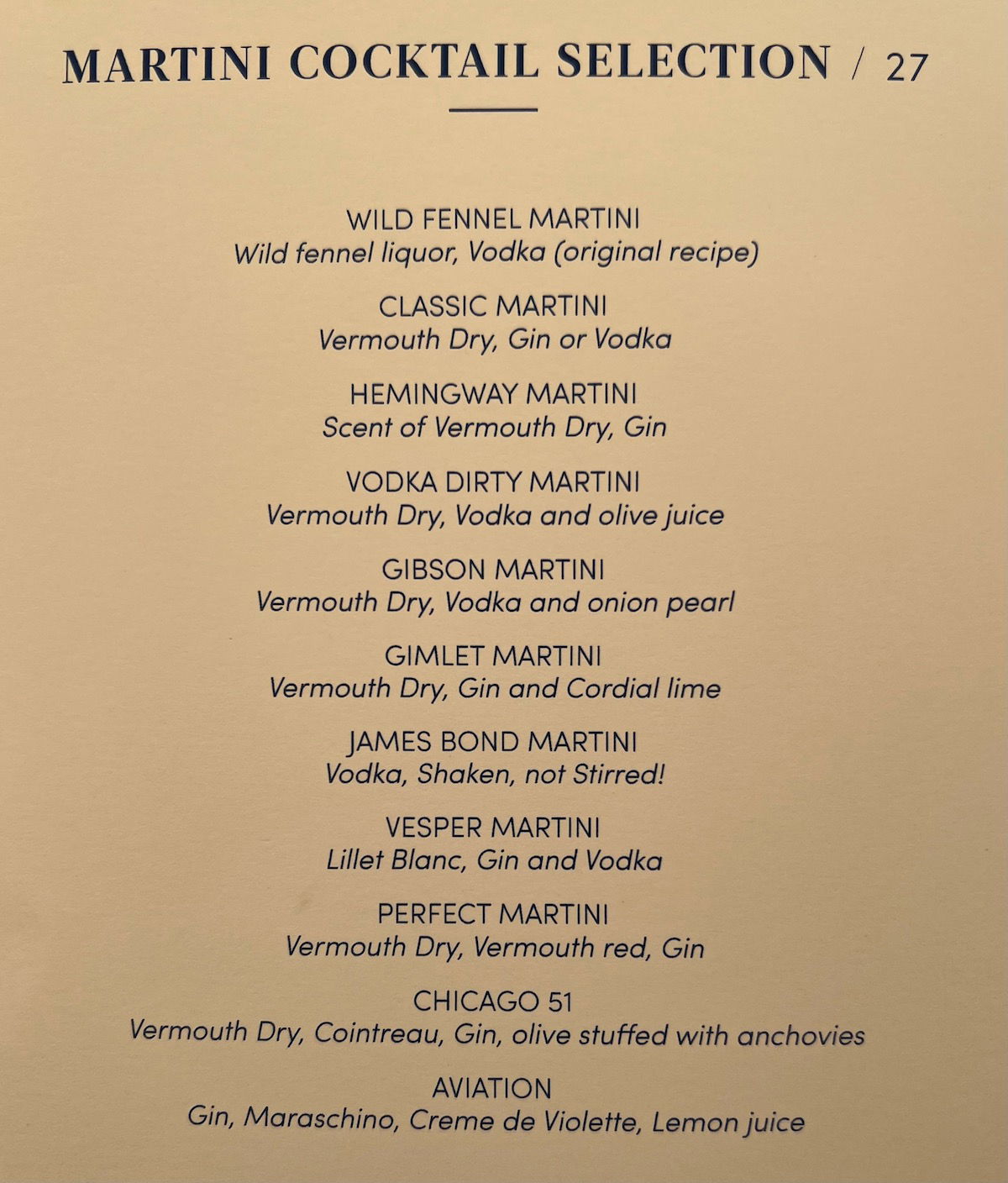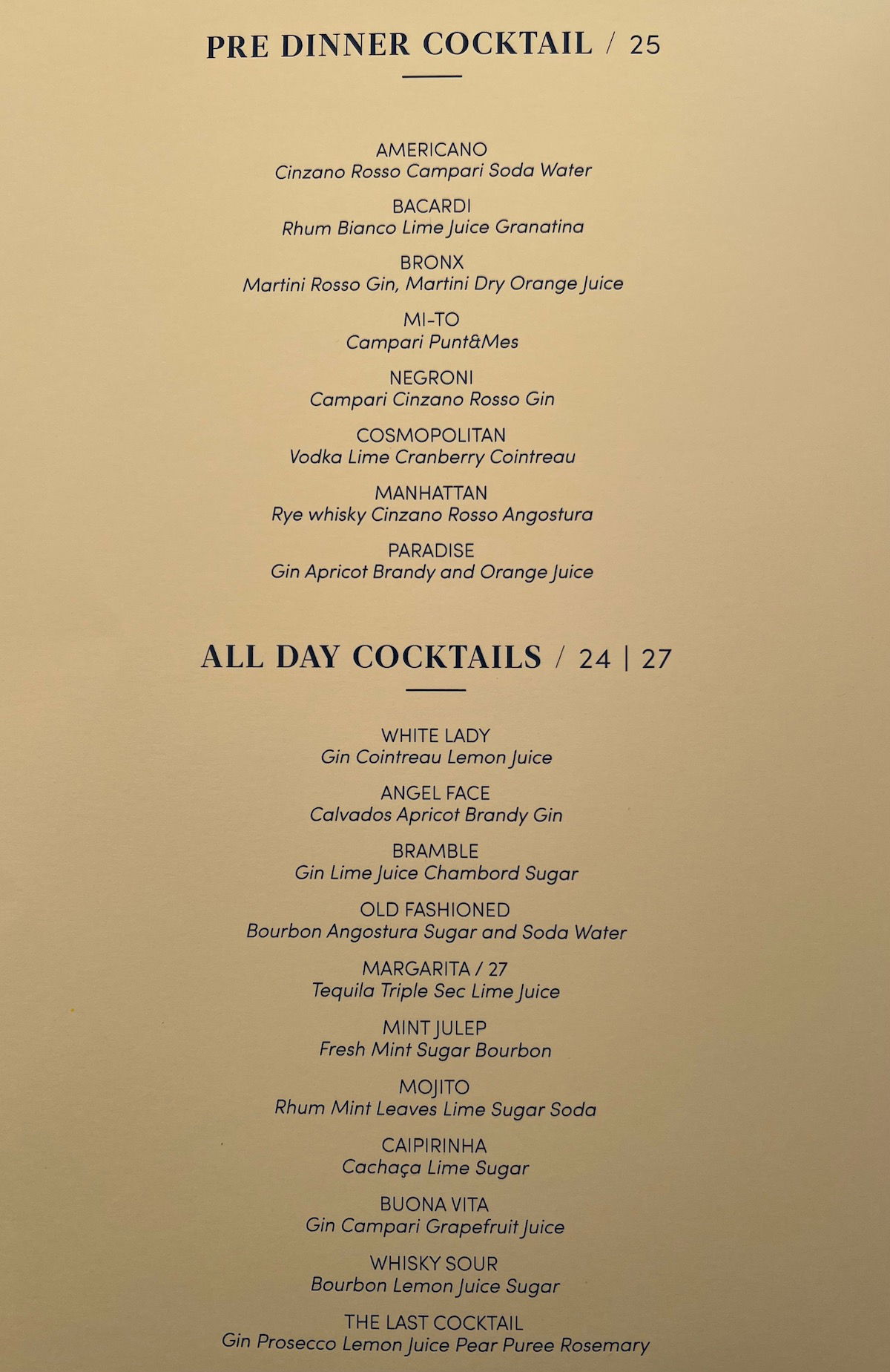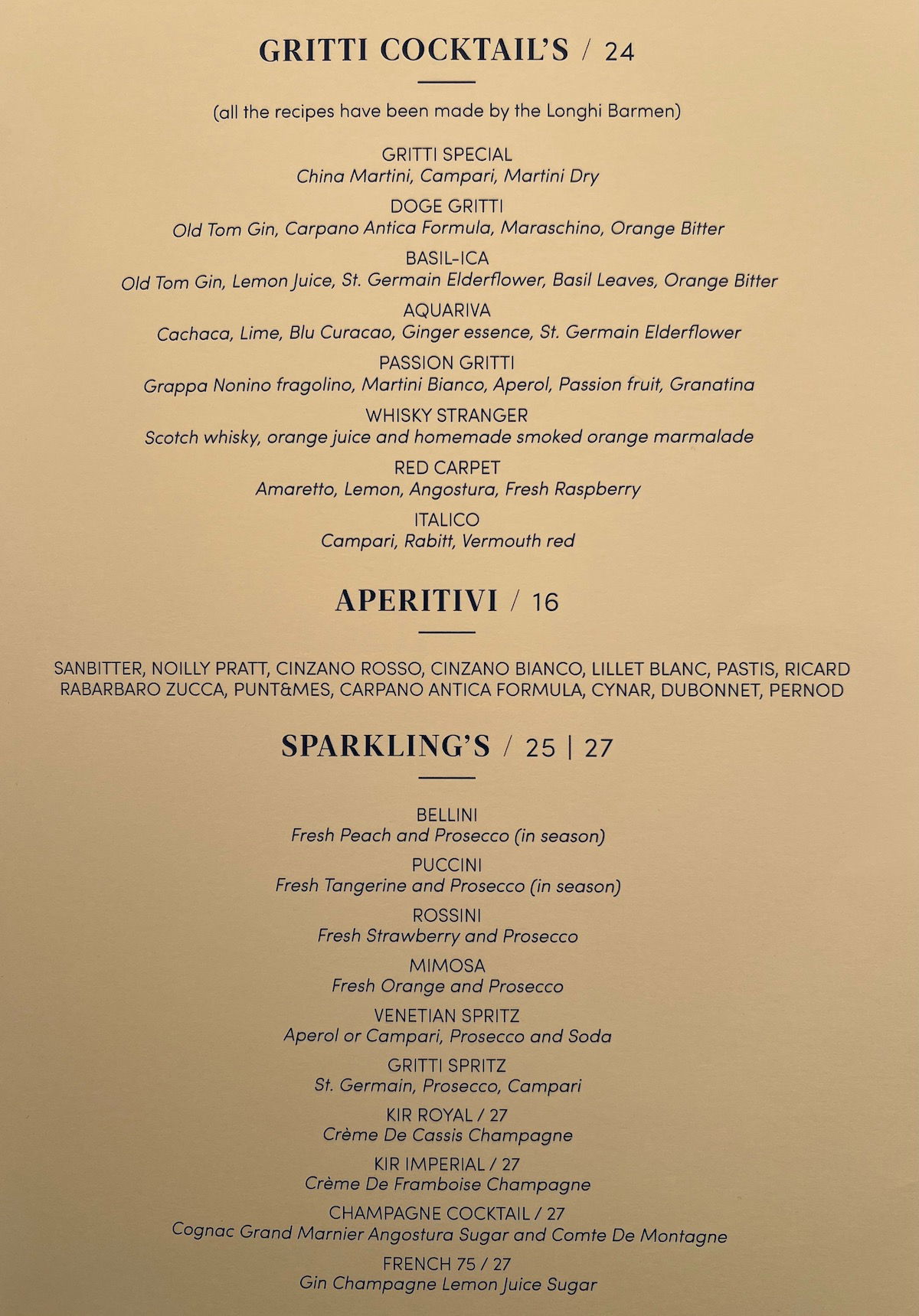 Ford had an aperol spritz, while I had the "Gritti Special." This was served with hazelnuts, chips, and olives.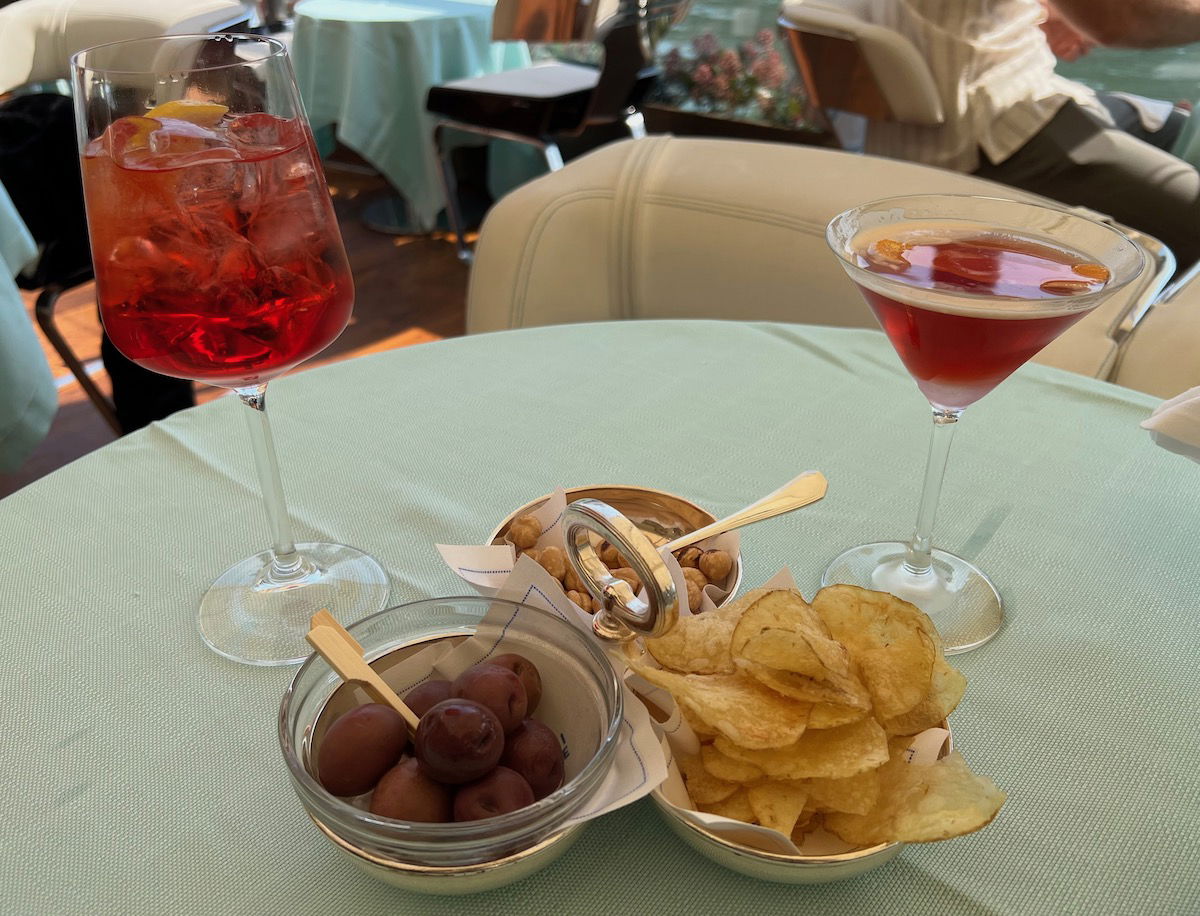 This was no doubt a beautiful terrace, but I still thought the St. Regis had a nicer terrace. I'd also note that this terrace seems to be popular with outside guests. There's a security guard at the entrance, and they heavily restrict entry.
Gritti Palace Venice gym & spa
Gritti Palace has a gym and spa on the lobby level, located just down the hall from reception. Along the walls are all kinds of signed pictures of famous people who I assume have stayed at the hotel.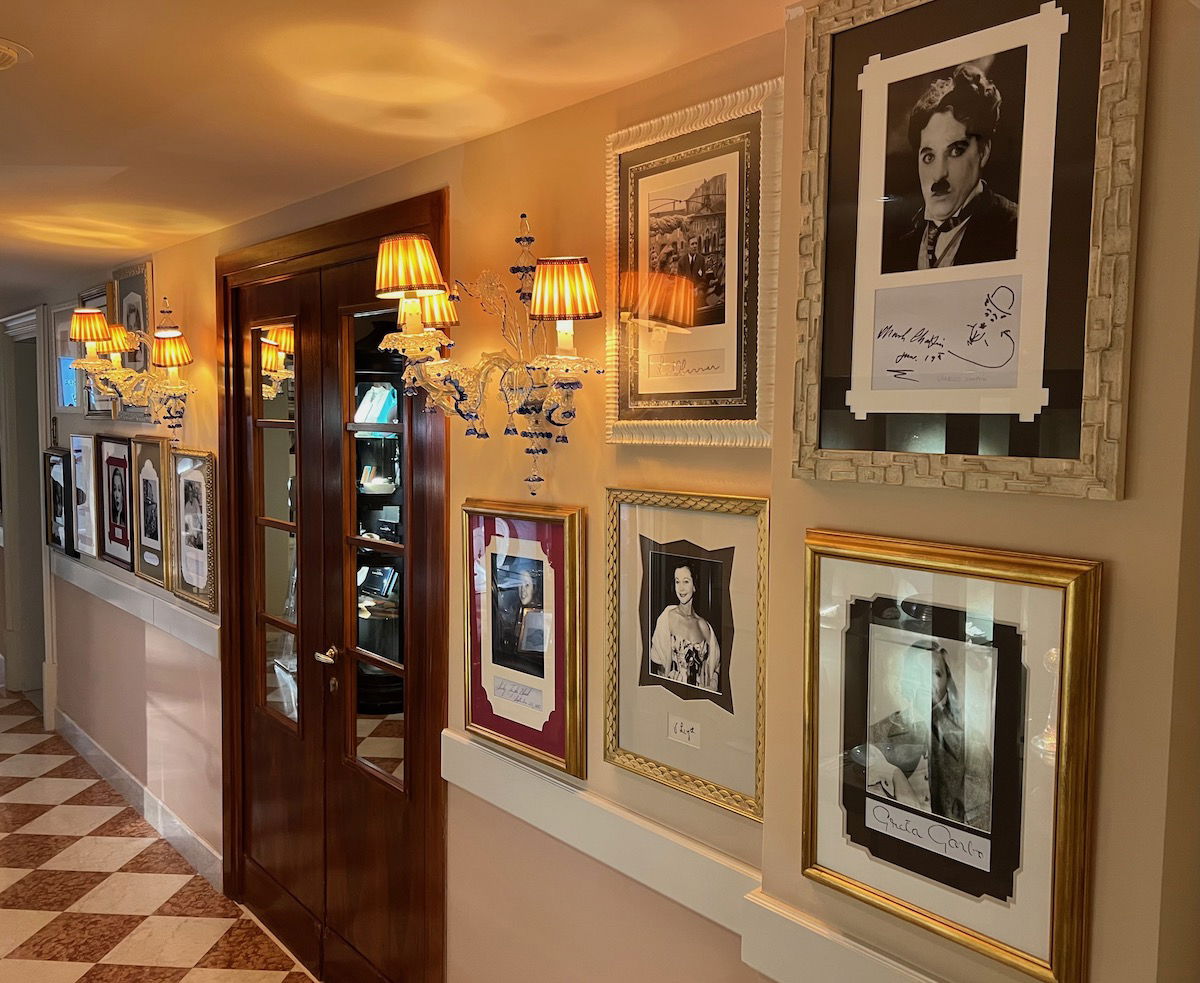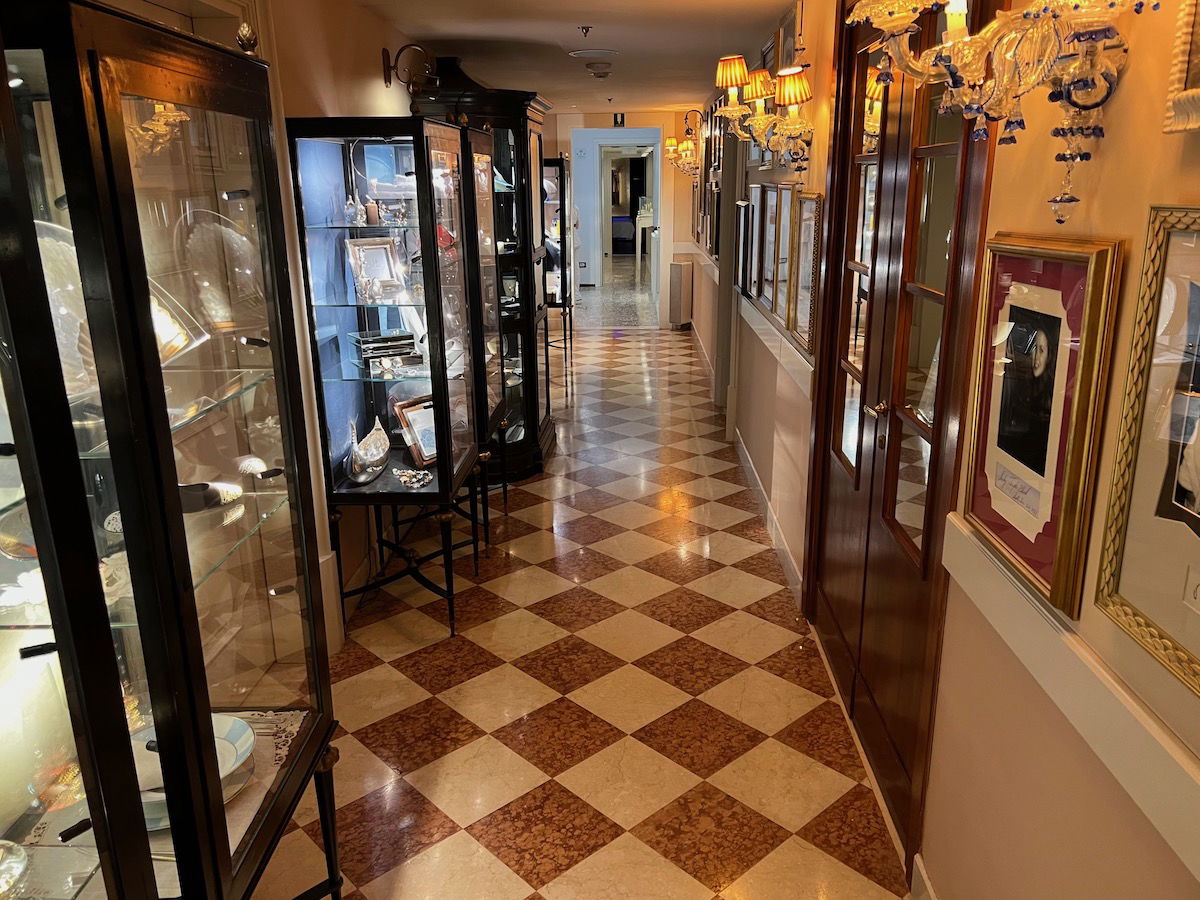 The gym is open 24/7 and is small, though acceptable for Venice.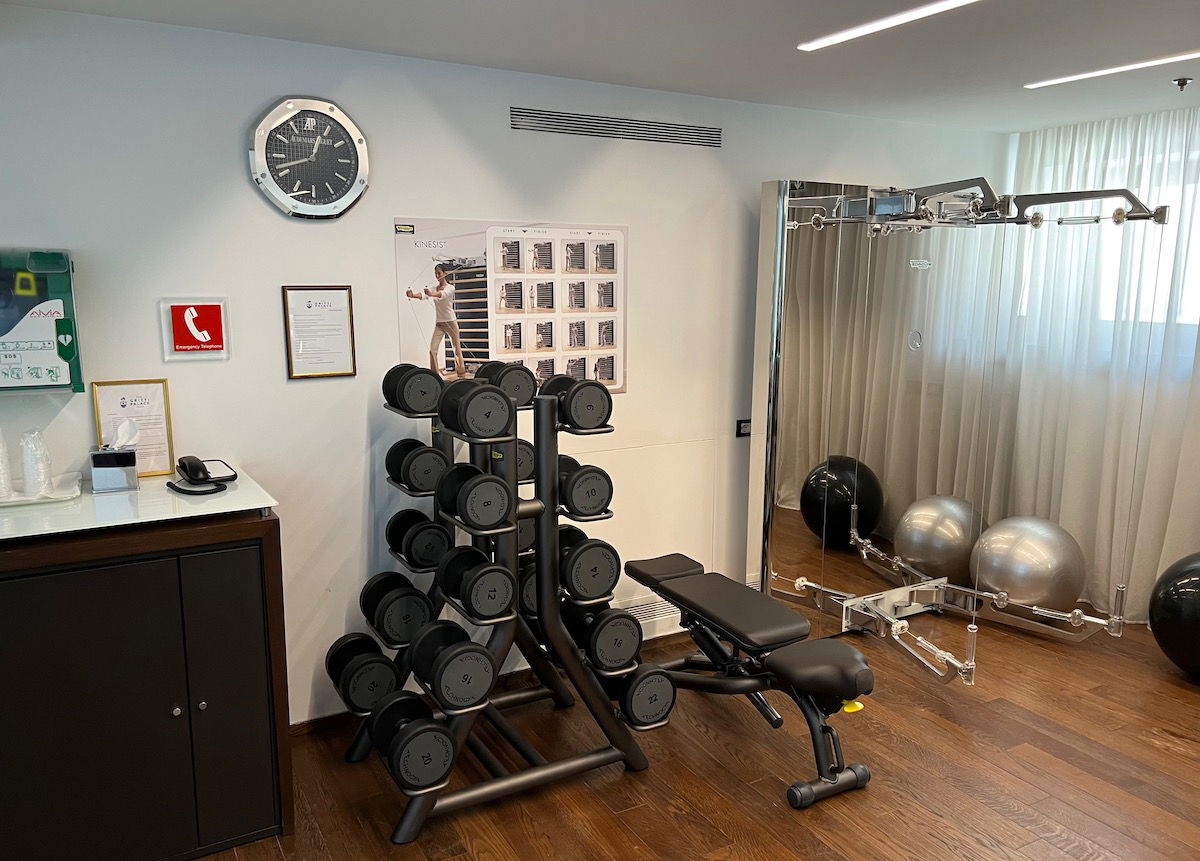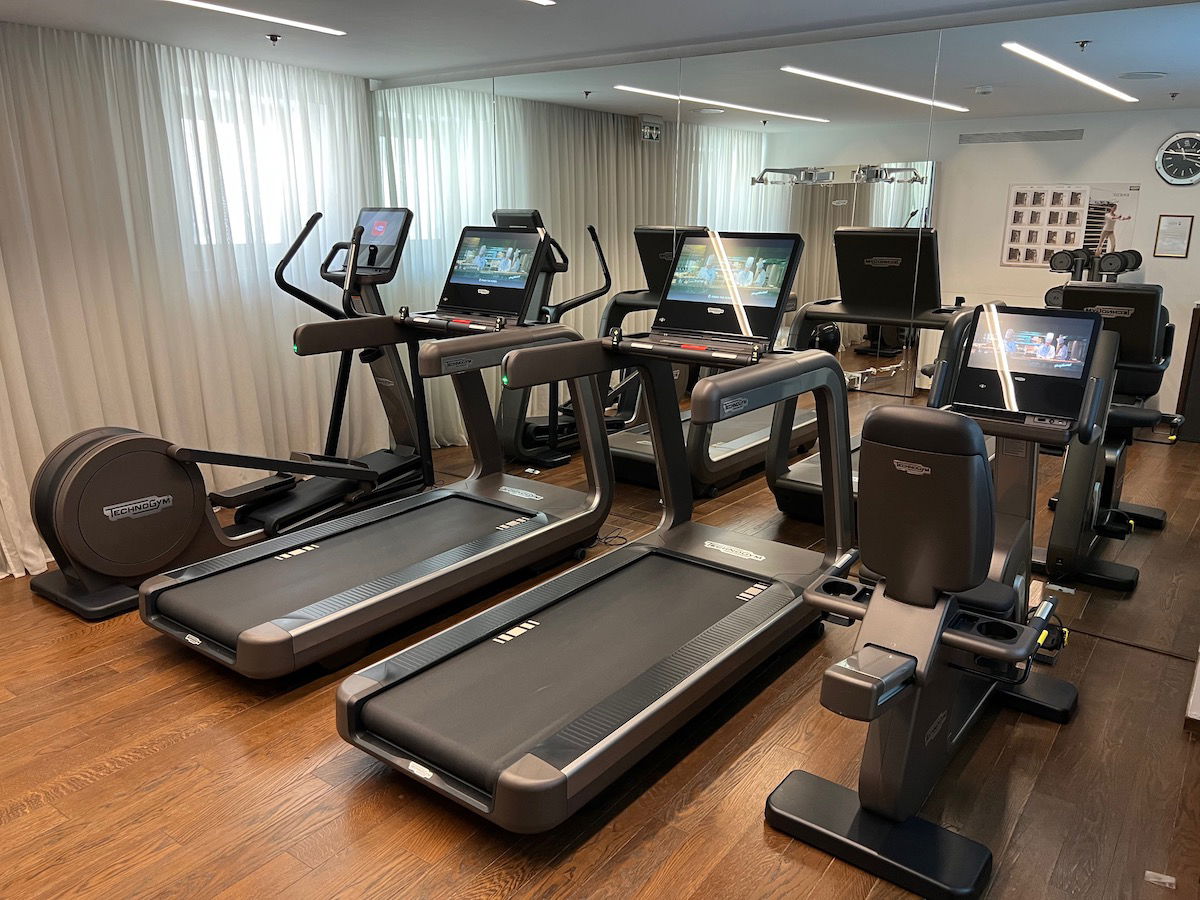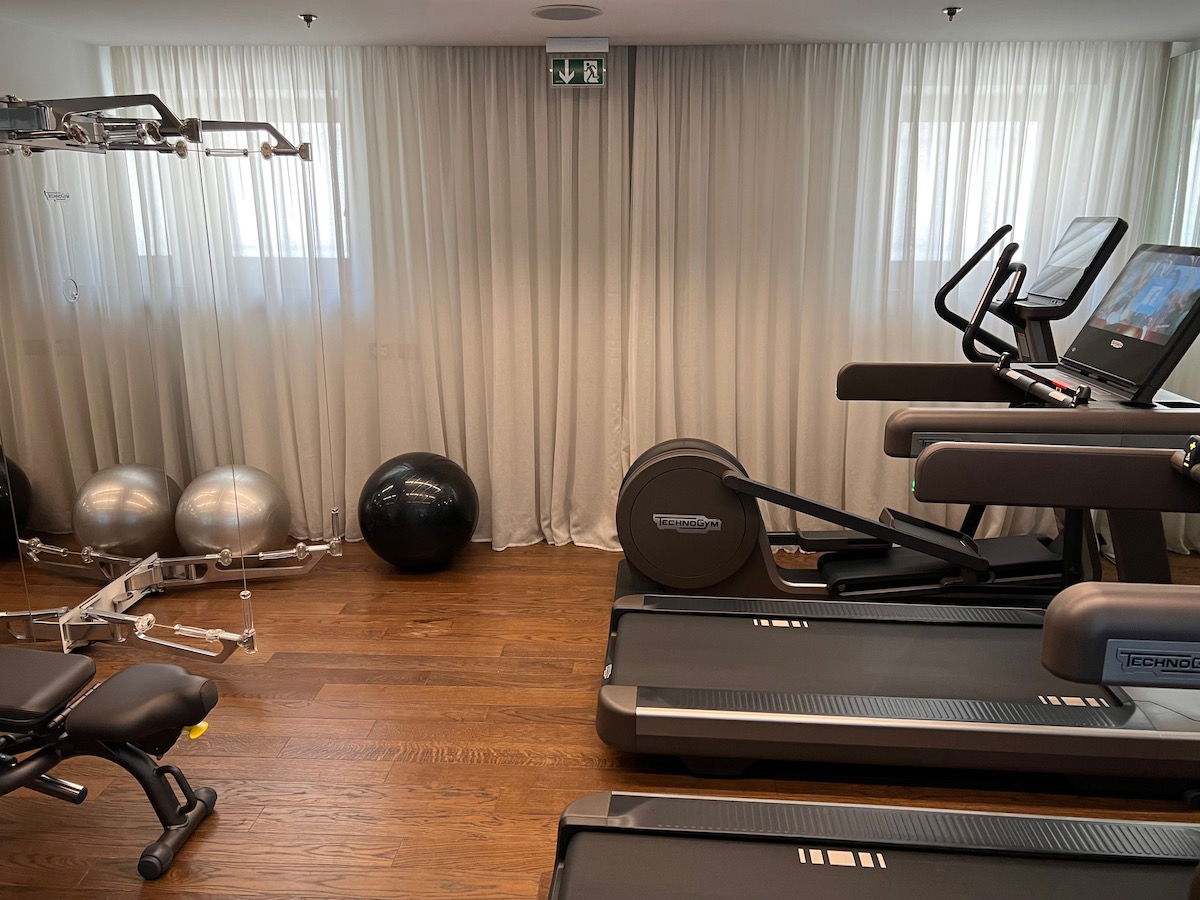 Gritti Palace also has a spa in partnership with Sisley. We didn't get any treatments, but you can find the menu here.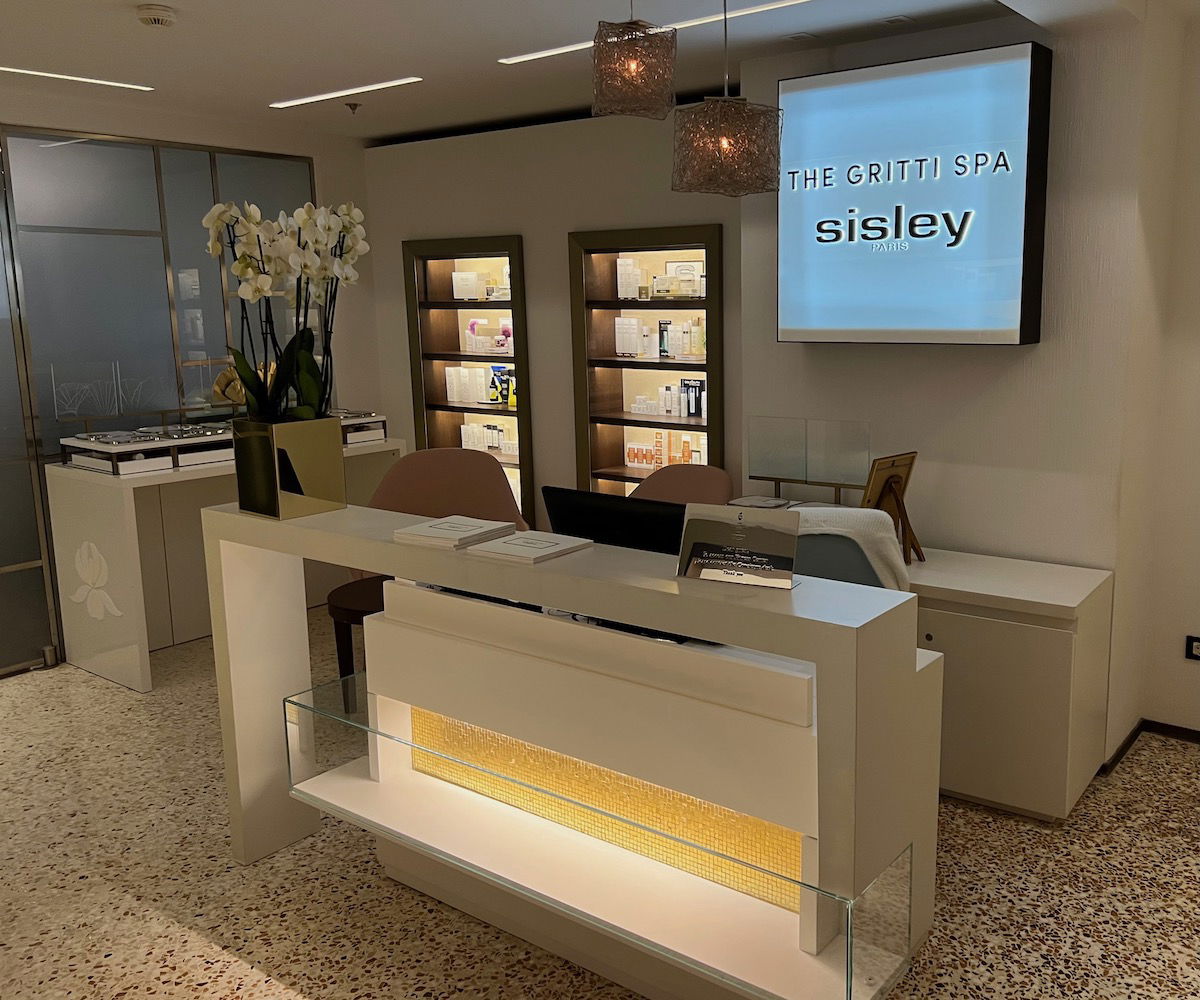 Gritti Palace Venice service
Gritti Palace has excellent, old school service. It's one of those places where you feel everyone has been doing the same job for 20+ years, and works well together.
The ladies at reception were some of the most professional front office staff I've seen anywhere — they were charming, professional, and always eager to help. They also did an incredible job remembering guests.
For the most part restaurant and bar service was very good as well, with the exception of service at breakfast. The staff were super overworked and running around. So not only was it hard to place an order for coffee or eggs, but the way they rushed around made the experience less enjoyable.
Bottom line
Gritti Palace is one of Venice's most famous and well regarded hotels, and it's fantastic that this belongs to Marriott's Luxury Collection portfolio, so you can earn and redeem points for stays here. The hotel has a fabulous sense of place, and is unmistakably Venetian. Gritti Palace has friendly service, well regarded food & beverage outlets, and a central location.
All that being said, I can't help but feel like the hotel is a bit past its prime, and after having also stayed at the St. Regis, I can definitely say that I preferred it. For our four nights in Venice, we spent one night at the St. Regis and three nights at Gritti Palace, and I wish we had done the opposite.
Don't get me wrong, Gritti Palace is worth experiencing if you can, since the design is quite special. But in terms of general comfort, luxury, and food & beverage outlets (which are a major point when we're talking about Venice, where you can sit for hours and enjoy the views of the canal), I definitely preferred the St. Regis.
If you've stayed at Gritti Palace, what was your experience like?