We had a roughly two hour layover in Frankfurt, as we were arriving from Tampa in Eurowings Discover's A330 business class, and connecting to Venice in Lufthansa's A321 business class. We ended up spending most of our layover in the Senator Lounge, and it reminded me of just how weak Lufthansa's lounge game is, minus the First Class Terminal, of course.
While other major European airlines (in particular Air France & KLM) have significantly improved their lounge experience, Lufthansa's lounges haven't evolved much at all.
Lufthansa Senator Lounge Frankfurt location & hours
Lufthansa has several lounges in Frankfurt, given that it's the carrier's largest hub. Our flight was departing from gate A56, so we decided to visit the Lufthansa Senator Lounge near gate A50, located in the Schengen zone (however, the non-Schengen lounge is virtually identical, in my experience). This required first going through passport control, and then also passing through the below tunnel.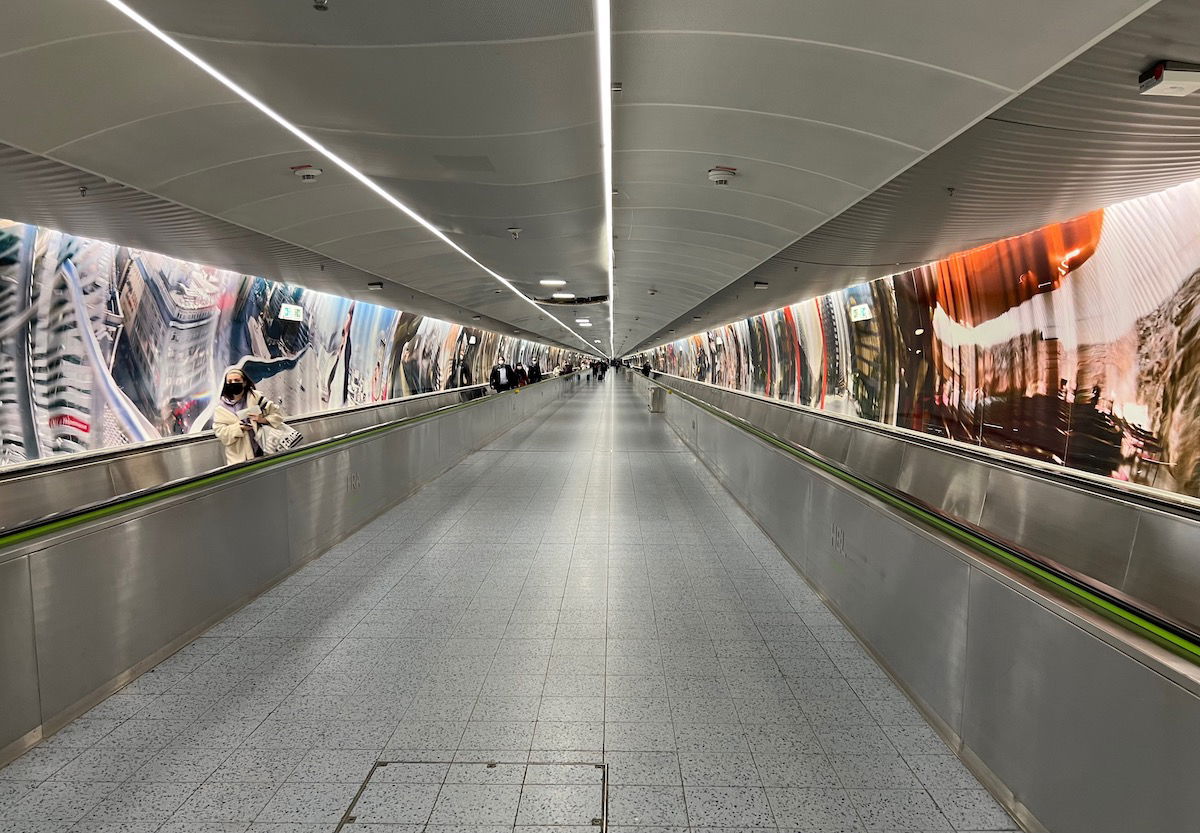 From there we followed the signs toward gates A50-A69.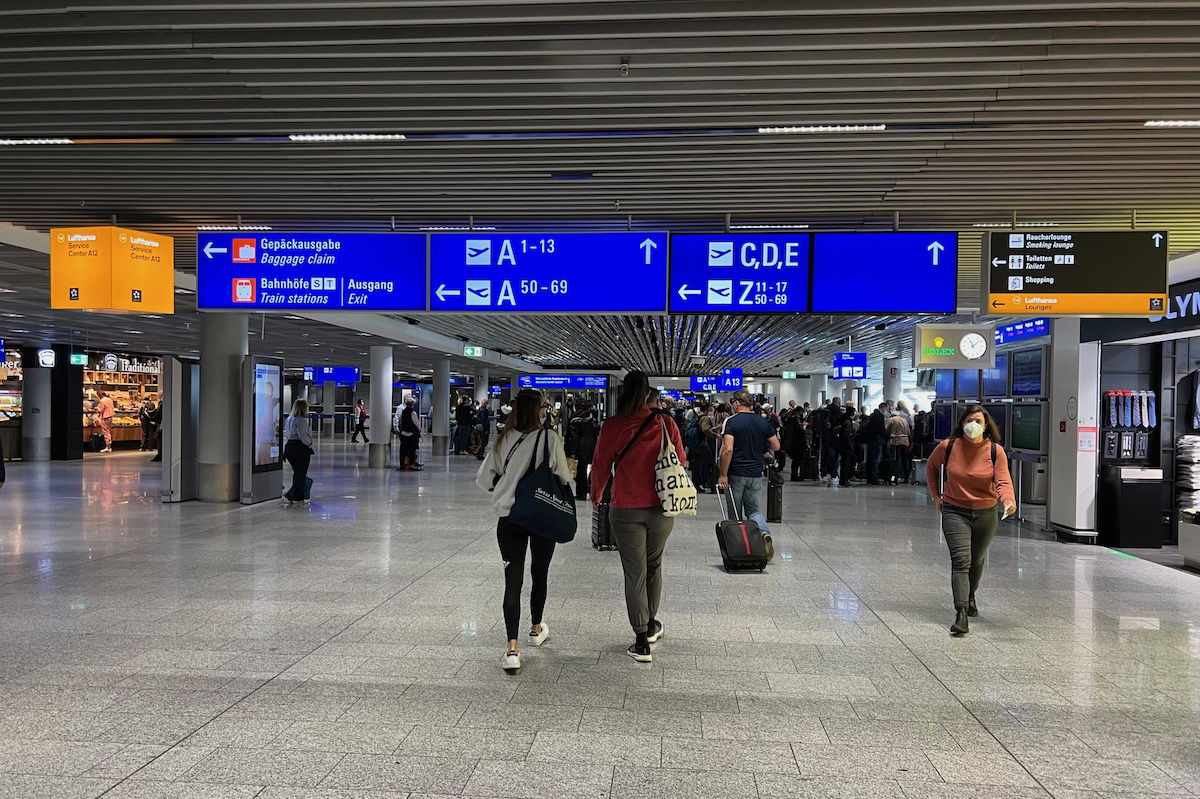 Frankly I have a hard time maintaining a decent pace walking through the airport, since I get so easily distracted by all the pretty planes. Long live the 747-400!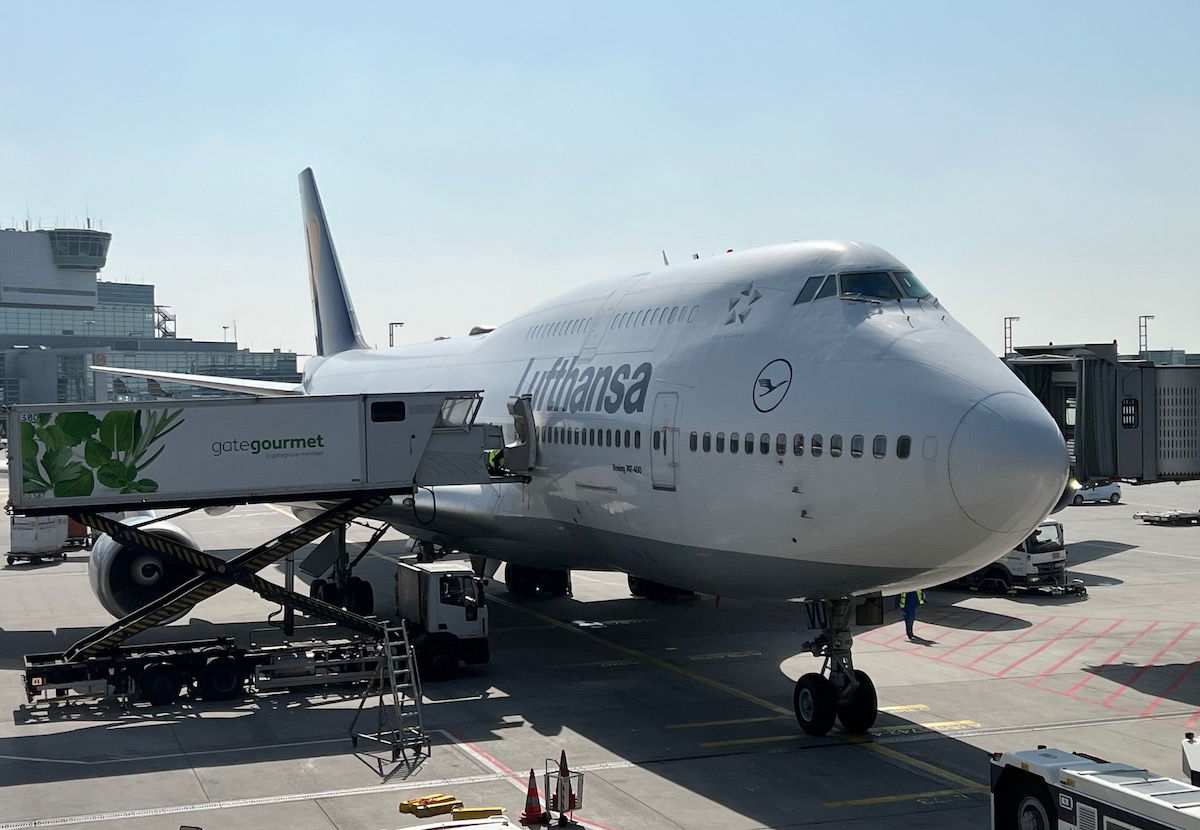 Eventually we found the entrance to the lounge. Once there we scanned our boarding passes and were admitted, without the lounge agent saying a word, even though I said (in German) "good morning" and "thank you."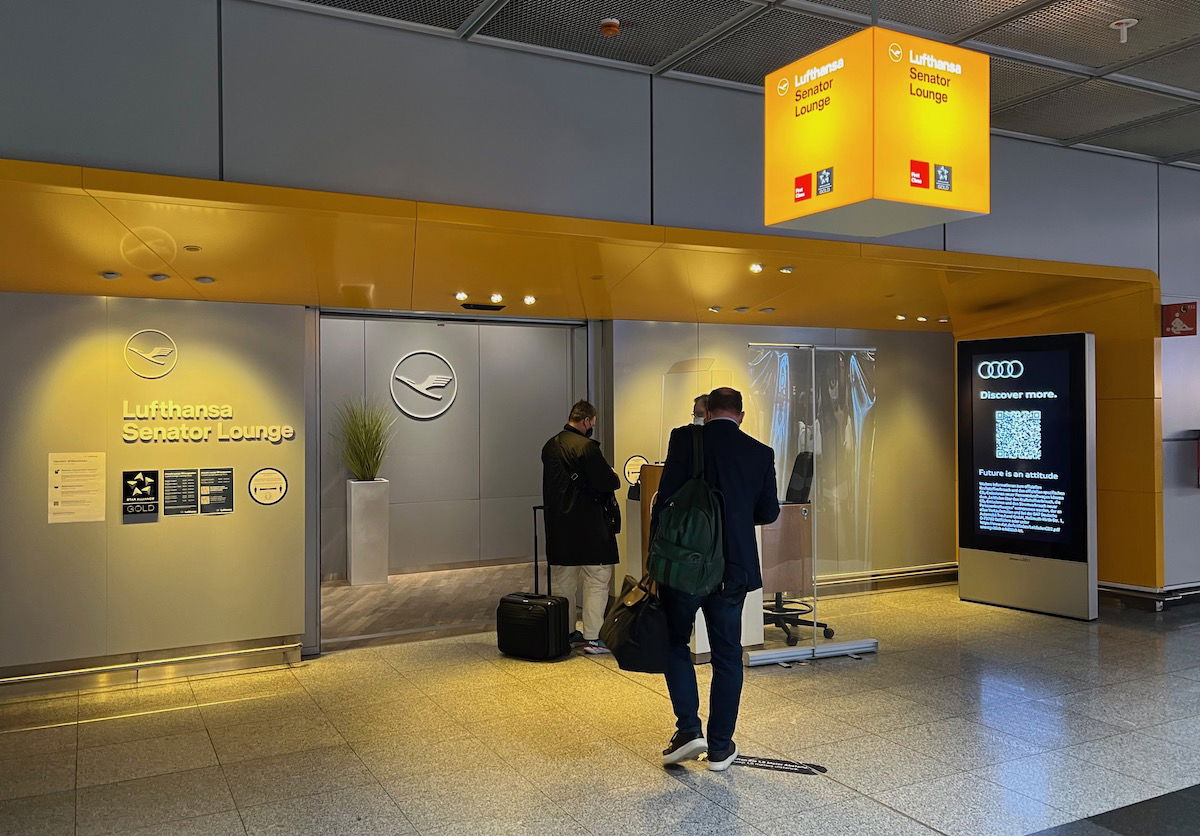 For what it's worth, this lounge is currently open daily from 5:30AM until 9:30PM, covering virtually all Lufthansa departures.
Lufthansa Senator Lounge Frankfurt entry requirements
Lufthansa has a unique lounge system:
Lufthansa Business Lounges are the carrier's business class lounges, which are open to all Star Alliance business class passengers
Lufthansa Senator Lounges are more premium, and are open to Star Alliance Gold members plus Star Alliance first class passengers; the airline technically markets this as a first class lounge, so that it doesn't have to let Star Alliance first class passengers into its real first class lounges
Lufthansa First Class Lounges are the carrier's best lounges, though they're reserved for HON Circle members and Lufthansa first class passengers; Lufthansa gets away with this by marketing this as a HON Circle lounge that Lufthansa first class passengers just happen to get access to
In this case we were using the Senator Lounge on account of my Star Alliance Gold status, which I earned through a recent Singapore KrisFlyer promotion. So this is supposed to be better than a business class lounge. Similarly, if you were flying Singapore Airlines Suites from Frankfurt to New York or Singapore, you'd be directed to use a Lufthansa Senator Lounge.
Lufthansa Senator Lounge Frankfurt seating & layout
The Senator Lounge was really, really crowded during our brief visit. Unless I'm looking to eat (which I'm not usually in the mood for between two premium flights), I'm often just happier finding an empty gate area and sitting there. Because seriously, this lounge was so busy.
The lounge had a variety of seating options, including your typical chairs arranged in rows, some dining tables, some communal high-top seating, and more. It's interesting how they plaster Audi ads throughout the lounge.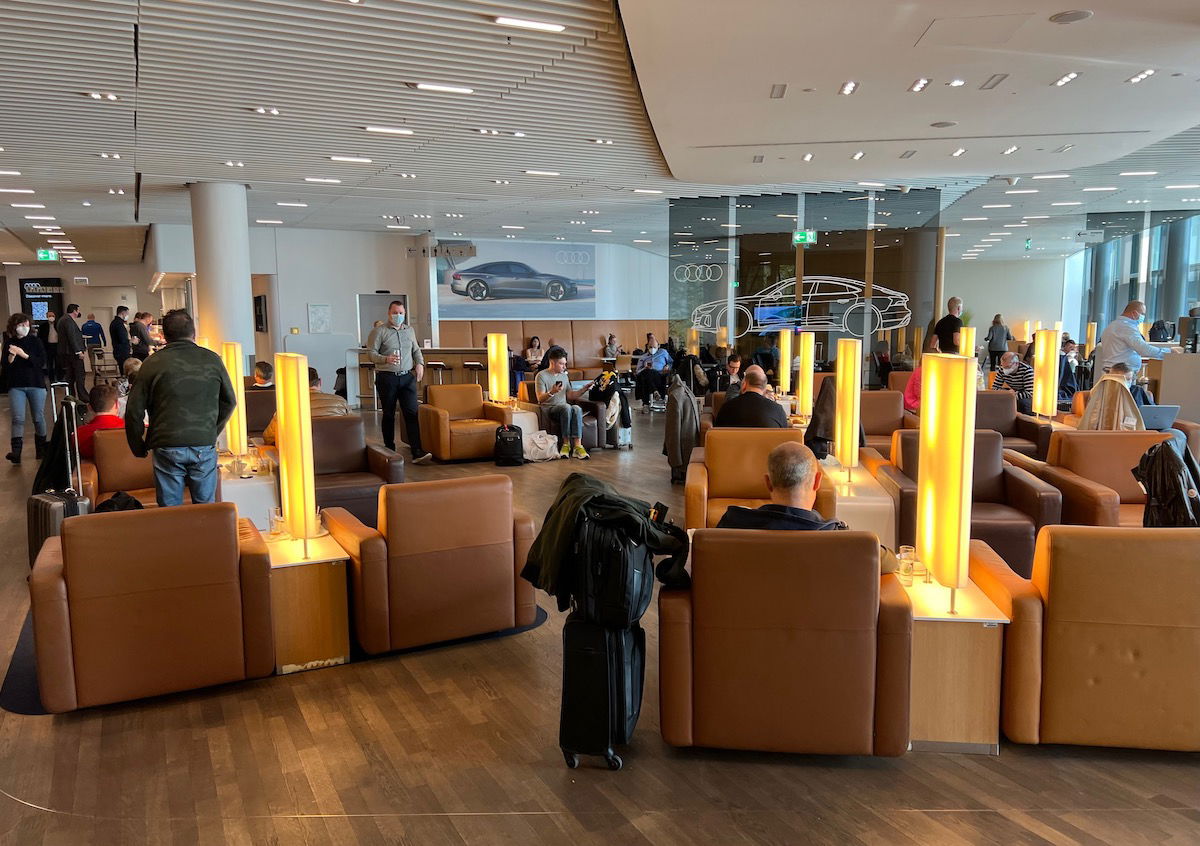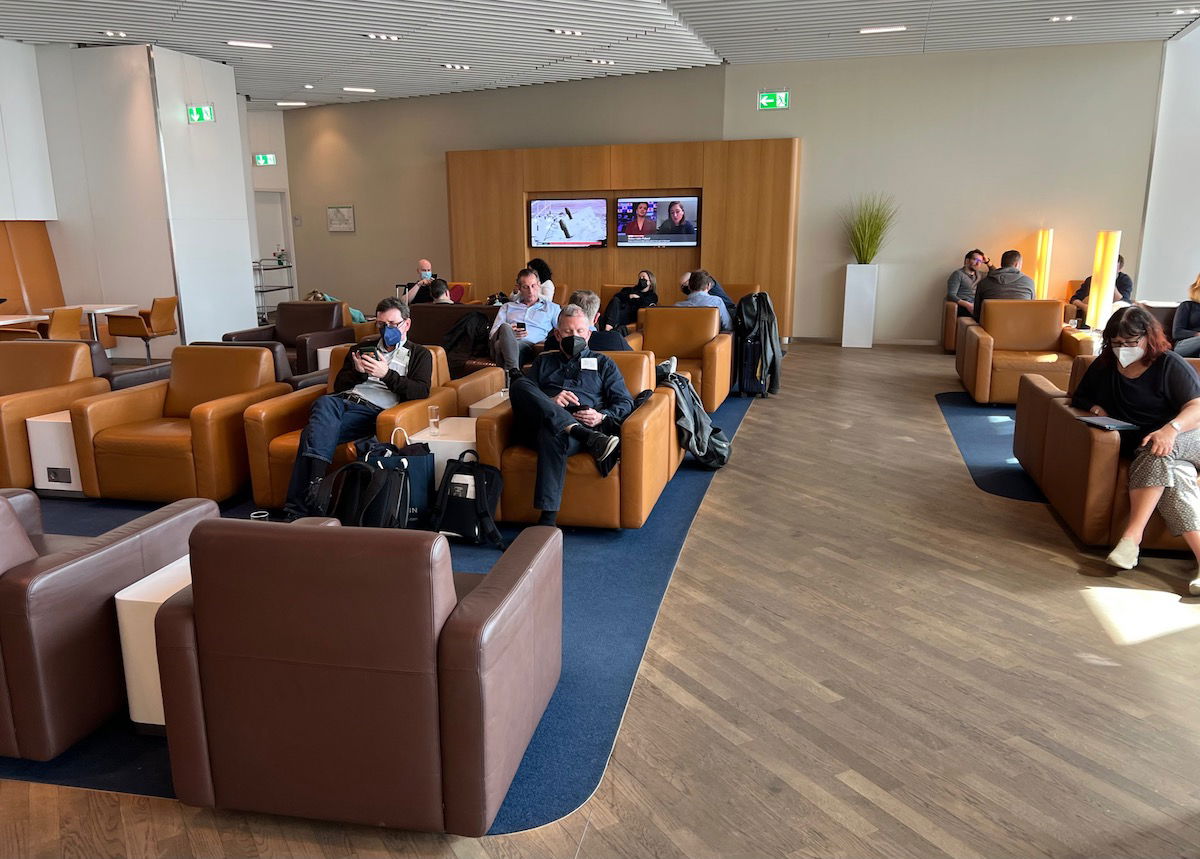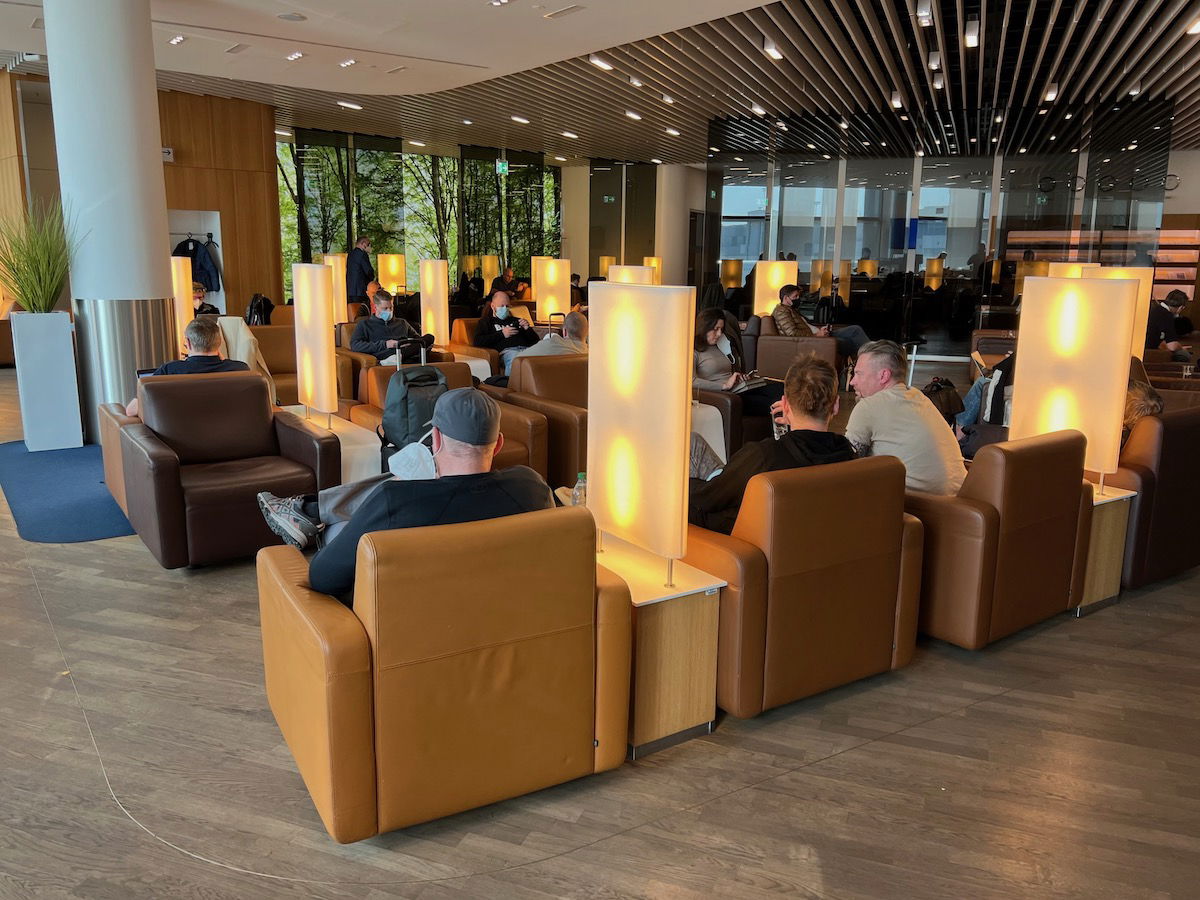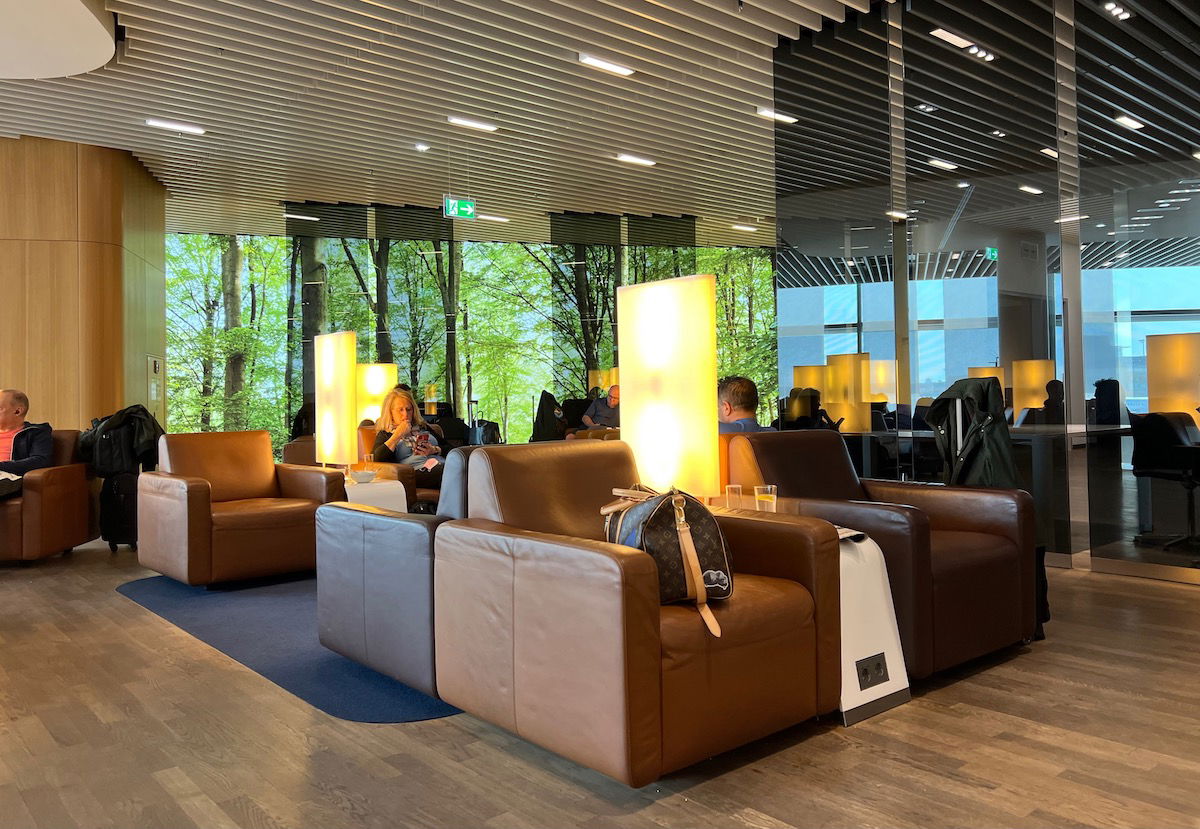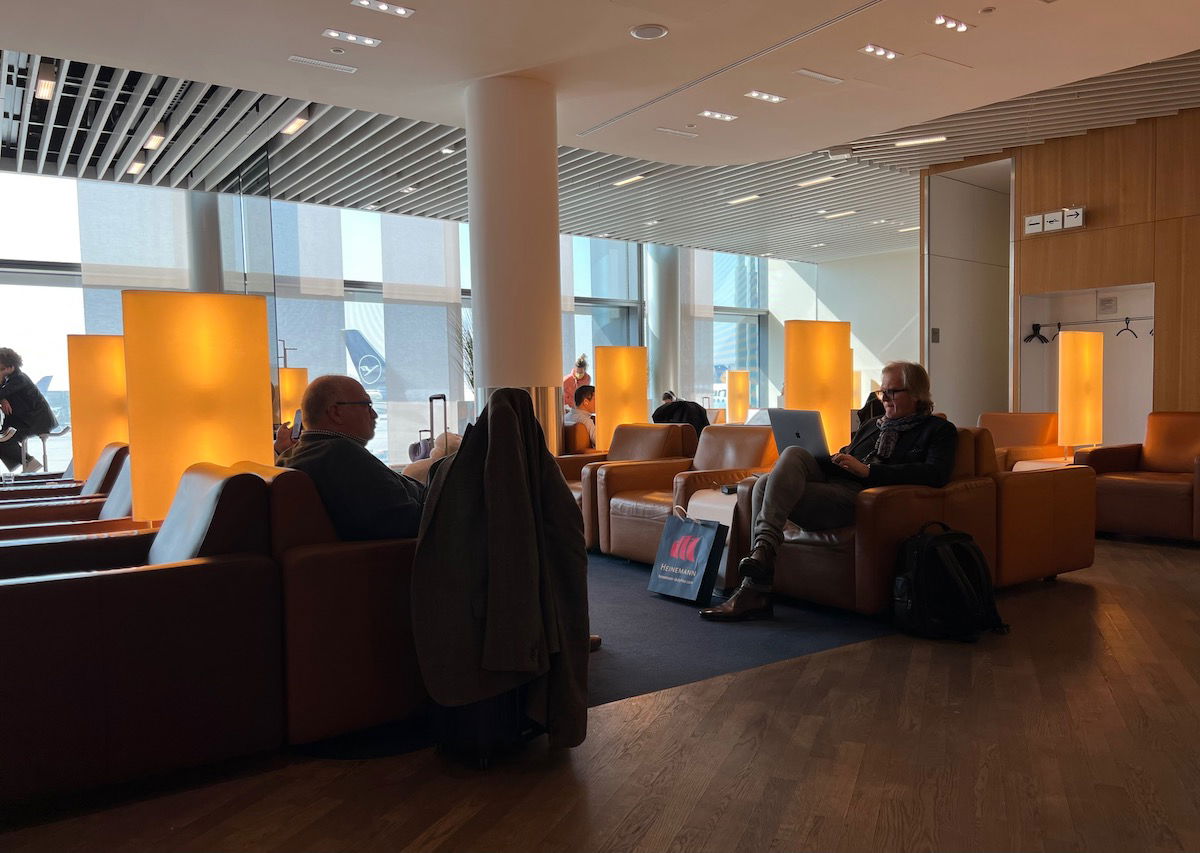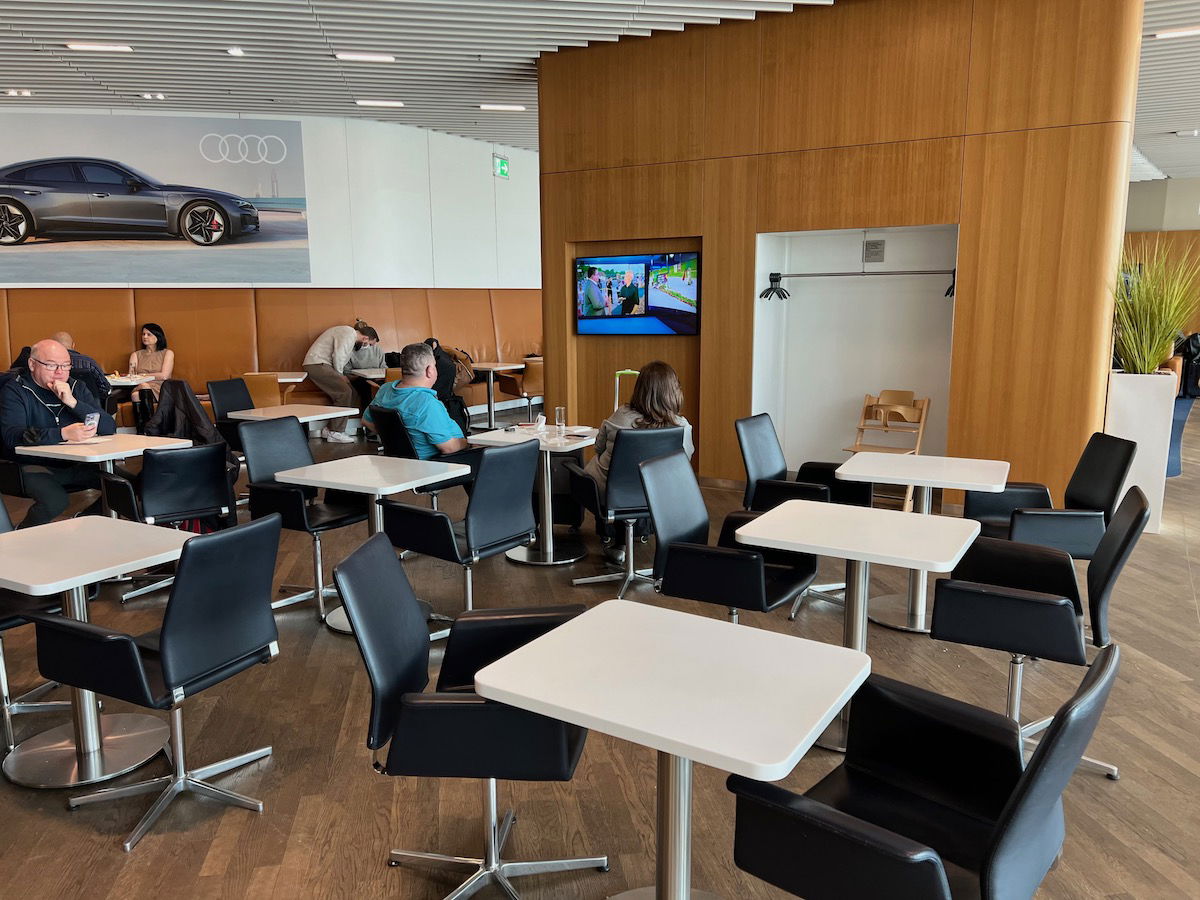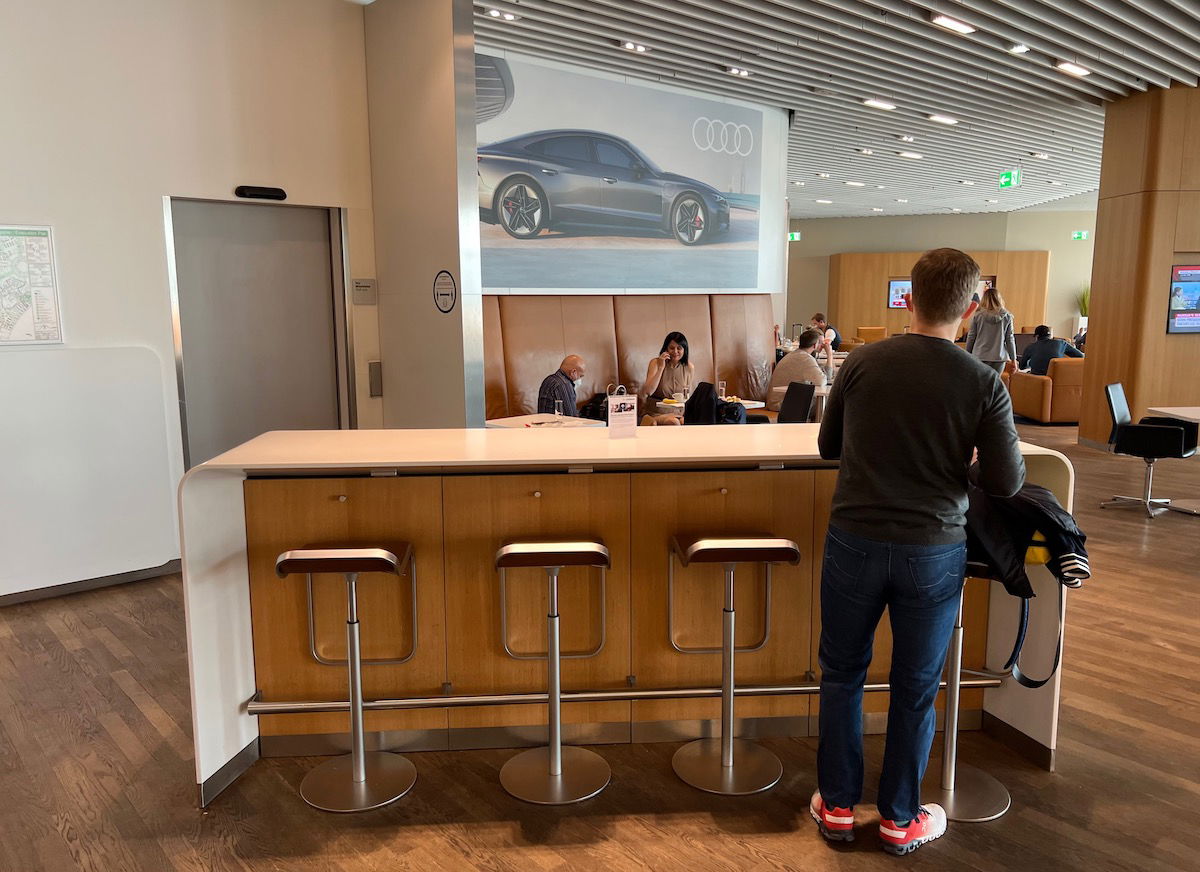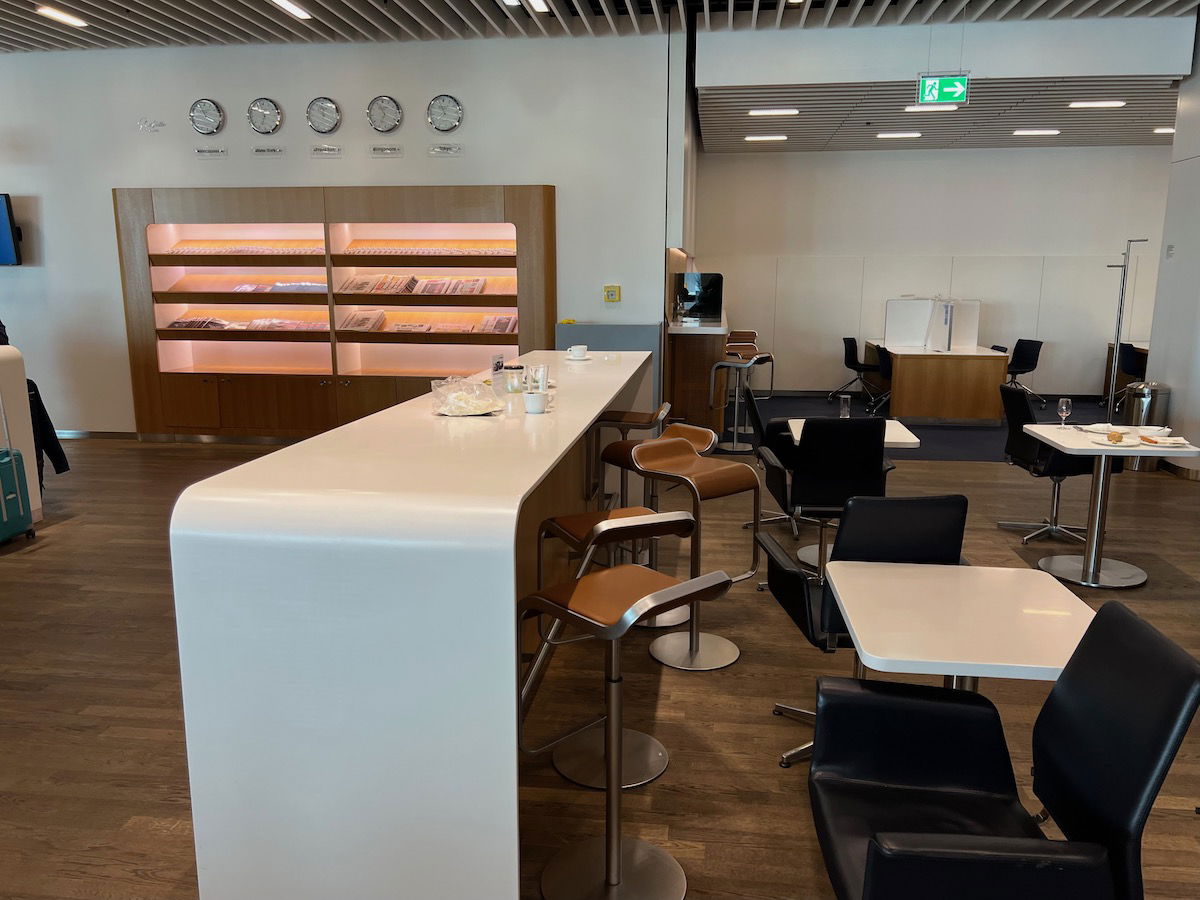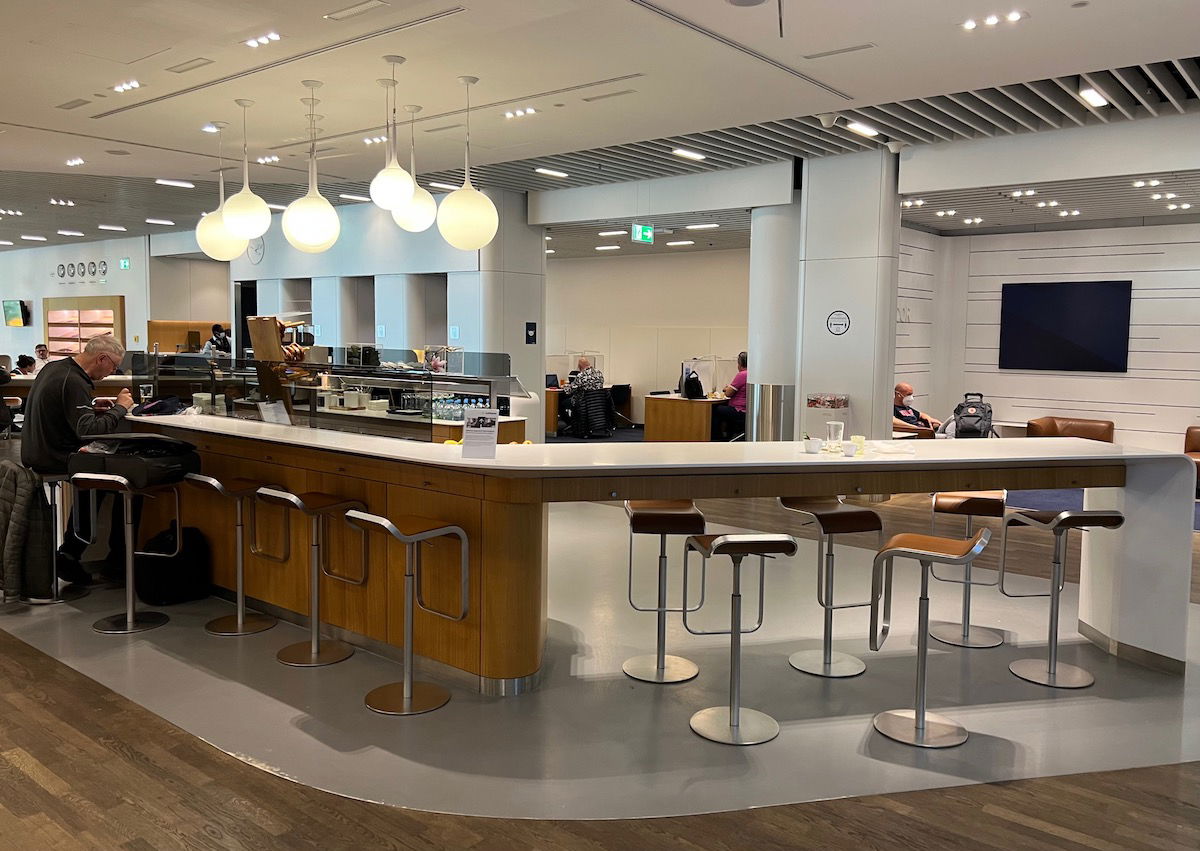 Along the forest wall below there are some seats in a pre-reclined position, but they were all occupied while we visited.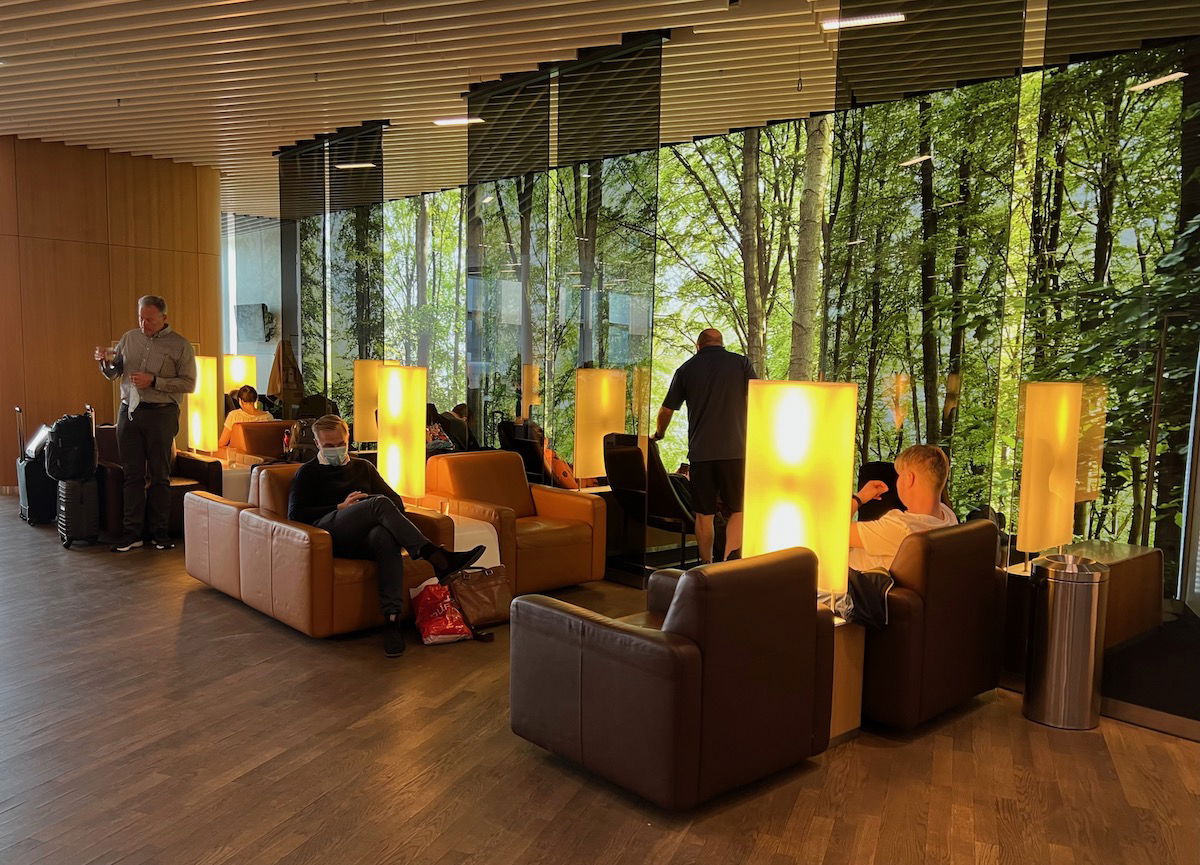 There's also an office area, with cubicles, as well as a few phone booths.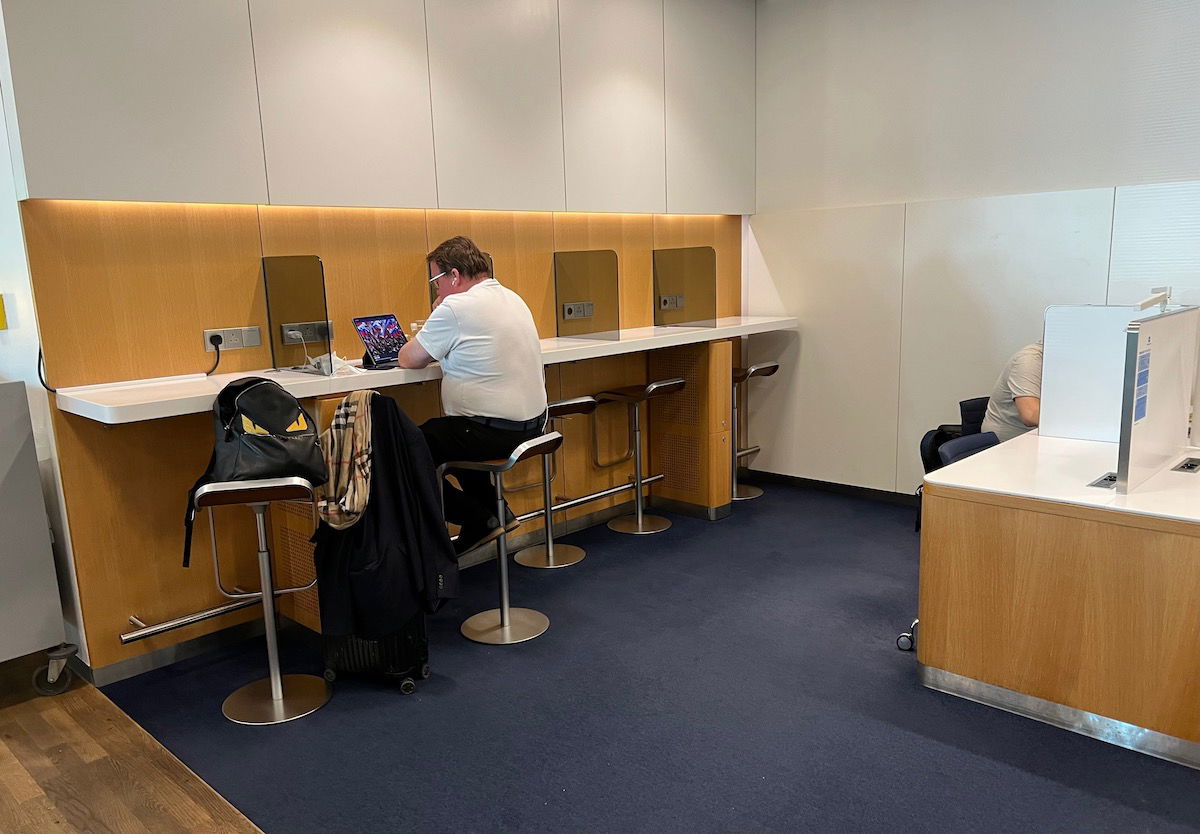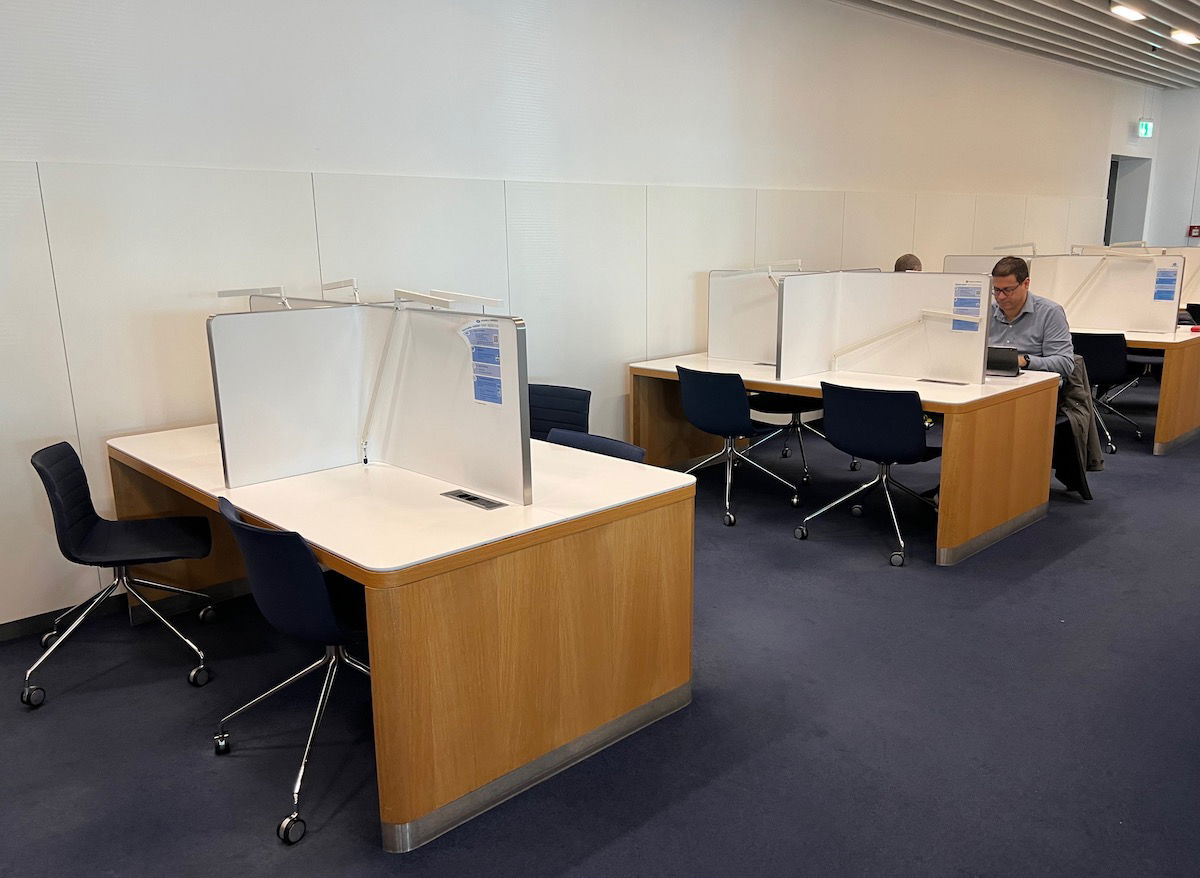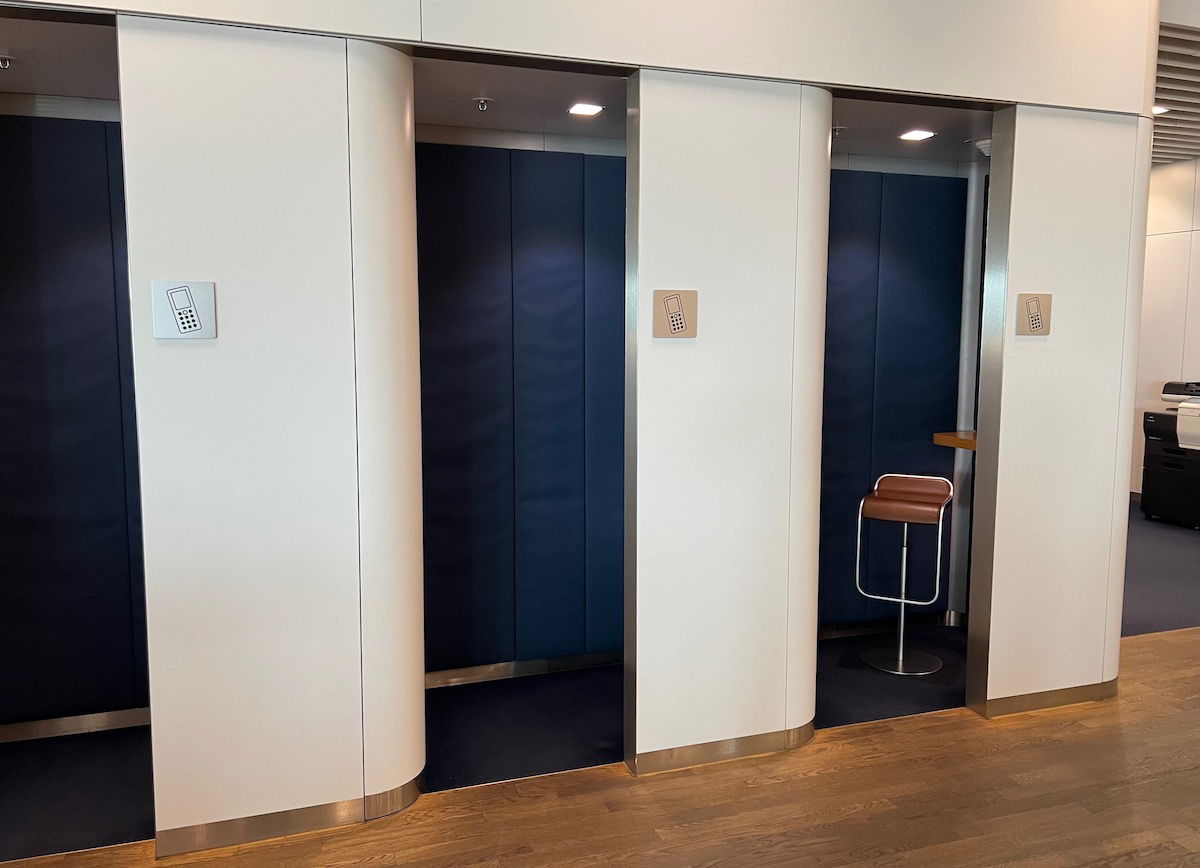 There was also a selection of reading materials, including magazines and newspapers.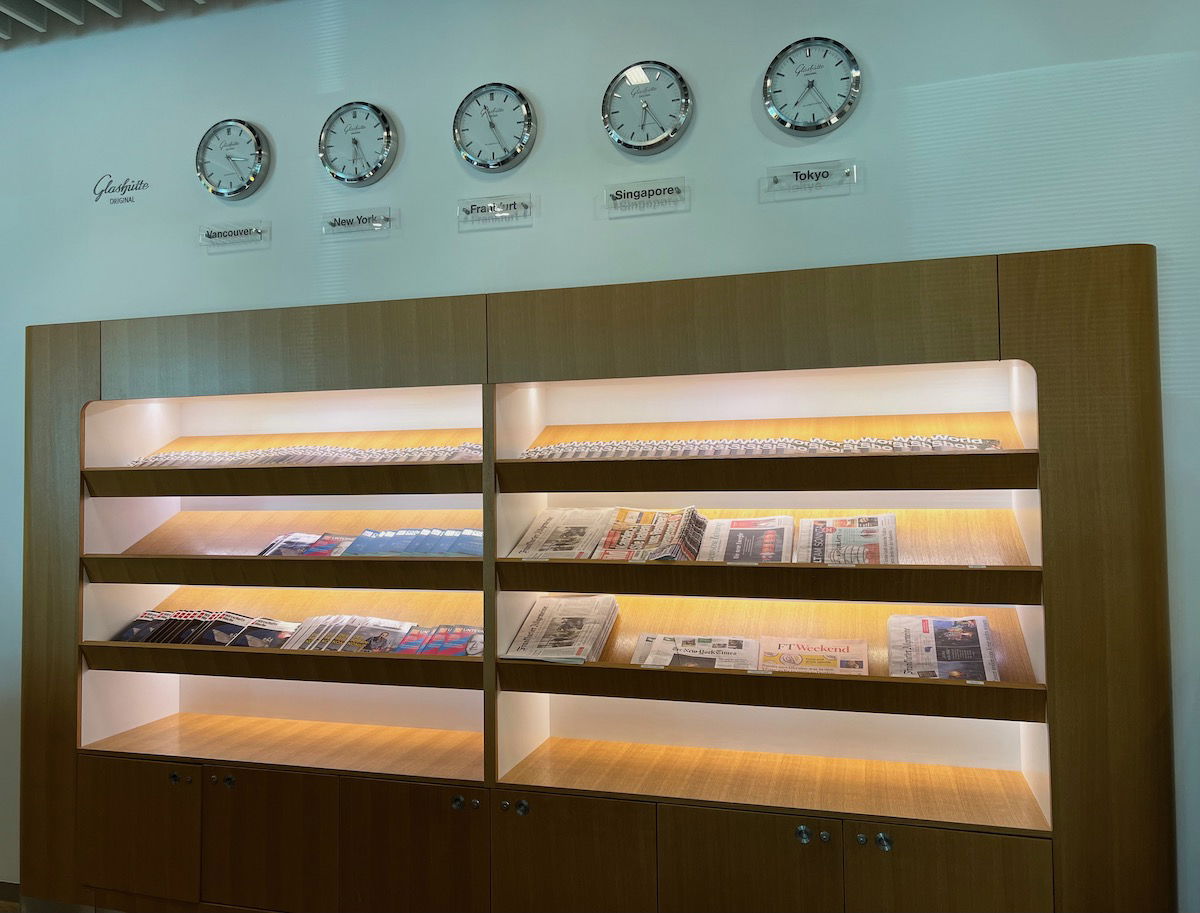 The lounge does have great views of the apron. However, they're hard to photograph due to the "lines" in the windows, presumably intended to control the temperature in the lounge.
Lufthansa Senator Lounge Frankfurt food & drinks
The main buffet was back toward the entrance to the lounge, and the selection was pretty standard for Lufthansa lounges.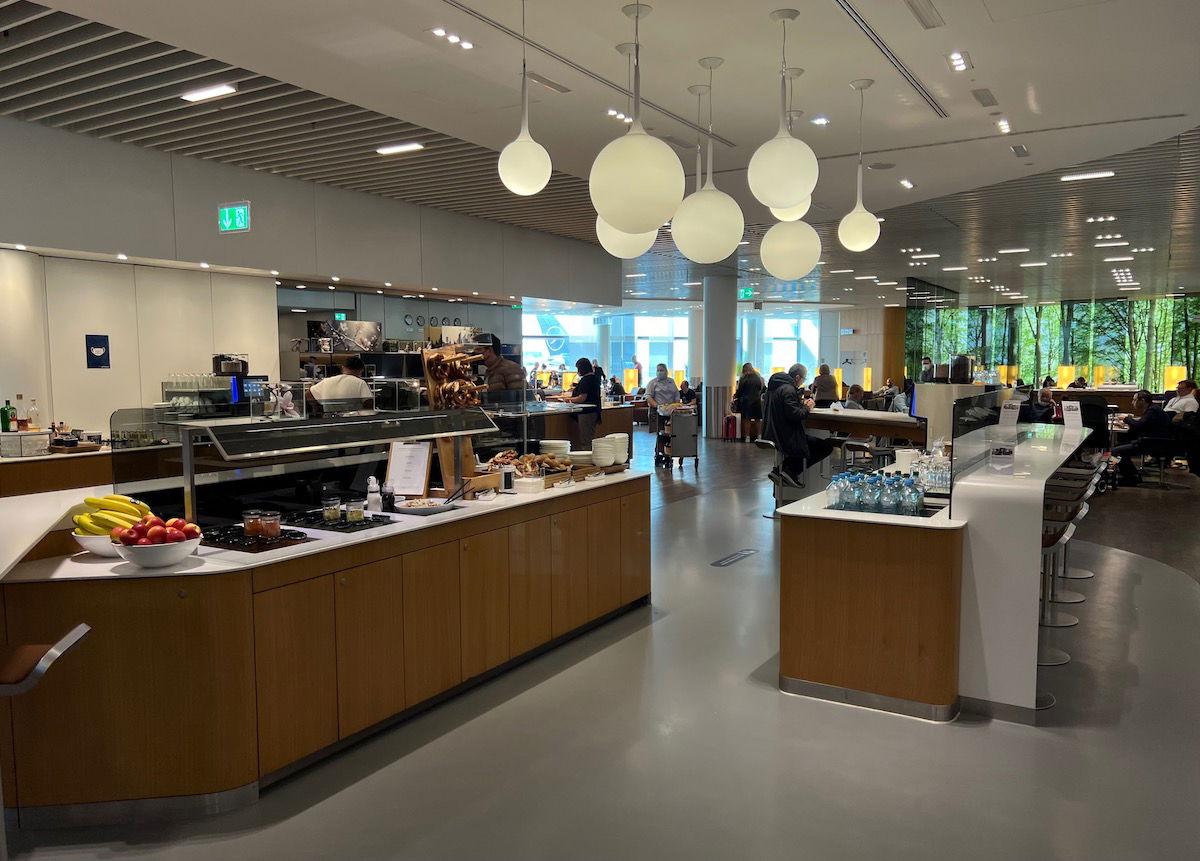 There were a few types of salads, pretzels, rolls, curry with rice, sausages, potatoes, and more.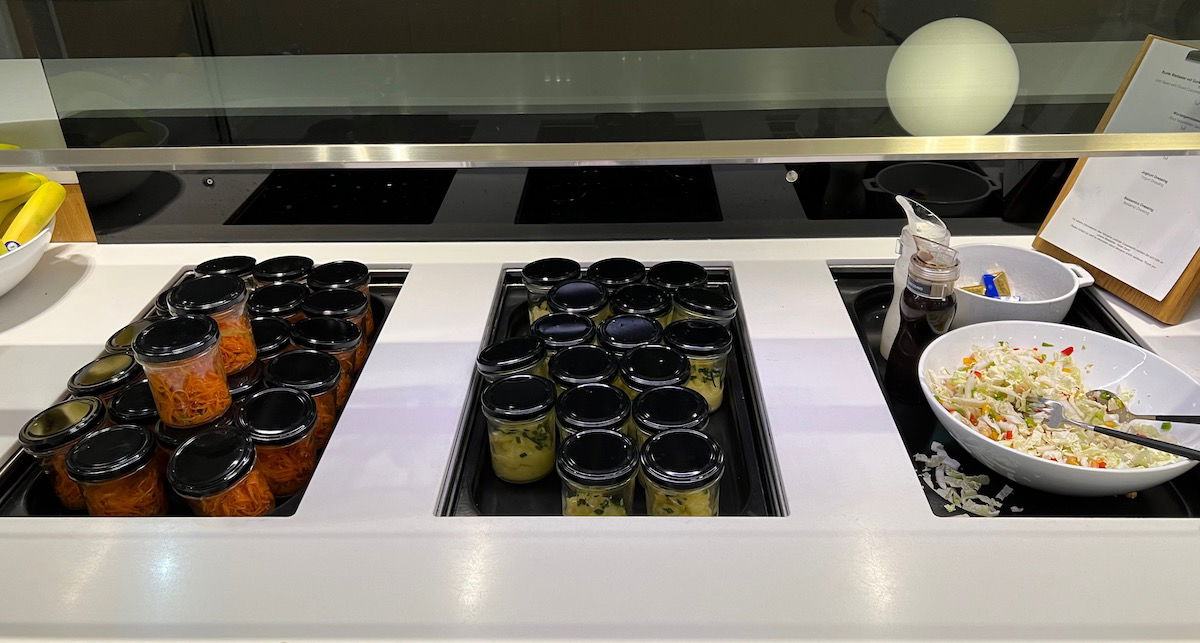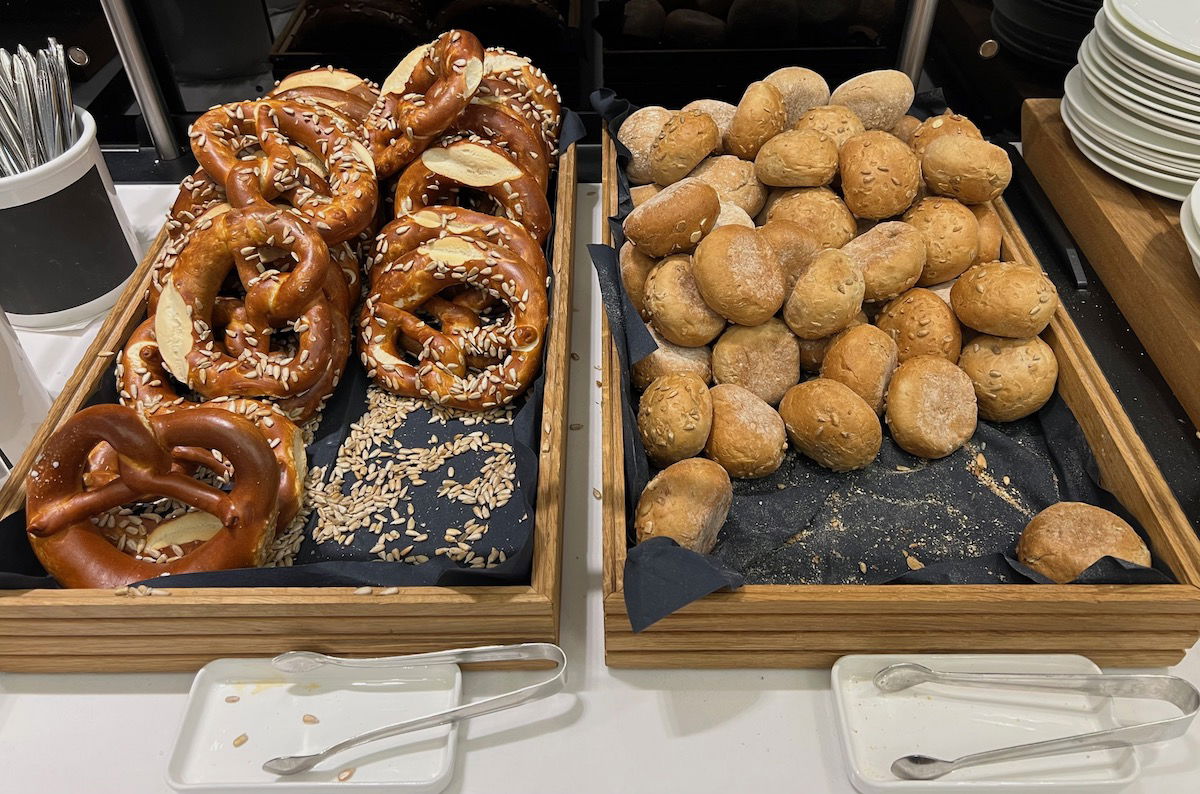 People seem to go nuts over those massive German sausages, and I witnessed plenty of people putting four or more sausages on their plate. I guess it's a nice taste of Germany for those just having a layover. As someone who doesn't eat pork, I guess I'm not the target guest for the lounge's most popular food item.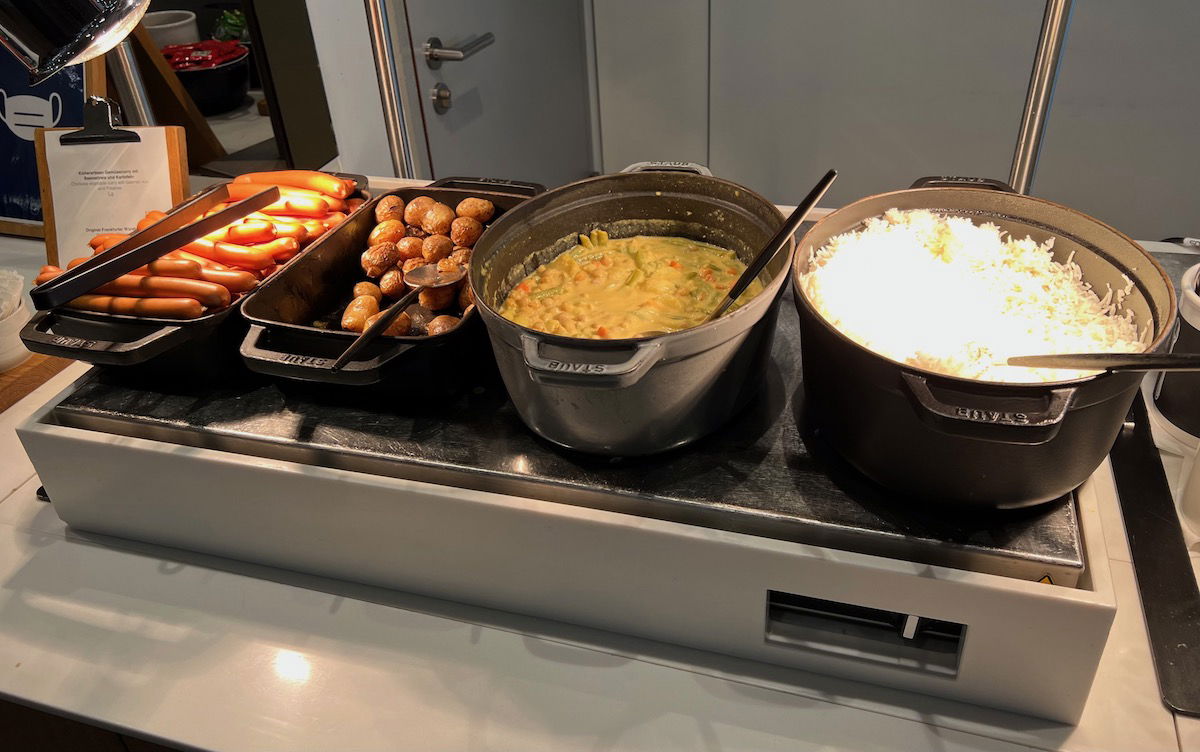 There was also a selection of desserts, including a couple of desserts in jars, plus a bunch of snacks that could be scooped out of bigger jars.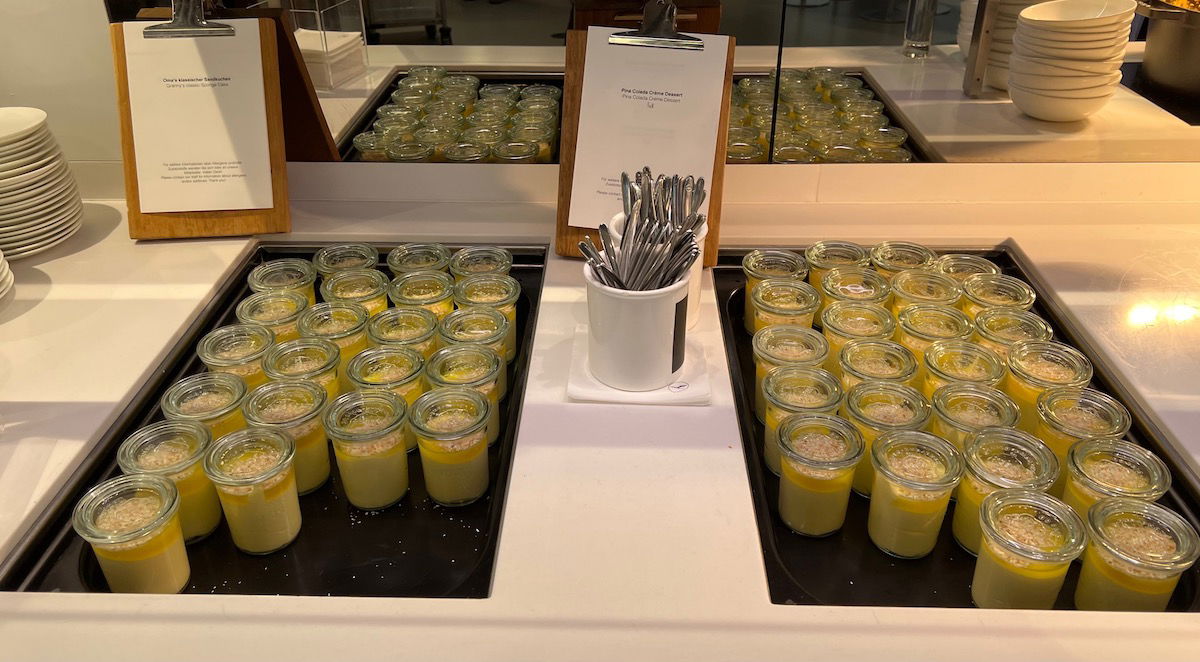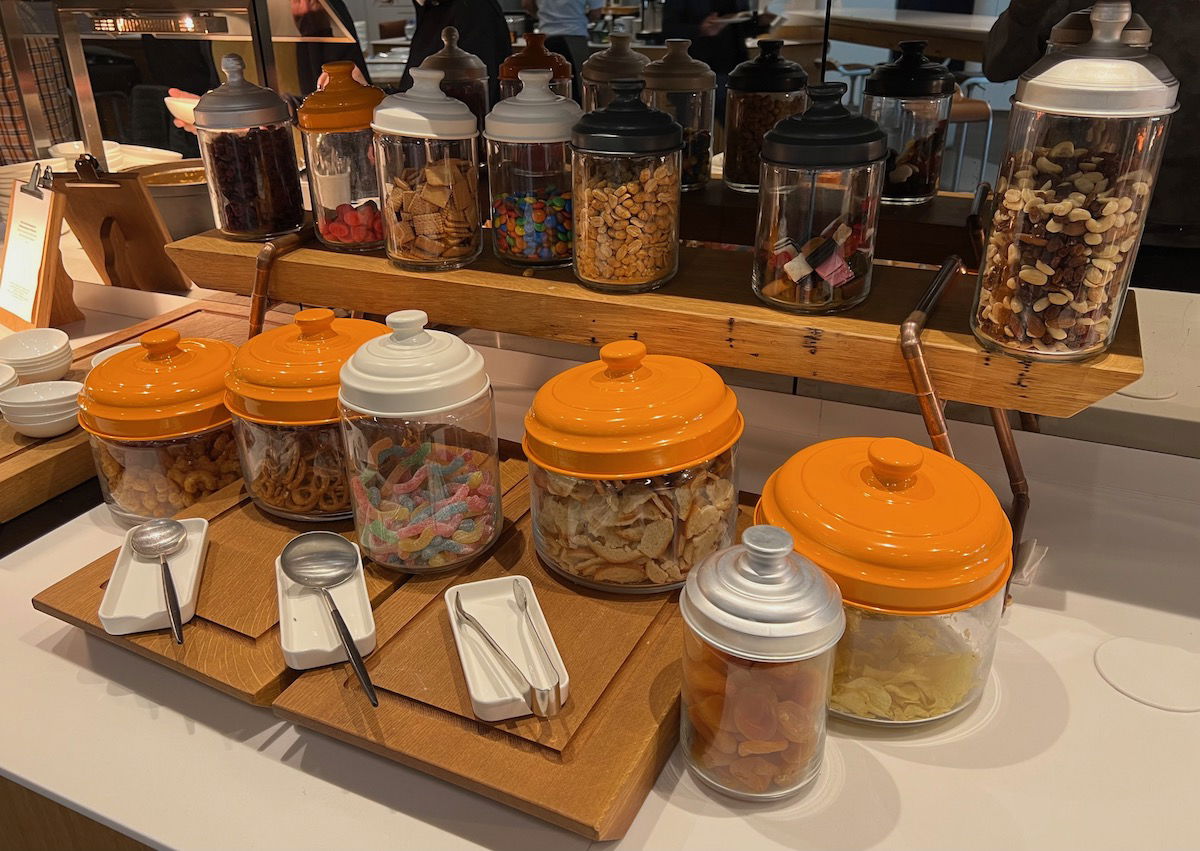 Lufthansa Senator Lounges typically have better alcohol selections than Lufthansa Business Lounges, so credit to Lufthansa for that. There was a large selection of soft drinks, liquor, wine, beer, etc.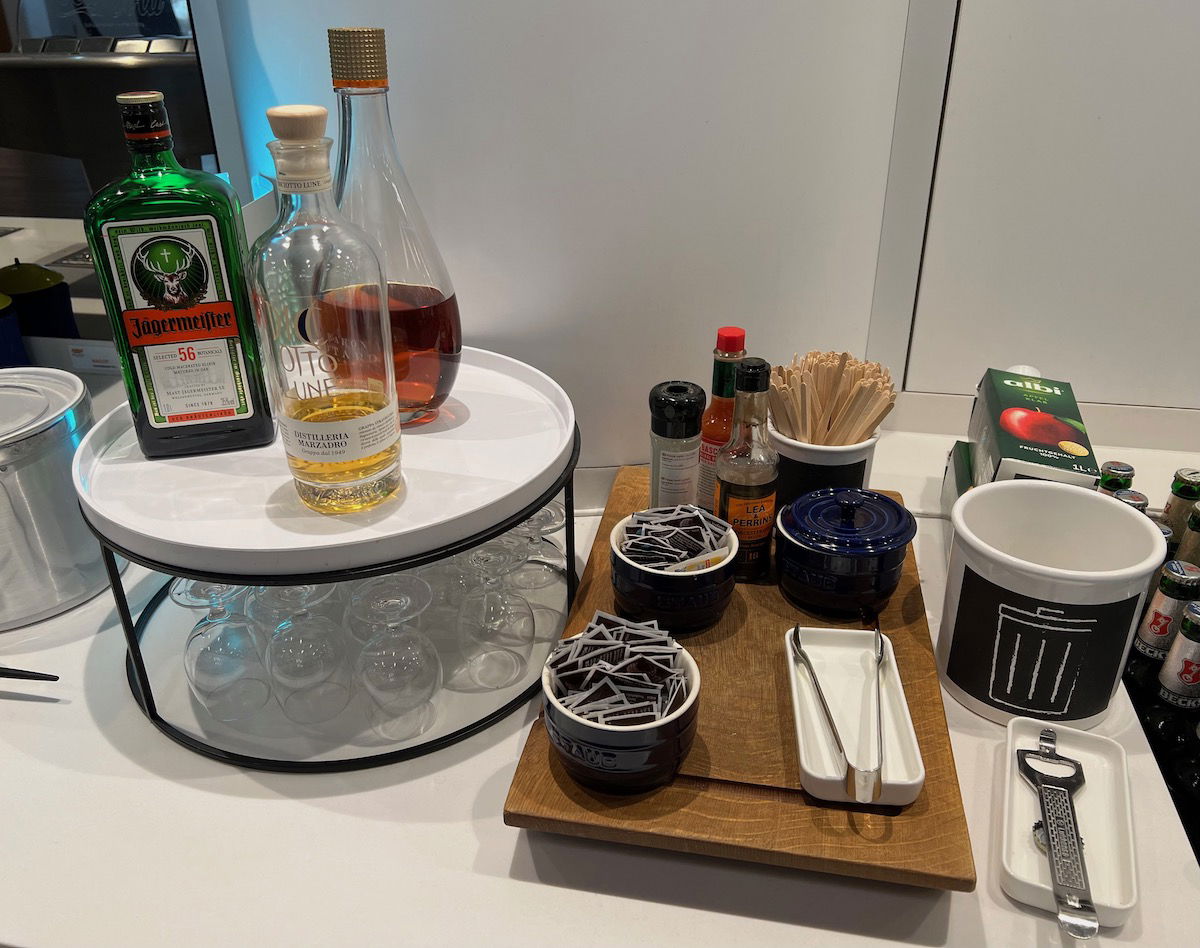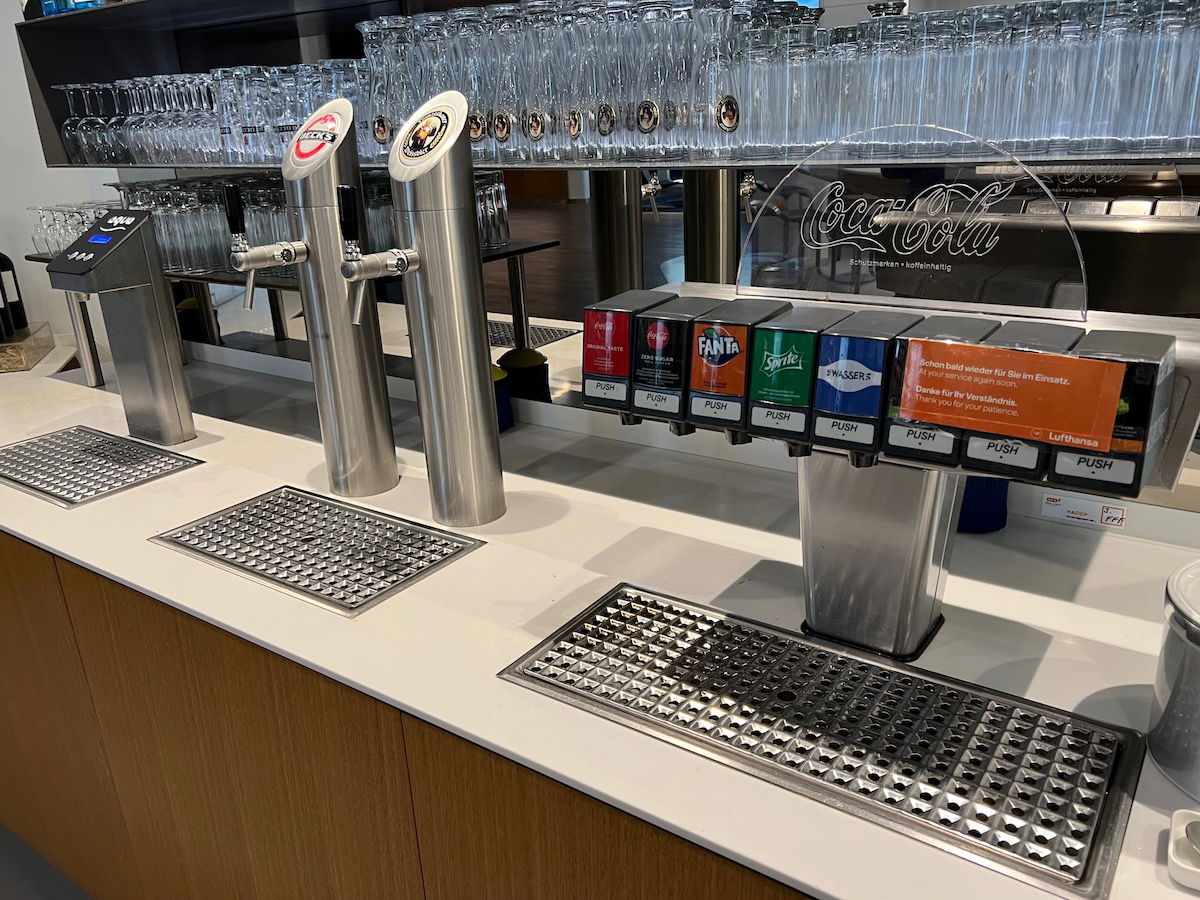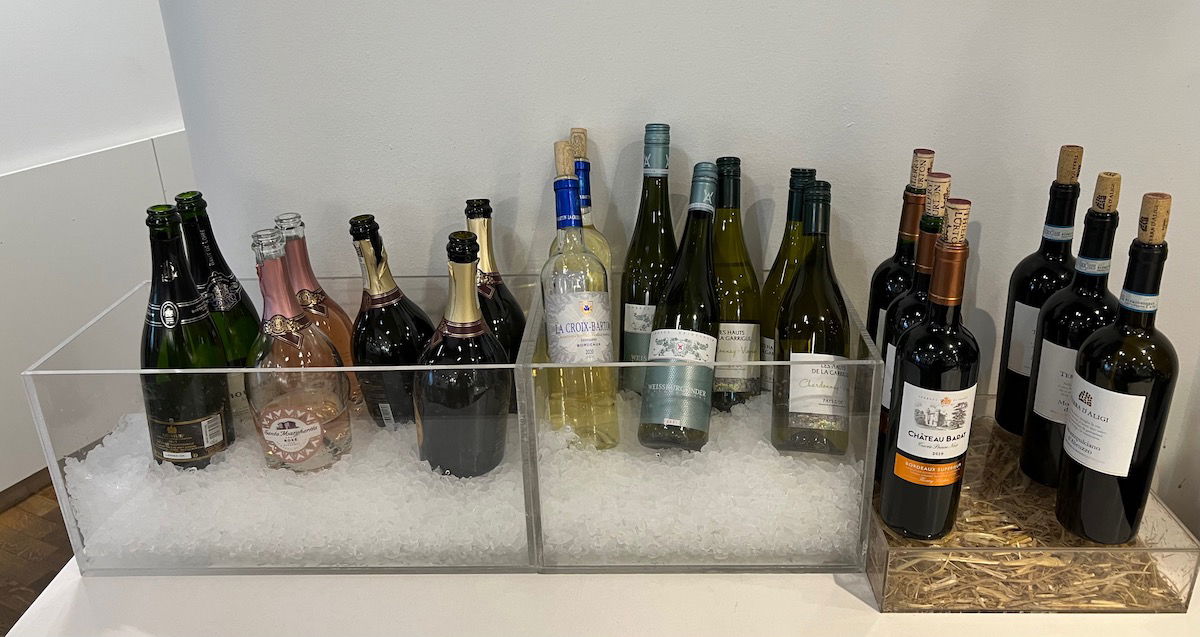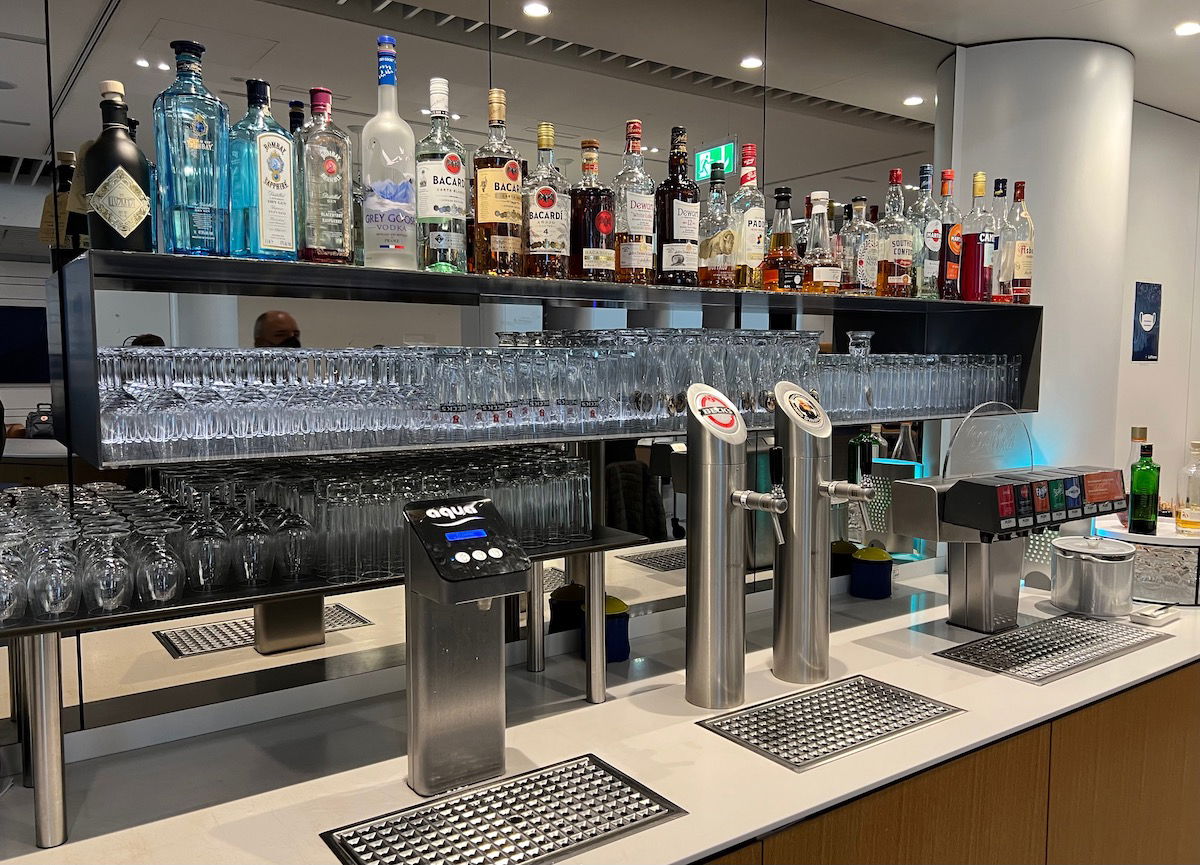 There were also some Lavazza coffee machines, as well as a selection of tea.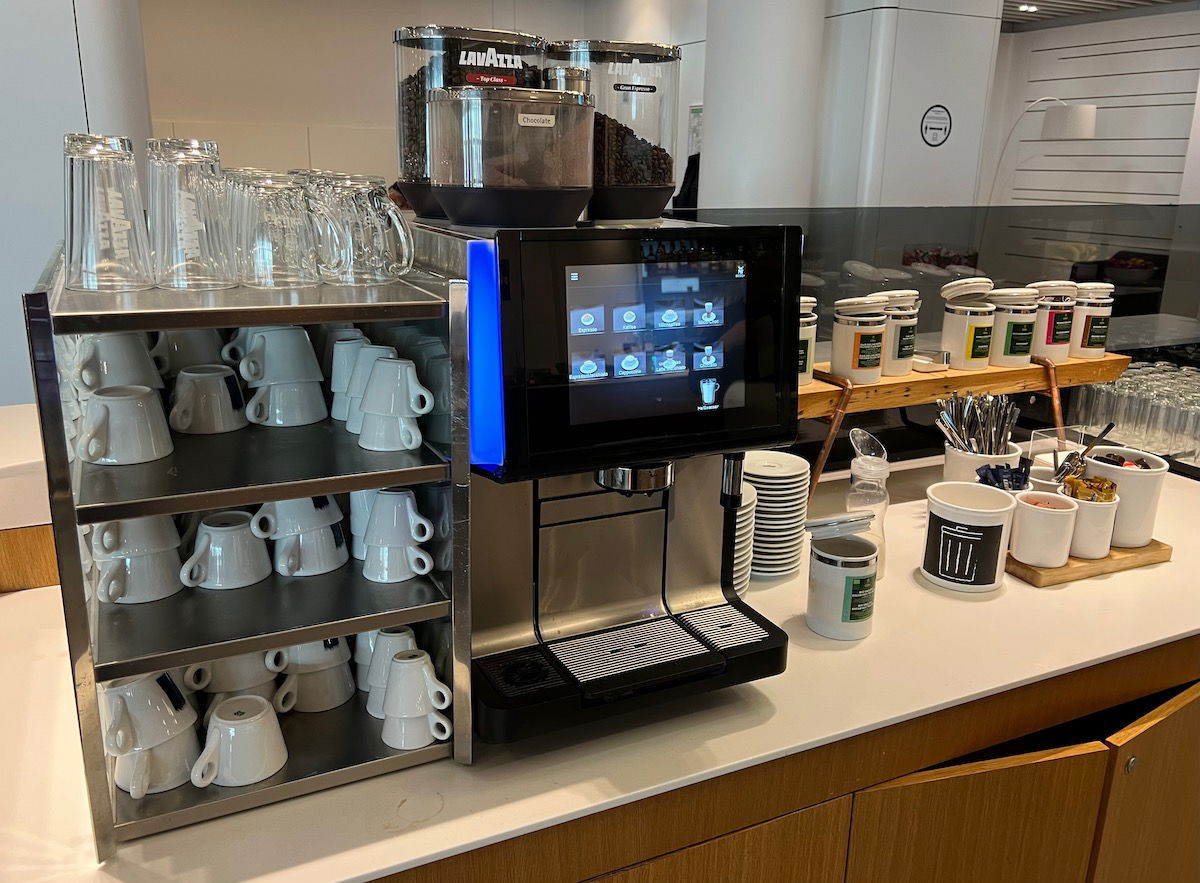 Despite the lounge's large size, there's only one main buffet area, and it gets pretty crowded. There was one smaller self-serve station at the other end of the lounge, featuring a coffee machine, water, and some sweets.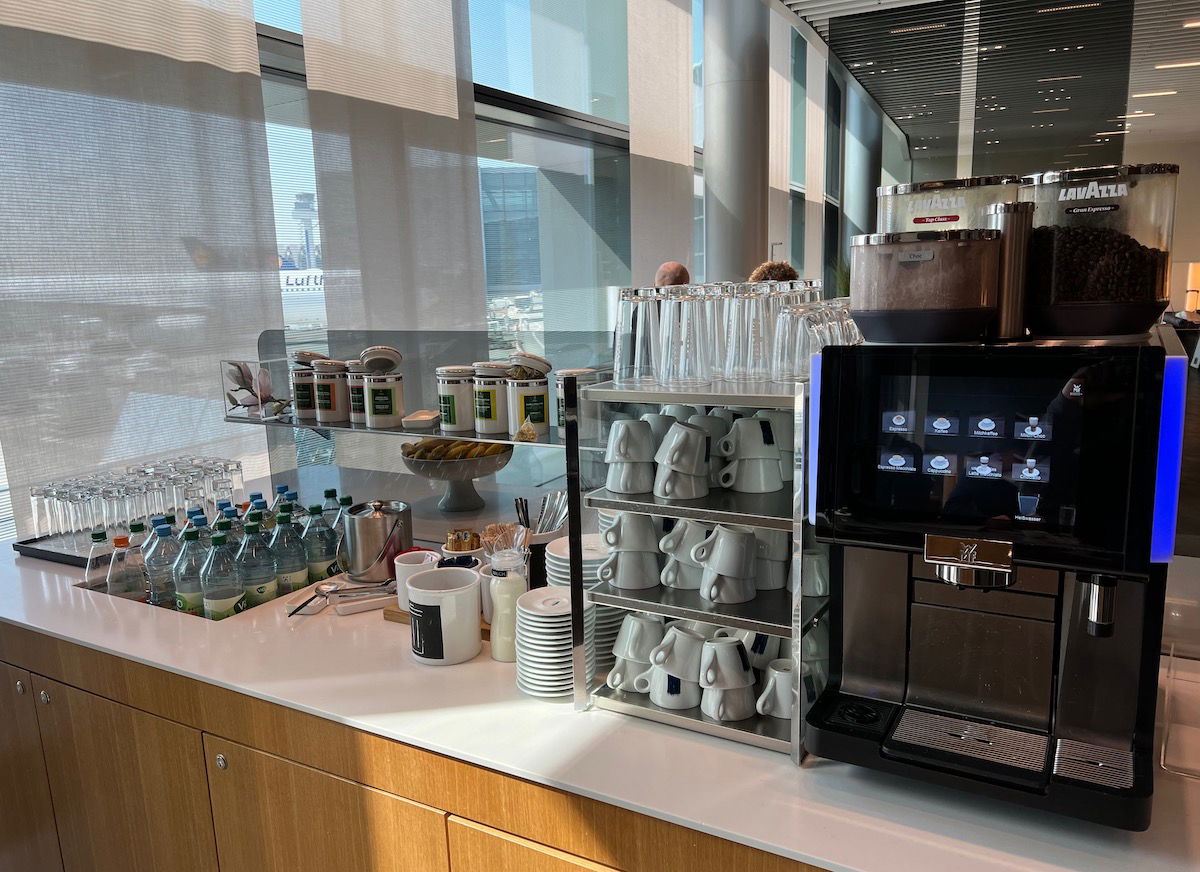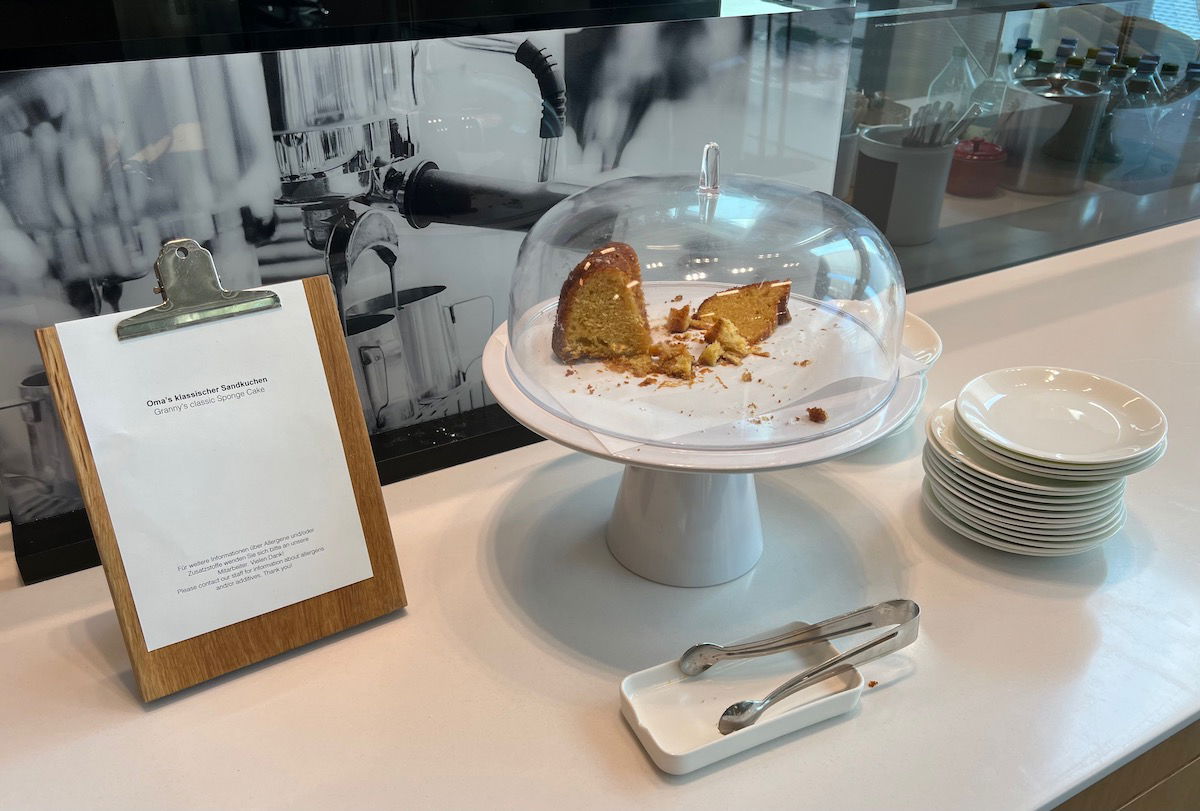 I had a cappuccino, plus of course I couldn't resist having a pretzel.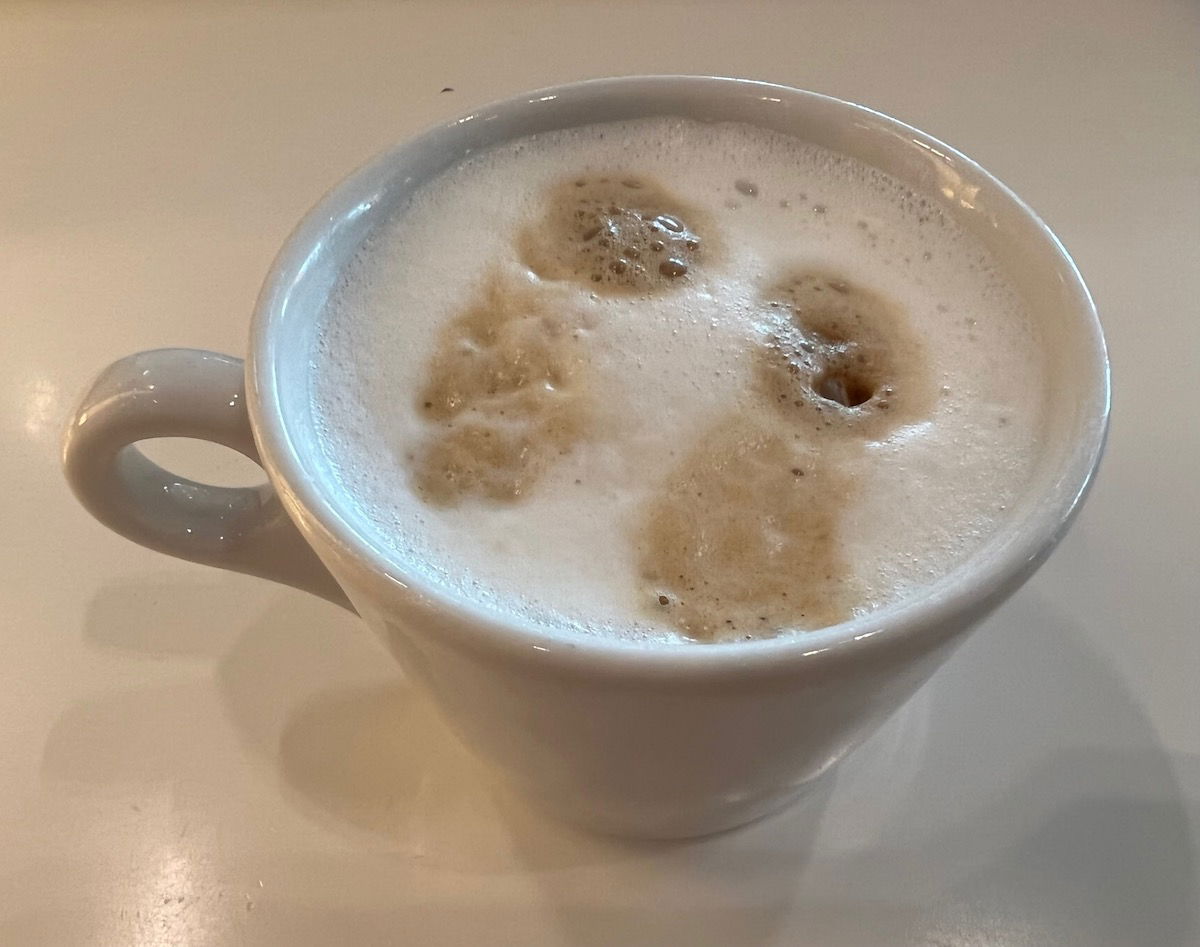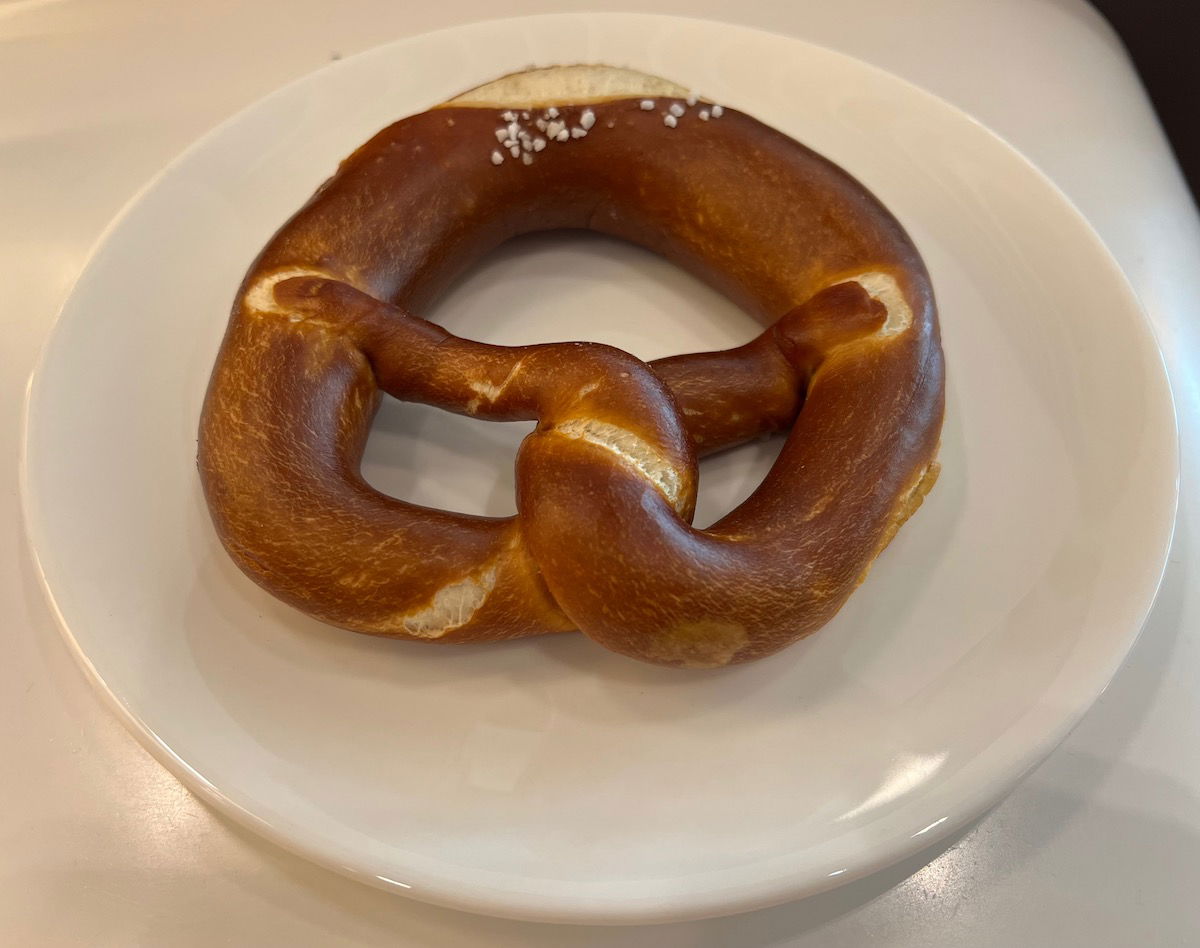 Lufthansa Senator Lounge Frankfurt bathroom & showers
While the Senator Lounge has showers, there was a long waiting list to use them, so I couldn't snap a picture of those rooms. The toilets as such were at least clean, though they didn't smell great (I suspect that's not Lufthansa's fault, though).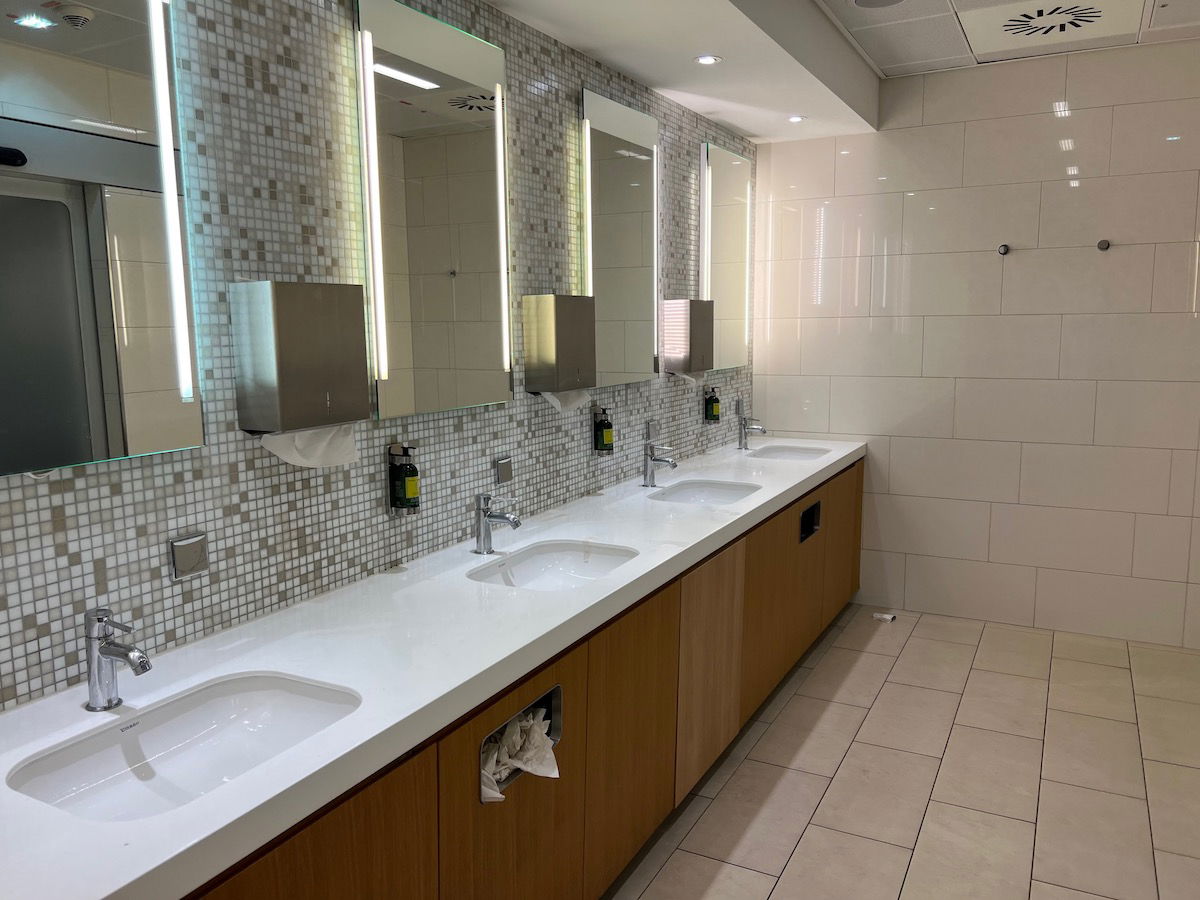 Am I the only one who finds Lufthansa's lounges to be disappointing?
I fully recognize the challenges that airlines face with lounges:
Real estate in airports is not only expensive, but often simply not available, so even if Lufthansa wanted to expand lounges, that might not be an option
It can be hard to control crowding in lounges, especially with standardized access rules at the major global alliances
That being said:
While the Lufthansa First Class Terminal is phenomenal, aside from that, most of Lufthansa's lounges simply aren't very good, in my opinion, and haven't evolved. Add in Lufthansa's subpar long haul business class seat, and the airline offers a lackluster experience. Yet oddly it's also the only airline in Europe to have a Skytrax 5-star rating (though it's not too hard to figure out why that's the case).
Am I the only one who feels that way?
Bottom line
The Lufthansa Senator Lounge Frankfurt can get very crowded, and is completely unremarkable, especially when you consider that this is supposed to be a premium lounge that's better than your typical business class lounge. When you compare a lounge like this to what European rivals are offering, I don't think Lufthansa is competitive anymore.
I suppose if you really want some sausage or booze then stop in here, but otherwise I'd rather sit in an empty gate area, at least when the lounge is this busy.
If you've visited the Lufthansa Senator Lounge Frankfurt, what was your experience like?