I can't count the number of times I've passed through Frankfurt Airport, though I've never visited the sole Priority Pass lounge in Terminal 1, which is Luxx Lounge. After spending the night at the Marriott Frankfurt Airport, and prior to flying Singapore Suites from Frankfurt to New York, I had the chance to finally check out this lounge.
Luxx Lounge Frankfurt location & hours
Luxx Lounge is unusual among airport lounges in that it's located landside (at check-in), rather than airside (beyond security). This also means that if you're connecting, you'll need to leave the "secure" area and pass through immigration to visit the lounge.
Regardless of whether you're connecting or originating, you'll want to leave ample time before catching your flight, since you'll have to go through security (and potentially immigration, if you're traveling to a non-Schengen destination).
When you're in the check-in hall of Terminal 1, you'll want to find the escalator between check-in Zone A and check-in Zone C.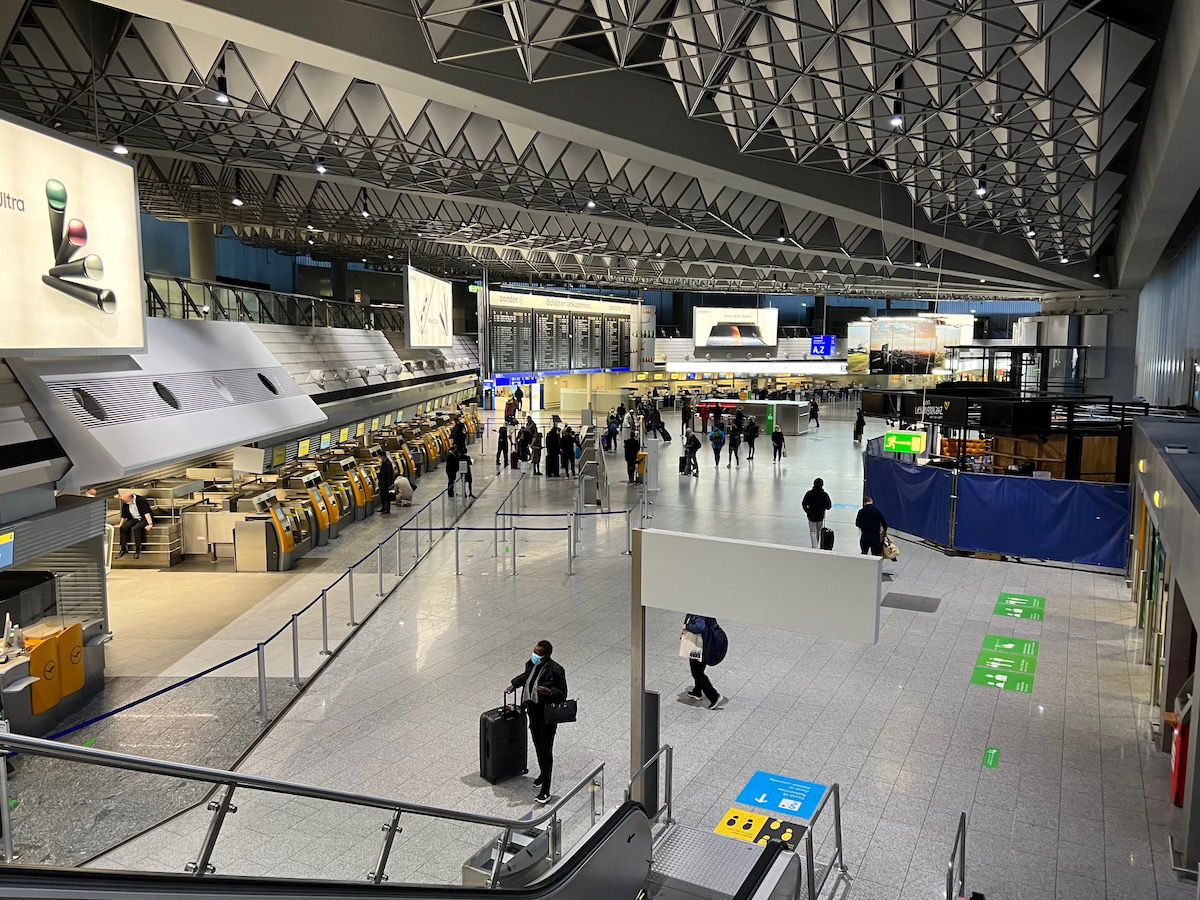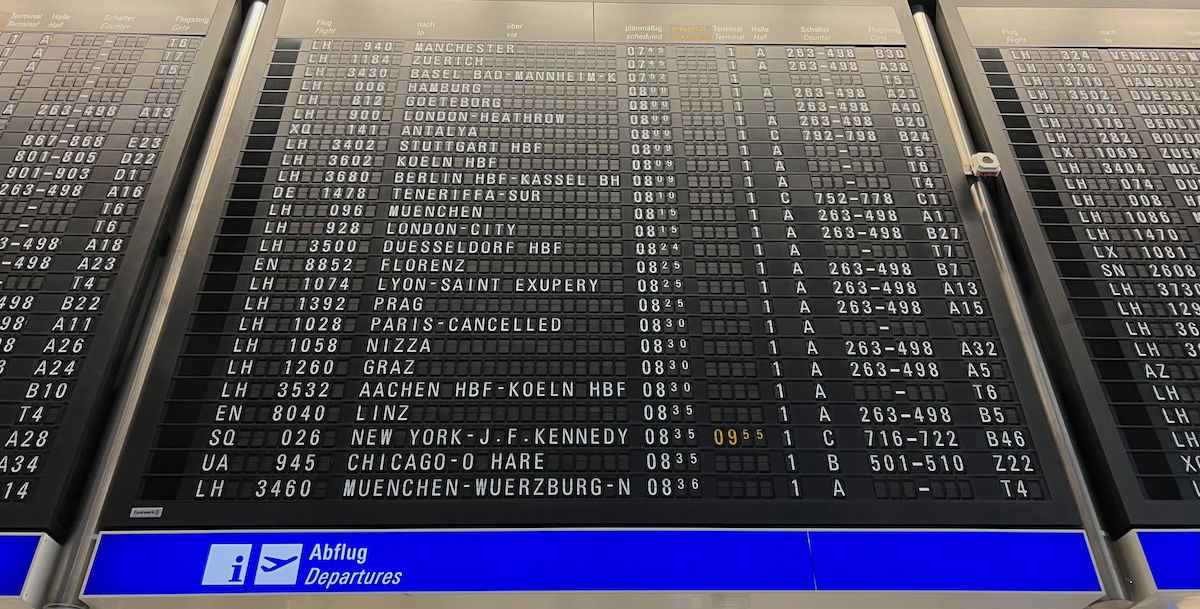 There you'll see signage to both the Airport Reisemarkt (airport travel market) and Luxx Lounge.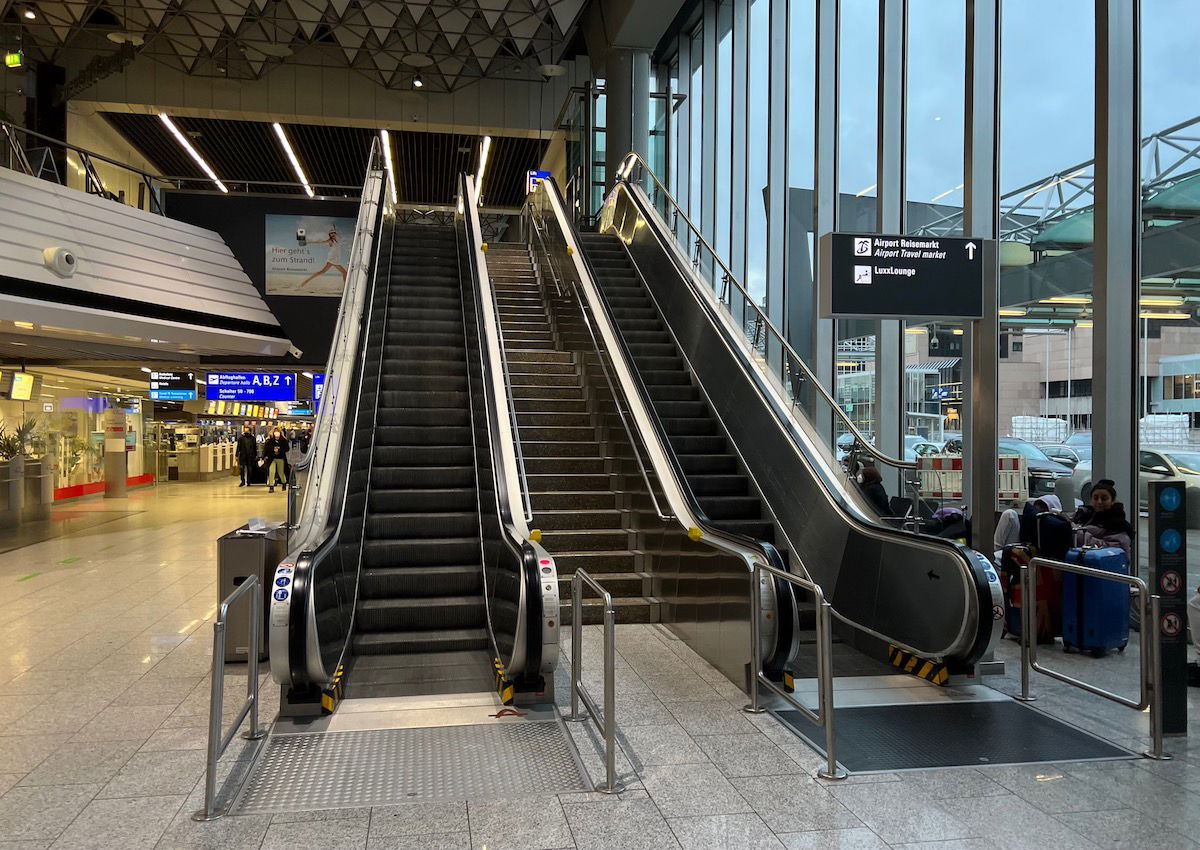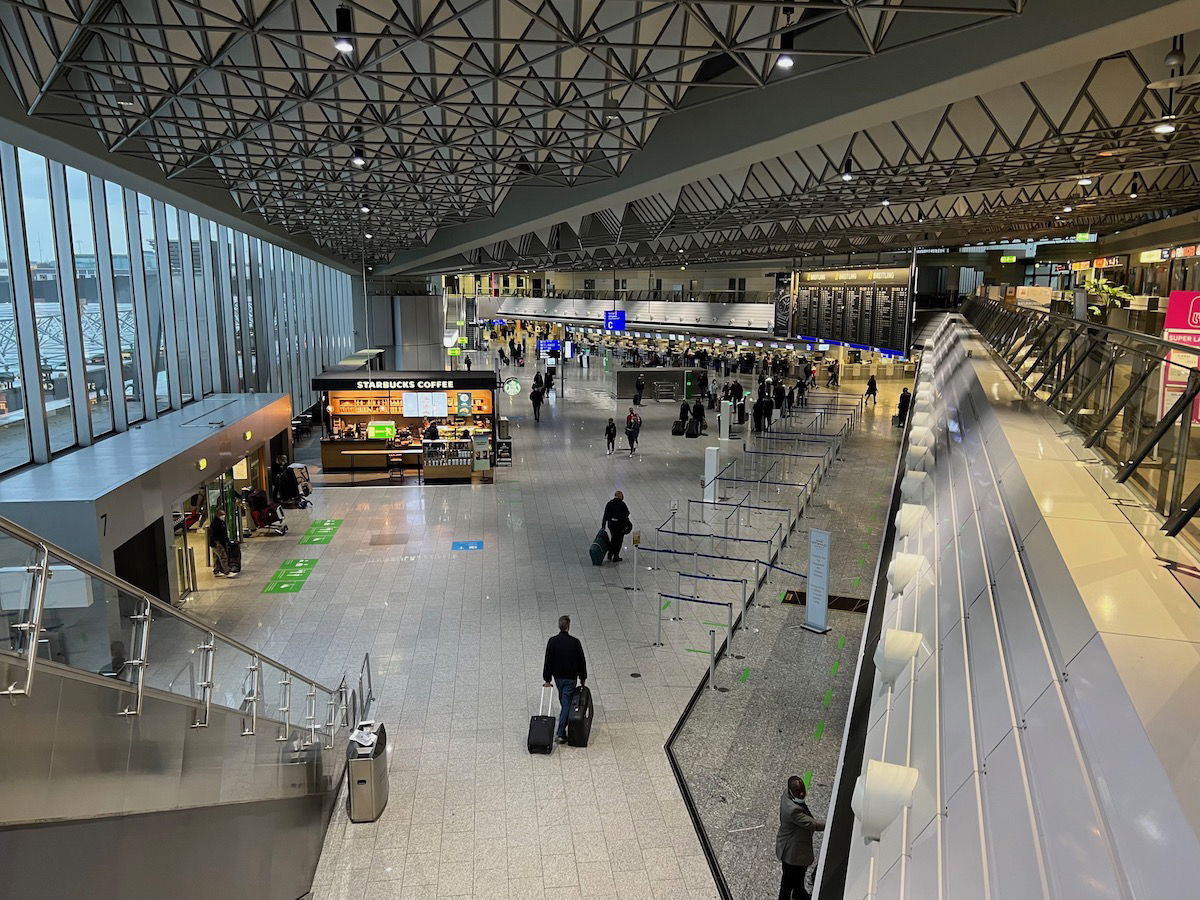 At the top of the escalator is the entrance to the lounge.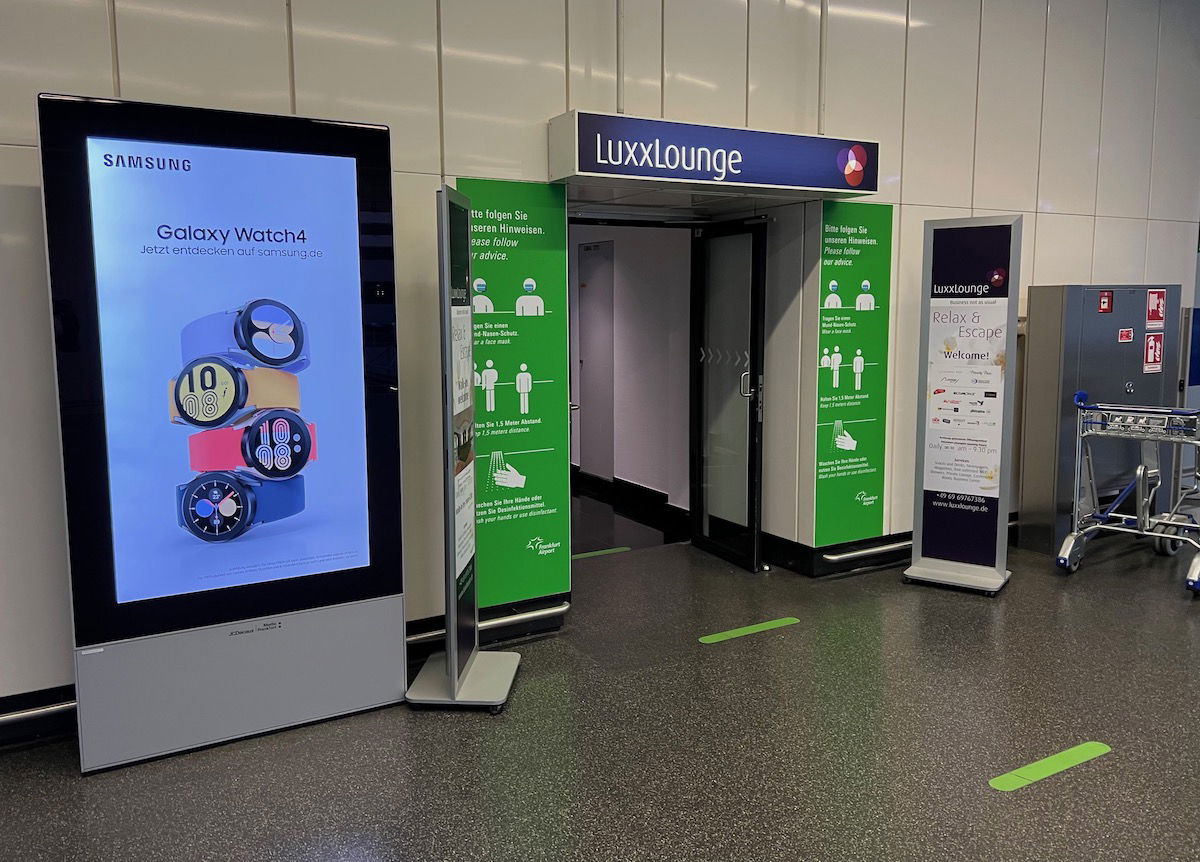 The Luxx Lounge is currently open daily from 6:30AM until 9:30PM.
Luxx Lounge Frankfurt entry requirements
The most common way to access the Luxx Lounge is through Priority Pass, given that it's the only contract lounge in the terminal. There are of course many premium credit cards offering Priority Pass memberships. The lounge can be accessed by Priority Pass members for up to three hours.
There's one useful benefit to this lounge being landside and belonging to Priority Pass. If you're arriving in Frankfurt and want to hang out at the airport for a bit (for whatever reason), you could use this as an arrivals lounge. That could be valuable if you want to grab a cup of coffee, catch up on some emails, etc.
Luxx Lounge is also used as a contract lounge by some of the non-Star Alliance airlines departing from Terminal 1. That's because the only airside lounges in the terminal are operated by Star Alliance airlines, and other airlines have largely not worked out agreements with those lounge operators.
For example, EL AL uses Luxx Lounge as its contract lounge. There are even some Star Alliance airlines that suggest passengers use this (presumably because it's lower cost to the airline), though those people can also visit airside Star Alliance lounges.
Lastly, you can also purchase access to the lounge for 30 Euro per person.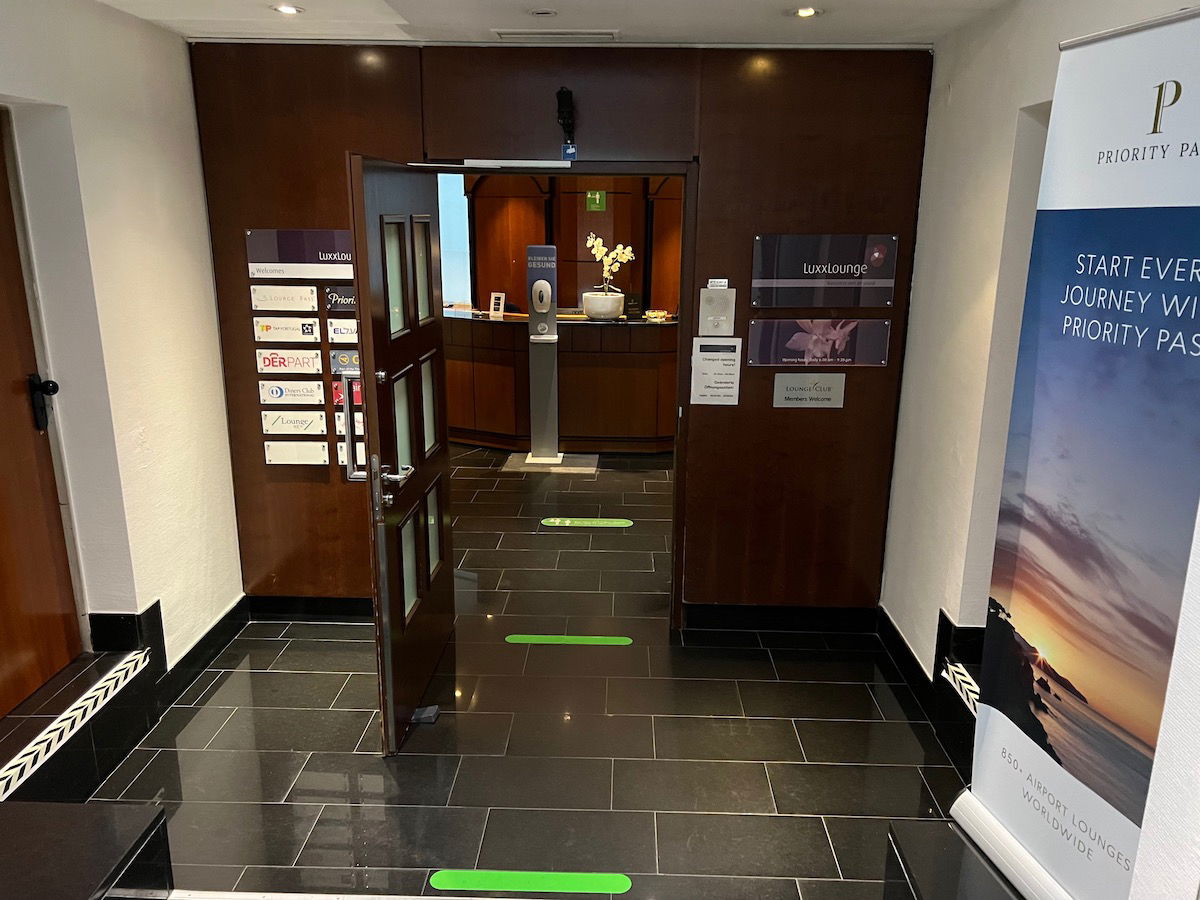 Luxx Lounge Frankfurt seating & layout
Luxx Lounge Frankfurt is a decent size, given that it's probably not ever going to get that busy. The lounge has two main rooms. There's one room with seats arranged in rows facing one another.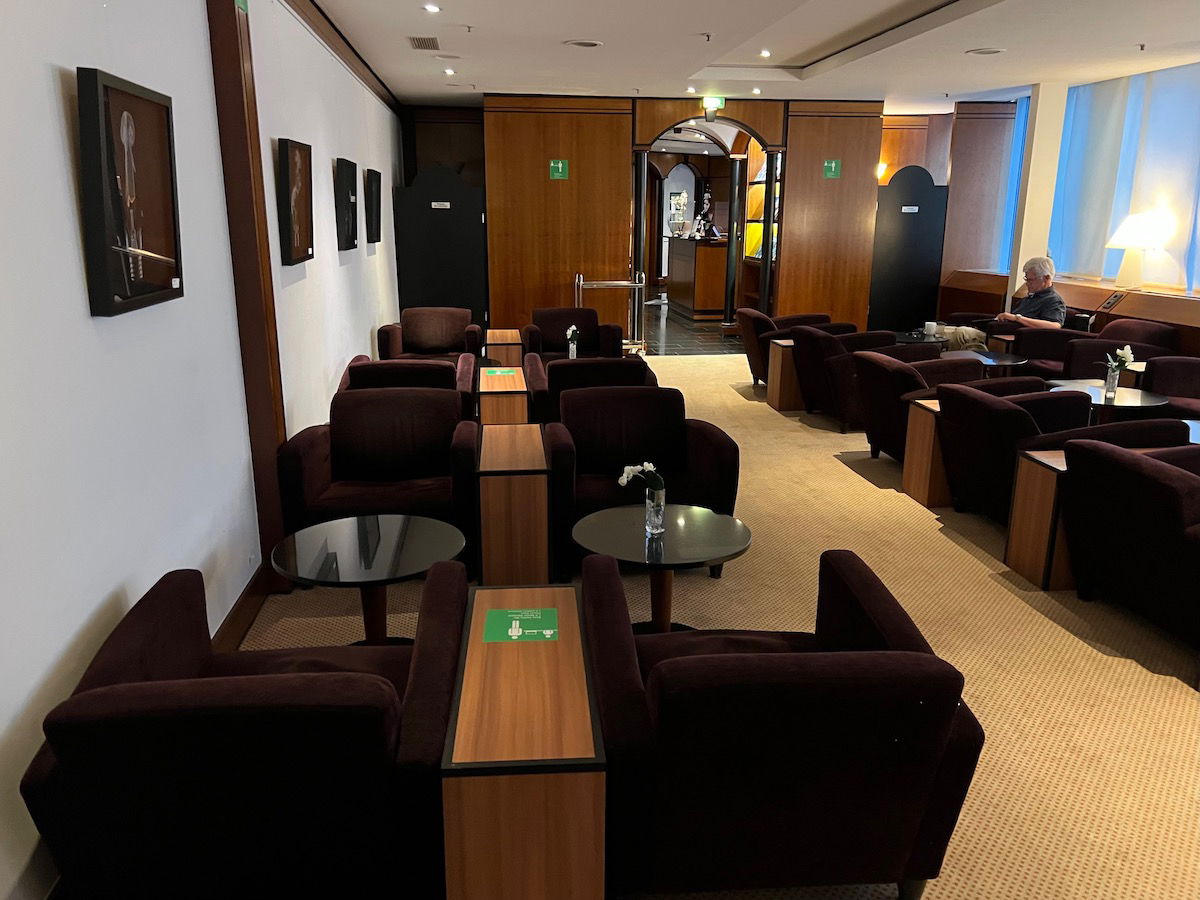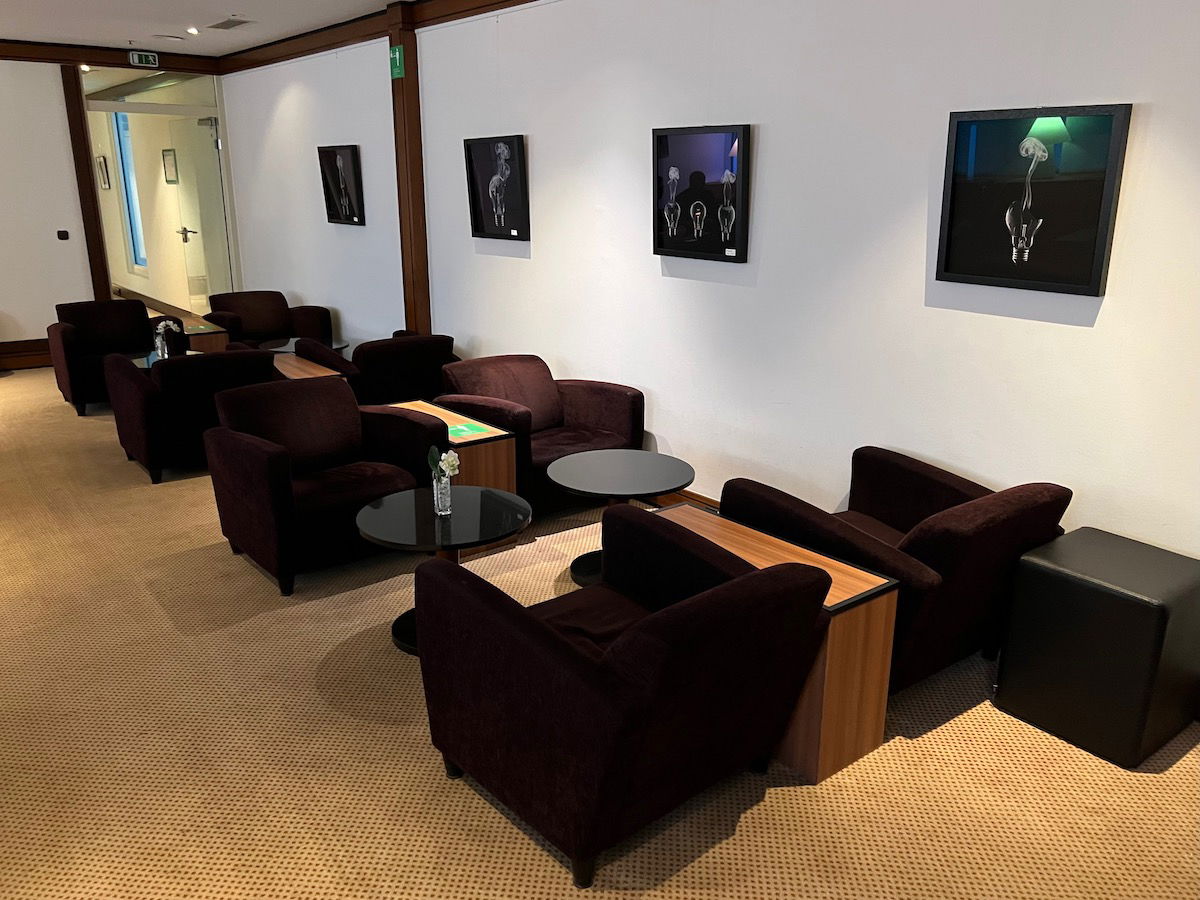 Then there's a long hallway leading to the buffet area, and then past that is the second room.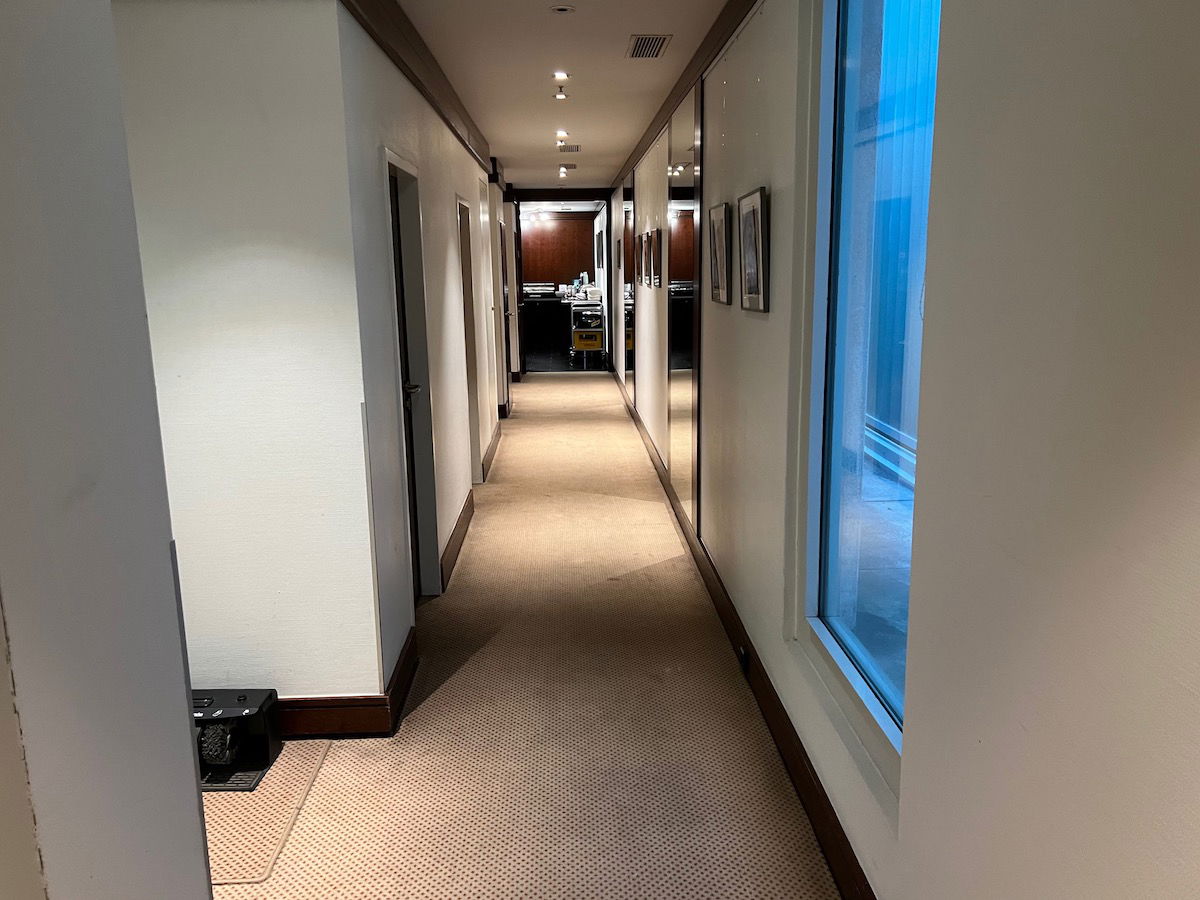 This room has more cafe-style seating, with a bunch of dining tables, mostly with a bench and then a chair.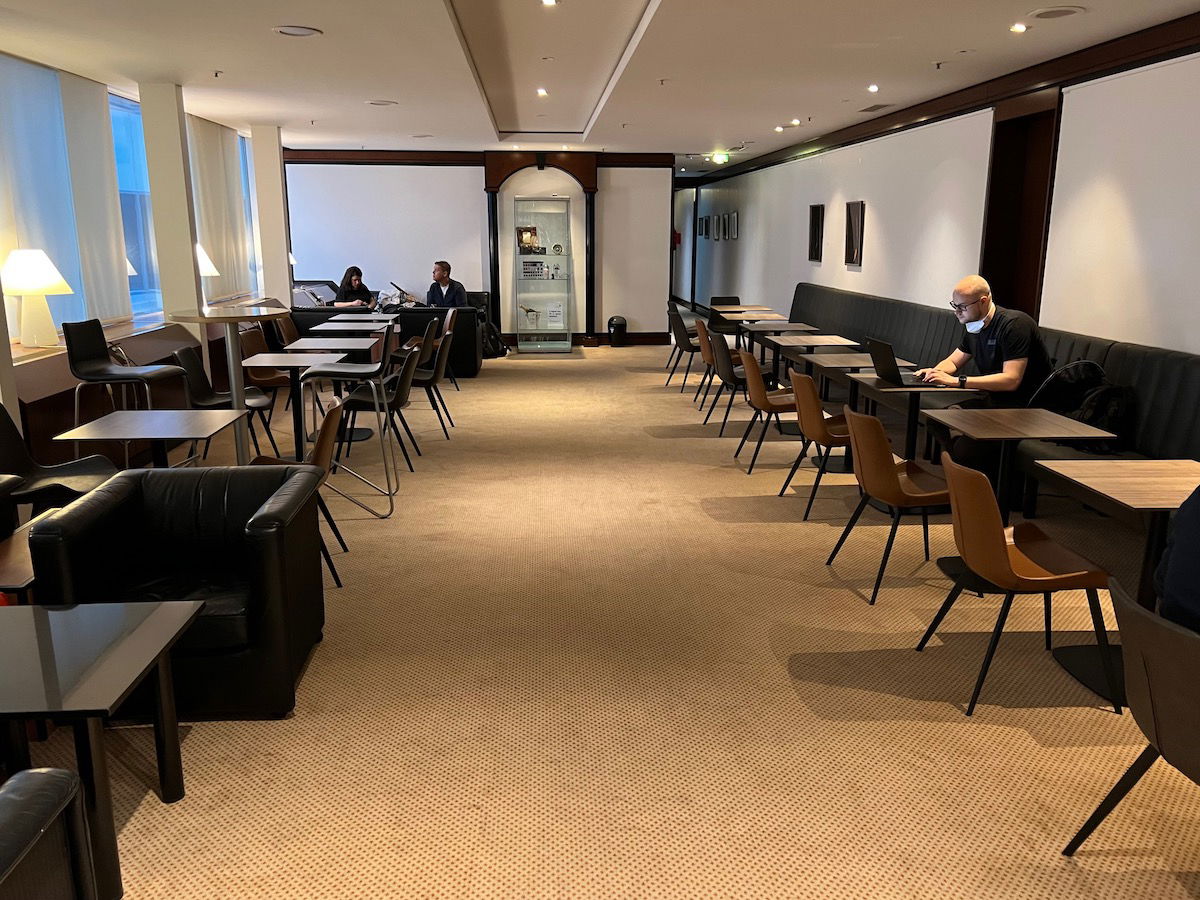 The design of this lounge is not at all inspiring, to put it mildly. It feels like the lounge hasn't been renovated in a couple of decades, and the carpet also feels pretty dirty. On the plus side, there's Wi-Fi in the lounge that's fast and free.
Luxx Lounge Frankfurt food & drinks
The Luxx Lounge Frankfurt has a self serve buffet, which likely won't spoil your appetite. The drink selection includes a coffee machine, several types of liquor, wine, beer, soft drinks, juice, and water.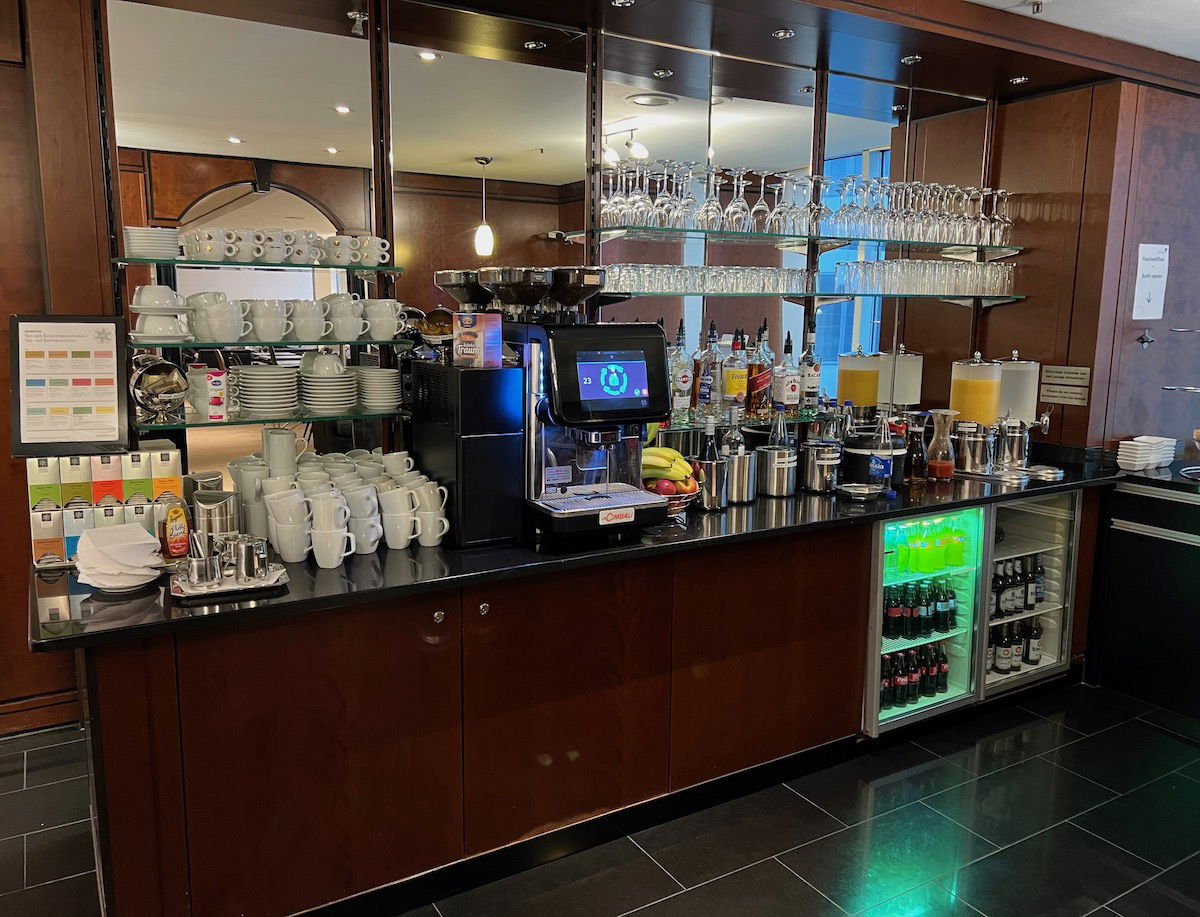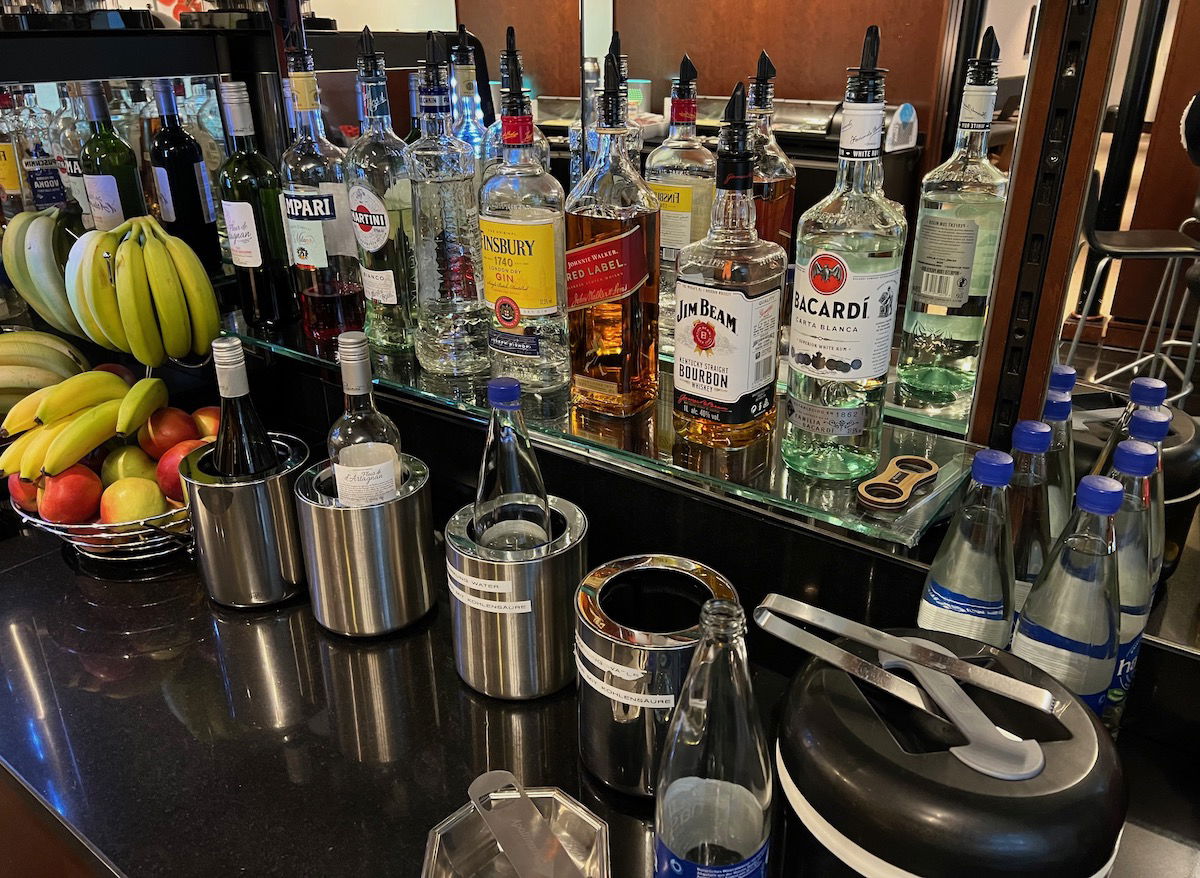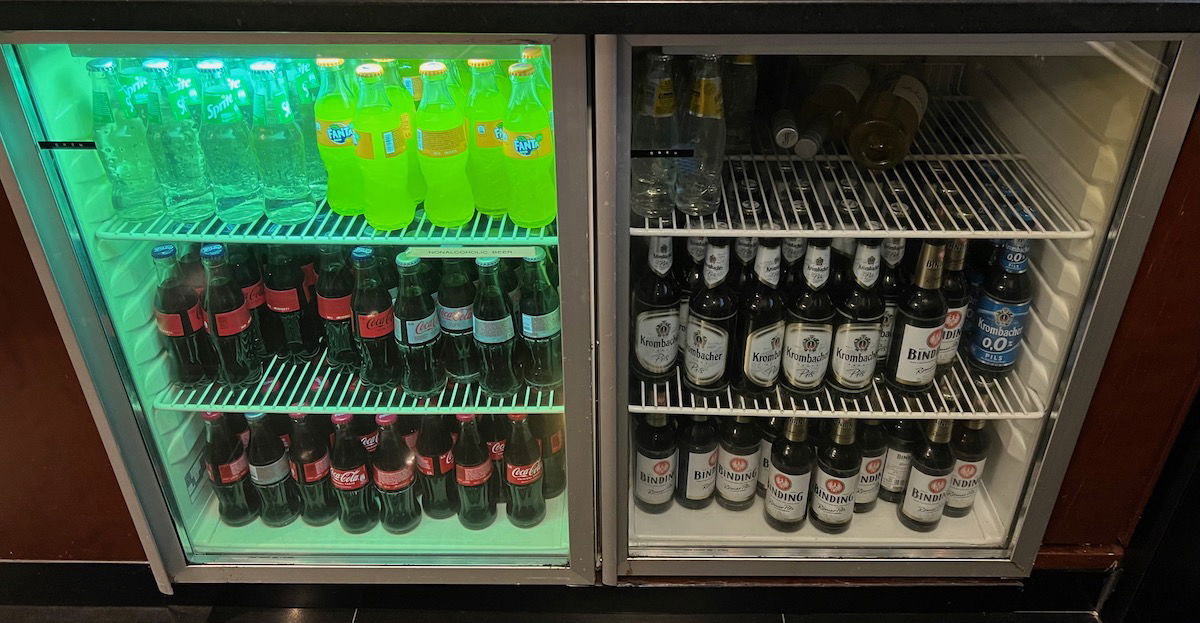 The food selection includes cold cuts, cheese, bread, rolls, danishes, cereal, and a contraption full of pork sausages.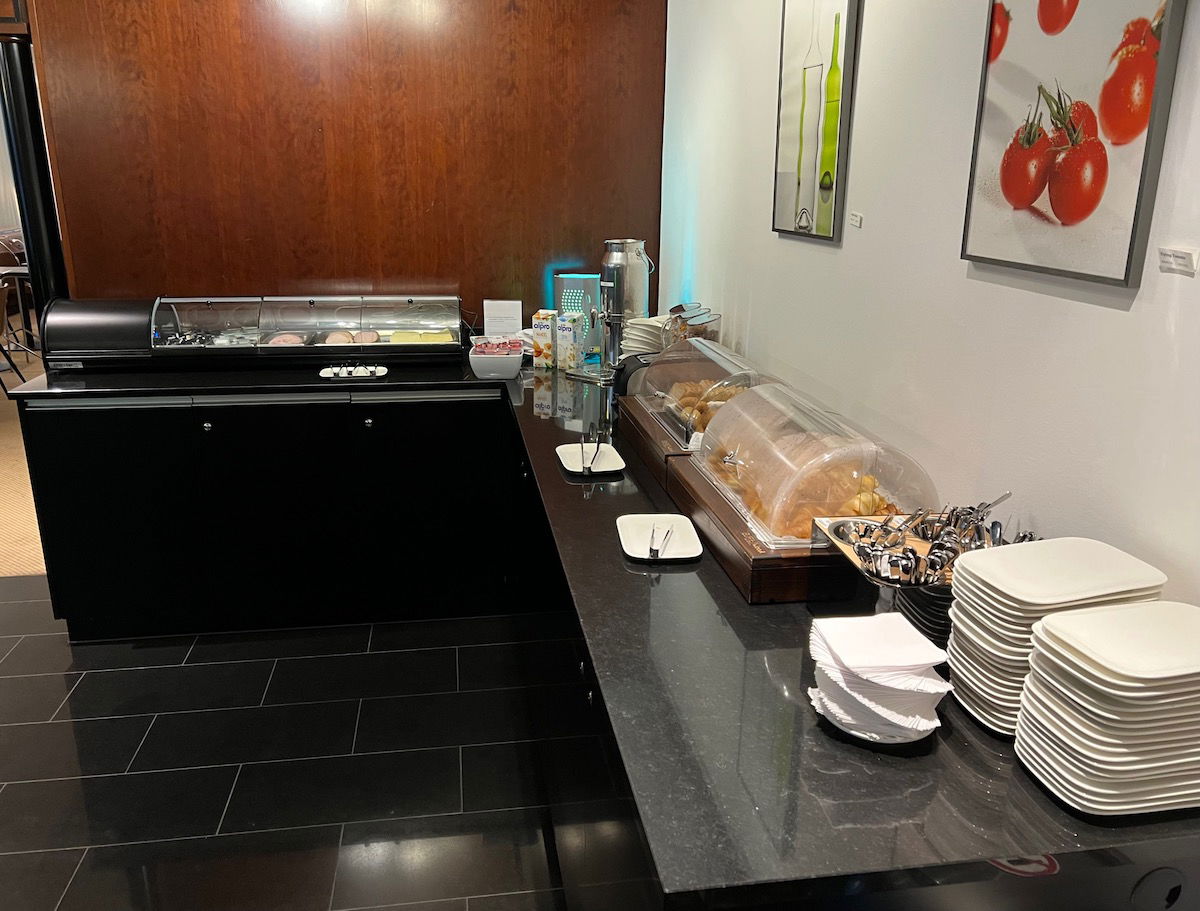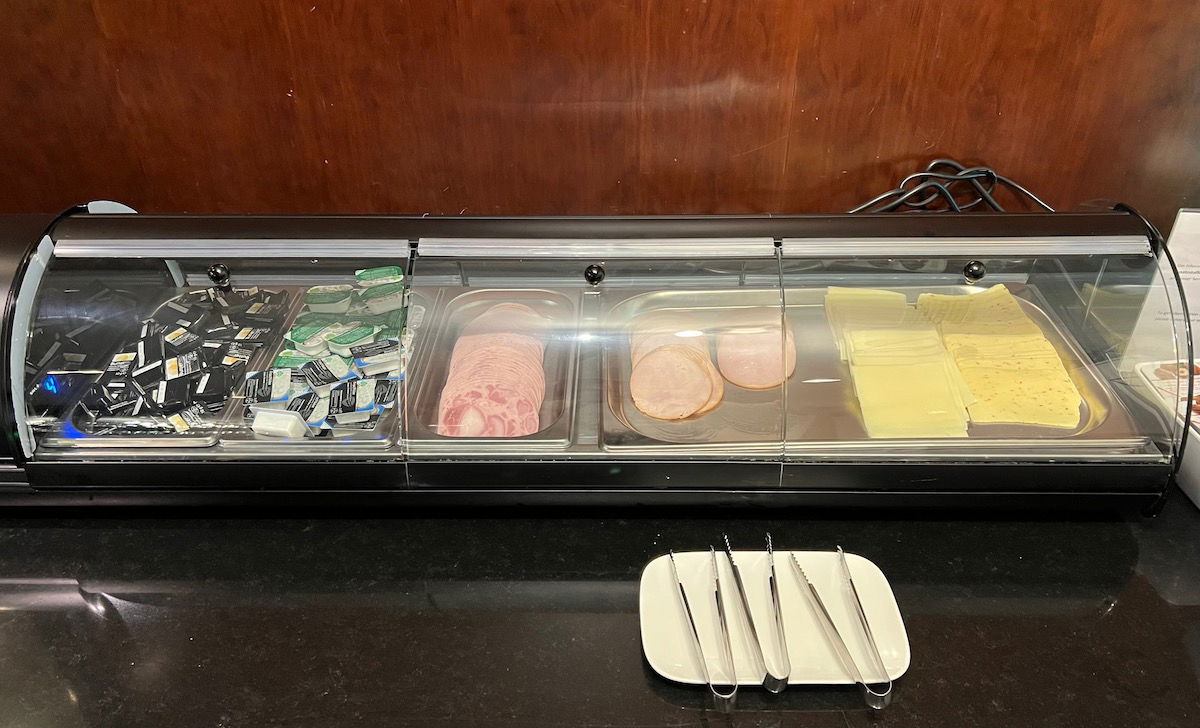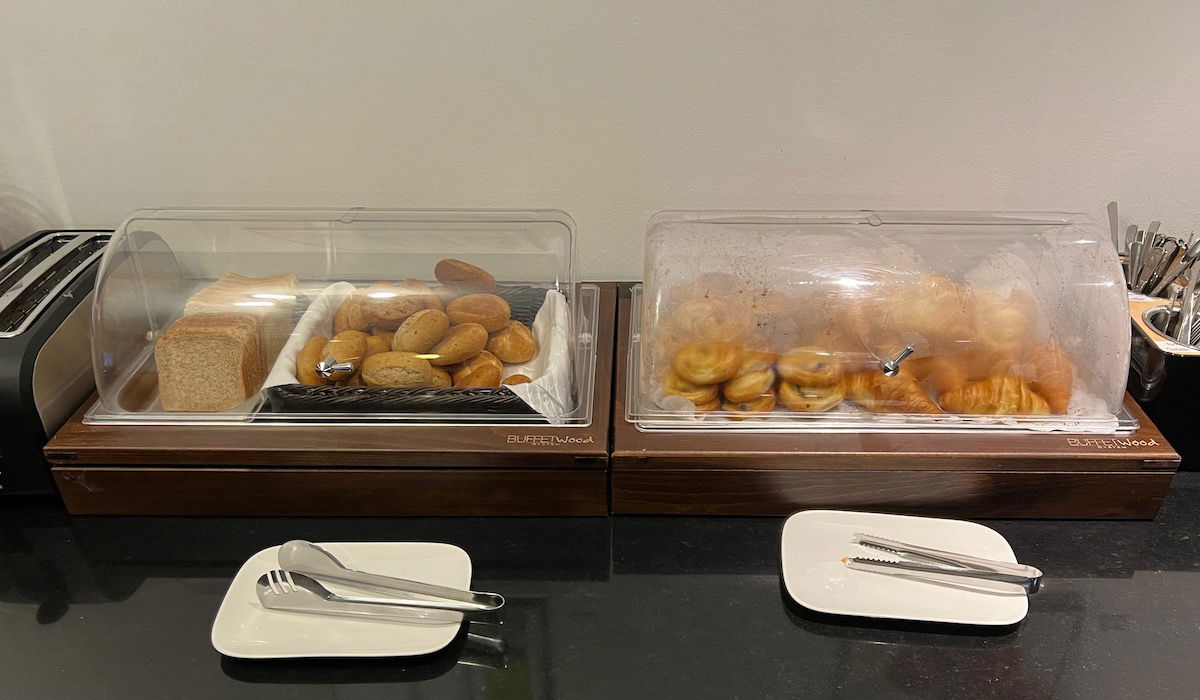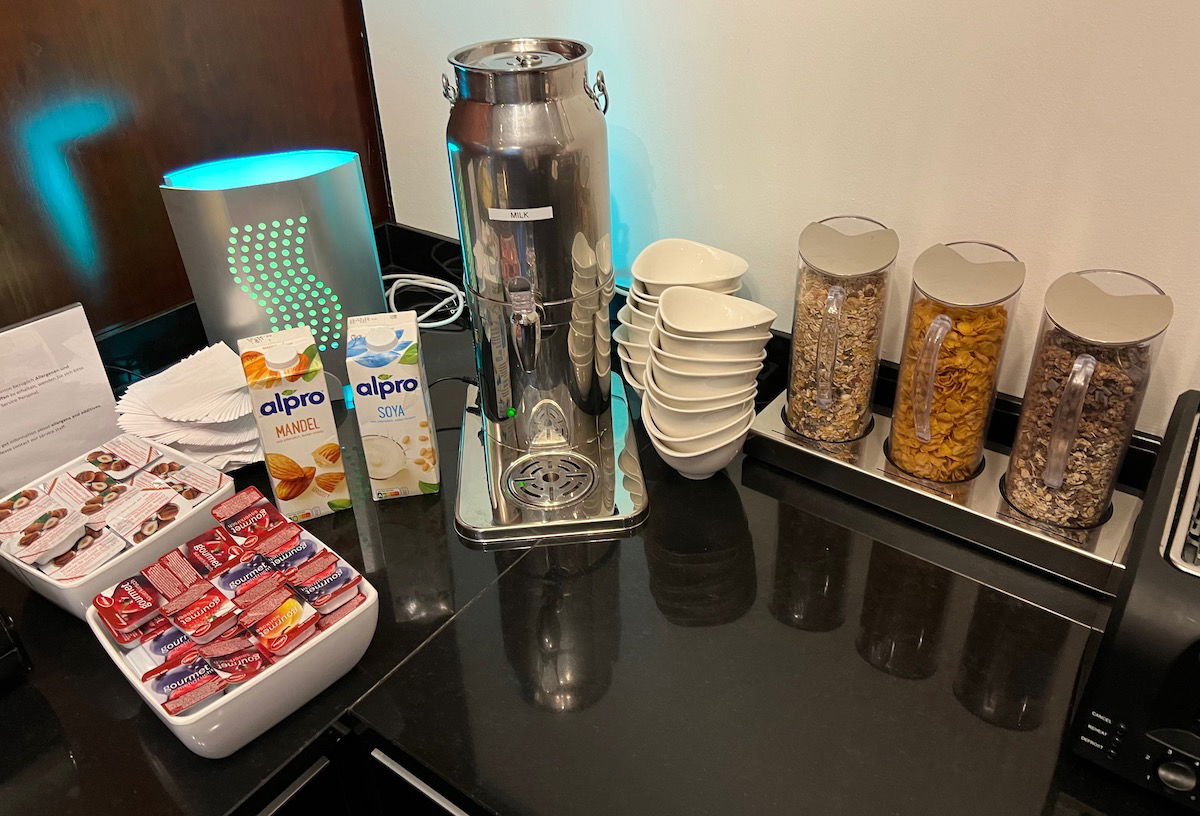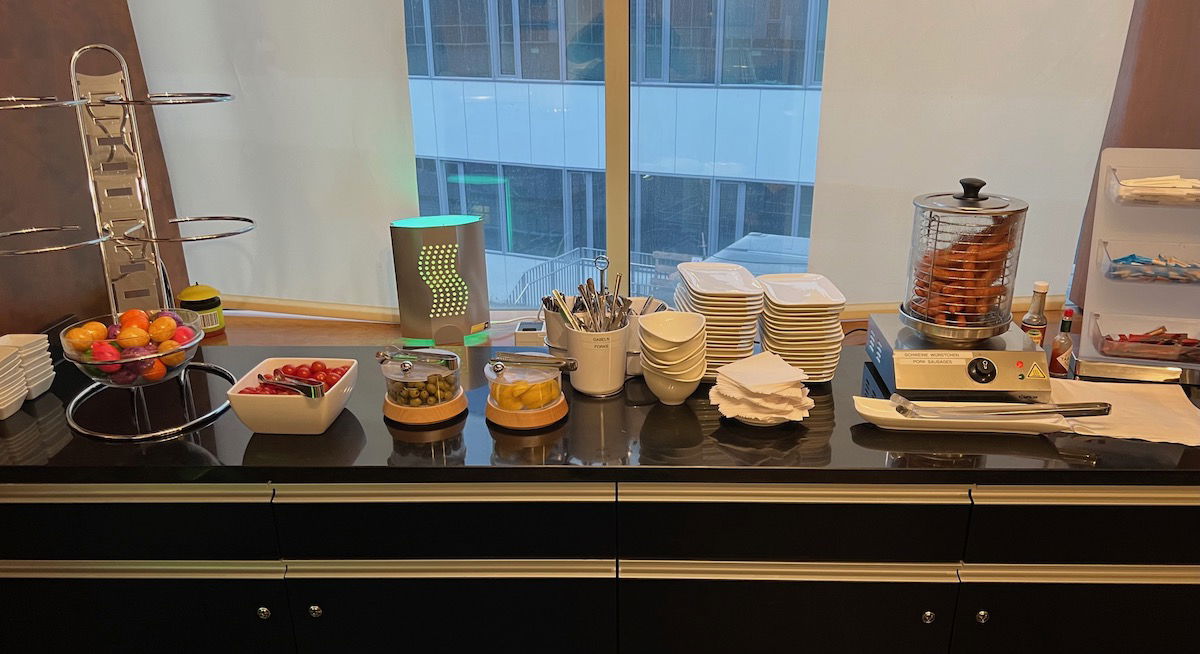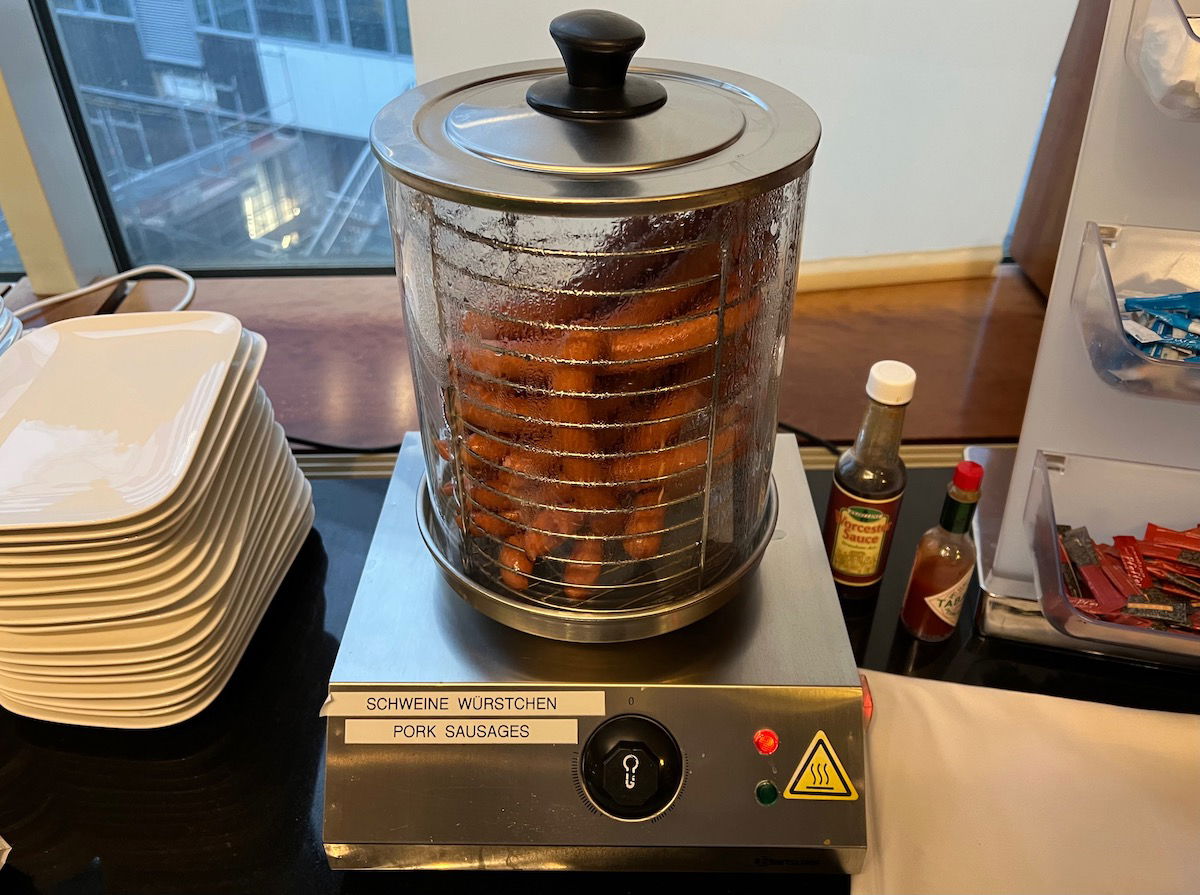 Luxx Lounge Frankfurt bathrooms & shower
In addition to bathrooms (which were fine), Luxx Lounge Frankfurt has a shower suite. However, if you're accessing the lounge through a lounge membership (like Priority Pass), there's an additional 10 Euro charge to use the shower (meanwhile if you're flying an airline that offers access to the lounge, the fee doesn't apply).
It's always a bit disappointing when a lounge charges to use a shower, but some might still find it to be worthwhile if coming off a long flight.
Bottom line
Luxx Lounge Frankfurt is probably the least impressive lounge I've visited in quite some time. The lounge's interior is outdated, the food selection is really limited, Priority Pass members have to pay for showers, and it's located landside.
I think the main reason to be aware of this lounge is that it could be a useful place to visit if you're arriving in Frankfurt, and for whatever reason don't want to leave the airport yet. Priority Pass members can use this lounge for three hours, including on arrival. I also have to imagine that this lounge never gets too crowded.
If you've visited the Luxx Lounge Frankfurt, what was your experience like?