After an amazing five nights at Les Airelles Courchevel, it was unfortunately time to leave. For our return itinerary to the United States, we flew SWISS' A220 business class from Geneva to Frankfurt, and then Singapore's A380 Suites from Frankfurt to New York.
In this post I wanted to review the SWISS Senator Lounge Geneva, which we visited ahead of our 6:45PM flight to Frankfurt.
SWISS priority check-in & security Geneva
We arrived at Geneva Airport at around 4:30PM, plenty early for our 6:45PM flight to Frankfurt (we wanted to leave a bit of a buffer, since it's a long drive from Courchevel). Geneva Airport is by no means a small airport, but it's also not one of the European mega-hubs.
The check-in hall was pretty empty as we arrived, and we quickly spotted the SWISS check-in counters (which we had to visit due to a checked bag).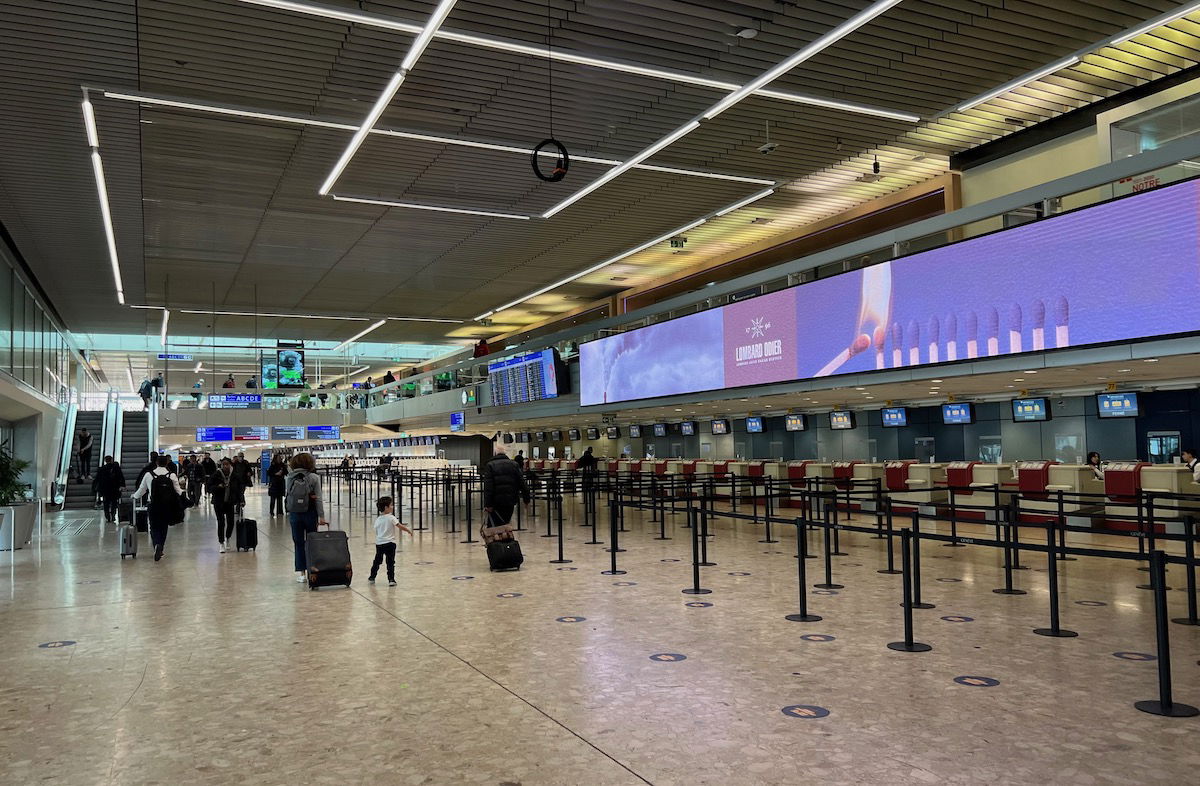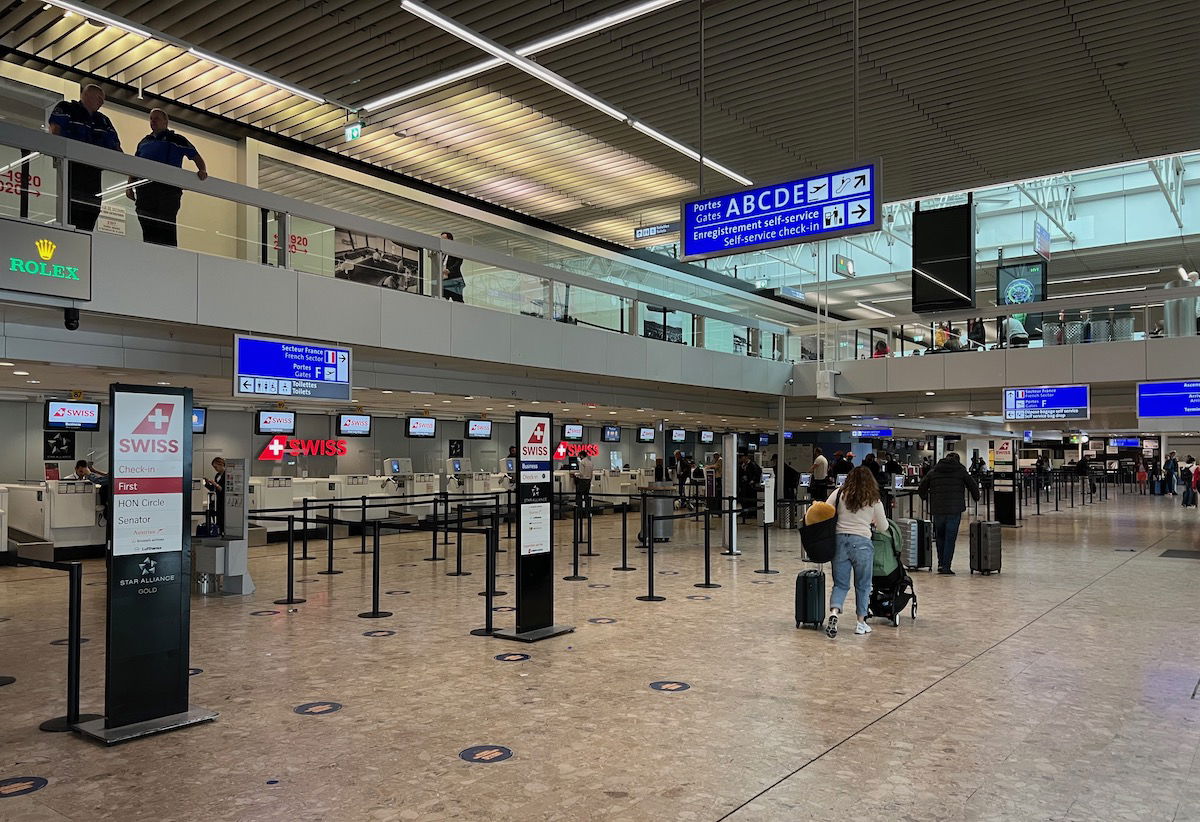 Since I have Star Alliance Gold status, we could check-in at the first class desk. It's not like there was a line at the business class counter either, but I've always found it interesting how Lufthansa Group puts Star Alliance Gold members with first class customers for check-in and boarding.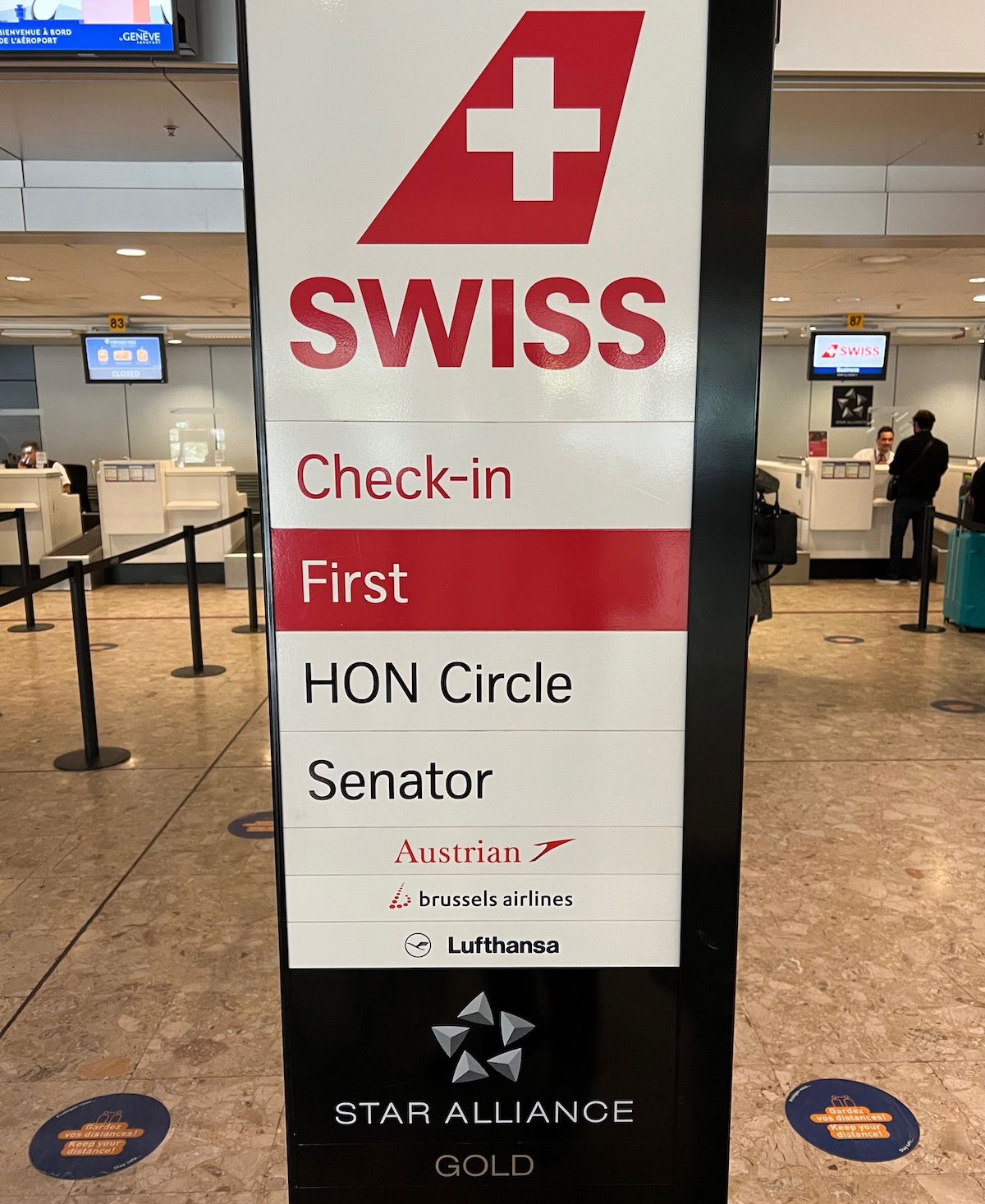 With boarding passes in hand we headed toward security. There was a dedicated security checkpoint for premium passengers, and there was virtually no line there.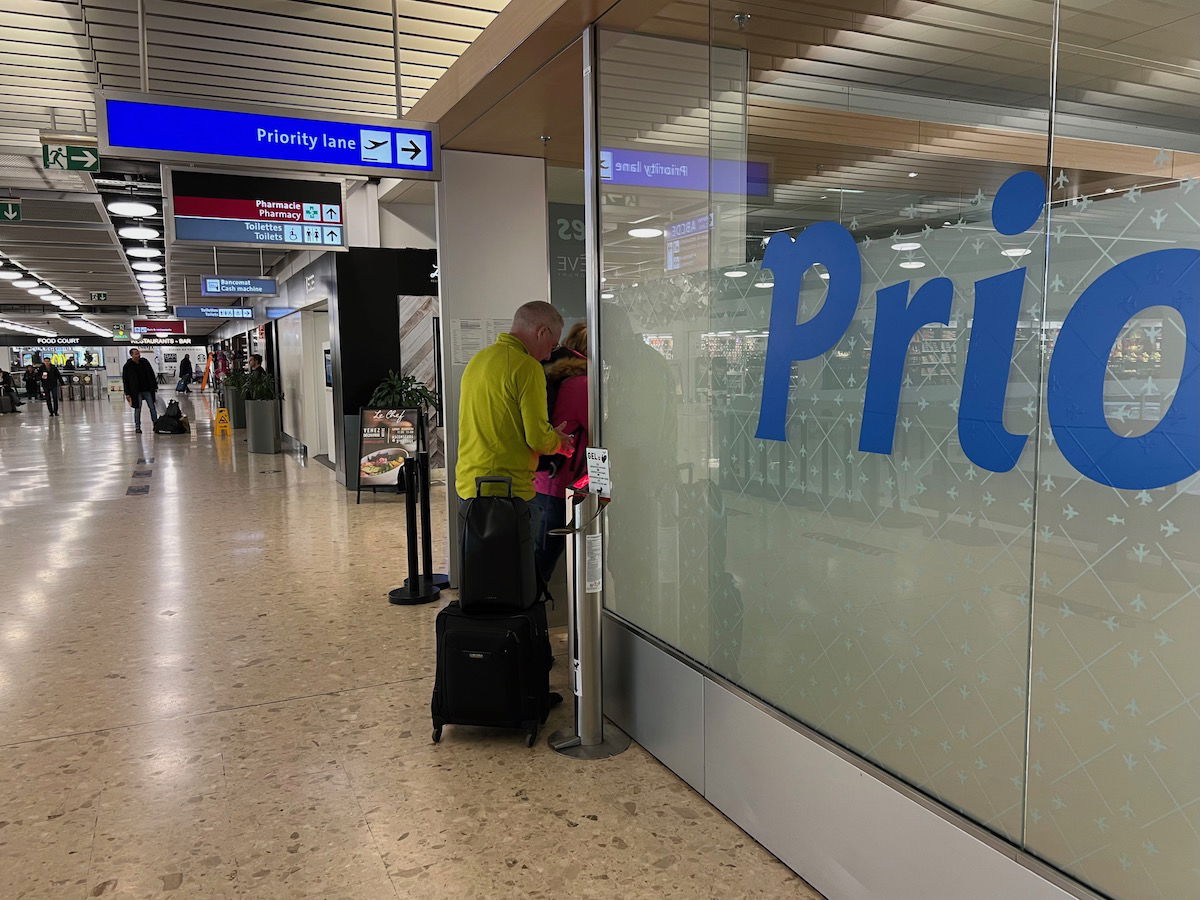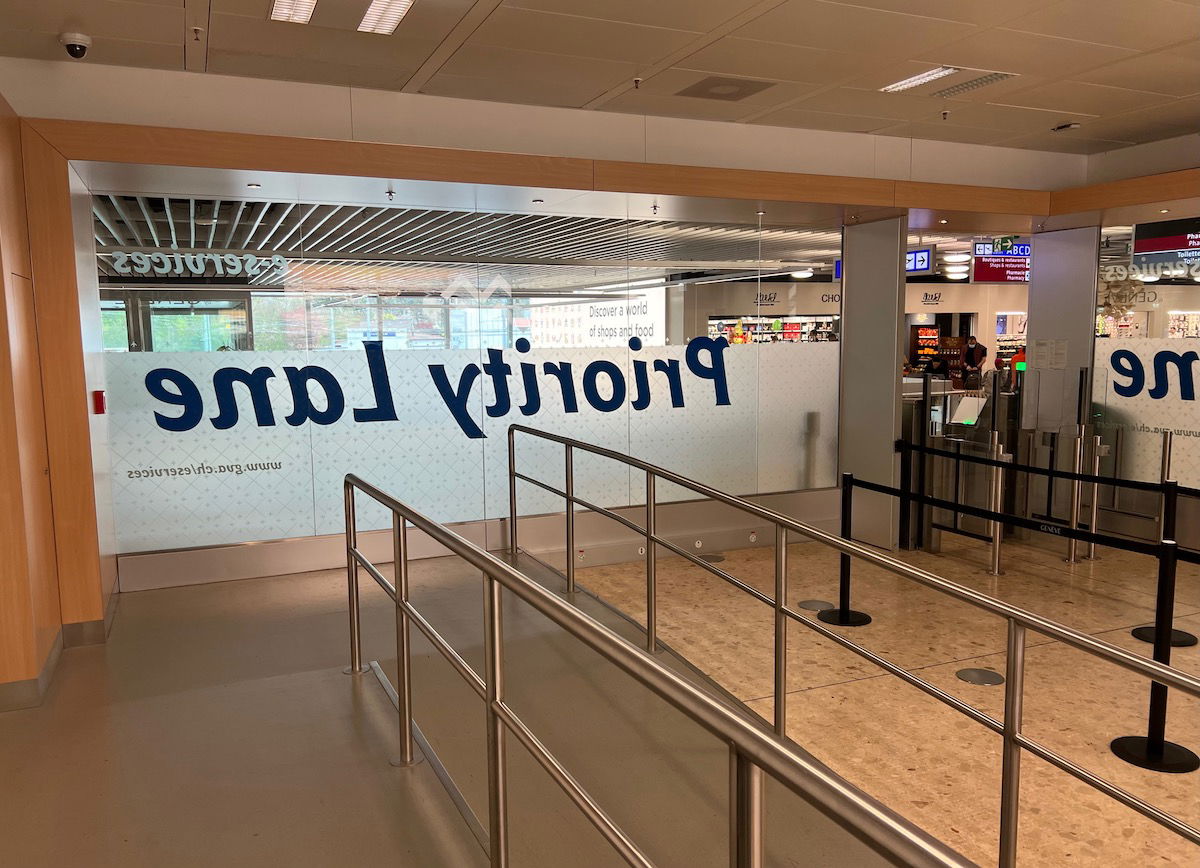 From there we headed for the SWISS Senator Lounge, where we had about an hour to kill.
SWISS Senator Lounge Geneva location & hours
Once you get airside at Geneva Airport, you just need to go up a level to find the Senator Lounge, as it's on the "M" level. You can turn either left or right, and then take stairs or escalators up.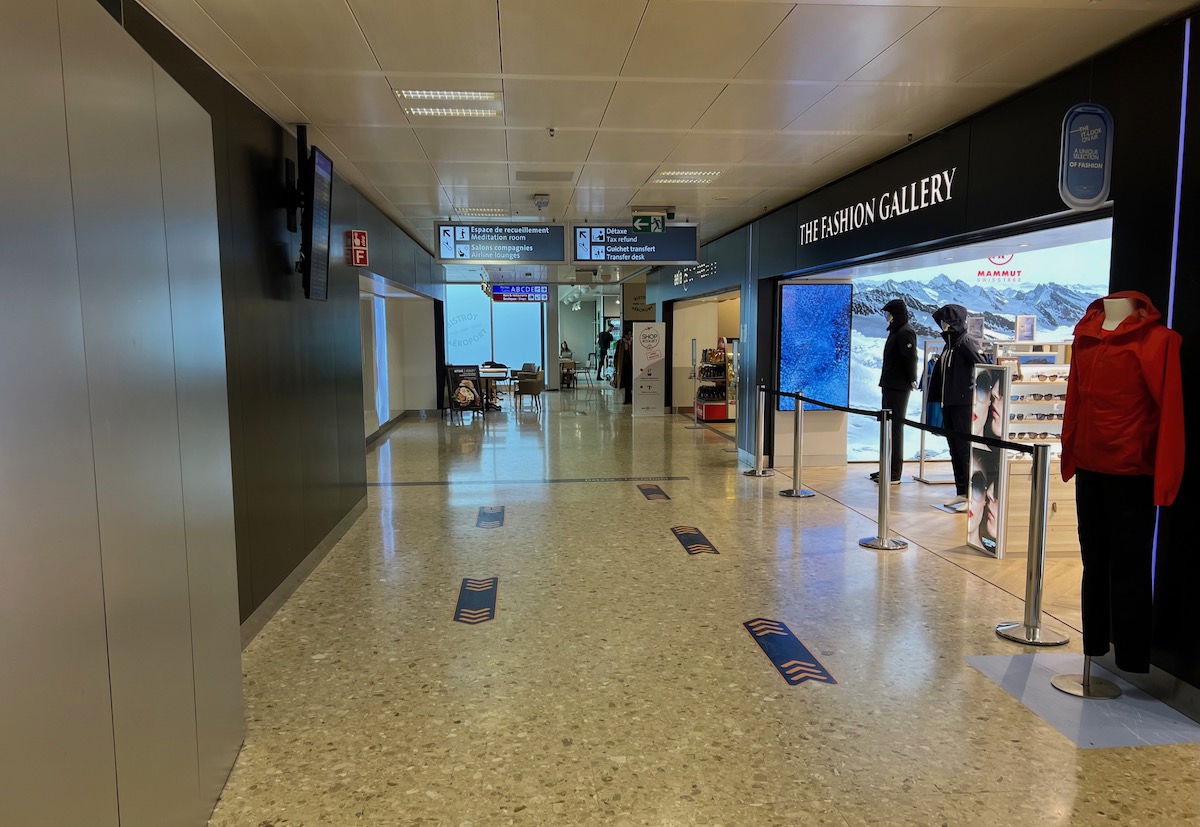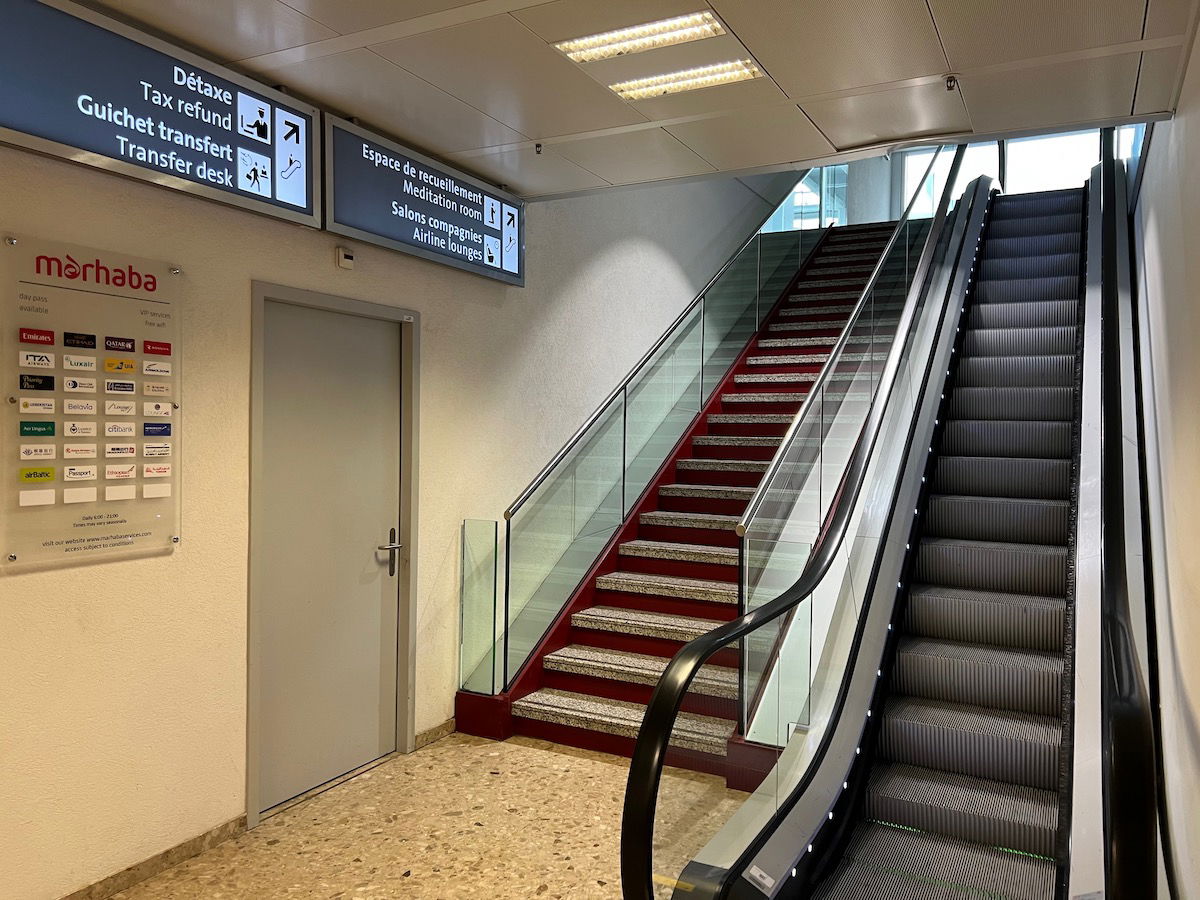 The second level has several lounges, a meditation room, the tax refund area, and plenty of public seating.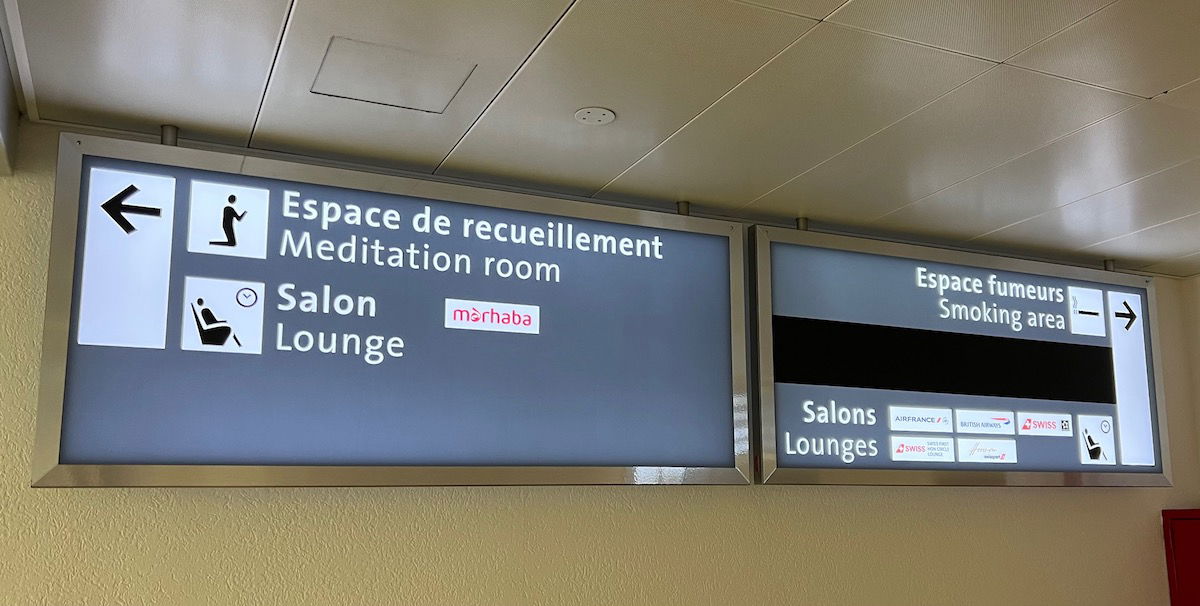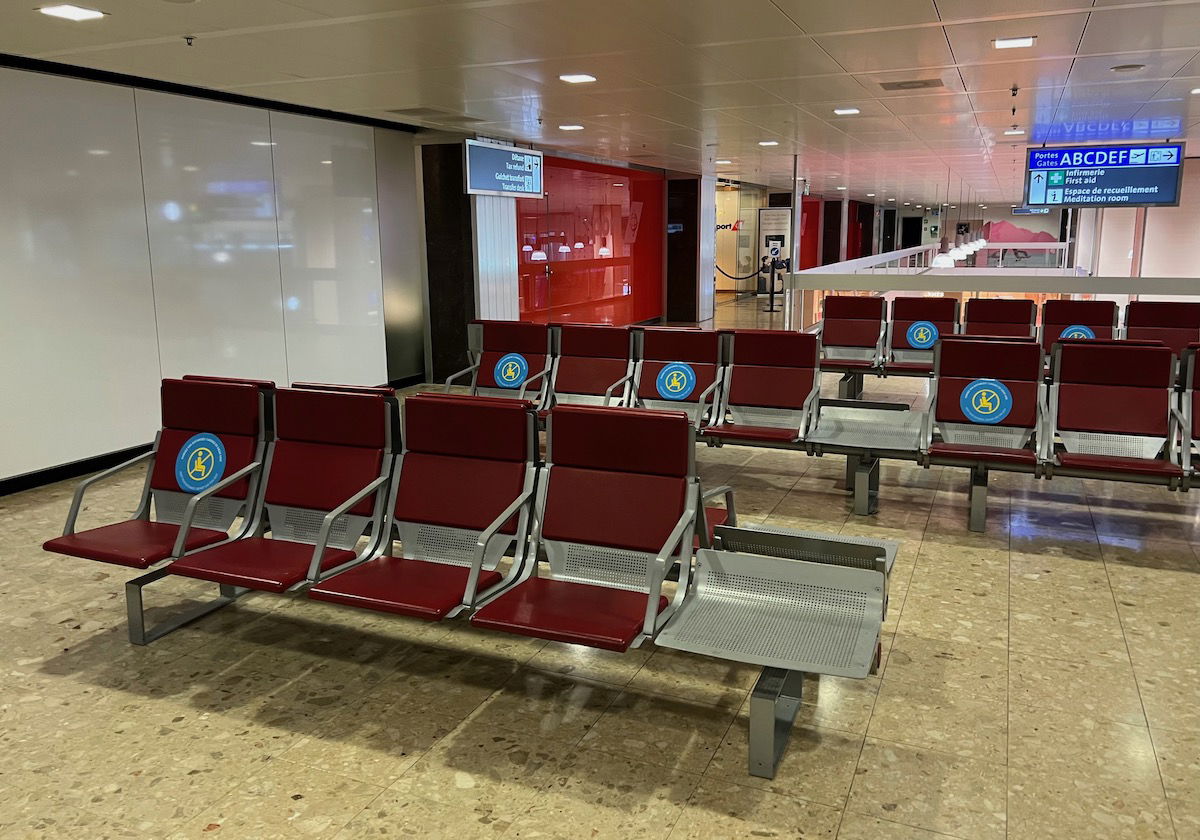 The SWISS Lounge is currently open daily from 6AM until 8:30PM.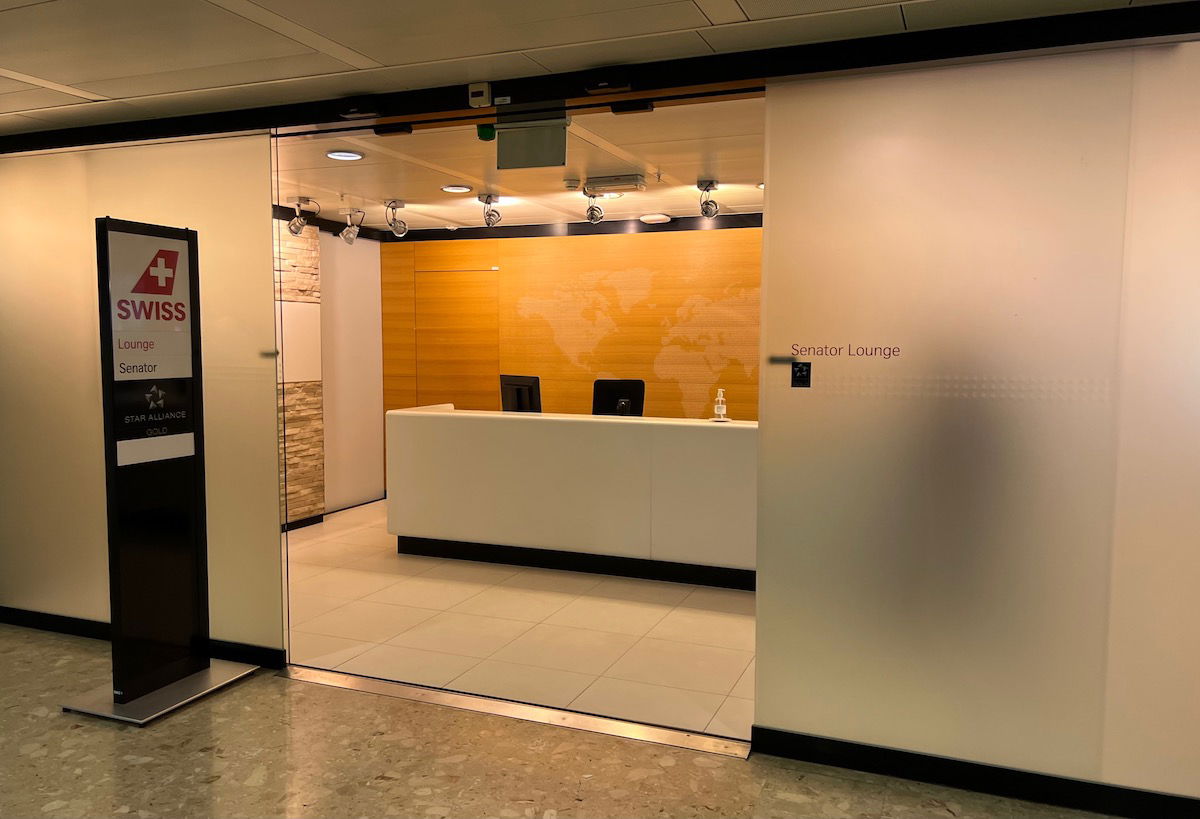 SWISS Senator Lounge Geneva entry requirements
For those not familiar, Lufthansa and SWISS (which both belong to Lufthansa Group) make an interesting distinction for lounge access between elite members and business class passengers:
SWISS Business Lounges are the carrier's business class lounges, which are open to all Star Alliance business class passengers
SWISS Senator Lounges are more premium, and are open to Star Alliance Gold members plus Star Alliance first class passengers
SWISS First Class Lounges are the carrier's best lounges, though they're reserved for HON Circle members and SWISS and Lufthansa first class passengers
In this case we were using the Senator Lounge on account of my Star Alliance Gold status, which I earned through a recent Singapore KrisFlyer promotion. So in theory Senator Lounges are supposed to be a bit better than Business Lounges.
SWISS Senator Lounge Geneva seating & layout
The SWISS Senator Lounge Geneva is quite small. It's 226 square meters (~2,400 square feet), and has seating for 62 people. Fortunately when we visited it wasn't too crowded, though I could see this place being packed when business travel fully rebounds.
Inside the entrance to the lounge was a "U" shaped seating area, with leather couches.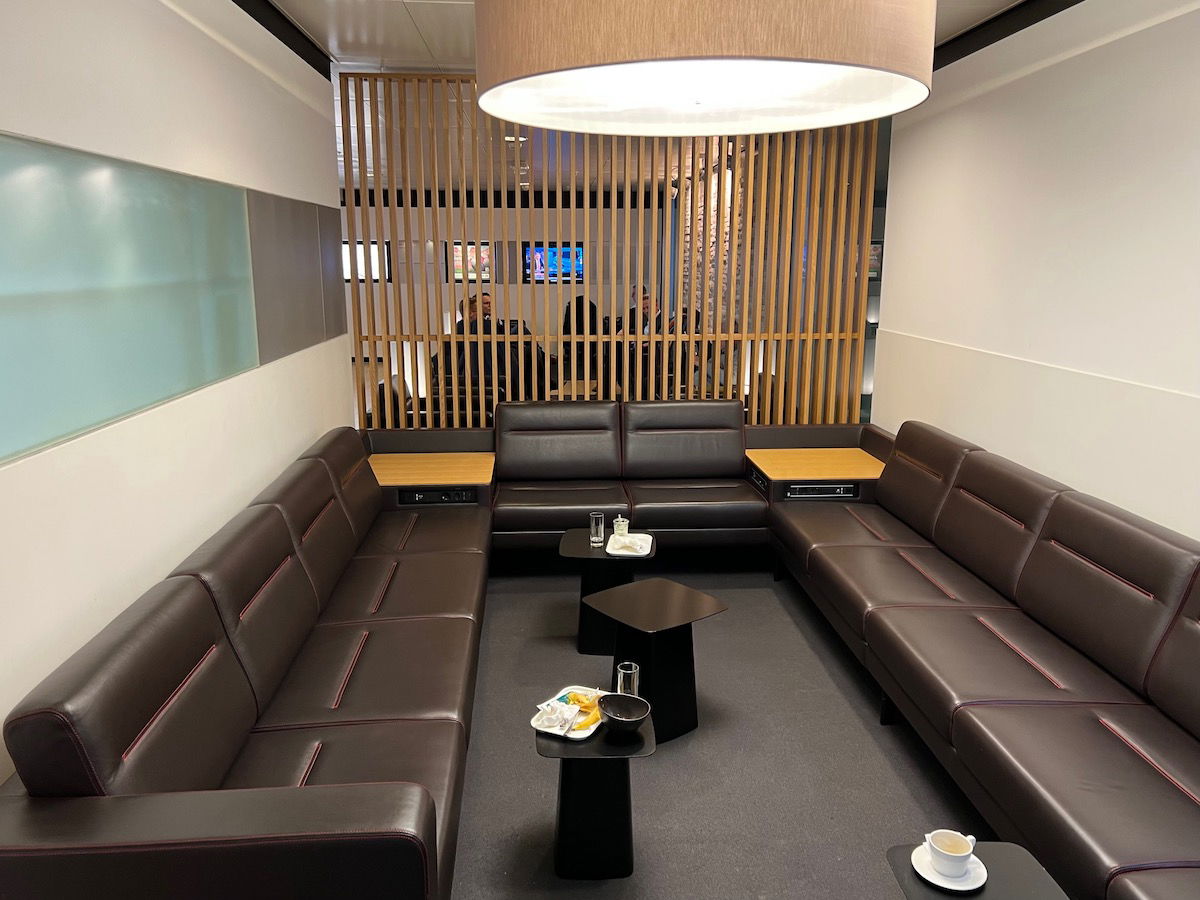 Past that was a long leather bench with some side tables. There was also a sitting area with about a dozen chairs facing one another, though I couldn't get a good picture of that, as there were people seated there for the duration of our visit.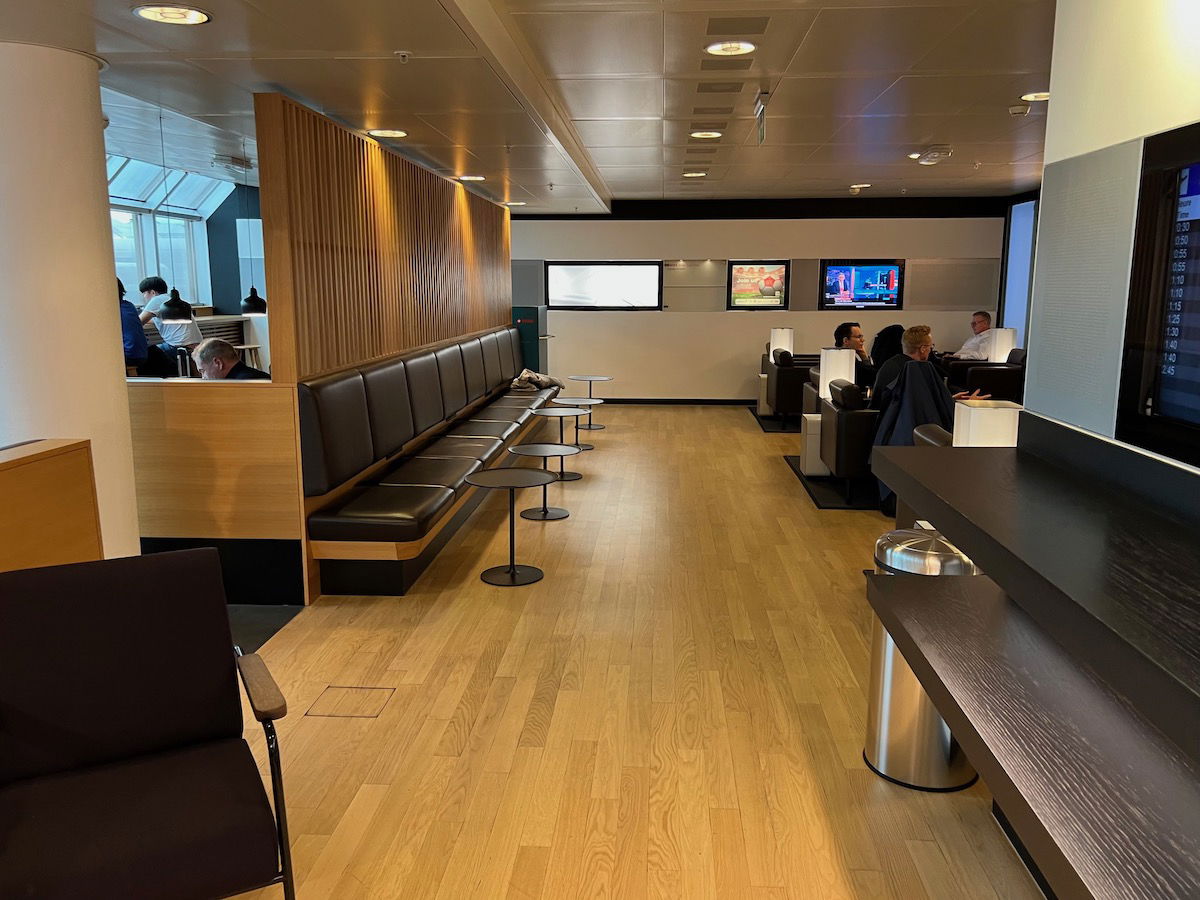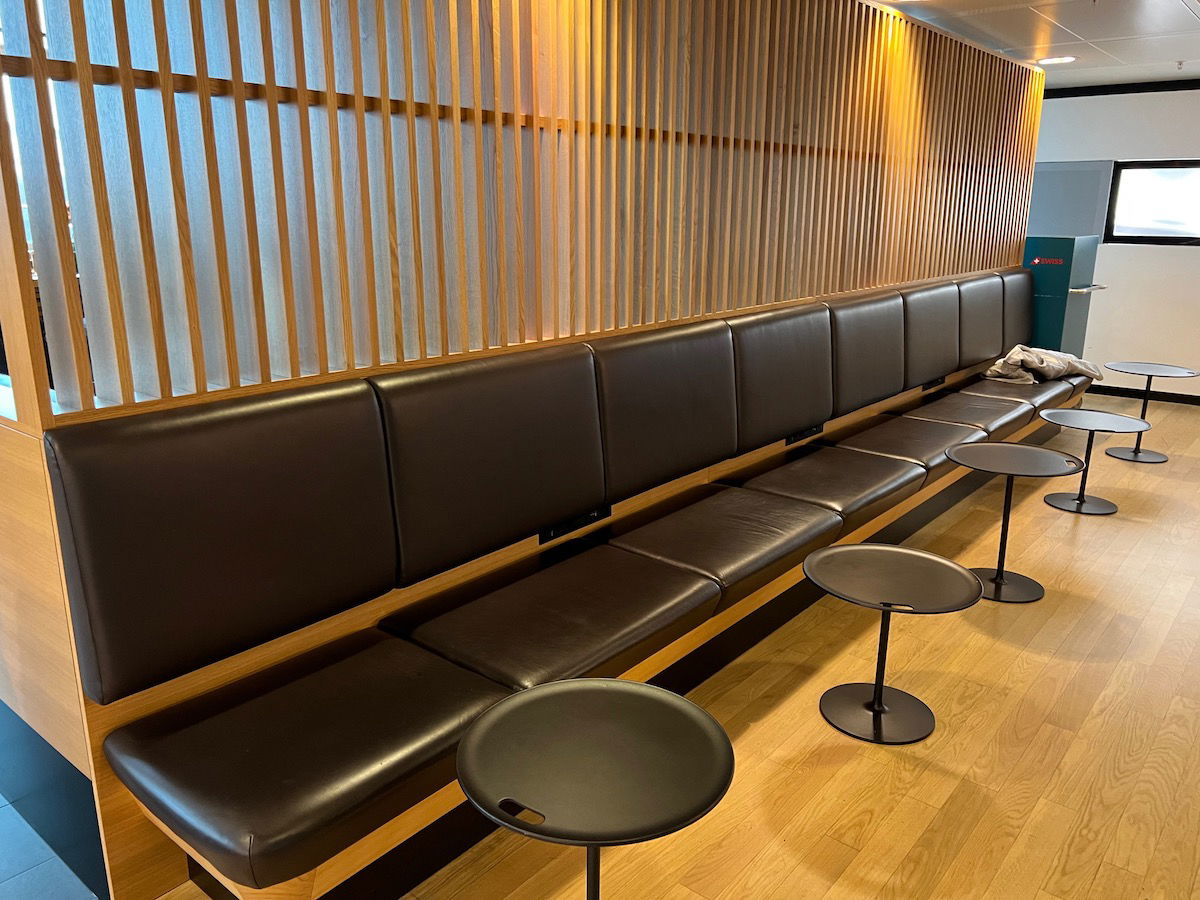 The other part of the lounge consisted of dining tables and high-top seating.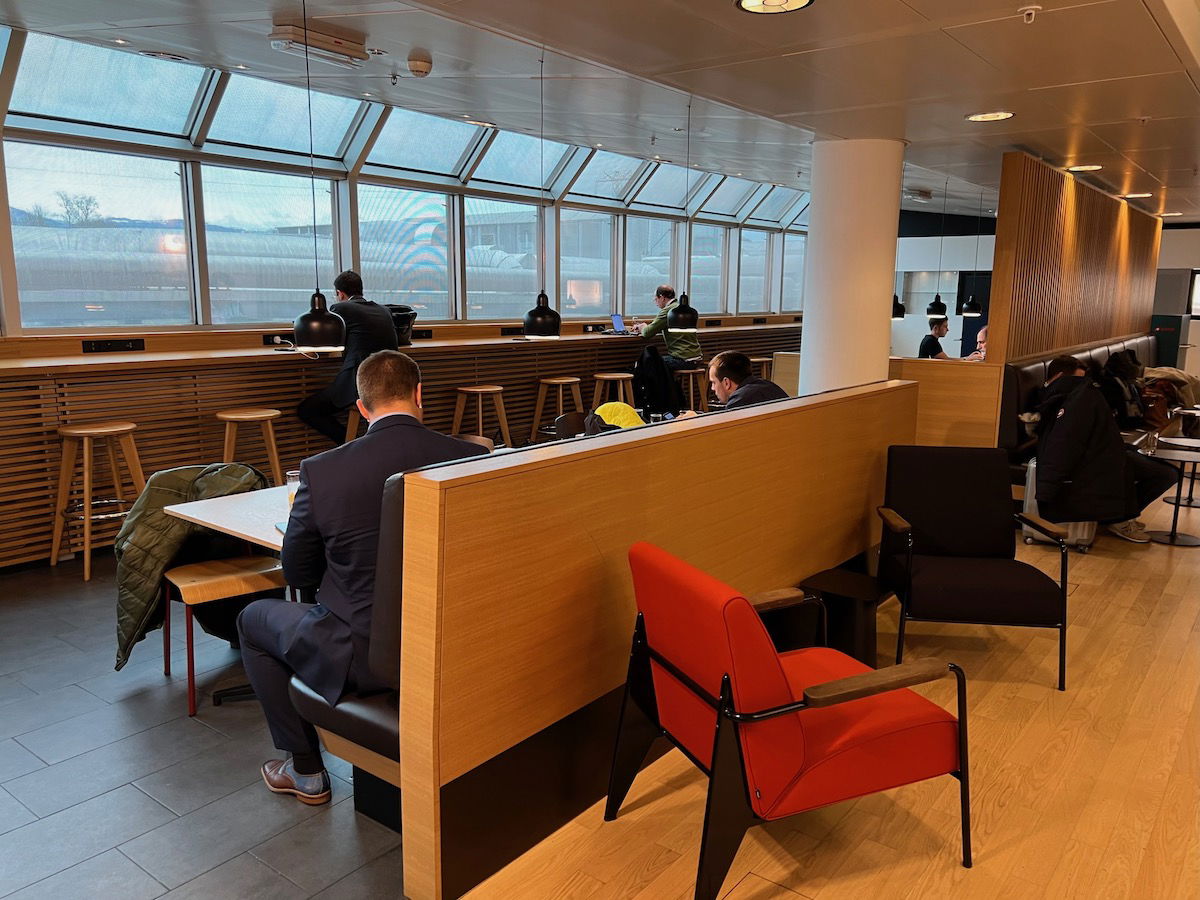 There were (not particularly comfortable) stools along the windows. Unfortunately the lounge doesn't have much in the way of views, as it just looks out over the roof of the terminal.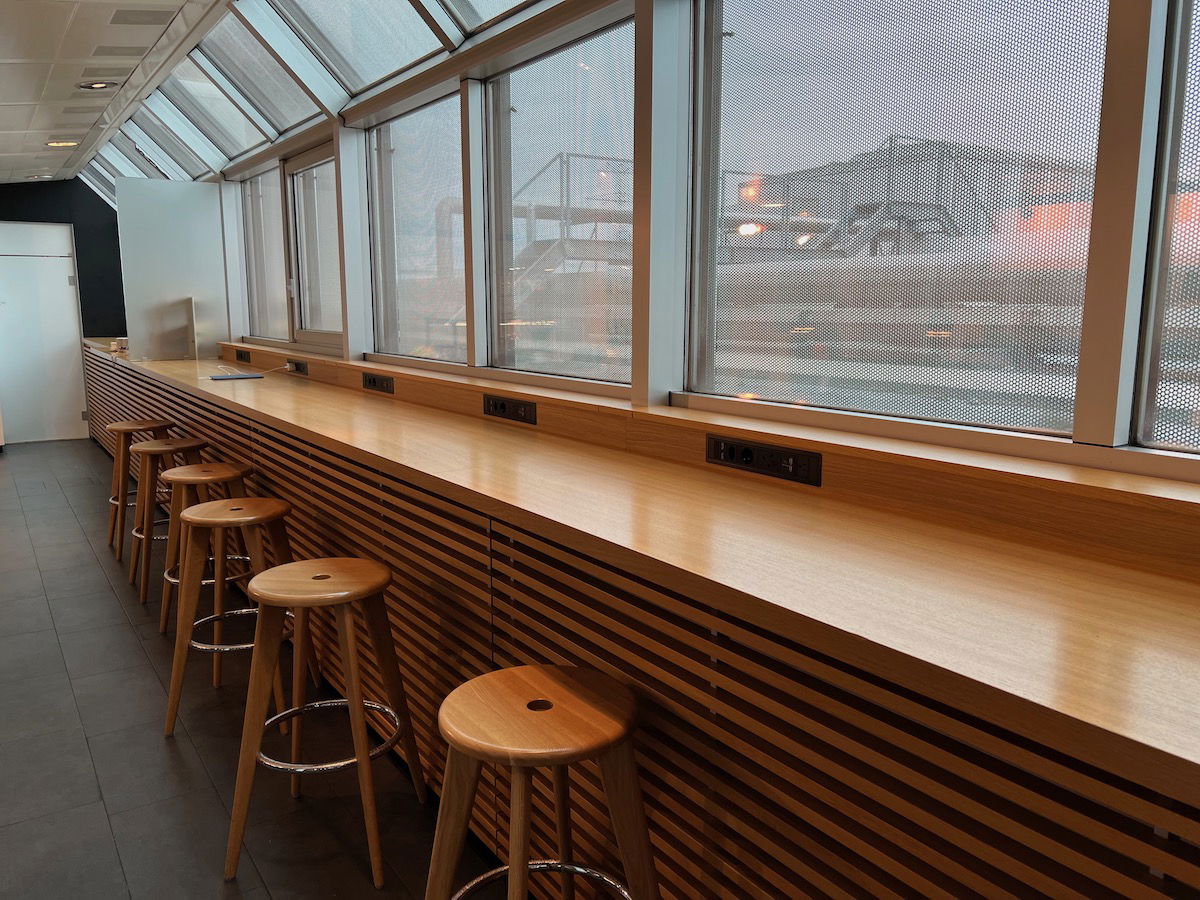 Then there were around a dozen dining tables, each of which could seat a couple of people.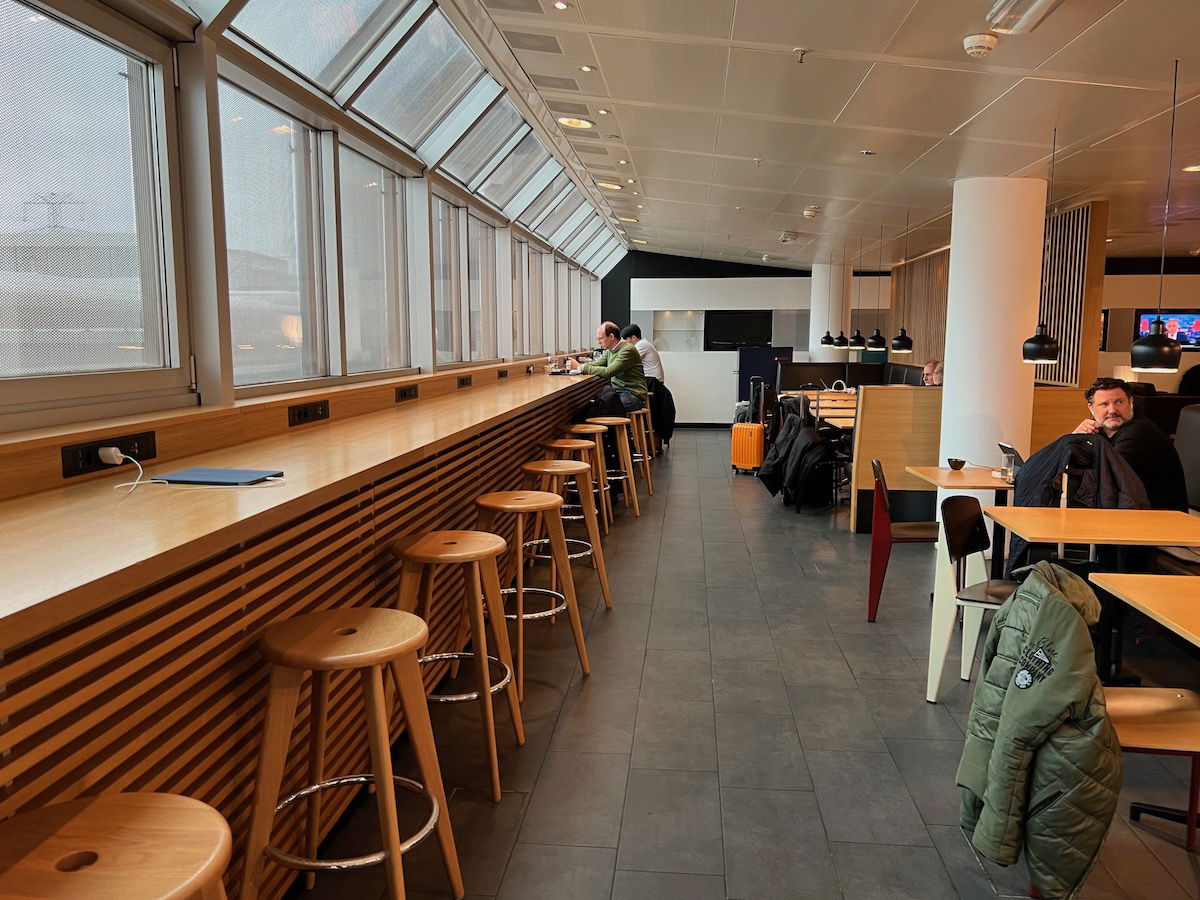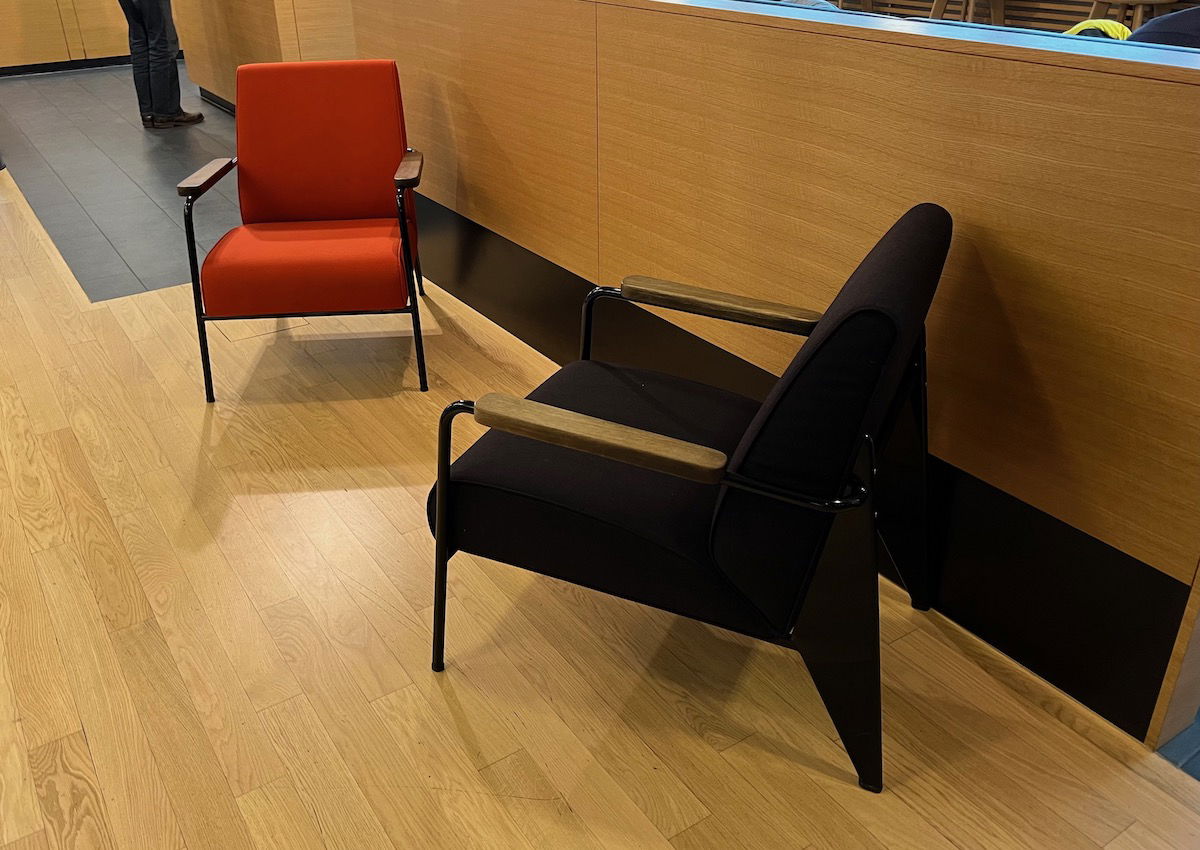 I noticed that the lounge didn't have any workstations, which is unusual, since that's a pretty standard lounge feature. But I guess with how small the lounge is, that simply wasn't a priority.
SWISS Senator Lounge Geneva food & drinks
The buffet was back near the entrance to the lounge, and was reasonably good.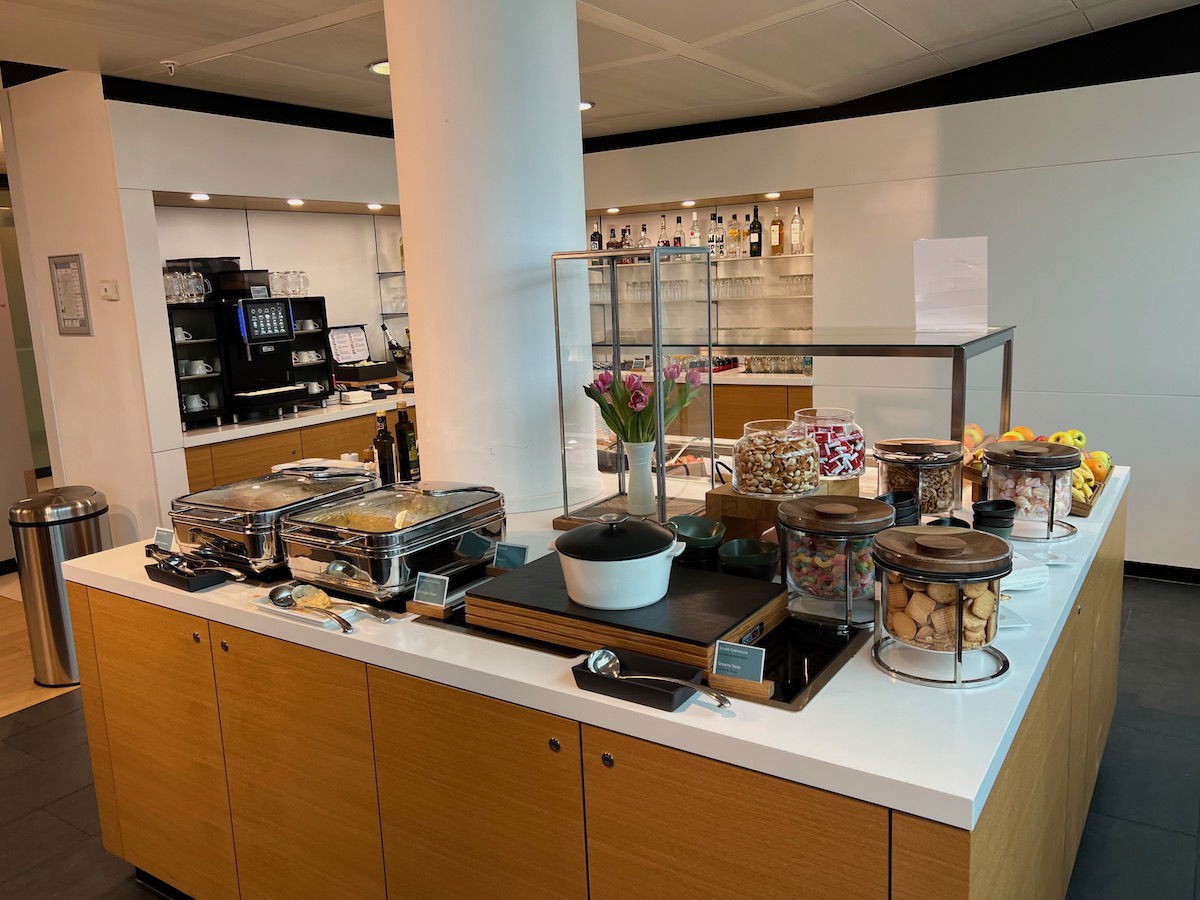 It had croissants, rolls, bread, fresh fruit, several types of salad, pumpkin soup, and a few further hot dishes.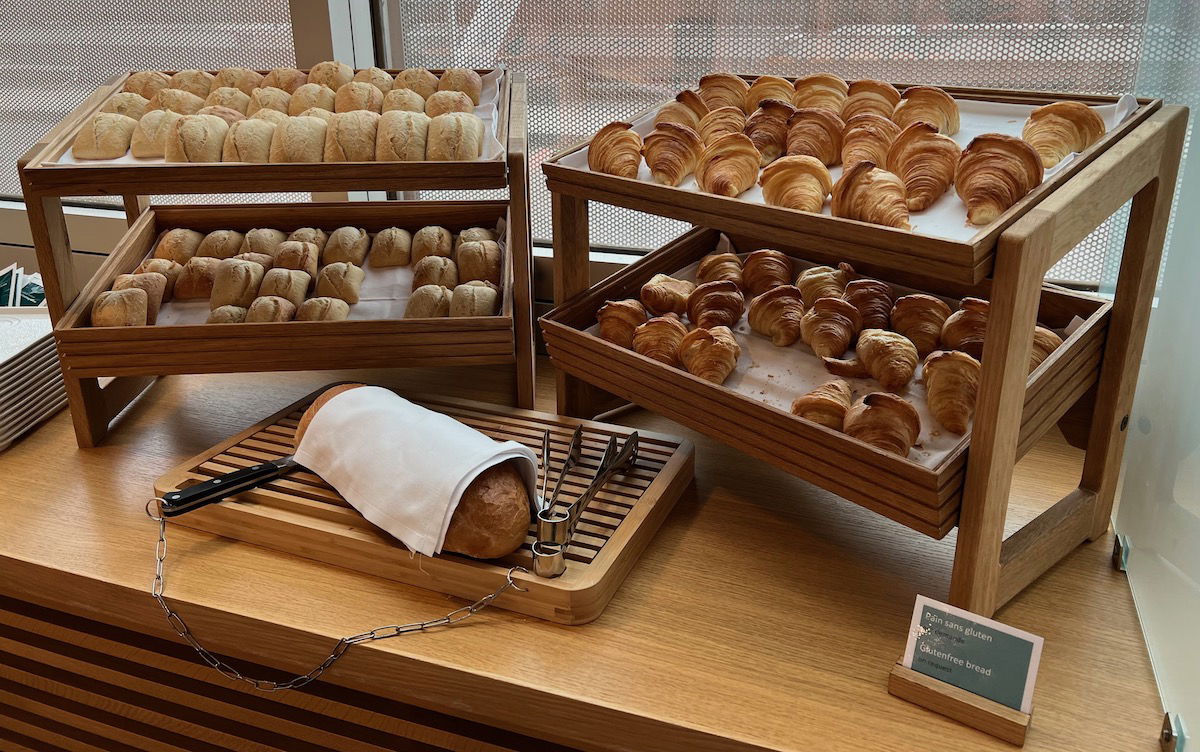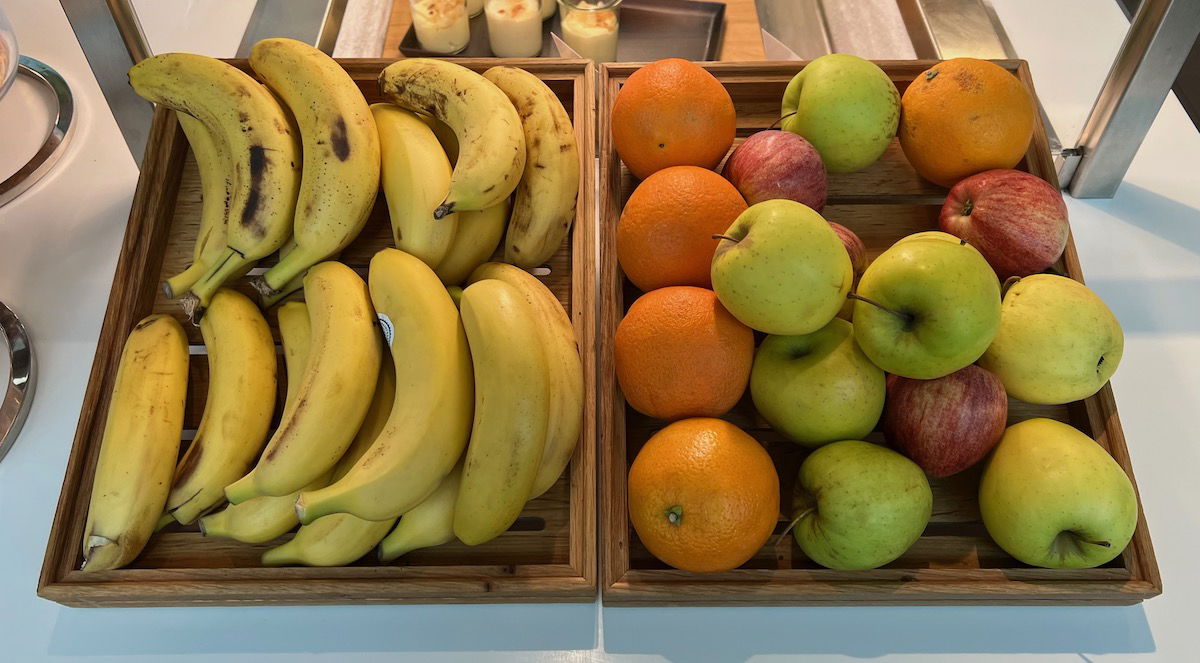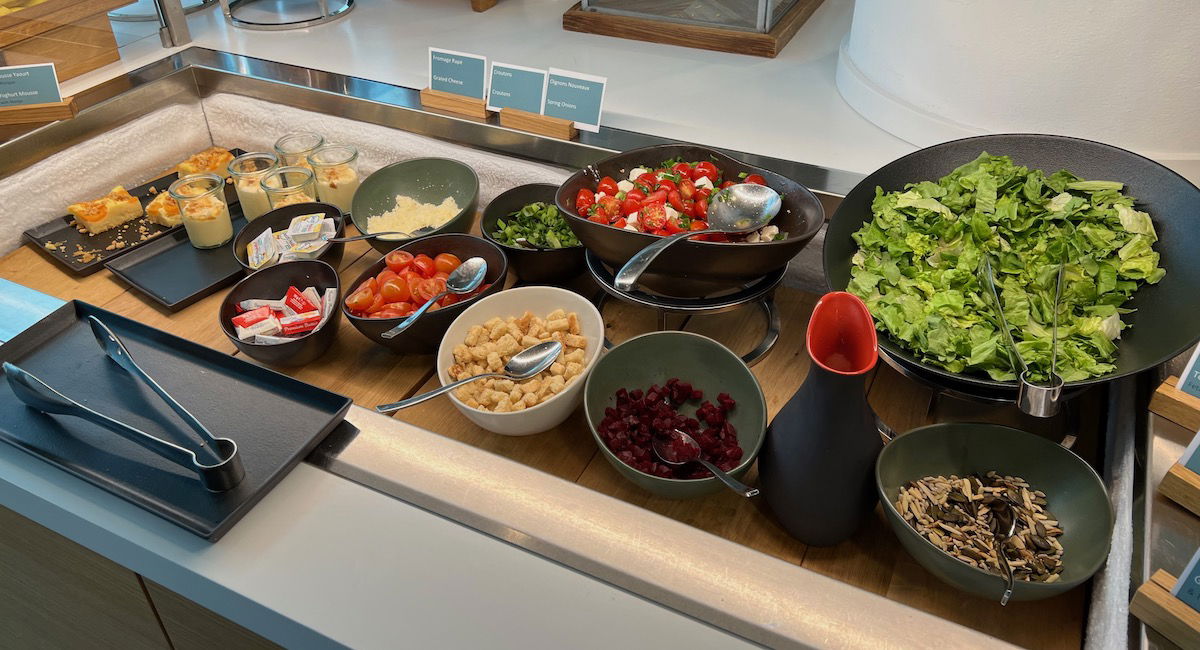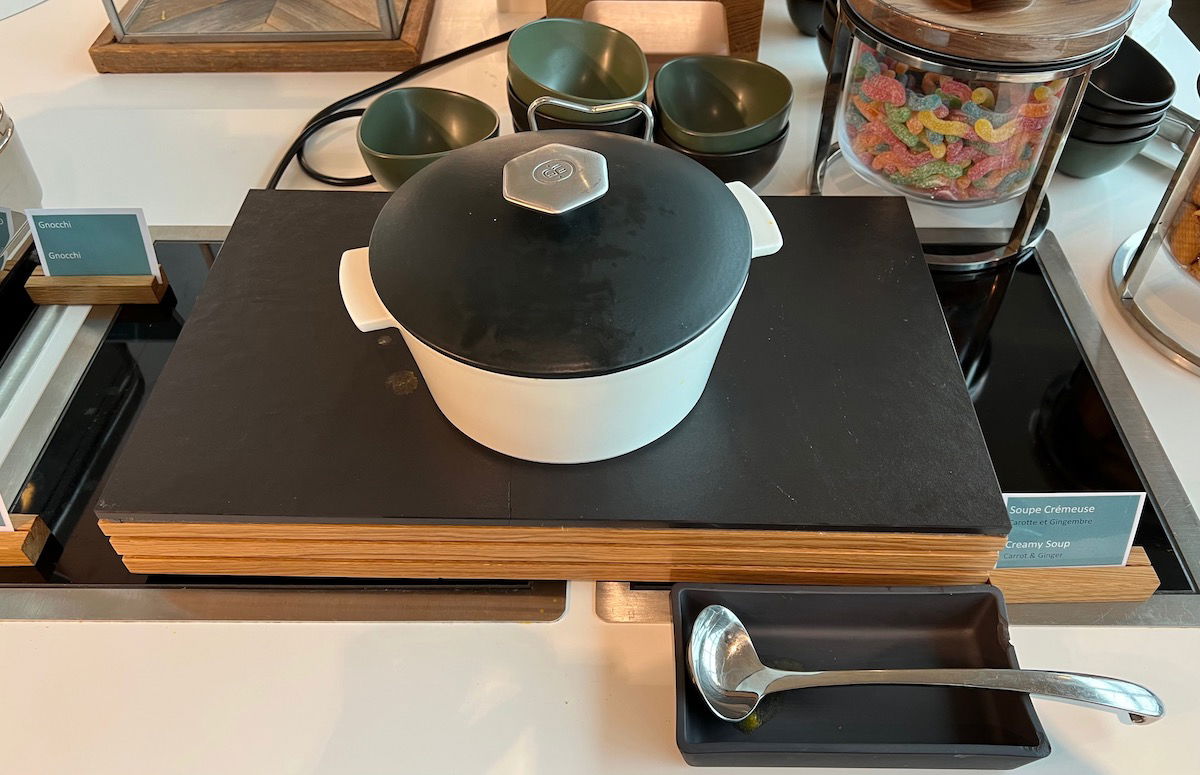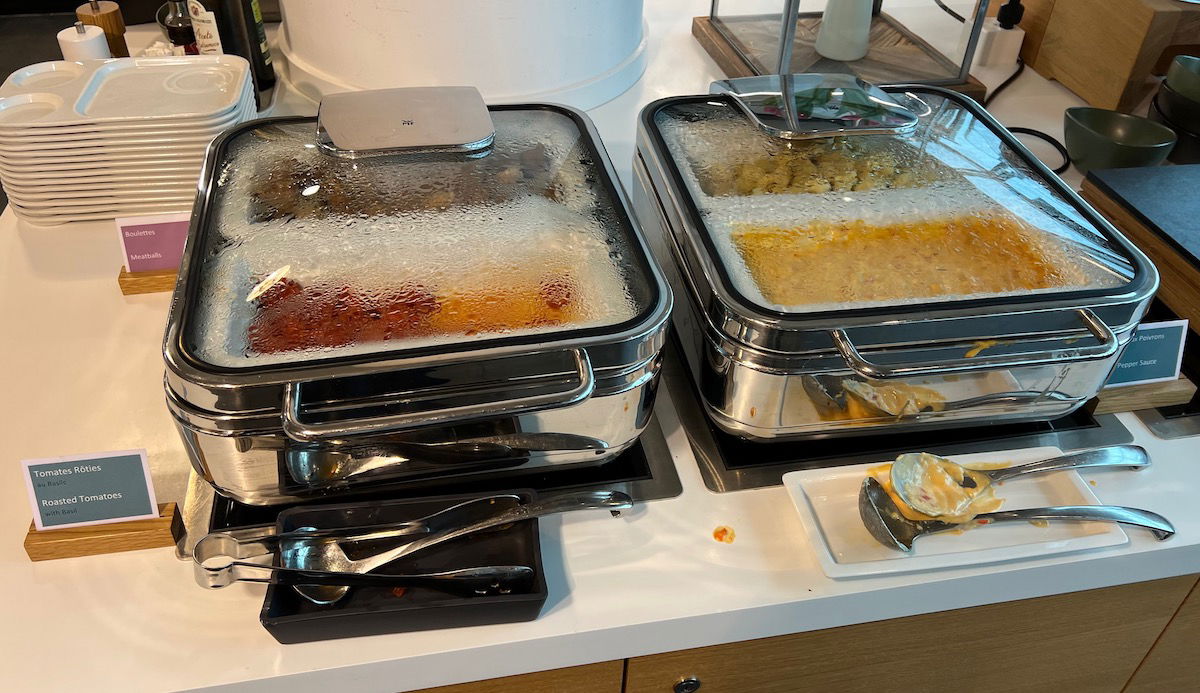 There was also a small selection of fresh desserts, plus some snacks and sweets in containers that you could help yourself to.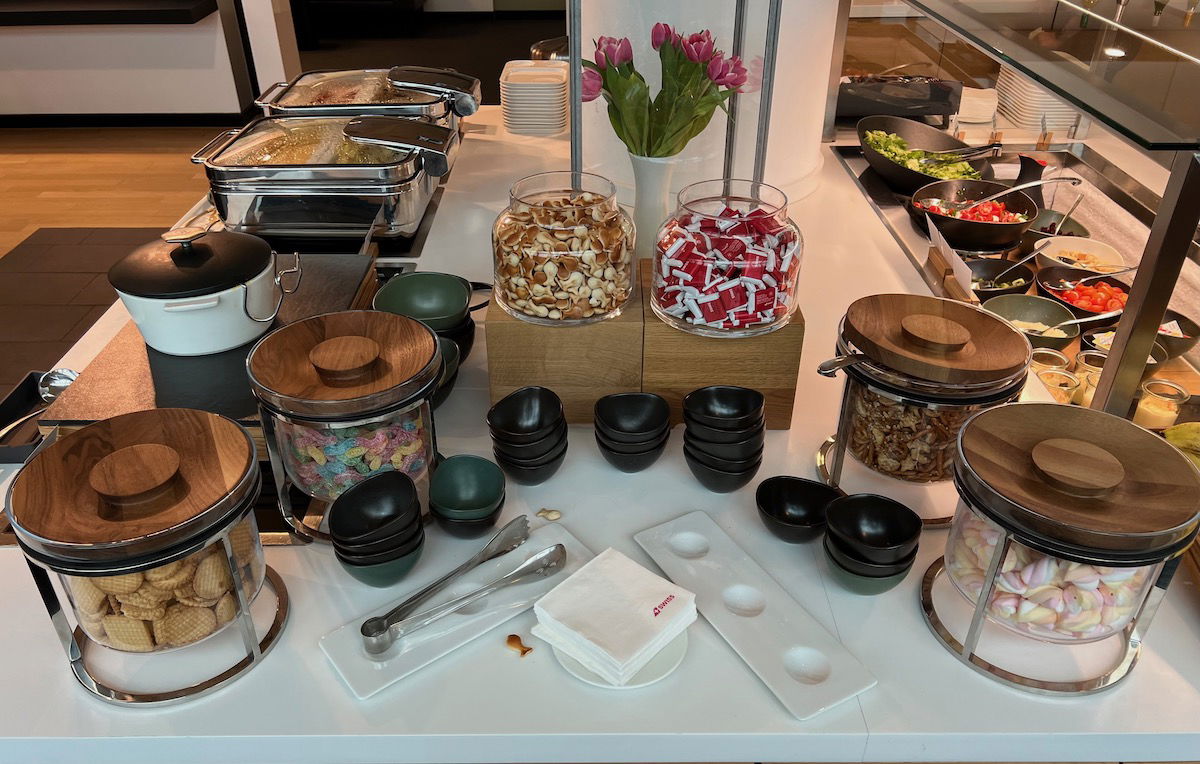 In terms of drinks, the lounge had a coffee machine, tea, soft drinks, water, beer, wine, and liquor. The alcohol selection didn't appear to me to be particularly high end (I've seen better in Lufthansa Senator Lounges).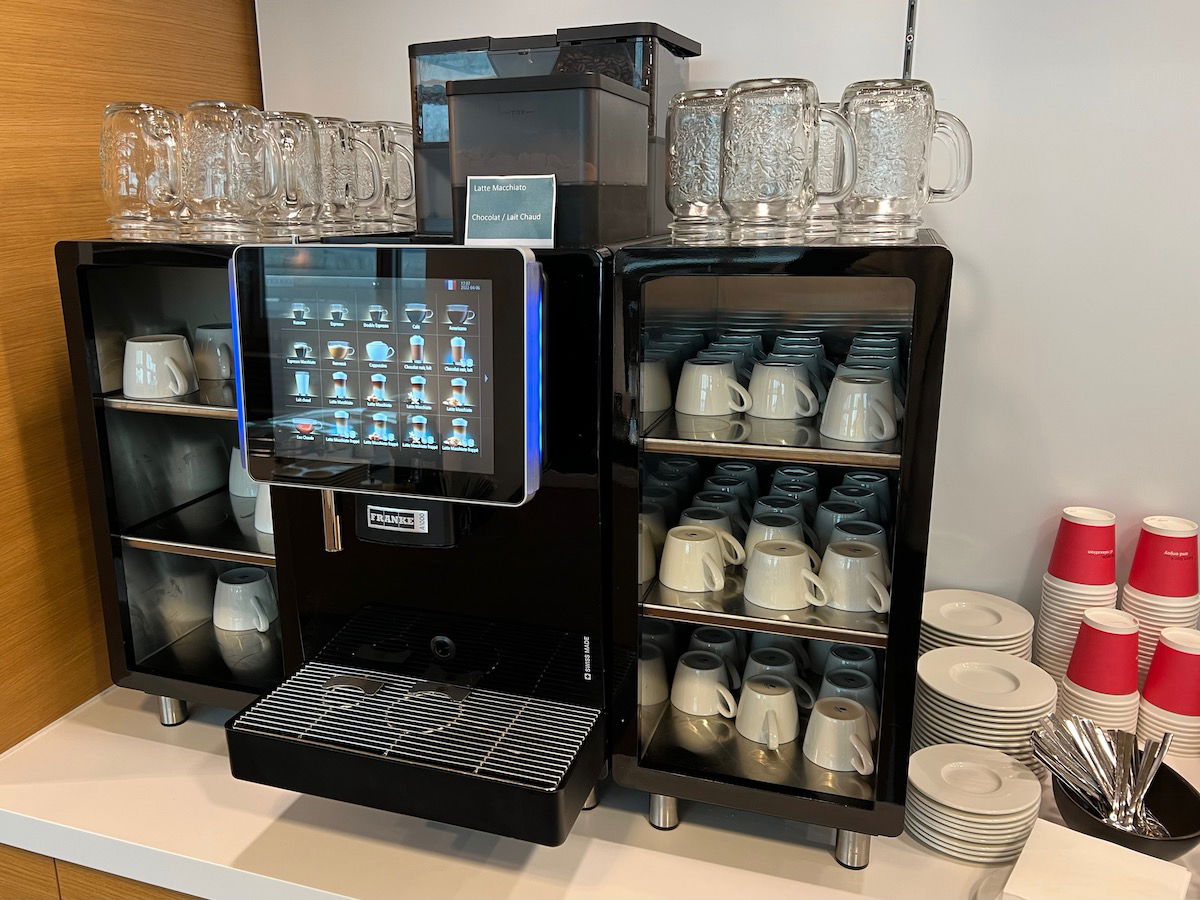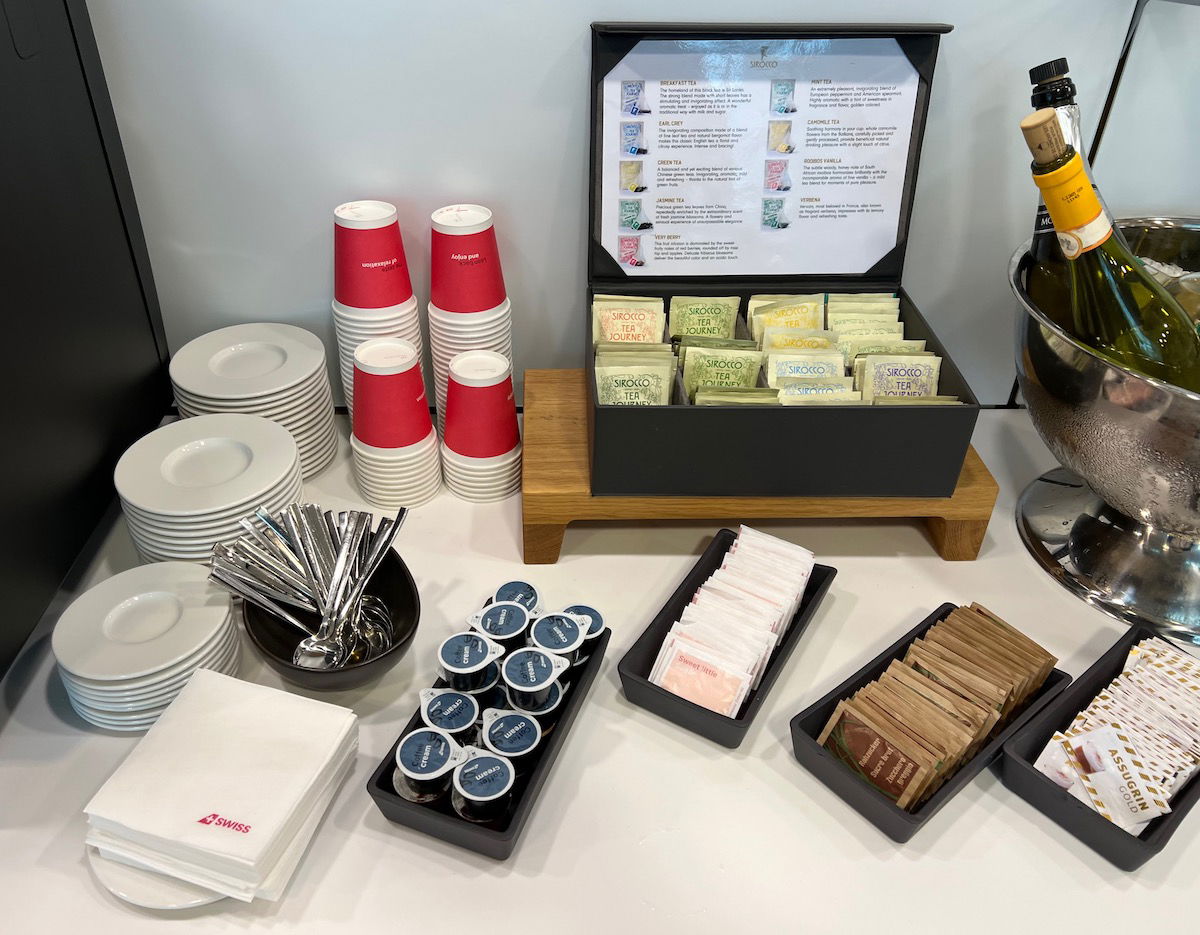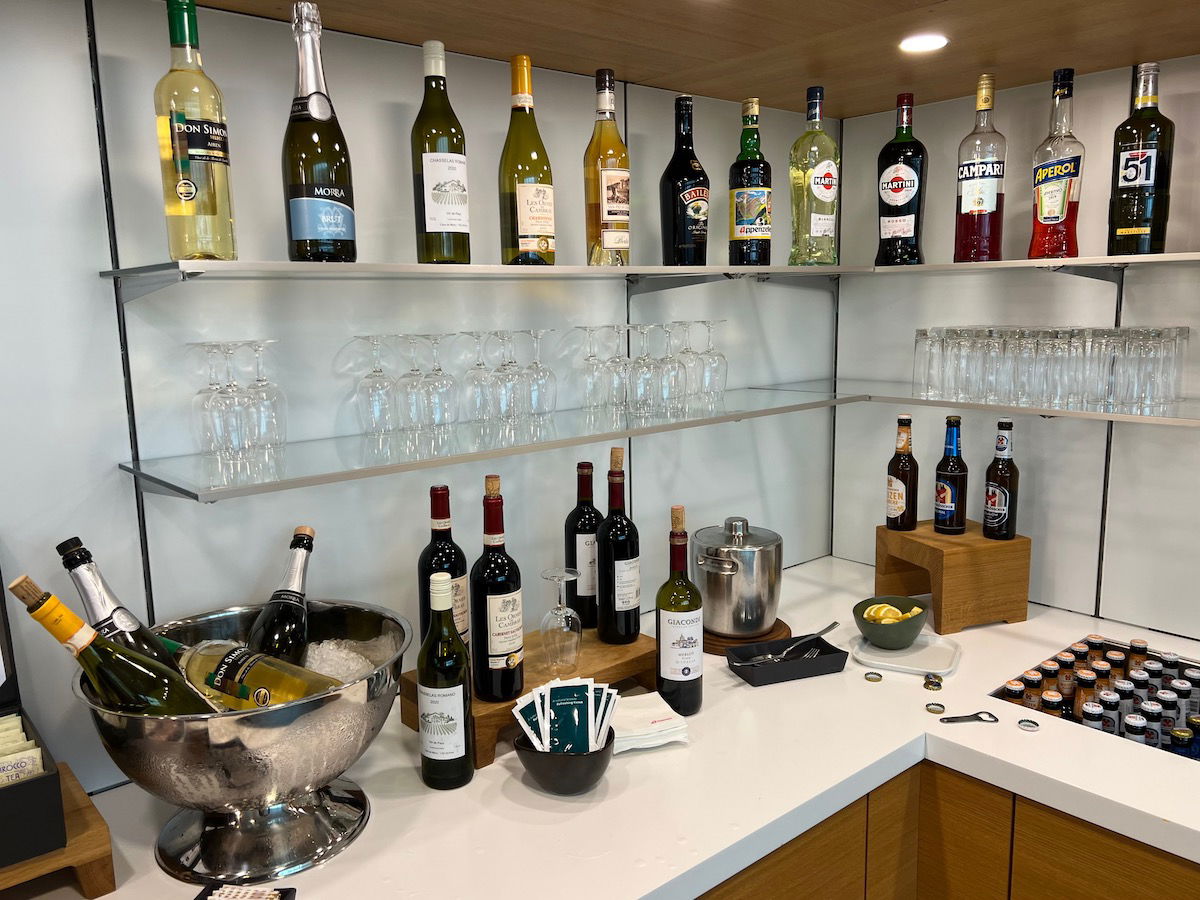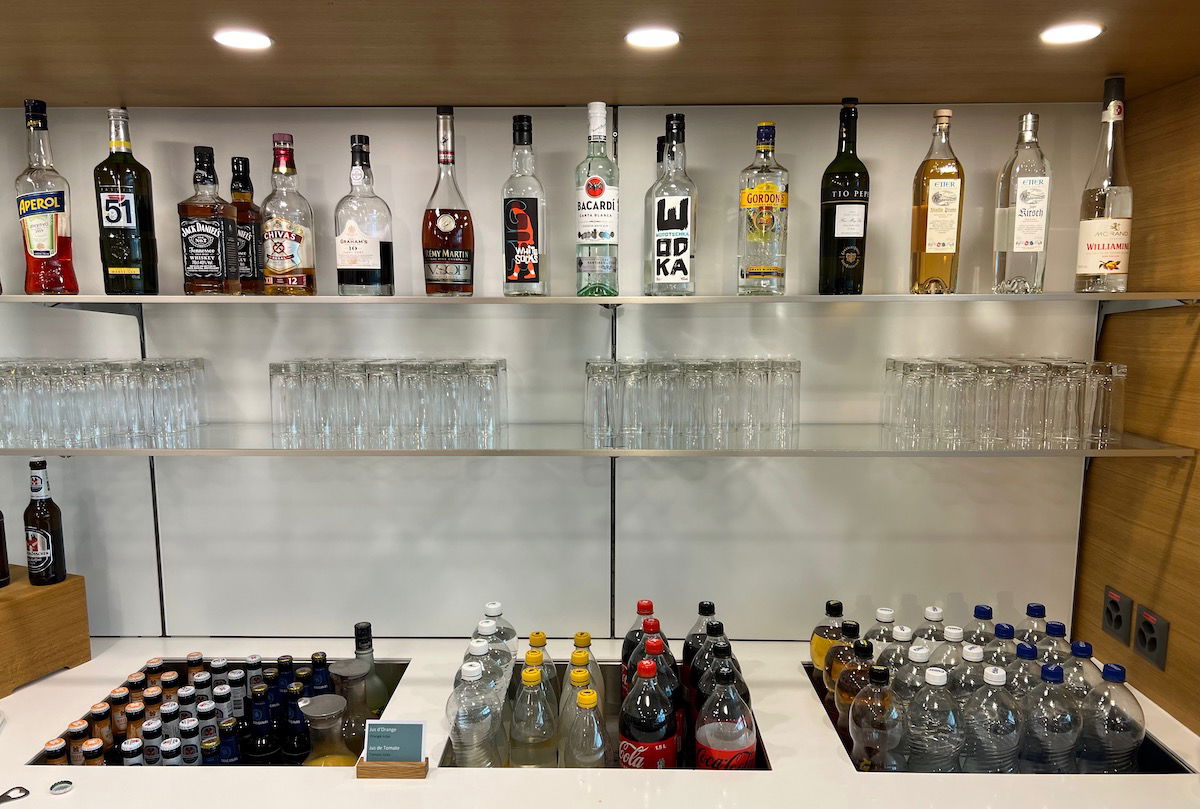 The lounge had cafeteria-style trays on which you could place food, which was kind of practical, since it can often be tough to figure out the right way to transport several small dishes.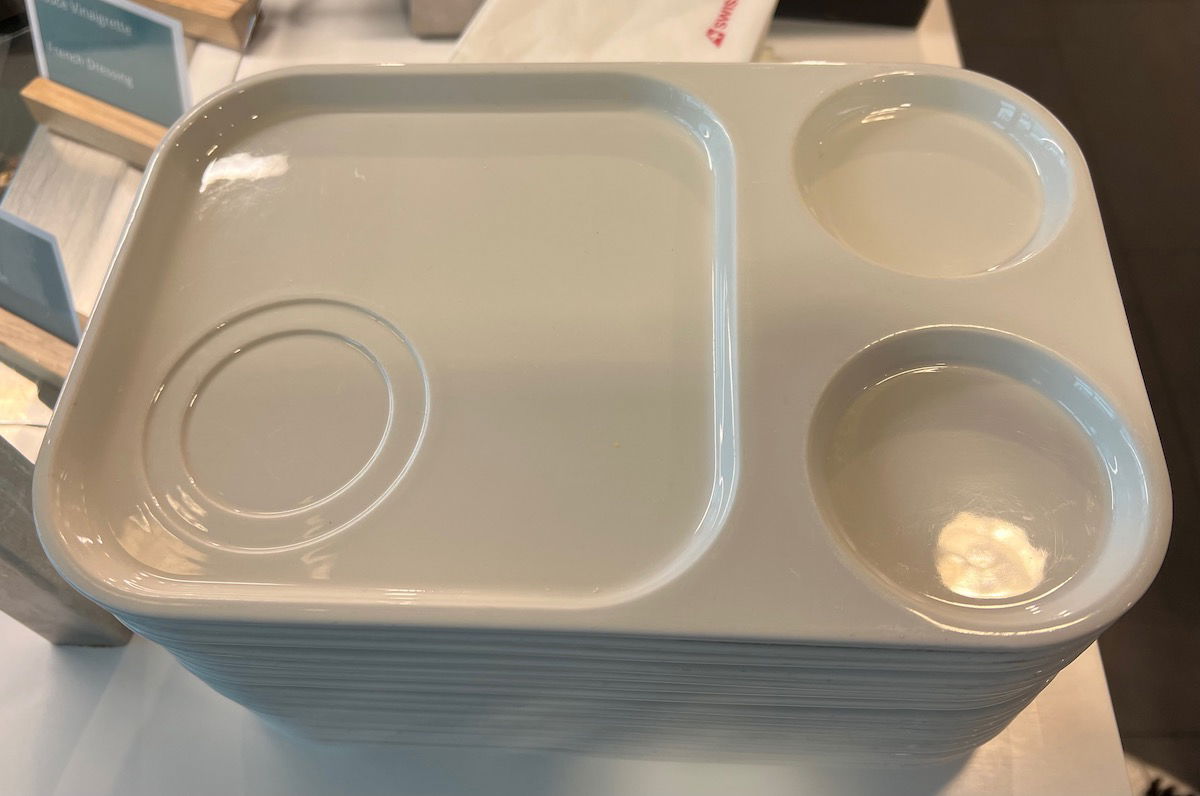 SWISS Senator Lounge Geneva bathrooms
Rather disappointingly, the SWISS Senator Lounge Geneva doesn't have bathrooms. Rather you need to use the toilets that are down the hall in the terminal.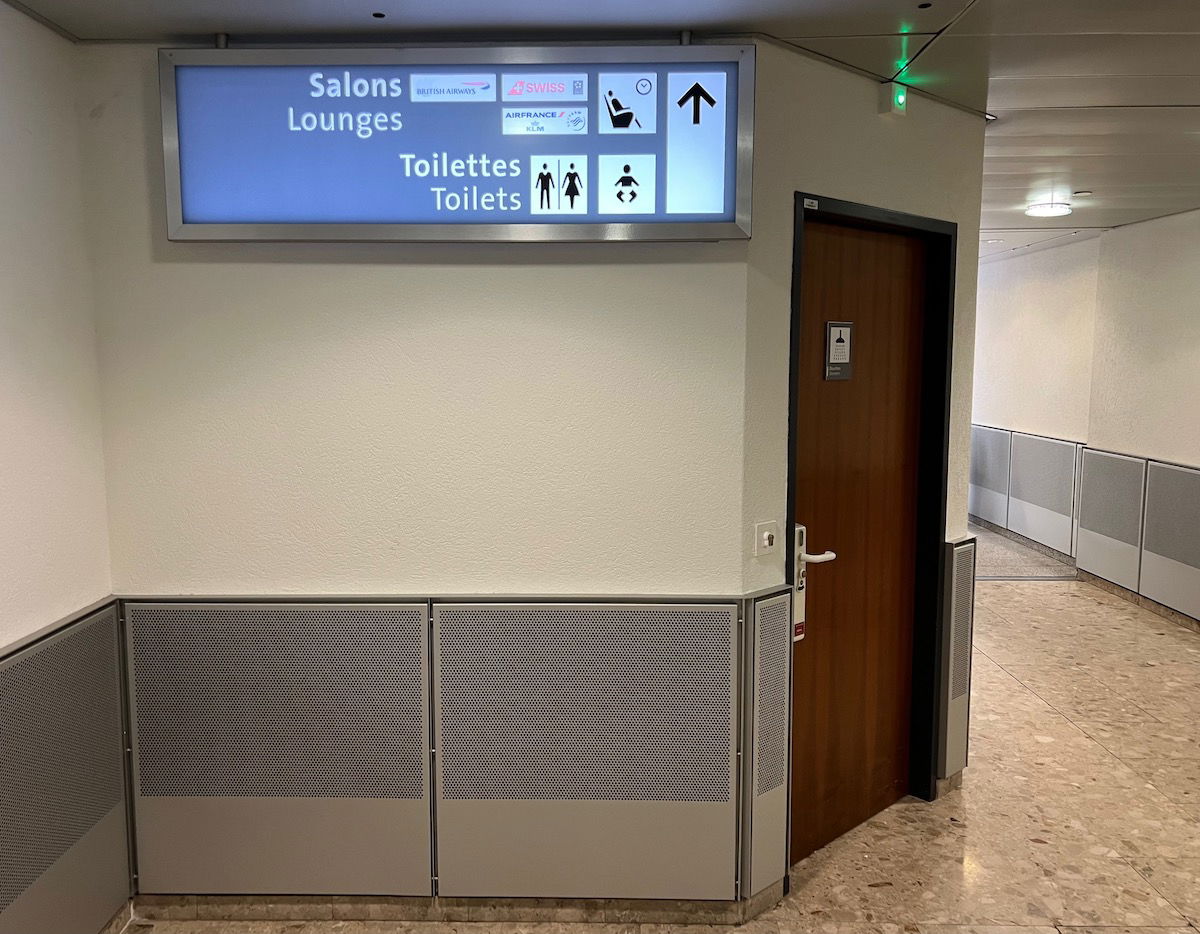 A long walk to the gate…
One other thing I should mention is that you should leave plenty of time to get to your gate at Geneva Airport, since it can be quite a haul from the security checkpoint and lounge. For example, our flight departed from gate D25, and it was a good 10 minute walk to get there (and that's walking at a very fast pace — if you're not a fast walker, think more like 15-20 minutes).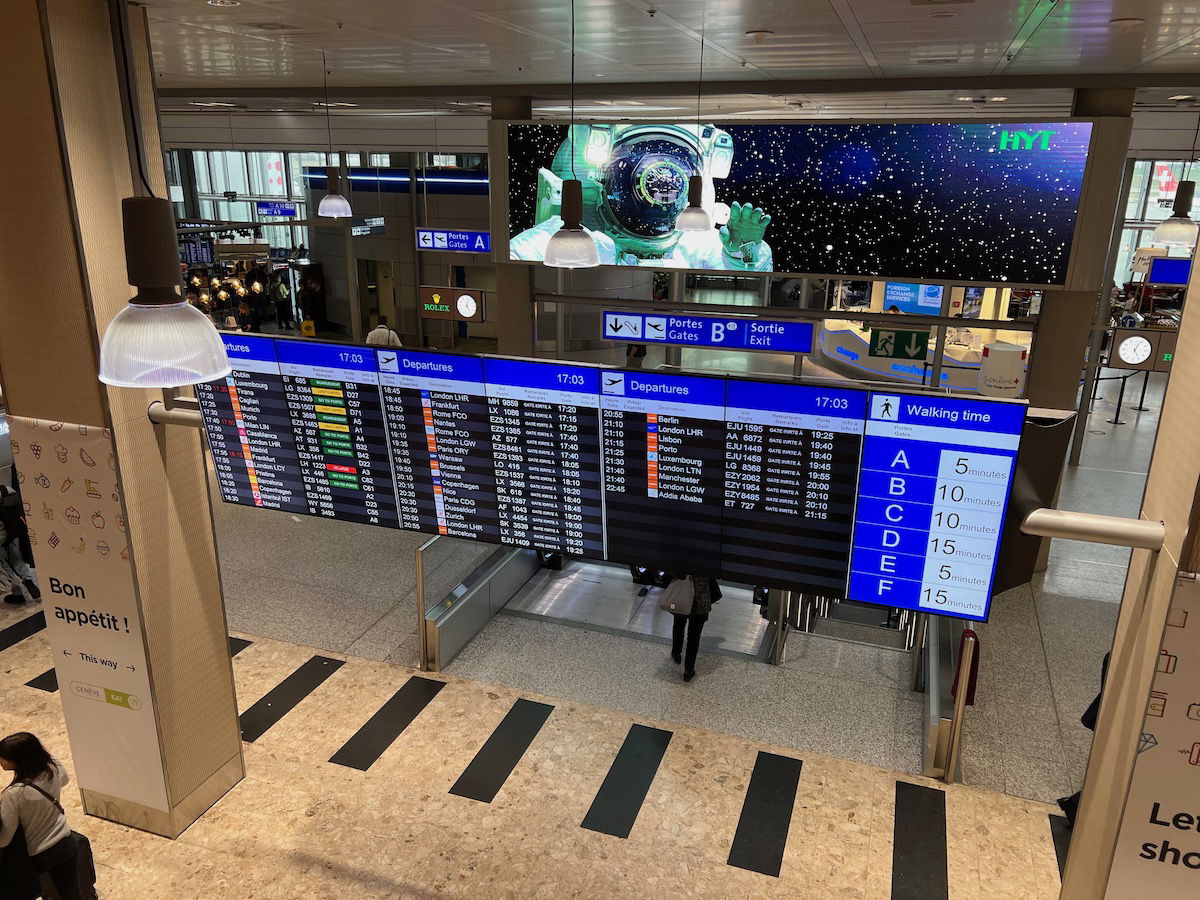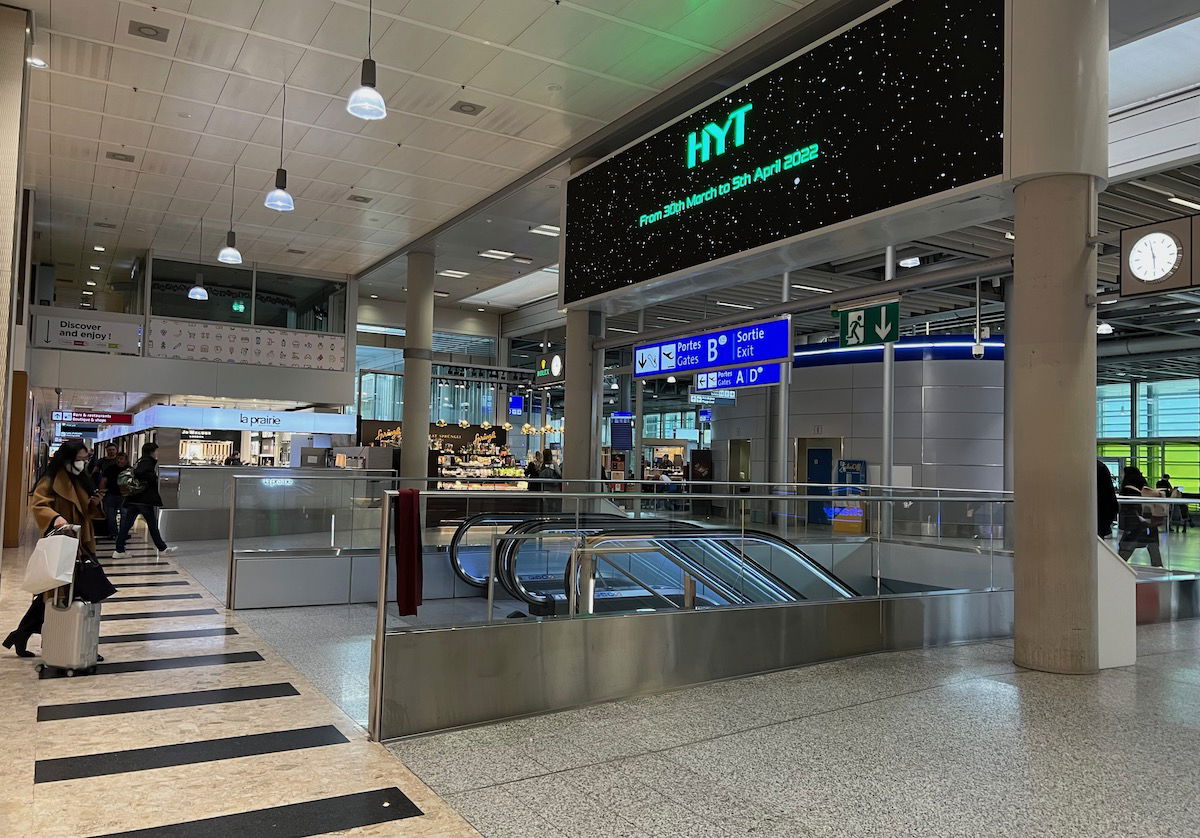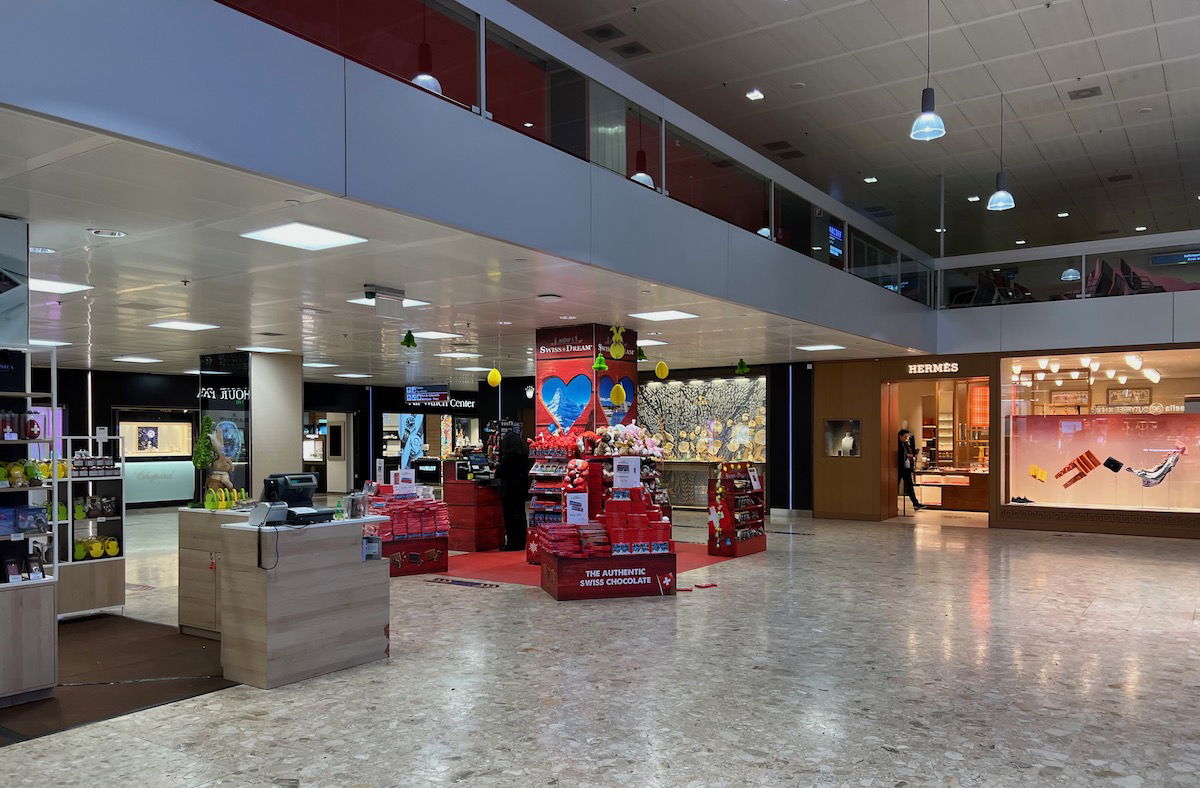 I can't say that Geneva Airport is terribly inspiring…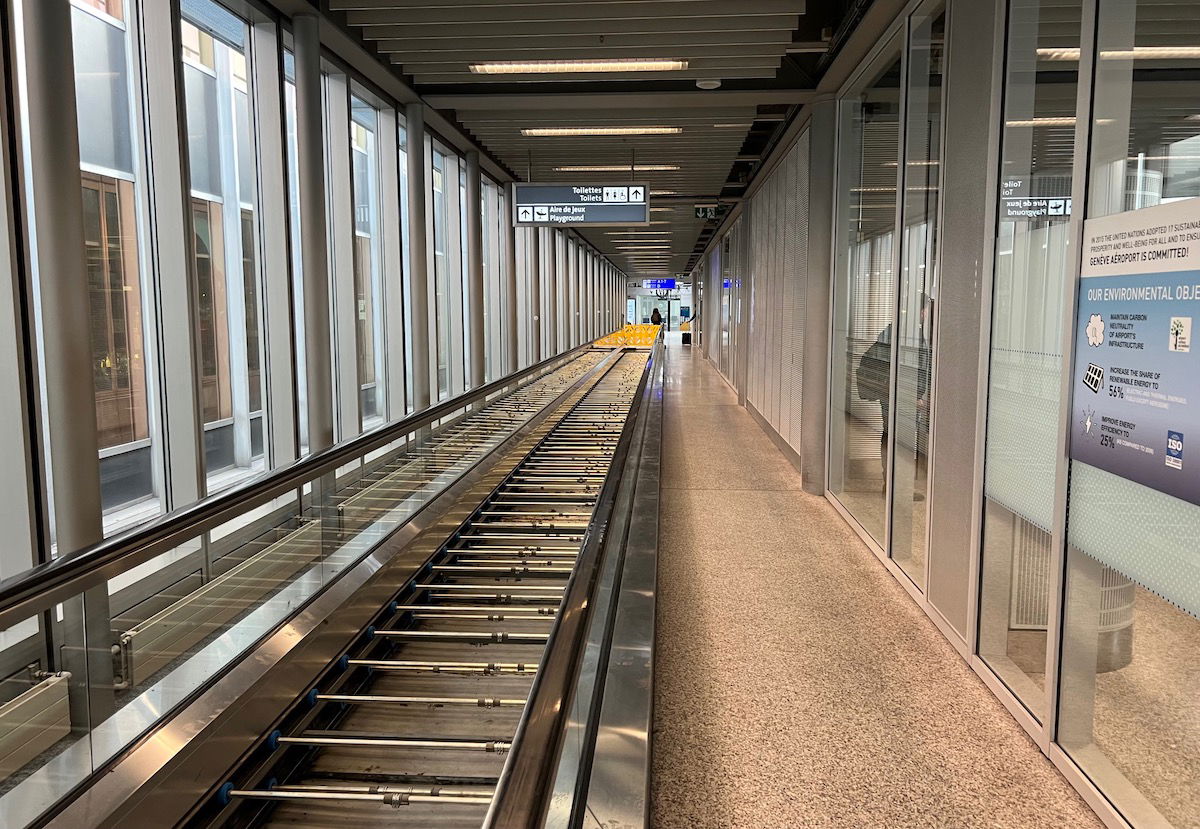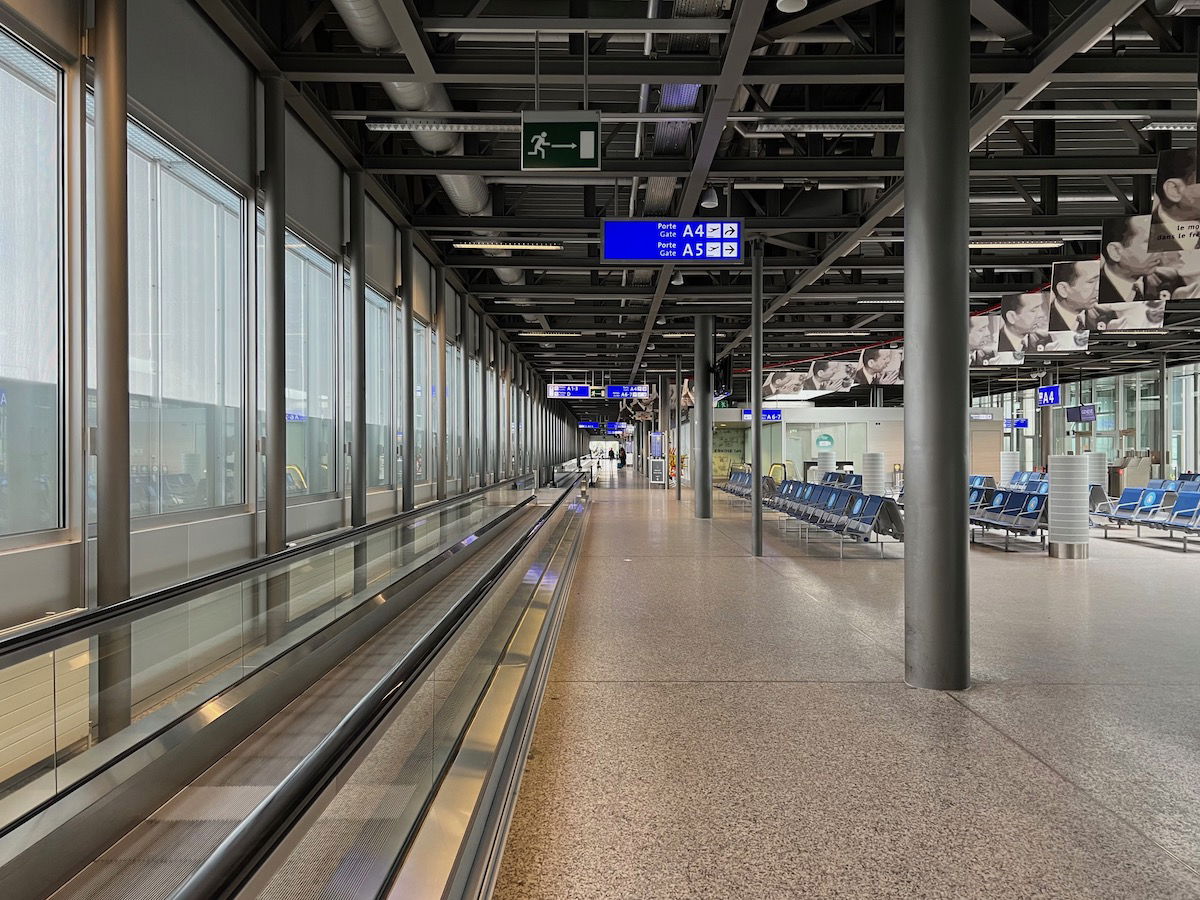 Bottom line
The SWISS Senator Lounge Geneva is a good place to kill some time if you're at Geneva Airport, though it's not much to get excited about. The lounge is fairly small and doesn't have bathrooms. The food selection was decent, though.
I recently reviewed the Lufthansa Senator Lounge Frankfurt, and I was a bit more critical of that. Why? Because Frankfurt is a major intercontinental connecting hub, so I think it's fair to compare that lounge experience to other major European airport hubs.
In the case of Geneva, SWISS mostly has just regional flights from the airport, with the exception of New York service. So I think it's fair to make a distinction there.
I'm still going to give the lounge 2.5 stars, though — 3.0 stars would be average, and I think this lounge is mostly average. However, the fact that it doesn't have bathrooms deserves some sort of a deduction, in my opinion.
If you've visited a SWISS Lounge in Geneva, what was your experience like?