EXTRA PERKS AVAILABLE
Enjoy breakfast, upgrades, & more
Want to take advantage of Marriott STARS benefits, including a space available room upgrade, complimentary breakfast, a hotel credit, and more? Contact Ford ([email protected]) for more details. He may even be able to help if you already have a stay booked. This is valid for paid stays at BVLGARI, EDITION, Ritz-Carlton, Ritz-Carlton Reserve, and St. Regis.
To kick off our trip to Italy & France, we spent a total of four nights in Venice. I hadn't been to Venice in over 20 years, so I figured it was time to check out this magical place again. I'll share my thoughts on Venice as such in a separate post, but I'll say upfront that we had an incredible time. In fairness, we lucked out with good weather, and avoided peak season (where I feel like it wouldn't be very enjoyable).
I was also excited to be able to review two points hotels that been on my radar — the St. Regis Venice, where we stayed for one night, and The Gritti Palace Venice, a Marriott Luxury Collect property, where we stayed for three nights.
Going in, my expectation was that I'd prefer Gritti Palace by far, given that it's historic, has such a sense of place, and is regarded as one of the city's best hotels. Well, in the end I absolutely loved the St. Regis, and wish we had spent more than one night here.
Let's get right into the review…
Booking the St. Regis Venice
I redeemed Marriott Bonvoy points for our one night stay at the St. Regis. The hotel was charging 85,000 Marriott Bonvoy points, and for context, I value Bonvoy points at 0.7 cents each.
This was a spectacular value, given that the hotel was charging over 1,700 Euro per night for a base room if paying cash. Luxury hotel pricing as global travel starts to recover is just other-worldly, and I don't try to make sense of pricing anymore. This is true in so many places.

I decided to apply a Marriott suite night award to our reservation, and was pleased that this was confirmed a couple of days in advance. The upgrade was to a St. Regis Suite, which retailed for over 3,200 Euro per night. Talk about a good use of points… sometimes Bonvoy is awesome!

St. Regis Venice history
The 169-room St. Regis Venice only opened in 2019. Venice has a lot of historical buildings, so as you'd expect, this isn't a new build. Rather this hotel was the former Westin Europa & Regina, but it underwent a significant renovation for two years, before being rebranded as a St. Regis.
Going back even further than that, this hotel initially opened in 1895, as the Grand Hotel Britannia. So the hotel has a lot of history, and some of that is preserved.
St. Regis Venice location
The St. Regis Venice is located right on the Grand Canal. and consists of multiple distinct buildings — in the below picture, that includes the Regina and Europa buildings (hence the name of the original Westin property).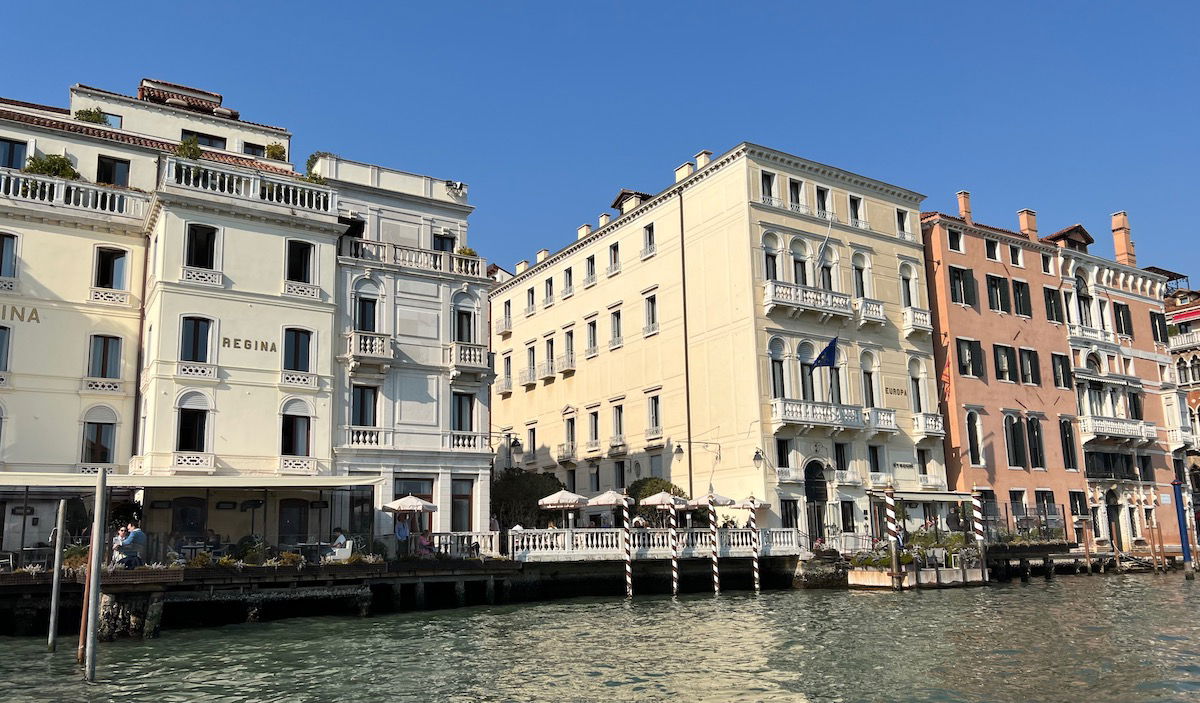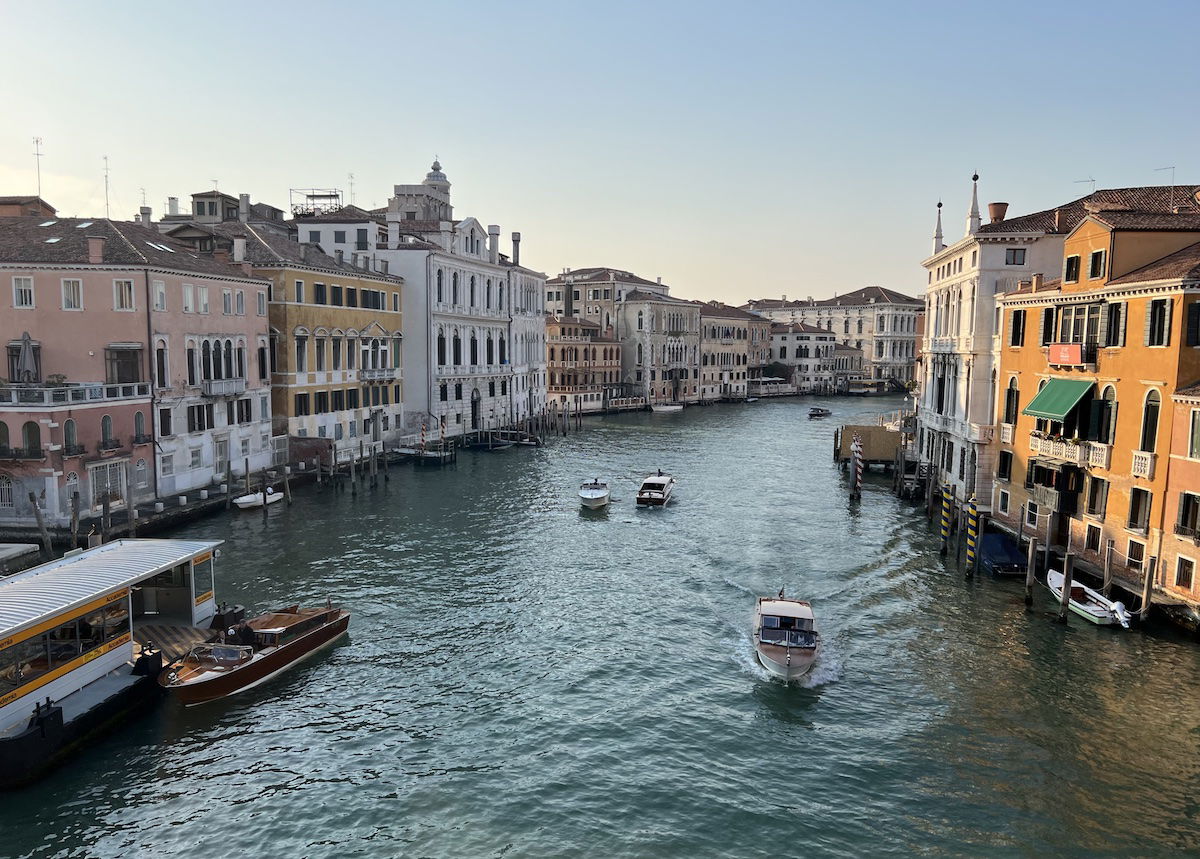 If you're arriving from the airport or train station, the only way to get to the hotel is by water taxi, so you'd access the hotel through the front entrance — what a fun way to arrive at a hotel!
The water taxi from the airport takes around 40 minutes, and a private water taxi costs around 130 Euro. Meanwhile the water taxi from the train station takes around 15 minutes, and a private water taxi costs around 60 Euro. Obviously that's not cheap, but the water taxis are really nice, and I can't imagine they're cheap to own and operate.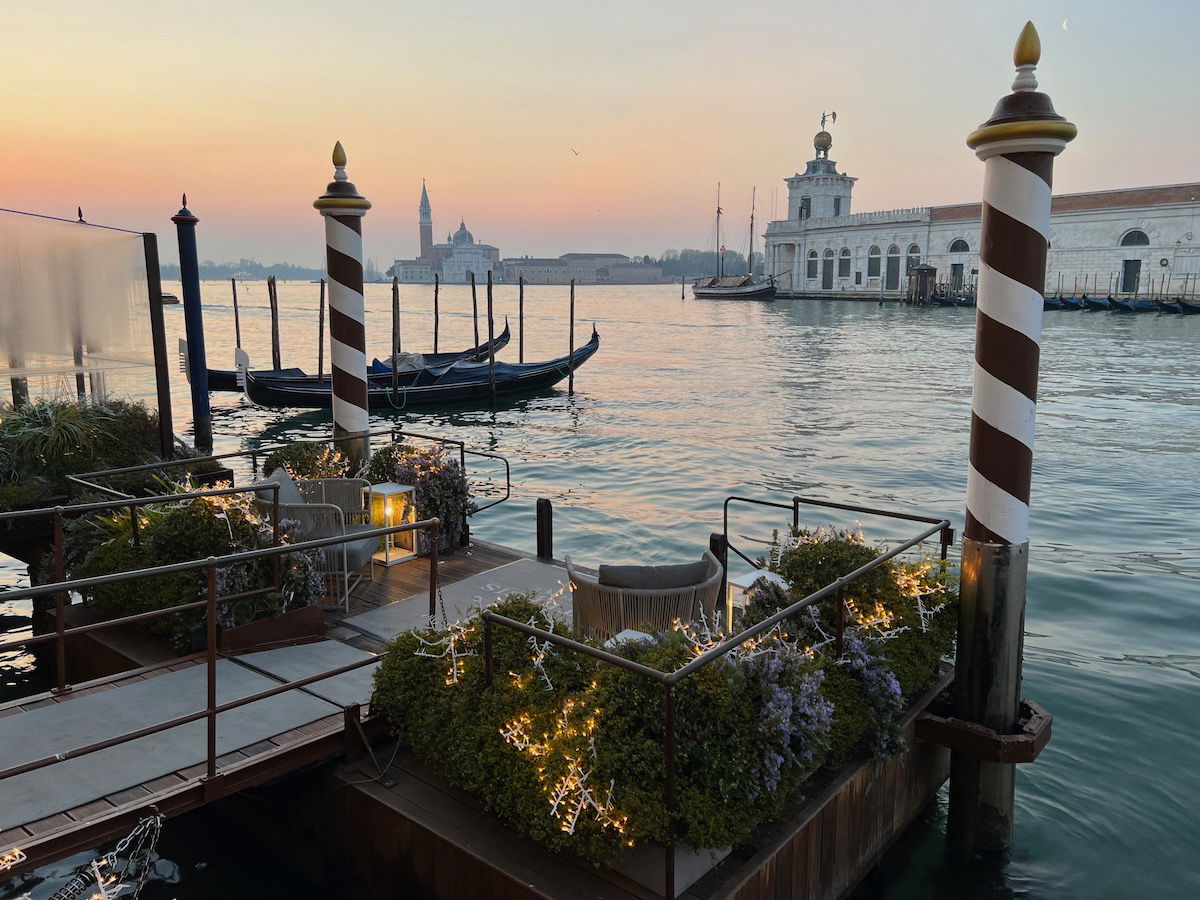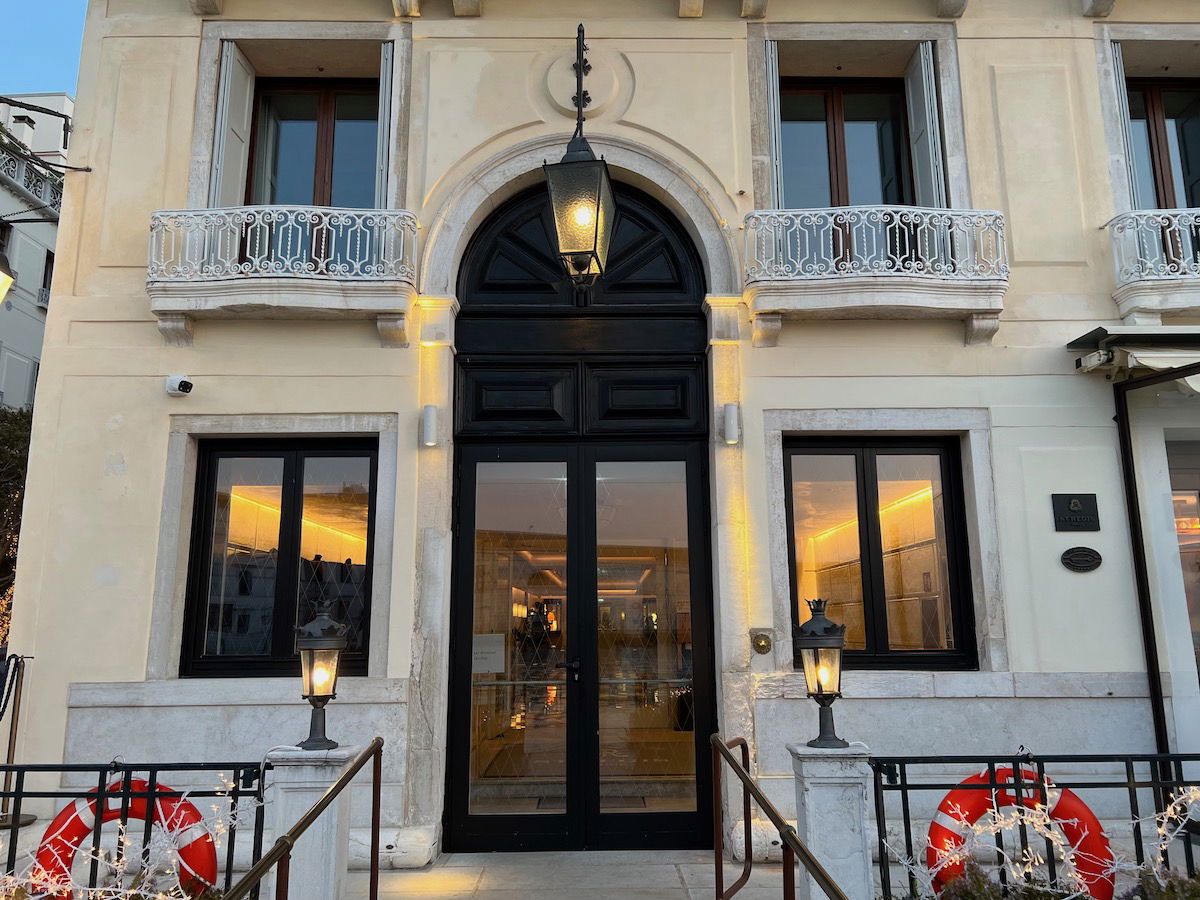 The St. Regis Venice also has a back entrance, which you can use to access the streets. You can basically walk all over Venice from here, as there are plenty of bridges connecting most of the islands. The St. Regis is also near Calle XXII Marzo, which is a street with some of the highest end shopping in the city.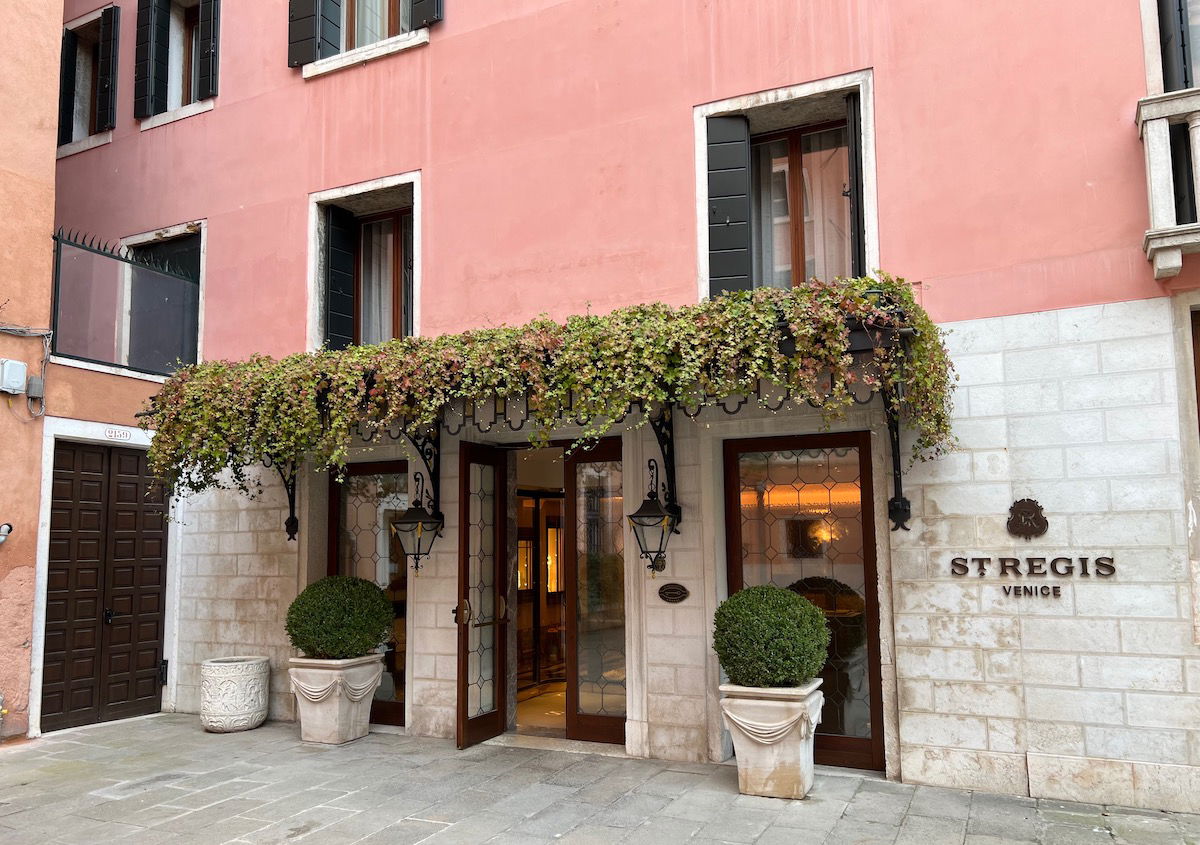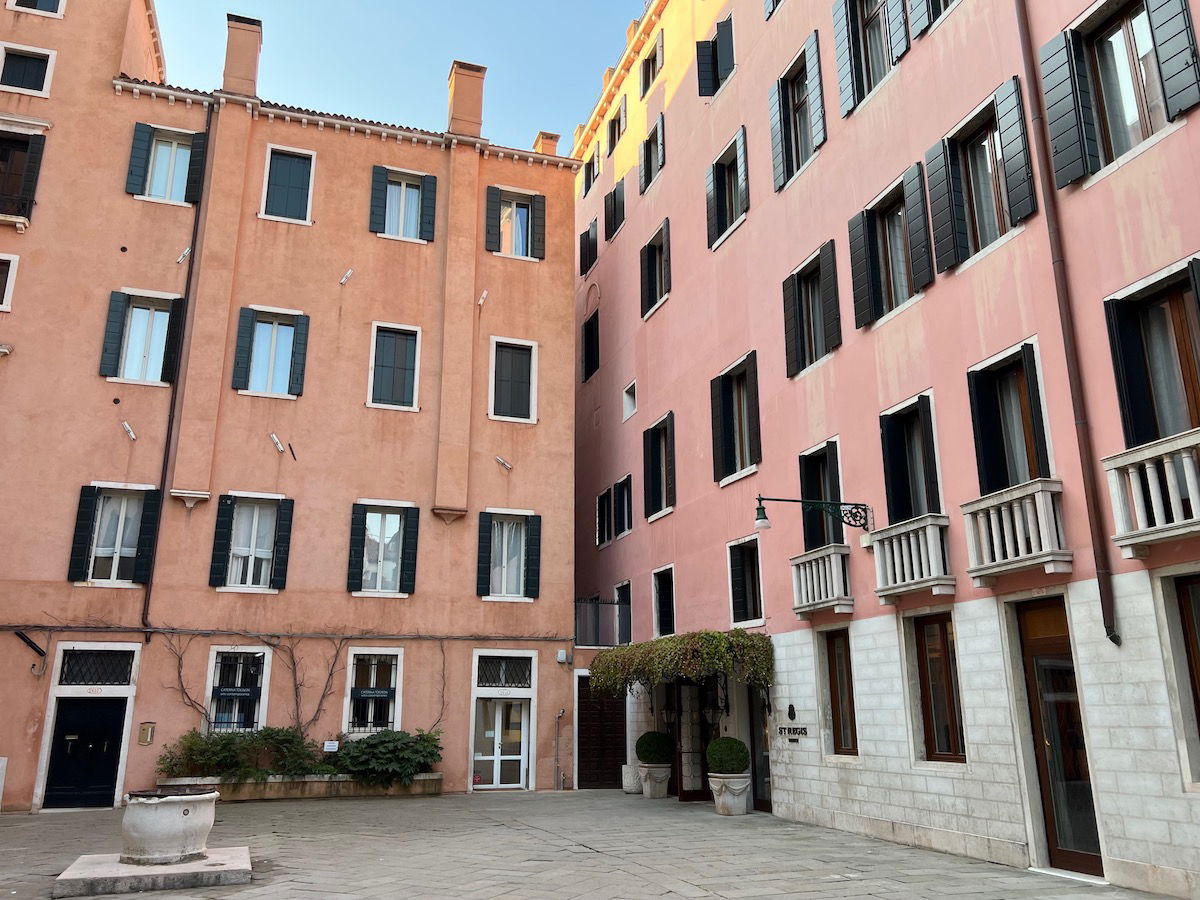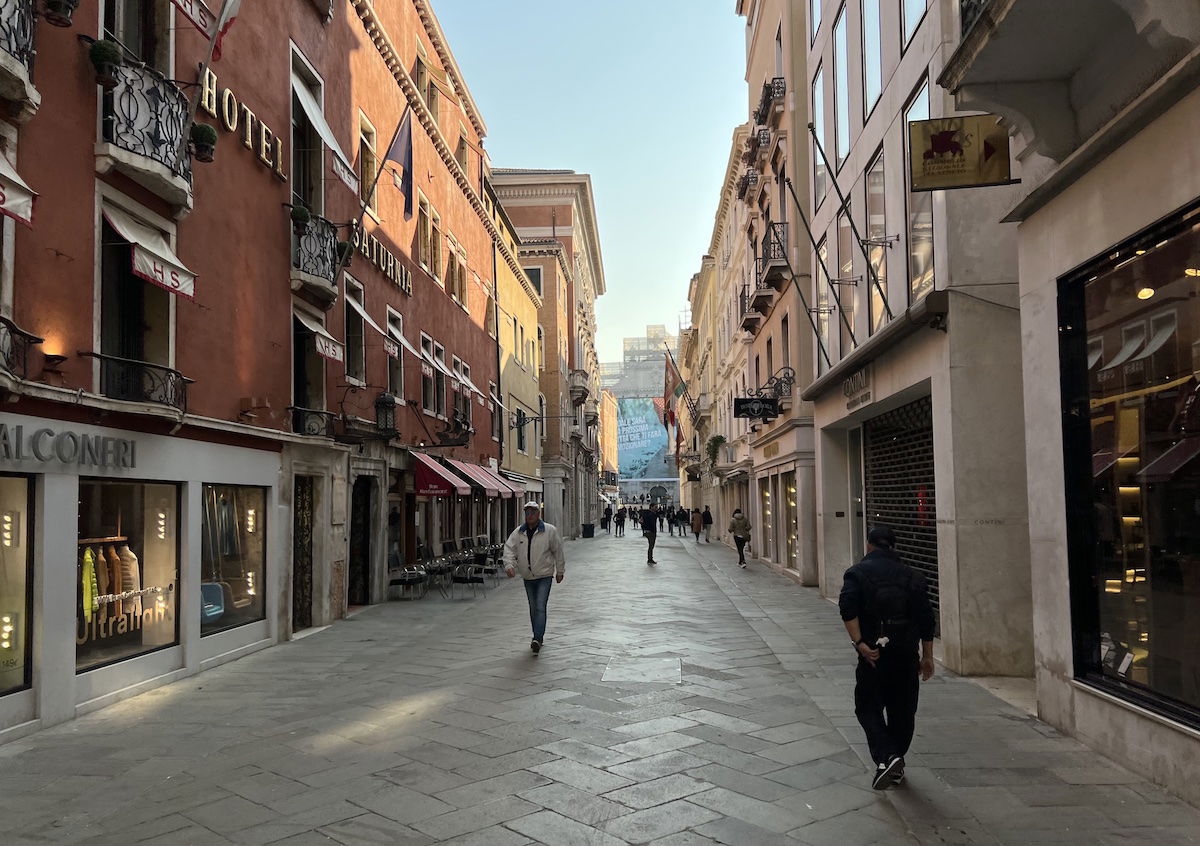 Since we stayed at both the St. Regis and Gritti Palace, I should also point out that the two hotels are close to one another — you can walk between them in just a few minutes, though it does get a bit tricky with luggage (between the cobblestone streets and crossing bridges).
St. Regis Venice check-in & lobby
The public areas of the St. Regis Venice are expansive and feel incredibly luxurious. No, the hotel doesn't have the sense of place that Gritti Palace does, but there are still so many beautiful aspects to the design, from the artwork, to the lighting fixtures, to the details on the ceilings, to the flooring.
When you enter the hotel from the canal side, there's first a long hallway leading toward reception and the guest rooms.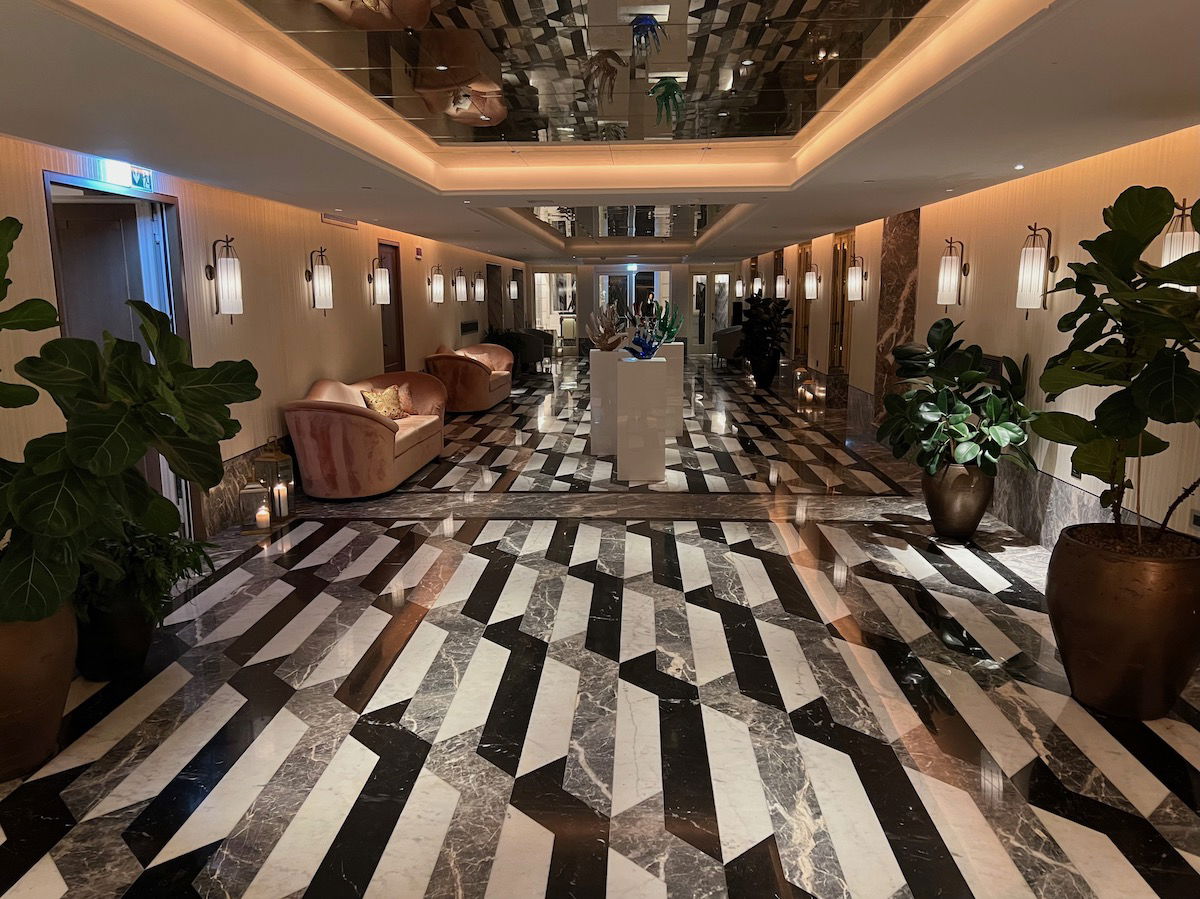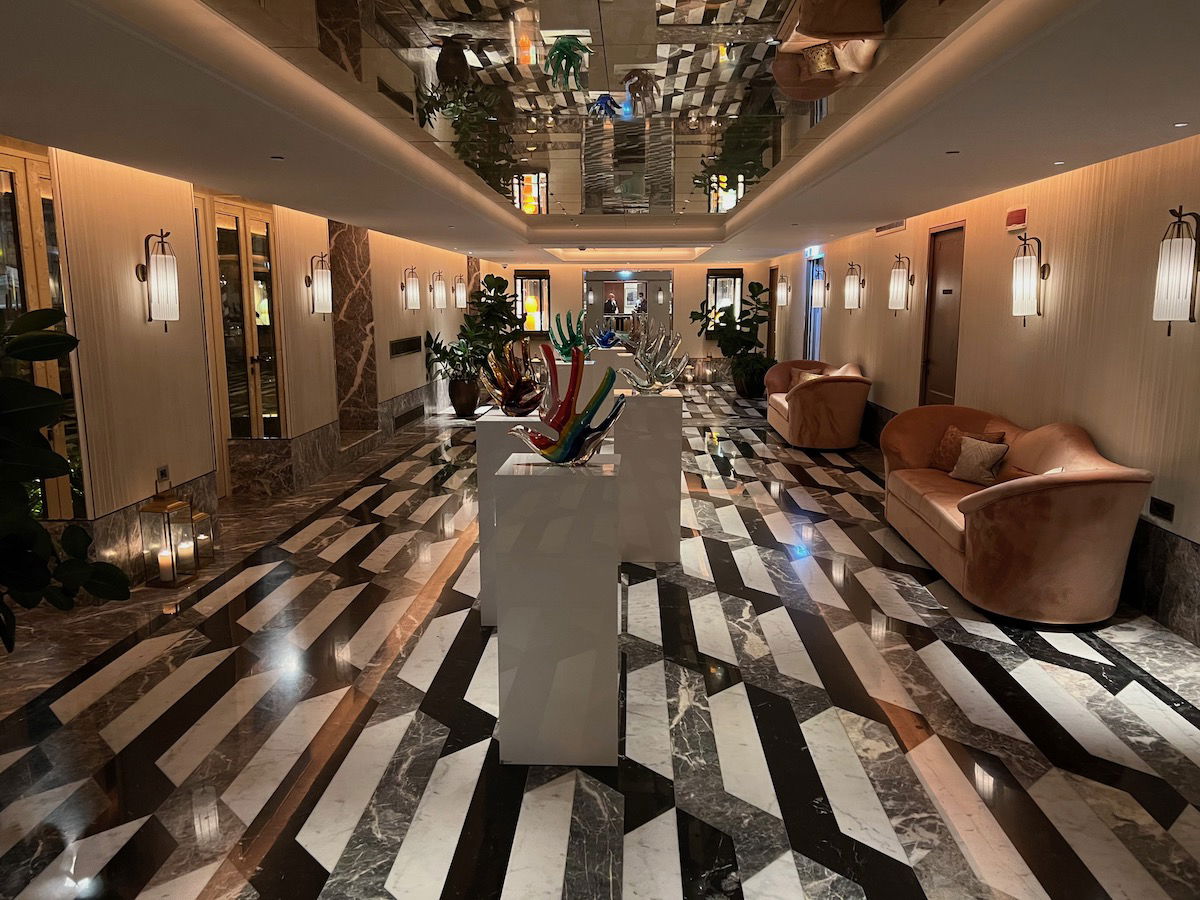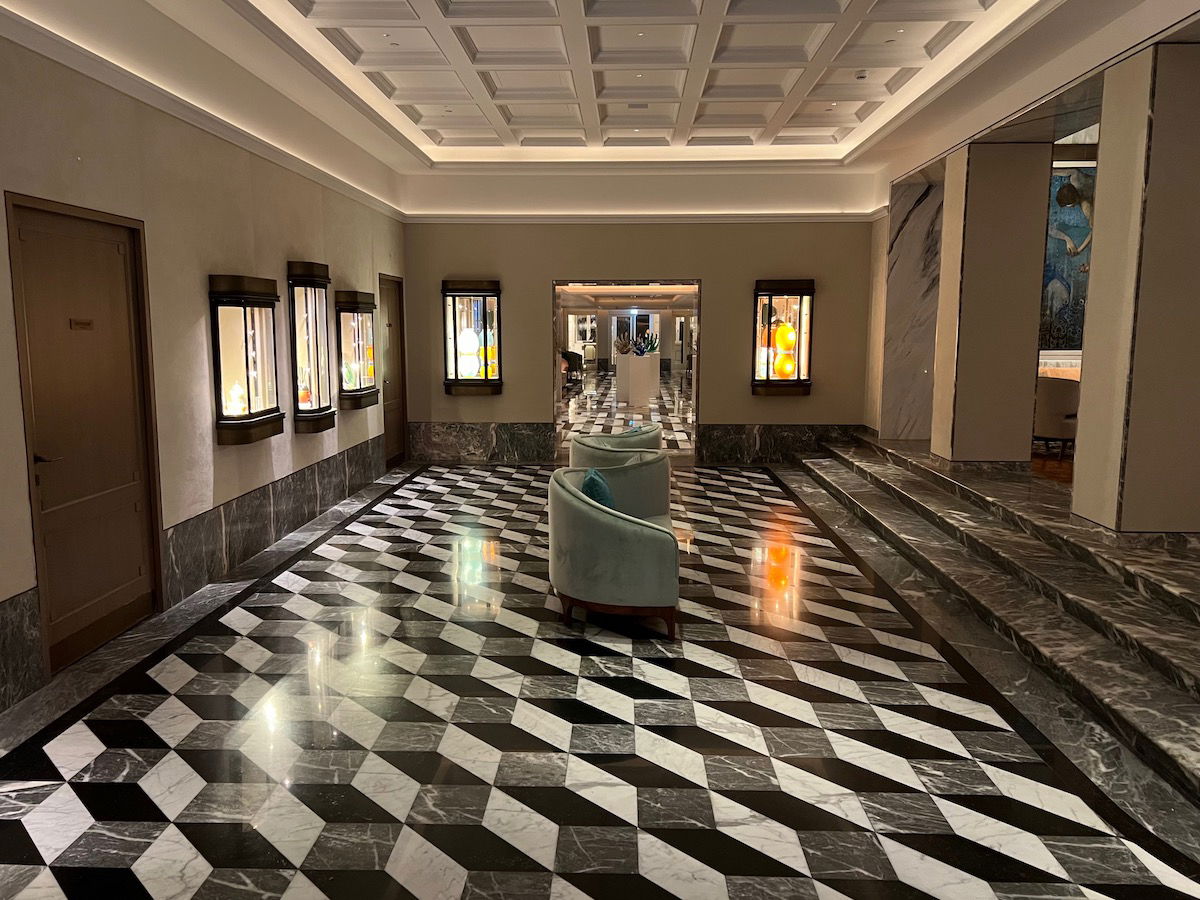 There's a huge lobby seating area — it almost seems like a waste that this isn't used a bar or a place for afternoon tea. Then again, the bar area is so gorgeous as well, and has views.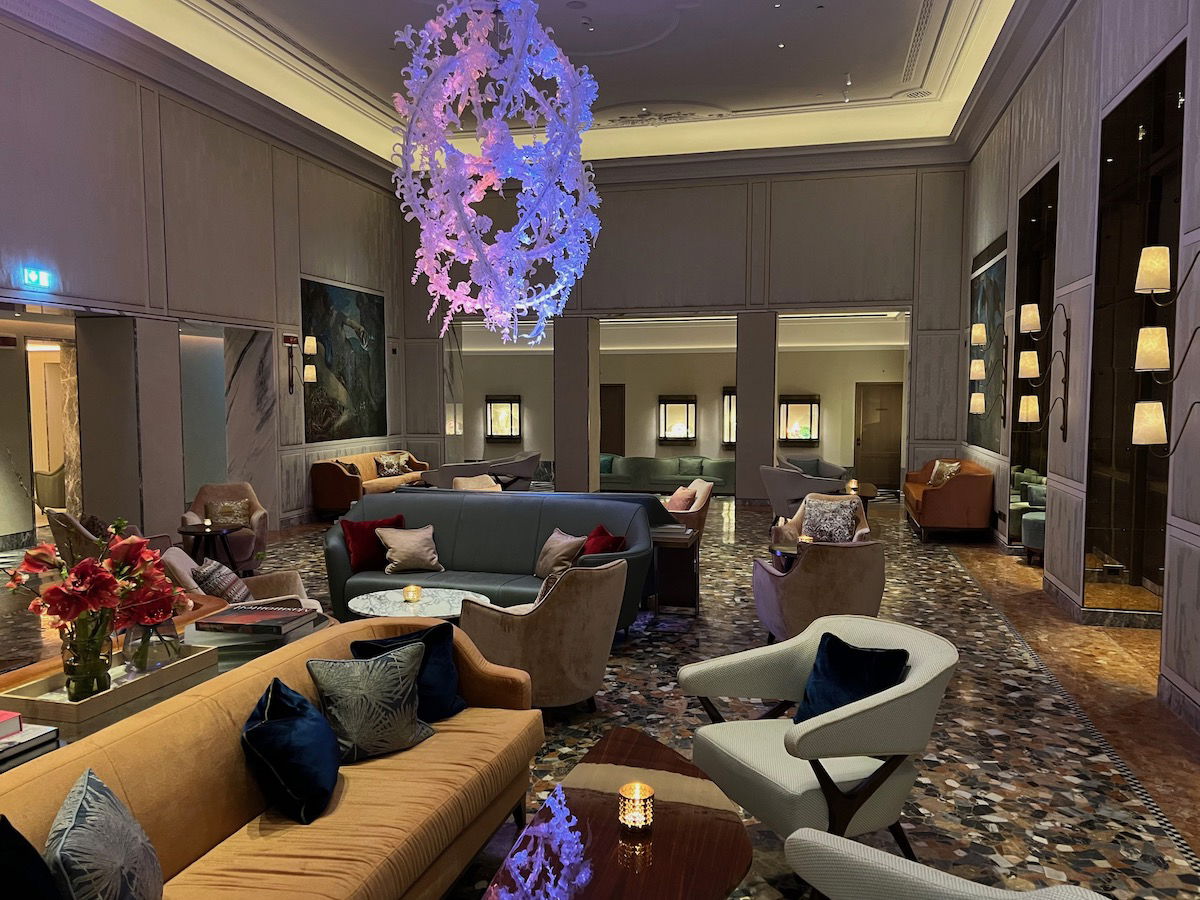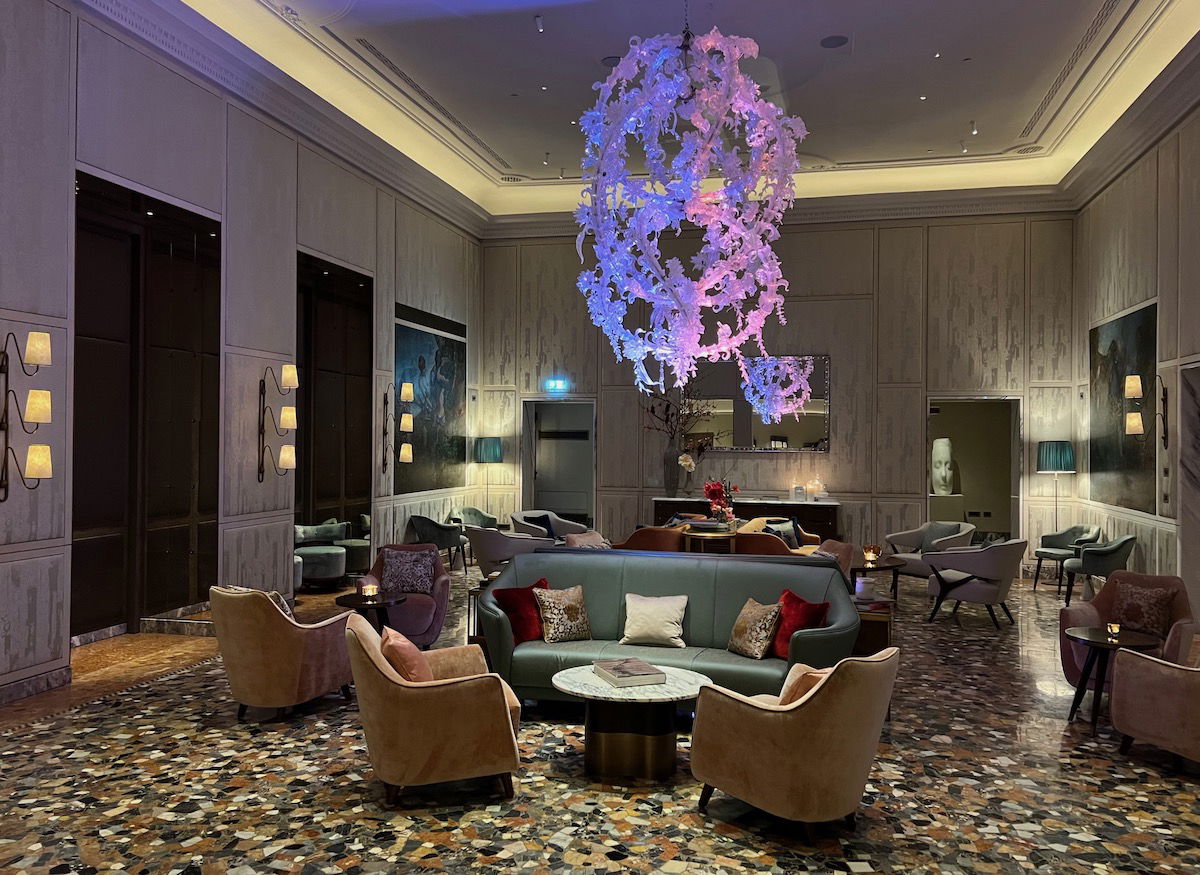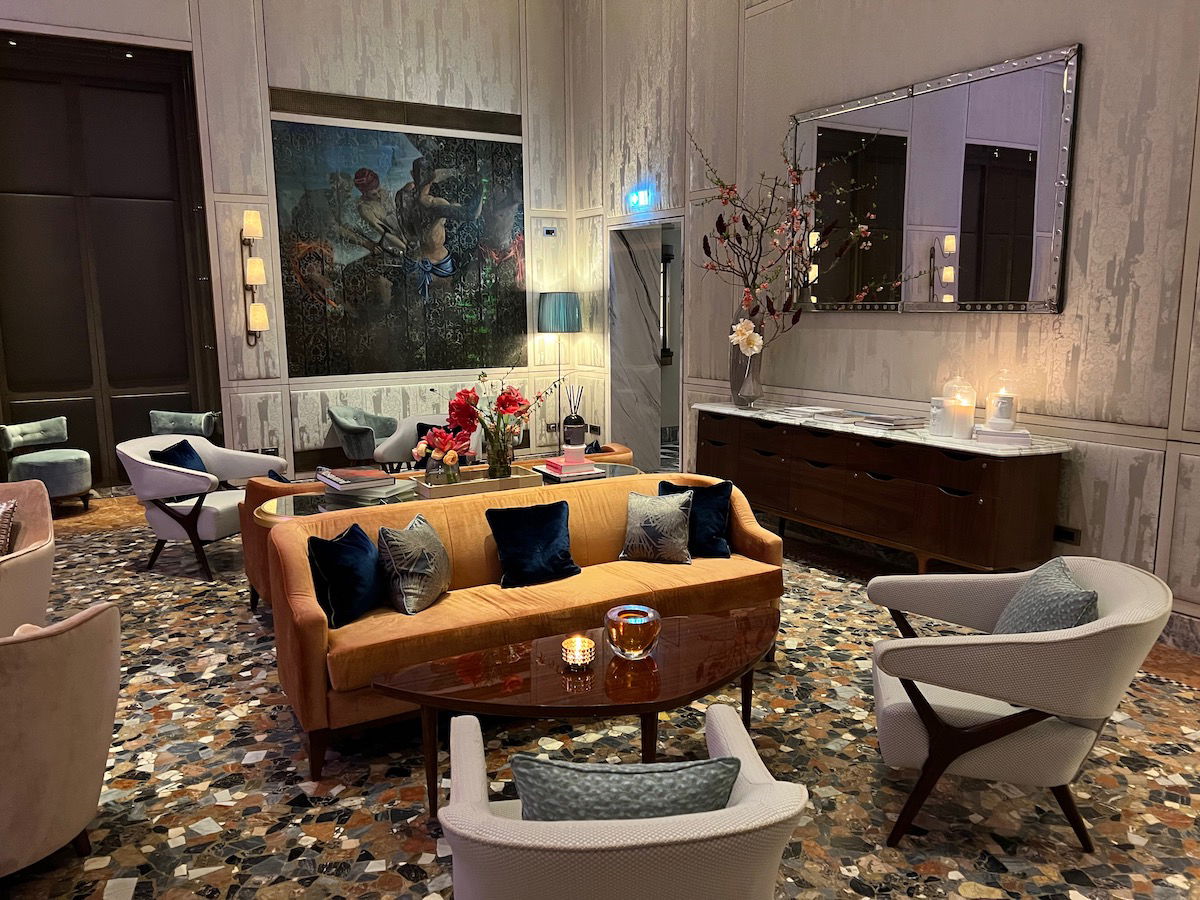 Also in the lobby is a library area — given at what a premium space comes in Venice, it's incredible how much space is dedicated to public areas for guests that aren't really monetized.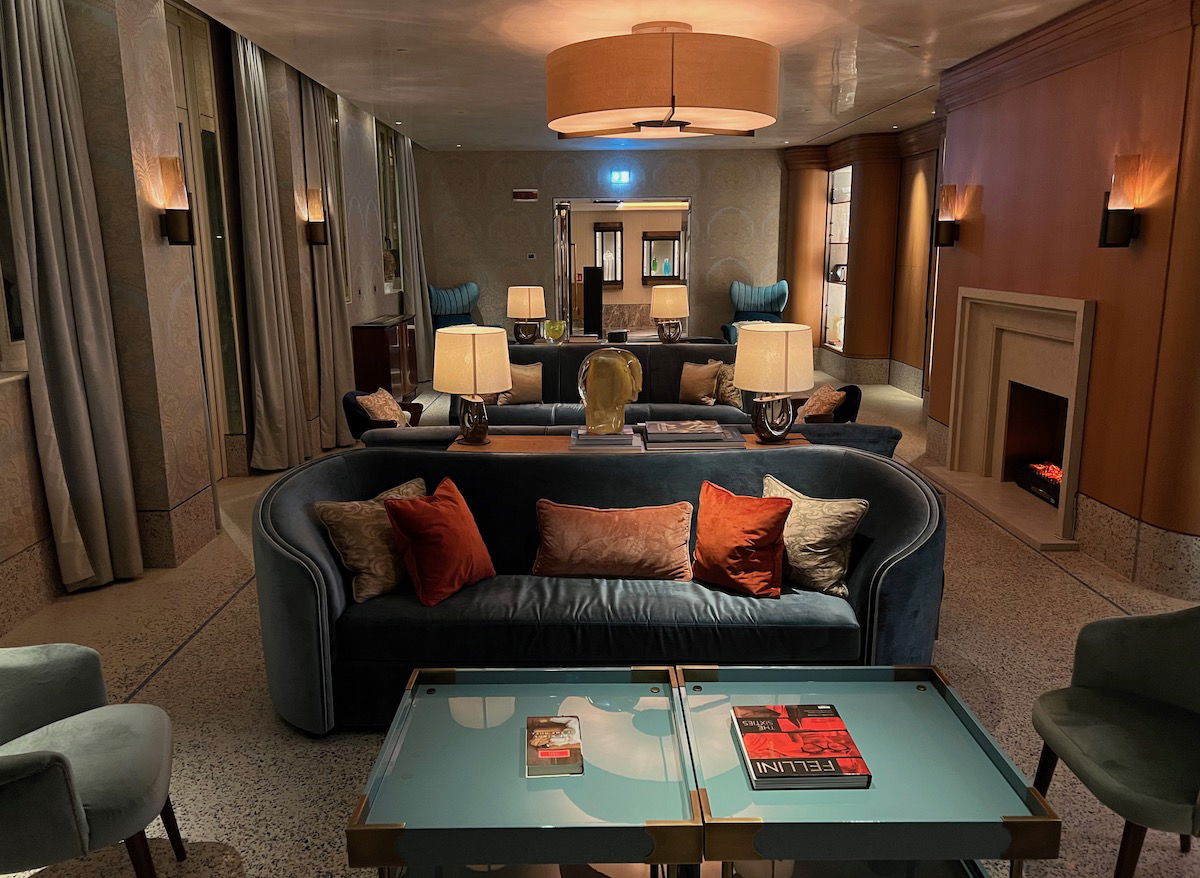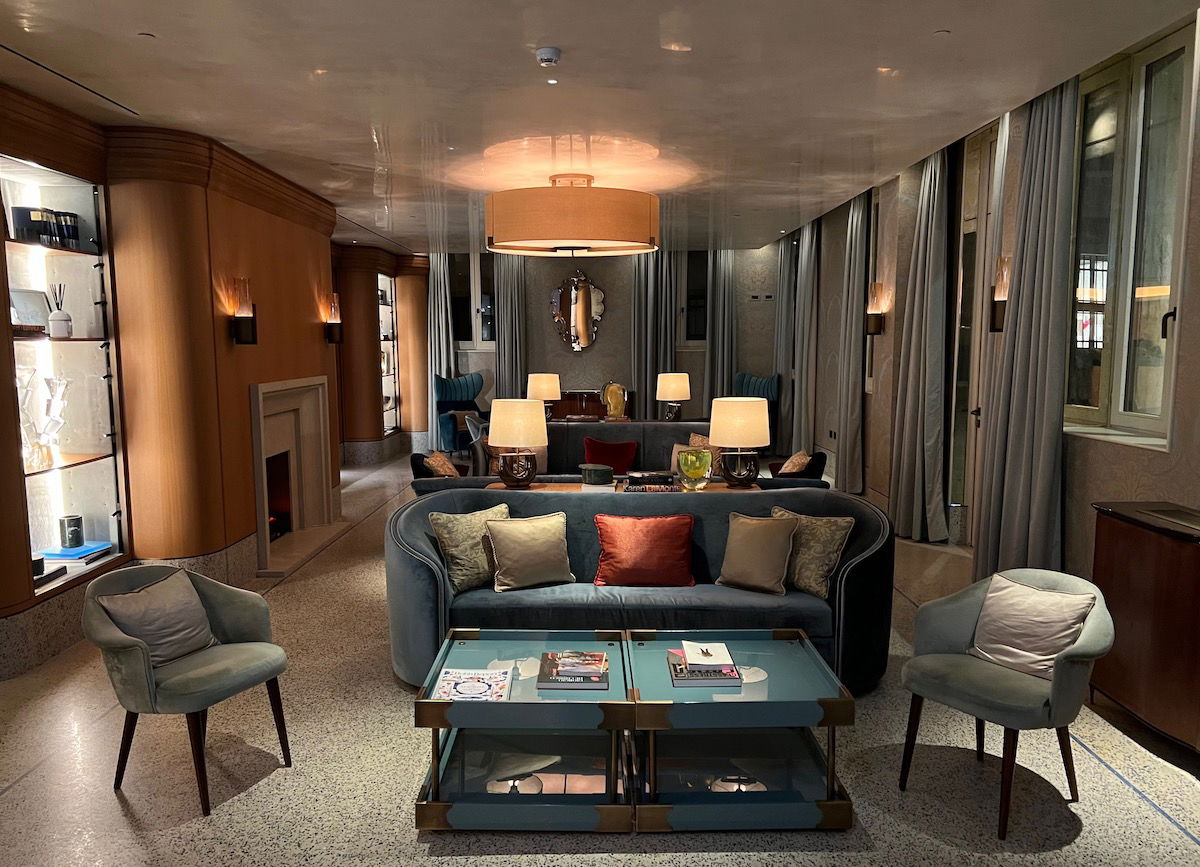 Reception was right in the center area of the lobby, and consisted of two desks where guests could be seated while checking in.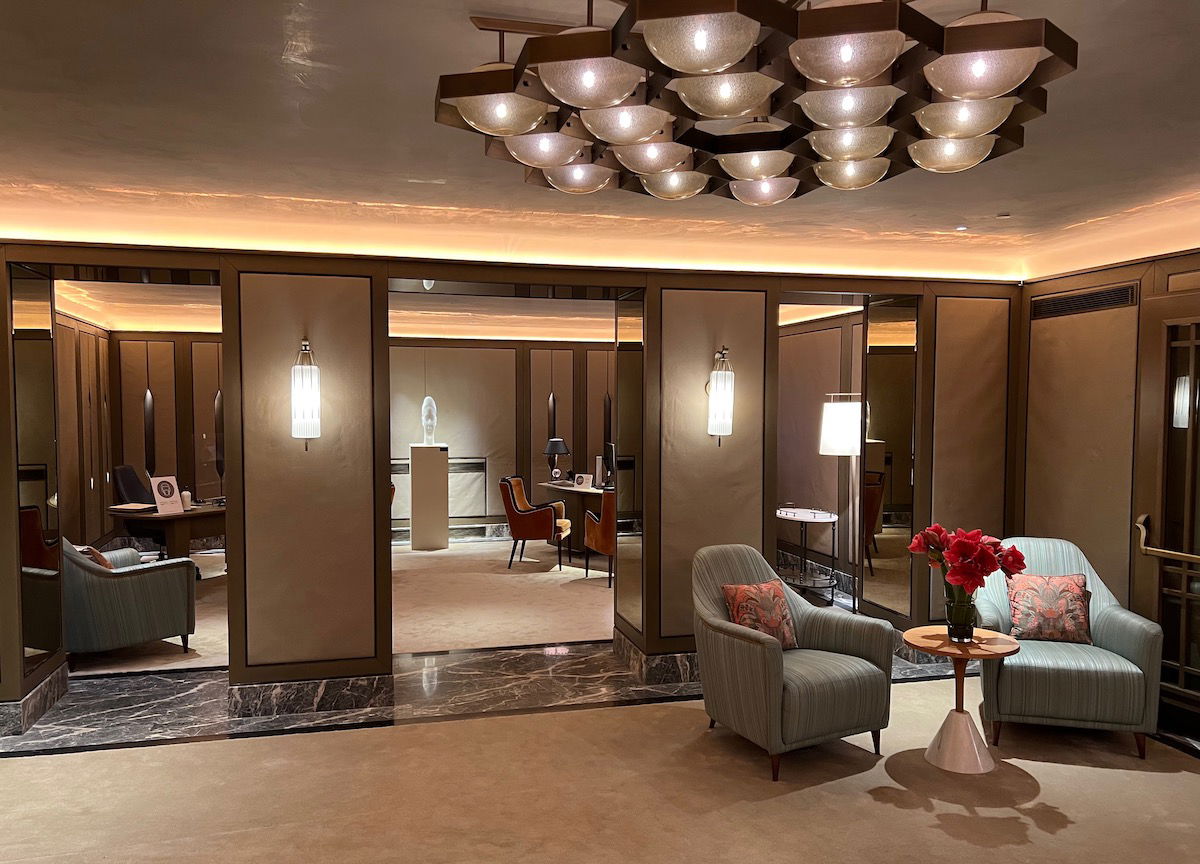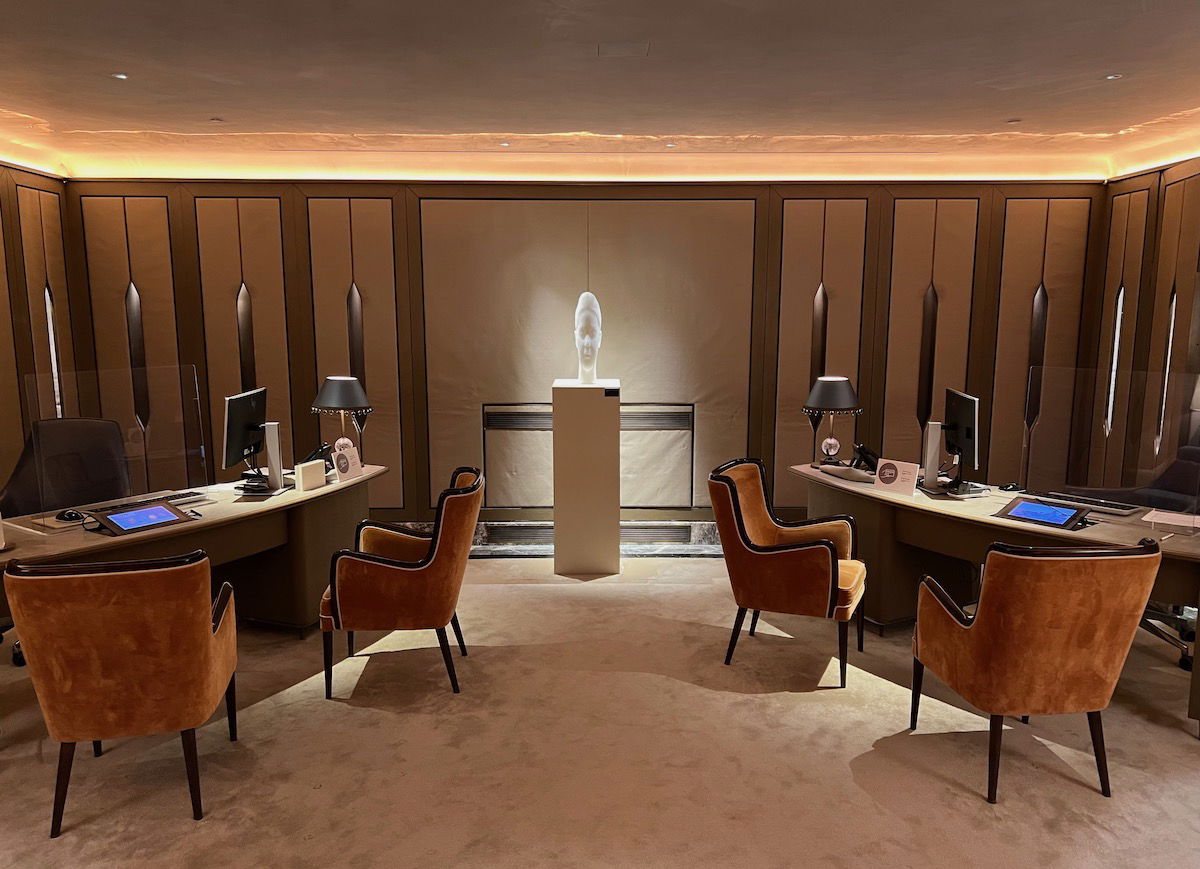 The concierge desk is adjacent to that.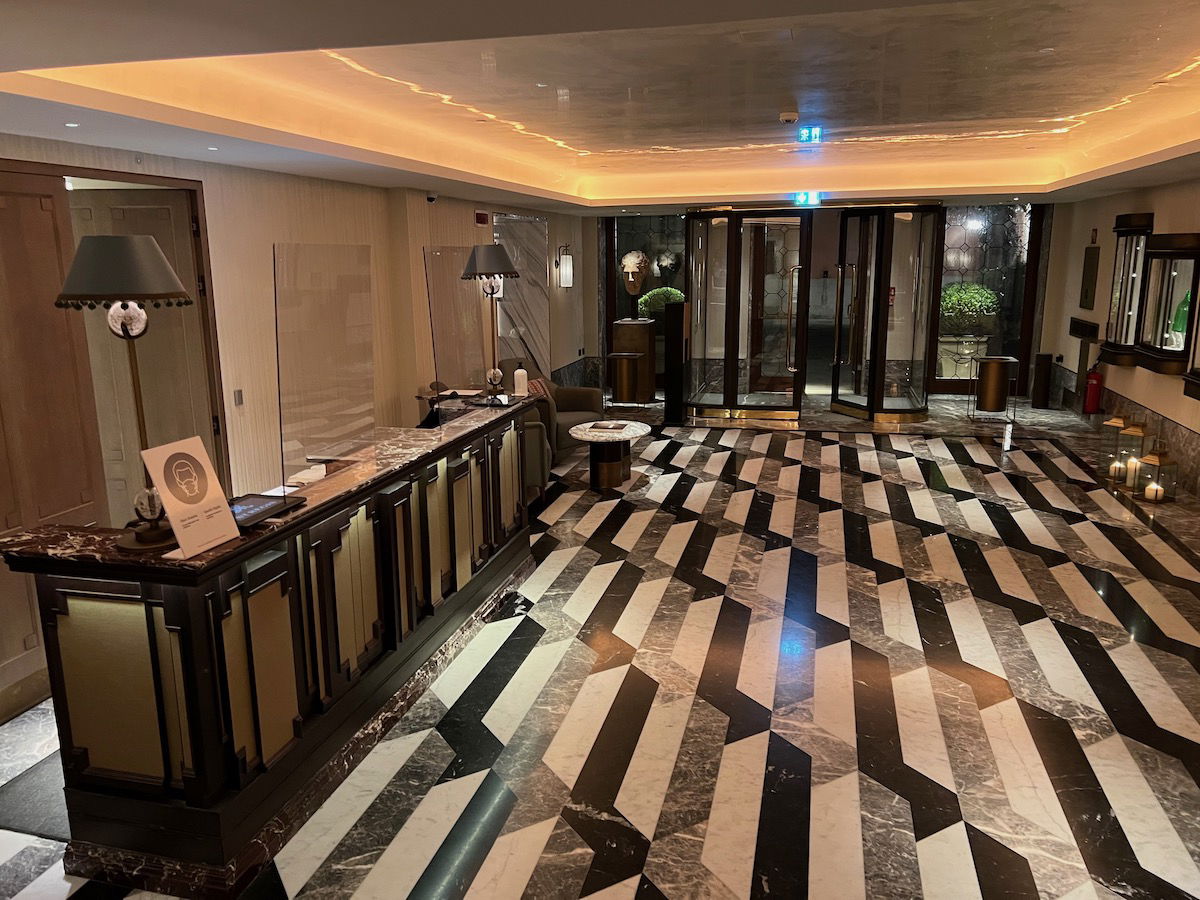 Our check-in experience was great — the associate checking us in was friendly and efficient. On account of my Bonvoy Titanium status, she gave us the choice of 1,000 bonus points or complimentary breakfast, and of course we chose the latter.
She also introduced us to one of the St. Regis butlers, who escorted us to the room (which I wouldn't usually agree to, but in the case of St. Regis I'm always happy to ask them for a pot of coffee on arrival, since that's a standard part of the butler service).
St. Regis Venice one bedroom suite
We were assigned room 2102, located on the first floor. The hotel has six floors in four different palace buildings, so really we were in room 102 in the second building (because usually you'd think room 2102 would be on the second floor).
As you'd expect given the complexity of combining buildings in this way, the hallways had lots of turns, as well as stairs.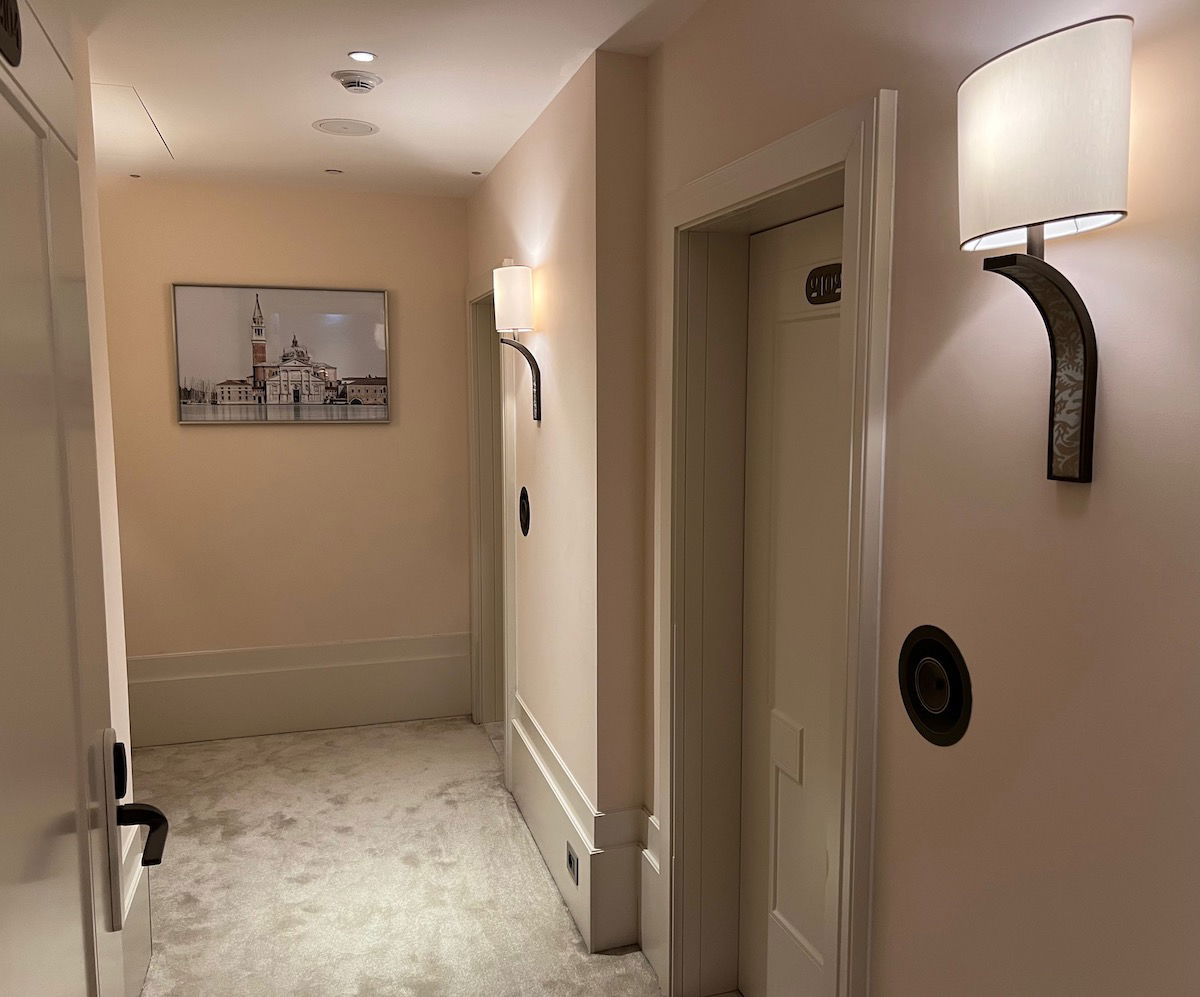 The St. Regis Suite was a "true" suite, in the sense that there was a door separating the living room from the bedroom. Inside the entrance was the bathroom to the right, and then the living room straight ahead.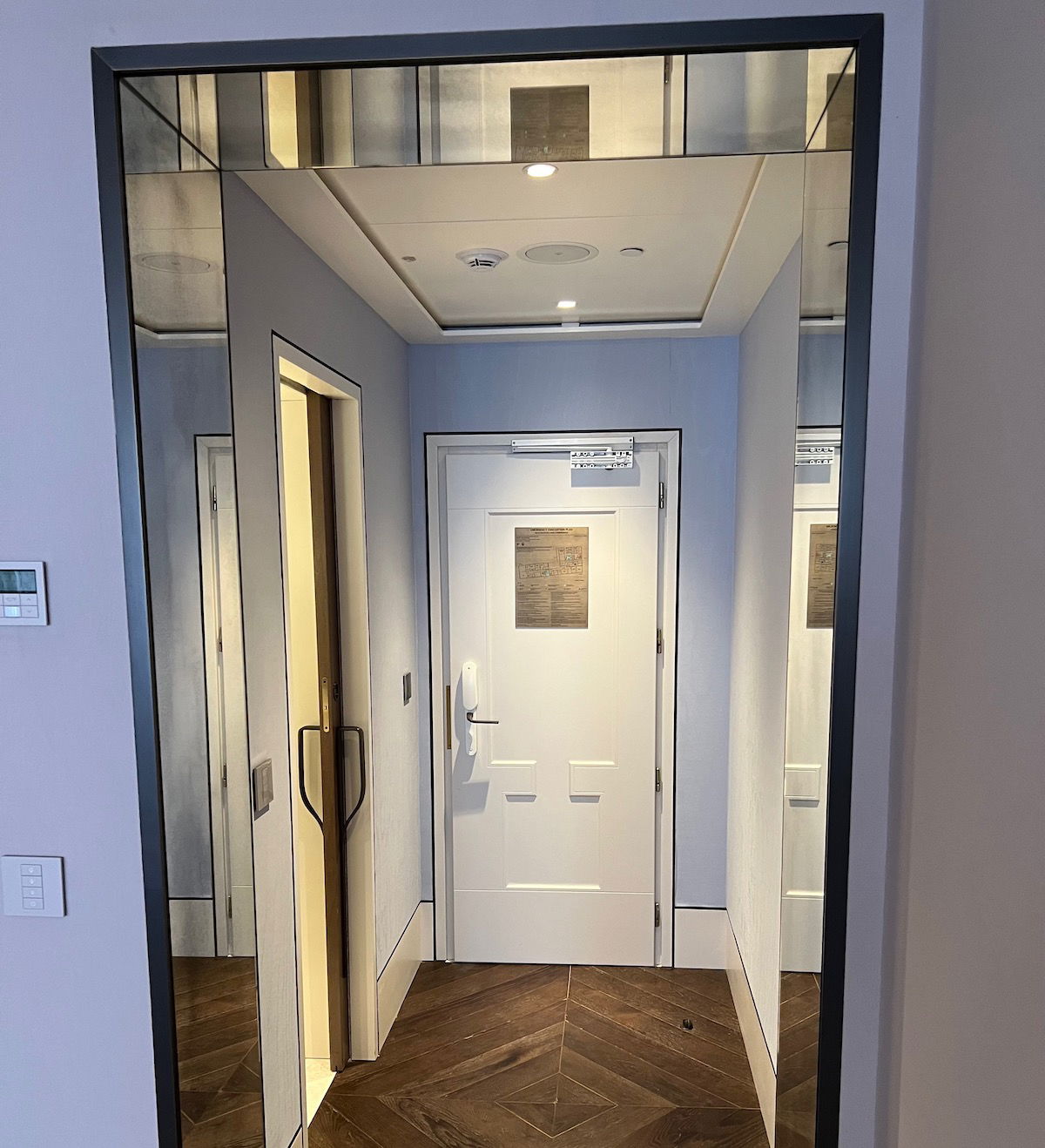 The living room was large, and featured a couch and chair, a dining table that could seat four, and a wall-mounted TV.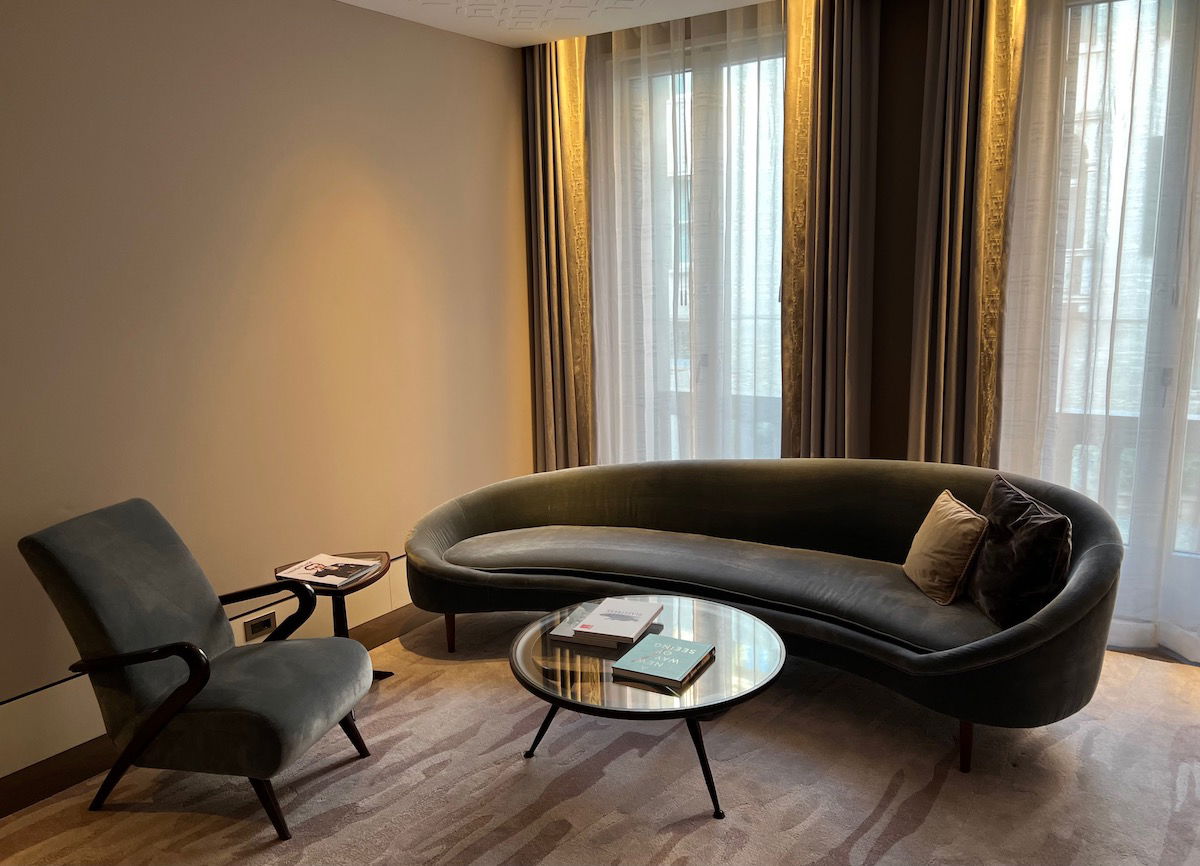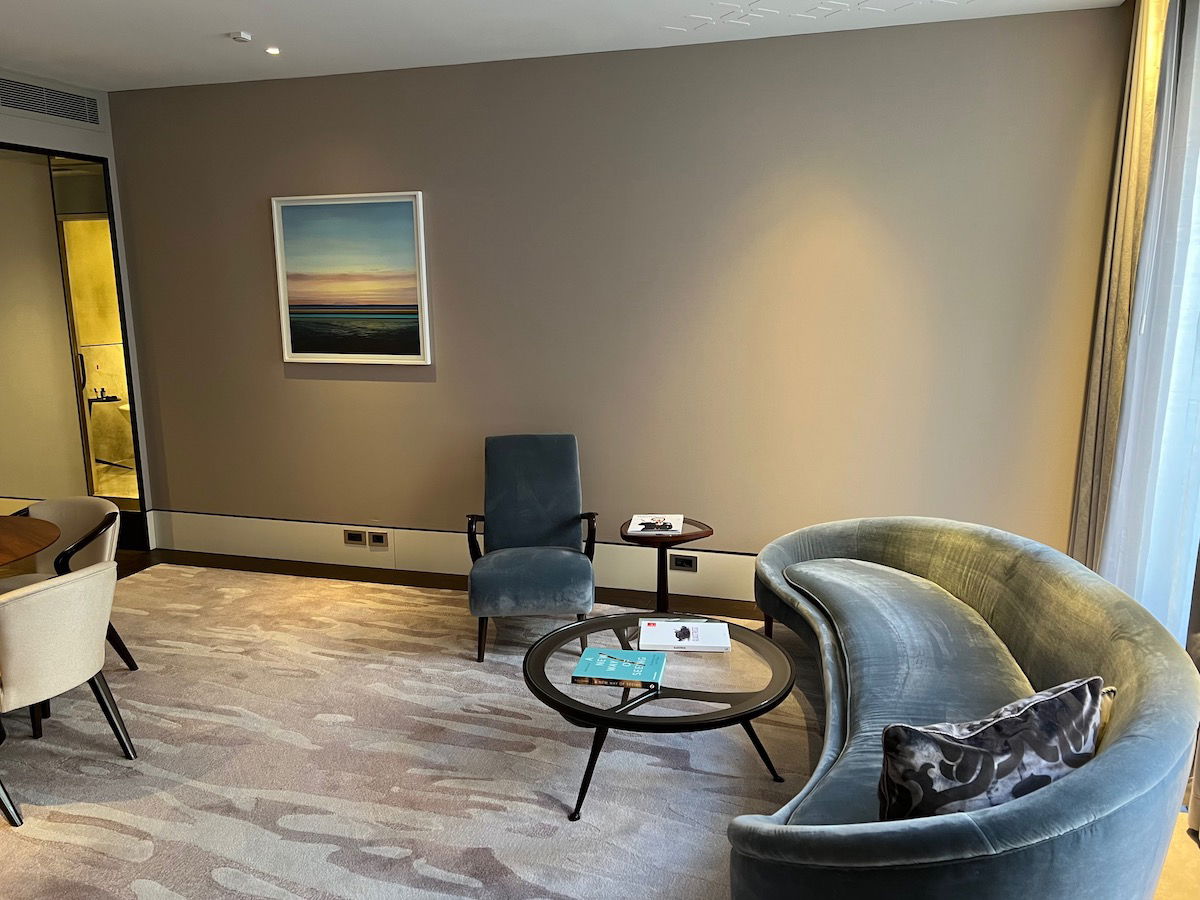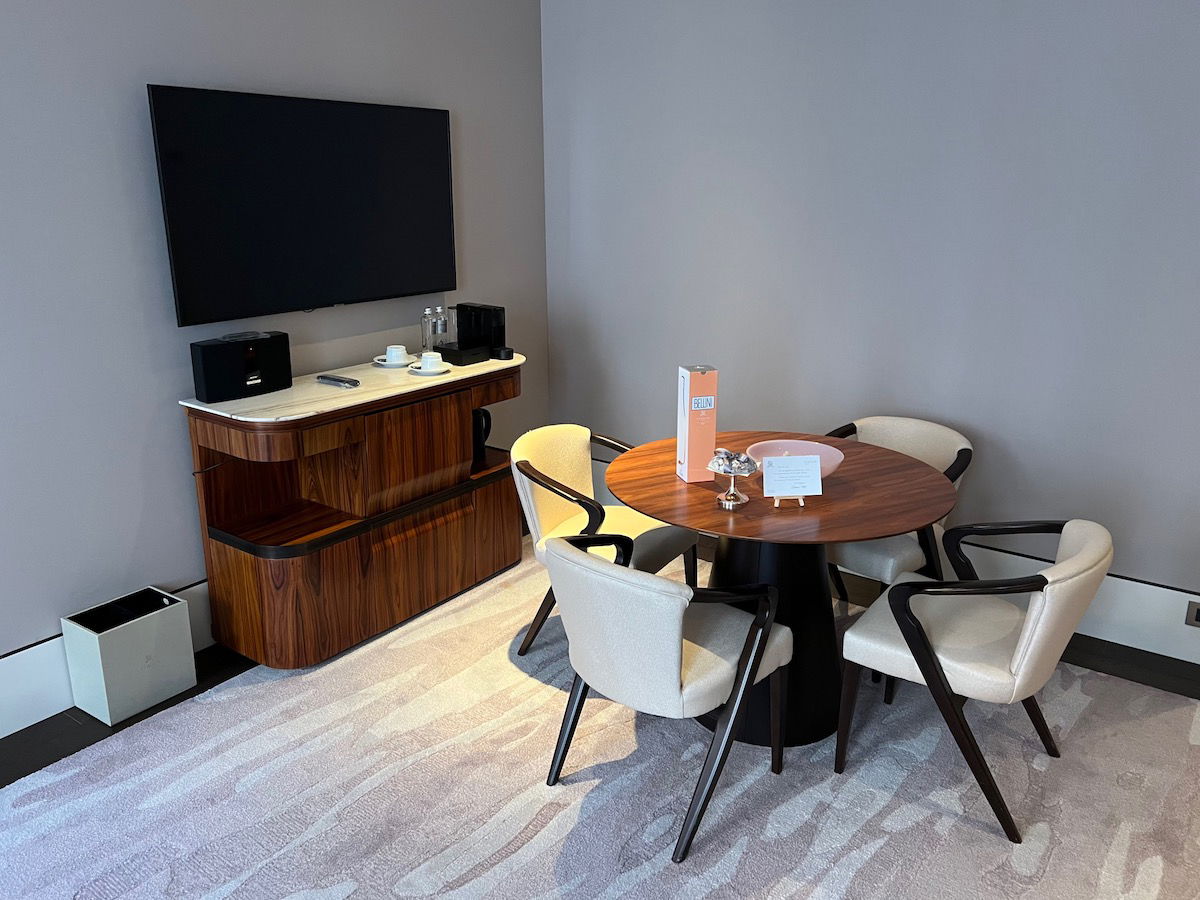 In the corner of the living room was a console that had a Nespresso coffee machine, plus a minibar. The minibar didn't have any drinks, aside from four complimentary bottles of water.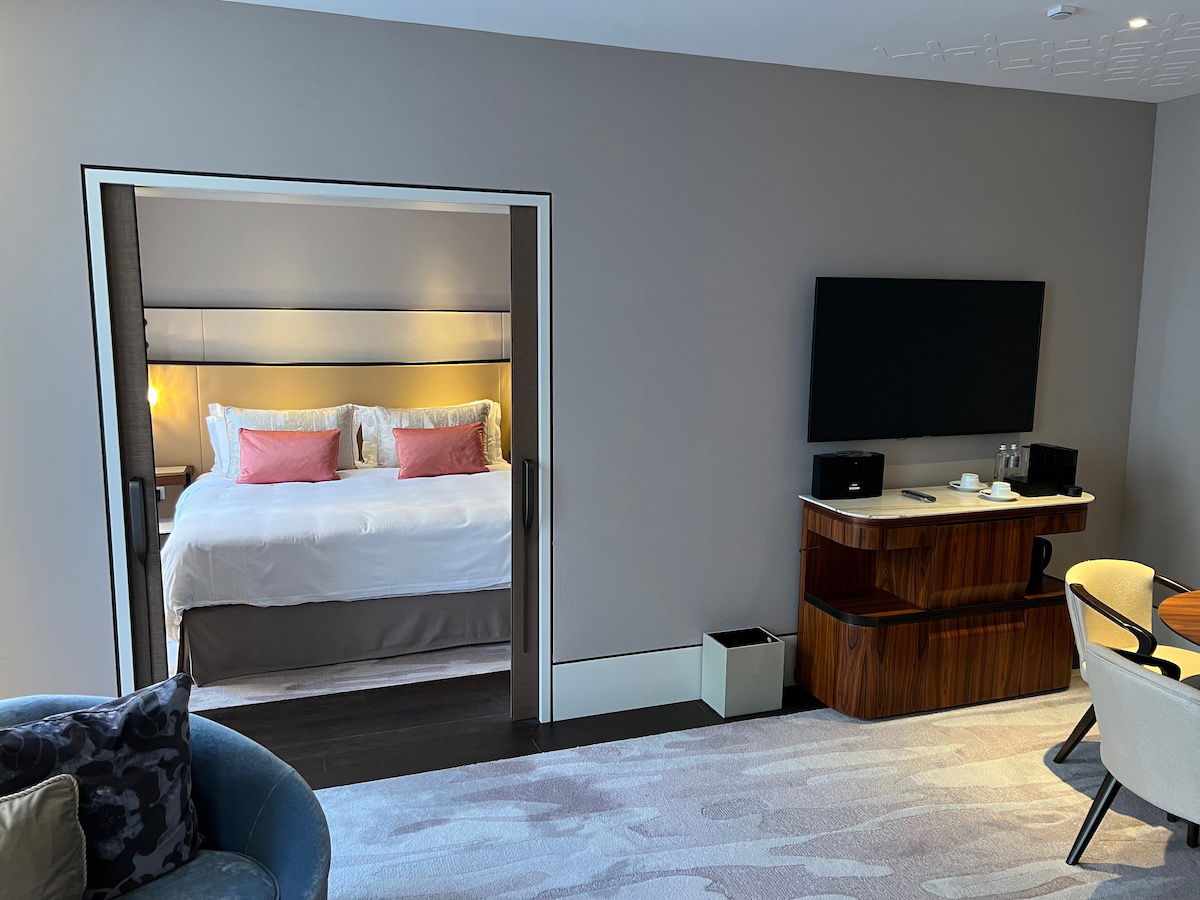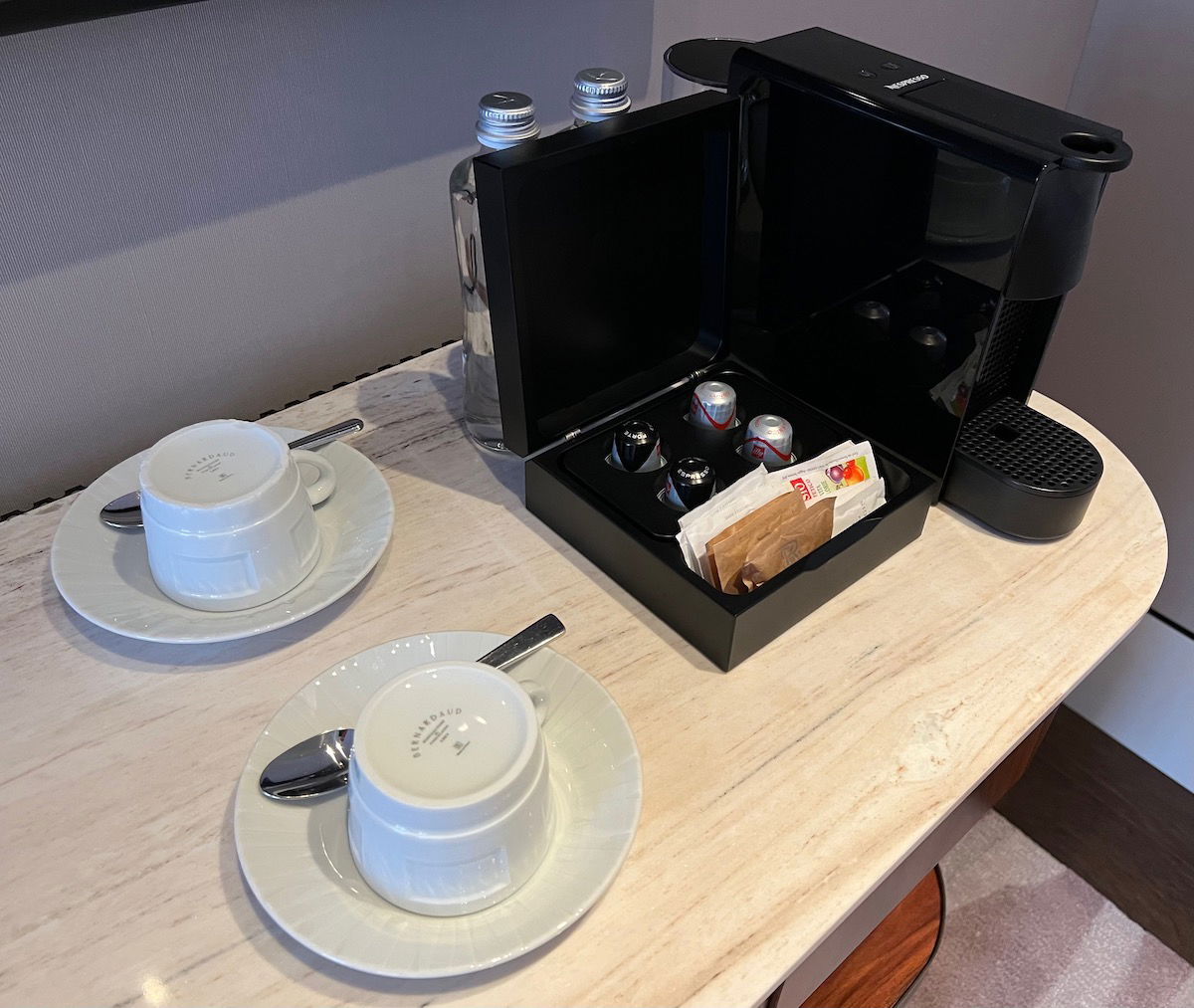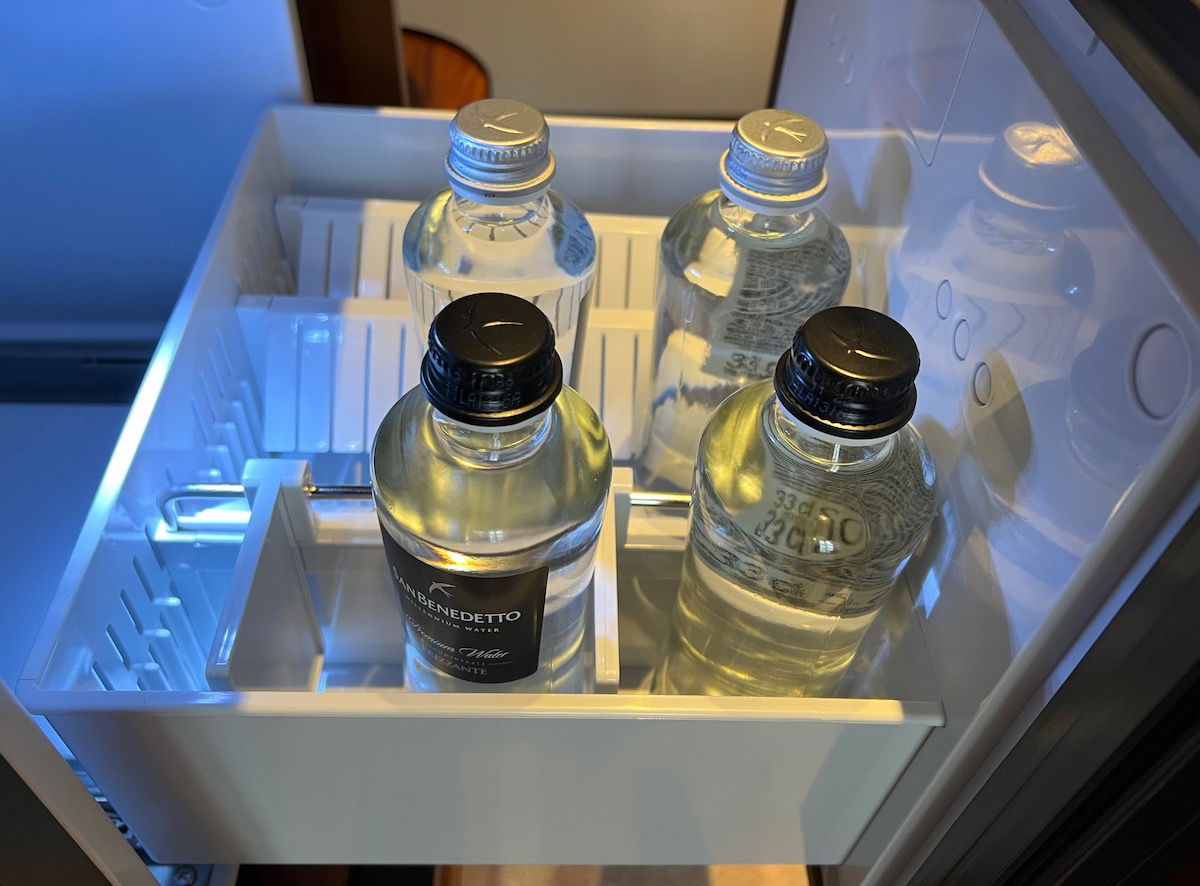 There was a lovely welcome amenity waiting on the table, consisting of a St. Regis branded bellini drink, plus pan dei dogi, which is an almond-based sweet bread that's common in Venice. Yum. The only odd part was that the letter associated with the welcome gift was addressed to someone else.
So I'm not sure if the gift was intended for us and the card was just wrong, or if the gift was intended for someone else but was just placed in the wrong room.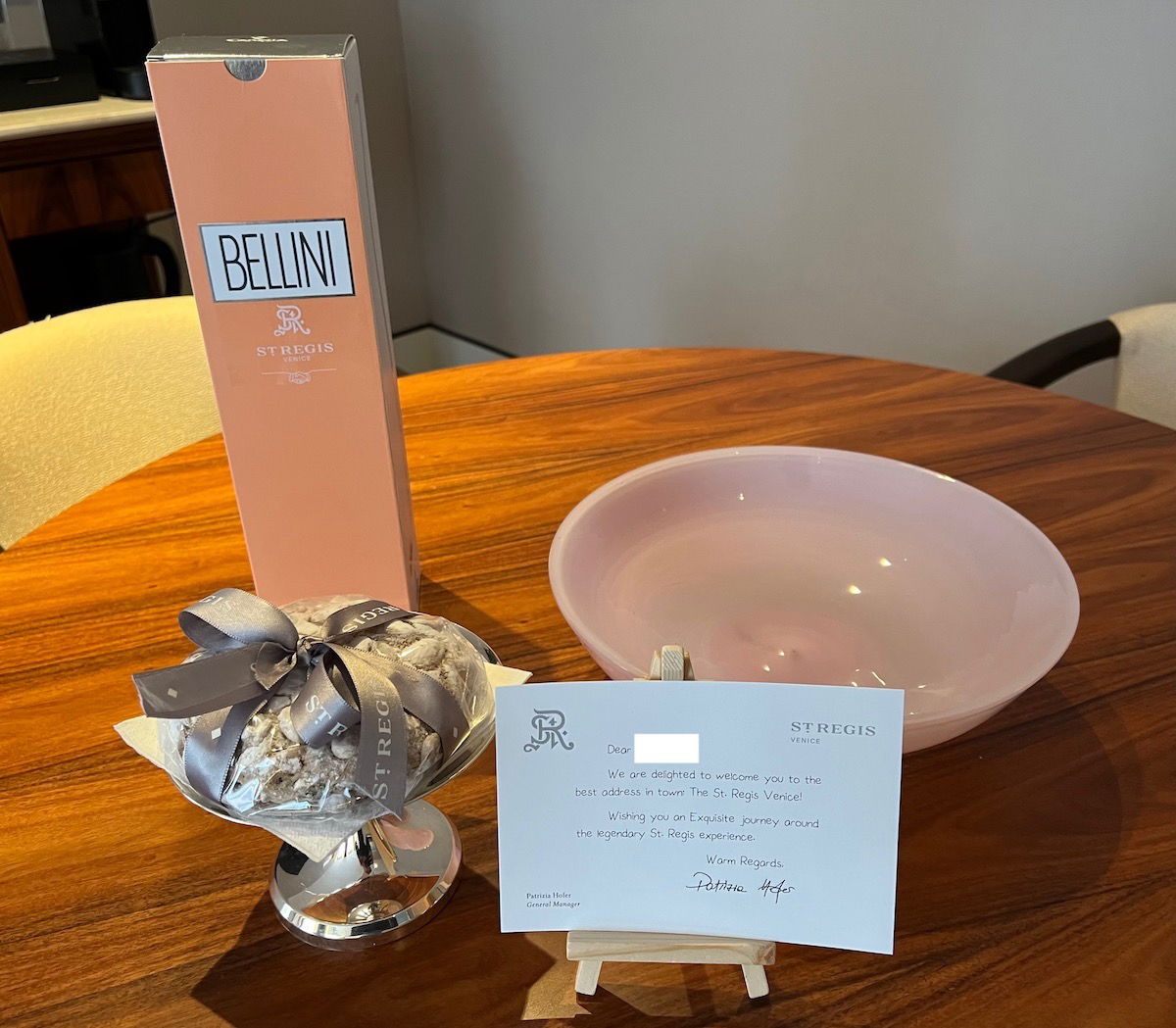 The bedroom was separated from the living room by sliding doors. The bedroom was small and cozy, which I personally quite like. It had a very comfortable bed, as I consistently find to be the case at St. Regis properties.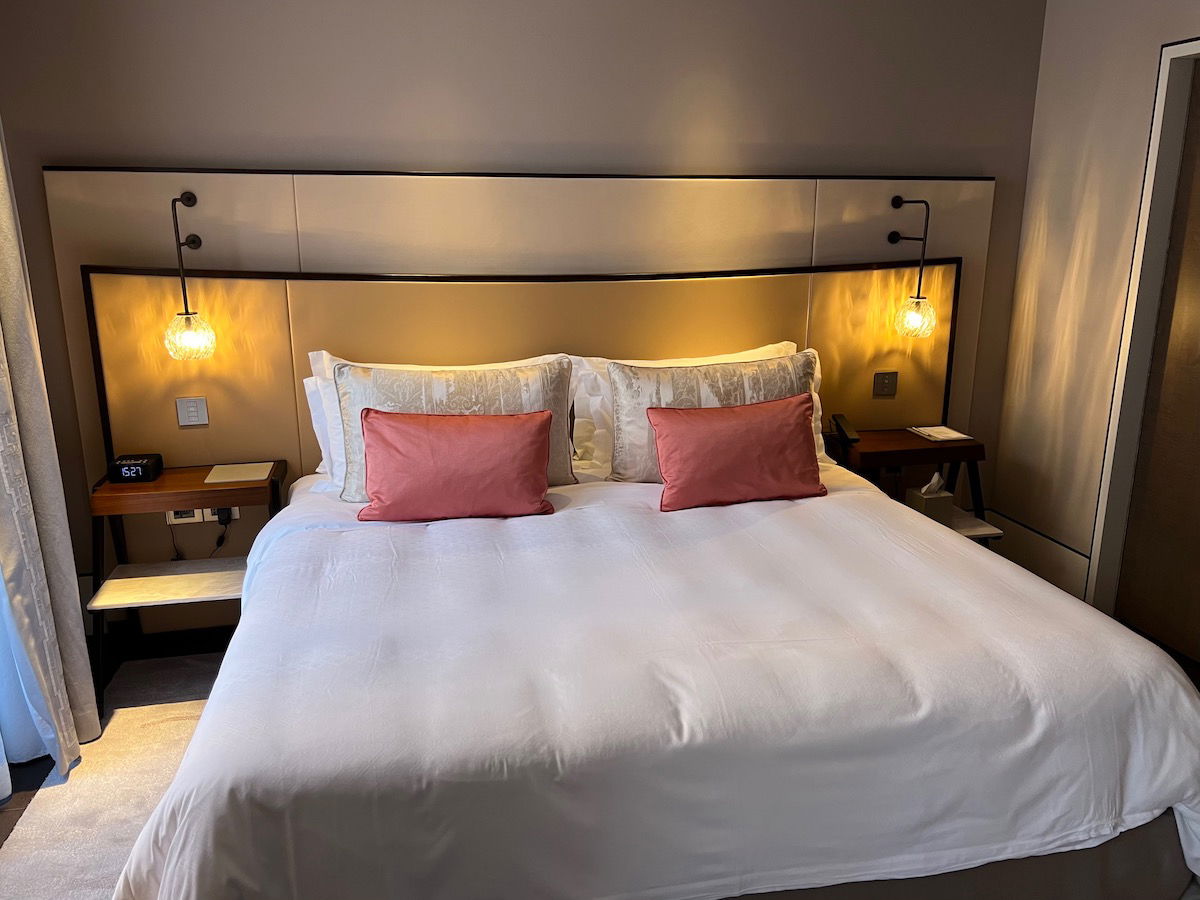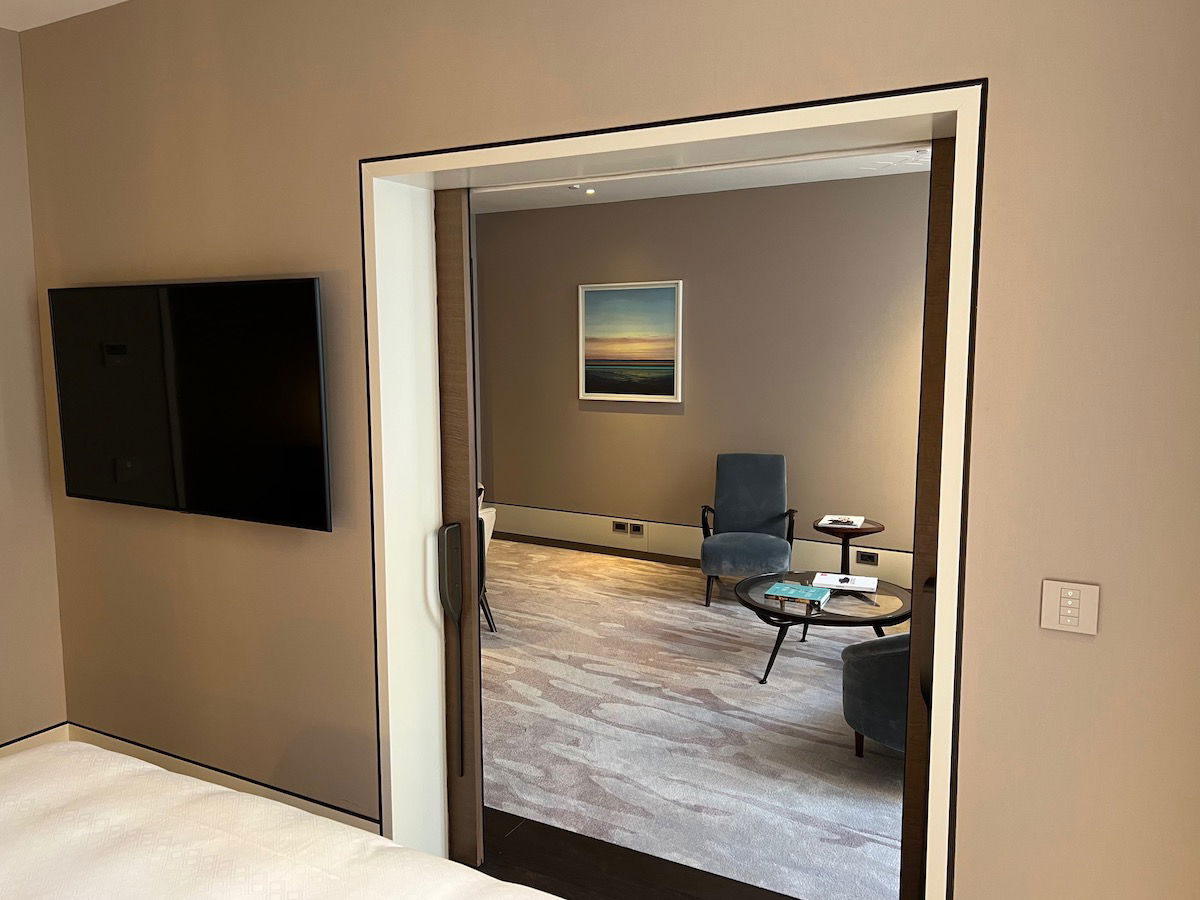 There was a fairly large walk-in closet in the bedroom.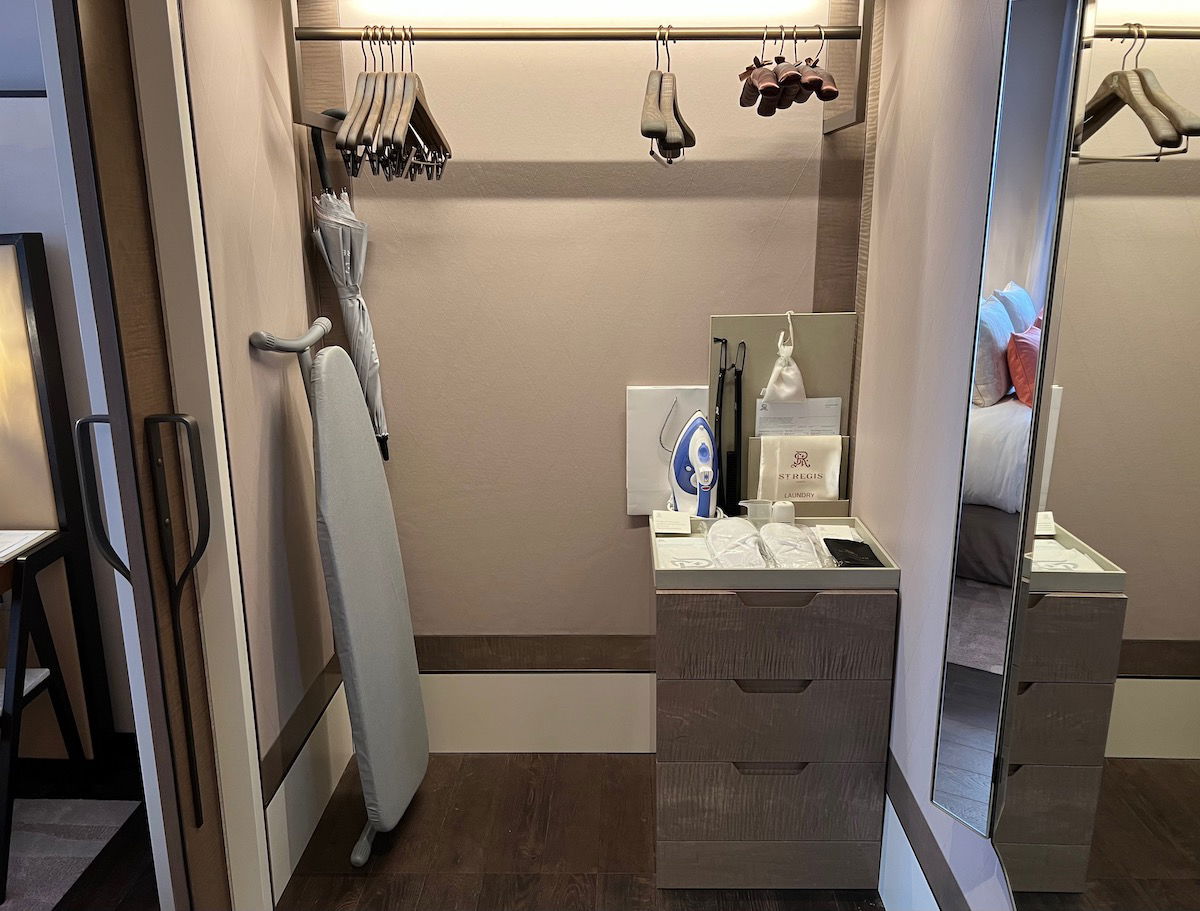 Both the living room and bedroom faced the quiet courtyard, so there were no canal views. Then again, in Venice you're typically going to pay a lot more to be looking at a canal.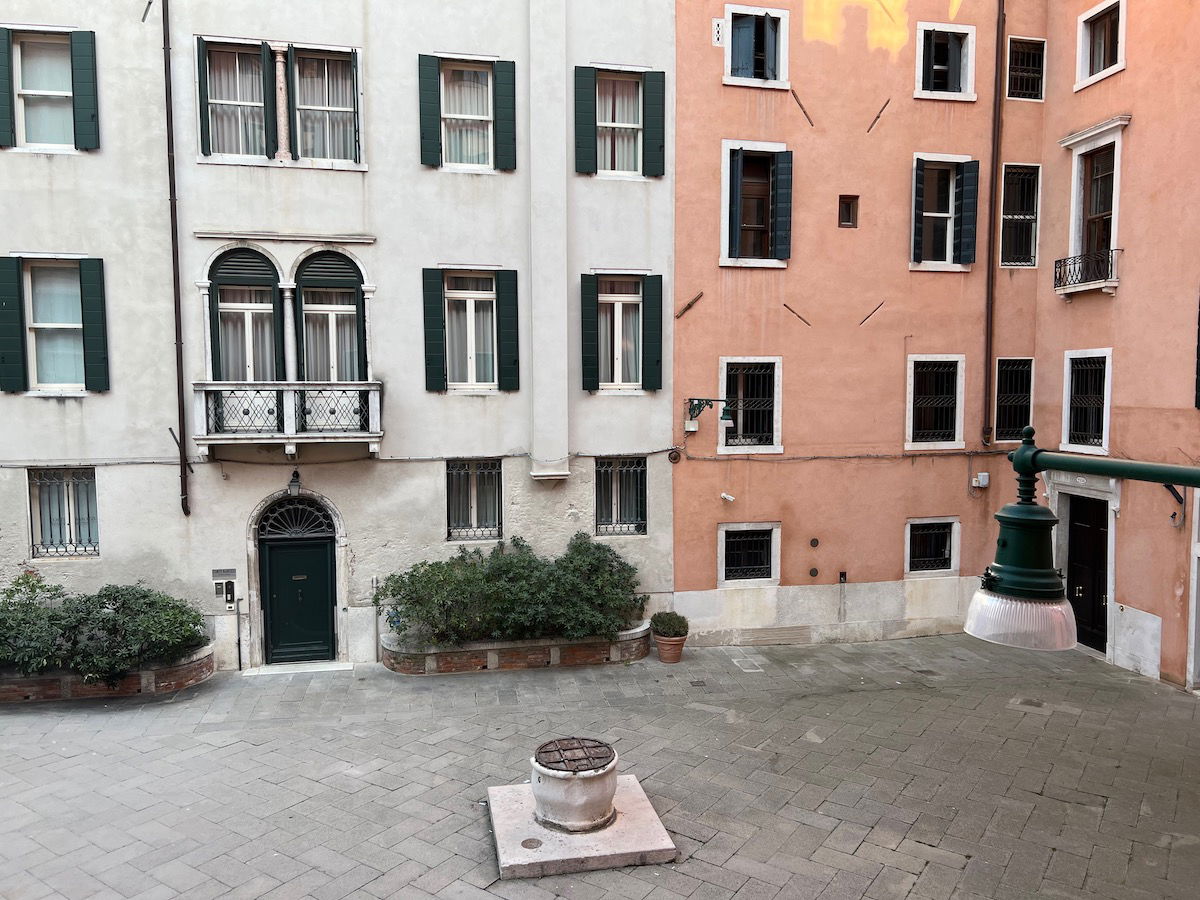 The bathroom was back near the entrance, and was a good size. It had double sinks, a soaking tub, a huge walk-in shower, a toilet, and a bidet.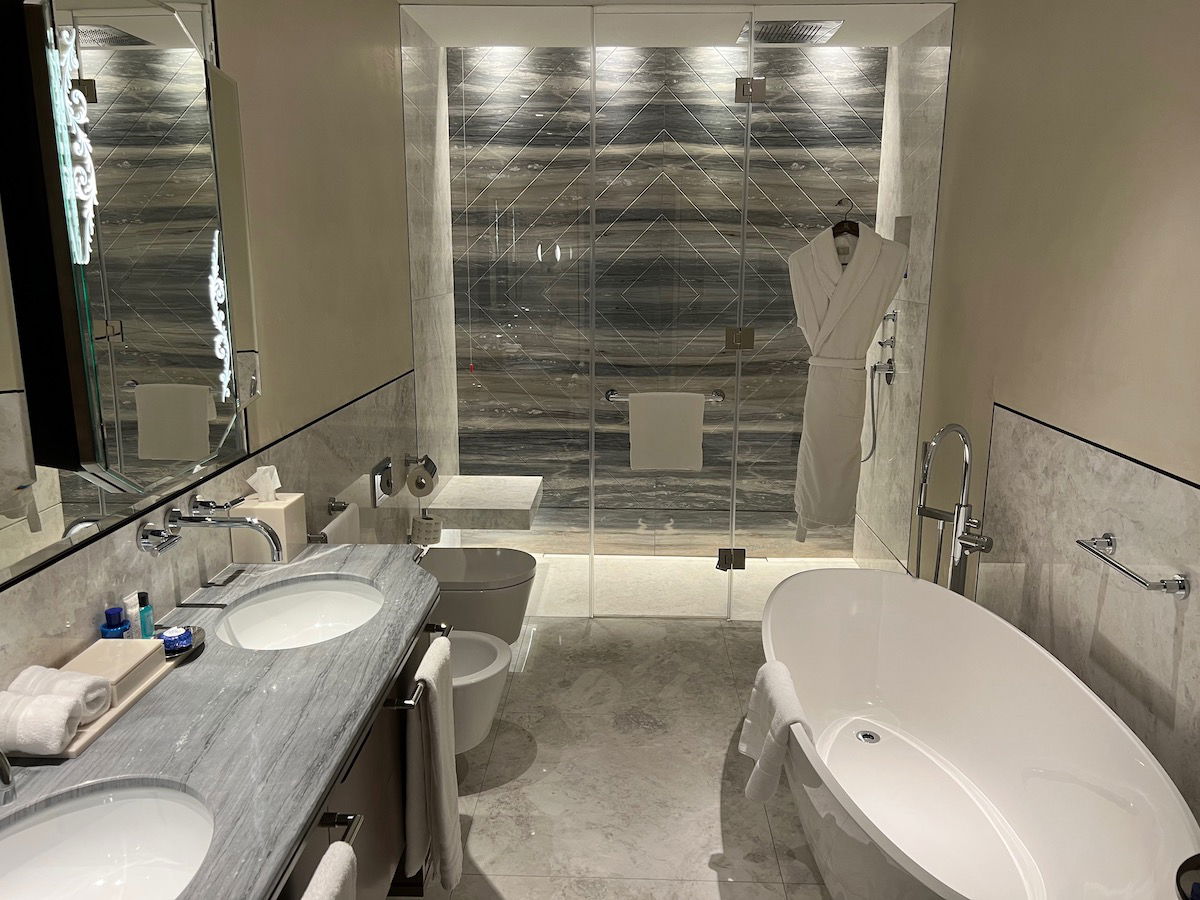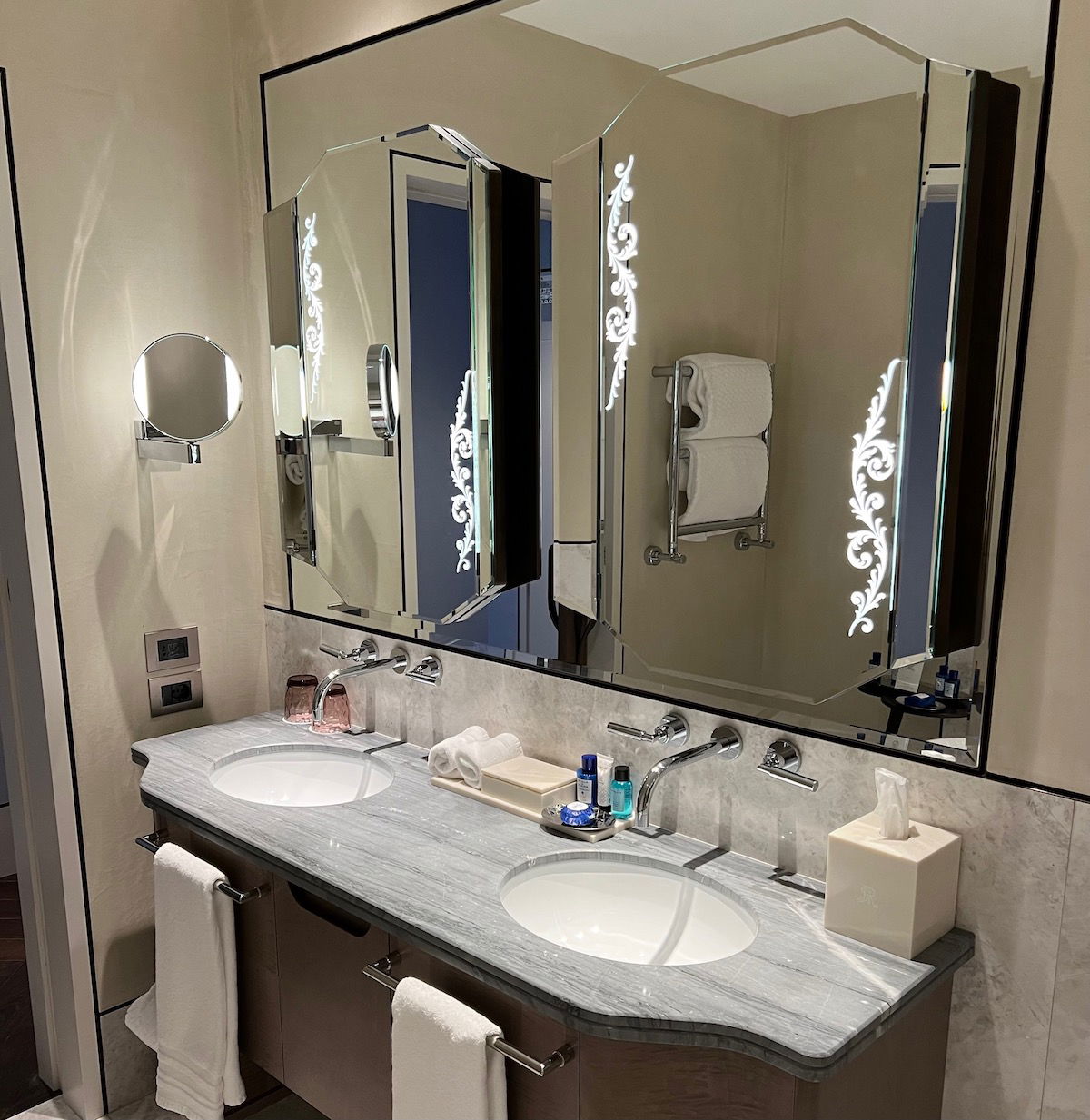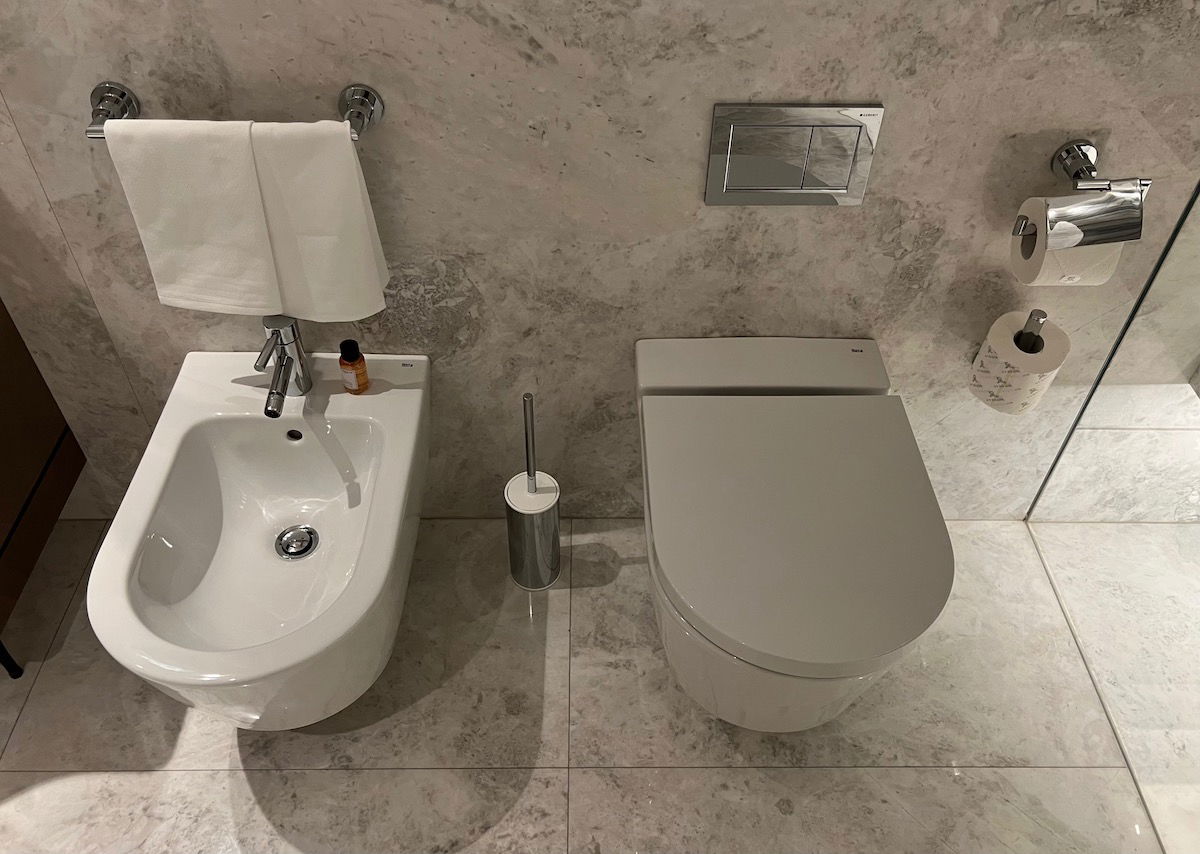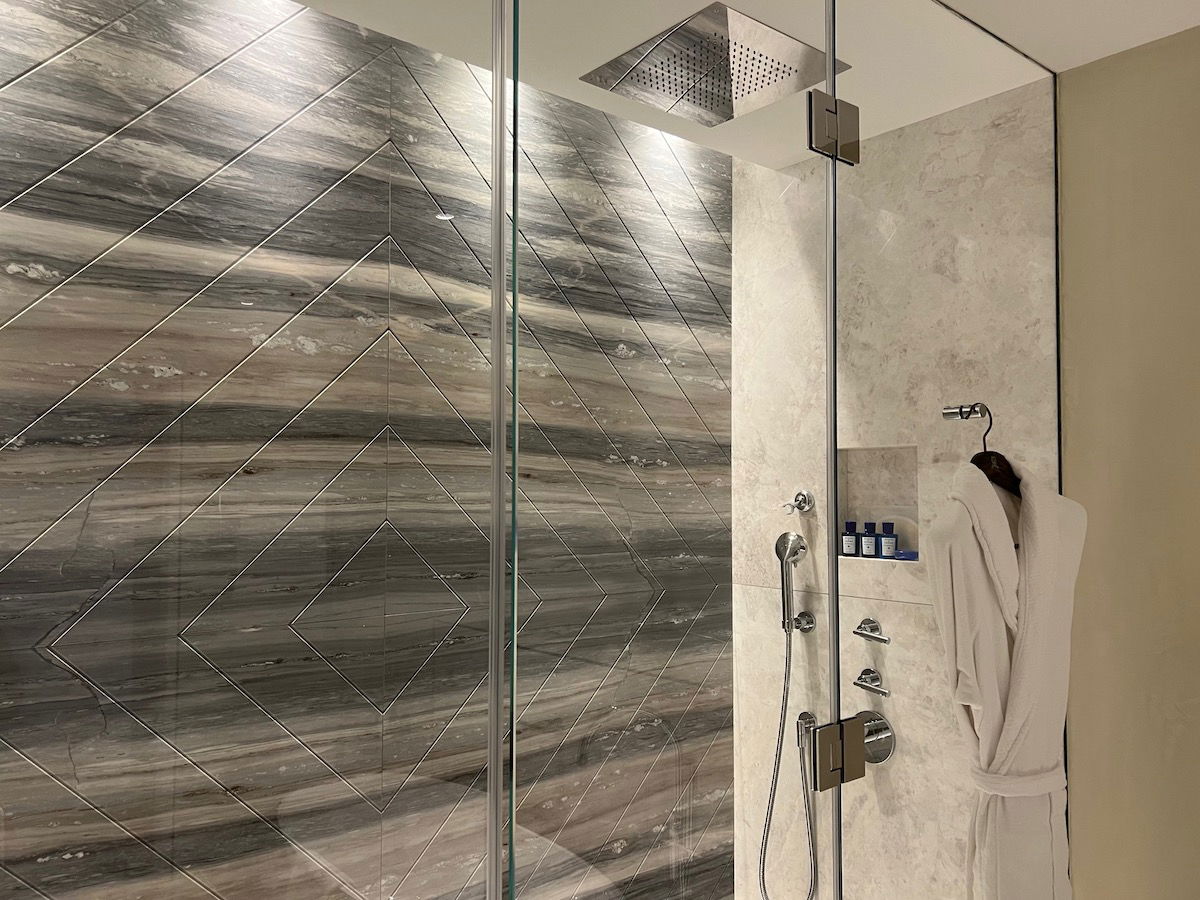 Toiletries were from Acqua di Parma, and I was amazed by the sheer quantity and variety of toiletries.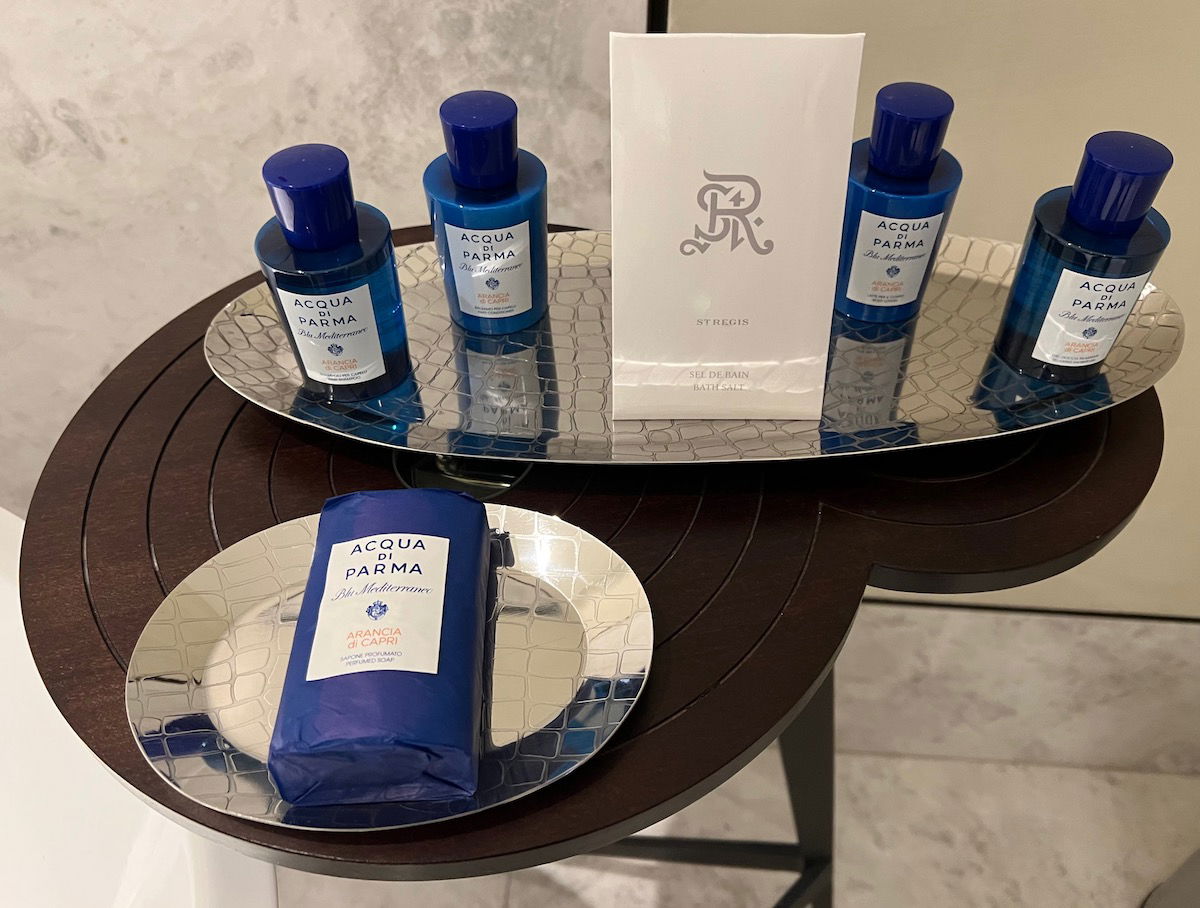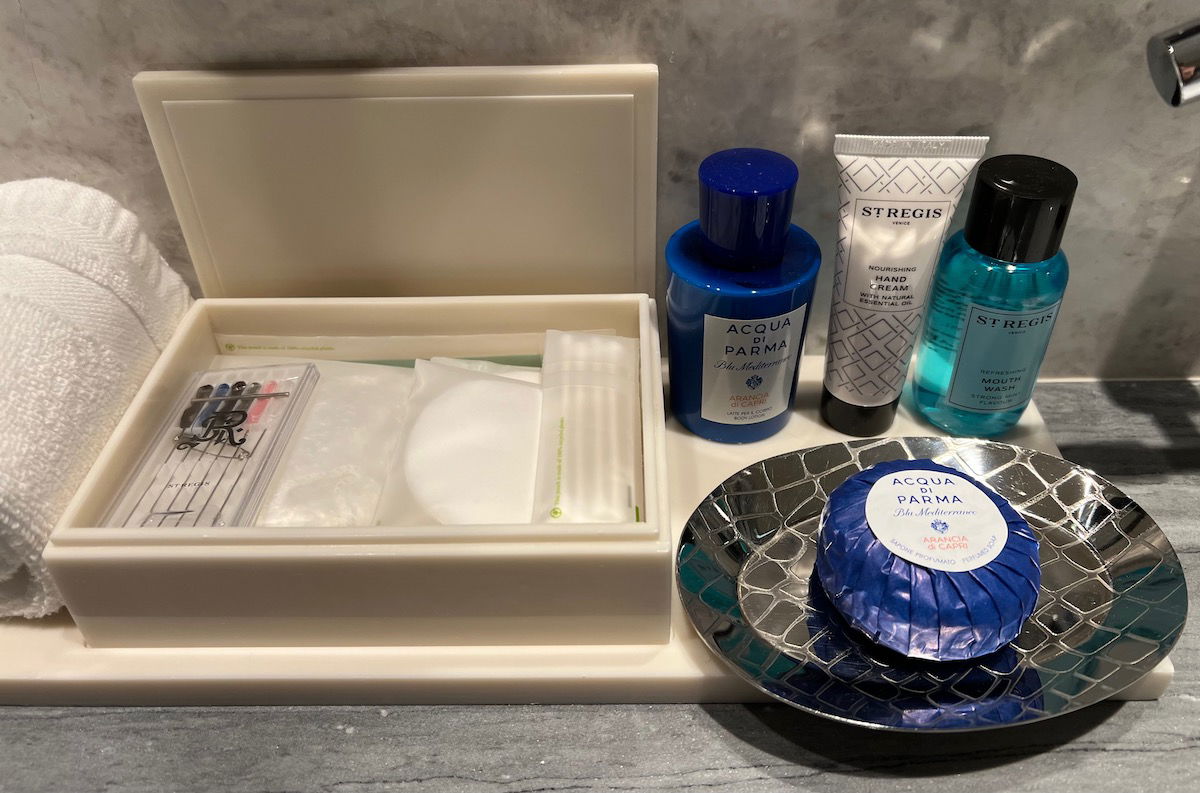 Wi-Fi in the room was fast and free, and there was also turndown service in the evening. As far as St. Regis butler service goes, I love getting access to coffee delivered to our room 24/7, especially when jetlagged the first day in Europe. This is such a nice feature, and the coffee was also especially tasty. Yum Italian coffee.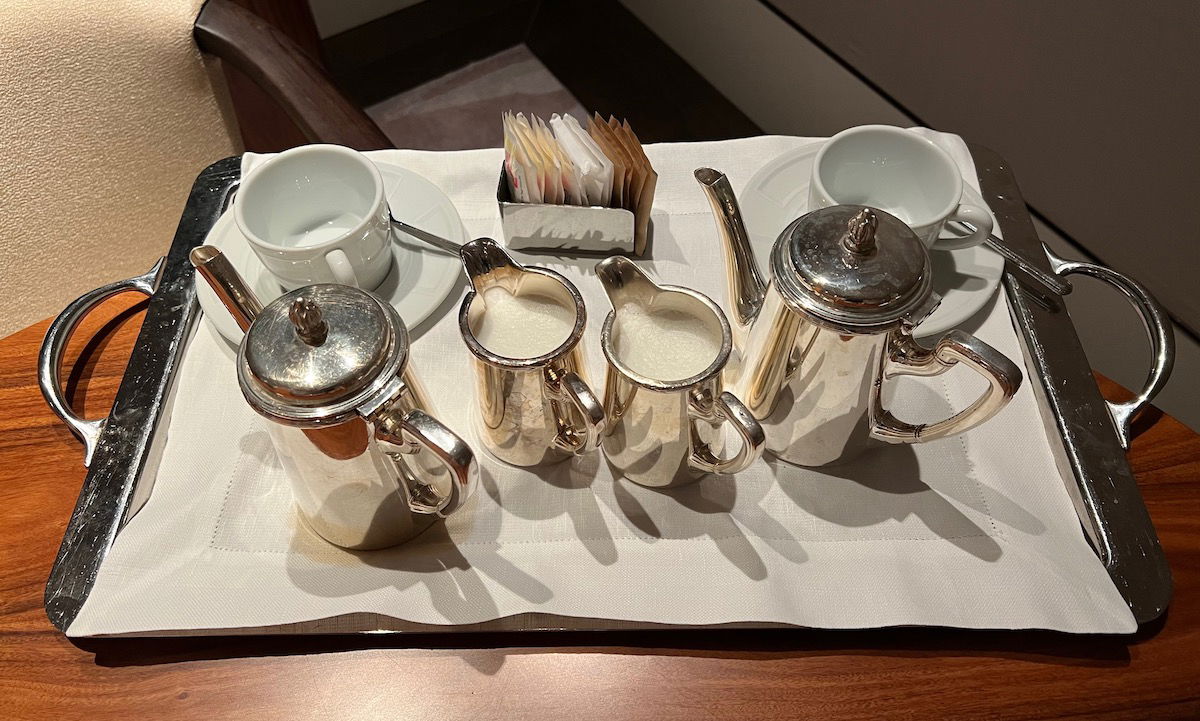 What an unbelievable room, especially given what we were paying!
St. Regis Venice St. Regis Bar
The St. Regis Bar is open almost the entire day, and is on the ground floor next to the lobby. This is such a stunning space. The bar has indoor seating, including plenty of couches, tables, and high-top seating.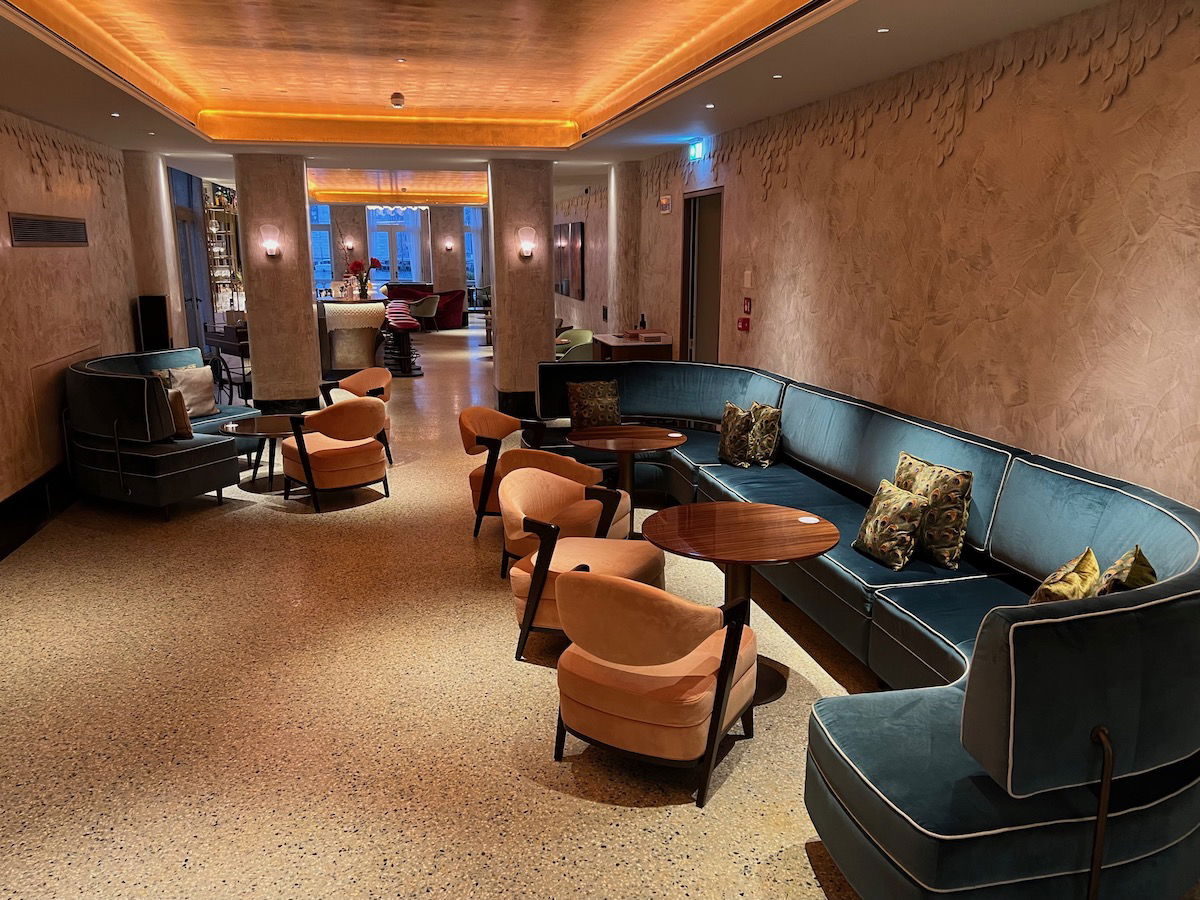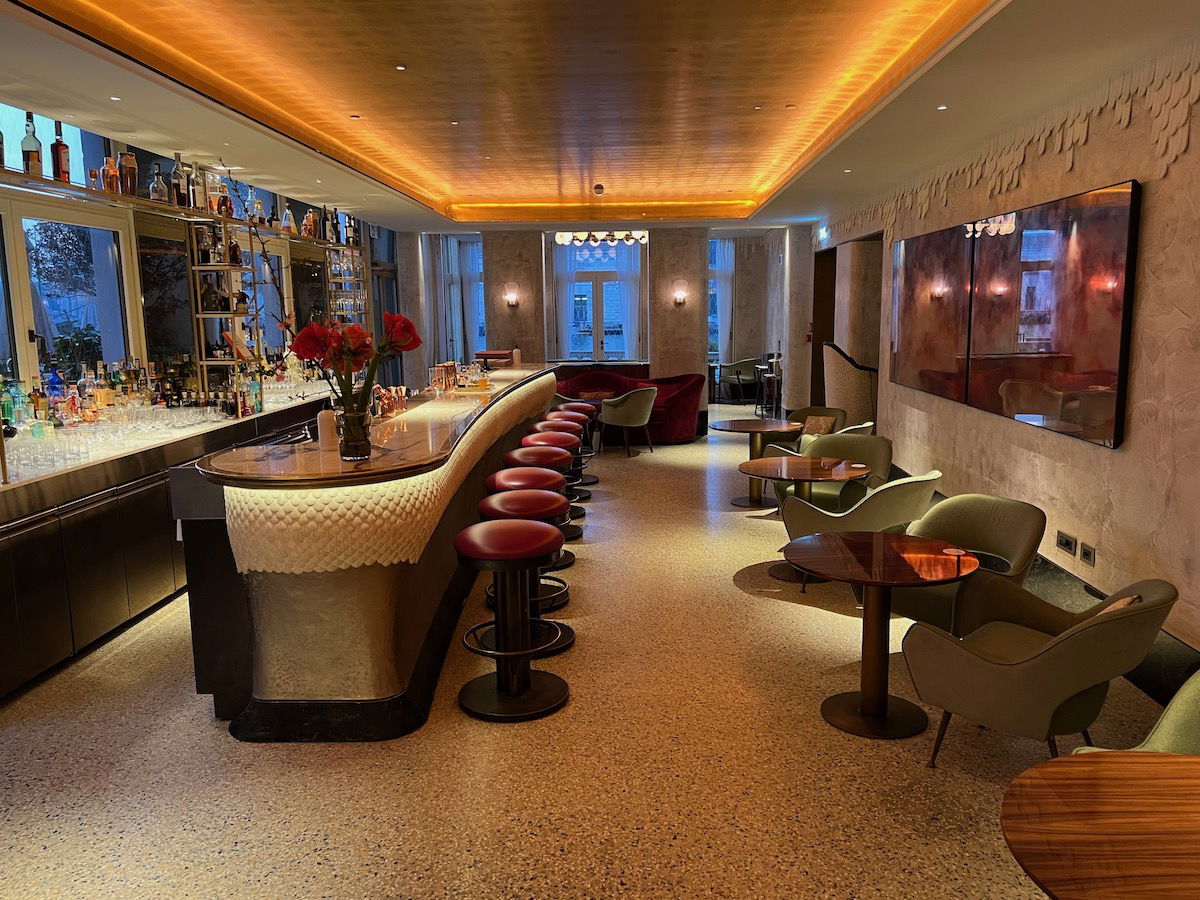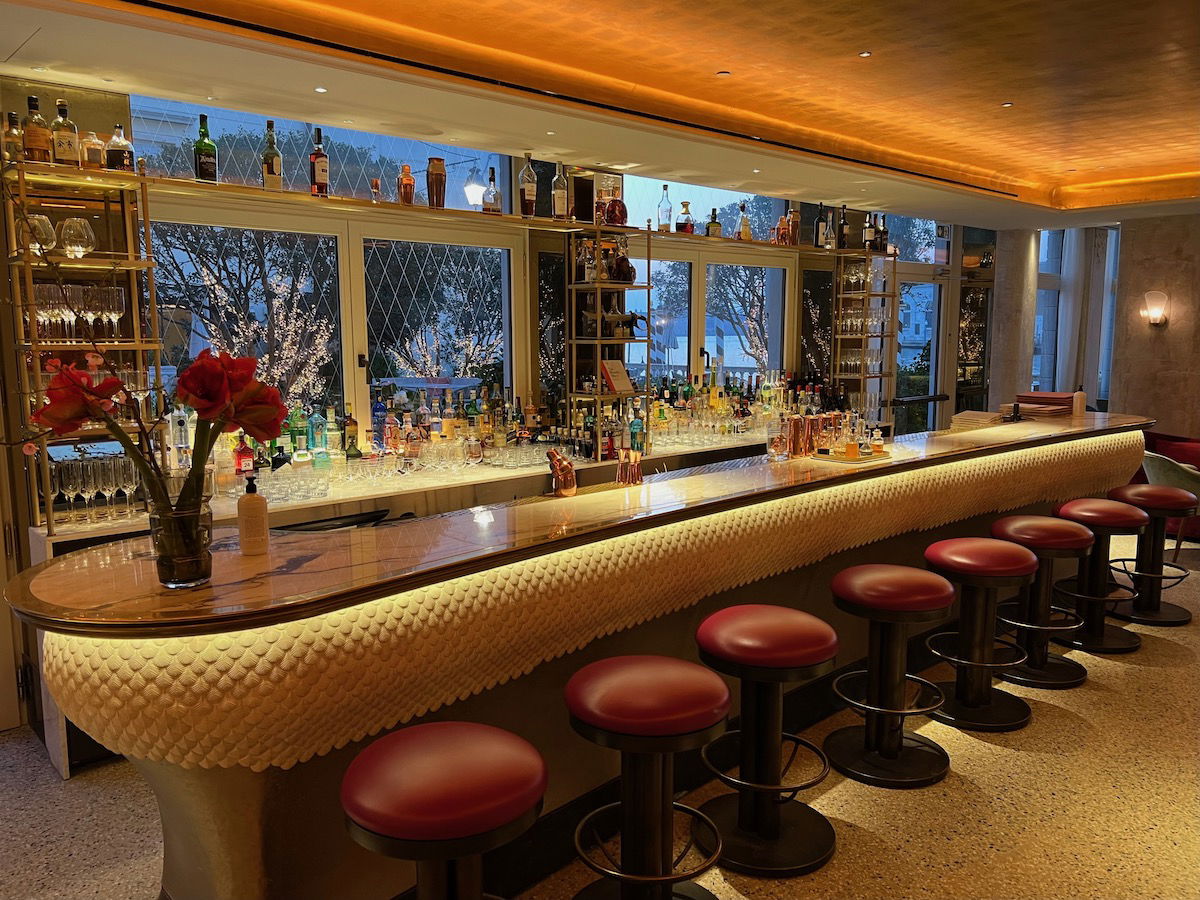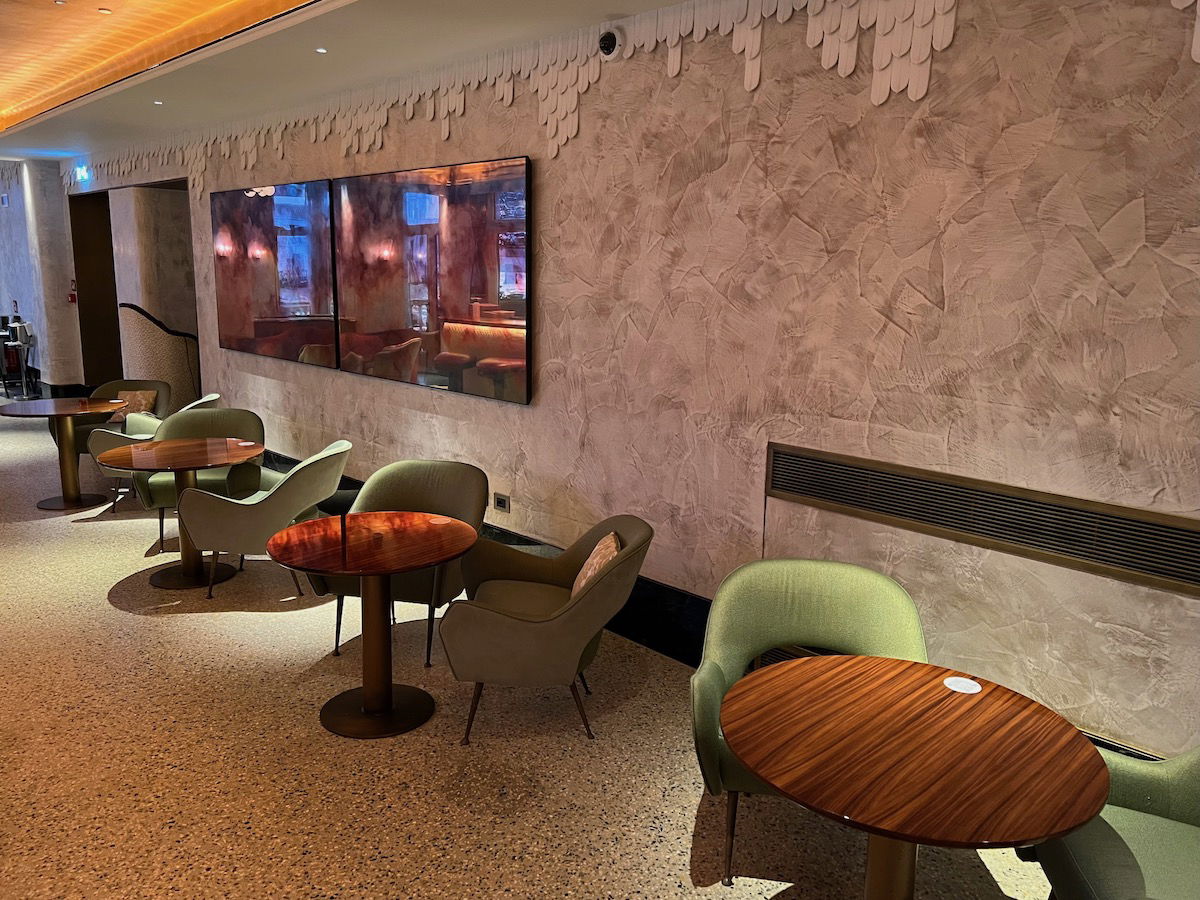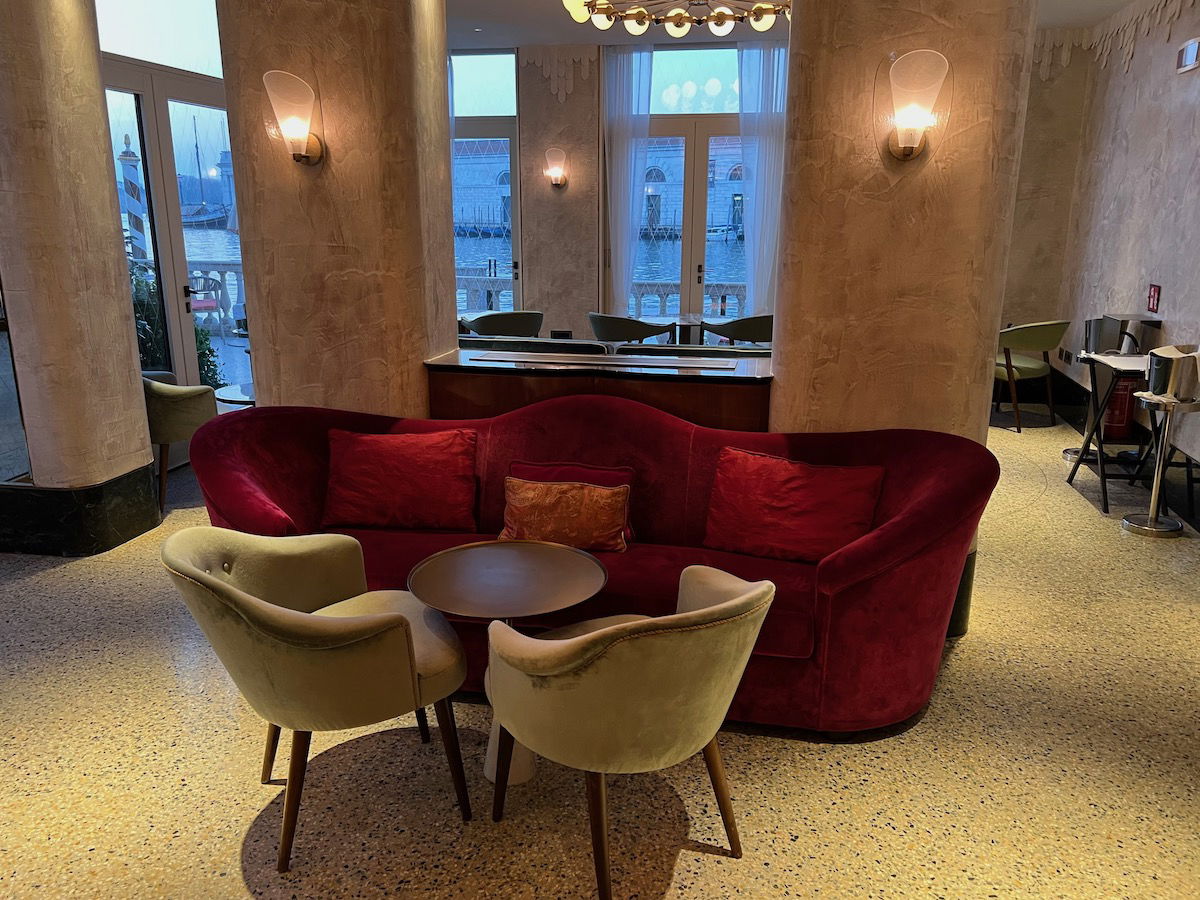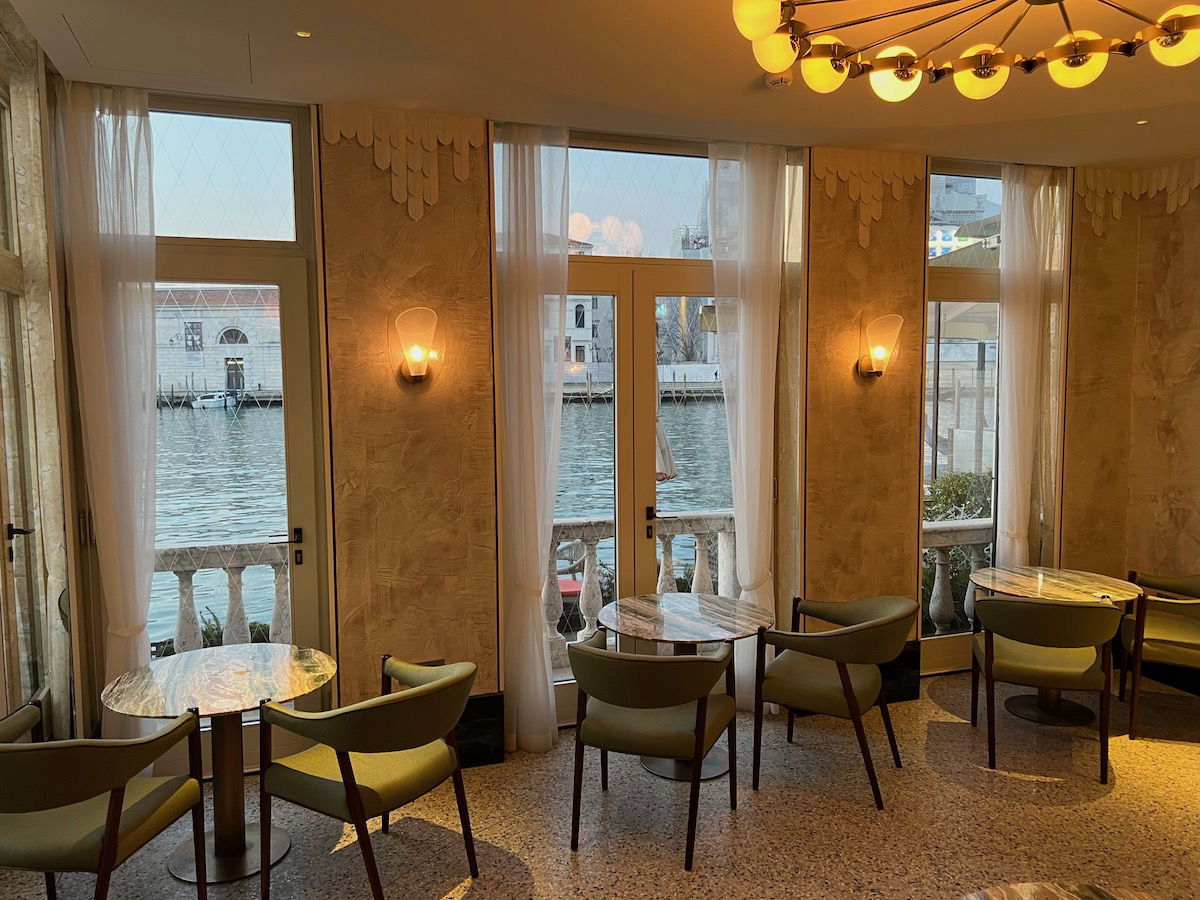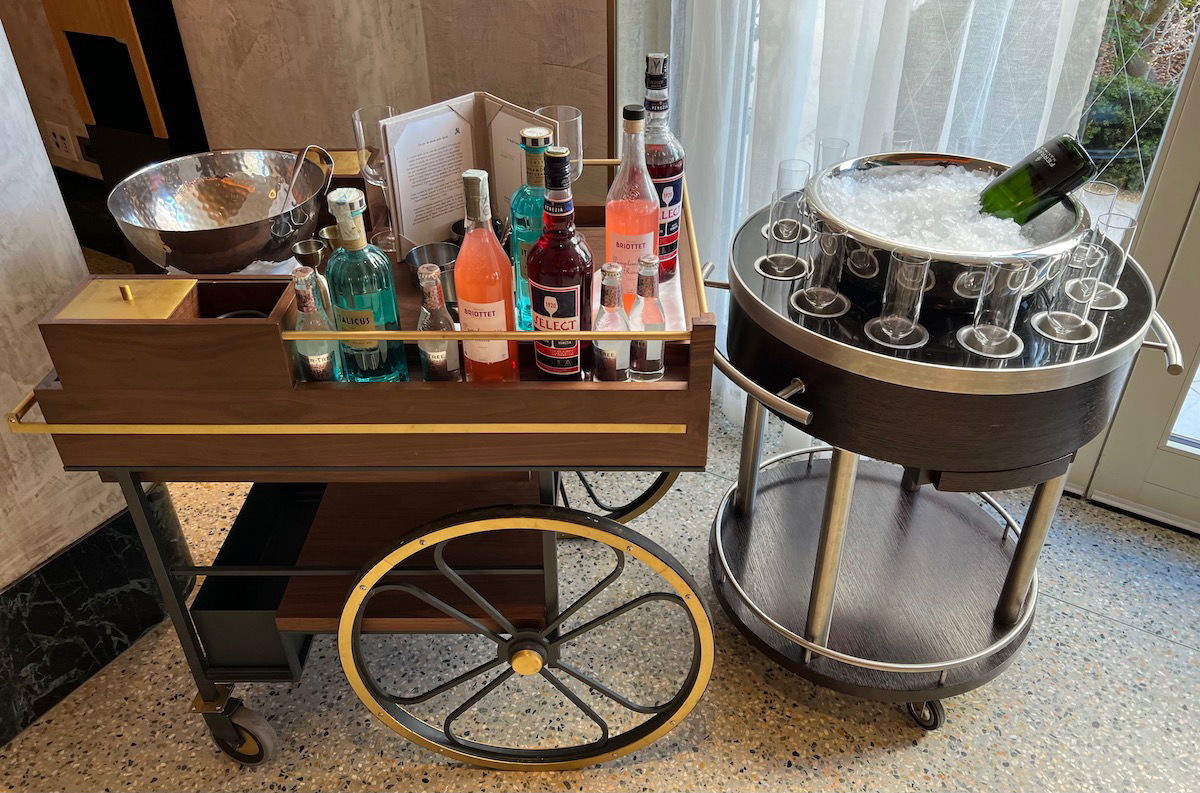 However, the real stand-out feature was the terrace.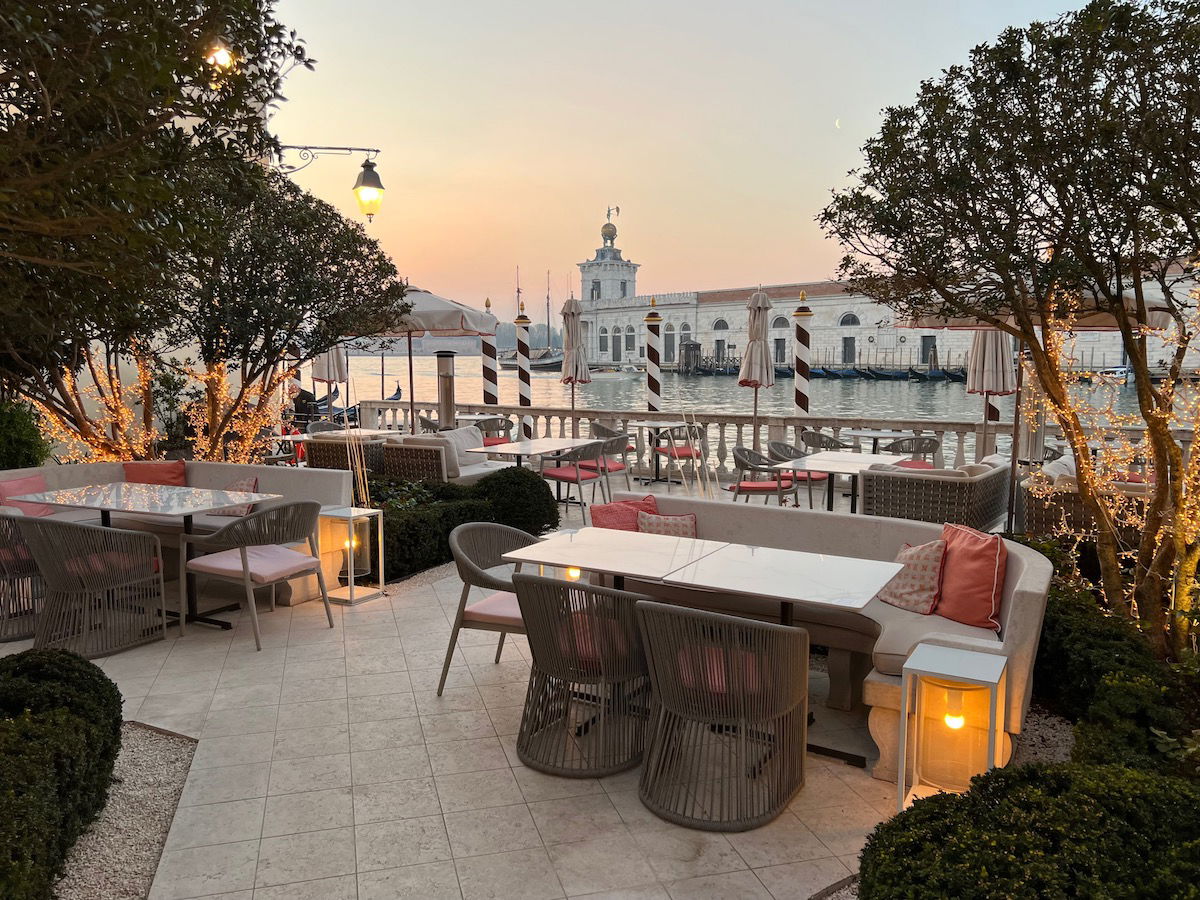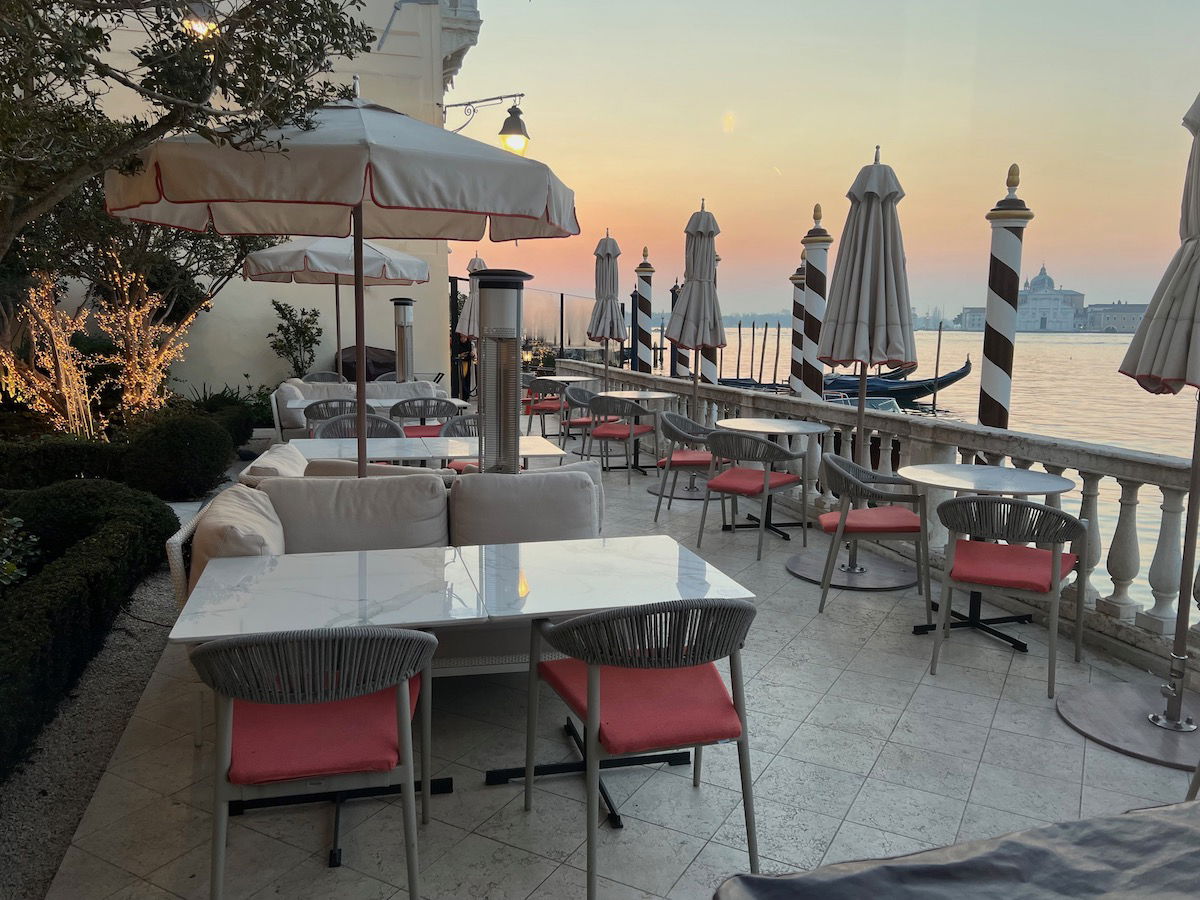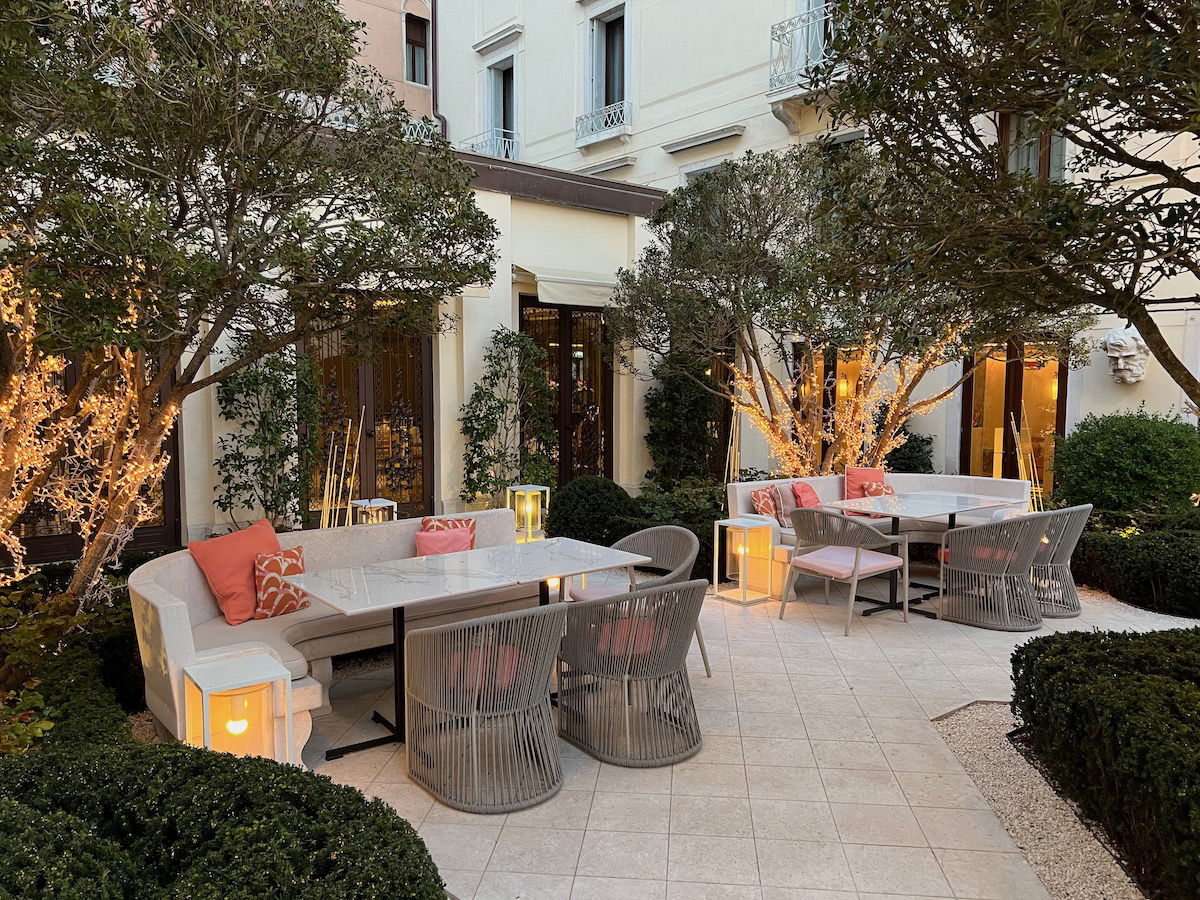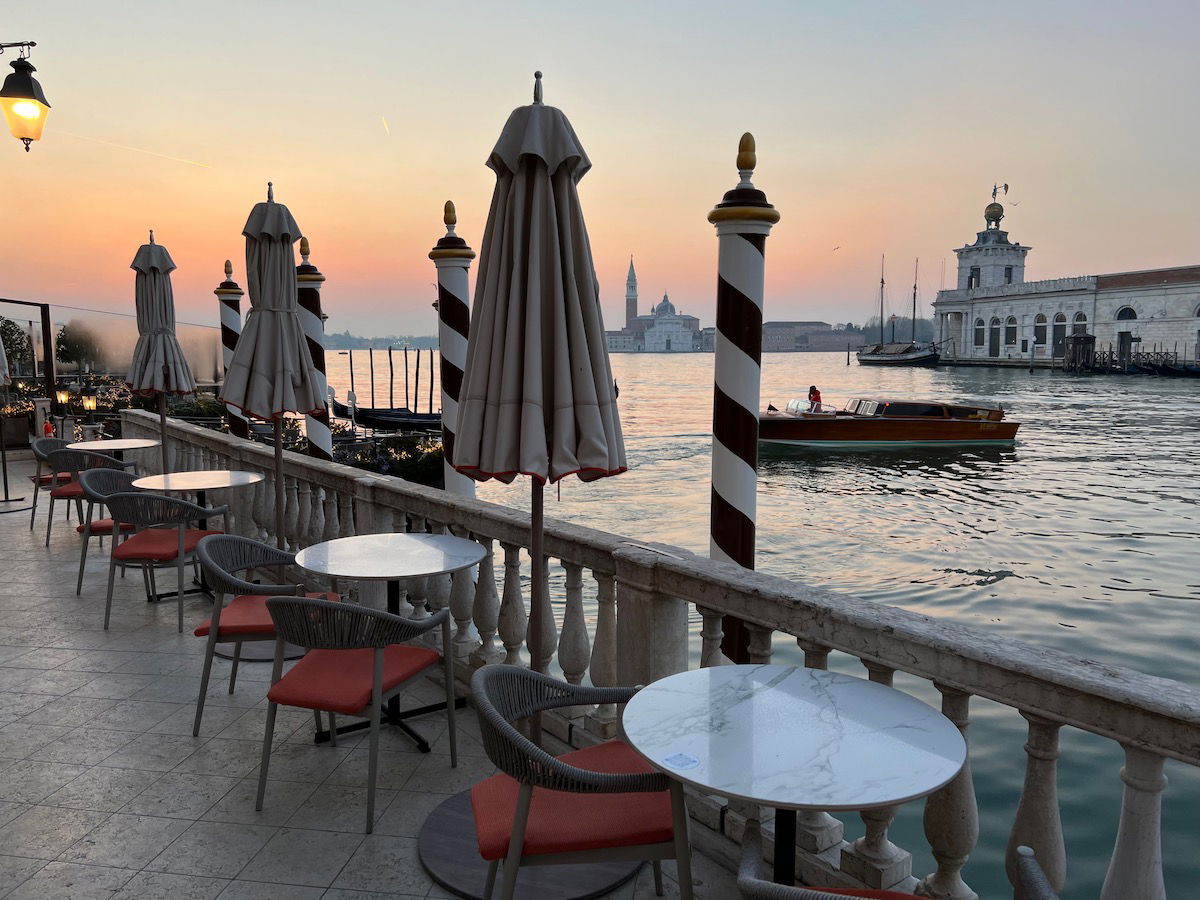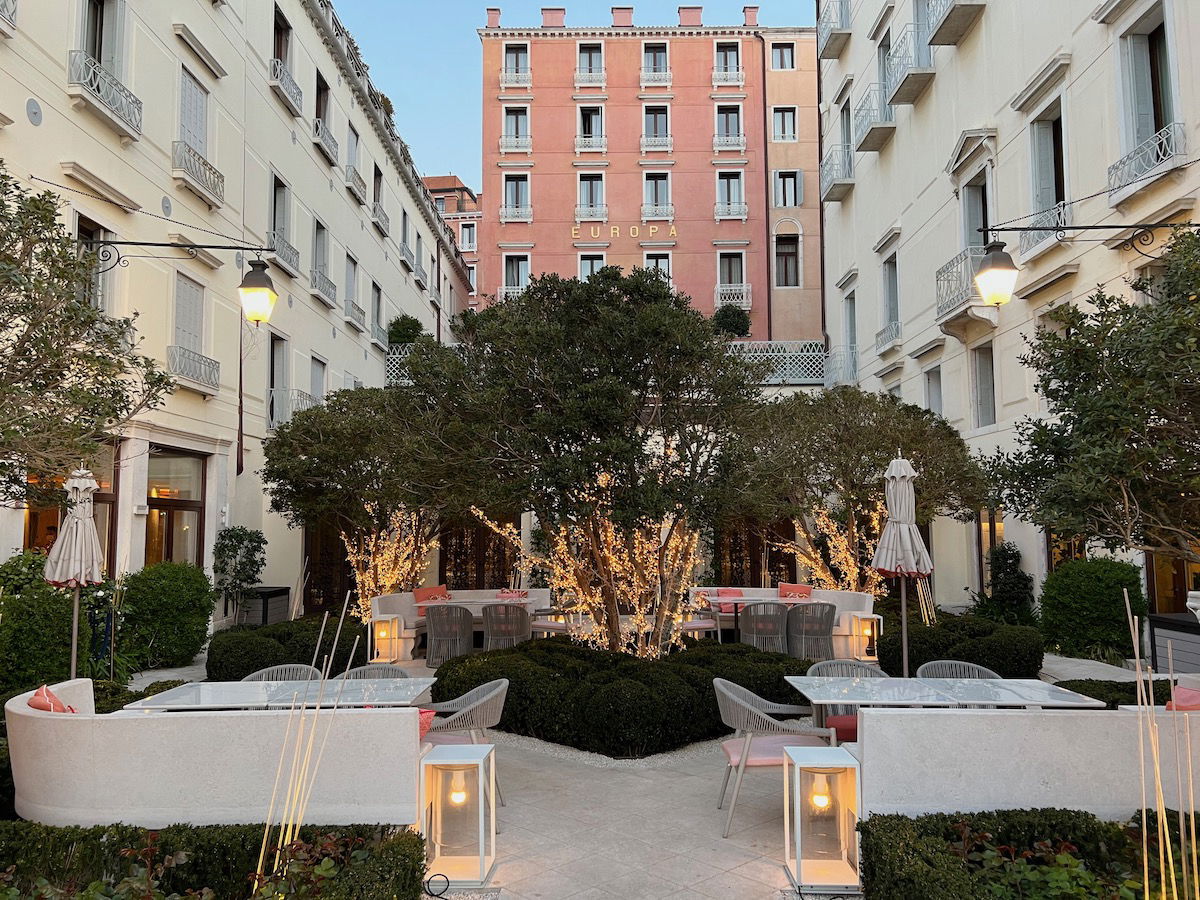 Talk about a patio with a view!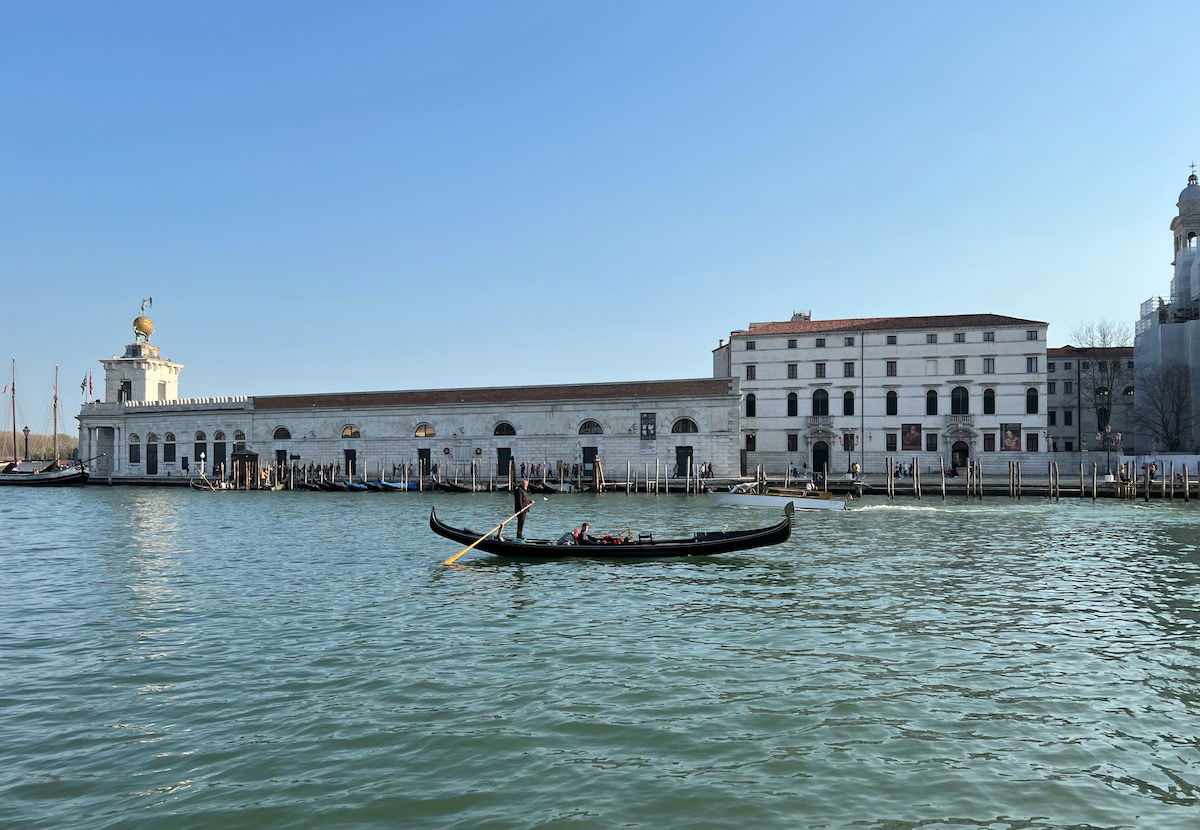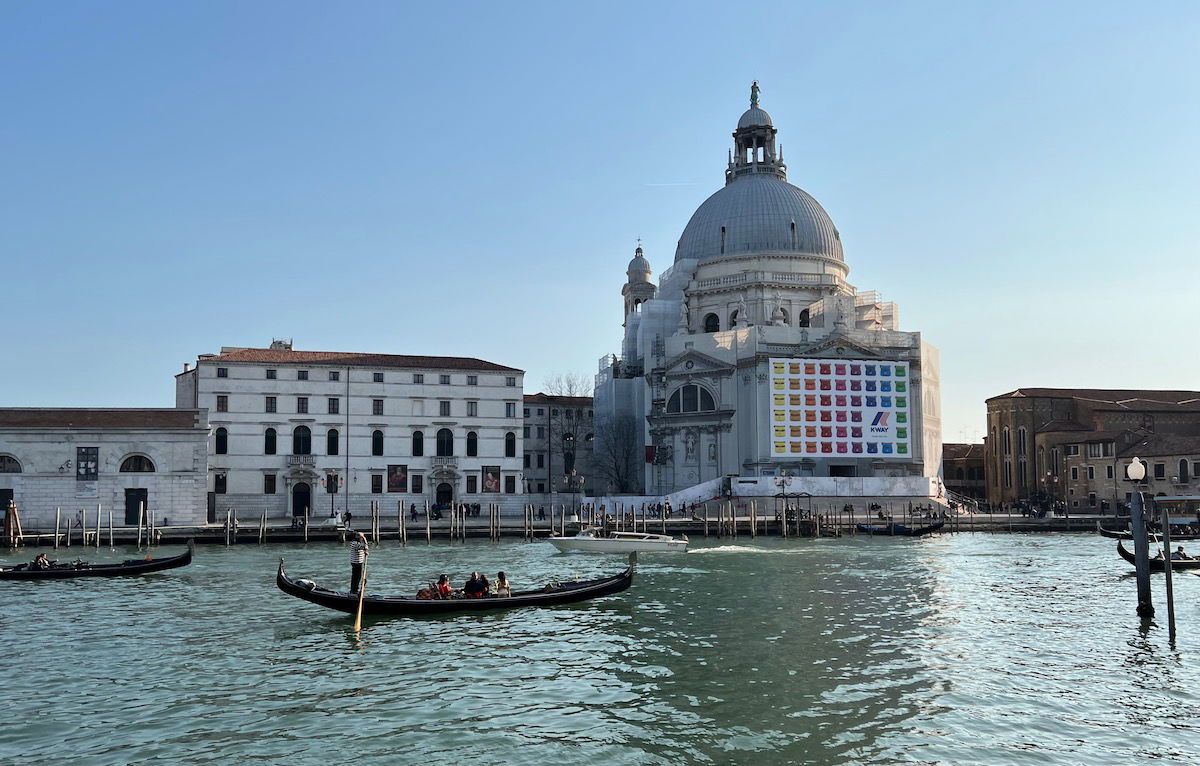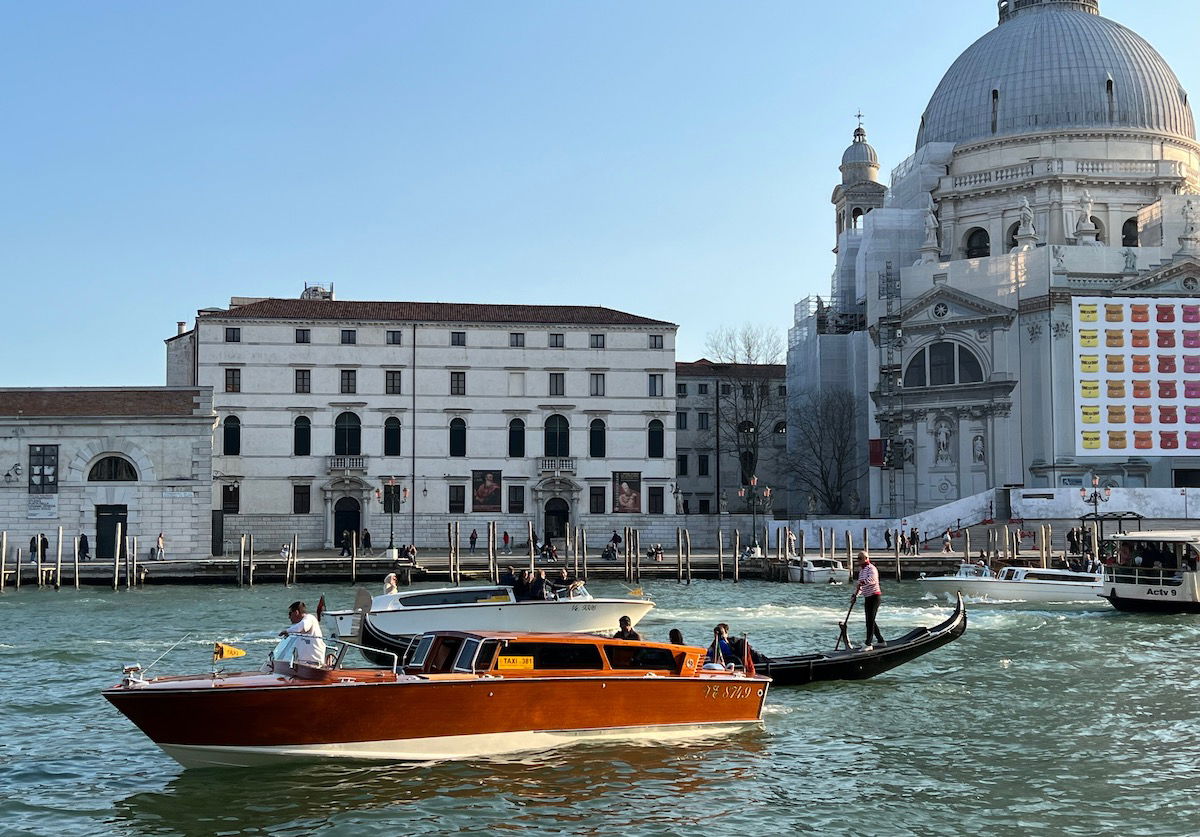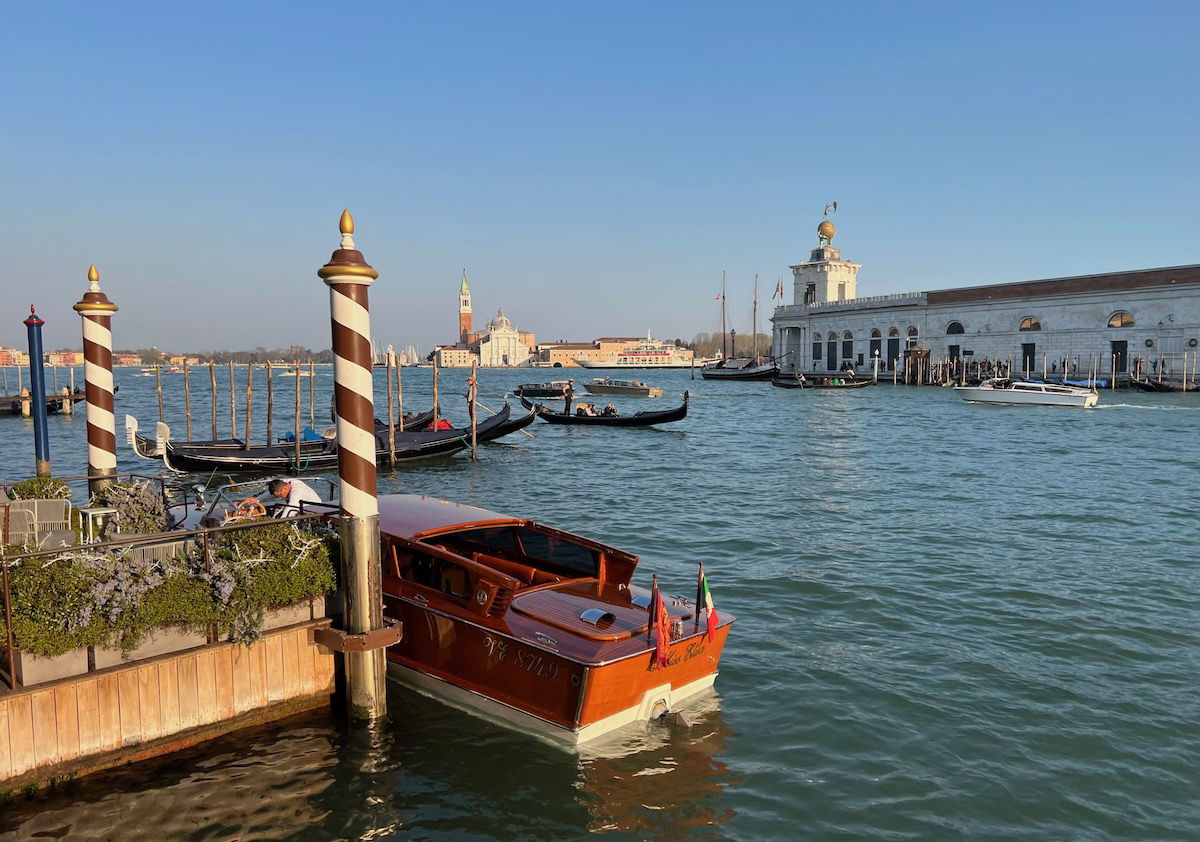 I imagine my favorable impression of this space was also partly thanks to it being 60 degrees and sunny when we arrived. I think it's only natural that your first impressions help form your opinion of an experience, and sitting here while jetlagged in beautiful weather and soaking in the views was lovely.
You can find the St. Regis Bar drink menu here, and the St. Regis Bar snack menu here. The drink selection was pretty imaginative, and Ford had the clear negroni, while I had the pink spritz. This was served with some olives, crackers, and chips.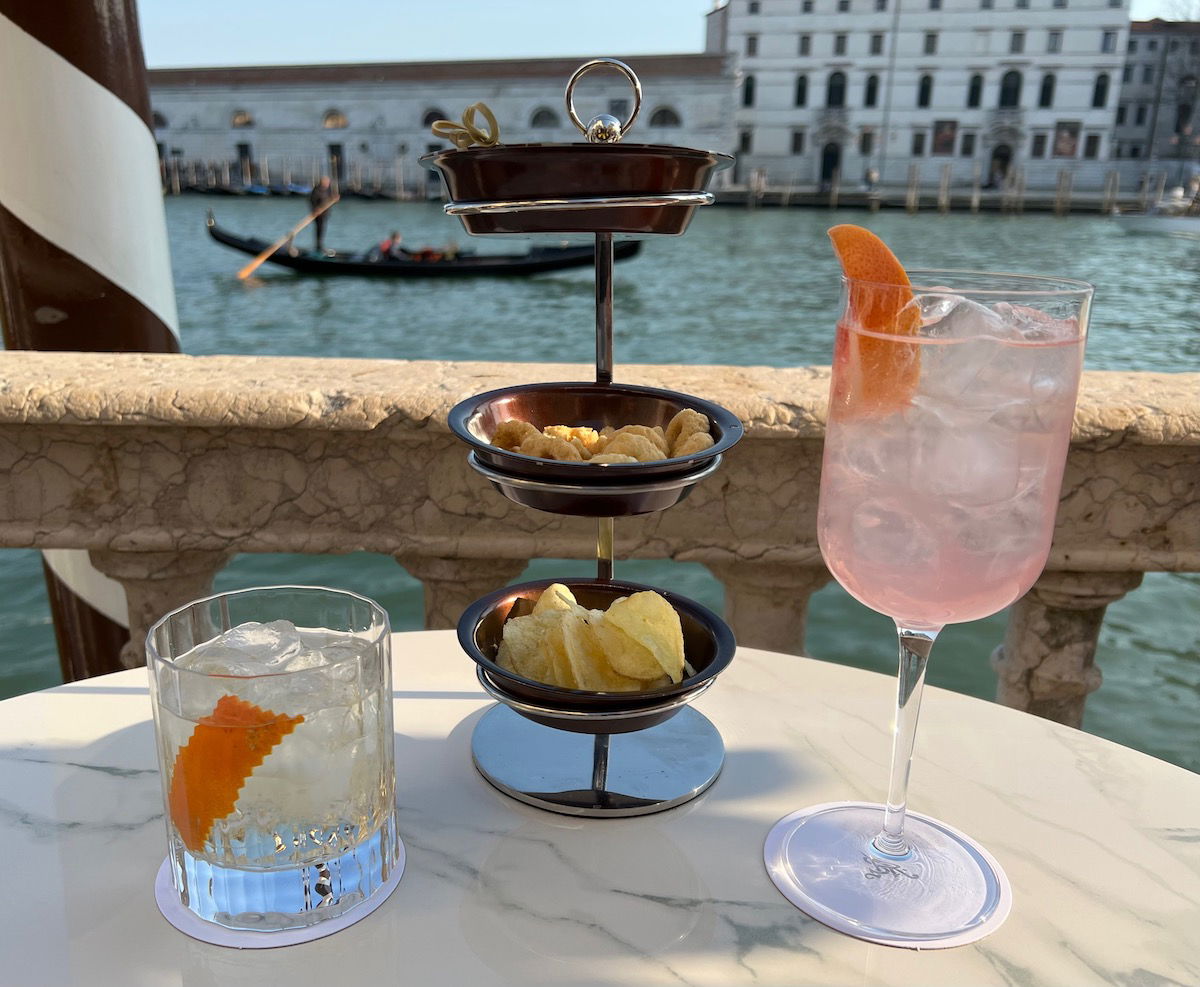 I would've only had one drink, but then I remembered that each St. Regis has a signature bloody mary, and I've made habit of trying them at each property. So I of course had to order the santa maria (the hotel's take on the bloody mary), while Ford had the red negroni.
That drink below and to the right is the property's take on the bloody mary, and it has to be the most imaginative one I've seen anywhere. It tasted almost like any other bloody mary I've had, but looked completely different, as you can tell.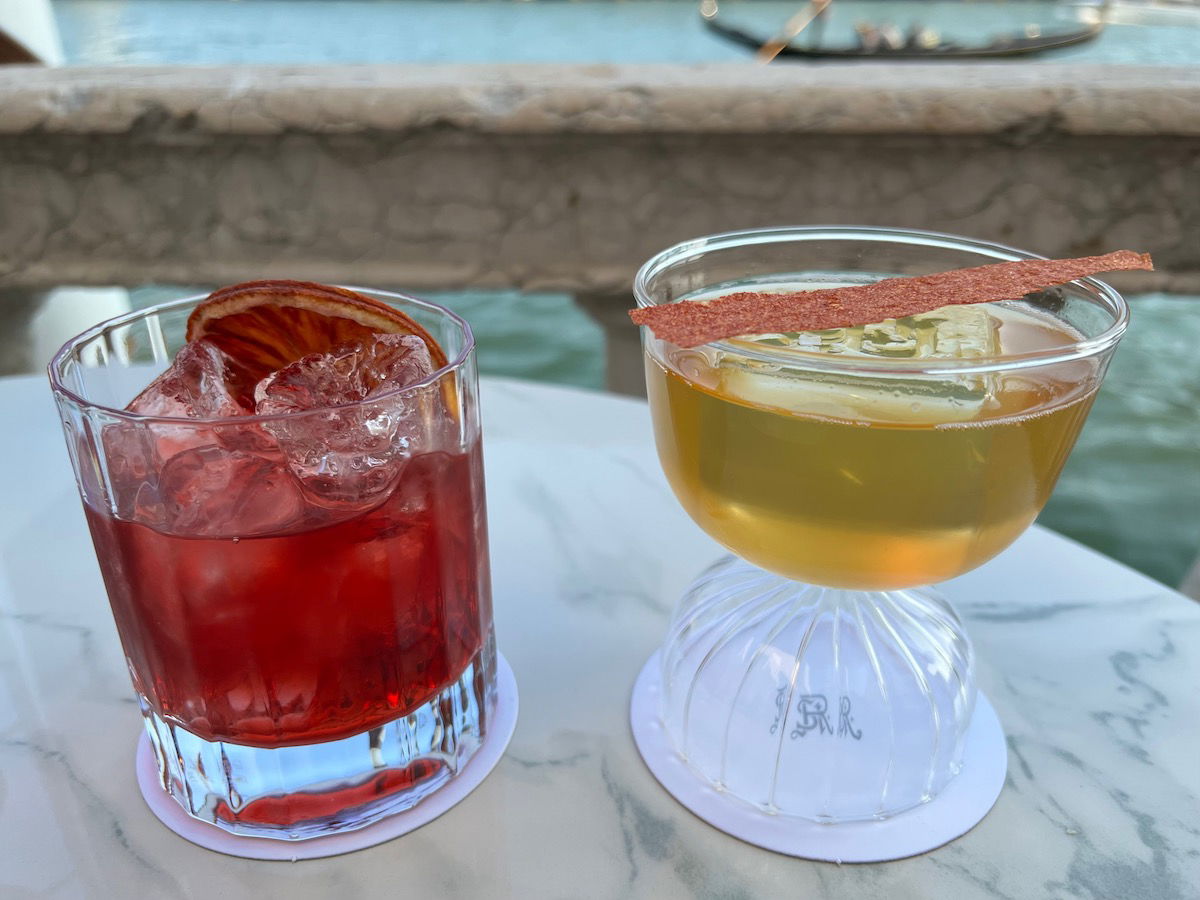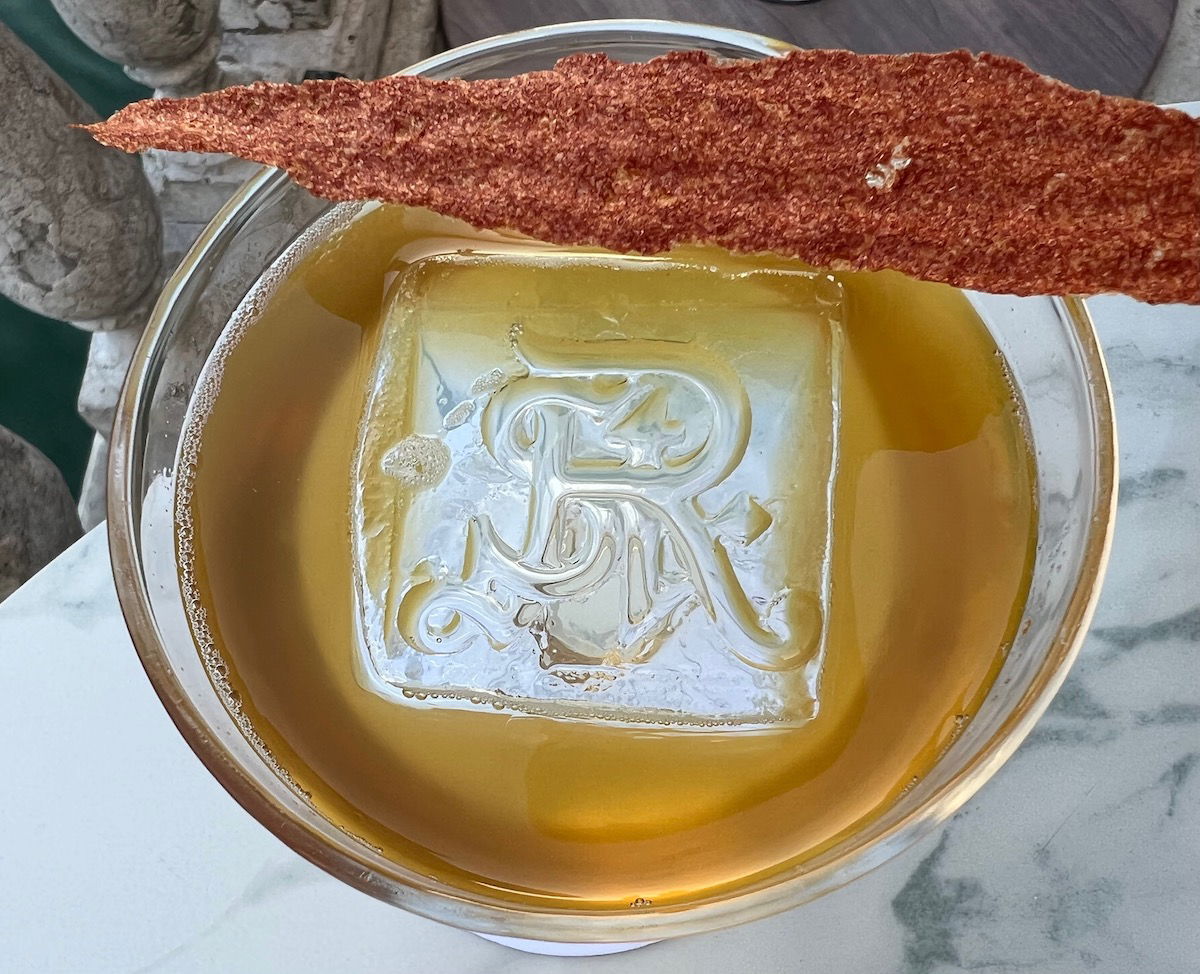 Drinks were pricey — 20-25 Euro, but you're ultimately paying for the view, and could order a drink and sit there for a couple of hours.
St. Regis Venice Gio's Restaurant dinner
In an effort to review as many of the St. Regis' facilities as possible, we had dinner at Gio's Restaurant, which is the hotel's main dining outlet. The restaurant is open for breakfast, lunch, and dinner, and it's right next to the St. Regis Bar.
In addition to the restaurant's indoor area, there's also a lovely covered and heated terrace. So even though the temperatures dipped in the evening, it was comfortable to dine in this area.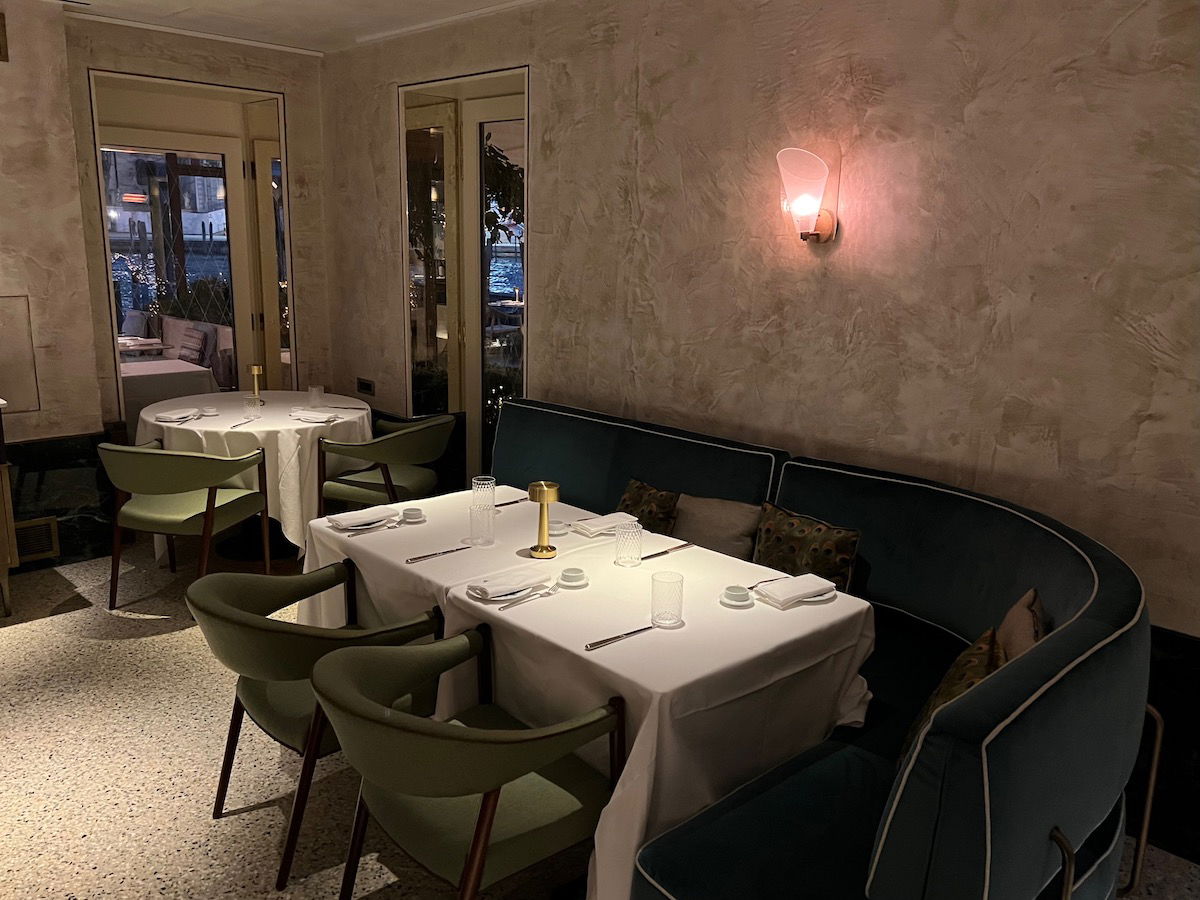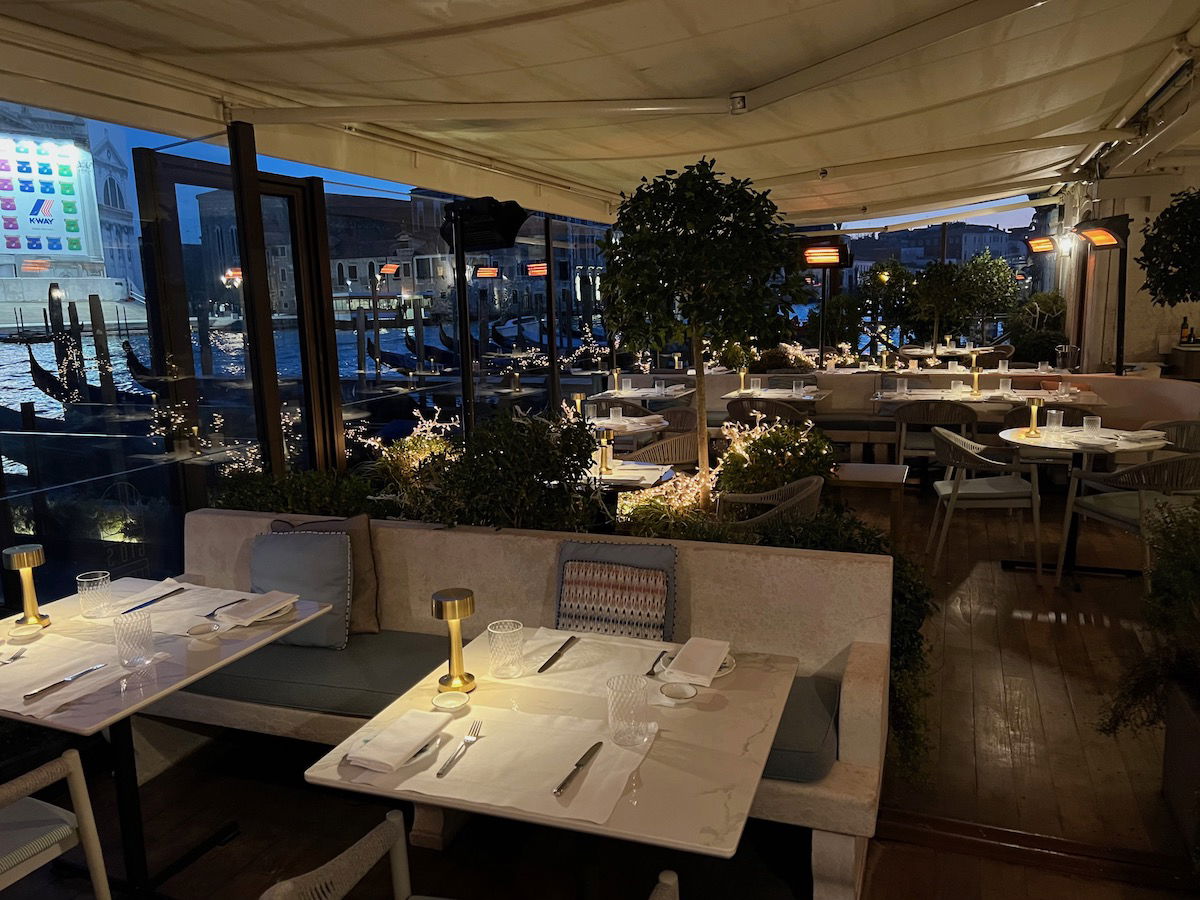 The views from here were just as good as from the bar…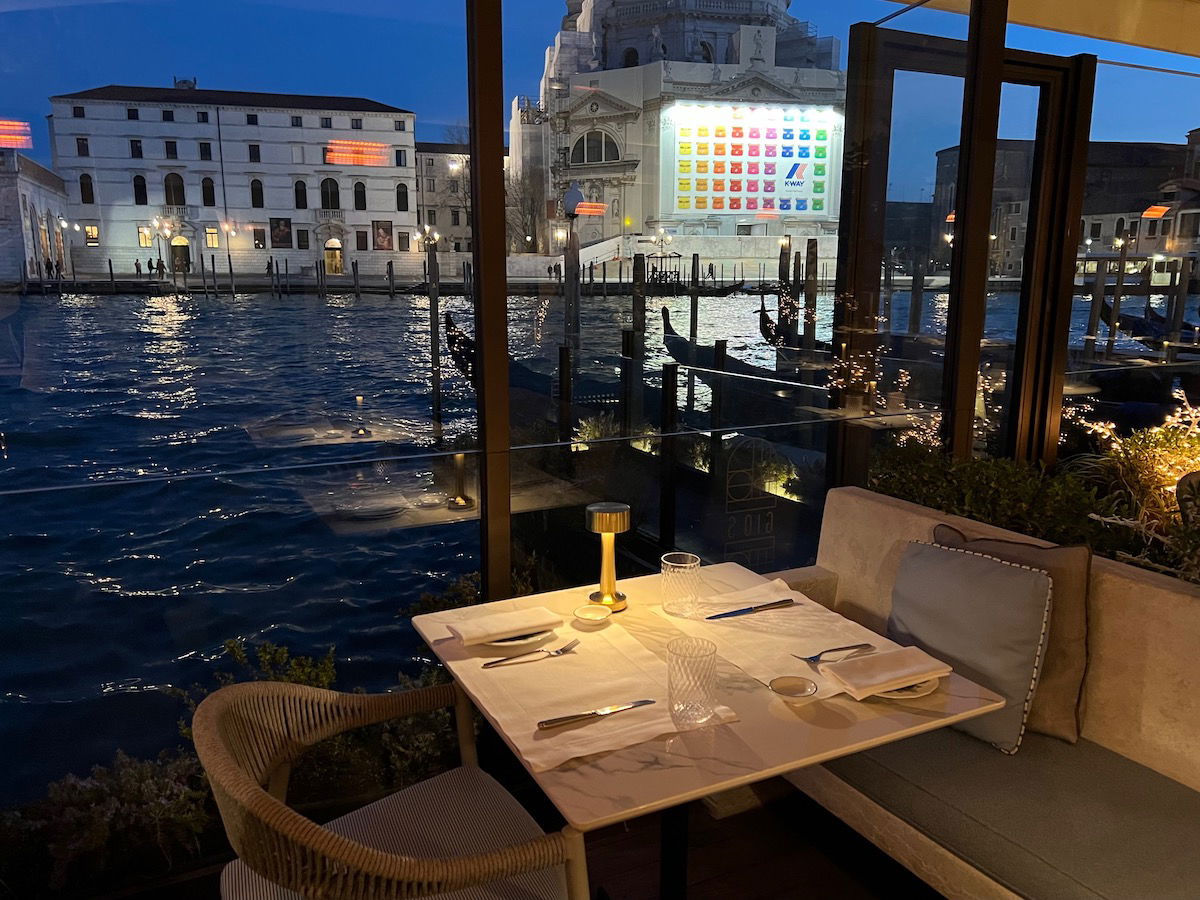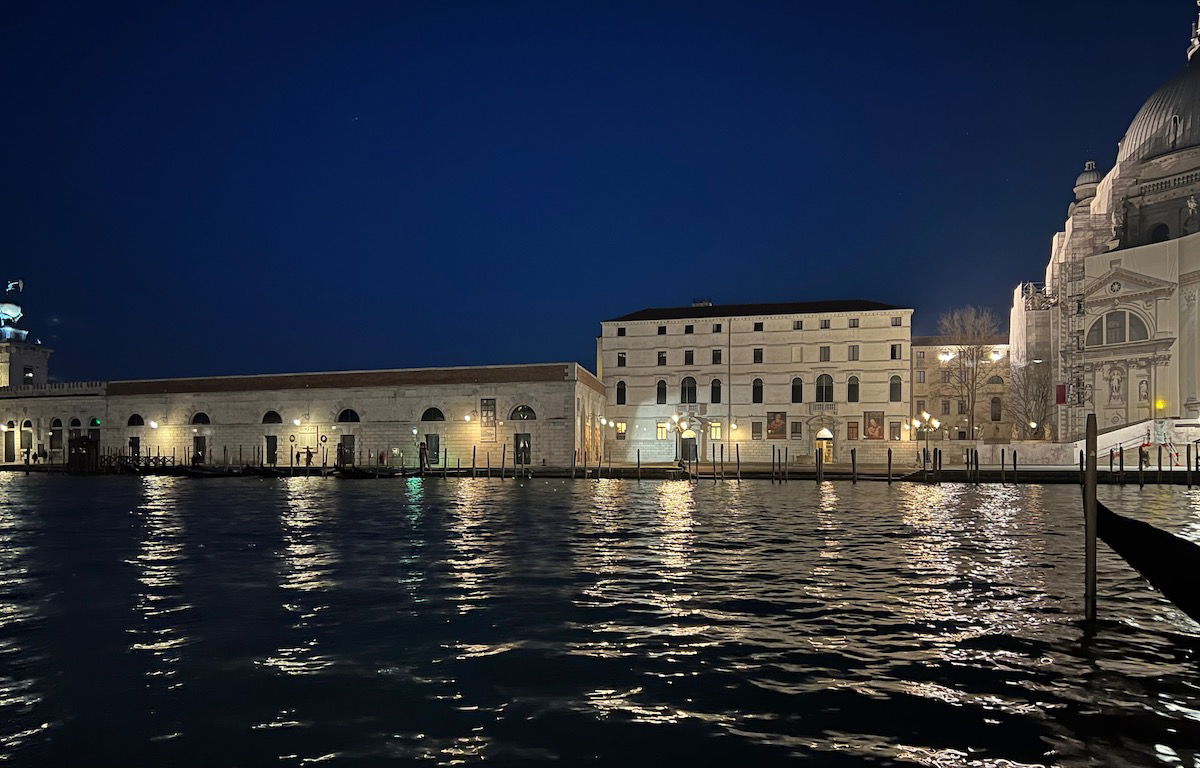 The restaurant serves Italian cuisine, and you can find the Gio's dinner menu here. Our meal started off with an amuse bouche, consisting of cream of almond milk and strawberries with a fried oyster. We were also offered some warm bread.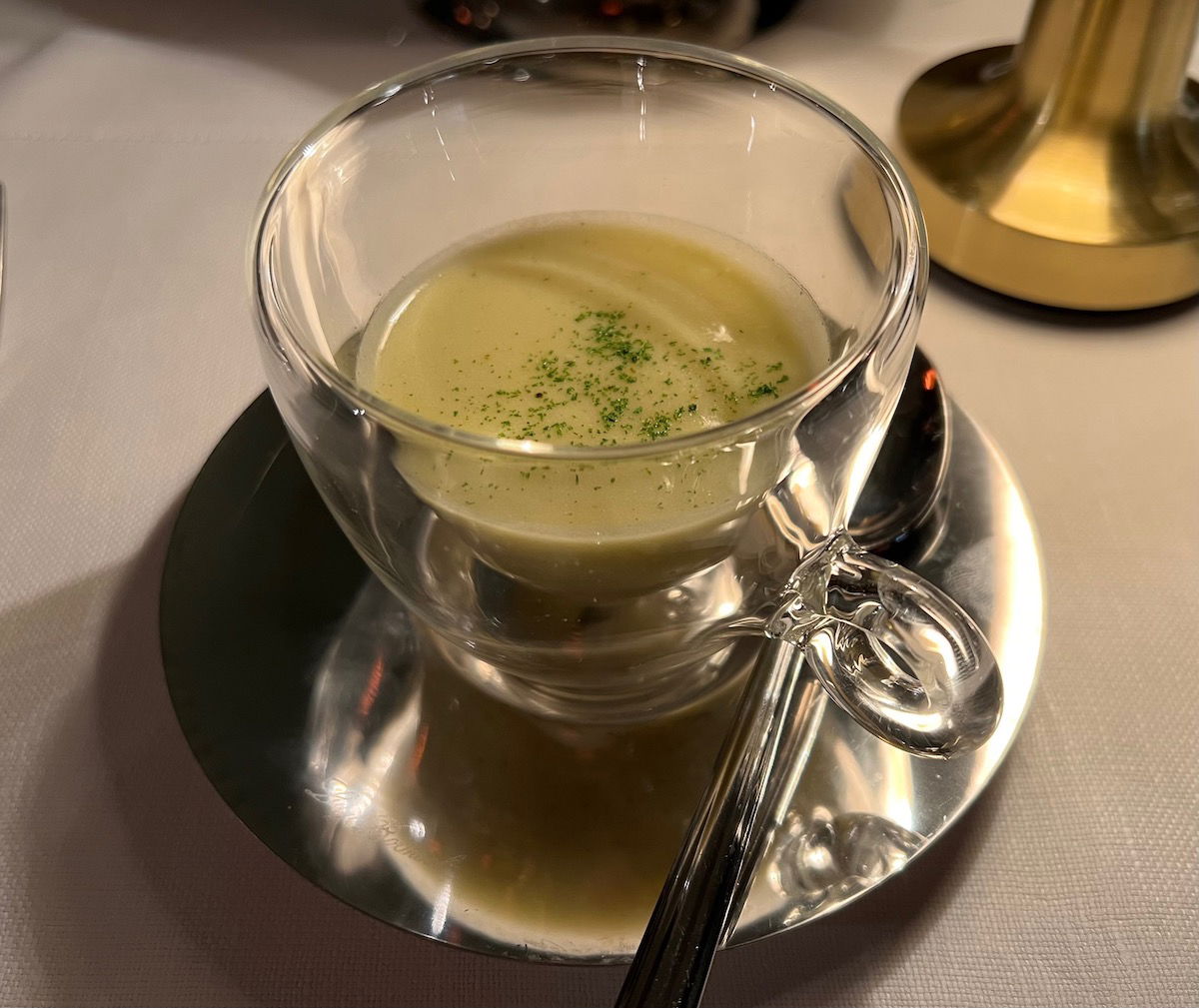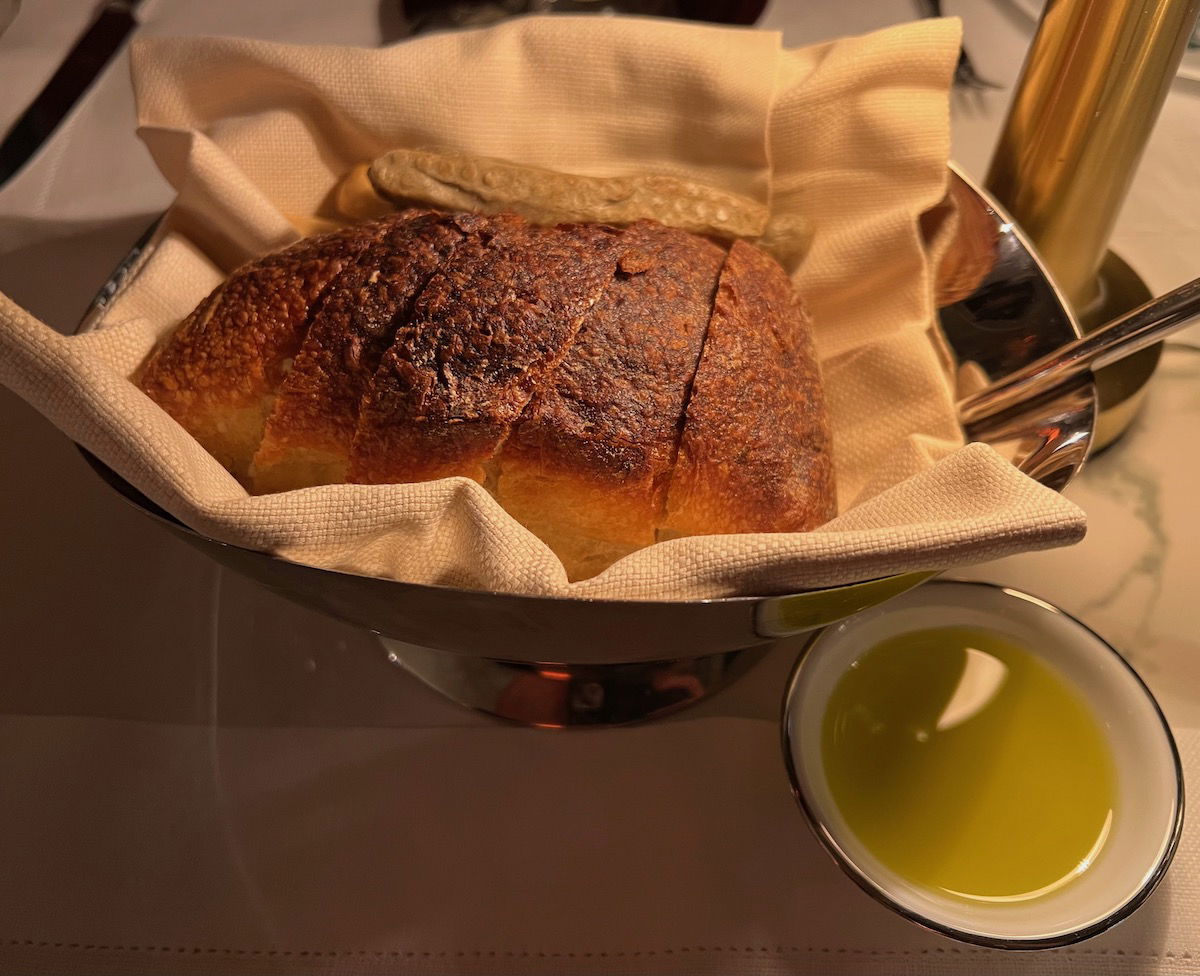 For our starters, I ordered the red tuna carpaccio with marsala marinated raisins, fennel, and orange Sicilian salad.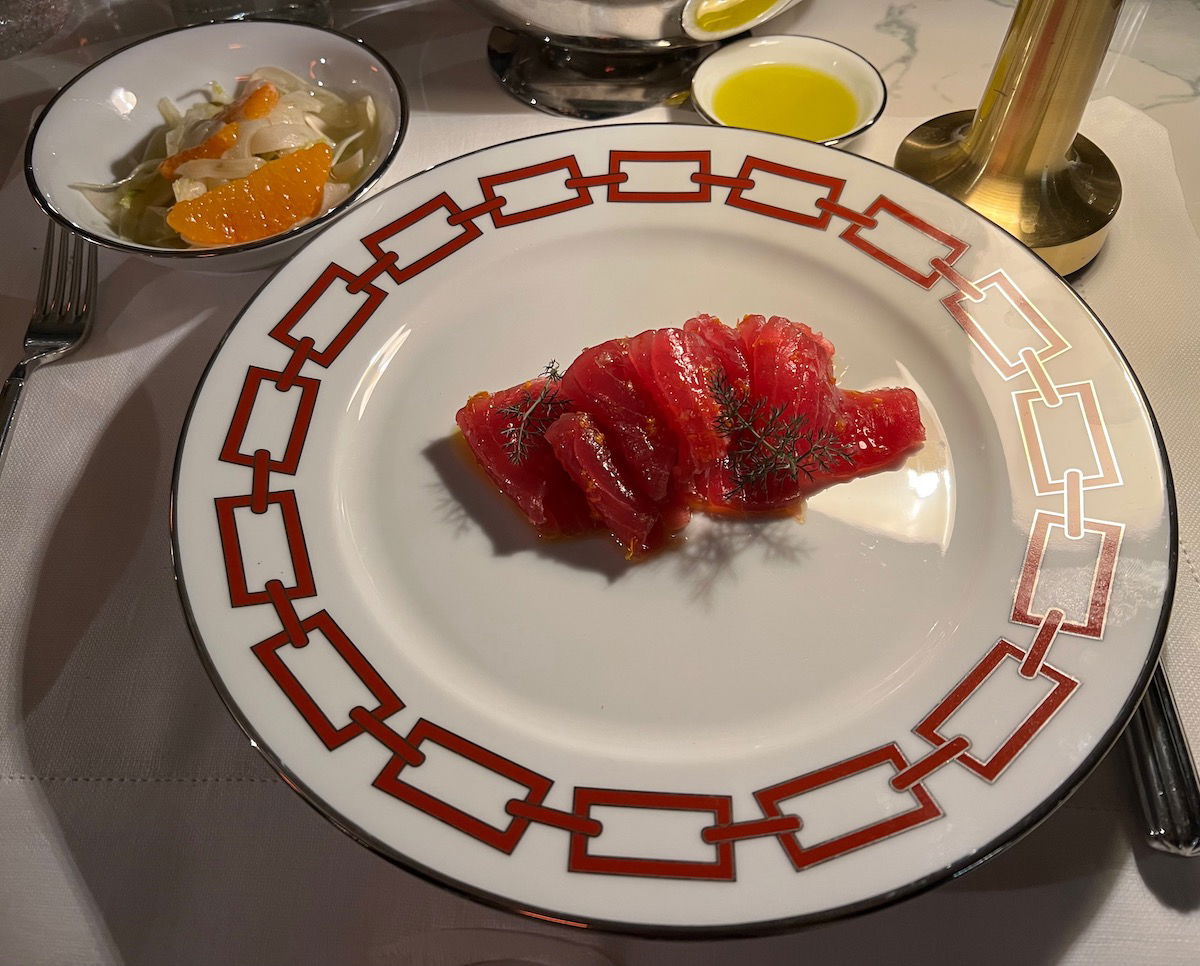 Ford had the cauliflower gratin with toasted peanuts, bread croutons, and guacamole.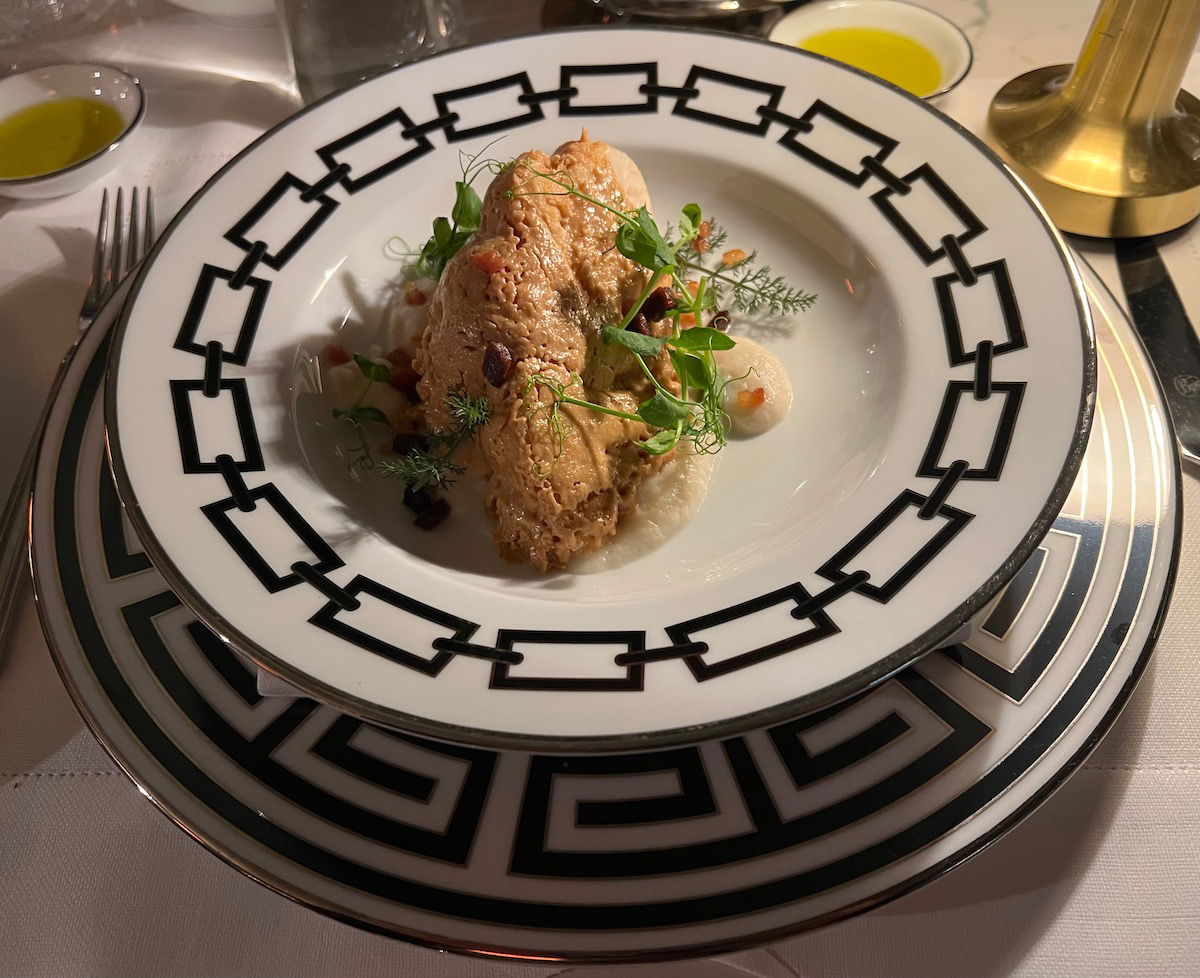 Then for our mains, I had the signature spaghetti "cavalier cocco," with three varieties of tomatoes.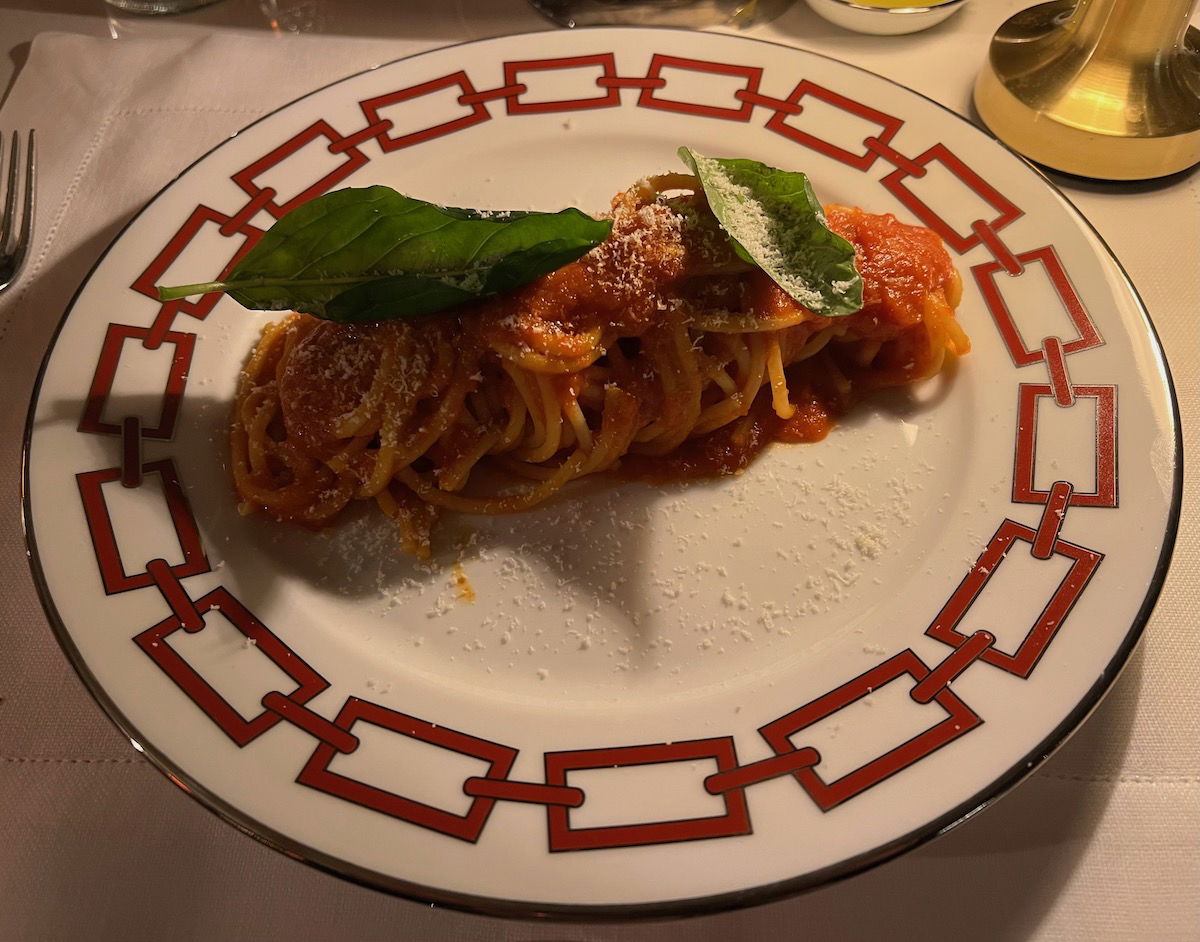 Then Ford had the beef tartare with capers, dijon mustard, shallots, quail egg, and bread chips.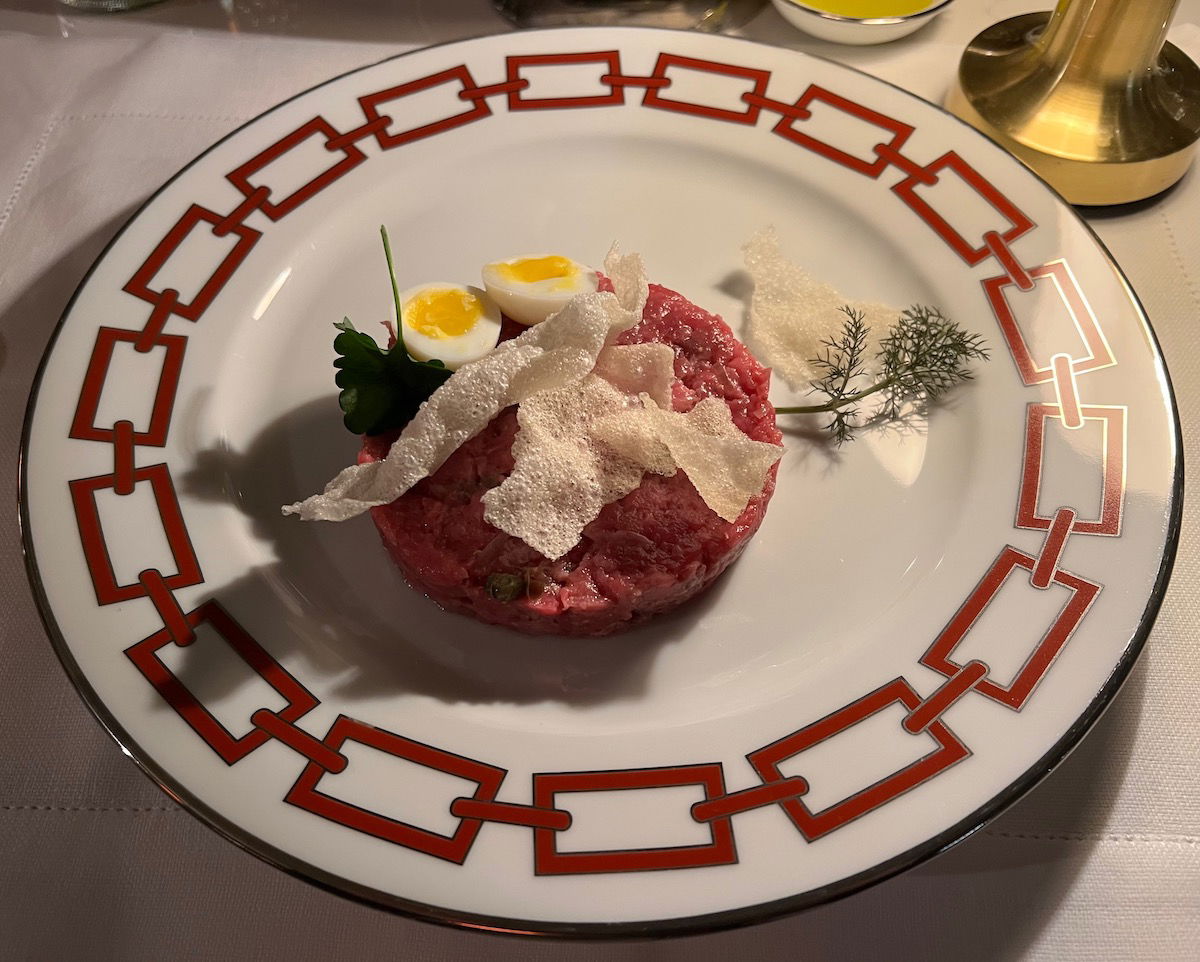 While the meal wasn't cheap, the food quality, service, ambiance, and view, were simply unbeatable.
St. Regis Venice breakfast
The St. Regis Venice serves breakfast daily from 7AM until 10:30AM, also in Gio's Restaurant. In the morning we had breakfast there at exactly the same table where we ate at the night before.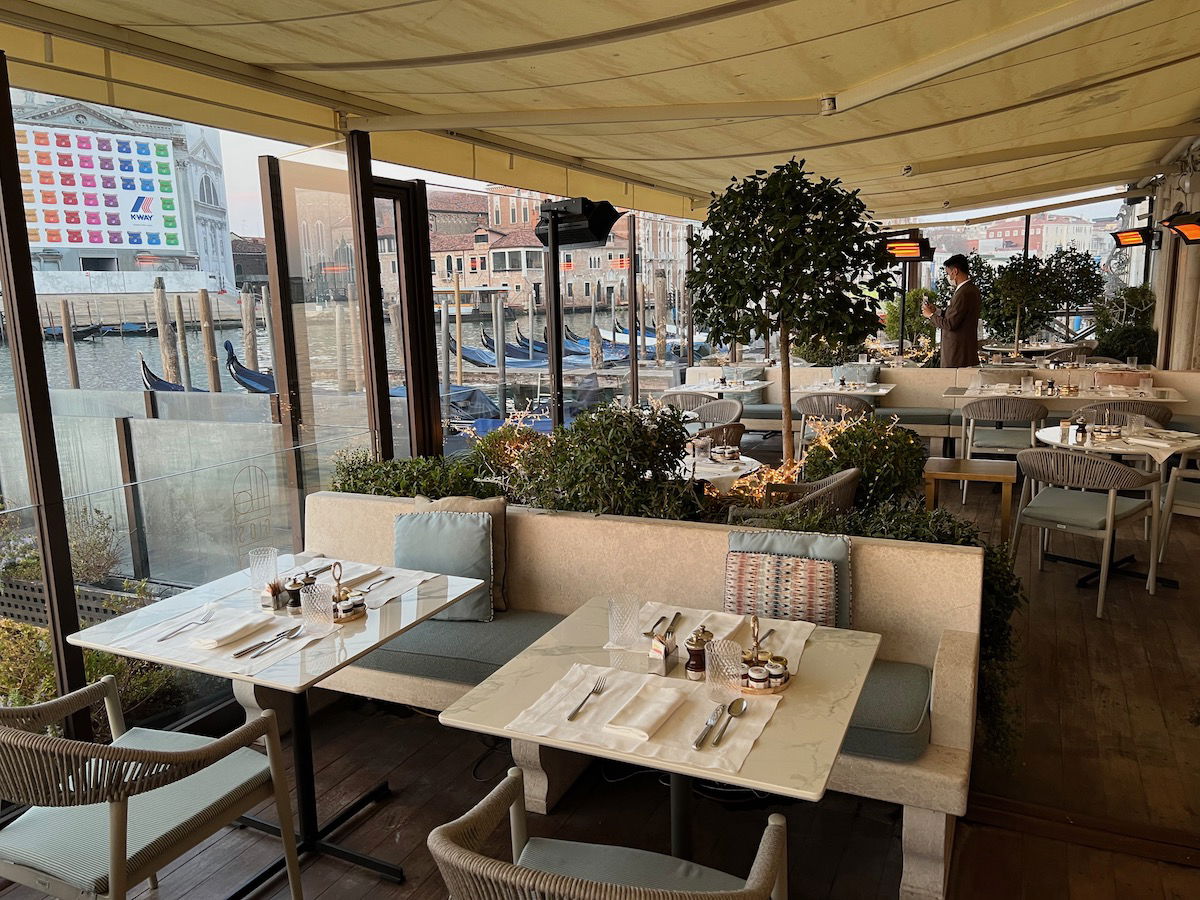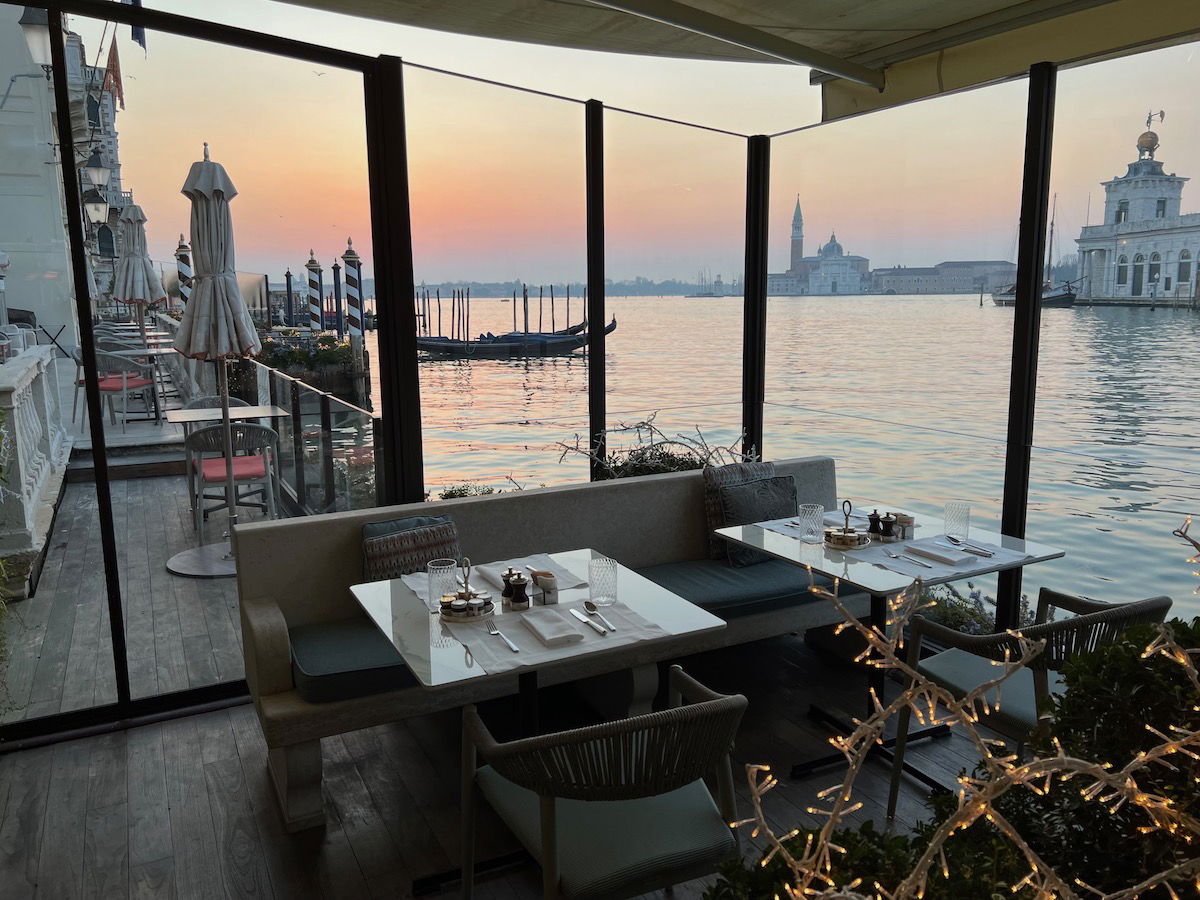 I'm happy we arrived early (not just because of my slight obsession with photographing empty hotel spaces), but mainly because we were treated to a magical sunrise. AMAZING.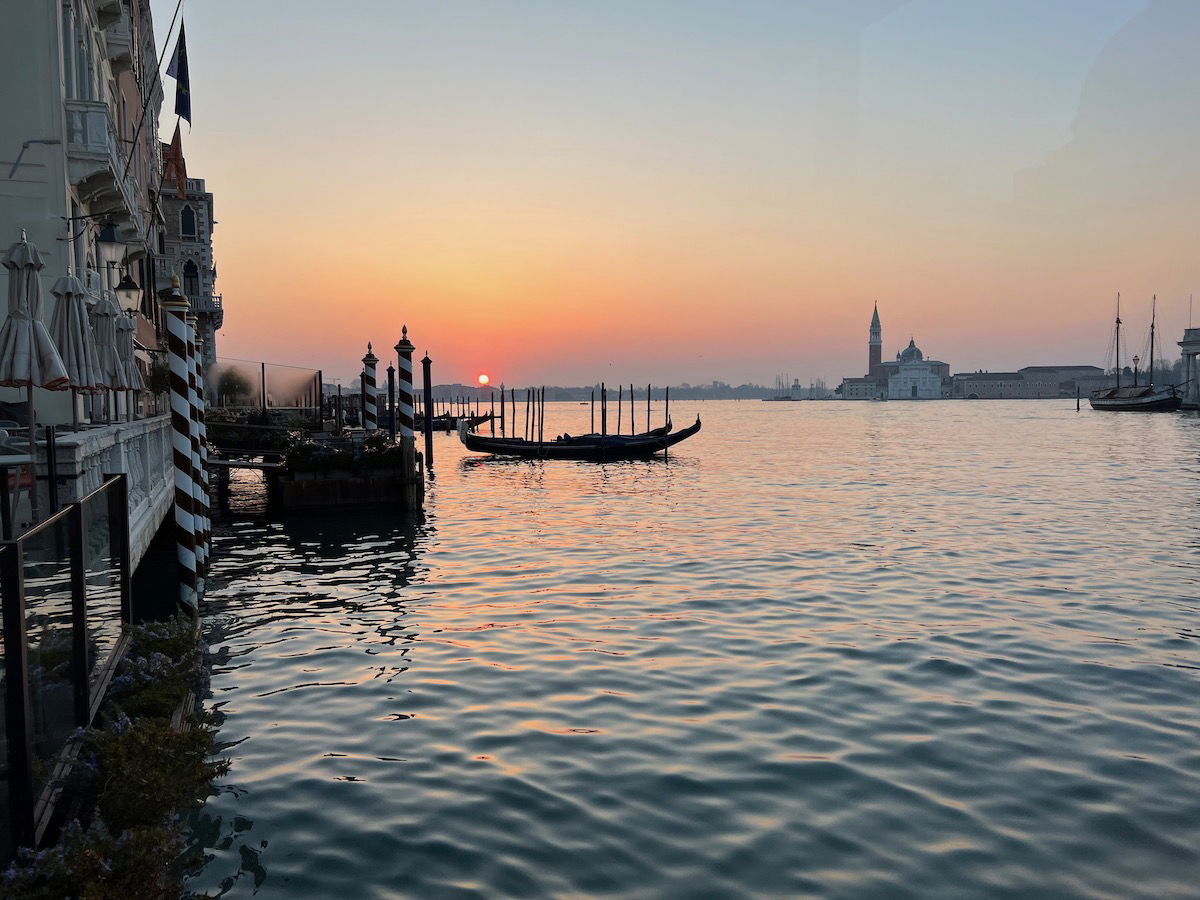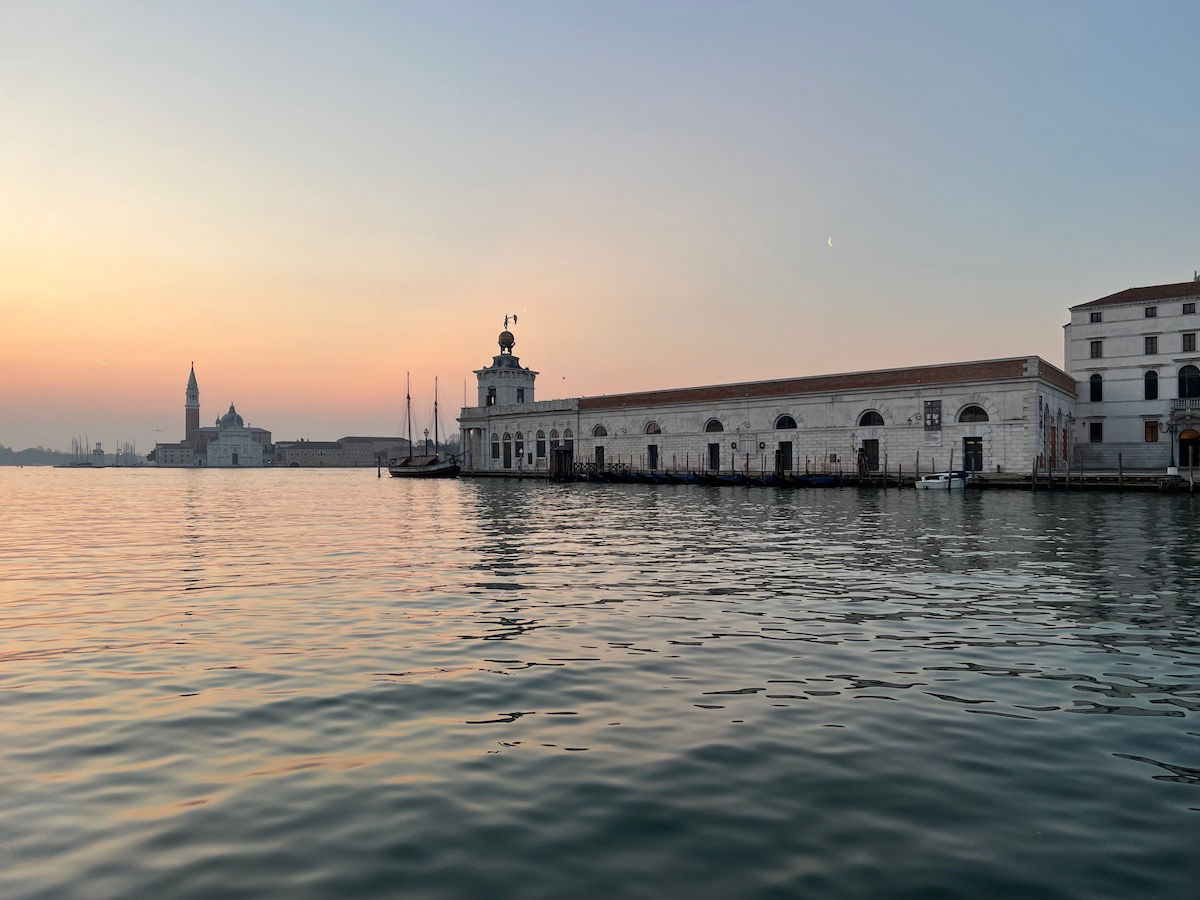 Marriott Bonvoy Platinum members and above receive the full "Exquisite Breakfast" here, which ordinarily retails for 49 Euro per person. This includes coffee, access to the buffet, and one item off the menu.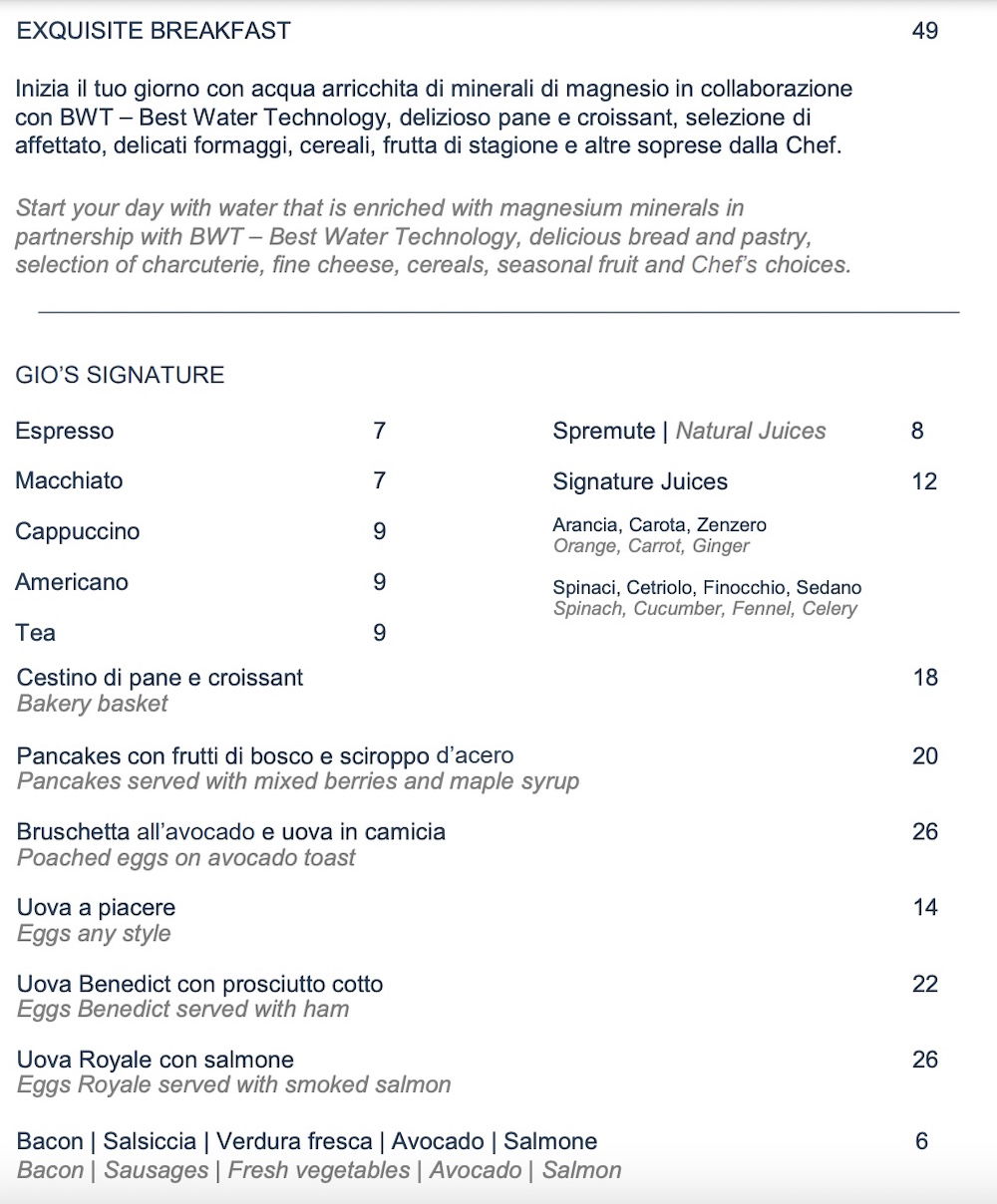 The buffet was inside the restaurant, and was fairly small but high quality. It's nothing like what you'll find in Southeast Asia, but it was one of the better breakfast buffets I've seen in Europe.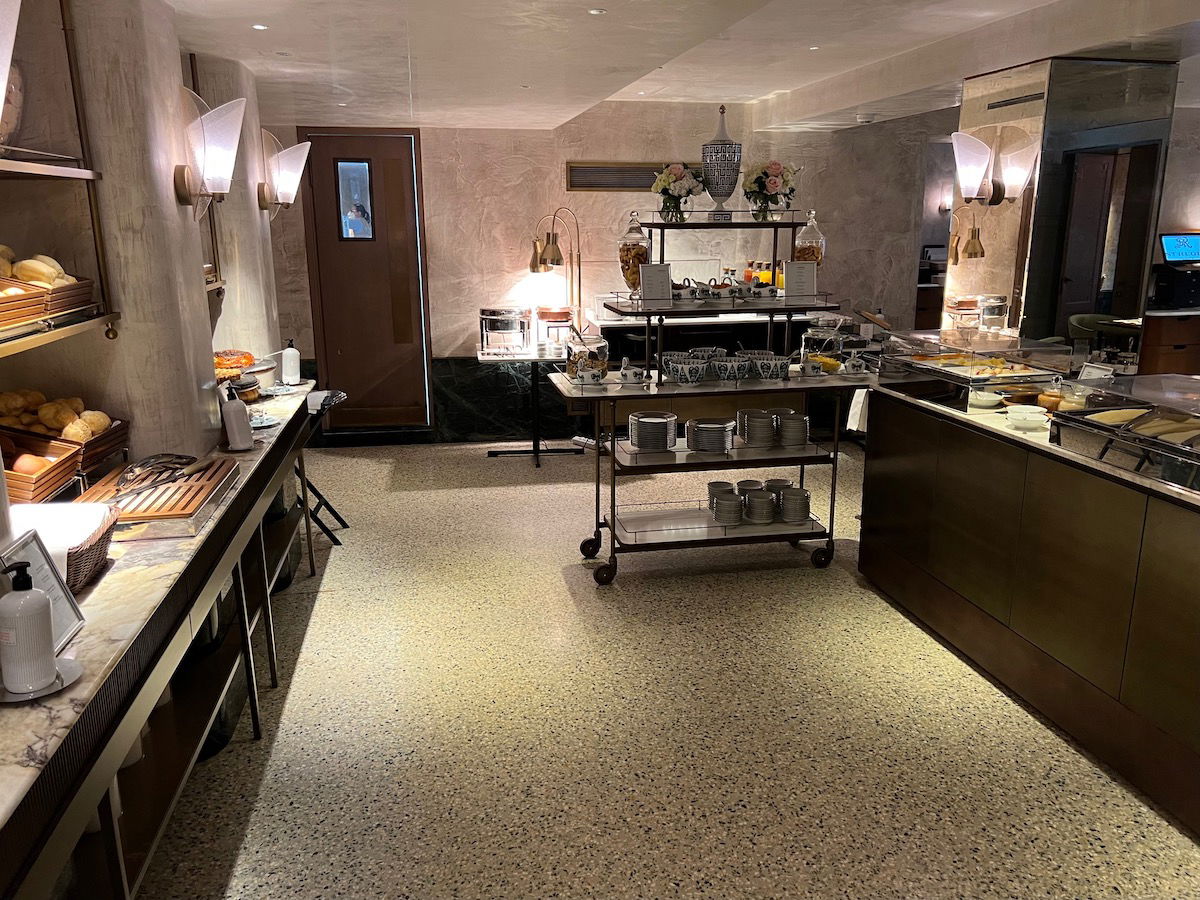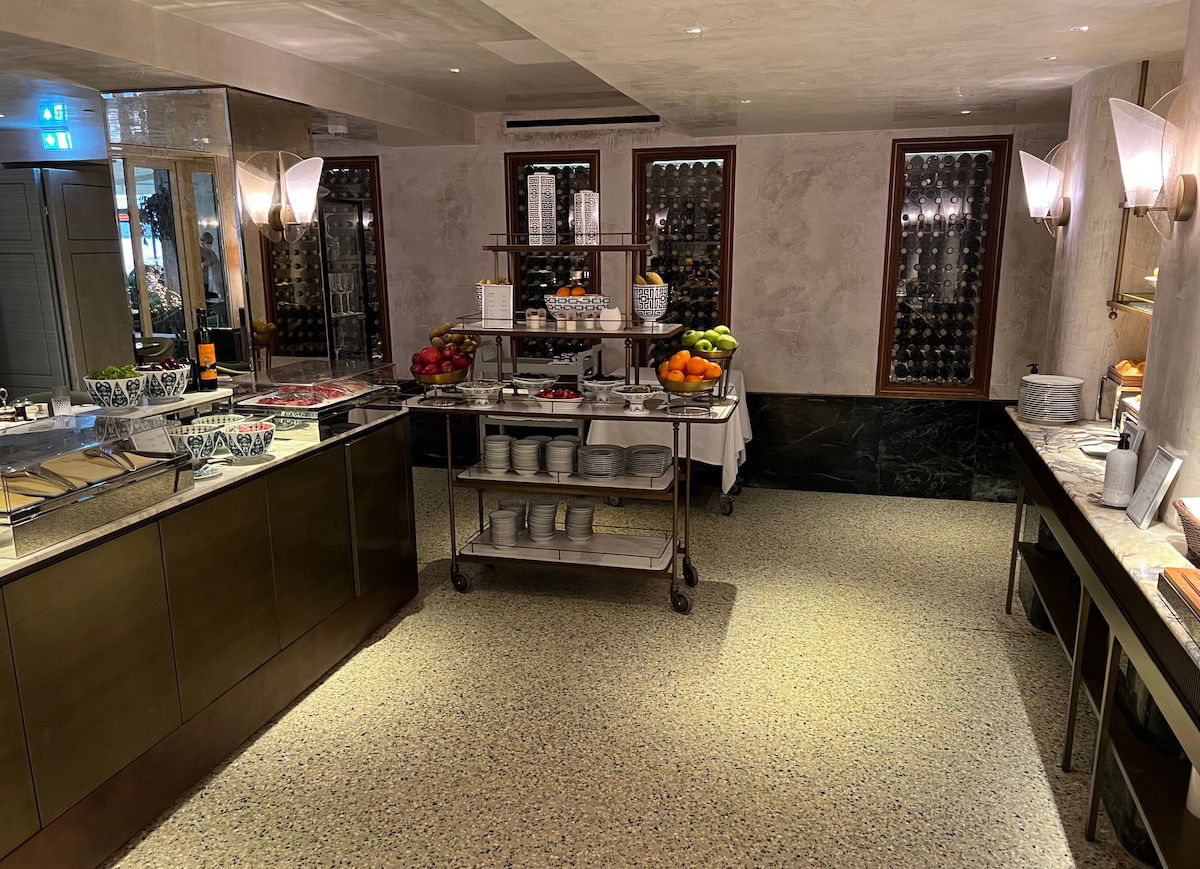 I particularly loved the variety of fresh fruit (including several types of berries), but beyond that there was yogurt, cereal, bread, pastries, croissants, cold cuts, scrambled eggs, sausage, bacon, fresh juices, and prosecco.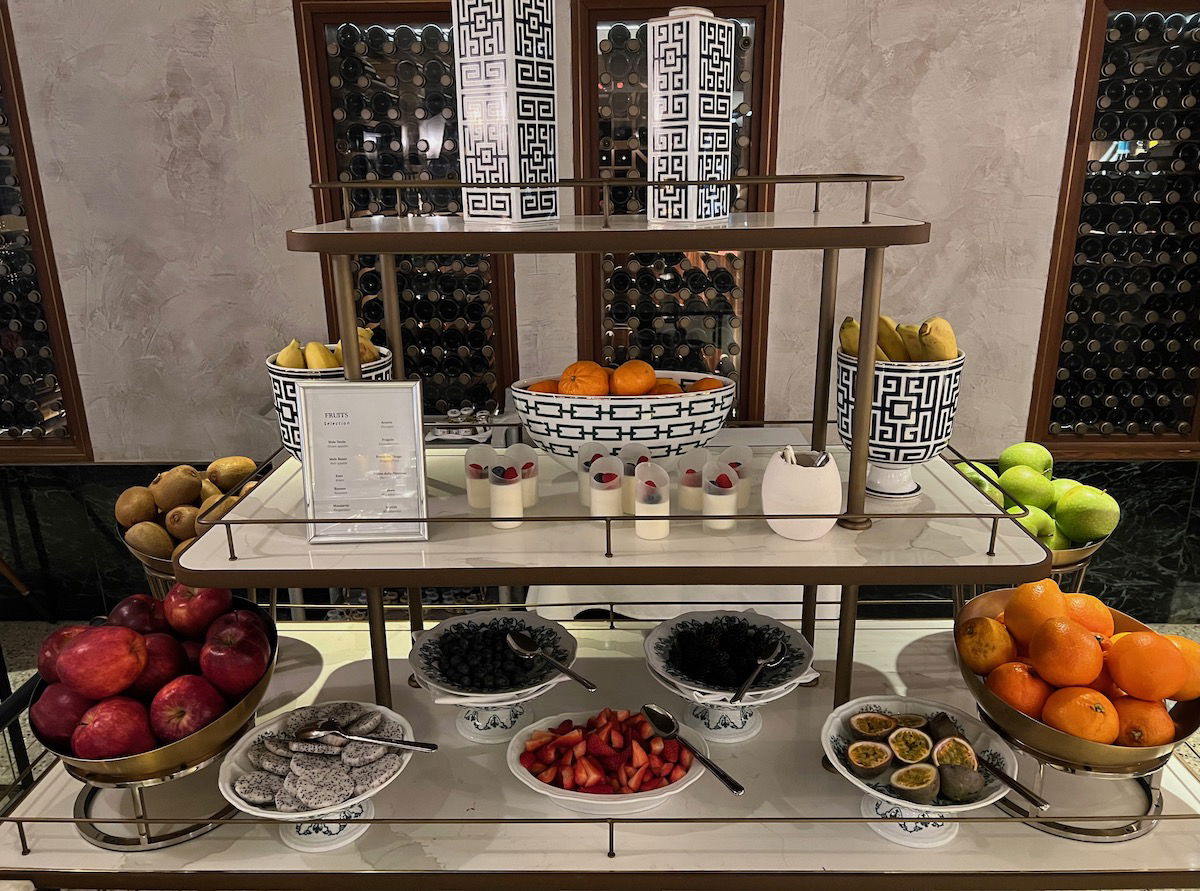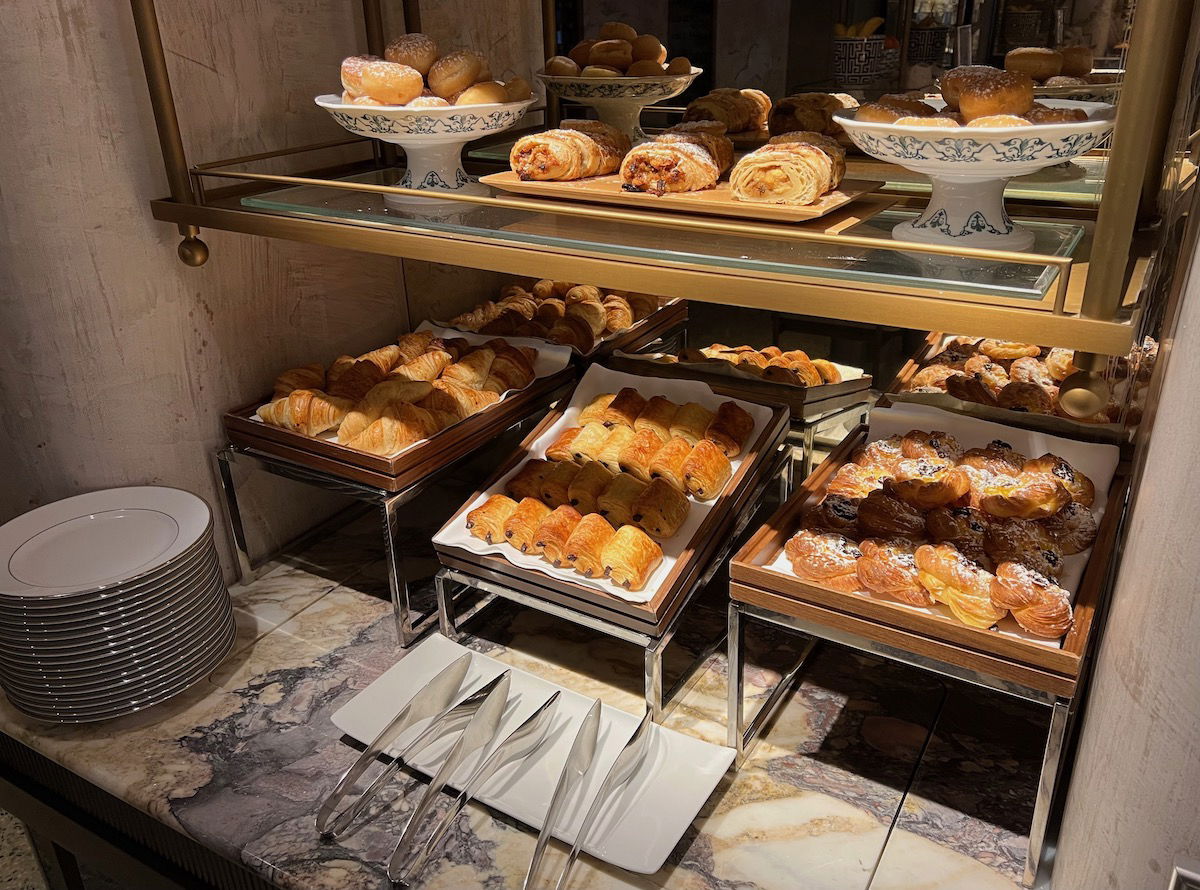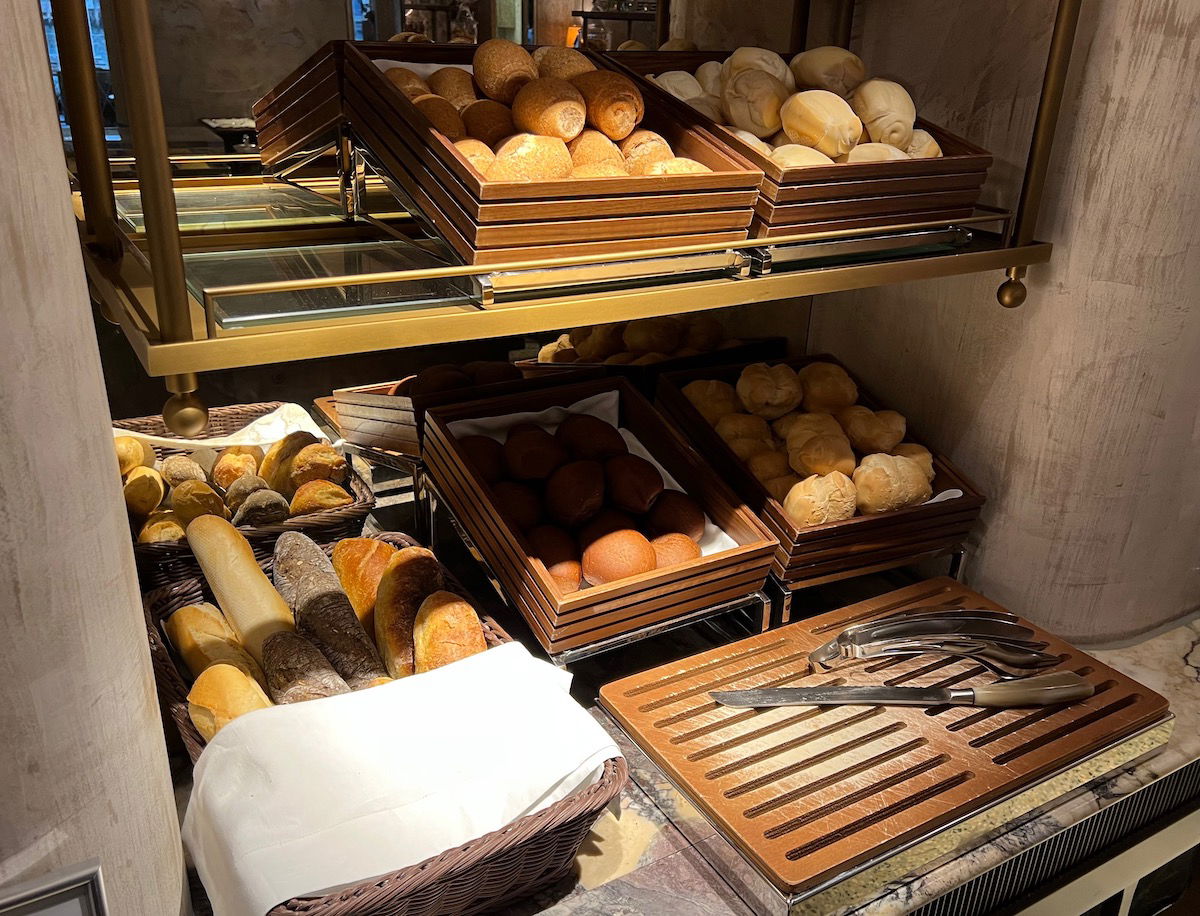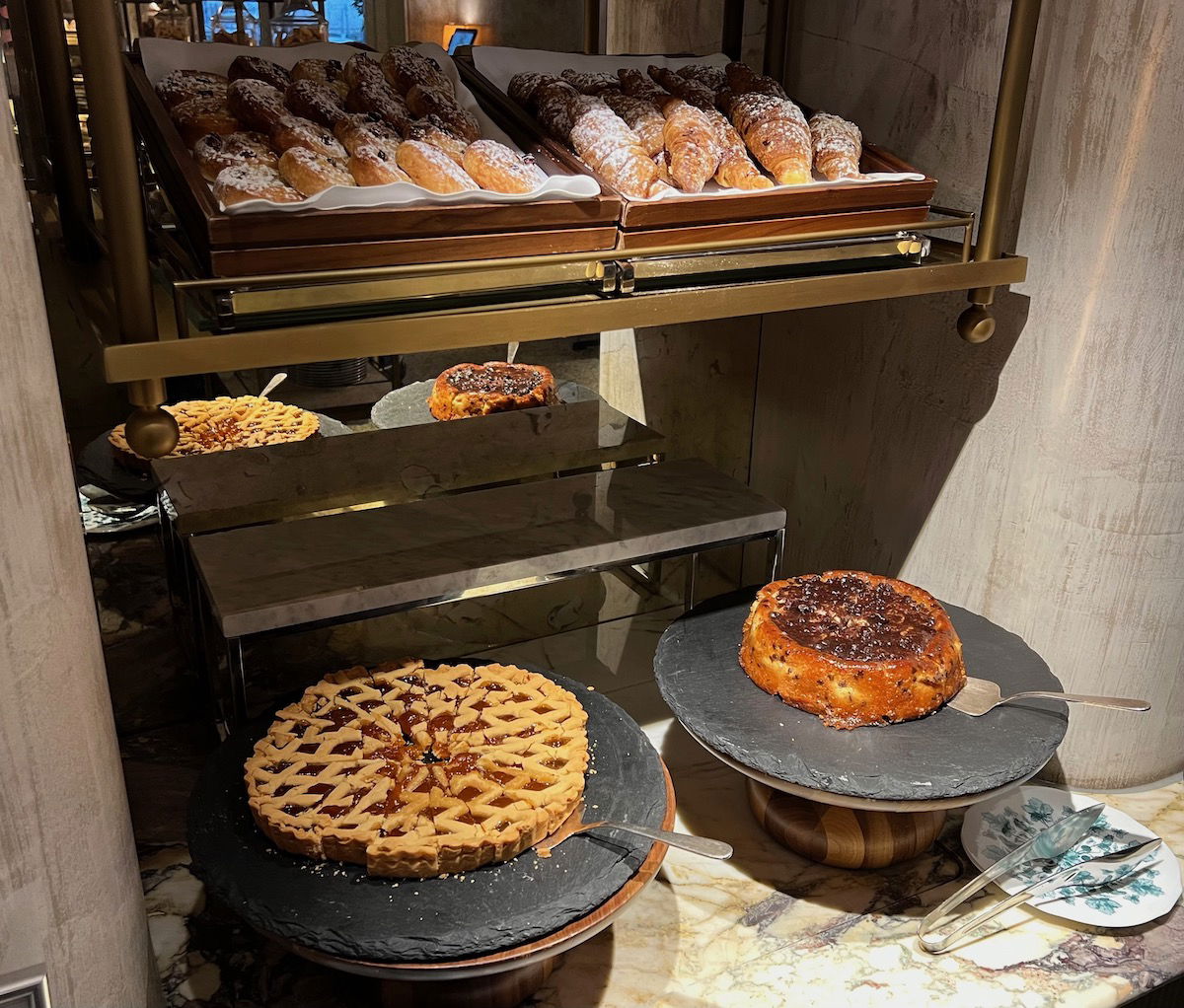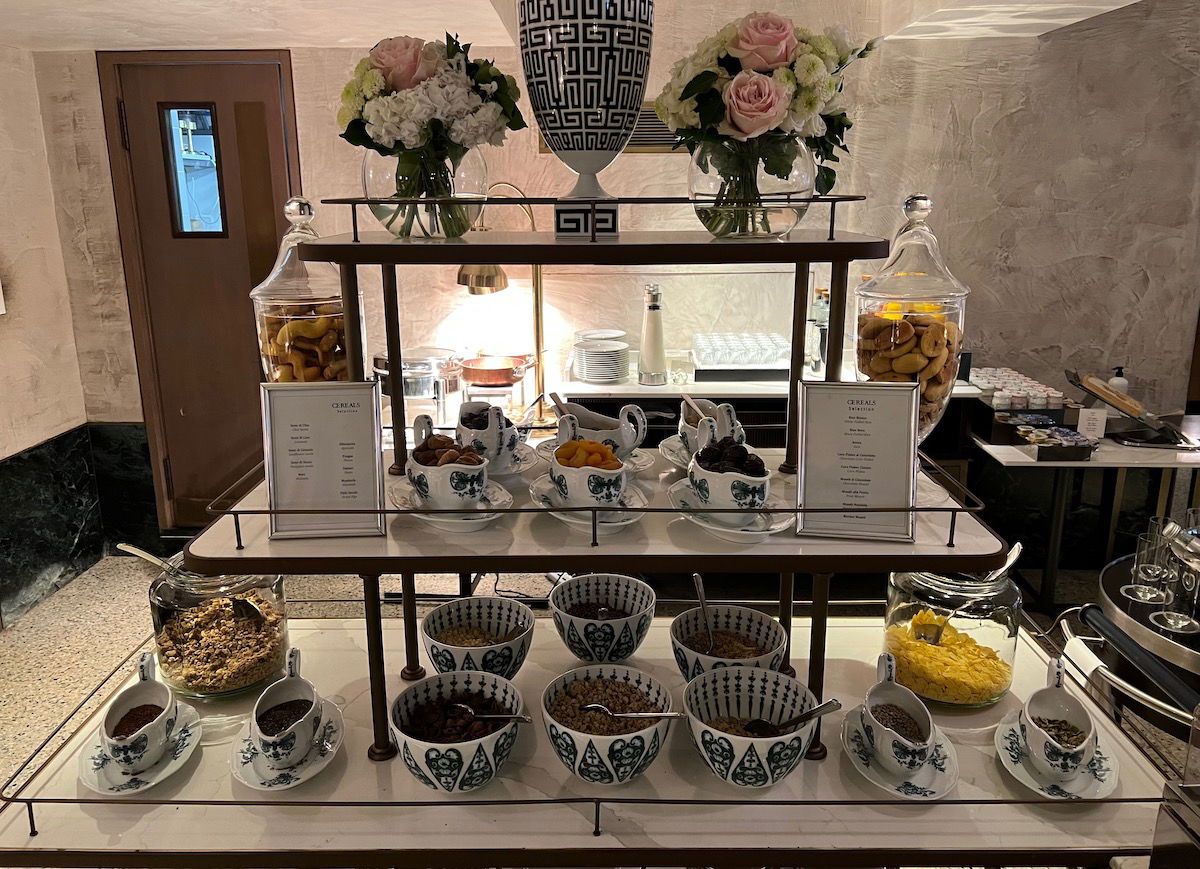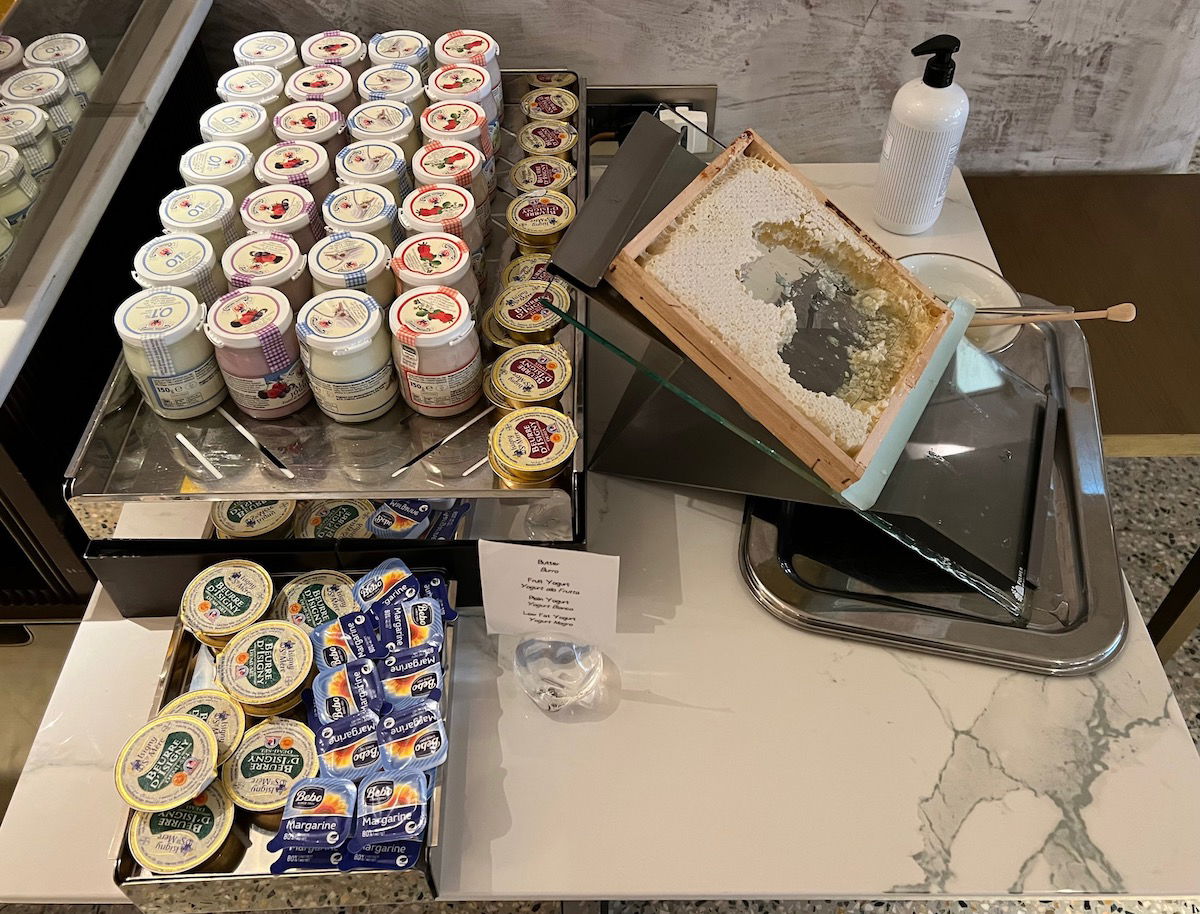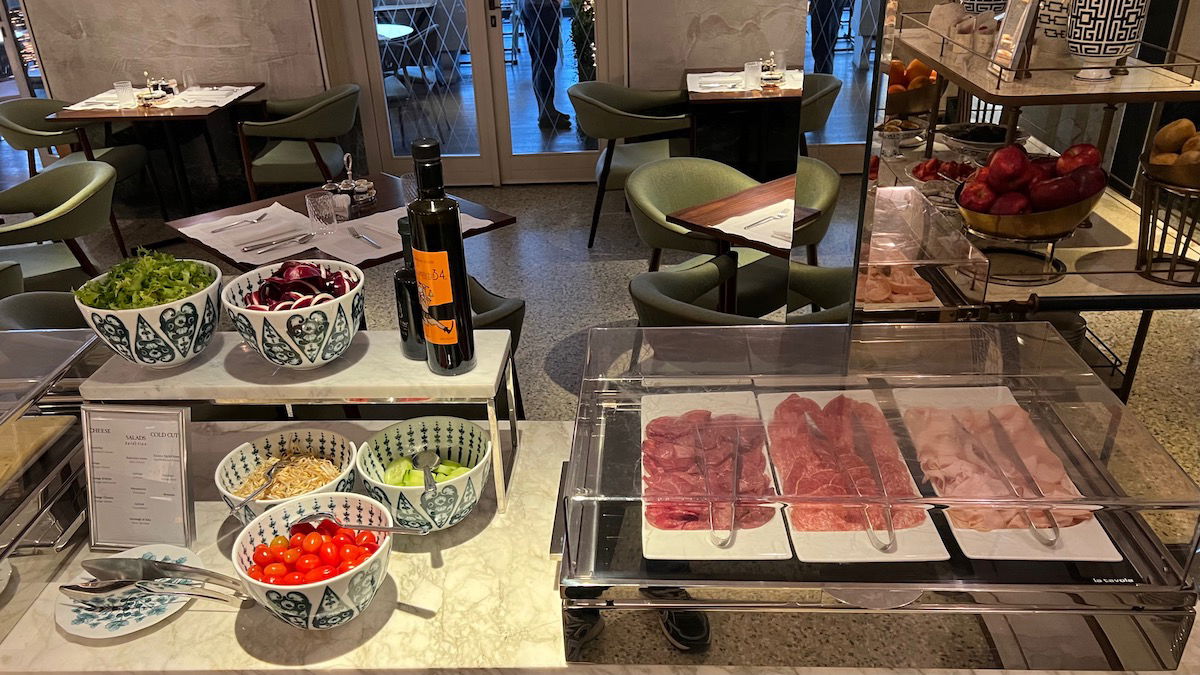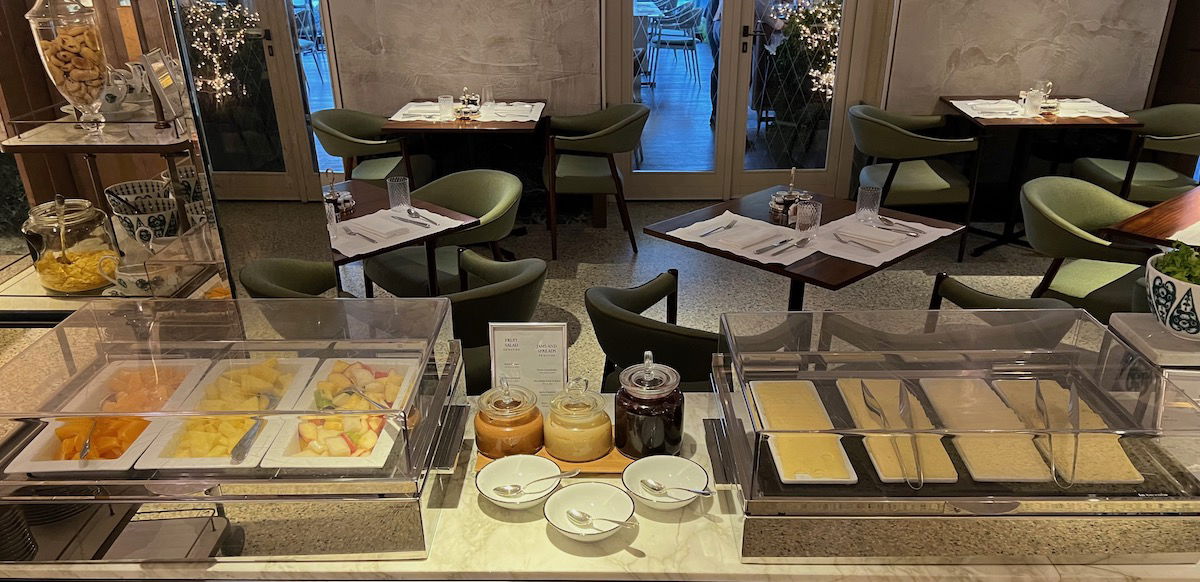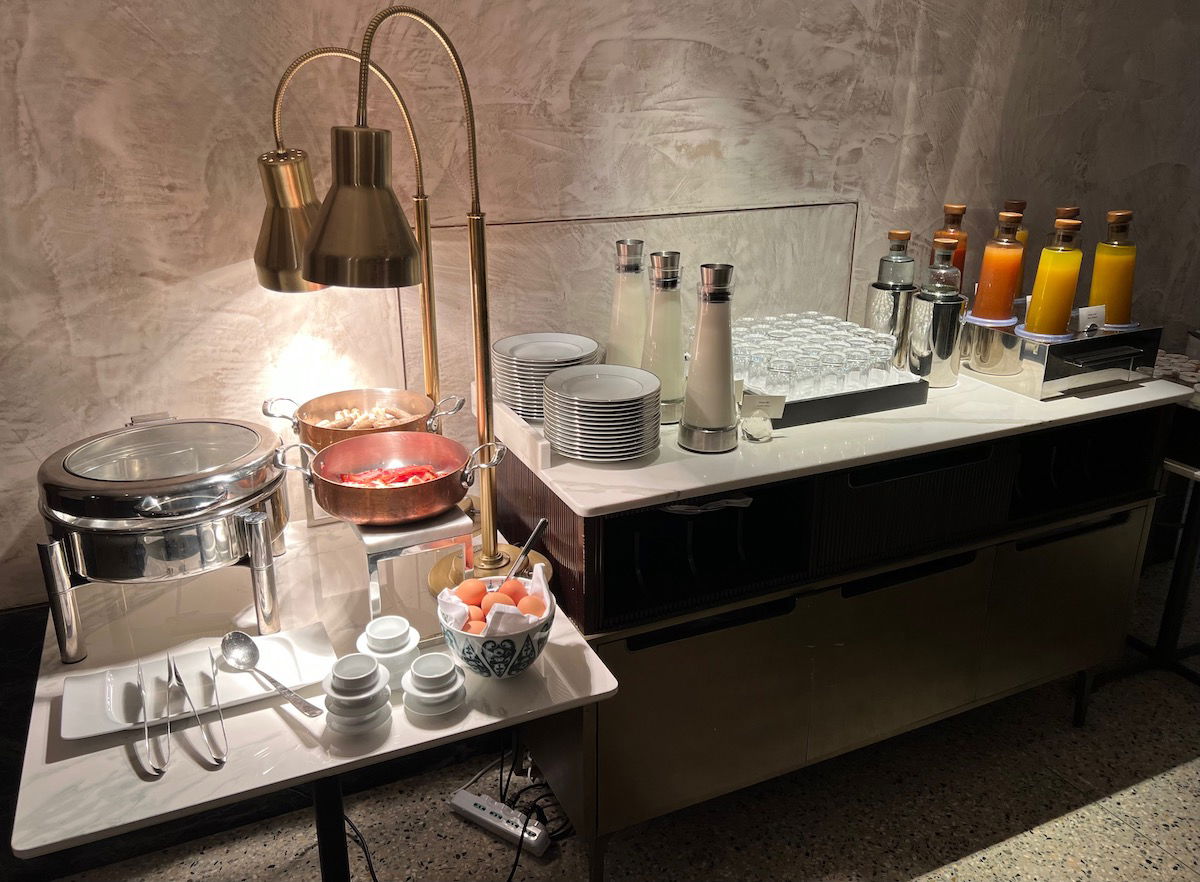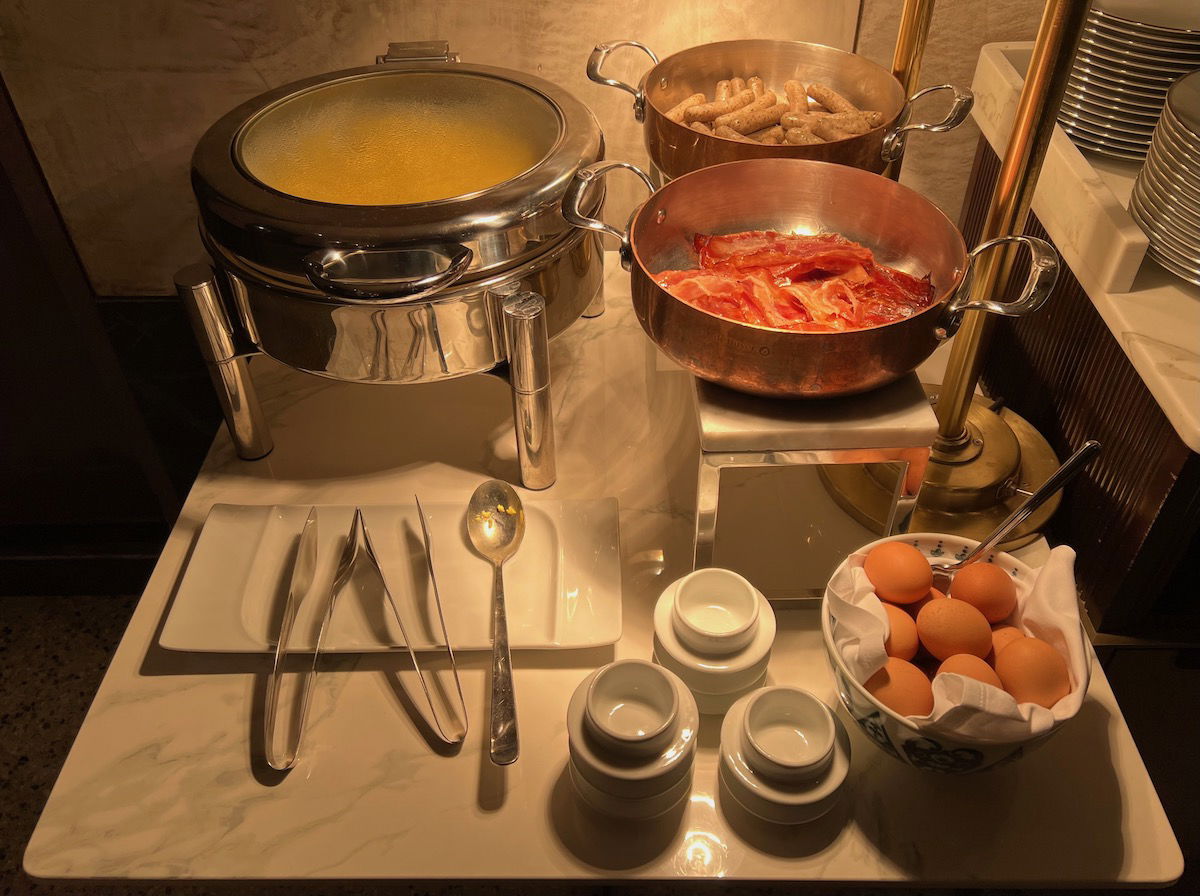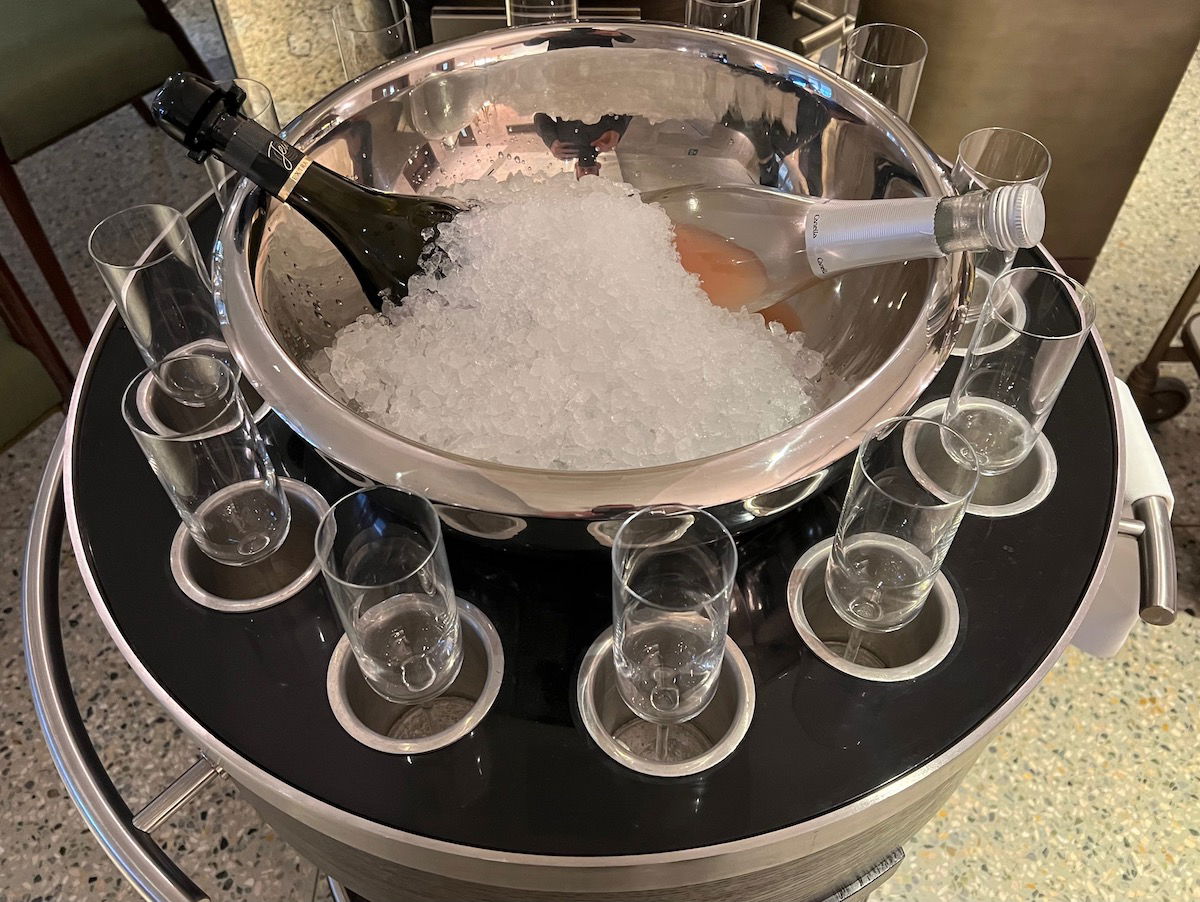 Espresso-based drinks were served by the staff, and the cappuccinos were very good.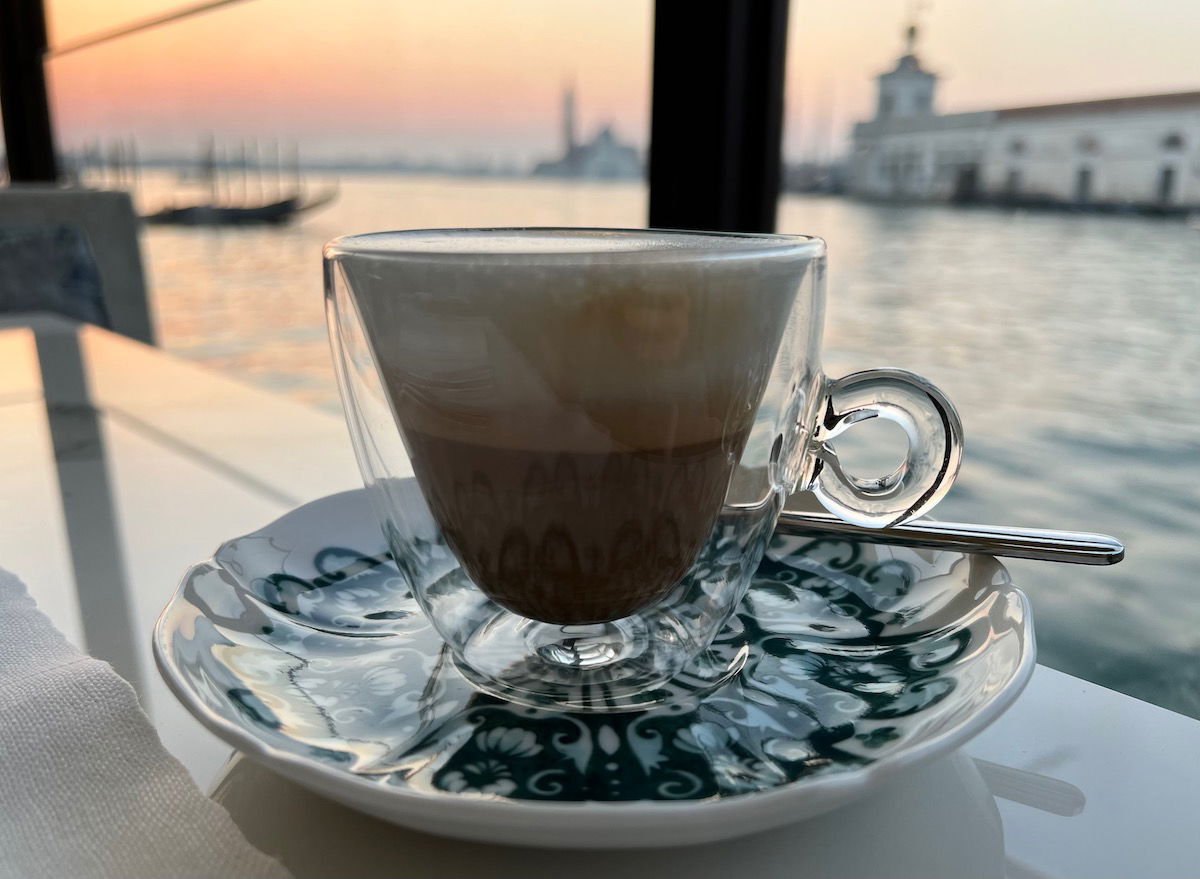 From the menu I decided to order the eggs royale with smoked salmon, while Ford had the avocado toast with a poached egg. Both dishes were good but small, though of course that's fine when complemented by the buffet.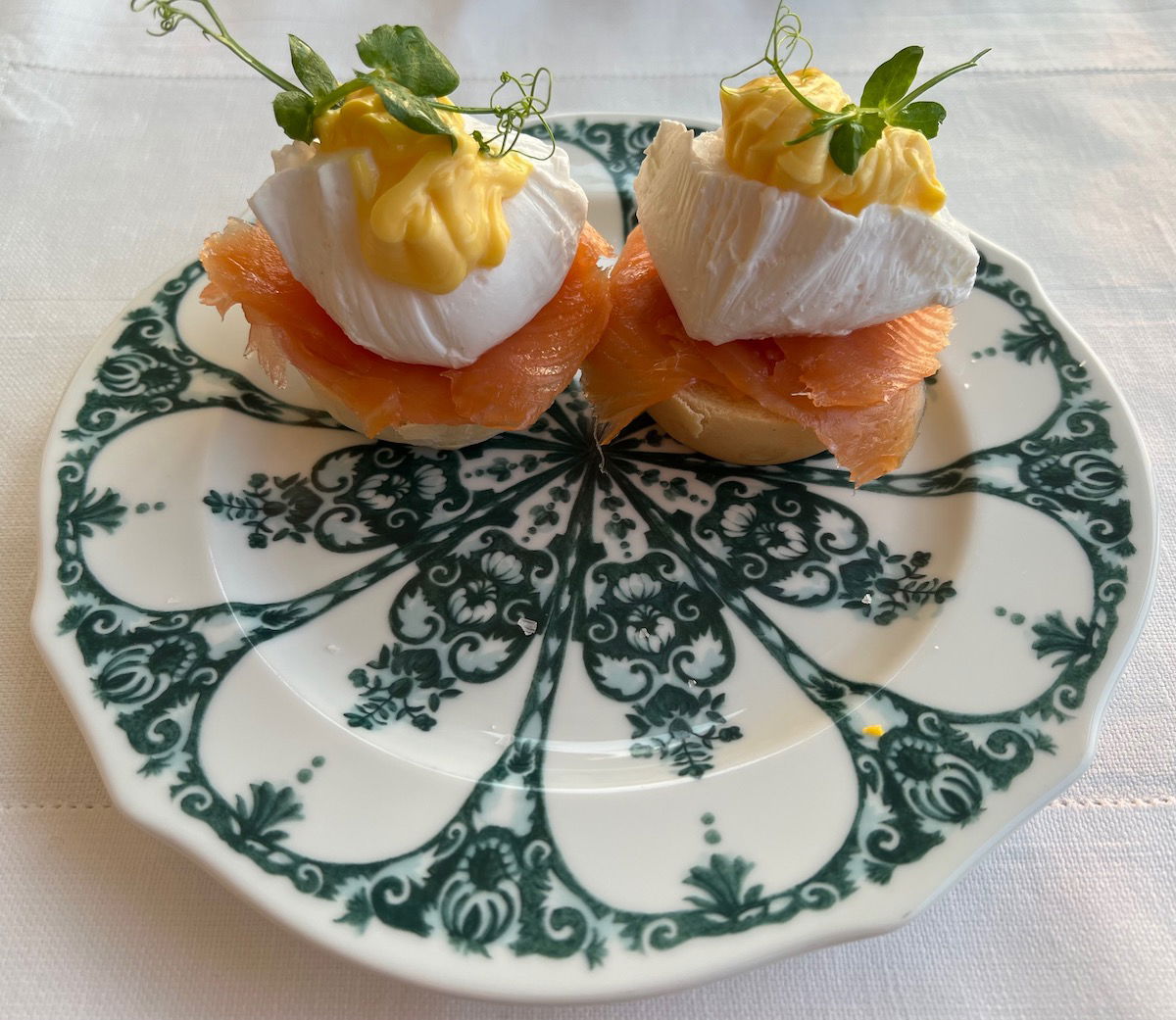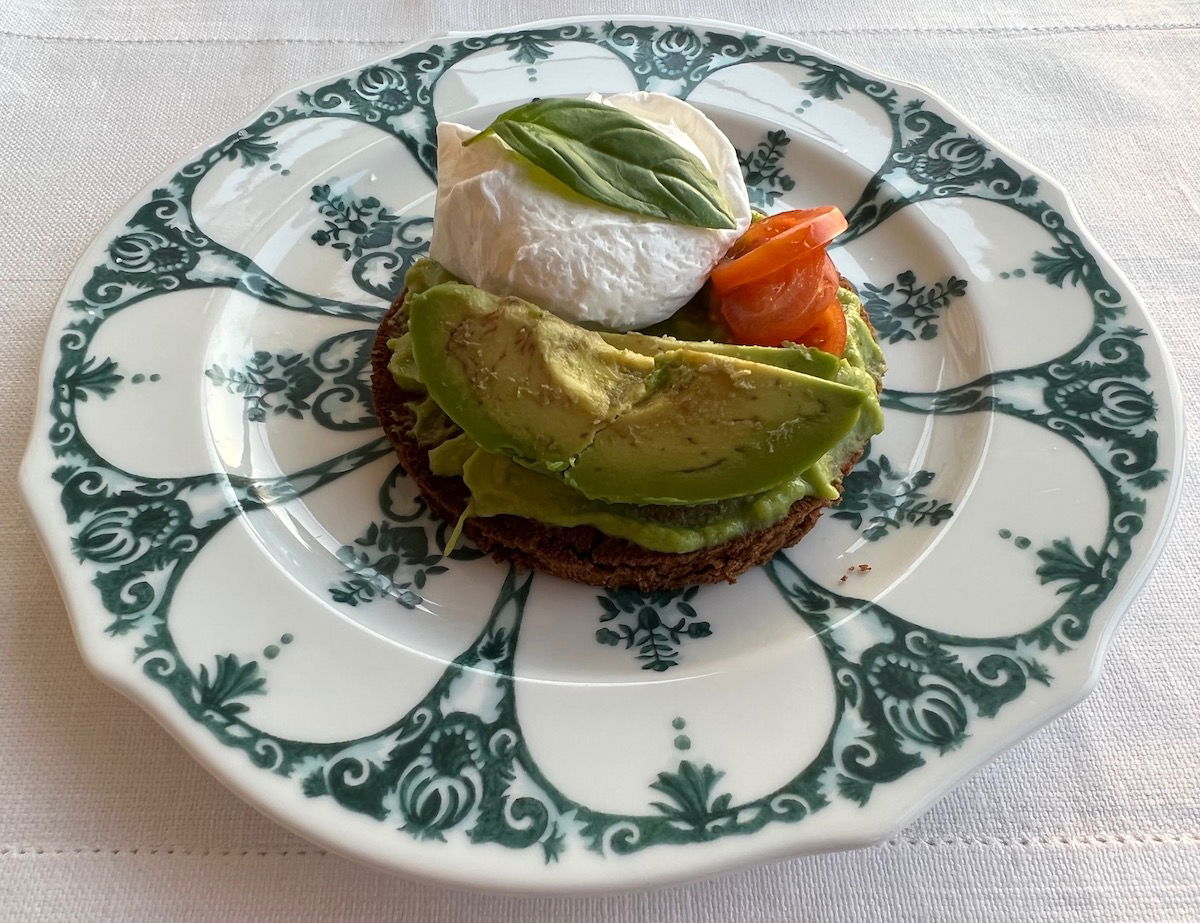 St. Regis Venice gym & spa
The St. Regis Venice has a gym, also located on the first floor. Given how space comes at a premium in Venice, you're typically not going to find very impressive gyms, and this was no exception. However, the gym was pretty well equipped, had the basics, and wasn't crowded when we used it.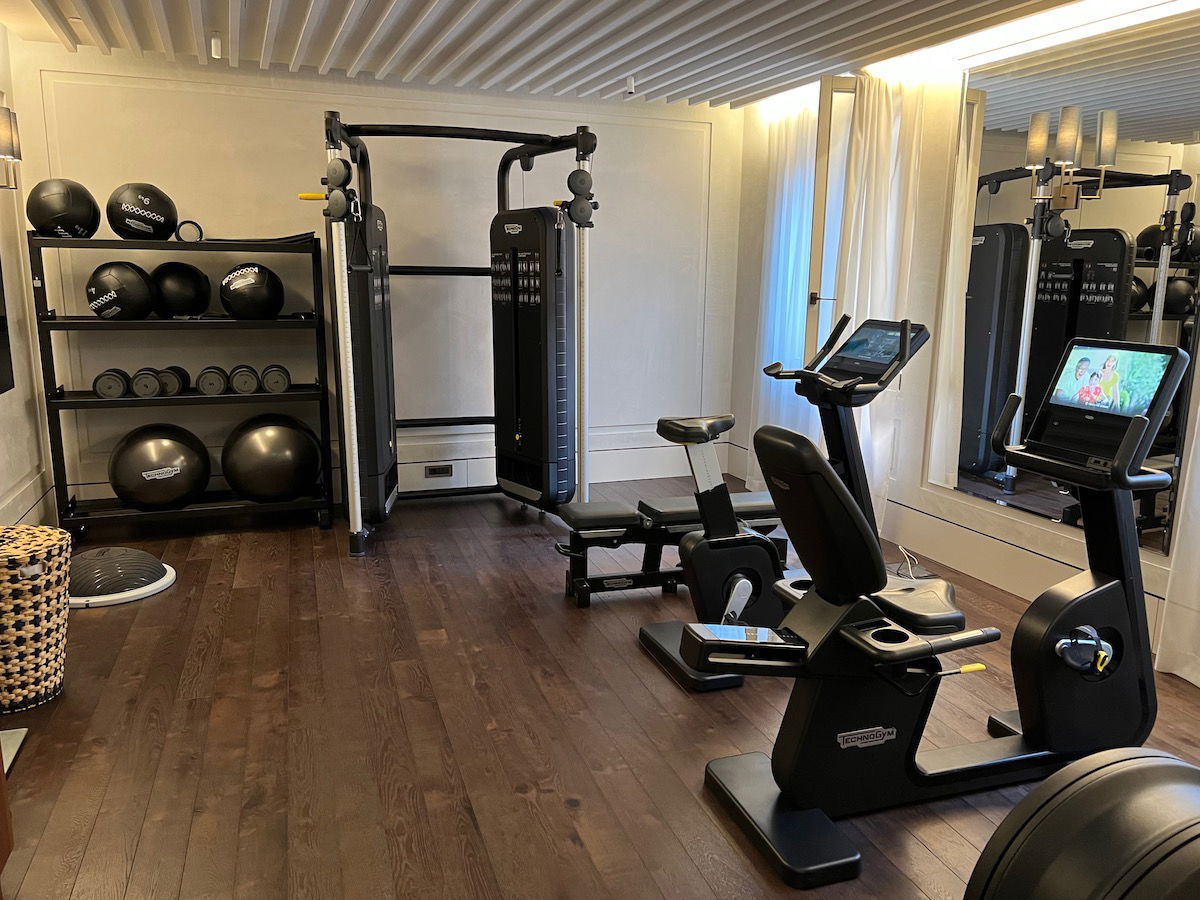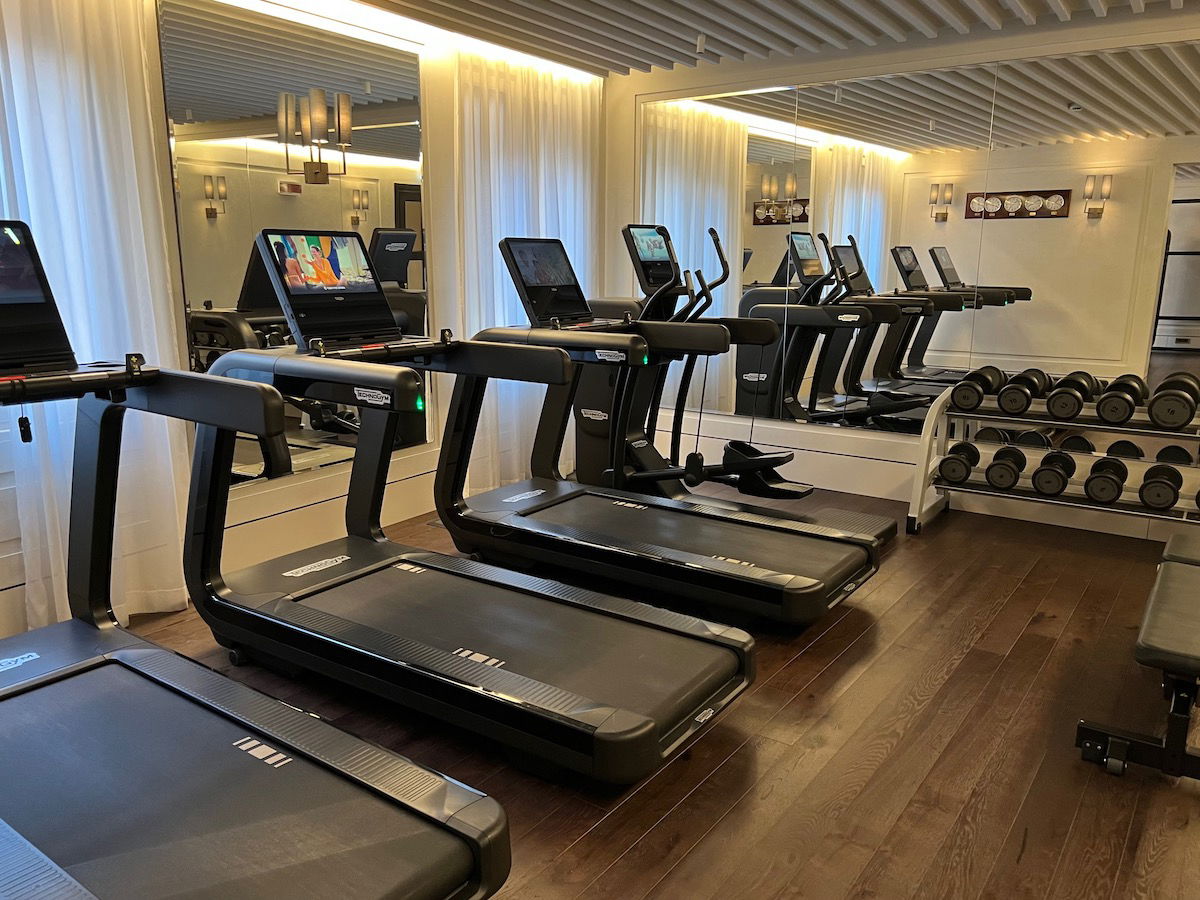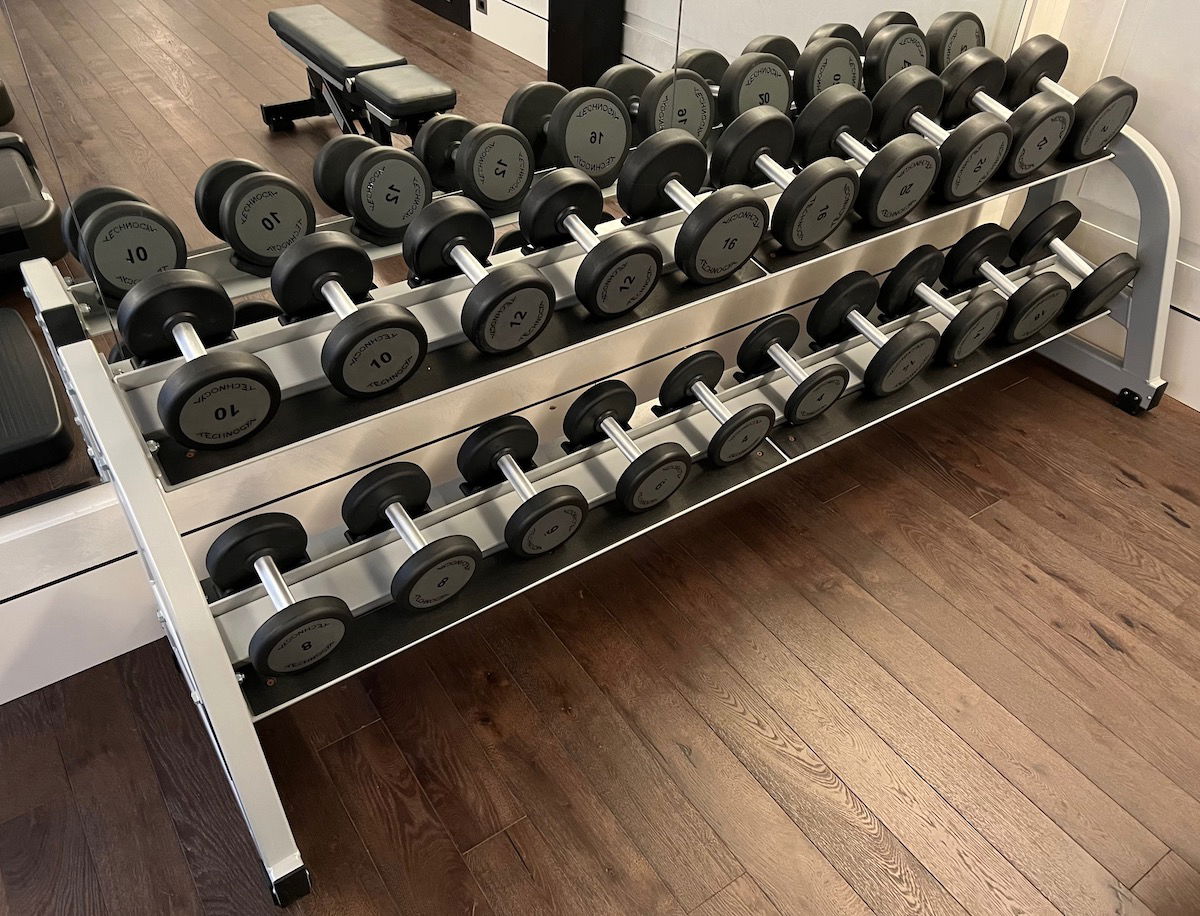 Next to the gym are the St. Regis' spa suites. This isn't some impressive spa with whirlpools and a sauna, but rather consists of some treatment rooms, and that's about it. We didn't get any treatments during our short stay.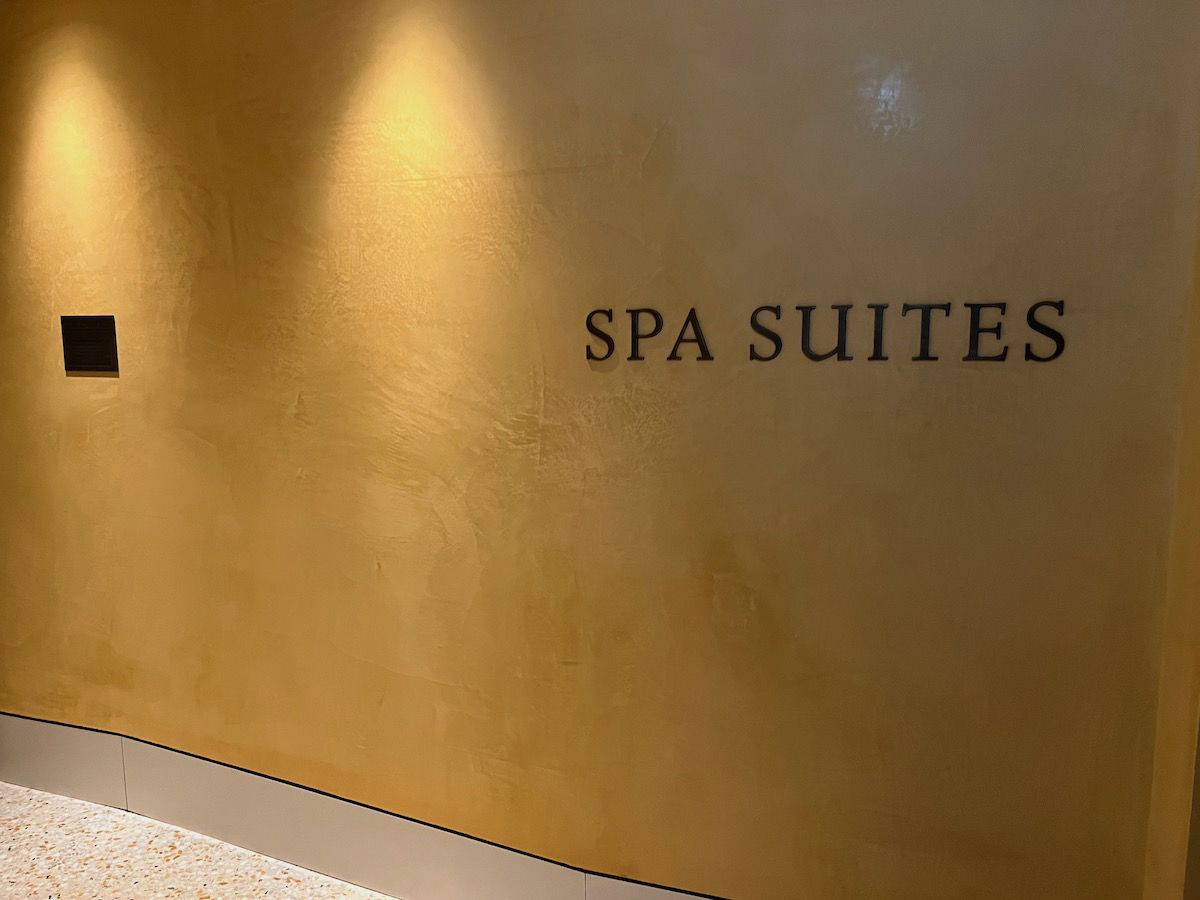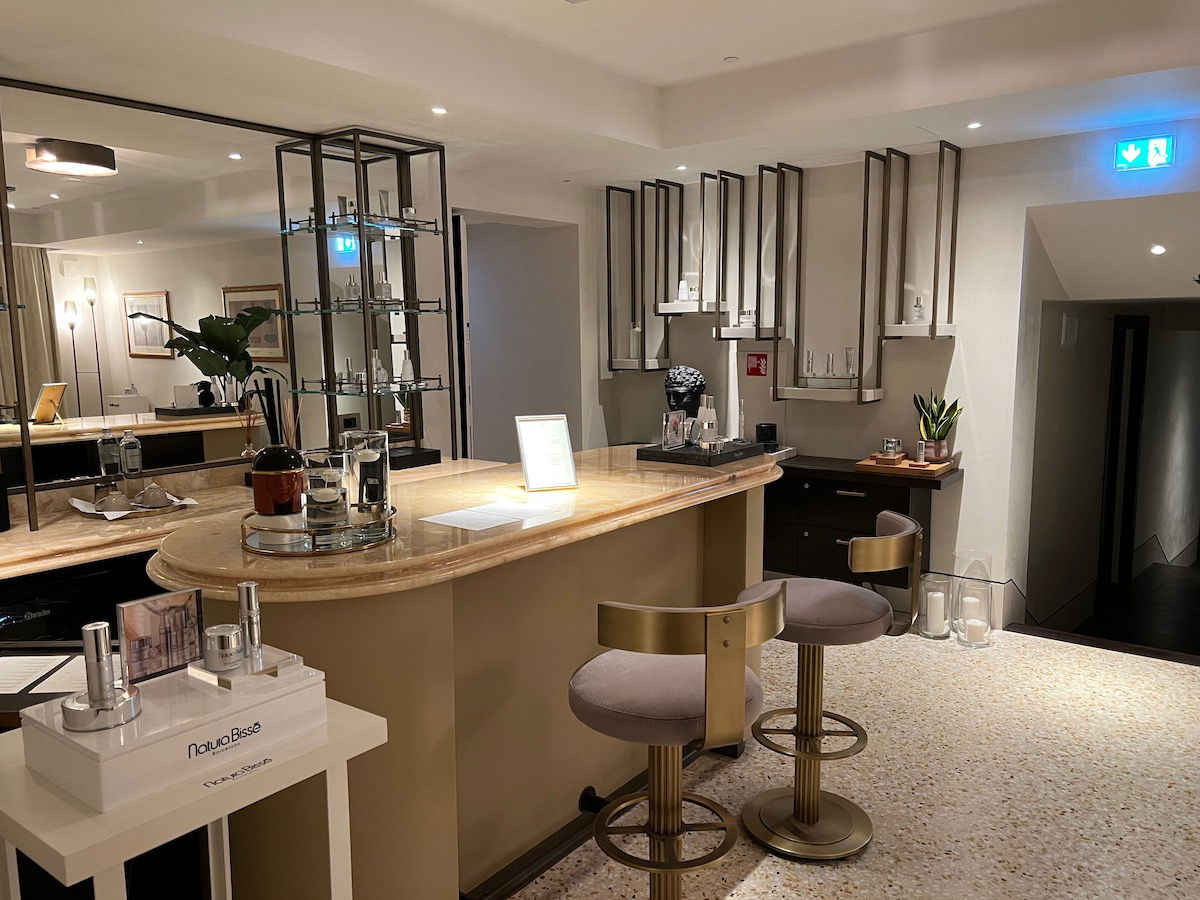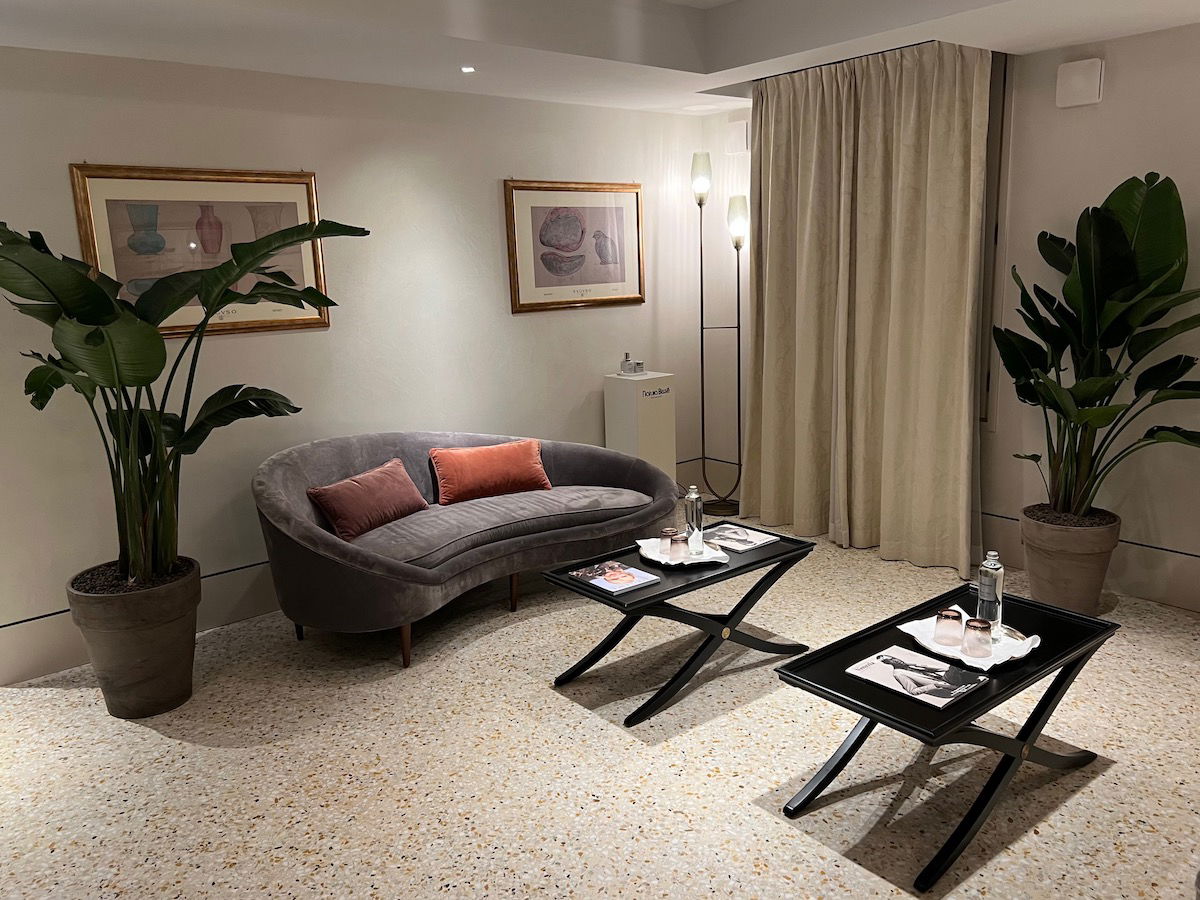 Bottom line
The St. Regis Venice exceeded my expectations, and I'd return in a heartbeat. Since the hotel underwent a renovation just a couple of years ago, it feels luxurious and fresh, while many other hotels in Venice feel a bit past their prime.
What I enjoyed most about the St. Regis Venice, though, are the food & beverage outlets. Both the St. Regis Bar and Gio's Restaurant have breathtaking views of the Grand Canal, along with great quality and service.
The one catch with the St. Regis is that it doesn't quite have the sense of place that Gritti Palace has. However, there's a fine line there, as I found Gritti Palace to be a bit past its prime and stuffy. More on that in the next installment.
If you've stayed at the St. Regis Venice, what was your experience like?