Over the past few years we've seen quite a few airlines add the A350 to their fleet, and it has been popular with both airlines and passengers. The airplane is fuel efficient and can fly long distances, and as a passenger it's also a joy to fly, thanks to the spacious and quiet cabin.
Today another airline has announced their plans for introducing service with this plane.
Scandinavian Airlines (SAS) has eight A350-900s on order, and the first plane will be entering long haul service in January 2020.
The airline will take delivery of the plane in late 2019, and will do some familiarization flights with it, so you can expect they'll fly it regionally. Then as of January 28, 2020, SAS will fly the A350 daily between Copenhagen and Chicago, marking the plane's official entrance into long haul service.
The Chicago flight operates daily with the following schedule:
SK943 Copenhagen to Chicago departing 3:40PM arriving 6:10PM
SK944 Chicago to Copenhagen departing 10:05PM arriving 1:20PM (+1 day)
SAS plans to base their A350s in Copenhagen, and says that within the first year the plane will operate seven routes, including to Chicago, Beijing, New York, Tokyo, Shanghai, Hong Kong, and San Francisco.
The schedules for the remaining destinations haven't yet been revealed, but rather as of now only details have been announced for Chicago.
I'm a little confused in general by SAS' aggressive plans. It's my understanding that they'll only get a few of these A350s within the first year, so it sounds like they'll only be operating the A350 on most of those routes a couple of days a week, or otherwise seasonally.
SAS' A350-900s will feature a total of 300 seats, including 40 business class seats, 32 premium economy seats, and 228 economy seats.
SAS hasn't revealed much about what we should expect onboard, though has said that the A350 will be equipped with "unique SAS features, carefully developed from feedback given from travelers." The airline will reveal more details of this before the year is up.
It doesn't sound to me like SAS plans to introduce a new business class product on the plane. The airline currently has Vantage XL seats on their A330s, which are solid business class seats.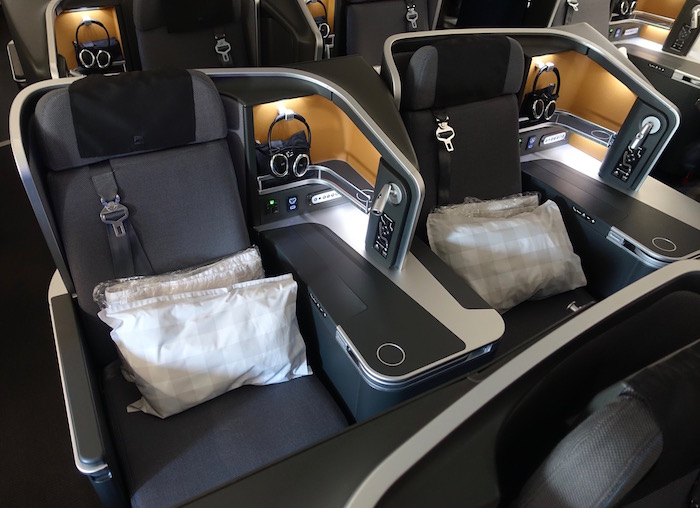 SAS' A330 business class
I guess we'll find out soon for sure.
Redeeming miles for SAS' A350 business class
In general SAS is an airline that's really inconsistent with award availability — sometimes they're horrible about making award seats available, and sometimes they aren't. I guess this shouldn't come as much of a surprise, but award availability is wide open in business class between Chicago and Copenhagen in winter, so there are plenty of options for redeeming miles.
For example, here's a calendar view of dates with business class awards from Copenhagen to Chicago: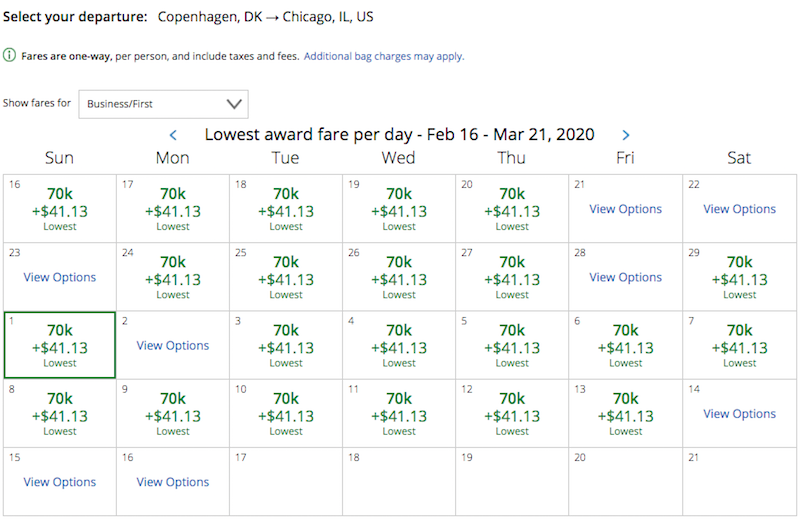 If you want to redeem miles for these flights between the US and Europe in business class, here are a few options to consider:
Air Canada Aeroplan charges 55,000 miles one-way
Avianca LifeMiles charges 63,000 miles one-way
United MileagePlus charges 70,000 miles one-way
In all three cases there are no carrier imposed surcharges.
Bottom line
It's exciting to see SAS refresh their fleet with some new A350s, and it's especially cool to see a US city being the first one to get the new plane. Now we'll just have to wait and see what kind of an onboard product SAS chooses for the plane.
Do you think SAS will introduce a new business class on their A350s?