Over the past few years we've seen quite a few airlines add the A350 to their fleet, and it has been popular with both airlines and passengers. The airplane is fuel efficient and can fly long distances, and as a passenger it's also a joy to fly, thanks to the spacious and quiet cabin.
SAS is in the process of modernizing their long haul fleet, as the airline is taking delivery of eight Airbus A350-900s, as well as three Airbus A321LRs.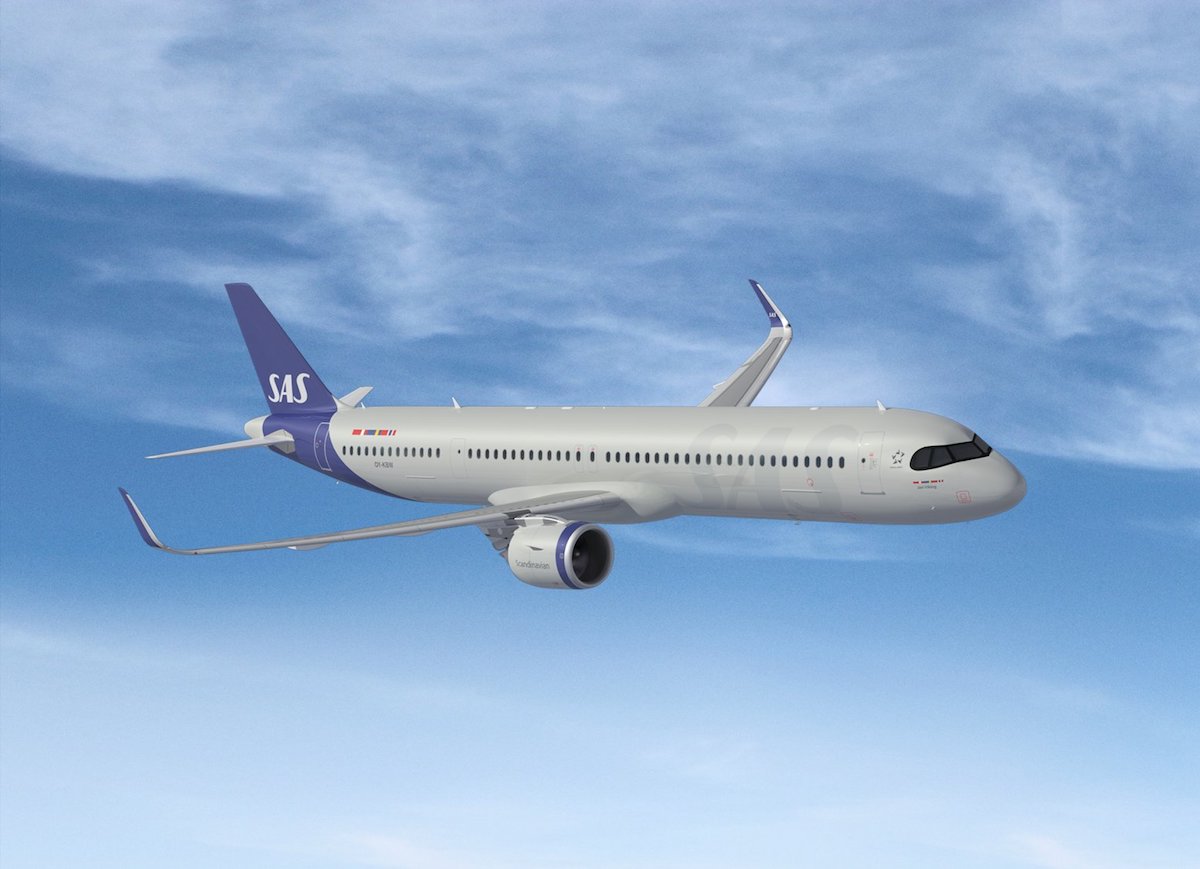 SAS A321LR rendering
In June SAS revealed some basic details about their upcoming A350s, and today they've shared some pictures of the cabins. Here's what we know about SAS' A350s.
Scandinavian Airlines A350 Routes
Scandinavian Airlines (SAS) has taken delivery of their first of eight Airbus A350-900s, and the plane will enter long haul service in January 2020.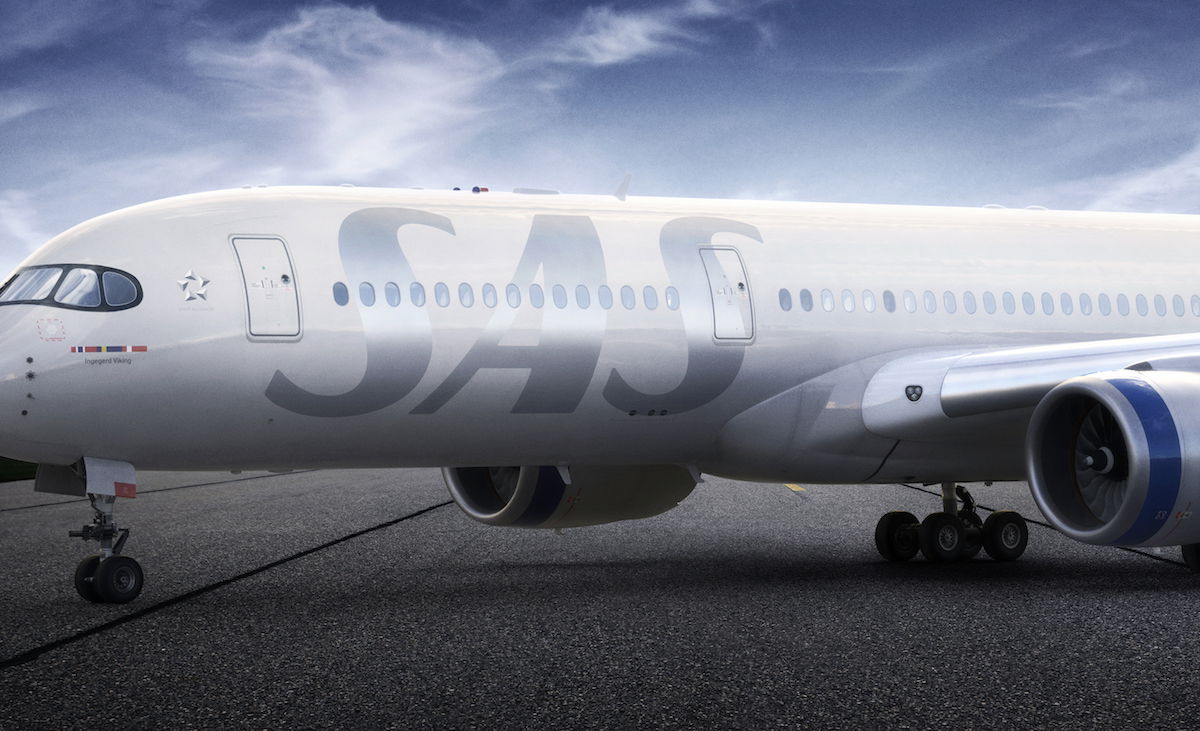 SAS A350-900 rendering
The airline will shortly be doing some familiarization flights with the aircraft. Then as of January 28, 2020, SAS will fly the A350 daily between Copenhagen and Chicago, marking the plane's official entrance into long haul service.
The Chicago flight operates daily with the following schedule:
SK943 Copenhagen to Chicago departing 3:40PM arriving 6:10PM
SK944 Chicago to Copenhagen departing 10:05PM arriving 1:20PM (+1 day)
SAS plans to base their A350s in Copenhagen, and the plan is that:
A350s will fly to Chicago, Newark, and Beijing, through early June 2020
Starting in early June 2020, those routes will go back to A3330s, and the A350s will operate flights to San Francisco, Los Angeles, Hong Kong, Tokyo Haneda, and Shanghai.
Scandinavian Airlines A350 Configuration
SAS' A350-900s will feature a total of 300 seats, including 40 business class seats, 32 premium economy seats, and 228 economy seats.
So, what should we expect?
SAS A350 Business Class
In business class (known as "SAS Business") there will be 40 seats. SAS is essentially tweaking their existing business class product from the A330, which has Vantage XL seats.
SAS' A350 business class will feature 18.5″ high resolution entertainment screens, 110v and USB outlets, a new bi-fold tray table (including a personal device holder), and more durable seat padding. The beds will measure a minimum of 196cm in length.
The A350 will also feature a welcoming area at the entrance door, and during the flight it will turn into a refreshment center for business class passengers.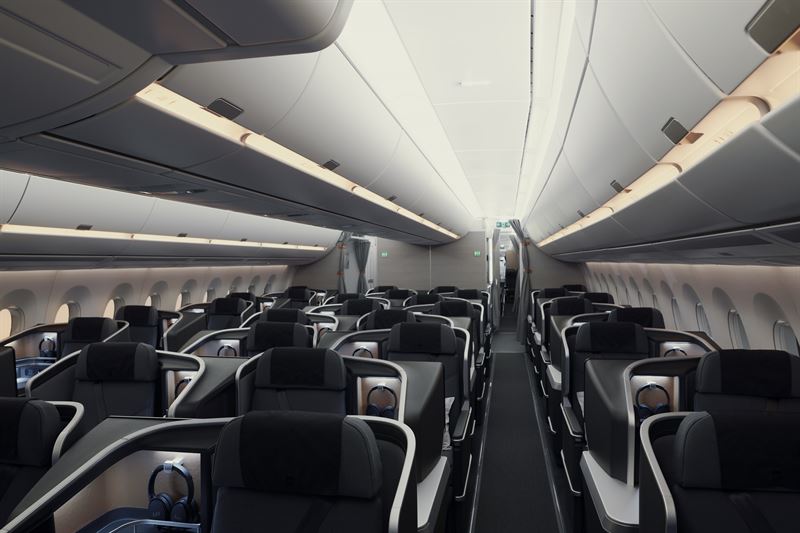 SAS A350 business class
SAS A350 Premium Economy
In premium economy (known as "SAS Plus") there will be 32 seats, which will be a new seat type for the airline. They'll include leg rests with foot support, and will feature 13.3″ high resolution IFE screens, along with both 110v and USB outlets. A cabin divider will also separate the cabin from the rest of the plane.
SAS also says that premium economy passengers can enjoy "a special snack shop designed to encourage passengers to take a walk to boost health onboard," whatever that means.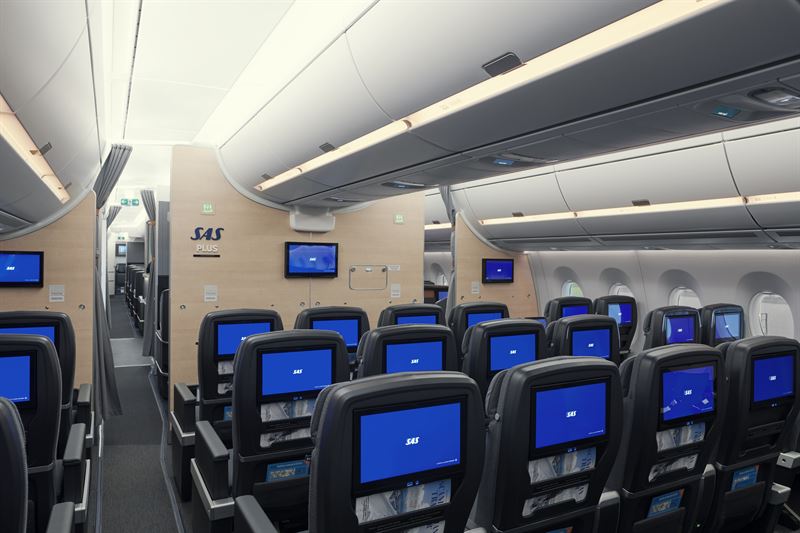 SAS A350 premium economy
SAS A350 Economy
In economy (known as "SAS Go") there will be 228 seats. They'll feature 11.6″ high resolution IFE screens, USB outlets, a bi-fold tray table, and a water bottle holder.
It's quite disappointing to hear that they won't even have 110v outlets in economy.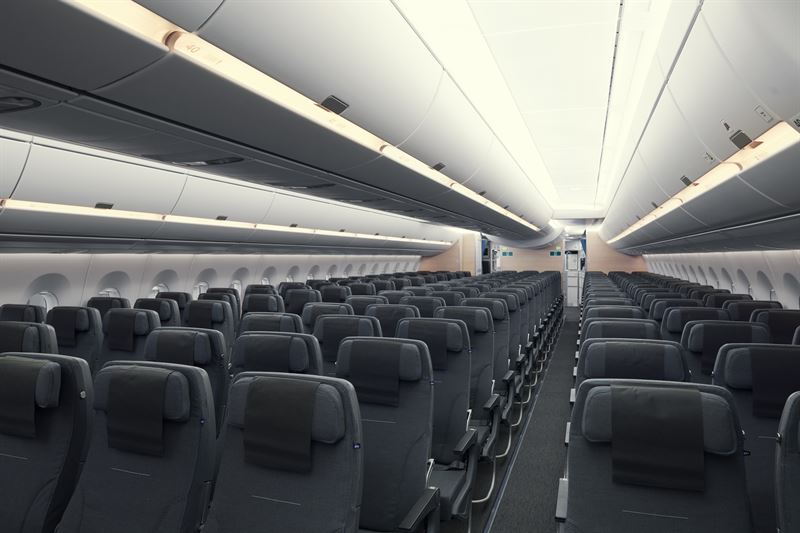 SAS A350 economy
Redeeming Miles For SAS' A350 Business Class
In general SAS is an airline that's really inconsistent with award availability — sometimes they're horrible about making award seats available, and sometimes they aren't.
I guess this shouldn't come as much of a surprise, but award availability is pretty wide open in business class between Chicago and Copenhagen in winter, so there are plenty of options for redeeming miles.
If you want to redeem miles for these flights between the US and Europe in business class, here are a few options to consider:
Air Canada Aeroplan charges 55,000 miles one-way
Avianca LifeMiles charges 63,000 miles one-way
United MileagePlus charges 70,000 miles one-way
In all three cases there are no carrier imposed surcharges.
Bottom Line
It's exciting to see SAS refresh their long haul fleet with both A321LRs and A350s. While the A350 as such is a joy to fly and incredibly innovative, it doesn't seem like there's that much changing when it comes to the seats as such.