Introduction: An Arctic Summer
Review: SAS Business Class A330 Los Angeles To Stockholm
Review: SAS Lounge Stockholm Airport
Review: Hotel Continental Oslo
Review: Radisson Blu Longyearbyen Hotel
Review: SAS Lounge Oslo Airport
Review: SAS Lounge Copenhagen Airport
Review: W Hotel St. Petersburg
Review: St. Regis Moscow
Review: Business Lounge Moscow Domodedovo Airport
Review: Singapore Airlines First Class 777 Moscow To Houston
---
We got to LAX at around 12PM for our 2:15PM flight to Stockholm. SAS operates out of Tom Bradley International Terminal. While the main check-in area was an absolute zoo, there was no one in the premium line. The flight was way oversold in economy, while it had empty seats in business class and premium economy, so I overheard the check-in agents aggressively trying to upsell people.
SAS uses the Star Alliance Lounge at LAX, which I've reviewed before, so I won't review it again in this report.
Our flight was departing from gate 159, located at the far end of the concourse. Boarding was scheduled to commence at 1:35PM, which is 40 minutes before departure.
Boarding finally began at 1:40PM… for economy passengers. I've experienced cases where a premium cabin wasn't fully prepared or something, and that led to a delay in boarding. However, in this instance it was simply that they were only using the forward jet bridge to board passengers, so they wanted to board economy first, and then business class.
They tried to sell it as if they were doing business class passengers a favor ("this way all the economy passengers won't be walking past you"), but that's not of much use when the alternative is standing at the gate watching everyone else board. Suffice to say there were a lot of annoyed and confused business class passengers.
Finally at 1:55PM business class boarding commenced. I was so excited to board this flight, given that SAS business class is one of the airlines I was most excited to review this year. Furthermore, this was a completely new type of business class seat for me, as it was my first time in the Vantage XL seat.
SAS 940
Los Angeles (LAX) – Stockholm (ARN)
Wednesday, July 6
Depart: 2:15PM
Arrive: 10:00AM (+1 day)
Duration: 10hr45min
Aircraft: Airbus A330
Seat: 5H (Business Class)
We boarded through the forward door, where the purser directed us to the far aisle. At first I thought he was the first officer, given that he was wearing a jacket with three stripes.
Unfortunately I couldn't get a great cabin picture during boarding, due to how hectic the process was.
SAS' new business class is basically an evolution of the business class product you'll find on Austrian, Brussels, Delta, etc. The seats are staggered in a 1-2-1 configuration. There are a total of 32 seats, spread across eight rows.
In each row the seats are staggered. The reason is because the footrest for a given row is located between the seats in front.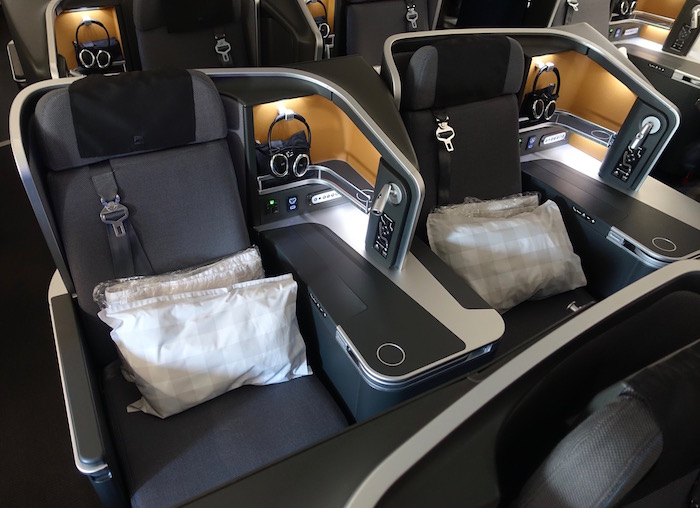 SAS business class center seats
Ford and I had selected seats 5H and 6H. The window seats are also staggered, with the seats in even numbered rows being closer to the windows, while the seats in odd numbered rows were closer to the aisle.
My general preference is to sit in a seat closer to the window, though I gave that seat to Ford.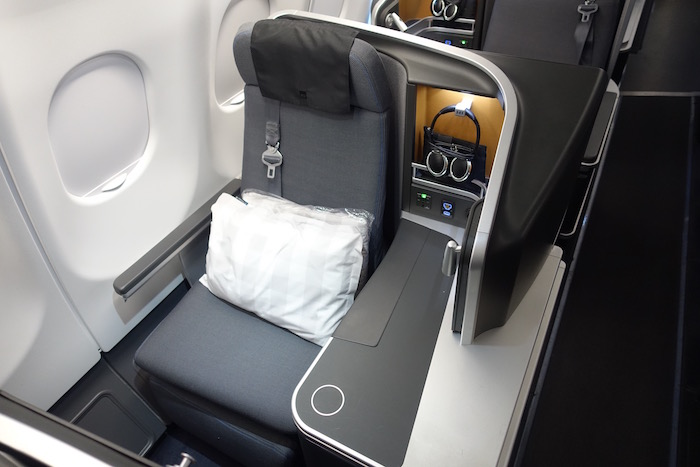 SAS business class window seat
The "true" window seats feel significantly more private, as you basically have a cocoon.

SAS business class window seat
My main complaint with a Vantage style seat is how small the foot cubby is, as it almost feels like you're in a coffin when fully reclined. I thought these seats had slightly more space for feet than the Vantage style seats I've found on other airlines, though it was still a bit restrictive.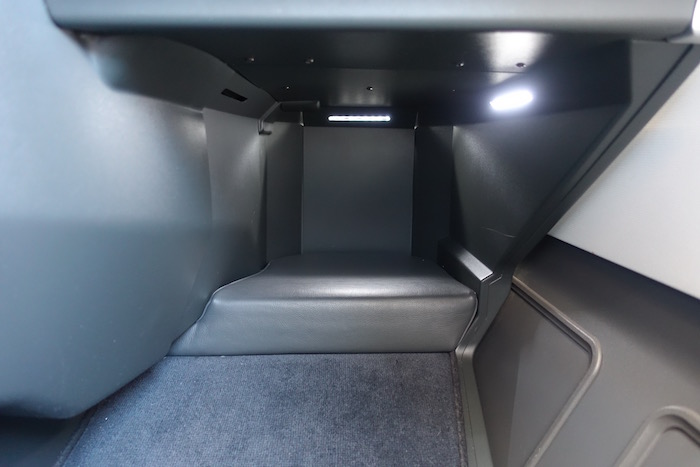 SAS business class window seat legroom
I sat in 5H, a seat located closer to the aisle.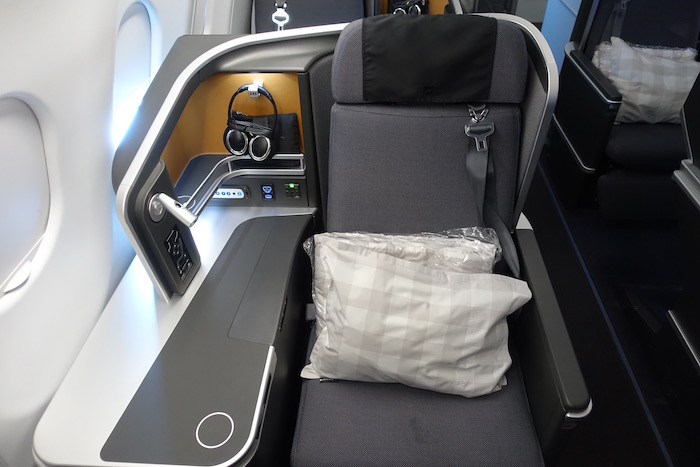 SAS A330 business class, seat 5H
These seats are less private and feel more exposed, and also aren't as good for looking out the window, since you're further away.

SAS A330 business class, seat 5H
The one advantage of the aisle seats is that they have a bit more room for your feet. I'm not sure if the cubby is actually more spacious, or if it's simply that the cubby opens up into the aisle, so you feel less restricted.

SAS business class seat legroom
I thought the seat was gorgeous aesthetically. It's not the most blinged out seat, but I thought it very nicely represented Nordic design, with clean, simple lines, and neutral colors.
For the "true" window seat, the storage area was located to the left of the seat, which also helped create a privacy partition of sorts.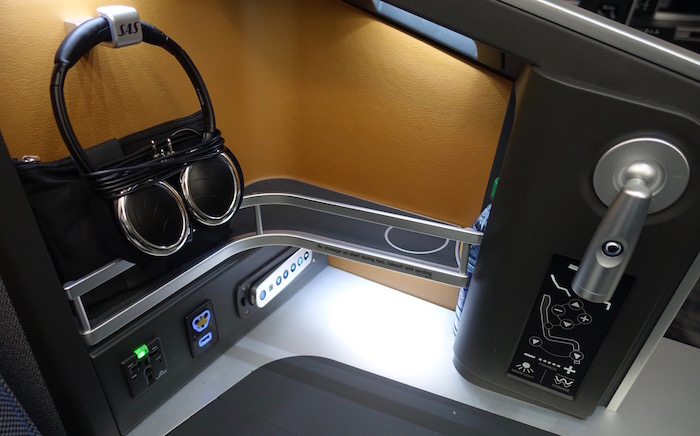 SAS A330 business class storage and seat controls
In the bottom area were the seat controls, and above that was the reading light.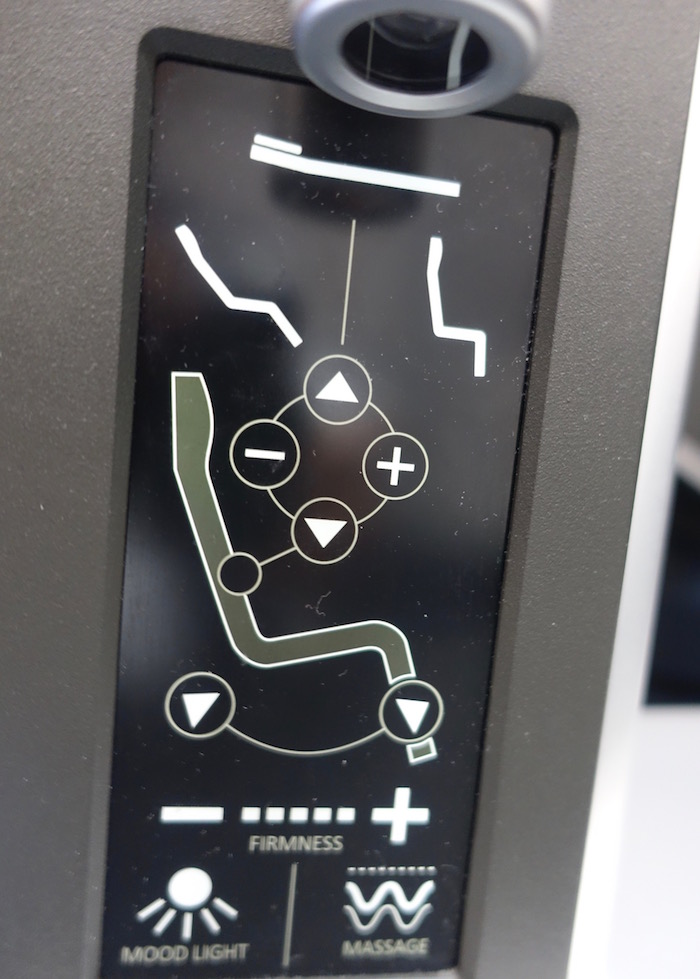 SAS business class seat controls
Immediately next to the seat was a power outlet, as well as a USB outlet and headphone jack.

SAS business class headphone jack and power outlet
The entertainment controller was next to that, which is also where the flight attendant call button and reading light control were located.

SAS business class entertainment controls
Then there was a hook for headphones. The headphones were decent quality for business class, though not as good as my Bose Quiet Comfort 35 headphones, which I used instead.
Behind the headphones was the amenity kit, which was a small black zippered pouch.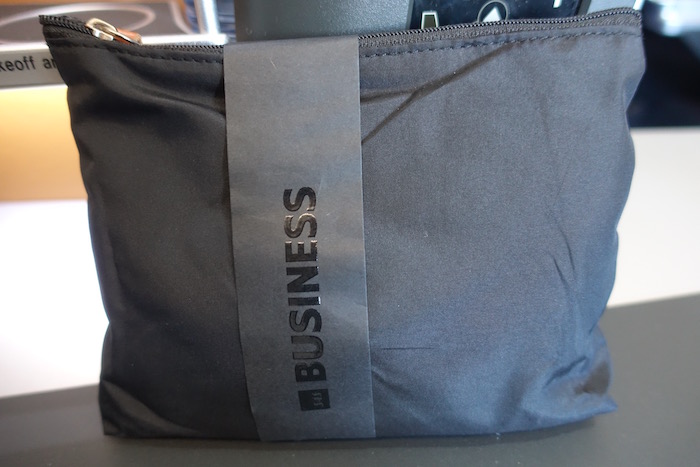 SAS business class amenity kit
The kit had all the necessities, though otherwise was pretty no frills. There were socks, eyeshades, earplugs, a toothbrush, and toothpaste.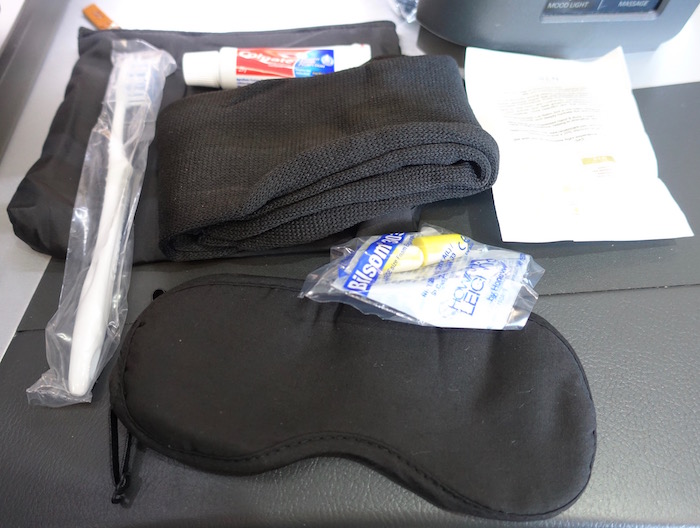 SAS business class amenity kit contents
Then there was lip balm, as well as hand and body cream.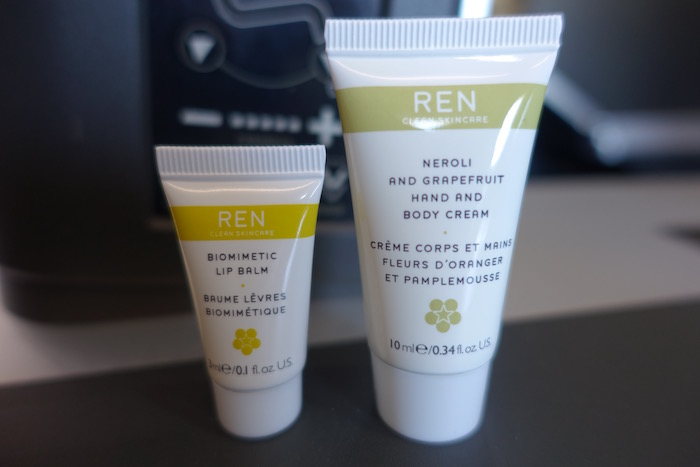 SAS business class amenity kit contents
There was also a small compartment there I found a bottle of water.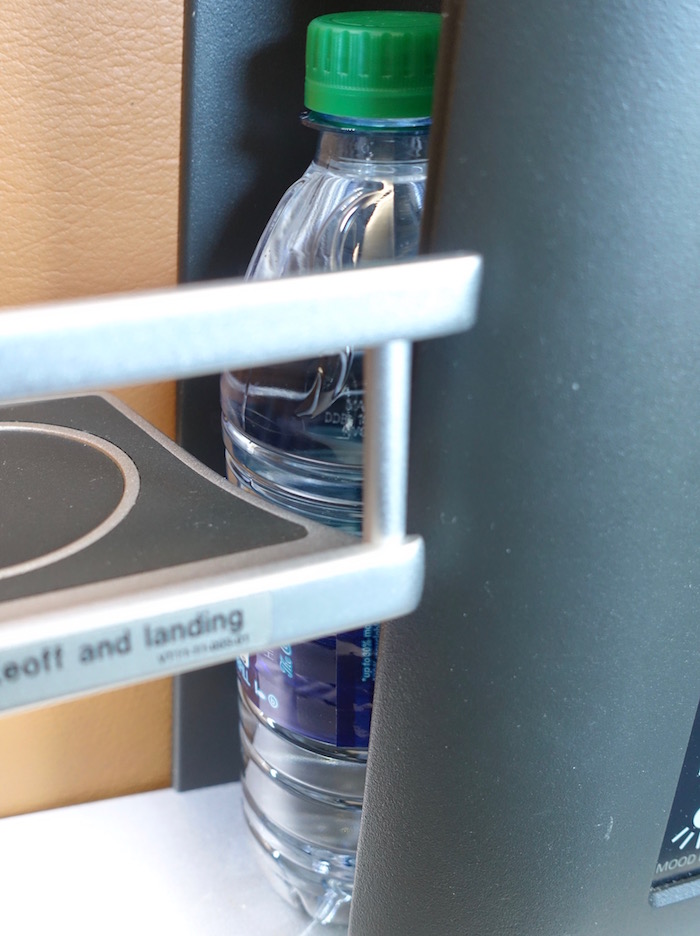 SAS business class water bottle holder
On the seat in front of me was a leather literature pocket, as well as a coat hook.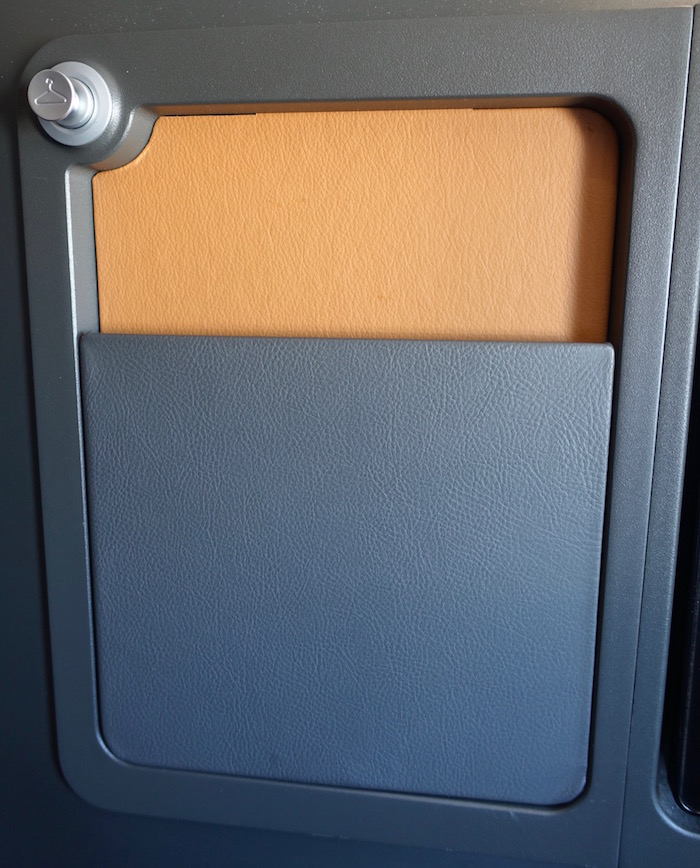 SAS business class magazine pocket
As boarding finished up, the flight attendants came around with pre-departure beverages. I could tell immediately they wouldn't be a good crew. It's not just that they were indifferent or didn't seem like they wanted to be there, but rather they seemed actively angry to be there. The exception was the purser, who was a really nice guy.
But other than that, I truly felt like I was on a US carrier with an especially bad crew. The flight attendants working business class on this flight should be reassigned to the lost baggage department, as their attitude would be better suited for there, in my opinion.
I had a glass of champagne before departure, which was served simply by the flight attendant holding out the tray without saying anything.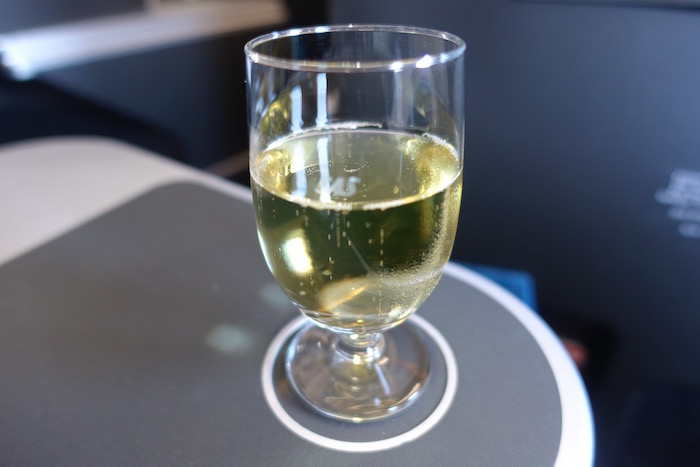 SAS business class pre-departure champagne
Shortly thereafter menus were distributed, and the flight attendant asked "breakfast before landing?"
At 2:05PM boarding was complete, with every seat in business class taken. 90 minutes before departure there were only 12 seats assigned in business class, so I assume the other 20 passengers were operational upgrades or otherwise bought up at check-in. For what it's worth, almost everyone in the cabin seemed to be European. I only heard one or two other people with an American accent.
While the crew wasn't the most charming, the captain was. At around 2:10PM "commander Hans" came on the PA to add his welcome aboard, informing us of our flight time of 10hr24min, and the mostly smooth conditions enroute. His English was sort of adorable, because he knew most English words well, but some of the phrases he used were hilarious. He finished his announcement by saying "so ladies and gentlemen, what do you say, let's fly to Sweden."
Shortly thereafter the purser made his welcome aboard announcement, and then screened the safety video.
We began our pushback at 2:25PM next to a Fiji Airways A330, which I'm excited to review pretty soon.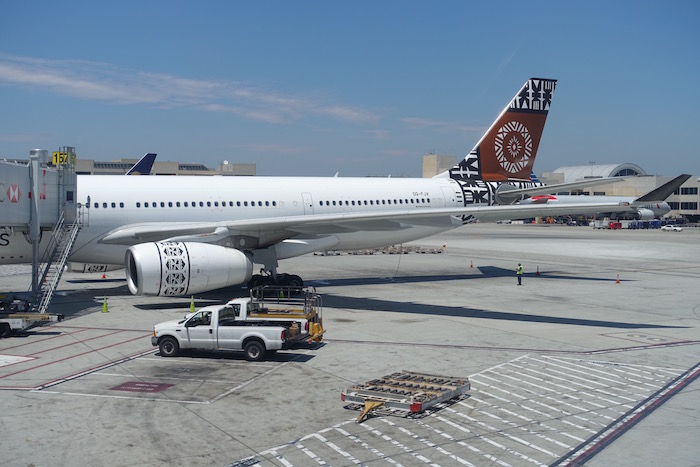 Fiji Airways A330 business class LAX
Our taxi to the runway took only about 15 minutes, and at 2:40PM we were cleared for takeoff on runway 25R, ahead of an Air China 777.

Taxiing into position runway 25R LAX
As you'd expect, the views on departure were stunning, especially as we climbed out with a view of Tom Bradley International Terminal, and all the international airlines parked there.
The beautiful views continued as we climbed out over the California coastline.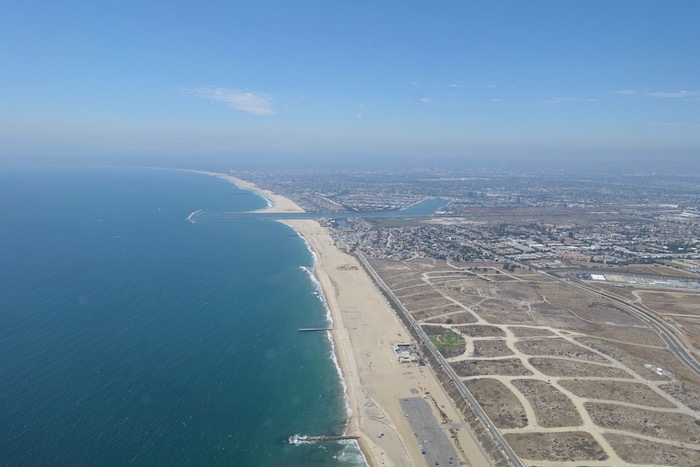 California coastline departing LAX
We climbed out for about five minutes, and then made an almost 180 degree turn to fly in an eastbond direction.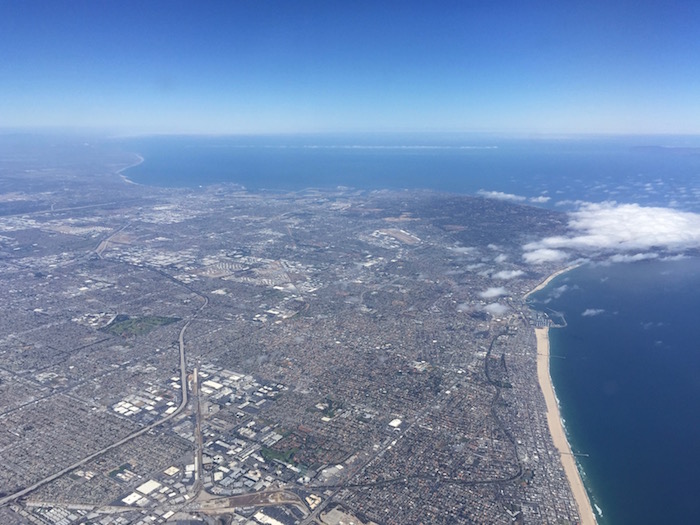 California coastline departing LAX
The seatbelt sign was turned off about 15 minutes after takeoff.
SAS offers wifi on their A330s, which has no data caps. In theory the pricing is 19USD, though it's actually complimentary for business class passengers.
I immediately tried to connect to the wifi, though had issues doing so. It validates that you're in business class based on your personal details, and they didn't seem to match what they had in the system. Fortunately the purser offered to help, and he entered a master code that got me connected.
The wifi speed was decent, similar to what you'd get through Gogo on a US flight.
After connecting to wifi I browsed the entertainment selection. It was reasonably extensive. It wasn't as good as the ICE system on Emirates, though was certainly better than a lot of other systems out there.
There were a variety of programming options, ranging from movies to TV to music.

SAS business class entertainment selection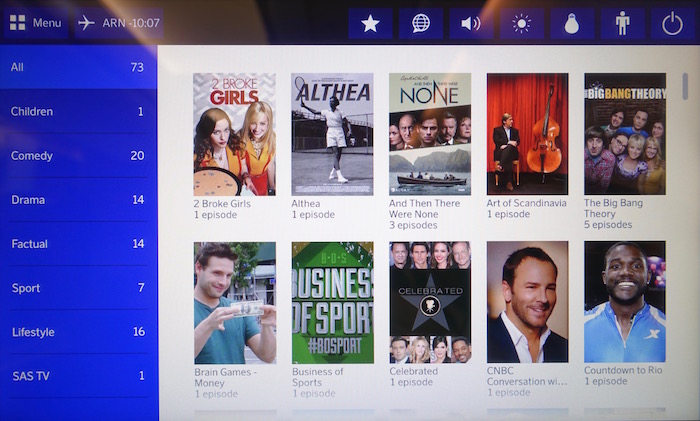 SAS business class entertainment selection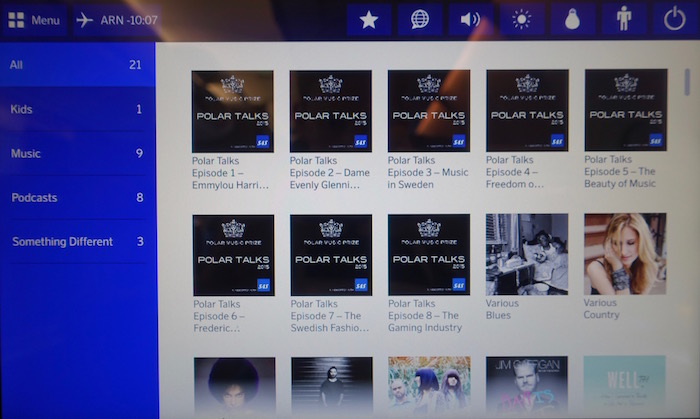 SAS business class entertainment selection
After browsing the entertainment I checked out the airshow, which had a lot of different "perspectives" from which you could see the route.
SAS also has an exterior camera on the A330, though sadly it's not a tail camera, which I find to be the coolest perspective.
I eventually decided to watch a "Brain Games" show, which I found to be rather lame. One thing that impressed me is that SAS has no advertisements before their entertainment selection.
After takeoff the crew distributed mattress pads. Perhaps more accurately they were mattress sheets. While I appreciate the effort in theory, I didn't think they made any difference, so instead used it as extra padding for my pillow.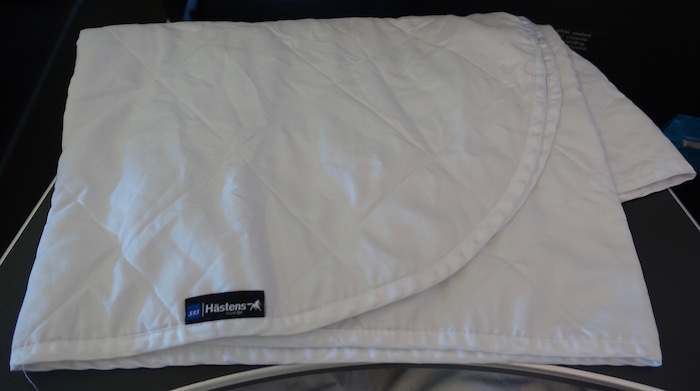 SAS business class mattress pad
However, I did quite like the pillow and blanket, both aesthetically and in terms of the padding. They were well padded without feeling too warm (which is especially important here, given that SAS doesn't have individual air nozzles on their A330s).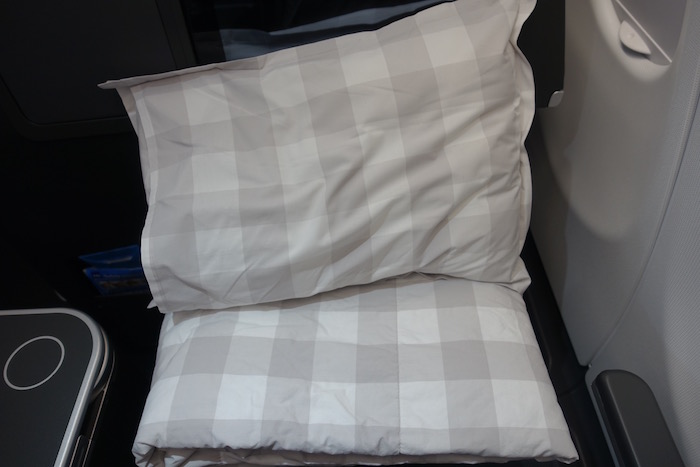 SAS business class pillow and blanket
For this particular seat, the tray table slides out from the side of the seat, and can be released by pulling a lever.
The crew distributed hot towels about 40 minutes after takeoff, which I found to be a long time to get the service started.
Moments later they distributed tablecloths, in anticipation of the start of dinner service.
The menu read as follows: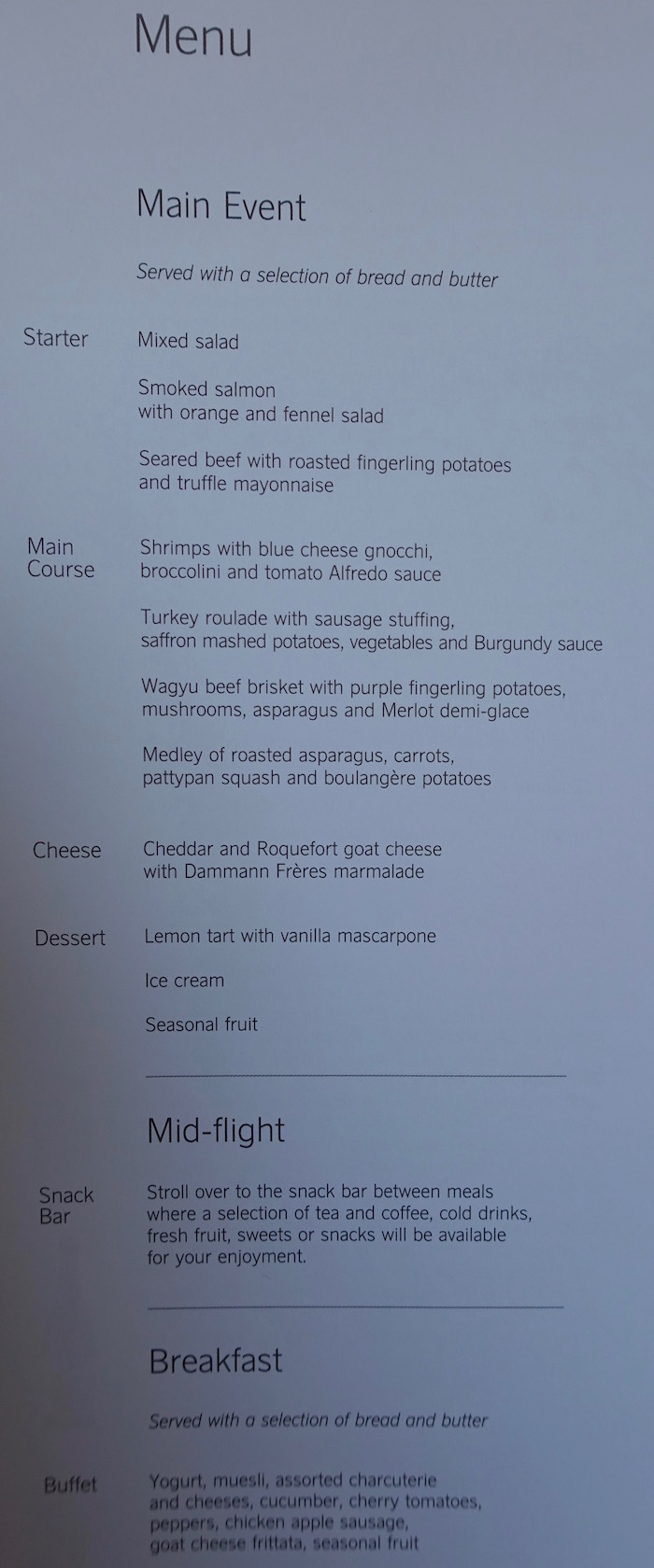 And the beverage menu read as follows: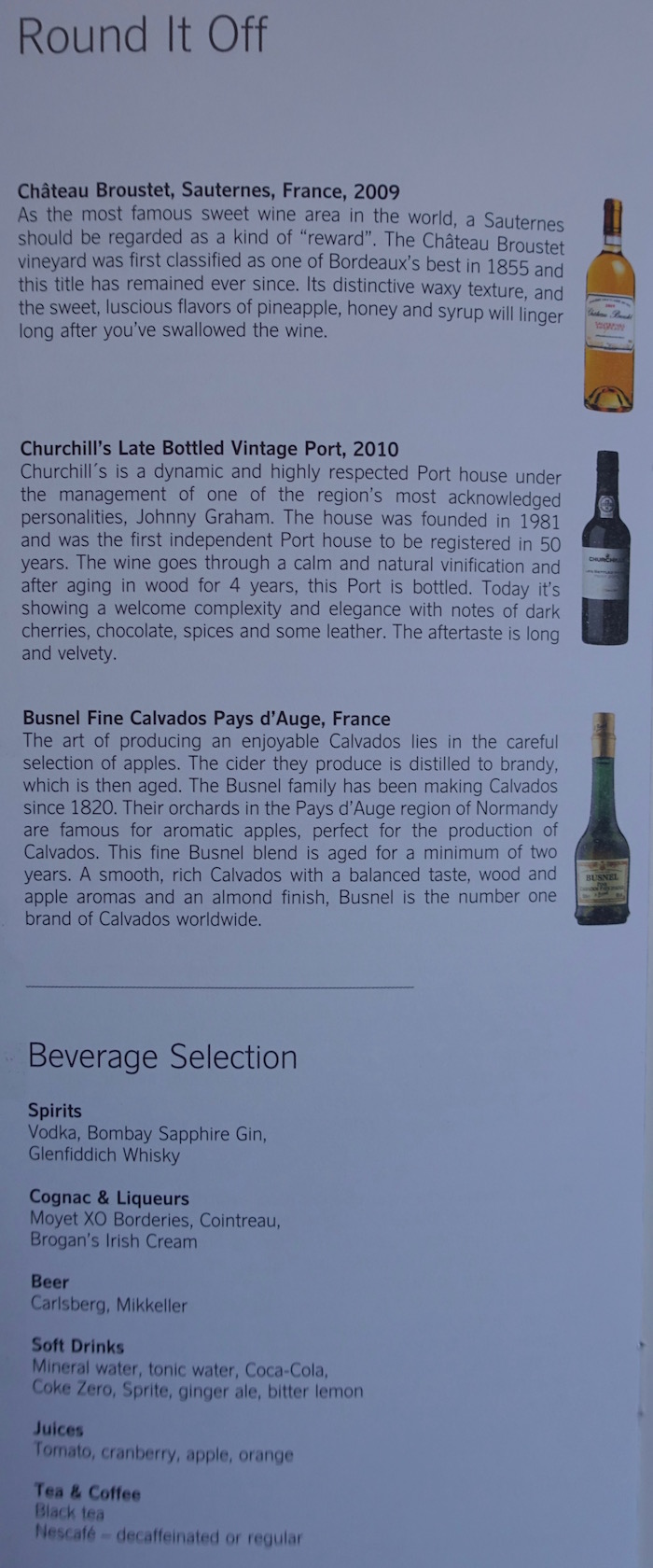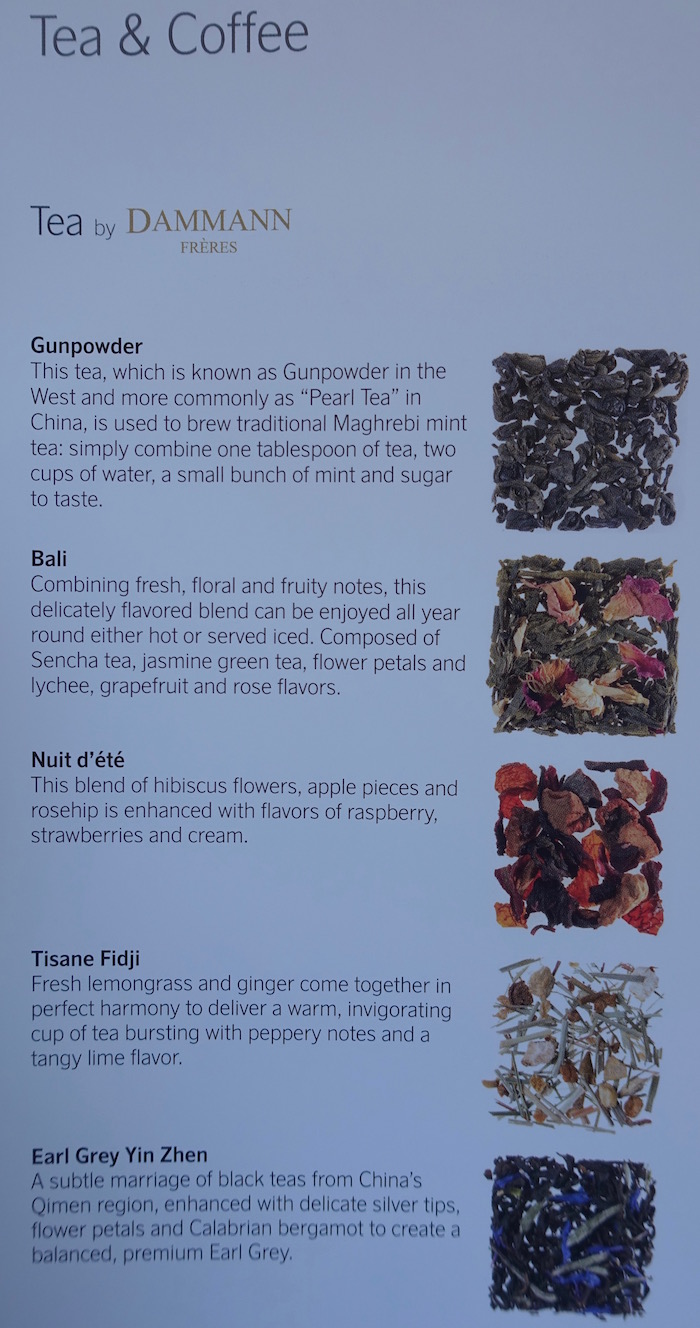 As soon as the service began, one of the flight attendants in each aisle put on a chef uniform of sorts. I'm not sure if these flight attendants are specially trained in some way, because they did the service alongside one of their colleagues on each aisle. I'm guessing it's mostly for show. One thing's for sure — they didn't train the onboard chefs in providing friendly service.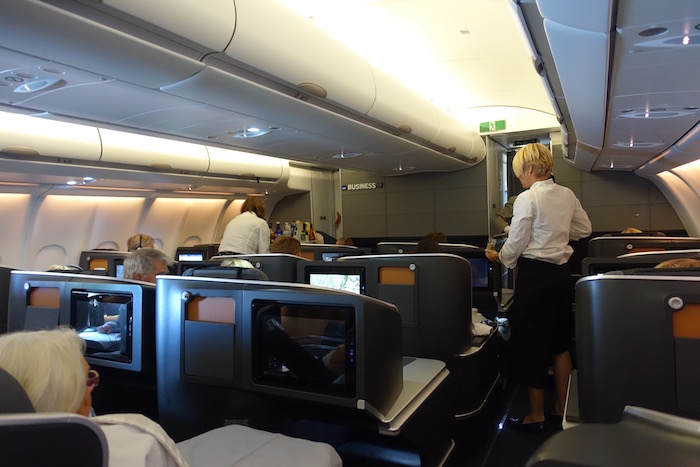 SAS business class dinner service
Service began with warm mixed nuts in a rather large ramekin, as well as cocktails. SAS has some cool signature cocktails, so I decided to order the "take off," consisting of gin, cointreau, and bitter lemon. It was tasty.

SAS business class dinner — mixed nuts and cocktail
20 minutes after the initial drinks were served, the crew came through to offer cutlery, a bread plate, a selection from the breadbasket, and more drinks. I switched to champagne — SAS serves Charles Heidsieck in business class.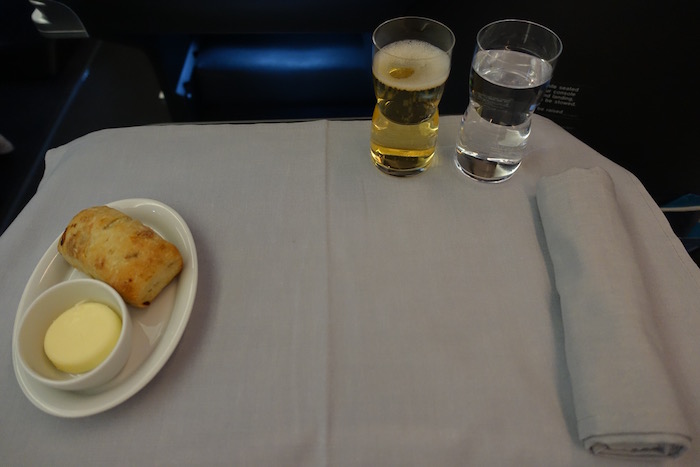 SAS business class dinner — champagne, water, and bread
I had a roll, while Ford had a slice of bread.

SAS business class bread selection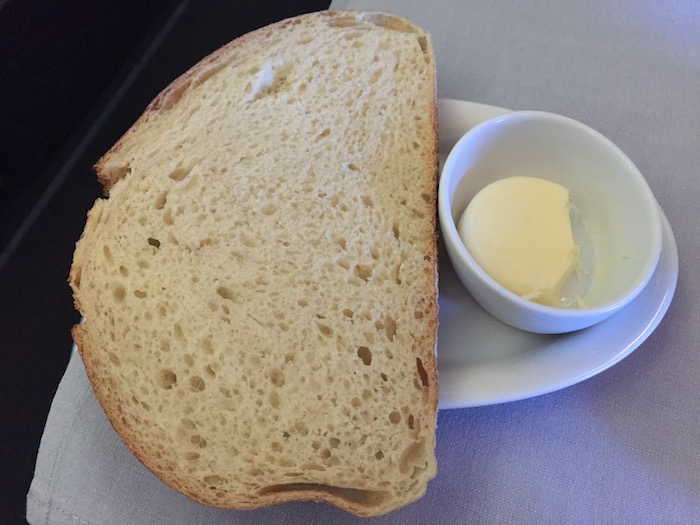 SAS business class bread selection
The next cart rolled through the aisle consisted of the appetizers and salad. For the appetizer, we had the choice between beef and salmon.
I selected the salmon, which was delicious, and almost reminded me of the Balik salmon that Cathay Pacific used to serve in first class.

SAS business class dinner starter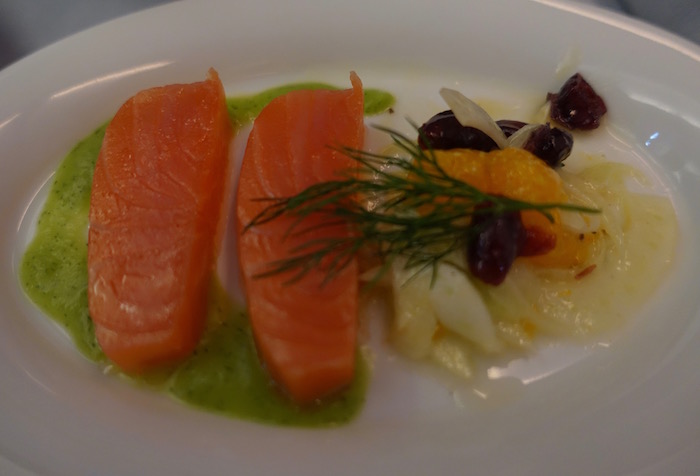 SAS business class dinner starter — smoked salmon with orange and fennel salad
Ford had the beef, which looked quite good as well.

SAS business class dinner starter — seared beef with roasted fingerling potatoes
The service wasn't done from a traditional galley cart, but rather from a trolley. I was impressed that the salad was prepared on the trolley. There was a big salad bowl, and when someone ordered a salad, the flight attendant acting as chef plated it.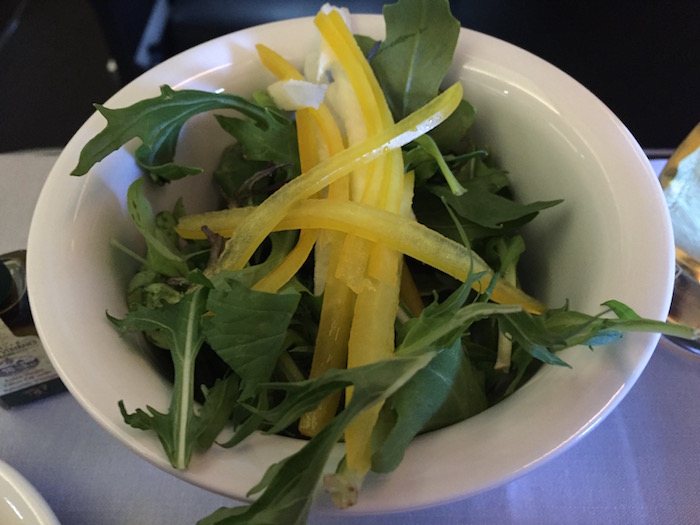 SAS business class dinner mixed salad
Over 30 minutes after the appetizers were served, the crew came around with the main courses. They were all displayed on a trolley, and you could pick which one you wanted.
I ordered the shrimp with blue cheese gnocchi, which was surprisingly good. As the meals were served we were offered black pepper out of a pepper mill, which was a nice touch.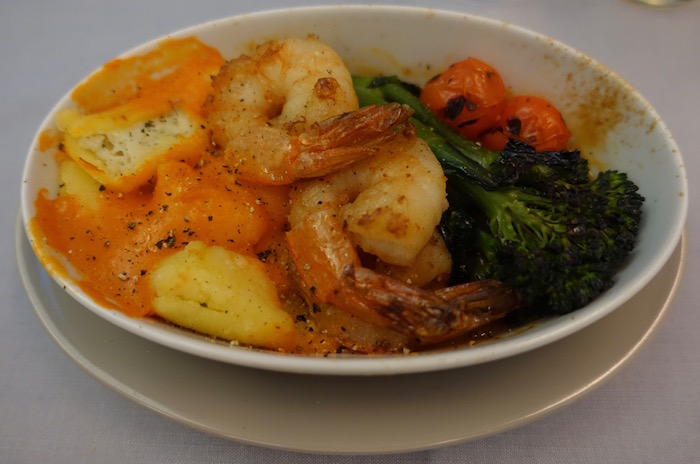 SAS business class dinner main course — shrimp with blue cheese gnocchi
Ford ordered the wagyu beef brisket, which he said was excellent.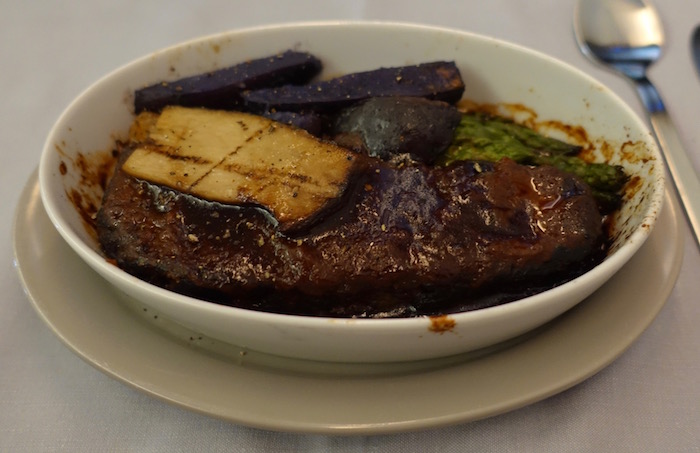 SAS business class dinner main course — wagyu beef brisket with purple fingerling potatoes
Dessert was served another 30 minutes after the main course. I was asked if I wanted cheese, and then also which dessert I wanted. While I was quite full at this point, I ordered both the cheese and lemon tart, so I could photograph them.
The cheese was decent enough.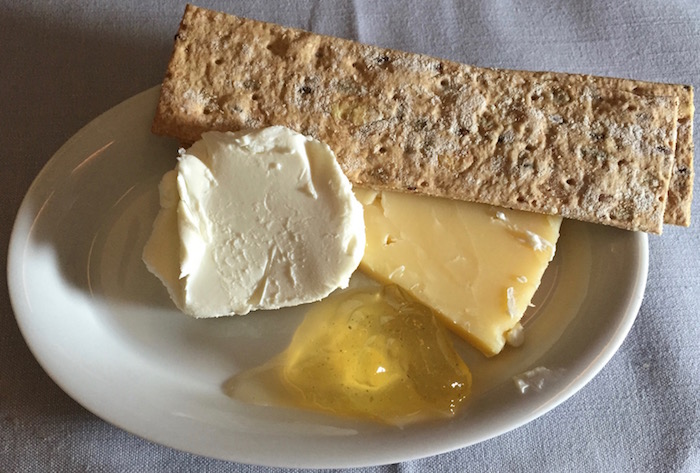 SAS business class dessert — cheddar and roquefort goat cheese
The lemon tart was refreshing, and had a sweet taste thanks to the mascarpone. It was also proactively served with a side of fruit. Everything was plated off the trolley at our seats.

SAS business class dessert — lemon tart with vanilla mascarpone
Ford had the ice cream. There was no choice of flavor (just cookies & cream), and he was also proactively offered fruit.

SAS business class dessert — ice cream with fruit
To finish off the meal I ordered a cappuccino, though apparently the frothing device was broken, so it didn't come out quite as expected.
Overall I thought SAS' business class catering was exceptional, easily one of the best out there. I'd rank it just slightly below Austrian and Turkish, which I think otherwise offer the best transatlantic business class catering.
The service throughout the meal was definitely on the slow side, as the service wasn't complete until more than 2hr30min after takeoff. That's not a big deal since this was a 10+ hour flight, but on a flight from the east coast that would be more of an issue.
As far as the service goes, our aisle was being served by the purser and one of the flight attendants. The purser was really nice and well intentioned, while the "chef" (and other flight attendants) simply had no charm. They didn't smile, they didn't communicate in full sentences (and it wasn't because they didn't speak English well), and there was a certain aggression in how everything was being plated, crazy as it sounds. As I said above, they were the European version of a bad crew you'd get on a longhaul flight on a US airline.
After dinner I decided to watch a few episodes of The Big Bang Theory that I hadn't seen before.

SAS business class entertainment selection
While the lights were dimmed somewhat after dinner, I was surprised they kept mood lighting on, which seemed to add unnecessary light.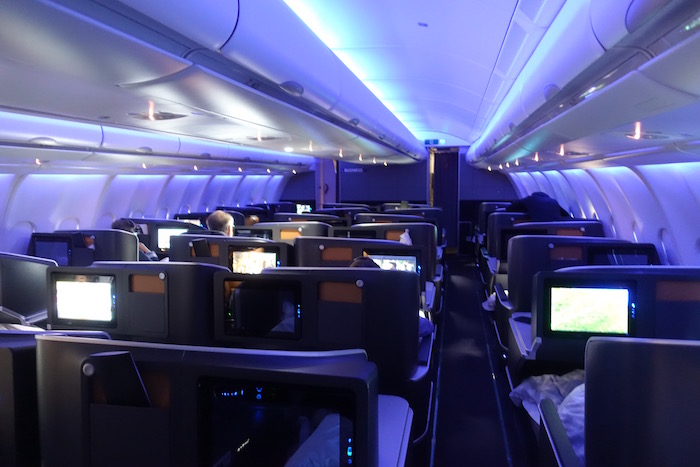 SAS A330 business class cabin after dinner
After watching a few episodes of The Big Bang Theory I checked out the two lavatories located behind the cabin.
The lavatories were spacious, and even featured a window, which is a cool feature. That's especially true on a flight like this were you don't want to open the window shade and disturb other passengers in the cabin, but you can easily look outside from the lavatory.

SAS business class lavatory A330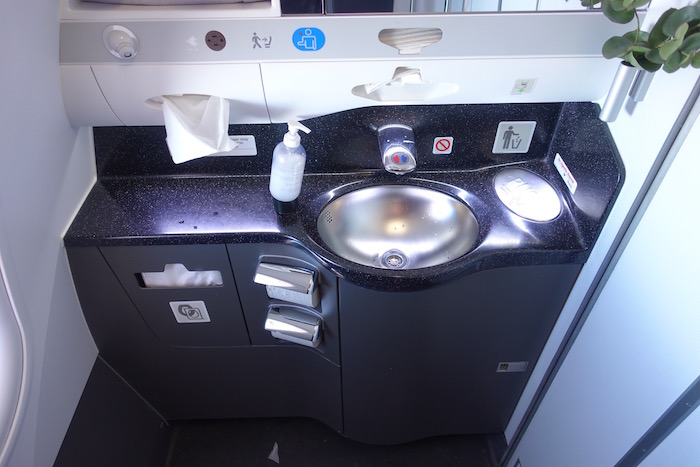 SAS business class lavatory A330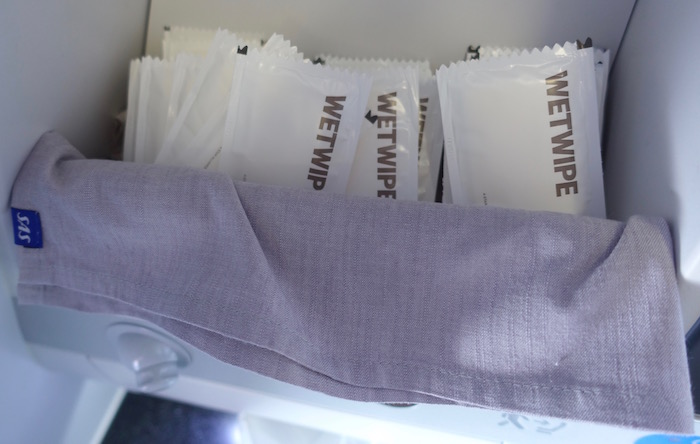 SAS business class lavatory amenities A330
There was also a self serve snack bar, located behind the cabin and on the left side, across from the flight attendant jumpseat. When I visited it there was a flight attendant who was actually friendly seated across from it, though I think she was just "filling in" while other flight attendants rested, and was otherwise working premium economy or economy. The snack selection was decent. They had fresh fruit, all kinds of packaged snacks, chocolates, and donuts.

SAS business class self serve snack bar
I had intended to get a good night of sleep on this flight, though due to a variety of circumstances couldn't get any real sleep. I'm guessing that's largely due to this being such an early departure out of Los Angeles, so I have a tough time naturally falling asleep at 2PM. The mood lighting and warm cabin temperature didn't help either.
So instead I worked for much of the flight.
I worked for several hours, and eventually even napped for an hour.
About 1hr45min before arrival the breakfast service began, which seemed awfully early.
Breakfast service began with hot towels and tablecloths being distributed, as well as coffee, juice, fresh fruit, and a selection of bread.

SAS business class breakfast — seasonal fruit
I selected both an English muffin and a roll.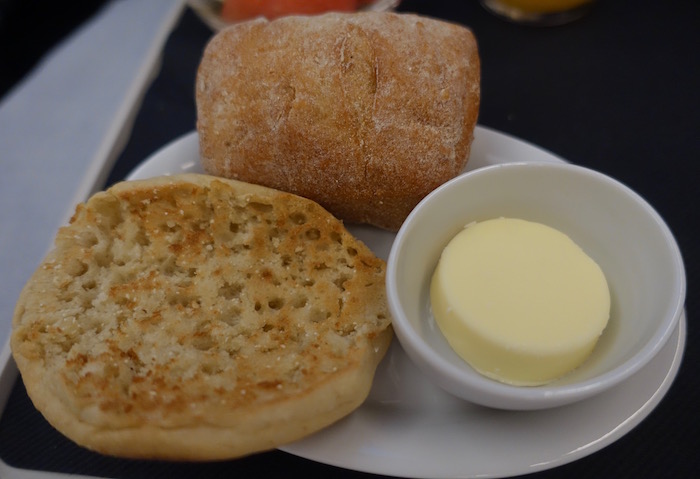 SAS business class breakfast — English muffin and roll
The rest of the food could be selected off the cart. I was offered yogurt, muesli, cheese, veggies, cold cuts, sausage, a frittata, etc.
I selected the goat cheese frittata, along with the chicken sausage and veggies. The frittata was great.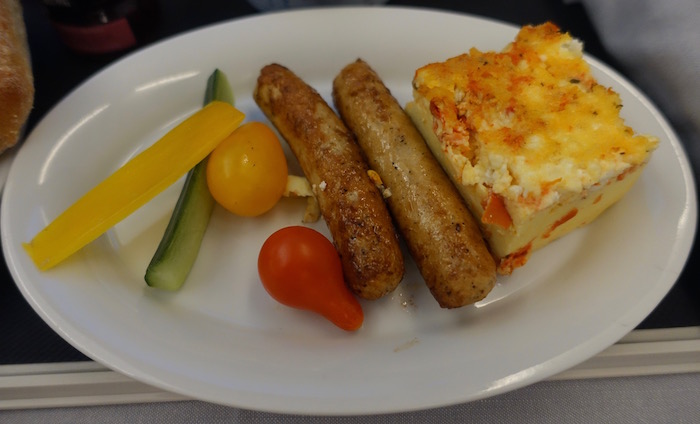 SAS business class breakfast — goat cheese frittata with chicken apple sausage and veggies
I also had some blueberry greek yogurt and muesli.

SAS business class breakfast — Greek yogurt and Muesli
Ford had the frittata, cold cuts, sausage, and yogurt.
As we approached Stockholm I opened my window shade and watched the beautiful landscape.
35 minutes before landing the captain provided us with updated arrival information, anticipating we'd arrive right on schedule.
The seatbelt sign was turned on about 15 minutes before landing. Interestingly SAS requires you to put away your blanket for landing, which is the policy on a few airlines.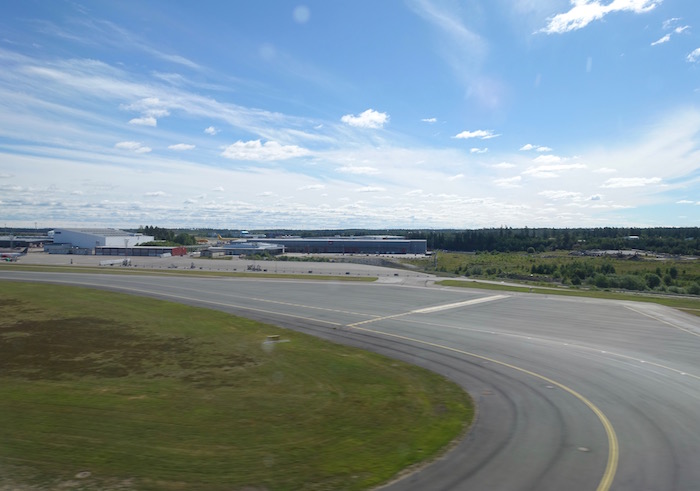 View on final approach into Stockholm
We had a crooked touchdown in Stockholm at 10AM, where the left wheel hit the ground significantly before the right wheel.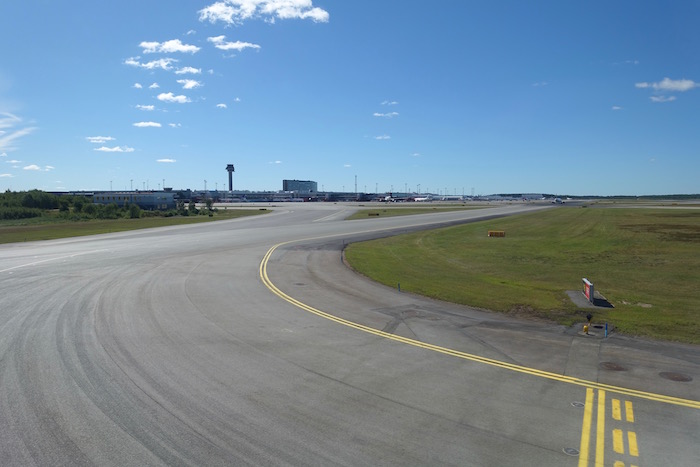 Taxiing Stockholm Arlanda Airport
Our taxi to our arrival gate took just five minutes, and we taxied past a Thai Airways 777-300R.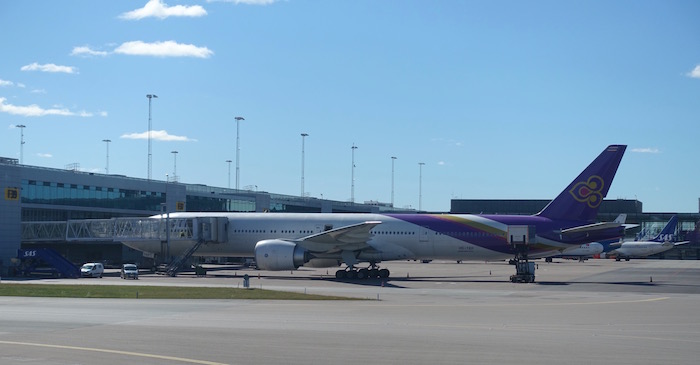 Thai Airways 777 Stockholm Airport
Then we parked at the far end of one of the terminals, right next to an SAS A330 and Norwegian 787.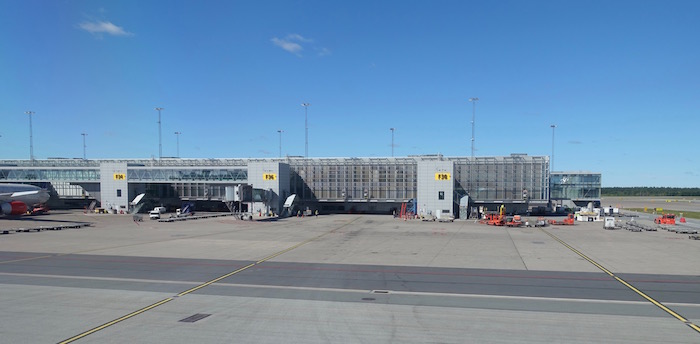 Arrival gate Stockholm Airport
SAS A330 business class bottom line
SAS simultaneously impressed and disappointed me.
The food on SAS exceeded my expectations, and aside from Austrian and Turkish, was probably the best transatlantic business class catering I've had.
Meanwhile the service disappointed me greatly. Aside from the purser, the crew was terrible, plain and simple. I'm not sure whether they were just having a bad day, or if matronly service is the norm at SAS.
I was also really happy to finally try the business suite that SAS offers, which is also available on Qantas A330s. I thought the seat was good, and a nice improvement over the old Vantage style seat. Still, I'd say this ranks behind the Apex Suite, reverse herringbone seat, and Singapore Airlines business class seat in terms of my favorite seats. It's my favorite type of staggered seat, however.
If you've flown SAS or the Vantage XL seat, what was your experience like?