To continue my around the world adventure with dad, we flew Qatar Airways' Boeing 737 MAX first class from Abu Dhabi to Doha. I was excited about this flight for a couple of reasons.
First of all, the flight was operated by Qatar Airways' brand new Boeing 737 MAX. In order to increase capacity ASAP, Qatar Airways recently picked up some Boeing 737 MAX 8s that were intended for Russia's S7 Airlines, but which the airline is no longer able to take delivery of. So I was looking forward to seeing what kind of a product this plane offered.
Second of all, Qatar Airways has the best short haul premium product in the world. Period. The level of service the airline provides on a 200-mile, 40-minute flight, will make it very hard to ever fly on a US airline again.
Let's get into the review…
How I booked our Qatar Airways first class tickets
I booked our first class tickets from Washington to Doha via Abu Dhabi using American AAdvantage miles. Specifically, I booked the following for 115,000 American AAdvantage miles plus $18.55 in taxes and fees per person, which is a fantastic value:
5/18 EY130 Washington to Abu Dhabi departing 9:15PM arriving 6:15PM (+1 day)
5/20 QR1055 Abu Dhabi to Doha departing 1:50AM arriving 1:55AM
Qatar Airways 737 MAX first class cabin & seats
Our flight from Abu Dhabi to Doha was departing from gate 11, with boarding scheduled for 1:05AM, 45 minutes before departure. Sure enough, that's exactly when boarding started, with first class being invited to board first.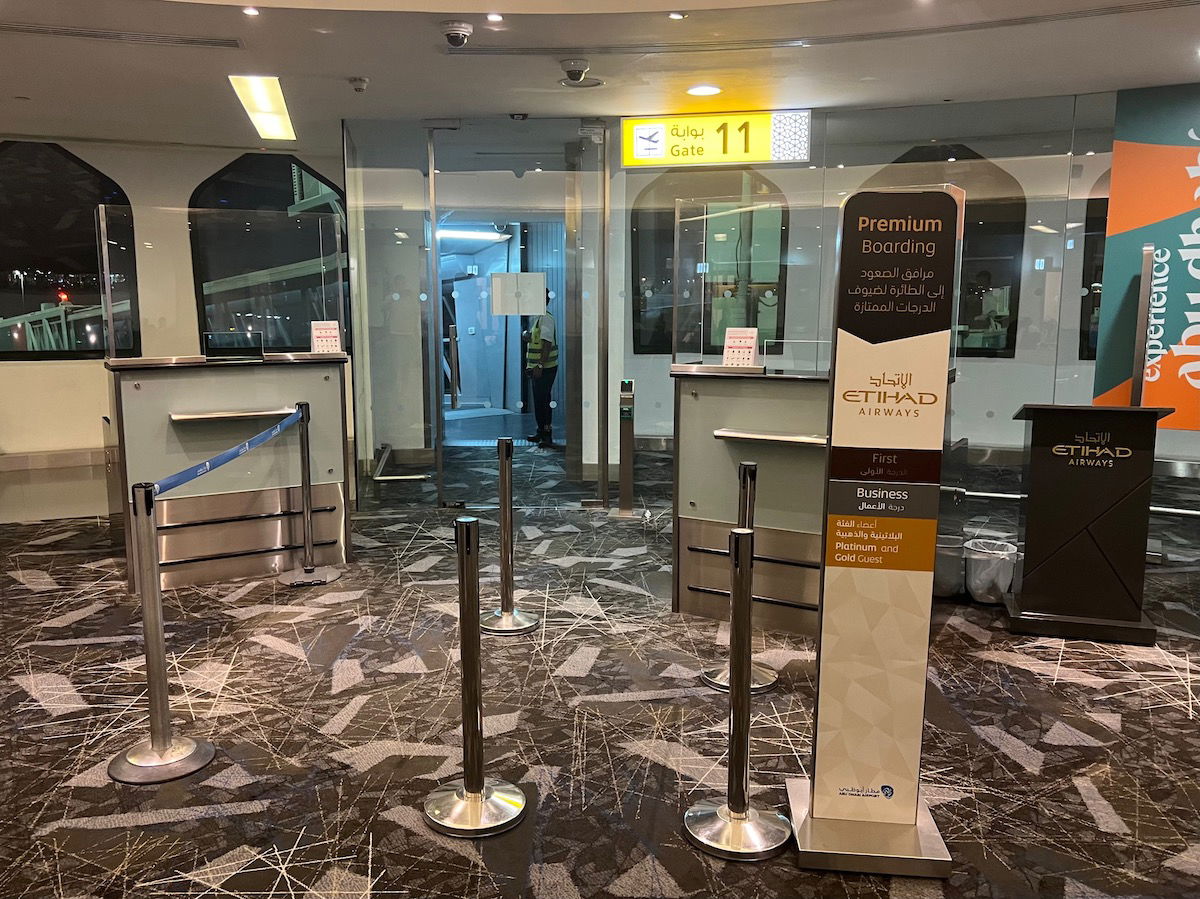 When boarding the flight, I was well aware that the interiors were intended for Russia's S7 Airlines, with the only real Qatar Airways element being the burgundy headrest covers.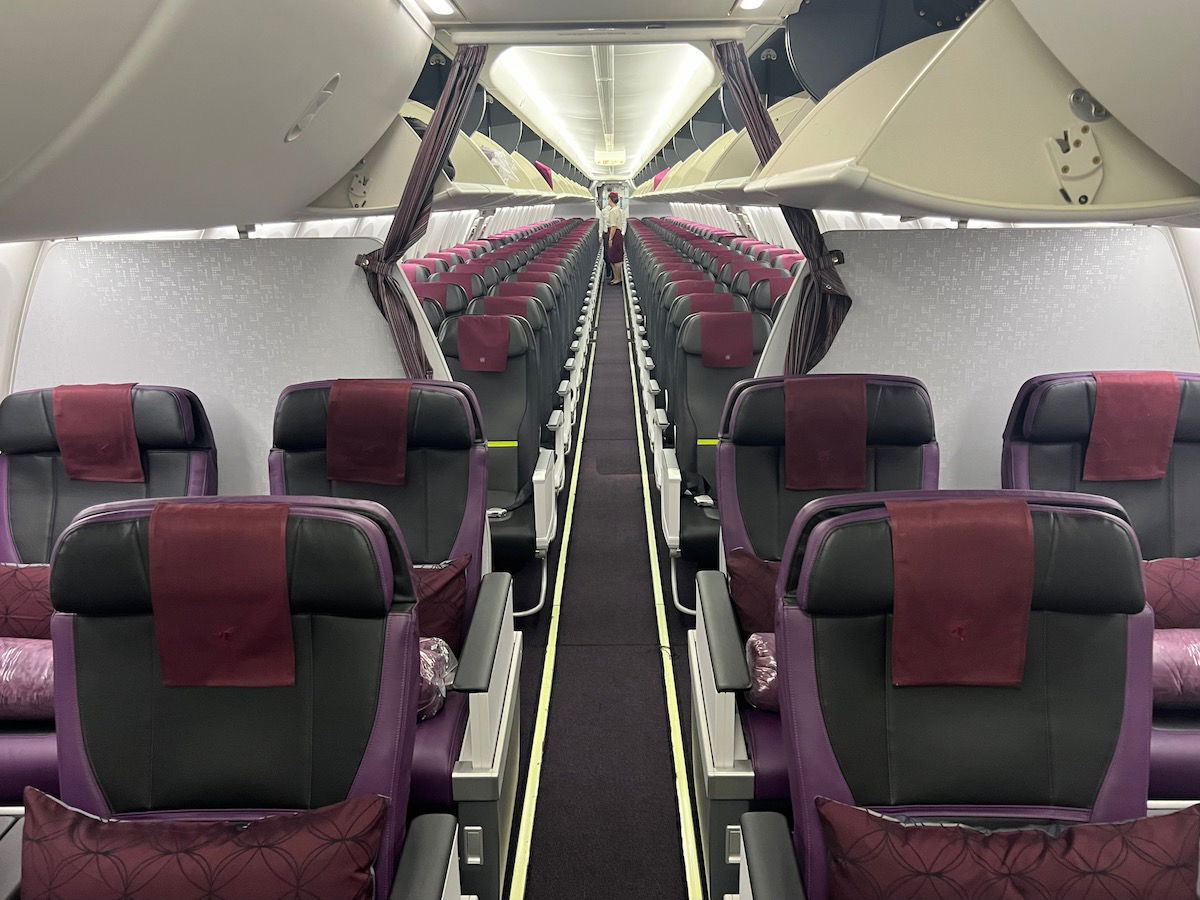 Qatar Airways' Boeing 737 MAXs feature eight first class seats (they're either marketed as first or business class, depending on the route), spread across two rows in a 2-2 configuration.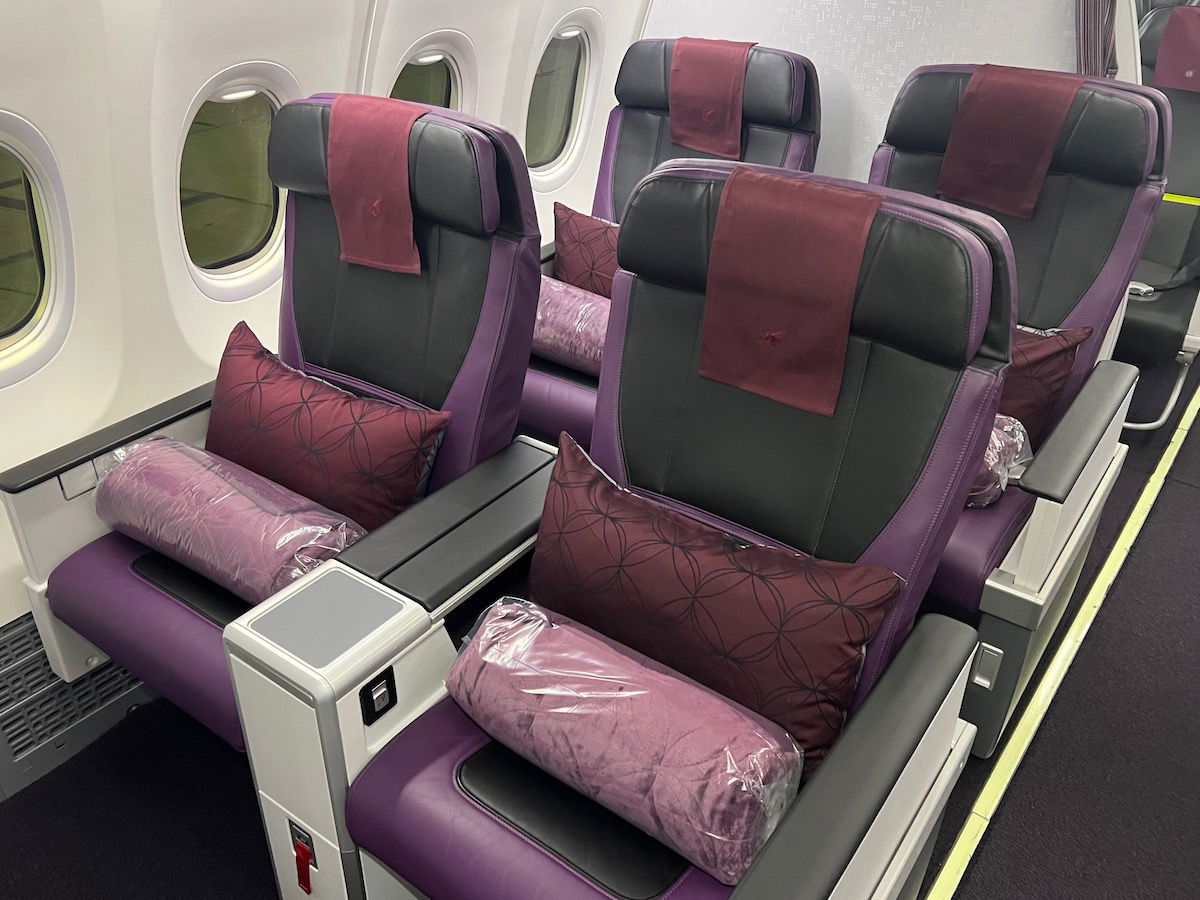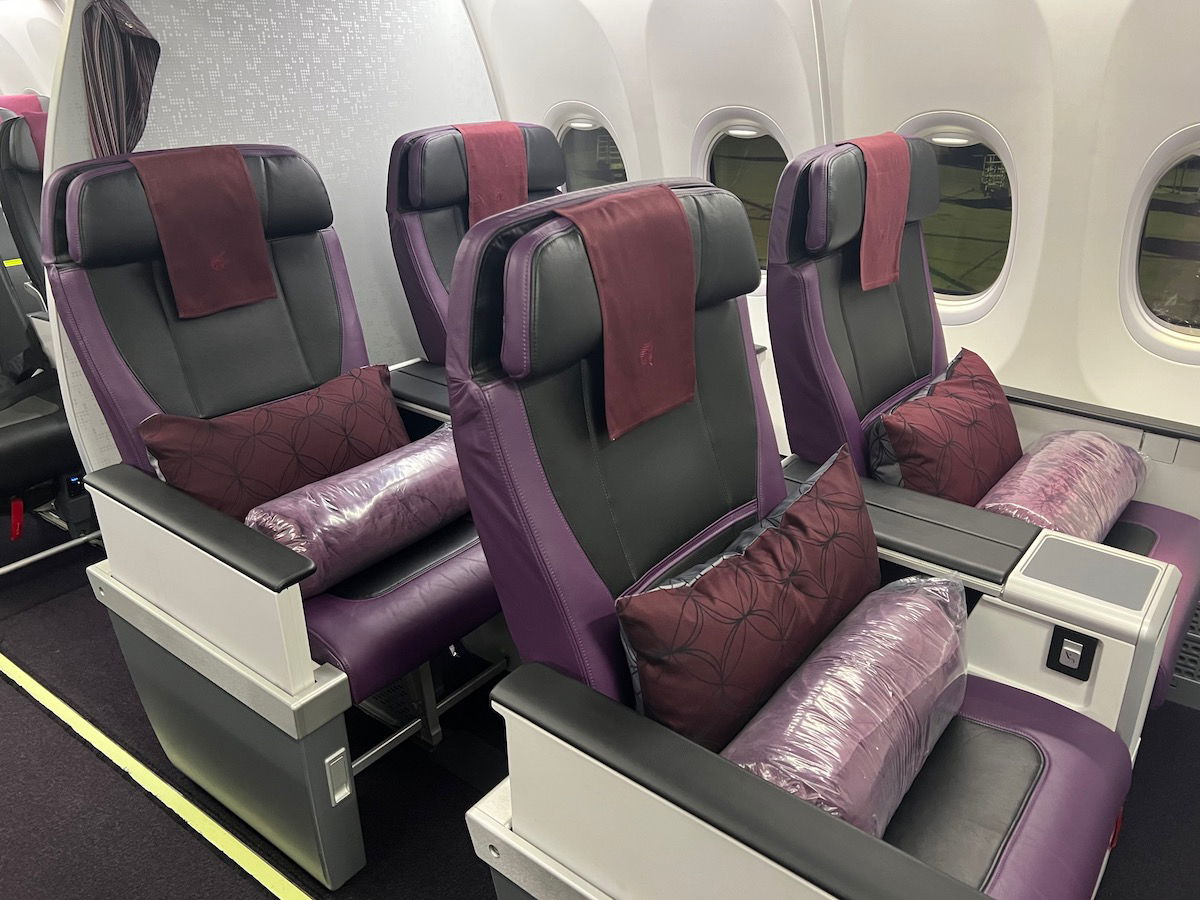 Legroom is quite good in these seats, comparable to what you'd find in domestic first class within the United States.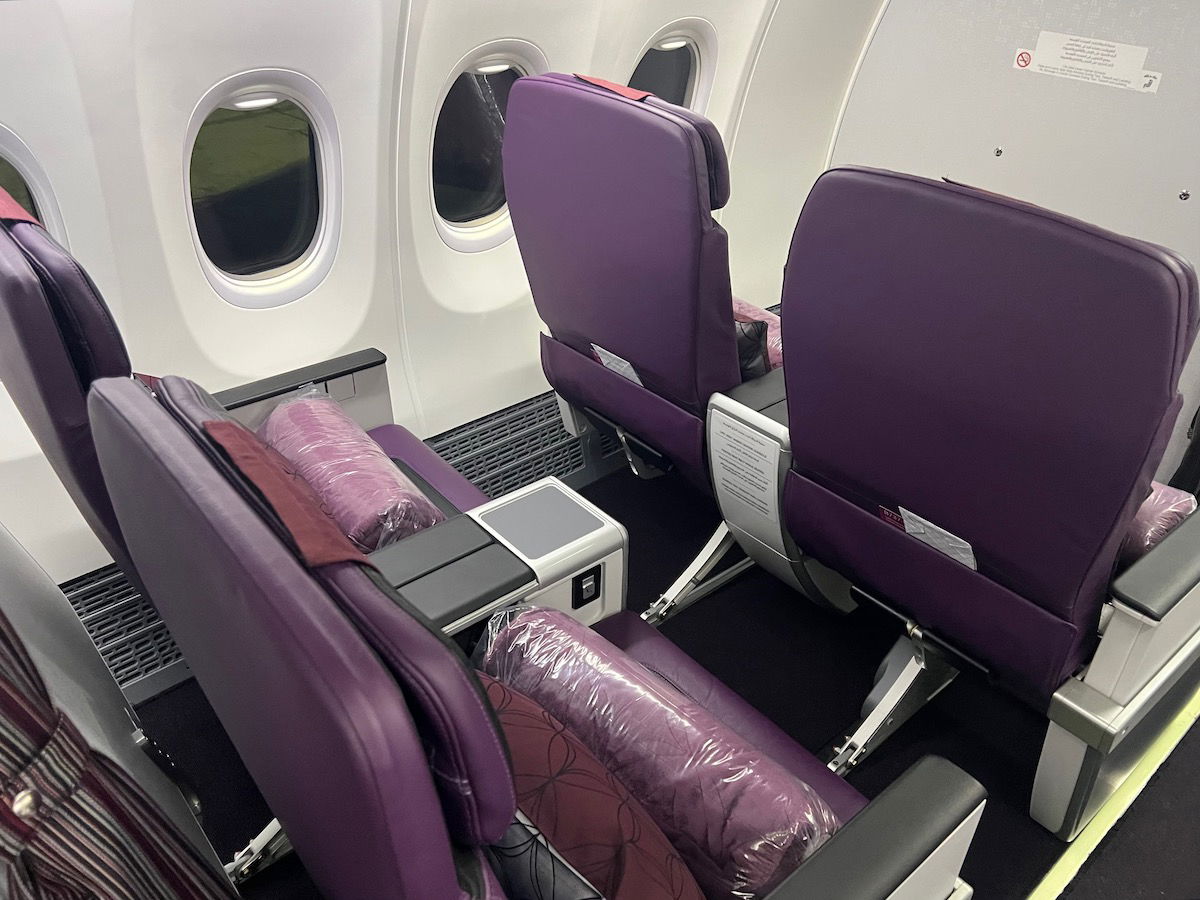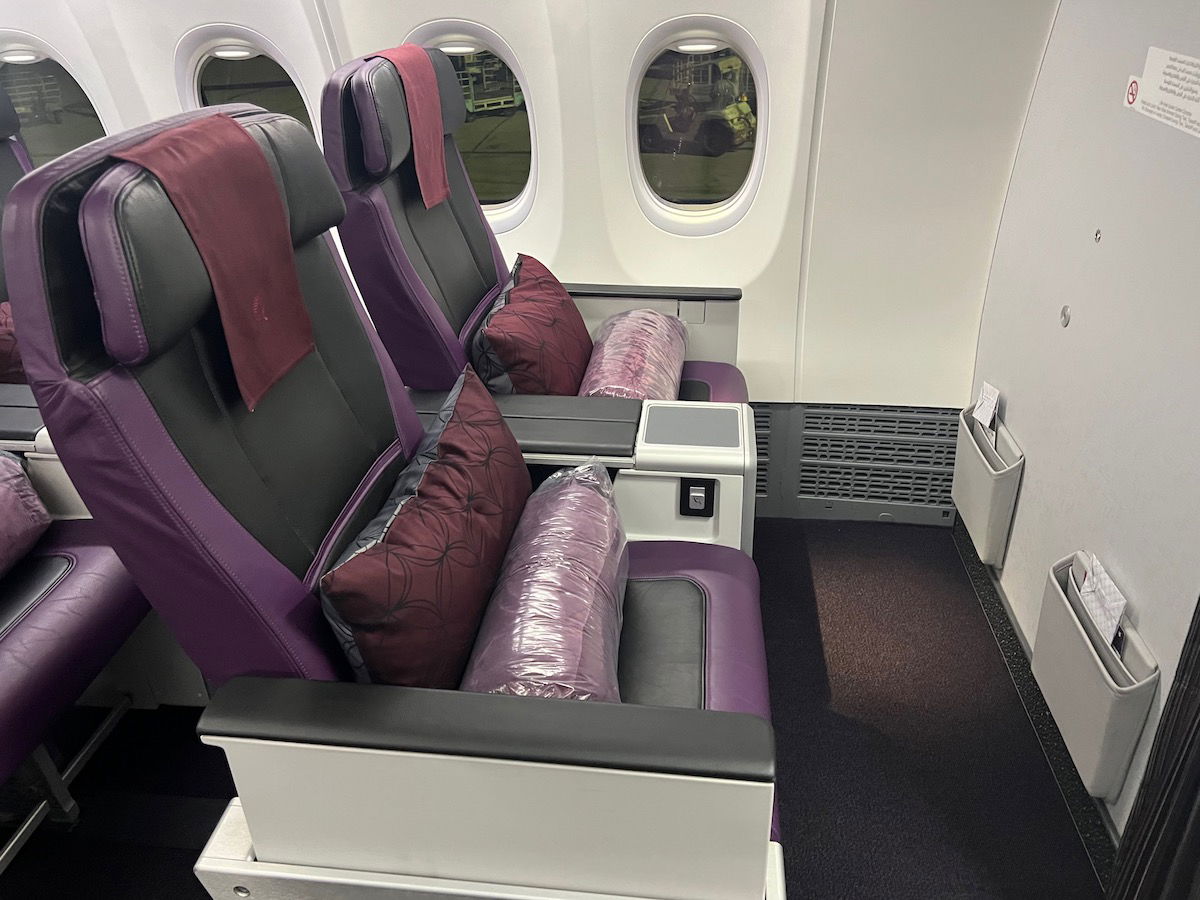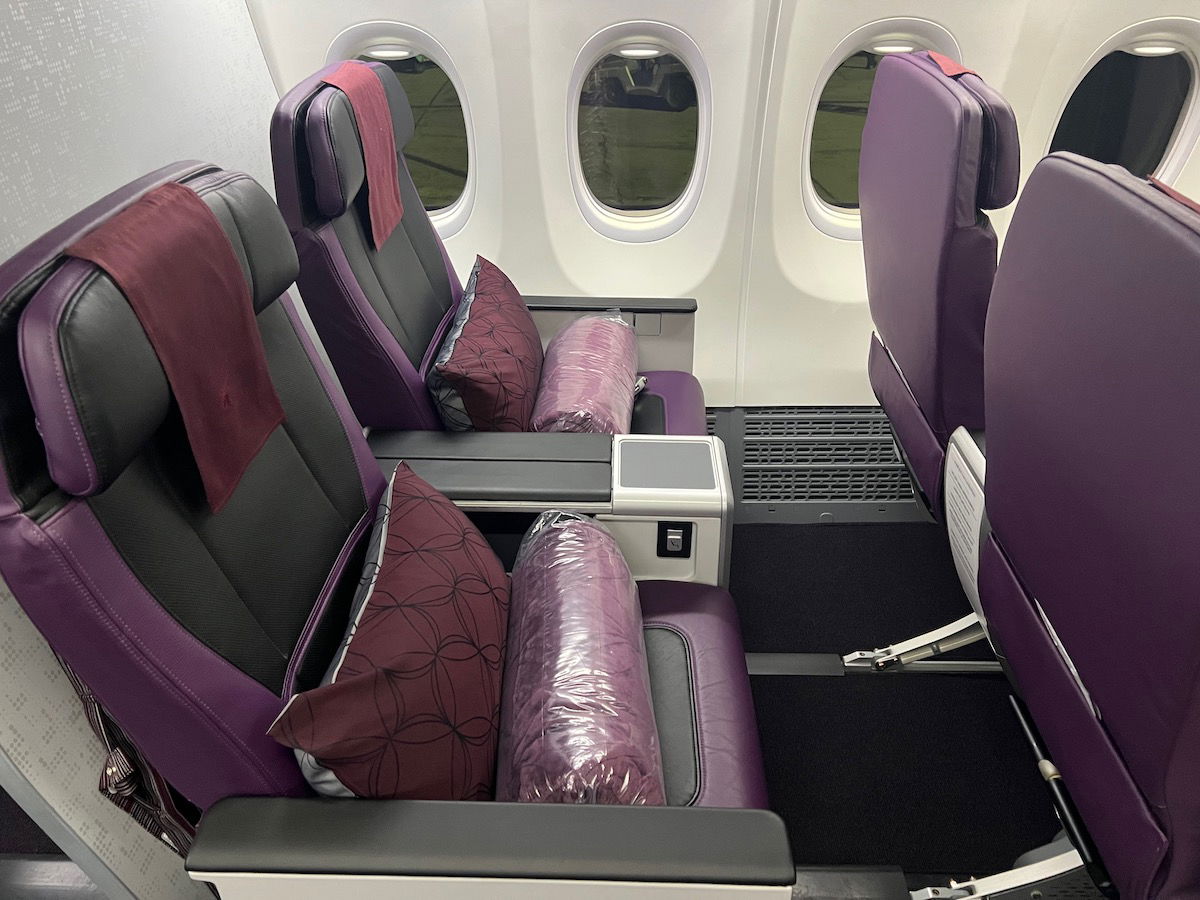 While there wasn't a legrest, the seats did feature little footrests that could be lowered from the seat in front. I don't understand why we don't have these on US airlines, as they seem like an easy and cheap investment.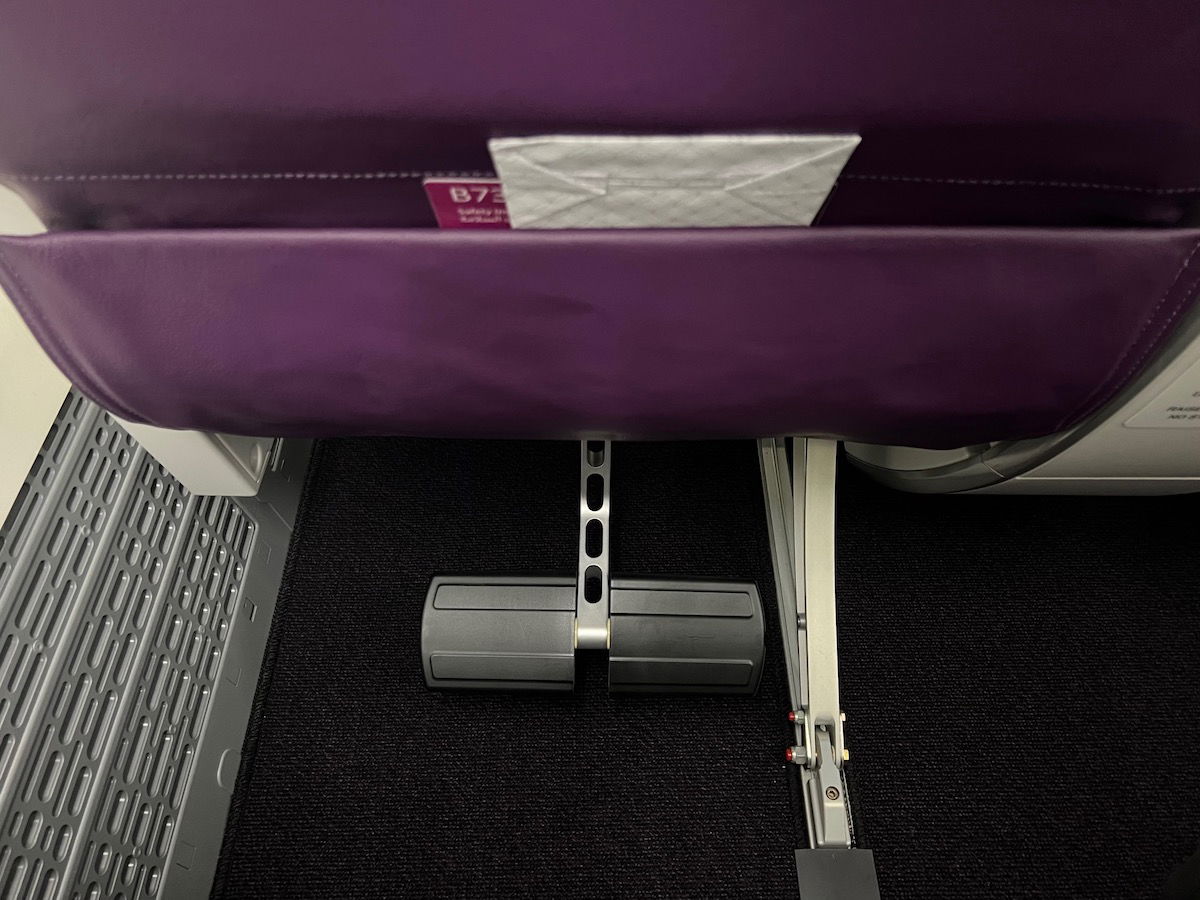 The seats featured armrests that could be raised, to expose a storage pocket, as well as the charging ports. The seats had both USB and AC power outlets.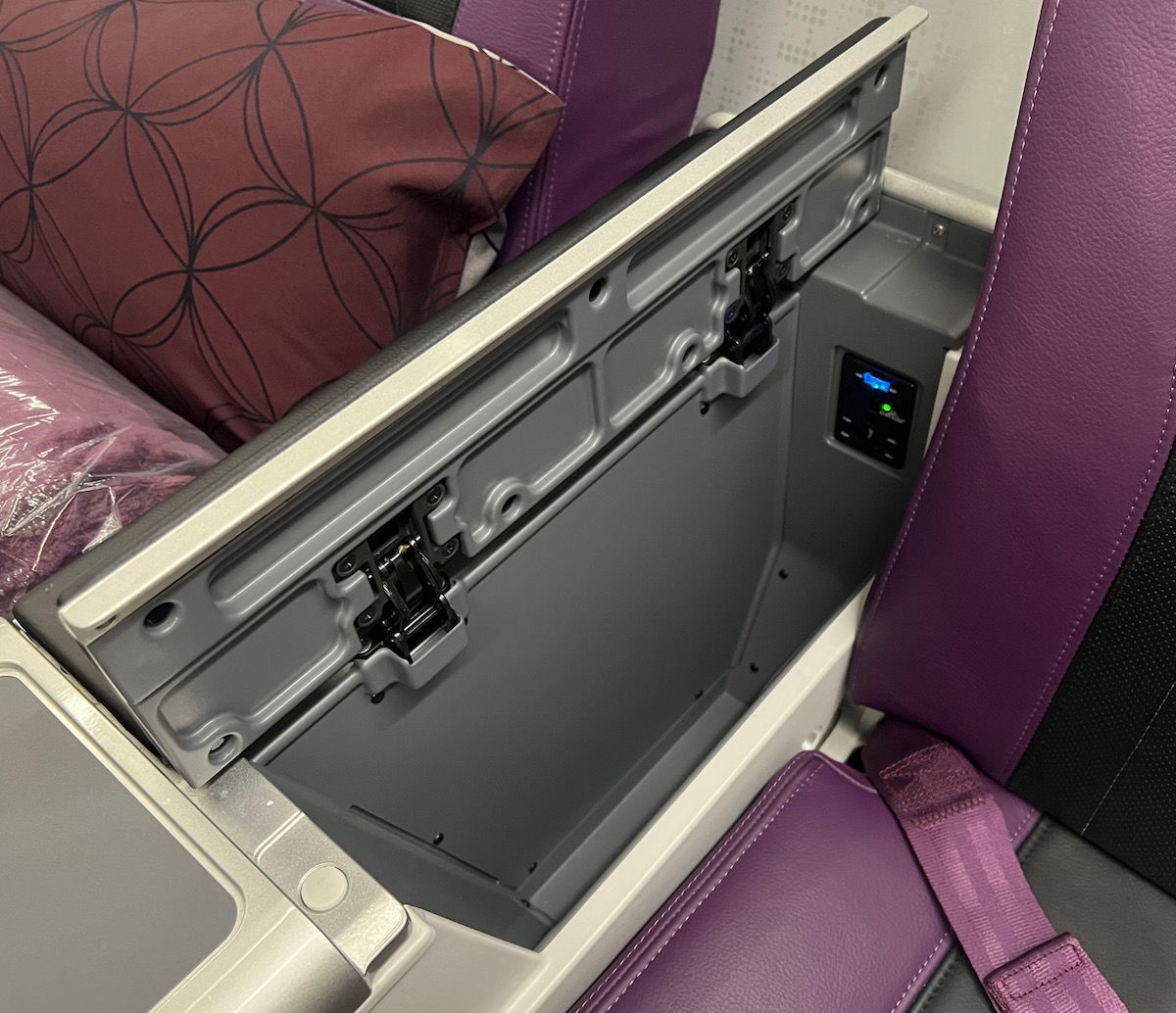 Tray tables extended from the far armrests, and could be folded over in half.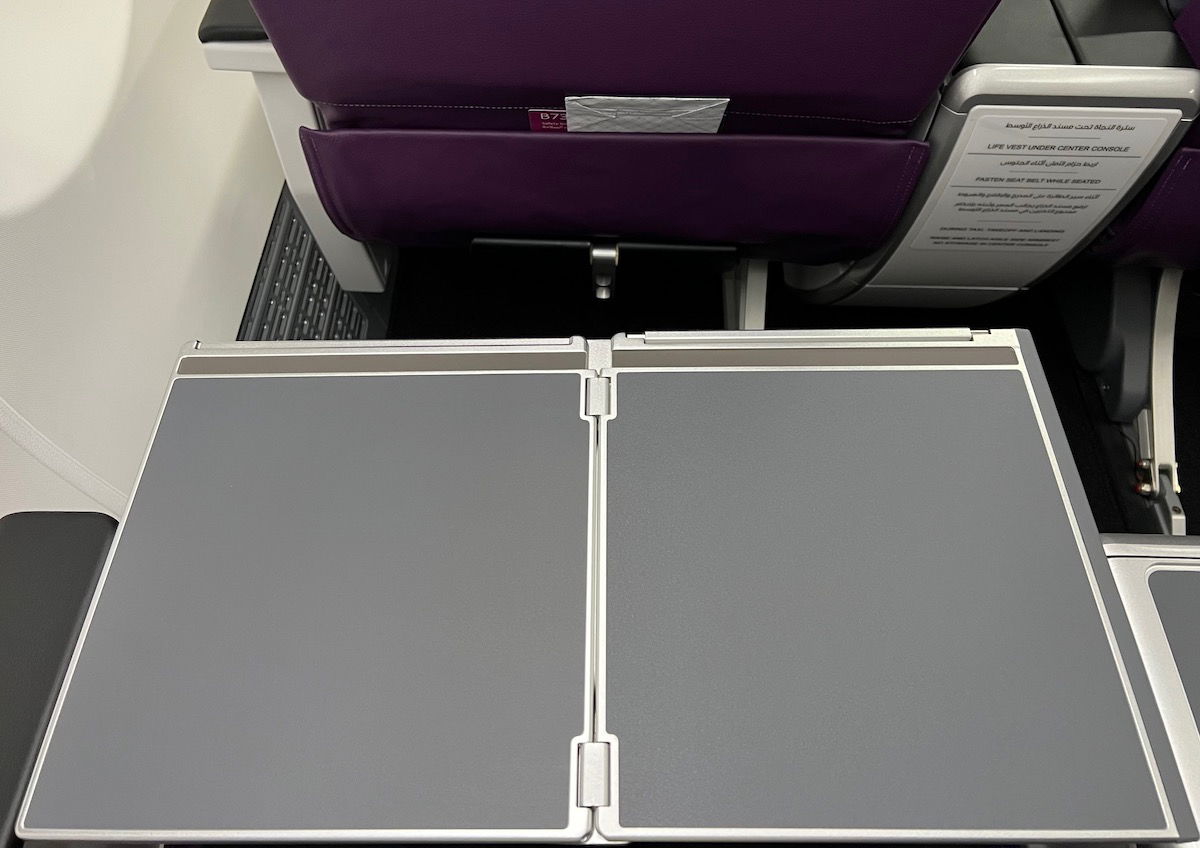 When folded over in half, the tray tables had an additional personal device holder that could be raised, so you have somewhere easy to place an iPad, cell phone, etc.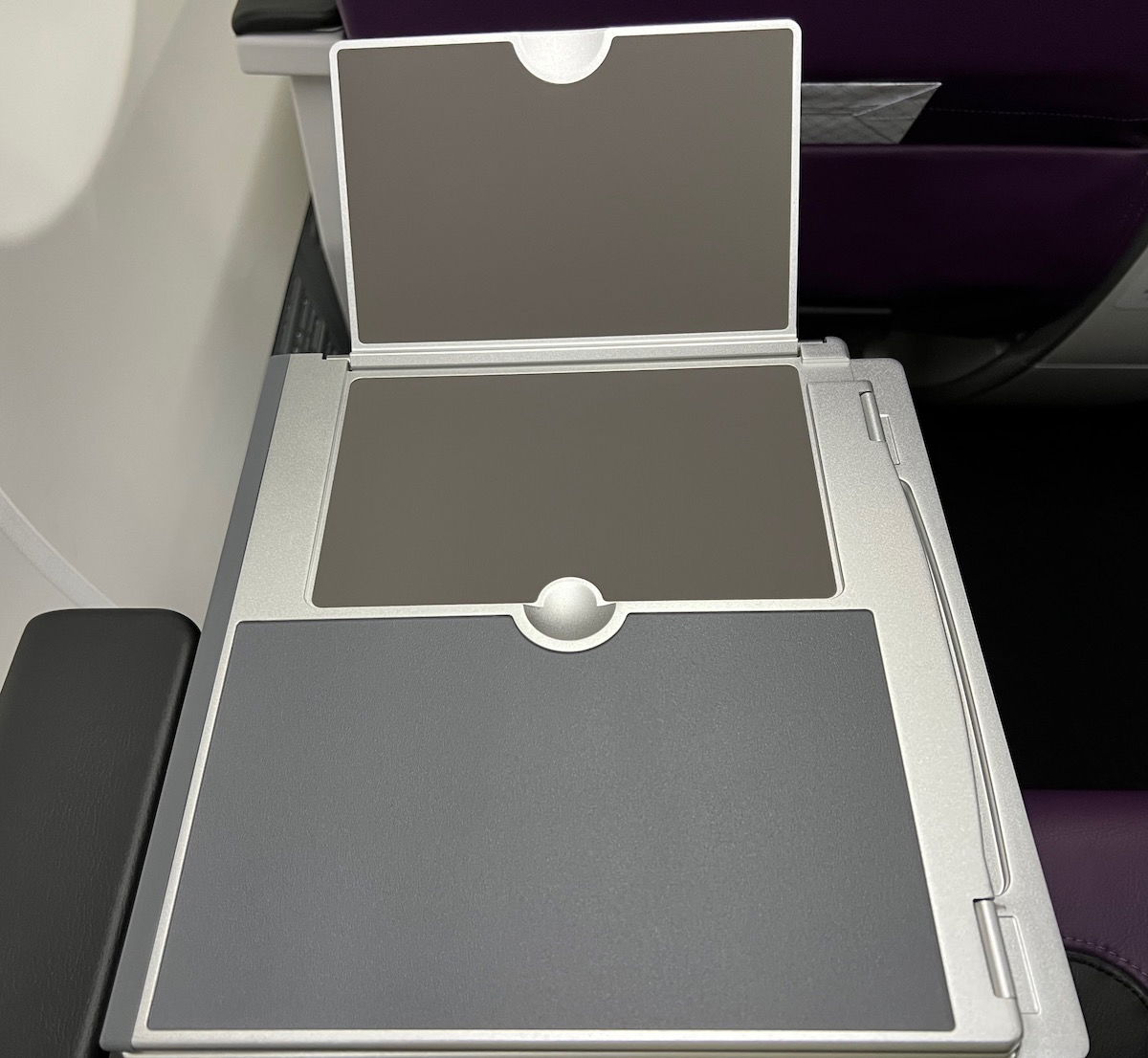 Then there was a center armrest, where you could easily place a drink during the flight.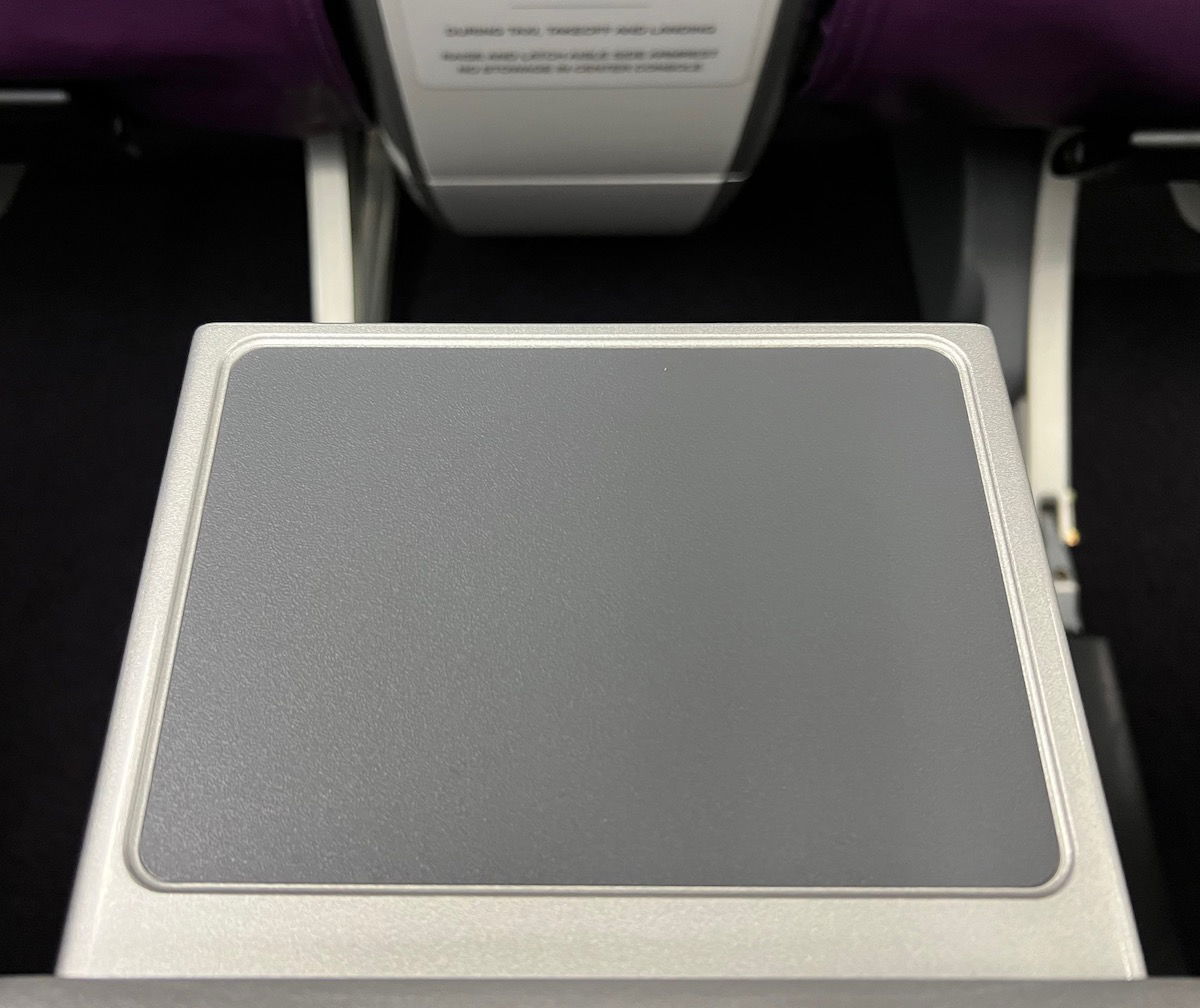 The above seats should look very familiar, as they're the same kinds of seats you'll find on many airlines, ranging from American Airlines to Bamboo Airways.
The cabin otherwise had the standard Boeing 737 MAX interiors, including reading lights and individual air nozzles at each seat.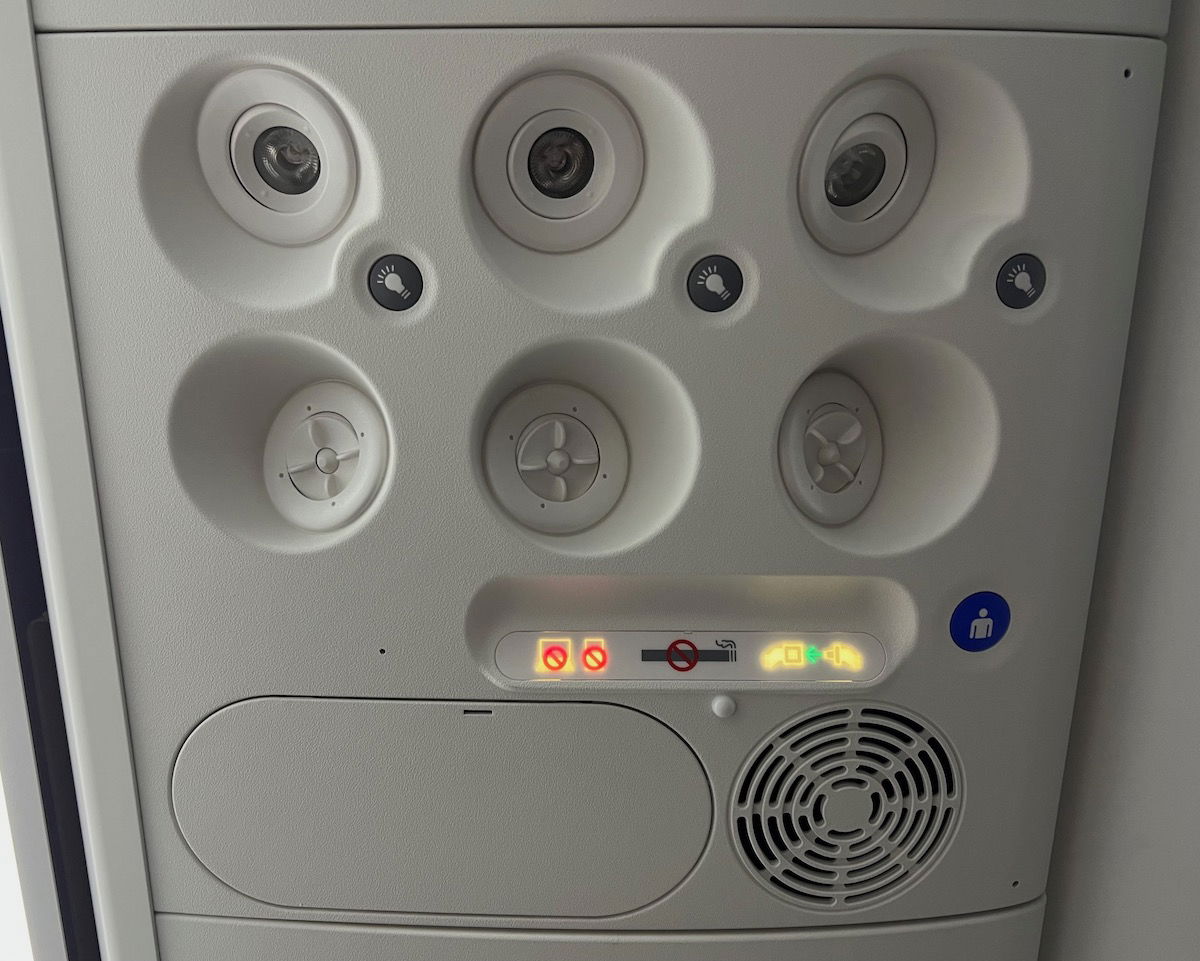 Overhead bins were also quite large.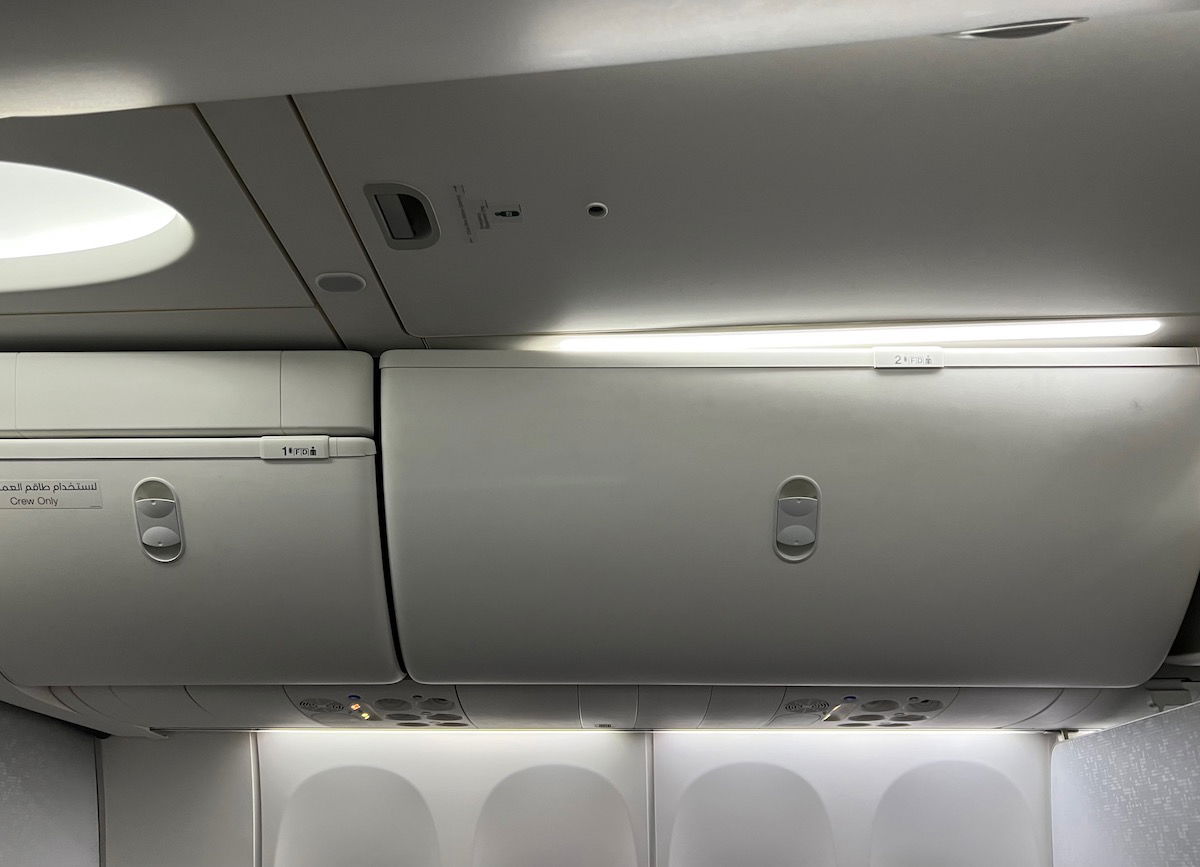 Since I was the first to board, I also quickly glanced back into the economy cabin, which looked pretty standard for a 737 MAX.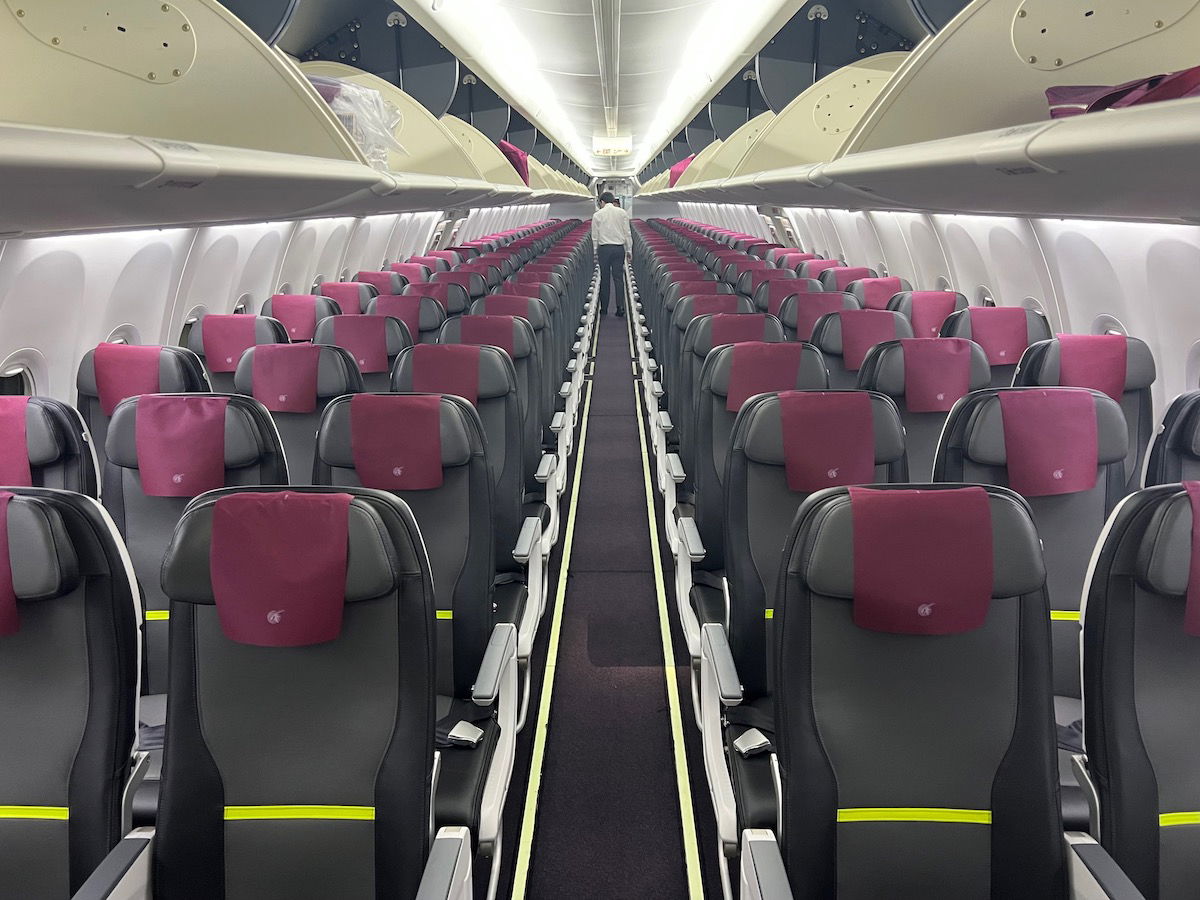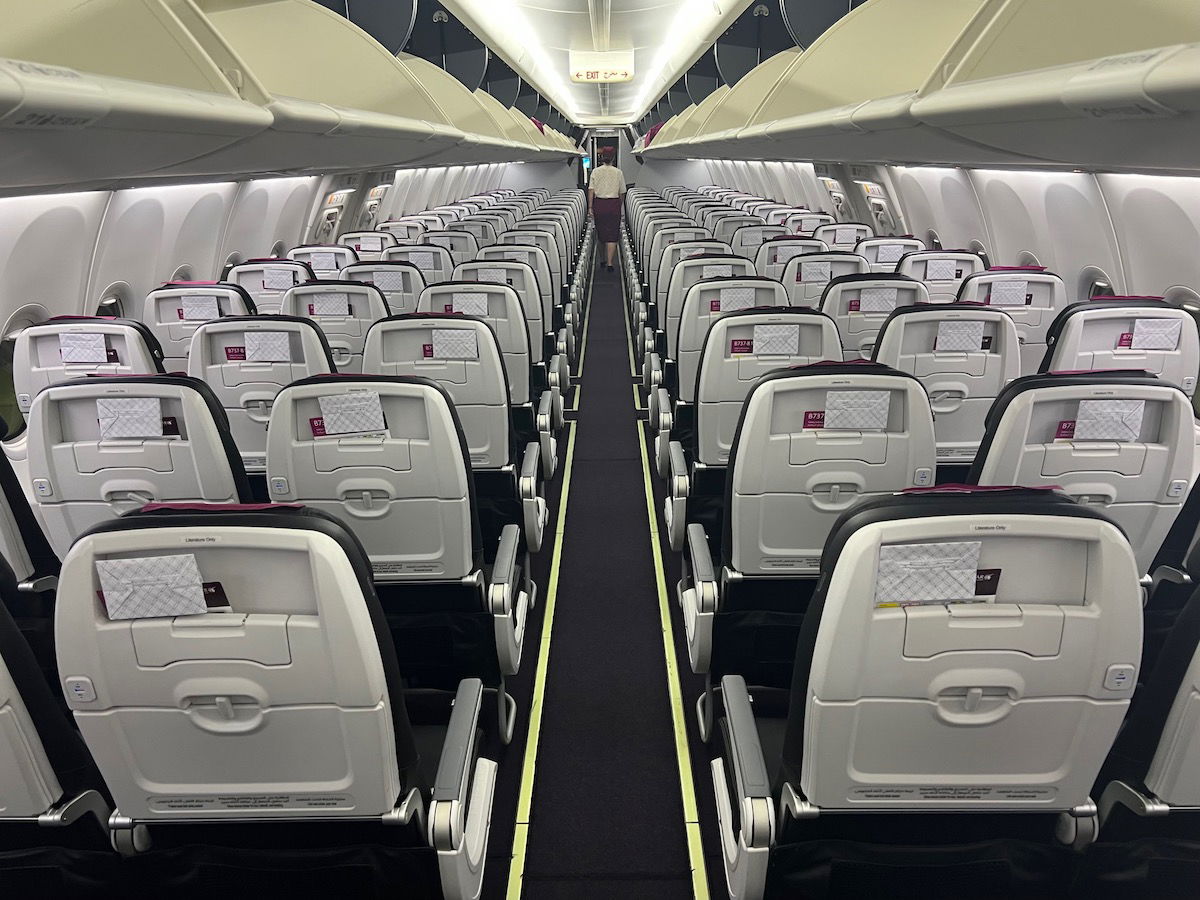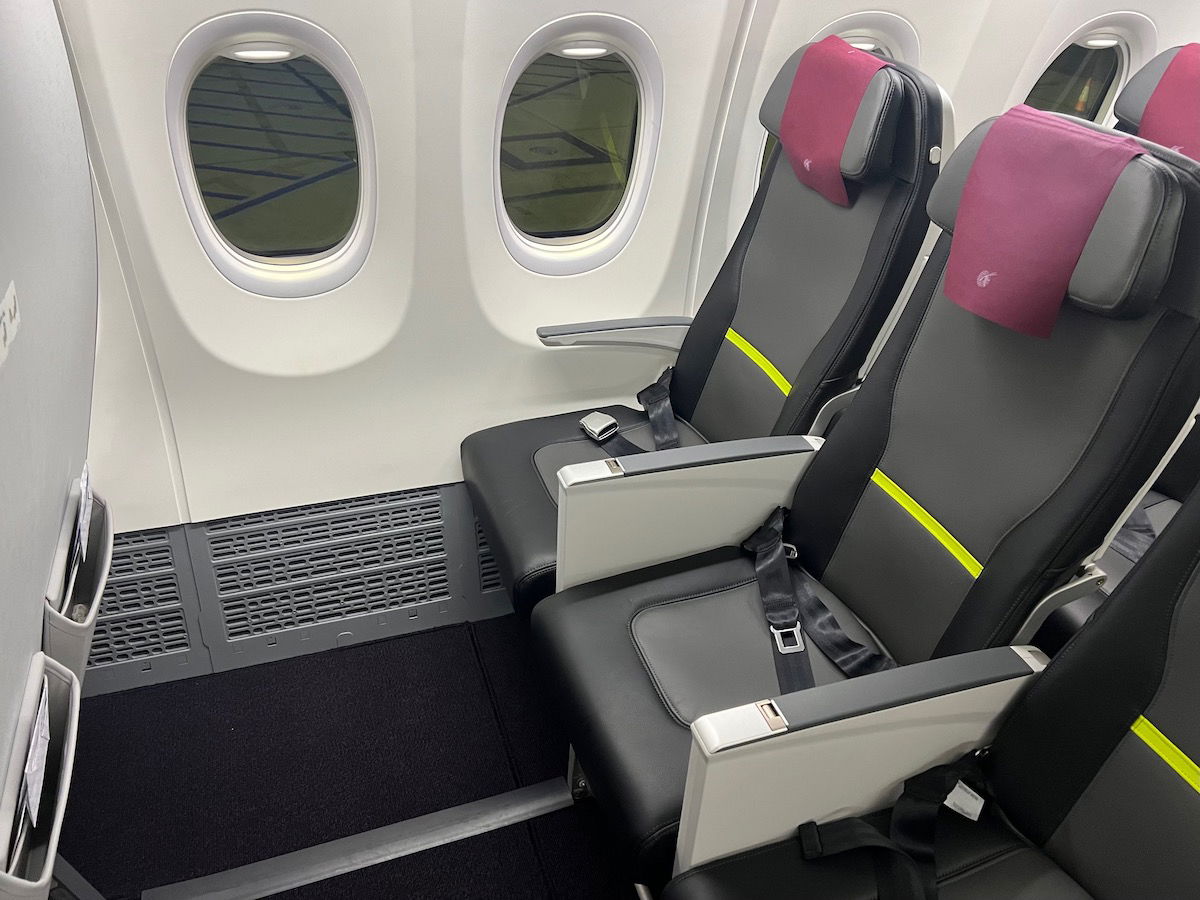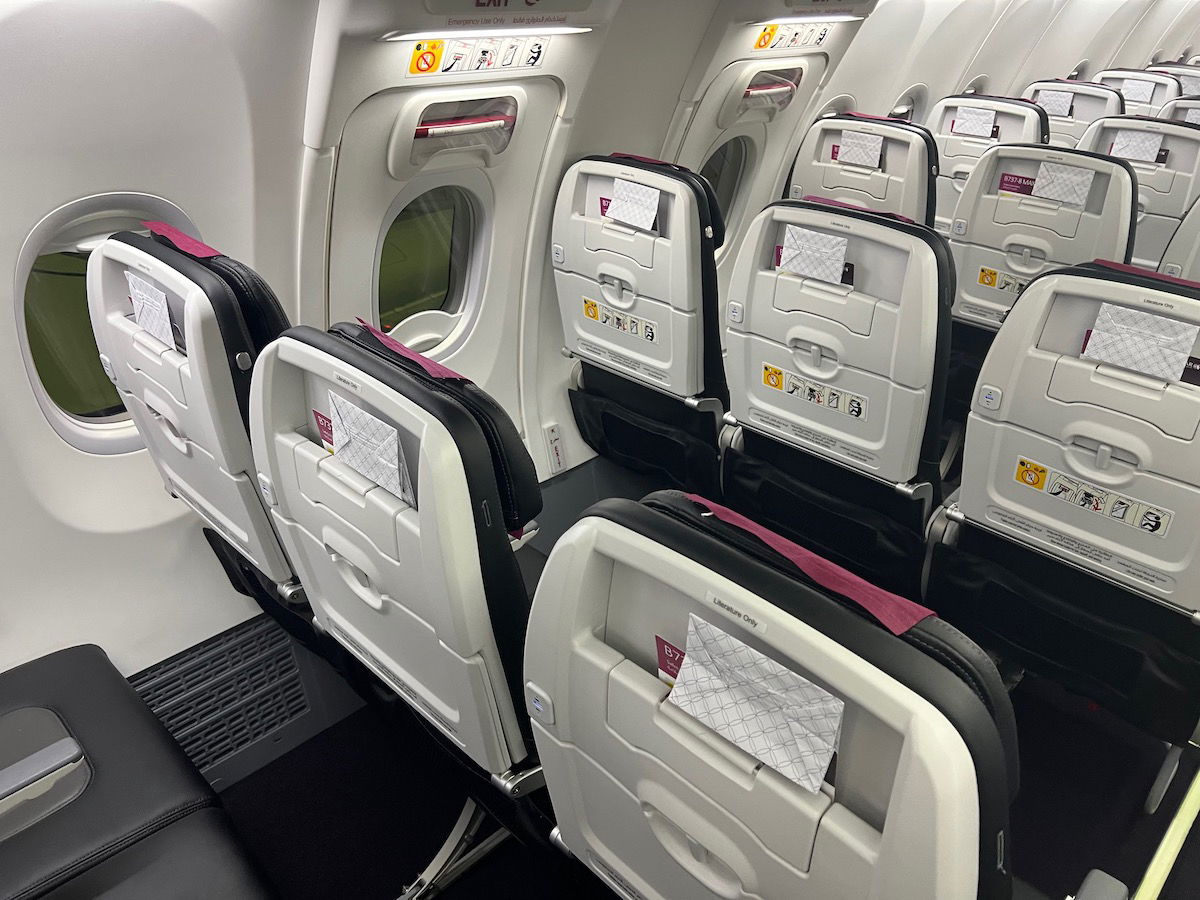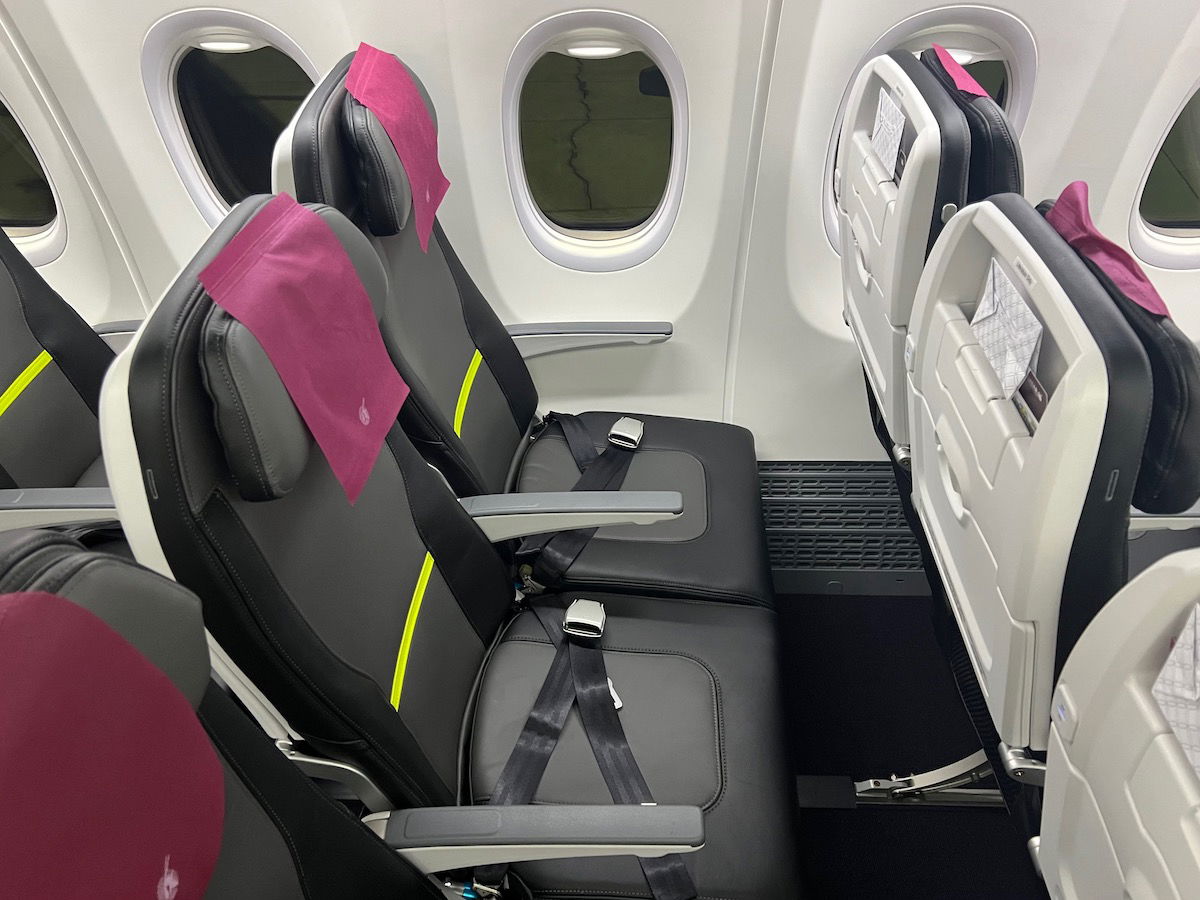 Look, these aren't the most exciting aircraft interiors on earth, and that's because Qatar Airways had nothing to do with the design of the cabin, and the priority was getting the planes into service as quickly as possible. These aircraft primarily fly ultra short flights, so I think these are perfectly nice interiors for such routes.
Just keep in mind that Qatar Airways flies Airbus A350s and Boeing 777s featuring Qsuites on many flights of a similar lengths, so there are some more exciting products on these kinds of routes.
Qatar Airways first class amenities
Waiting at each seat upon boarding was a proper pillow and blanket, the same you'd find in the carrier's long haul business and first class. It's not often you get this kind of bedding on a flight so short!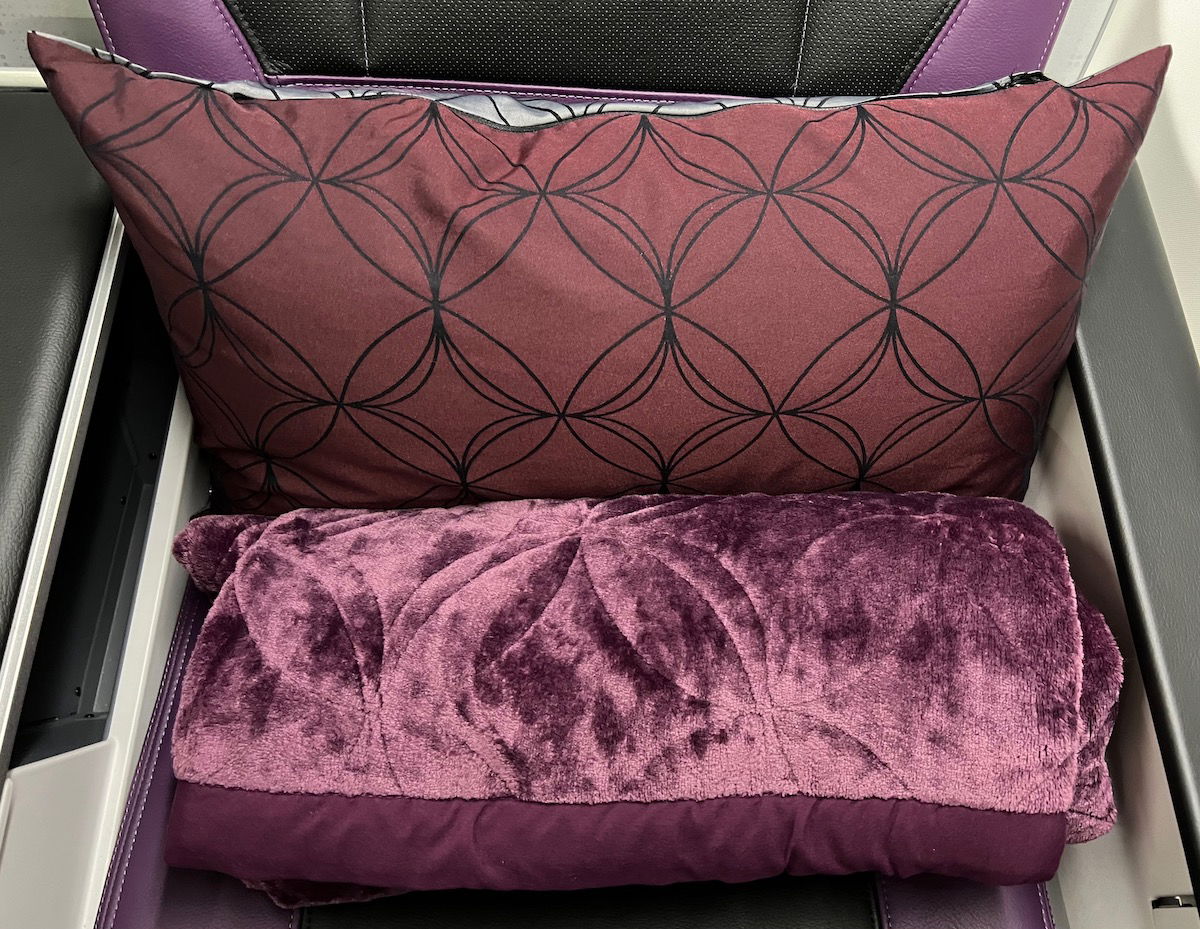 Moments after settling in, the cabin manager and the first class flight attendant came by our seats to introduce themselves, and offer us pre-departure drinks. I asked for both champagne and the lemon-mint juice, and was also offered my choice of a warm or cold towel.
Seriously, how nice of a pre-departure drink service is this?!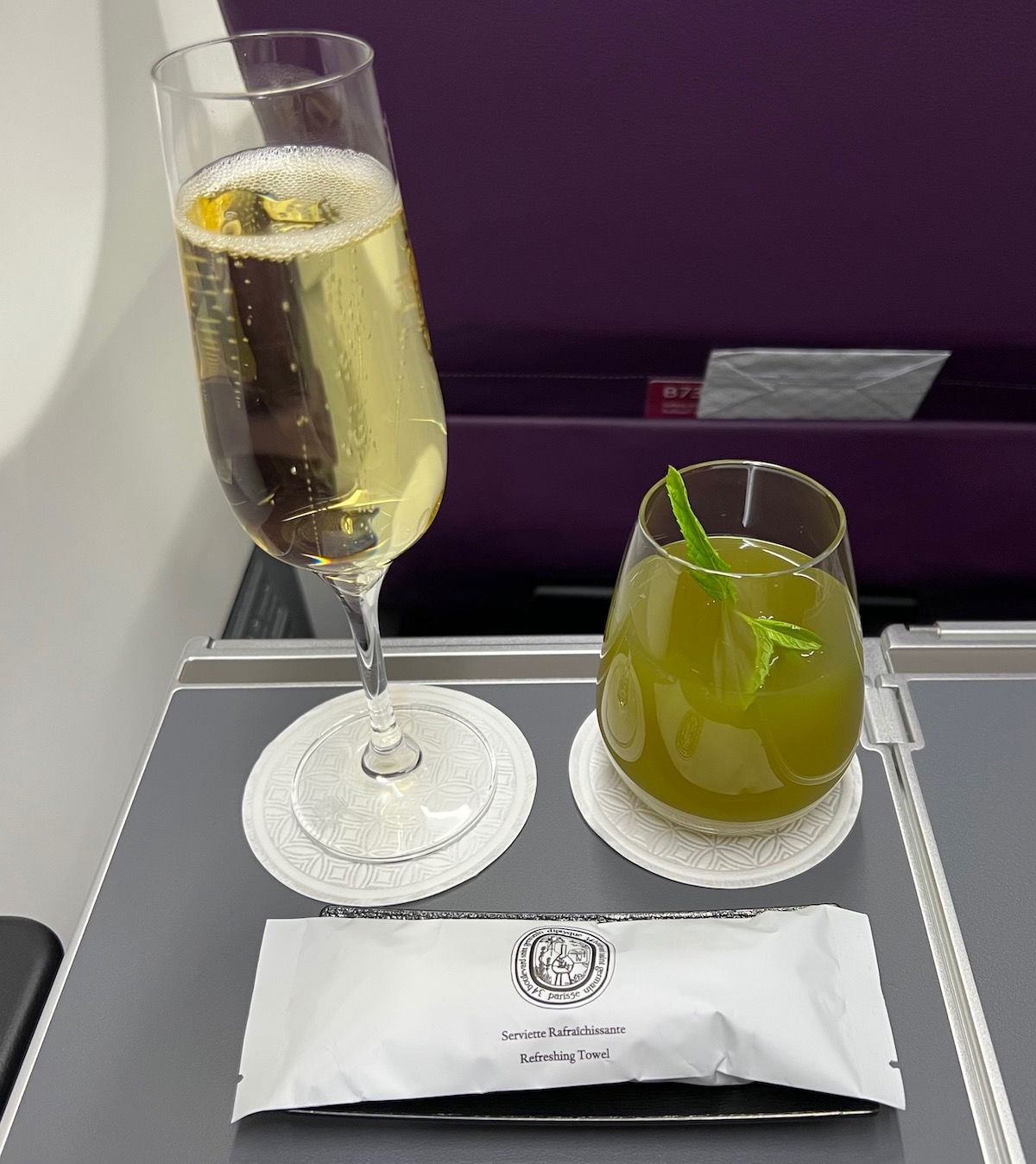 Moments later, menus were distributed for the flight.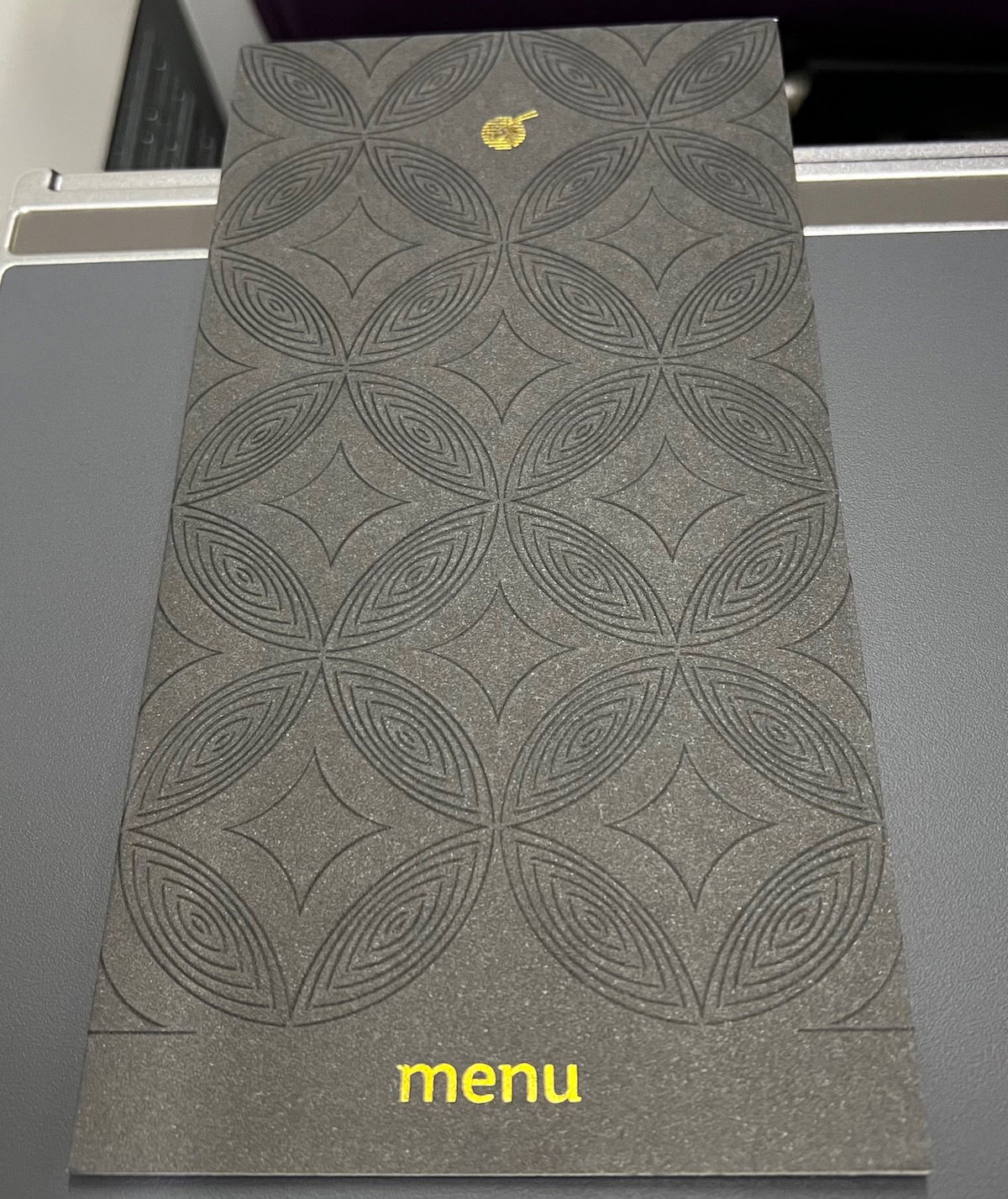 Then closer to departure, Arabic coffee and dates were served.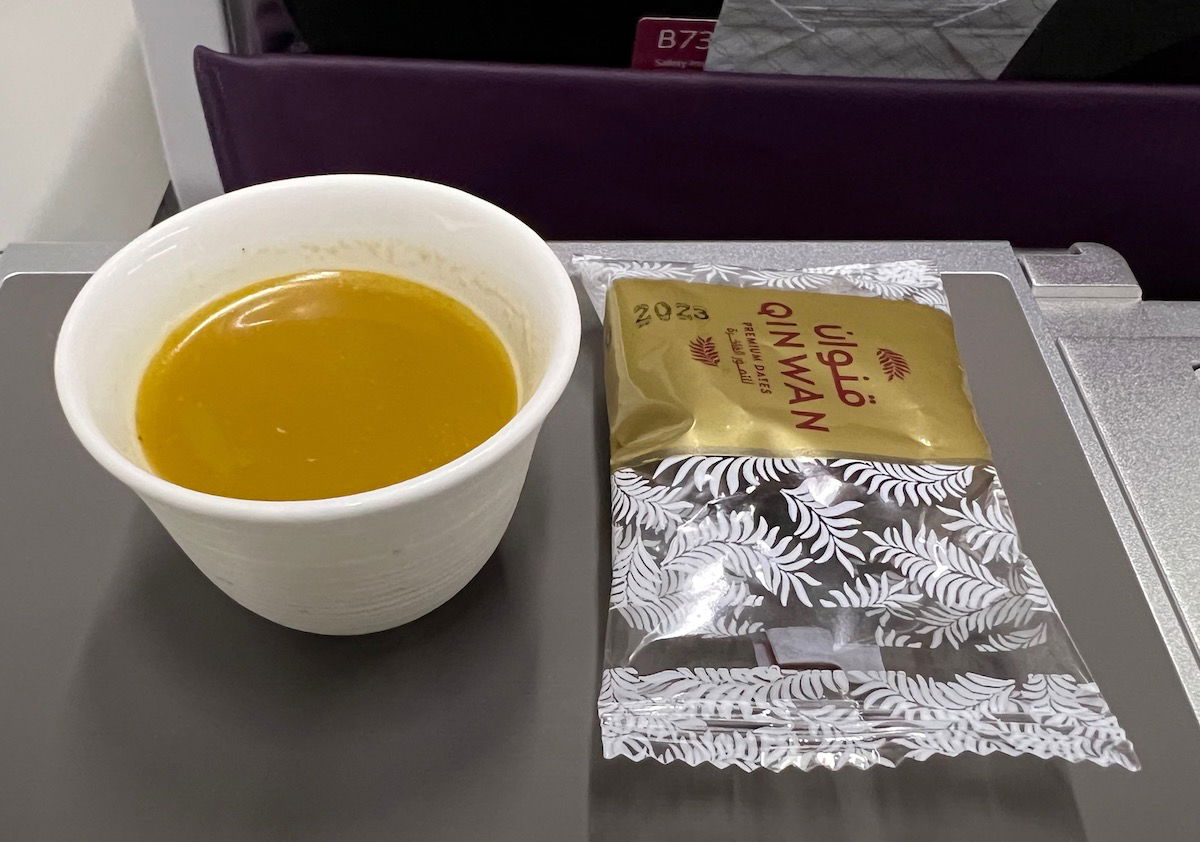 Qatar Airways 737 MAX first class entertainment
Qatar Airways' Boeing 737 MAXs don't feature Wi-Fi or personal televisions. While those are things I usually value, on a 40-minute flight I can't say that I care all that much. However, the crew still passed out entertainment tablets and headphones during boarding.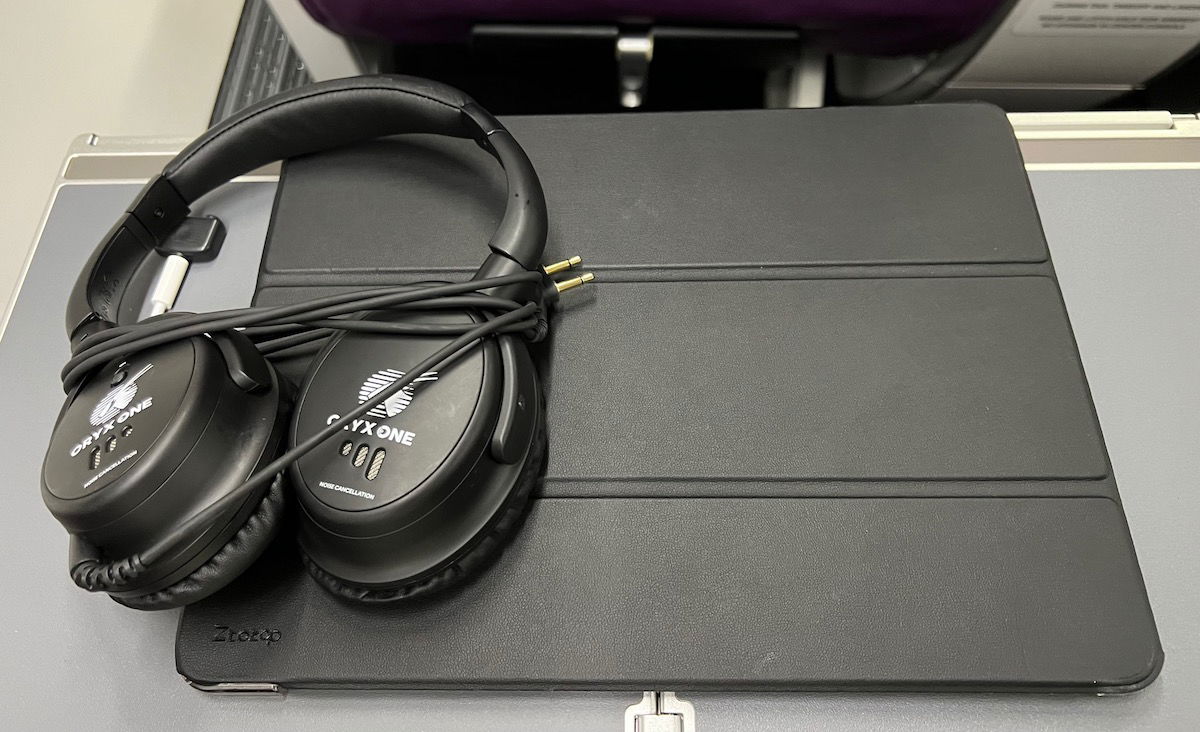 The tablet had a good selection of movies and TV shows, so you should have no issues staying entertained for all 40 minutes of the journey. 😉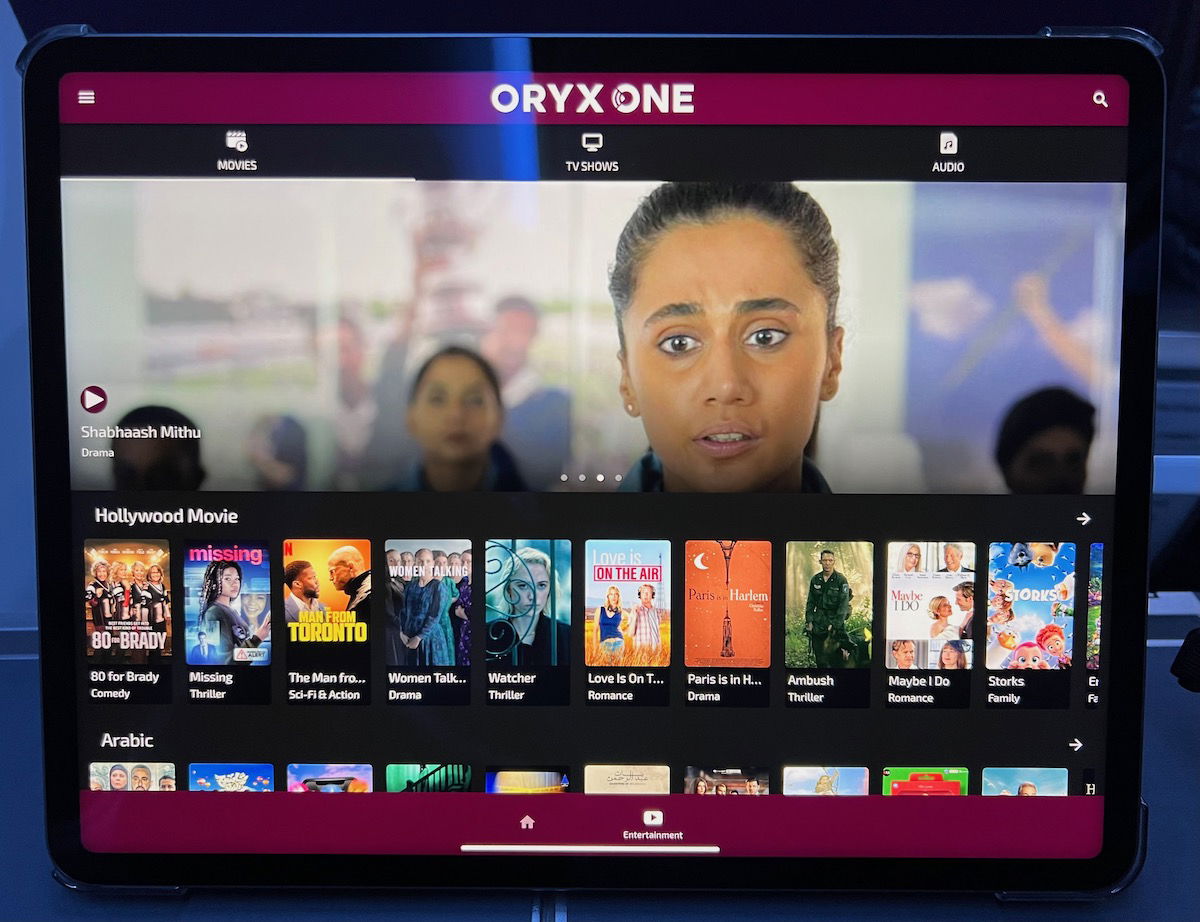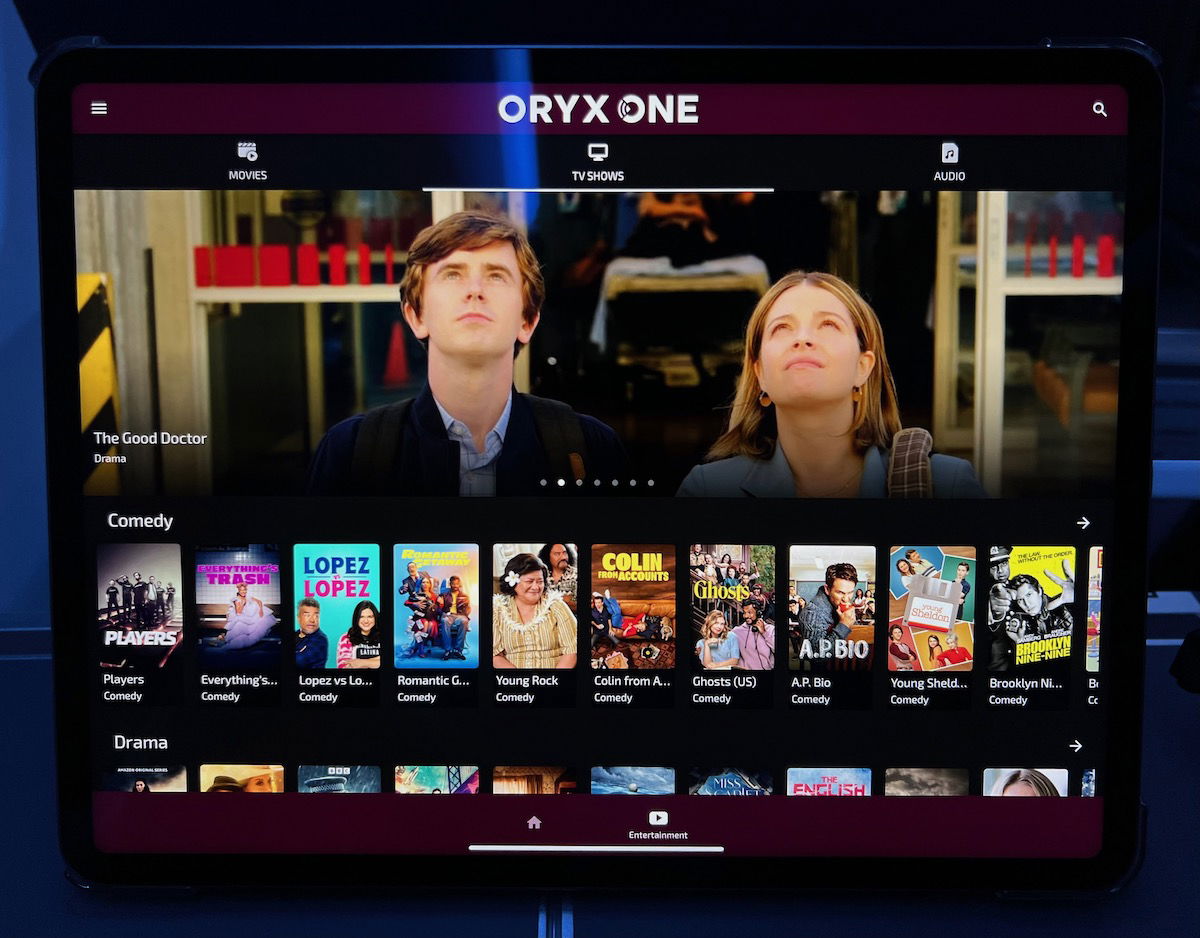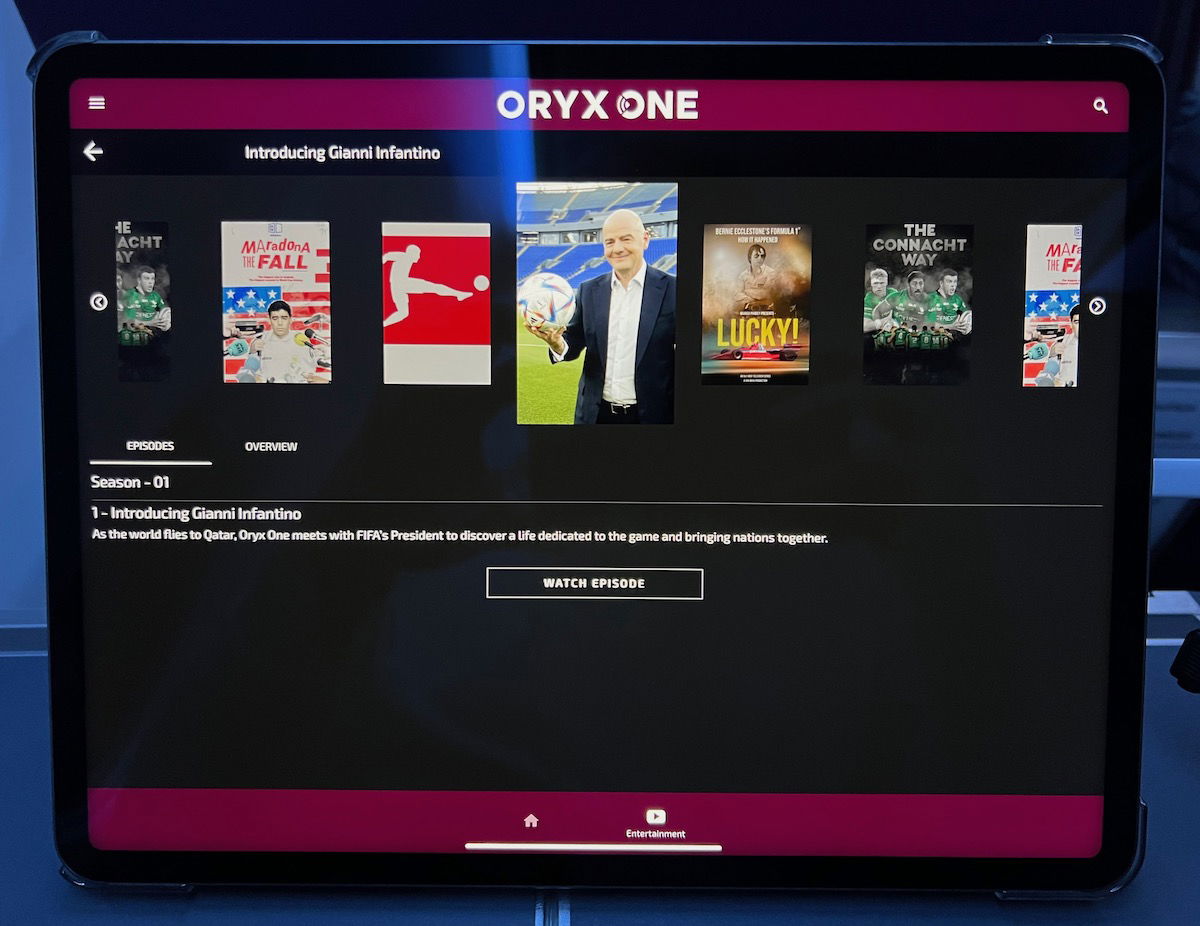 Qatar Airways 737 MAX departure from Abu Dhabi
Boarding was efficient, as the flight wasn't very full — I'd say economy was maybe half full, while we were the only passengers in first class. Throughout boarding I enjoyed listening to the boarding music, which is my favorite played by any airline.
By 1:30AM, 20 minutes ahead of scheduled departure, the main cabin door closed. At this point the captain added his welcome aboard, informing us of our flight time of 40 minutes, and our cruising altitude of 18,000 feet.
After that, the crew performed a manual safety demonstration. Then we began our pushback at 1:40AM. We had quite a long taxi to the runway, though the pilots taxied with purpose, and we were cleared for takeoff by 1:55AM.
Qatar Airways first class snack service
The seatbelt sign was turned off less than five minutes after takeoff, at which point the crew sprung into action, starting with closing the curtains between cabins.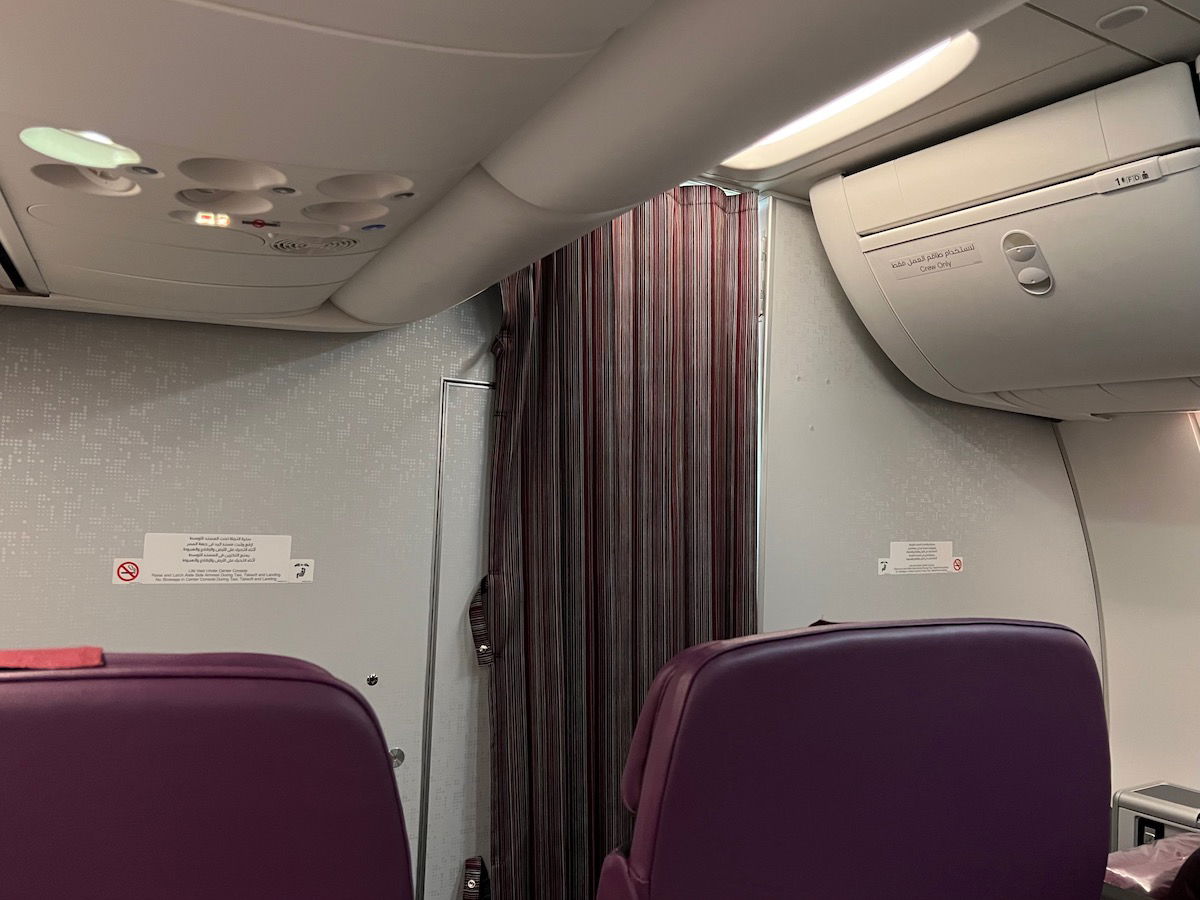 At that point the snack service began. You can find the menu and drink list below.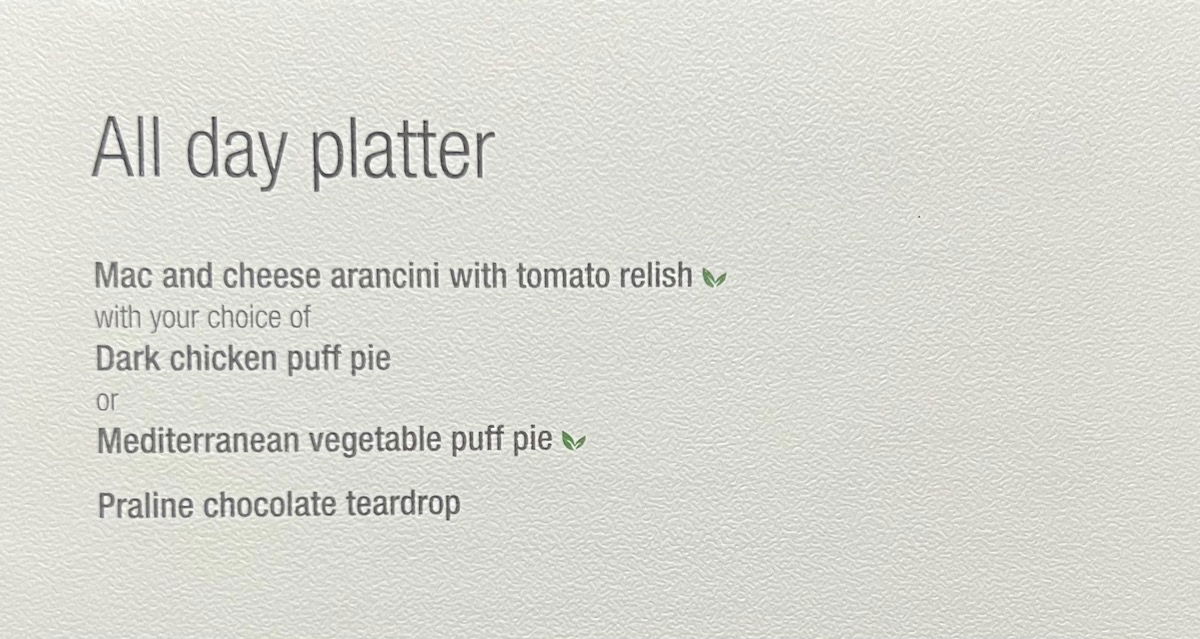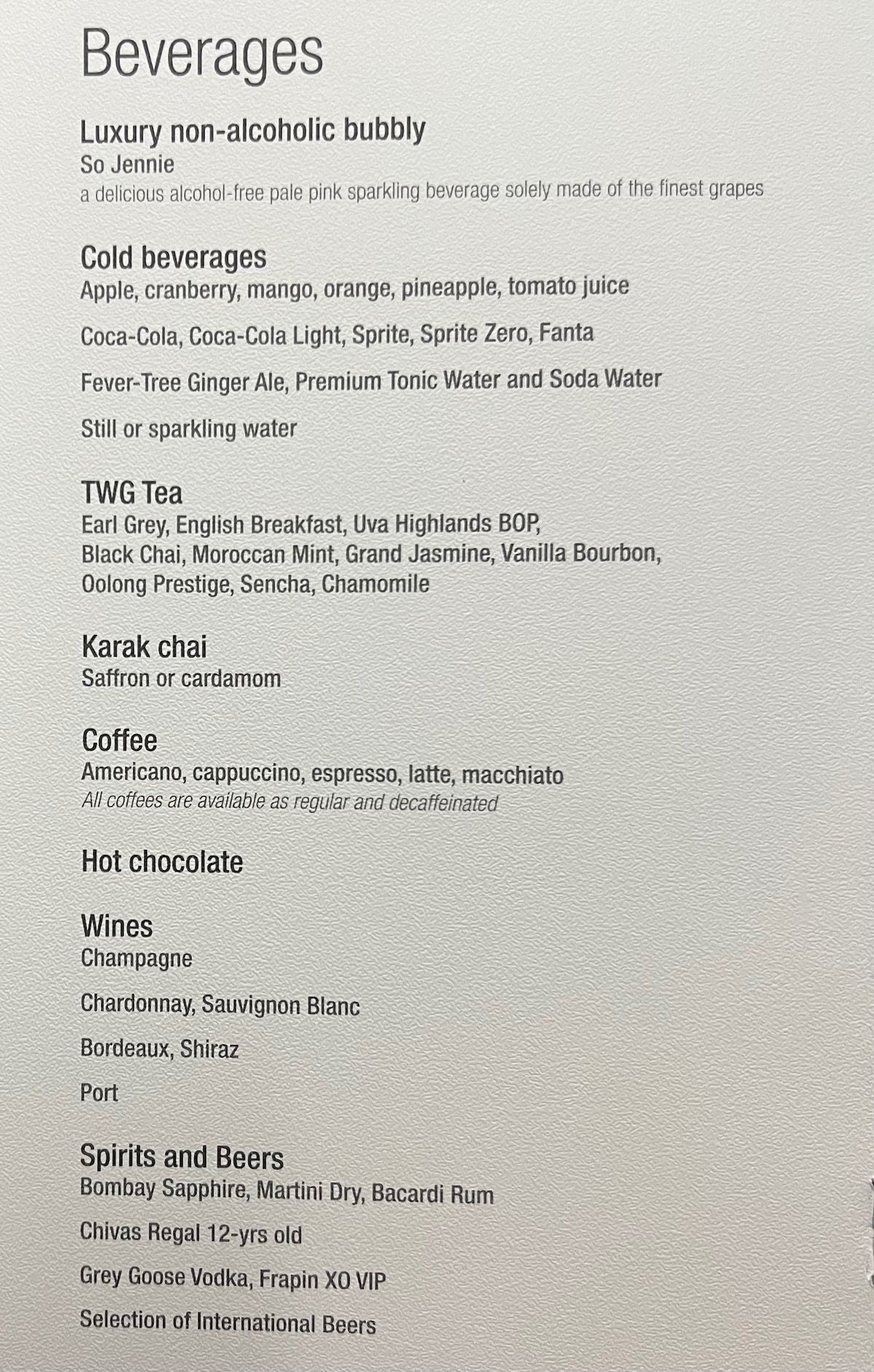 The snack was served around 10 minutes after takeoff. I chose the vegetarian option, which included a mac and cheese arancini with tomato relish, a Mediterranean vegetable puff pie, and a praline chocolate teardrop. I had a glass of still water and a sauvignon blanc to drink.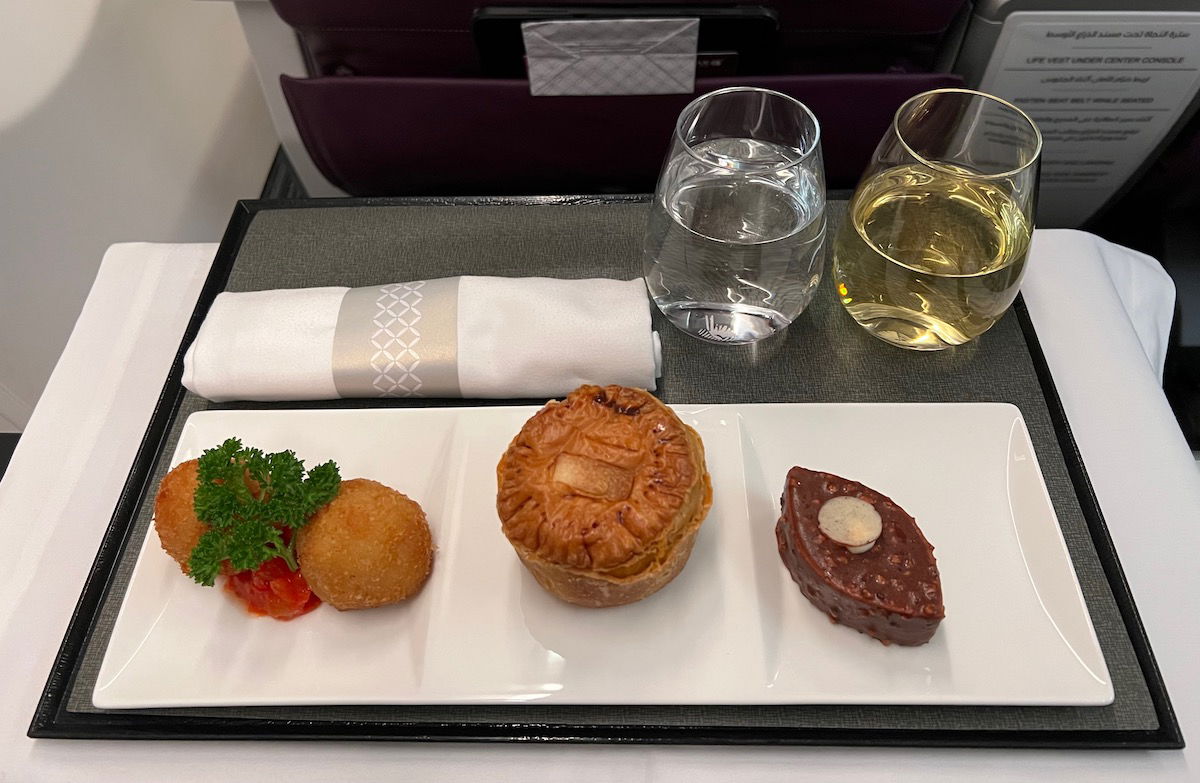 Honestly, how cute is this snack service? Not bad for a 40-minute flight in the middle of the night, eh?
Usually there would be a full selection of espresso-based drinks available as well, but unfortunately the 737 MAX doesn't have an espresso machine (at least not yet). So I instead had a drip coffee, and was offered some cookies to go along with it.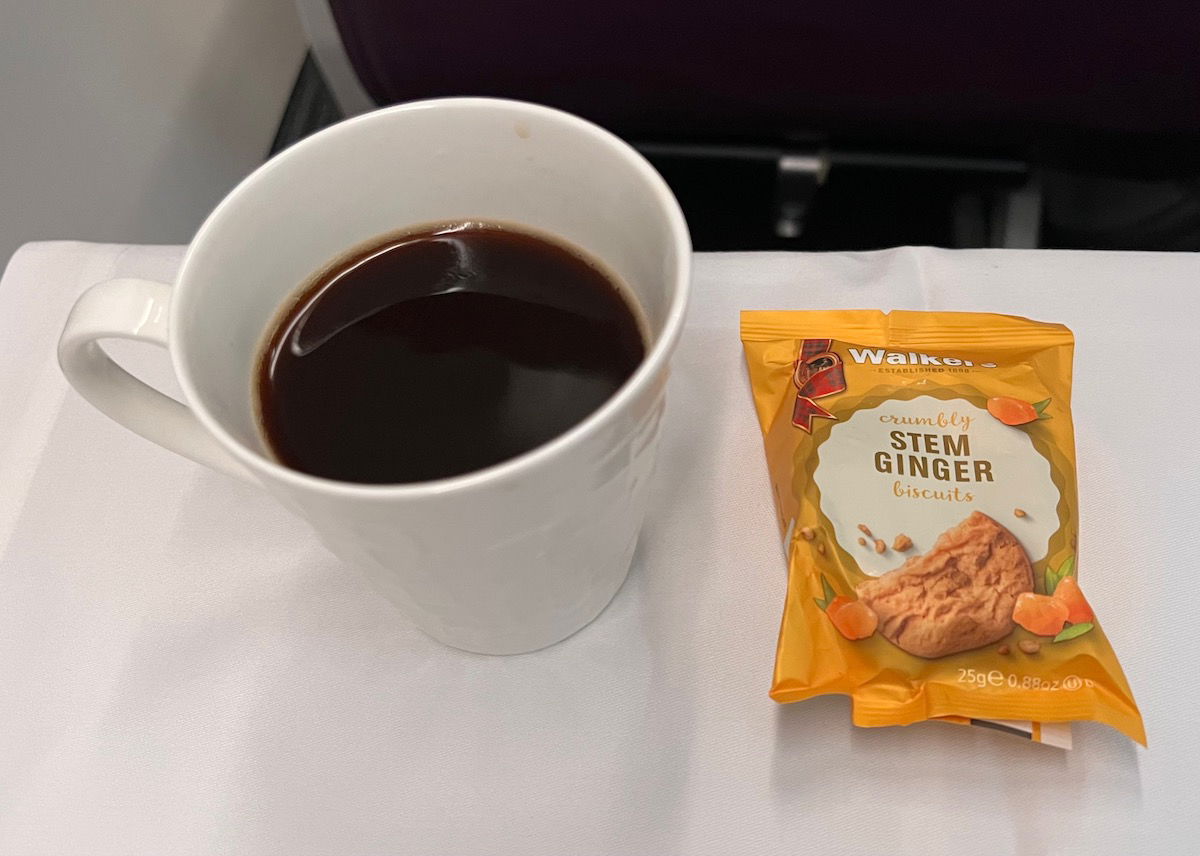 Qatar Airways 737 MAX first class lavatory
Before landing, I checked out the lavatory at the front of the cabin, which was spotless. Unfortunately this was the standard 737 MAX lavatory nowadays, which is incredibly tight. Not only is there a very limited amount of space, but the sink is tiny, and it's almost impossible to wash your hands without water splashing.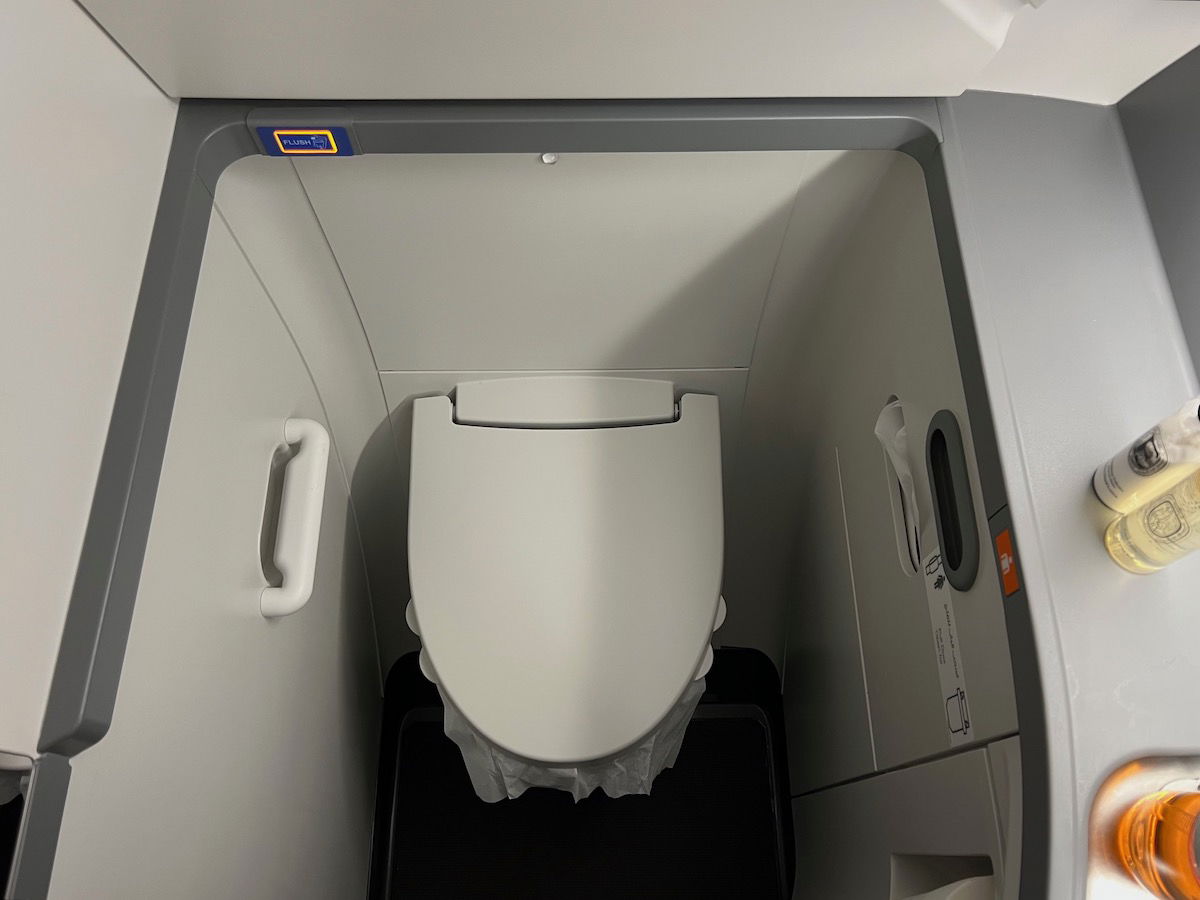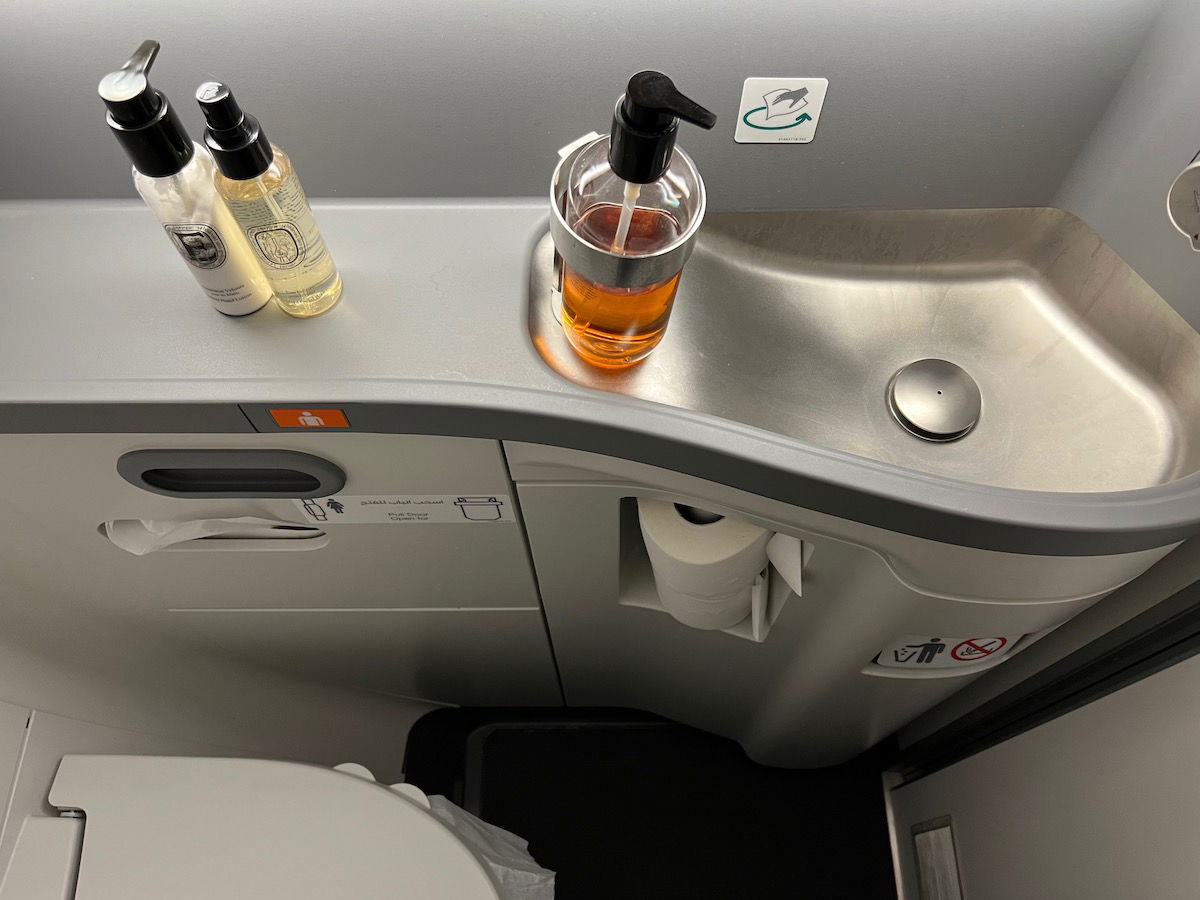 I appreciated the Diptyque toiletries, which sure are premium (and smell good!).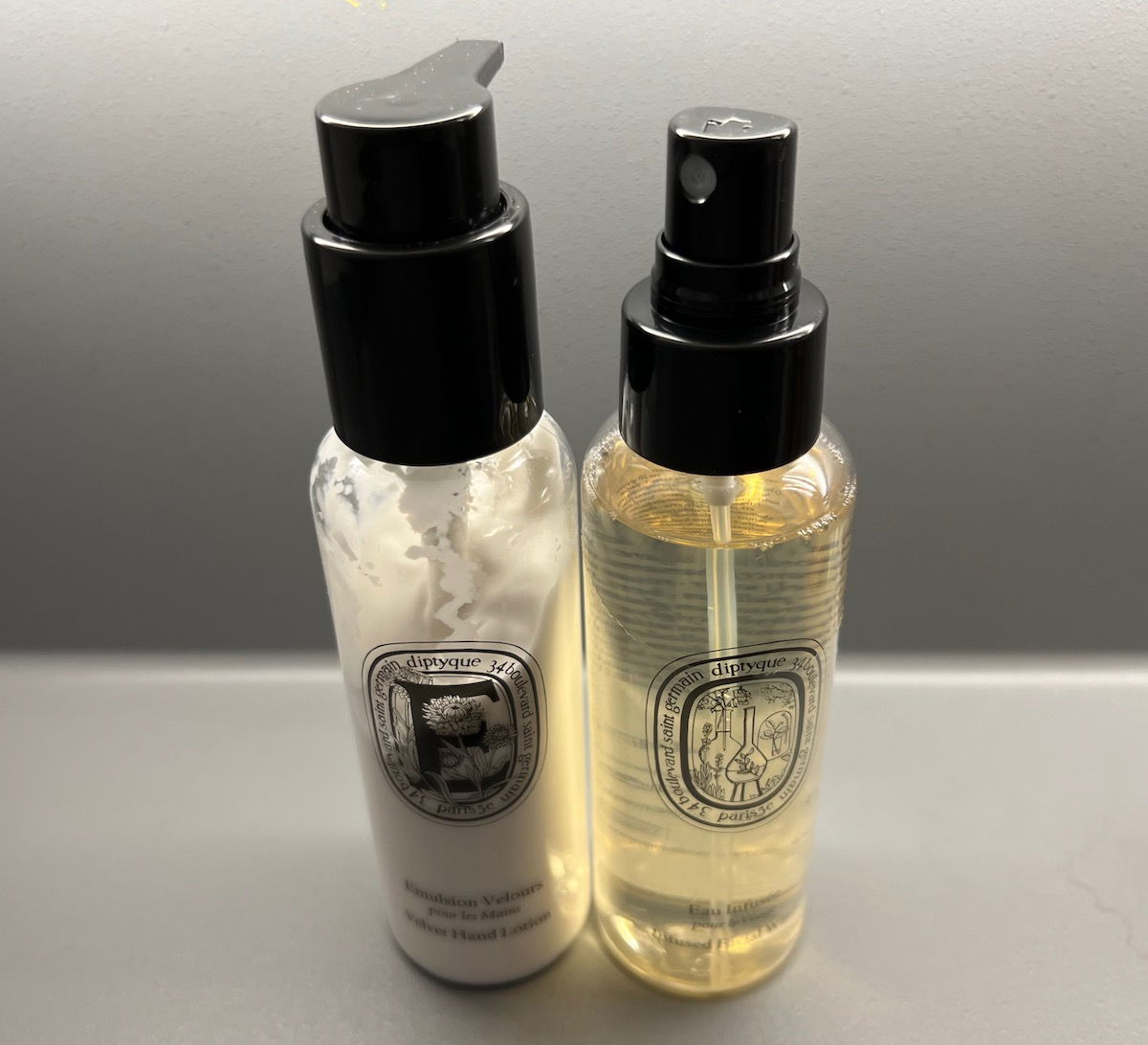 Qatar Airways 737 MAX arrival in Doha
Just 25 minutes after takeoff, the seatbelt sign was turned on in preparation for landing. We had a smooth approach, and touched down in Doha at 1:35AM (there's a one hour time difference between Abu Dhabi and Doha, so we landed 20 minutes "before" taking off). From there we had a five minute gate to our arrival stand, where we parked next to a Boeing 777.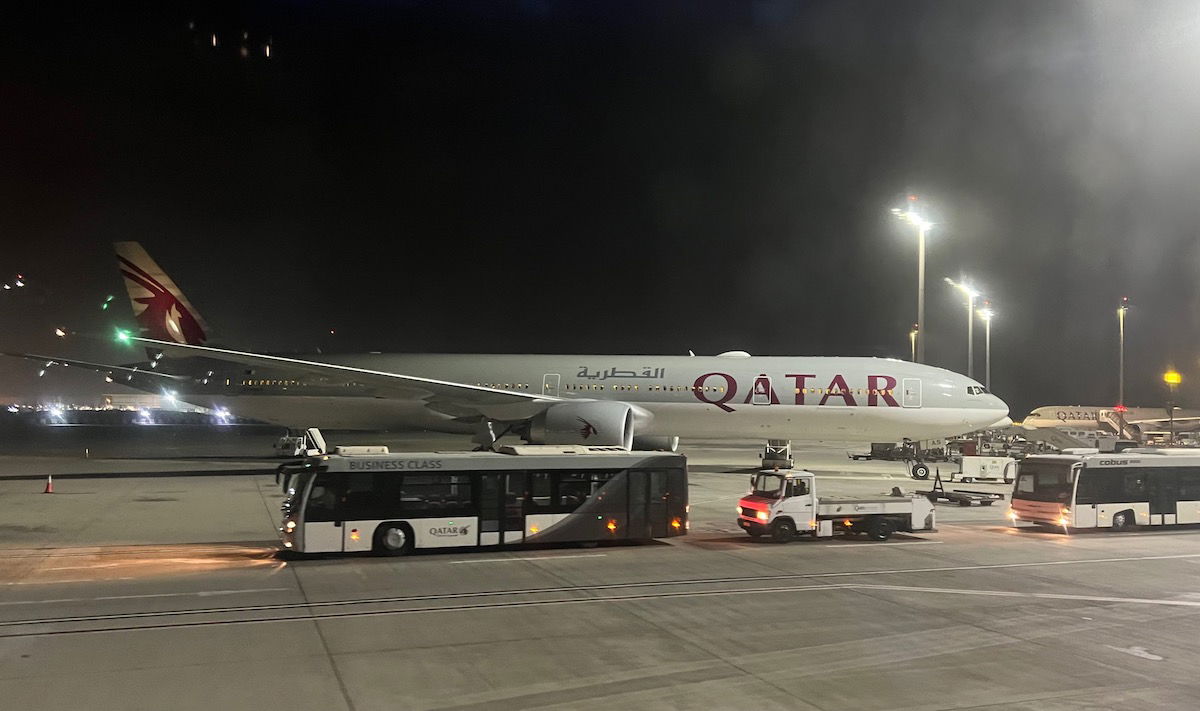 The ground crew was having issues pulling the stairs up to the aircraft, presumably because the 737 MAX is still a new plane for the airline. So it took about 10 minutes to deplane. The crew must have apologized to us five times during this delay, and even asked if they could offer us some beverages while we waited.
While people usually dread remote stands, I sure don't mind them on these kinds of flights. Qatar Airways has a separate first class bus, which we had all to ourselves. This dropped us off right at the central immigration and transit checkpoint.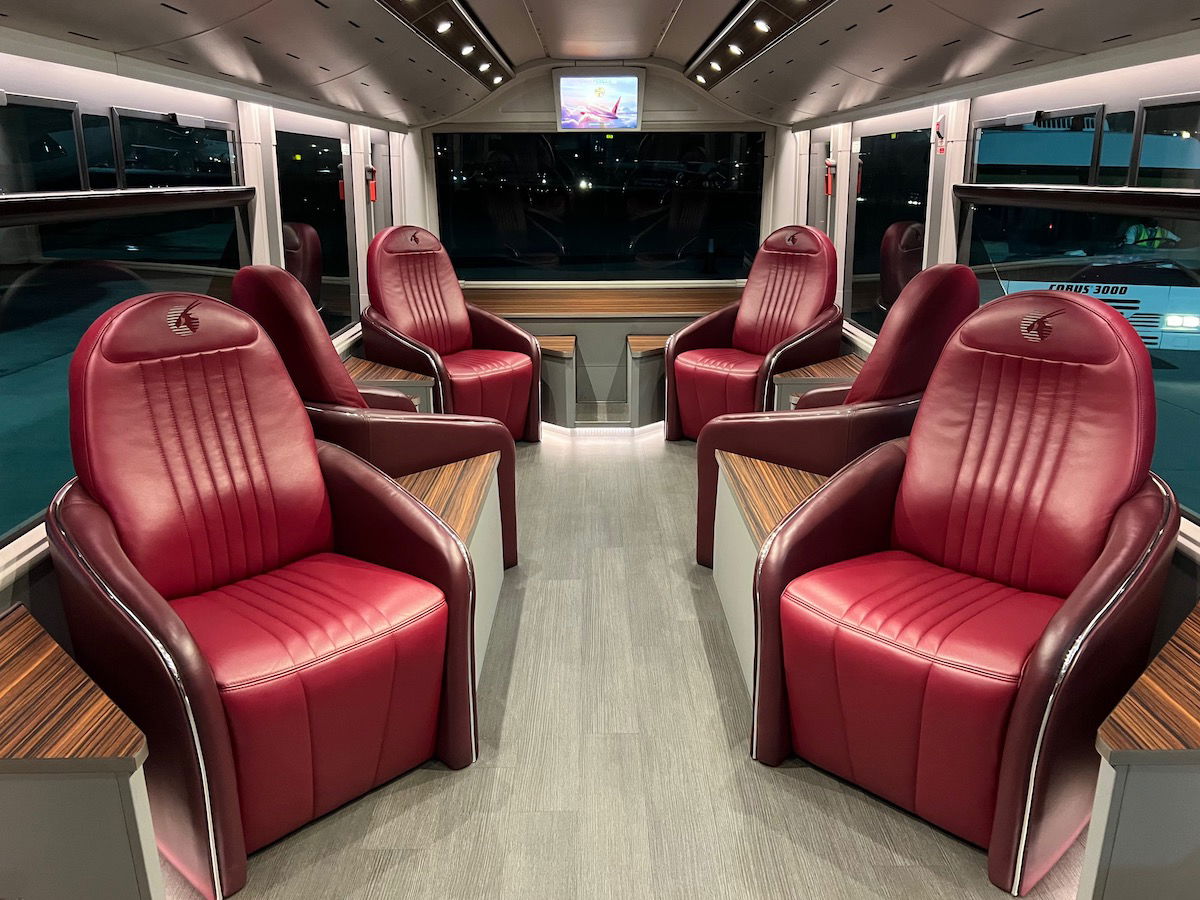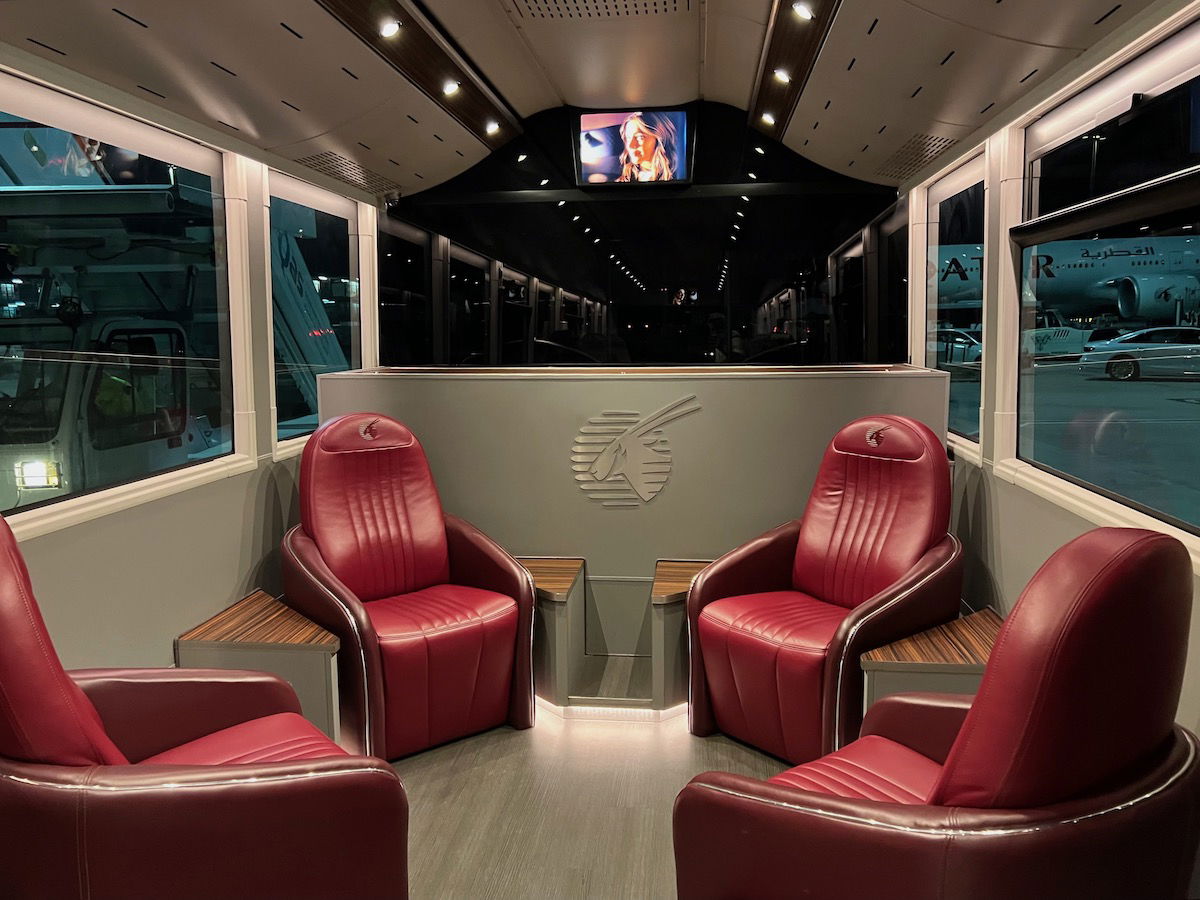 Qatar Airways then has a dedicated arrivals area for premium passengers, with expedited immigration, as well as plenty of seating, drinks, and snacks.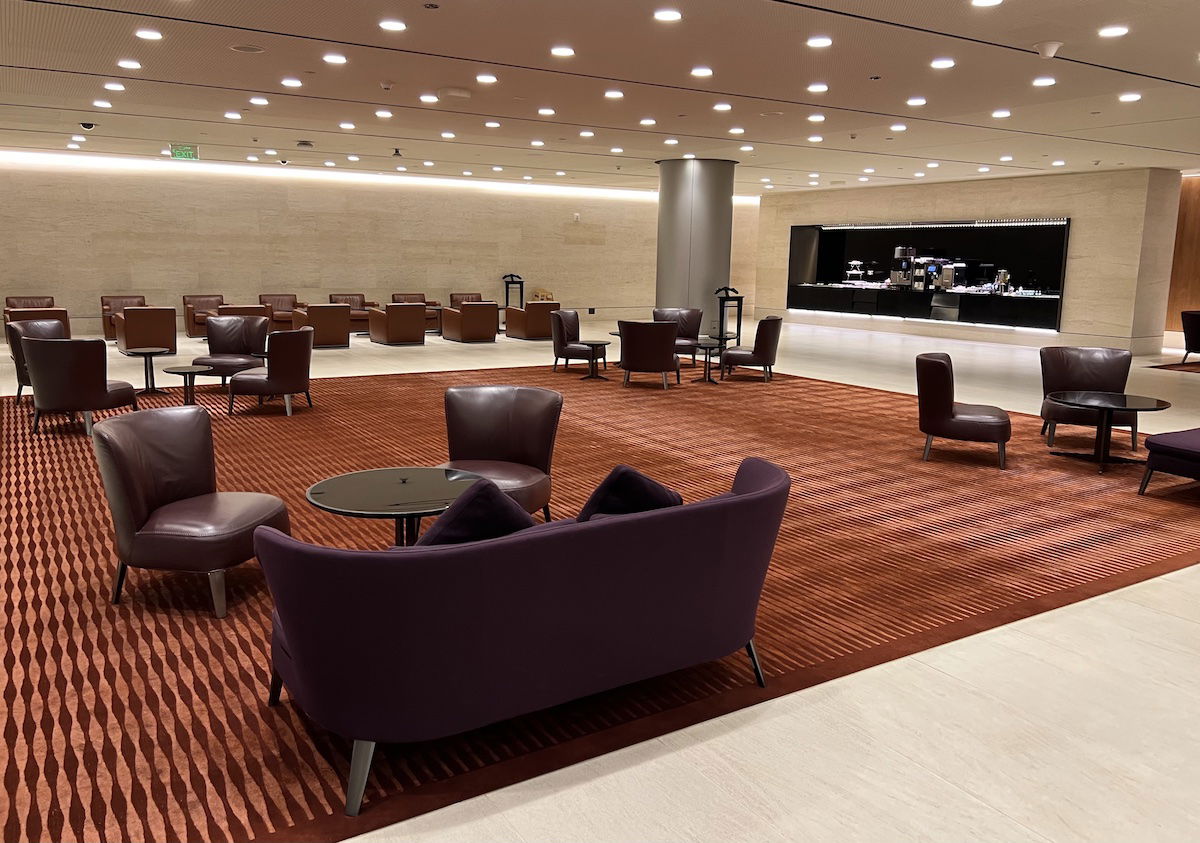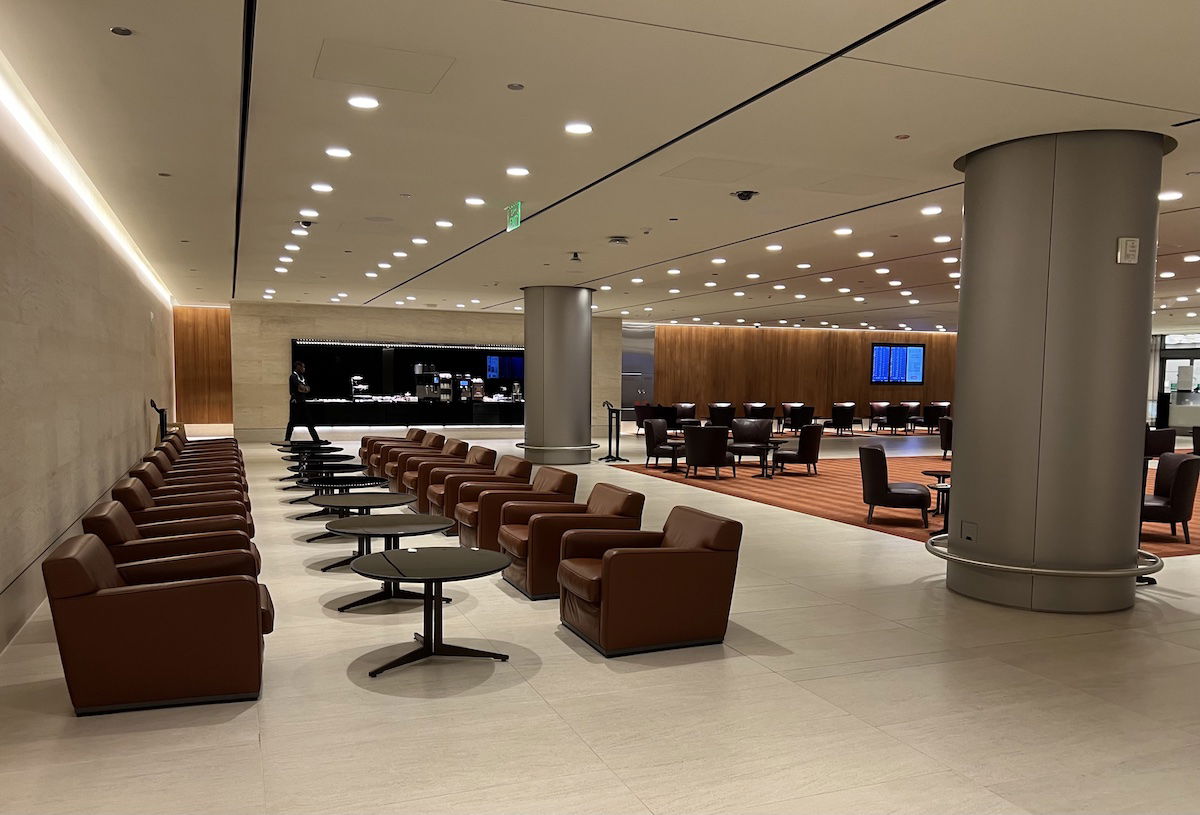 We were through in no time, and got in an Uber to the Hyatt Regency Oryx Doha, where we'd be spending the night.
Bottom line
Qatar Airways' short haul first class product is simply spectacular. The soft product is in a league of its own, and it's such a treat to get this kind of service on a 40-minute flight.
I was also happy to fly Qatar Airways' new Boeing 737 MAX. This is the least exciting plane in Qatar Airways' fleet, given the lack of seatback entertainment, Wi-Fi, and the general cabin layout. Still, for a 40-minute flight, this is a fantastic experience.
What do you make of Qatar Airways' Boeing 737 MAX first class?