In the miles & points world, visiting the Qantas First Lounge LAX is kind of a rite of passage, along with staying at the Park Hyatt Paris Vendome, visiting the Lufthansa First Class Terminal, and flying Qatar Airways Qsuites. 😉
The Qantas First Lounge LAX recently reopened after being closed for more than two years, so I was excited to be able to check it out. The lounge is every bit as good as I remember it, and is one of the best airline lounges in the United States. Let's get right into the review.
Qantas First Lounge LAX location & hours
The Qantas First Lounge LAX is located in Tom Bradley International Terminal (TBIT), which is the primary international terminal at the airport. TBIT is accessible airside via connectors from Terminals 4, 5, 6, 7, and 8. It's a very short walk from Terminal 4, which is where most American Airlines flights departs from (and that's useful, because some American Airlines passengers will have access to this lounge).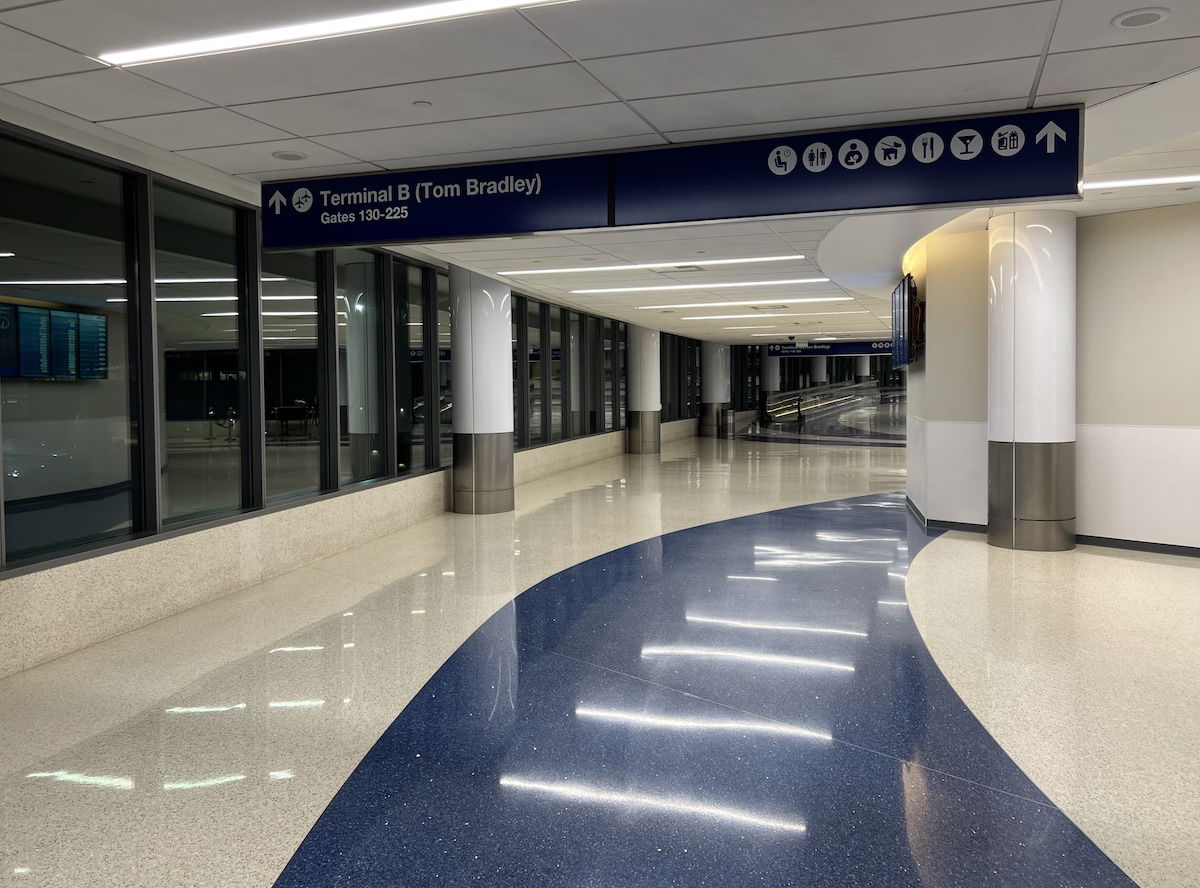 Once you're in the center portion of TBIT, you'll want to take either the escalators or elevators up a level (the terminal is on the fourth floor, while the lounge is on the fifth floor),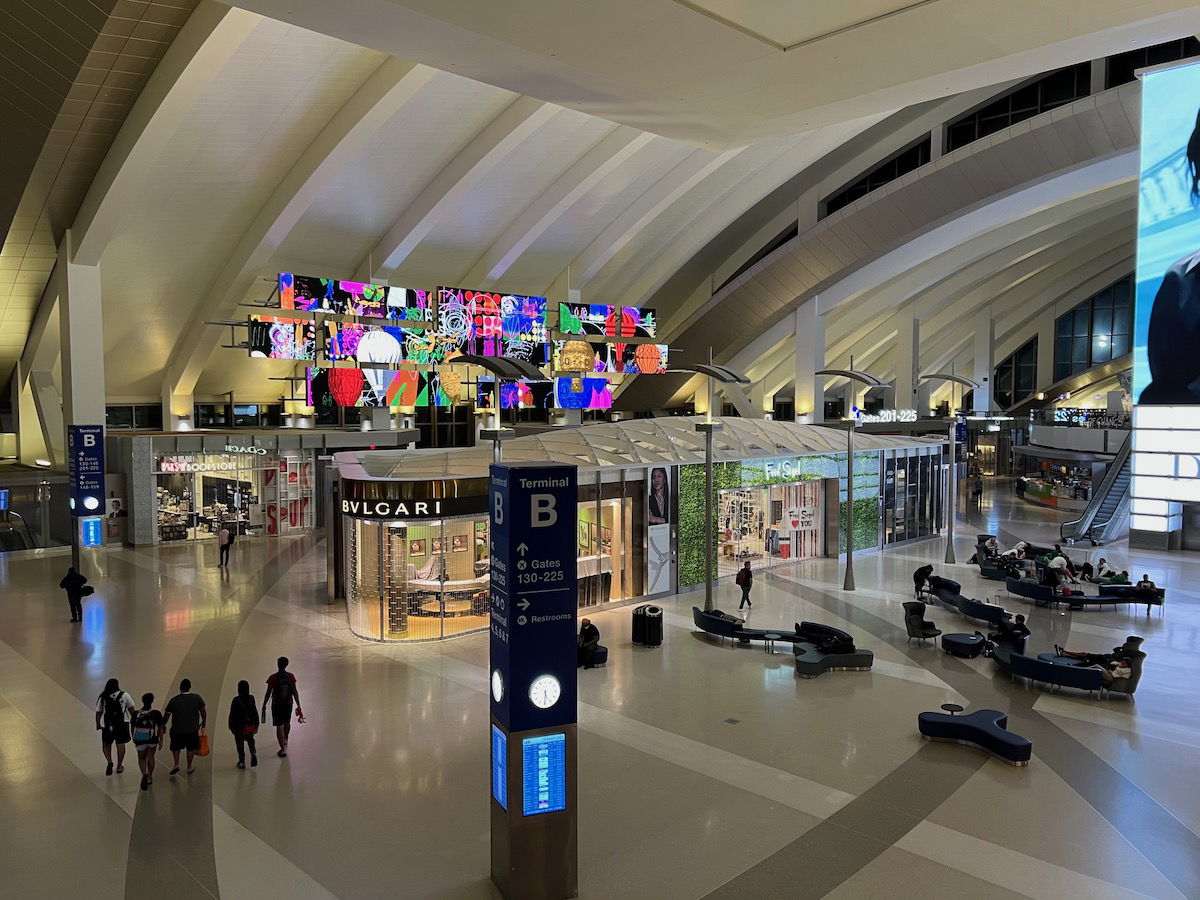 Once on the fifth floor, just walk past the standard oneworld Lounge for business class passengers, and then you'll see the entrance to the Qantas First Lounge on the left.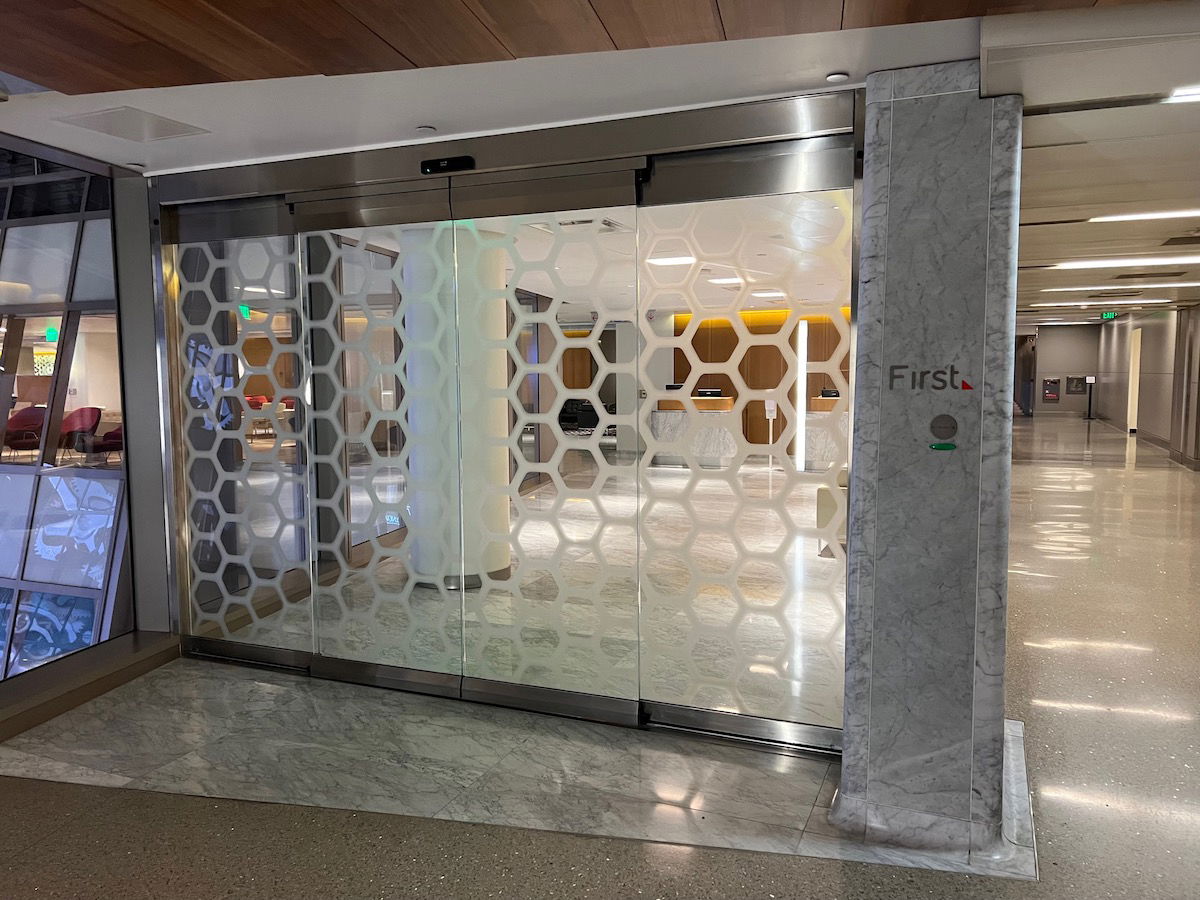 The Qantas First Lounge LAX is currently open daily from 6:30AM until 12AM, covering virtually all of the oneworld departures out of the terminal.
Qantas First Lounge LAX entry requirements
The Qantas First Lounge LAX is a standard oneworld Emerald and oneworld first class lounge. In line with oneworld lounge access policies:
The lounge can be accessed by oneworld Emerald members traveling in any cabin — those earning status through Alaska Mileage Plan or American AAdvantage can only use the lounge when traveling outside of North America, while those earning the status through any other oneworld program can use the lounge before any oneworld flight, even if it's domestic
The lounge can be accessed by any same day oneworld international first class passenger, including on airlines like American Airlines, British Airways, Japan Airlines, etc.
Interestingly I was able to access the lounge as a oneworld Emerald member traveling on Fiji Airways. I was surprised that worked since Fiji Airways is only a oneworld Connect member and not a full oneworld member. But the agent scanned my boarding pass and entered my AAdvantage number, and that worked. Your mileage may vary.
If you're flying oneworld business class or have oneworld Sapphire status, you can use the adjacent oneworld lounge, which you can read my review of.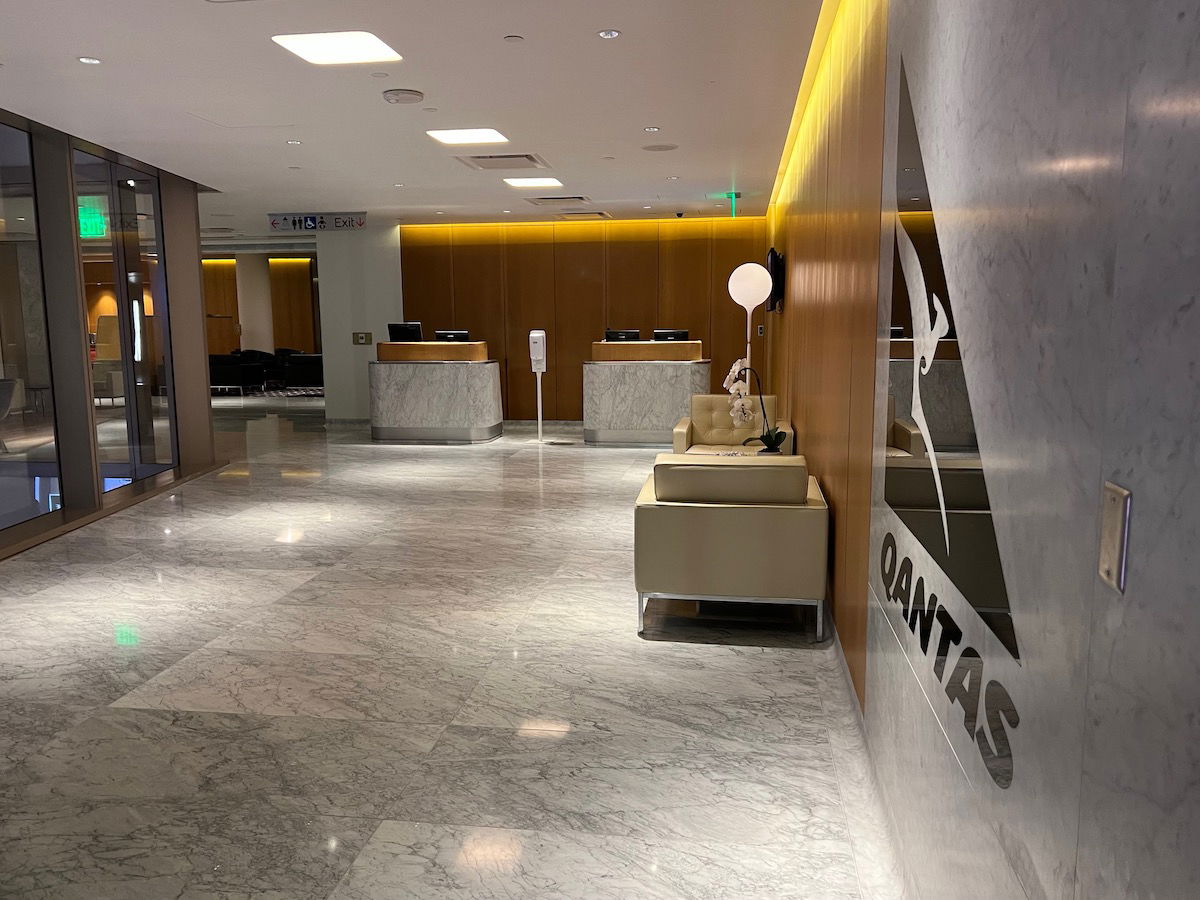 Qantas First Lounge LAX seating & layout
The Qantas First Lounge LAX is huge for an international first class lounge — it's roughly 17,500 square feet, with seating for over 220 people. Most of the day the lounge gets nowhere close to full, though it's usually busiest in the evenings before Qantas departures.
The lounge consists of one large room, though it's broken up into several zones, with the first half of the lounge being for relaxing and lounging, and the second half of the lounge being for dining.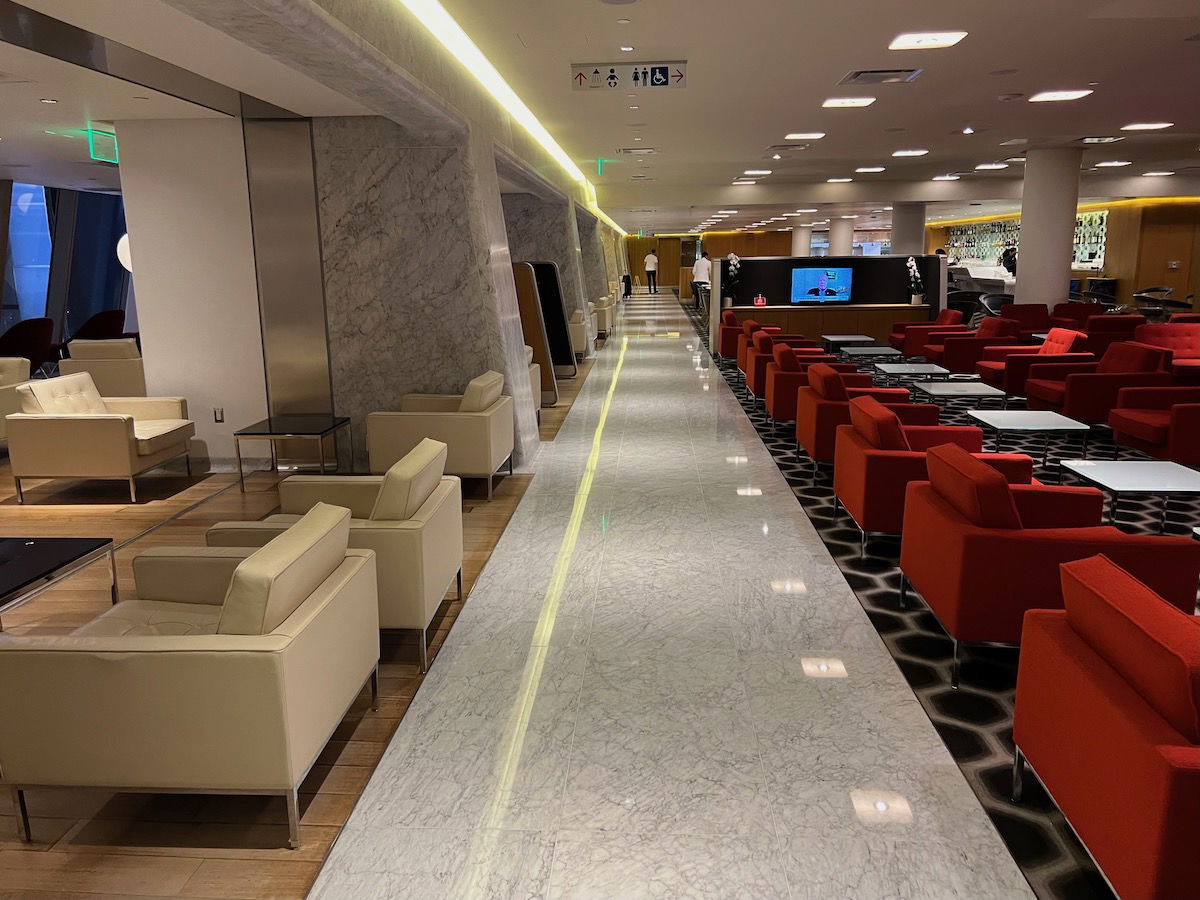 Inside the entrance to the lounge are dozens of red seats facing one another. There are two long rows of seats, and then clusters of four seats next to that.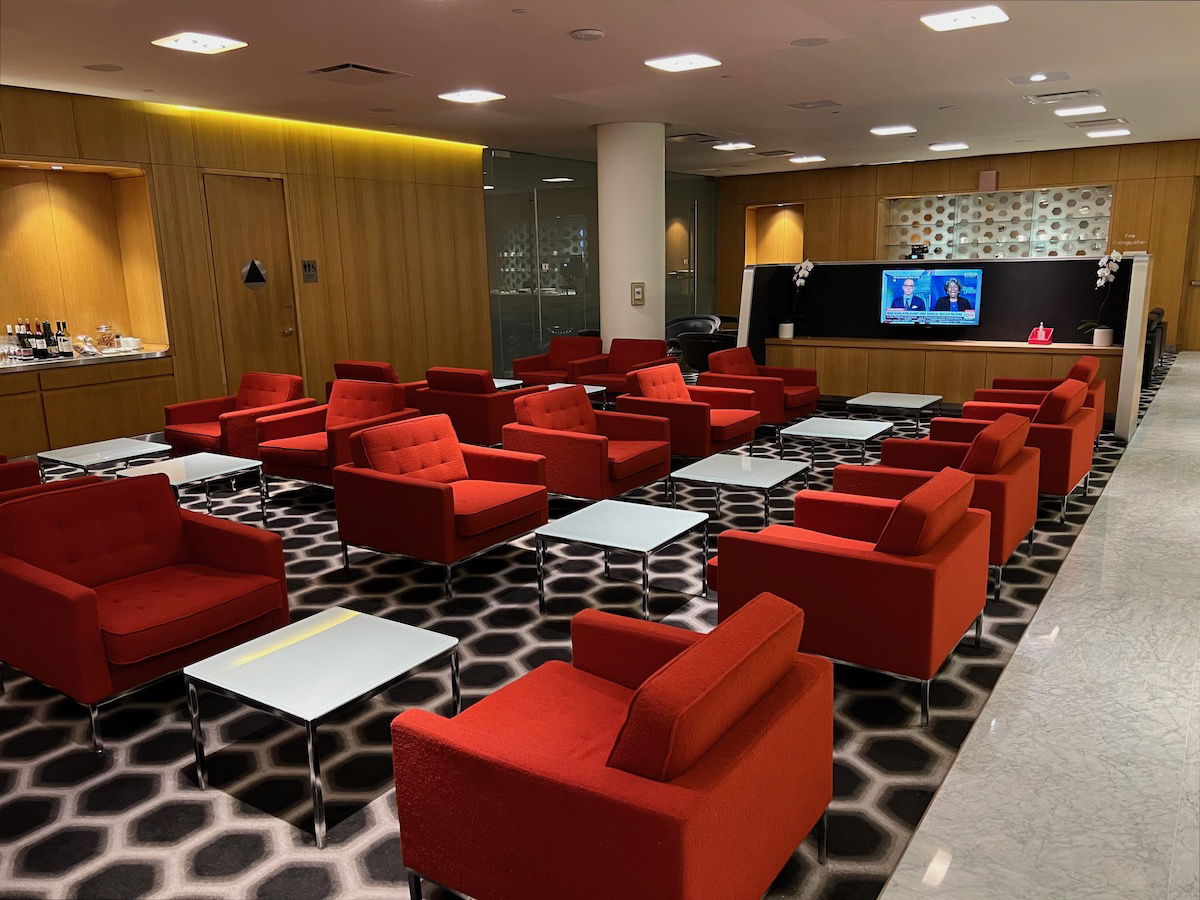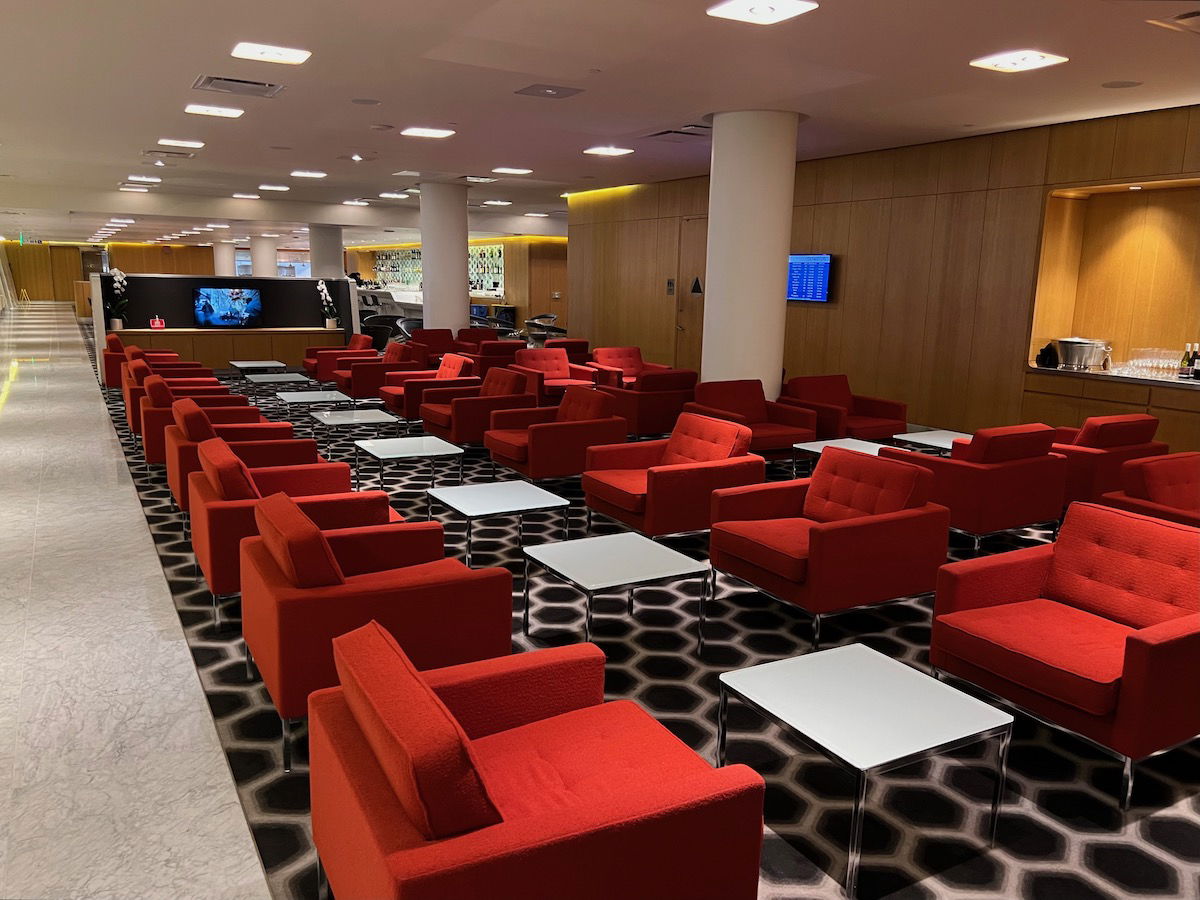 Across from that are some cream colored leather seats, as well as chairs with ottomans facing the interior of the terminal.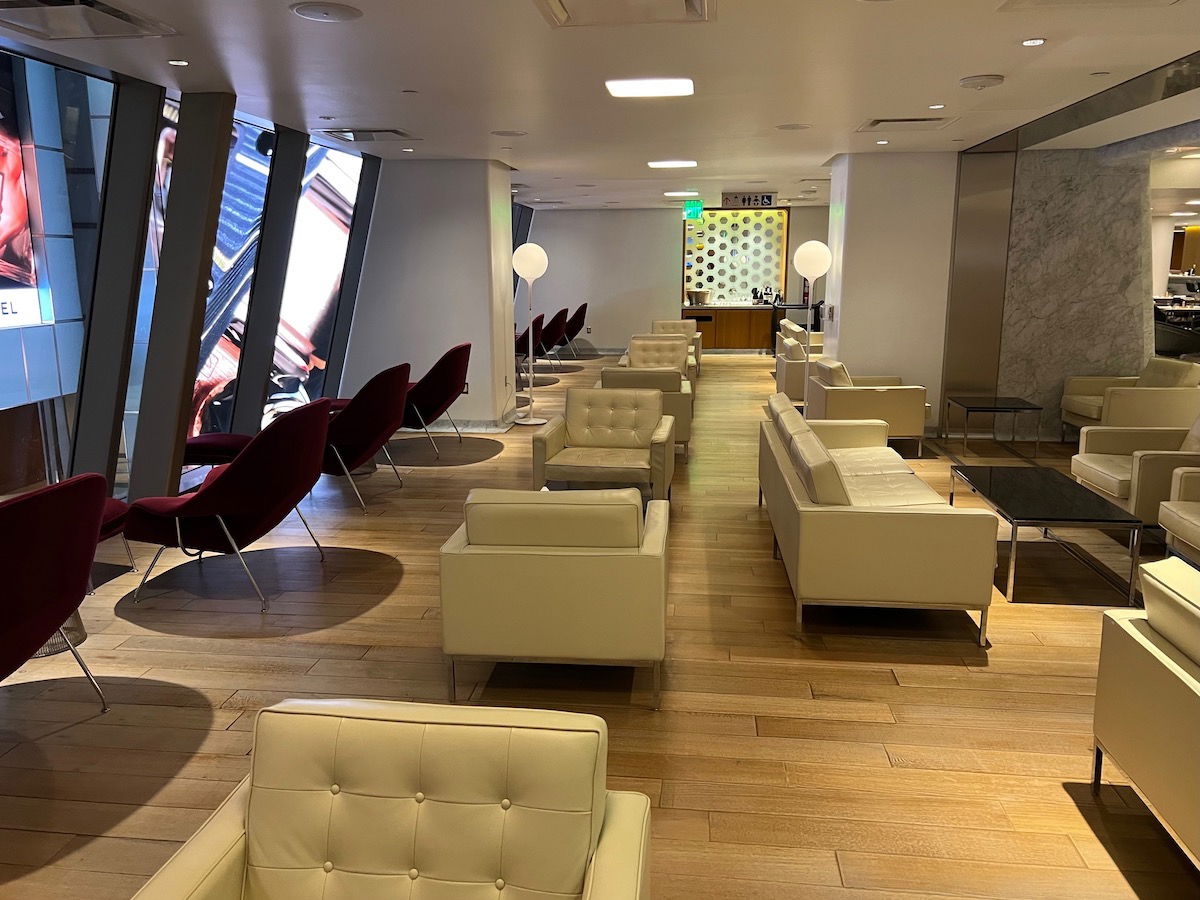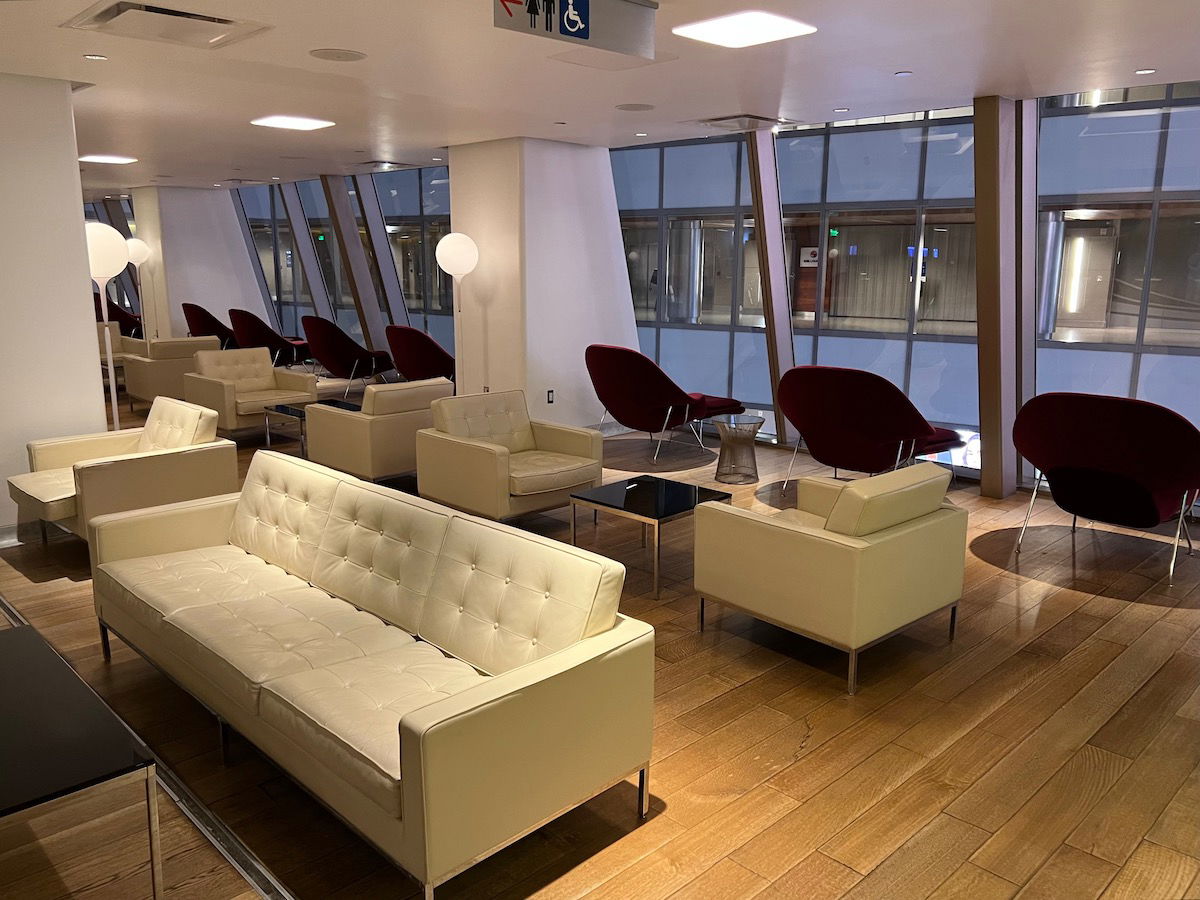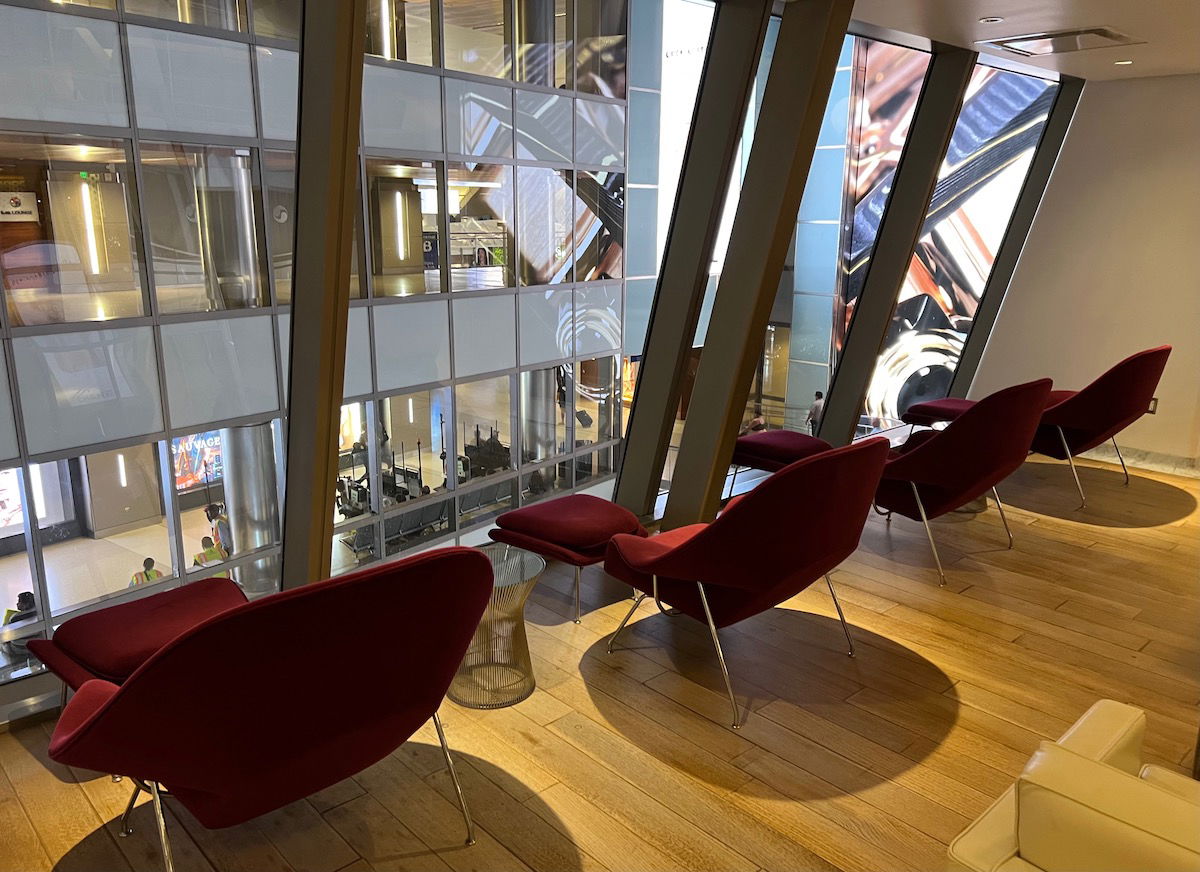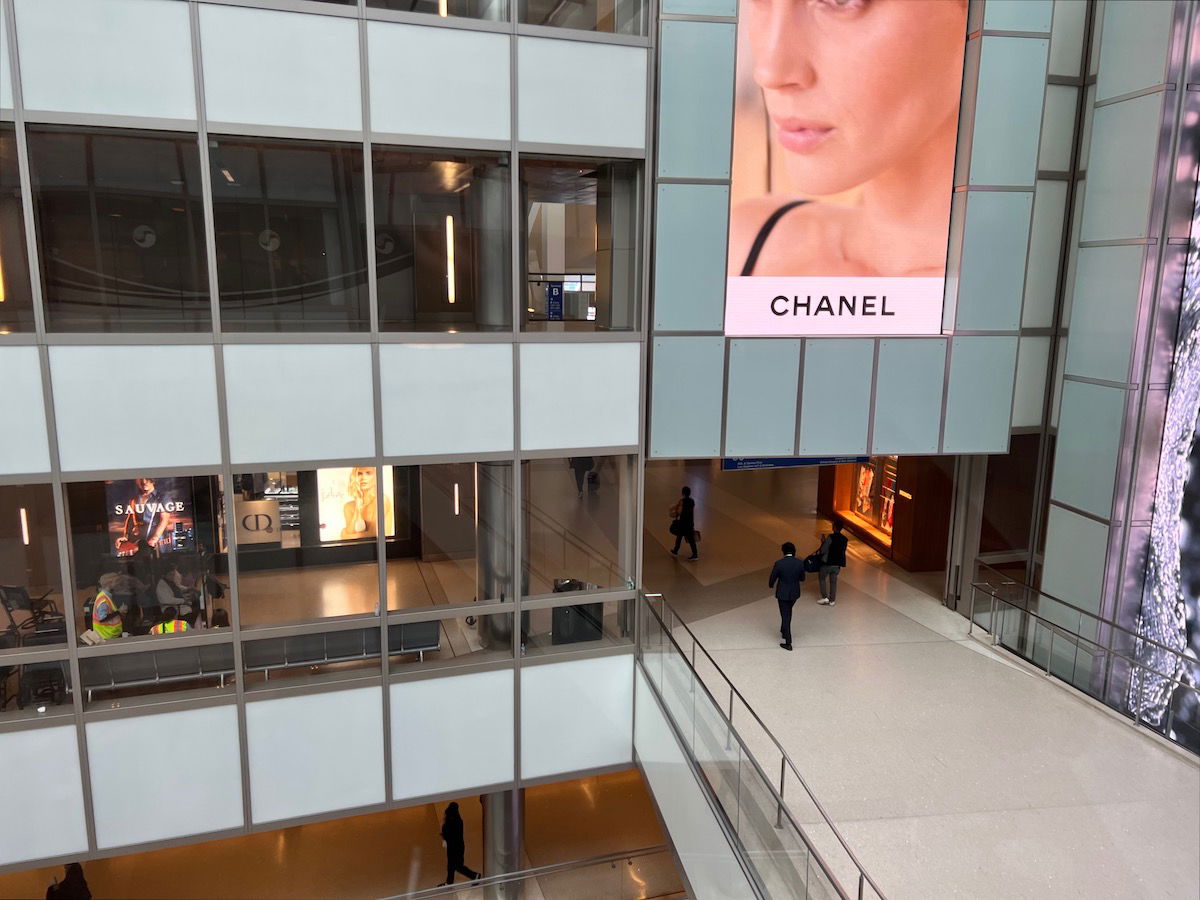 Also near the entrance is a small sitting area, where there's a printer. You'll also see doors to two rooms with frosted windows.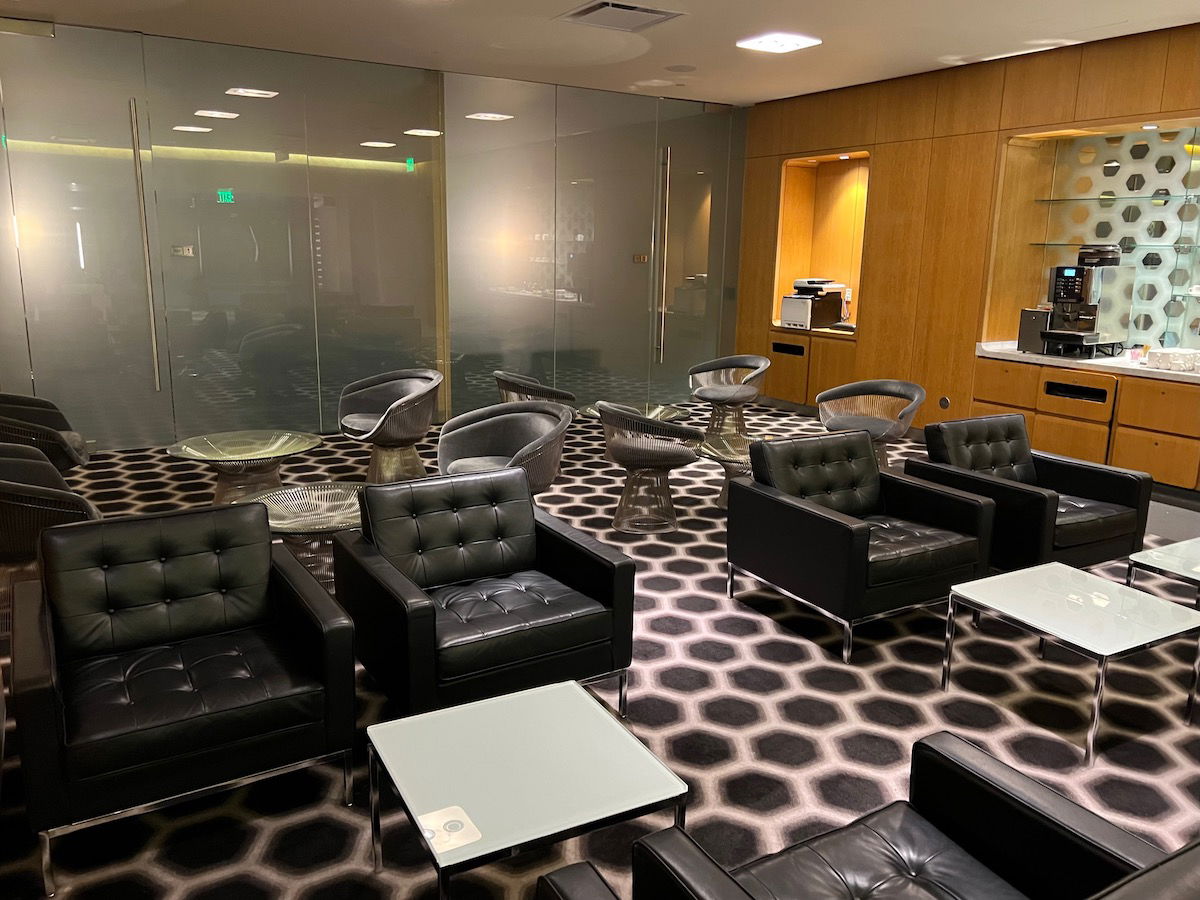 Each of these is a private room with a desk and a sitting area with four seats. Presumably these are reserved for VVIPs (celebs, etc.), as they're not otherwise made available to passengers.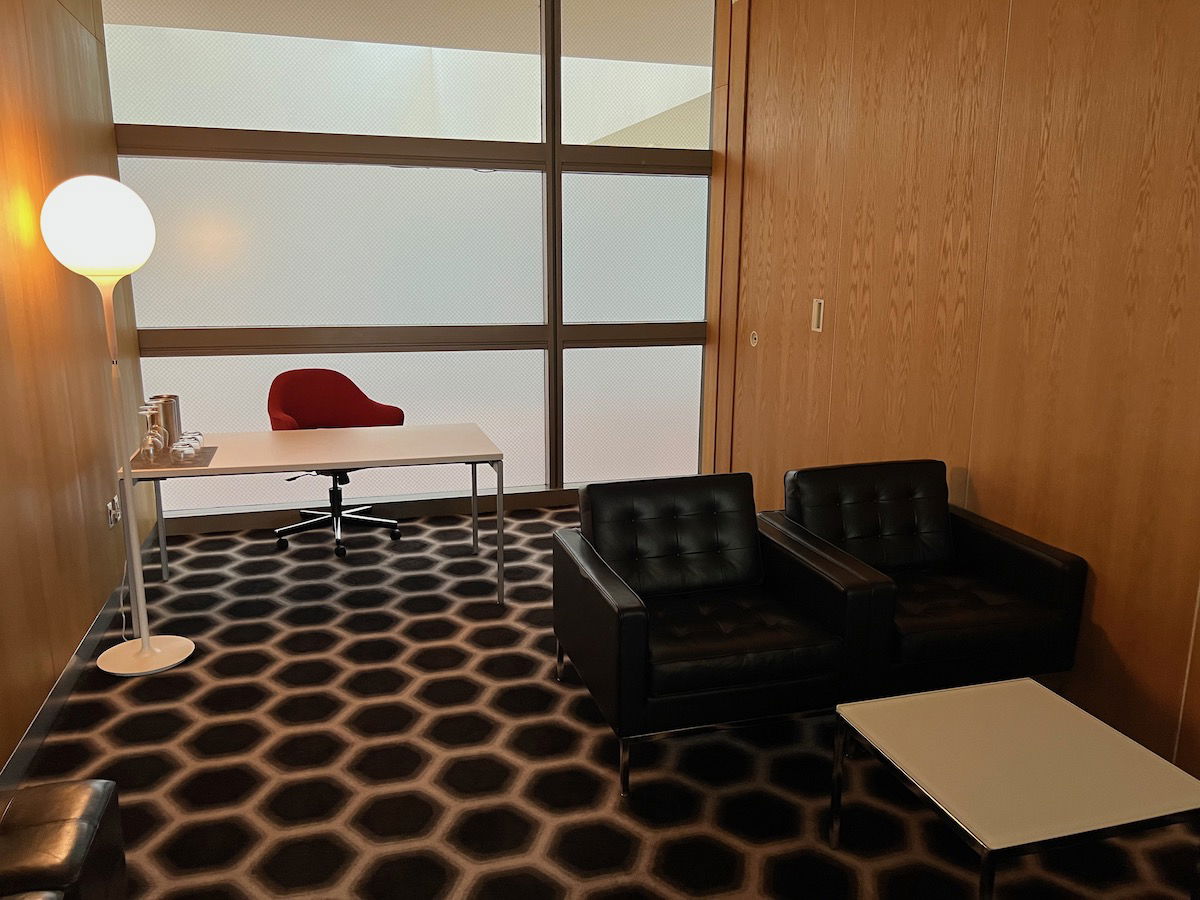 Past the sitting area with red seats is yet another sitting area with more seats for lounging. Qantas really does a great job with interior design, in my opinion, as the lounge has legitimately stylish and high-end furniture, unlike what you'll find in so many other lounges.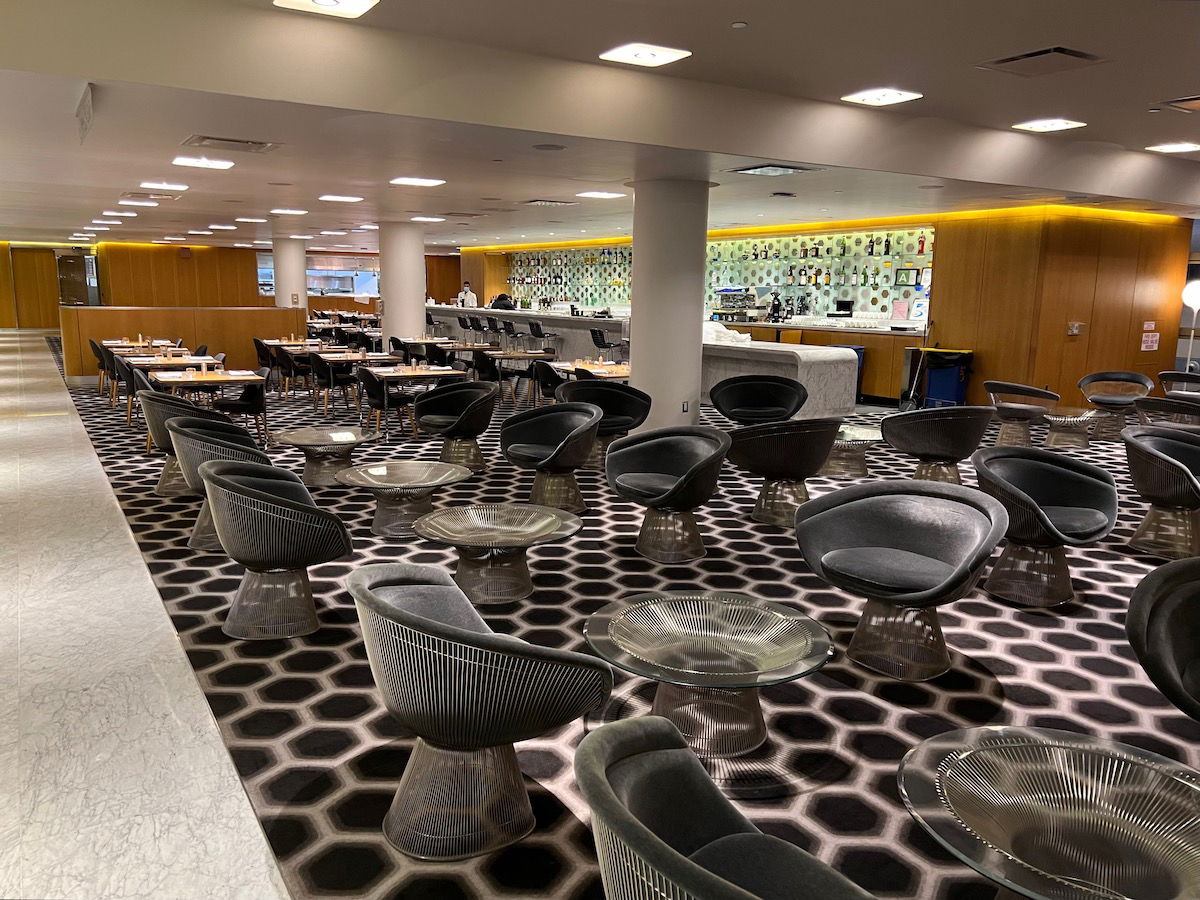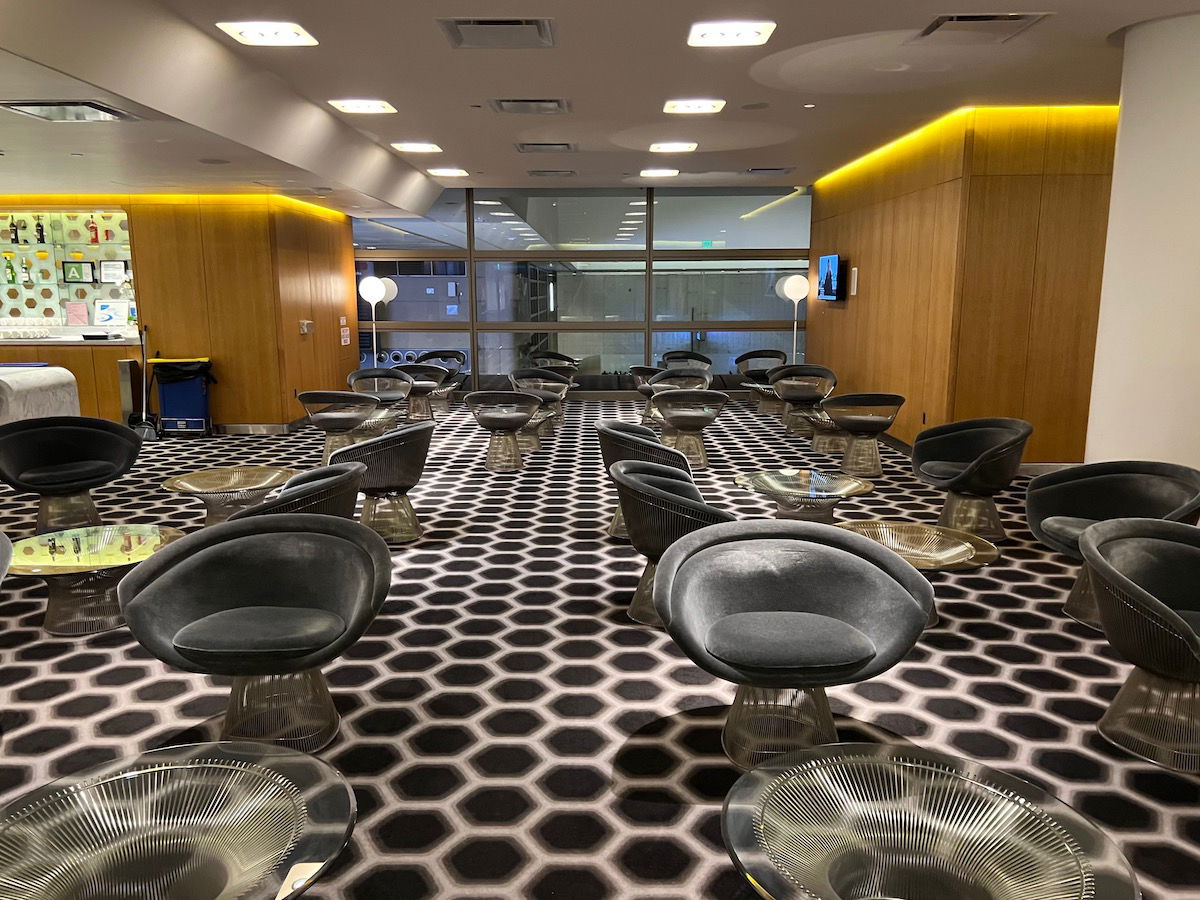 There's also a single row of seats along the interior wall by the dining area.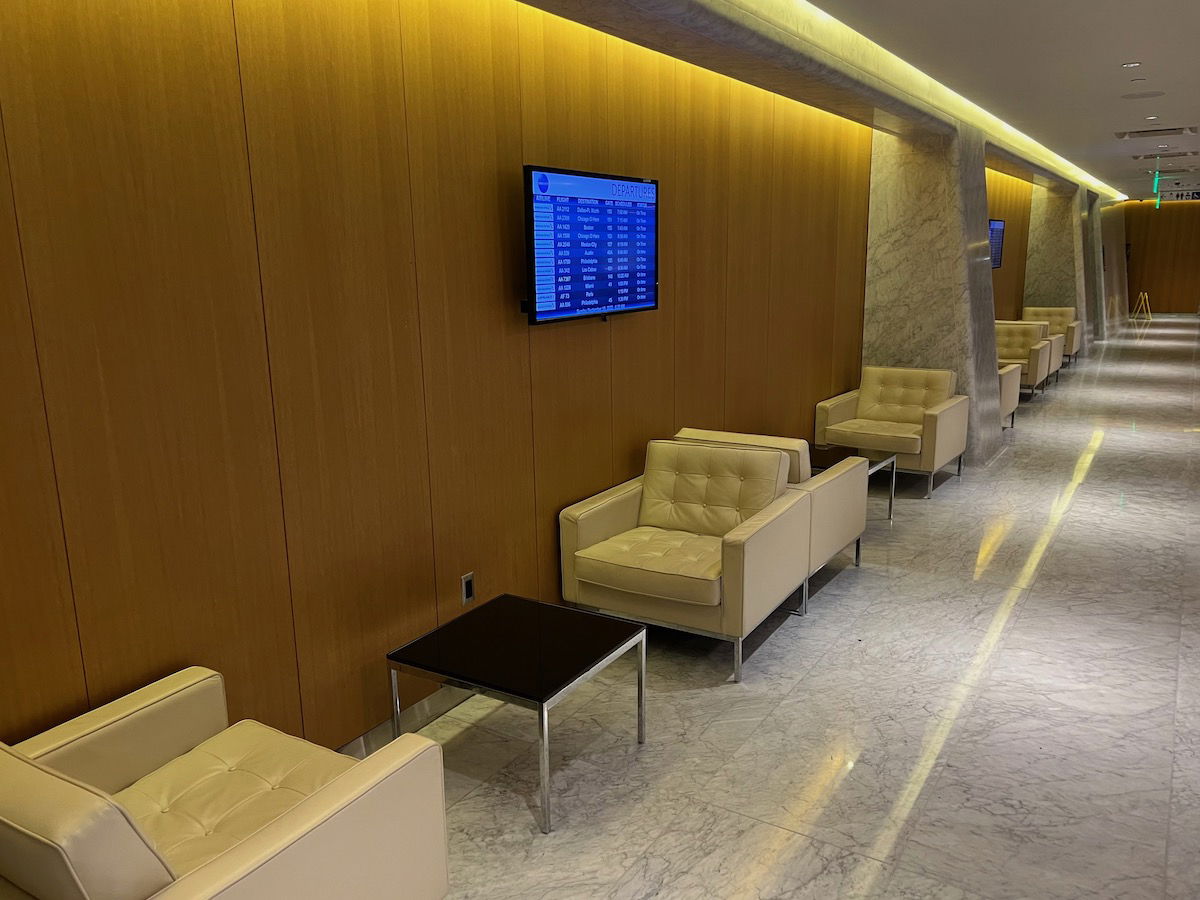 The last part of the lounge is the massive dining area, which has dozens of tables that can seat up to 74 guests at a time.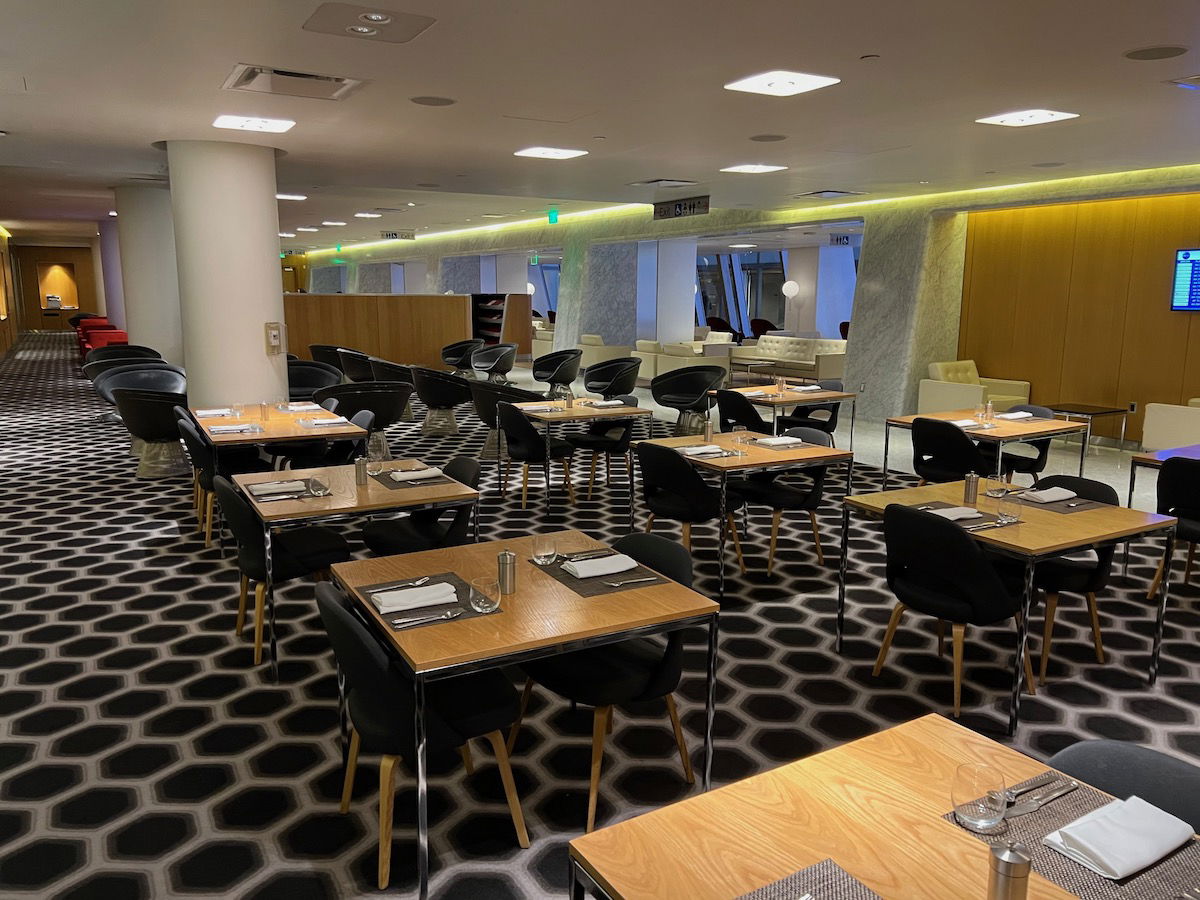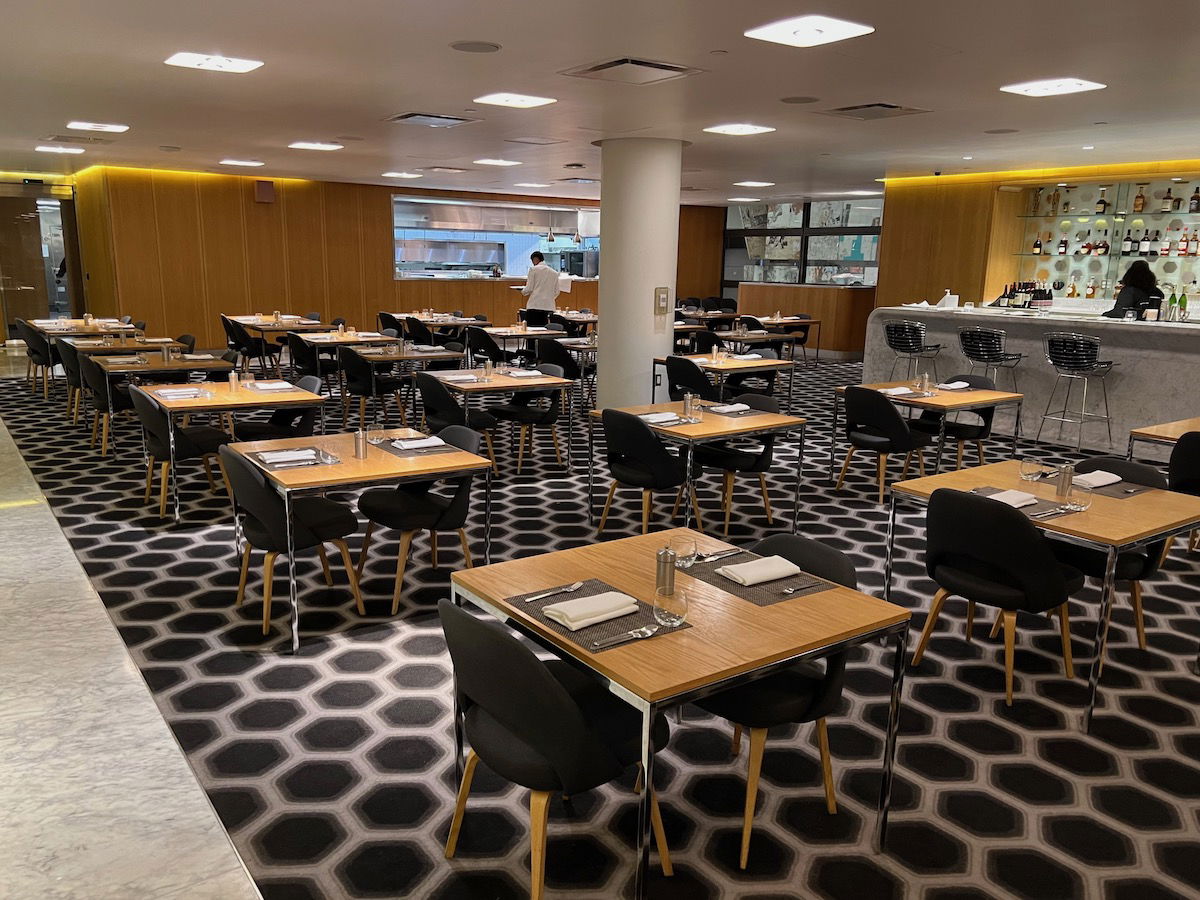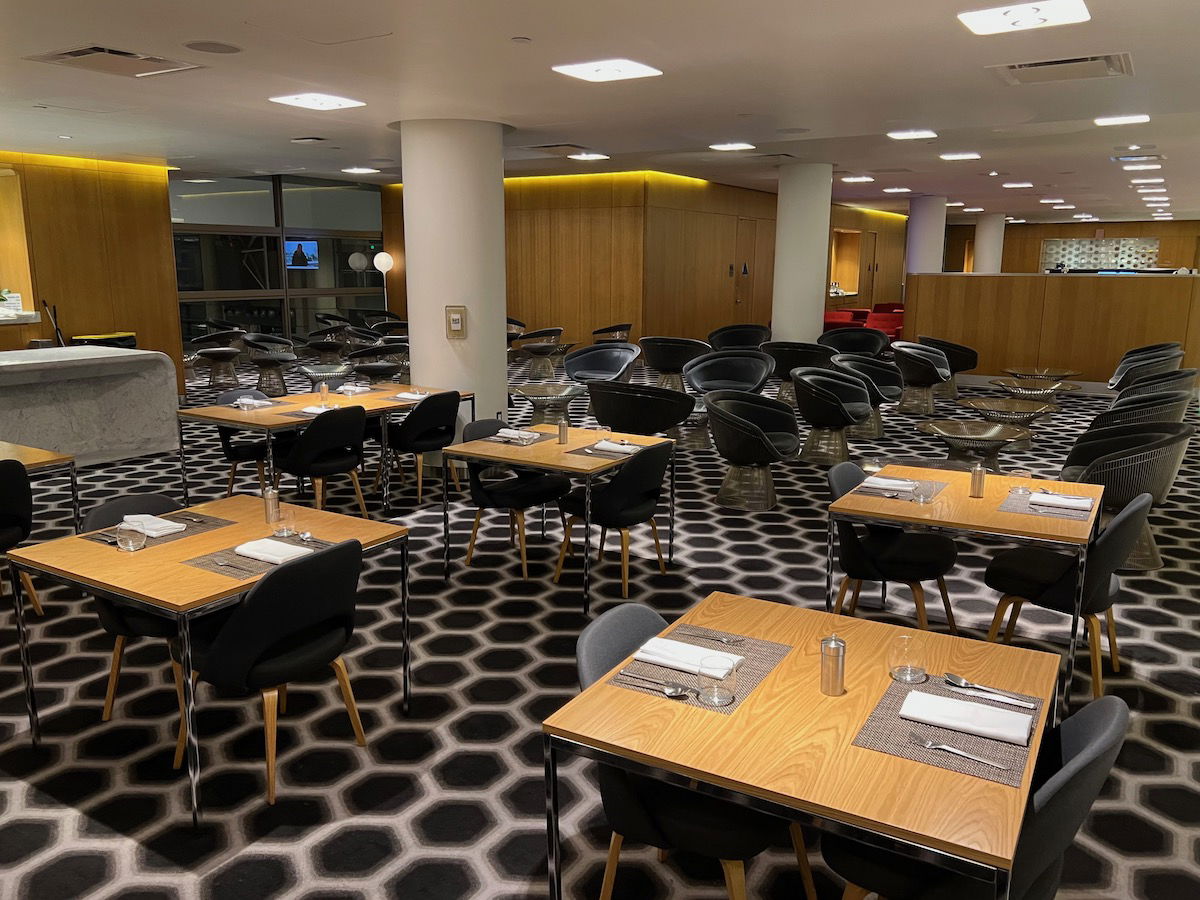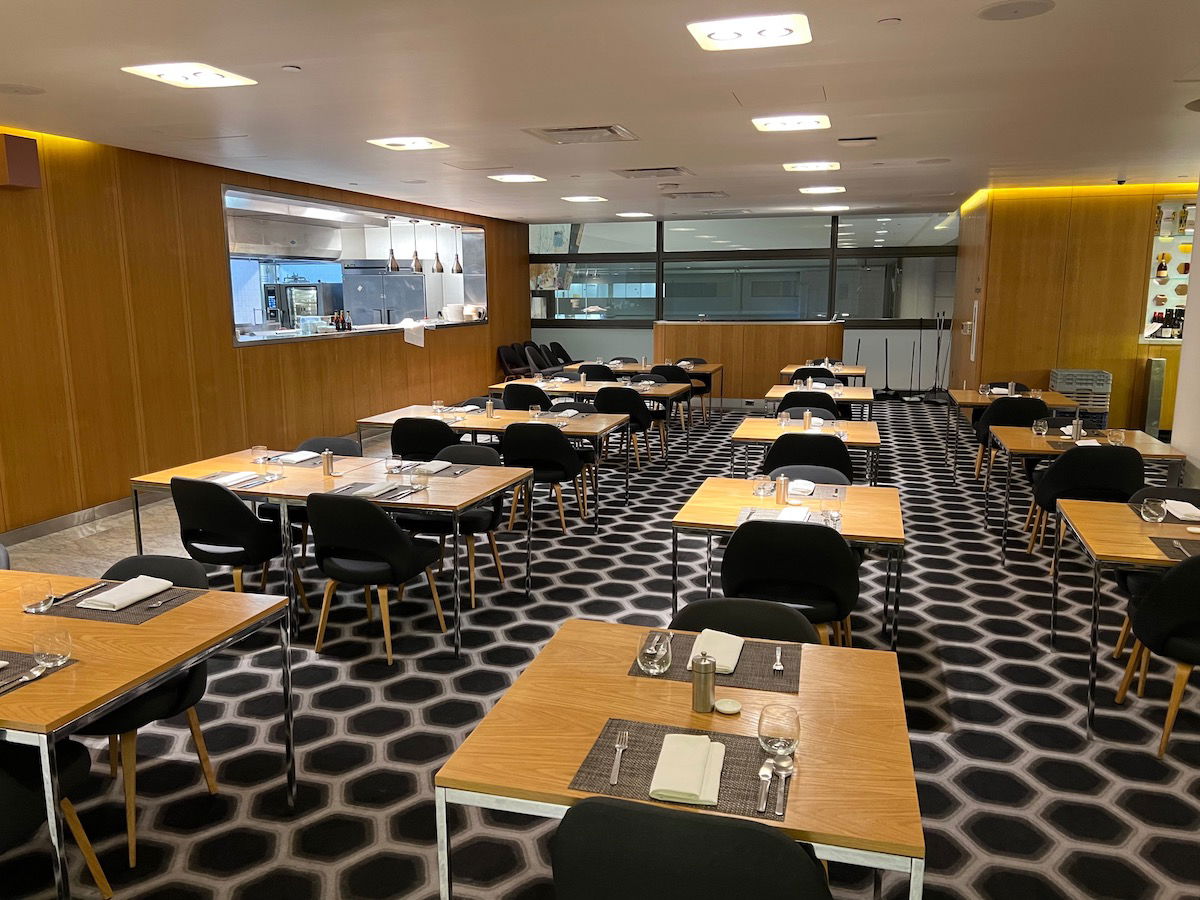 There's also a 48-foot bar with some high-top seating.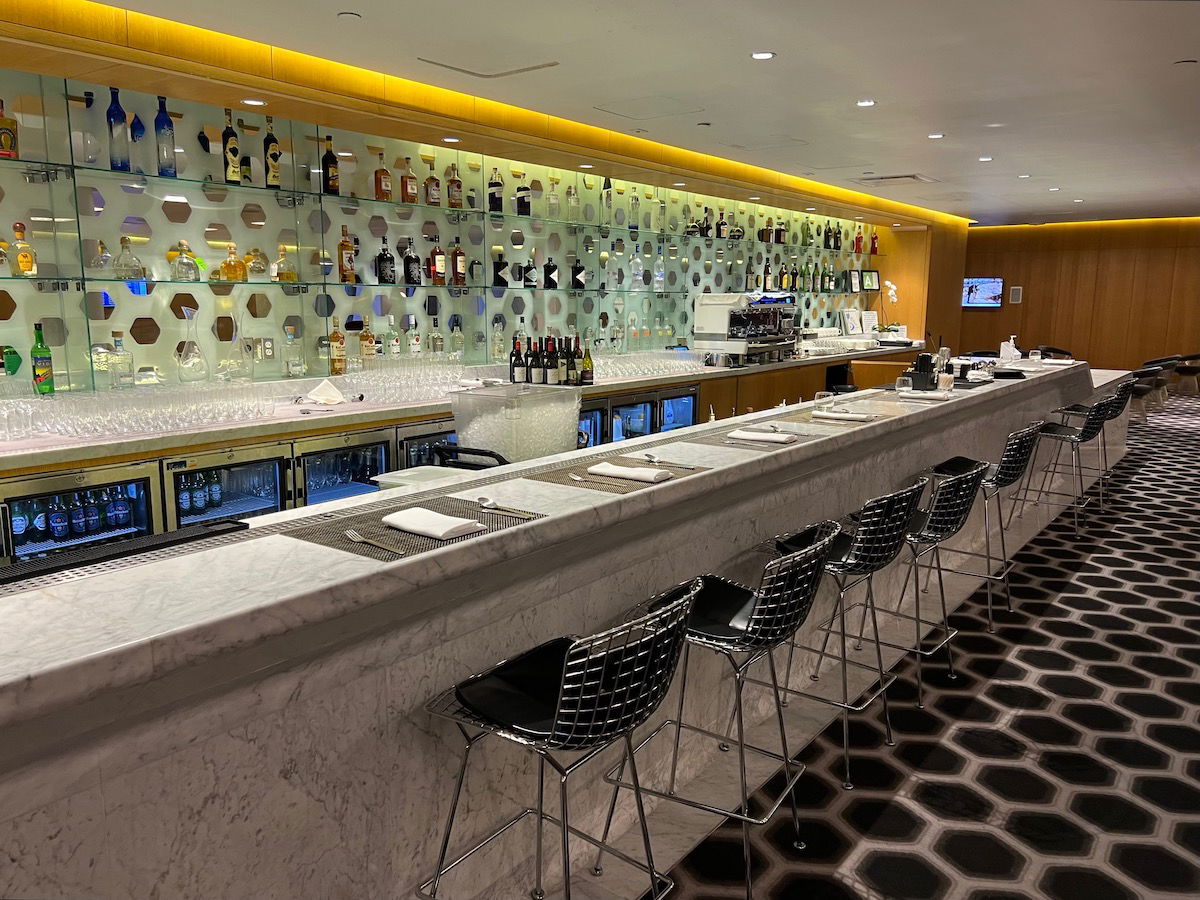 Qantas First Lounge LAX food & drinks
What really sets the Qantas First Lounge LAX apart is the dining. The lounge features table service, with all kinds of great cocktails and wine, plus a menu inspired by Neil Perry. I made the Qantas First Lounge my base for the day (as I explored Tom Bradley International Terminal, including the Midfield Satellite Concourse), so I had both breakfast and lunch here.
Below is the breakfast menu.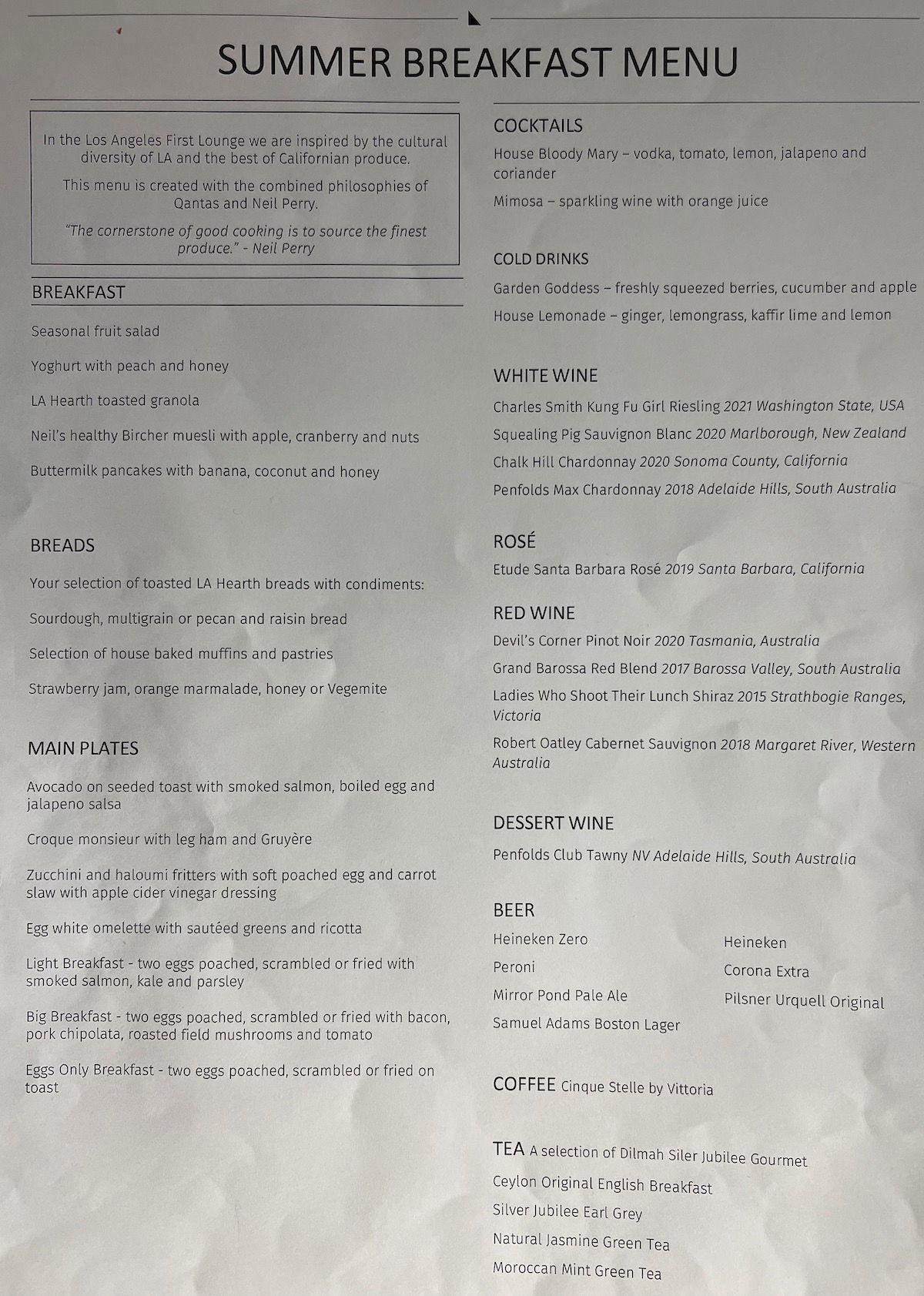 As you'd expect for a lounge belonging to an Australian airline, coffee is a big focus. All coffee drinks are barista made, and the flat whites are excellent.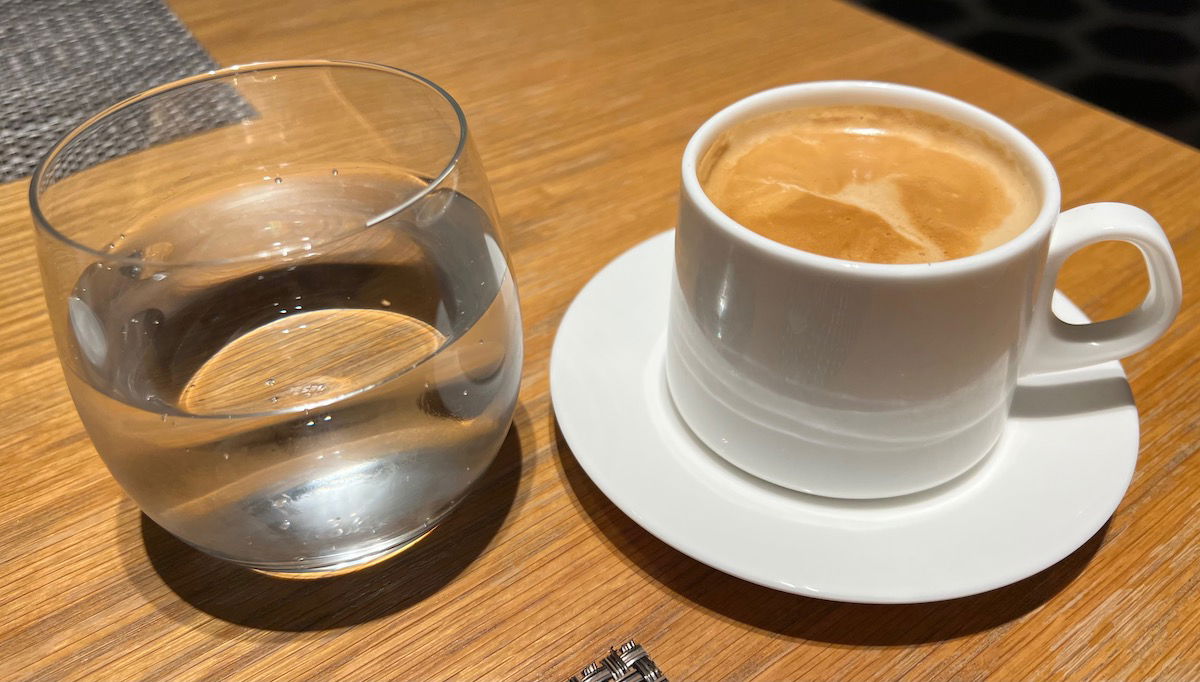 I also enjoyed an iced coffee later in the morning.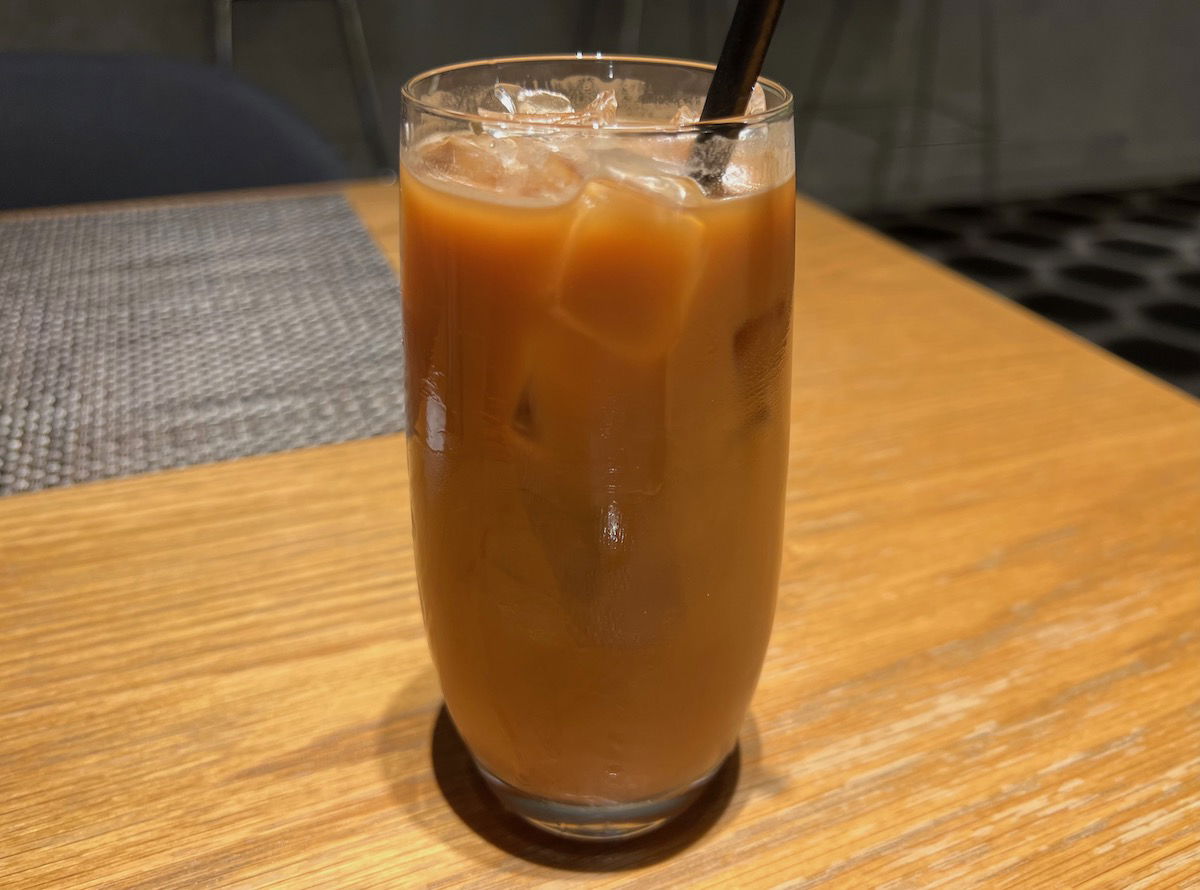 To eat, I first had the bircher muesli with apple, cranberry, and nuts.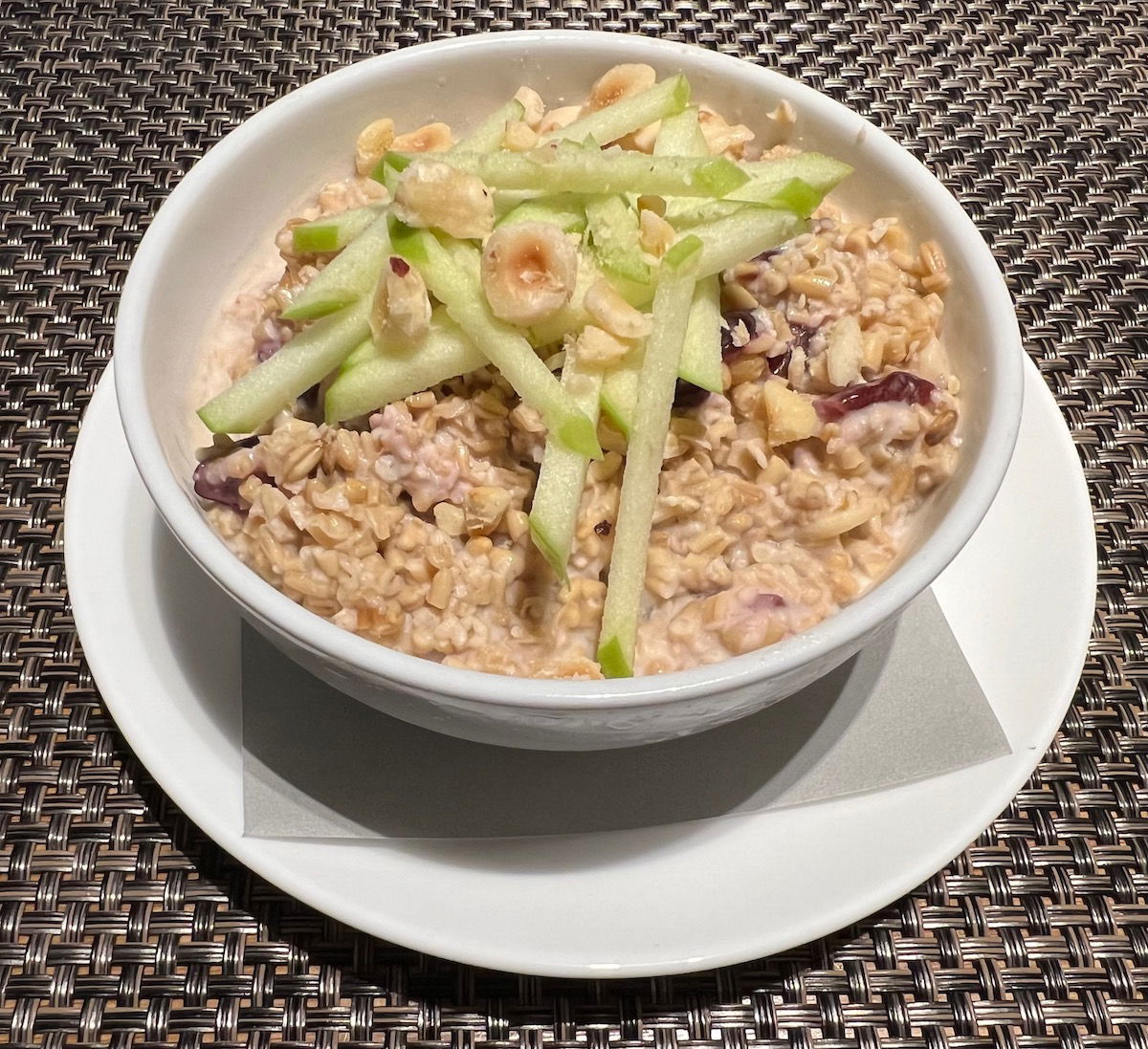 Then I had the avocado on seeded toast with smoked salmon, boiled egg, and jalapeño salsa.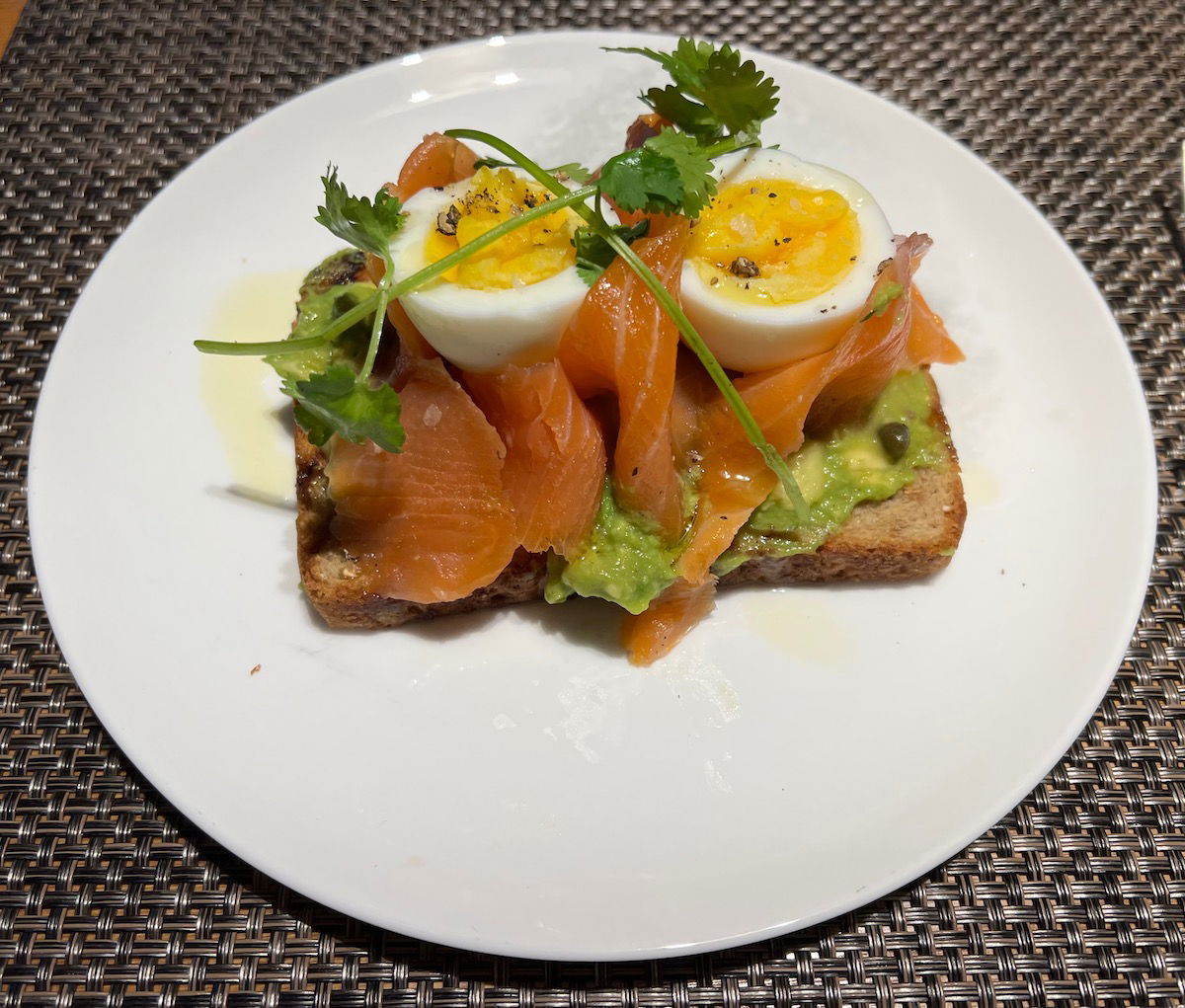 Below is the lunch and dinner menu, which is available starting at 12PM.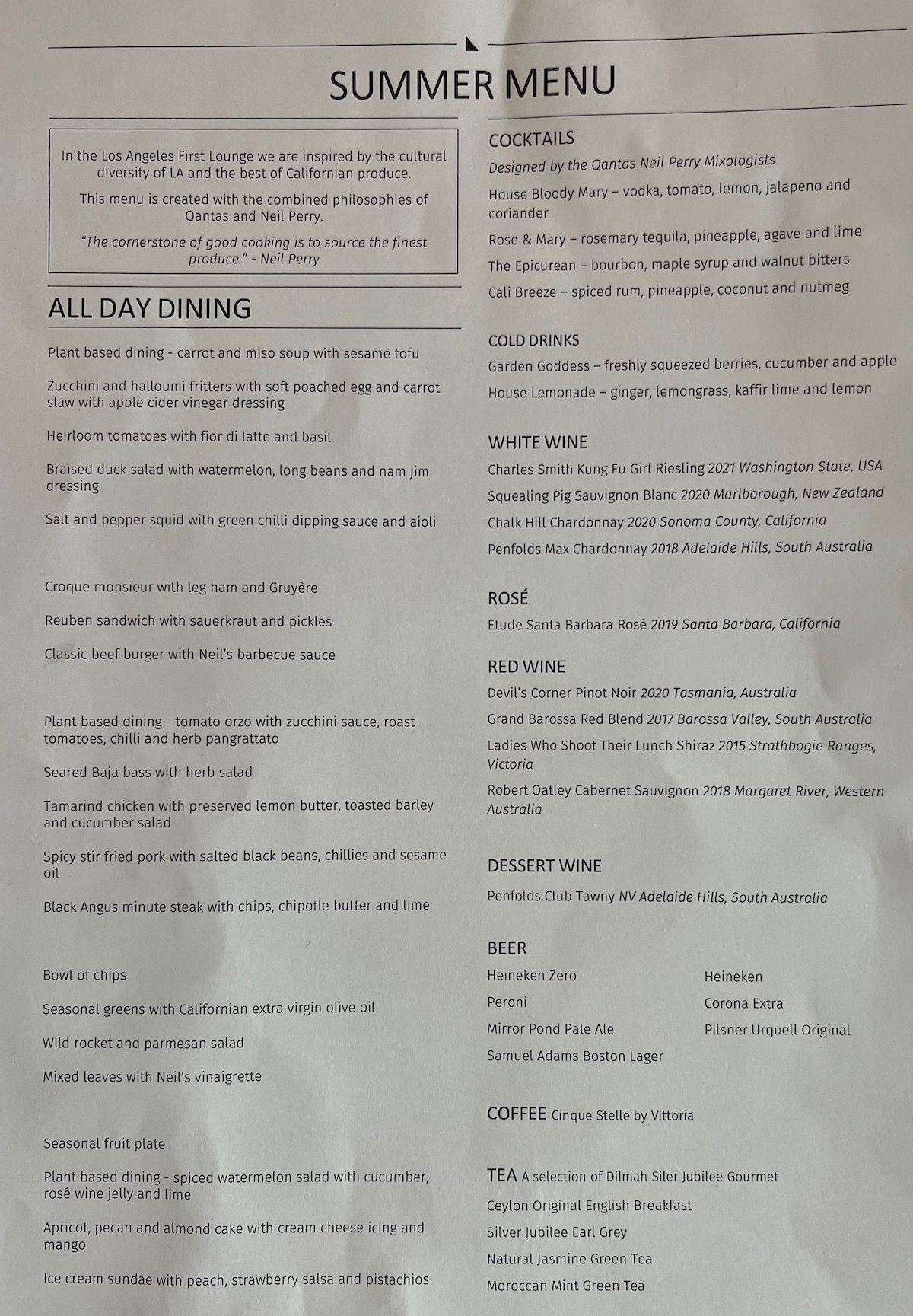 I decided to start off with a glass of champagne. While champagne isn't listed on the menu (unlike other wine), the lounge serves Taittinger as well as Moet Rose.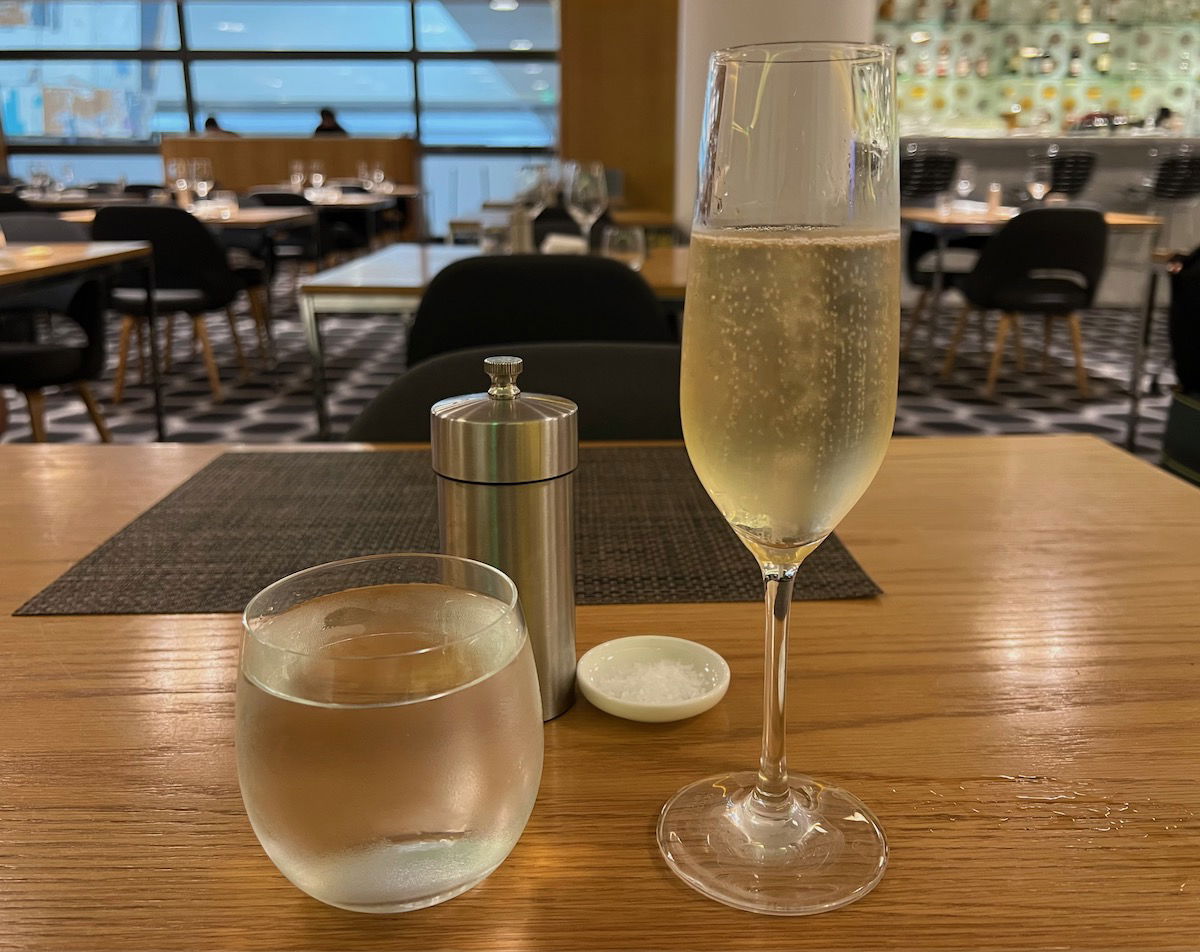 Later on I decided to order the "Rose & Mary," with rosemary tequila, pineapple, agave, and lime.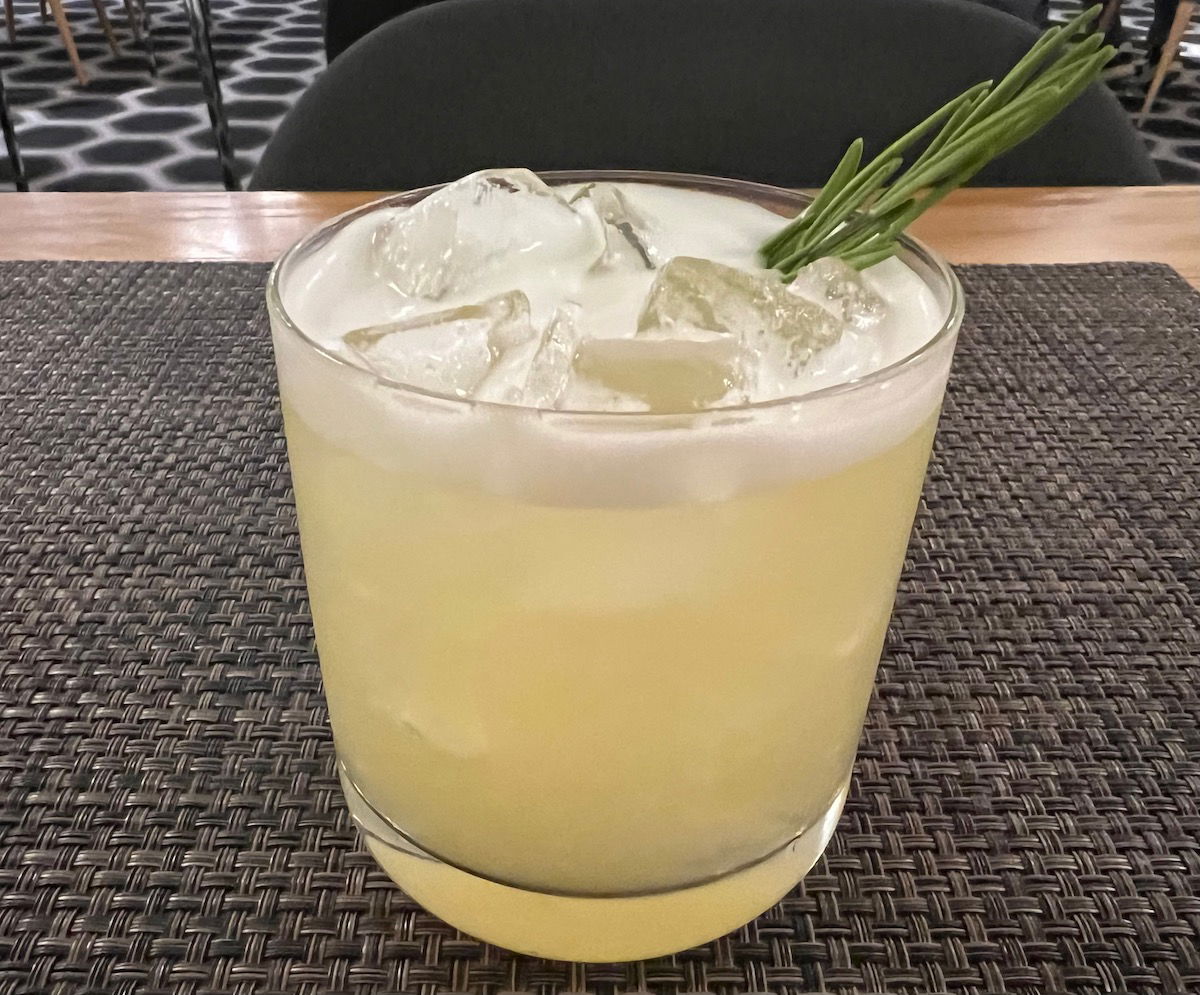 To eat I of course had to have the signature salt and pepper squid with green chili dipping sauce and aioli.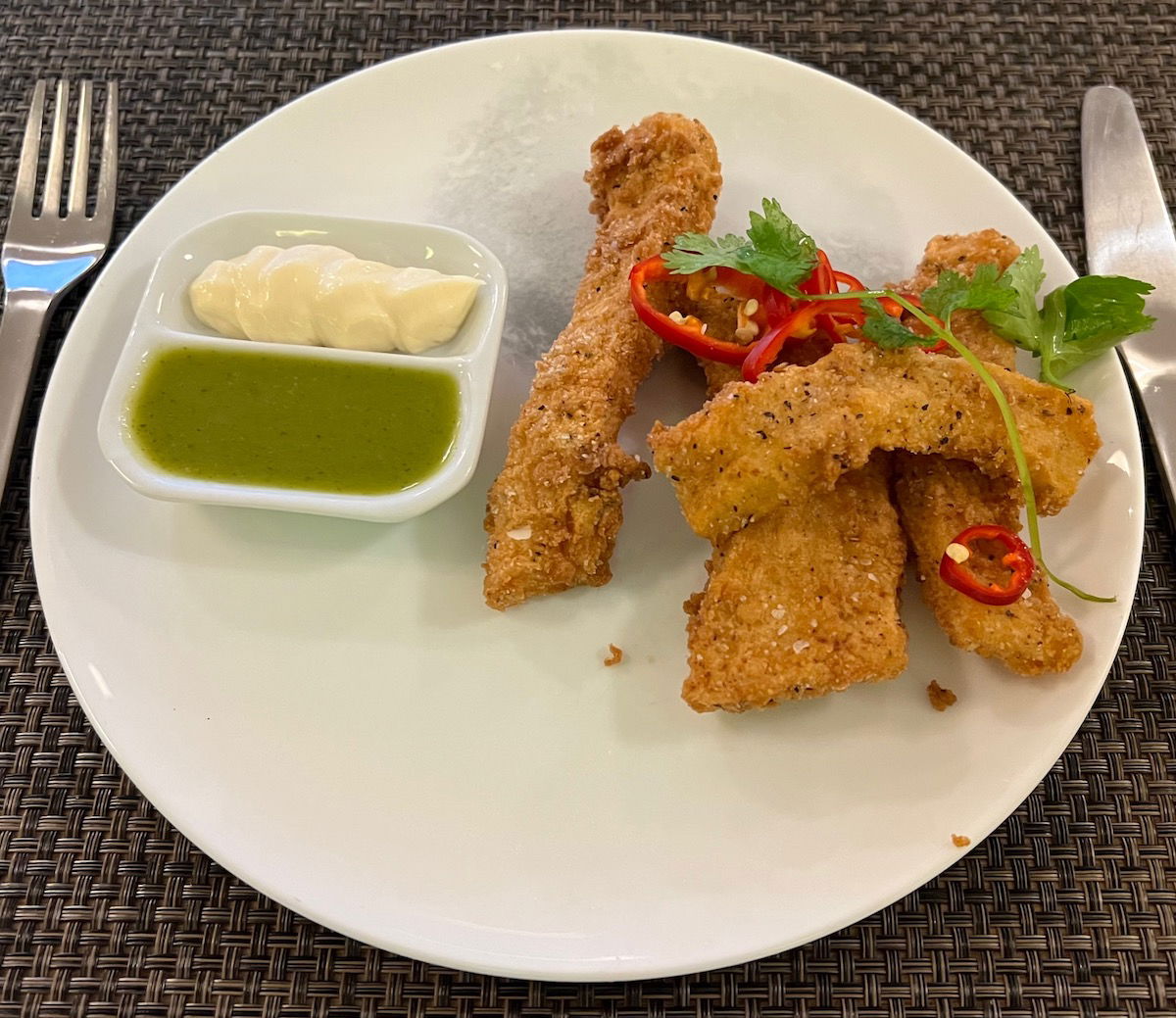 In the interest of trying as much as possible for you, dear readers, I also ordered the carrot and miso soup with sesame tofu.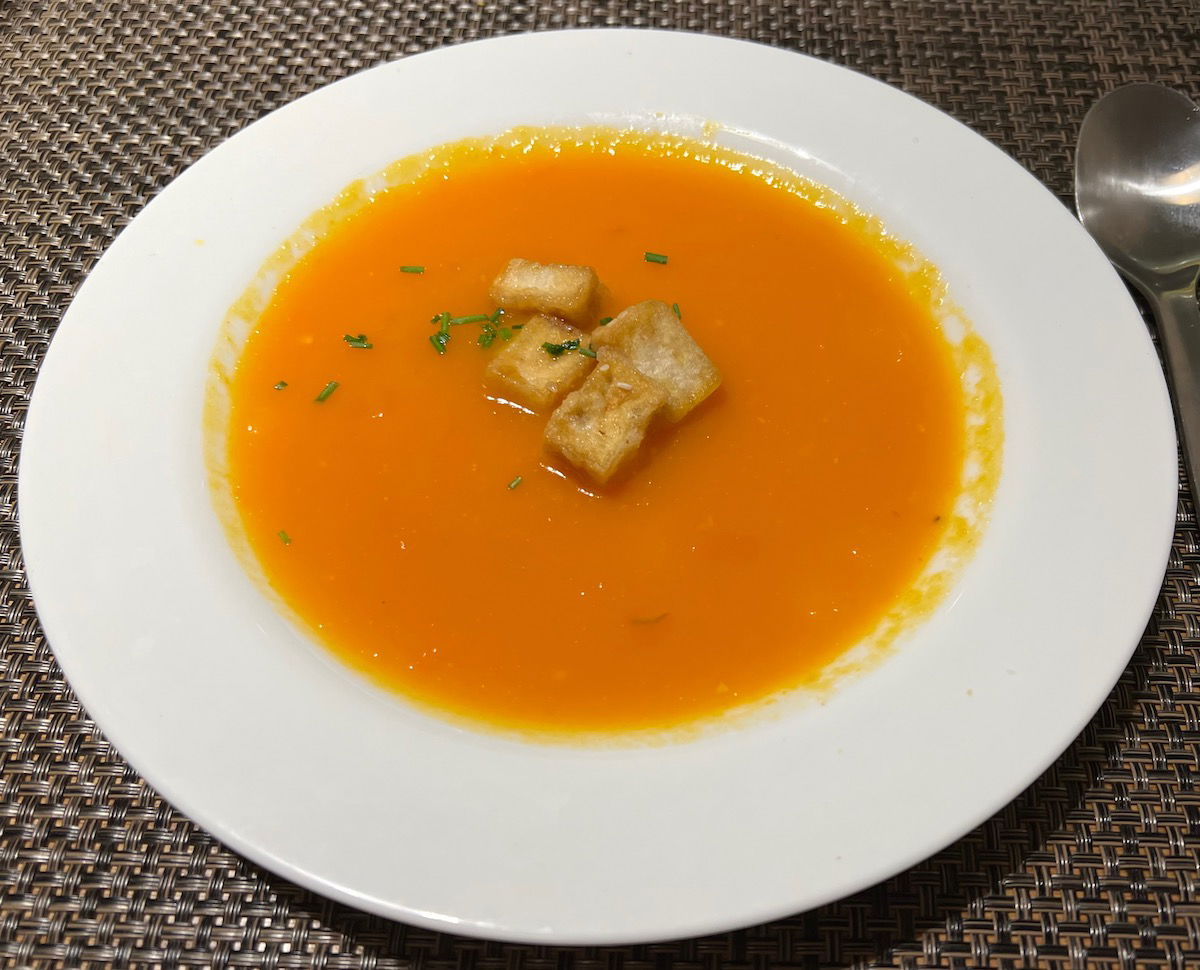 For the main course I selected the seared Baja bass with herb salad.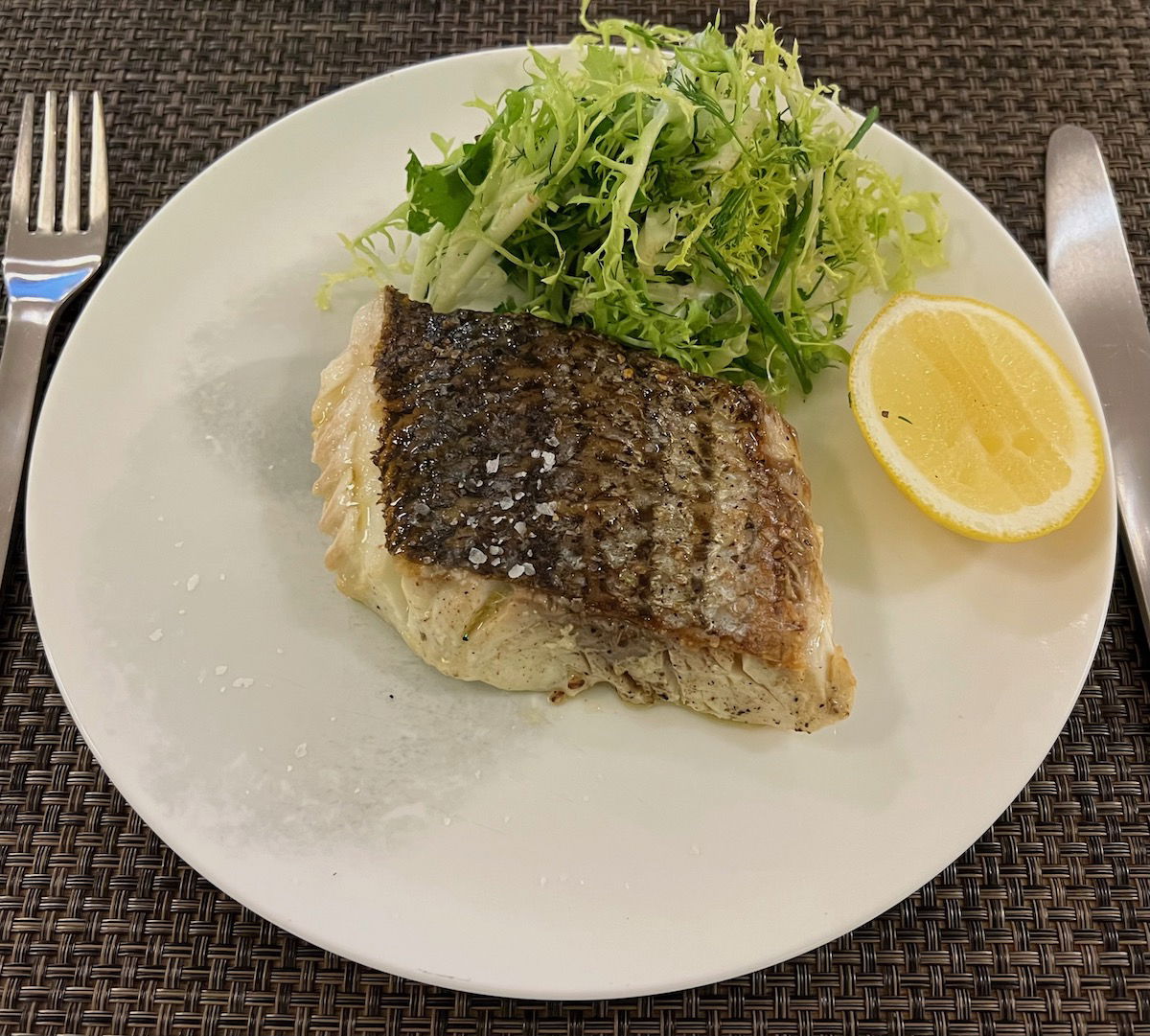 For dessert I had the ice cream sundae with peach, strawberry salad, and pistachios. At least it wasn't too indulgent as far as ice cream sundaes go.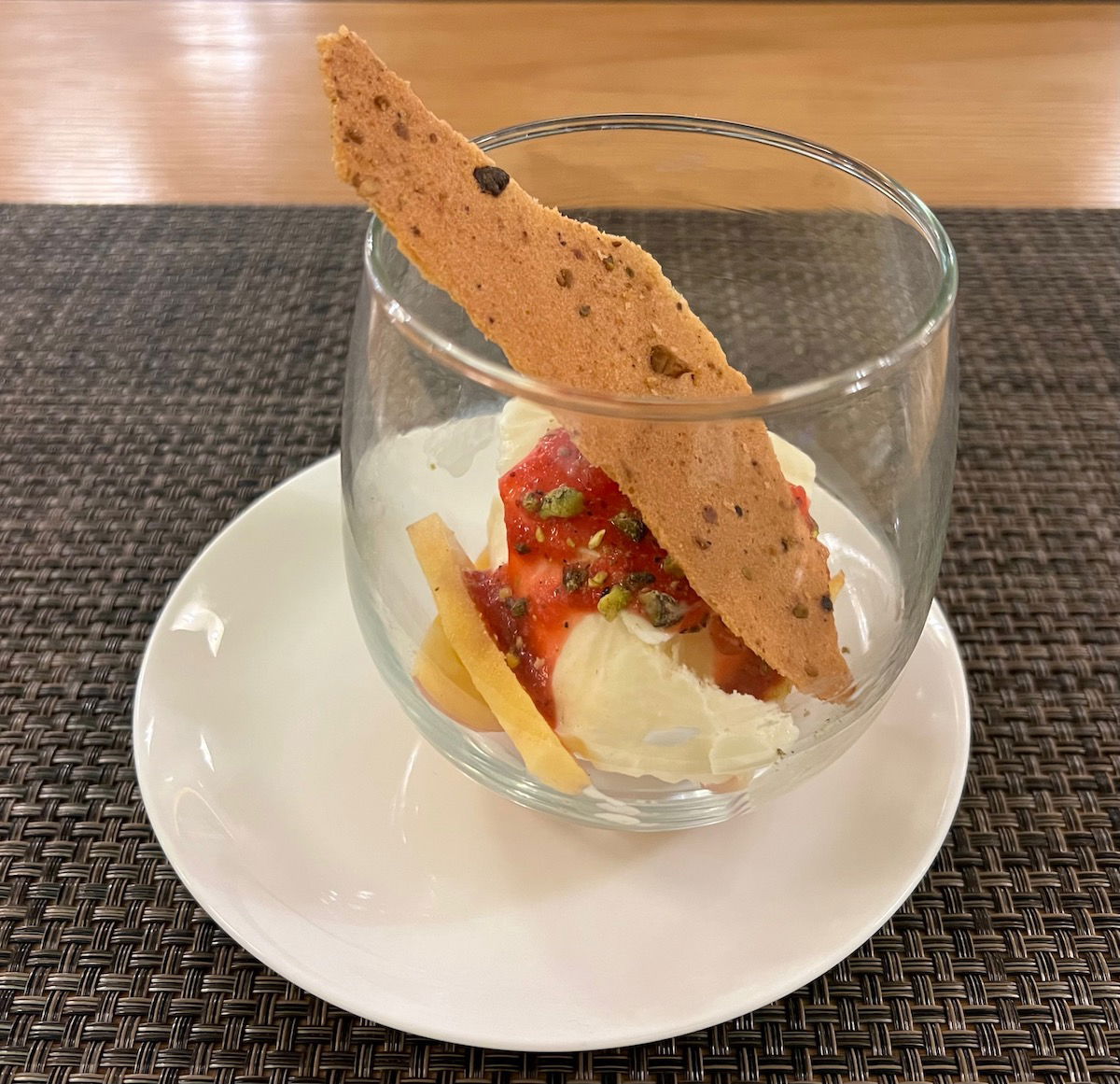 Lastly, later in the day I had a delicious latte.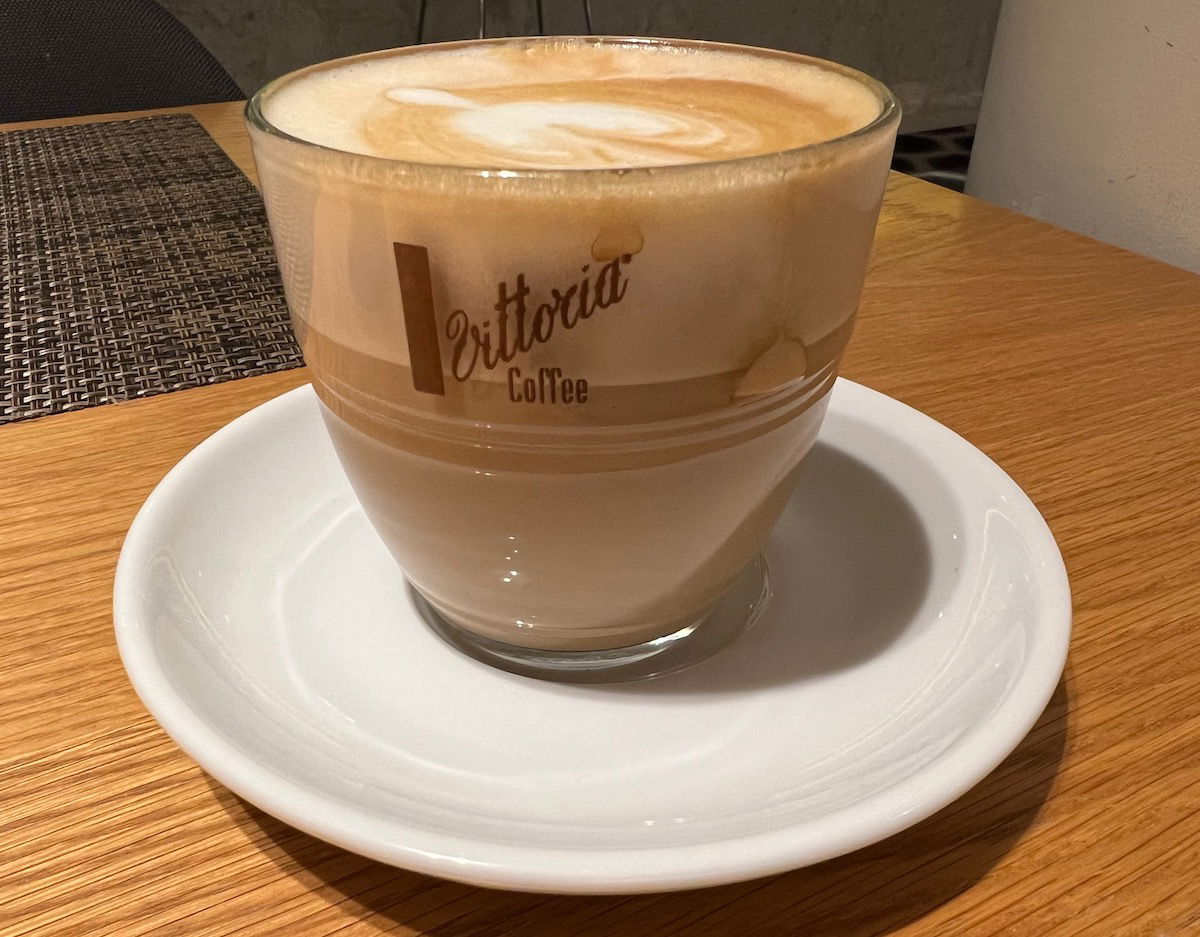 The food and drinks in the Qantas First Lounge are very, very good. They're restaurant quality, and it's not often you'll find that at airports.
The lounge doesn't have much in the way of self-serve food and drinks. In the area for lounging there's one station that has a coffee machine, a tea selection, and some cookies. Remember you can get a barista-made coffee at the bar, so please don't get coffee here. 😉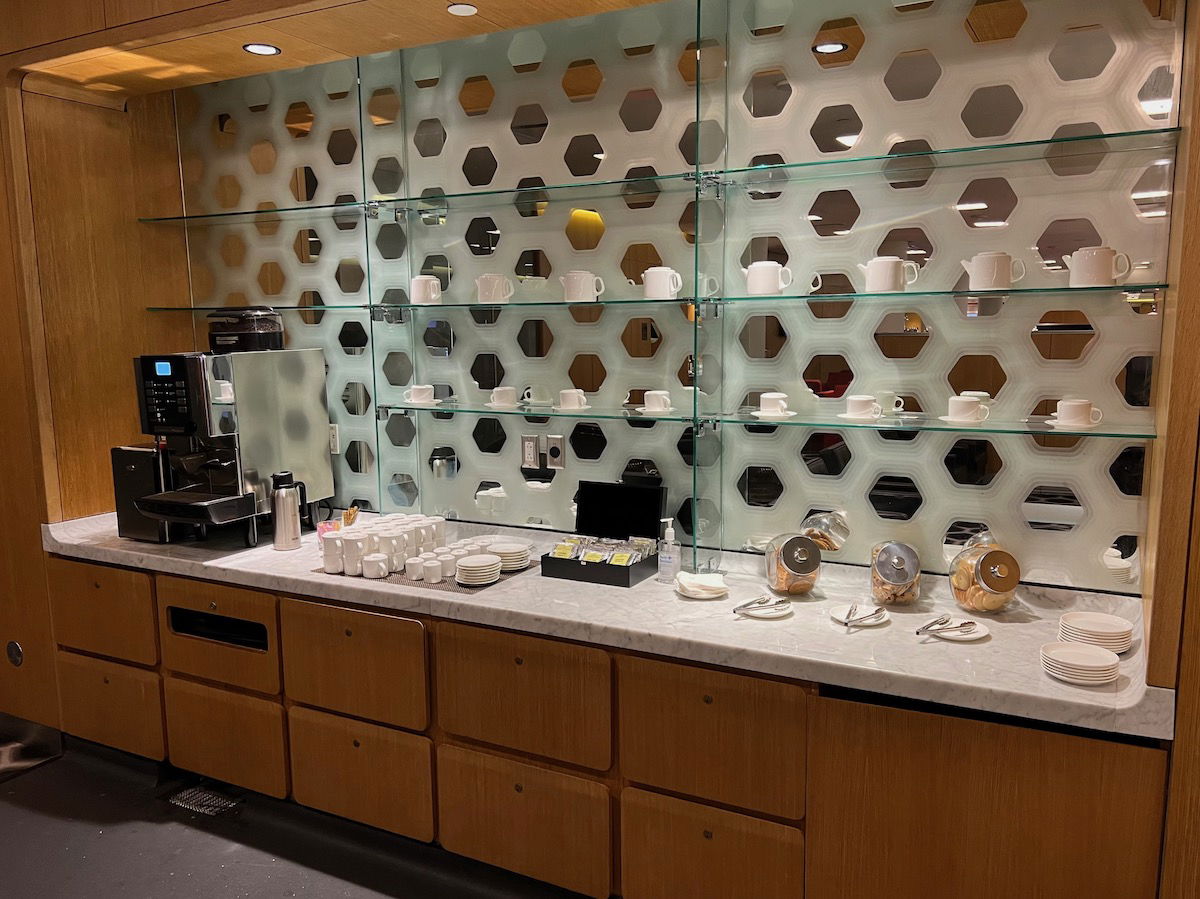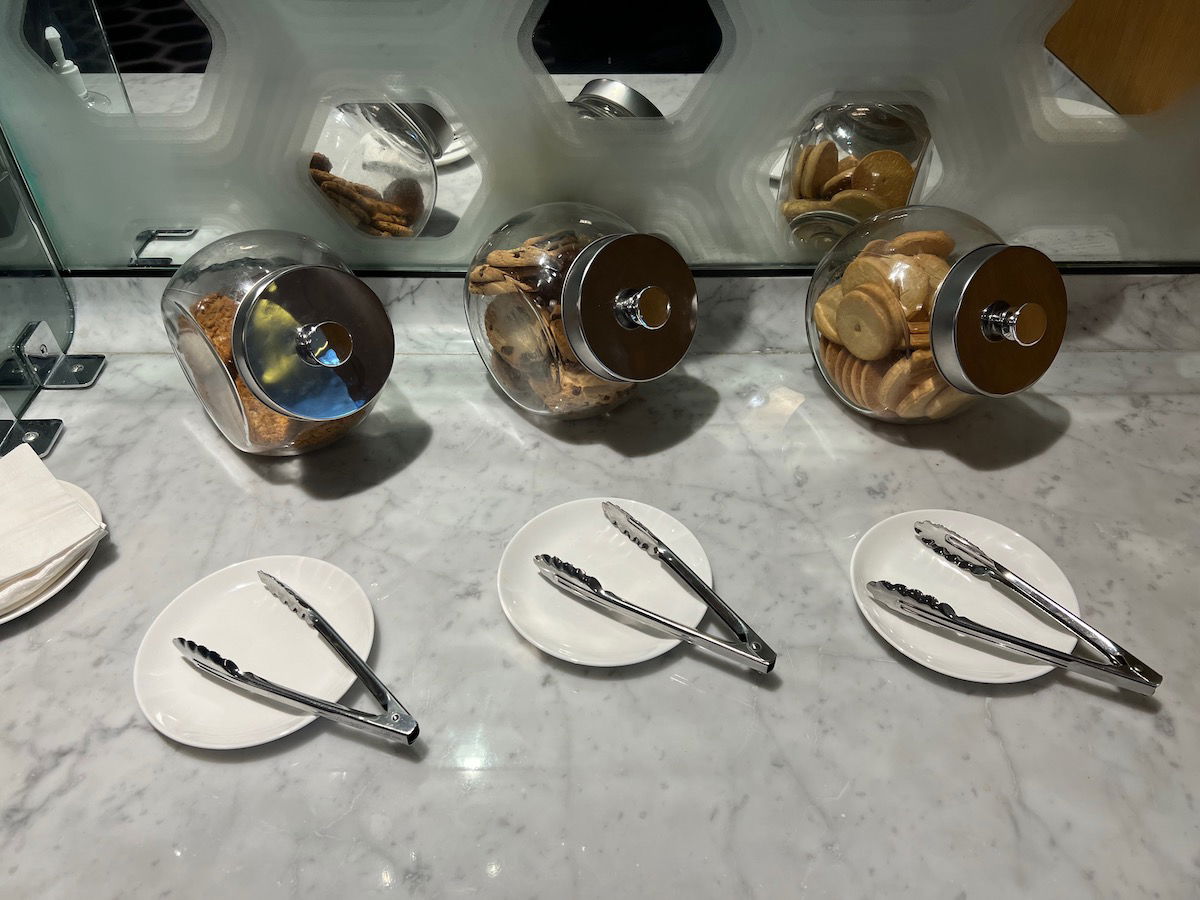 Then there's another station with some self-serve wine and snack mix.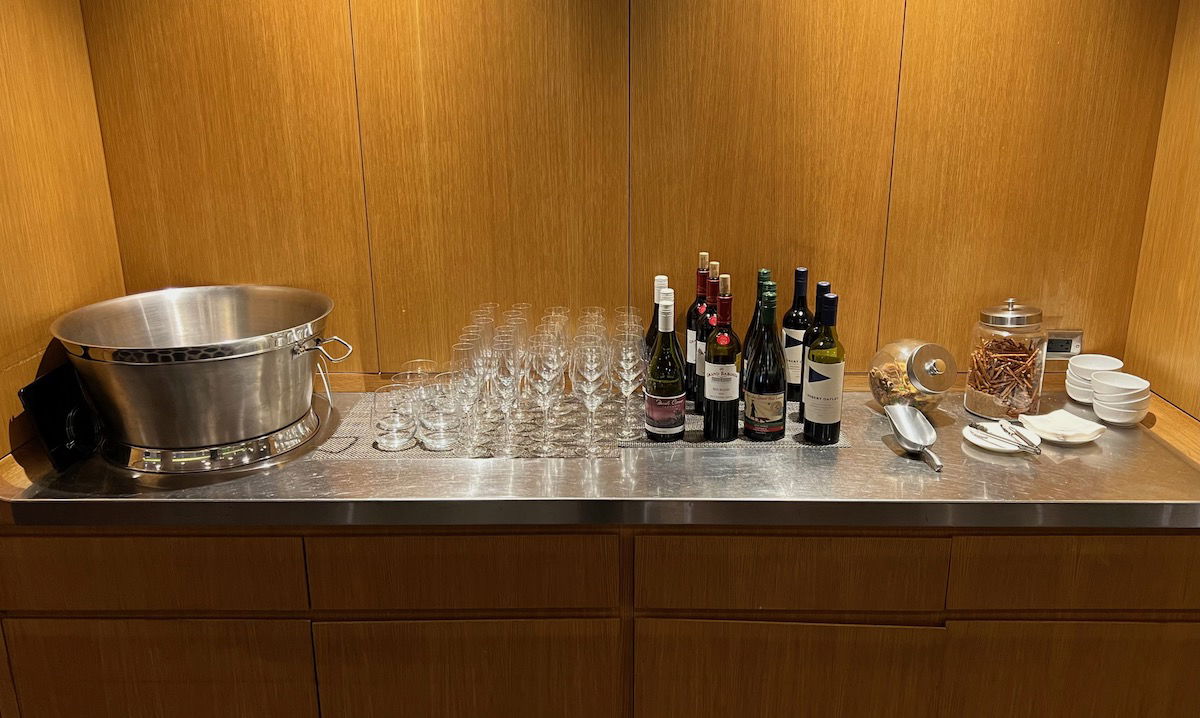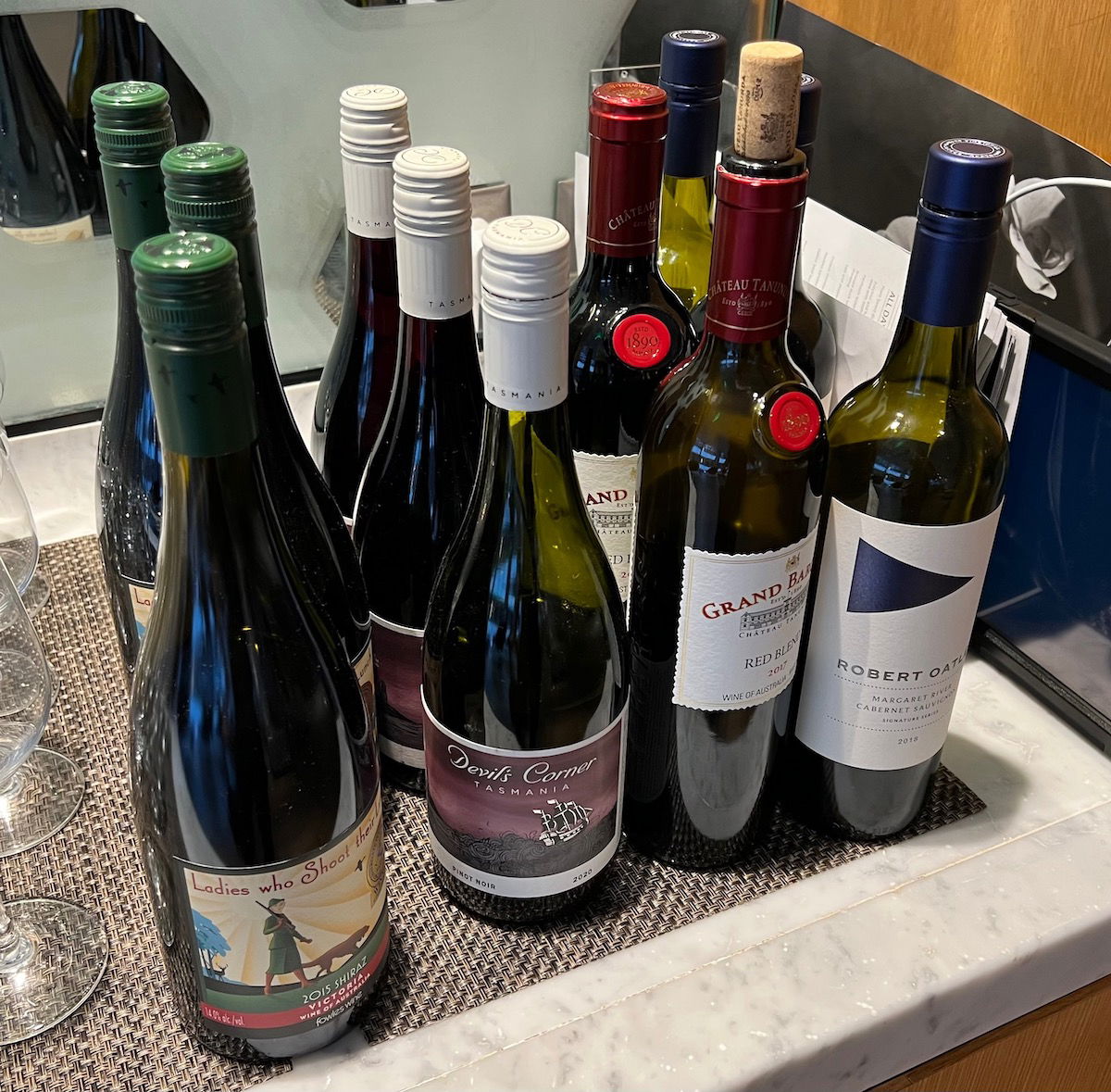 Qantas First Lounge LAX showers & bathrooms
The Qantas First Lounge has bathrooms near the main lounging area. There are a few separate gender neutral toilets, each of which is private, which is a nice feature.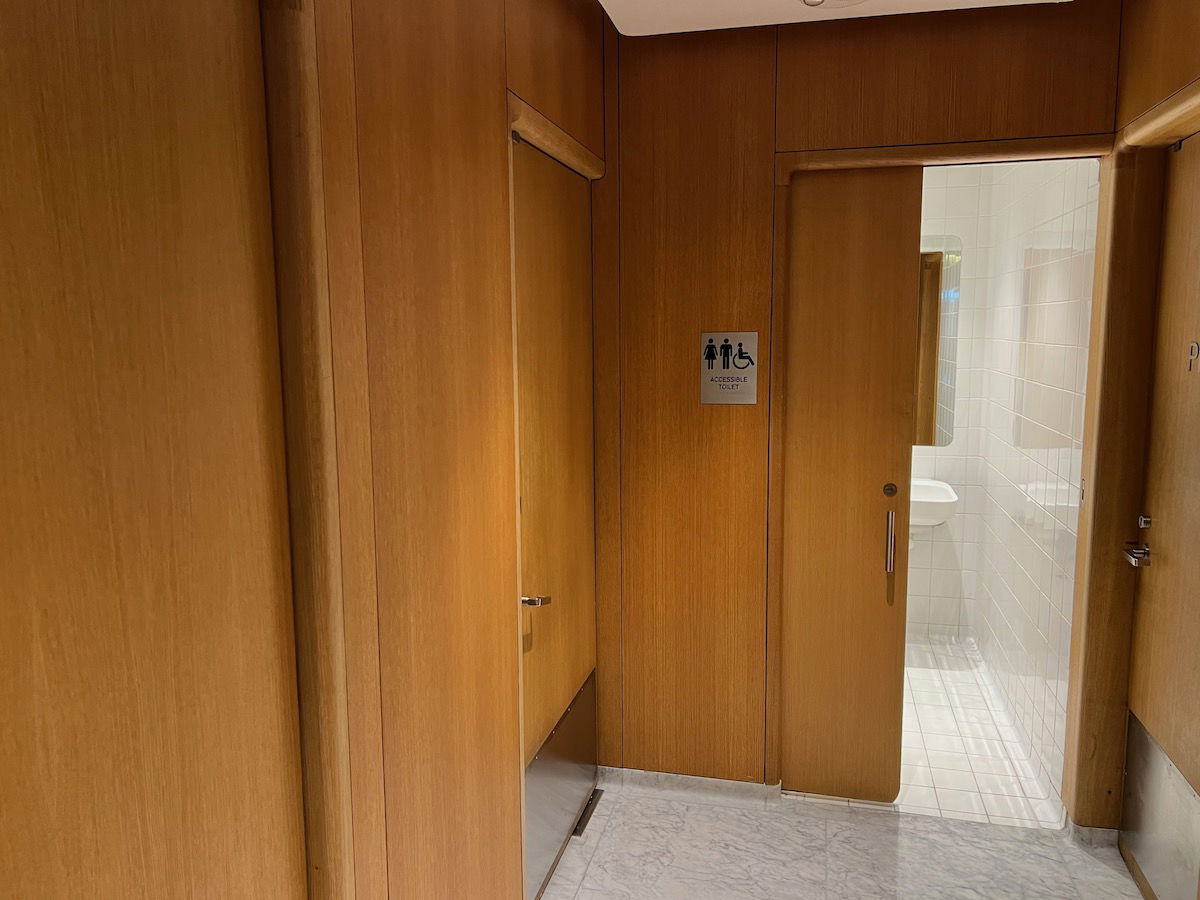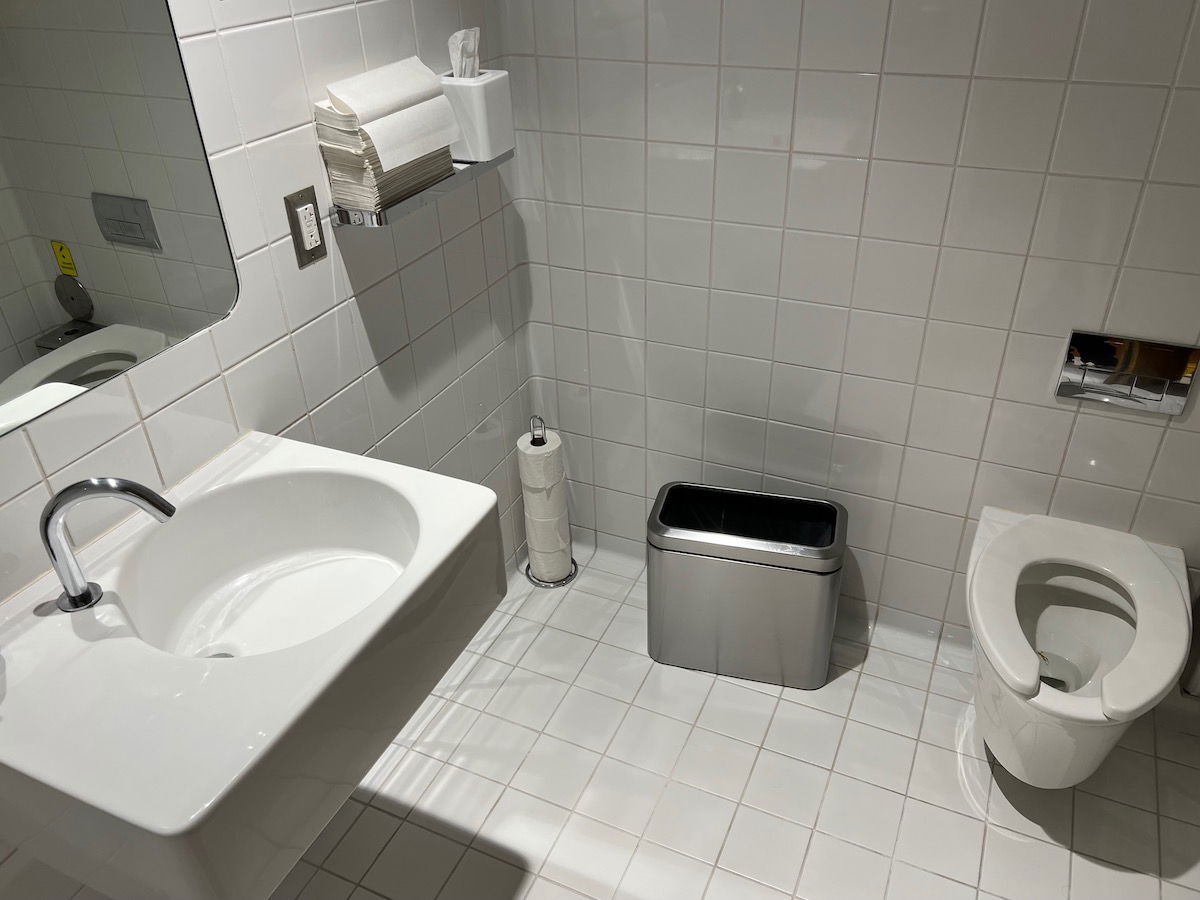 Then in the very back of the lounge past the dining area are the shower suites. These are very nice, and each features a shower, a sink, and a toilet.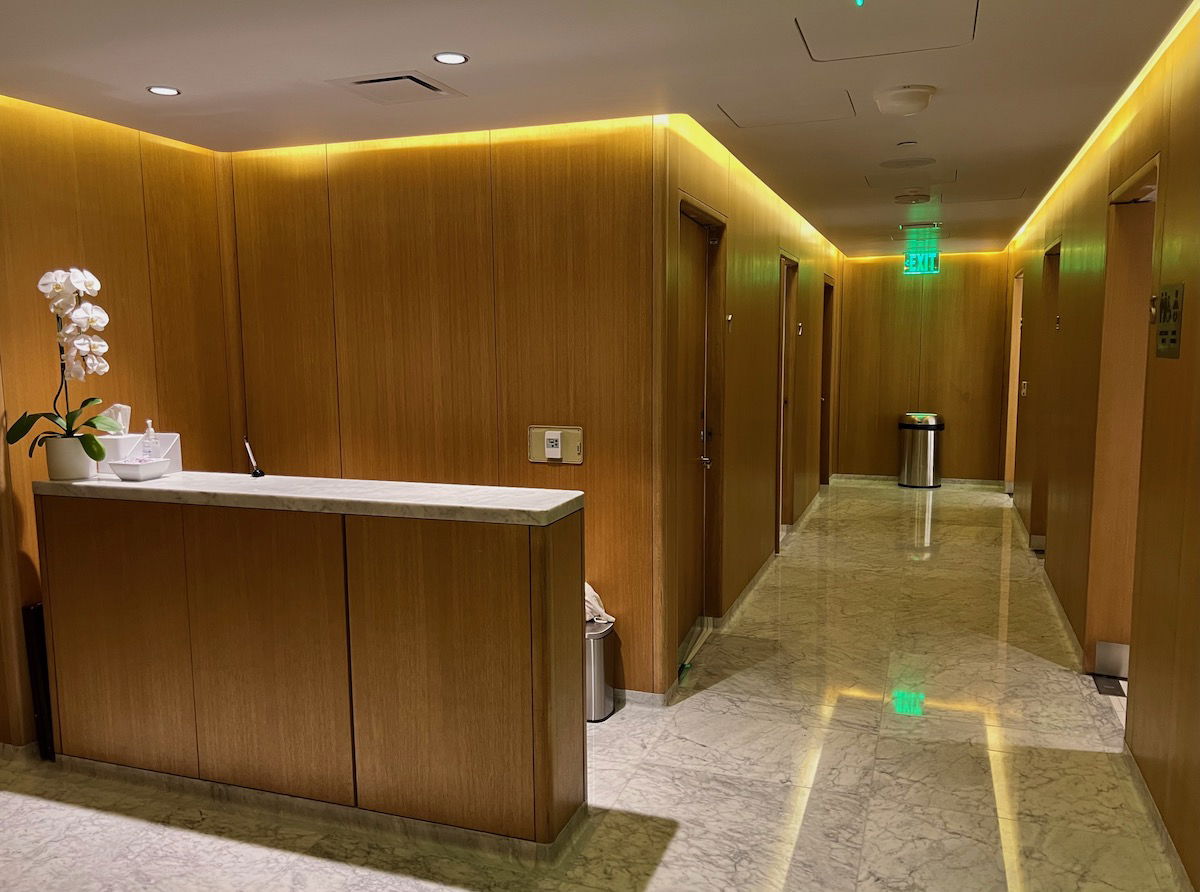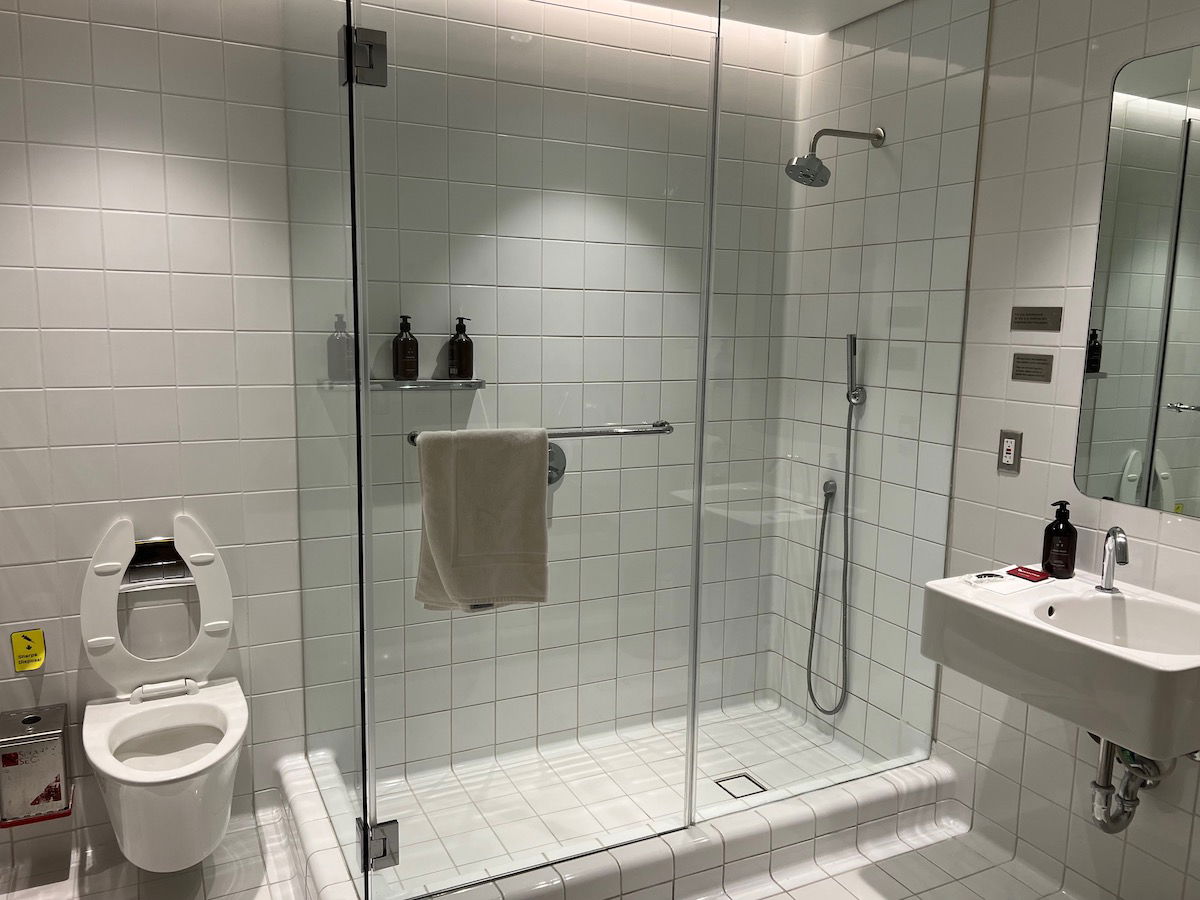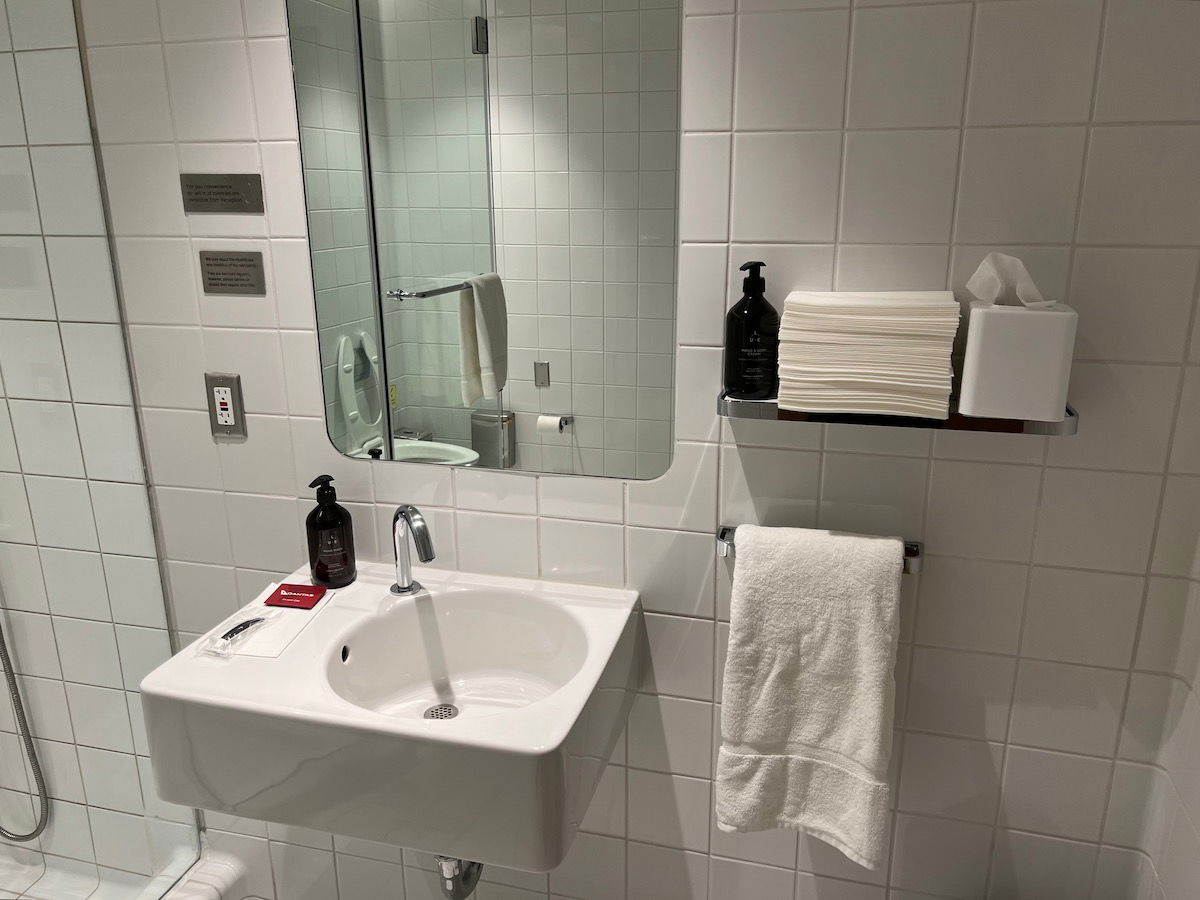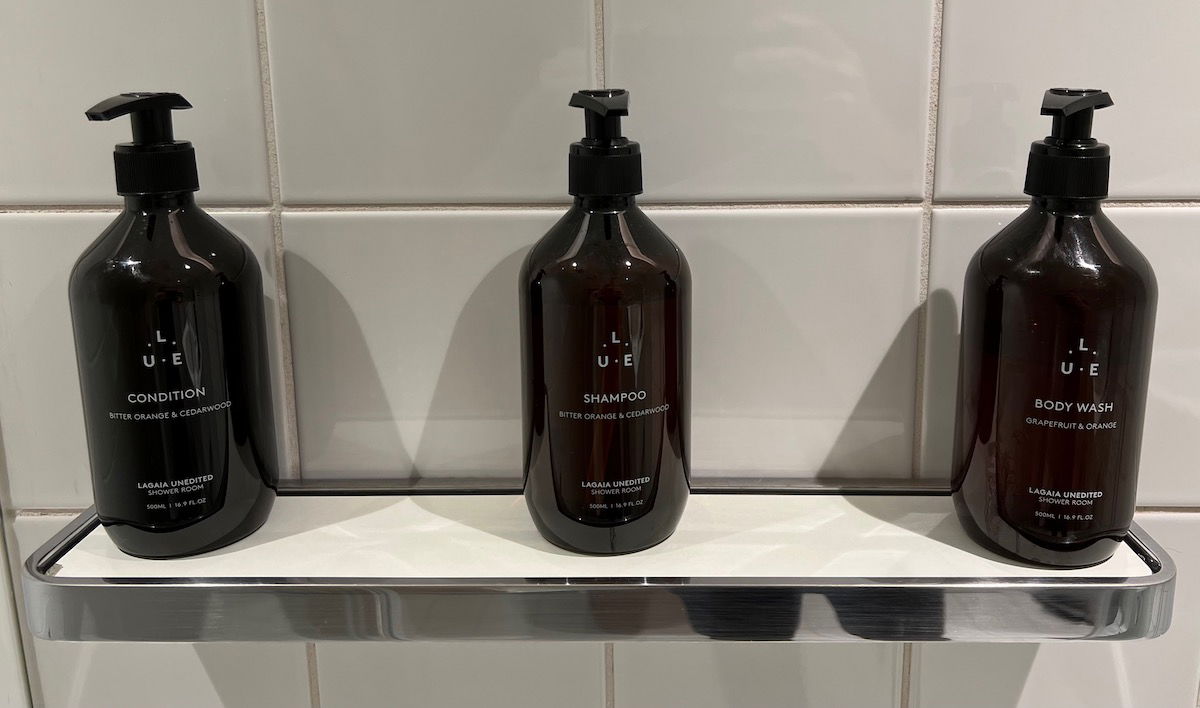 There are also a variety of essential toiletries available. On top of that, there's someone on hand to help with suit steaming, shirt pressing, and shoe shining.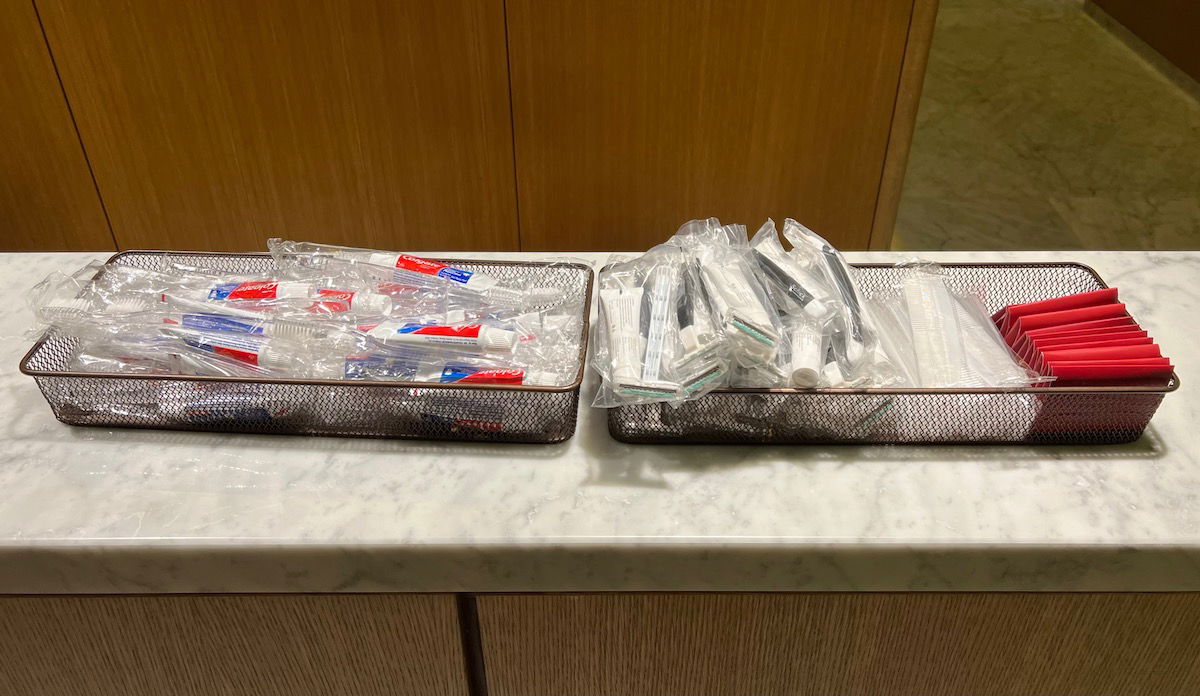 Qantas First Lounge LAX service
The staff in the Qantas First Lounge LAX are trained by Sofitel, and all wear stylish uniforms and Sofitel name tags. Service is very friendly and well intentioned across the board.
That being said, I'd say service ranges from very good to a little sloppy, depending on the time of day or who ends up serving you. When this lounge is busy, it doesn't seem like there are quite enough staff. But unfortunately with the current labor situation, I think that's to be expected.
I should also mention that while service is typically pretty attentive in the dining area, the servers don't make quite as many passes in other parts of the lounge, even though presumably many people there would enjoy a coffee or cocktail. So if you don't sit in the dining area, you may have to flag someone down.
What could be improved about the Qantas First Lounge LAX
The Qantas First Lounge LAX is as good as lounges get in the United States. However, just to be balanced, let me share where I think there's room for improvement:
There aren't enough outlets, both around the dining tables, and even around the lounge seating; I get it can be tough to add these after the fact, but access to outlets comes at a premium here
I'd love to see some sort of a setup in the lounge that's good for working, with office desks or cubicles; the lounge is huge and the general seating rarely fills up, so it seems like that could be done pretty easily
The lounge has no real views, and lacks natural light; unfortunately this is the case at many lounges at TBIT (it's not Qantas' fault), though the oneworld and Qantas Lounges are the two in the terminal that have the least natural light
I get it's not really part of the Qantas First Lounge "concept," but it would be nice if there were a slightly more substantial selection of self-serve food & drinks, for those who may just want something to nibble on, without having a full meal; alternatively, it would be nice if there were a snack menu with finger food, for people who may not be interested in a meal
I'm really nitpicking here, because I think this is a fantastic lounge, but those are the things that I'd improve if I were in charge.
Bottom line
The Qantas First Lounge LAX is as impressive as lounges in the United States get, and visiting is such a treat. The lounge offers stylish and modern decor, friendly service, and a restaurant-style dining experience, with excellent food and drinks.
The amazing lounge access perks offered to oneworld Emerald members are one of the main things that make me want to maintain some loyalty to American, since these are awesome experiences.
While there are some minor areas for improvement, in the grand scheme of things this is a phenomenal lounge, and it's still just as good as the day it opened.
If you've visited the Qantas First Lounge LAX, what was your experience like?