To finish off the first portion of my two trips to the Southern Hemisphere, I flew LATAM business class from Lima to Miami. I was excited to experience LATAM's Boeing 767 business class, given that the airline has been installing a new product over the past few years. Fortunately it didn't disappoint.
How I booked my LATAM business class ticket
Nowadays LATAM has a partnership with Delta, as the airline left the oneworld alliance. That makes it tougher to redeem miles on LATAM. The good news is that Alaska Mileage Plan still has a partnership with LATAM, so it's possible to redeem Alaska miles for these flights. Specifically, I paid 45,000 Alaska Mileage Plan miles plus $74.58 in taxes & fees for the following flight:
9/17 LA2462 Lima to Miami departing 12:15AM arriving 7:05AM
Admittedly I wasn't really maximizing the award possibilities here, as I could have started much further South in South America, and could have had a stopover for no additional cost (in other words, I could have booked Santiago to Miami via Lima with a stopover for the same number of miles, but that didn't really fit into my schedule). I'd say this was still a good use of miles, though.
LATAM 767 business class cabin & seats
LATAM sends its business class passengers to the Sumaq VIP Lounge at Lima Airport, and boarding was scheduled to start at 11:15PM, an hour before departure. Business class passengers were invited to board first.
LATAM's new Boeing 767 business class is incredibly elegant, and a huge upgrade over the carrier's old product on this plane, which featured six seats per row. LATAM now has Thompson Vantage seats in business class, which are staggered.
To start, credit to LATAM for the cabin finishes, as they're probably the most interesting I've seen on a 767. I love the contrast in colors and textures, so it's a pretty cool-looking cabin.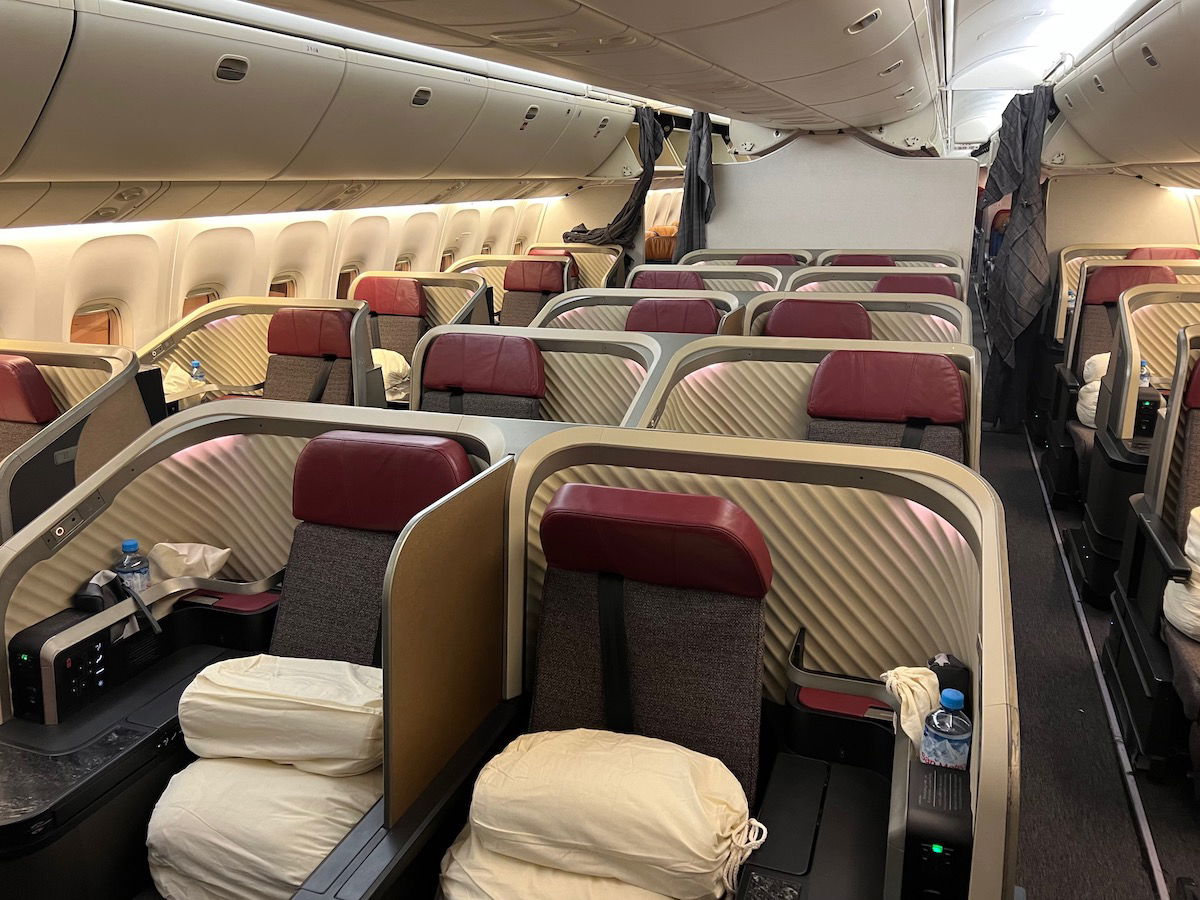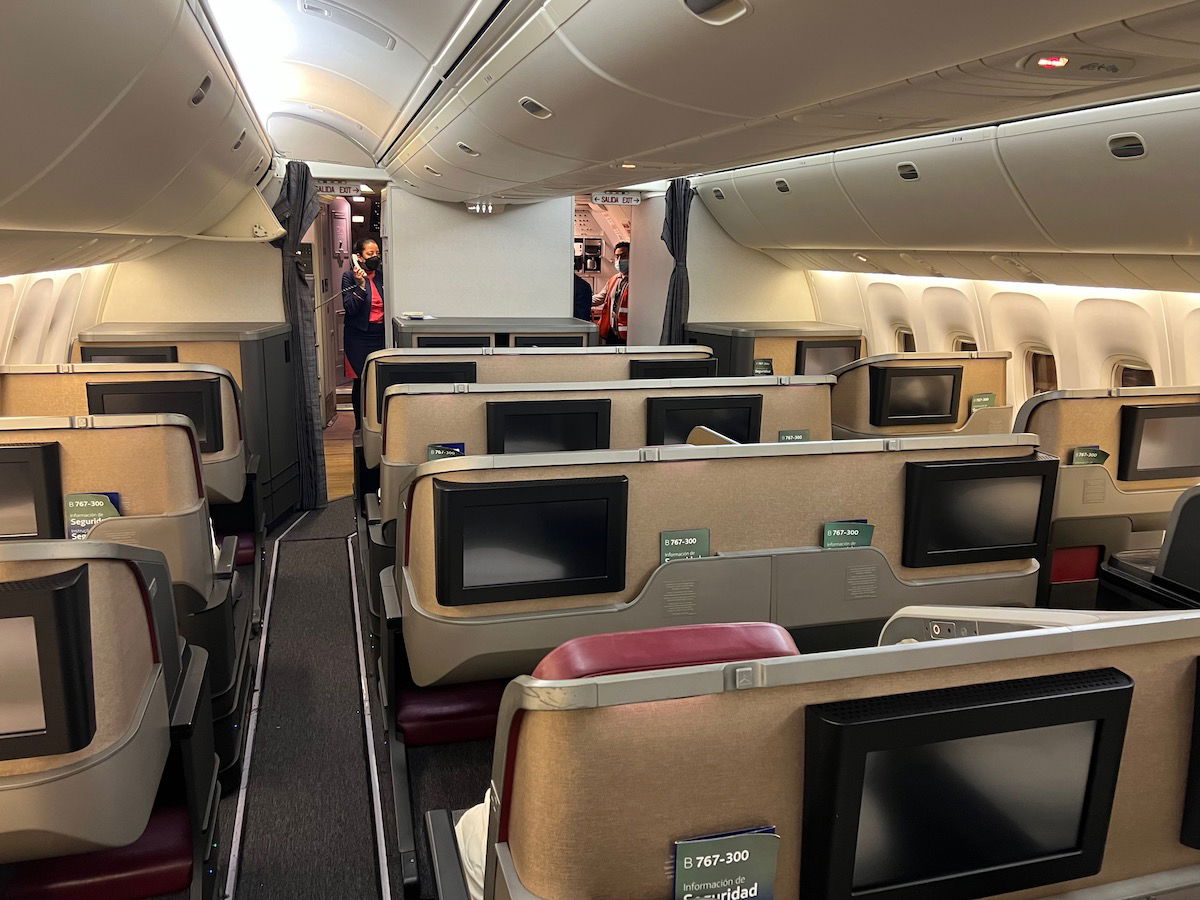 In the center section, seats alternate between being closer to the aisles and closer to the windows, with every other row having "honeymoon" seats that are quite close to one another. However, thanks to the privacy partition around seats, you shouldn't be bothered by these seats if you happen to be sitting next to a stranger.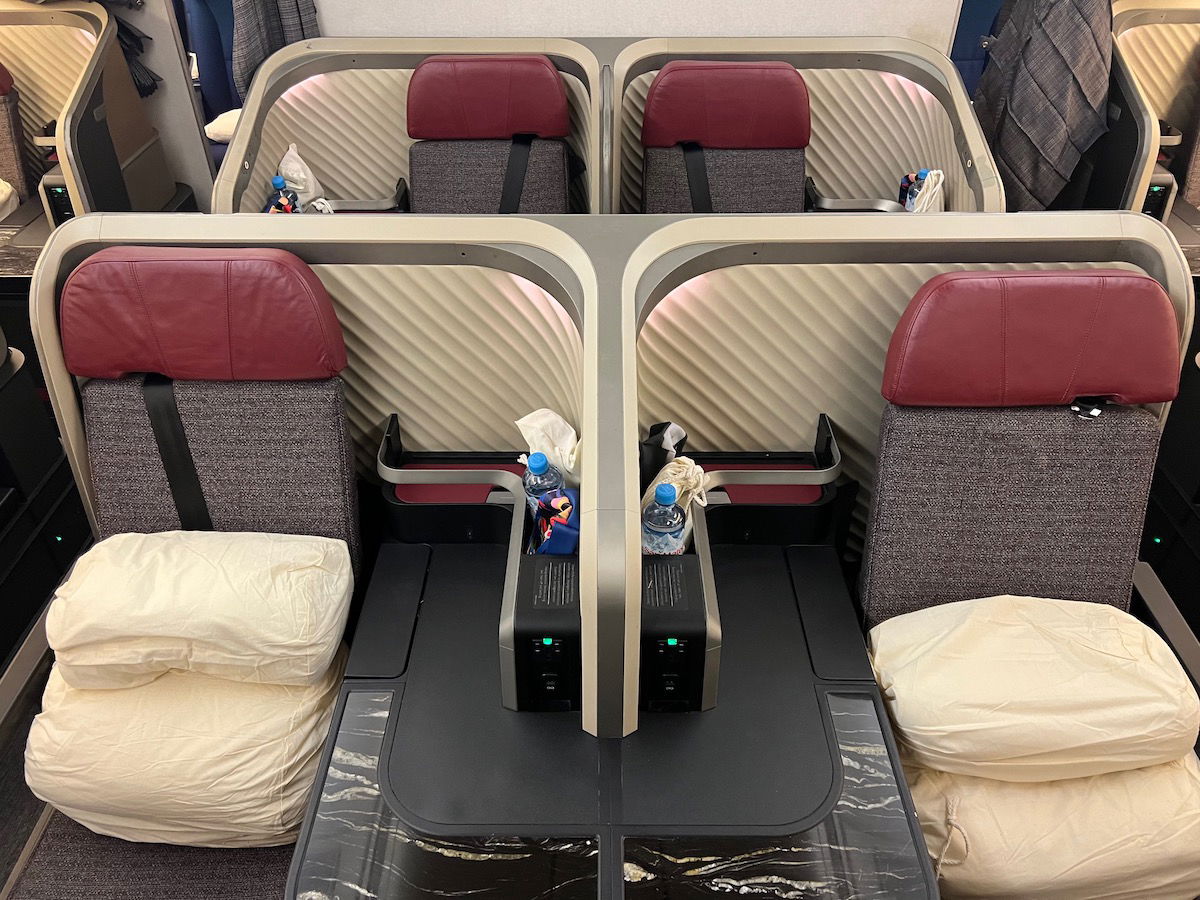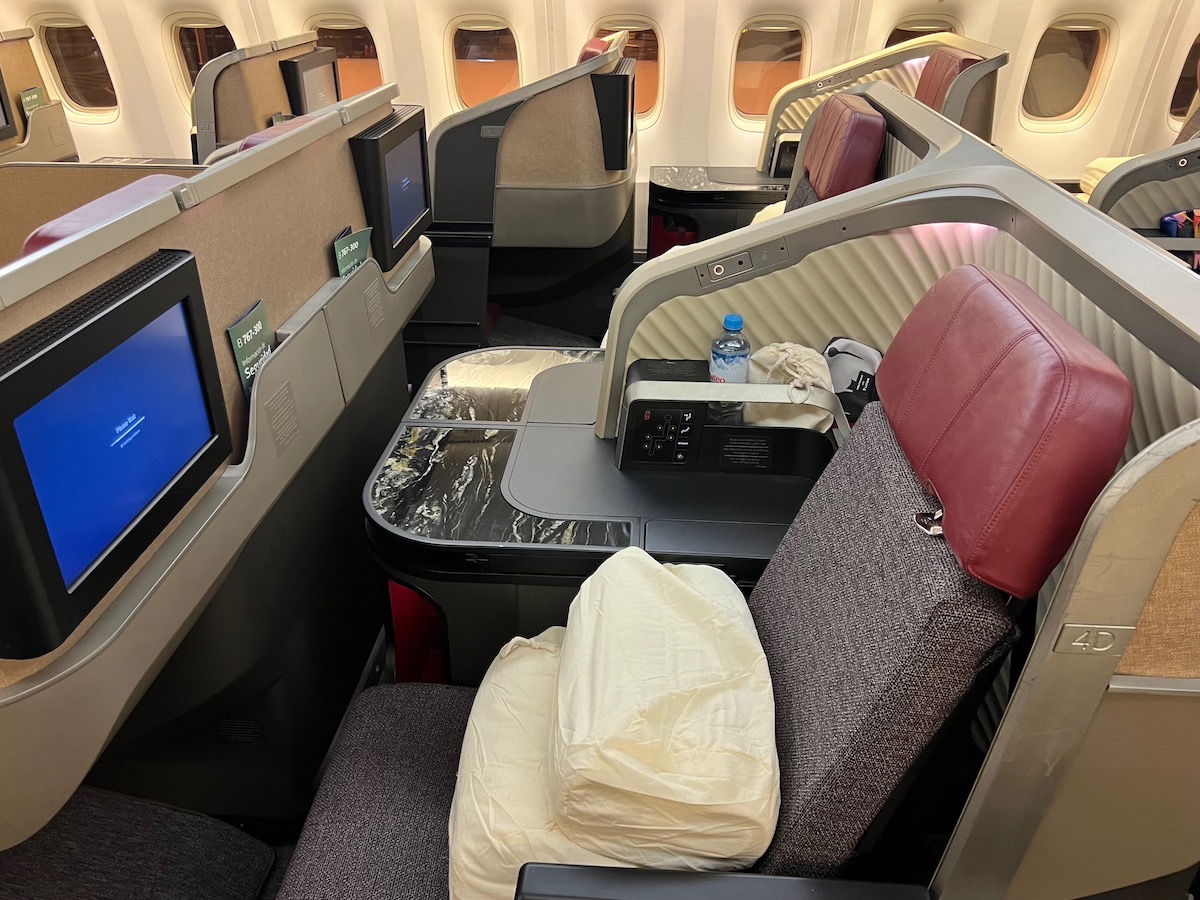 Along the windows, seats also alternate between being closer to the aisles and closer to the windows. The seats closer to the aisles feel less private, and for that matter you might find that you're bumped into by quite a few people in the aisle, especially since boarding occurs through the forward door.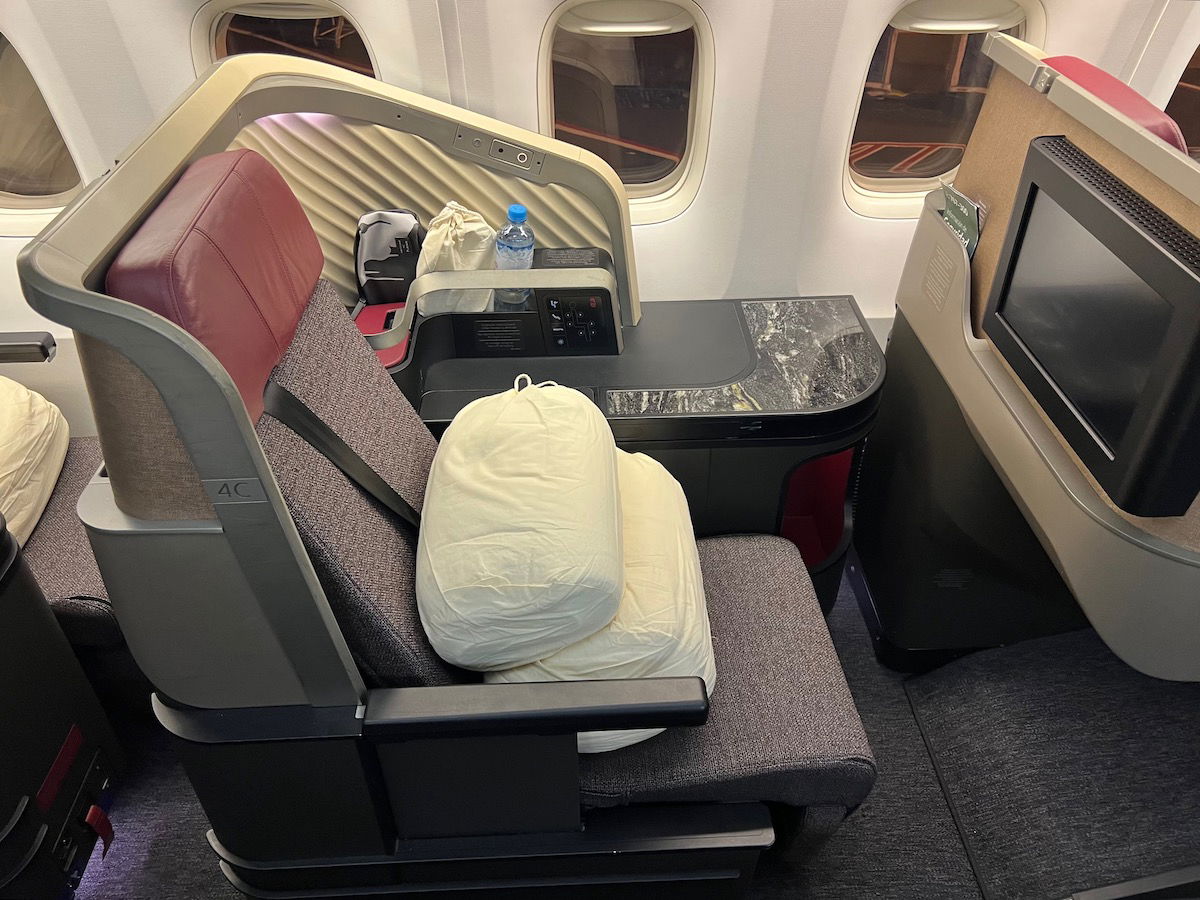 I assigned myself 5A, the seat in the last row on the left side, which is closer to the windows. I'd consider these to be the best seats in the cabin, as they're the most private. Seat 5A is also interesting because it's the pilot crew rest seat on longer flights, so there's a curtain that can go around it (though you can't use it unless you're the pilot). Since this was a short sector, this seat was available to assign.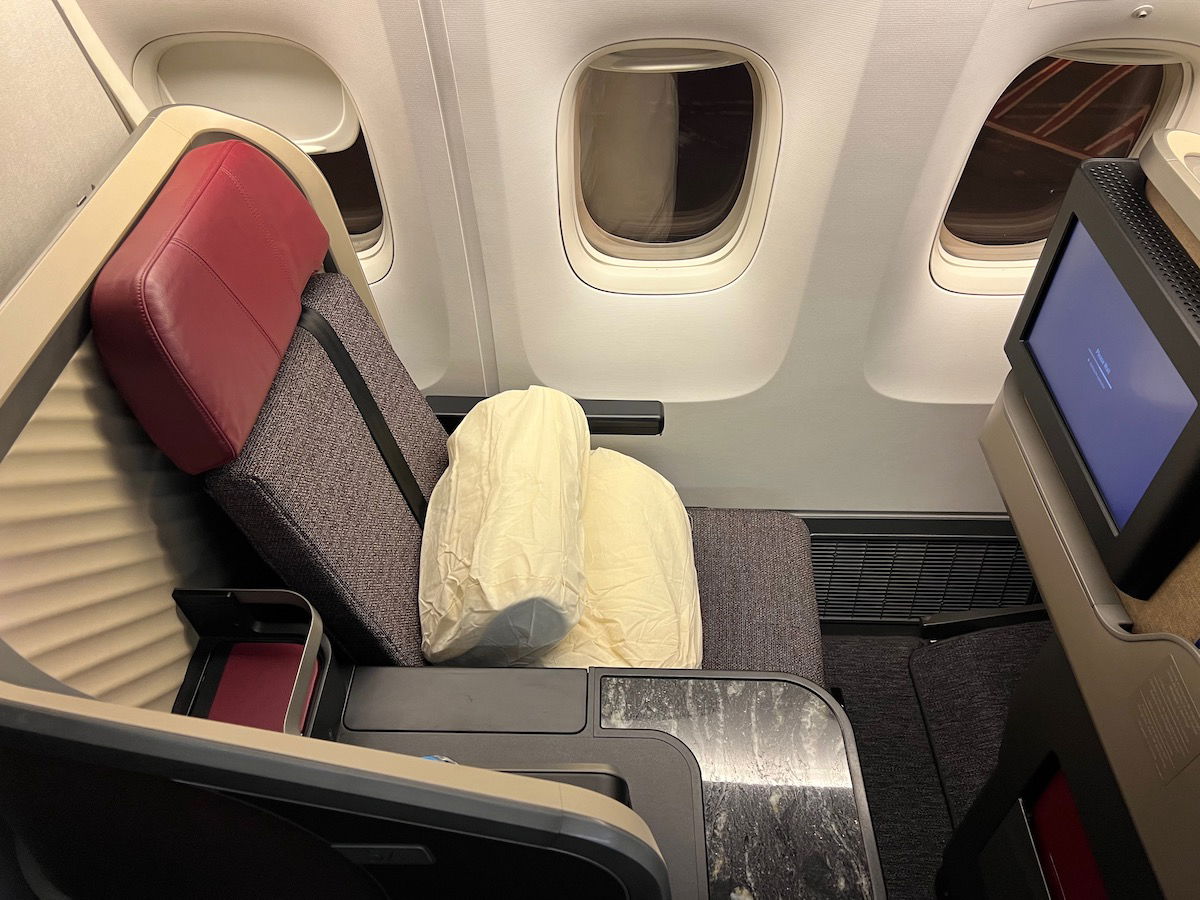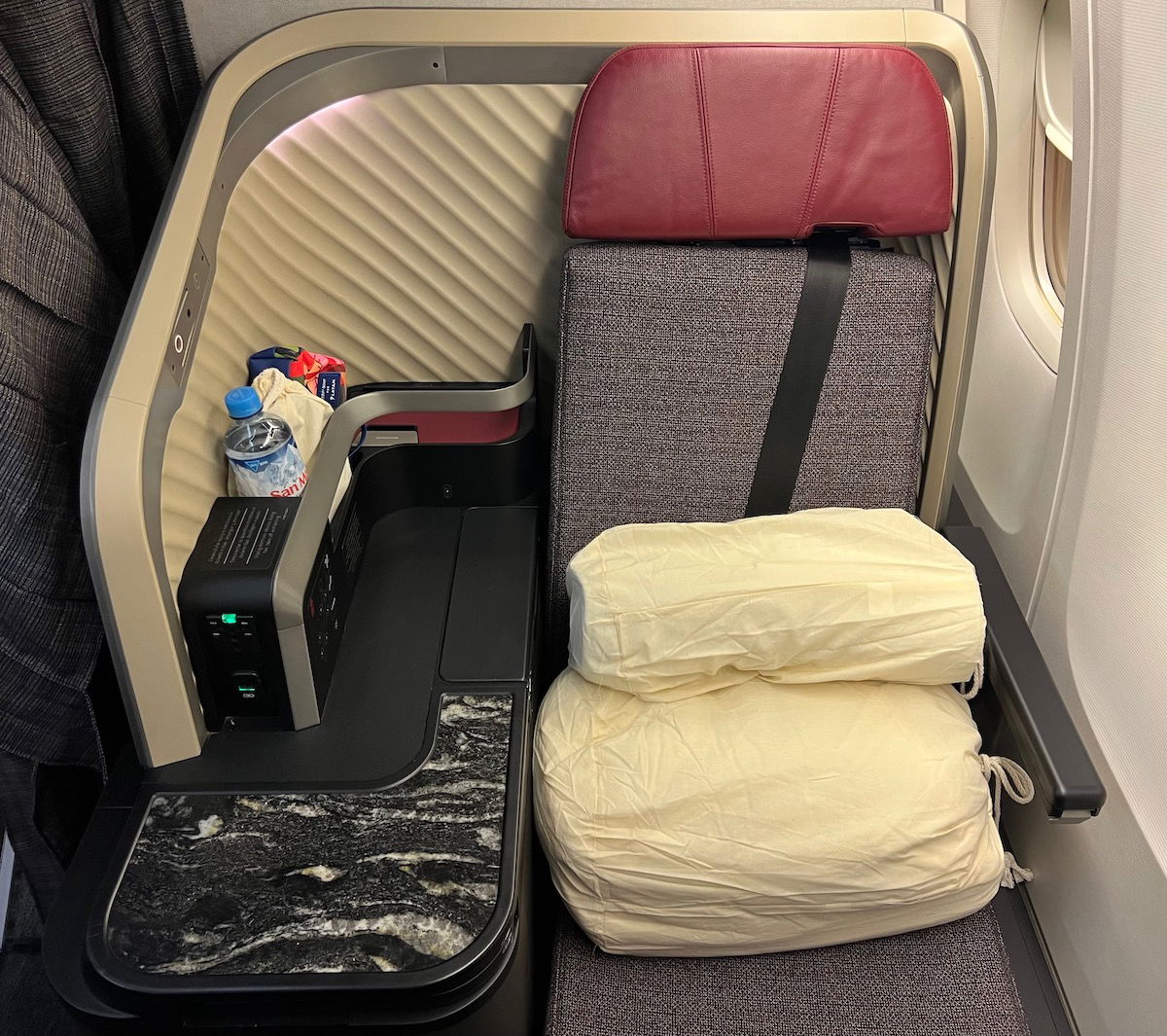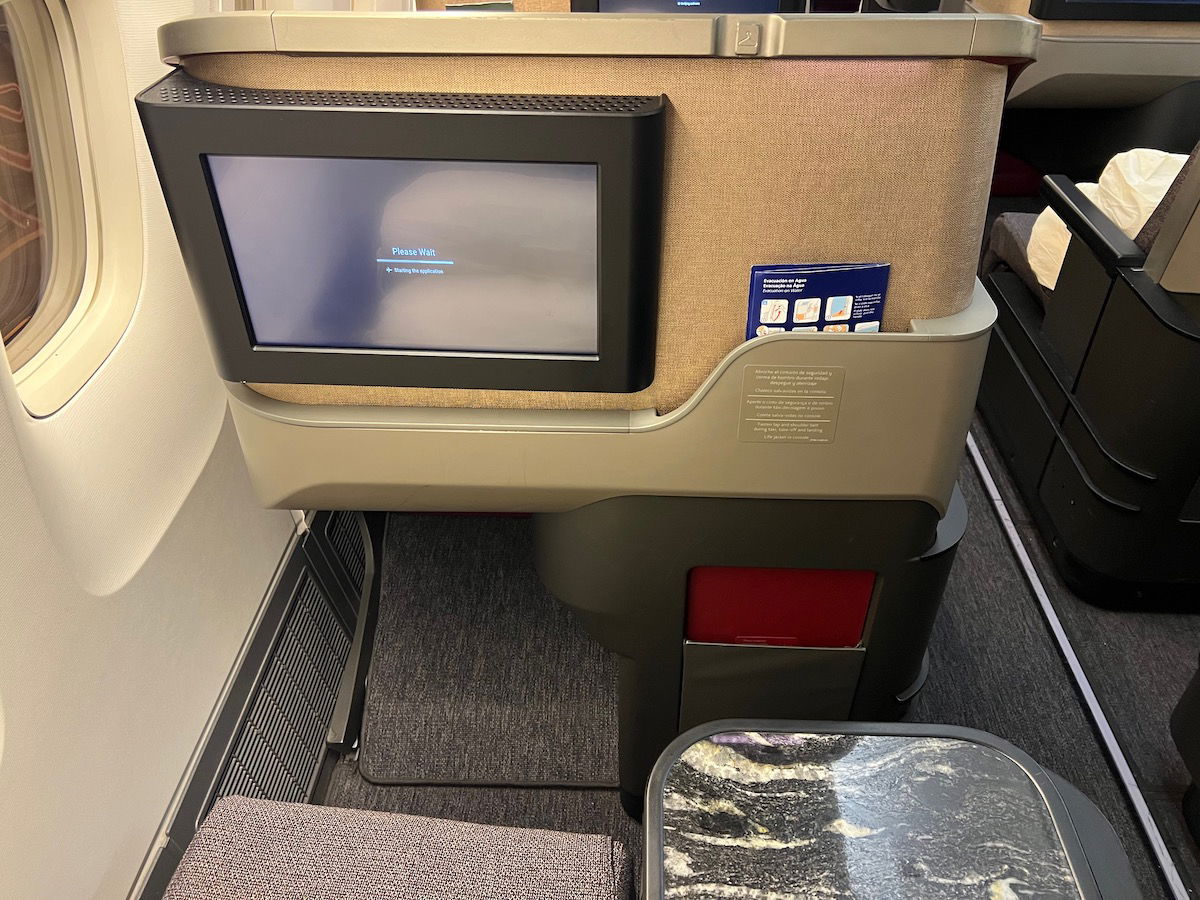 Along the aisle-side of the seat were most of the features, including an exposed storage rack, where you could place things during the flight.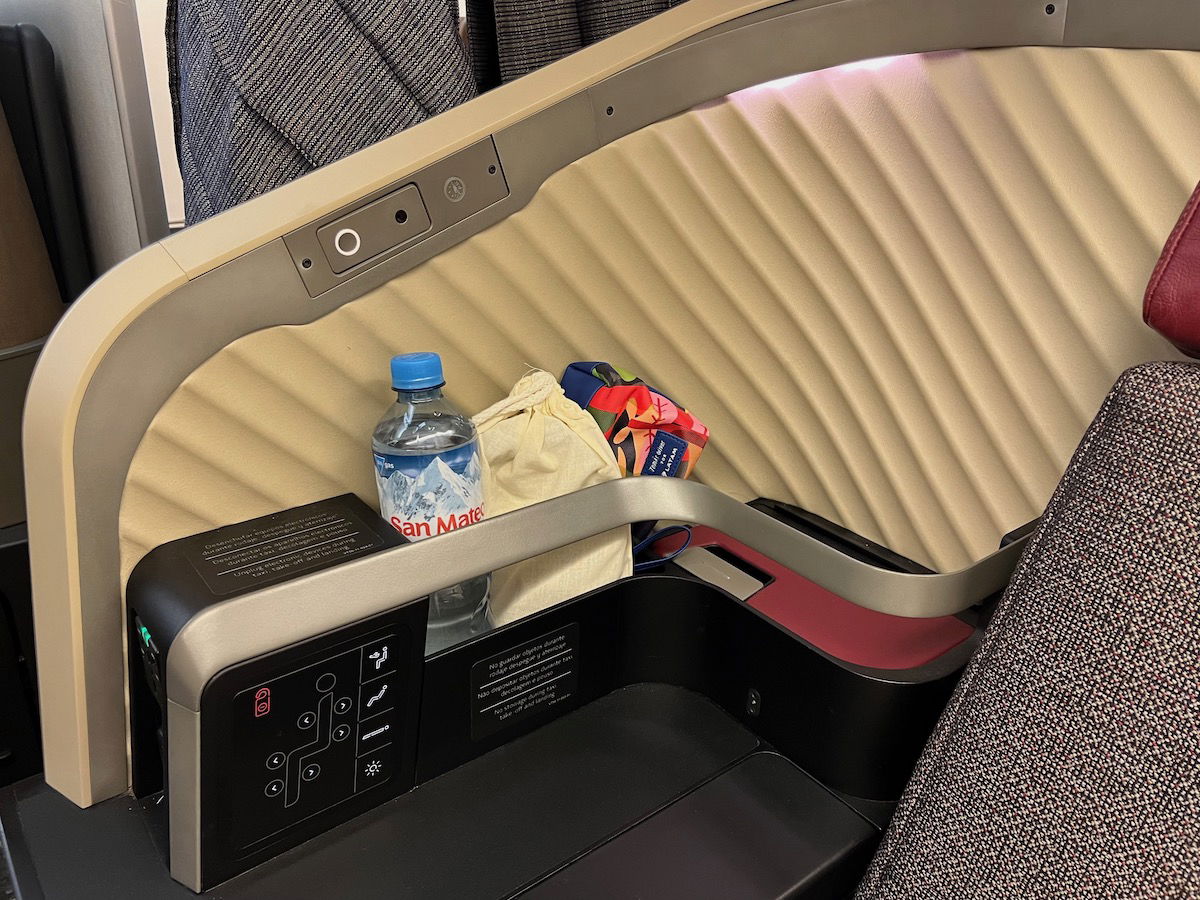 This area also had the seat controls, which were easy to use. I'd argue they were too easy to use, because I accidentally hit the controls with my right elbow multiple times during the flight.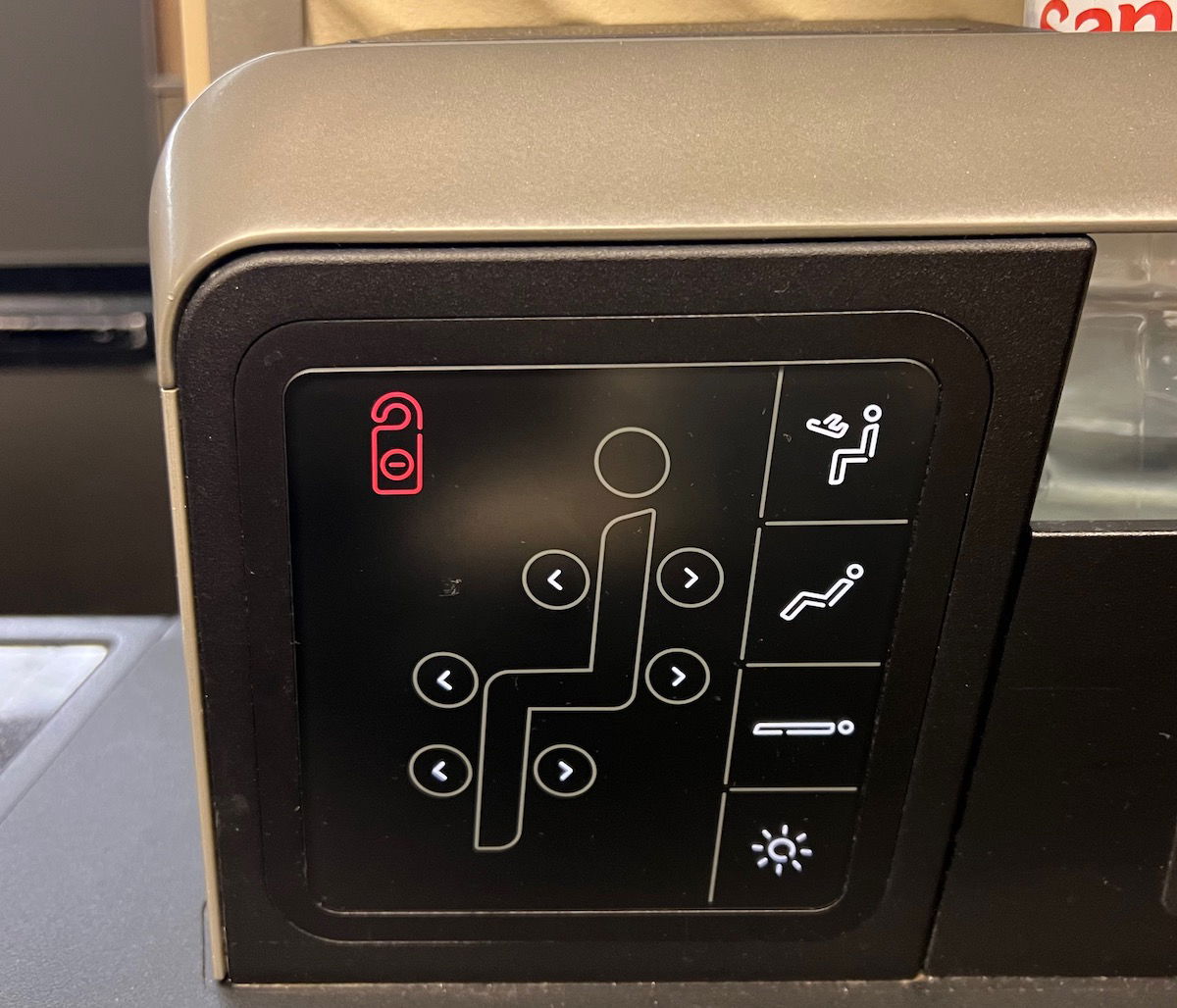 On the front-side of that console were the power ports, including an AC and USB outlet.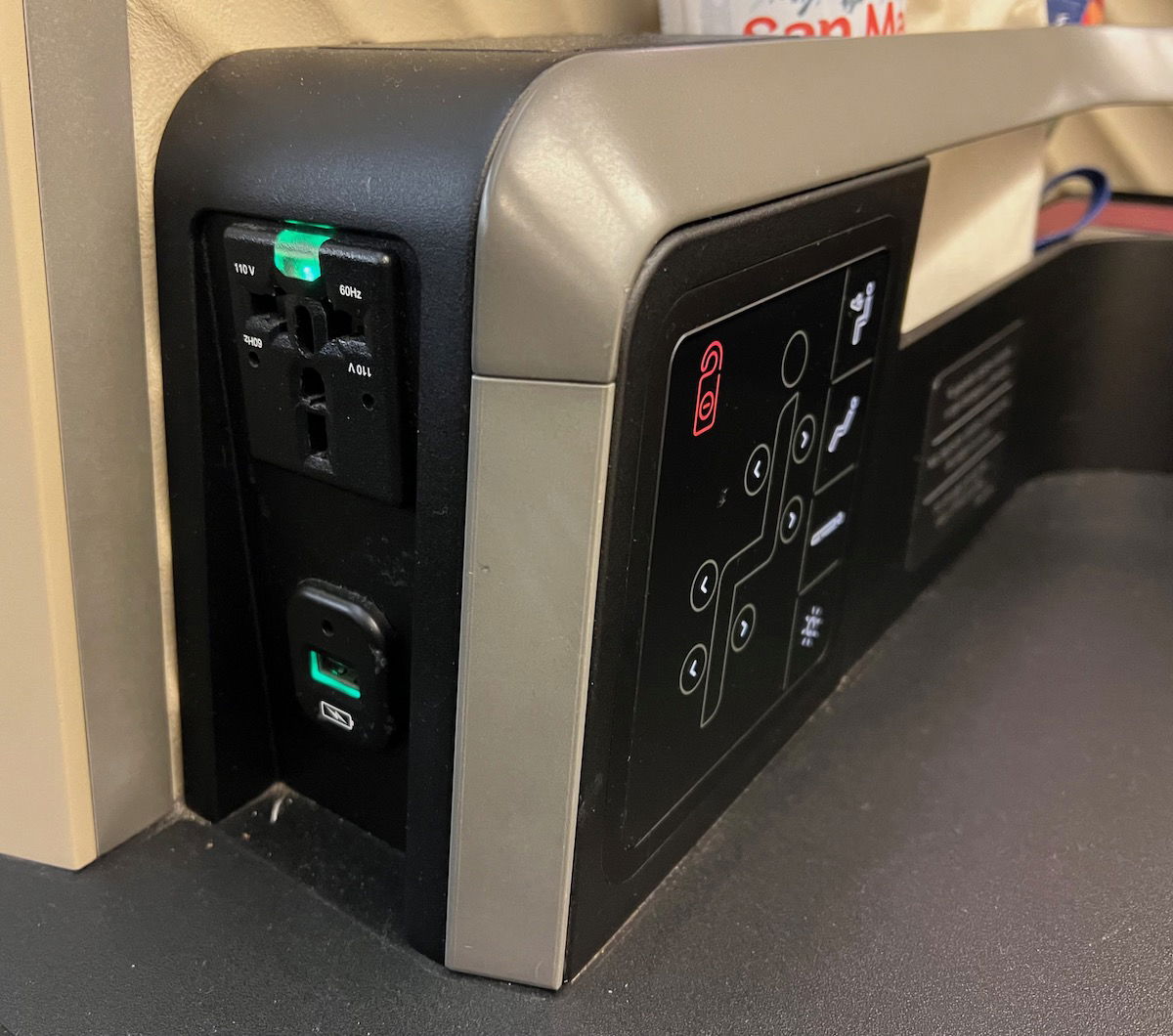 Above that was a reading light, which could be turned on by pushing one side of the light in.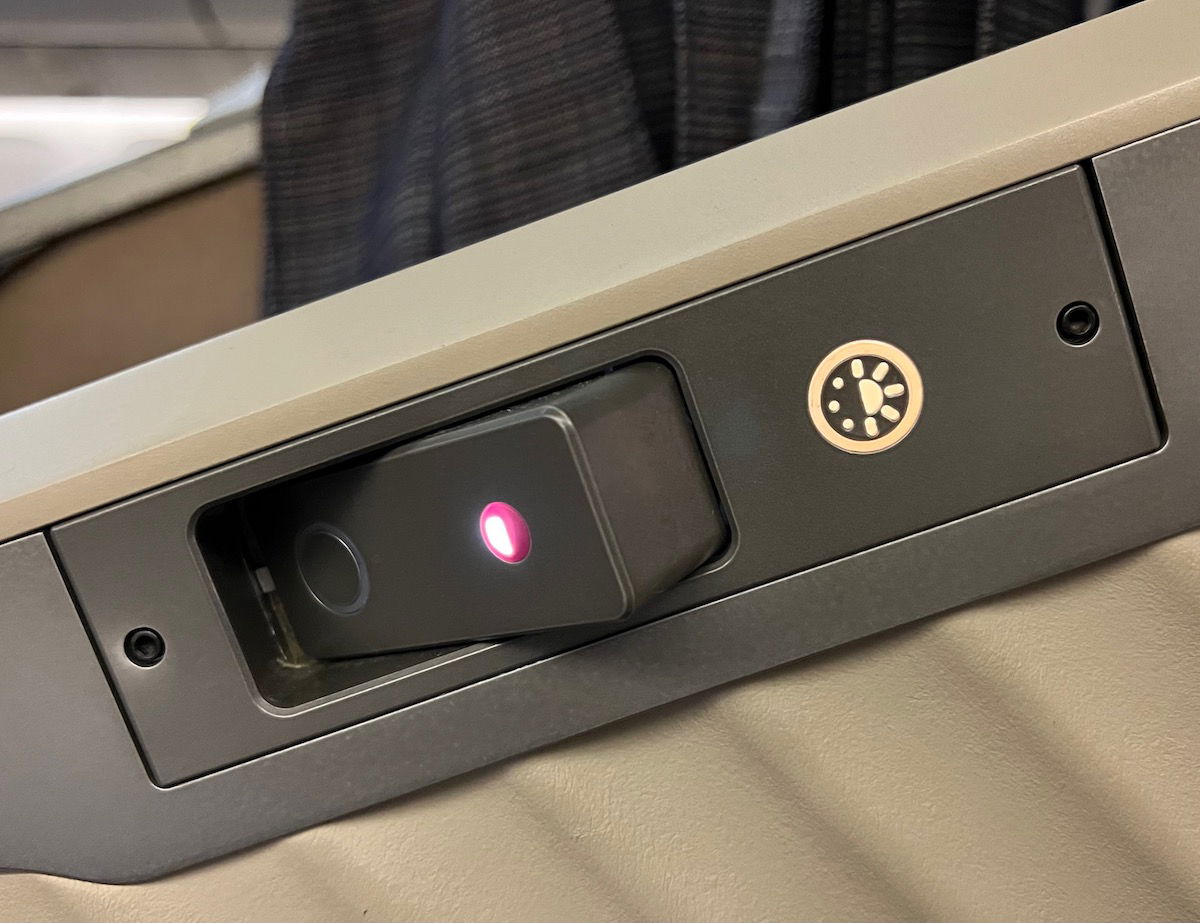 The entertainment controller was also inside the aisle-side armrest, and could be removed for easier use.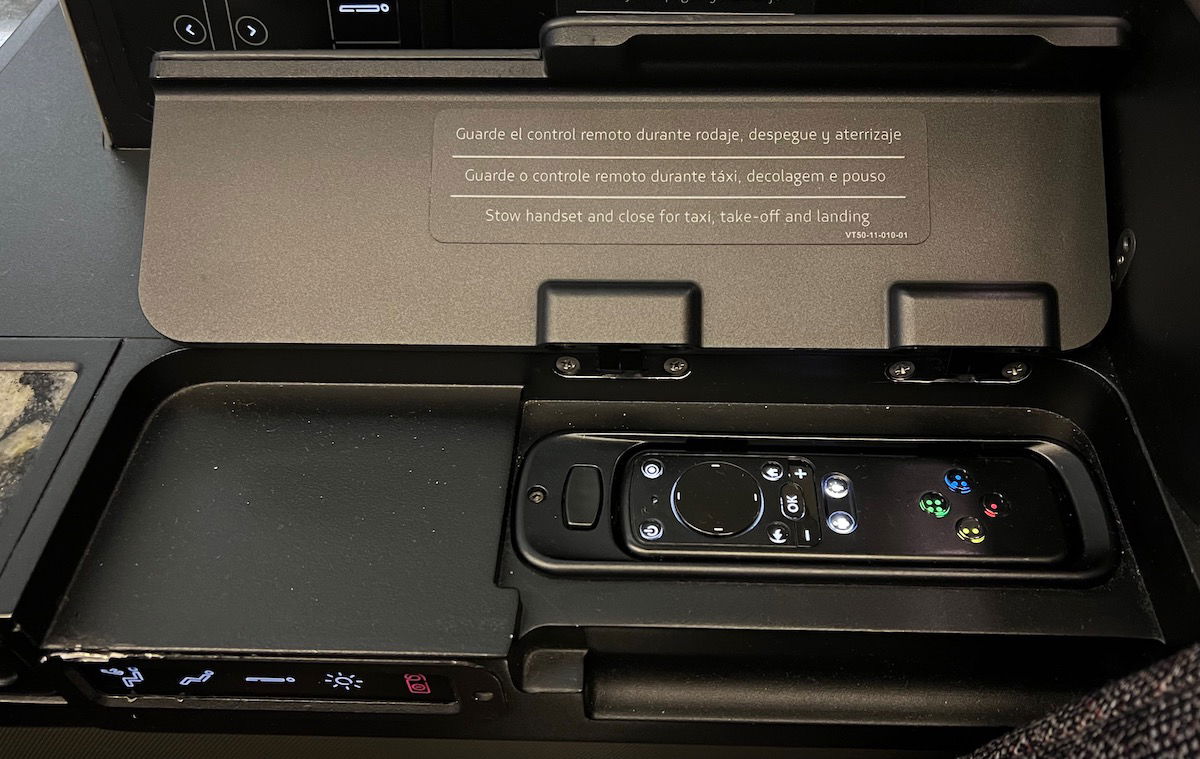 The tray table extended out from underneath that console, and could be folded over in half.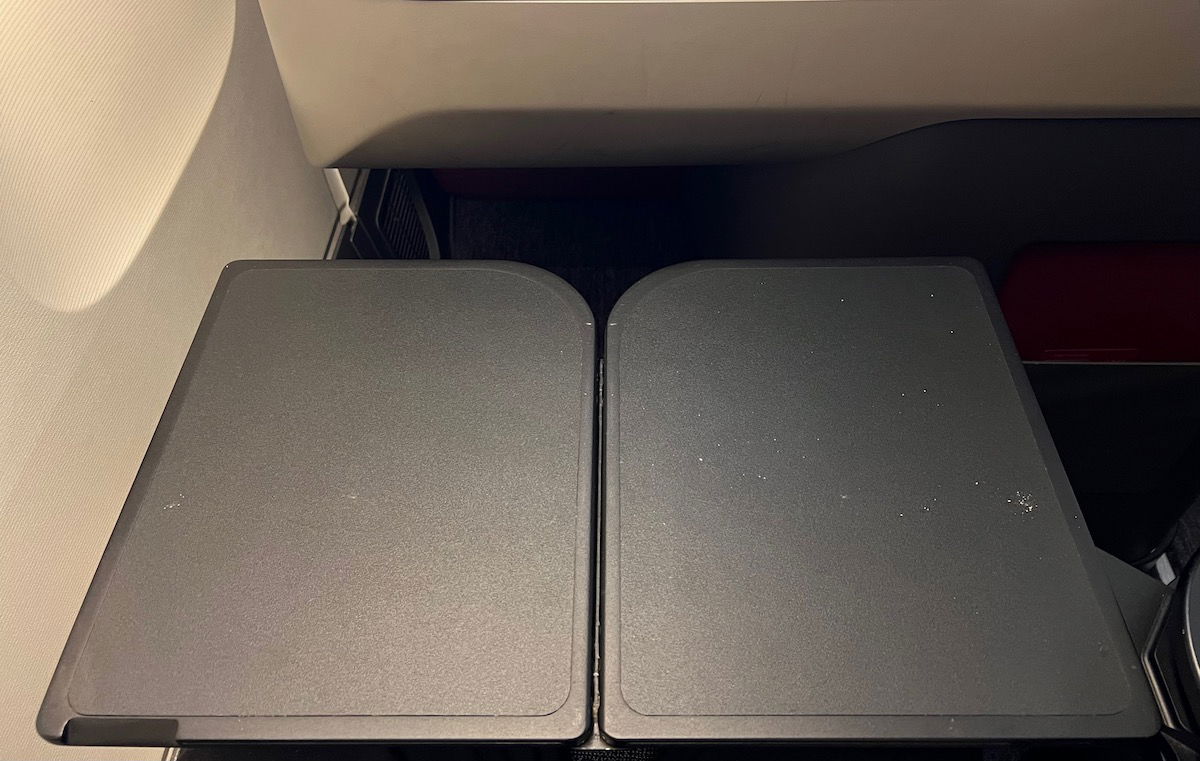 LATAM did a nice job not just refreshing the seats, but also updating the overhead bins, to make them more modern. While they're not as large as you'll find on the latest generation aircraft, they at least looked nice.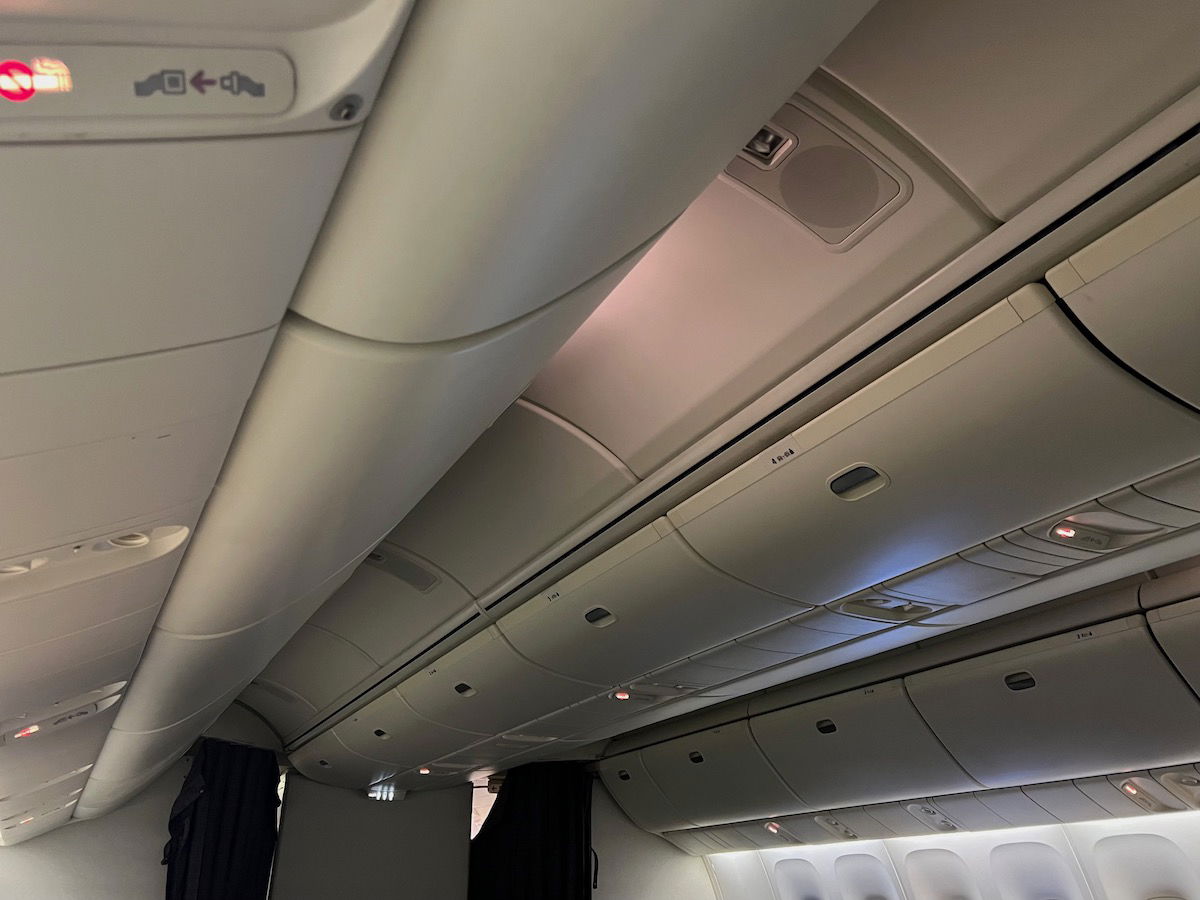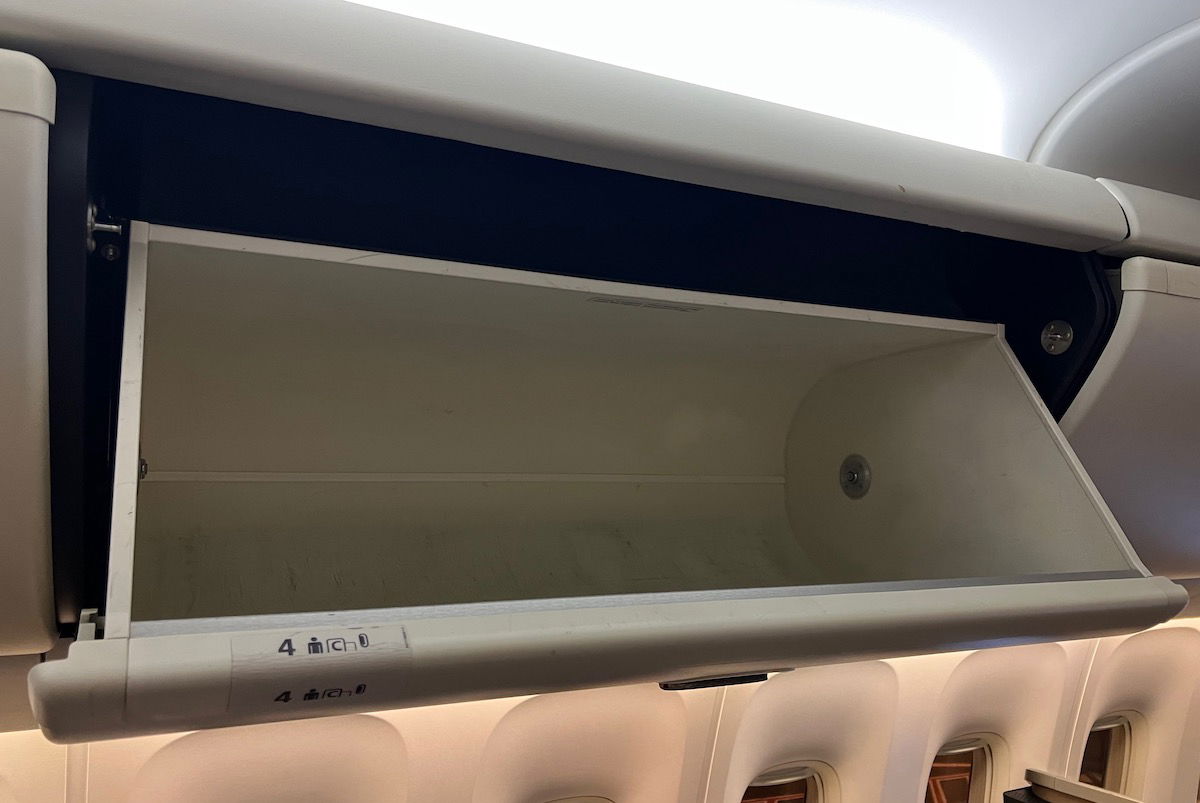 While there were reading lights in the overhead console, there were unfortunately no individual air nozzles.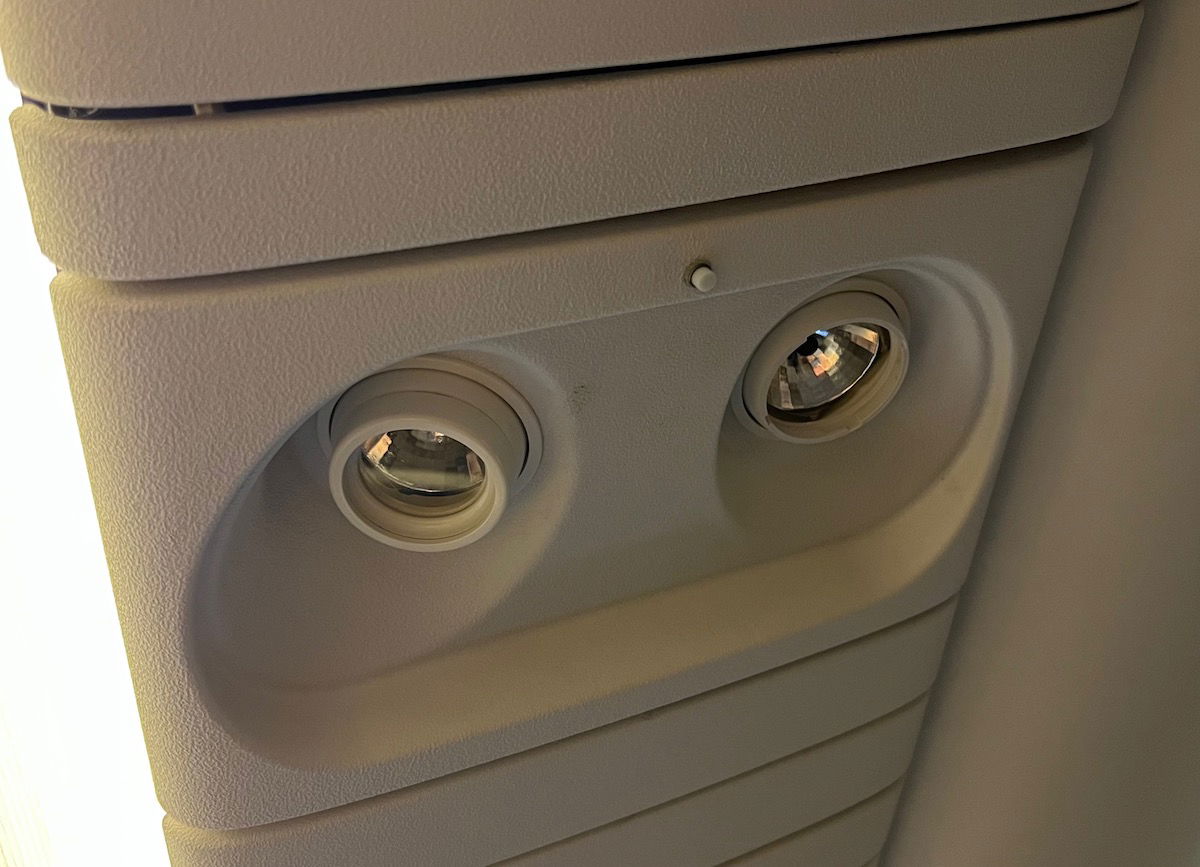 There were two lavatories at the front of the cabin, which were in good condition, but otherwise pretty no frills.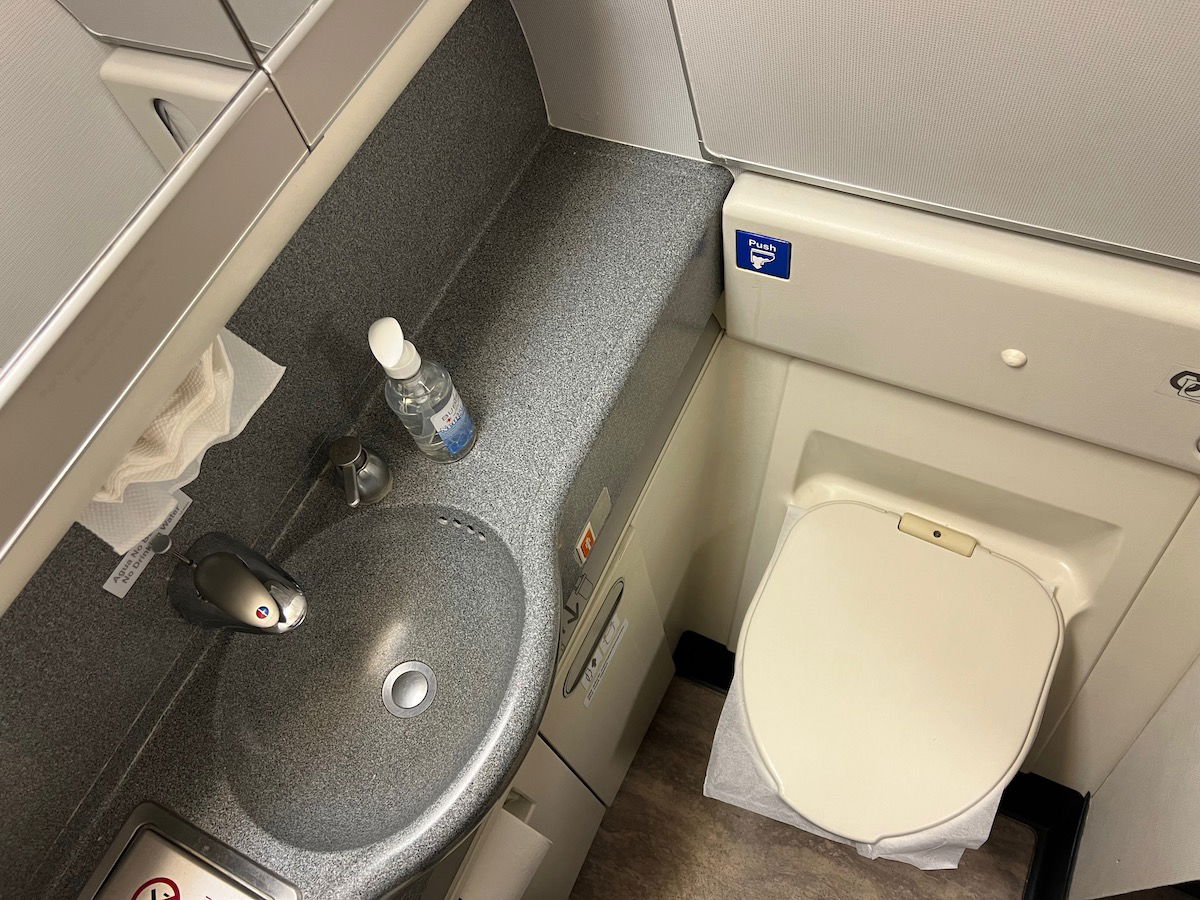 I also had a quick peek into economy during boarding, since it was right behind my seat. The cabin was quite colorful, with an obvious differentiation between LATAM's extra legroom economy seats and standard economy seats. It's also interesting how the 767-300 essentially has a single economy cabin in the center section, with no partitions.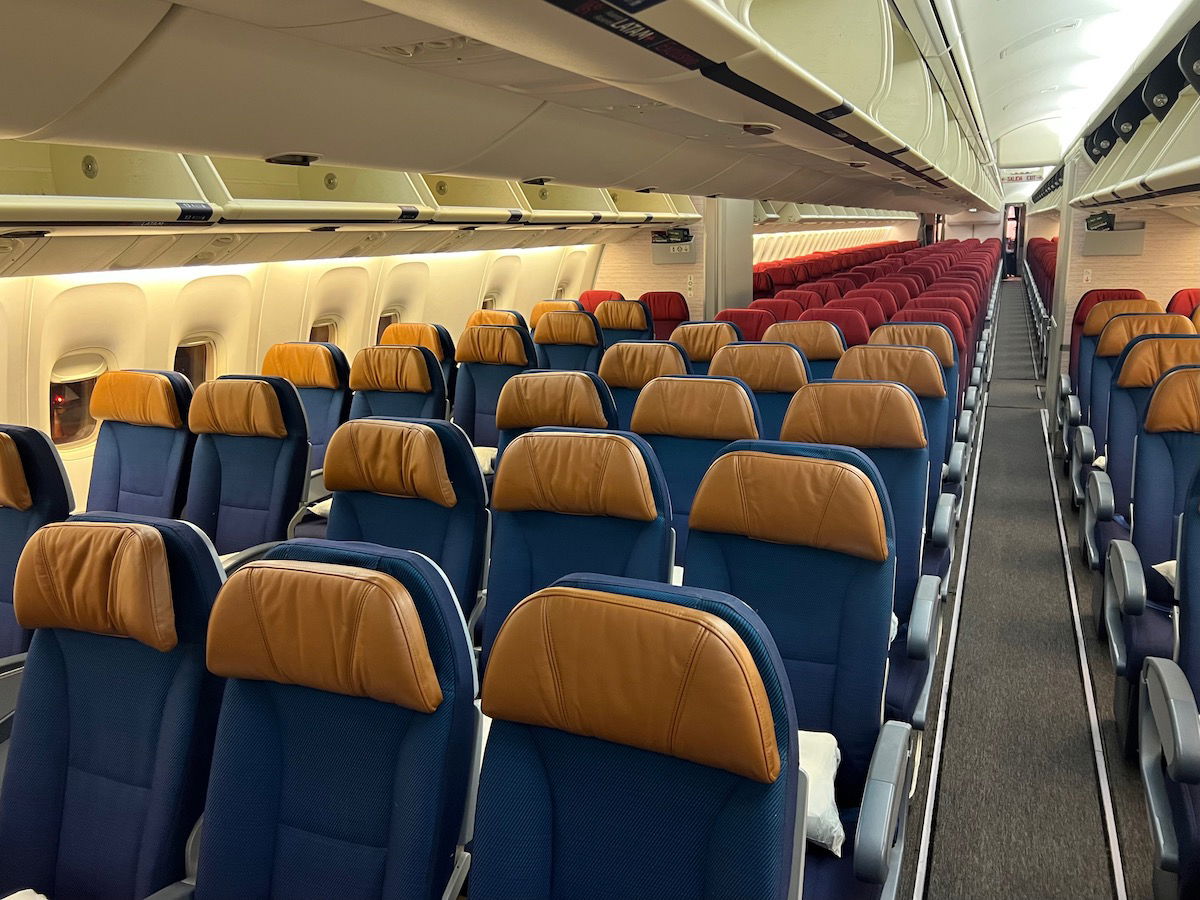 In terms of hard product, I'd say this is about as good as it gets on the Boeing 767, with the exception of United, which has excellent Polaris cabins on its refreshed Boeing 767s.
LATAM business class amenities
For a roughly five hour overnight flight, I thought the amenities were pretty spectacular. LATAM has excellent bedding, including a plush pillow, a cozy blanket, and even a mattress pad.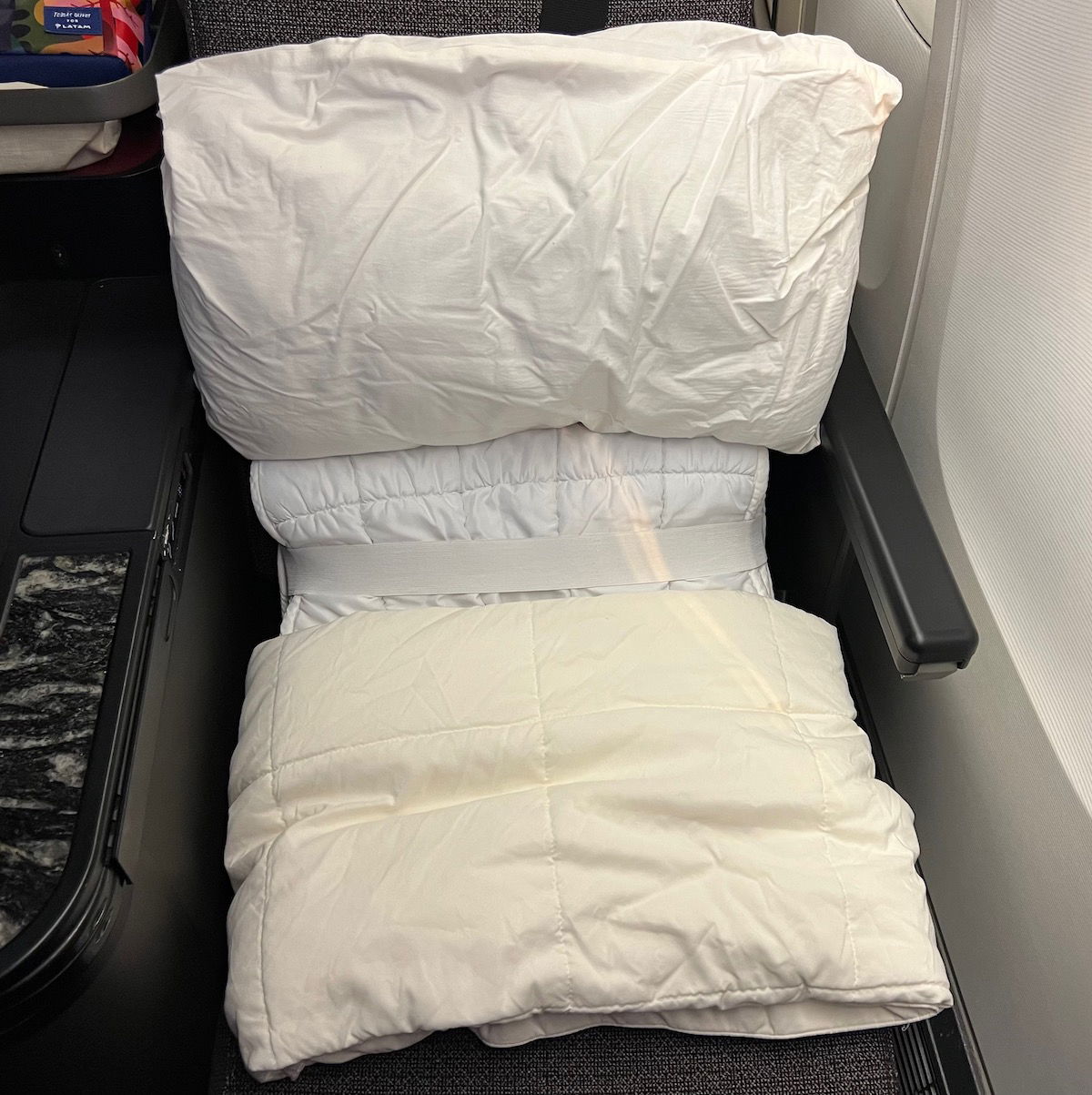 There was also a colorful amenity kit, with socks, eyeshades, lip balm, a dental kit, earplugs, body lotion, and a towelette.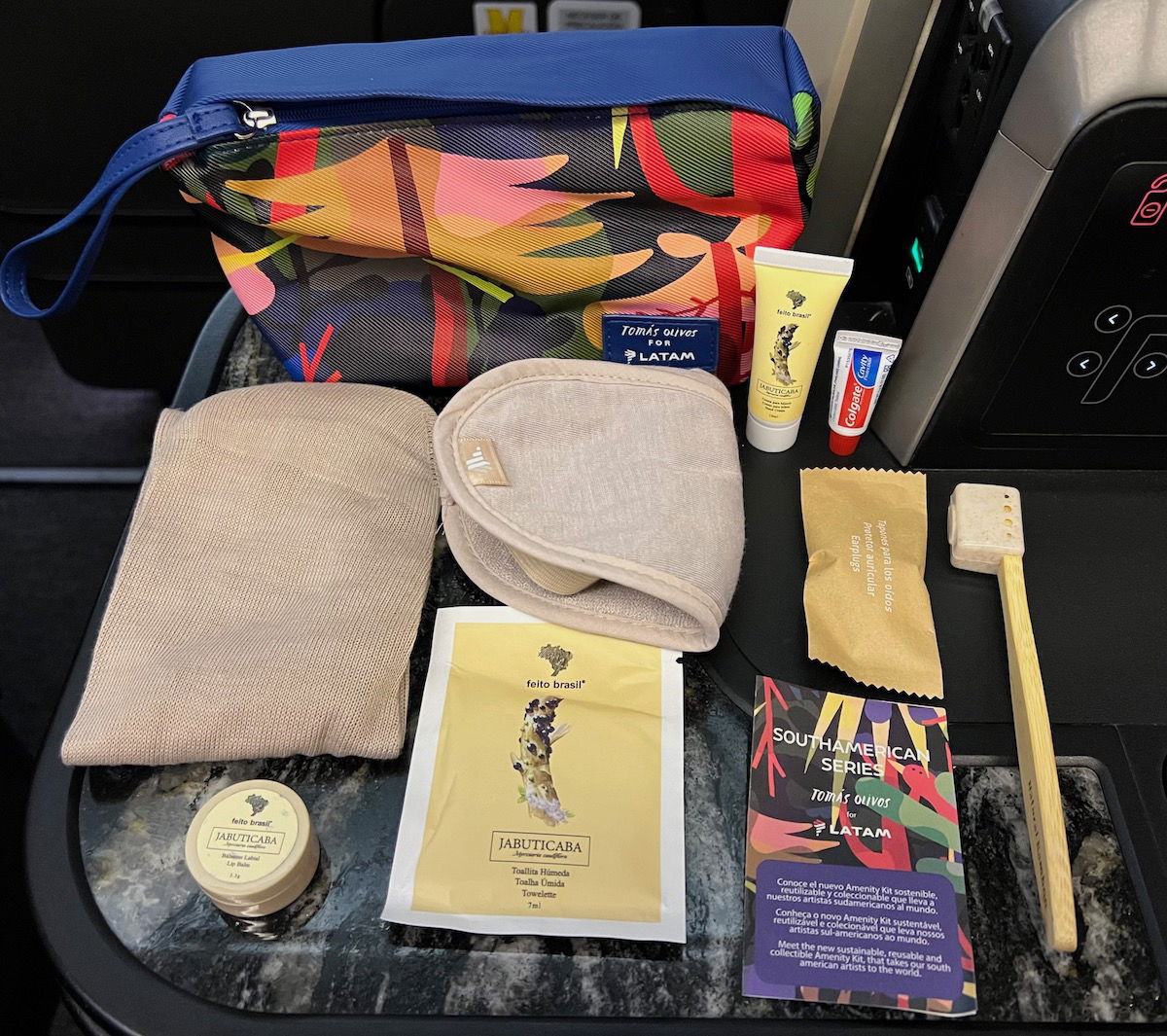 While there were a pair of headphones at my seat, they felt pretty cheap — they weren't comfortable, and didn't do much to cancel noise.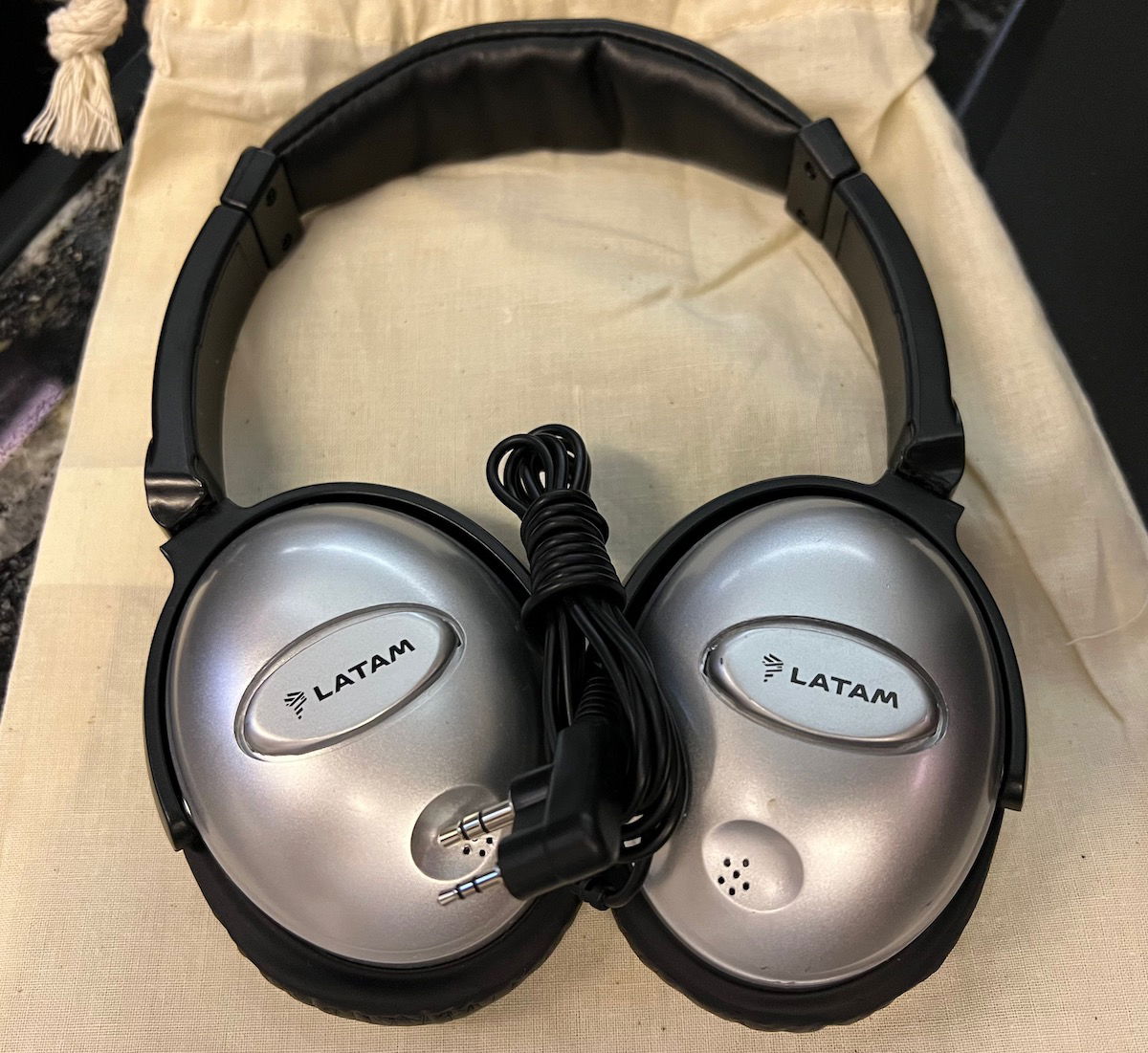 There was also a bottle of water waiting at my seat, as well as the menu.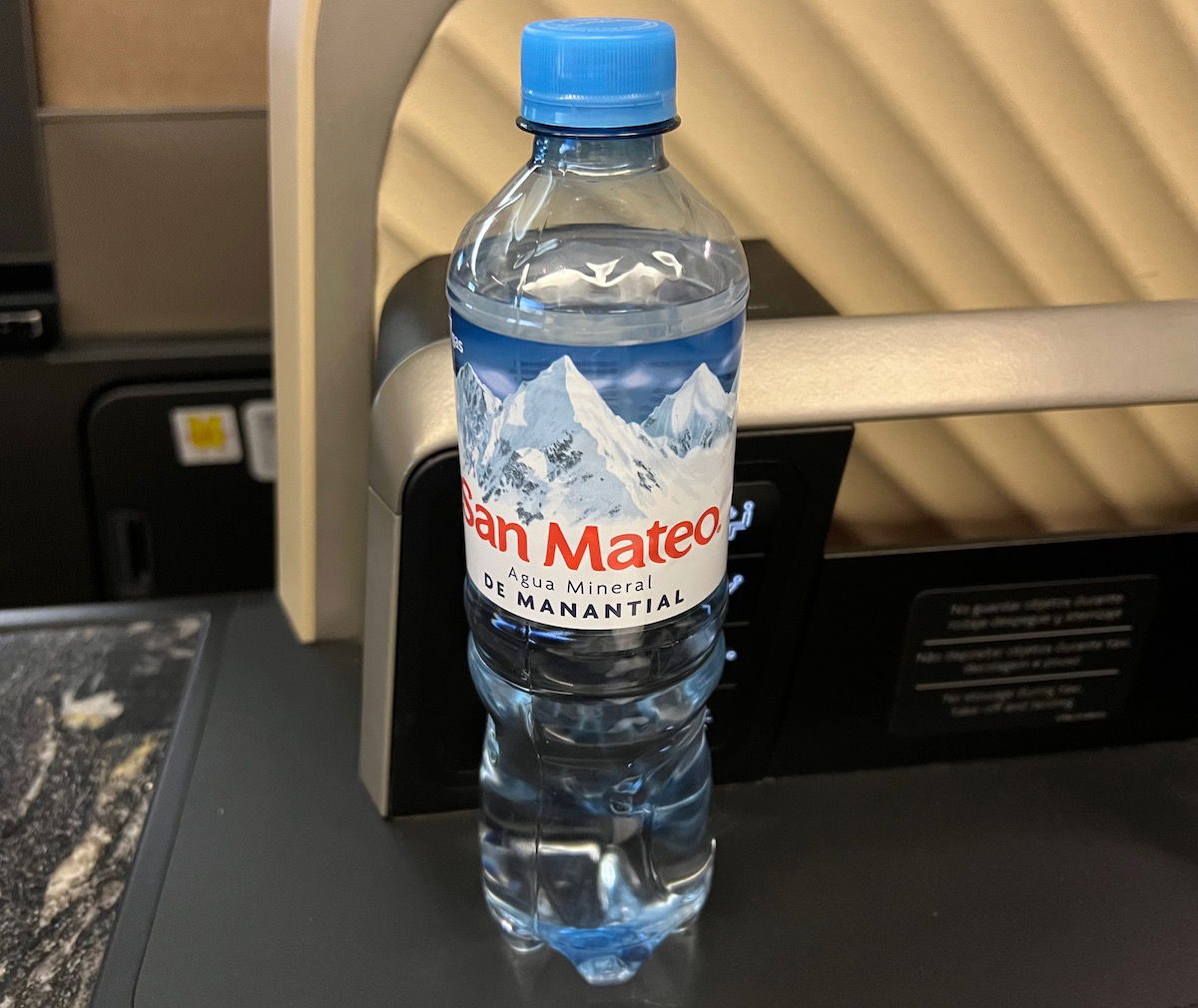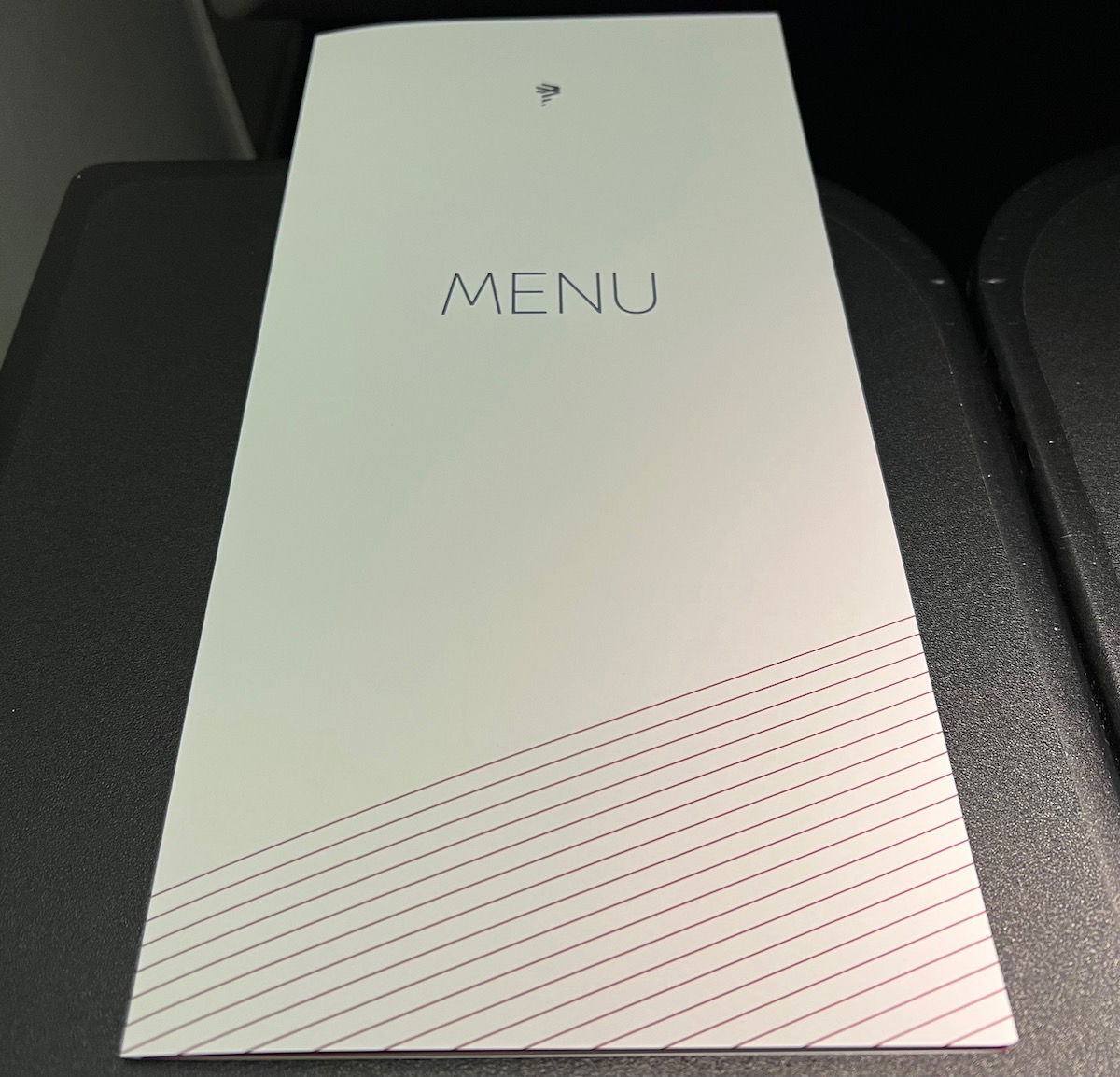 LATAM 767 departure from Lima
This flight was nearly full, so boarding was a bit hectic, given that all passengers board through the forward door. The crew did an excellent job trying to welcome business class passengers and take meal orders during boarding, without slowing down boarding. The flight attendant serving me, Jorge, came around boarding to introduce himself by name, ask if I was familiar with the seat, and take my meal order.
LATAM also has relaxing boarding music, which I quite enjoyed — I probably notice airline boarding music more than the average person. Oddly there were no pre-departure beverages, though.
One entertaining aspect of boarding was that the guy seated across from me was celebrating his birthday, so when the clock struck midnight, his entire family came up to business class to sing him happy birthday in Spanish, while also videoing the whole thing. Everyone then gave him a kiss and hug.
They then returned to economy and… returned a minute later and sung him happy birthday again, this time in English. The crew then wished him a happy birthday over the PA, so then his family came back to business class a third time, to once again sing him happy birthday in Spanish. Lol… I found the whole thing cute, I think.
The main cabin door ended up closing at 12:05AM, with every business class seat occupied. The captain added his welcome onboard, informing us of our flight time of 5hr20min. A moment later we began our pushback. At this point the safety video was screened — LATAM has a cute South America themed safety video, which I enjoyed.
At 12:10AM we began our taxi to the runway, and at 12:20AM we were cleared for takeoff on runway 16, so we were making good time.
LATAM 767 business class entertainment & Wi-Fi
As we climbed out of Lima, I browsed the entertainment selection. I found the system as such to be excellent, as it was touchscreen and responsive.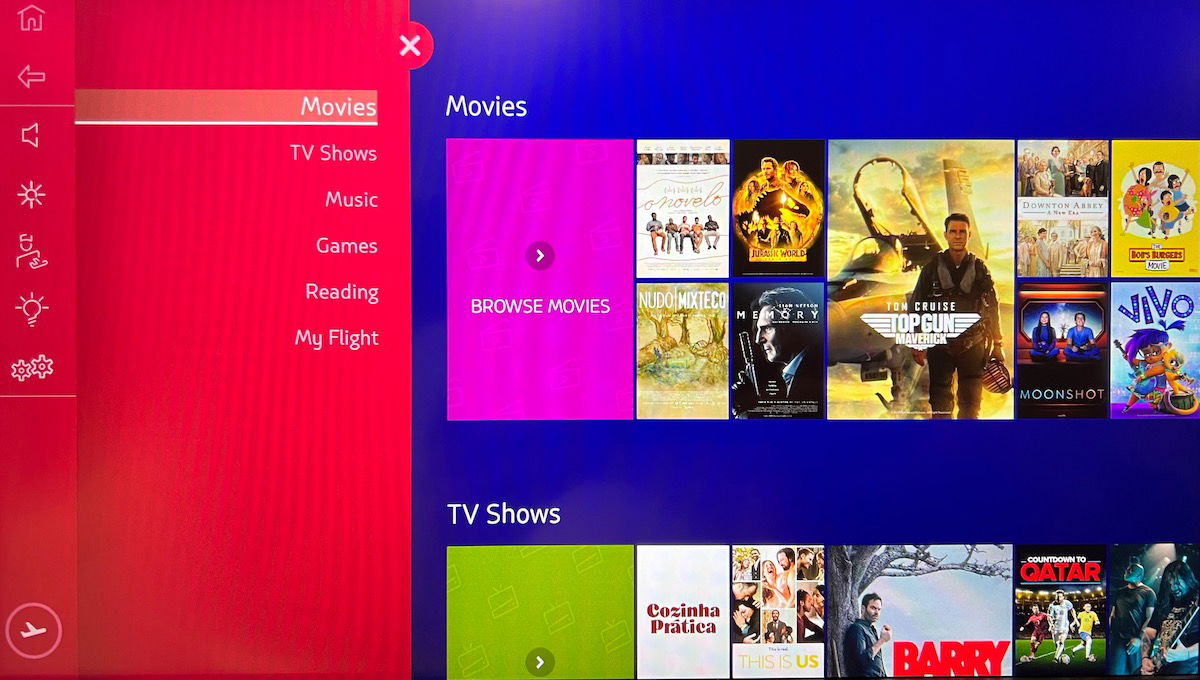 It was hard to tell exactly how many movies and TV shows there were, as some were listed under multiple genres. Based on my count there were well over 100 movies, and a similar number of TV shows.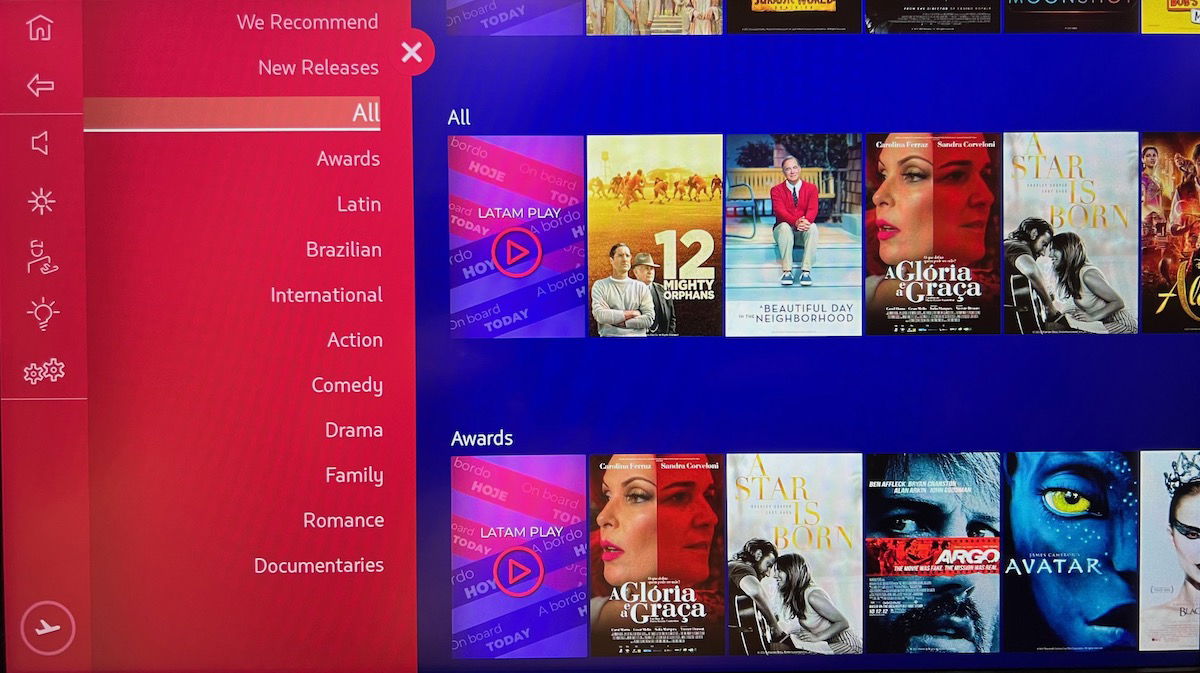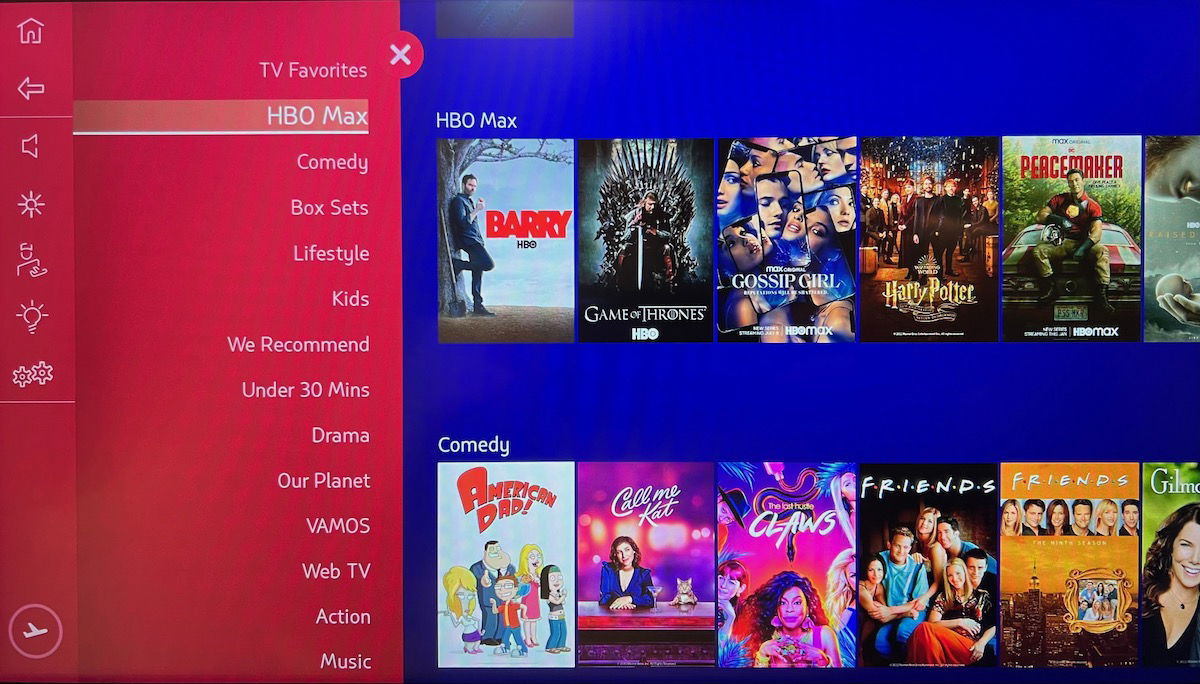 I ended up watching several episodes of "The World's Most Extraordinary Homes," which I feel like is one of those shows you only watch on an airplane. I think at this point I've seen every episode, but only at 30,000+ feet.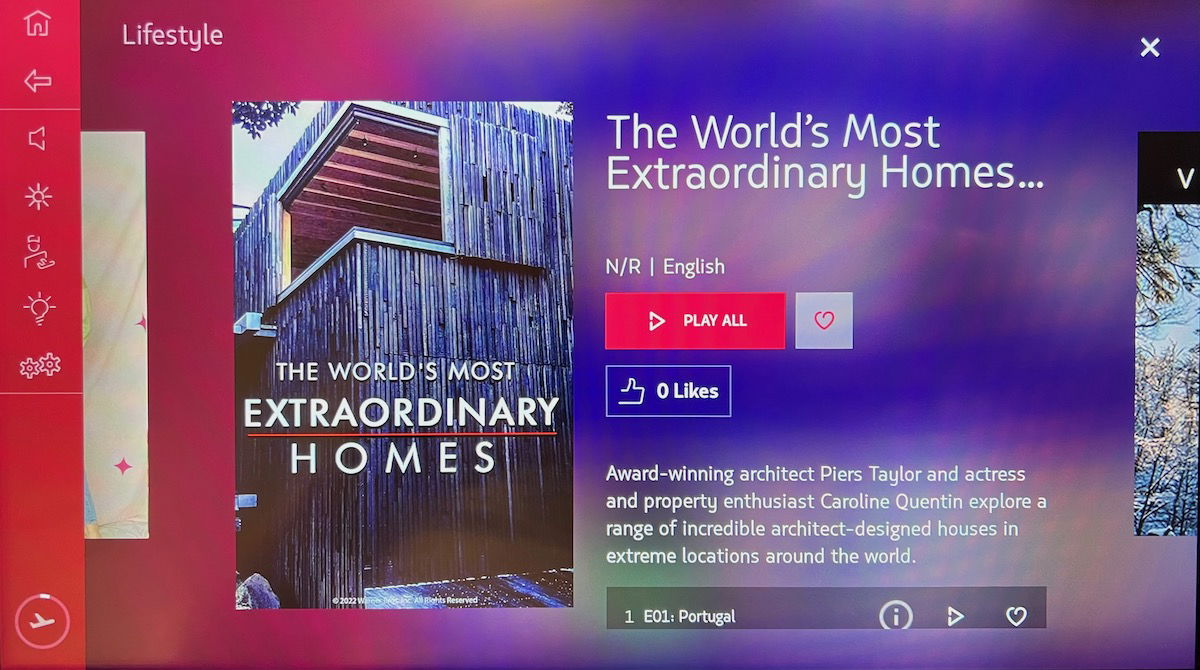 LATAM also has an excellent map feature on its 767s, which is customizable, as you can zoom in and out, rather than being constrained to only certain views.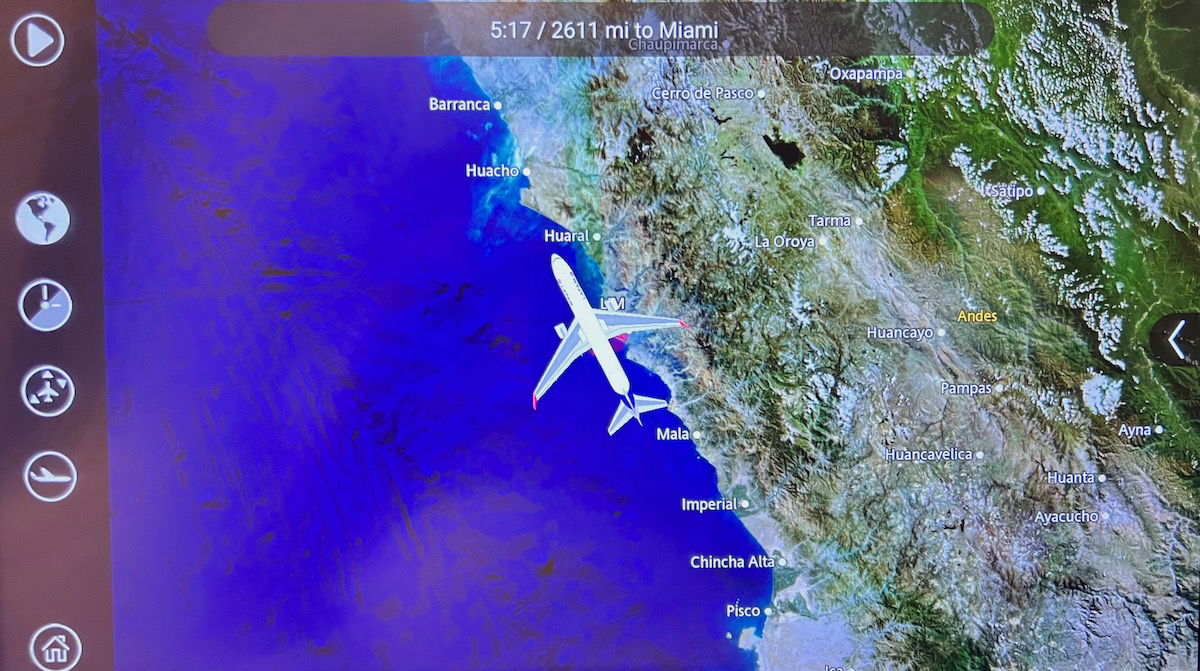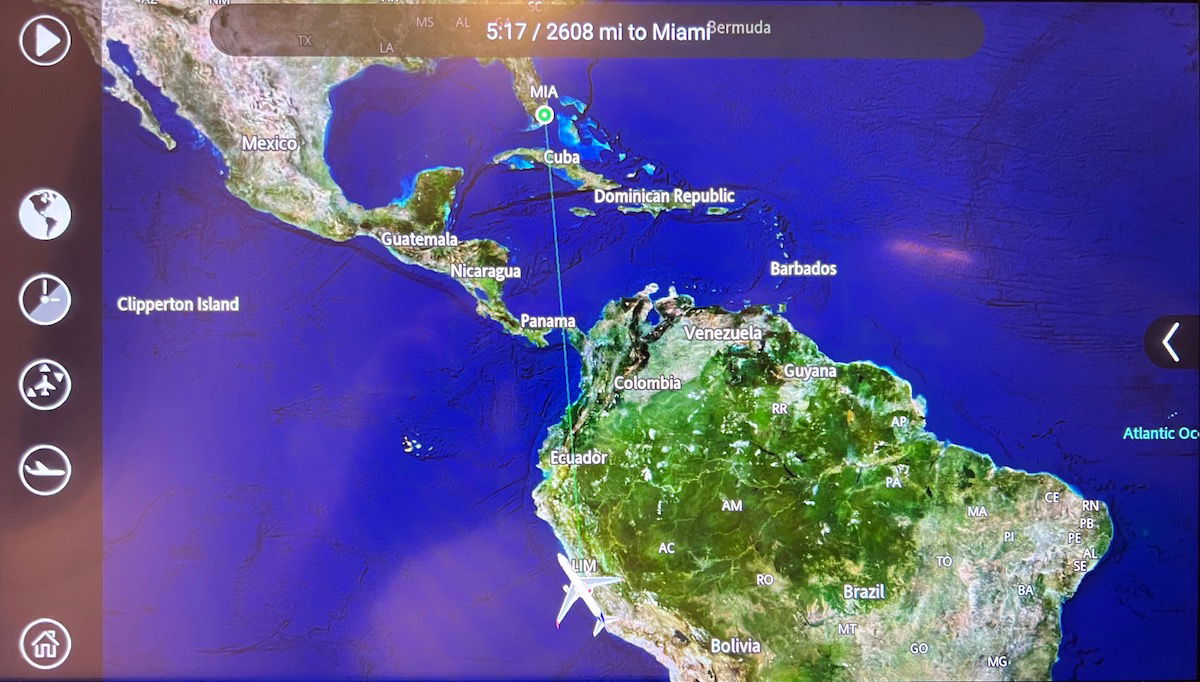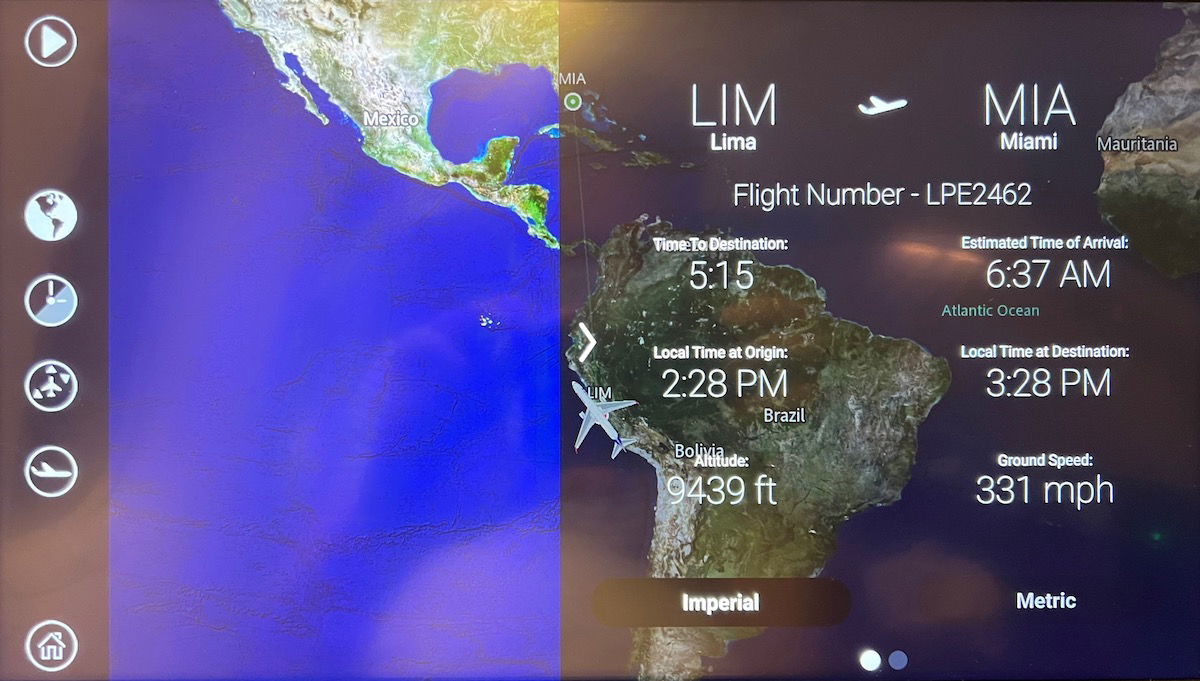 Unfortunately LATAM doesn't offer Wi-Fi on its Boeing 767s. While that would bother me on a daytime flight, on a redeye like this, that didn't bother me one bit.
LATAM business class meal service
For a 5hr20min redeye, the inflight service was quite extensive, as there was a dinner service after takeoff and a snack service before landing.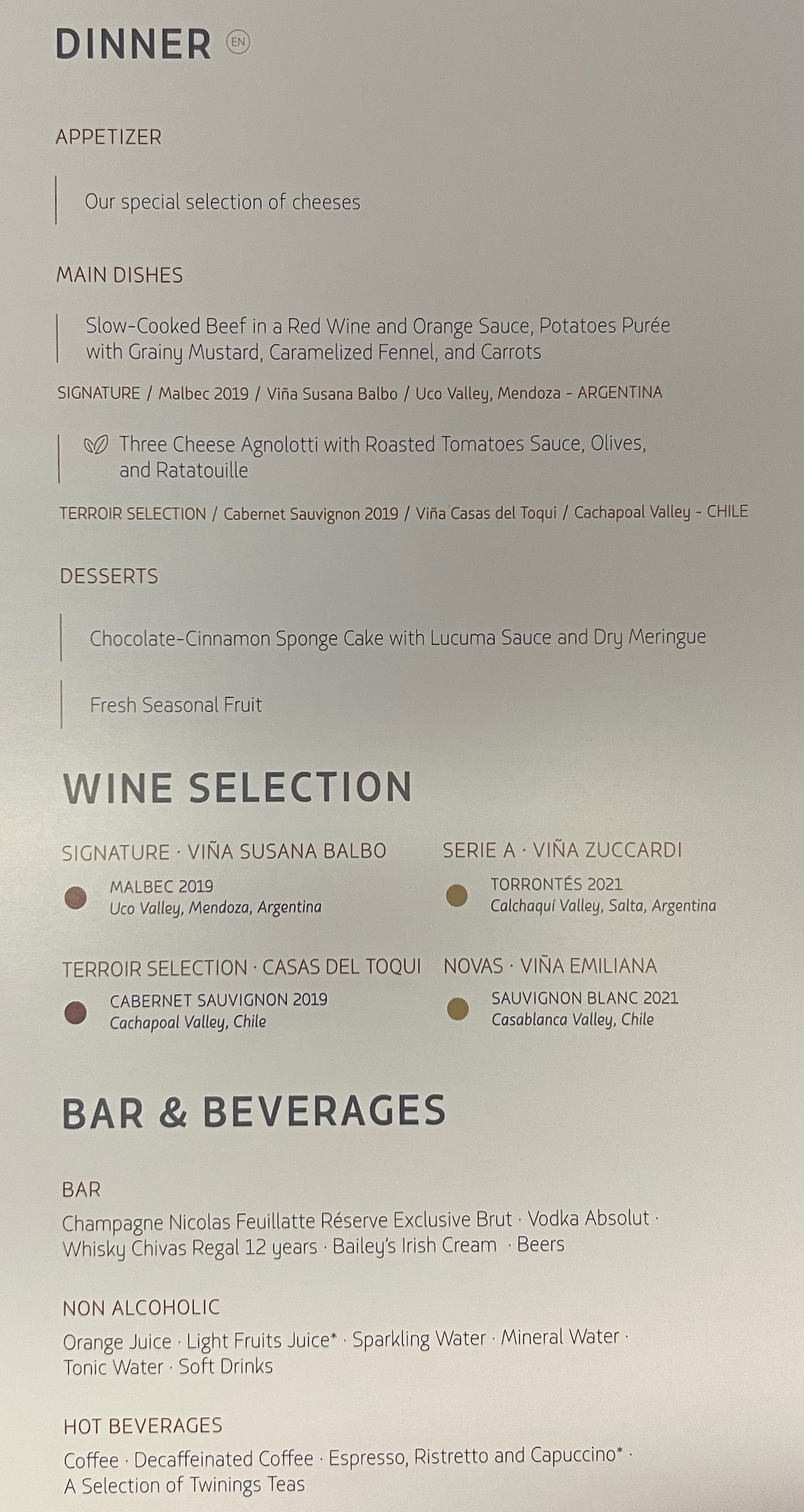 Now, service was a bit slow to get started. The crew wasn't visible in the cabin for the first 50 minutes. I guess they were preparing the meals — ideally service would have started a bit earlier, but I also get there's a lot to do. At that point one cart was rolled down each aisle.
Everything was served on a single tray, as you'd expect on a flight this short, where people are looking to rest. Peru still has lots of coronavirus restrictions (this was the only flight this trip where wearing a mask was required), so unsurprisingly the meal was also served fully covered. This might also explain why there were no pre-departure drinks. I do like how LATAM wraps its bread in what looks like a newspaper — that's cute.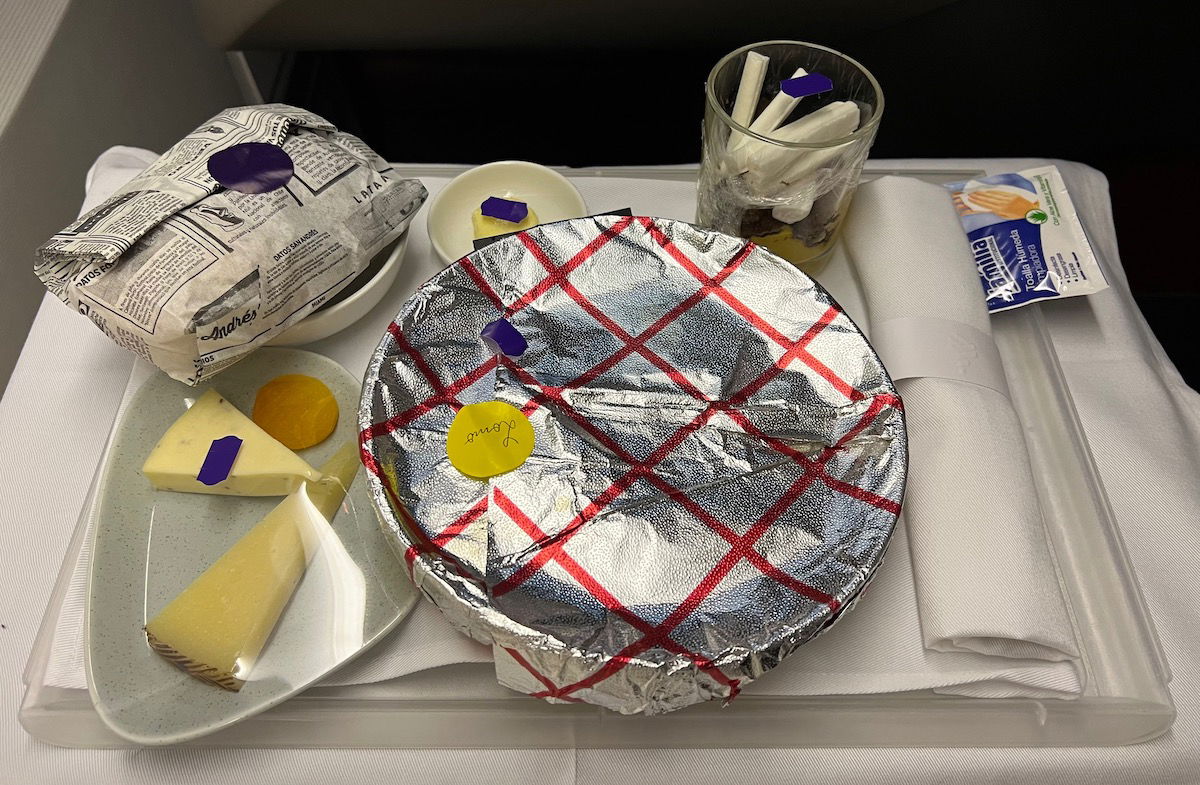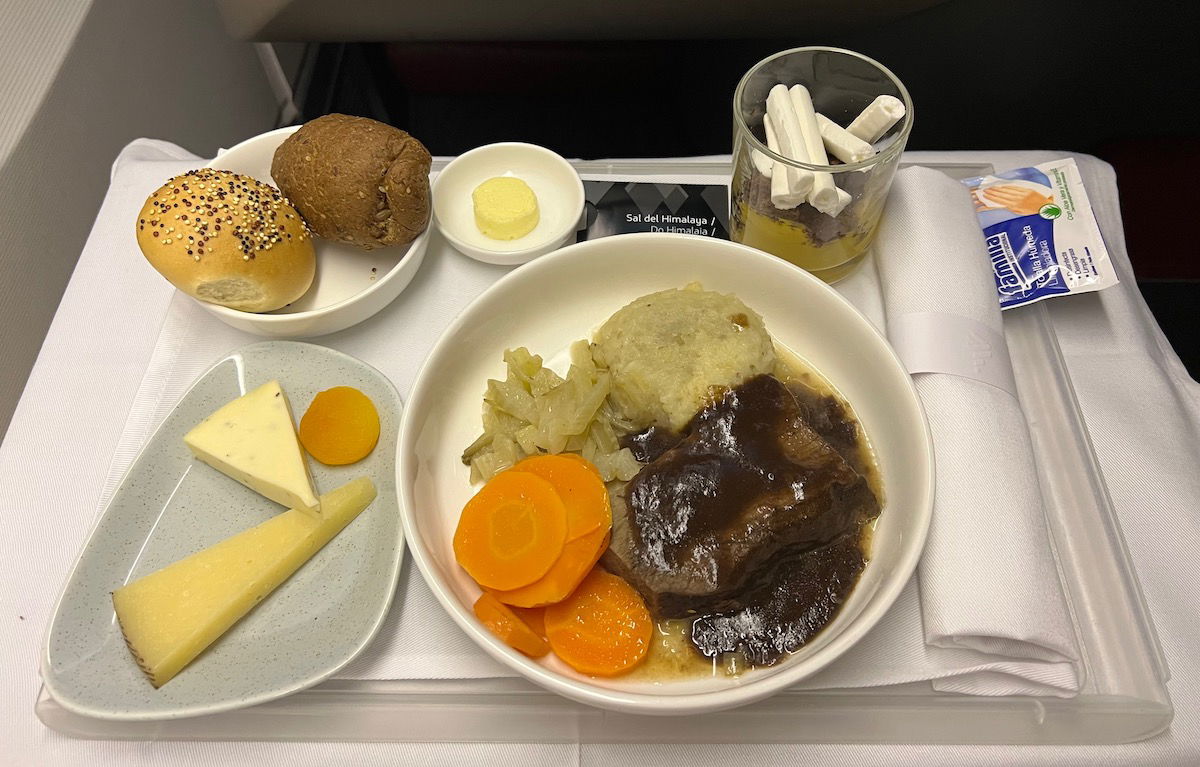 There were two dinner options — beef or pasta. Ordinarily I'd go with the latter (I'm not much of a beef person), but I had pasta on the previous flight, so I decided to mix it up. That was probably a mistake.
The non-vegetarian option was slow-cooked beef in a red wine and orange sauce, potato puree with gravy mustard, caramelized fennel, and carrots. The beef was really tough, so I didn't end up eating it. That was probably a blessing in disguise, since I certainly didn't need to eat another meal.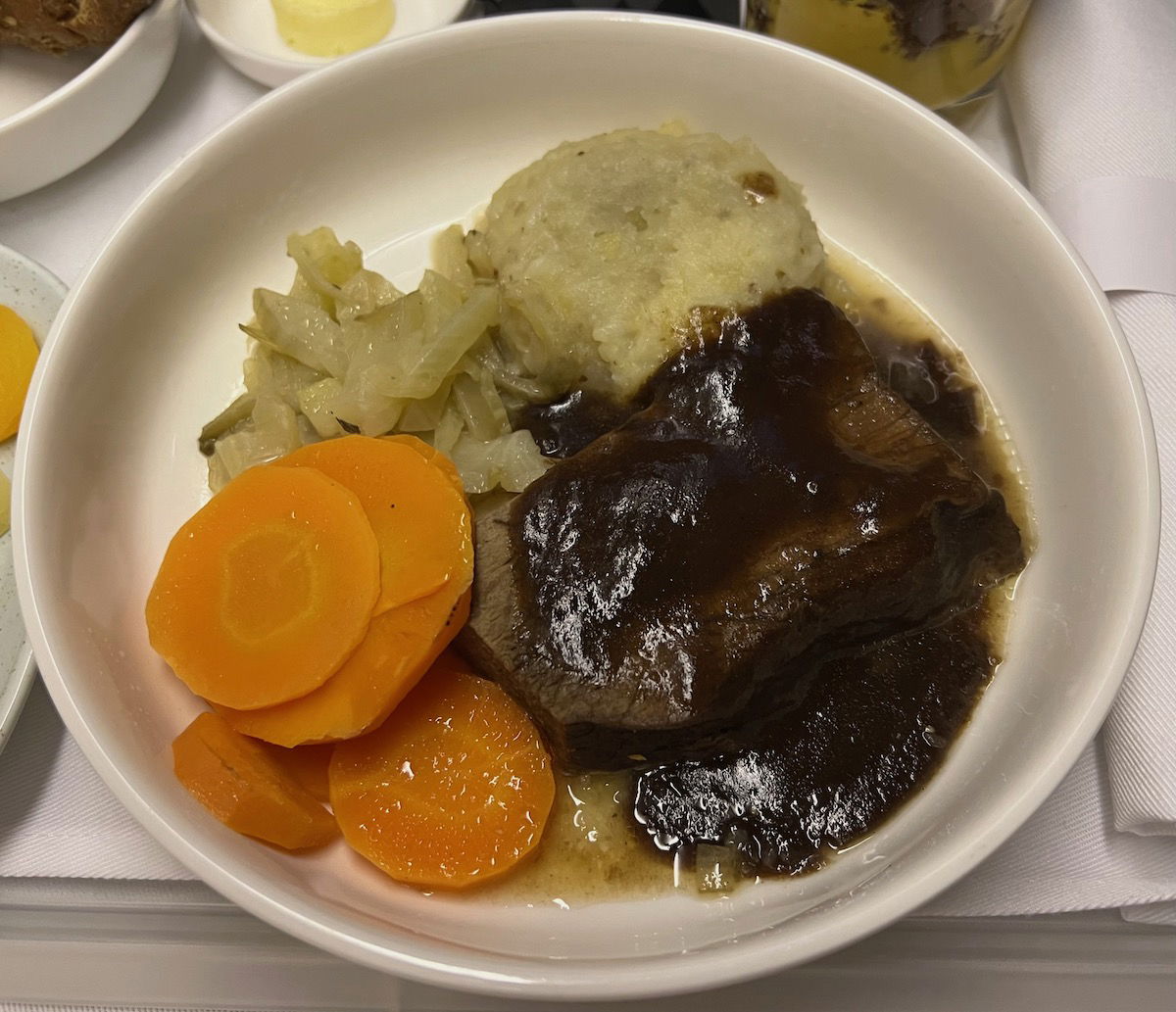 This was served with a side of cheese, which went well with the bread.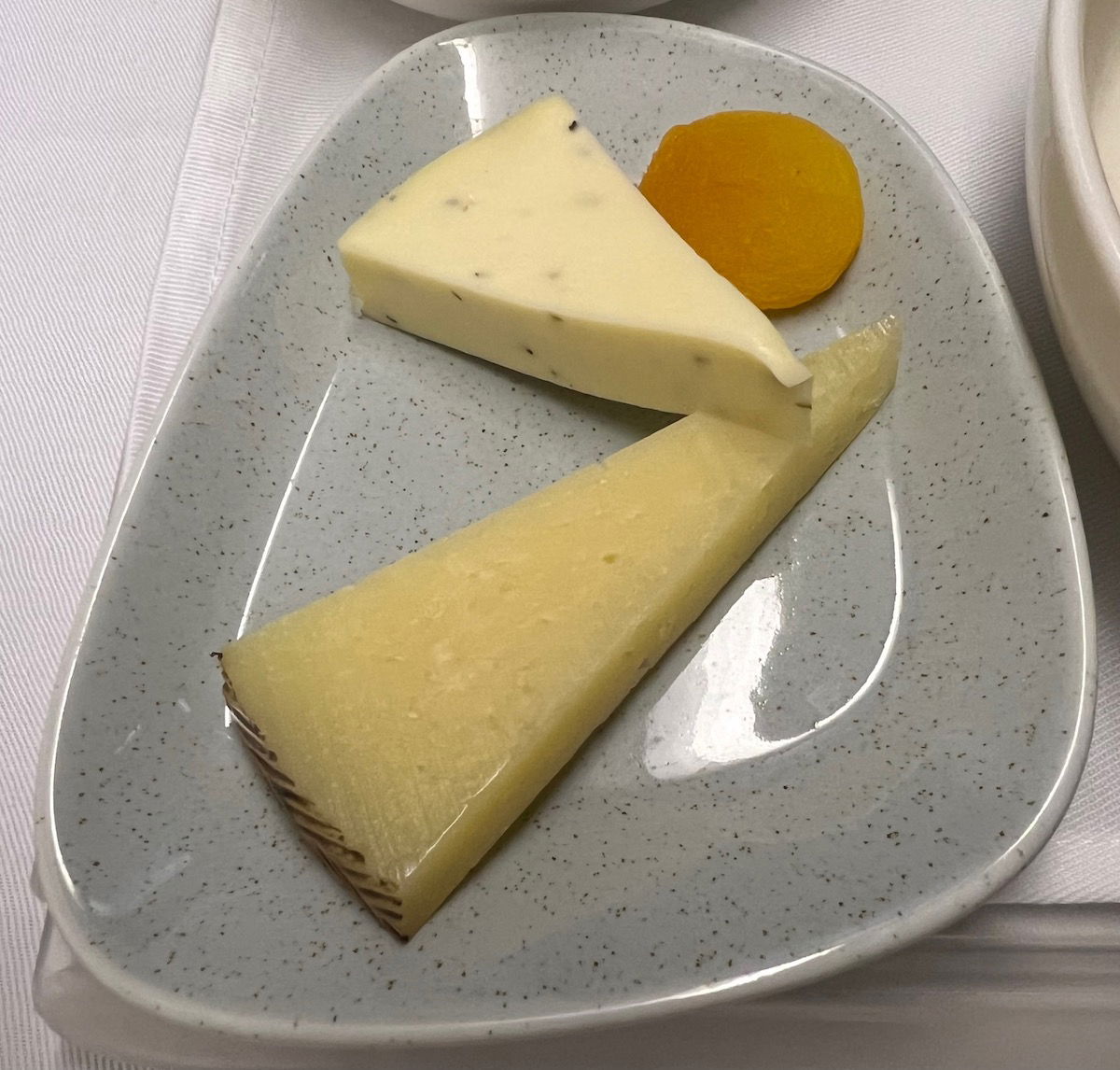 For dessert I selected the chocolate-cinnamon sponge cake with lucuma sauce and dry meringue, which was served in a glass. This was tasty.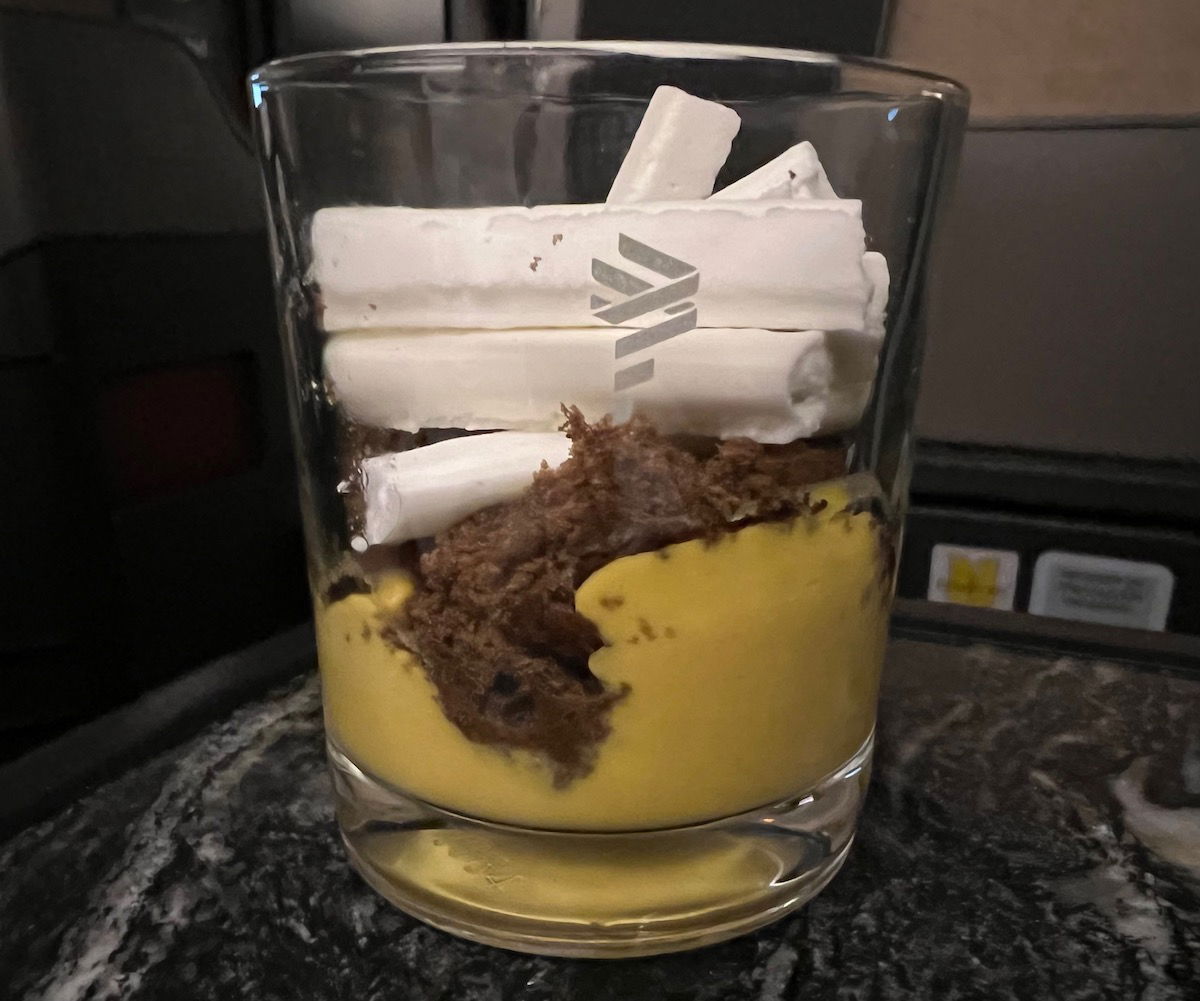 To drink I had a glass of the Chilean sauvignon blanc, which I enjoyed.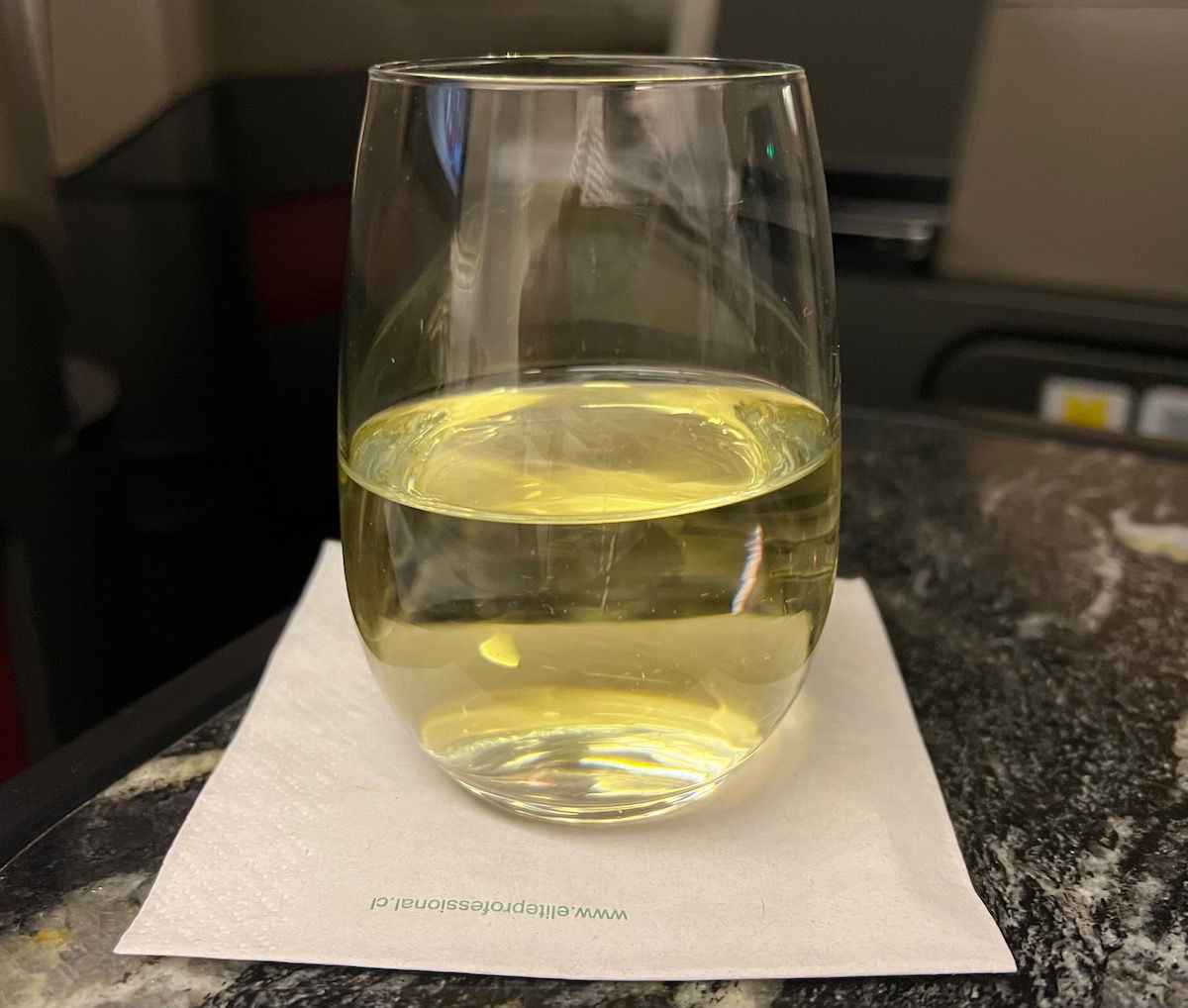 My tray was cleared just over an hour after takeoff. Personally I think the crew should have turned off the cabin lights during the meal, as many passengers chose to go straight to sleep. Instead they were left on for the first hour and change, and were then turned off.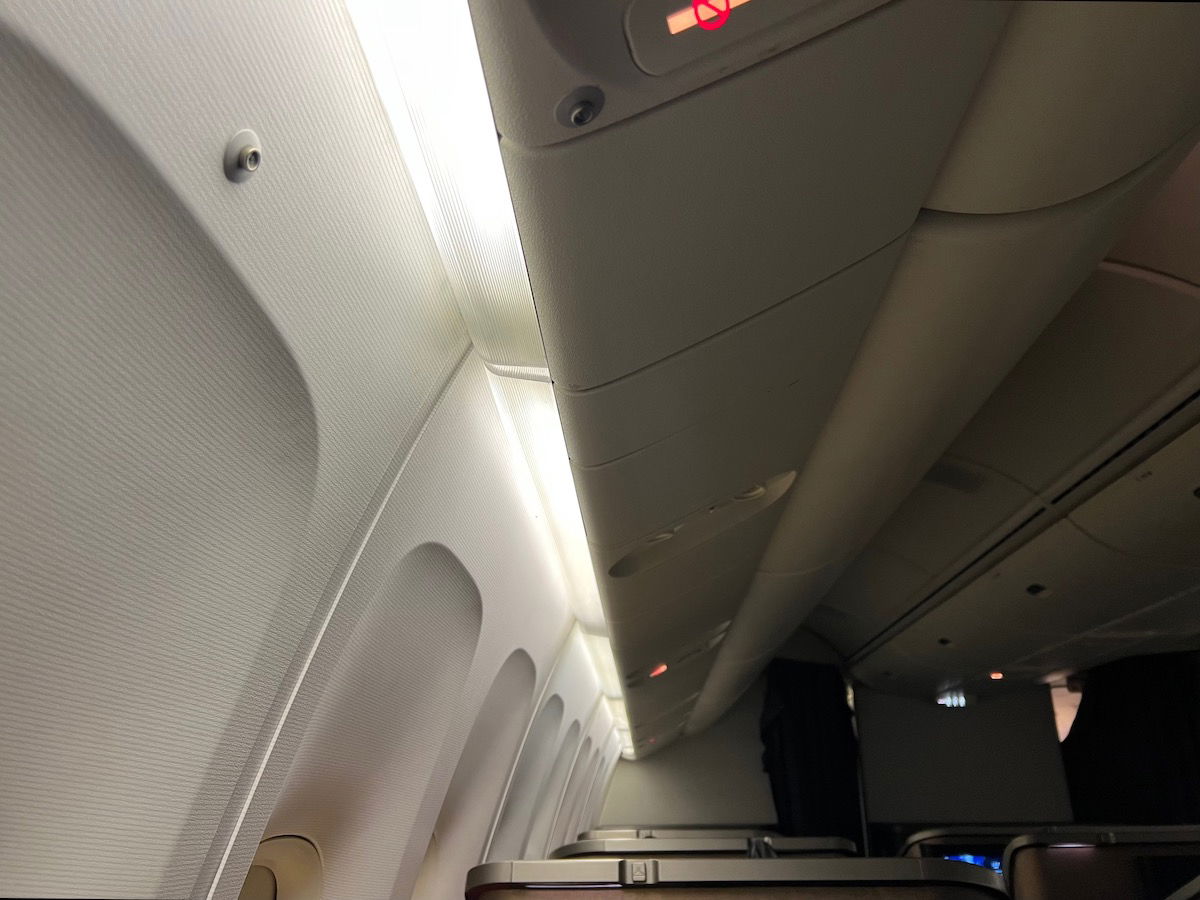 When my tray was collected, I was asked if I wanted to have a pre-landing snack, about an hour before arrival. Of course I wouldn't actually be hungry at that point, but I had a job to do. 😉 About an hour before landing I was offered a plate with a turkey croissant and some grapes. I had a cup of coffee to go along with it. While the menu lists cappuccino, that wasn't actually available.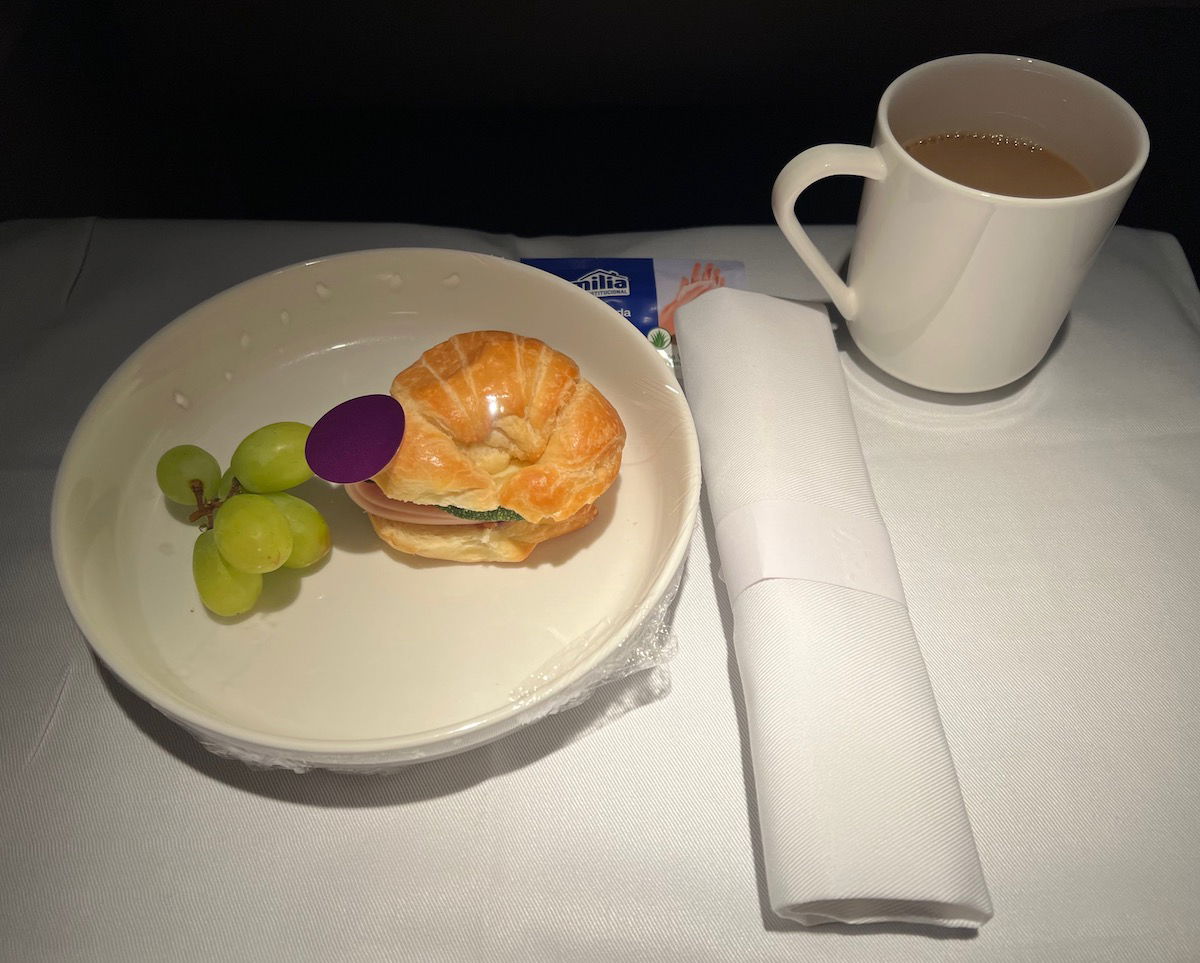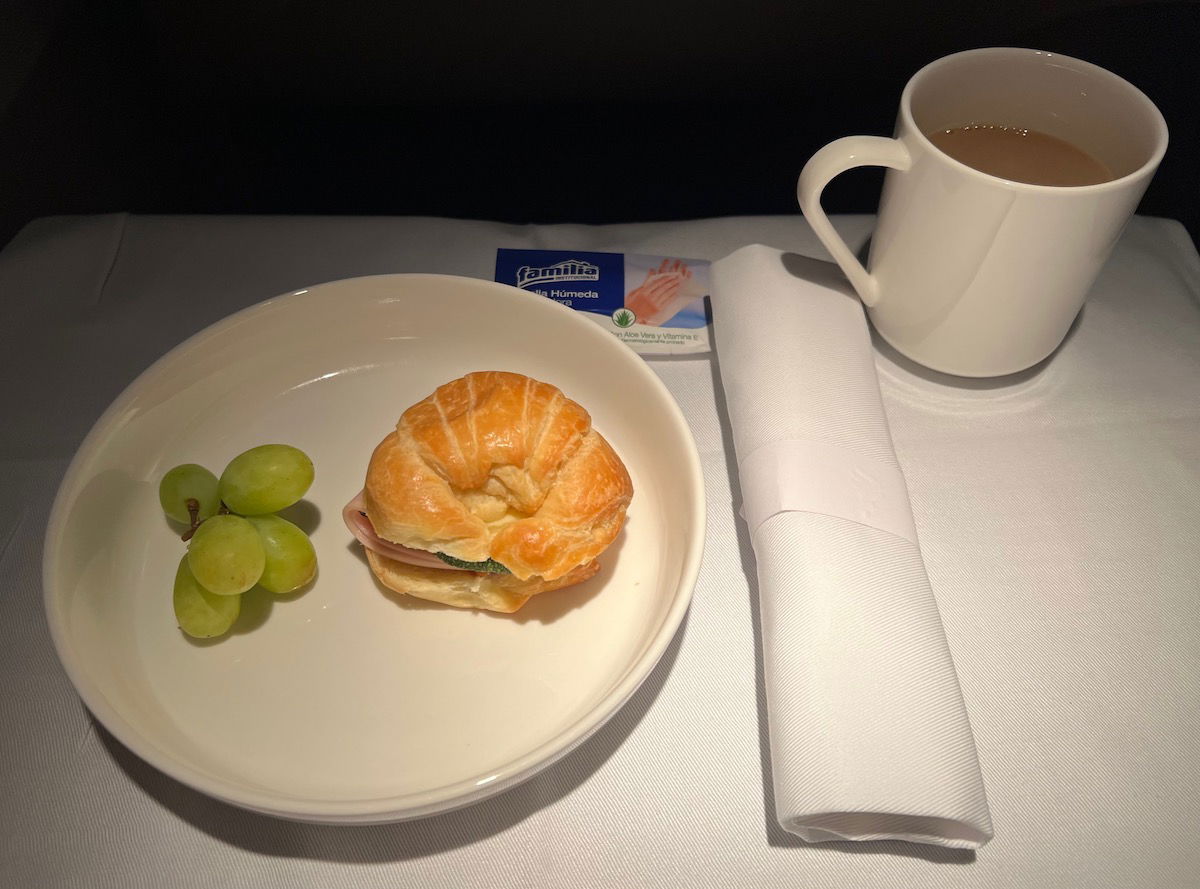 Finally about 30 minutes before landing the crew passed through the cabin with water or orange juice, for those who chose to sleep in.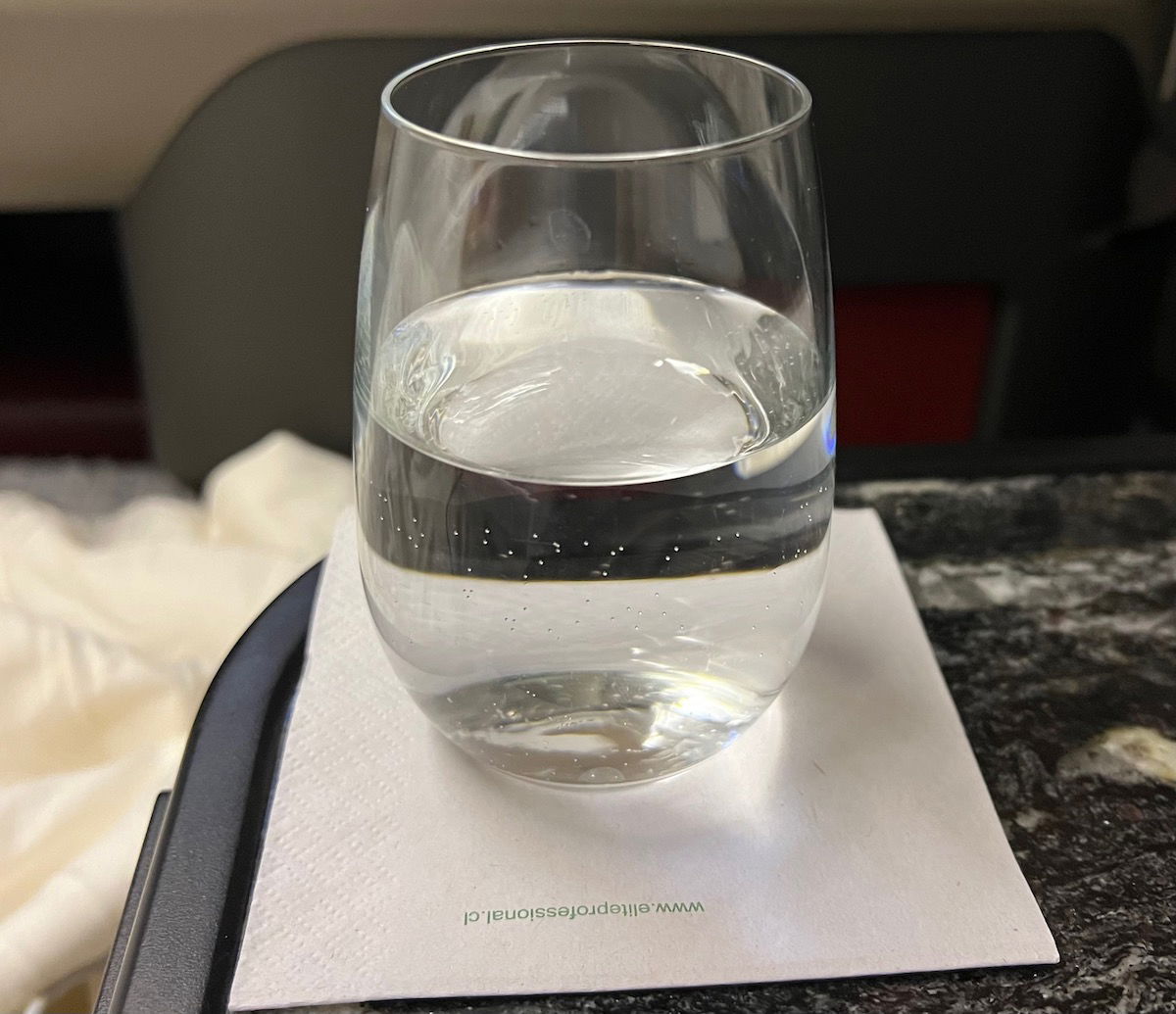 All-in-all, I'd say that's a lot of service for a redeye that takes just over five hours.
LATAM business class bed
I managed to snooze a bit between the two services. LATAM's 767s feature fully flat beds. While there's an armrest on the window-side, that can be lowered, to make the sleeping surface a bit wider.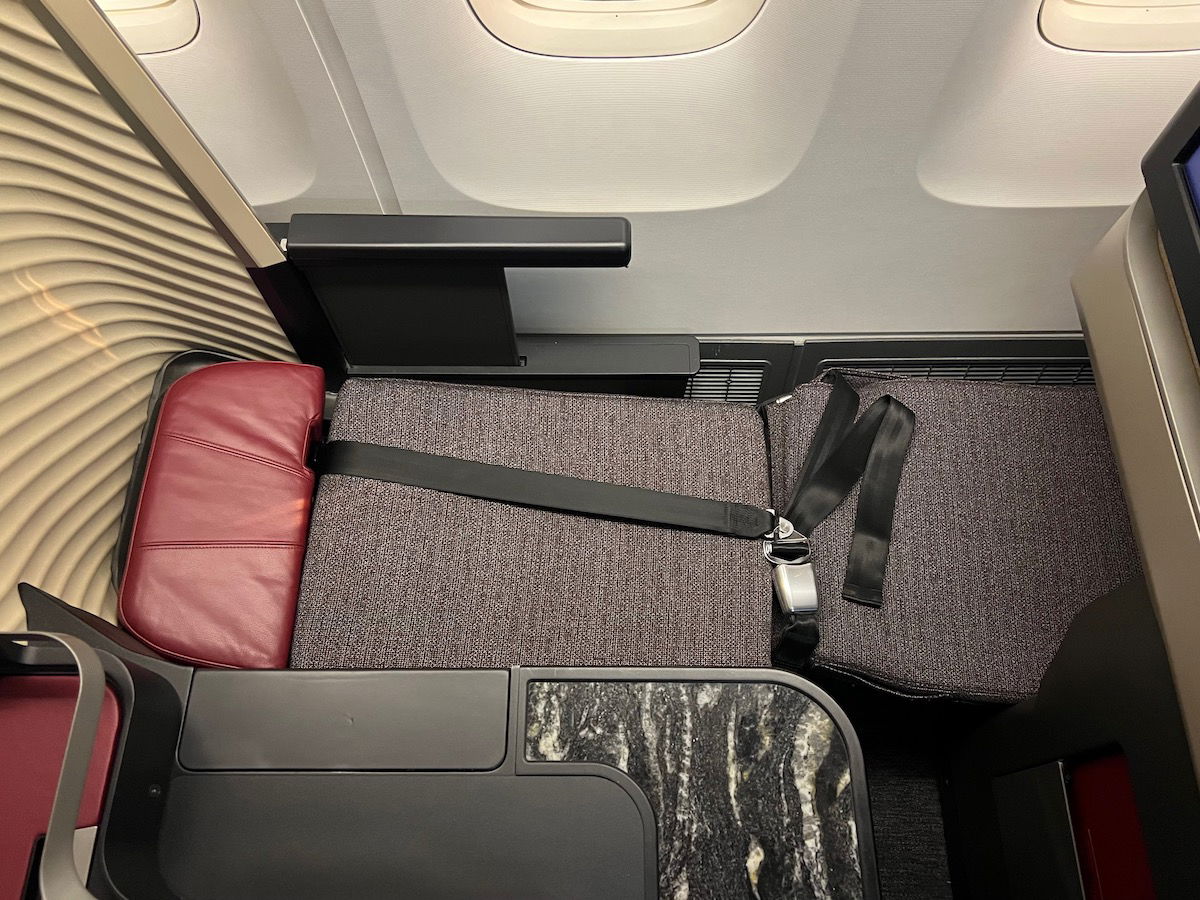 There are no two ways about it, the sleeping surface is quite narrow, as is common for Boeing 767s featuring these kinds of seats.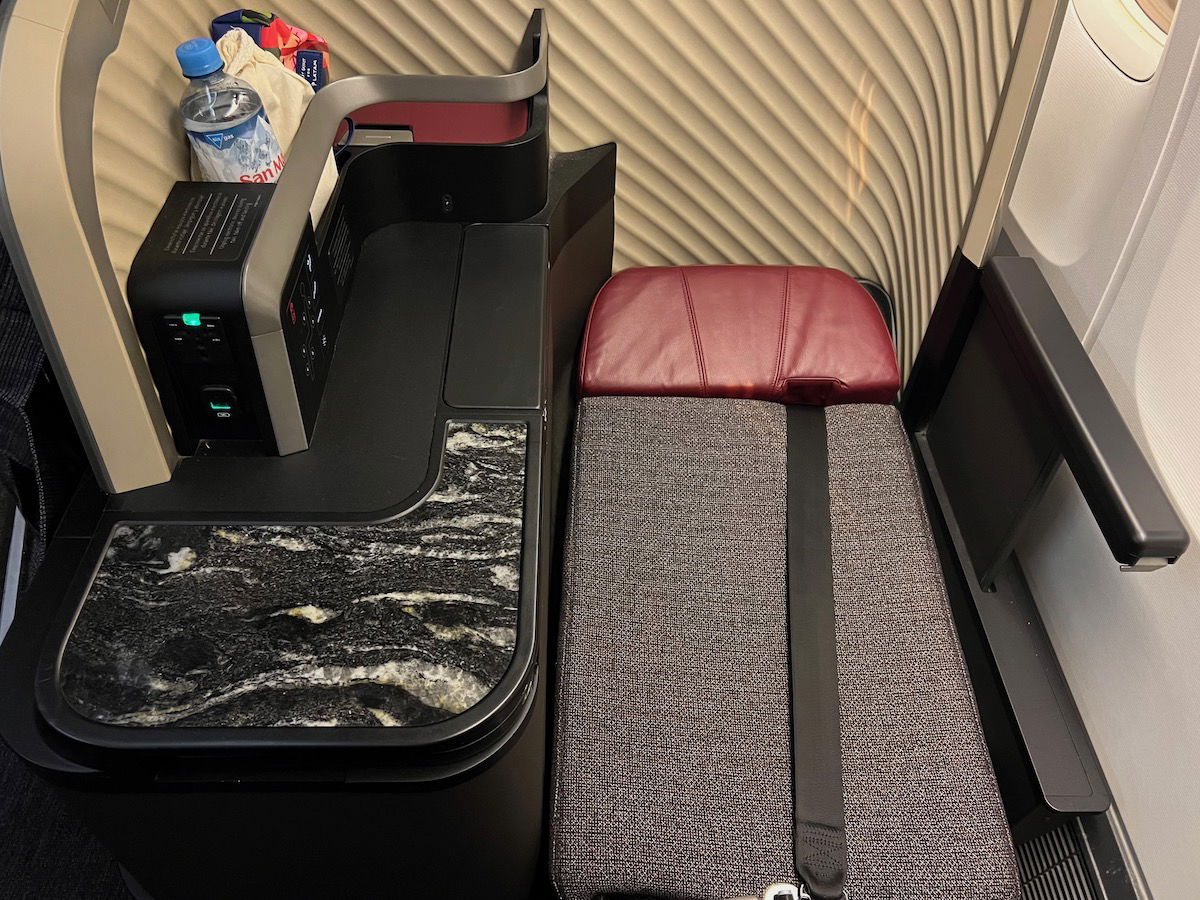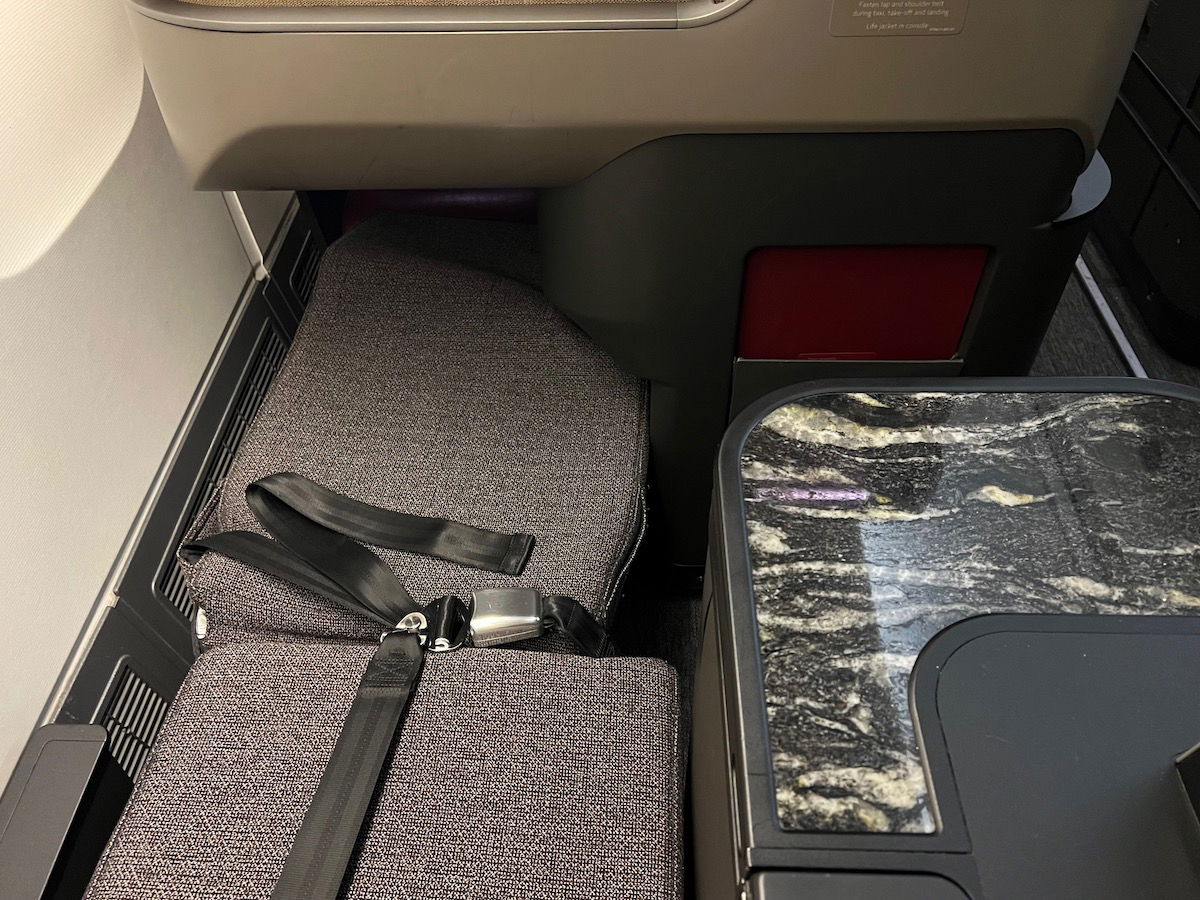 The footwell is definitely also on the tight side, especially if you have big feet. This plane isn't going to offer the level of comfort you'll find on many A350s or 787s, though it sure will offer a lot more comfort than American offers on this route, as the airline flies A321neos.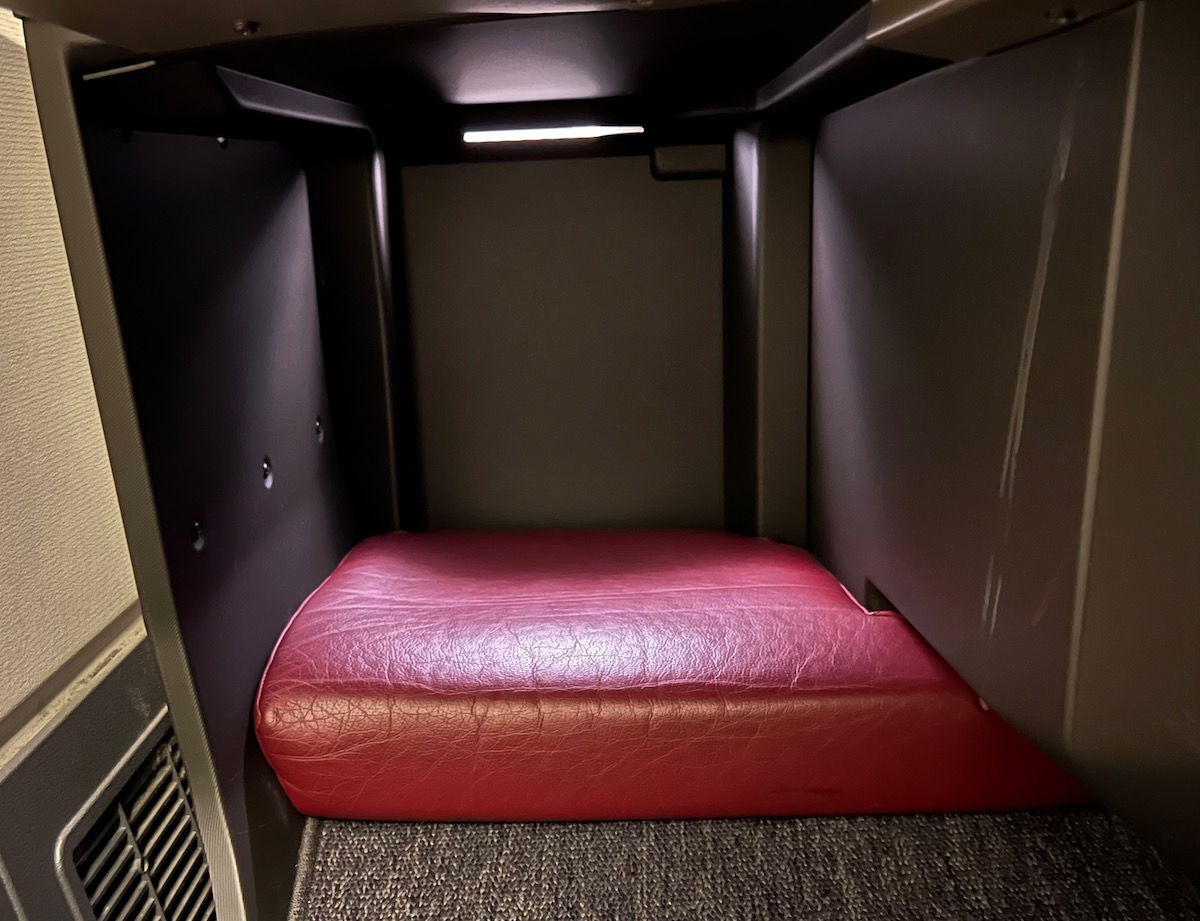 Nonetheless I managed to get some solid rest. I fell asleep with just over four hours remaining enroute to Miami.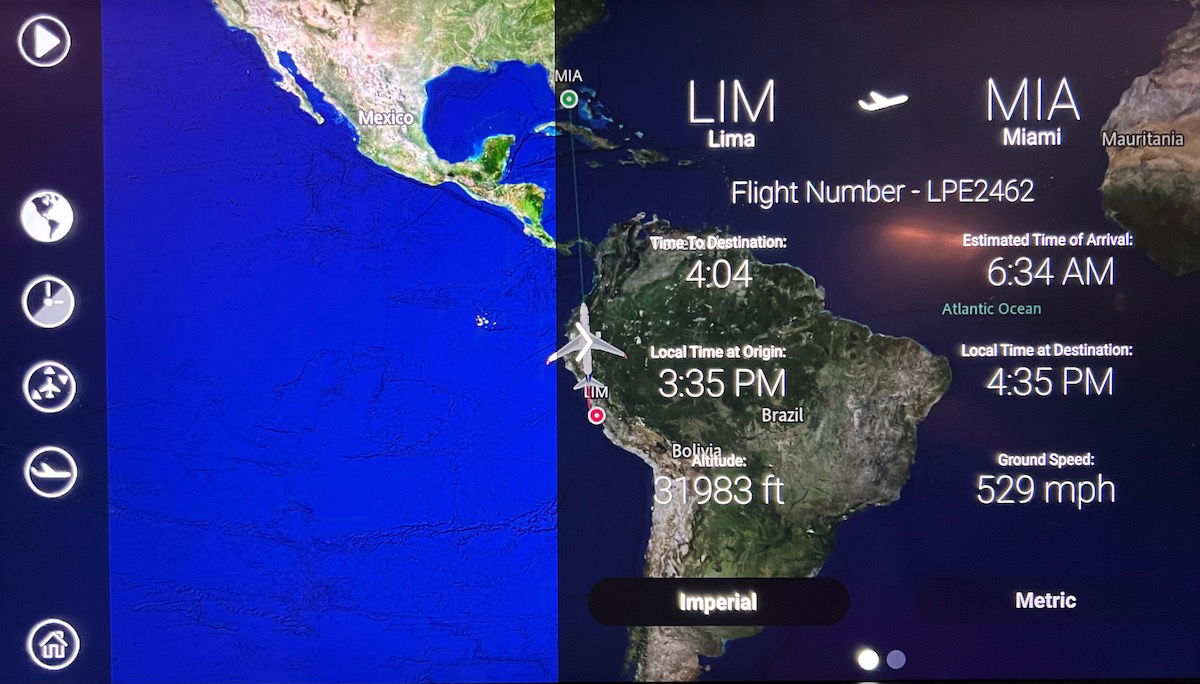 And I ended up waking up over 2.5 hours later, around 75 minutes before landing.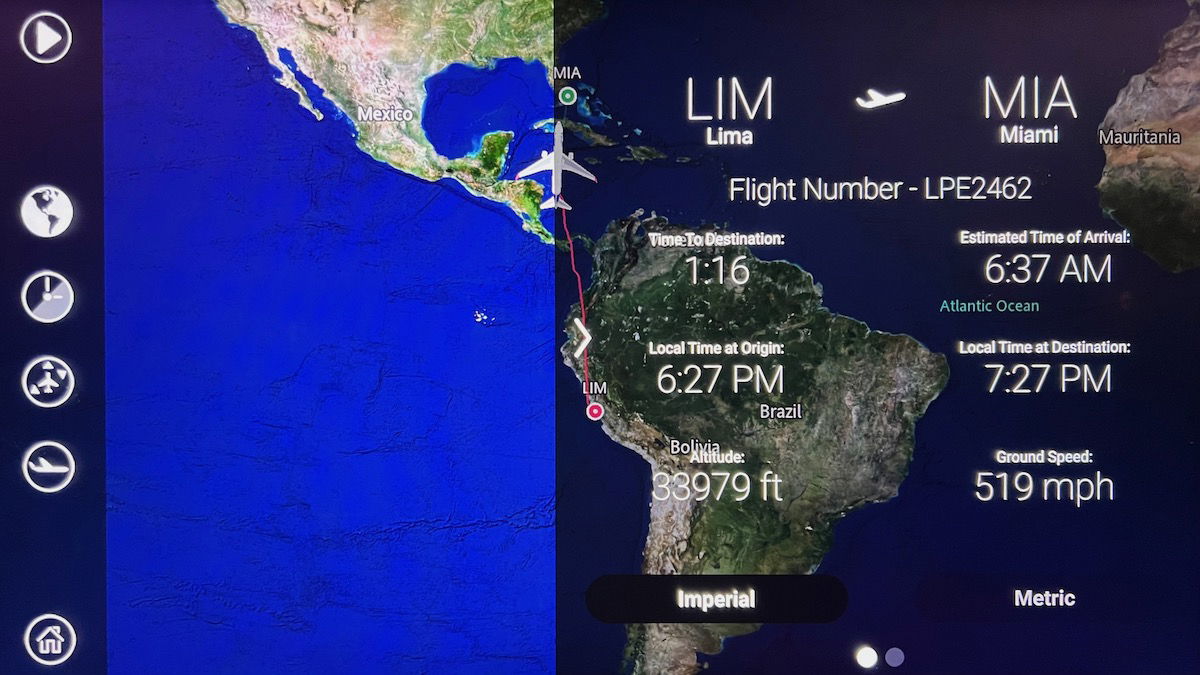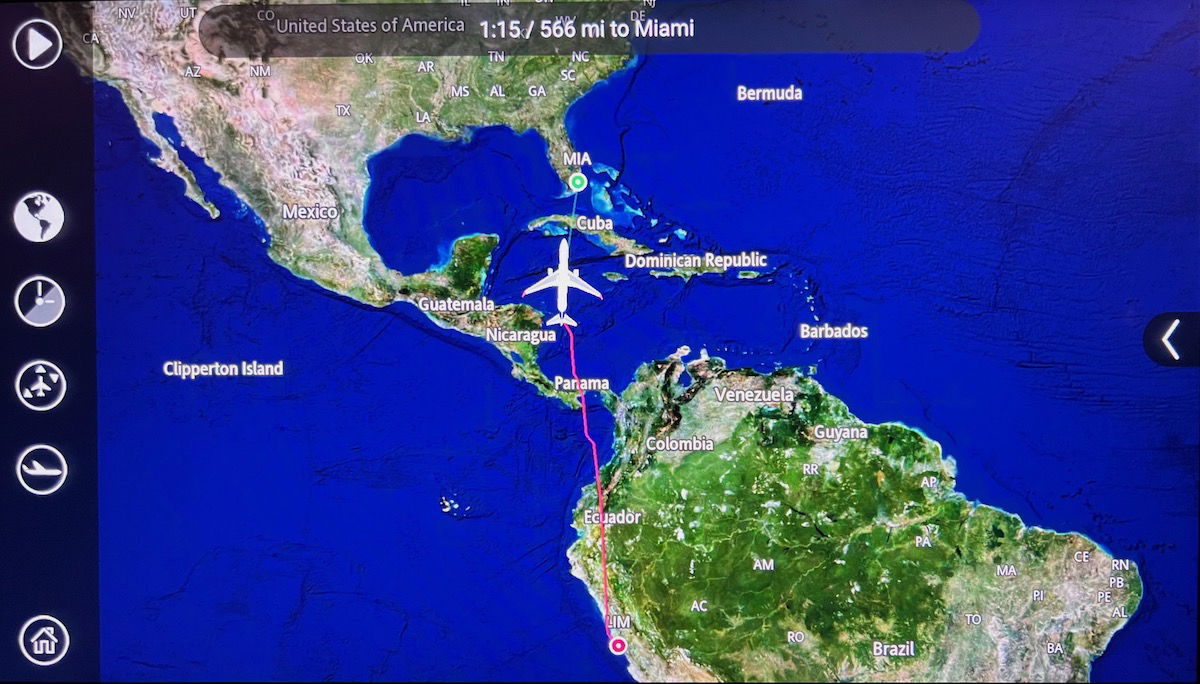 LATAM business class service
OMAAT readers told me to manage my expectations when it comes to service on LATAM, so in that sense I was very pleasantly surprised. Both of the flight attendants working business class were genuinely friendly and hardworking, and seemed to take pride in their jobs.
There were aspects of the service that were rough around the edges, like the fairly slow start to the service, and the bright lights staying on for quite a bit of time, even though many passengers wanted to sleep. However, the crew seemed to enjoy their jobs, and exceeded my expectations.
For that matter, I've generally found Peruvians to be extremely hospitable (and that's where this crew was based), so I think that might have been an advantage of the service culture compared to some of LATAM's other subsidiaries.
LATAM 767 arrival in Miami
At 6:10AM Miami time, the captain announced that we were starting our descent, and would be landing in about 30 minutes. At this point we were just north of Cuba, and that's also the point at which cabin lights were turned on pre-landing.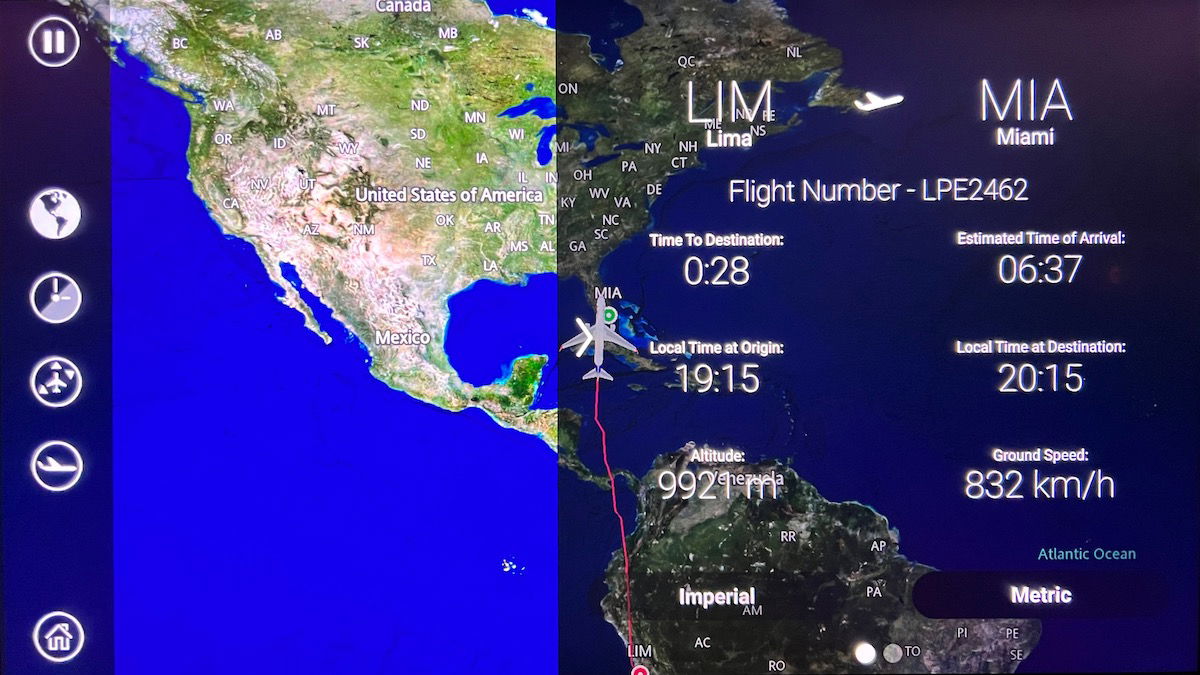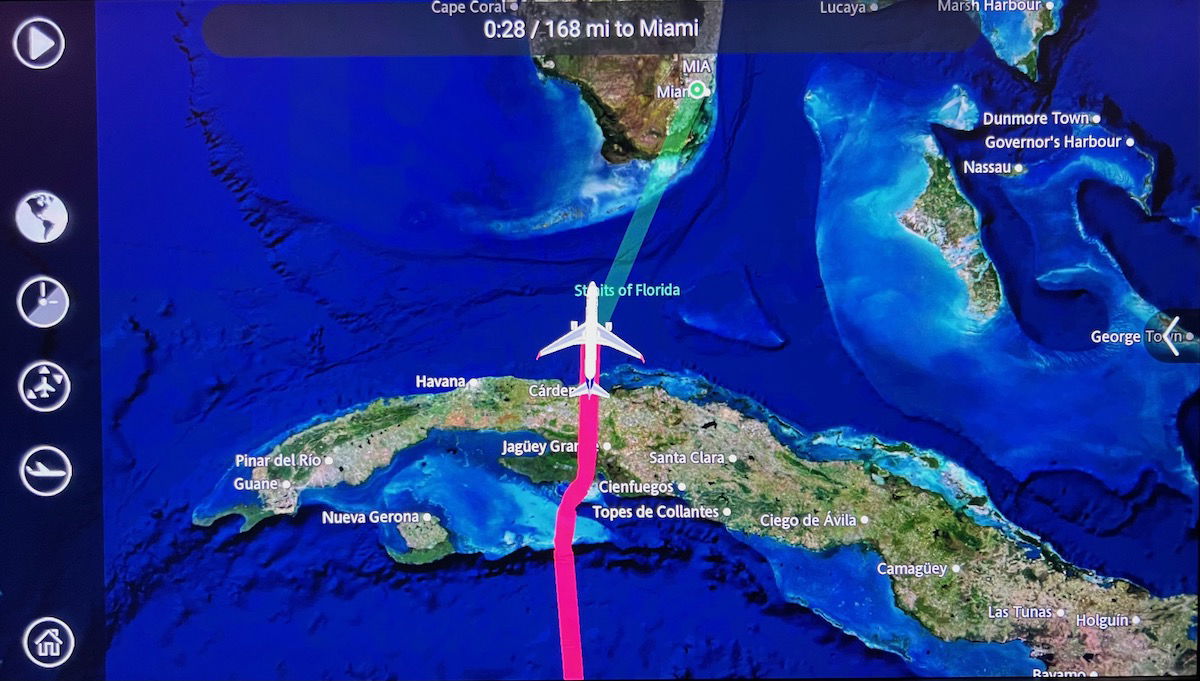 As expected, we touched down in Miami at 6:40AM, and from there had a five minute taxi to our arrival gate, where we pulled in around 20 minutes ahead of schedule. I cleared immigration in no time thanks to Global Entry, and made my way to American Airlines' terminal, for my flight to Los Angeles.
Bottom line
LATAM's business class exceeded my expectations in many ways. The airline did a great job refreshing the cabins of its Boeing 767s, and they feature stylish interiors and good entertainment. For a short overnight flight, the soft product was also very good, from the great bedding, to the amenity kit, to the extensive meal service, to the friendly crew.
There are of course some areas for improvement — my dinner wasn't great, and it would be nice if these planes had Wi-Fi. However, when you consider that American doesn't even offer flat beds on this route, I'd say LATAM's experience is pretty great.
What do you make of LATAM's 767 business class?