On my current review trip, I had the chance to finally check out a couple of terminals that have been on my radar. In addition to experiencing Panama Airport's new Terminal 2, I also had the chance to check out LAX's new Midfield Satellite Concourse. I was really impressed, and wanted to report back.
LAX TBIT is my favorite terminal in the US
The United States isn't exactly known for having world class airports, though personally Tom Bradley International Terminal (TBIT) at LAX is my single favorite airport terminal in the United States.
While the security lines can be a mess (fortunately you can clear security in another terminal if you want), there's a lot to love about the terminal. The architecture is beautiful, it has such a buzzing energy with people traveling to every part of the globe, and as an avgeek I love the great plane spotting, as the terminal has huge floor-to-ceiling windows with great plane views.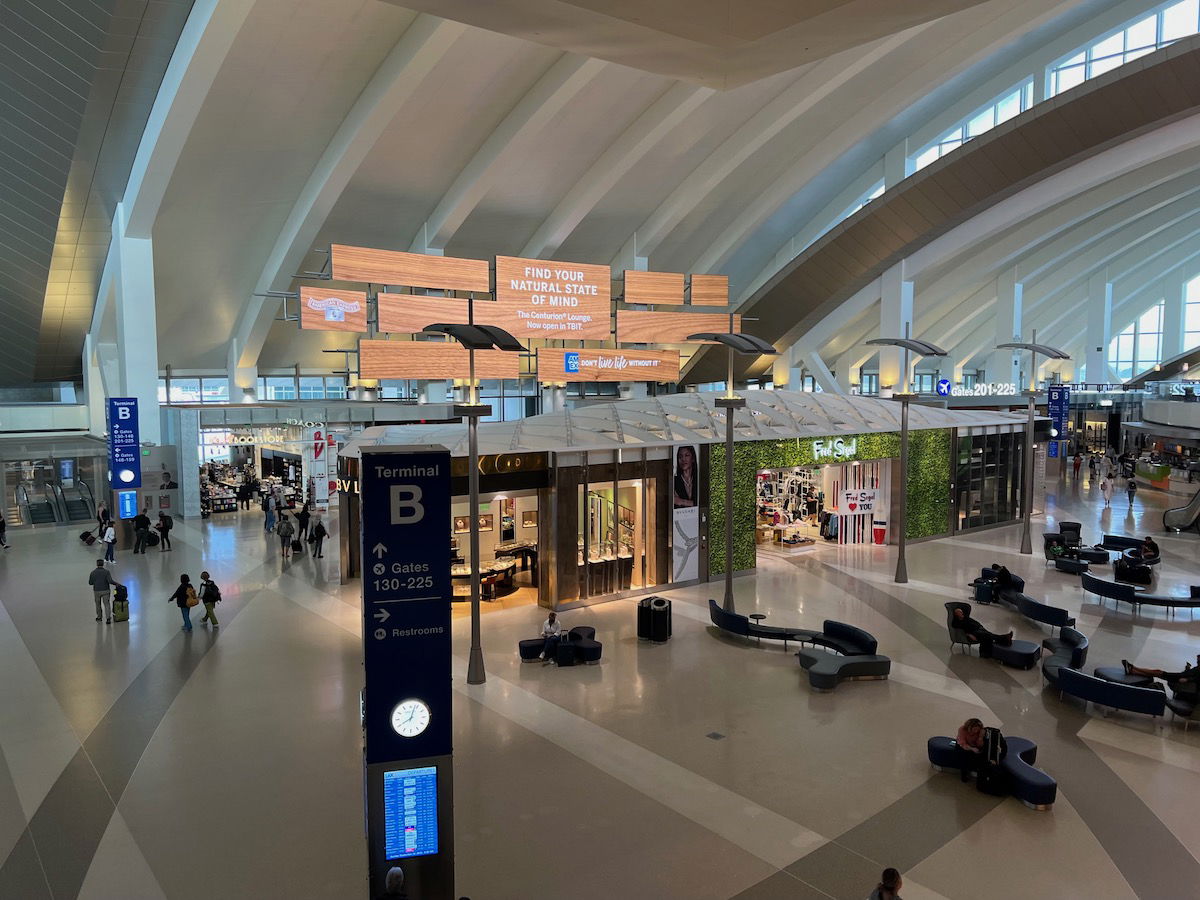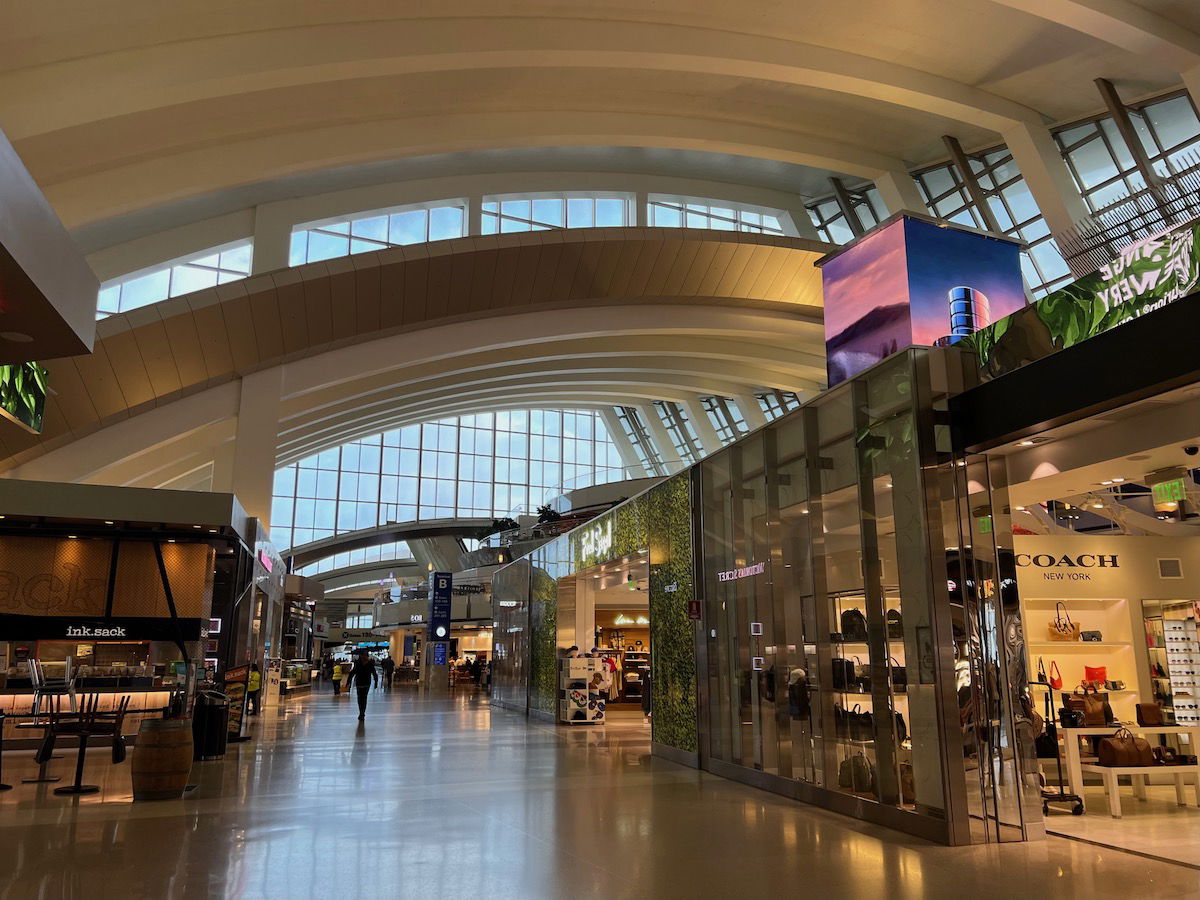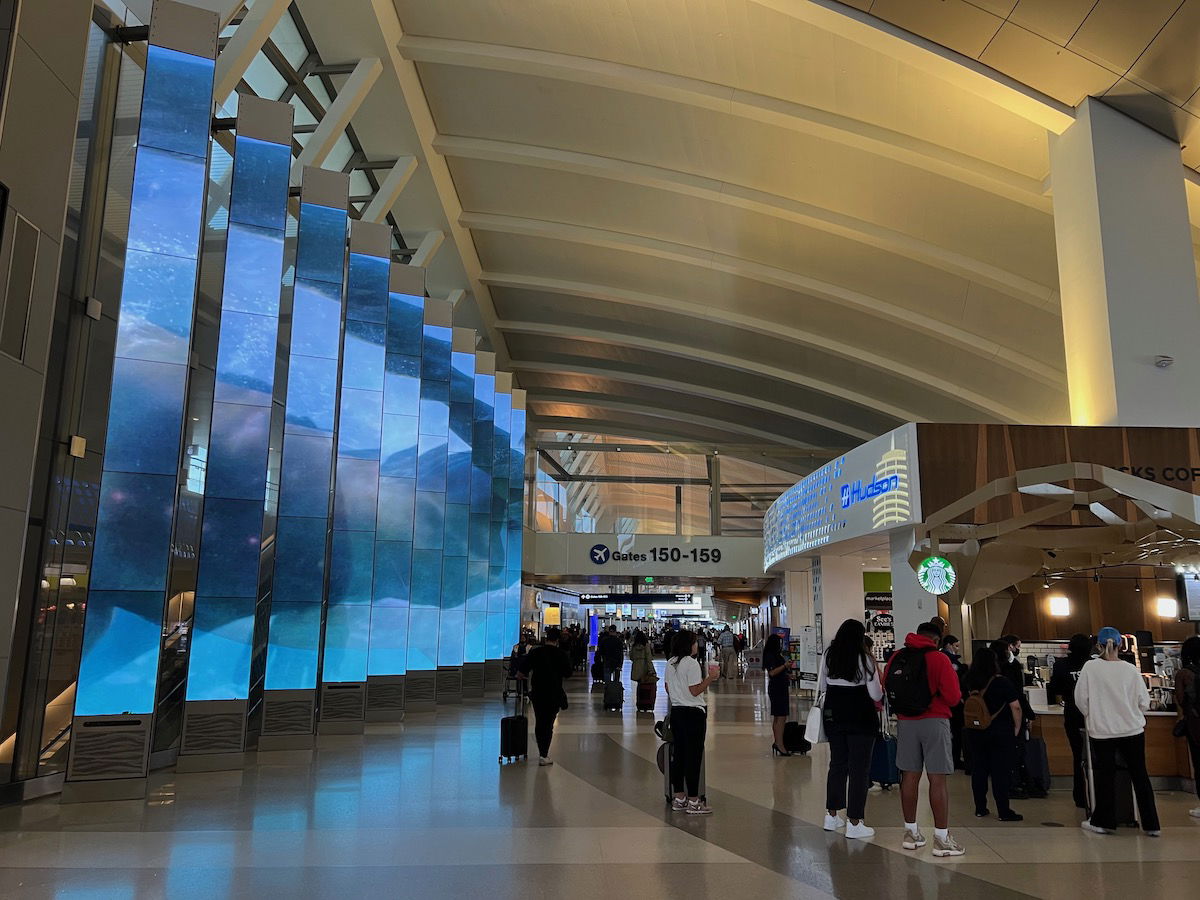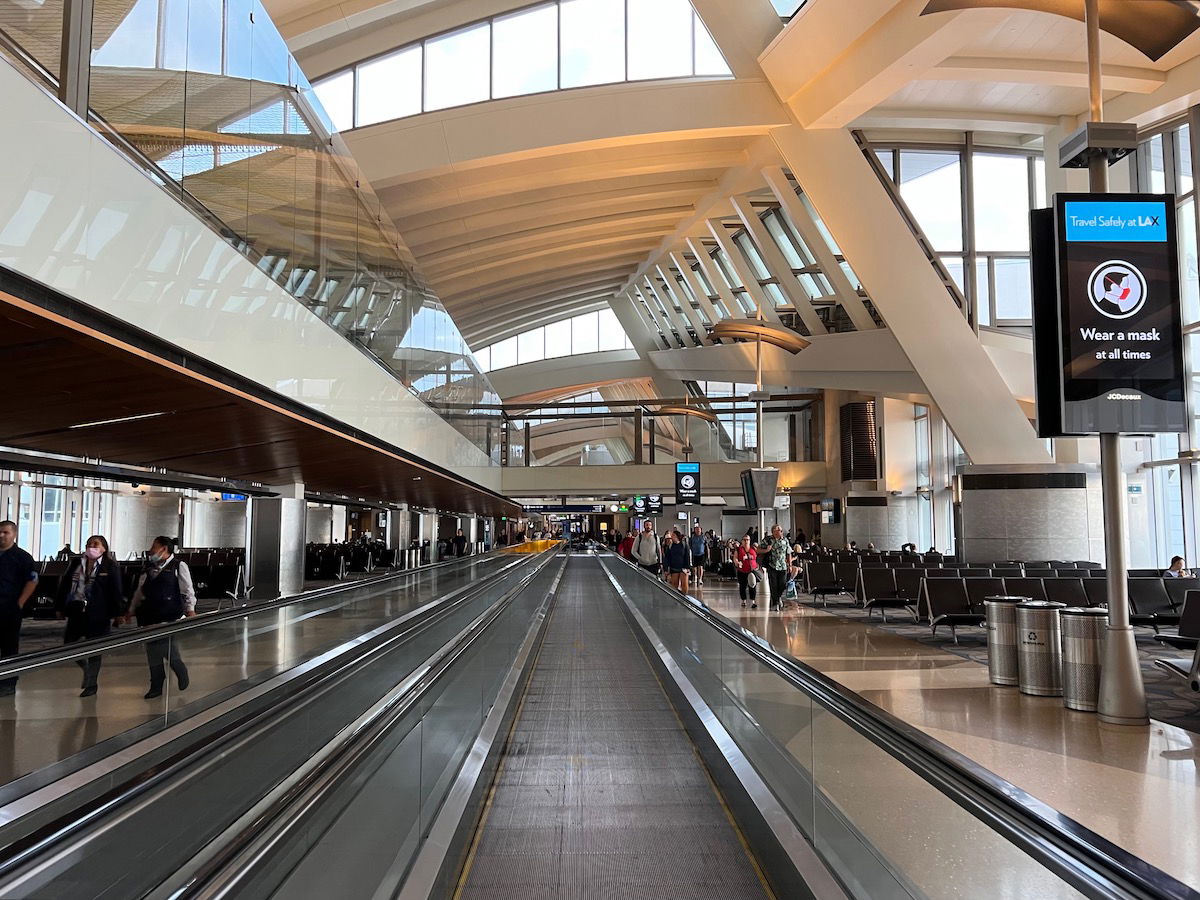 While the terminal has some great lounges, one thing I find frustrating about the terminal is the lack of natural light. There's not a single lounge with windows directly outside (at least as far as I know).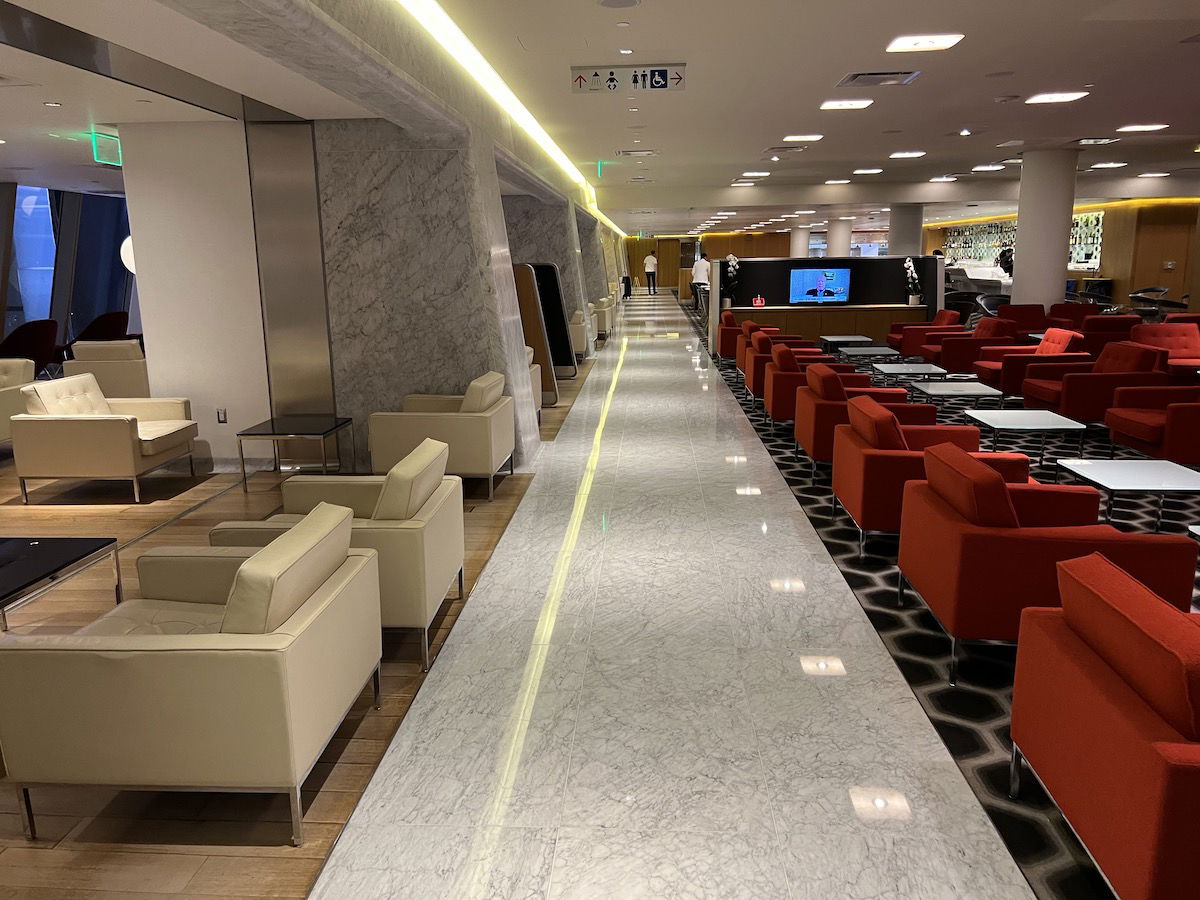 The basics of the LAX Midfield Satellite Concourse
LAX is undergoing a significant redevelopment, and part of that includes a new Midfield Satellite Concourse (MSC). This is an expansion to TBIT, and the MSC North opened in 2021. Previously many airlines had to use awful bus gates at TBIT that took you to these bizarre semi-permanent ramps, so the MSC is supposed to help with that.
MSC North is the first phase of this, and it adds 15 gates to TBIT, including 12 wide body gates and three narrow body gates. The five level concourse adds a total of 1.7 million square feet to the terminal, and the terminal is accessible exclusively from TBIT via underground tunnels.
Note that in a second phase there will be the MSC South, which is expected to open in 2025. This will add an additional eight narrow body gates to TBIT.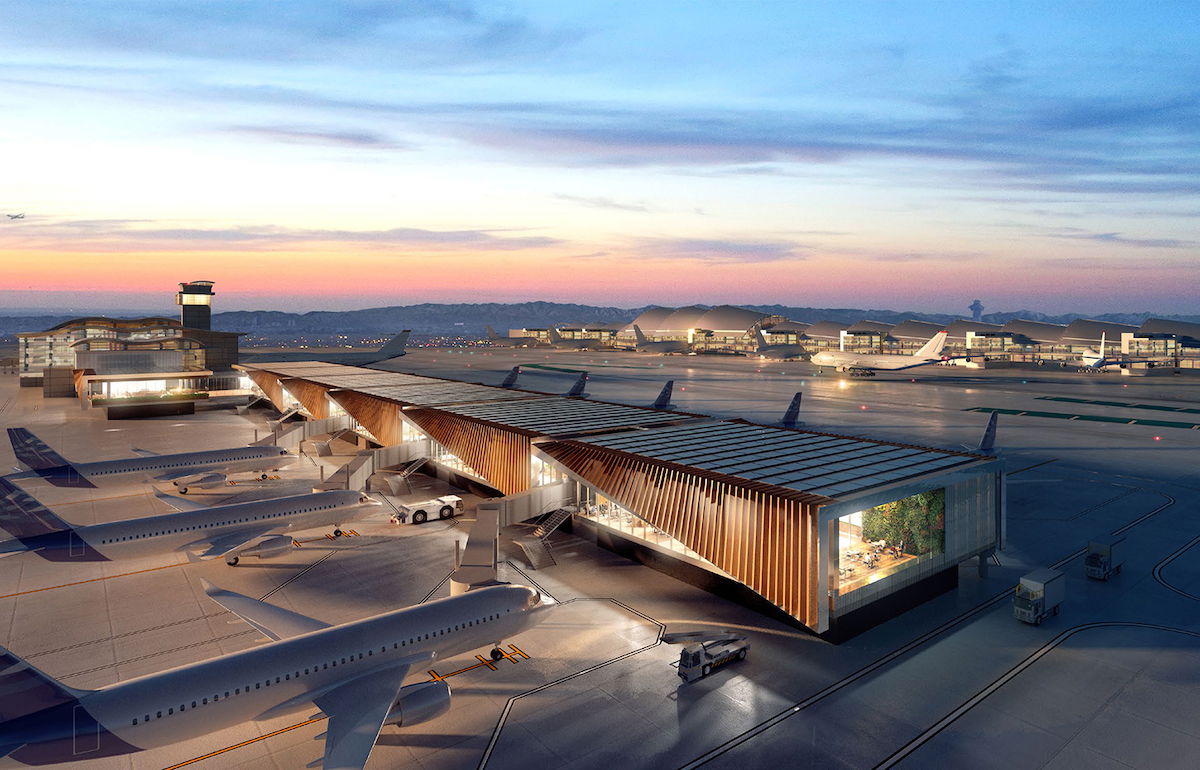 Touring the LAX Midfield Satellite Concourse
So, what's the LAX Midfield Satellite Concourse like? Let's take a look. When you're in Tom Bradley International Terminal, just walk straight ahead rather than left or right (where the main concourse's gates are), and you'll see the entrance to gates 201-225 (all gates in the 2XX range are the Midfield Satellite Concourse).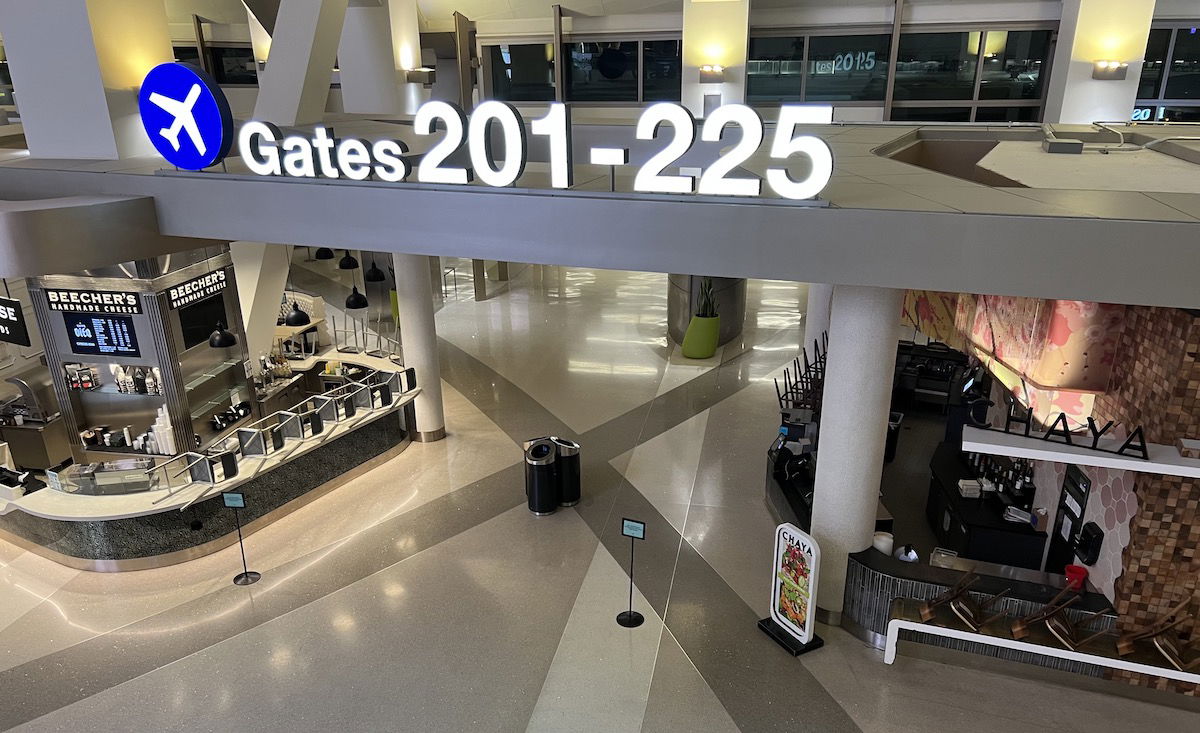 Just walk a bit further, and you'll be at a really long escalator, or alternatively you can take an elevator.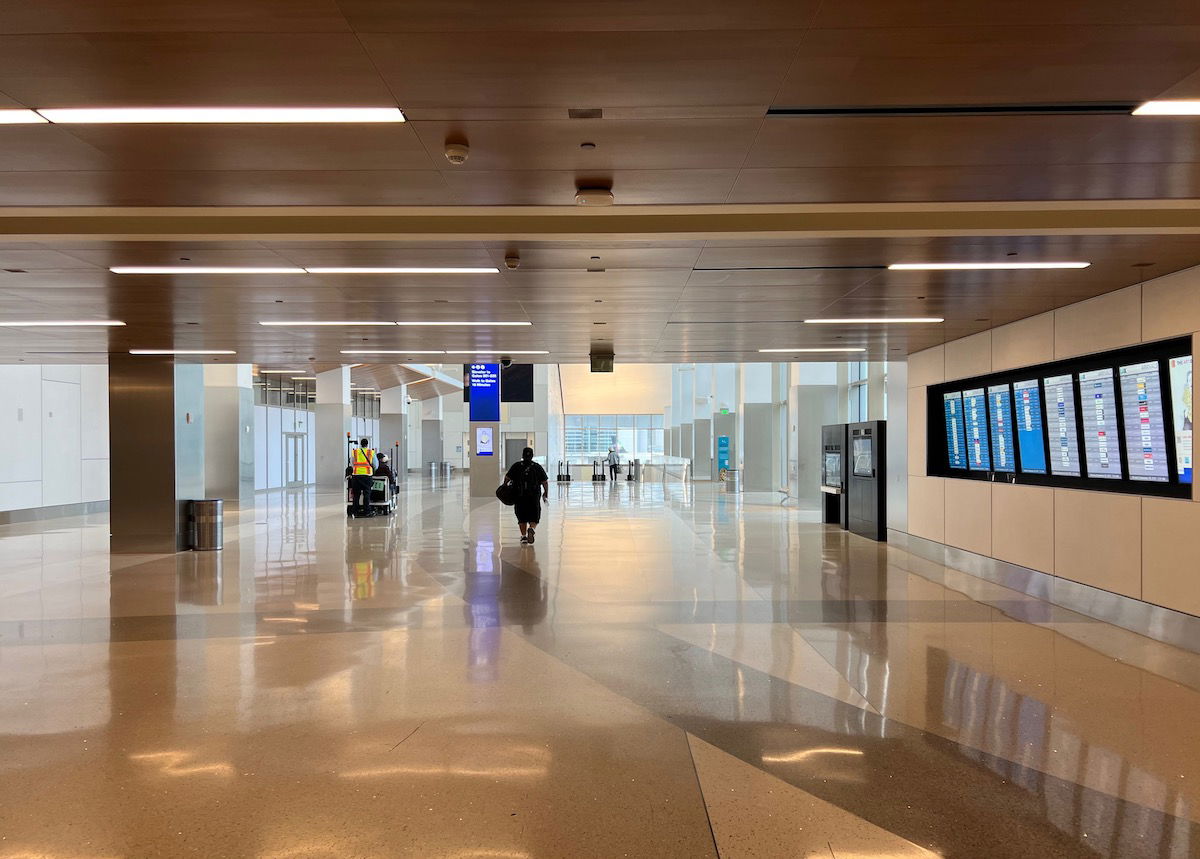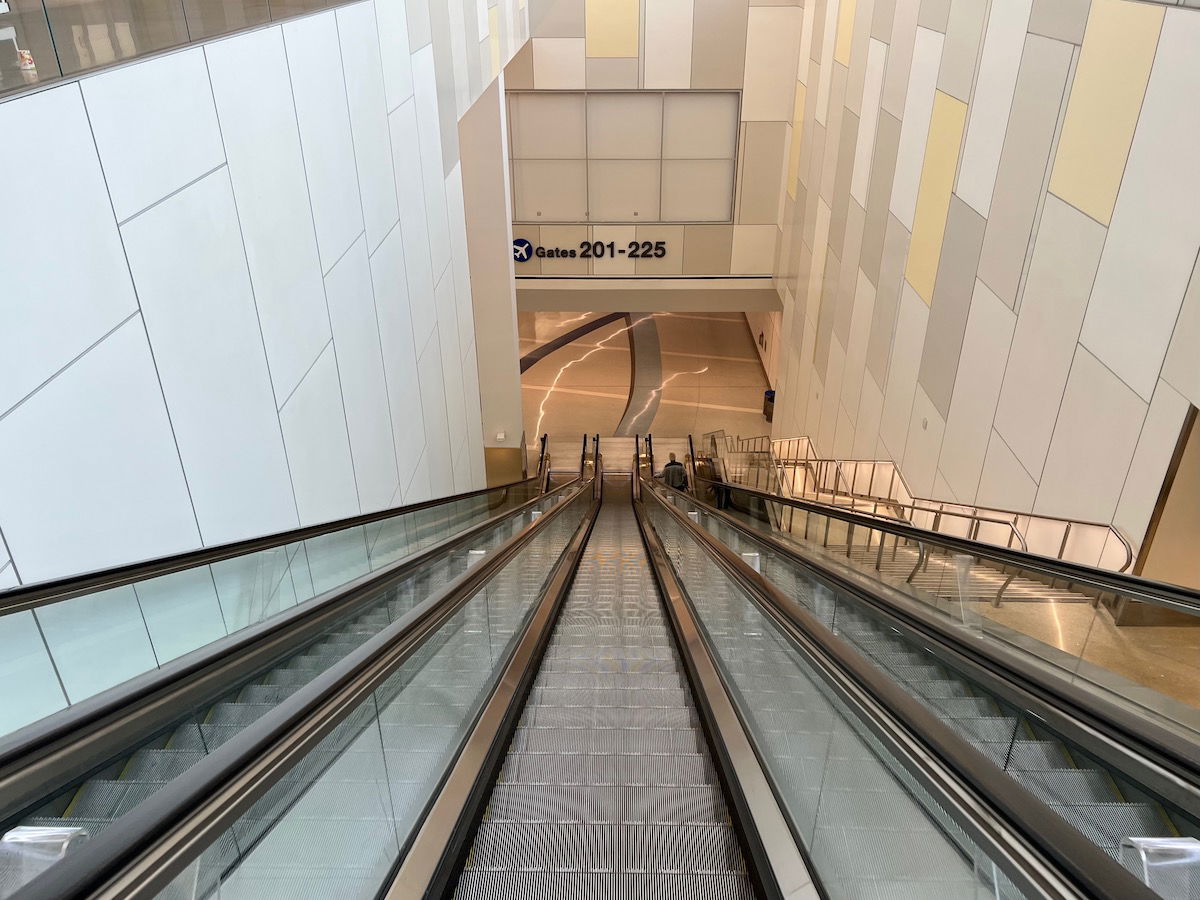 The tunnel is allegedly 1,000 feet long, and has really cool lighting. There are two sets of moving sidewalks, to help get through the terminal more quickly.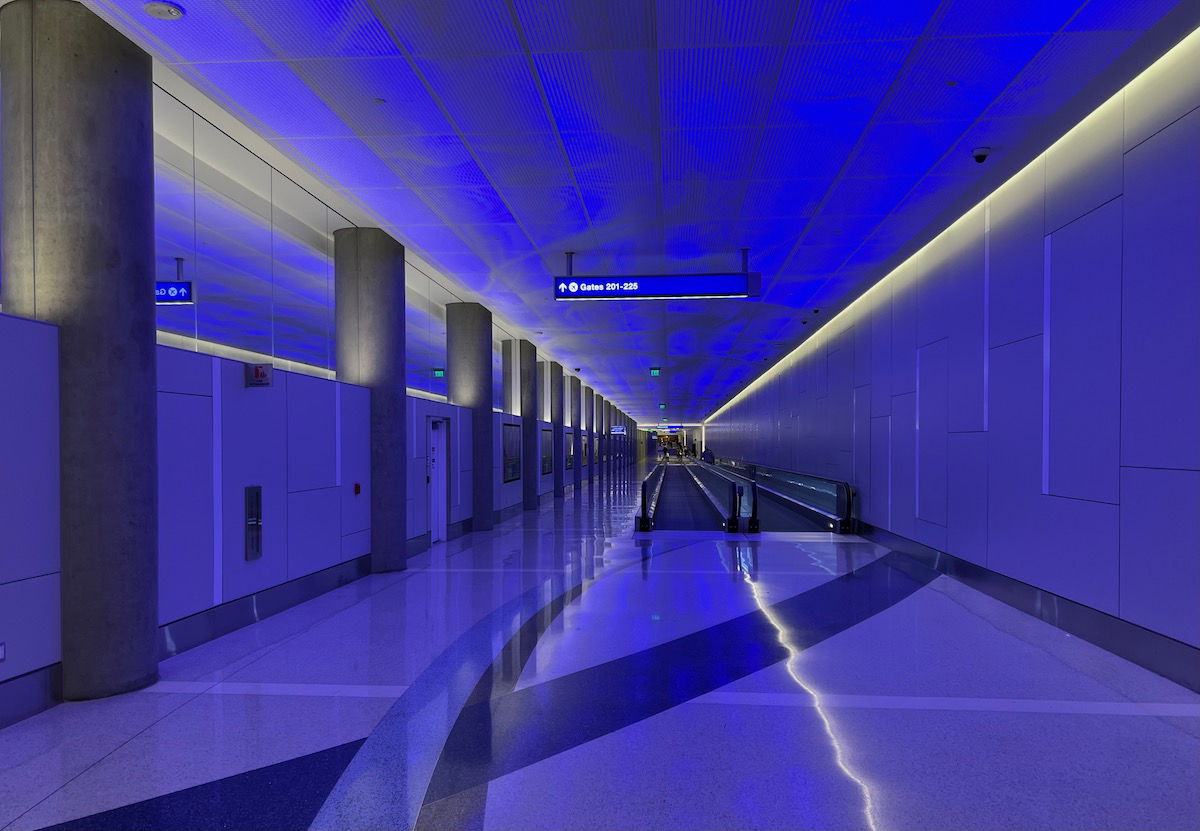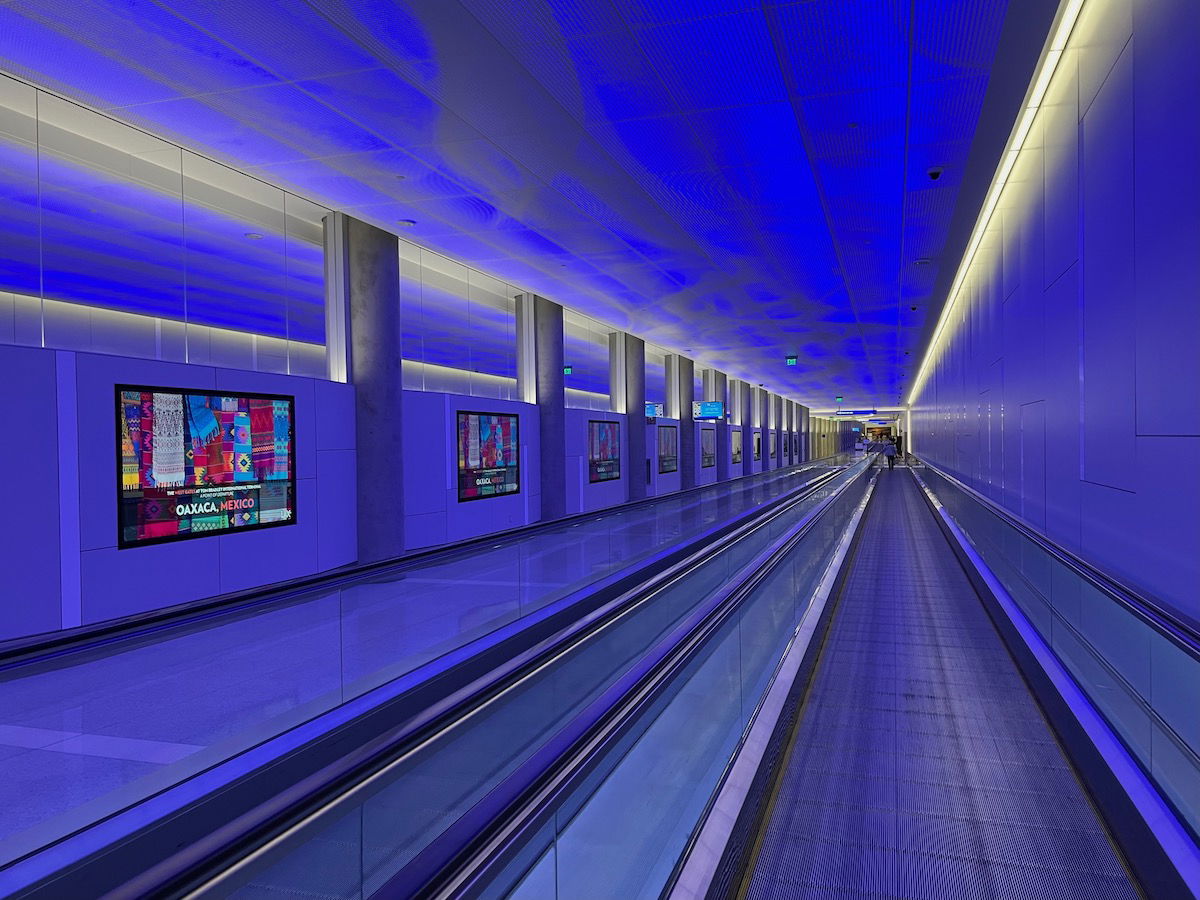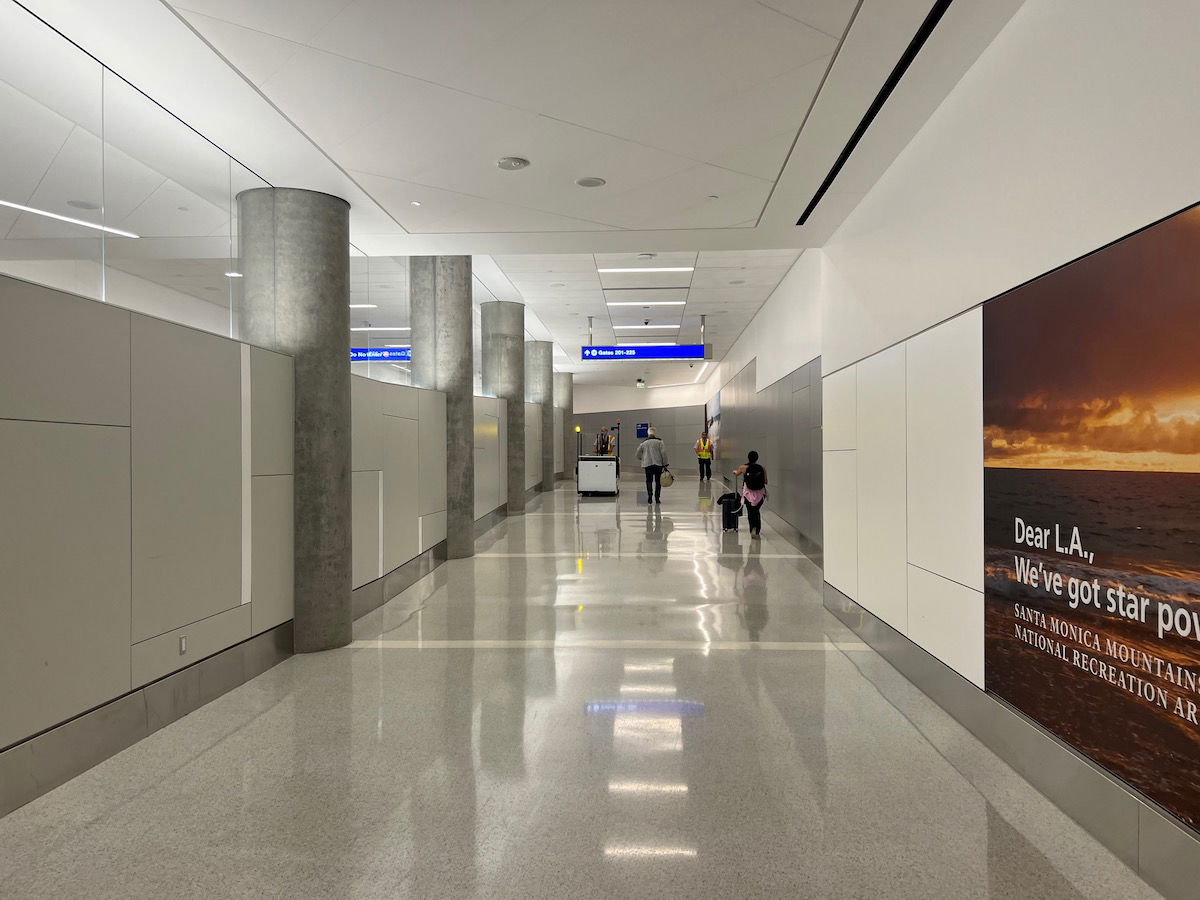 For those with mobility issues, there are courtesy carts constantly running from one end to the other, and they're available to anyone. These carts are really compact and have tiny wheels. When they're full, they just "bump" up and down significantly, like something you'd see on "Pimp My Ride."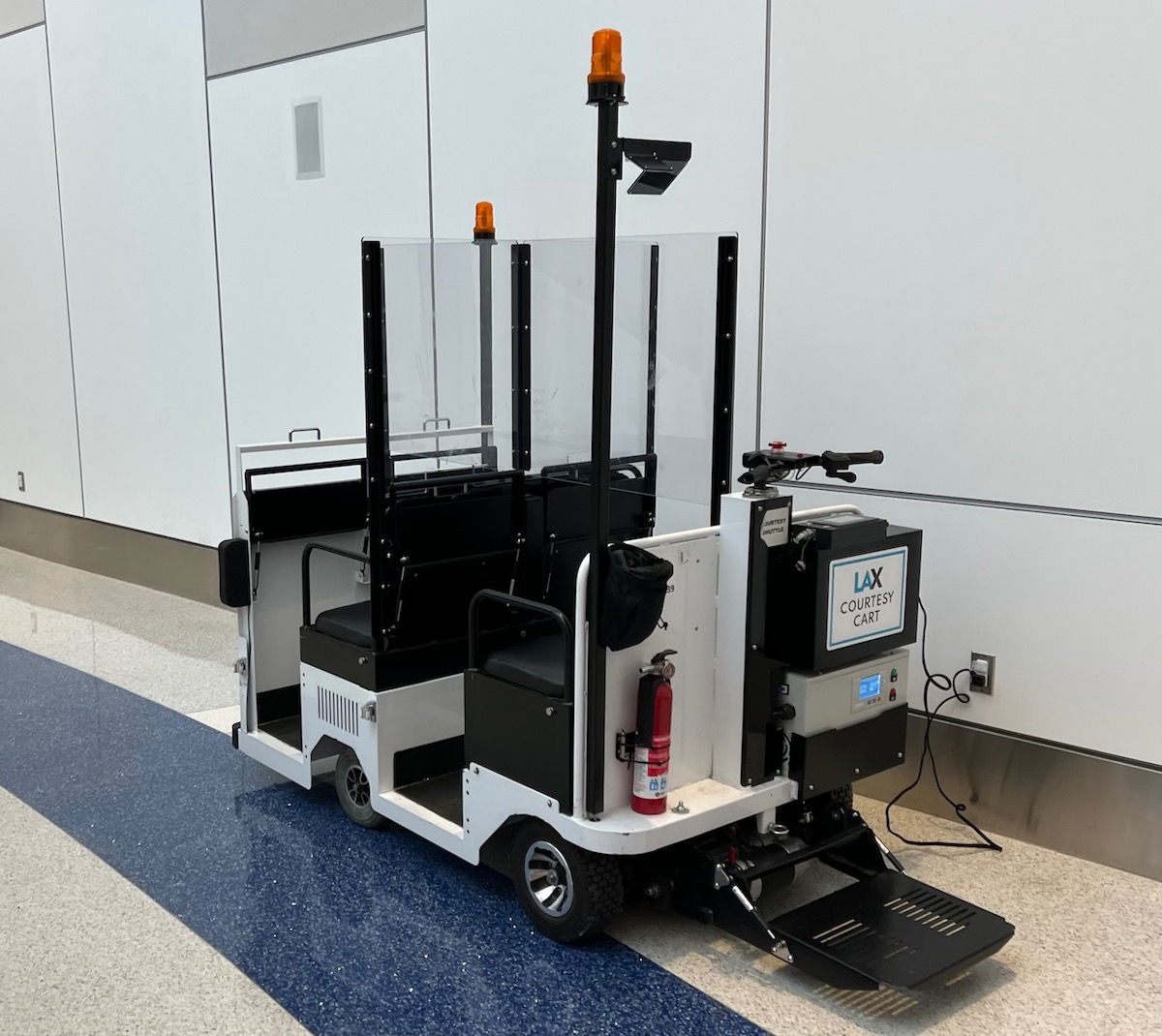 Ideally there would be a train system connecting the two concourses, since it is quite a trek. However, I can only imagine how many hundreds of millions of dollars that would cost to construct.
On the other end of the tunnel, there's not a single long escalator, but rather three separate sets of smaller escalators.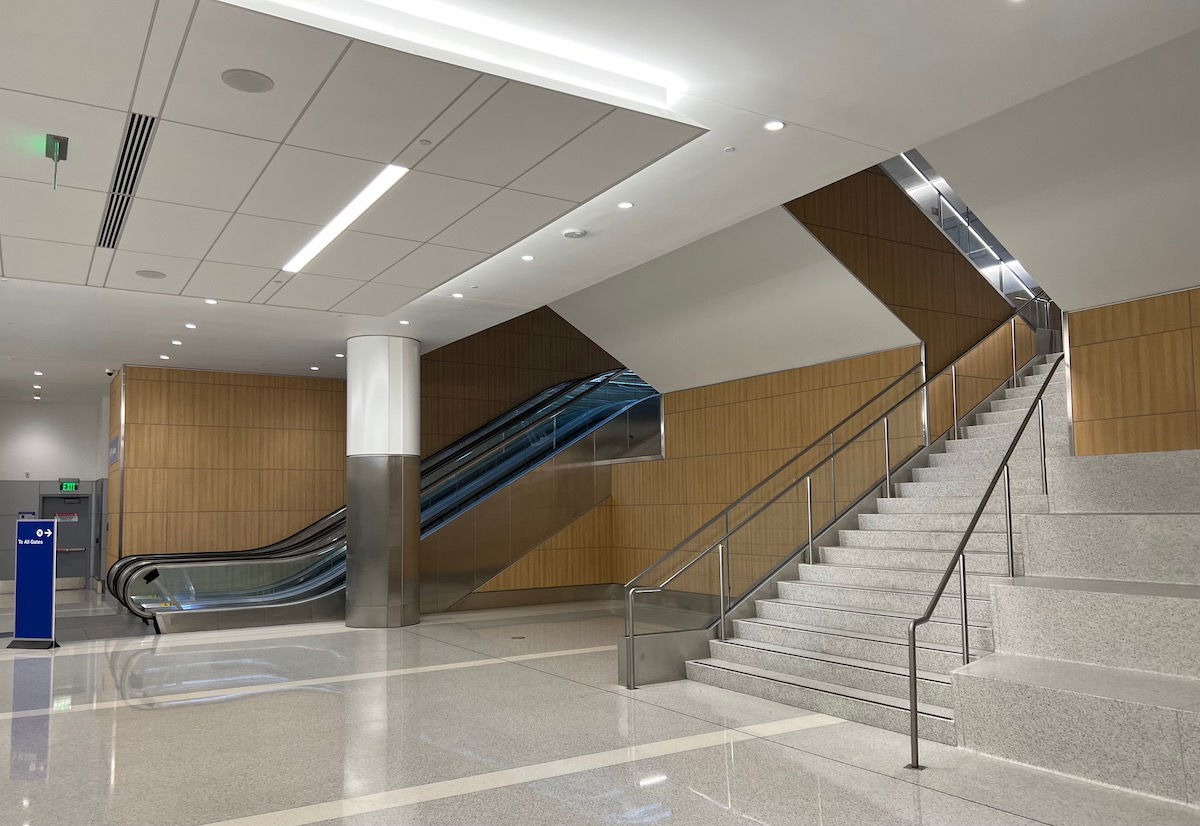 After the first set of escalators are some areas where buses depart from. This is seemingly for domestic flights that arrive here, since the baggage claim facility at TBIT is primarily for international flights. For example, Allegiant had a bus to baggage claim at Terminal 1.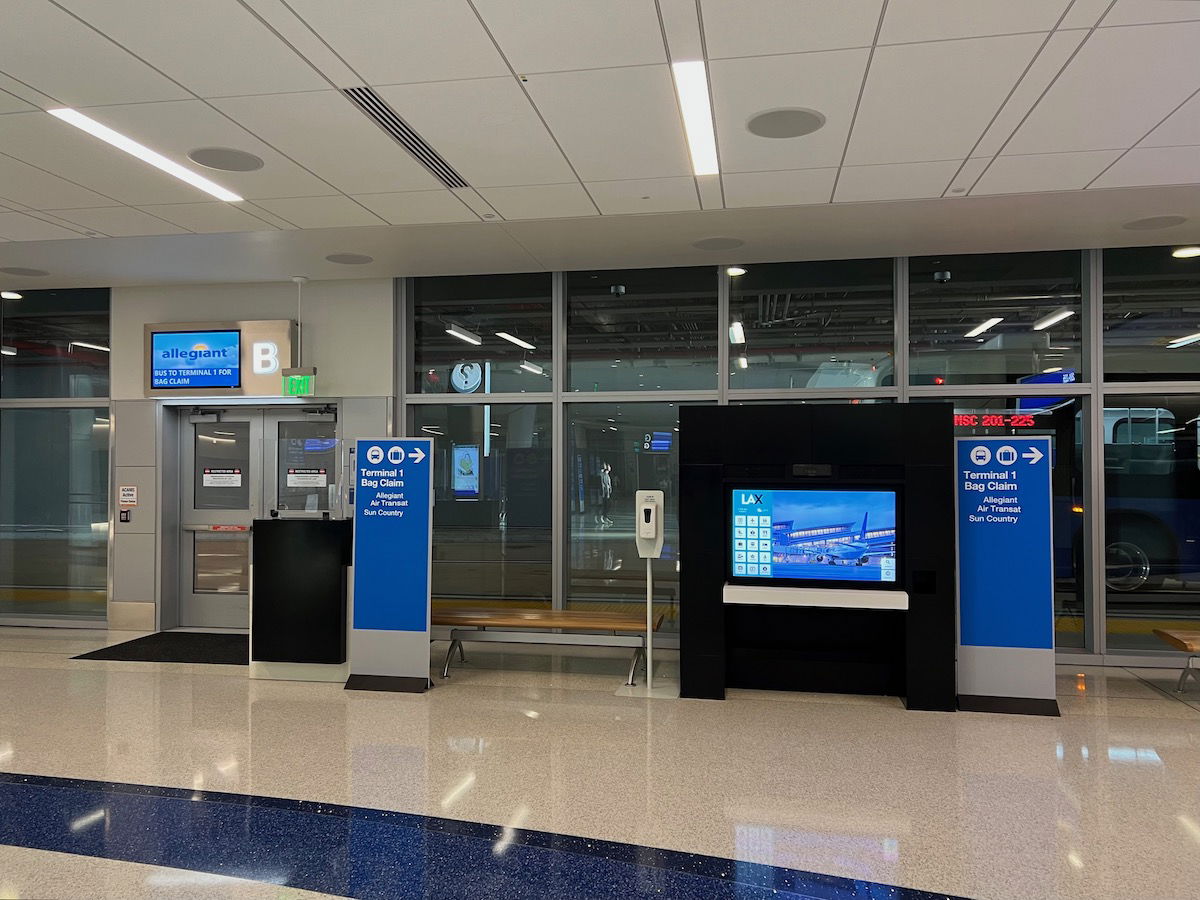 After you go up another couple of sets of escalators, you'll find yourself in the main part of the Midfield Satellite Concourse.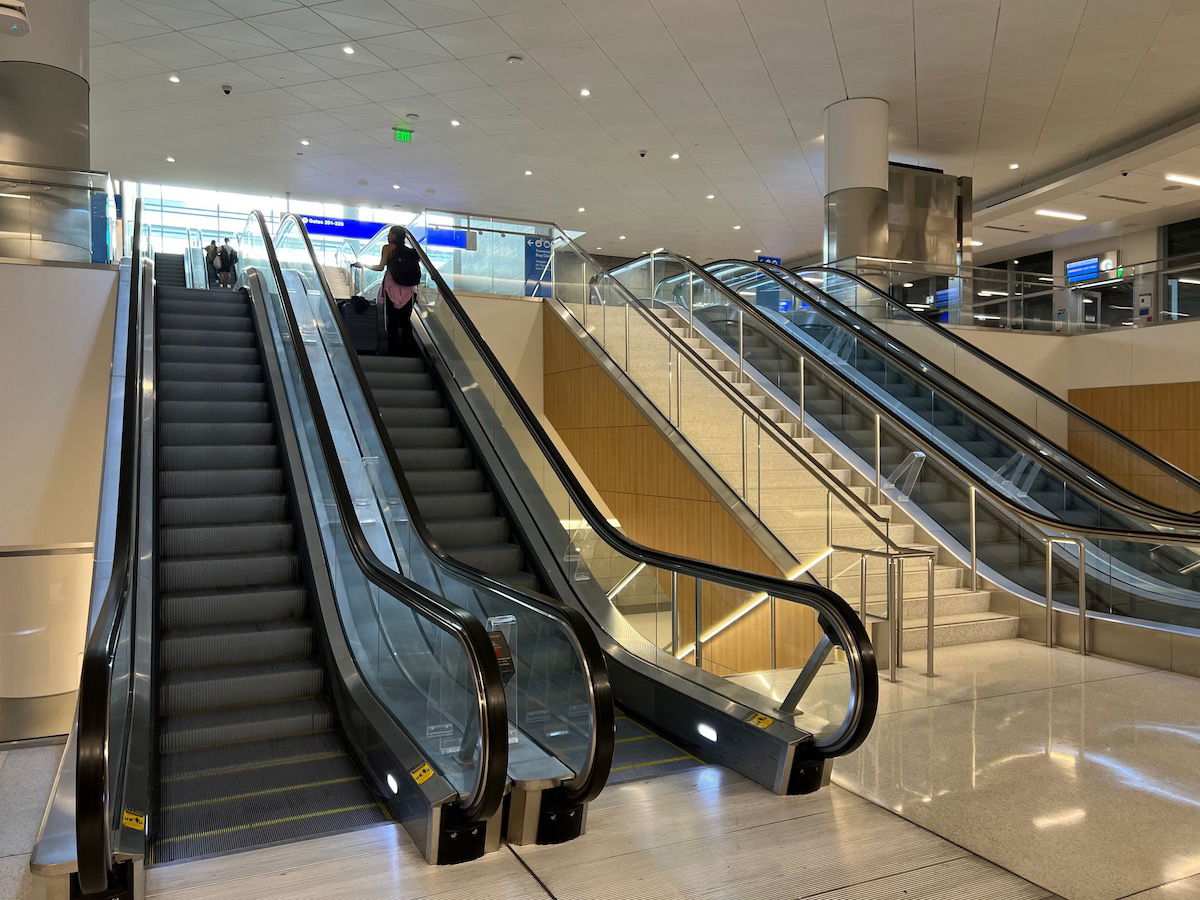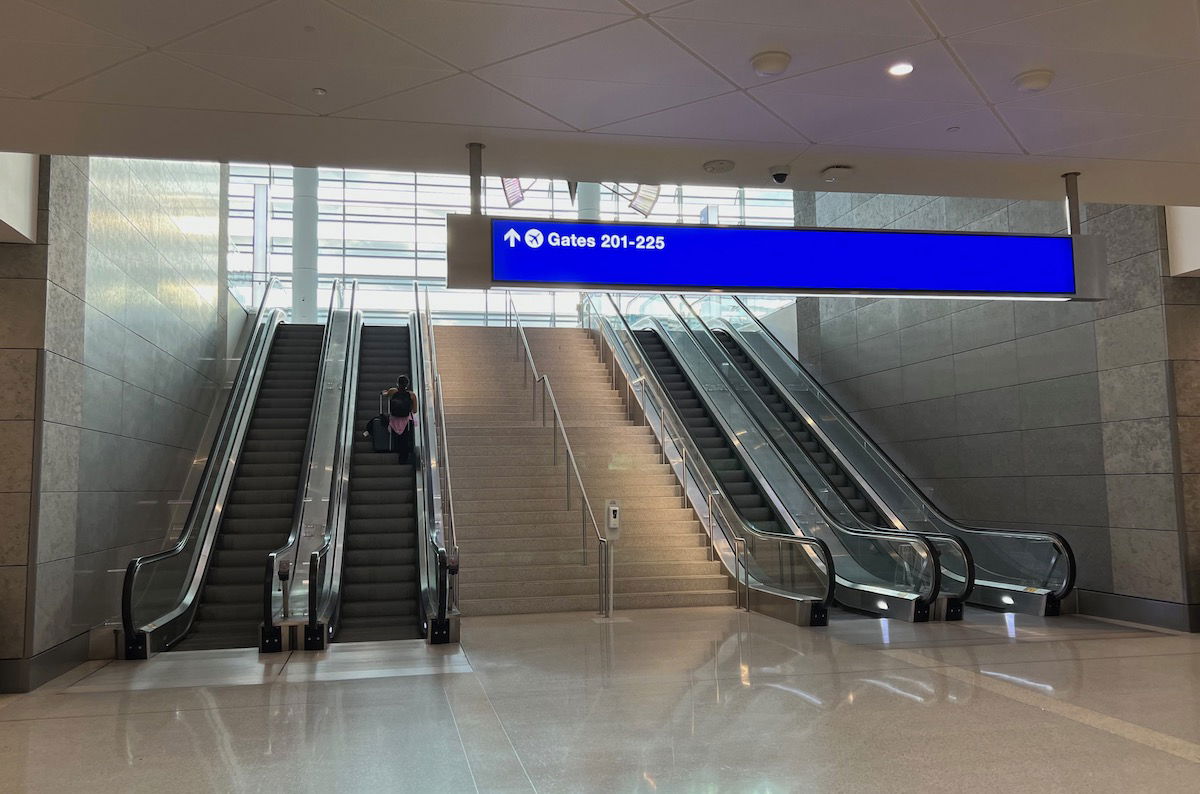 Just for context, below is the view of the main part of Tom Bradley International Terminal from the Midfield Satellite Concourse.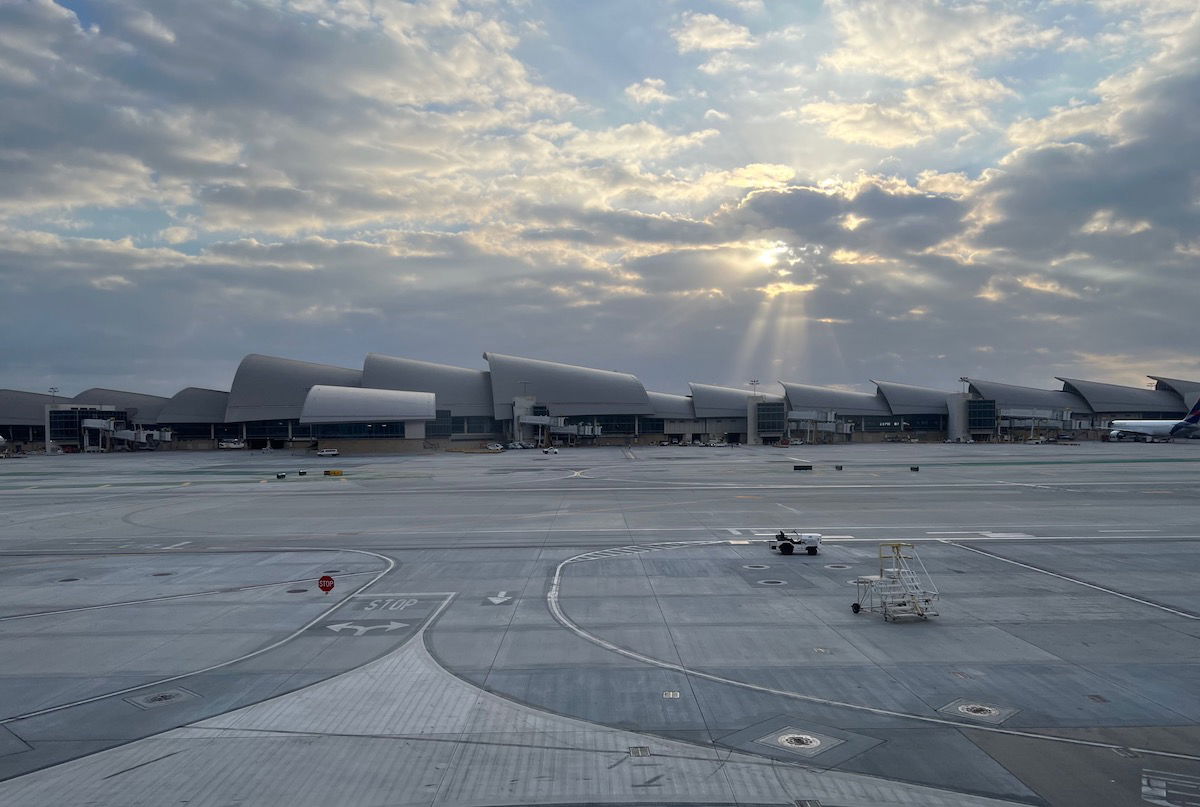 There's plenty of seating right near the escalators, with lots of natural light.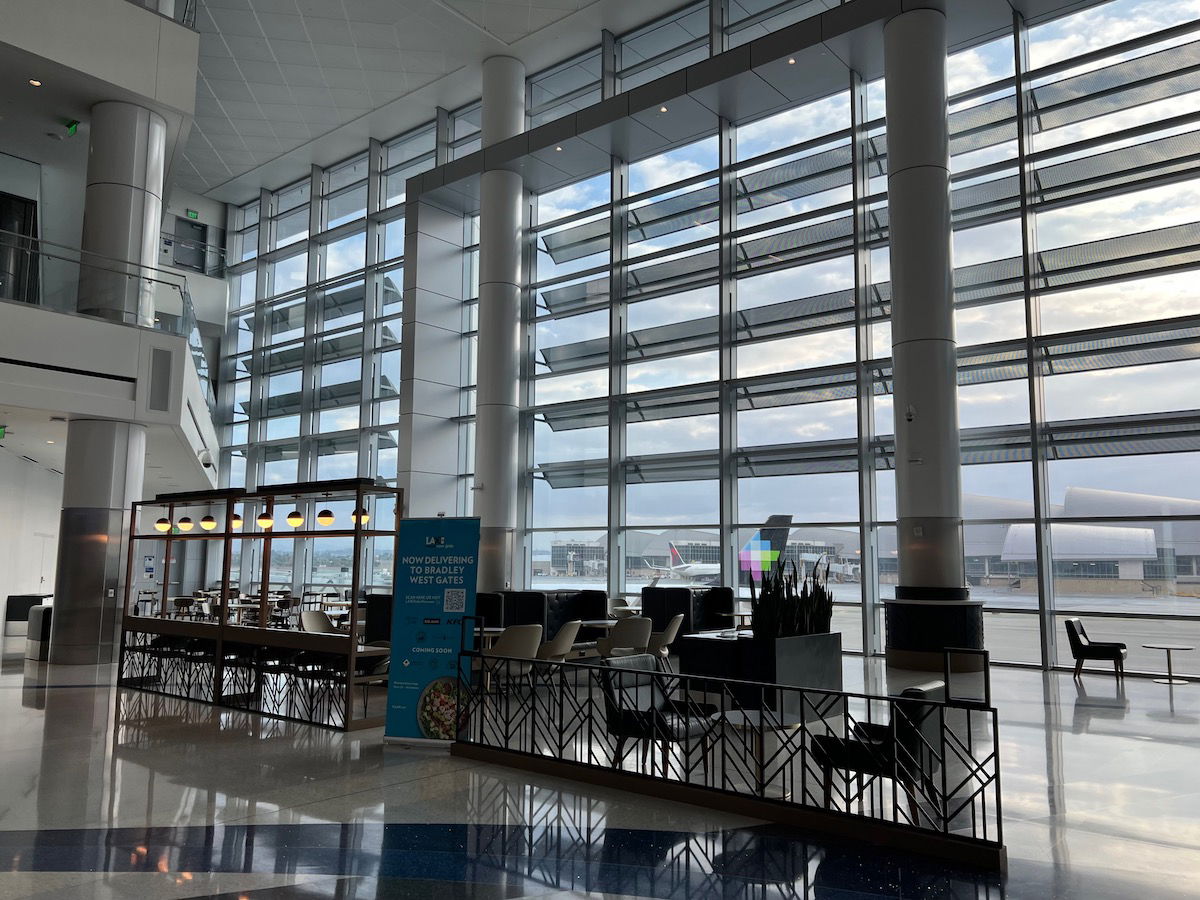 If you turn around, you'll see an atrium, as this part of the terminal has three floors (with the top floors being lounges and offices — more on that in a bit).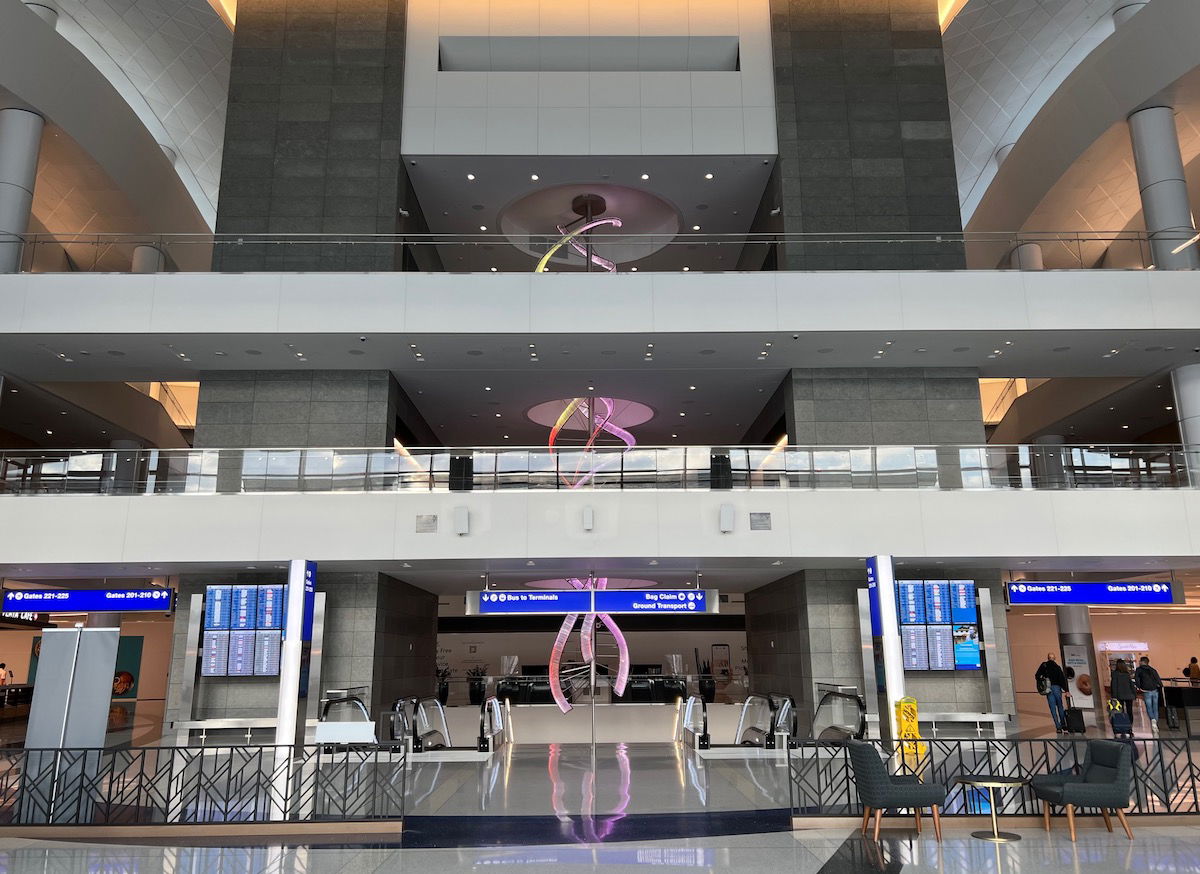 From the center part of the terminal, gates 201 to 210 are in one direction, while gates 221 to 225 are in the other direction.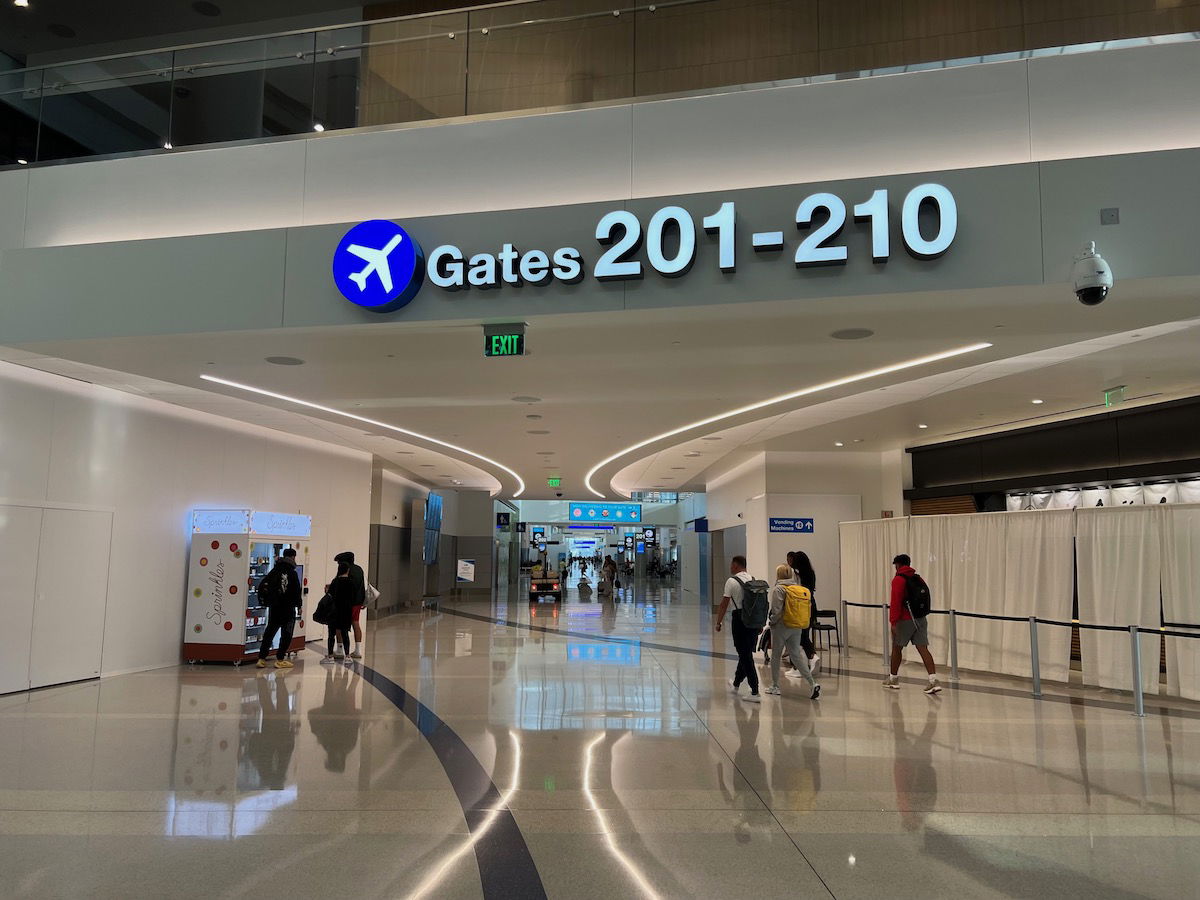 This is a seriously pretty terminal, in terms of the architecture, the amount of natural light, and even the variety of seating options.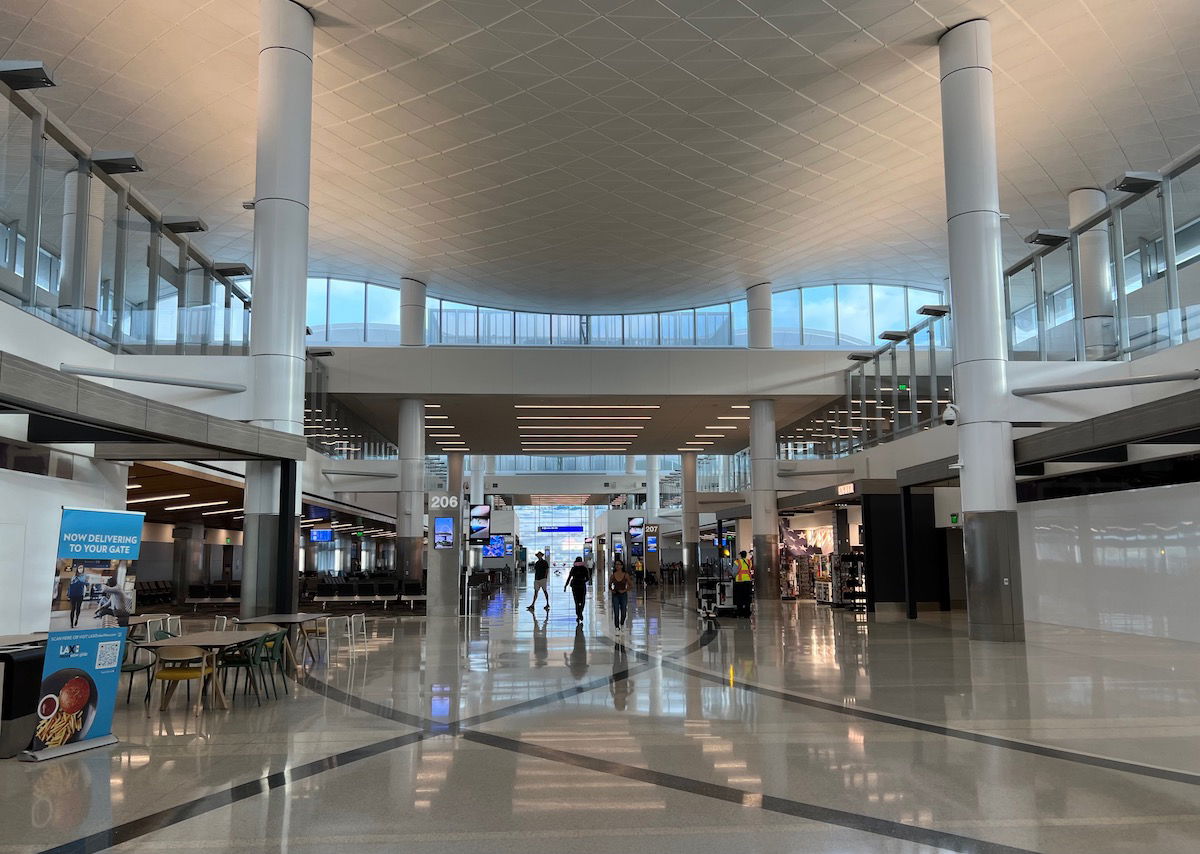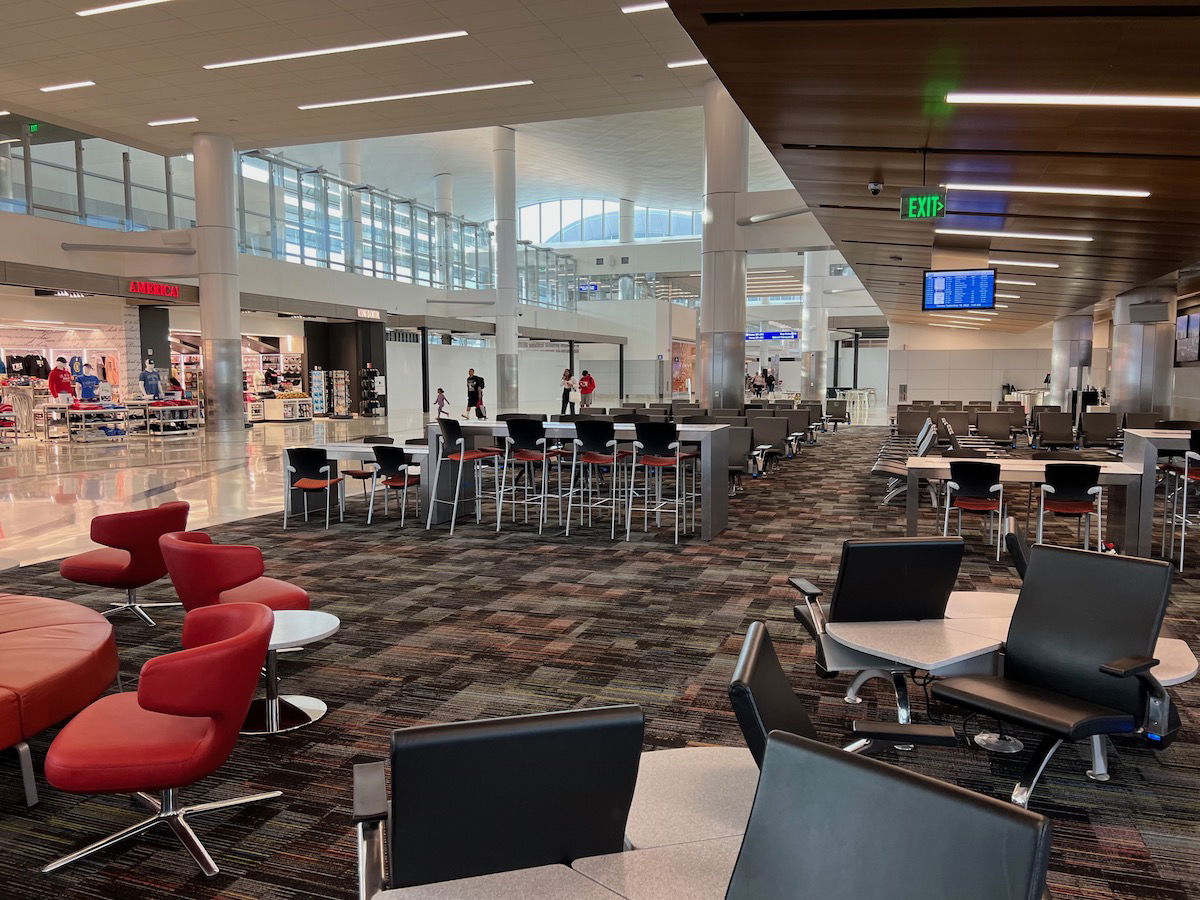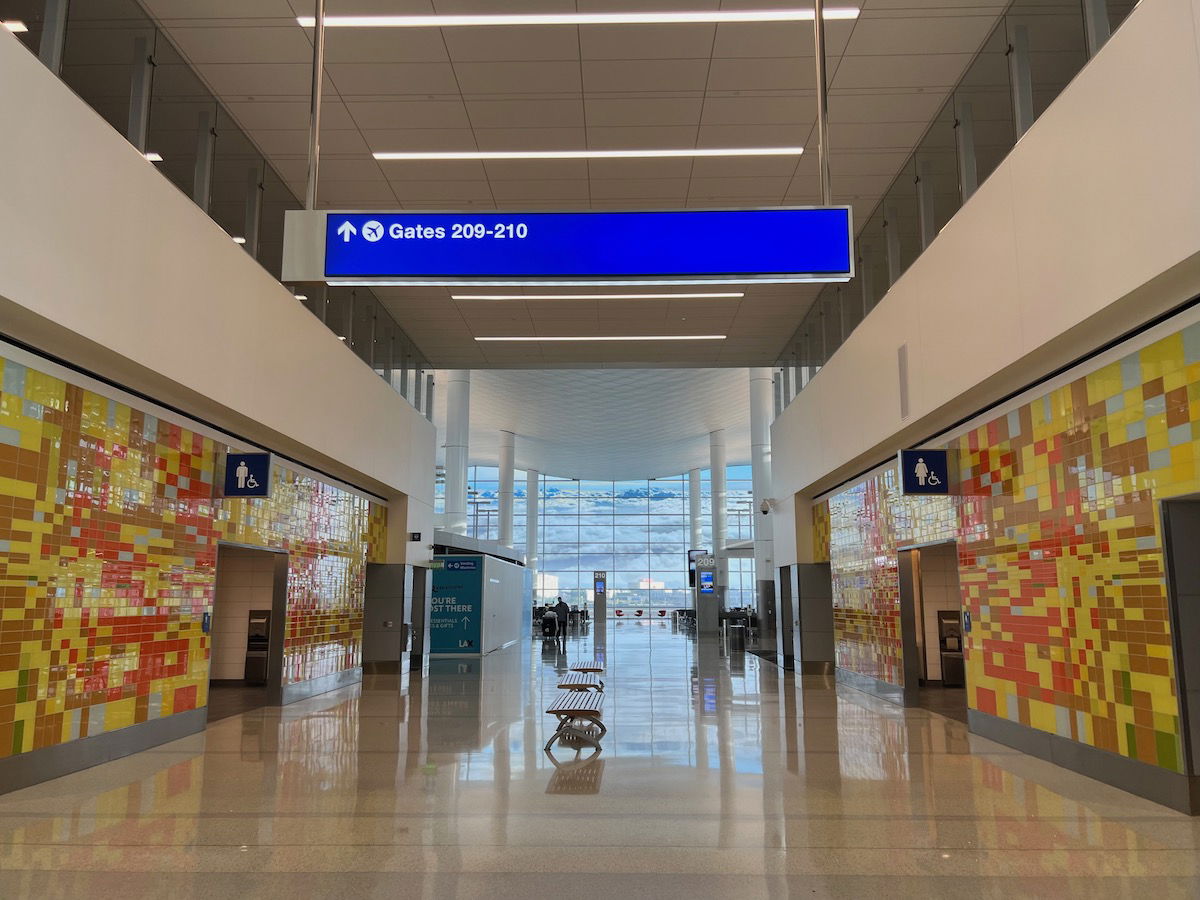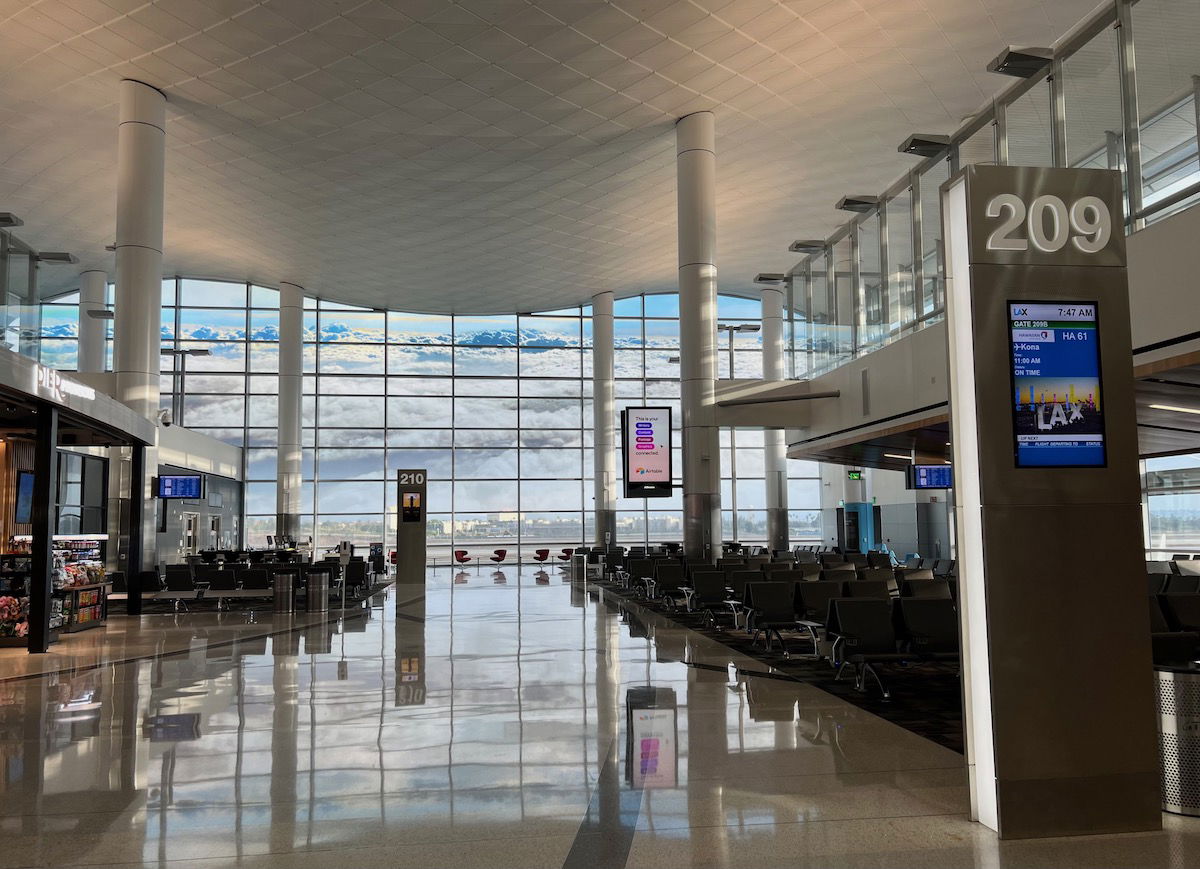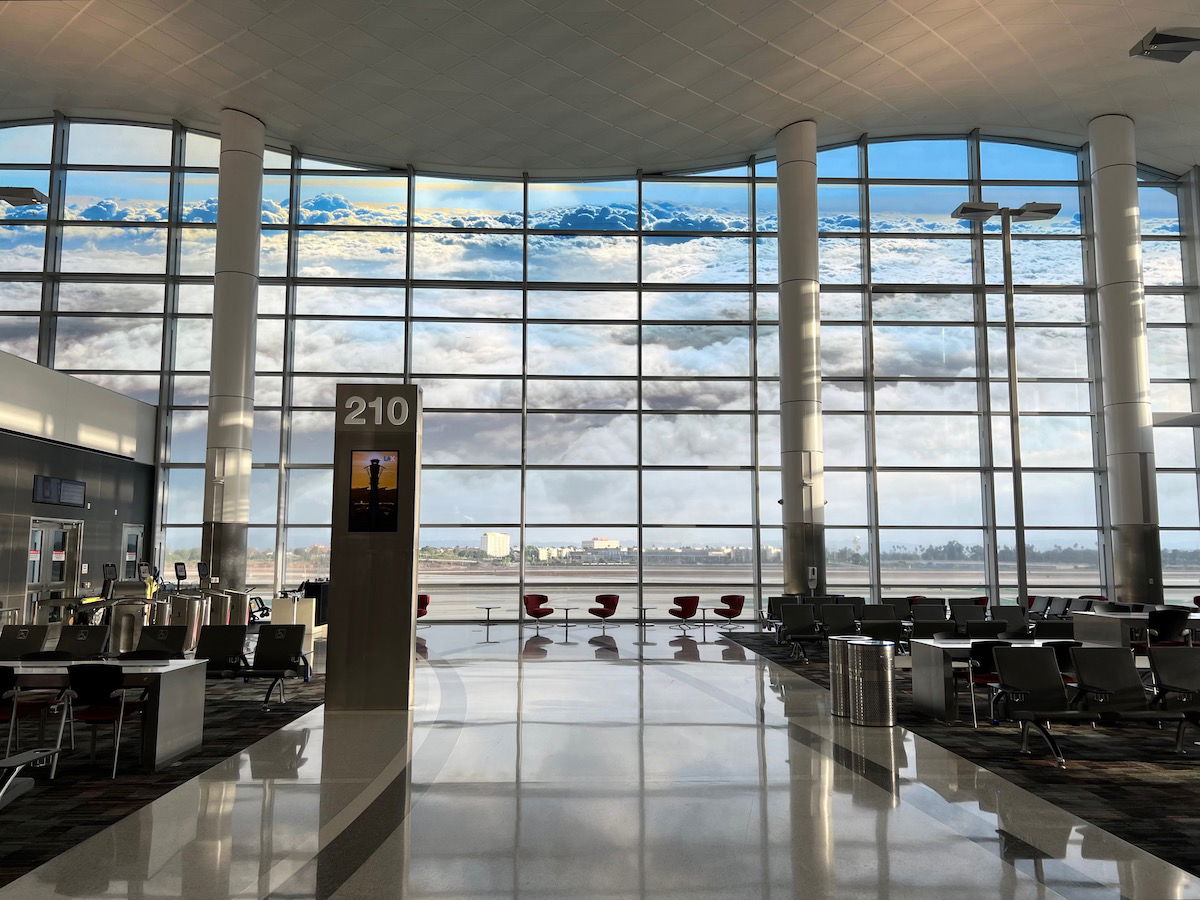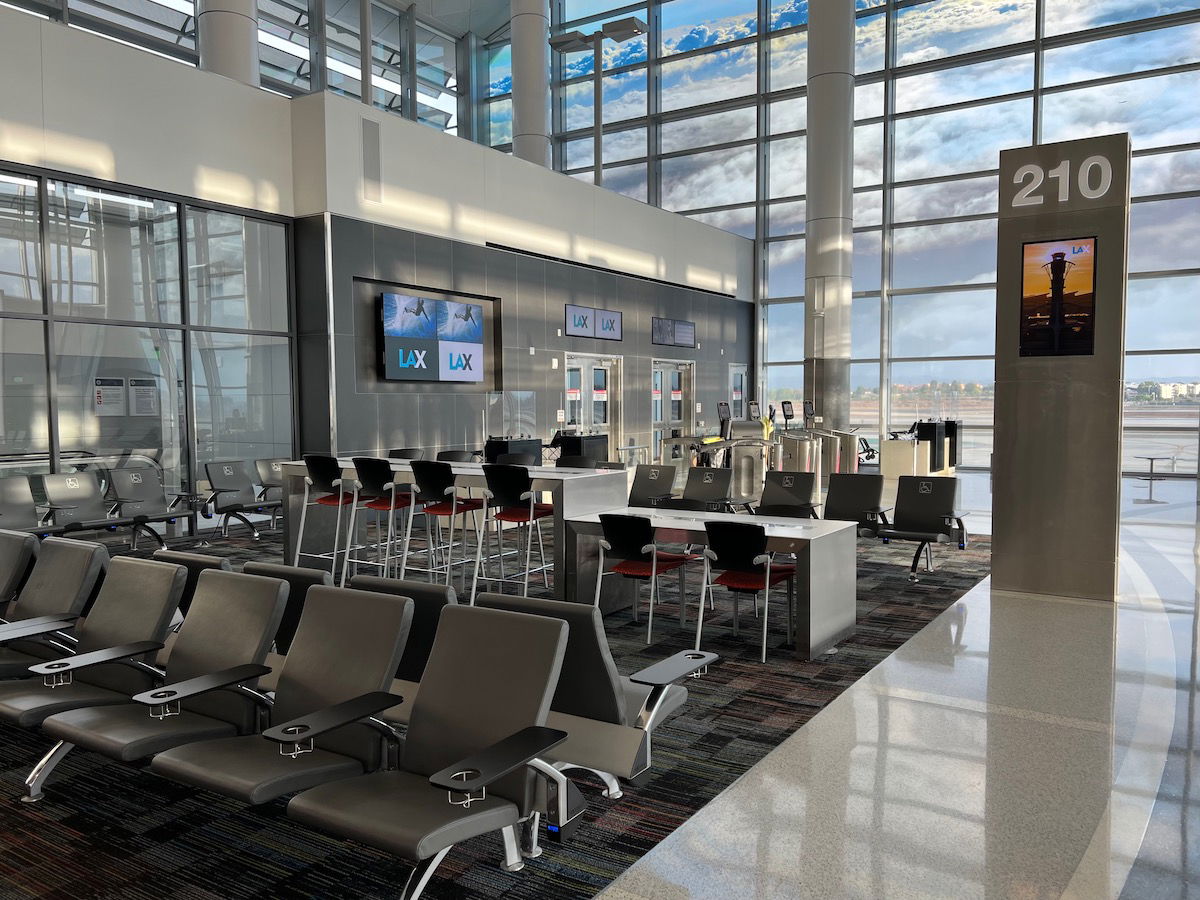 The other side of the terminal faces American Airlines' maintenance facility.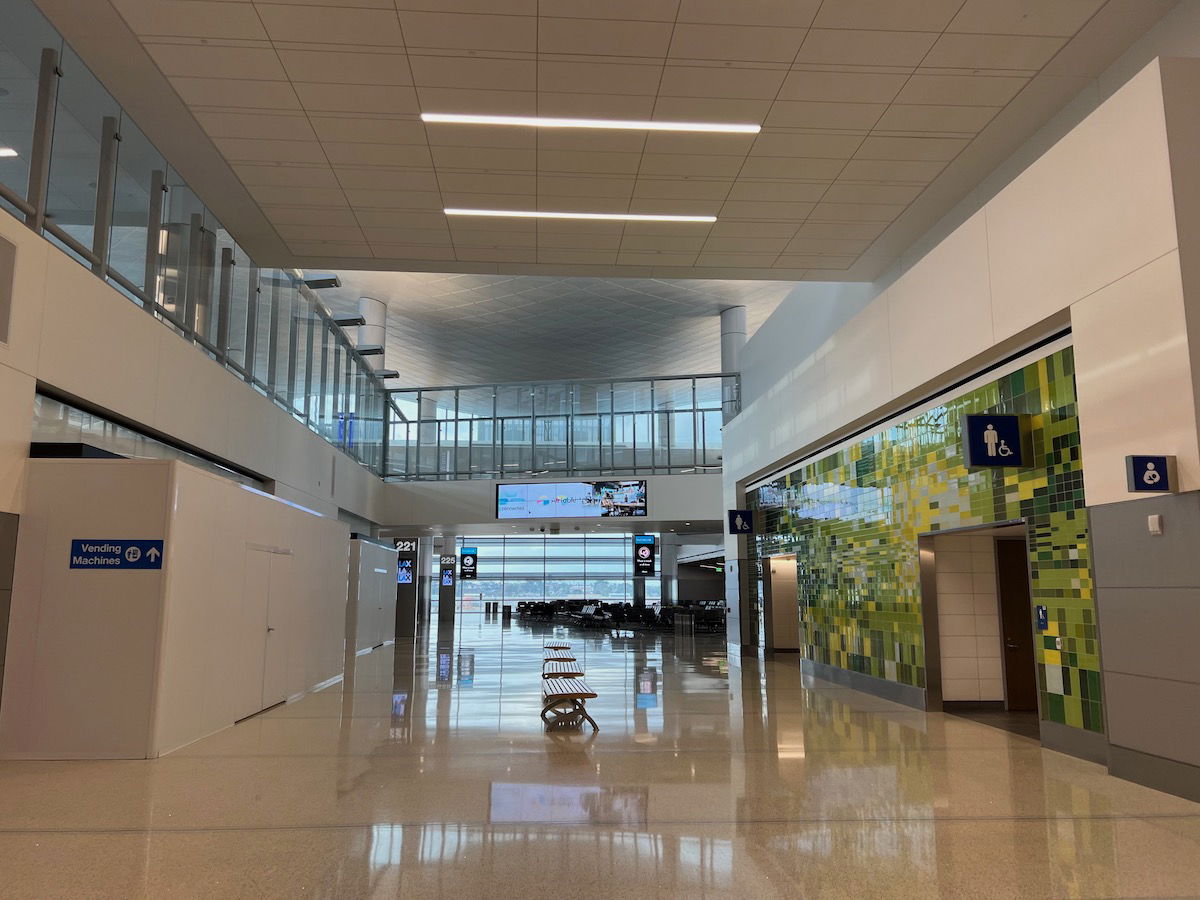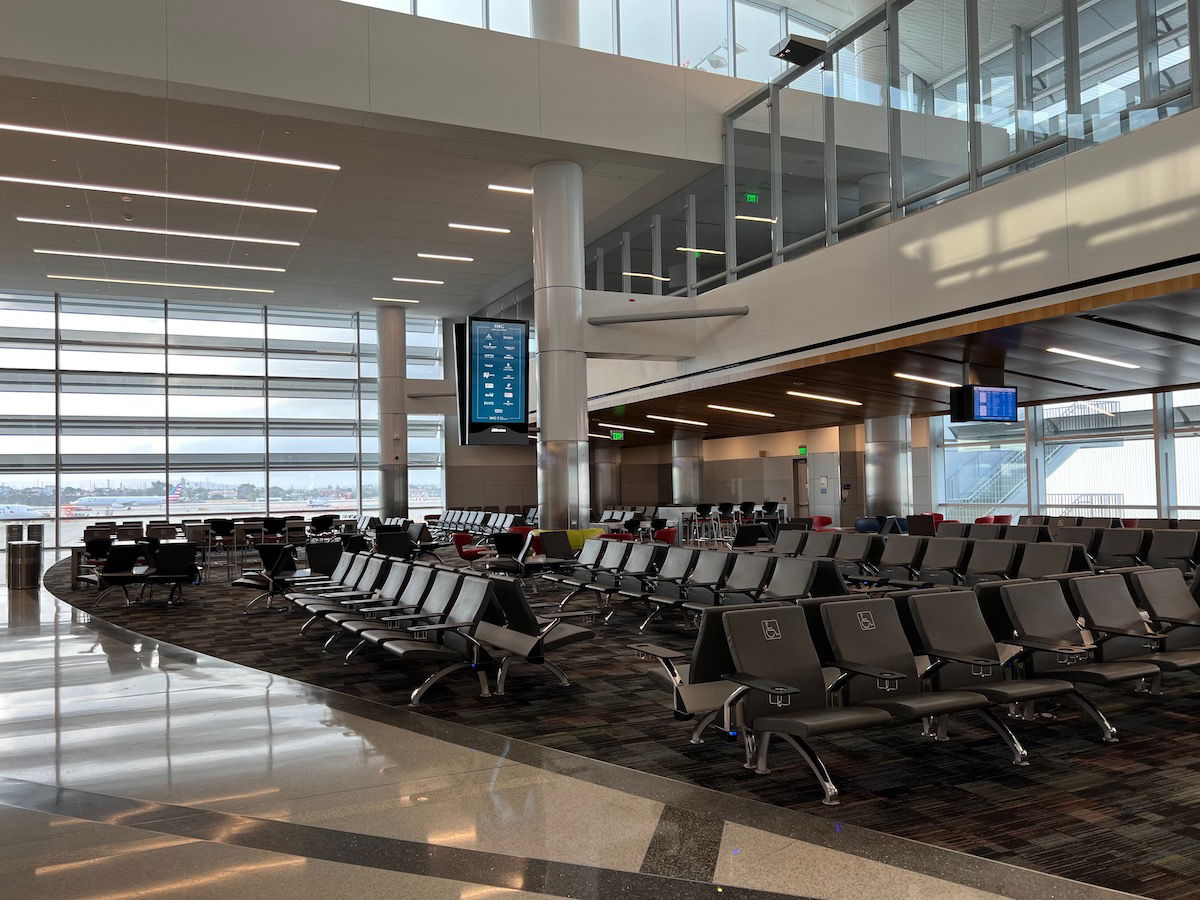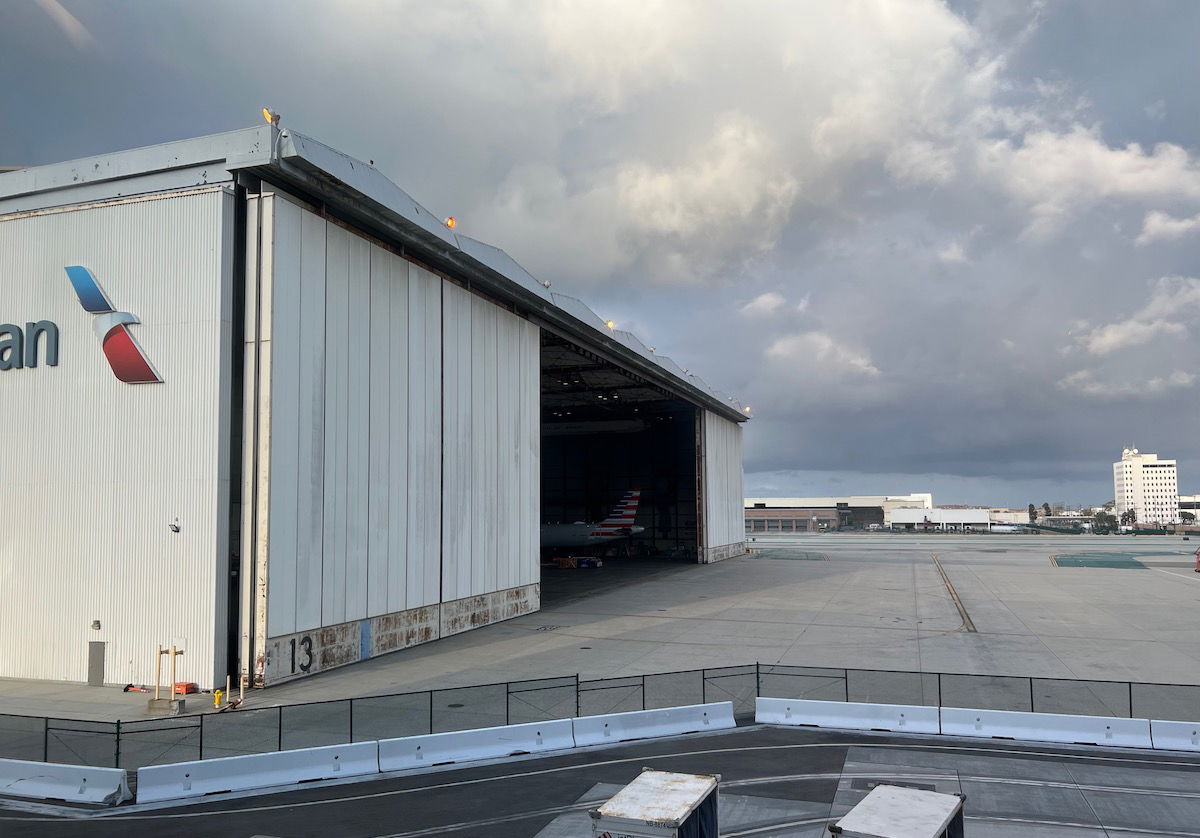 Here's a question, since OMAAT readers collectively know just about everything, and I think details of these contracts are public. I couldn't help but feel a bit bad for the concessions at the very far end of the Midfield Satellite Concourse.
They get almost zero foot traffic, since no one comes over here unless their flight departs from the area. Does anyone know how much lower their rent is than in the main terminal? I hope it's a small fraction, because otherwise they're in trouble.
Lounges coming to the LAX Midfield Satellite Concourse
When I walked into the Midfield Satellite Concourse, I couldn't help but notice all the space in the two levels above the terminal, looking out over the central part of the terminal.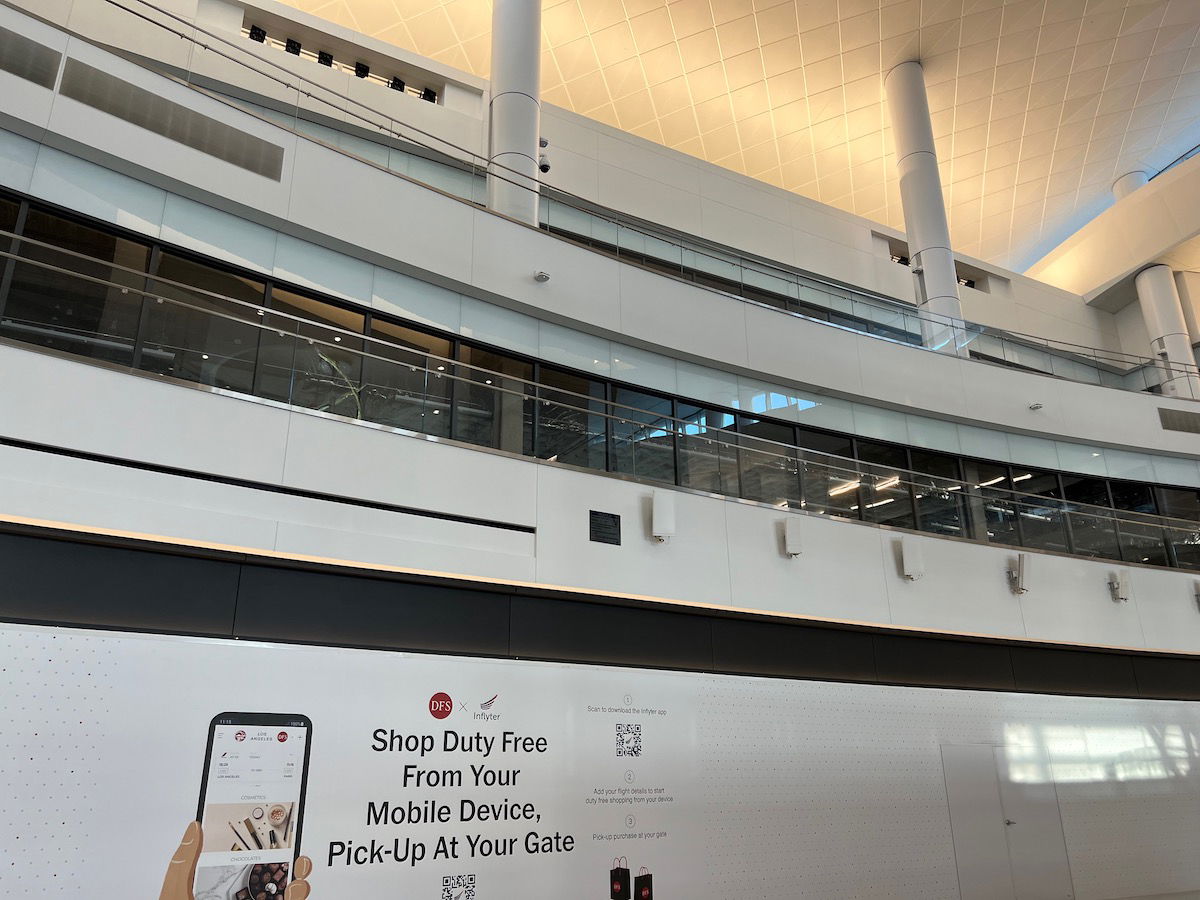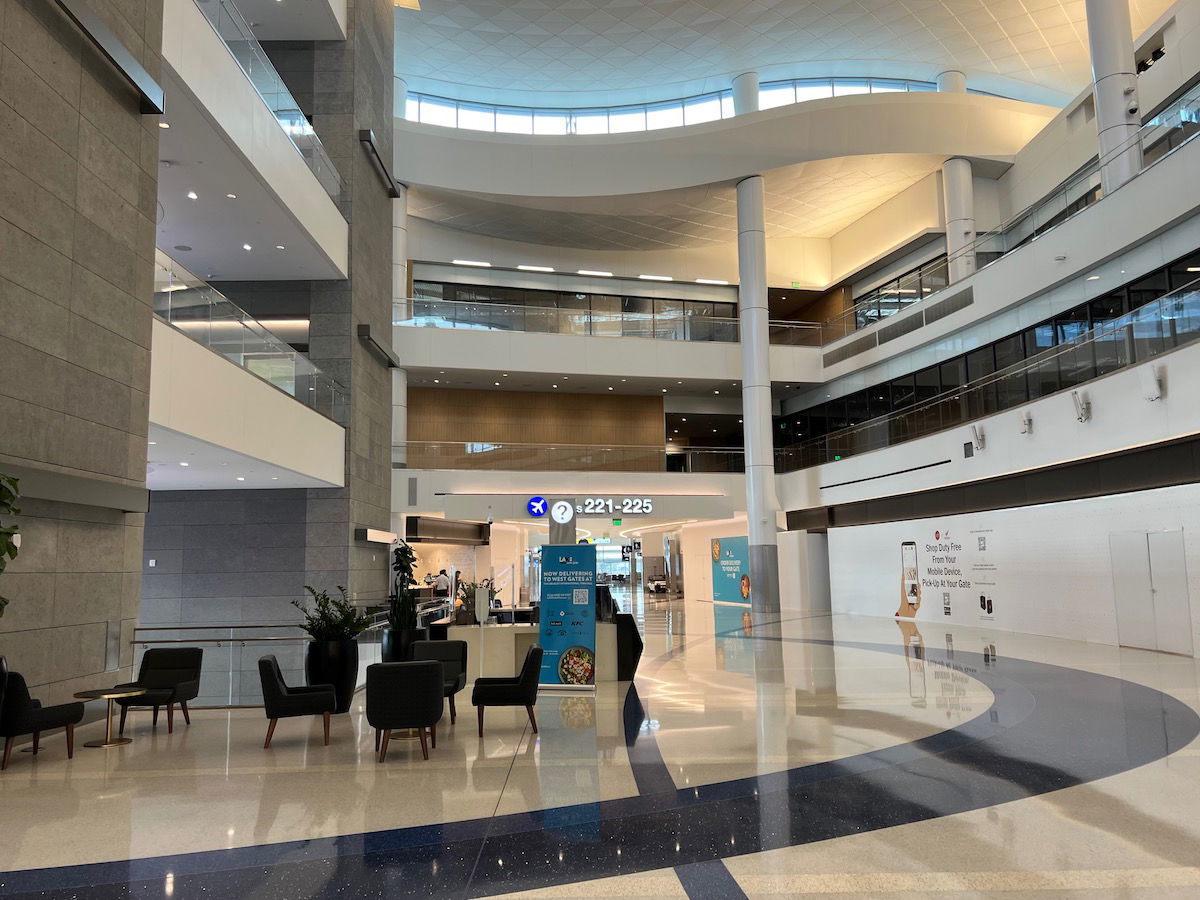 I tried to see if there was any way to check it out. While the elevators wouldn't go to higher floors without scanning an ID, I did notice that Level 6 was marked as being for "Premier Lounges."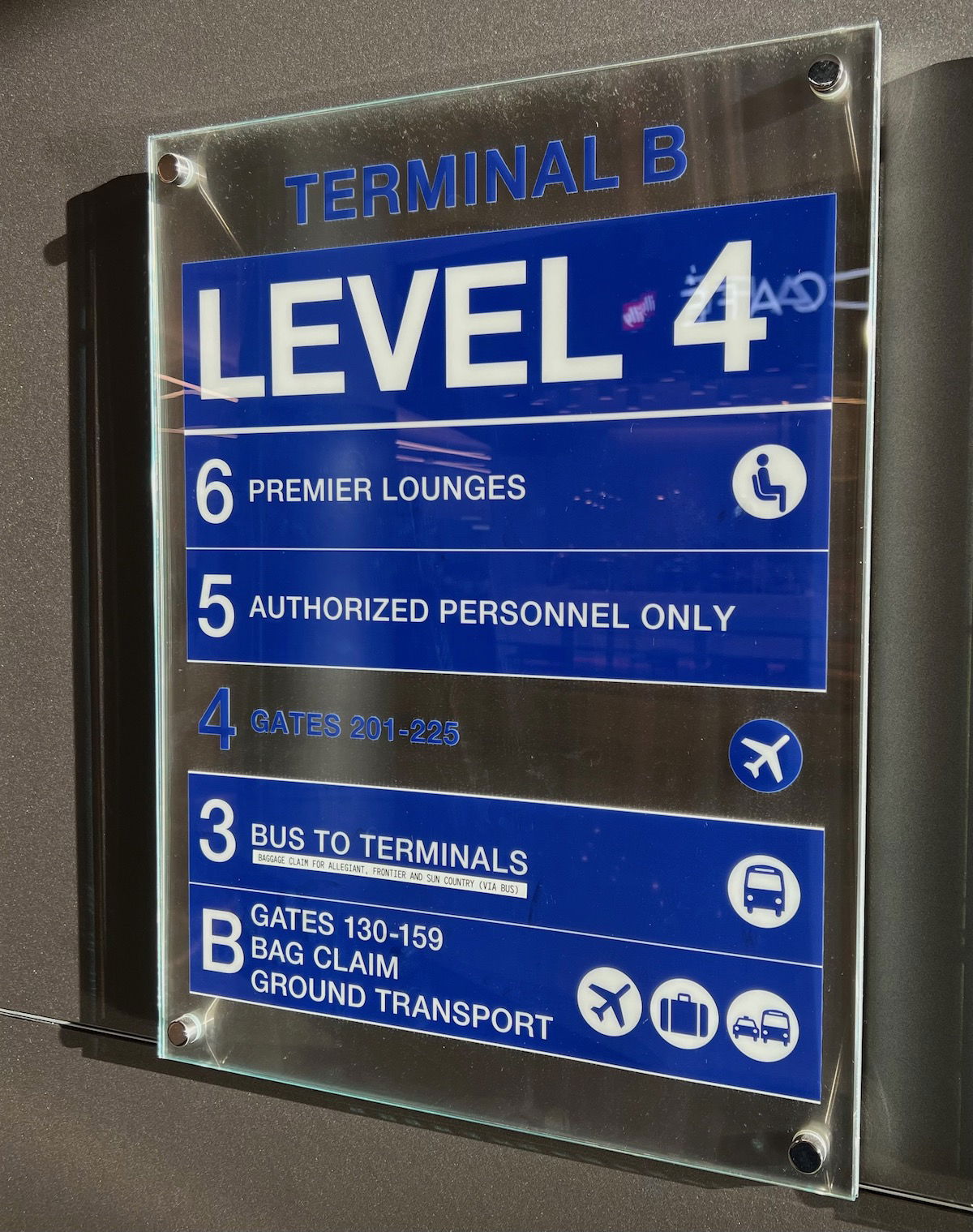 It sounds like there are lounges coming to the Midfield Satellite Concourse, which would be awesome. However, does anyone know more specifically what the plans are? I've seen some mentions of a contract lounge opening in the terminal, though nothing beyond that.
Here are some thoughts and speculation:
Maybe I'm just taking things too literally, but the sign says "premium lounges," so does that mean there's more than one lounge coming to the terminal?
SkyTeam has by far the weakest lounge situation at LAX, so my first thought is that maybe Air France-KLM will open a lounge; this could be monetized with Priority Pass, and for that matter Air France could have a dedicated space for La Premiere customers (historically the airline has sent La Premiere passengers to the Qantas First Lounge, because the airline was too embarrassed by the Korean Air Lounge)
I could see merit to a Virgin Atlantic Clubhouse opening here, as these lounges are managed by Plaza Premium in the United States, and are therefore well monetized; that being said, I'm not sure if Virgin Atlantic eventually plans to move back to Delta's terminal?
Otherwise I imagine we'll probably just see a generic contract lounge, from Plaza Premium, The Club, etc.; the terminal (or airport overall, for that matter) sure could use a Priority Pass lounge
So if anyone has any insights, I'd love to hear them!
Bottom line
I'm happy I had the chance to finally check out LAX's new Midfield Satellite Concourse extension of Tom Bradley International Terminal. It's a gorgeous facility, with great architecture, lots of natural light, and very nice seating options. Furthermore, since not many people trek over to this area of the terminal, it's generally quieter.
Now I'm curious to see what lounges end up opening in the terminal.
What do you make of LAX's new Midfield Satellite Concourse?