In the interest of full disclosure, OMAAT earns a referral bonus for anyone that's approved through some of the below links. These are the best publicly available offers (terms apply) that we have found for each product or service. Opinions expressed here are the author's alone, not those of the bank, credit card issuer, airline, hotel chain, or product manufacturer/service provider, and have not been reviewed, approved or otherwise endorsed by any of these entities. Please check out
our advertiser policy
for further details about our partners, and thanks for your support!
During my time at Los Angeles International Airport (LAX), I had the chance to check out the Amex Centurion Lounge.
The lounge initially opened in March 2020, though closed down after roughly a week, given that this was the point at which the pandemic shut down global travel. Even as travel recovered, the lounge didn't reopen, though, and it finally only opened in June 2022. Why the delay? Because there were apparently issues with jet fumes in the lounge, which required some major work to be done.
So, how is the Amex Centurion Lounge LAX? I'd say it's probably one of the better Centurion Lounges in terms of crowding, though it also lacks views, and has a bit of an odd layout.
Amex Centurion Lounge LAX location
The Amex Centurion Lounge LAX is located in Tom Bradley International Terminal (TBIT). TBIT is connected airside to Terminals 4, 5, 6, 7, and 8 — it's only about a five minute walk from Terminal 4 (which is American's primary terminal), and then expect it to take an extra five minutes per terminal, give or take.
In other words, to get there from Terminal 7 you'd take the underground walkway to Terminal 6, then the underground walkway to Terminal 5, then the underground walkway to Terminal 4, and then the connector to TBIT from there. It's quite a trek.
Once inside TBIT, the entrance to the lounge is located on the fourth floor — it's essentially immediately underneath the Qantas First Lounge. It's actually located between the international arrivals and immigration area, and the international baggage claim area. Below is a picture of the lounge from the main level of the terminal (you can see the lounge on the left), and those escalators are inside the immigration facility.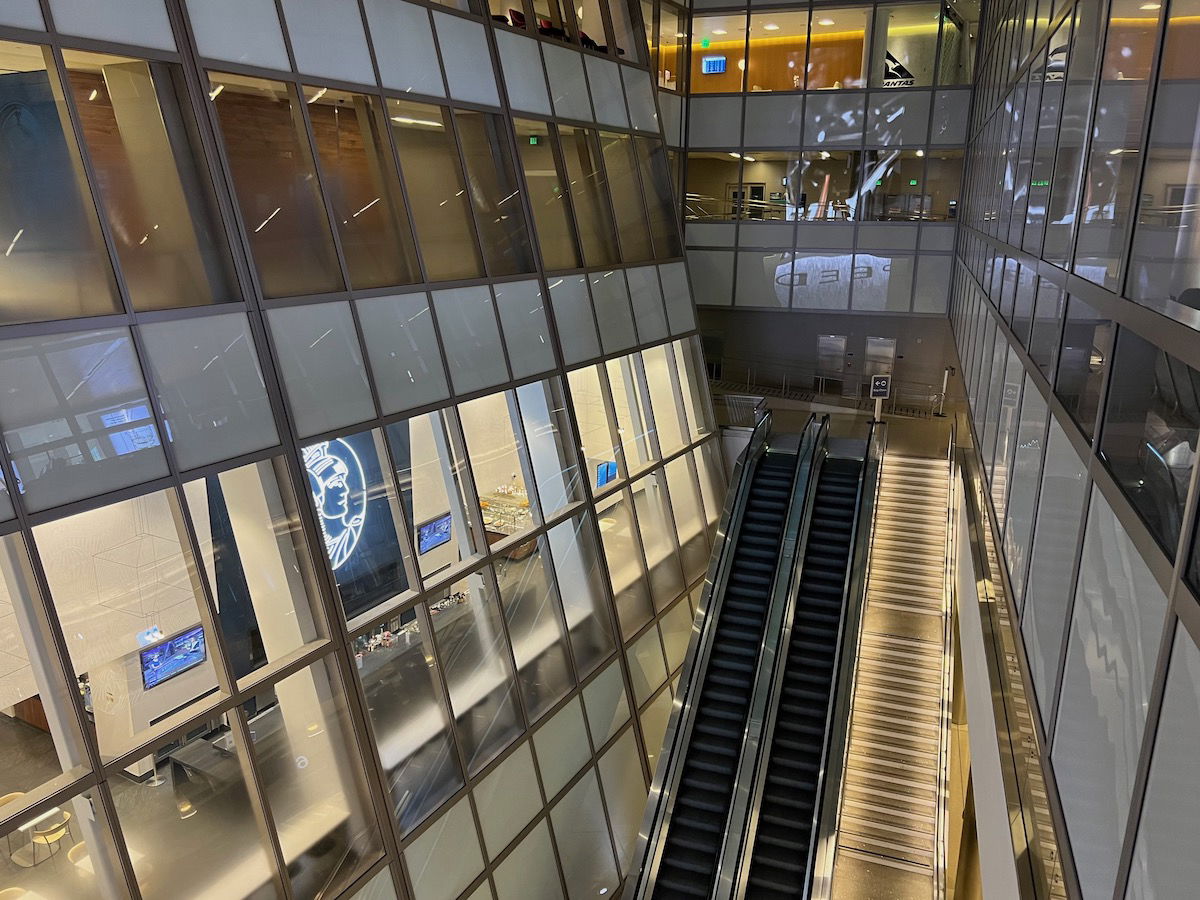 The entrance to the Centurion Lounge is just past the security checkpoint, and you can enter the area with elevators from either side.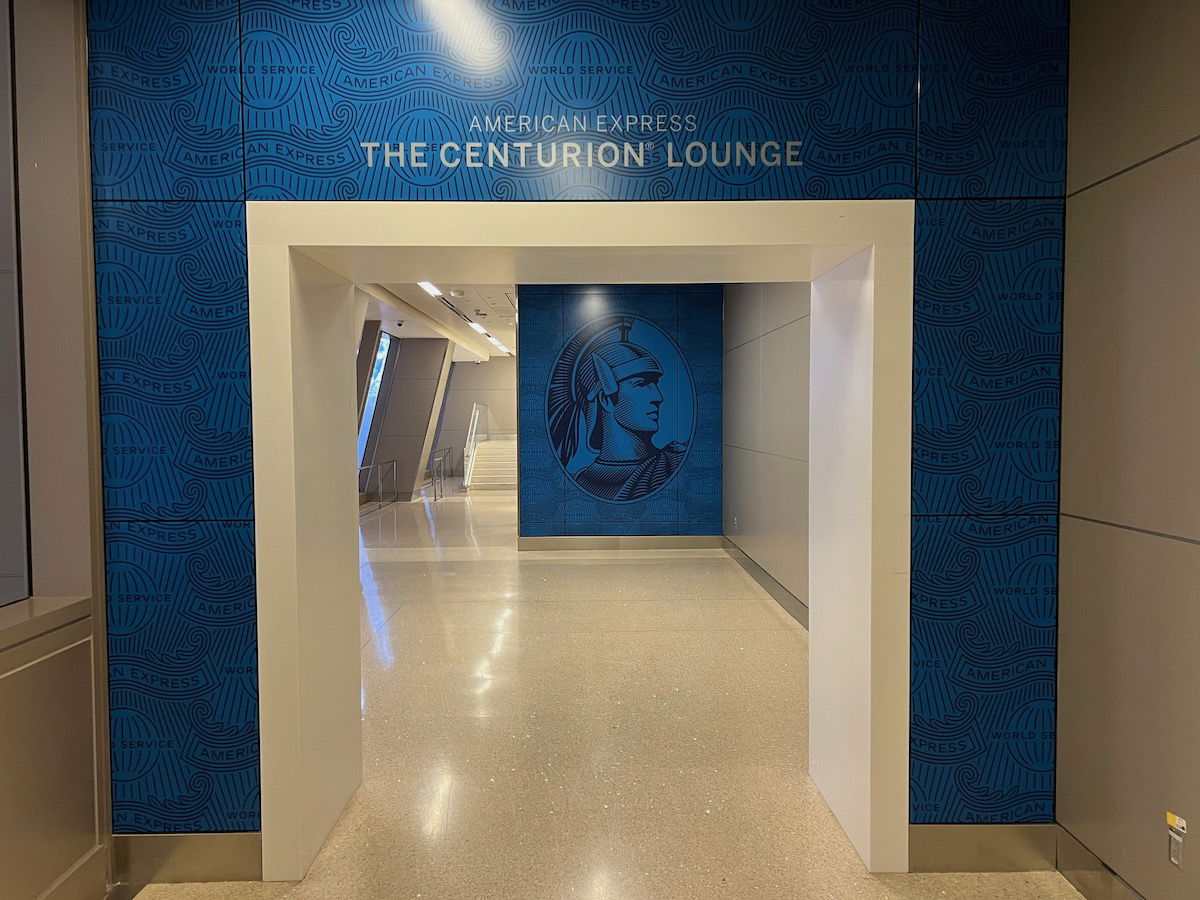 The lounge itself is on the second floor, so you can take the elevators down two levels to access the lounge.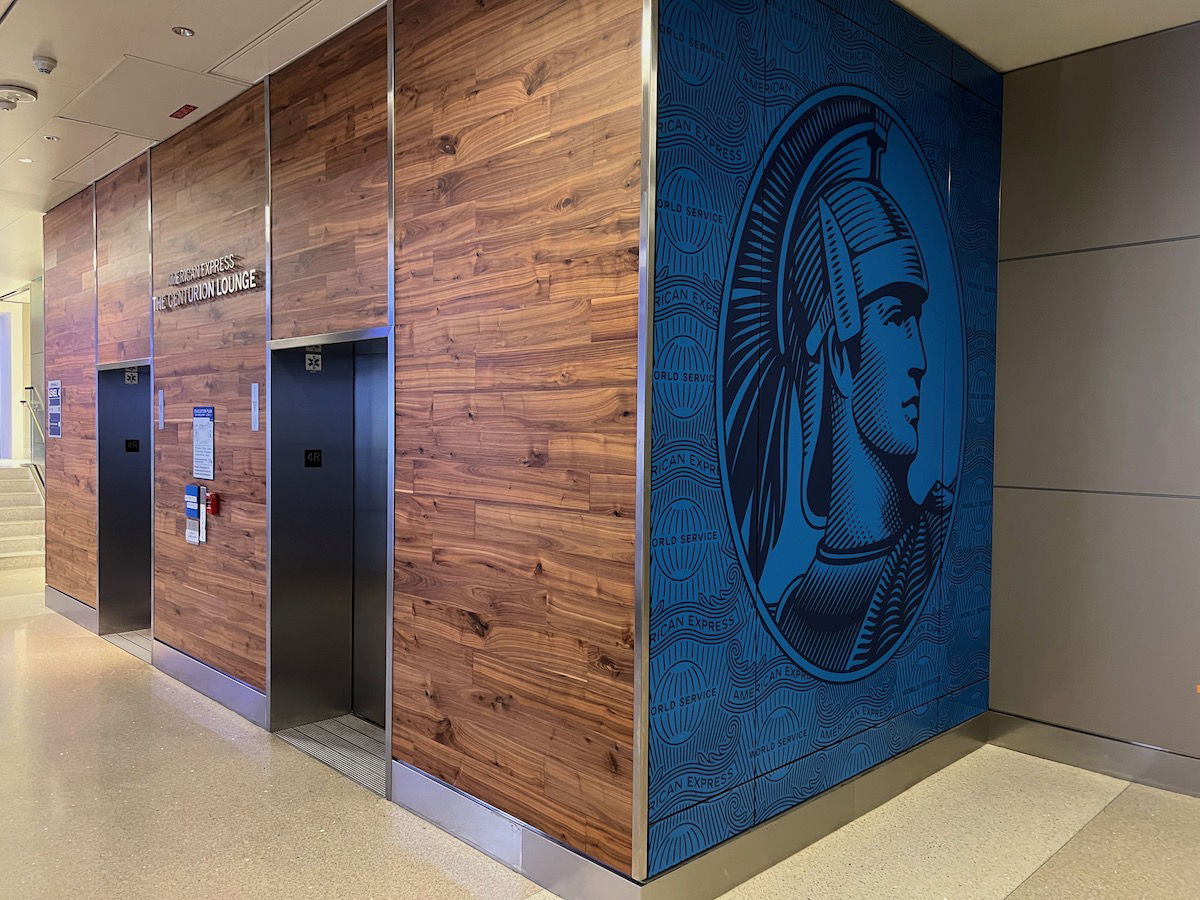 Once you're down on the second floor, you'll see the signature Centurion Lounge entrance, including the plant wall.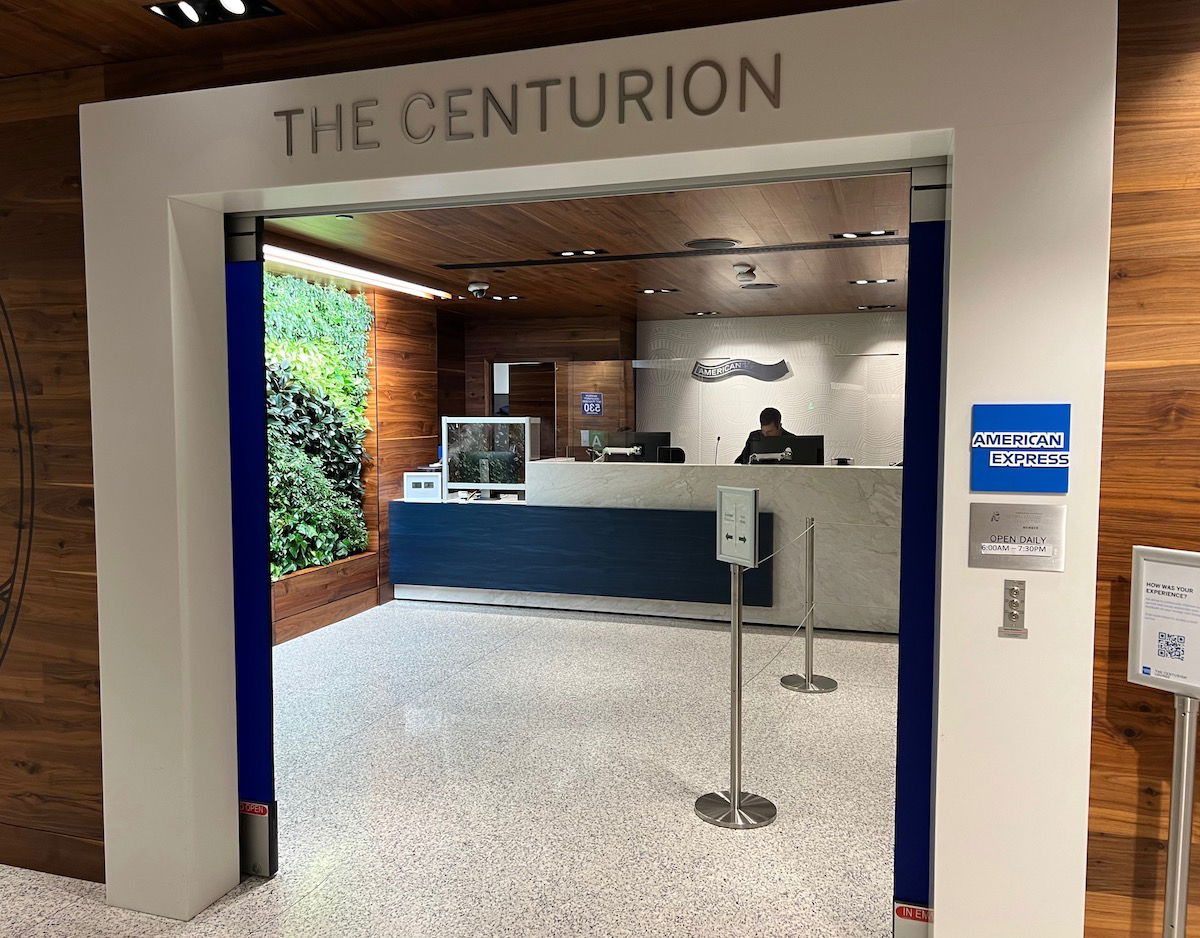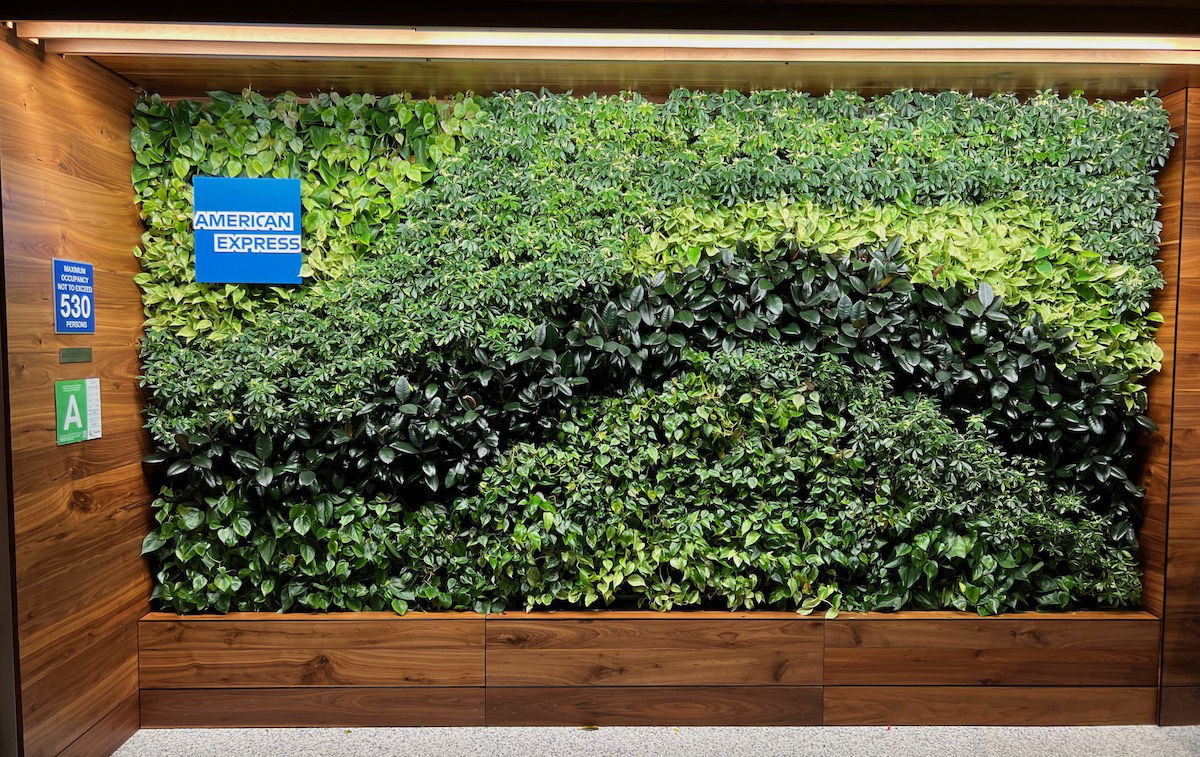 Amex Centurion Lounge LAX hours
The Centurion Lounge LAX is currently open daily from 6AM until 7:30PM. Those are some fairly limited hours, when you consider that all kinds of flights depart from TBIT way later than that. As a matter of fact, 10PM-12AM is rush hour in the terminal, and the lounge is closed for all of those flights.
Amex Centurion Lounge LAX entry requirements
This lounge has the same access policies as all Amex Centurion Lounges. Amex Centurion Lounges can be accessed by those who have any of the following cards, with restrictions noted next to each card:
When it comes to accessing Amex Centurion Lounges, there are some terms to be aware of:
You need a same day boarding pass to access Centurion Lounges, and in the case of Delta Reserve cardmembers, the boarding pass needs to be for travel on Delta
You can access Centurion Lounges up to three hours before departure, unless you're connecting, in which case you can access earlier
You can't access Centurion Lounges on arrival, or with a standby or non-revenue standby ticket
If you're guesting people into Centurion Lounges, you need to stay with them the entire time they're in the lounge
Amex Centurion Lounge LAX seating & layout
The Amex Centurion Lounge LAX is roughly 14,000 square feet, making it one of the largest Centurion Lounges to date. It has seating for over 200 guests. Of course Centurion Lounges do often have crowding issues, though I'd guess that this lounge is the least likely to have those issues, given its location, and how spread out LAX is.
The Amex Centurion Lounge LAX has a different layout than other lounges belonging to the portfolio. Rather than having one or two main rooms with some partitions, most of the lounge is essentially along a hallway, with a variety of smaller rooms.
Inside the entrance is a small room with the typical American Express art. The tables in this area were mostly marked as being "reserved" (presumably for Centurion cardmembers). It seems like an odd area to hold back for guests, since I'd consider this to be the least private or calm area of the lounge.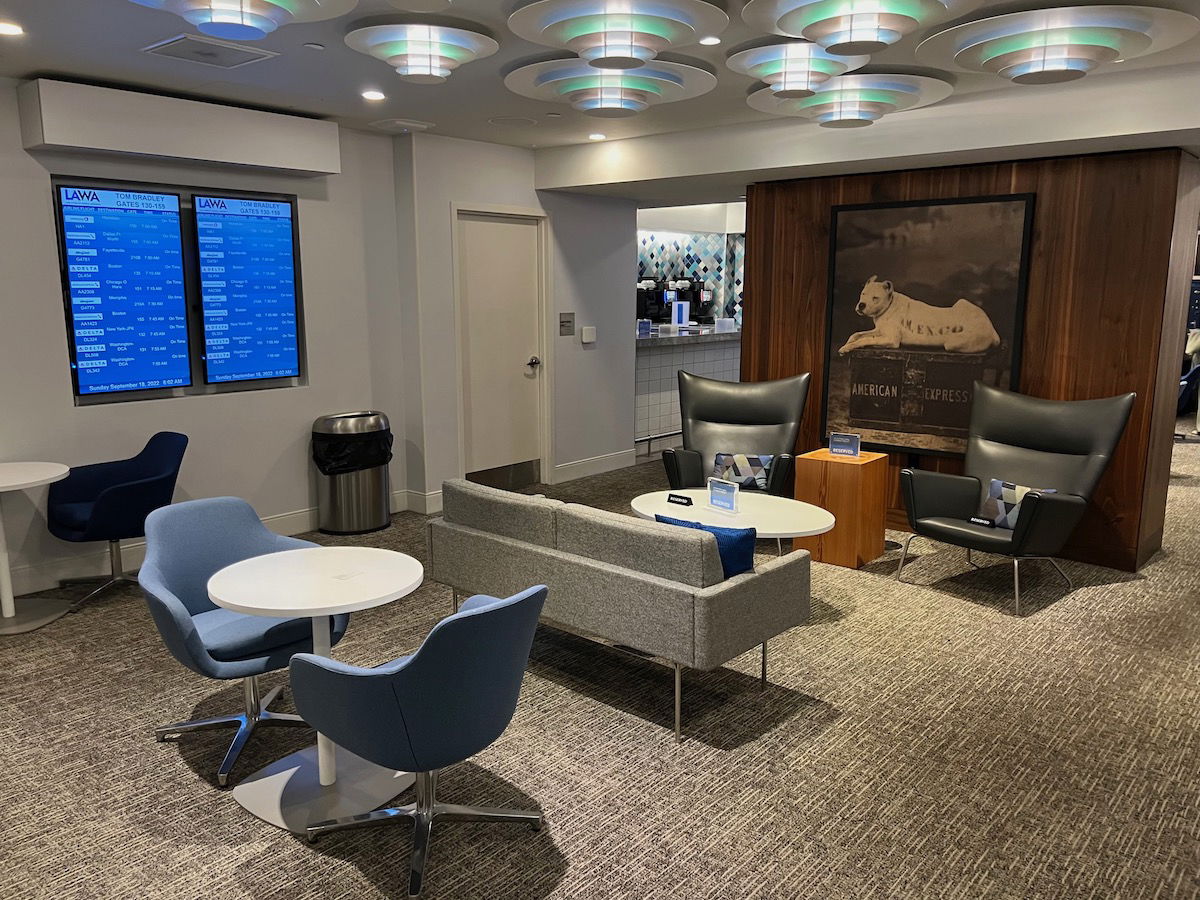 Further into the lounge is an area with several dining tables, a communal table, and a small bar.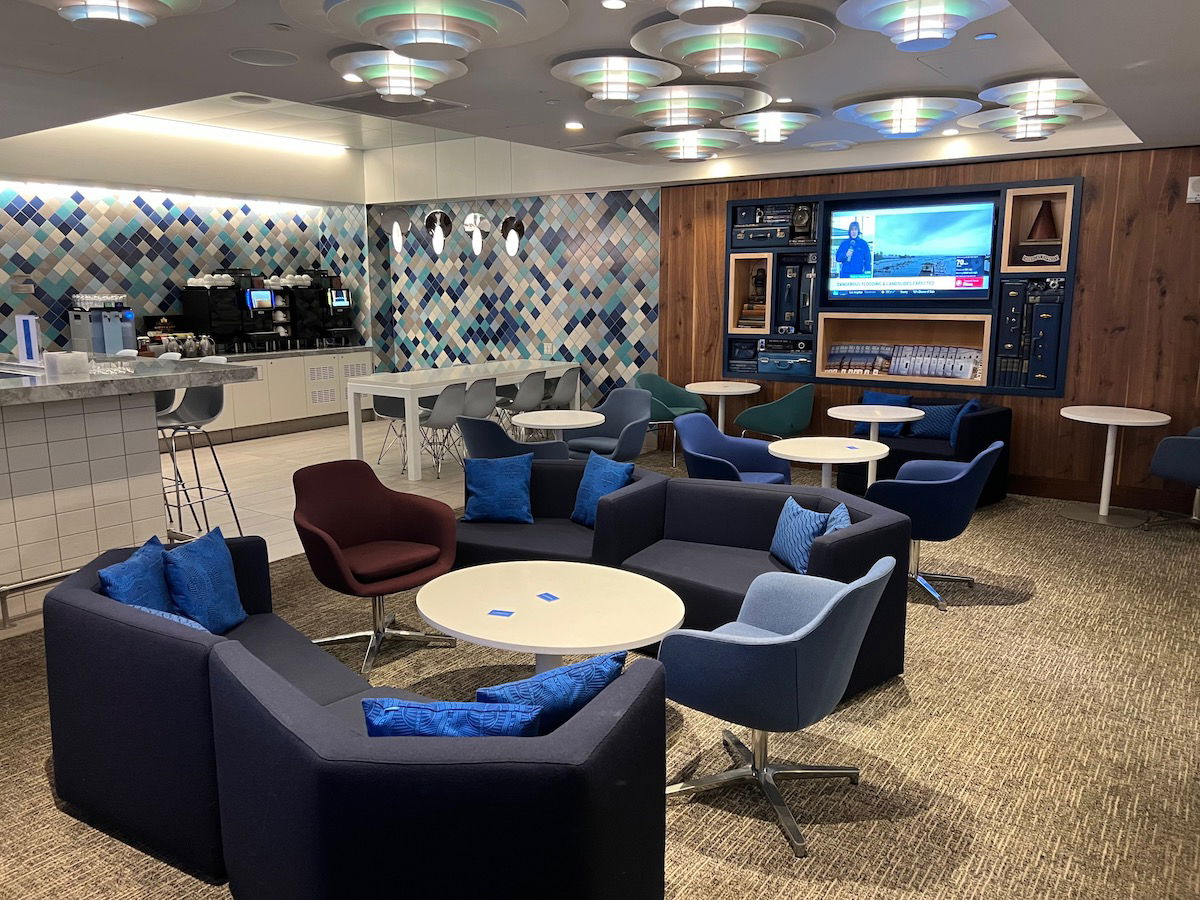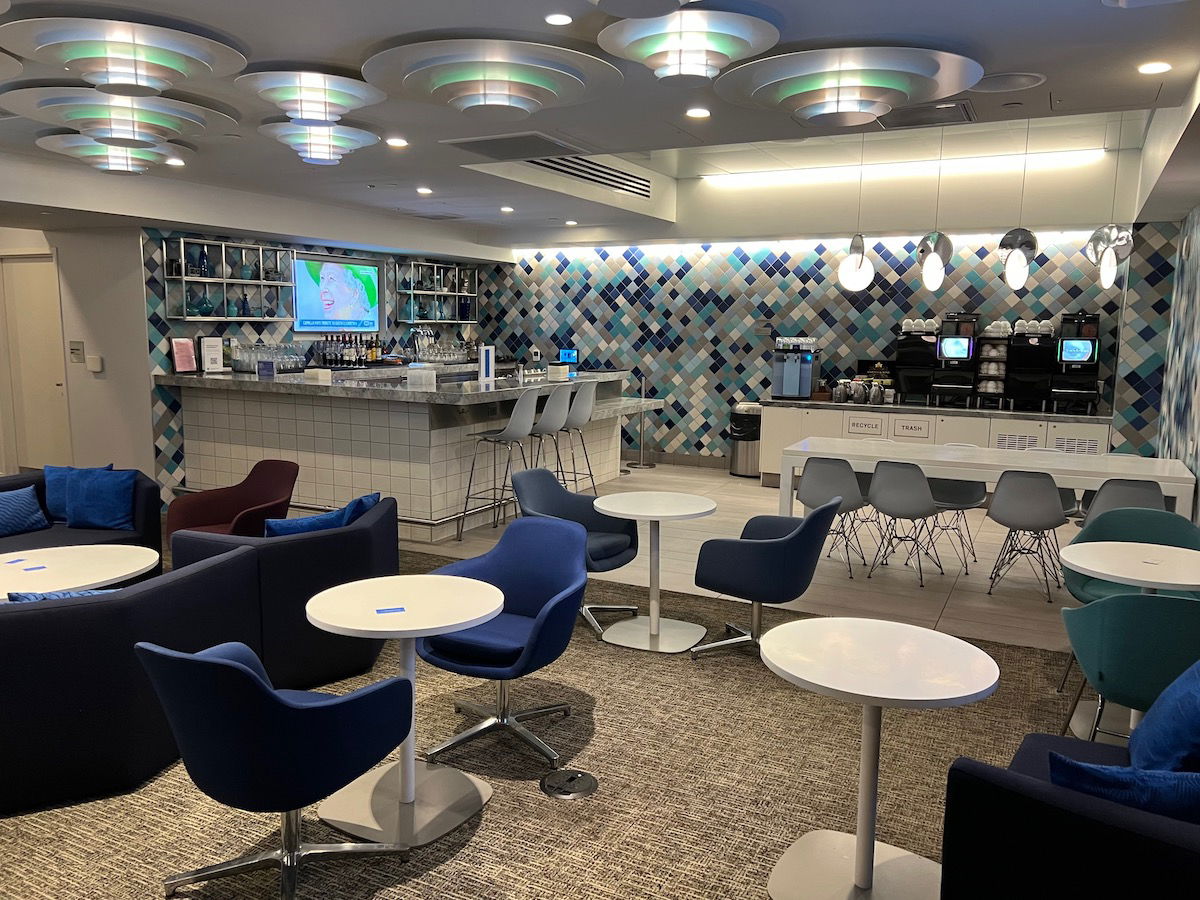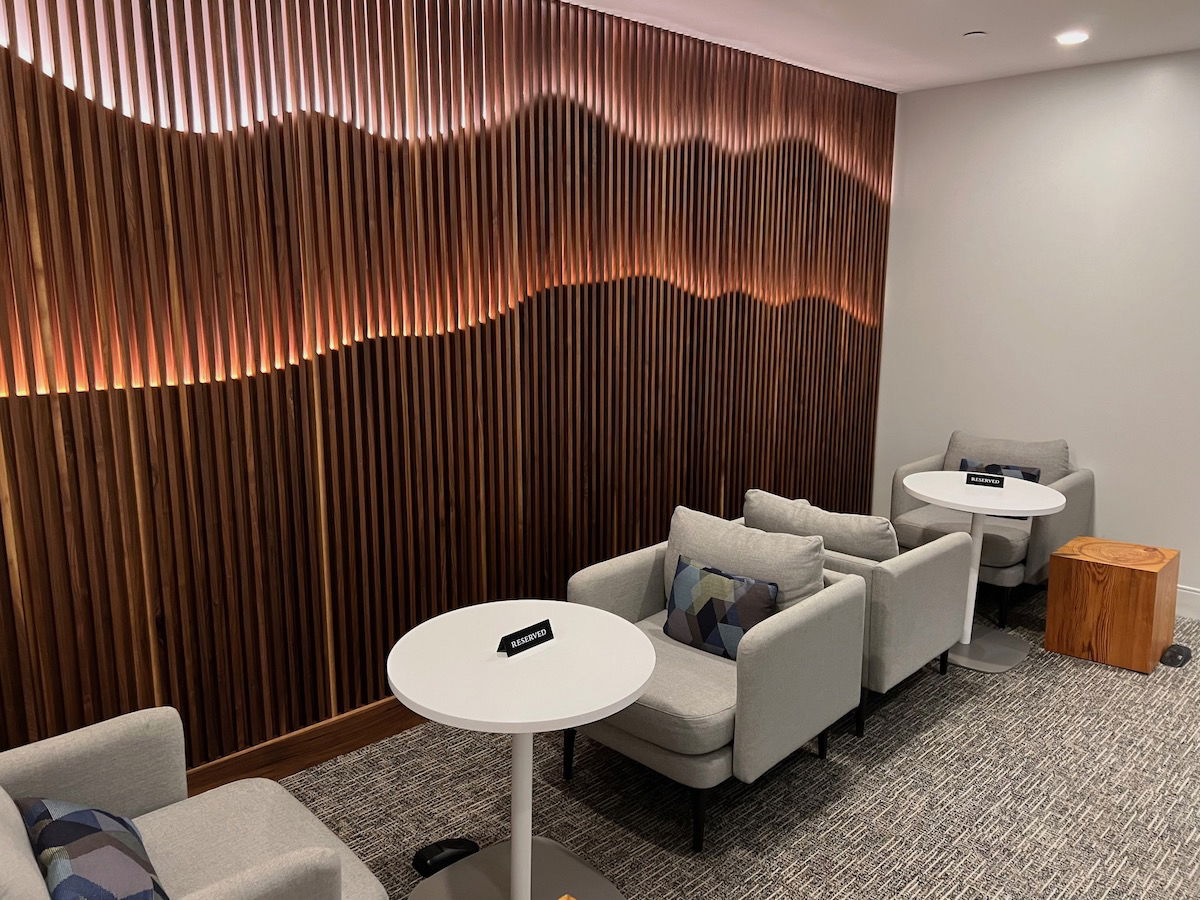 Then there's a room with a large communal table, which I assume is intended to be a workstation.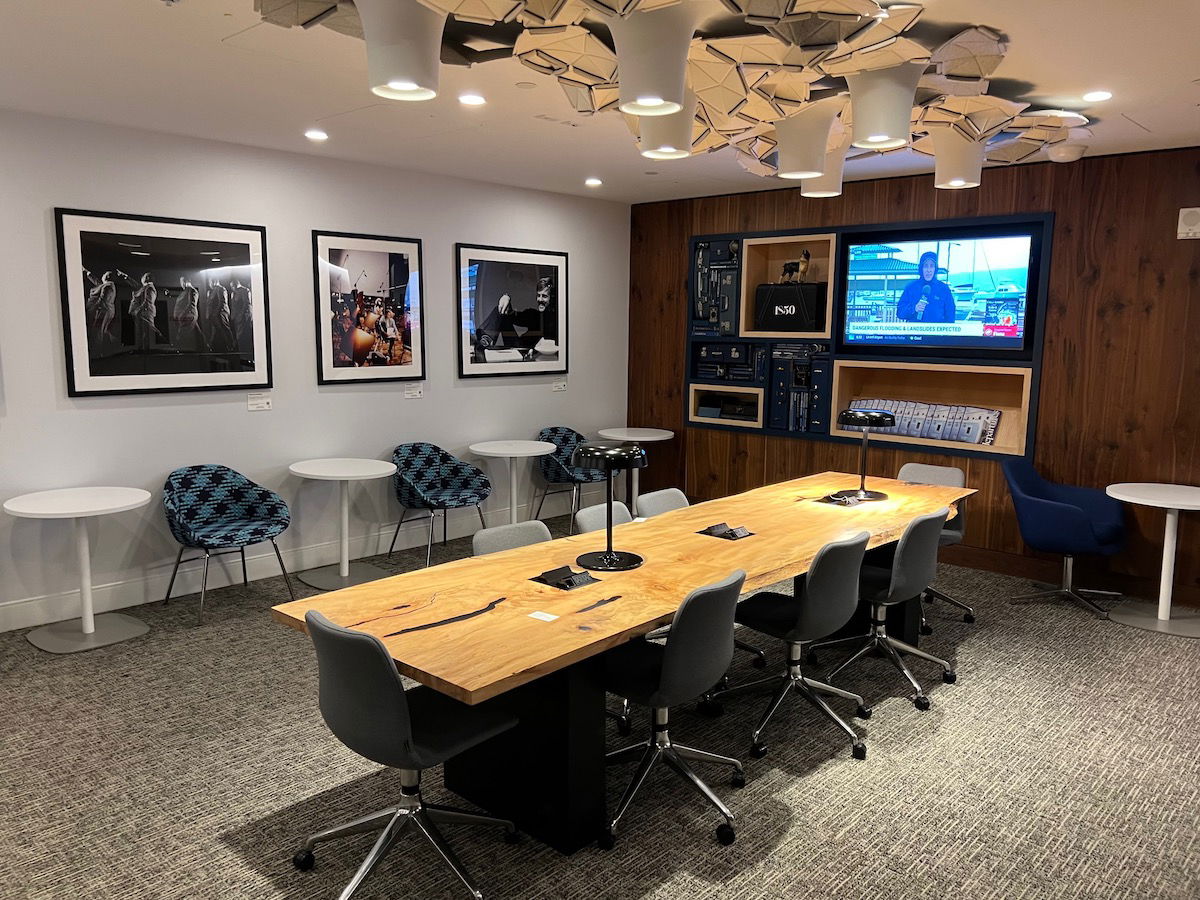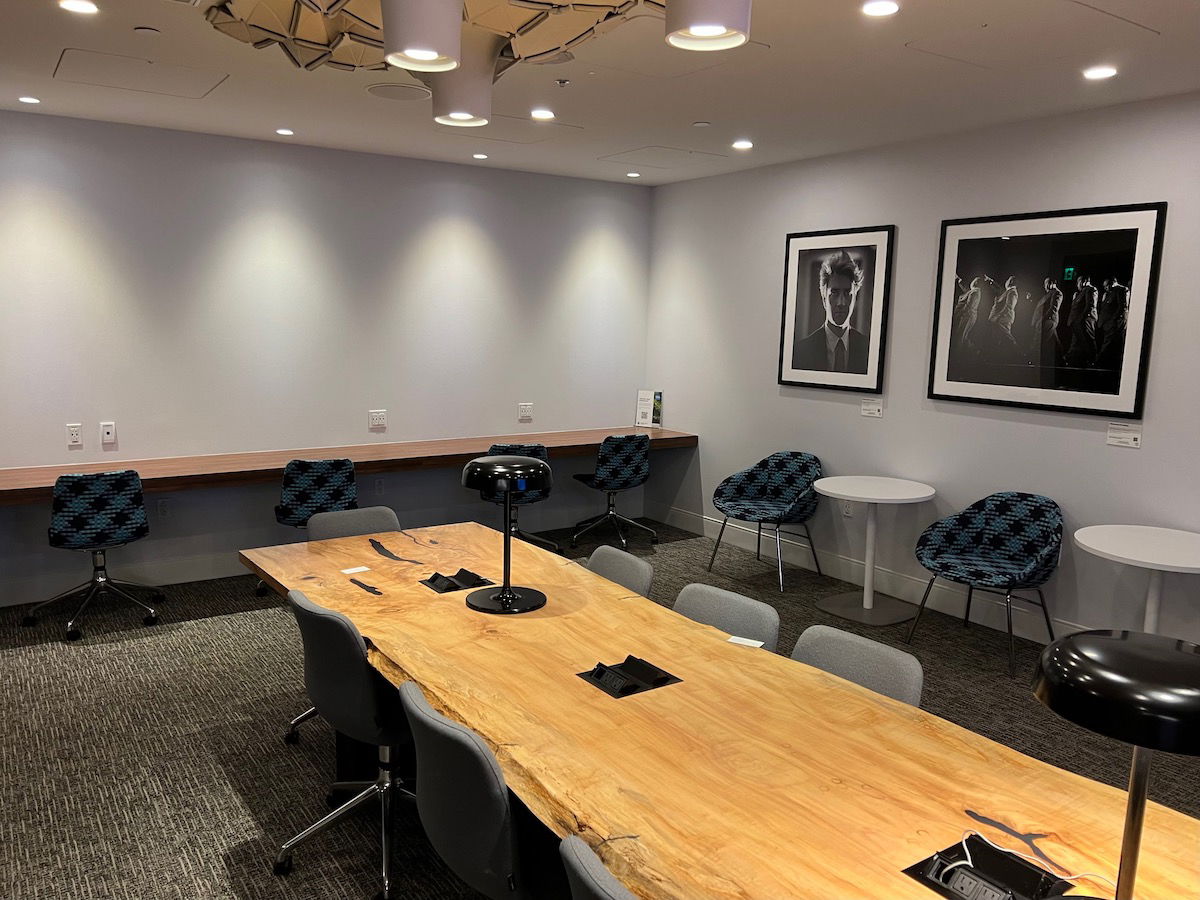 There are also some cool semi-private desks along the hall in this area.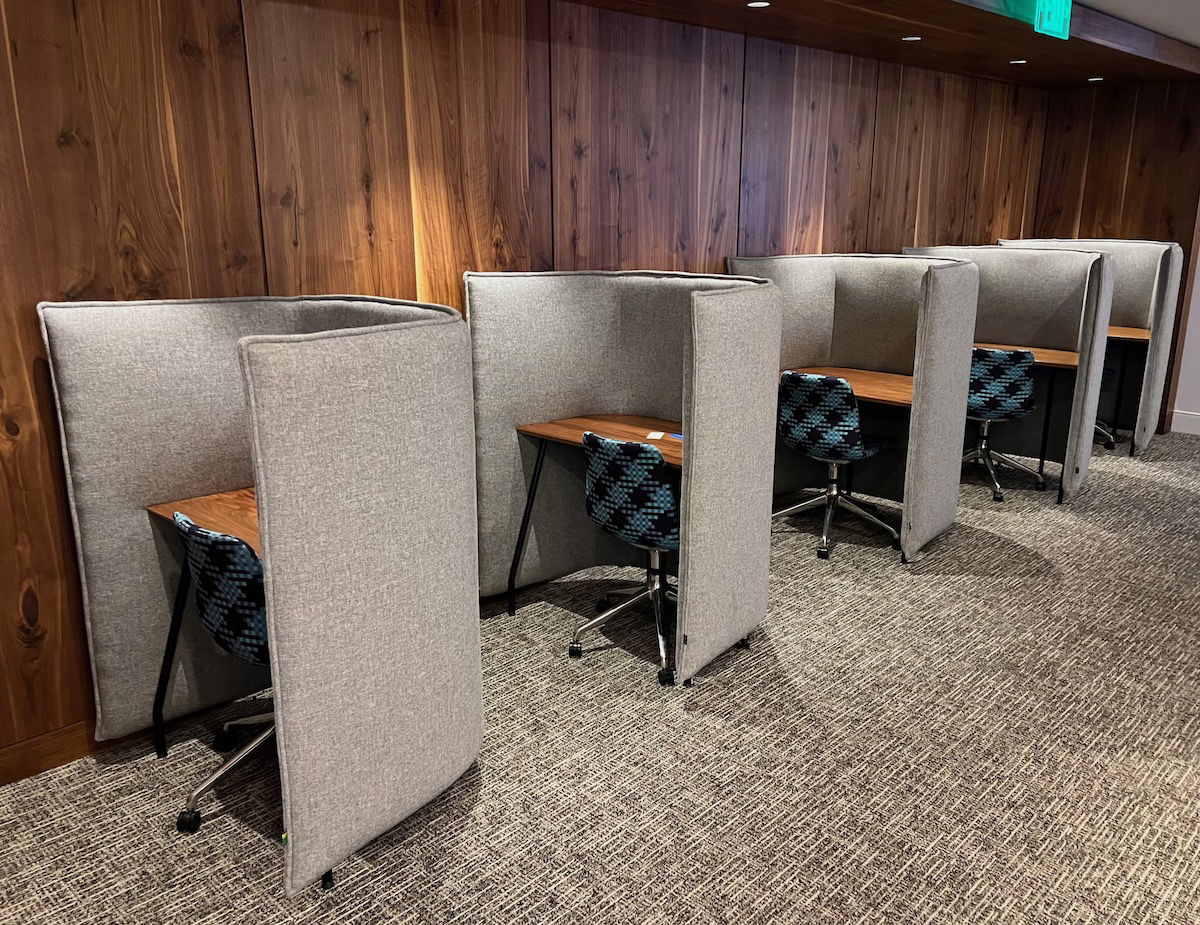 The lounge then has a couple of tranquility areas. One is a sunrise room, intended to make you feel more awake, given that it's pretty bright. I kind of appreciated this, given the lack of natural light in the lounge otherwise.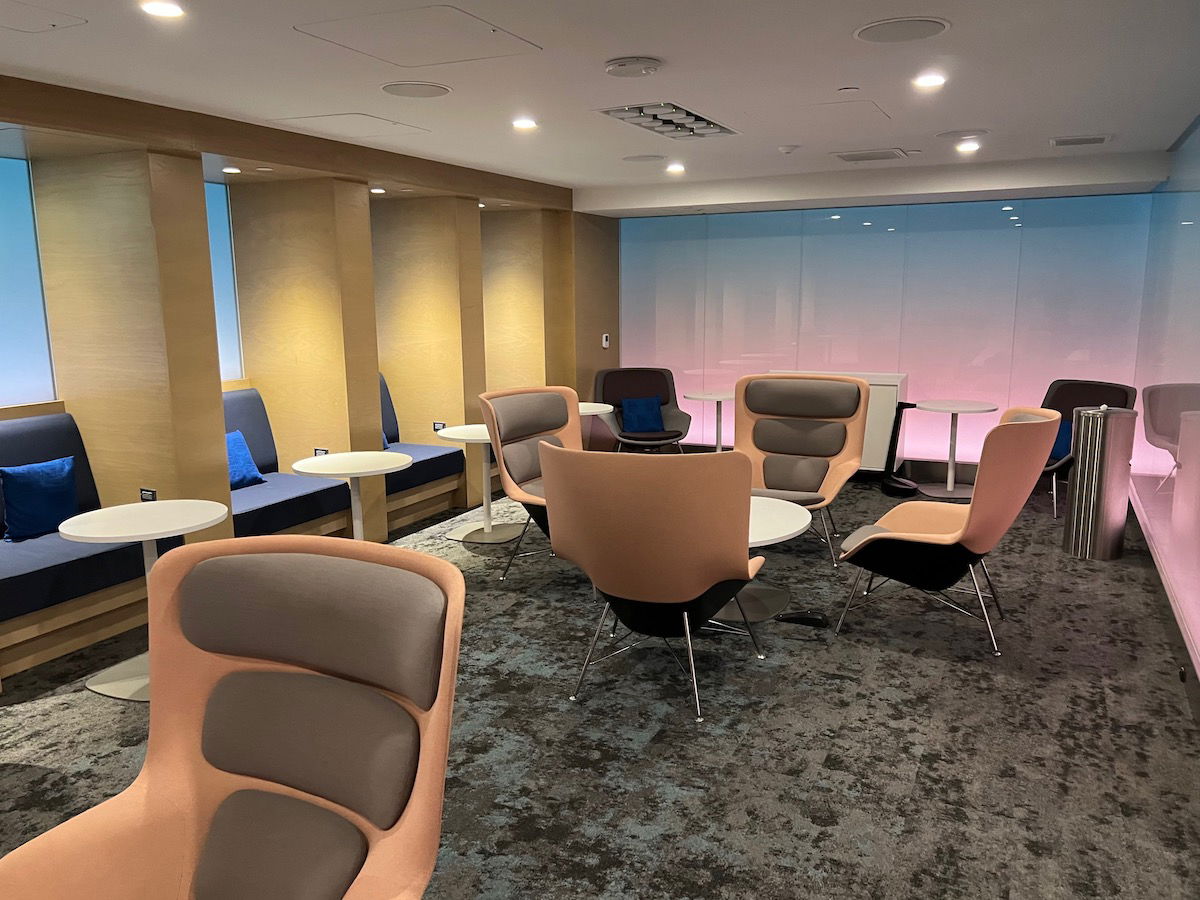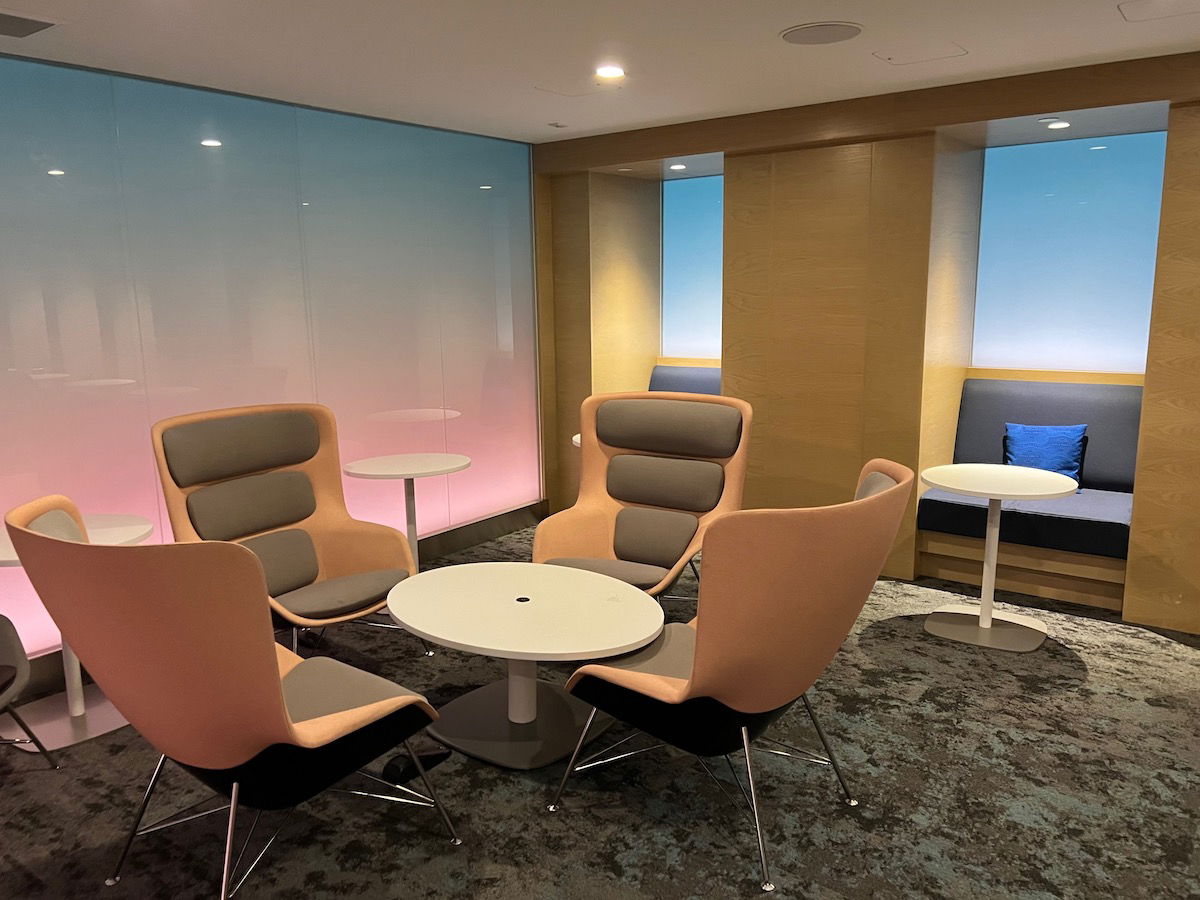 The other tranquility room is described as a moonrise room, and is intended to help you unwind and make you feel like it's night.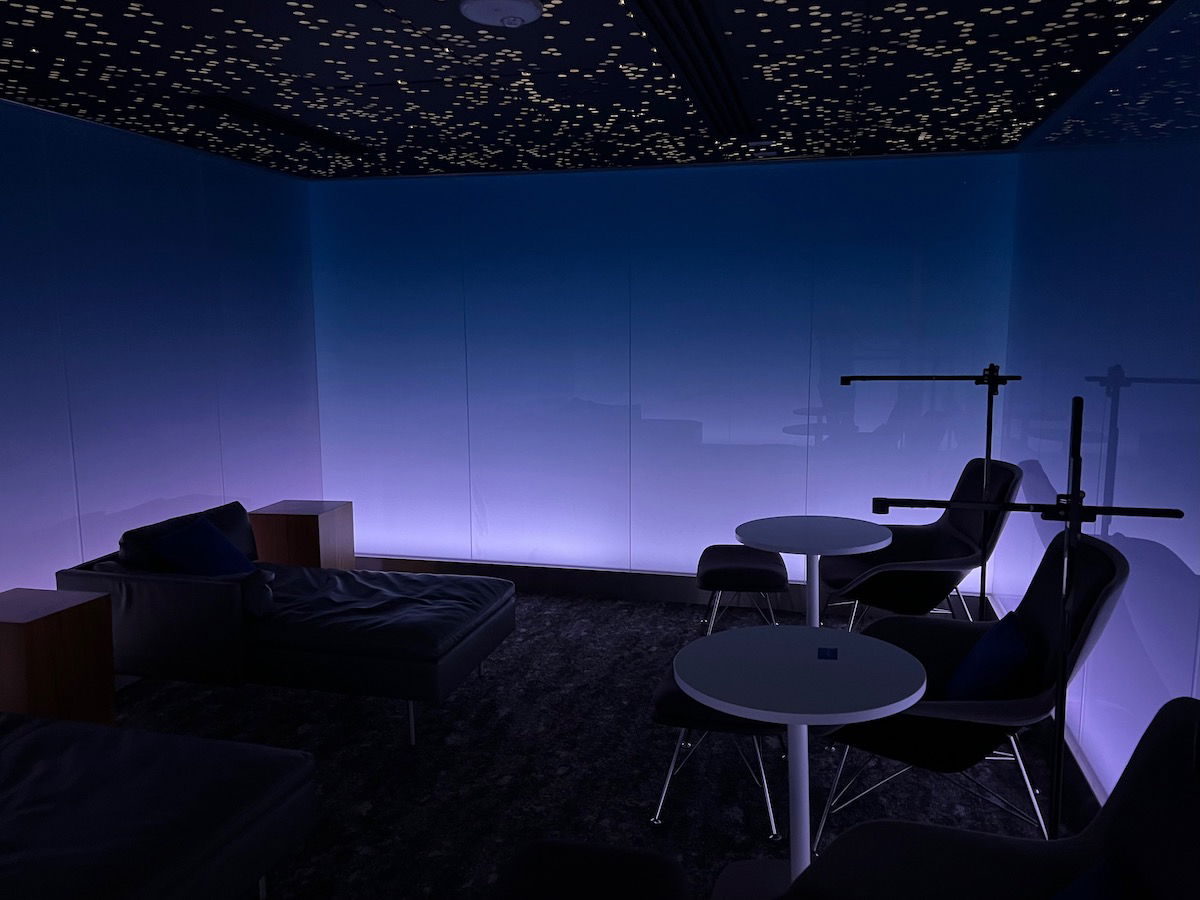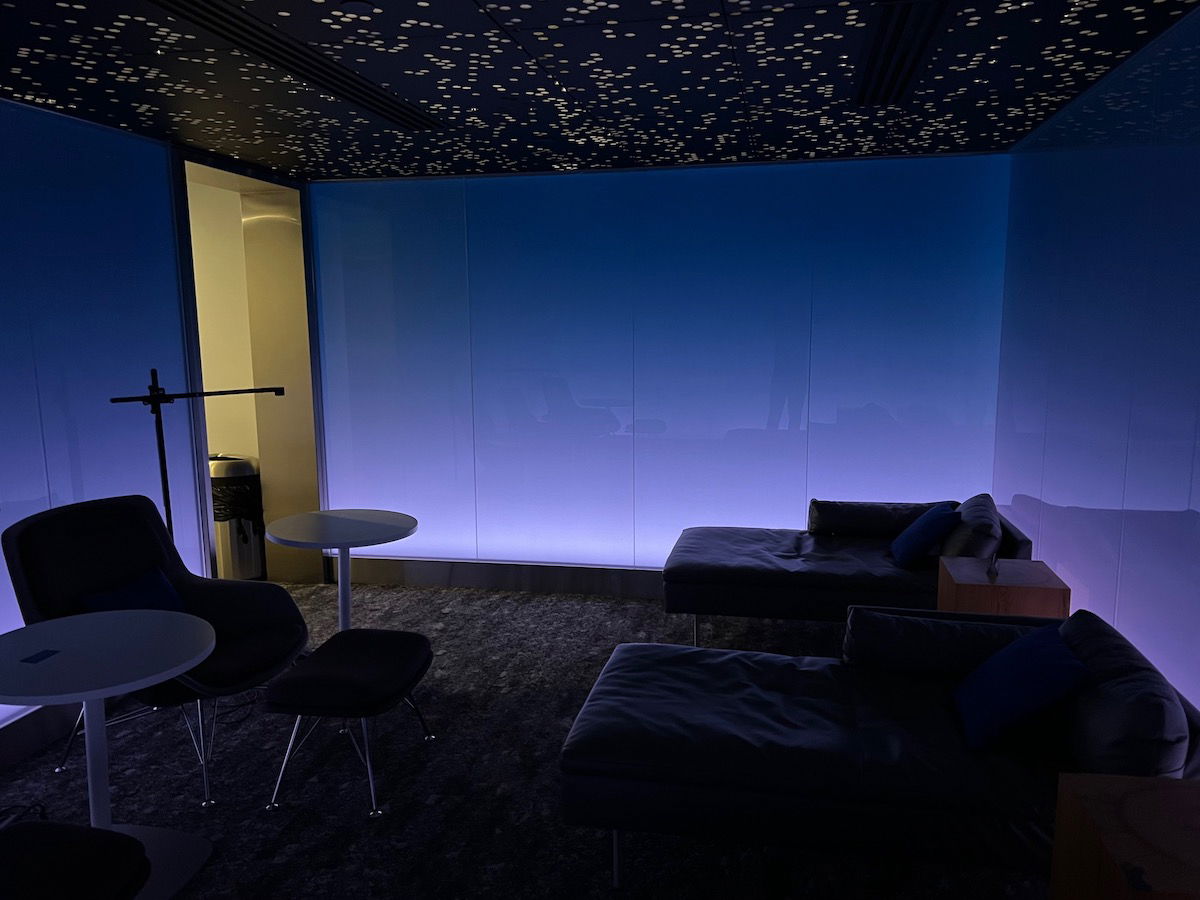 The Amex Centurion Lounge LAX also has a spa, though it's currently only open from 11AM until 7:30PM, so that didn't overlap with when I visited. The lounge offers a variety of complimentary treatments on a first-come, first-served basis, including massages and nail treatments. If you're interested, you'll want to try to reserve this as soon as you enter the lounge.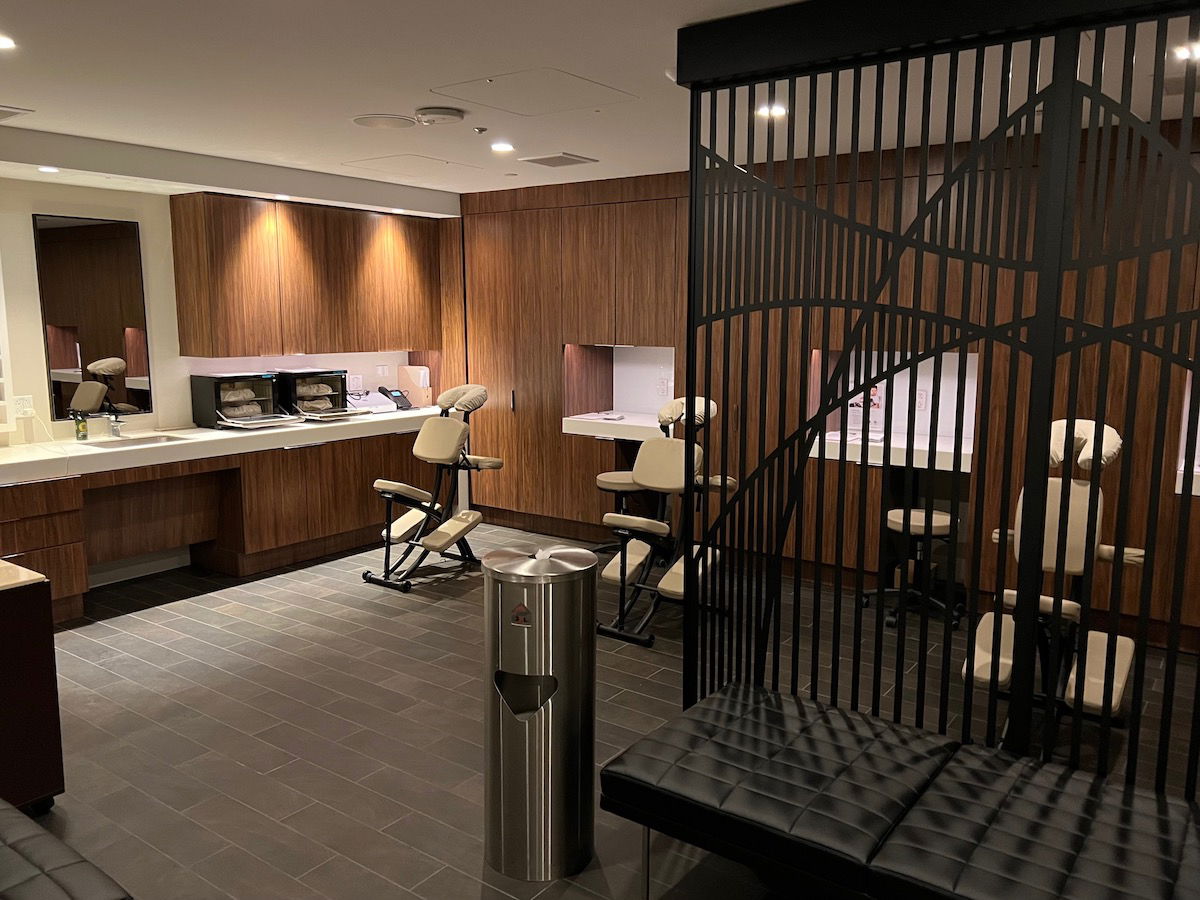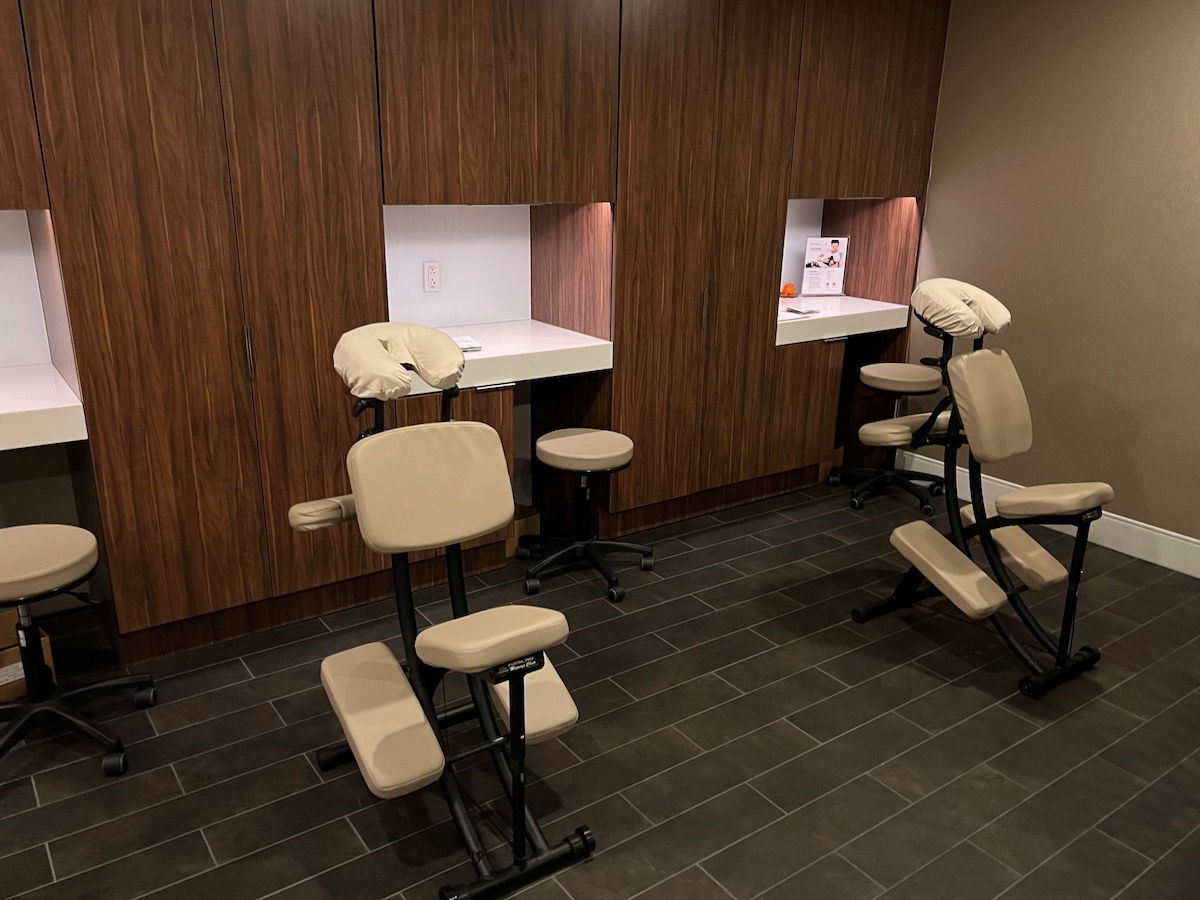 The lounge also has a dedicated room for kids. However, it didn't have all that much in the way of things that will keep kids entertained. Rather it just seemed to be about ideally having kids in a different zone, to limit noise in other parts of the lounge.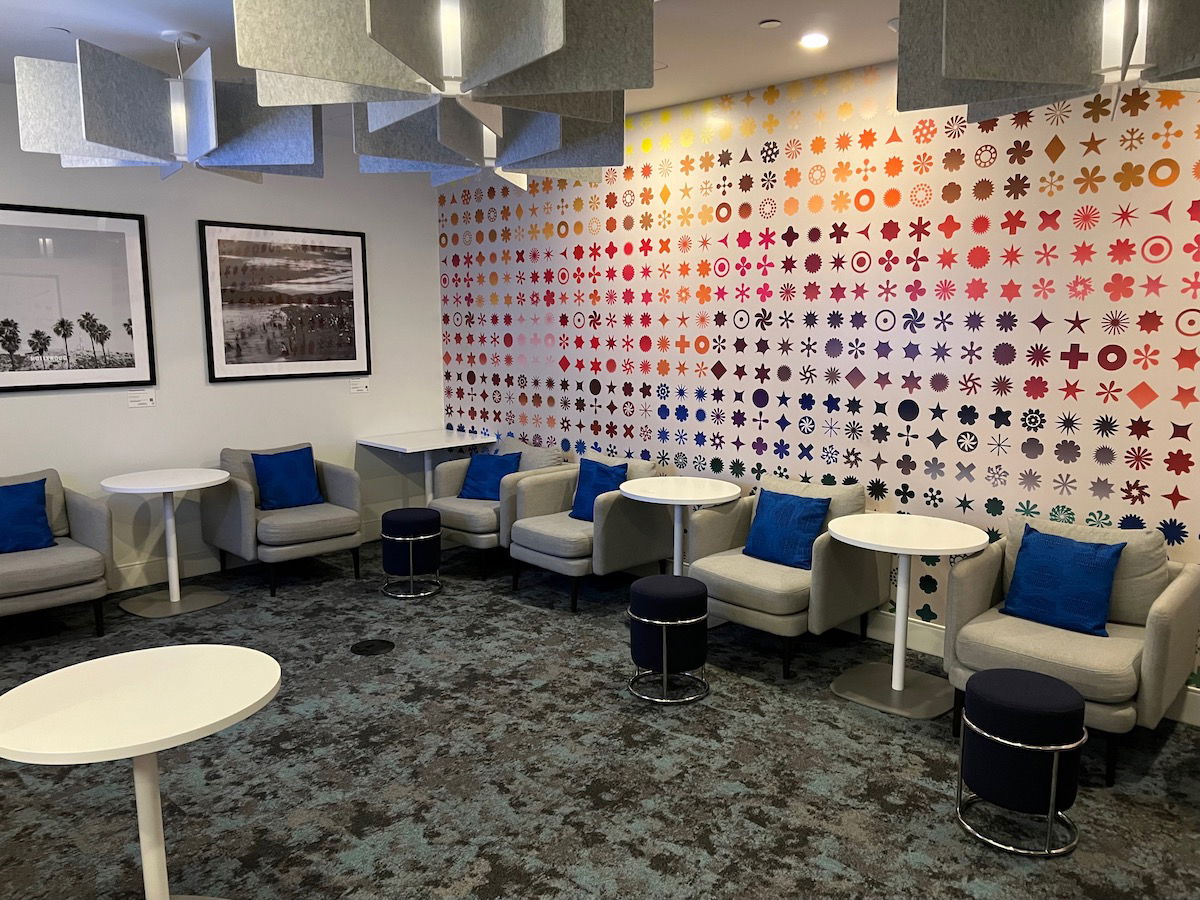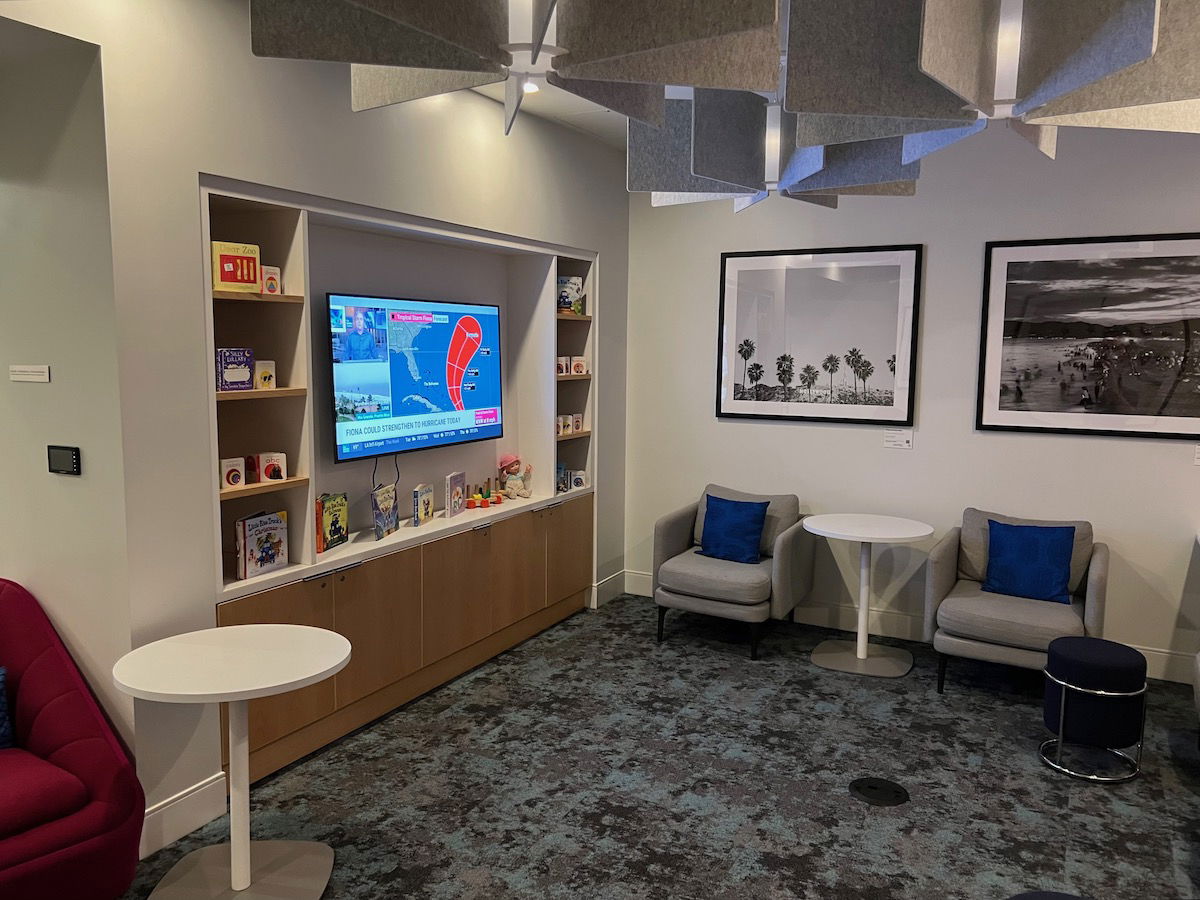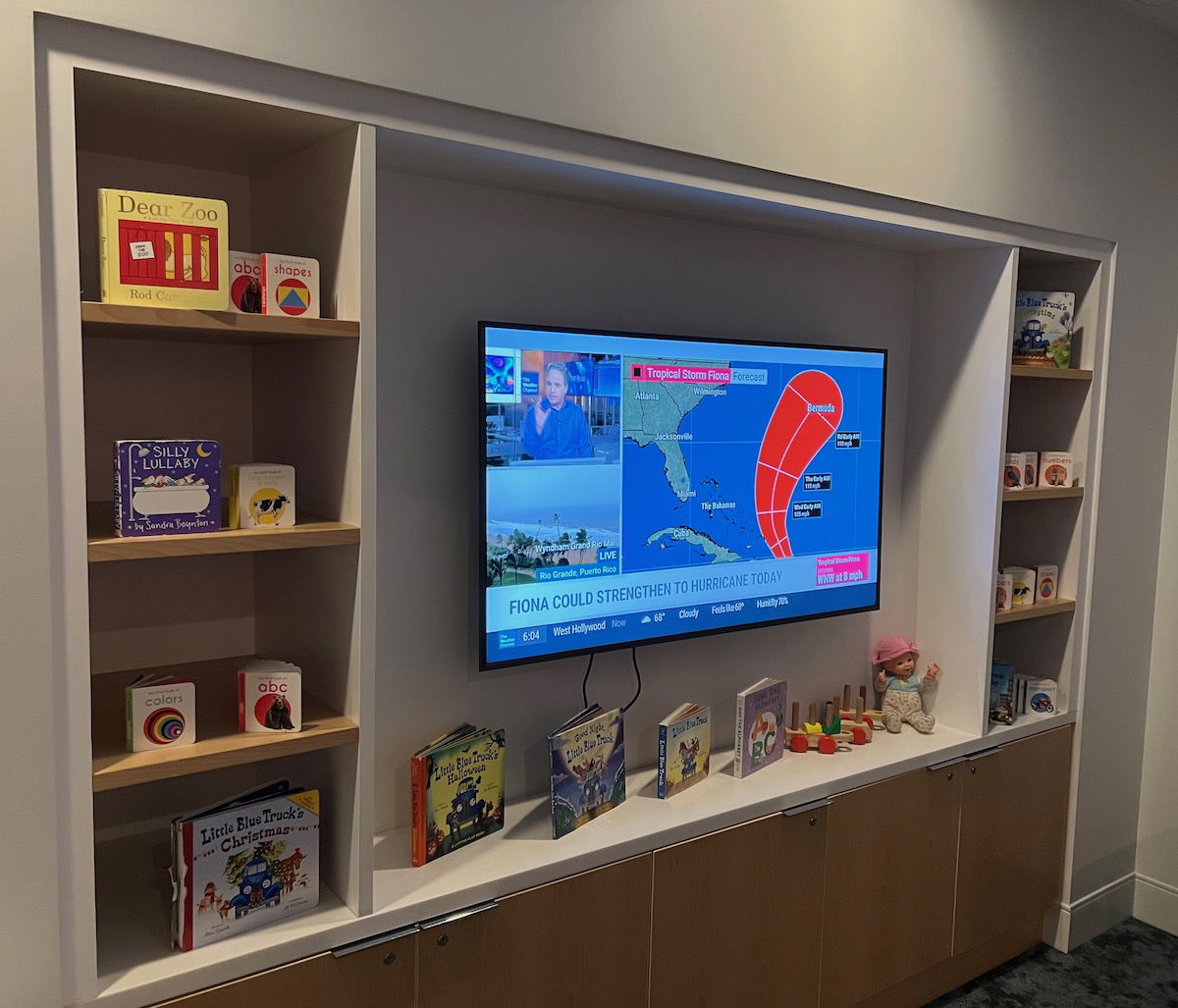 In the back of the lounge there's yet another room with some self-serve drink stations, plus some high-top seating.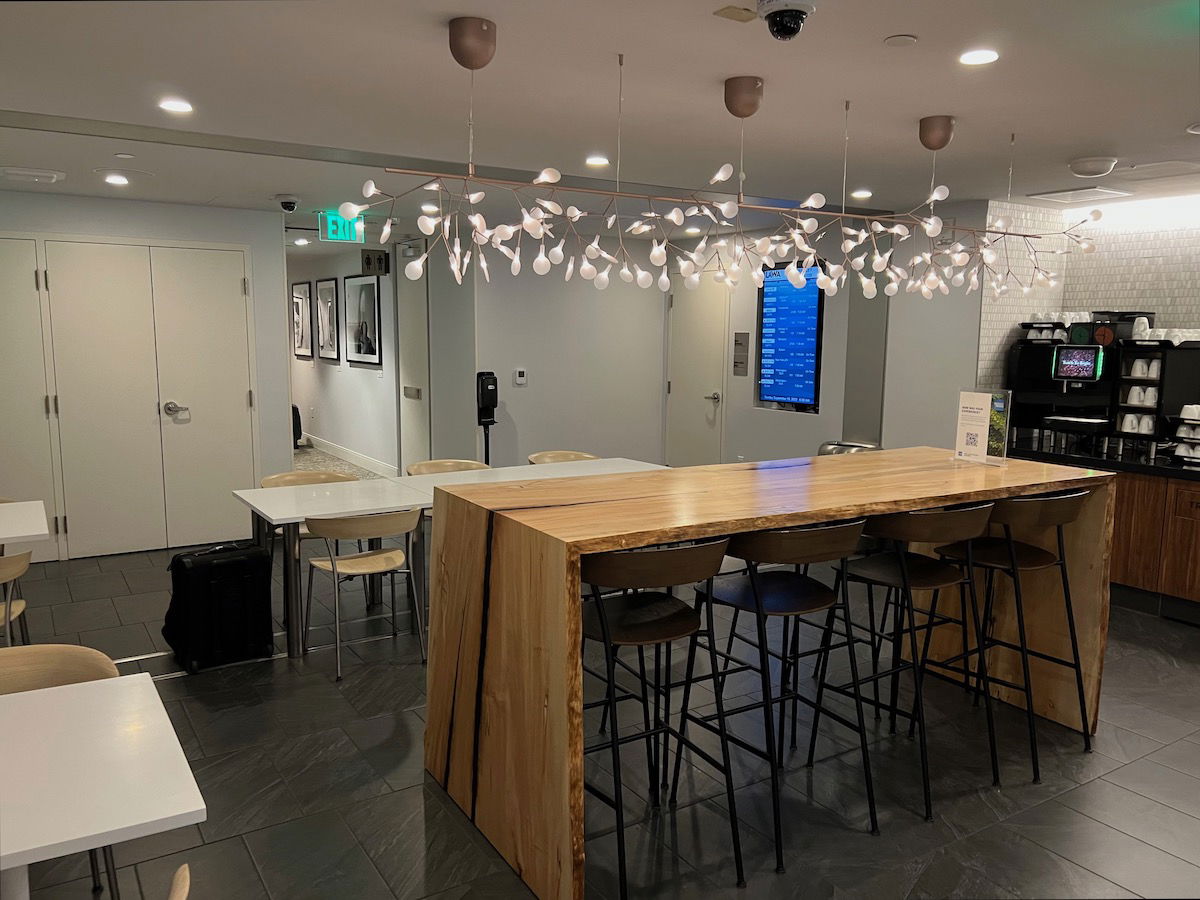 The main part of the lounge — and this seems to be where a vast majority of guests immediately head — is the bar and dining area. This is an impressive space that has very high ceilings (unlike the rest of the lounge), and features a bar, plenty of dining tables, and the buffet.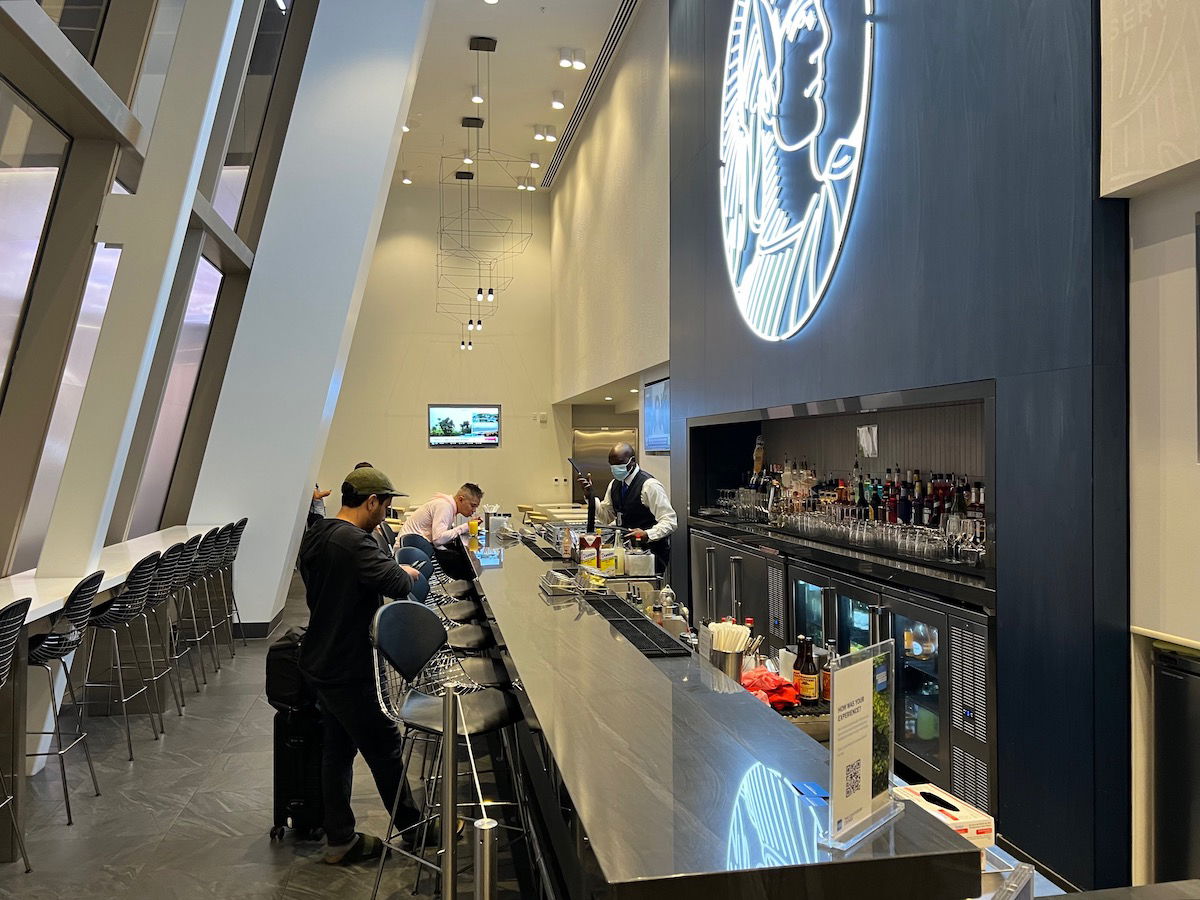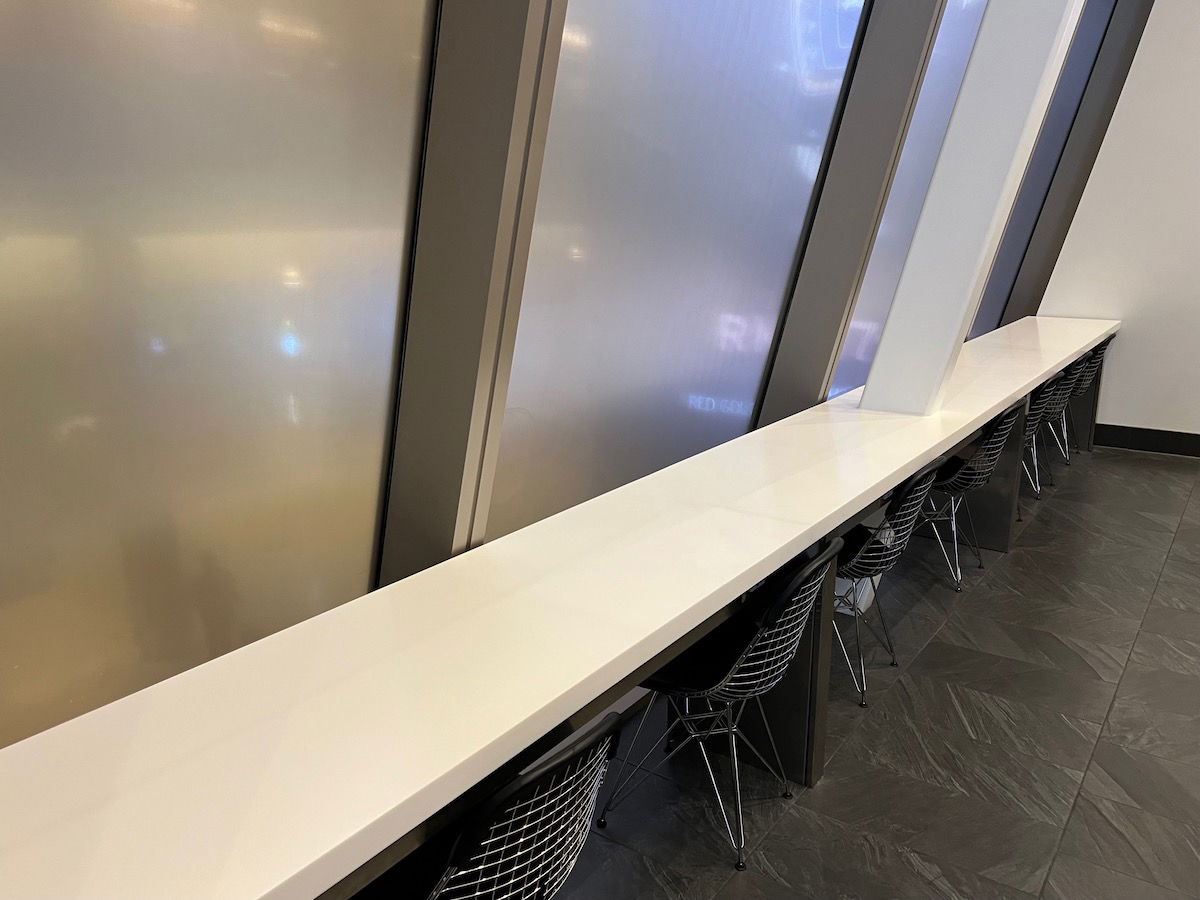 Amex Centurion Lounge LAX food & drinks
One of the things that people enjoy about Centurion Lounges are the food and drink selection. For food at the Centurion Lounge LAX, Amex has partnered with Chef Nancy Silverton, who is chef and owner of Pizzeria Mozza, Osteria Mozza, and chi SPACCA. You can find the current menu below.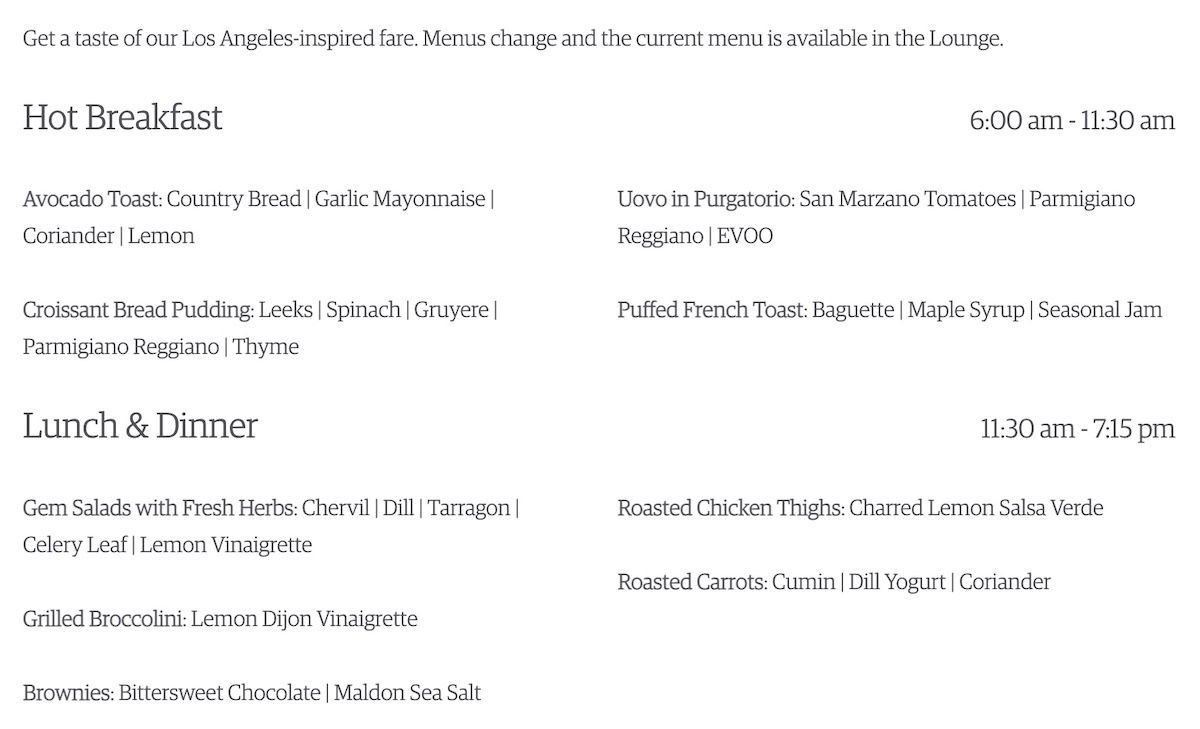 Meanwhile all Amex Centurion Lounges partner with mixologist Jim Meehan on the drink menu. You can find the current cocktail and wine list below.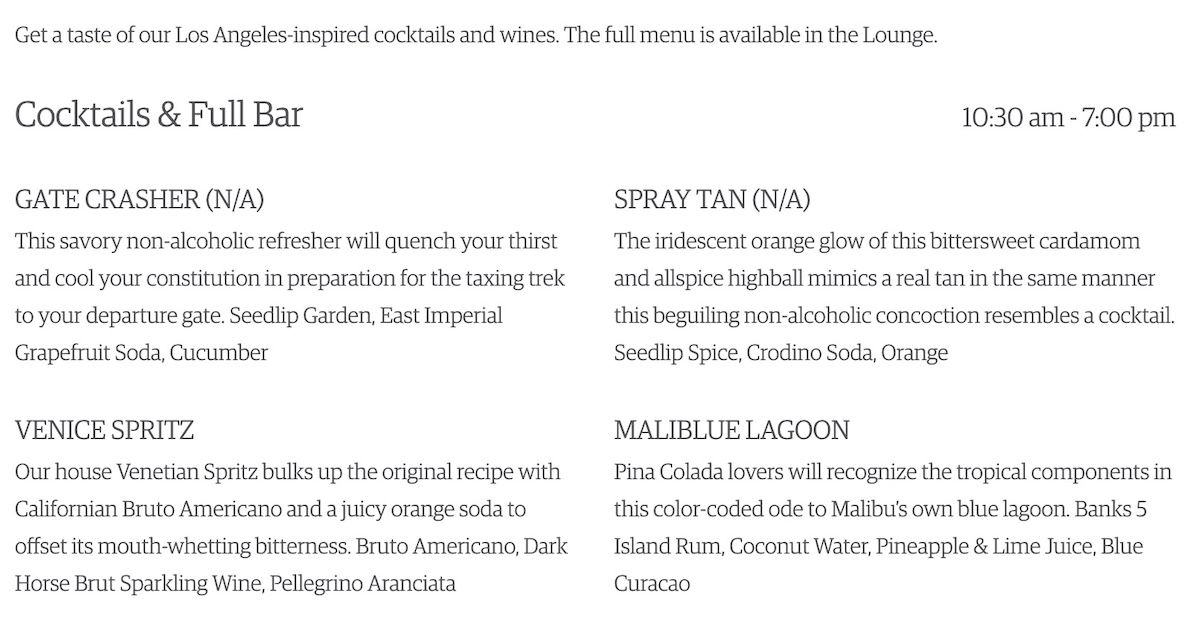 When I visited the lounge, the full breakfast selection hadn't yet been put out, as the lounge only has cold options for the first 30 minutes. Below you can see what the food looked like at the time.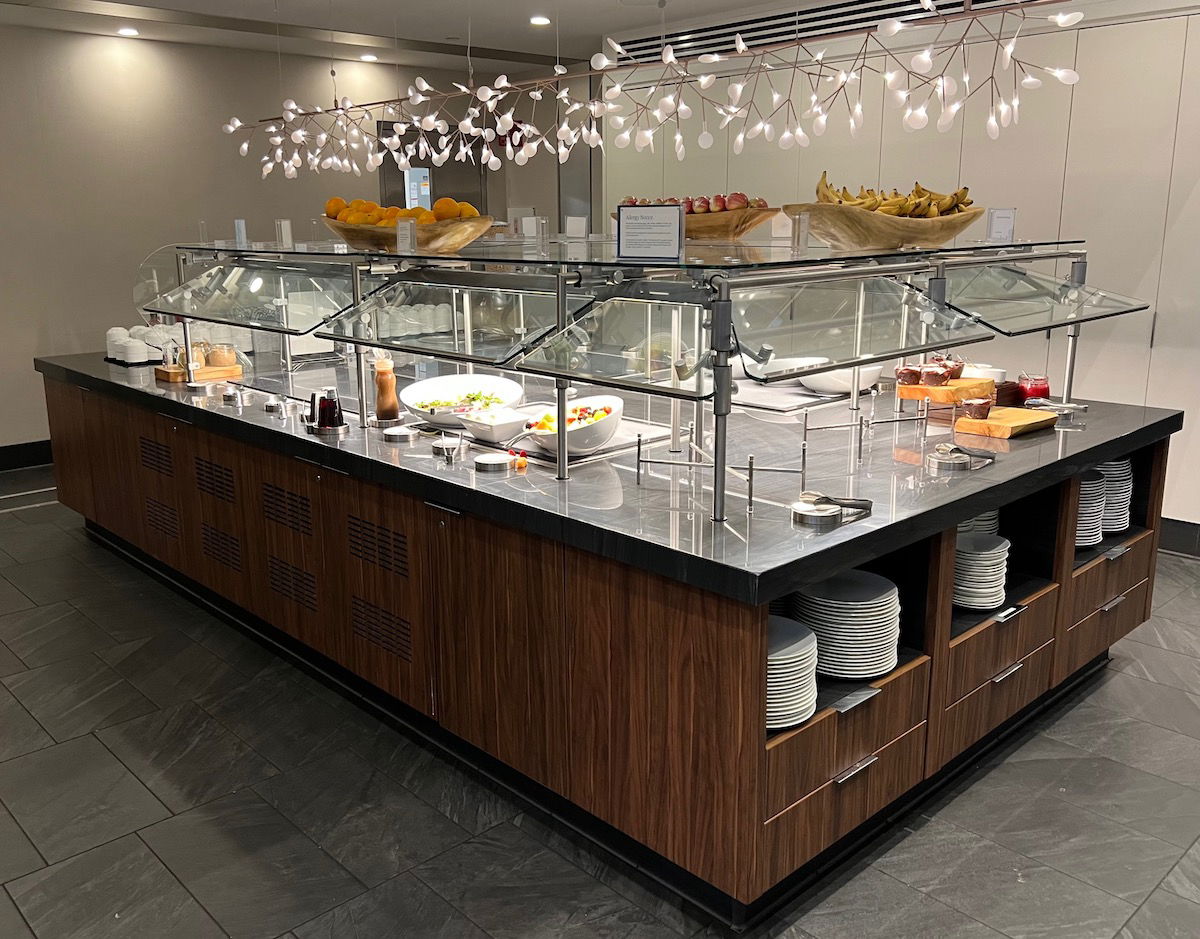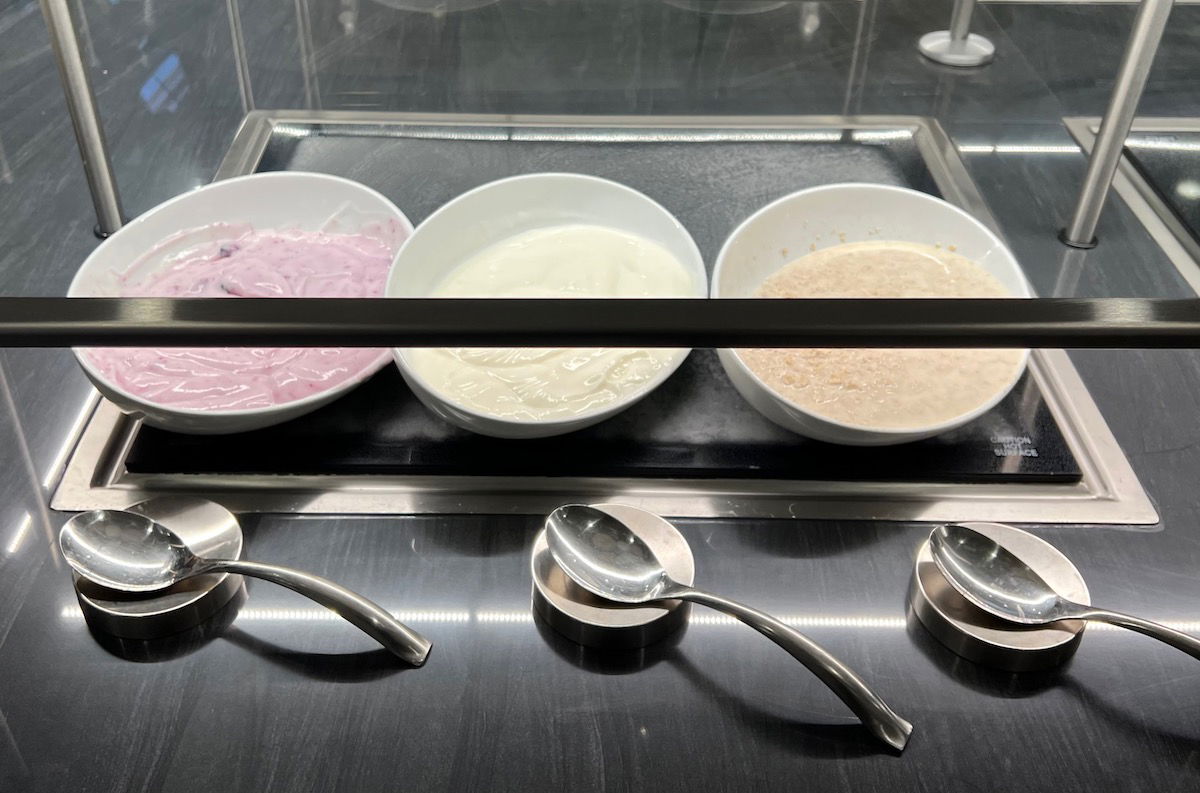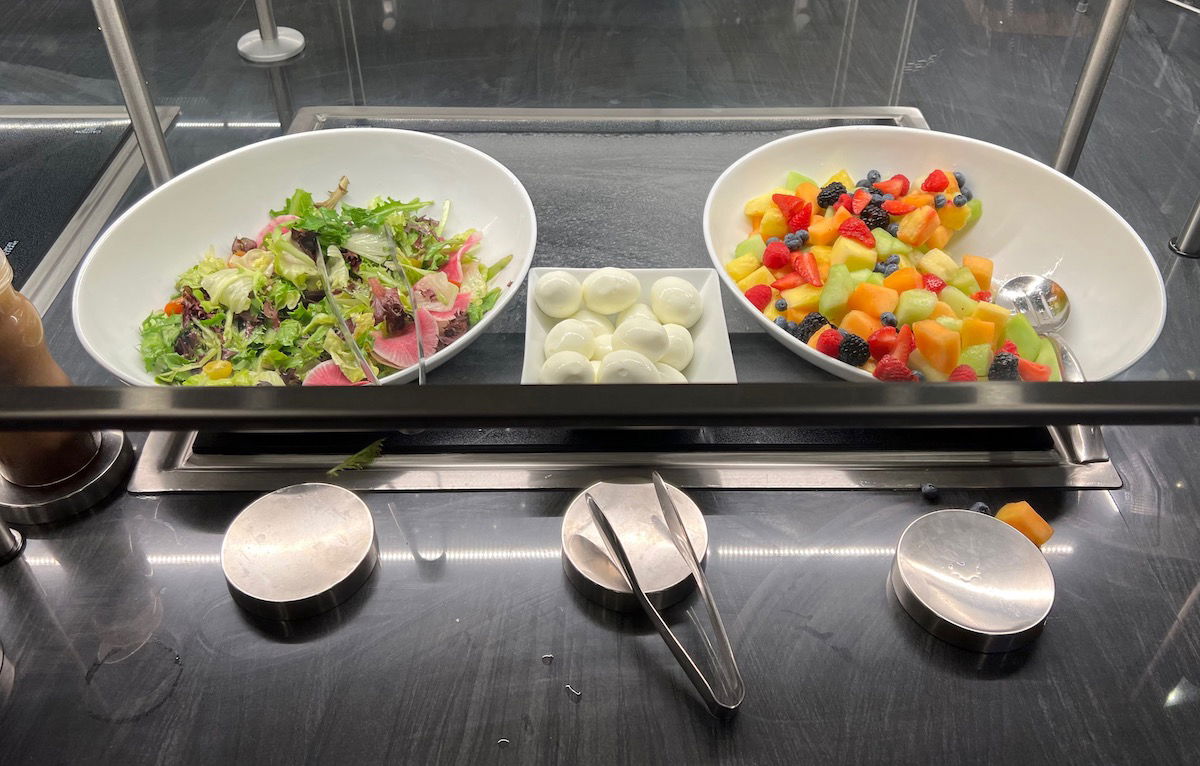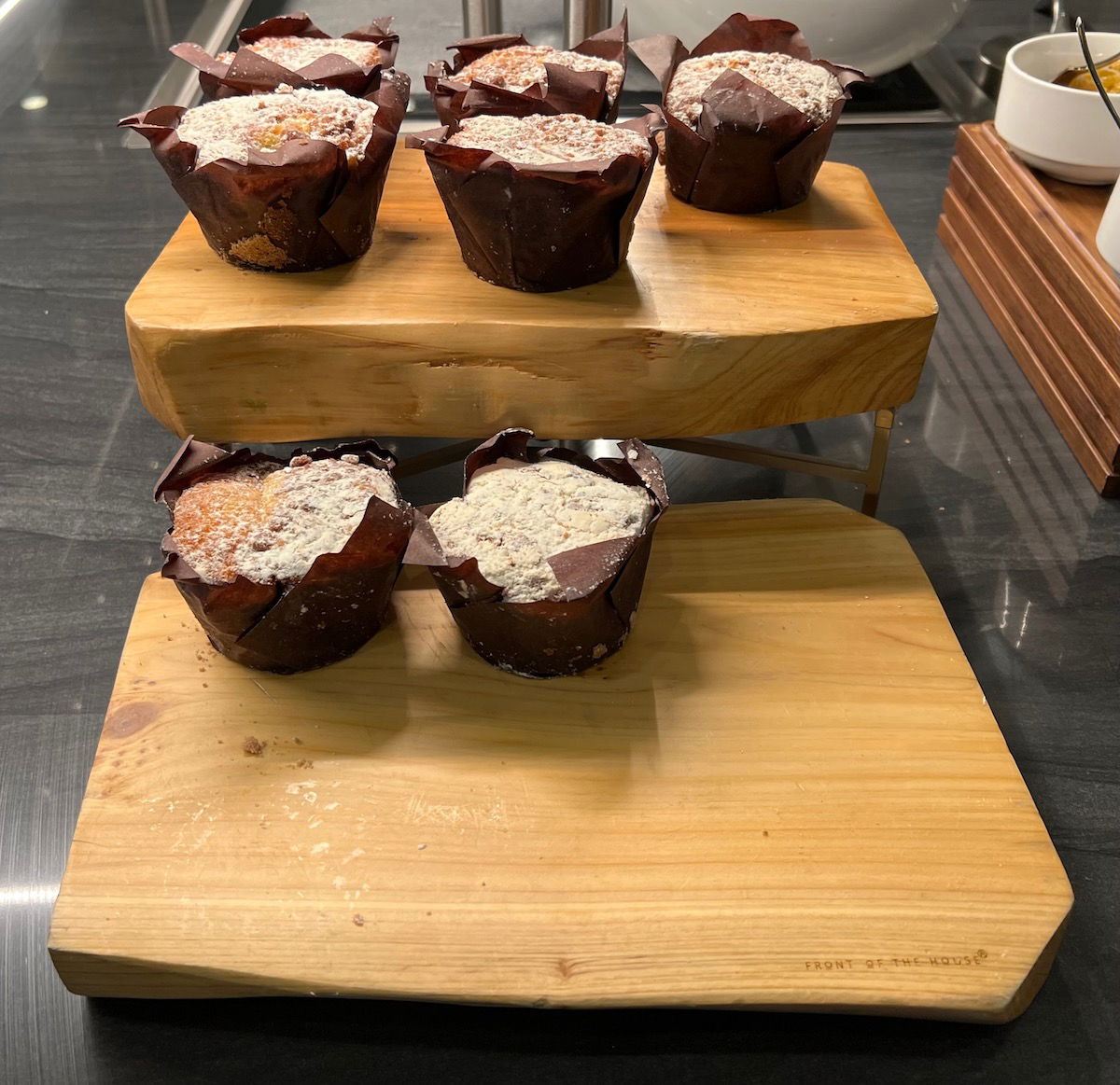 The bartender at the main bar was also making drinks. The smaller bars in other parts of the lounge weren't yet open, though I assume there are bartenders there later in the day.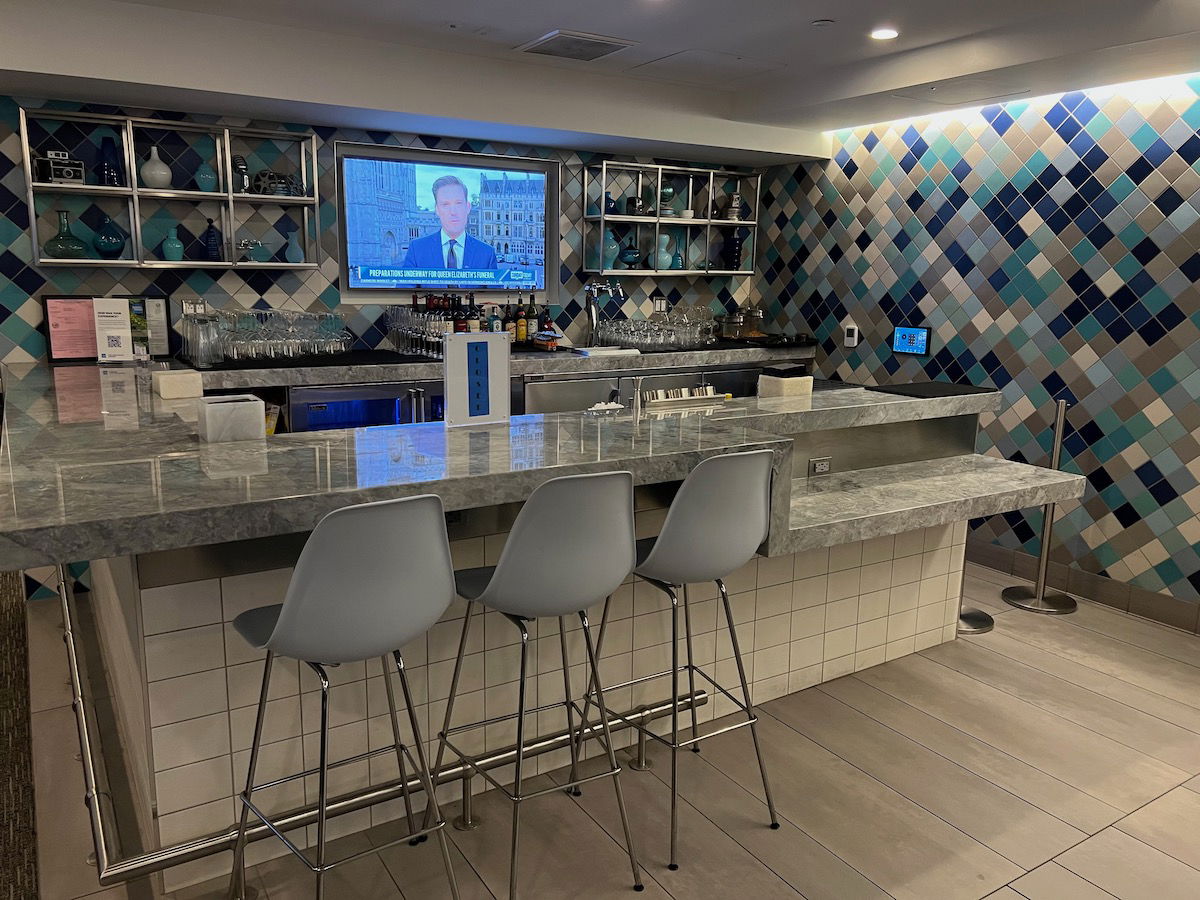 There's also self-serve water, tea, and coffee, at a couple of stations throughout the lounge.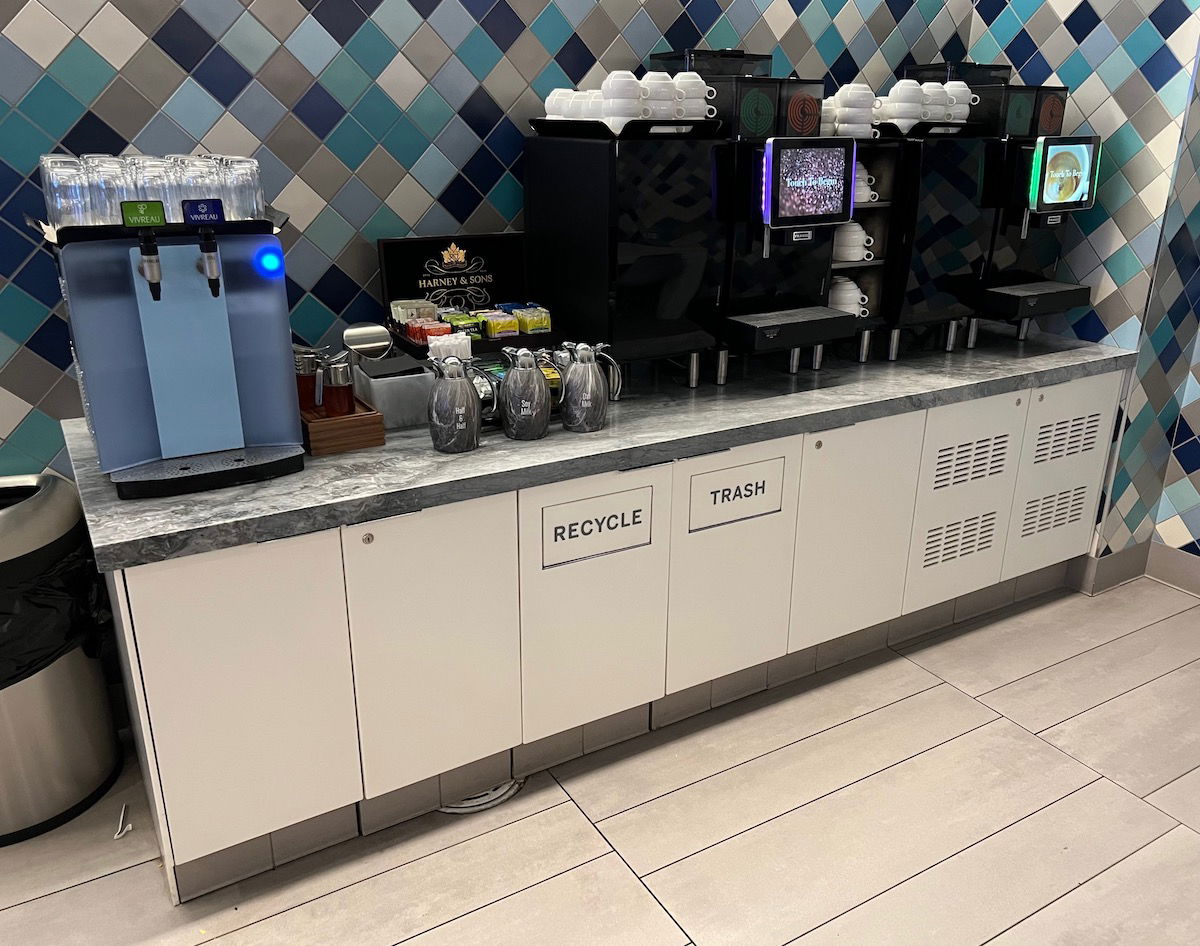 Bottom line
It's nice to see the Amex Centurion Lounge LAX finally open. The lounge is a good size, has a solid food and drink selection, and has a nice variety of rooms and amenities to enjoy.
That being said, the lounge lacks natural light, which is a consistent problem at Tom Bradley International Terminal. Furthermore, while Centurion Lounges are way better than your typical domestic airline lounge, TBIT is obviously a bit more competitive when it comes to lounge options. For example, I'm not sure I'd visit here if I also had access to the Qantas First Lounge or oneworld Lounge.
In some ways I consider Centurion Lounges a victim of their own success. They're superior to domestic airline lounges, which has made them so popular, to the point that they're consistently really crowded. However, for me the single most important amenity in an airport lounge is that it's a calm and quiet place to hang out. That's also a reason that I only very rarely visit Centurion Lounges. Obviously others feel differently, or they wouldn't be so busy.
If you've visited the Amex Centurion Lounge LAX, what was your experience like?