The next stop on my two trips to the Southern Hemisphere was Lima, Peru. I had flown Copa's Boeing 737 business class from Miami to Panama, and then I connected on the same type of plane from Panama to Lima. However, this plane didn't have refreshed interiors…
How I booked my Copa business class ticket
Copa Airlines makes quite a bit of award space available, so I ended up booking the following itinerary in business class for 50,000 Air Canada Aeroplan points plus $49.40 in taxes & fees (and I took advantage of a transfer bonus from Amex, so I needed even fewer Amex points than that):
9/15 CM227 Miami to Panama City departing 5:59PM arriving 8:10PM
9/16 CM493 Panama City to Lima departing 3:43PM arriving 7:17PM
Initially my first flight was supposed to be operated by a Boeing 737 MAX 9, featuring Copa's flat bed business class, while the second flight was scheduled to be operated by a Boeing 737-800. Unfortunately there was a plane swap at the last minute, so both flights ended up being operated by a Boeing 737-800.
Copa 737-800 business class cabin & seats
My flight was departing from gate 121 in Terminal 1 — Copa of course has the exciting new Terminal 2, but both of my flights operated out of Terminal 1, which isn't ideal. Boarding was scheduled to start at 2:43PM, one hour before departure, and sure enough that's when it started. Those needing extra assistance were invited to board first (which seemed to be a quarter of the plane), followed by business class.
The seating configuration for this flight was identical to what I had on my previous flight, so I was expecting the same interiors. Nope, this flight was operated by a 737 with Copa's "original" interiors, as they hadn't been updated. These interiors were more or less identical to what you'd find on Continental Airlines back in the day, since Copa piggybacked on Continental's order at the time.
The plane featured a total of 16 business class seats, in a 2-2 configuration.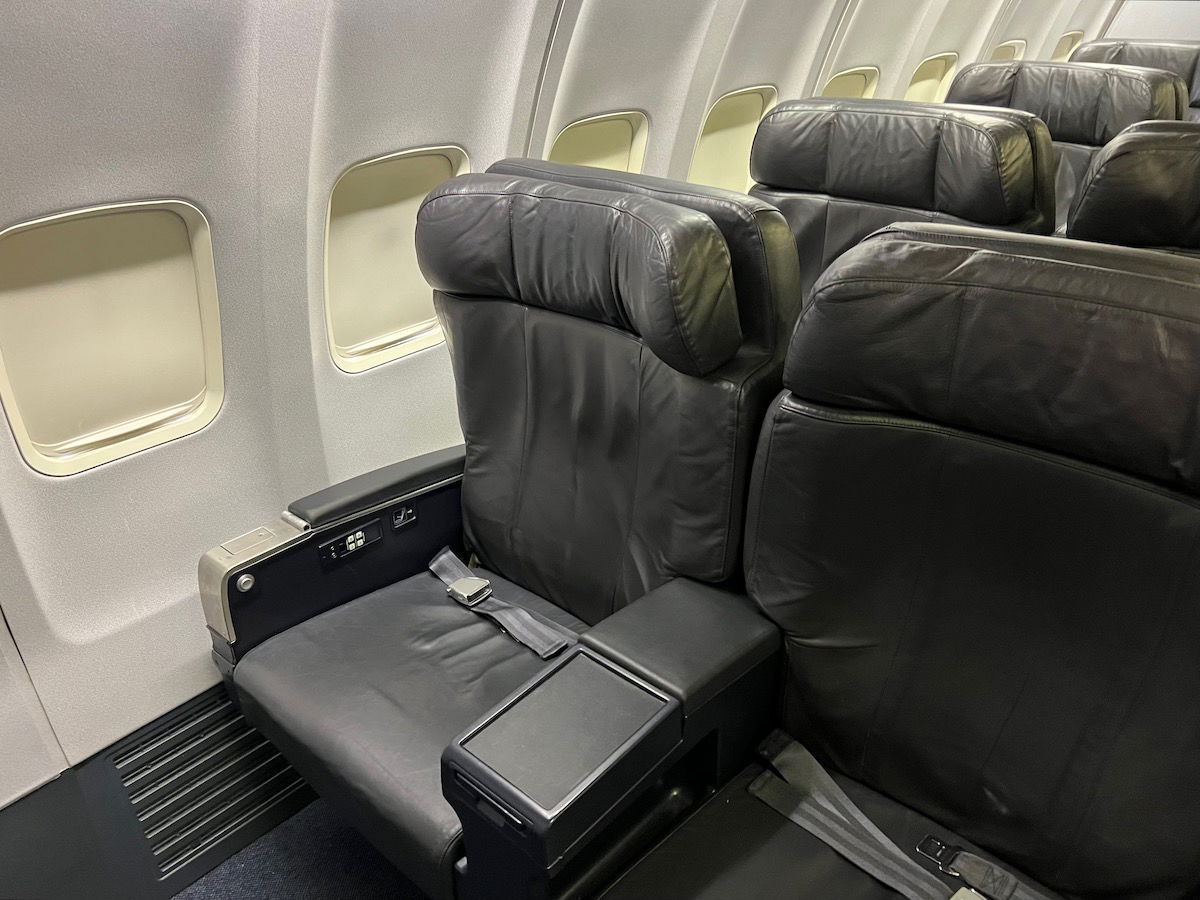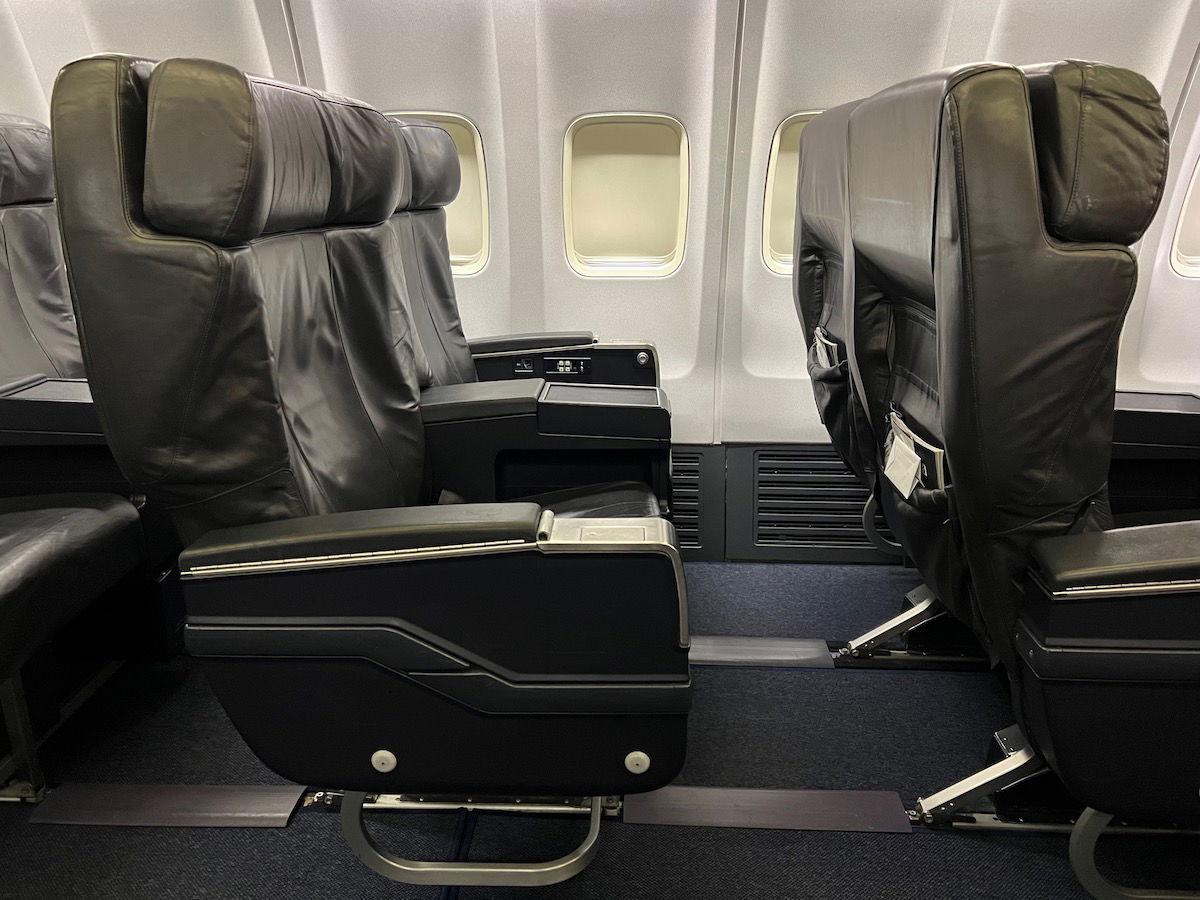 Legroom was pretty good, as there was 38″ of pitch.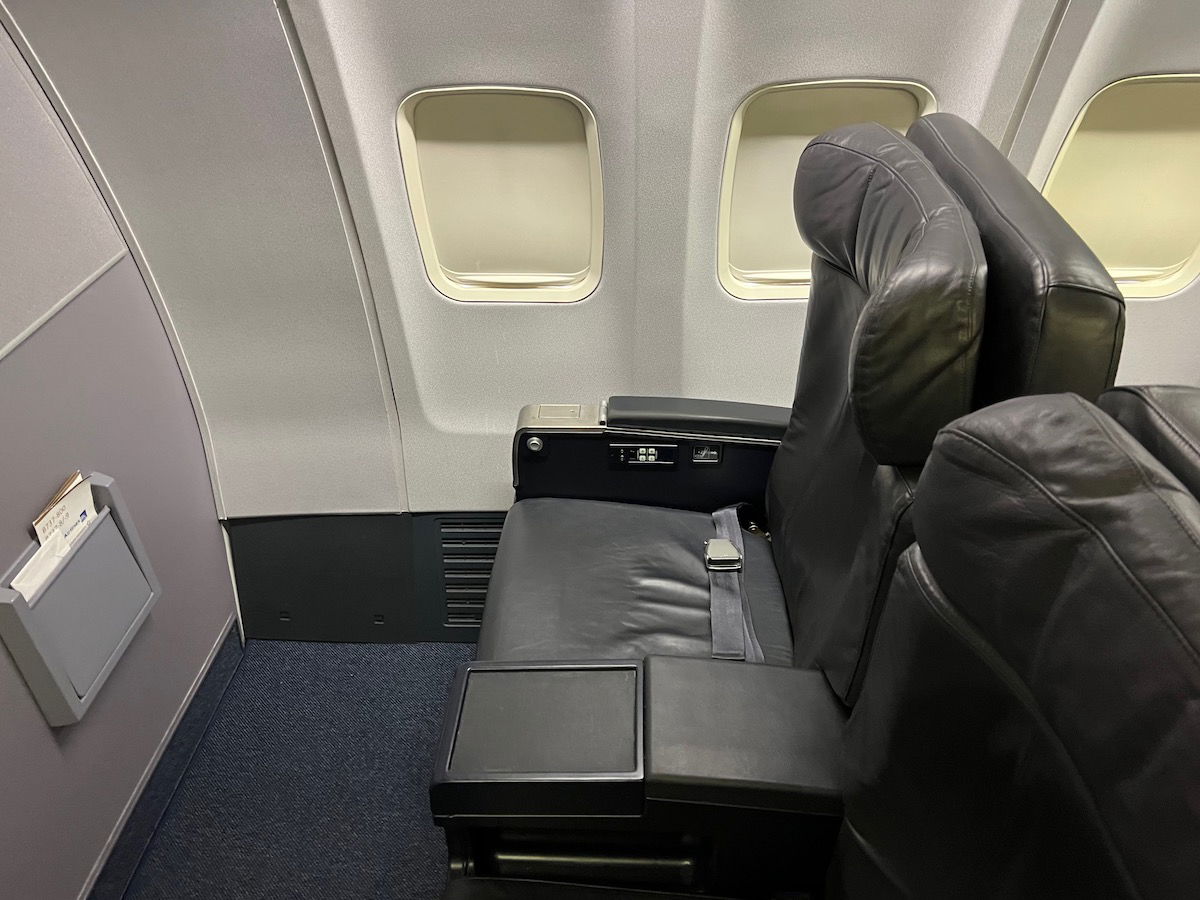 I had assigned myself seat 3F, the window seat on the right side in the third row.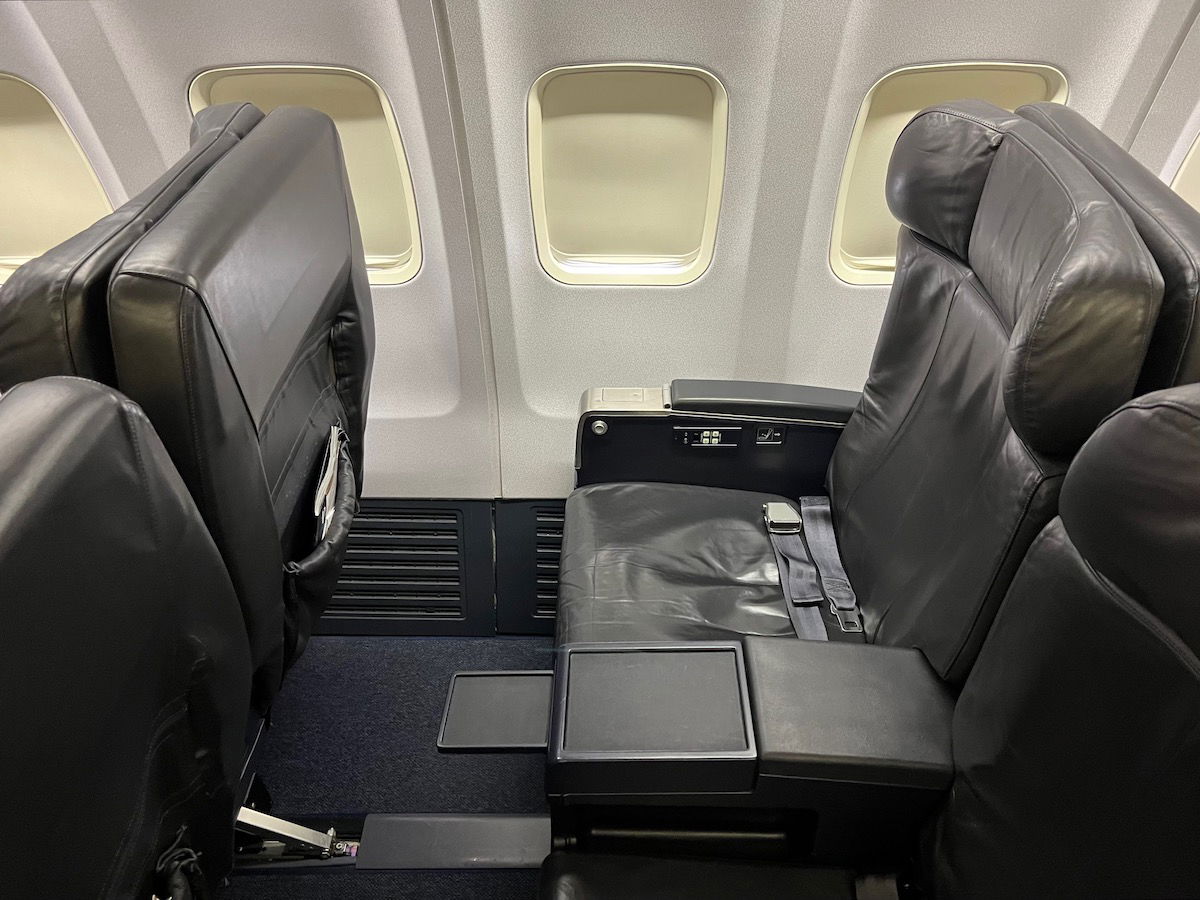 Unfortunately the plane has seen better days — the seats were in bad shape.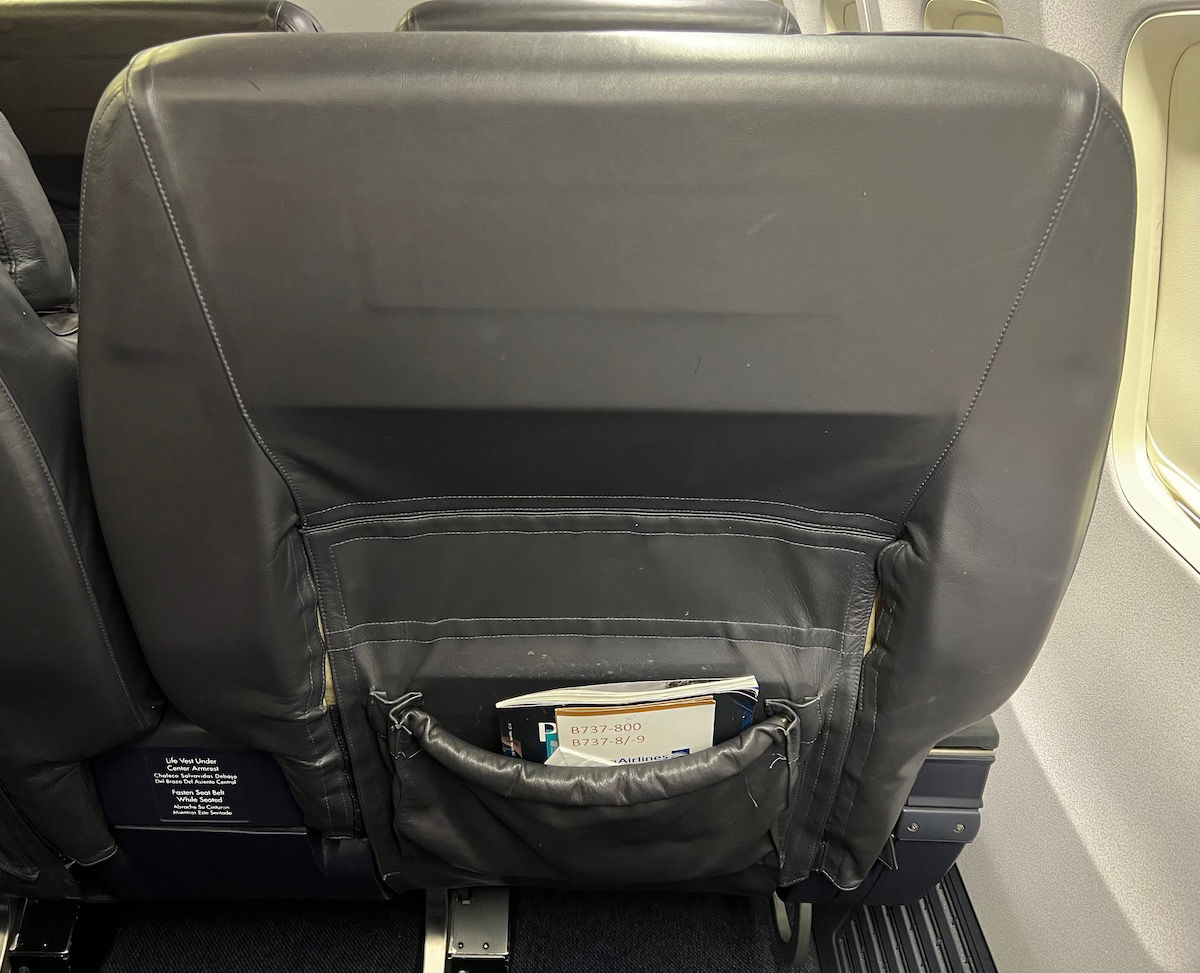 There was a center console with a small tray that could be extended for drinks. Unfortunately much like on the last flight, the tech on this flight was awful — there were no power ports, personal televisions, Wi-Fi, or even streaming entertainment.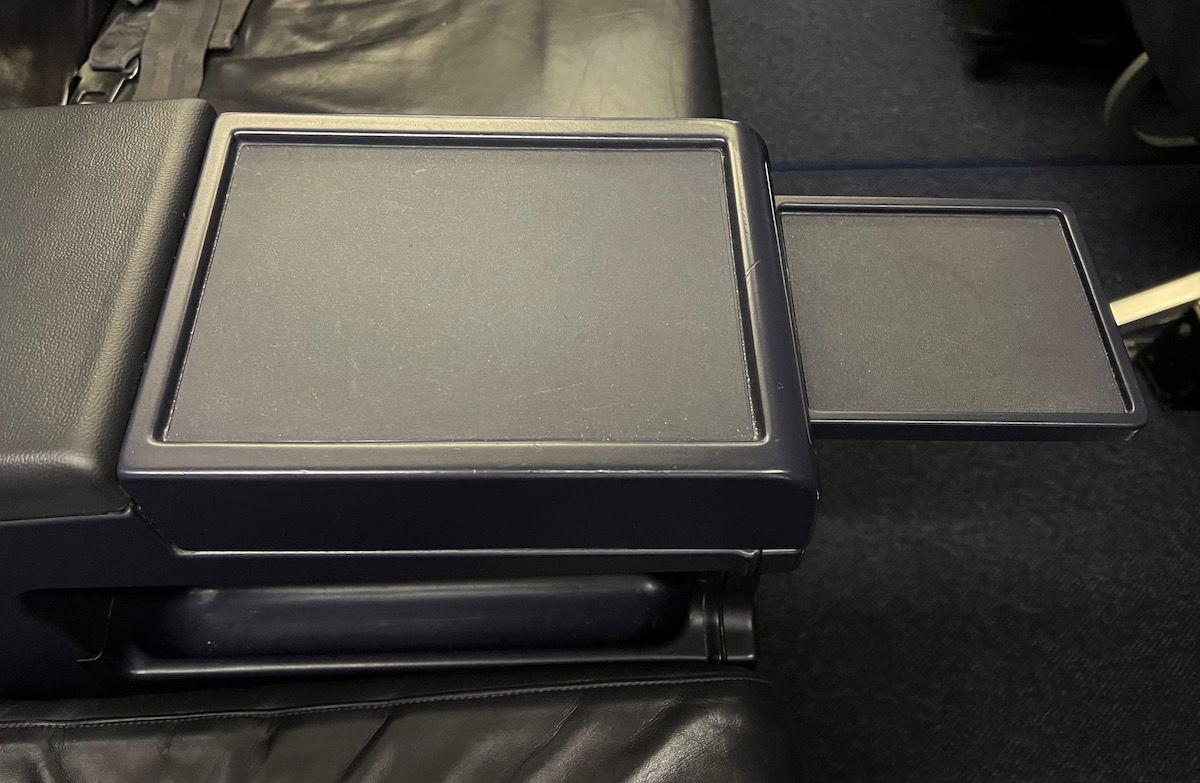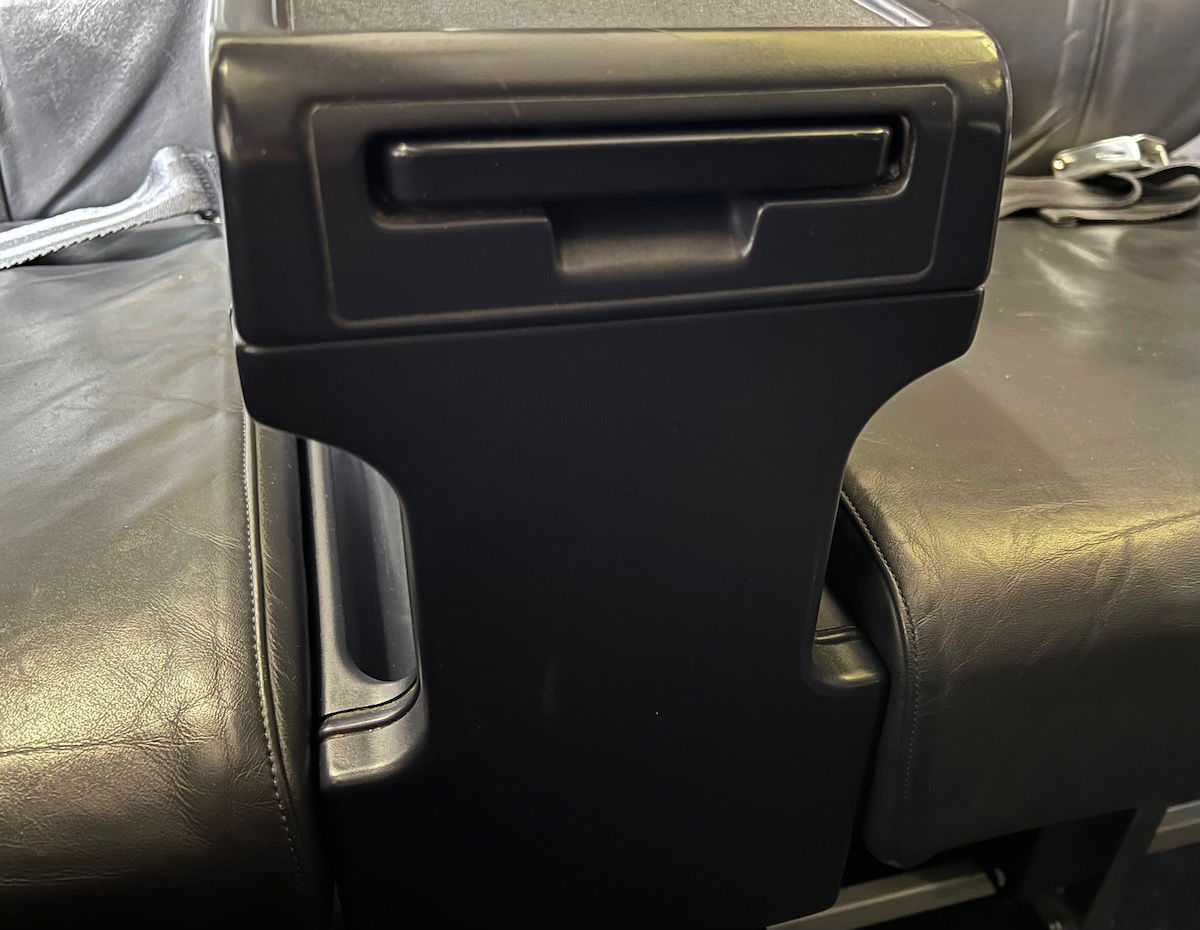 The plane did have overhead monitors, though there wasn't much in the way of programming, aside from destination-specific ads.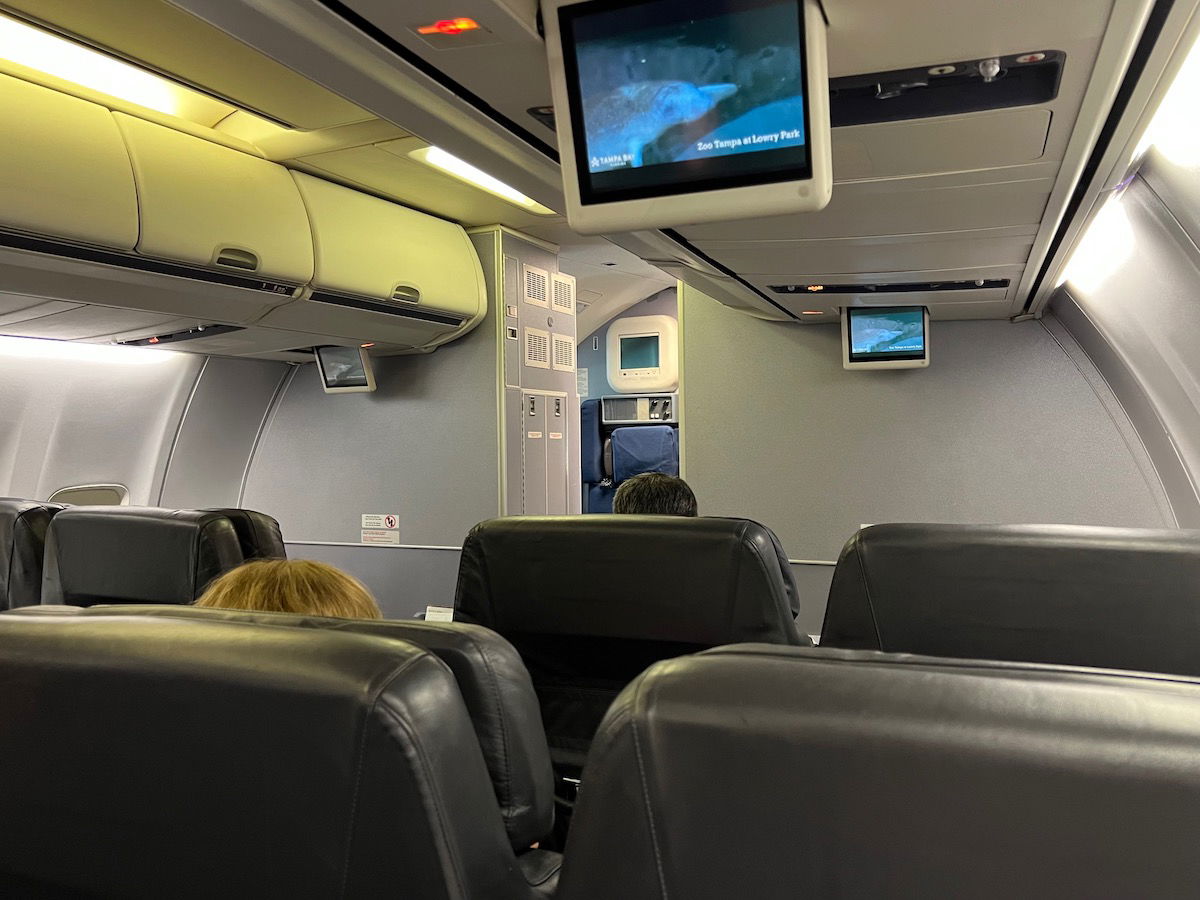 The monitor above my seat also didn't retract fully, so even during takeoff and landing it was half down.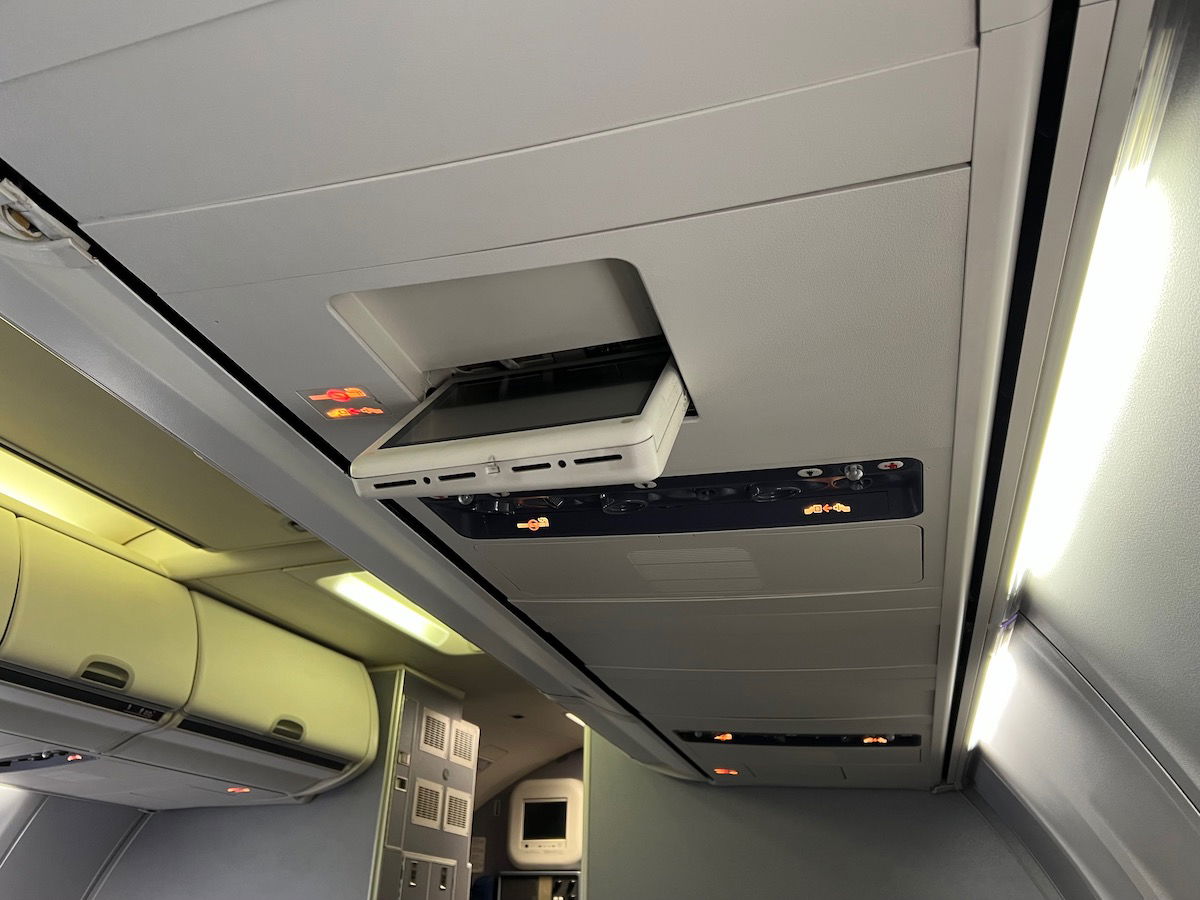 The tray table extended from the far armrest, and could be folded in half.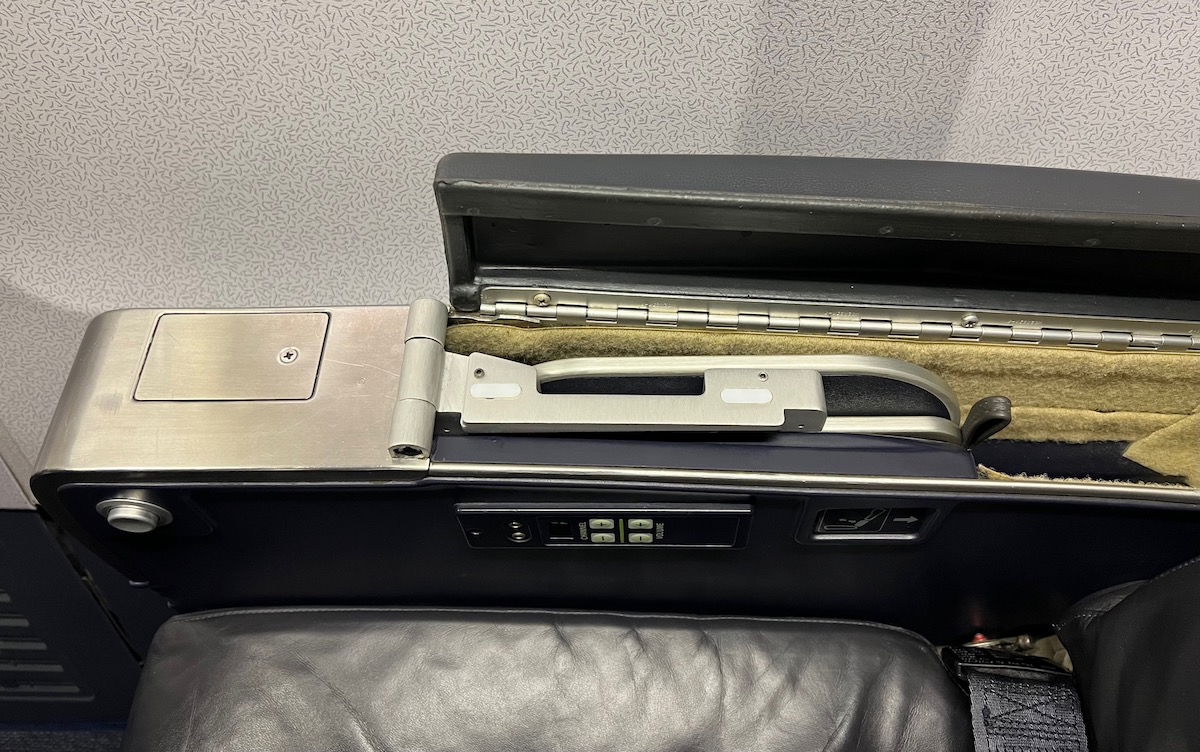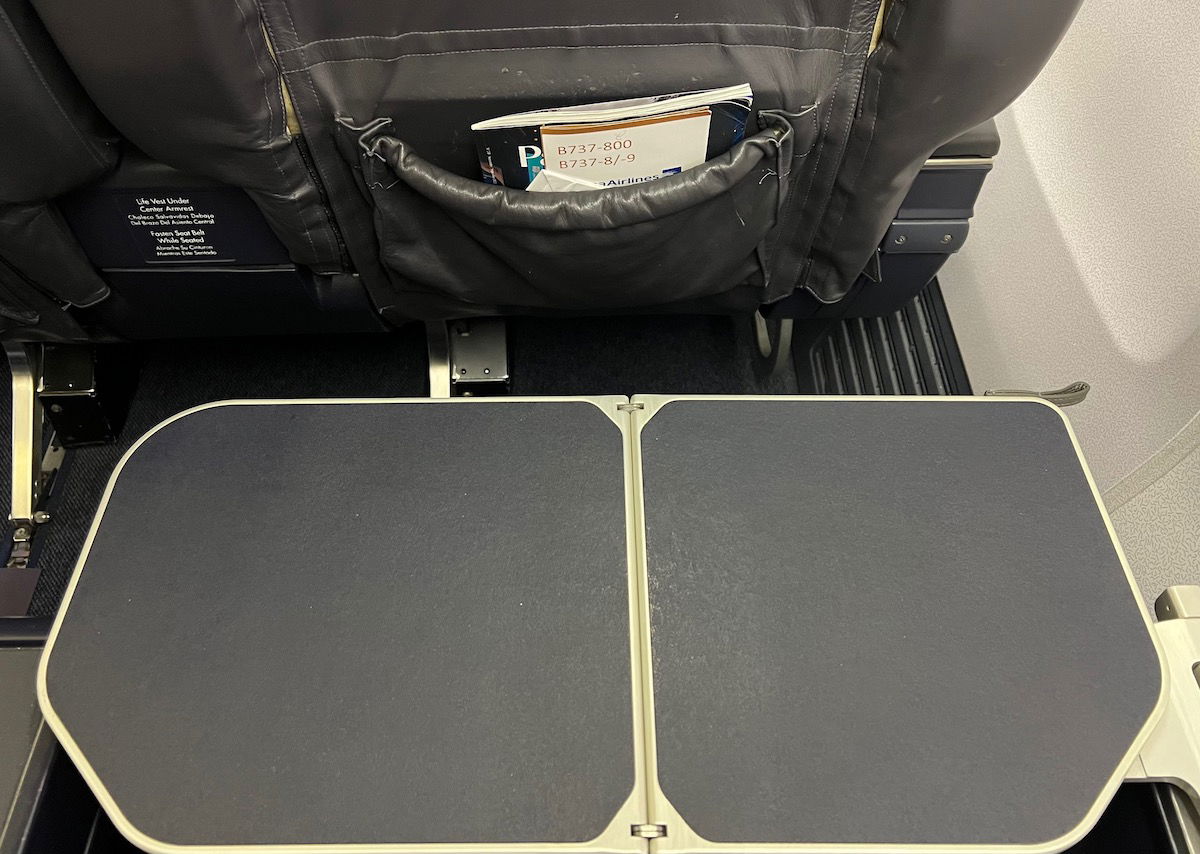 The overhead consoles were also a throwback — for whatever reason it gave me American Airlines MD-80 vibes from back in the day.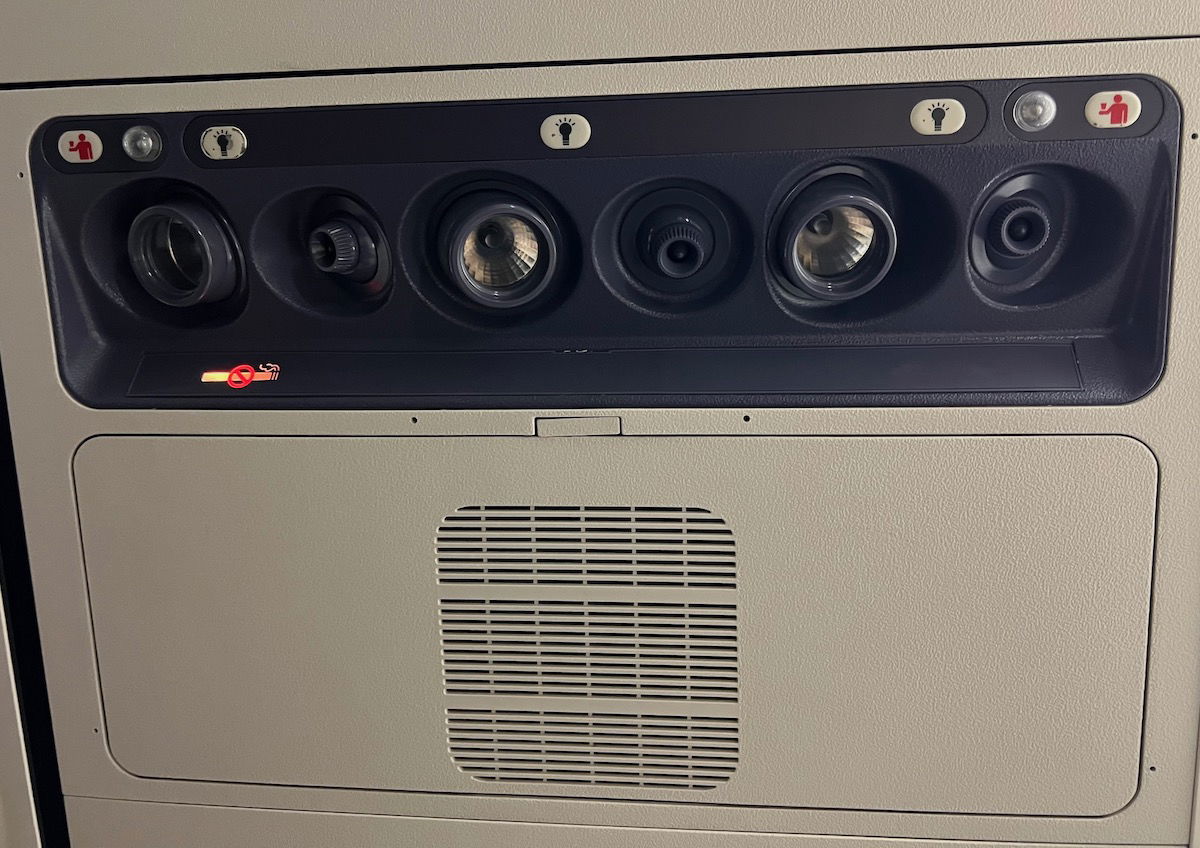 Since the interior hadn't been updated in a long time, the plane also didn't have Boeing's signature mood lighting or updated bins.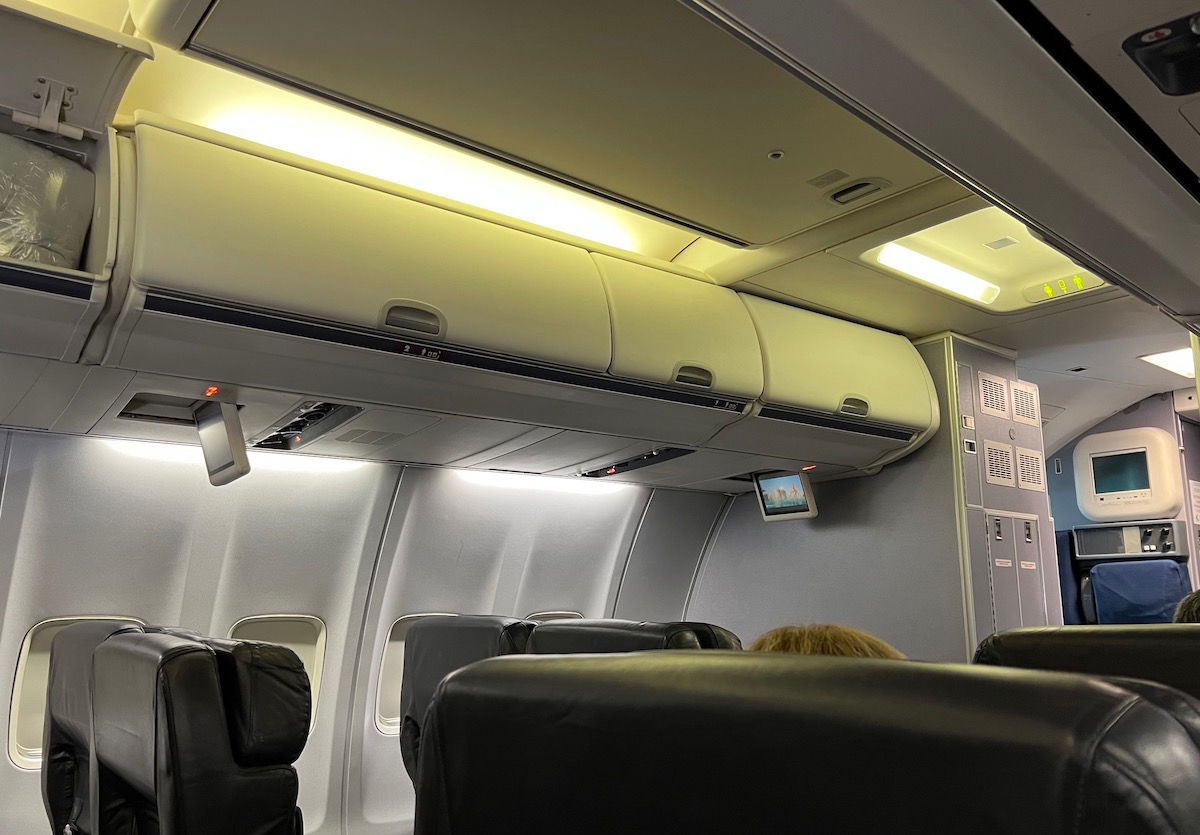 Copa 737-800 departure from Panama
The flight was pretty full — every seat in business class ended up being occupied (after upgrades), while there were around 30 empty seats in economy. During boarding the business class flight attendant, Guillermo, came around with pre-departure water or orange juice, and also to take meal orders.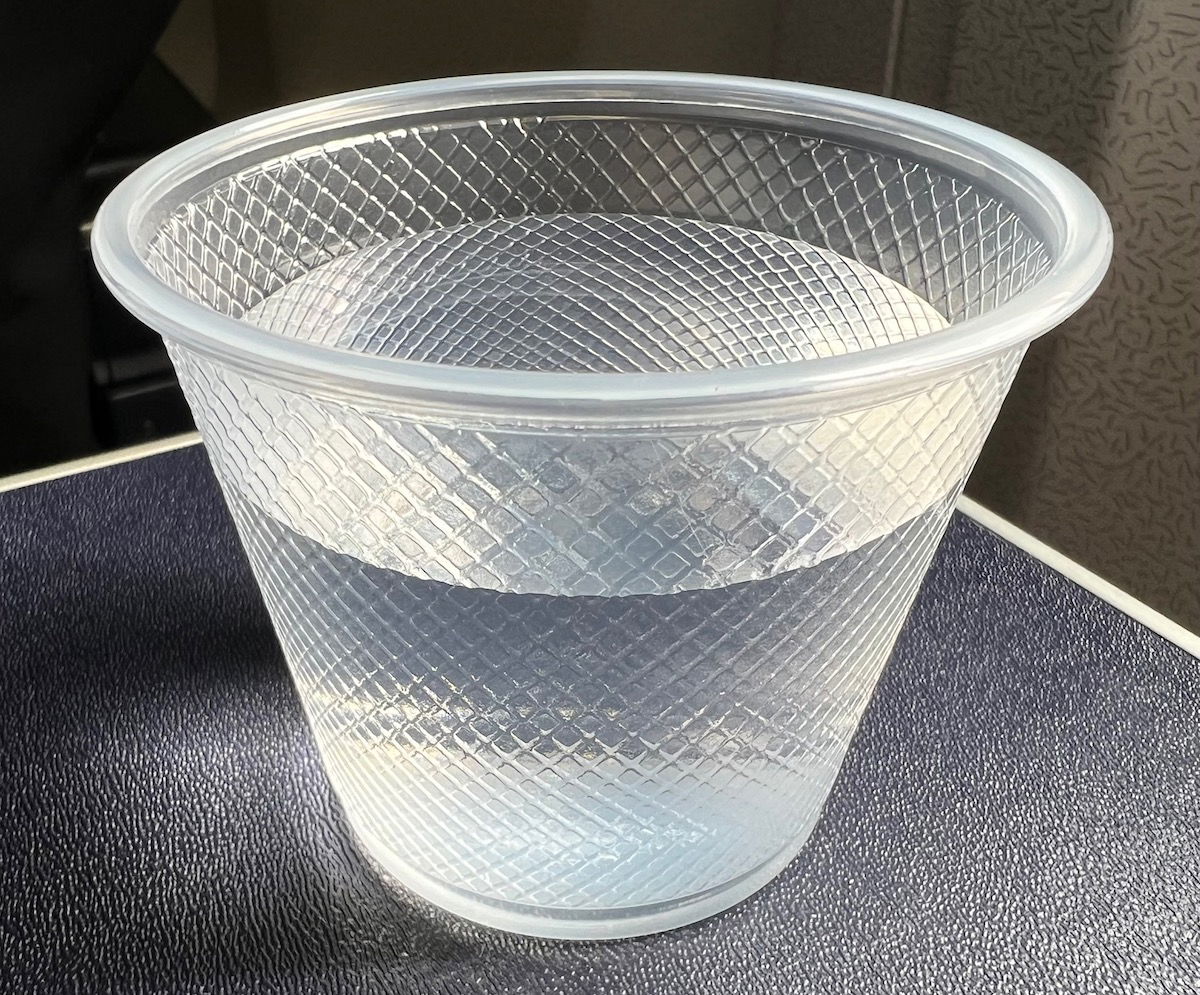 Our departure was off to a good start, as the main cabin door closed at 3:35PM, nearly 10 minutes ahead of schedule. About five minutes later the captain came on the PA to tell us we'd be leaving shortly, and that our flight time was three hours.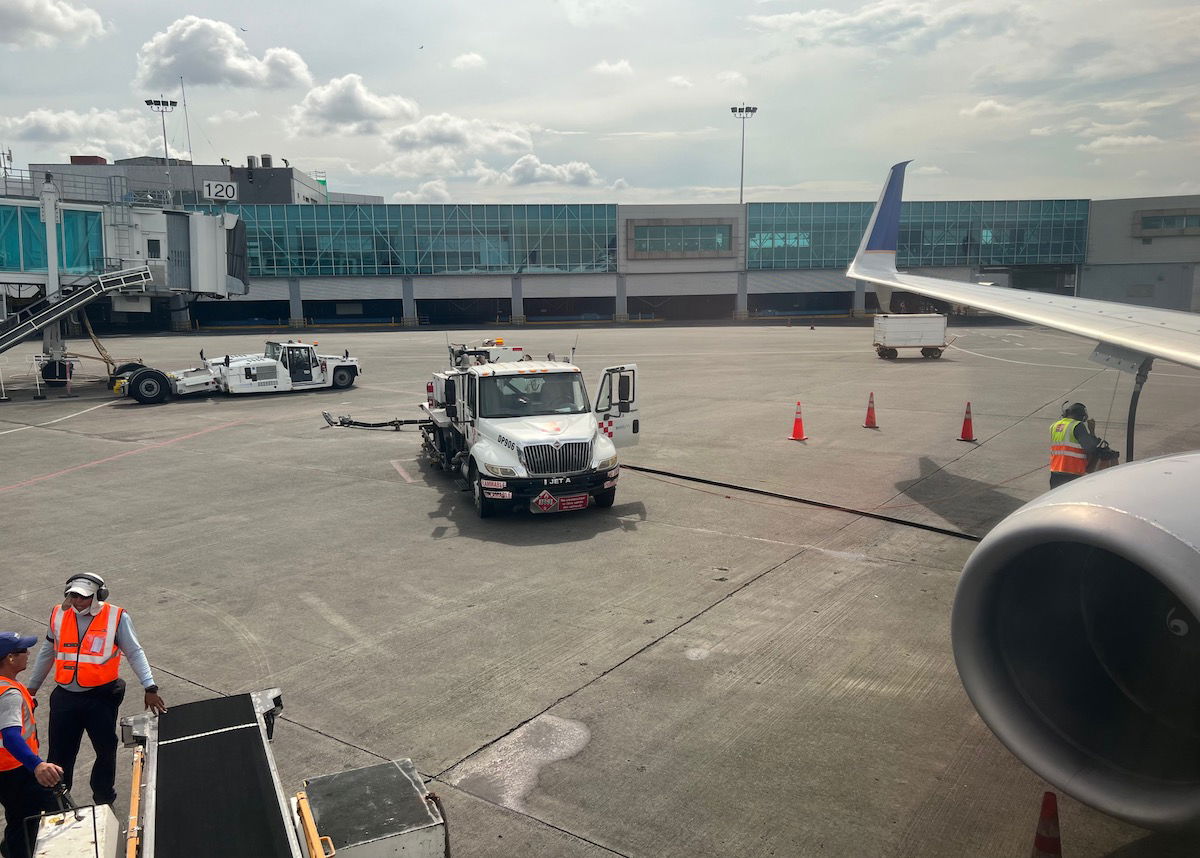 There was no movement or further announcement from the cockpit for 25 minutes. Finally at 4:05PM the captain announced that we were delayed due to aircraft spacing enroute to Peru, and he didn't yet know when we'd be able to take off. We ended up pushing back a moment later, though.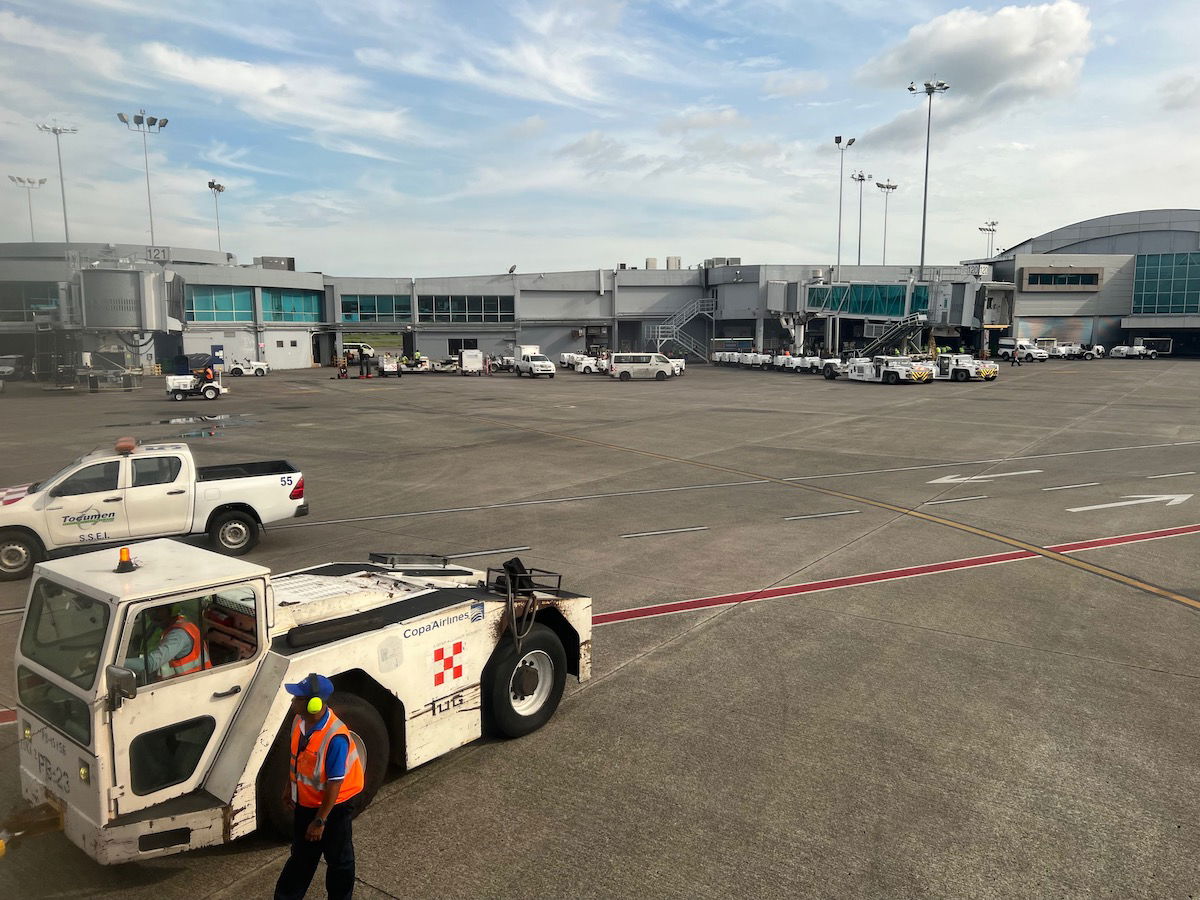 At 4:20PM we started our short taxi to runway 3L. However, we then just stood short of the runway.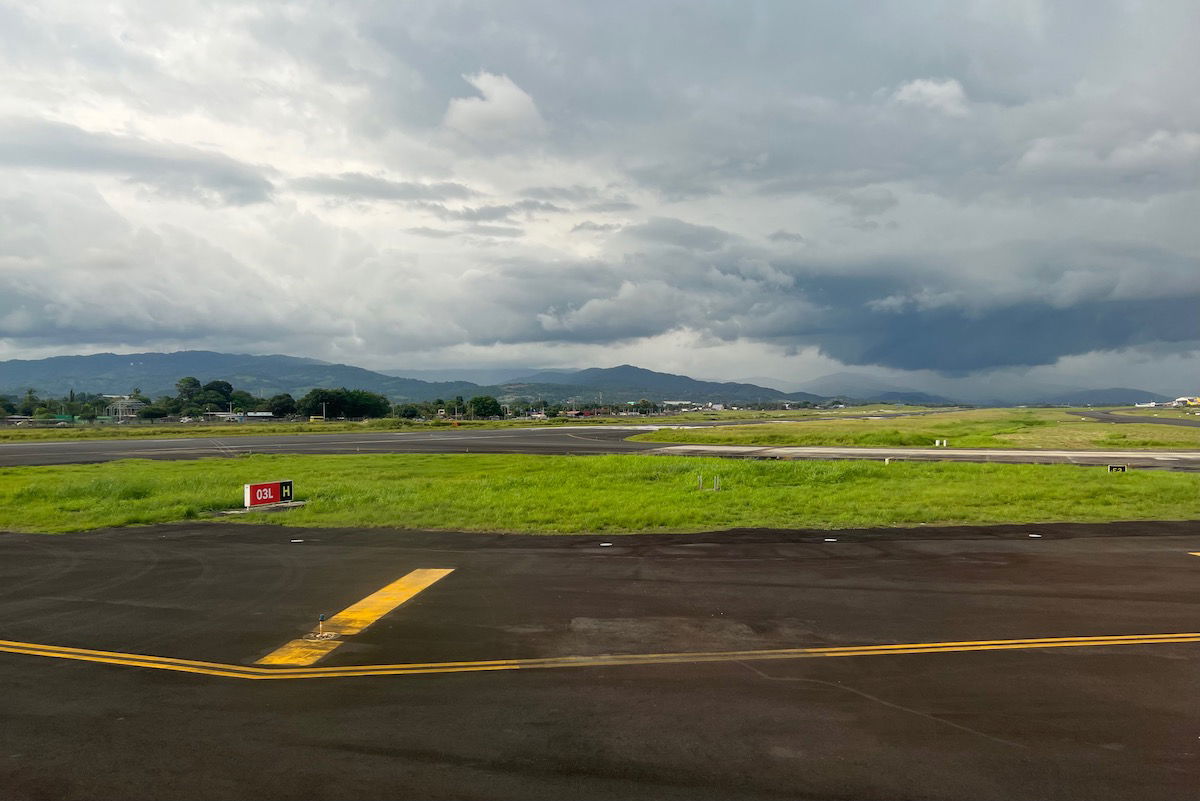 At 4:30PM we lined up on the runway, only to taxi down it and then take the first exit — clearly we were blocking the way for another plane wanting to take off, and needed to make room.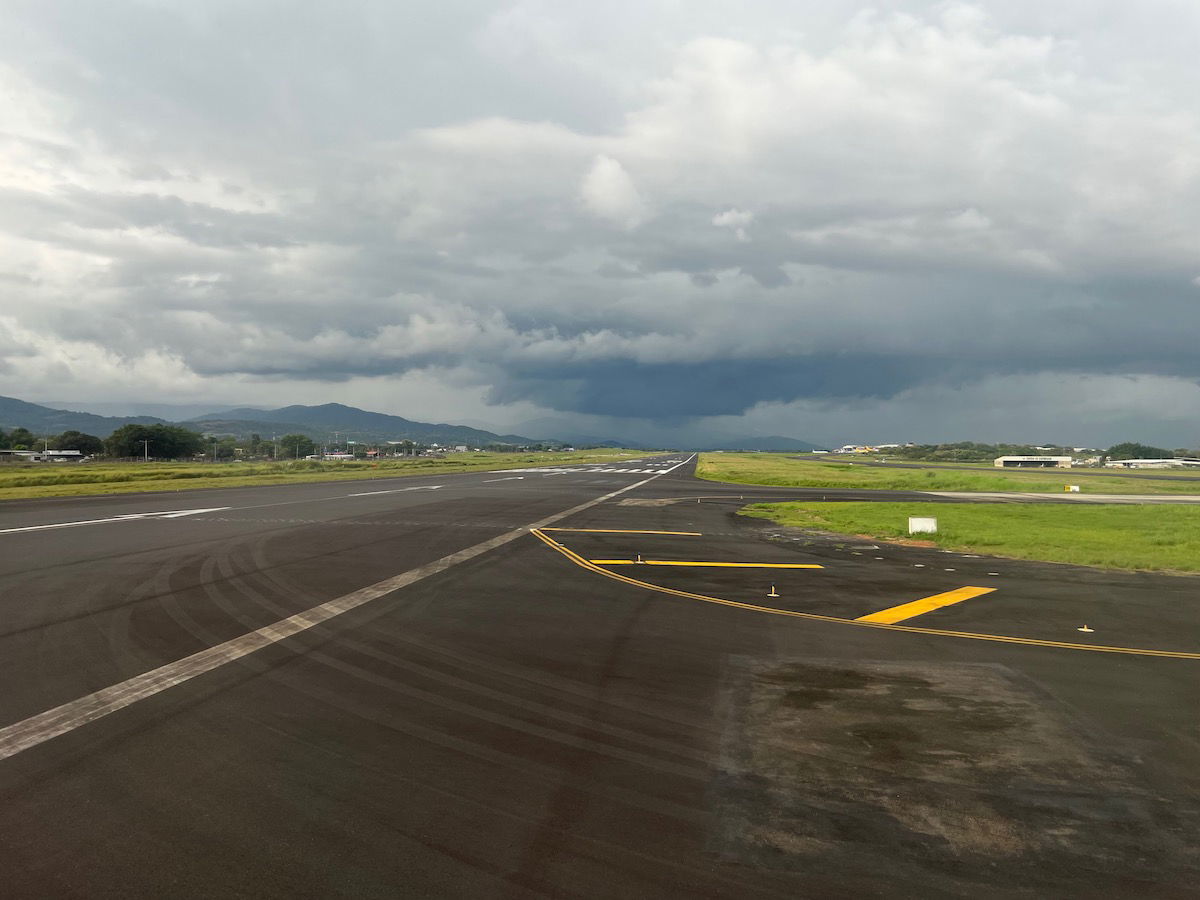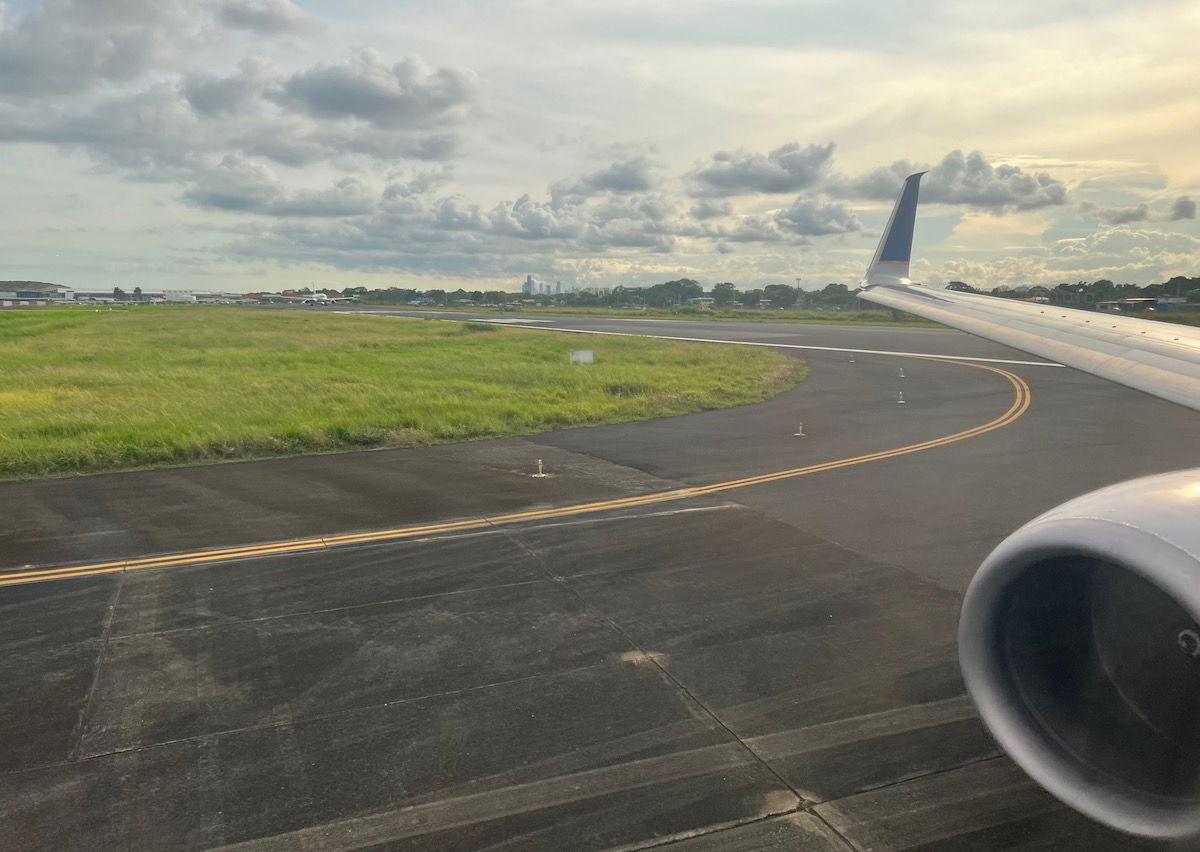 At 4:35PM the captain announced that we should have clearance within 10 minutes. It ended up taking a bit longer than that, but at 4:55PM we finally took off, about an hour behind schedule. At this point there was some heavy rain not far from the airport, which made for some pretty views.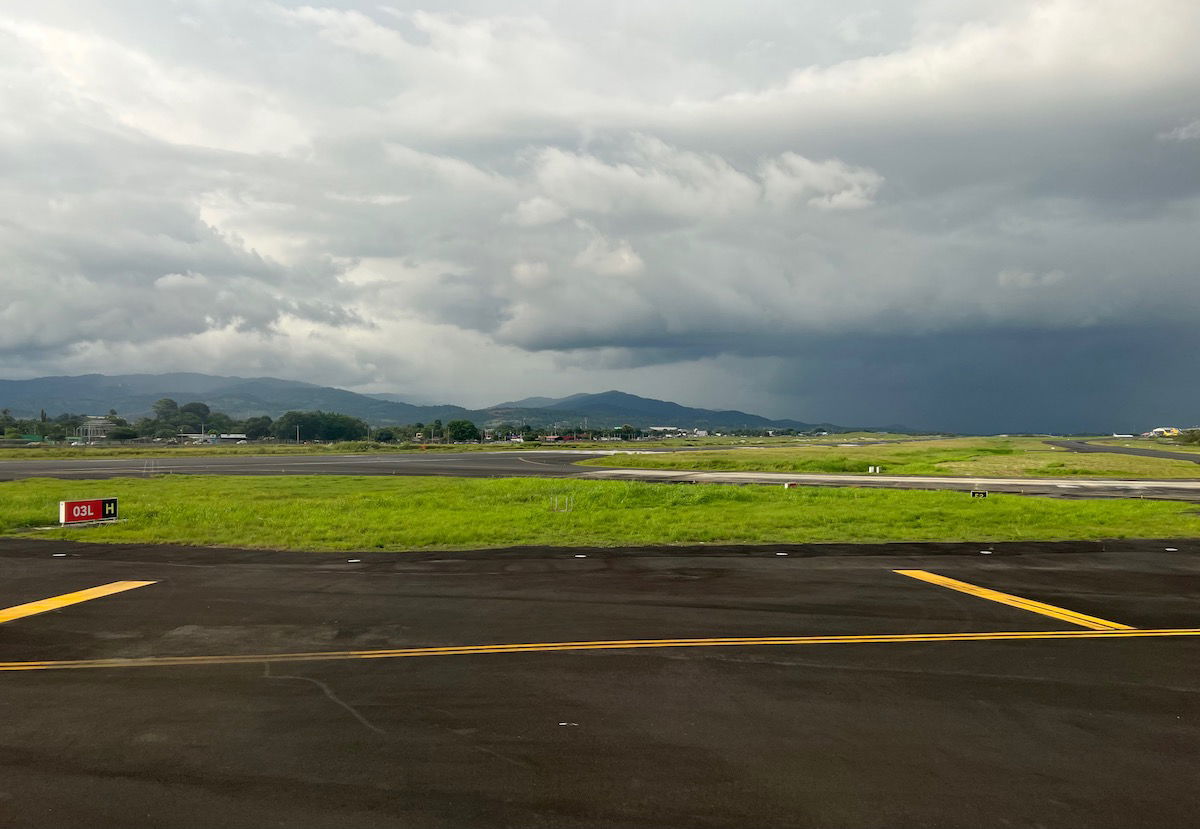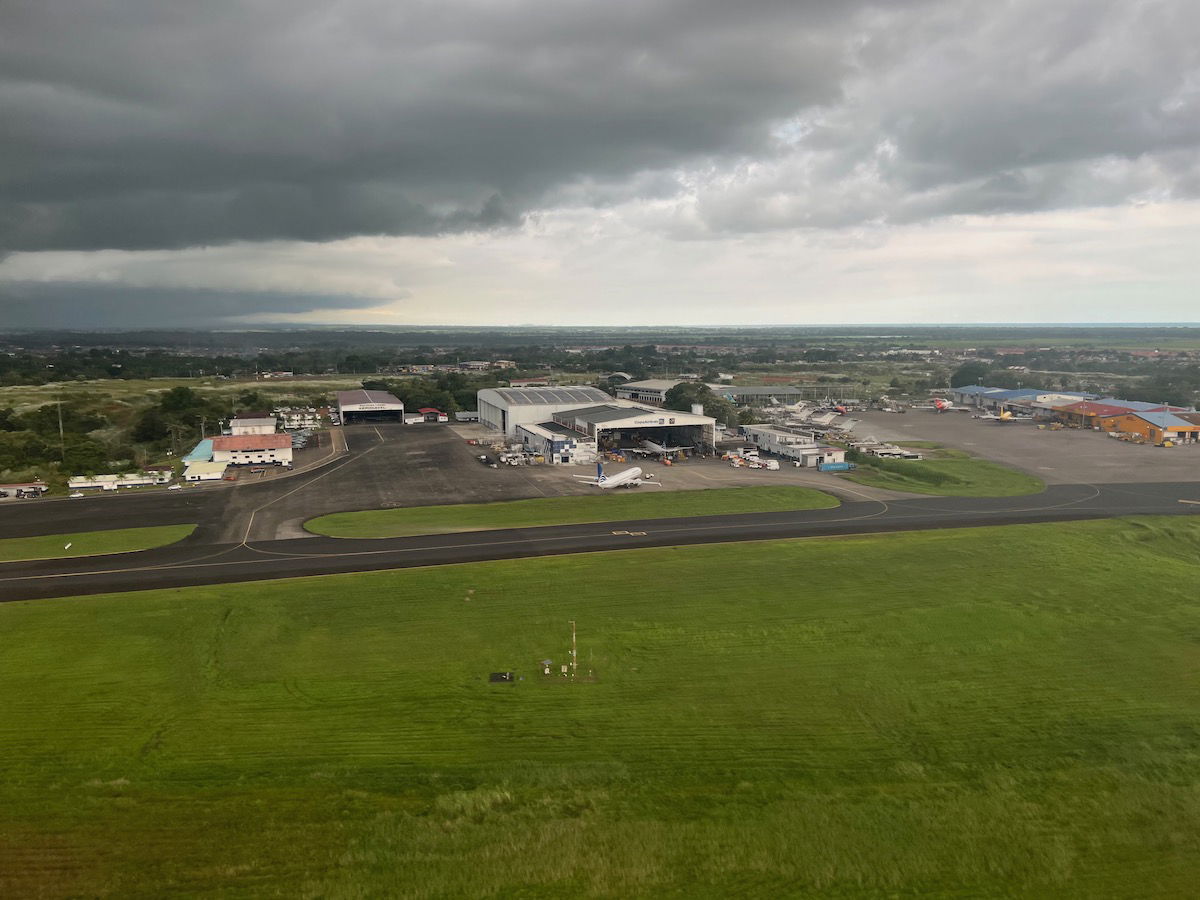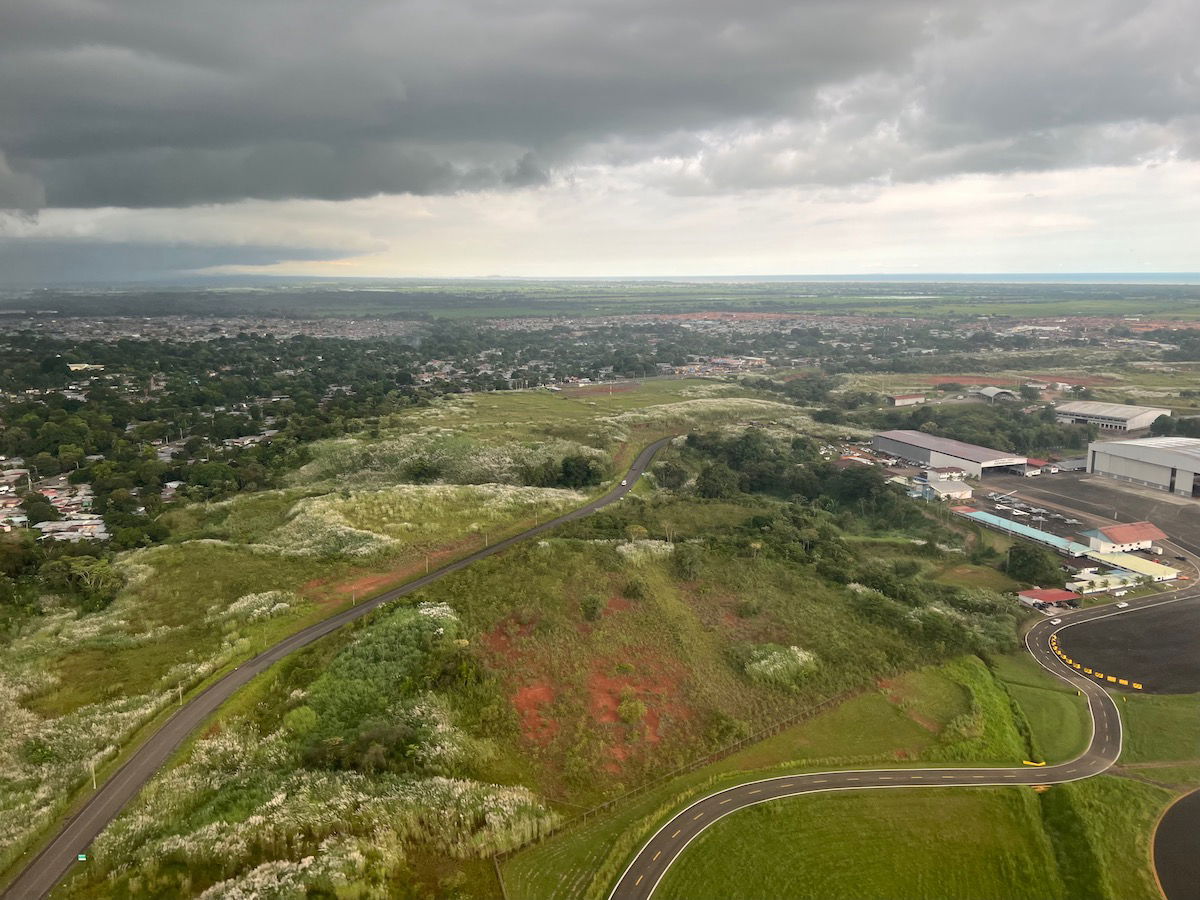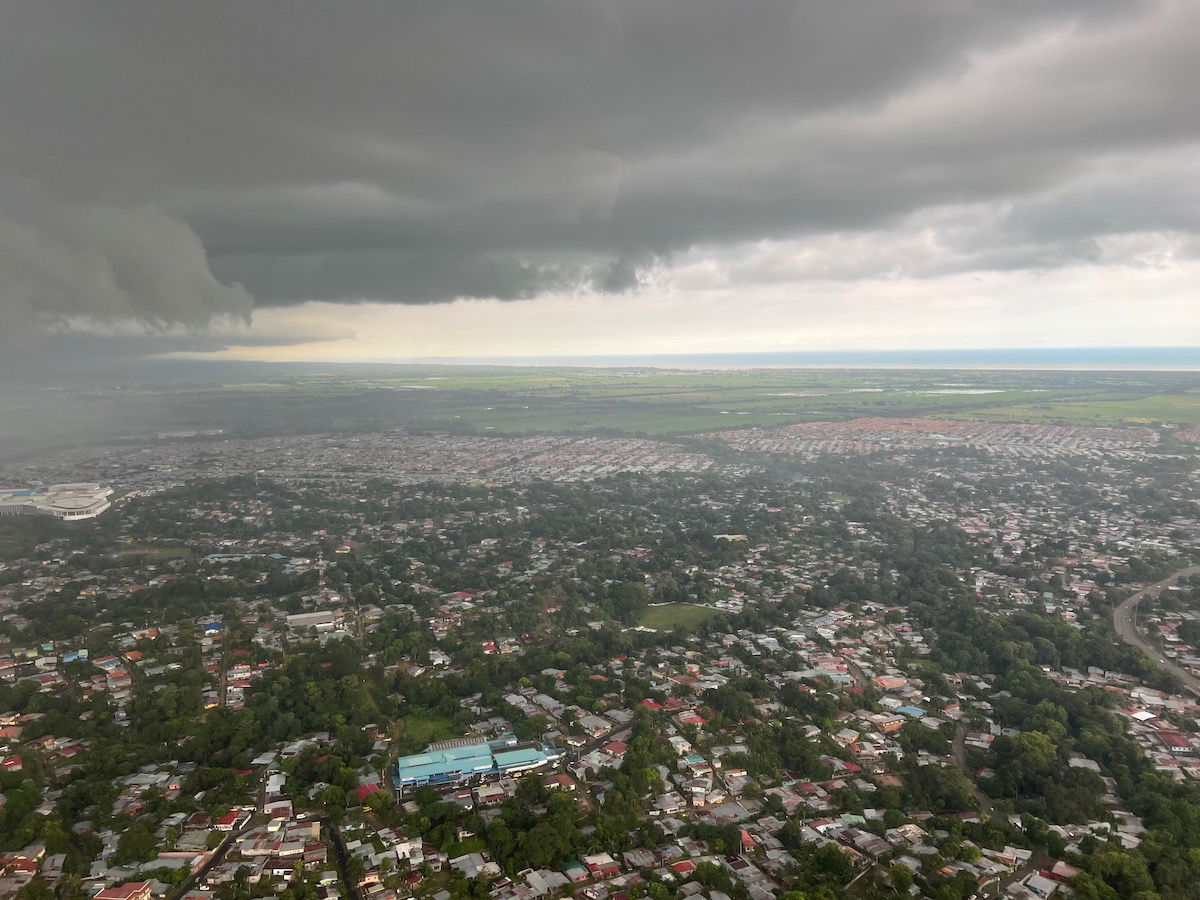 We had a smooth climb out, though did briefly end up in some heavy rain.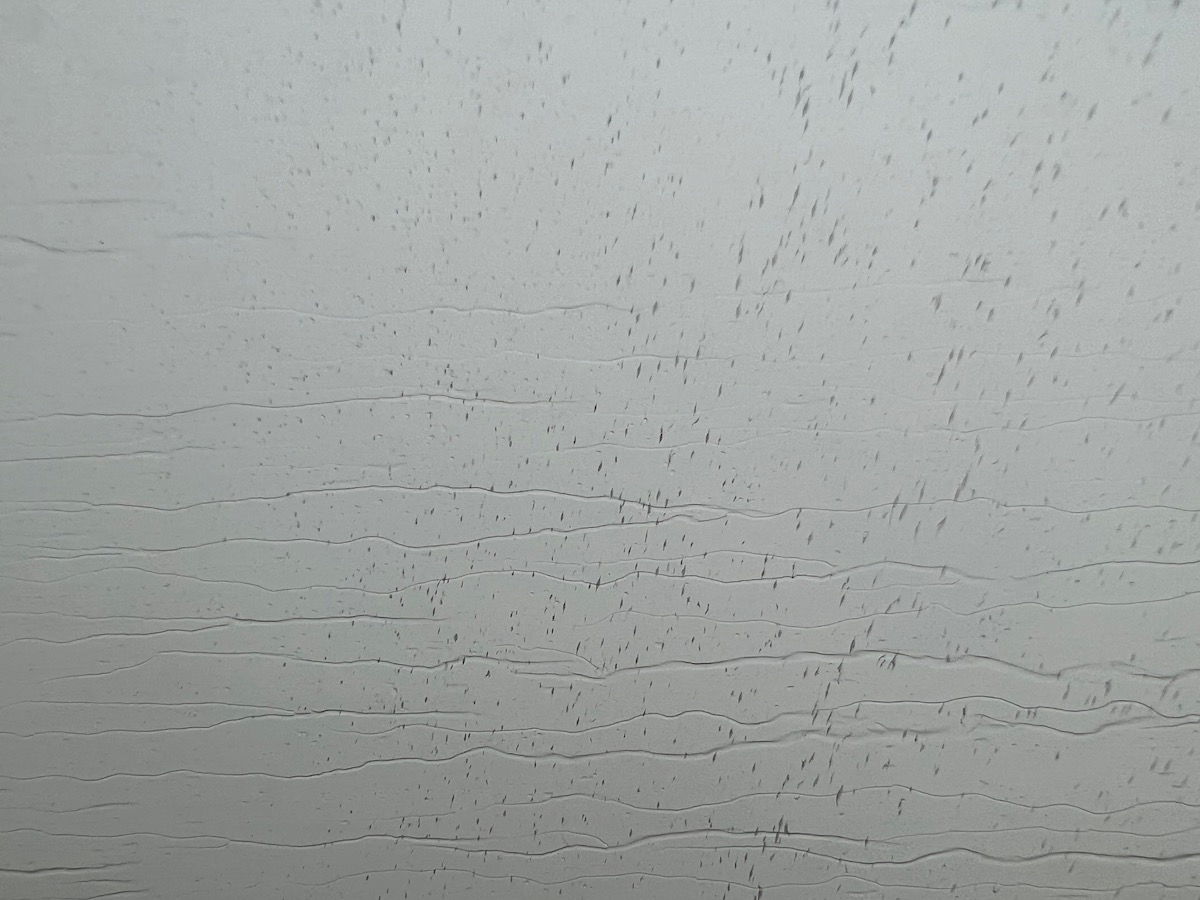 As usual, it was a beautiful afternoon above the clouds.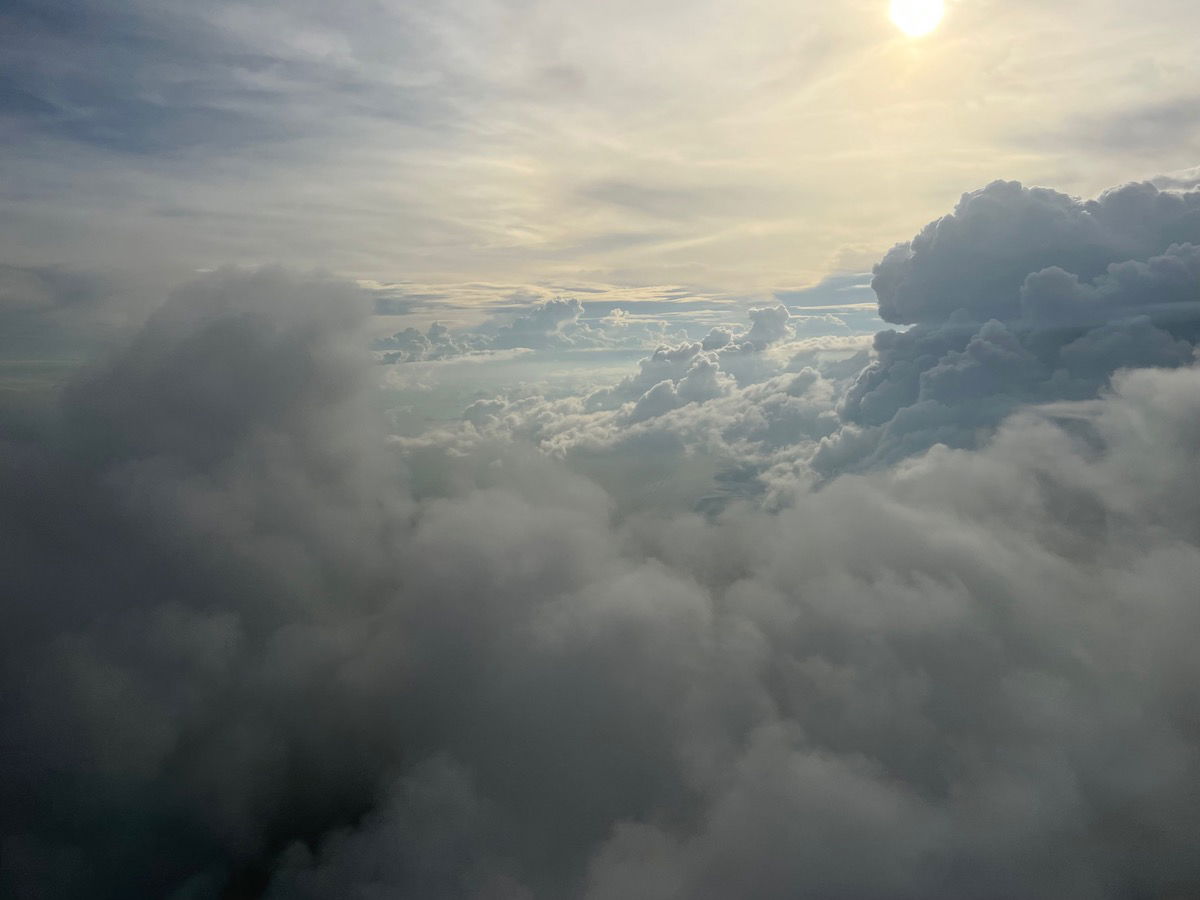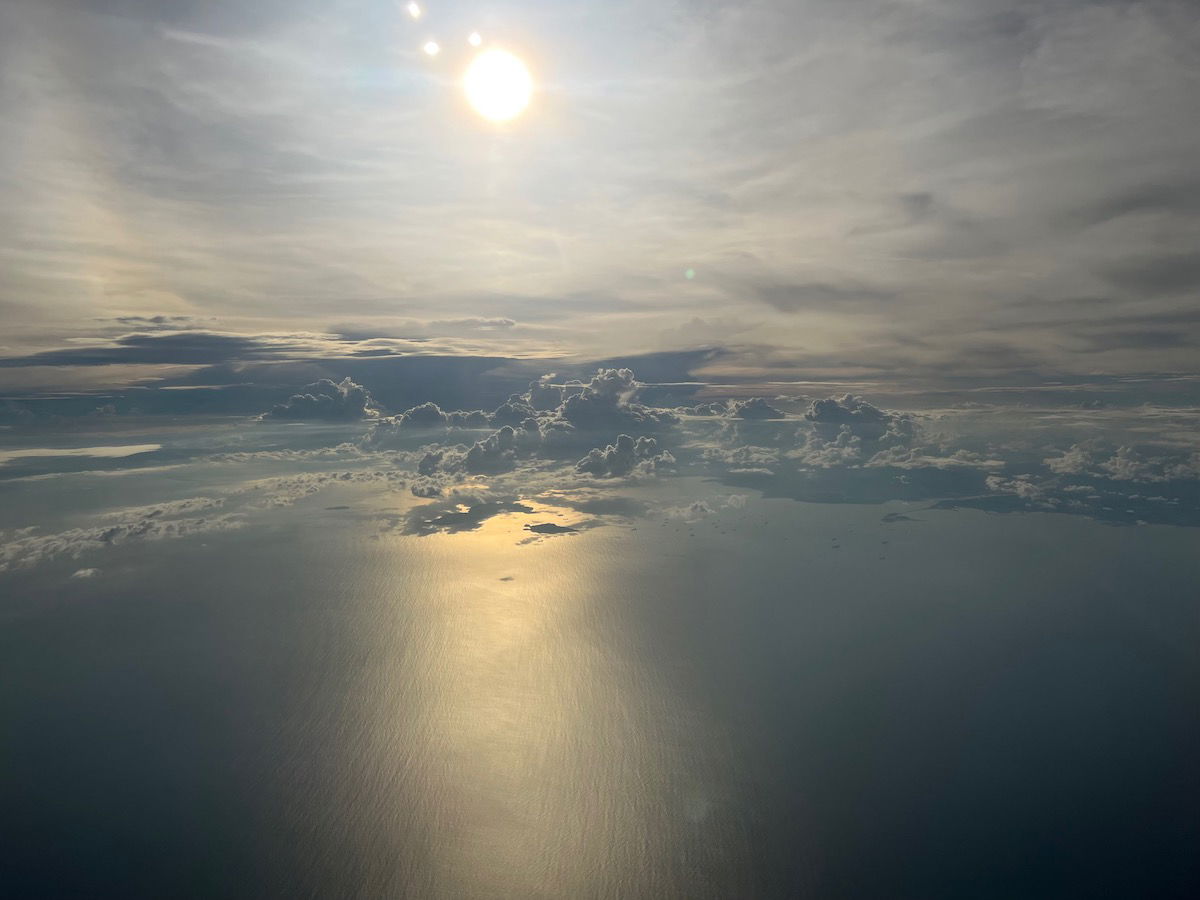 The seatbelt sign was turned off around 10 minutes after takeoff.
Copa business class meal service
Dinner was served on this flight, though the inflight service was a bit different than on the previous flight (the flights were roughly the same length, with this one being marginally longer). Meal orders had been taken on the ground, with the choices described as rice and chicken or ravioli with cheese. I went with the latter.
On this flight there was no snack mix or drink served before the meal. Rather the meal was just served 50 minutes after takeoff on a tray.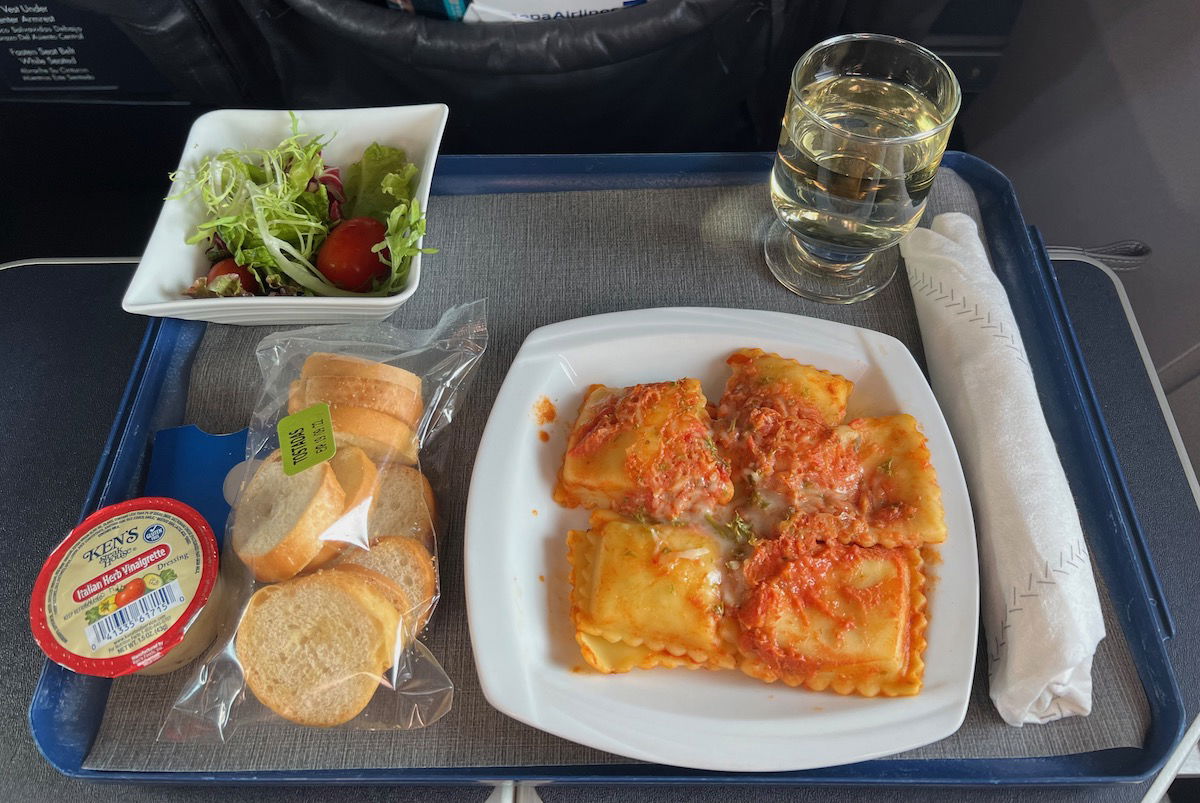 There was a small side salad, with some lettuce and cherry tomatoes.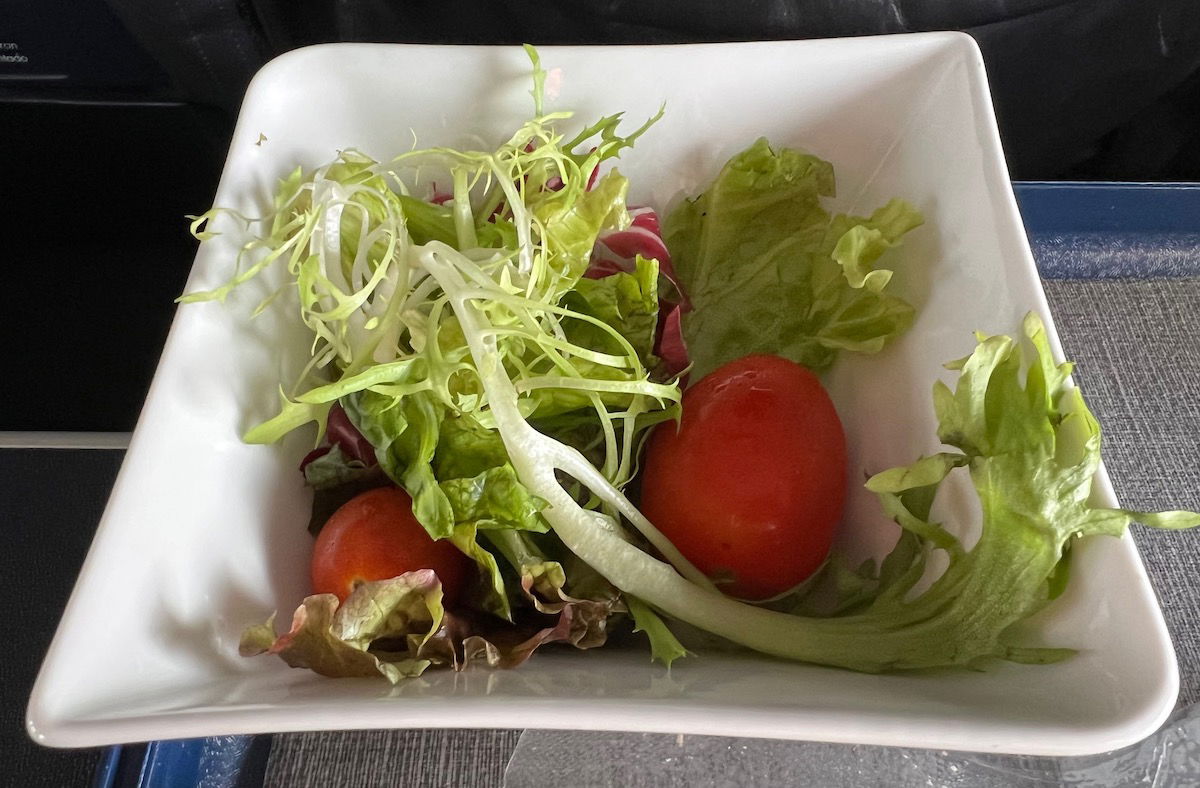 The ravioli as such was pretty tasty, better than I was expecting.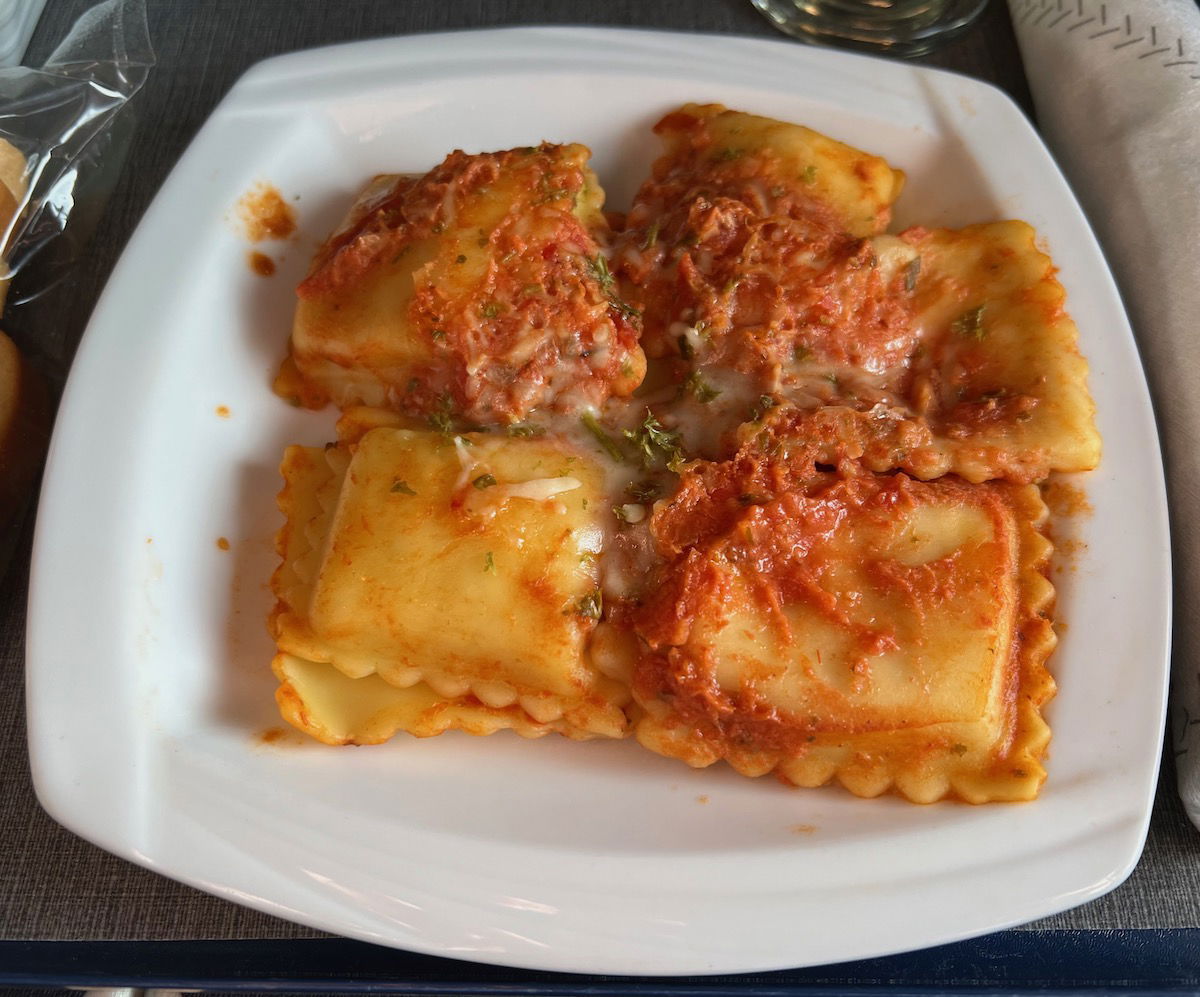 There was also a side of packaged crisp toast. Is this really the best Copa can serve, especially in terms of presentation?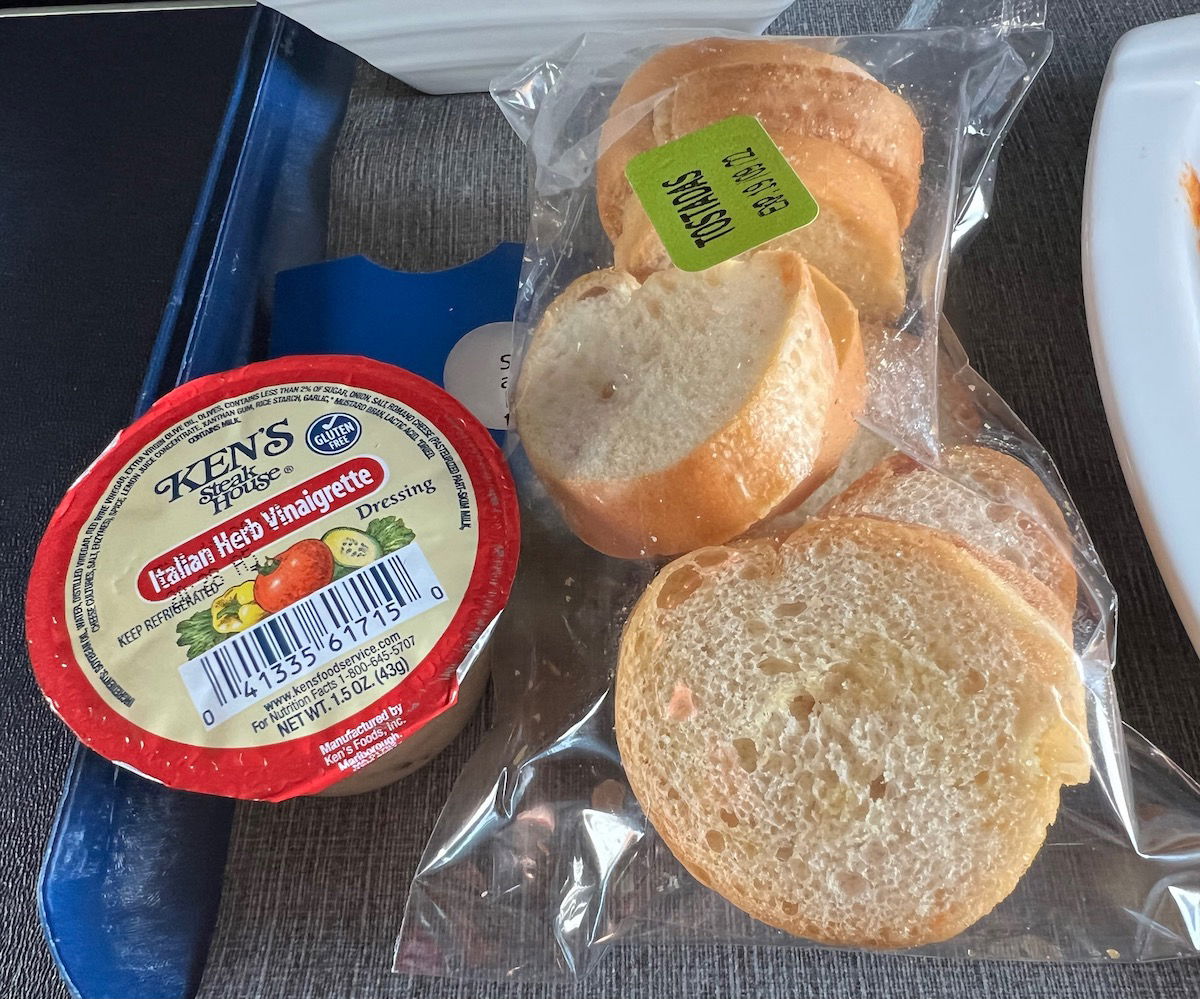 While this might be a blessing in disguise, I was confused by the lack of dessert? The previous flight had dessert, and most airlines serve some sort of a dessert with meals, yet that wasn't the case here.
I had sauvignon blanc with my meal, and then ordered another glass after the meal. At this point I was offered some snack mix.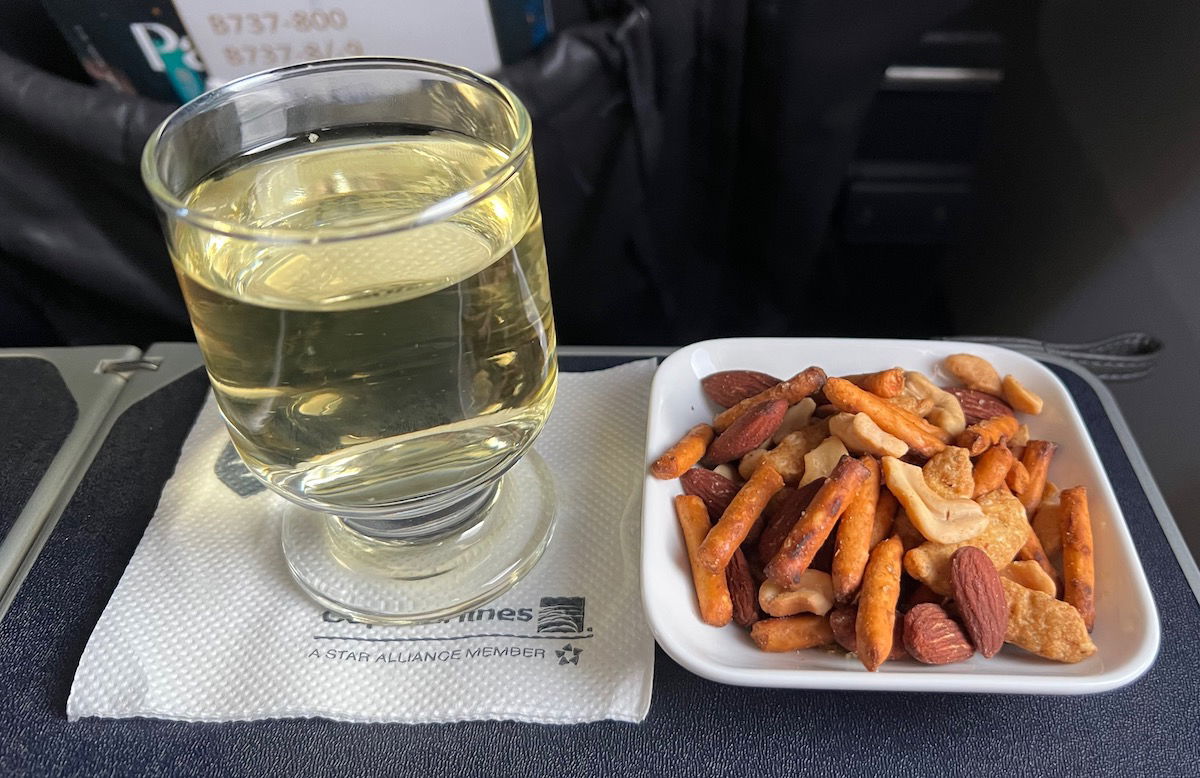 After that glass they ran out of white wine, just over an hour into the flight. So yeah, the soft product here definitely wasn't as good as on the previous flight.
Copa business class service
The business class flight attendant on this flight was pretty friendly. He wasn't quite as attentive as the flight attendant on the previous flight, though, and as mentioned above, I found the service flow to be strange.
My very strange fellow passenger
Seated two seats over from me in 3B was a guy who was pissing off just about everyone in the cabin. I'm not sure what exactly his deal was, but:
During the delay he kept yelling at the flight attendants, as if it was somehow their fault that we were delayed; as we held short of the runway he yelled to the galley to say he wanted to talk to the captain… lol
The guy listened to music the entire flight with headphones in, which is great, except he tapped his foot with great force for the entire flippin' flight (so you would constantly feel it), would sing maybe 20 seconds at a time, and would fake "play" the drums with his fingers
Ordinarily I'd politely say something in situations like this, but I felt like it wasn't really my place, as I wasn't seated next to him. Just about everyone in the cabin gave this guy angry stares, yet he didn't seem to get the message. I'm not sure if the flight attendant just didn't notice, or why he didn't say something.
Copa 737-800 approach to Lima
Given the lack of other inflight entertainment, I sure appreciated the gorgeous views enroute to Lima. This was my second evening of enjoying sunsets from Copa flights, and this one was especially beautiful…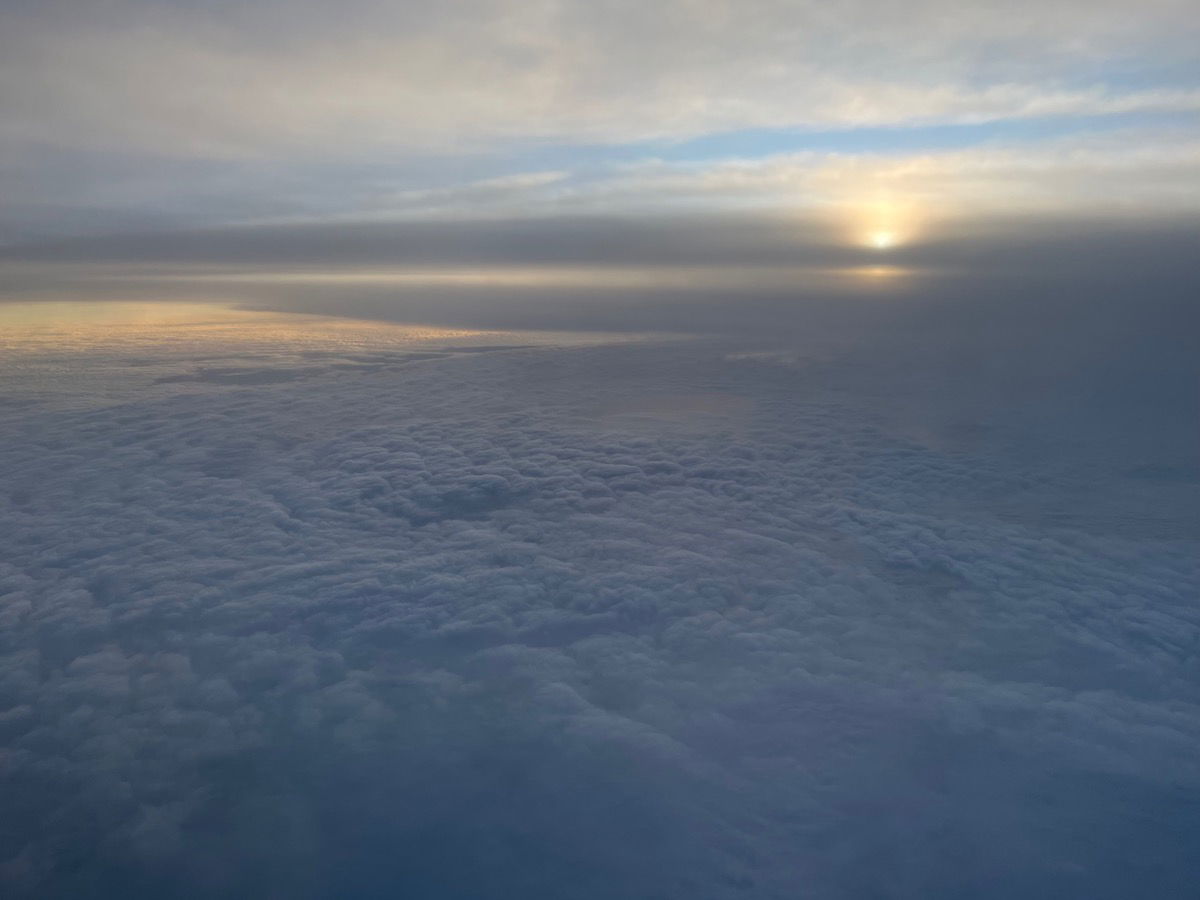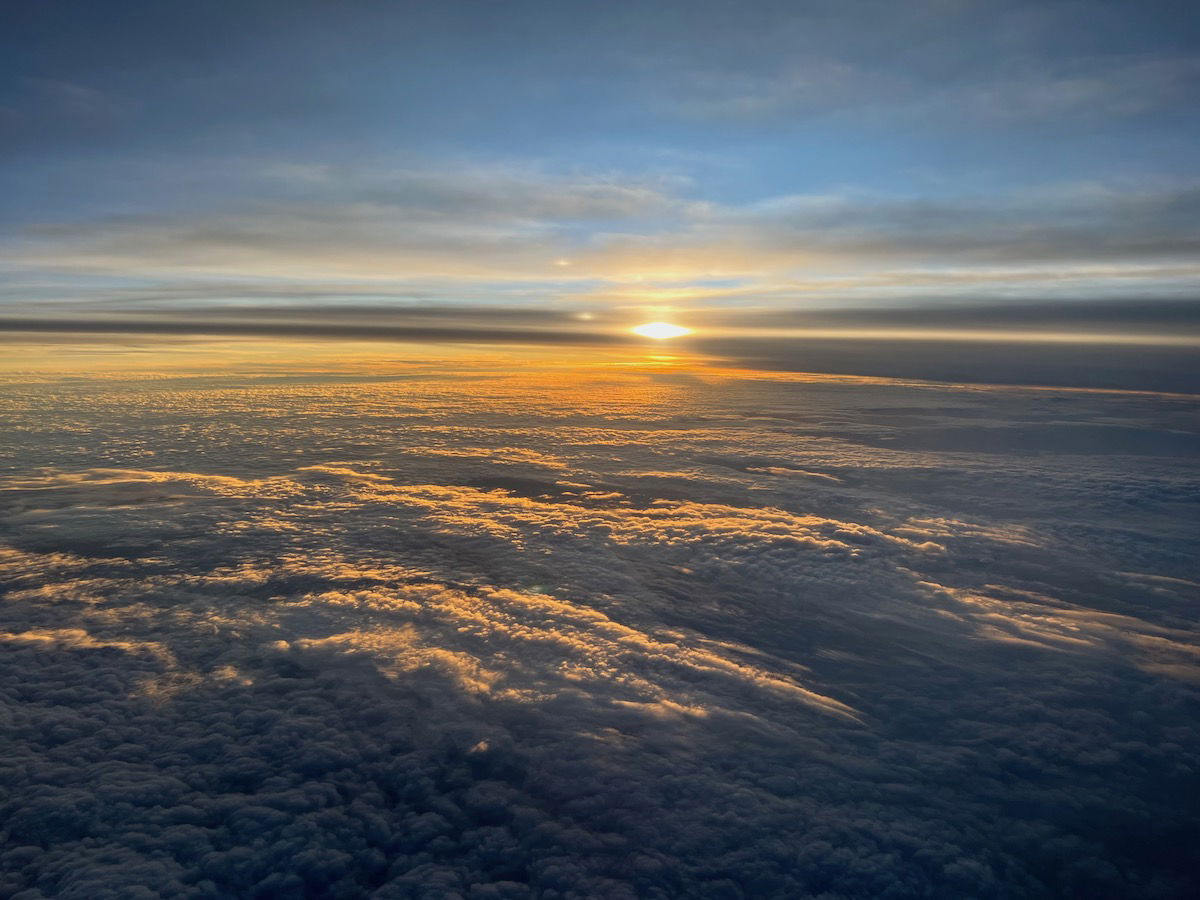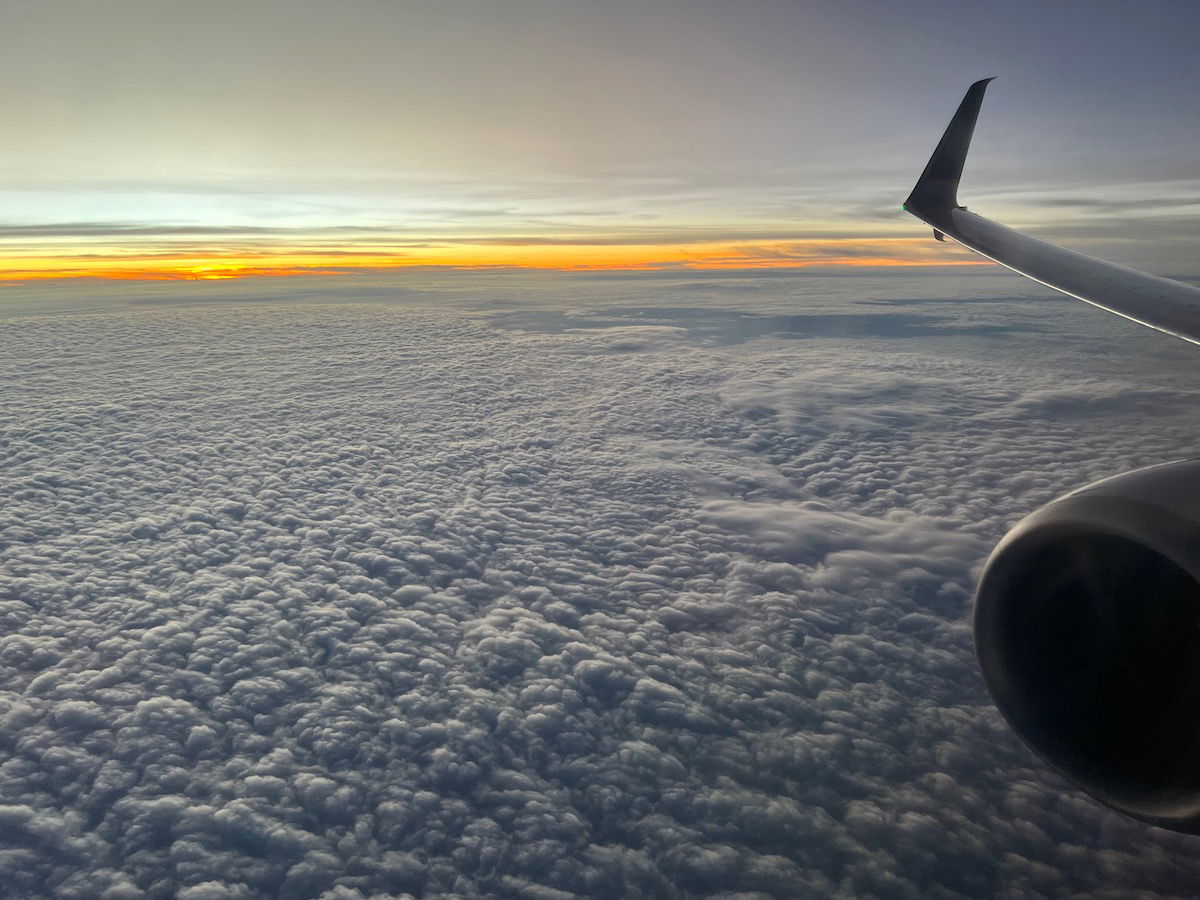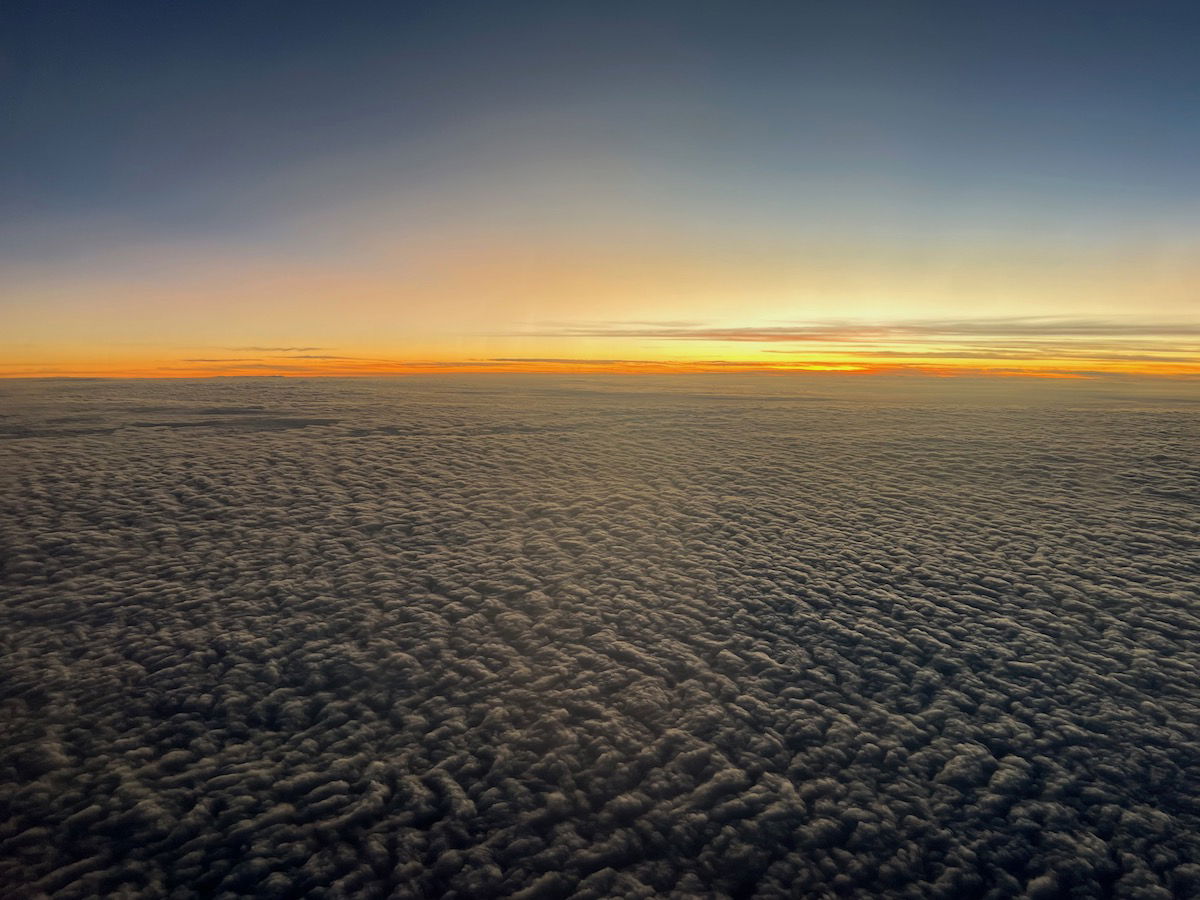 At 7:25PM the captain made his pre-landing announcement, and told the flight attendants to prepare the cabin for arrival. That's despite the fact that our descent didn't start for another 10 minutes, and flight conditions were good.
We ended up touching down in Lima at 8PM, and there was clapping throughout the cabin. From there it was a 10 minute taxi to our arrival gate, where we pulled in next to an American A321neo.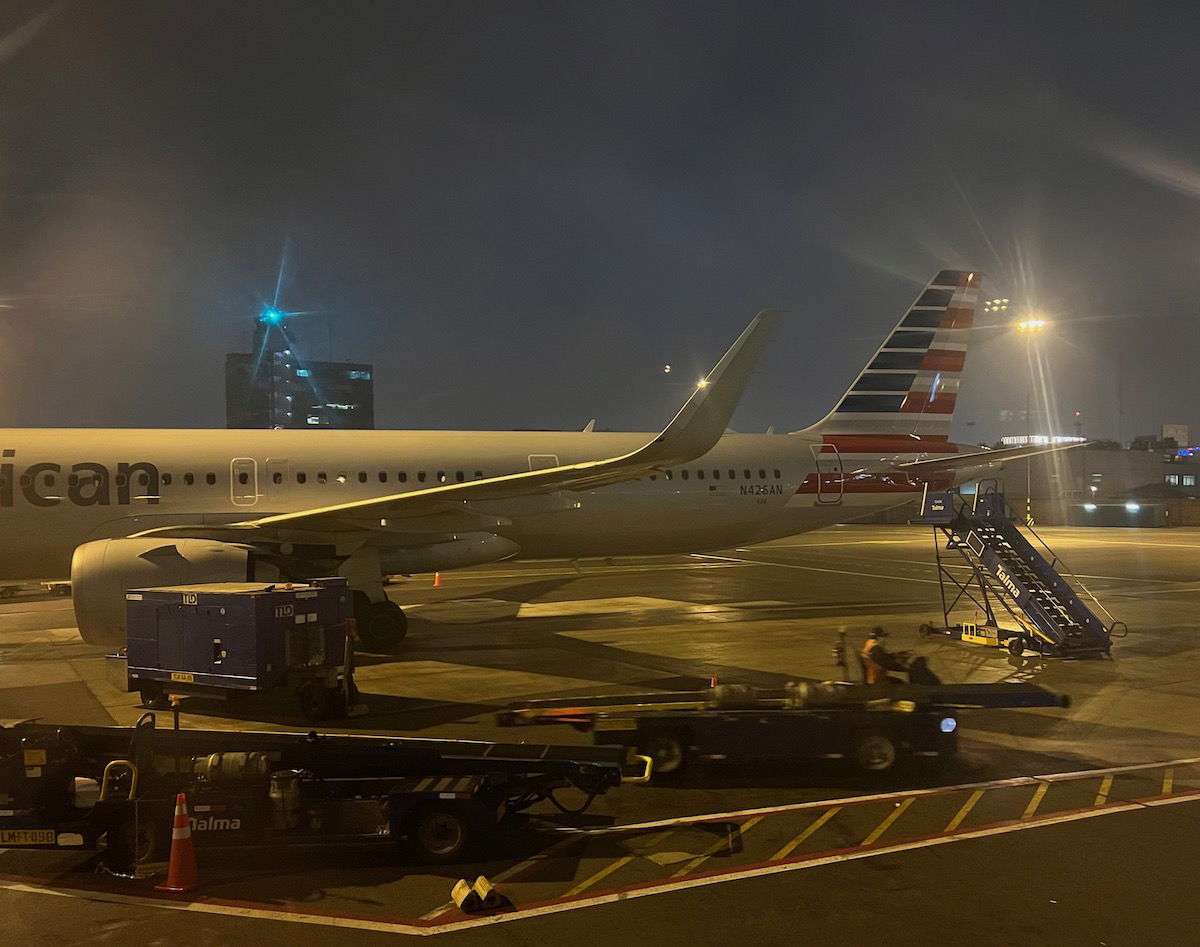 From there I headed through transit security and to the lounge, prior to my LATAM redeye to Miami.
Bottom line
This Copa business class flight left a bit to be desired. The plane had a very old and poorly maintained interior, the amenities were limited (no Wi-Fi, power ports, personal televisions, or streaming entertainment), and the meal service was strange (no dessert, they ran out of wine, no drink service before the meal, etc.). On the plus side, the flight attendant was quite friendly, and the sunset was pretty.
I gave my last Copa flight three stars, so I think it's only fair to rate this a little lower, given the even older interior and not-great soft product.