After flying Fiji Airways' A350 business class from Los Angeles to Nadi, and then checking out the Fiji Airways Premier Lounge Nadi, it was time to fly Fiji Airways' A330 business class from Nadi to Auckland.
Back in the day, the A330 was Fiji Airways' biggest plane. While it offers a great experience for a short daytime flight, I'd rather not fly this on a long haul.
How I booked my Fiji Airways business class ticket
I redeemed Alaska Mileage Plan miles for my Fiji Airways business class ticket. Specifically, I booked the following for 55,000 Alaska Mileage Plan miles $60.60 in taxes and fees:
9/18 FJ811 Los Angeles to Nadi departing 11:55PM arriving 5:45AM (+2 days)
9/20 FJ411 Nadi to Auckland departing 8:30AM arriving 11:40AM
I was excited about this, as my first flight would be operated by an A350, while my second flight would be operated by an A330, so I could review both of the carrier's long haul aircraft types.
It's worth noting that historically Fiji Airways has been pretty stingy with award availability, but in August there was a brief period where the airline opened the floodgates of award space, making it easy to snag business class awards.
Fiji Airways Nadi lounge & boarding
In the previous installment I reviewed the Fiji Airways Premier Lounge Nadi. After enjoying some time there, I headed to gate eight, where my flight to Auckland would be departing from. Boarding was scheduled for 7:45AM, 45 minutes before departure, and sure enough that's exactly when boarding started. Business class passengers were invited to board first.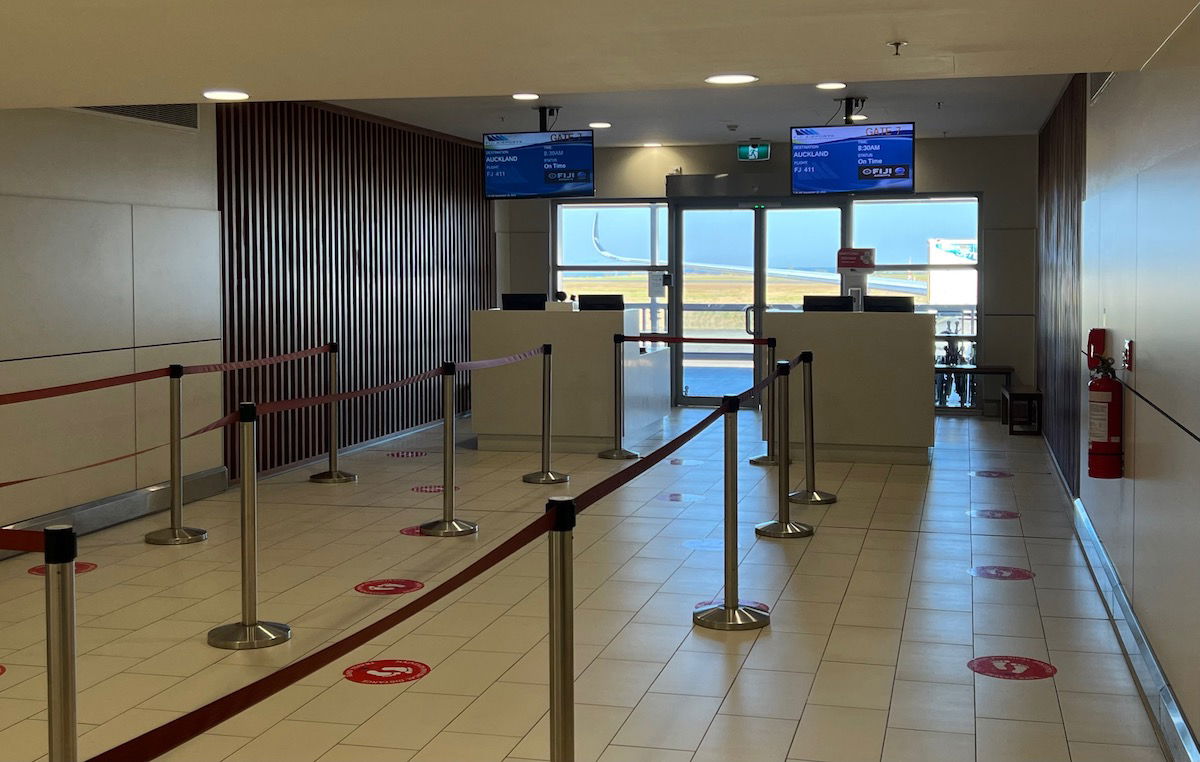 After having my boarding pass scanned, I walked along an open-air corridor, and then down the jet bridge to the A330.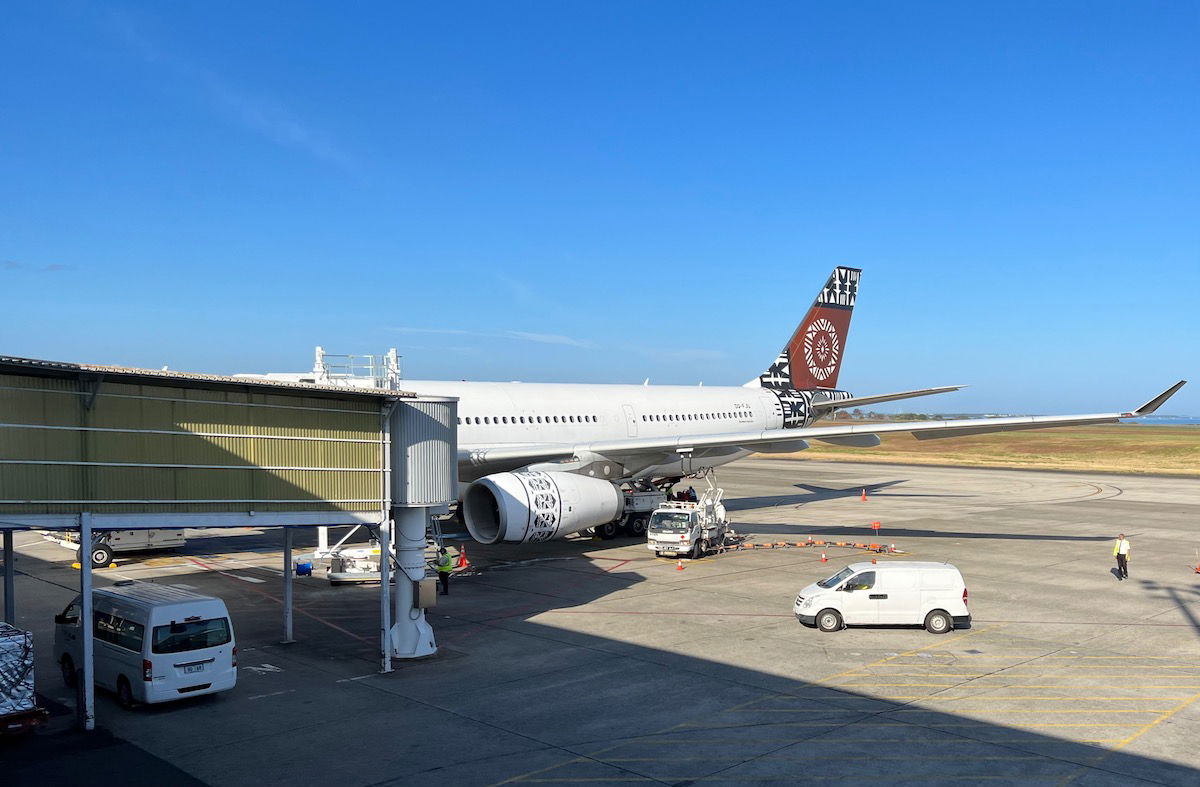 Fiji Airways A330 business class cabin & seats
I boarded through the second set of doors, and turned left into the business class cabin. Fiji Airways' Airbus A330-200s have a total of 24 business class seats, spread across four rows in a 2-2-2 configuration.
These are angled business class seats, so suffice it to say that the A350 offers a massively improved business class hard product. It really is amazing how far business class seats have come over the years, because at one point this was a cutting edge product.
That also presents a challenge with reviewing this product. For a sub-three hour daytime flight, this was more than sufficient. Meanwhile for an 11-hour overnight flight, I'd be less jazzed about these seats.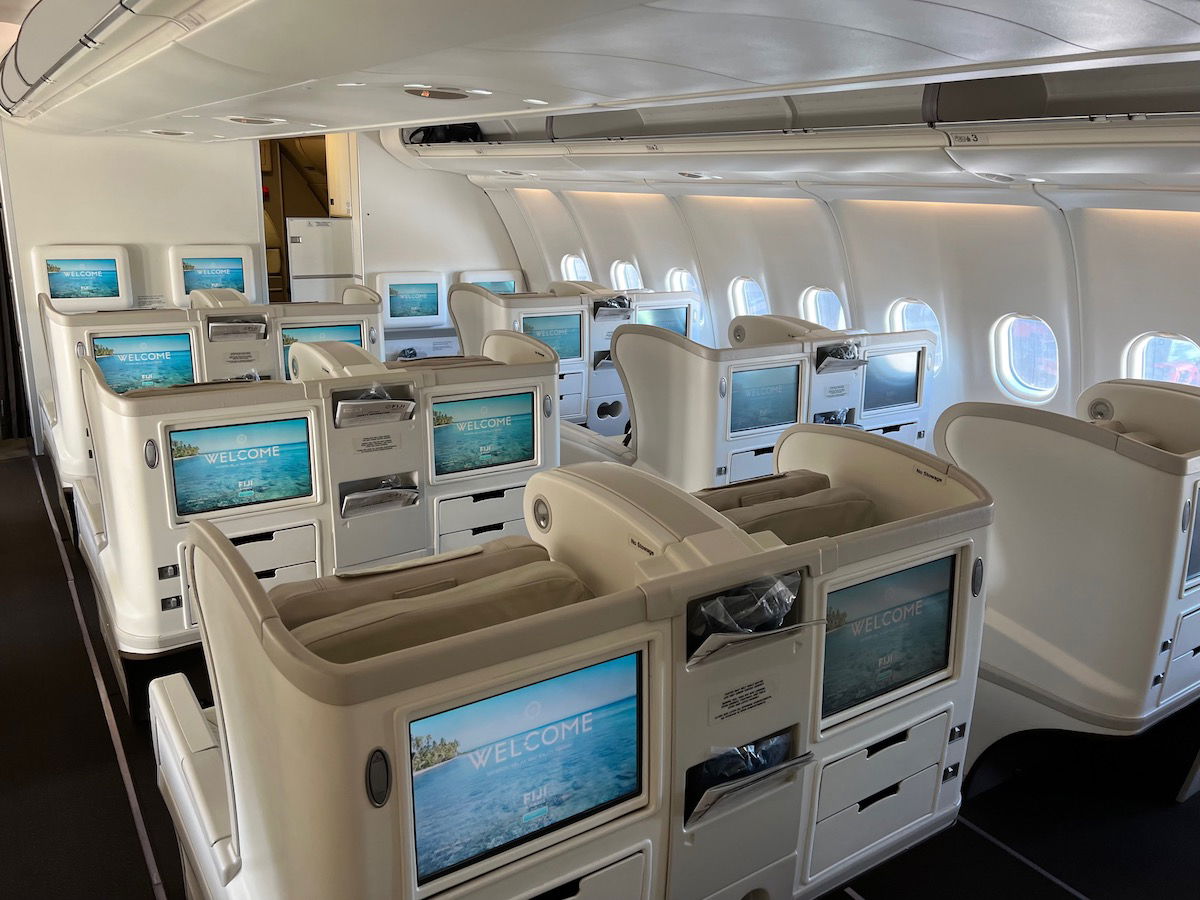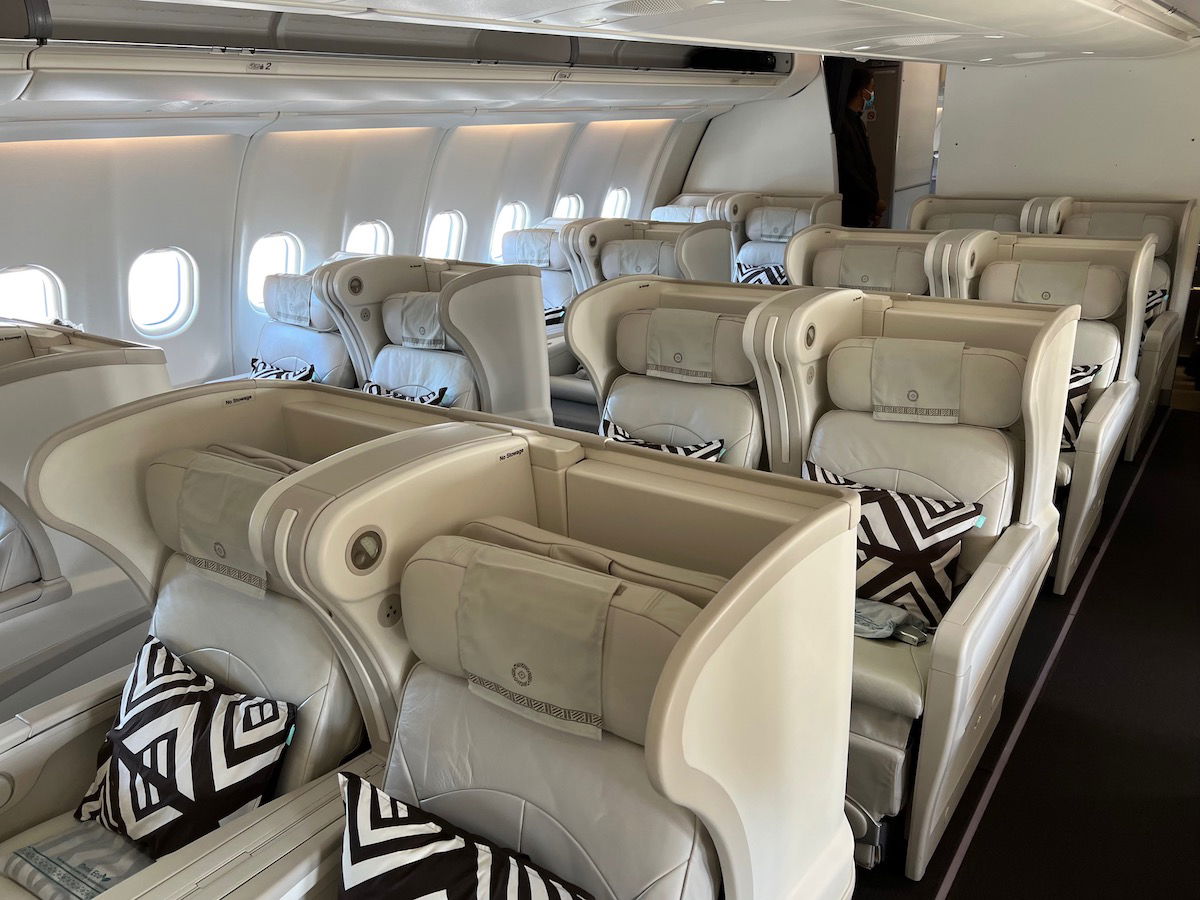 Fiji Airways' A330 business class seats feature 60″ of pitch, so they're very spacious for just lounging, but less comfortable when sleeping.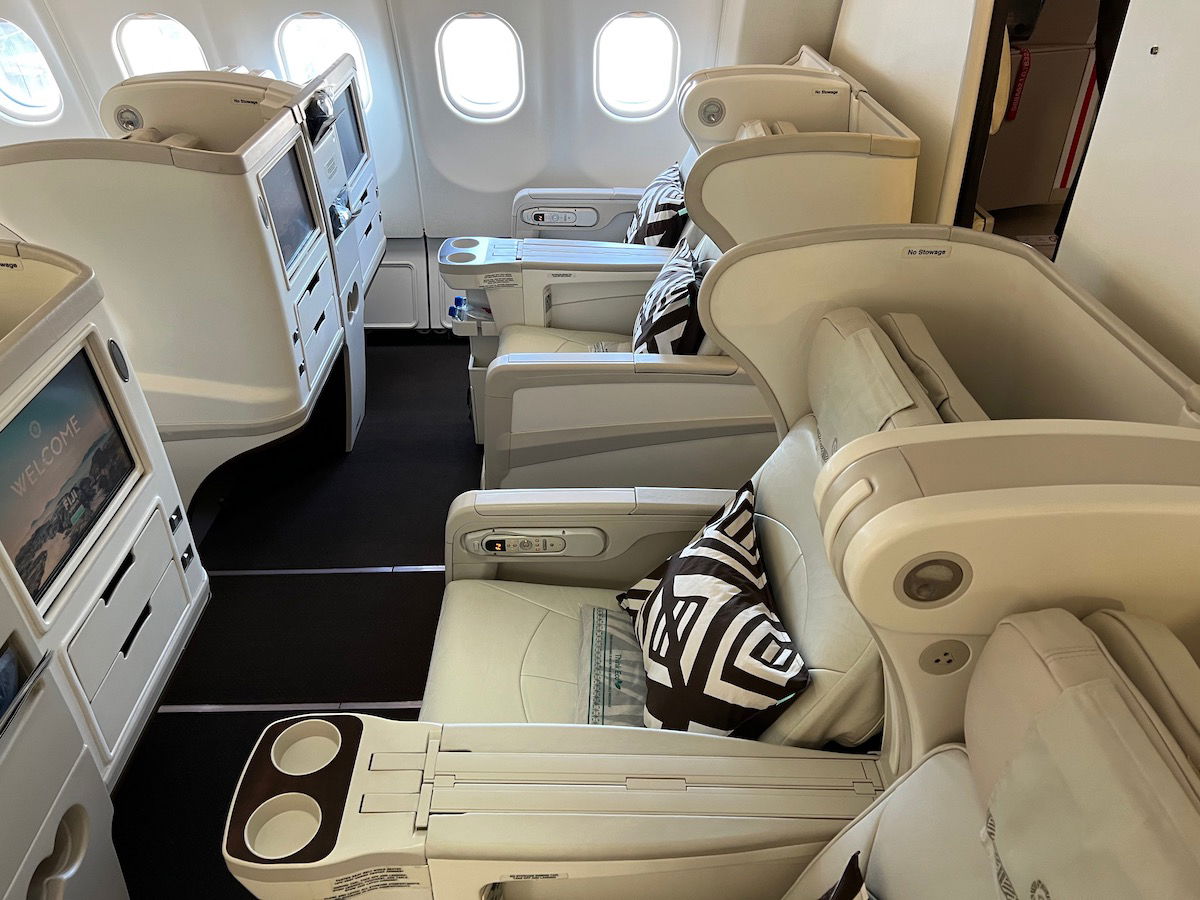 I had assigned myself seat 4A, the window seat in the last row of the cabin on the left. 4B, the aisle seat next to me, stayed empty.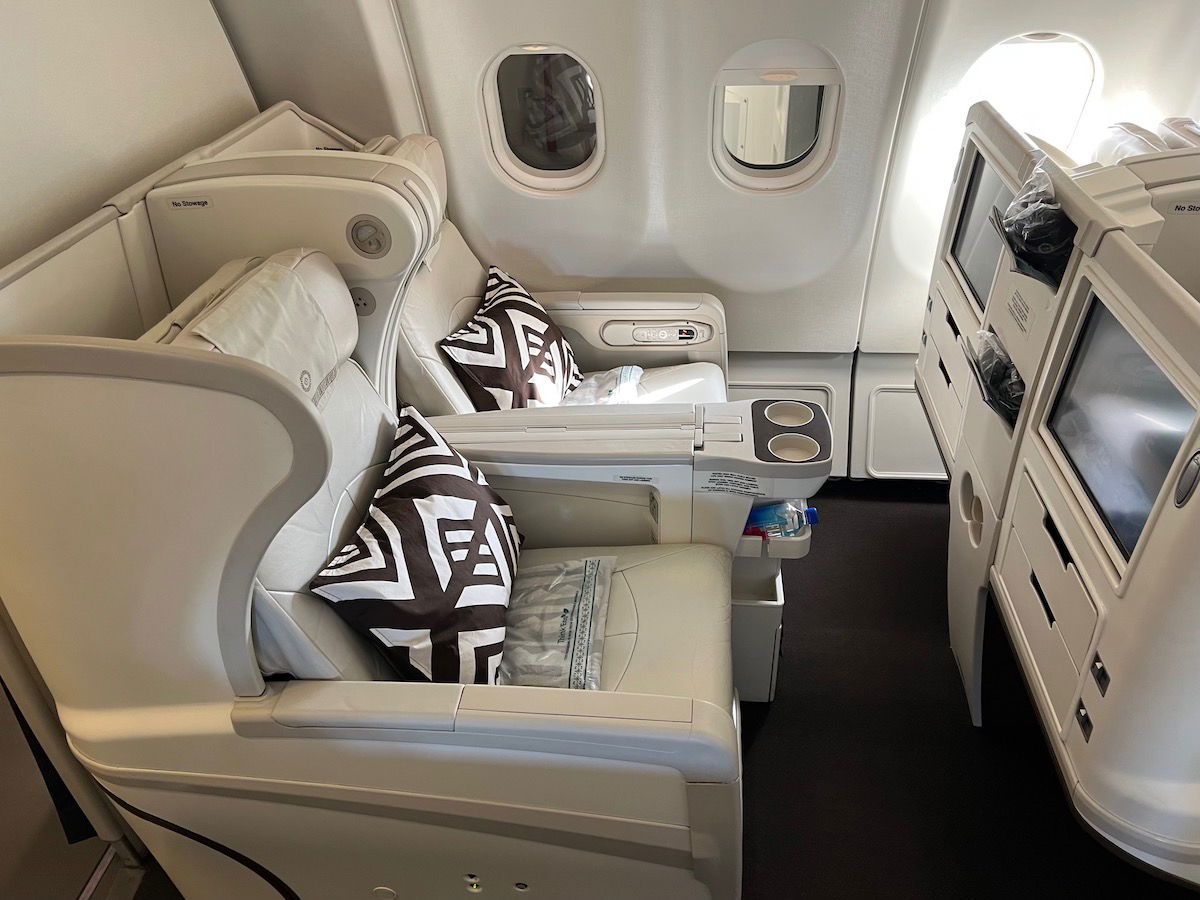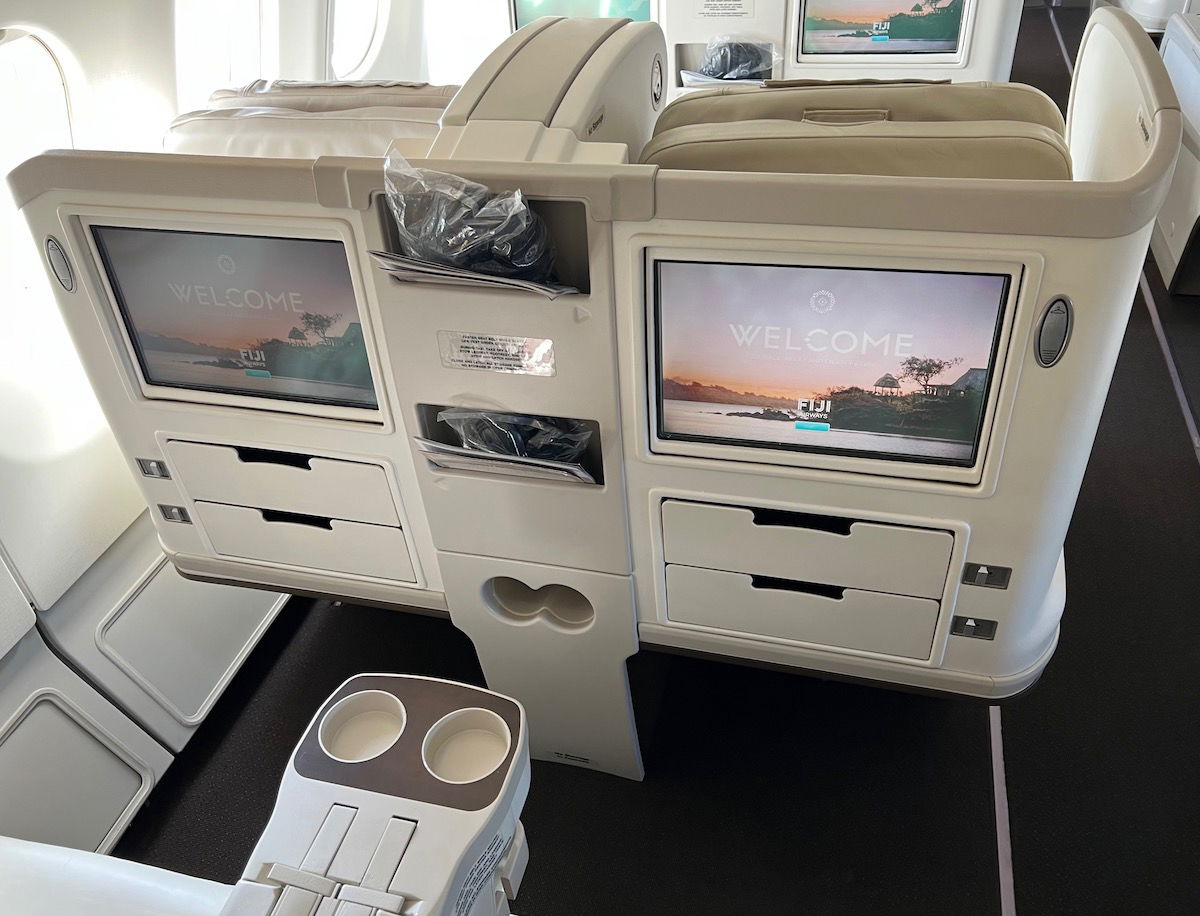 The seatback had a fixed 15.4″ screen. Underneath that were two small storage compartments, which could be fully opened or closed. There were also literature pockets and bottle cubbies between the two screens.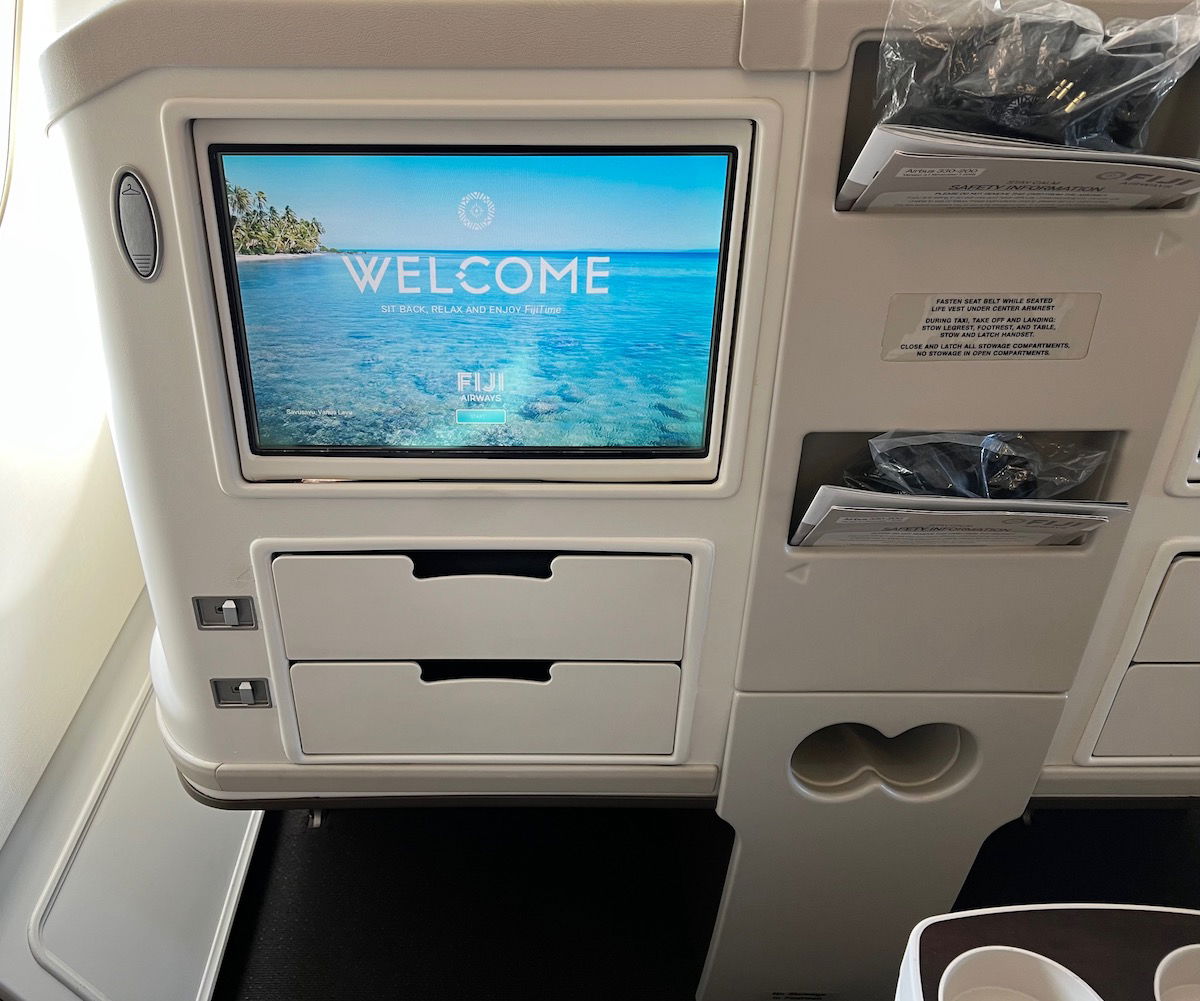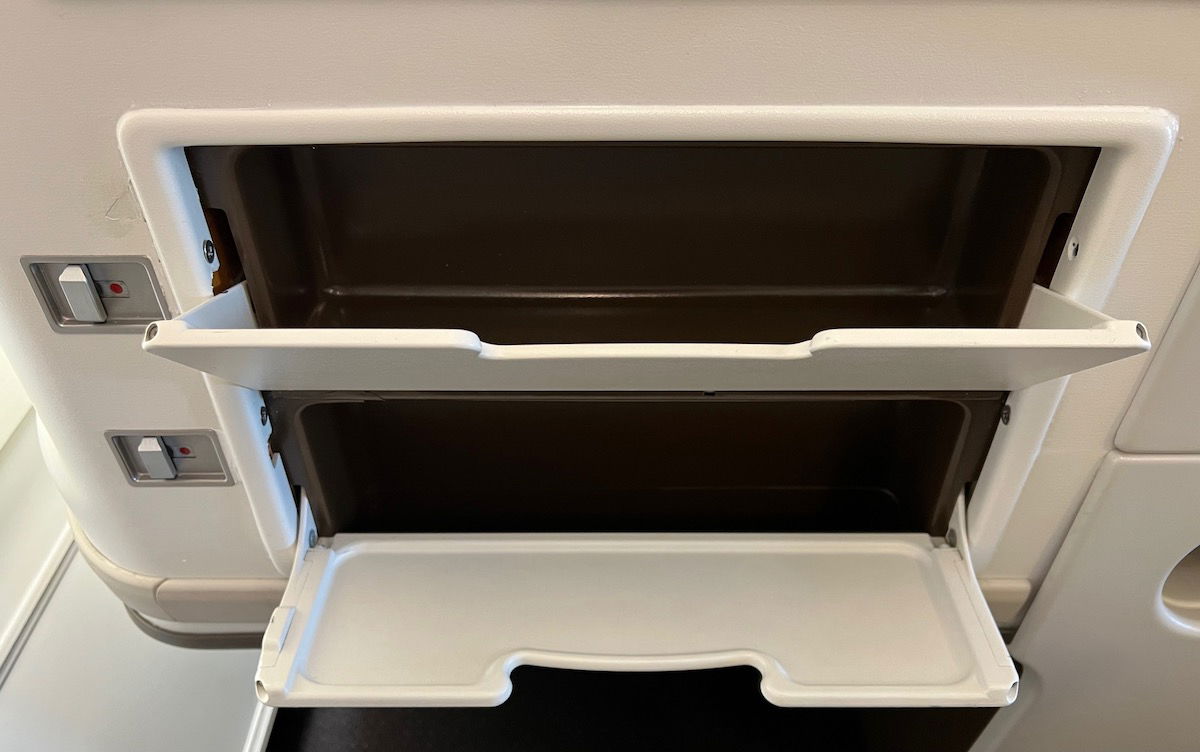 The center console had two areas where you could place glasses, and the tray tables also extended from the center section.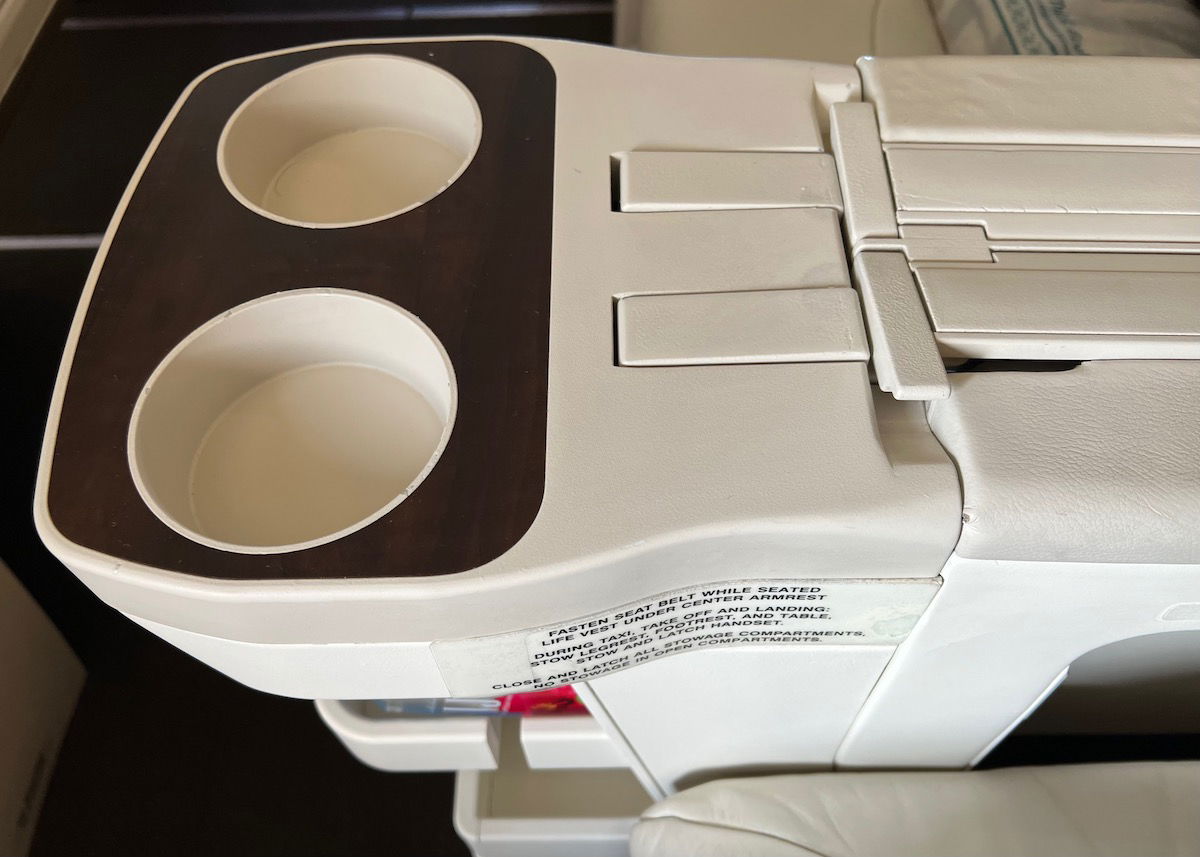 The tray tables are a good size, but also can't be folded in half or moved around much.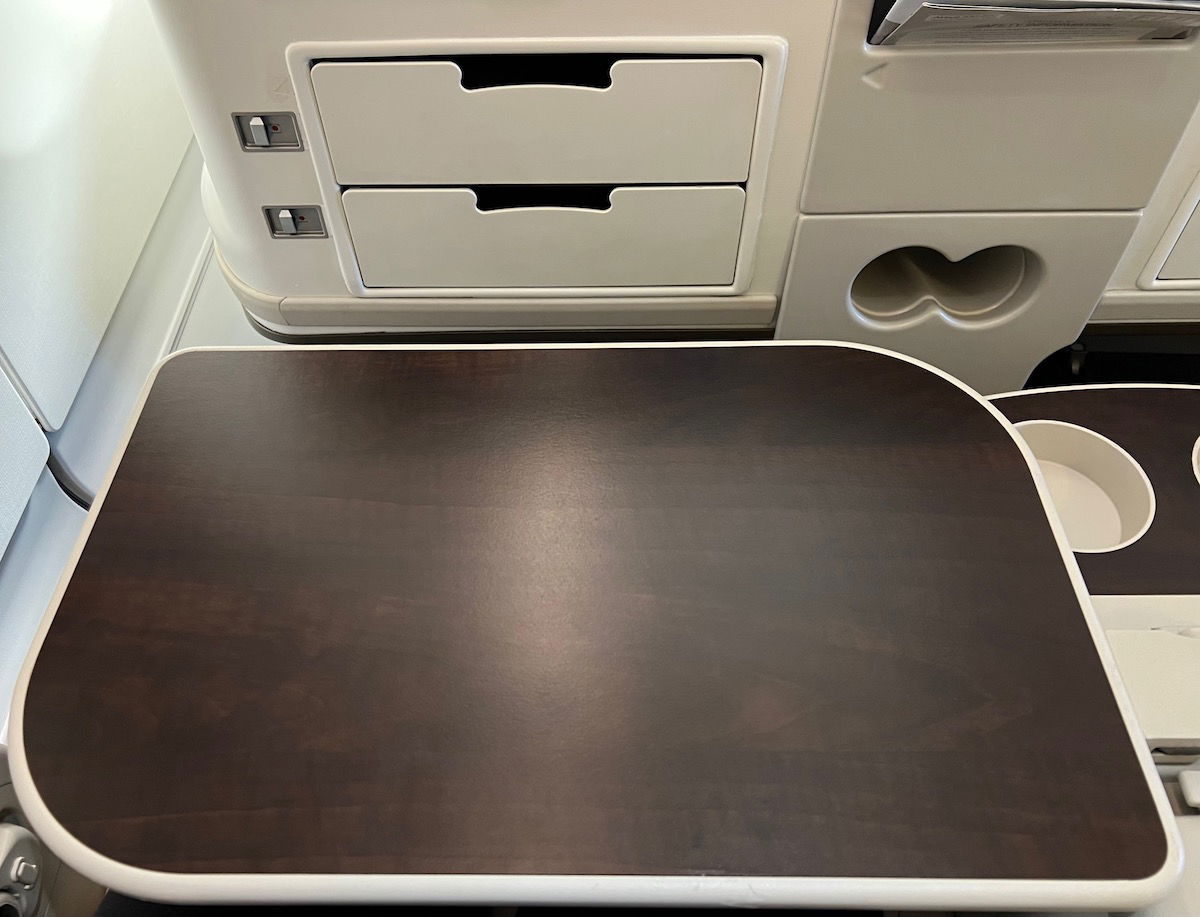 Behind the center armrest was a privacy partition that could be extended, in case you're seated next to a stranger.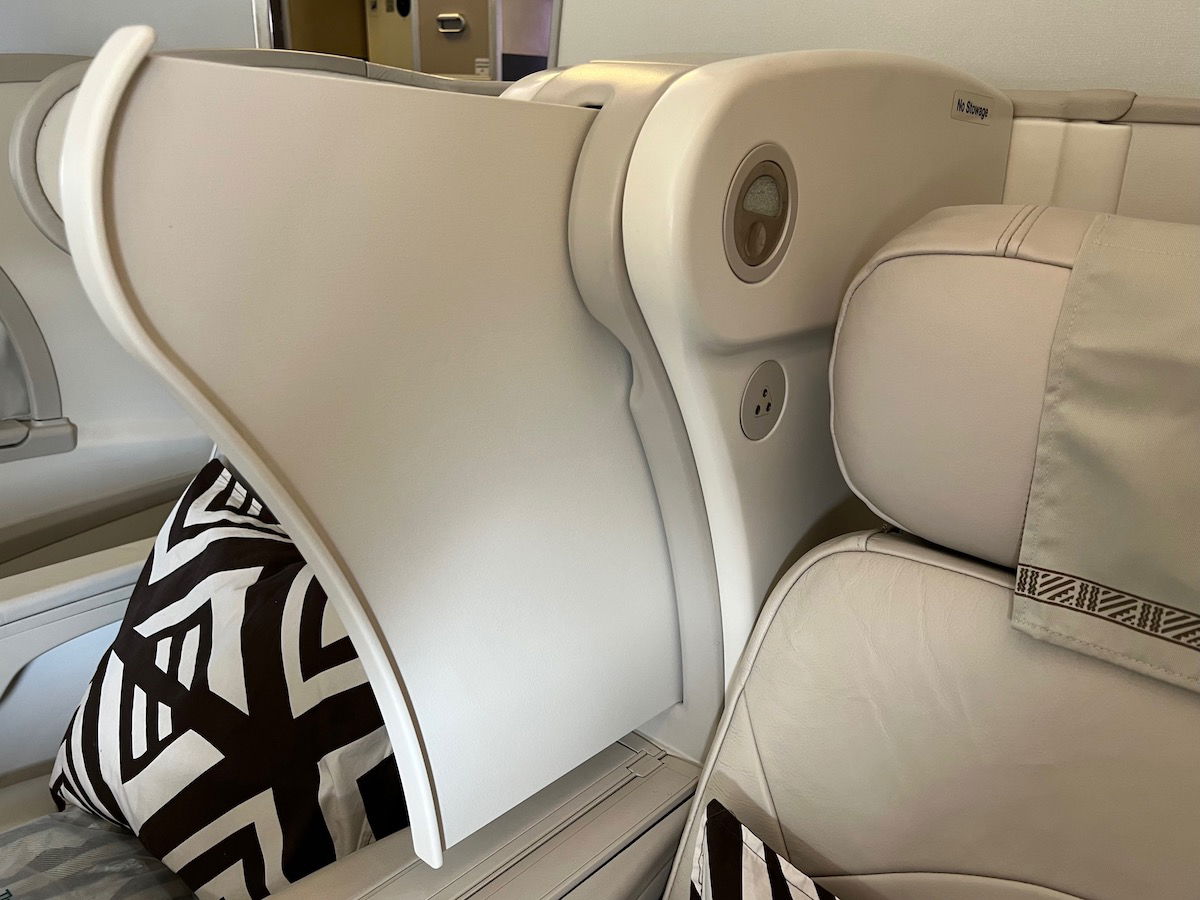 Underneath the area with the tray tables were the power outlets, including an AC and USB option.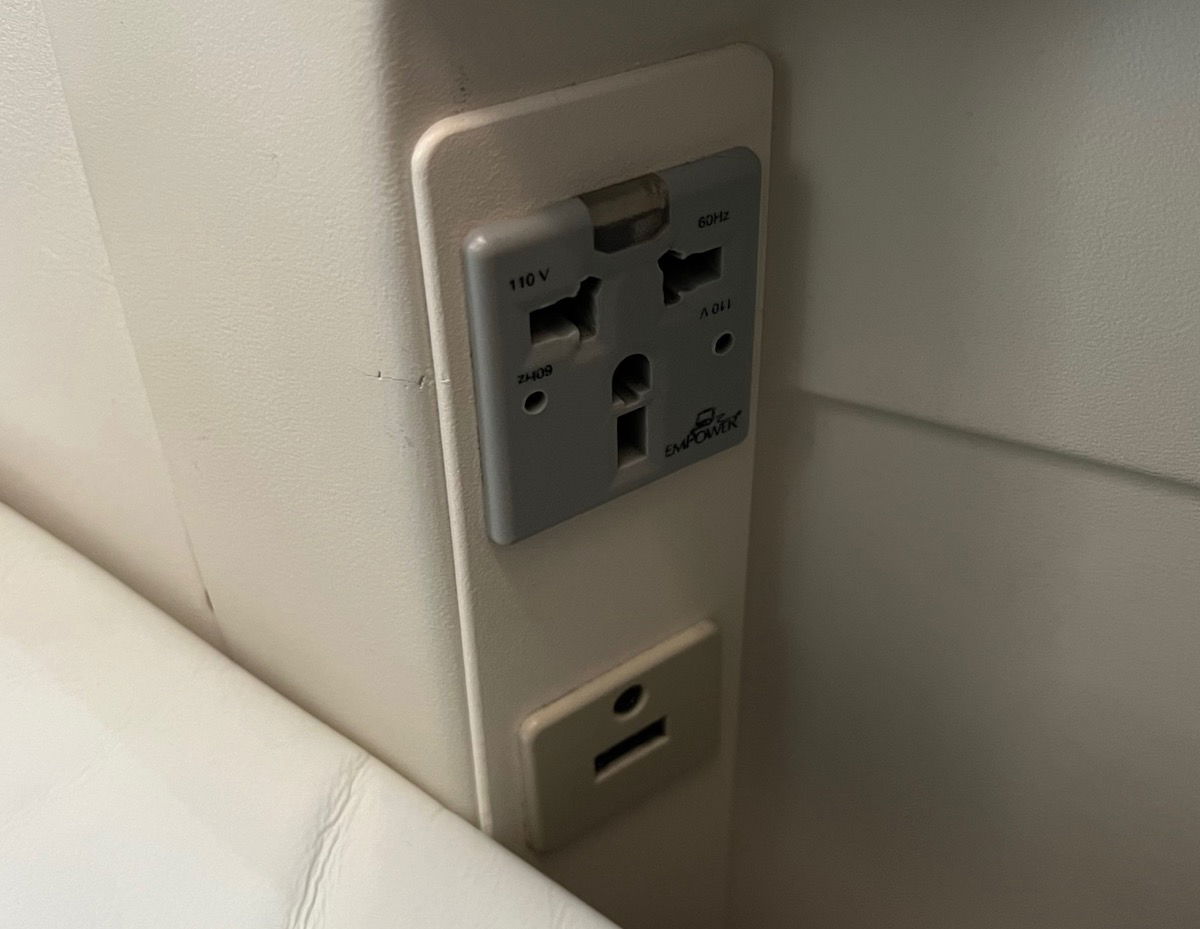 Also between seats was an exposed storage area, where you could place bottled water, a phone, etc.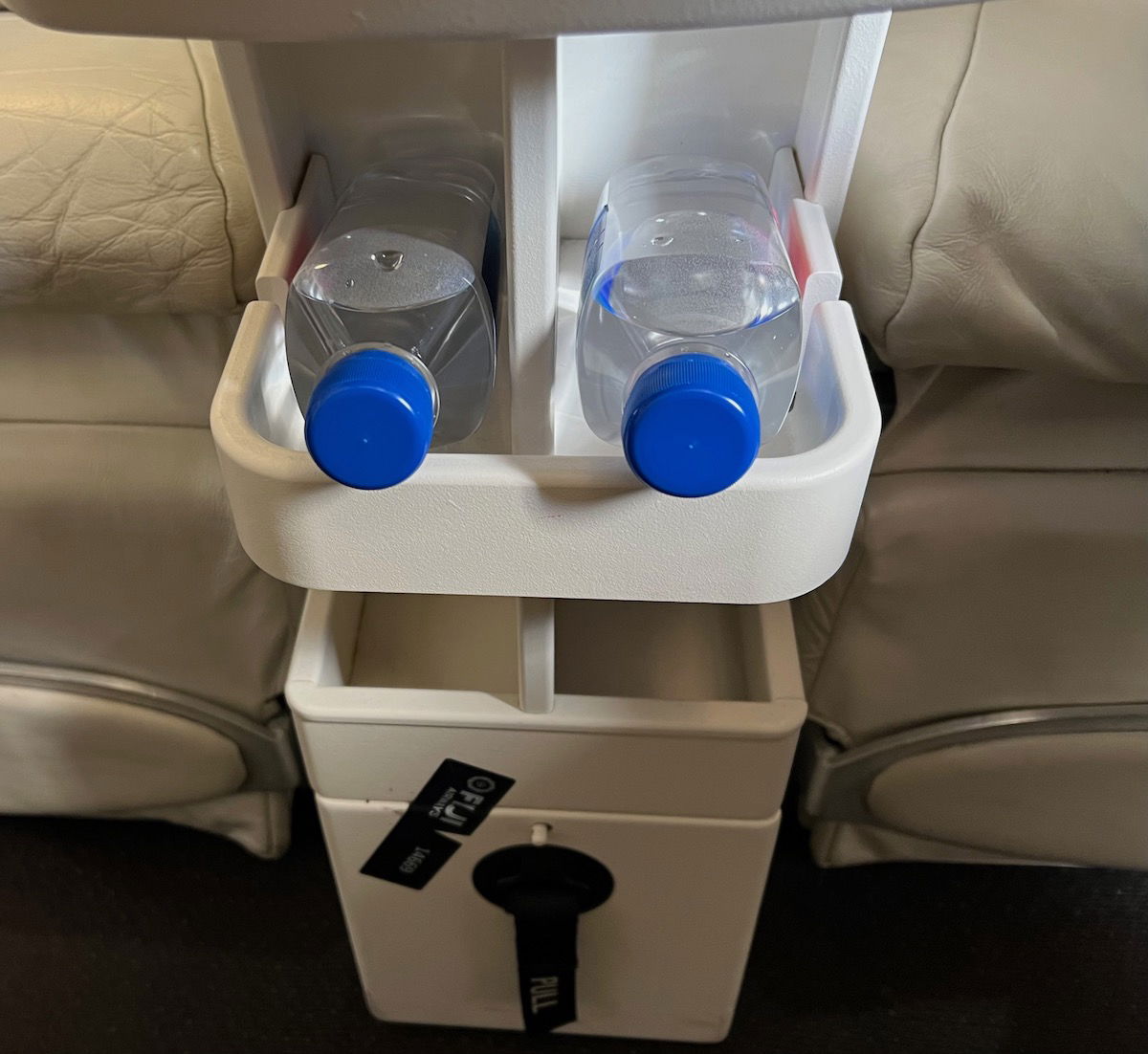 The far armrest had the seat and entertainment controls. The seat controls were easy to use, and you could either choose from four seat pre-sets, or you could just adjust specific parts of the seat.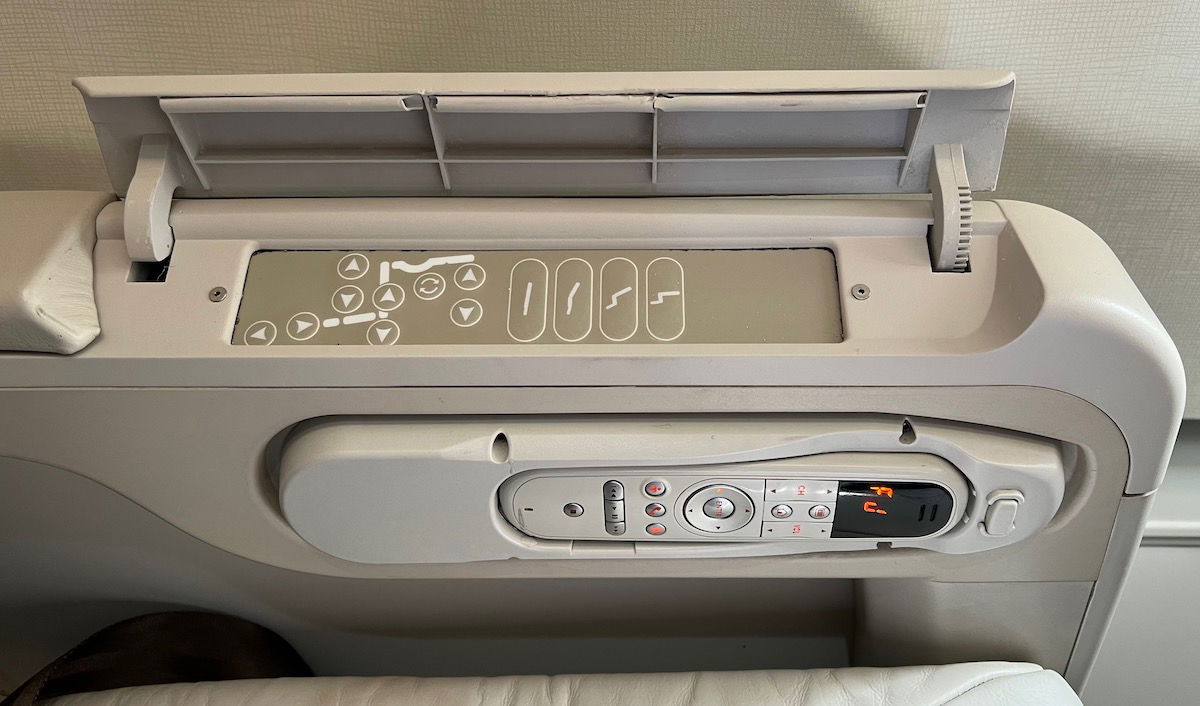 The overhead consoles had reading lights, but didn't have individual air nozzles. This is another big advantage of the A350, as Fiji Airways has individual air nozzles on those planes.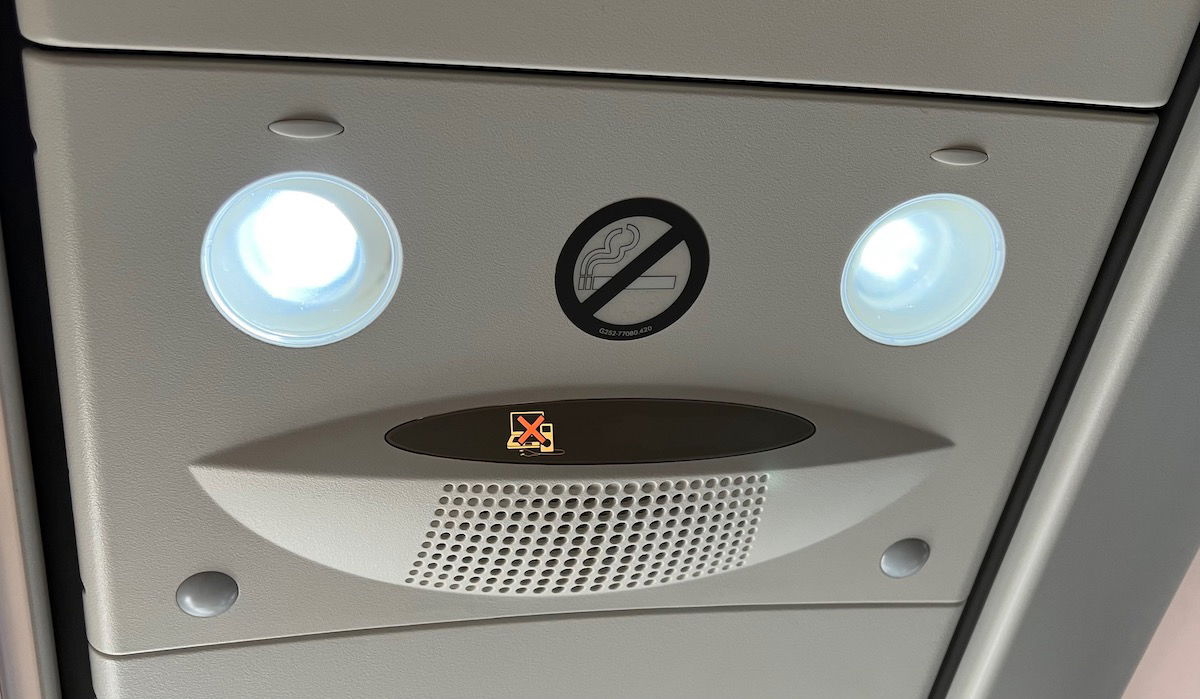 The overhead bins as such were a pretty good size.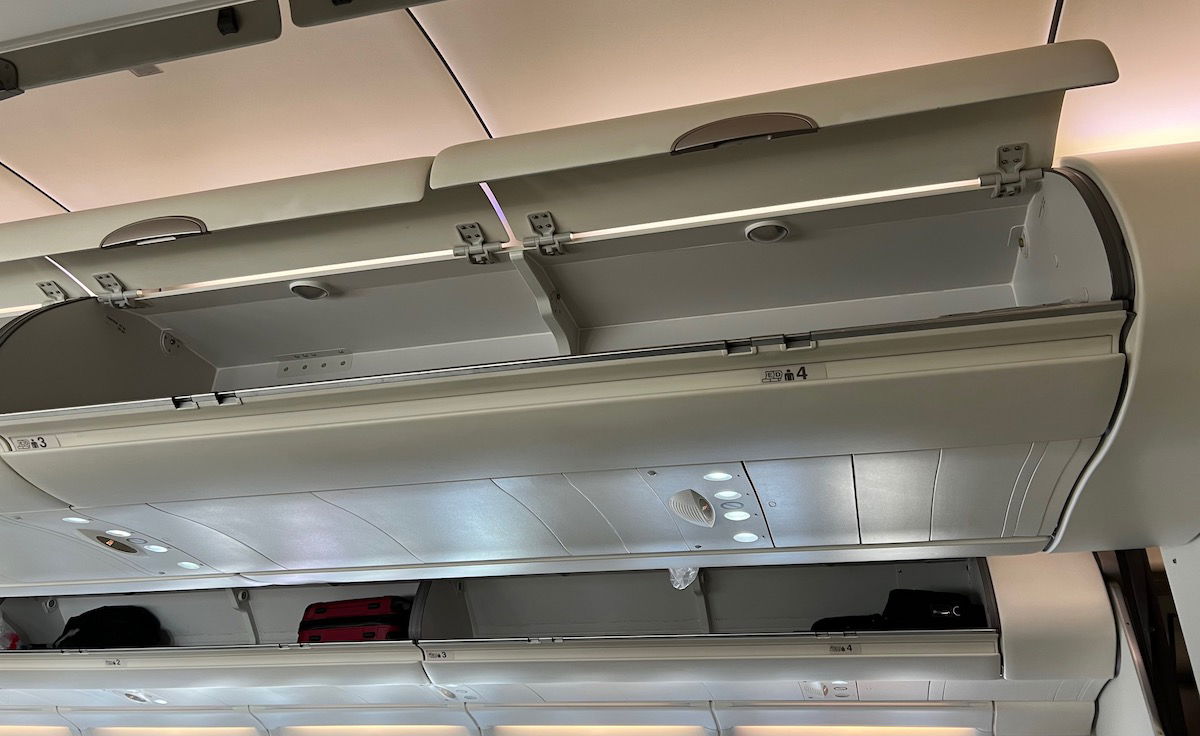 As far as lavatories go, the A330-200 only has one lavatory at the front of the cabin, right by the cockpit. There were also two lavatories behind the cabin, but those were available to economy passengers, so often had a line. The forward lavatory remained clean throughout the flight, but had limited amenities.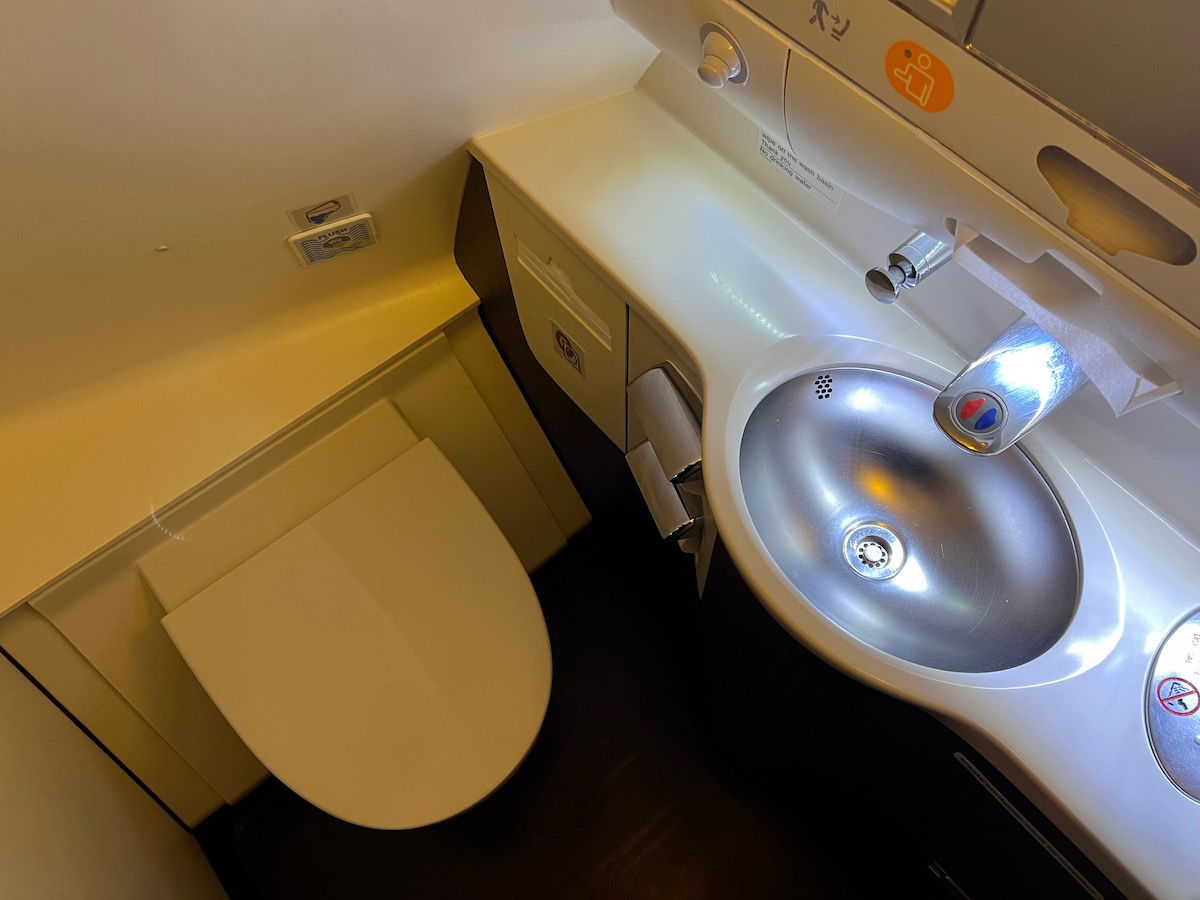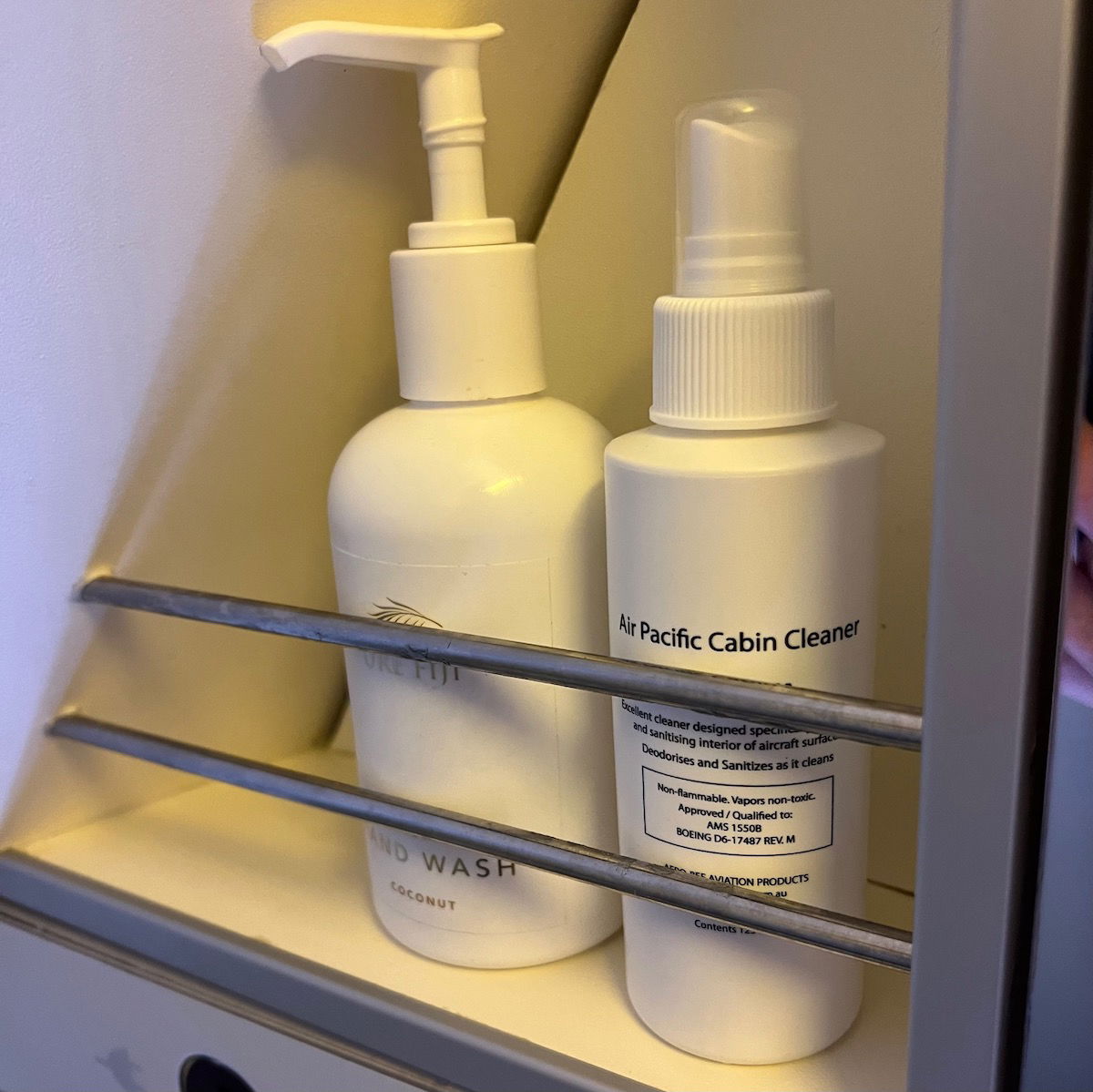 Fiji Airways business class amenities
As you'd expect for a short daytime flight lasting under three hours, there weren't amenity kits or proper bedding on this flight. There was a pillow and blanket at each seat — the pillow was good, while the blanket was basic.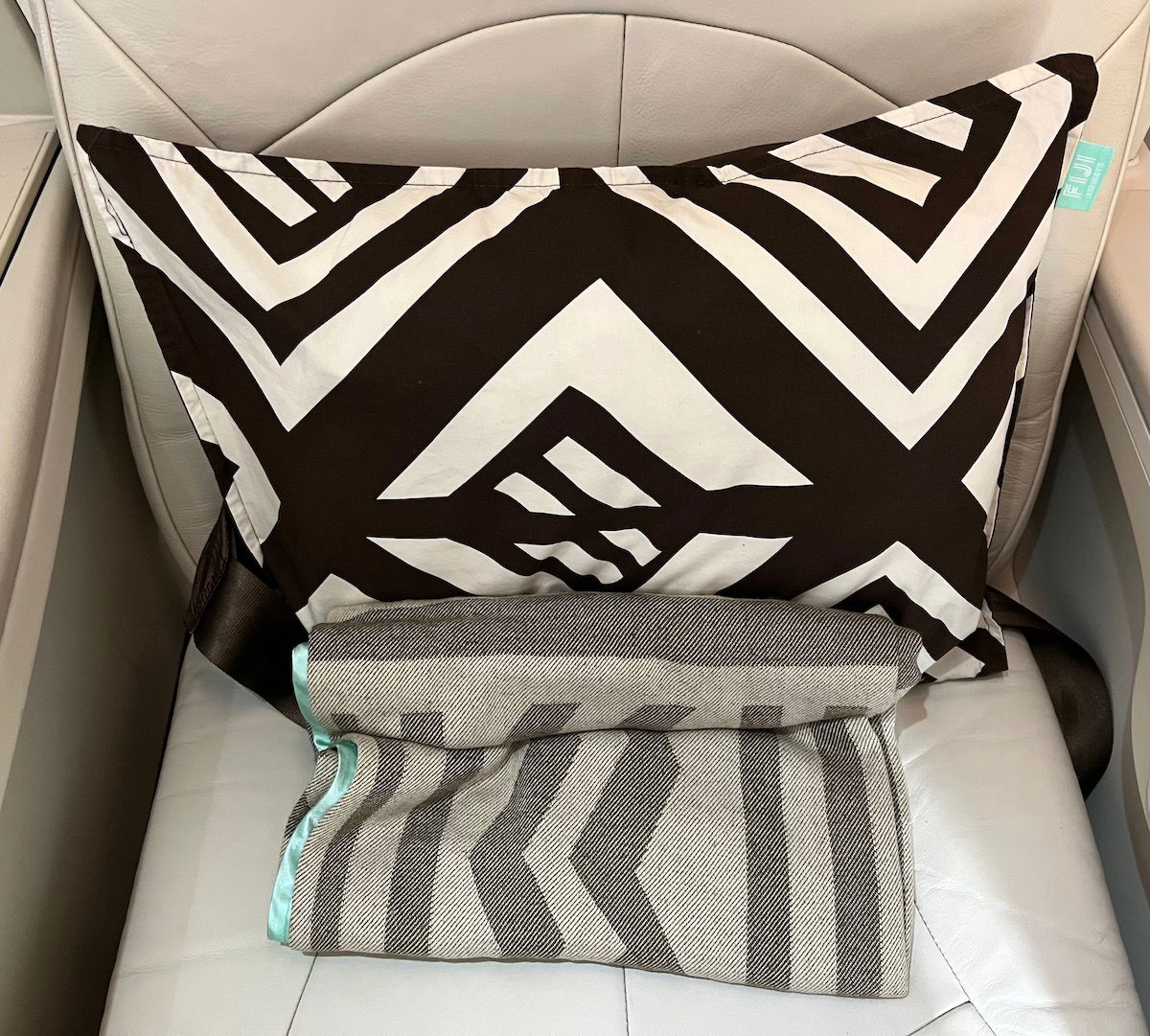 There were also the same pair of noise canceling headphones as on the last flight, which weren't that good.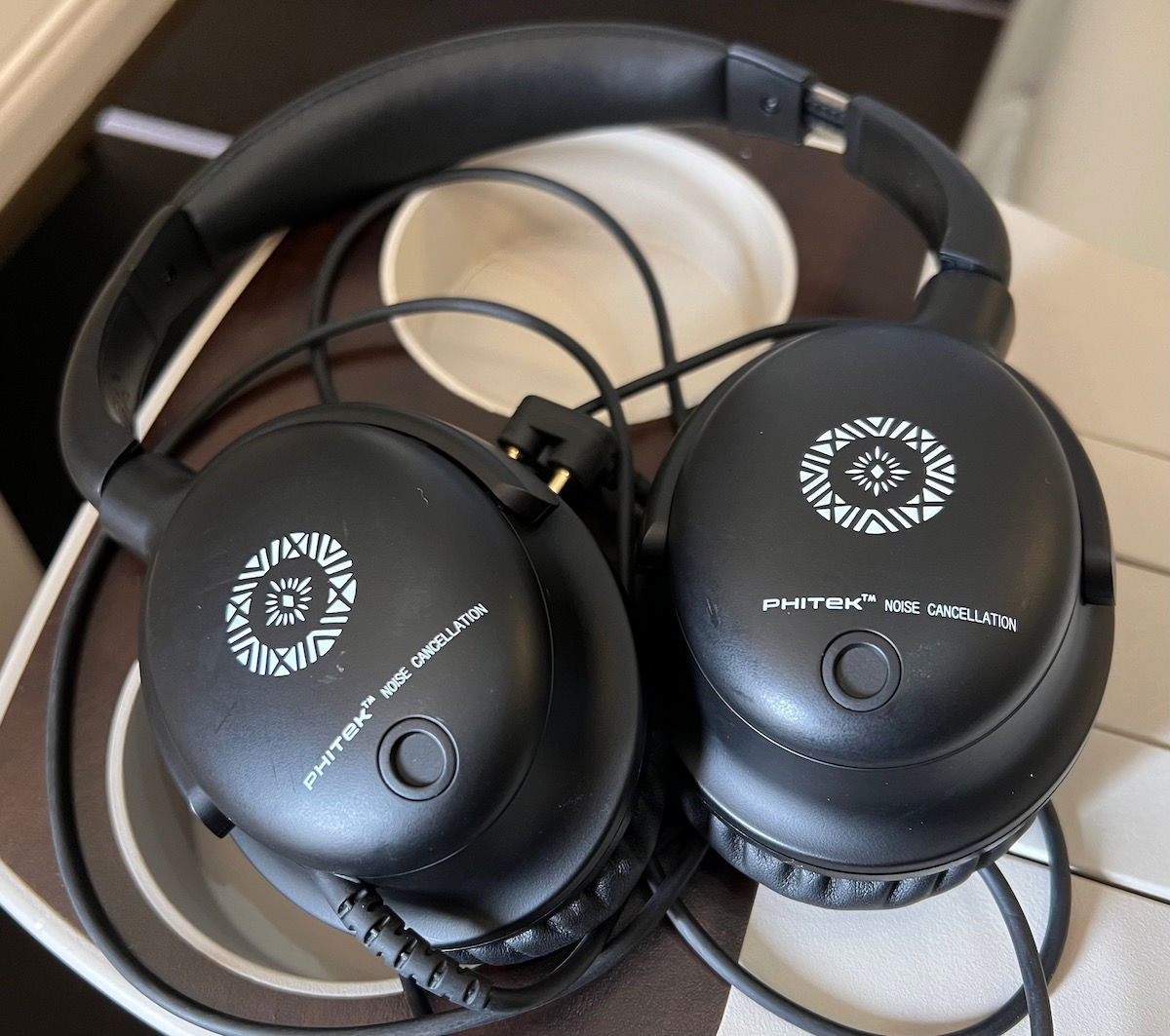 After settling in, I was offered my choice of a pre-departure glass of champagne or orange juice. I selected the former, and also downed the bottle of FIJI water that was waiting at my seat.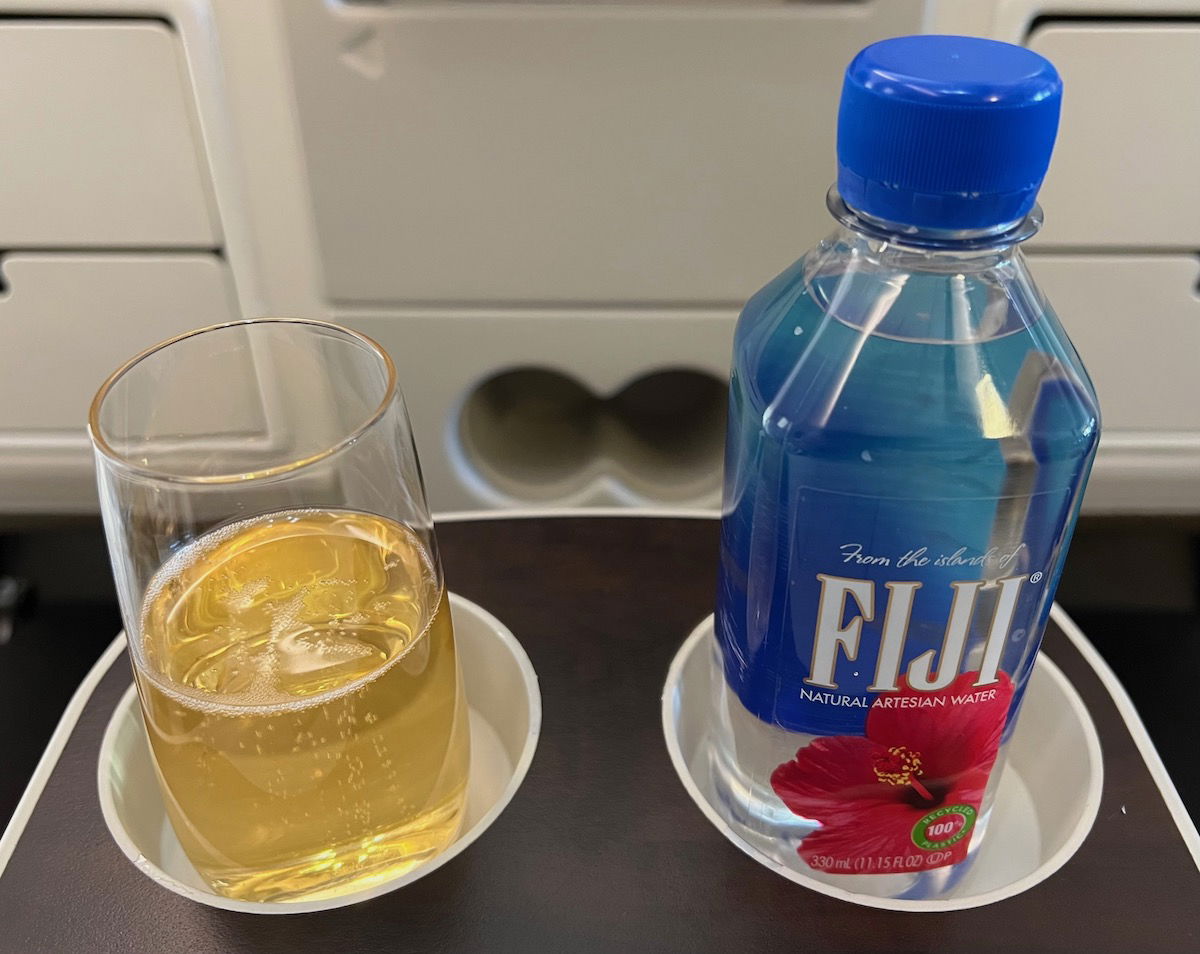 Later in the boarding process I was offered a warm towel.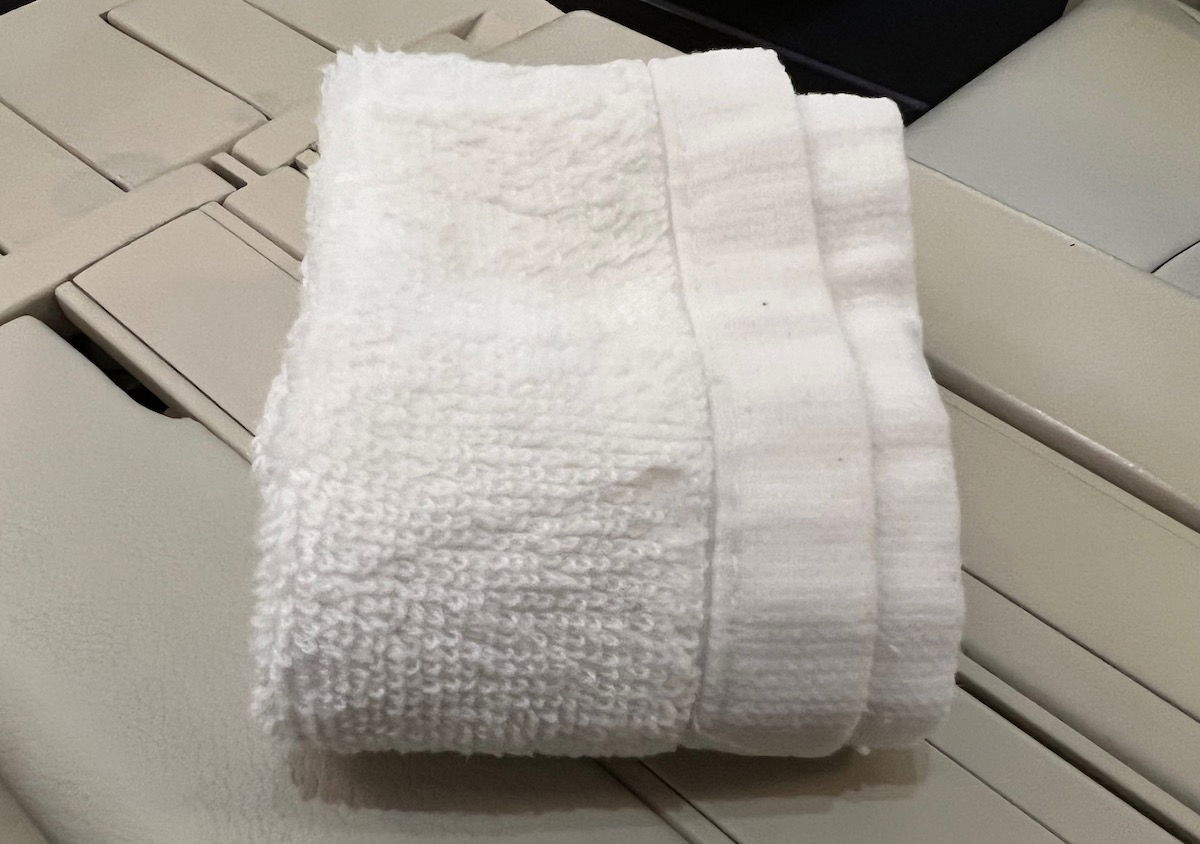 Then shortly before departure I was offered the menu for the flight.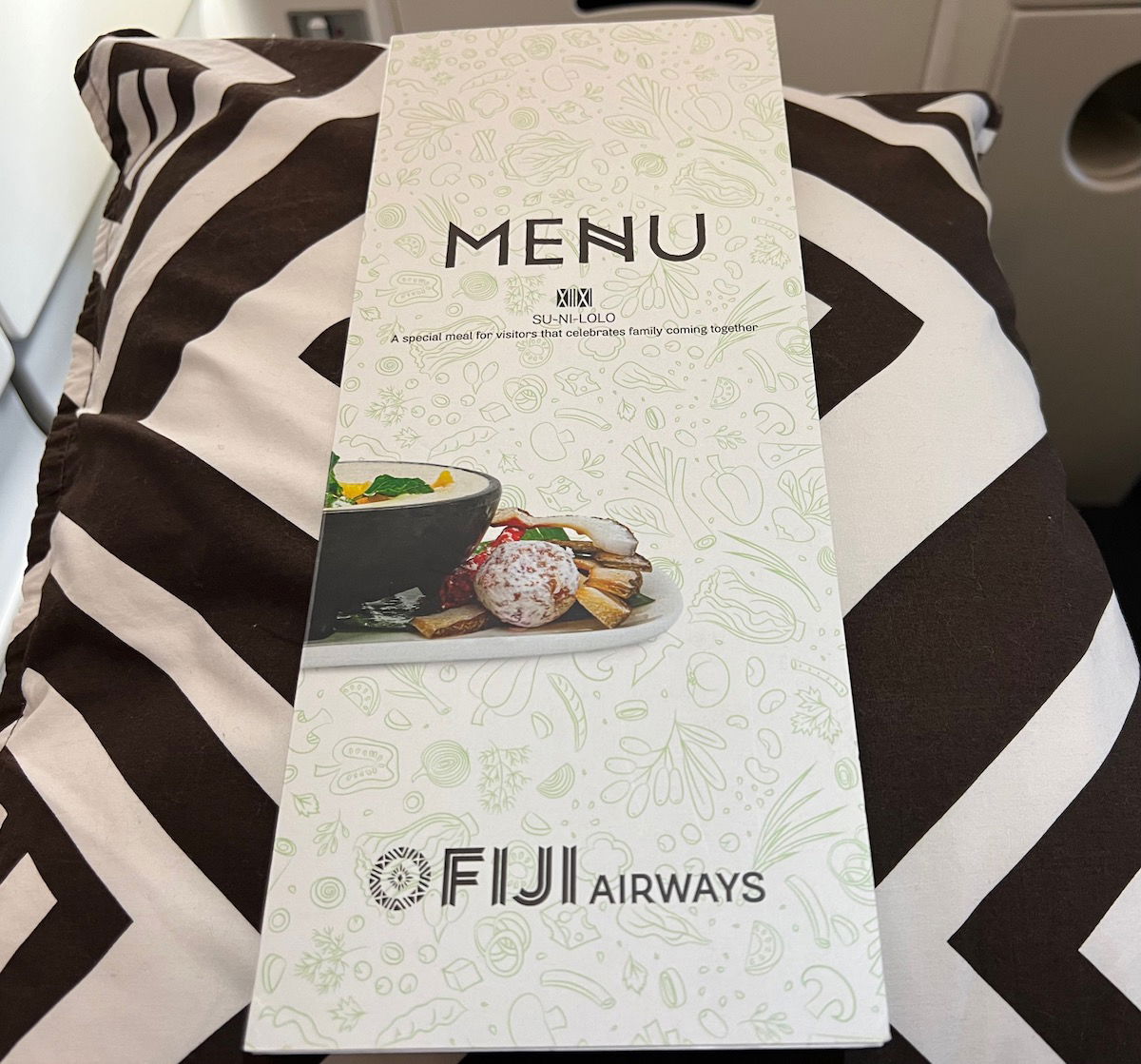 Fiji Airways A330 departure from Nadi
While economy was full on this flight, business class was only two-thirds full, with 16 of the 24 seats taken. In the fourth row, only the far window seat was otherwise occupied, so I had a lot of space to myself. At around 8:25AM the captain made his welcome aboard announcement, informing us of our flight time of 2hr55min, and our cruising attitude of 39,000 feet.
At 8:40AM the main cabin door closed, and a moment later we began our pushback (that plane next to us was the A350 that flew me from Los Angeles). At this point the safety video was screened.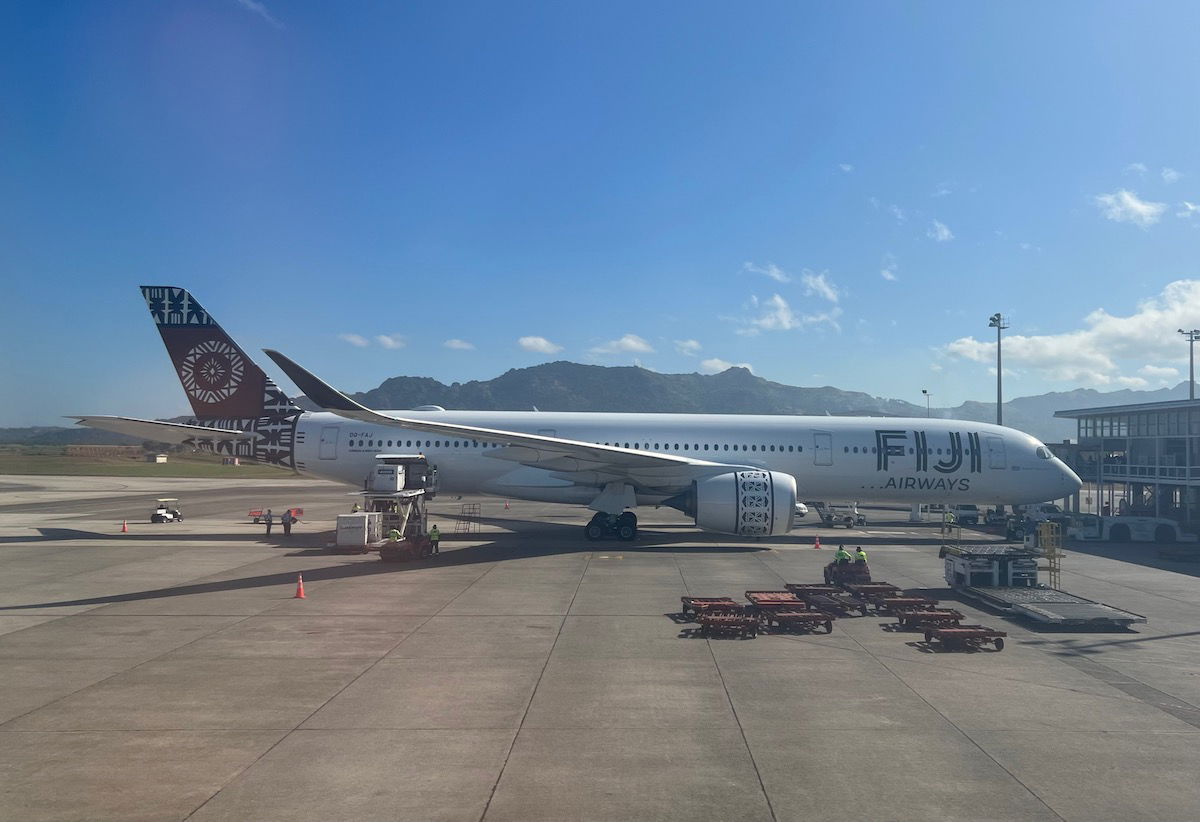 We started our taxi at 8:45AM, and less than five minutes later we were at runway 20.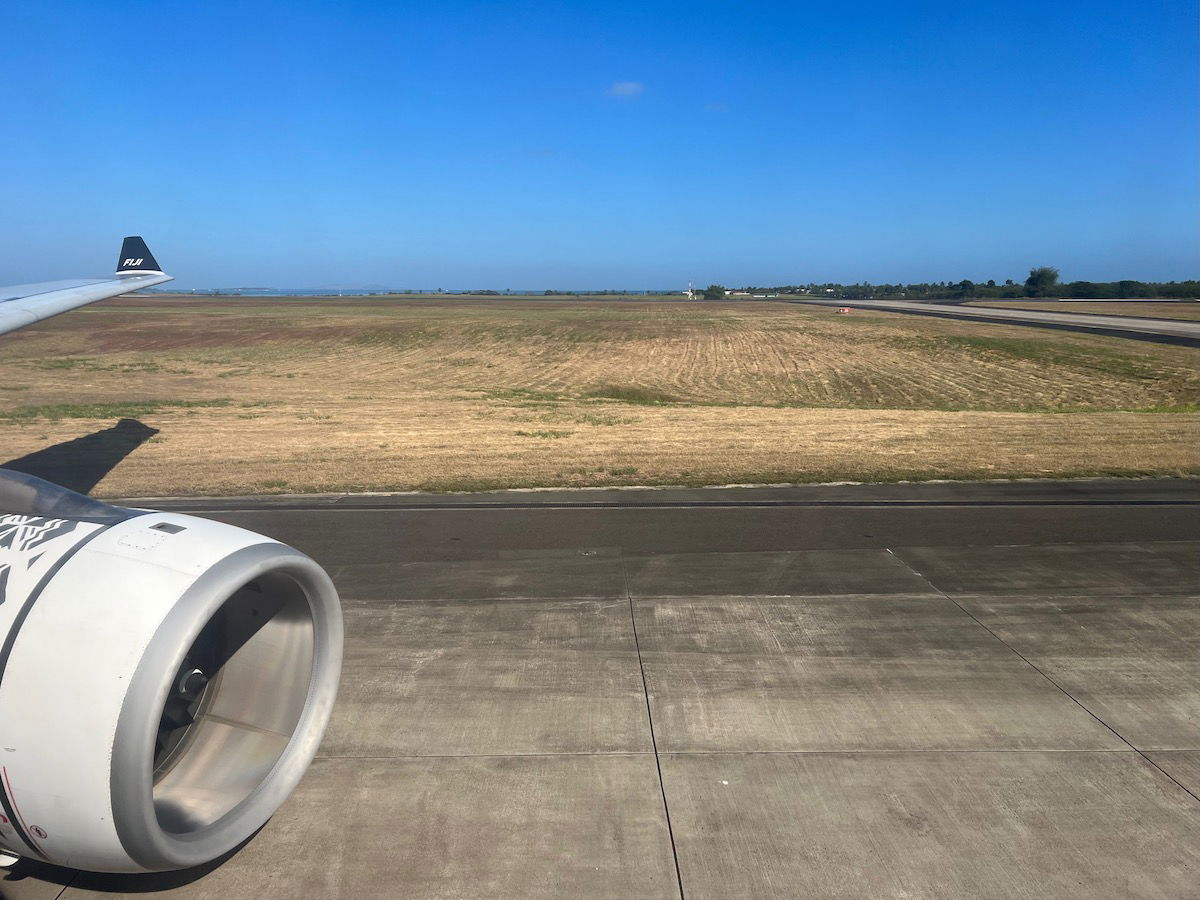 We actually lined up on the runway and had to wait for the crew to finish their safety checks, as the taxi was that quick. Fortunately Nadi Airport is pretty quiet, so waiting on the runway for a couple of minutes isn't an issue.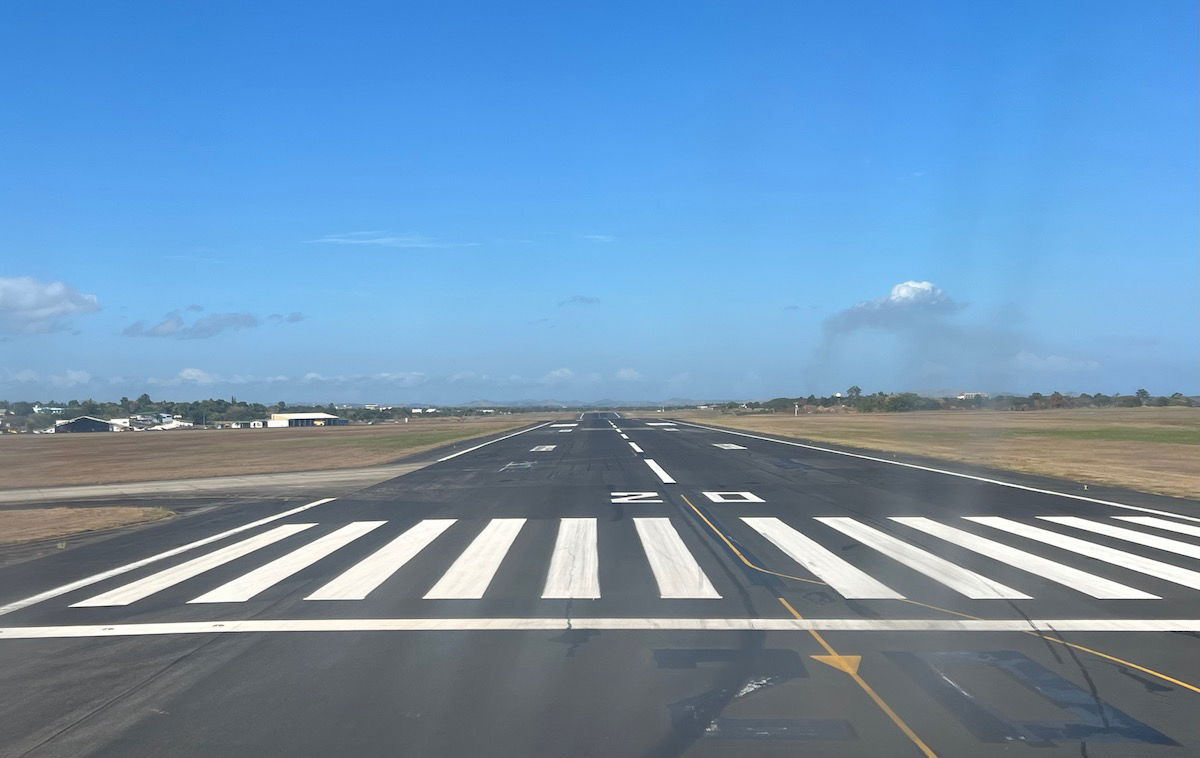 We had a powerful takeoff, and a steep climb out of Nadi. I really do want to return to Fiji again soon, as it's such a beautiful place.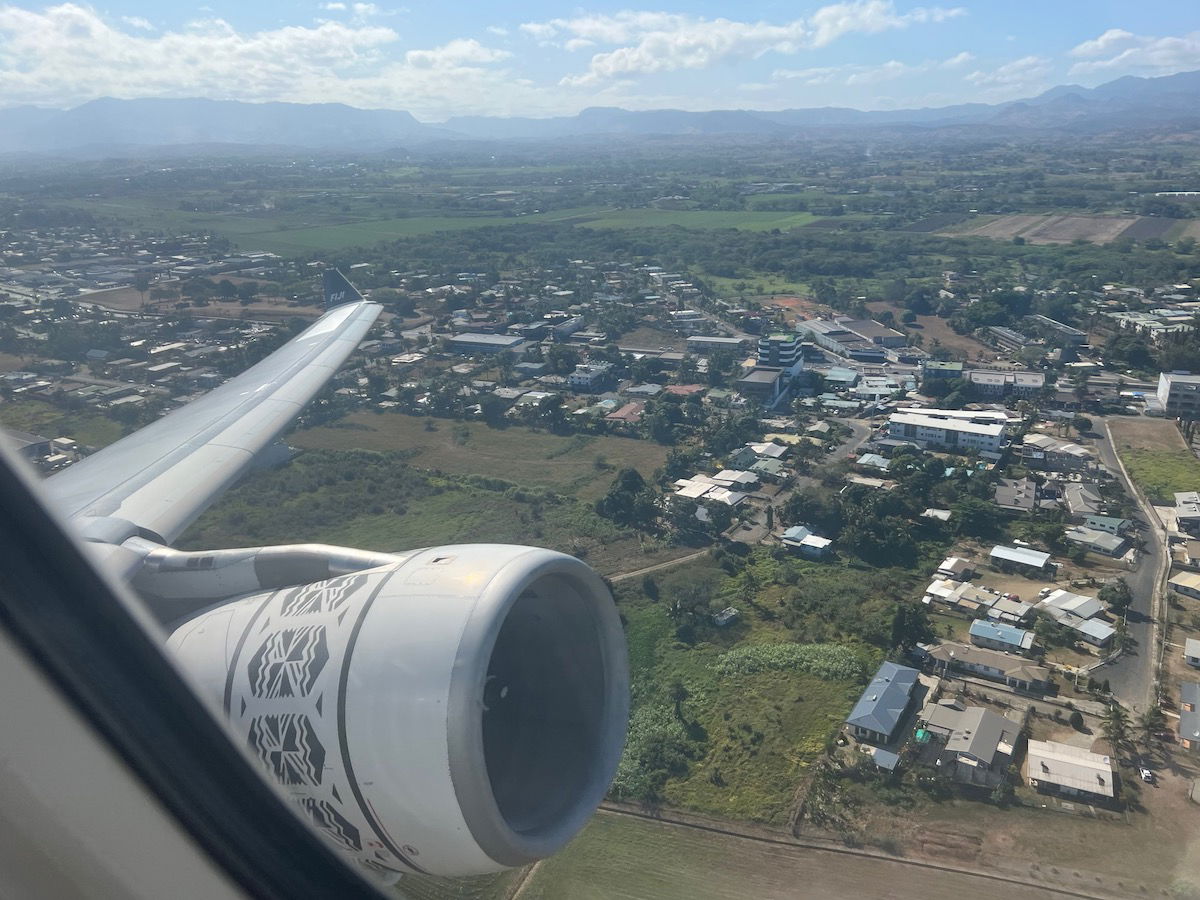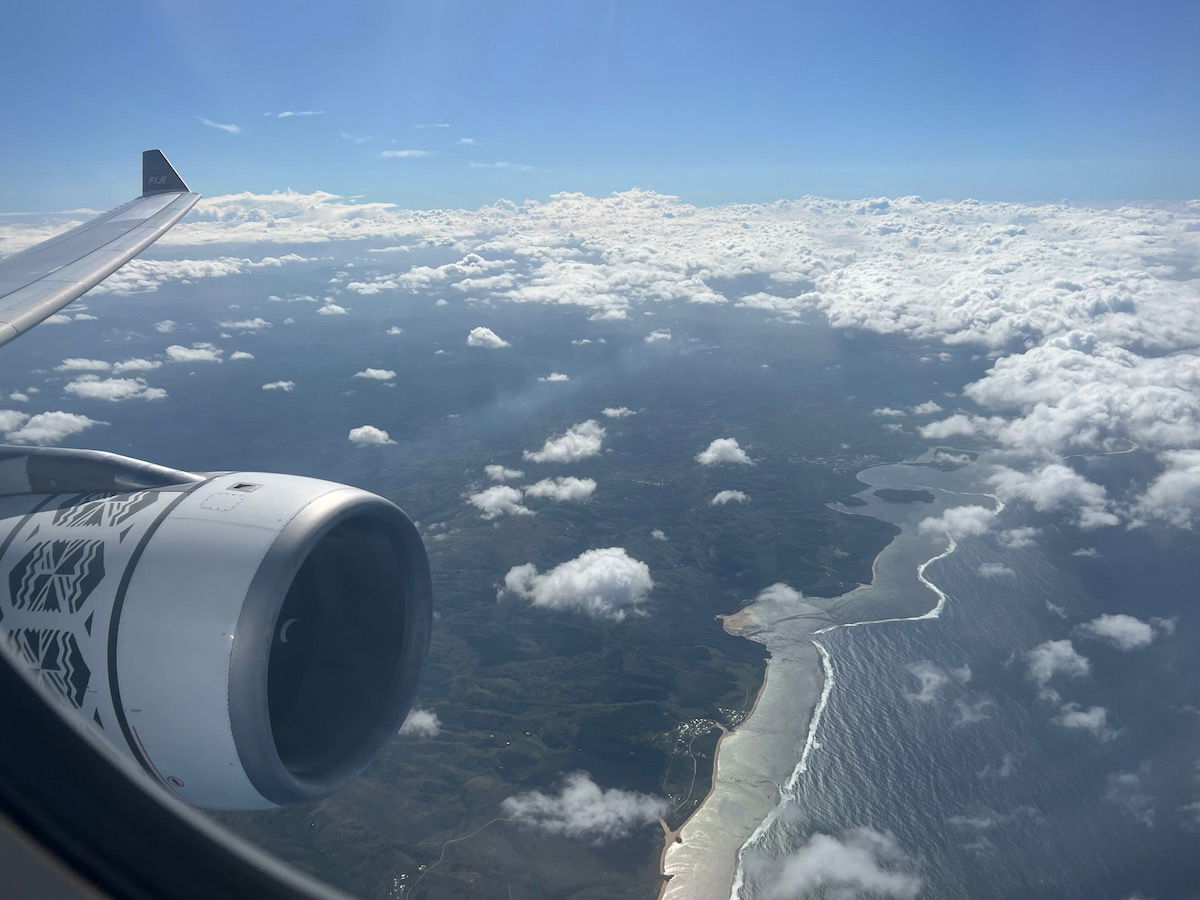 The seatbelt sign was turned off five minutes after takeoff.
Fiji Airways A330 entertainment & Wi-Fi
Fiji Airways' entertainment system on the A330 isn't as good as the one on the A350, though it's still pretty decent.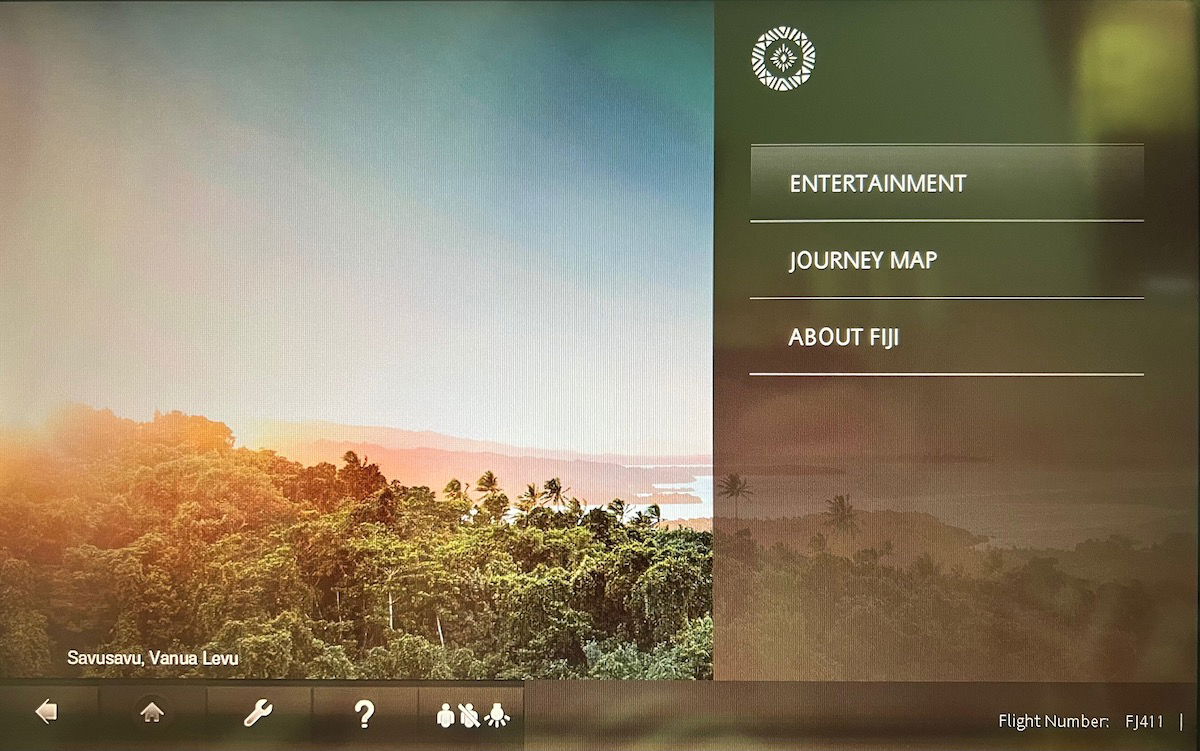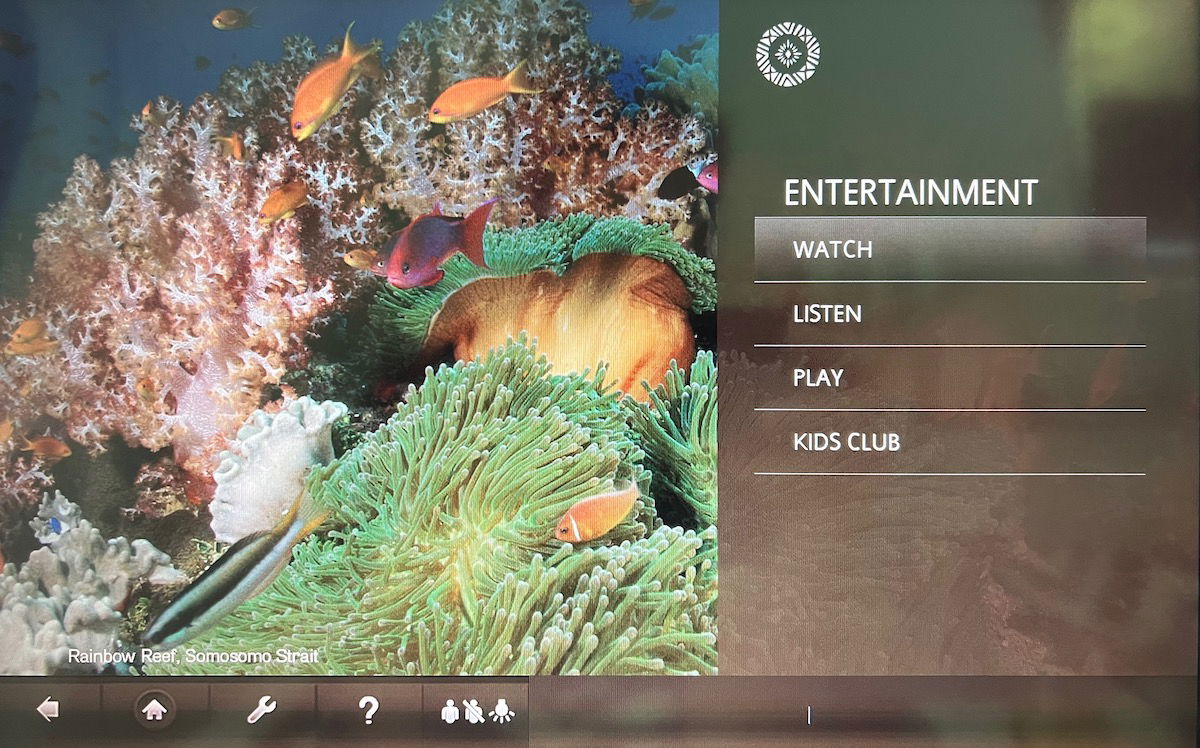 There were roughly 90 movies and 45 TV shows, though there were multiple episodes of some shows.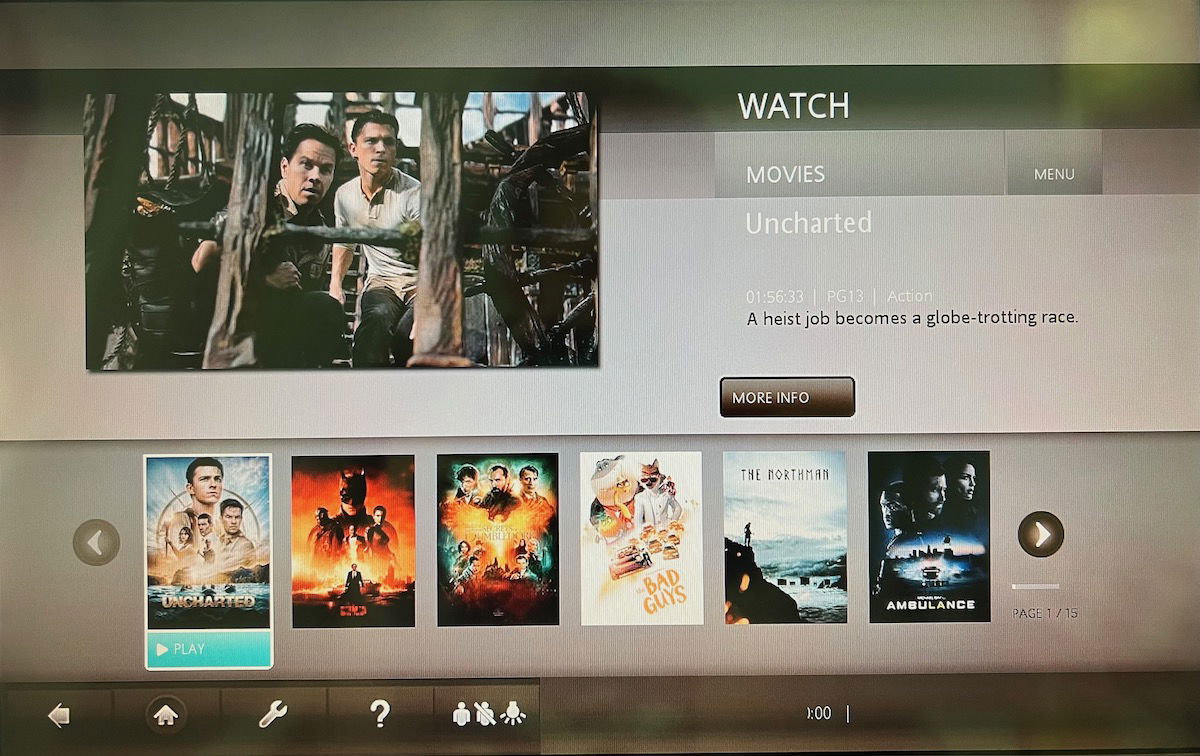 I ended up watching some episodes of Brooklyn Nine-Nine that I hadn't seen on the previous flight.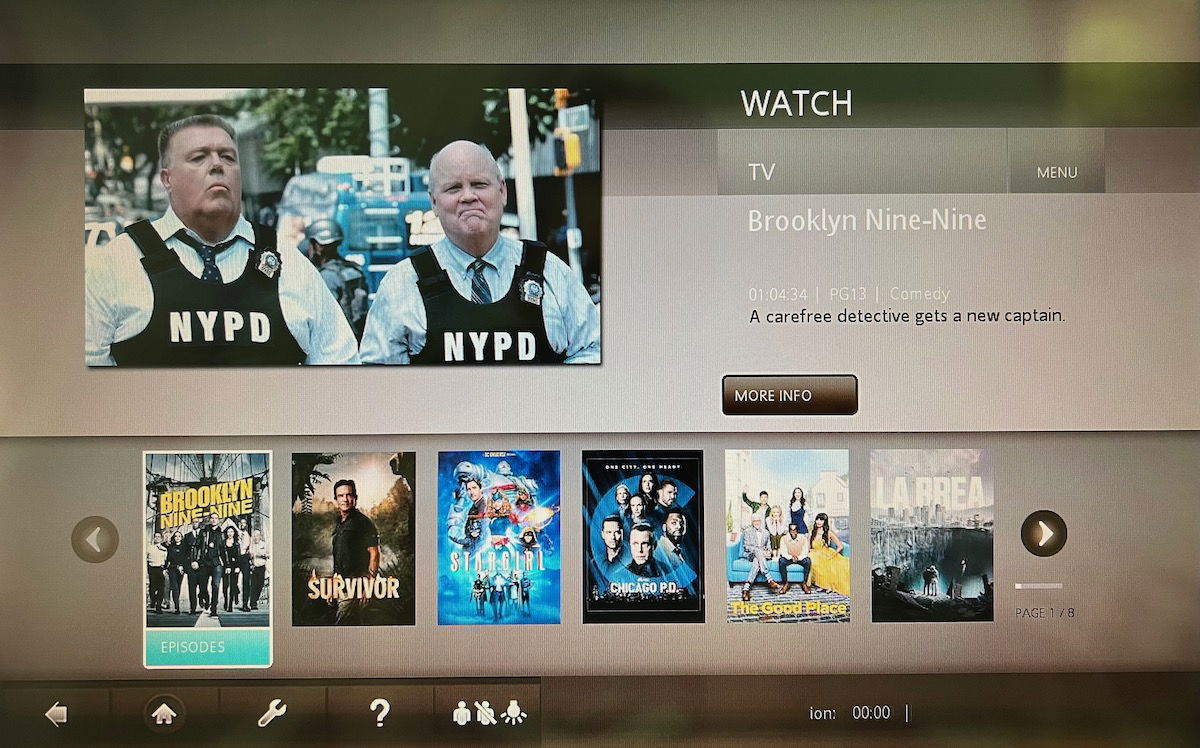 The entertainment system also had a map feature, which wasn't quite as interactive as on the A350.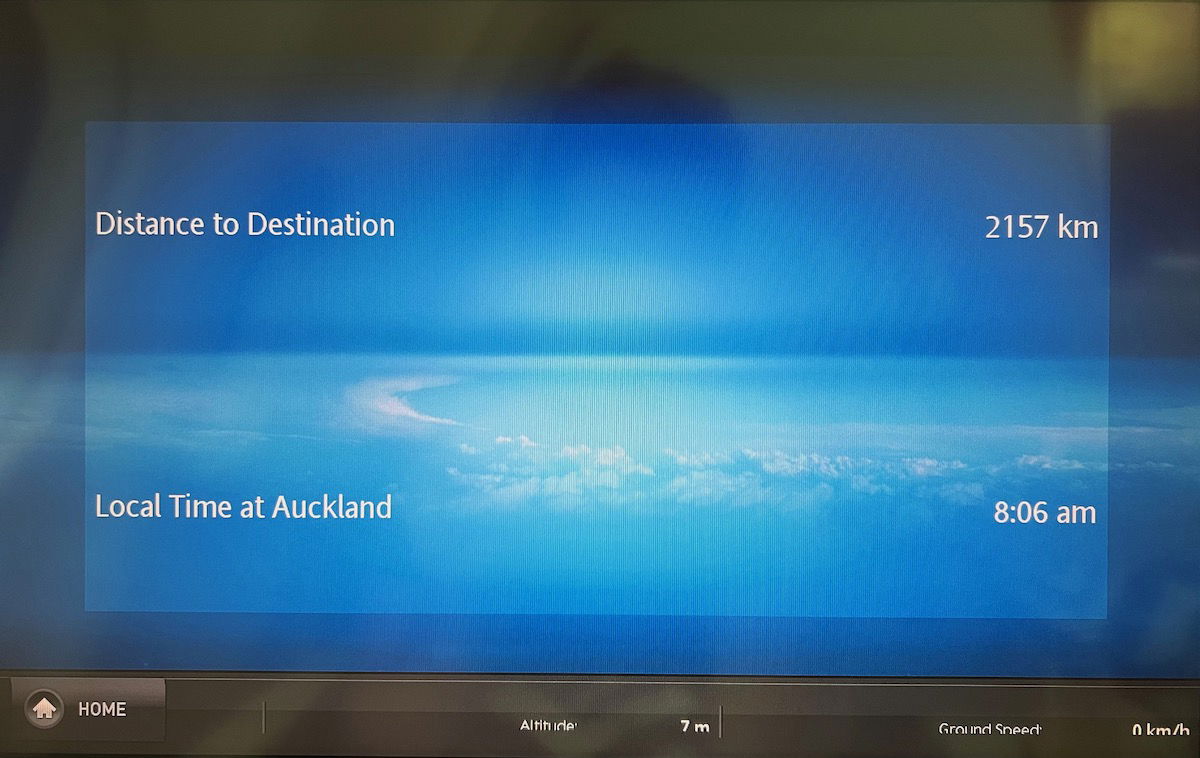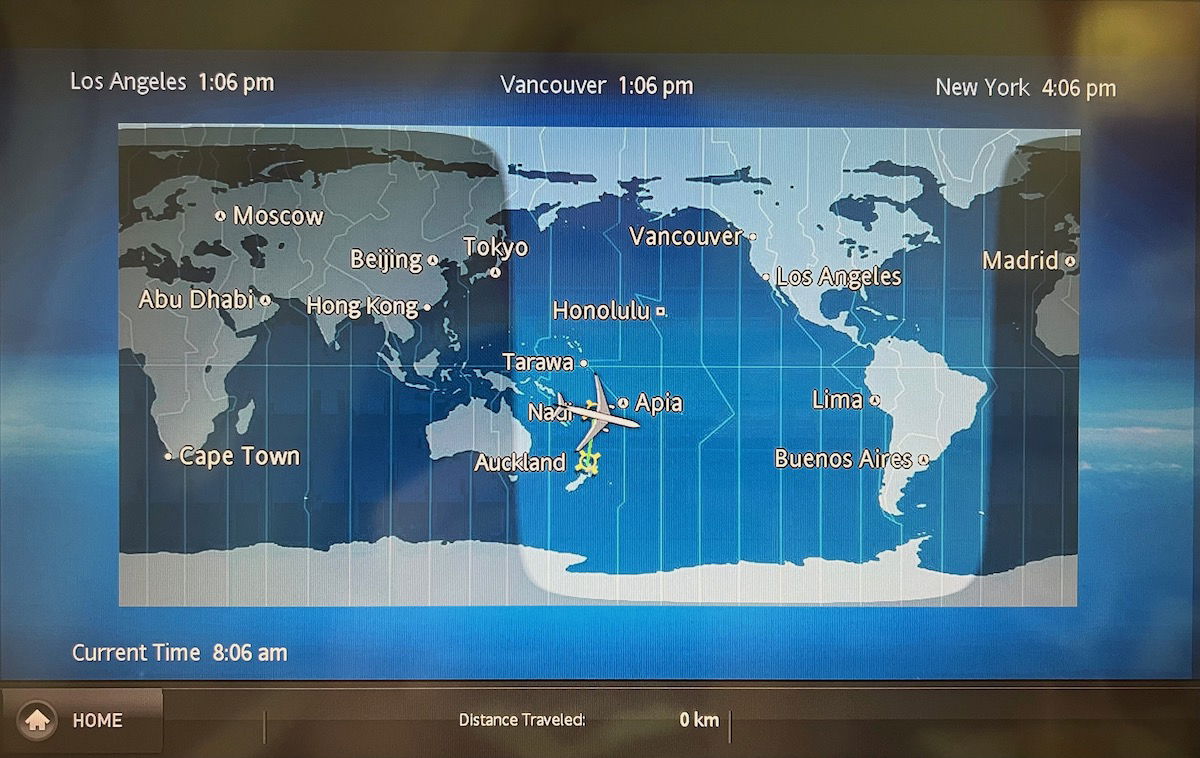 Boy, I'd really love to explore more of the South Pacific, and in particular there are some cool airlines in the region.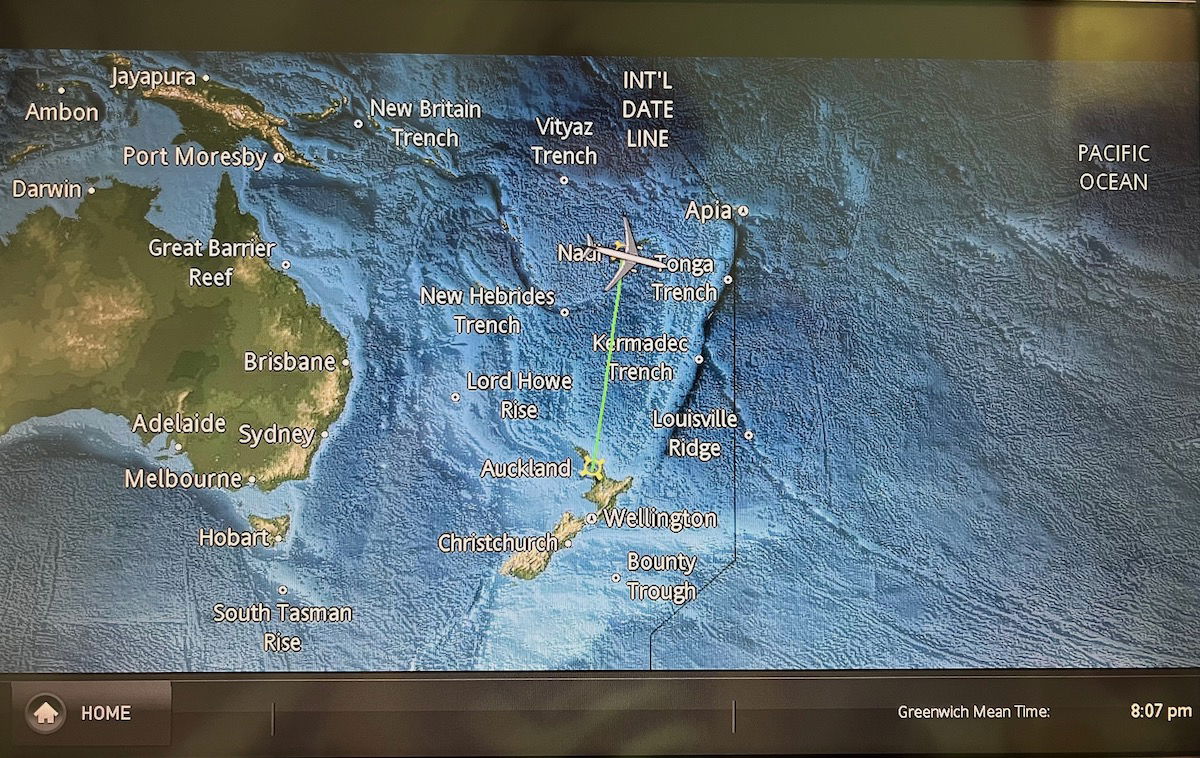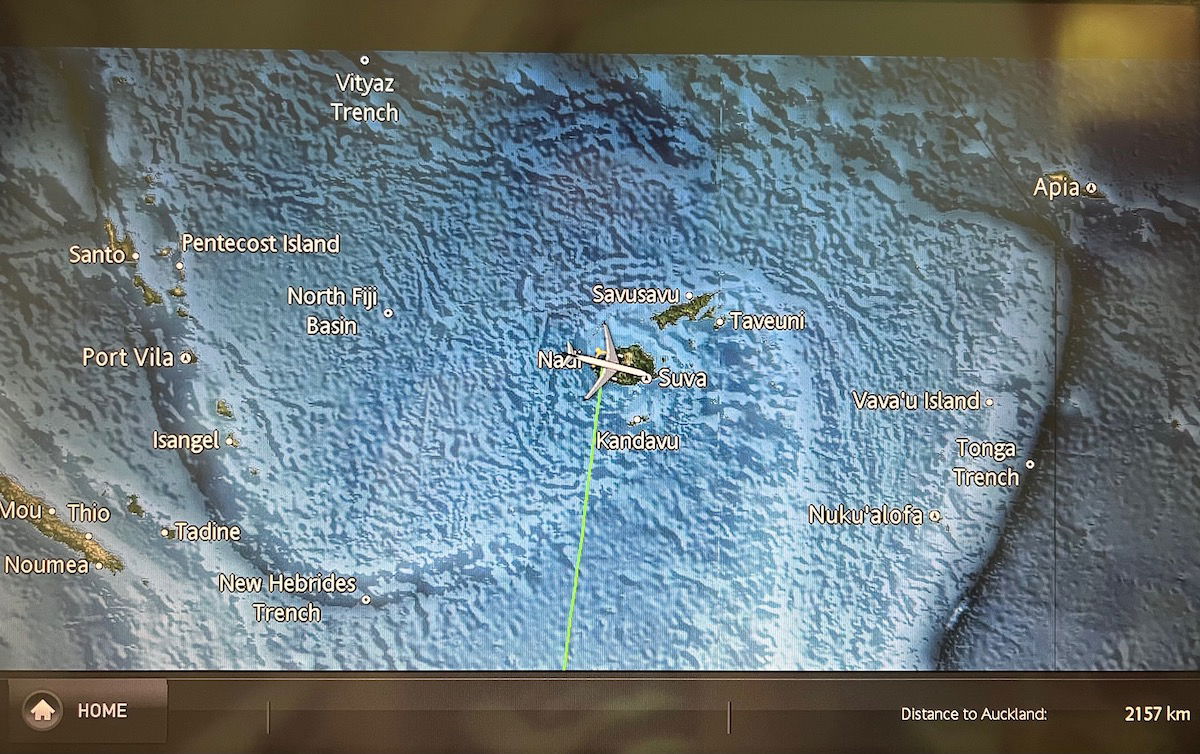 Unfortunately Fiji Airways' A330s don't have Wi-Fi, unlike the A350s.
Fiji Airways A330 business class meal
Since this was a morning flight, breakfast was the only meal being served. After takeoff, the crew closed the window shades throughout the cabin. Personally I prefer to keep them open, but I guess many people were connecting off a long haul flight, and wanted more sleep.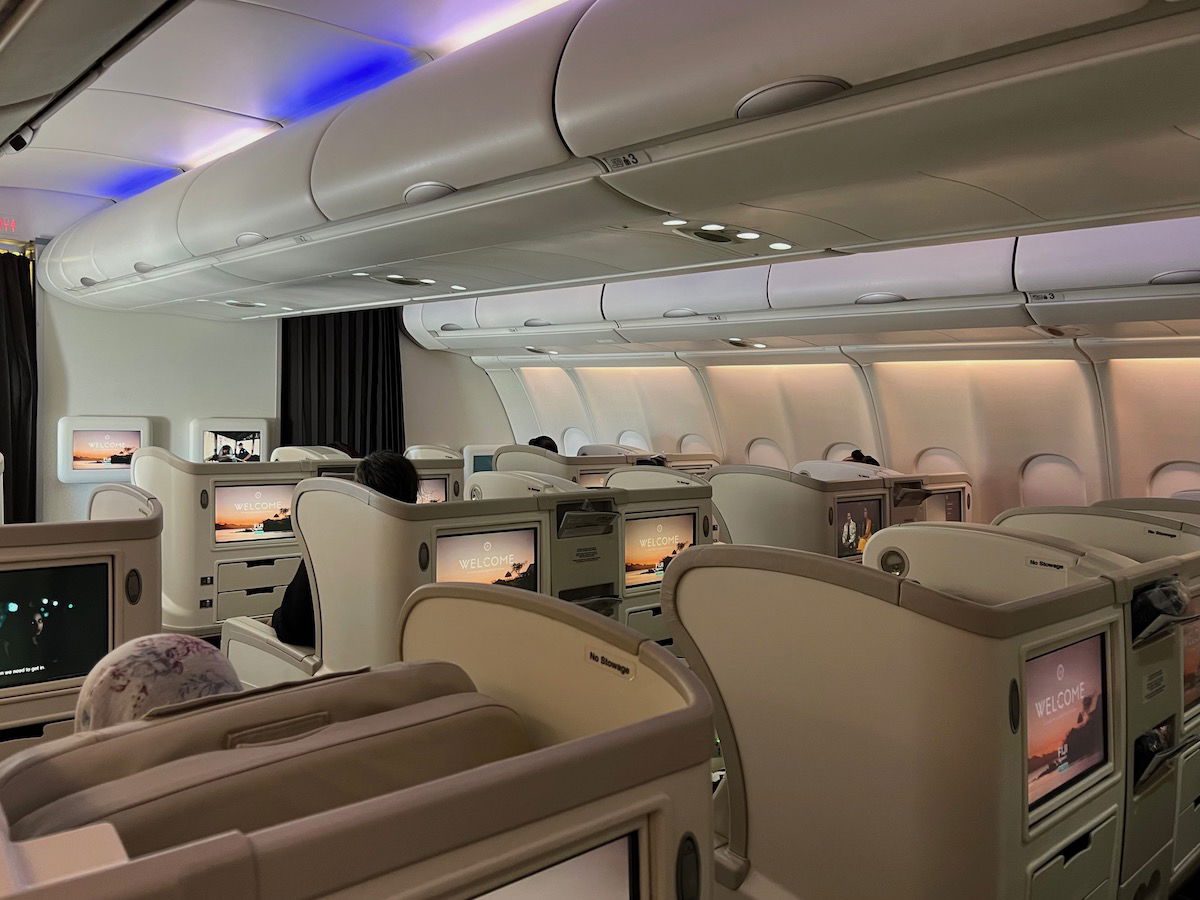 Below you can find the menu and drink list for the flight.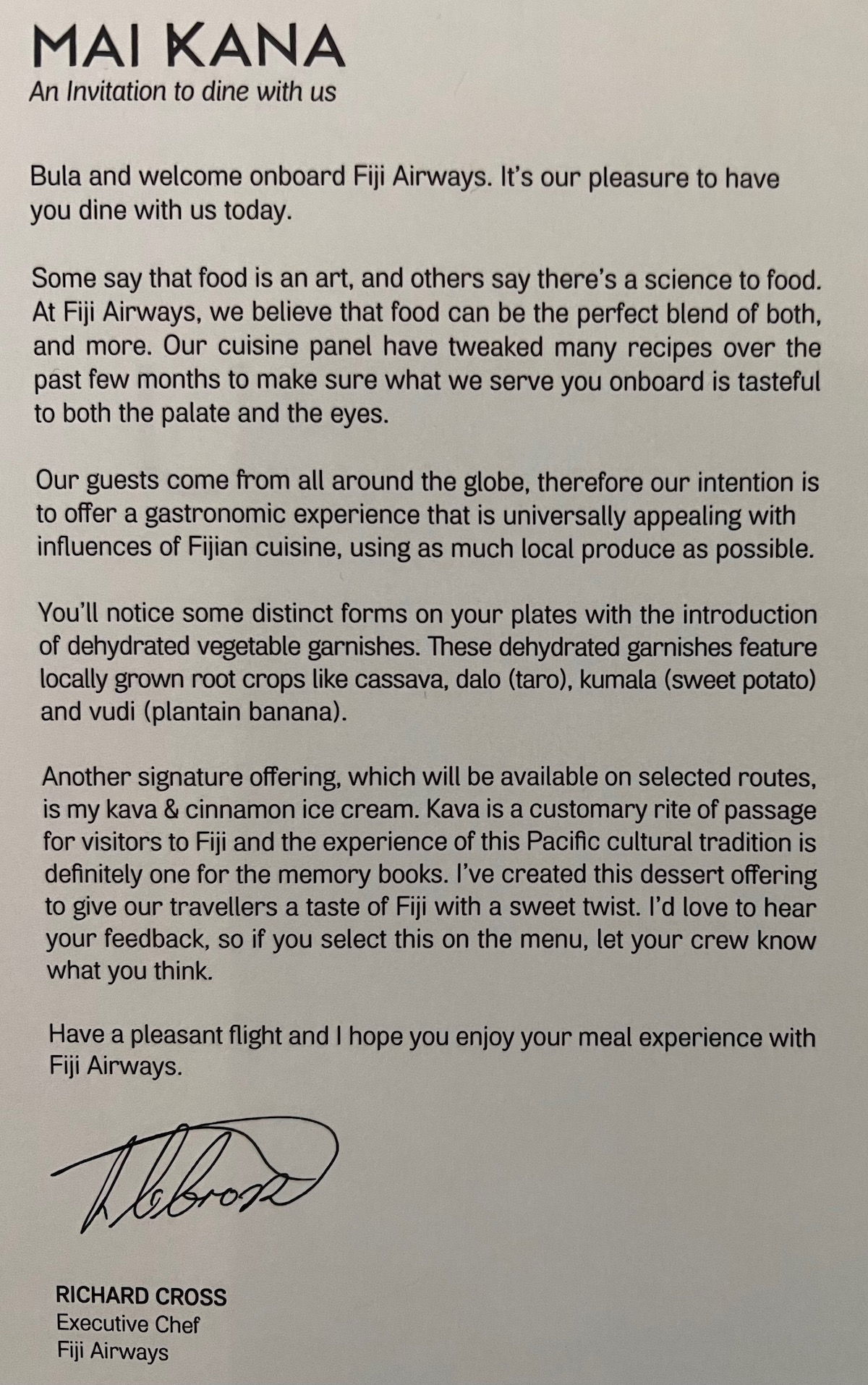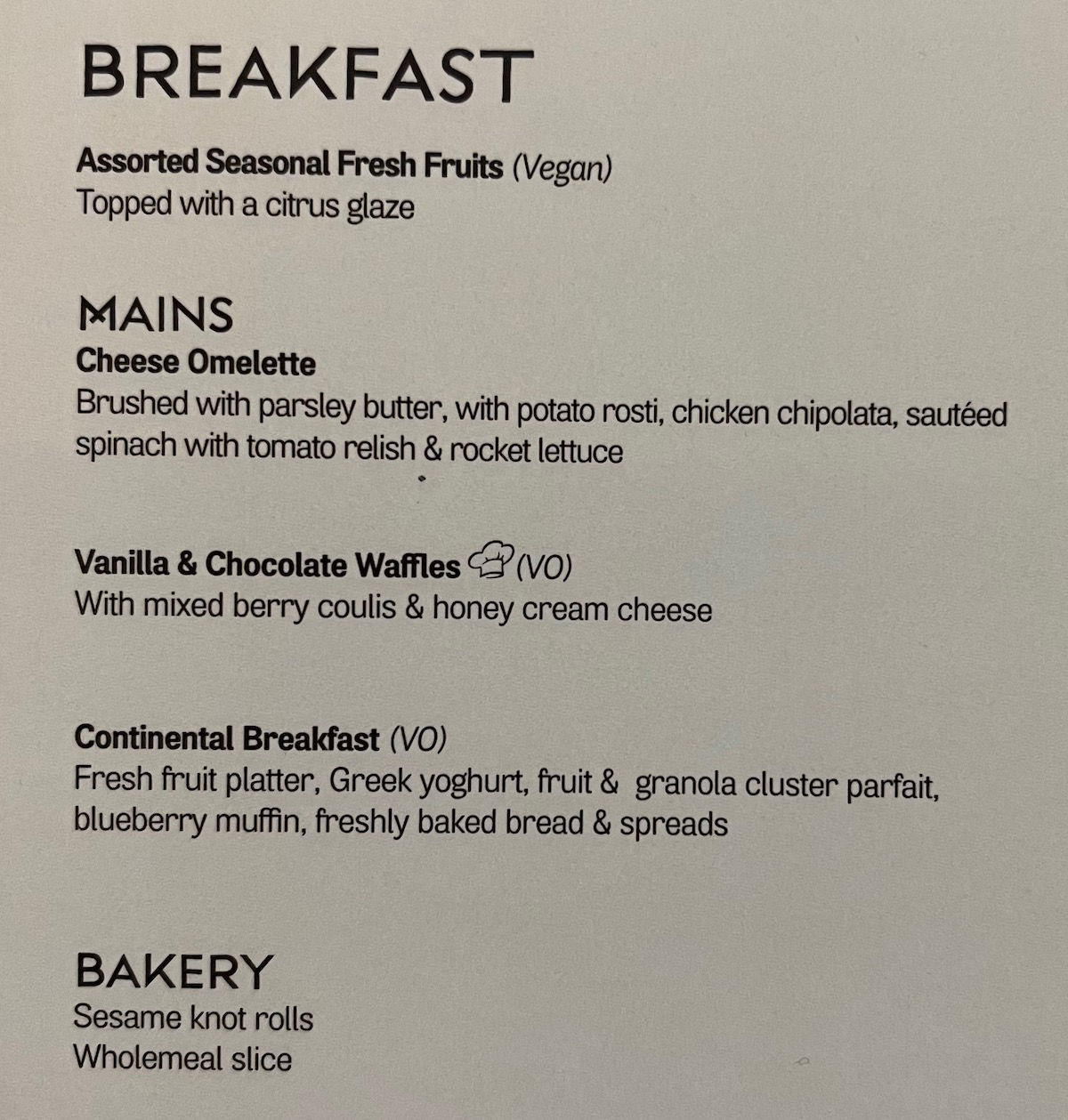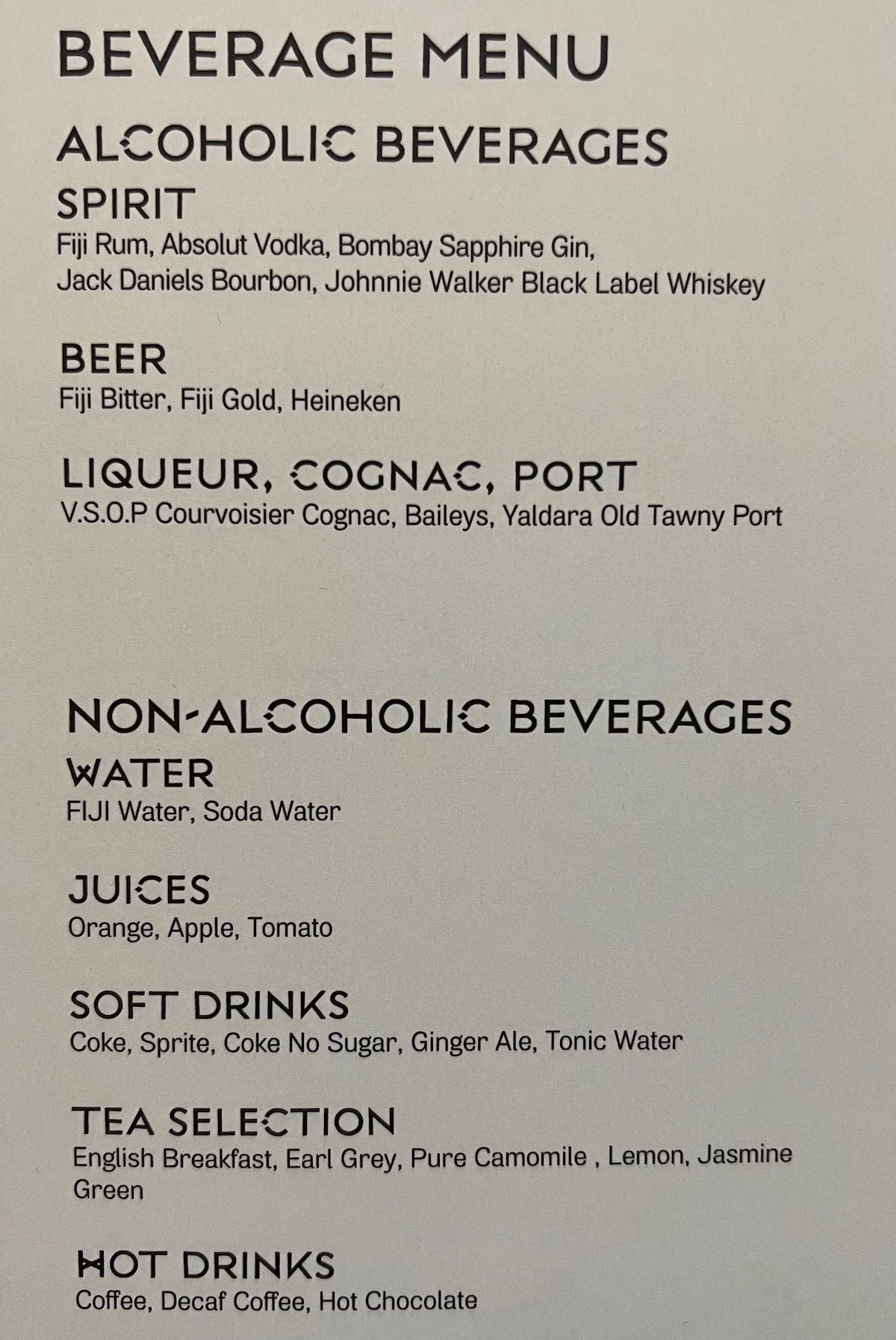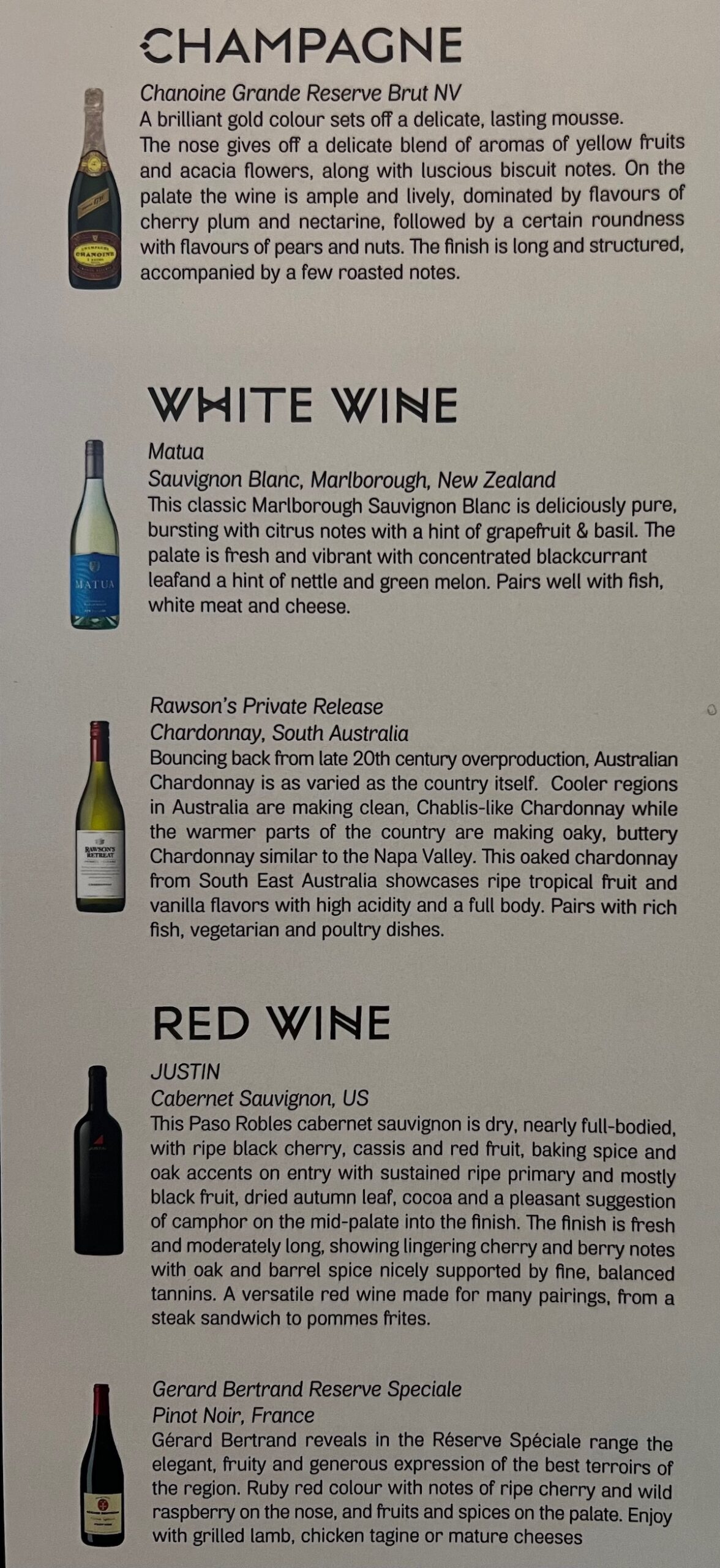 I appreciated the pace at which service started. I was offered my first drink 25 minutes after takeoff. I ordered a cup of coffee — I believe Fiji Airways uses instant coffee, though it was oddly tasty.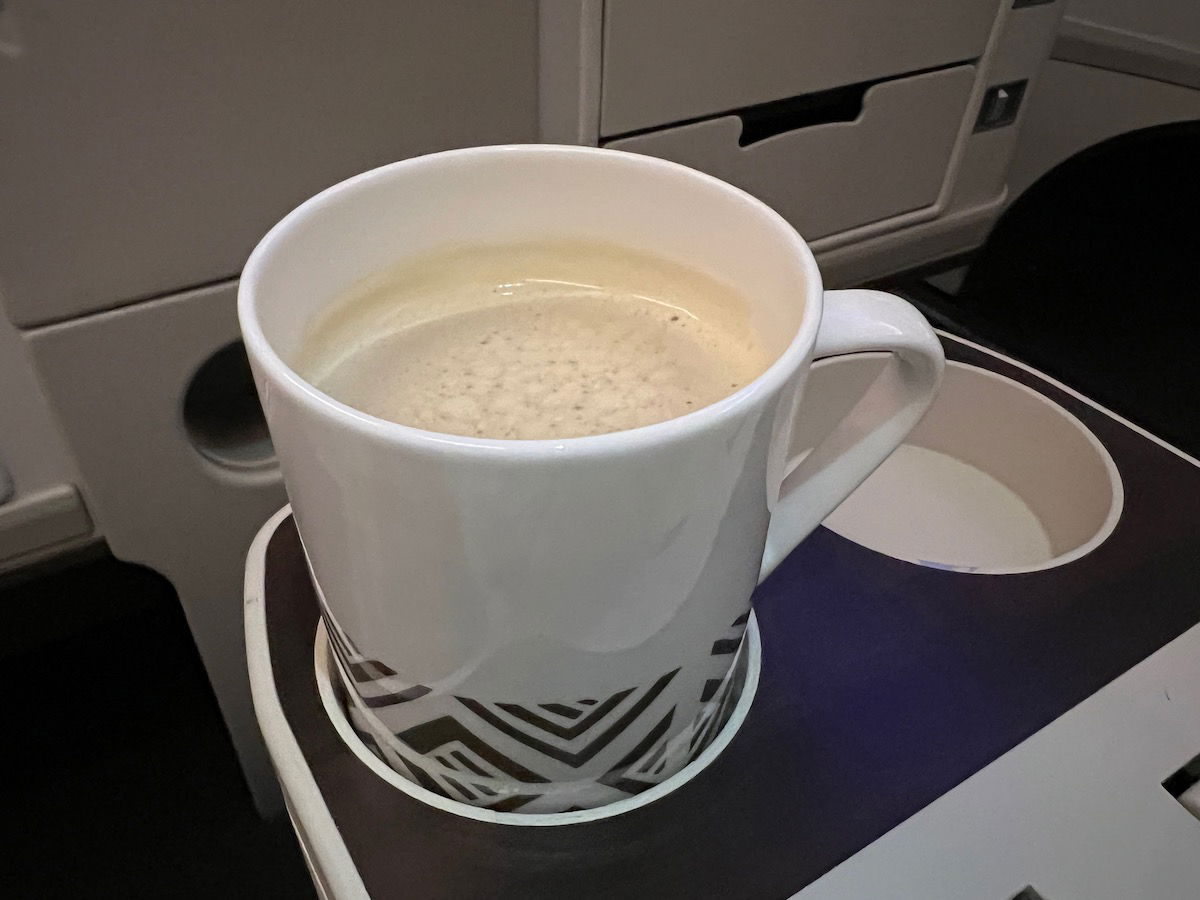 I wasn't particularly hungry, so I went with the continental breakfast option. For that matter, I didn't want a second airplane omelet in one day, and I also didn't want anything as sweet as the waffles. Breakfast was served around 40 minutes after takeoff.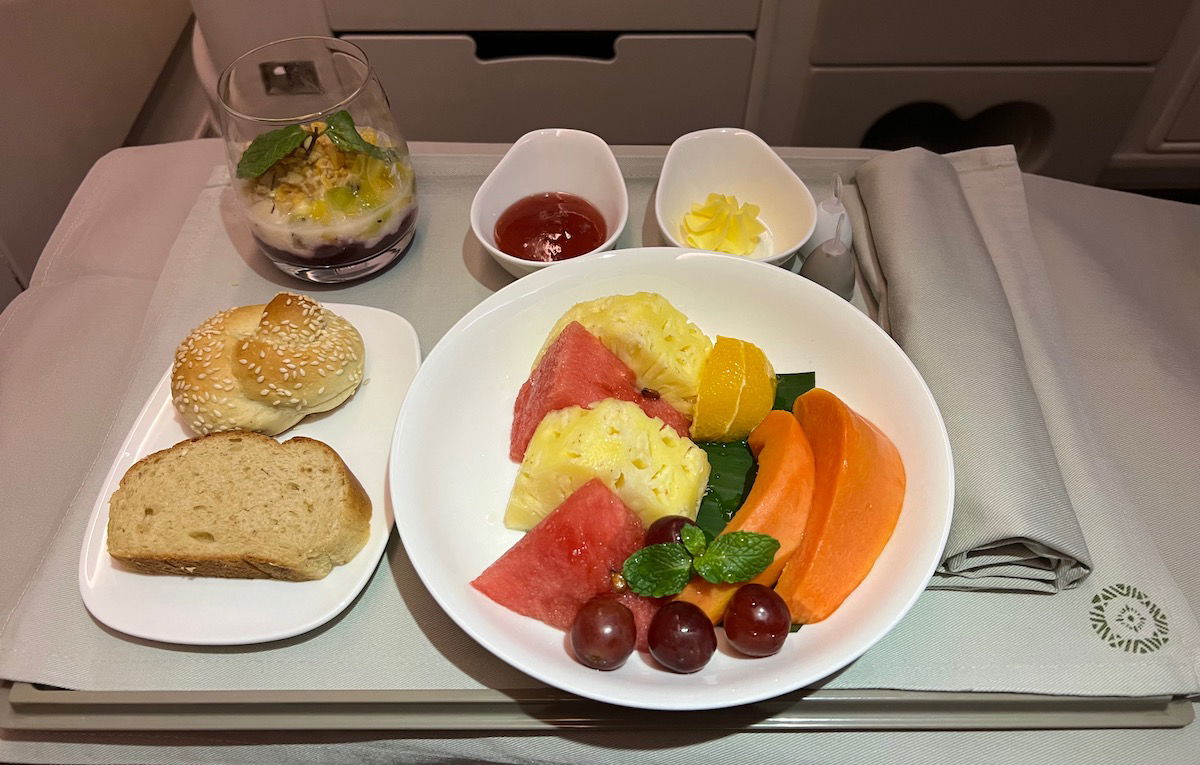 The fruit plate as such was pretty good, and had pineapple, watermelon, orange, grapes, and papaya.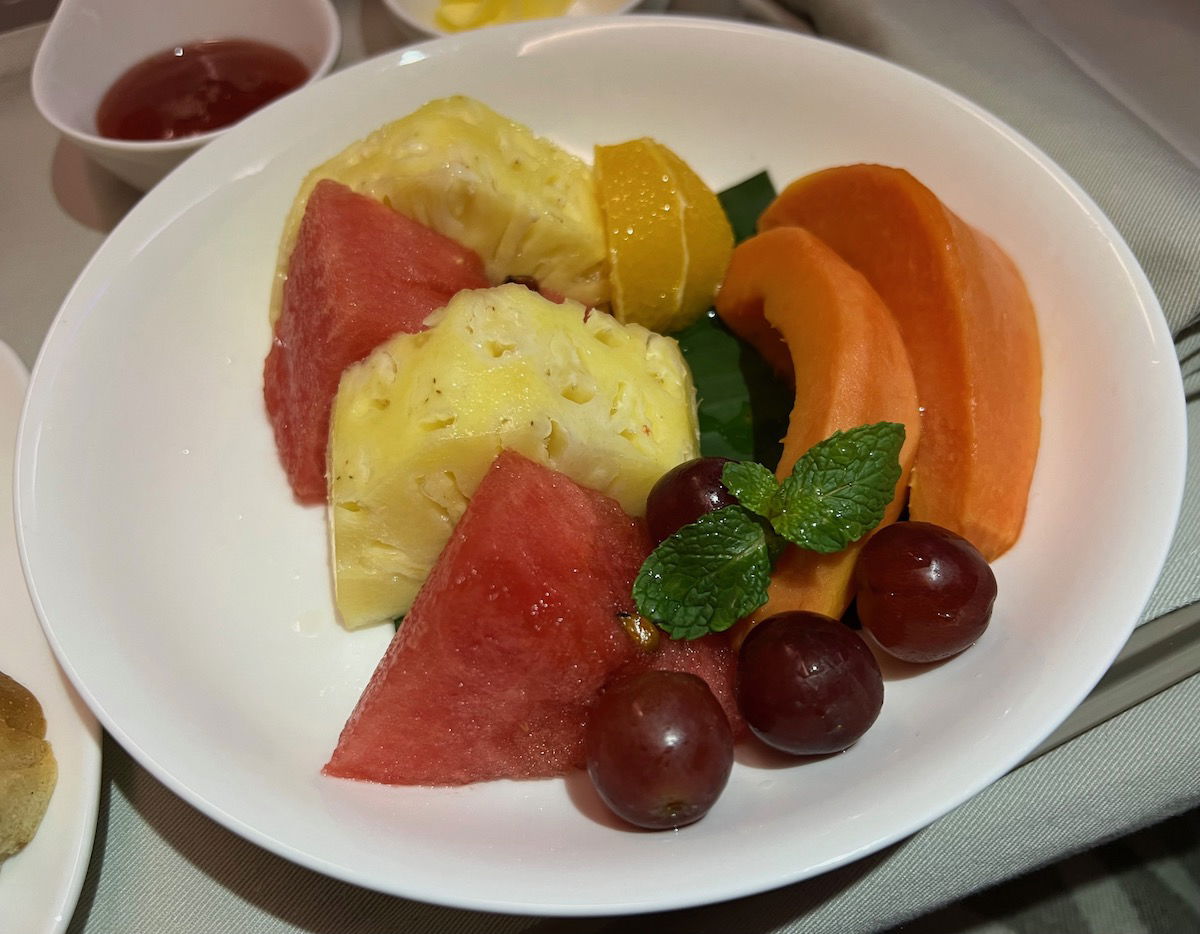 There was also a yogurt parfait with some granola and fruit compote.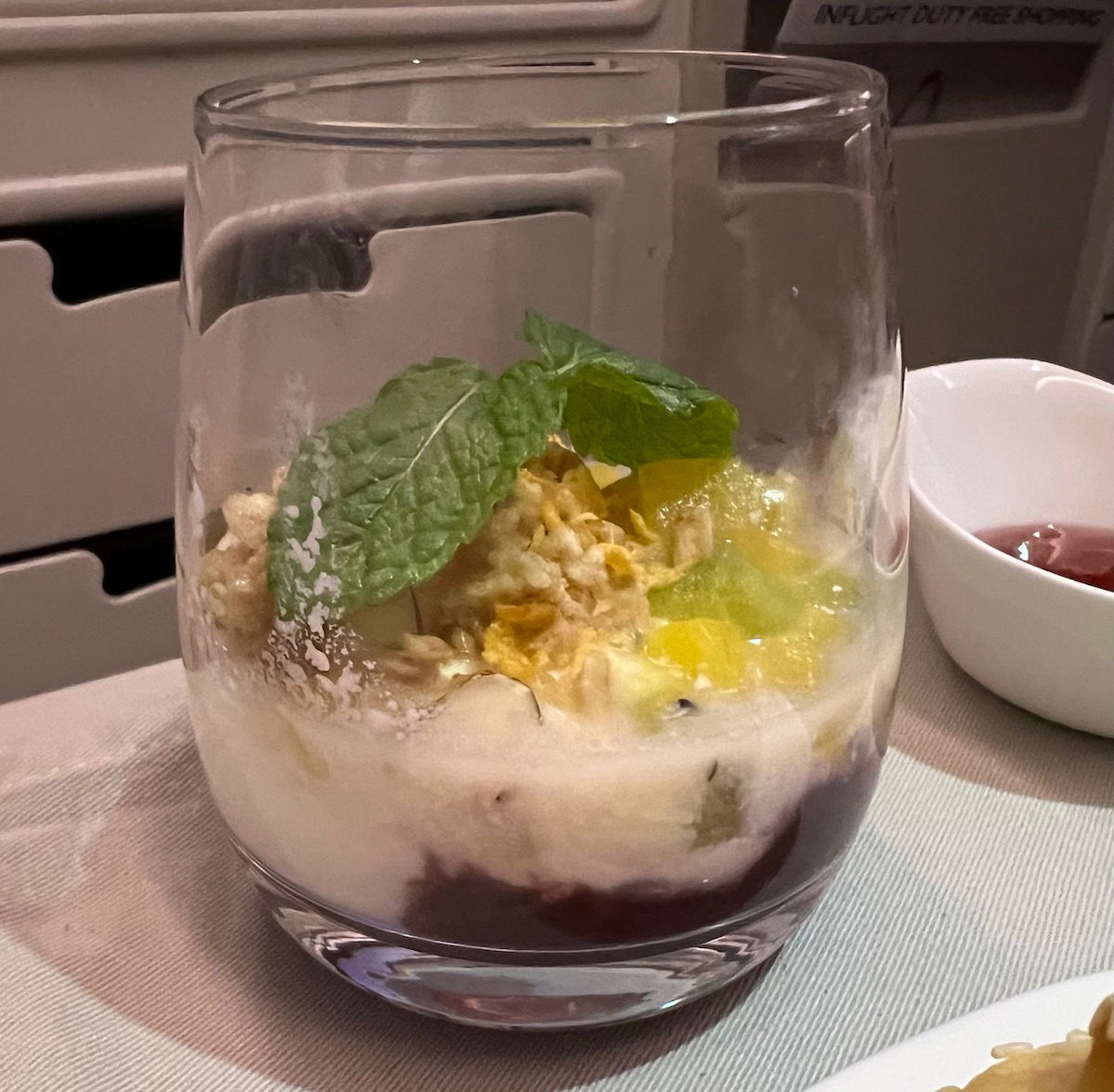 The meal service was done around an hour into the flight, but the crew was constantly through the cabin to check if anyone wanted anything.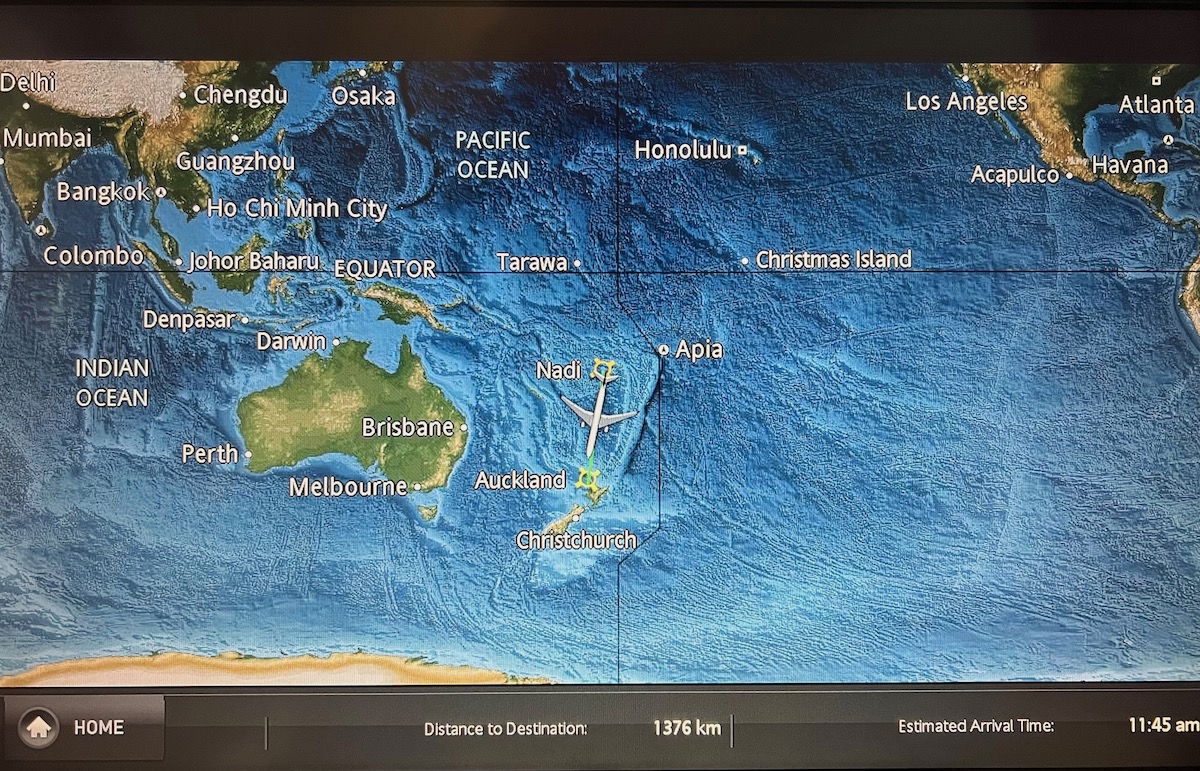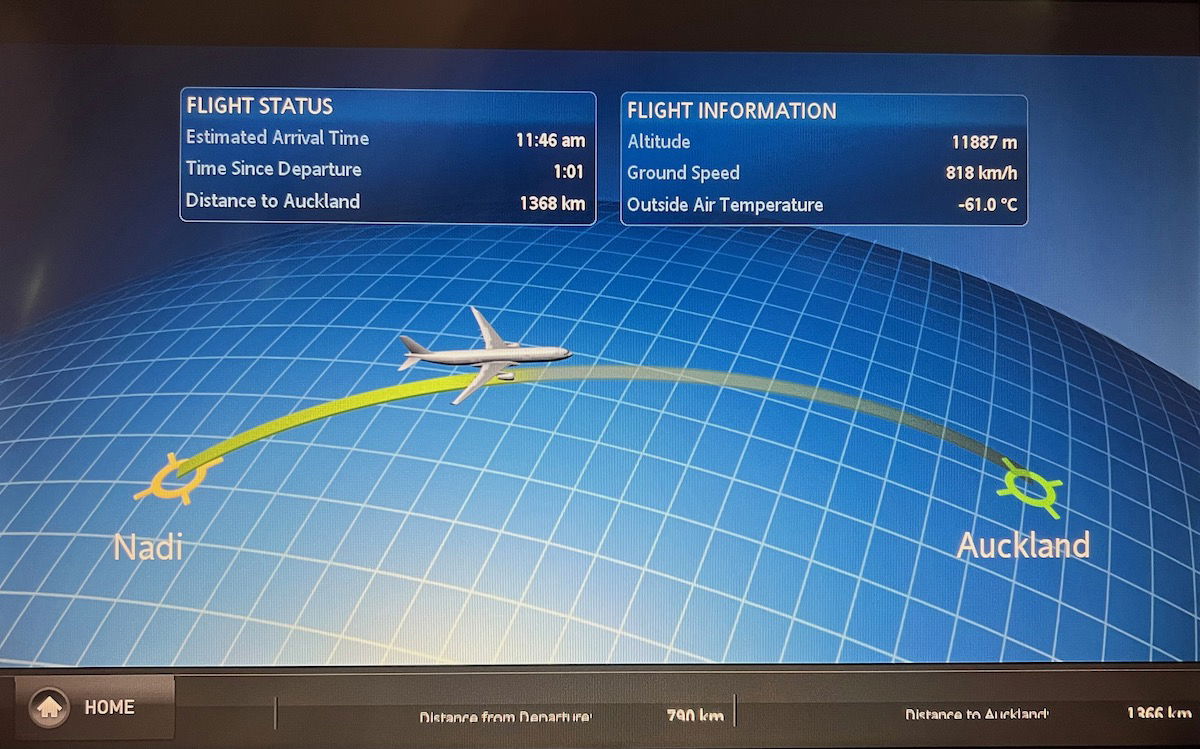 Later in the flight there was a snack basket with a couple of types of chips, plus more water.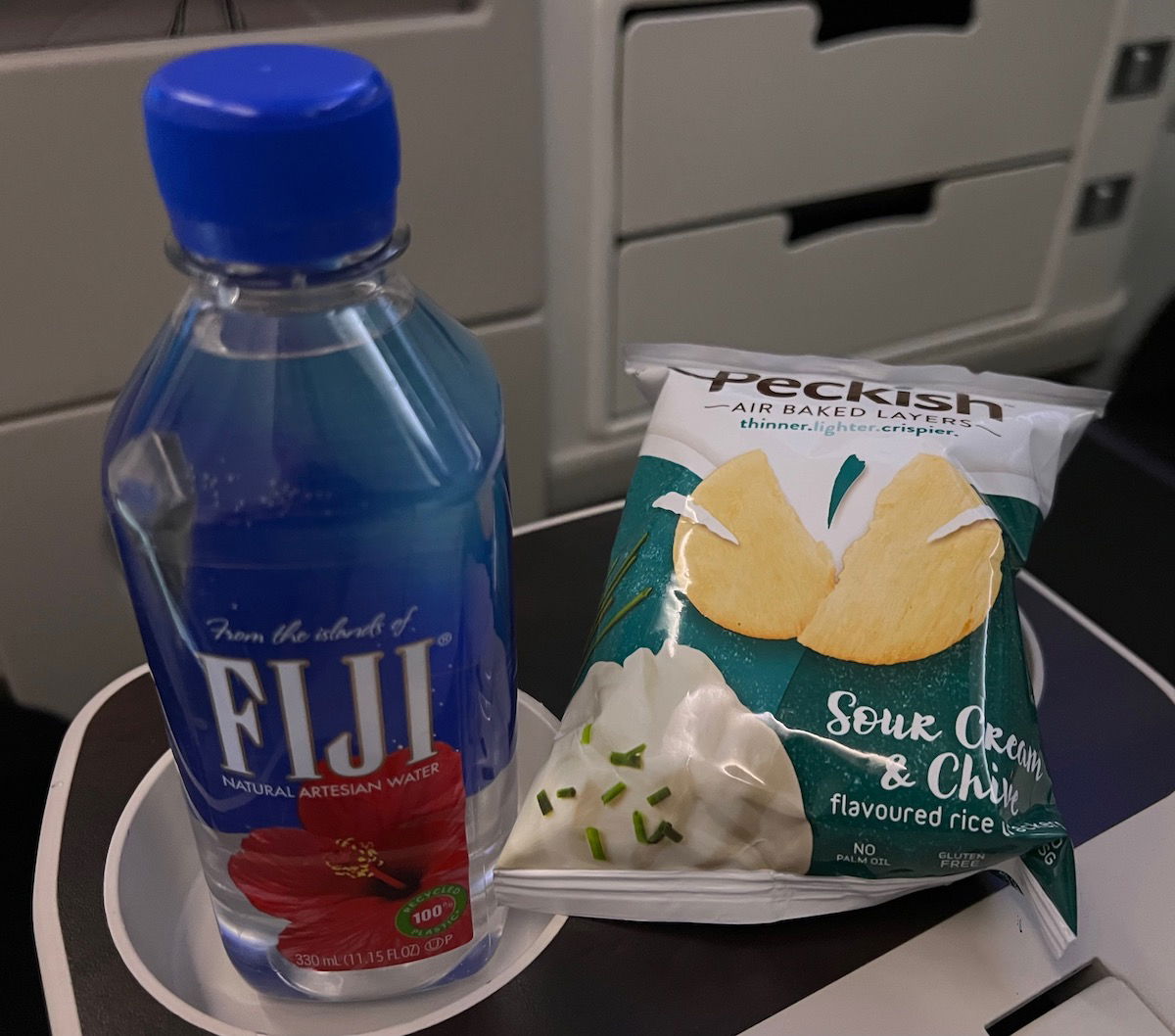 Fiji Airways A330 business class bed
I tried to doze off for the last portion of this flight. So, just how uncomfortable is Fiji Airways' A330 business class seat for sleeping? Well, pretty uncomfortable, if you ask me. It's not even that the seat is angled and flat, but rather the footrest is at a different angle than the rest of the seat, so this isn't ideal for us side sleepers.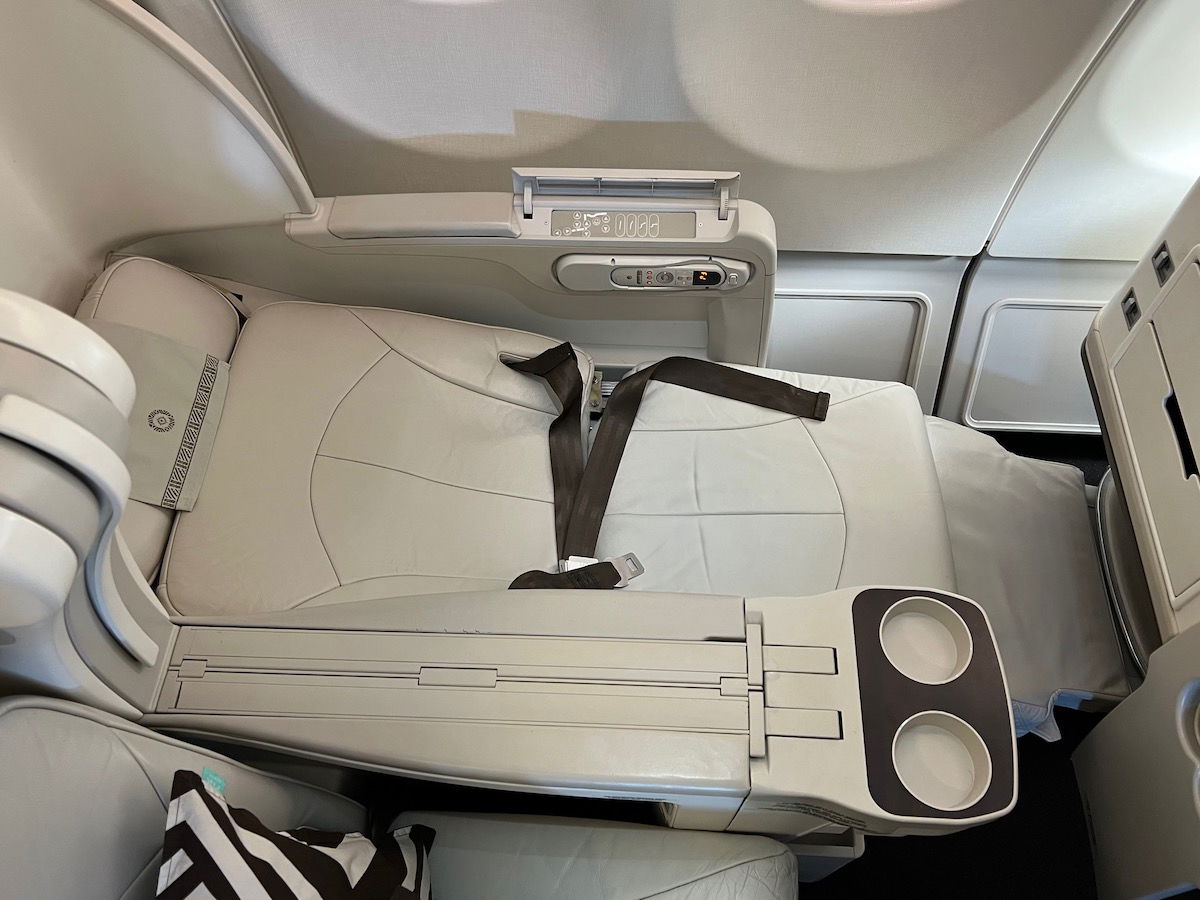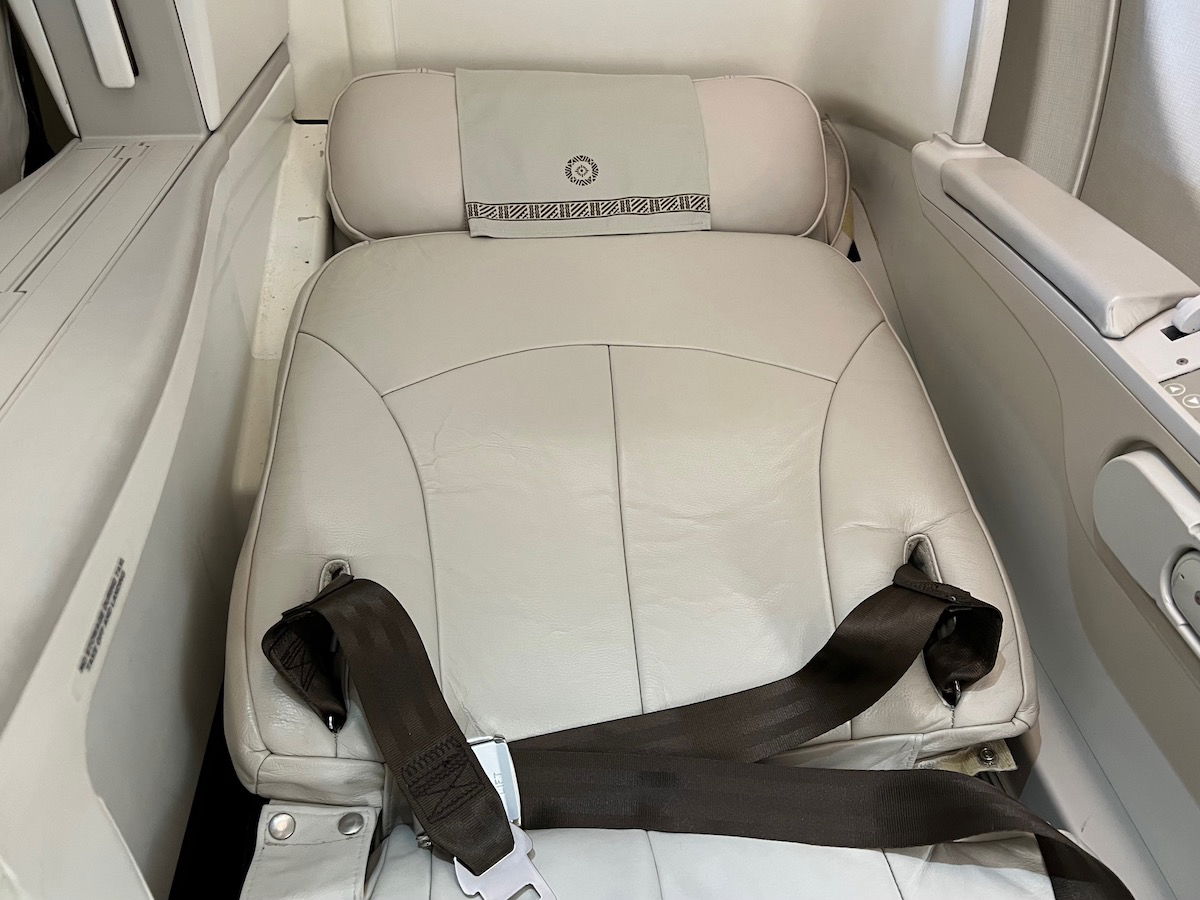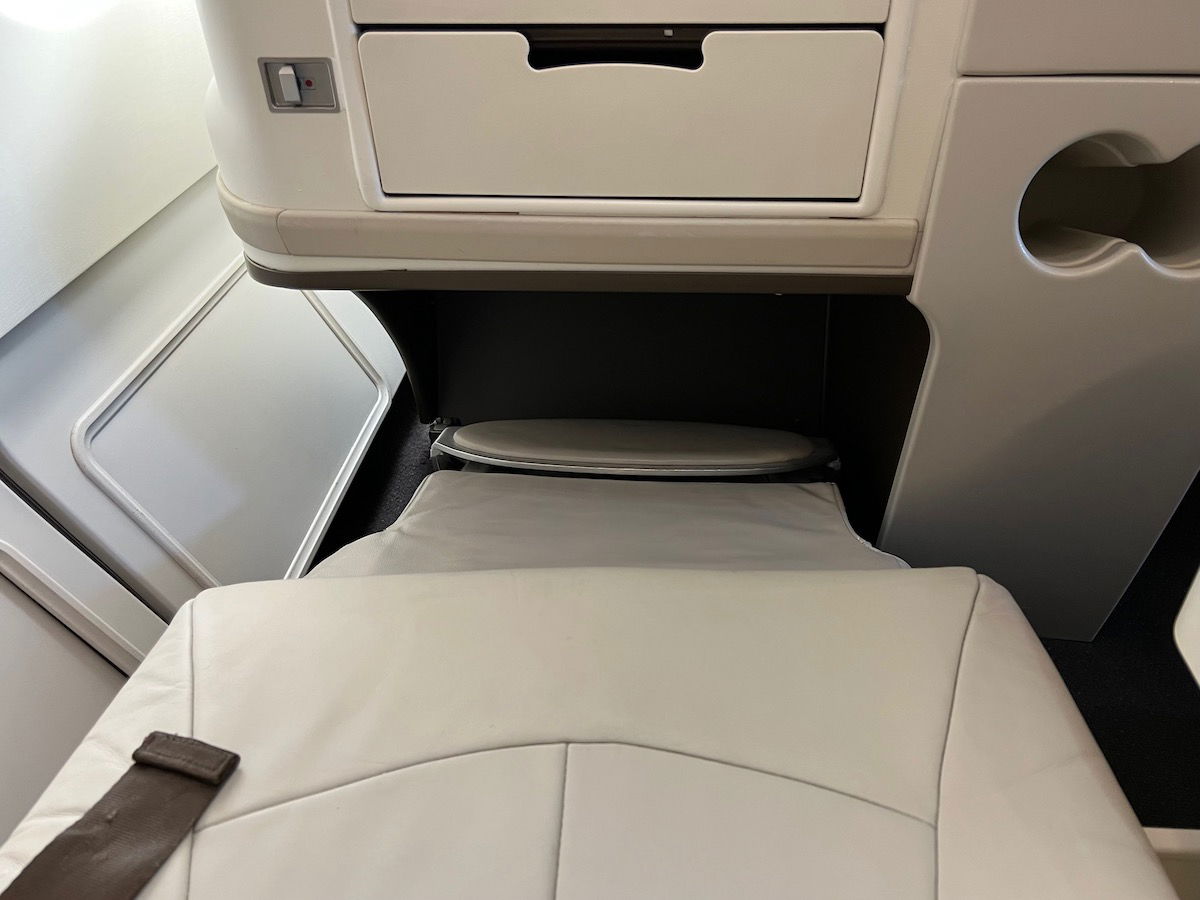 Ultimately I'd only be able to sleep in these seats if I were really tried, though admittedly I'm not a great airplane sleeper to begin with.
Fiji Airways business class service
Fijians in general are incredibly friendly, and I can't say enough good things about this crew. All the flight attendants, and in particular the purser, were simply oozing with personality. Since I sat right in front of the main cabin door, I heard the genuine friendliness and enthusiasm with which each passenger was greeted, and that positive energy continued throughout the flight.
Fiji Airways consistently has great service, but this crew was stellar.
Fiji Airways A330 arrival in Auckland
At 11:15AM local time the captain announced that we'd soon be descending, and should be landing in around 30 minutes.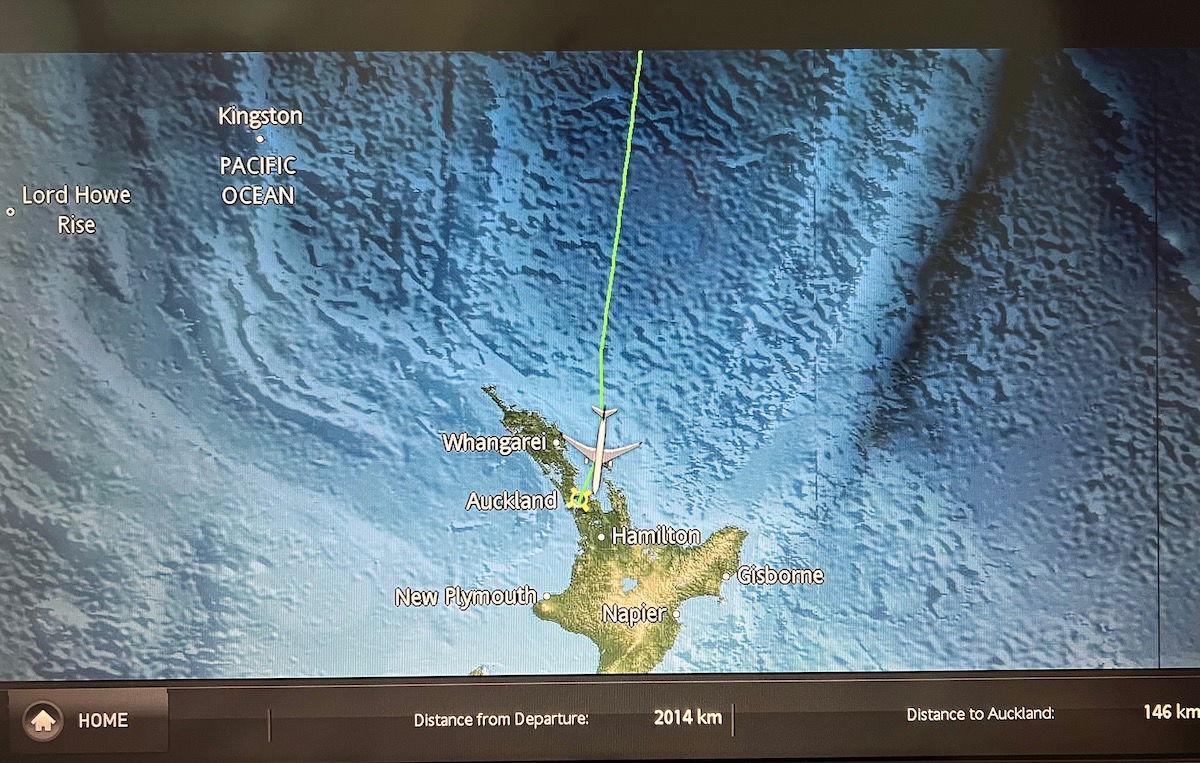 The crew passed out arrival cards for New Zealand, and the purser also came by to each business class passenger to thank them for flying with Fiji Airways.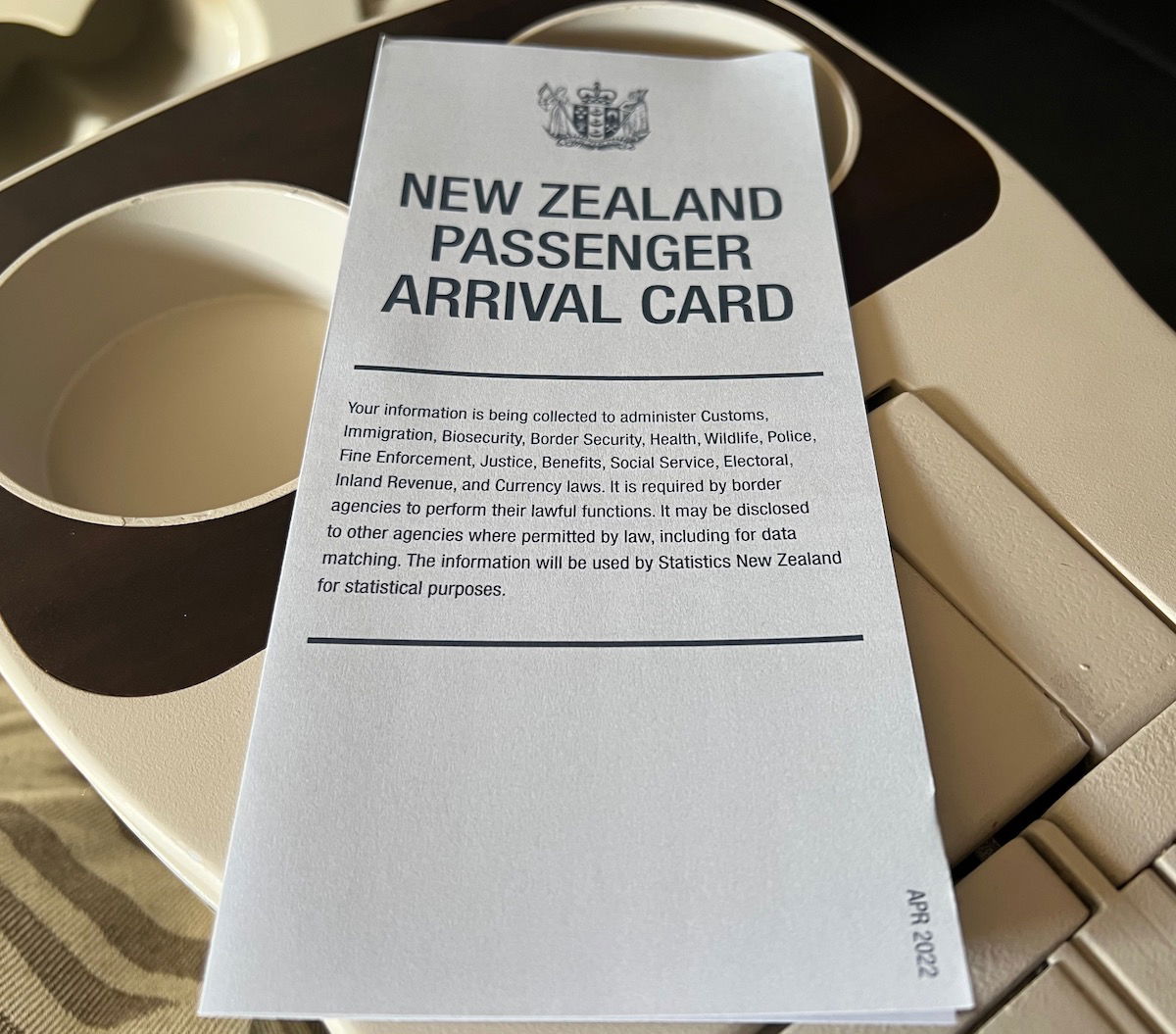 The views on approach to Auckland were simply stunning, even though it wasn't the nicest day outside.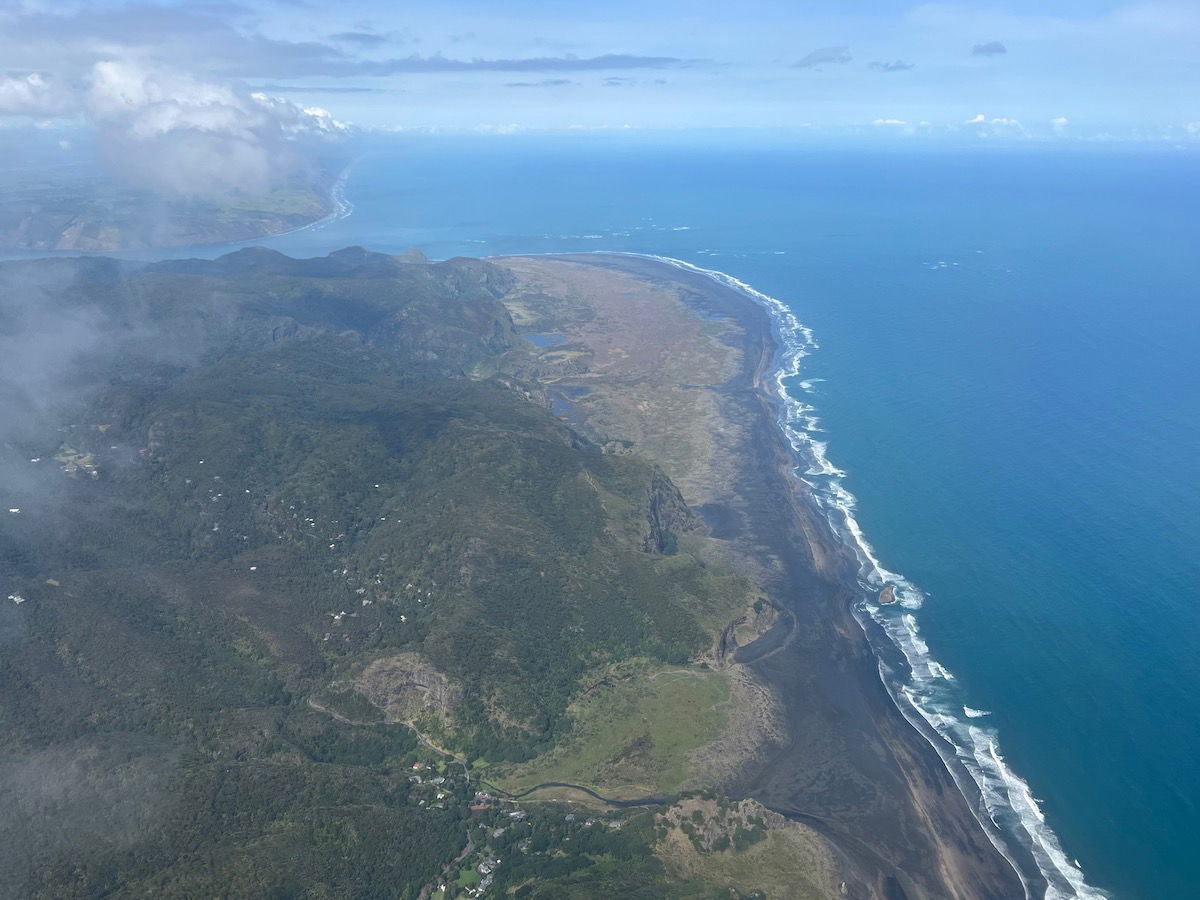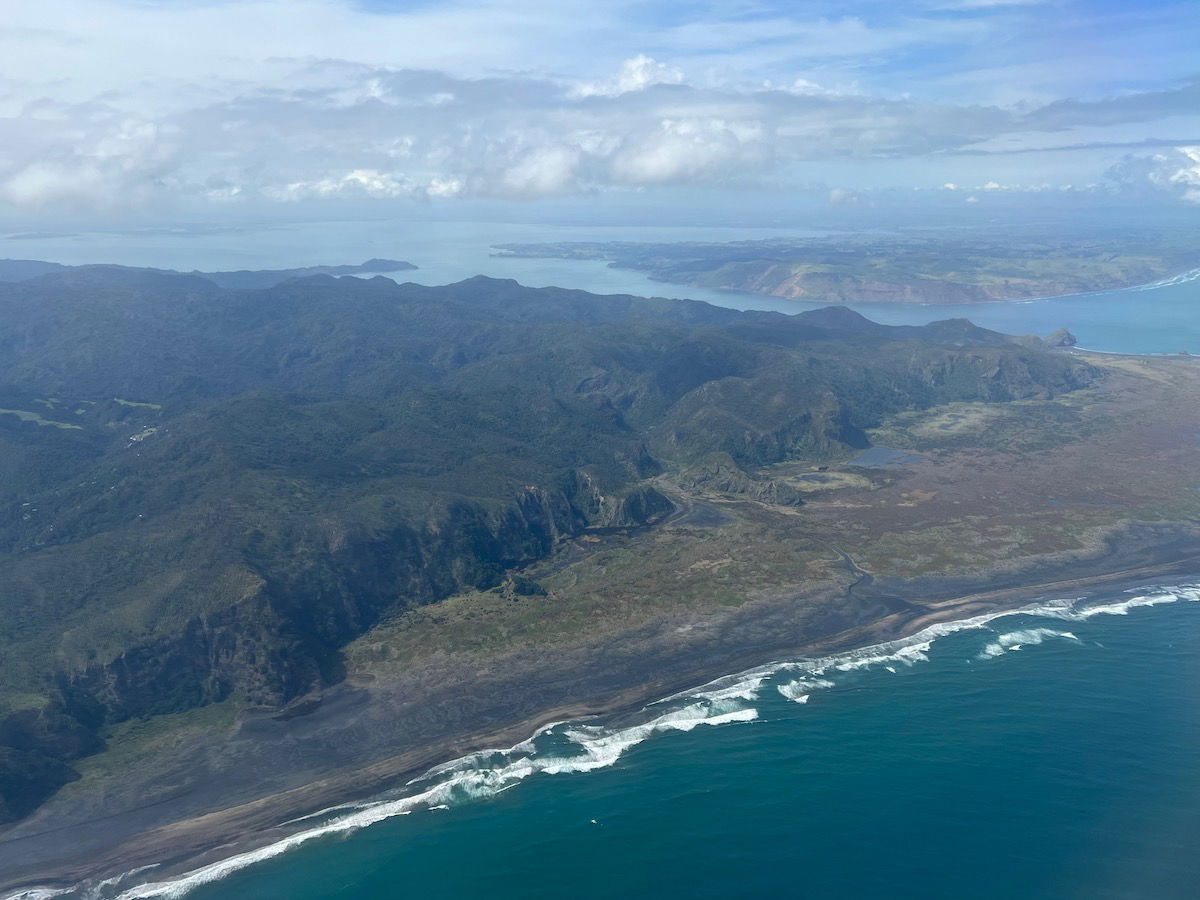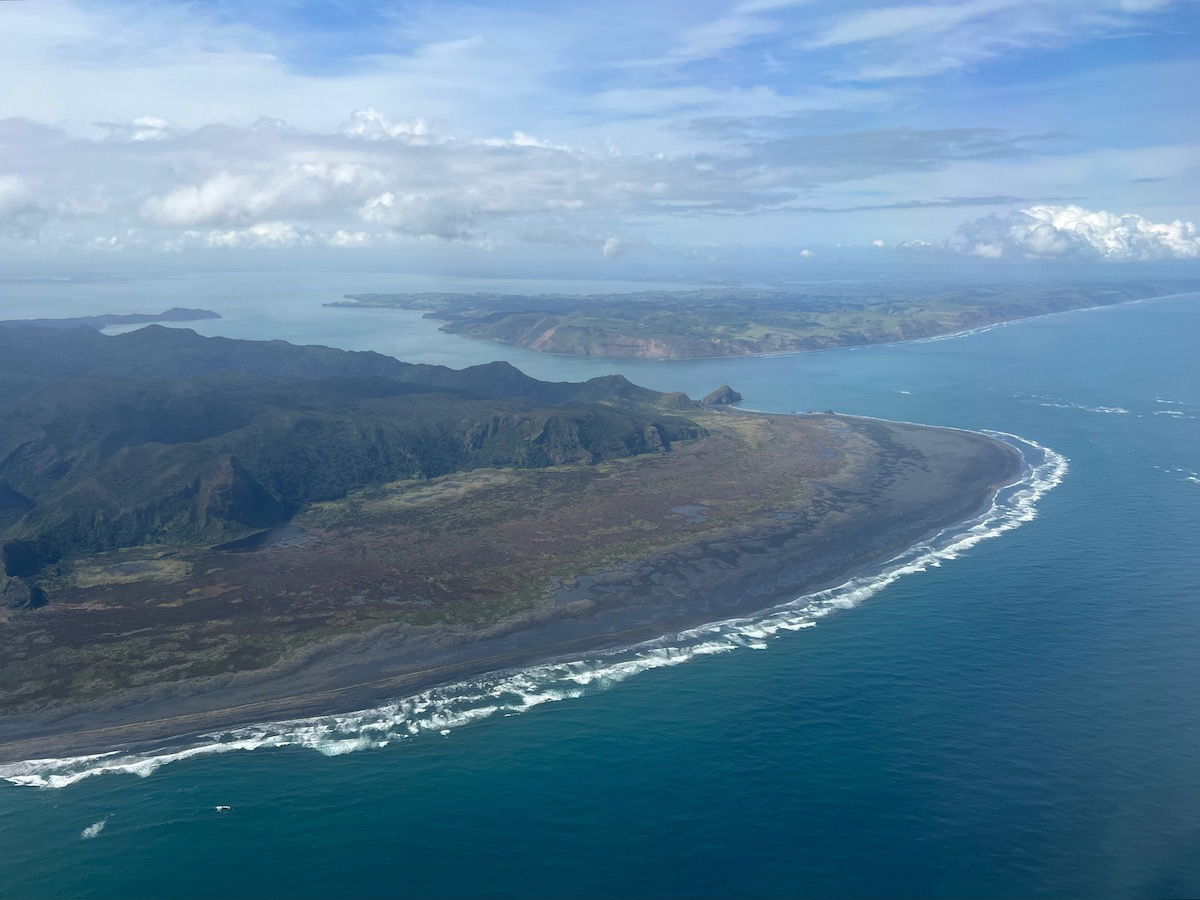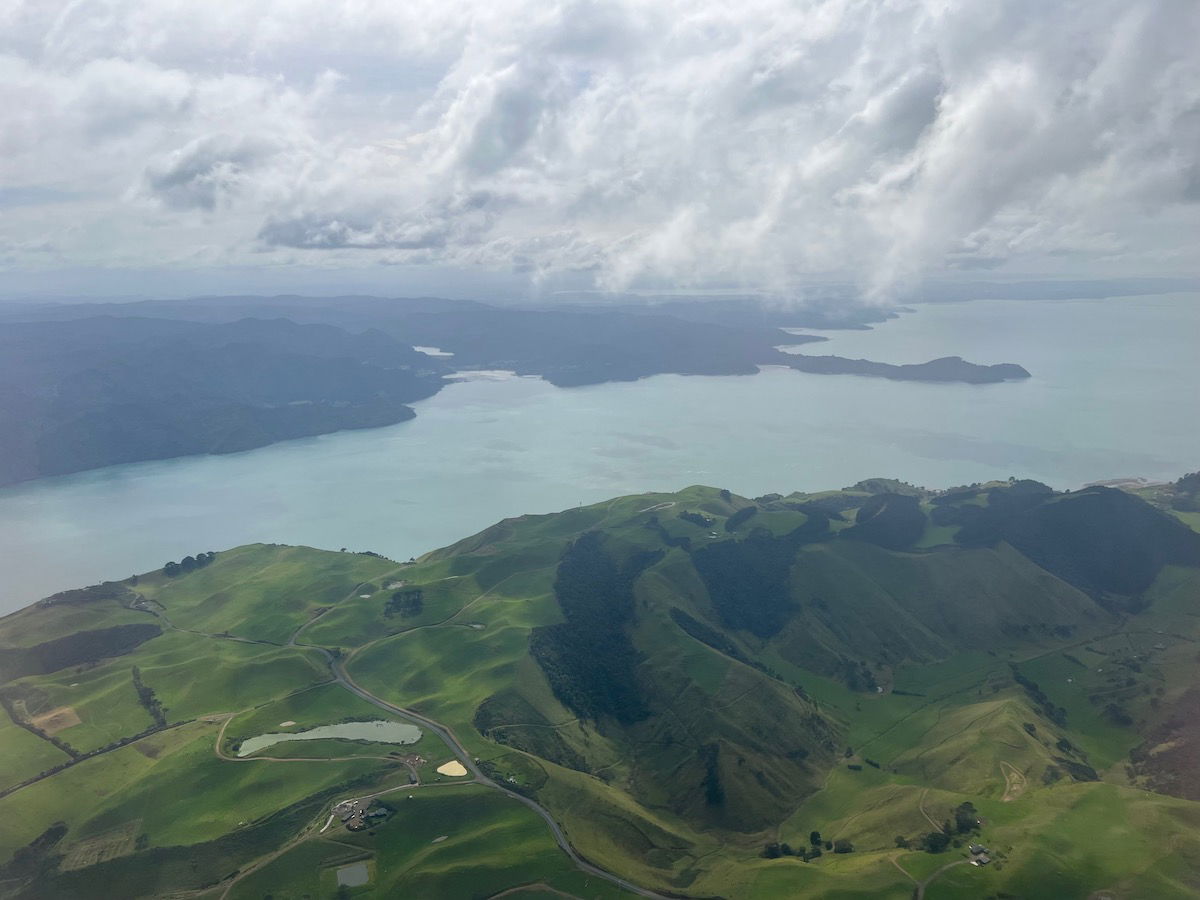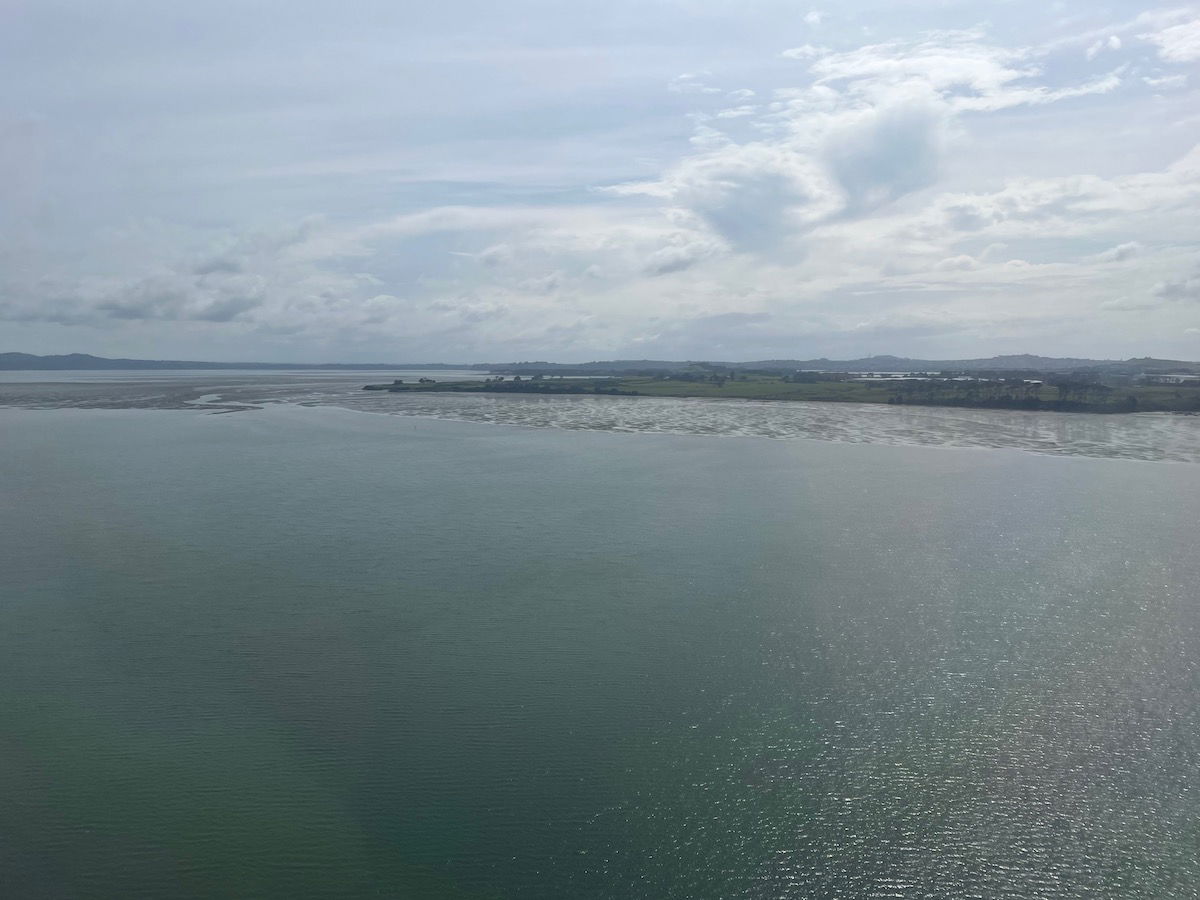 We touched down in Auckland at 11:45AM.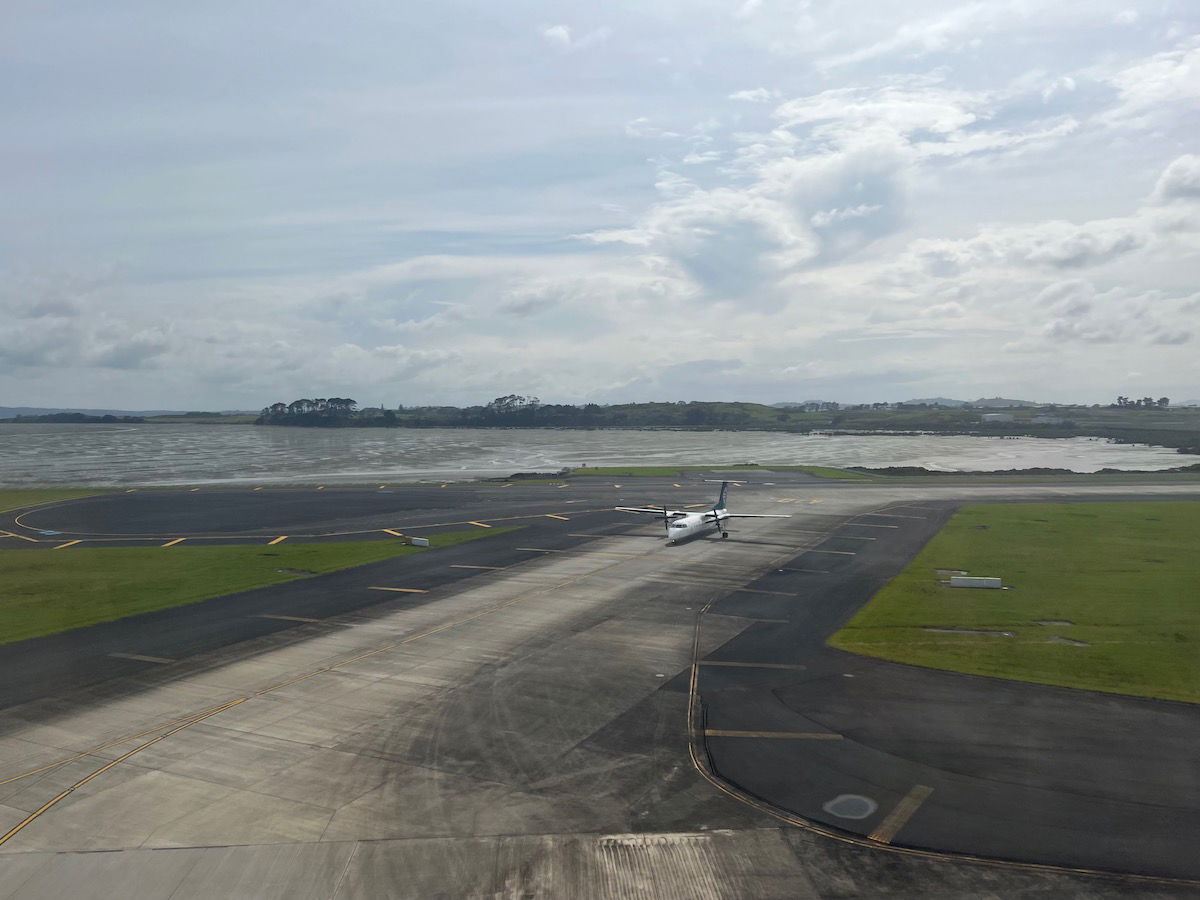 From there it was a short five minute taxi to our arrival gate, where we pulled in at 11:50AM, 10 minutes behind schedule.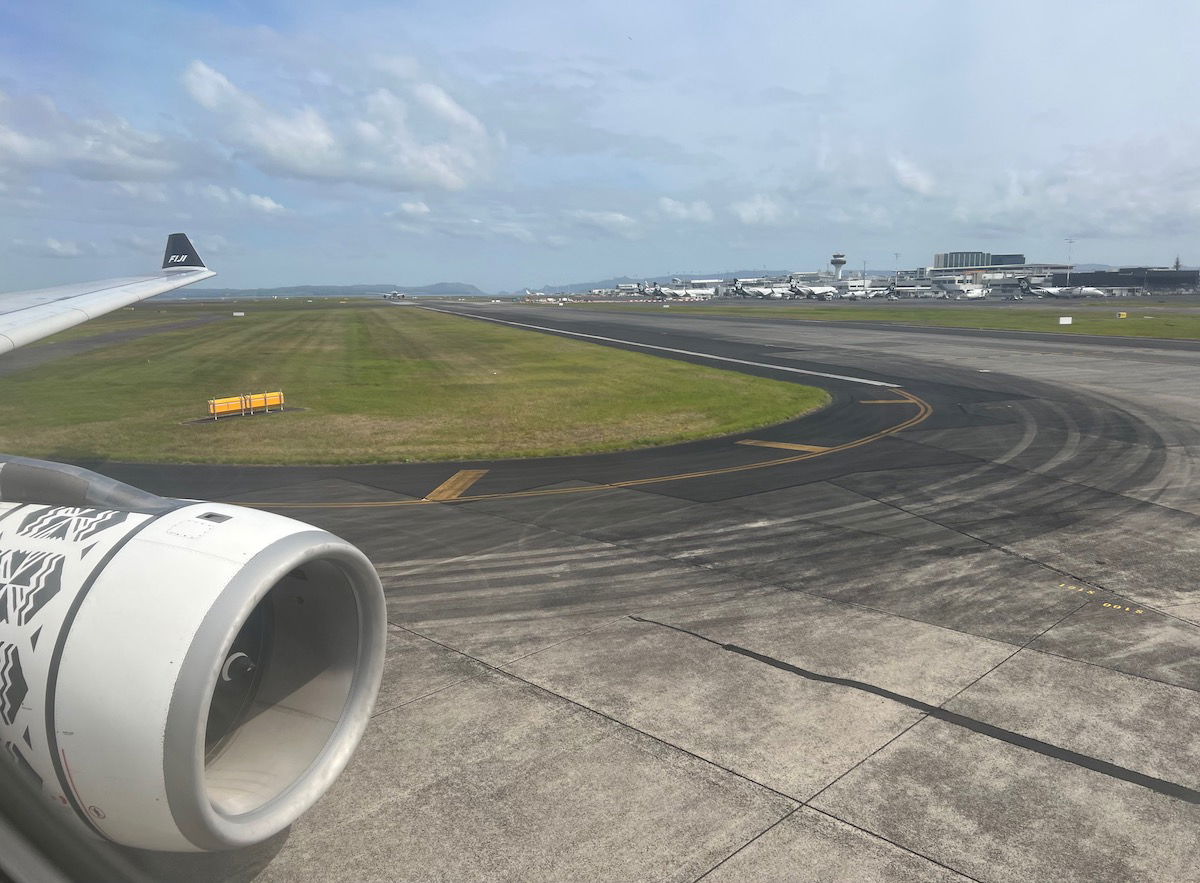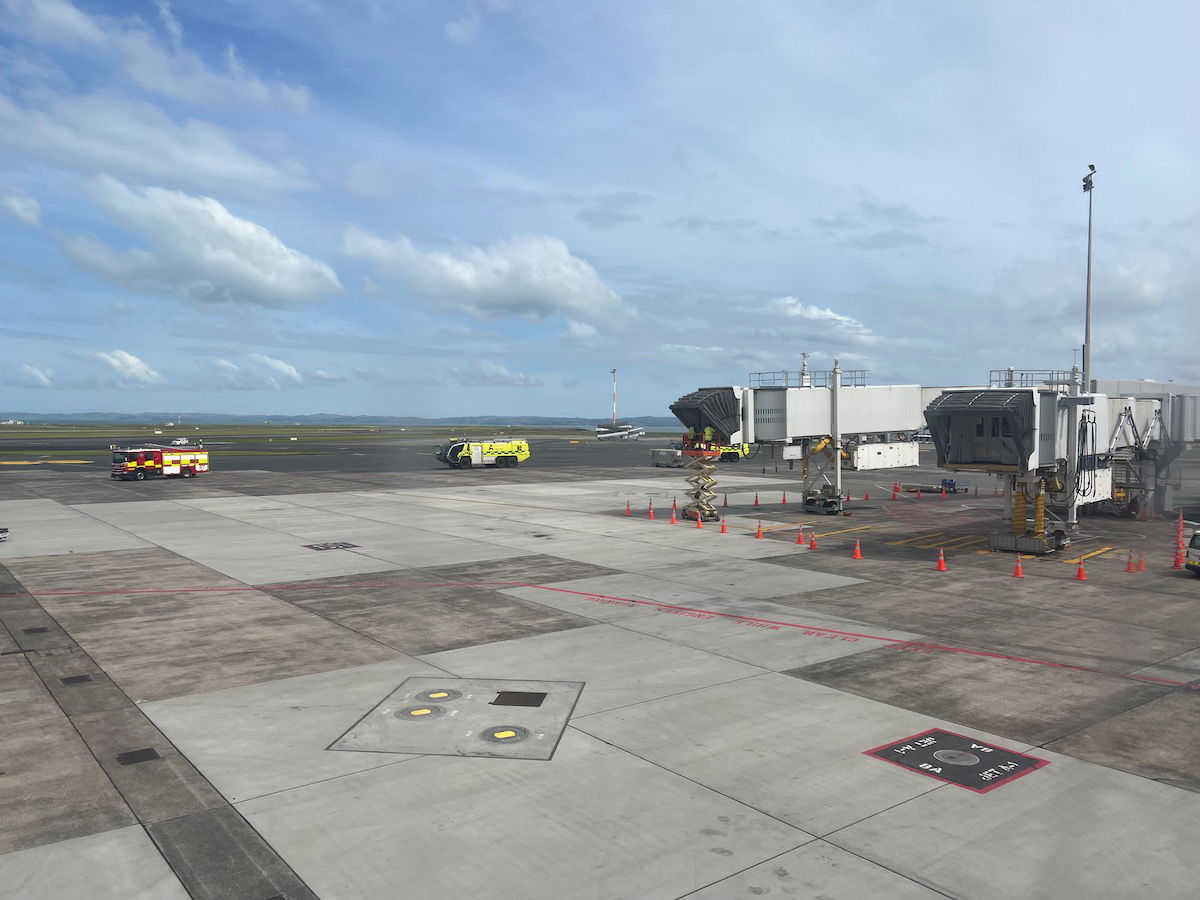 I headed straight for immigration, which was a breeze. Symbolically there was something exciting to me about entering New Zealand the same as it was pre-pandemic, given just how locked down the country was until recently.
Bottom line
Fiji Airways is such a lovely little airline. While Fiji Airways' A330 business class hard product leaves quite a bit to be desired on a long haul flight, it was a pleasant product for a flight like this. The crew on this Fiji Airways flight was so friendly, the food was good, and the entertainment was solid. Fiji Airways really is a great way to fly between the United States and the South Pacific.
If you've flown Fiji Airways' A330 business class, what was your experience like?