During my layover at LAX, I figured I'd check out multiple lounges. As far as oneworld lounges go, I not only visited the Qantas First Lounge and oneworld Lounge, but I also decided to check out the Alaska Lounge.
While this is obviously not in the same league as international premium lounges, it's still a pretty solid domestic membership lounge. Not only was it recently renovated, but the lounge had friendly staff, great coffee, and above average food.
Alaska Lounge LAX location & hours
The Alaska Lounge LAX is located in Terminal 6, which is the terminal out of which all Alaska Airlines flights depart. If you're traveling on another airline and want to visit the lounge, keep in mind that the terminal is accessible airside via connectors from Terminals 4, 5, 7, and 8, as well as Tom Bradley International Terminal (TBIT).
Once in Terminal 6, the lounge is located one level above the main concourse, near gate 64. If you're coming from the security checkpoint, just keep walking through the main terminal corridor.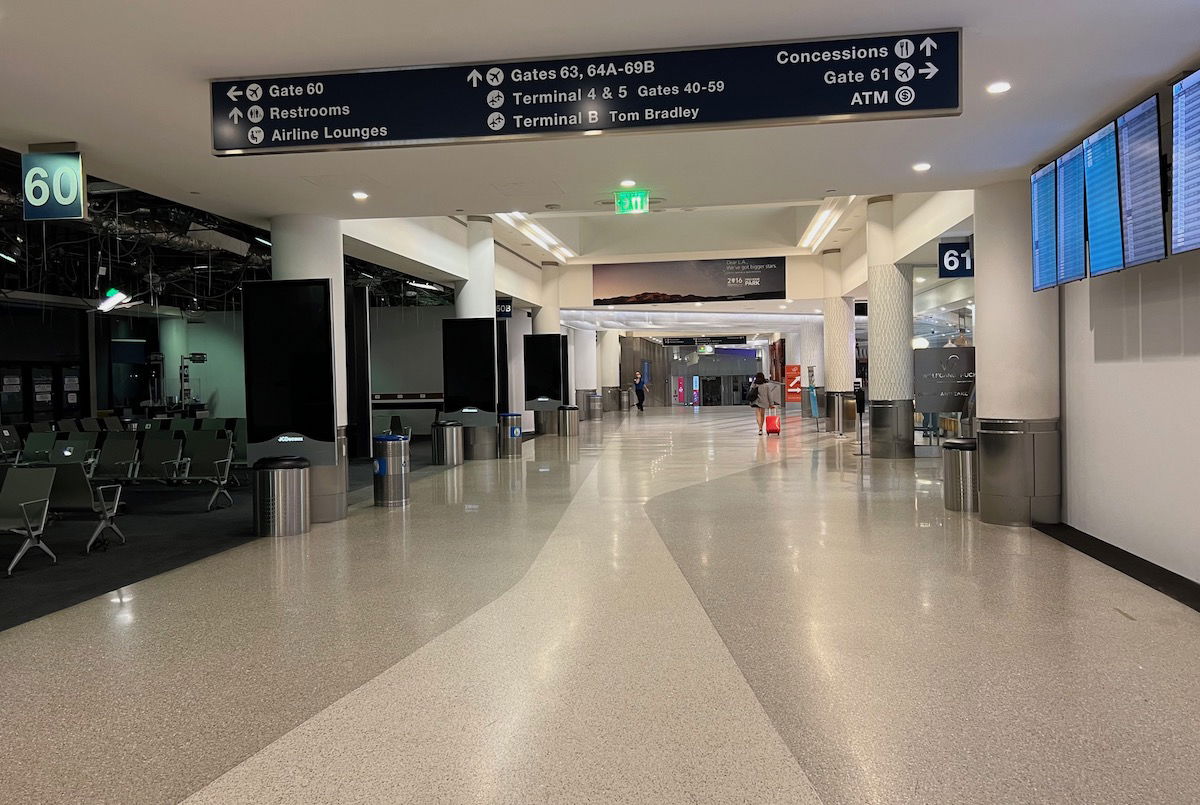 Eventually you'll have the option of turning either left or right, and you'll want to hang left. In this area you'll see the elevator to the Alaska Lounge on the left, right in front of gate 64B (there's no option to take stairs — presumably there are some emergency stairs, but they're not available under normal circumstances).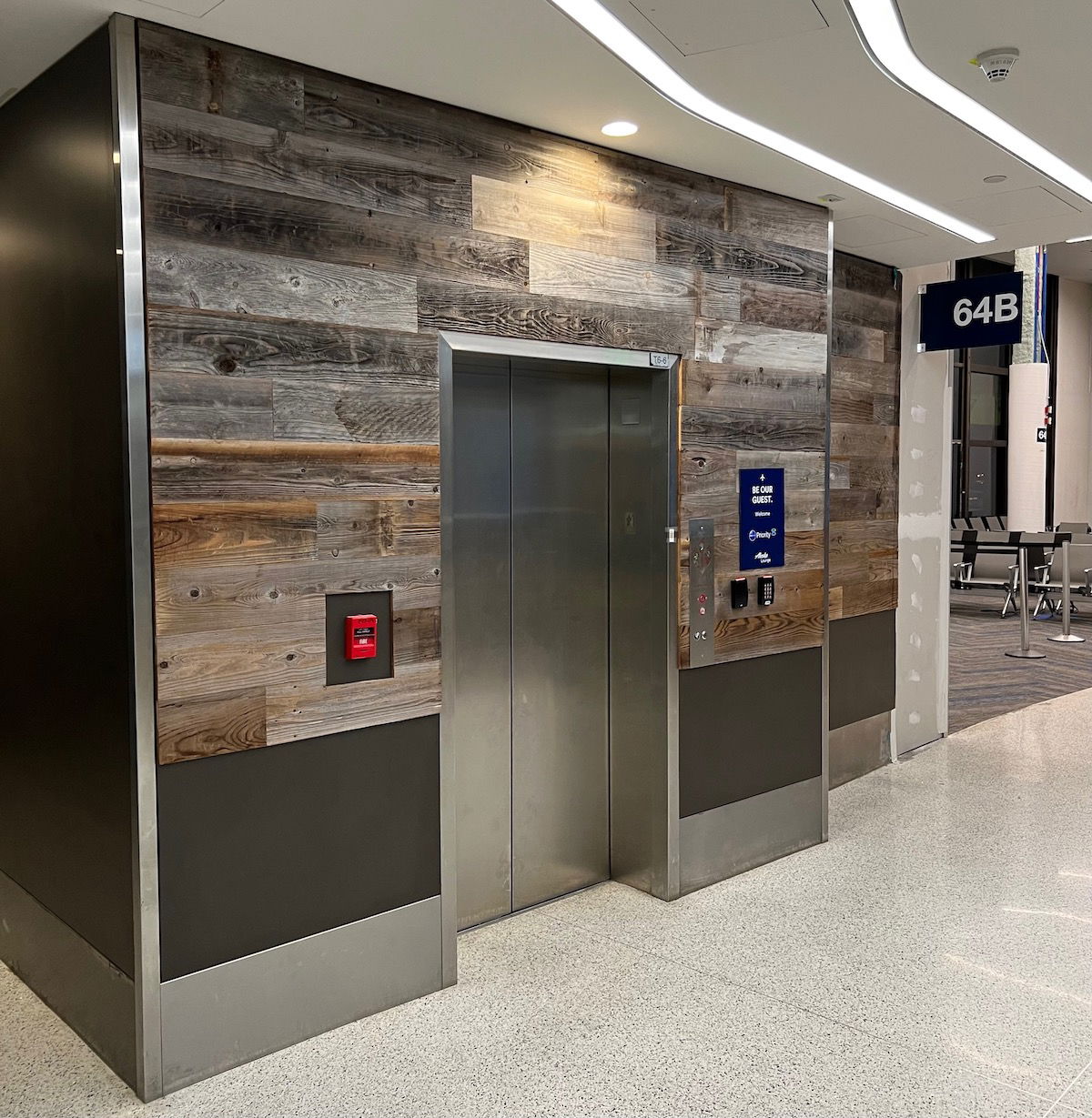 The Alaska Lounge LAX is open daily from 5AM until 9:30PM.
Alaska Lounge LAX entry requirements
When it comes to rules for accessing Alaska Lounges:
Paid Alaska Airlines first class passengers get Alaska Lounge access, whether they paid with cash or miles (those who upgraded don't qualify)
Those with an Alaska Lounge or American Admirals Club membership get Alaska Lounge access
In line with oneworld lounge access rules, Alaska Lounges are standard oneworld Sapphire and oneworld business class lounges
There's a bit more nuance to lounge access policies, so see my detailed guide about Alaska Lounge access.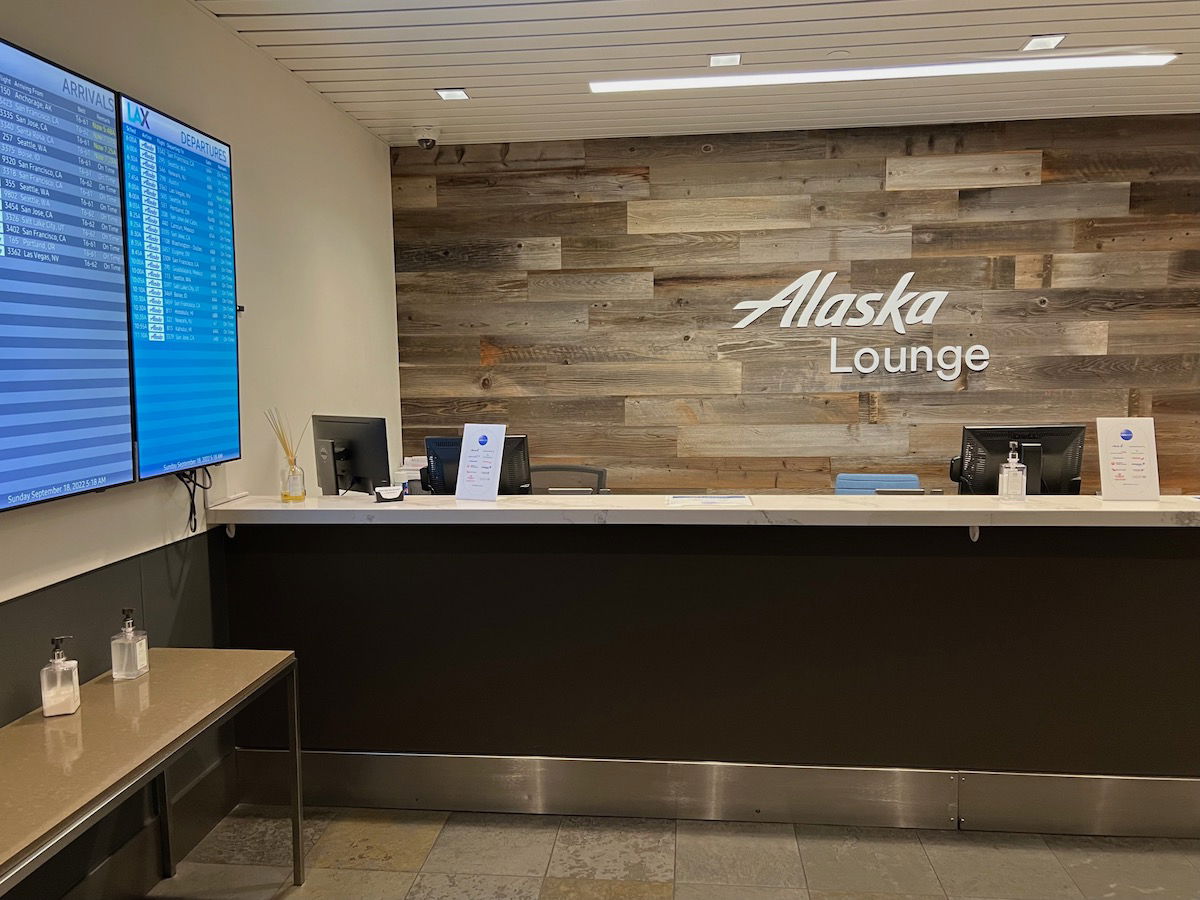 Alaska Lounge LAX seating & layout
The Alaska Lounge LAX underwent a full refresh in 2019, and the airline did a really good job with this. For context on the changes, check out my 2015 review of this lounge — the difference is night and day.
The LAX lounge is one of the smaller lounges in Alaska's system, but then again, this isn't as big of a hub for the airline as Portland or Seattle. The lounge consists of one large room, broken up into a variety of zones.
Just inside the entrance is a long bench with some dining tables and chairs.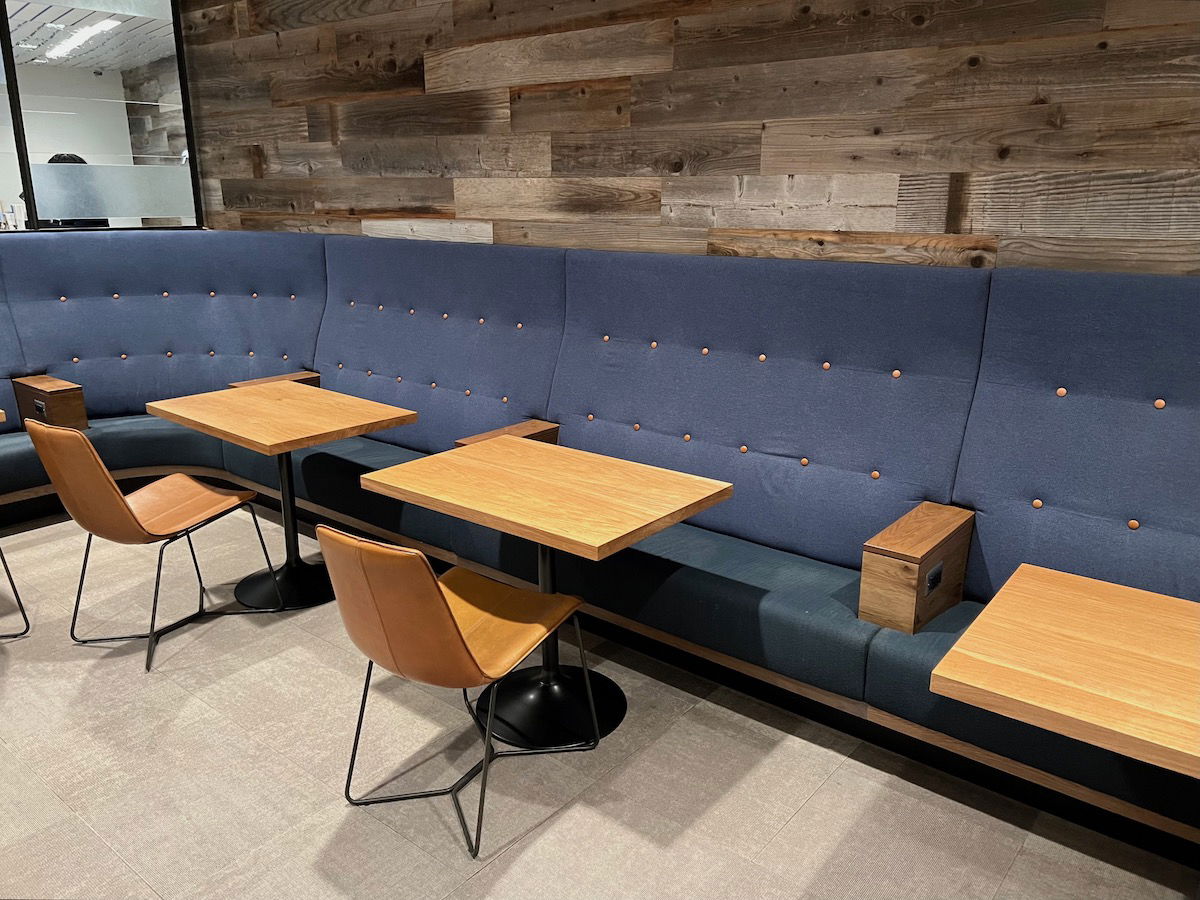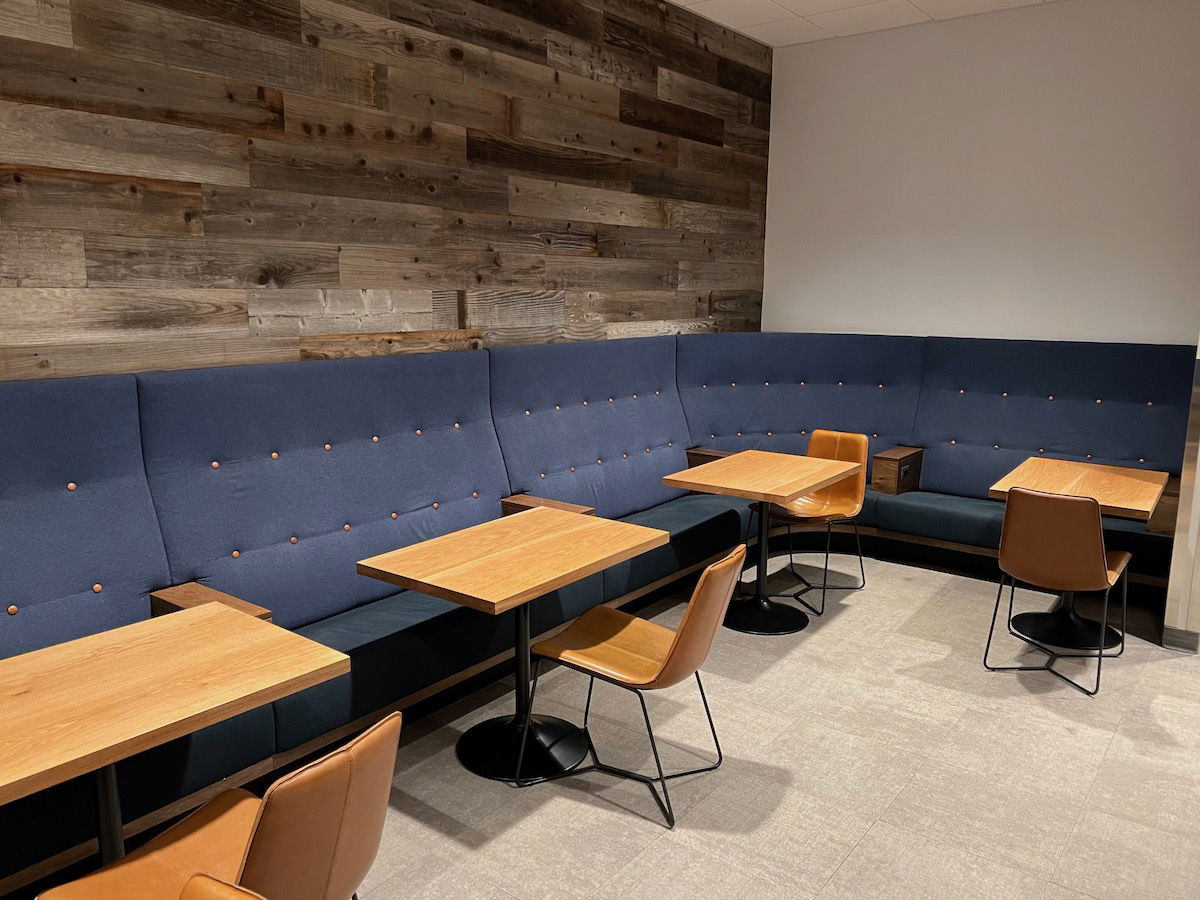 There are then some cozy and well padded semi-private chairs, each of which also has an adjustable table.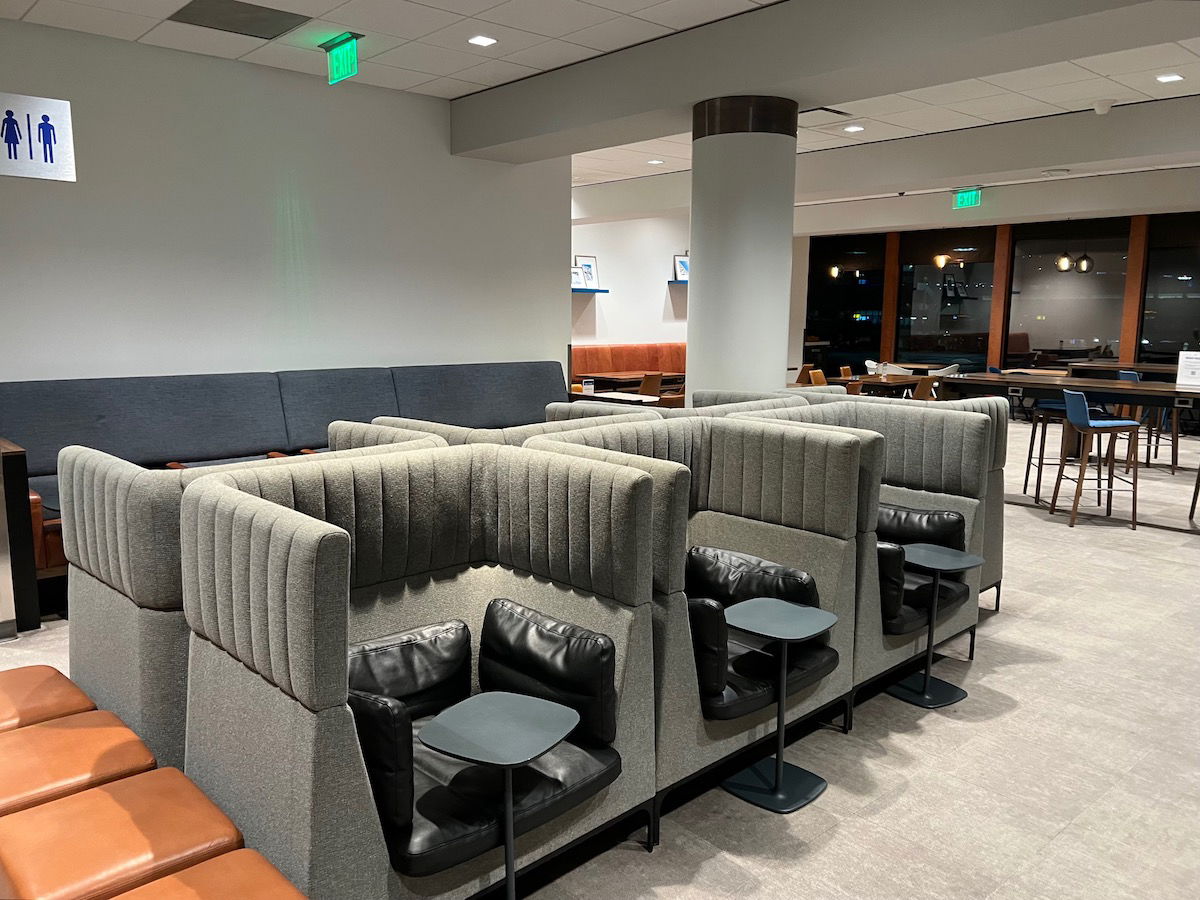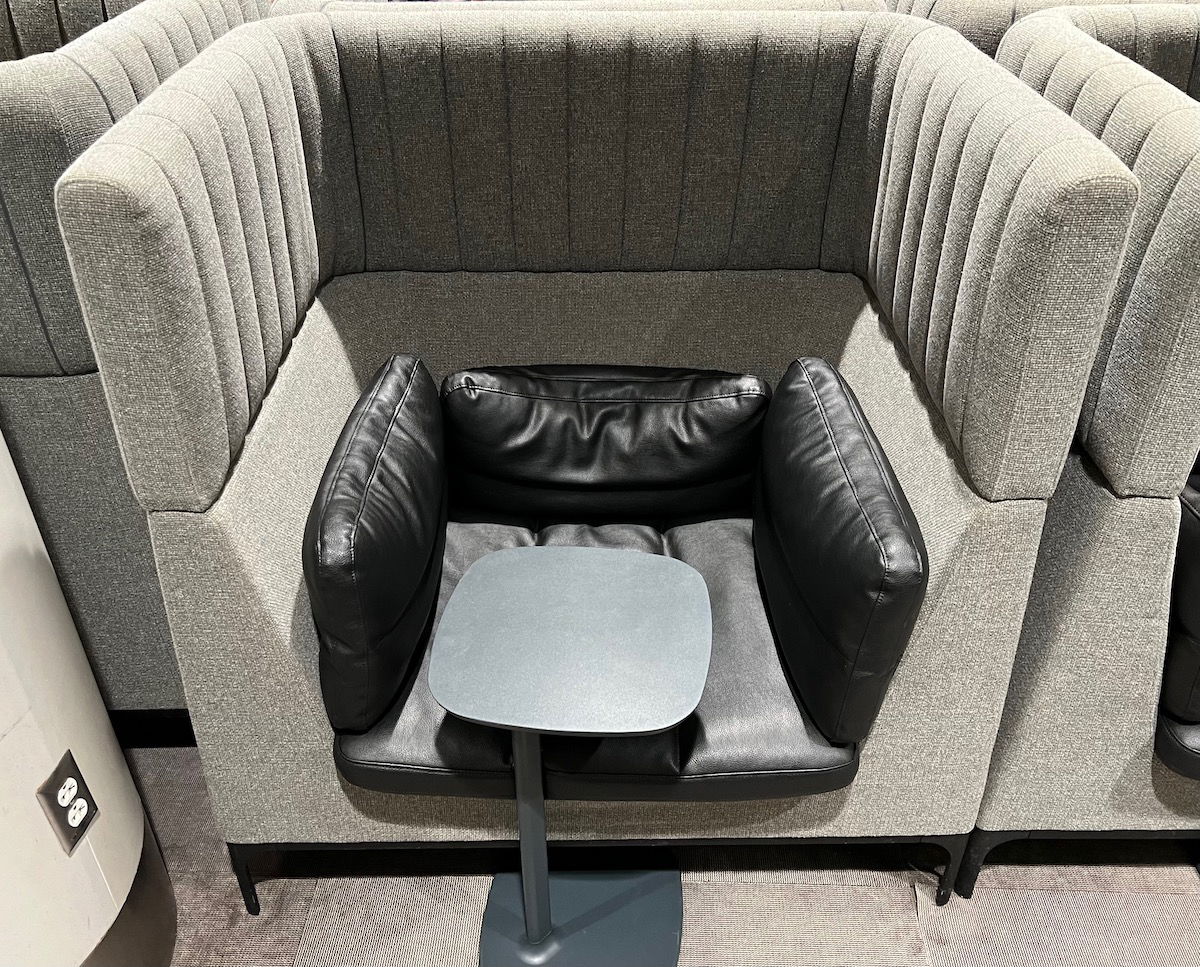 Behind that are four more seats, each of which also has a table.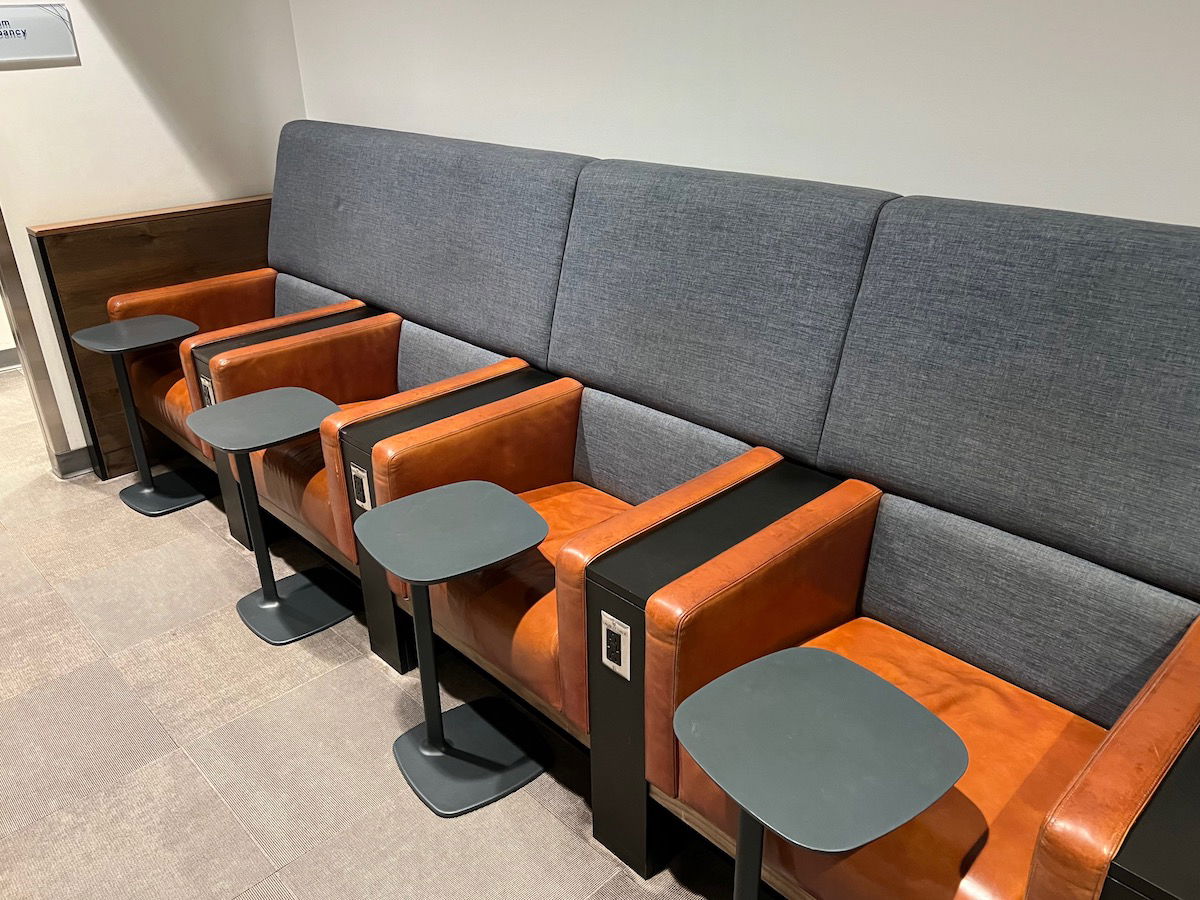 Then the main part of the lounge consists of seating that's better for dining or working. This includes two communal tables with high-top seating, as well as some dining tables each seating four people, in the far corner of the lounge.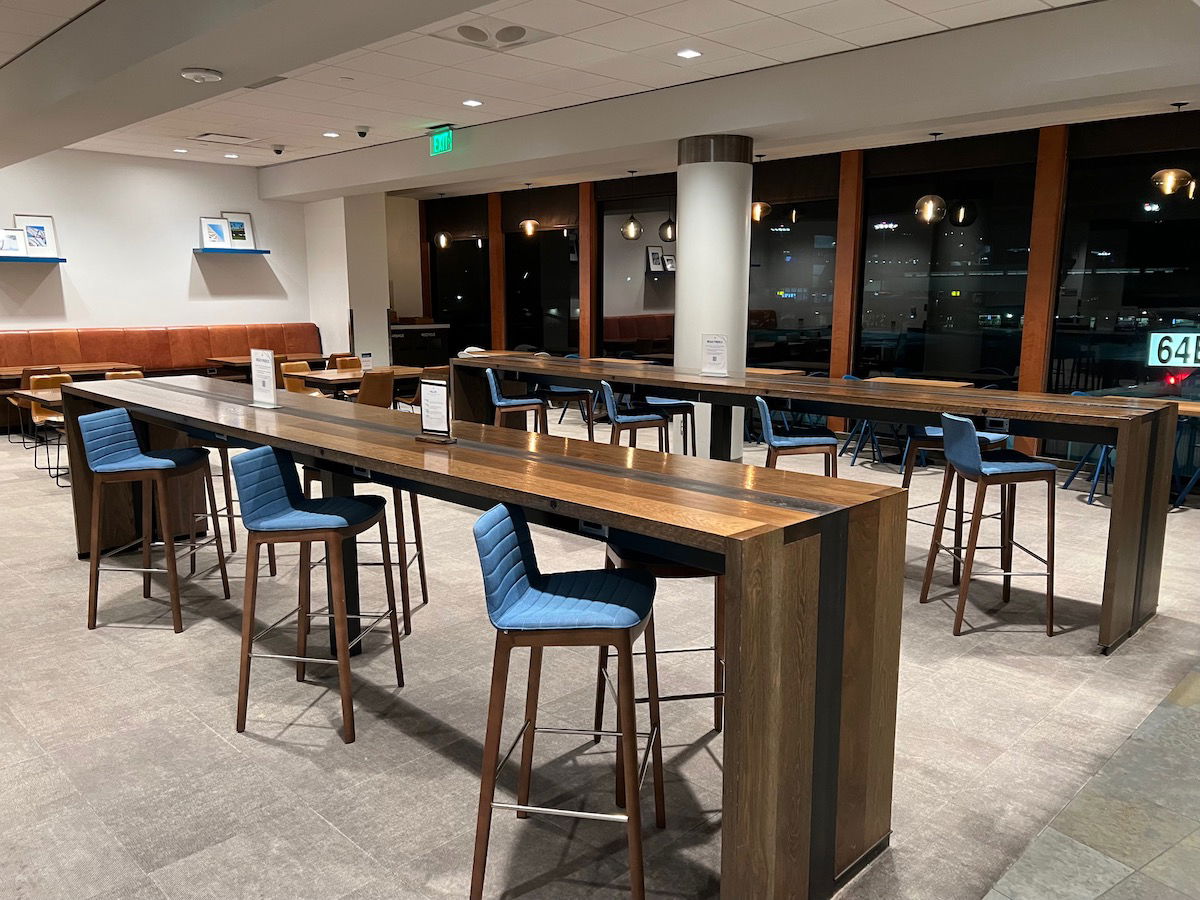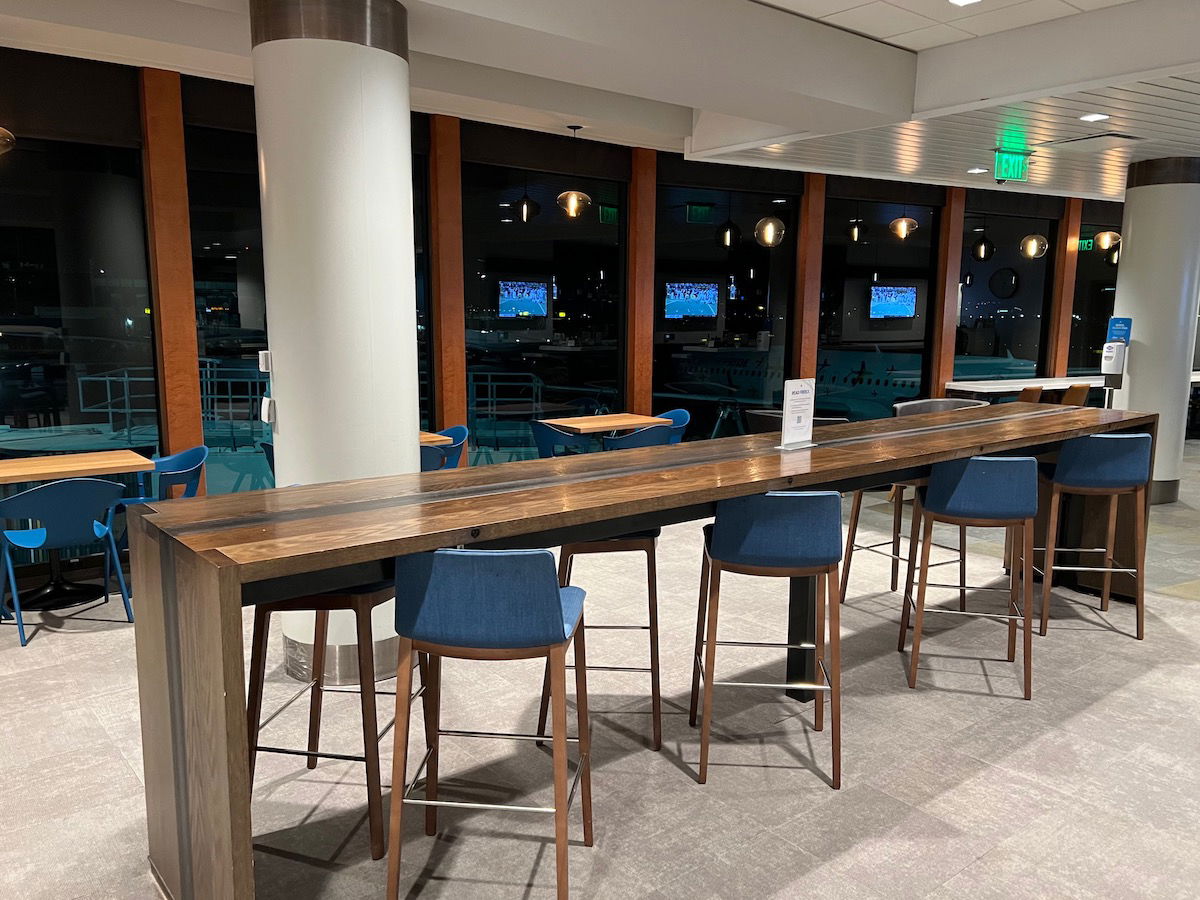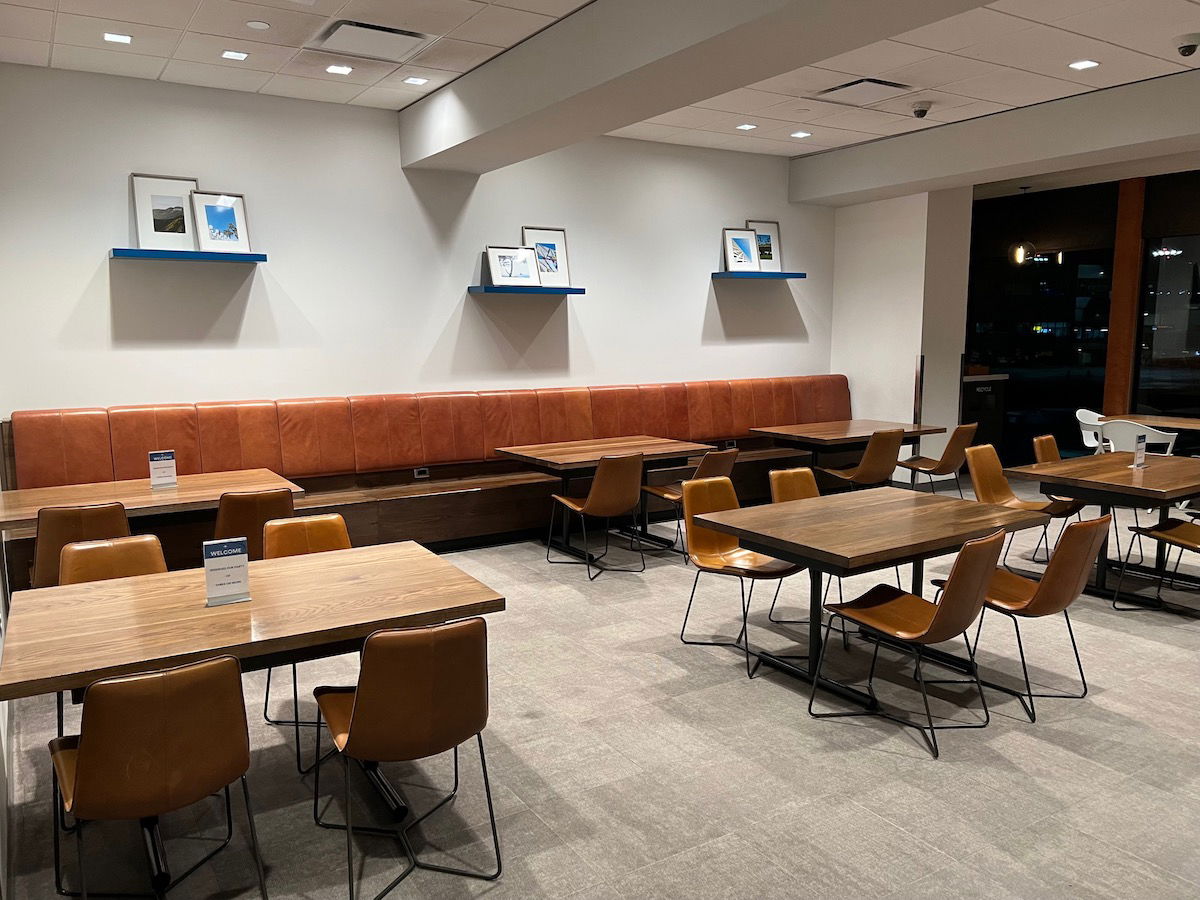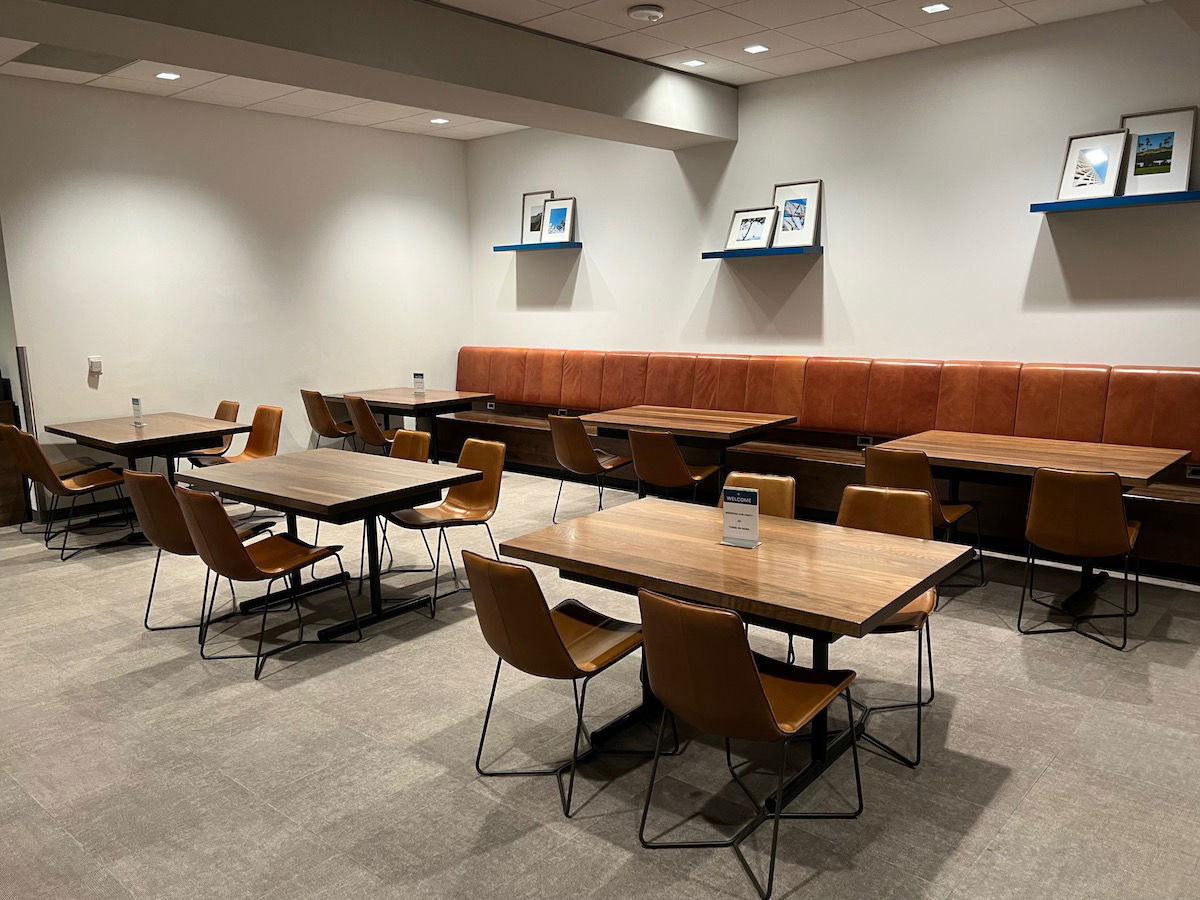 Lastly, there are some more tables along the windows, as well as a communal table with several seats at the far corner of the lounge, by the bar.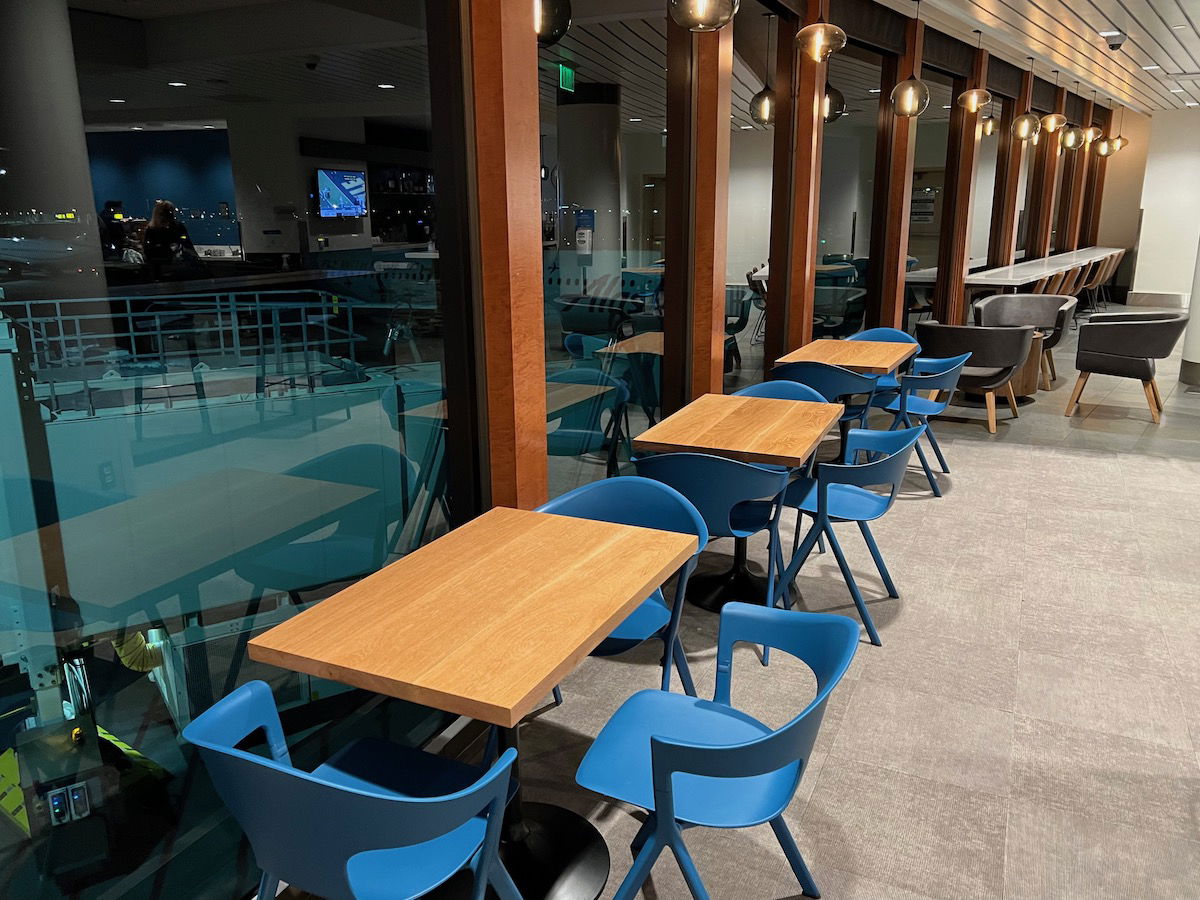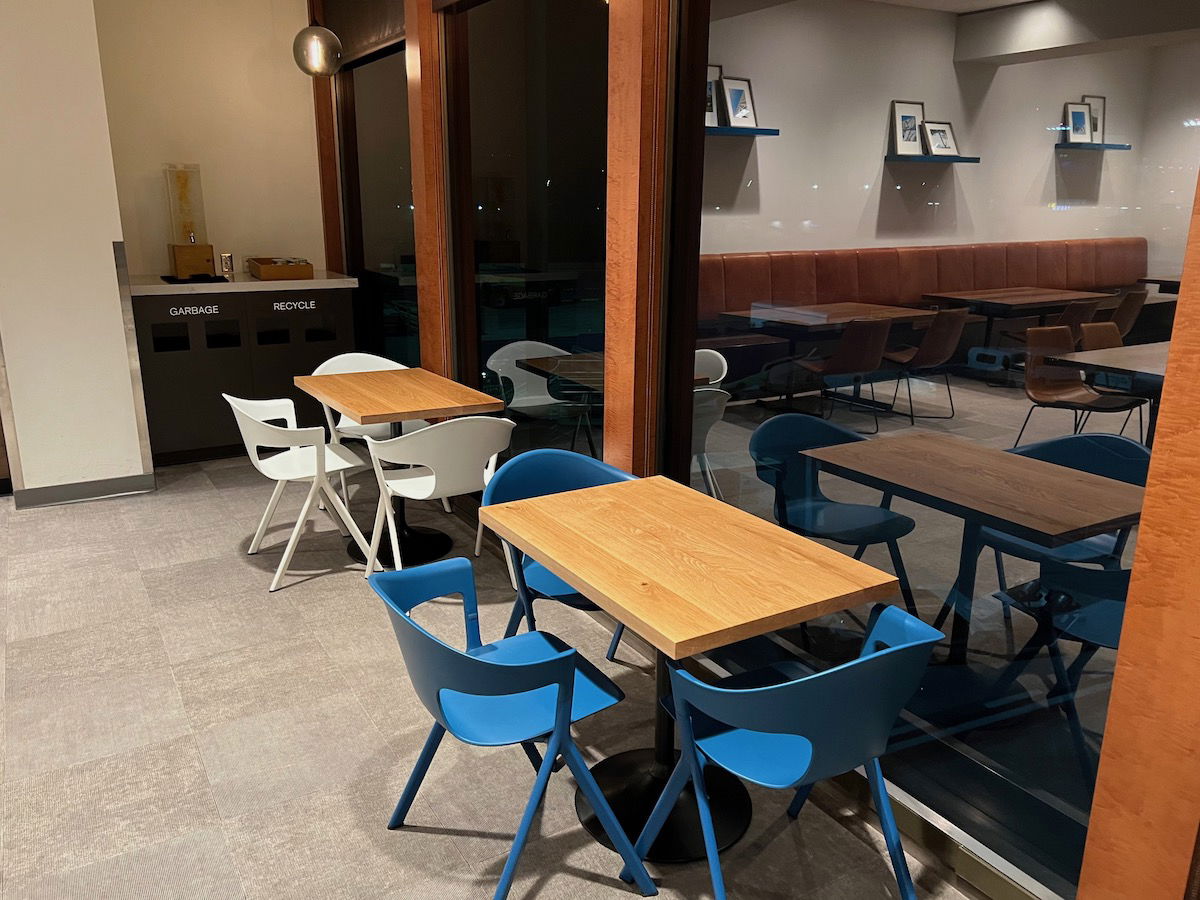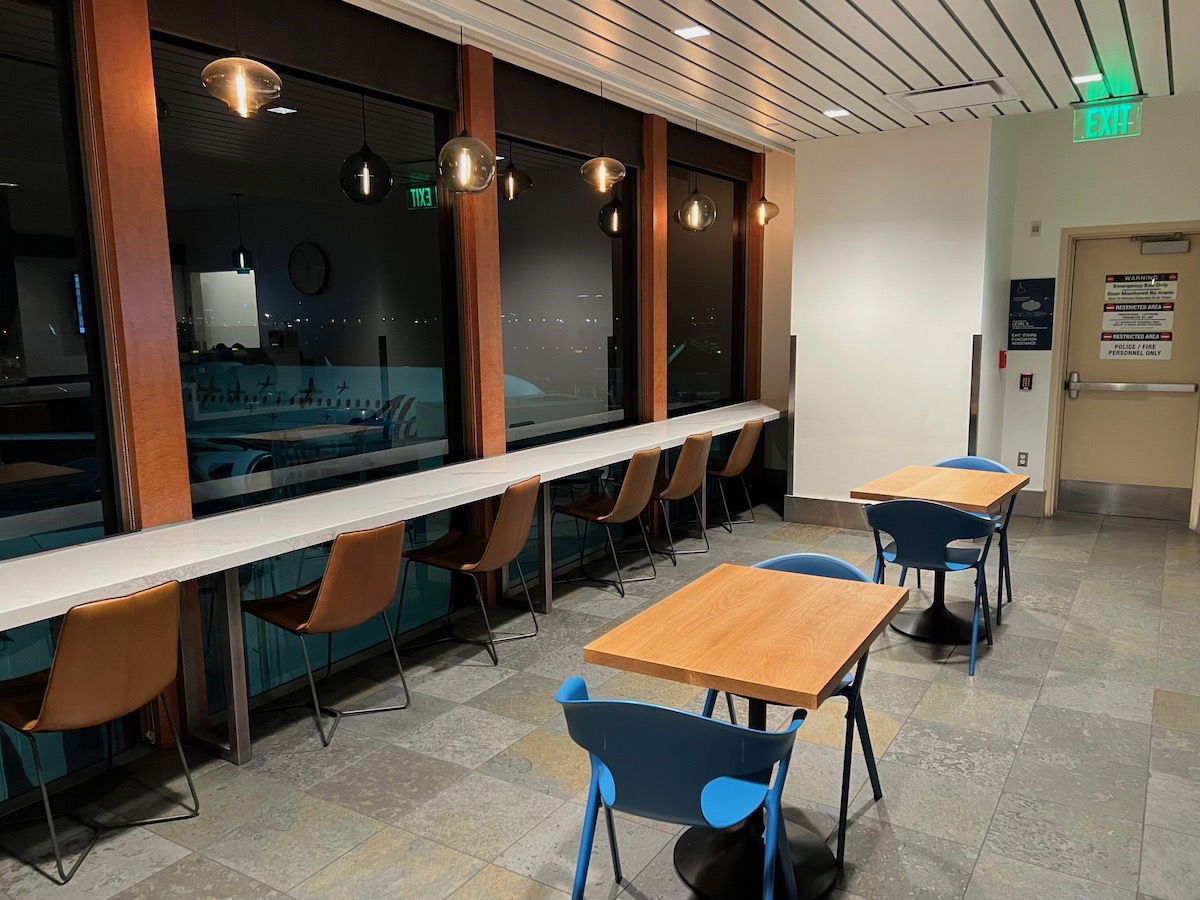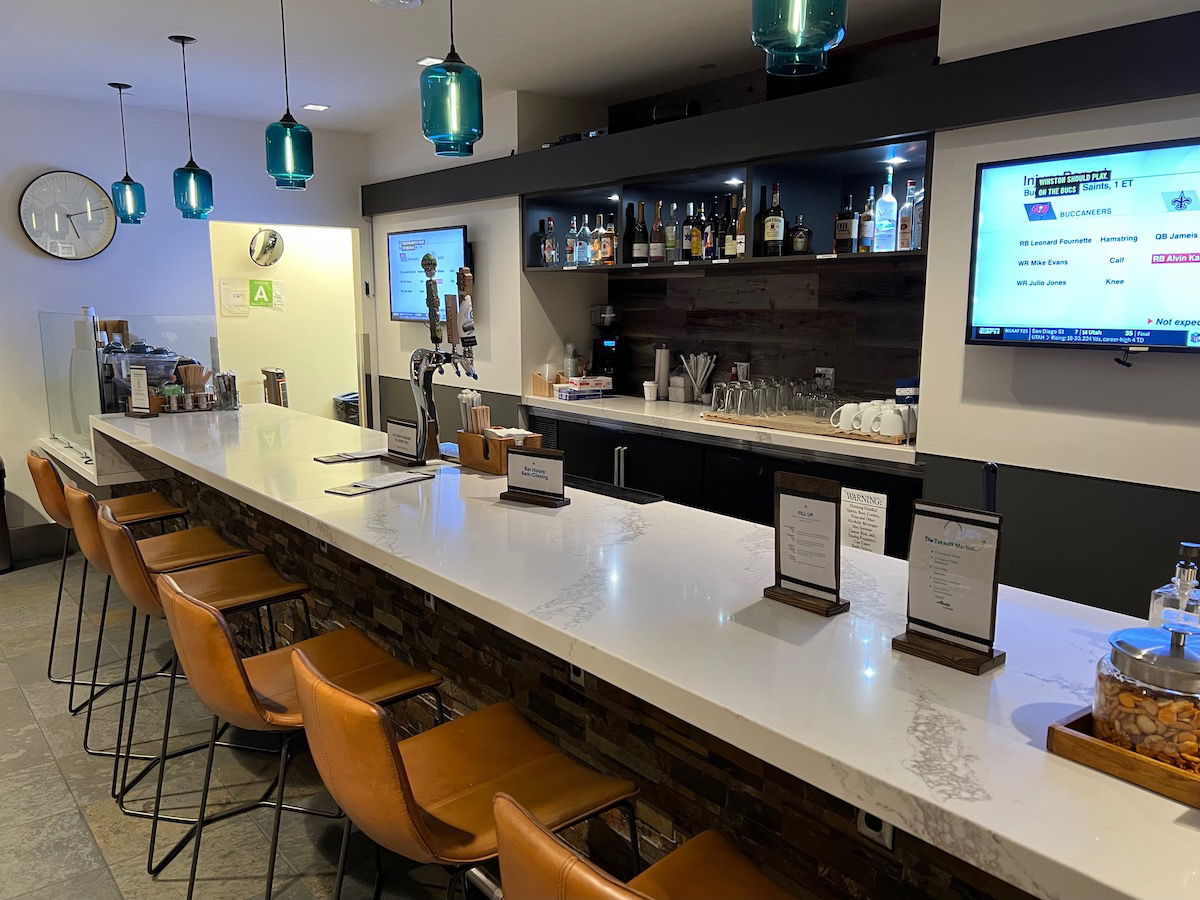 The lounge has great views of the apron, so you can see lots of the activity from Terminal 6 and Terminal 7 (and you have an especially good view of operations at gate 64B).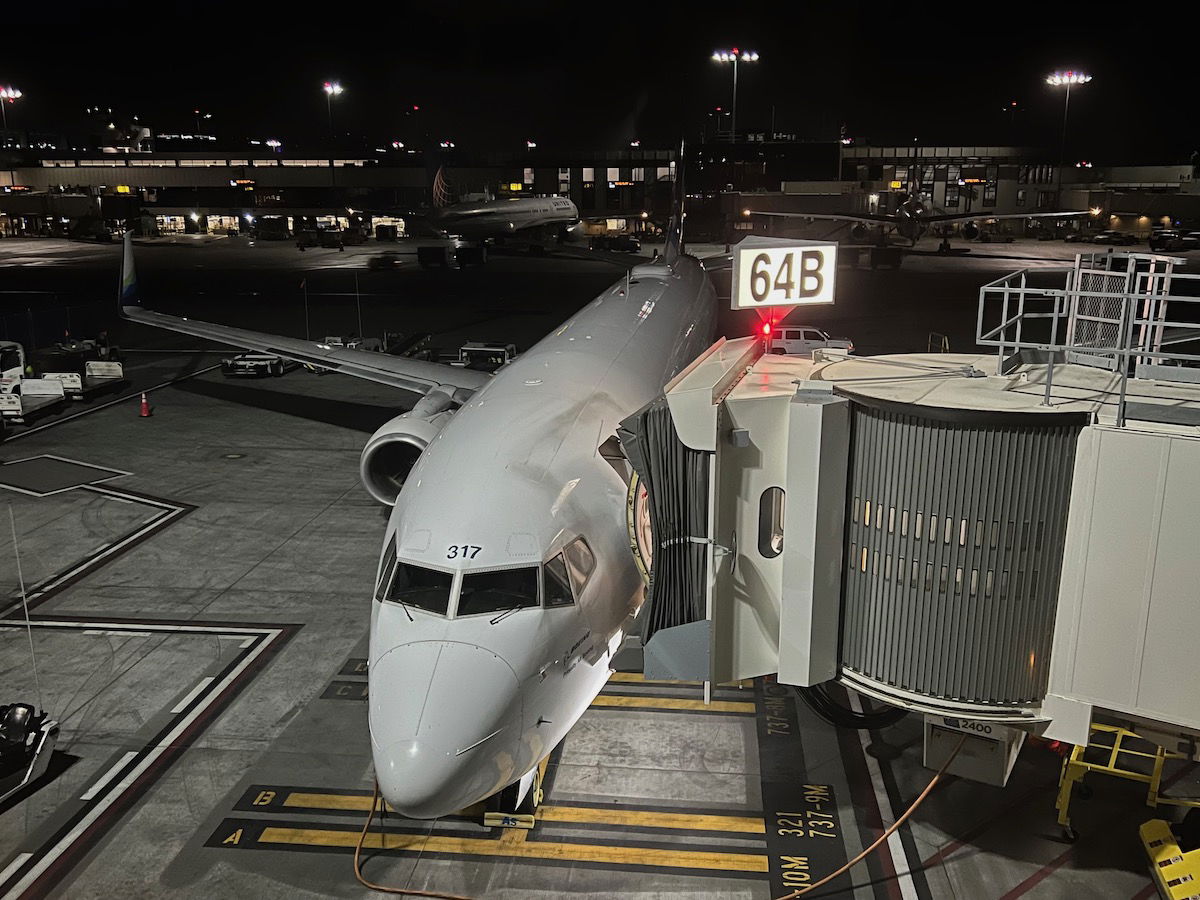 Since the lounge refresh, there's also no shortage of outlets, as a vast majority of seats have these.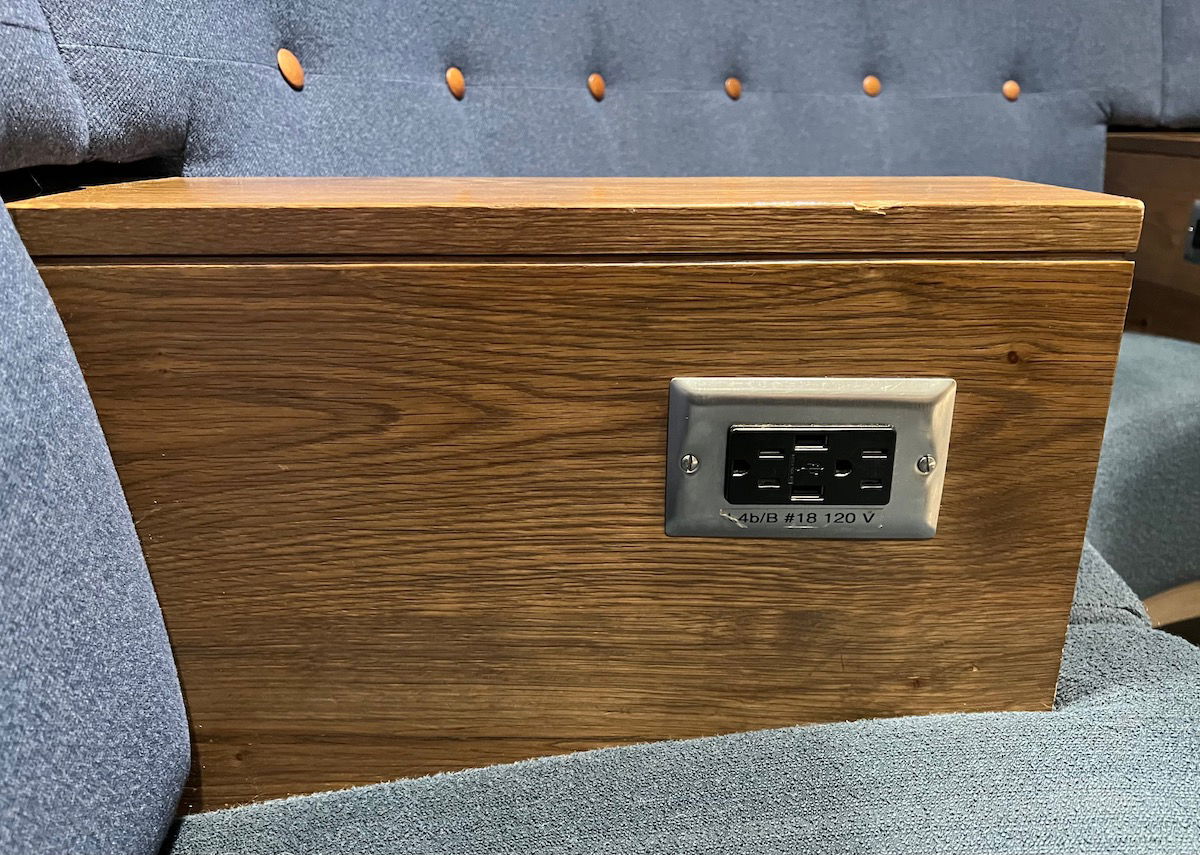 In my opinion the lounge design strikes a good balance between being cozy and having some personality, while still being functional.
Alaska Lounge LAX food & drinks
Alaska Lounges have a solid food and drink selection — I'd say the food is generally slightly better than what you'll find in Admirals Clubs and United Clubs, while the drinks are significantly better.
The Alaska Lounge LAX has a self-serve buffet.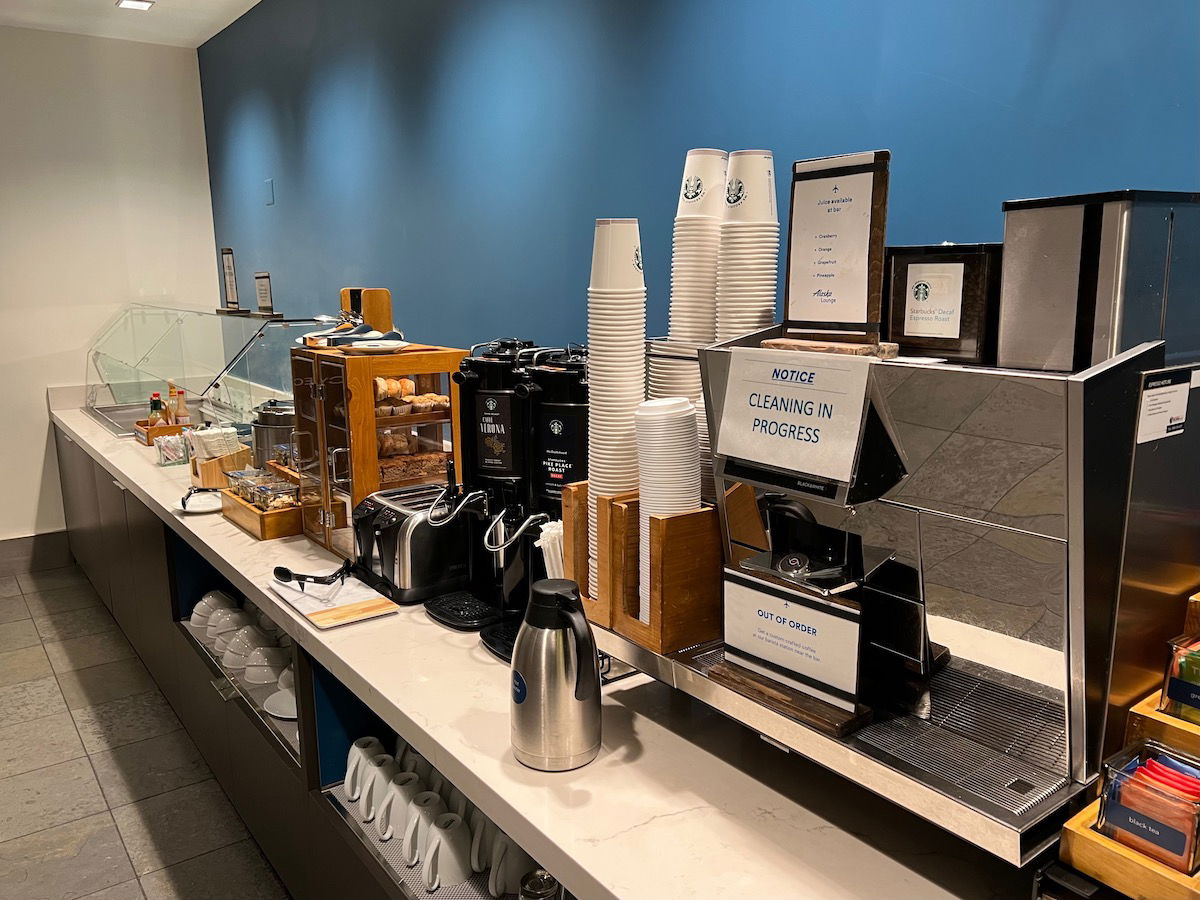 When I was there during breakfast hours, options included greek vanilla nonfat yogurt, chia pudding, strawberries, blueberries, steel cut oatmeal, scrambled eggs, sausage links, muffins, bagels, bread, cream cheese, whole fruit, snack mix, and more.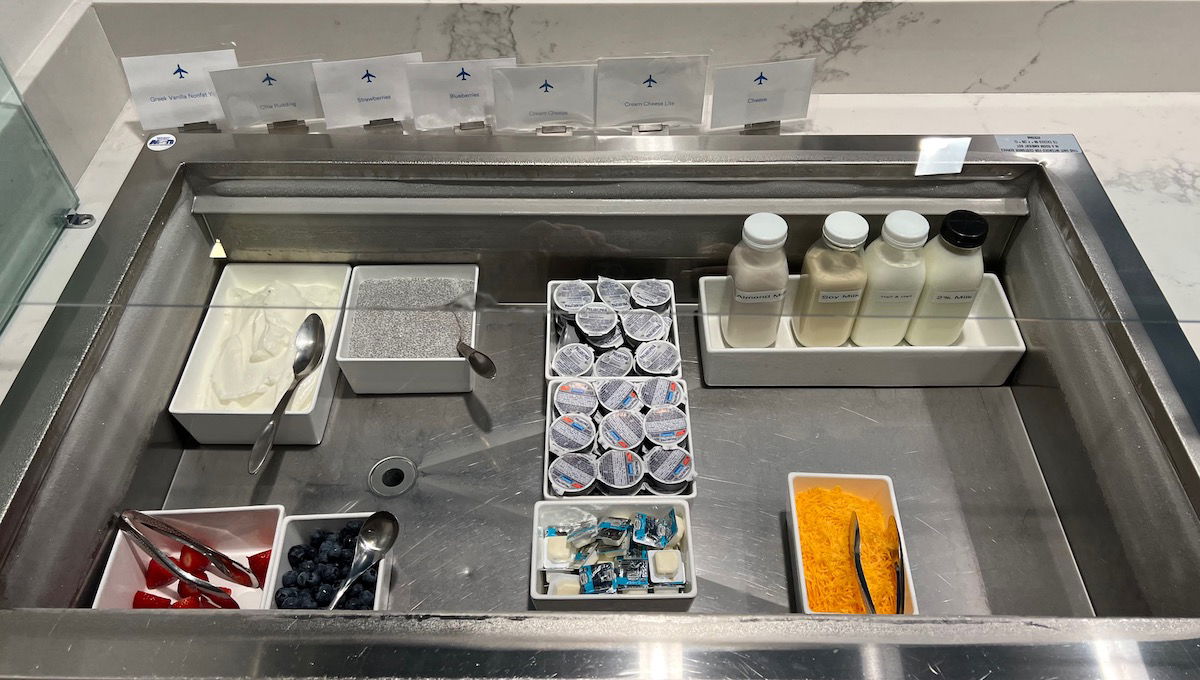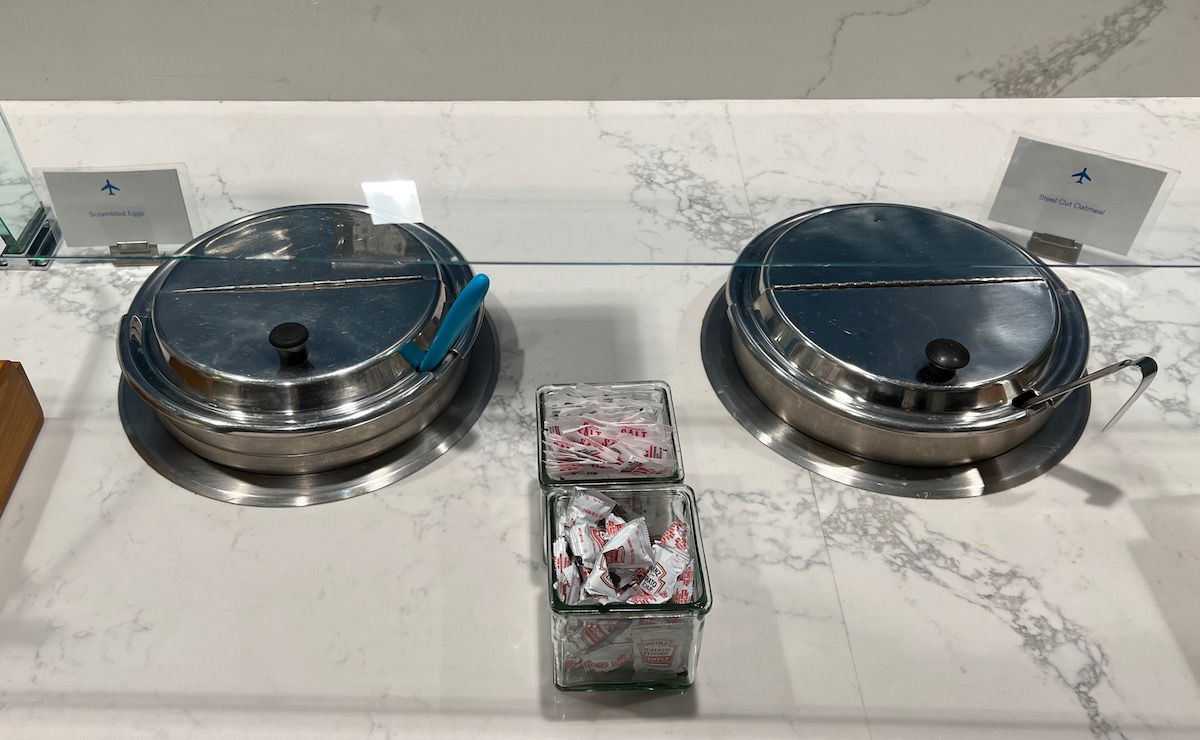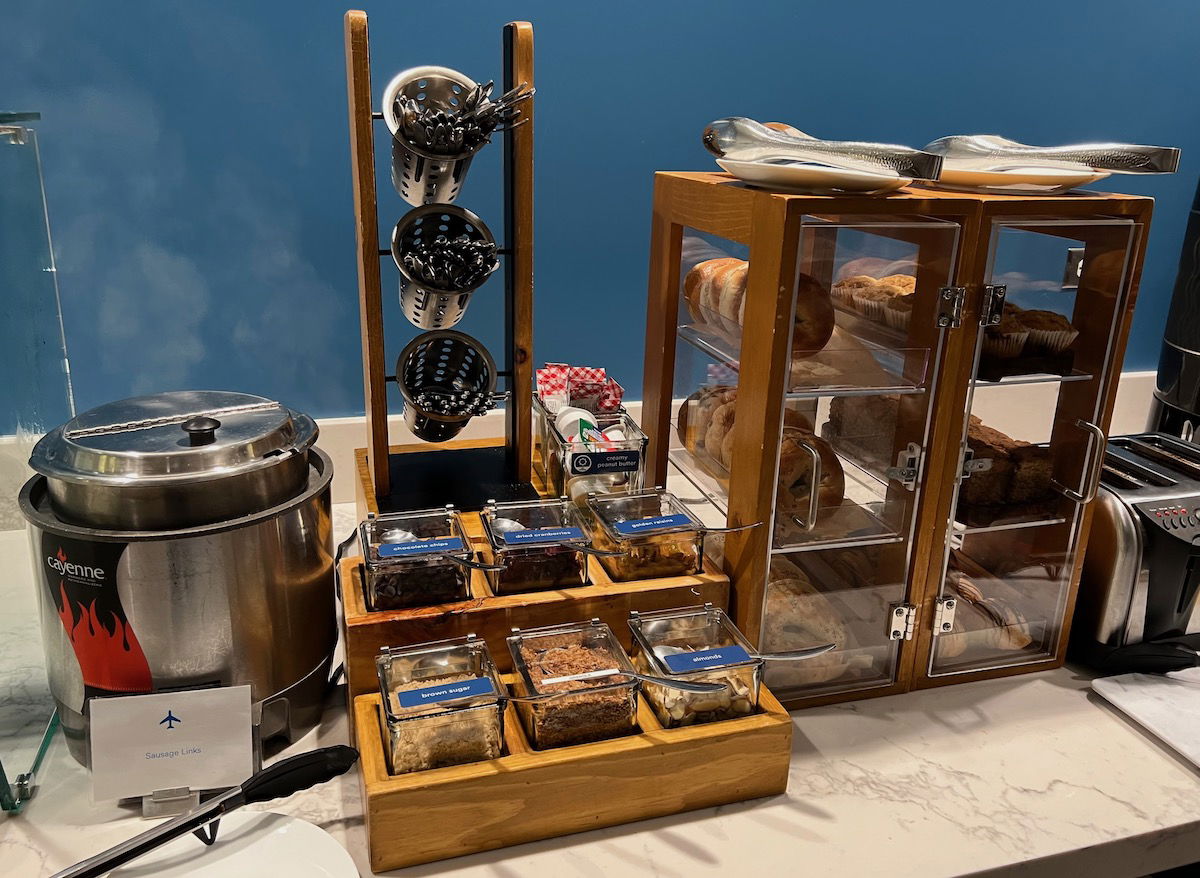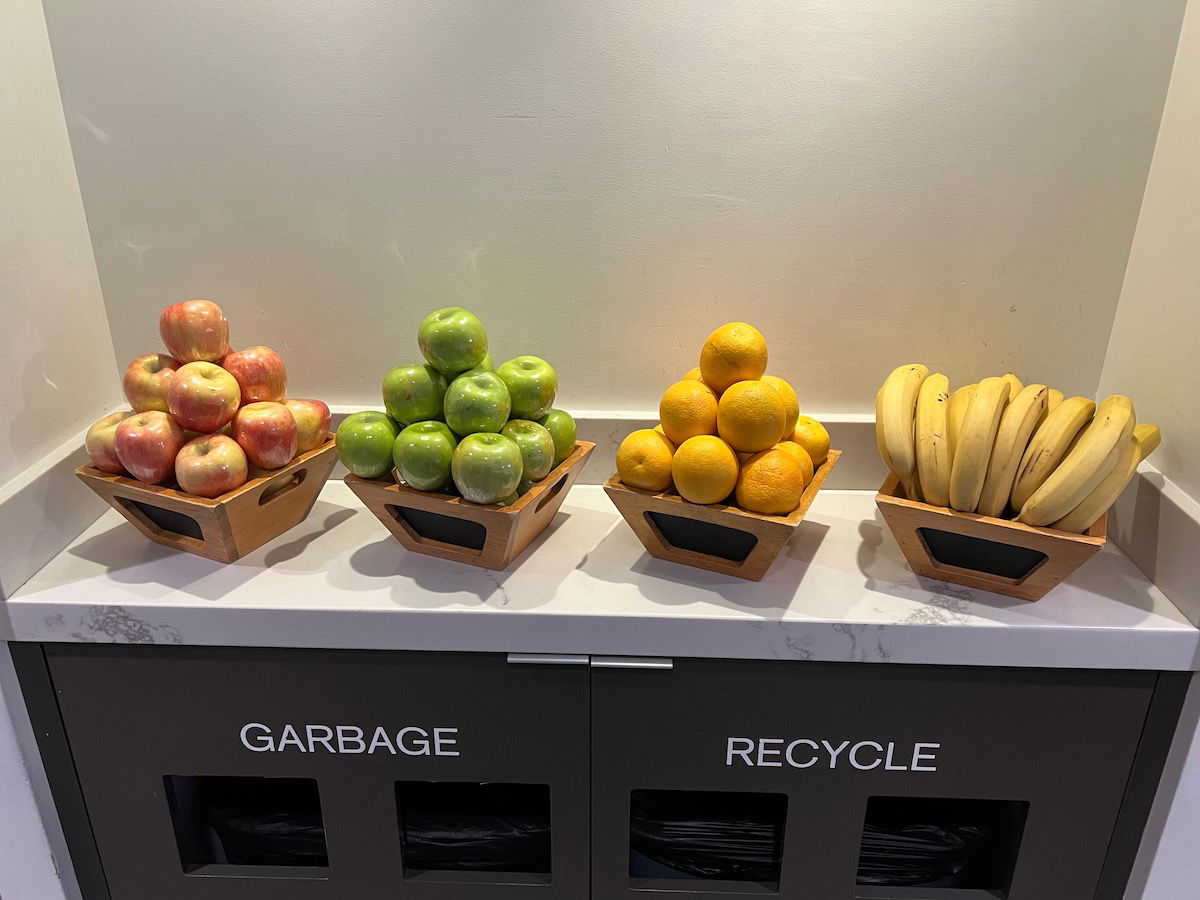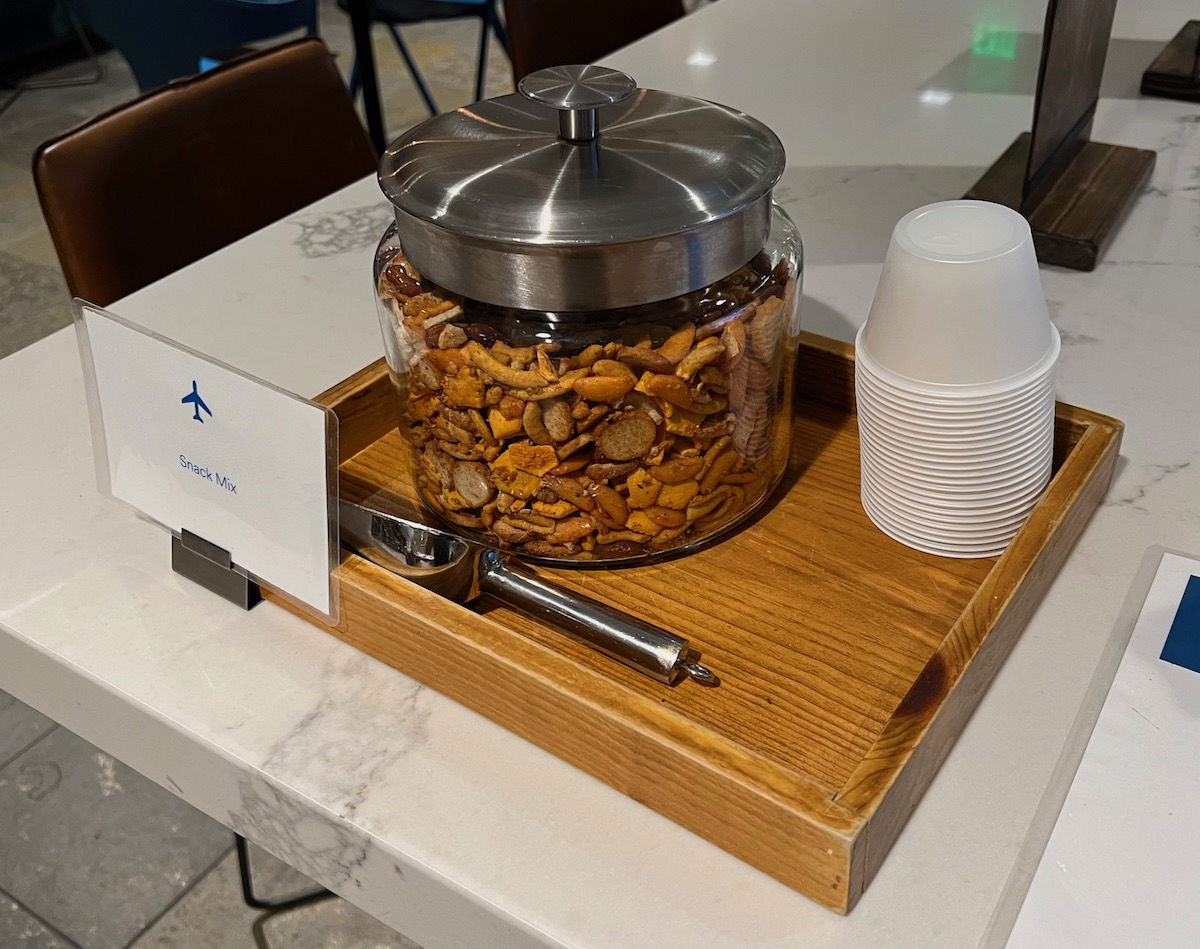 Oh, and of course we can't forget Alaska Airlines' famous pancake machine.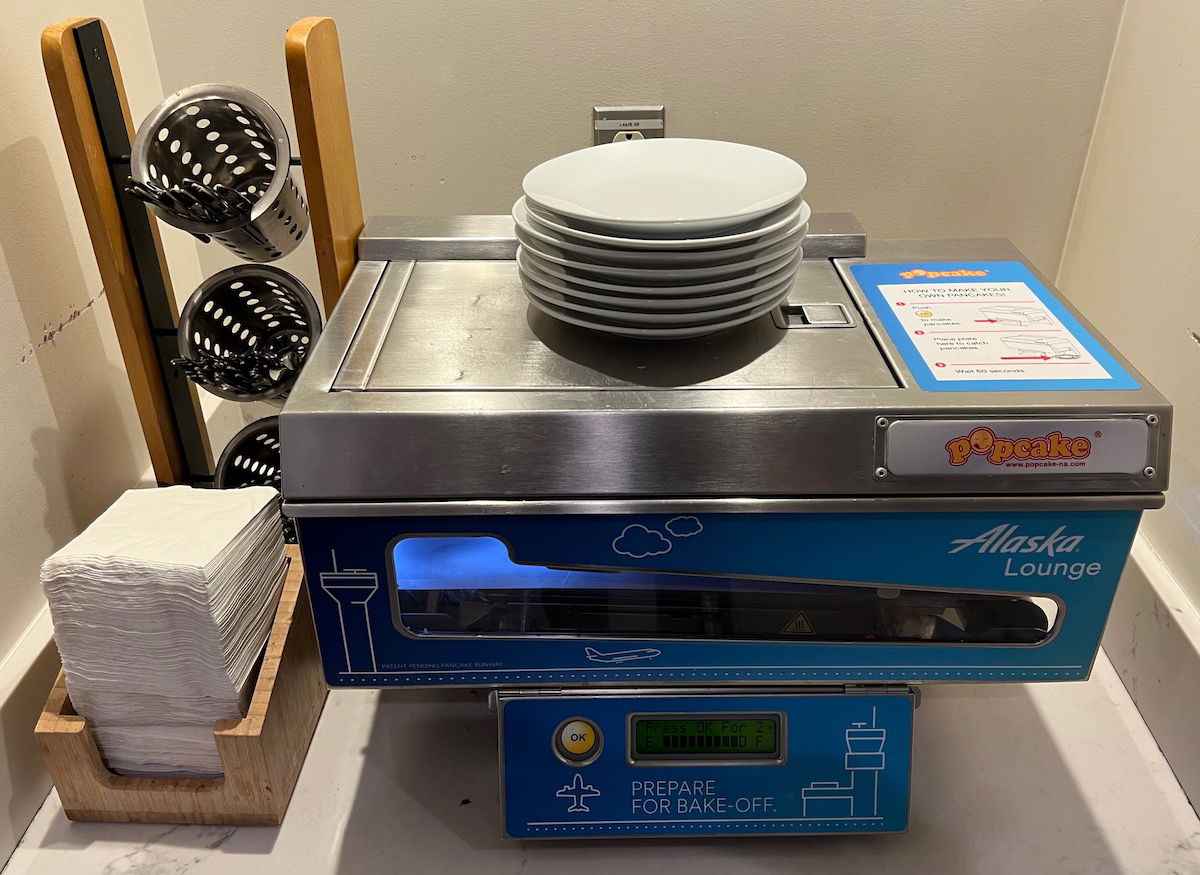 Self-serve drinks included Starbucks drip coffee, as well as a machine with a variety of espresso drinks. Some will appreciate that there are also syrups available, if you want to sweeten up your drink.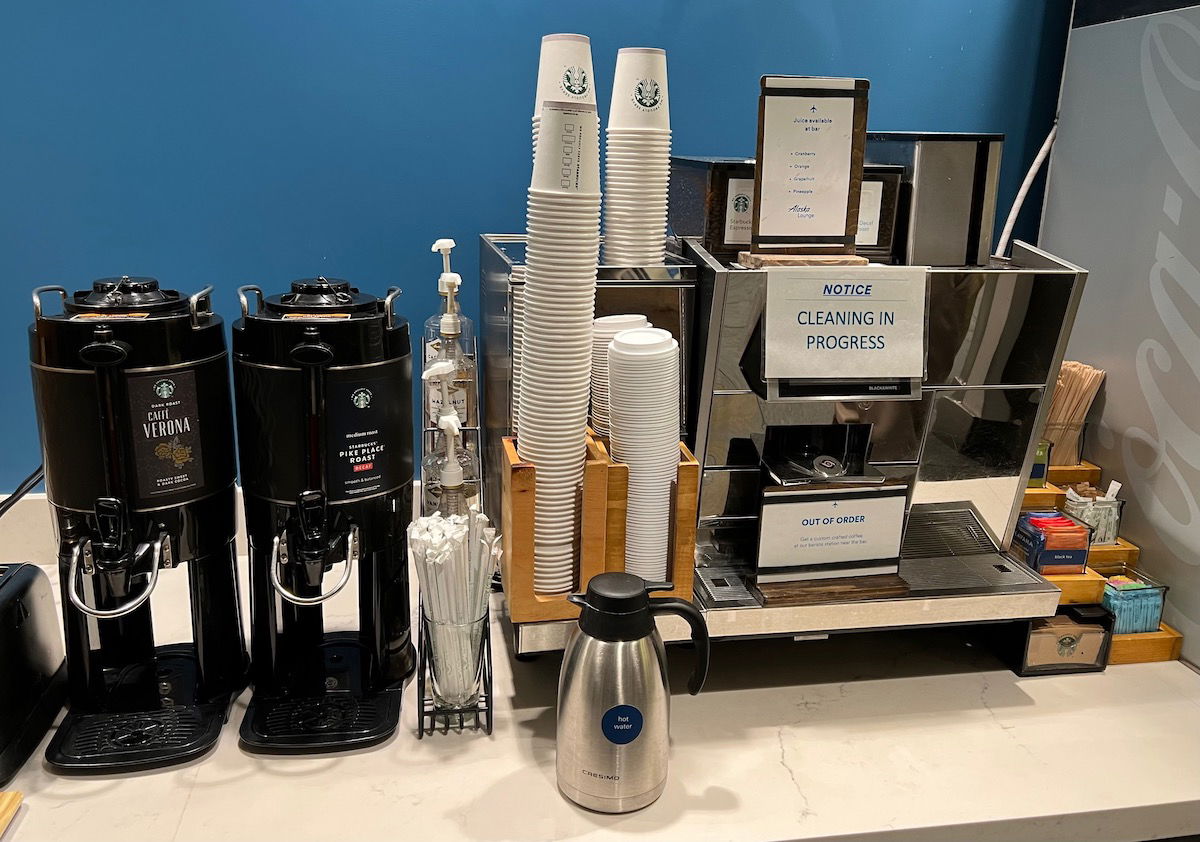 There's also a Coca-Cola soda fountain.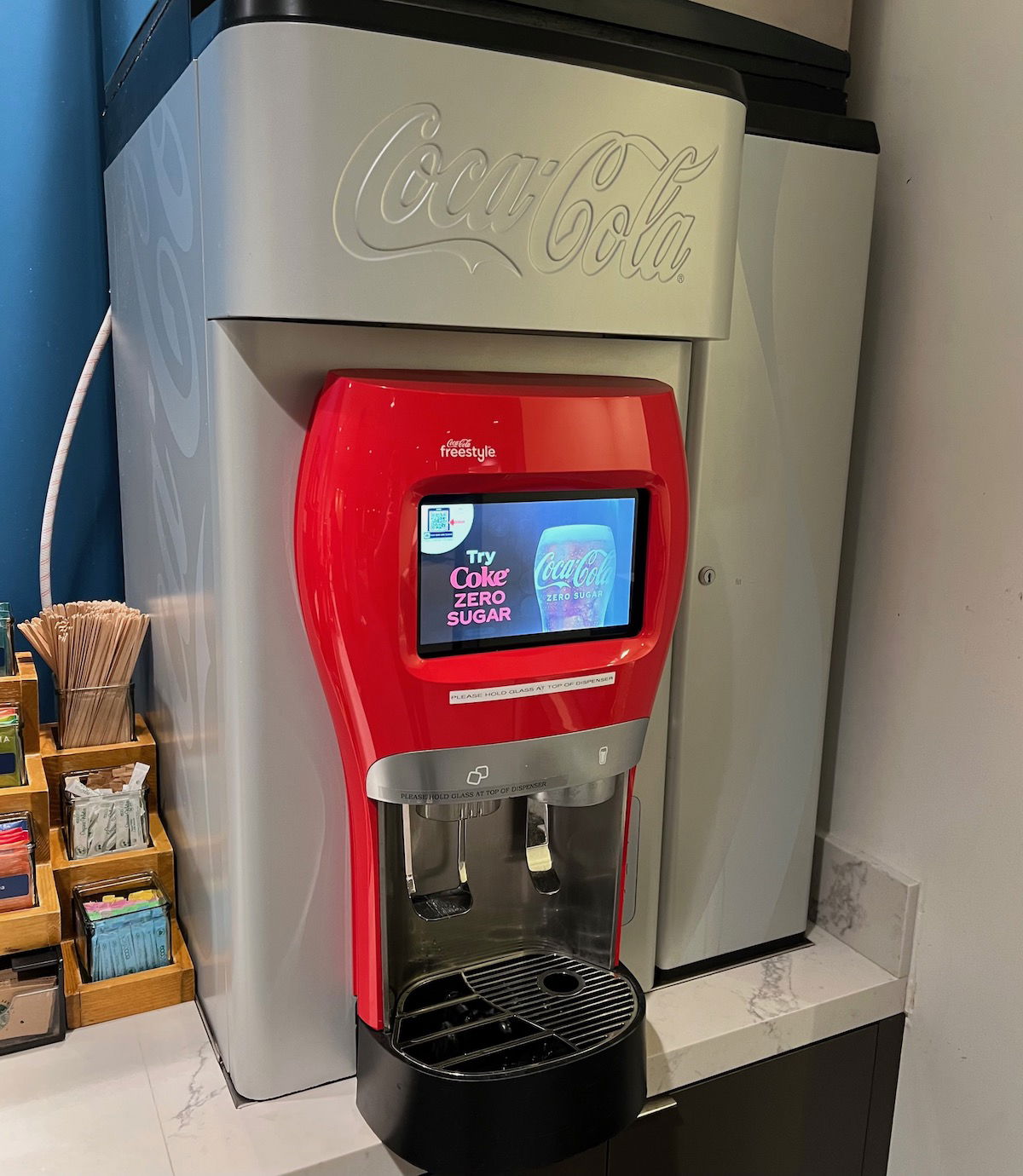 As a hot sauce enthusiast, I love that Alaska has a hot sauce caddy by the buffet, to spice things up a bit.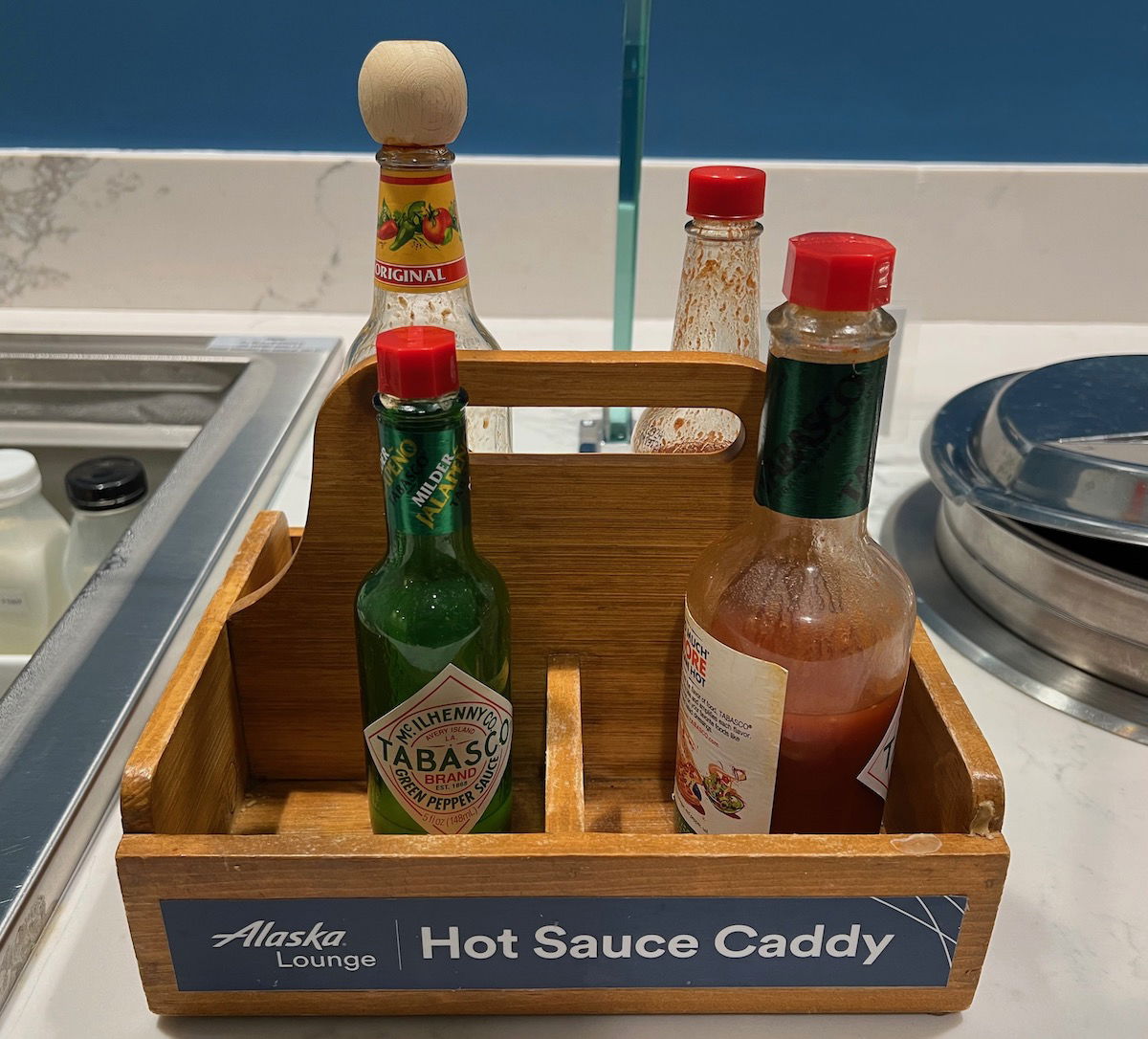 My single favorite thing about Alaska Lounges is that they have barista-made coffees at the bar. You can order a latte, mocha, cappuccino, americano, espresso, macchiato, or hot chocolate, and you can even select the type of milk you'd like.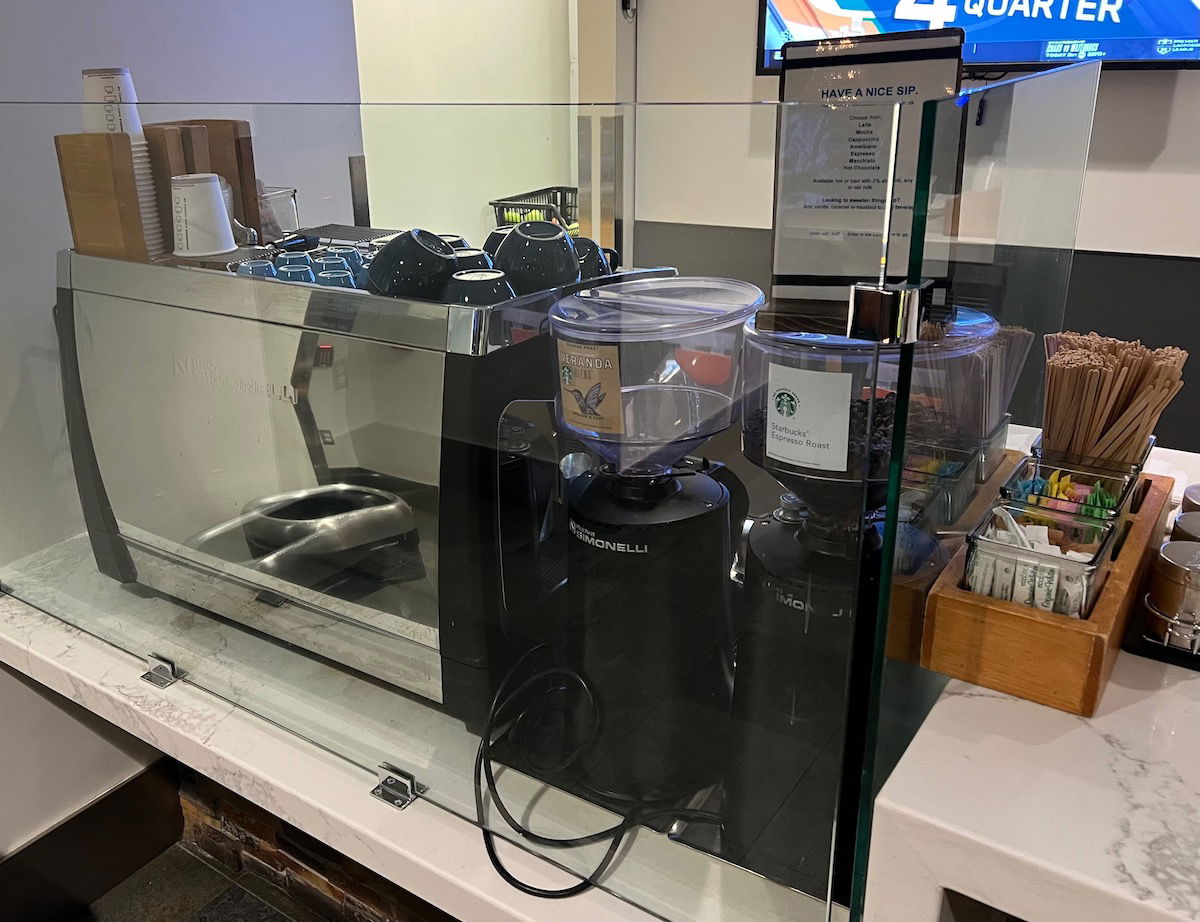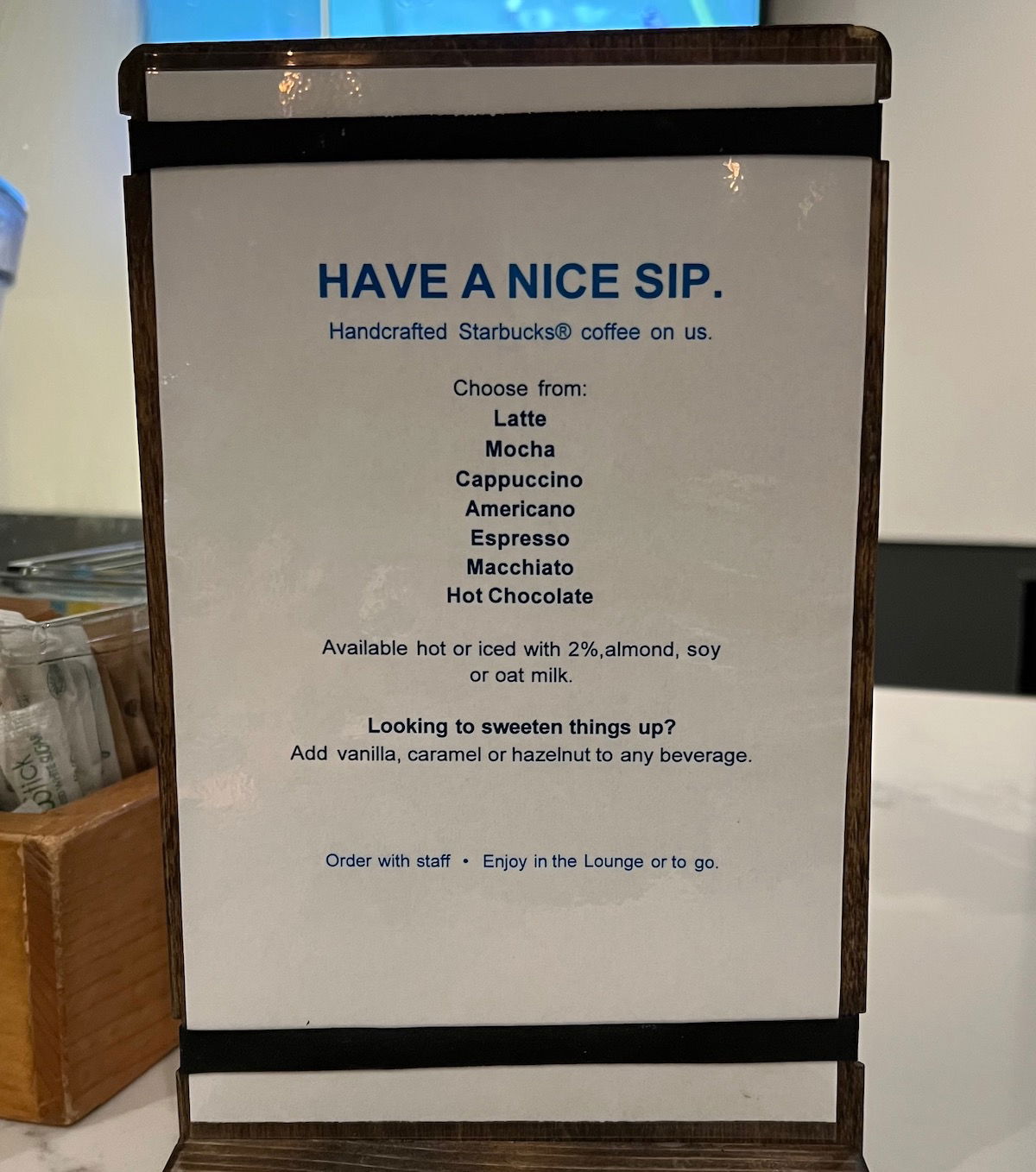 You can order your coffee in a to-go cup, if you're in a rush and want to enjoy it on your flight. Alaska is the only US airline to consistently offer barista-made coffee as a feature in its standard lounges, and it's something I love.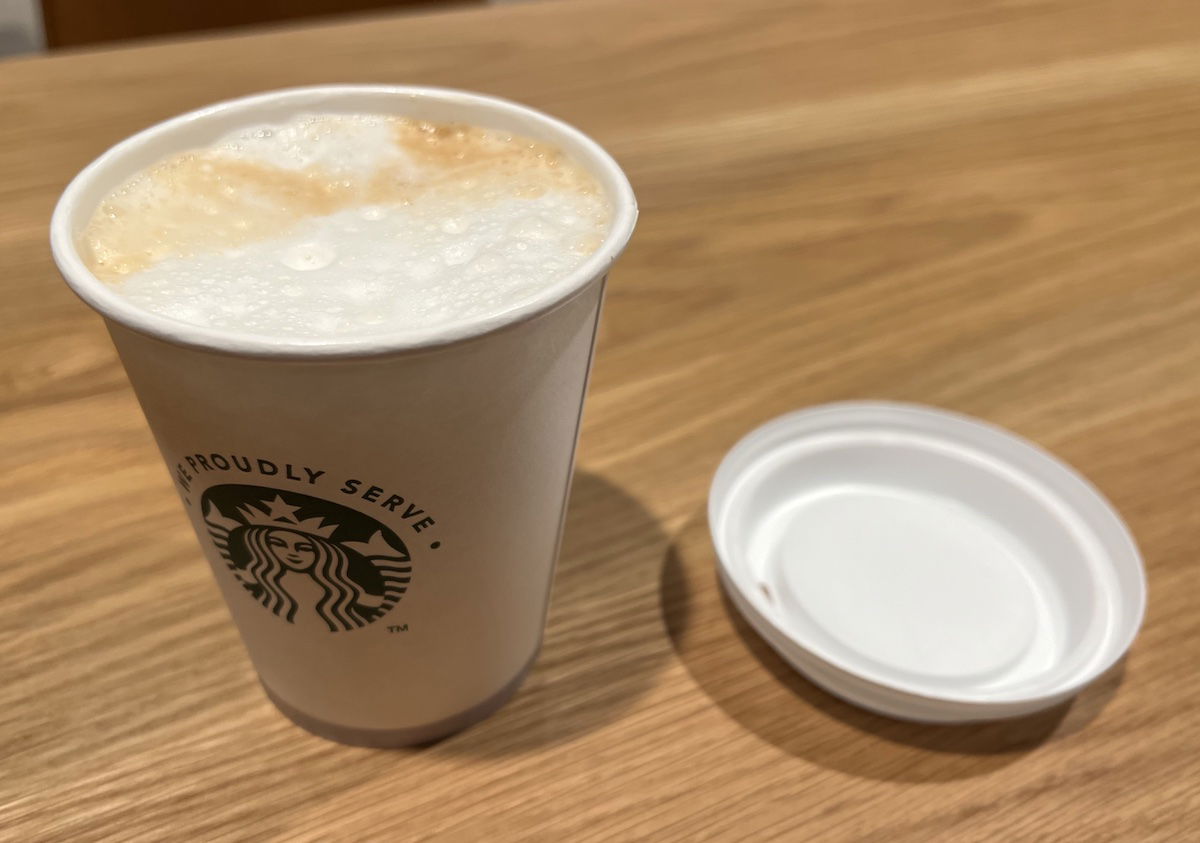 Alaska Lounges also have a selection of complimentary beer, wine, and cocktails. As a mostly West Coast airline, I appreciate how Alaska Airlines highlights drinks from the region.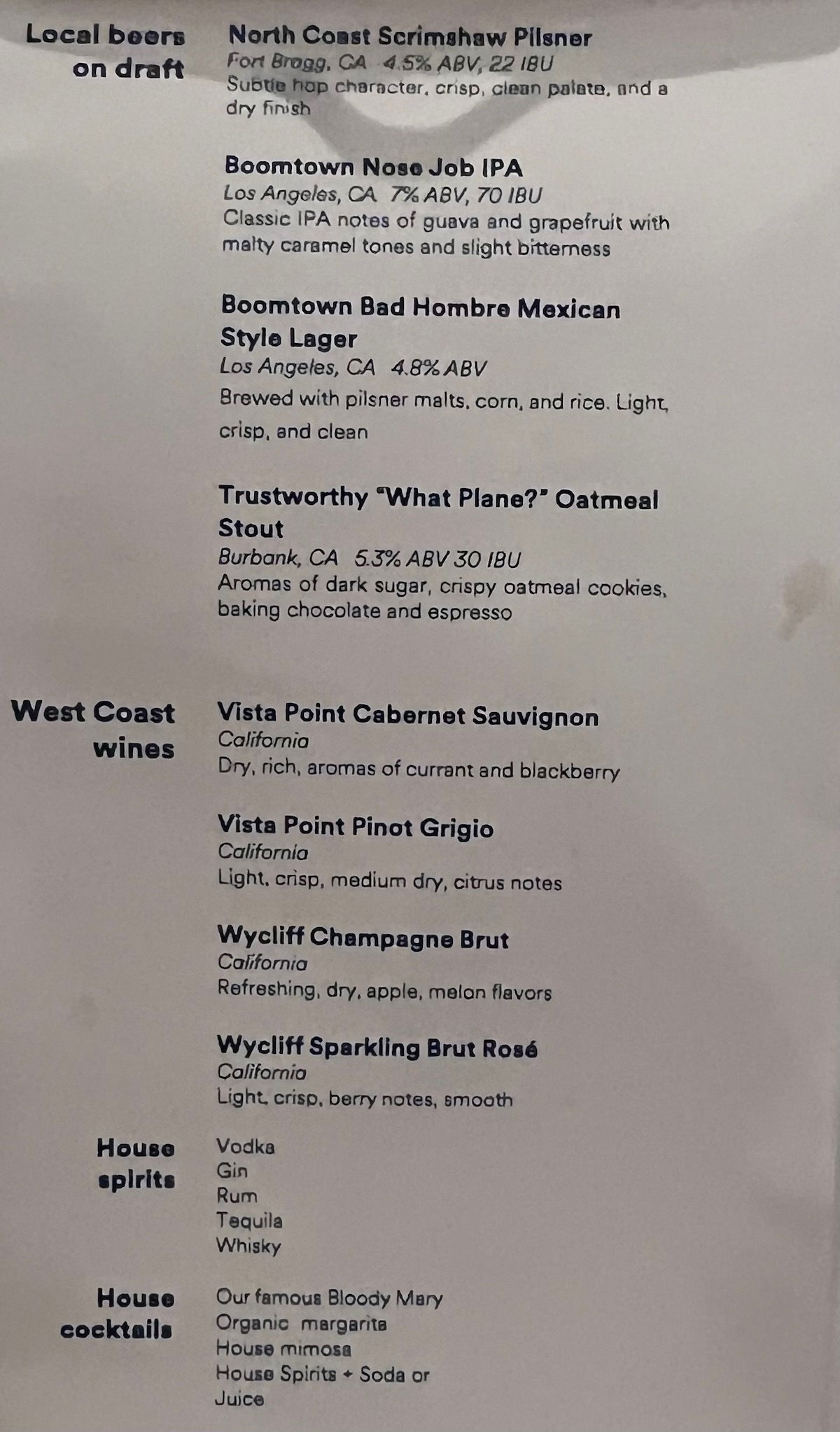 There's even a signature martini available right now, with espresso, vanilla sweetener, and vodka.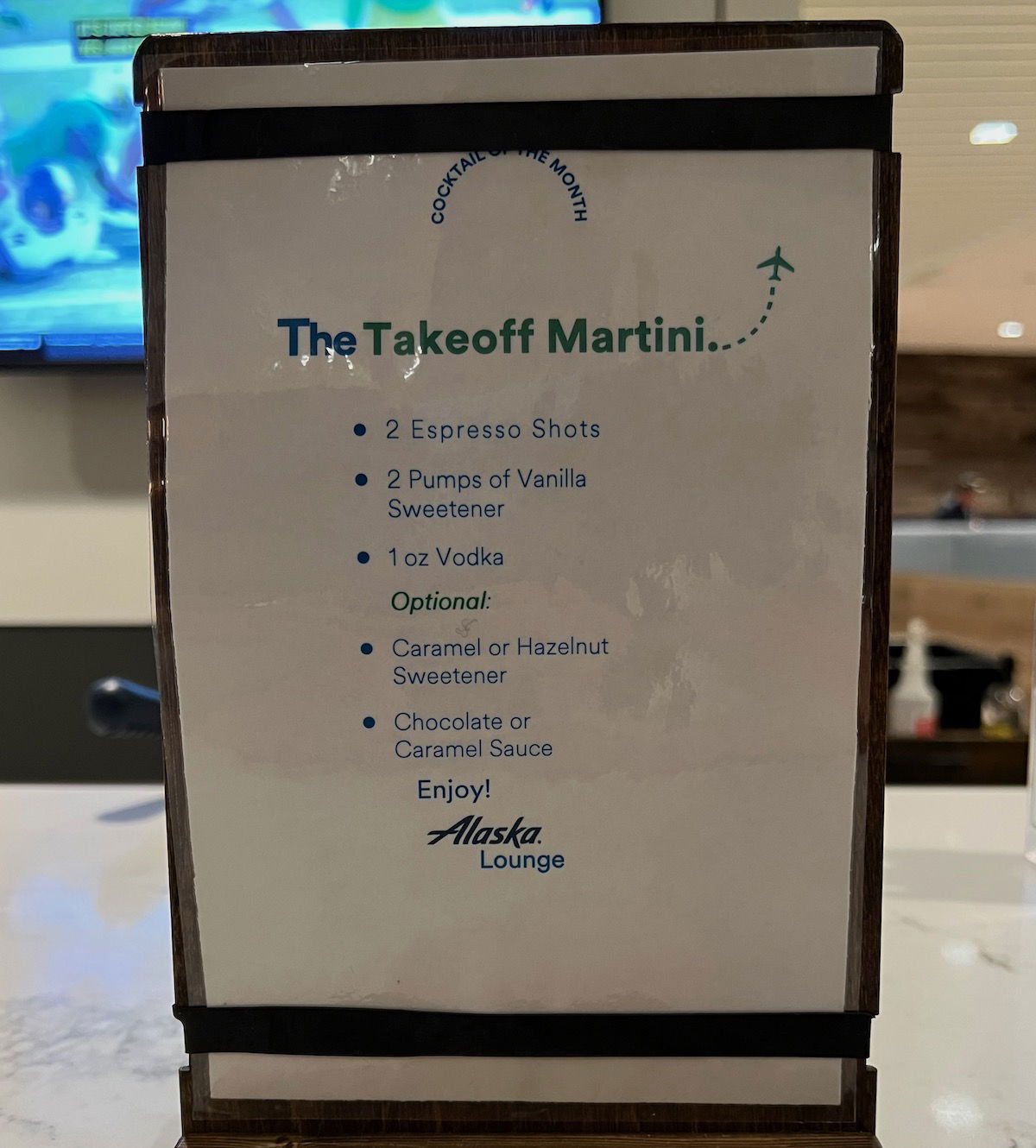 The Alaska Lounge LAX also has a small menu of food available for purchase, including pizza, burgers, and chicken tenders. However, unless something has changed, it's not something I'd recommend — if you want something more substantial, you're better off dining in the terminal.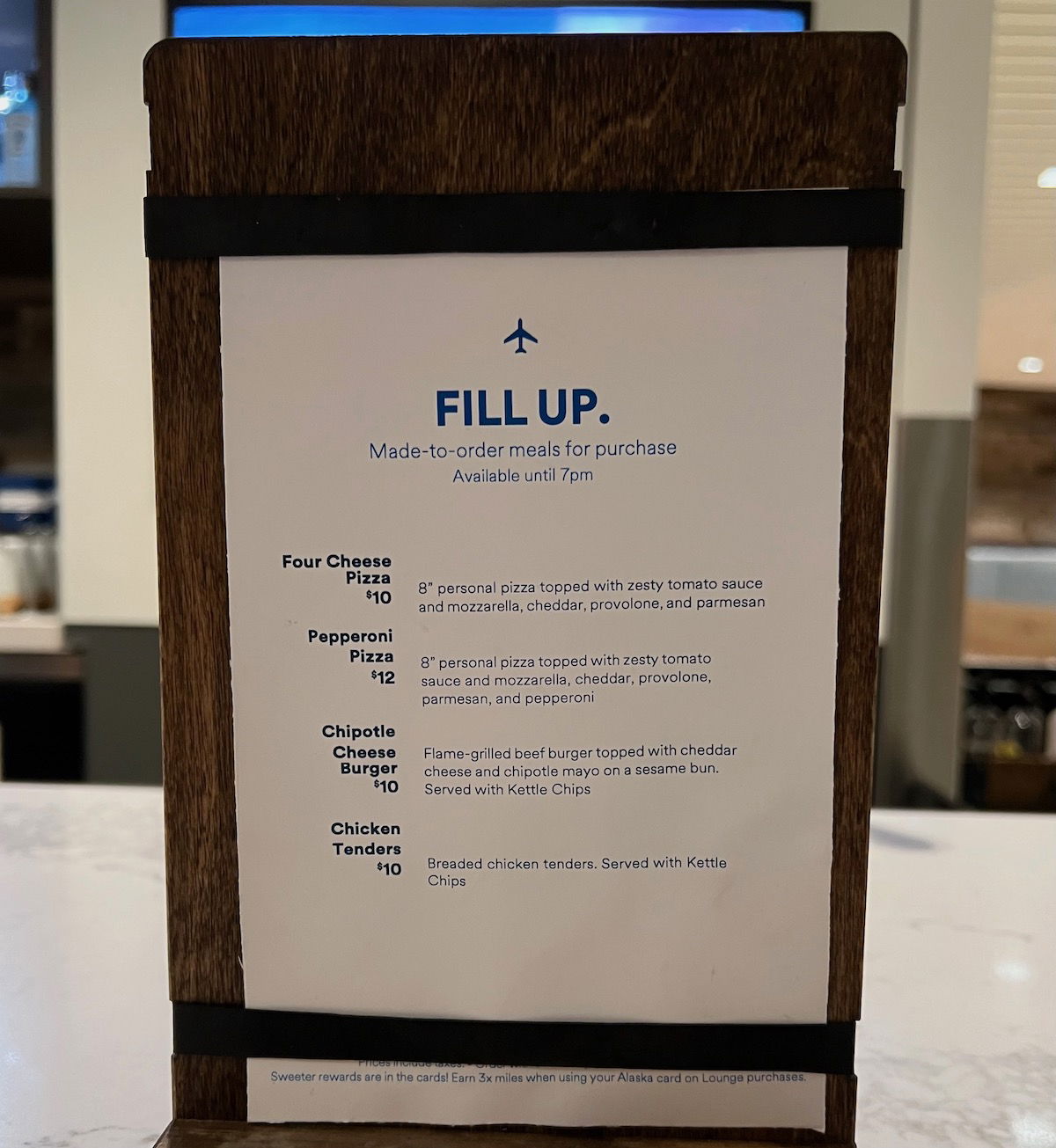 Alaska Lounge LAX bathrooms
The Alaska Lounge LAX has restrooms inside the lounge. The men's restroom had two stalls and urinals. However, note that the Alaska Lounge LAX doesn't have showers (which isn't surprising, since Alaska Airlines doesn't operate long haul flights).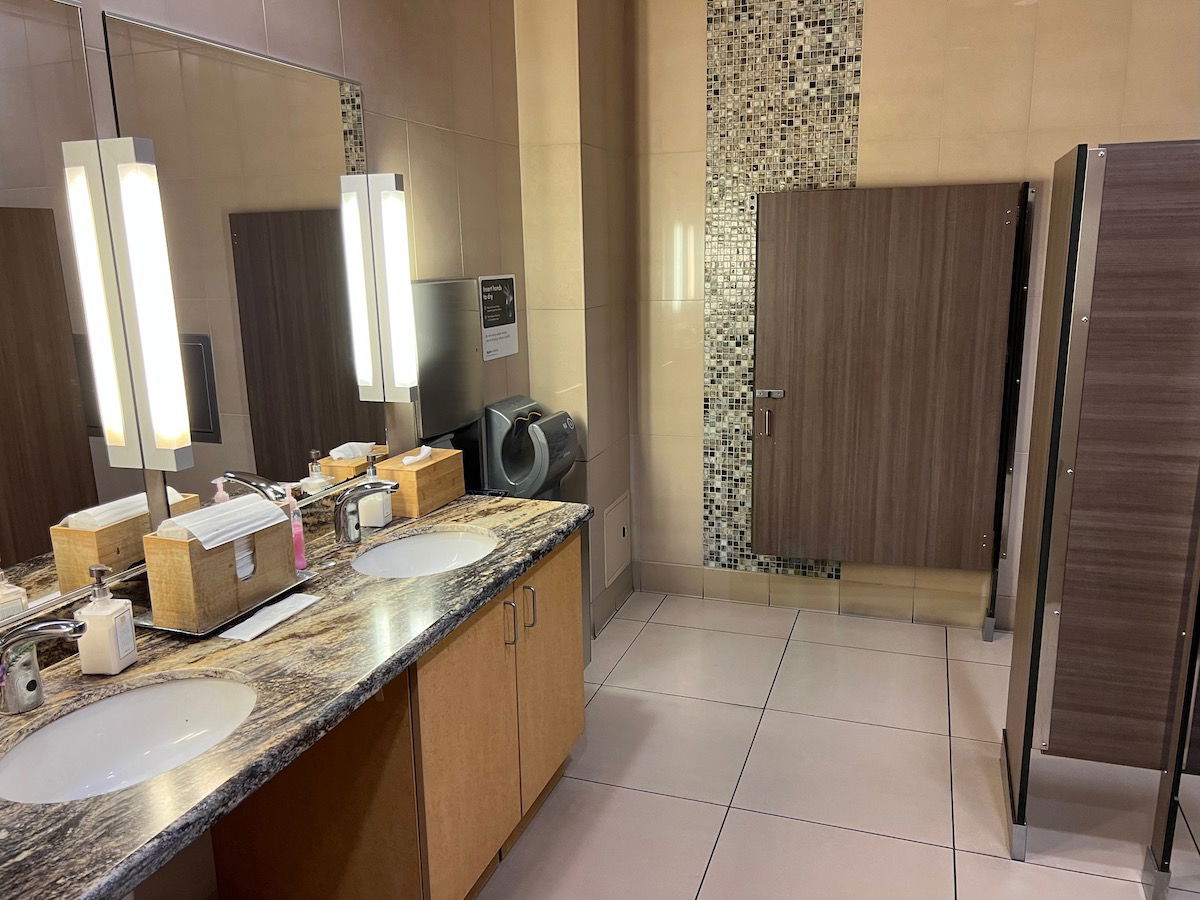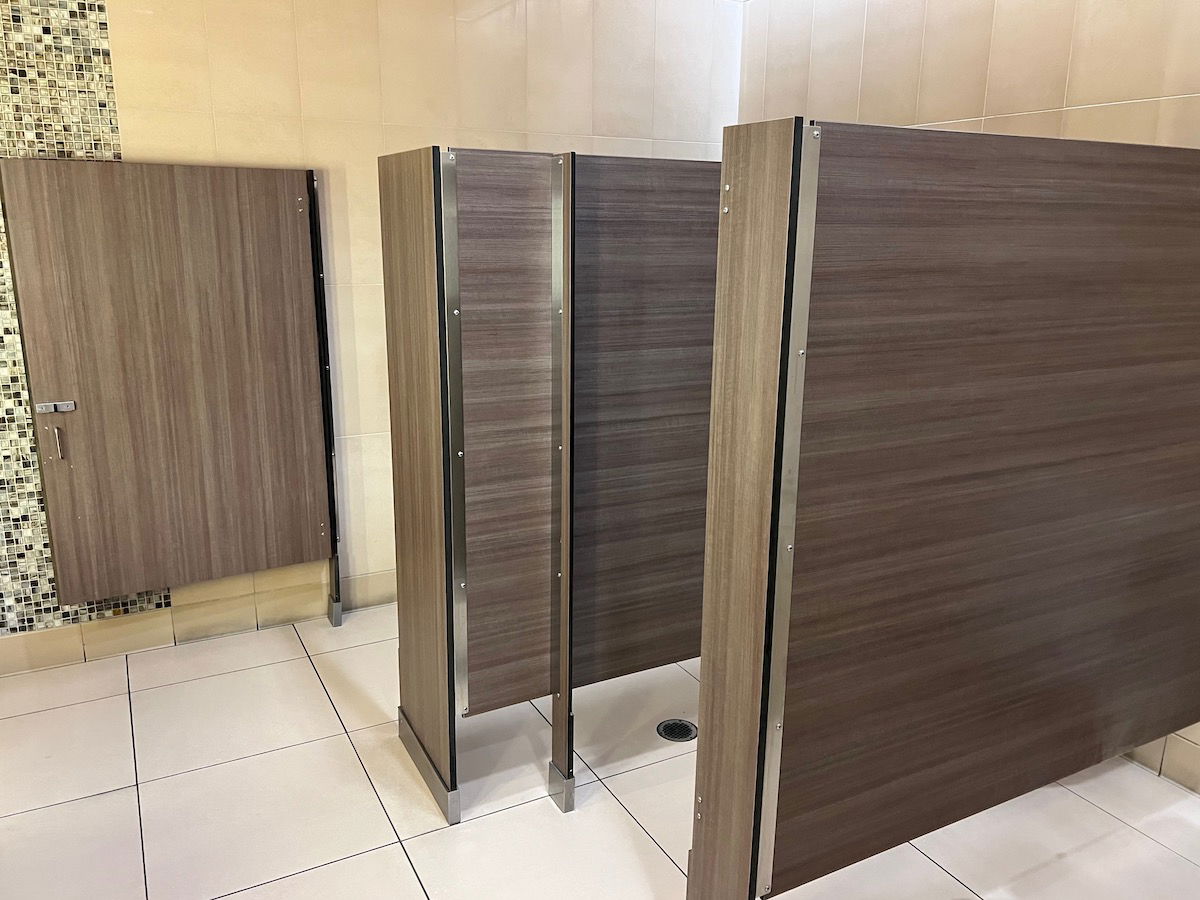 Alaska Lounge LAX service
One thing that stood out to me about the Alaska Lounge experience was how friendly all the staff were. This more or less matches my experience at other Alaska Lounges. The people working there just seemed plain happy, and grateful for customers.
The lounge isn't very large, so I could hear them greet each passenger as they arrived, and they did so with great enthusiasm. I also think it's interesting that at least historically, Alaska Lounges have had a no tipping policy, including at the bar, despite having some of the nicest and hardest working bartenders you'll find at any lounge. That certainly counters the trend in the United States.
Bottom line
I've always been a fan of Alaska Lounges, and the refreshed LAX location is no exception. Admittedly these won't compete with the top international lounges, but the Alaska Lounge LAX has great views, nice decor, friendly staff, solid food, barista-made coffee, and good alcohol.
It has always felt to me like Alaska Airlines puts effort into its lounges, even just down to the small thoughtful touches, like a hot sauce caddy. If you have the chance to visit this lounge and have realistic expectations, it shouldn't disappoint.
If you've visited the Alaska Lounge LAX, what was your experience like?