While flying with Fiji Airways I had a roughly 2.5 hour layover at Nadi Airport (NAN), after arriving from Los Angeles (LAX) and prior to connecting to Auckland (AKL). I spent most of this time at the Fiji Airways Premier Lounge, which is Fiji Airways' only lounge.
I have to say, the lounge impressed me, especially given that this is also accessible by Priority Pass members. It has nice decor, an excellent food selection, and some of the best coffee I've ever had in a lounge.
Fiji Airways transit at Nadi Airport
Nadi Airport is quite small, and while the terminal as such isn't beautiful, I appreciate how easy connections are, the airport's open air corridors, as well as the lounge. Upon arrival in Nadi I first followed the signs toward immigration and transfers, which gave me a great view of the A350 that just flew me across the Pacific.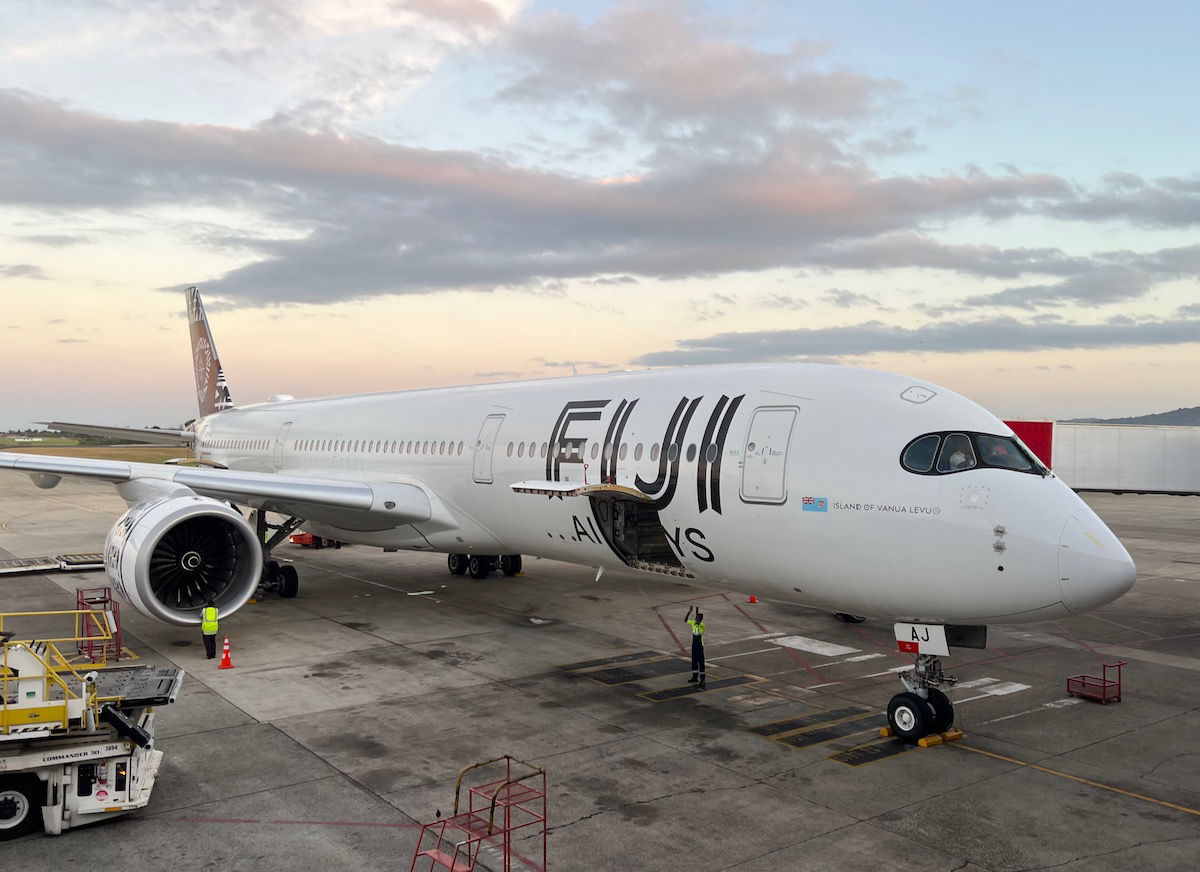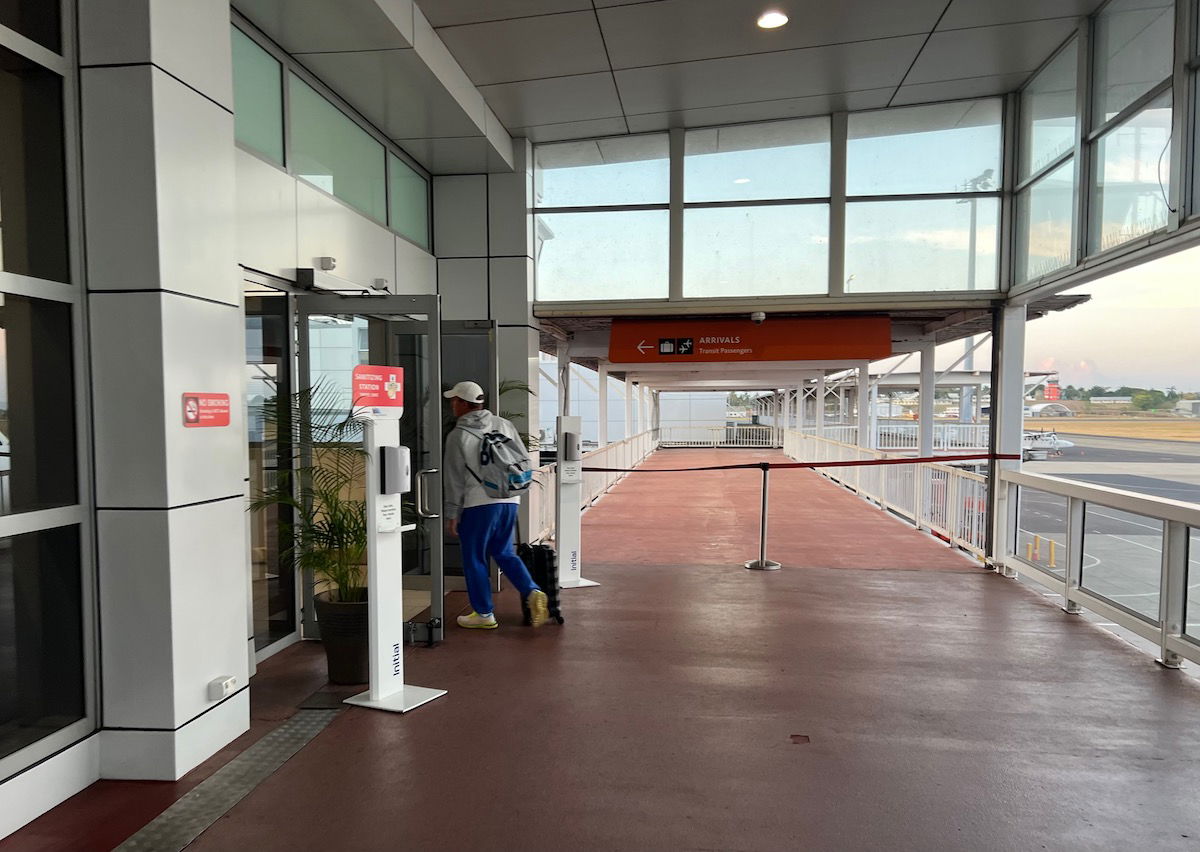 Once inside the terminal, you stay left if you're connecting internationally, and right if you're clearing immigration. I stayed left, and first had to go through an immigration check, which took less than a minute. For what it's worth, you have to fill out the Fiji landing card even if you're just in transit. After that I had to go through a quick security check, which also took almost no time.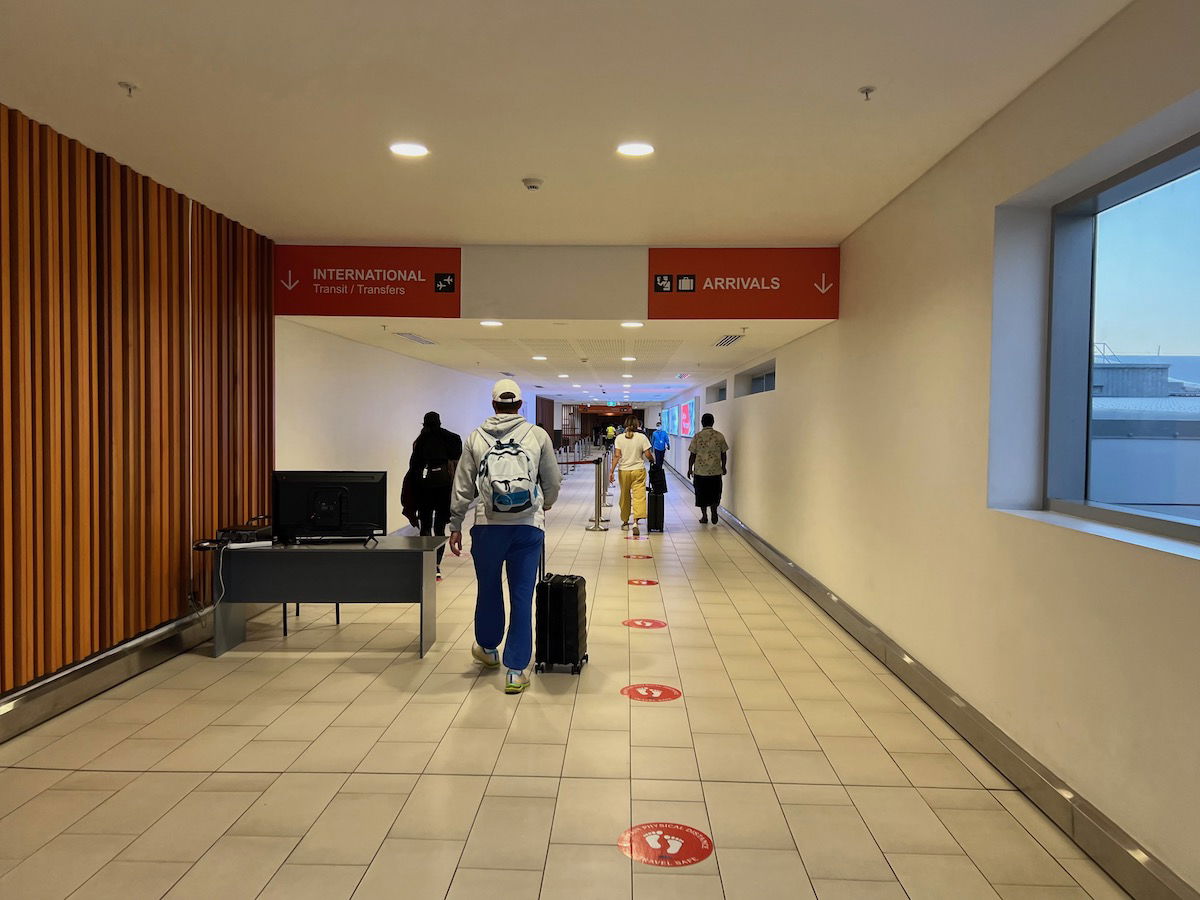 Less than five minutes after exiting the plane, I was already in the airport's departures hall. Be happy if you have lounge access here, because the terminal does get very crowded during peak times.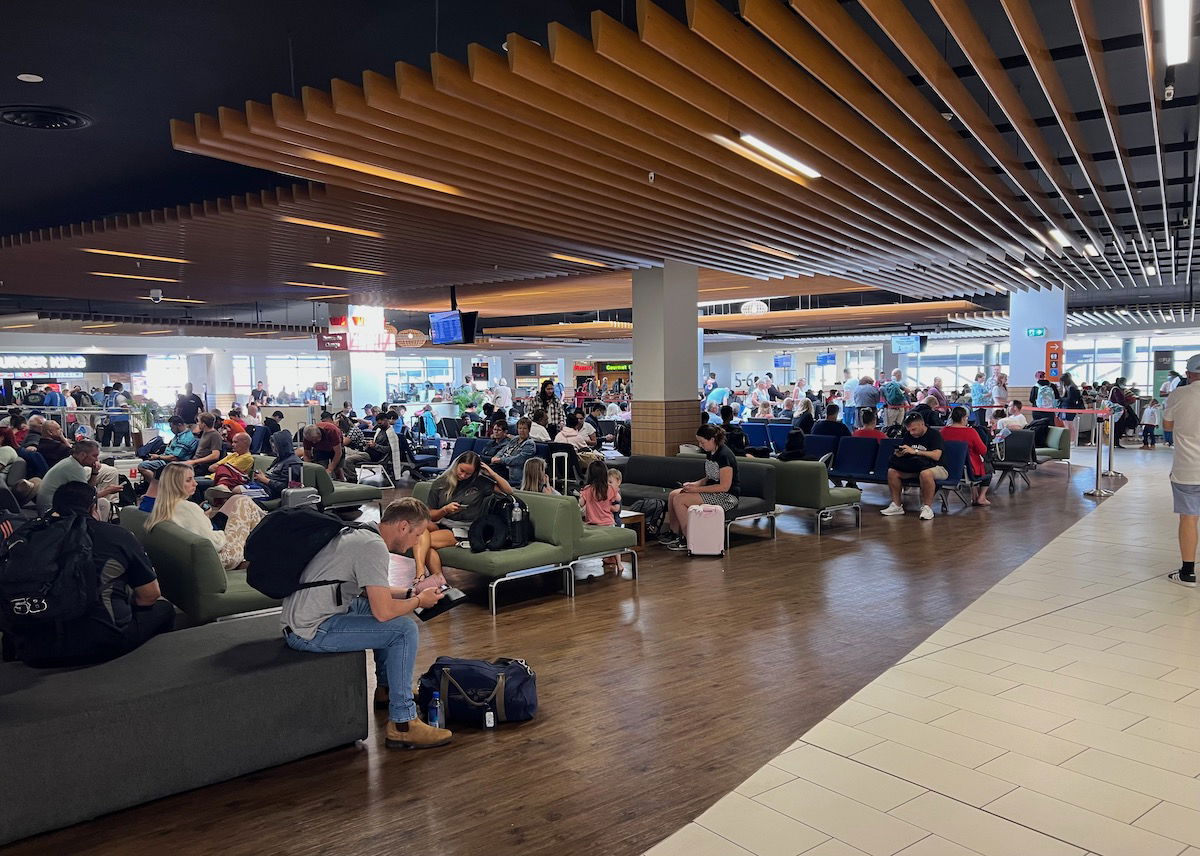 Fiji Airways Lounge Nadi location
Nadi Airport is tiny, so when you're in the international departures hall, you really can't miss the lounge. Just follow the signage to airline lounges, as they're located one level below the main terminal building. There's an elevator, escalator (one-way), and stairs.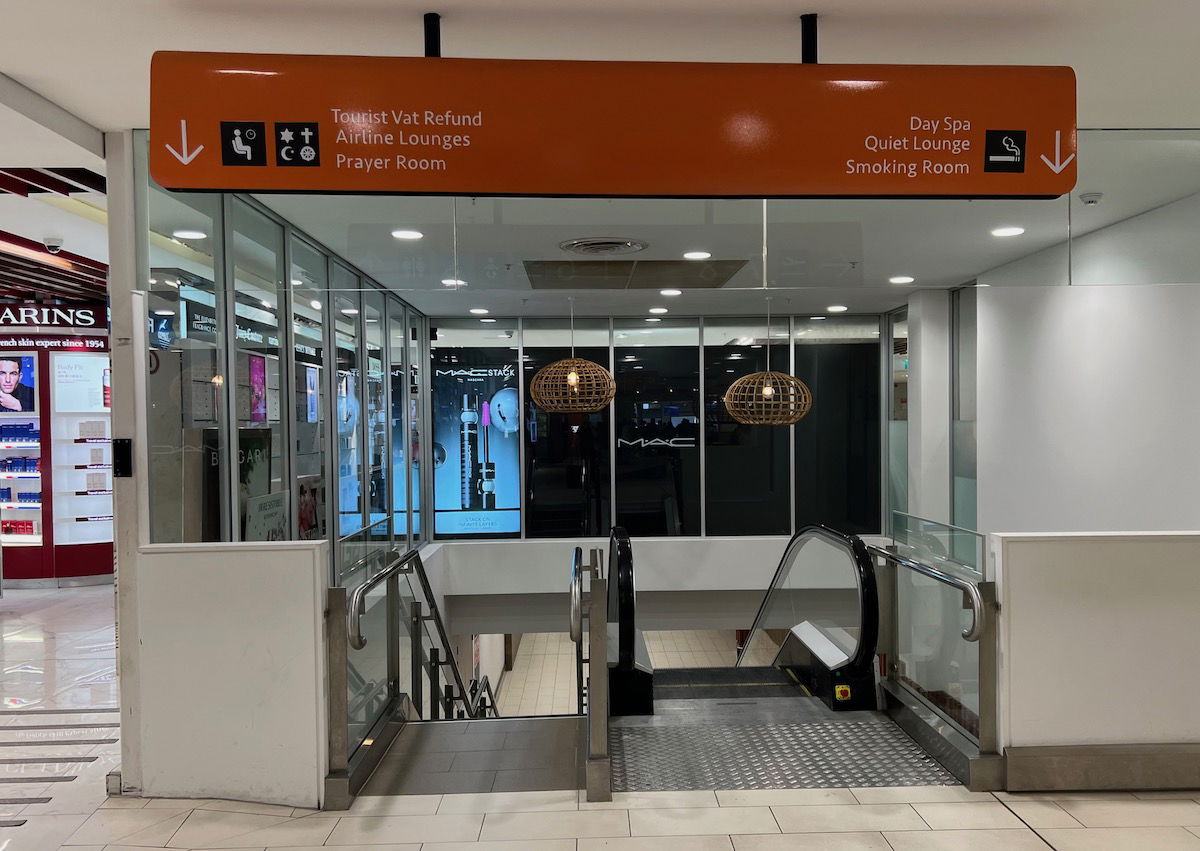 At the bottom of the escalator and stairs, you'll see the Air New Zealand Lounge straight ahead and to the left.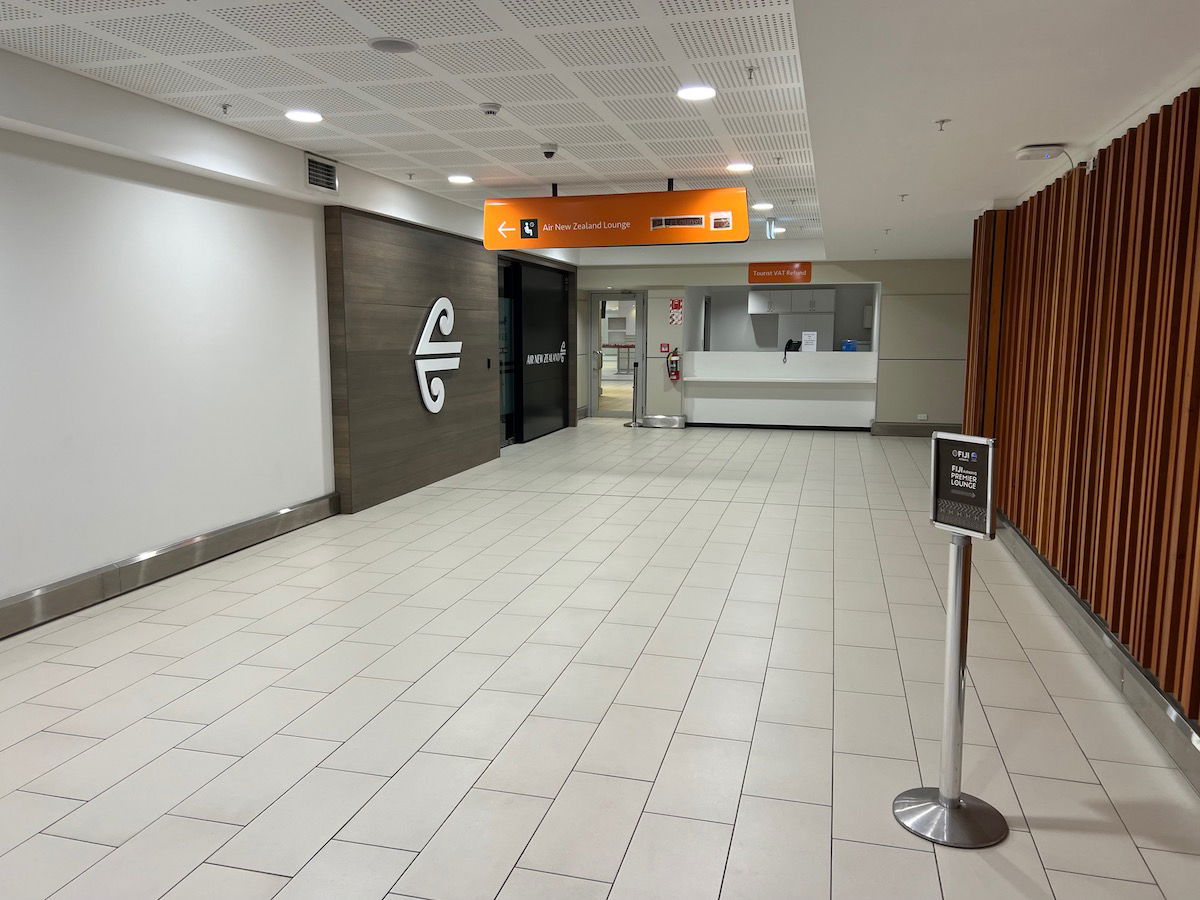 From there you'll want to make a 180, and then you'll see the entrance to the Fiji Airways Premier Lounge down the hall and on the left.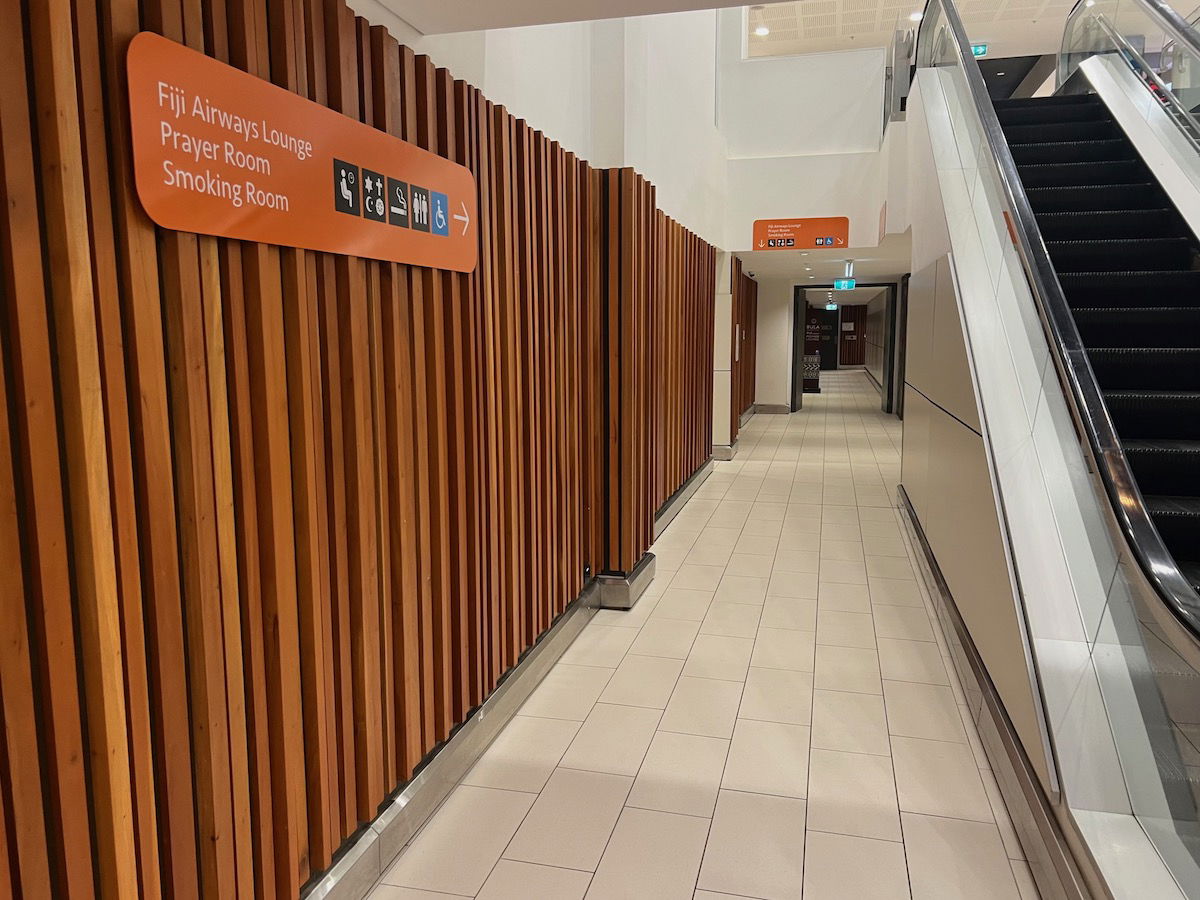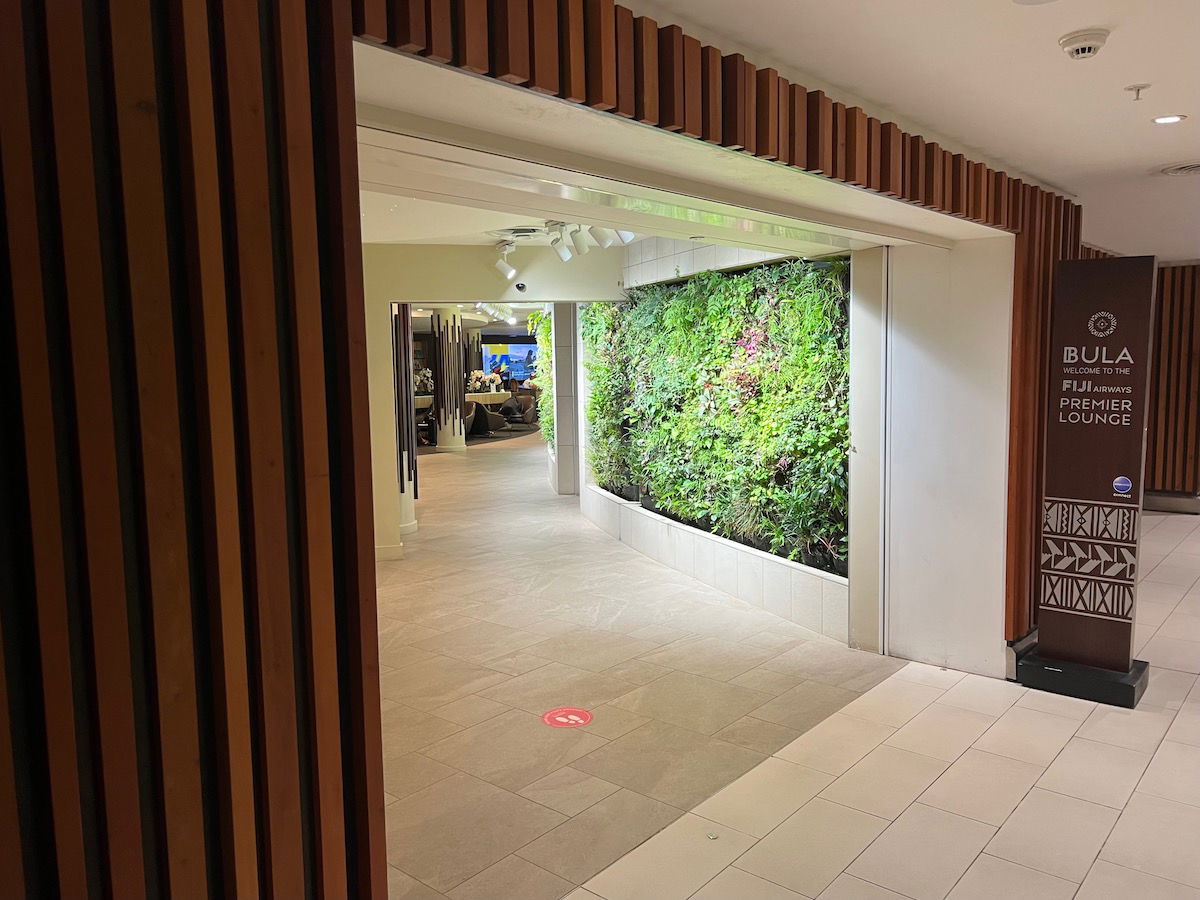 Fiji Airways Lounge Nadi hours
The Fiji Airways Premier Lounge Nadi is currently open daily from 5AM until 11PM. Those hours are subject to change, but you can expect that they'll be open from well before the first departure until the last departure.
Fiji Airways Lounge Nadi entry requirements
The Fiji Airways Premier Lounge Nadi is of course primarily intended for Fiji Airways passengers, meaning that Fiji Airways business class travelers and Fiji Airways elite members get lounge access.
On top of that, the Fiji Airways Lounge is open to Priority Pass members, and that's available through many premium credit cards. I'd guess that this is probably the most popular entry method for these lounges.
On top of that, this is used as a contract lounge for some other airlines flying to Nadi Airport. So if you're flying business class with Qantas, Aircalin, etc., you can expect that you'll receive an invitation to this lounge.
Note that Fiji Airways is only a oneworld Connect member, and not a full oneworld member. This means that most oneworld elite members won't receive access to this lounge purely based on status.
Fiji Airways Lounge Nadi layout & seating
The Fiji Airways Premier Lounge is just under 10,000 square feet (~890 meters), and has the capacity for roughly 200 guests. Even though I was there during the peak morning rush, the lounge wasn't crowded at all.
The lounge consists almost entirely of one big room, though there are all kinds of partitions and flower arrangements that break up the space into zones, and make it feel a bit cozier. When you first enter the lounge, there's a plant wall to the right, and then several different sitting areas.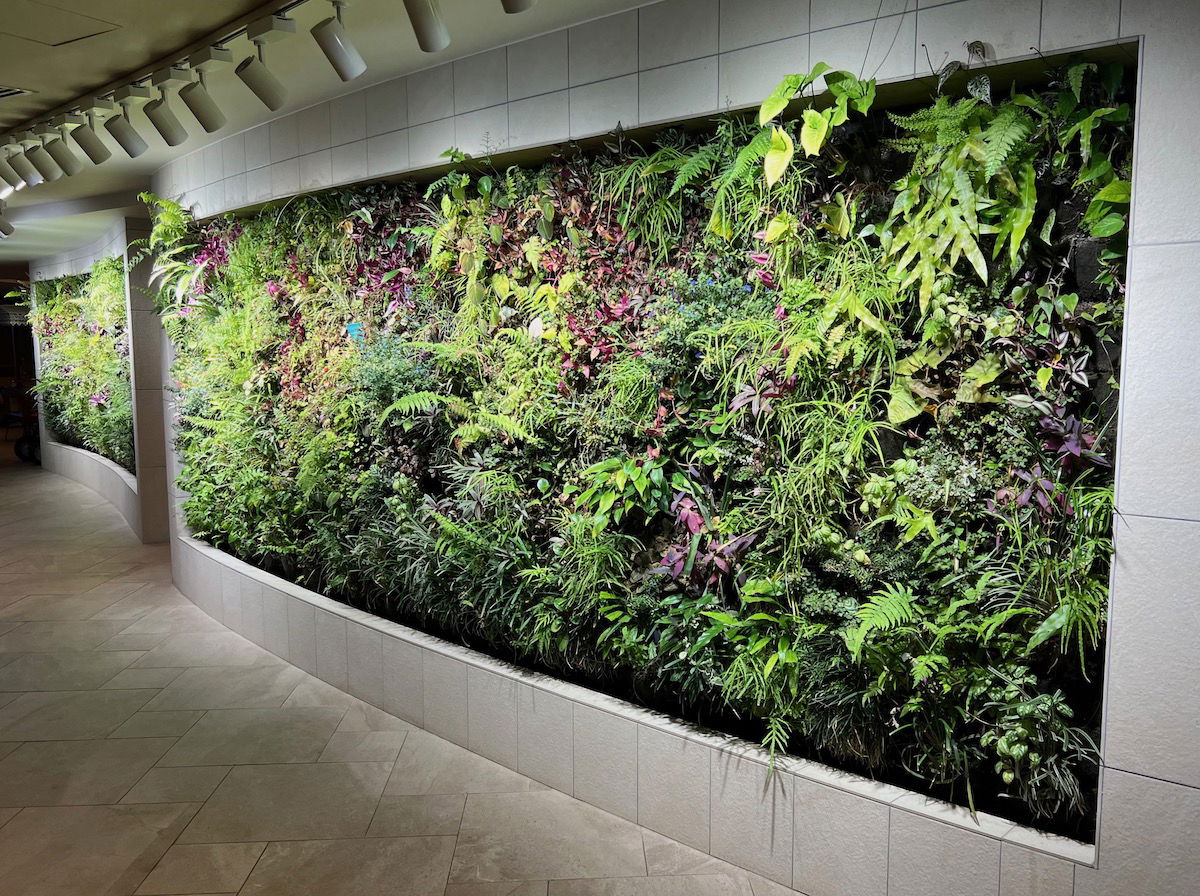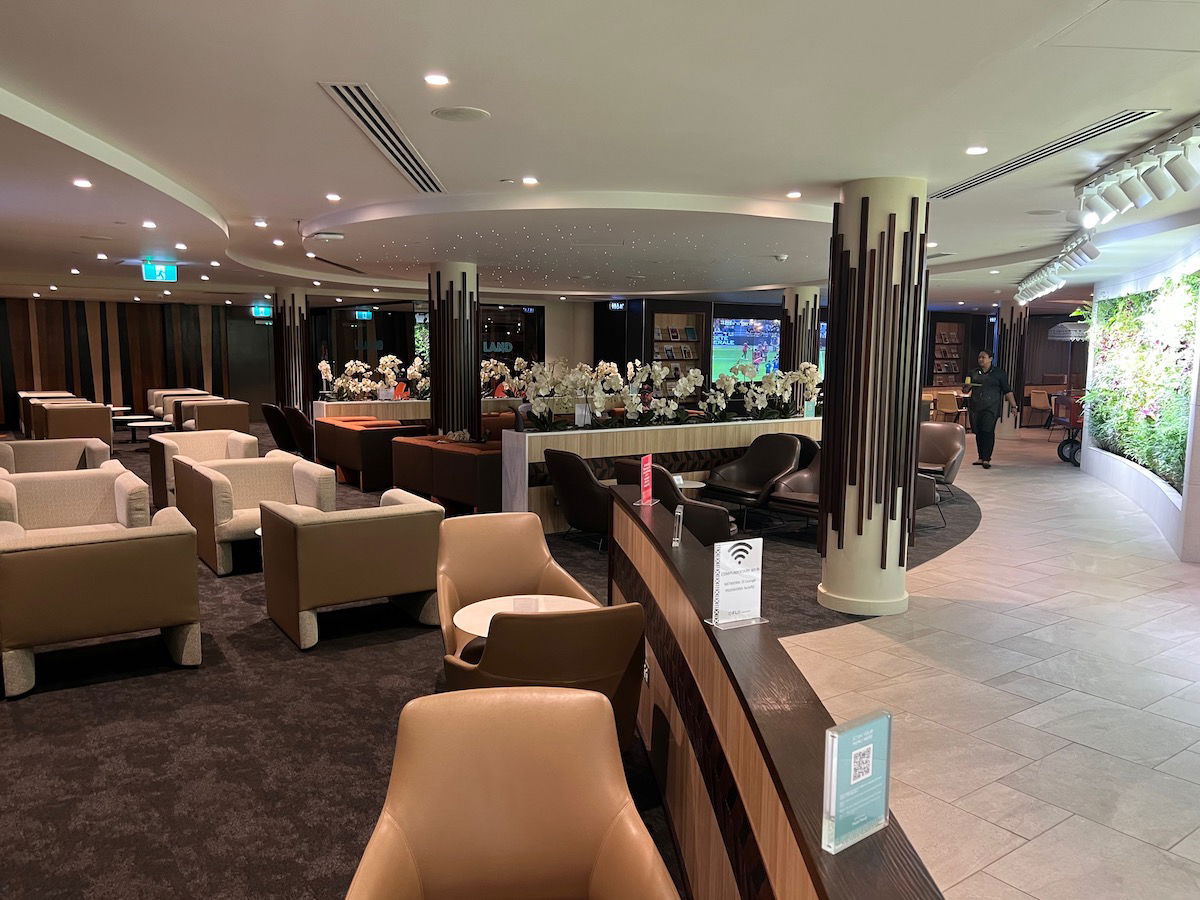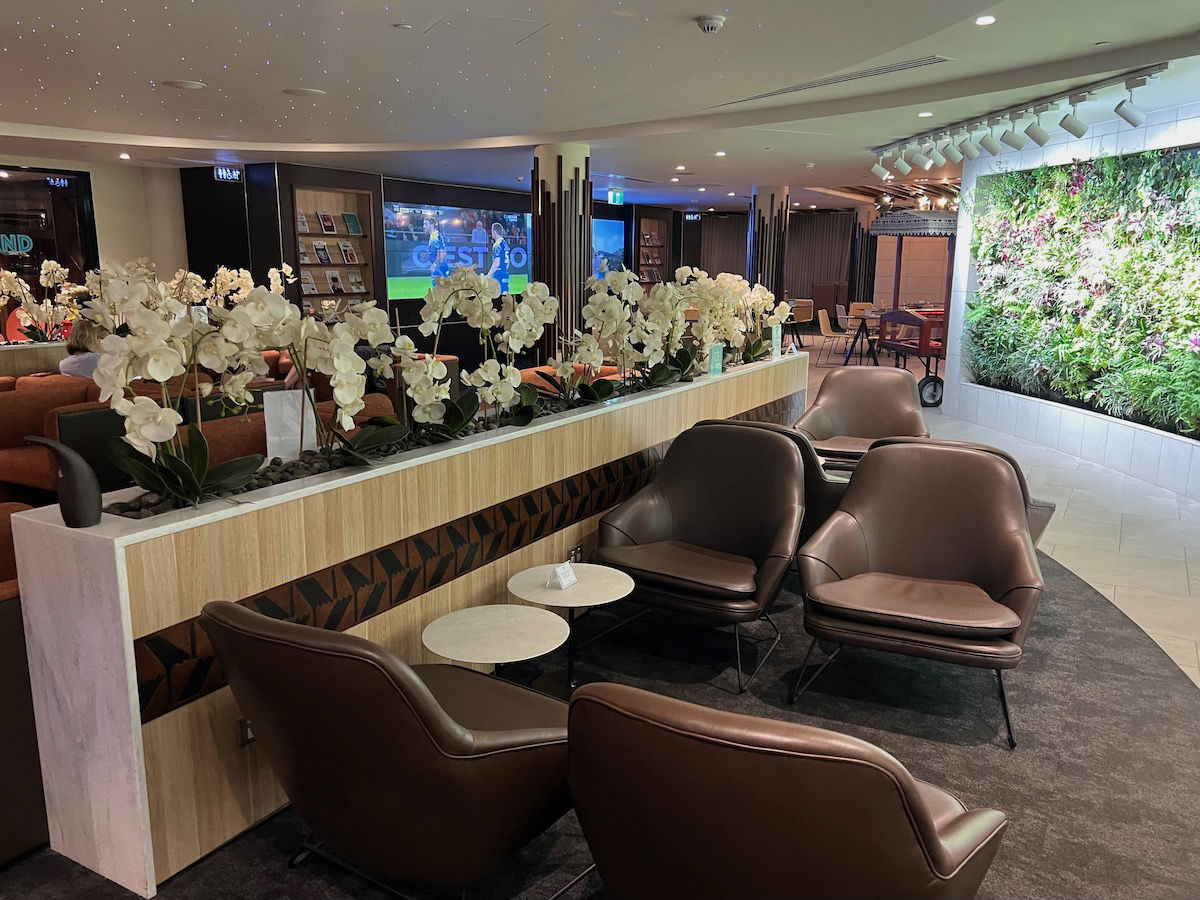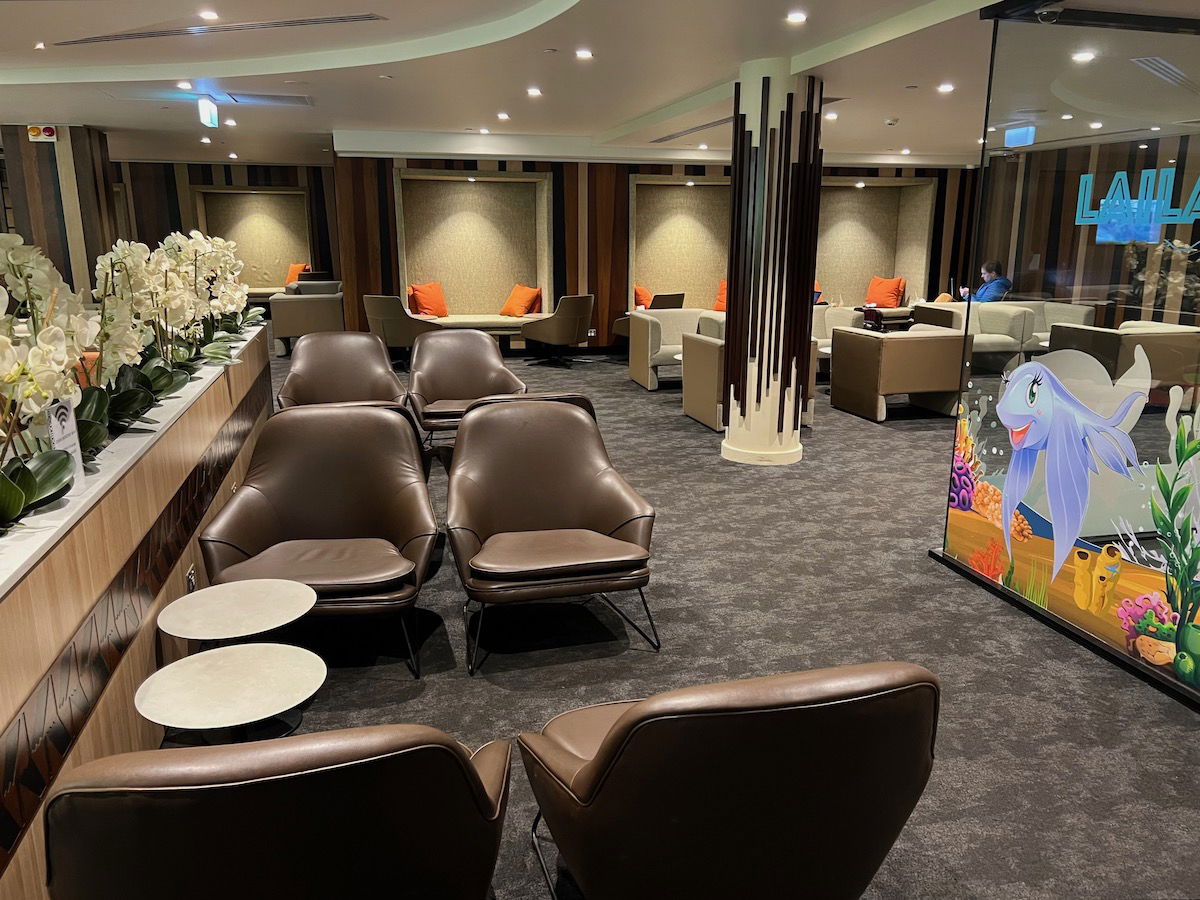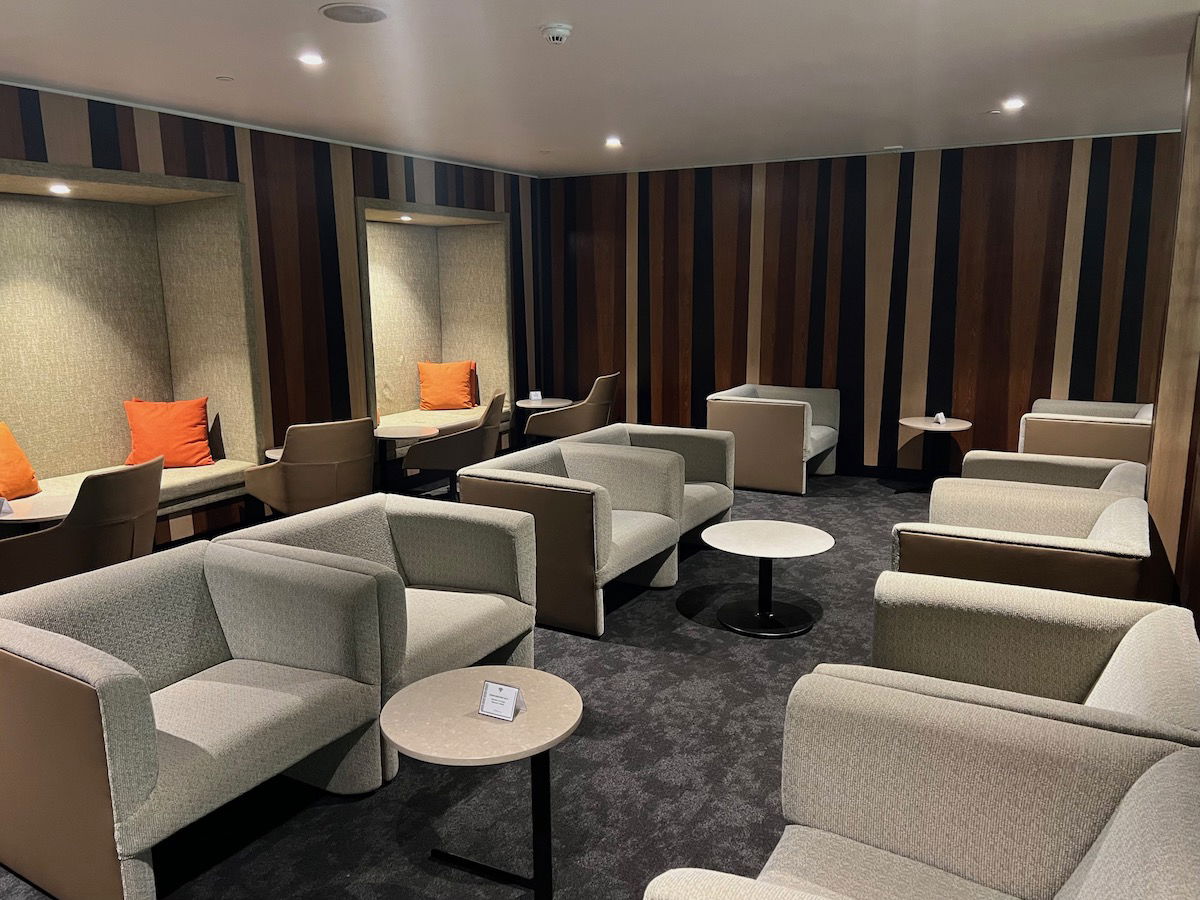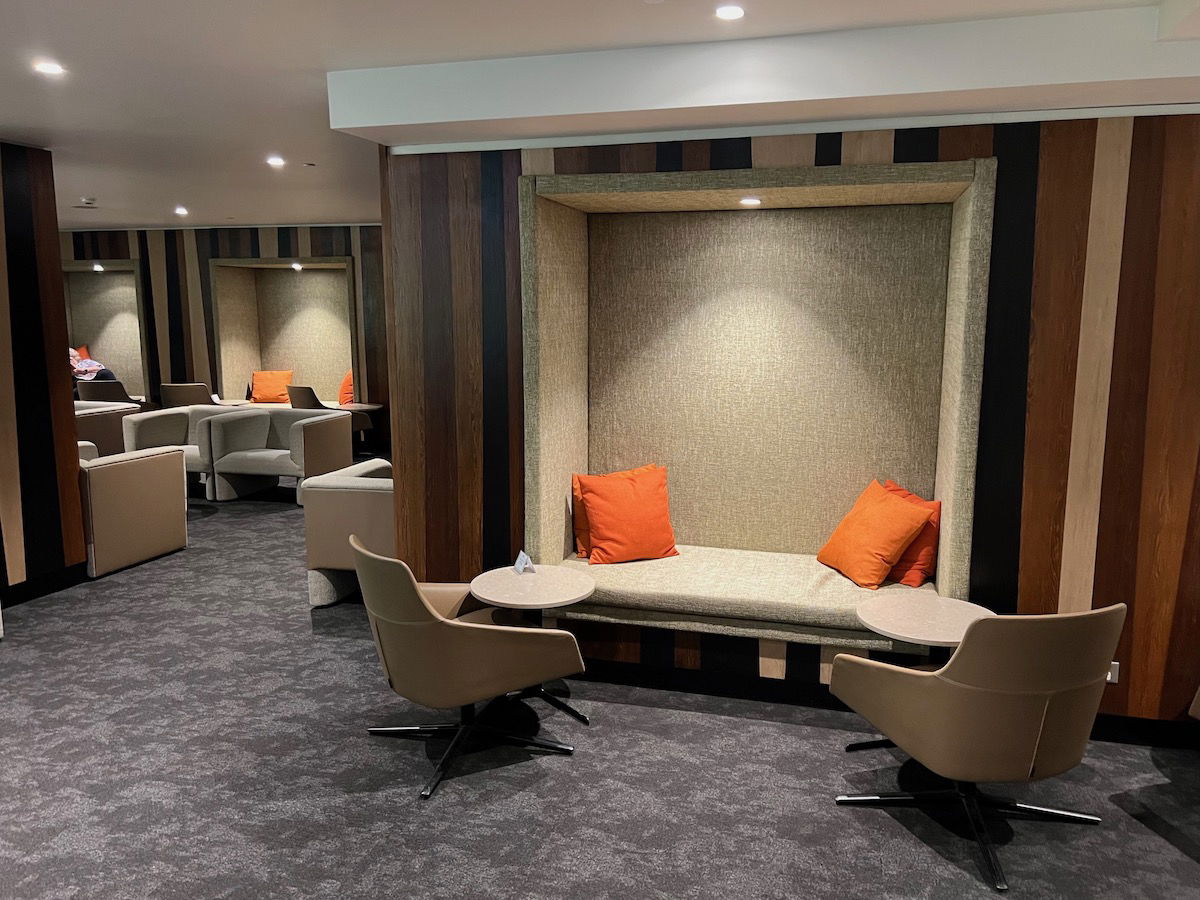 The dining area is one of the main parts of the lounge, and this has roughly a dozen dining tables, which seat anywhere from two to four people.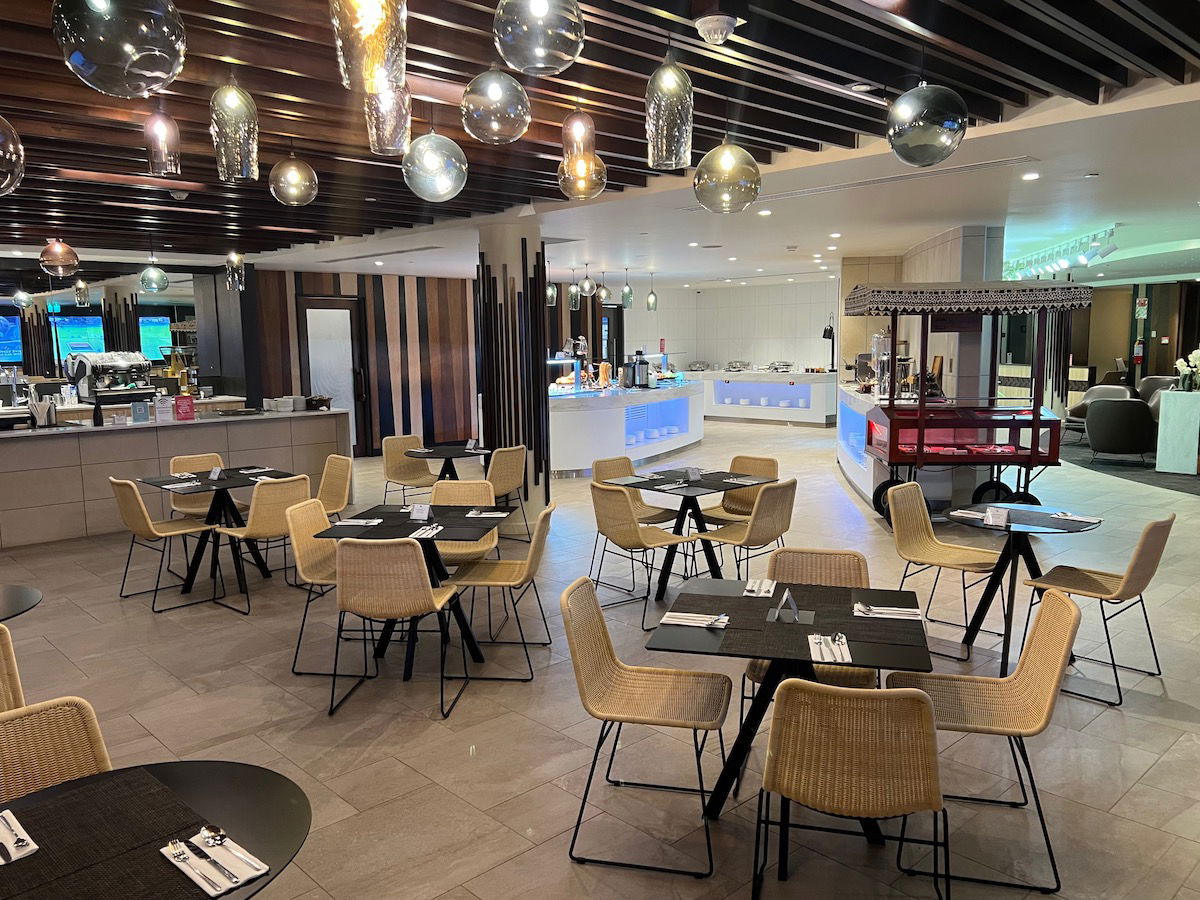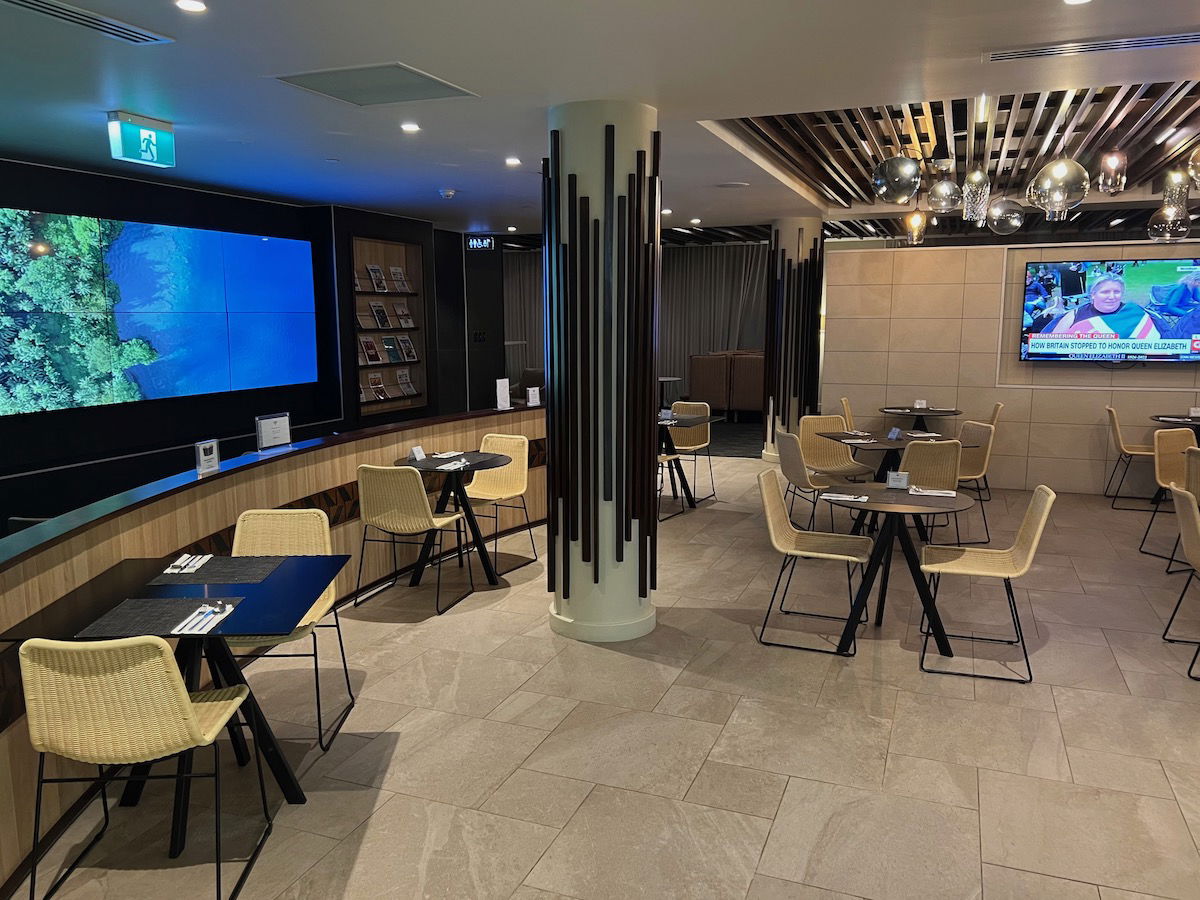 Past the dining area and the first sitting area is another zone that has seats mostly arranged in rows facing one another, plus some nooks. This area tends to be the quietest, since it's in the very back of he lounge.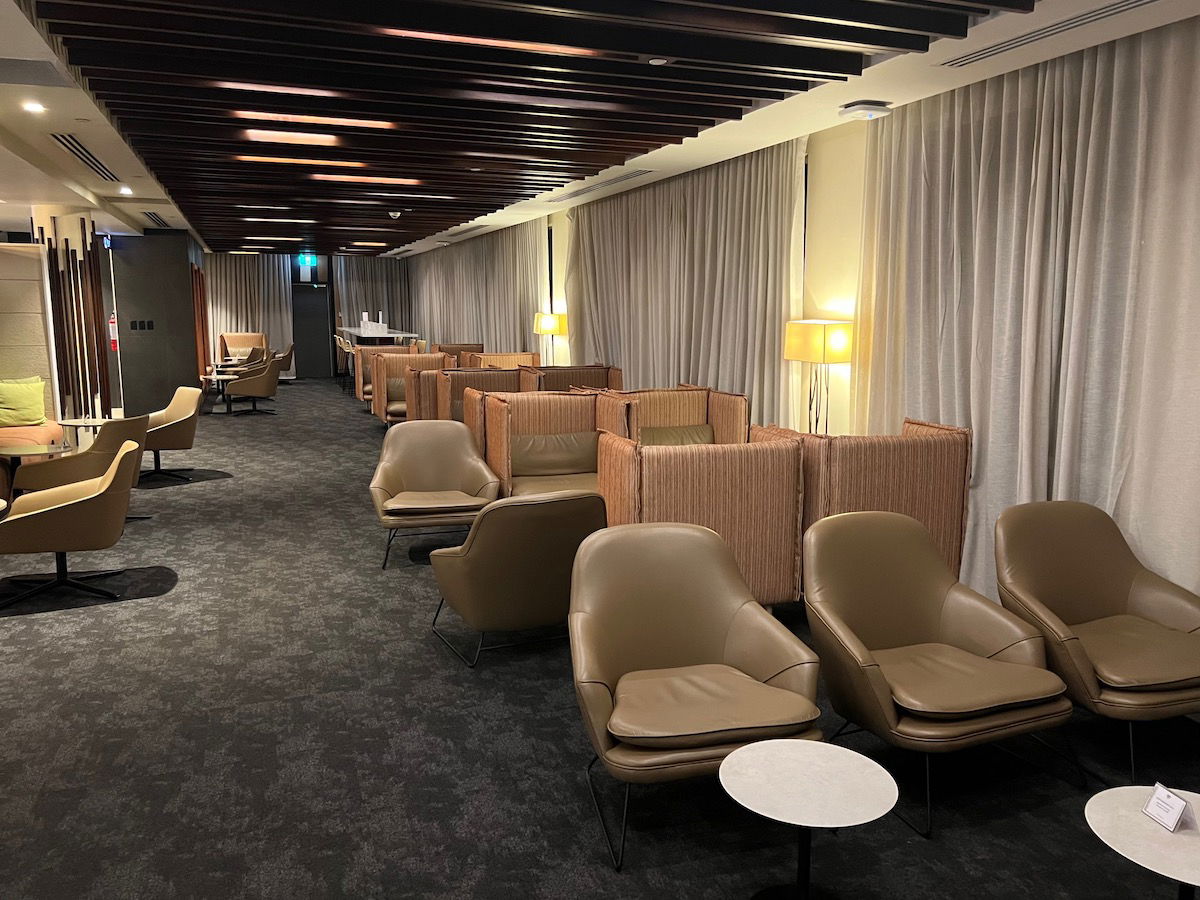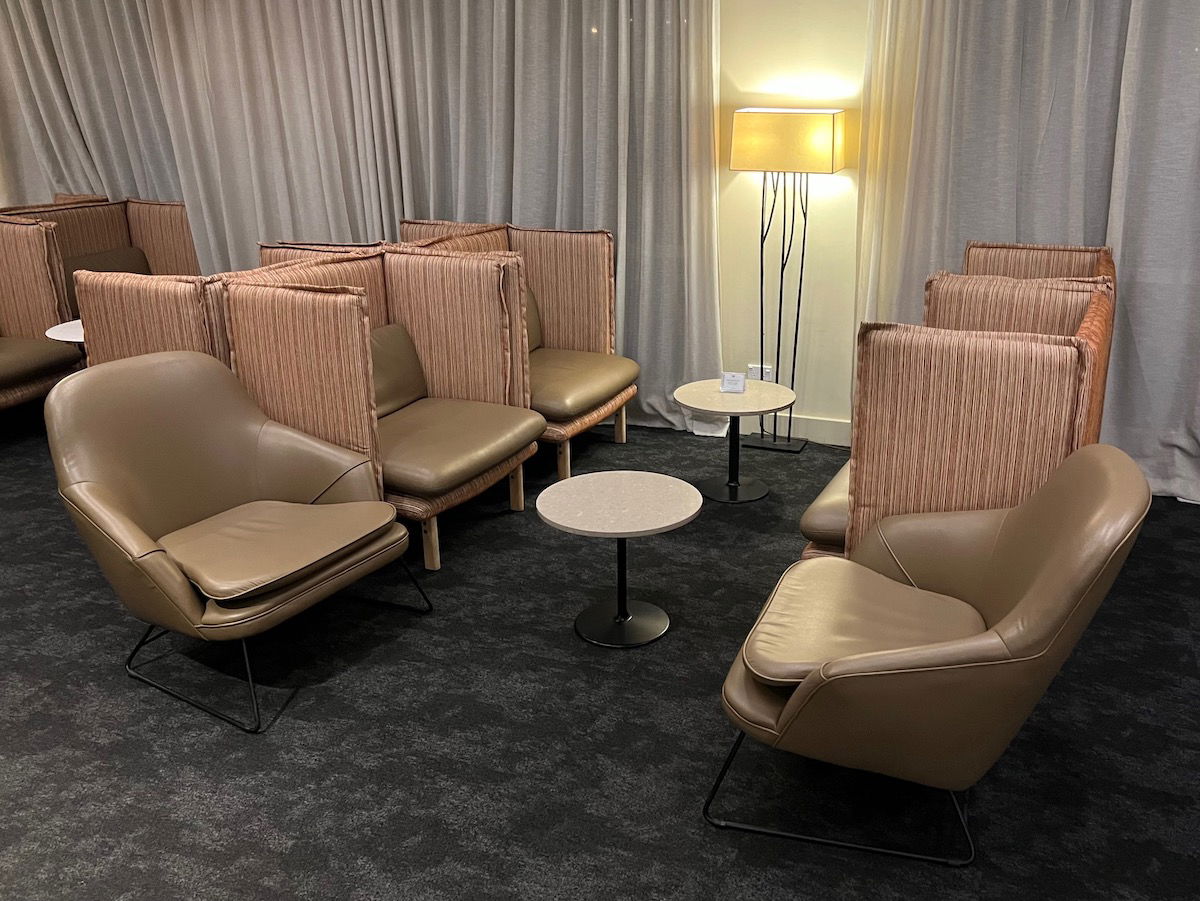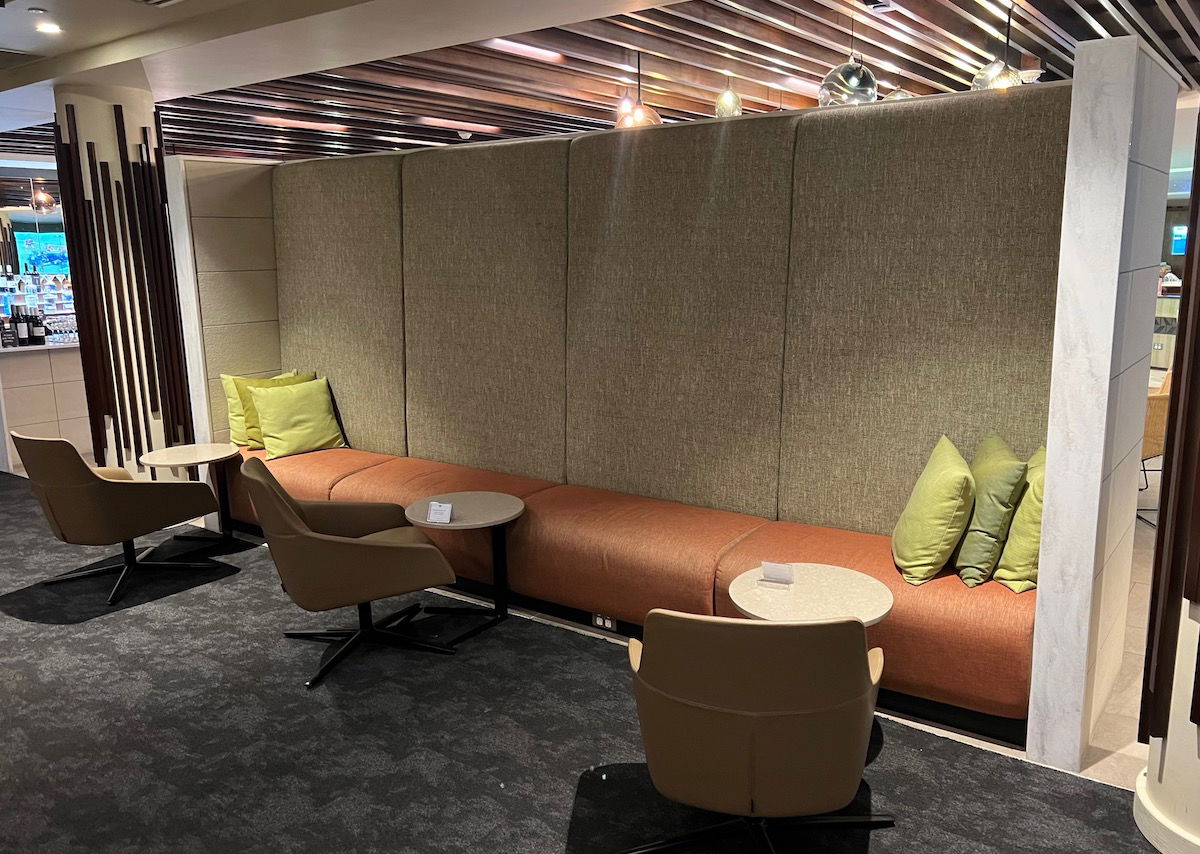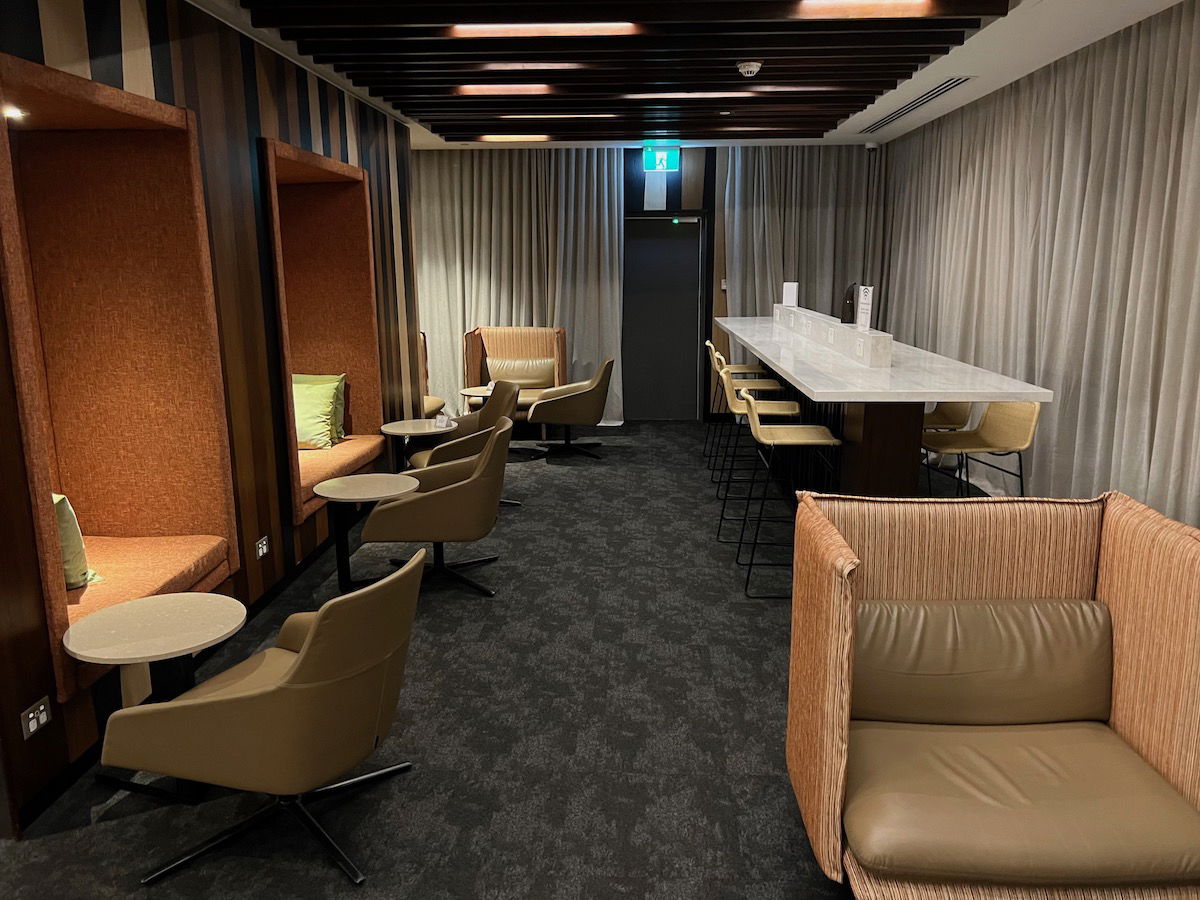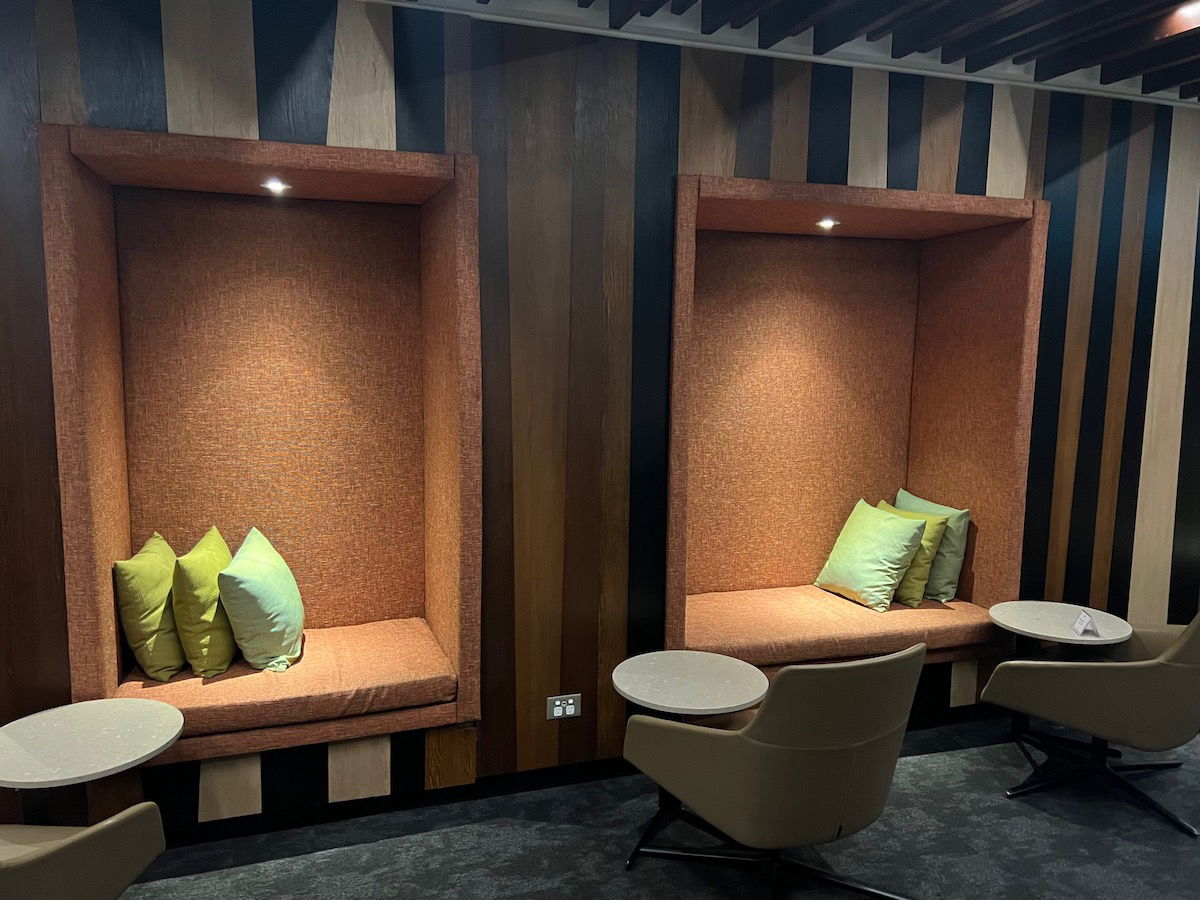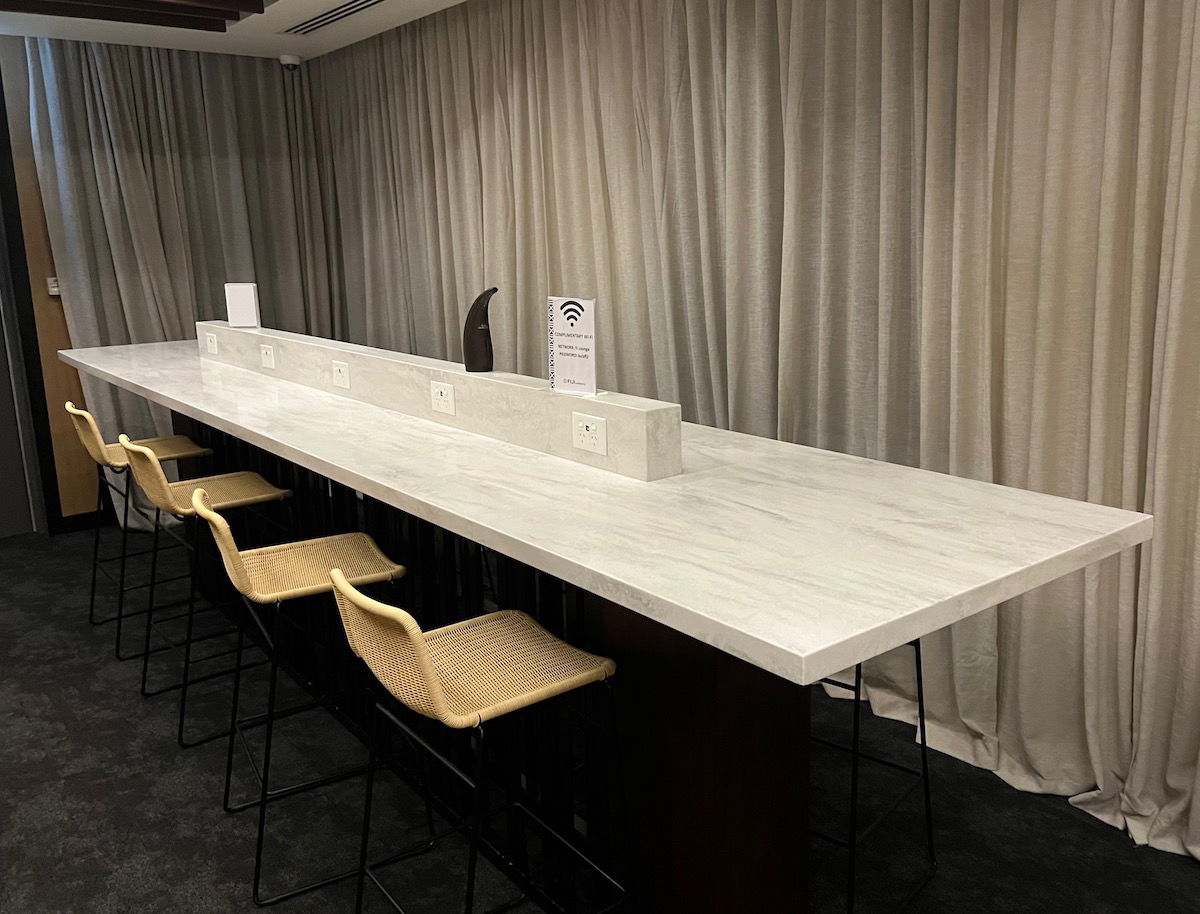 The lounge also has a business center near the entrance, with several iMacs, plus a printer.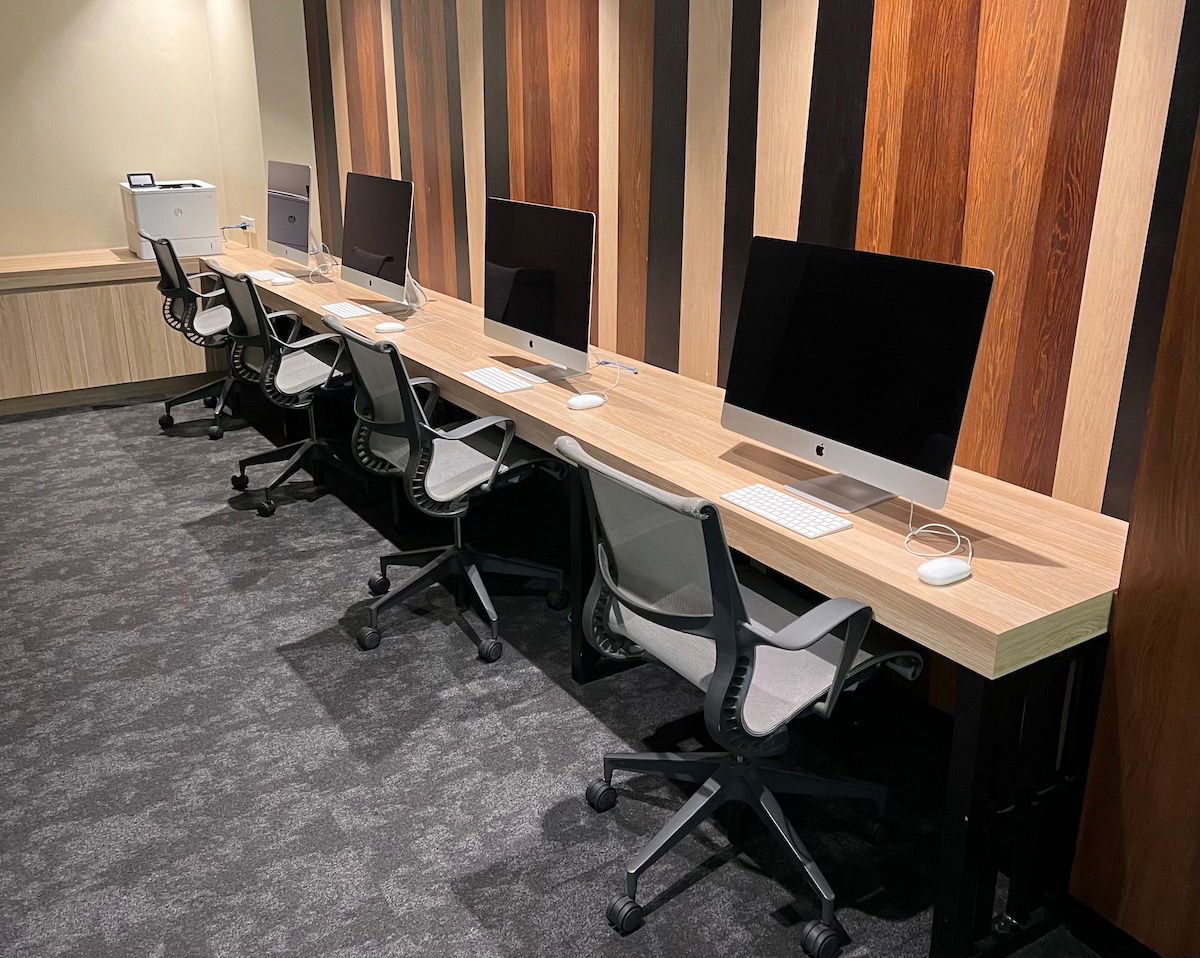 The lounge also has a play area for kids, which is enclosed, presumably to limit noise in the rest of the lounge.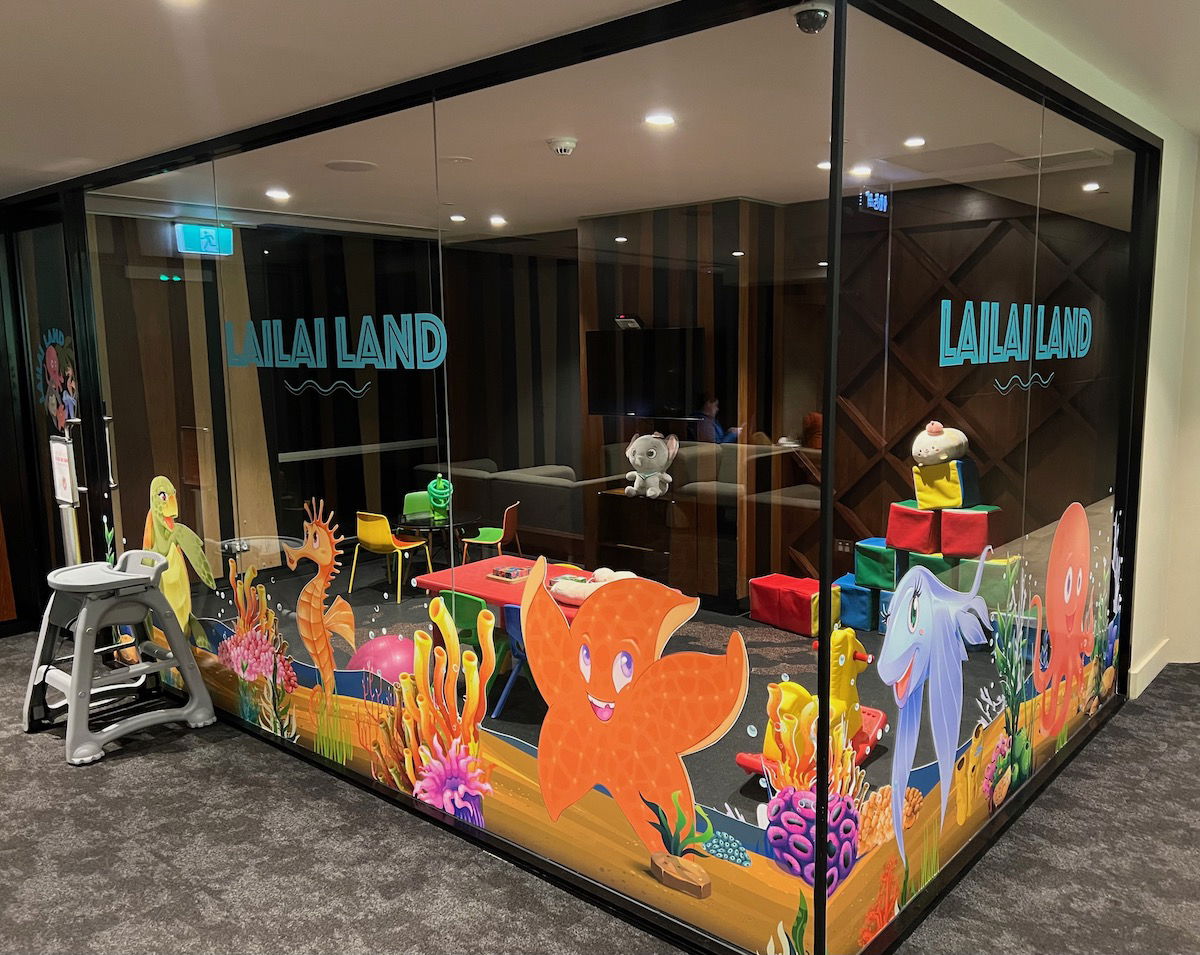 All-in-all I thought the decor was quite nice, and the lounge felt well maintained. The one downside to the lounge is the lack of natural light. The lounge doesn't even have windows, but rather just has curtains. Admittedly there's probably not much that can be done here, due to the location of the lounge, but still, daylight is always nice.
Fiji Airways Lounge Nadi food & drinks
The Fiji Airways Premier Lounge Nadi has one of the more impressive food spreads I've seen in a Priority Pass lounge. The lounge has a large self-serve buffet area, and breakfast was being served during my morning visit.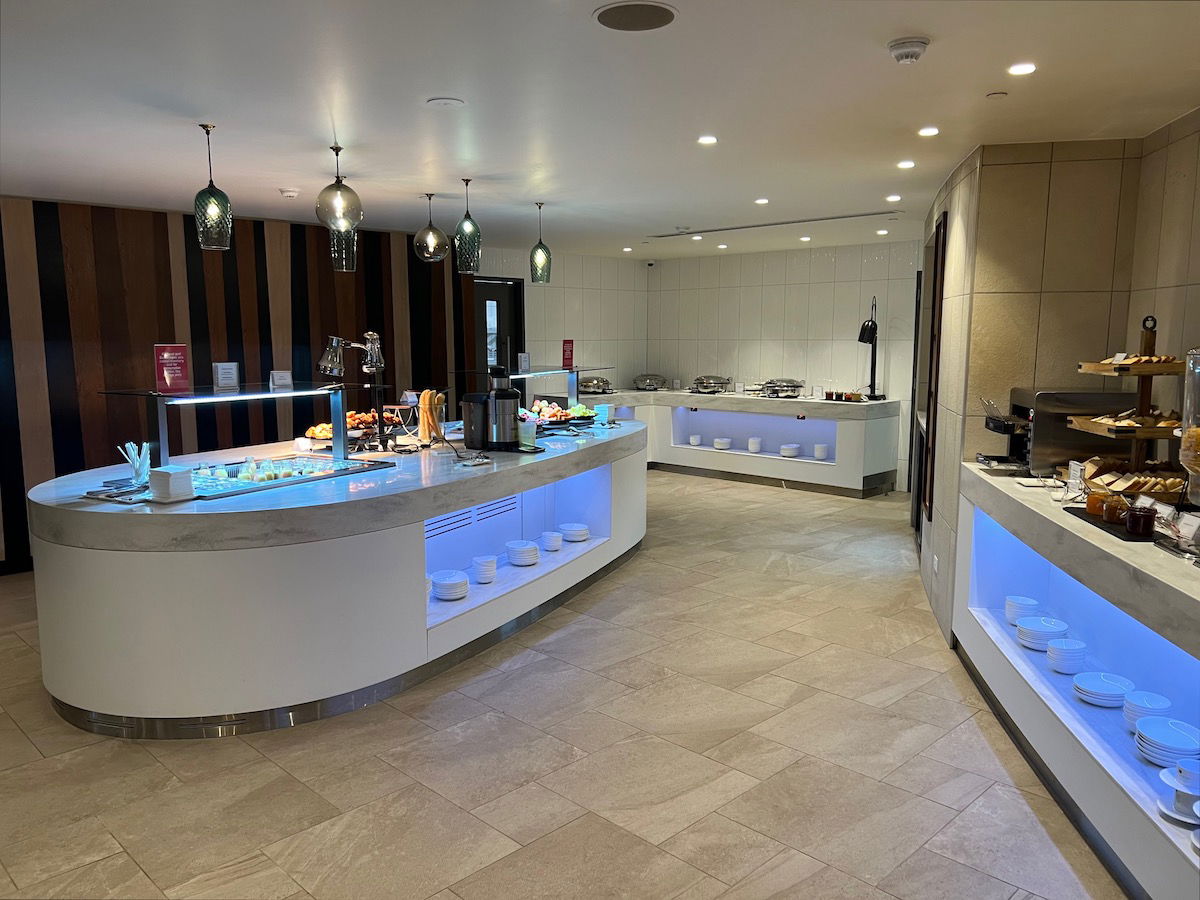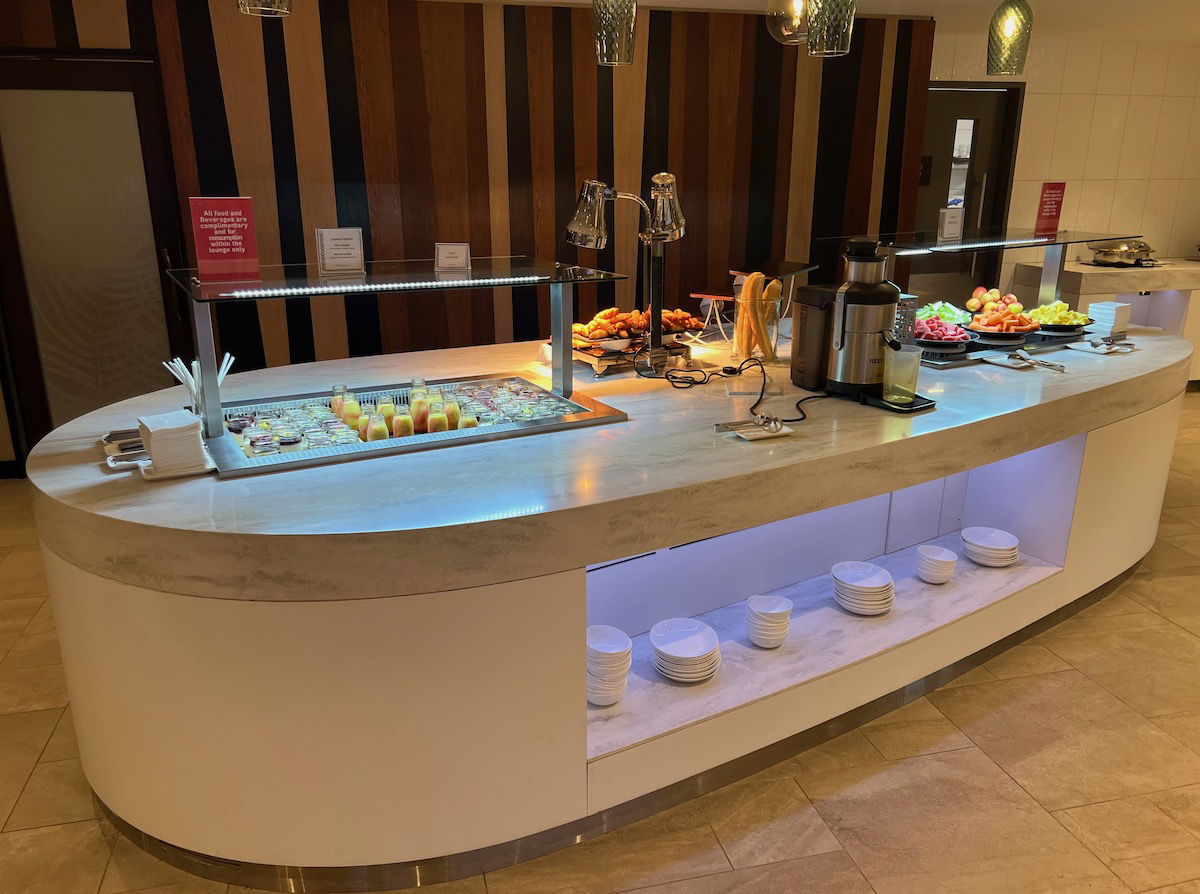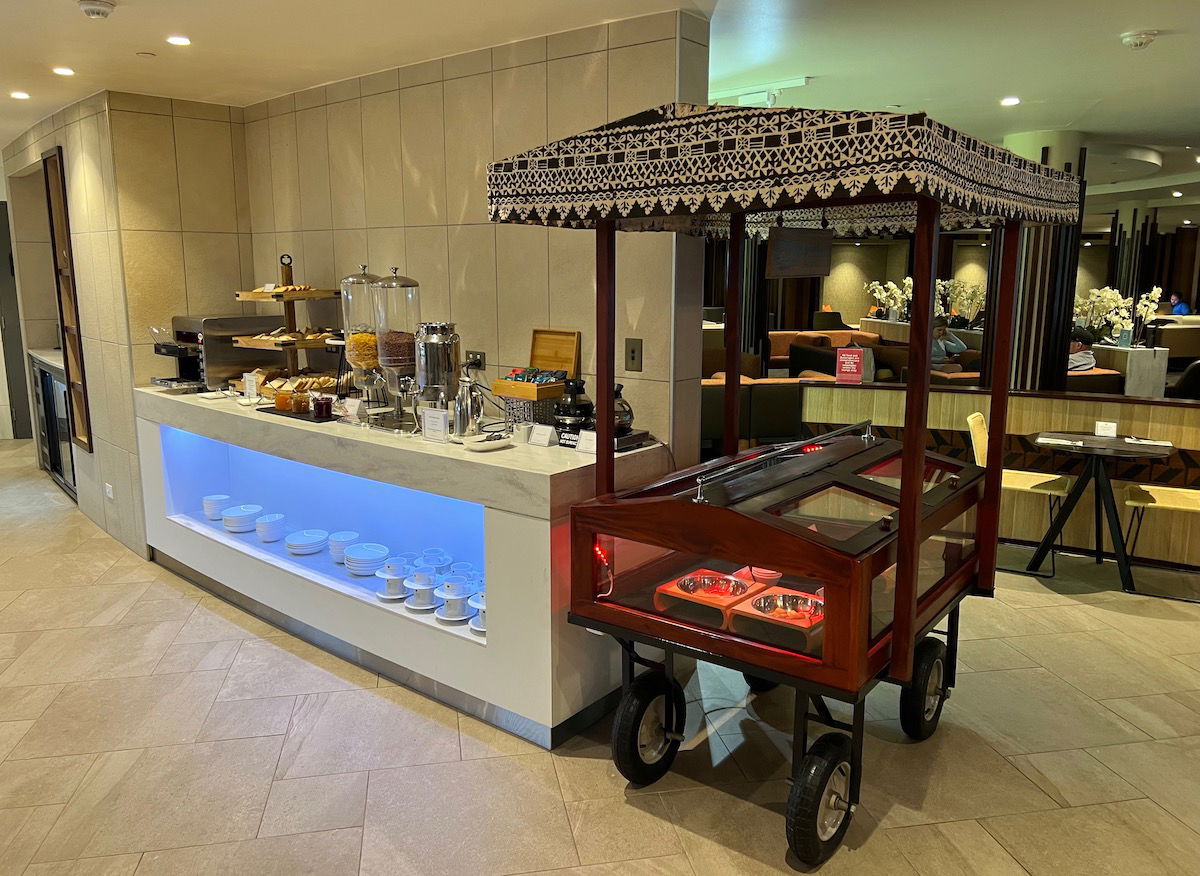 The breakfast selection was extensive, and included chia puddling, bircher muesli, fruit smoothies, yogurt with fruit, cereal, all kinds of fresh fruit and veggies (which actually looked appealing), muffins, pastries, croissants, toast, cookies, and cereal.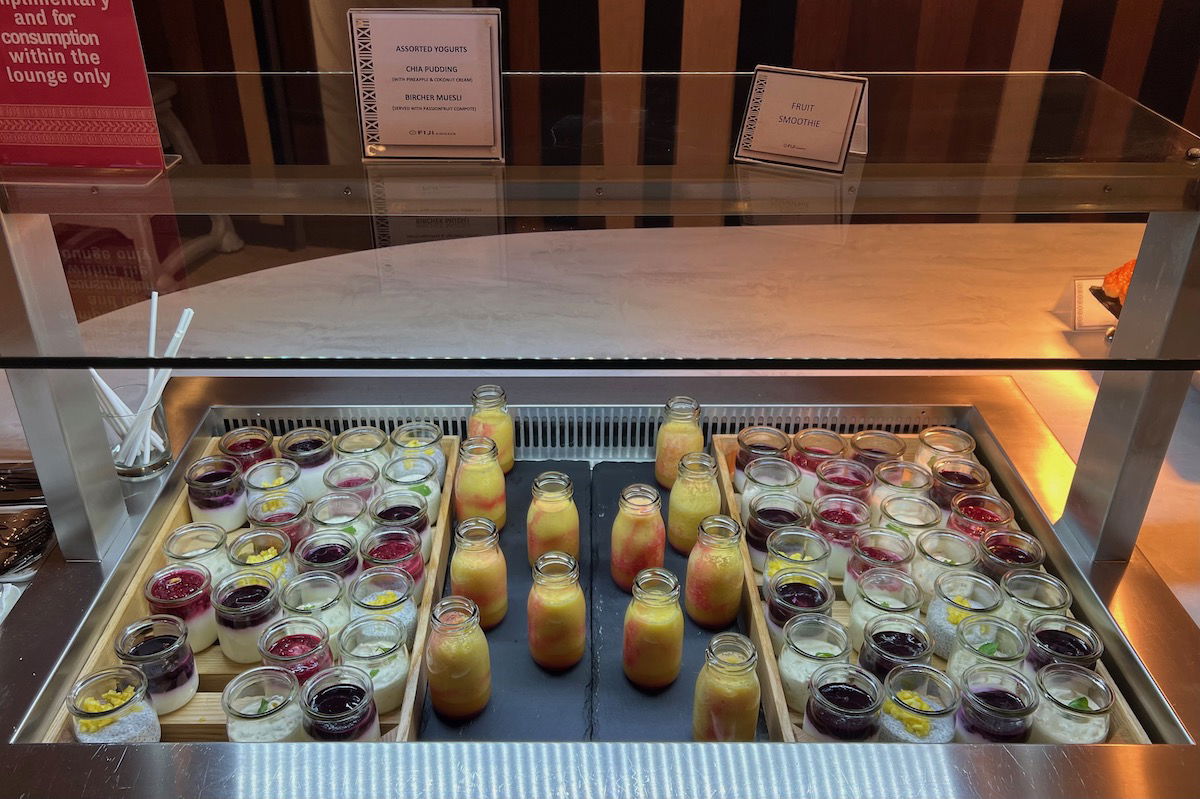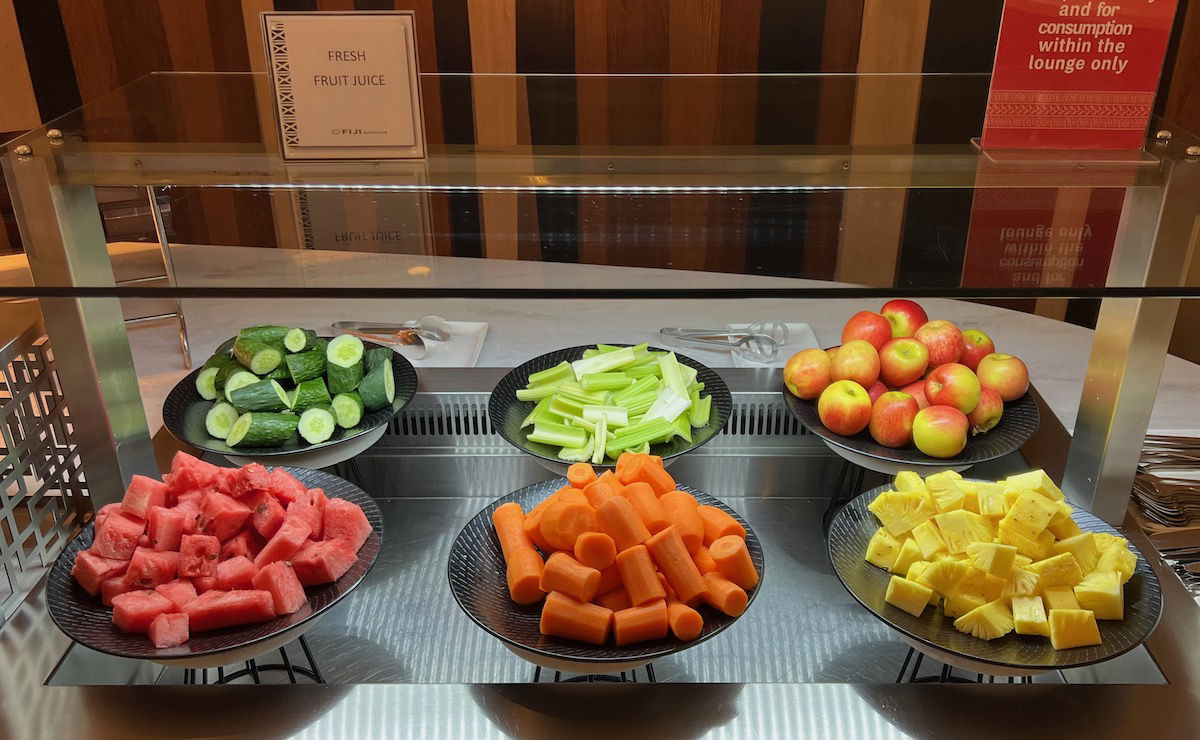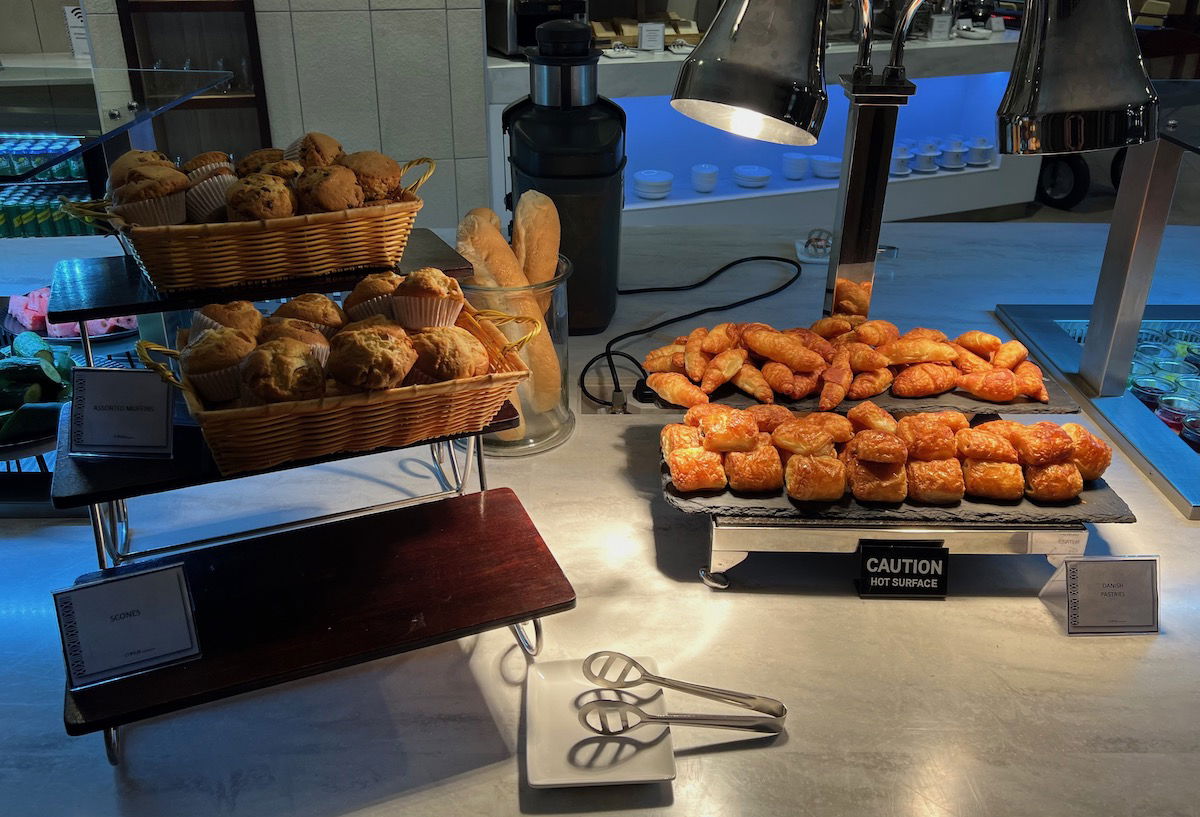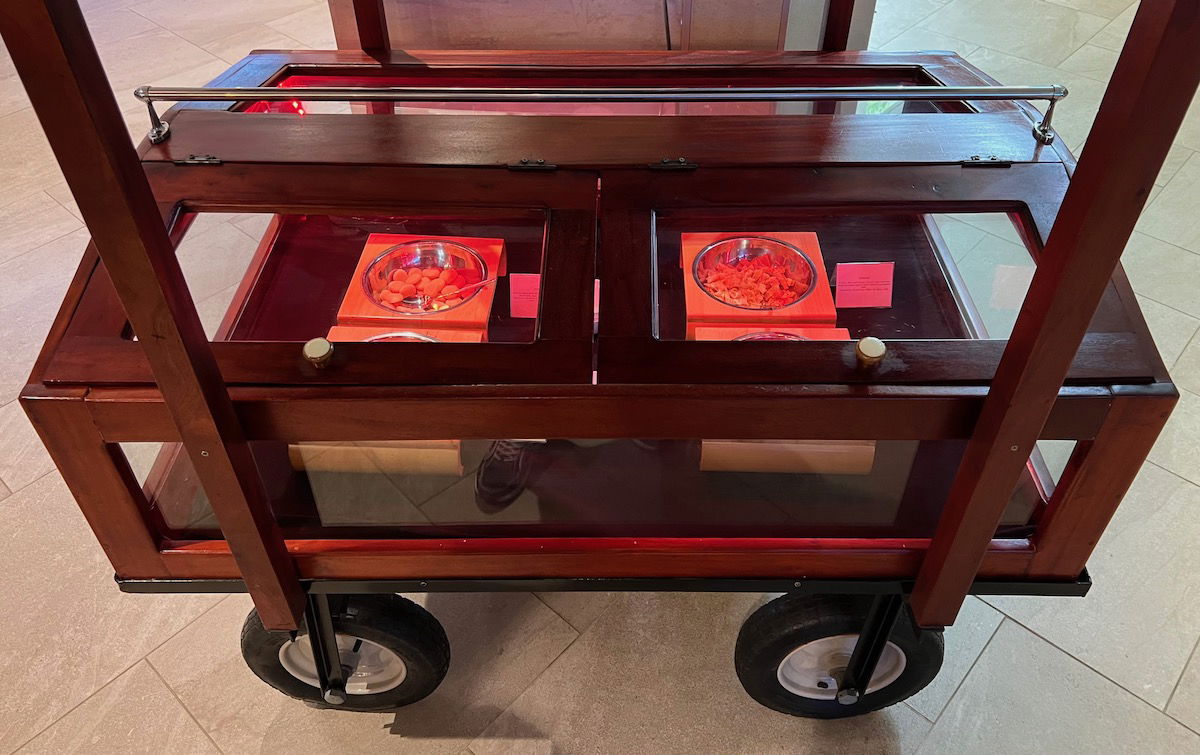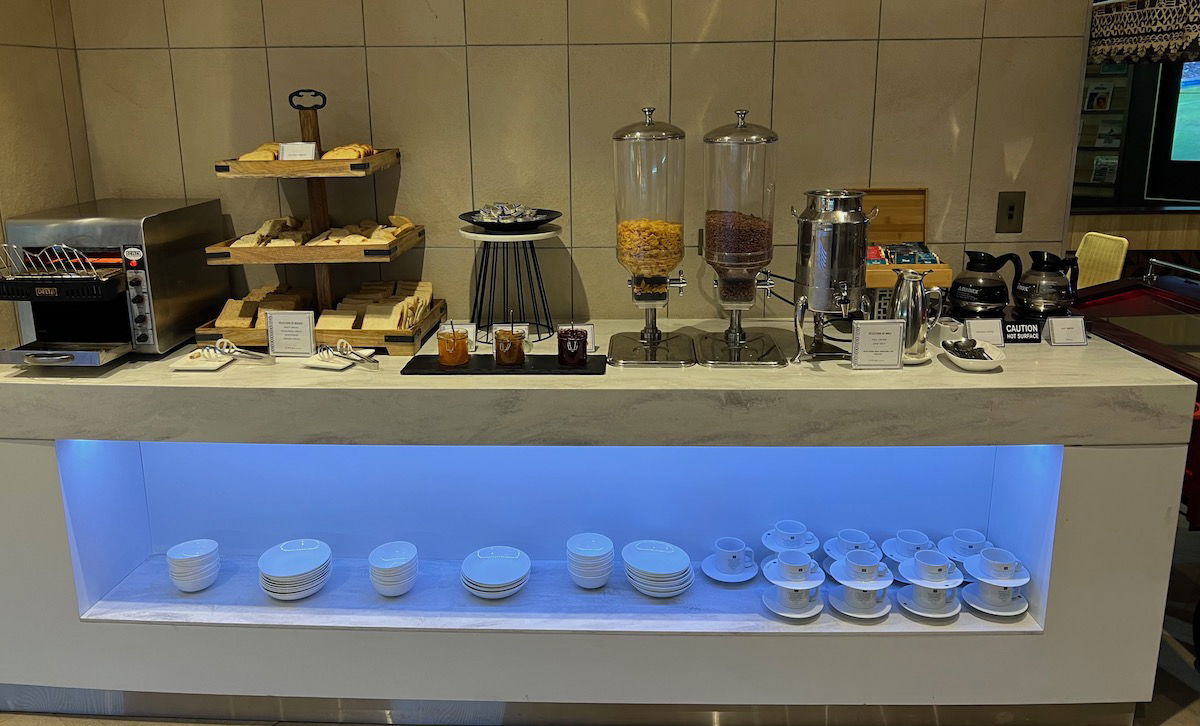 There were also a variety of hot dishes, including scrambled eggs, baked beans, creamed spinach, hash browns, grilled tomatoes, and sausage.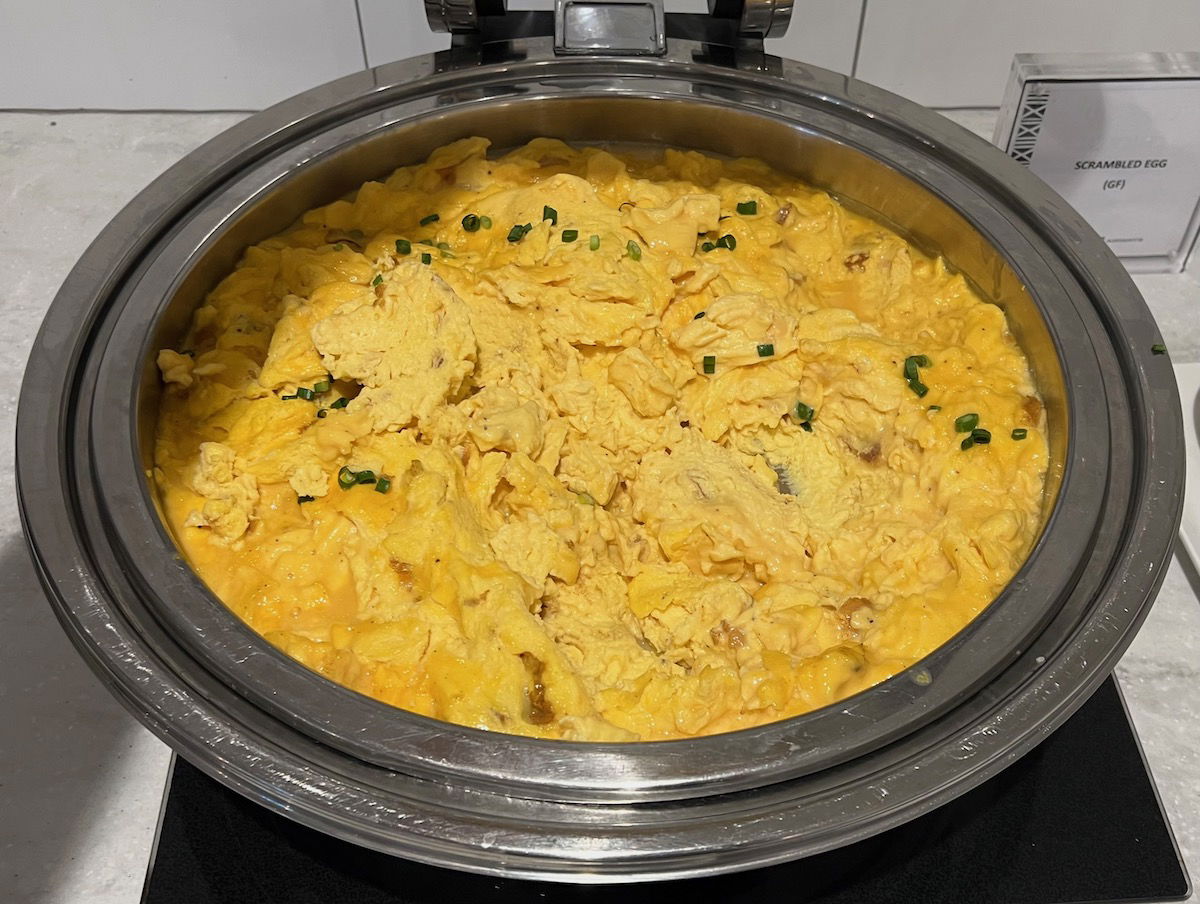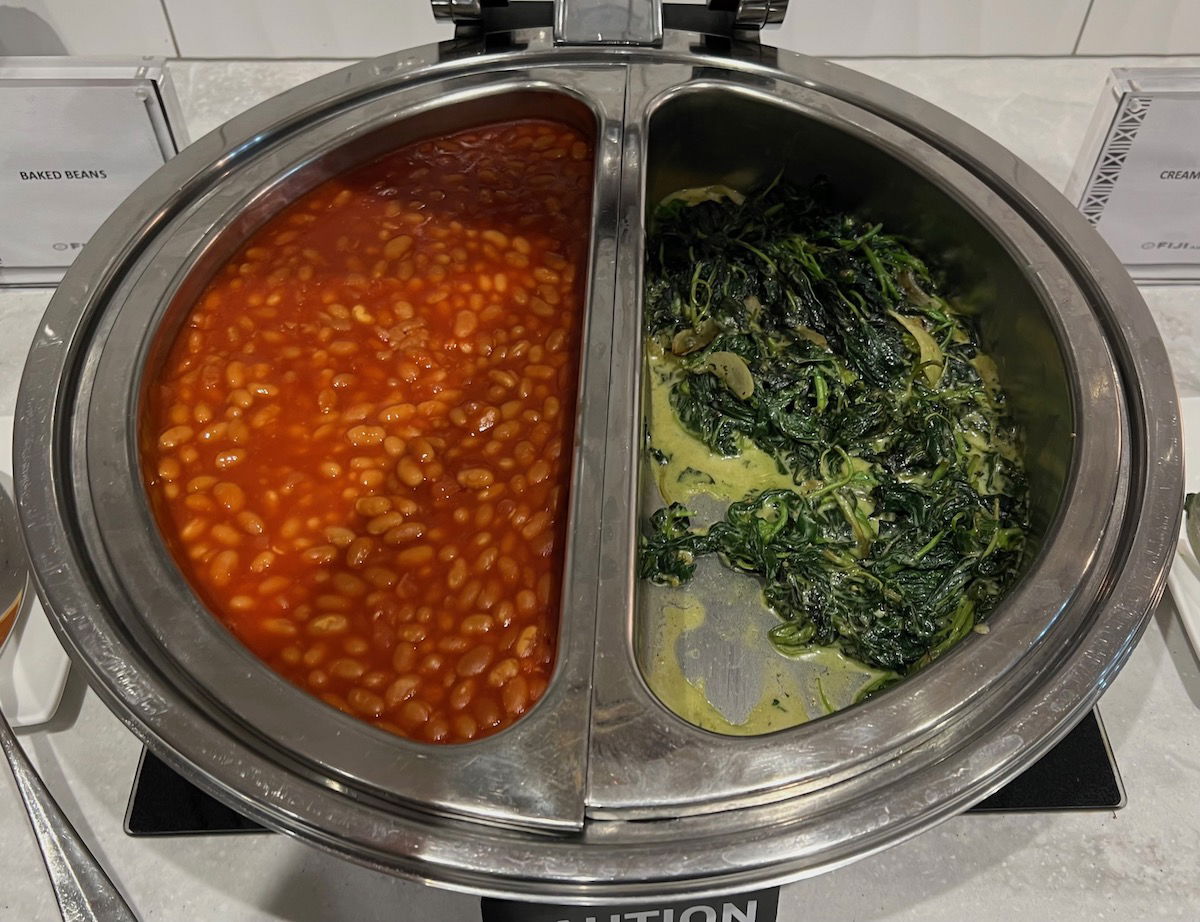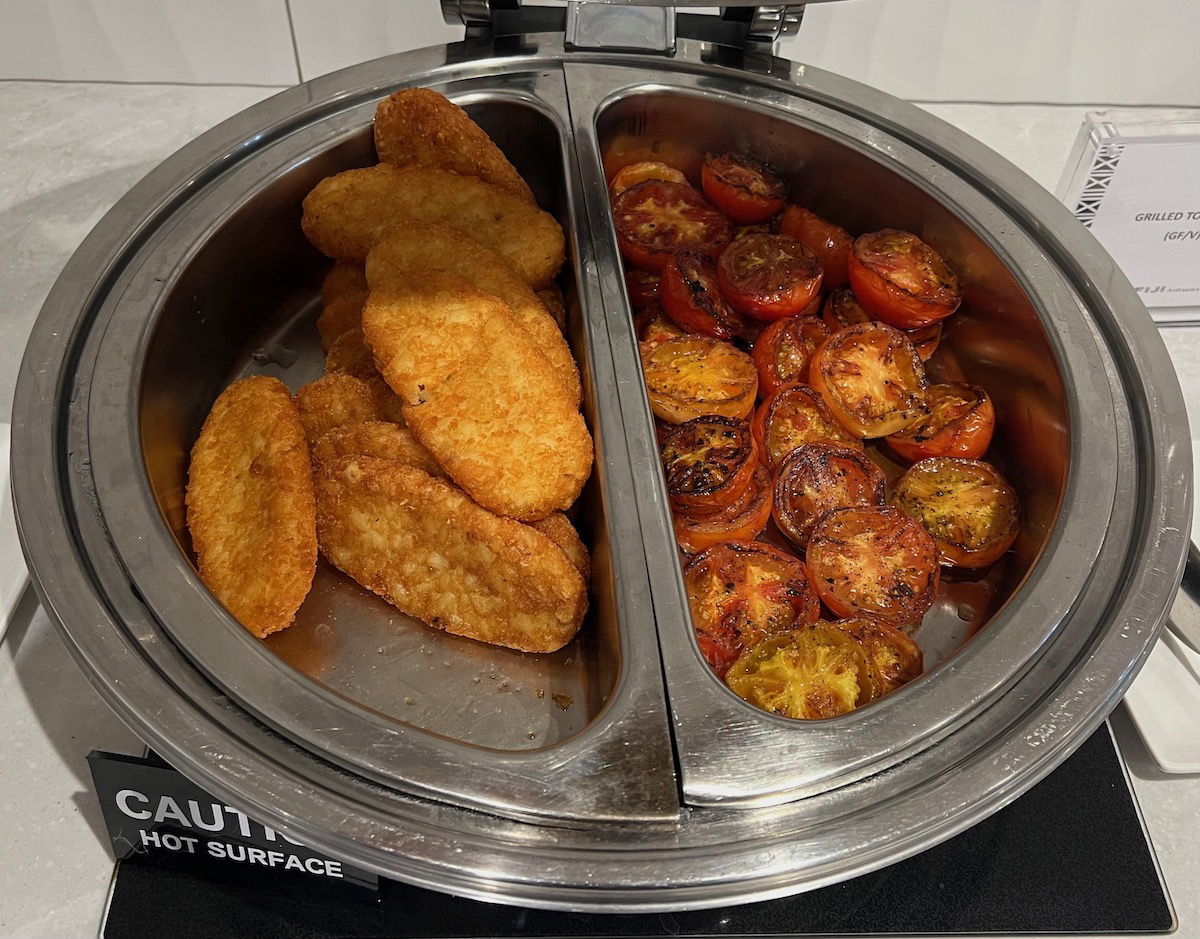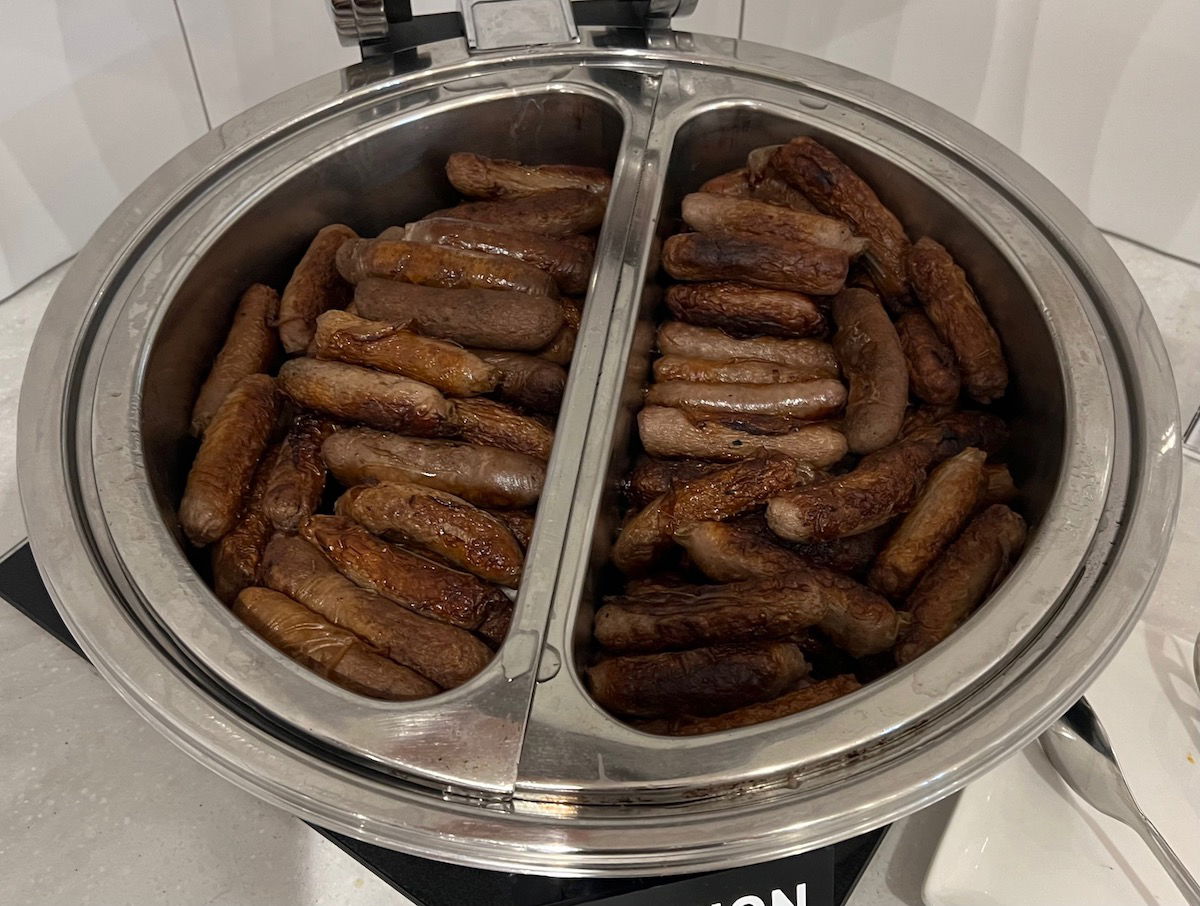 Self-serve drinks included juice, soft drinks, and water. Oddly FIJI water wasn't being served in the lounge, unlike onboard Fiji Airways flights.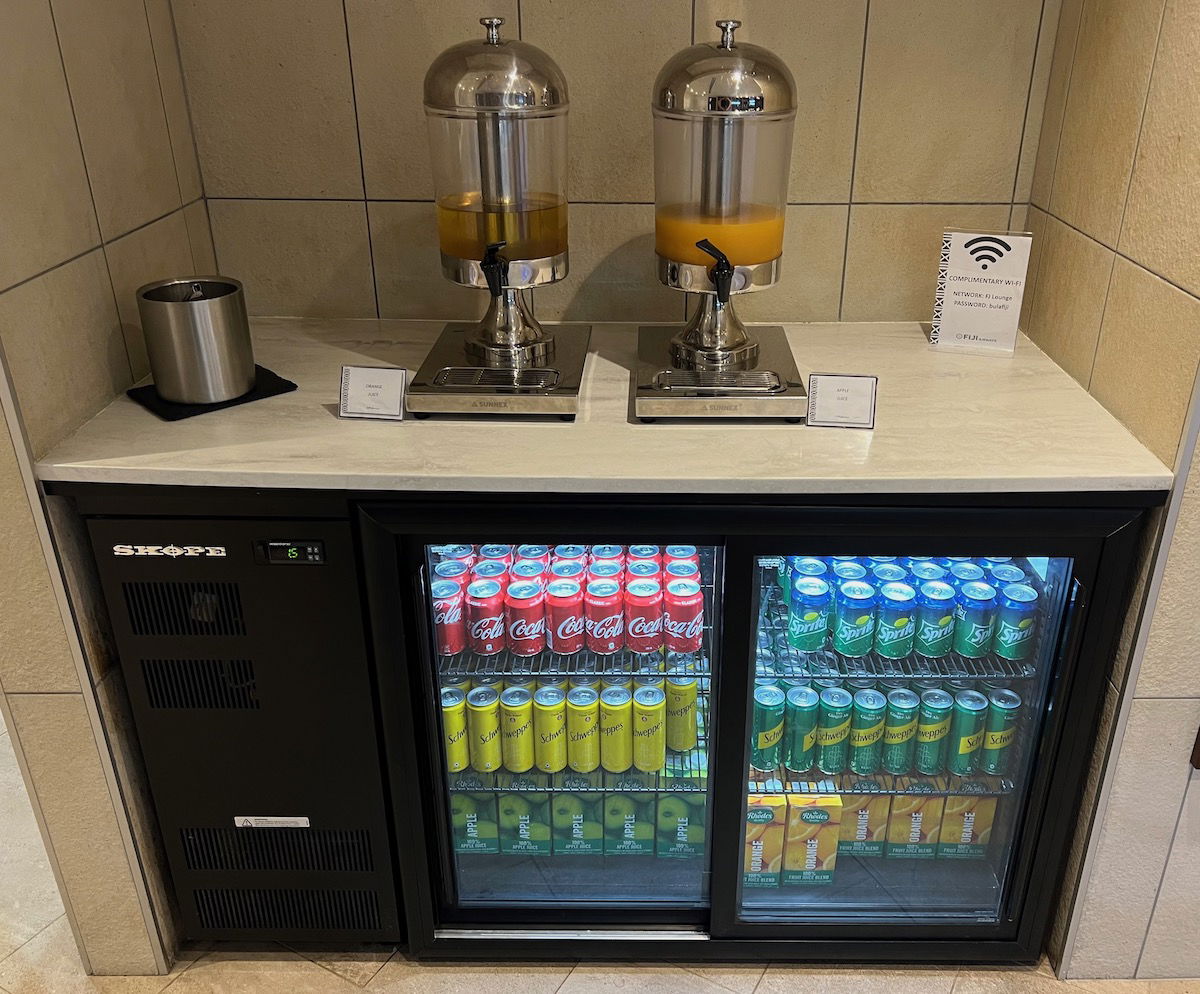 There was also a bar with complimentary wine, spirits, and most importantly… barista-made coffee!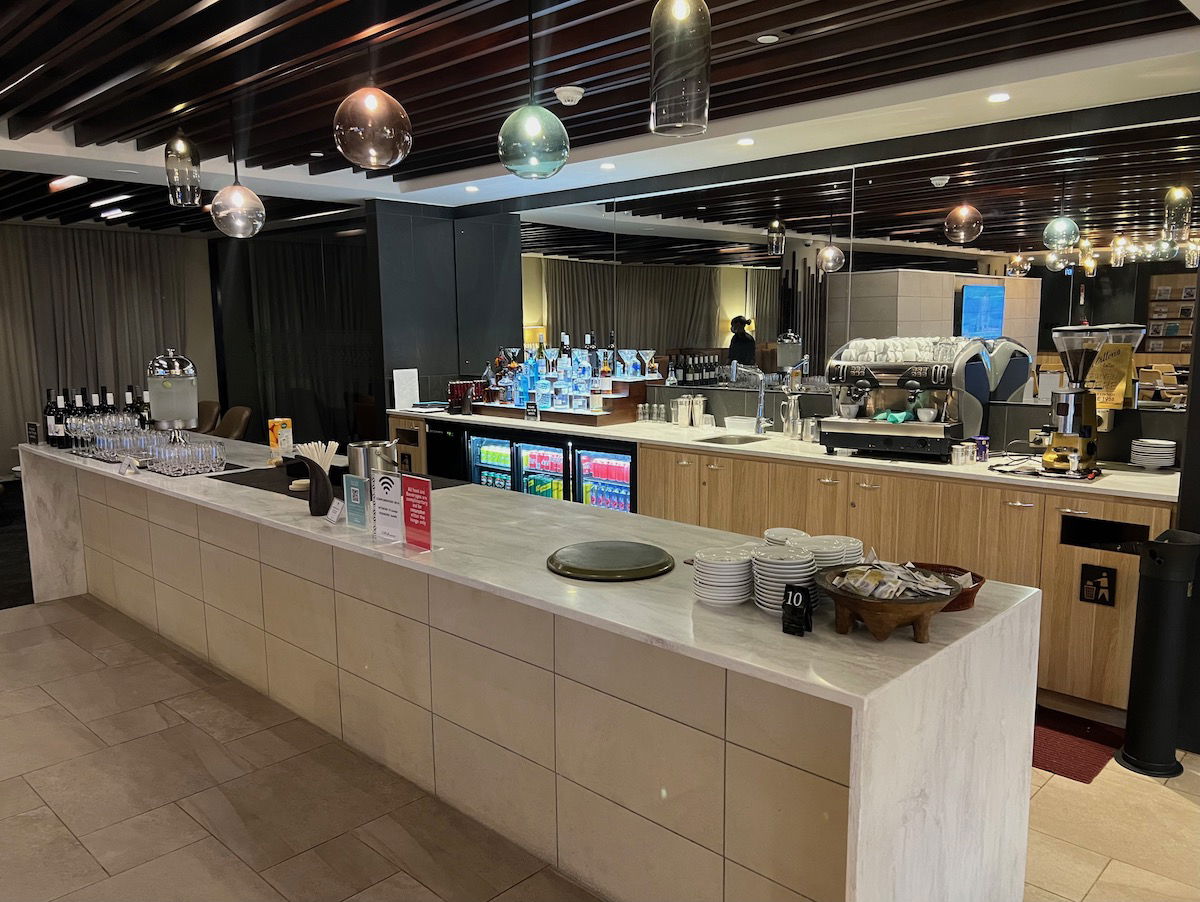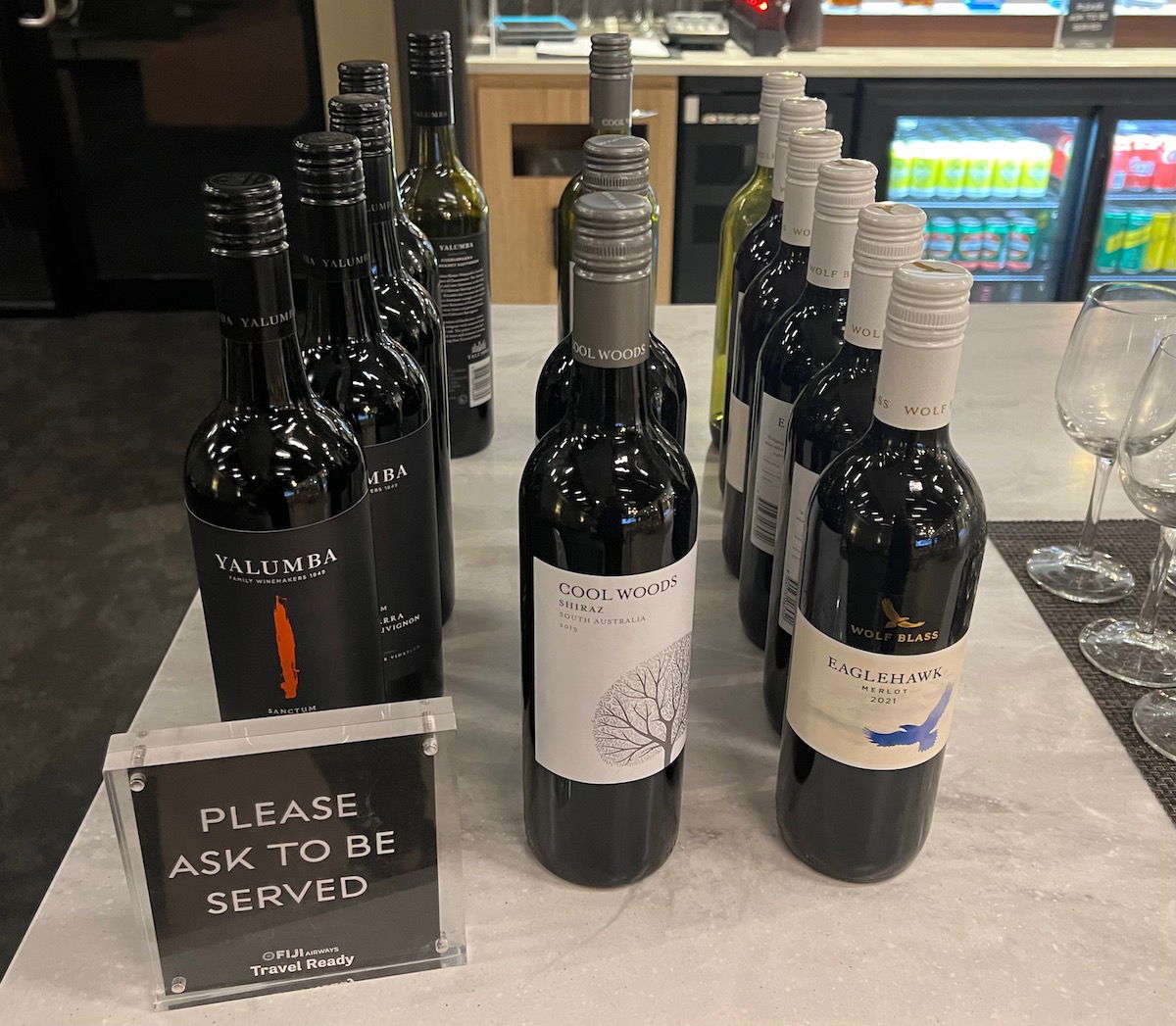 There are few things that I appreciate more than a good cup of coffee, and this is an area where this lounge really delivers. When you sit down, there are servers roaming the lounge offering coffees. I ordered a cappuccino, which was as tasty as it was beautiful. This was probably one of the best coffees I've ever had in a lounge. That alone gives this lounge high marks, in my book.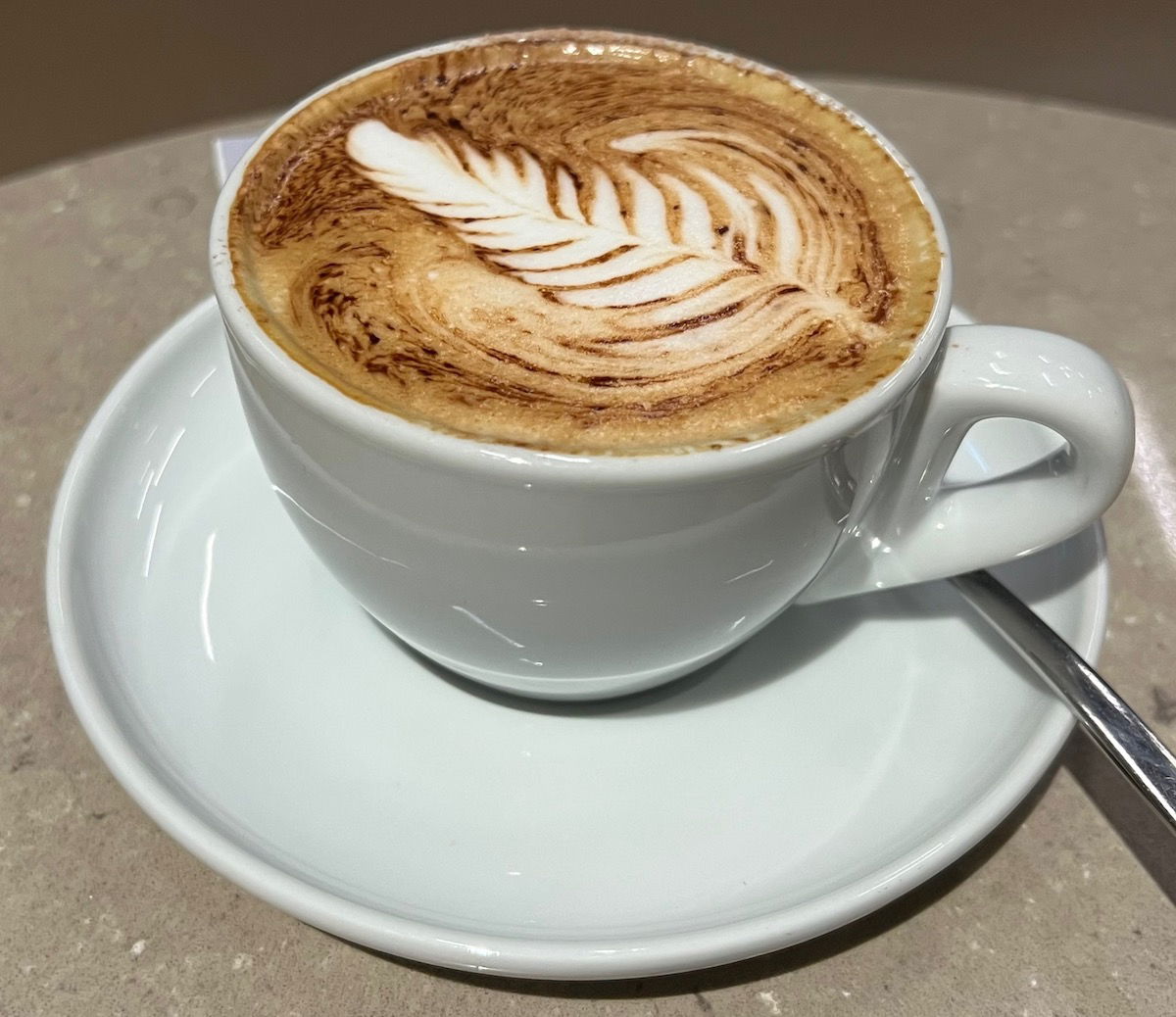 Fiji Airways Lounge Nadi bathrooms & showers
The Fiji Airways Lounge Nadi has decent bathrooms, which were clean, but not terribly private.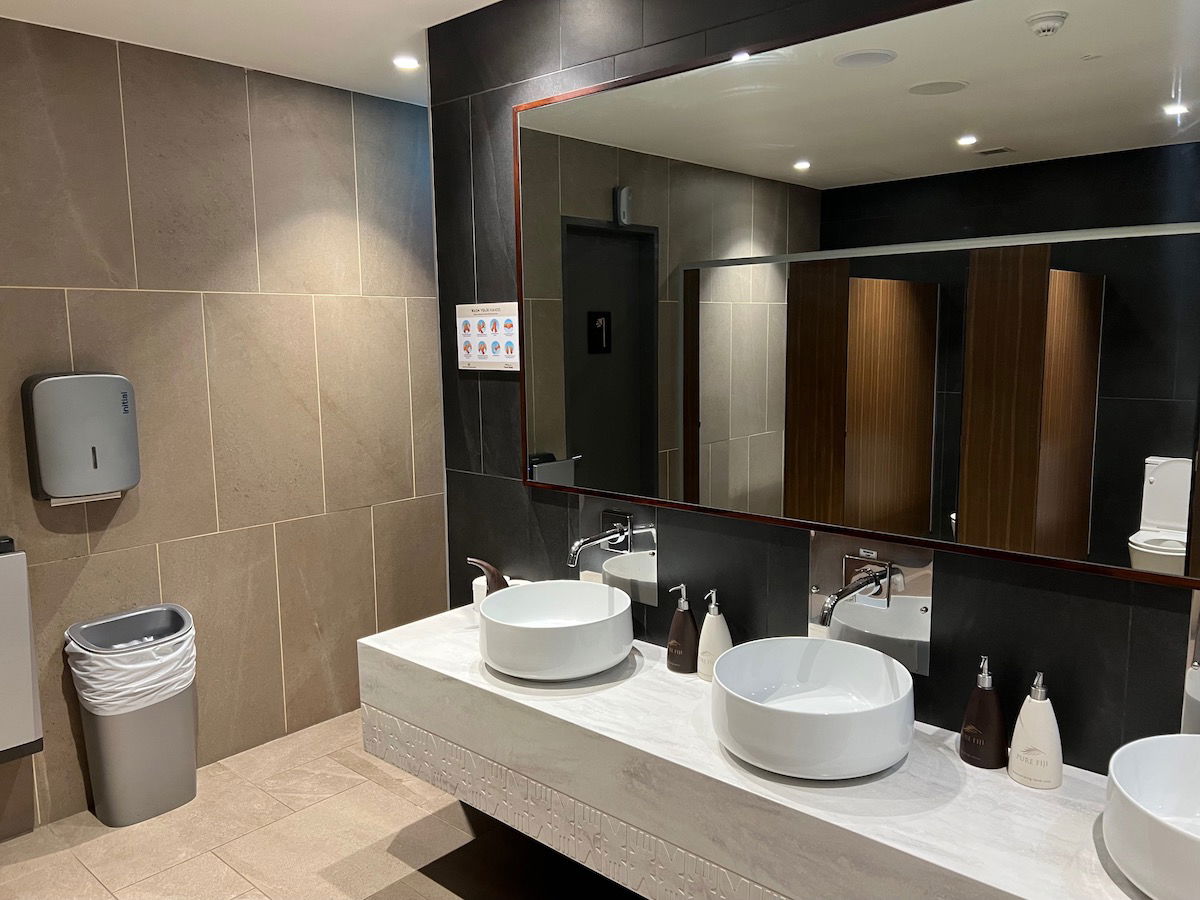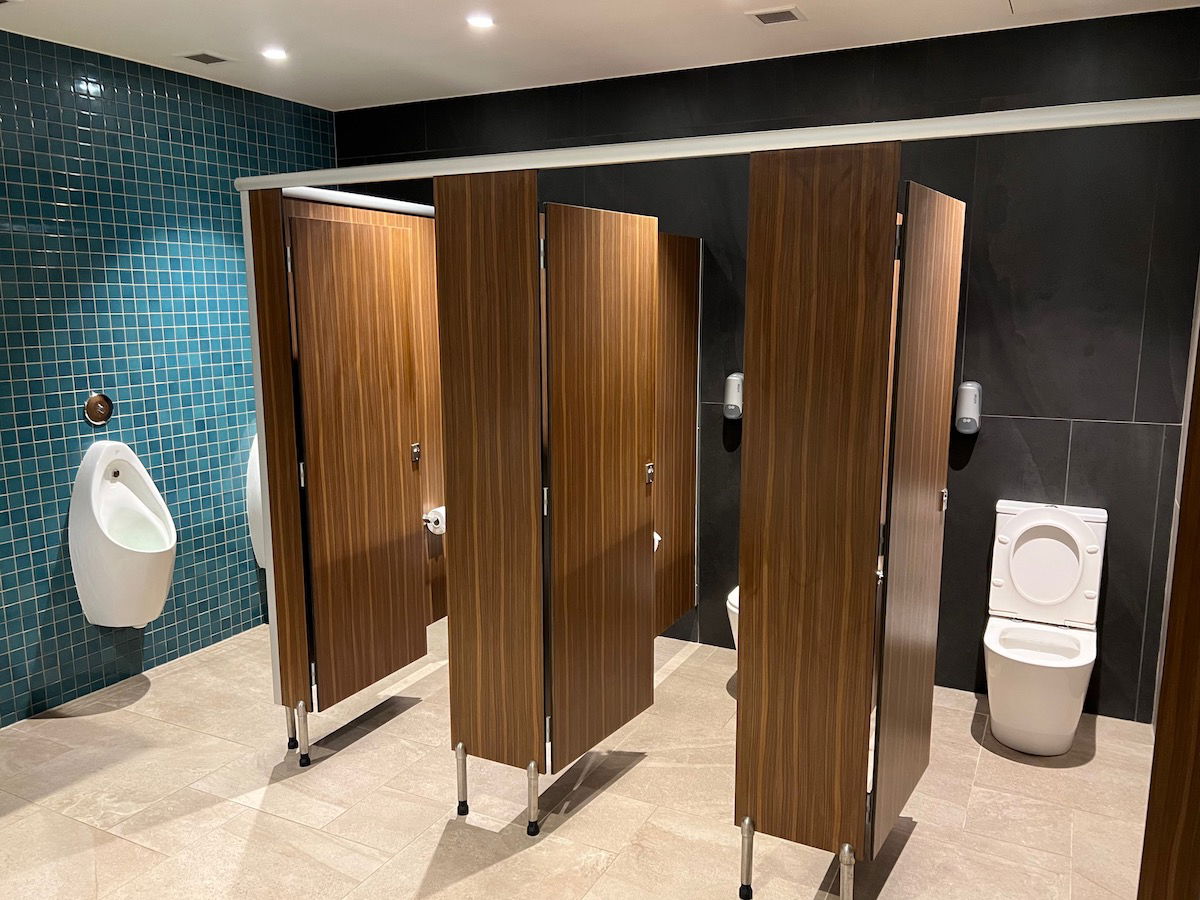 There's also a door leading to a shower suite, which has a walk-in shower and sink. This can be reserved by contacting the staff at the entrance to the lounge.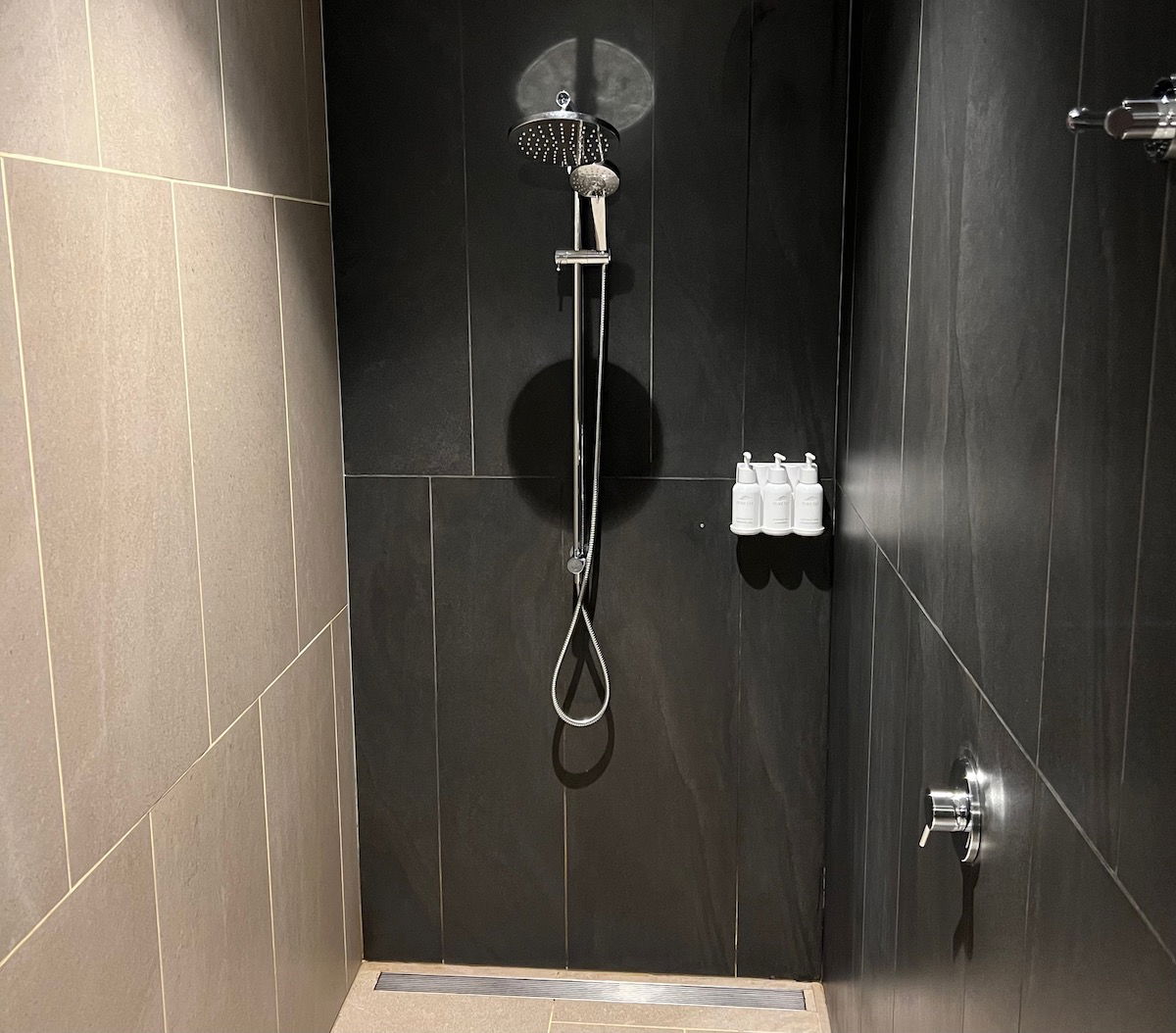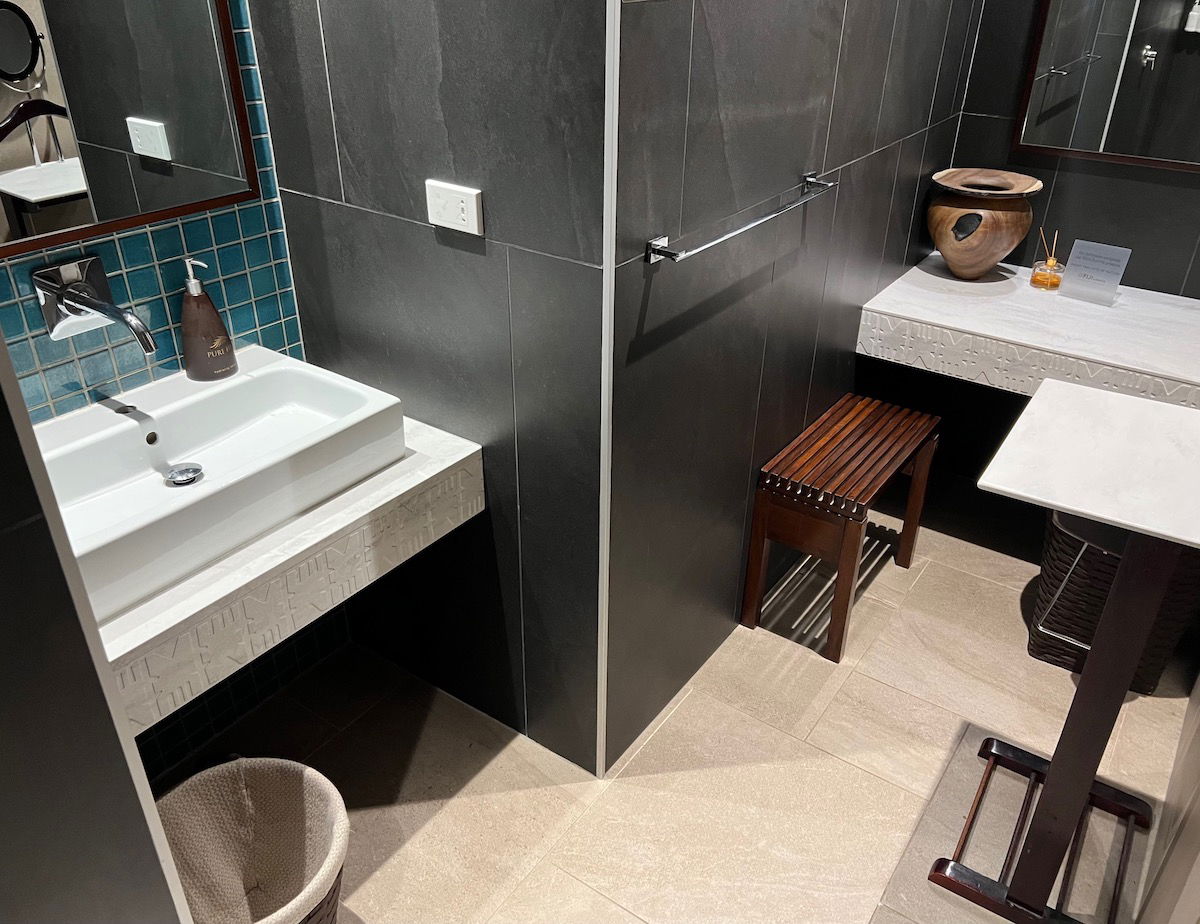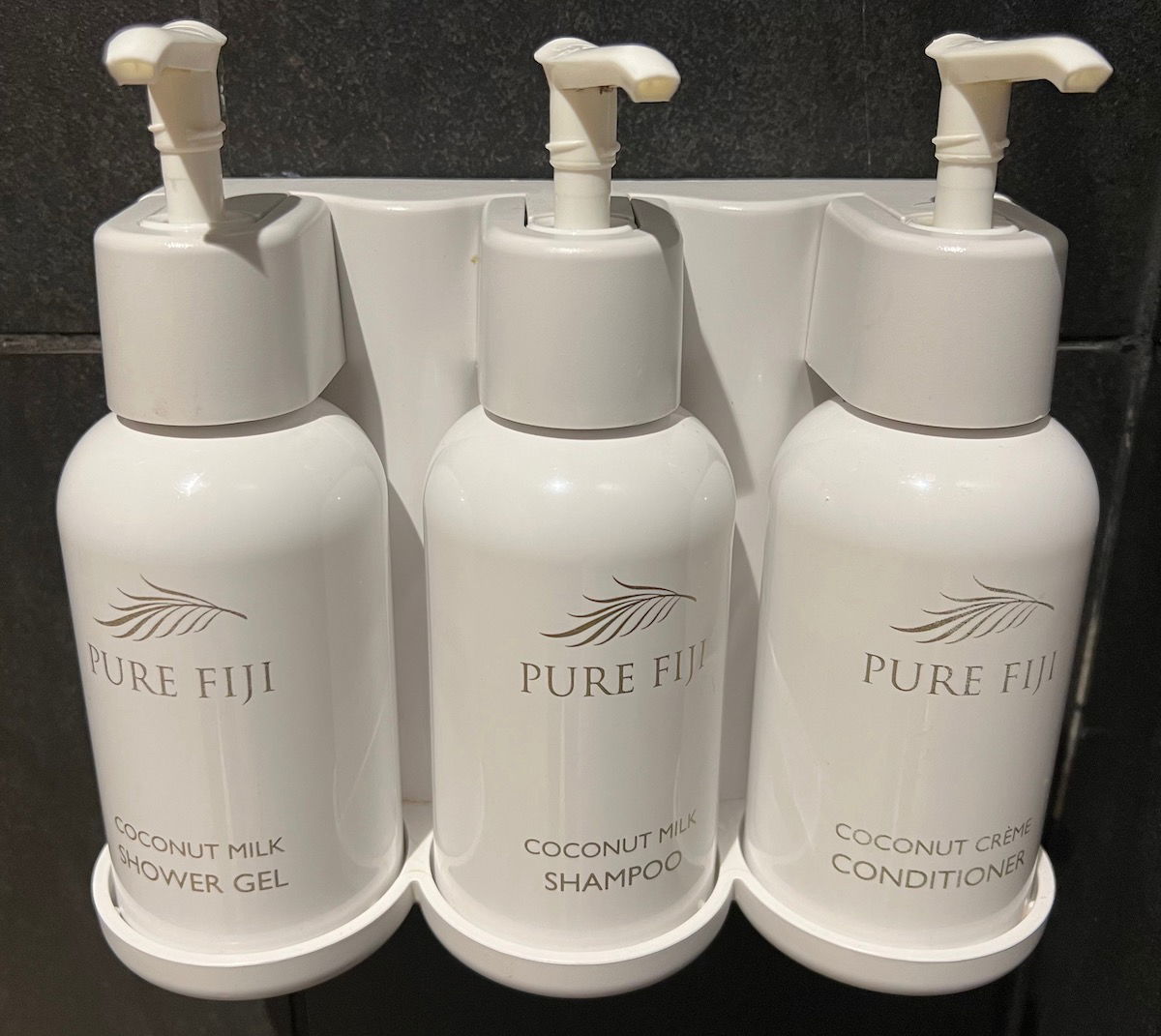 Bottom line
I was really impressed by the Fiji Airways Premier Lounge Nadi. Not only is this an excellent lounge for a small airline, but it's also one of the best Priority Pass lounges I've been to. The lounge has plenty of seating, nice decor, an impressive food selection, friendly staff, and exceptional coffee (that last point in particular really makes me happy).
This is an oasis of calm in an otherwise not-great terminal.
If you've visited the Fiji Airways Lounge Nadi, what was your experience like?