To finish off my two trips to the Southern Hemisphere, I flew Air New Zealand's Boeing 787 business class from Auckland to Los Angeles. It had been years since I had flown Air New Zealand business class, so I was excited to check it out again.
Well, what an underwhelming business class product, with uncompetitive seats, small entertainment screens, and no Wi-Fi. The soft product otherwise ranged from okay to quite good, but still, business class is first and foremost about the seat. Air New Zealand's new business class can't come fast enough — then again, even that doesn't look industry leading.
How I booked my Air New Zealand business class ticket
Air New Zealand is one of the stingiest airlines in the world when it comes to making business class award seats available. So I was excited when I found availability on the Auckland to Los Angeles route.
Air New Zealand and Virgin Atlantic have a partnership, and redeeming Flying Club points on Air New Zealand is an incredible value. Specifically, I paid 62,500 Flying Club points plus $38.84 in taxes & fees for the following segment in business class:
9/21 NZ4 Auckland to Los Angeles departing 11:15PM arriving 4:20PM
I acquired those Virgin Atlantic points by transferring them from Amex Membership Rewards when there was a 30% transfer bonus, so really I paid just 49,000 Amex Membership Rewards points for this ticket. What a deal!
Air New Zealand Auckland lounge & boarding
In the previous installment I reviewed the Air New Zealand Lounge Auckland. My flight was departing from gate 18, which is quite a trek from the central part of the terminal.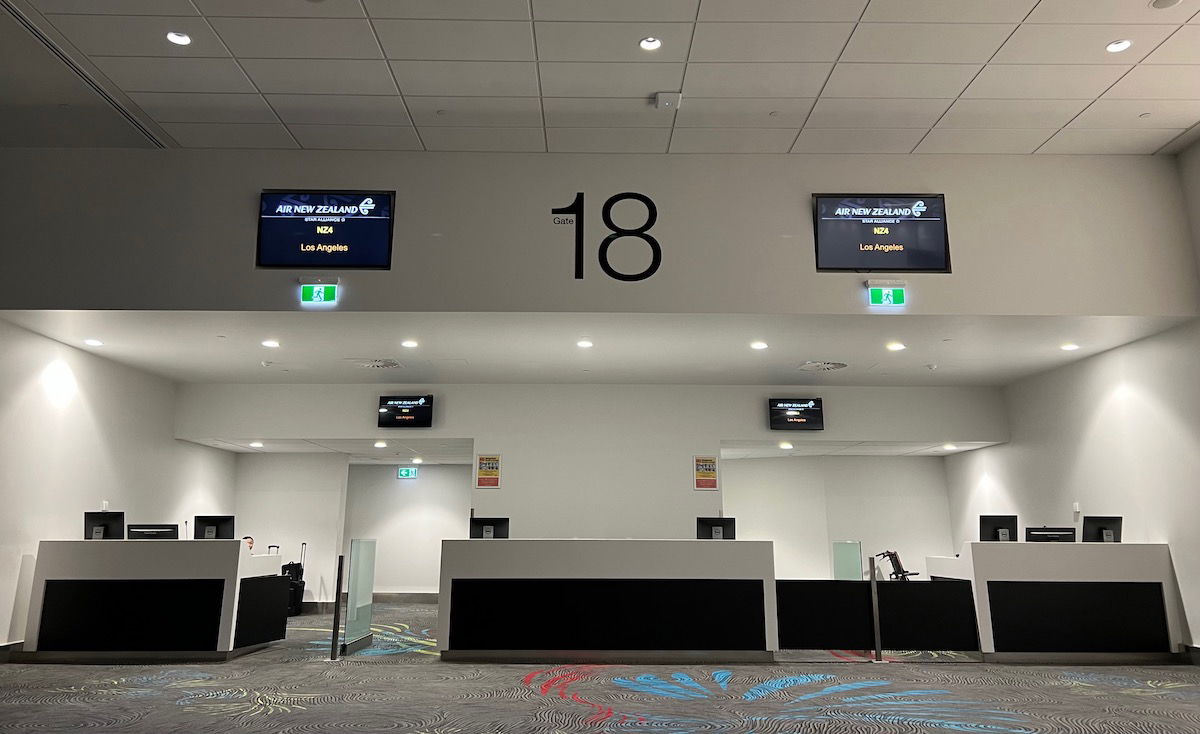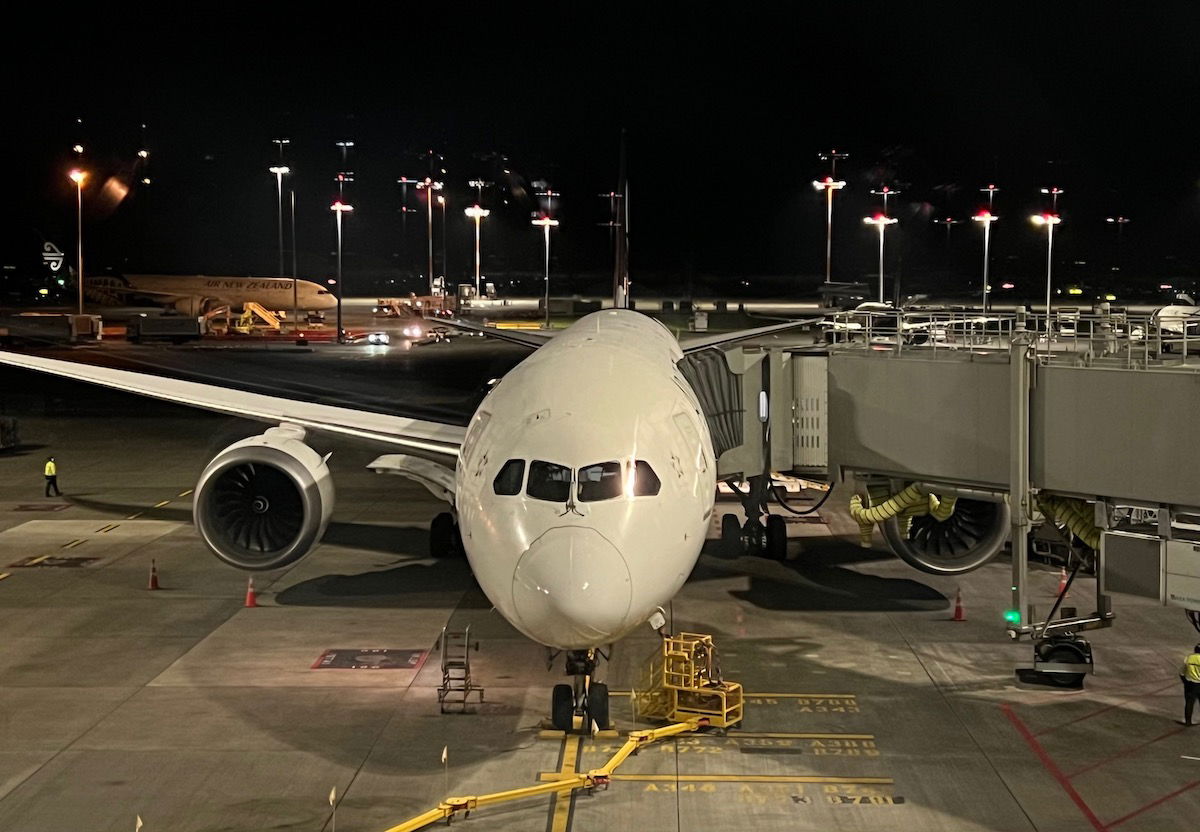 Boarding was scheduled to start at 10:15PM, one hour prior to the scheduled departure time. In reality the crew only started to leisurely board at 10:20PM, and then passenger boarding started at 10:45PM.
Air New Zealand 787 business class cabin & seats
I boarded through the second set of doors, and then turned left into the business class cabin. Air New Zealand has herringbone seats in business class, which were at one point cutting edge (just not in the past decade). The cabin features a total of 27 seats, spread across nine rows in a 1-1-1 layout.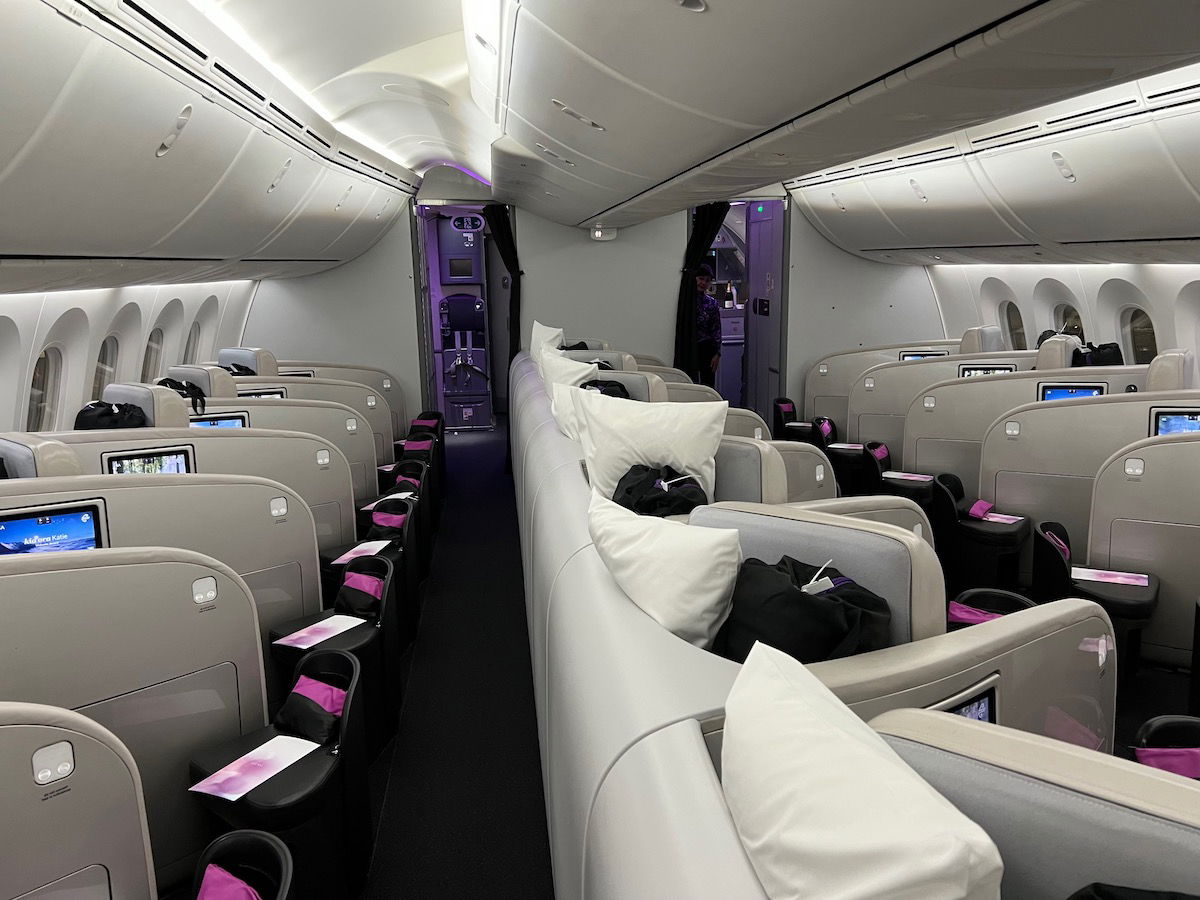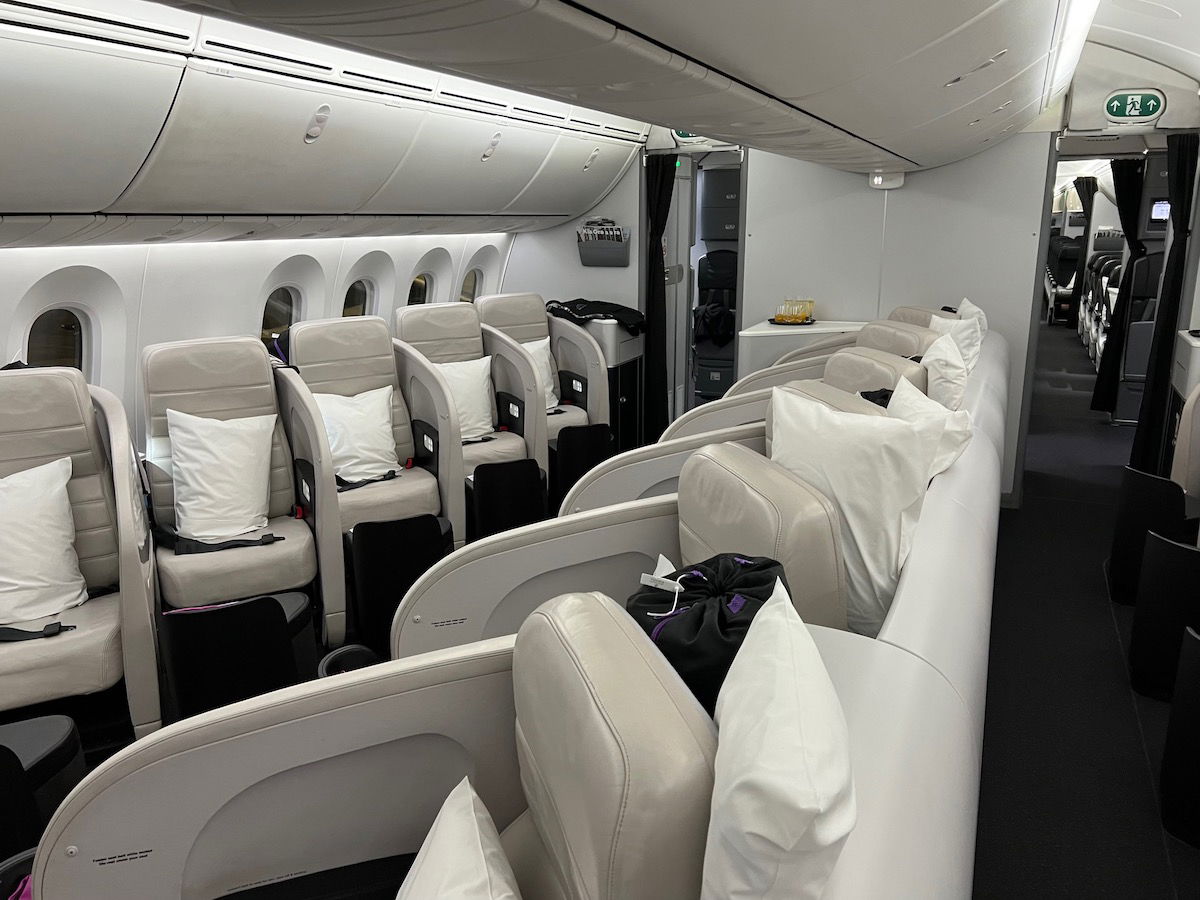 Note that the center seats face toward the right aisle, so I think it's much more desirable to sit on the left side of the aircraft, so that you're facing a wall rather than other passengers.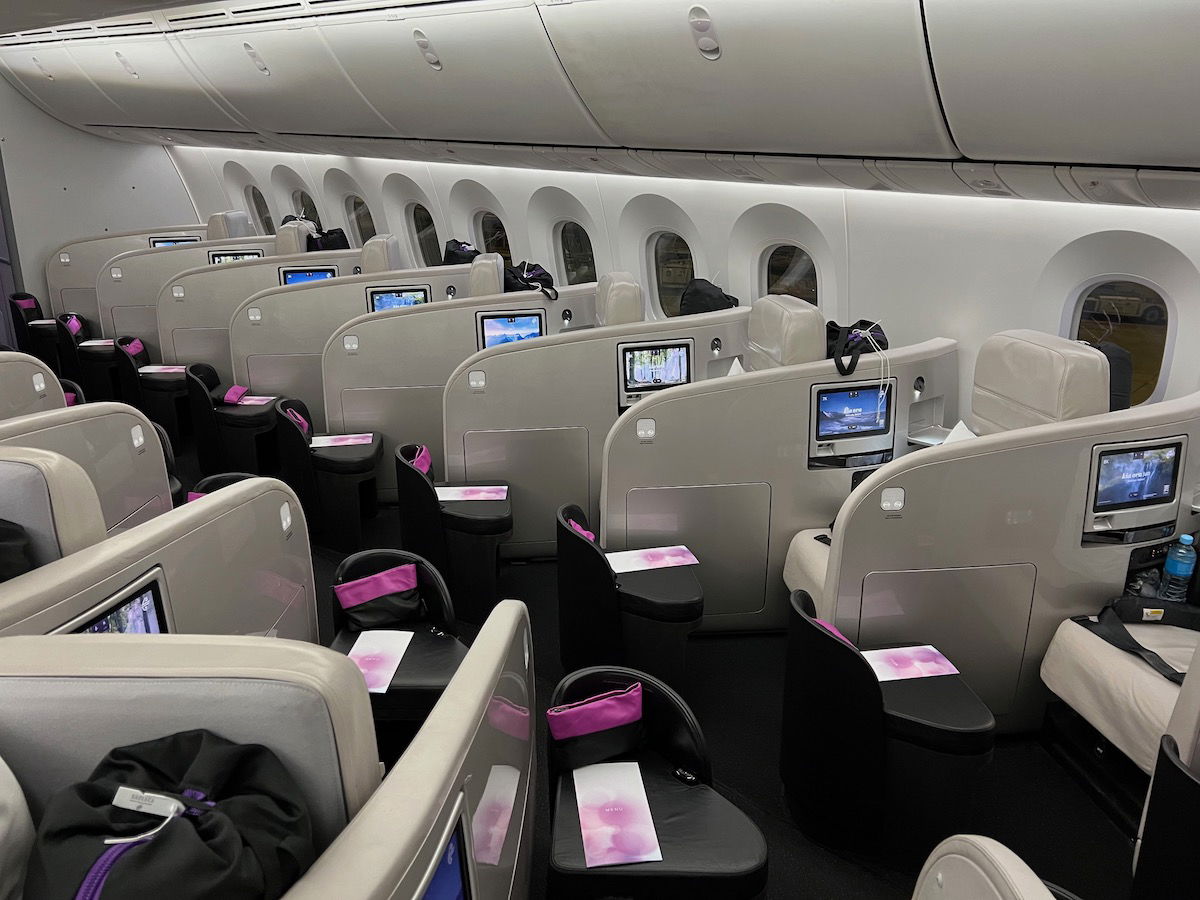 I assigned myself seat 9A, the seat in the last row on the left side. This worked out great, since both 7A and 8A remained empty, meaning I had the whole back left part of the cabin to myself.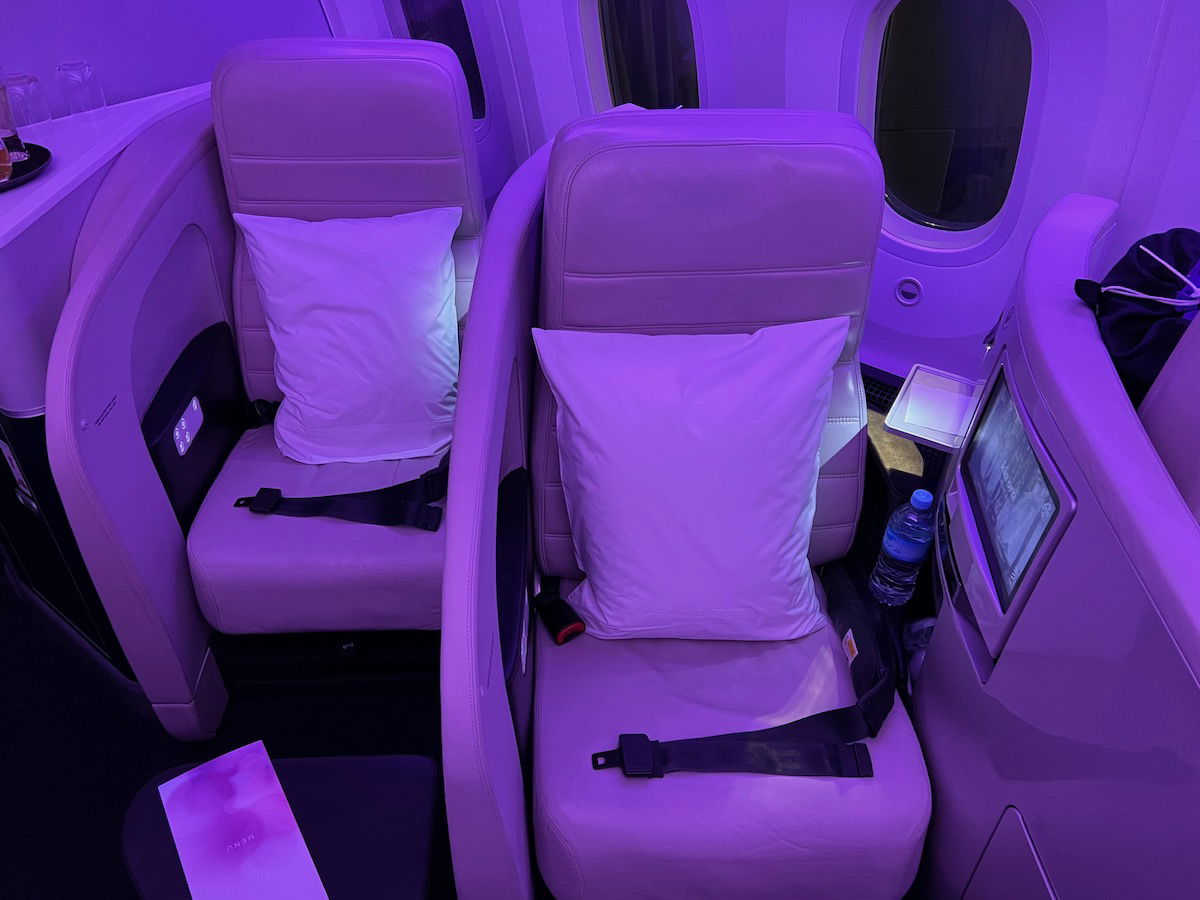 It's amazing how much business class seats have evolved over the years, because I remember back when I considered this to be a great seat. Unfortunately in the meantime this seat is highly uncompetitive — it faces away from the window, you have to get up in order to turn your seat into a bed, there's virtually no storage, and I feel like so many aspects of the seat design are poorly thought out.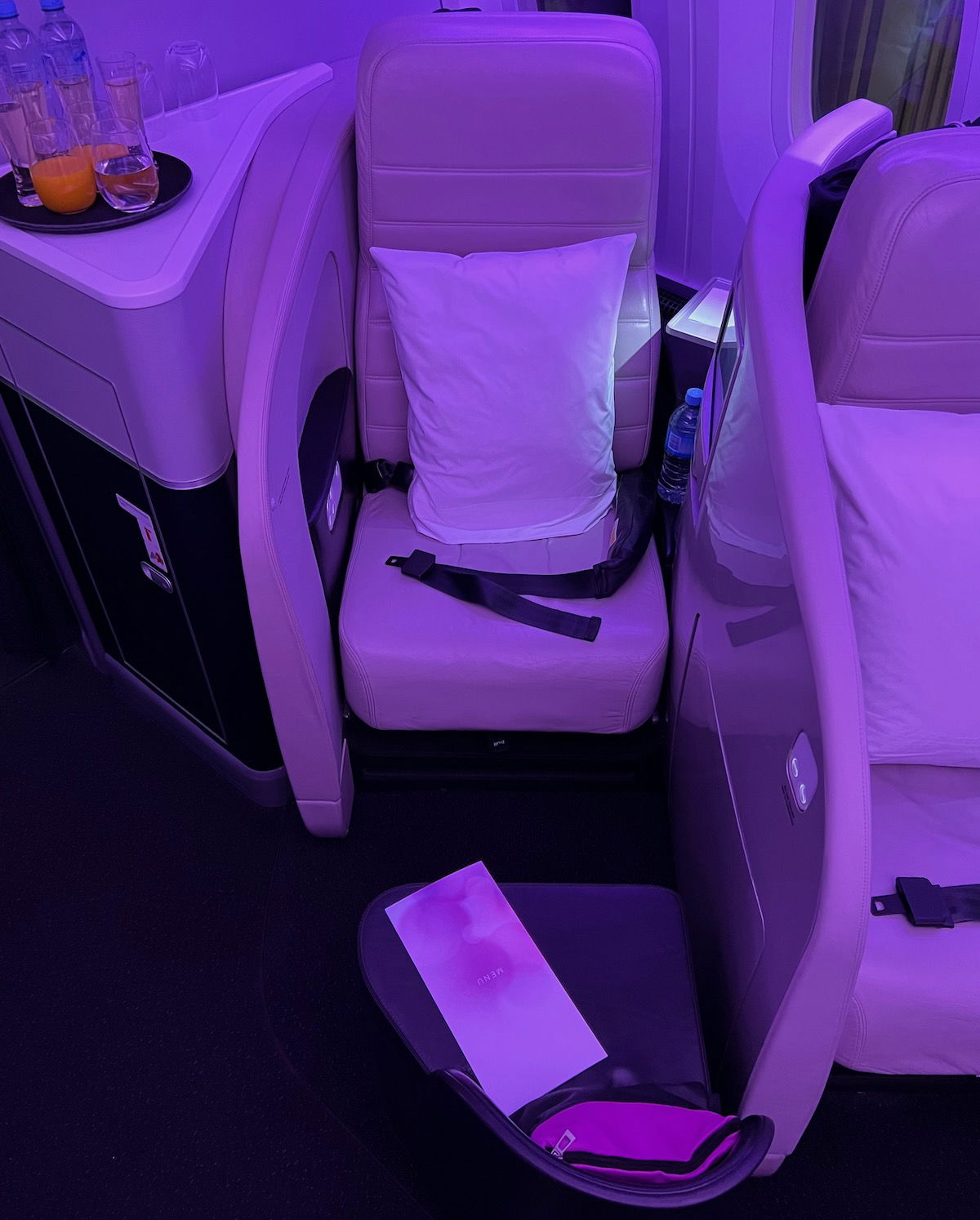 Each business class seat features an ottoman, which in theory can be used as a buddy seat so that two people can dine together. However, this would be really tight.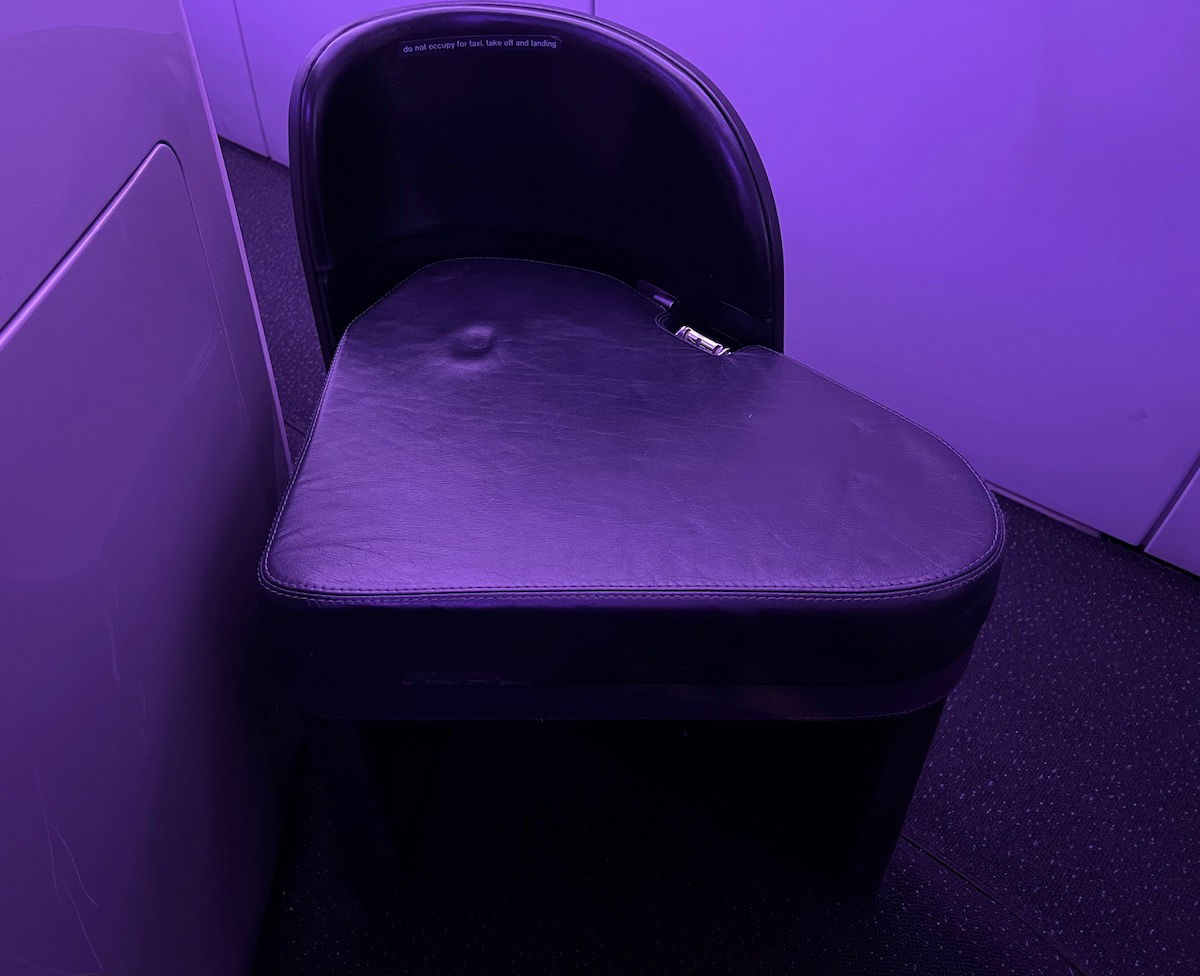 Most of the seat functions are to the left side of the seat.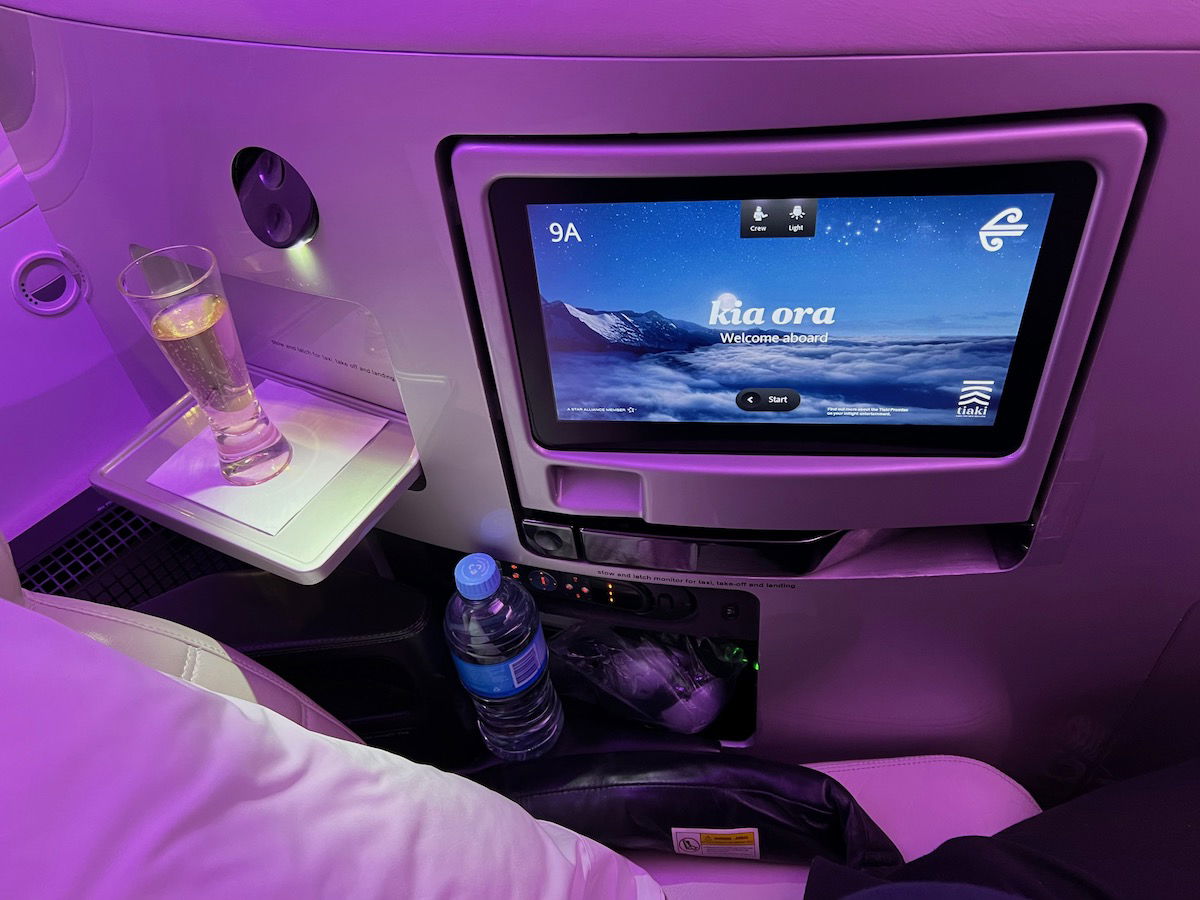 At the back left of the seat is a reading light, as well as a small drink tray that can be lowered. I have to imagine people constantly knock their drinks off of this accidentally, because the seat is pretty tight.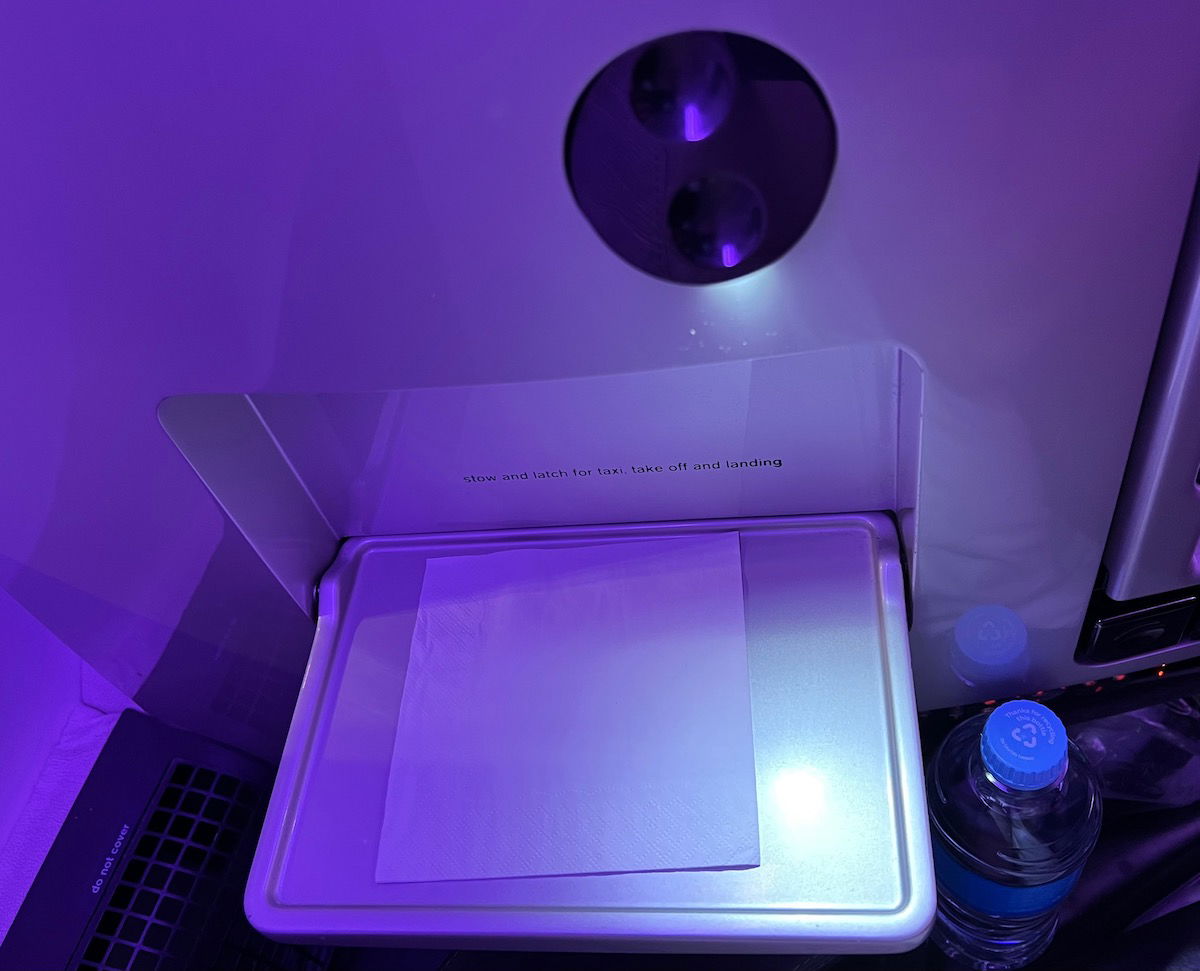 The monitor in business class is only 11″, and also isn't very high definition. Since it's to the side of the seat, you can push a button so that it's instead in front of you. While that's better than nothing, it also makes it hard to move the screen while there's anything on your tray table.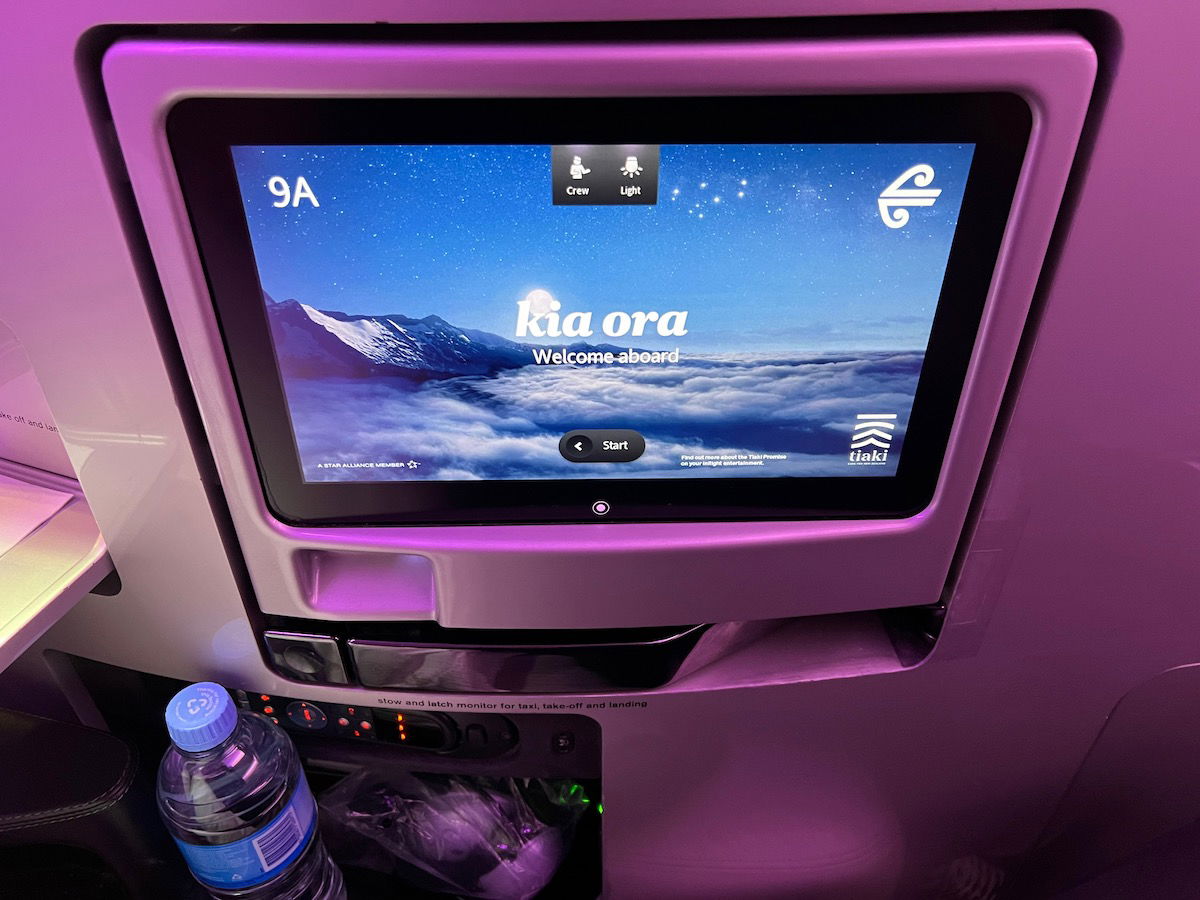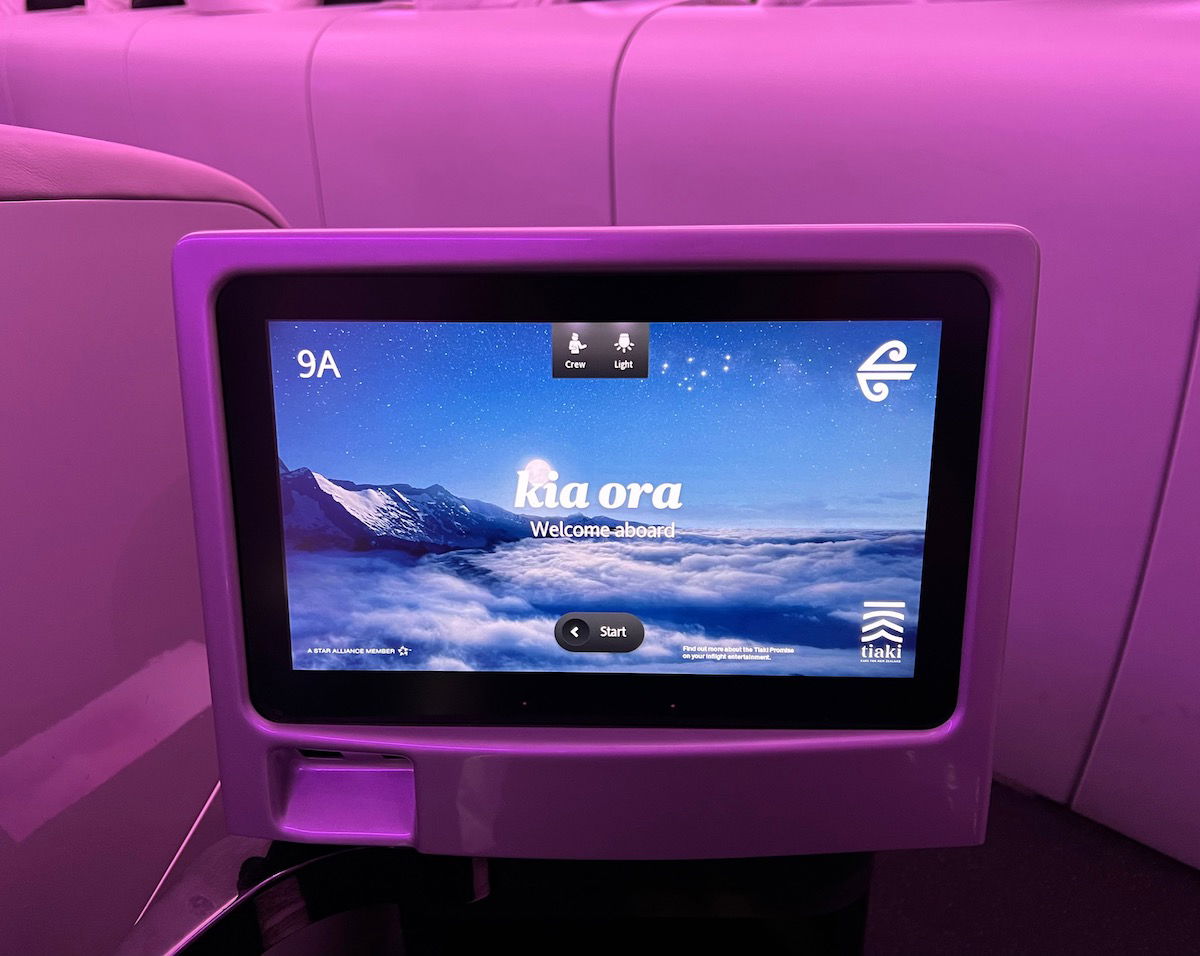 There's also an entertainment controller on a cord, which is the same model you'll find on many airlines. The screen is also touchscreen, so you don't actually have to use this if you don't want to.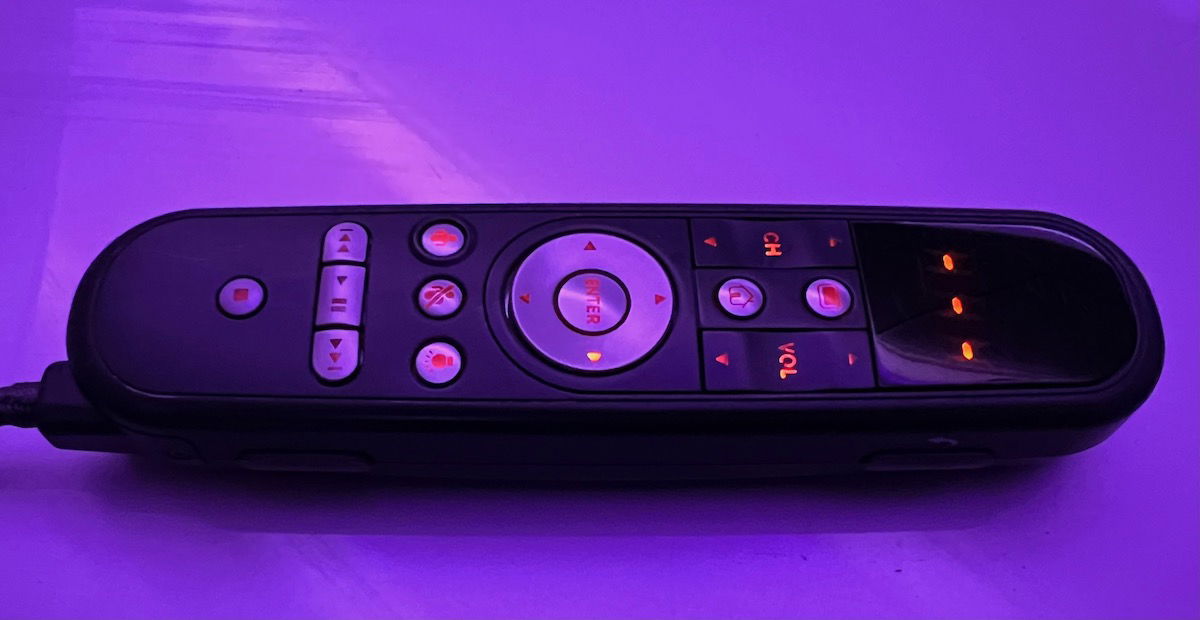 The tray table folds out from the left side of the seat, and is quite large. Just remember that you won't be able to easily get up if this is extended. The tray table also gets a bit tight if you have both the monitor out and you're trying to eat.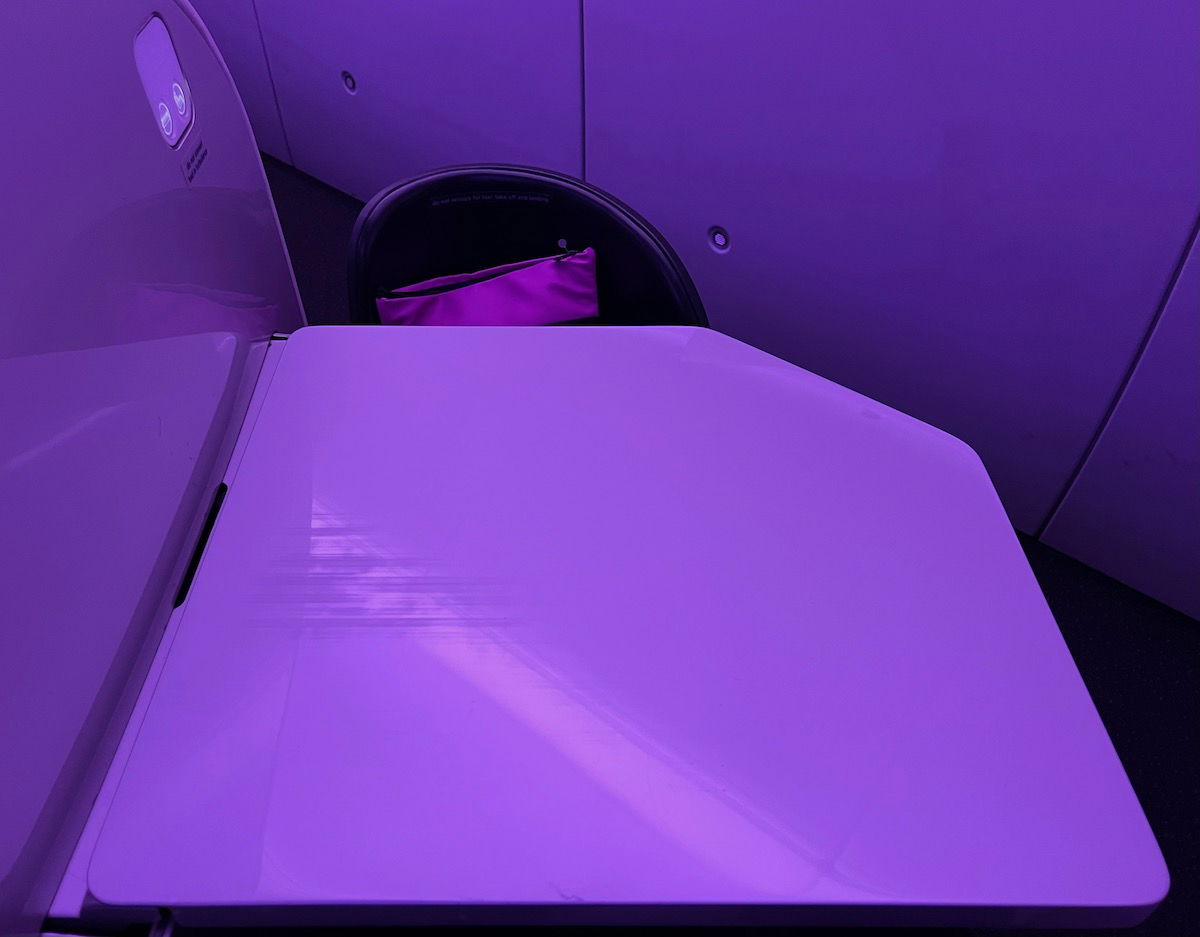 Also underneath the seat and to the left is an AC power outlet. The USB outlet, meanwhile, is underneath the entertainment screen.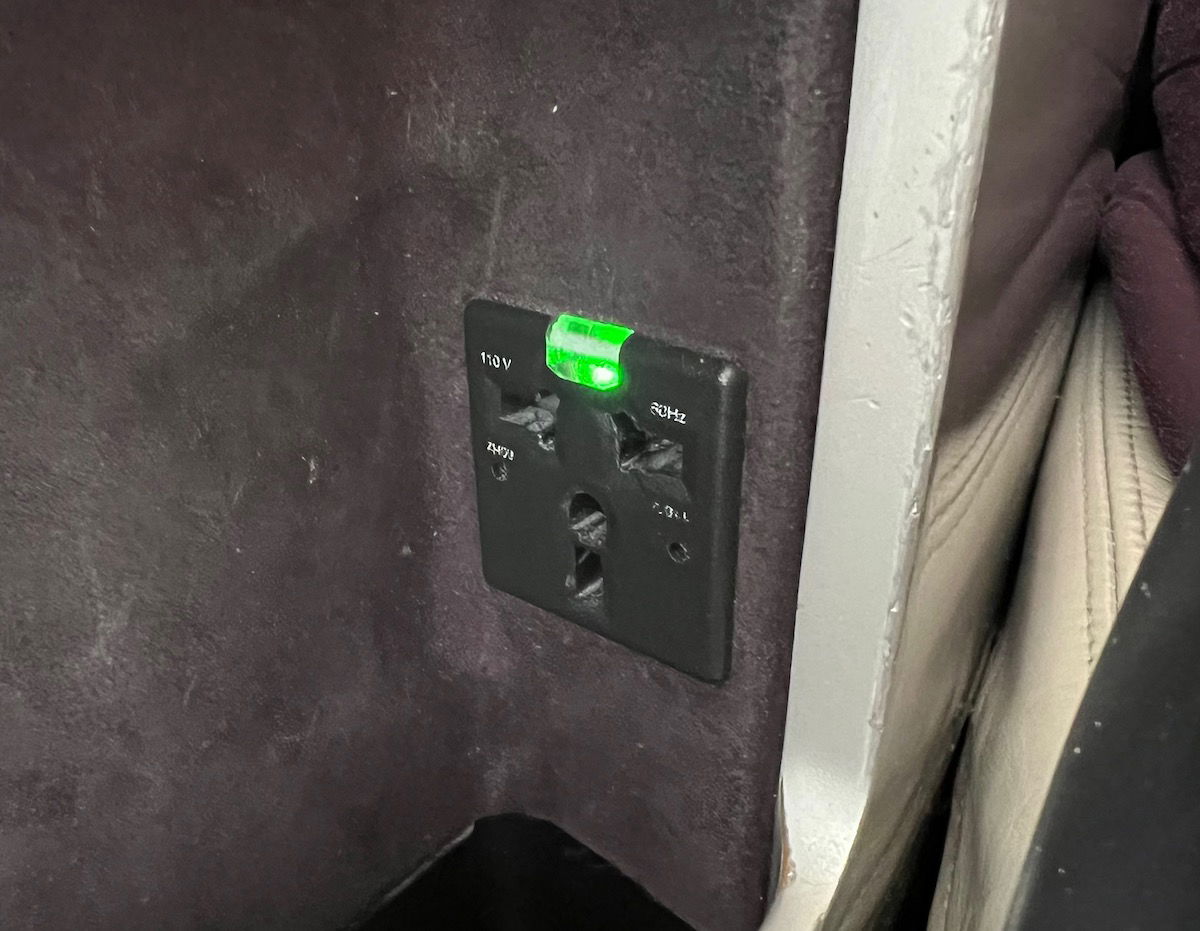 As far as seat controls go, there are two separate sets of controls. At the front left of the seat are two pre-sets, where you can either put the seat in the upright position, or turn it into a bed. This requires getting out of your seat, since the bed is made by the seat essentially flipping over.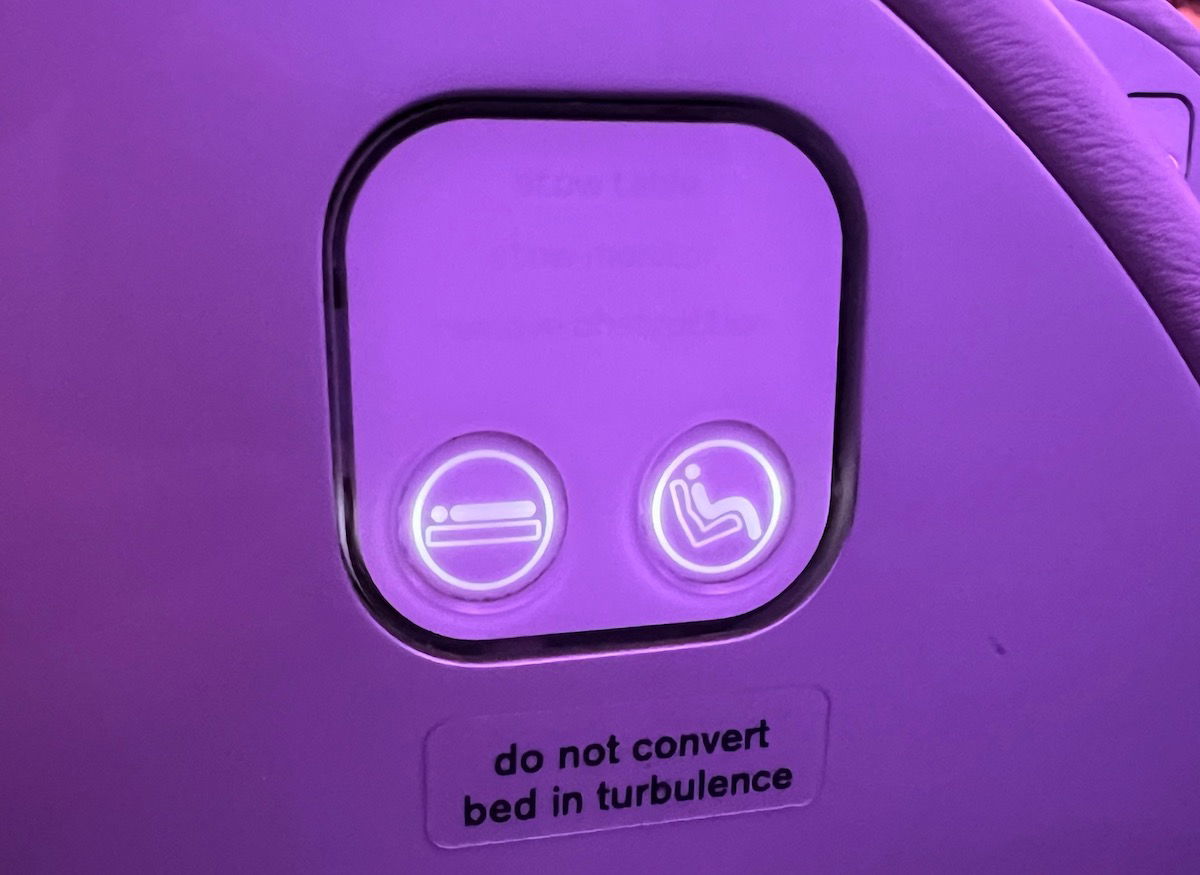 Then the back right of the seat has the limited seat functions, including being able to recline the seat slightly, and also extending the tray table.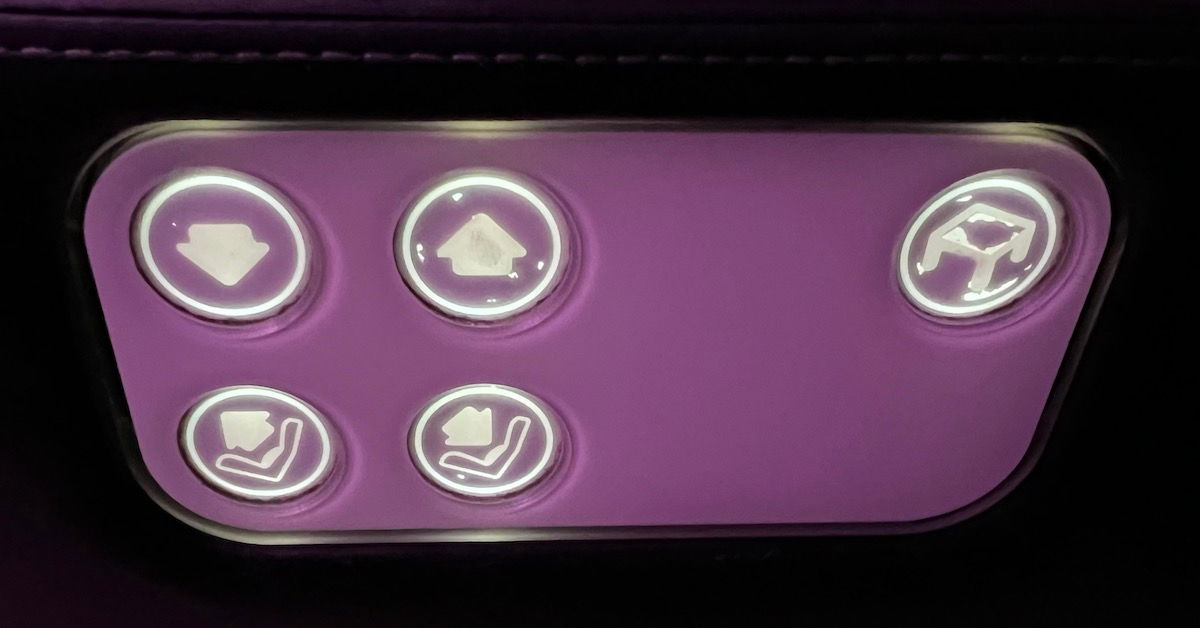 Don't expect much in terms of seat recline — it just reclines slightly (pictured below), and then the only option beyond that is a fully flat bed.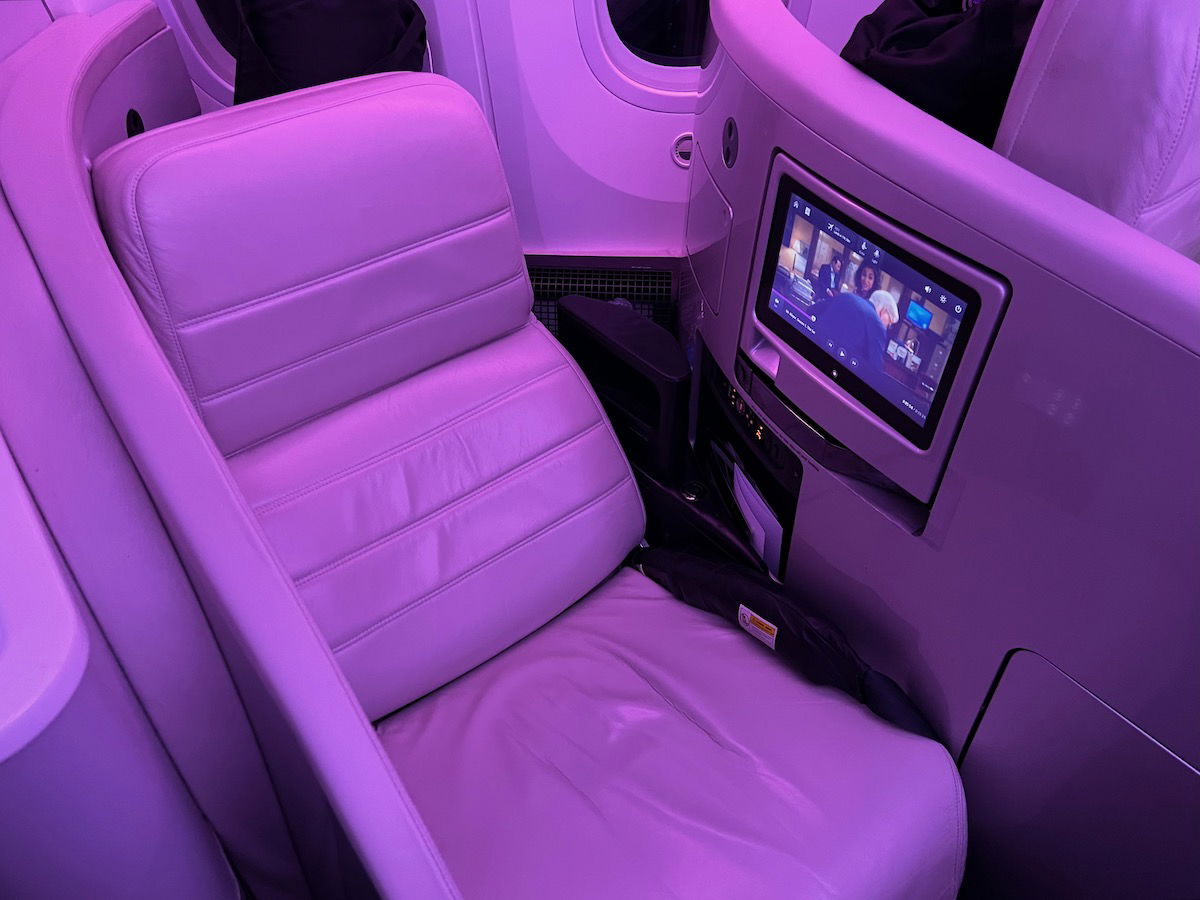 The overhead console had reading lights, but no individual air nozzles.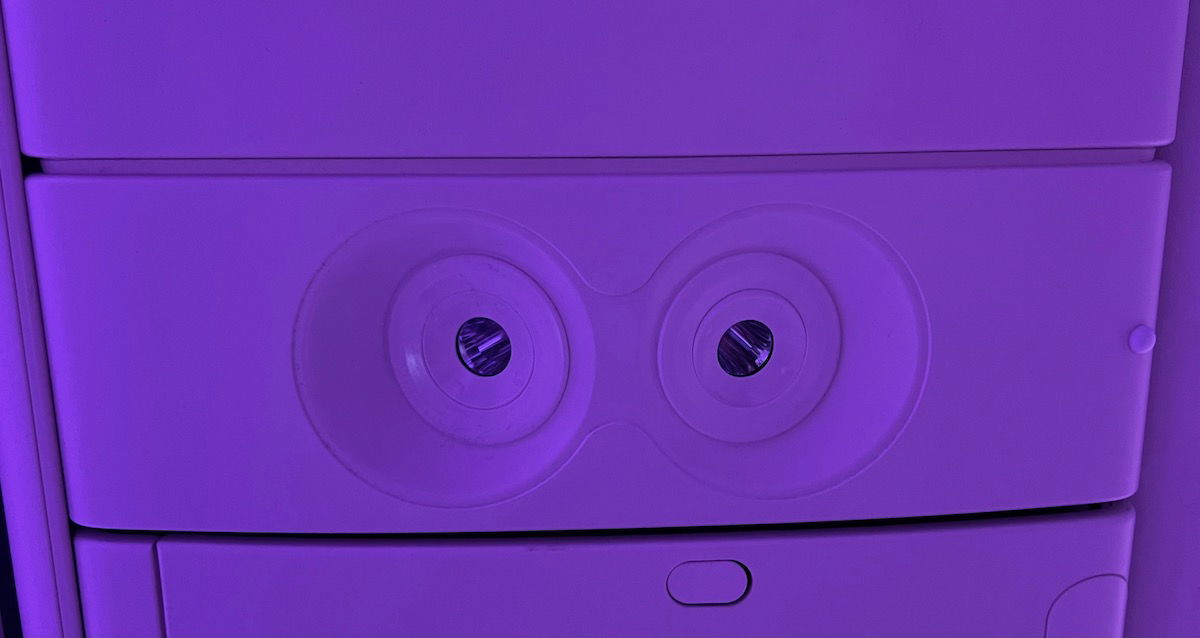 Looking out the window in these seats isn't actually easy, since you have to turn your head quite a bit to look outside.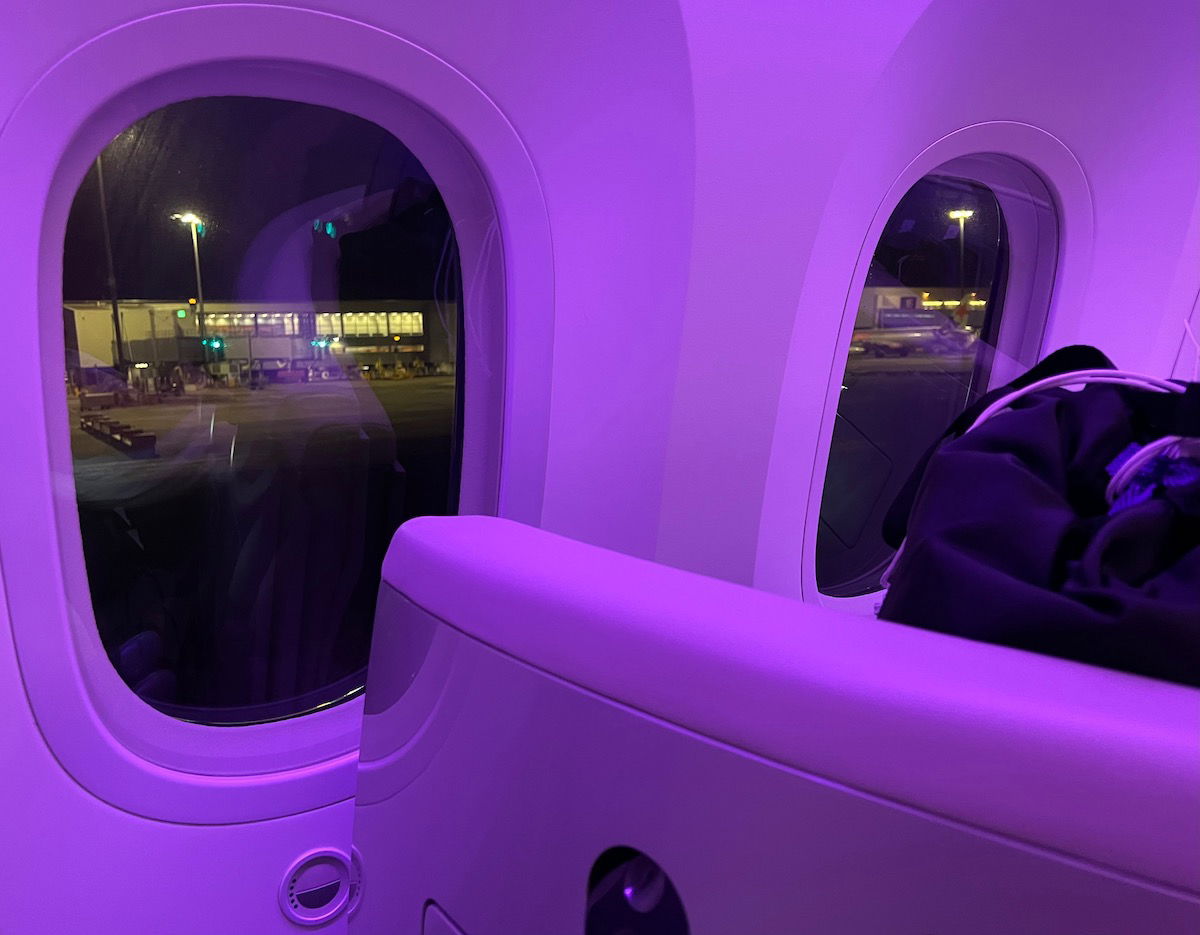 I at least appreciated being in a quiet part of the cabin, as the two seats in front of me were empty, and I wasn't directly facing any passengers.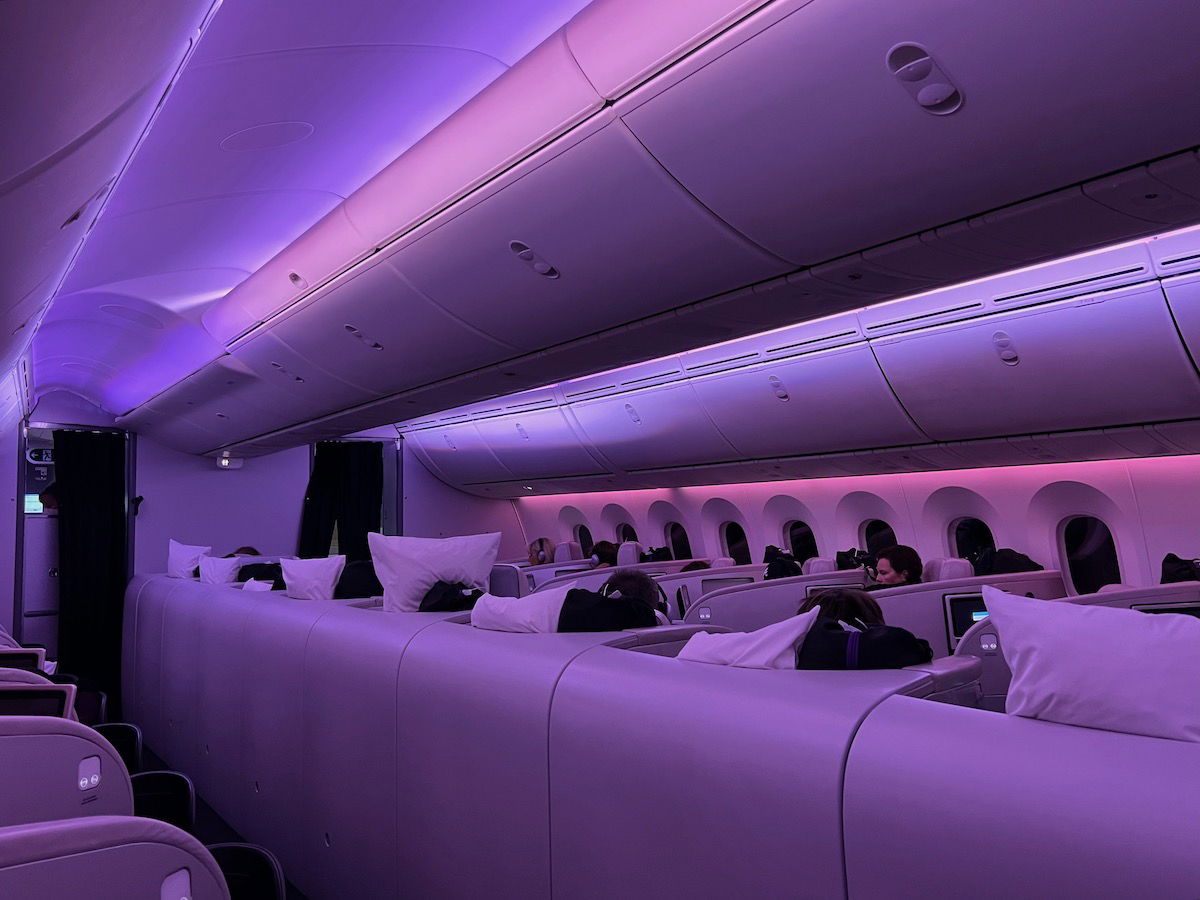 Unfortunately the cabin had seen better days. So many of the surfaces were scratched and worn, and my ottoman just kind of came apart during the flight.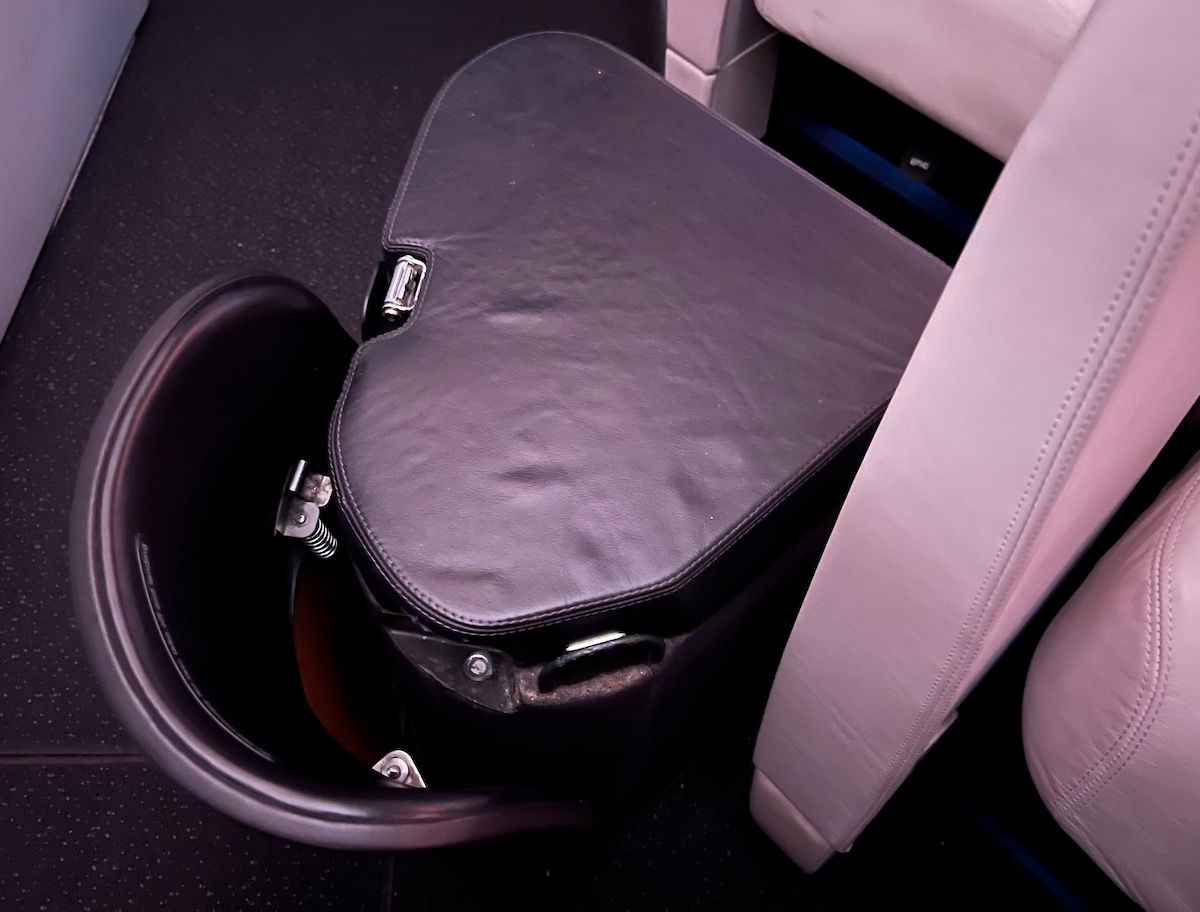 I realize some will disagree, but this is just a plain disappointing business class product to me nowadays. The irony is that this product utilizes space so poorly. There were only 27 business class seats between the first and second set of doors, while other airlines with better seats have 30 business class seats in the same space. It shows how seat manufacturers have gotten much more creative and efficient with how they use space.
Of course it's worth acknowledging that Air New Zealand plans to introduce a new business class product as of 2024. However, that's still quite some time from now, the product doesn't look amazing, and who knows how long it will be before those seats are available throughout the long haul fleet.
Air New Zealand business class amenities
Waiting at each seat upon boarding were a pair of headphones, which didn't do much to cancel out noise, and were flimsy and uncomfortable.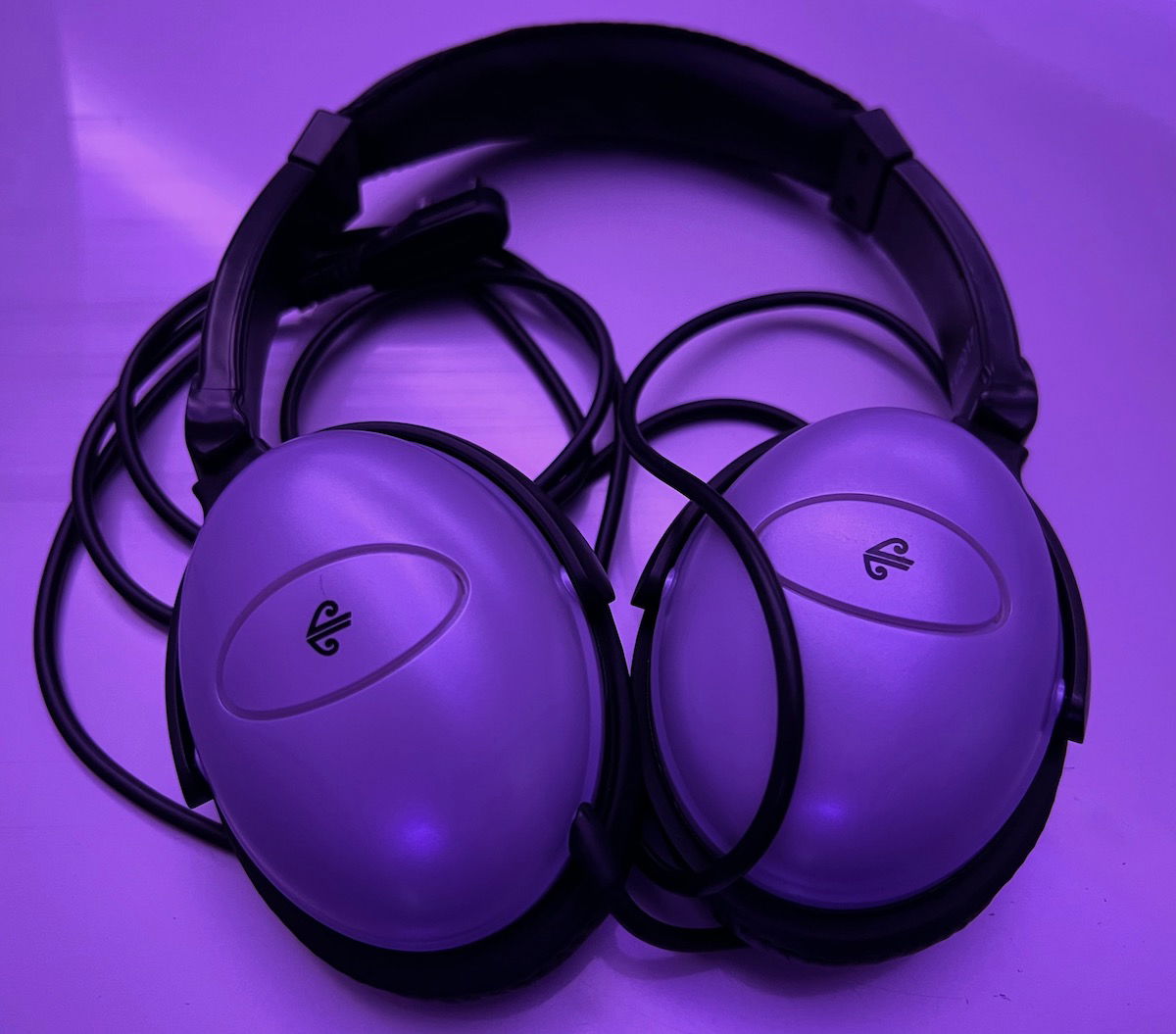 The menu for the flight was also placed on each ottoman prior to boarding.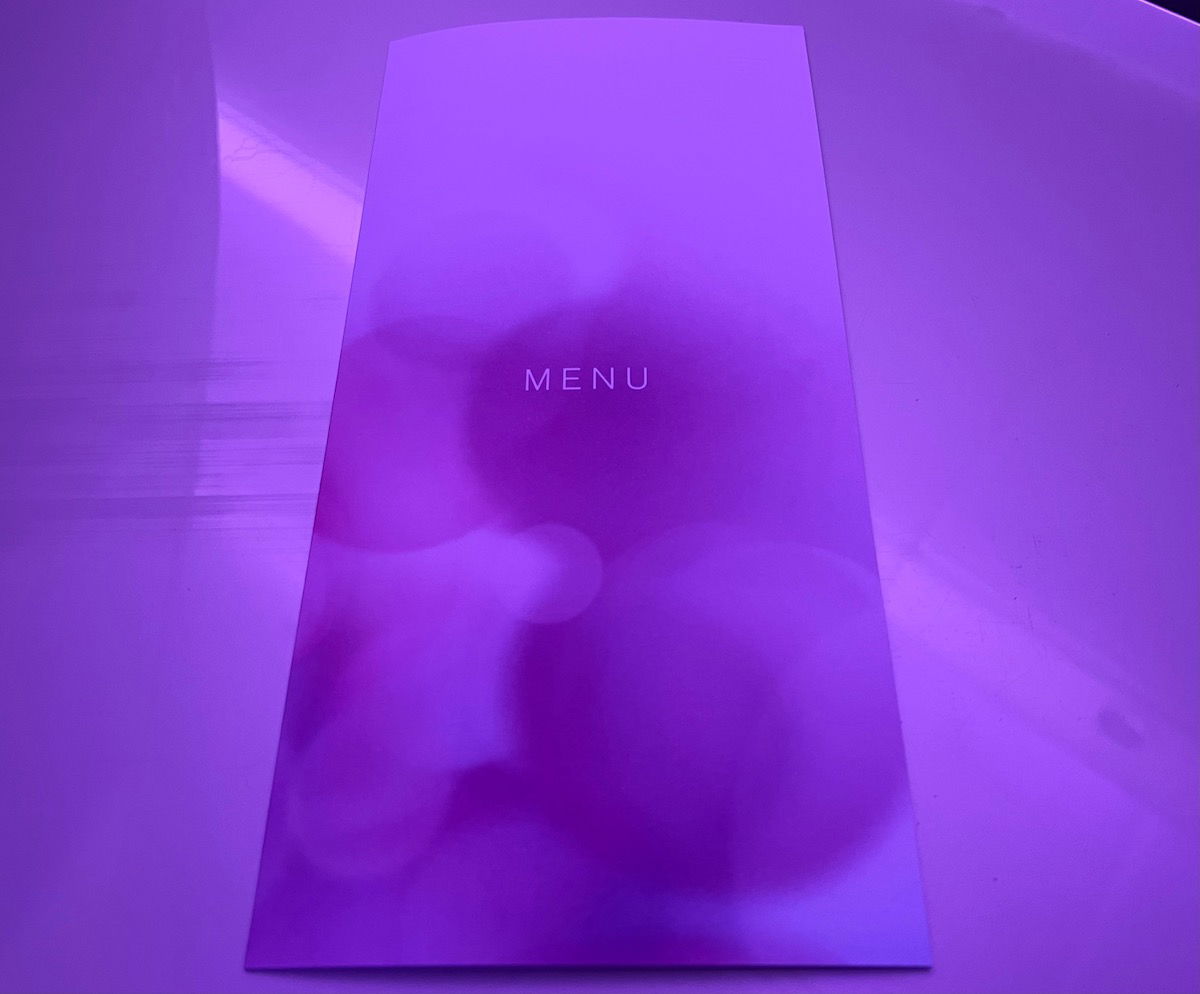 There was also a pillow and blanket at each seat, which were cozy. This was only part of the bedding, as the airline offers turndown service when it's time to sleep (frankly that's necessary, since for most passengers, turning the seat into a bed isn't intuitive).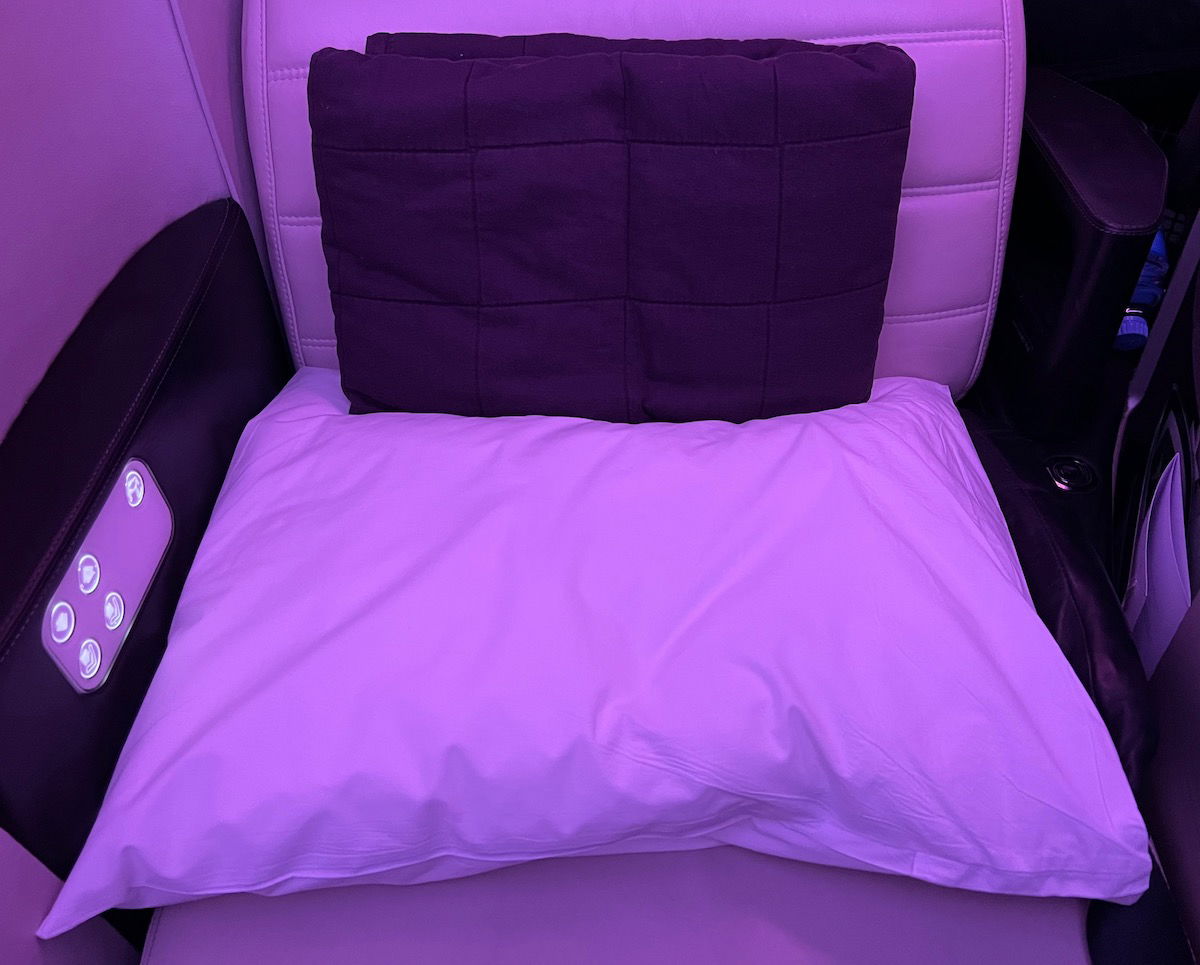 Shortly after boarding, each business class passenger was offered a pre-departure drink, with the choice of champagne, orange juice, or water. I selected a glass of champagne (Air New Zealand serves Laurent-Perrier Brut NV), and I loved the flute it was served in.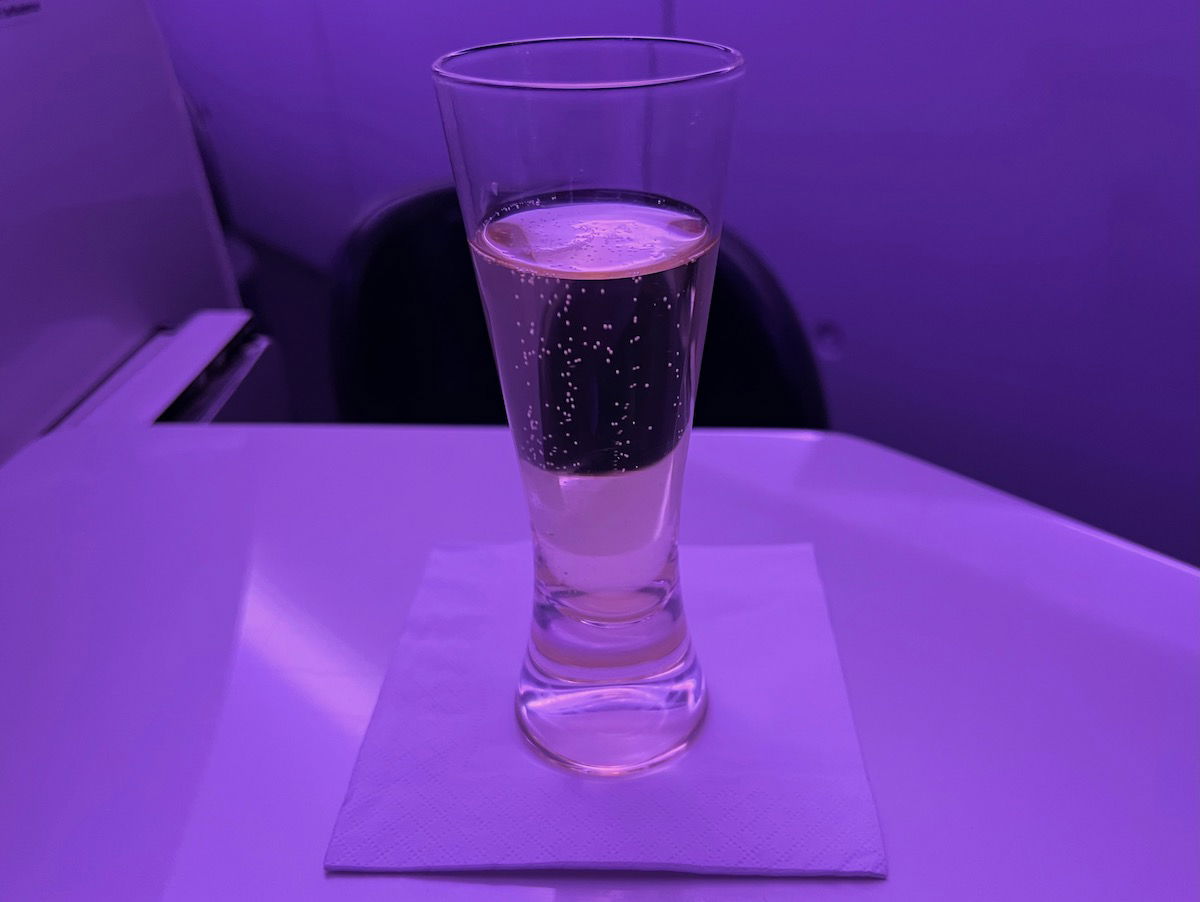 Warm towels were distributed later in the boarding process.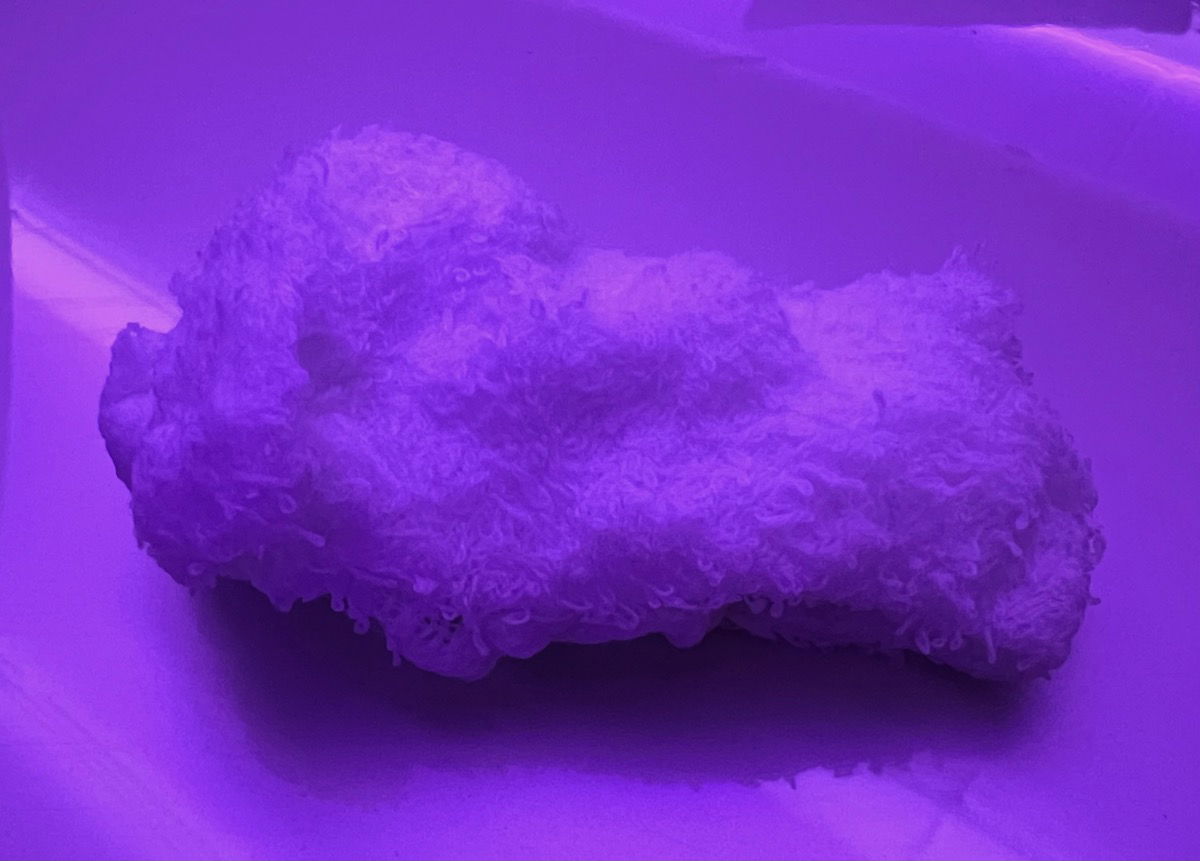 Each business class passenger was also offered an amenity kit, featuring socks, eyeshades, earplugs, a pen, a dental kit, hand cream, lip calm, and mouthwash.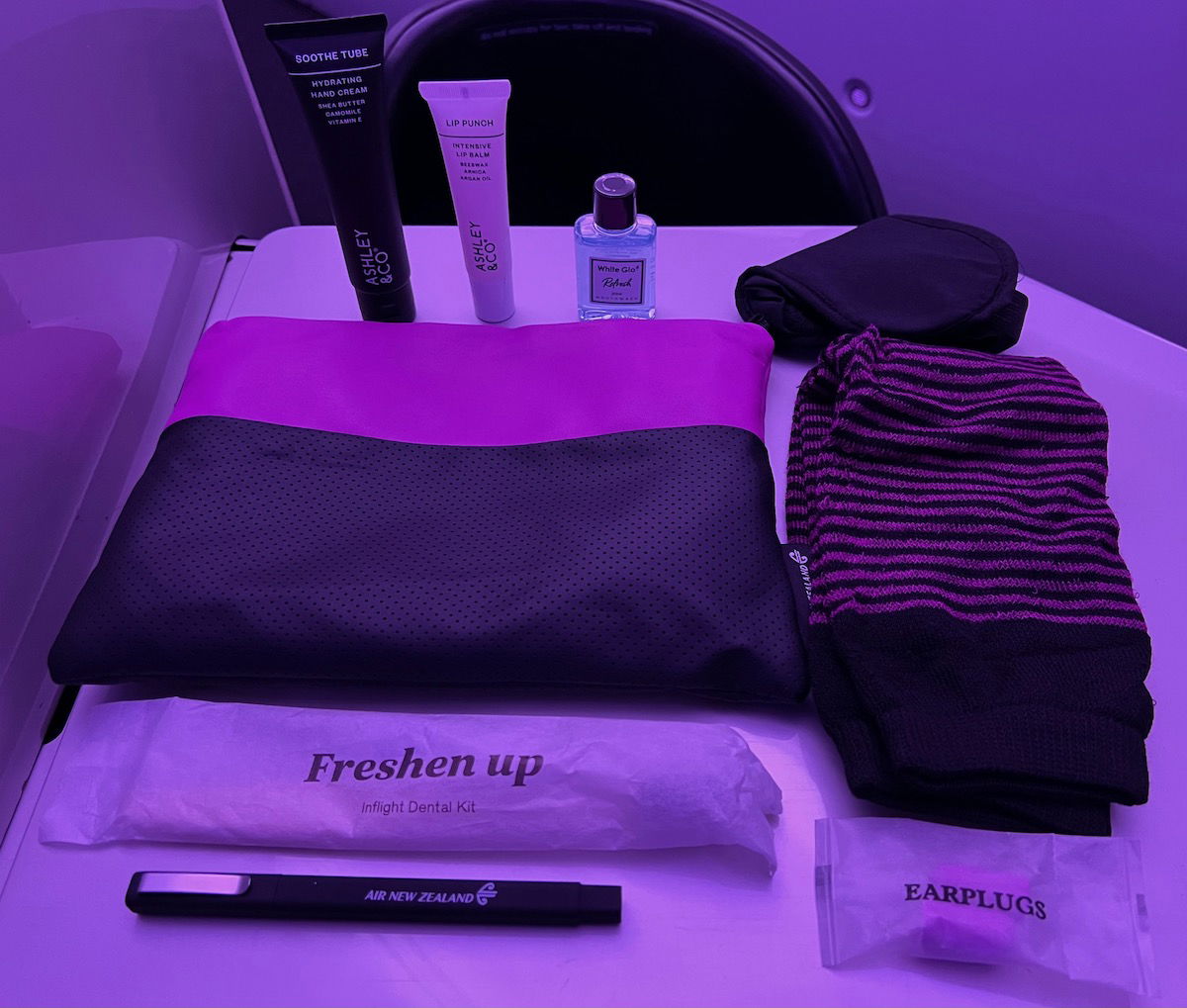 Air New Zealand doesn't offer pajamas in business class (unlike Qantas), and doesn't even offer slippers, which I found strange.
Air New Zealand 787 departure from Auckland
Boarding finished up by 11:10PM, with 21 of the 27 business class seats occupied. Around this time the captain came on the PA to add his welcome aboard, informing us of our flight time of 11hr45min, and our initial cruising altitude of 35,000 feet. A moment later the inflight service manager added her welcome aboard, and then the safety video was screened.
Air New Zealand is known for its creative safety videos, so below is the one currently being shown.
At 11:20PM we began our taxi. The crew immediately took their jumpseats — unlike other airlines, there's no "flight attendants, prepare for takeoff," or chime when the plane gets on the runway. We were cleared for takeoff at 11:30PM, and rocketed off into the night.
Air New Zealand 787 entertainment & Wi-Fi
As we climbed out I browsed the entertainment selection. While the entertainment screen is small and not very high definition, the selection of movies and TV shows was quite good. There were a total of roughly 120 movies and TV shows, though many of the TV shows had multiple episodes (which I'm not counting toward that total).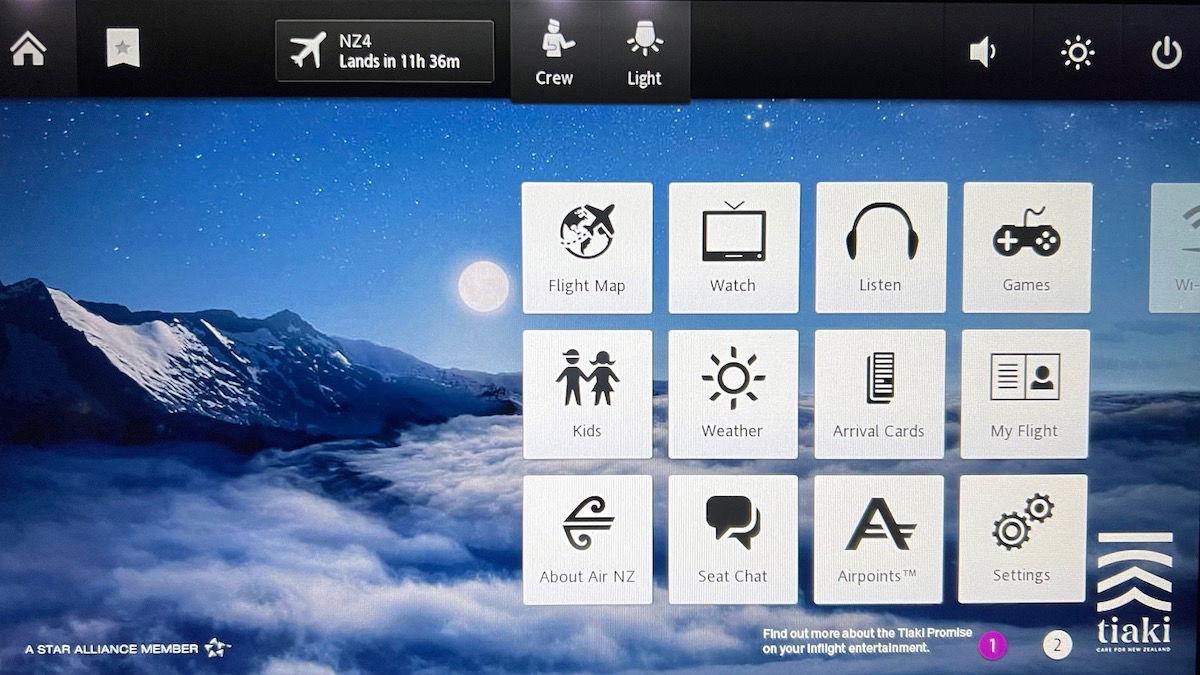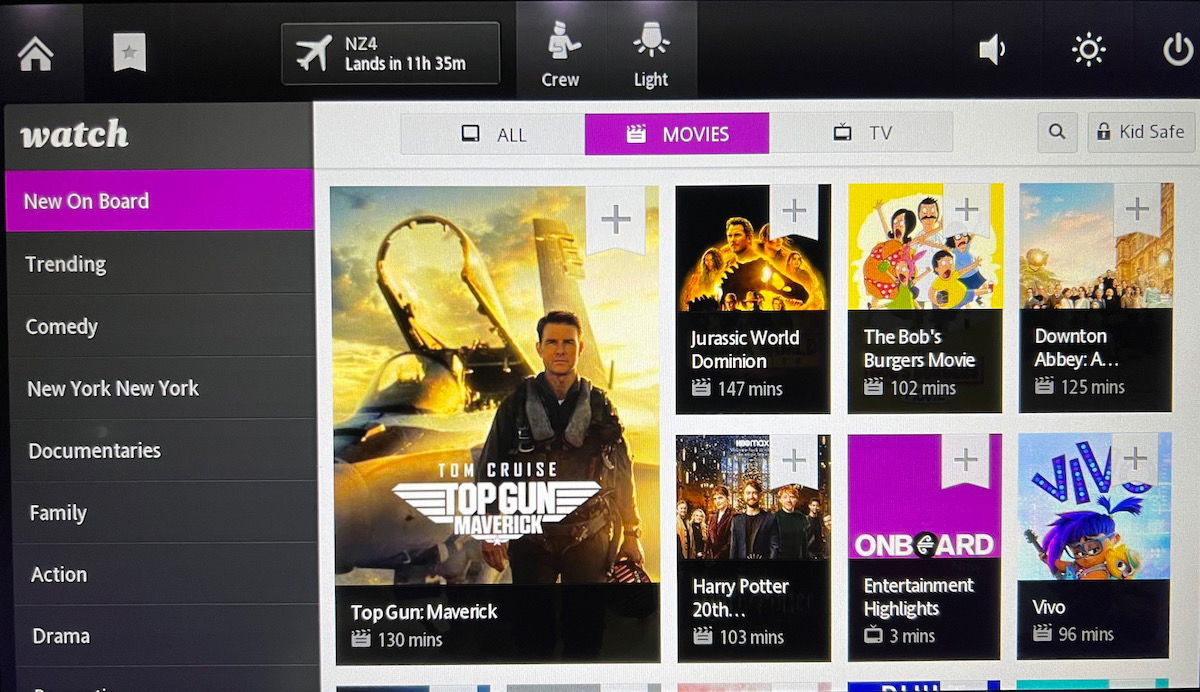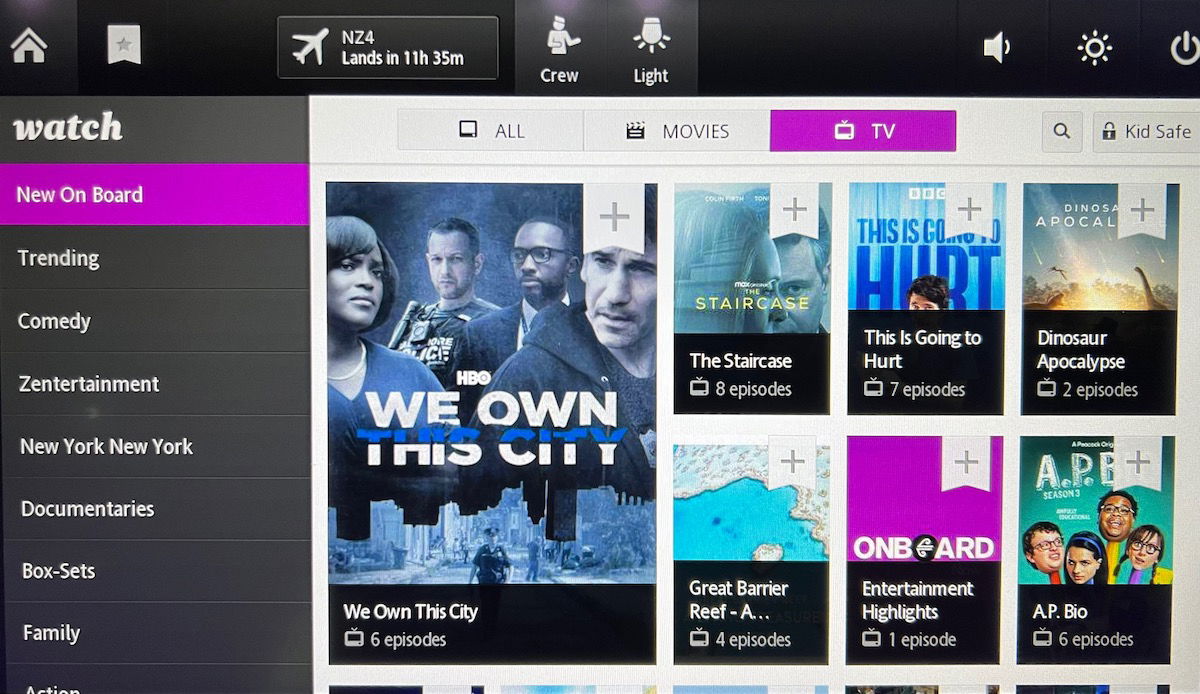 I ended up watching some episodes of Mr. Mayor, a show I had started watching during my outbound flight on Fiji Airways. I appreciate how Air New Zealand doesn't have ads with its inflight entertainment (I'm not sure if that's always the case, or just reflects that the carrier's long haul network was largely suspended for so long).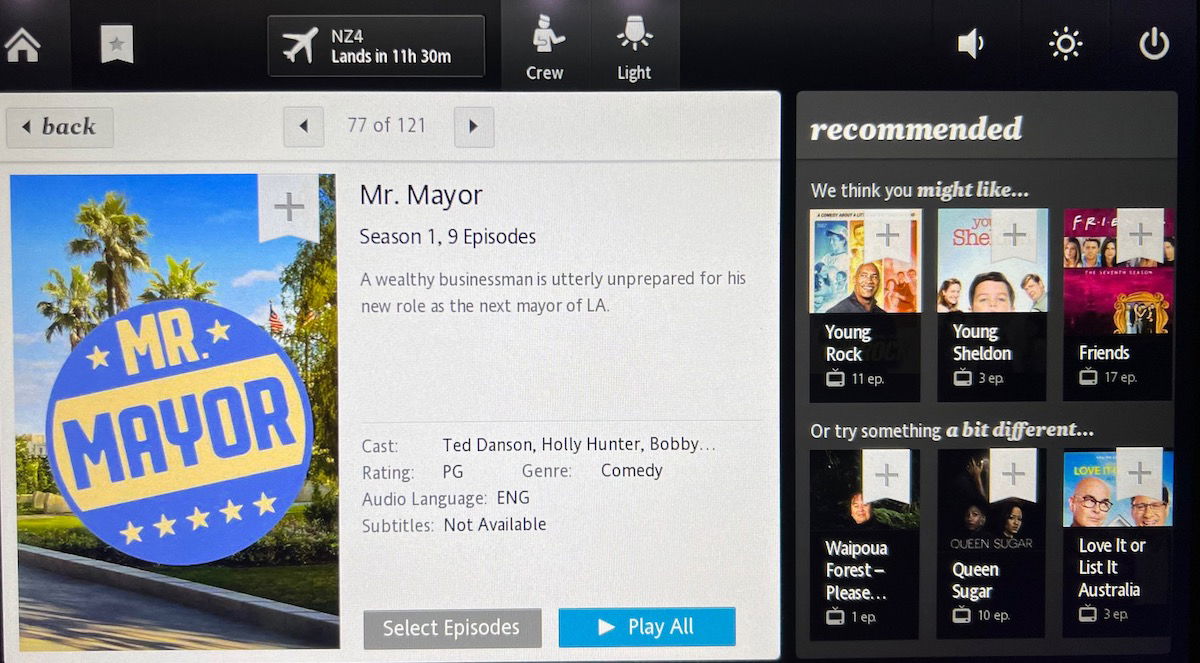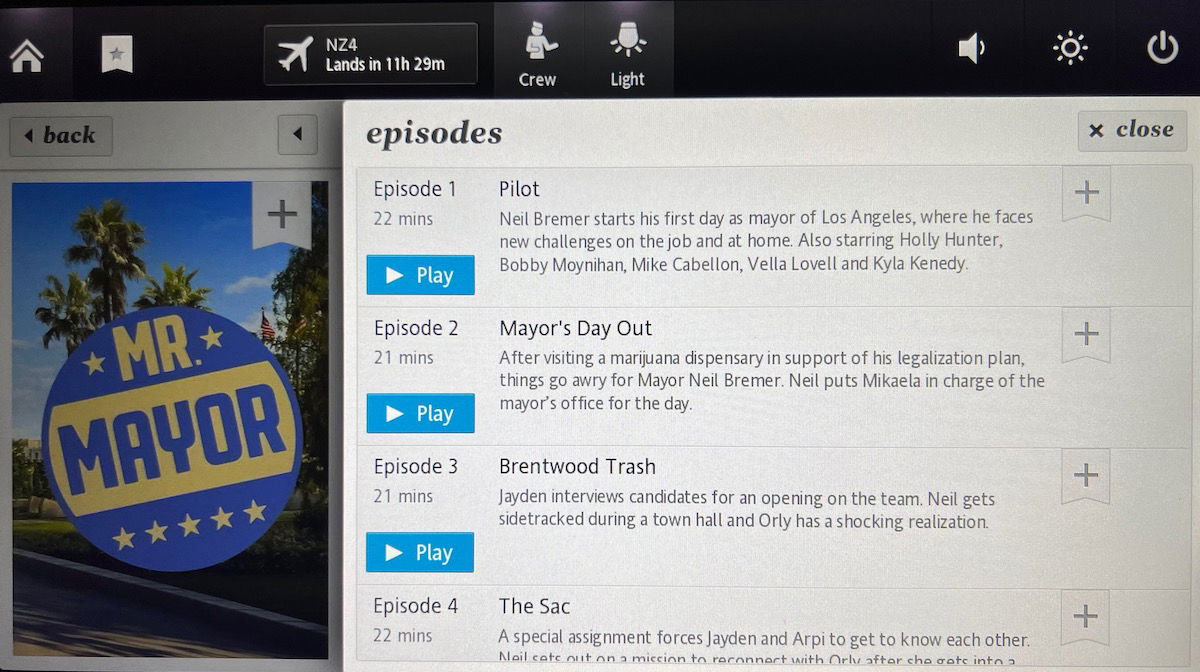 The entertainment system also had a map feature, which I enjoyed keeping an eye on throughout the flight.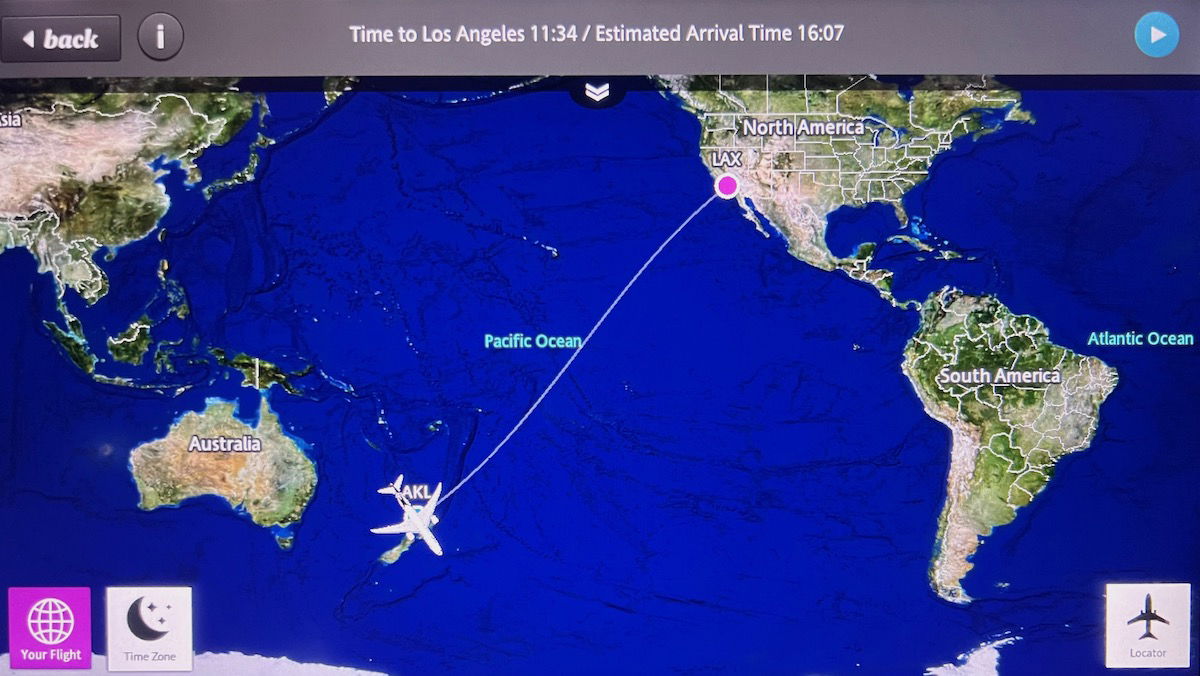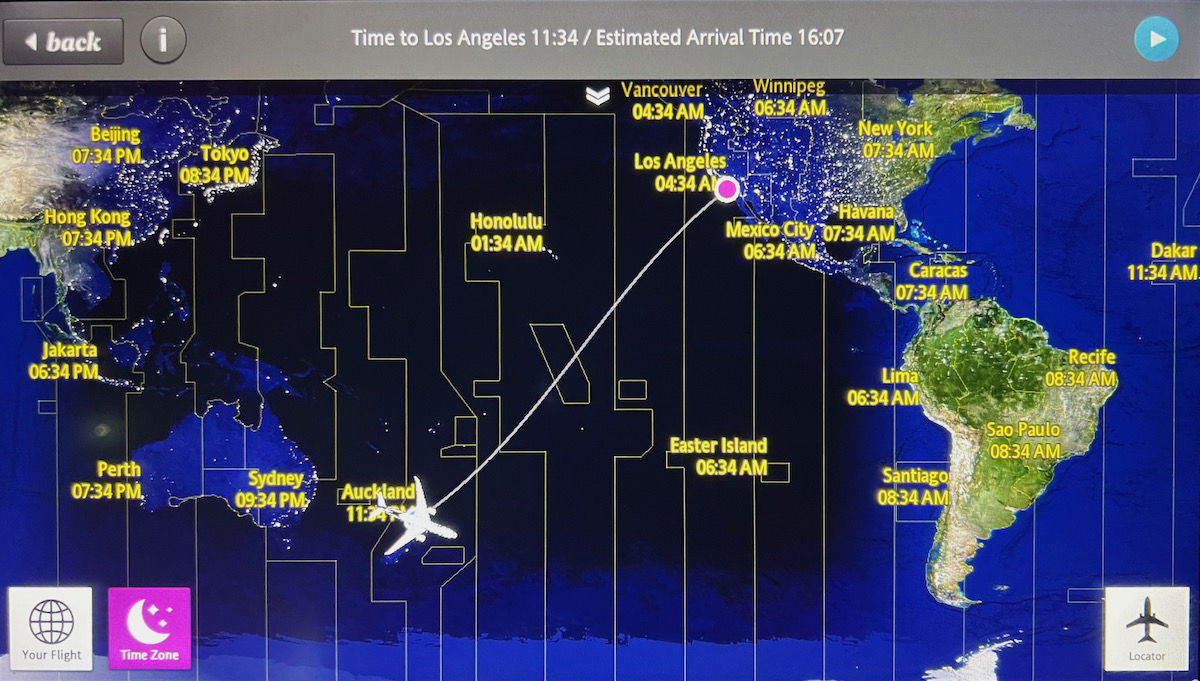 Air New Zealand also has a seat chat feature, though that's not something I used.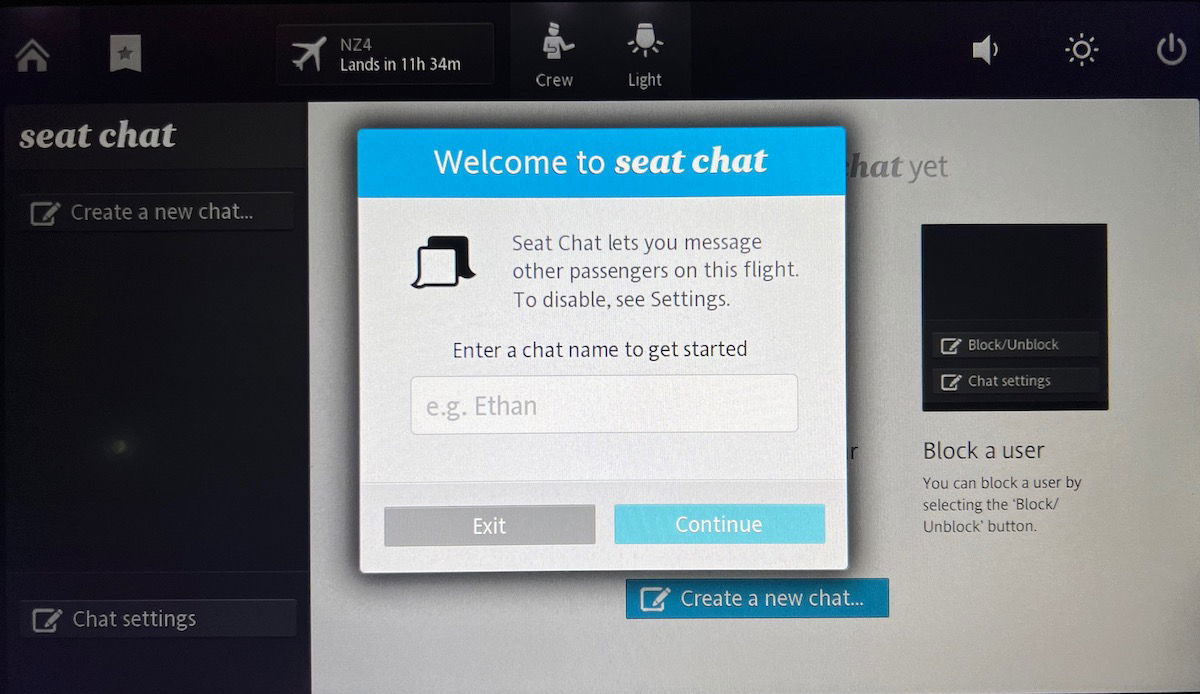 Frustratingly, though, this Air New Zealand Boeing 787 didn't have Wi-Fi. The airline is in the process of installing Wi-Fi on its 787s, but a majority of planes still don't have it. Not having Wi-Fi on a 787 is pretty rare nowadays, so it's another area where Air New Zealand is stuck in the past.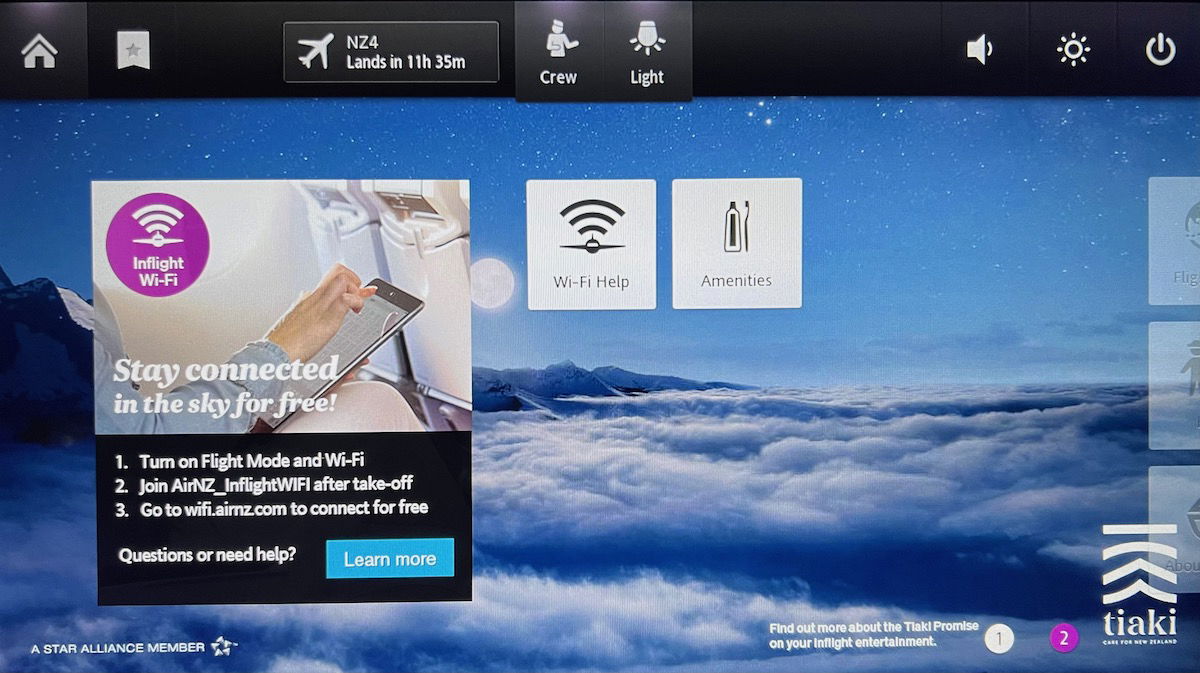 Air New Zealand business class dinner service
The seatbelt sign was turned off just five minutes after takeoff, and the crew quickly sprung into action to start the dinner service. You can find the dinner menu and drinks list below.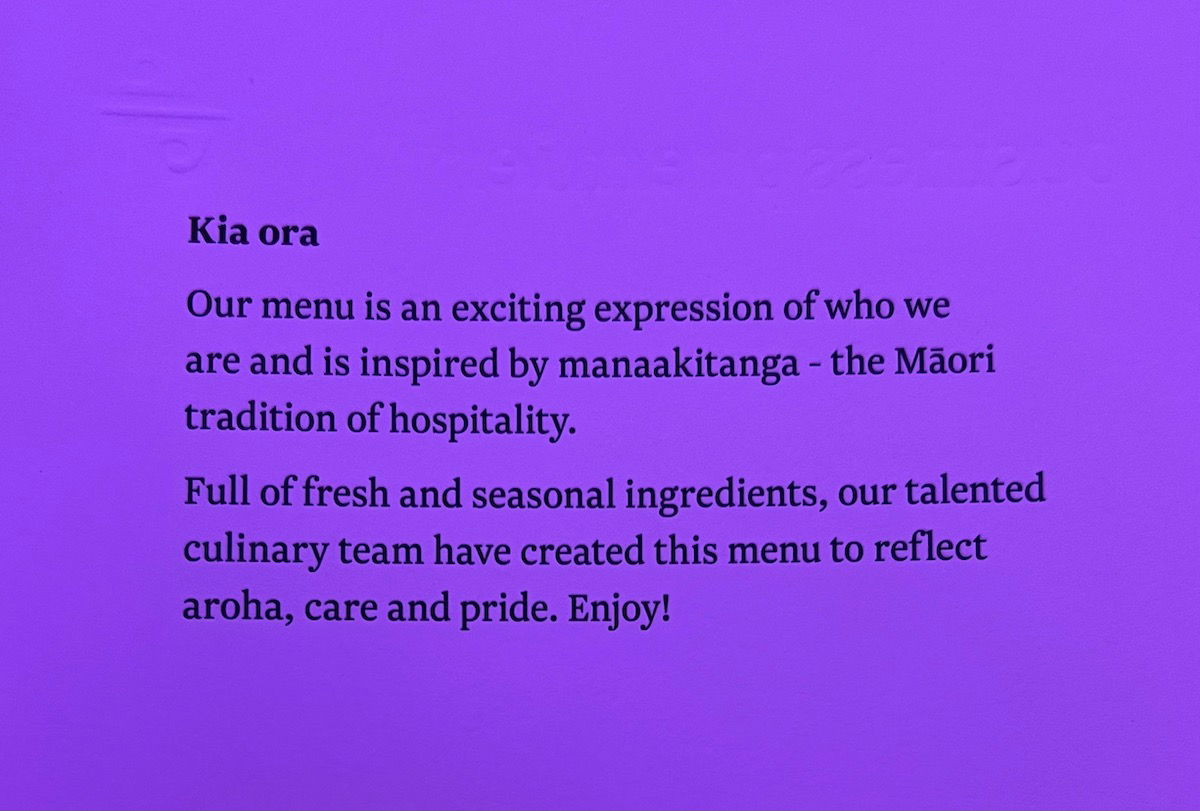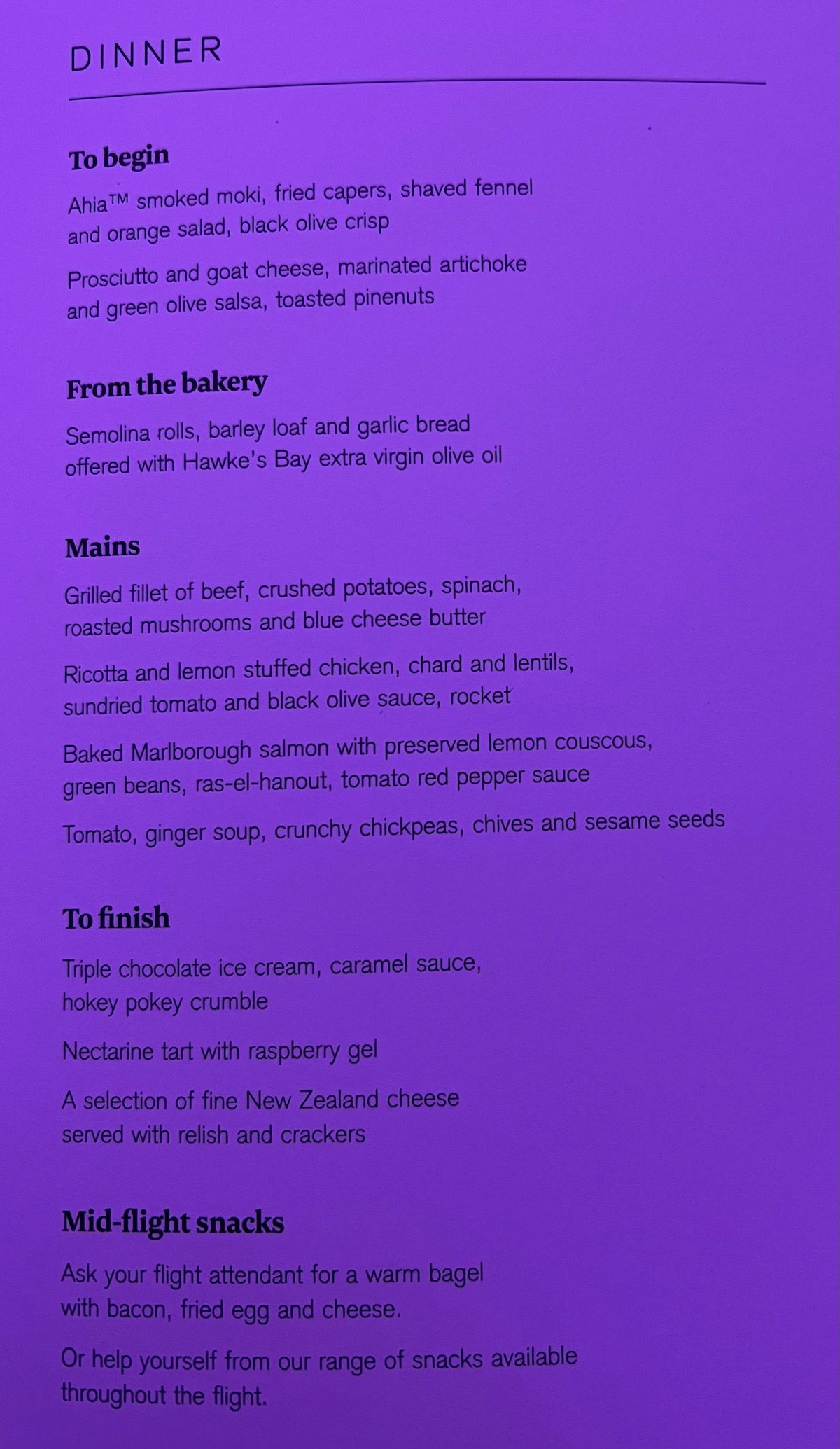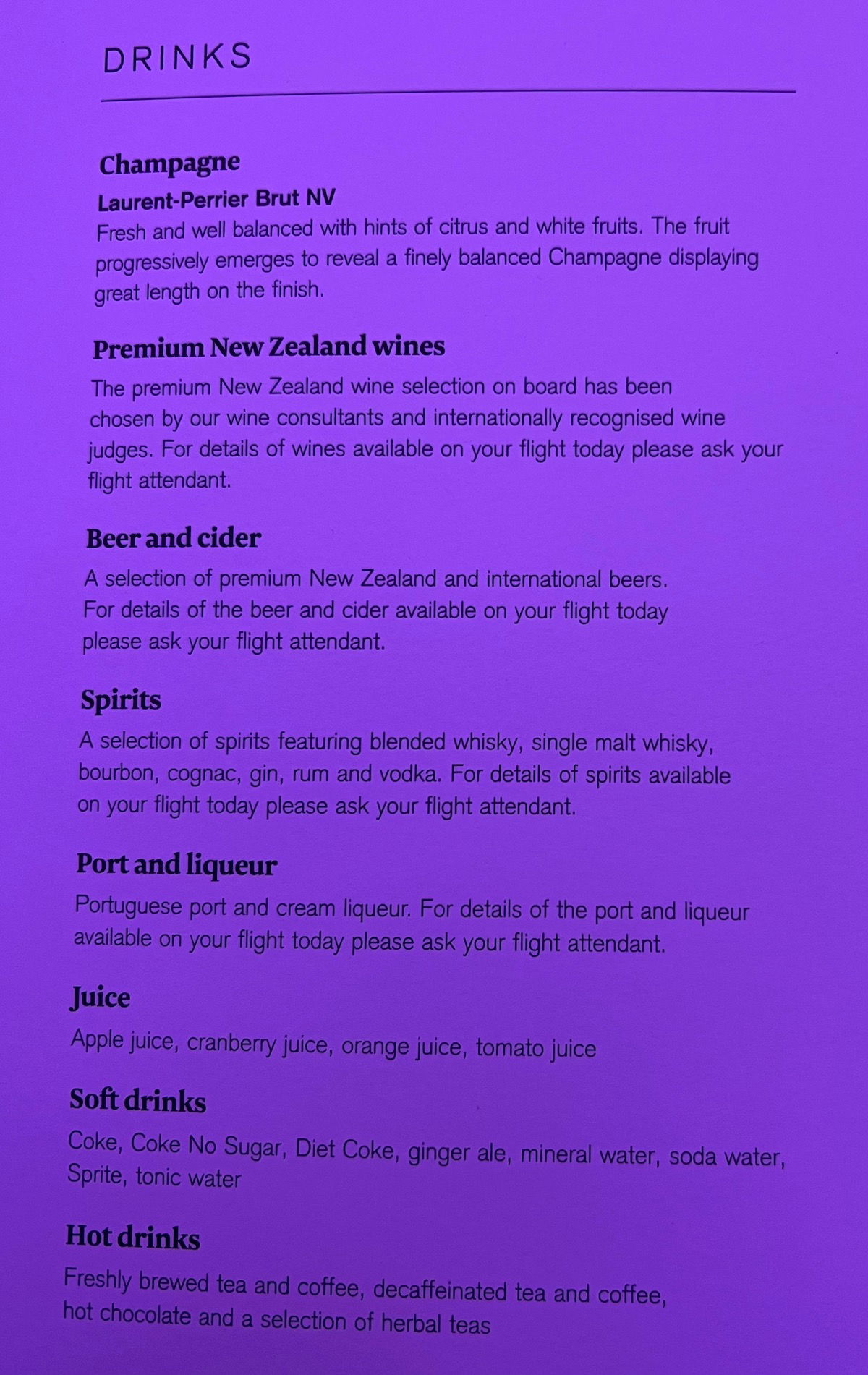 Impressively, I was served my first drink 25 minutes after takeoff. I ordered a glass of sauvignon blanc (from New Zealand, of course), and was offered some cashews to go along with it.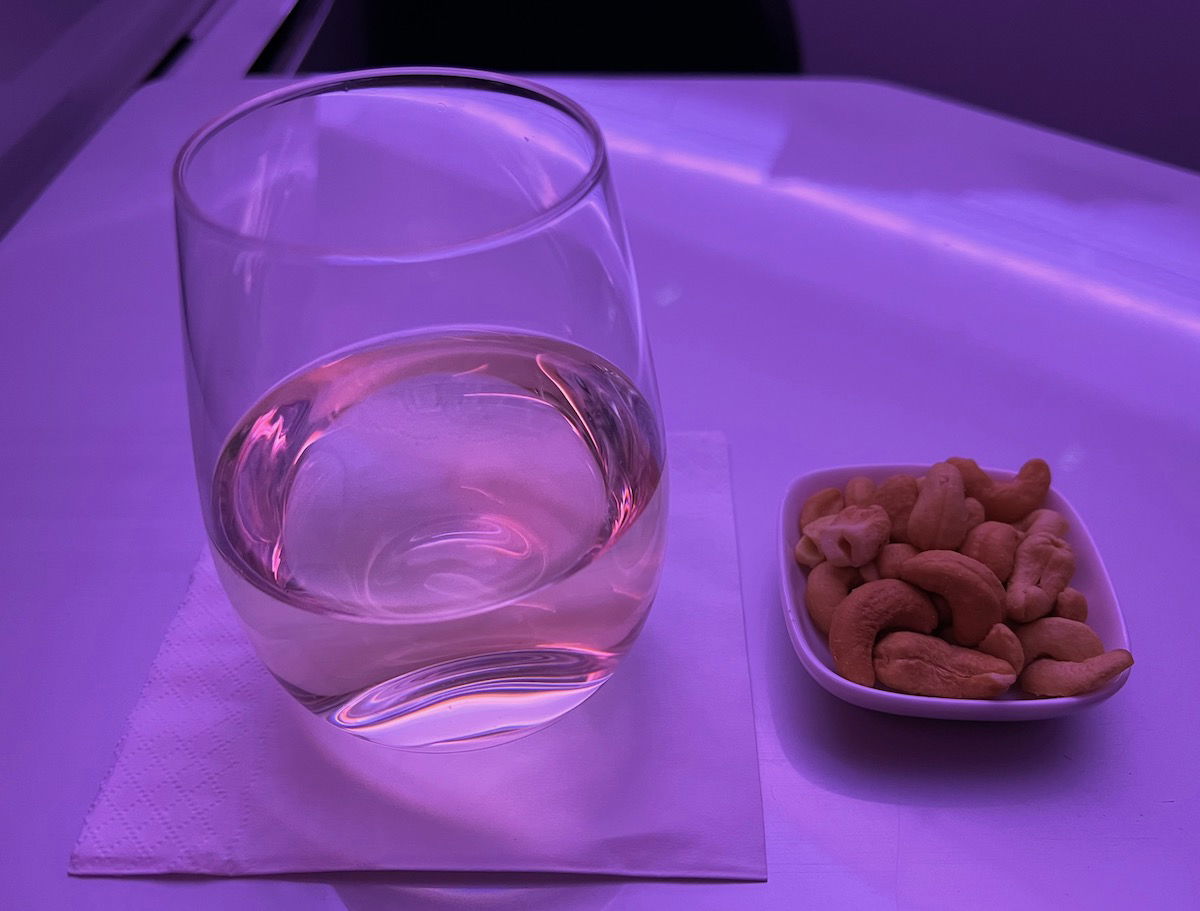 I was served my appetizer around 45 minutes after takeoff. The crew provided this service from carts, and then set the tray tables directly, rather than serving the meal on trays. There were two choices for starters, and I selected the ahia smoked moki, fried capers, shaved fennel and orange salad, and black olive crisp.
I was also offered a selection from the breadbasket — Air New Zealand's bread is most definitely above average. To drink I had a refill on my sauvignon blanc, and a glass of sparkling water.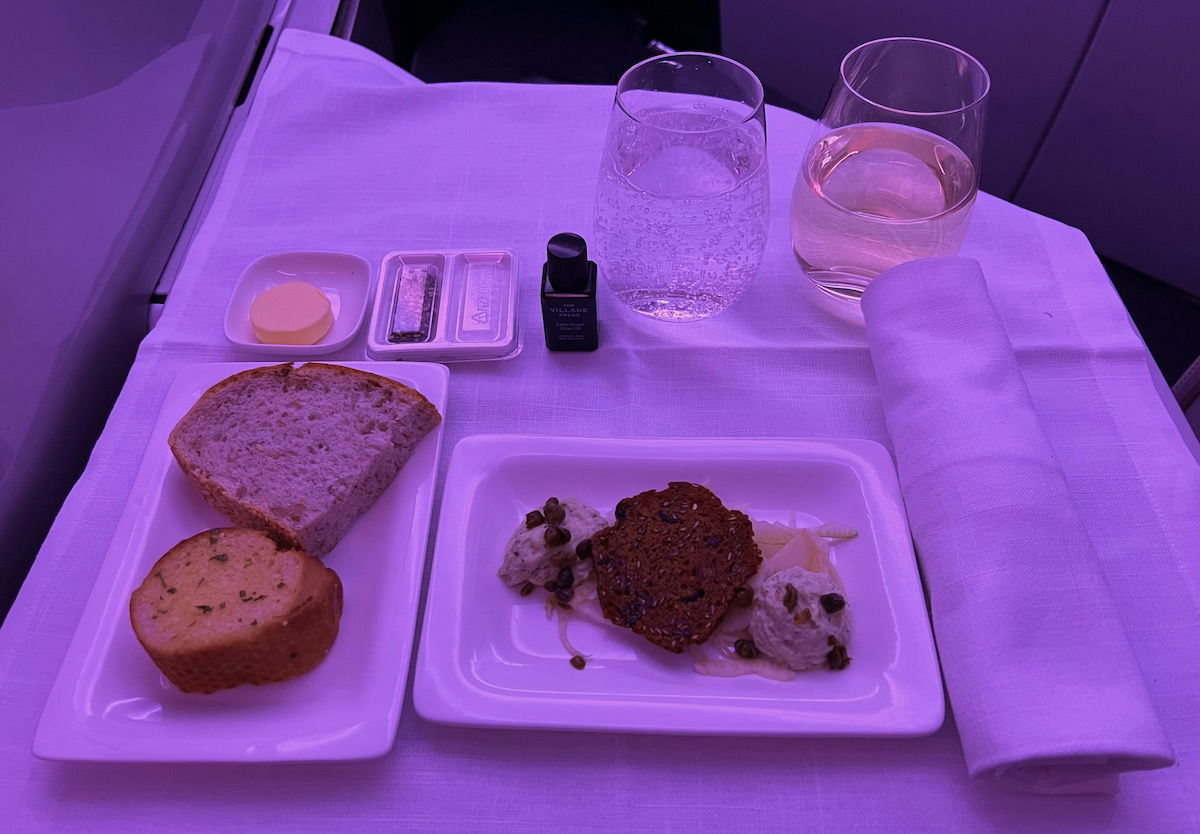 I was intrigued by the cutlery. Not only did it have Air New Zealand branding, but it also listed the month and year it was produced, I guess? I don't think I've ever seen that before.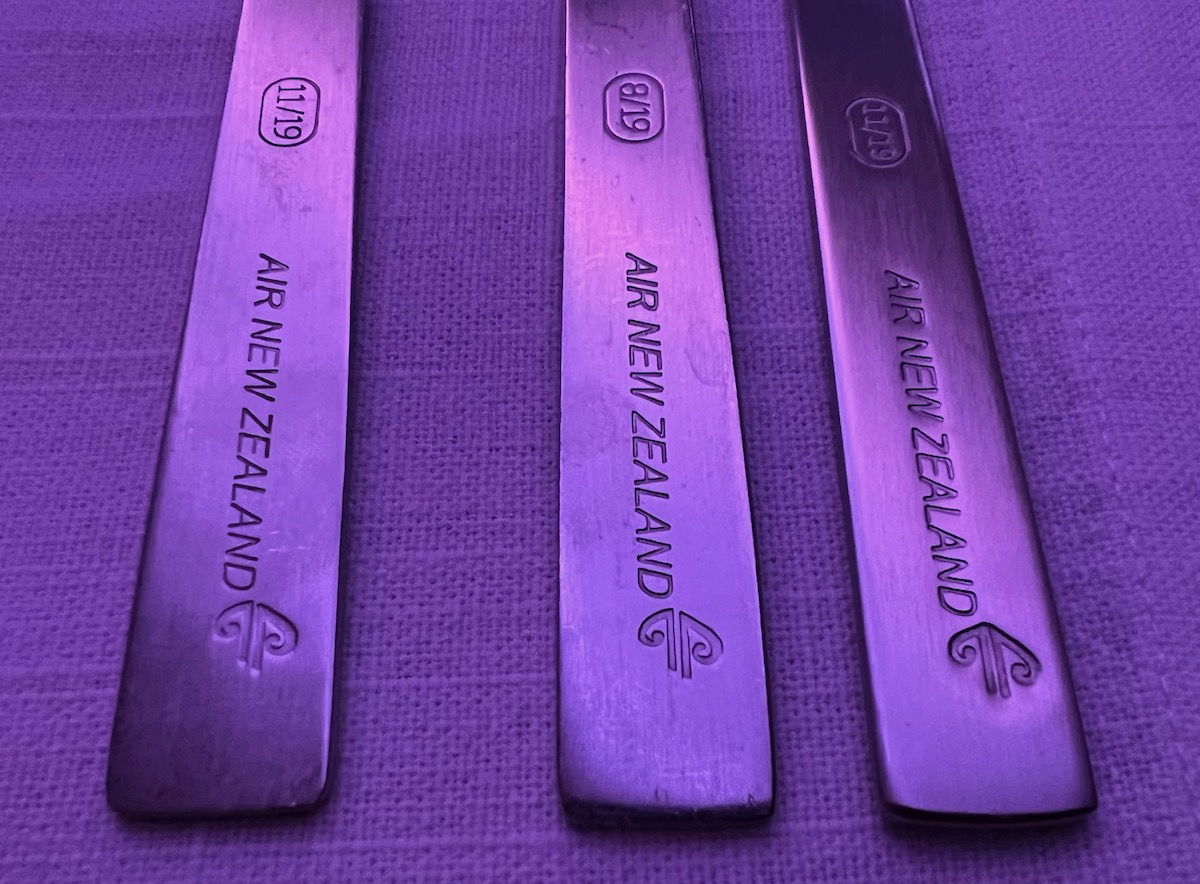 Around 75 minutes after takeoff I was served my main course. There were four choices, and I selected the baked Marlborough salmon with preserved lemon couscous, green beans, ras-el-hanout, tomato red pepper sauce. It sounded quite appealing, but I found the dish (and in particular the fish) to be quite dry and fairly flavorless.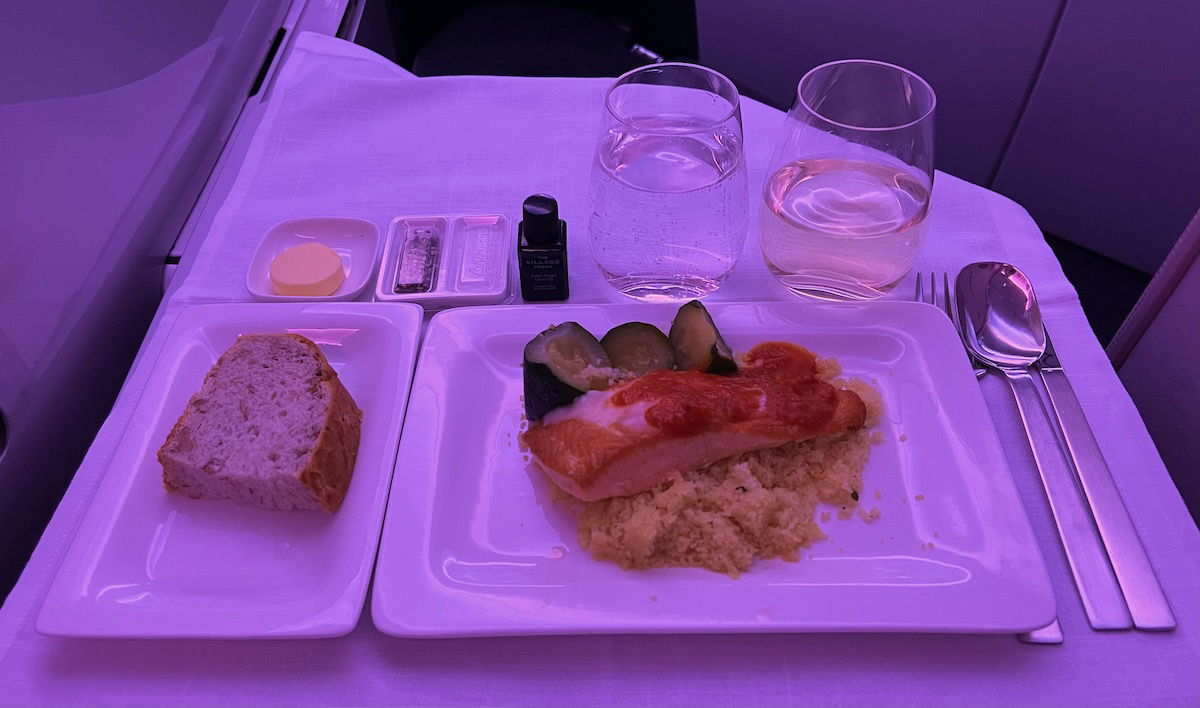 90 minutes after takeoff dessert was served. I selected the triple chocolate ice cream with caramel sauce and hokey pokey crumble. Of course it was delicious.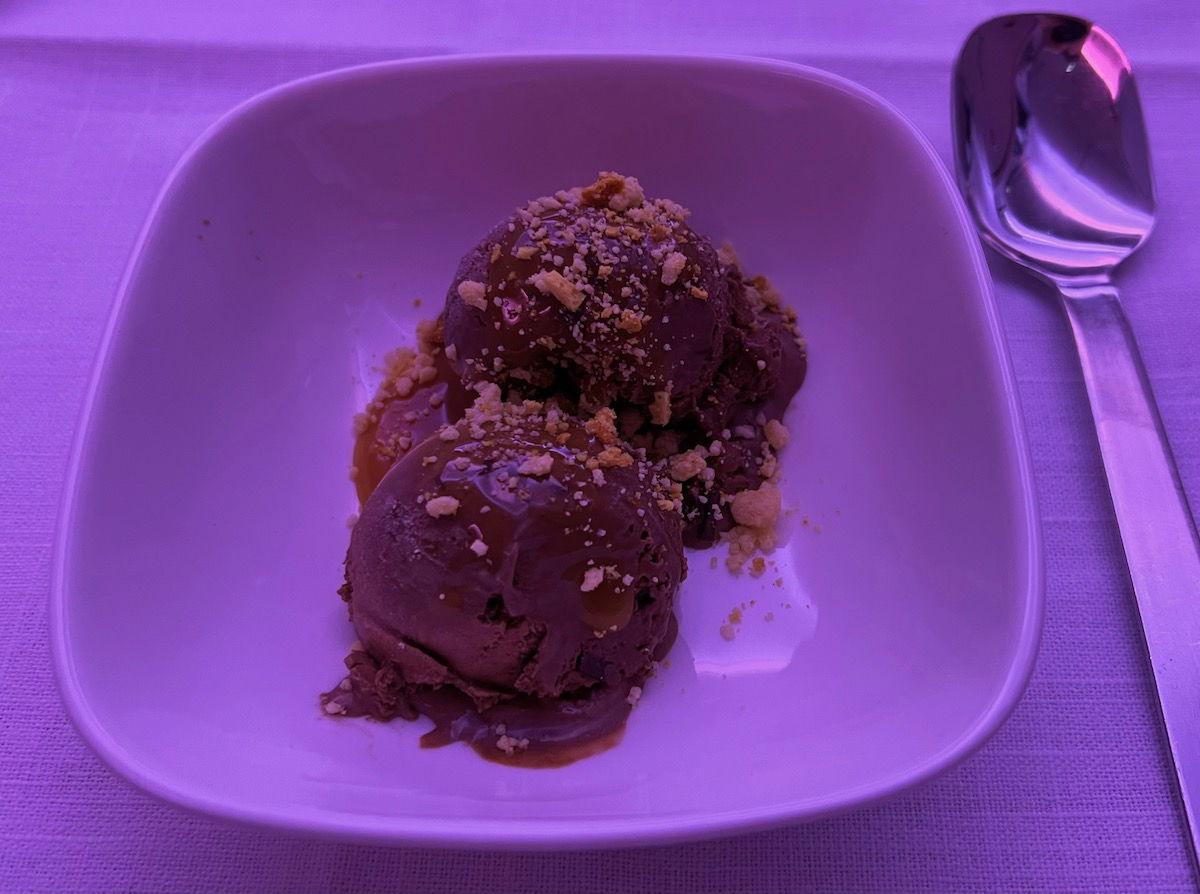 I was asked if I wanted a cheese plate as well. I figured OMAAT readers would appreciate a picture, so I said yes. 😉 This was actually served on two plates, with one plate having crackers, and the other plate having cheese and chutney. It was definitely an above average business class cheese plate.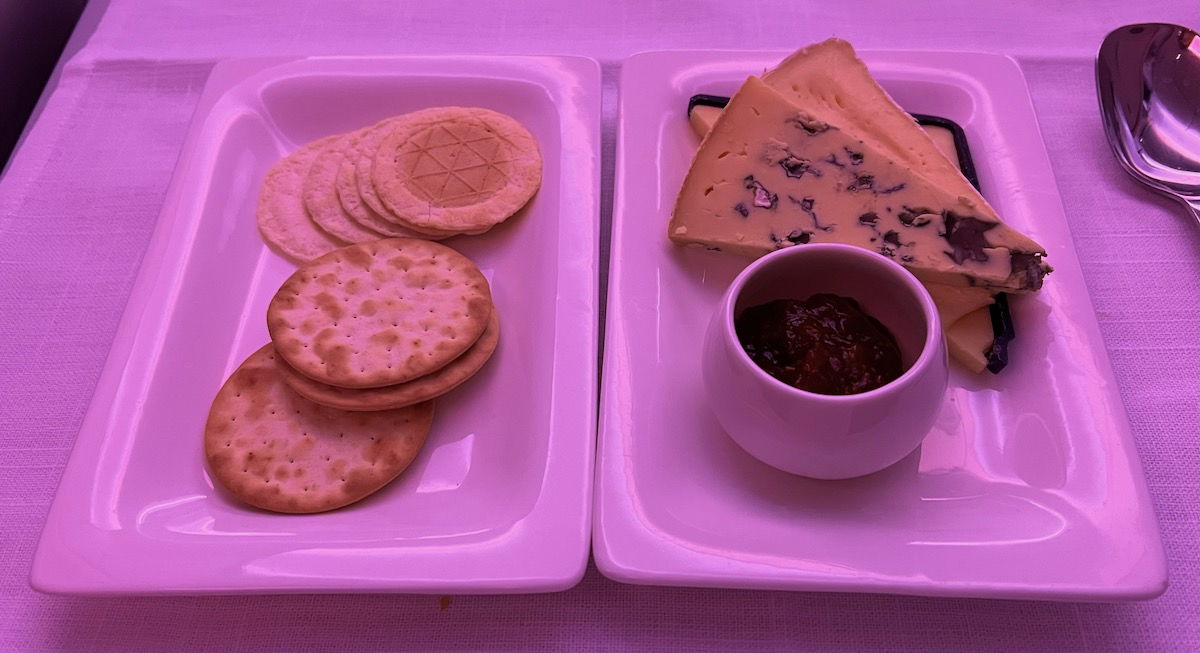 All-in-all, the meal was pretty good. Was it epic and memorable? No. But I appreciated how the meal was served directly on the tray, and the food quality was mostly quite good.
Air New Zealand 787 business class bed
After dinner I asked for turndown service, which the crew gladly provided. Air New Zealand's bedding is good, as you get two pillows, a mattress pad, and a duvet. The mattress pad is most definitely needed, since otherwise the surface is really hard.
The issue with the beds in this configuration is that there's no way to sleep at a slight incline, other than using pillows. Personally I usually like to put the seatback up a bit when sleeping, but that's not possible here.
While I'm not at all a fan of the herringbone seat design, one big benefit of this is that your feet don't have to fit into a small footwell, so you can get quite comfortable. Just make sure your feet don't stretch out too far, or you'll get hit by someone in the aisle.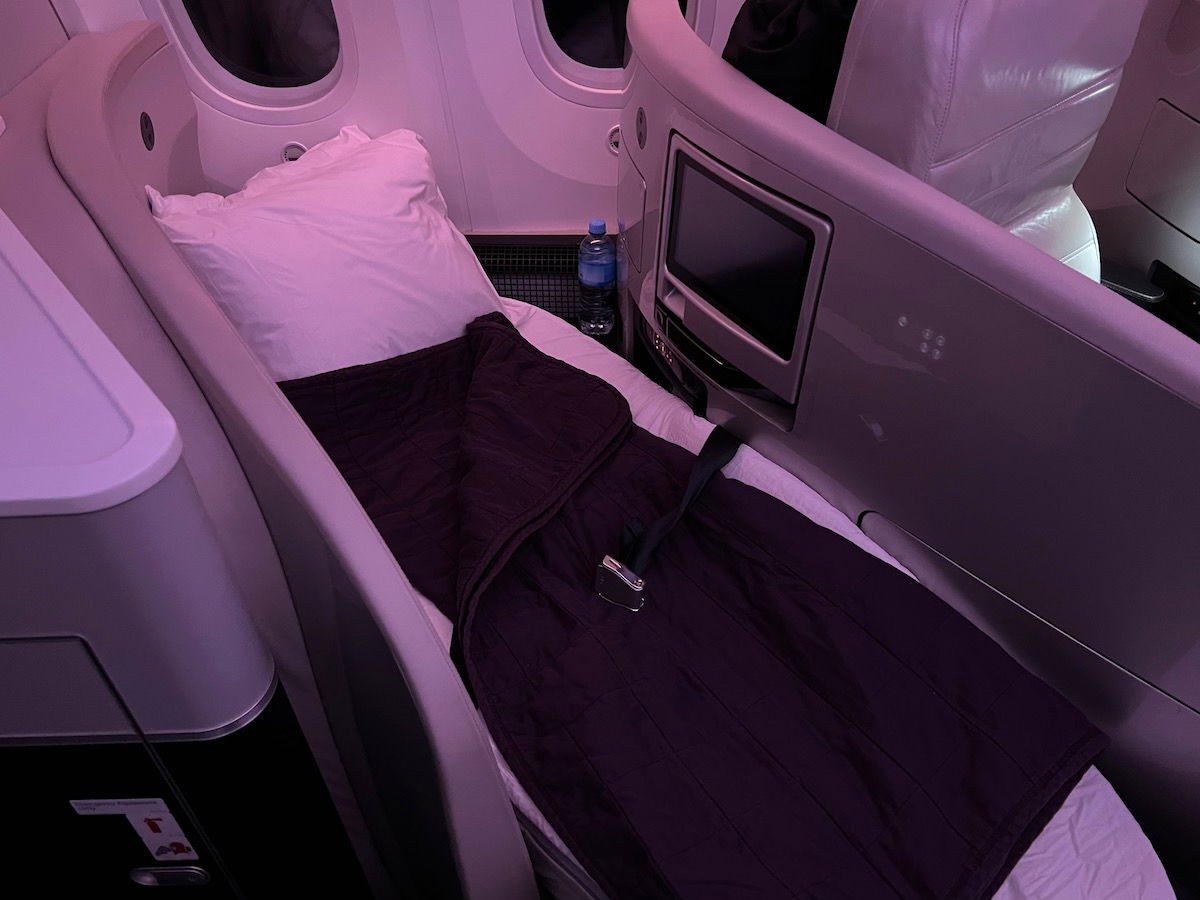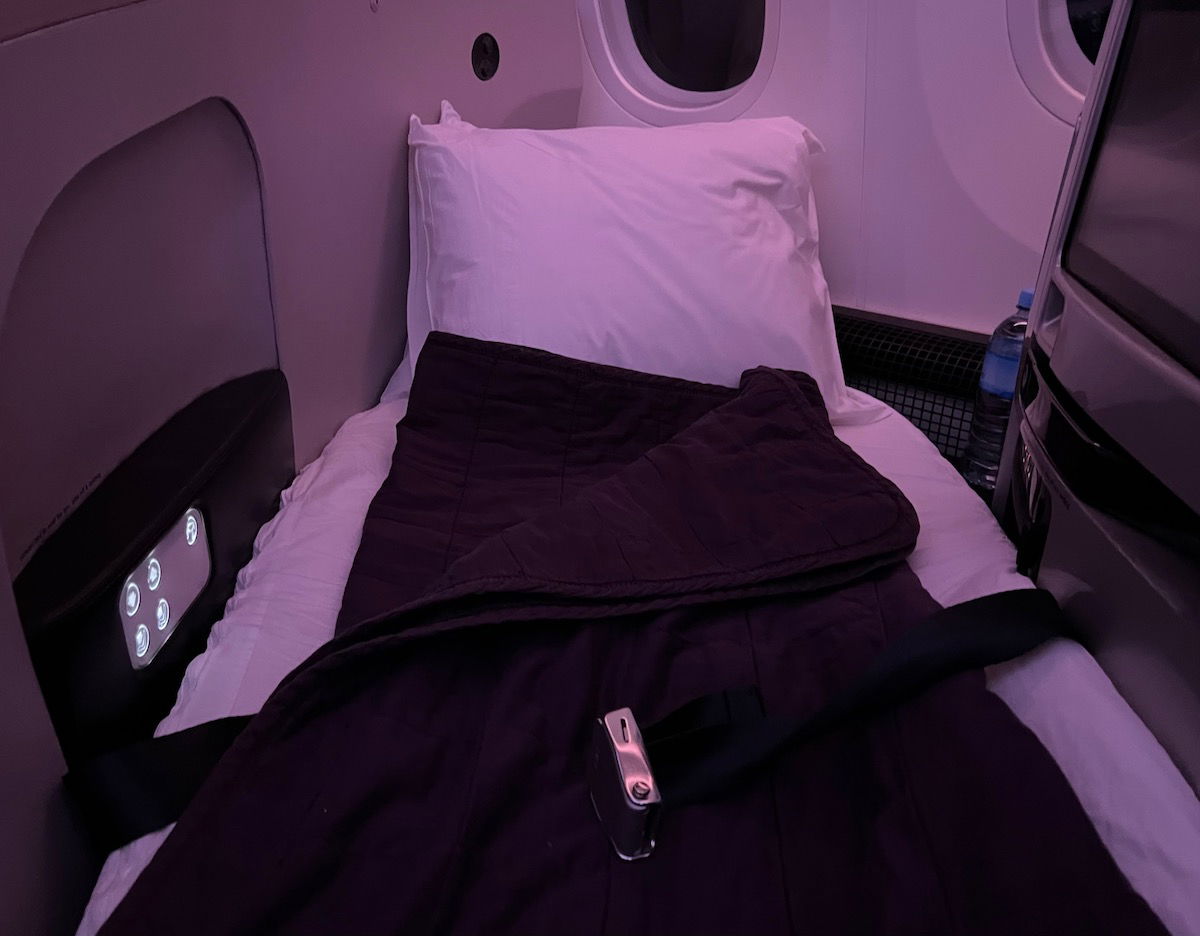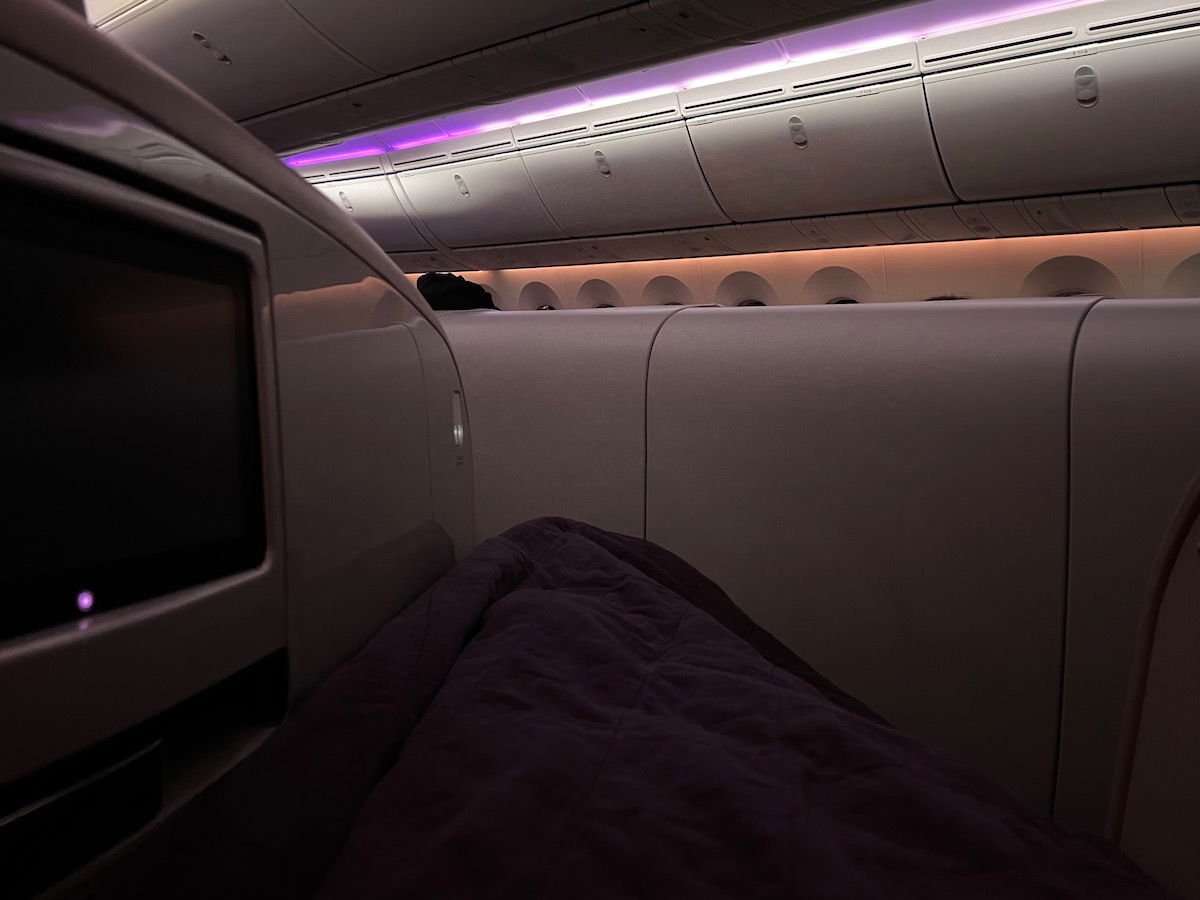 I fell asleep just under two hours after takeoff.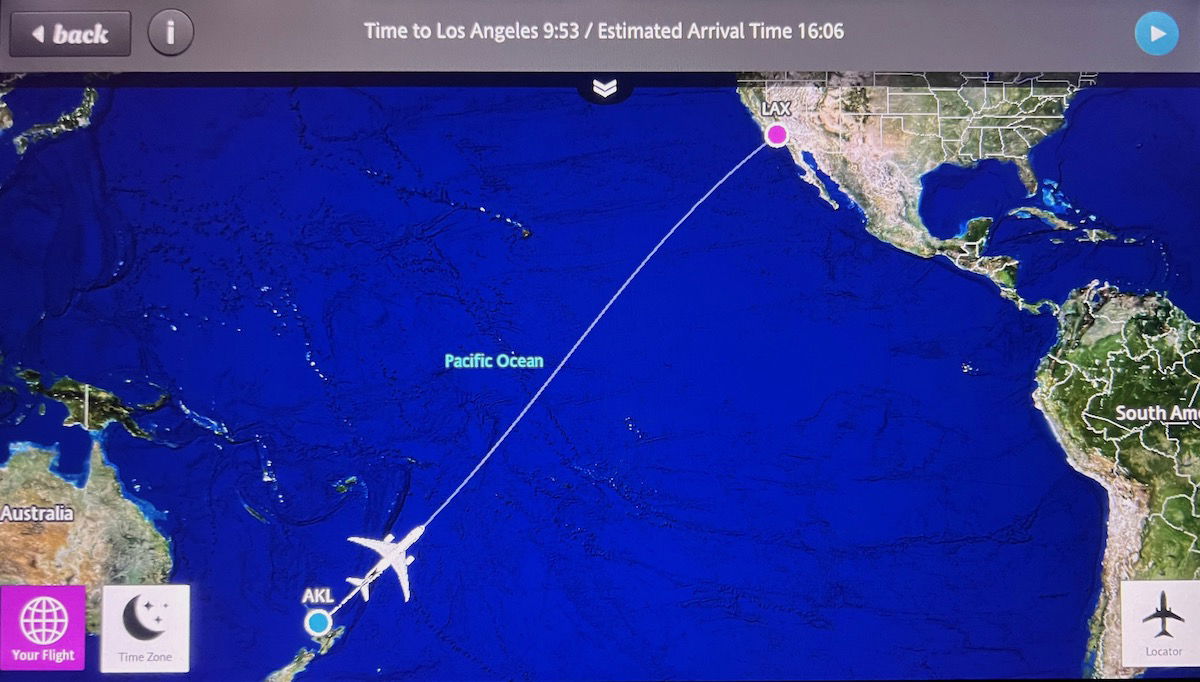 I managed to get over five hours of sleep, and woke up around 4.5 hours before landing. As a very bad airplane sleeper, that's pretty good for me.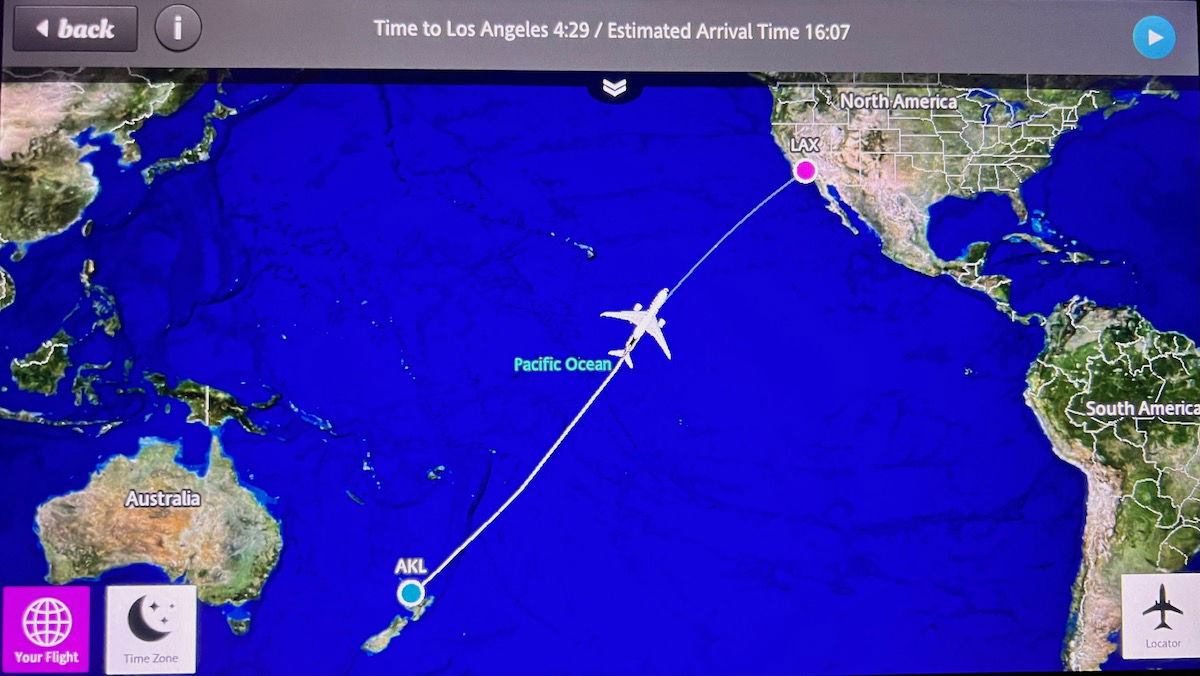 I've often written about how I'm not a fan of the Boeing 787 having electric window dimmers rather than proper window shades. Just to explain why in a picture, below is what the cabin looked like while at the darkest possible setting.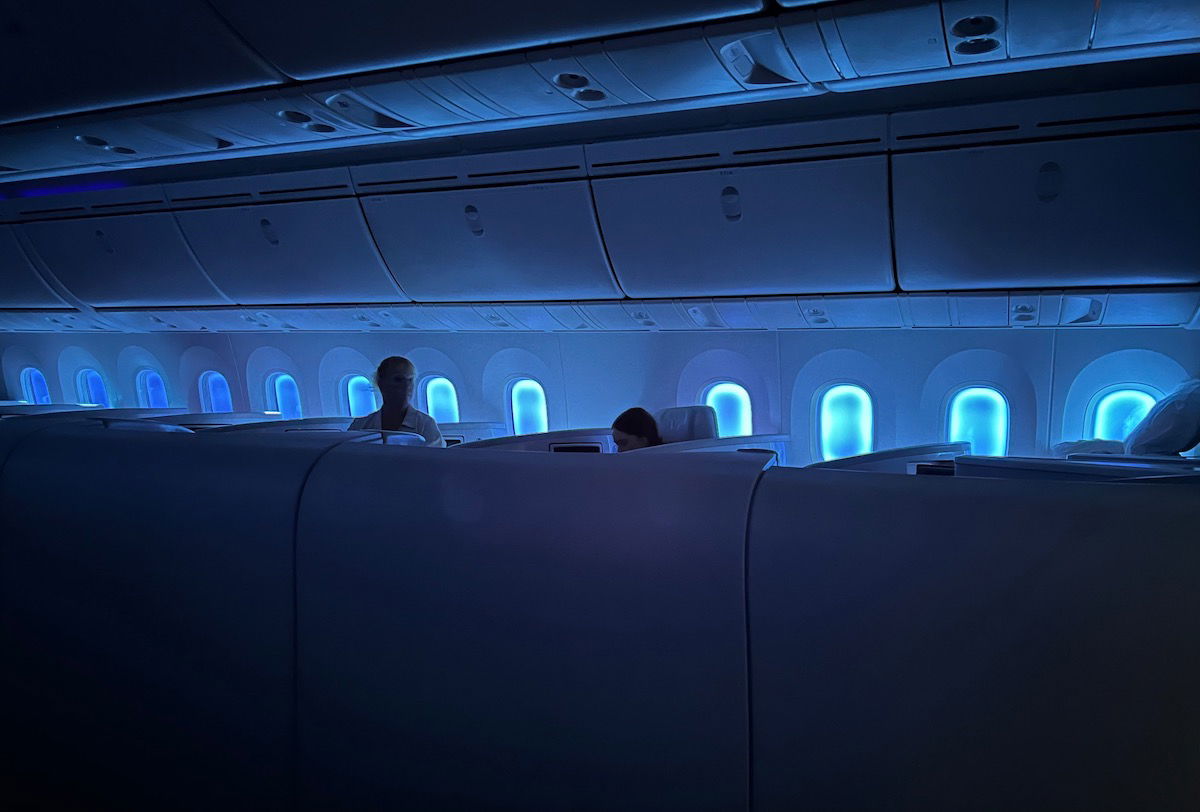 Air New Zealand 787 lavatories
One awesome aspect to Air New Zealand's Boeing 787s is the lavatories. The plane had one lavatory in front of business class and two behind business class (which were shared with premium economy). Much like on KLM, the lavatories have cool wallpaper as well as music when you lock the door. It's cool how each lavatory even has different wallpaper.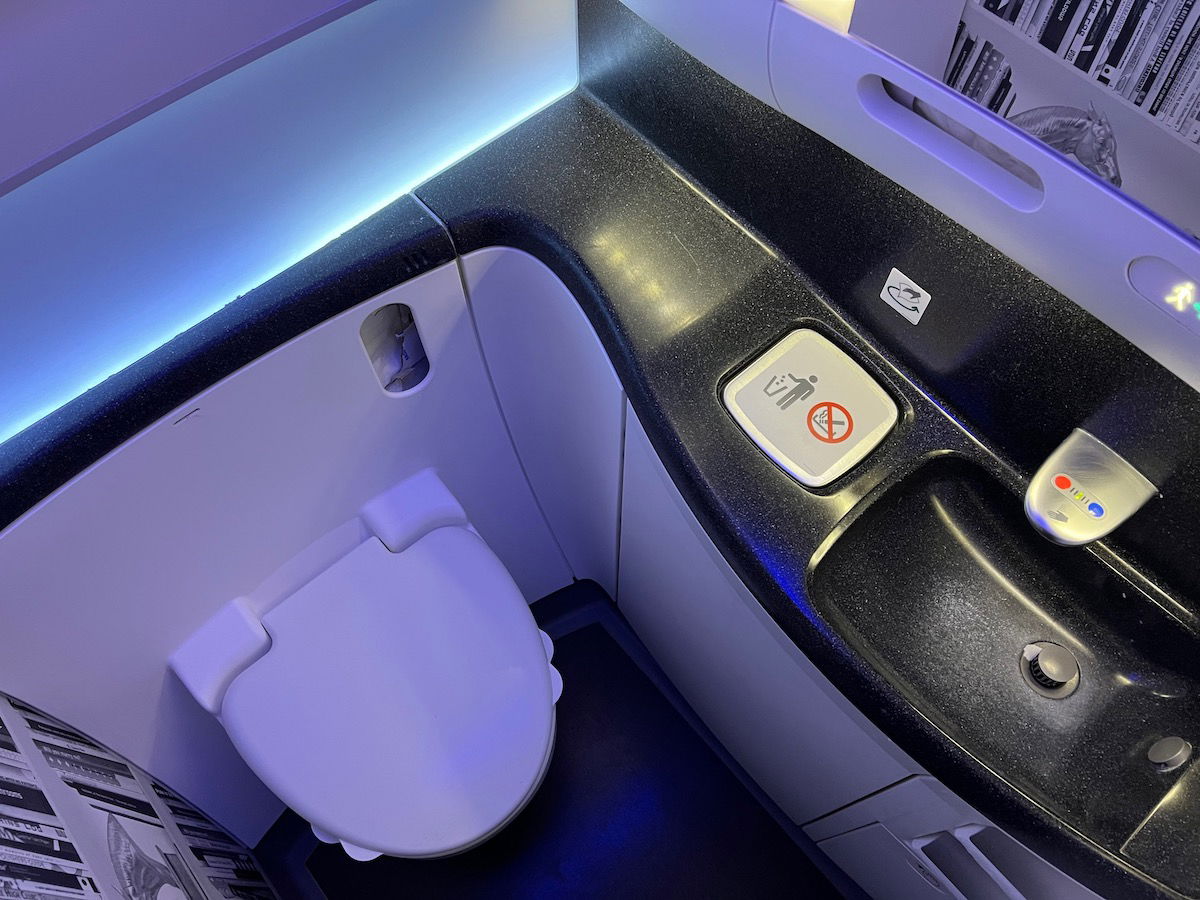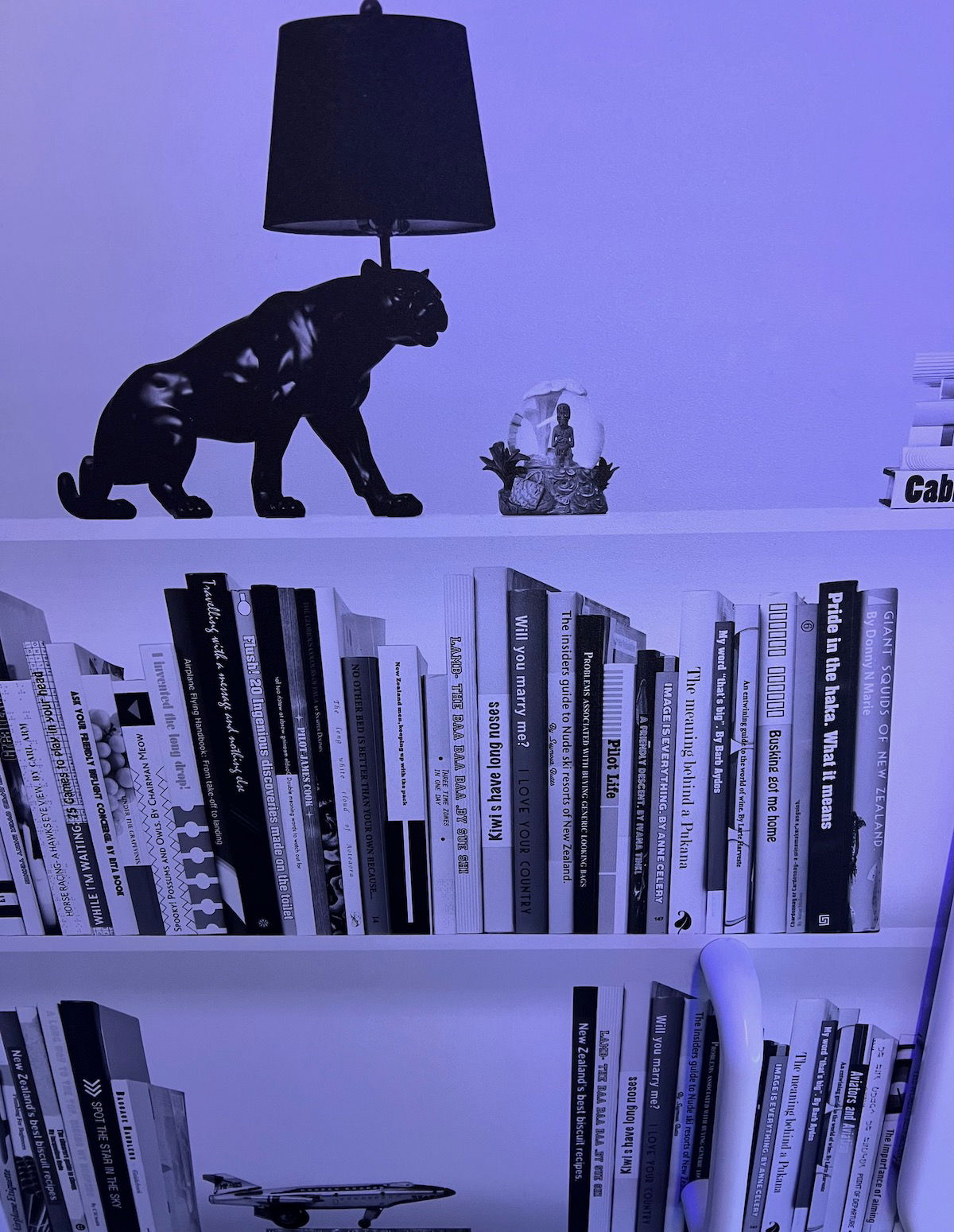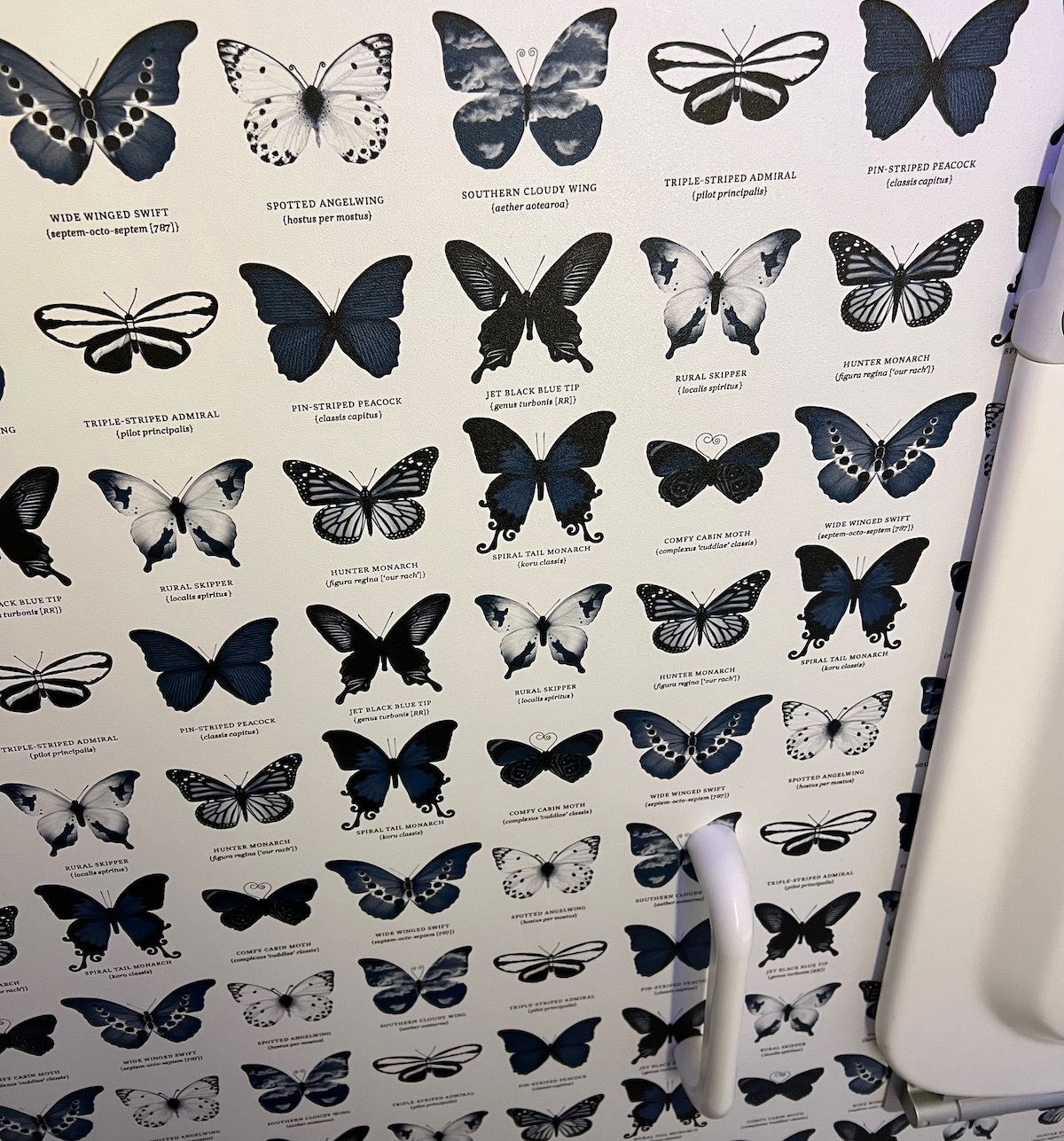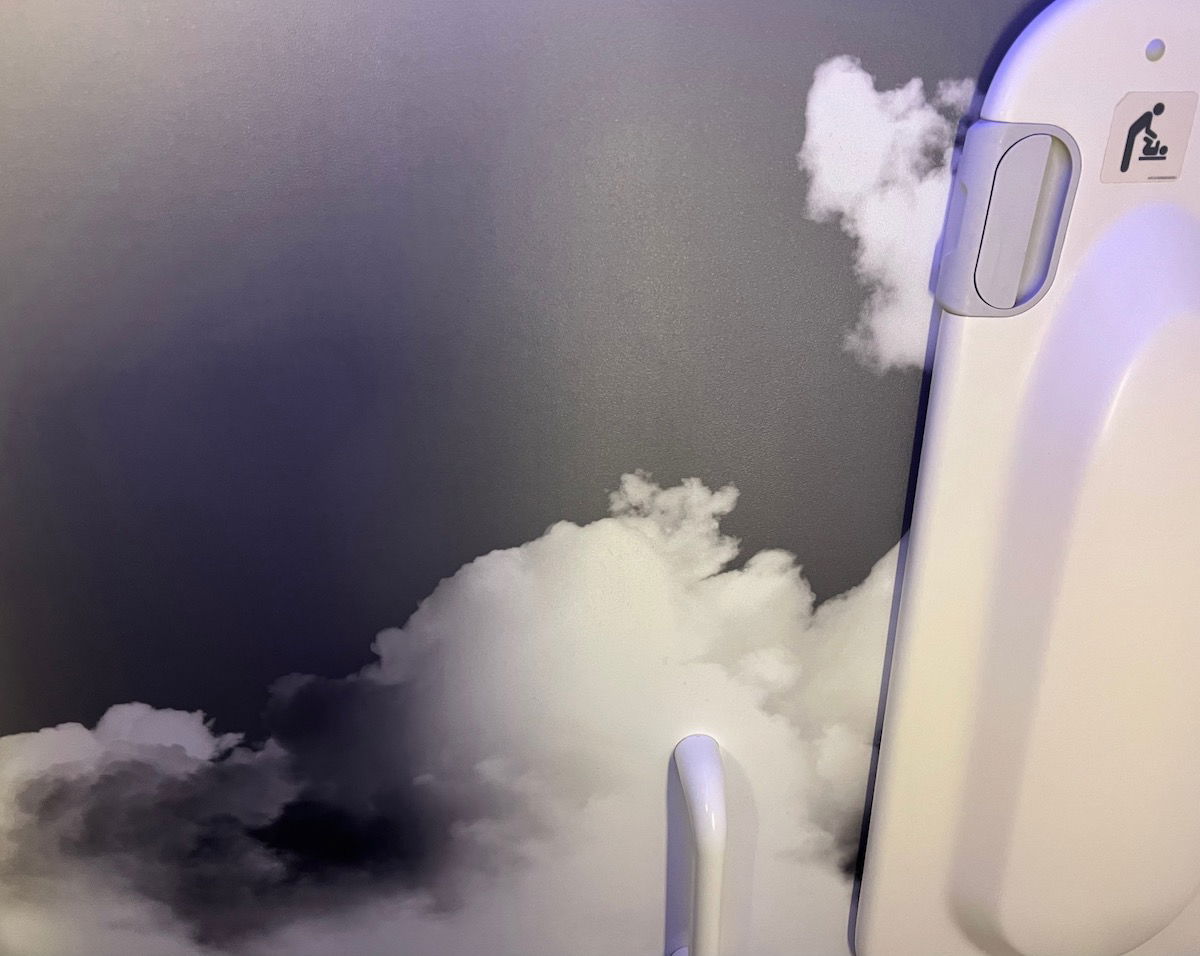 While the bathroom design was cool, it wasn't kept clean at all. I suspect Air New Zealand doesn't ask their crews to clean lavatories (rules differ by airline), but the lavatories were all a mess by the end of the flight.
Air New Zealand business class breakfast service
Between meals there was a snack basket and bottled water in the galley, which passengers could help themselves to. The snack basket had corn chips and chocolate chunk cookies.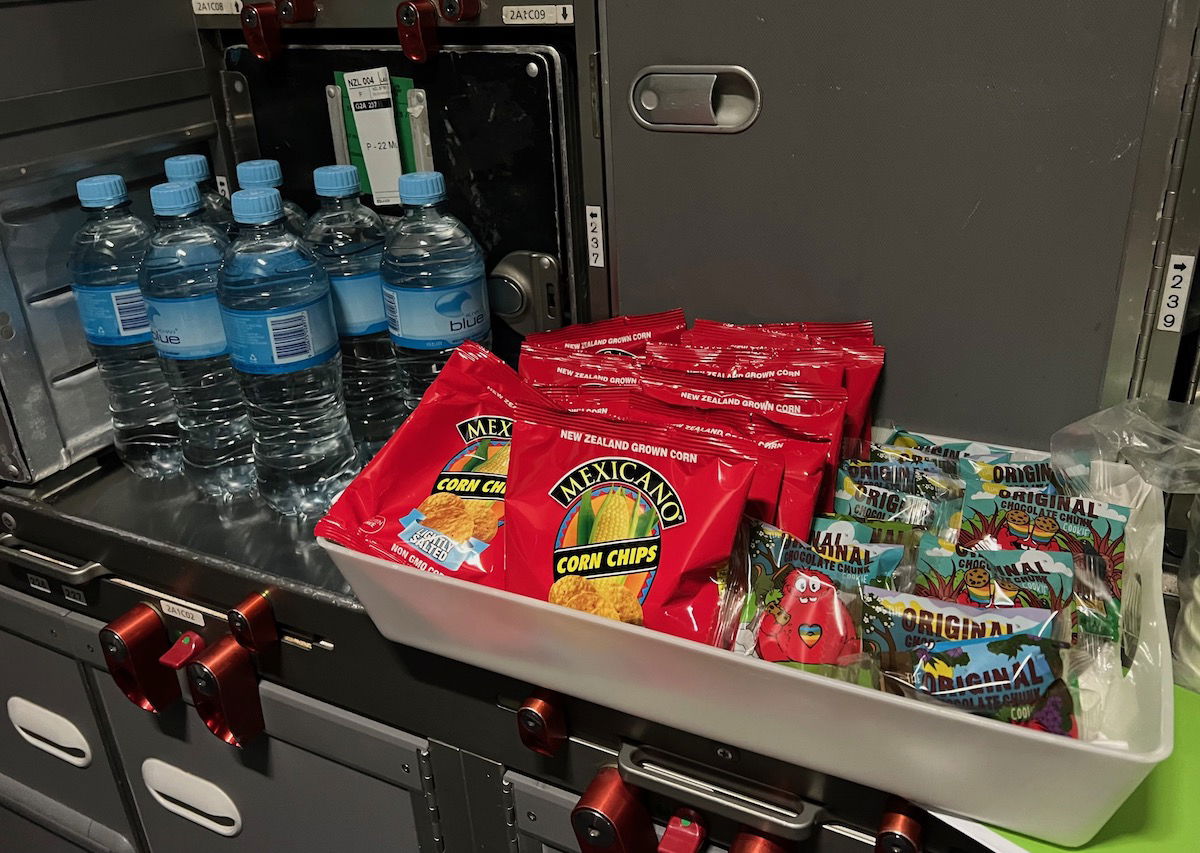 Shortly after waking up I ordered a cup of coffee, and was proactively served a cookie and chocolate bar with it.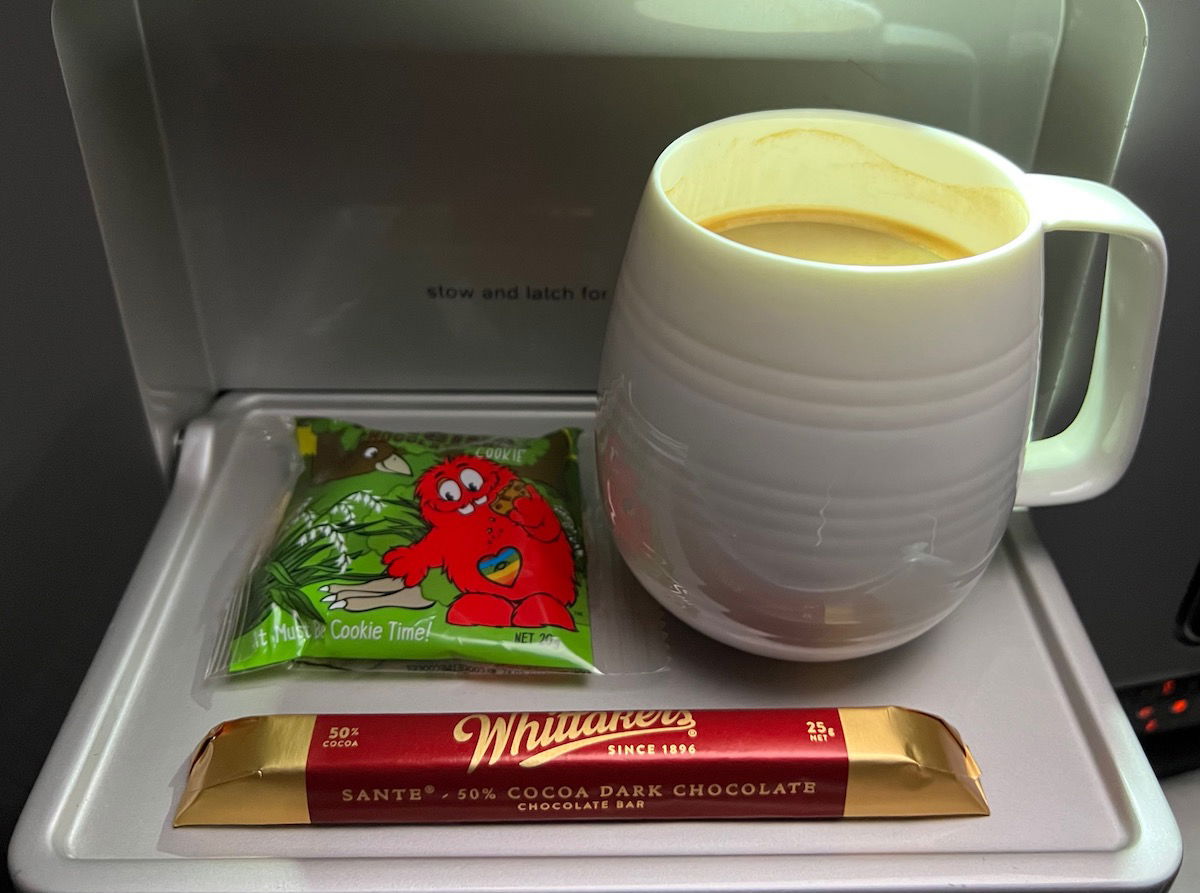 I got some work done on my laptop and watched a few TV shows, and before I knew it, the breakfast service began. Around 2.5 hours before landing, the crew started turning on some of the mood lighting.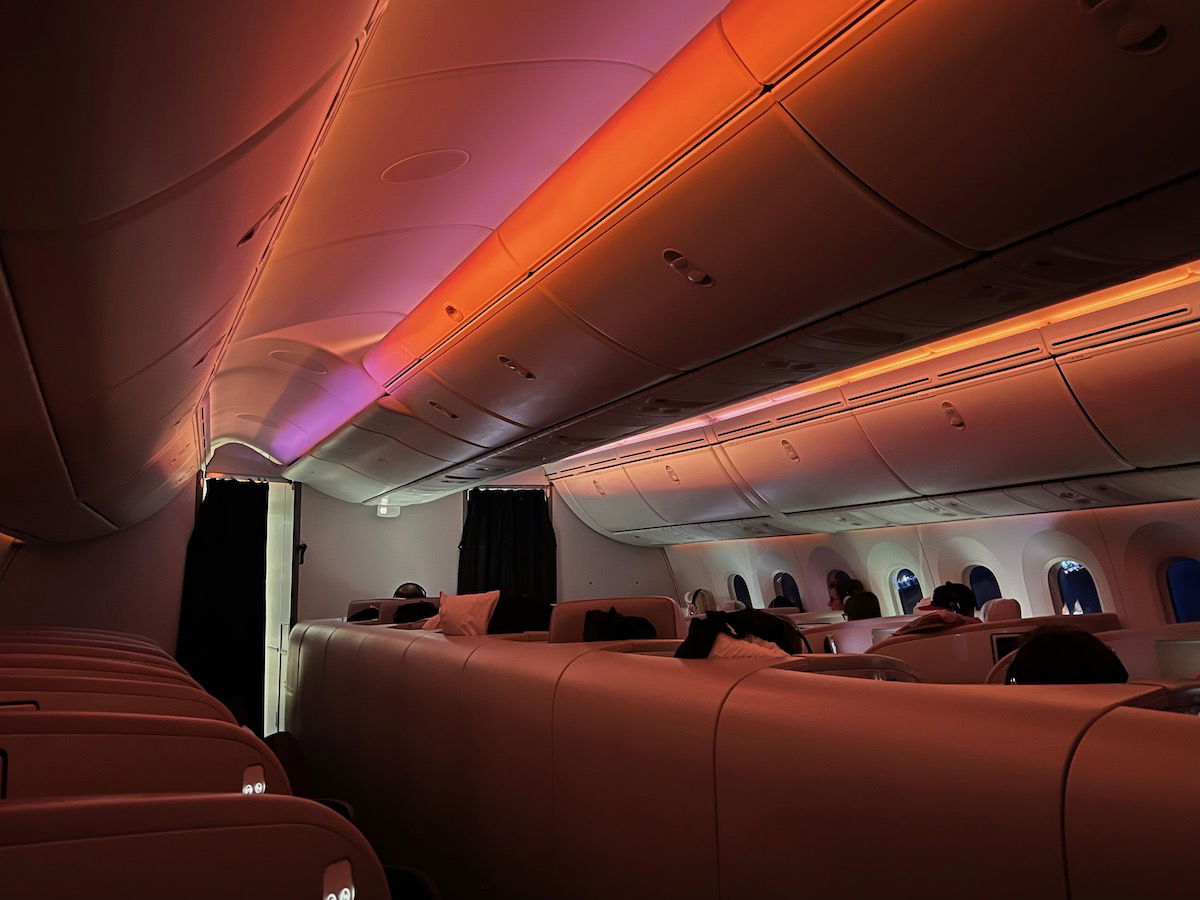 15 minutes after that warm towels were distributed, and five minutes after that breakfast orders were taken. You can find the breakfast menu below.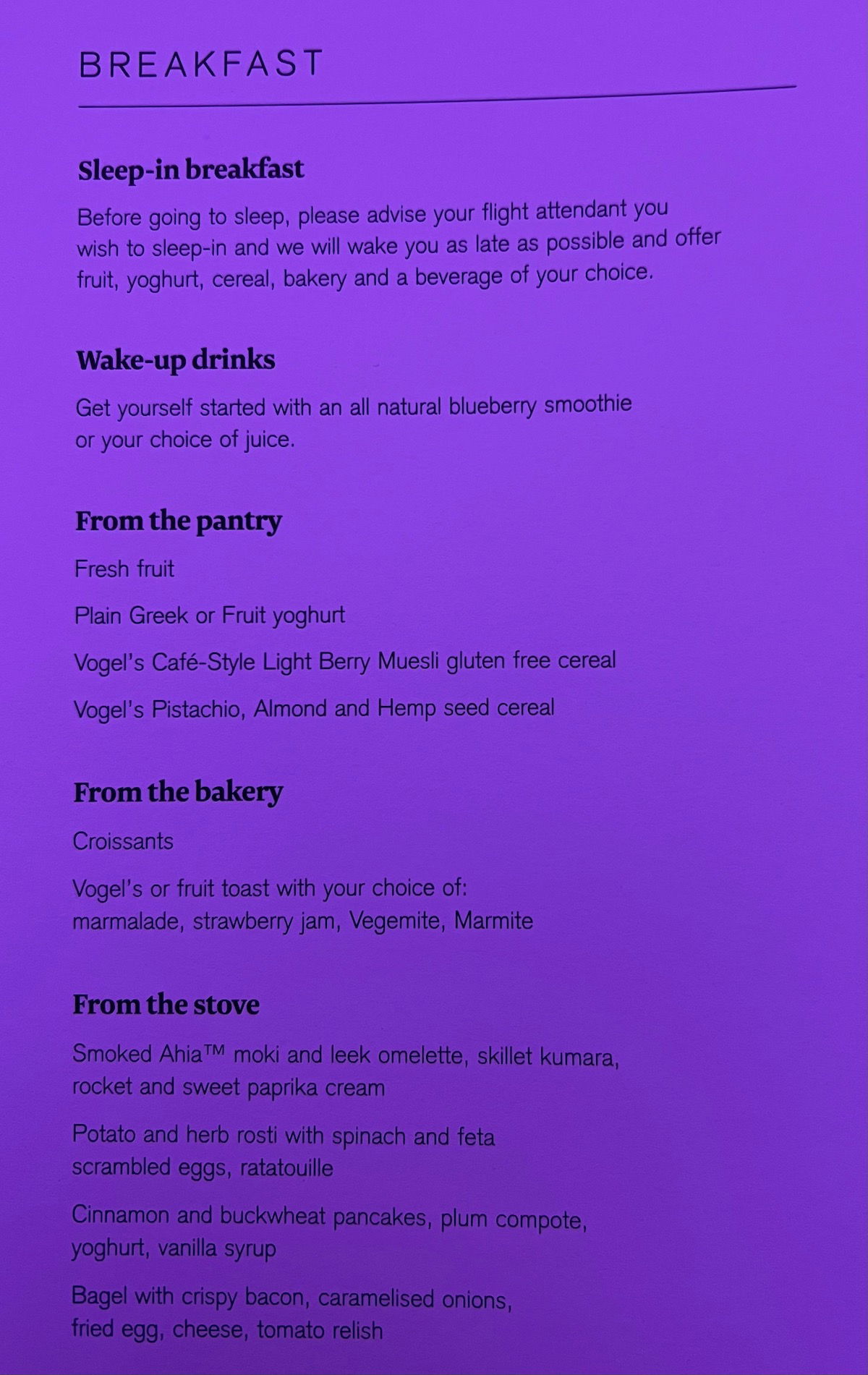 Two hours before landing, the choice of juice or smoothies were served, and I selected one of the smoothies.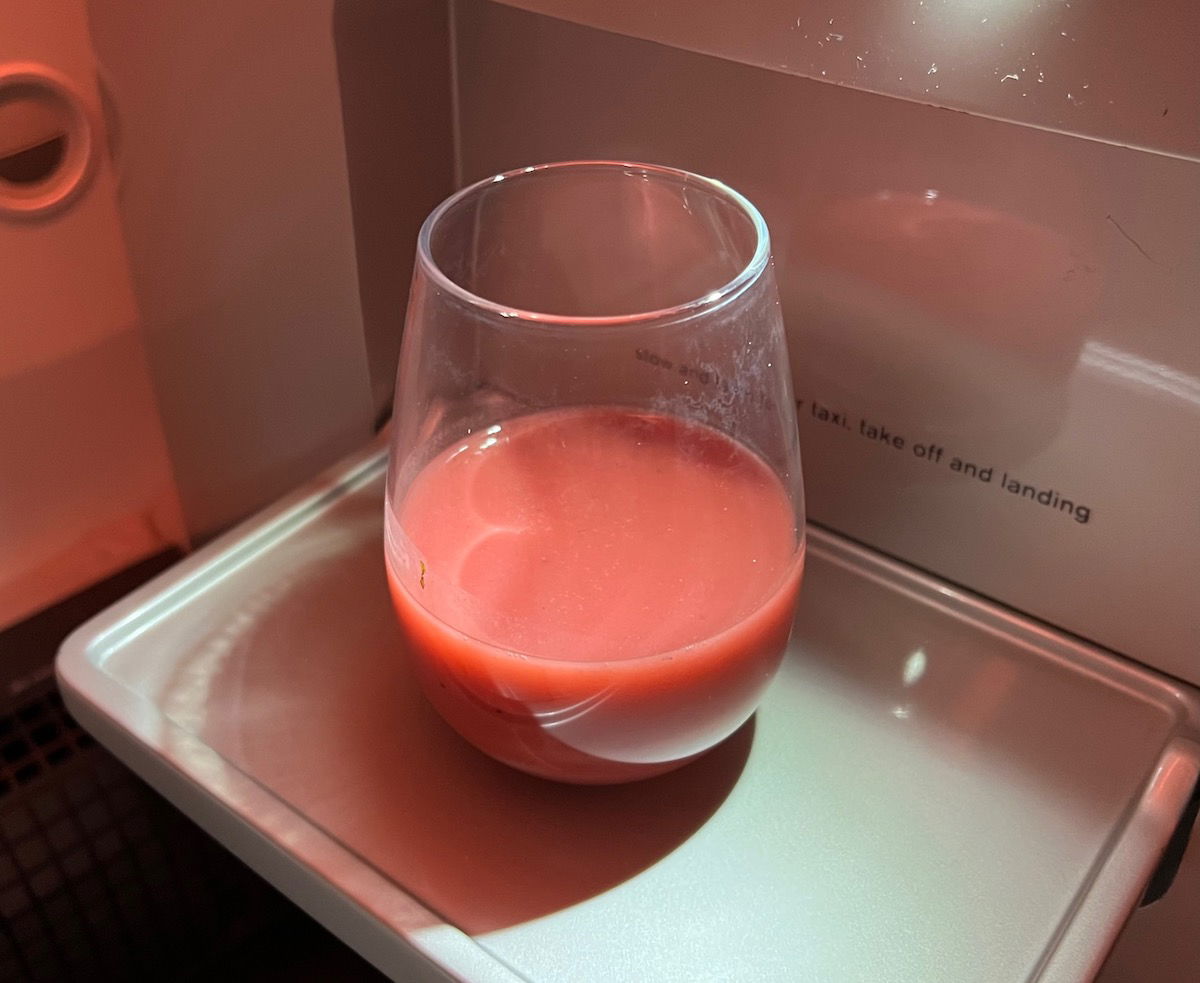 90 minutes before landing a cart was rolled down the aisle to start the proper breakfast service. I was asked if I wanted fruit, yogurt, and/or muesli. I asked for some fresh fruit with yogurt, so that was prepared for me right there, and all served in one bowl.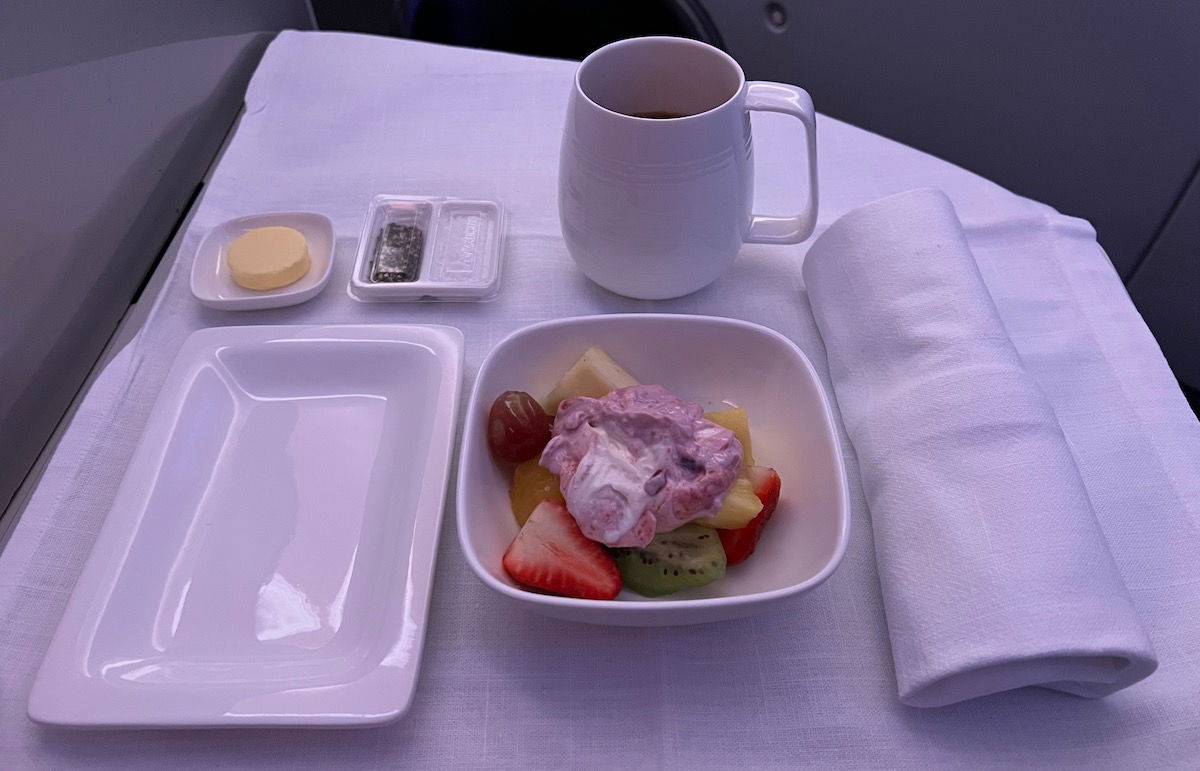 I was also offered a selection from the breadbasket, and chose some toast.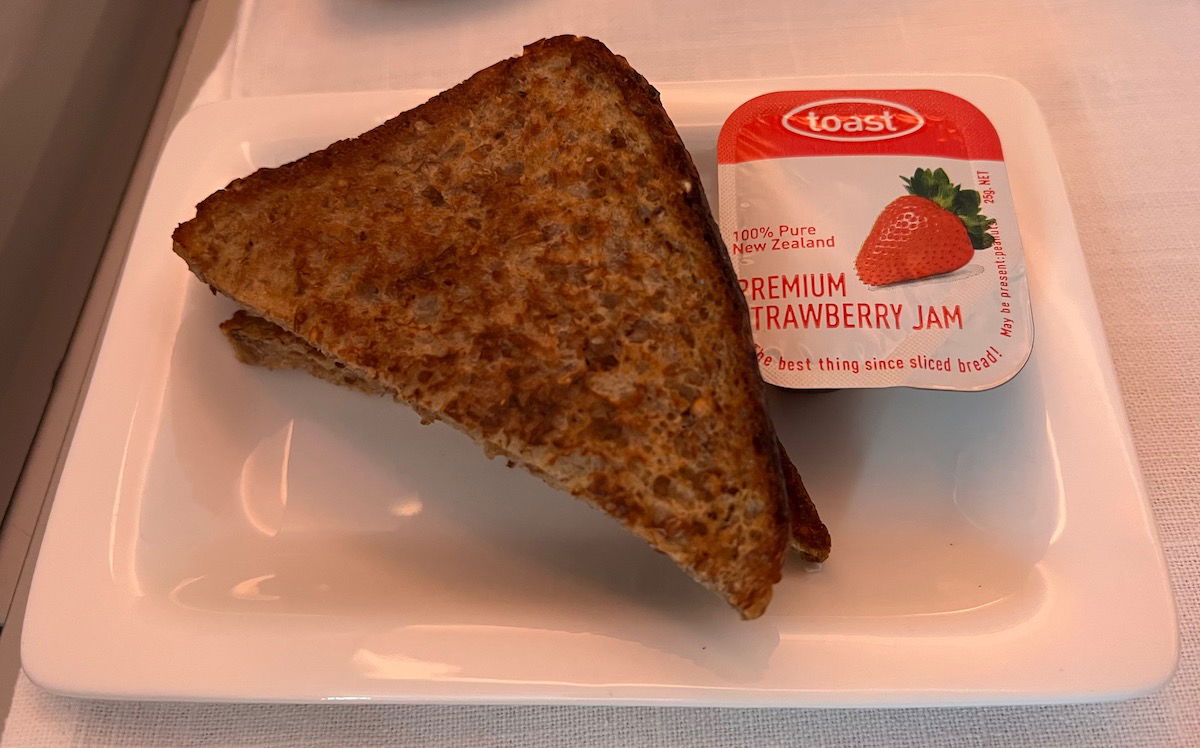 For the main course I selected the smoked ahia moki and leek omelette with skillet kumara, rocket, and sweet paprika cream. I appreciated that it was a bit different than your typical airplane omelet, though it's funny that they had ahia moki for both the dinner and breakfast service.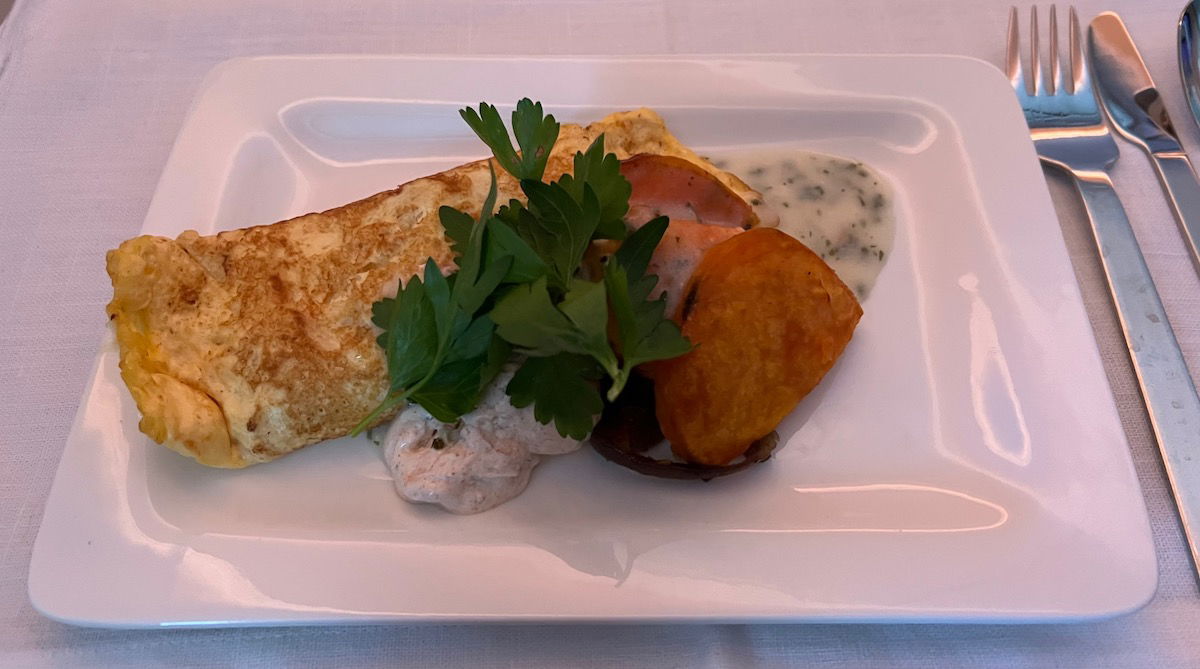 Air New Zealand business class service
I'm conflicted about the crew. They were mostly friendly, though also kind of stand offish. It was strange, because usually I come away from a flight with a strong opinion about the service, while I'm not sure what to think here. At times the flight attendants were nice, while at times they came across as arrogant (at least to me), though on some level I think it may just be a difference in how some Americans and Kiwis communicate.
During the meal service the crew was quite friendly and attentive, while they never passed through the cabin between meals.
There was also one flight attendant who kept commenting on my picture taking. I'm not sure if she was annoyed or trying to be funny, but the constant references to it made me feel kind of uncomfortable in a way that almost never happens (and I both fly and take pictures a lot, for obvious reasons).
Air New Zealand 787 arrival in Los Angeles
The crew slowly started to prepare the cabin for landing around an hour out, and they also handed out little candies to each business class passenger.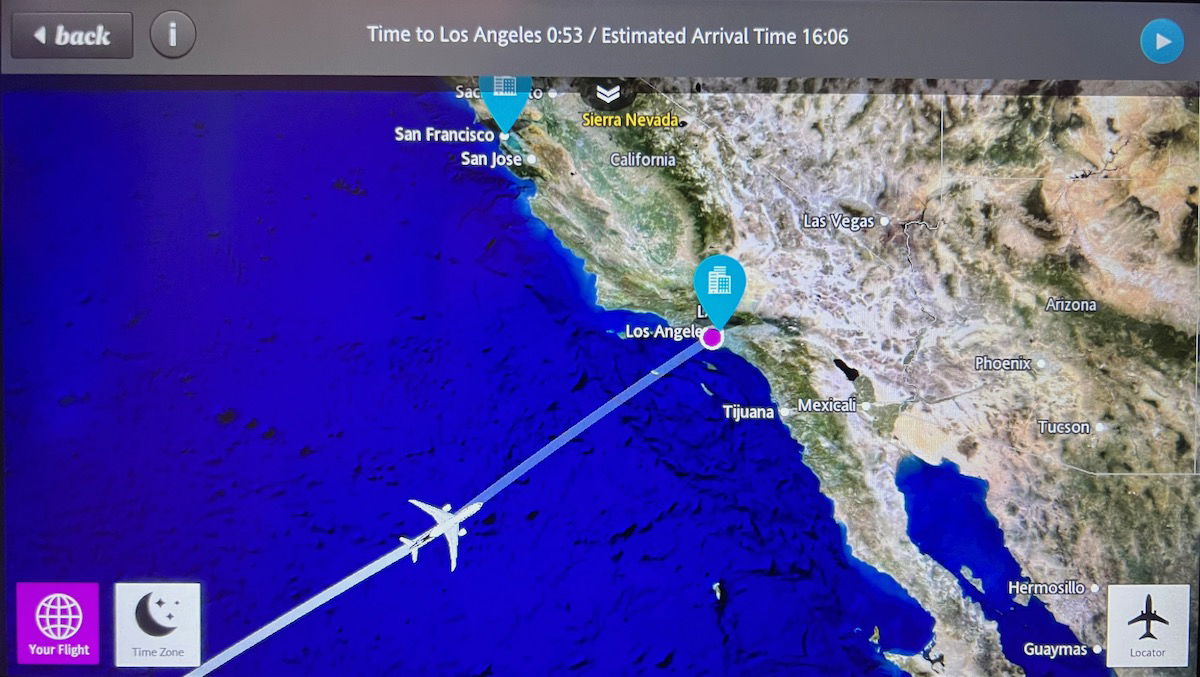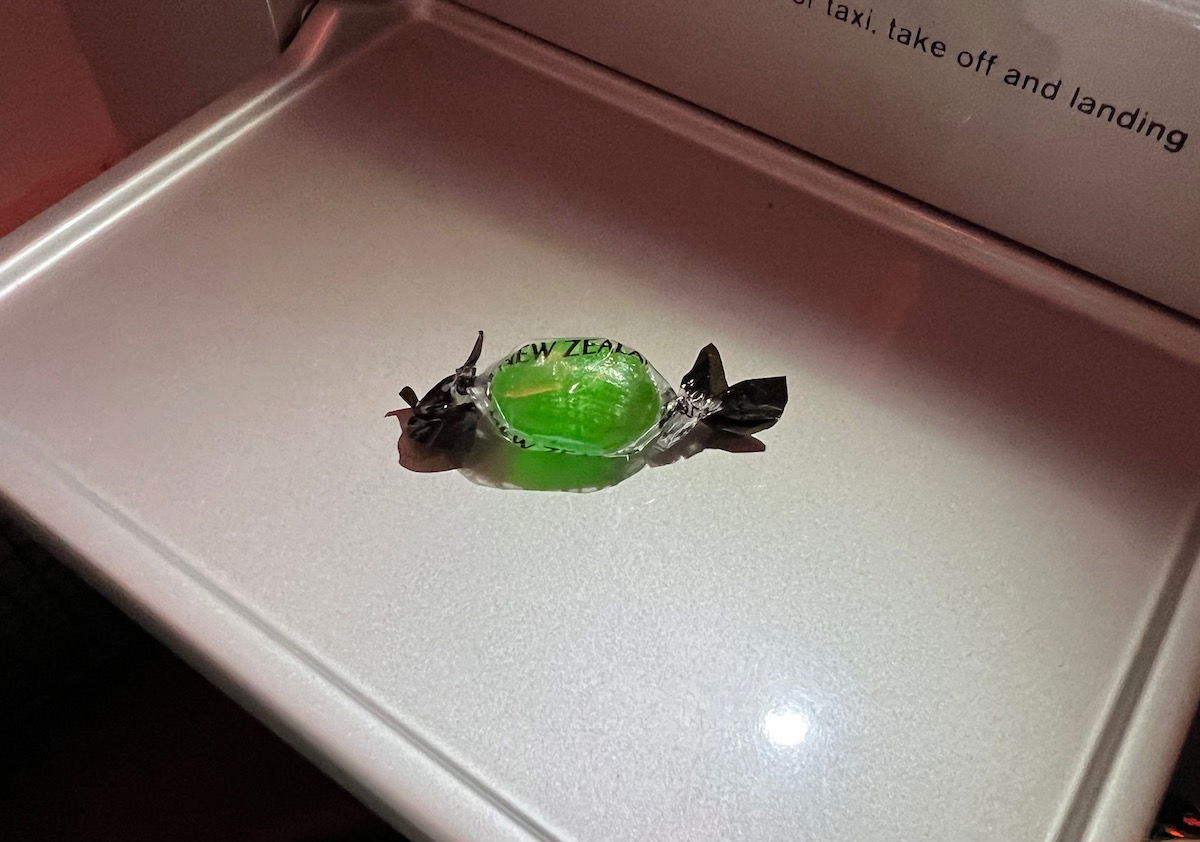 At around 3:35PM local time the captain announced we'd be descending shortly, and would be landing at 4:05PM. We had some absolutely gorgeous views on approach, as we flew right over Catalina and then over Long Beach, before eventually turning around to land at LAX.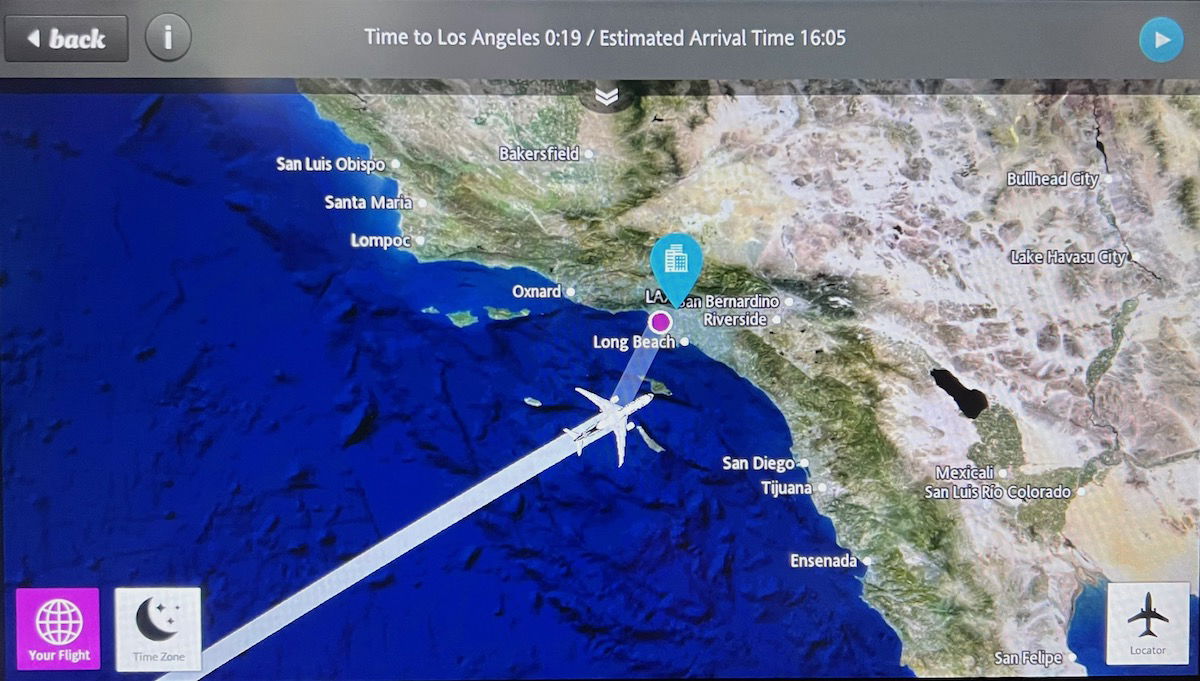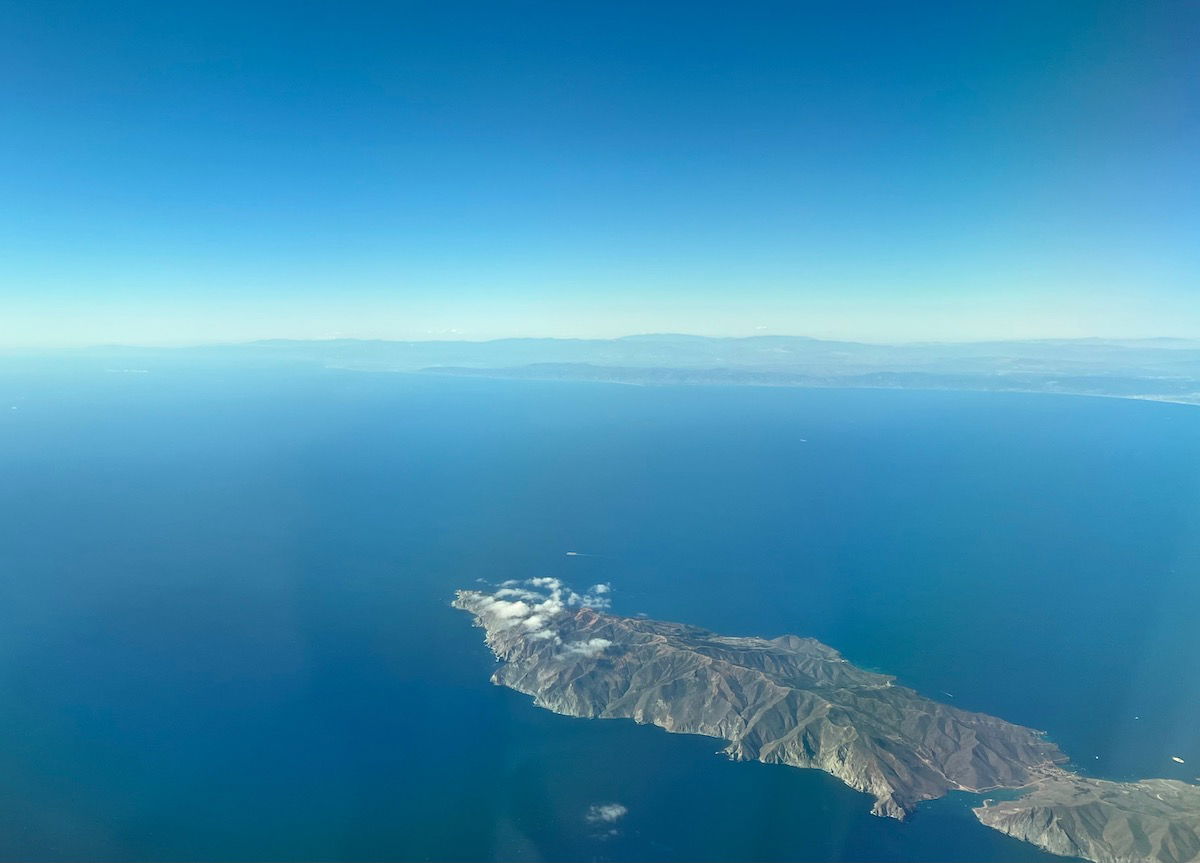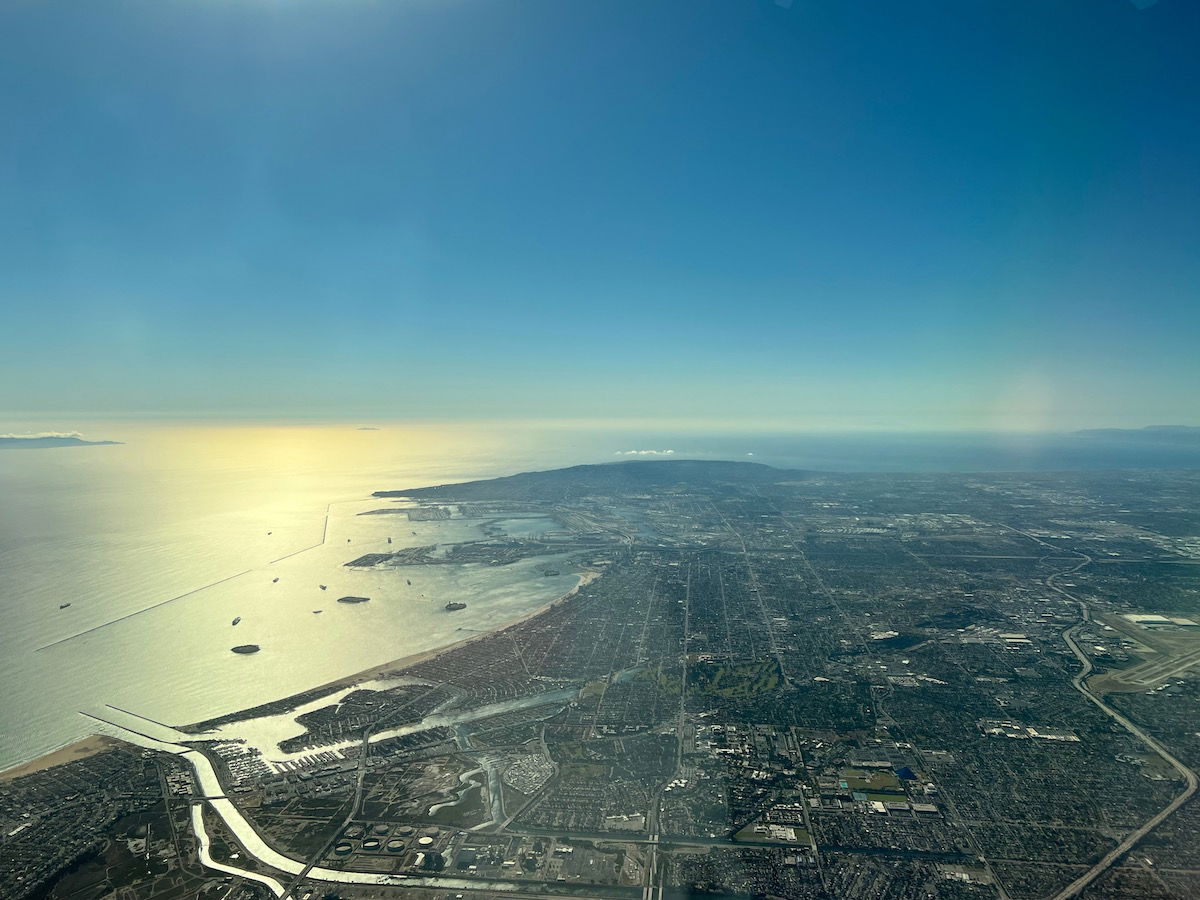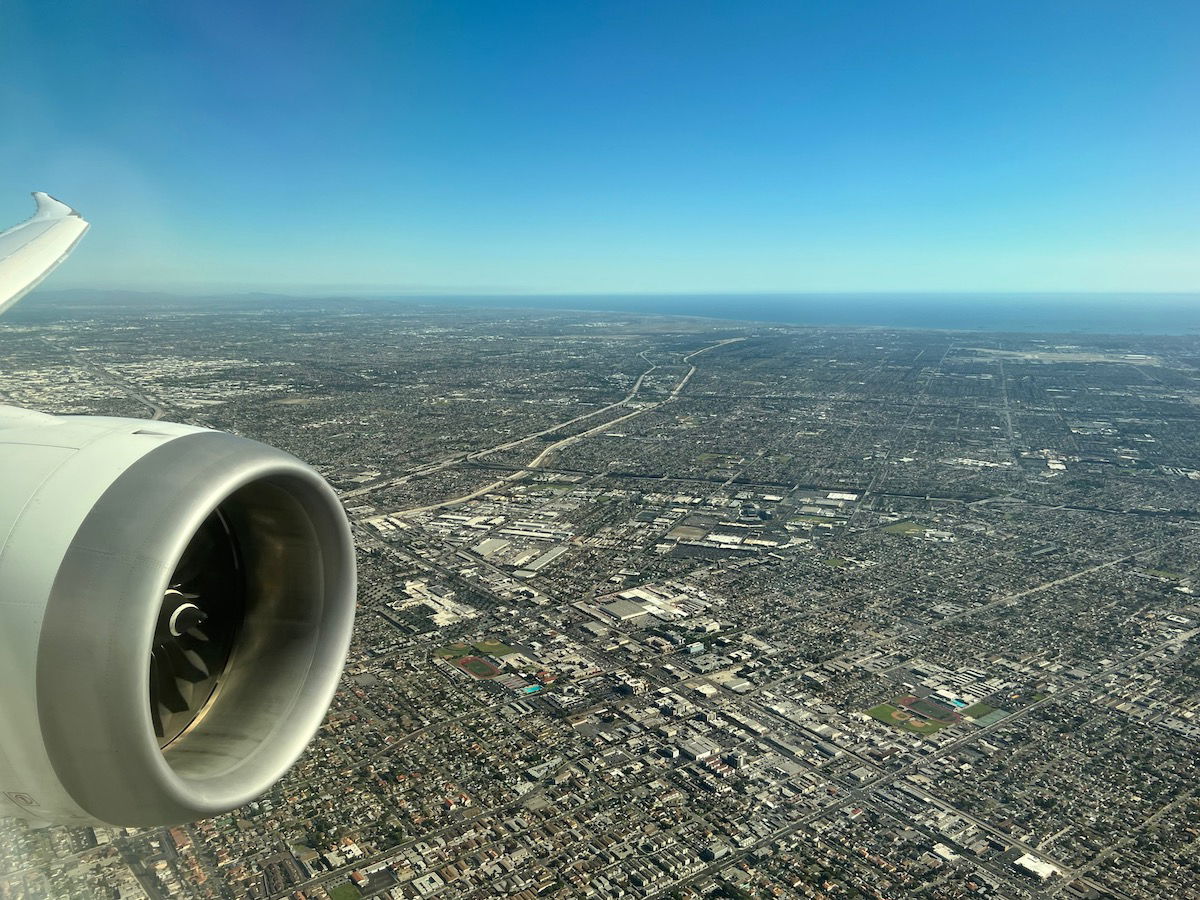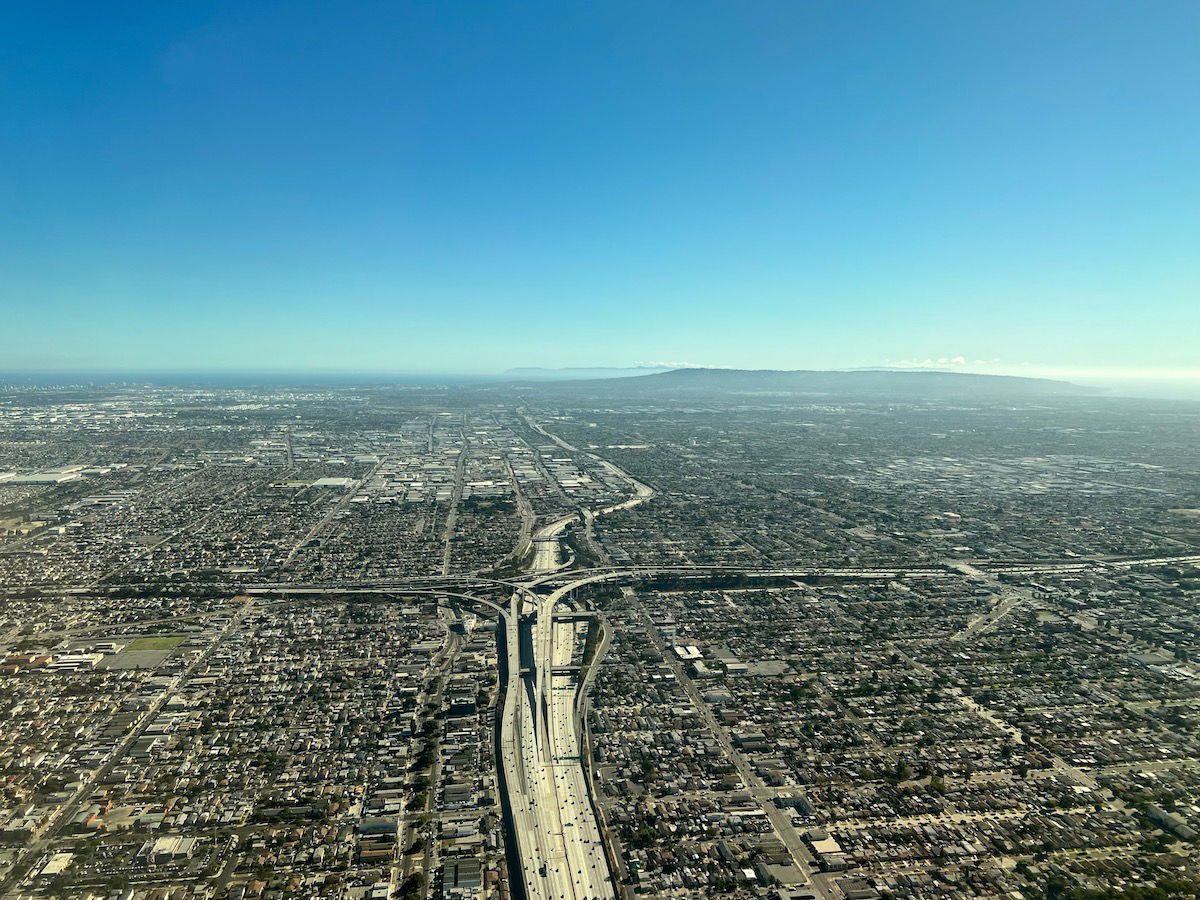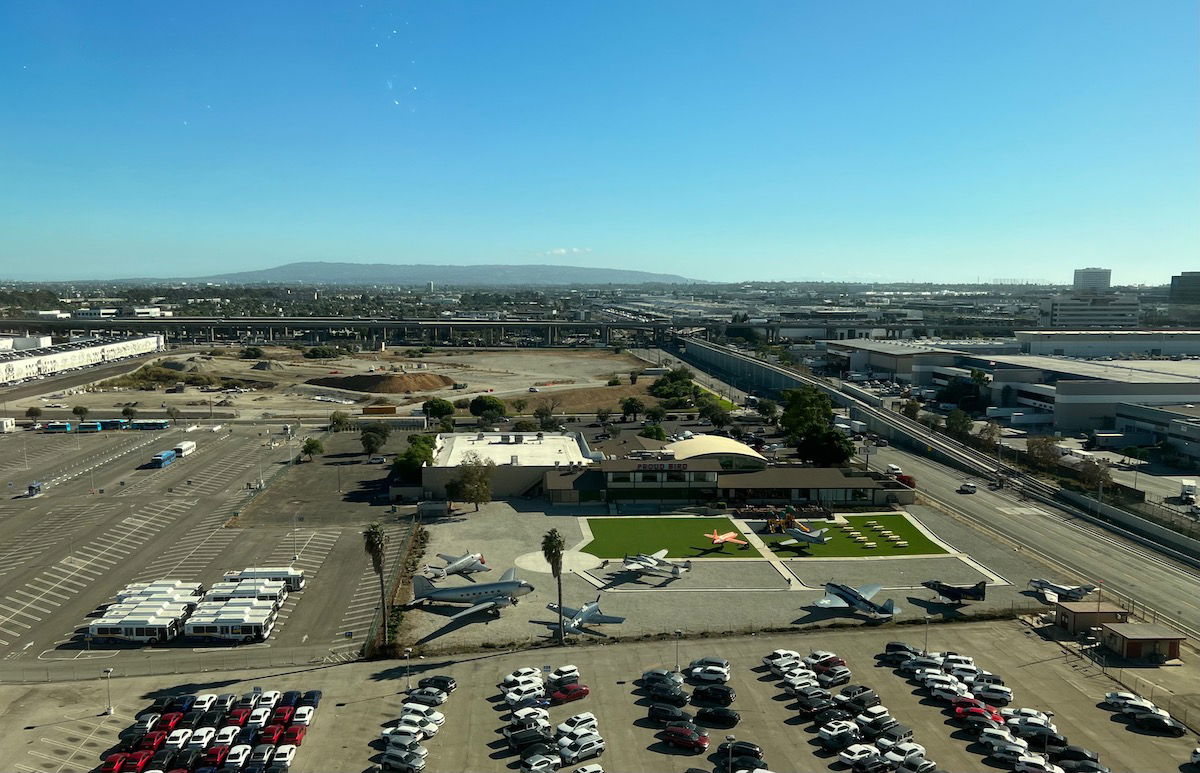 We had a smooth touchdown on runway 25L at 4:05PM.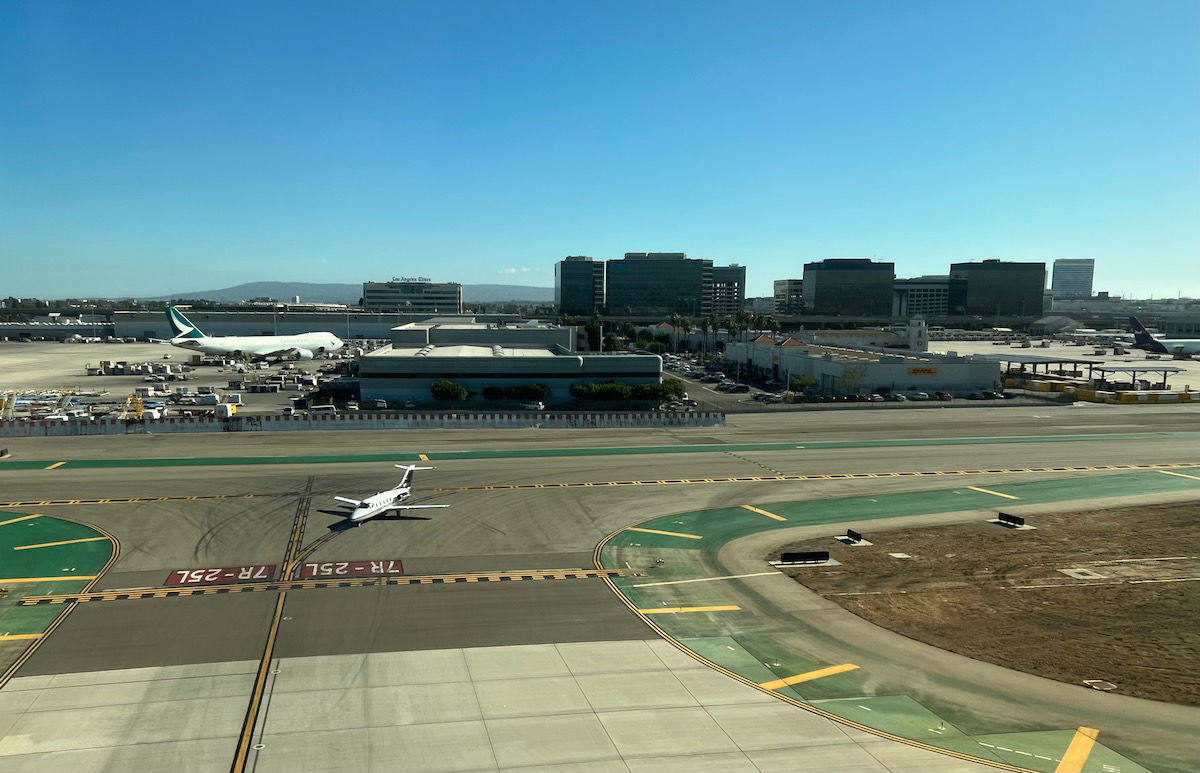 From there we had a roughly 10 minute taxi to our arrival stand. We parked at gate 203, located in the TBIT Midfield Satellite Concourse.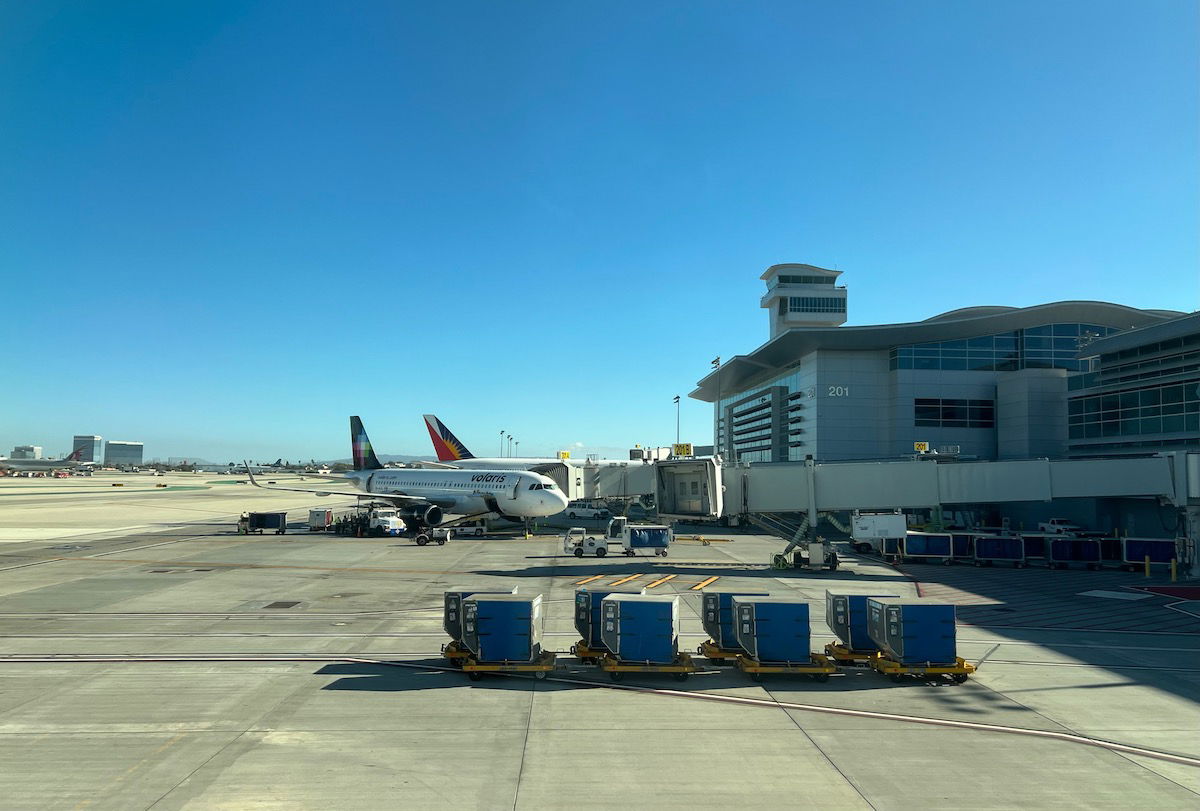 From there I headed through immigration, and caught a redeye back to Miami (which I won't be reviewing). Thanks for following along on this adventure, and stay tuned for more reviews shortly!
Bottom line
Air New Zealand's 787 business class experience wasn't great, plain and simple. The airline has outdated herringbone seats, and the cabin is starting to show its age, despite being a 787. The plane also didn't have Wi-Fi, and had a small entertainment screen.
In terms of soft product, I'd say Air New Zealand is fairly good, with some high points (like pretty good food and great bedding) and some low points (like no slippers, bad headphones, and dirty lavatories).
New Zealand is one of my favorite countries in the world, though I'll be looking to fly another airline the next time I travel there (and that's perfect, since Air New Zealand rarely makes business class award seats available anyway). Here's to hoping Air New Zealand's new business class represents a big upgrade for the airline.
If you've flown Air New Zealand business class, what was your experience like?