To finish off my two trips to the Southern Hemisphere, I flew Air New Zealand's Boeing 787-9 business class from Auckland to Los Angeles. Prior to that flight I had the chance to visit the Air New Zealand International Lounge Auckland, so I'll be reviewing that in this installment.
Air New Zealand's lounge at its hub airport is quite good — it has nice views, a solid food selection, and barista-made coffee. While it's my understanding that this lounge gets incredibly crowded during peak hours, fortunately I was on one of the last flights of the night, so the lounge stayed pretty empty.
Air New Zealand check-in Auckland Airport
I arrived at Auckland Airport at around 6:30PM, plenty early for my 11:15PM flight from Los Angeles. The international terminal departures area was nice and quiet, and the Air New Zealand check-in desk was more or less deserted.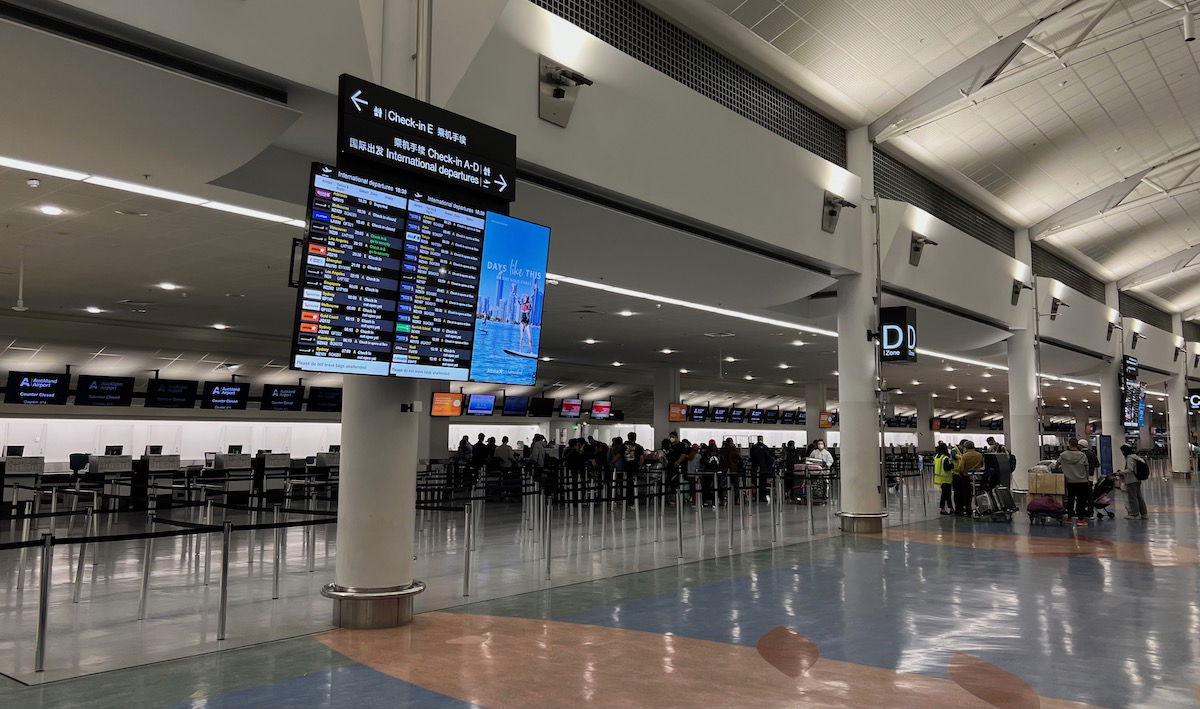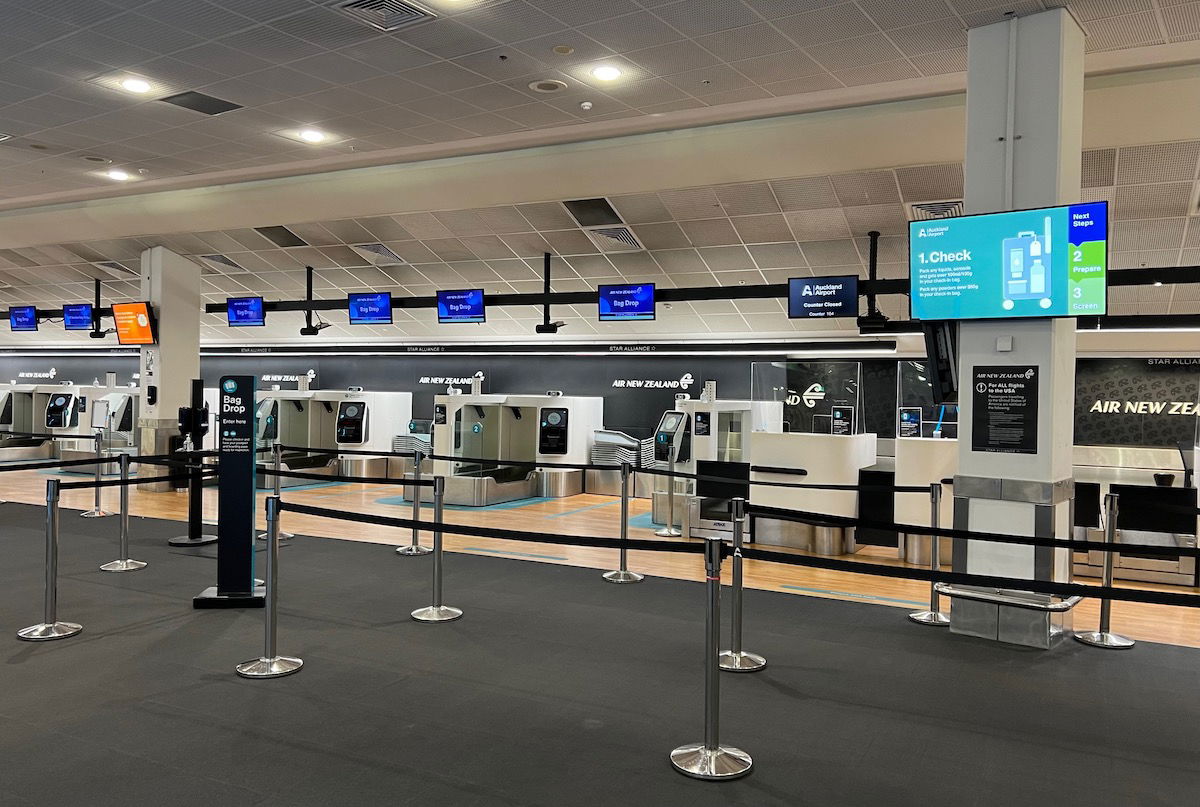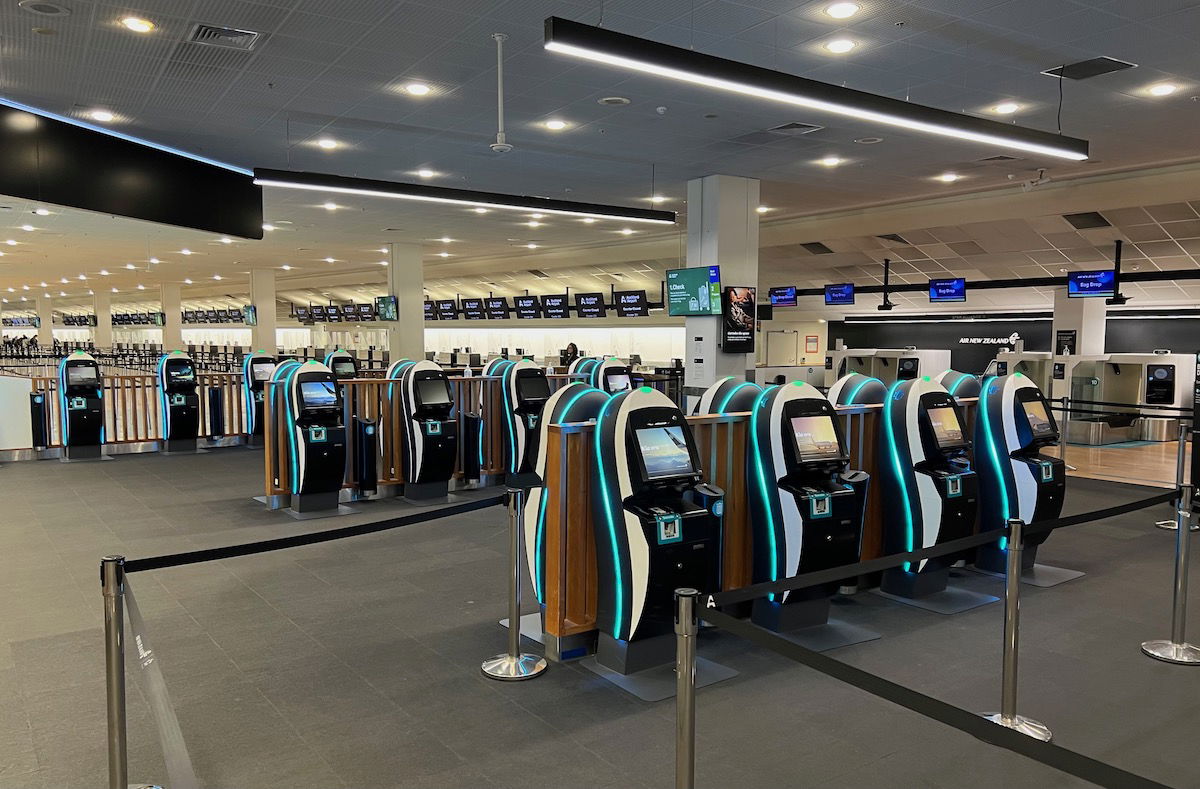 I had already checked in online, so headed straight for security and immigration. After all the travel chaos of the past several months, it was nice to see a significantly emptier airport. I was through both automated immigration and security within five minutes, and that included a roughly three minute delay at security, as I was questioned about why I had so many credit cards. Lol…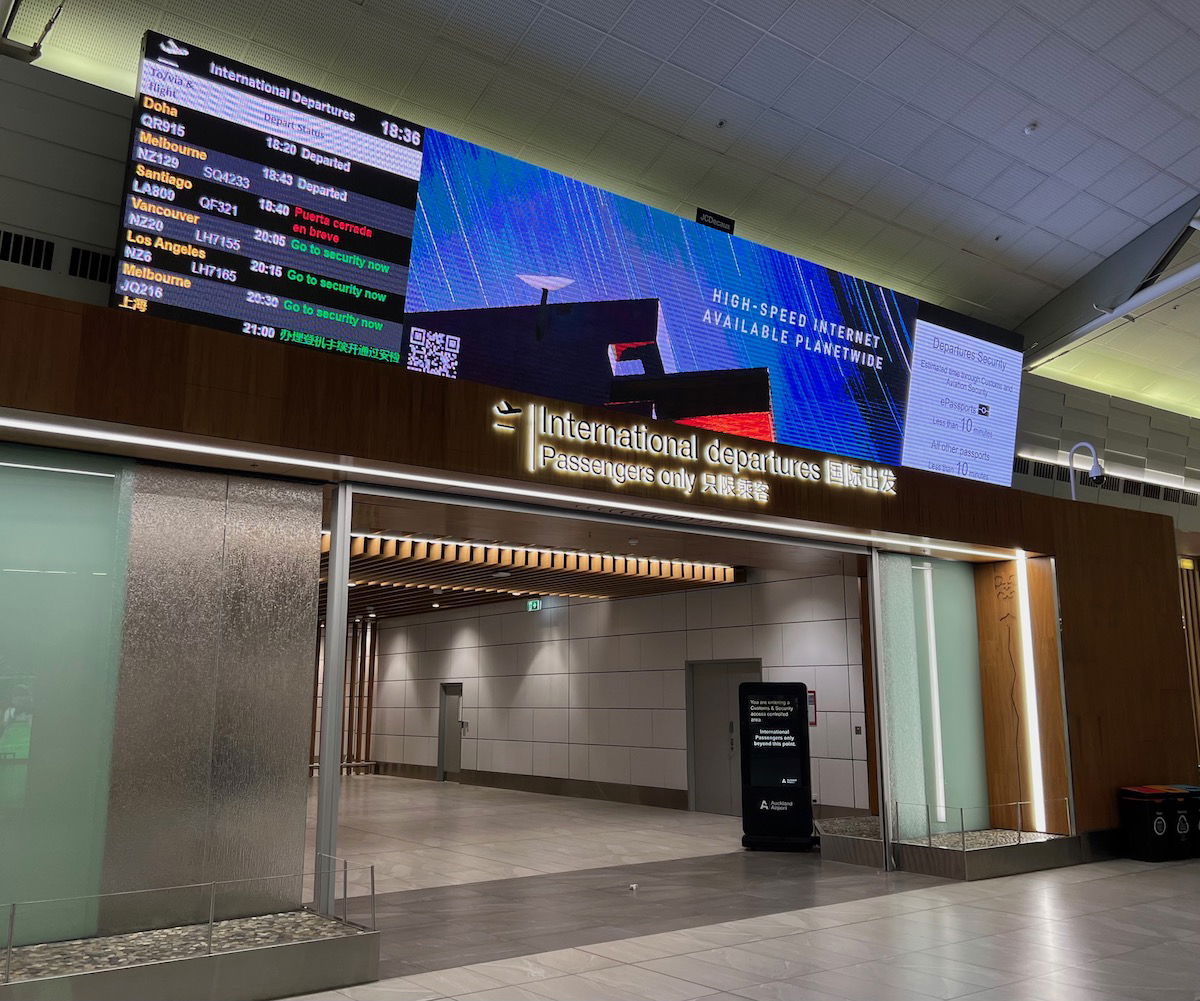 Air New Zealand Lounge Auckland location
Once through immigration and security, I first had to walk through the typical duty free maze, as you find at so many airports. I followed the signage in the direction of lounges, and then soon enough the entrance to the Air New Zealand Lounge was to the left.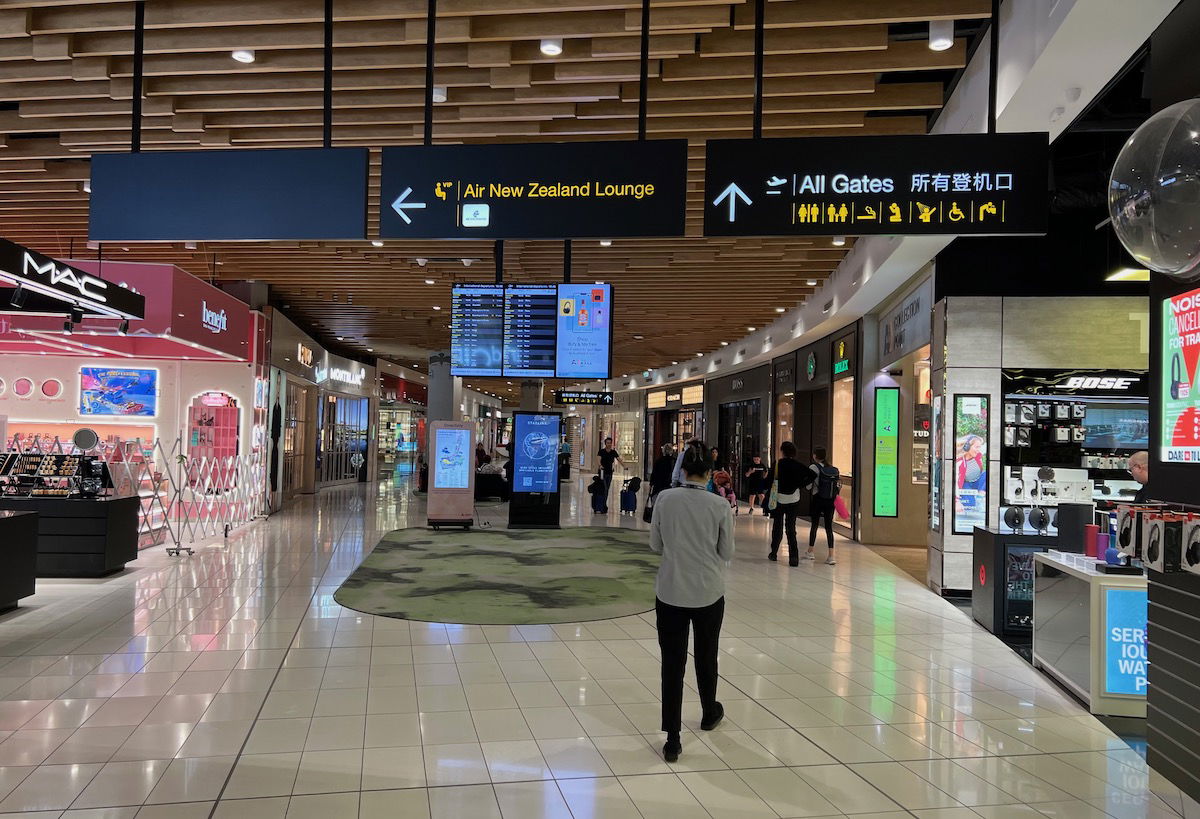 The lounge is one level above the main concourse, though the path leading to the lounge doesn't feel particularly grand.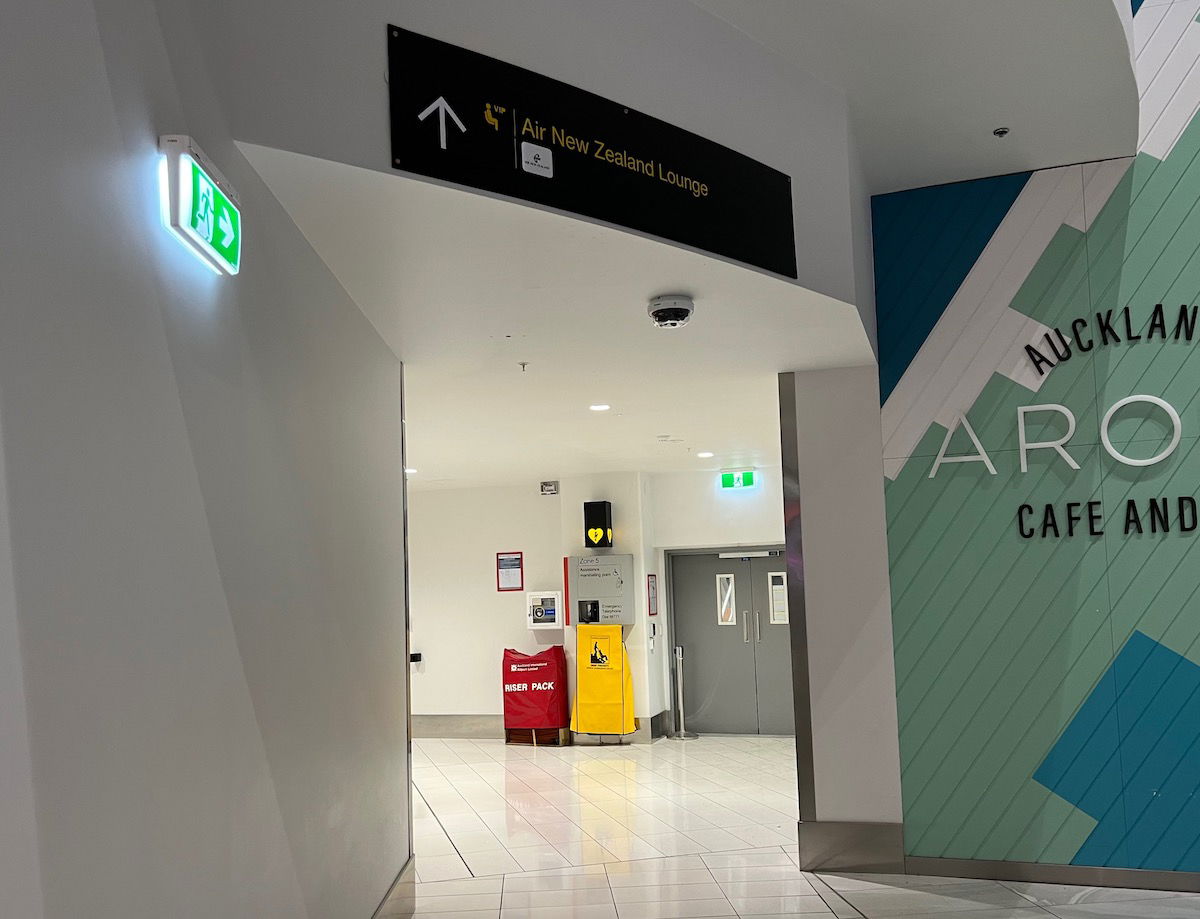 You can choose to take either an escalator or elevator up a level.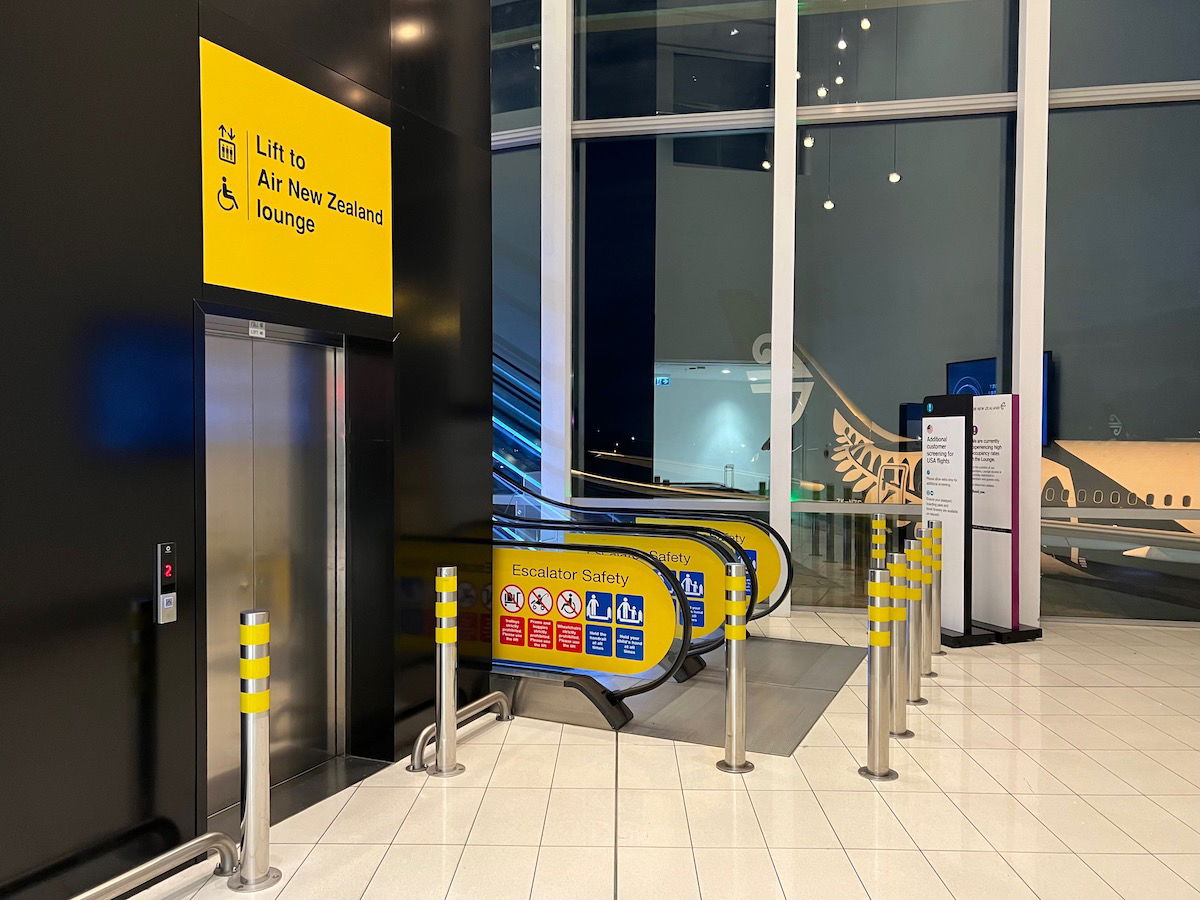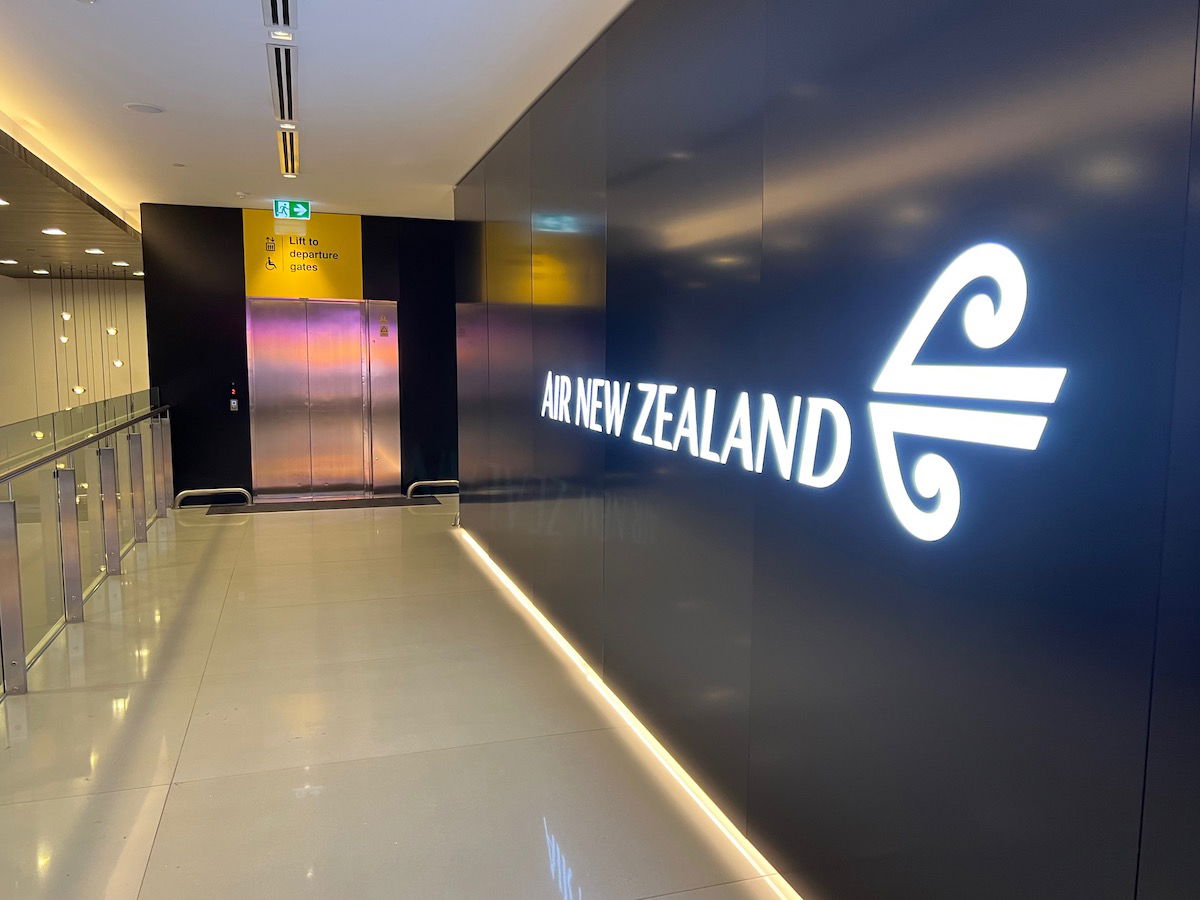 Once there, I was admitted after having my boarding pass scanned, and was reminded that there would be a boarding announcement in the lounge.
Below you can see a map showing the location of the Air New Zealand Lounge.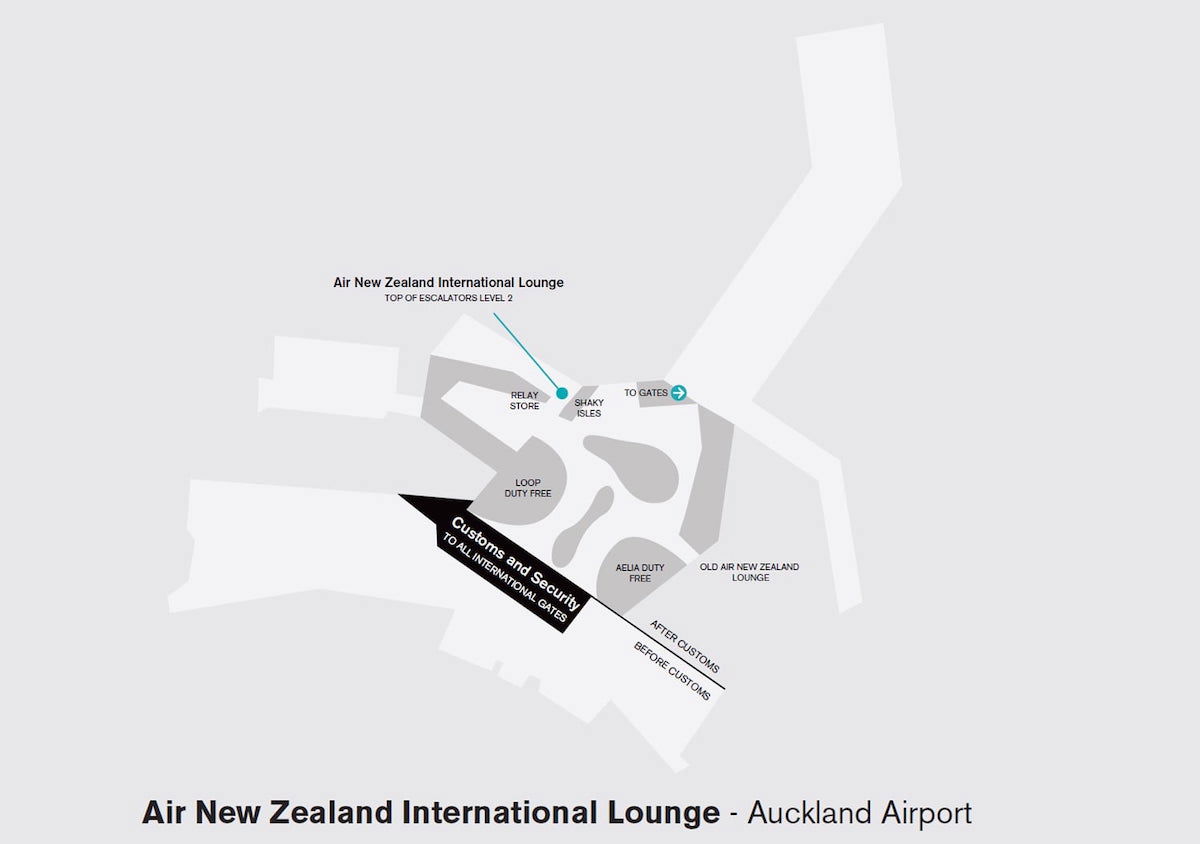 Air New Zealand Lounge Auckland hours
The Air New Zealand Lounge Auckland opens daily at 4:30AM, and stays open until the last departure. On some days Air New Zealand's last departure is around midnight, while other days it's much earlier than that. Regardless, the lounge should be open well ahead of any Star Alliance departure from the airport.
Air New Zealand Lounge Auckland entry requirements
The Air New Zealand Auckland follows standard Star Alliance access policies for a business class lounge. It can be accessed by:
Departing Star Alliance business class passengers, including those traveling in Air New Zealand business class; business class passengers can't bring any complimentary guests
Departing Star Alliance Gold members traveling on a Star Alliance flight; Star Alliance Gold members can bring one complimentary guest
Air New Zealand Lounge Auckland seating & layout
The Air New Zealand Lounge Auckland is 2,100 square meters (~22,600 square feet), and has seating for 437 guests. Below is the emergency escape map in the lounge, which gives you a sense of the layout.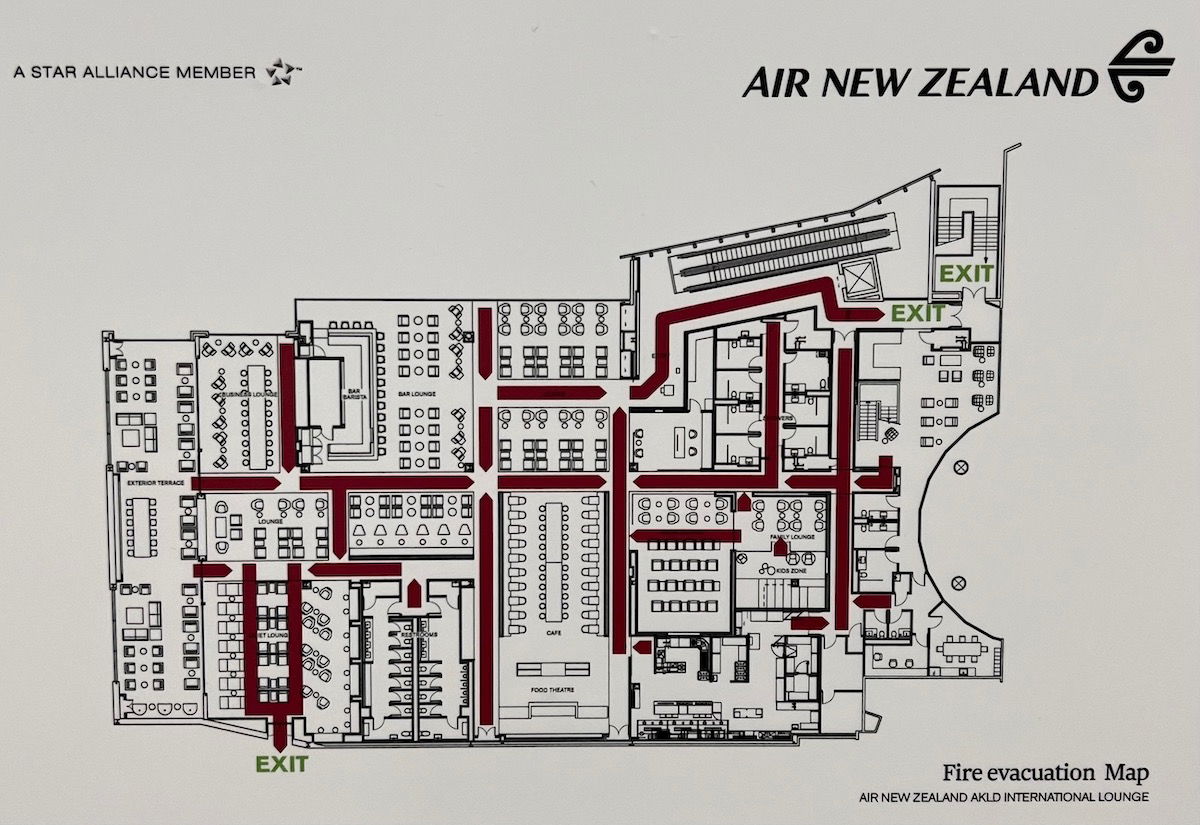 Air New Zealand is remarkably consistent when it comes to lounge design, and the space looked similar to the lounges I've visited in Melbourne and Sydney. Upon entering the lounge there was a main room with plenty of seats arranged in rows, facing one another. The lounge has floor-to-ceiling windows, so if you're here during the day, there's lots of natural light.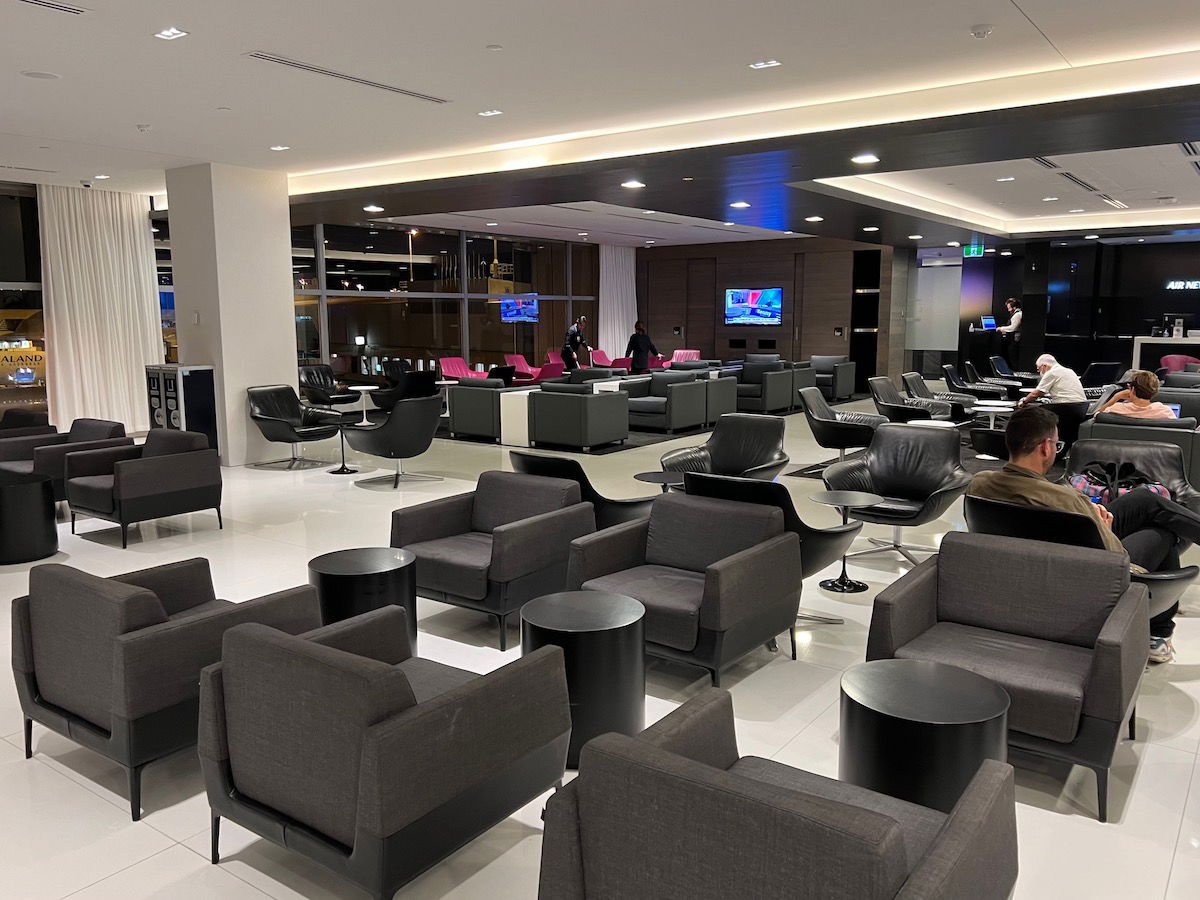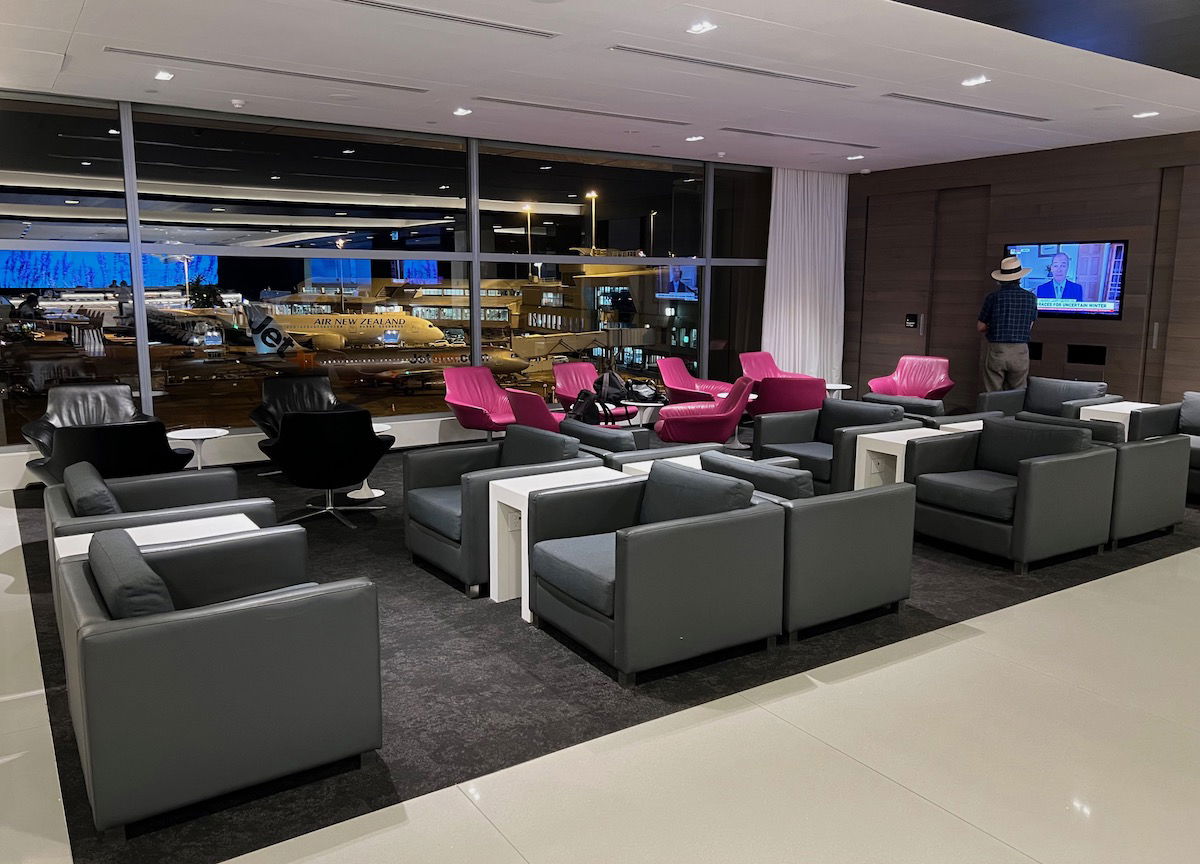 Also near the entrance is the dining area, which has a bunch of cafe-style tables, as well as one long communal table.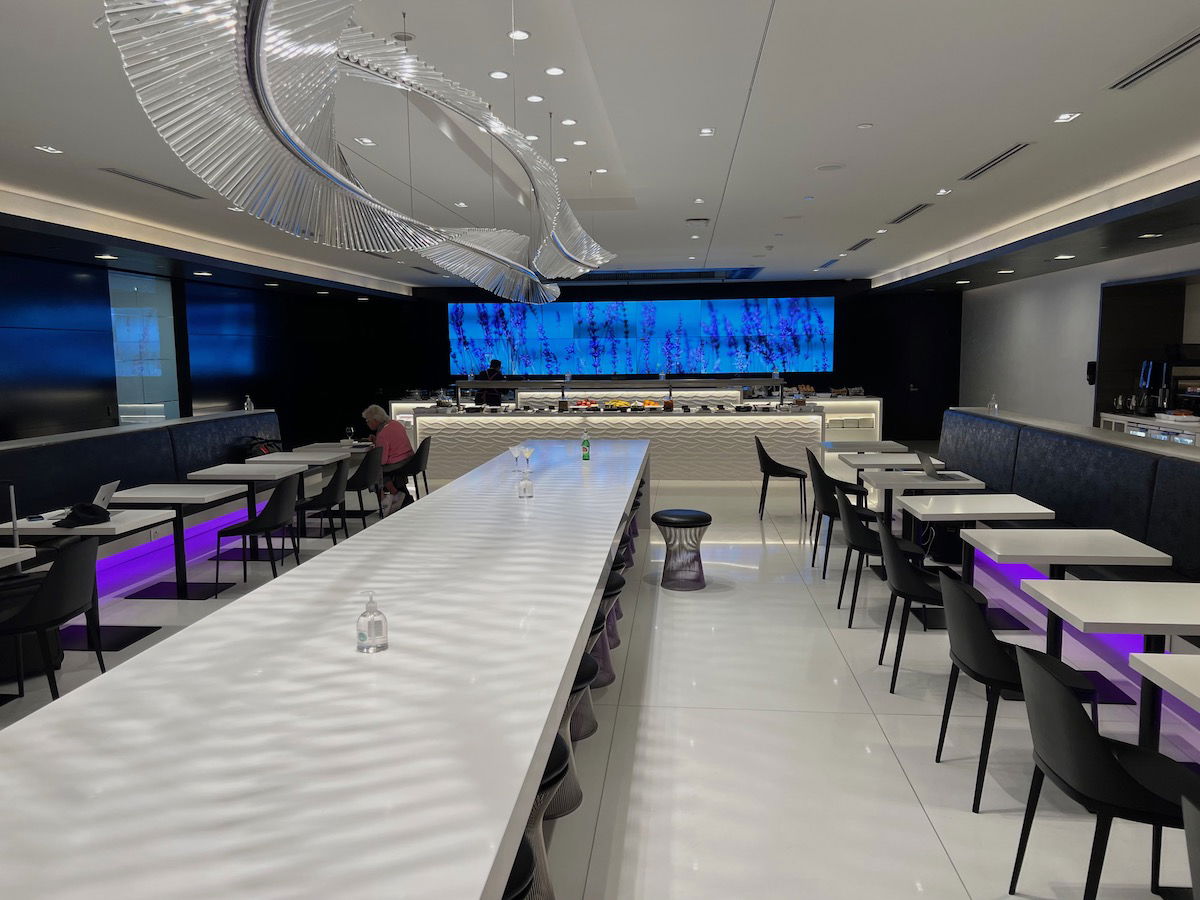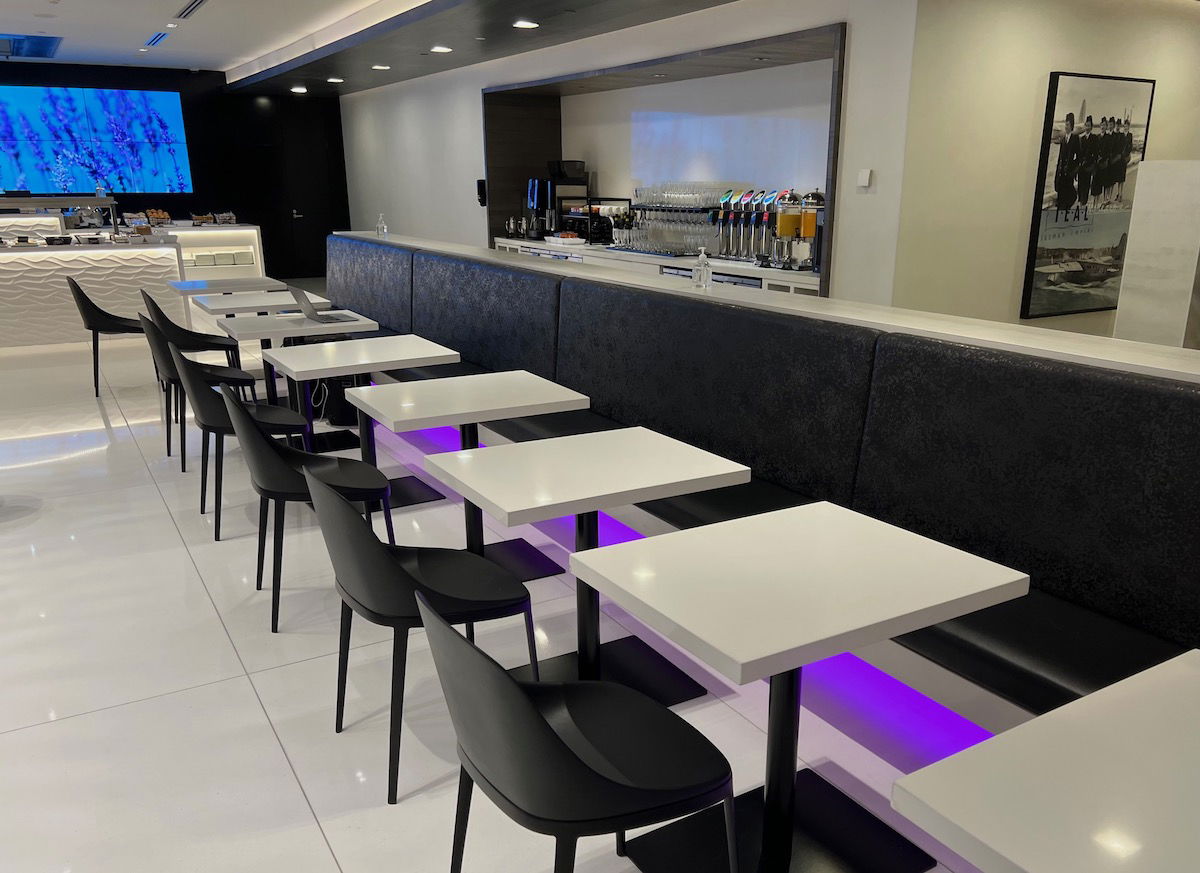 Deeper into the lounge is more seating, which is a bit more original than the typical lounge decor that you'll find. Not only does the Air New Zealand Lounge Auckland have some pizzaz in terms of color palette, but the lounge also has lots of cozy nooks and daybeds where you can relax.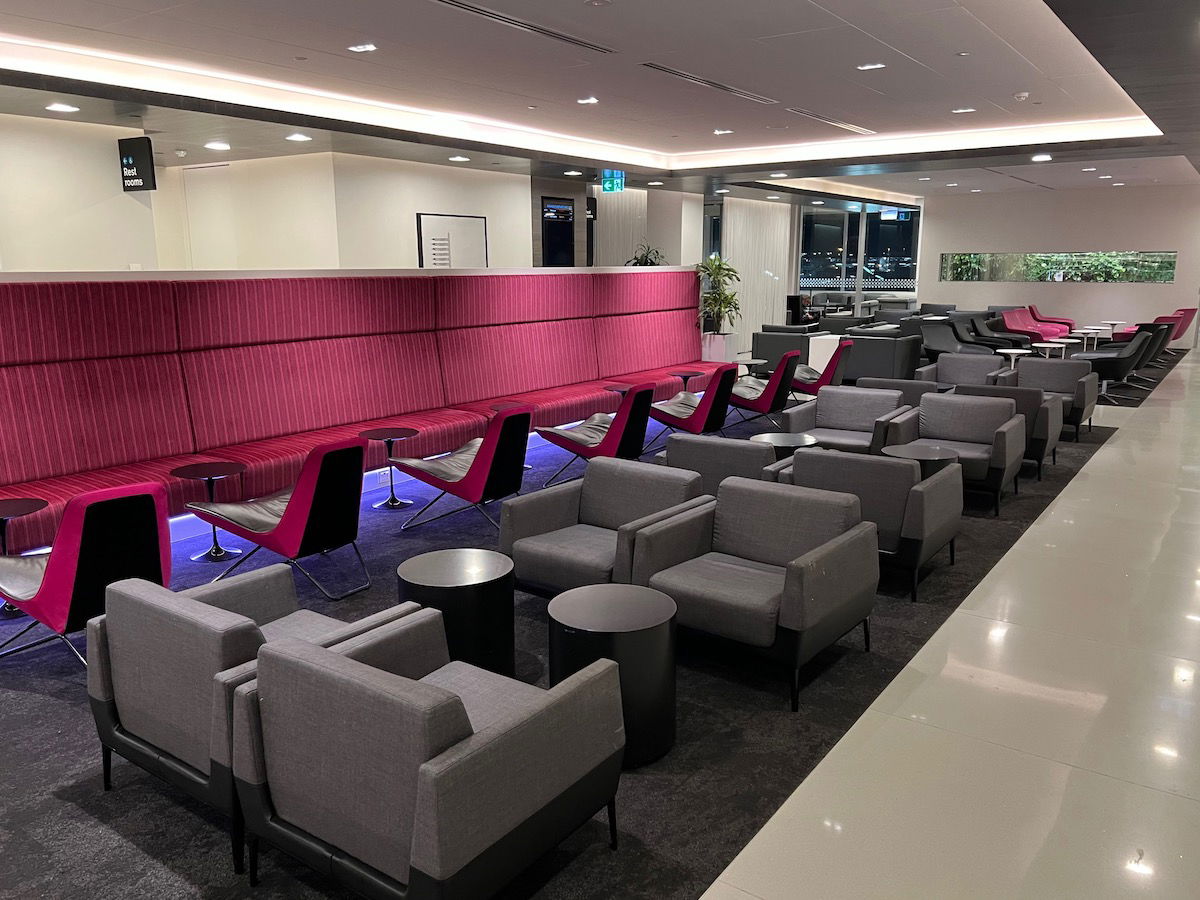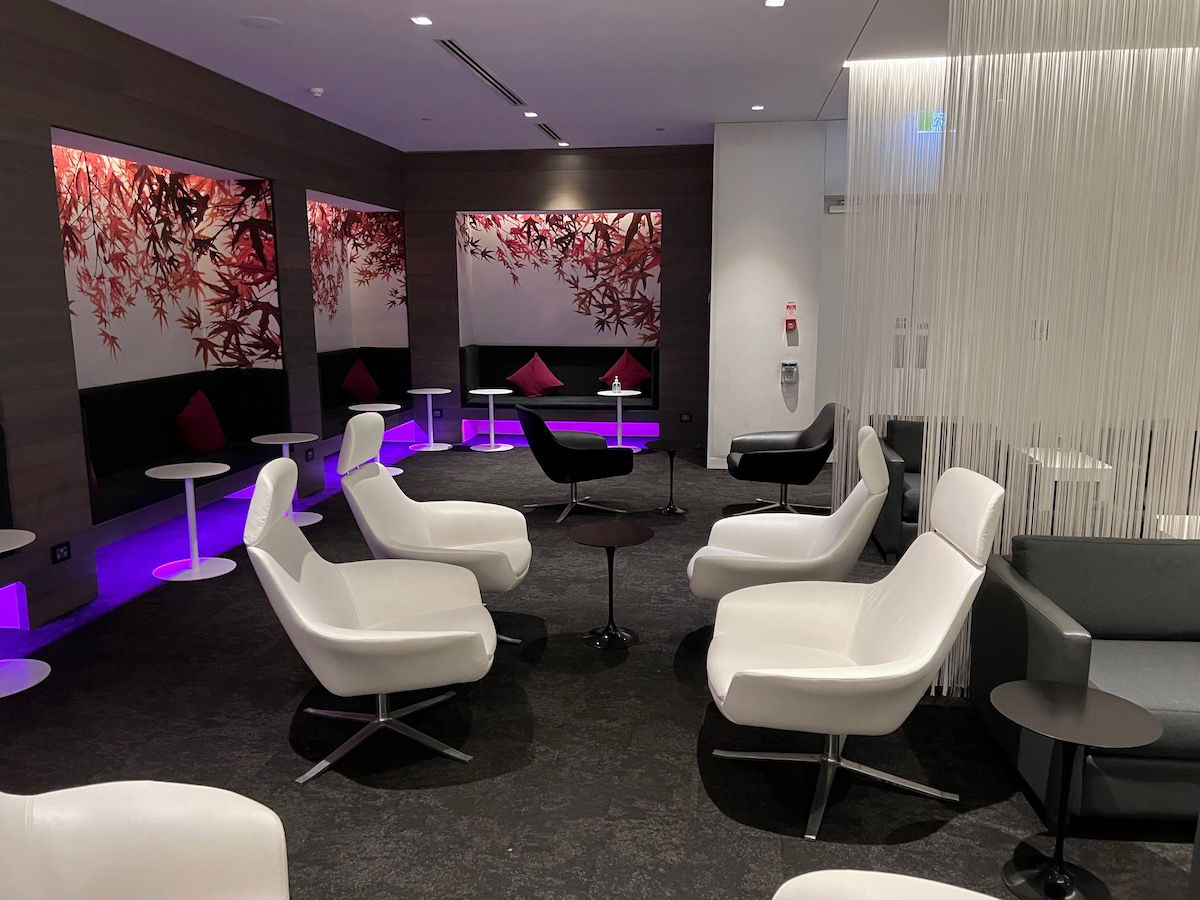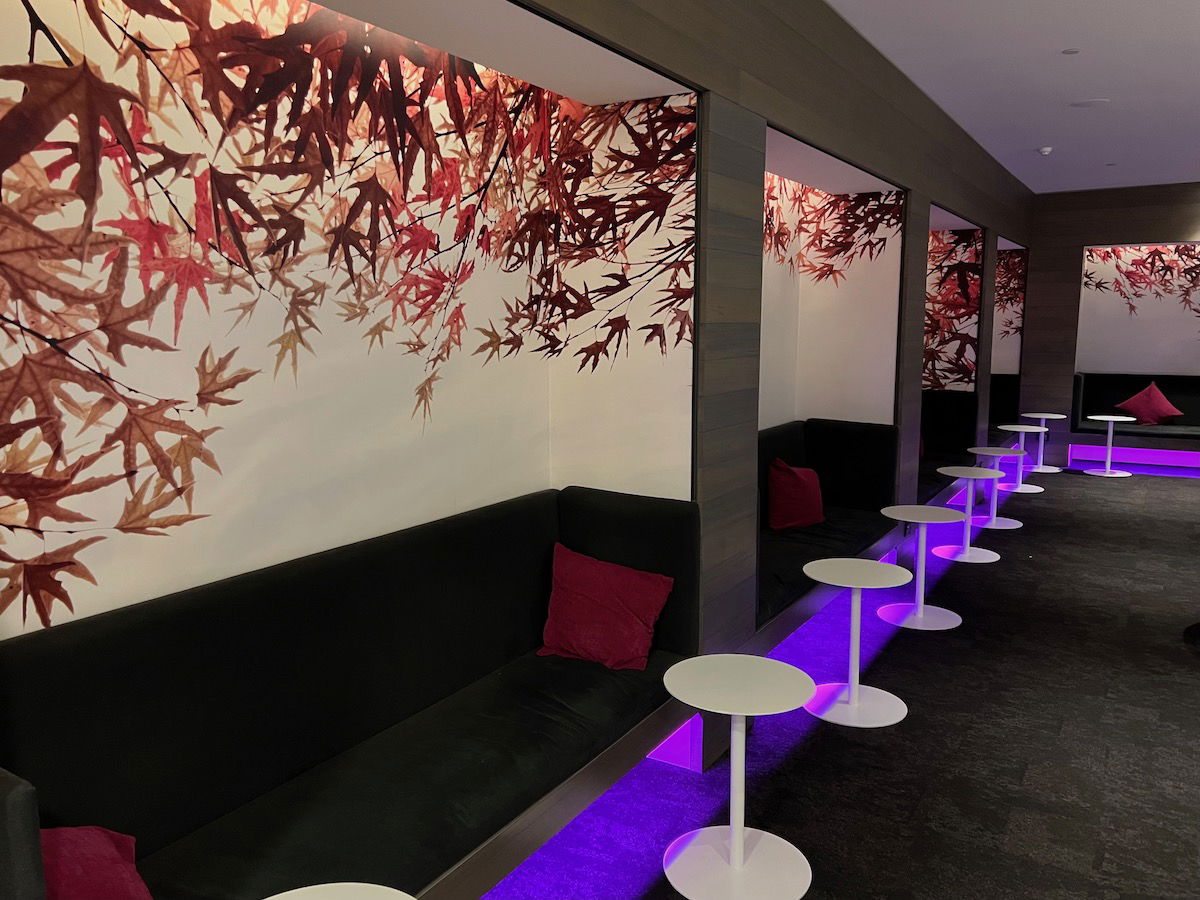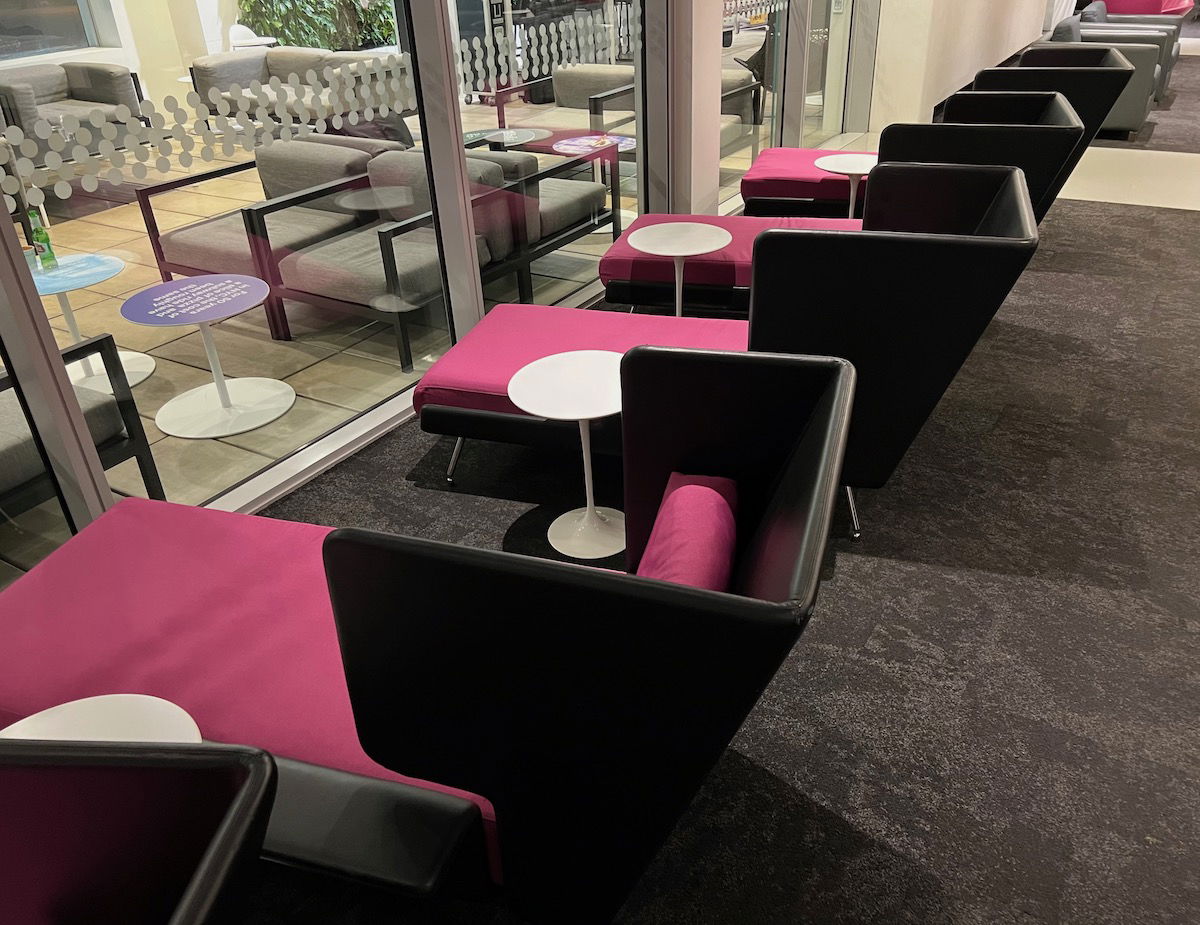 While the lounge consists primarily of one big room, I appreciate the semi-transparent partitions that make the lounge spaces feel a bit more private and divided.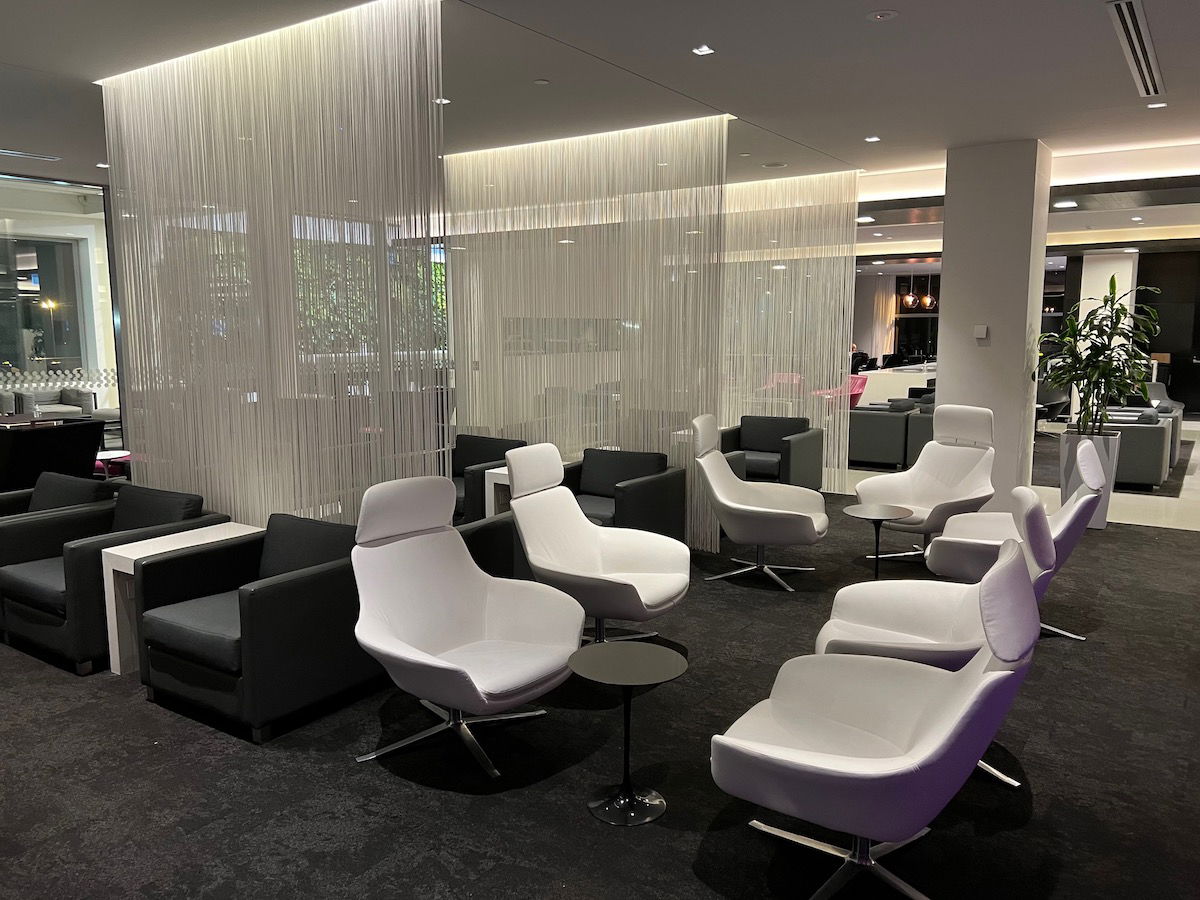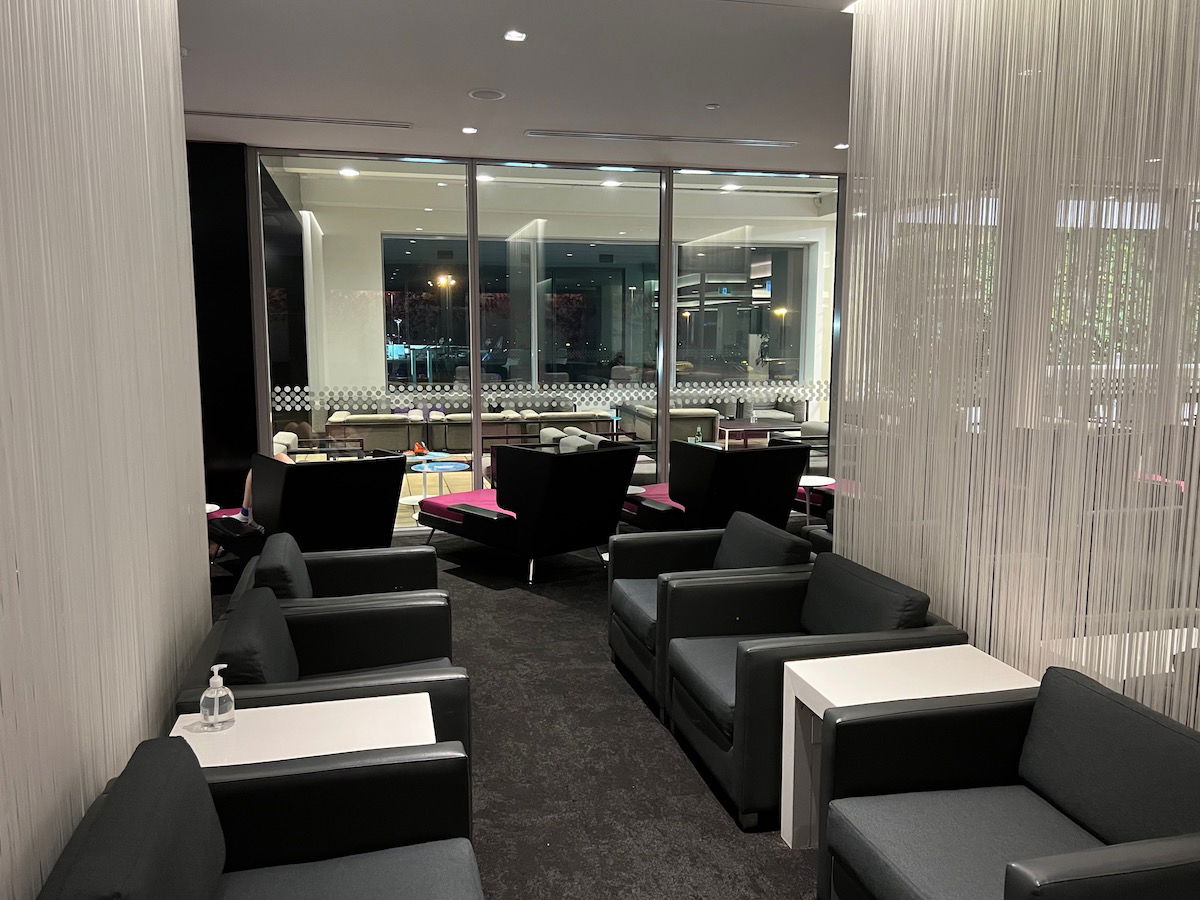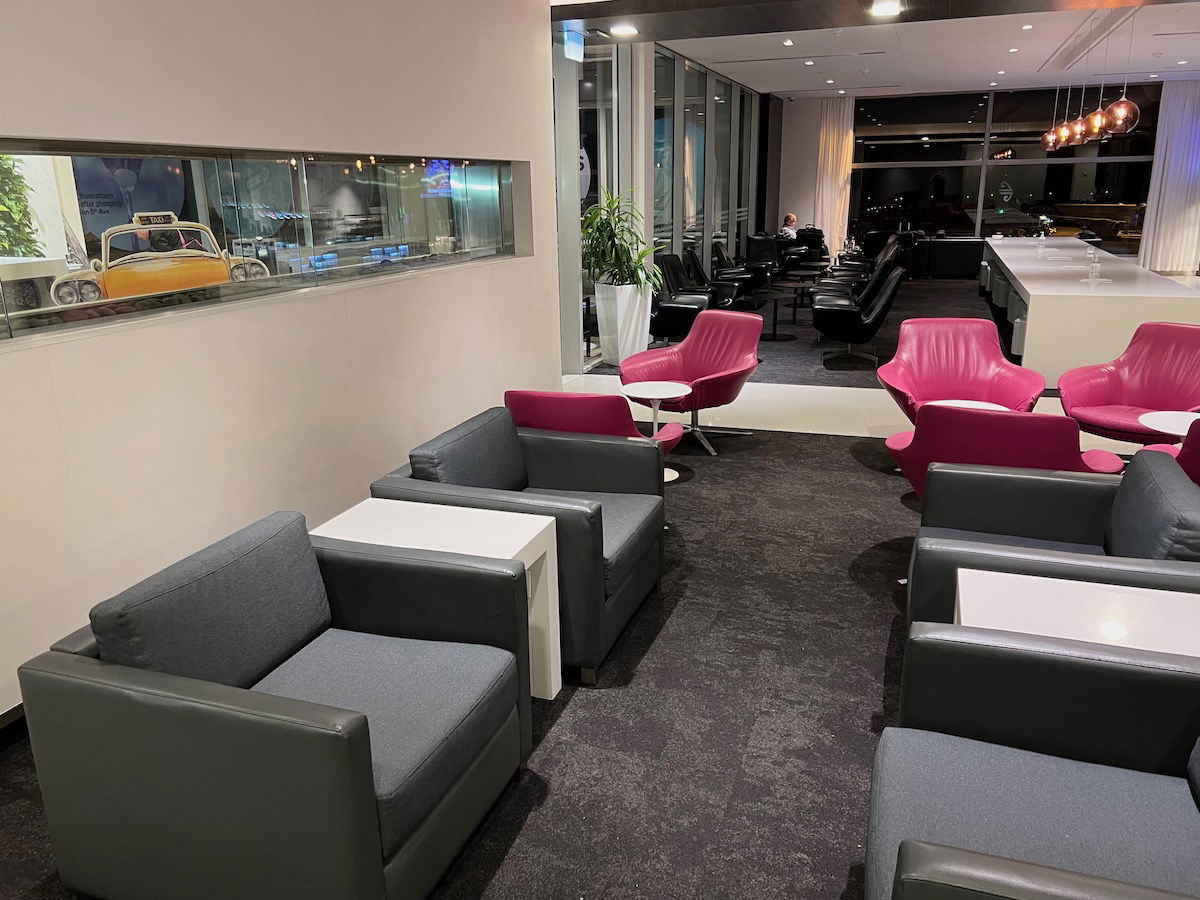 Toward the back of the lounge is a second self-serve bar with drinks, and more seating.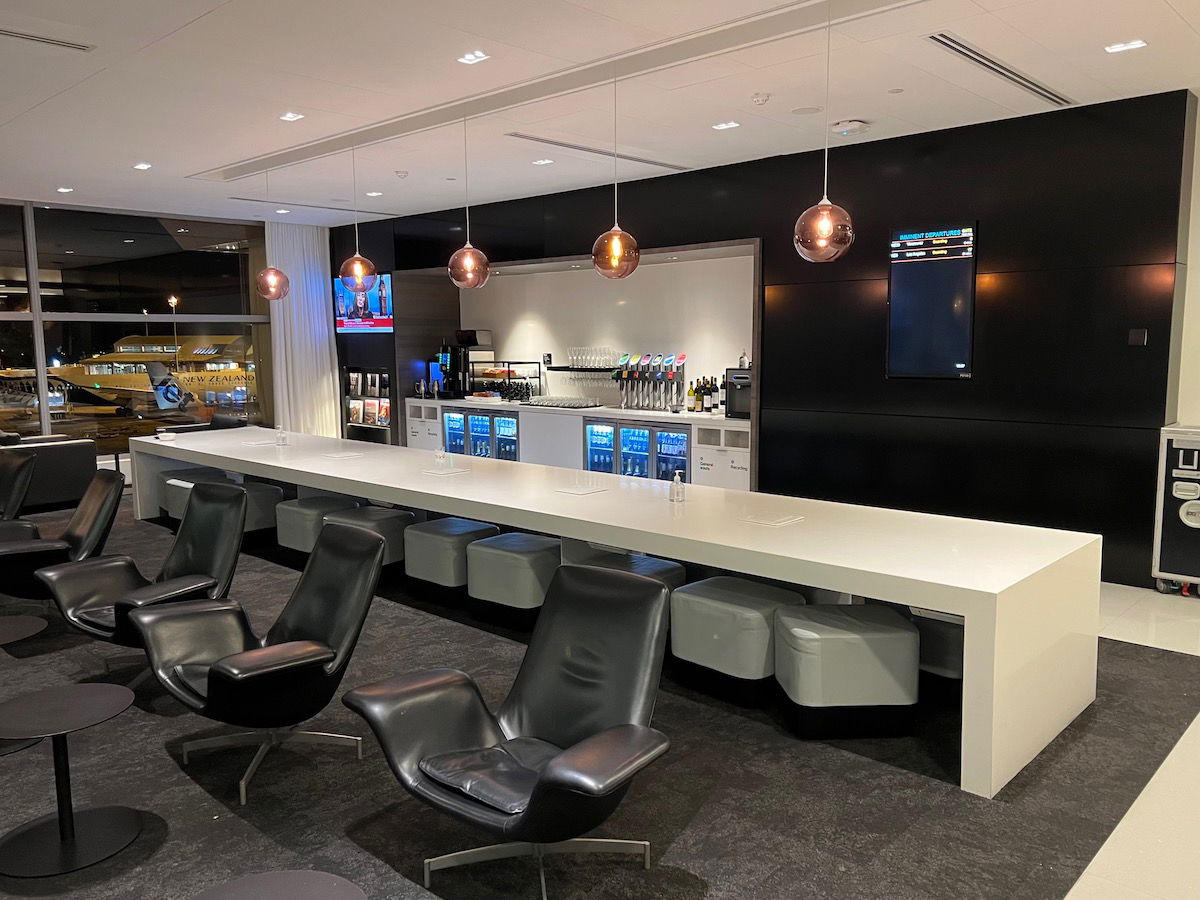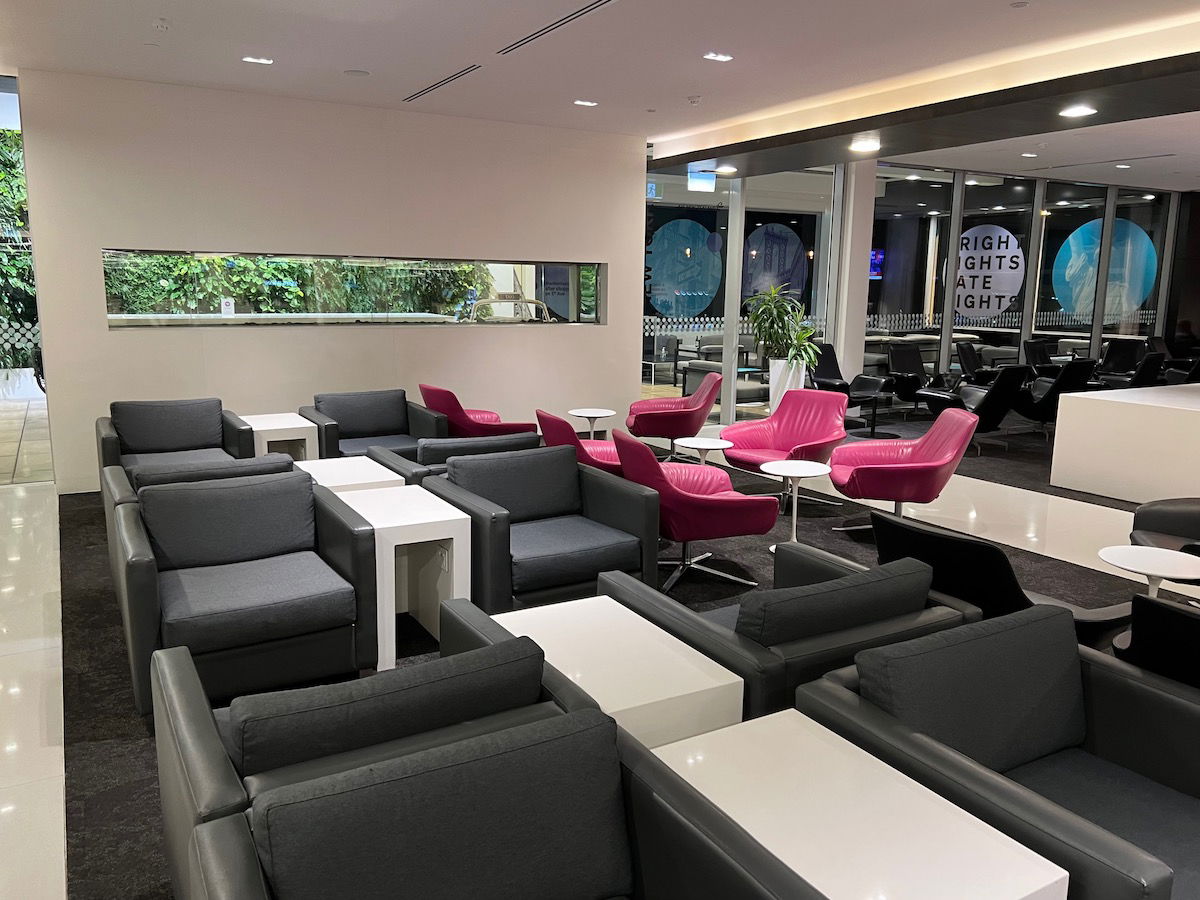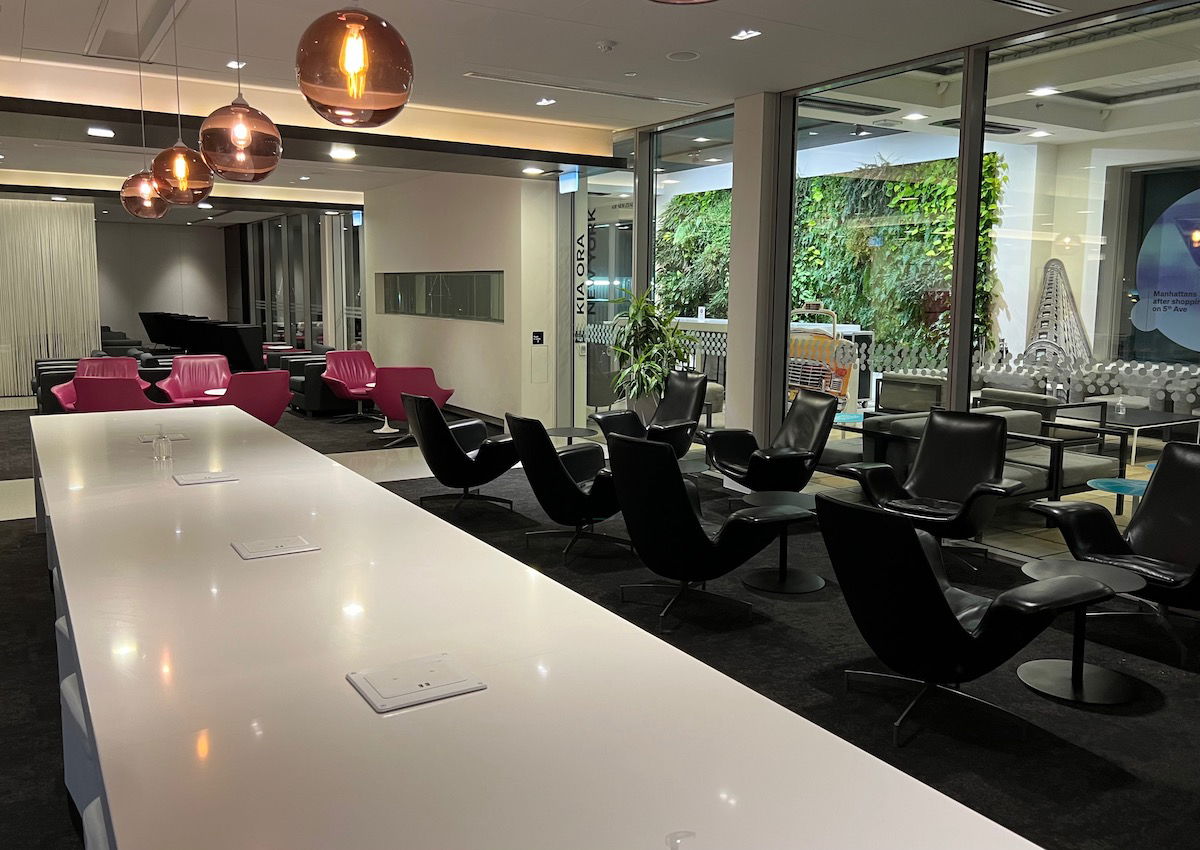 The lounge also has a terrace area. During my visit it was fully indoors and enclosed, though weather permitting it's my understanding that they open the roof. This space has great views.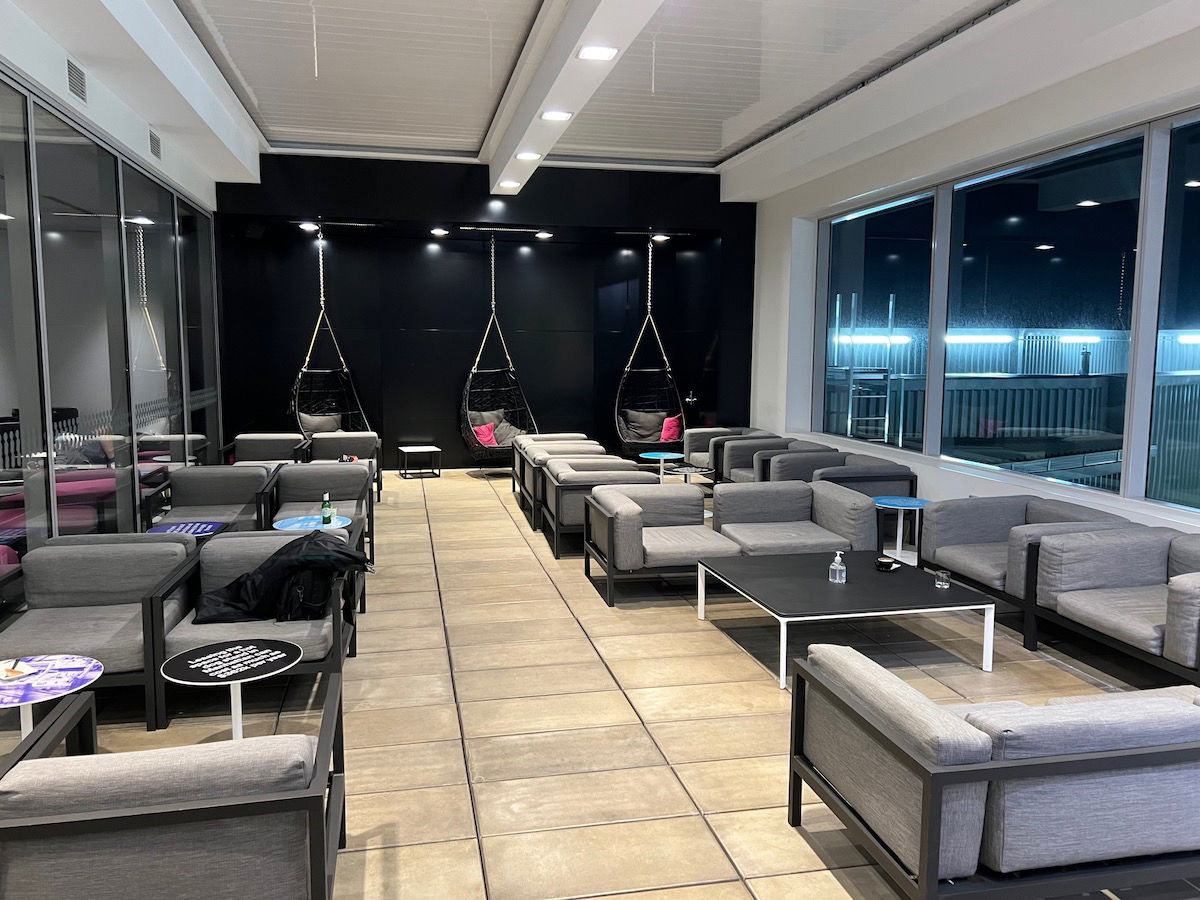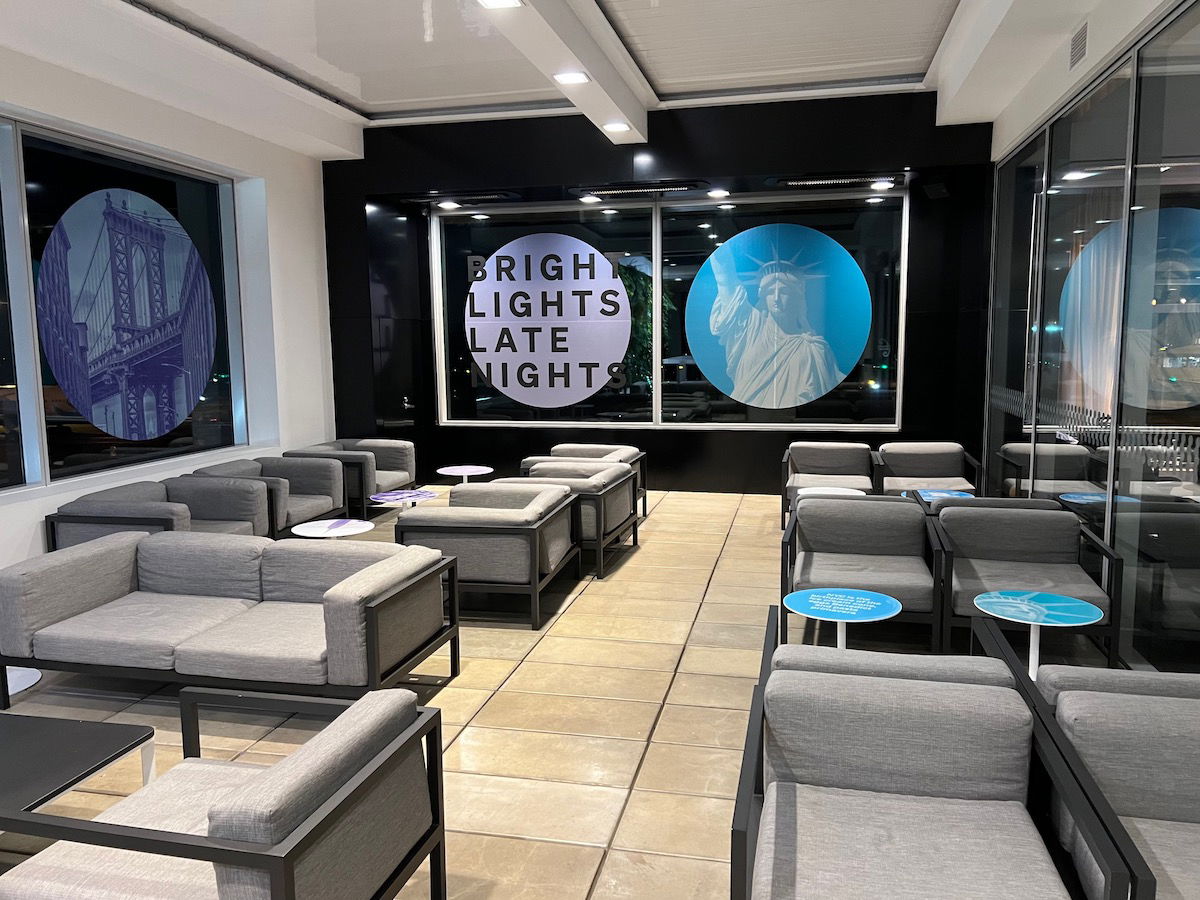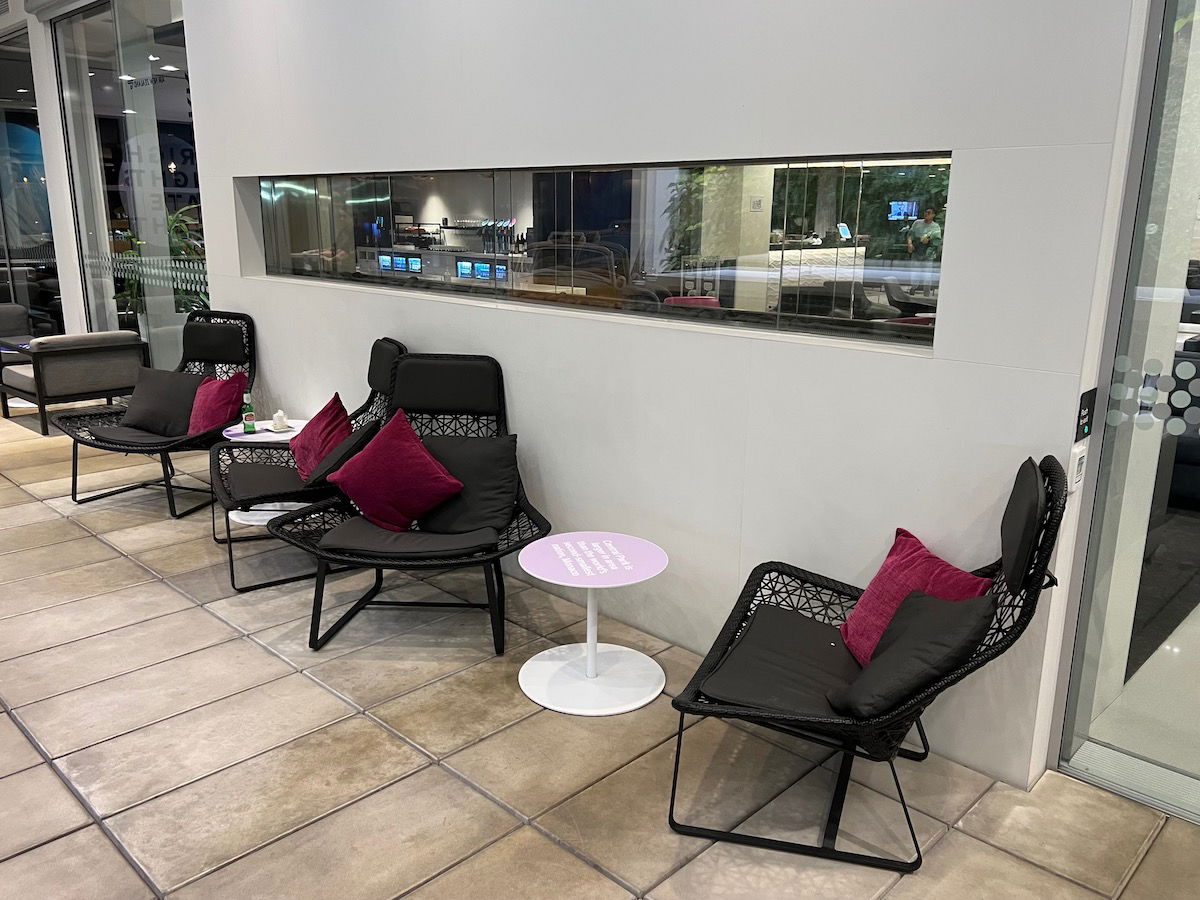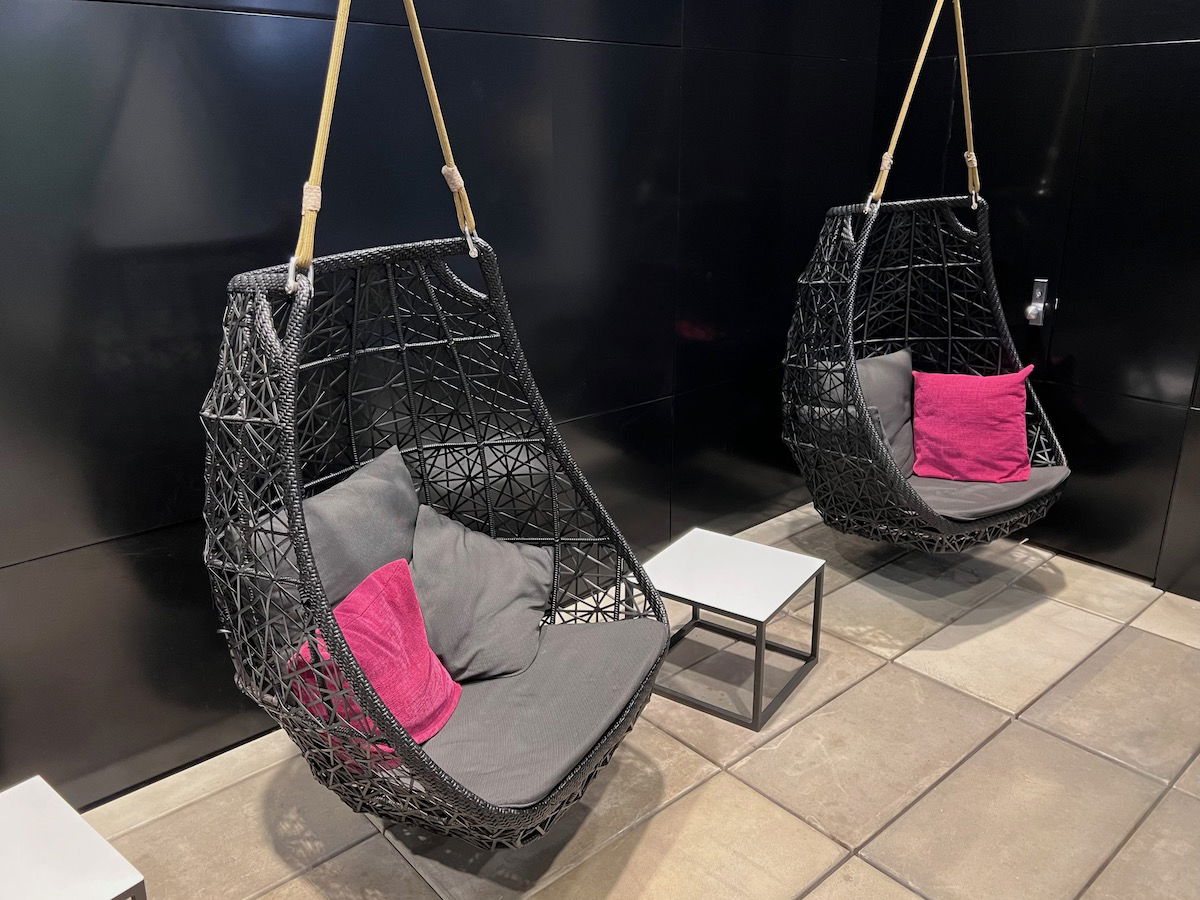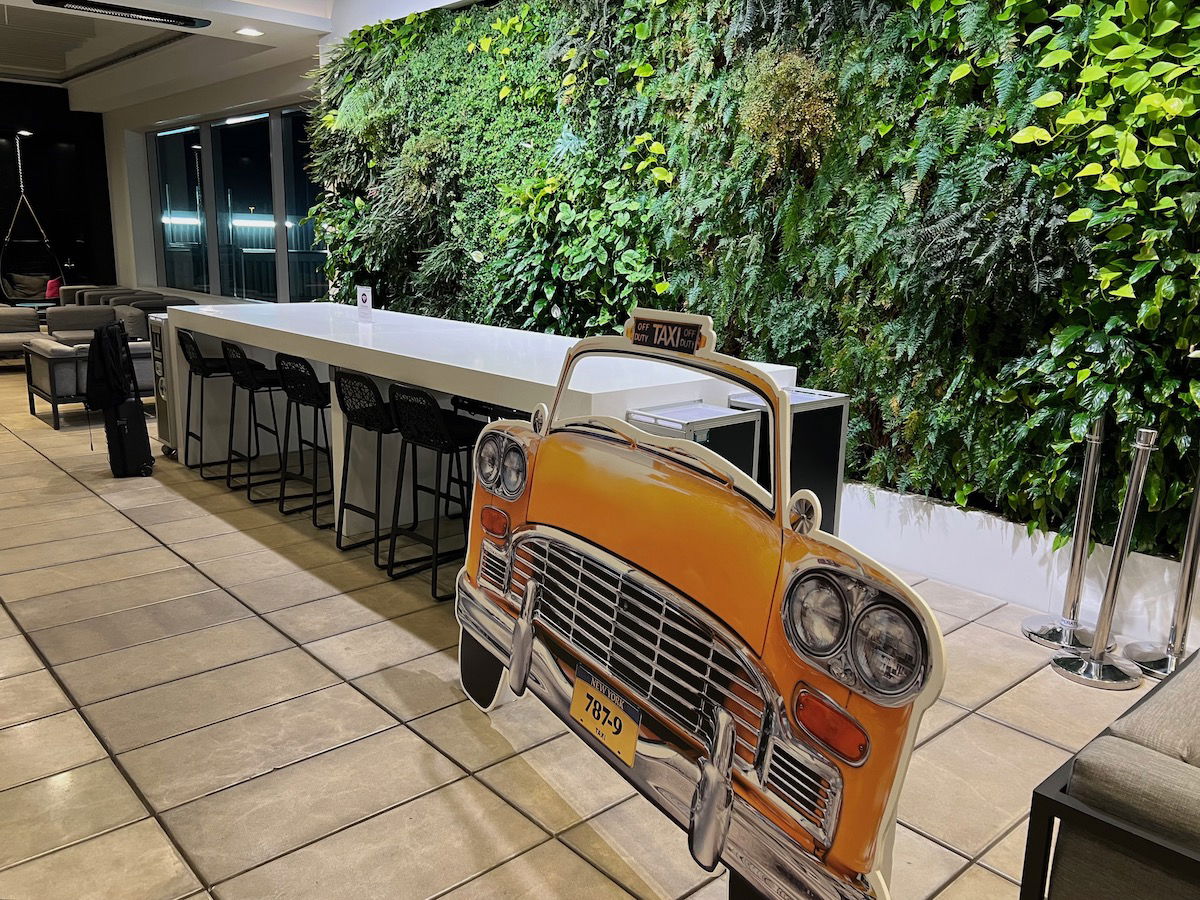 Back near the entrance to the lounge and in the other direction is a media room, with rows of seats facing a large wall-mounted TV, playing the news.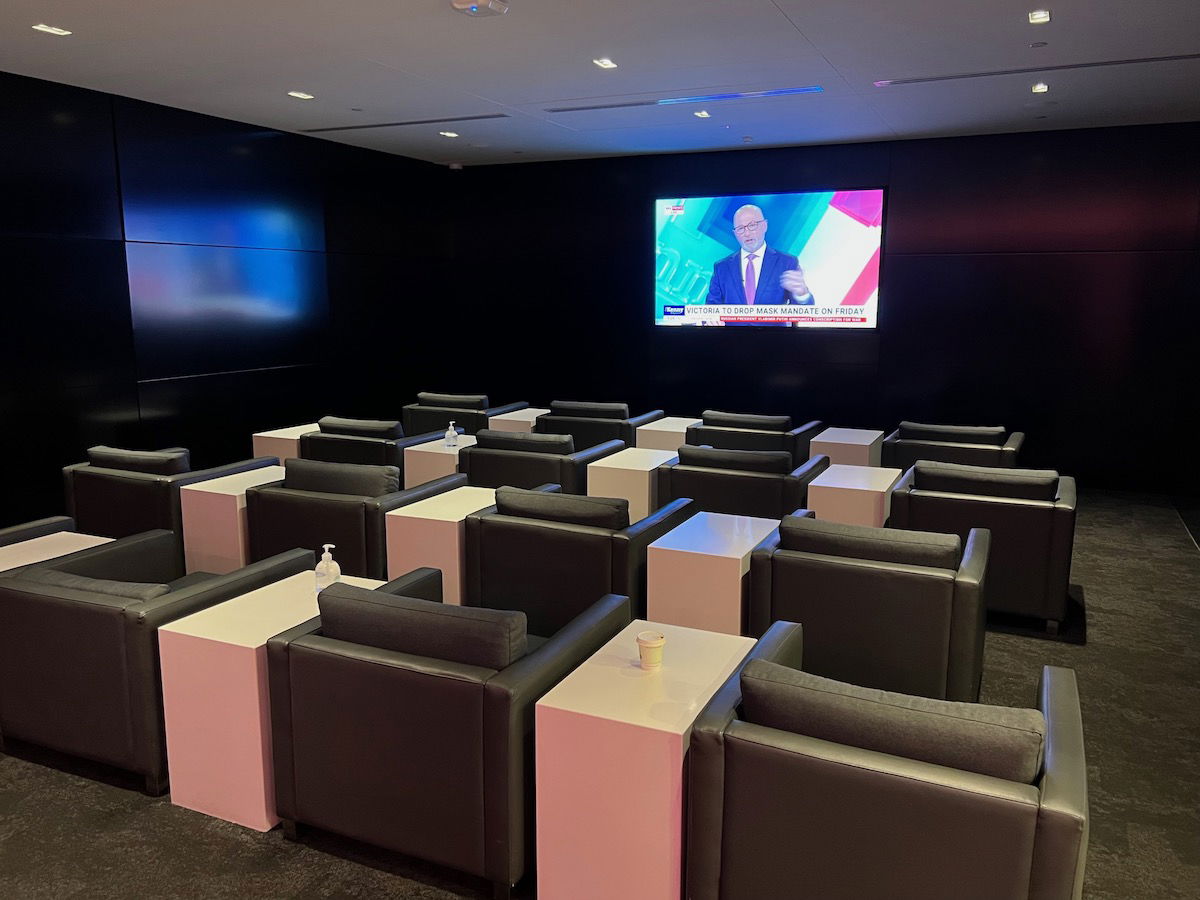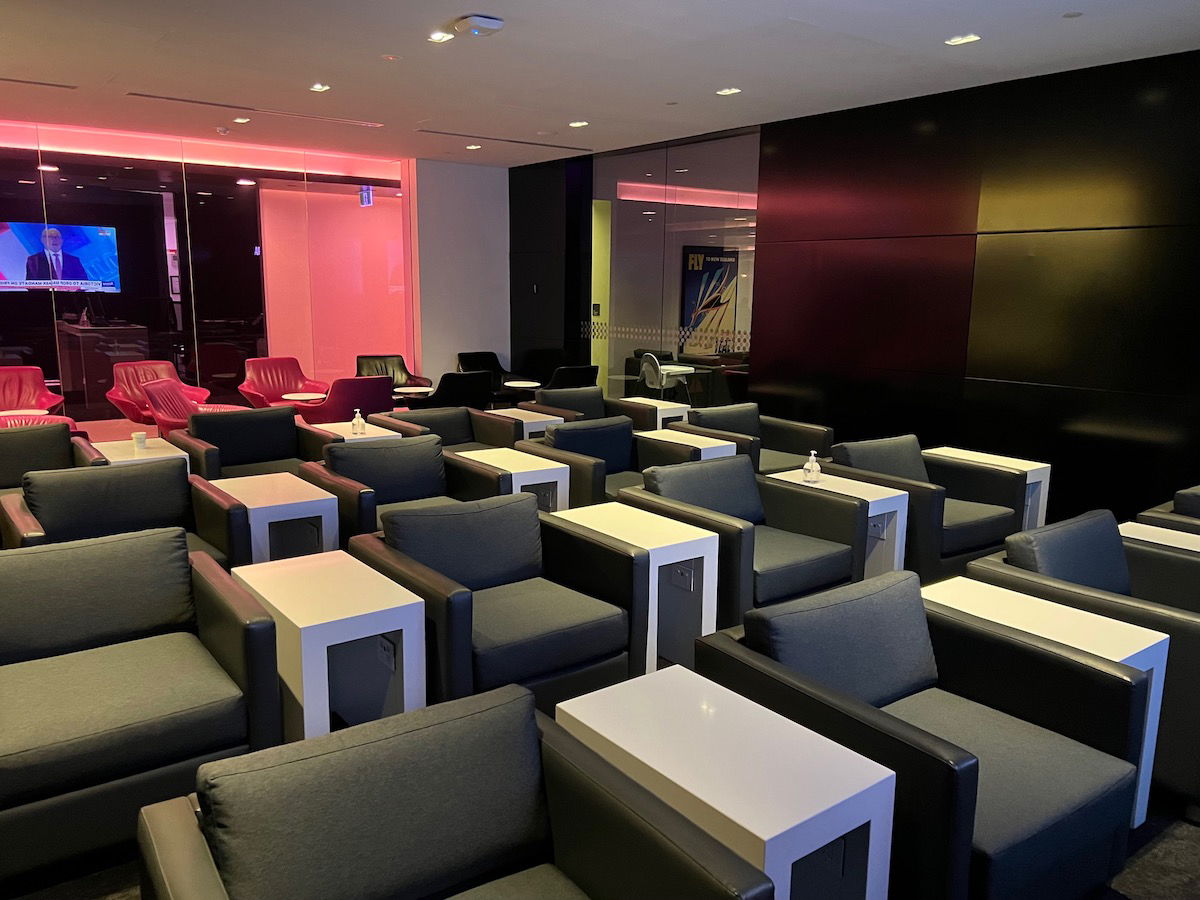 There's also a separate play room for kids, to minimize noise in other parts of the lounge.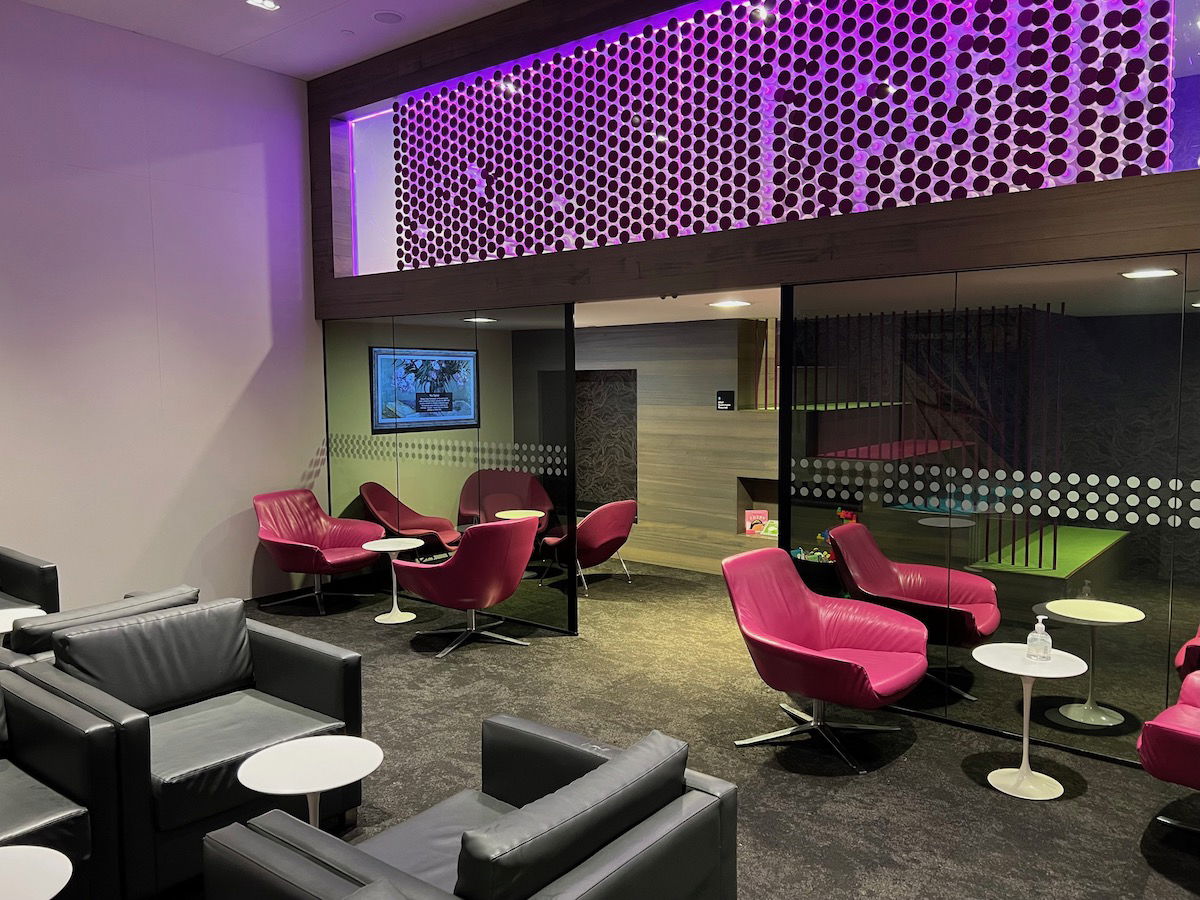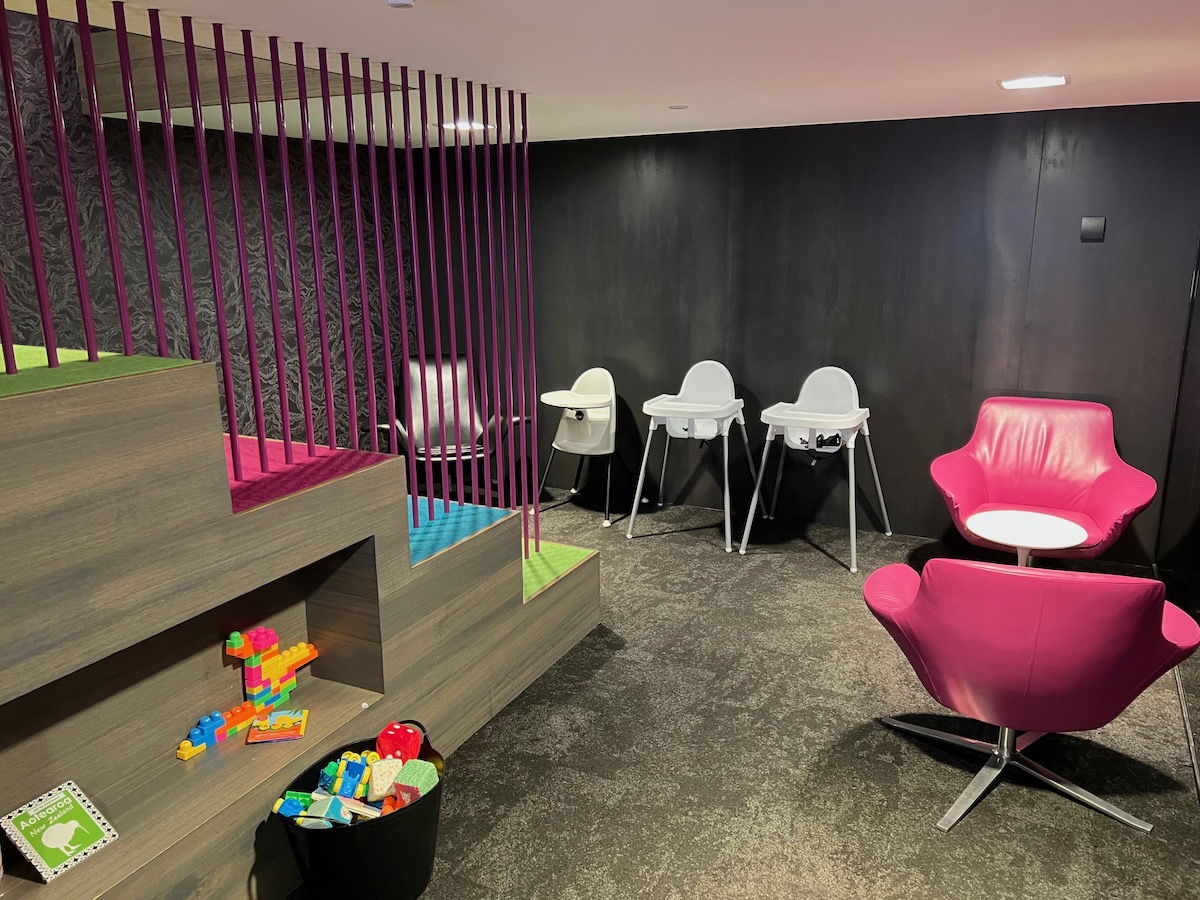 Air New Zealand Lounge Auckland food & drinks
The Air New Zealand Lounge Auckland has a large, single buffet that guests can help themselves to. I was impressed by the selection.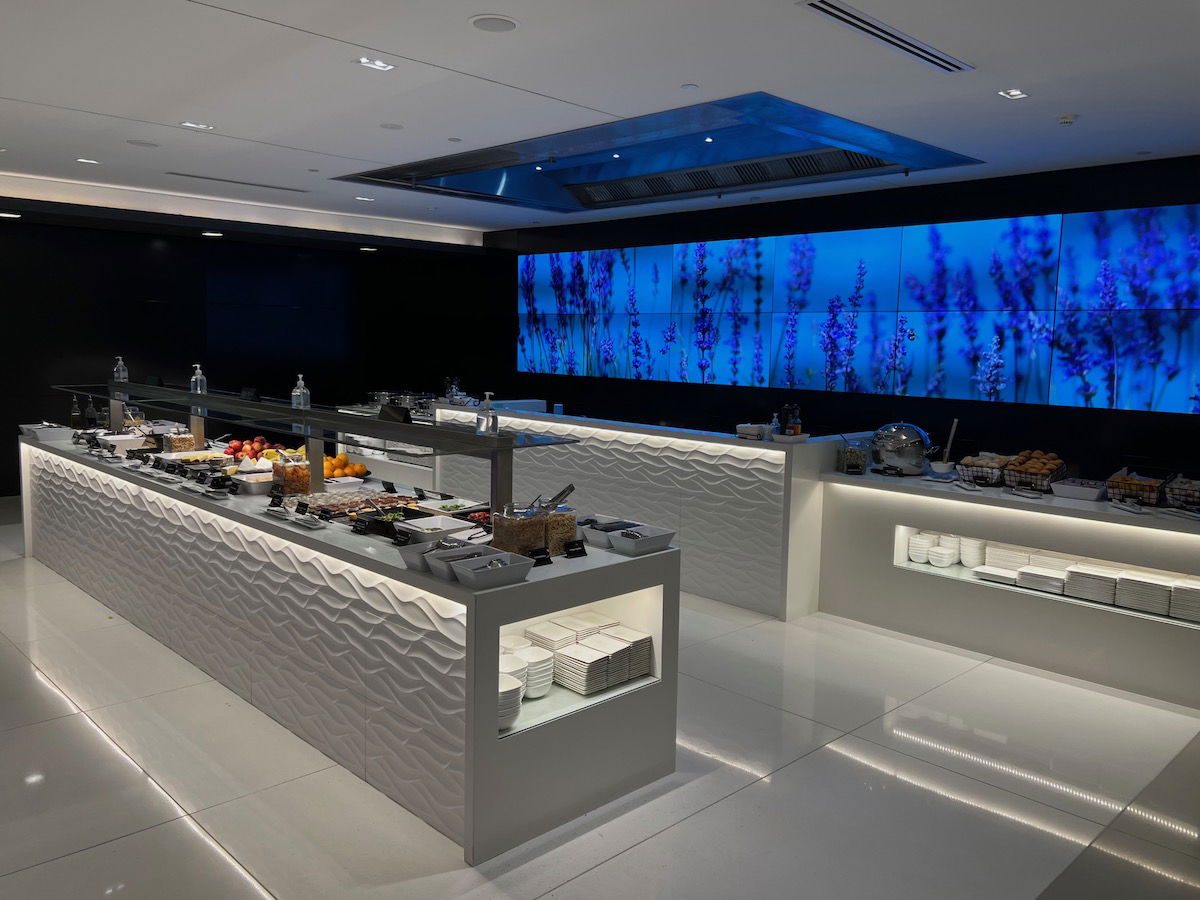 Cold options included several sweets (mango and chia pudding, cacao and coconut bars, and blueberry tarts), several types of salad (quinoa salad, potato and green pea salad, and more), a selection of cheese and crackers, whole fruit, and a variety of finger sandwiches.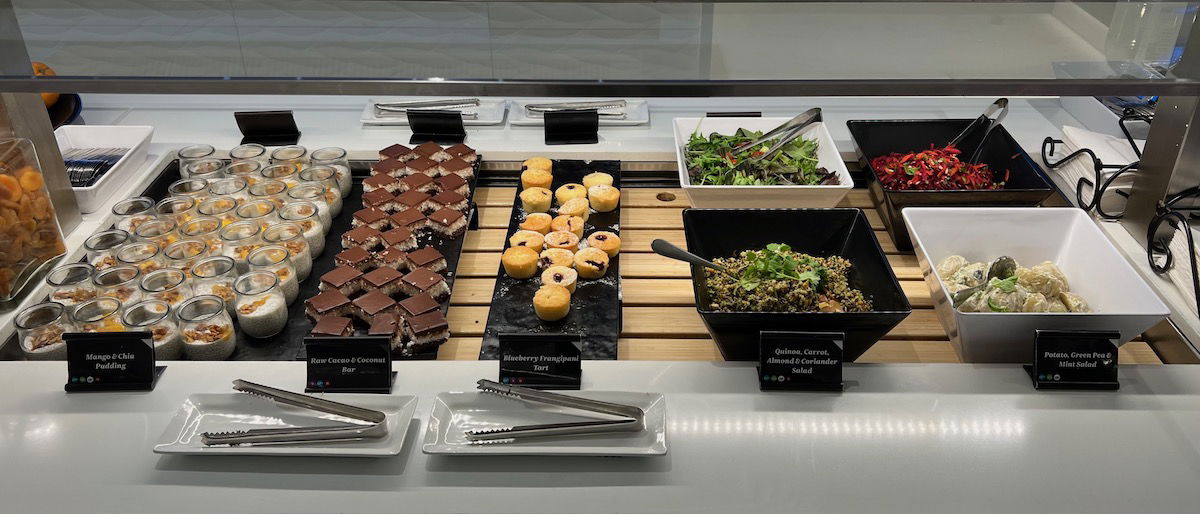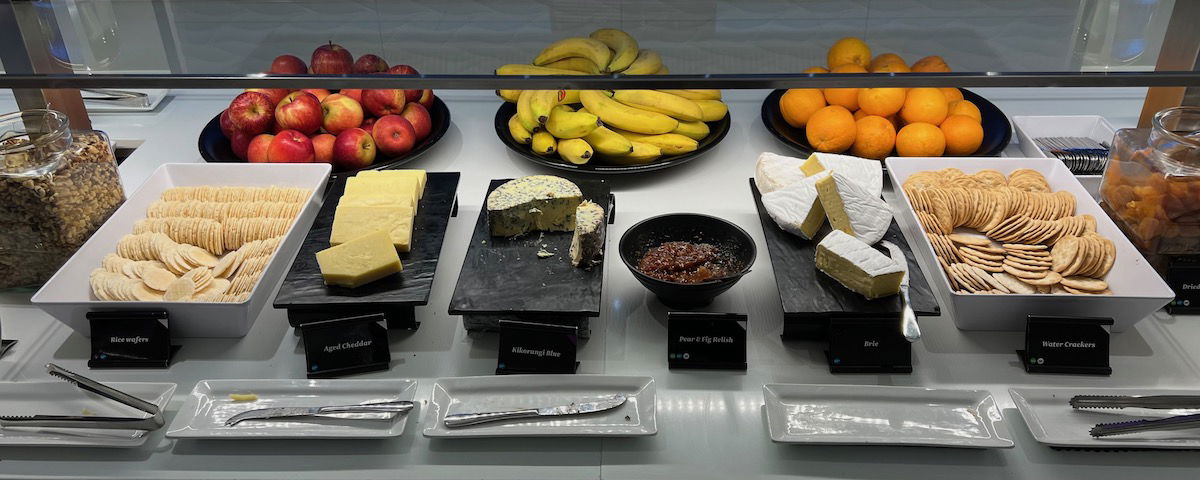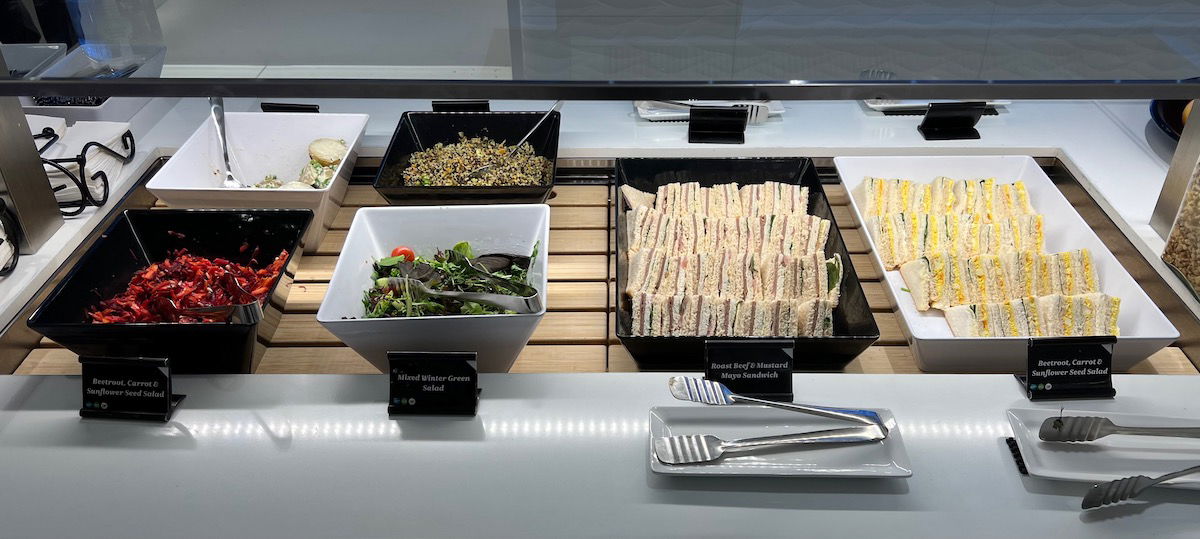 Hot options included a pumpkin and tahini soup, sautéed greens with garlic and onion, quinoa and bean mole, braised pork and cannellini beans, and apricot and almond rice.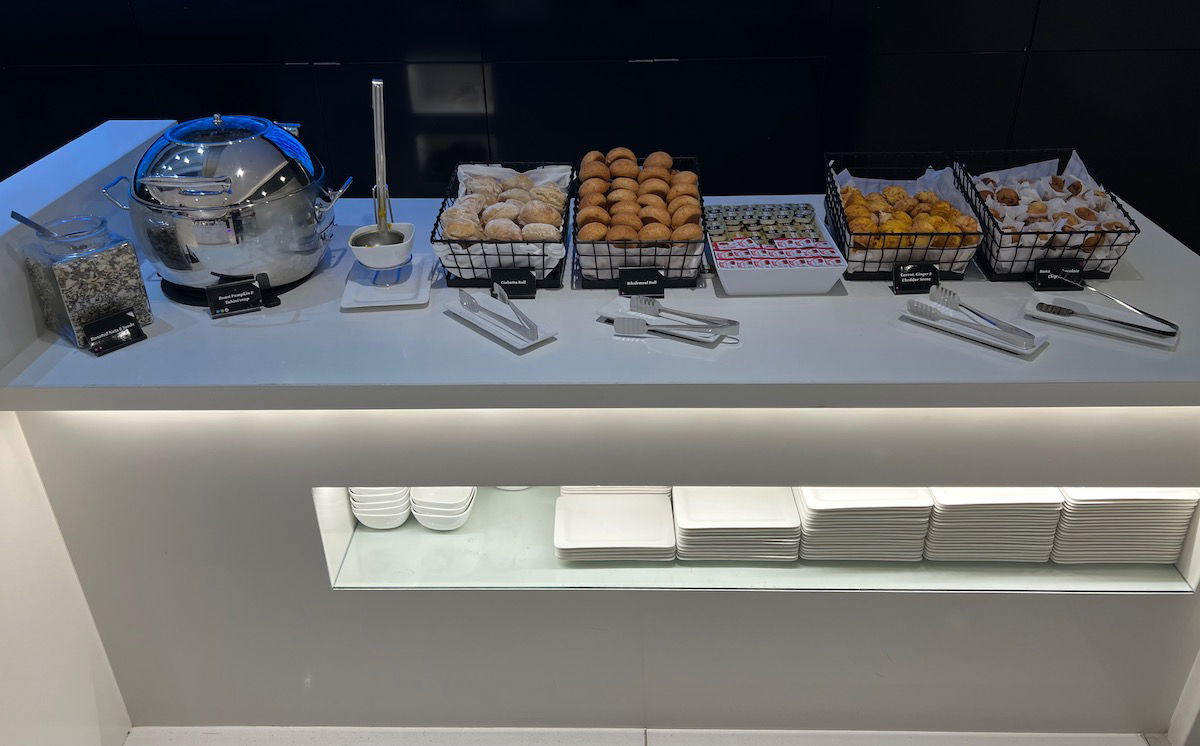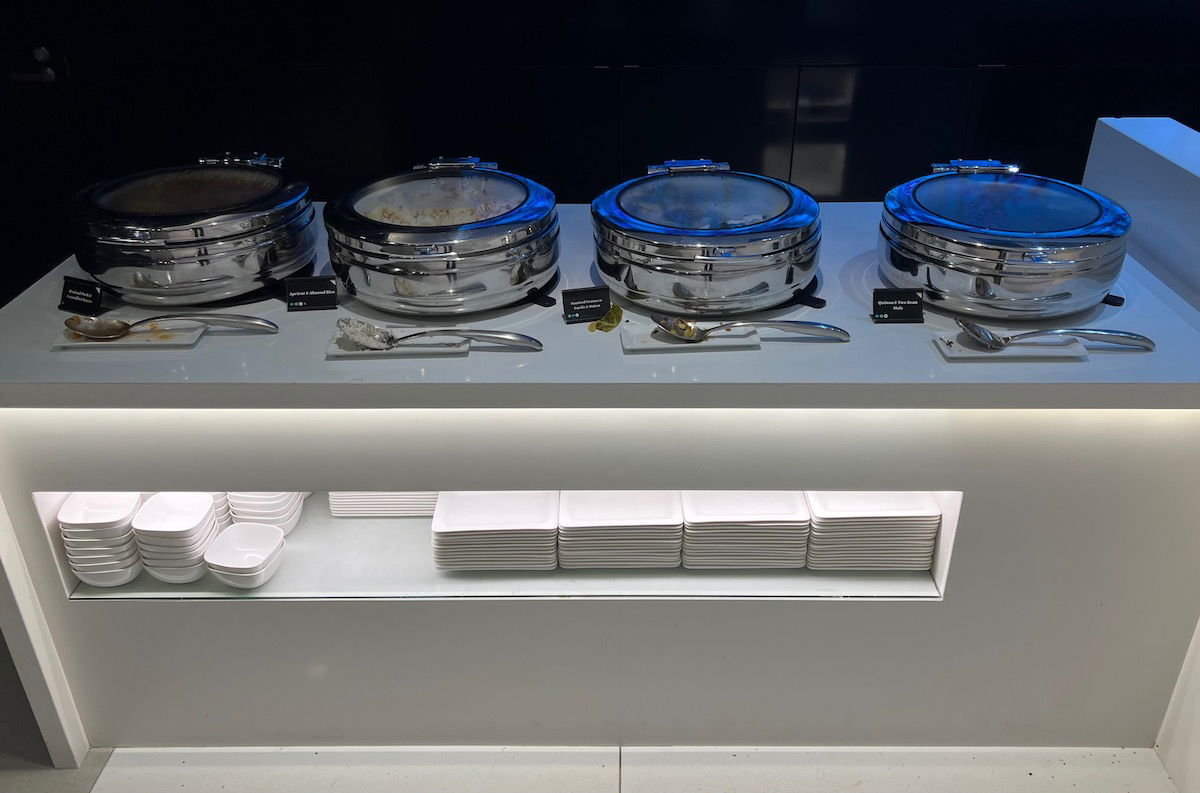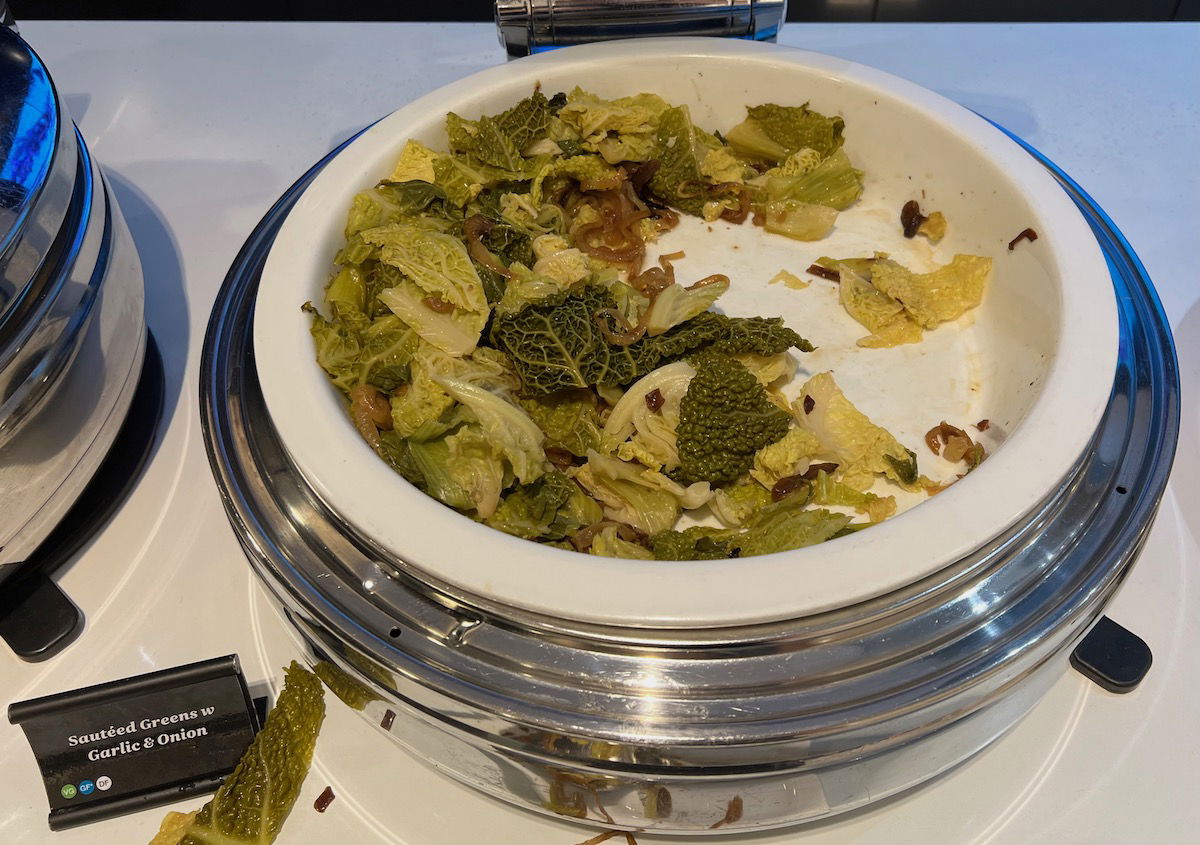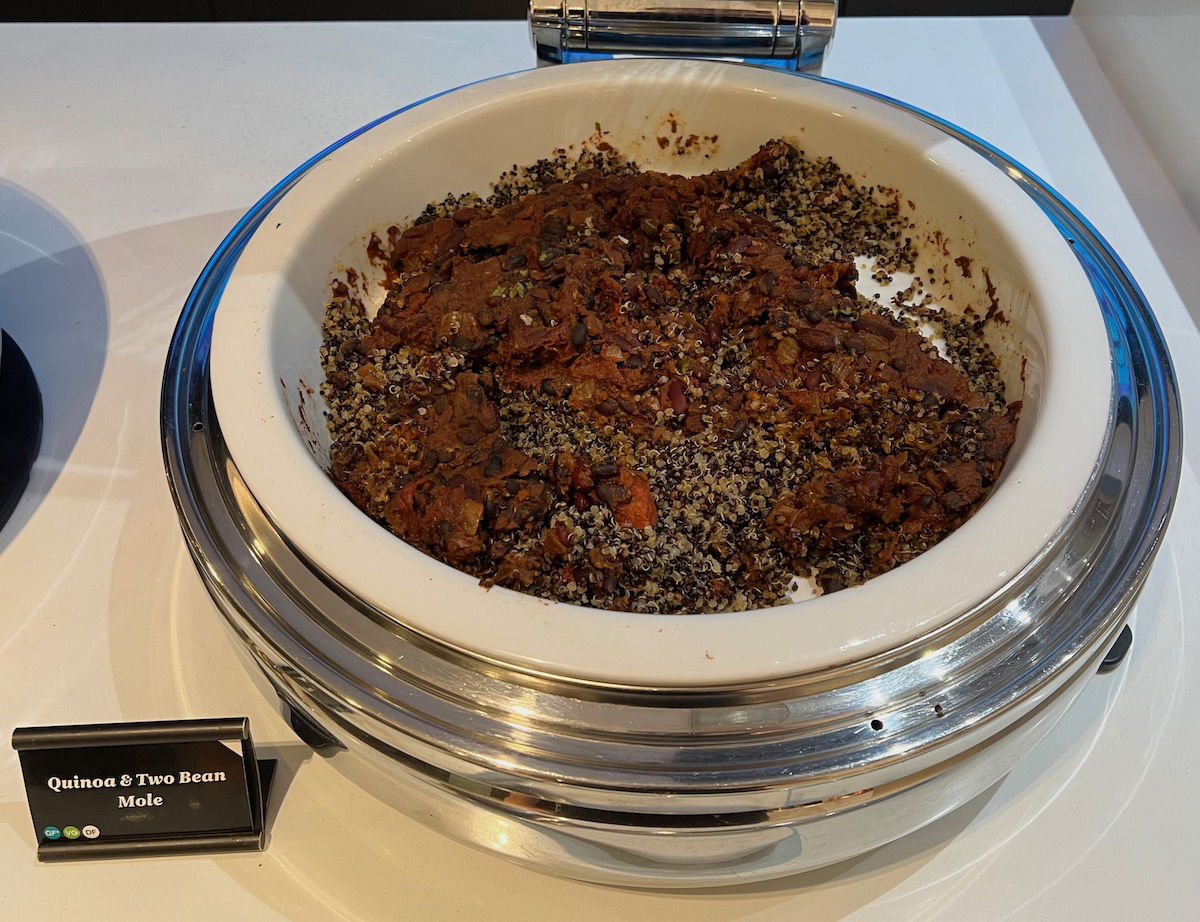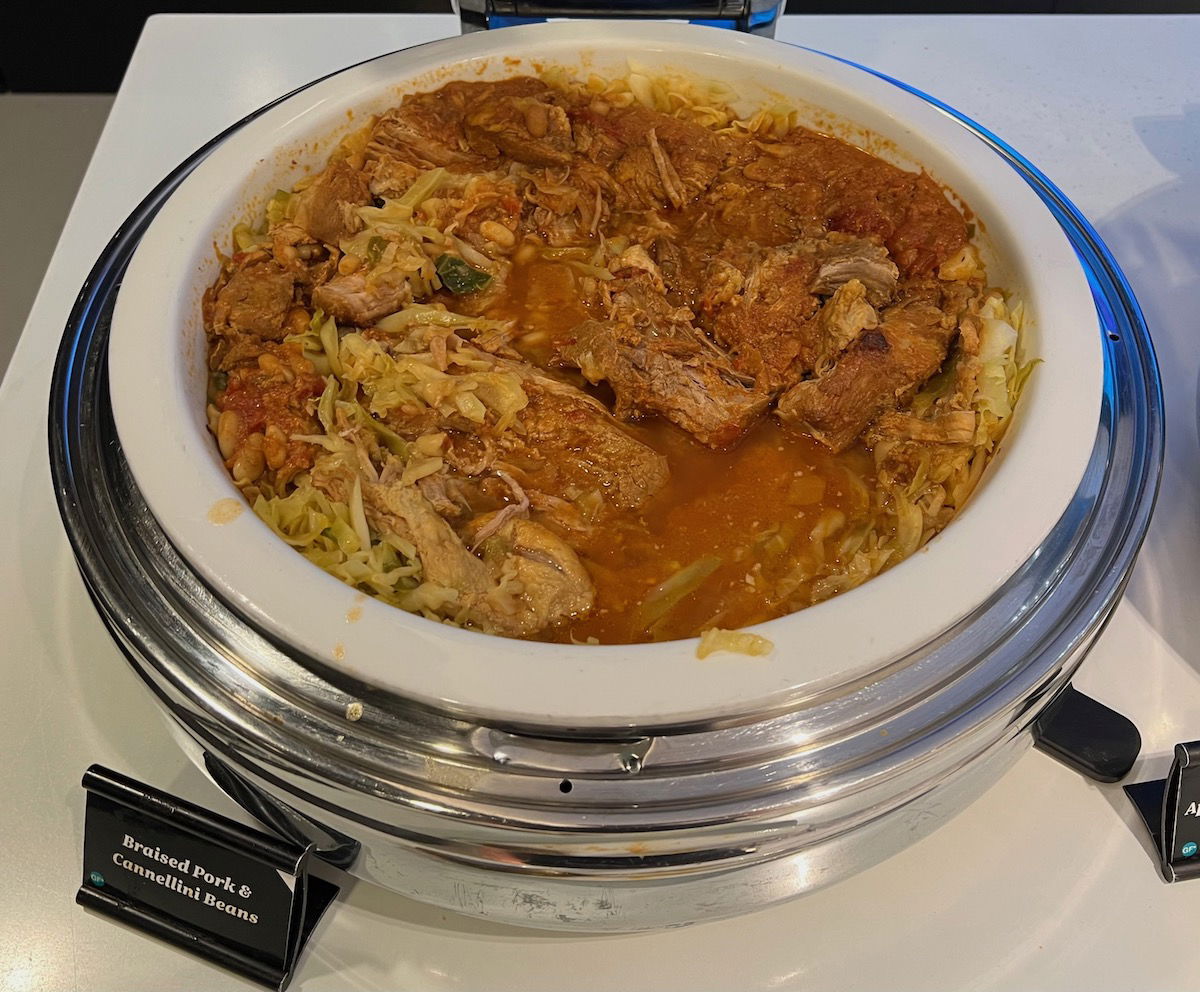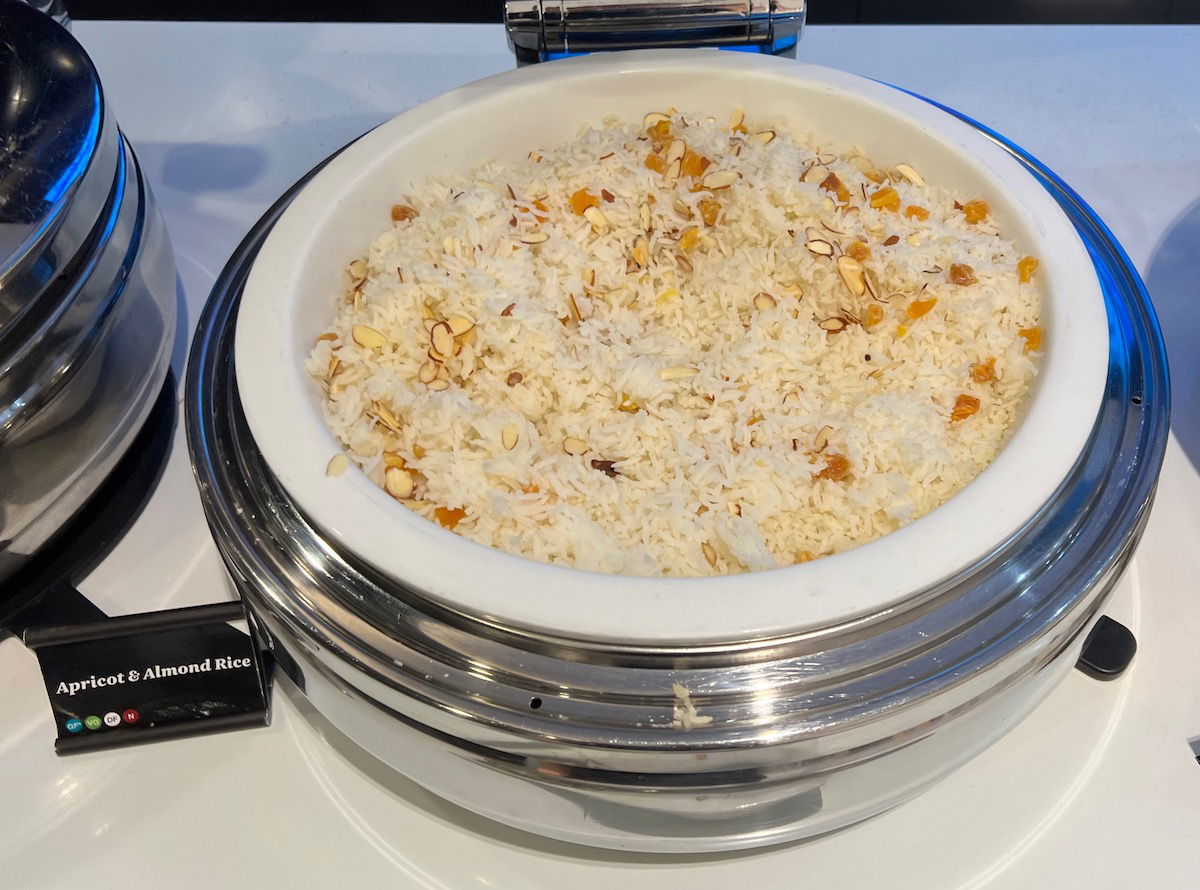 There was also a selection of self-serve drinks, including a coffee machine, tea, wine, beer, soda, water, and juice.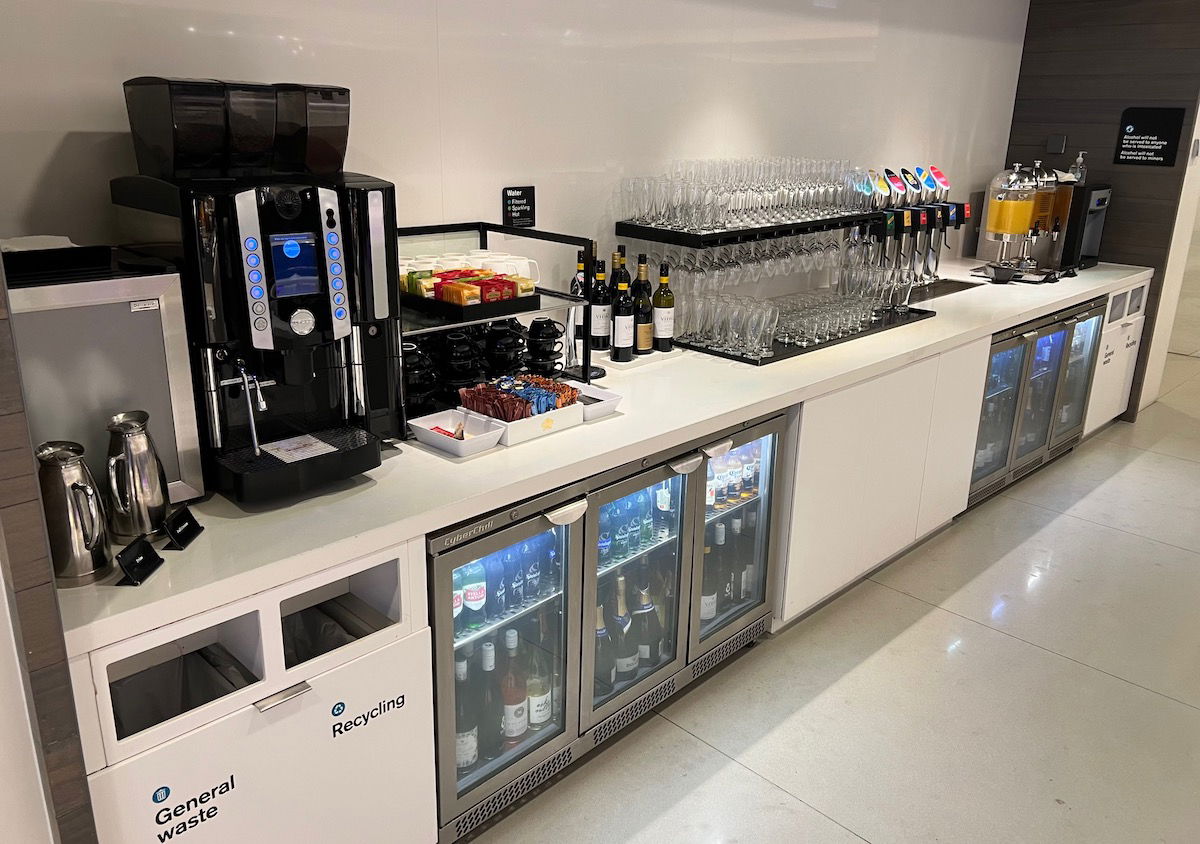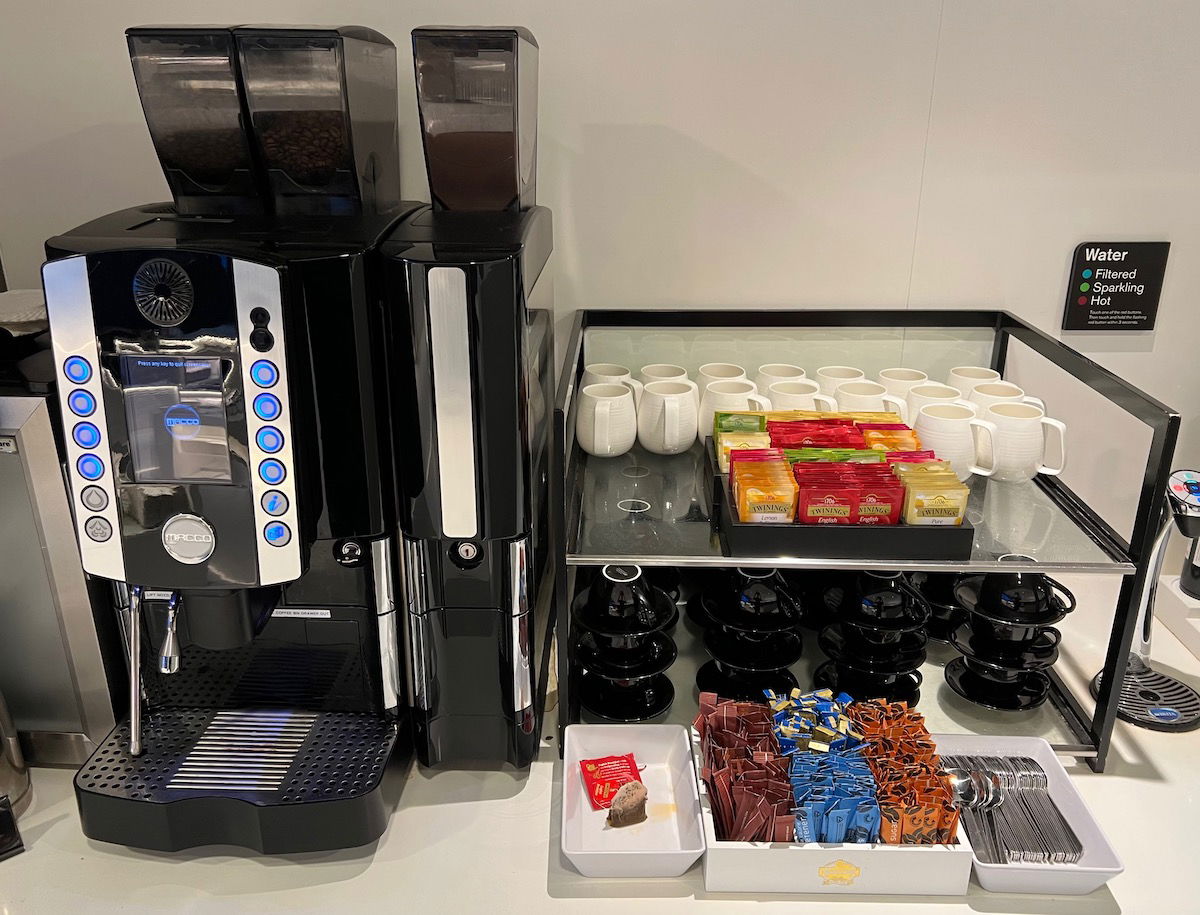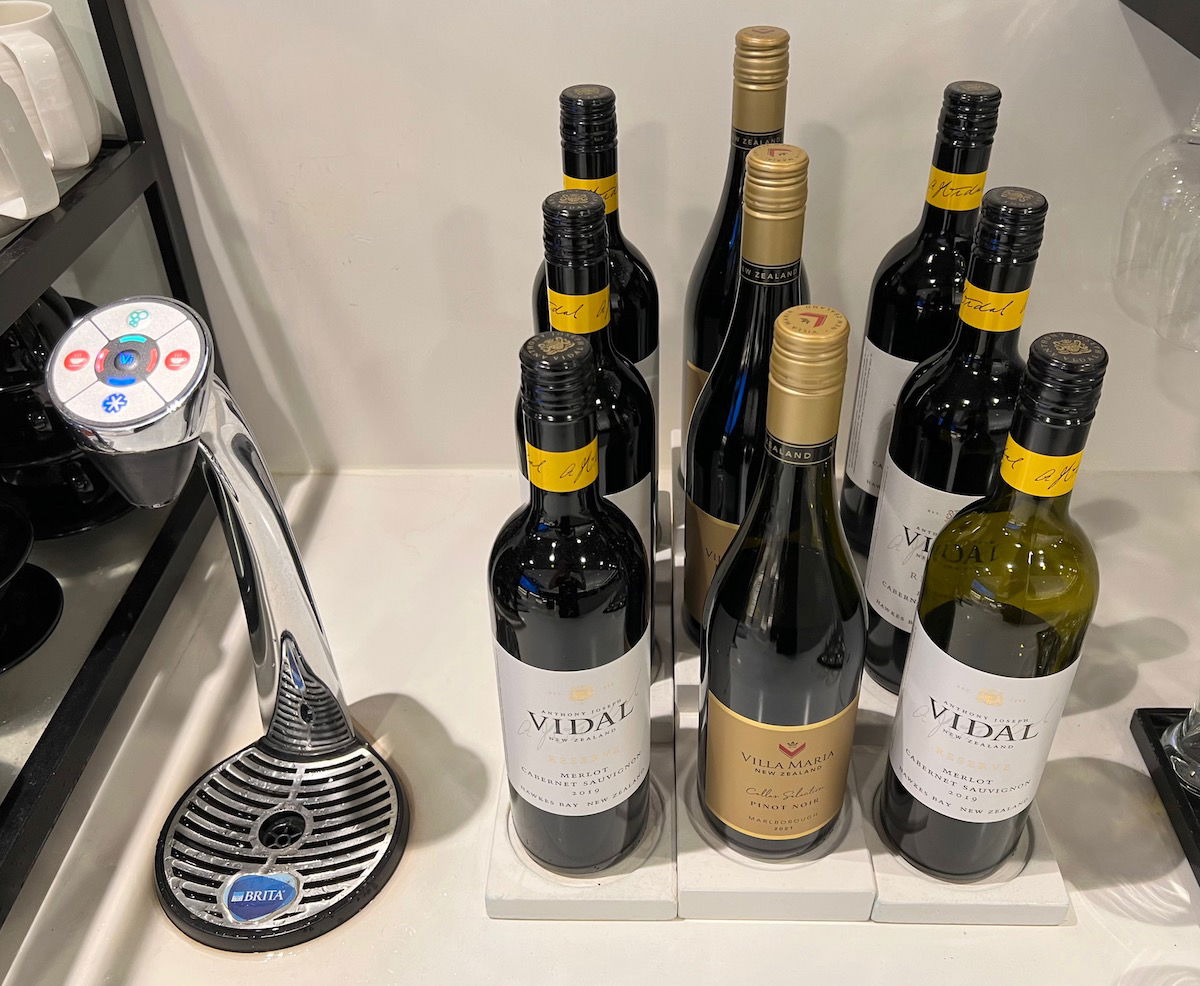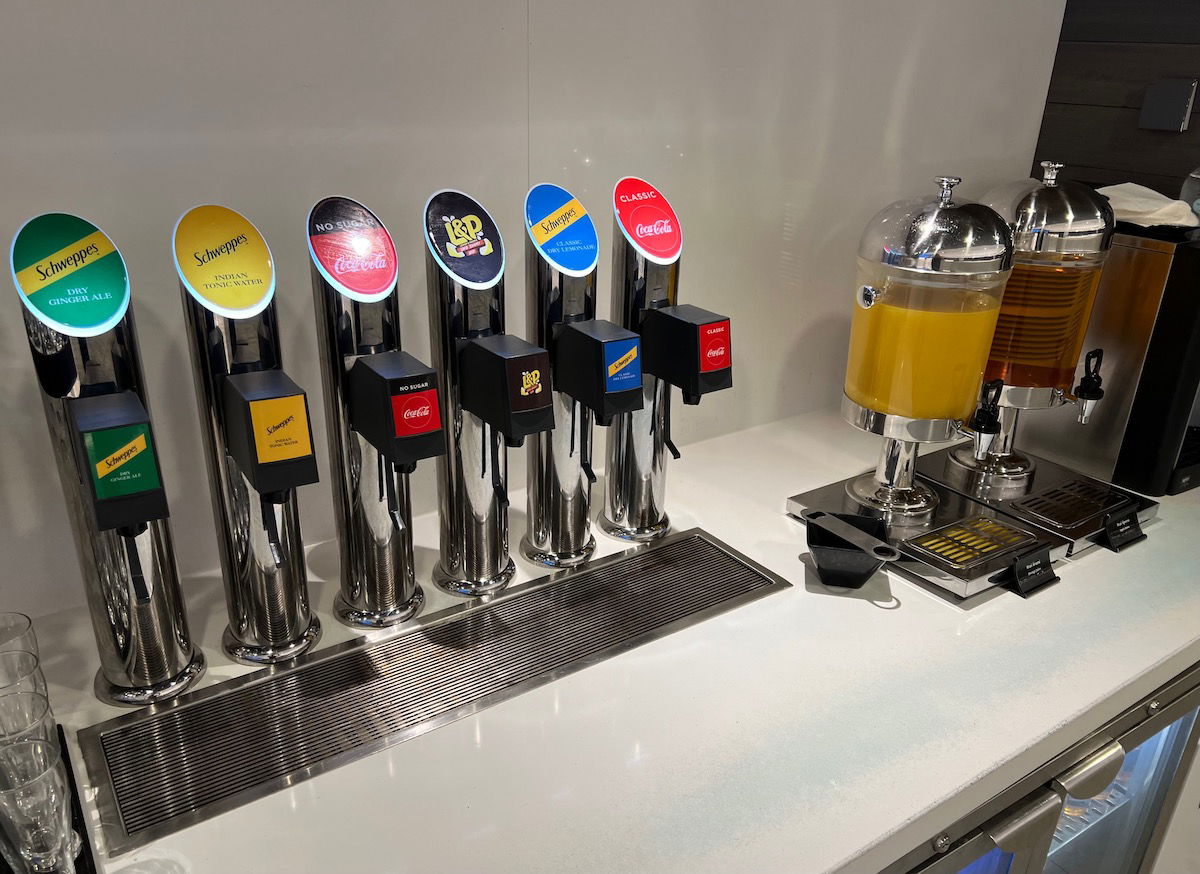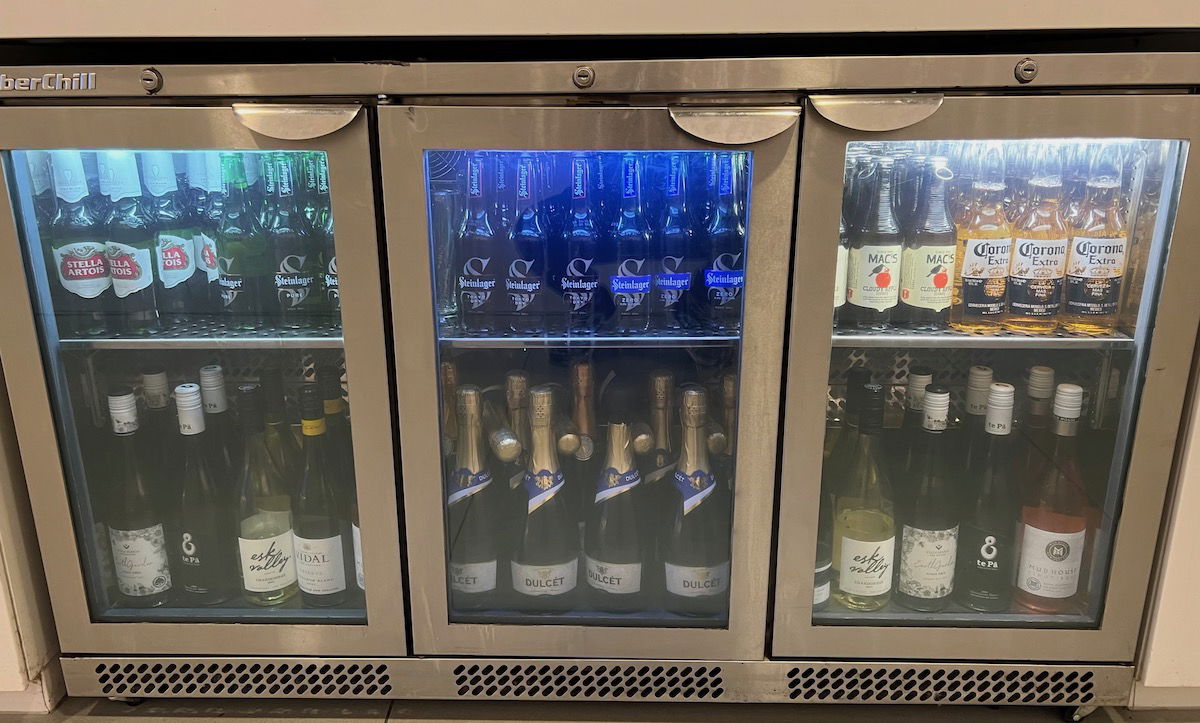 The lounge also has a bar area, featuring cocktails.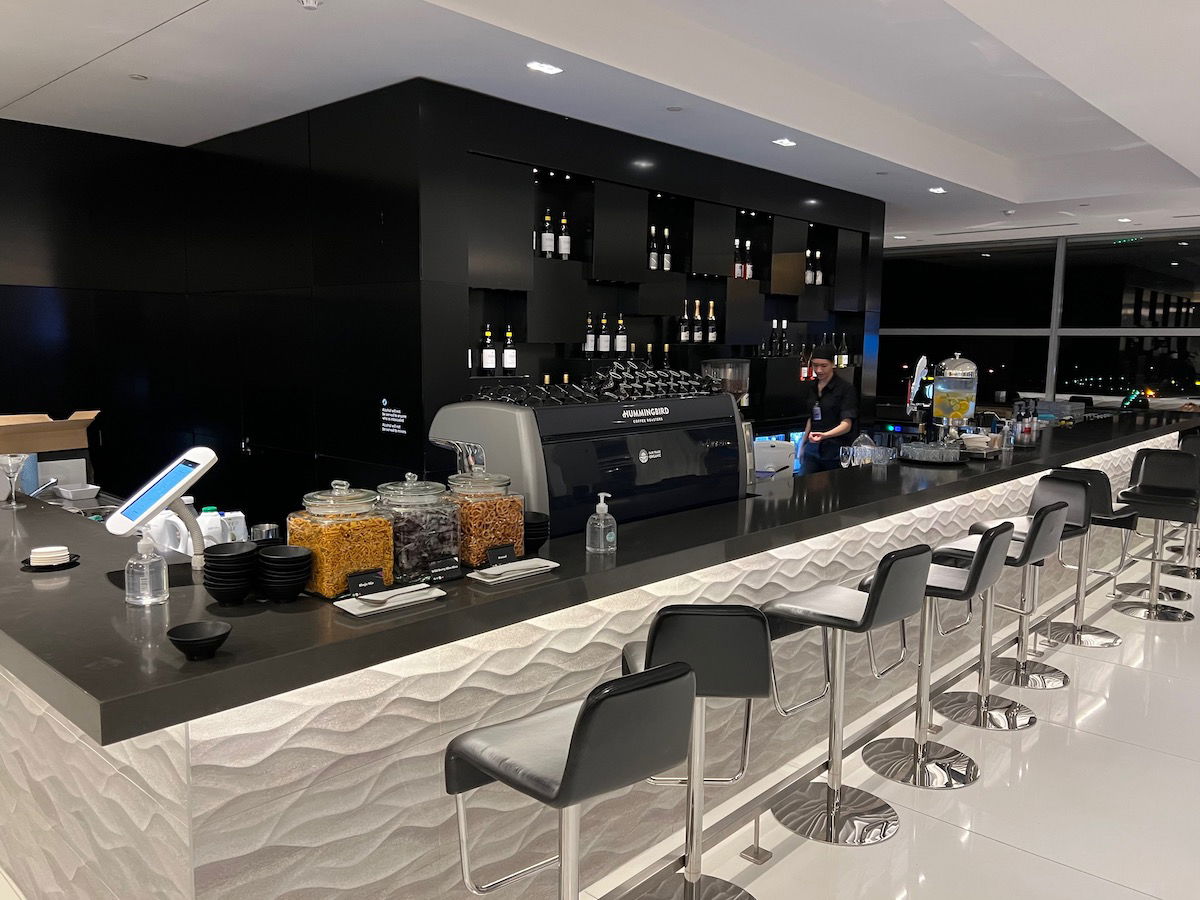 The bar has a few types of snacks, including pretzels, snack mix, cookies, marshmallows, and more.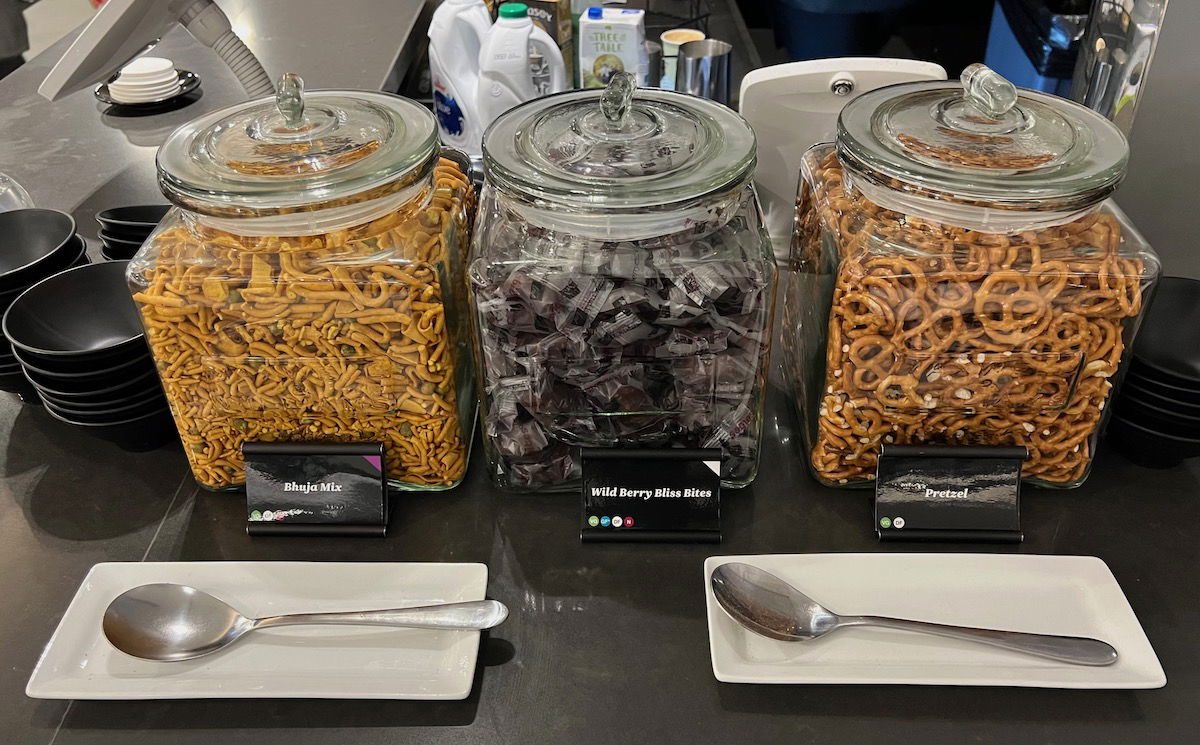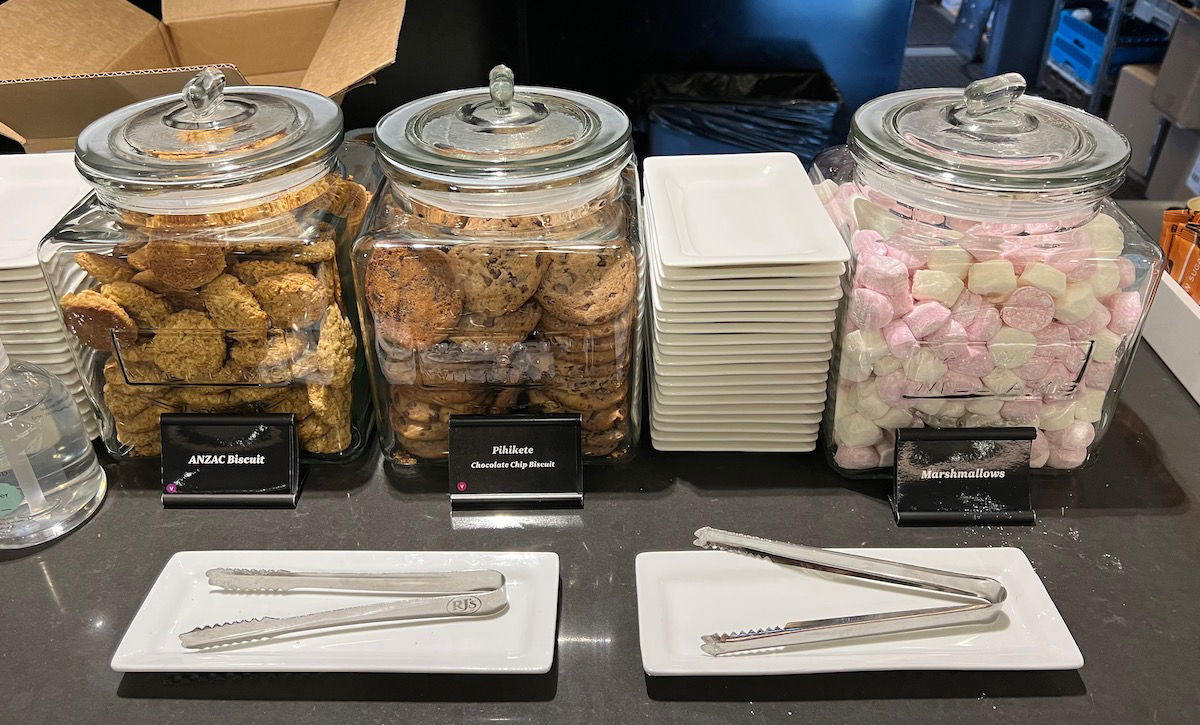 And then there's the best feature of the bar (and the lounge, for that matter, if you ask me) — barista-made coffee! I love how Air New Zealand's lounges have tablets on which you can order coffee per your preferences.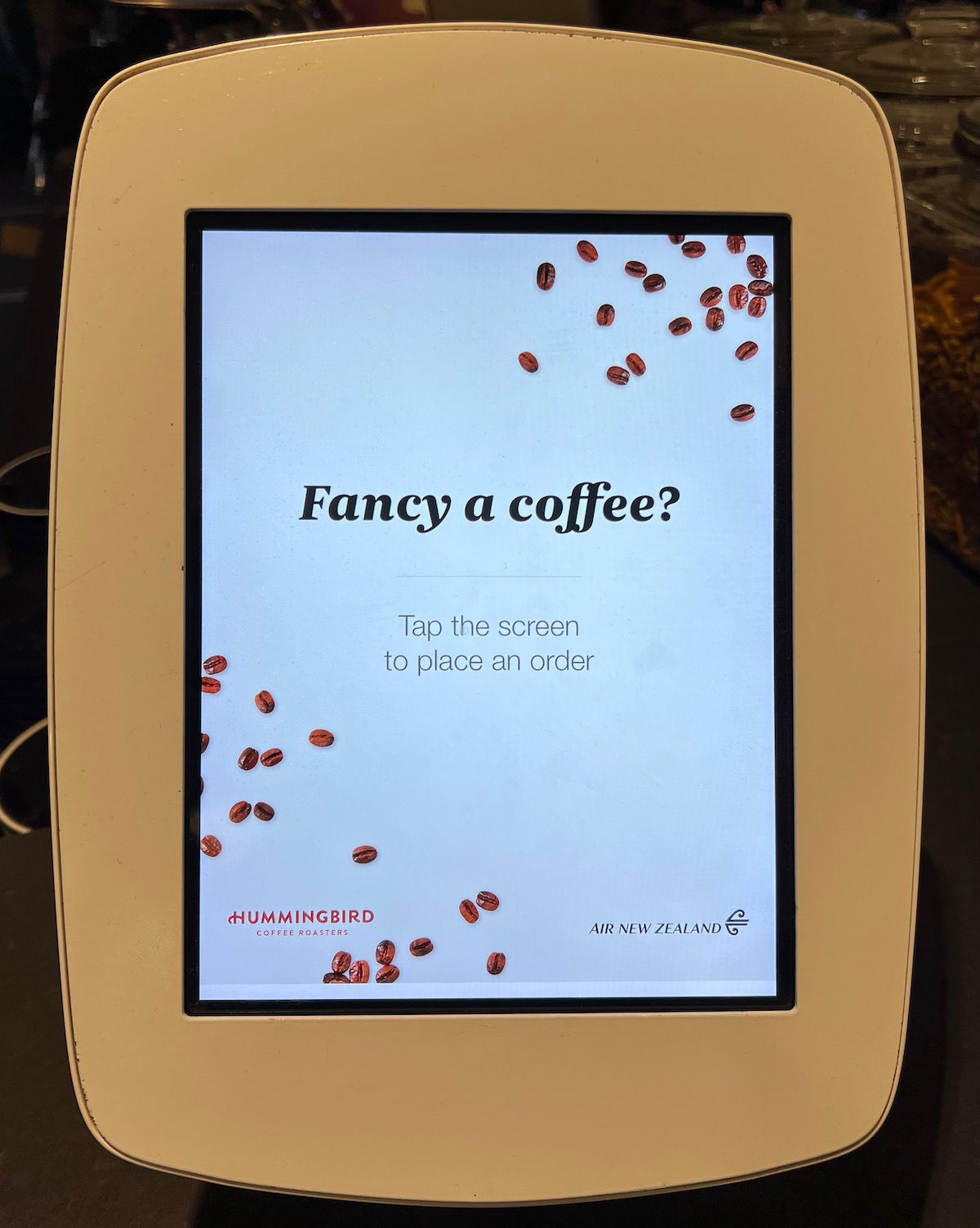 You can choose if you want the coffee in a mug or in a to-go cup.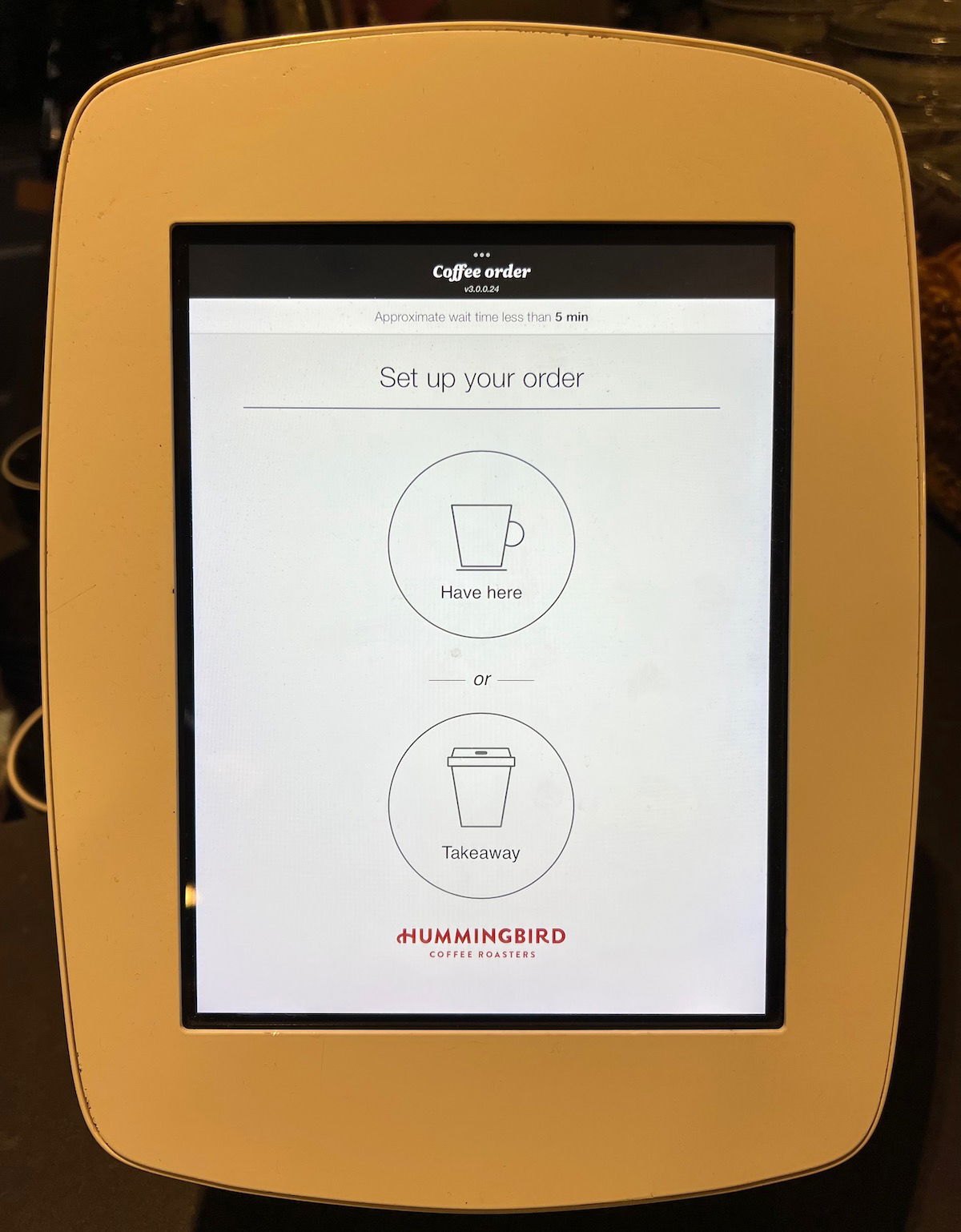 You can select what kind of drink you want (flat white, cappuccino, latte, etc.), your preferred kind of milk, and how many shots of espresso you want.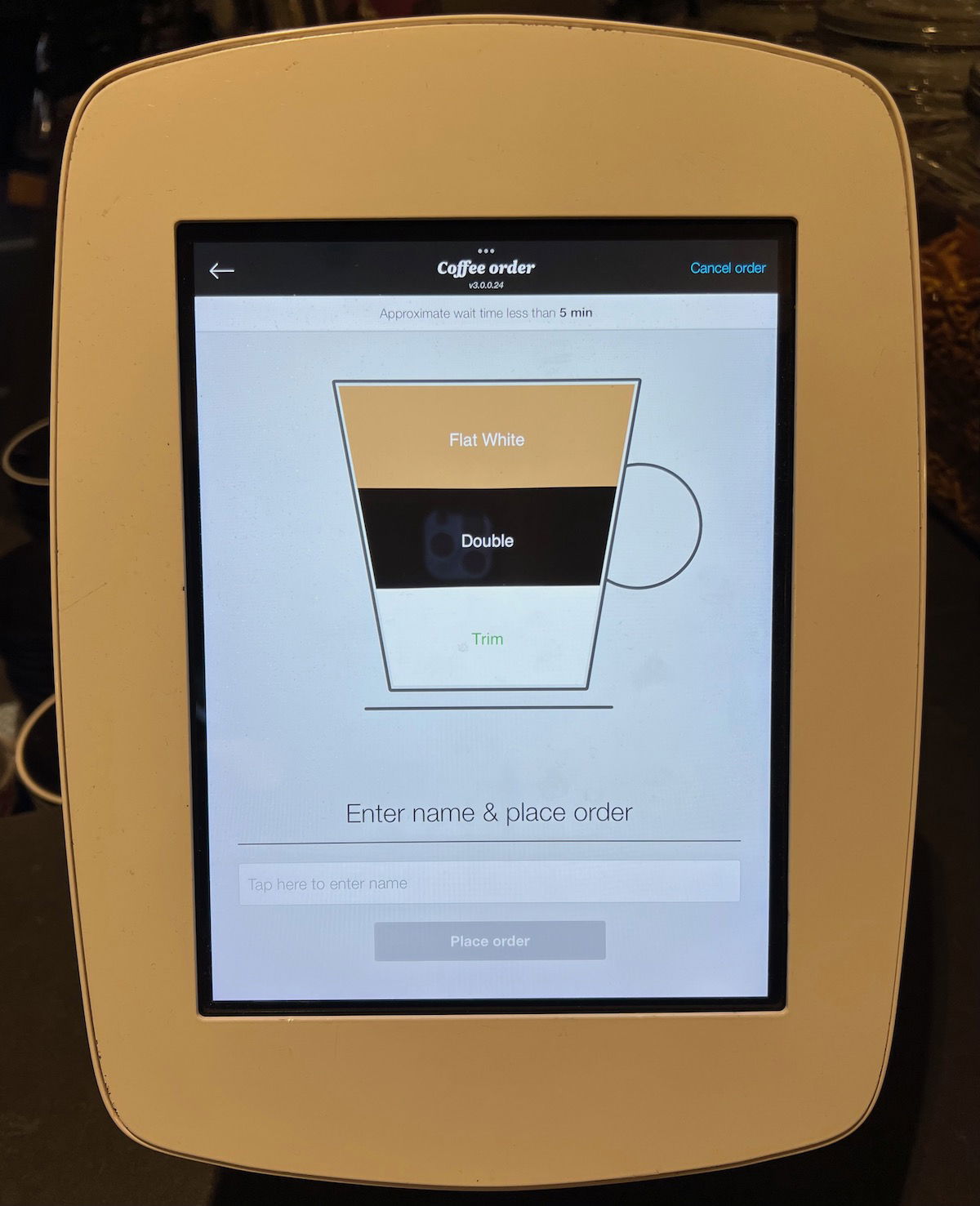 The drink will then be ready within a few minutes.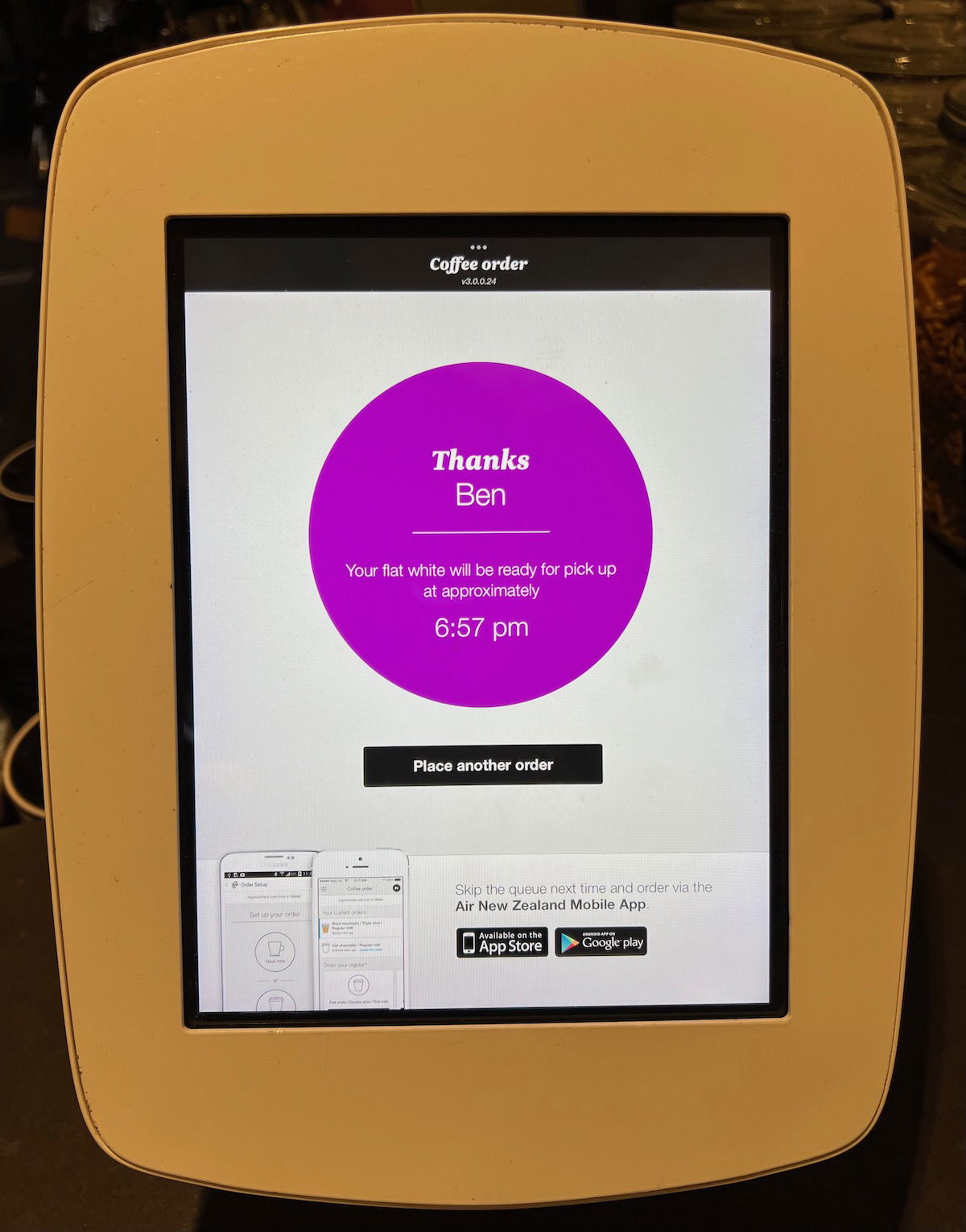 I enjoyed a flat white in a mug, and also enjoyed a cappuccino in a to-go cup.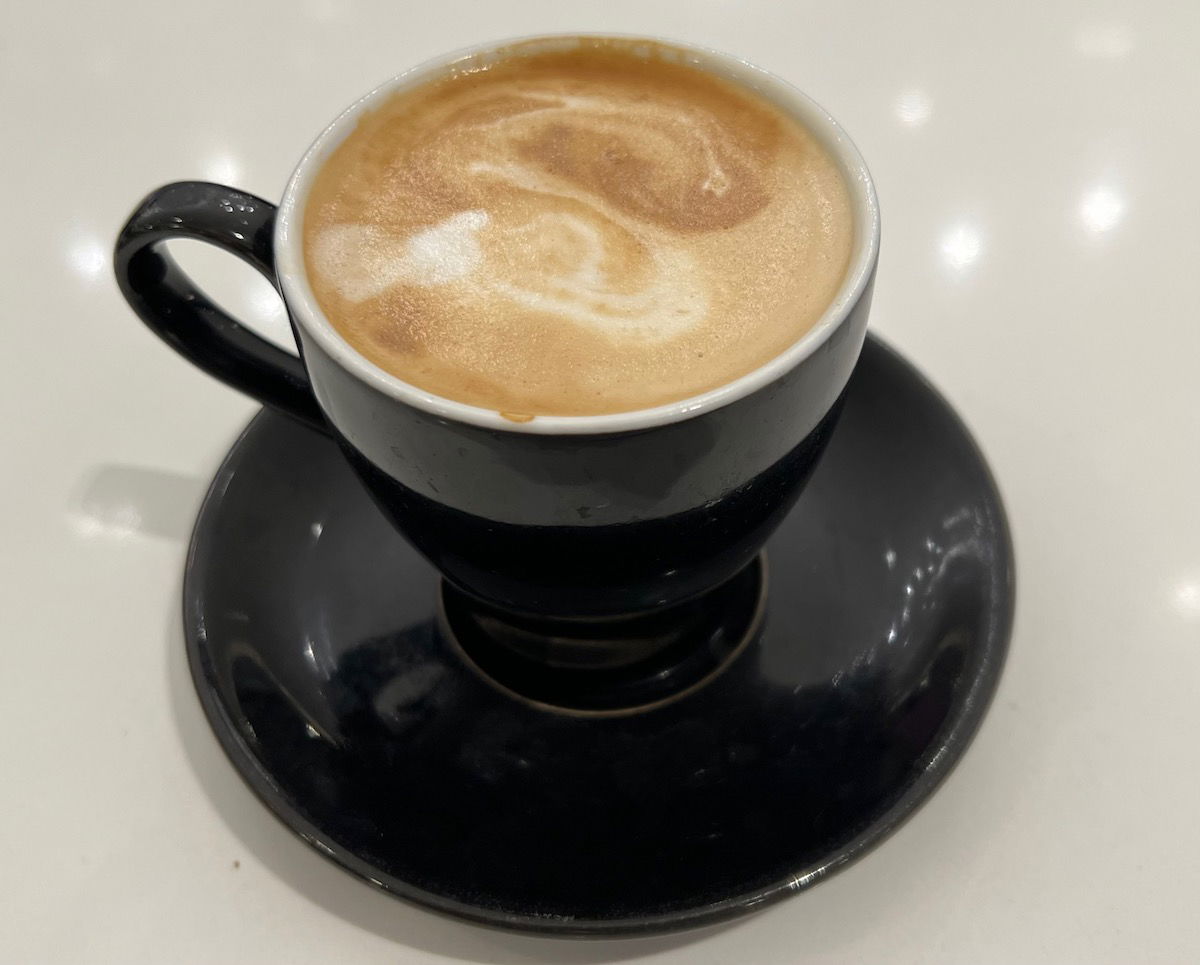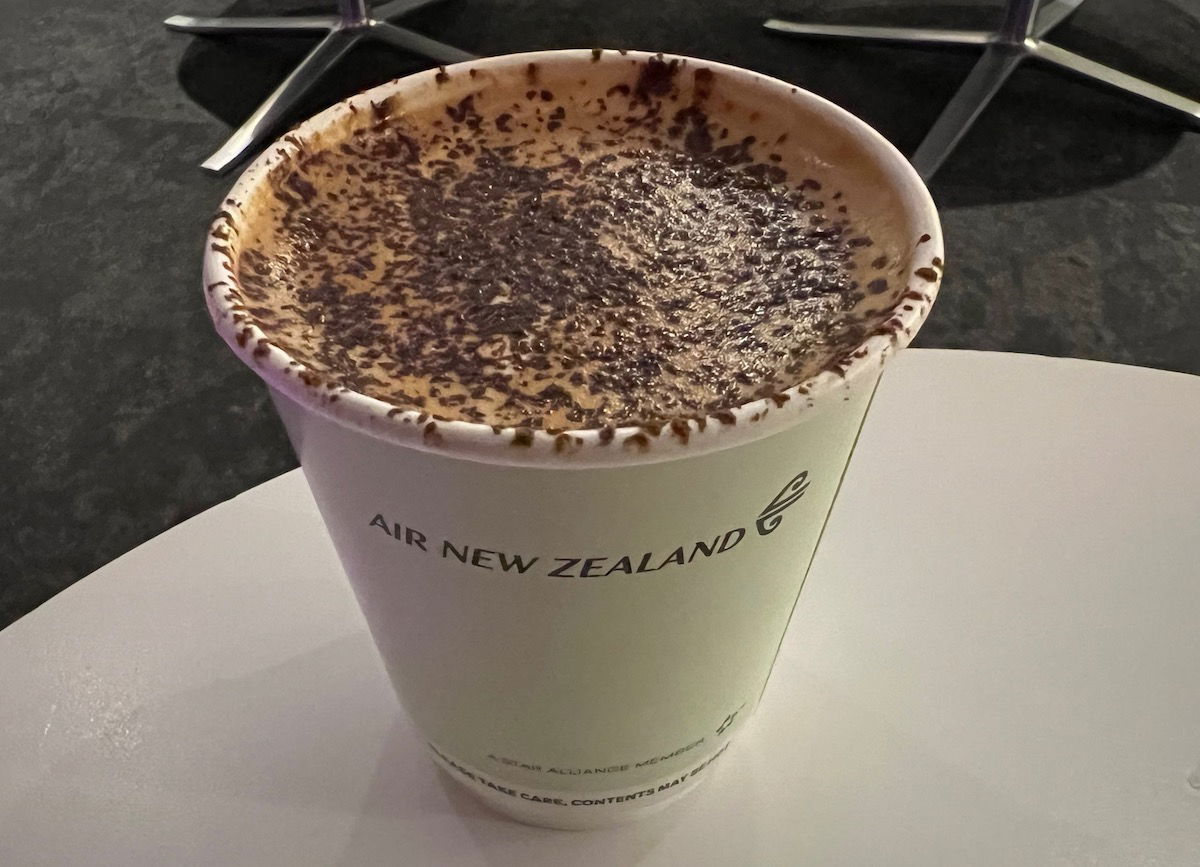 Awesome!
Air New Zealand Lounge Auckland bathrooms & showers
The Air New Zealand Lounge Auckland has both shower suites near the entrance, and then bathrooms closer to the center of the lounge. There are several shower suites down a hallway, each of which features a walk-in shower, a toilet, and a sink.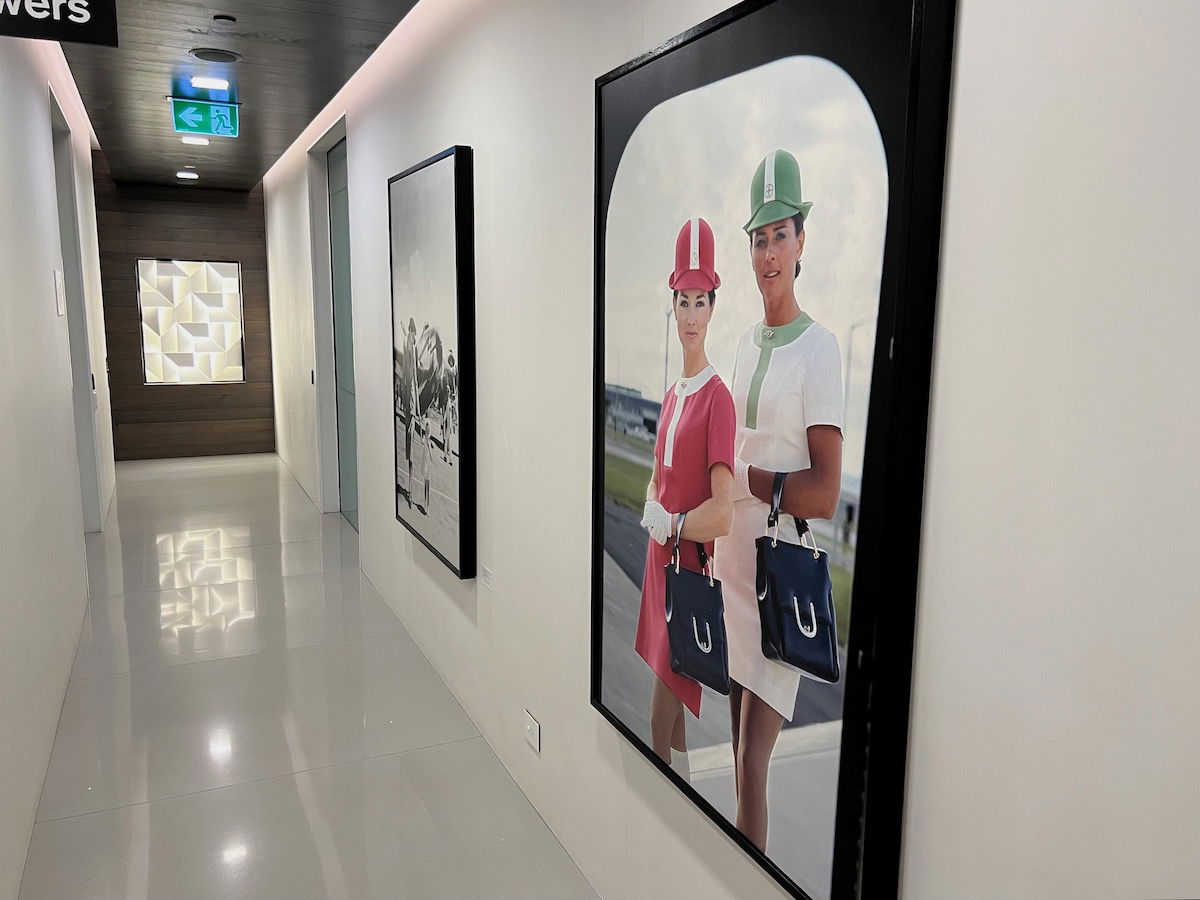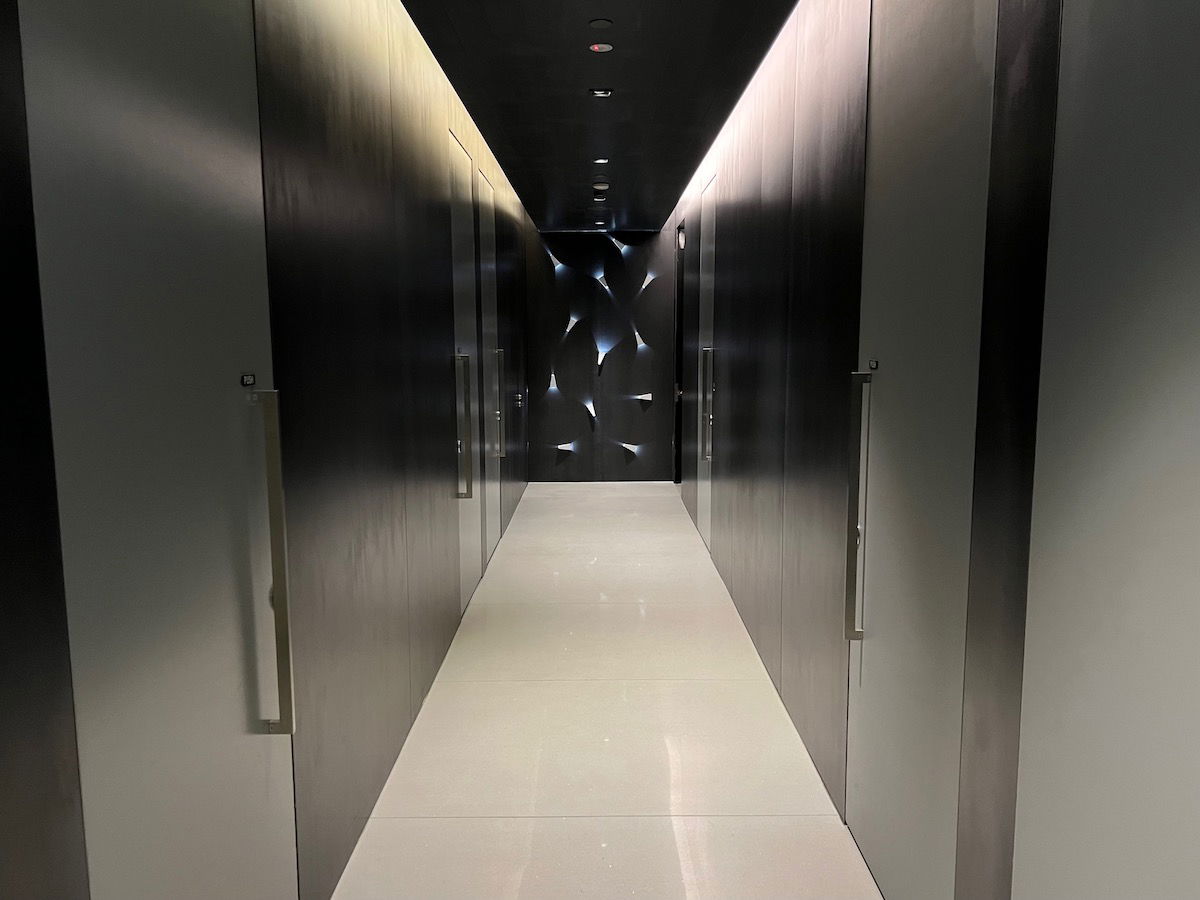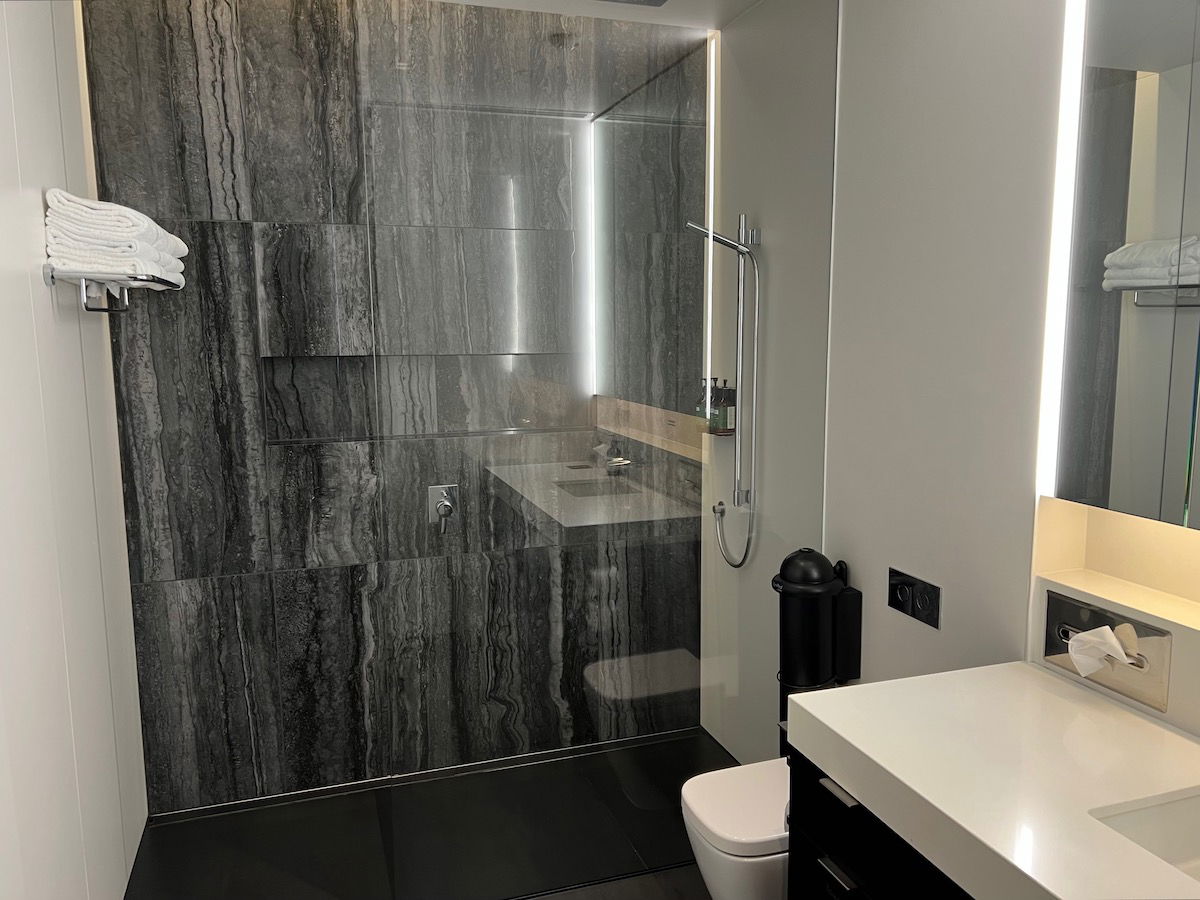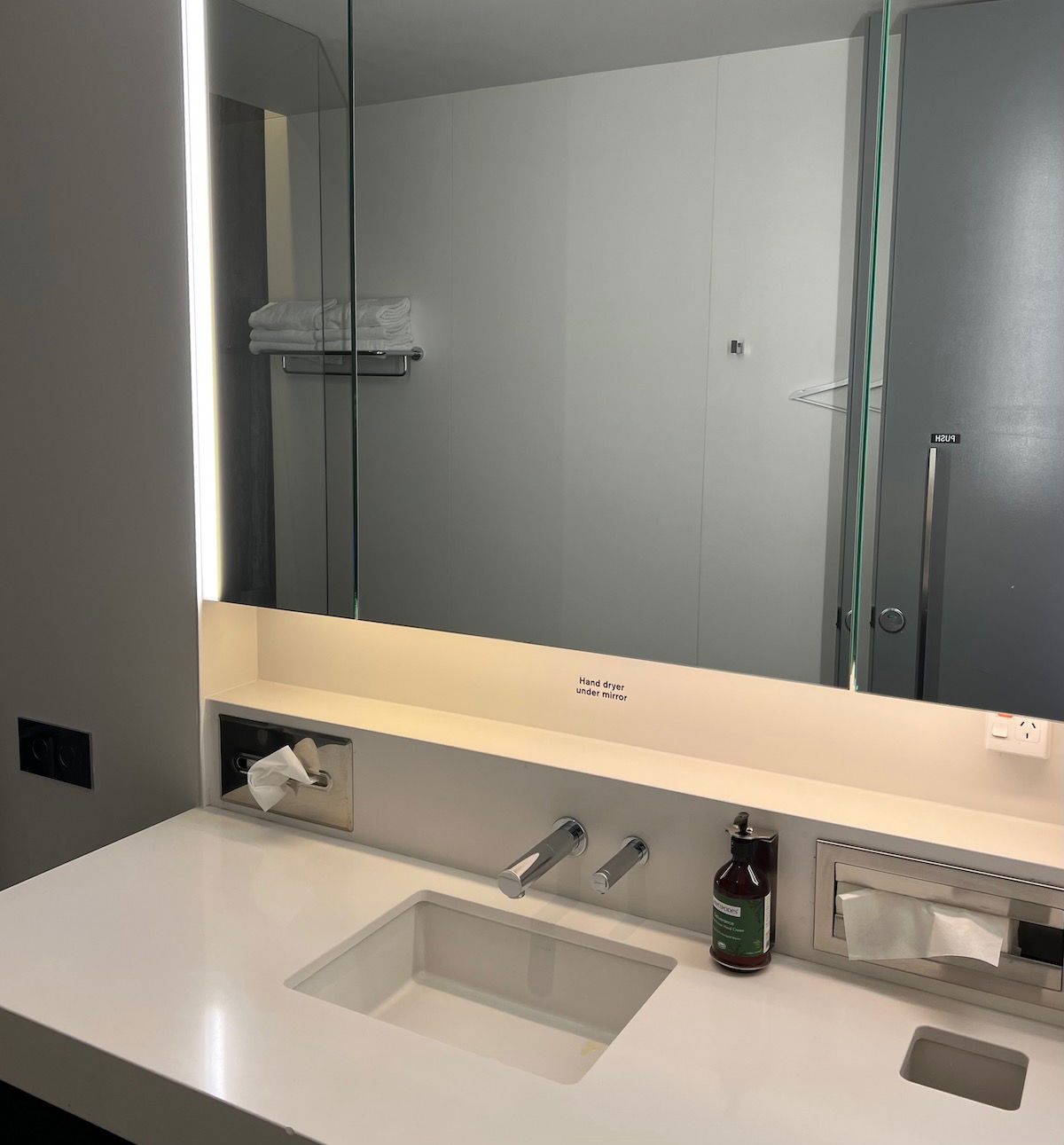 The bathrooms in the lounge were well maintained, though otherwise nothing special.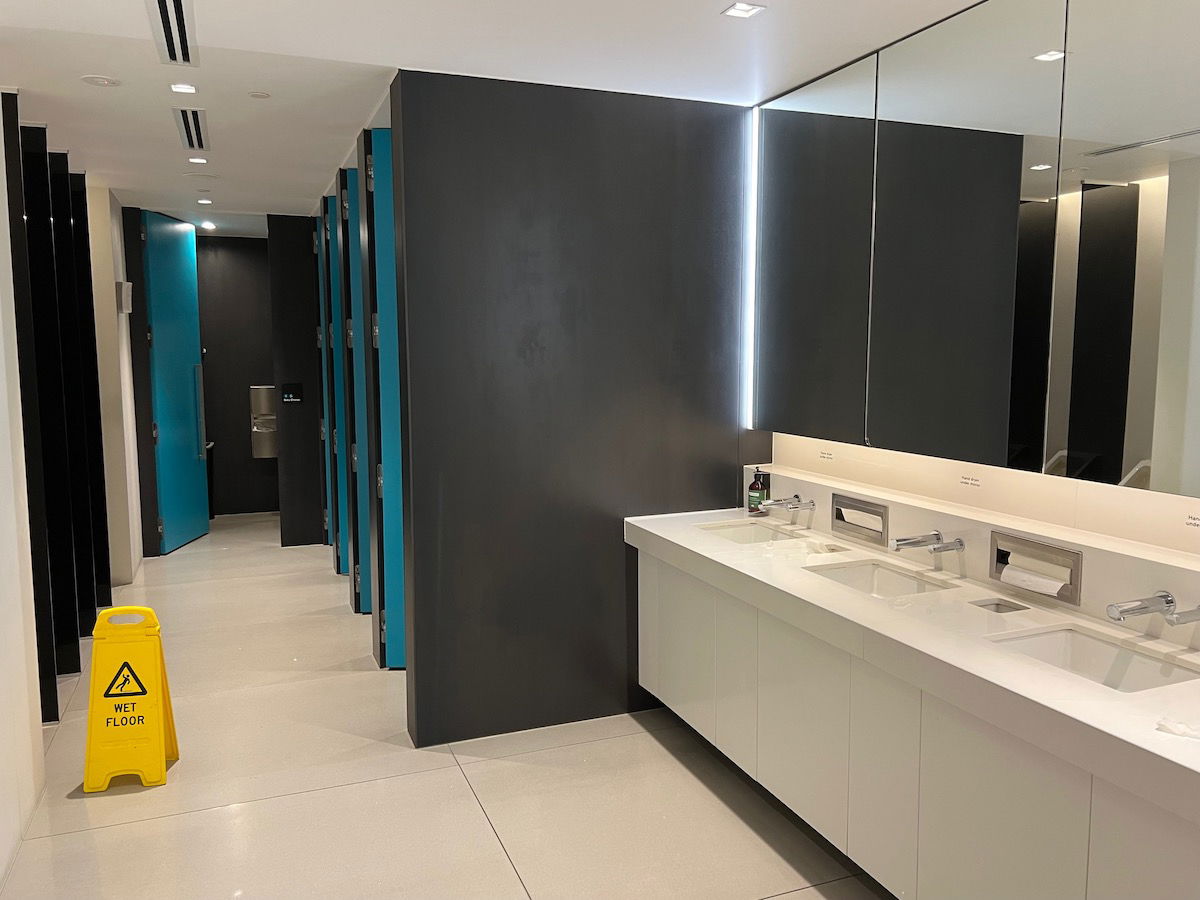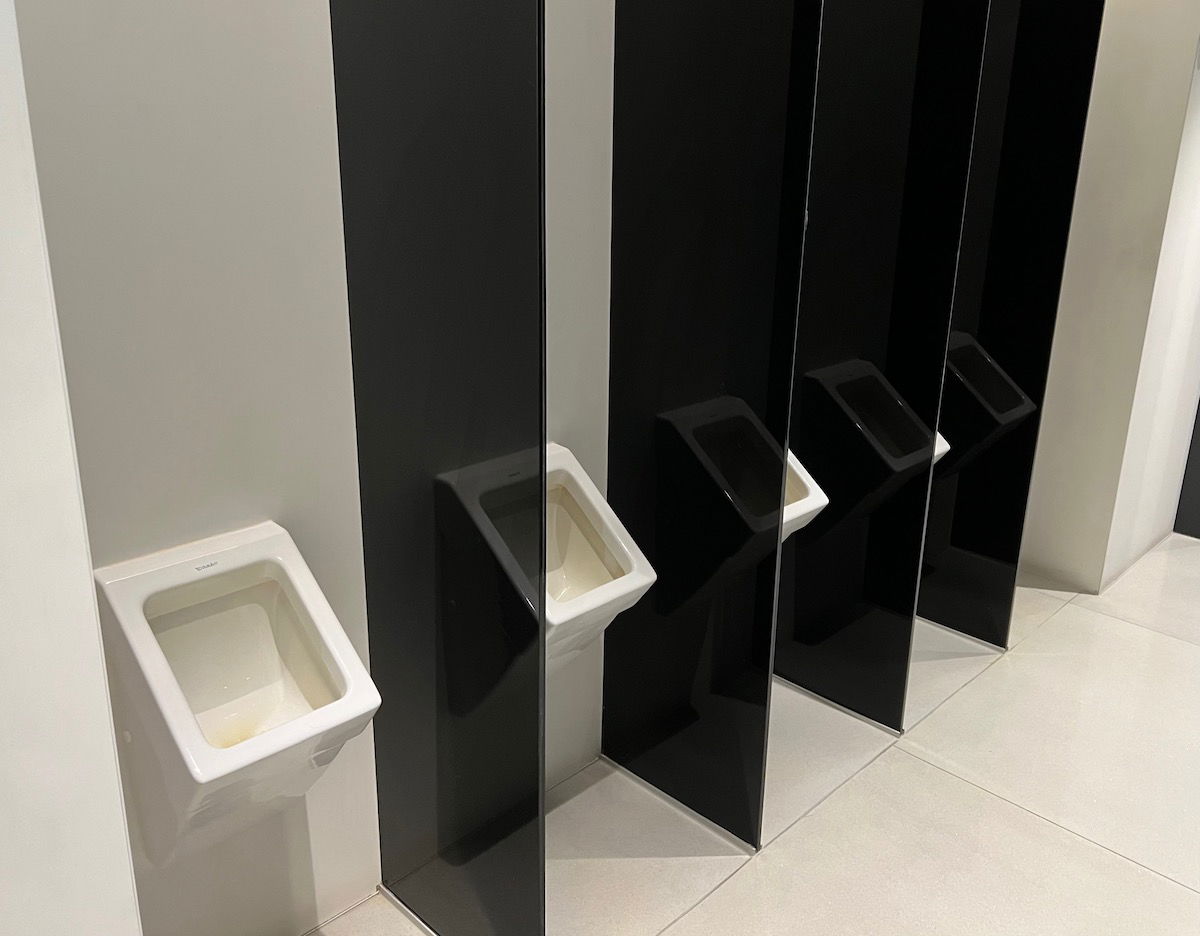 Air New Zealand Lounge Auckland crowding
I think there's one important thing to acknowledge, which might give me a more favorable impression of this lounge than others. I've heard that crowding in the Air New Zealand Lounge Auckland can be awful during peak hours, especially in high season.
This is not an issue I dealt with, due to the time my flight was departing. When I first arrived in the lounge it was quite full, but then the 8PM bank of flights left. The only remaining flights that evening were Air New Zealand flights to Los Angeles and Singapore. So while the lounge may usually have people from a dozen different flights visiting at one time, during my visit the lounge was nowhere close to capacity.
Auckland Airport international terminal
Since I had quite a bit of time at the airport, I enjoyed walking around the international terminal, which was deserted (again, because I was on one of the two last flights of the night).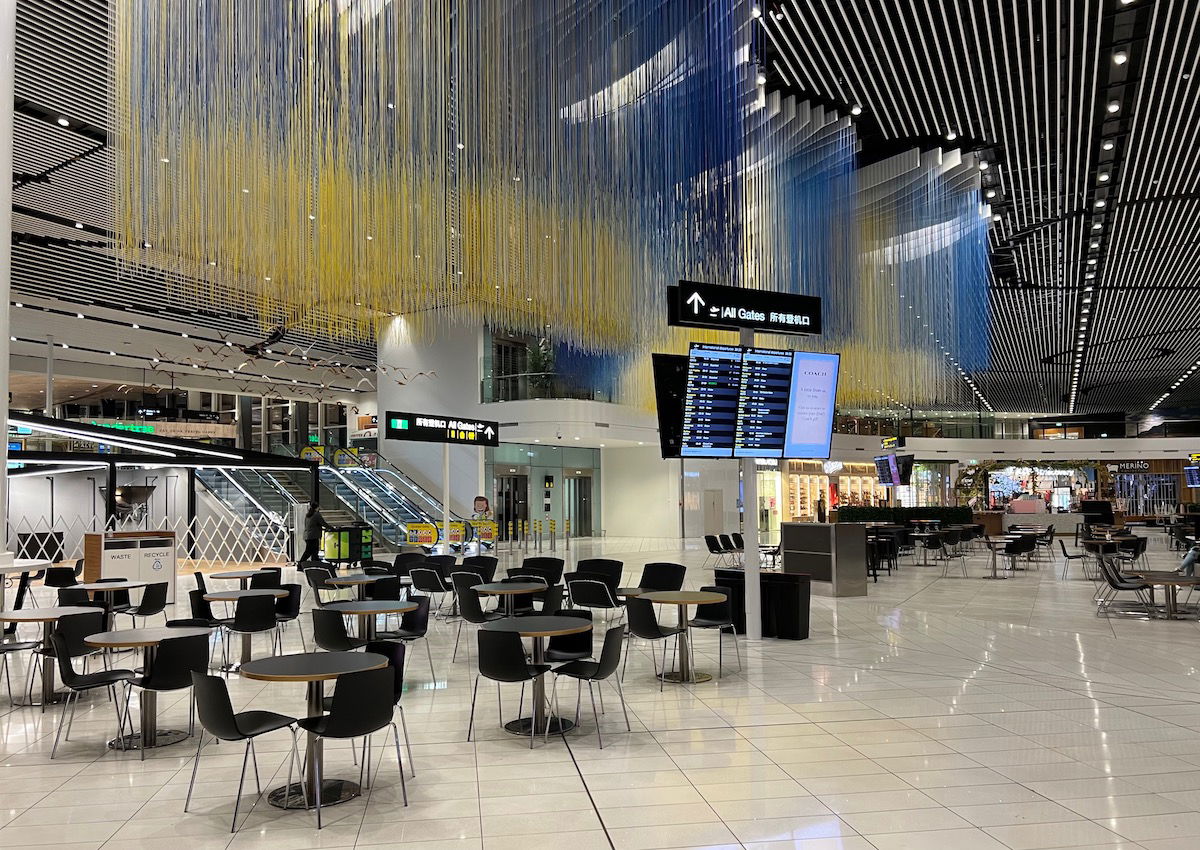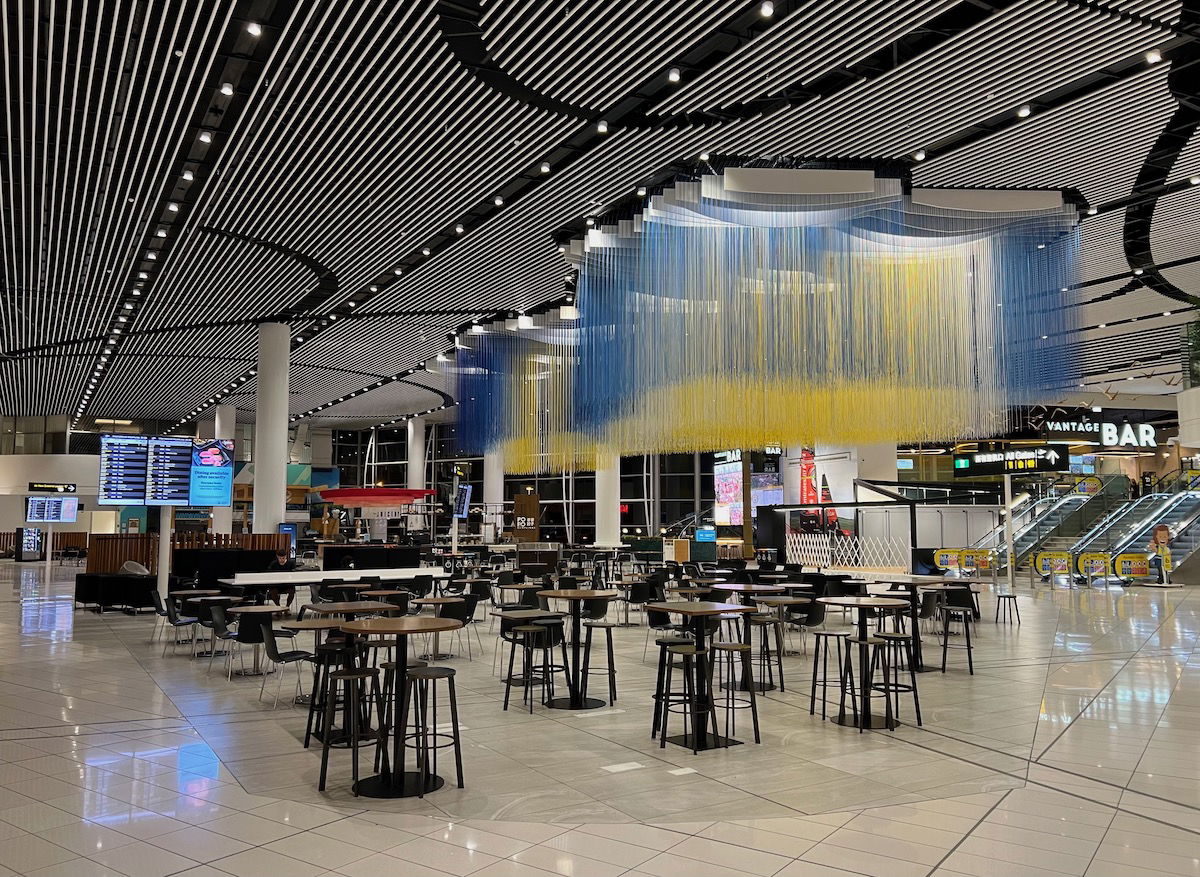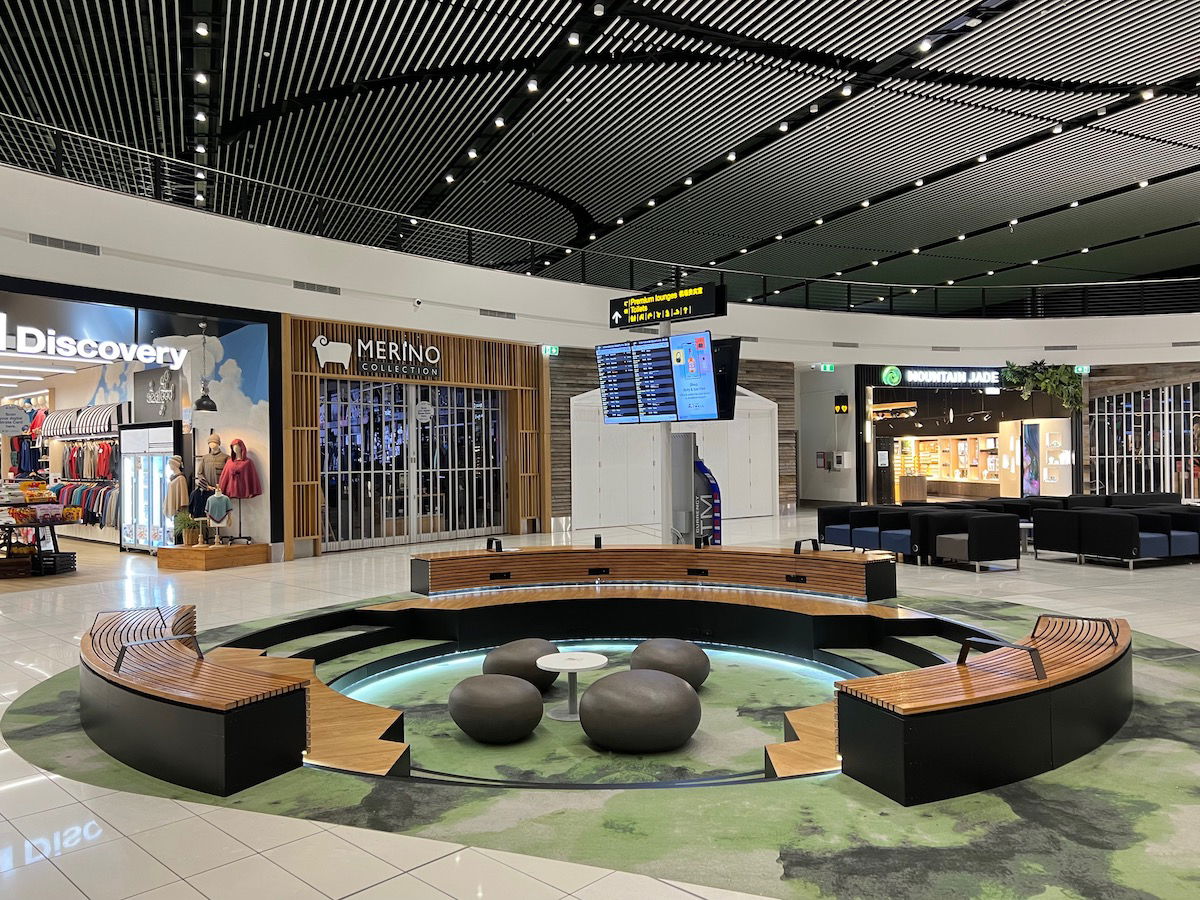 It's quite a nice terminal. The only thing I'd note is that if you're departing from gates 15-18 (as I was), it's quite a haul from the main part of the terminal. The below gives you a bit of a sense of just how far it is (though doesn't fully do justice to it).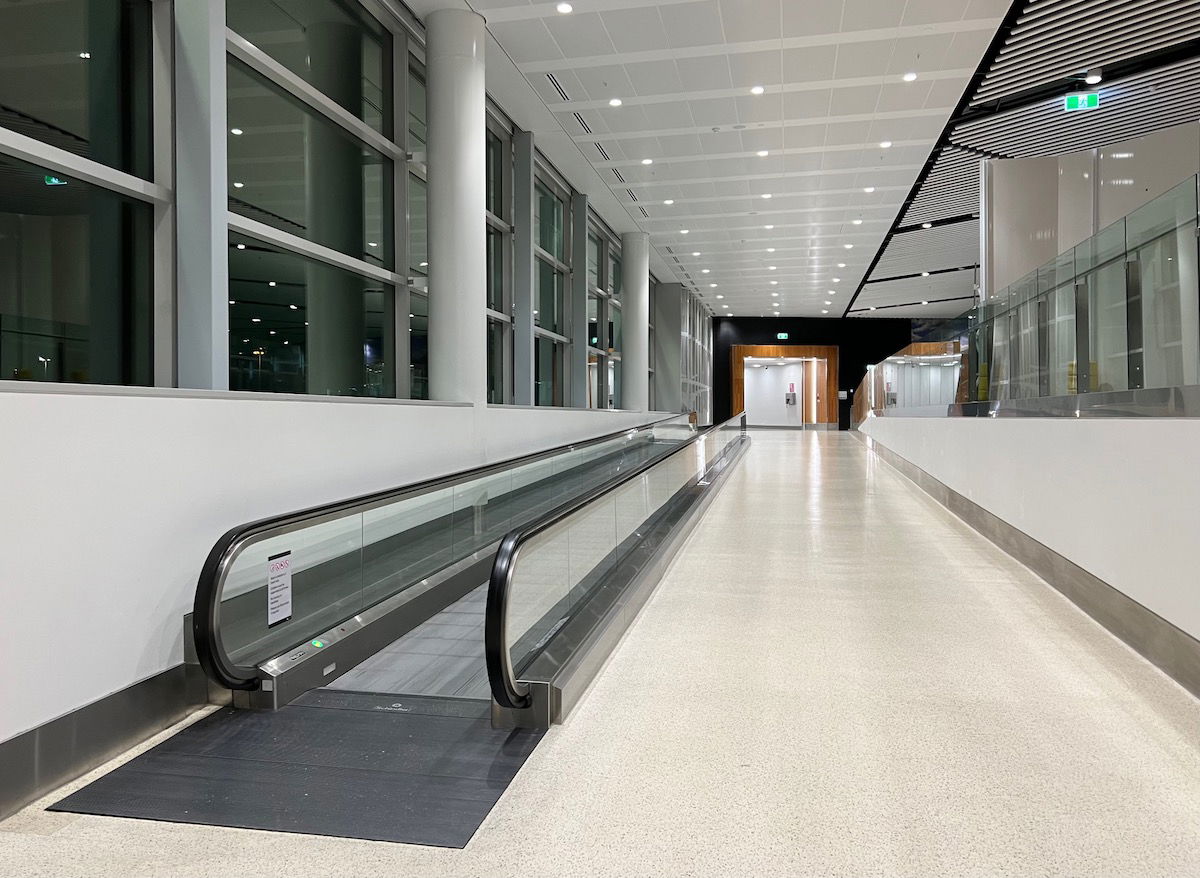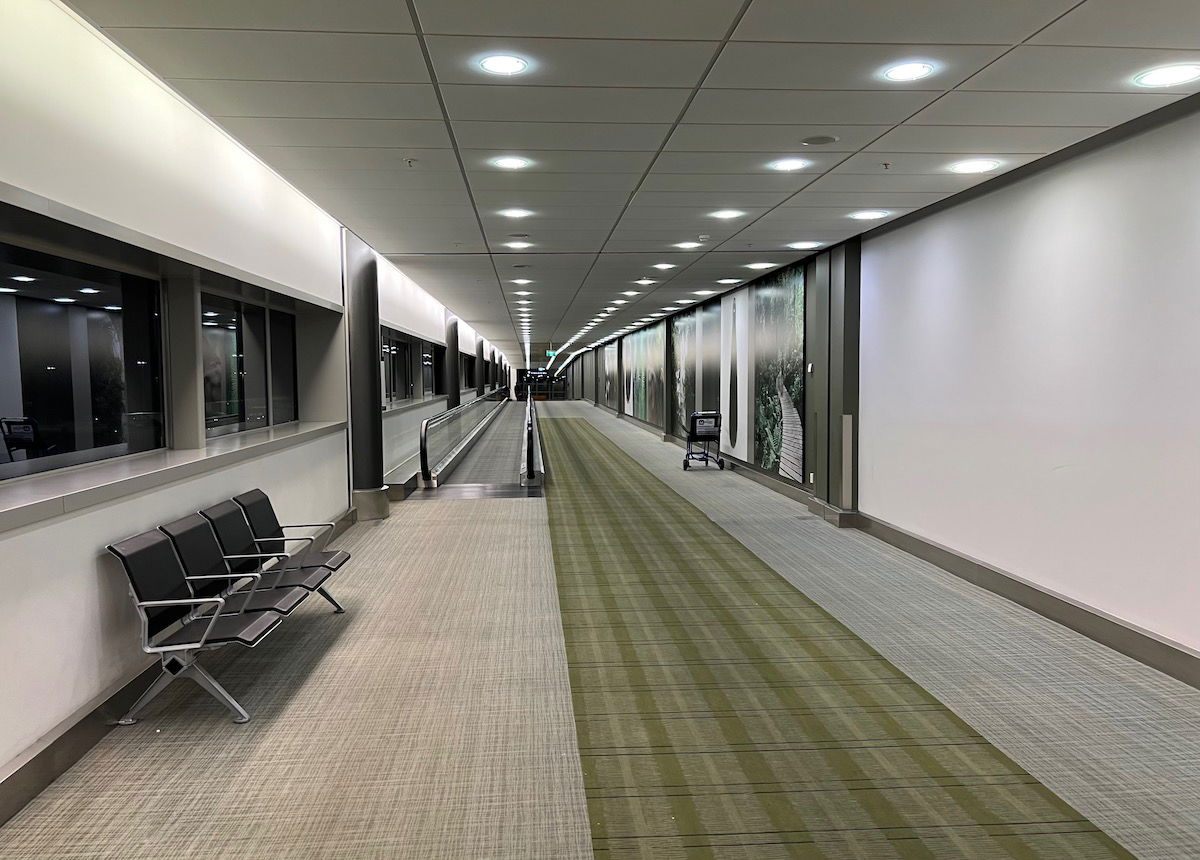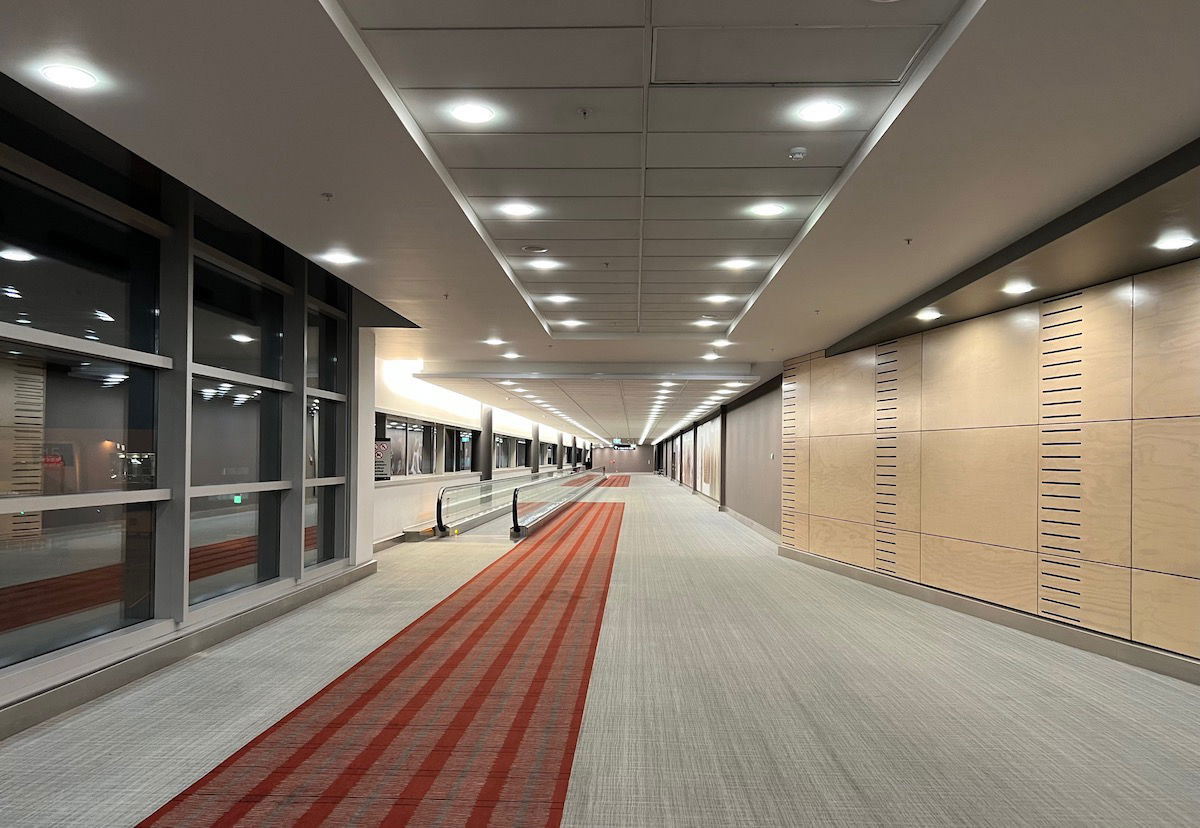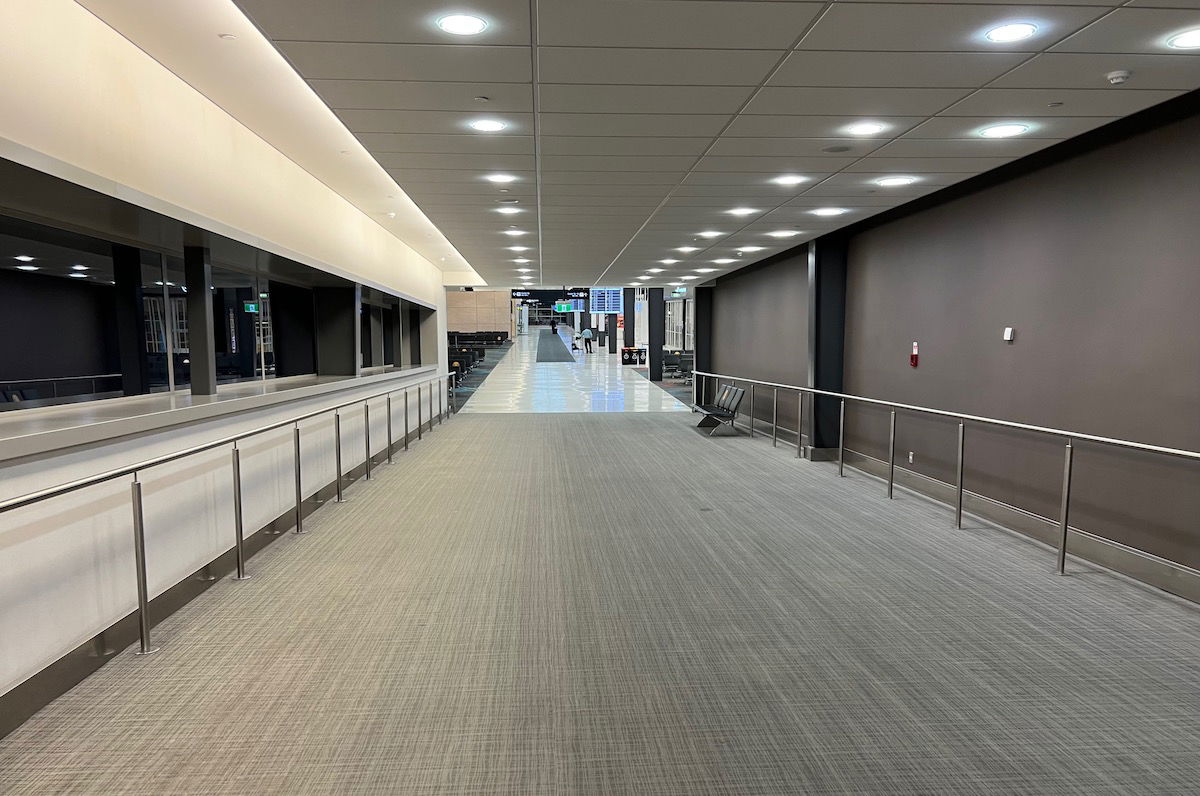 Bottom line
The Air New Zealand International Lounge Auckland is quite good. The lounge has floor-to-ceiling windows, views of the apron, an appetizing selection of food, plenty of drinks (including barista-made coffee), and a variety of seating options. The lounge was especially pleasant during my visit, given that it was pretty empty, but I've heard that's often not the case.
If you've visited the Air New Zealand Lounge Auckland, what was your experience like?