For the second portion of my two trips to the Southern Hemisphere, it was time to fly Fiji Airways' Airbus A350 business class from Los Angeles to Nadi. I was excited about this flight, as the A350 is a new addition to Fiji Airways' fleet.
This flight ended up being excellent, with great seats, service, food, amenities, entertainment, and Wi-Fi. As far as boutique airlines go, it really doesn't get much better than Fiji Airways.
How I booked my Fiji Airways business class ticket
I redeemed Alaska Mileage Plan miles for my Fiji Airways business class ticket. Specifically, I booked the following for 55,000 Alaska Mileage Plan miles $60.60 in taxes and fees:
9/18 FJ811 Los Angeles to Nadi departing 11:55PM arriving 5:45AM (+2 days)
9/20 FJ411 Nadi to Auckland departing 8:30AM arriving 11:40AM
I was excited about this, as my first flight would be operated by an A350, while my second flight would be operated by an A330, so I could review both of the carrier's long haul aircraft types.
It's worth noting that historically Fiji Airways has been pretty stingy with award availability, but in August there was a brief period where the airline opened the floodgates of award space, making it easy to snag business class awards.
Fiji Airways LAX lounge & boarding
While I had spent most of the day at LAX, I still headed back to Fiji Airways' check-in counter around 9PM, just under three hours before departure. Fiji Airways' check-in desk was at the far end of the Tom Bradley International Terminal (TBIT) check-in hall.
The employee checking me in was really friendly. My bag was weighed even though I was traveling in business class, though that wasn't an issue, as I was traveling really light.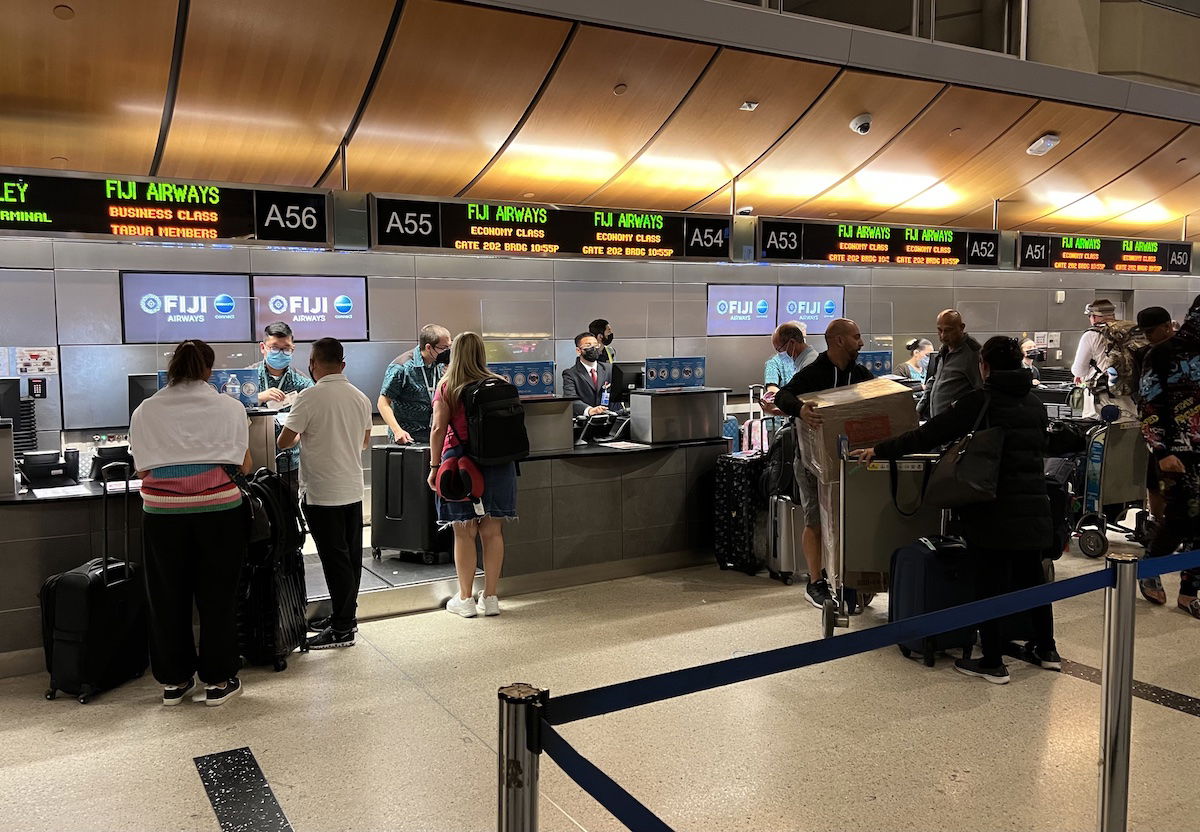 For whatever reason, Fiji Airways doesn't participate in TSA PreCheck, so be prepared for a frustrating security experience. At this time of the evening both CLEAR and premium security lines are closed, so you're just stuck in the ordinary security line, which can take quite some time.
As far as lounges go, Fiji Airways passengers at LAX are spoiled with choice. Fiji Airways officially sends business class passengers to the Star Alliance Lounge, though it's also possible to use the oneworld Lounge, and since I'm a oneworld Emerald member, I was able to use the Qantas First Lounge.
Fiji Airways flights generally depart from the Midfield Satellite Concourse of TBIT, which is a bit of a trek, so make sure you leave a bit of extra time. My particular flight was departing from gate 202. Boarding was scheduled for 10:55PM (one hour before departure), and sure enough that's when boarding started.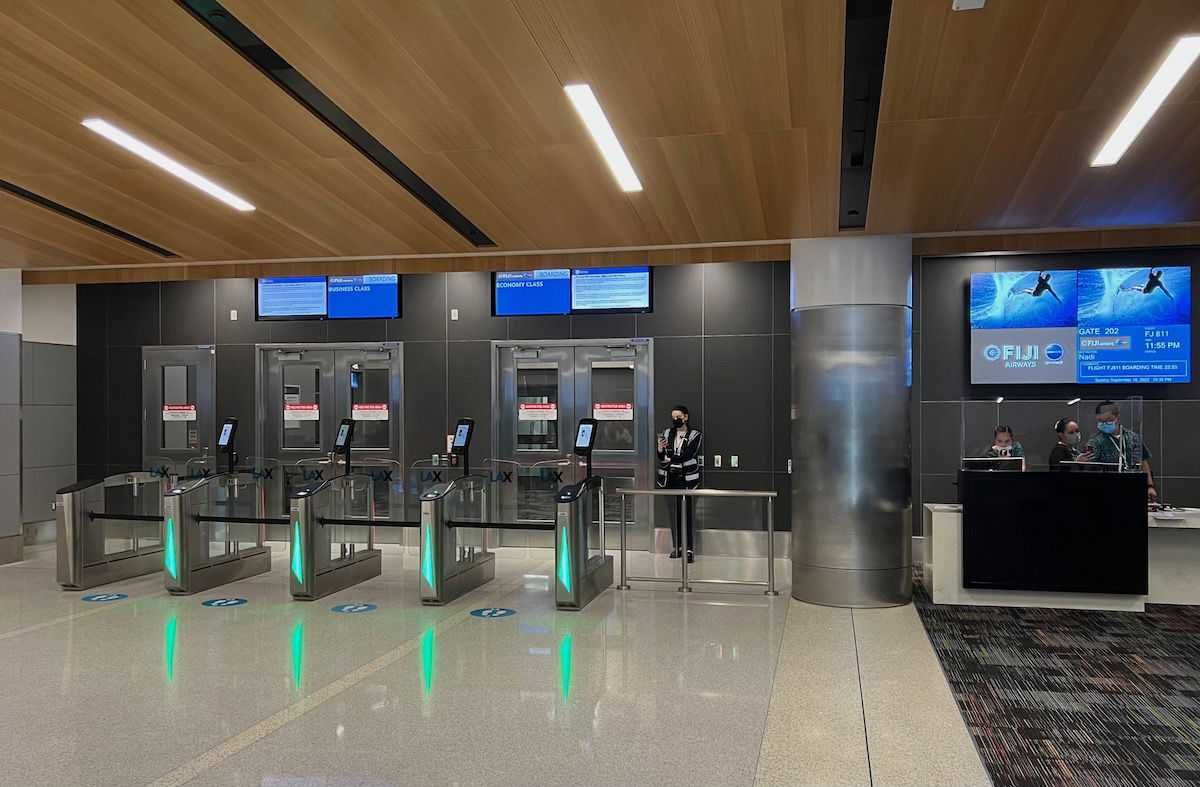 Fiji Airways A350 business class cabin & seats
Before I get into the actual flight review, it's worth noting that Fiji Airways' two Airbus A350-900s had both been intended for Hong Kong Airlines. However, when the airline could no longer afford the jets, Fiji Airways took them over. While the "bones" of the cabin stayed the same, the finishes of course reflect some local touches.
I boarded through the second set of doors, where I was greeted by the friendly purser and another flight attendant. I quickly had a peek into economy, which looked pretty nice. Countering the trend nowadays, Fiji Airways doesn't have premium economy, but rather there are just some extra legroom economy seats at the front of the cabin.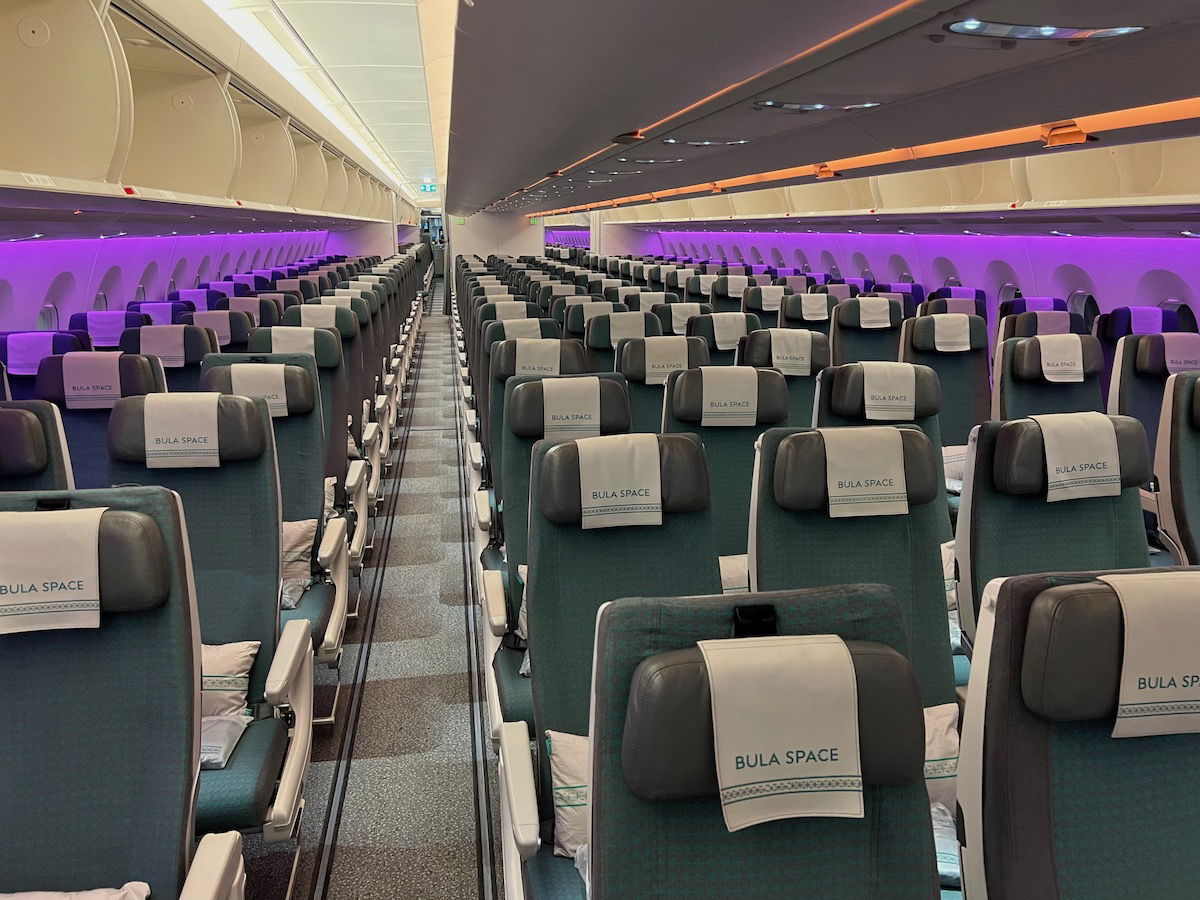 Fiji Airways' A350s have 33 business class seats, in a 1-2-1 configuration, spread across nine rows (there are nine rows in the center section, eight rows along the left side of the cabin, and seven rows along the right side of the cabin). Specifically, Fiji Airways has Collins Aerospace Super Diamond seats, which are the popular reverse herringbone seats that you'll find on many airlines.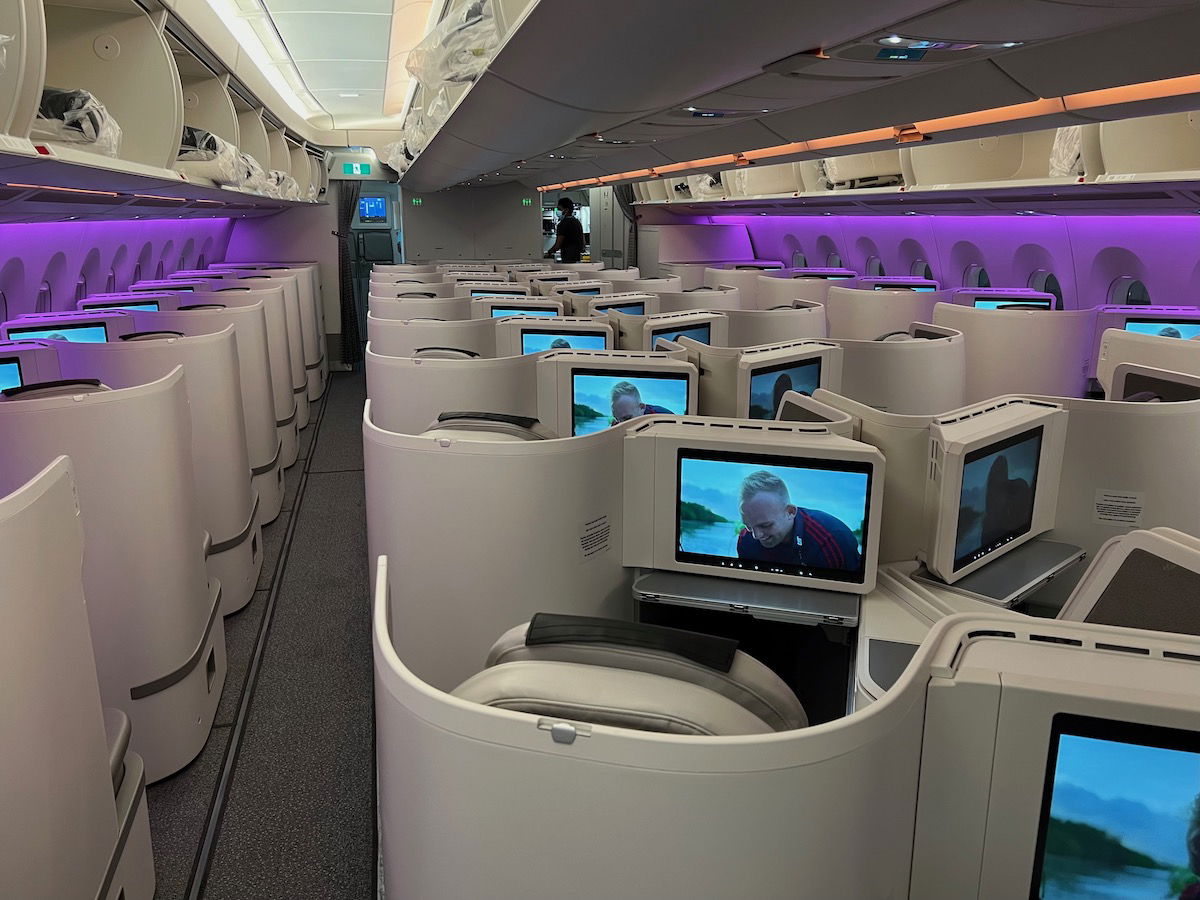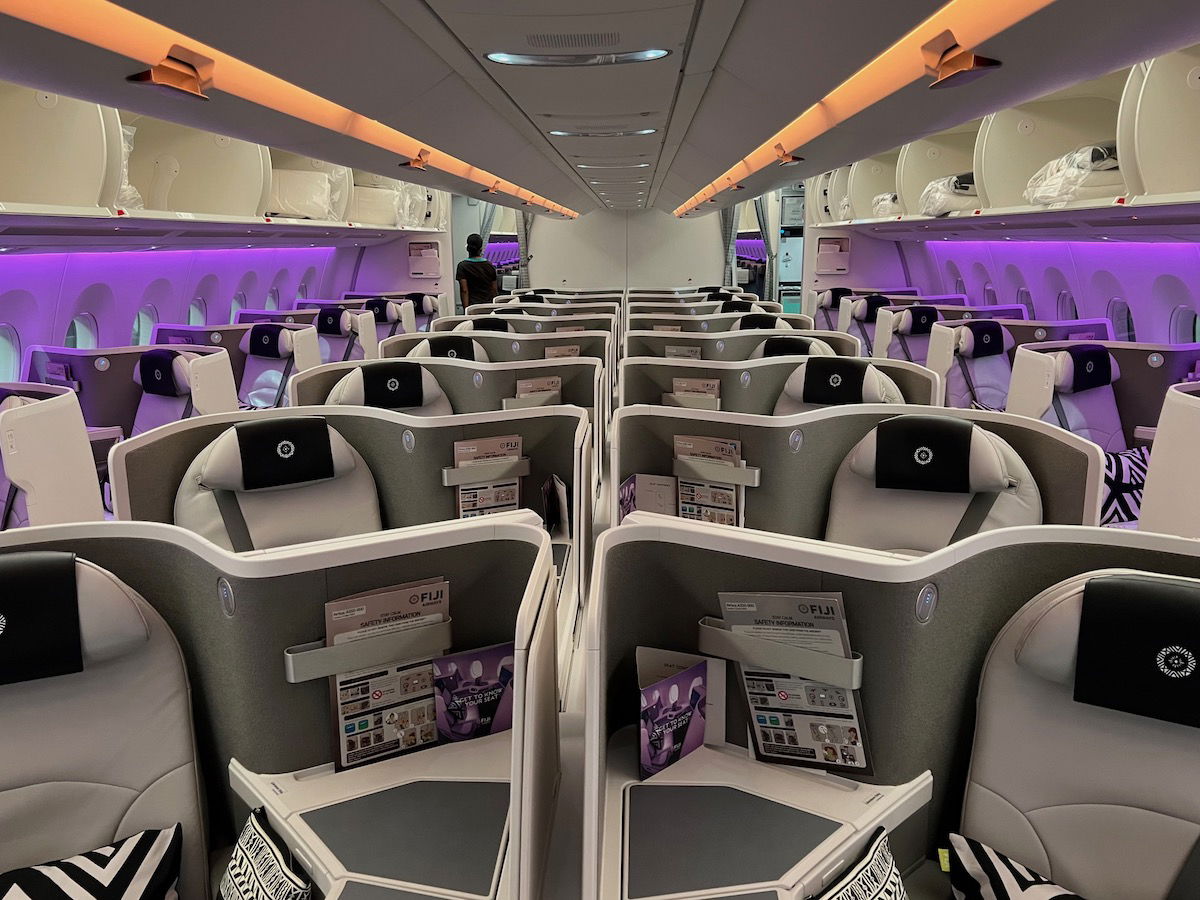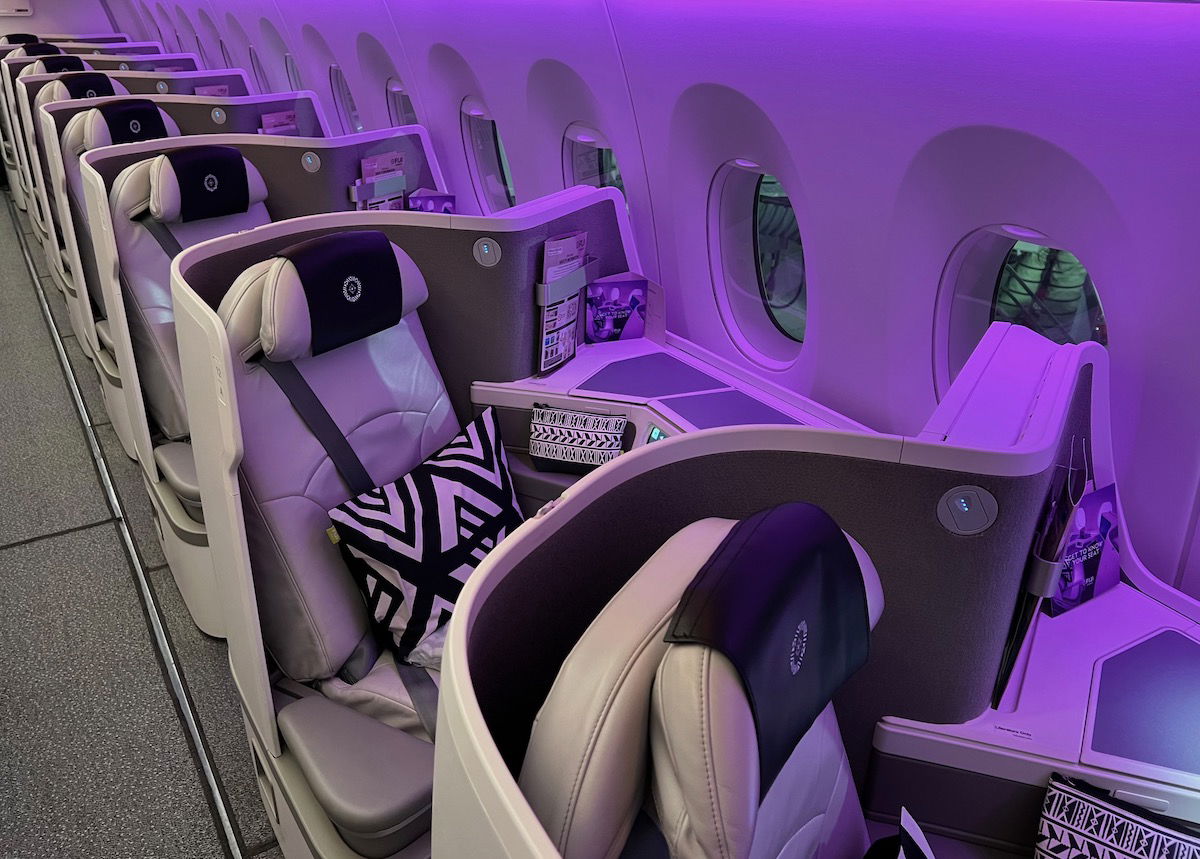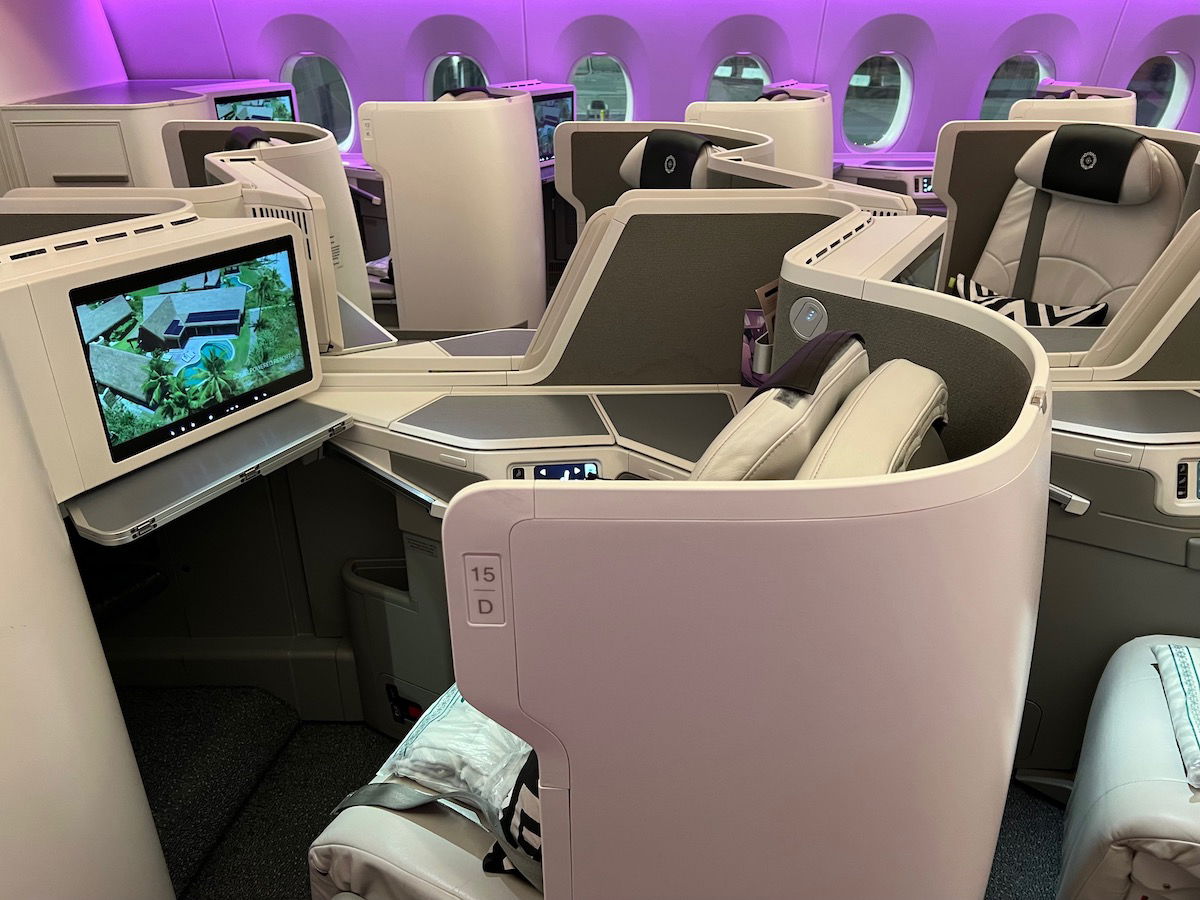 I assigned myself seat 17K, the window seat on the right side in the middle of the cabin. I think Fiji Airways' A350 is a great example of how much of a difference fun finishes can make. The cream-colored cabin might look bland on the surface, but when you add in the Fiji Airways branded headrest covers, the colorful pillows and blankets, the amenity kits, and mood lighting, the cabin actually looks pretty fun.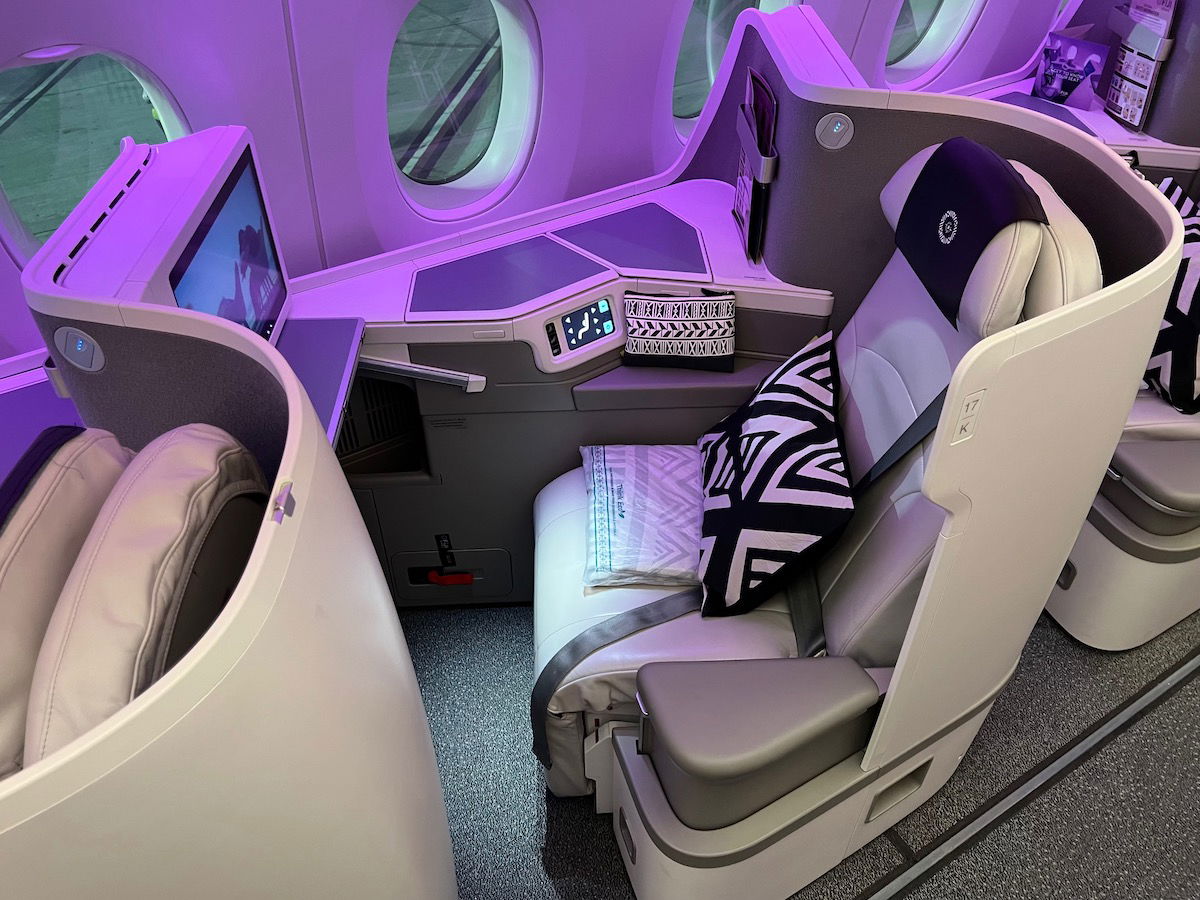 Collins Aerospace Super Diamond seats are pretty standardized, so if you've flown one of them, you've basically flown all of them.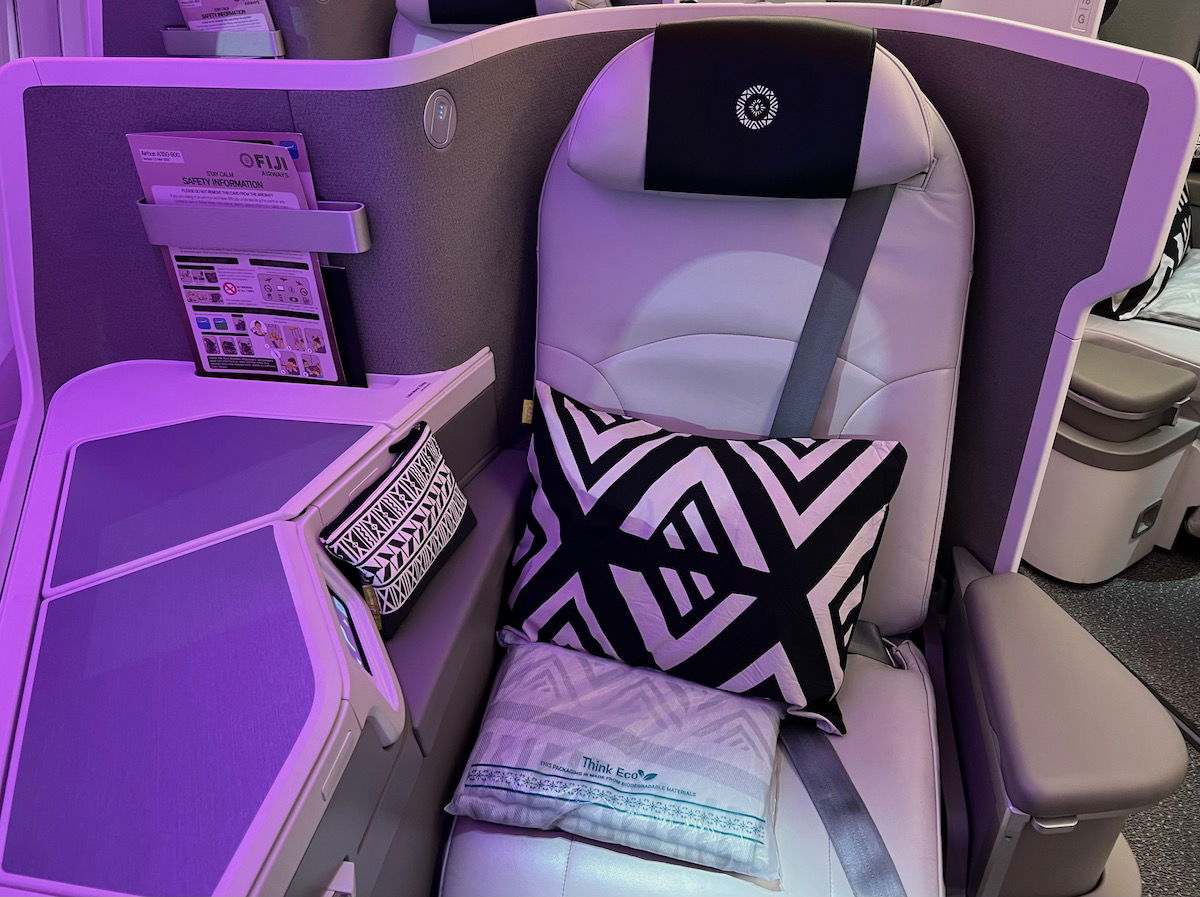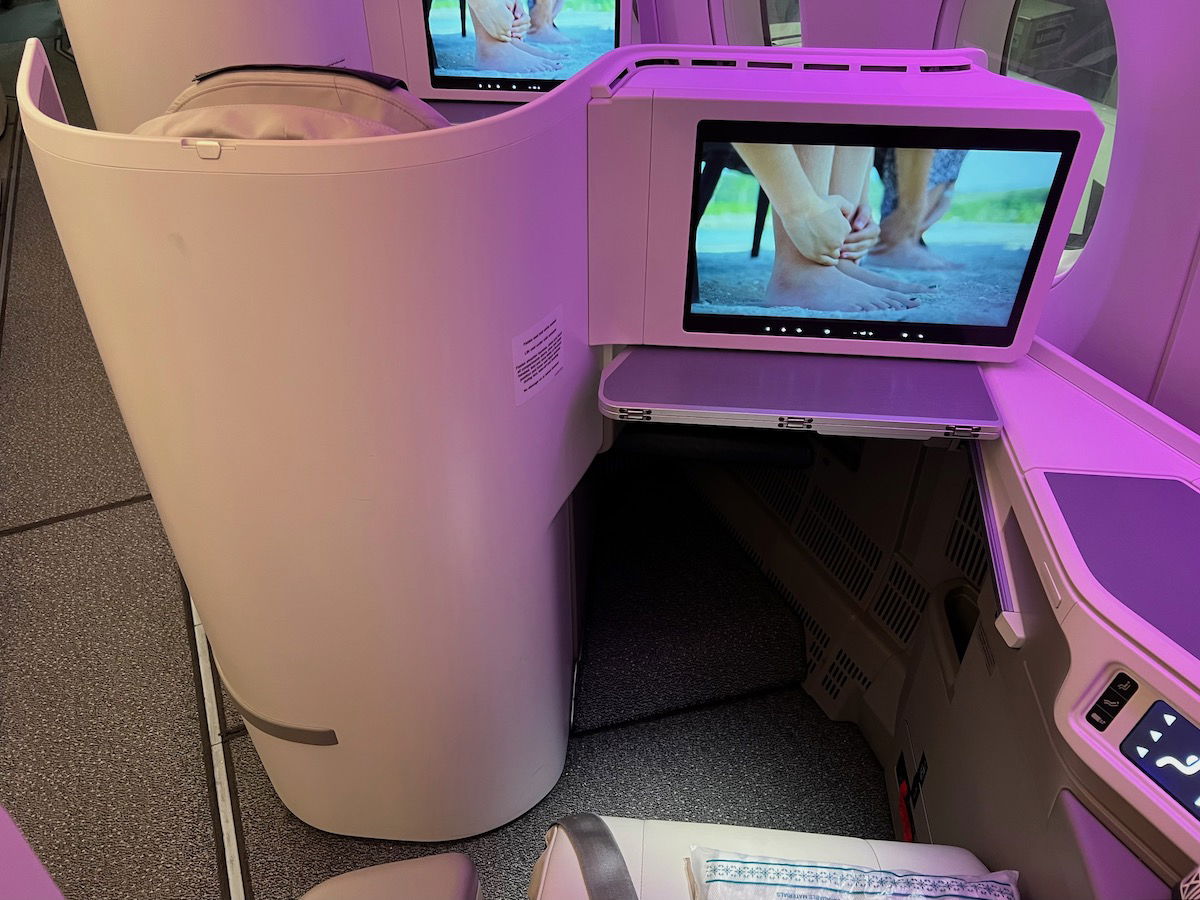 Along the side of the seat are two storage compartments, with one being pretty shallow, and the other being a bit deeper.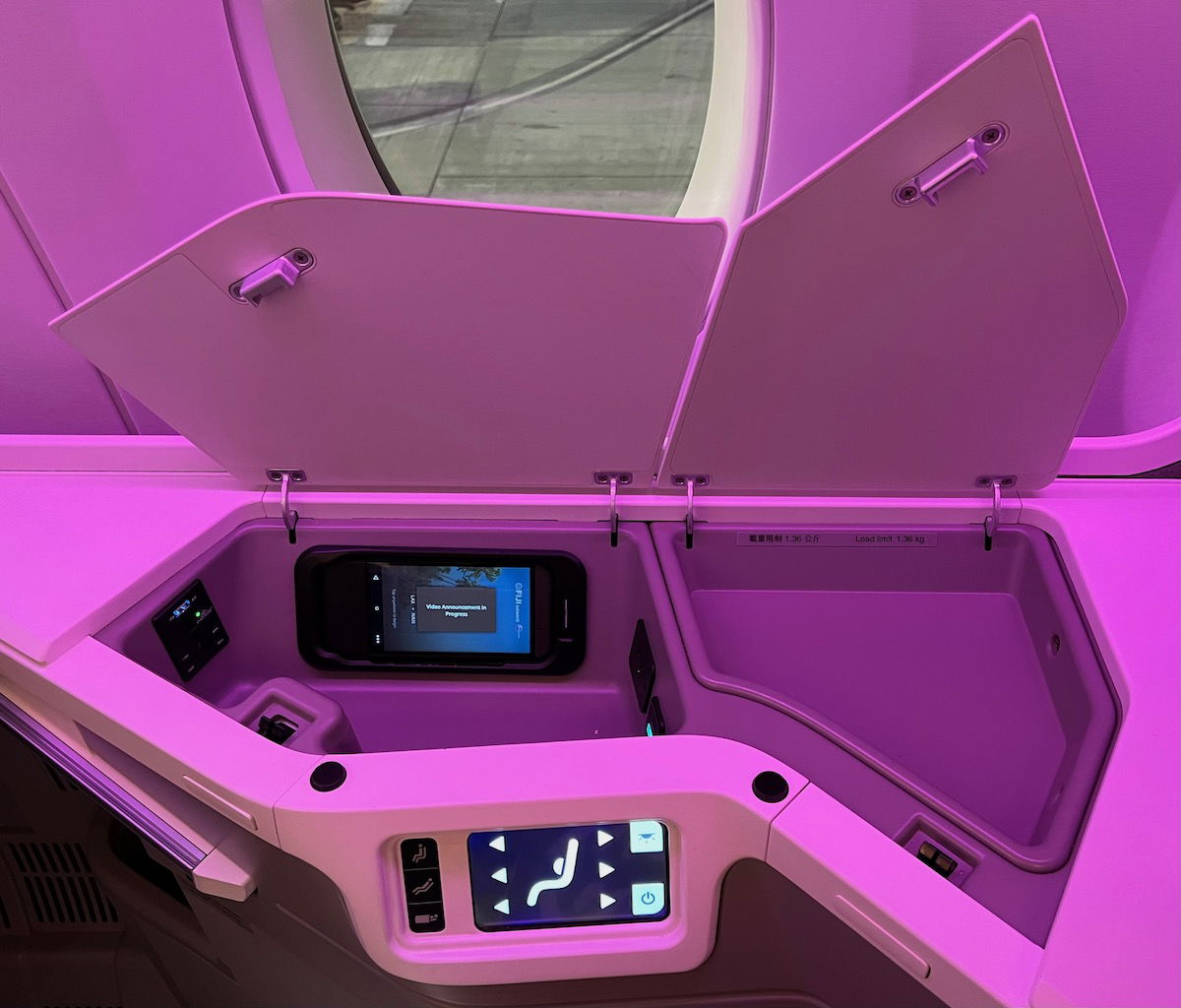 The deeper storage compartment has power outlets (AC power and two USB plugs), the entertainment controller that can be extended, and the headphone jack.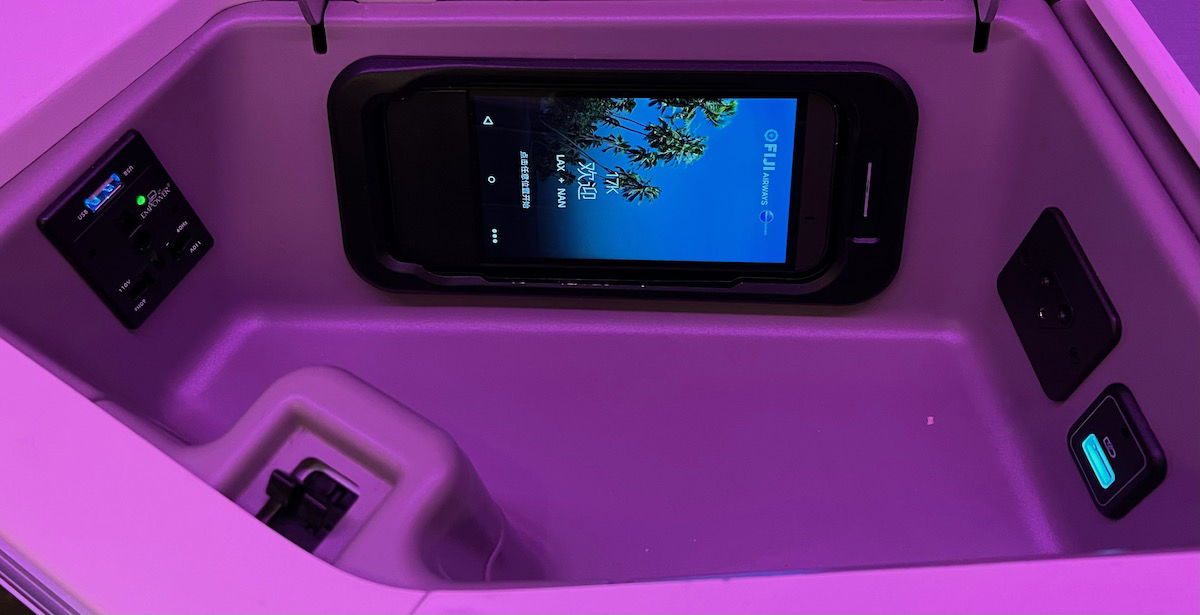 Underneath that area are the seat controls. This includes both three simple buttons with pre-set options, or a monitor where you can control specific functions.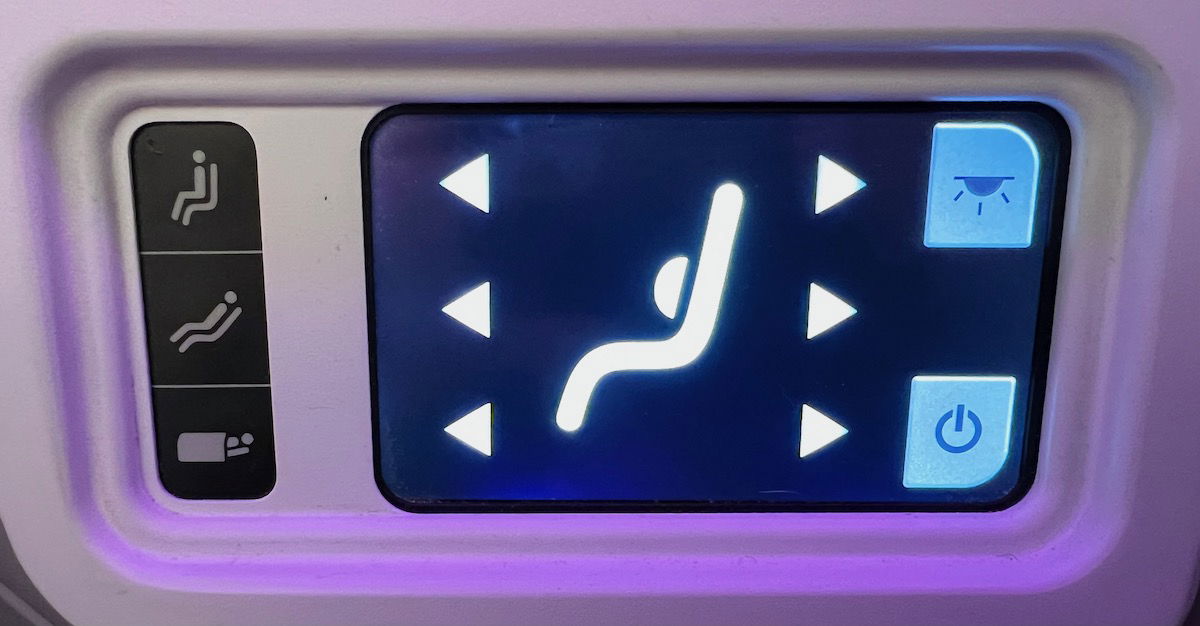 Each seat has a 17″ seatback television. The tray table extends from underneath that — you extend it first, and then you can flip it over so that the surface size doubles.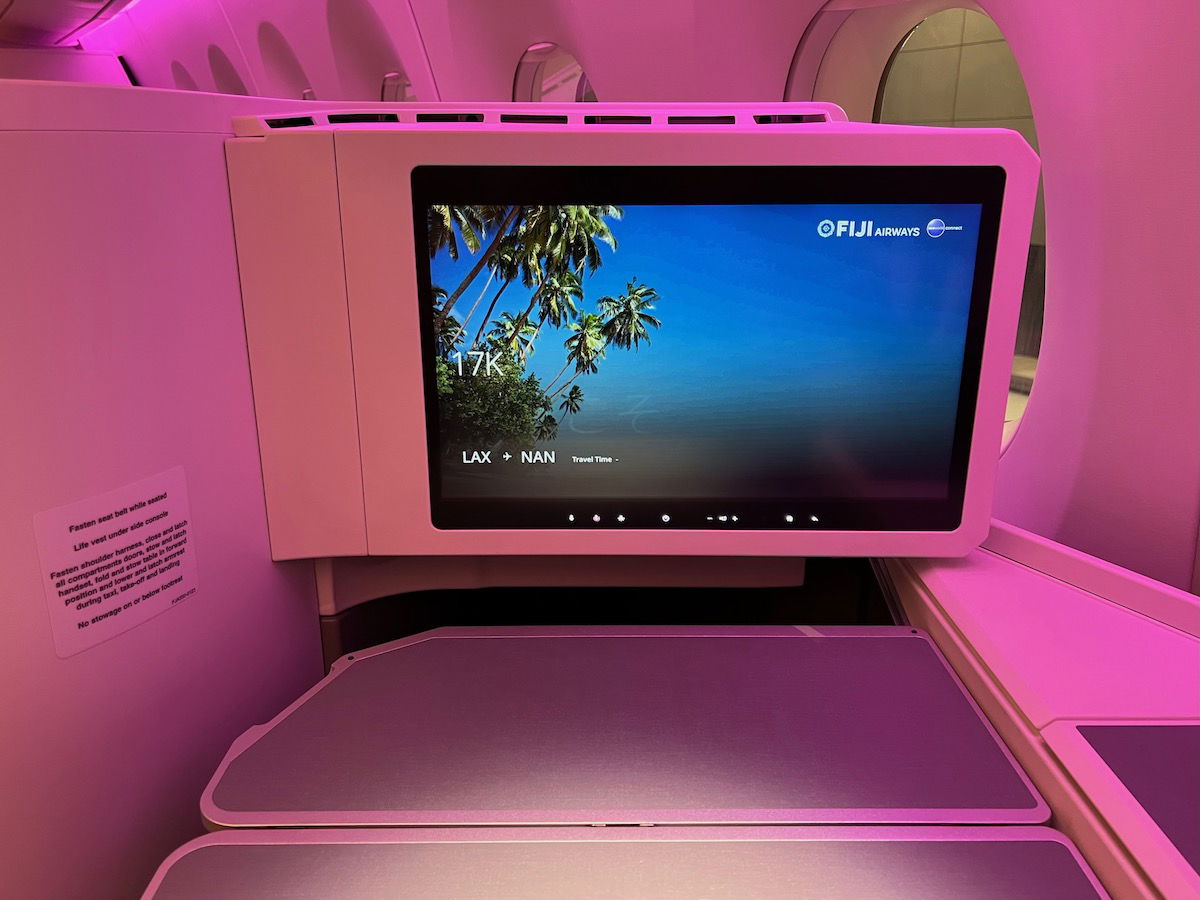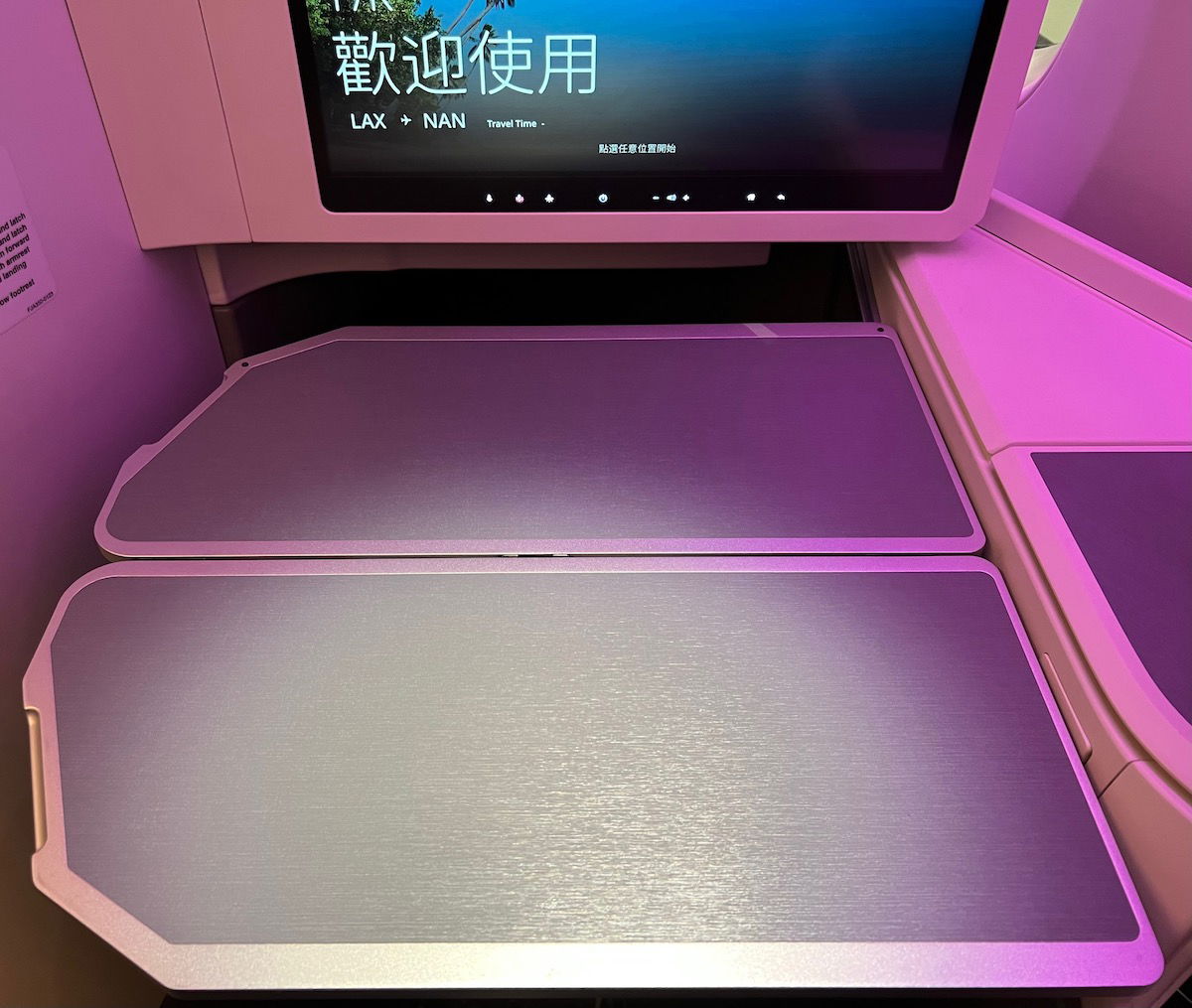 Along the aisle side of the seat is an armrest that can be raised or lowered (it needs to be lowered for takeoff and landing). This also has a storage compartment, big enough for a bottle of water or headphones.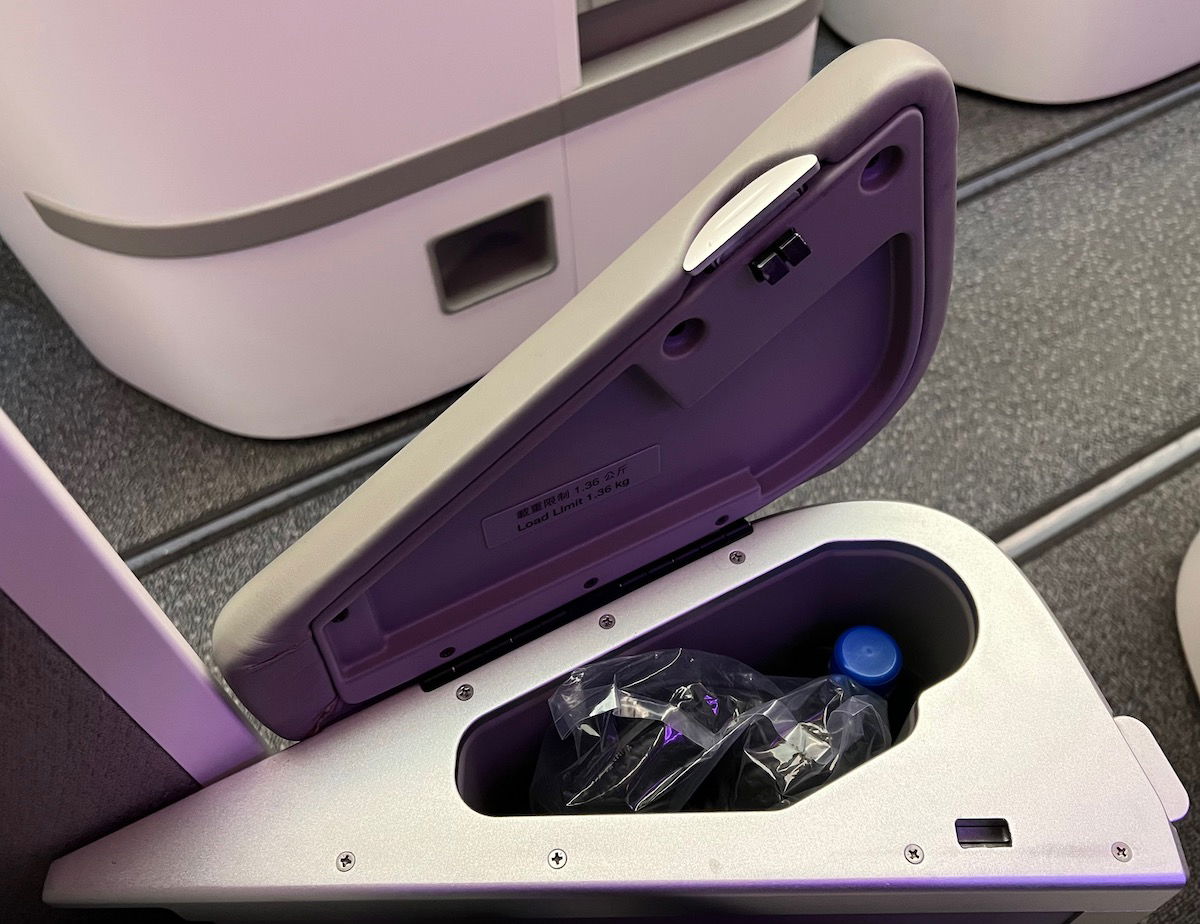 The overhead console on the A350 has both reading lights and individual air nozzles. Yay for air nozzles!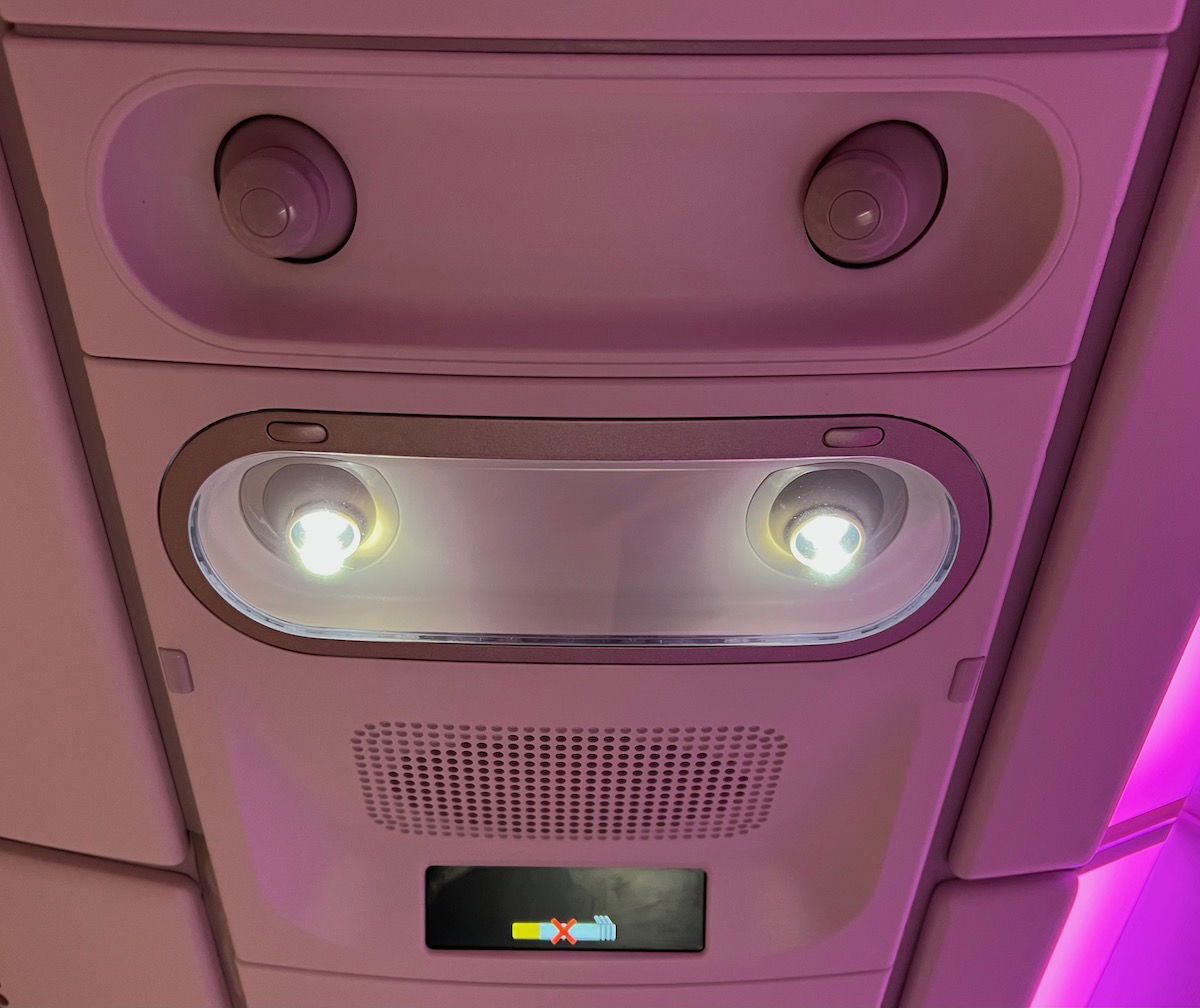 As far as lavatories go, Fiji Airways has three of these at the front of the A350 business class cabin. They're modern and well maintained, though not particularly spacious.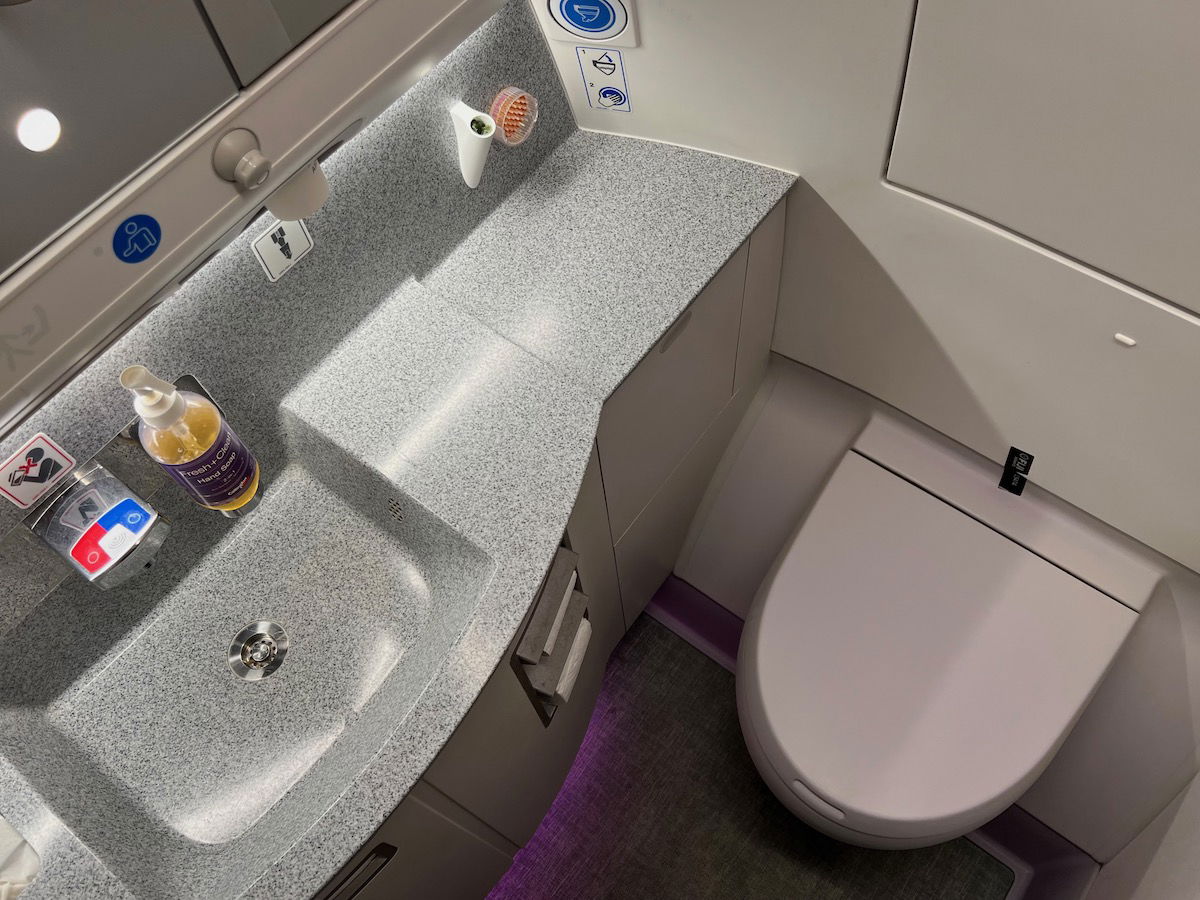 The lavatories had Pure Fiji coconut lotion in them.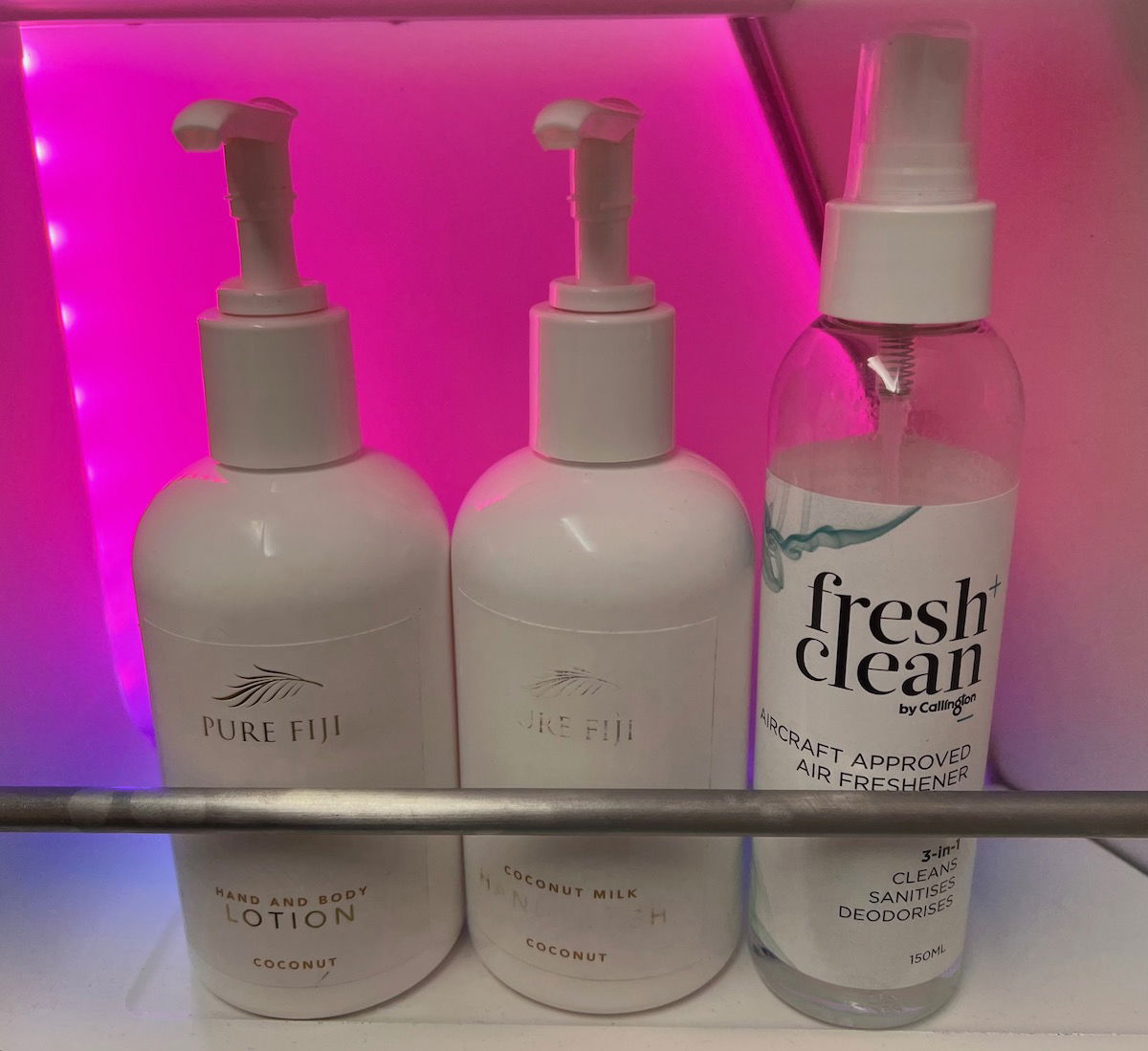 All-in-all, I'd say Fiji Airways offers an excellent business class hard product, especially when compared to peers in the South Pacific, like Air New Zealand and Air Tahiti Nui.
Fiji Airways business class amenities
Waiting at each business class seat upon boarding was a great pillow, as well as a light blanket.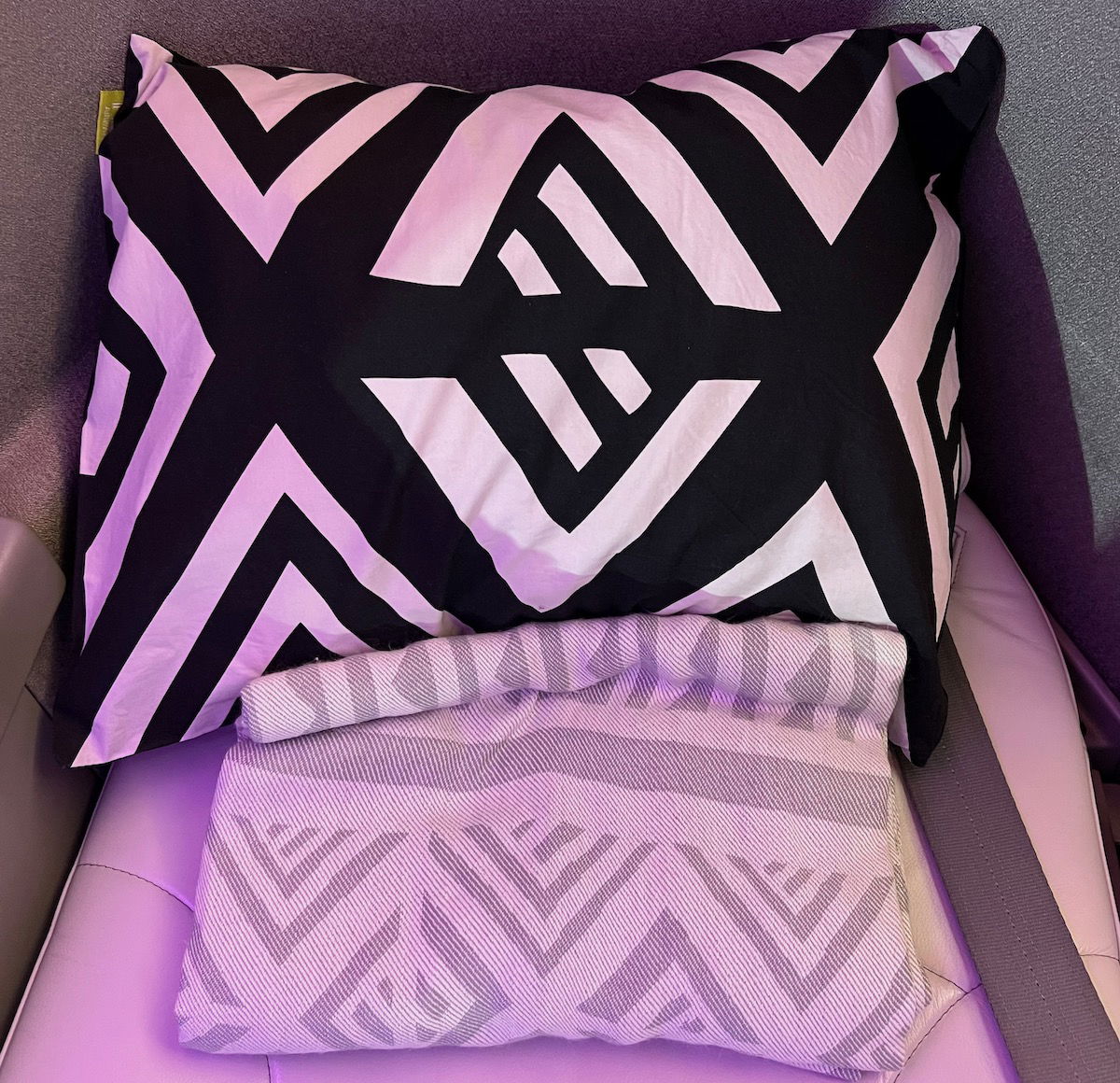 This is only part of the bedding, as Fiji Airways also has a lovely mattress pad, as well as a much thicker blanket, that you're offered when it's time to sleep. This is top notch bedding, if you ask me.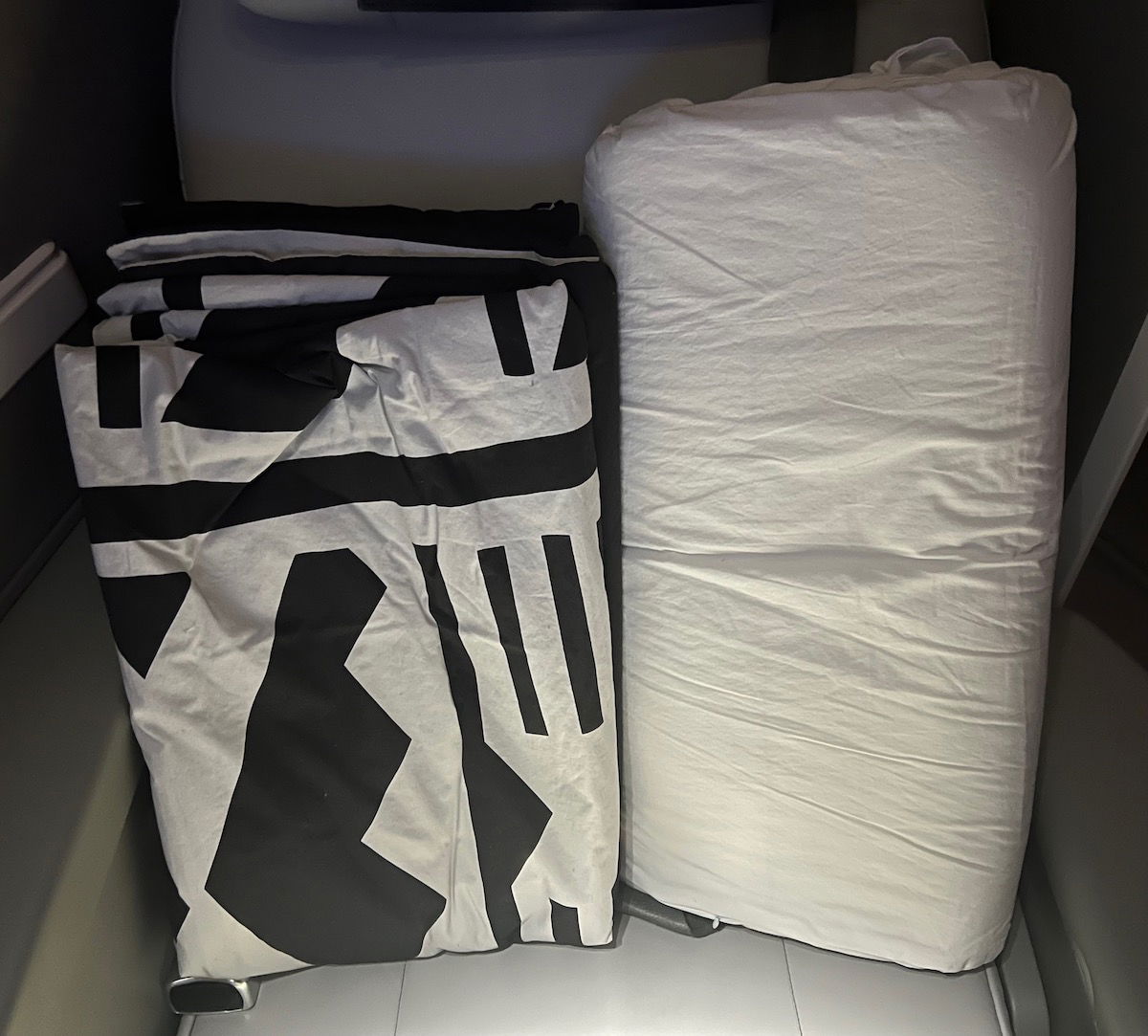 Also waiting at each seat was an amenity kit. This contained eyeshades, socks, ear plugs, a pen, a dental kit, body lotion, and sanitizing gel.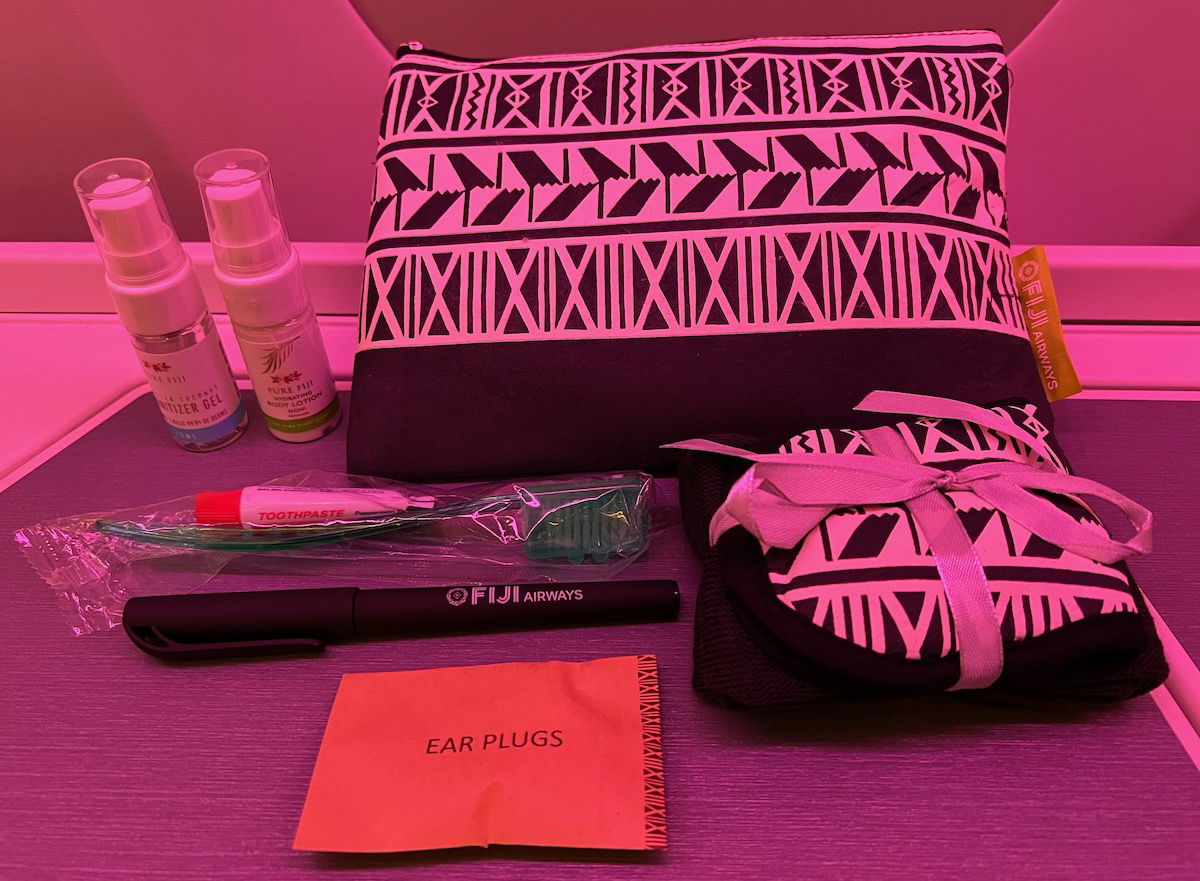 There were also a pair of noise canceling headphones, which weren't great.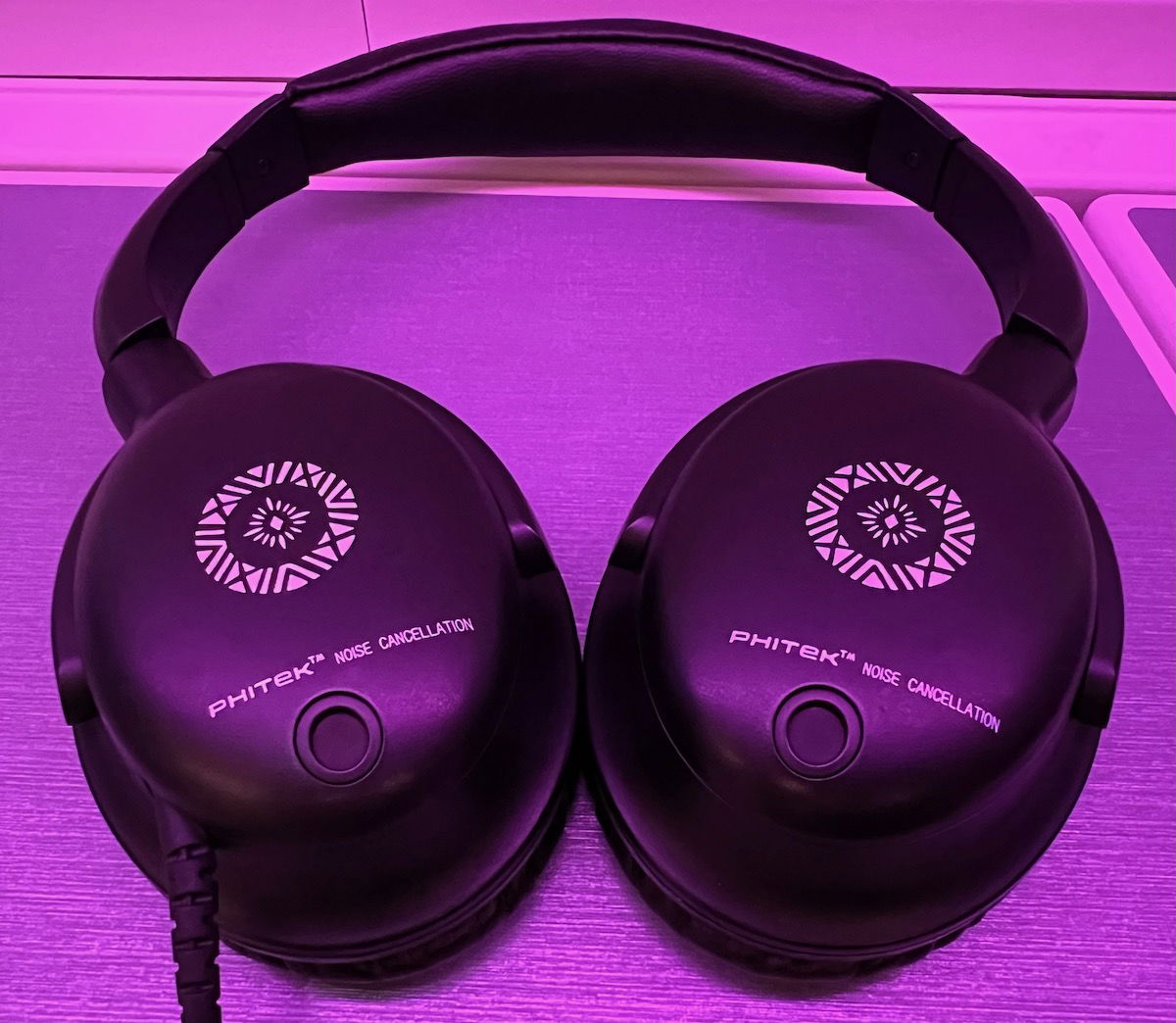 Then there was a bottle of water at the seat — naturally it was FIJI water, one of the most popular exports from the country (which, it's kind of sad we ship bottled water to the other side of the globe, but that's a different story).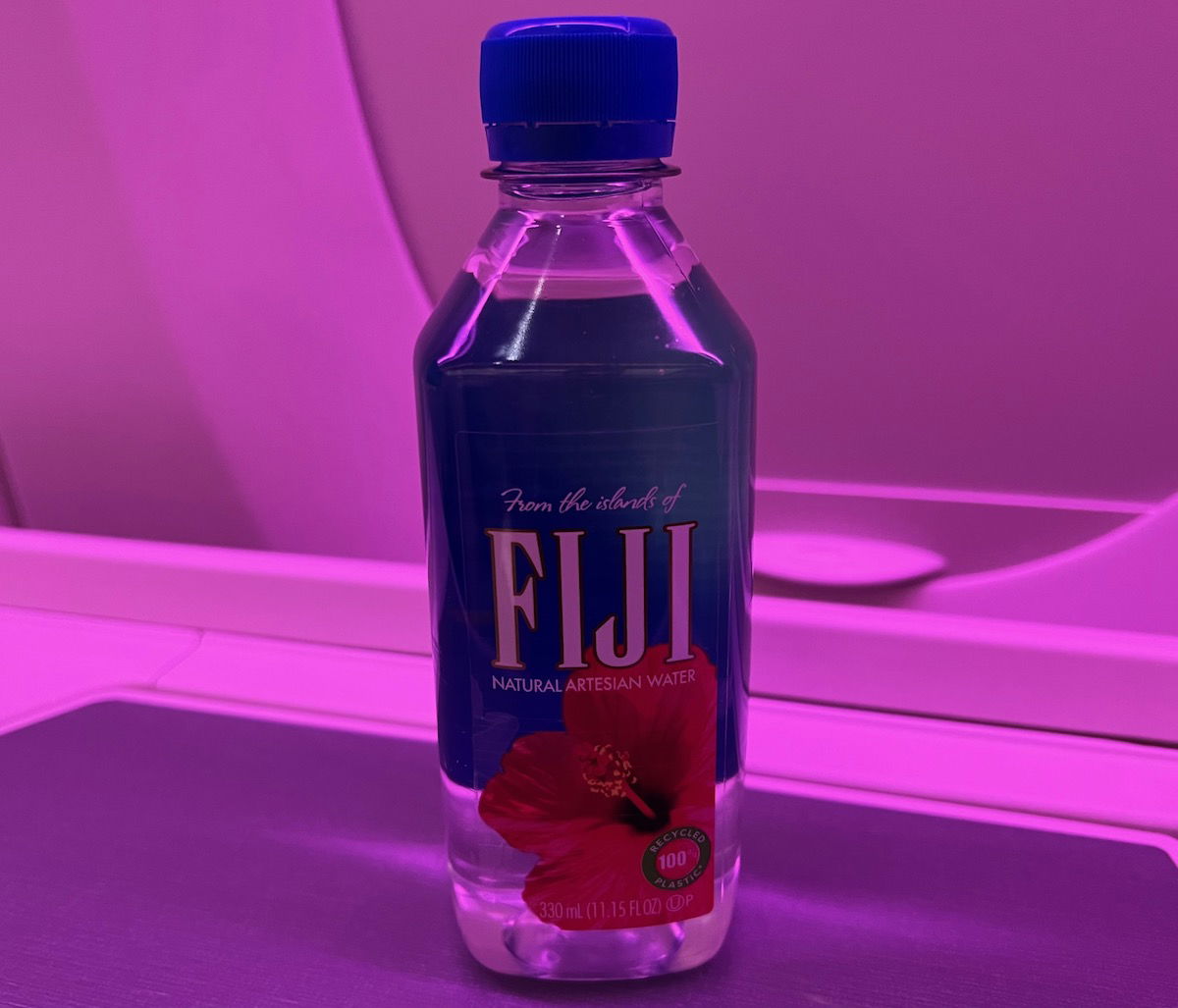 Moments after passengers settled in, the friendly crew came through the cabin to introduce themselves, ask if people were familiar with the seats, and offer pre-departure drinks. The choices were champagne or orange juice, and I selected the former.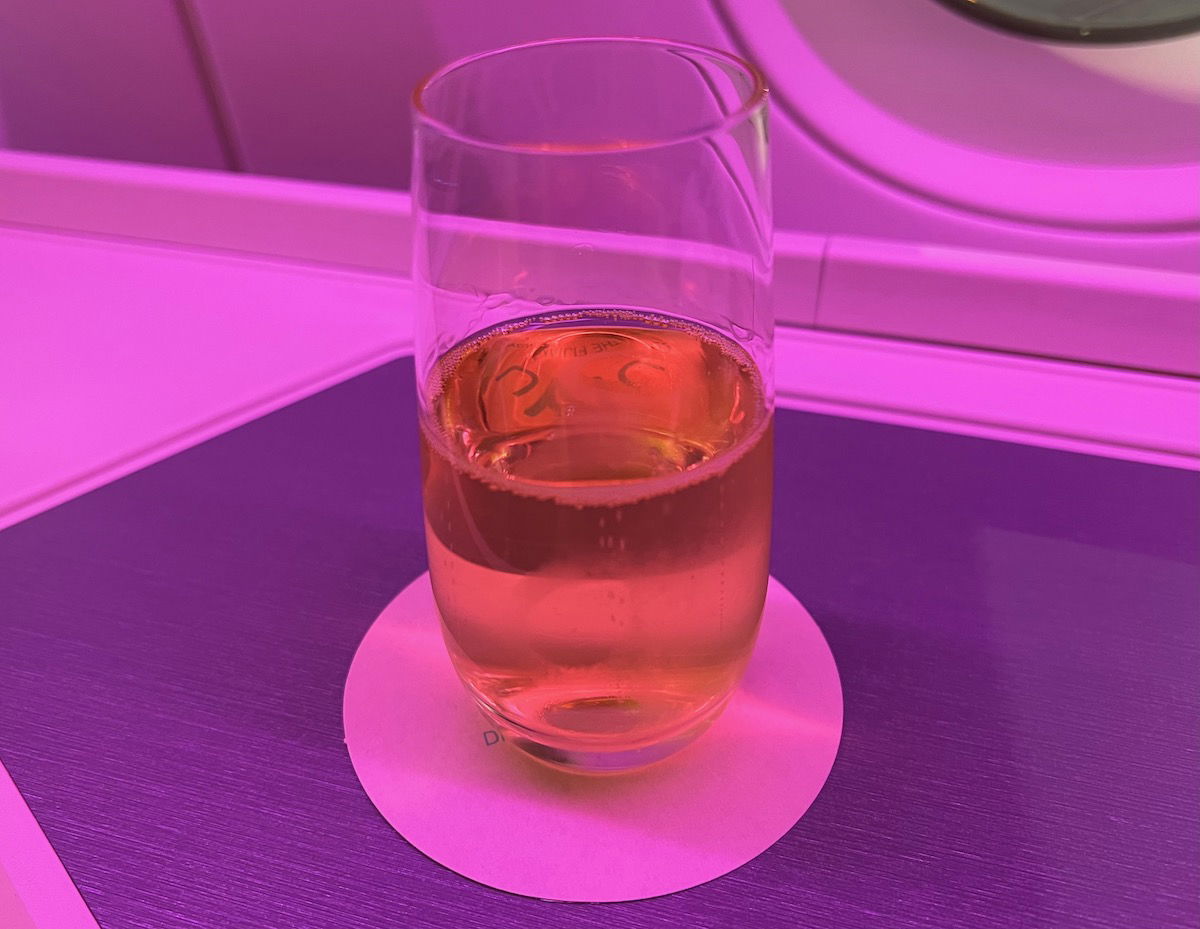 Warm towels were offered a few minutes after that.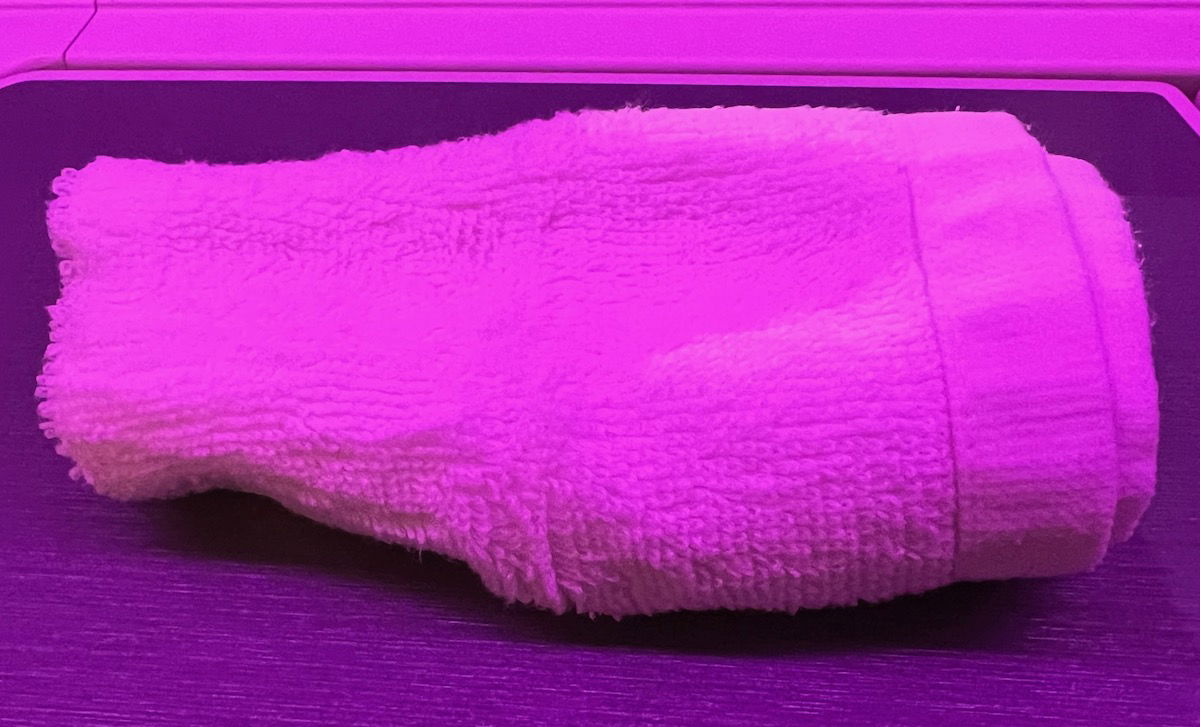 Menus were also passed out during boarding. This included both the dinner menu and drink list, plus a breakfast card you could fill out and hand back to the crew. Meal orders were also taken before the doors closed.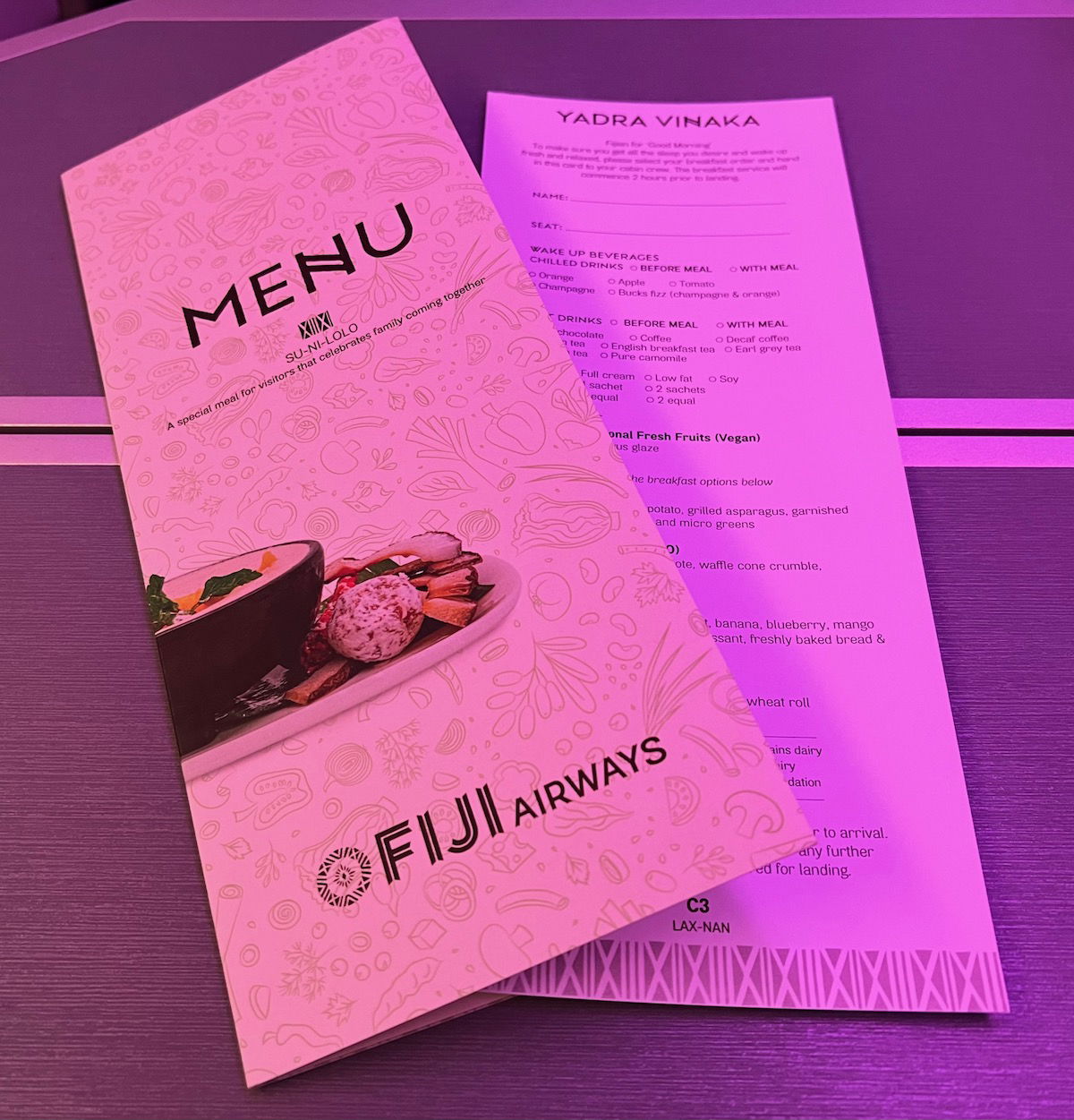 Fiji Airways A350 departure from Los Angeles
The boarding process took quite some time, and the flight was fairly full — every business class seat was taken, while economy was nearly full.
At around 11:40PM the captain made his welcome aboard announcement, introducing himself and his first and second officers, and informing us of our flight time of 10hr30min. He explained we were almost ready for departure, but were waiting on two more passengers, as well as for some bags to be loaded.
A few minutes after that the cabin doors were closed, at which point the purser made his welcome aboard announcement. Fiji Airways highlights how it's a "five-star Skytrax safety rated airline," as during the pandemic, Skytrax got into the "business" of giving COVID ratings. Interestingly Fiji Airways also has a flight attendant onboard who is a "customer wellness champion."
At around 11:50PM the safety video was screened — Fiji Airways has an awesome local, eco-focused safety video.
Fiji Airways also has great boarding music, which was playing for the entire time we were on the ground. I haven't been able to find it online, sadly, or else I'd add it to my list of the best airline boarding music.
We began our pushback at 12:05AM. We began our taxi five minutes after that, and then at 12:20AM were cleared for takeoff on runway 24L. The seatbelt sign was turned off just five minutes after takeoff.
Fiji Airways A350 entertainment & Wi-Fi
As we climbed out, I browsed Fiji Airways' entertainment system, which is excellent. It had well over 100 movies, and even more TV shows than that. The system was easy to use, and could be controlled either with the monitor itself, or via a remote.
The same ads played before each program, and included an ad for opening a call center in Fiji, as well as an ad for Cloud 9 Fiji, some sort of a dock in the middle of the water that you can go to during the day to party — I'm undecided if this seems awesome or awful.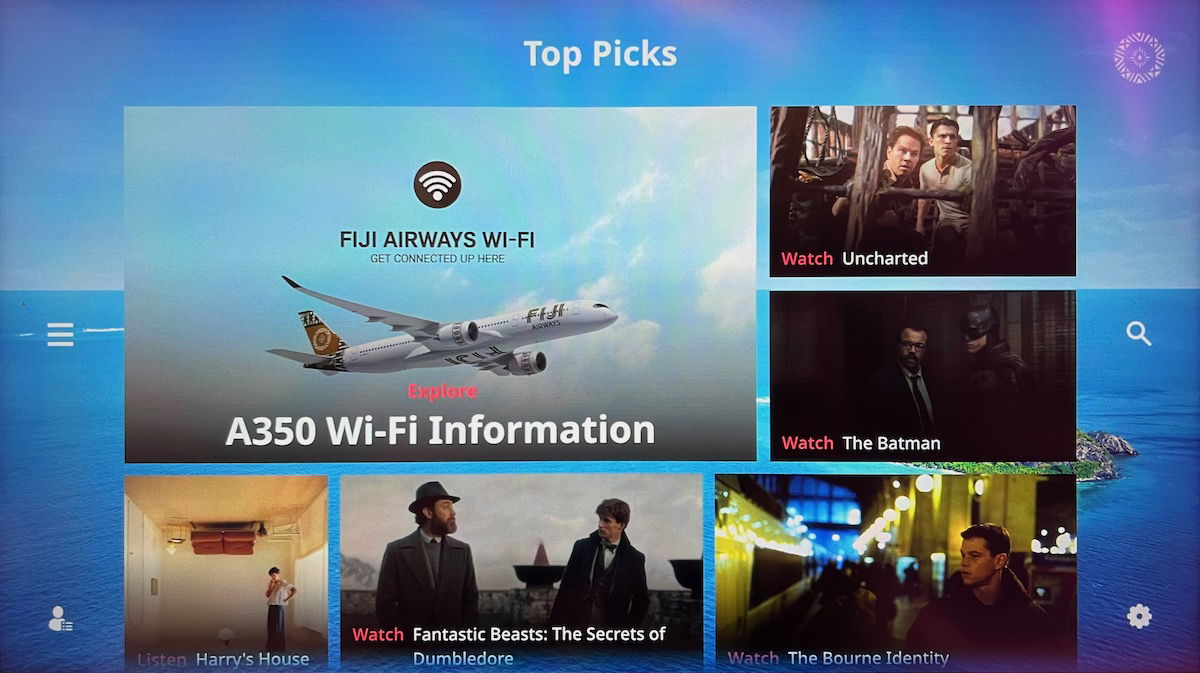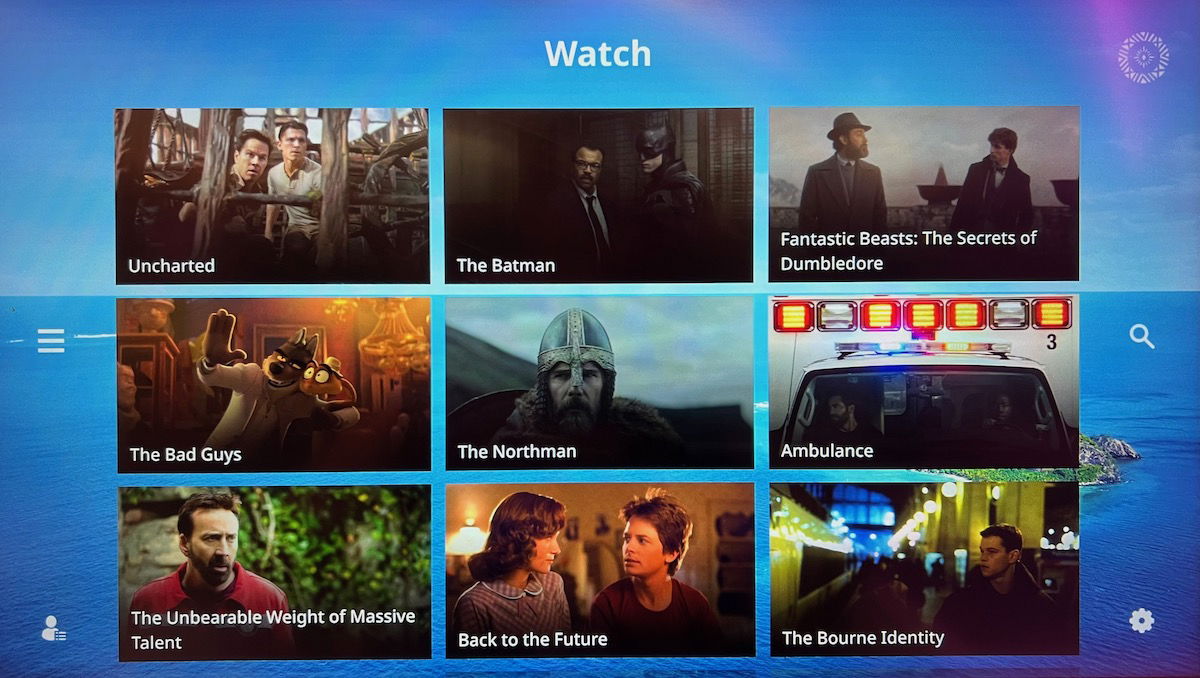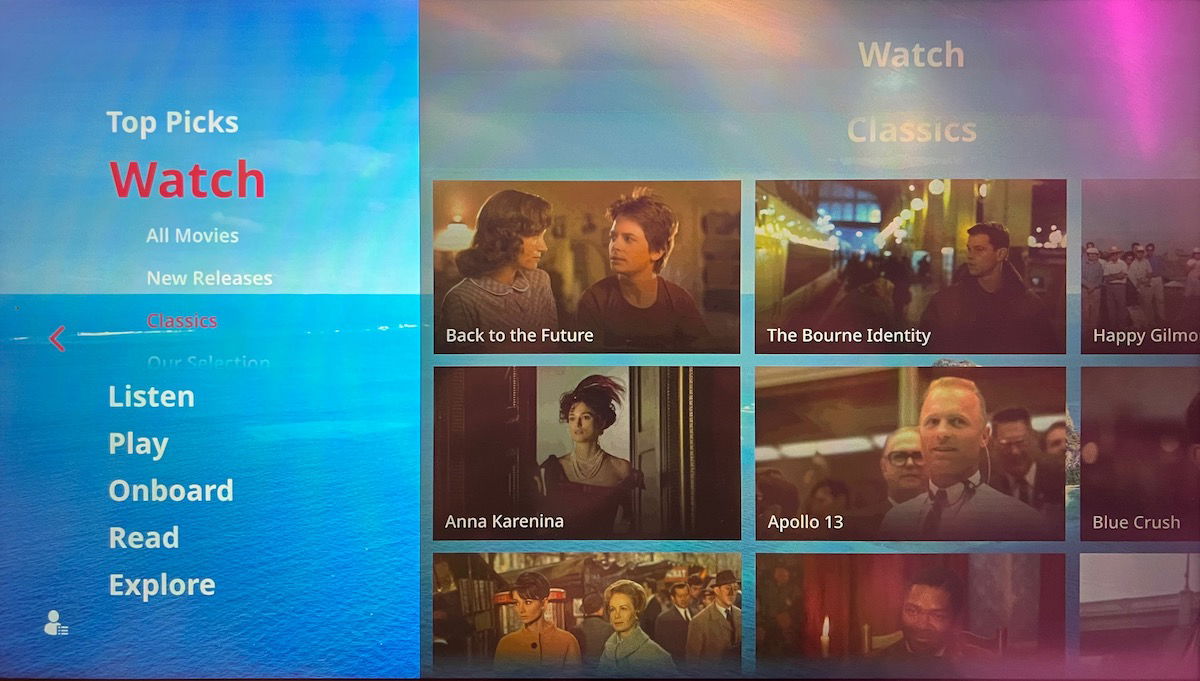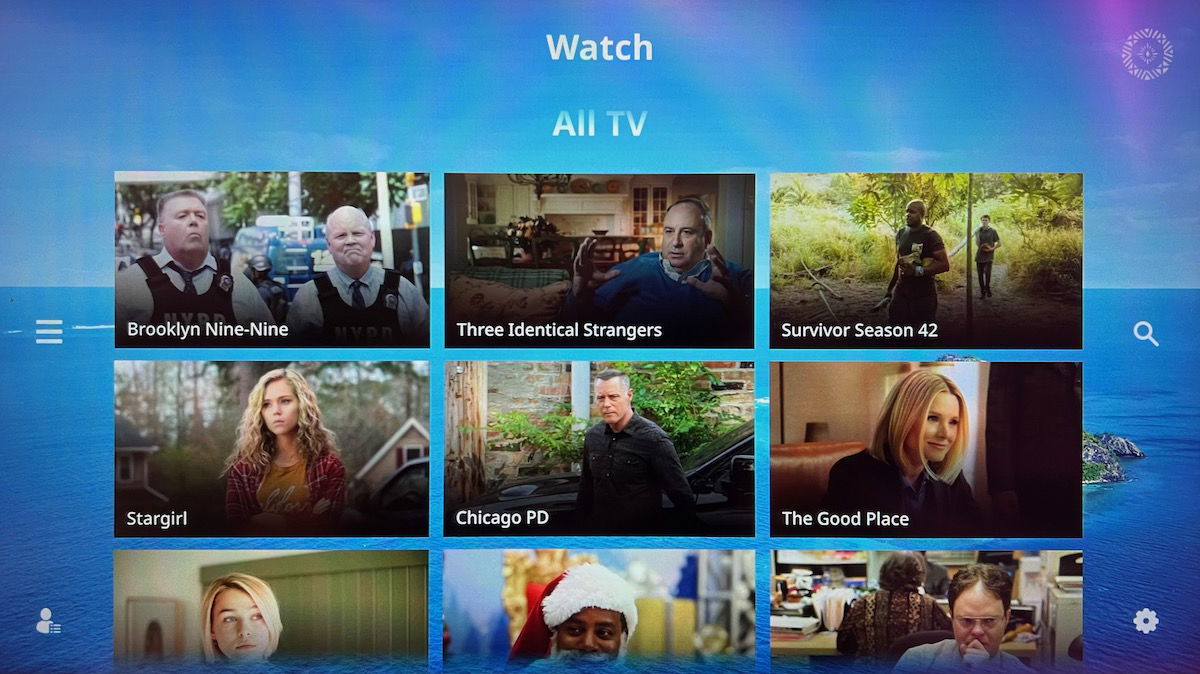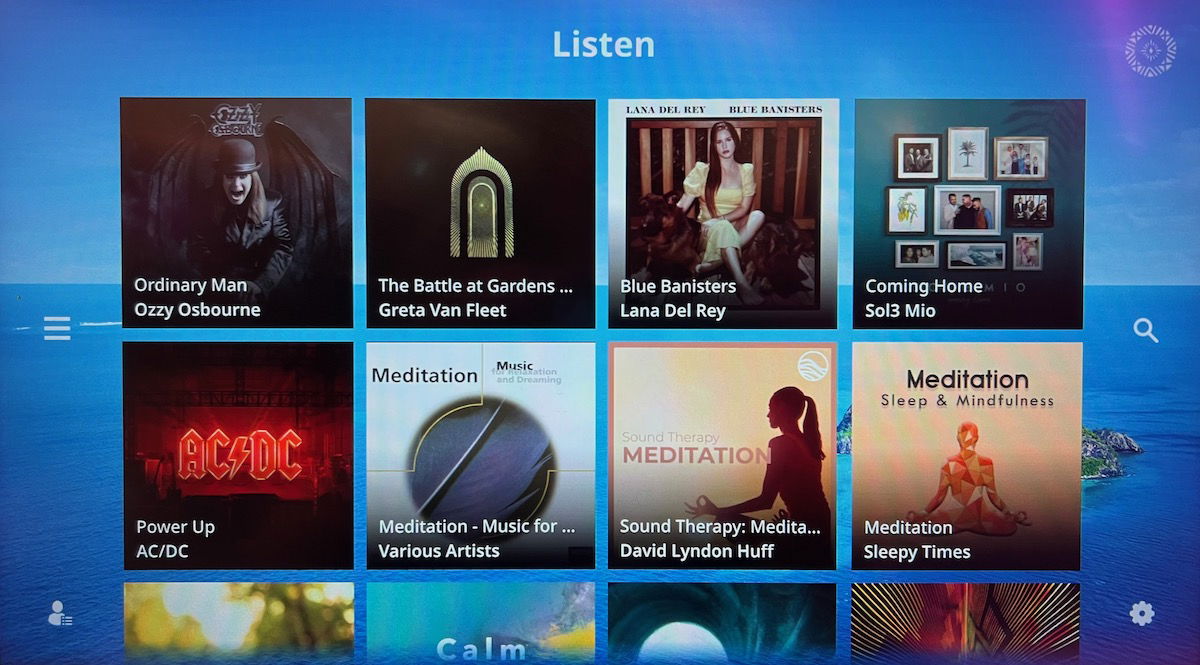 I don't usually have the attention span for a movie, especially on an overnight flight where I'm trying to sleep, so I instead watched sitcoms. I first watched Brooklyn Nine-Nine, and then later on watched Mr. Mayor, which I saw for the first time, and totally loved (anyone else a fan, at least as far as sitcoms go?).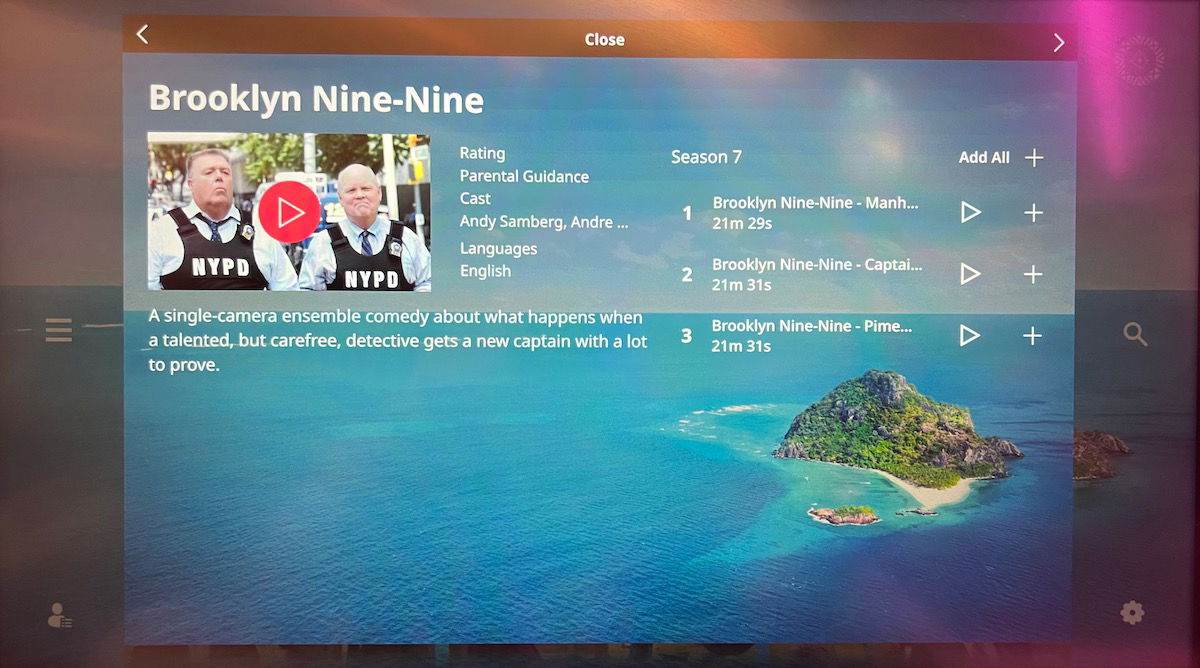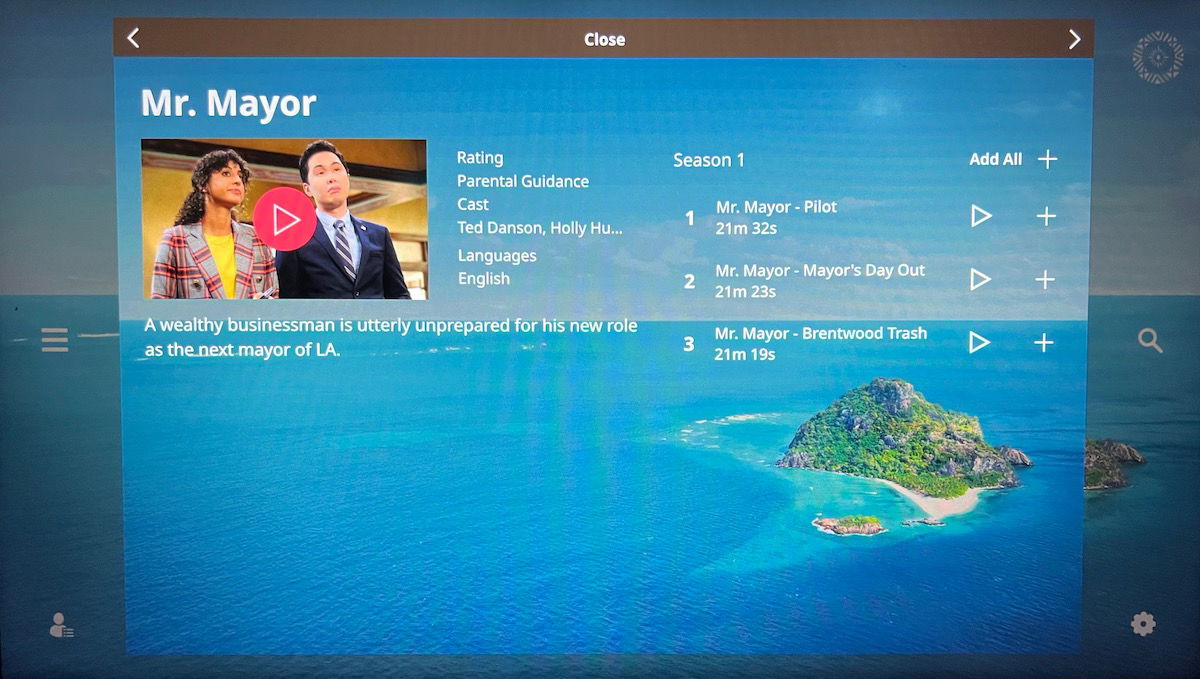 Fiji Airways' inflight entertainment system also has an awesome customizable map feature, as well as a high definition tail camera (the below picture is from landing, since it was dark for almost the entire flight).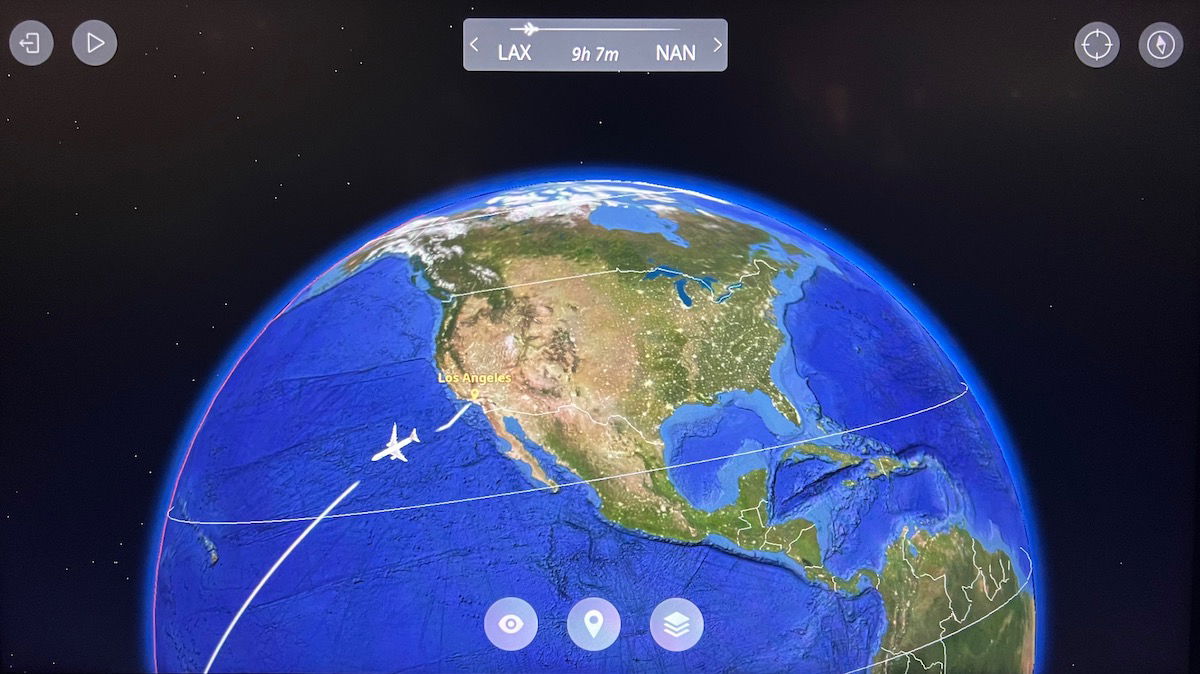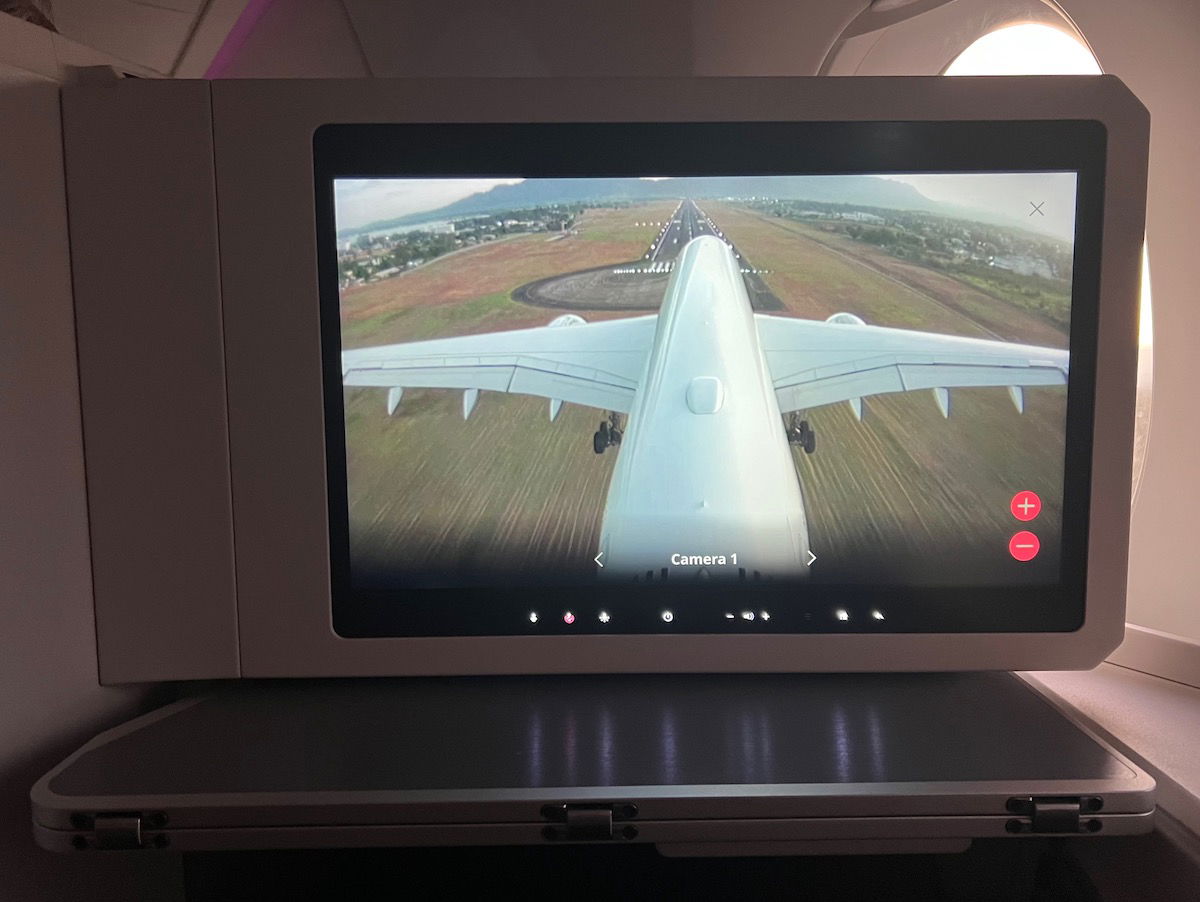 Fiji Airways' Airbus A350s also have Wi-Fi. Plans are based on data usage, and the pricing is as follows:
You can get 15 minutes of free messaging on a mobile device
You can buy a 20MB "text" plan for $7.95
You can buy a 200MB "standard web" plan for $11.95
You can buy a 500MB "web plus" plan for $24.95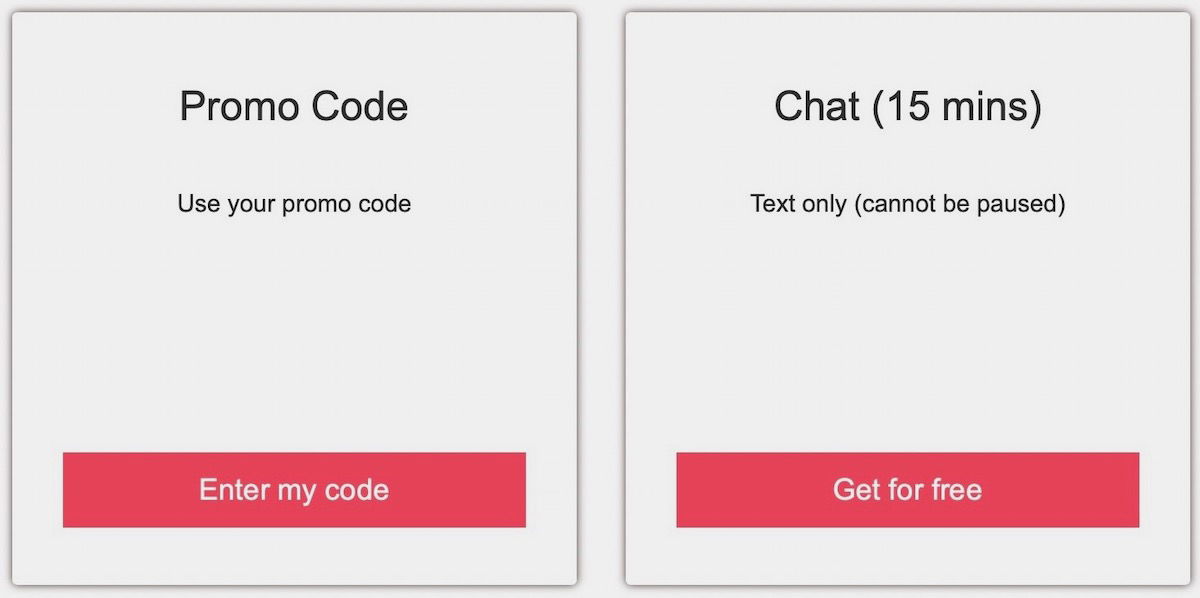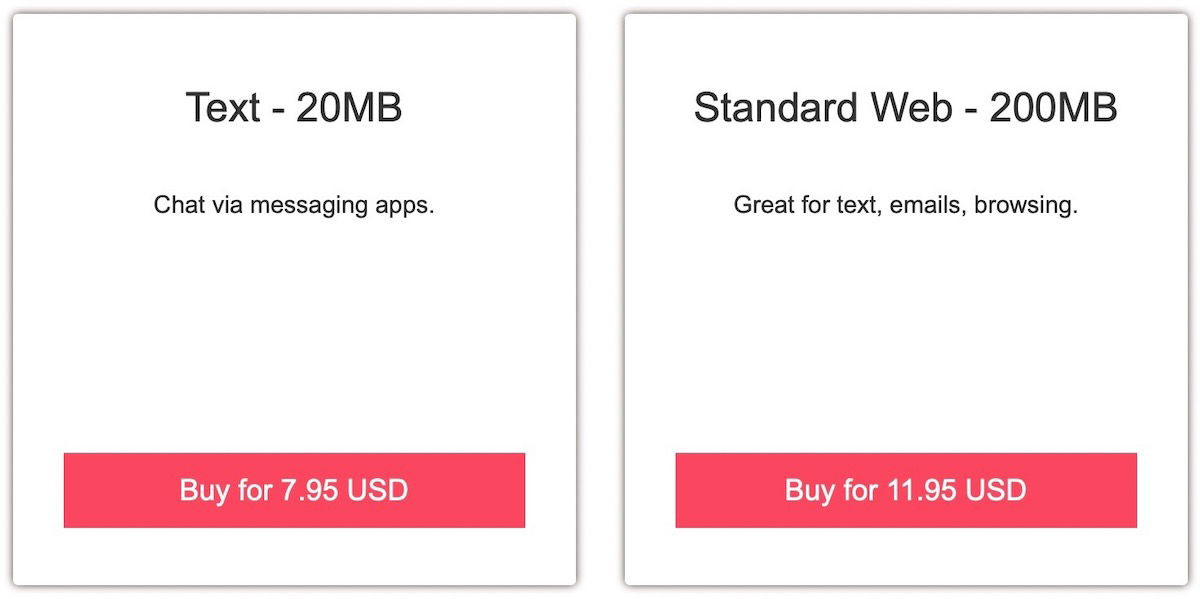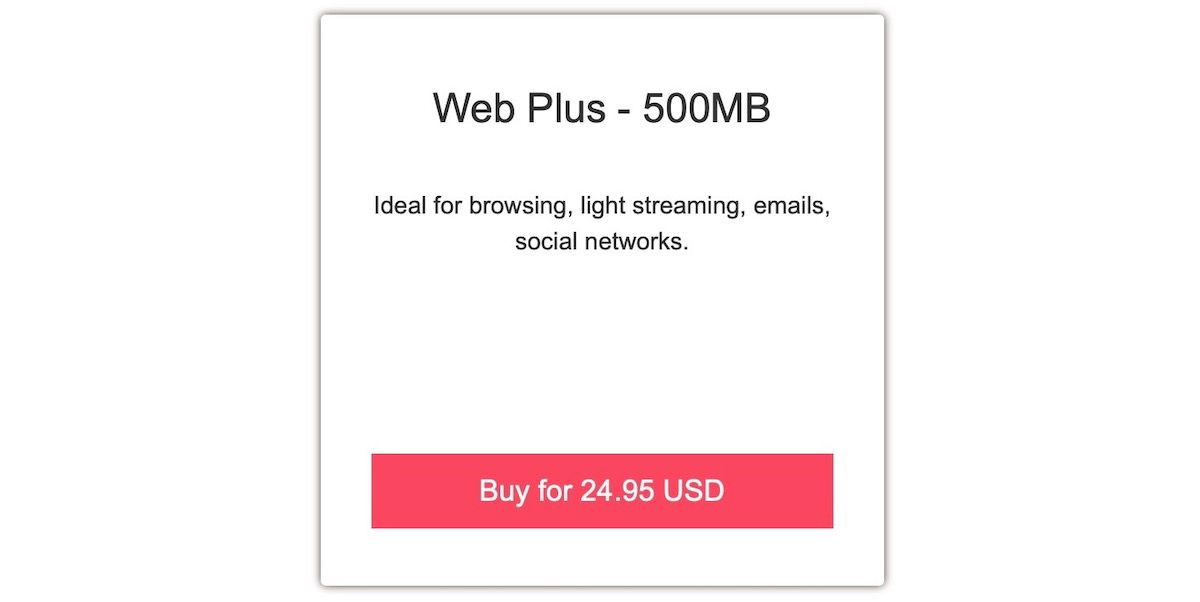 I bought the 500MB plan, as I worked for much of the flight. The Wi-Fi speeds were quite good, and that plan lasted me the entire flight. So while I prefer plans without data caps, 500MB is a very high cap.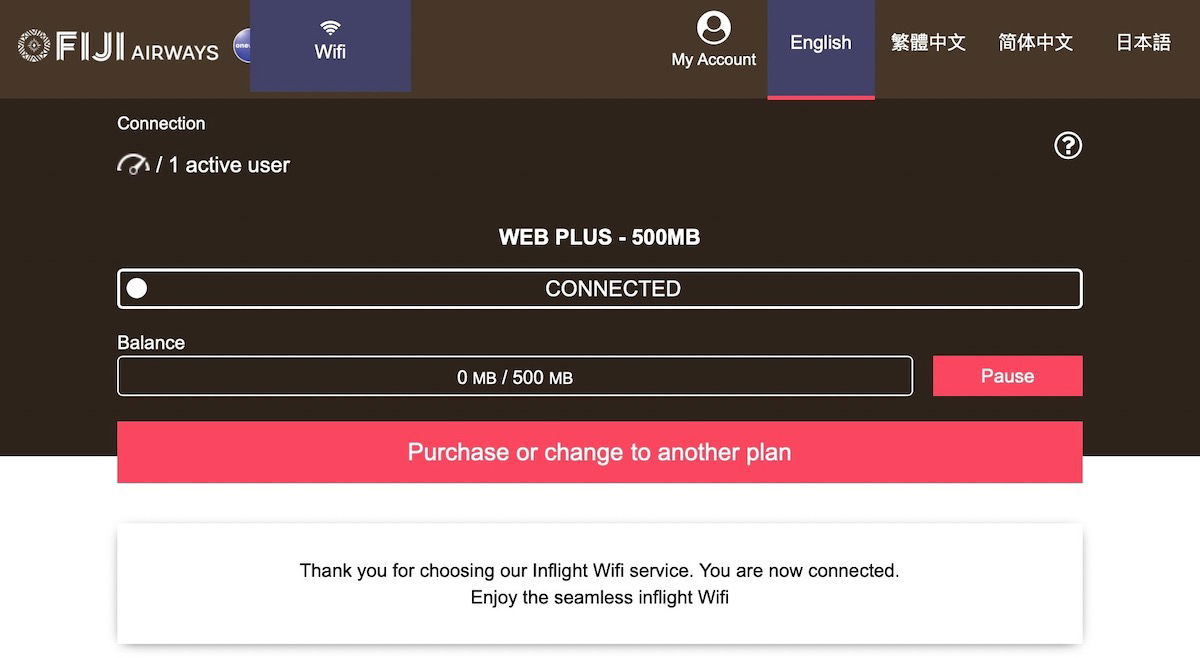 Fiji Airways business class dinner service
Service was quick to get started after takeoff, which I very much appreciate on a late night flight where people are looking to sleep. The cabin lights were kept dark, and there was just some purple mood lighting used during the service.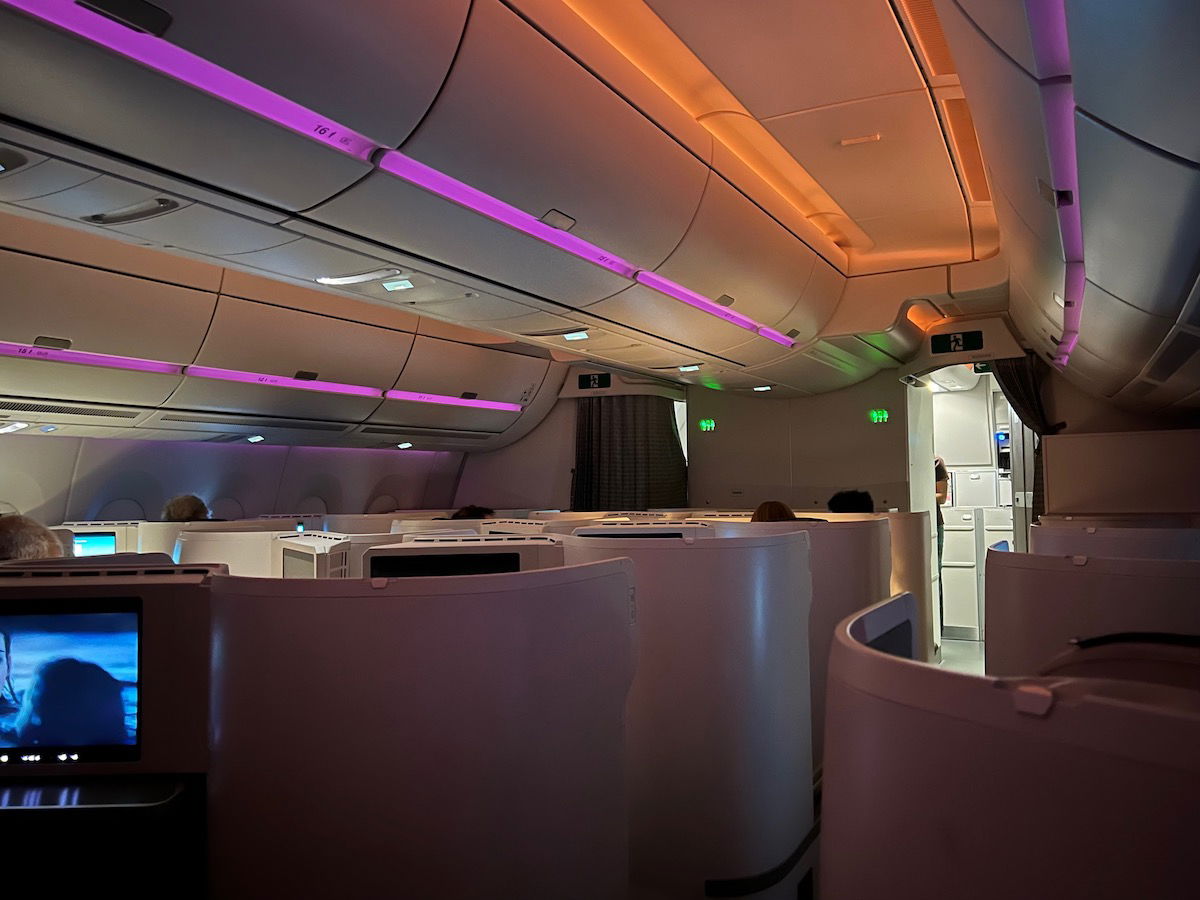 Below you can find the dinner menu for the flight. Fiji Airways has a slightly unconventional dining concept, as you can choose either something from the light bites or the more substantial mains menu. That seems smart, since many people may only want a snack. I requested something from each menu, and that wasn't an issue (and I saw many others do the same).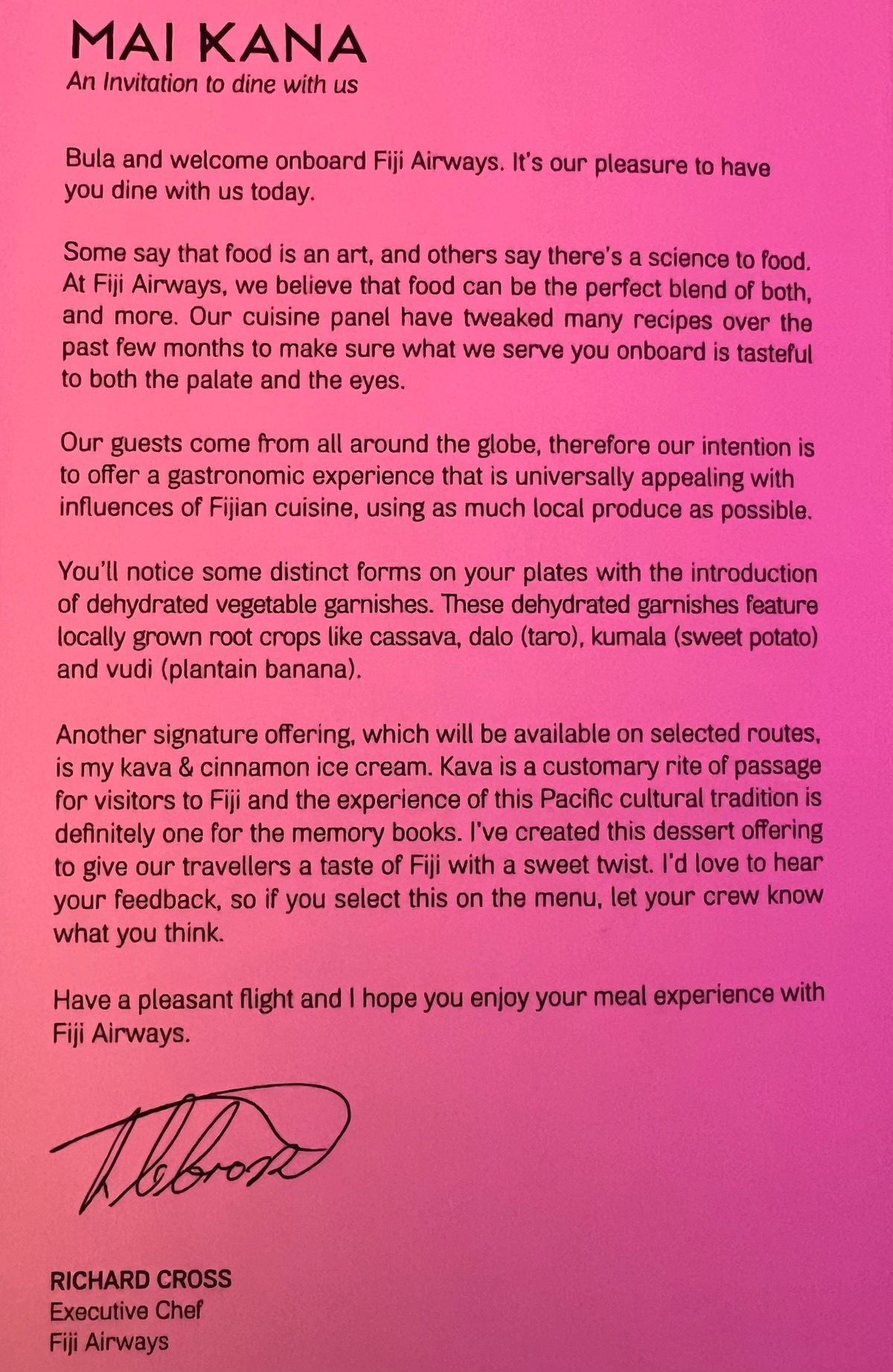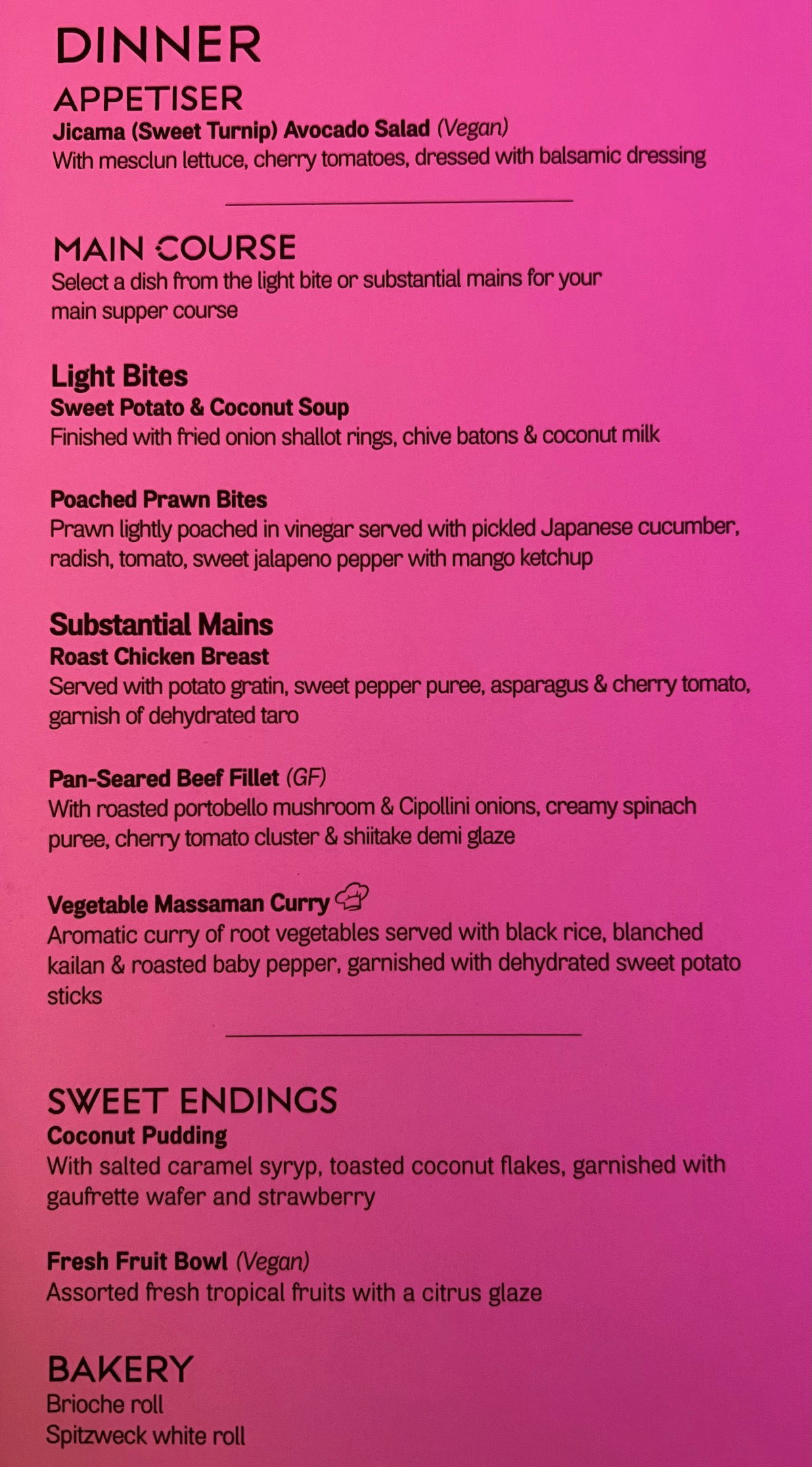 Then below you can find the drink list for the flight.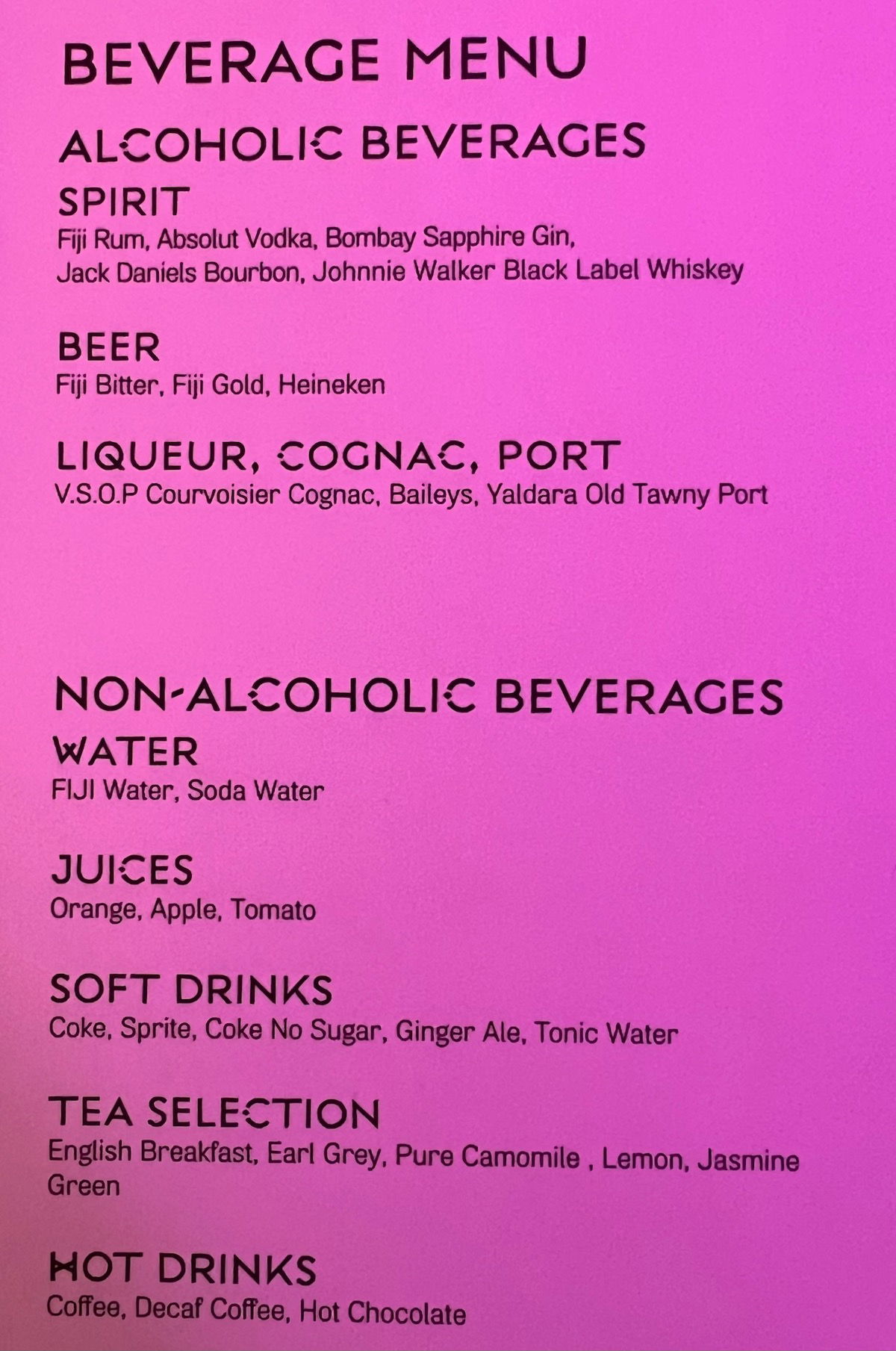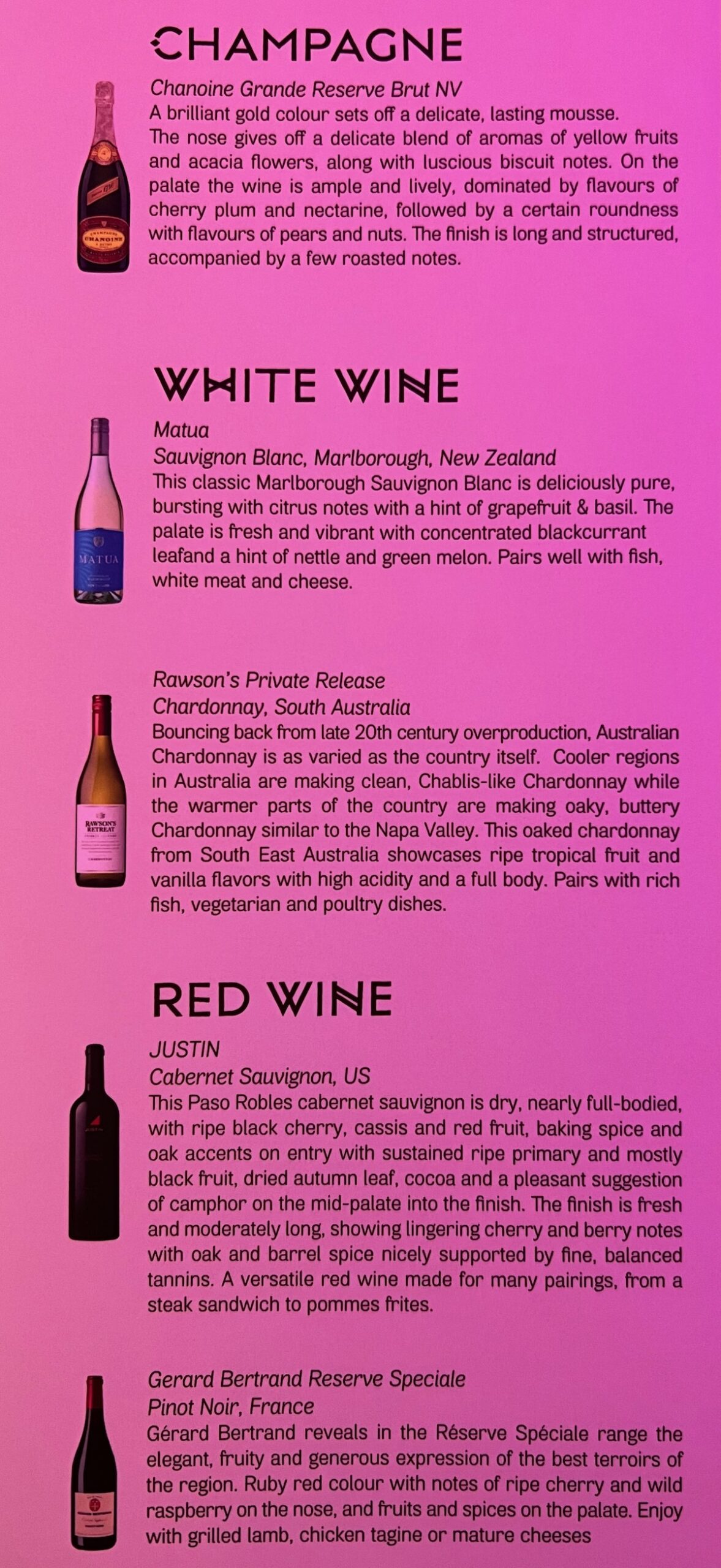 Within 30 minutes of takeoff I was served my first drink. I ordered a glass of champagne — Fiji Airways serves Chanoine Grande Reserve Brut NV, which is perfectly nice, but not something you'll remember. There was a small ramekin served with the drink, which had some sort of Chex Mix-style snack mix.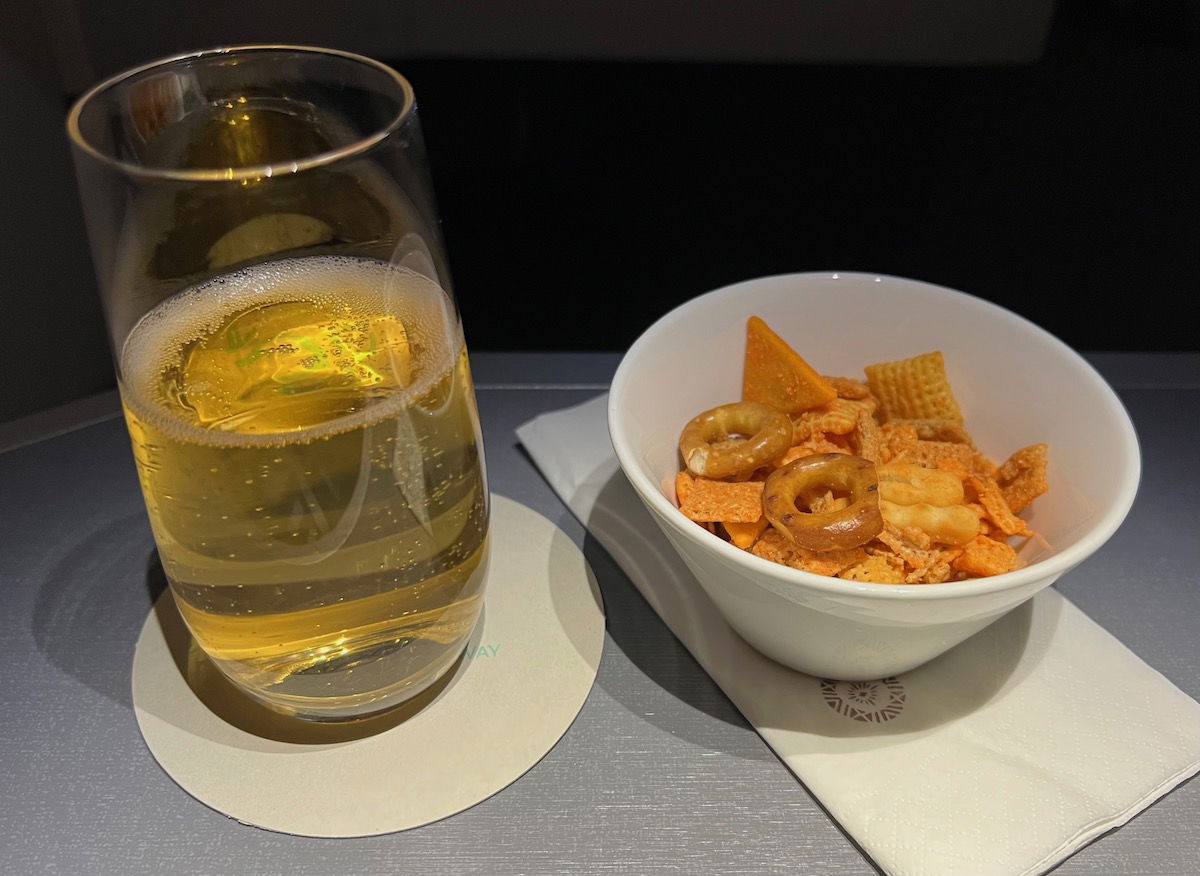 I was served my first course around 50 minutes after takeoff. This included a delicious sweet potato and coconut soup, finished with fried onion shallot rings, chive batons, and coconut milk. This came with a jicama avocado salad with mesclun lettuce, and cherry tomatoes, as well as a couple of bread rolls. To drink I ordered a glass of the Matua sauvignon blanc, from New Zealand.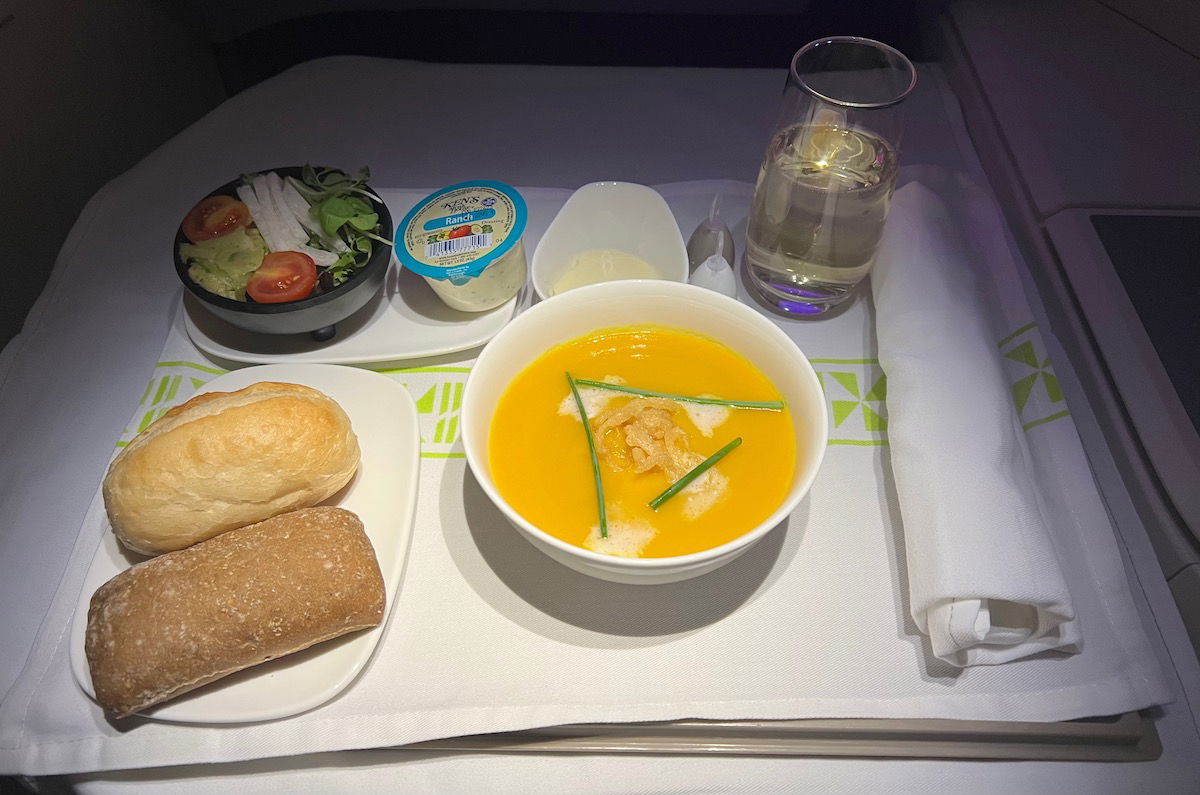 For the main course I ordered the vegetable massamam curry with black rice, blanched gai lan, and roasted baby pepper, garnished with dehydrated sweet potato sticks. This dish was excellent, and legitimately spicy, which you don't often find on a plane.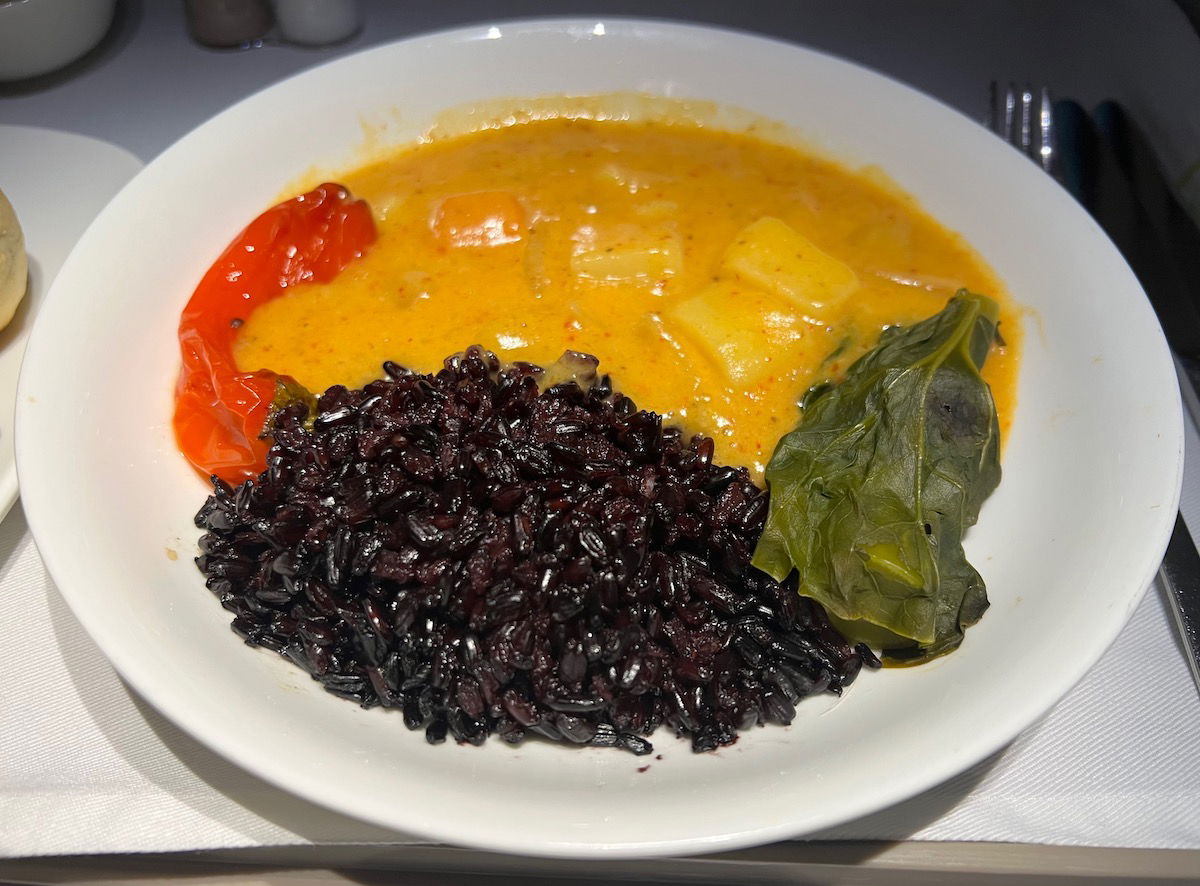 Lastly, for dessert I had the coconut pudding with salted caramel syrup and toasted coconut flakes, garnished with a wafer and strawberry. This wasn't nearly as sweet as it sounded, and was a great ending to the meal.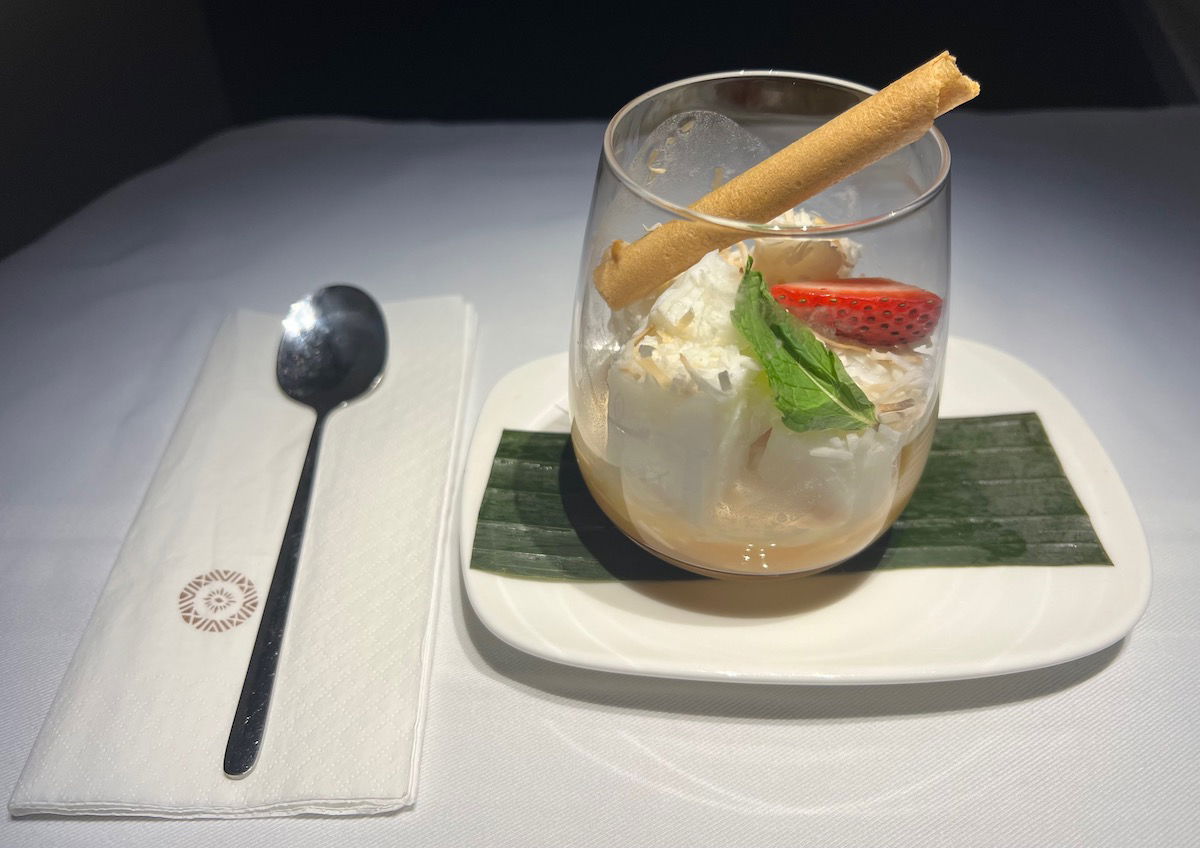 My tray was cleared less than 75 minutes after takeoff, so I appreciated the pace at which the meal was served. At this point there were still over nine hours remaining in the flight.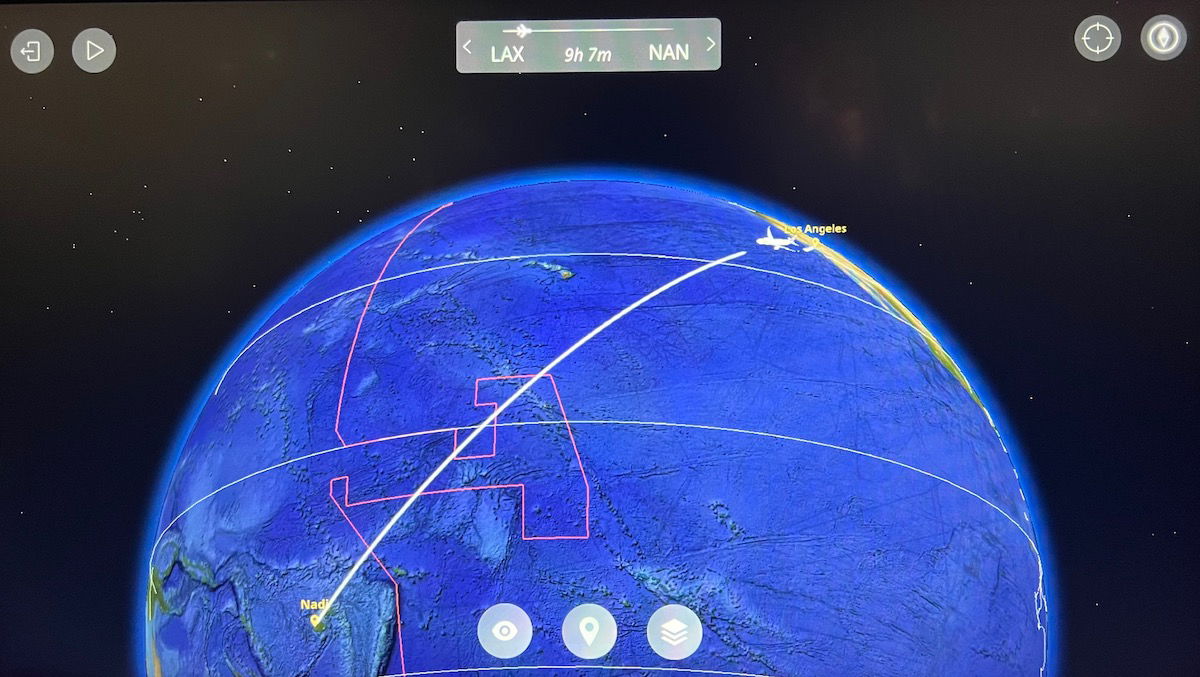 Fiji Airways A350 business class bed
I was pretty tired by the time the meal service finished, since it was after 4AM ET (that's usually the time at which I get up, not the time at which I go to sleep). 😉 So I immediately reclined my seat and went to bed.
I find the Collins Aerospace Super Diamond seats to be comfortable for sleeping. They're spacious and pretty private, and the footwell is a decent size.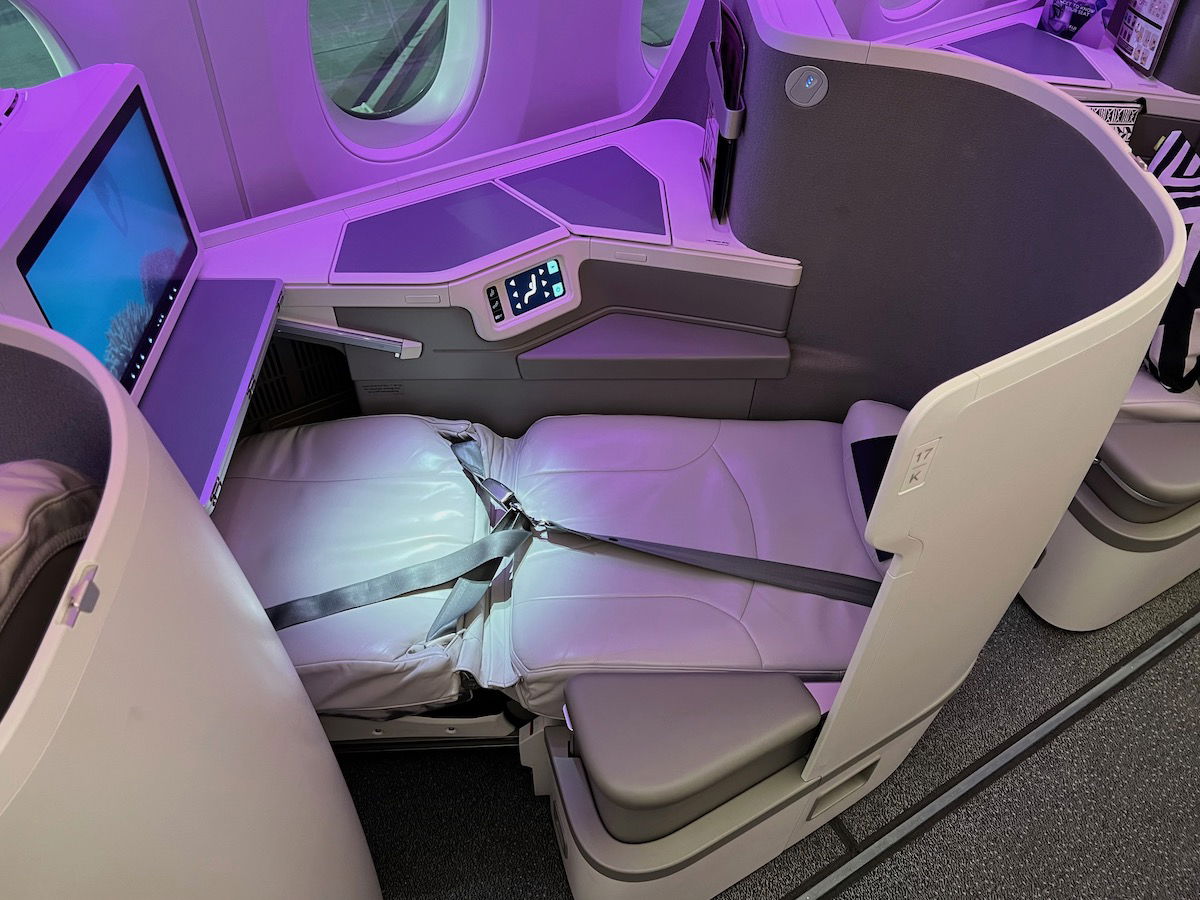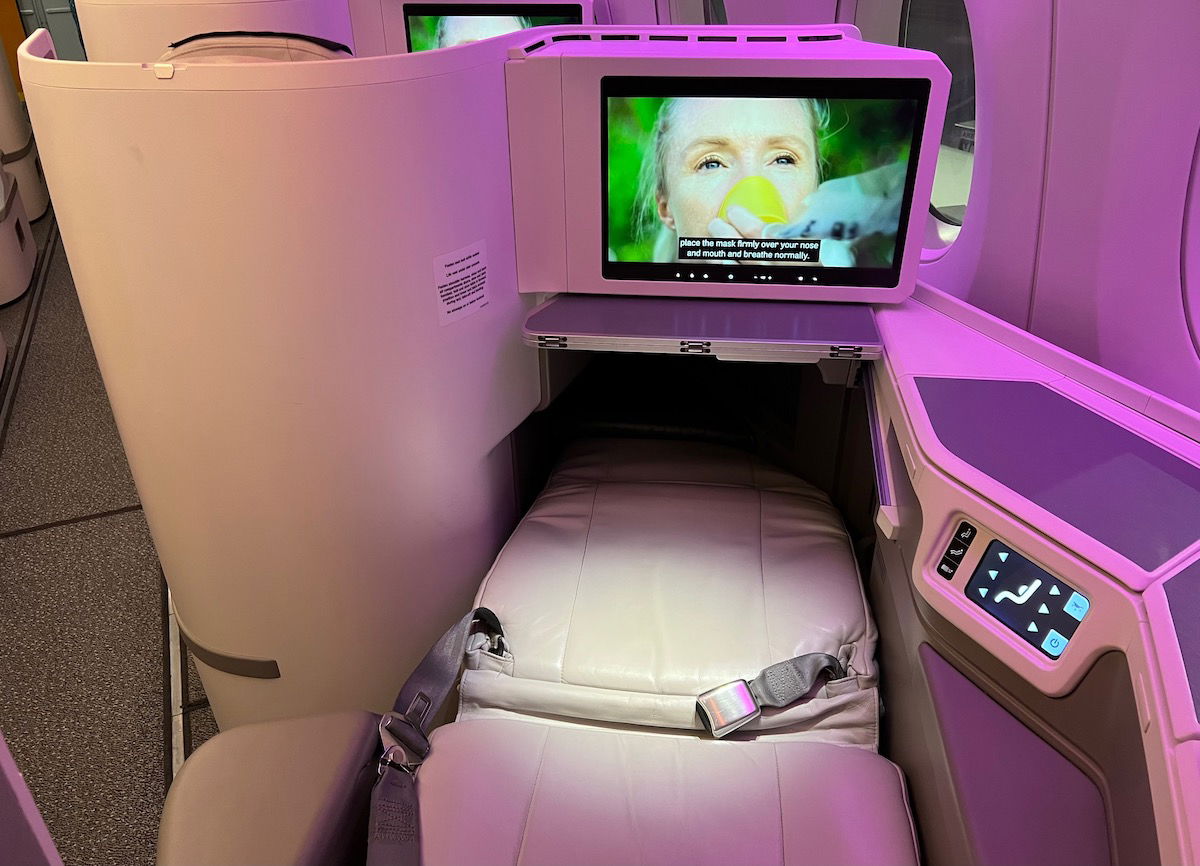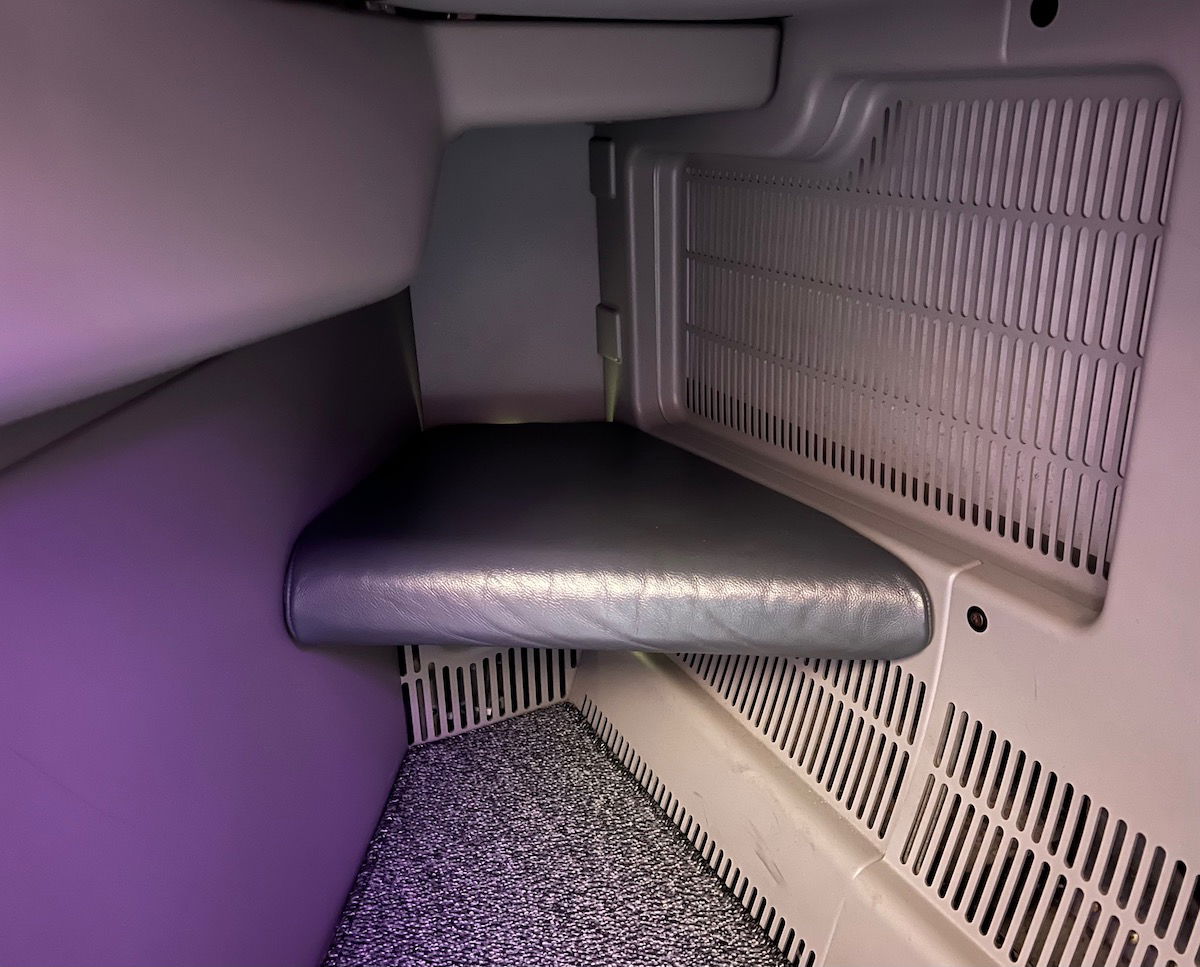 Fiji Airways' bedding also helped with getting comfortable, as the mattress pad smoothed out the surface quite a bit, while the blanket and pillow were substantial.
I ended up getting roughly four hours of sleep, and woke up with just under five hours remaining to Fiji. At this point we were about to cross the International Dateline (for the first of five times on this flight!).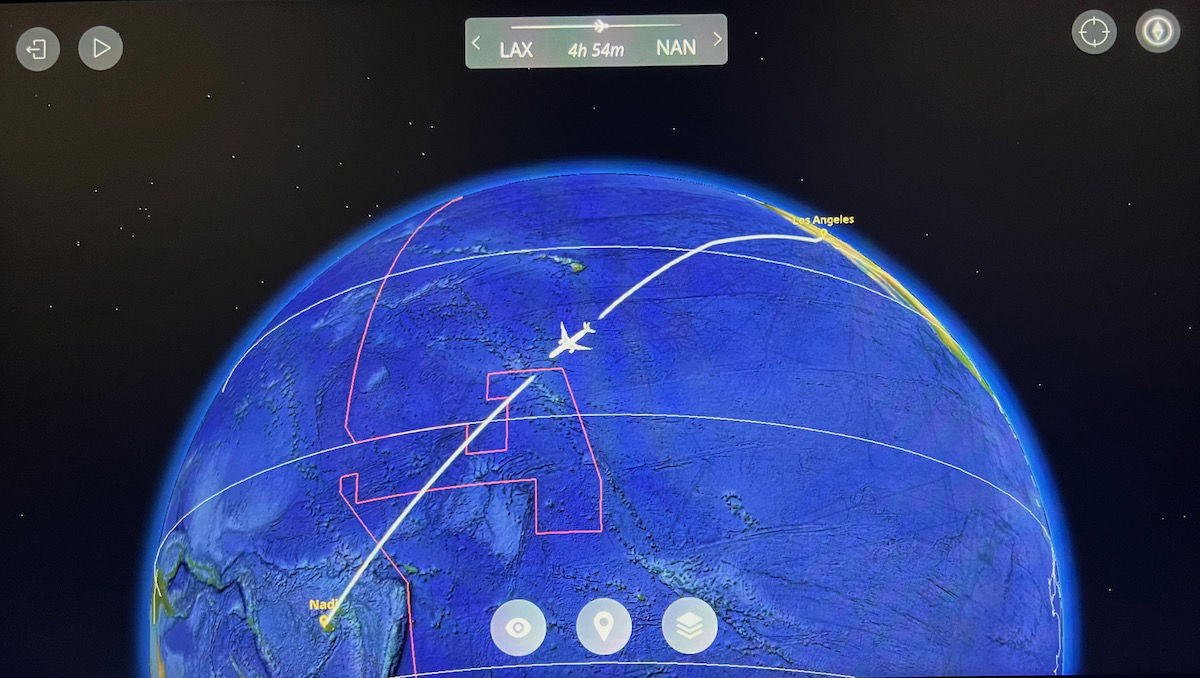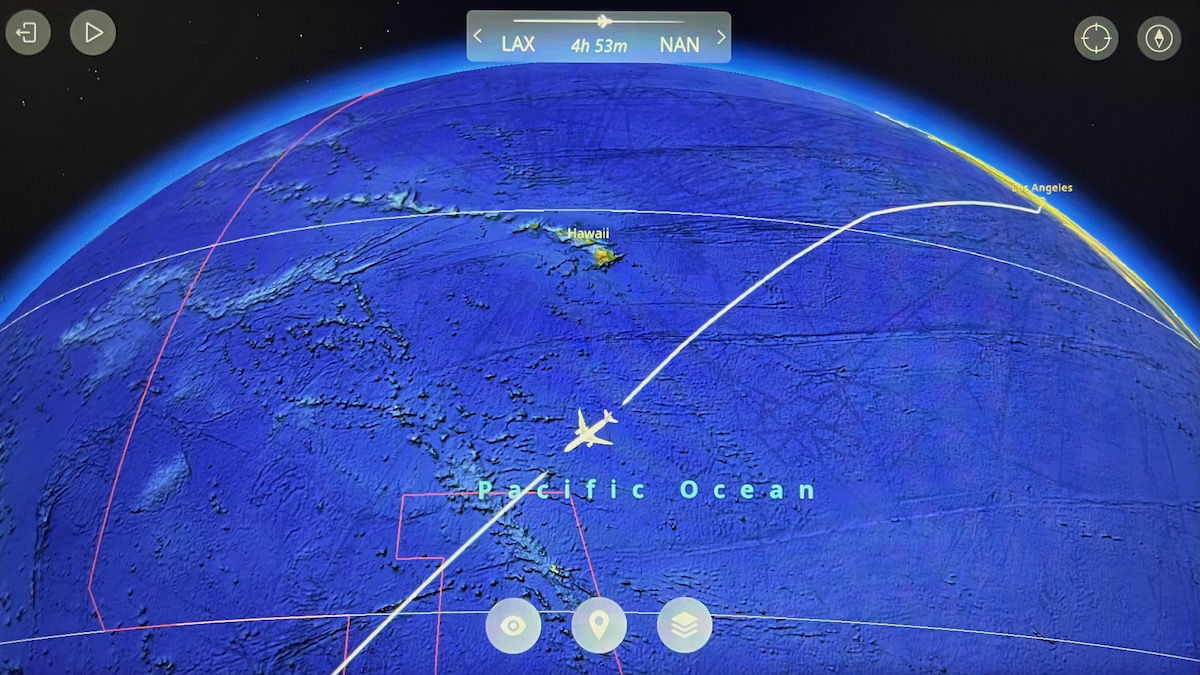 All other passengers were still sound asleep, but I'm not a good airplane sleeper, and it was also Monday morning back home, so it was time to blog. 😉
The crew took good care of me, and served me more water, coffee, and some snacks.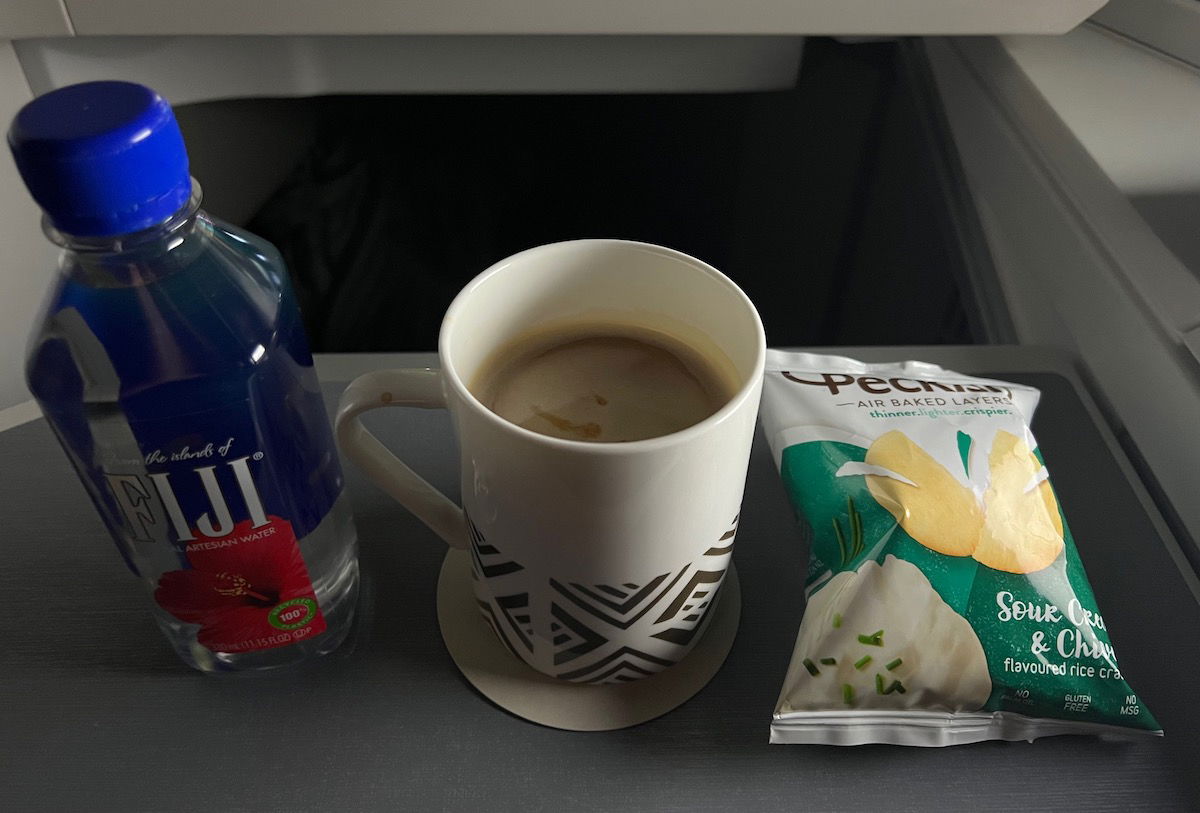 There was a snack basket in the galley with two kinds of chips, plus bottled water.
Fiji Airways business class breakfast service
Around 2hr40min before landing, the crew slowly turned on the "sunrise" lighting setting, to start to wake passengers up. That seemed awfully early to do that. Of course I didn't mind that one bit, since I was awake and prefer not to be in a totally dark cabin.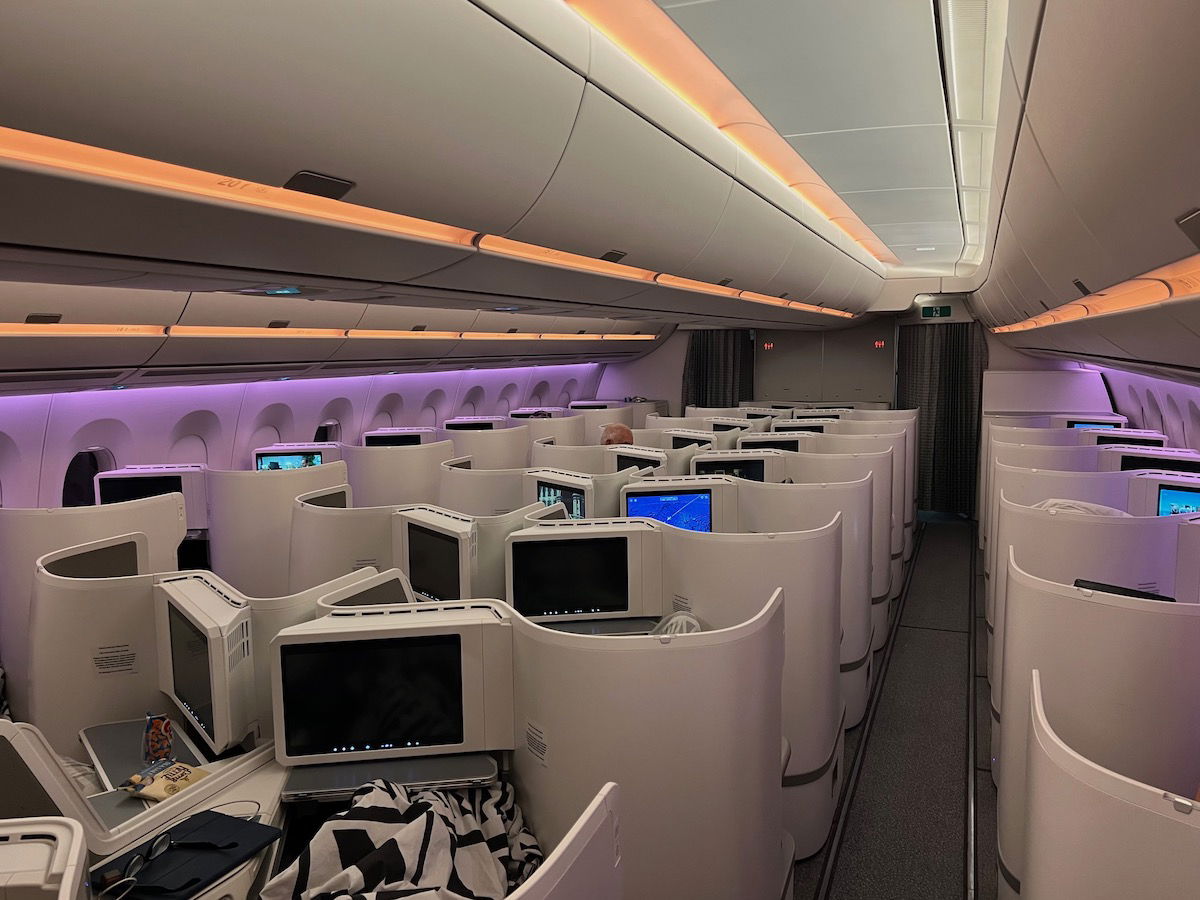 A few minutes later, the crew passed out warm towels.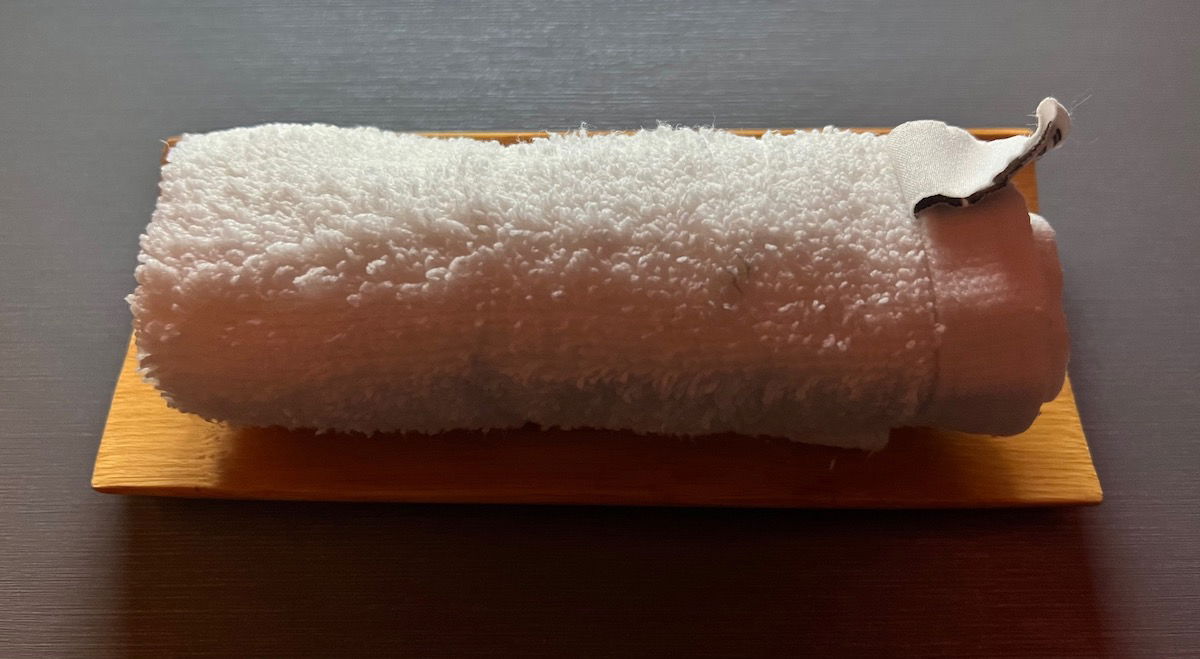 Breakfast was then served around two hours before landing.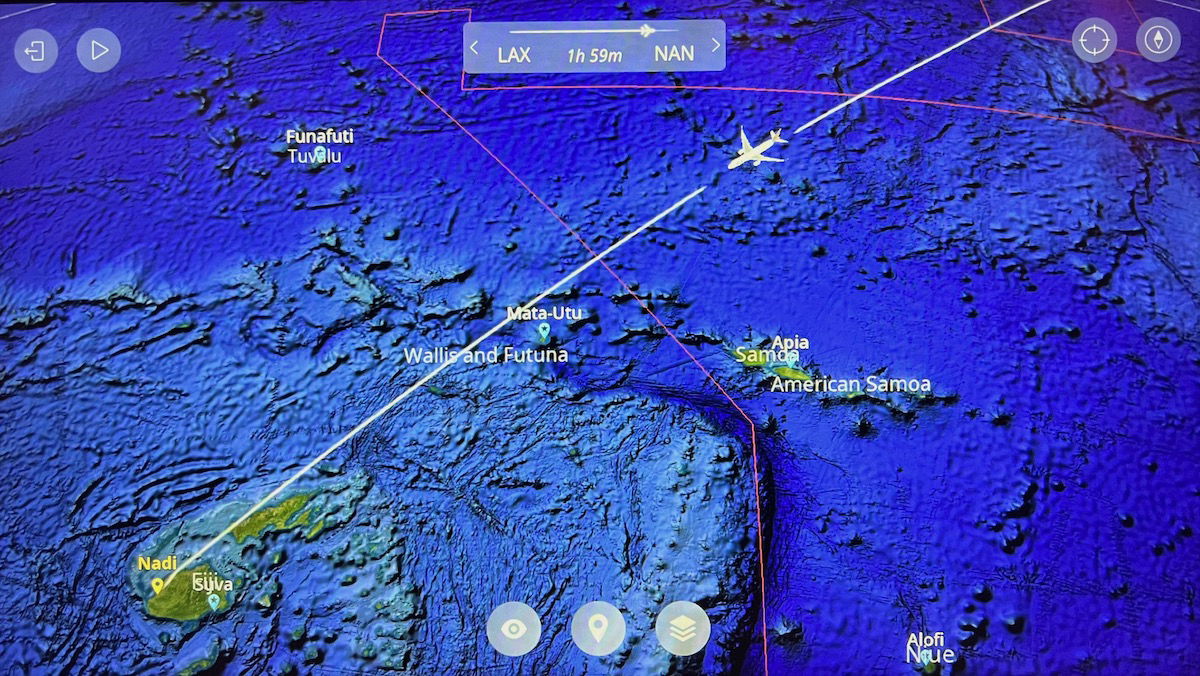 Below you can find the breakfast card, which I had filled out prior to takeoff.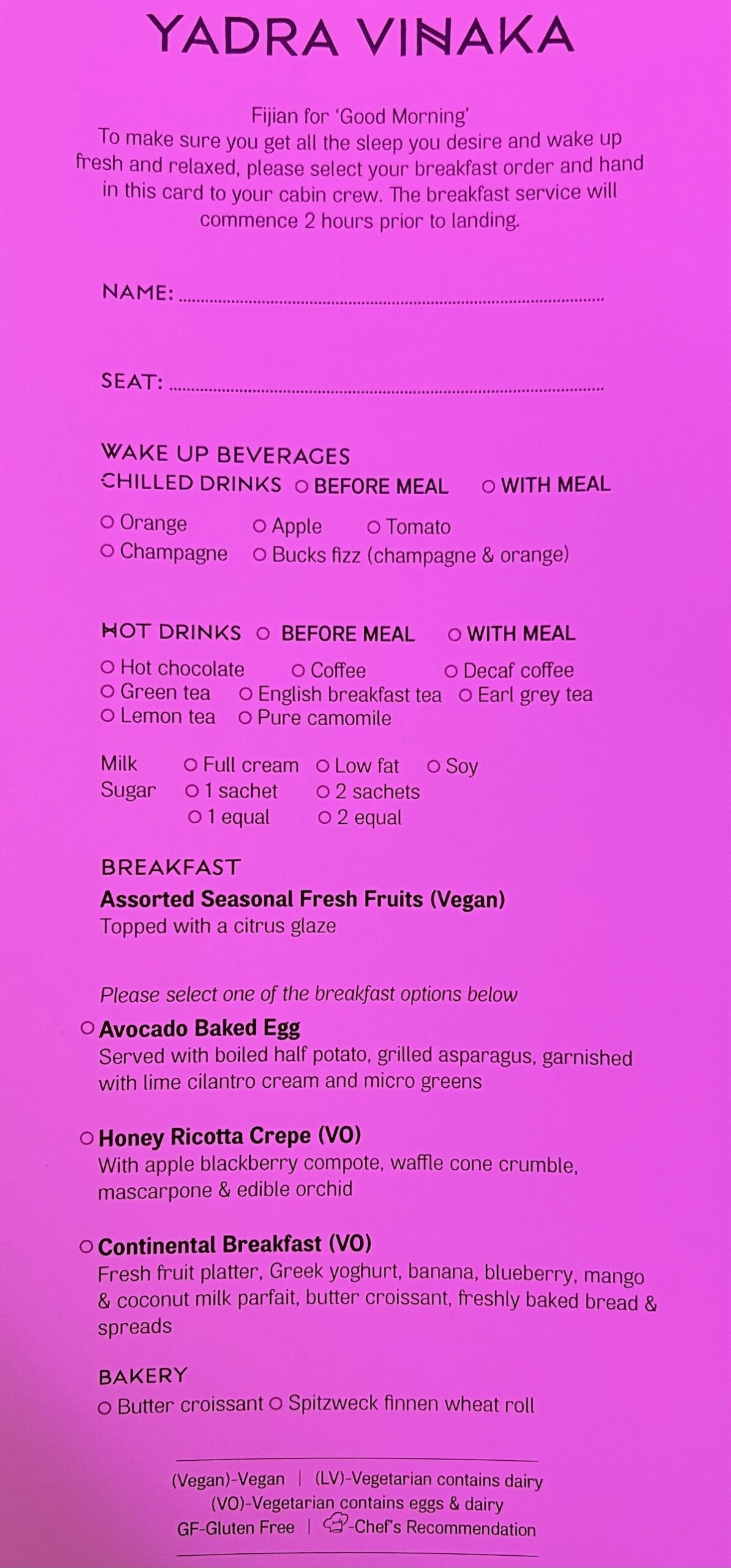 For breakfast, I had selected the avocado baked egg, served with boiled half potato and grilled asparagus, garnished with lime cilantro cream and micro greens. That sounded delicious, and also creative for an airplane breakfast, which almost always seems to be either an omelet or fruit, yogurt, and/or granola.
Unfortunately I was informed that the avocado dish hadn't actually been loaded, and a cheese and mushroom omelet was catered in its place. I was happy with that as well, since at least it was a vegetarian option.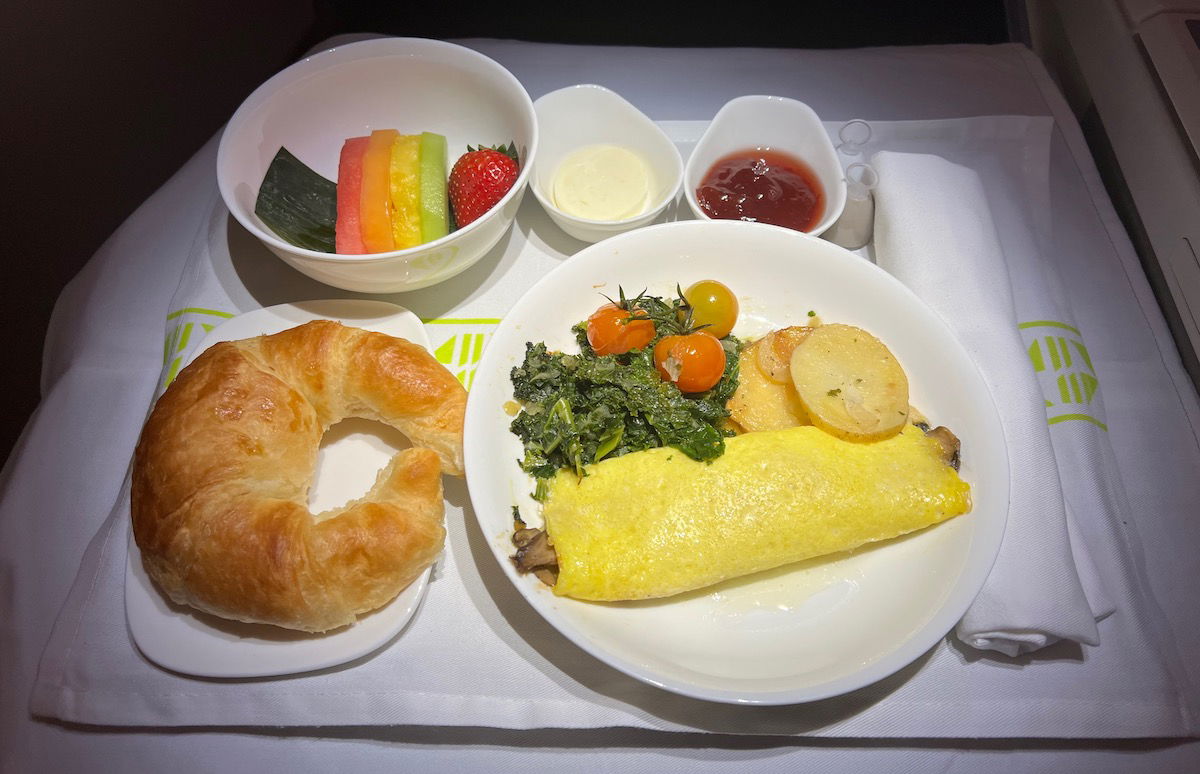 As far as airplane omelets go (admittedly a very low bar), this was a pretty good one.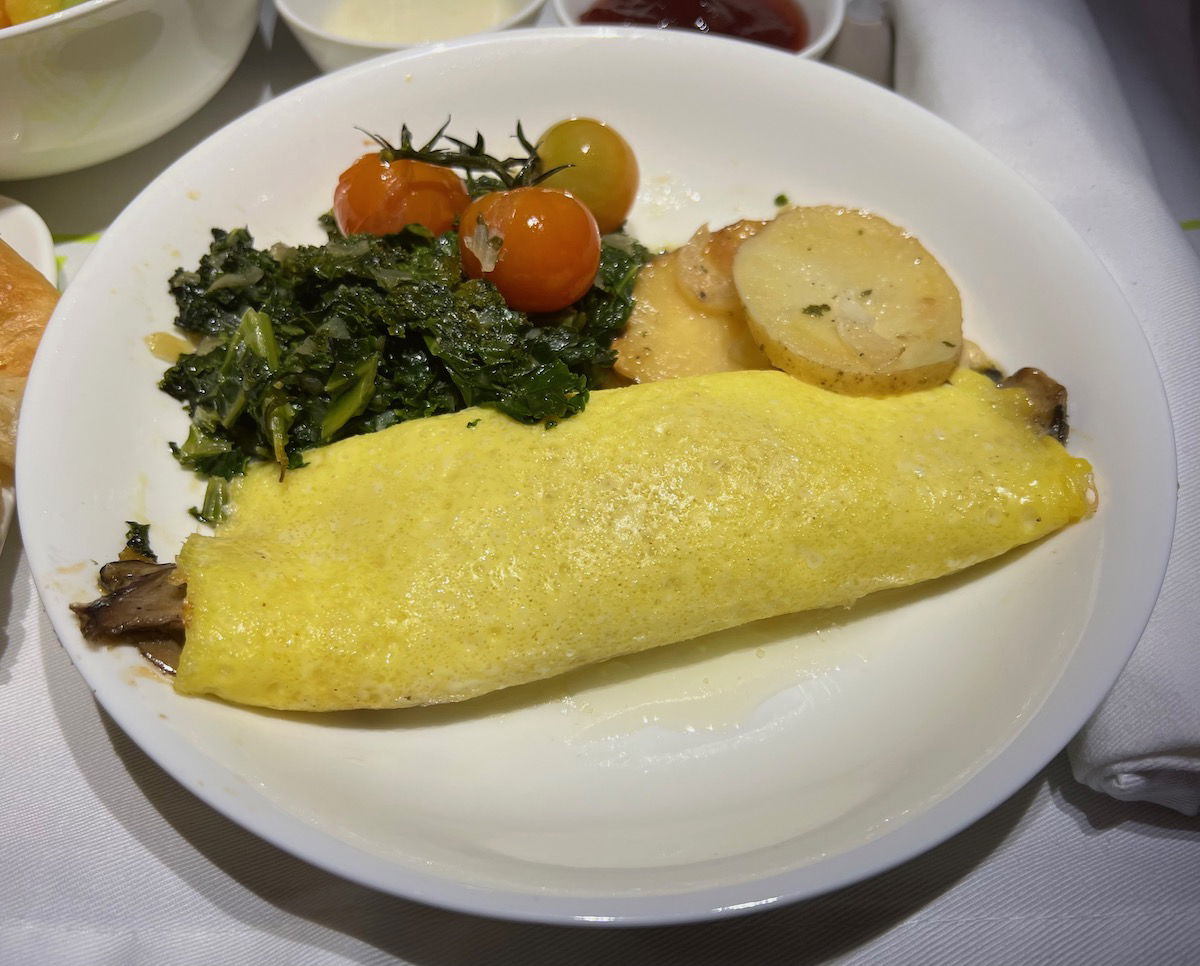 I was also served a fruit plate to go along with this, as well as a croissant.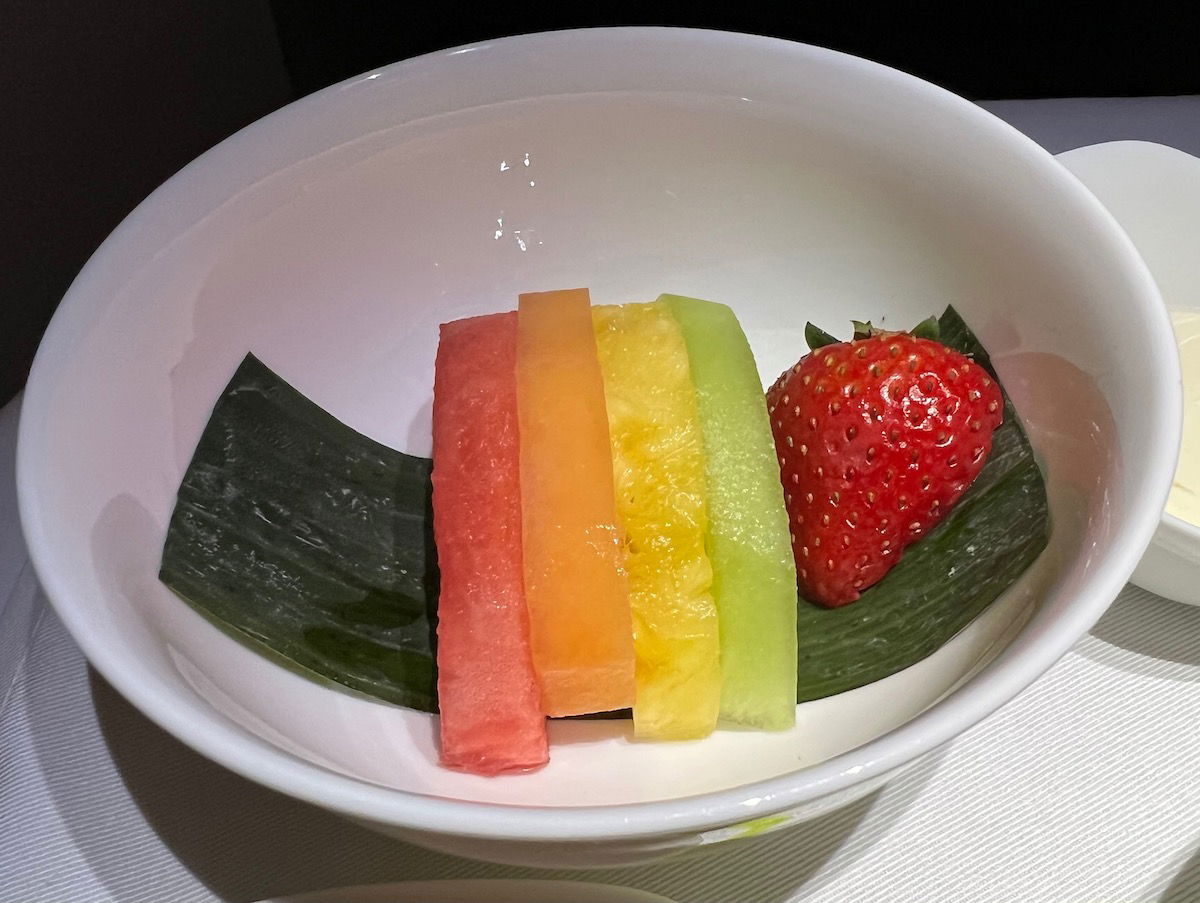 Fiji Airways business class service
Fijians are in my experience among the friendliest people in the world, and that's reflected on Fiji Airways. The national airline does a great job bringing the country's culture to the world.
In particular, the purser was extremely friendly and professional — before takeoff, he personally greeted each passenger, and before landing he thanked each passenger for flying with Fiji Airways.
Fiji Airways A350 arrival in Nadi
About 30 minutes before landing the captain came on the PA to inform us we'd be descending shortly, and should be touching down shortly before 6AM.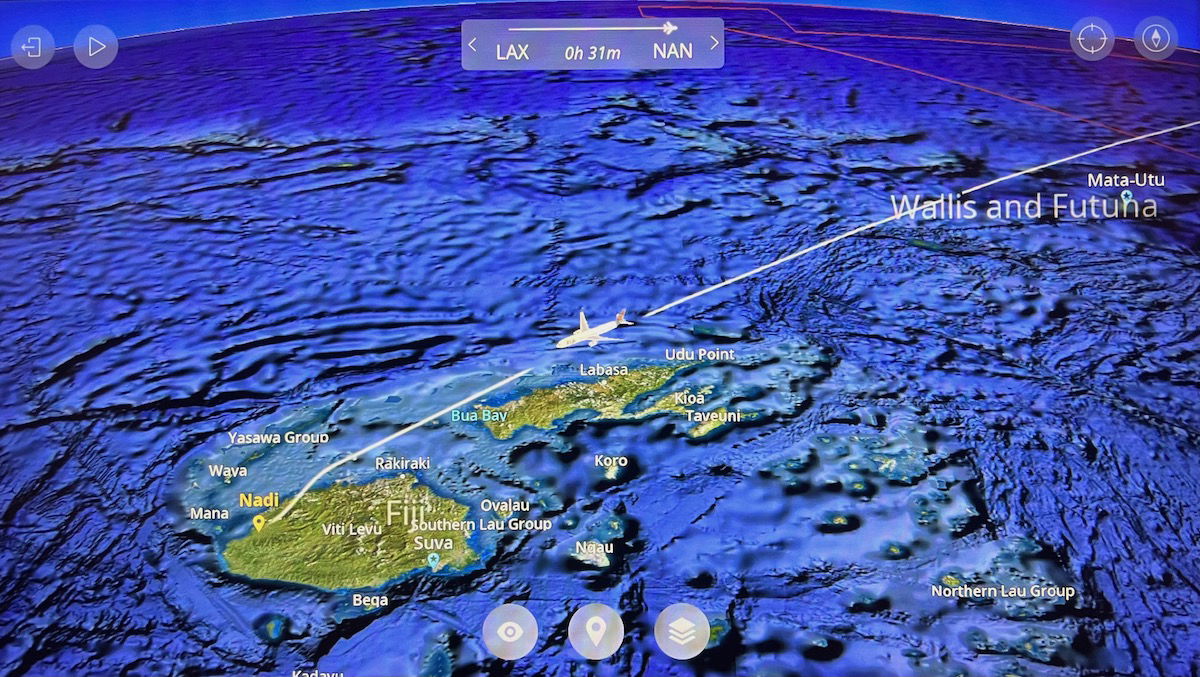 As we began our final descent the sun started to rise, and we were treated to some gorgeous views.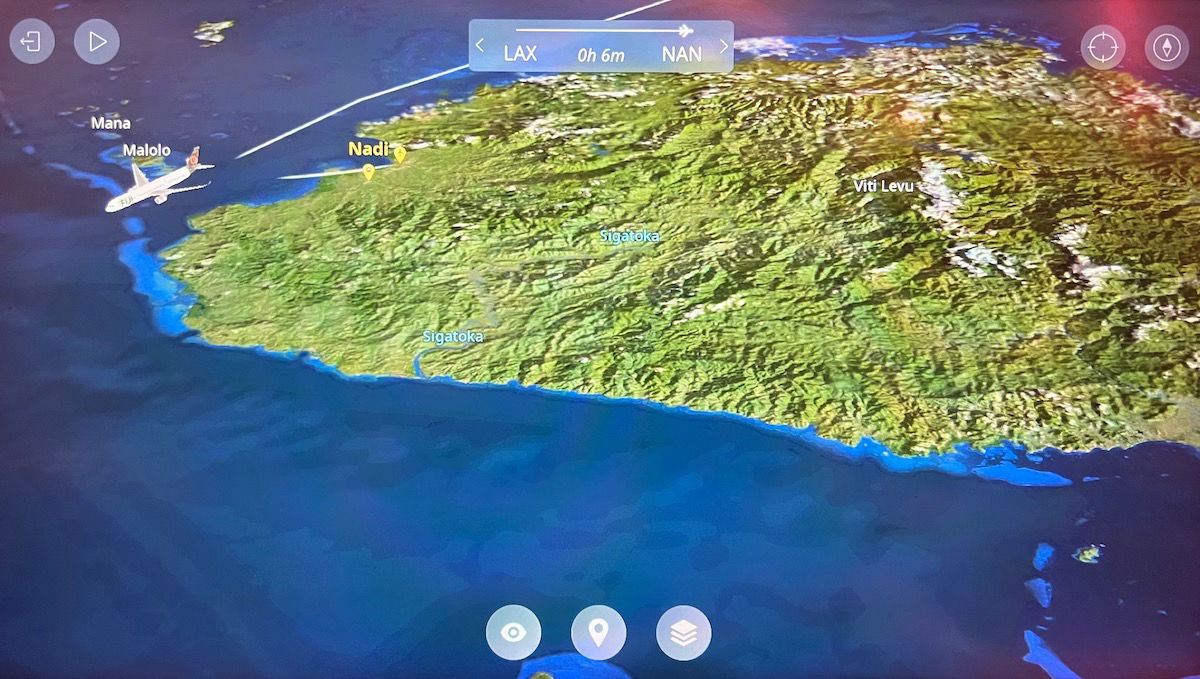 I couldn't decide if the view out the window or the view of the tail camera was better.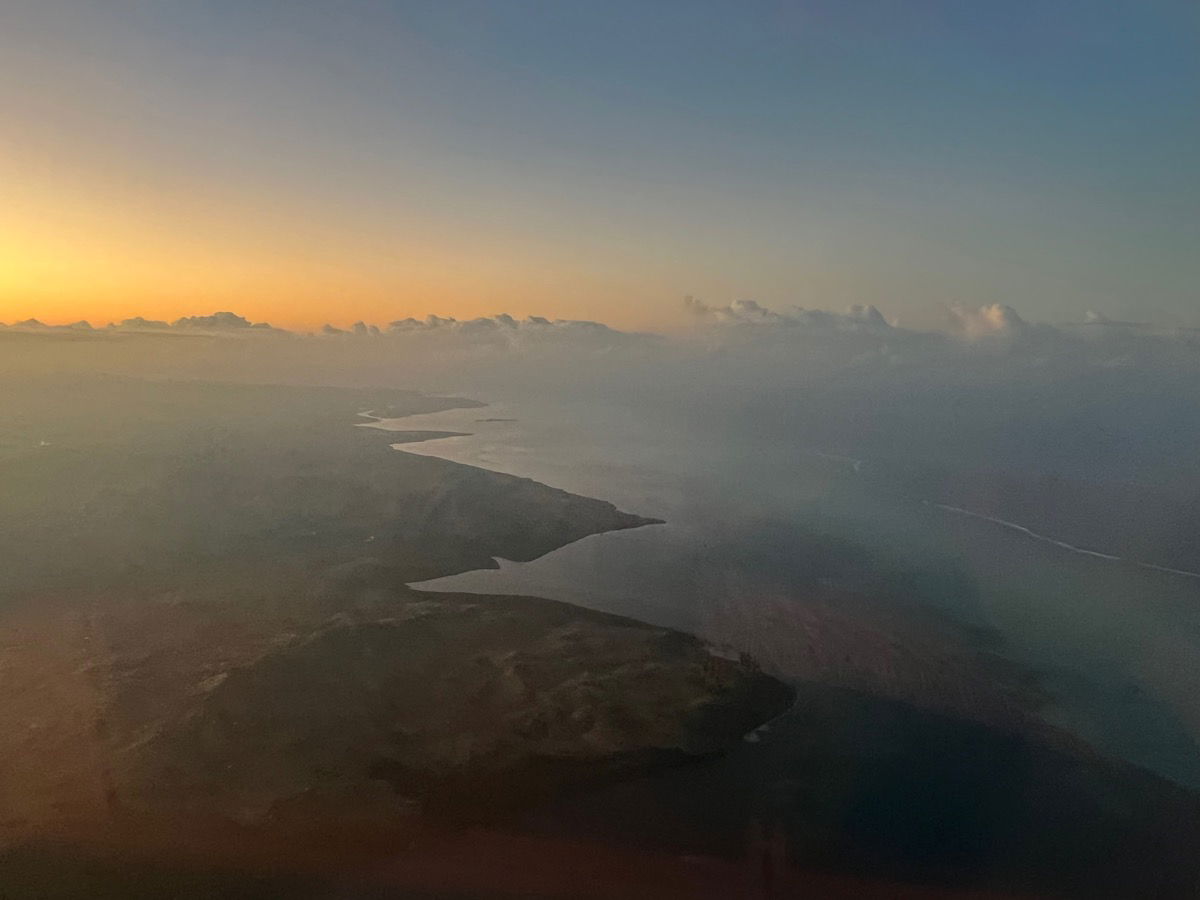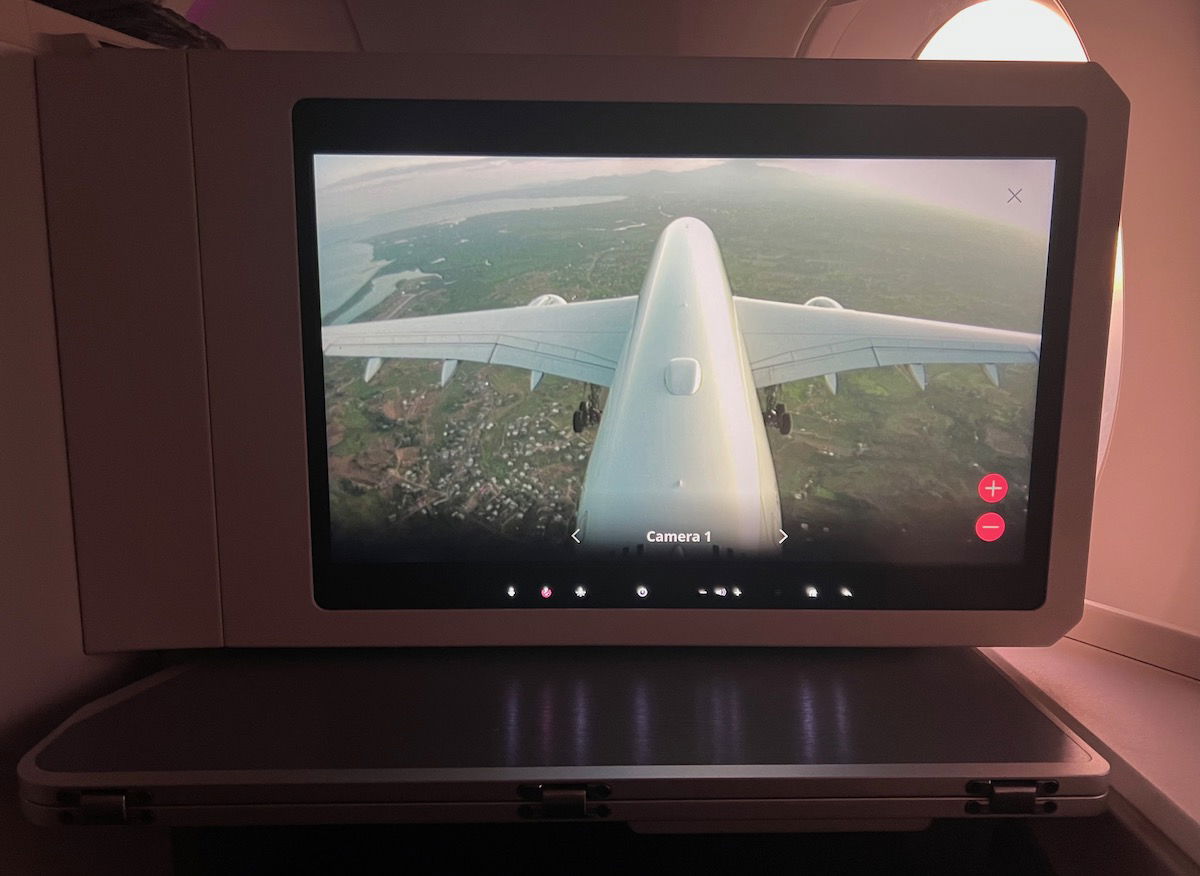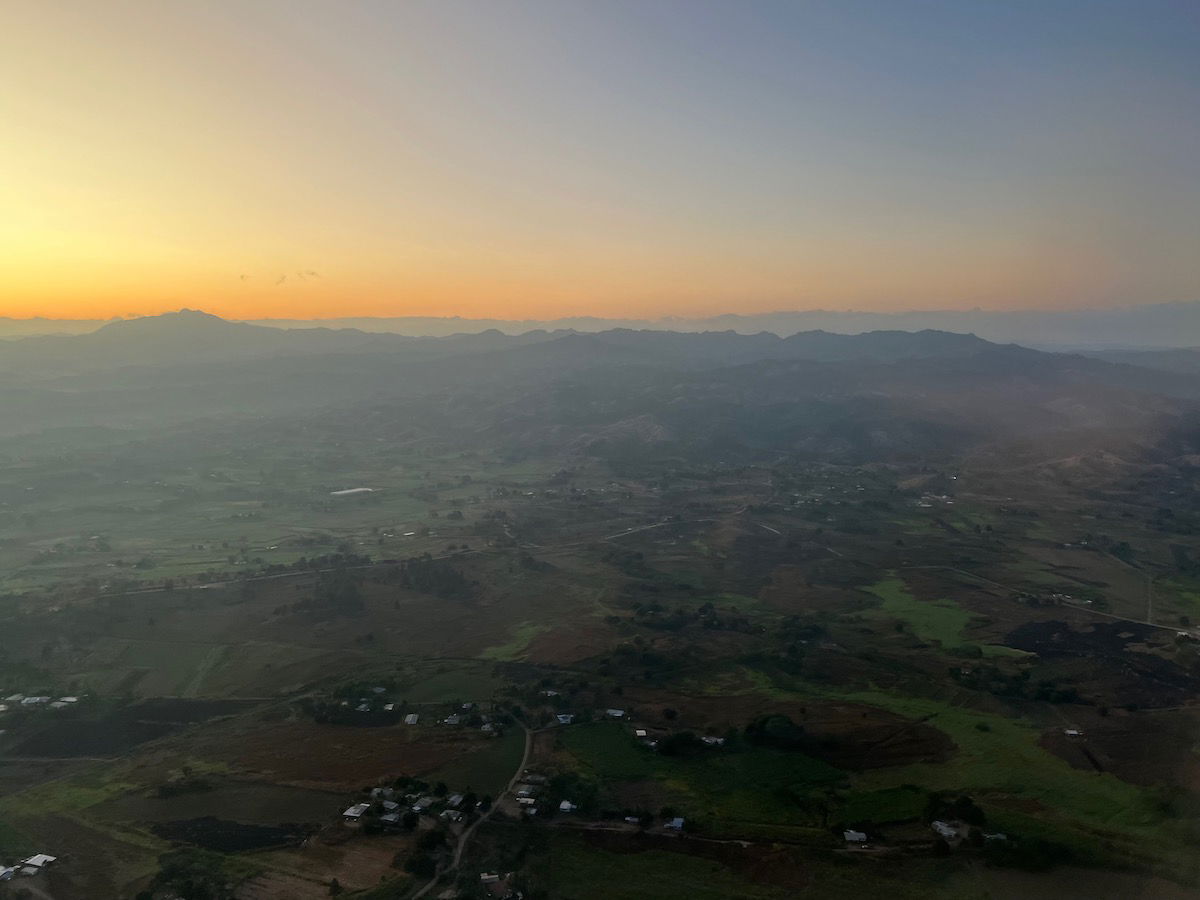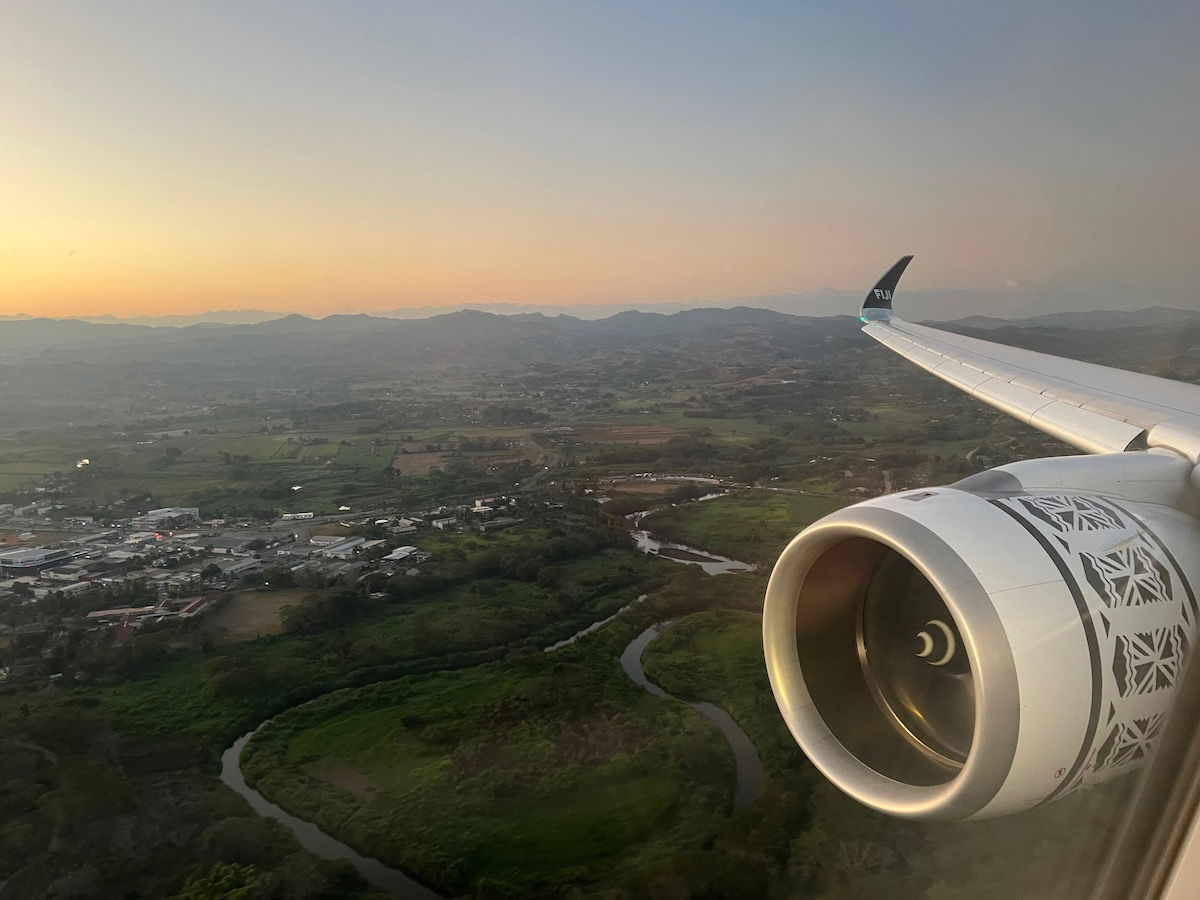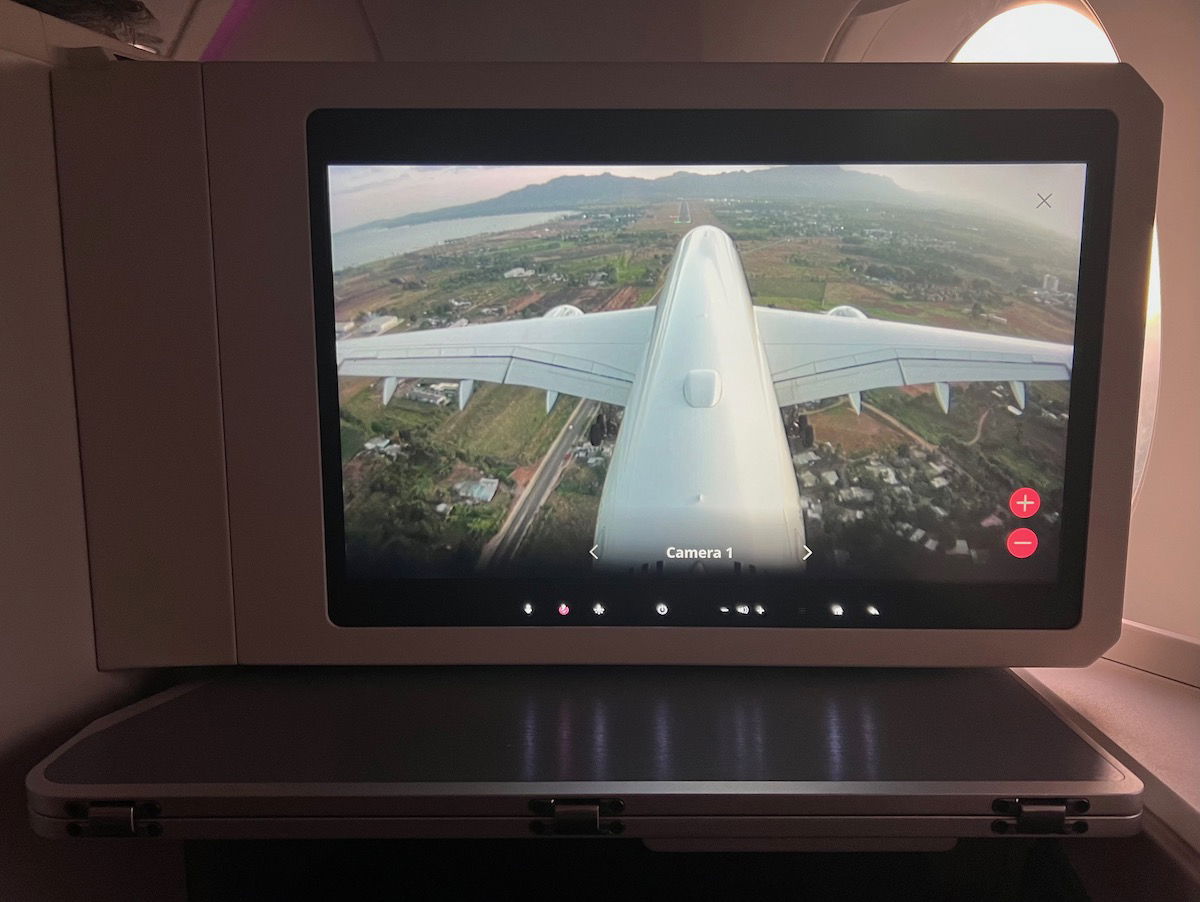 We ended up touching down in Fiji at 5:55AM.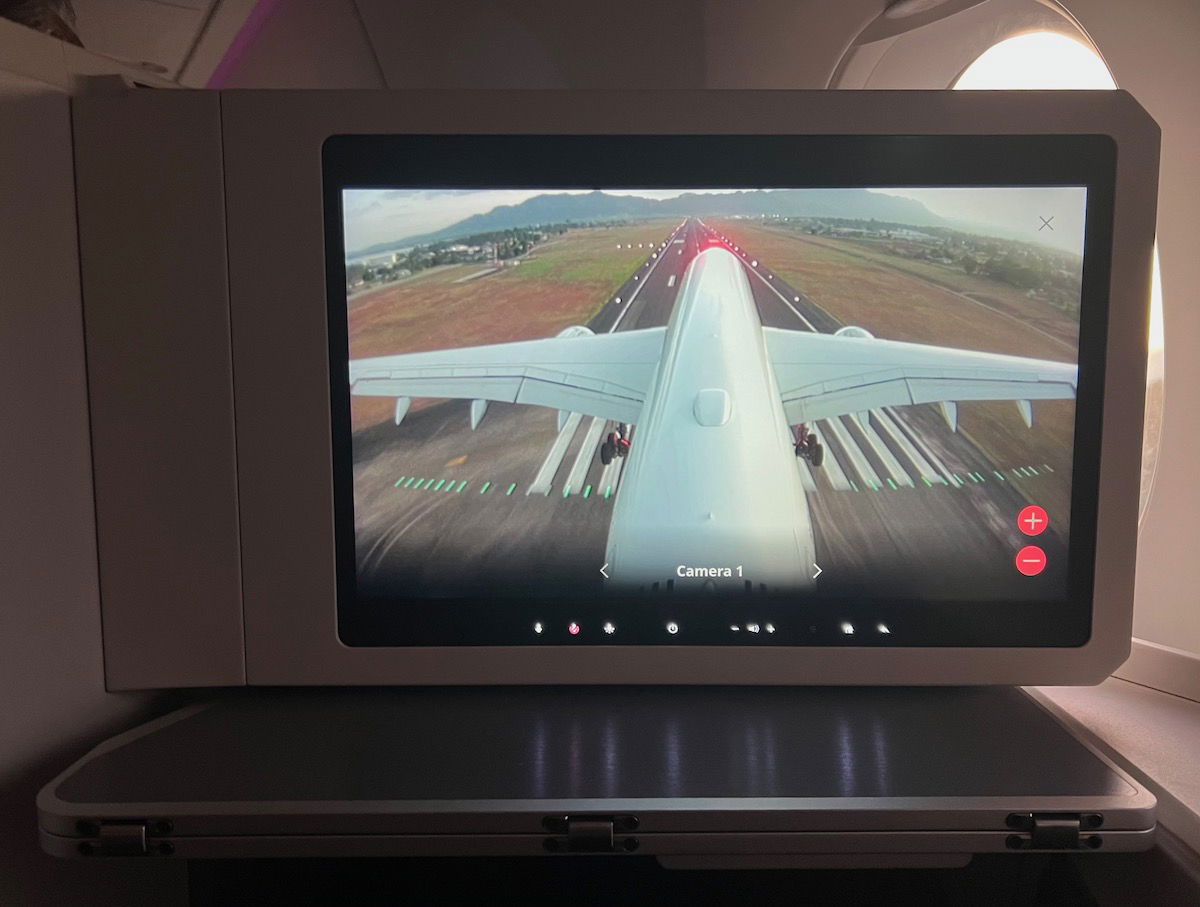 From there we had a short five minute tax to our arrival gate, where we pulled in next to a Fiji Airways A330.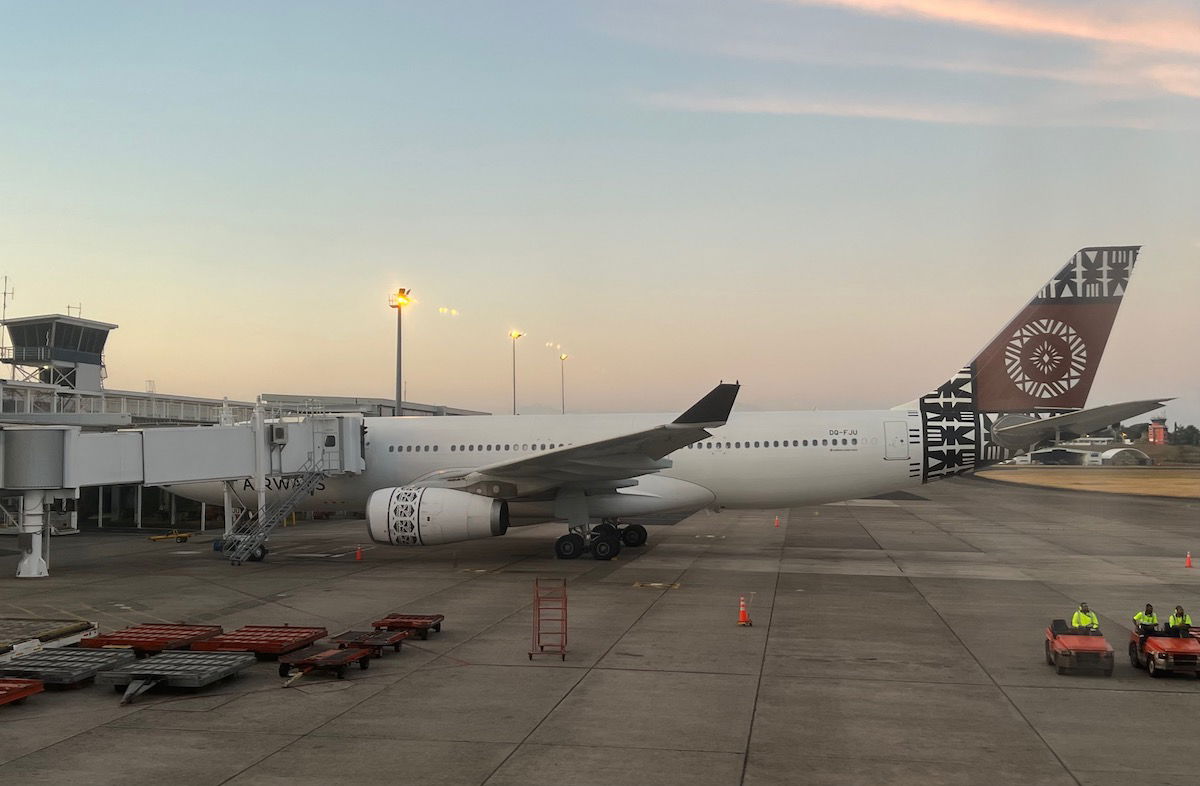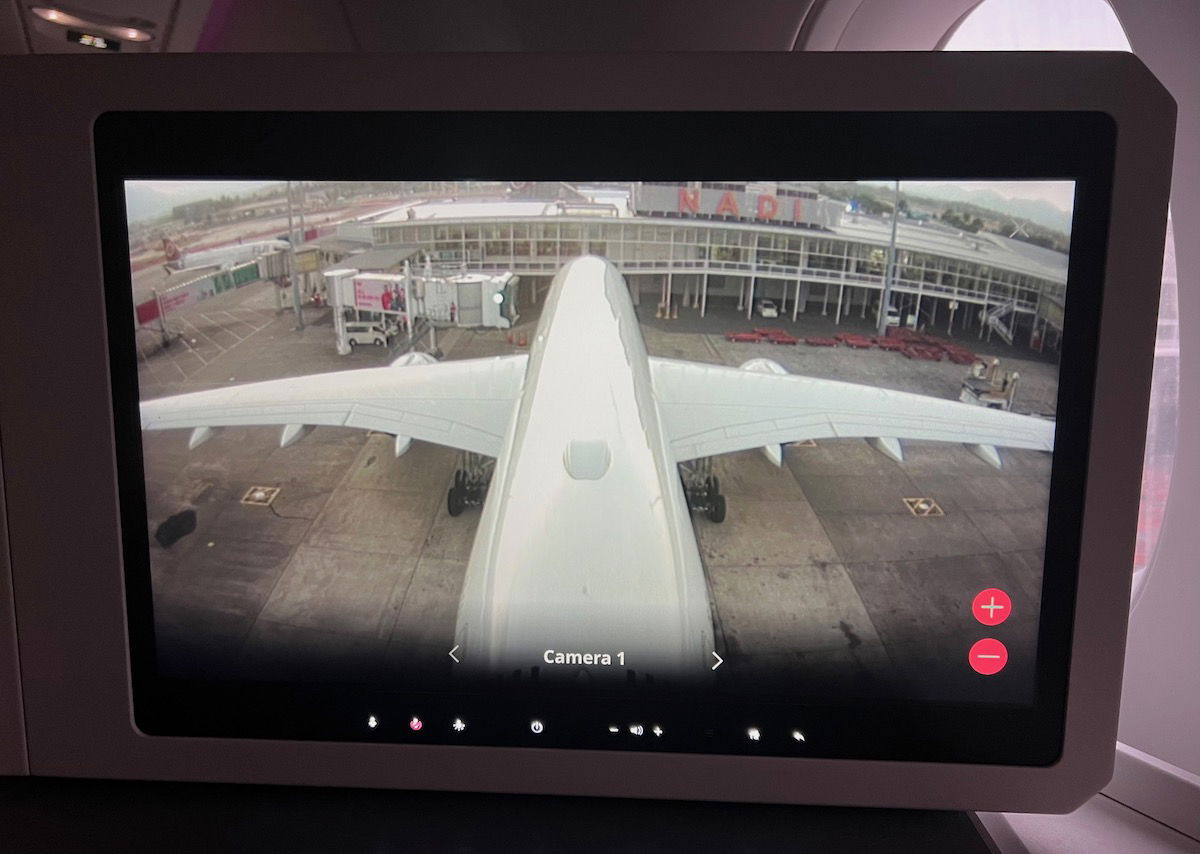 I love how some of the gates at Nadi Airport are open air, so when you exit the jet bridge, you're outdoors and have a direct view of the plane.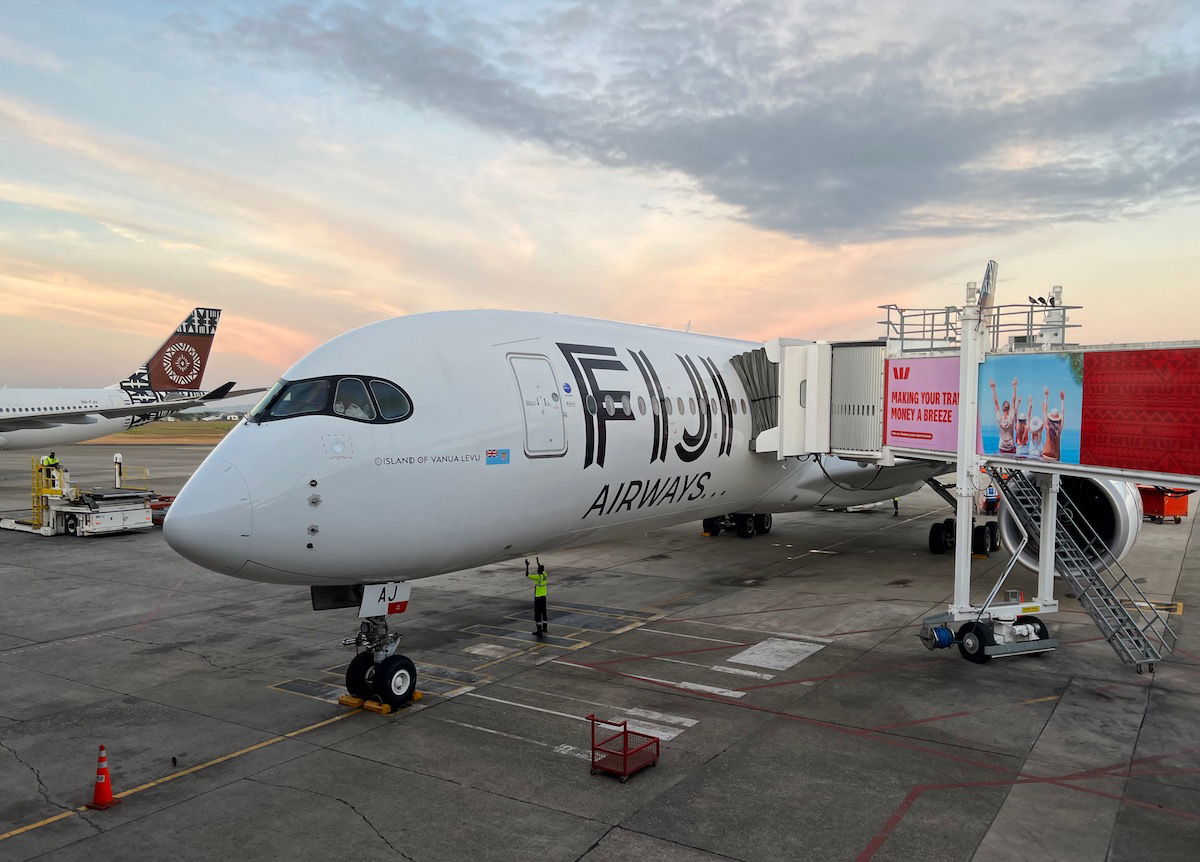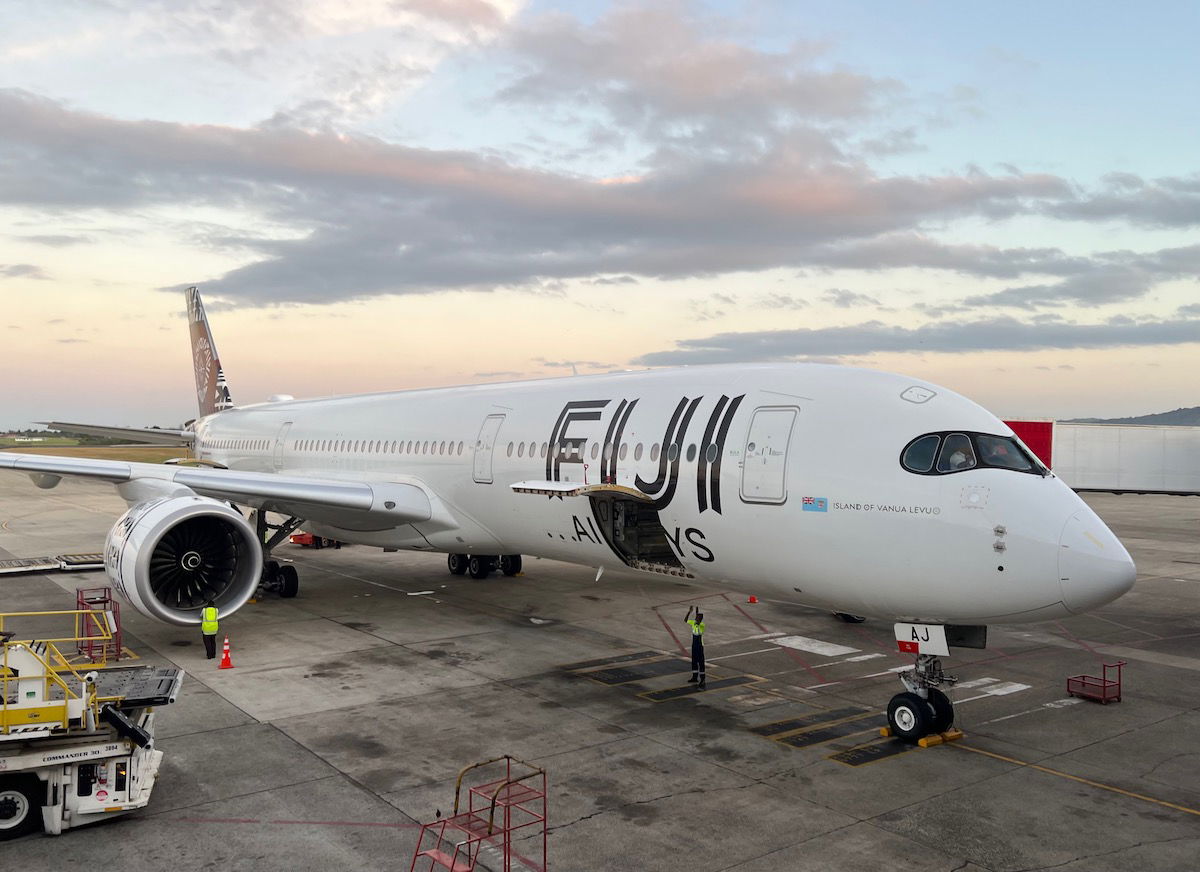 From there I headed through an immigration check and security, and to the Fiji Airways Lounge, which I'll be reviewing in the next installment.
Bottom line
Fiji Airways' new Airbus A350 business class is excellent, and a massive improvement over the carrier's previous A330 business class. Fiji Airways has comfortable reverse herringbone seats, extensive entertainment, fairly priced Wi-Fi, friendly service, and solid food and amenities.
I have nothing but good things to say about the Fiji Airways experience, and would fly the airline again in a heartbeat, regardless of whether my final destination were Fiji, or if I were connecting to other points in the South Pacific. What a well-run airline!
If you've flown Fiji Airways' A350 business class, what was your experience like?