To kick off my two trips to the Southern Hemisphere, I first flew Copa Airlines from Miami to Panama City. Copa is one of only two Star Alliance airlines I had never flown before (with the other being Shenzhen Airlines), so I was looking forward to this flight. While Copa is a nifty airline in terms of its route network (it's like the Icelandair of Latin America), unfortunately the experience left a bit to be desired.
How I booked my Copa business class ticket
Copa Airlines makes quite a bit of award space available, so I ended up booking the following itinerary in business class for 50,000 Air Canada Aeroplan points plus $49.40 in taxes & fees (and I took advantage of a transfer bonus from Amex, so I needed even fewer Amex points than that):
9/15 CM227 Miami to Panama City departing 5:59PM arriving 8:10PM
9/16 CM493 Panama City to Lima departing 3:43PM arriving 7:17PM
Initially my first flight was supposed to be operated by a Boeing 737 MAX 9, featuring Copa's flat bed business class, while the second flight was scheduled to be operated by a Boeing 737-800. Unfortunately there was a plane swap at the last minute, so both flights ended up being operated by a Boeing 737-800. That's a risk to be aware of if you book Copa.
Copa business class check-in, lounge, and boarding
I got to Miami Airport around 2.5 hours before departure, at 3:30PM. Copa Airlines just had a 75th anniversary celebration at the airport a couple of days prior, so there were still some balloons and signage at the check-in counter.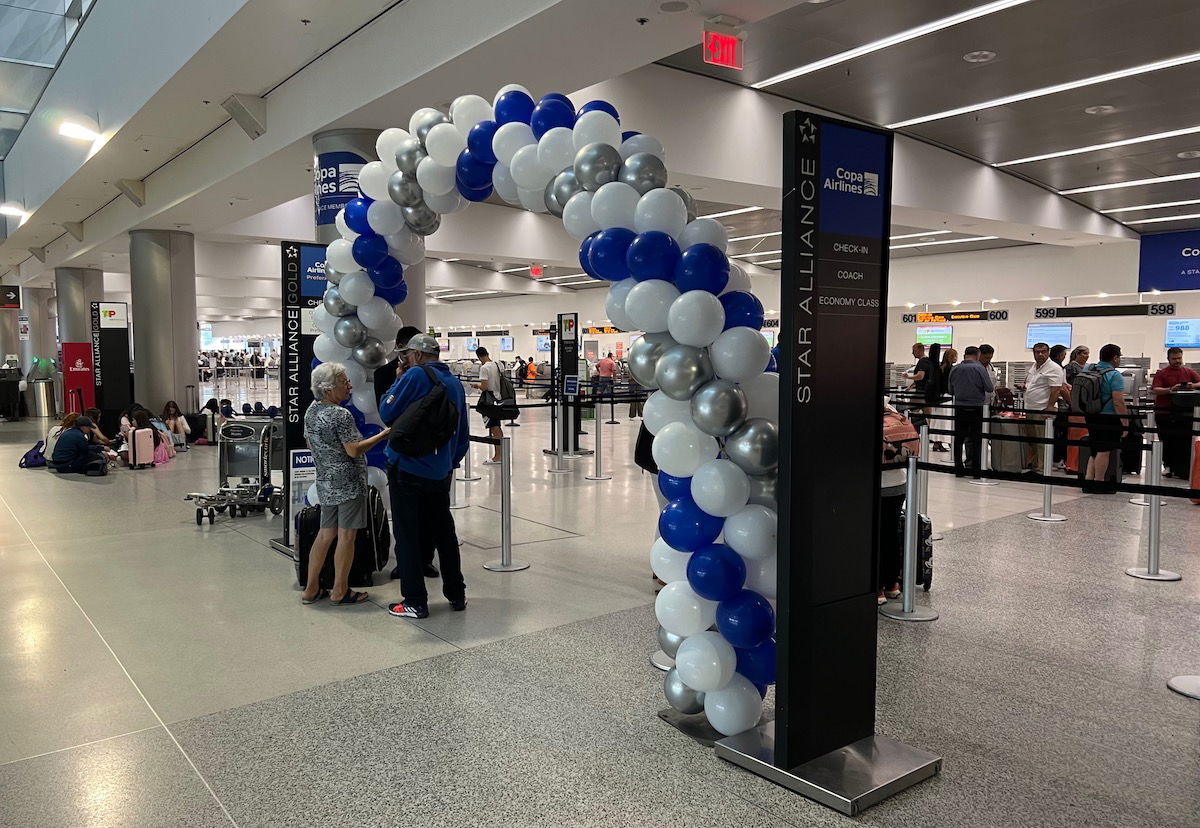 The business class line moved really slowly, as each person seemed to take a really long time. The guy in front of me turned to me and commented about how long it was taking, and how everyone seemed to be having issues. Go figure when it was his turn he seemed to have forgotten his vaccination card, and he was traveling to a destination that required testing or vaccination, so that turned into a big issue (I'm not sure if he ended up making his flight or not).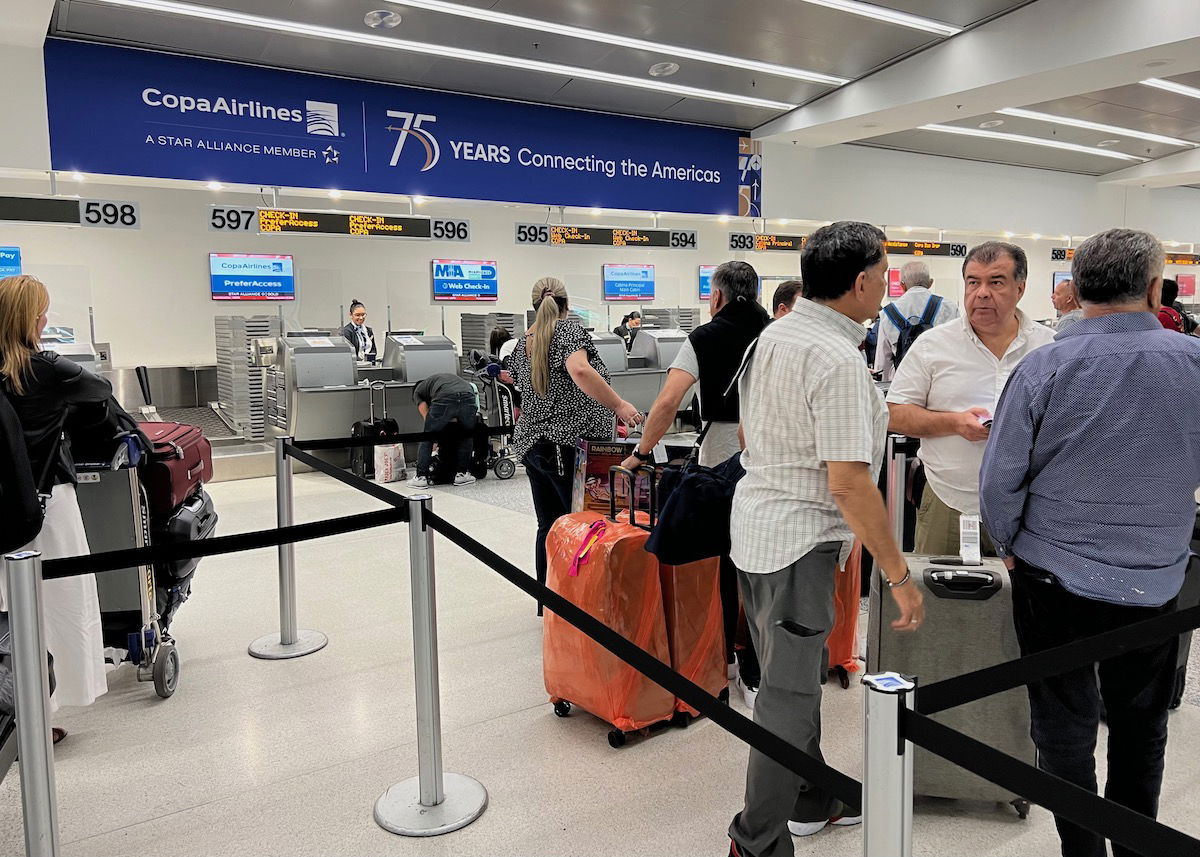 By 4PM or so I was issued my boarding pass to Panama, and headed for security. The security line was shockingly short, as I often find this area of the terminal can have the worst security lines in the afternoons.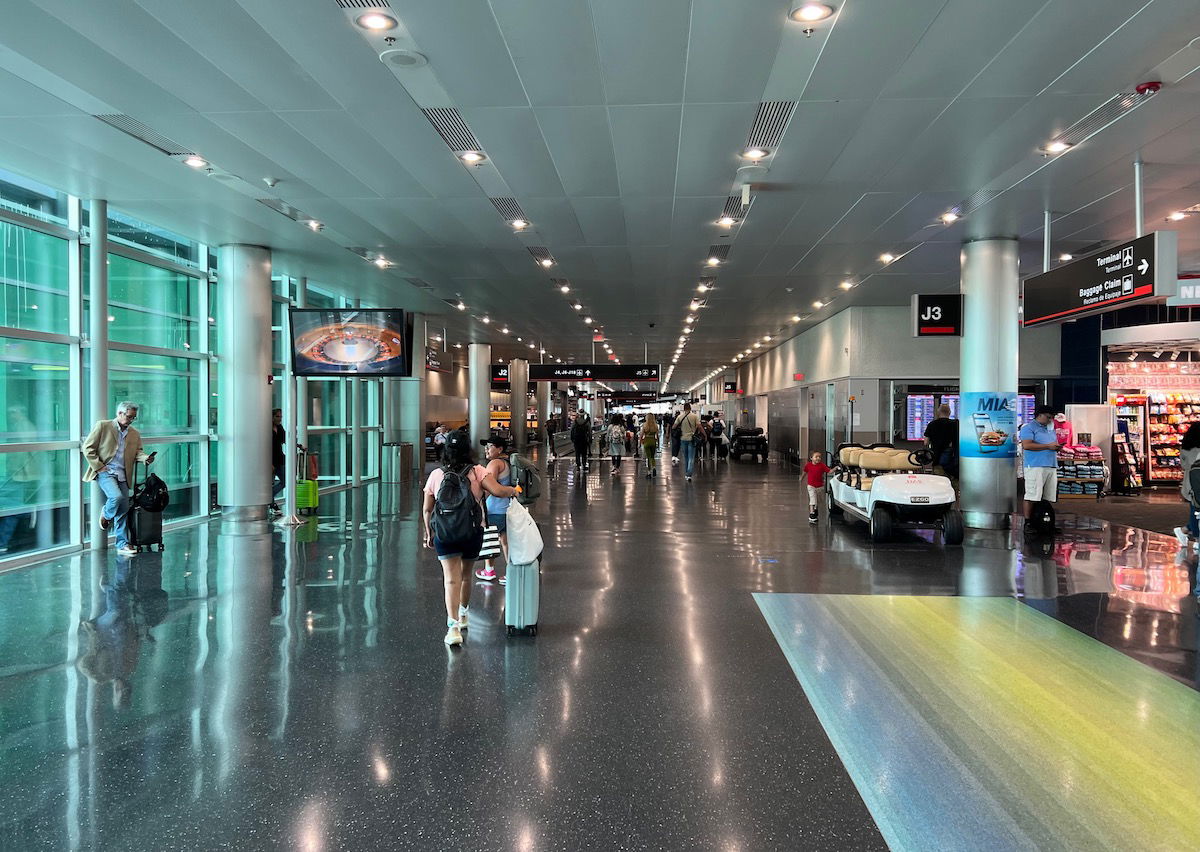 Copa Airlines uses the Turkish Lounge at Miami Airport (Turkish actually has two lounges at the airport).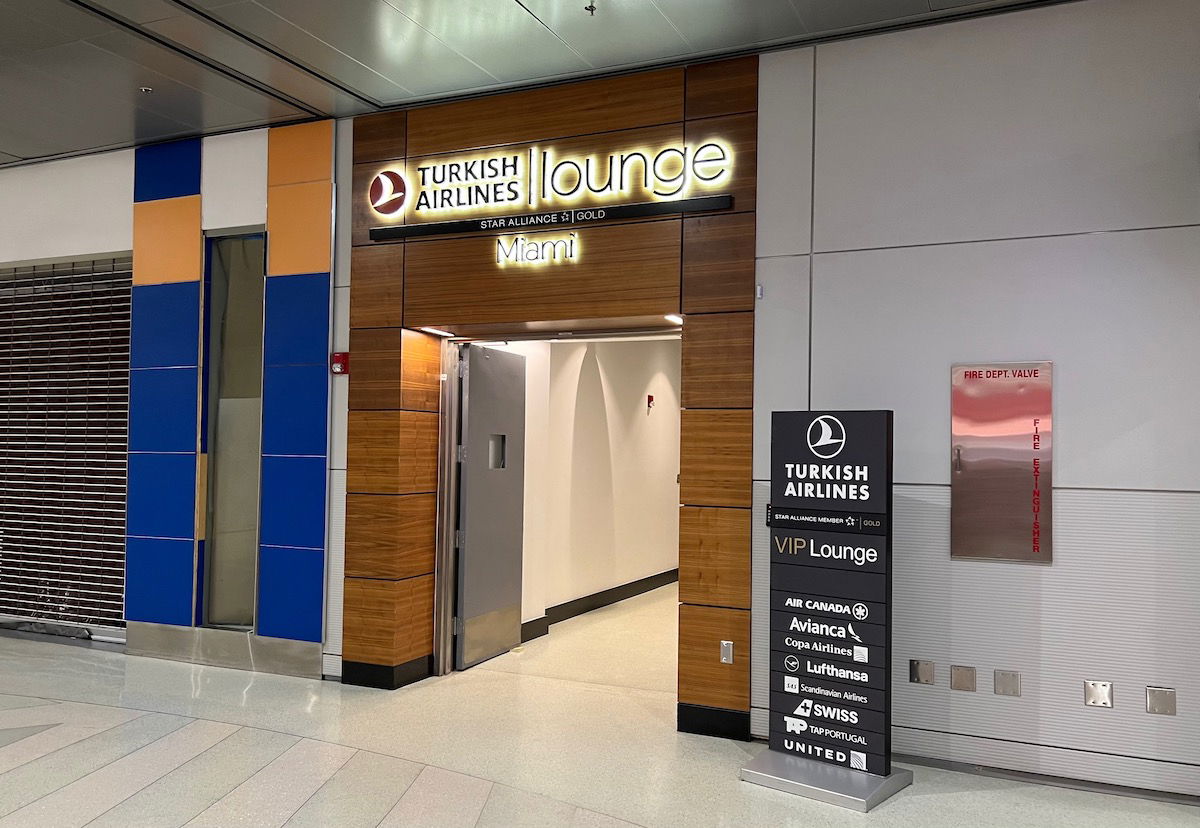 The lounge seems to be used as a contract lounge by an endless number of airlines, and is also open to Priority Pass members, so it was a zoo. I ended up entering the lounge and leaving right away, as I found the terminal to be a much more comfortable place to sit.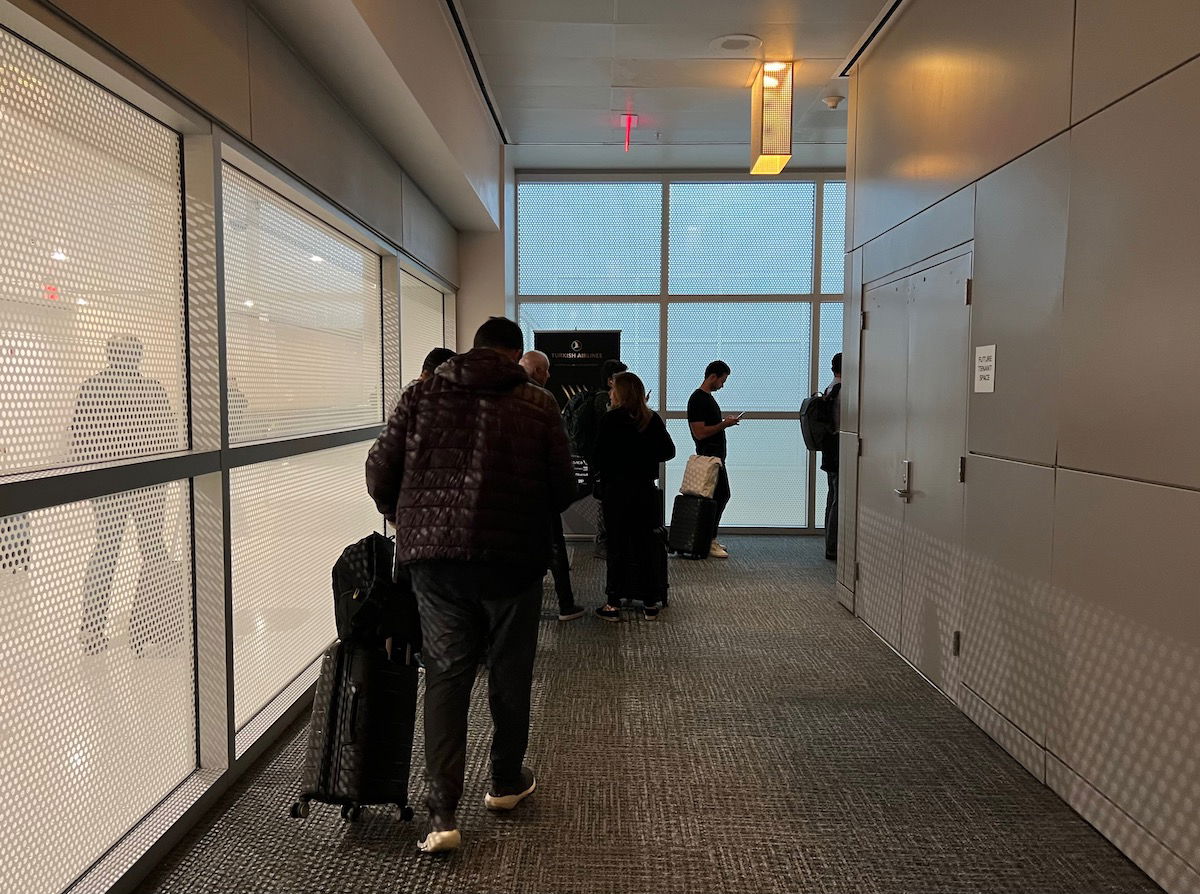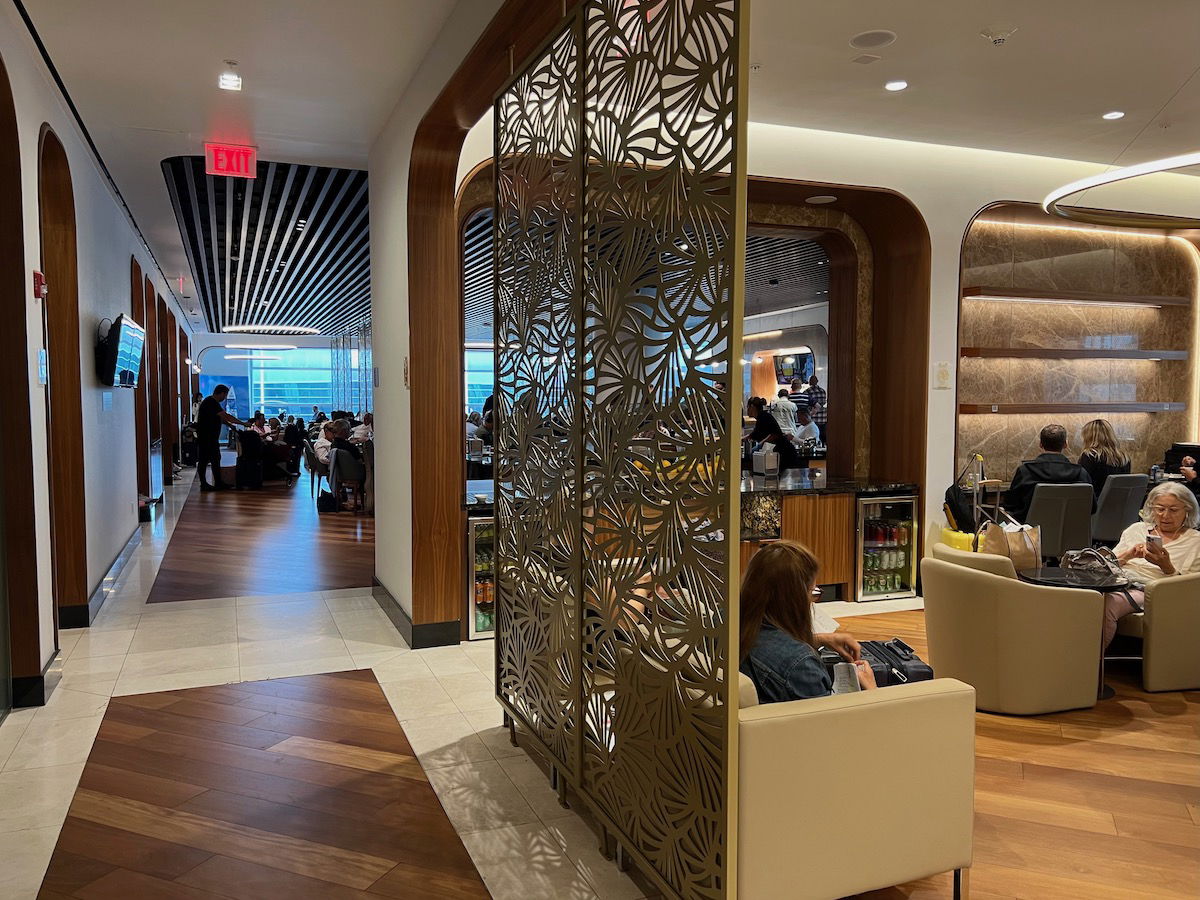 My flight was scheduled to board from gate J10 at 4:59PM, a full hour before departure. While this area of the terminal was rather calm, it was incredibly busy further down in the concourse, as several wide bodies were boarding at once at adjacent gates.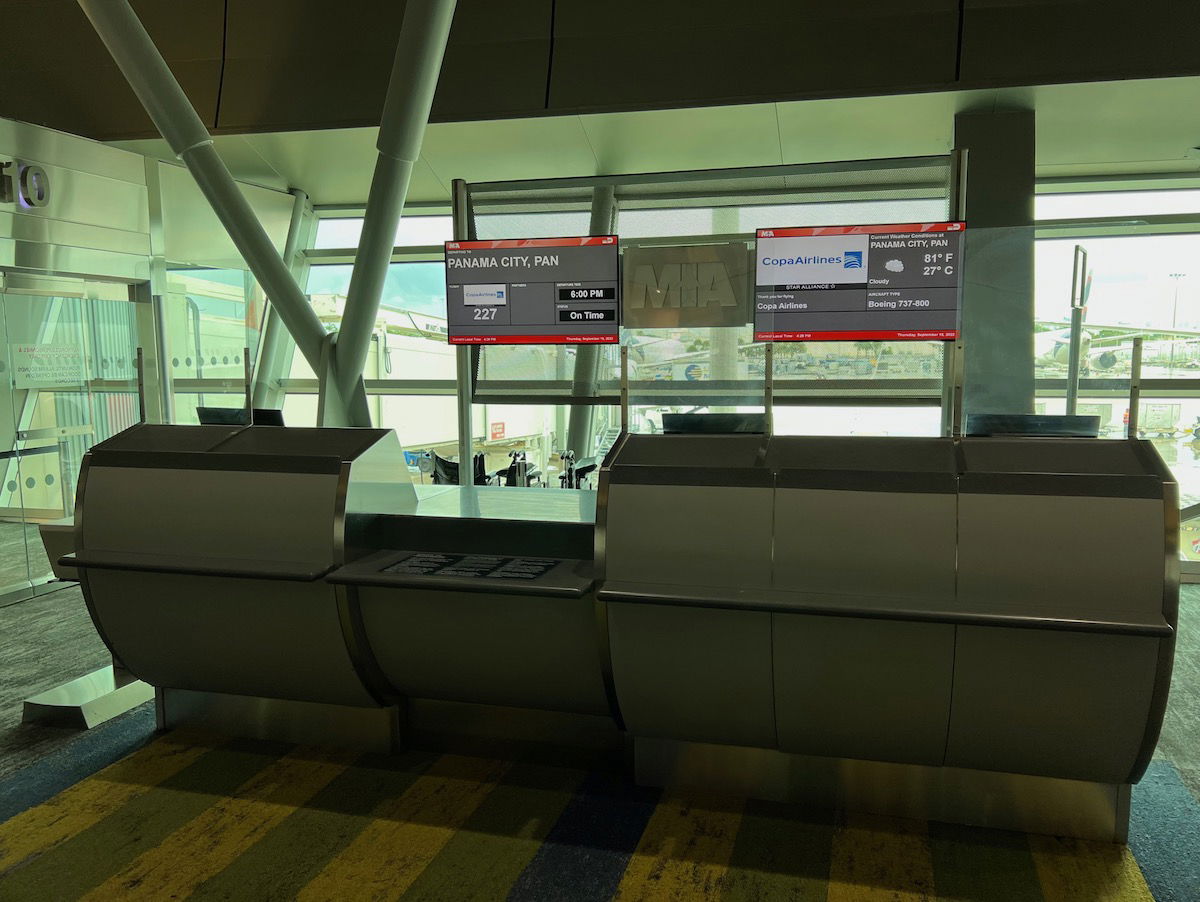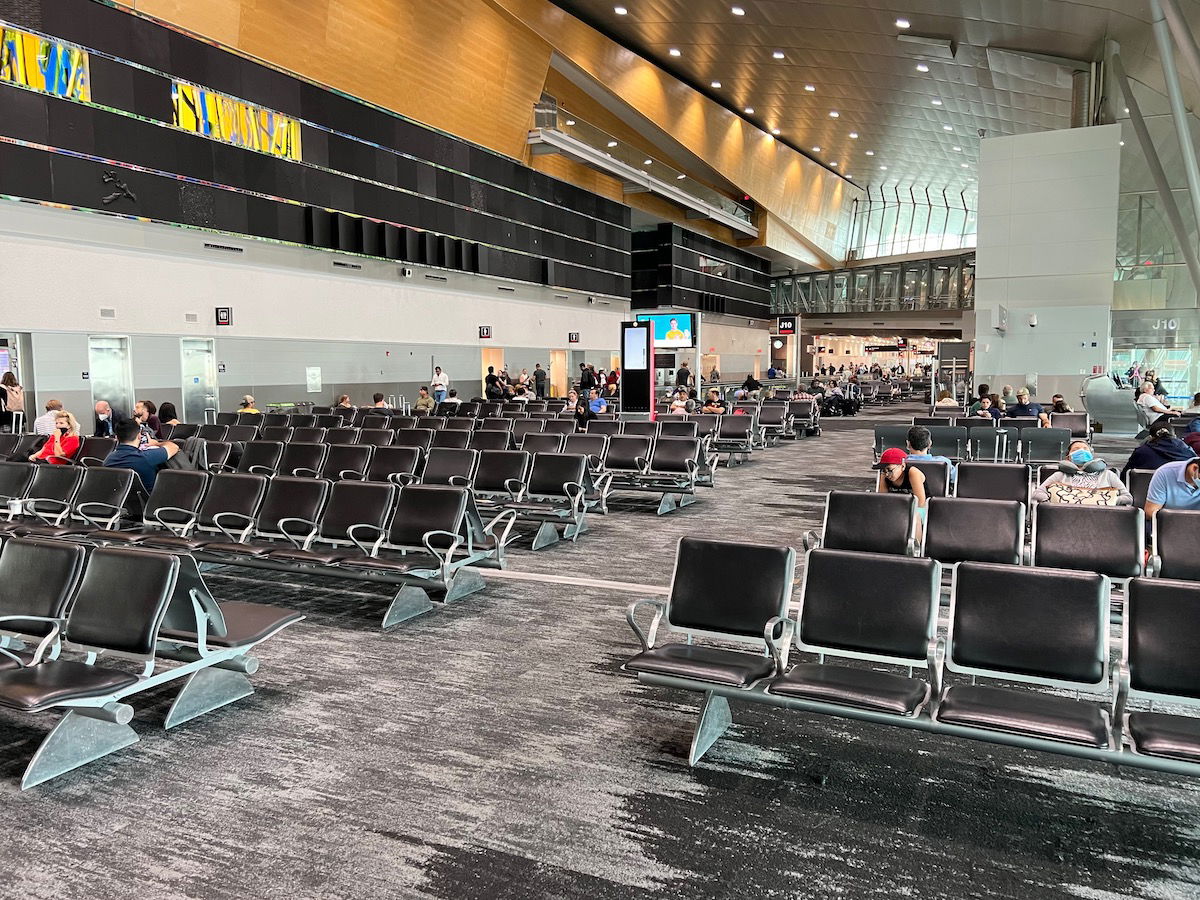 Boarding ended up starting at 5:10PM, with those needing extra time being invited to board first, followed by business class passengers.
Copa 737 business class cabin & seats
Copa has at least four different kinds of business class products, and my flight was operated by a Boeing 737-800 with the densest cabin, though at least it was refreshed. Business class consisted of a total of 16 seats, spread across four rows in a 2-2 configuration.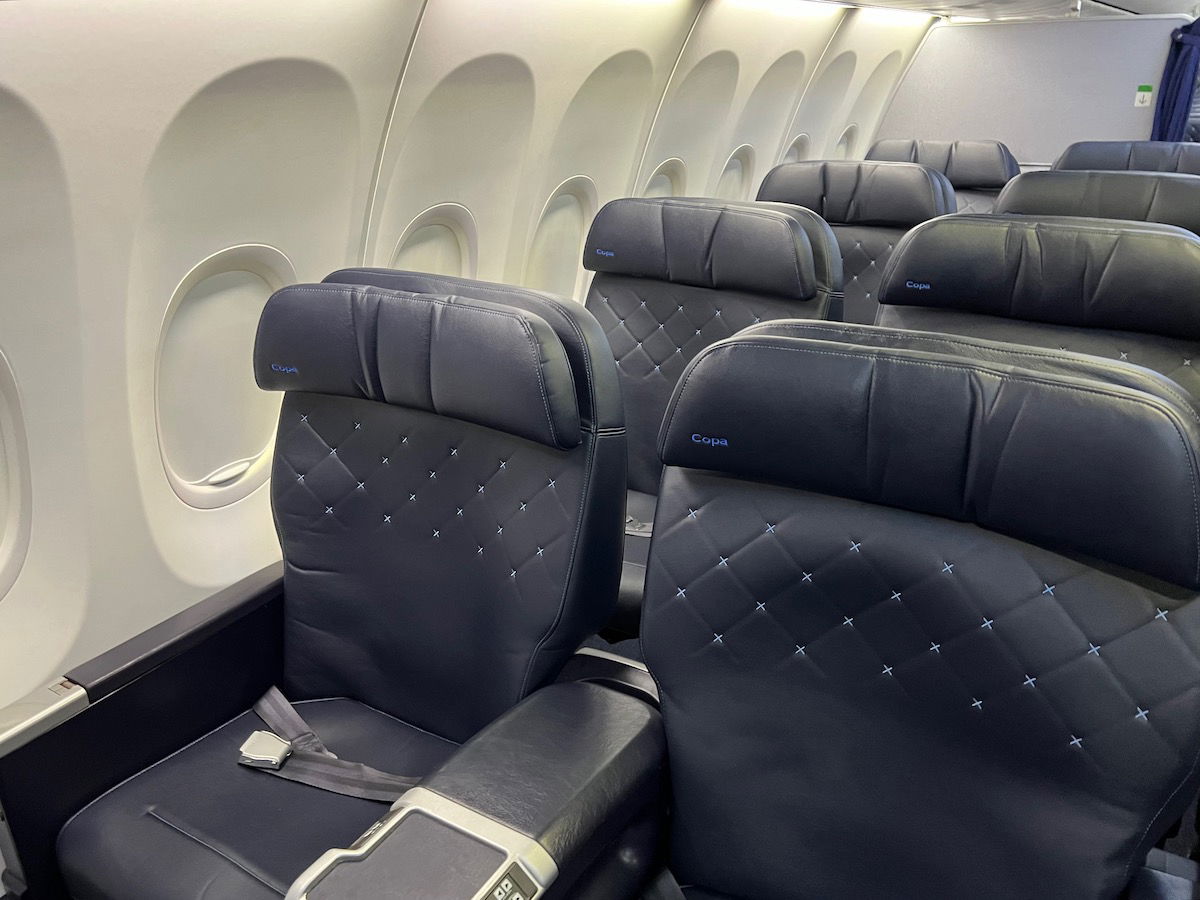 Seats had 38″ of pitch, so were in line with what you'd find in domestic first class in the United States.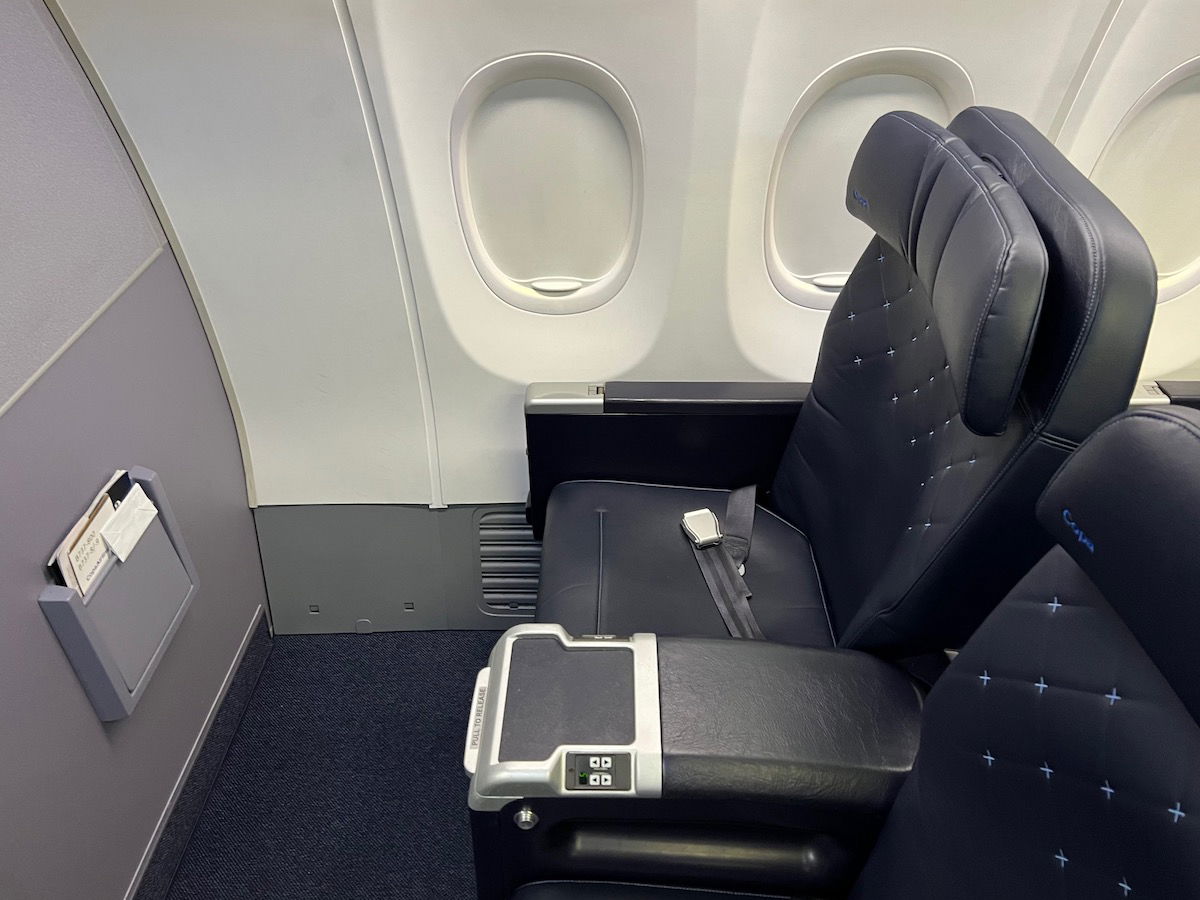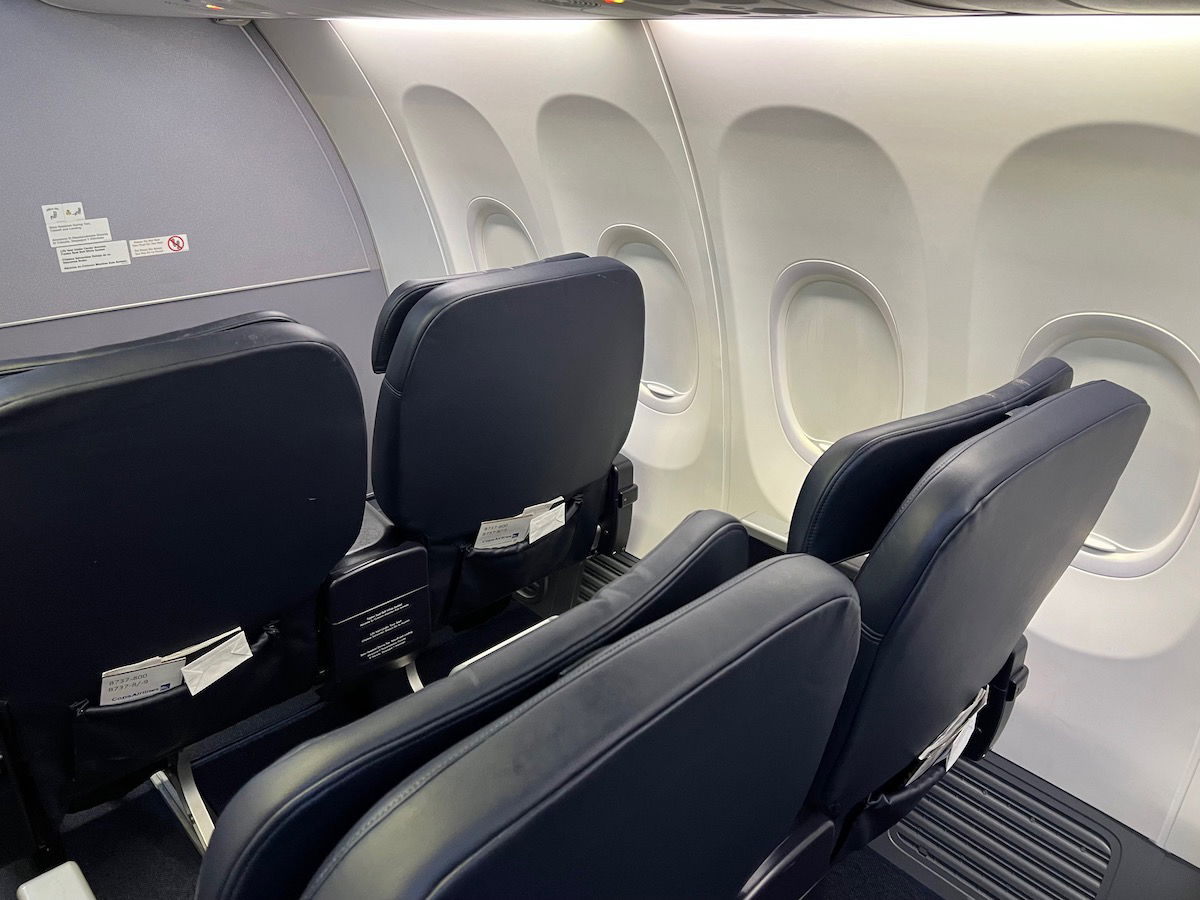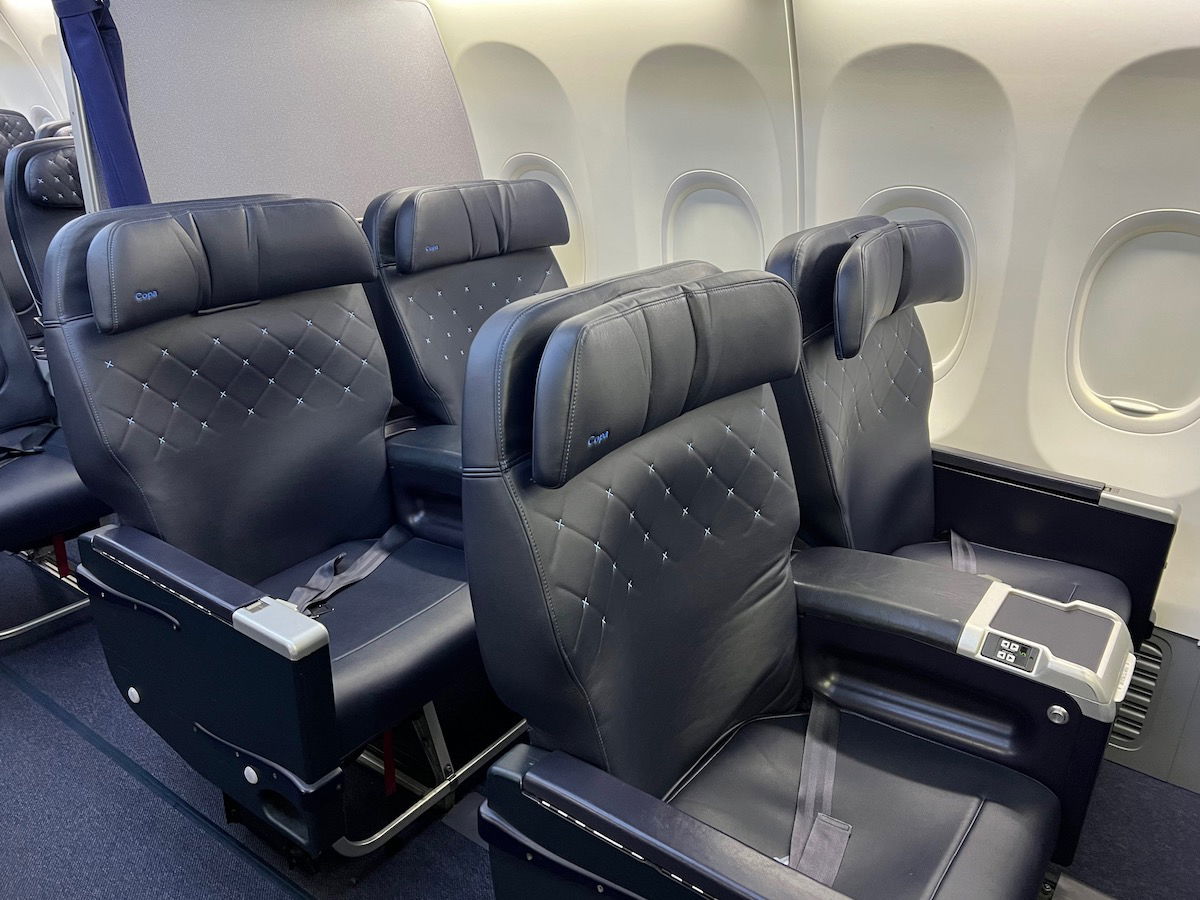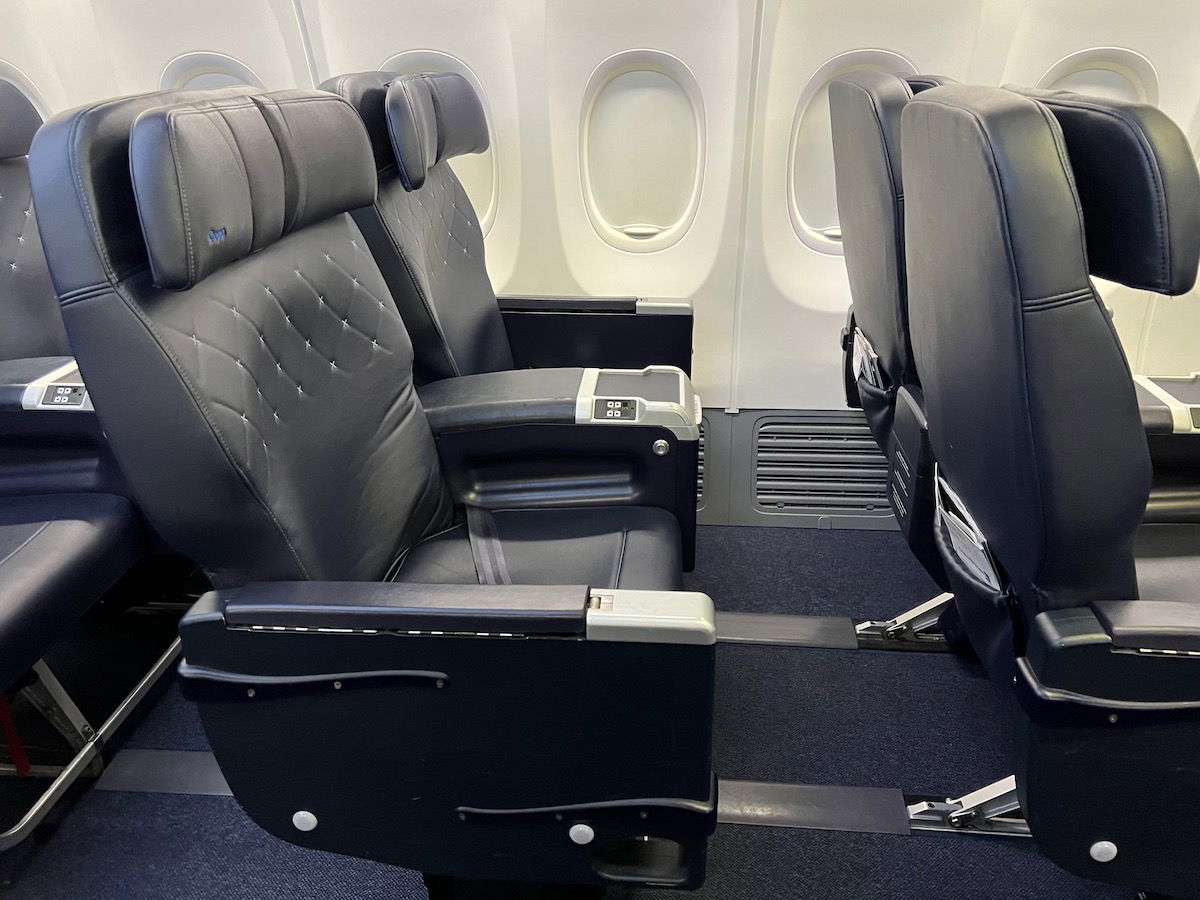 I assigned myself seat 3F, the window seat on the right side in the third row. Keep in mind that Copa Airlines used to be largely owned by Continental Airlines, and at the time the airline ordered planes with the same interiors. So while the interiors have been updated, the "bones" remain the same.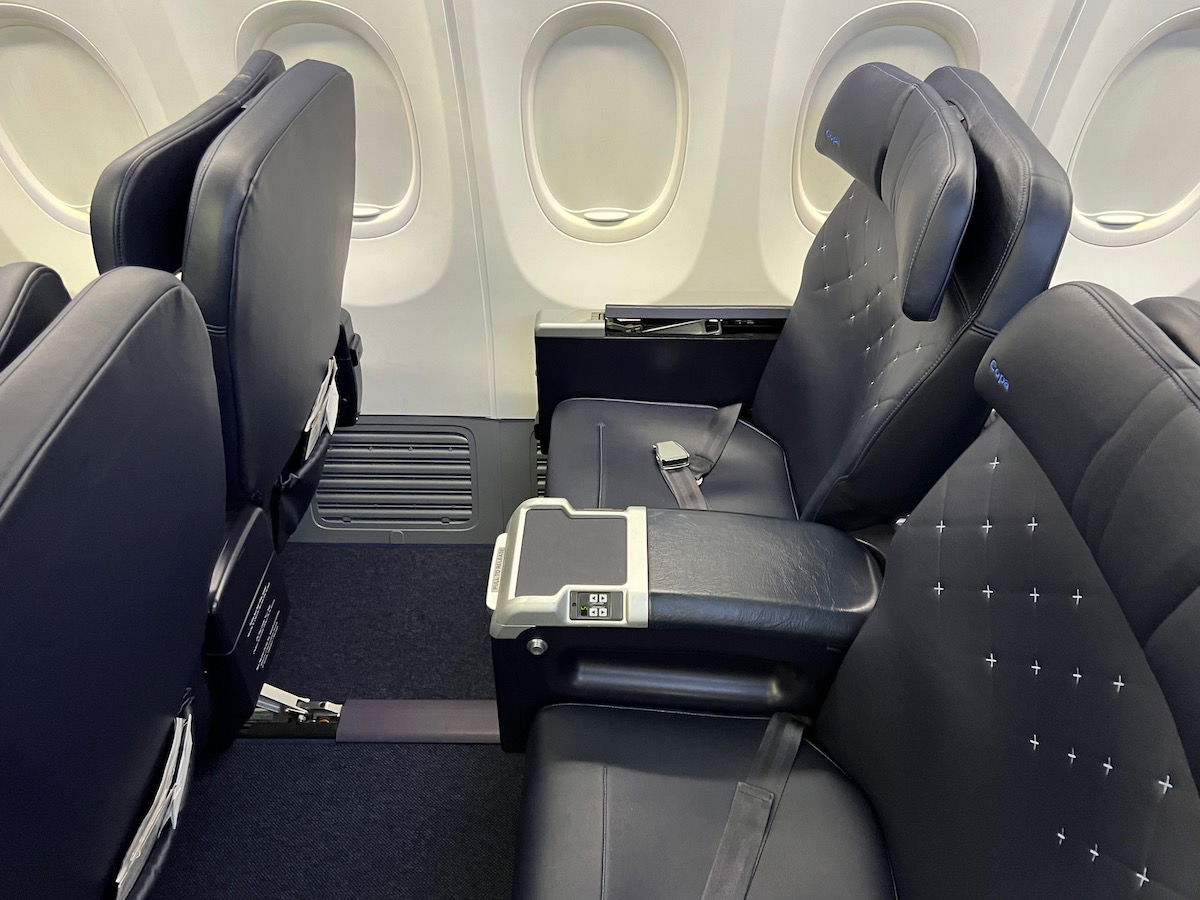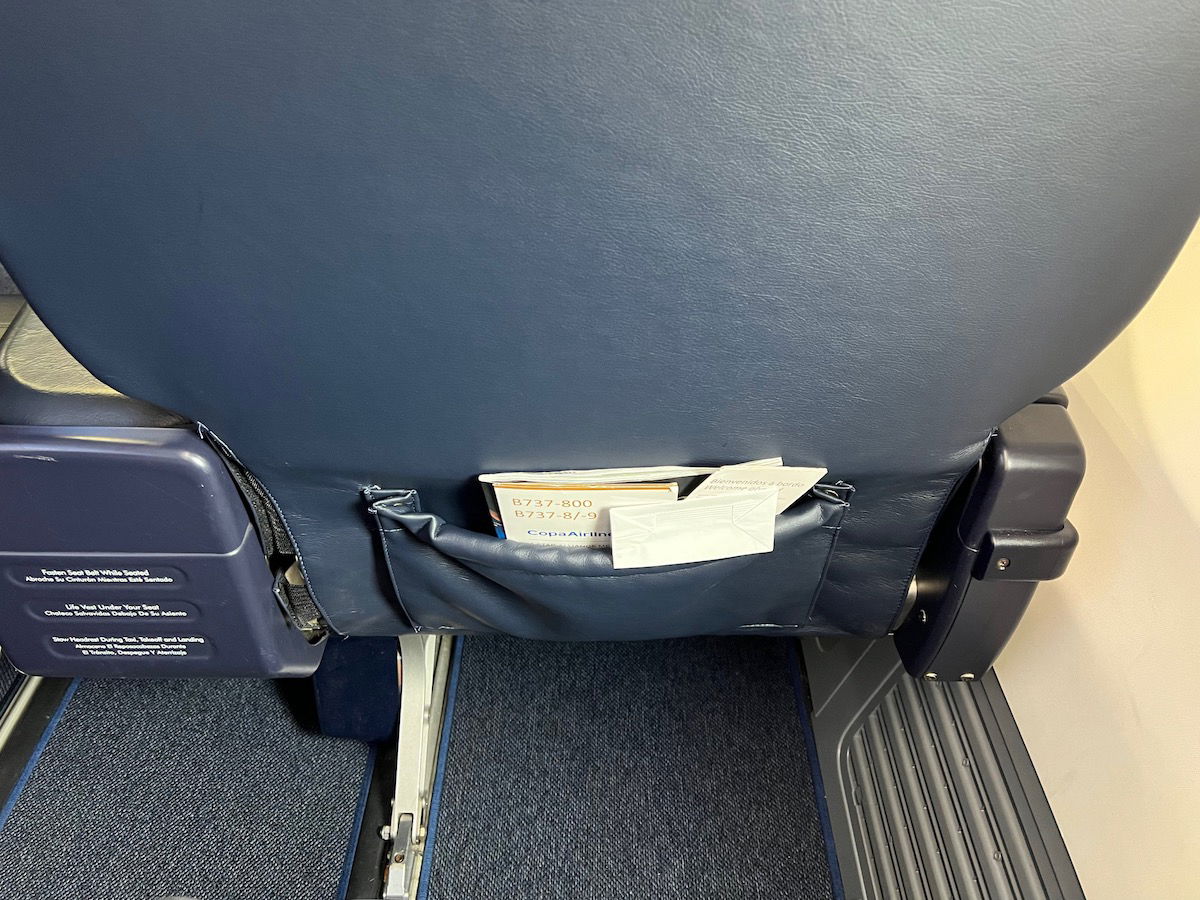 The difference is that unlike Continental (now United), Copa hasn't done anything to update the technology of its cabins. This plane didn't feature power outlets, Wi-Fi, or personal televisions. There was a center console where you could place drinks, and also a further center tray that could be extended. The only inflight entertainment was some audio channels (I assume), as there were channel selectors and headphone jacks.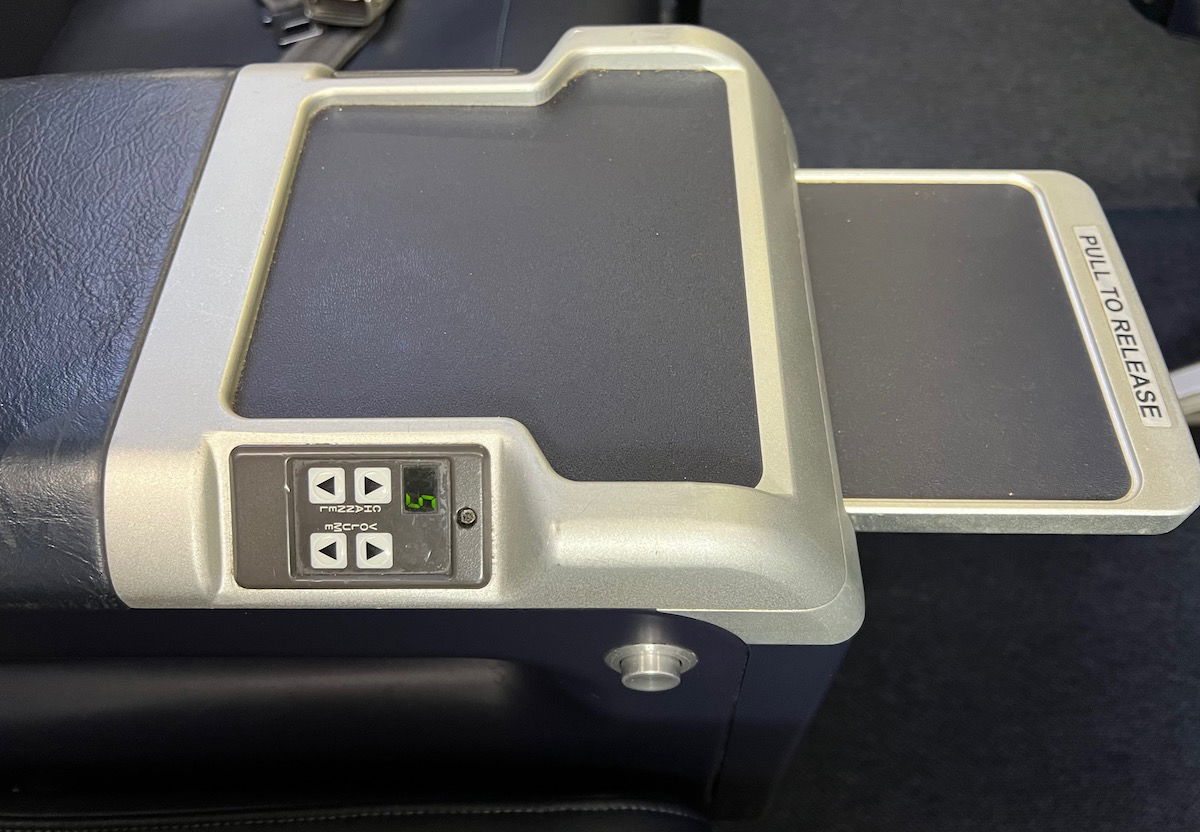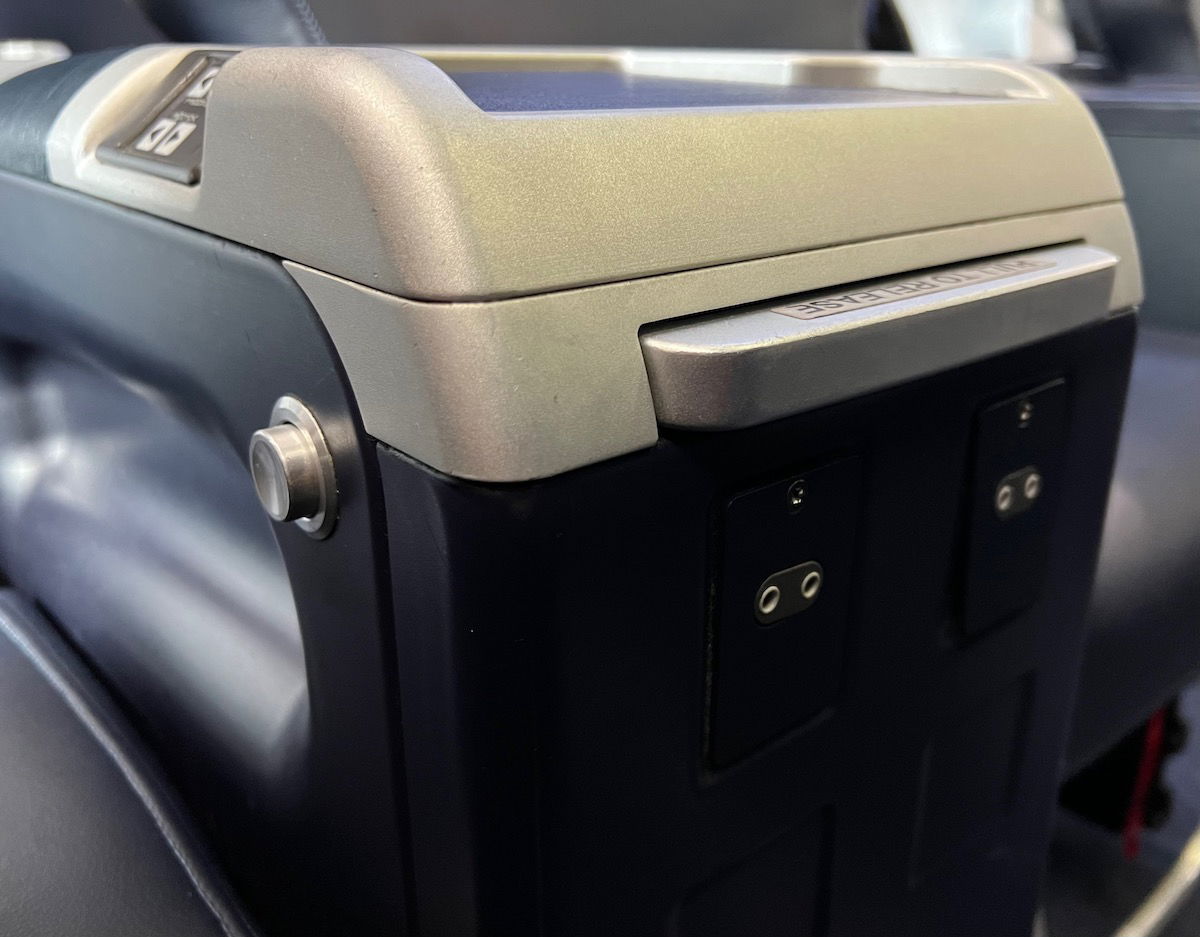 The tray table extended from the side armrest, and could also be folded over in half.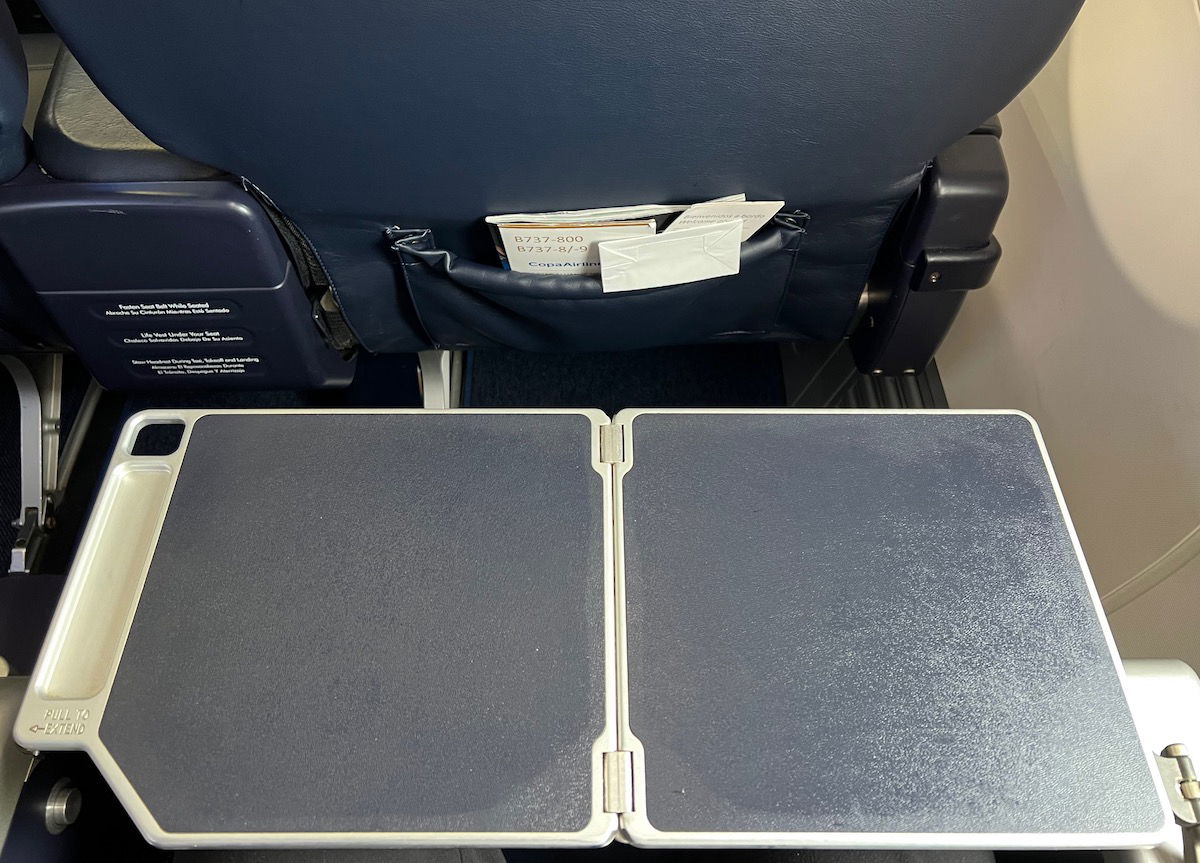 To Copa's credit, the airline has at least done a nice job with its cabin finishes, as I quite like the stitched pattern the airline uses for its seats.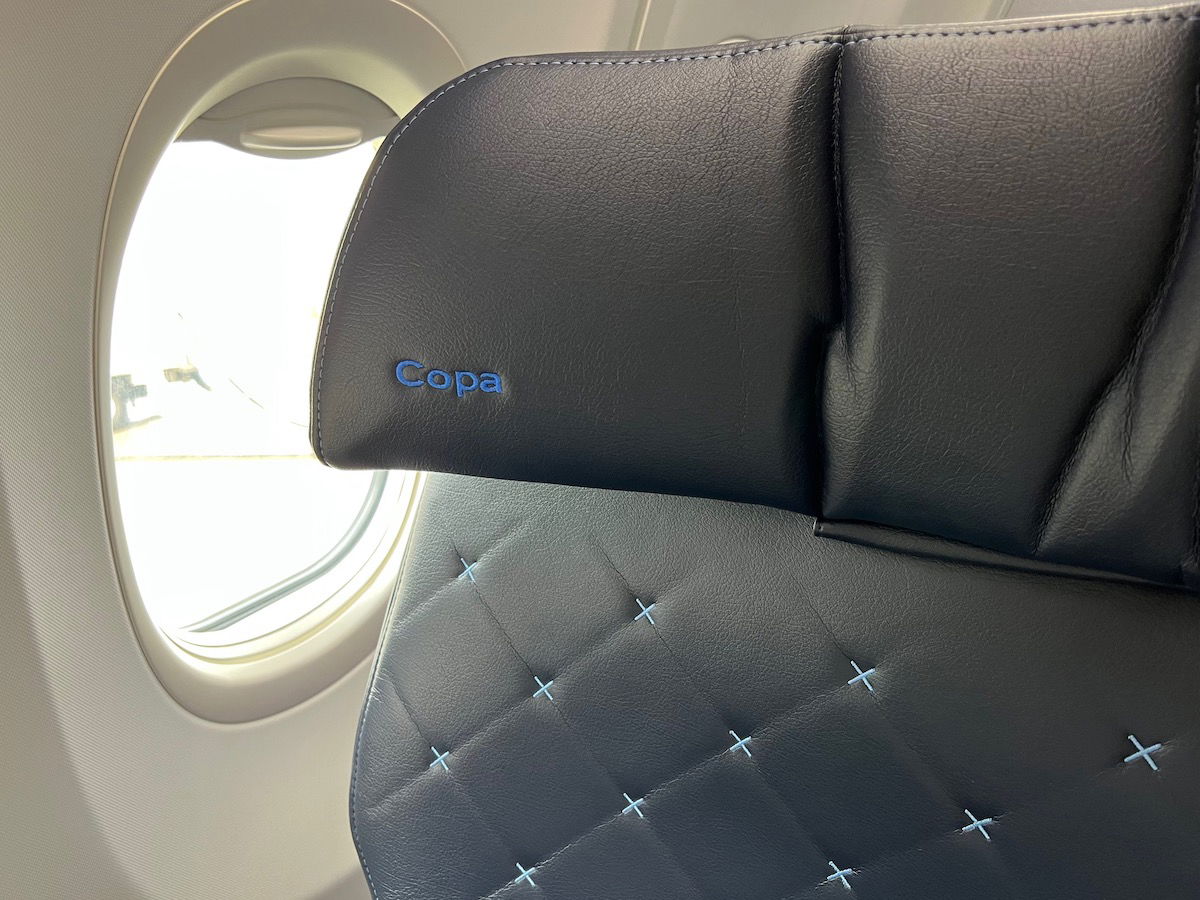 The overhead console had an individual air nozzle and reading light, in line with Boeing's updated aircraft interiors.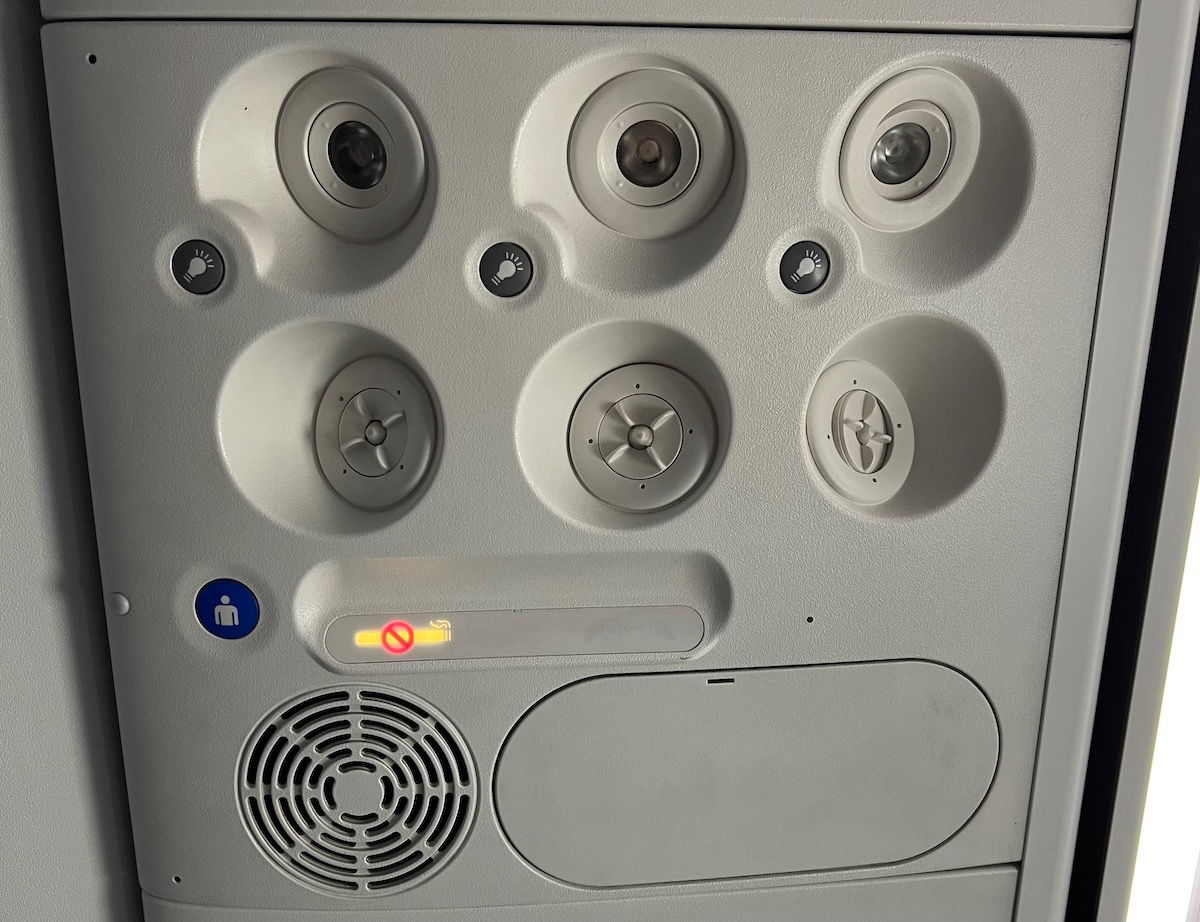 The cabin also had some drop-down monitors, which during boarding showed videos about some of the destinations that Copa serves.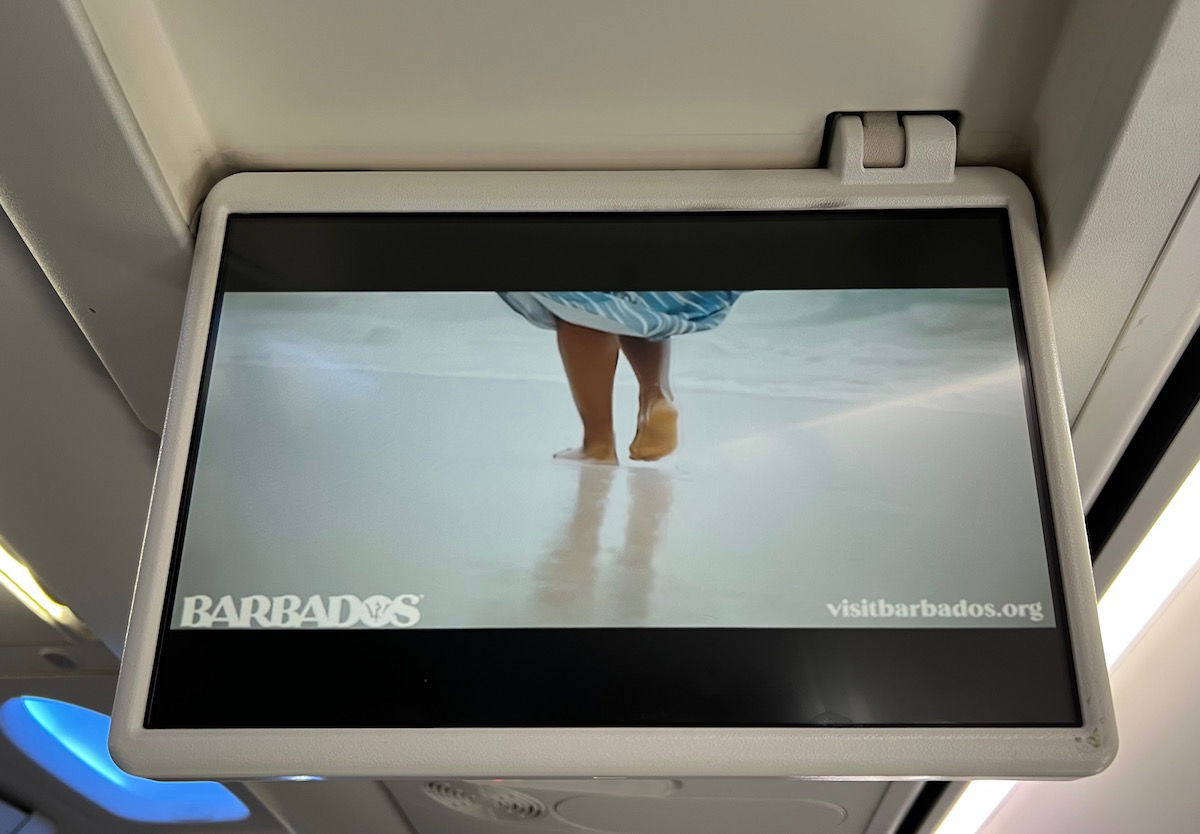 Copa business class amenities
Once settled in, each business class passenger was offered their choice of a pre-departure orange juice or water, served in a plastic cup.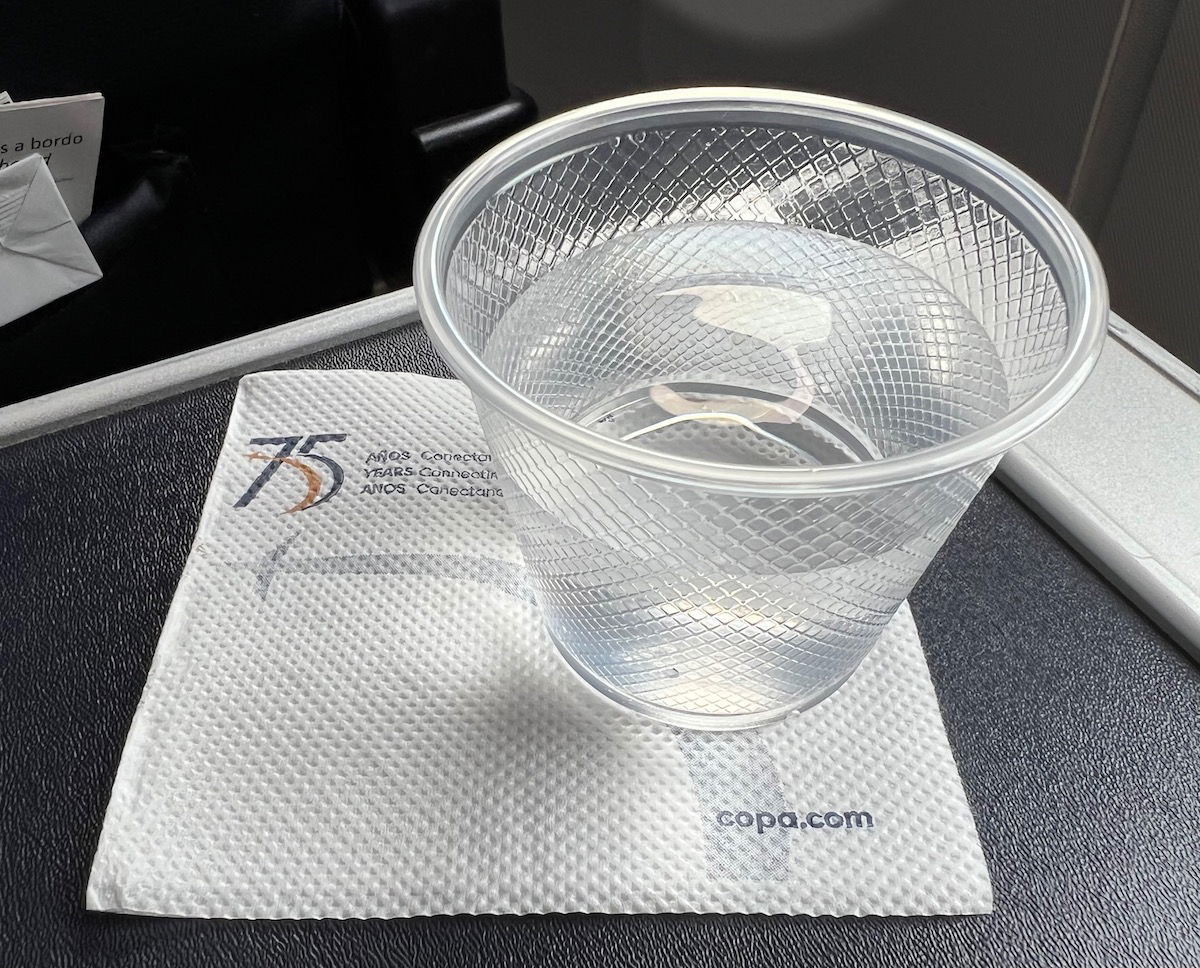 There were no pillows in business class, though blankets were offered on demand. They were pretty thin and scratchy, similar to what you'd typically find in domestic first class in the United States (though even there you don't consistently get that anymore).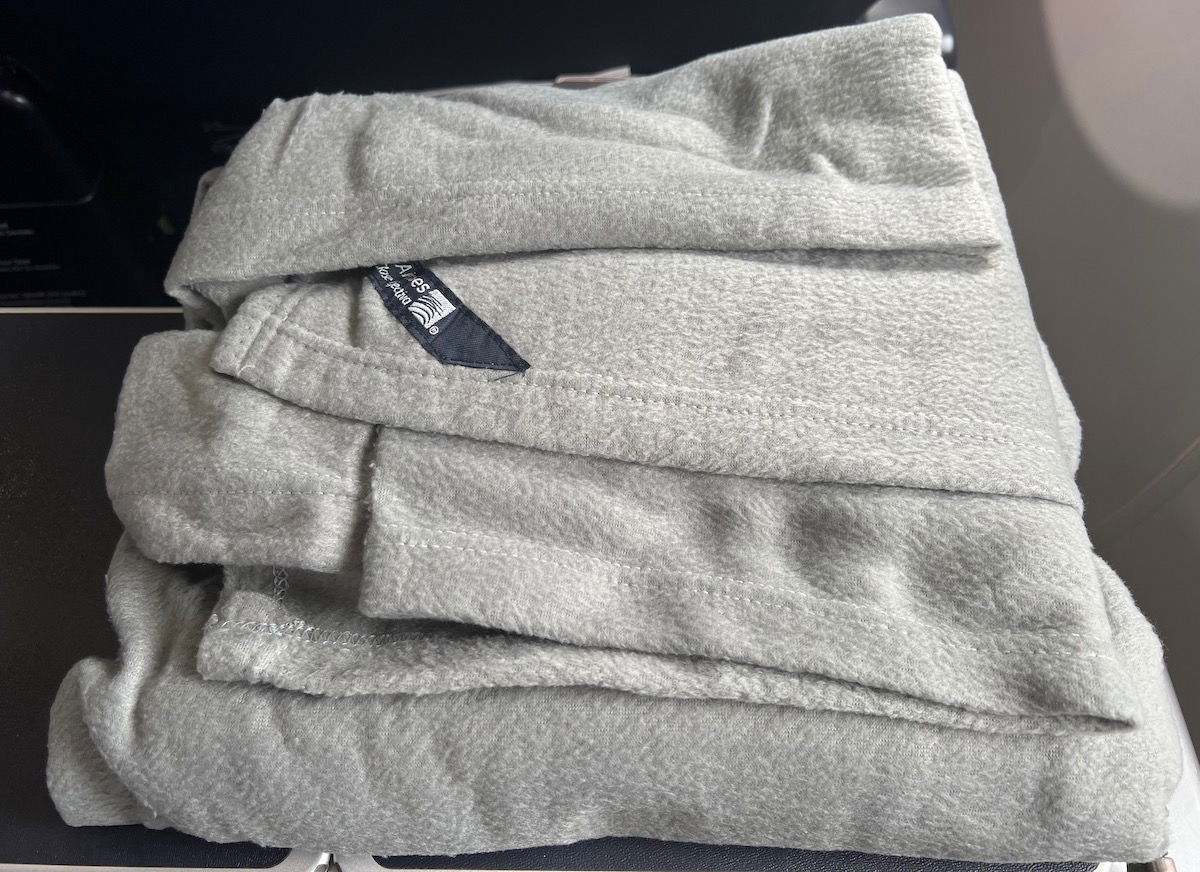 Copa 737 departure from Miami
Boarding was finished by 5:45PM, with the plane more or less full (including every seat in business class being occupied — Copa has a generous complimentary upgrade system, like US airlines).
Around this time, the captain made his welcome aboard announcement, informing us of our flight time of 2hr30min. Flying with Copa feels oh-so-much like flying with a US airline, down to the captain reminding us that flight attendants are there primarily for our safety.
A moment later the safety video was screened on overhead monitors. Copa has a pretty cool destination themed safety video, which I enjoyed.
At 5:50PM we began our pushback, with an Avianca Airbus A320 to our right.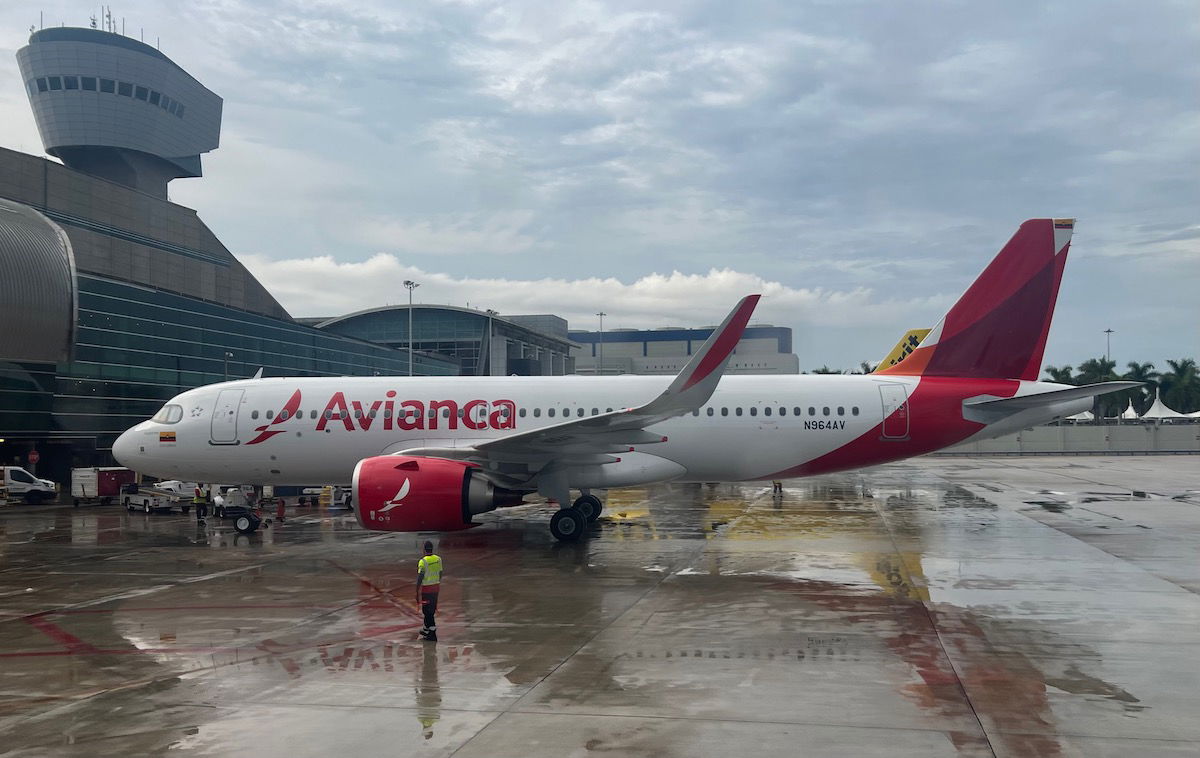 As we pushed back, I got a great view of an Emirates Boeing 777 and a rainbow — pretty!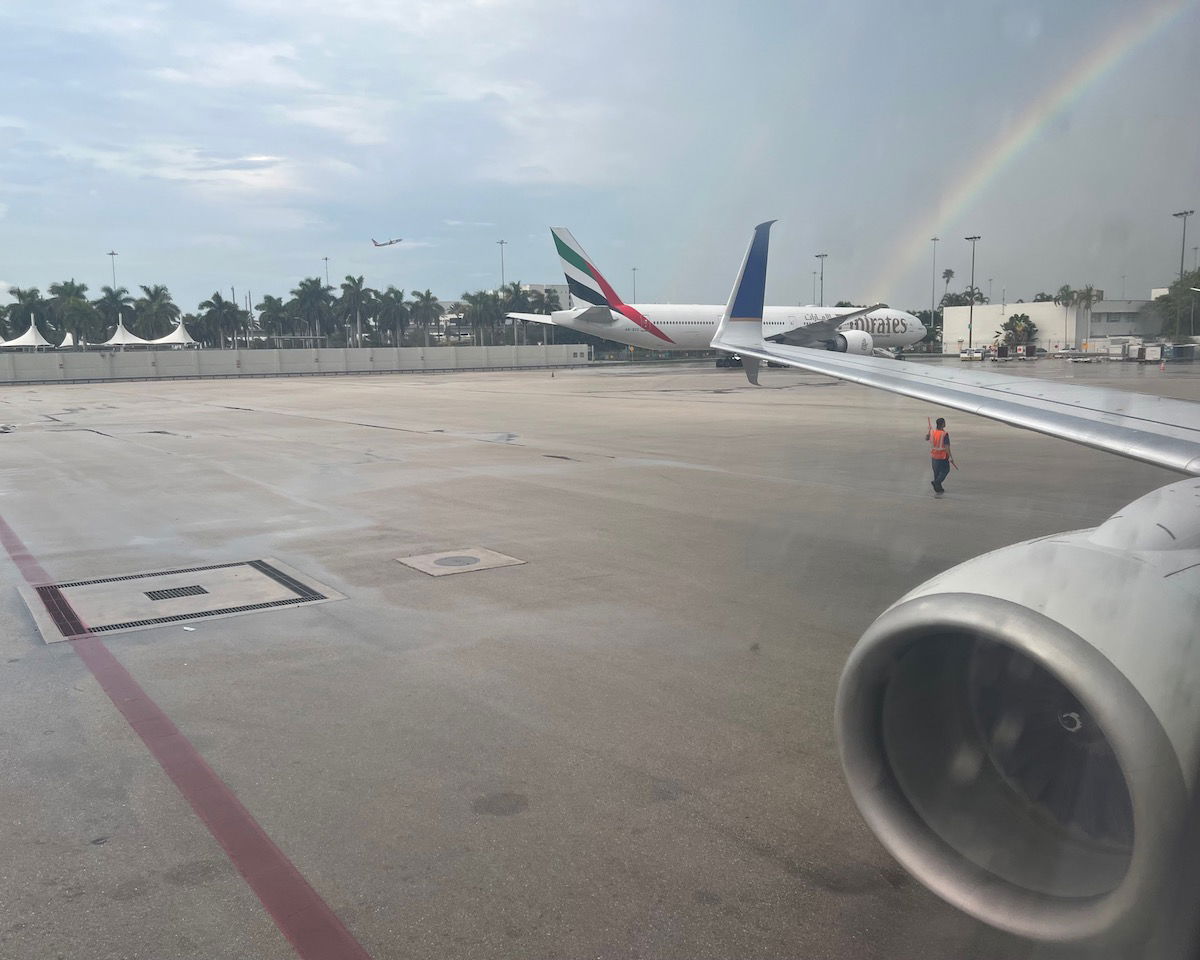 We started our taxi at 6PM, and there was some pretty cool traffic near this portion of the terminal, including an Aerolineas Argentinas Airbus A330 and ITA Airways Airbus A330 — those are two planes I really want to fly!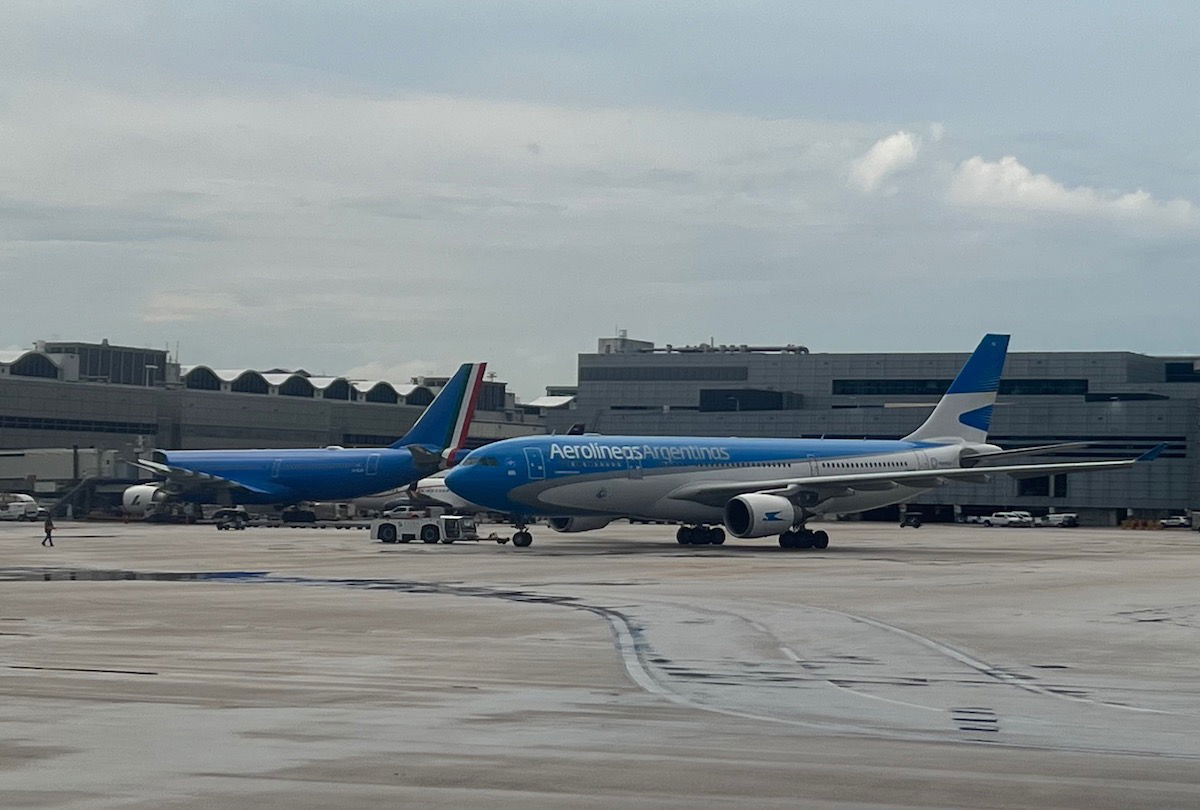 There was also a LATAM Boeing 777 and Virgin Atlantic Boeing 787.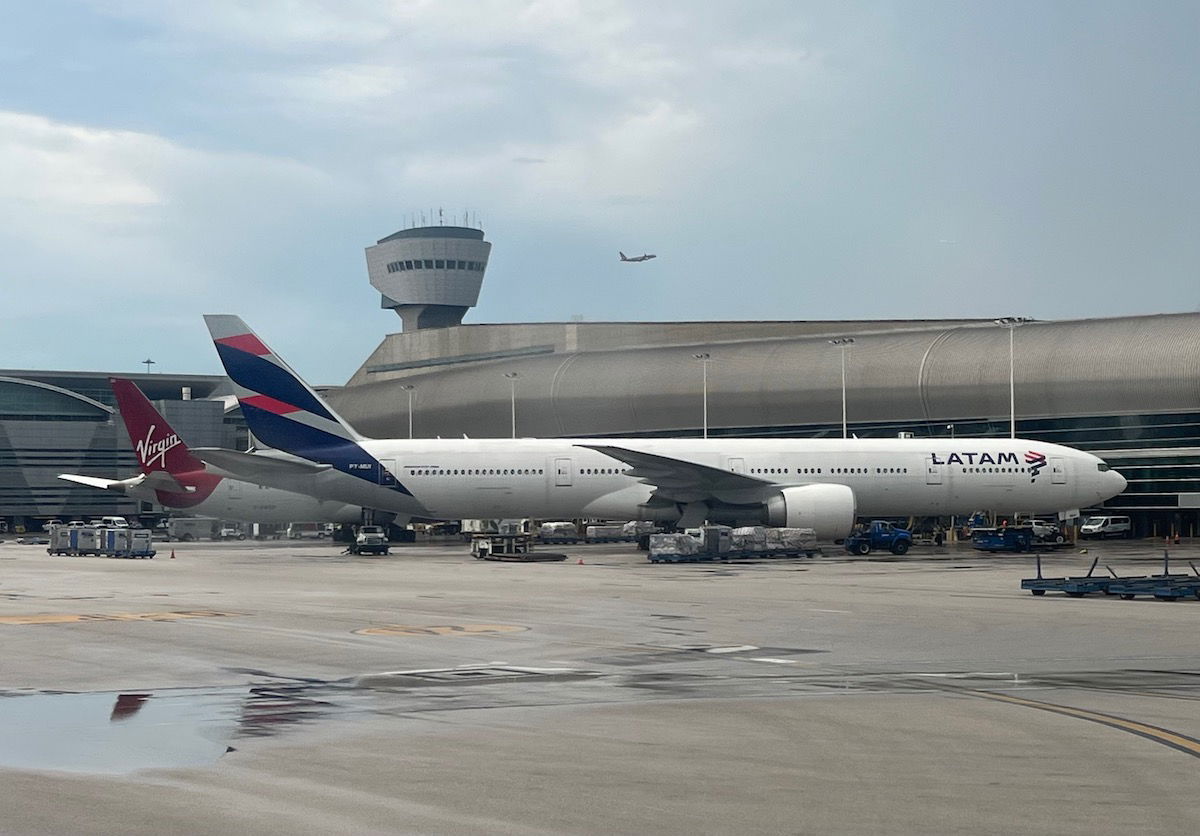 MIA is my home airport, and one of my favorite things about it is the fascinating variety of traffic you won't find at other airports. For example, bonus points to anyone who can identify the planes in the below two pictures, and guess where they're headed.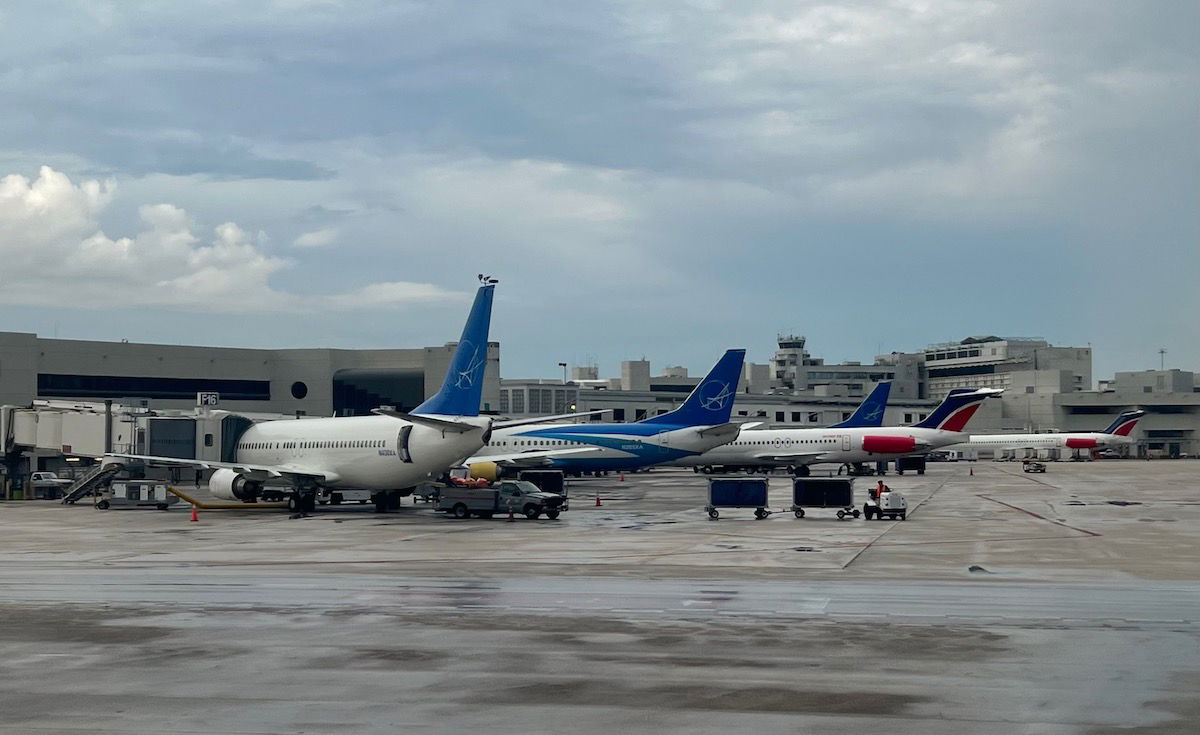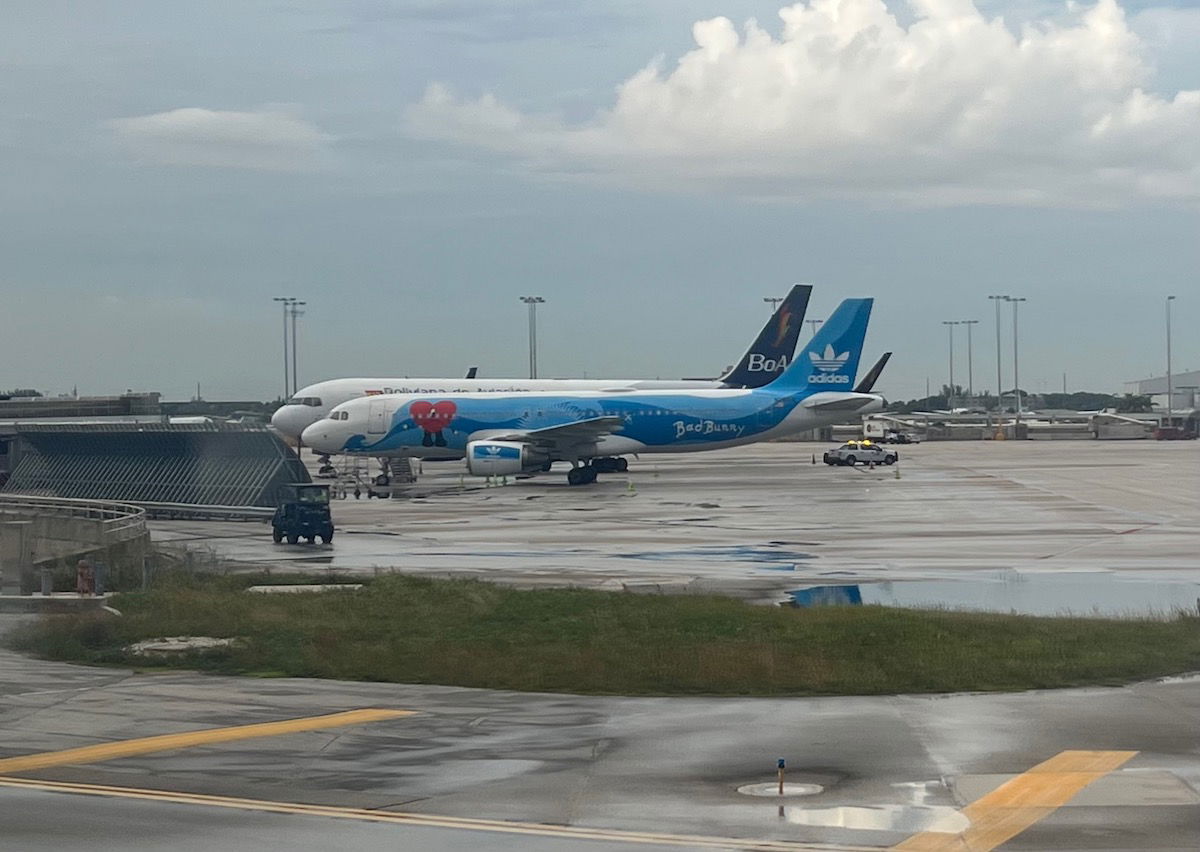 At around 6:10PM the captain announced that we were number 10 for takeoff, and that it would take around 20-25 minutes until we were airborne.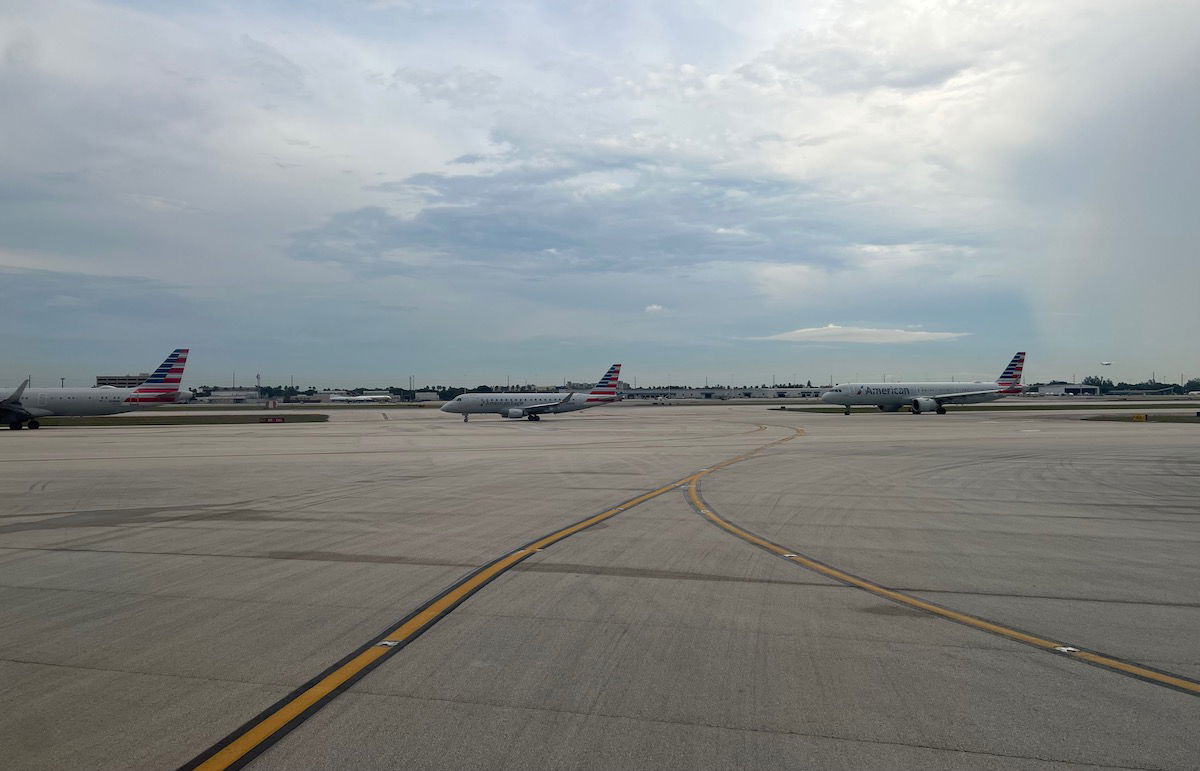 As we taxied out, I noticed the Copa Boeing 737 MAX 9 that left just 30 minutes before us was taxiing back to the terminal and was surrounded by fire trucks. That flight ended up being delayed by over four hours, so I guess I lucked out with that last minute plane swap (the earlier flight ended up getting the MAX jet that we were supposed to have).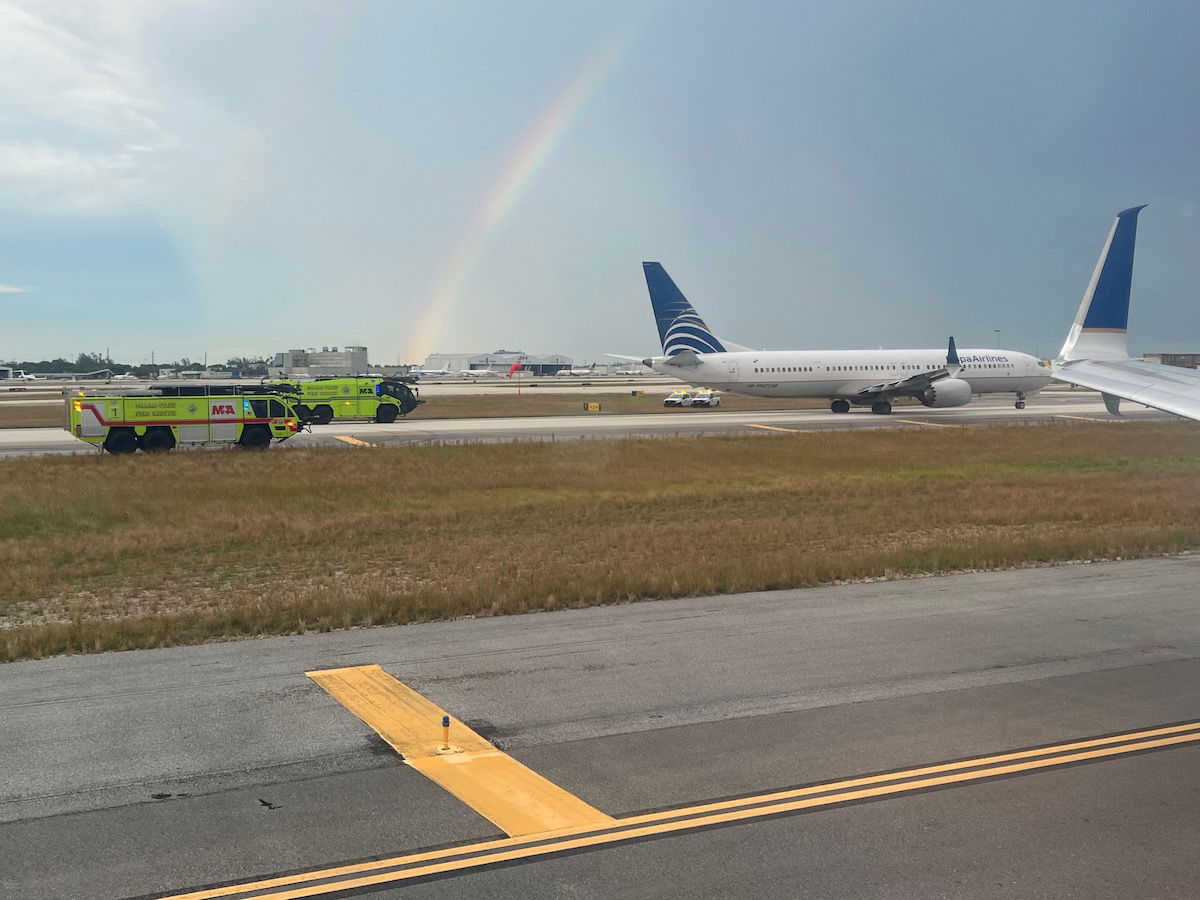 We were finally cleared for takeoff on runway 8R at 6:30PM.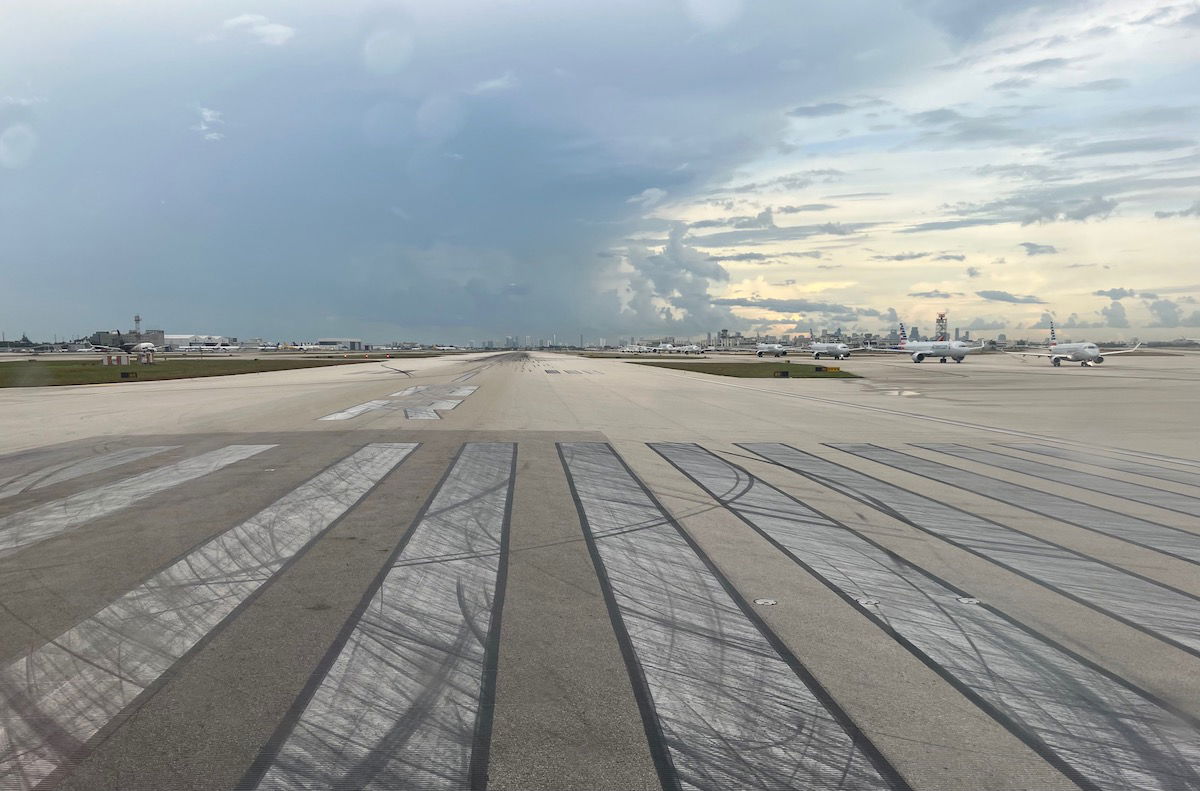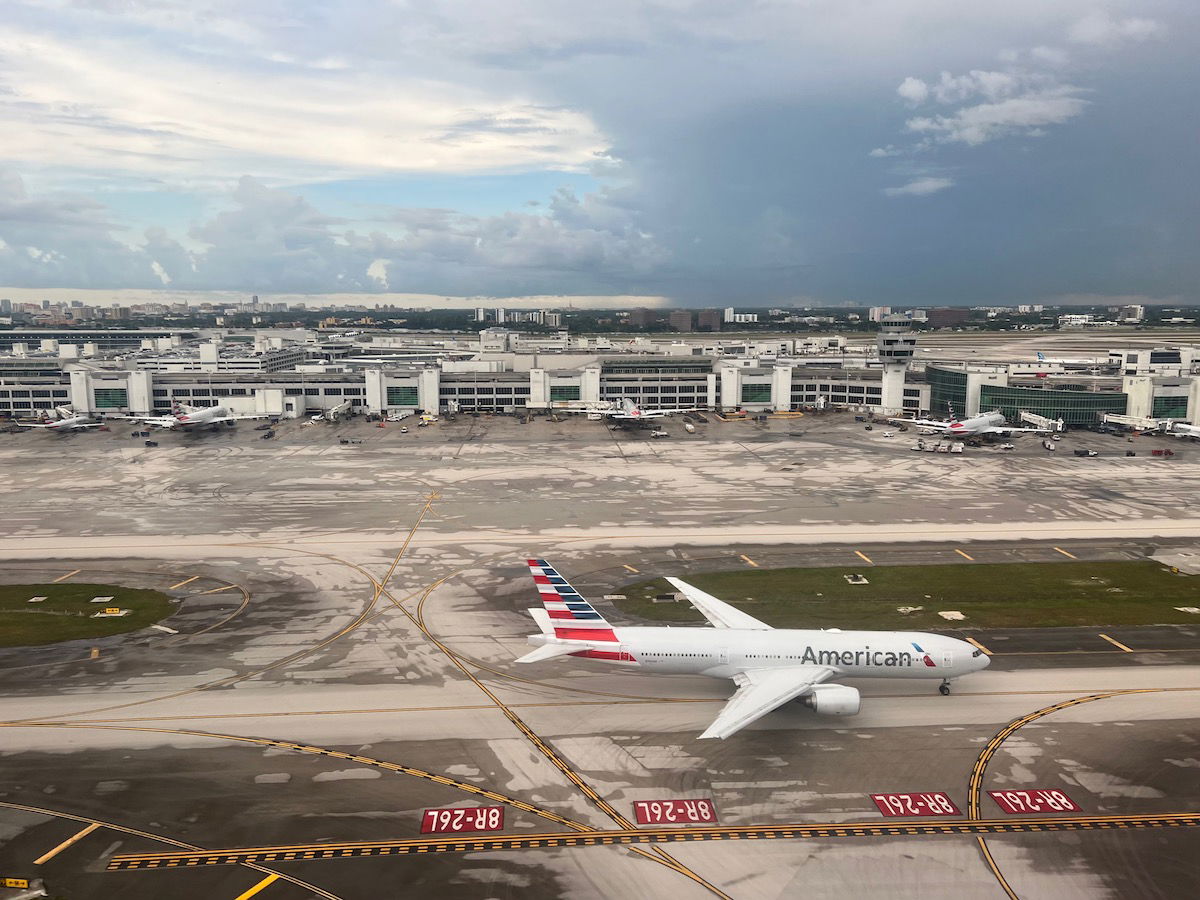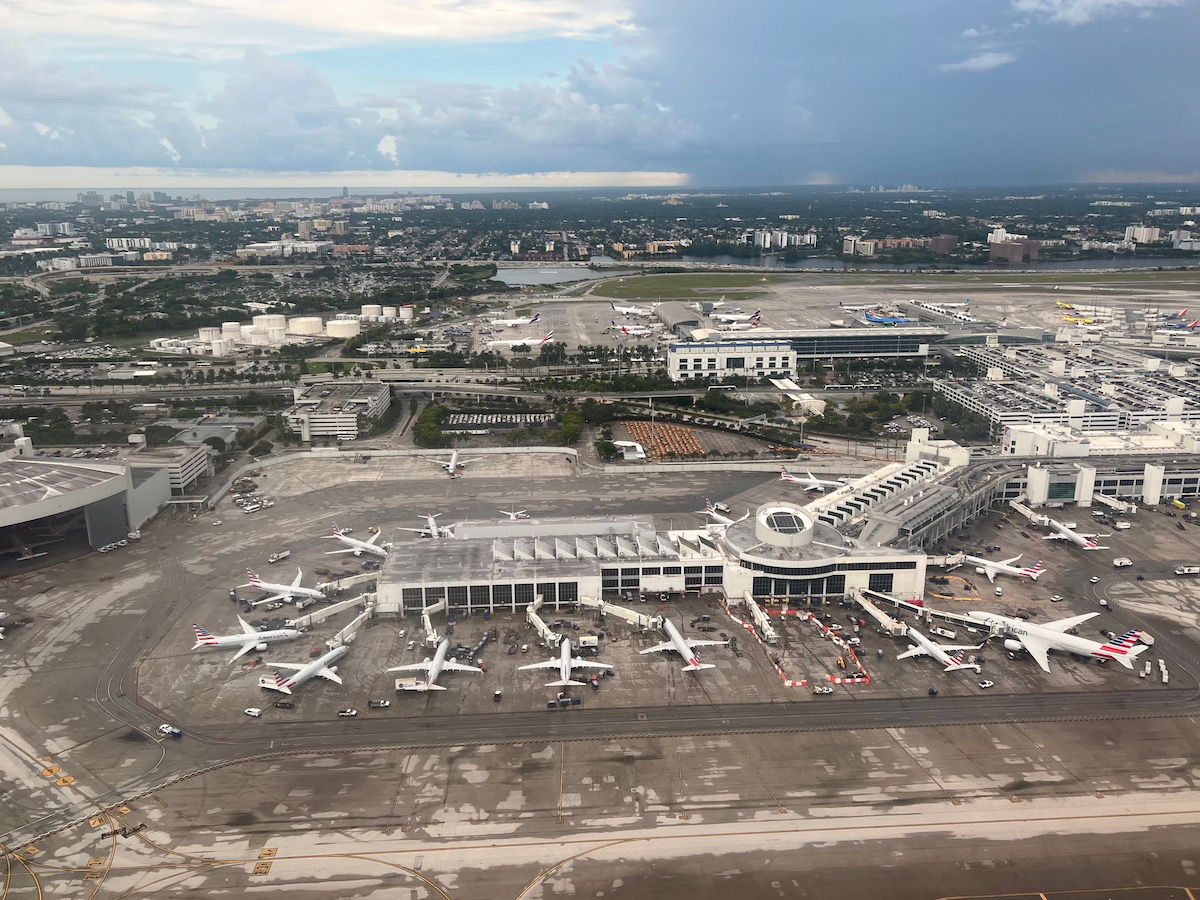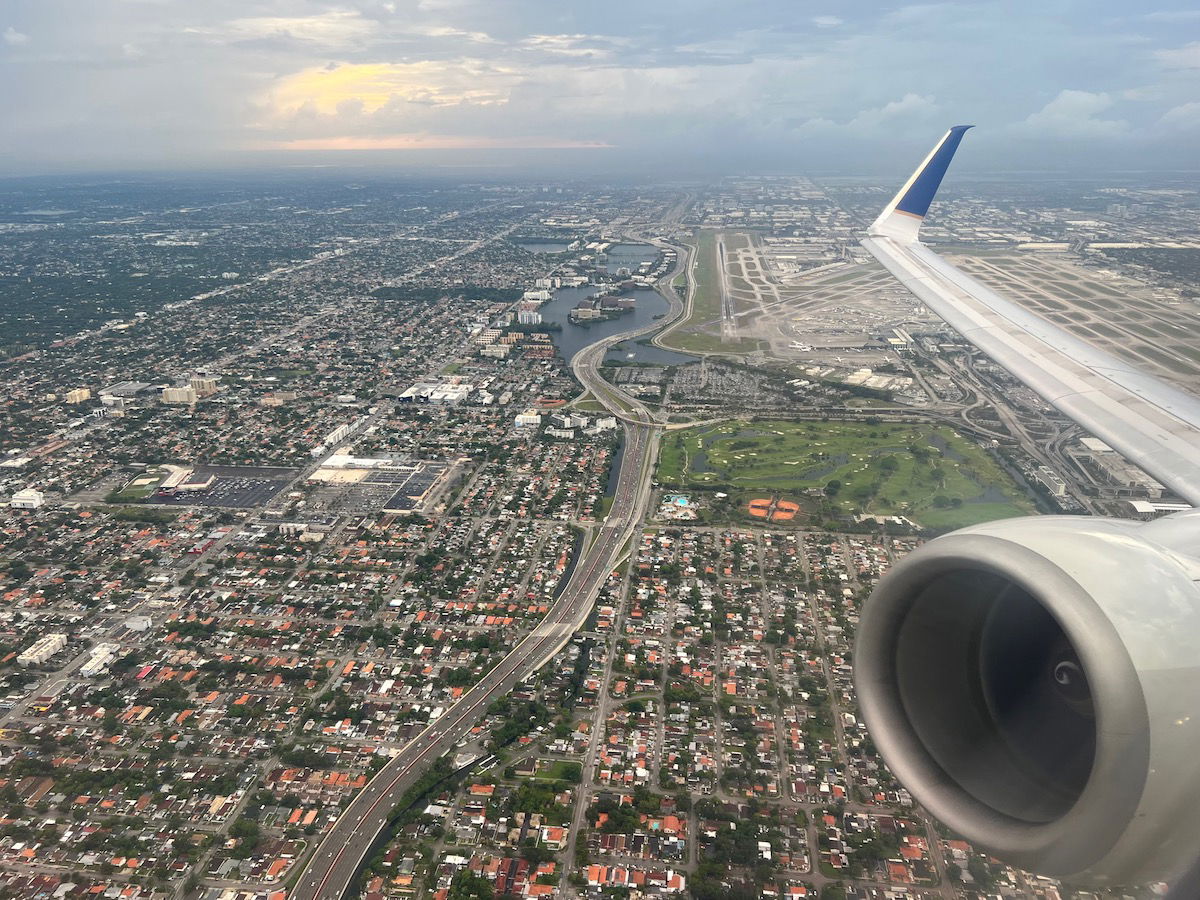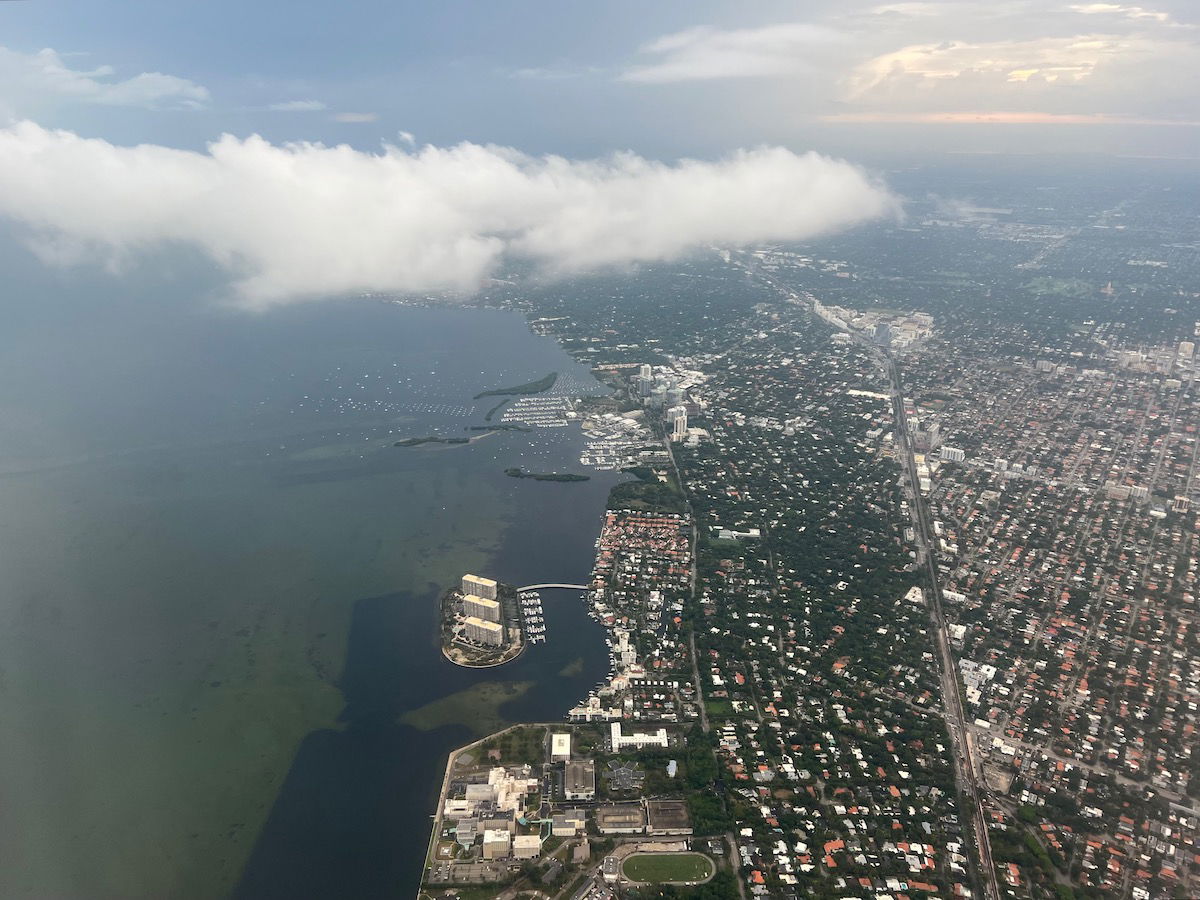 While it wasn't a particularly nice evening at first, the views got better and better, especially as the sun began to set. Views from the sky never get old, especially around sunset.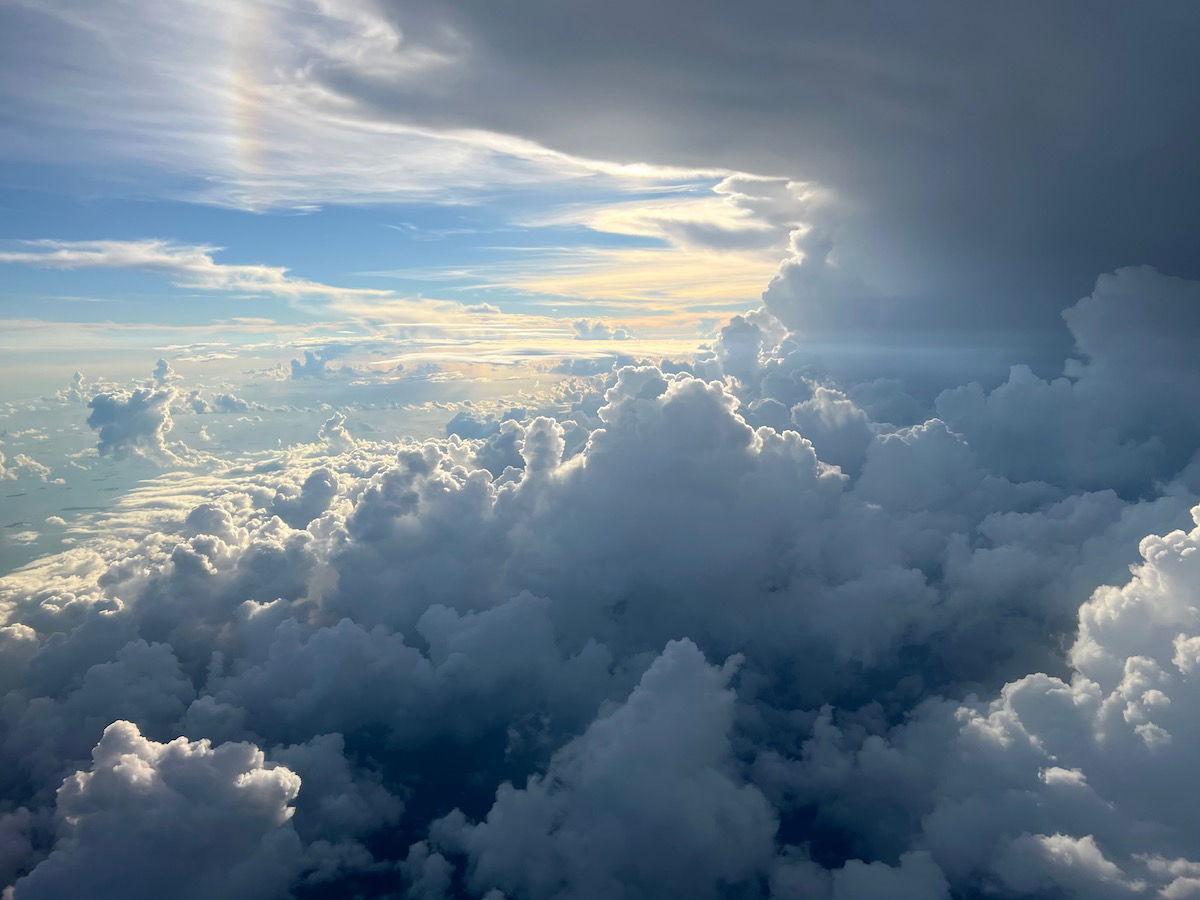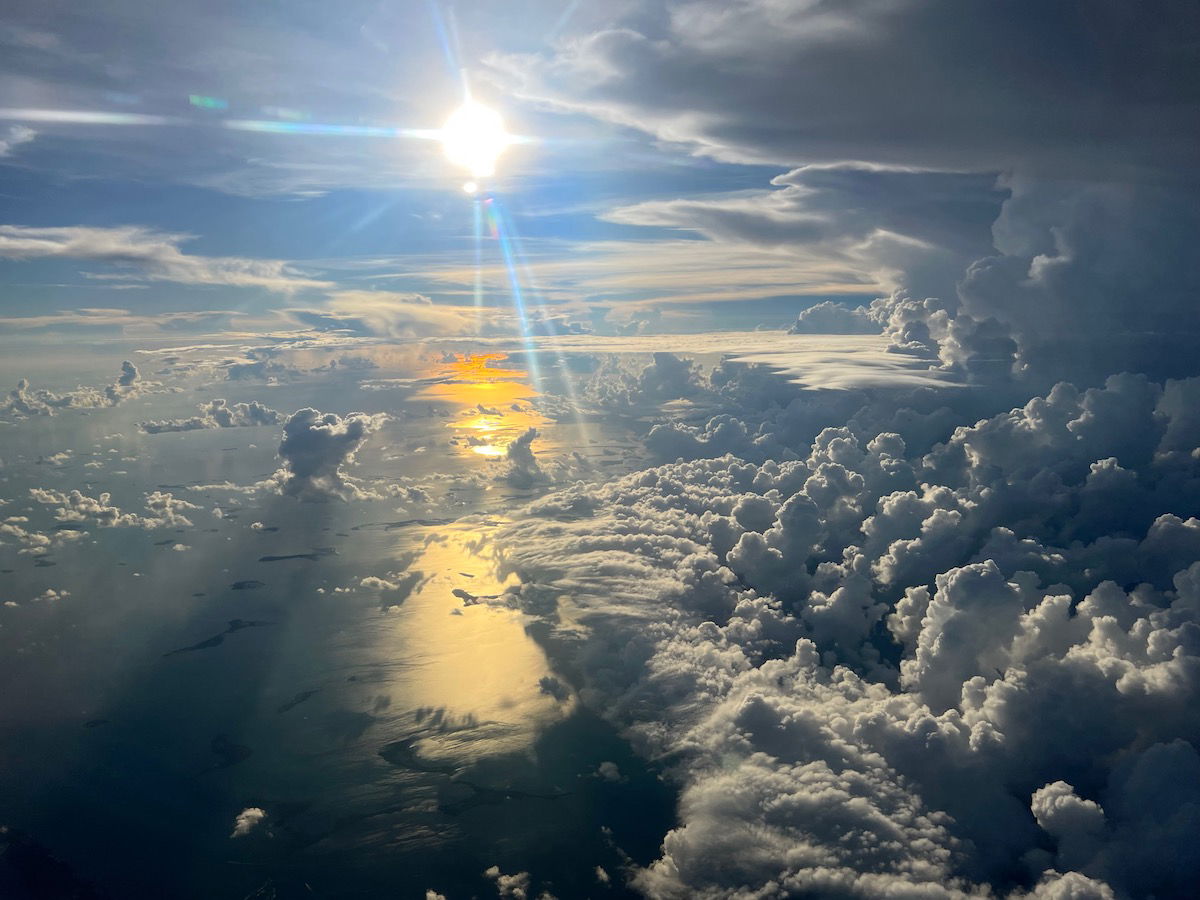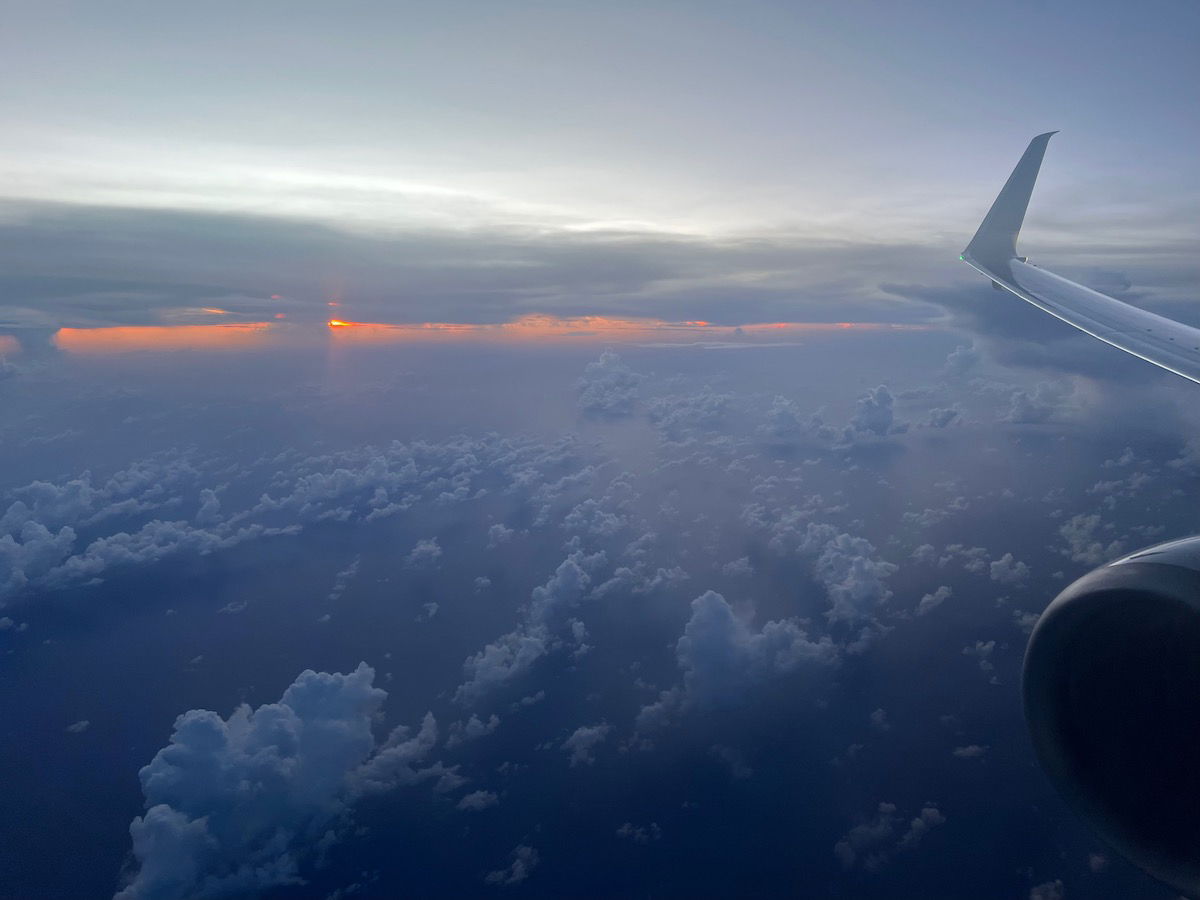 The seatbelt sign was turned off around 10 minutes after takeoff.
Copa business class entertainment & Wi-Fi
It's incredibly underwhelming that Copa updated the interiors of some Boeing 737s, but these planes don't have power ports, don't have Wi-Fi, don't have personal entertainment screens, and don't even have streaming entertainment. So you'll have to bring your own (well charged) entertainment. The only entertainment was a show streaming on the overhead monitors.
Of course this isn't a huge deal on a 2.5 hour flight, but it's important to note that Copa operates these planes on longer routes. Furthermore, a vast majority of Copa passengers are connecting, so you could very well end up on two back-to-back flights without these amenities.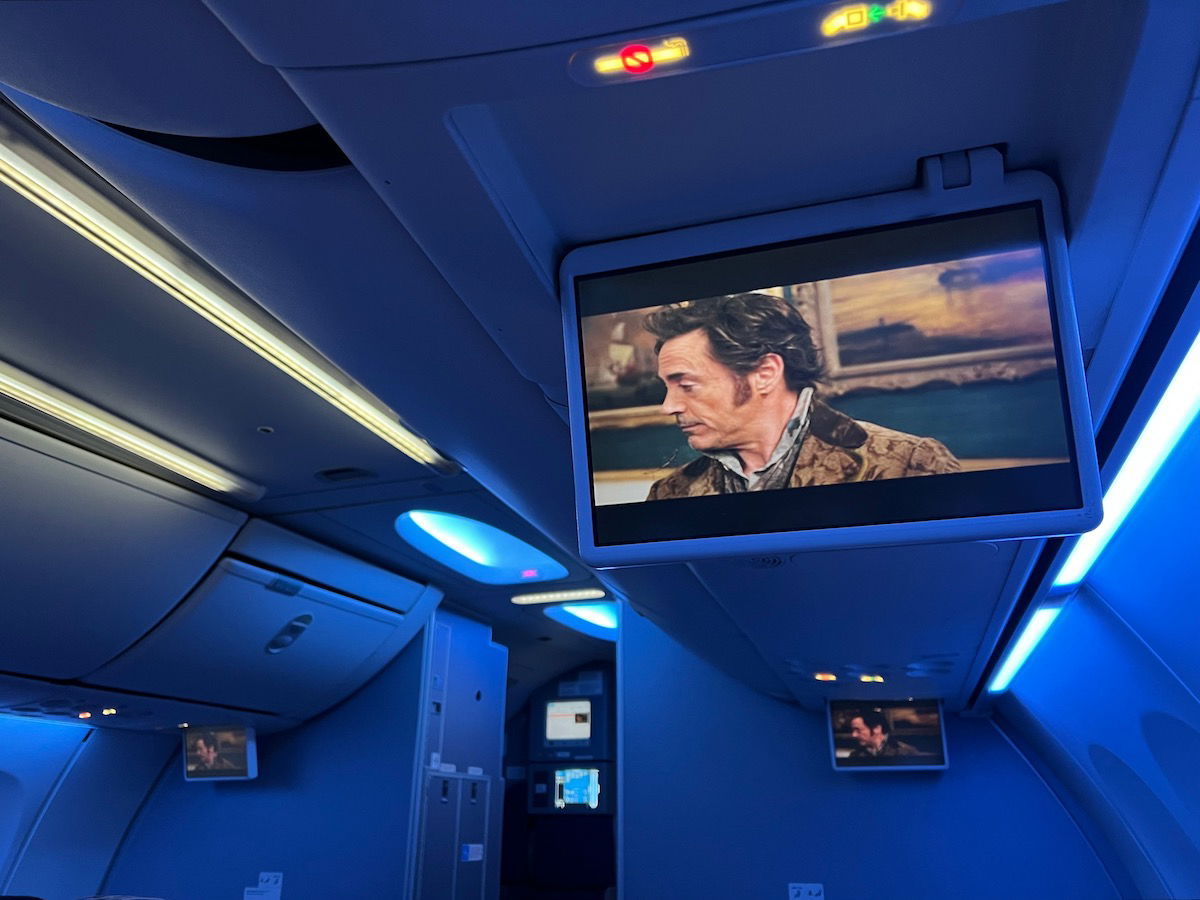 Copa business class meal service
The meal service was surprisingly decent, at least compared to the rest of the experience. During the boarding process the business class flight attendant, Michelle, introduced herself to each passenger by name, and took meal and drink orders.
The dinner options were described as chicken with vegetables and potatoes, or beef with jasmine rice and vegetables. I selected the former.
After takeoff, service was a bit slow to get started, not that there was really a rush, or a whole lot to do. I was served my first drink around 40 minutes after takeoff. I ordered a glass of sauvignon blanc, which I enjoyed. The drink was served with a tasty lukewarm snack mix that had a kick to it.
I was even offered refills (of both the snack mix and wine) after finishing my first round.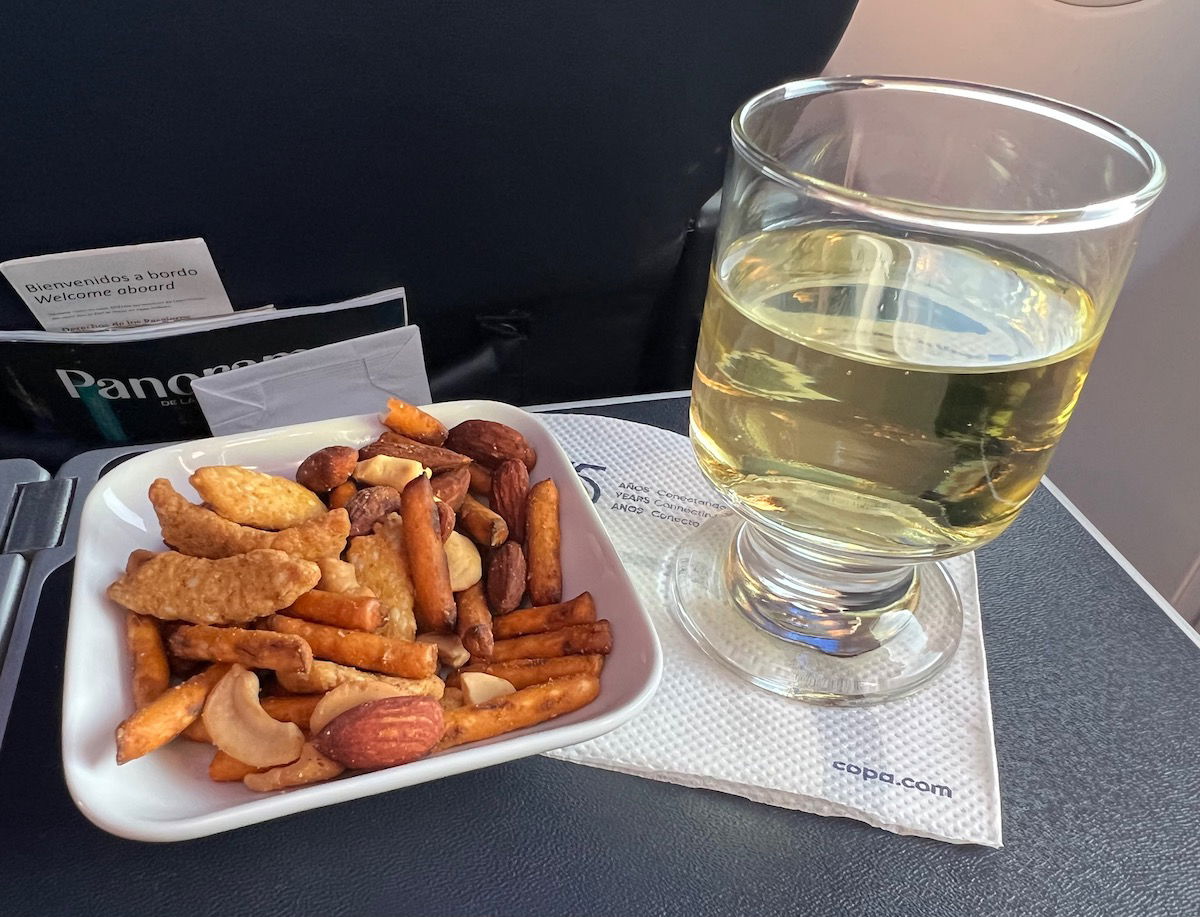 The dinner was served on one tray, at roughly the halfway point of the flight, around 75 minutes after takeoff. Dinner included a salad, a main course, packaged sourdough flatbread, and dessert.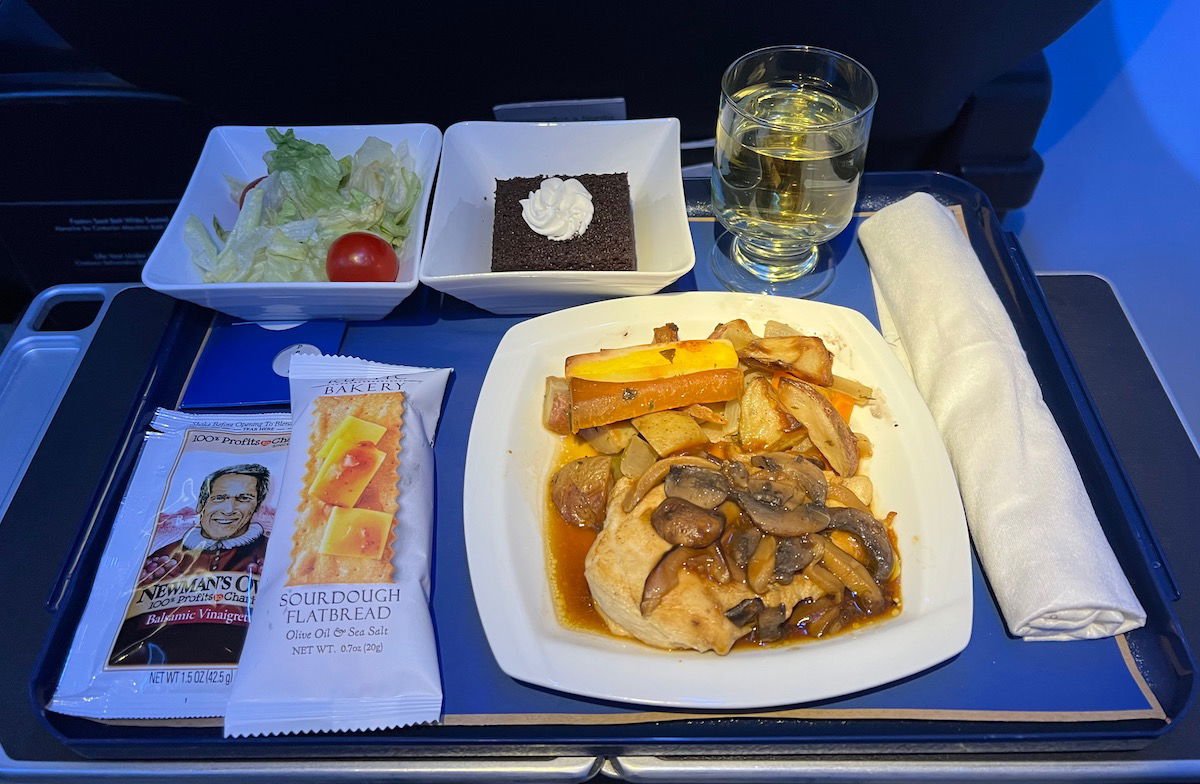 The salad was… uninspiring, to put it mildly. It consisted of some iceberg lettuce and two cherry tomatoes.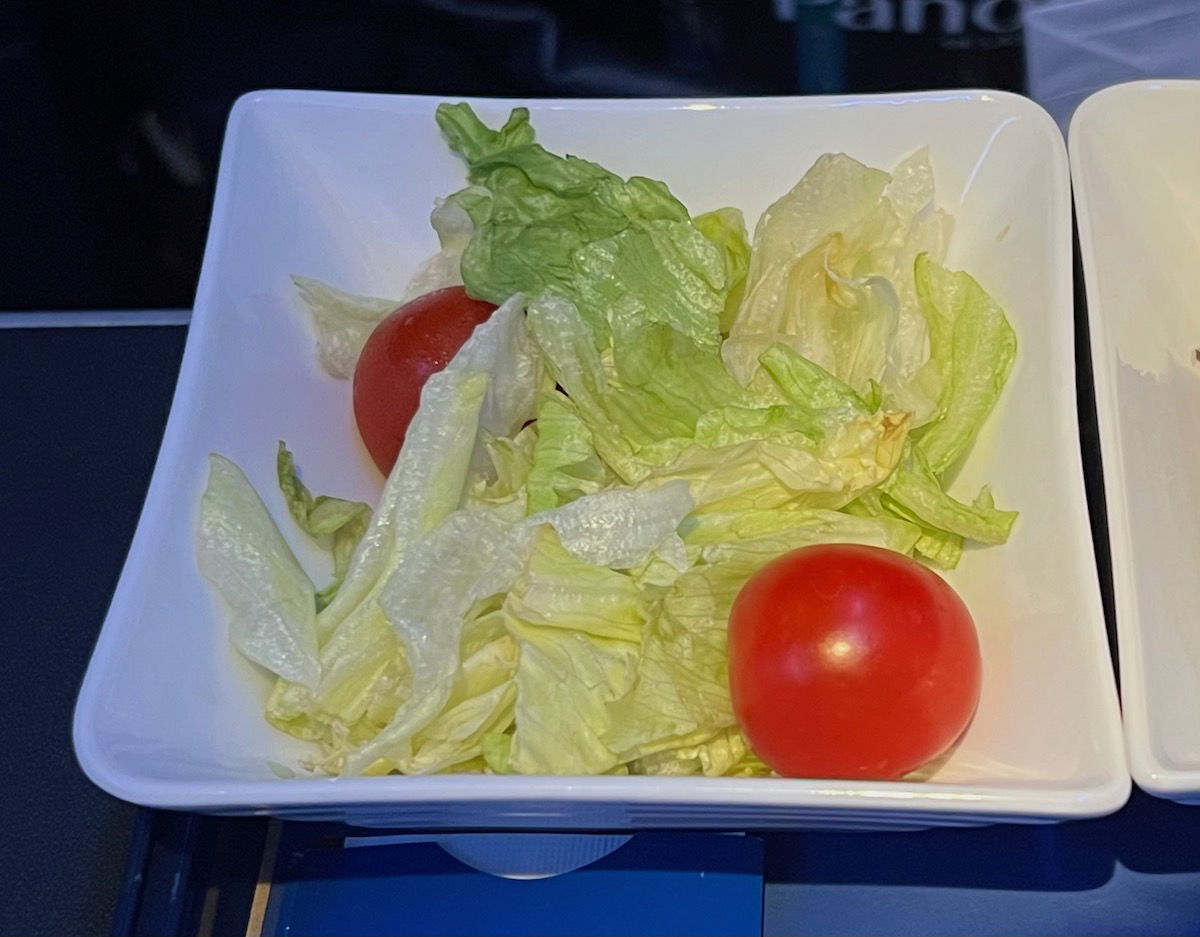 The main course, on the other hand, was quite tasty. It consisted of sliced chicken breast with veggies, potato wedges, and a flavorful sauce.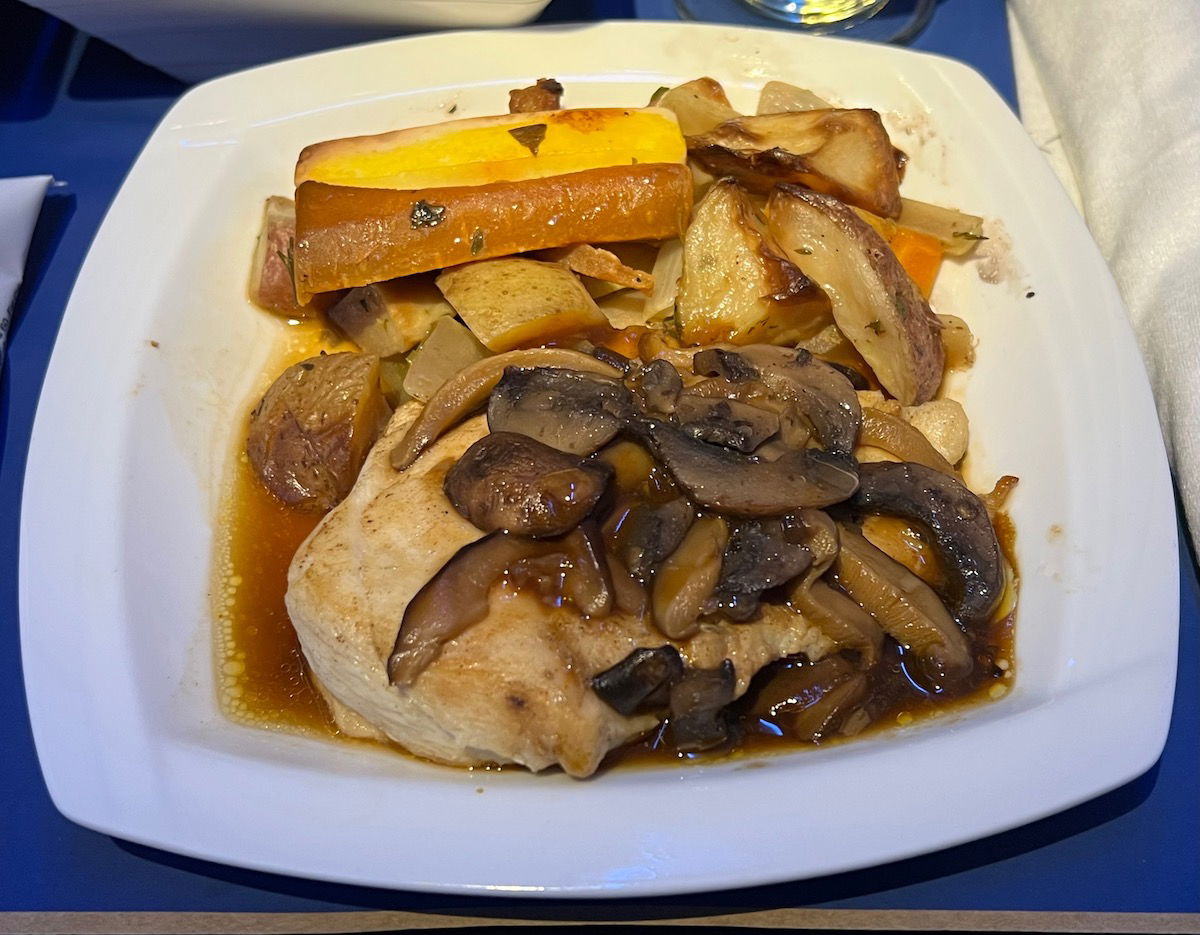 I then enjoyed dessert, which was a chocolate cake with cream. I ordered a cup of coffee to accompany this — there was no milk or cream, but rather just a powdered instant creamer.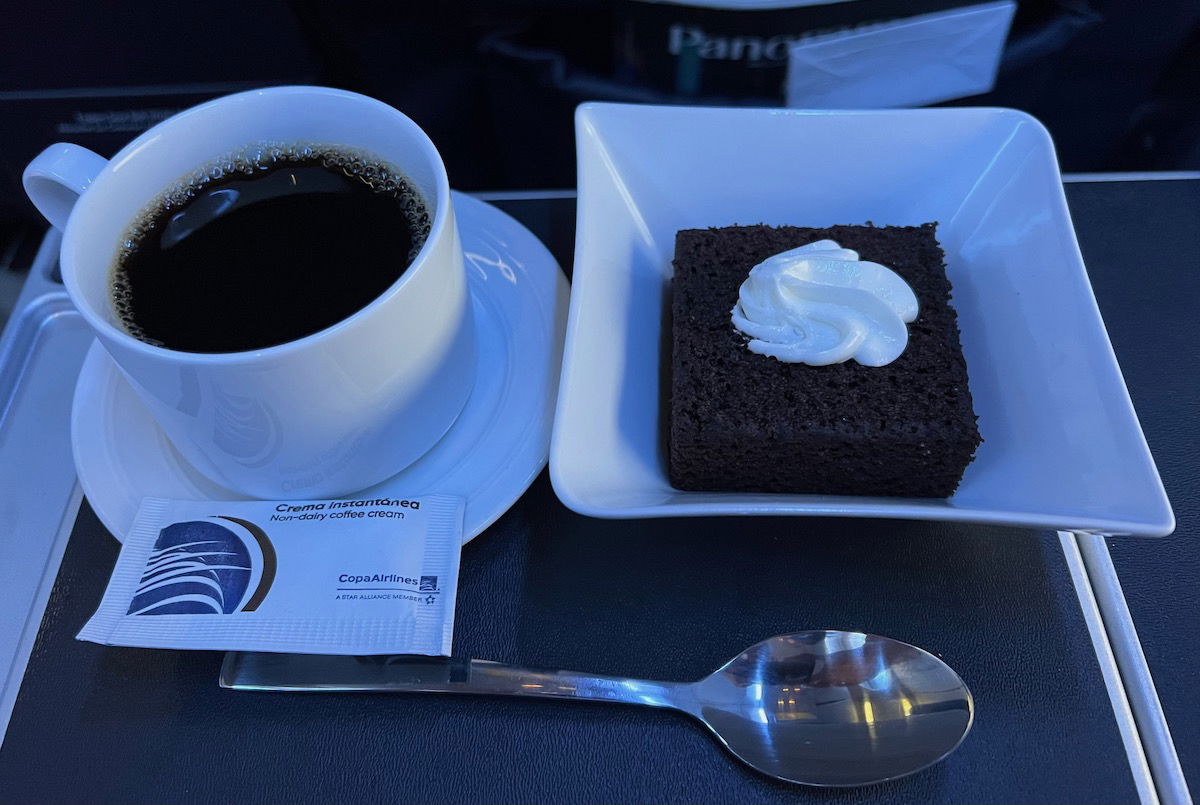 Copa 737 business class lavatory
There was a lavatory located at the front of the cabin. It was pretty no frills, and had no special amenities. For that matter, it wasn't particularly clean either. There was good enforcement to make sure that this lavatory was only used by business class passengers, though.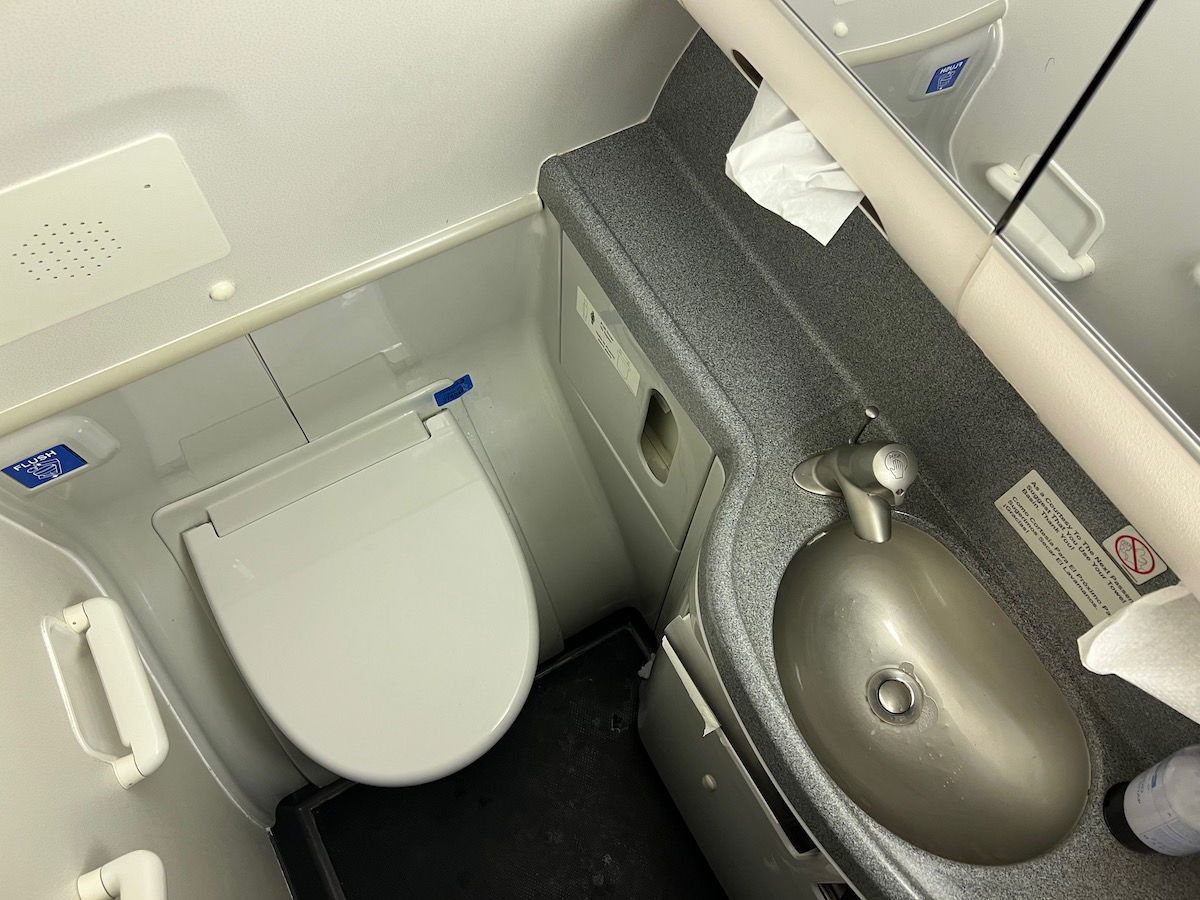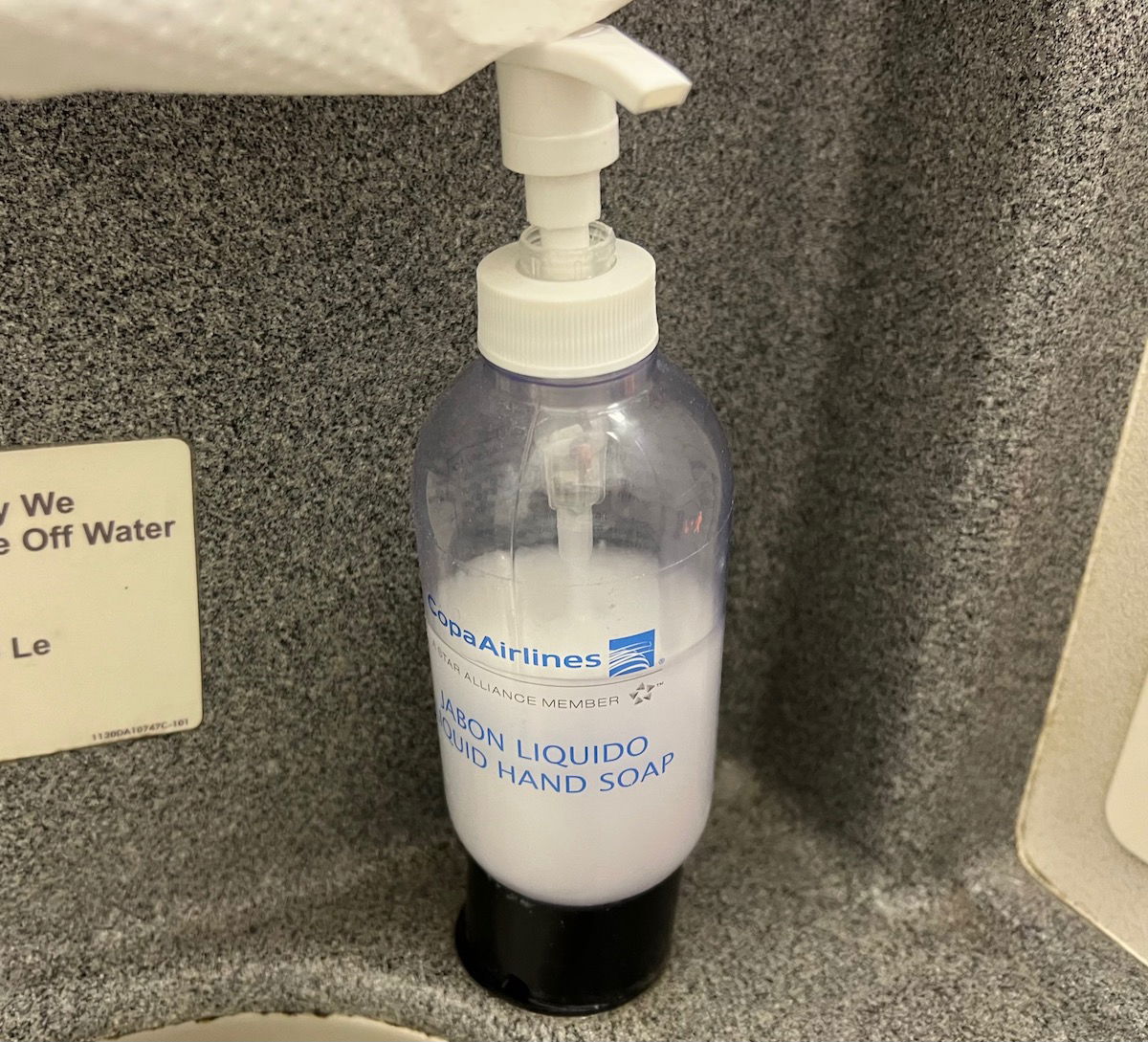 Copa business class service
The business class flight attendant, Michelle, did a solid job. She was friendly and personable, and offered frequent refills during the service. Around 15 minutes before landing, she even came through the cabin to thank each business class passenger for flying with Copa.
The service wasn't particularly fast, given that there was only one flight attendant for 16 passengers, but I didn't have an issue with that.
Copa 737 arrival in Panama
At 7:30PM Panama time (one hour behind Miami) the captain announced that we'd be descending shortly, and would be landing in around 30 minutes. The seatbelt sign was turned on immediately, which seemed mighty early, especially as we had a smooth descent.
There wasn't much in the way of views on approach, given that it was dark. We ended up touching down in Panama just a couple of minutes after 8PM, and from there had a five minute taxi to our arrival stand, where we parked near a Turkish Airlines Boeing 787 (sorry for the blurry picture due to the humidity).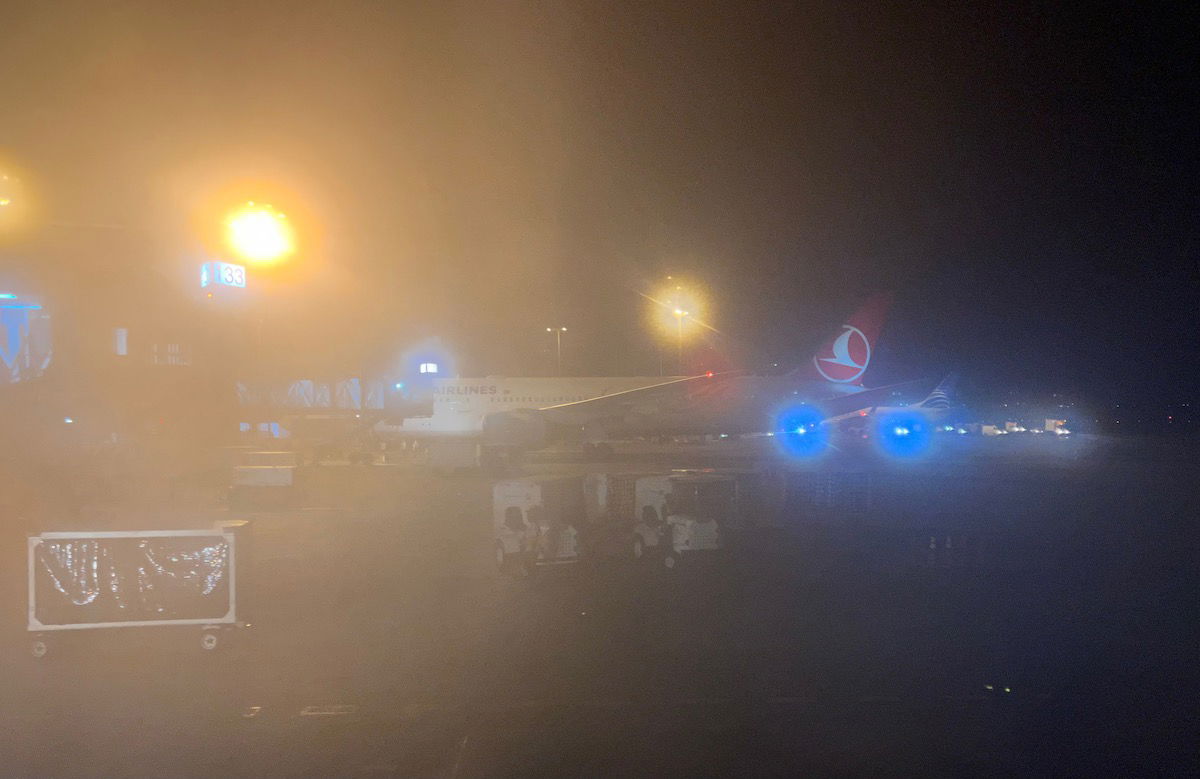 From there I headed straight through immigration, which took no time. I then took the shuttle to the Crowne Plaza Panama Airport, where I'd be spending the night.
Bottom line
I was happy to fly Copa Airlines for the first time, though was disappointed that my flight was swapped at the last minute, from a 737 MAX 9 to a 737-800.
On the plus side, the Copa business class soft product was pretty good for a 2.5 hour flight, with friendly service and a (mostly) tasty meal.
That being said, I can't help but be underwhelmed by Copa's overall product, given that even these updated 737s don't have power ports, Wi-Fi, streaming entertainment, etc. Worst of all, these planes are flown on some significantly longer routes than this, and on top of that many people are connecting in Panama, meaning they'll have back-to-back flights with these limited amenities.
I'd fly Copa again if the airline offered the best schedule for where I needed to go, but it's not an airline I'm otherwise looking to fly again, at least on the 737-800.
If you've flown Copa's 737 business class, what was your experience like?