Read the full saga:
Yesterday I wrote about how I used suite night awards to confirm a room upgrade at a Marriott in Greece, but the hotel claimed it wasn't able to honor it. I wanted to provide some follow-up on that, as I've finally been annoyed enough that I'm ready to speak to the manager.
I'm too passive, but enough is enough
In the past several years I've no doubt become more passive when it comes to customer service issues. Why? Life is too short to always get aggravated, and at the end of the day there are endless things one can get frustrated about when traveling. Perspective is important, so instead I usually just try to focus on the positive, and at least feel good knowing that I can warn people about these experiences through my blog.
That being said, enough is enough. I've booked four Marriott properties in Greece, and the experiences have been less than seamless, to put it mildly:
At the first property I wasn't offered the guaranteed elite welcome amenity (which would have entitled me to $100 cash compensation, but which I didn't request because I would have felt bad), and the hotel generally did a bad job managing expectations
At the second property the hotel assured me I'd be refunded suite night awards following a reservation change, but Marriott Bonvoy customer service told me to pound sand
At the third property I was literally informed the night before that the hotel wasn't open, and that I'd be walked (more on that in a separate post)
At the fourth property I had confirmed a specific suite upgrade with suite night awards, but the hotel is refusing to honor that, claiming it has proof that these were never approved (even though I have proof that it was approved)
Readers pointed out in yesterday's post that I'm being too passive. That's a sentiment that Ford expressed as well. With this latest issue I decided I'm not going to just take it on the chin.
My issue with the Aegon Mykonos
In the previous post I didn't mention the name of the hotel (yet), though let's change that. The property in question is the Aegon Mykonos, a Marriott Autograph Collection property.
I shared my initial communication with the hotel in the previous post, so let me share how that communication continued (again, see the previous post for context):
Me: "I would like to keep the same room type for the entire stay, so would you be able to offer a somewhat comparable room with a private pool and at least refund the suite night awards? Thank you!"
Hotel: "Because of GDPR we do not have access to your points. You can contact Central offices in order to request back your points. There is no property who has access to any guest points. Even if you access to the system we do not have any available suite on your arrival dates. We already created a New Case in the system concerning your reservation. Is there anything else I can do for you?"
Me: "You don't have any suites available on my check-in date (tomorrow)? Even though several are available for sale on Marriott's website for the entire duration of my stay?"
Hotel: "This suites that you see are not with the infinity pool. We have Aqua suite with Sundeck (Junior suite) with view to the garden which we suggested you to take it for all your stay. Are you happy to take this room?"
Me: "No, not really. It doesn't have a pool or sea view. Would it be possible to get the Aegon Suite instead? It sells for less than the suite we were confirmed it, it seems to be available, and also has a private pool."
Hotel: "The Aegon Mykonos is separated in two properties the Retreat and the Revive. The Retreat compound is yet closed. The Aegon Suite is located at Retreat compound and it is the Presidential suite that we have. Nothing to do with the infinity suite that you have requested."
Me: "So the suite is being sold even though the retreat compound is closed? I understand that this isn't your fault, but I had a specific CONFIRMED suite, and the whole reason for suite night awards is so that they're guaranteed before check-in, as you saw in the email confirmation I forwarded you. I know system errors happen sometimes, but that's between the hotel and Marriott. I don't feel like anything is being done to remedy this situation in a satisfactory way. Please either have the general manager reach out to me prior to check-in, or find an acceptable solution."
Hotel: "I have informed the General Manager concerning your case. He will be meet you upon your arrival."
I mean, I don't even know what to say here, though at least hopefully readers (and Ford) will be proud of me for standing up for myself. One of the reasons I'm publishing this post now is so that I'm actually accountable for how this goes down at the hotel.
Unfortunately it seems like that this may only be the start of the problems with this hotel. Here's what the hotel claims that the pool looks like. Meanwhile here's what the pool actually looks like, according to a friend at the property: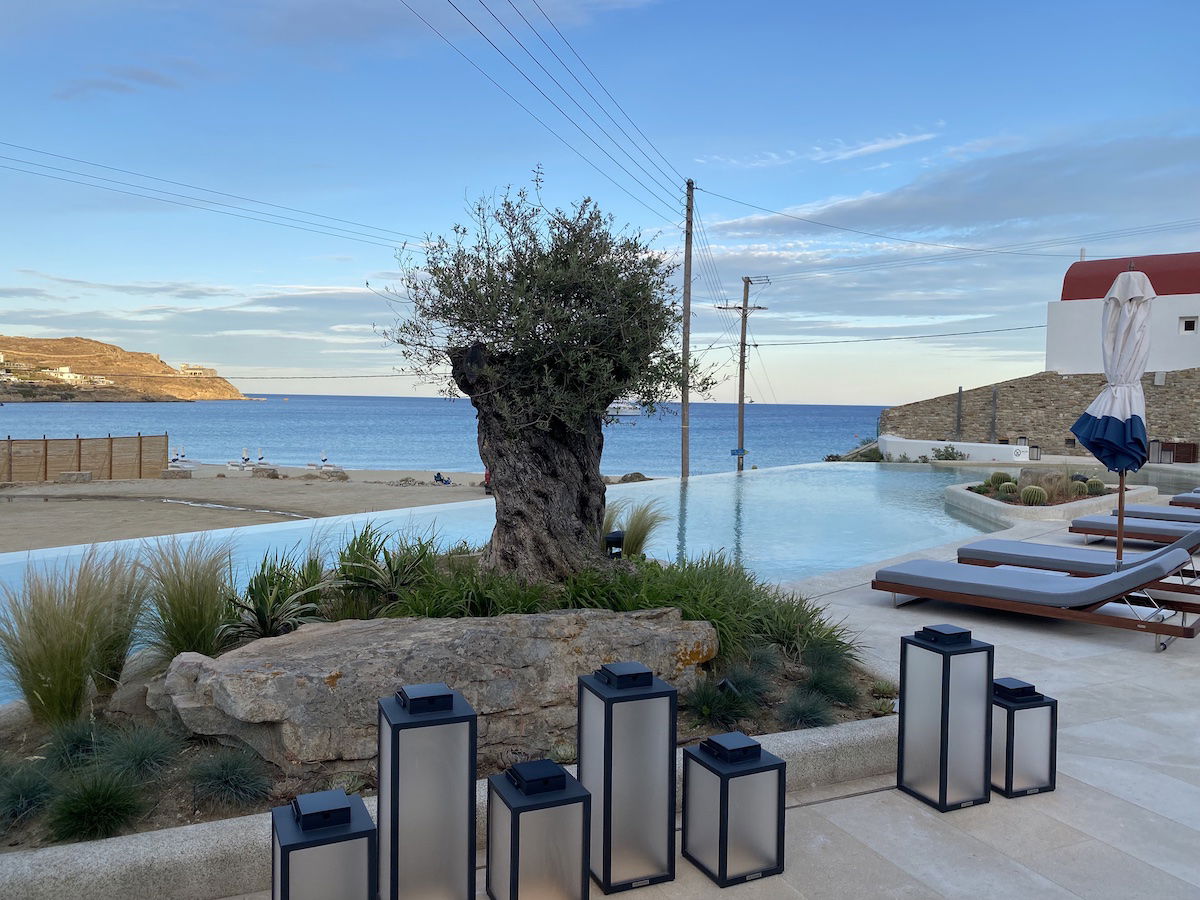 Is photoshopping hotel pictures a standard practice at Marriott, or does this hotel just do what it wants? Standby OMAAT readers, this should be fun!
Bottom line
Unfortunately Marriott has disappointed me one too many times on this trip. I just accepted everything up until now, but I've reached the point where I'm going to stand up for myself. Stay tuned, I'm going full-on "I need to speak to the manager" (politely but firmly) here.
Predictions on how this is going to end? 😉