Read the full saga:
Yesterday I checked into the Aegon Mykonos, a Marriott Autograph Collection property at 5:20PM, and checked out that same evening, following the most uncomfortable confrontation I've ever had at a hotel. First for some context, make sure you read the previous posts.
My "energy" wasn't good enough for the hotel
We had met our friends who were also staying at the hotel (their experience was disappointing as well, for what it's worth), and a couple of hours after our arrival we headed to dinner. We were waiting in the hotel's driveway to go to dinner. One of my friends went in the lobby briefly and came back out and noted how several hotel staff were huddled around a computer and were acting strange.
A moment later, as we were standing in the hotel's driveway, a lady approached us. She asked "are you staying here?" She wasn't in any sort of a uniform and asked in a nice way, so I assumed that maybe she was just making small talk, and came to the hotel for a meal and wondered how the accommodations were.
With a smile (and to be honest) I responded "yes, unfortunately." And that's when things got wild…
"Are you the one posting? Are you OMAAT? You have been posting negative comments since you got here. We don't like that negative energy, we are all about positive energy at this hotel."
My jaw dropped to the floor, because how do you respond to that? None of us said anything.
"You know, what you are doing is illegal. You can't post pictures that don't belong to you, those are the photographer's intellectual property. This is very illegal, you can get in trouble." It's hard to describe how vicious she was while telling me how good her energy was and how bad my energy was, and how threatening her tone was about my "illegal" activity. Sometimes the tone says more than the actual words, and this was one of those cases. She almost reminded me of Amy from Amy's Baking Company.
I assume she was referring to the photoshopped picture of the hotel that I shared (which was on Marriott's website, and I credited to Marriott), comparing it to how it really looked (for the record, the power lines were definitely photoshopped out — this hotel is brand new, and the power lines were presumably there before the hotel).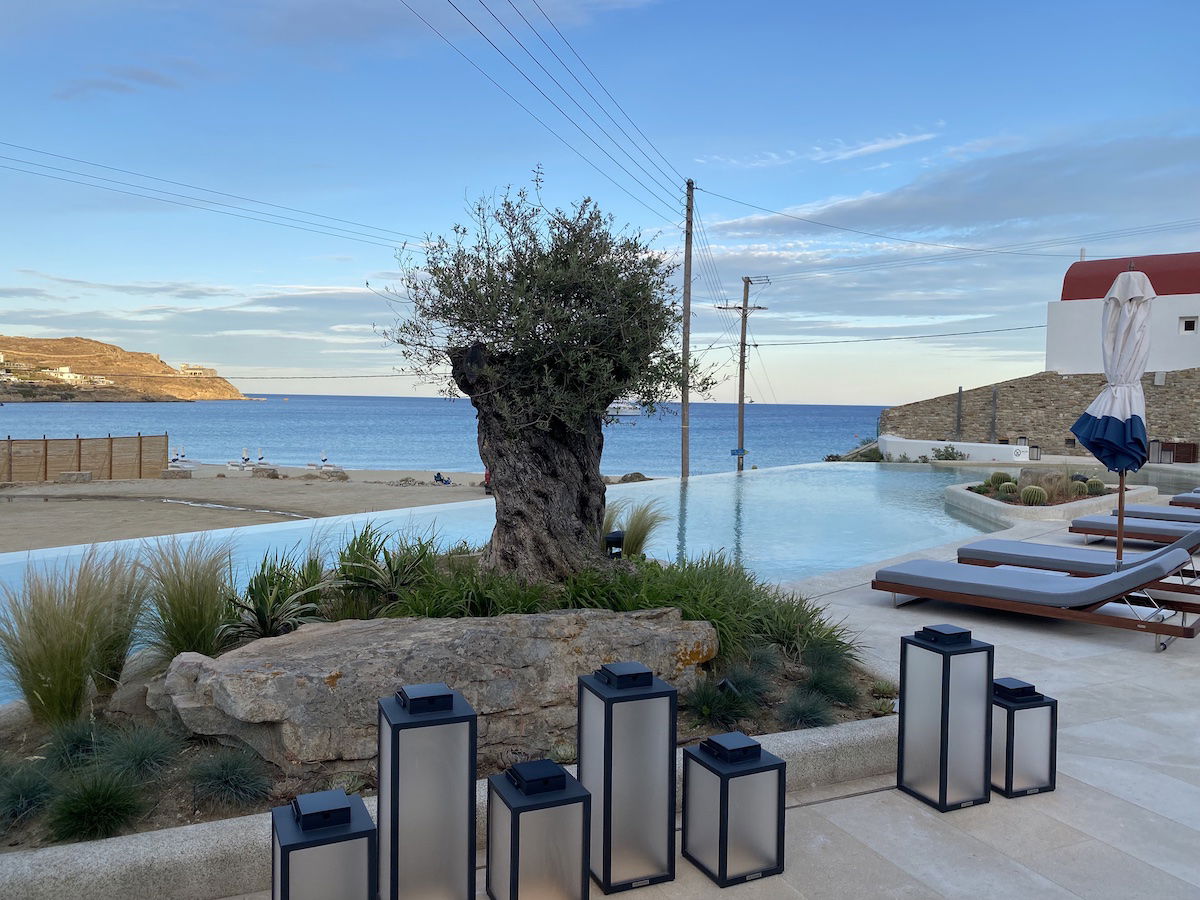 "That's your concern, rather than the amount of false advertising this hotel is doing? Wow." And yes, there's a lot more false advertising this hotel is doing, which I'll cover in a separate post.
So, who was this person?
The woman who confronted us never stated who she was, and frankly we were so caught off guard that we didn't even think to ask. Based on the fact that she wasn't wearing a uniform, how she was dressed, and how she referred to the hotel as "we," I believe she may have been one of the owners or an investor (in some form or another).
When we later addressed the staff about this interaction during check-out and referred to her as the owner (based on our assumption), they didn't suggest that was incorrect.
How is this for positive energy?
I had provided a very quick update to a colleague about what was going on, and then he pointed out that this comment had been left on the blog:
"Wow you obviously have issues! Get a Life! It's obvious your issues are personal! This blog should be objective!"
I wouldn't have noticed it (since those kinds of comments are pretty common). But here's an interesting twist, which I'll share in the same way that I learned about this (I'm whiting out the IPs, but the IP the comment was left from and the IP I used when looking up my own IP were the same).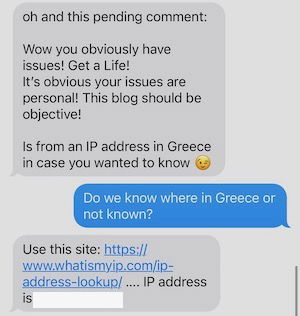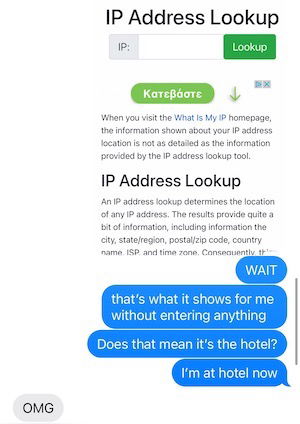 Of course I can't say with certainty who left it, but I'm sure it wasn't any member of the hotel staff, and definitely not the lady who confronted me, because they are all about good energy, right?
We didn't feel comfortable staying here anymore
As we got into our taxi for dinner, we were all speechless at what we just witnessed. At first we didn't say anything, but then we suddenly all started to agree that we didn't feel comfortable staying there. Our plan was to go to dinner and then check out afterwards.
But as we kept driving to town, we felt more and more uncomfortable about the situation. The lady who approached us seemed so unhinged that we worried if we might return to the hotel and find ourselves locked out of our rooms, find our luggage thrown out of our rooms, or find that she called the cops on us (after all, you're in a foreign country, and you don't know what connections someone has). The fact that she thought this was the appropriate way to handle this customer service disaster made me question her judgment otherwise. We just couldn't go to dinner and pretend nothing happened, so we asked the taxi to turn around.
As we arrived back at the hotel, we saw the staff all still huddled around the computer at reception. We booked another hotel in a matter of minutes, and then proceeded to check out.
Our friends went to the front desk first to check out, noting that the combative way that the owner acted made them feel uncomfortable staying there. Apparently the general manager and others seemed genuinely shocked.
I wasn't quite as diplomatic when I checked out. I just said "please just cancel our reservation for all four nights, it's clear you don't want us here anyway. We're leaving. By the way, if someone from the hotel is going to leave a comment on my website telling me to get a life, I'd recommend using a VPN."
"We don't use VPNs here."
"Yeah, I know."
Bottom line
I have spent literally thousands of nights at hotels, but this was a first for me. I've never been confronted so aggressively by someone who works for a hotel (or perhaps even owns it in some form?), and the general incompetence at this hotel rivals some of the worst properties I've stayed at.
I can't recommend avoiding the Aegon Mykonos enough, from the hotel's genuine disdain for Bonvoy members, to the lady who likes to lash out at guests, to the hotel's downright deceptive marketing practices (which I'll cover in a separate post).
Fortunately I couldn't be happier about the hotel we switched to. It's an independent hotel, there was a bottle of wine and a welcome amenity waiting in our room even though we booked 30 minutes before we got to the hotel, and the service has been incredible. When we commented on how great the service was, the response was "we like to treat our guests like royalty." It was a nice reminder of how hospitality is supposed to work.
Now the adventure of trying to get my Bonvoy points and suite night awards redeposited starts…