Qantas recently had a media event at the Qantas Lounge LAX to showcase their autumn menu, and Neil Perry (the celebrity chef who does their catering) was there. While I appreciated the invite, I didn't attend.
With very few exceptions I don't attend media events, as I'd rather write about my independent experience with something, which will almost always be different than what you experience at a media event (note to travel companies: if Shawn Mendes is the celebrity guest at any of these events, I take back everything I said!).
I consider the Qantas Lounge LAX to be one of the best airline lounges in the US (even though I think it's overrated in some ways), and in particular I like it for the food. Thanks to my LATAM Black status (which is oneworld Emerald) I have access to the Qantas Lounge LAX even when traveling with American domestically.
While I use the lounge all the time and don't write about it, I figured I'd share my experience with the new autumn menu. Here's what the all day dining menu looks like, for anyone passing through the lounge in the coming weeks/months: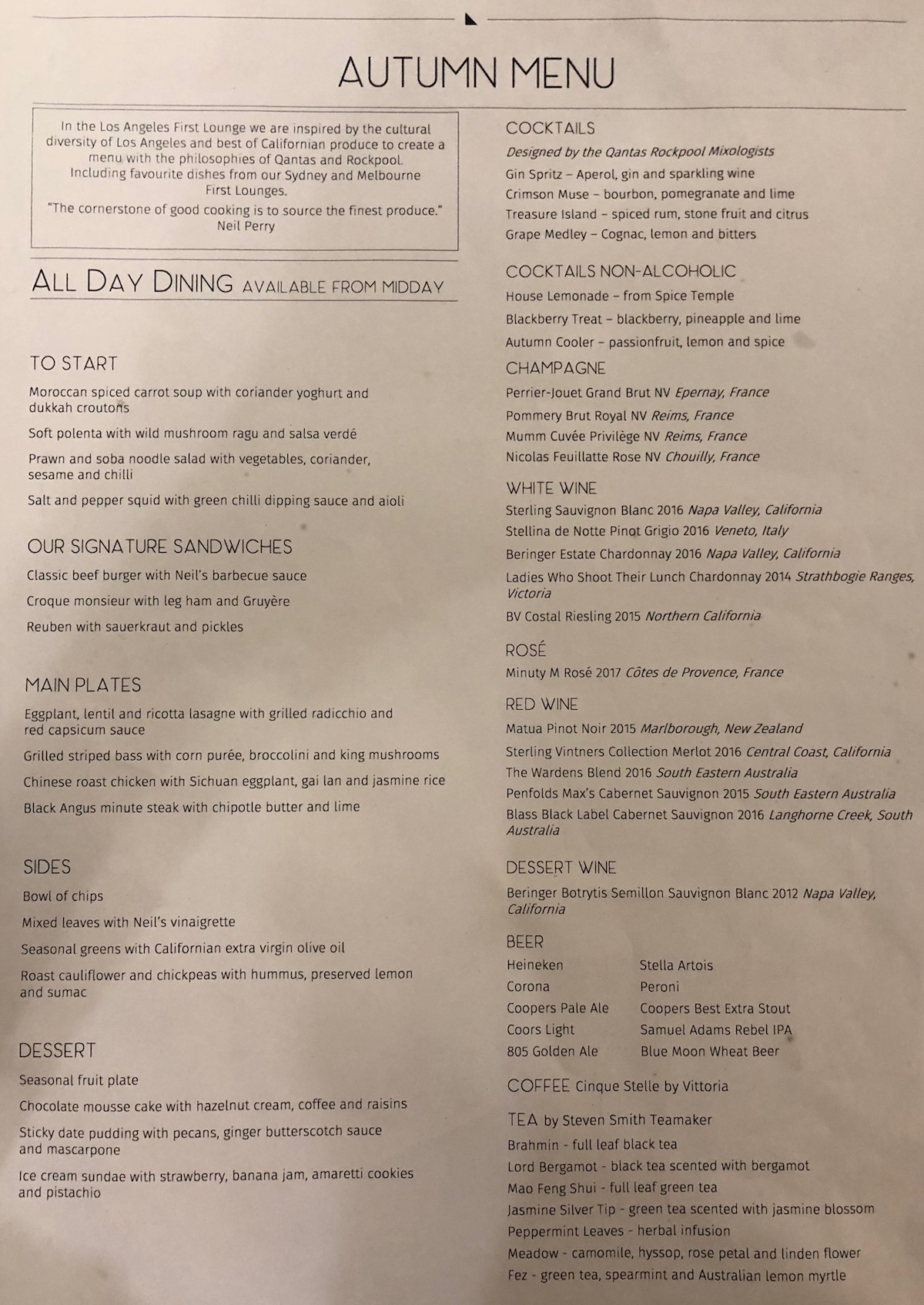 Ford and I were both visiting the lounge, so we had the chance to try a few different things. We were quite hungry, and getting on a transcon in economy, so figured we might as well eat/drink up.
I had a glass of sauvignon blanc, while he had a grape medley cocktail.
My favorite thing on the menu at any Qantas Lounge is the salt & pepper squid, which is delicious and not at all overrated, in my opinion. Ford ordered it, though I decided to try something else.
I had the Moroccan spiced carrot soup with coriander yogurt and dukkah croutons, which is a recent addition to the menu, and was excellent.
For the main course Ford had the Chinese roast chicken with Sichuan eggplant, gai lan, and jasmine rice.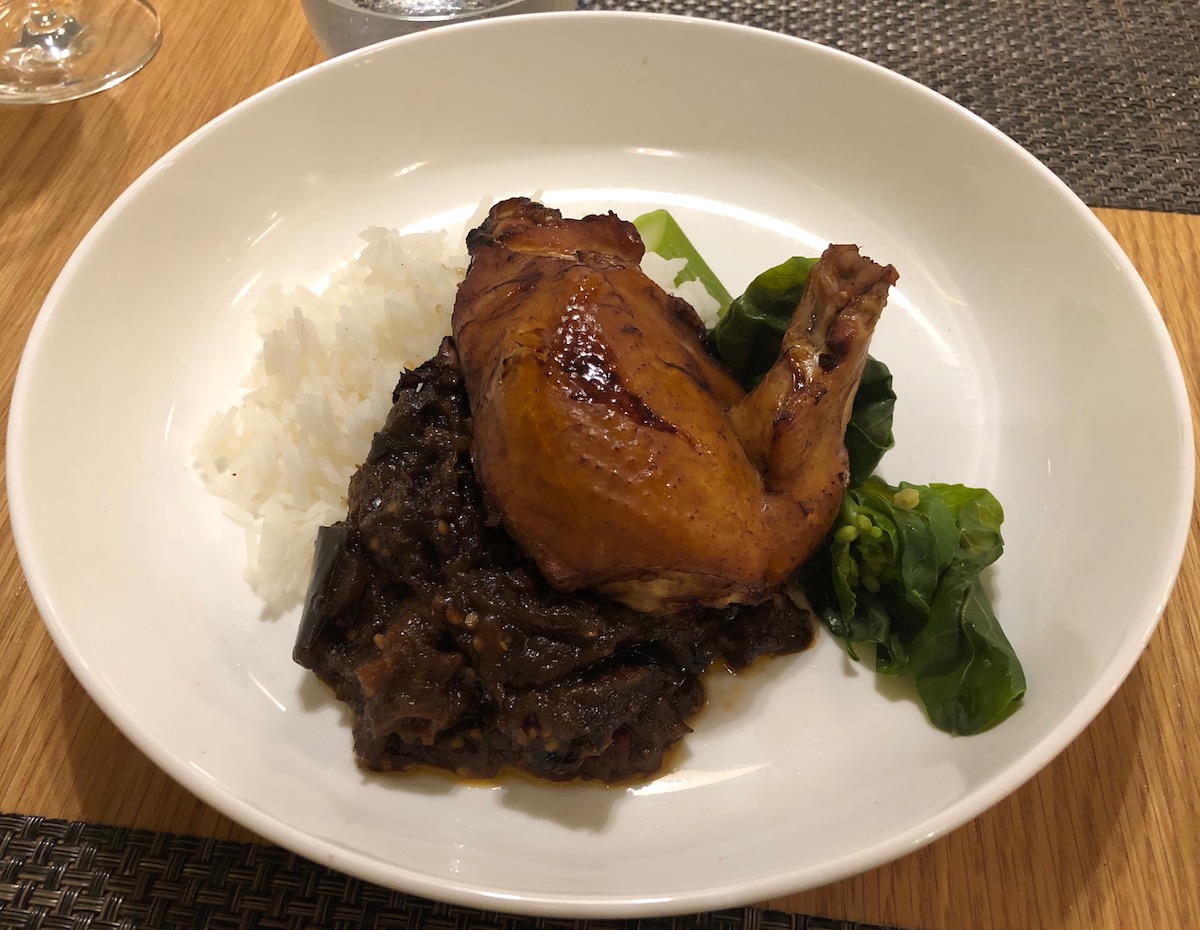 Unfortunately I felt my options were pretty limited. They were out of the sea bass and lasagne, so only two of the four main courses were available (c'mon, they've gotta be able to do better than that). I've had the steak before and didn't want to replicate what Ford was having, so I ordered the reuben with sauerkraut and pickles. It was pretty good for a reuben.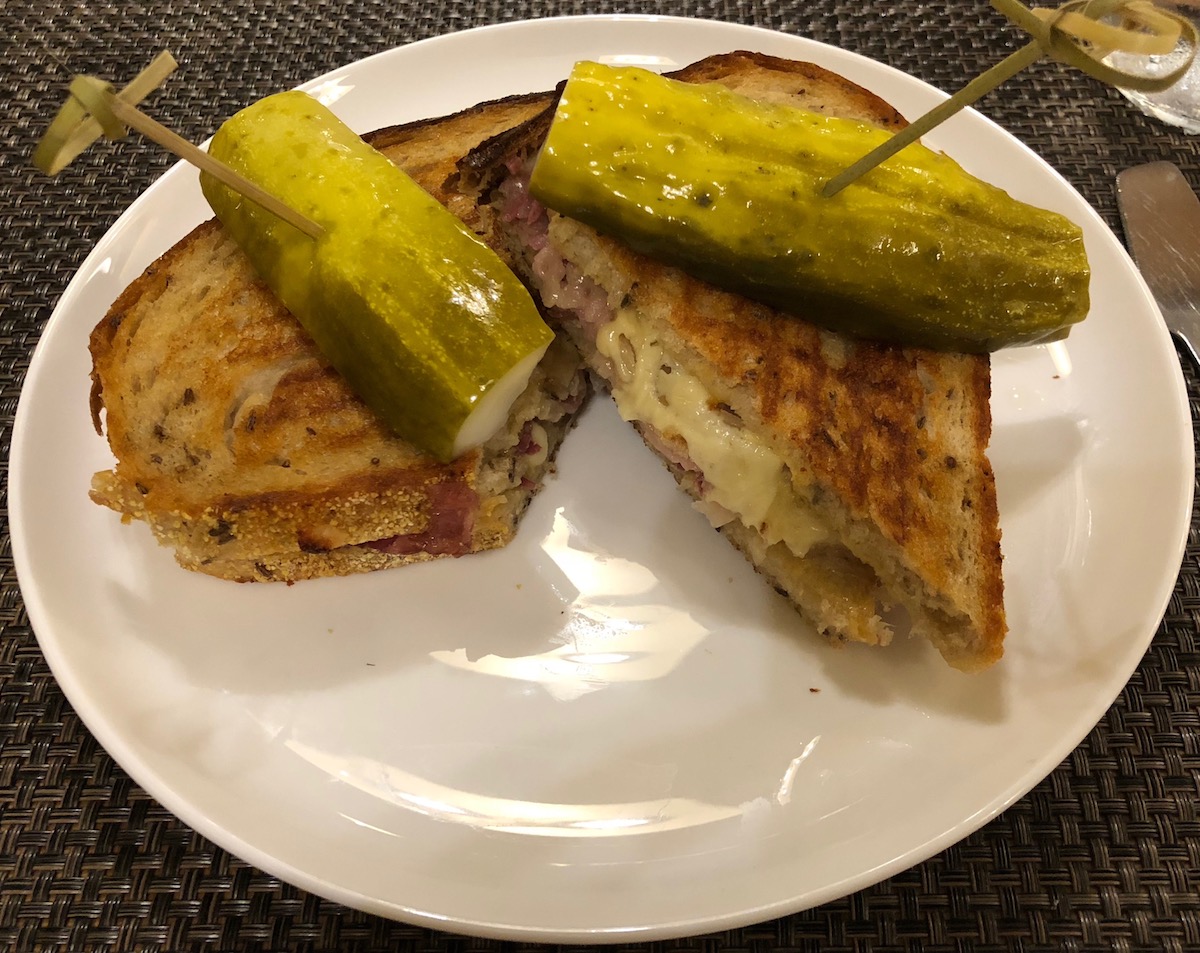 I appreciated that they mixed up the sides a bit, including adding roast cauliflower and chickpeas with hummus to the menu, which was creative and tasty.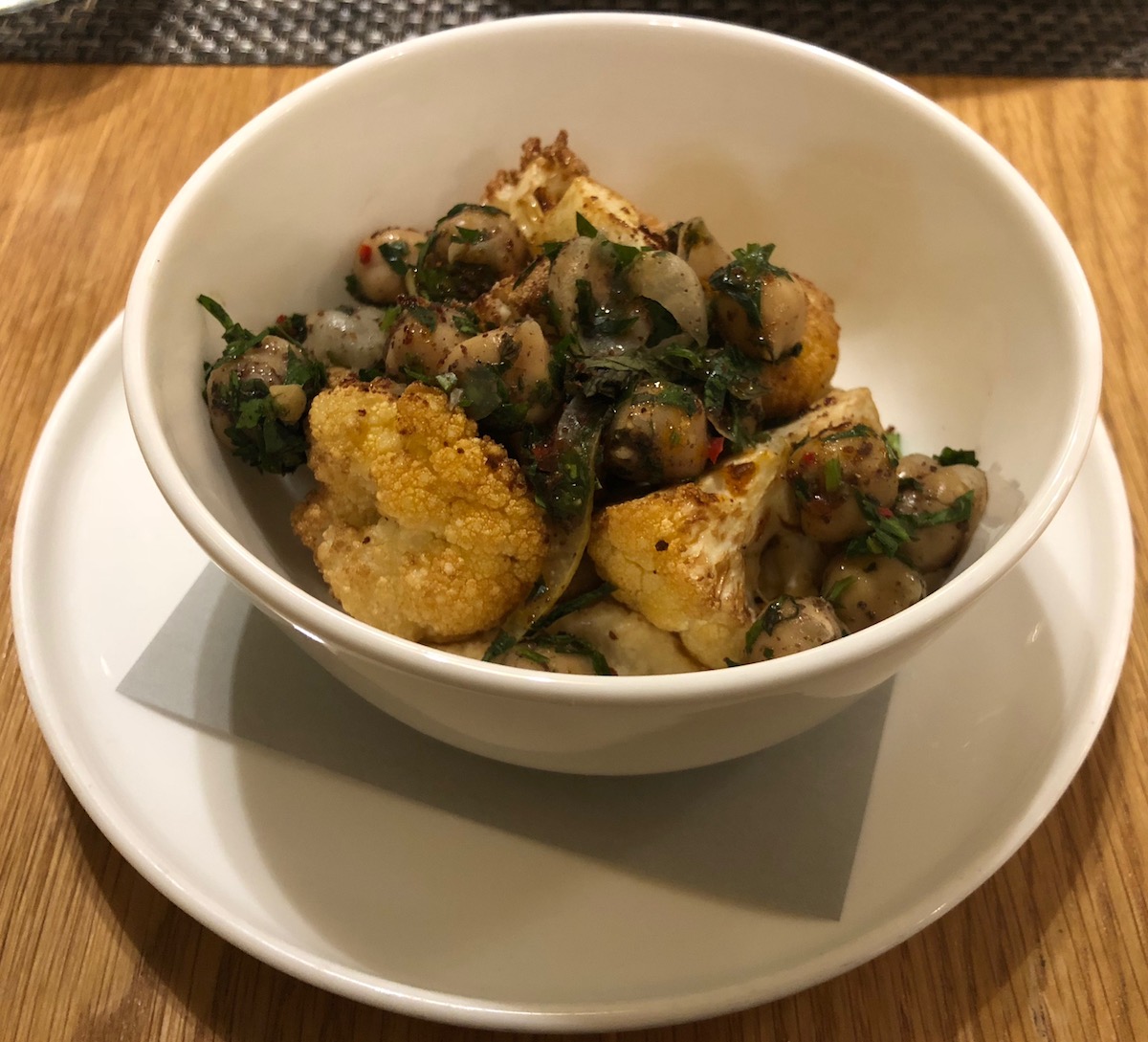 Then for dessert Ford had an ice cream sundae with strawberry, banana jam, amaretti cookies, and pistachio.
I had the sticky date pudding with pecans, ginger butterscotch sauce, and mascarpone.
While both were good, I preferred the sundae, as the sticky date pudding was super sweet (as you'd expect).
For the most part the food was excellent. As I've explained before, I do find the food in this lounge to mostly be (good) restaurant quality.
The service still is (and always has been, in my experience) well intentioned, but not restaurant quality. Service seems to always briefly be attentive, and then it becomes a chore to flag down a server. It also doesn't seem like they dedicate specific servers to specific tables, but rather everyone sort of roams around.
Personally I tip when dining at the lounge. I don't fault those who don't, and I know tipping in lounges is controversial. But I also totally get why they can't provide true restaurant quality service.
Unless the servers are going to be paid a salary on par with what they'd make in nice restaurants including tips, they'll never be able to retain talent. I'm not suggesting tipping is the only solution, but the reality is that they're not going to greatly increase pay, and I doubt a lot more people will tip (which I don't blame them for, to be clear), though I also think it means we have to accept the inevitable reality of service not being great.
Have you dined in the Qantas Lounge LAX recently? What was your experience like?