In the interest of full disclosure, OMAAT earns a referral bonus for anyone that's approved through some of the below links. These are the best publicly available offers (terms apply) that we have found for each product or service. Opinions expressed here are the author's alone, not those of the bank, credit card issuer, airline, hotel chain, or product manufacturer/service provider, and have not been reviewed, approved or otherwise endorsed by any of these entities. Please check out
our advertiser policy
for further details about our partners, and thanks for your support!
Introduction
Domestic (Including Hawaii)
Europe
Asia
Australia & New Zealand
Middle East & India
Africa
South America
Caribbean, Central America, & Mexico
---
Unlike the other regions I've covered in this series on the best ways to use American Express Membership Rewards points, flights to the Caribbean, Central America and Mexico won't have the fun lie-flat products you've come to love.
That's okay though, there are tons of popular destinations from Jamaica to Puerto Rico to Cancun. While I'd suggest keeping an eye on cash fares as economy prices can be quite good, there are plenty of ways to book award flights thanks to Membership Rewards points.
Earn Amex Membership Rewards points with these cards:
Let's get into it!
Air France-KLM Flying Blue
Flying Blue's June 1 award program revamp (re. devaluation) didn't do any favors for partner awards to the Caribbean, Central America or Mexico. Top that off with the fact that Flying Blue no longer allows stopovers and you're probably wondering why I'm including it on this list.
Unlike many Flying Blue awards, you won't have to worry about steep surcharges on these routes either.
Flying Blue award rates
Flying Blue makes the list because its award rates to Mexico and Central America are competitive with Delta SkyMiles. While Flying Blue had previously used a simple region-based award chart, you'll now find that redemption rates vary based on your origin and destination.
Here's what you can expect for award rates on SkyTeam partners Aeromexico and Delta:
| Class of Service | Caribbean | Central America | Mexico |
| --- | --- | --- | --- |
| Economy | 17,500 Miles | 17,500 Miles | 14,500 Miles |
| Business | 34,500 Miles | 34,500 Miles | 36,000 Miles |
FlyingBlue Award Chart on Aeromexico & Delta
Because of the changes Flying Blue has made to its program, I can't say that you won't see different rates with specific city pairs, but these are the rates I was able to find.
Additionally, Flying Blue has started showing higher redemption rates on Delta and Aeromexico in addition to the saver rate so make sure you don't get caught in that mess.
How to book with Flying Blue miles
You can search for and book SkyTeam awards from either Air France or KLM's sites. Unfortunately, you can no longer run a calendar search so you'll have to search one day at a time.
Transfers from Membership Rewards to Flying Blue are 1:1 and process almost instantly. While some phone agents (1 800 375 8723) will say it's not possible, I've been able to put awards on hold for 48 hours. Given the problems Flying Blue has had with "fraud prevention", we would recommend calling to hold your award before transferring points. Once you've done that, you can ticket the award over the phone using a credit card in the account holder's name.
All Nippon Airways (ANA) Mileage Club
Unusually, ANA Mileage Club doesn't come out as one of the best options for round-trip awards flights to Central America. Fortunately, it's still quite useful for award flights to Mexico on Air Canada, Copa Airlines and United which won't involve any surcharges.
However, as with all Mileage Club redemptions, you are required to book round-trip awards.
Mileage Club award rates
With the worries of surcharges left for other regions, you can just focus on finding award space. As I mentioned above, Mileage Club is a solid option for booking awards to Mexico while awards to the Caribbean and Central America won't be. Let's take a look at the round-trip redemption rates you can expect to each:
| | Caribbean | Central America | Mexico |
| --- | --- | --- | --- |
| Economy | 55,000 miles | 55,000 miles | 30,000 miles |
| Business | 88,000 miles | 88,000 miles | 55,000 miles |
While ANA's award rates to the Caribbean and Central America are identical to its rates to Europe and South America — no, thanks, Mexico is clearly a good option. By using Mileage Club, you'll save 5,000 Membership Rewards points compared to a Singapore KrisFlyer redemption (discussed below).
How to book with Mileage Club miles
To book with Mileage Club miles, you can use ANA's site to search and complete your booking. However, you'll need to search round-trip or multi-city so I find it saves time to search one-way awards with United or Aeroplan first.
Transfers from Amex Membership Rewards can take 2 to 3 days and ANA won't hold award space for you so keep that in mind before you transfer.
British Airways Executive Club
With British Airways Executive Club, we dive into a distance-based award chart. To determine the cost of your award, British Airways totals the flight miles of each segment individually. This means that you'll be on the hook for a redemption from your origin to your connecting airport and from there to your destination.
The benefit to this is the ease in which you can include a stopover since the award is priced by segment. Of course, I'd rather have better redemption rates the vast majority of the time.
If you are booking a trip around the Caribbean, regardless of how you get there, you might consider taking advantage of a British Airways fifth-freedom route:
Antigua (ANU) – St. Kitts (SKB)
Antigua (ANU) – Tobago (TAB)
St. Lucia (UVF) – Grenada (GND)
St. Lucia (UVF) – Port of Spain (POS)
Executive Club award rates
British Airways' award chart has 9 zones. However, since you'll be booking awards on American Airlines from the U.S., Zone 1 does not apply. This means flights from 1 to 650 miles will not get the 4,500-Avios rate but will instead require 7,500 Avios just like flights from 651 to 1,150 miles.
Zone // Distance

Economy Off Peak // Peak

Premium Economy Off Peak // Peak

Business Off Peak // Peak

First Off Peak // Peak

Zone 1
1-650 miles*
*Not available in North America

4,000 // 4,500

5.750 // 6,750

7,750 // 9,000

15,500 // 18,000

Zone 2
651-1150 miles

6,500 // 7,500

9,500 // 11,250

12,750 // 15,000

25,500 // 30,000

Zone 3
1151-2000 miles

8,500 // 10,000

12,750 // 15,000

17,000 // 20,000

34,000 // 40,000

Zone 4
2001-3000 miles

10,000 // 12,500

20,000 // 25,000

31,250 // 37,500

42,500 // 50,000

Zone 5
3001-4000 miles

13,000 // 20,000

26,000 // 40,000

50,000 // 60,000

68,000 // 80,000

Zone 6
4001-5500 miles

16,250 // 25,000

32,500 // 50,000

62,500 // 75,000

85,000 // 100,000

Zone 7
5501-6500 miles

19,500 // 30,000

39,000 // 60,000

75,000 // 90,000

102,000 // 120,000

Zone 8
6501-7000 miles

22,750 // 35,000

45,500 // 75,000

87,500 // 105,000

119,000 // 140,000

Zone 9
7001+ miles

32,500 // 50,000

65,000 // 100,000

125,000 // 150,000

170,000 // 200,000
British Airways Executive Club Award Chart
If you're booking a non-stop award, the chances are good that using British Airways Avios will provide a solid redemption rate, especially on shorter flights. Just keep an eye on those connections, otherwise, you might be better off booking with Iberia Plus – we'll get to that shortly.
If you find yourself able to take advantage of one of the fifth-freedom routes mentioned above, you can book any of them for 4,500 Avios during peak periods and 4,000 Avios during off-peak periods. The cash cost of these flights can be quite steep so these awards can be particularly useful.
How to book with British Airways Avios
British Airways allows you to search for and book awards on American Airlines online. Recently, the website has experienced some issues with showing the correct award space on American Airlines. Sometimes refreshing your browser a few times will help while other times you'll need to search on American then call British Airways to book (1 800 452 1201).
You can transfer Membership Rewards points at a 1:1 ratio. These transfers generally process instantly so you can book quickly.
Delta SkyMiles
Delta SkyMiles has a knack for finding ways to drive us crazy with insane award prices but on occasion providing a very solid redemption. While Delta seemingly has a region-based award chart — which they keep hidden from us, domestic awards and awards to Mexico don't seem to follow that pattern. This can be both good and bad.
SkyMiles award rates
Since Delta doesn't provide a public award chart for easy reference, I searched several origins and destinations through the end of the schedule to confirm award rates. This is what I found:
| | Caribbean | Central America | Mexico |
| --- | --- | --- | --- |
| Economy | 8,500 – 10,000 miles | 22,000 miles | 6,000 – 17,500 miles |
| Business | 32,500 – 34,500 miles | 35,000 miles | 32,500 miles |
As an example, you can book a non-stop economy award from New York (JFK) to San Juan, Puerto Rico (SJU) for 8,500 SkyMiles. Of course, the business class rate jumps to nearly 4X the econmy rate.
Occasionally, Delta runs award "sales" to these regions though it's hard to know if it's actually much of a sale when they won't provide an award chart as a basis.
How to book with SkyMiles
If there's one thing I like about SkyMiles, it's that you can search with flexible dates — including an option to view award space in a 5-week window. Once you find saver level award space, you can select your flight and book directly online.
The 1:1 transfer from American Express should process almost instantly. Keep in mind that Amex will charge a small fee to transfer points to domestic programs which includes Delta. It's a small fee so don't worry too much.
Singapore Airlines KrisFlyer
If you're looking for a one-way Star Alliance award, Singapore KrisFlyer edges out Air Canada Aeroplan by just a hair. Additionally, KrisFlyer will come out on top of ANA Mileage Club on awards to Central America and the Caribbean.
KrisFlyer award rates
While ANA has a small advantage on round-trip awards to Mexico, your best bet for one-way awards on United or Air Canada will be with KrisFlyer. When it comes to awards to either Central America or the Caribbean, KrisFlyer is the clear winner for Star Alliance awards — Air Canada, Copa Airlines and United.
Here are the one-way redemption rates you can expect:
| | Caribbean | Central America | Mexico |
| --- | --- | --- | --- |
| Economy | 17,500 miles | 17,500 miles | 17,500 miles |
| Business | 30,000 miles | 30,000 miles | 30,000 miles |
Keep in mind that Singapore KrisFlyer can be a sticker about backtracking on award tickets. While I've been able to book awards with short zig-zags within the U.S., don't expect to be able to book anything crazy.
The one caveat to using KrisFlyer instead of Aeroplan is that Aeroplan sometimes releases more awards space on Air Canada flights to its own members.
How to book with KrisFlyer miles
You can Singapore Airlines' site to search and book awards. On occasion, I've seen saver level award space show on United but not Singapore's site but been able to call KrisFlyer to book over the phone.
Transfers from Membership Rewards (1:1 ratio) generally process within 24 hours.
Other options to consider
Iberia Plus and Virgin Atlantic Flying Club won't always be your go-to programs, but you can take advantage of a couple sweet spots within each program.
Iberia Plus
Iberia, like British Airways, uses the Avios currency but it has its own award charts. While British Airways Executive Club will provide better redemption rates on non-stop American Airlines flights, Iberia Plus can really come through if you are booking connections.
While British Airways will charge your more Avios for each segment, Iberia Plus will only charge you based on the total flight distance. Here's Iberia's partner award chart so you can see how each zone is priced:
Route Examples

British Airways Avios Cost

Iberia Avios Cost

Short-haul flights < 300 miles:
• SAN-LAX
• NYC-BOS
• ORD-STL
• DFW-AUS

7,500 one-way
15,000 round trip

11,000 round trip

Short multi-segment trips (601-1000 cumulative miles):
• DCA-LGA-BOS
• SAN-LAX-LAS

15,000 one-way
30,000 round trip

12,000 round trip

Longer multi-segment trips (1001-2000 cumulative miles):
• DEN-DFW-AUS
• SAV-MIA-GCM

15,000 one-way
30,000 round trip

17,000 round trip
Iberia Avios vs British Airways Avios Costs
A great example of how this could be used to your advantage is flying from Orlando (MCO) to St. Kitts (SKB) with a connection in Miami (MIA). While British Airways would require 35,000 Avios for a round-trip economy award after totaling each segment, Iberia would only require 28,000 Avios.
Keep in mind that Iberia requires awards on American Airlines to be round-trip and all partner awards are not changeable or refundable.
When you transfer points (1:1) from American Express, you can expect it to take one to two days to process. Iberia allows you to search and book online.
Virgin Atlantic Flying Club
If you are able to book a non-stop award on Delta, Flying Club will sometimes be a better option. At 17,500 miles one-way for economy awards to the Caribbean, Central America and Mexico, it won't always be a better option than Flying Blue or SkyMiles, but why pass it up when it is?
With business class awards though, 30,000 miles for a one-way award will be your best bet (unless SkyMiles happens to run an award sale). Just remember, Flying Club requires more miles for itineraries with connections.
You can search with Virgin Atlantic, but you might find that after entering the departure airport, you won't be able to enter the destination. If this happens, click the teardrop pin in the destination field, and use the drop-down to select the country and airport.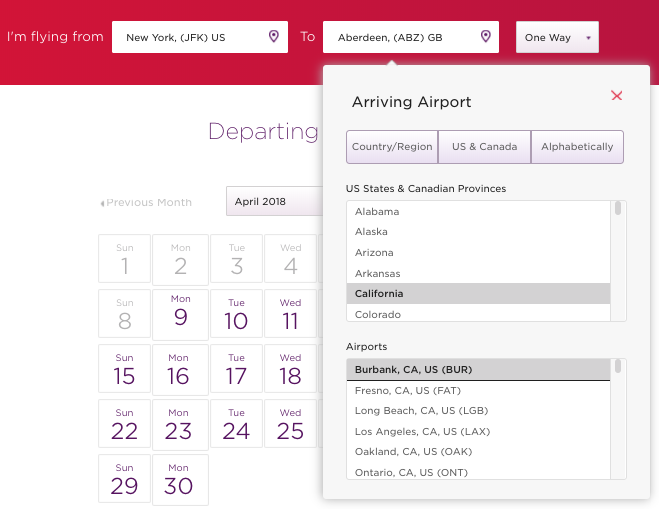 Select Pay with Miles and then choose to search flights within 5 weeks so you can see all dates near your desired departure date. You might have to set up a search on a route that Virgin can see first before switching to your desired route so you can run an award search.
You can transfer Membership Rewards points (1:1) to Flying Club almost instantly. Additionally, Flying Club will hold awards for 48 hours so you can call (1-800-365-9500).
Paid tickets might make the most sense
Beyond the lack of glamorous aircraft, one of the challenges with Caribbean and Central American travel is that award availability can be difficult — particularly if you need a connection within the U.S.
For this region, it's always worth looking at the price of paid tickets. The rates might surprise you, and there are still some interesting ways to use your Amex points.
JetBlue TrueBlue
Typically, moving American Express points to JetBlue wouldn't be my preference, but there are some situations where it could make sense.
TrueBlue is a revenue based frequent flyer program (so the points required are tied to the cost of the paid ticket), and typically TrueBlue points can be redeemed towards the cost of a ticket at the rate of about 1.5 cents per point, and sometimes even more than that. Occasionally we'll see a transfer bonus between Membership Rewards and JetBlue, which certainly sweetens the deal.
It's not the best use of points in a comparative sense, but given JetBlue's route network to the Caribbean, and that all seats on the plane are available using points — for a price — you might find it's a reasonable way to use your points.
Amex Travel
If you have The Business Platinum Card® from American Express, there is one more wrinkle to the equation. If you have this card, you might able to receive a 35% rebate when you Pay with Points when booking through Amex Travel. Two types of bookings make you eligible for the rebate:
Business and first class flights on any airline
All flights with your selected airline
These bookings provide a value of about 1.54 cents per point. As a result, it can be worth booking through Amex Travel if you find a cheap economy fare on your selected airline or a cheap business class fare.
Bottom line
Whether you're flying to the Caribbean, Central America or Mexico, these trips will be all about the destination. Unlike flying to Asia or the Middle East, you won't get to experience top of the line inflight products but that's okay. Just know what you're getting before you book.
With Membership Rewards, you'll have plenty of options that work broadly as well as a couple fun ones for special cases such as Iberia's ability to book American flights with connections at better rates.
How have you used American Express points for trips to the Caribbean, Central America, or Mexico?