After a rather disappointing flight on Etihad Airways in Diamond First I was driven from Abu Dhabi to Dubai, where I spent three nights at the Park Hyatt. Unfortunately I caught a cold last weekend so the trip hasn't been as enjoyable as I had hoped given that I've spent half of it in bed with nothing more than a tissue box keeping me company, but fortunately I still got to do some fun stuff. I'll have a full trip report later, though I wanted to first share my experience having afternoon tea at the Burj Al Arab.
I'm sure most of you have heard of the Burj Al Arab, the world's self-proclaimed seven star hotel. If you don't know it by the name you probably at least know what it looks like, given that it has a sail-like shape.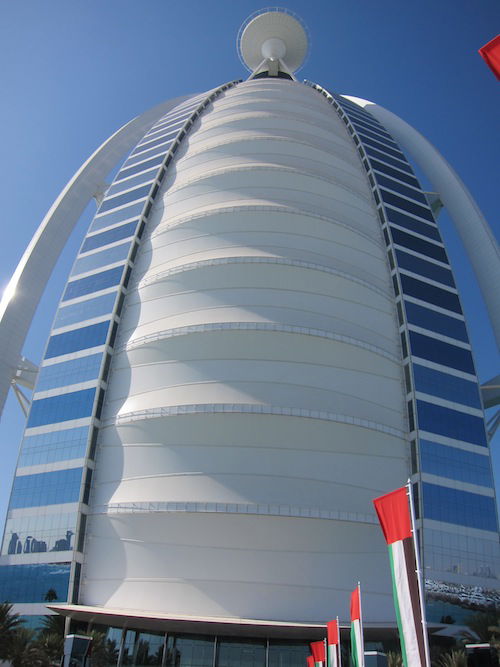 The hotel is on a man-made island and you can't just visit the hotel for free. I wasn't going to go to Dubai without visiting the Burj Al Arab, so I chose one of the cheaper options to visit it, which is afternoon tea. At 395 AED (~$108USD) per person, it's no cheap afternoon tea, though it's well worth it.
I only thought of actually visiting the Burj Al Arab a day before I was supposed to leave Dubai, so my options were limited. The concierge at the Park Hyatt managed to snag the last opening they had for 1PM the following day, and it would be in their lobby lounge, Sahn Eddar. I would have preferred it at the Skyview Bar, though unfortunately they were already booked out.
I was driven to the hotel at noon, and as you reach the island there's a gate where your name has to be checked off on a list in order to enter.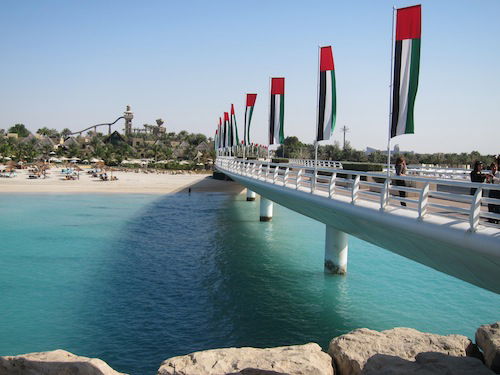 One of the nice things about visiting the hotel for afternoon tea is that you can get a sense for the hotel without shelling out the money it costs to stay there. And I'm happy I did, because this place is obnoxious… fascinatingly obnoxious. And I kind of mean that as a compliment, because I think that's their goal.
For me hotels are about hospitality and creating an environment that's relaxing and low key. Of course no one stays at the Burj to be low key, but there's nothing relaxing about it either. The place is overrun with people taking pictures. Hundreds of them. All over.
You literally can't even really walk around the hotel, because you're constantly having to dart people taking pictures. It's such an impressive building, but at the same time there's nothing relaxing about staying somewhere when you literally have hundreds of people standing around taking pictures. Of course I was one of them. 😉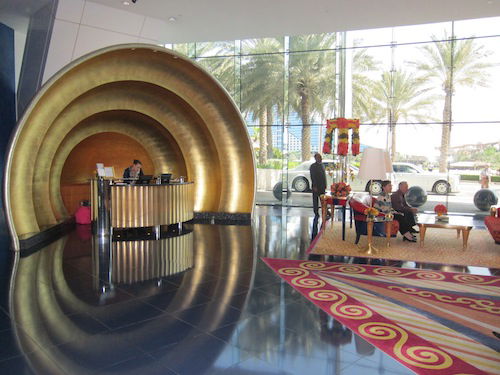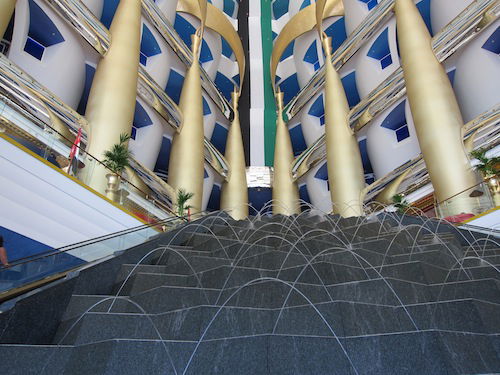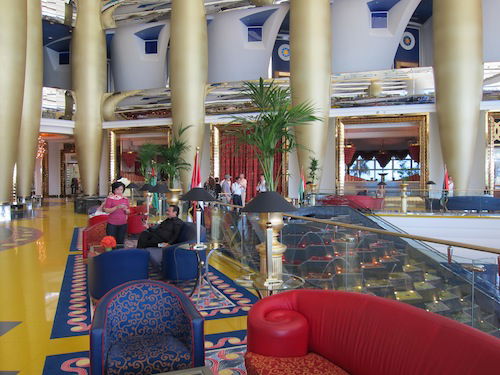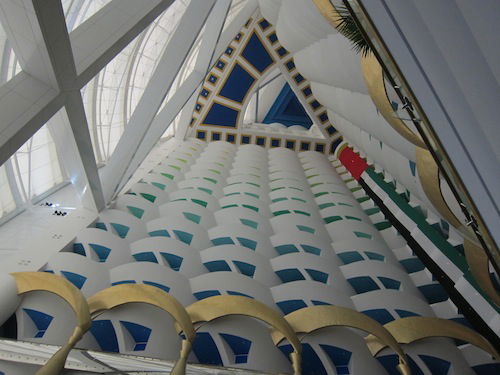 After walking around for about 30 minutes I went to Sahn Eddar to get a table, since they were just opening. I was given a table at the far end of the lounge by the window.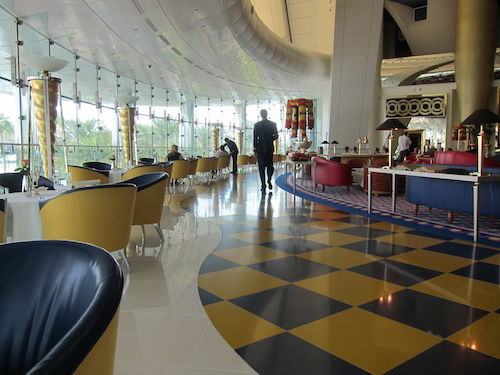 The two waiters handling my table promptly introduced themselves, asking me if I had any dietary restrictions. They confirmed I was having the seven course afternoon tea with champagne, and then presented me with the menu.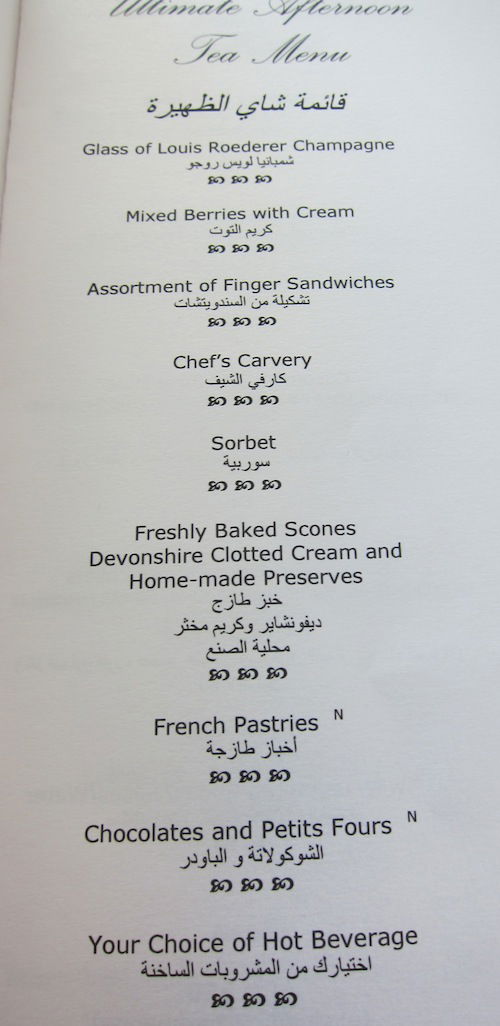 They first served me a glass of Louis Roederer Champagne, which was poured at the table.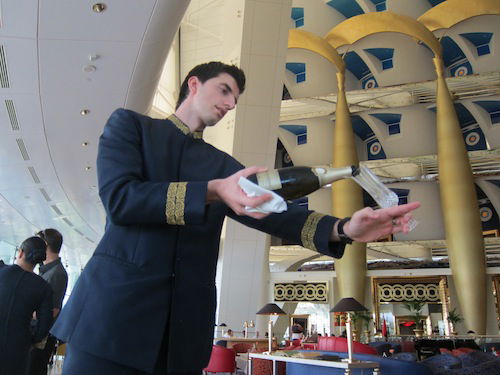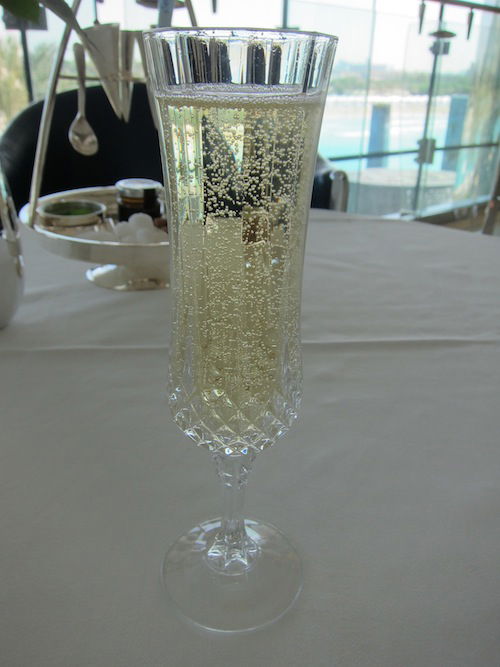 They have a selection of over 20 teas, so I was then asked which tea I wanted and when I wanted it served. I ordered the English Breakfast tea, and asked for it to be served with the scones.
The first course was fresh berries with cream, which was spectacular.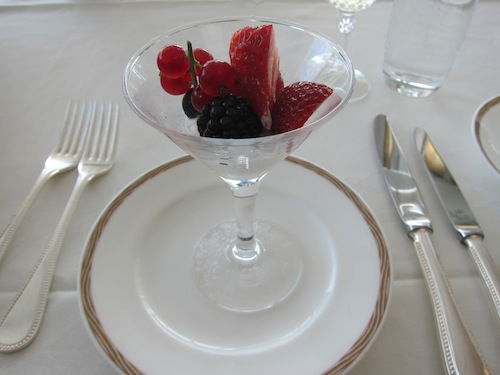 The next course was finger sandwiches. While I was dining alone, it seems as if they serve the same portions regardless of whether there are one or two people at the table, so it turned out to be way too much food. Then again, Dubai is all about excess.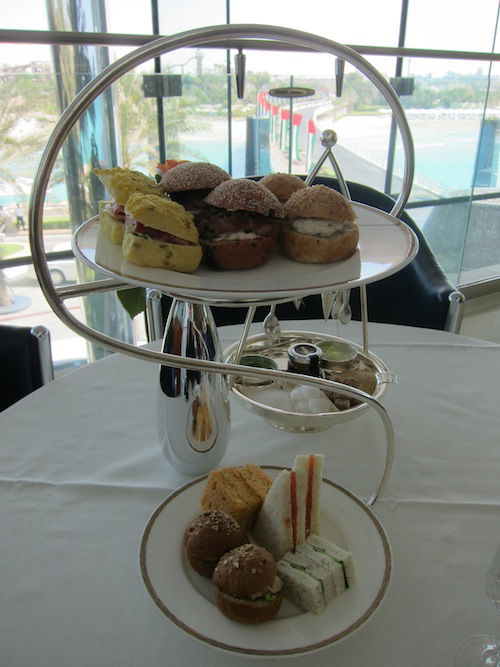 The next course was beef wellington, prepared by the chef at a carving station in the middle of the lounge.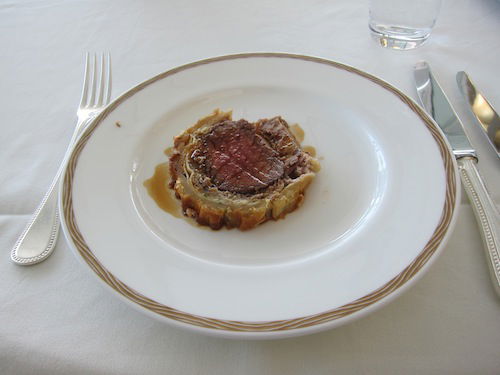 The next "course" was sorbet.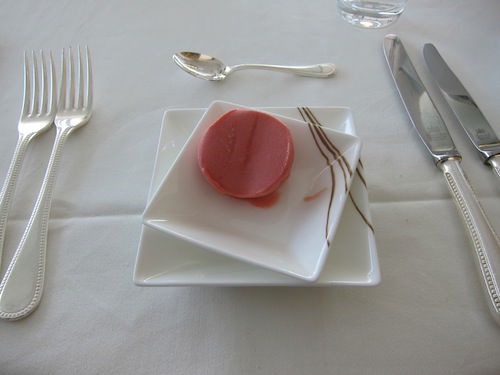 Per my request I was then offered tea and scones with three kinds of jam and clotted cream.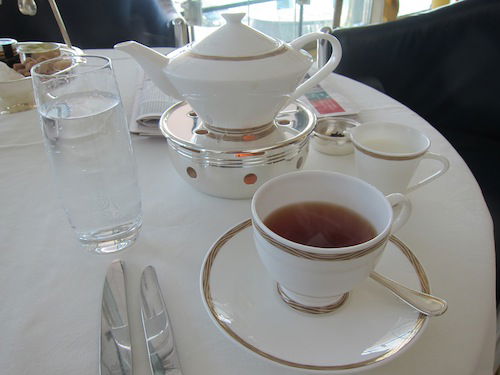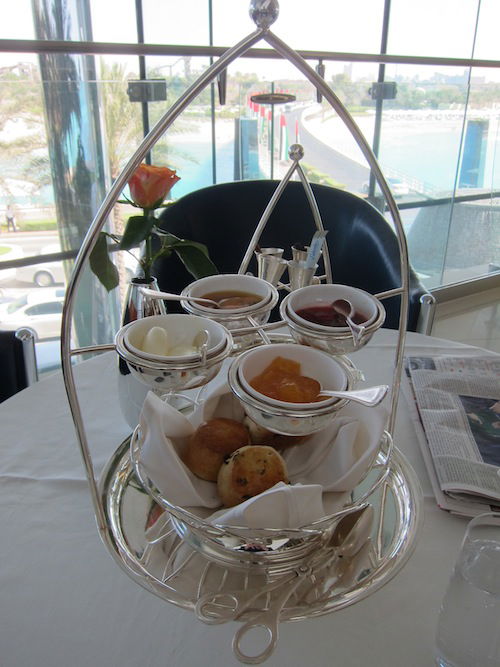 At this point I made a quick pit stop at the restroom. I asked the waitress where the restroom was, and she said "through the gold-plated doors." I gave her a puzzled look, since that doesn't really narrow it down, given that all doors are gold-plated.
Next the waiter came around with a plate full of pastries, explaining each one in great detail. I went with a chocolate pastry.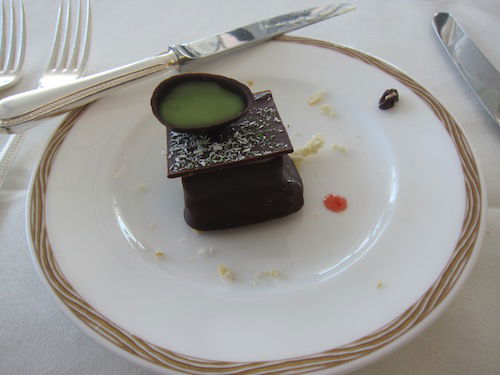 Then the other waiter came around with another tray of pastries, and I went with a custard pastry.
Lastly I was offered some chocolates.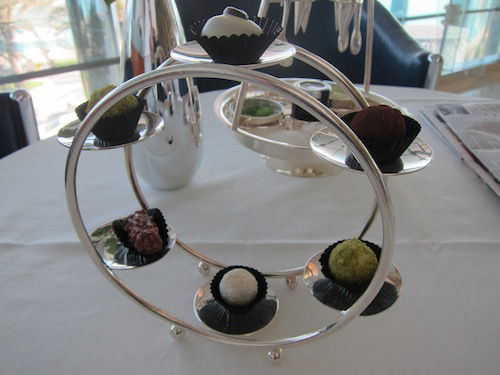 It's worth noting that as far as I know, the whole selection is "all you can eat," so you can have more of just about anything you want, and can even try as many different teas as you want. I was beyond stuffed to begin with, so wasn't about to order seconds on anything.
The Burj has no substance, is a tourist trap, and has more gold than Lil John's mouth. Afternoon tea was excessive, over the top, and entirely unnecessary. But both were absolutely awesome. My only regret is not making a reservation earlier so I could secure a table at the Skyview Bar.
If you go to Dubai, you have to go to the Burj Al Arab.