Introduction
Aman New Delhi
Aman-i-Khas / Safari in Ranthambore National Park
Amanbagh / Activities around Amanbagh
---
After an amazing night at the Oberoi Agra complete with a visit to the Taj Mahal (which I'll cover later), we made the five hour drive to Ranthambore National Park, where we were staying at the Aman-i-Khas. This is the property where I had absolutely no clue what to expect. The resort consists of 10 (identical) luxury tents, all of which are taken down and built up again yearly, as the resort is only open from October 1 through April 30.
After a grueling five hour drive, the last two of which were more or less down a dirt road, we made it to the Aman-i-Khas resort.
There were no fewer than 10 people lined up to greet us, including the co-GMs, Paul and Christina, a married couple from South Africa. They asked us how our ride was and introduced us to our butler, Surender. This is one of the most unique aspects of the hotel. Lots of hotels advertise butlers, though that usually translates to little more than someone to call when you have a special request.
At Aman-i-Khas each tent is assigned a full time butler who lives on property and is on duty to take care of you 24 hours a day. They wake you up, they do your laundry, they serve you meals, they service your room, etc. Since there are no phones at the hotel, there's a buzzer you can push in your tent if you need anything, and your butler is supposed to arrive within five minutes, even in the middle of the night. Due to the hours they work, they apparently get a couple of days off between each guest to recover, since it really is a 24/7 job.
It's worth noting that this resort includes all meals, soft drinks, house wines, laundry, and just about anything else you could possibly want.
Surender was one of the most genuine and friendly people I've ever met, so having him taking care of us for two days was awesome.
He first showed us around the resort, including the pool, dining area and fireplace. Since the resort has only 10 tents, there aren't usually more than 20 or so guests at the hotel at any given time (and on our last day we were actually the only guests, so we had the place to ourselves).
There was both an outdoor dining area as well as a dining tent, and of course plenty of seating so you always have the choice as to where to sit.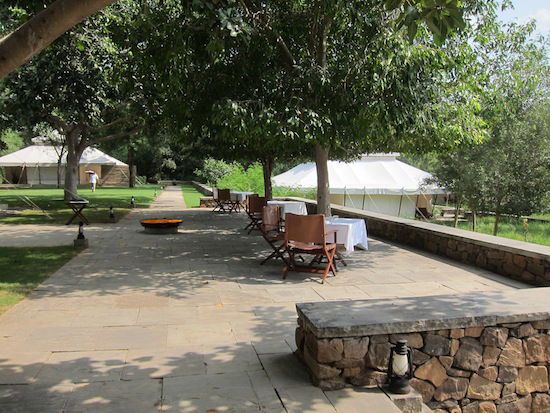 Outdoor dining area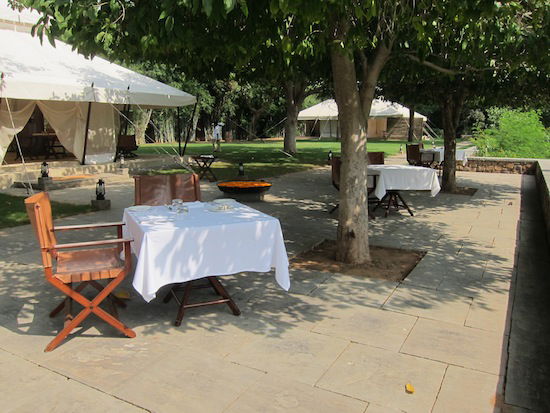 Outdoor dining area
The fireplace has live music every night and is a great place for pre-dinner drinks.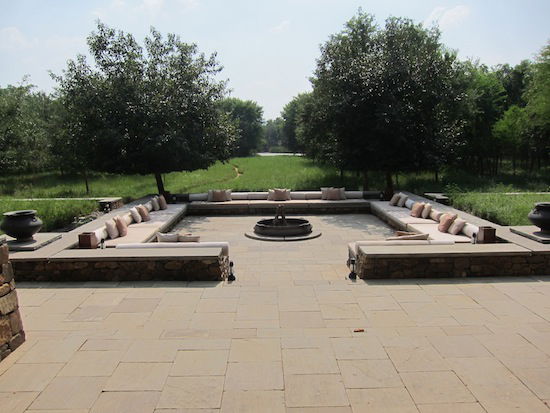 Fireplace
While there's not really a need for a "lobby," there is a reception tent if you ever need anything, though just about everything is taken care of by the butler.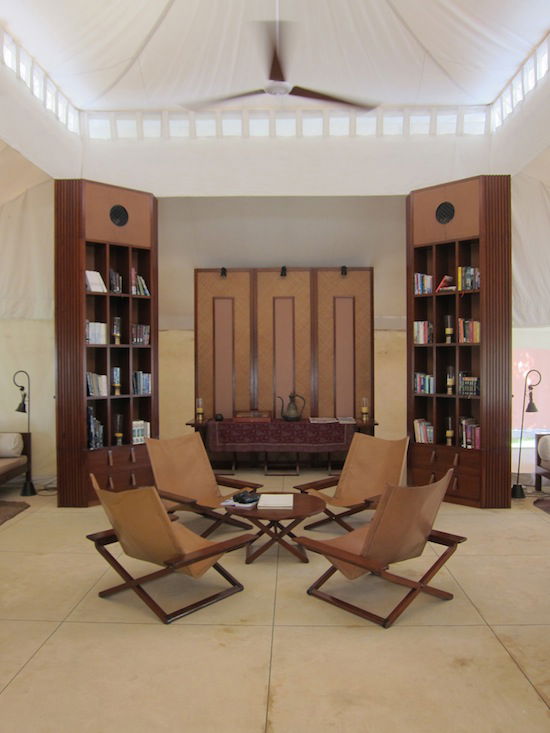 Reception tent
Towards the edge of the resort was a nice pool with several lounge chairs.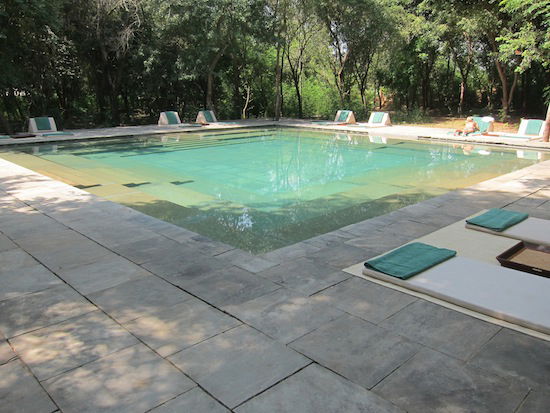 Pool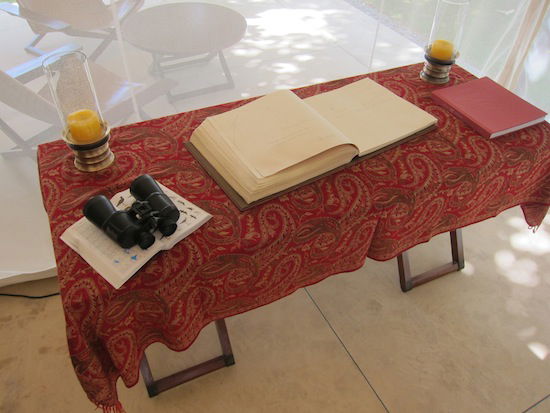 Guest book
The tents are really spread out so that each has a bit of privacy, and our tent was towards the end of the resort. It's also worth noting that the resort has about 20 guards on duty at any time, and at night they always follow you to your tent with a flashlight and stick. It's probably not due to serious safety concerns, but rather to make people feel safe and employ locals, given how cheap labor is around here. Aman resorts are all about being local, and that was reflected in every aspect of the experience.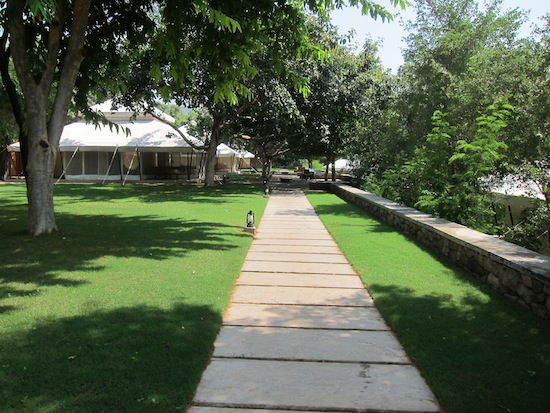 Walkway to tent
When I heard we would be staying in a tent I had high hopes, though there's no way I could have prepared myself for the 1,000 square foot "suite" tent we had.
On the outside is a small patio on each side. One side features lounge chairs, while the other features day beds.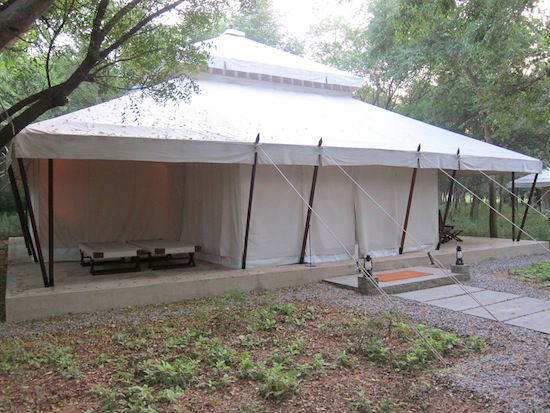 Tent exterior
Then just inside of the "entrance" is a table with a couple of chairs, which I guess acts as a porch or sorts, since there's another "protective layer" before entering the main part of the tent.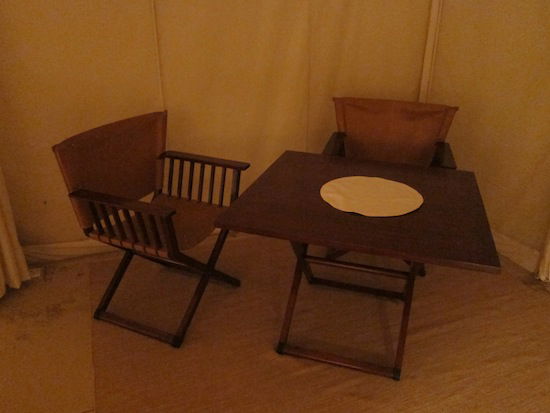 "Porch"
I don't think there are any words that could describe my reaction when I first saw the tent. At least any words that I care to publish here.
The tent featured a large daybed right at the entrance, as well as bedroom, sink area, and shower/bathtub.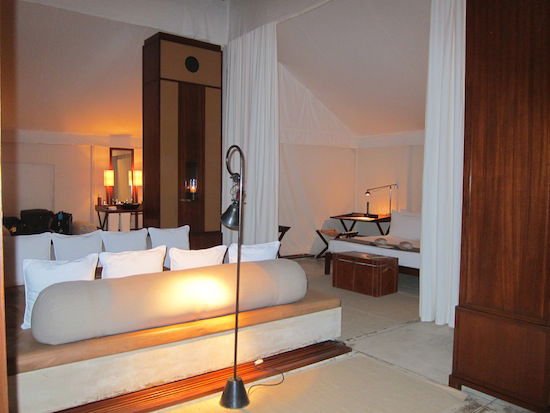 Tent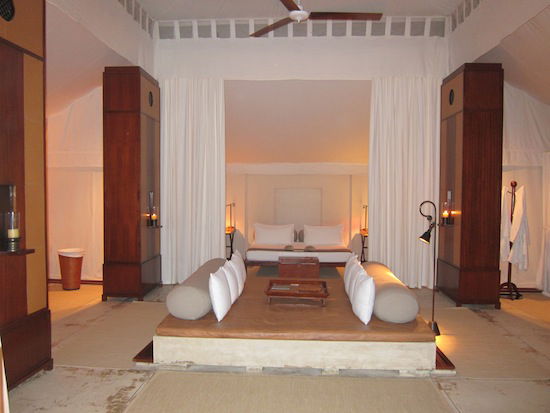 Tent facing the bedroom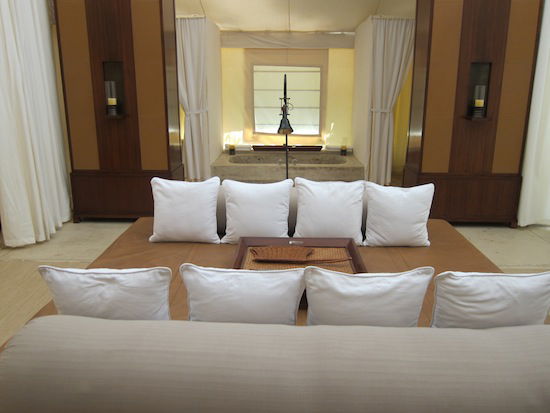 Tent facing the bathtub
The bedroom featured a king bed with a desk on each side.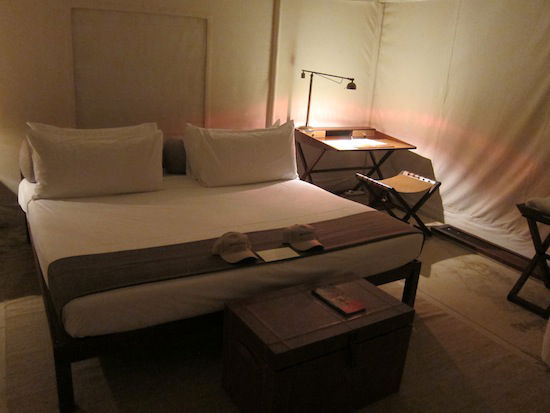 Bedroom
Right by the bed was a cooler with a variety of soft drinks and bottled water which were constantly replenished.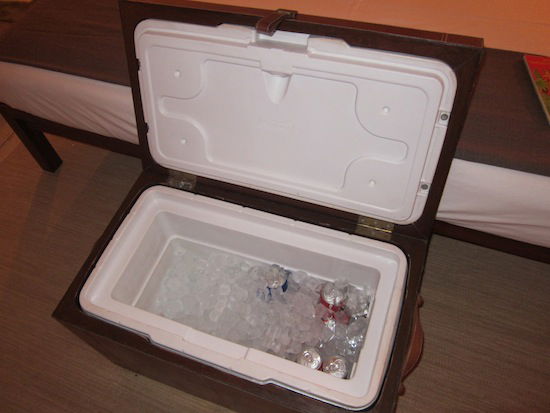 Cooler
Then the bathroom featured two sinks and a table for bags.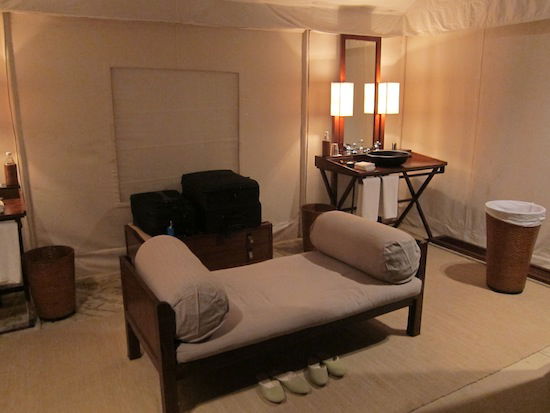 Bathroom
On the other side of the tent was the bathtub, shower, and toilet.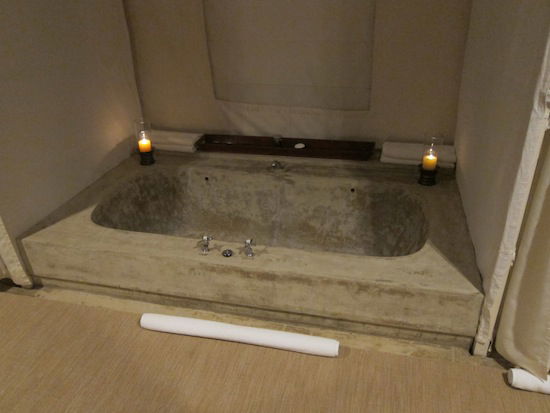 Bathtub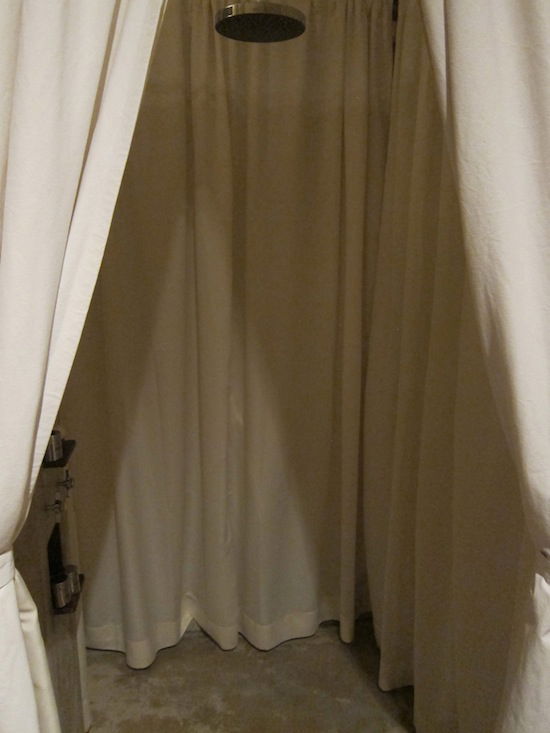 Shower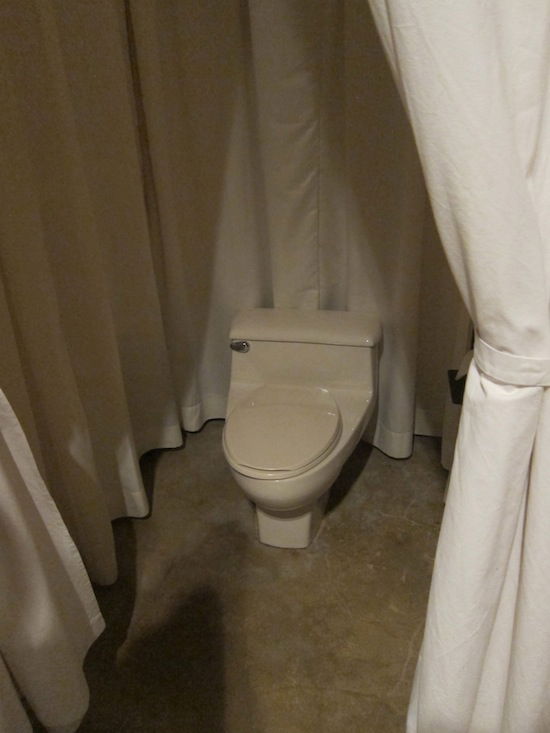 Toilet
It's worth noting that the tent is air conditioned, so the temperature is always pleasant, no matter how hot it is outside.
After freshening up a bit we headed to the common area for dinner, as it was buffet night. As I mentioned, Surender took care of us full time, so whenever we left the tent he miraculously appeared within a matter of seconds. He took care of our table and noted my love for Diet Coke and my friend's love for garlic naan for future reference.
The buffet was spectacular. The resort has a "real" chef with top notch restaurant quality food, so there's no "roughing it" here.
The cuisine was mostly Indian, which in the meantime is my favorite type of food.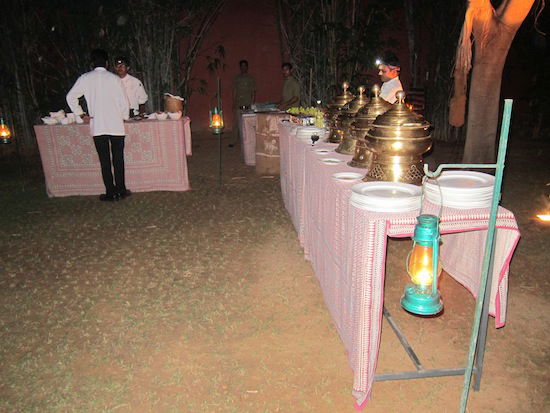 Buffet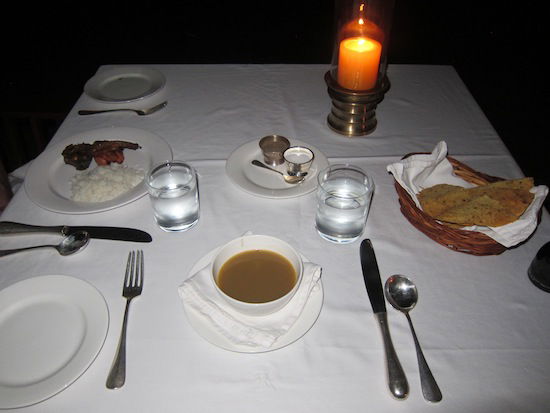 Dinner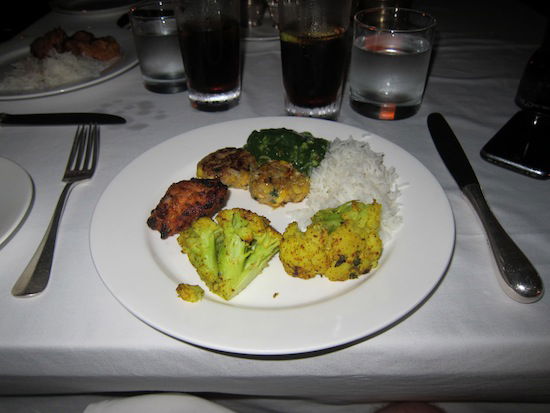 Dinner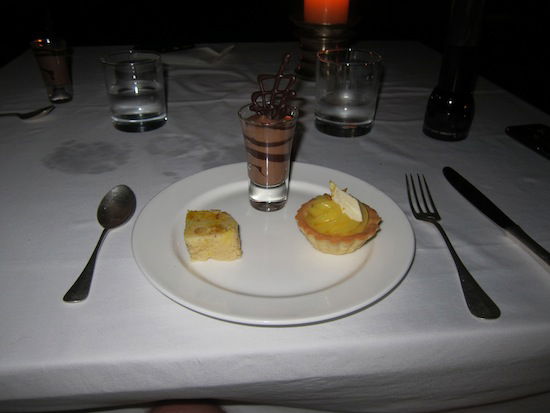 Dessert
The highlight of the dinner had to be the local group that performed at the hotel every night, who were not only talented but also incredibly friendly.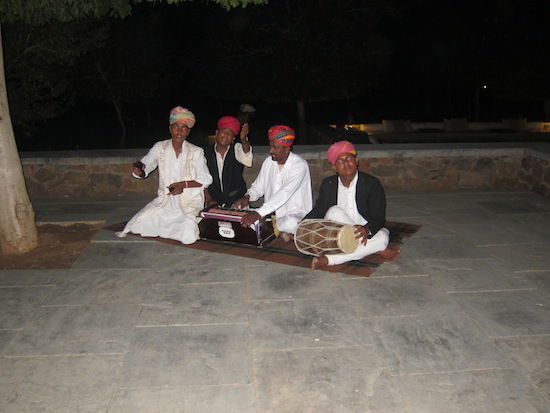 Group that played nightly
Many of the hotel guests gathered at the fireplace for drinks and to listen to music, so it was a nice place to interact with others. There were quite a few families staying at Aman-i-Khas, as well as some couples on their honeymoon.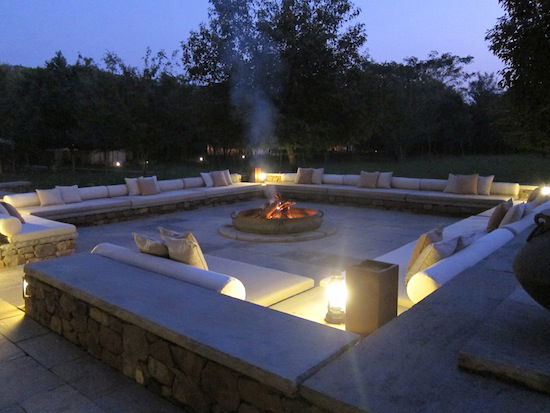 Fireplace
Before we finished dinner Surender asked us if we had any laundry we needed done and what time we wanted to be woken up. We told him we wanted to be woken up at 5AM since we were going on safari, and he asked us whether we wanted breakfast at that point in our room or in the restaurant. We explained we would have breakfast after we got back from the safari, so instead just asked for some juice and tea.
Sure enough, at 5AM sharp the following morning Surender was knocking on our tent with freshly squeezed juice, tea, and some cookies. As he woke us up he asked if he should pack a snack for us to take on safari, which we declined.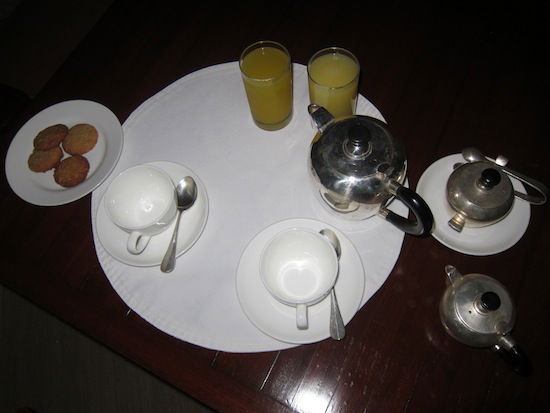 Wake up call
I'll have more on our safari at Ranthambore National Park in the next installment, as this one is already long enough.
The moment we returned from our fruitless tiger hunt, Surender was standing there waiting for us with cold towels and iced tea. I can't emphasize enough how without any sort of advance notice he always appeared as soon as we arrived at the resort or left our tent.
He then brought us to the restaurant and offered us breakfast menus.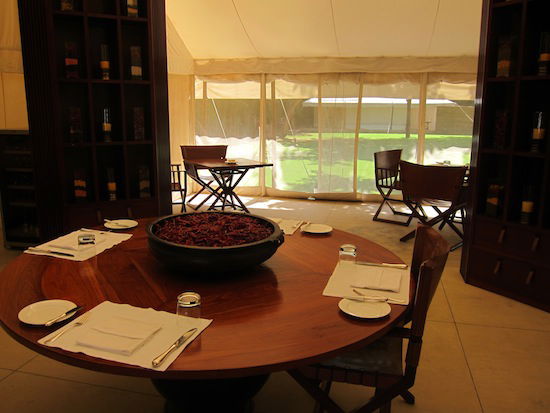 Restaurant tent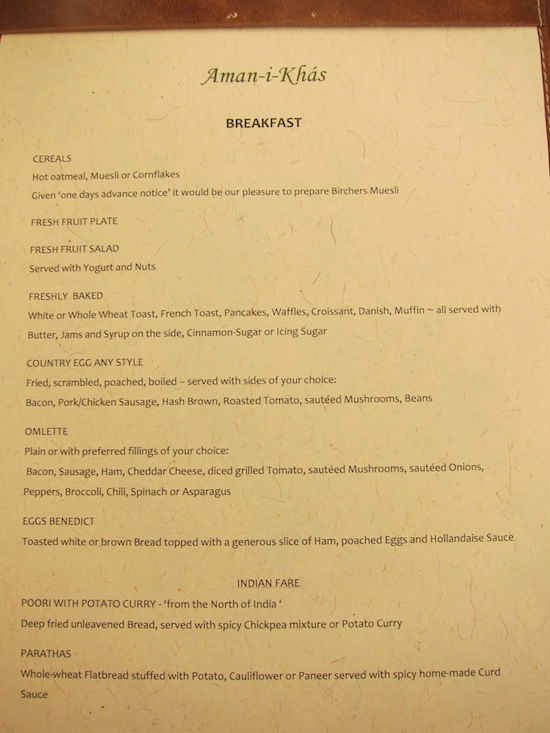 Breakfast menu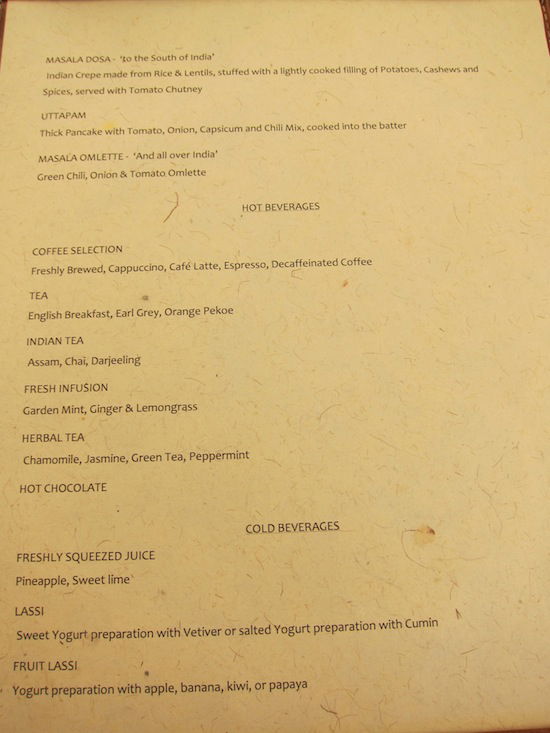 Breakfast menu
I started with a fresh fruit plate, which was delicious.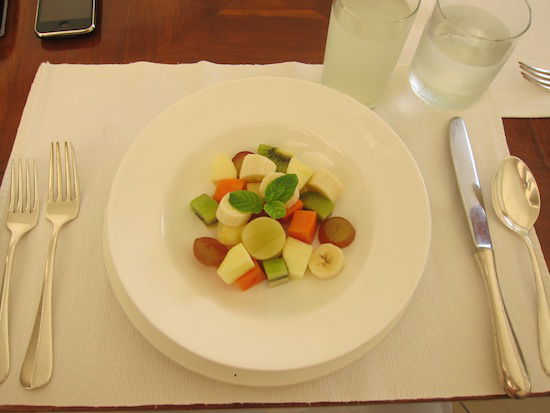 Fresh fruit plate
For the main course I had the masala dosa and uttapam. I'm telling you, Indian breakfasts could run IHOP out of business.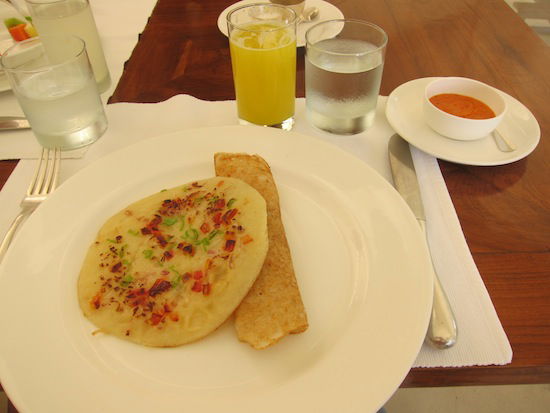 Masala Dosa and Uttapam
I was also offered a side of toast with assorted jams with breakfast.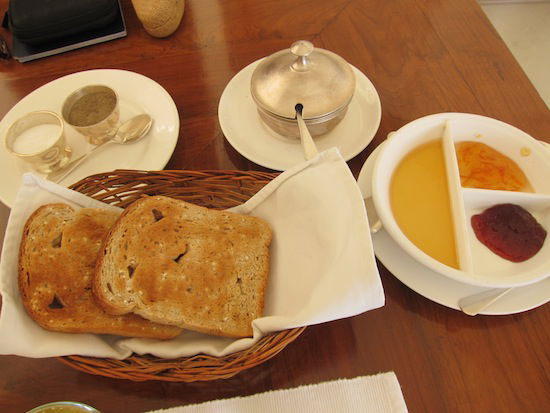 Toast
While we're talking about food, I might as well go through all the menus now. The lunch menu the first day read as follows: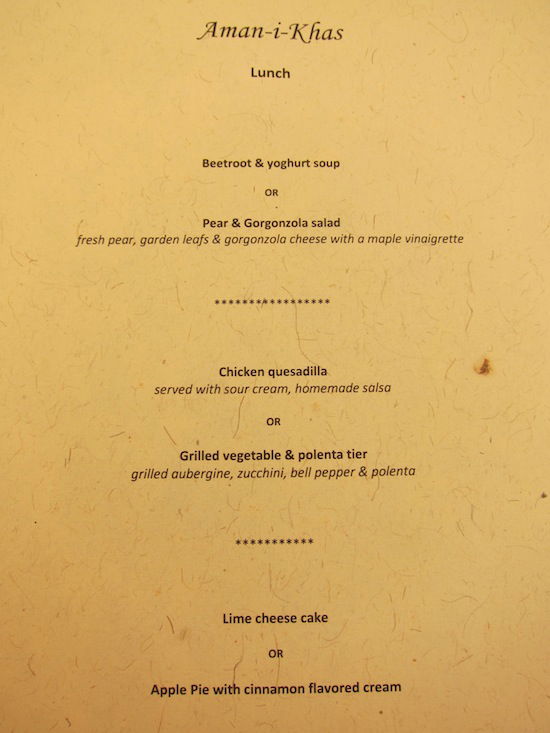 Lunch menu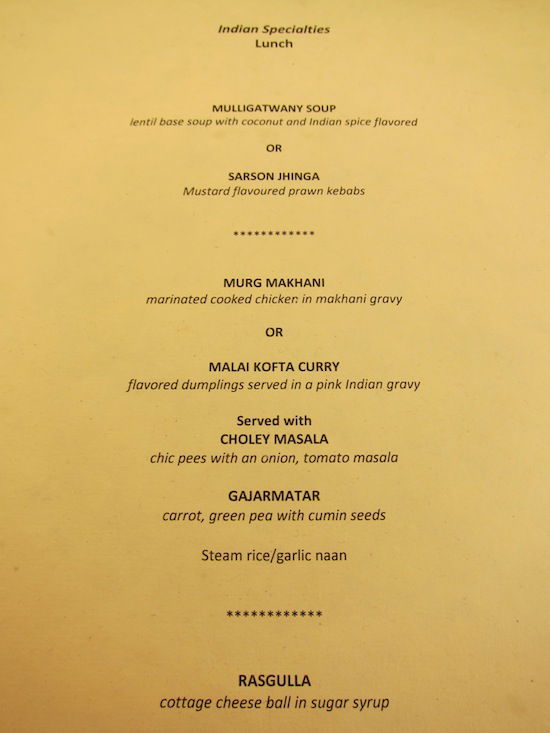 Lunch menu
For the starter I had mustard flavored prawns, which were delicious.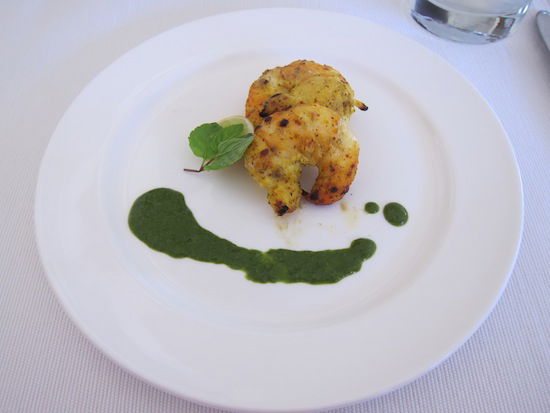 Sarson Jhinga
For the main course I had dumplings with curry.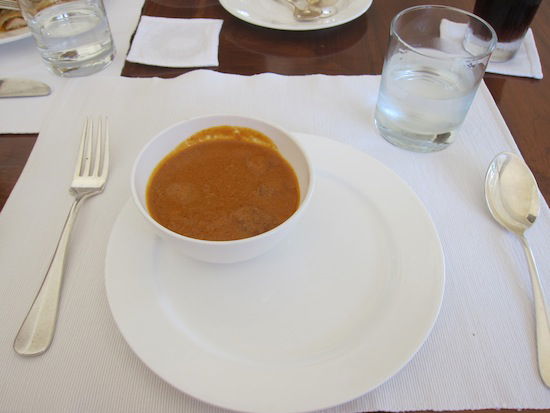 Malai Kofta Curry
And for dessert I had lime cheesecake (the only part of an Indian meal I don't like is the dessert, since they all seem to involve cottage cheese, which just doesn't satisfy my sweet tooth).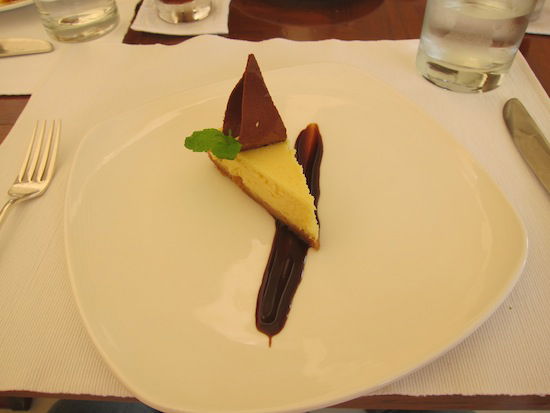 Lime cheesecake
That night dinner was served a la carte, with the following menu: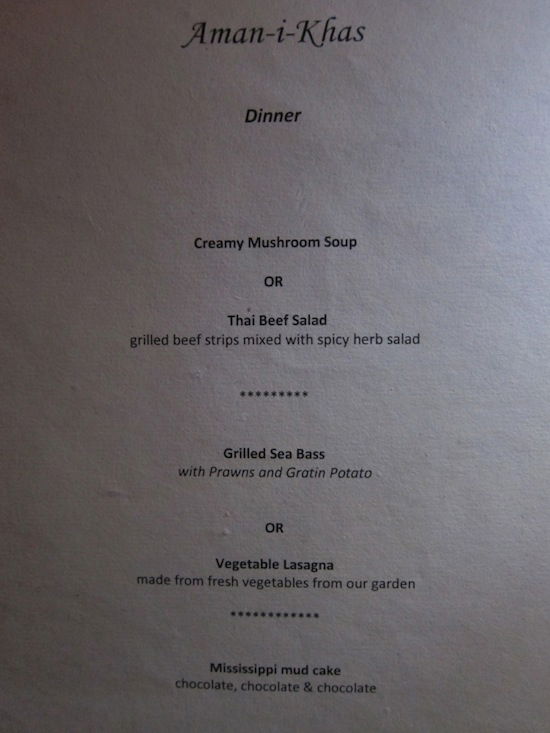 Dinner menu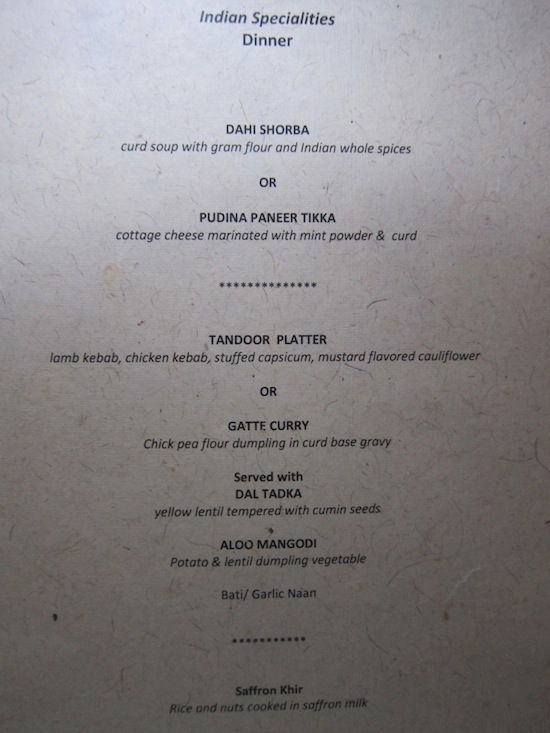 Dinner menu
For the starter my friend had the mushroom soup, while I had the Thai beef salad.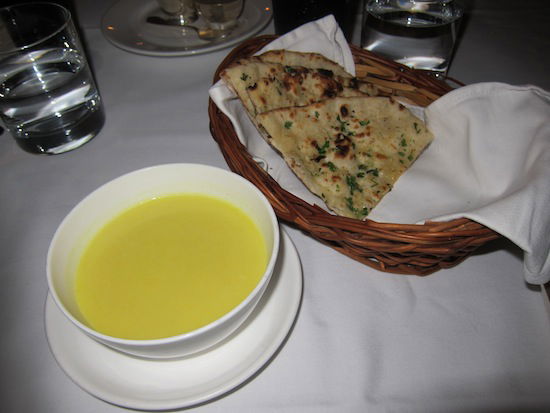 Creamy mushroom soup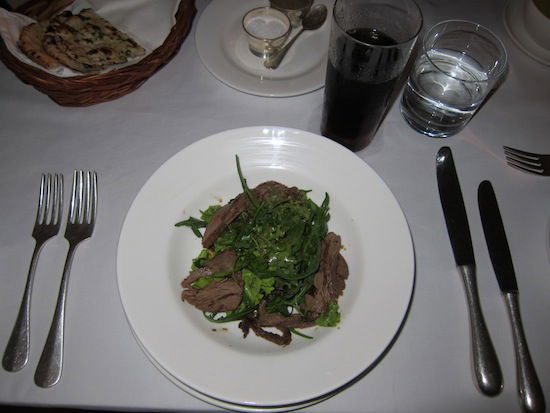 Thai beef salad
For the main course I had gatte curry, while my friend had the tandoor platter.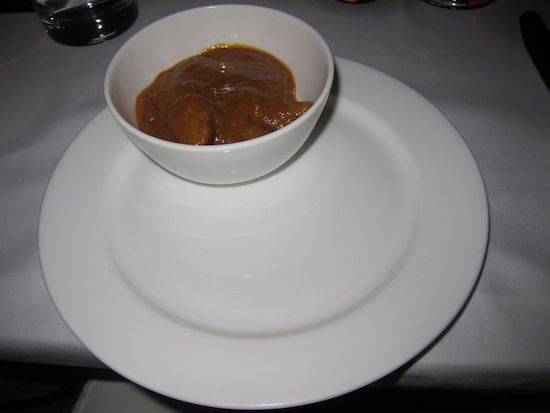 Gatte Curry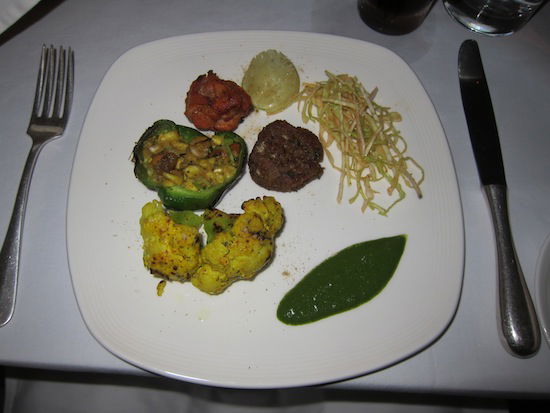 Tandoor Platter
For dessert I had the Mississippi mud cake.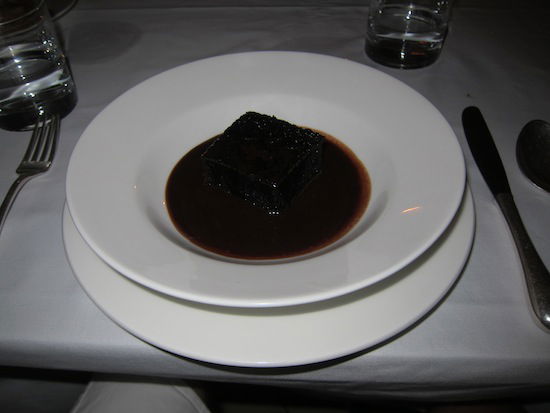 Mississippi mud cake
So as you can see, the food was pretty spectacular. Best of all, the dining experience was completely on demand, as you could eat where you want (in the dining tent, outside, or in your tent) and when you want (breakfast at 10PM? no problem!).
One of the other impressive things about the resort is that they actually grow all of their own fruits and vegetables, so one afternoon we went to check out the garden, which was pretty impressive.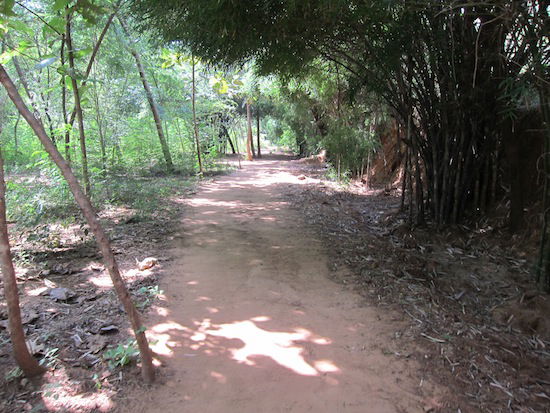 Path to garden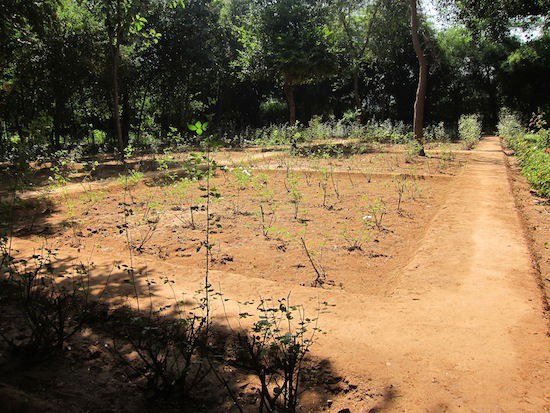 Garden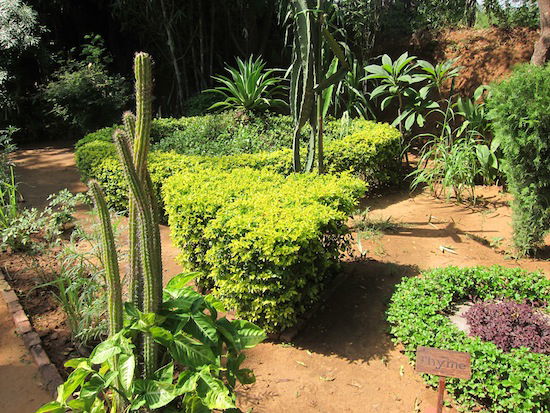 Garden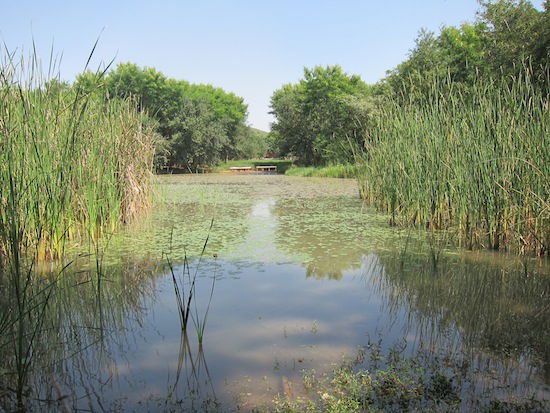 Lake on back side of the hotel
Also, while I didn't get any spa treatments, the spa tent was equally impressive, with several treatment rooms and a bathtub. The prices were also reasonable by luxury hotel standards.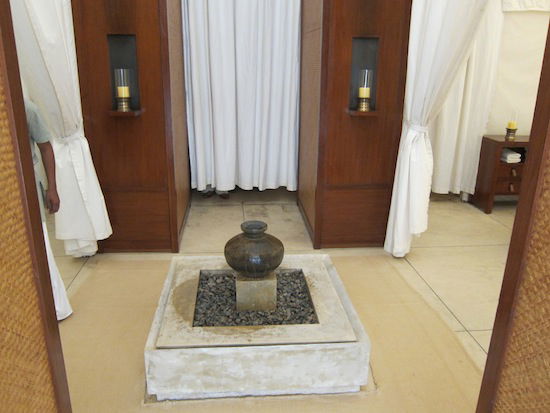 Spa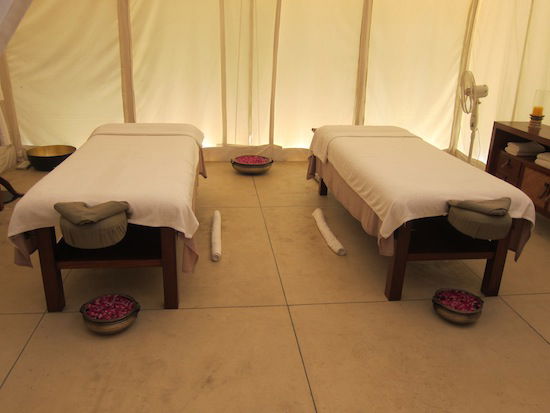 Spa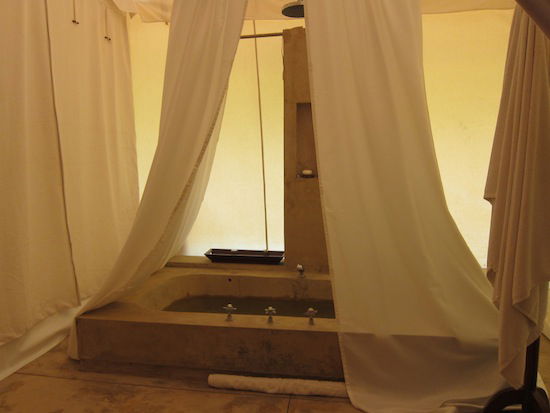 Spa
Shortly before departing the final day, Surender asked if he could pack us some snacks for our ride back to Delhi, which we gladly accepted.
As was the case on the way out, just about all the staff on duty lined up as we departed to bid us farewell, and we were presented with a couple of gifts (Aman-i-Khas shirts and hats).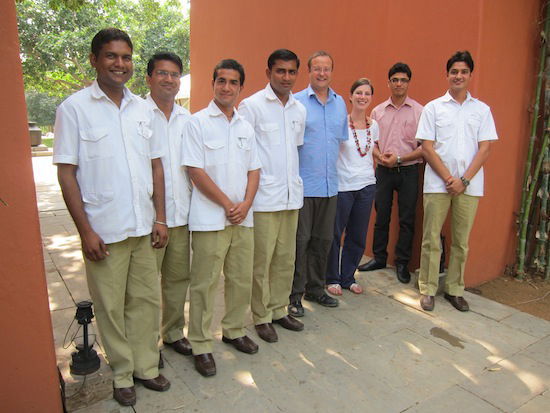 Staff lined up (Surender is the third from the left, while Paul and Christine and second and third from the right)
Our stay at Aman-i-Khas was unforgettable. I'll have more about Ranthambore National Park and the surrounding area in the next installment, though suffice it to say that this resort truly blew us away. I've never in my life felt as welcome as I did at Aman-i-Khas, and that includes at home! Everyone genuinely went above and beyond to ensure we had a great time, and did so with great professionalism, sincerity, and friendliness. After this stay I really started to understand the concept of being an "Amanjunkie," and I'm not sure how I can ever go back…
The rates at the Aman-i-Khas are $925 per night plus a $125 per person compulsory board charge, which includes food, drinks, laundry, etc. If you book through a Virtuoso agent you receive a 50 minute massage once during your stay for up to two in room guests as well as a picnic lunch. If you book through American Express Fine Hotels & Resorts you get a 50 minute massage once during your stay for up to two in room guests as well as guaranteed 4PM late check-out.