Last year American took delivery of their first Boeing 737 MAX, of which they have 100 on order. Generally when an airline takes delivery of new planes it's good news for passengers. While the economics of flying new planes is better in terms of fuel burn, the other benefit is that airlines typically add all the latest technology on new planes.
That wasn't the case on American, and rather they used the 737 MAX to take a step back in terms of their onboard soft product. In addition to removing TVs, they added 12 more seats to these planes. Many have called this plane "miserable," and the "features" of this plane have even gotten mainstream media attention.
I finally had the chance to fly American's 737 MAX 8 for the first time yesterday. It's not that I've been avoiding it prior to then, but rather it's just that most of these planes are based out of Miami, and in the past I didn't fly out of Miami much.
So, what was my experience like? Before I get into this, let me mention that American was kind enough to let me board early so I could snap pictures of the cabin and see the economy seats, lavatories, etc. I'm disclosing that because I virtually never even contact the airline in advance of my travels, since I do all my reviews "undercover."
American's 737 MAX first class
American still has 16 first class seats on their 737 MAX 8 aircraft, in a 2-2 configuration. The catch is that the seat pitch has been reduced quite a bit. In the past American's 737s featured some of the best legroom of any domestic aircraft, while the 737 MAX 8 has a standard 37″ of pitch.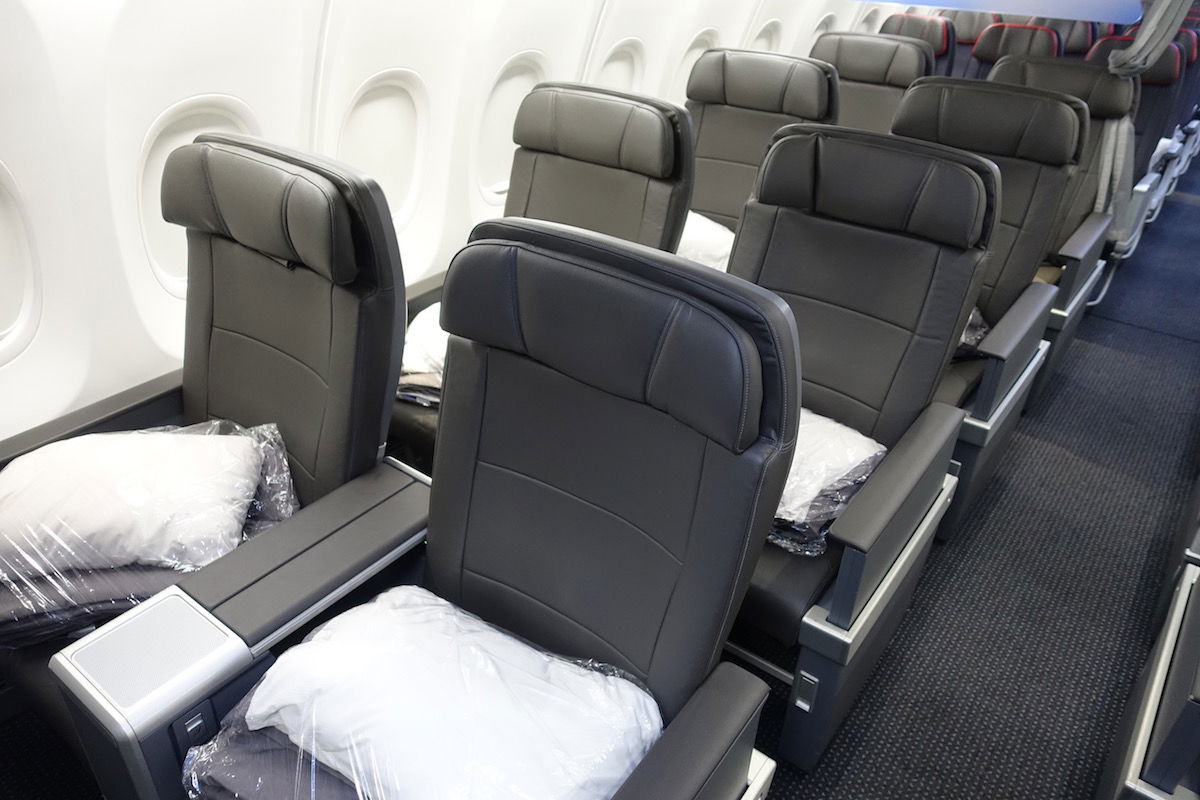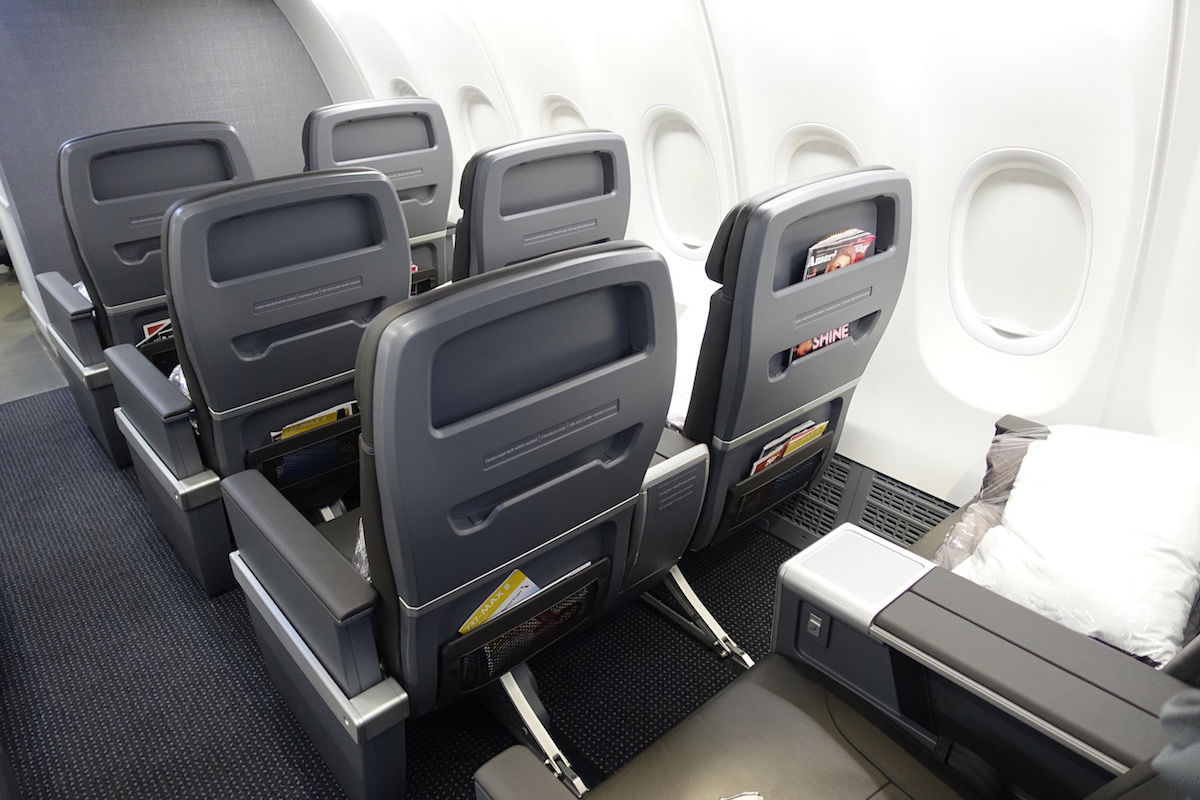 What stood out to me is that the seats are really hard and barely recline. On one hand that's good, since it avoids you having the seat in front of you right up to your face, though on the other hand it sucks if you're trying to sleep.
Unfortunately my flight turned into a redeye due to a four hour delay, and I found these seats to be so uncomfortable.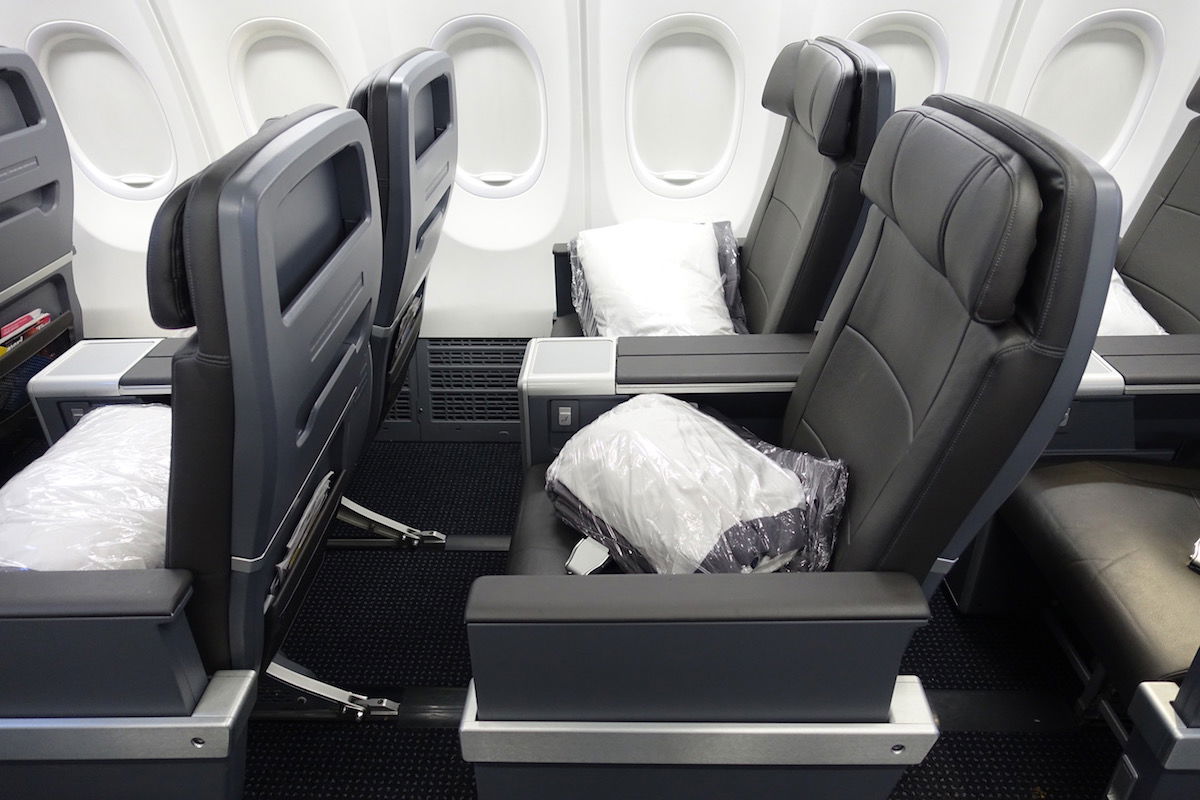 American has also removed all TVs from their 737 MAX 8 — not just personal televisions, but also overhead televisions.
I even find the storage to be poorly designed. The seatback has two awkwardly designed literature pockets. You'd think they'd add small pockets for smartphones or something, but they didn't think of that.
Underneath the center armrest is a power outlet and a small storage compartment, though this isn't an ideal place to put things.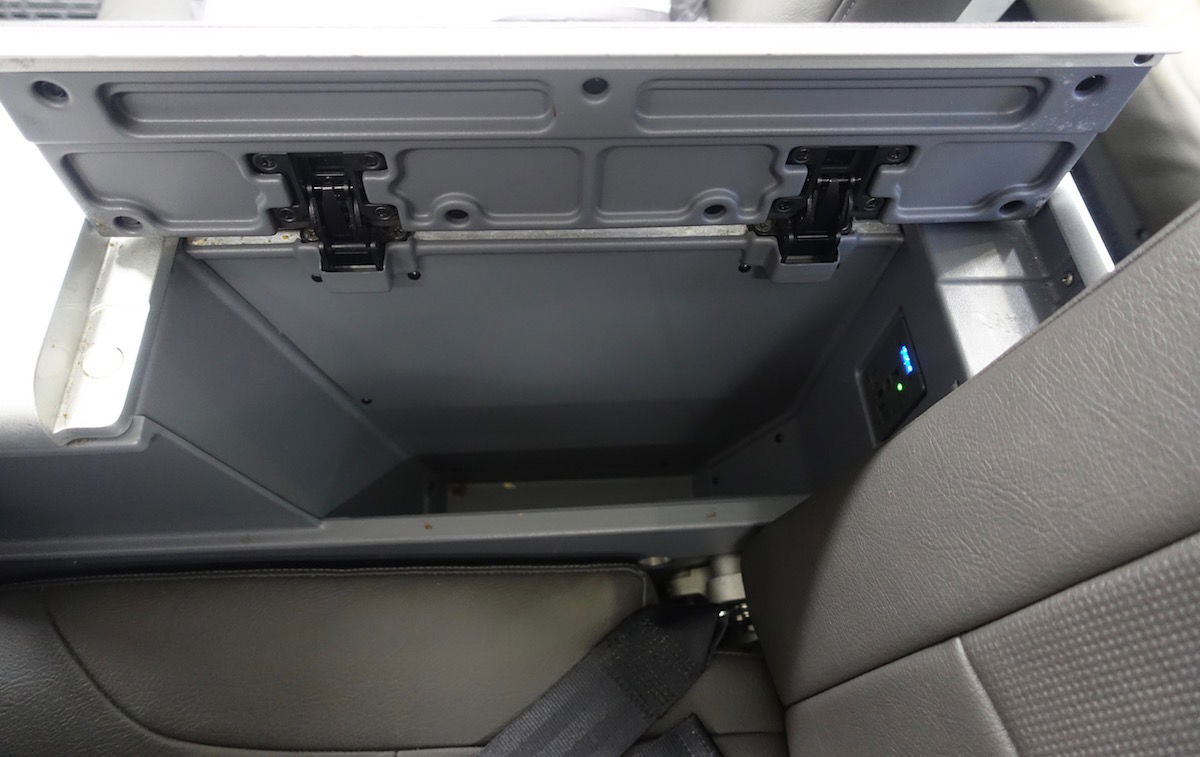 American's 737 MAX economy
American has gotten the most attention for this plane due to the economy cabin. The plane has just 30″ of seat pitch in economy.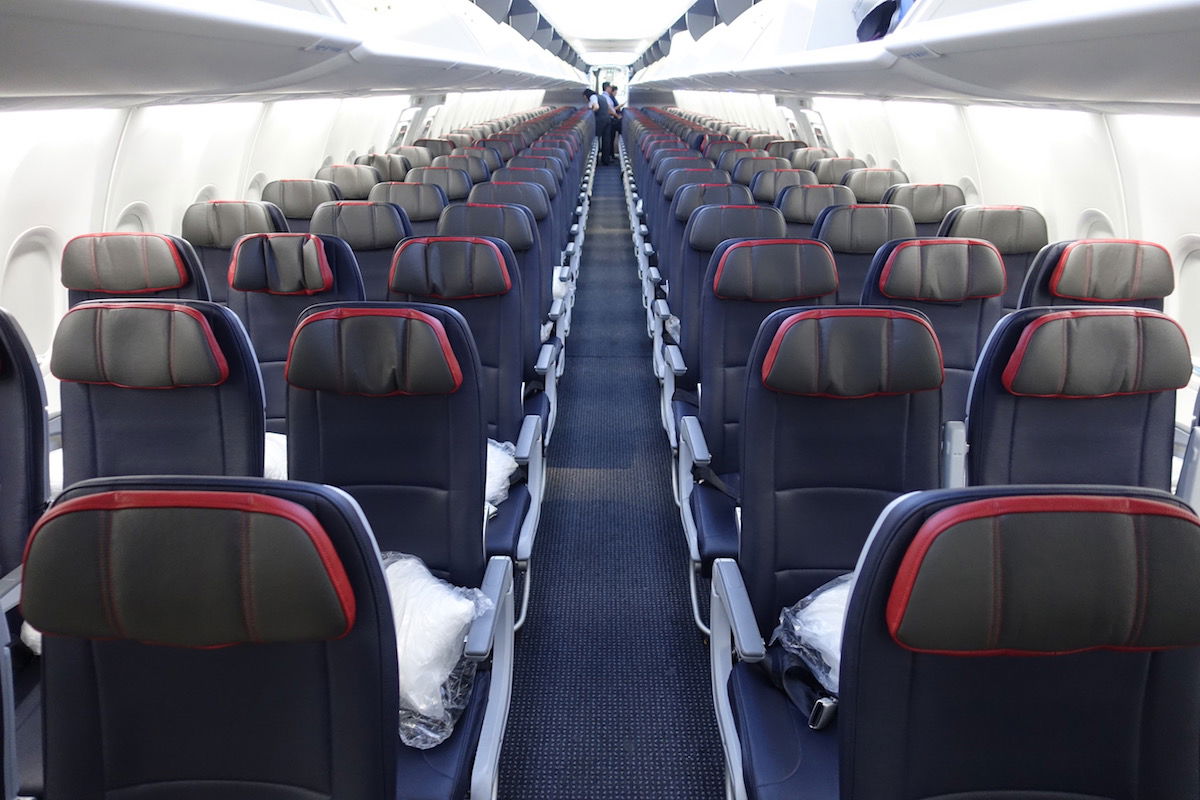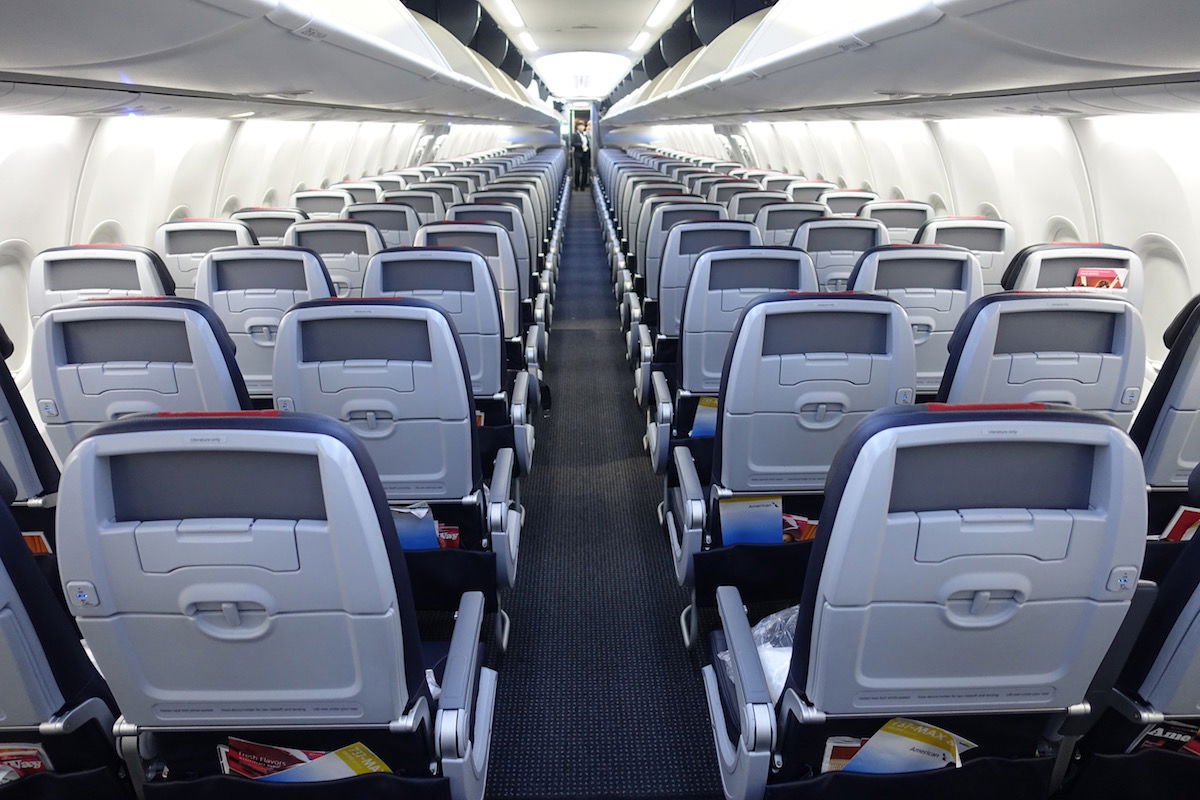 This has elicited polarizing opinions. Some have suggested that this is inhumane, and there have even been animations showing peoples' legs being chopped off, to symbolize how little legroom there is (some may find this to be graphic).
https://www.facebook.com/tomonewsus/videos/1657452180949575/
On the other end of the spectrum you have Doug Parker making ridiculous claims about the new economy seats, saying that they're "much more comfortable… it feels like a much better product."
Both of these perspectives aren't accurate, in my opinion.
It's important to understand what seat pitch is. Seat pitch is the amount of space between one point in one seat and the same point in another seat. Seat pitch is not the same as legroom, because it doesn't account for the different width of seats themselves. I sat in the seat for a moment, and I've sat in "regular" economy on American's other planes. My takeaway is that the comfort is roughly comparable.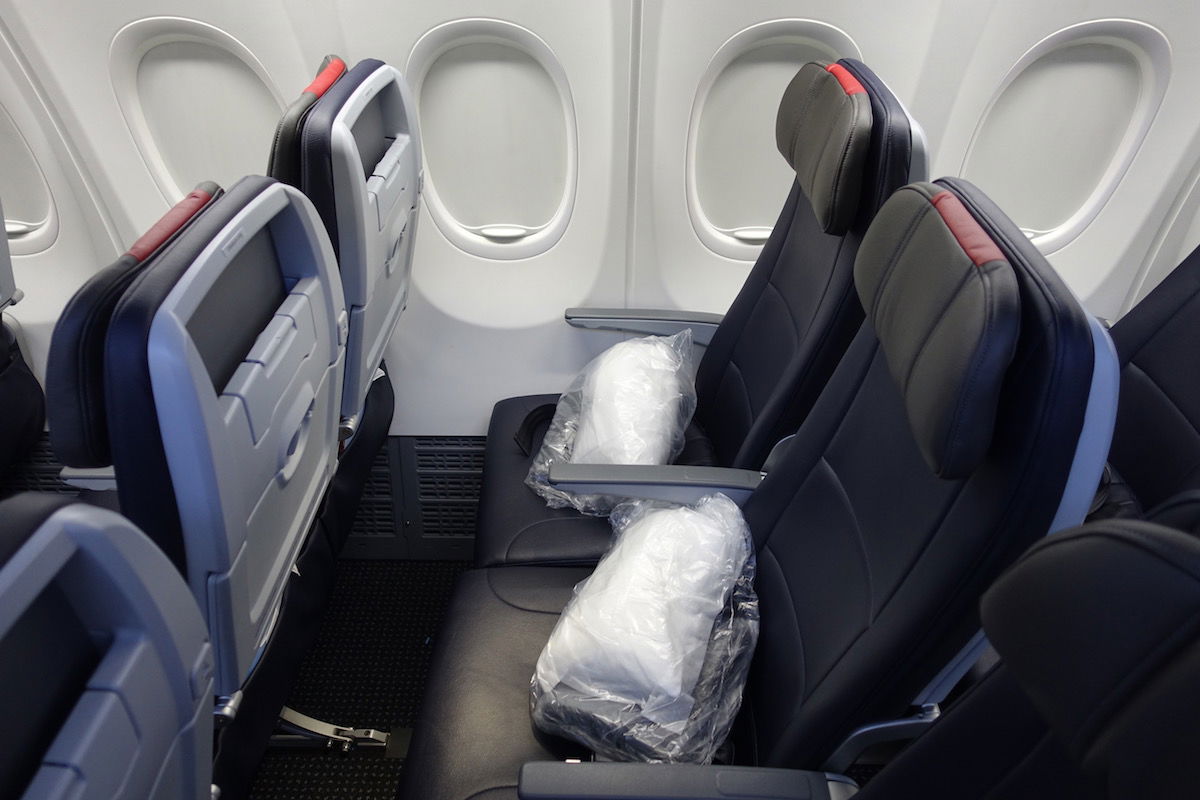 American's 737 MAX Main Cabin Extra
American's 737 MAX has 30 Main Cabin Extra seats, spread across five rows.
Two of these rows are exit rows, which are roughly the same as before.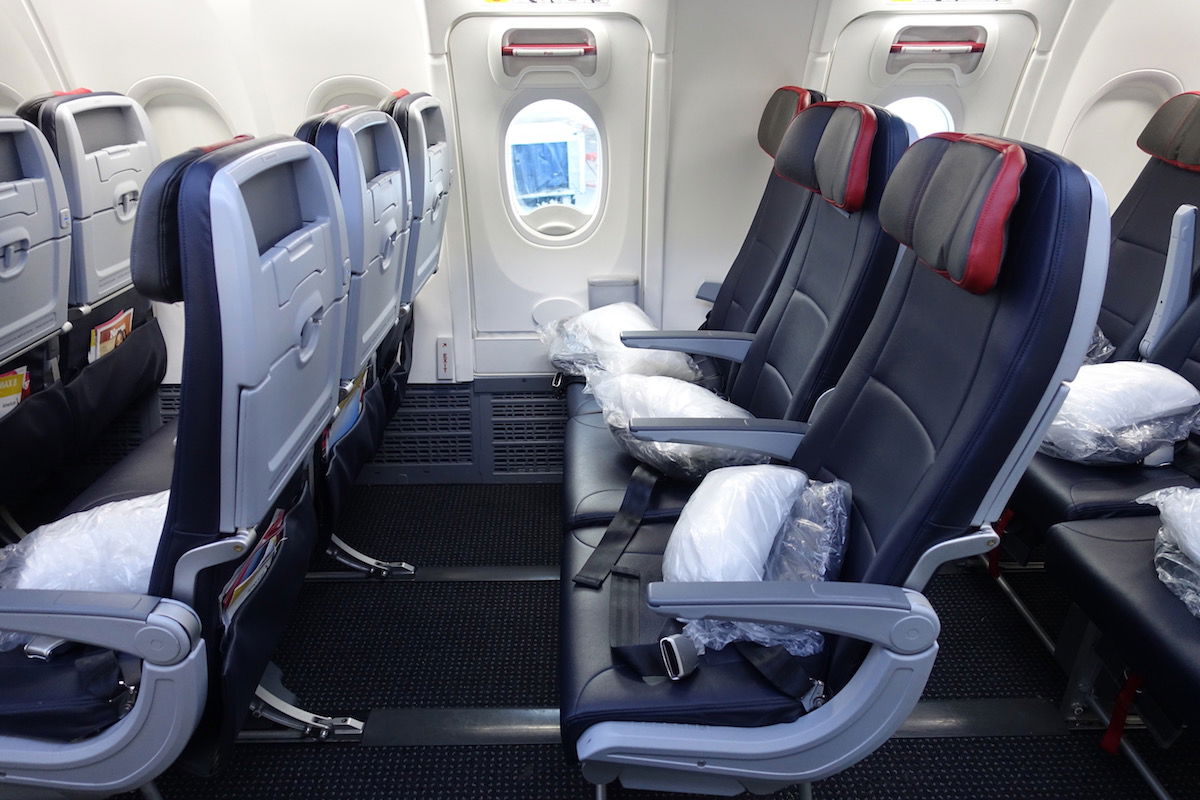 What surprised me most was the legroom in the other three rows of Main Cabin Extra, which is American's extra legroom economy section. They're down to 33″ of pitch, and these seats felt tight to me. Really tight.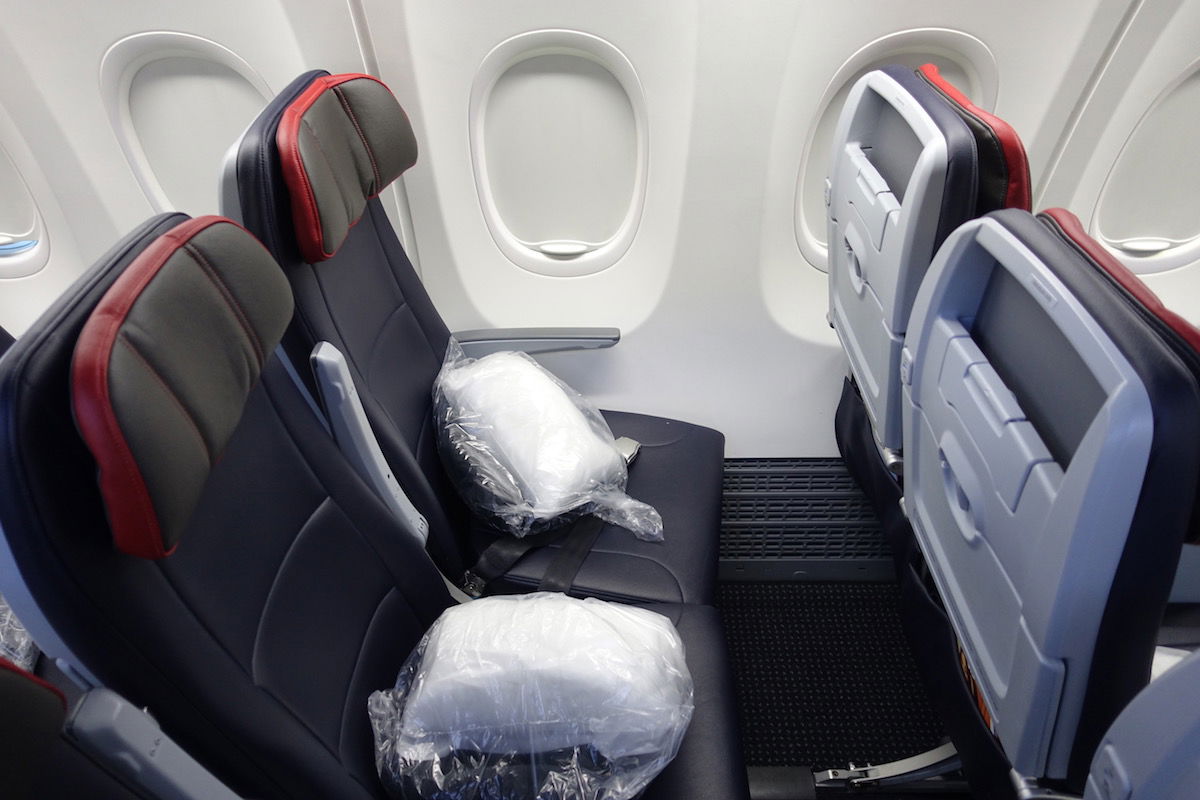 American's 737 MAX bathrooms
American has also gotten a lot of crap (no pun intended) for their 737 MAX bathrooms. While American ultimately chose to install these, I'd note that this is a standard Boeing feature that many airlines are now doing on their 737 MAX aircraft.
Personally I think people have been exaggerating somewhat with how bad these are. Are they nice or spacious? Heck no. But it's an airplane bathroom, not an Emirates shower suite, so presumably most people are in and out pretty quickly.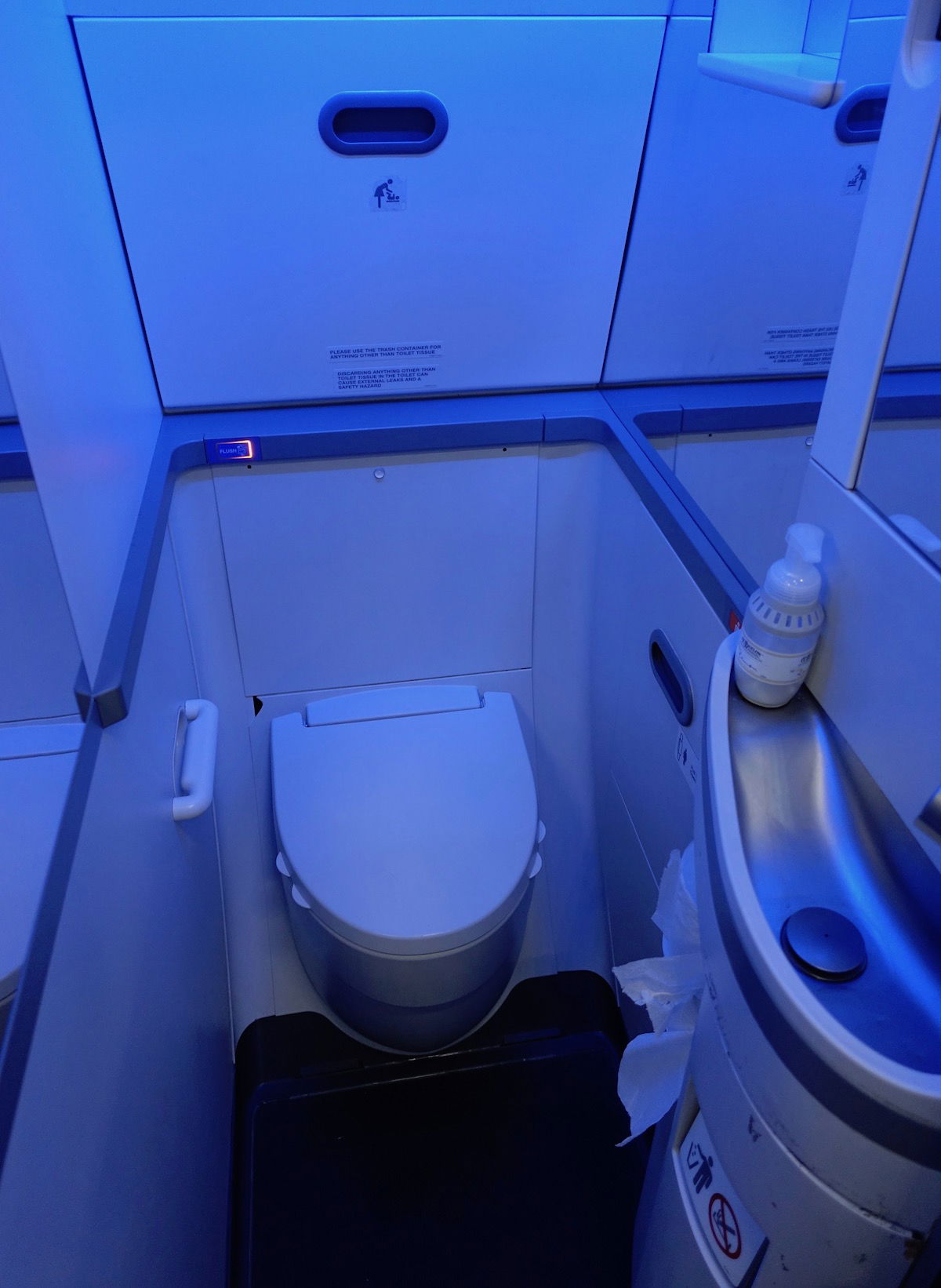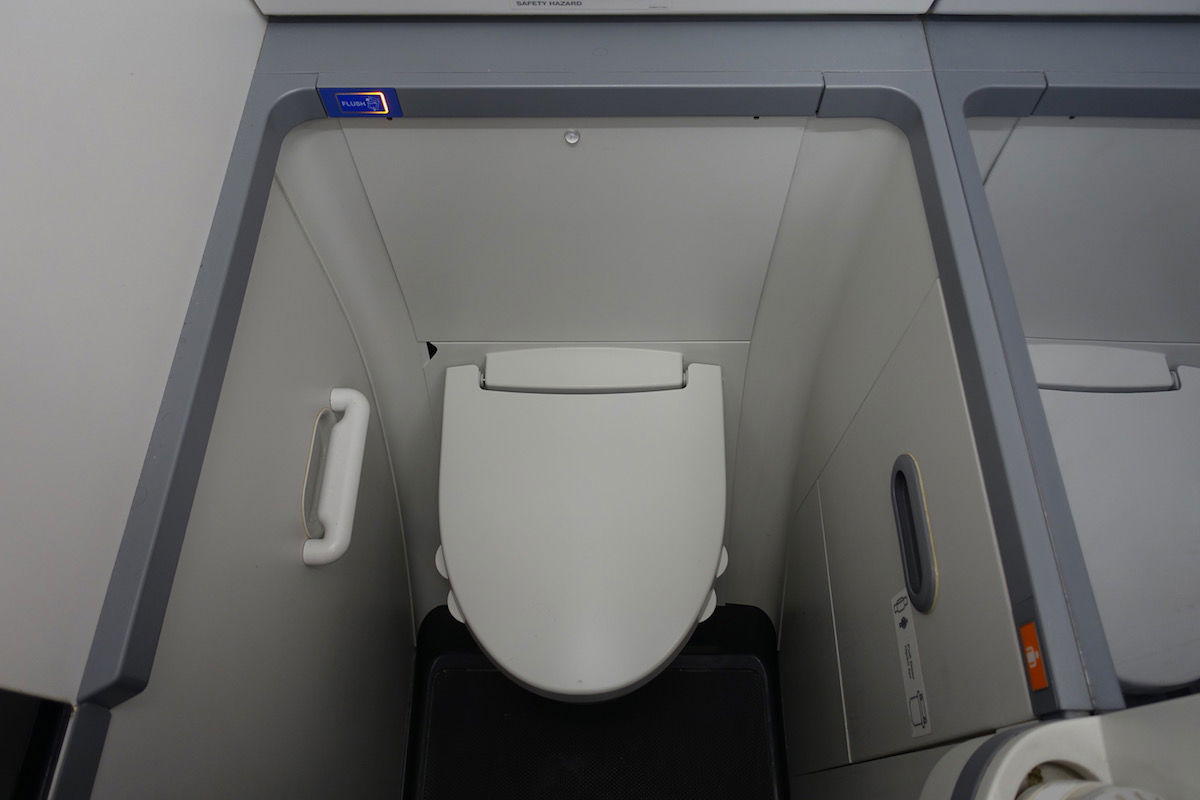 I was expecting this would be like a bathroom on a regional jet, though I found it to be noticeably more spacious.
The one thing that is annoying is the sink, which is tiny, and the water sprays everywhere.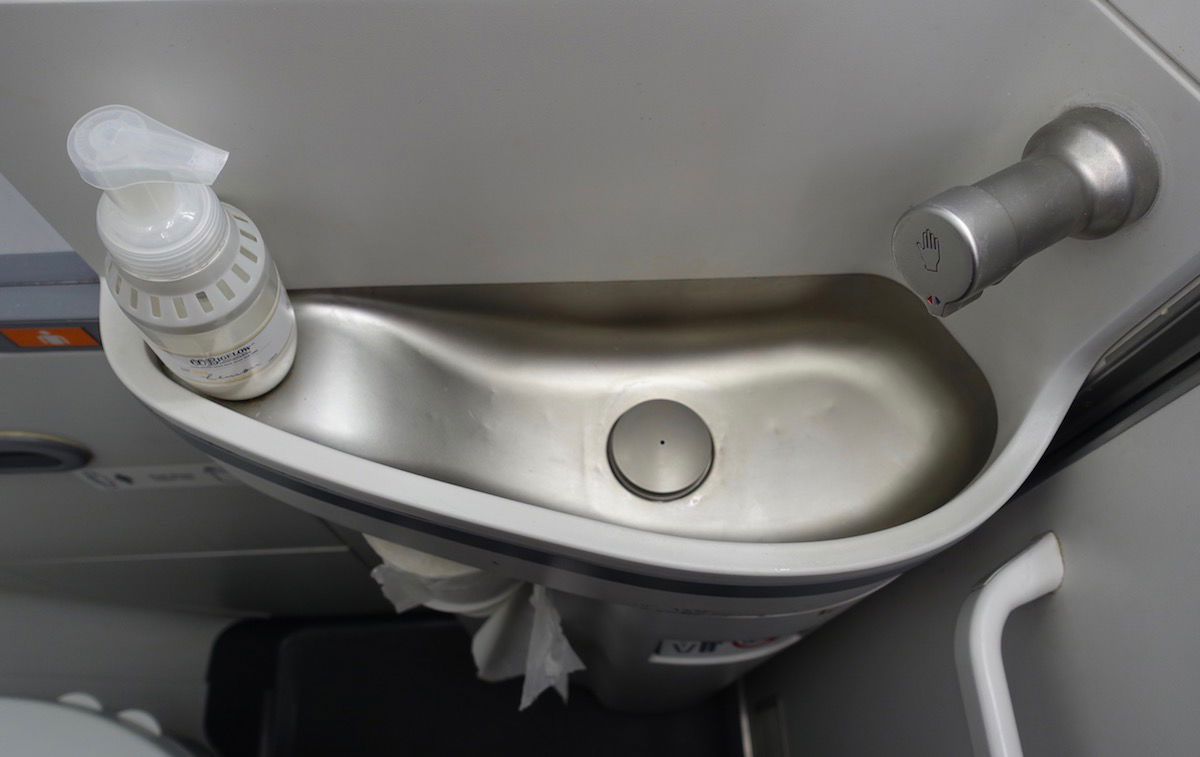 I don't think the 737 MAX is terrible and worth avoiding
So what's my takeaway? American's 737 MAX isn't that terrible… but it's not good either. I think economy legroom is comparable to before, Main Cabin Extra legroom is worse, and first class is significantly less comfortable than before, especially in comparison to American's previous industry-leading legroom that they had on the 737s, some of which had over 40″ of pitch.
The bathrooms aren't great, but how much time are you really going to spend in the bathroom of a 737?
My real takeaway — American's 737 MAX aircraft are sad
While I don't think the 737 MAX is worth avoiding (in the sense that I wouldn't adjust my schedule not to take a 737 MAX flight), I still find the whole plane sad. This gets at my overall point earlier about American's lack of vision.
These planes have no personal television. They don't even have overhead monitors, so flight attendants have to do manual safety demonstrations. American's approach with the 737 MAX seems to be to provide the absolute least possible in each cabin, and they're not even doing that well.
Do they want to go after price conscious travelers? Spirit has a much lower cost basis per seat, so there's no way they can compete on price.
Do they want to go after premium travelers, or those willing to pay a premium for a good product? Obviously this plane doesn't accomplish that.
At this point American seems like they just want to coast by and be everything to everyone, without actually being anything to anyone.
If you've flown American's 737 MAX, what was your experience like?