Qatar Airways has just opened a first-of-its-kind brand collaboration in its new lounge at Doha Airport, in partnership with Louis Vuitton. It's a lounge within a lounge, but unlike what premium passengers are used to, you'll have to pay extra to use it.
I had the chance to attend the opening event for this, and wanted to report back. First a bit of background…
Qatar Airways' new Al Mourjan Garden Lounge
Doha Hamad Airport recently underwent a significant expansion, and as part of this, we saw the opening of a new Qatar Airways business class lounge, known as the Al Mourjan Garden Lounge. This is located at the north end of the terminal.
There's a lot to love about this lounge — it hugely expands Qatar Airways' business class lounge capacity, it's stunning, and it also has some unique amenities, ranging from a gym, to two spas. Most of those special amenities didn't open at the same time that the lounge did.
There are two particularly interesting collaborations in this lounge, as Qatar Airways is partnering to open a Louis Vuitton Lounge and a Dior Spa. The Louis Vuitton Lounge is now open.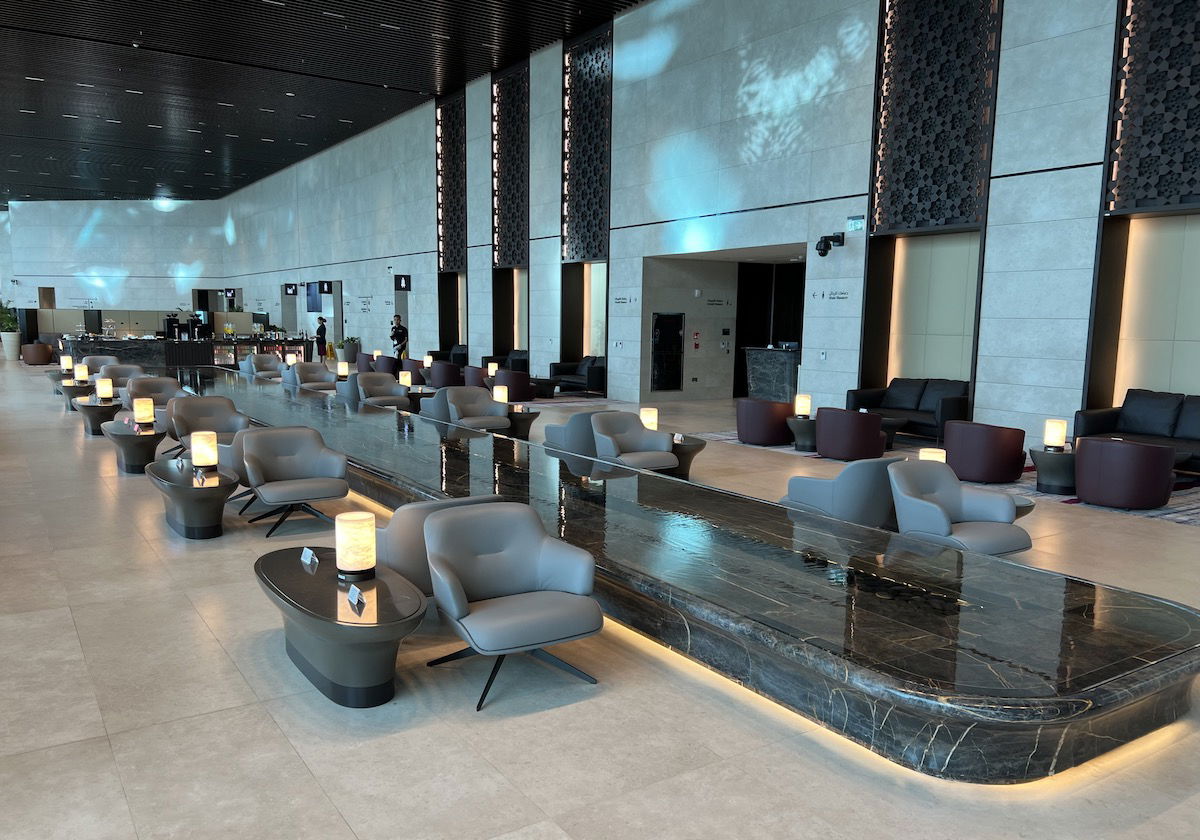 I don't usually attend media events
Okay, now on to my actual coverage of the Louis Vuitton Lounge. Let me start by saying that I almost never attend media events that I'm invited to:
I'm an introvert, and I'm not into schmoozing
Media events rarely give you a real sense of what something will actually be like, since everyone is on their best behavior
I'd rather visit whatever is being promoted on my own dime and my own time, so I can form an independent opinion
Just generally in life, I'd rather be at home with my family, so when I travel, I try to be efficient, and I don't find it worthwhile to travel somewhere just for an event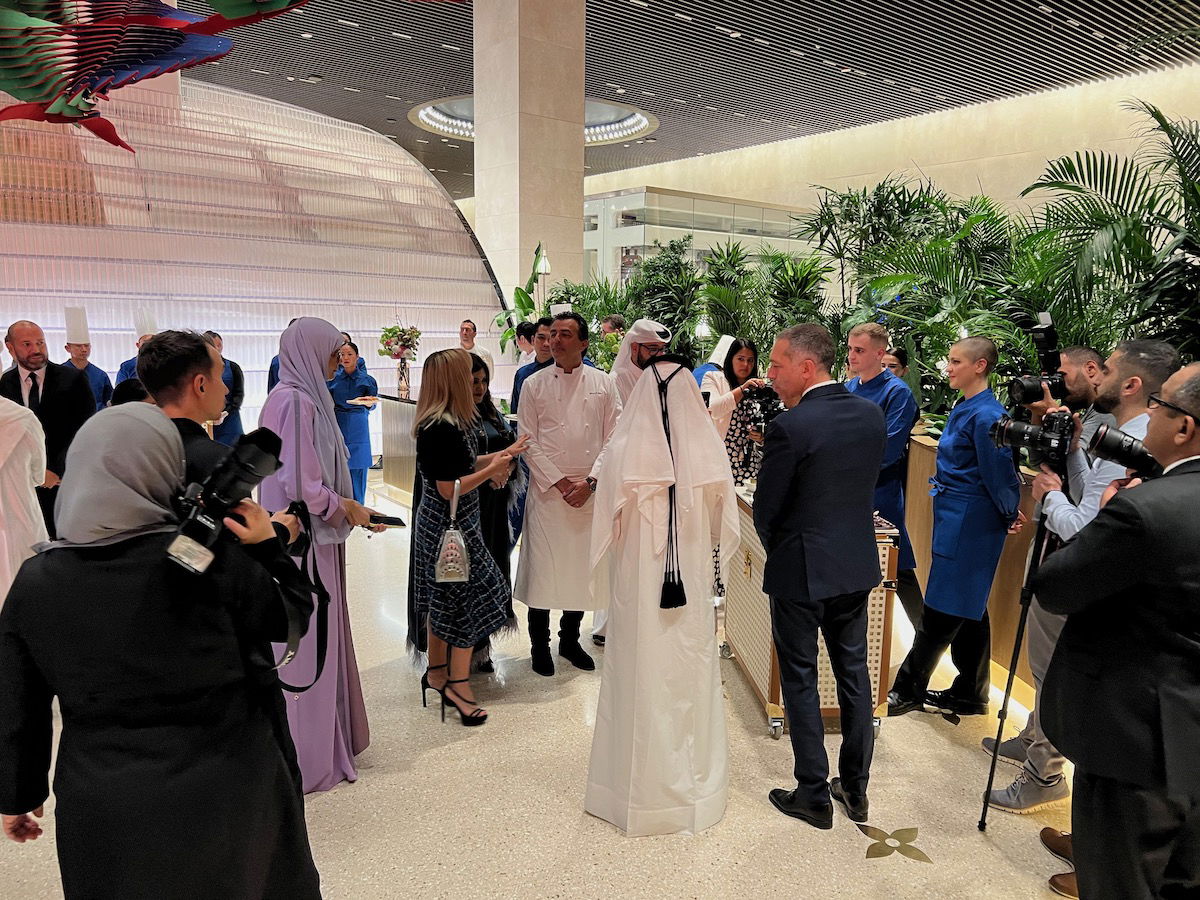 So, why did I break that rule here, and attend this event? Well, I had asked contacts at Qatar Airways about the timing of the Louis Vuitton Lounge opening, and they informed me of the date of the opening party… which was literally hours before I was scheduled to fly out of Doha Airport on my current trip.
The lounge wouldn't otherwise open to the public until the next day, so I figured attending the opening event was better than not getting any access to this space. That's why my coverage of this will be a bit different than usual, since I don't really have a sense of what "regular" guests will experience.
Also, to be perfectly honest, if I am going to attend a media event, you can't beat being in the presence of The Chief, as there's never a dull moment with him.
The concept behind Qatar Airways' new Louis Vuitton Lounge Doha
An airline collaborating with a fashion brand for a lounge within a lounge is an unheard of concept. It will appeal to some, and most definitely won't appeal to others.
Let's start with the good news — if you're not into this concept, you can absolutely skip it. Qatar Airways' new lounge is stunning, and has a top notch selection of complimentary food and drinks. Nothing is being taken away with the presence of the Louis Vuitton Lounge.
But this concept also makes a lot of sense, when you think about it. Fashion brands have huge presences in airports, typically in the form of retail spaces.
Generally speaking, the most affluent guests at airports (those flying first and business class) also have lounge access, and they're more likely to be in those lounges, and not be strolling through the terminal. So Qatar Airways is bringing a famous brand directly to its premium guests, and it's no doubt something that many will enjoy.
Some will appreciate the Louis Vuitton Lounge because spending some money on a premium experience is a drop in the bucket for them, while others will love it for the social media bragging rights (or whatever… I don't claim to understand the world I live in anymore).
What's the Louis Vuitton Lounge Doha like?
With all that out of the way, let's take a look at the actual Louis Vuitton Lounge. Ironically enough, when you're entering the Qatar Airways Al Mourjan Lounge, you'll almost feel like you're actually entering something that's just the Louis Vuitton Lounge, since the entrance is at the back of the Louis Vuitton store at The Orchard.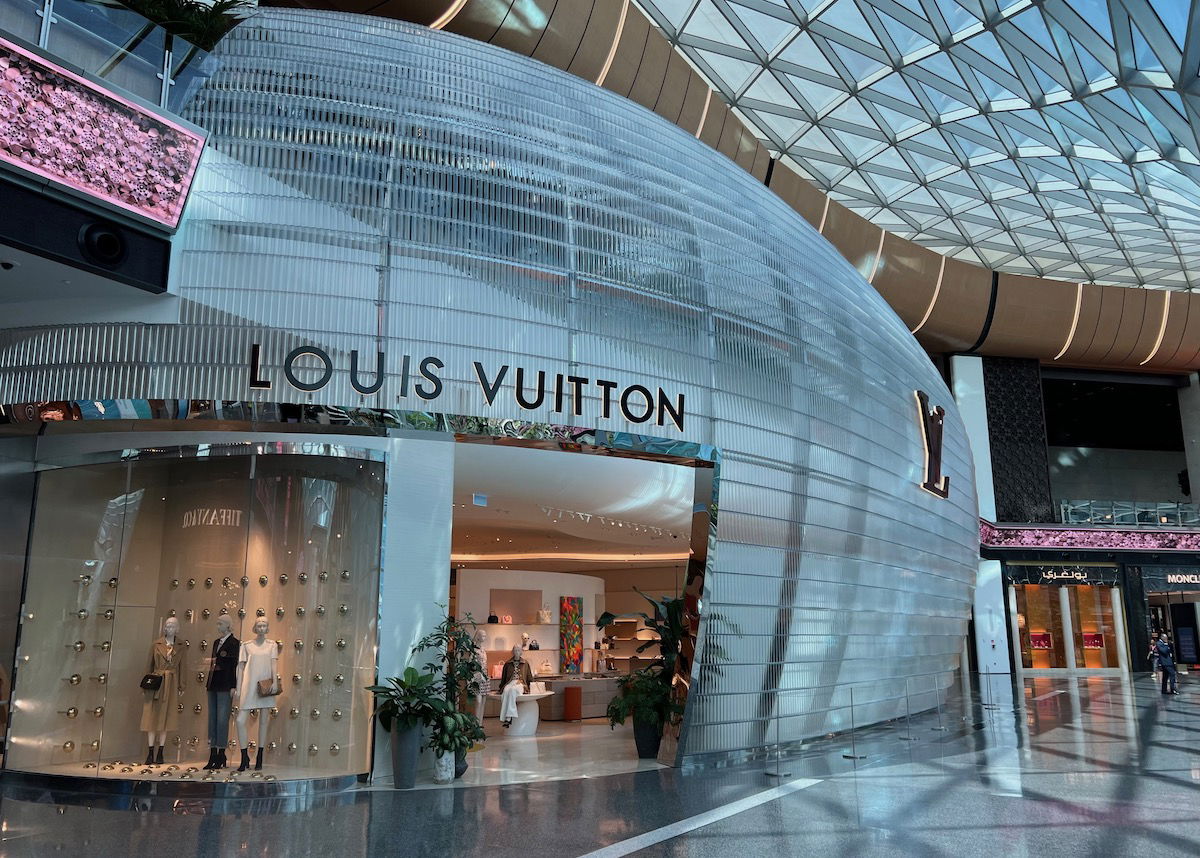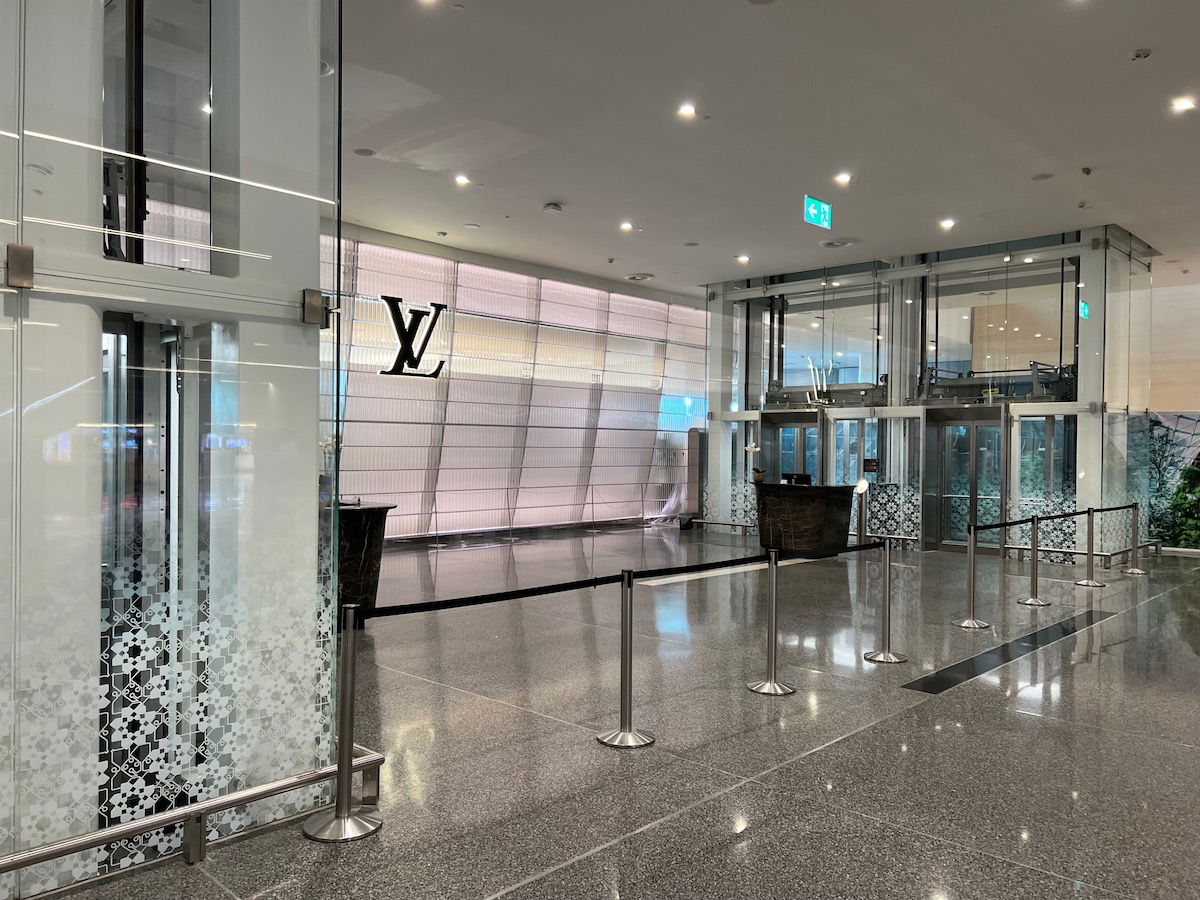 Once you enter the Al Mourjan Lounge (one level above the terminal), the first thing you'll see is the Louis Vuitton Lounge, as it's straight ahead.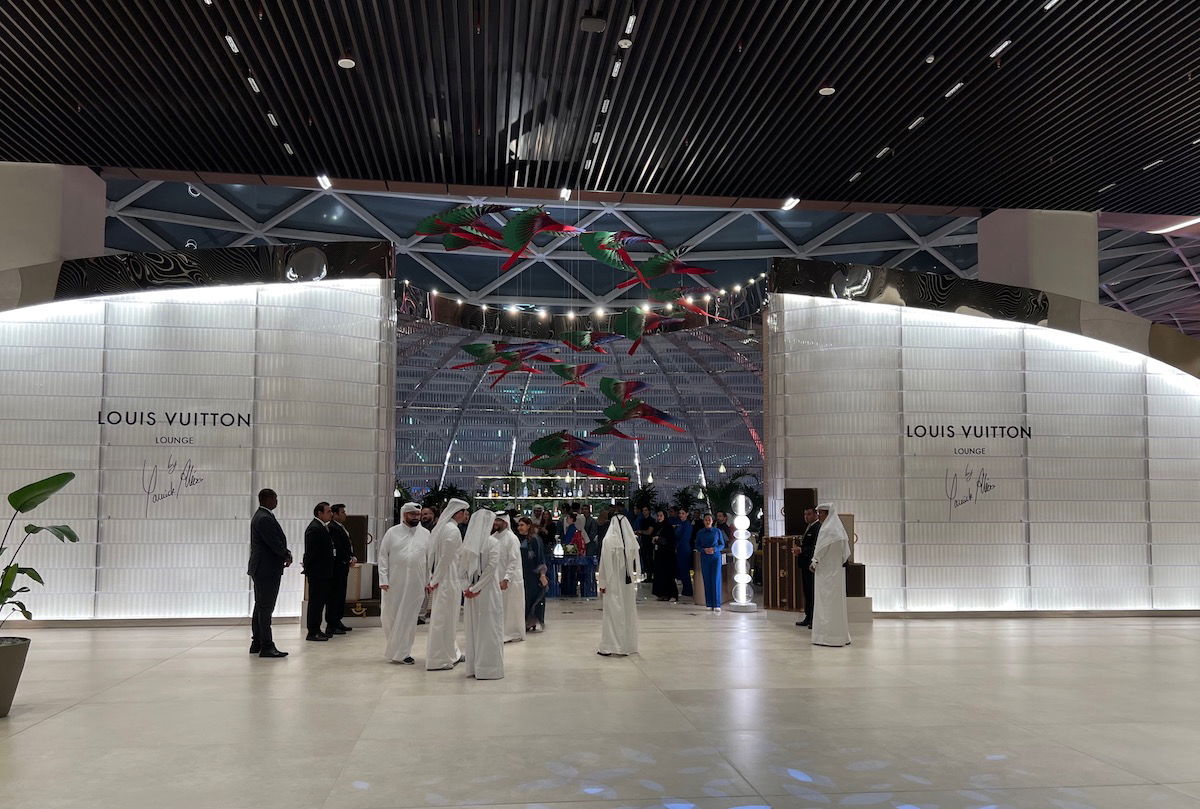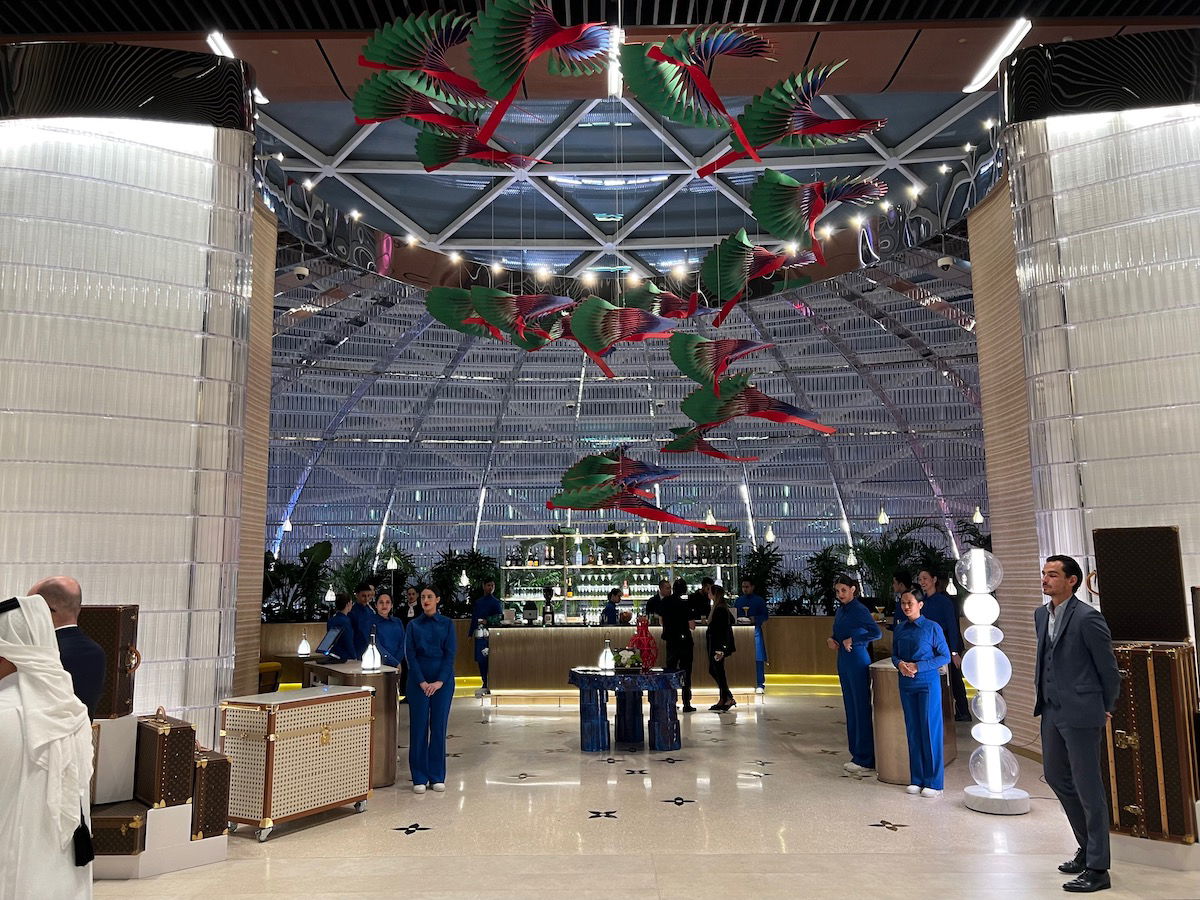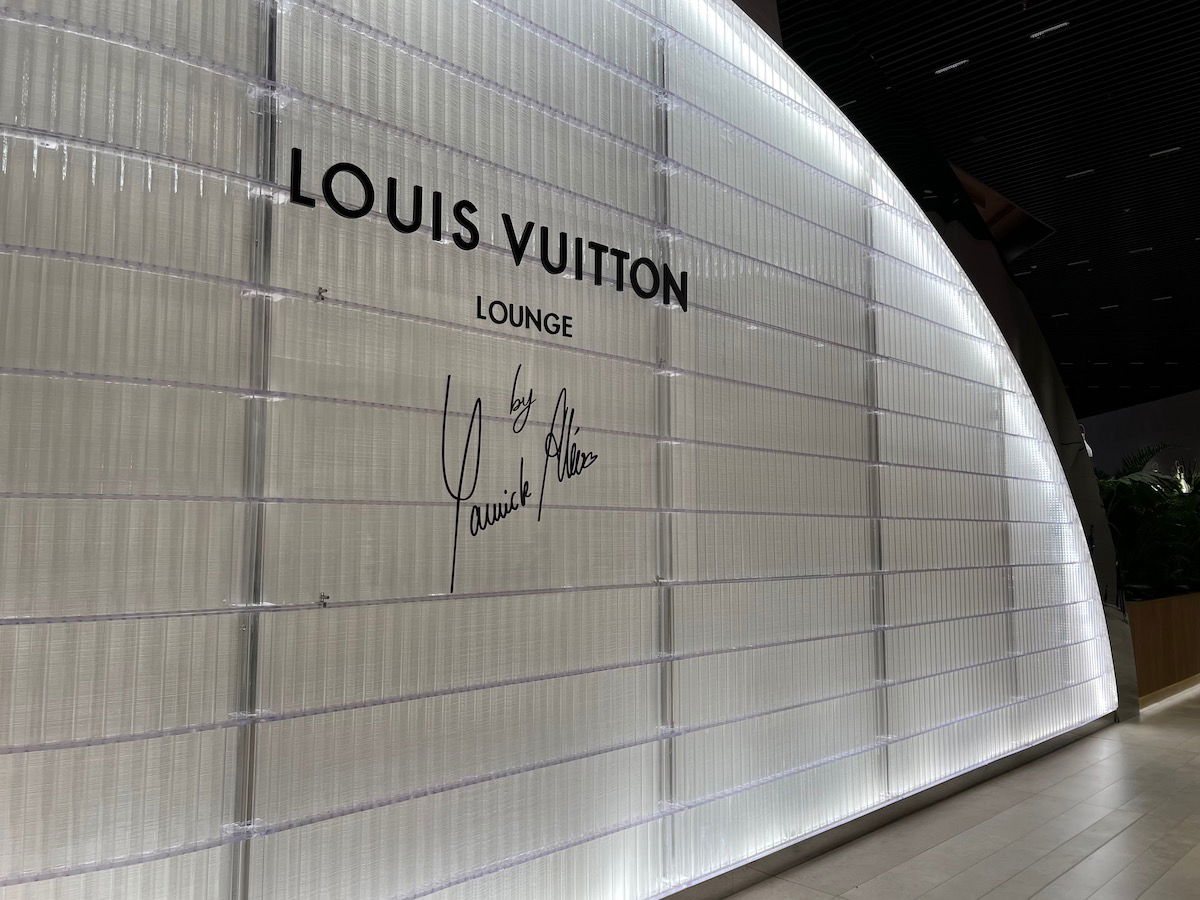 When you enter the Louis Vuitton Lounge, there's a bar right there, and then seating both to the left and to the right.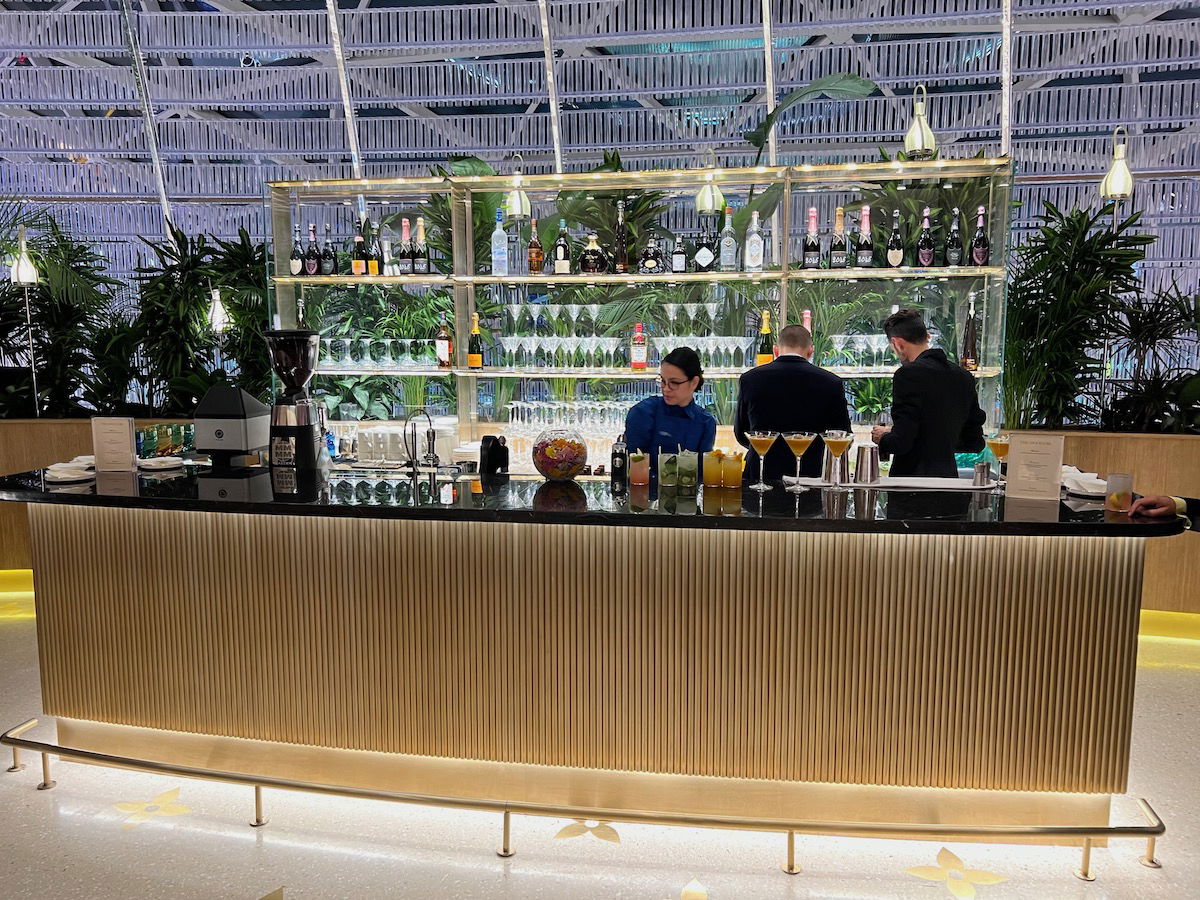 If you turn right, you'll see roughly half the lounge, consisting of some dining tables, as well as some cafe style tables. As you can see, the branding in the lounge is very strong, down to the Louis Vuitton floral motif all over the floor.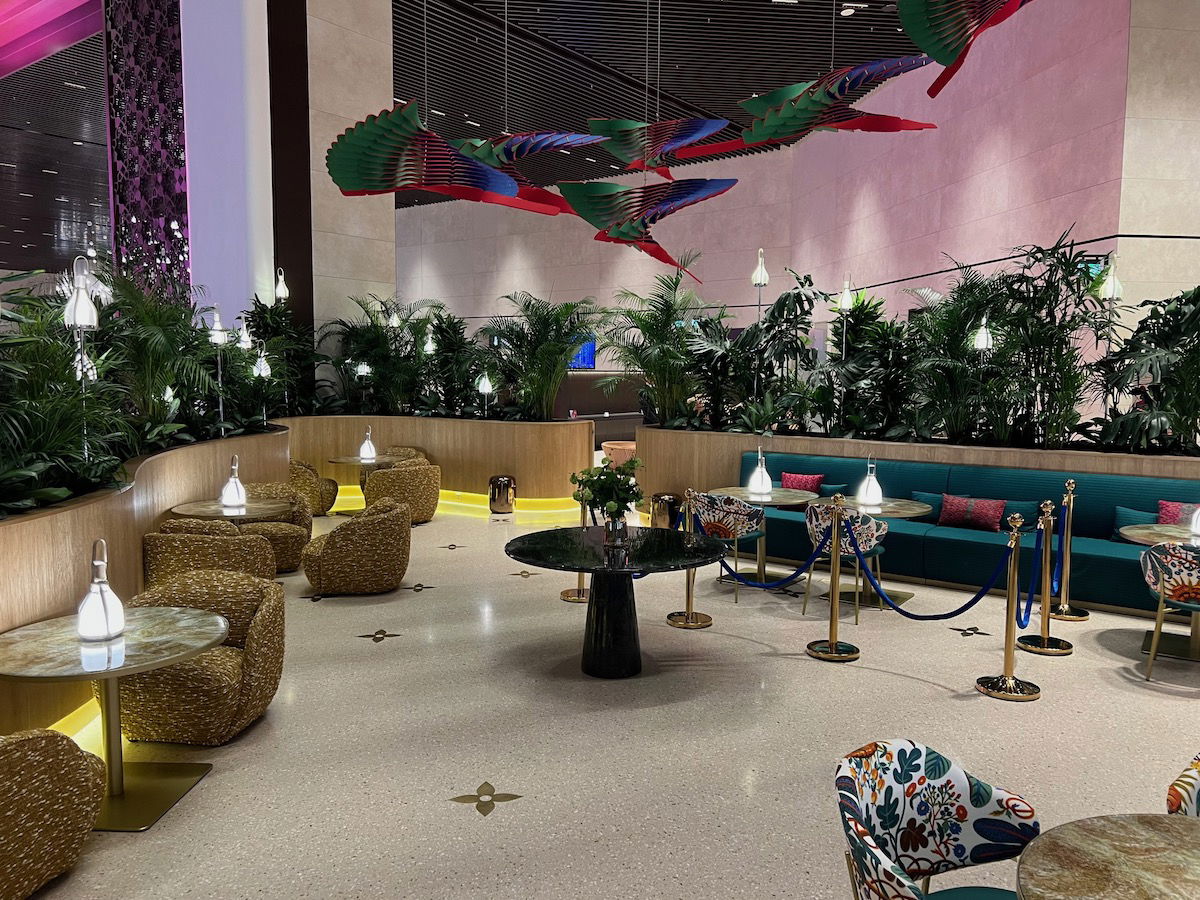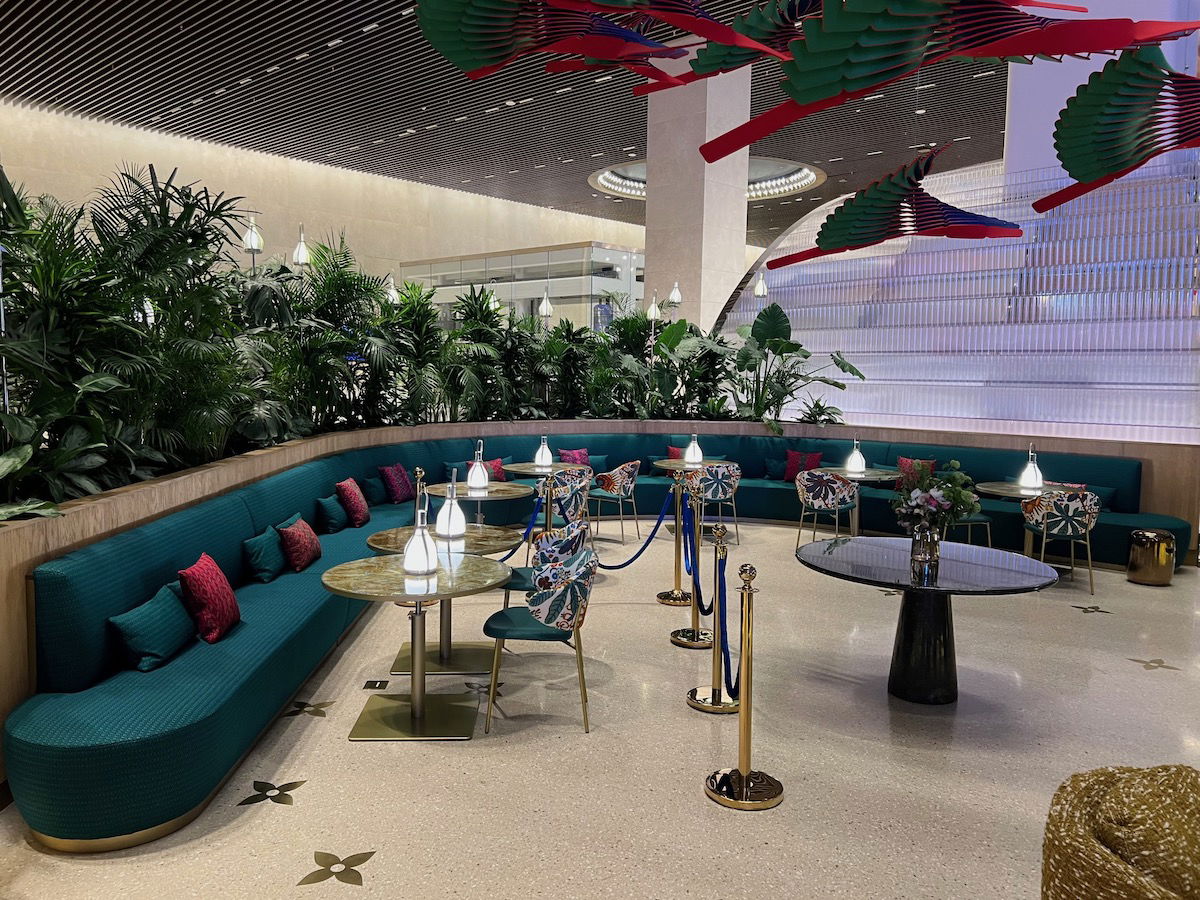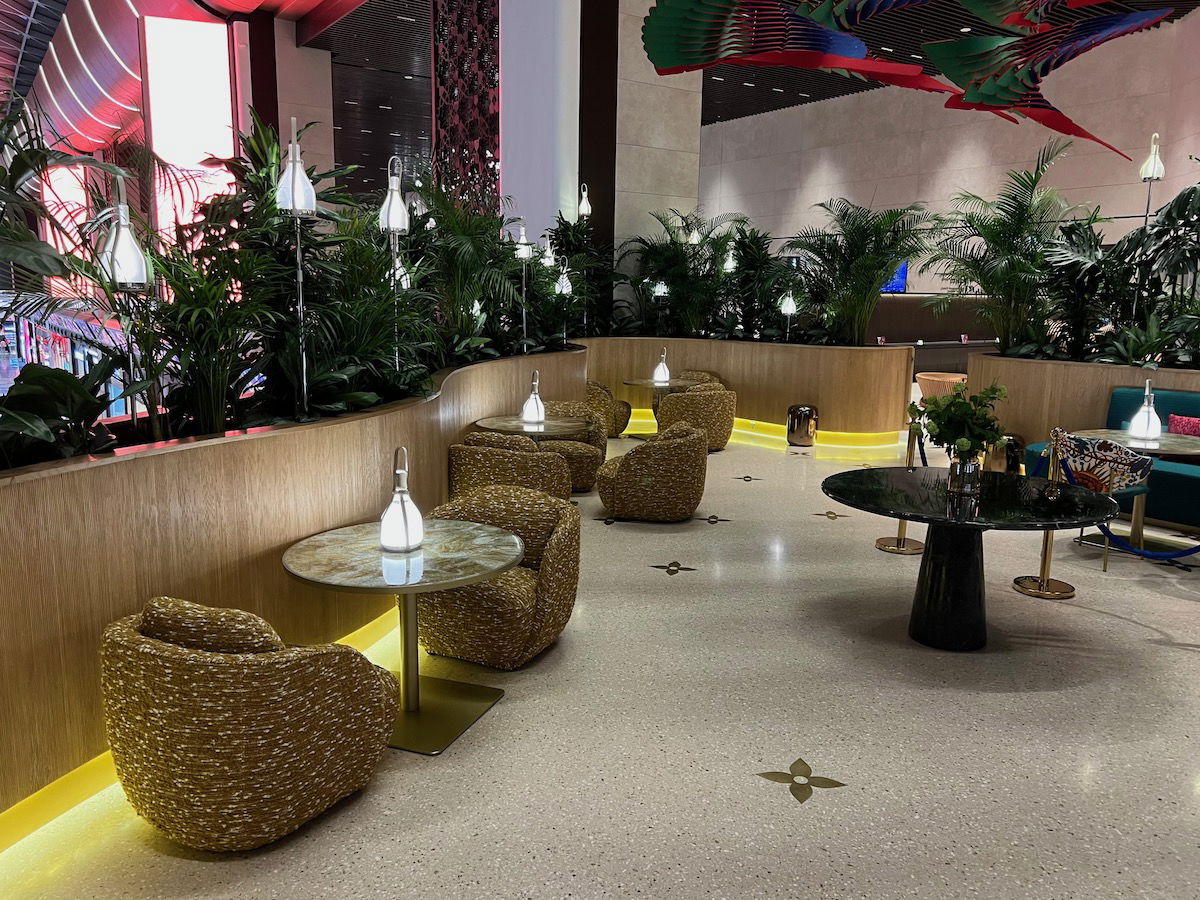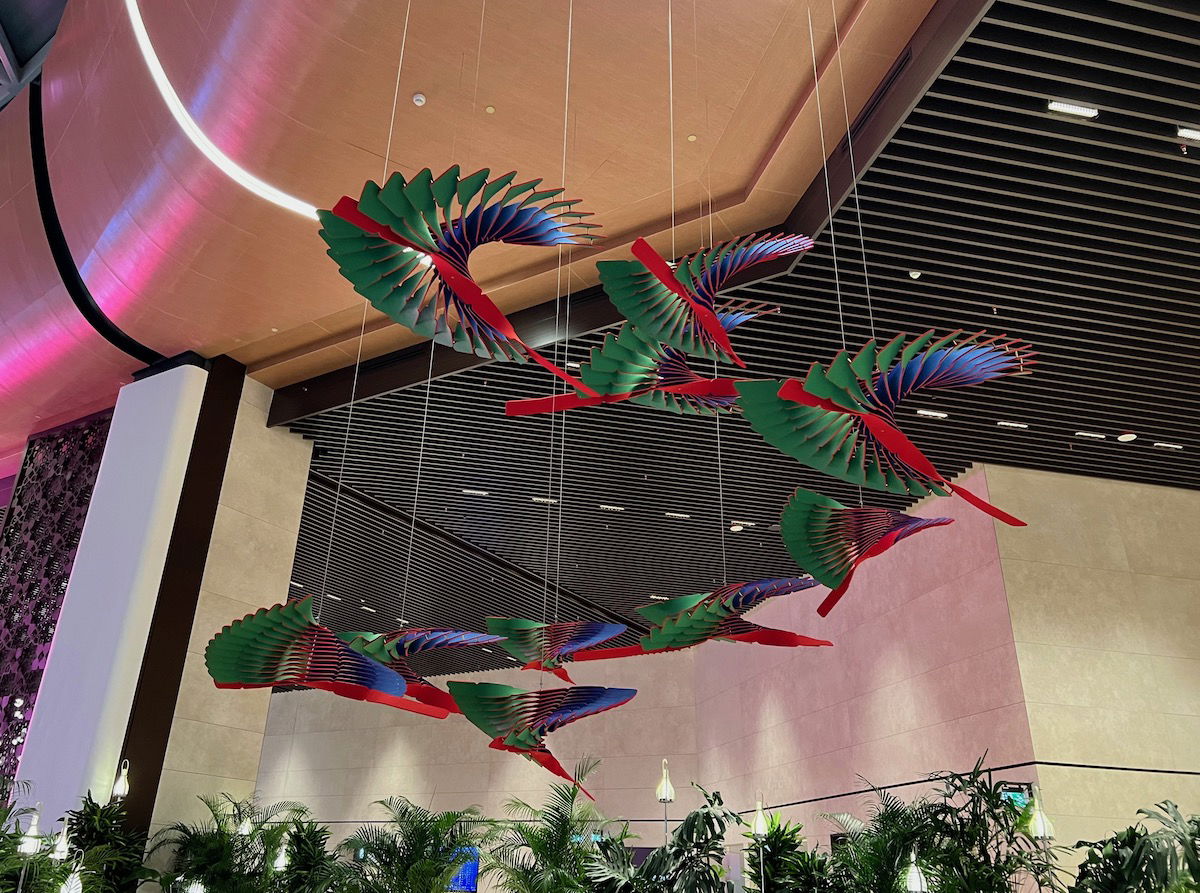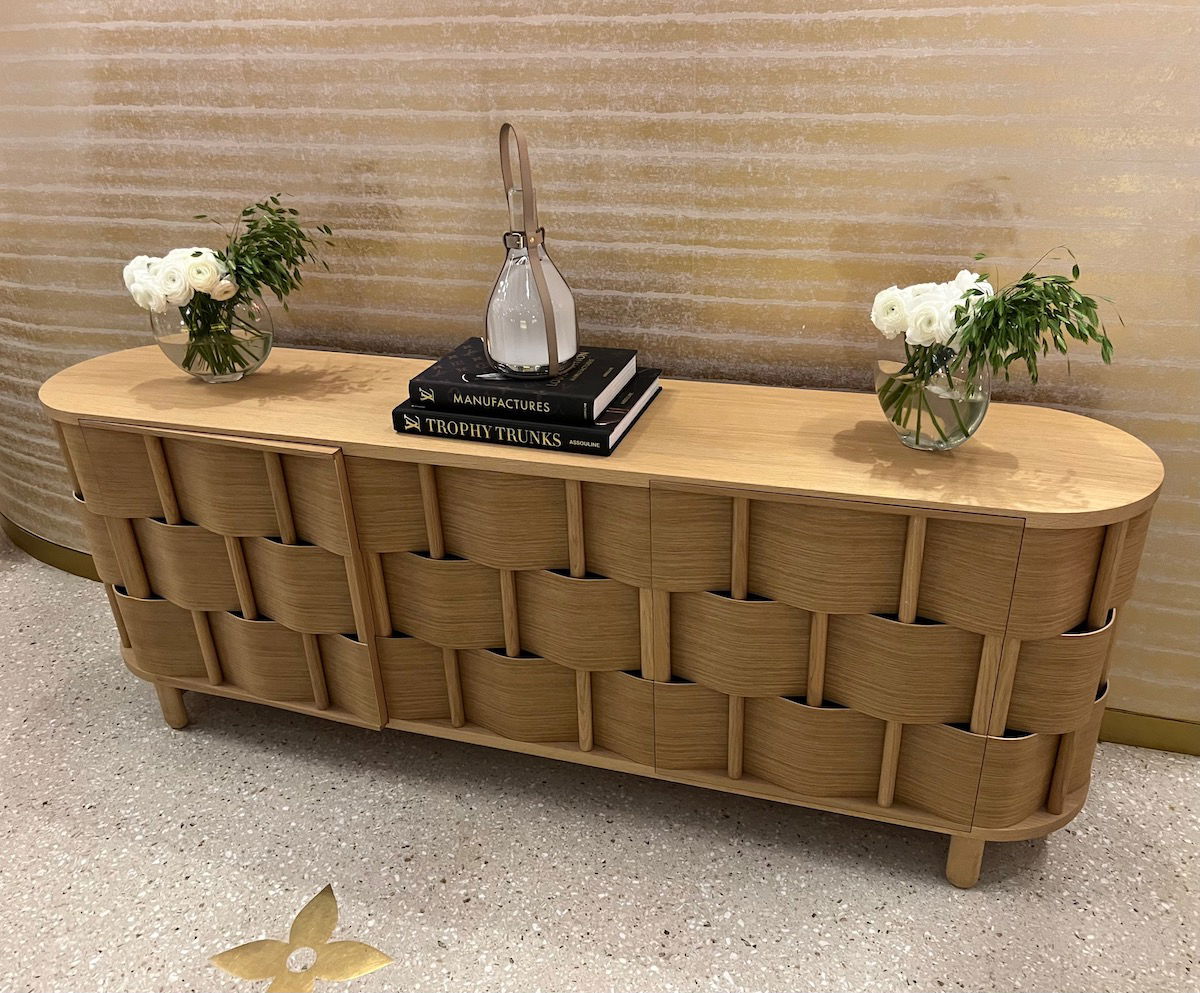 In the other direction, you'll find a largely similar setup, except there are more cafe style seats rather than proper dining tables. There's also a couch area here.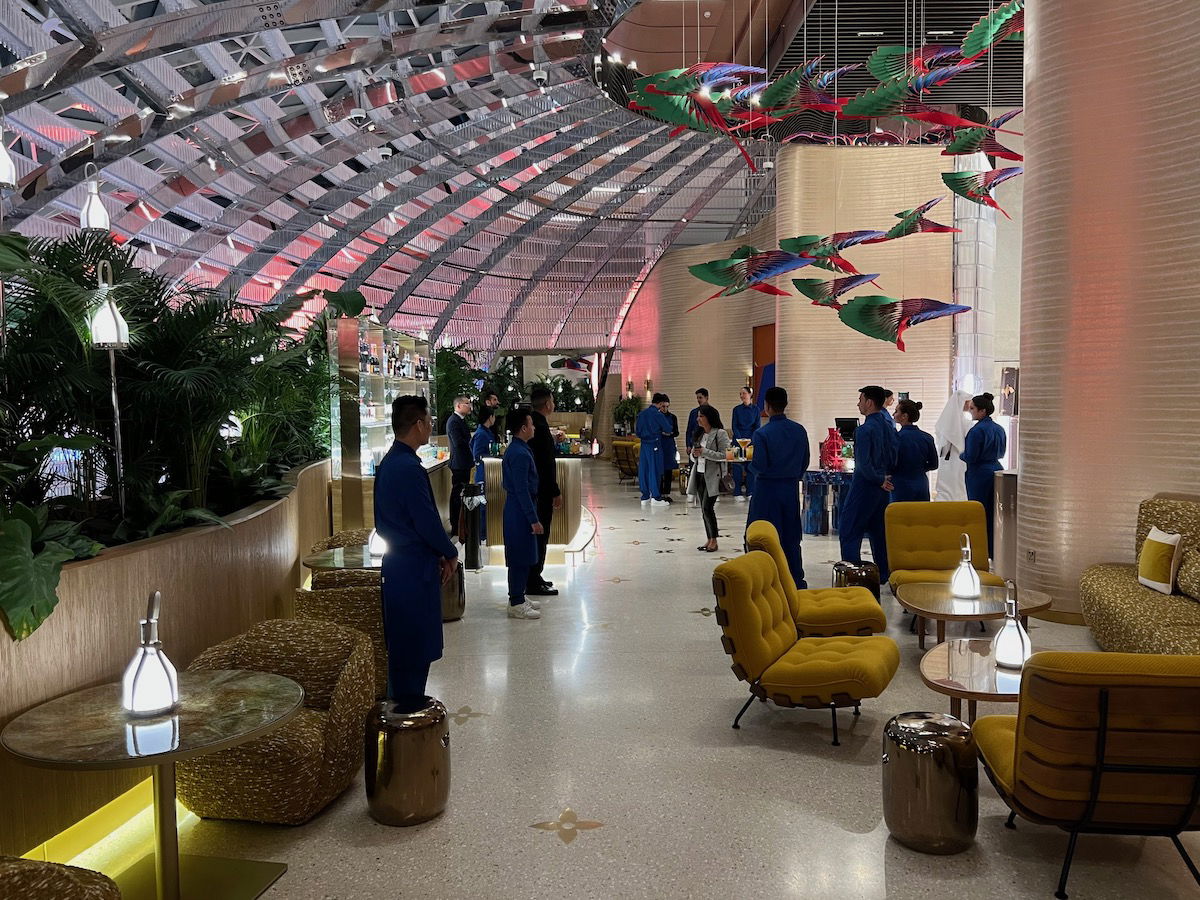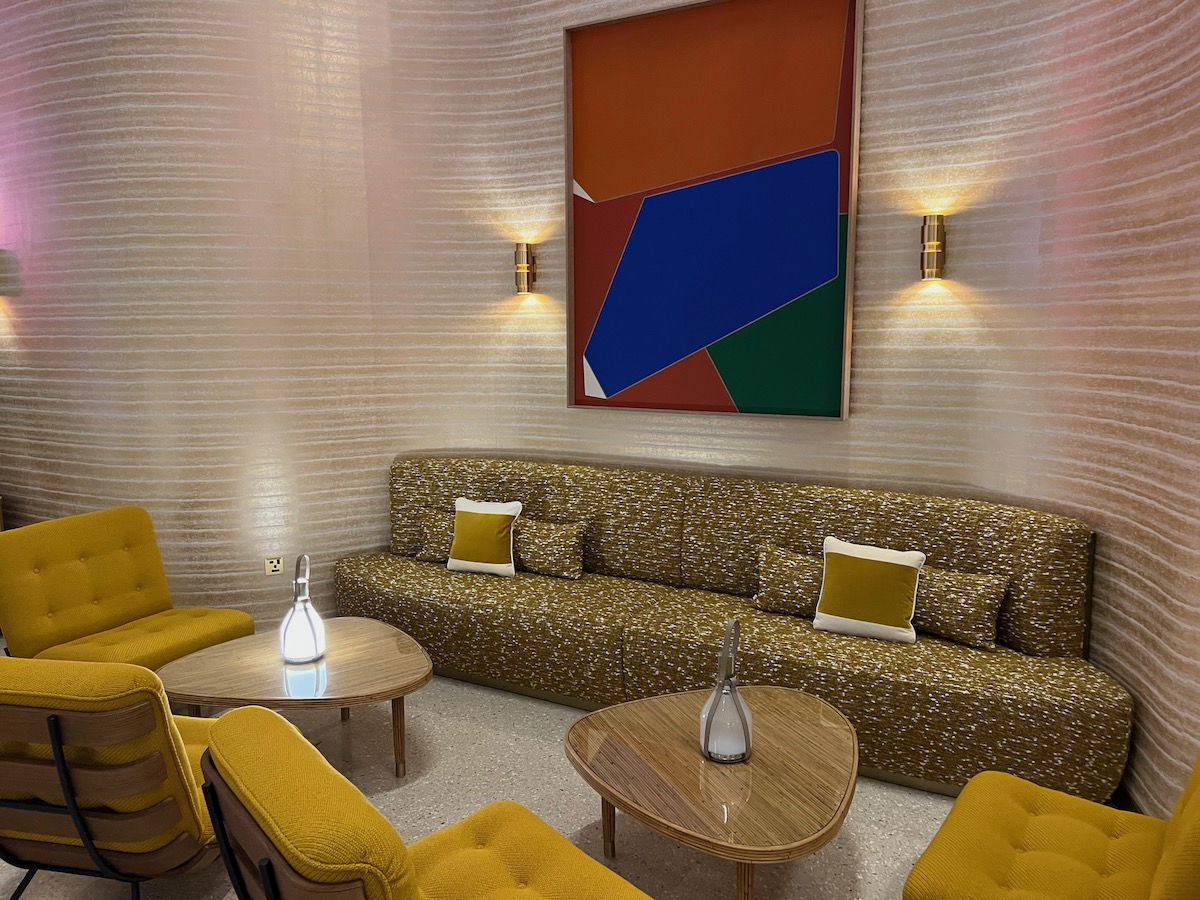 This area also has an open kitchen. I don't think there are any open flames here, but rather they can prepare everything from sushi to sandwiches.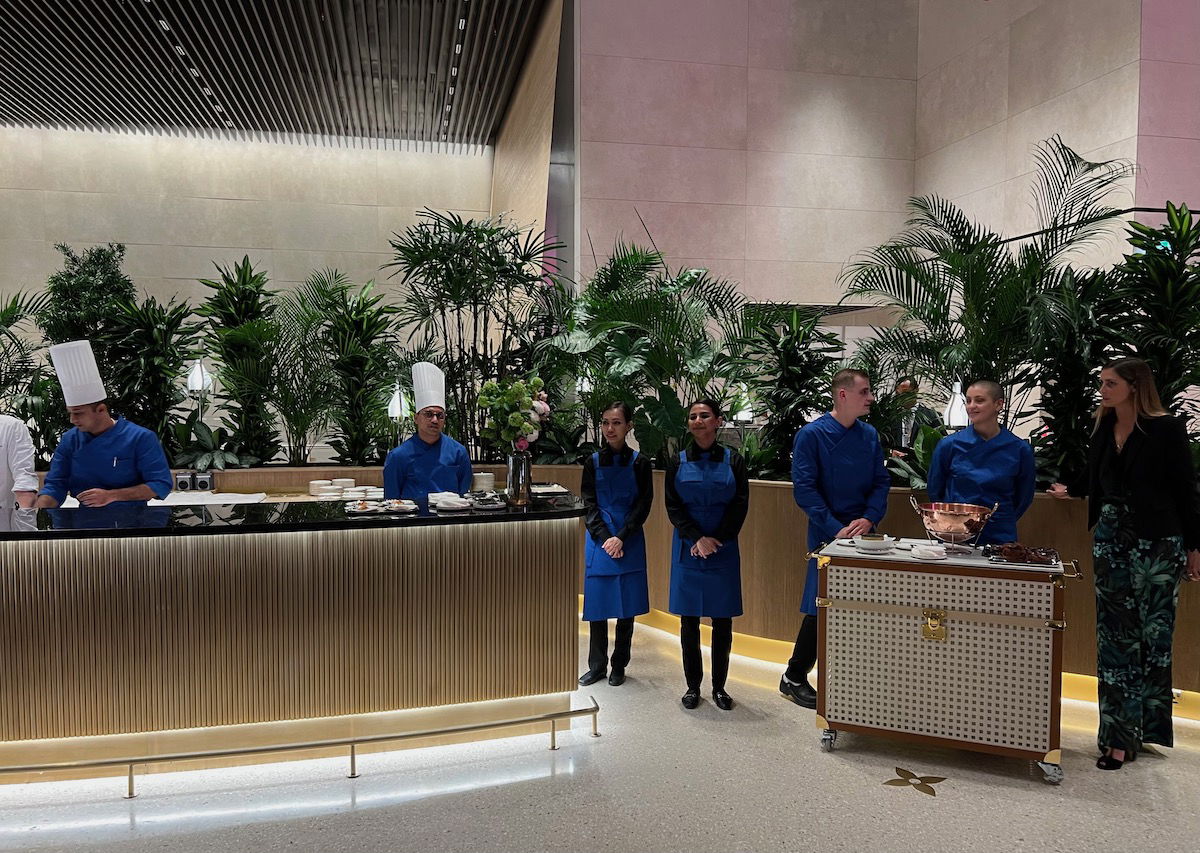 As you might expect, the format of the opening party was a bit different than what most guests will experience. Rather than ordering off a menu, smaller portions of some signature dishes were passed around. This included everything from sandwiches, to sushi, to a poke bowl of sorts with caviar, to sashimi.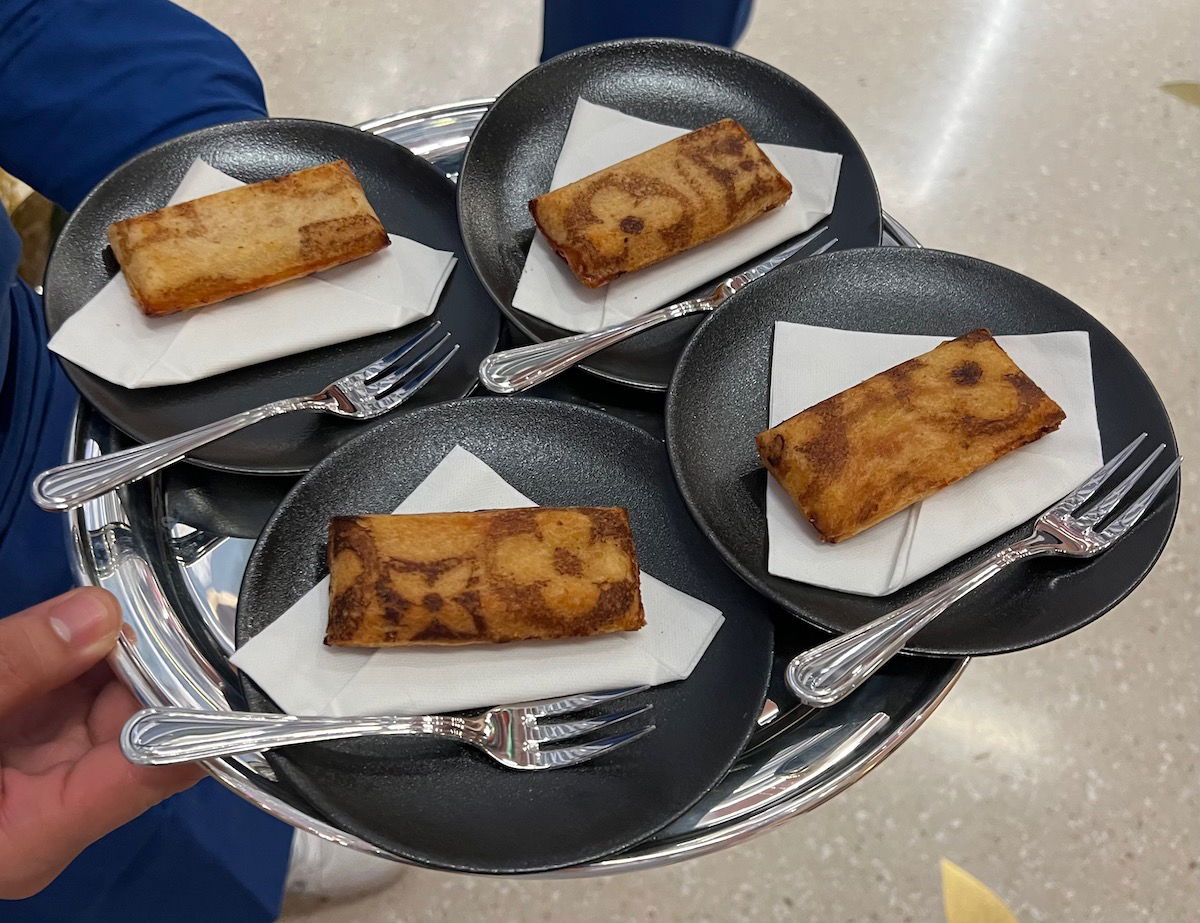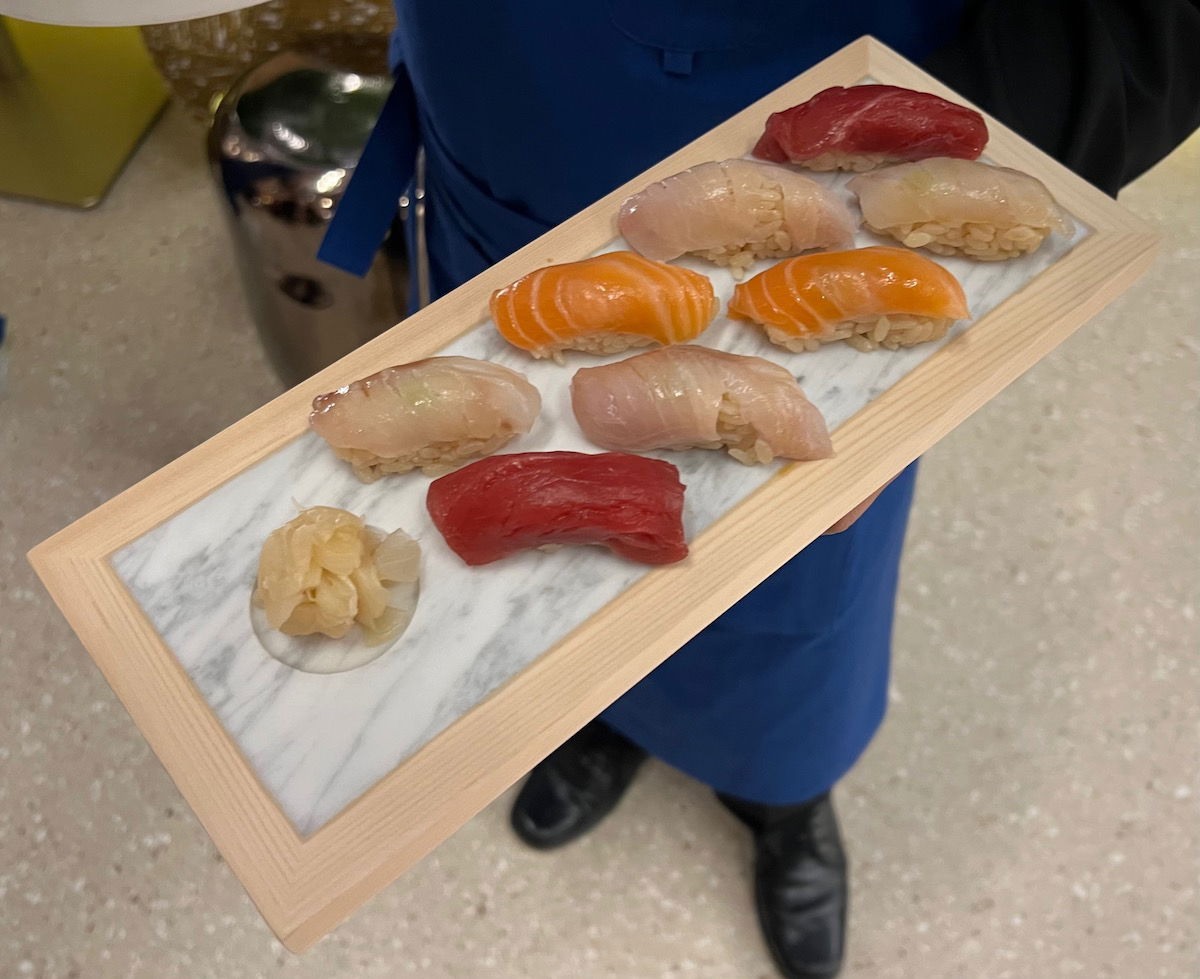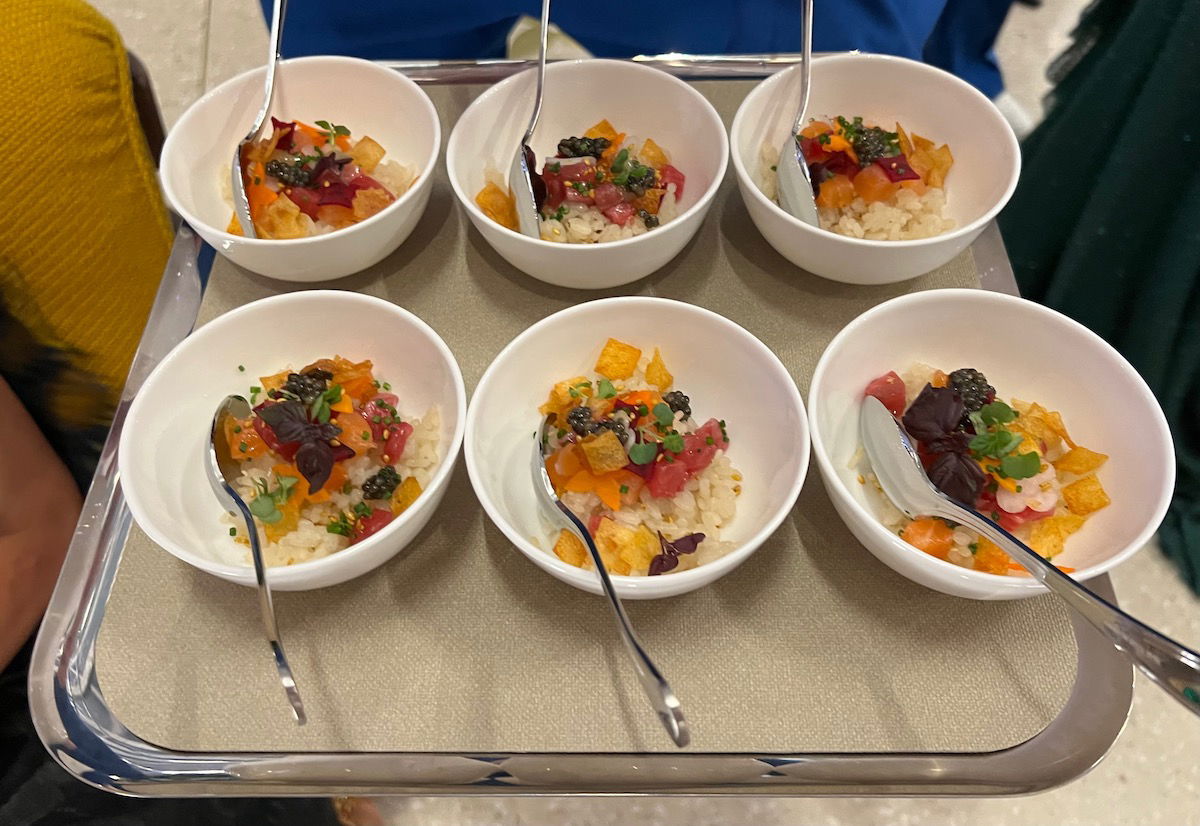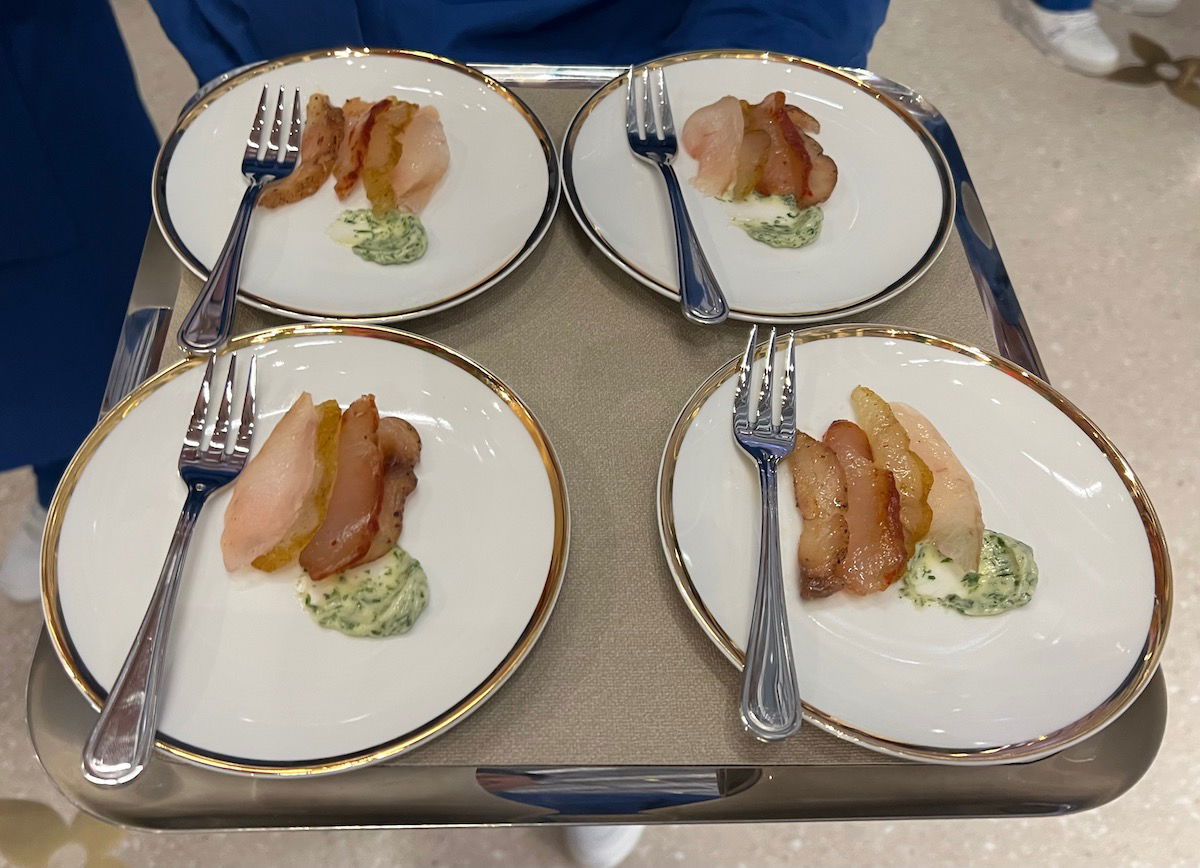 Everything tasted great, and as you can see, there was a lot of Louis Vuitton branding, with the Louis Vuitton floral motif being visible everywhere from the "grill" marks on sandwiches, to the shape of shaved carrots.
There were also a few signature mocktails available at the event, though no cocktails (however, I believe the lounge is now serving alcohol, it just wasn't available during the launch event).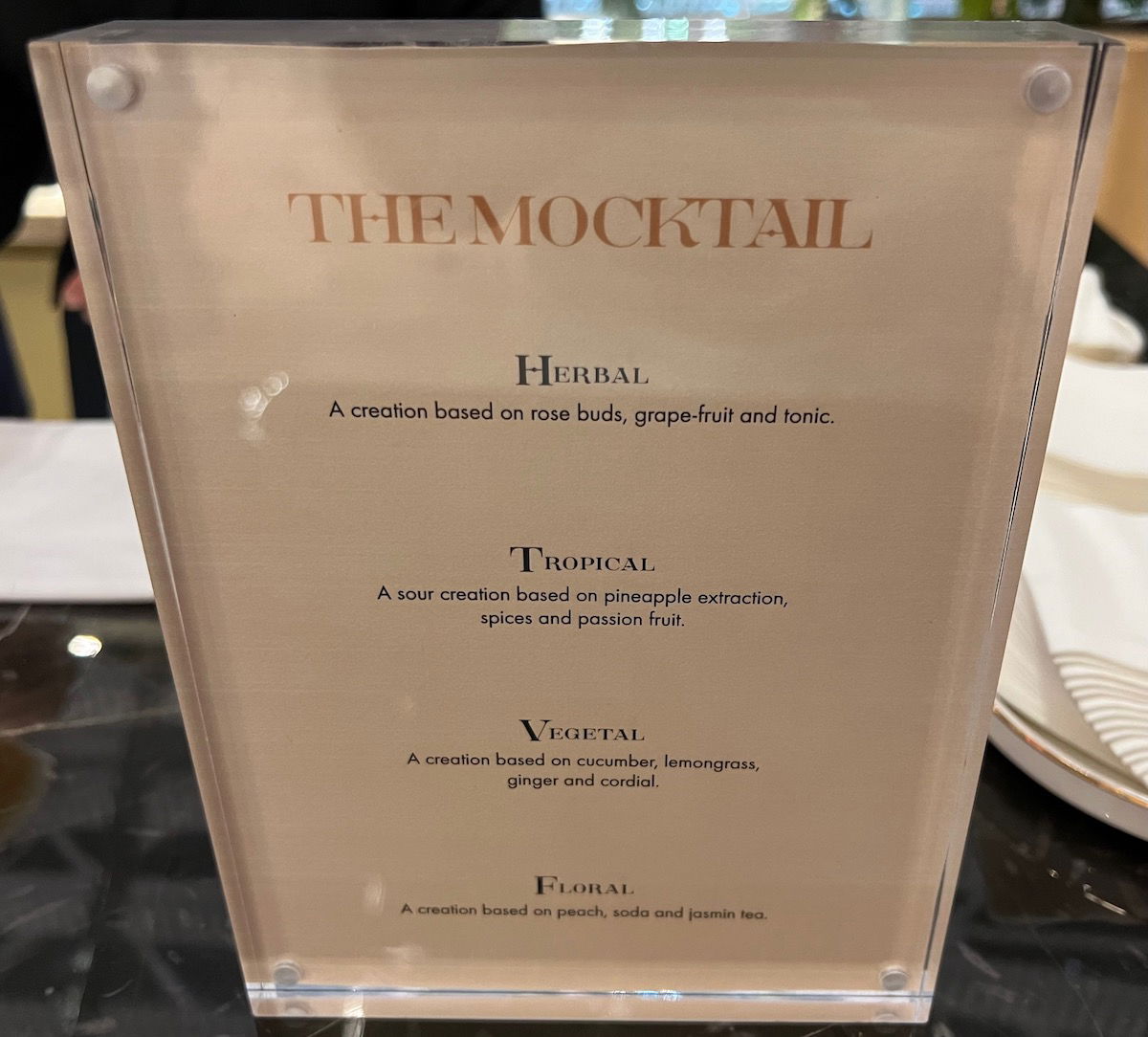 So while everything is for purchase, I don't think a visit here will break the bank for most. And you can also just come here for a latte, which also has some Louis Vuitton branding, naturally. 😉 Also, in case it's not clear, let me emphasize that the entry requirements here are the same as for the Al Mourjan Lounge, so if you're traveling in Qatar Airways first or business class on an eligible fare, you can visit this lounge.
Louis Vuitton Lounge Doha menu & pricing
Unfortunately menus weren't available at the launch event, though I appreciate all the OMAAT readers who have sent along menus from visits during the past few days. I must have had a dozen kind people send along menus, so thanks very much for that (and thanks to reader Billy for the below menu).
You can find the Louis Vuitton Lounge Doha menu below. For what it's worth, one USD is roughly four QAR.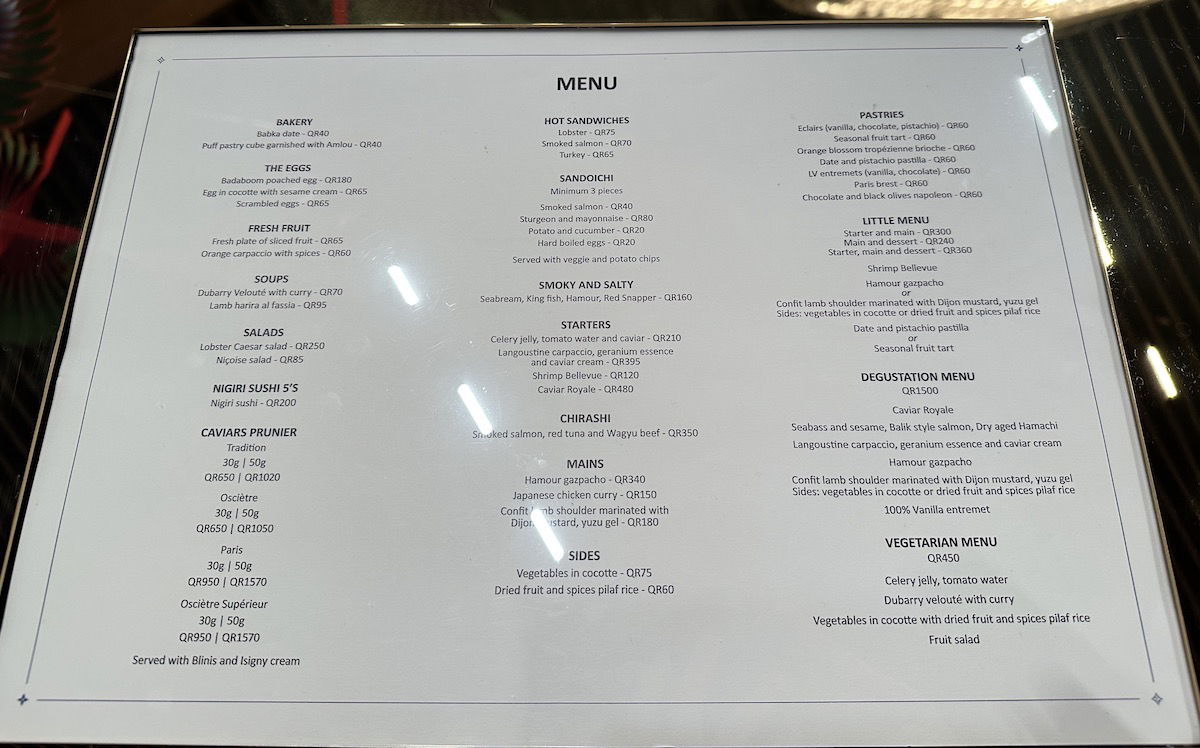 As you can see, you can absolutely visit the Louis Vuitton Lounge without breaking the bank. There are plenty of things in the $10-30 range. For those who are looking to go all out, there's caviar in the $180-430 range. Or if you're hungry, there's a six course degustation menu for ~$410.
I imagine the huge range in options (including some reasonably priced things) is intended to generate buzz and get people in the door.
Bottom line
The Louis Vuitton Lounge is now open in Qatar Airways' Al Mourjan Lounge North. This "lounge" has seating for a few dozen people, including at dining tables and coffee tables. You can expect the menu to have everything from coffee, to cocktails, to sandwiches, to salads, to sushi.
This is a fun concept. Like I said, it definitely won't be for everyone, but I really view this as something that adds to the experience without taking something away. And even from a business perspective, this makes a lot of sense. The carrier's premium passengers now have access to an amenity from one of the airport's most premium brands.
What do you make of the Louis Vuitton Lounge inside the Qatar Airways Lounge? Could you see yourself visiting?