After flying ANA's incredible new business class from New York to Tokyo, it was time to fly Lufthansa's business class back to London, via Munich. What is business class like on Lufthansa's self proclaimed flagship aircraft, the A350-900? Well…
Booking Lufthansa Business Class With Miles
Lufthansa had wide open business class award availability on both of their flights from Tokyo Haneda that day, to Frankfurt and Munich. I had reviewed Lufthansa's business class on the A330-300 and 747-8, so I decided to book the Munich flight, since that was operated by an A350-900.
I ticketed the following for 75,000 Avianca LifeMiles plus $84 in taxes and fees:
01/09 LH715 Tokyo to Munich departing 12:45PM arriving 4:45PM [Business]
01/09 LH2480 Munich to London departing 6:30PM arriving 7:35PM [Business]
In addition to LifeMiles frequently selling miles at a discount, the program is also transfer partners with Amex Membership Rewards, Citi ThankYou, and Capital One.
While there are lots of Star Alliance points currencies I could have used, LifeMiles was the best value:
Air Canada Aeroplan would have had hefty carrier imposed surcharges on this ticket
United MileagePlus would have charged 78,500 miles
Lufthansa Business Class A350-900 Review
My flight from Haneda to Munich was departing from gate 106B, at the very end of the terminal.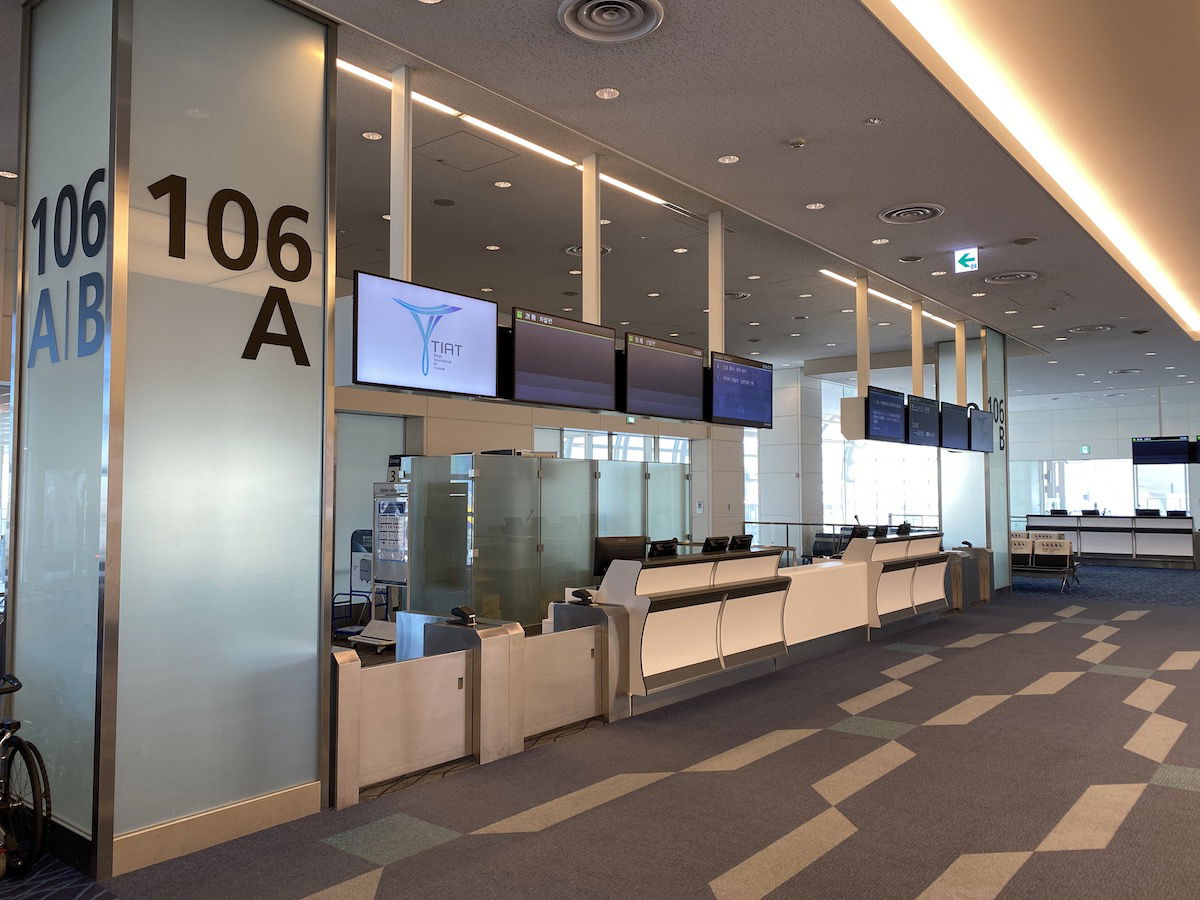 Lufthansa departure gate Haneda Airport
Boarding was scheduled to start at 12:15PM, though I headed to the gate area way early. That's because the lounge was packed, while there was plenty of comfortable seating in this part of the terminal, so I found it to be more comfortable anyway.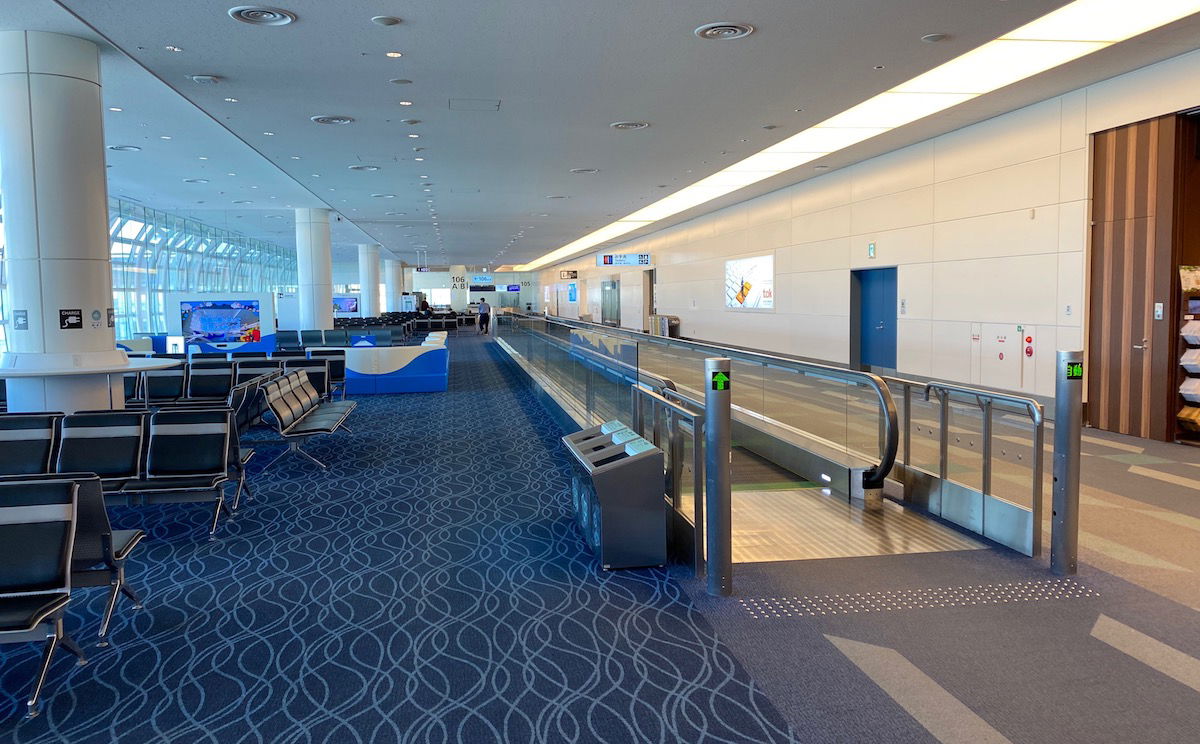 Haneda Airport International Terminal
Haneda Airport has so many cool planes, though due to the design of the windows it's hard to get good pictures of them, which sure is a bummer as an avgeek.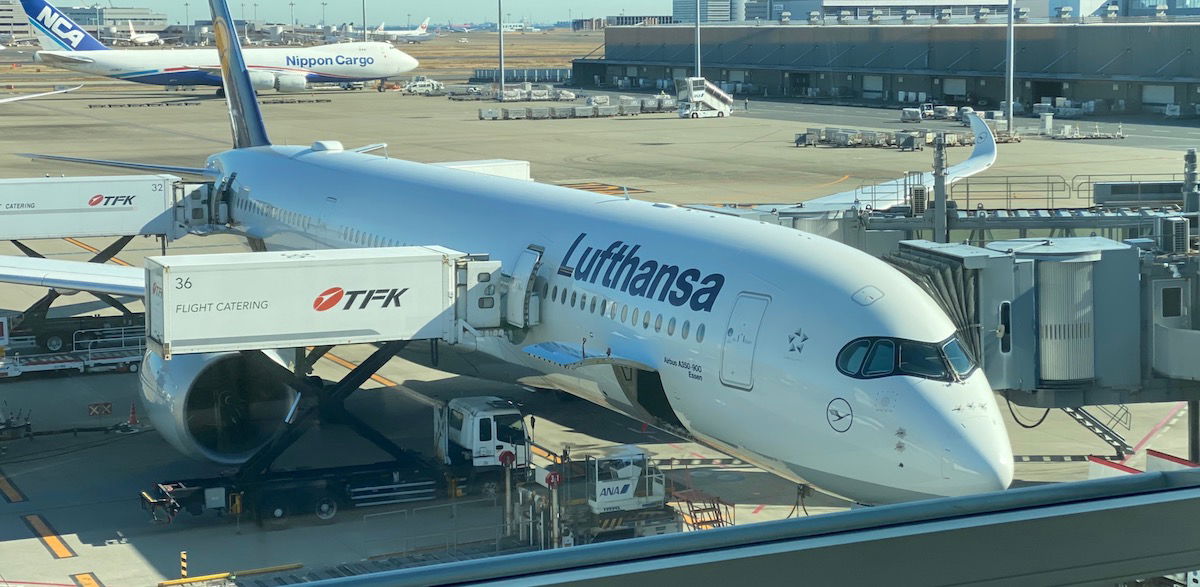 Lufthansa A350-900 Haneda Airport
I had noticed before departure that this flight was quite empty in business class. At the 24 hour mark there were fewer than a dozen people booked in the 48 seat business class cabin.
However, economy was way oversold, so they ended up having to upgrade people to premium economy, and then also to business class. So between non-revs and last minute upgrades, business class ended up being over half full.
I had intentionally selected a seat in the last row of business class, which is in a mini-cabin. There was only one other person booked in the mini cabin. Unfortunately at the gate they paged me and the other person in the mini cabin, and booked us into the main cabin, due to the light business class load.
This is something airlines sometimes do, which is kind of annoying, on one hand. It's not even that the crew wanted to use the rear business class cabin, but presumably they asked for it to be blocked for the purpose of simplifying service.
So I got moved to seat 4A, and at least the gate agent told me that I still had an empty seat next to me (which makes a big difference in Lufthansa business class).
Lufthansa 715
Tokyo (HND) – Munich (MUC)
Thursday, January 9
Depart: 12:45PM
Arrive: 4:45PM
Duration: 12hr
Aircraft: Airbus A350-900
Seat: 4A (Business Class)
As I walked down the jet bridge, I couldn't wait to see what Lufthansa had waiting for me onboard. After all, ANA has the world's best new business class, and they're a Skytrax 5-Star airline. Lufthansa is also a Skytrax 5-star airline… surely they wouldn't disappoint! 😉
Anyway, I boarded through the forward door, where I was greeted by the purser and pointed towards my seat. Lufthansa has a total of 48 business class seats on the A350-900, spread across eight rows in a 2-2-2 configuration.
The forward cabin has six of those rows, and then there's a rear cabin with two rows.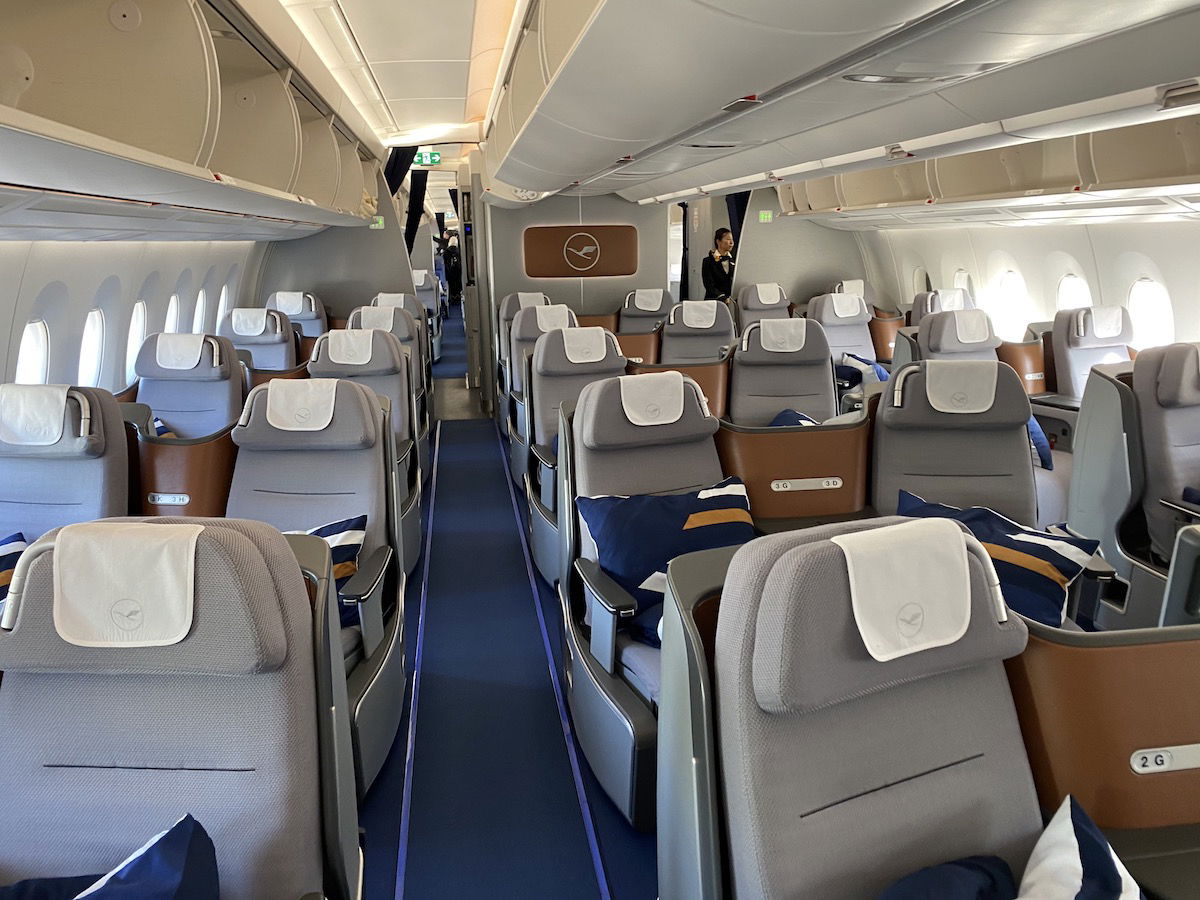 Lufthansa A350-900 business class cabin
Yeah, folks, you're not mistaken. This is what the business class cabin looks like on the flagship aircraft that the airline continues to take delivery of in 2020. On the plus side, I don't mind the cabin finishes, which are sterile but at least have a burst of color.
The exact type of seating varies based on whether you're seated in the center or by the windows.
The center seats in this configuration face one another slightly. That also means the footwells are right next to one another, so if you want to play footsie with your seat opponent, definitely select one of the center seats.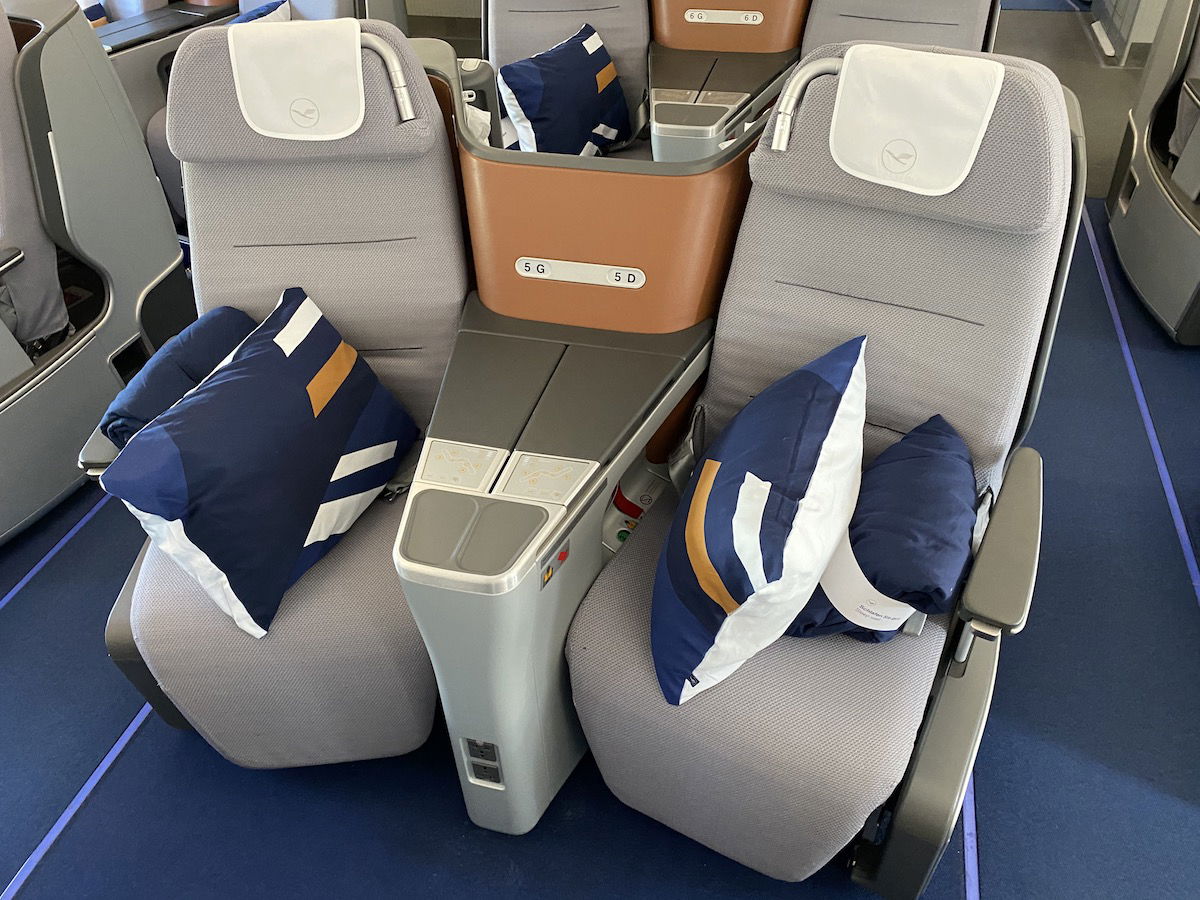 Lufthansa A350-900 business class seats
Meanwhile the seats along the windows are slightly angled towards the fuselage.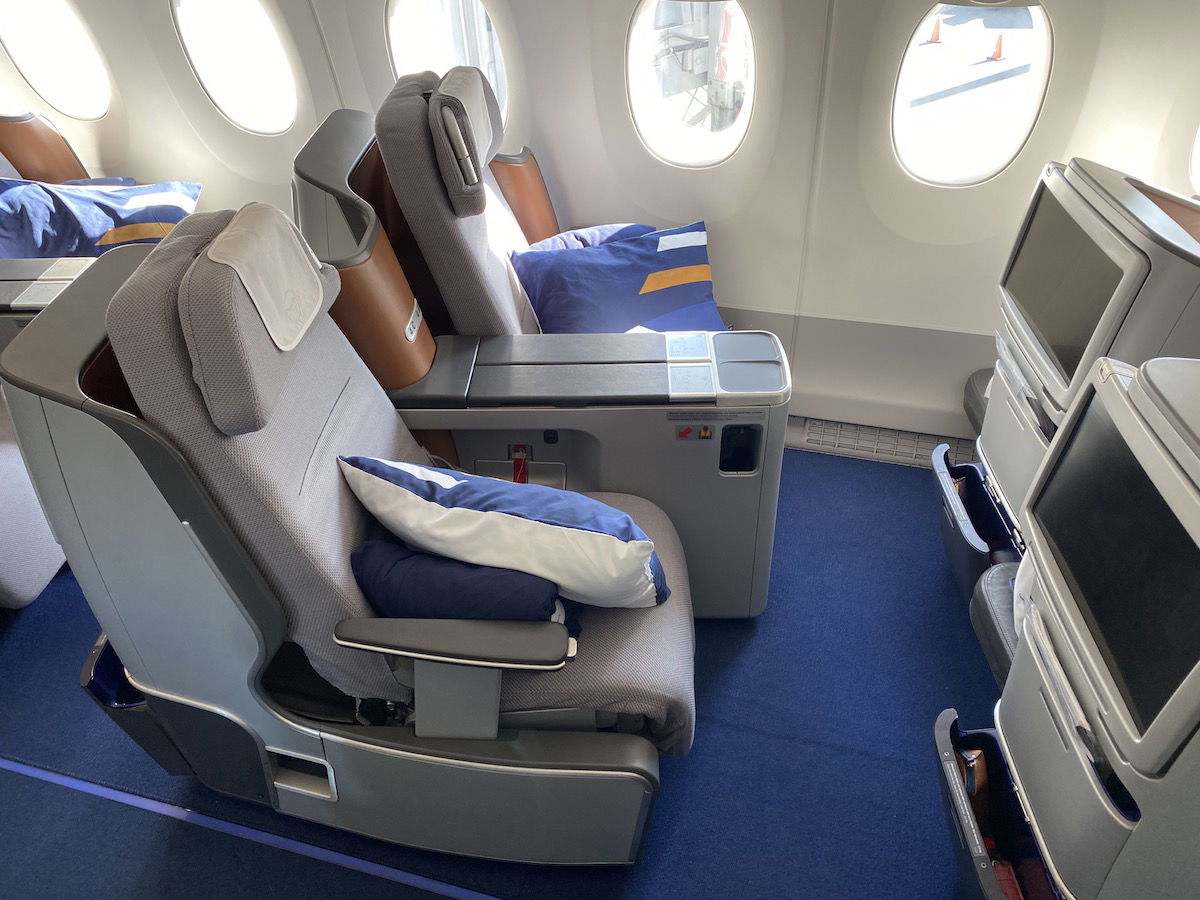 Lufthansa business class seats A350-900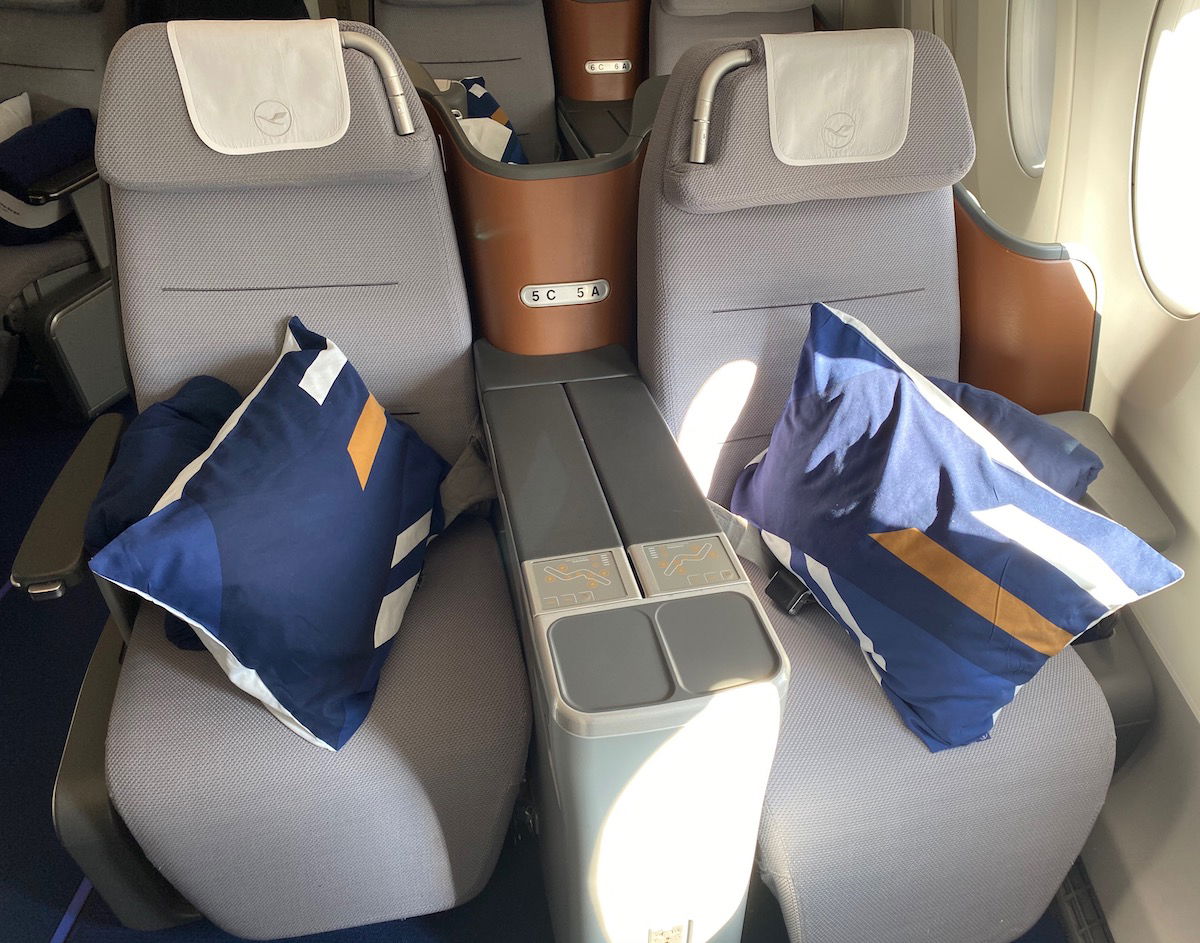 Lufthansa A350 business class seats
As you can see, the footwells are to the sides of the seats in front, and the personal televisions are also there, and can be slid in and out a bit.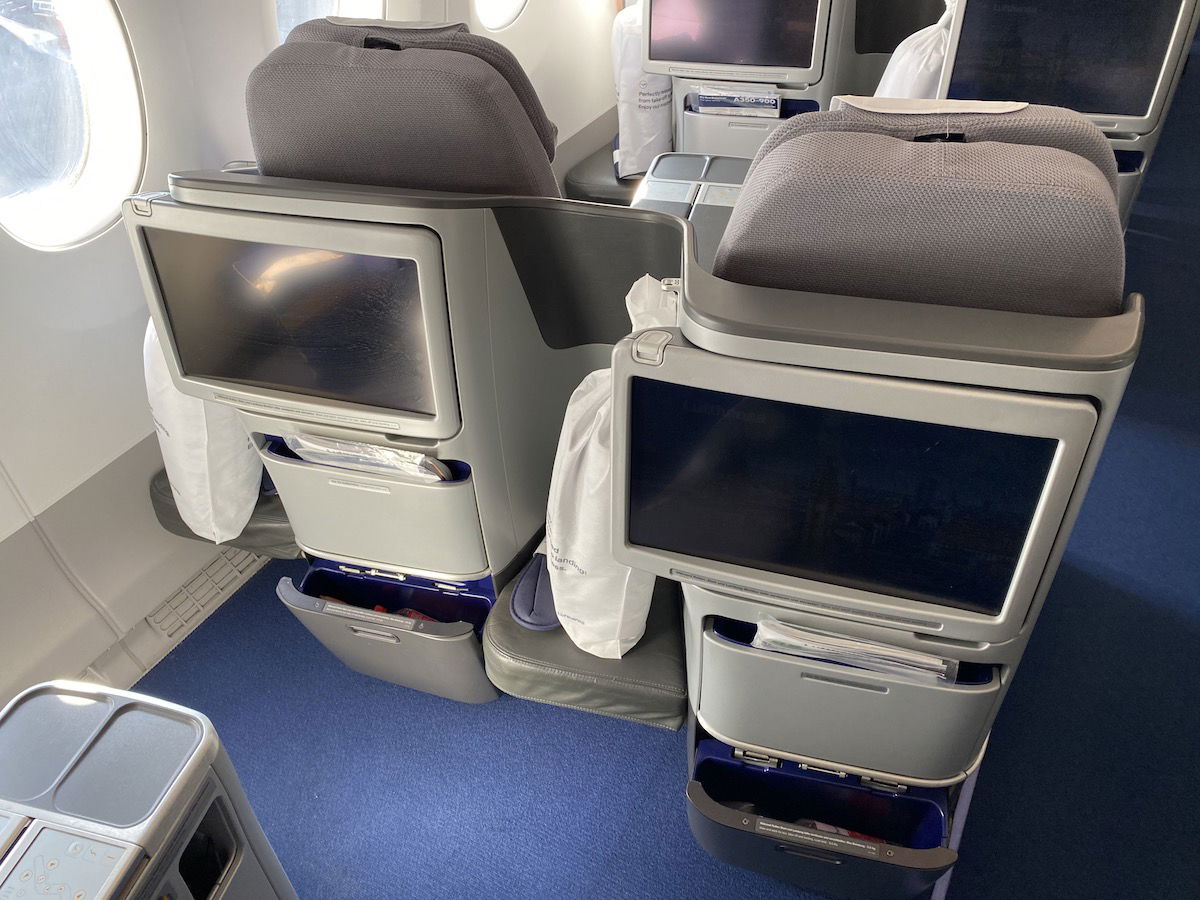 Lufthansa business class seats A350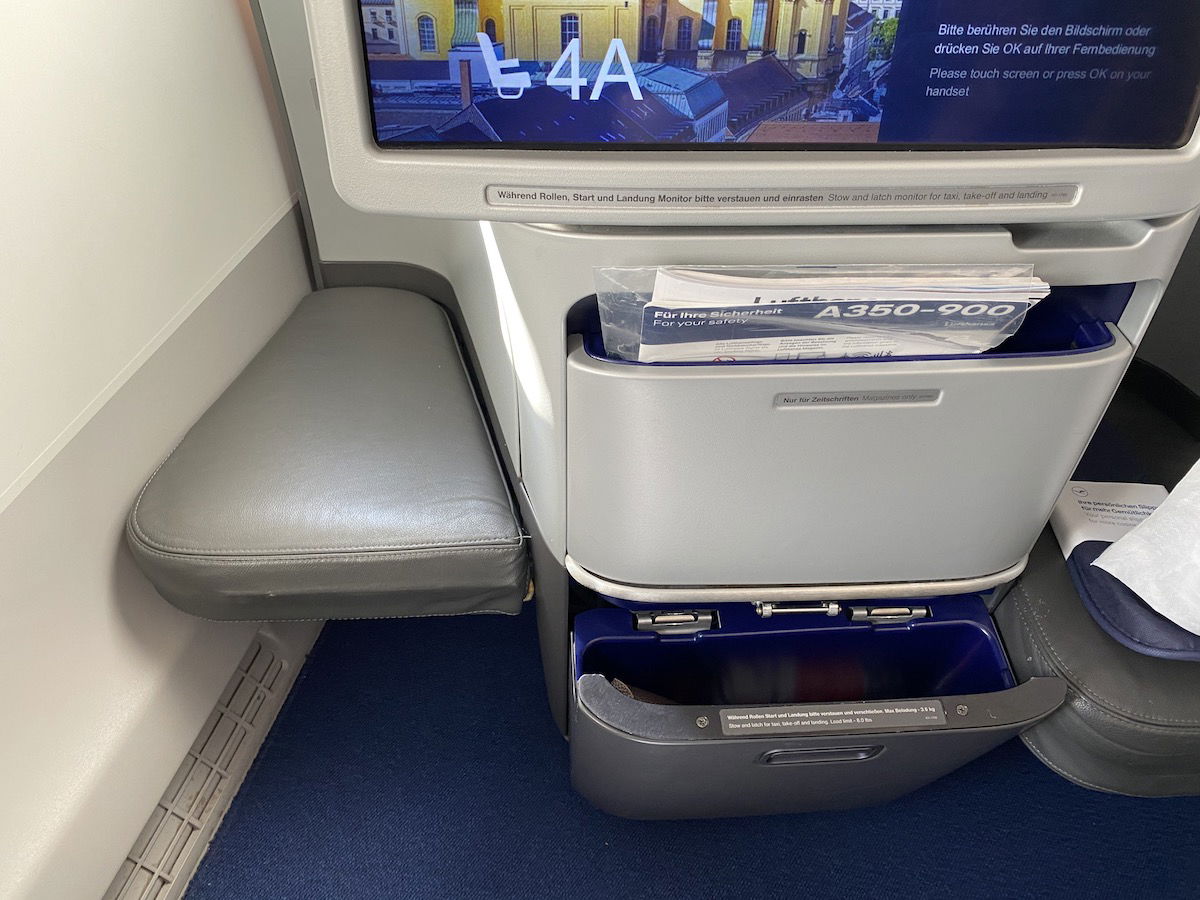 Lufthansa business class footwell
There are very thin storage compartments along this part of the seat, though mine wouldn't close properly.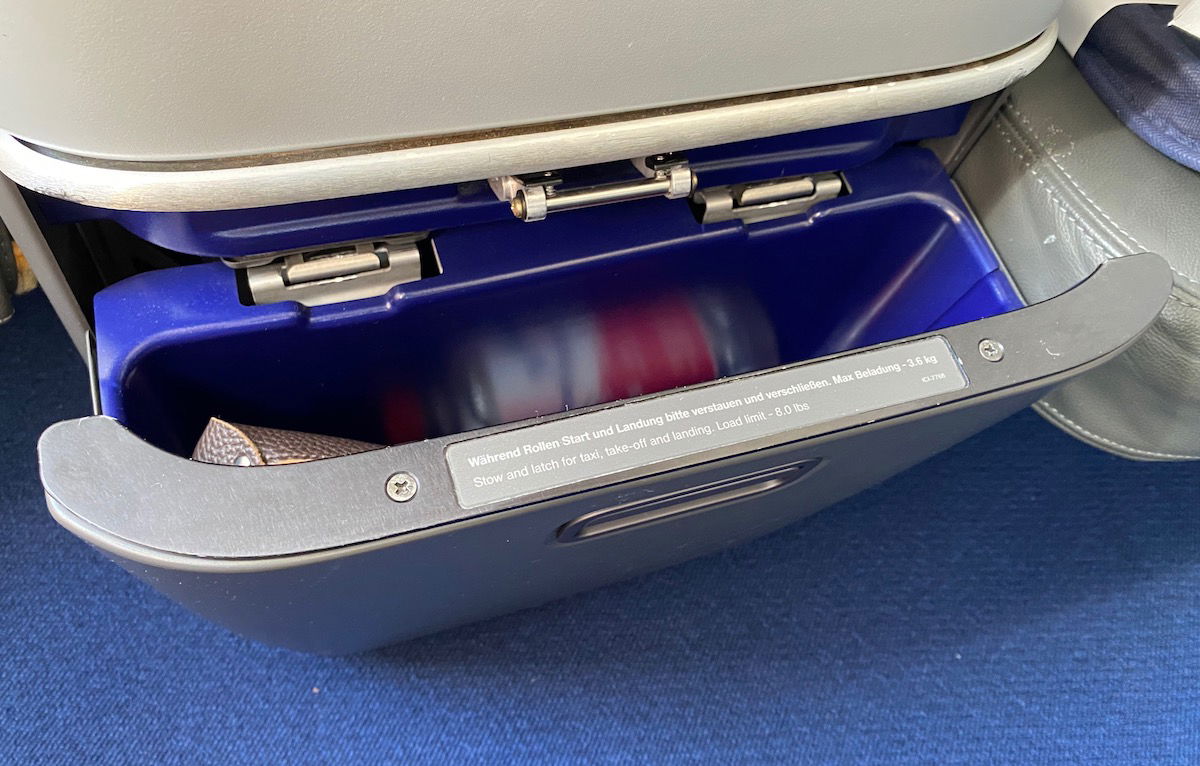 Lufthansa business class seat storage
The seat controls are located on the center armrests.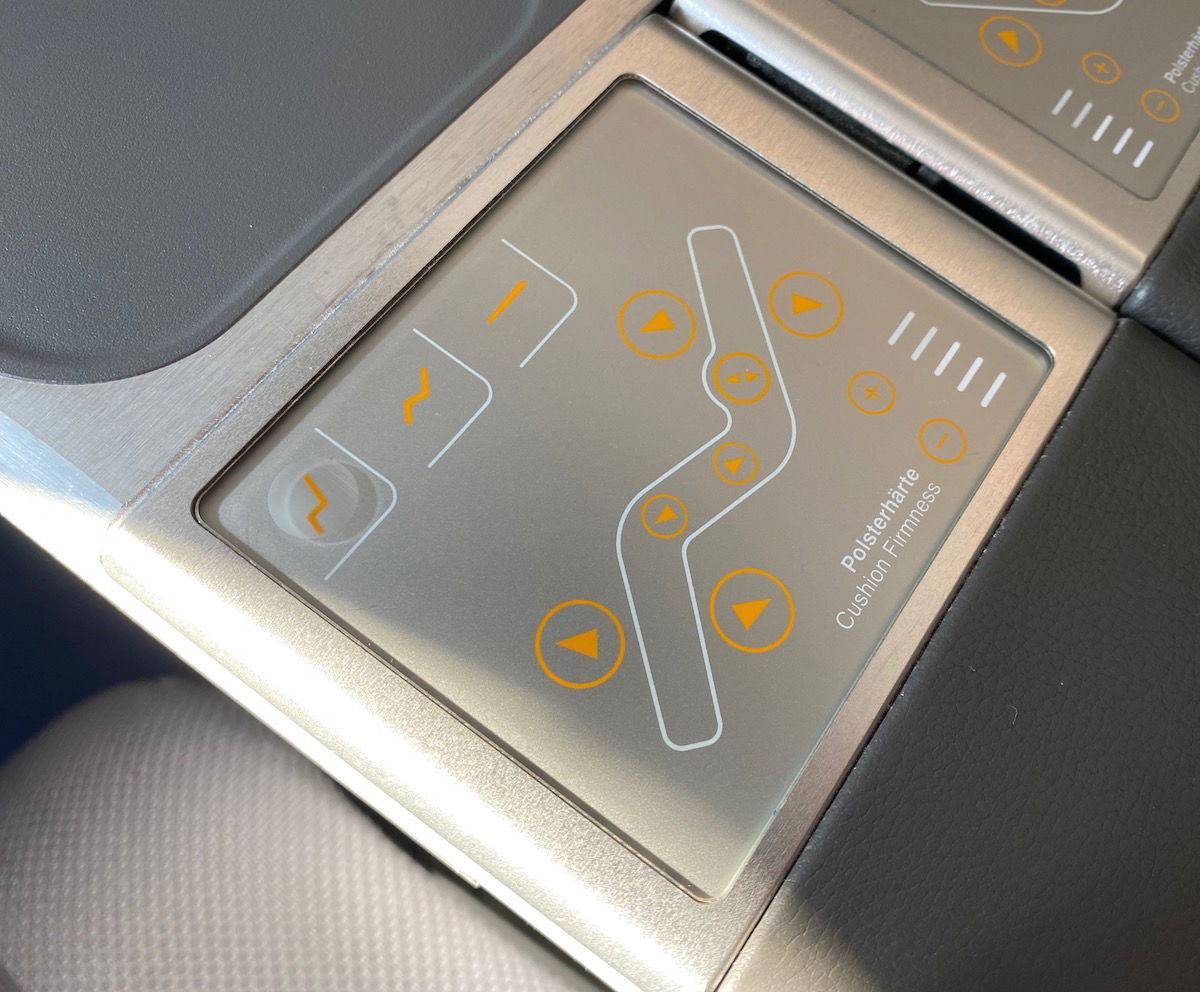 Lufthansa business class seat controls
The entertainment controllers are also in a small compartment in the center armrest.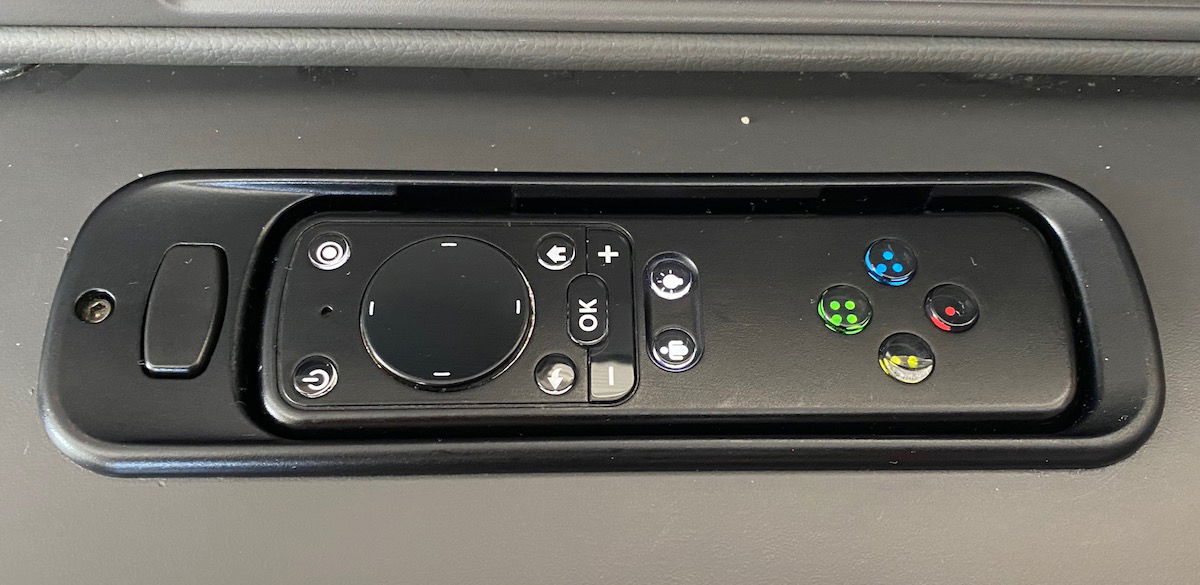 Lufthansa business class entertainment controls
The tray table extends from this area as well, and can be flipped over to be half size.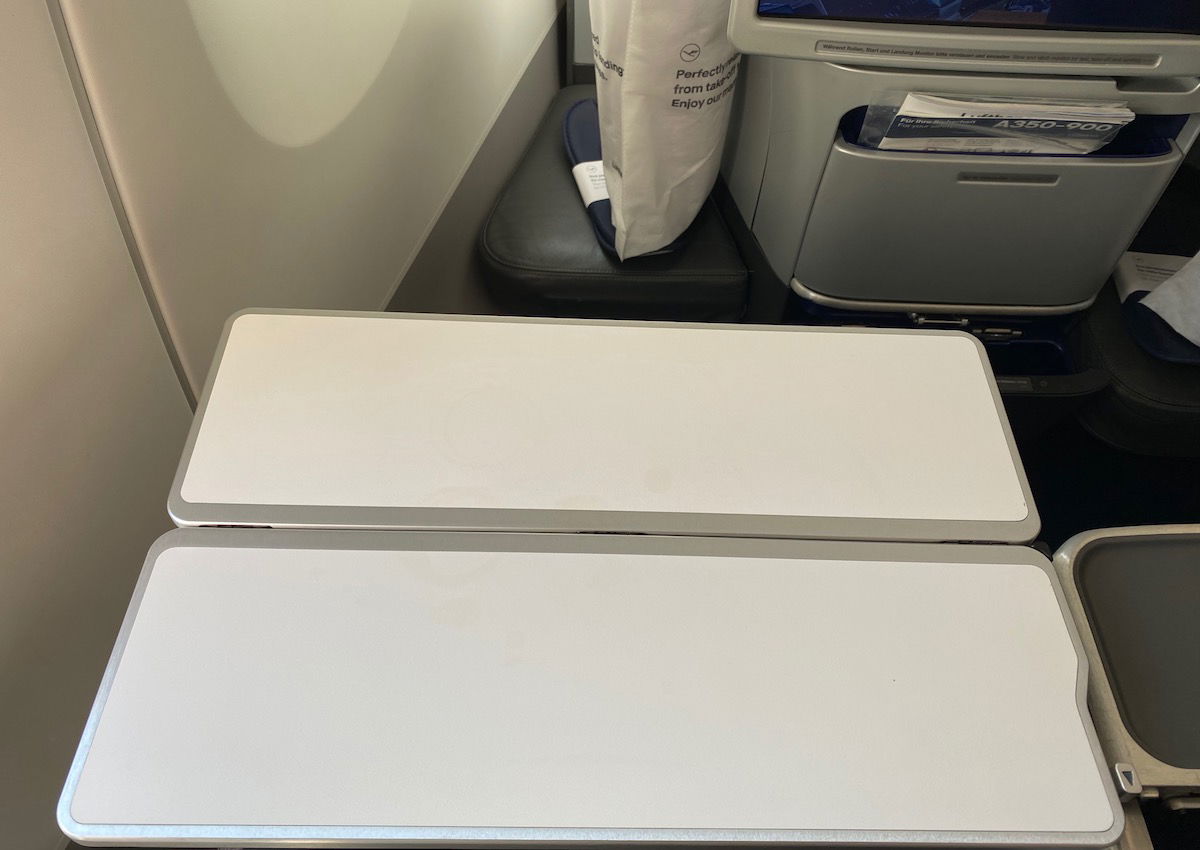 Lufthansa business class tray table
The 110v outlets are underneath the center console, while the USB outlets are hidden between the seats.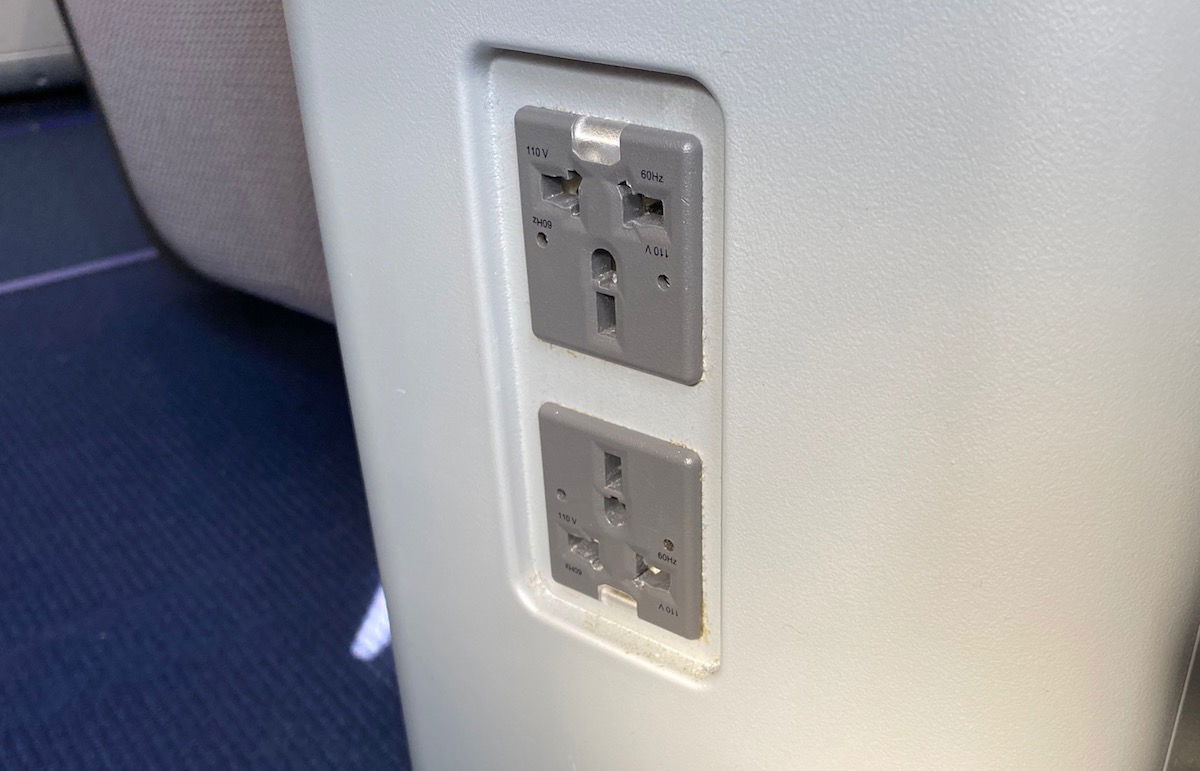 Lufthansa business class power outlets
Then underneath the far armrest is where the headphones are located, which are inside a compartment and wired so they can't be removed.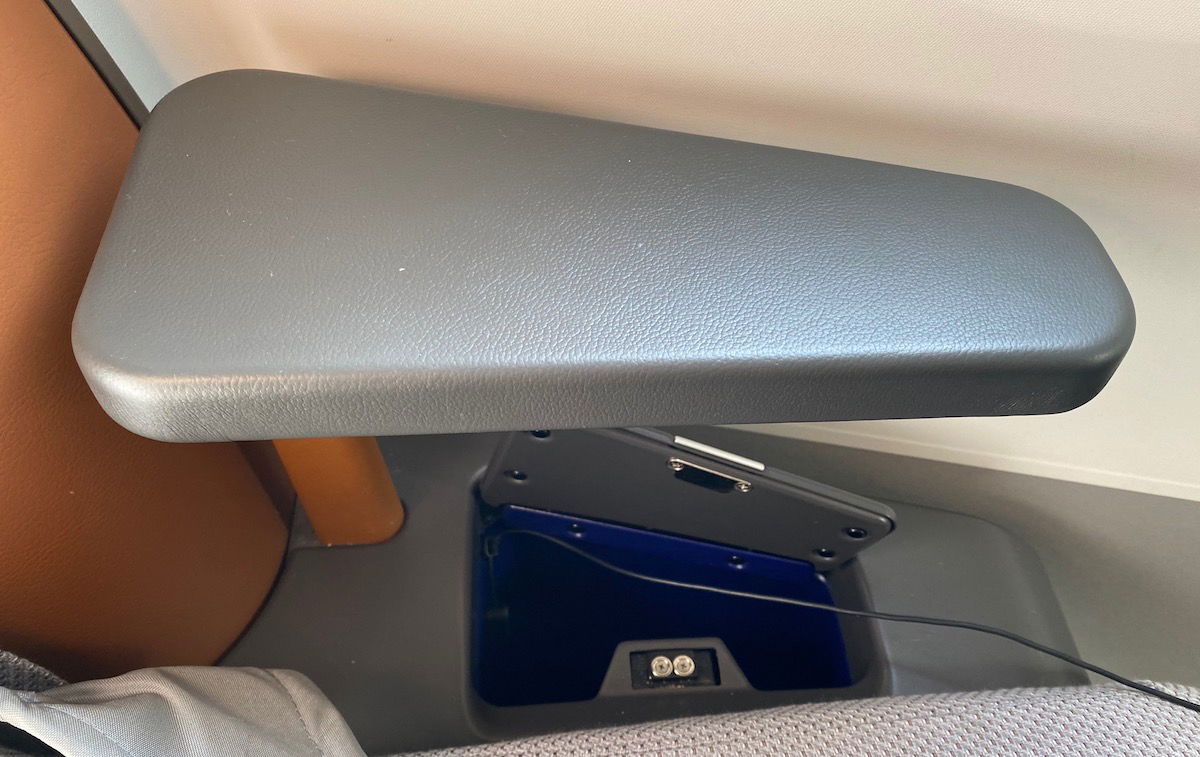 Lufthansa business class armrest
While the A350 has modern overhead consoles, there were no individual air nozzles.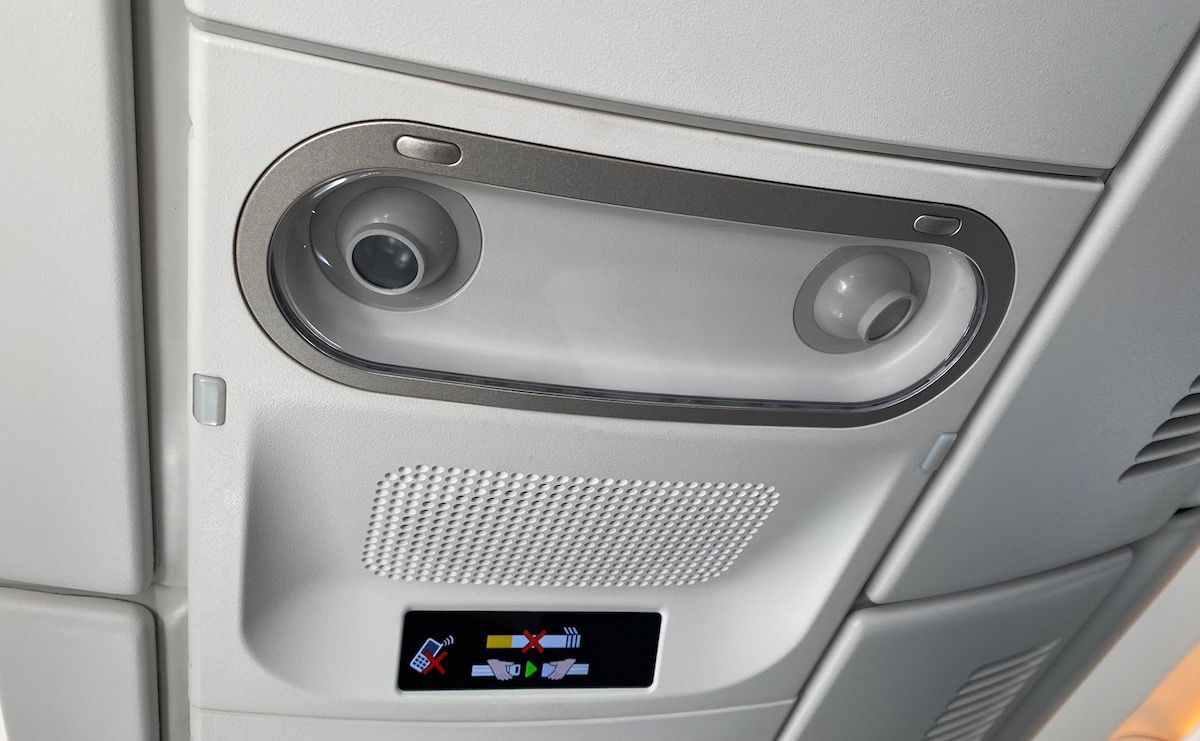 Lufthansa business class overhead console
Suffice to say that this is an underwhelming business class product, especially for an airline to install on brand new A350s. Lufthansa does plan on debuting a new business class on their 777X, but who knows when that plane will even be flying…
Lufthansa has a custom business class product. I think the closest comparison to these seats is the Rockwell Collins Diamond seats you'll find on other airlines, like La Compagnie. That's purely in terms of both products having seats angled slightly towards the fuselage (at least along the windows), with a footwell the side of the seat in front.
Lufthansa's seat has the advantage of having a lot of space in the footwell vertically, which is good. But other than that I prefer the Rockwell Collins Diamond seat. That seat has more storage to the back side of the seat, and I also feel like the product is a bit more private. I don't understand why Lufthansa doesn't have any sort of privacy shields between seats.
Maybe it's not fully clear based on the pictures, but I couldn't help but feel like all the seats were just set very "low." That's to say that the seatbacks weren't very high, so you could really see everyone in the cabin. The Diamond seats don't feel quite as exposed, by comparison.
Anyway, waiting at my seat upon boarding was a pillow and blanket, both of which were reasonably good. There was also a mattress pad, which Lufthansa offers on their longest flights.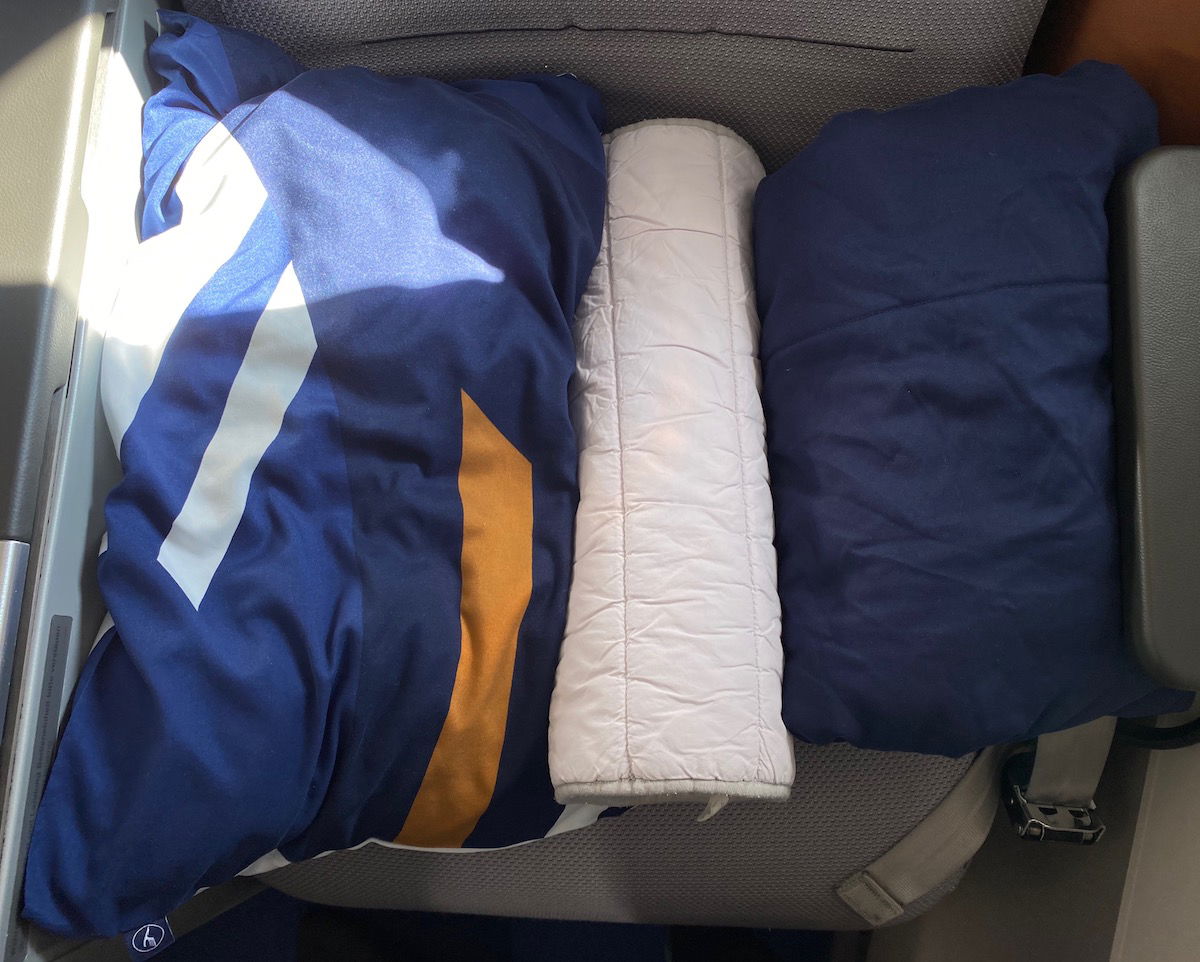 Lufthansa business class bedding
There was a basic amenity, consisting of socks, eyeshades, earplugs, a dental kit, and a few L'Occitane products.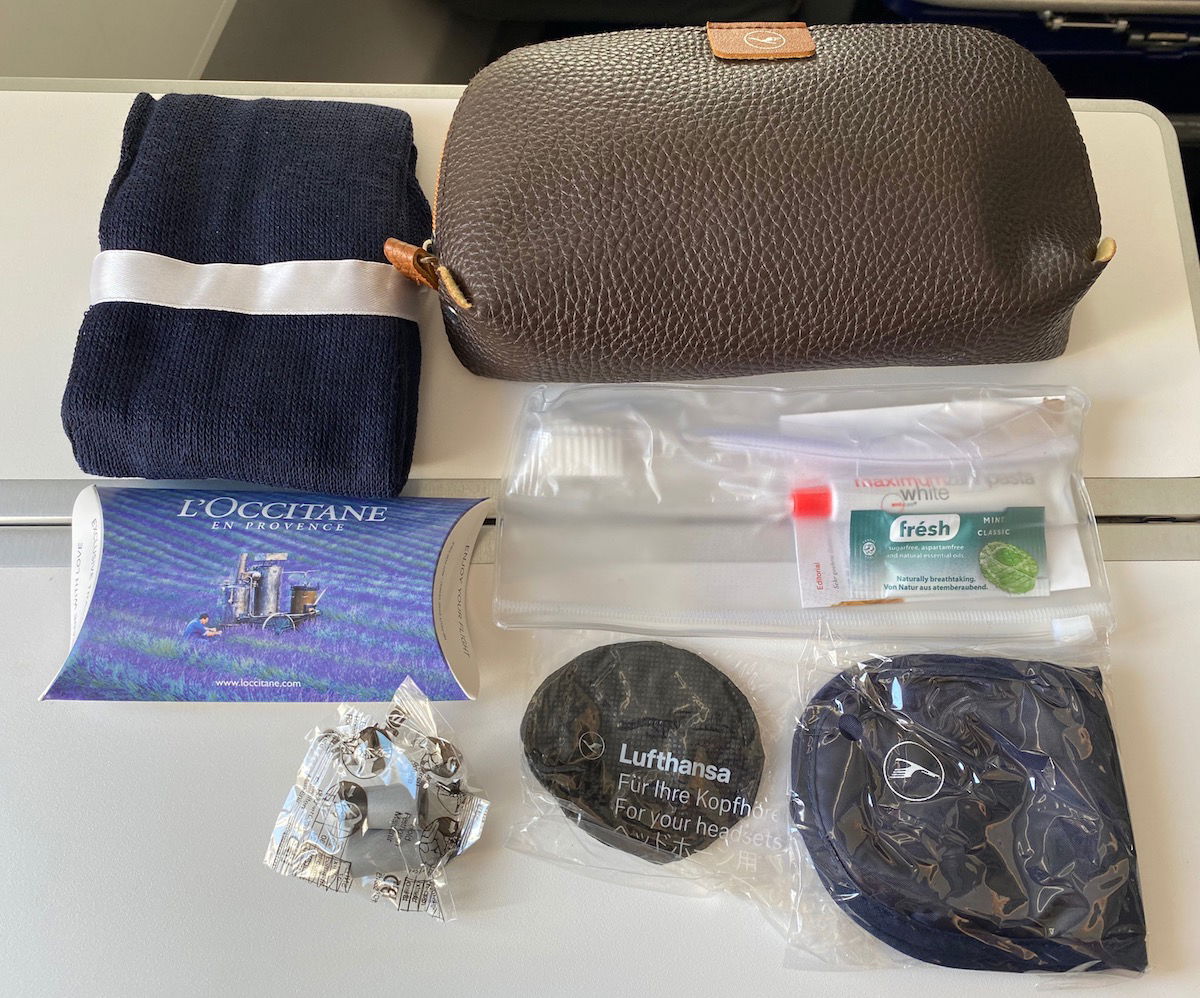 Lufthansa business class amenity kit
There were also a pair of slippers.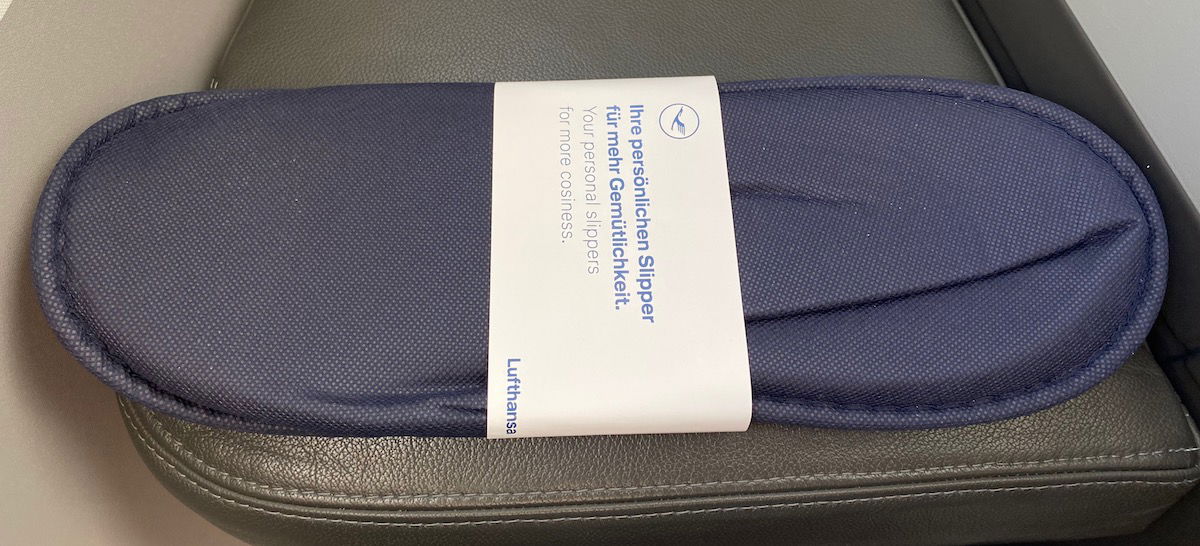 Lufthansa business class slippers
The AKG headphones in the compartment to the side of the seat were quite good as far as business class headphones go.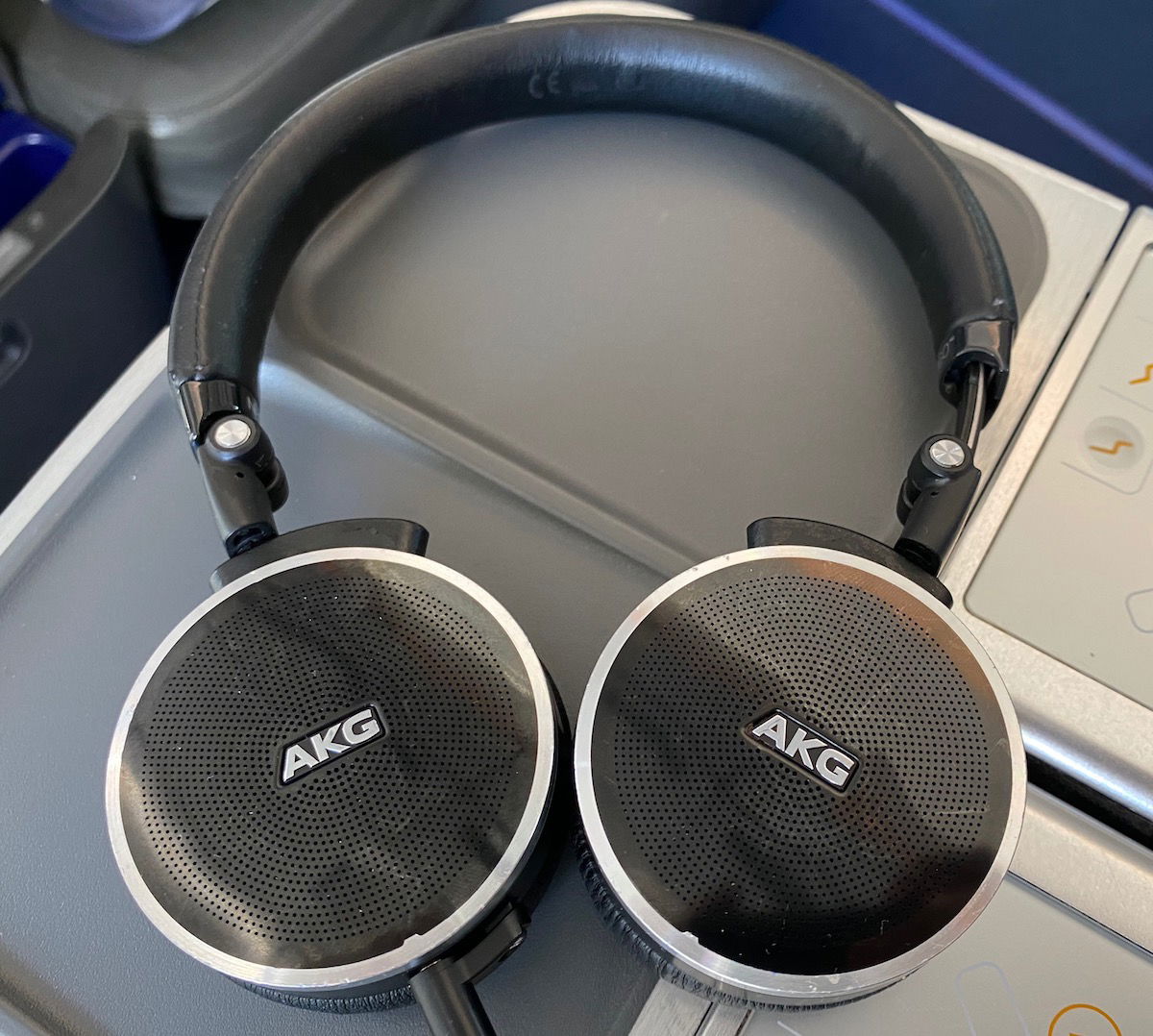 Lufthansa business class headphones
There was also a bottle of water waiting at my seat.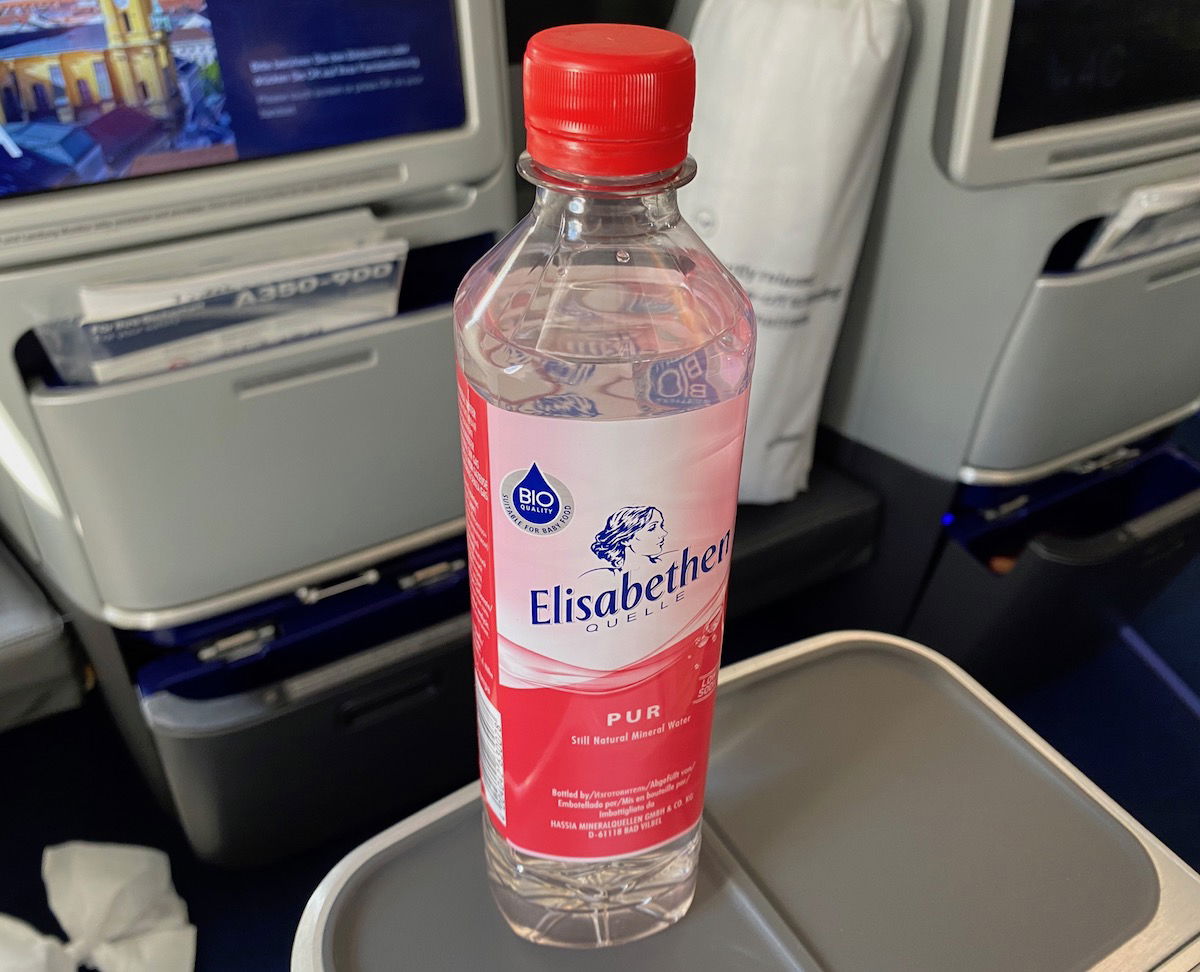 Lufthansa business class bottled water
About 10 minutes after boarding, pre-departure drinks were offered, with the choice of champagne, water, or orange juice.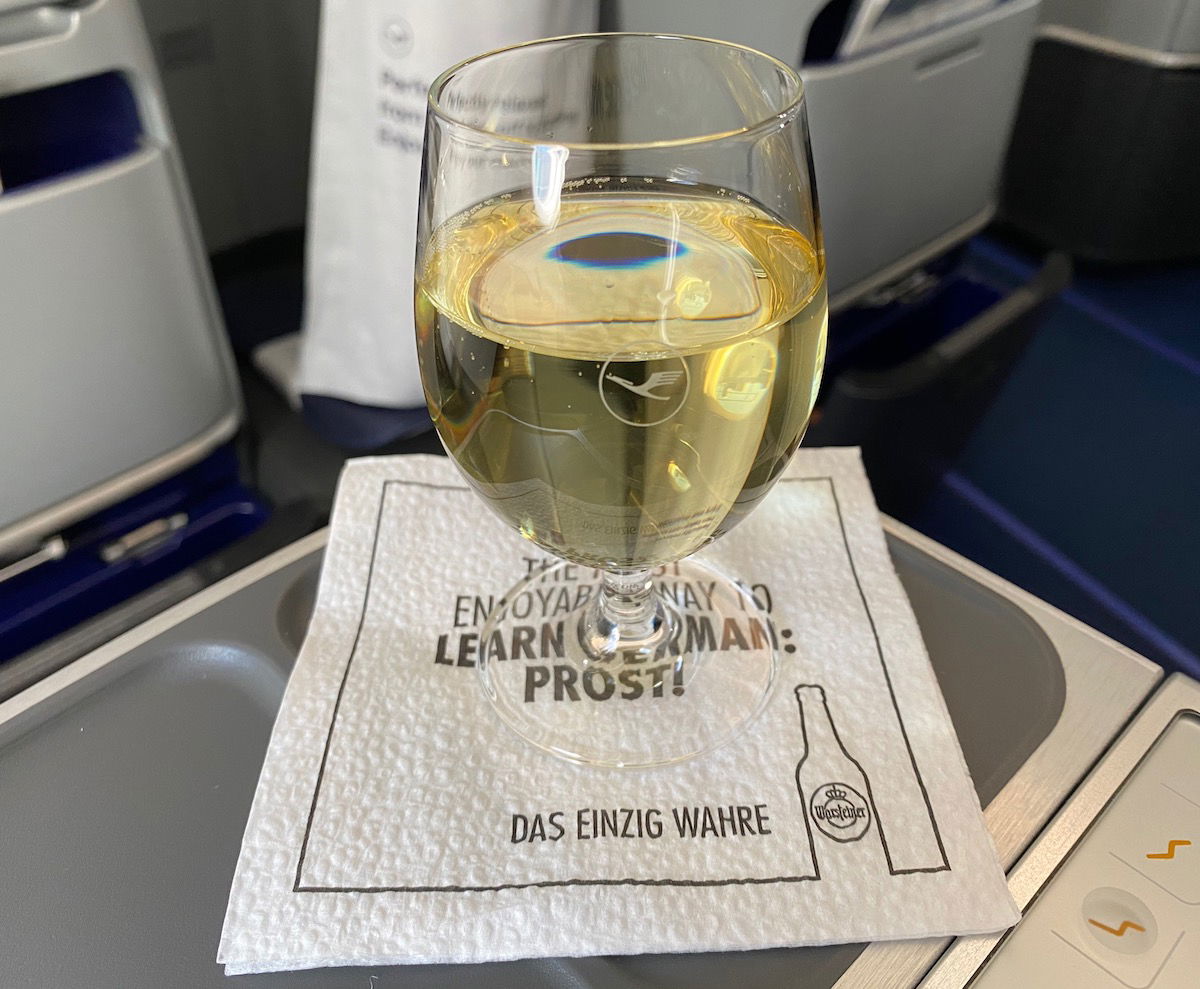 Lufthansa business class pre-departure champagne
A few minutes later, menus for the flight were distributed.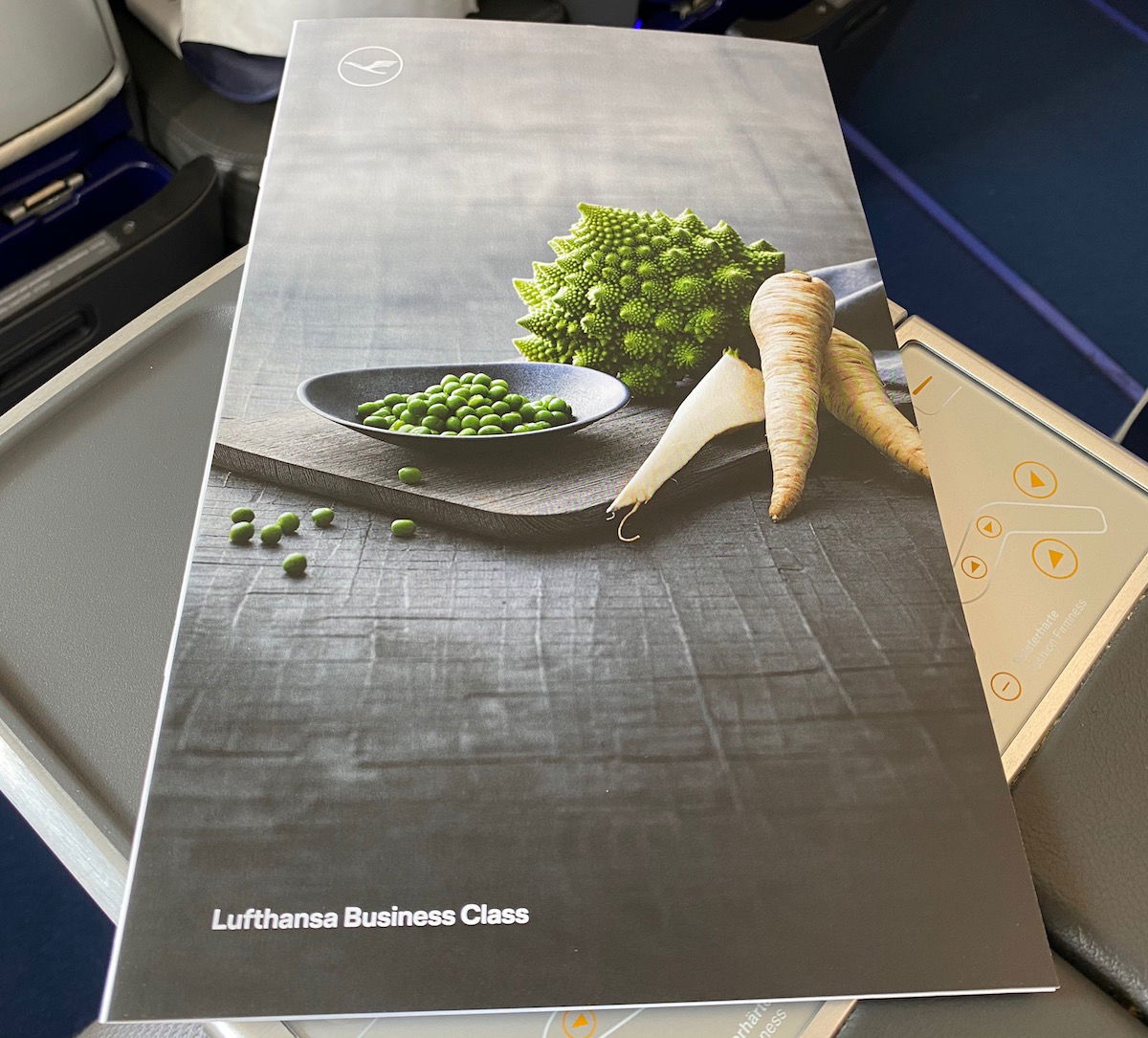 Lufthansa business class menu
There was a HON Circle member in business class (that's Lufthansa's top tier status), so during boarding the purser personally welcomed him onboard and had a rather long conversation with him.
That's of course a nice touch, but it was almost awkward, since the cabin has zero privacy, and she wasn't exactly a quiet talker, so I felt like it was a conversation with an audience. I can now tell you everything about his trip to Japan!
At 12:35PM the captain made his welcome aboard announcement, informing us of our flight time of 11hr30min, and our flight route, which would take us over Harbin, Yakutsk, Moscow, and Krakow.
At 12:40PM the main cabin door closed with 26 of the business class seats taken. Five minutes later we began our pushback, and five minutes after that we began our taxi.
Our taxi was quite far, as we were departing from the opposite side of the airport.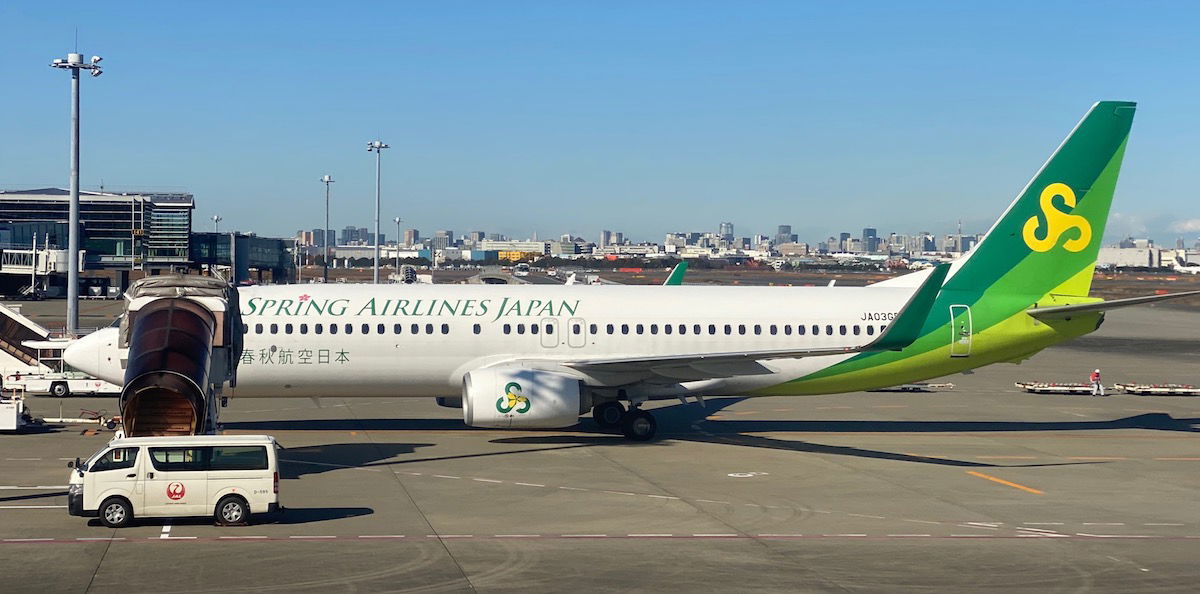 Spring Airlines 737 Haneda Airport
By 1:05PM we were cleared for takeoff on runway 34R, behind a Japan Airlines 767-300.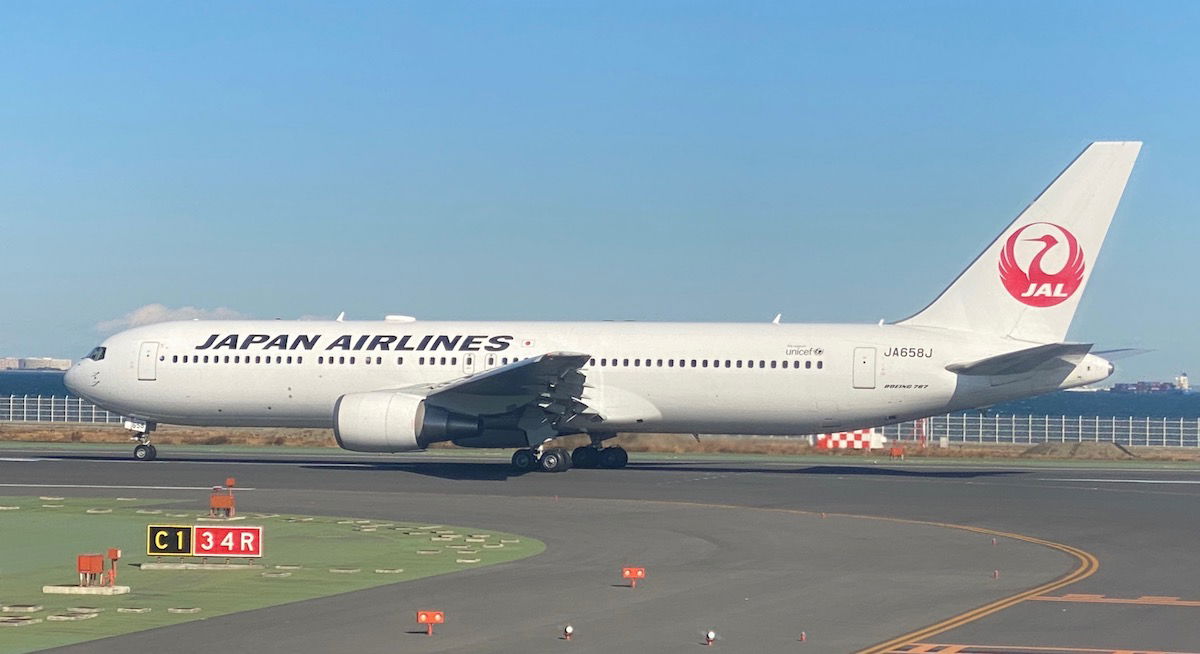 Japan Airlines 767 Haneda Airport
One cool feature of the A350 is that it has a tail camera, so I watched that during takeoff.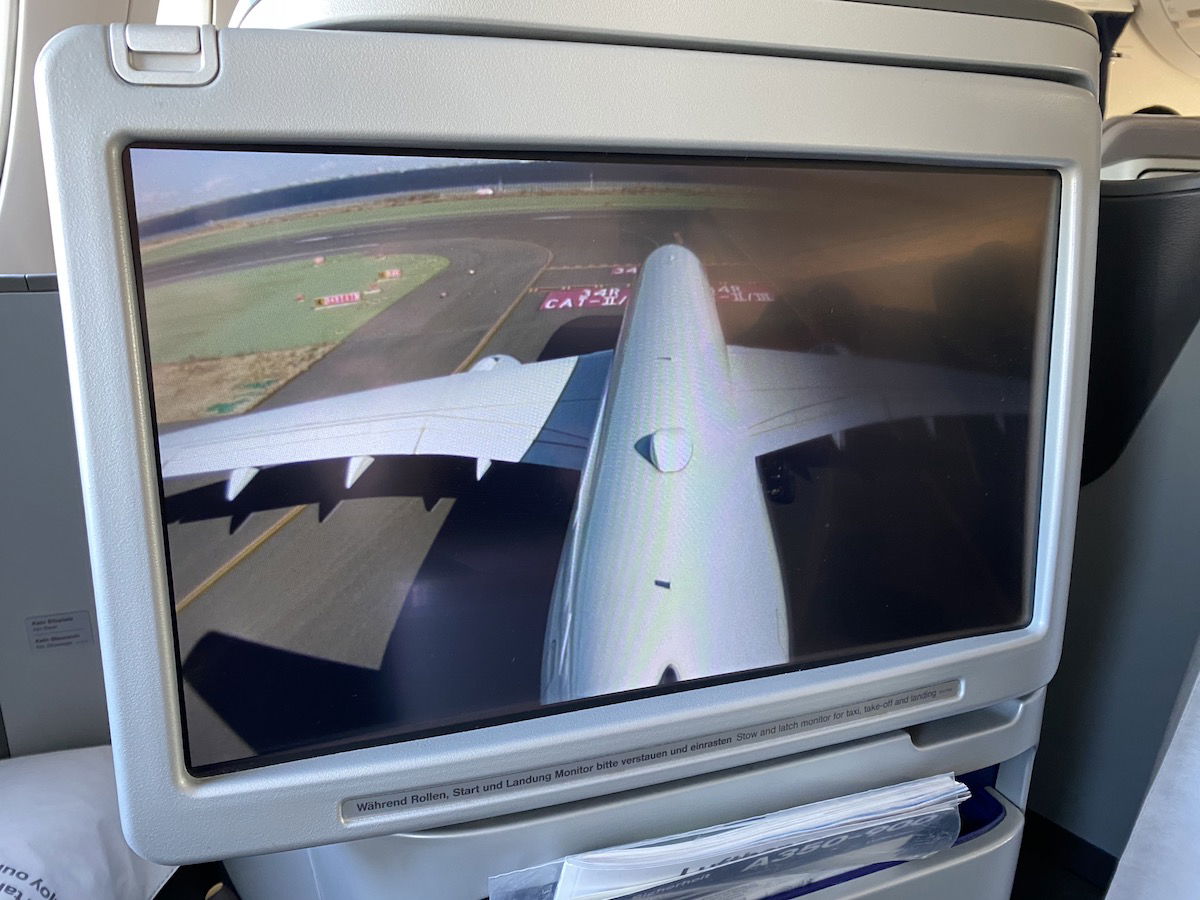 Lufthansa A350 tail camera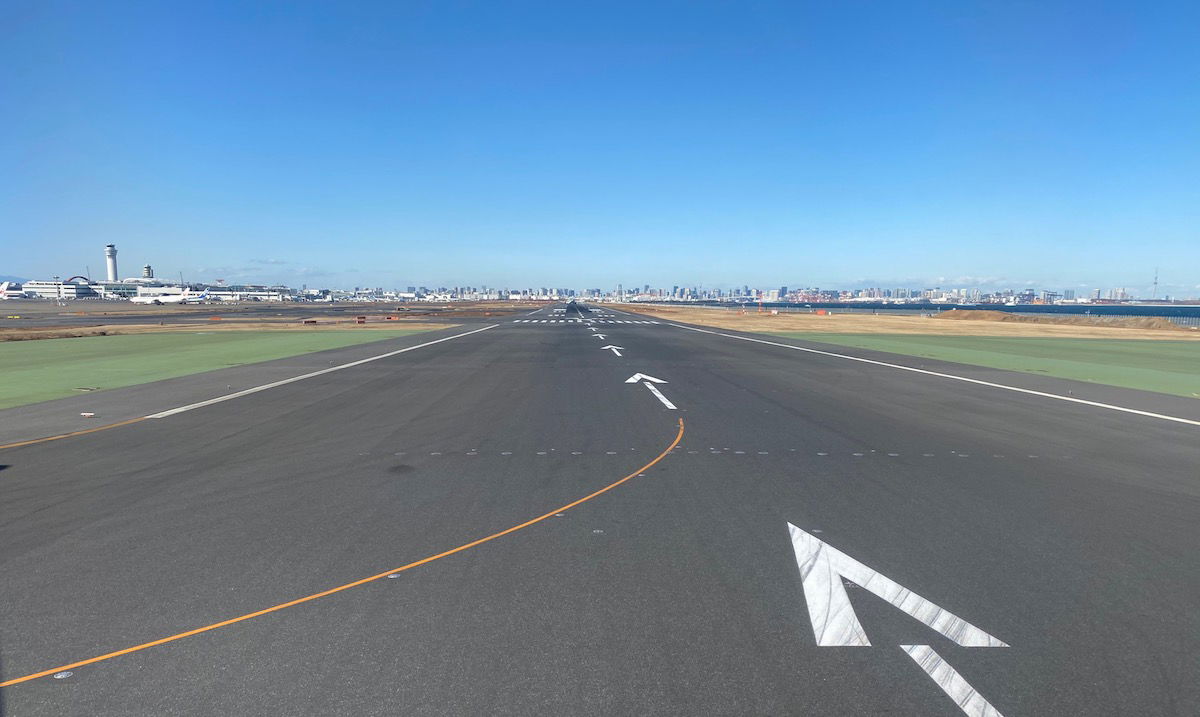 Taking off from Tokyo Haneda Airport
Our takeoff roll was long but quiet.

View after takeoff from Tokyo
This was my first time flying out of Haneda during the daytime, and my gosh this airport has some breathtaking views of Tokyo… WOW!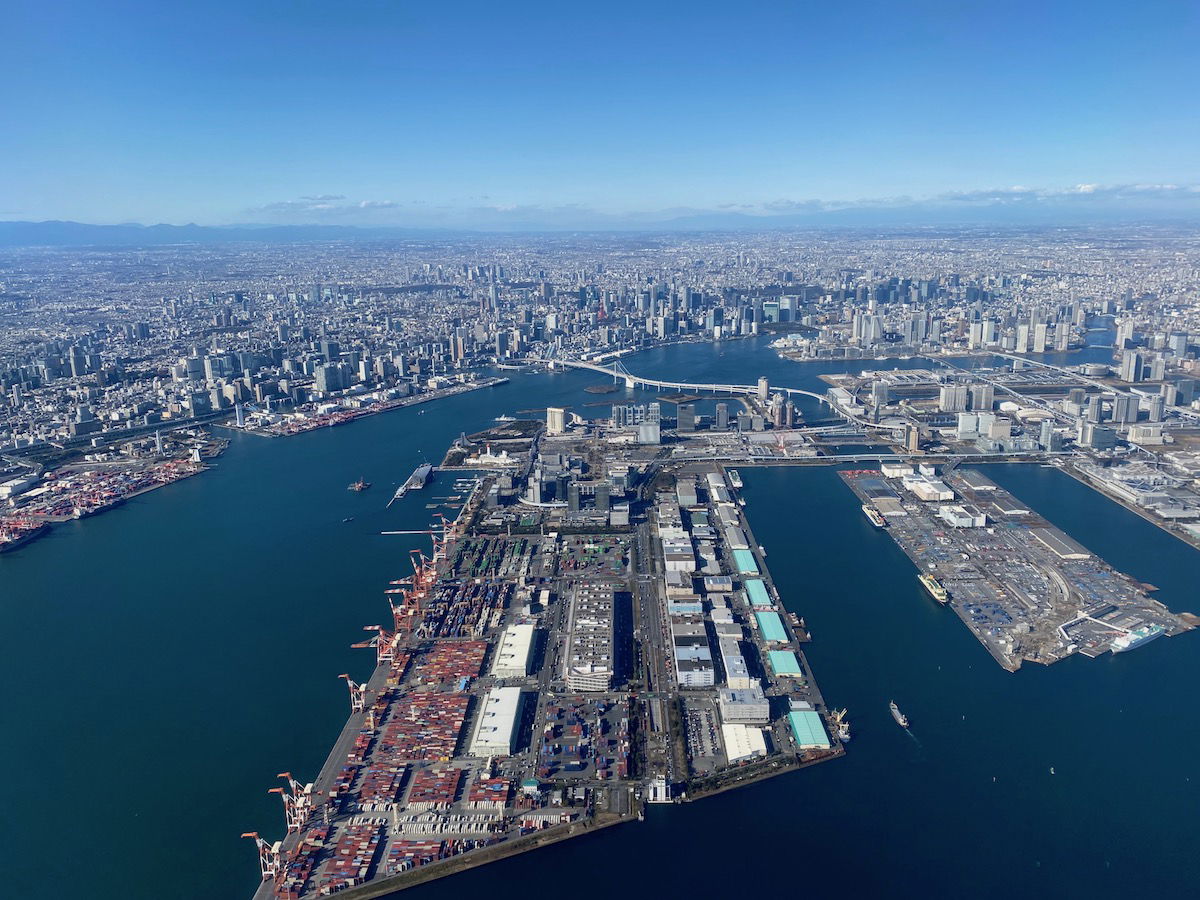 Amazing views of Tokyo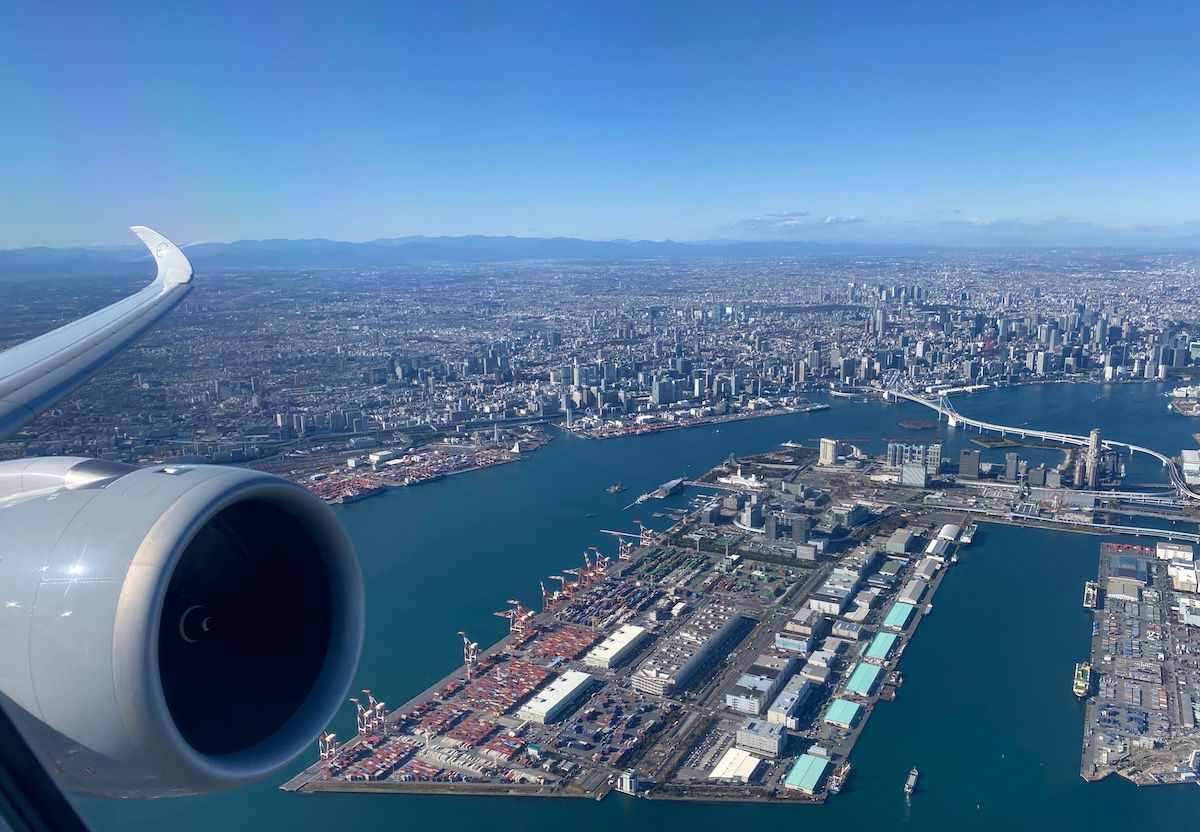 Amazing views of Tokyo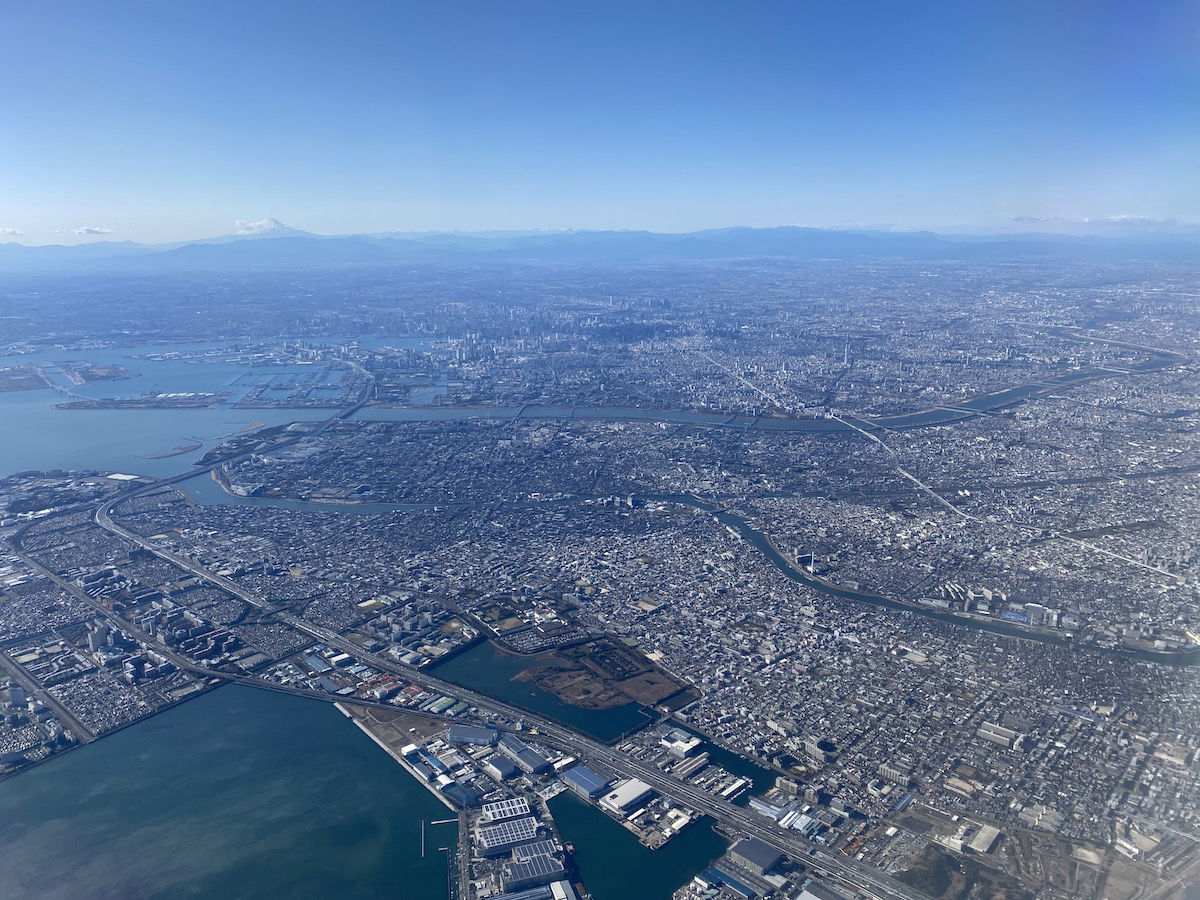 View after takeoff from Tokyo
10 minutes after takeoff the seatbelt sign was turned off, at which point the curtains between the cabins and galleys were closed.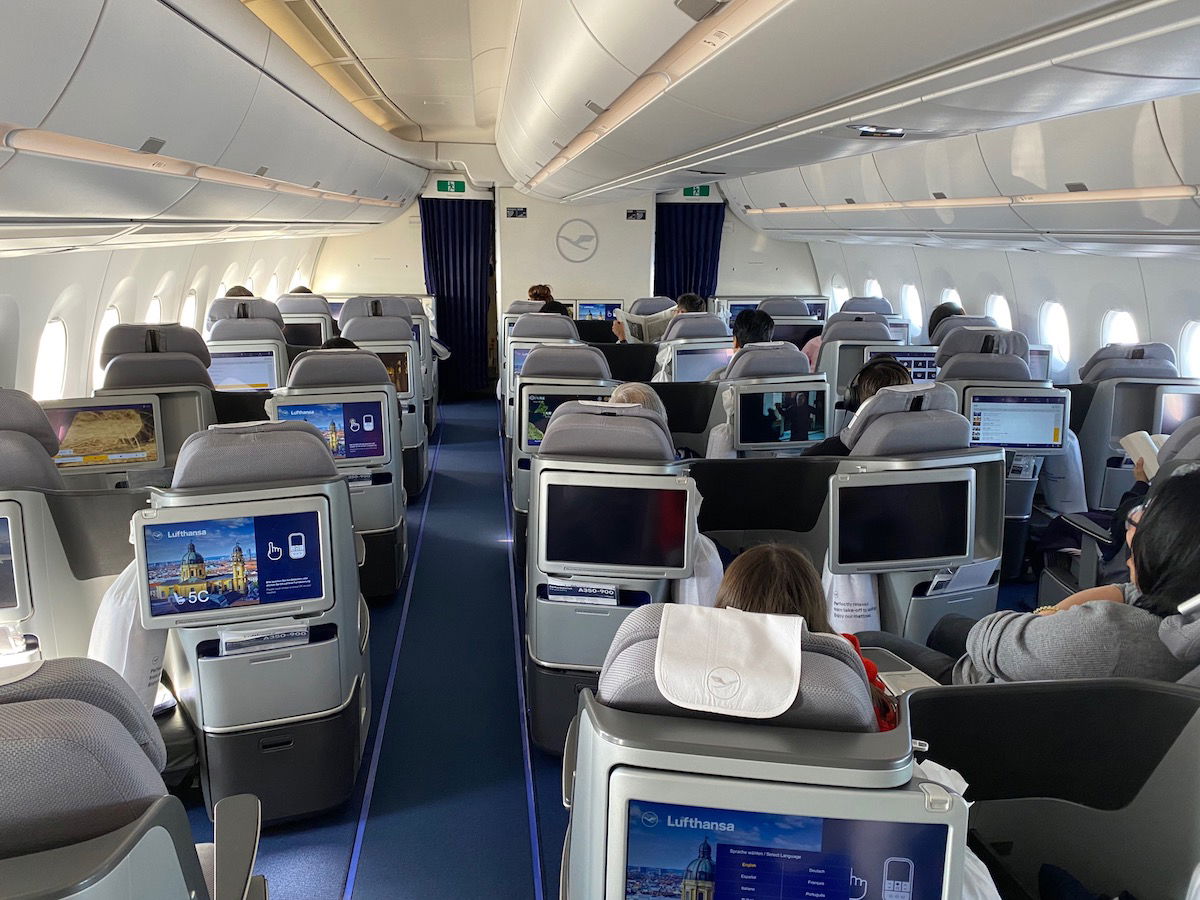 Lufthansa A350 business class cabin
At this point I also had a look at the rear business class cabin, where I was supposed to be sitting. 😉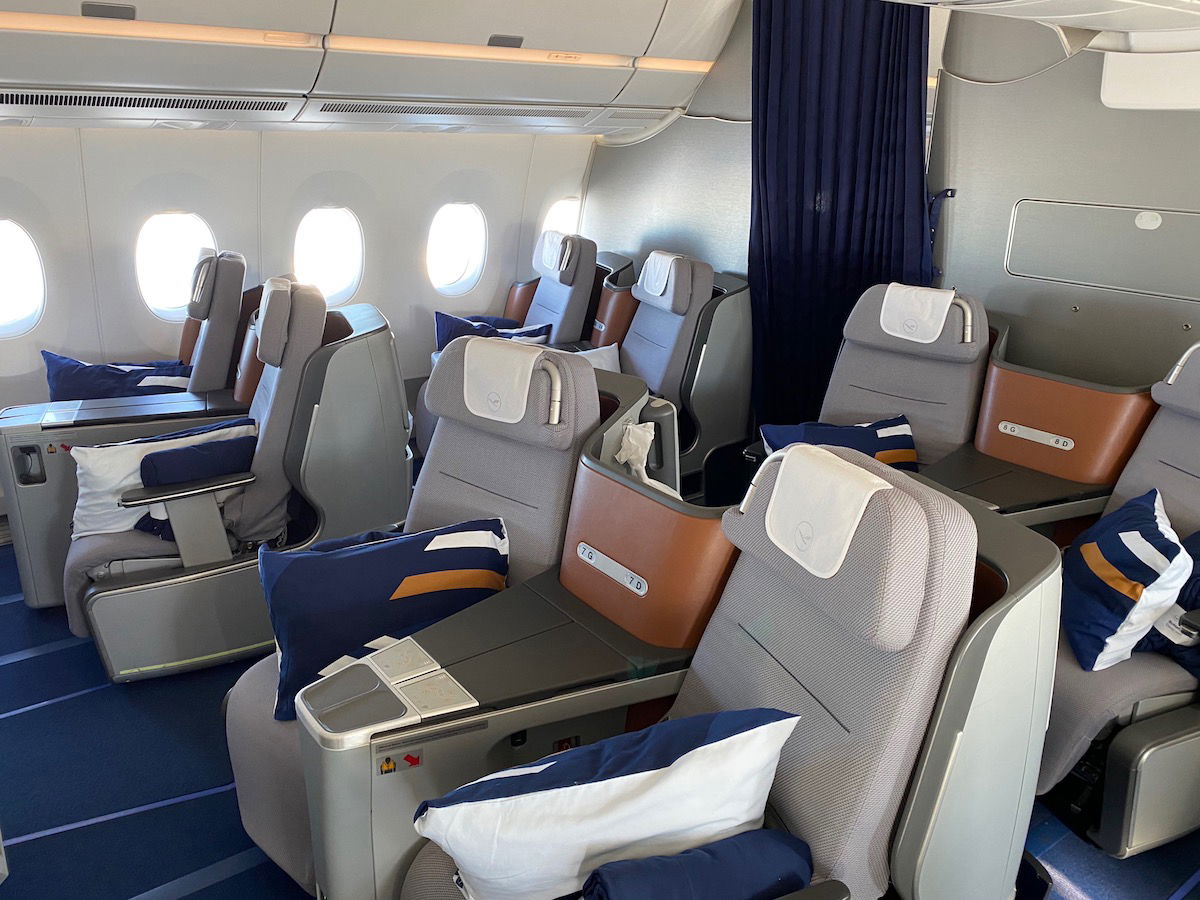 Lufthansa A350 business class rear cabin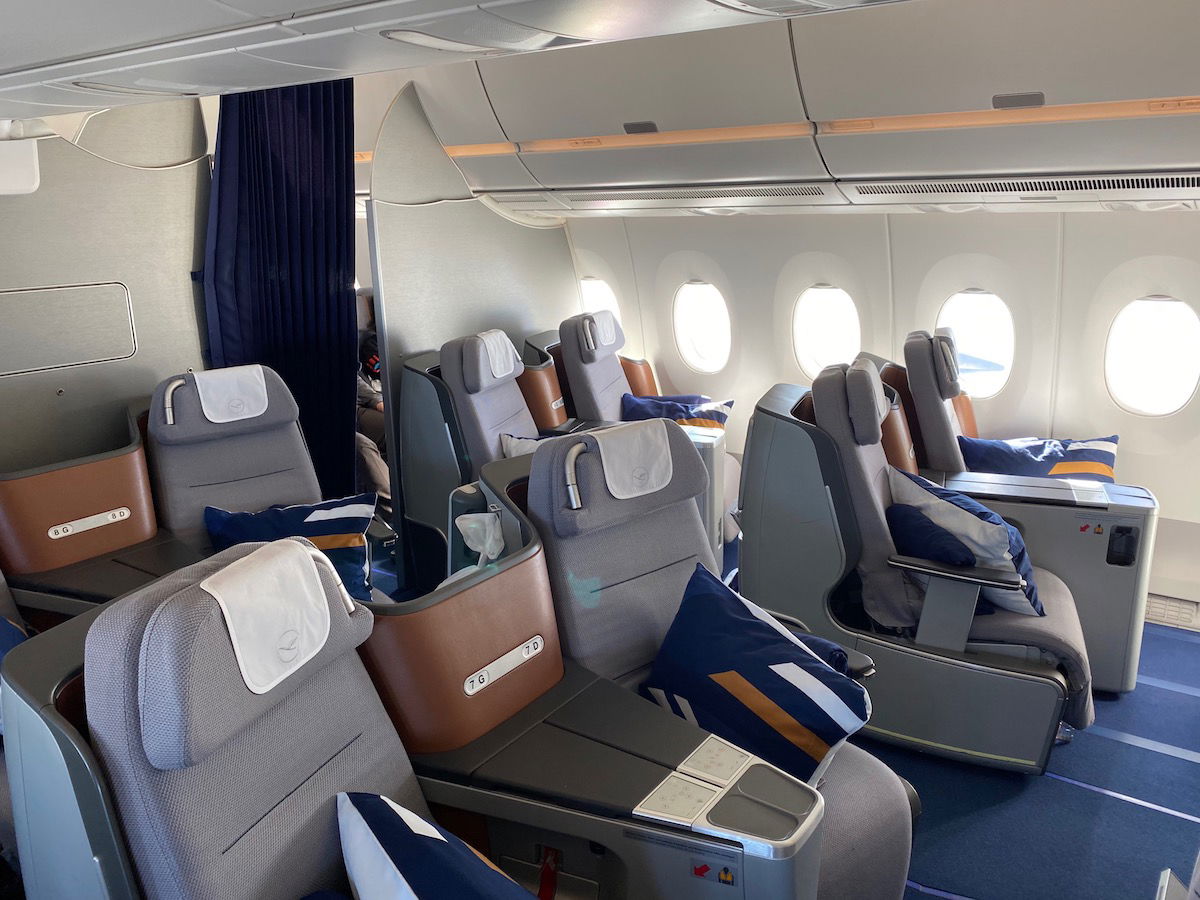 Lufthansa A350 business class rear cabin
On this flight lunch was served after takeoff, and dinner before landing.
The menu read as follows: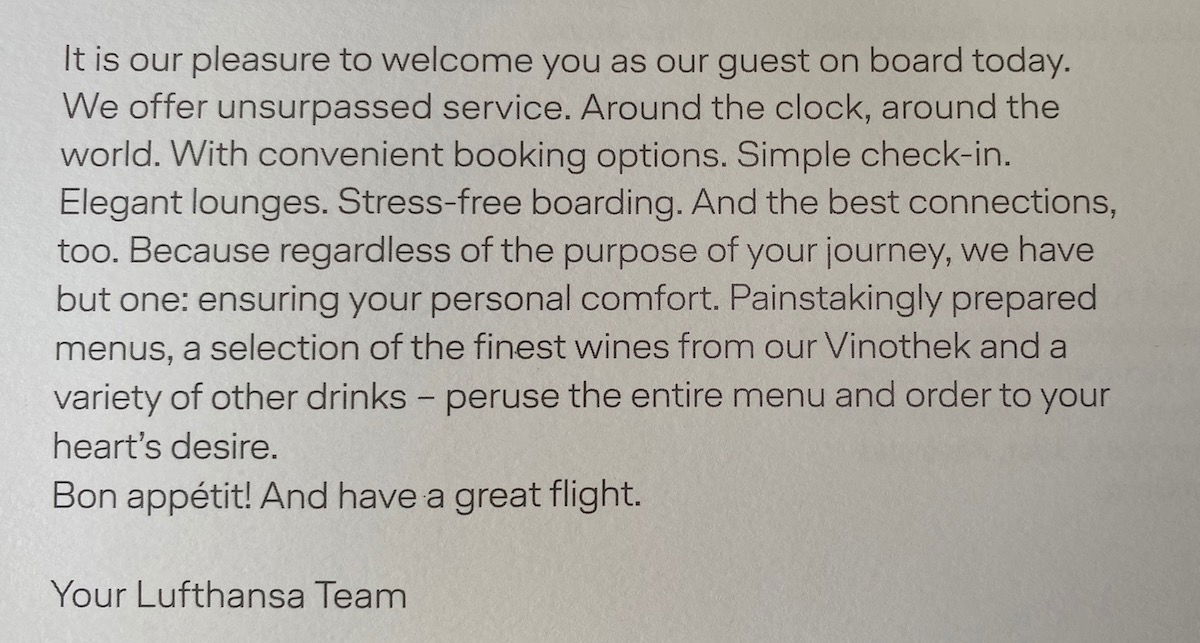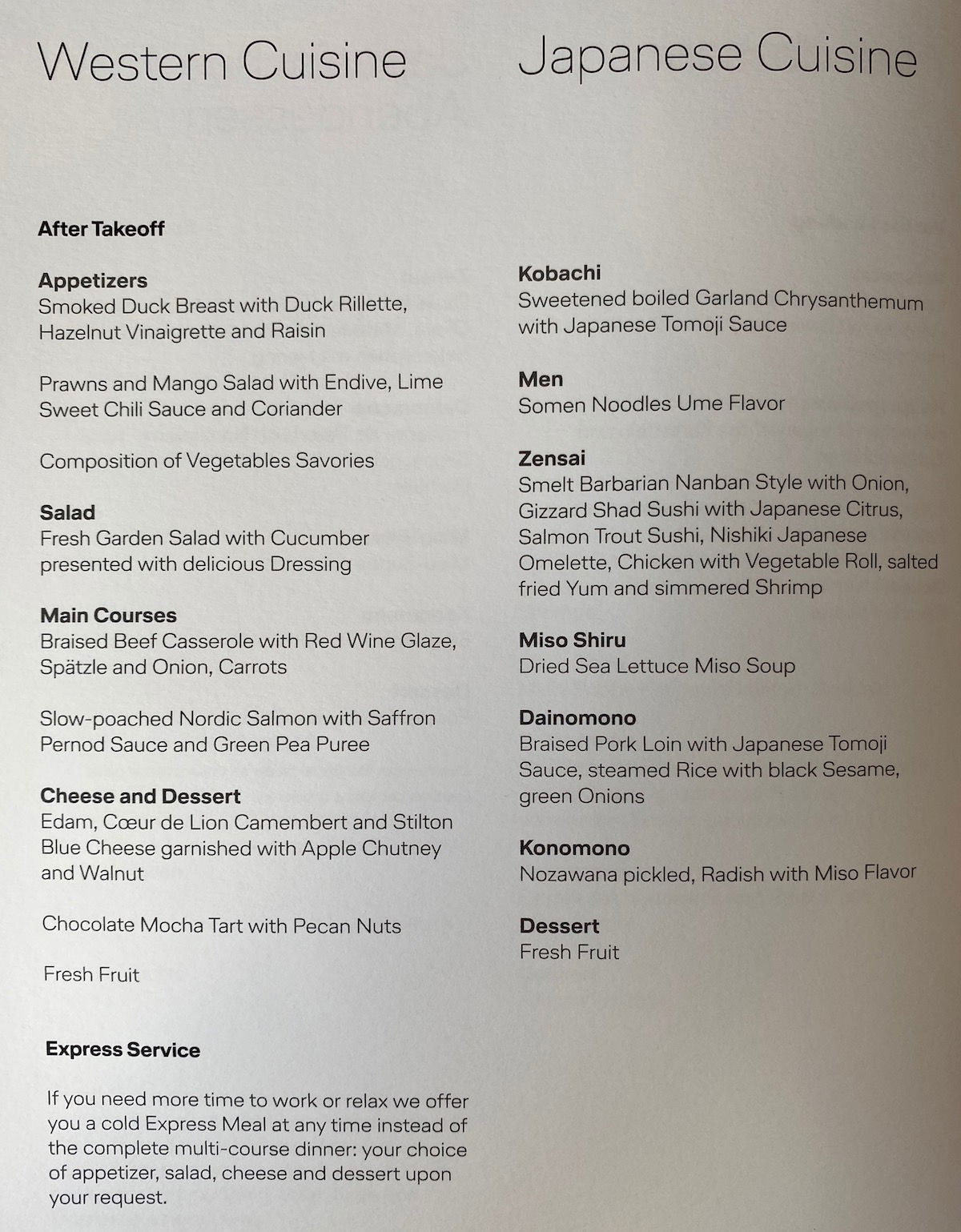 The drink list read as follows: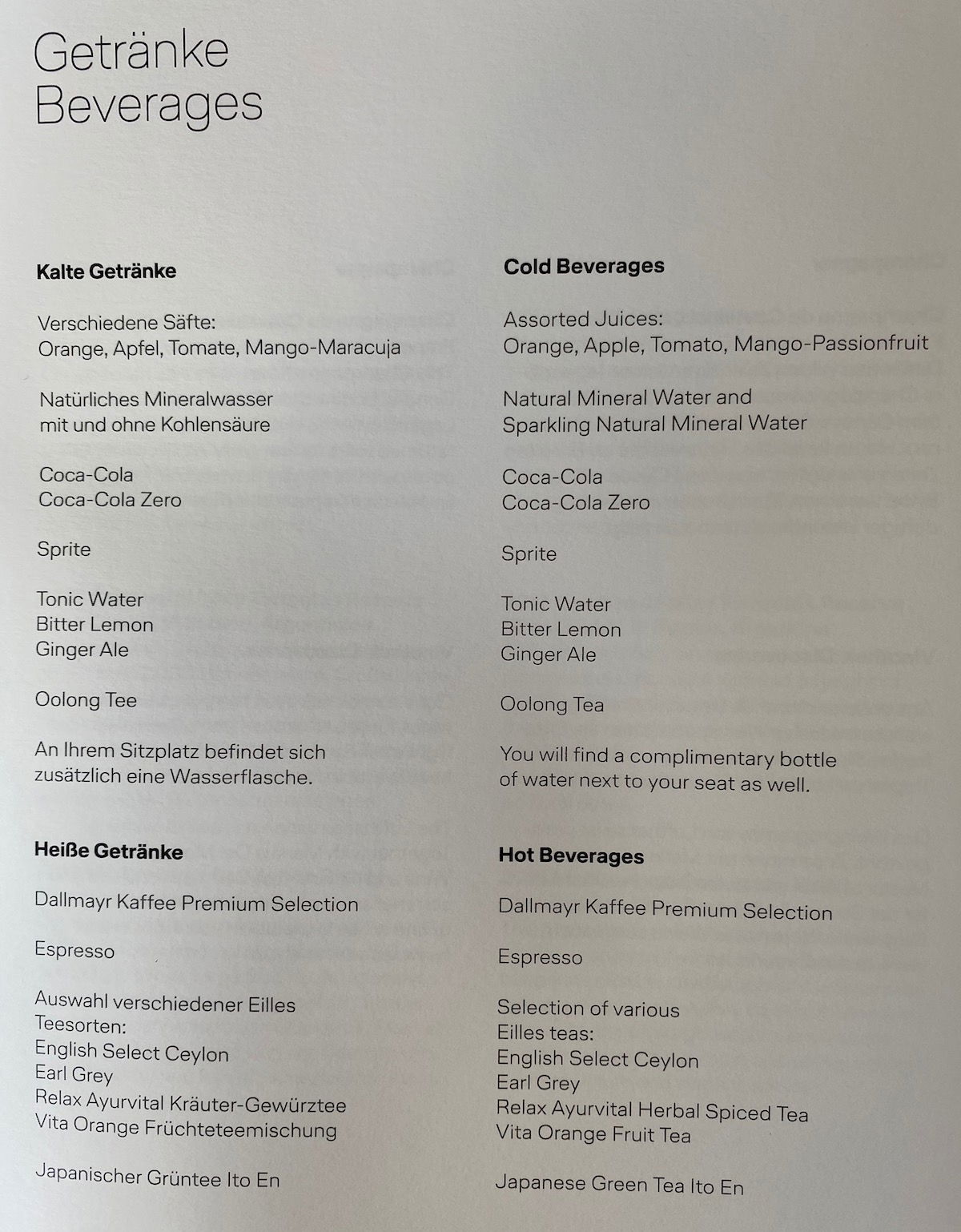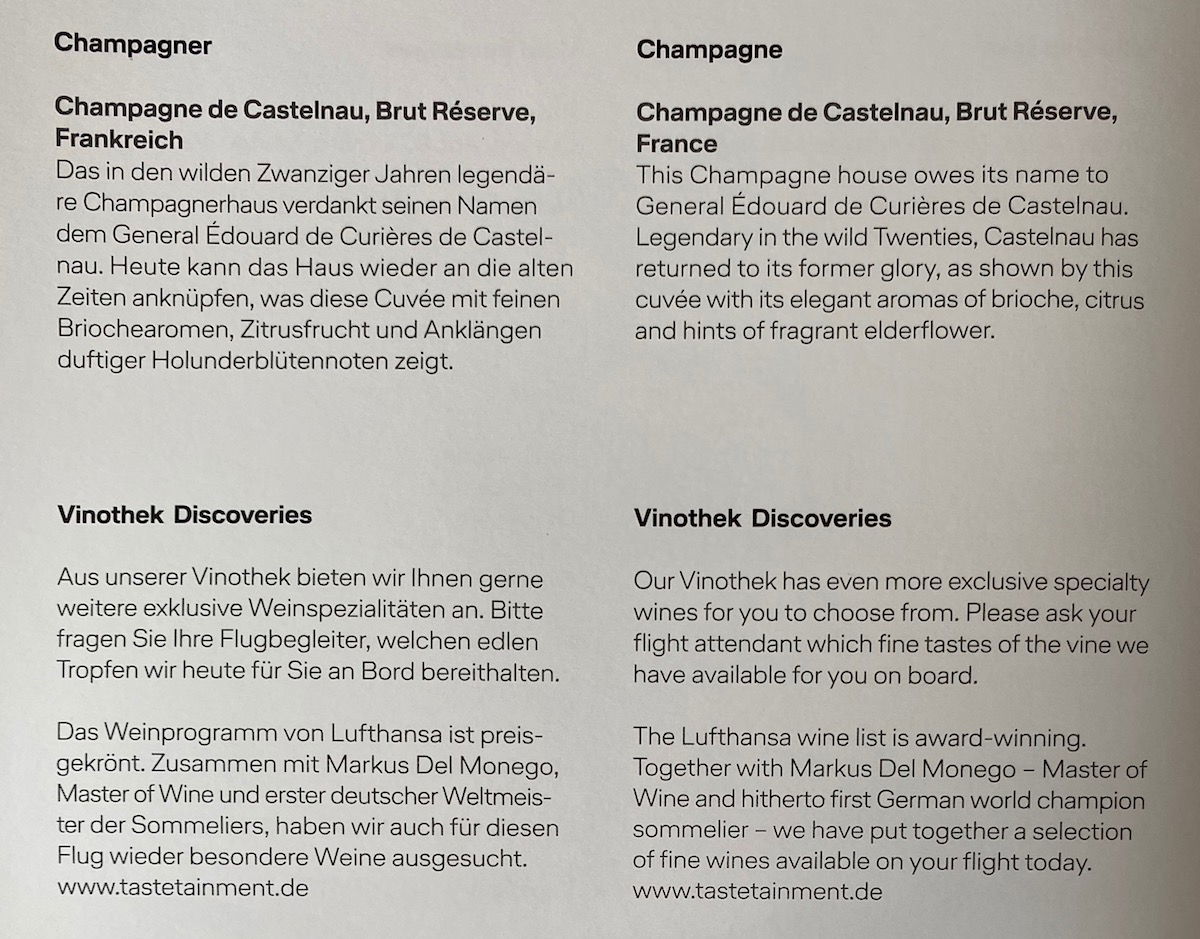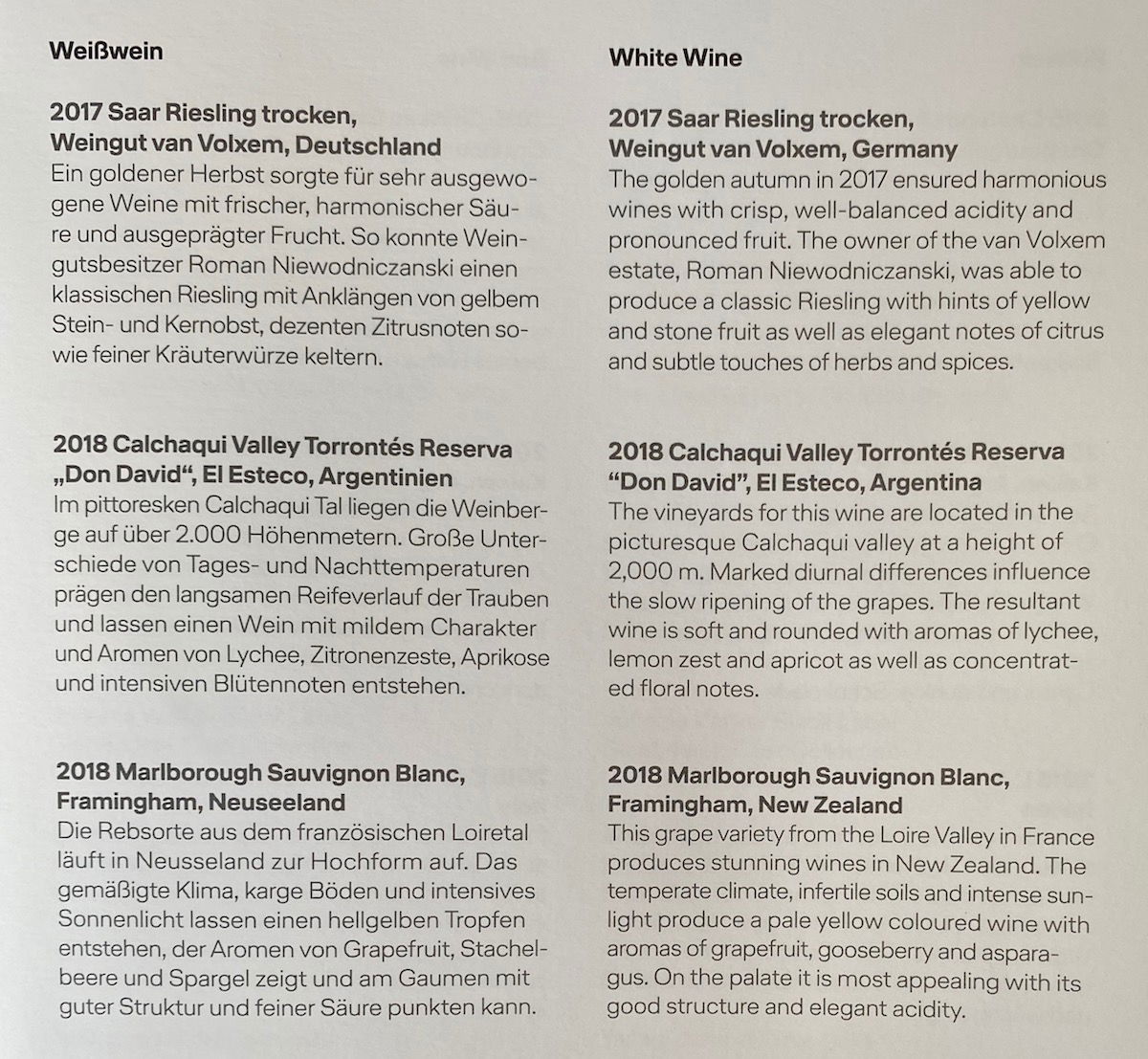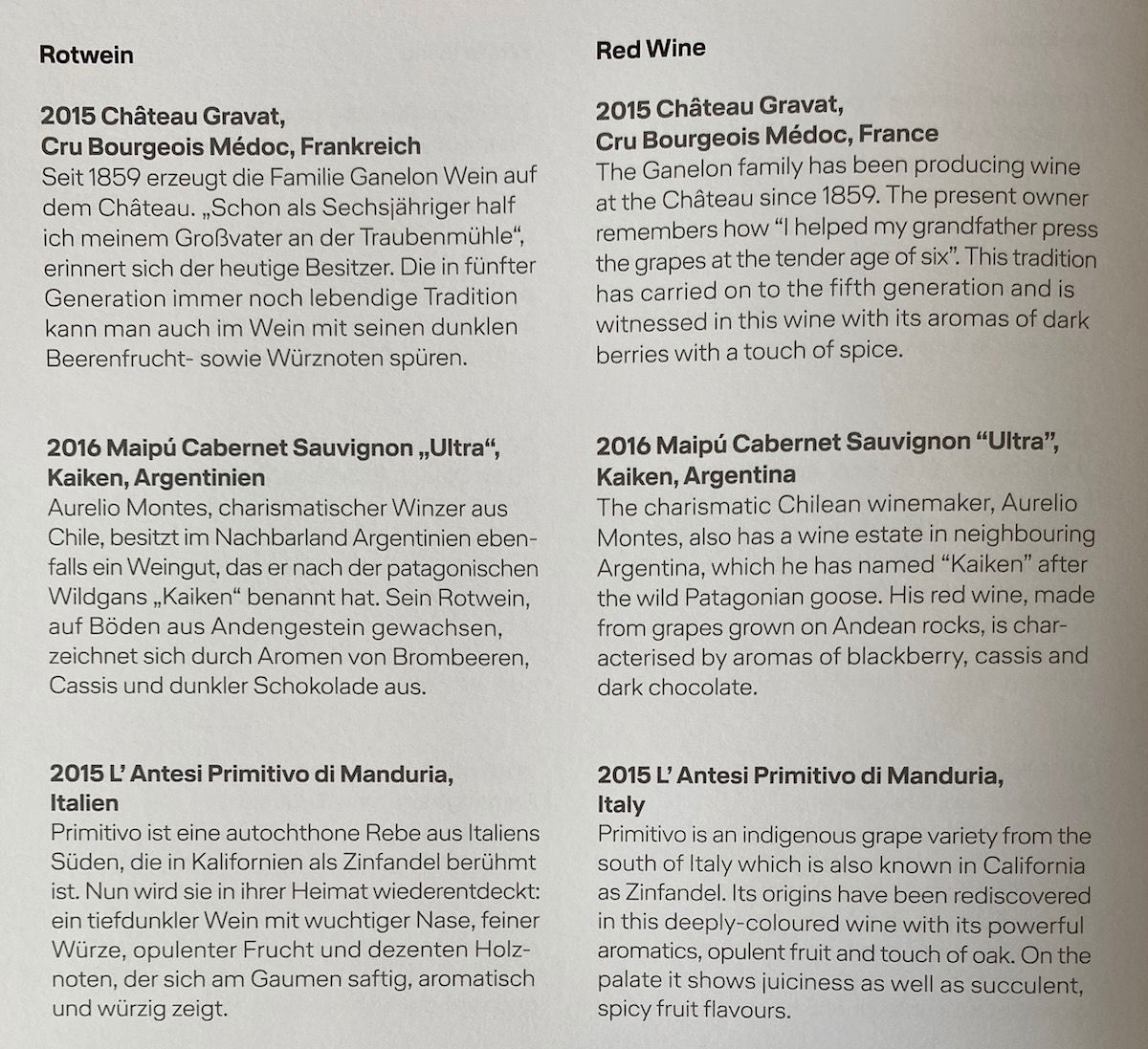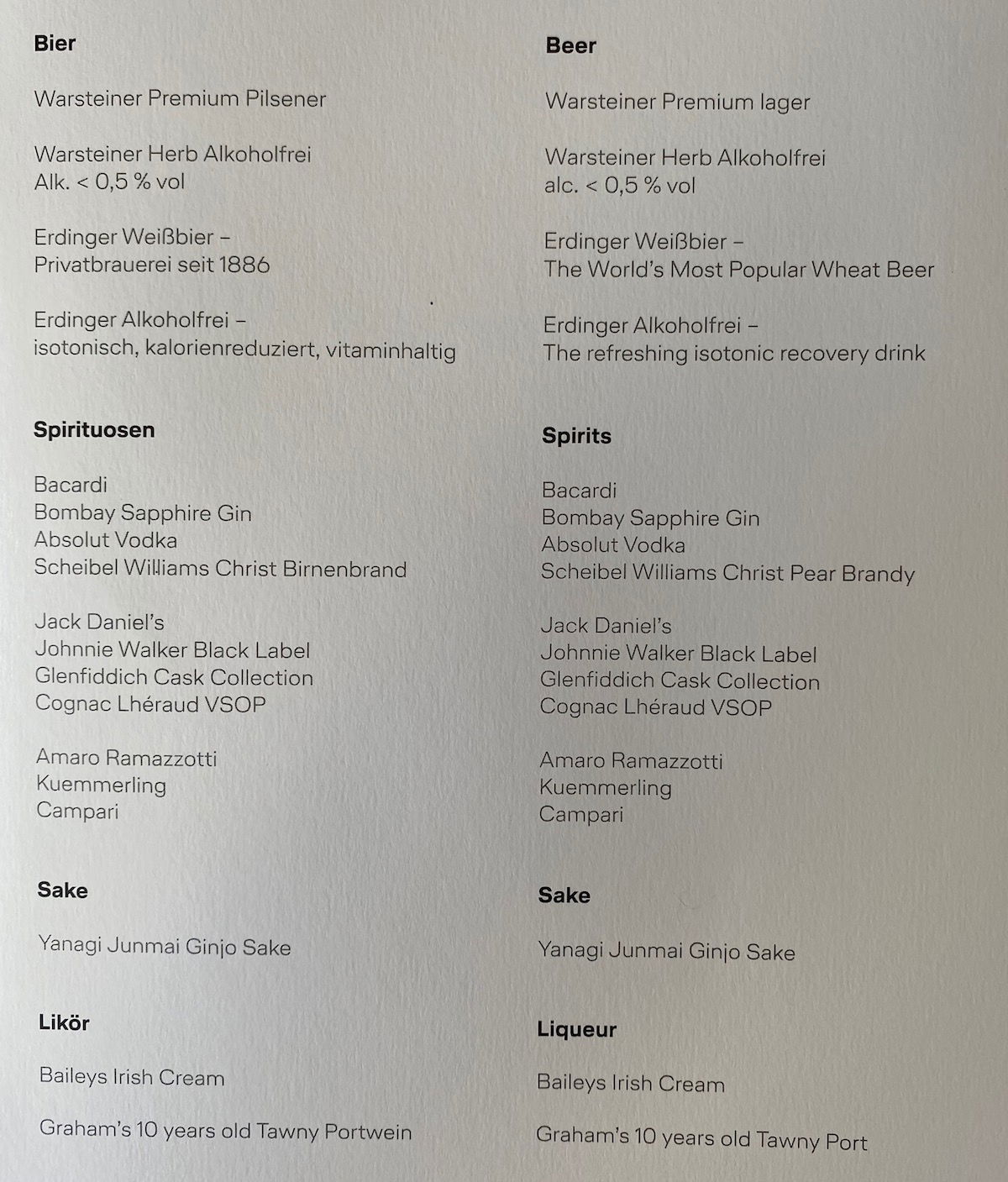 Warm towels were distributed about 15 minutes after takeoff.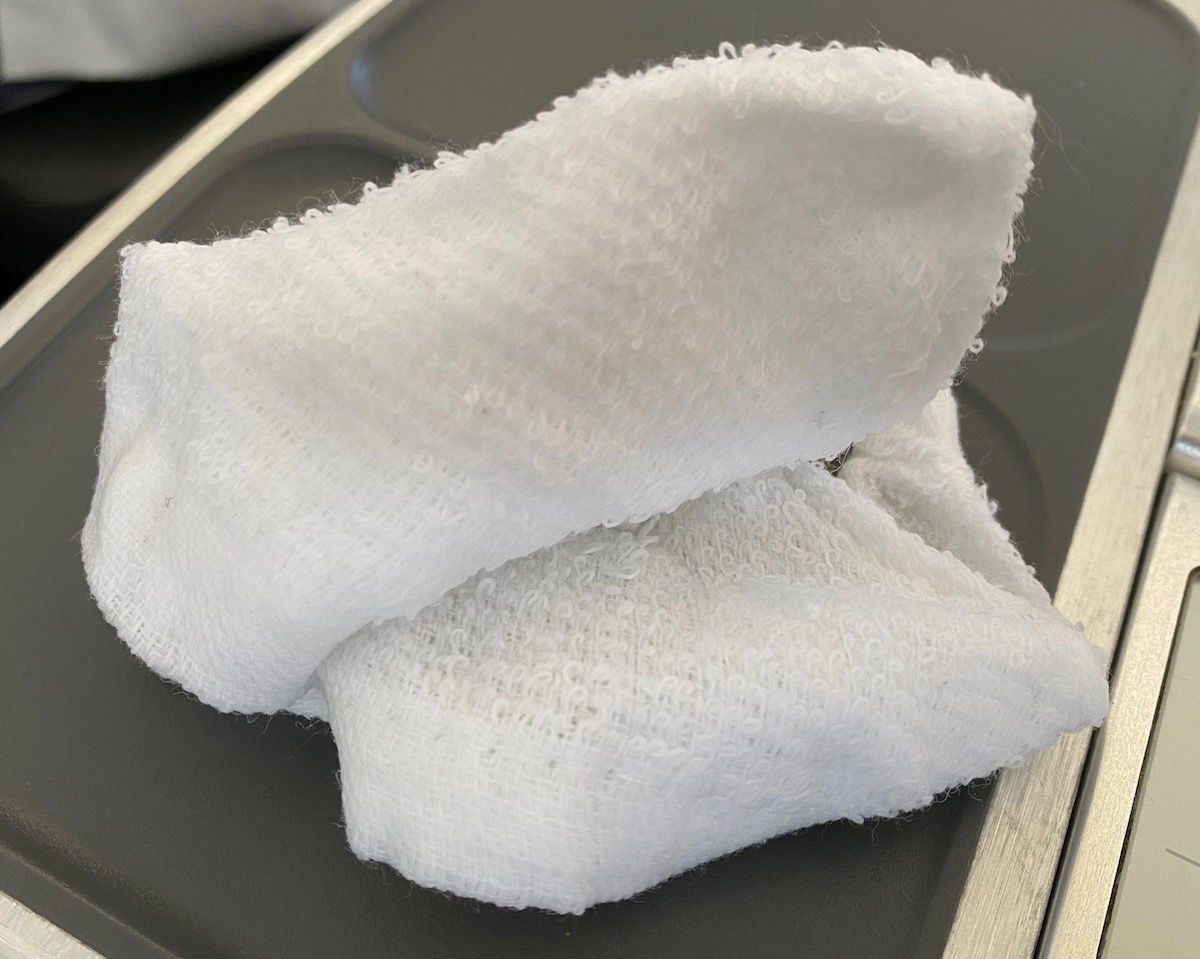 Lufthansa business class lunch — warm towel
15 minutes later I was asked what I wanted to drink. I ordered a glass of New Zealand sauvignon blanc and a still water, and that was served with a ramekin of mixed nuts.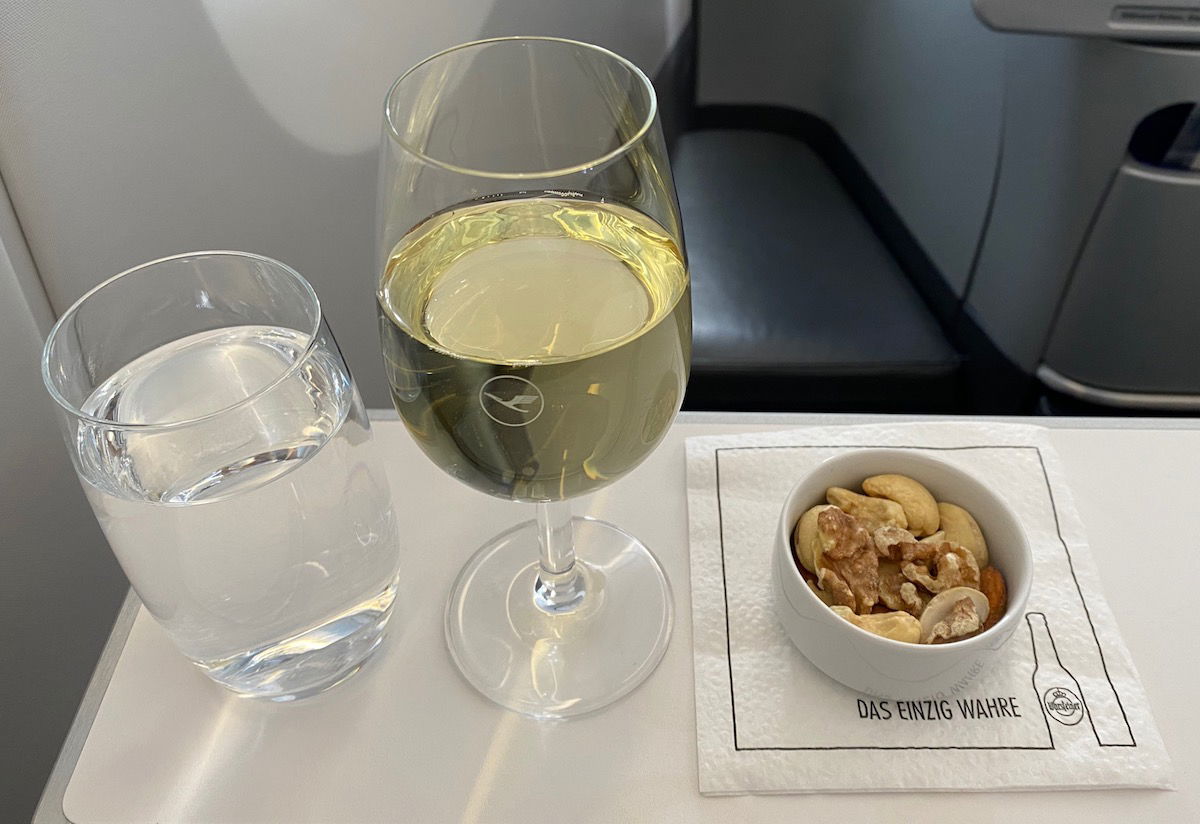 Lufthansa business class lunch — champagne & mixed nuts
45 minutes after takeoff my meal order was taken, and then 10 minutes later a cart was rolled down the aisle to serve the appetizer.
Of the two western appetizer choices I selected the prawns and mango salad with endive, lime, sweet chili sauce, and coriander, which was quite good. I was also offered a selection of bread.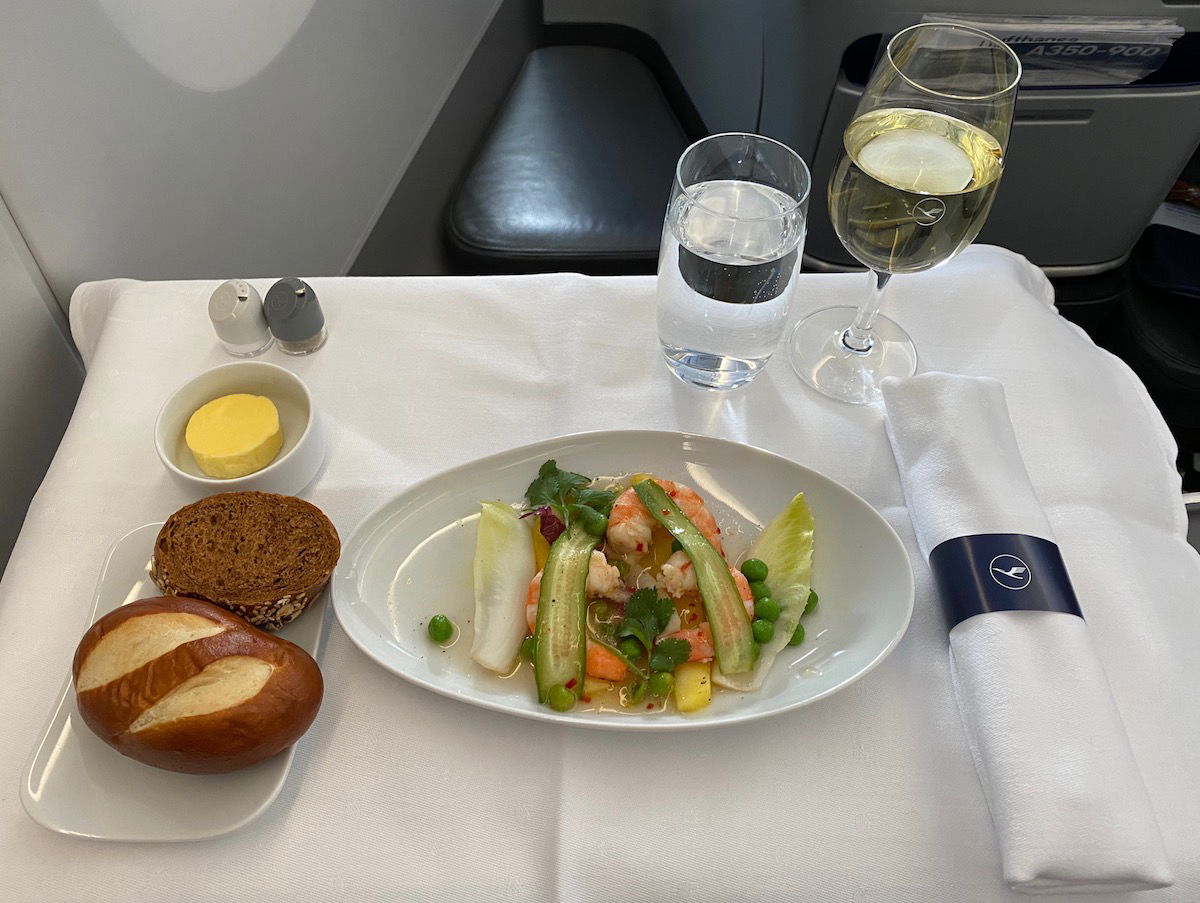 Lufthansa business class lunch — appetizer
75 minutes after takeoff the main course was served, for which I selected the slow-poached nordic salmon with saffron pernod sauce and green pea puree. That was served with a side salad. It was tasty, but they could have put a bit more effort into the presentation, and cleaned the edges of the plate.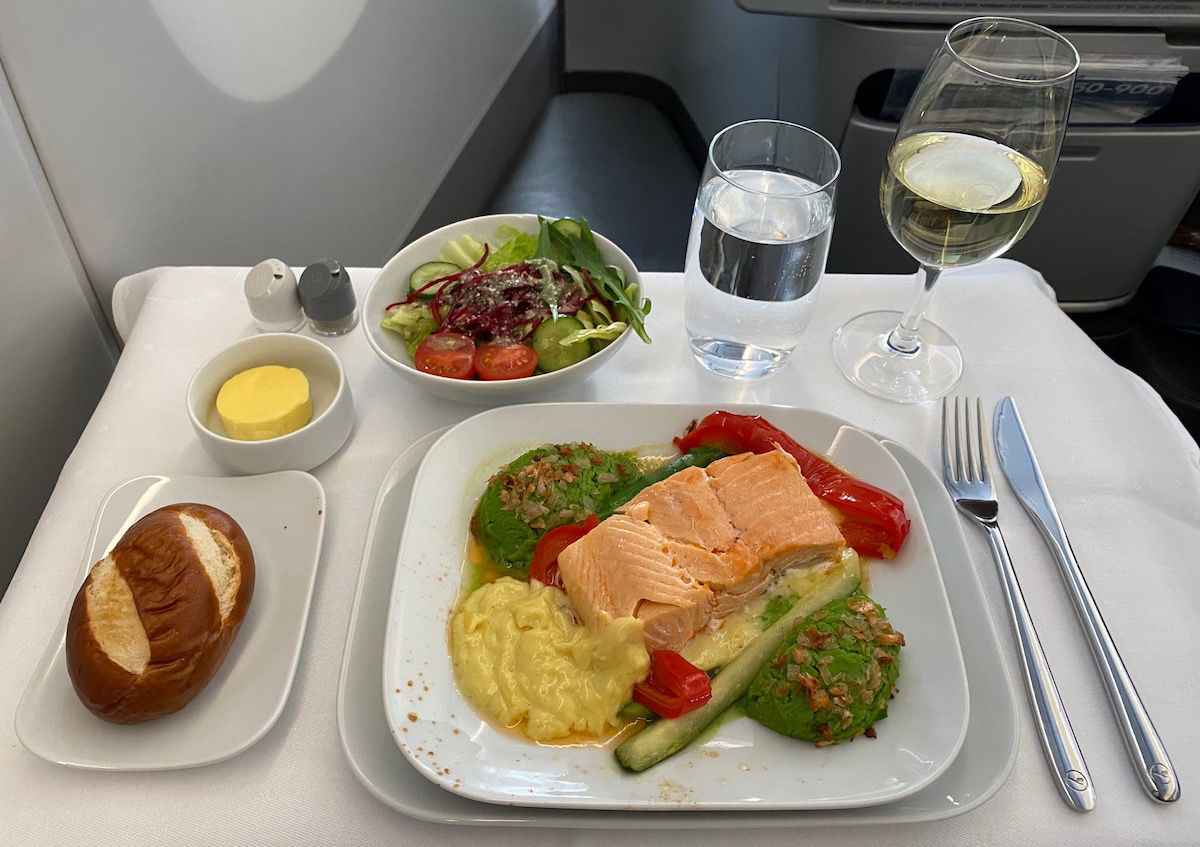 Lufthansa business class lunch — main course and salad
85 minutes after takeoff I was offered dessert. I selected the chocolate mocha tart with pecans, and had a cup of coffee to go along with it.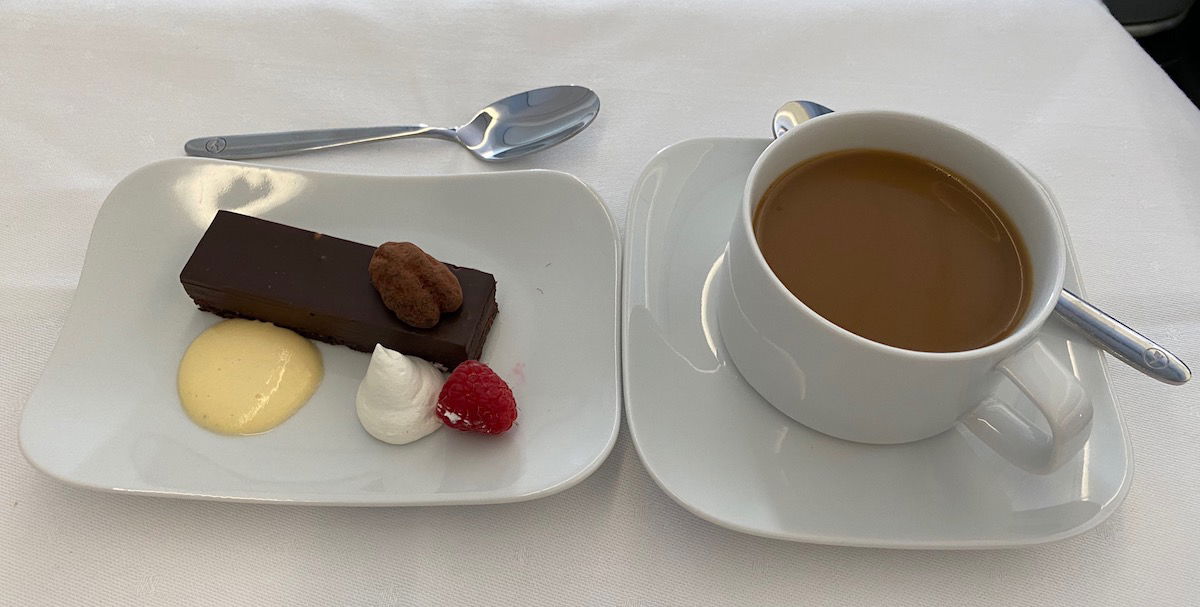 Lufthansa business class lunch — dessert & coffee
My tray was cleared about 90 minutes after takeoff, and I was offered a small box of chocolates.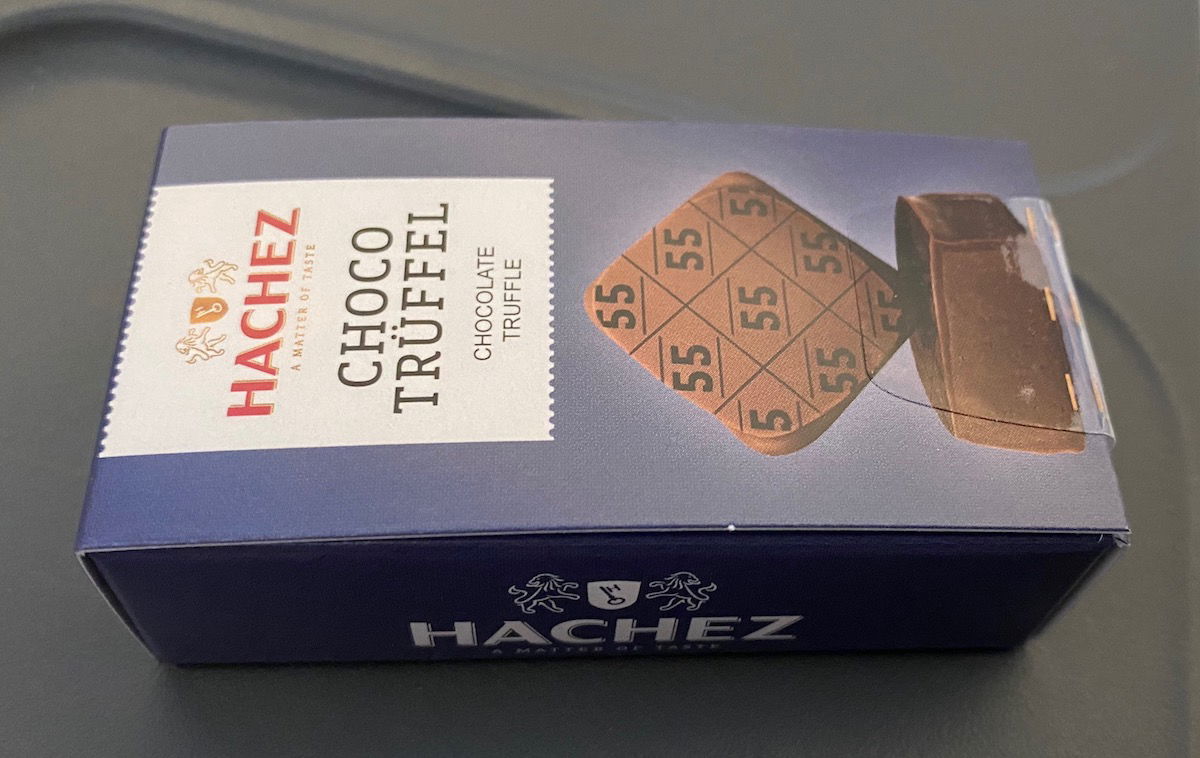 Lufthansa business class lunch — chocolate
Overall the meal service pace was quick, and on the surface Lufthansa has a good service flow. A couple of years back they changed up their service to try and make it more personalized, where each flight attendant is responsible for one specific section.
There were four flight attendants working the business class "aisles," with one working rows one through three on each side, and one working rows four through six on each side.
In theory this should lead to personalized service, but that wasn't really the case. The guy taking care of me was pleasant enough. It's not that he was disinterested or rude, but the entire service concept just felt so… forgettable.
He had six people to take care of, which on some airlines is the first class service ratio, but despite that I never actually felt like service was especially personalized. On the plus side, he was pretty good about drink refills, at least.
Anyway, on to the other aspects of the flight. Lufthansa has Wi-Fi on their A350s, which I very much appreciate.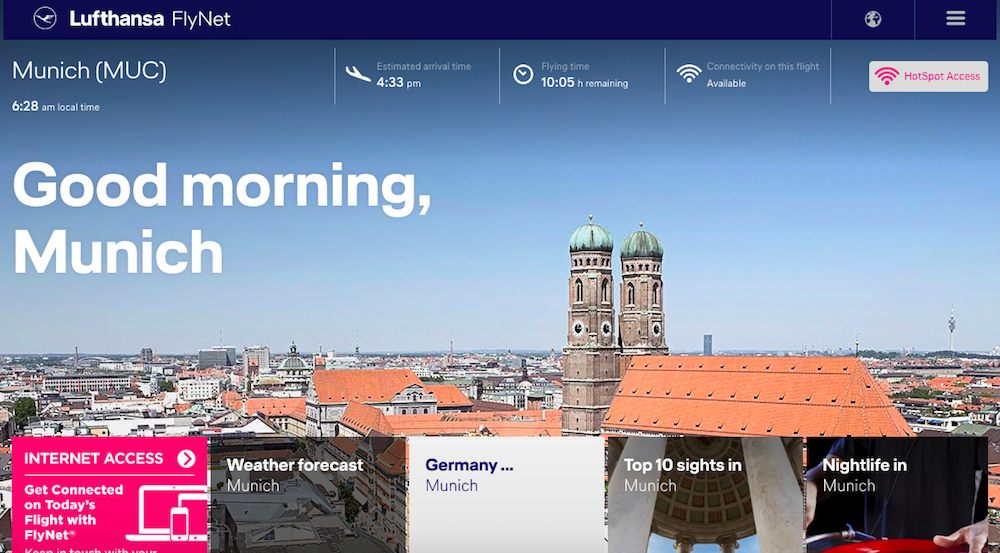 Lufthansa A350 Wi-Fi
There are three pricing options:
$8 for a chat plan
$20 for a mail & surf plan
$34 for a mail & surf plus plan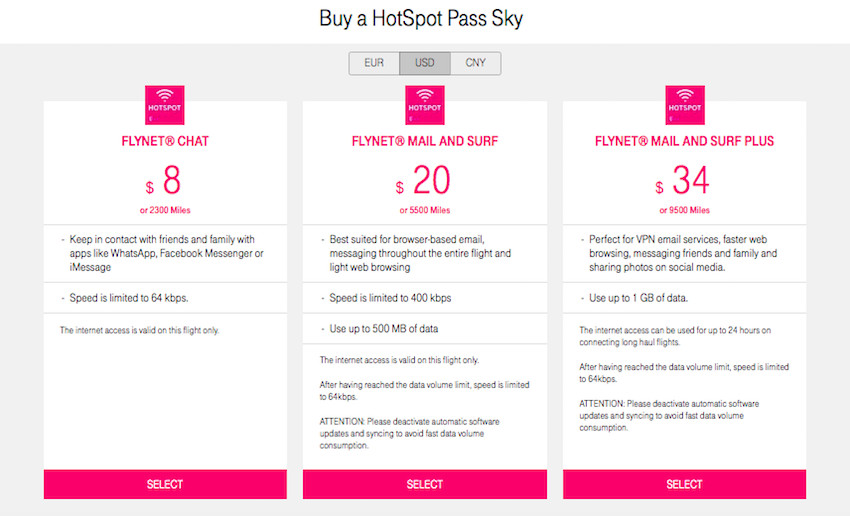 Lufthansa Wi-Fi pricing
Well that's kind of annoying — Lufthansa used to charge $20 for Wi-Fi with no data caps, while now that plan limits you to 500MB of data, and you have to pay $34 to double that limit. In fairness, that's a lot of data, but still…
I also took a look at the entertainment selection. While the variety of movies and TV shows is huge, and while the screen was fairly high definition, there were issues with the overall brightness of the screen. Even with the brightness setting as high as it would go, it was kind of hard to see the screen.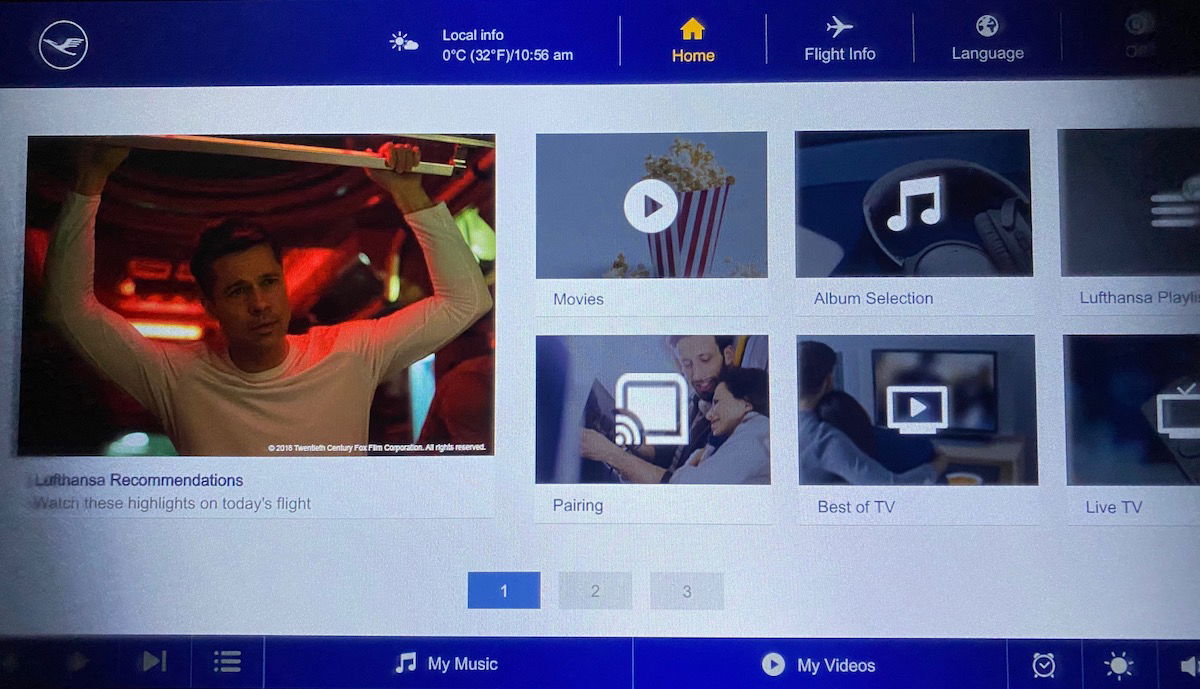 Lufthansa entertainment selection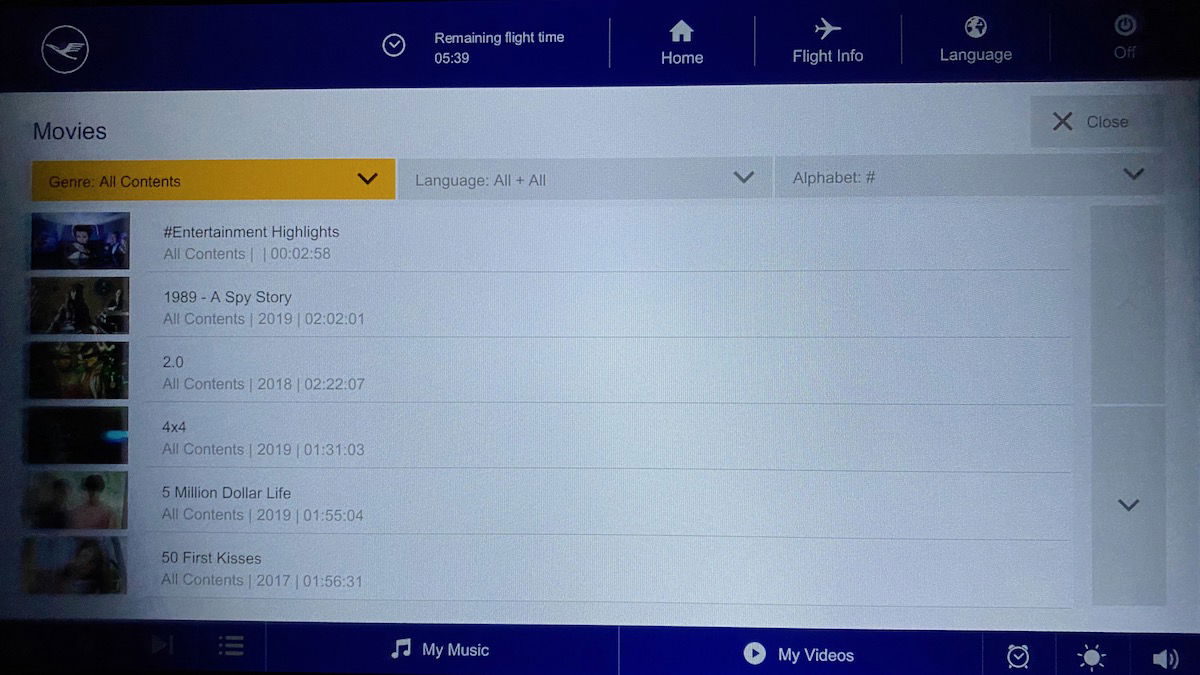 Lufthansa entertainment selection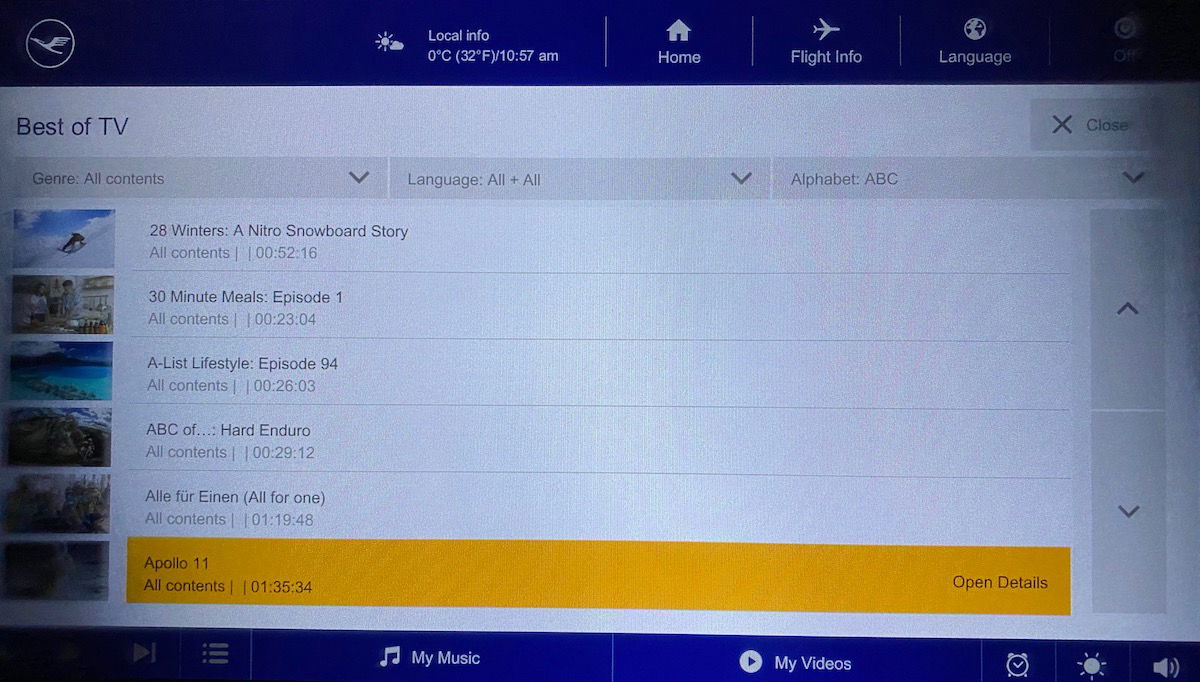 Lufthansa entertainment selection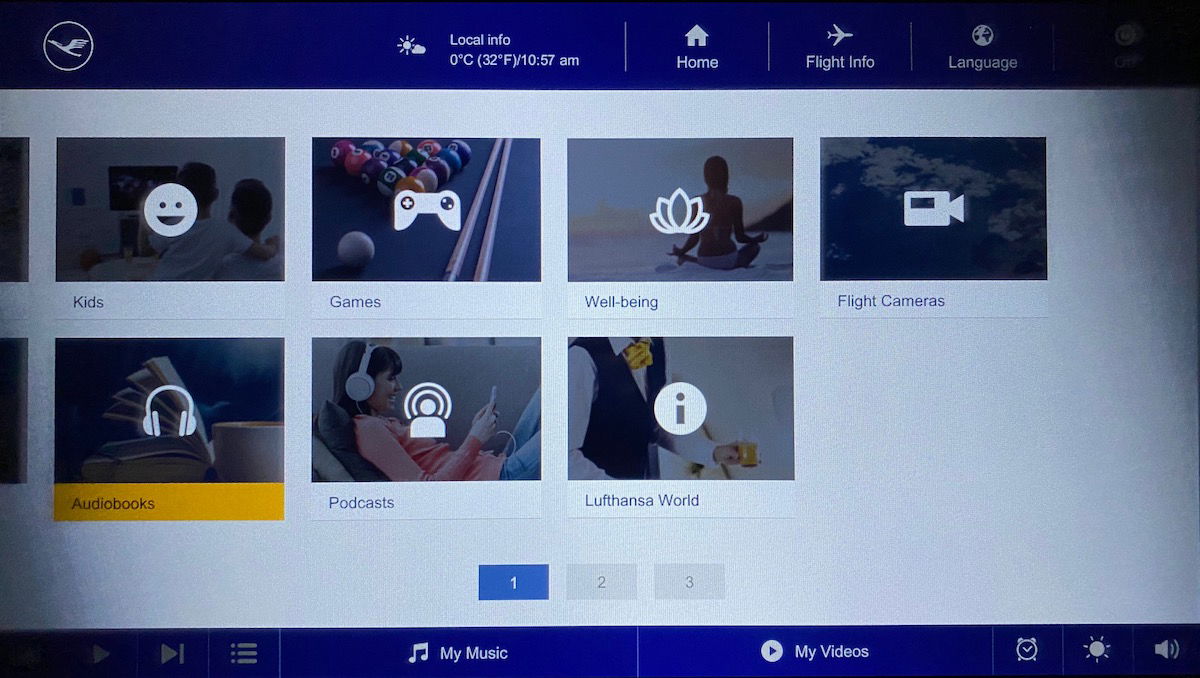 Lufthansa entertainment selection
With about 9hr45min remaining to Munich I decided to take a nap, as we were approaching Harbin.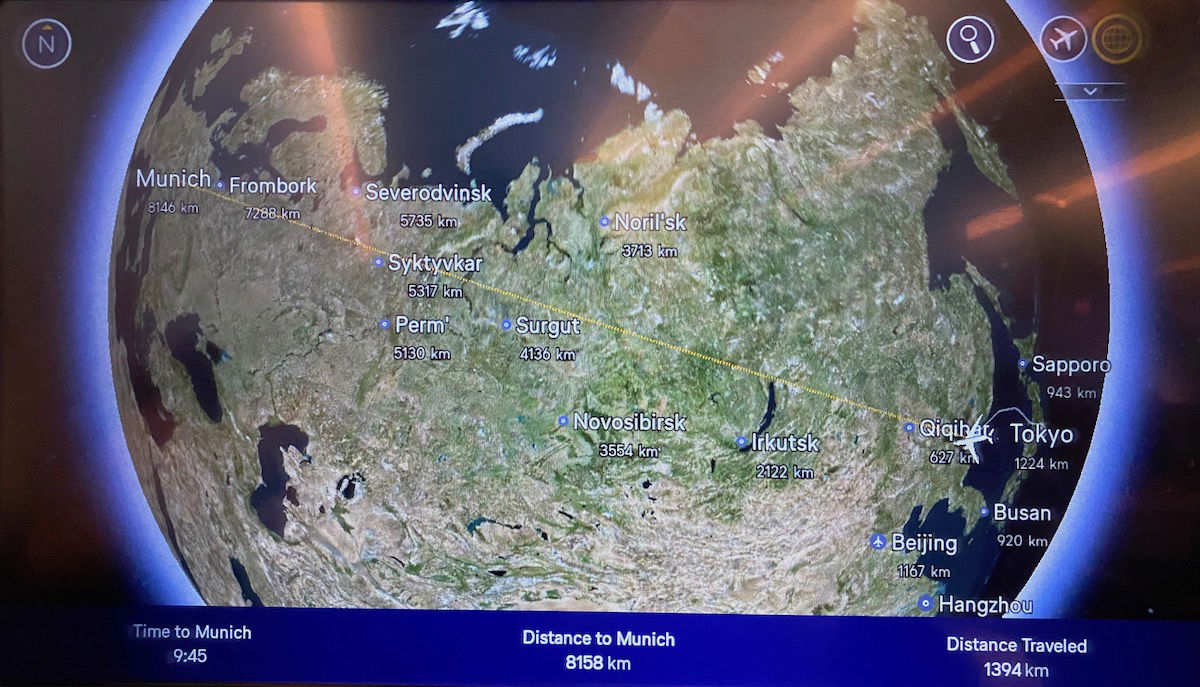 Moving map enroute to Munich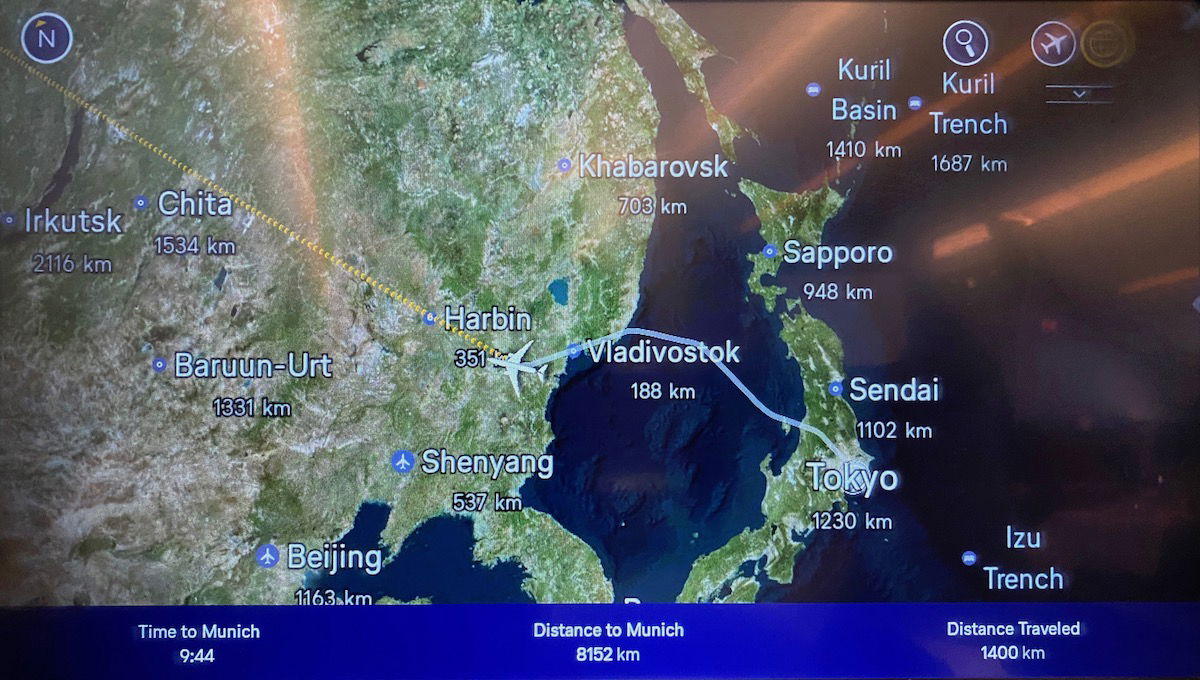 Moving map enroute to Munich
I reclined my seat and tried to get comfortable. I was grateful to have an empty seat next to me, though these seats still feel exposed and narrow. I basically felt like I was spooning the fuselage when I was sleeping on my side.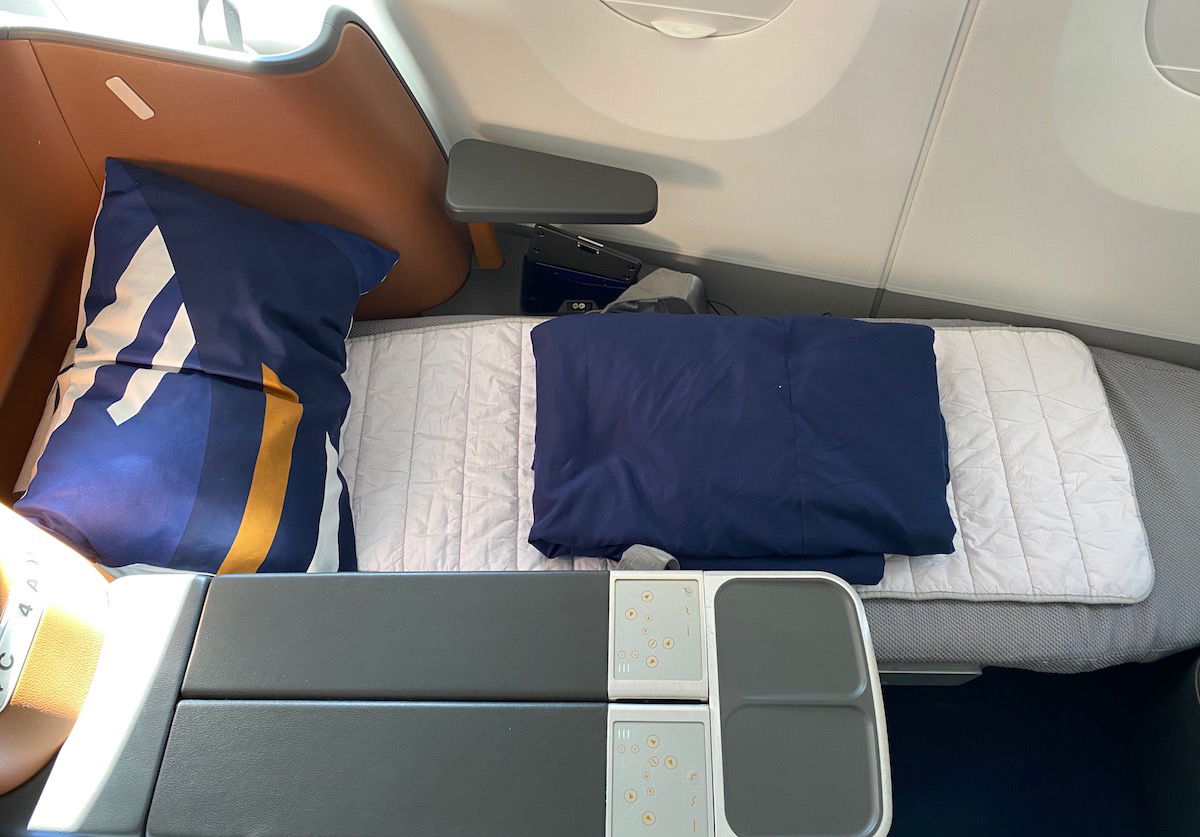 Lufthansa business class bed
The exhaustion from the past couple of days had caught up with me, and I managed to sleep for nearly four hours, until we were about 5.5 hours from Munich.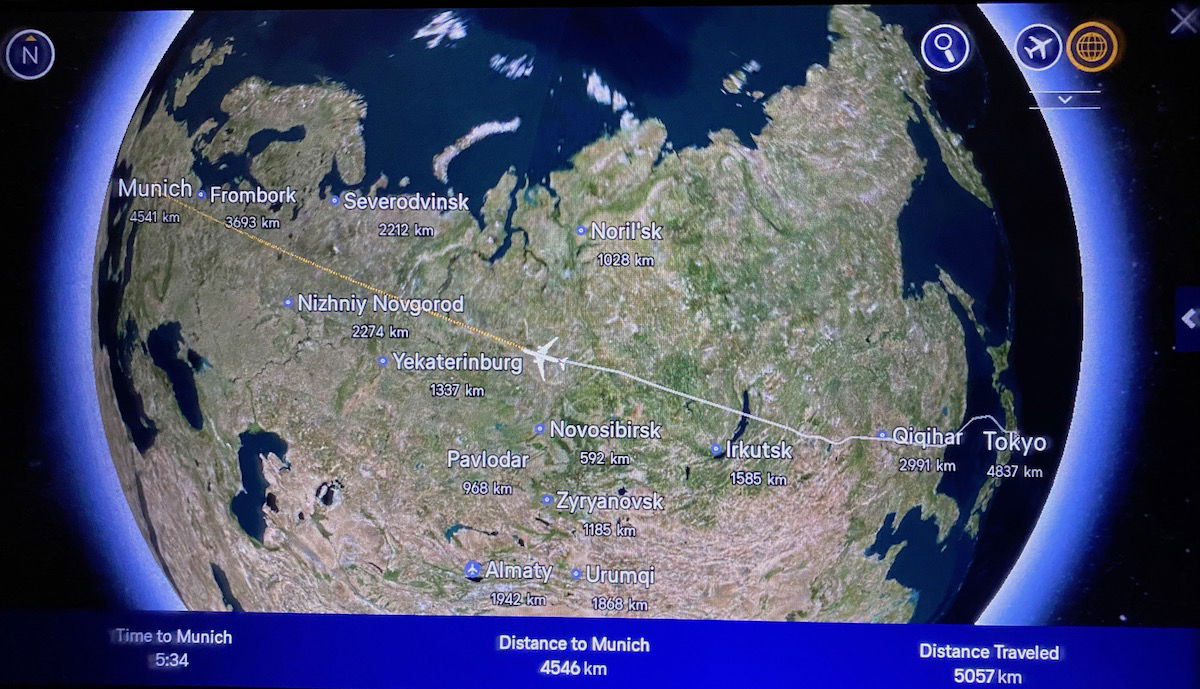 Map enroute to Munich
My gosh, we overflew so many places on this flight that I'd love to visit. Hello Harbin, hello Novosibirsk!
Even though it was only the early afternoon, it more or less felt like dusk for most of the flight, given how far north we were flying.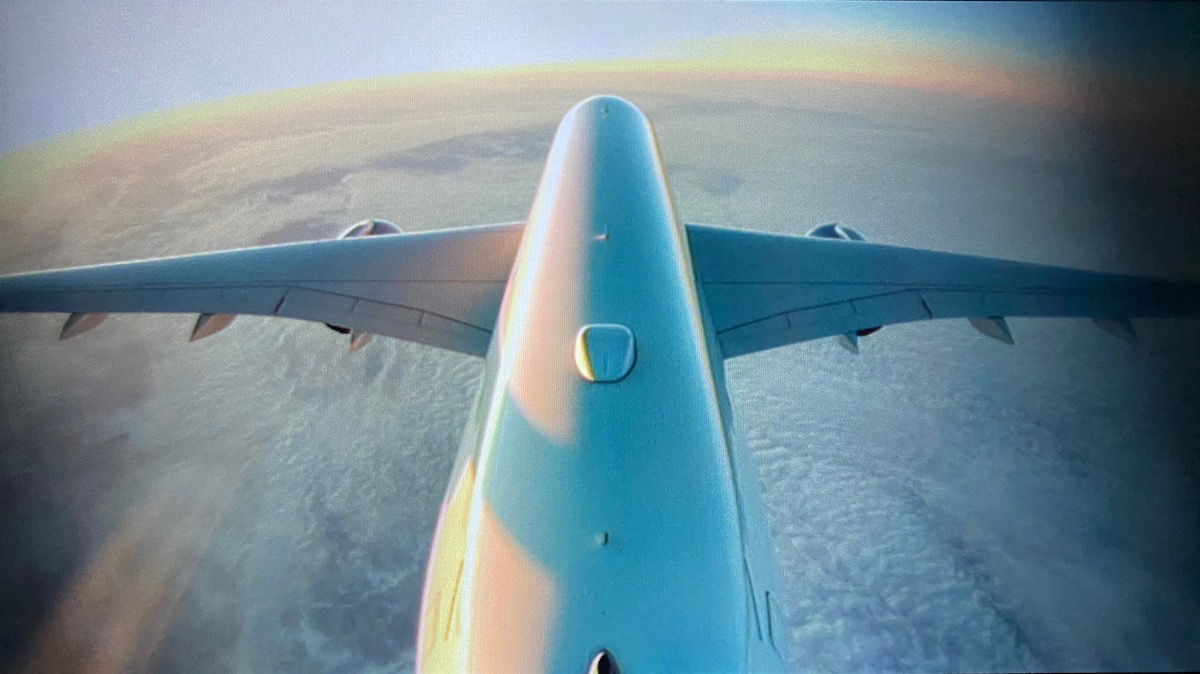 Beautiful sunset enroute to Munich
After napping I checked out the lavatory, of which there were two between the business class cabins. They were standard for the A350, though did have some extra amenities.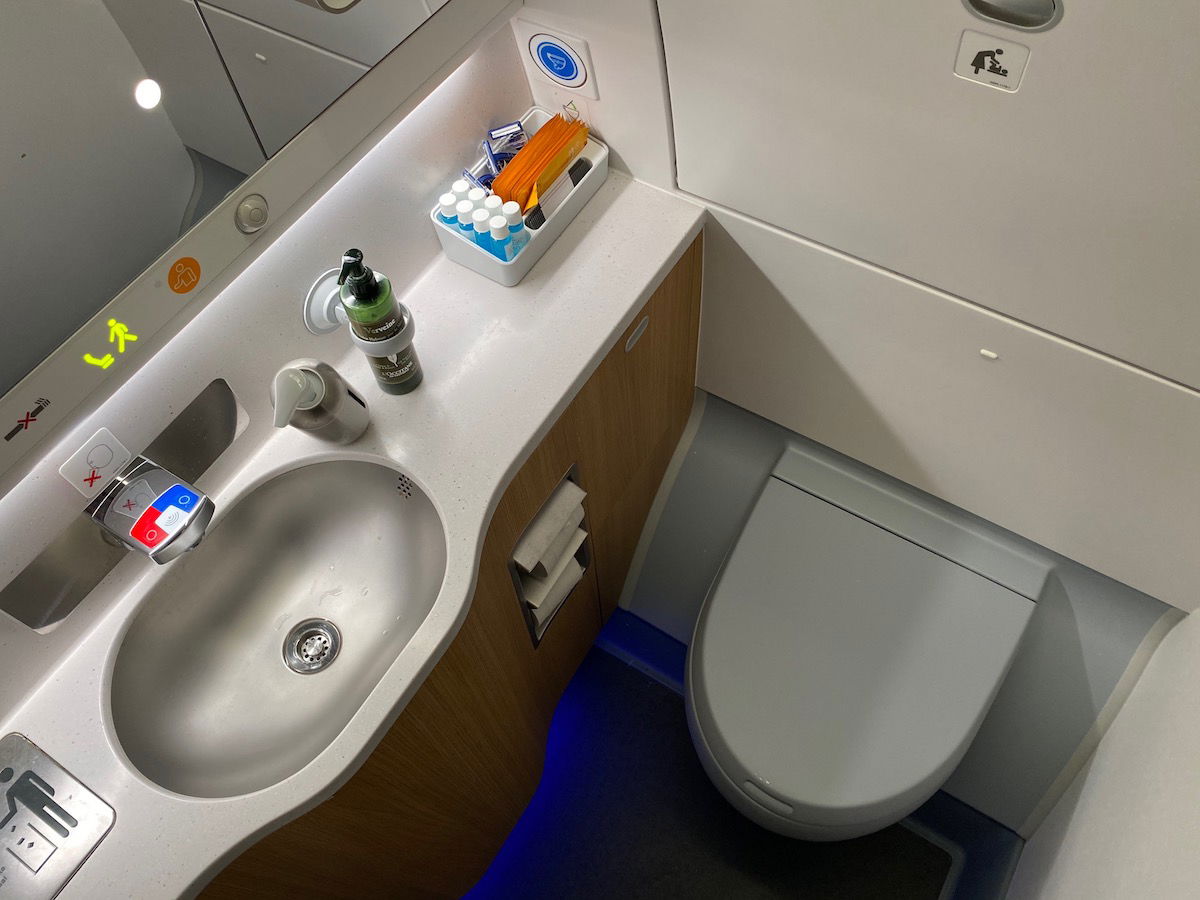 Lufthansa A350 lavatory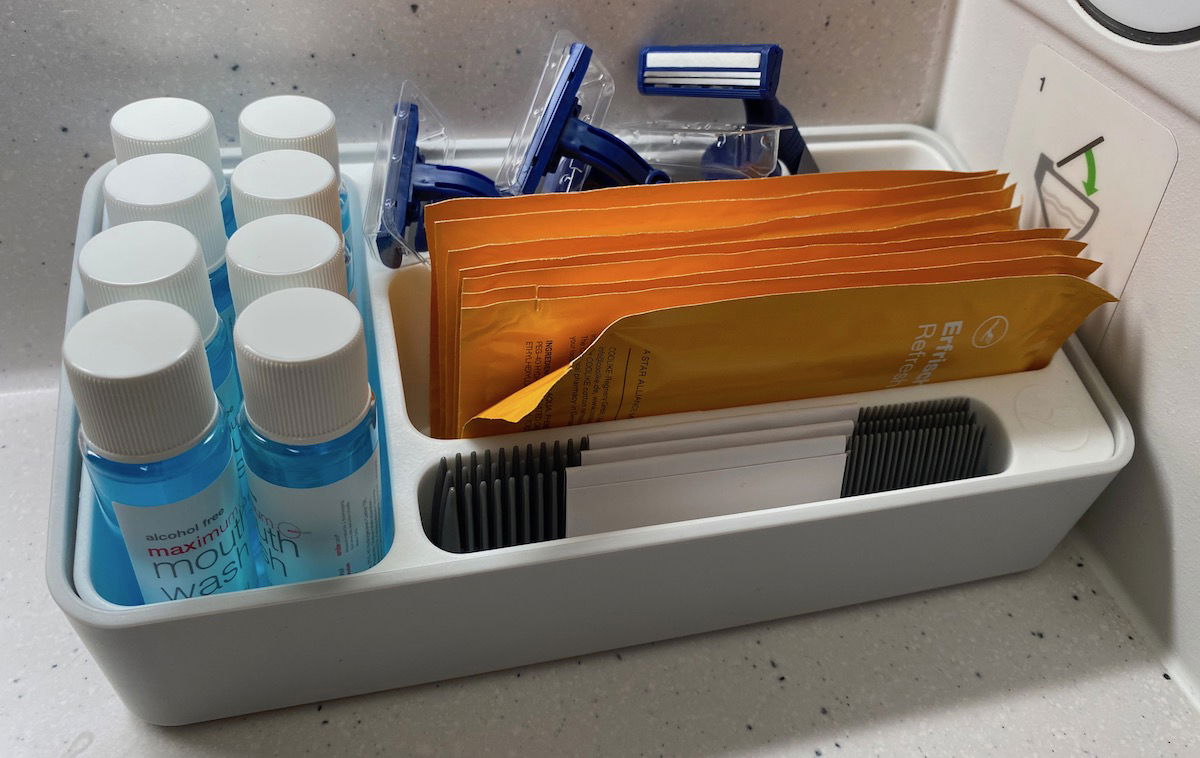 Lufthansa business class lavatory amenities
Most airlines would have a proper mid-flight snack menu on a nearly 12 hour daytime flight, while Lufthansa just had a tray of light snacks sitting in the galley. How unappealing to have sliced fruit and mini-burgers just sitting in the galley for hours on end without anything covering them.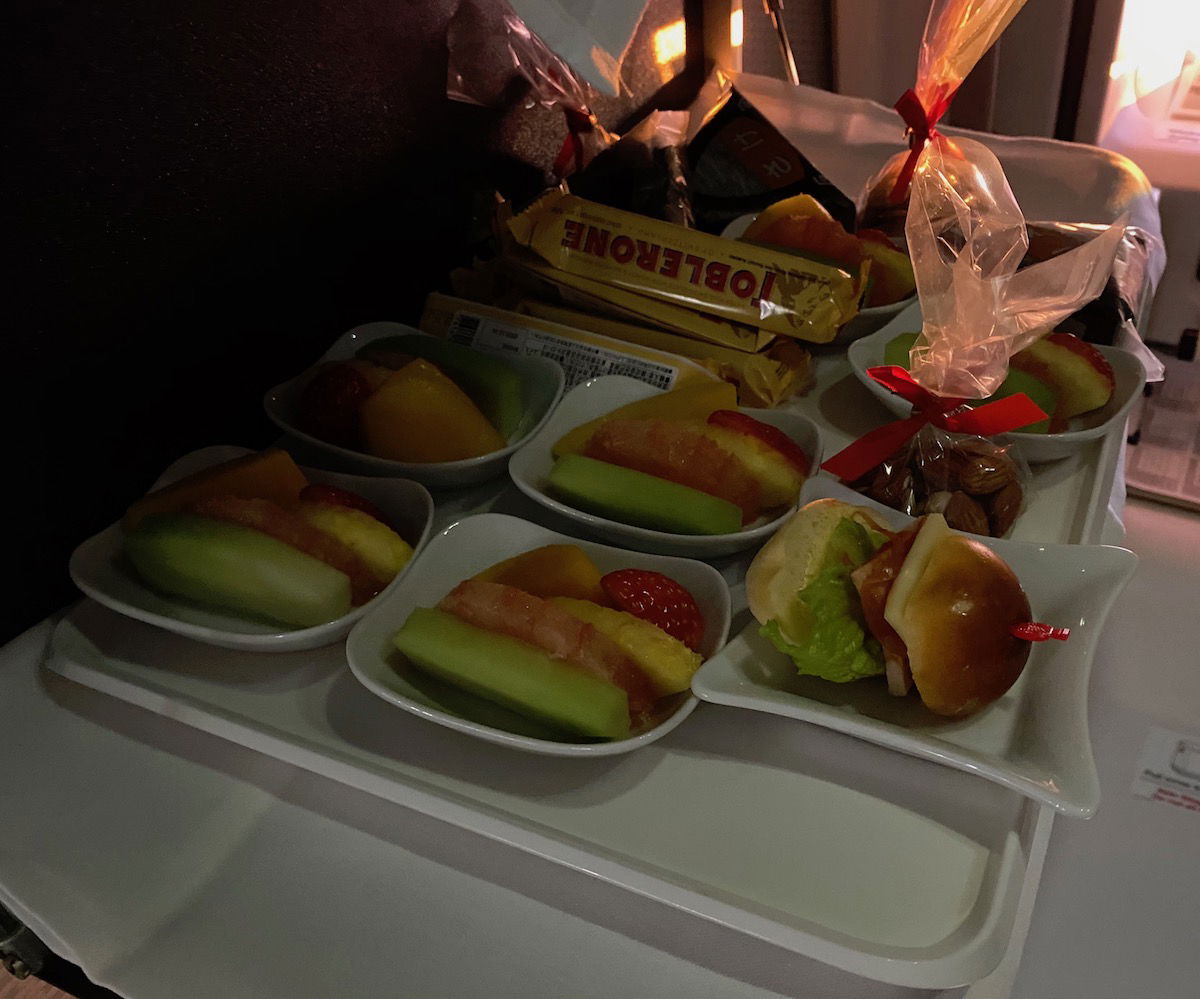 Lufthansa business class snack selection
I worked on my laptop for several hours, and the amazing views out the window continued.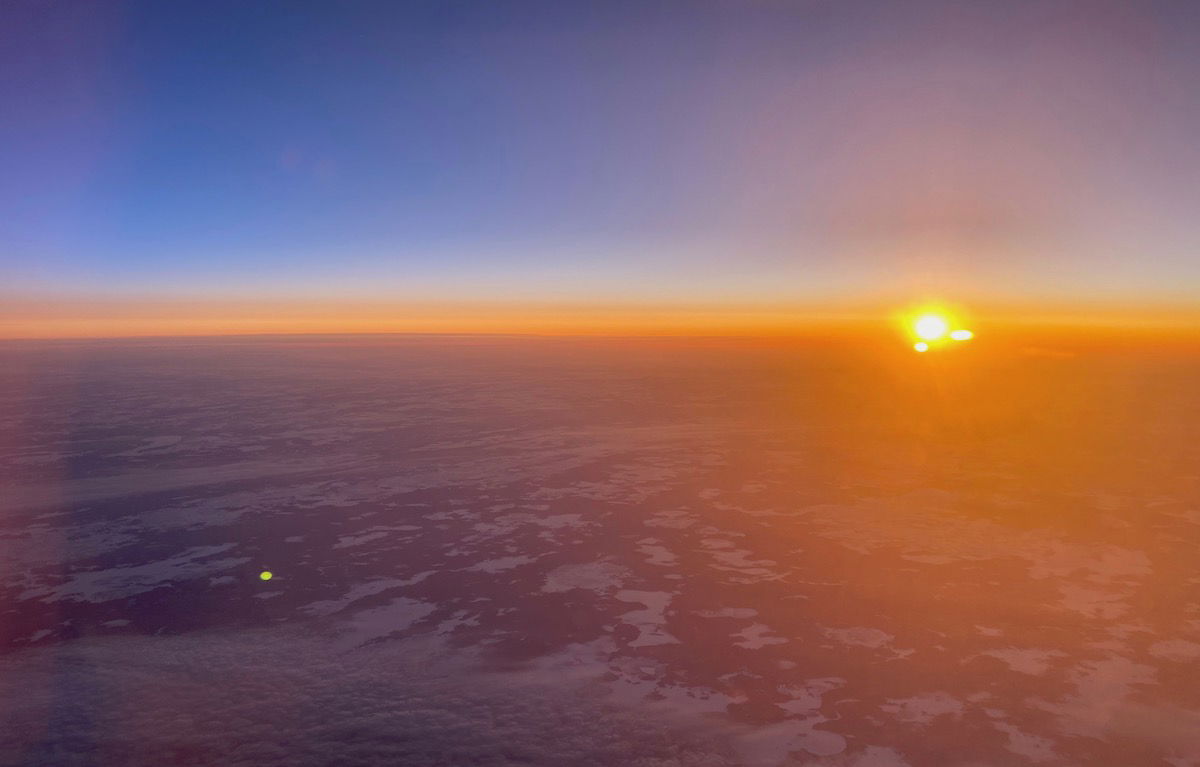 Sunset enroute to Munich
About 90 minutes before landing the cabin lights were turned on in preparation for the pre-landing service. The dinner menu read as follows: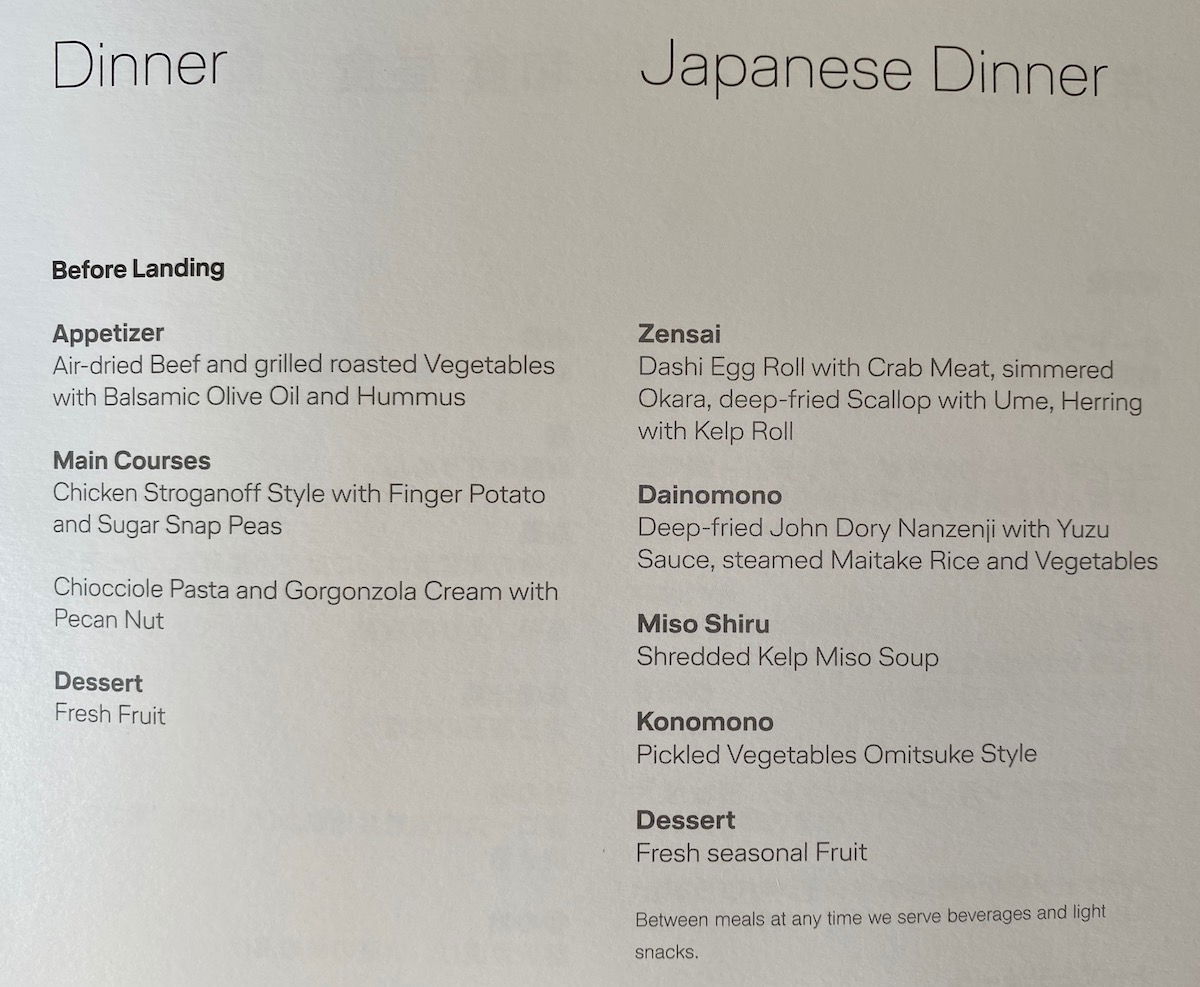 First warm towels were distributed, and then the meals were served, all on a single tray. I ordered the chicken stroganoff with finger potatoes and sugar snap peas. That was served with air-dried beef and grilled vegetables, along with fresh fruit.
The appetizer and fruit were fine, while the main wasn't good at all… in fairness, it was my mistake for ordering that.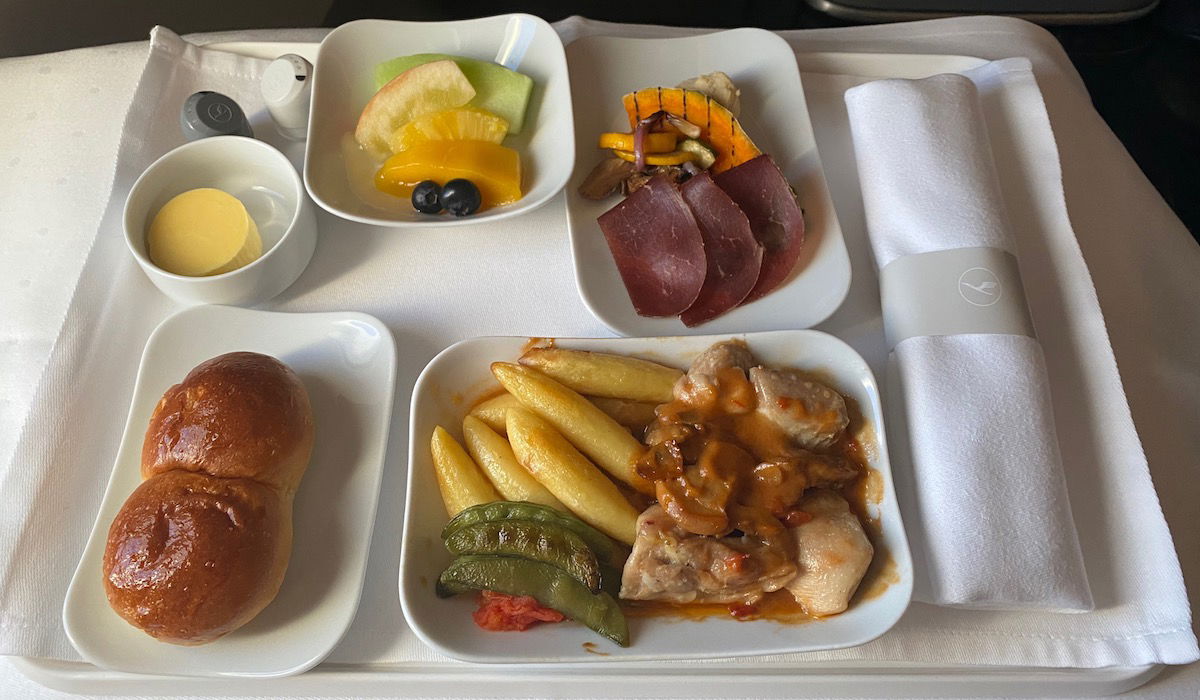 Lufthansa business class dinner
At 4:05PM Munich time the first officer announced we'd be descending shortly and landing in about 35 minutes. Five minutes later the seatbelt sign was turned on.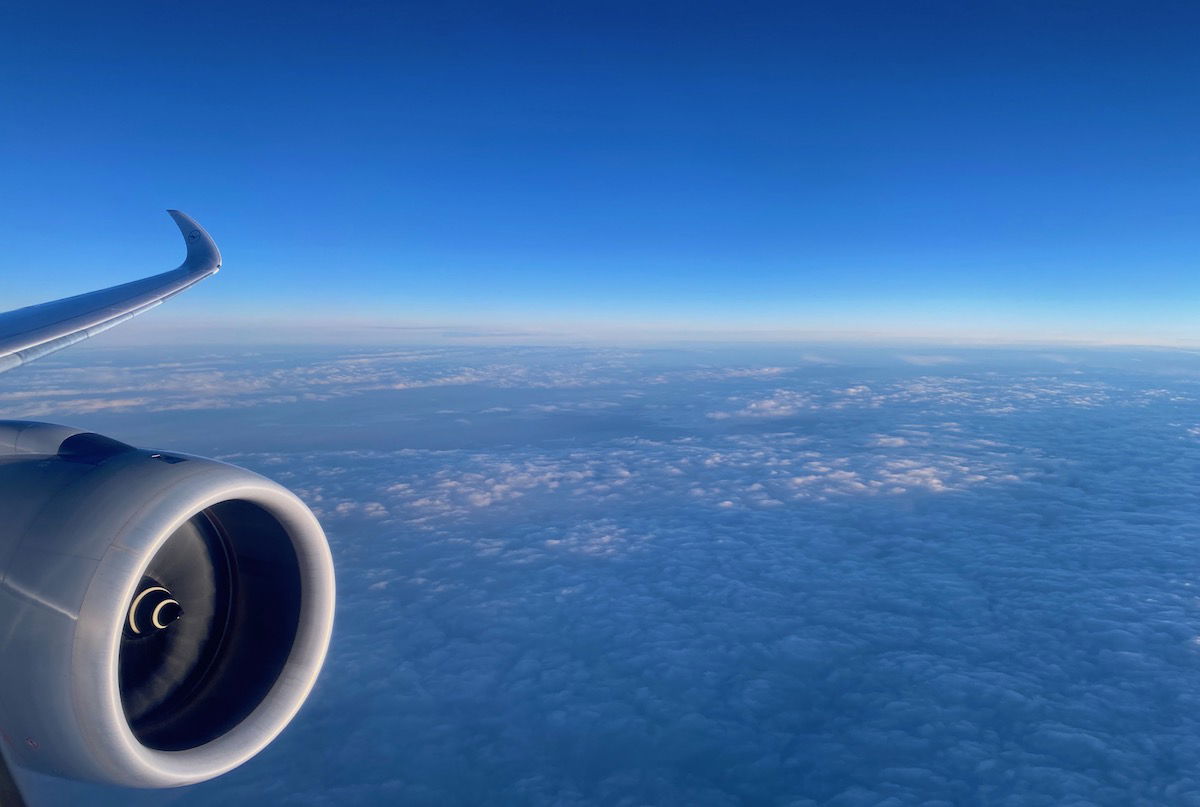 View enroute to Munich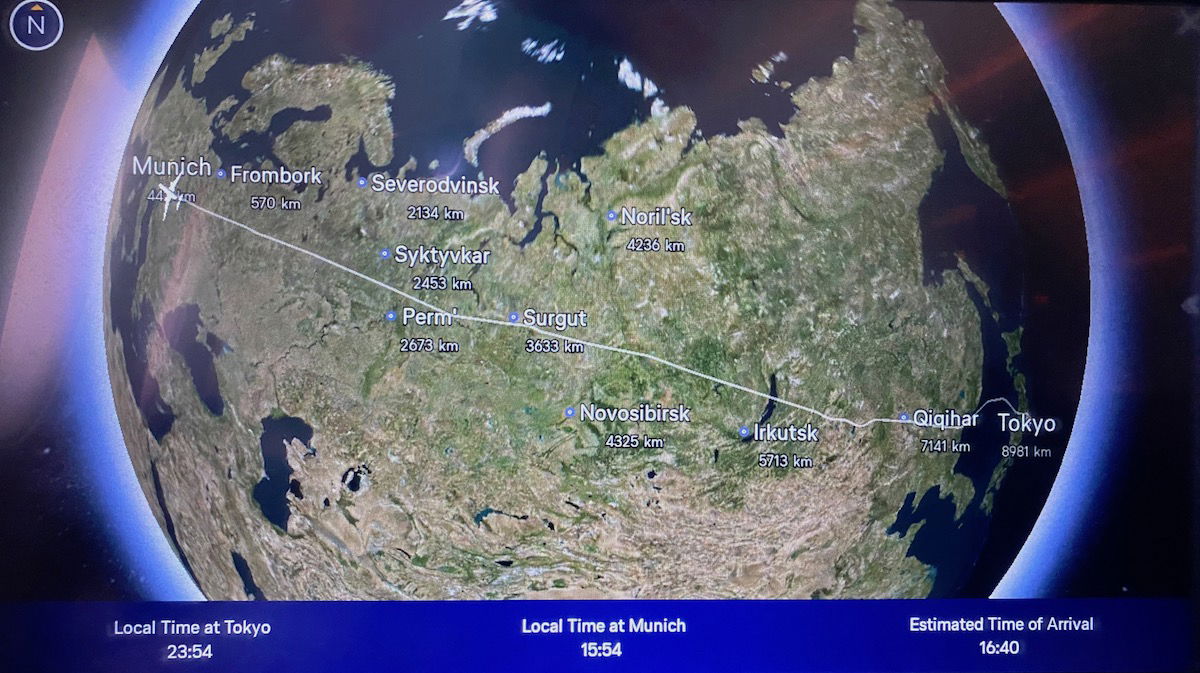 Map enroute to Munich
We were treated to some incredible sunset views on approach.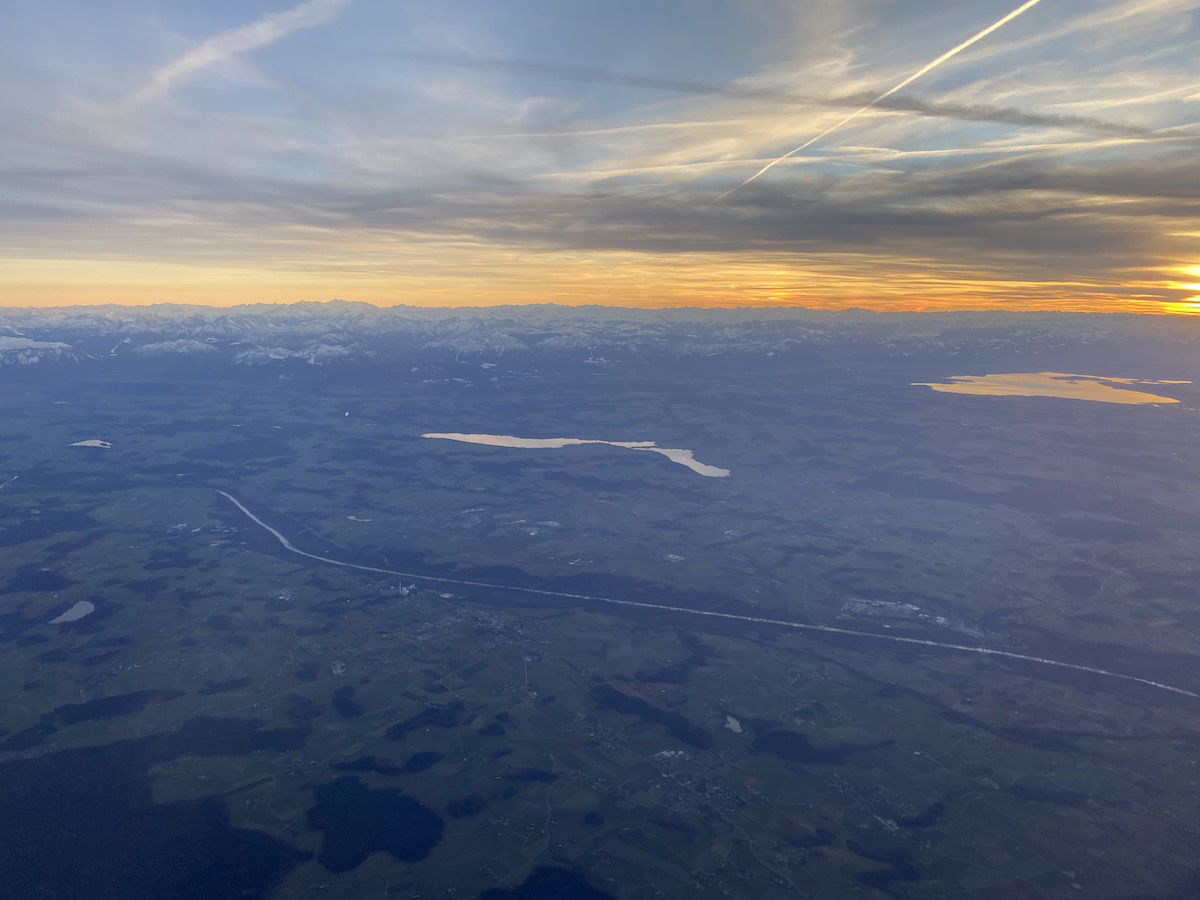 View approaching Munich
We touched down in Munich at 4:35PM.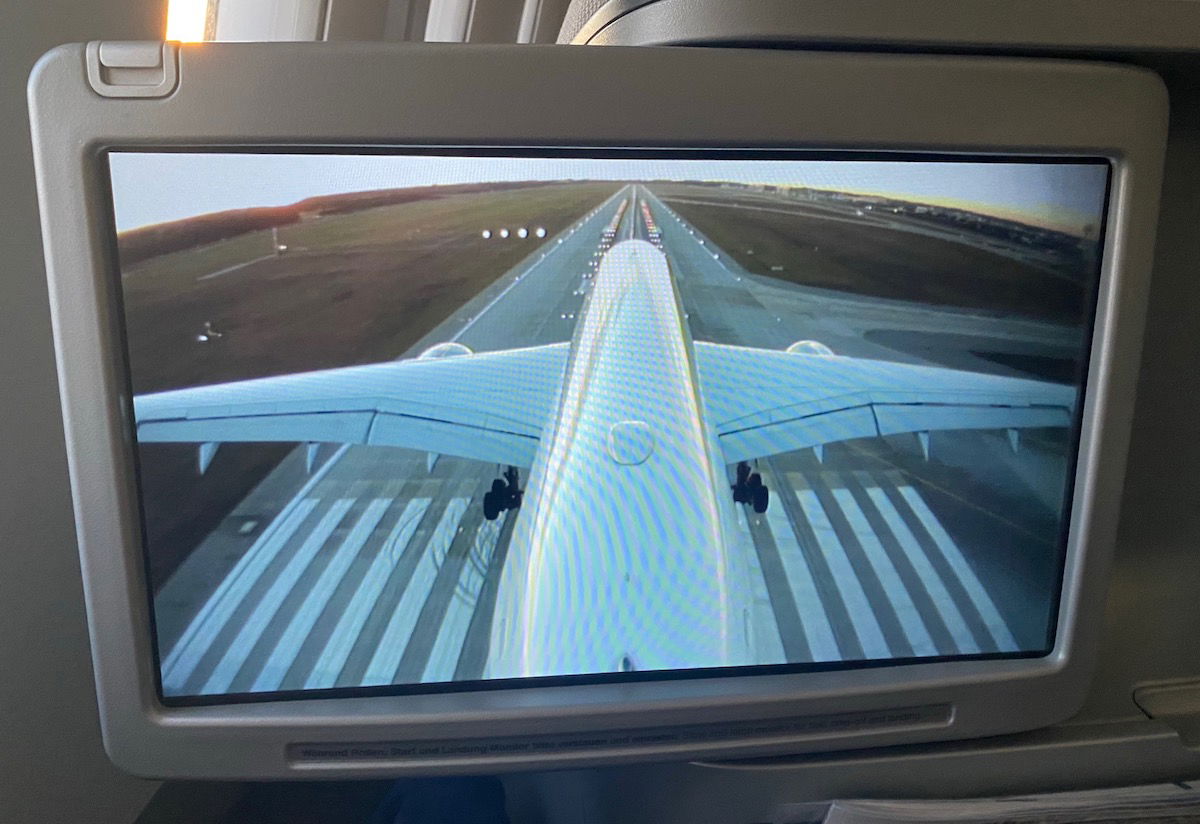 Tail camera landing In Munich
From there we had a 10 minute taxi to our arrival gate. That's a cool-looking A318!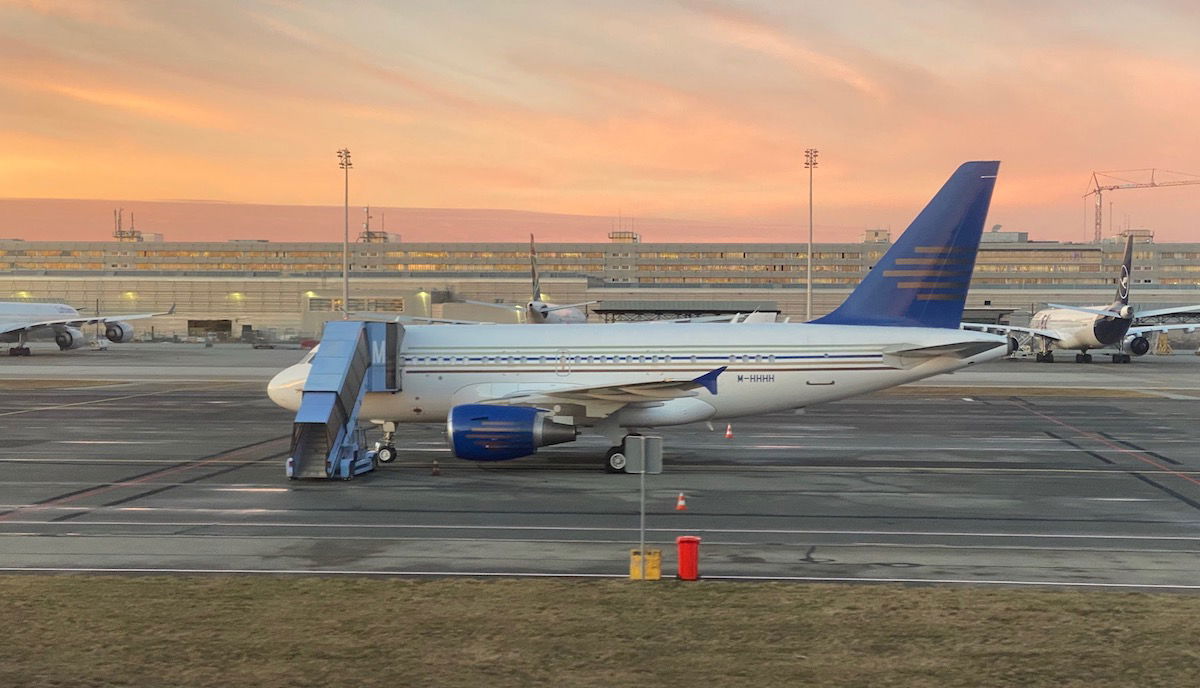 Taxiing Munich Airport
As we taxied towards the terminal I saw an ANA 787-9 parked there. That gave me a good chuckle, because the plane also flies from Tokyo Haneda — the ANA flight is scheduled to depart 10 minutes earlier, while the two flights are scheduled to arrive at the same time… so we were beat!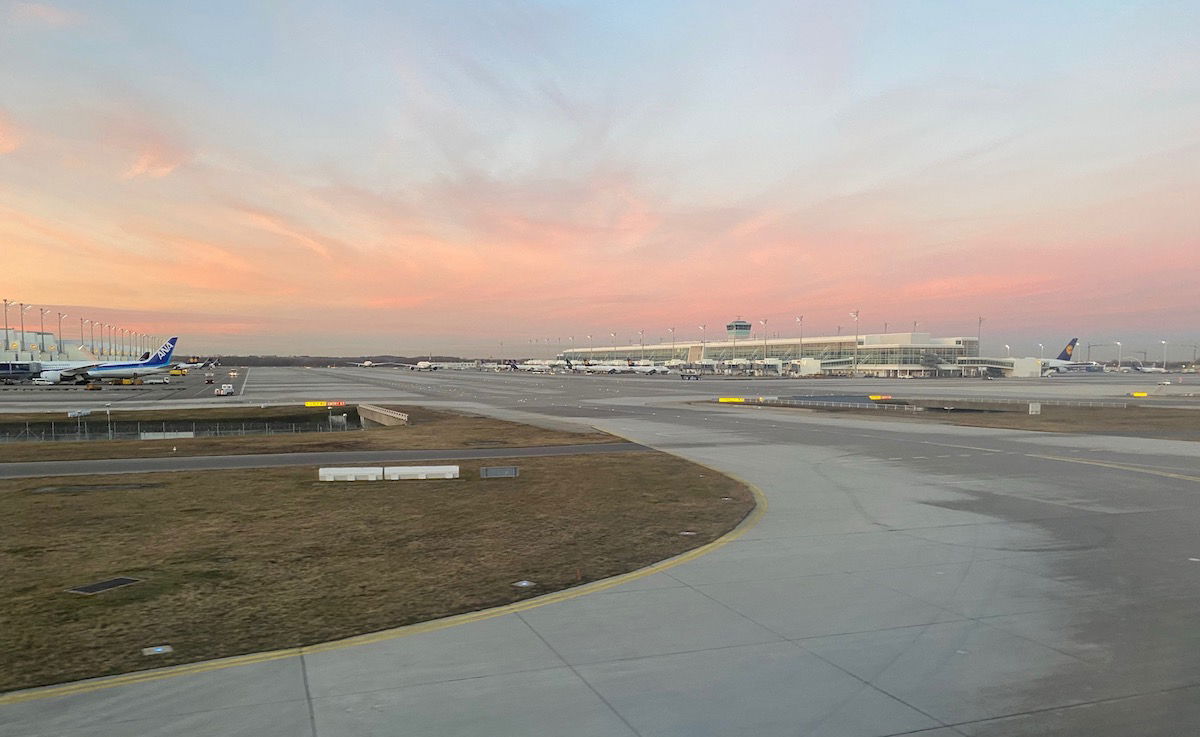 Taxiing Munich Airport
By 4:45PM we pulled into our arrival gate, right at the end of the terminal.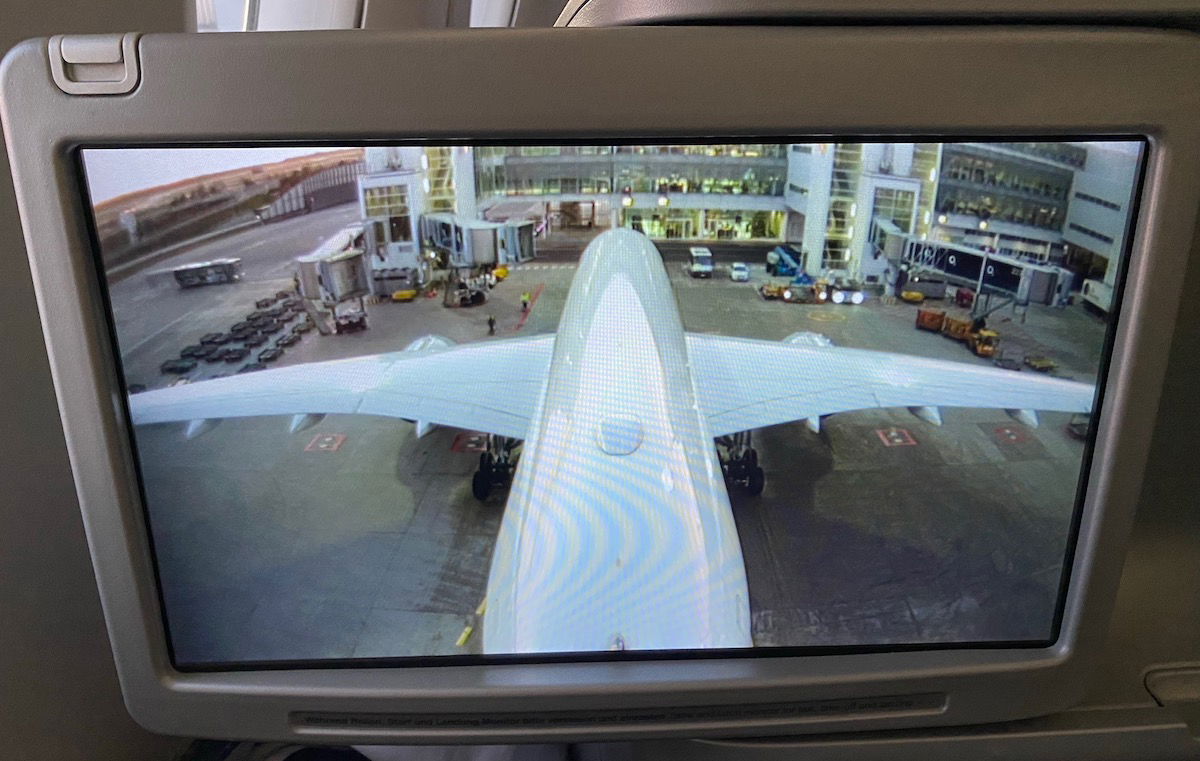 Arriving at gate in Munich
Lufthansa A350-900 Business Class Bottom Line
What a forgettable business class product Lufthansa offers. I can't think of a single full service airline that has seats this bad on their A350s. While Lufthansa has a new business class product in the works, virtually all other major European airlines have more competitive seats already in service.
On the plus side, Lufthansa offers (relatively) reasonably priced Wi-Fi and a good entertainment selection.
Other than that, though, this is such a forgettable and disappointing product. The food, service, and amenities are forgettable, while the seats are downright disappointing. Fortunately I had an empty seat next to me, which made a big difference. But without that, this would have been a much different experience.
With ANA soon deploying their new 777-300ER cabins to Frankfurt, it's crazy to think that these two products are competing head-to-head with one another on the same routes…
If you've flown Lufthansa's A350 business class, what was your experience like?