It has just been announced that Lufthansa is the 10th airline to get a Skytrax 5-Star rating, and they're the first airline in Europe to get the distinction. They join nine Asian carriers who already have the ranking (two of which are Gulf carriers). The two most recent airlines to get a 5-star rating are Etihad (in October 2016) and EVA Air (in June 2016)
Here's what Lufthansa's CEO and Skytrax's CEO had to say about the award:
"The award is a well-deserved recognition of our major efforts to make Lufthansa one of the world's leading premium airlines again," says Carsten Spohr, Chairman of the Board of Deutsche Lufthansa AG. "We have caught up because we made huge investments in our fleet, updated all our cabins, introduced digital services, opened new lounges and improved service on board and on the ground. The combination of premium offerings with the quality and professionalism of our employees has earned Lufthansa the status of a five-star airline," Spohr adds. "Everyone at Lufthansa can be proud of this certification, especially our colleagues in the cabins and cockpits and on the ground who fulfil our premium promise every day in their interactions with our passengers. I am convinced that the most important factor in getting the fifth star was that we have the best airline employees."

Edward Plaisted, the CEO of Skytrax, confirms: "The achievement of 5-Star Airline status by Lufthansa is not only a great accolade as the first European airline to reach this target, but is a clear recognition of the improvements they have made in recent years, particularly in all areas of the front line service delivery."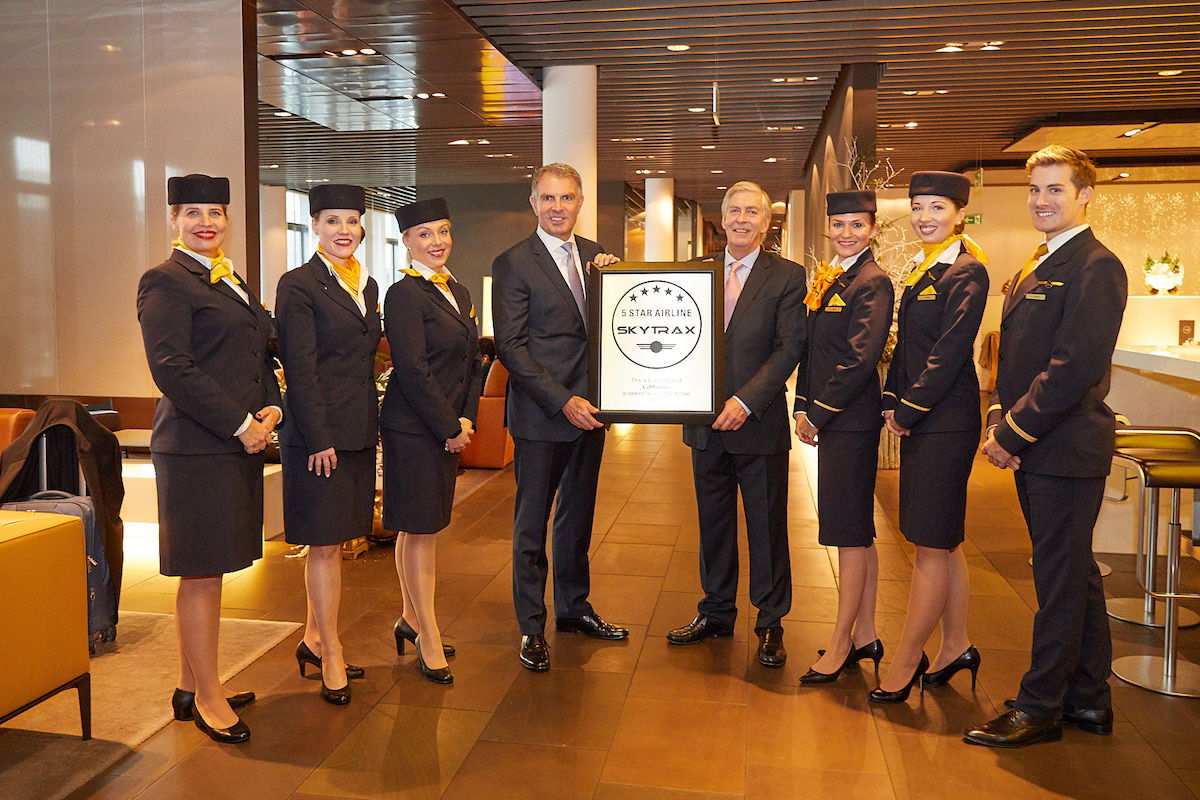 Lufthansa in the past has won Skytrax awards for being the best airline in Europe (a title they took away from Turkish), and has also won a 5-star rating for their first class. Here's a bit about why Skytrax thinks Lufthansa deserves a 5-star award:
The testers at Skytrax travel with the perspective of a passenger. For their ratings, they evaluate the service quality of the respective airline with comprehensive assessments on the ground and in the air in up to 800 categories. These include the service on board, seat comfort, catering, security measures, in-flight entertainment, duty-free offers and many other services. For Skytrax, the consistency and constancy with which Lufthansa has forged ahead with the modernisation of its product was a key consideration in the decision to award the fifth star. For instance, the cabins in First, Business, Premium Economy and Economy have been comprehensively upgraded over the last few years. The airline has also expanded its restaurant service from First Class to Business Class, improving its personalized appeal to passengers in the process. And it is also important to look ahead: to the new Business Class that will be rolling out in 2020 with the Boeing 777-9, and to a new and even better Premium Economy and Economy Class. Lufthansa also scored points with the new Lufthansa app and a wide variety of digital services on the ground and on board. The aim is to increasingly use digital opportunities to develop customized offers and services for Lufthansa's passengers.
I don't put too much weight into Skytrax ratings, though I do still follow them with interest. However, personally I can't agree with Skytrax on this one, and actually take issue with their ranking. I love Lufthansa, and in particular their first class, though as of now they don't have direct aisle access from every seat in business class on a single plane. If an airline can't even have a decent business class product it seems a bit crazy to give them a 5-star rating.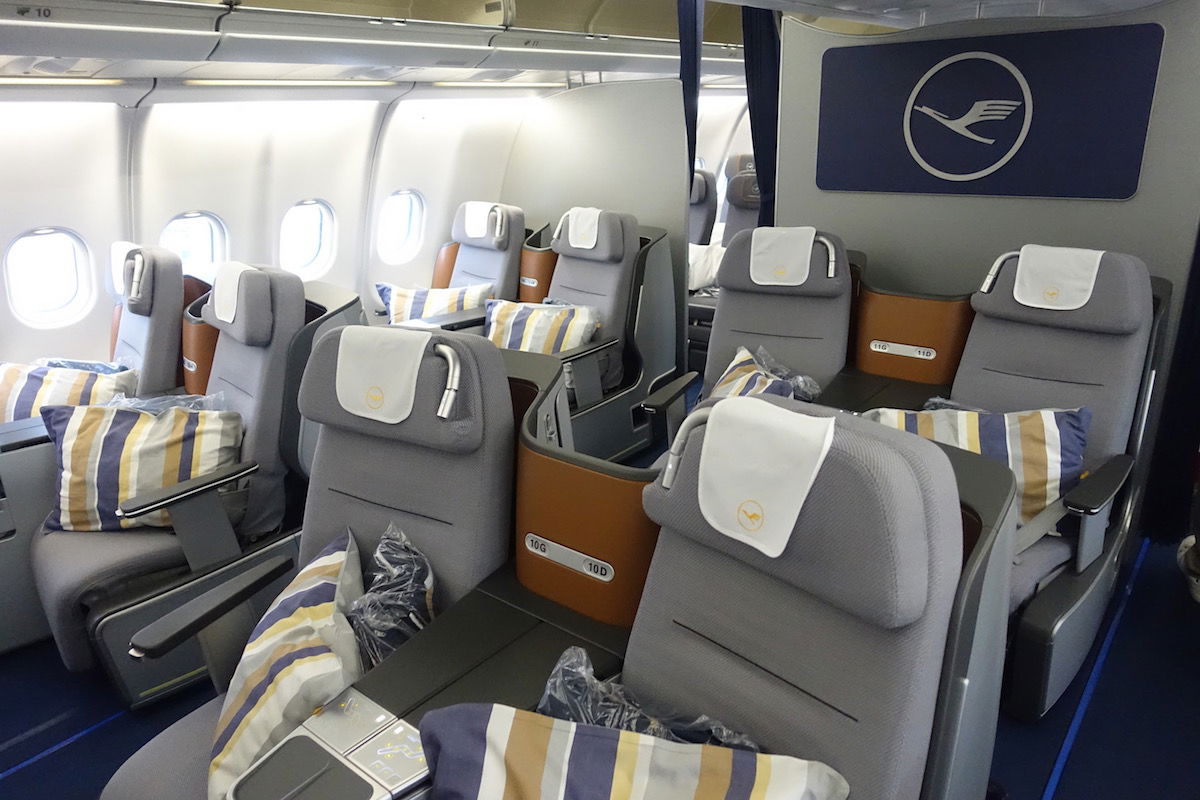 Lufthansa's current business class product
That's why I have a real issue with this:
A key factor behind Lufthansa gaining 5-Star Airline Certification is the recently announced new business class cabin and seat that will be delivered when the airline receives their first Boeing 777X aircraft.
Wait a second, Lufthansa is getting a 5-star certification because of a business class product that they'll begin to install several years from now (and it will be years and years before the entire longhaul fleet features this product)?!?! Seriously? It's one thing if they were awarded this after 2020, but to award it because of a concept they've revealed seems preposterous.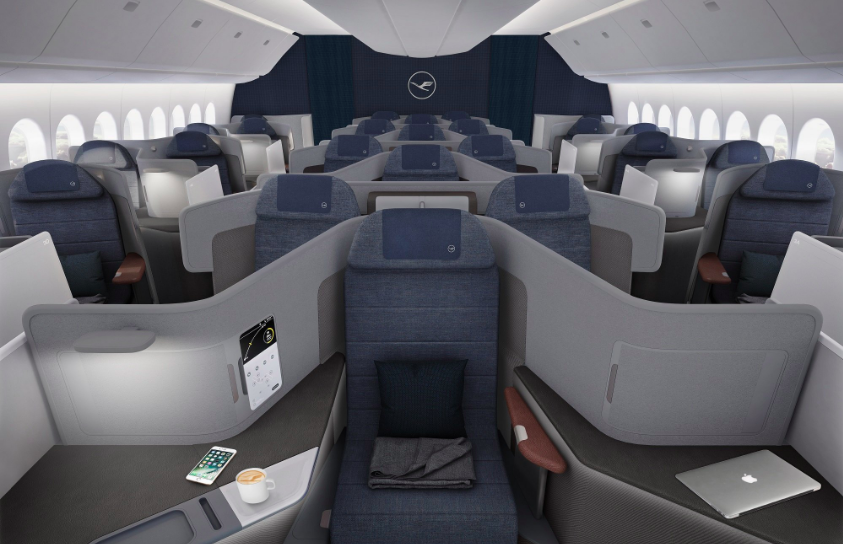 Lufthansa's new business class, as of 2020
What do you make of Lufthansa receiving a Skytrax 5-star rating?