To kick off my four flights across the Atlantic, I flew ITA Airways' Airbus A350 business class from Miami to Rome. ITA is the successor of Alitalia, and is an airline that has intrigued my endlessly since it launched in October 2021.
I came into the flight with low expectations, and was very pleasantly surprised. ITA offers comfortable cabins, solid amenities, incredible food, and genuinely friendly service. This is probably one of the all-around best transatlantic business class products you'll find. Let's get into the review…
How I booked my ITA Airways business class ticket
While ITA Airways is a member of SkyTeam, unfortunately the airline doesn't offer any reciprocal award redemptions, so you can't redeem partner miles for travel on ITA. As a result, I had to pay cash for my ticket. Fortunately I found a reasonably decent business class fare from Miami to Cairo via Rome. Specifically, I booked the following for $1,436 all-in:
2/06 AZ631 Miami to Rome departing 8:00PM arriving 11:40AM (+1 day)
2/07 AZ894 Rome to Cairo departing 10:10PM arriving 2:25AM (+1 day)
ITA Airways business class check-in, lounge, & boarding
I got to Miami Airport at around 6PM, two hours ahead of my 8PM departure. I easily found ITA's check-in counter, and got in the SkyPriority line. That was a mess, and very poorly managed.
There were two counters for SkyPriority, but one person was traveling with pets, and the other was having issues with their ticket. So after waiting for 10 minutes without any movement, I just got in the economy queue, and I ended up being helped ahead of anyone in the SkyPriority line. You'd think that agents could better improvise in situations like this, recognizing the intent behind a "priority" line, but nope.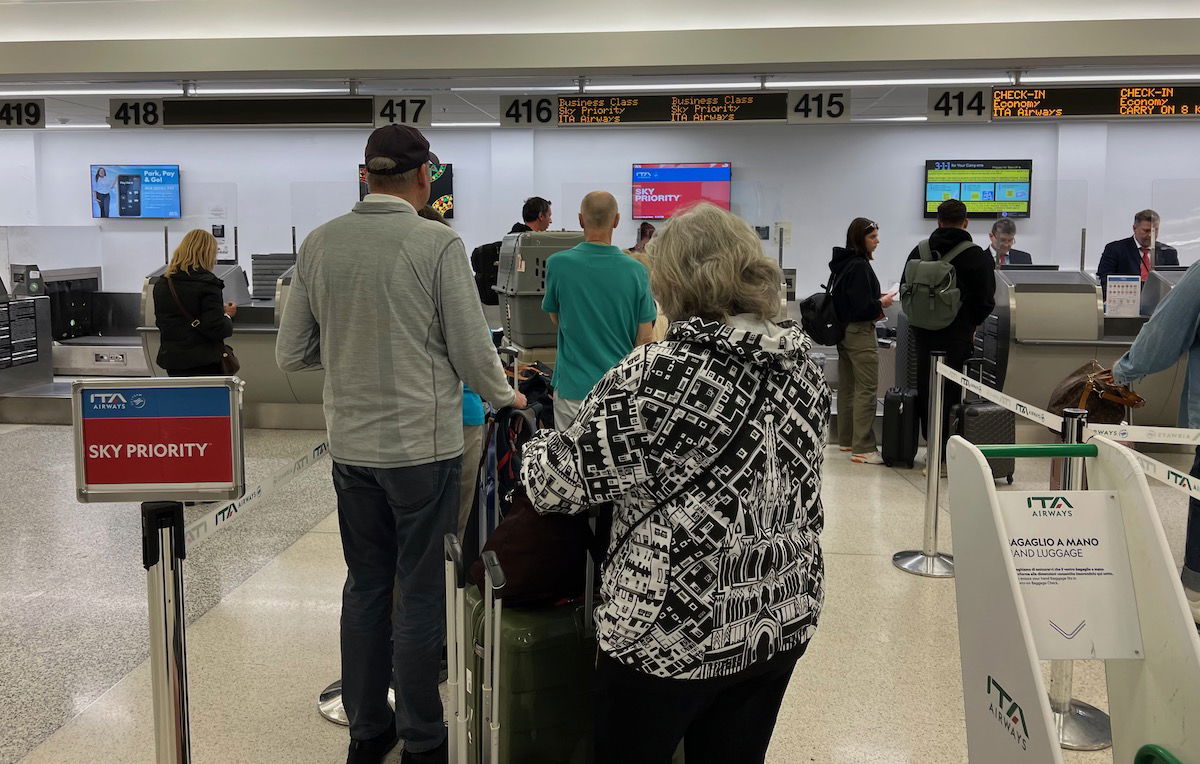 With boarding passes in hand I headed through security, where there (surprisingly) wasn't much of a wait. I had been invited to use the Delta Sky Club, which I've reviewed before. Since I didn't have much time before the scheduled boarding, I just headed straight to the departure gate, H8.
The gate unfortunately only offered an obstructed view of the plane, though I had photographed this exact plane at LAX a few months ago, so below is a picture of the plane (how cool is ITA's livery?!). Specifically, I was flying on EI-IFA, a nearly four year old A350-900 that was initially supposed to fly for Hainan Airlines, but ended up being taken over by ITA Airways after being in storage for an extended period of time.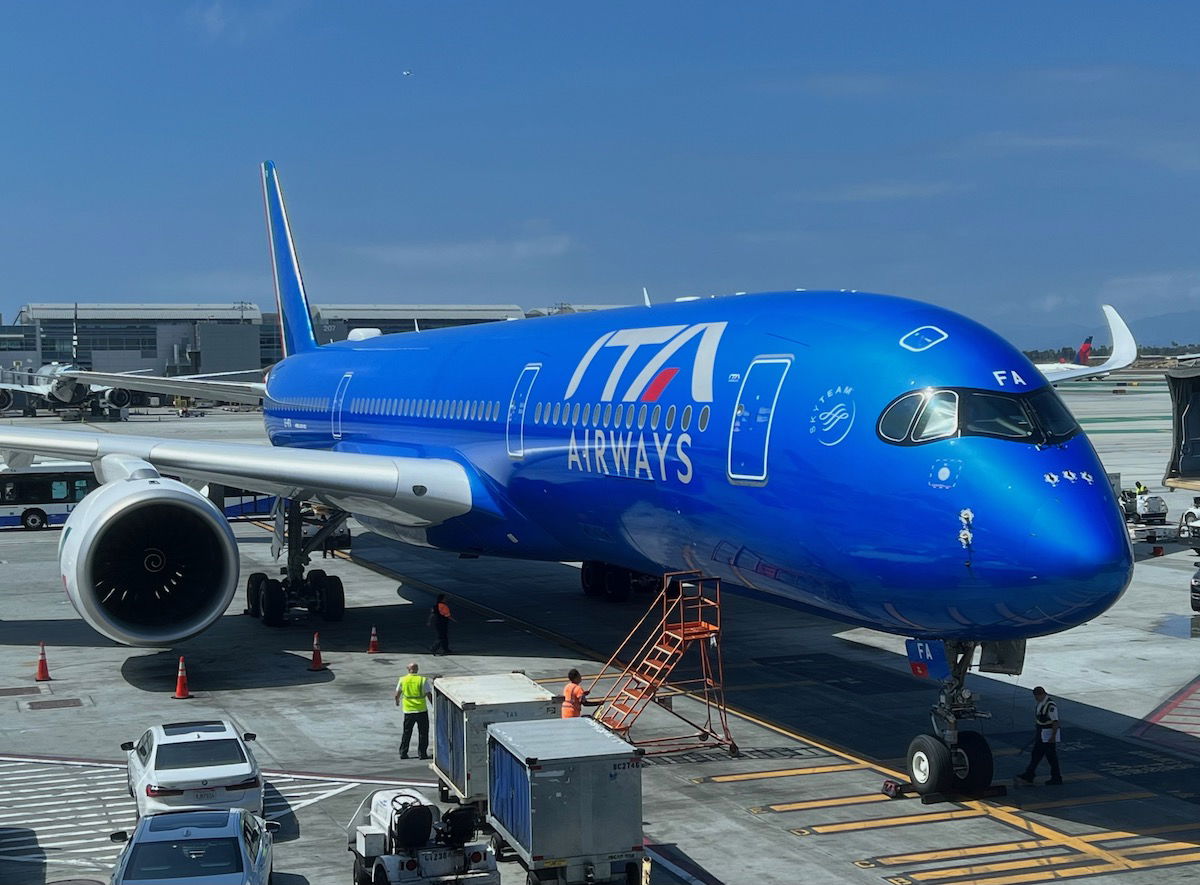 Boarding was scheduled to start at 7PM, an hour before departure. However, by 6:45PM, I'd estimate that 200 people were already lining up at the gate to board. I noticed this also on my recent Austrian flight from Vienna to Rome, and then also noticed it at Rome Airport, as I became more observant of this practice.
For the most part Europeans are fairly orderly when it comes to boarding planes, so is this specifically an Italian thing, or…?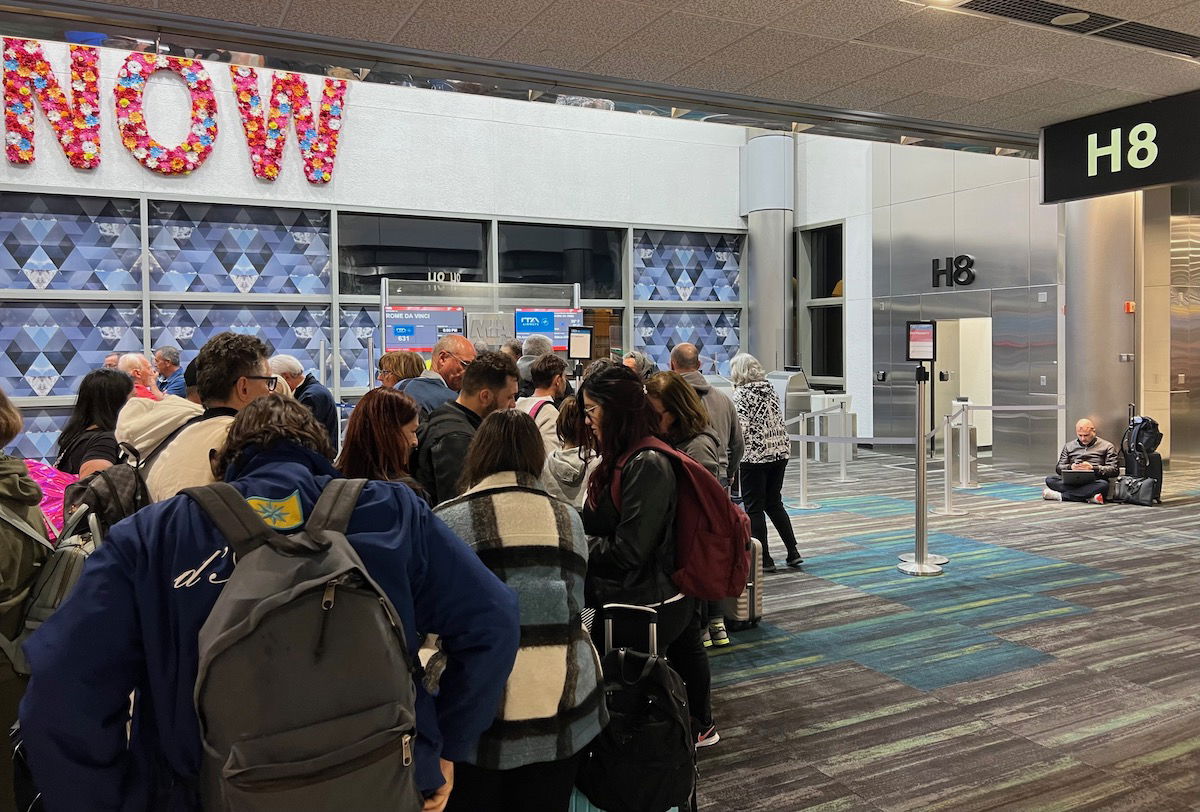 Boarding ended up starting at 7:20PM. Those needing extra time, as well as families with children, were invited to board first. That seemed to be about a quarter of the plane.
ITA Airways A350 business class cabin & seats
ITA Airways' A350 business class is comfortable but bland. The business class cabin is located entirely between doors one and two, and consists of 33 seats in a 1-2-1 configuration. The left side of the cabin has eight rows, the right side of the cabin has seven rows, and the center section has nine rows.
ITA has Collins Aerospace Super Diamond reverse herringbone seats on its A350s, which are the same style of seats you'll find on so many airlines.
While ITA's livery is incredibly bold, the cabin finishes lack personality. When you view the cabin from the back, you wouldn't be able to guess which airline this plane belongs to.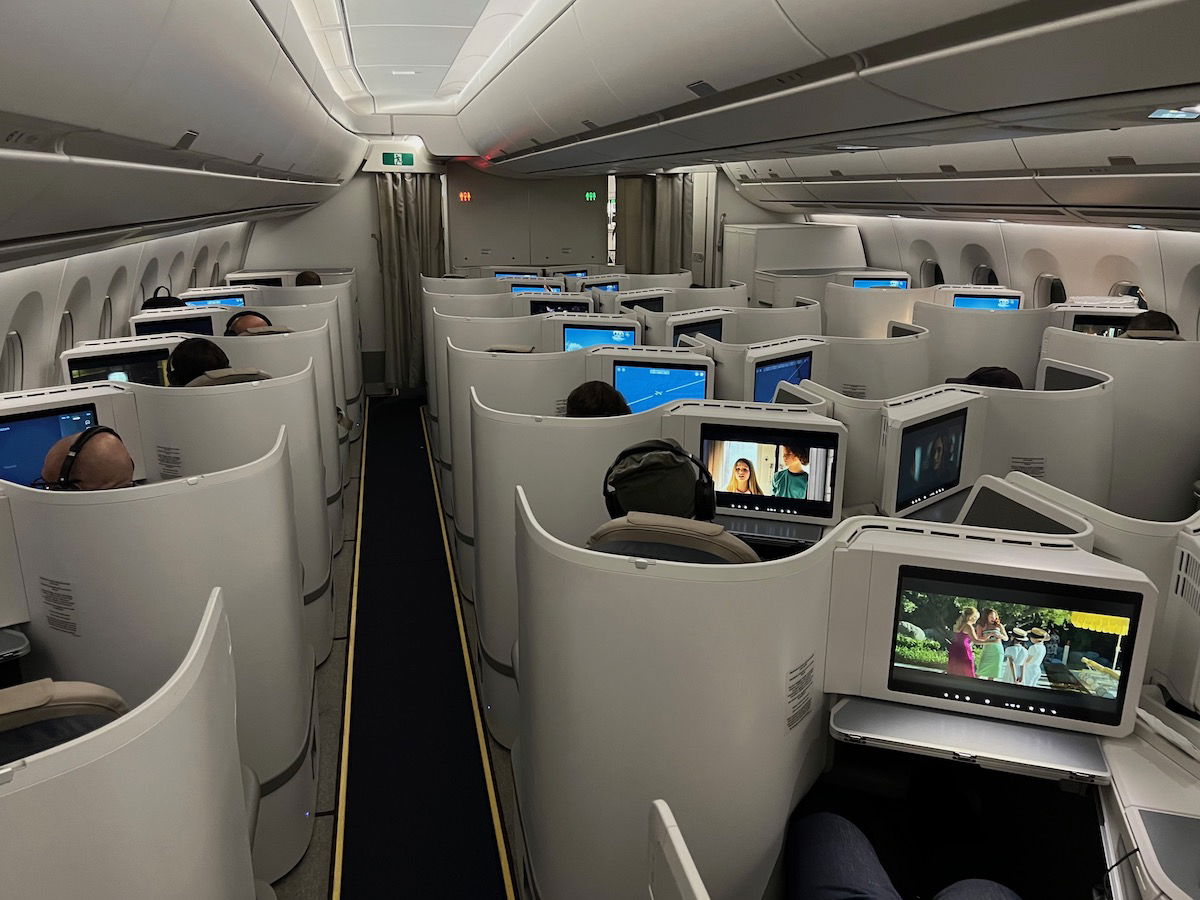 Anyway, those traveling with companions may prefer to sit in the center section (seats with the letters "D" and "H"), so that they're at least somewhat facing the person they're traveling with.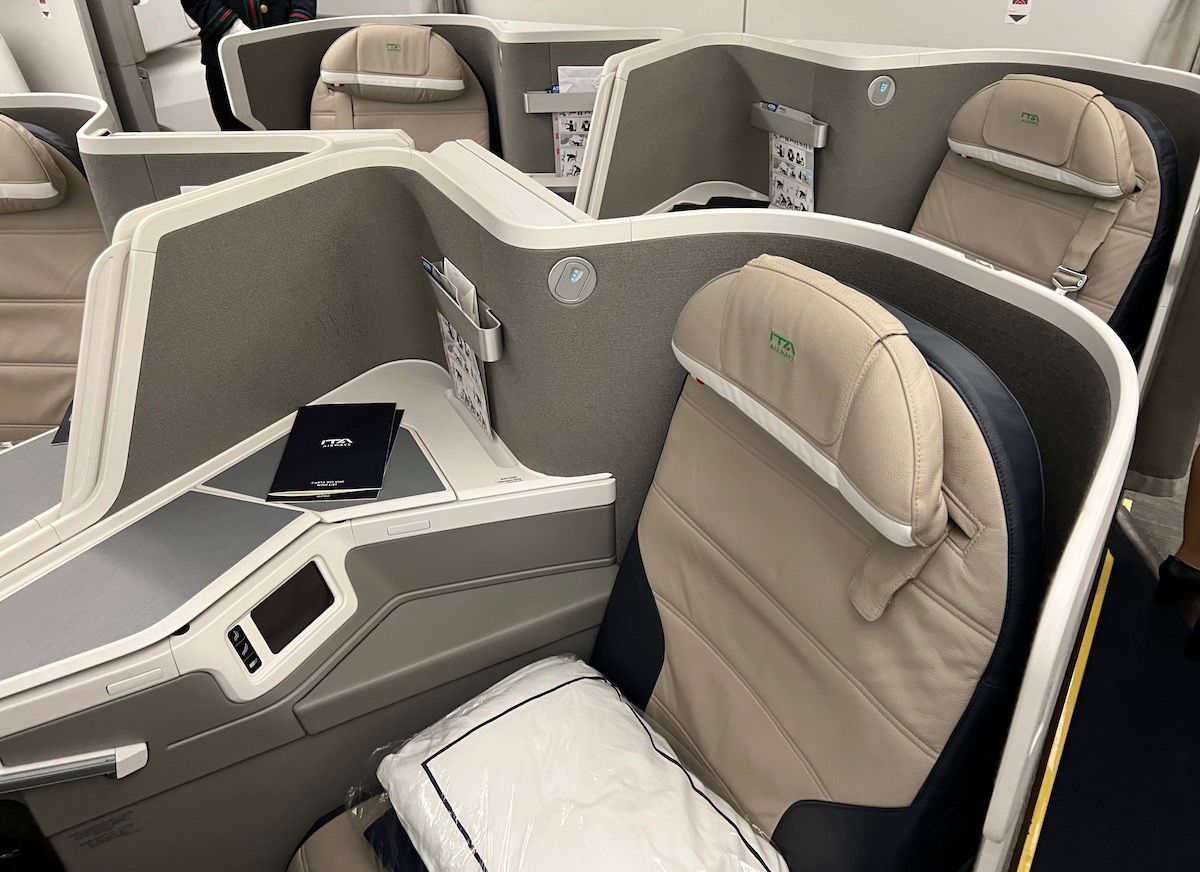 Those traveling solo will want to select a seat by the window if possible, which are the seats with the letters "A" and "L."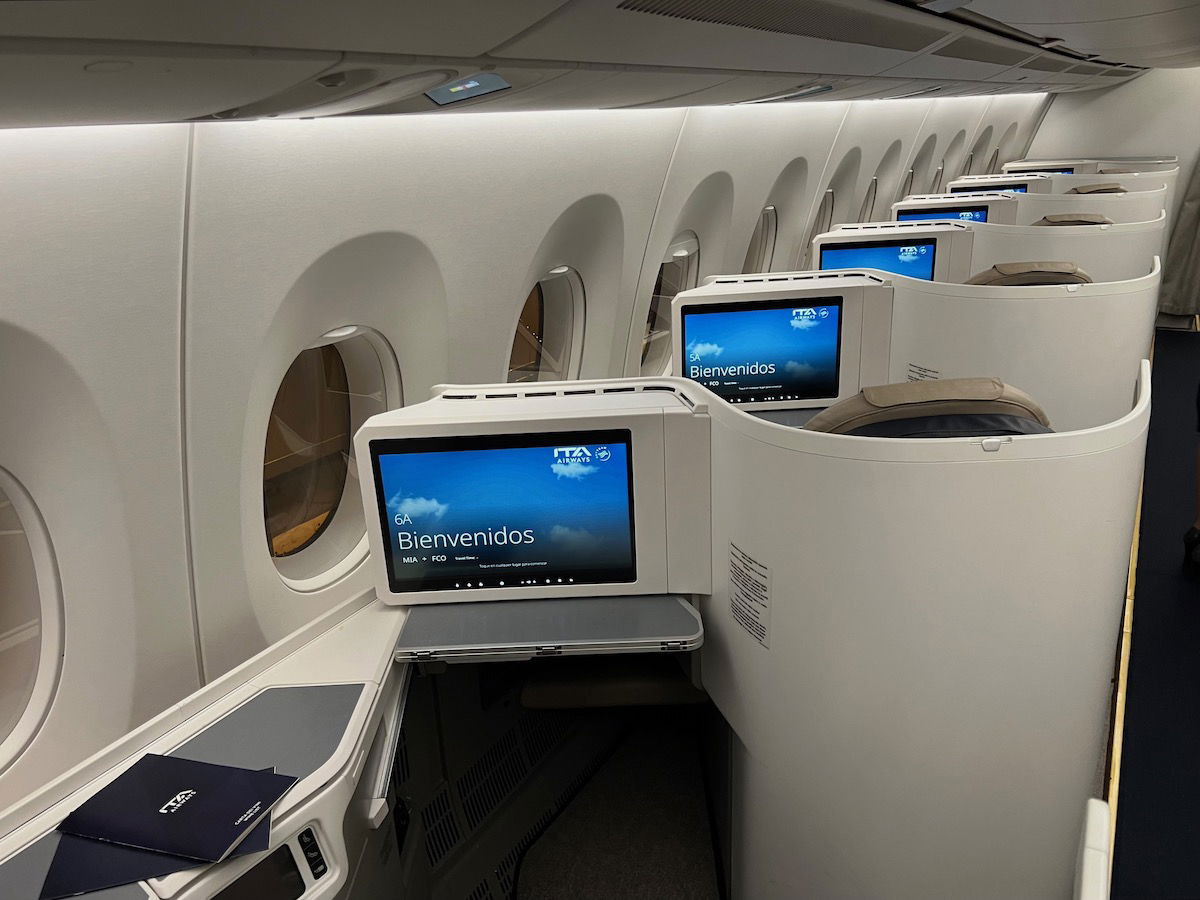 I assigned myself seat 8A, the window seat on the left side in the last row. Given how many airlines offer these exact kinds of seats, I think most OMAAT readers are probably well aware of what to expect here.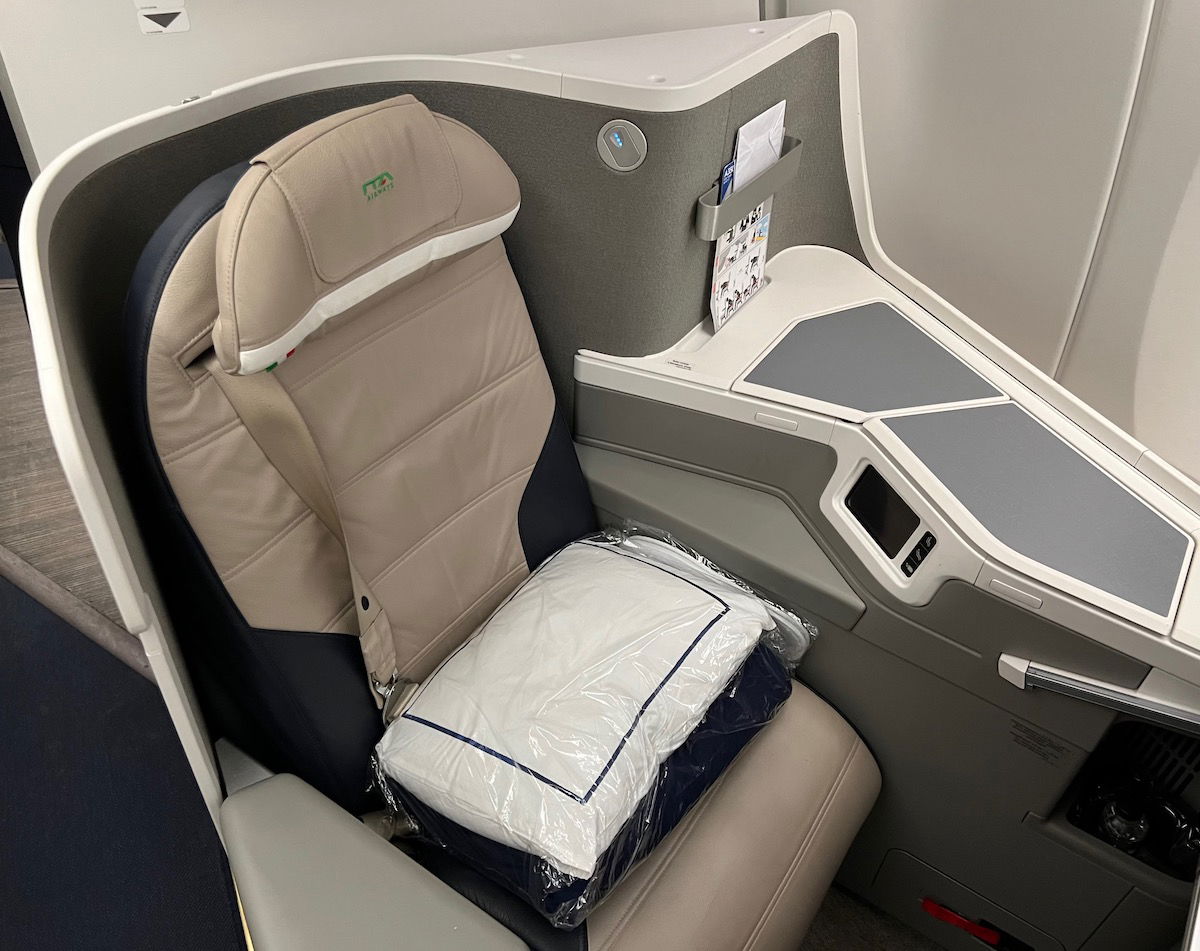 As usual, the tray table can be extended from underneath the personal entertainment screen, and is folded in half when in the stored position.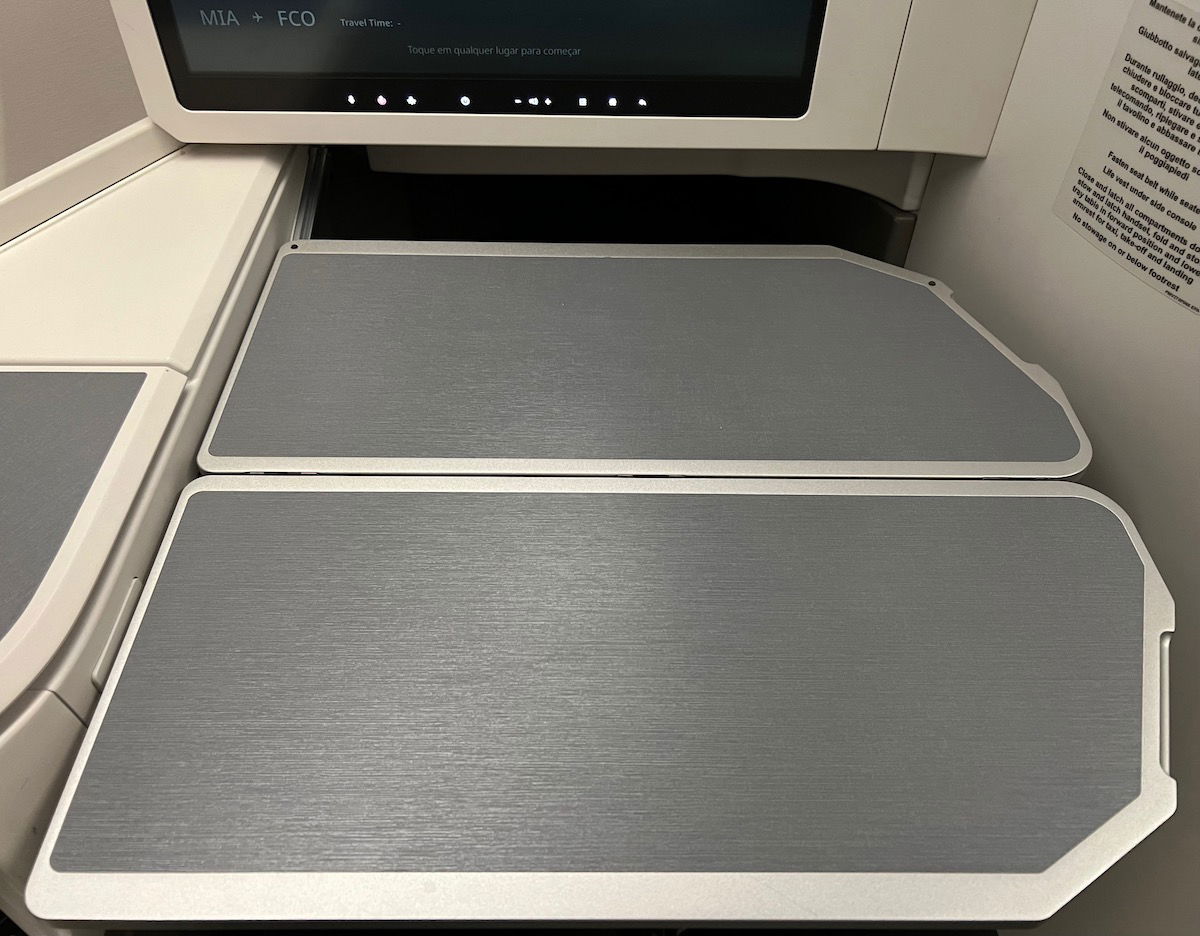 There's also a console to the left of the seat with two separate compartments that can be opened, as well as a monitor that can be used to control the seat functions.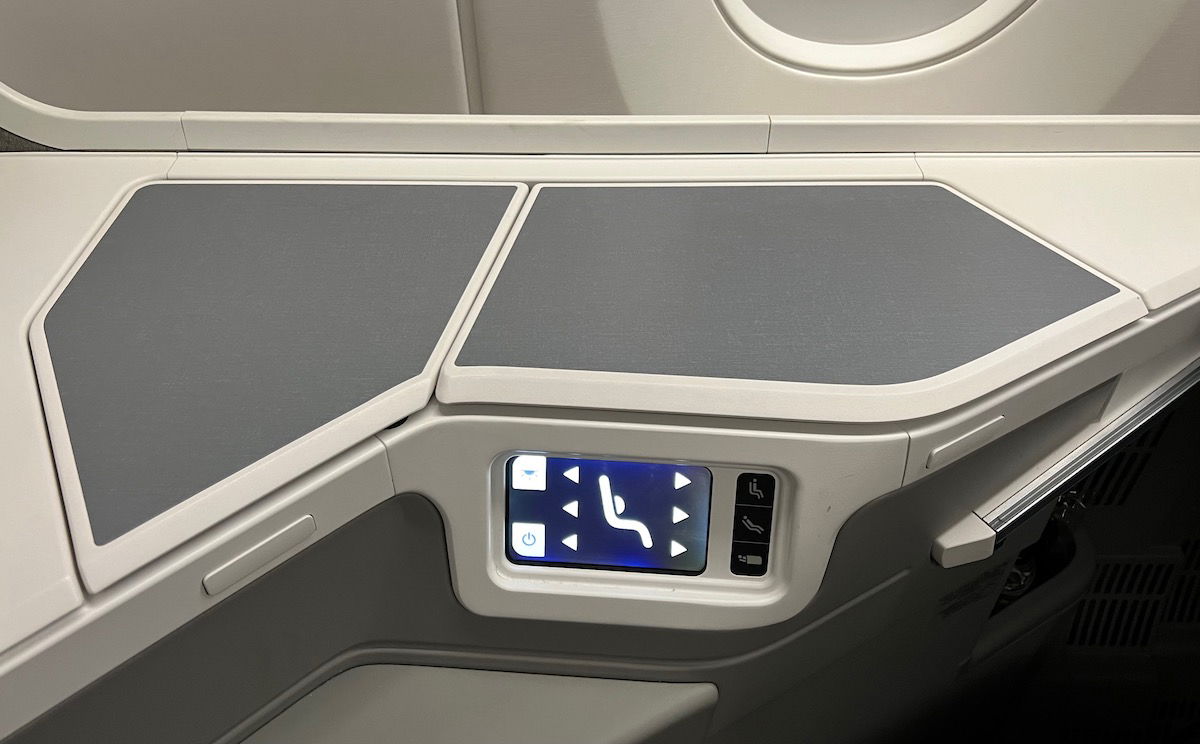 The one to the left isn't as deep, and can be used for storing a phone, glasses, etc. The compartment on the right is deeper, and also contains the entertainment controller, USB-A outlet, AC power outlet, and headphone jacks.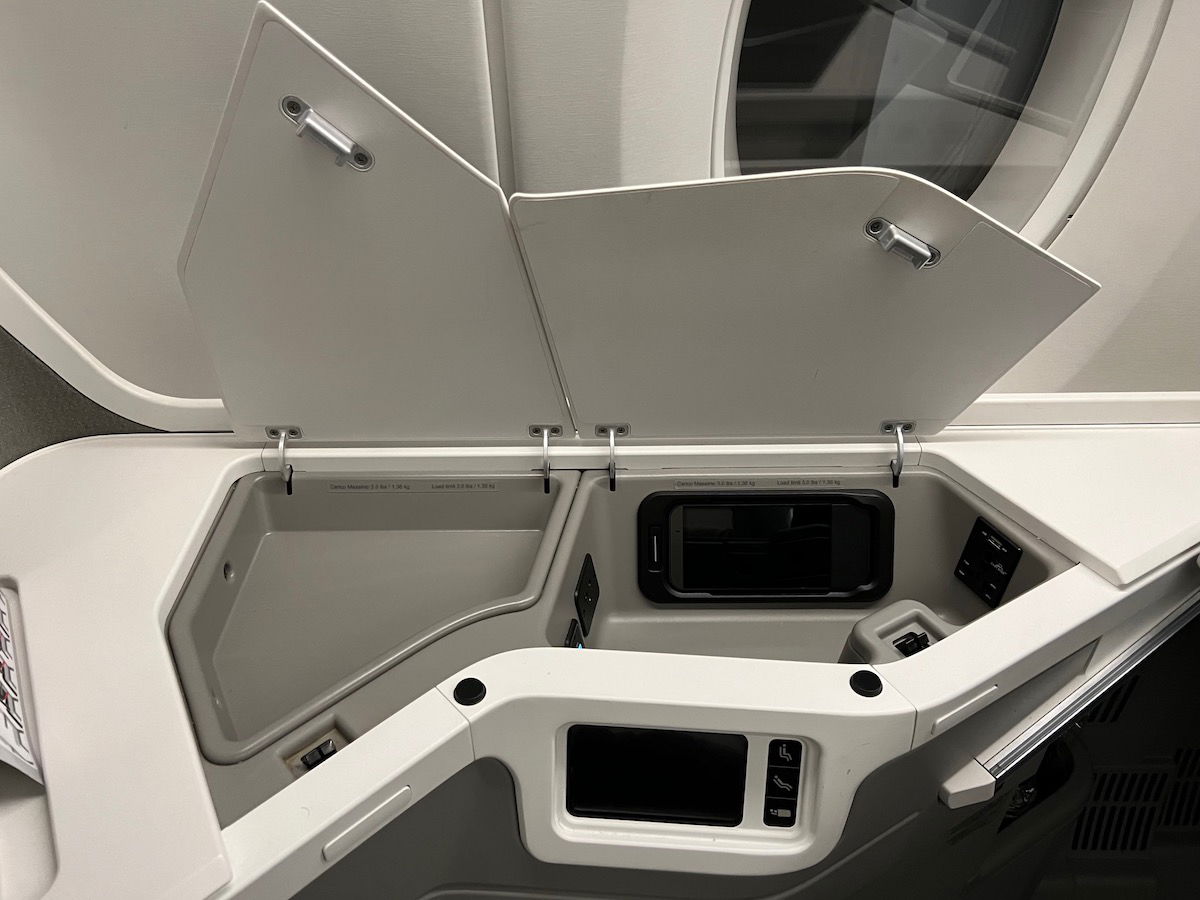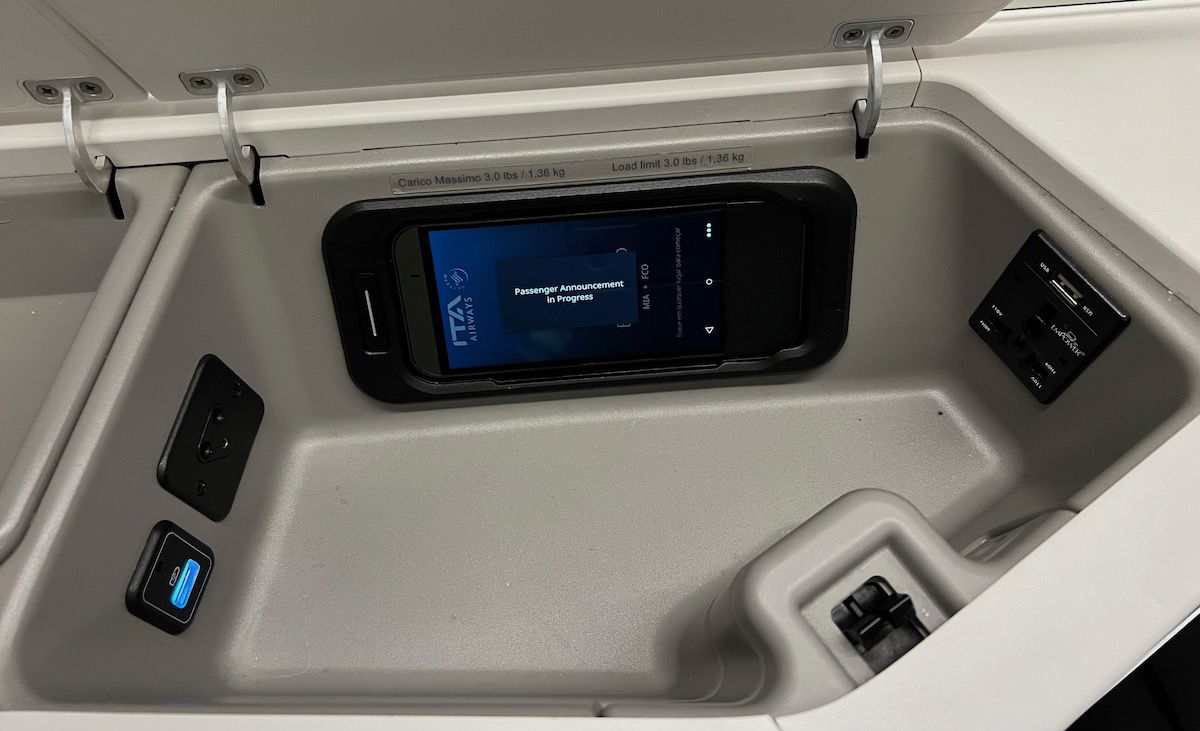 There's also a small exposed storage area underneath the seat and to the left.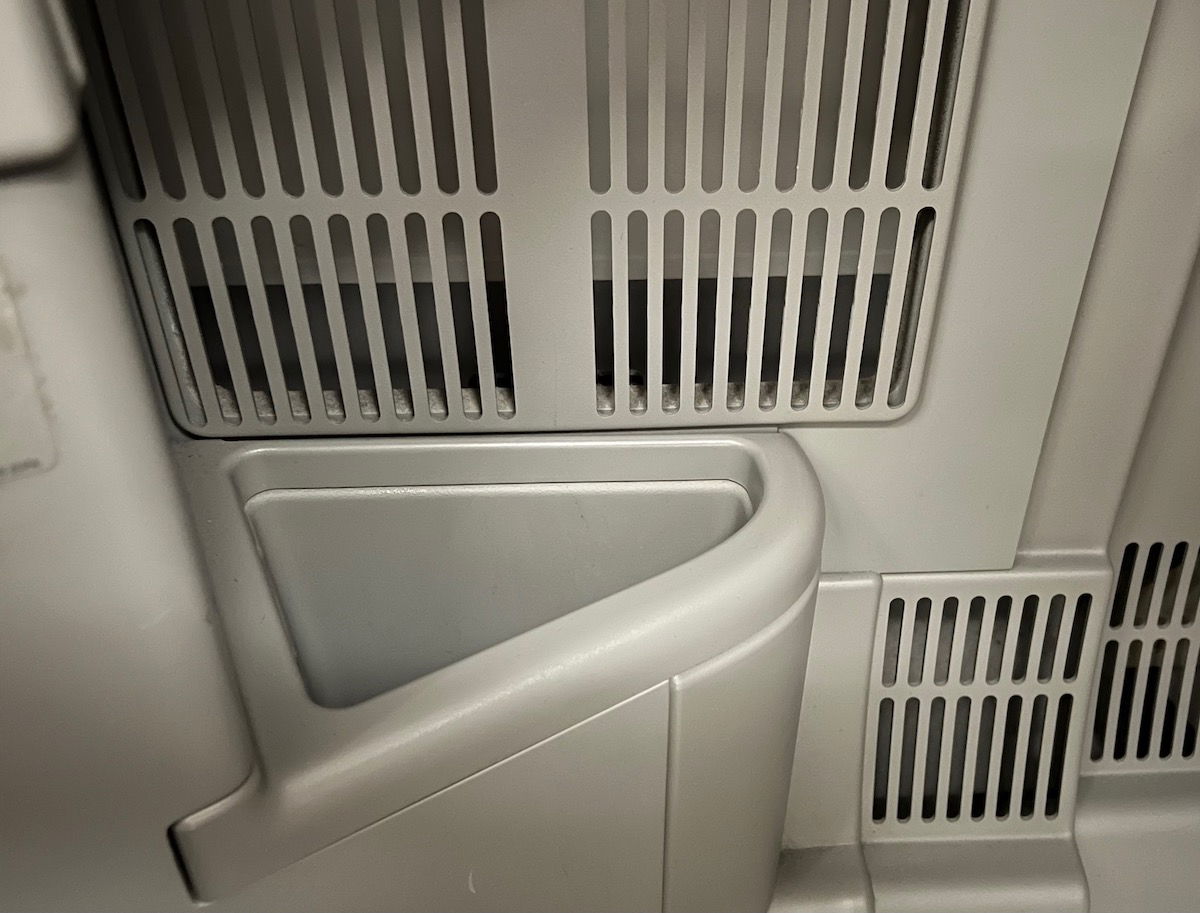 Then along the aisle there's an armrest that can be raised or lowered, which could also be used for further storage.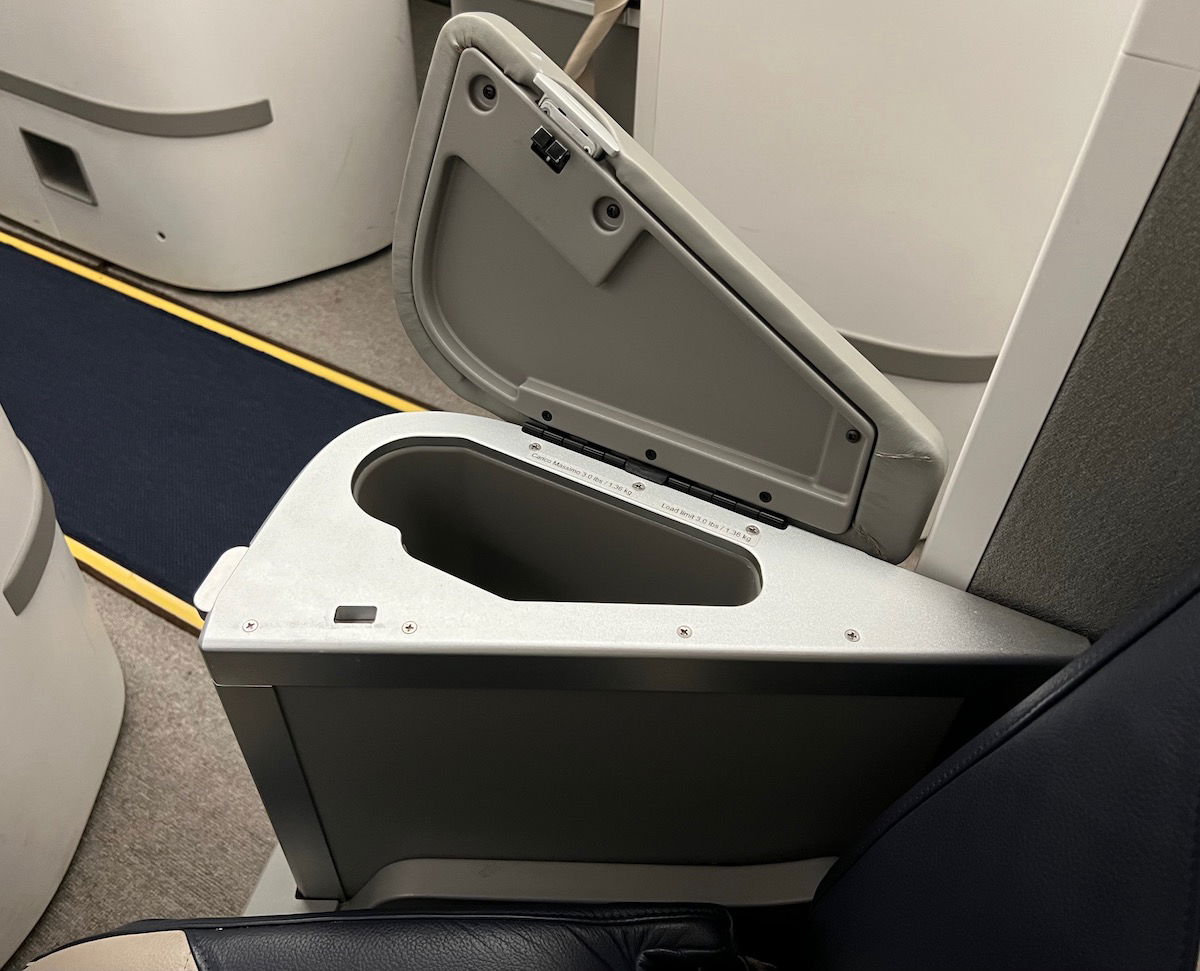 The seat's footwell is a reasonably good size. If you have big feet it might be a little bit of a tight squeeze, but it shouldn't be too uncomfortable.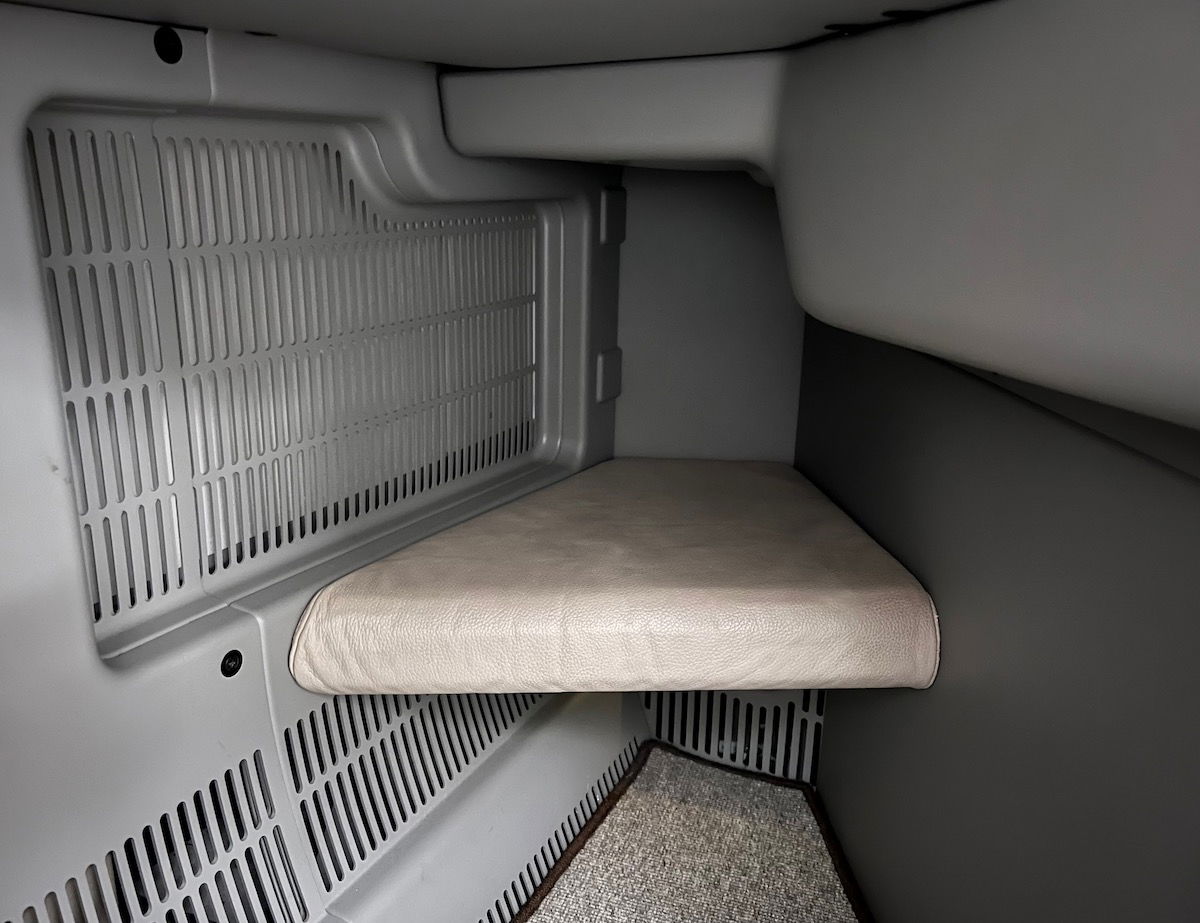 I was also pleased to see that there were individual air nozzles. Thanks, ITA Airways (or I guess we should probably be thanking Hainan Airlines).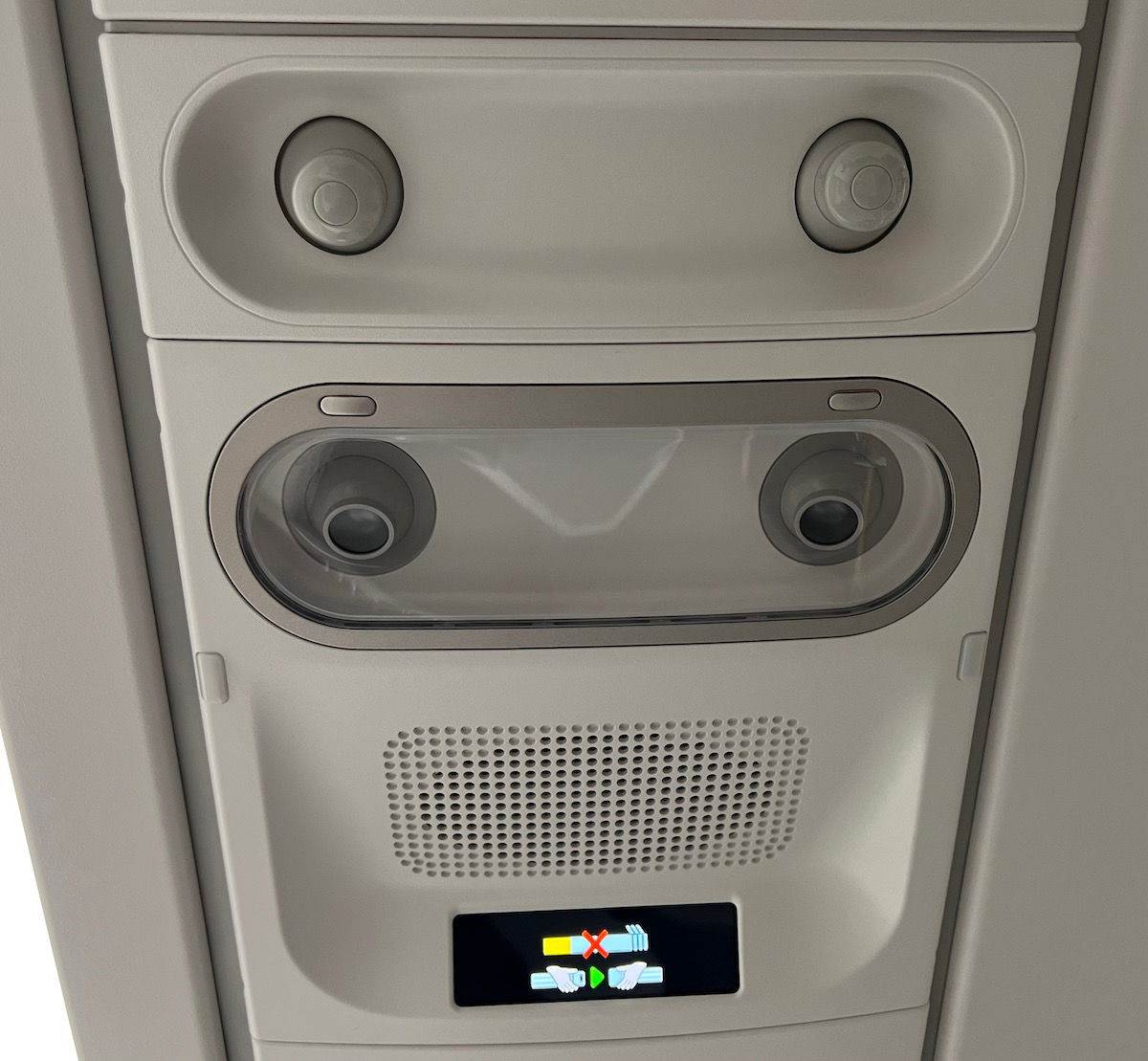 All-in-all, this is a solid business class hard product, though it's definitely lacking a bit when it comes to personality and finishes.
ITA Airways business class amenities
Waiting at each seat upon boarding was a pillow and blanket. While not to the level of United's Polaris bedding, I thought the pillow was pretty substantial, and the blanket was cozy without being too warm or scratchy.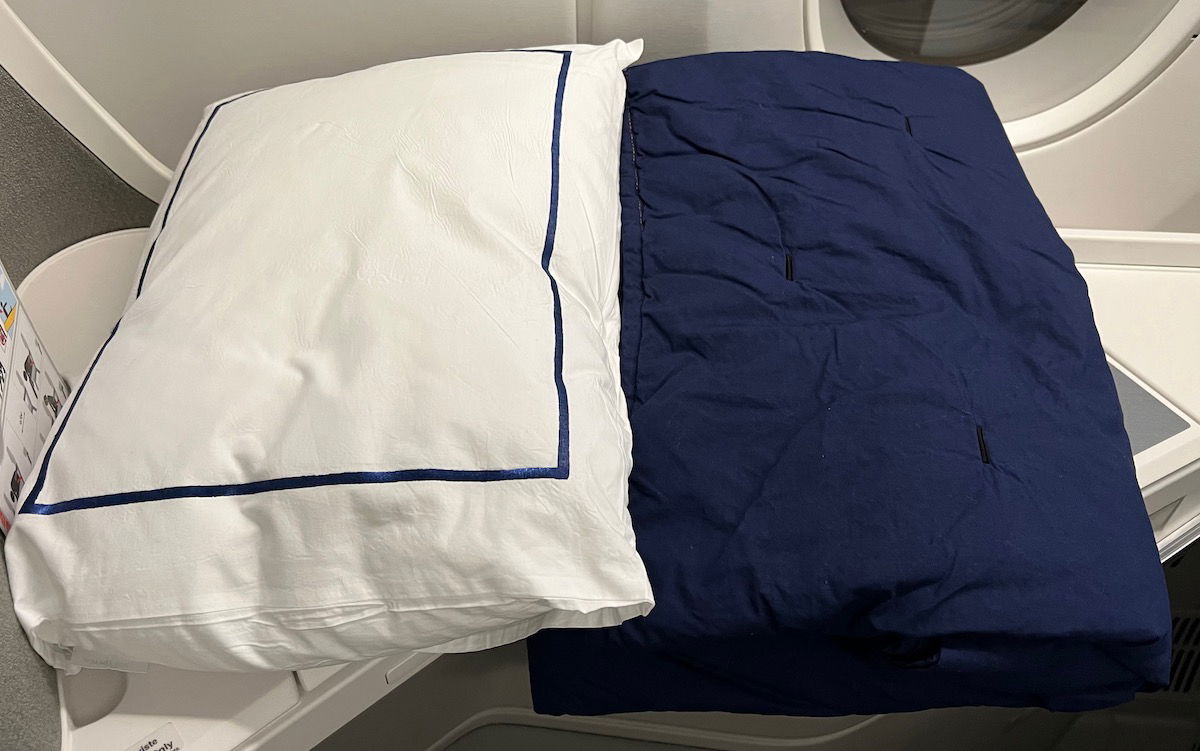 There were a pair of noise canceling headphones at each seat. Notice the "Property of Alitalia" text, and the Alitalia branding. Hah.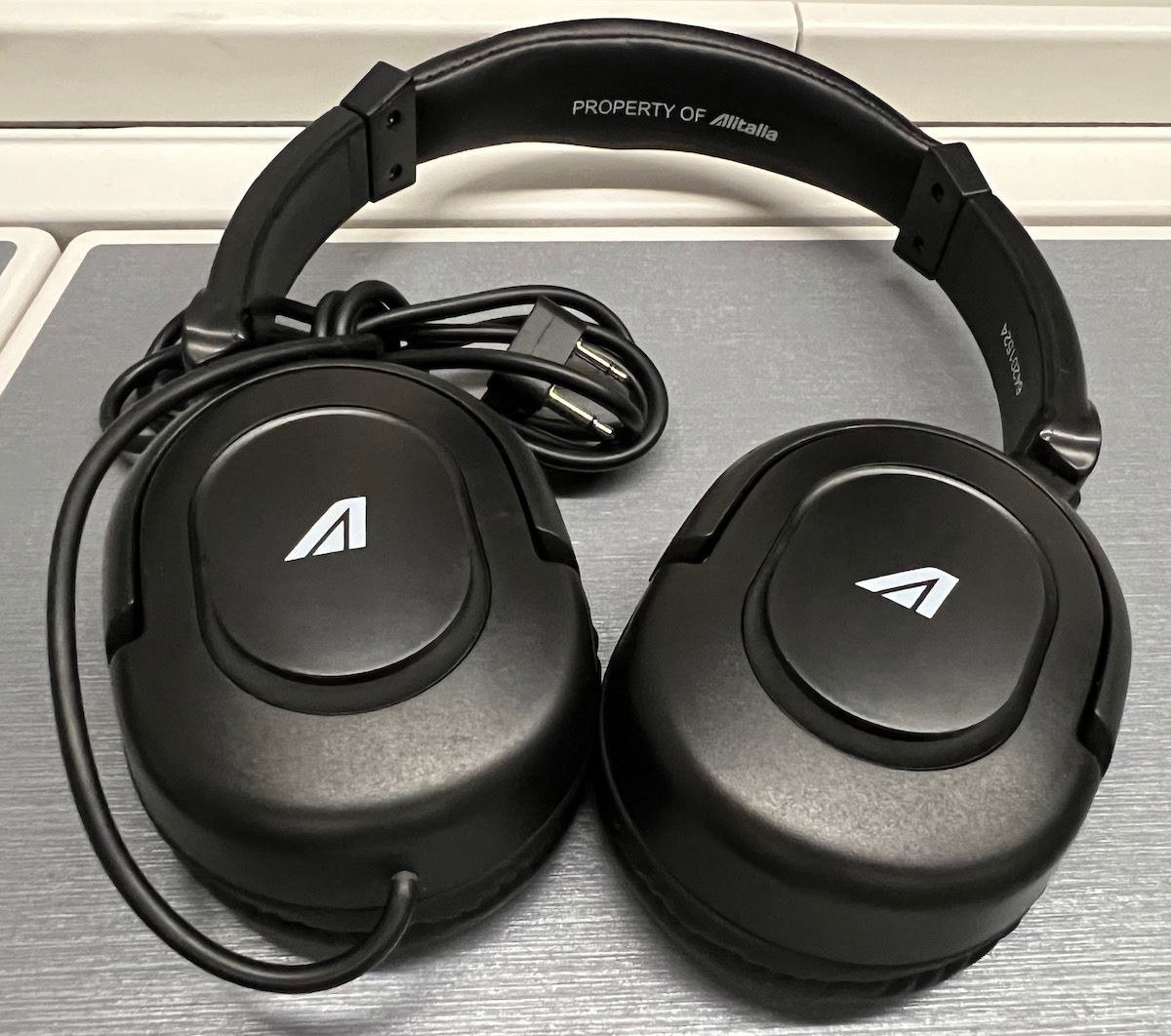 There were also a pair of ITA Airways branded slippers at each seat, which were flimsy but still useful.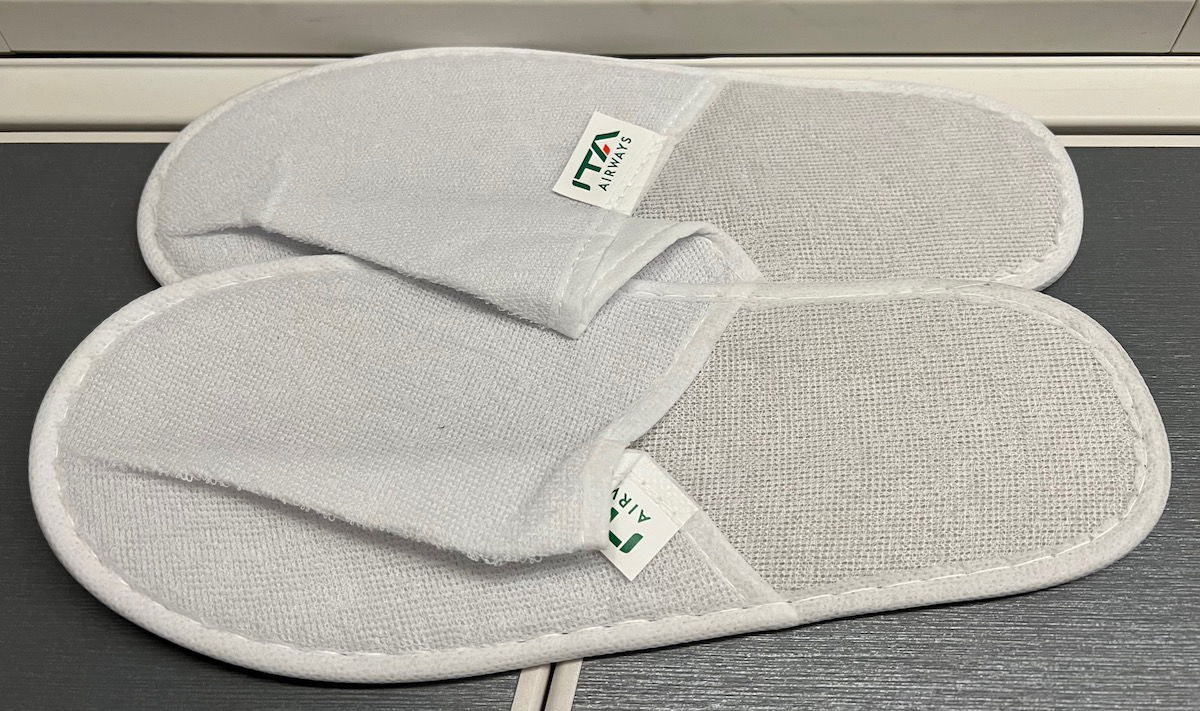 There was a bottle of San Benedetto sparkling water at each seat. I think this is the first flight I've taken where the bottle of water at a seat is sparkling rather than flat (and don't get me wrong, I'm a fan of that!).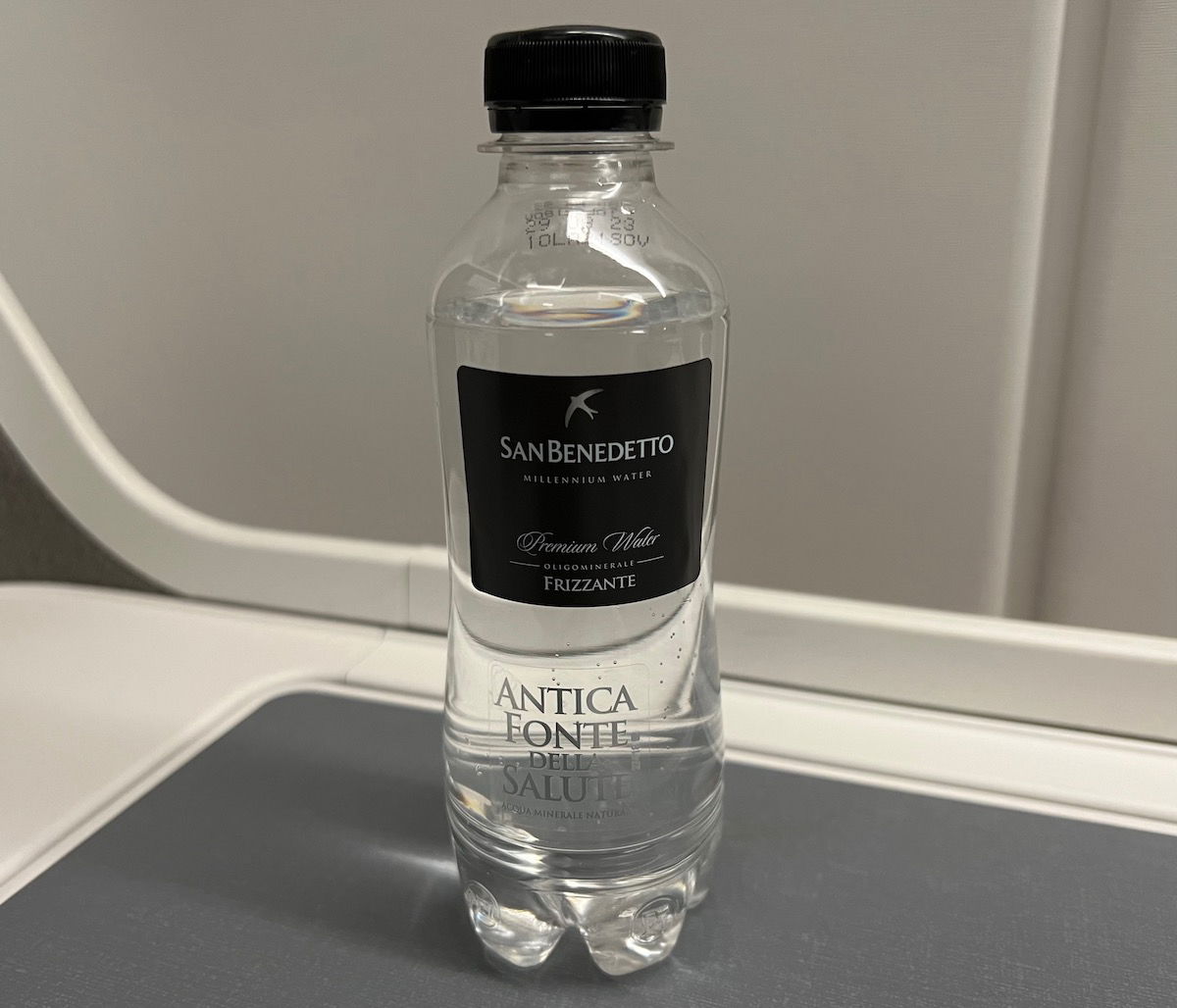 The menu and wine list were also placed at each seat prior to boarding.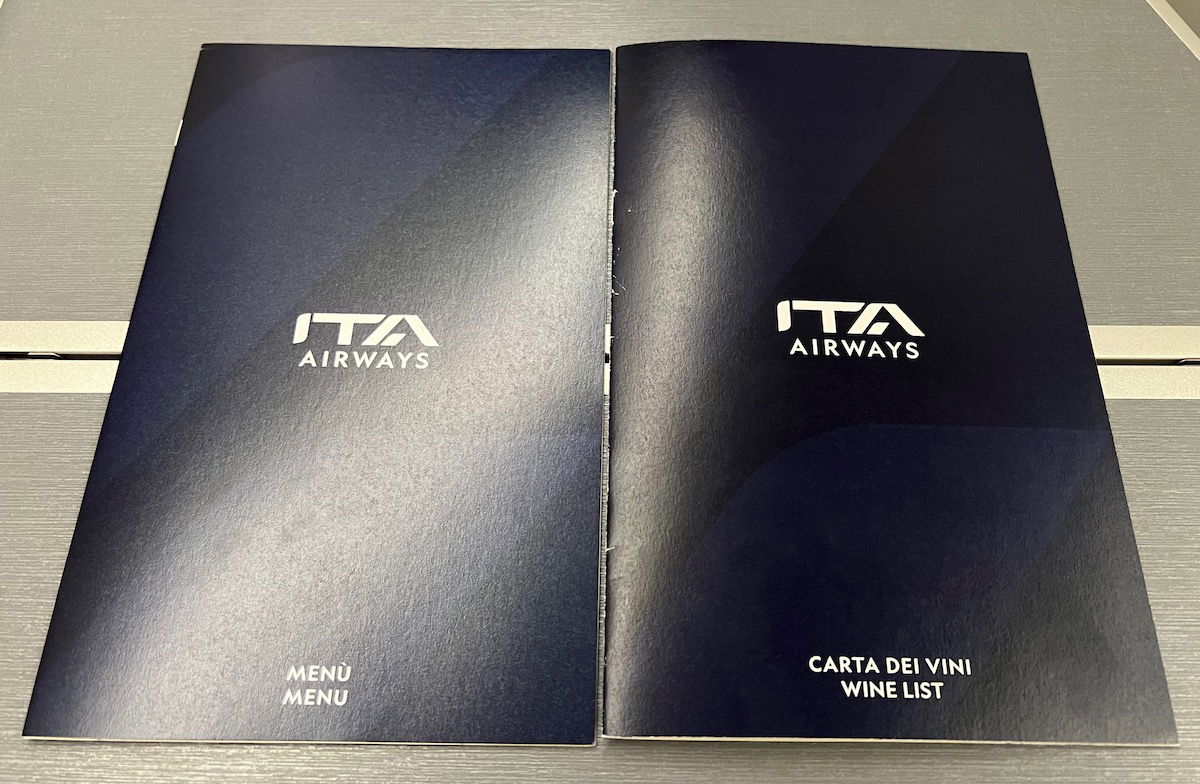 Once passengers settled in, the friendly crew passed out Salvatore Ferragamo amenity kits. The kits were pouches, making them potentially useful to reuse. The kit included socks, eyeshades, a dental kit, earplugs, a cleansing towel, and some perfume.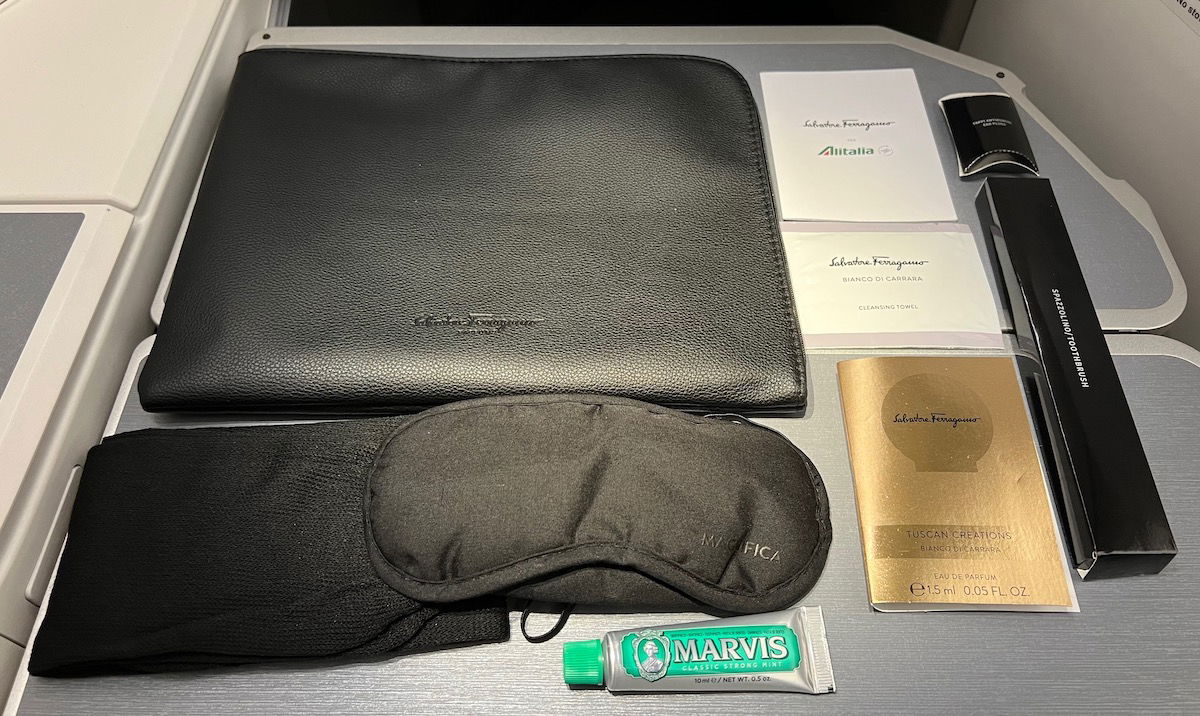 Pre-departure drinks were also offered, with the choice of sparkling wine, orange juice, or water. I selected the sparkling wine, and I loved the huge glass it was served in — what a nice touch!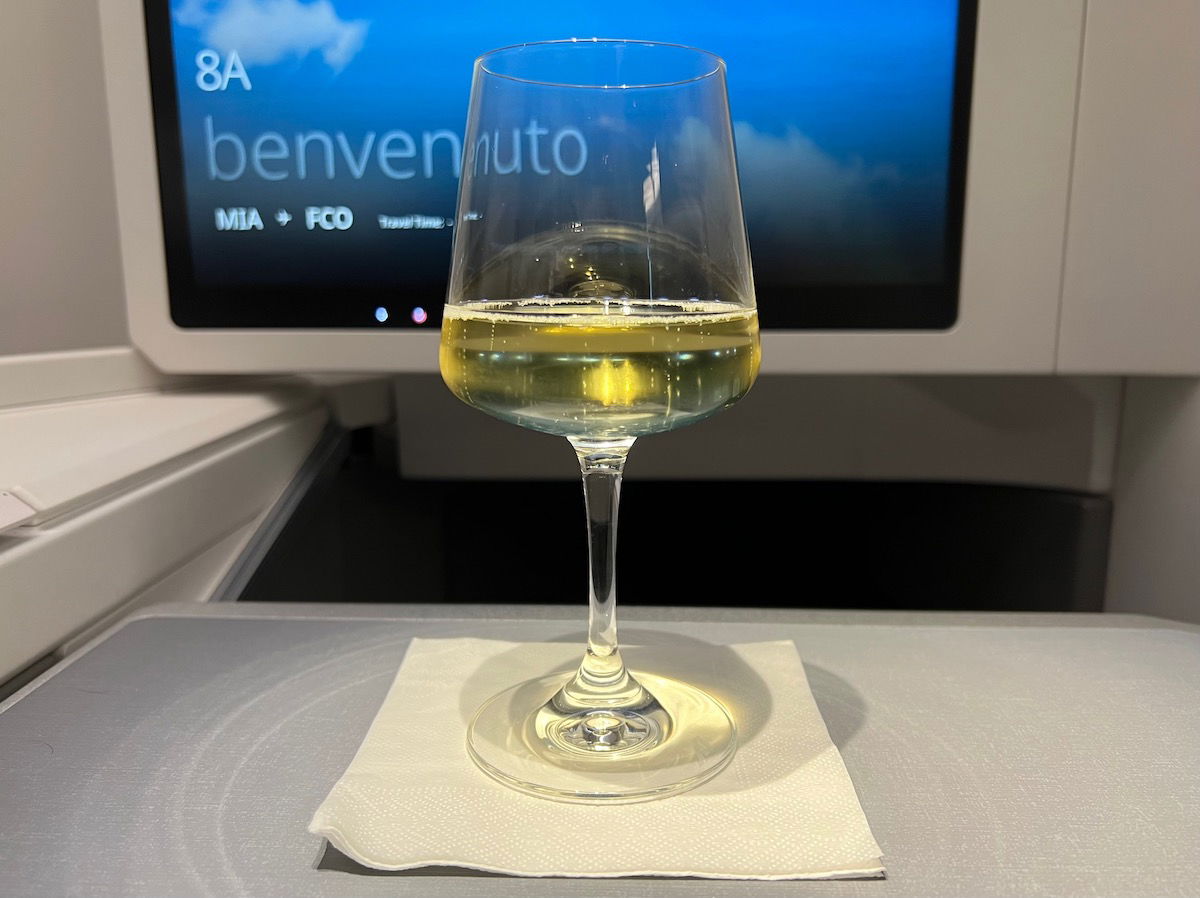 Warm towels were also distributed during boarding.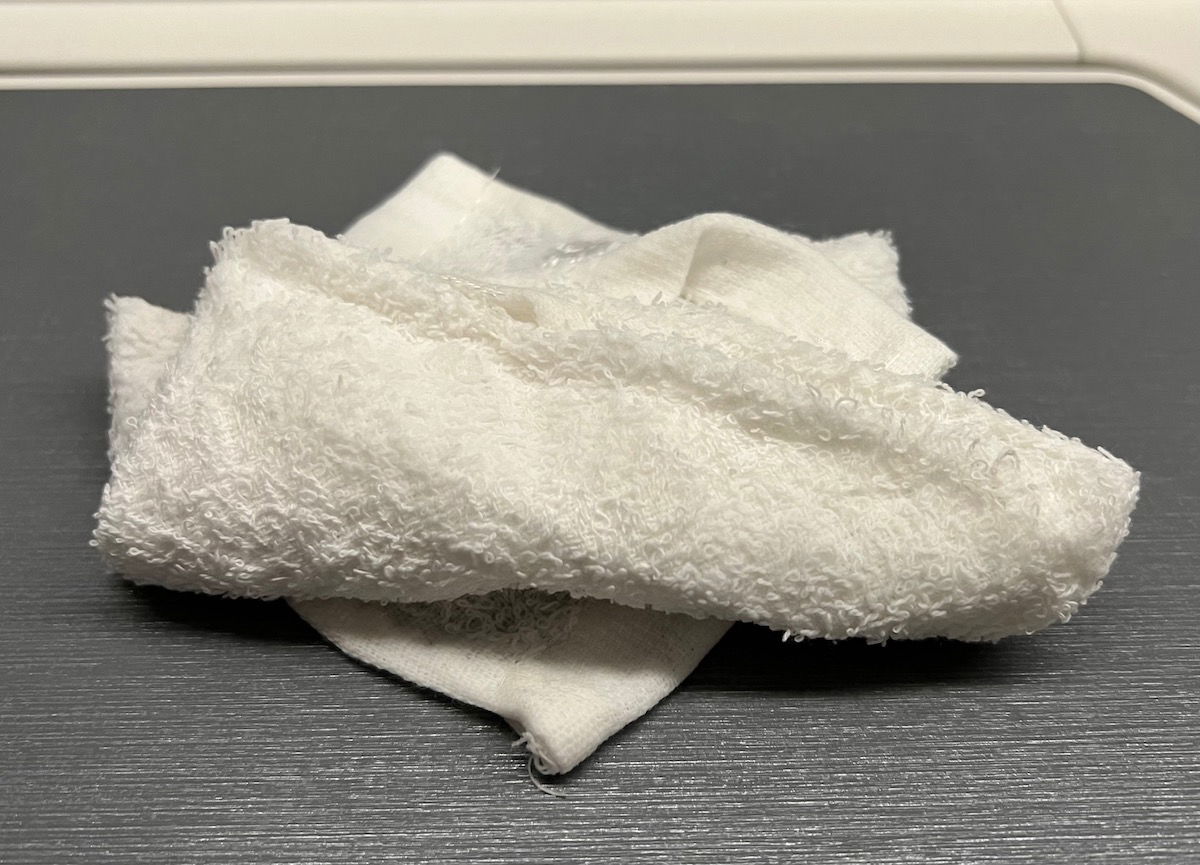 ITA Airways business class entertainment & Wi-Fi
I was expecting that ITA's entertainment selection would be underwhelming, given the carrier's small long haul fleet, but I was pleasantly surprised. No, this isn't like Emirates ICE or Singapore KrisWorld, but there were over 100 movies, and a similar number of TV shows.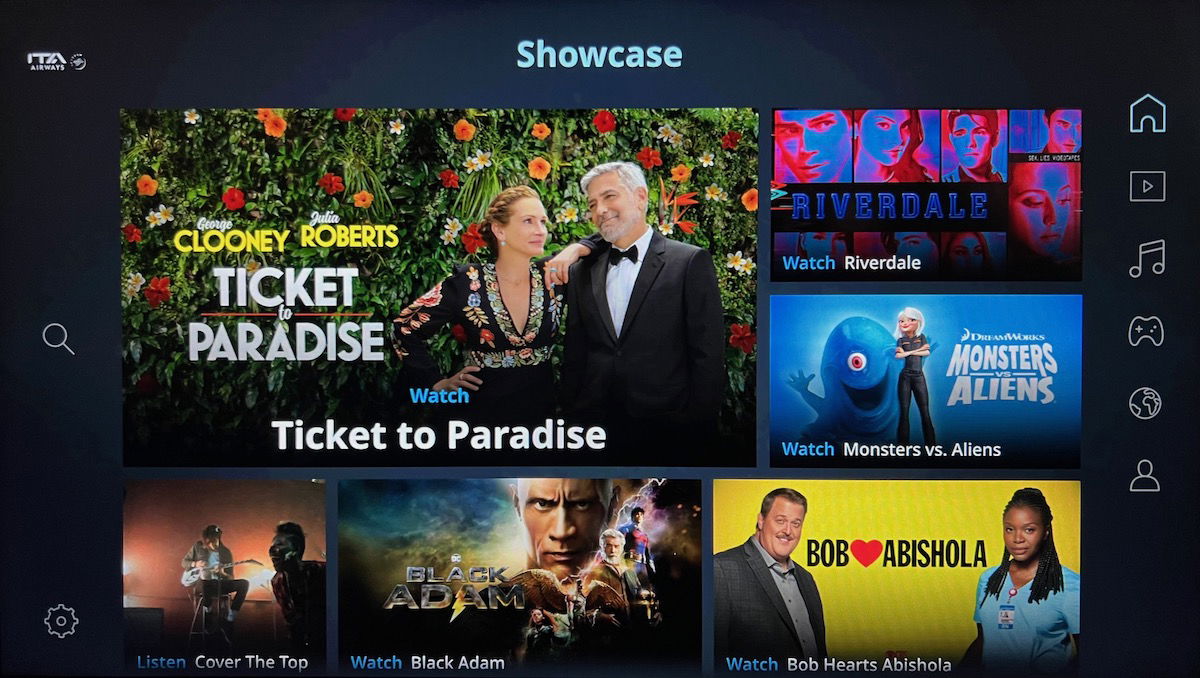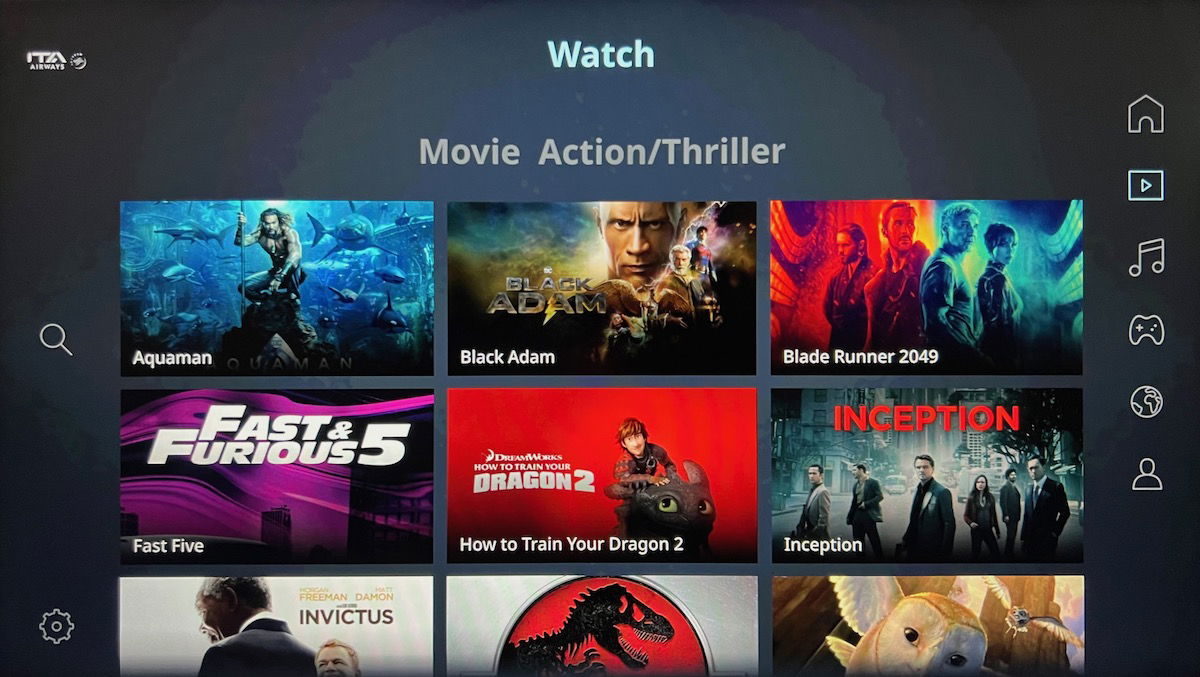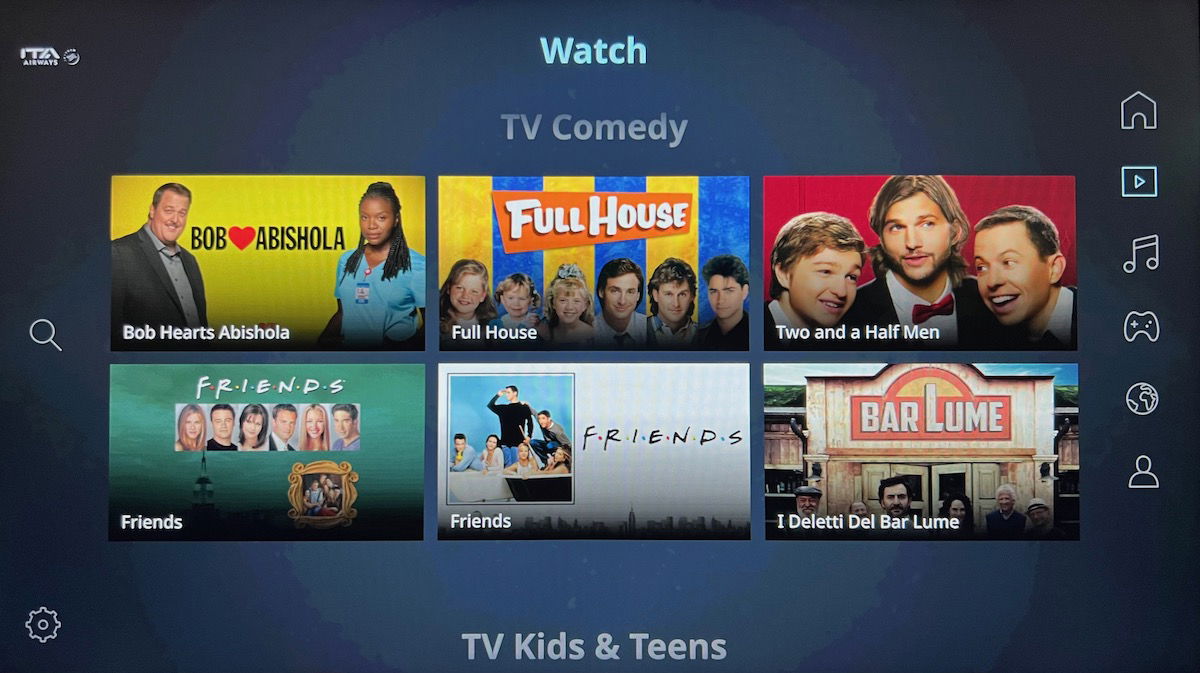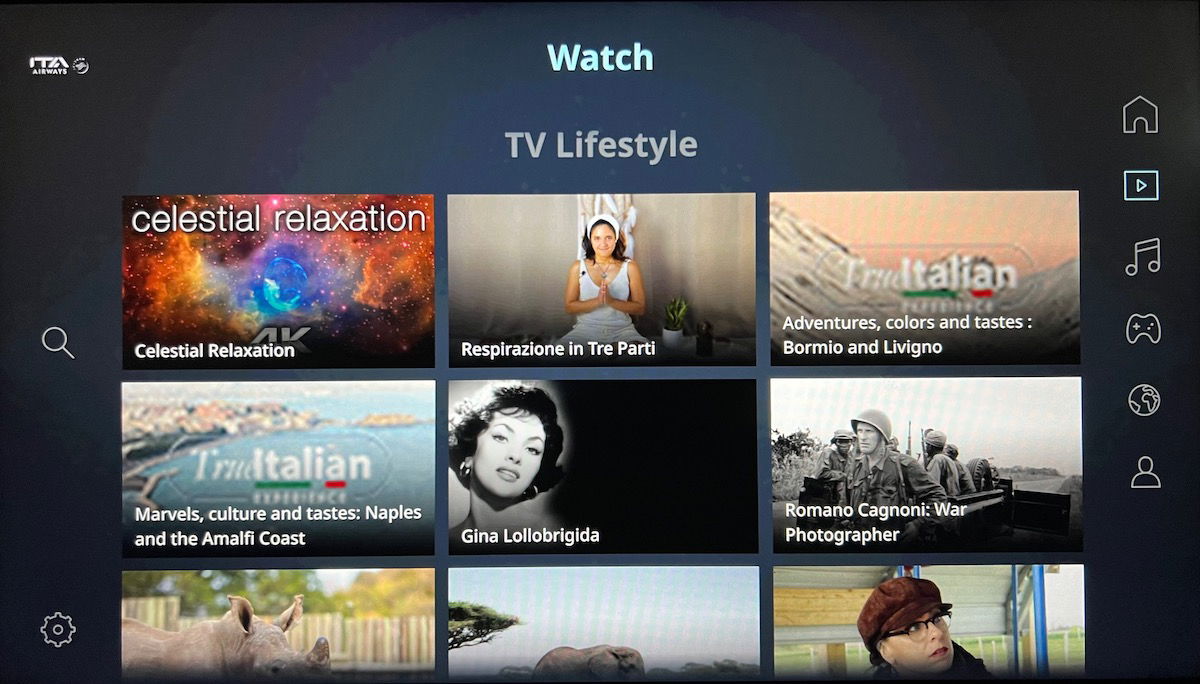 However, I primarily used the map feature throughout the flight, which allows you to customize your preferred view.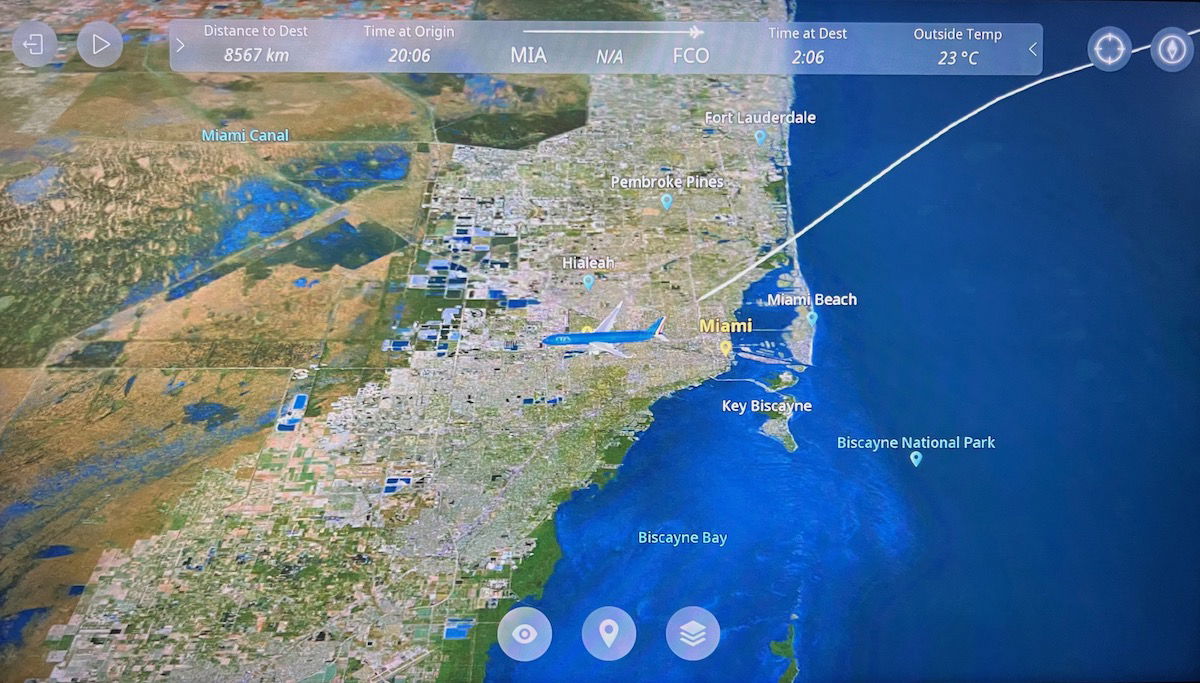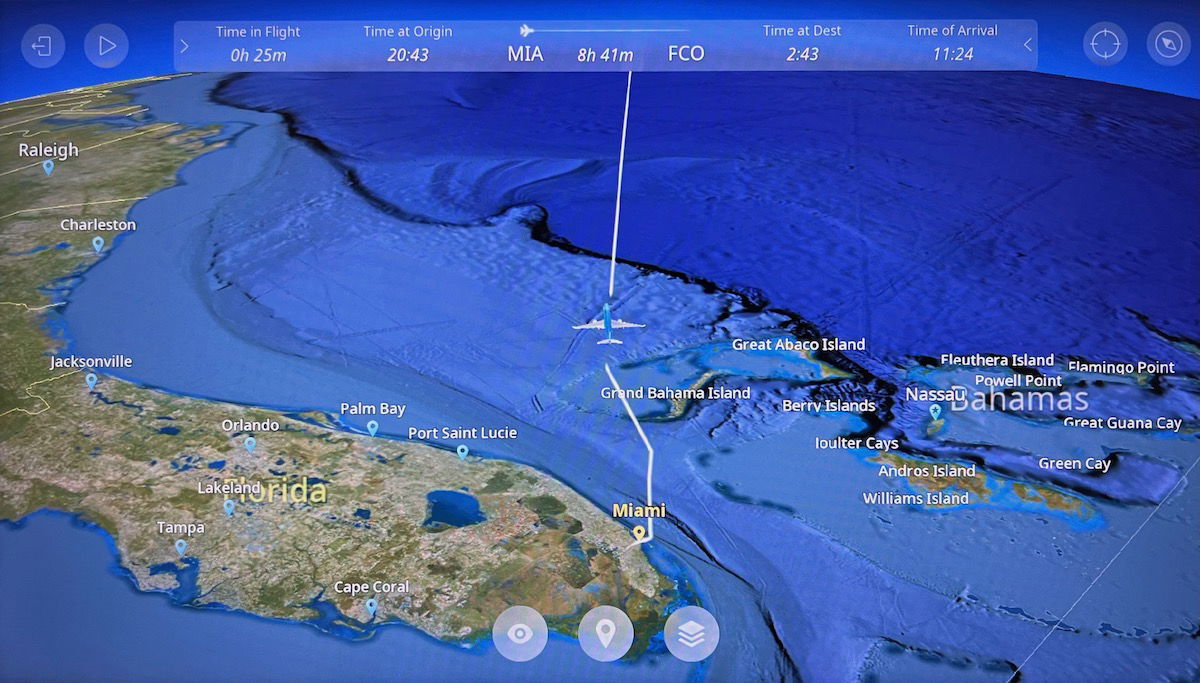 ITA Airways also has Wi-Fi on its Airbus A350s.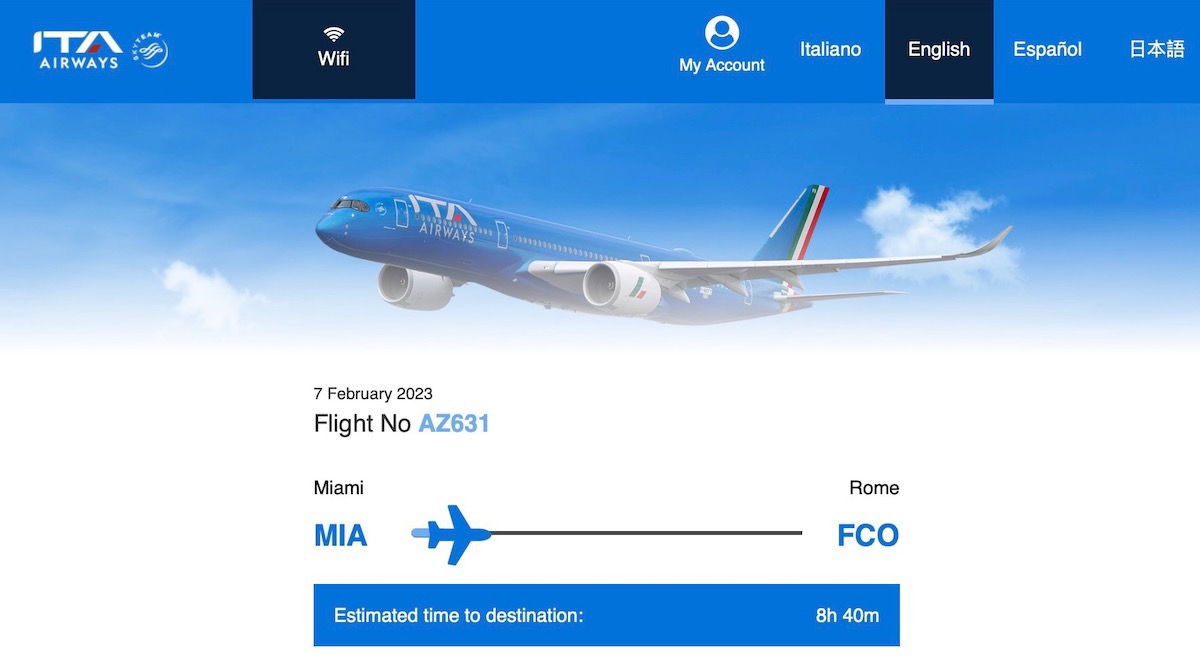 ITA's Airbus A350 Wi-Fi pricing is as follows:
There's a free messaging option, allowing you to use messaging apps without sending pictures or videos
For $10 you can get a two hour Wi-Fi pass, intended for email and web surfing
For $25 you can get a pass for the entire flight that gives you 500MB of data; while it's claimed that this allows streaming, I wouldn't count on it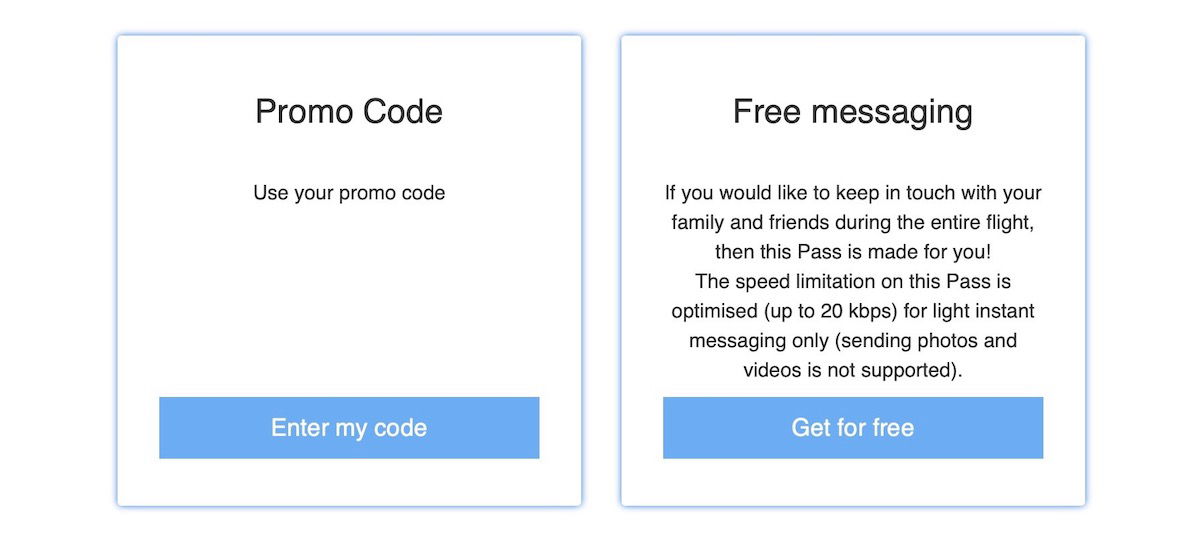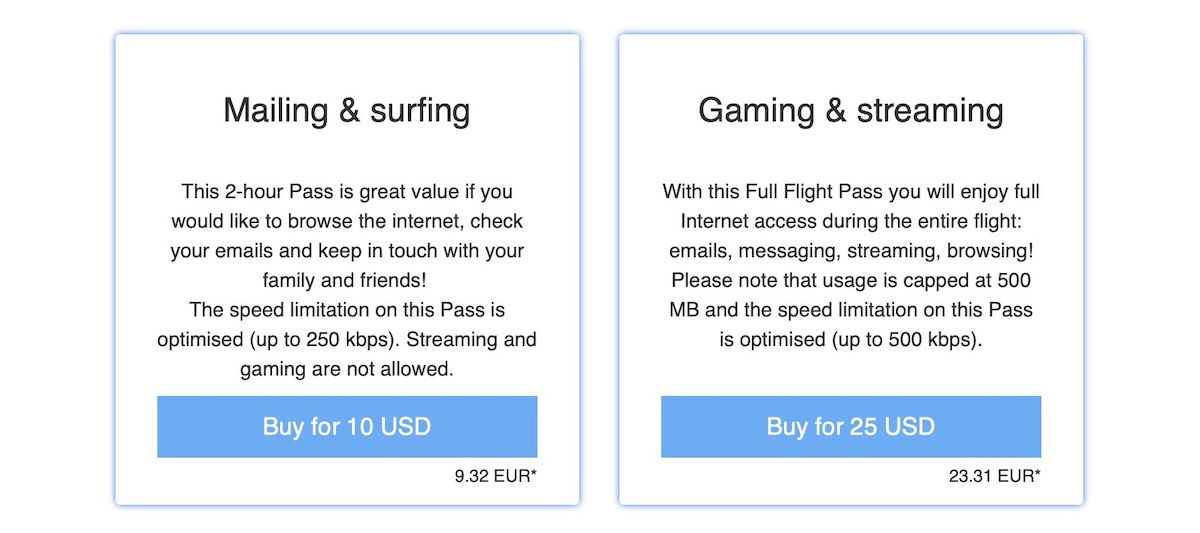 I ended up purchasing the pass for the entire flight for $25. Speeds were definitely on the slow side, and I believe that ITA uses OnAir, which isn't exactly cutting edge.

ITA Airways A350 departure from Miami
Boarding was pretty efficient, and was completed within 30 minutes, by 7:50PM. Interestingly this flight was packed. It seems like most transatlantic flights are pretty empty between the middle of January and end of February, but that wasn't the case on this flight (I guess Miami to Rome is a different market than New York to London, for example).
While the business class seatmap only showed as being roughly one-third full a day out, the cabin ended up going out totally full. I'm not sure if the airline sells a lot of upgrades day of departure, if these were non-revs, or what.
I also want to note that ITA has some quirky boarding music. It ranged from beautiful opera music to Coldplay, which isn't exactly a combination you'd expect.
Once the door was closed, the first officer made a welcome onboard announcement, informing us of our flight time of nine hours, and the expectation that we'd have some light turbulence around three hours after departure.
At 7:55PM we began our pushback, and at the same time the safety video was screened, featuring Italian athletes.
At 8:05PM we began our taxi, and by 8:20PM we were cleared for takeoff on runway 8R, and rocketed off into the night.
ITA Airways business class dinner service
The service on ITA couldn't have been lovelier from start to finish. The cabin manager came through the cabin shortly after departure to greet passengers and to take meal orders. Taking meal orders is quite a process on ITA, given just how extensive the meal service is, and how many options there are.
You can find the incredible ITA business class dinner menu below.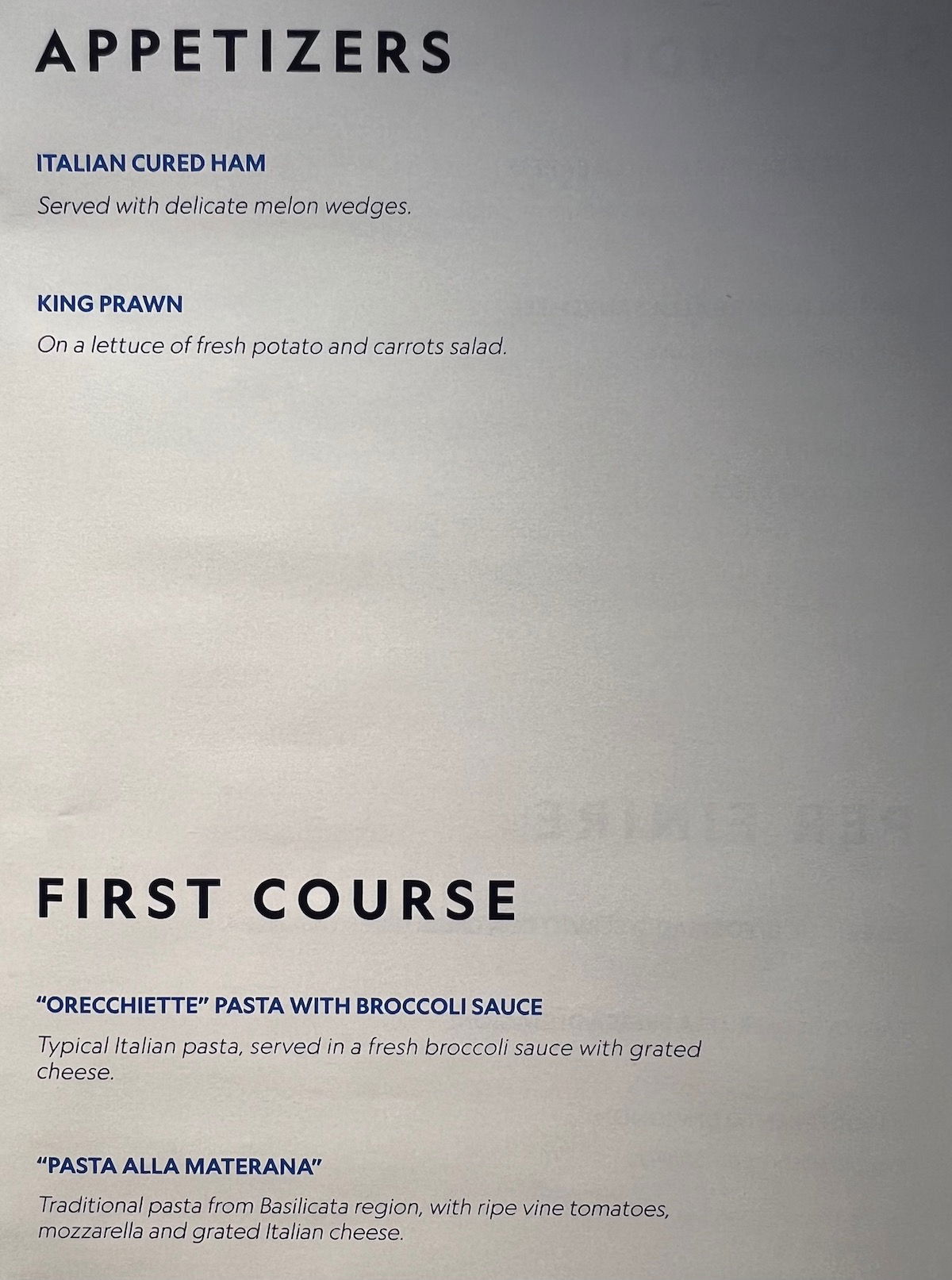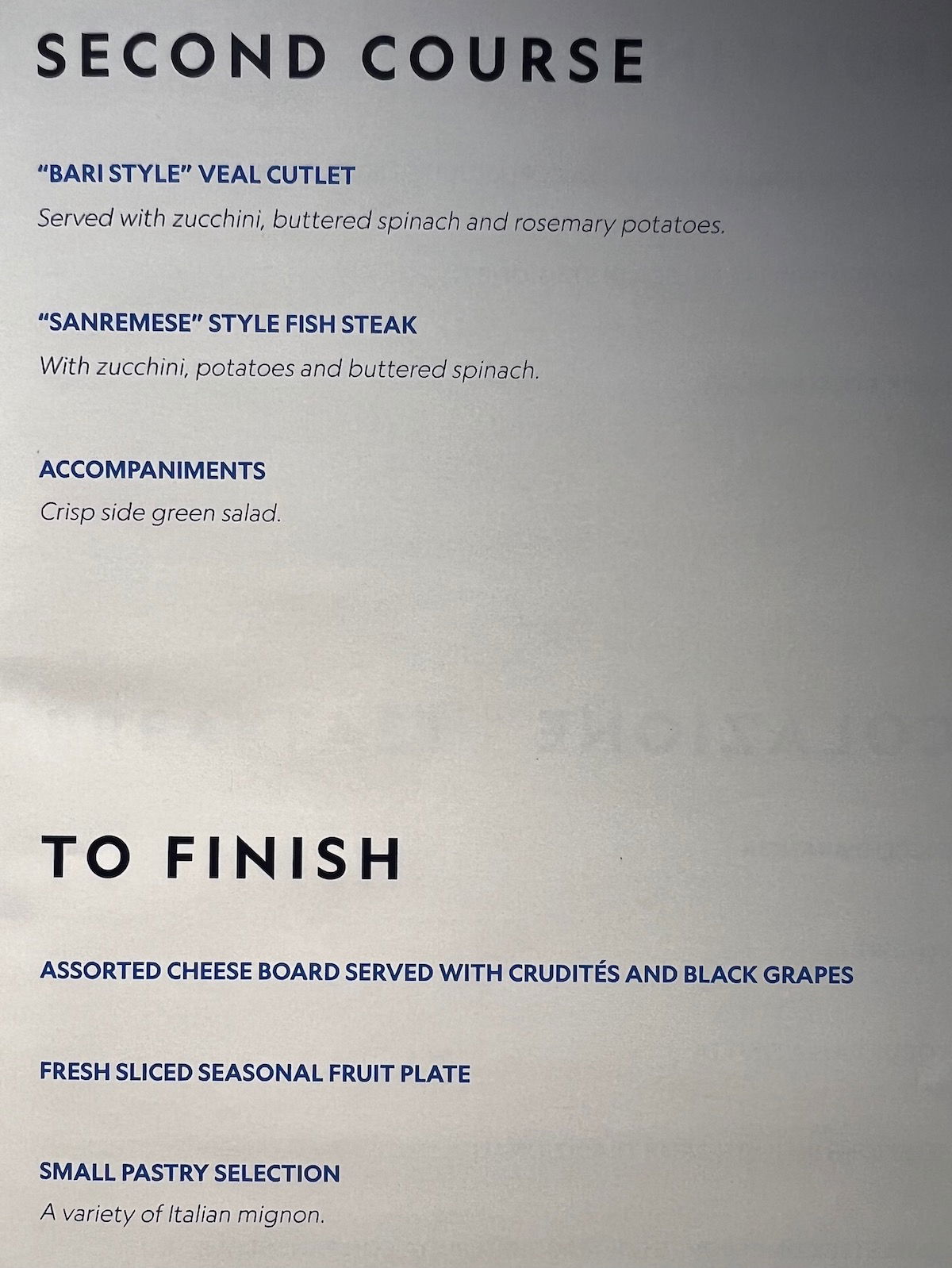 Below is the ITA business class drink list.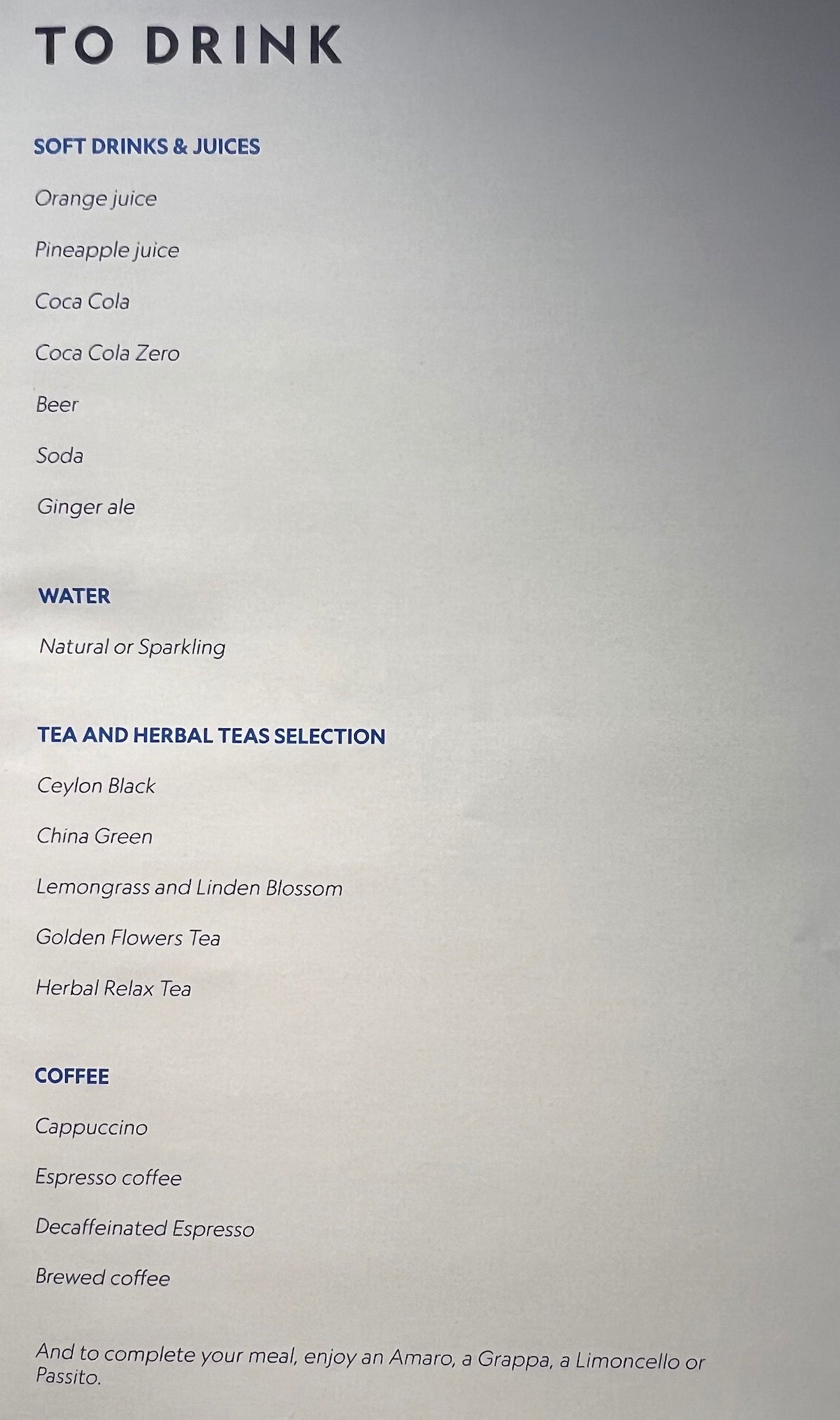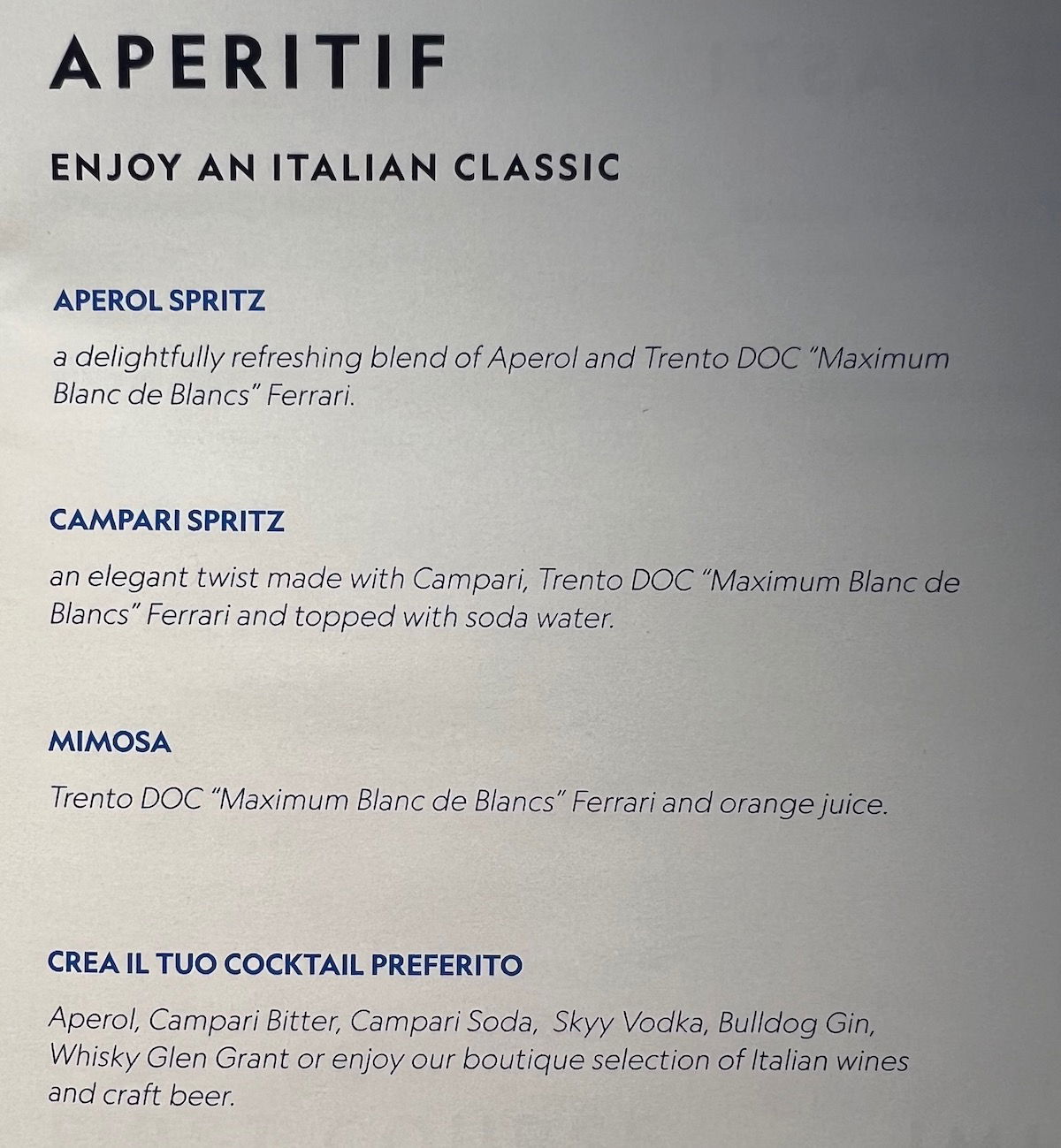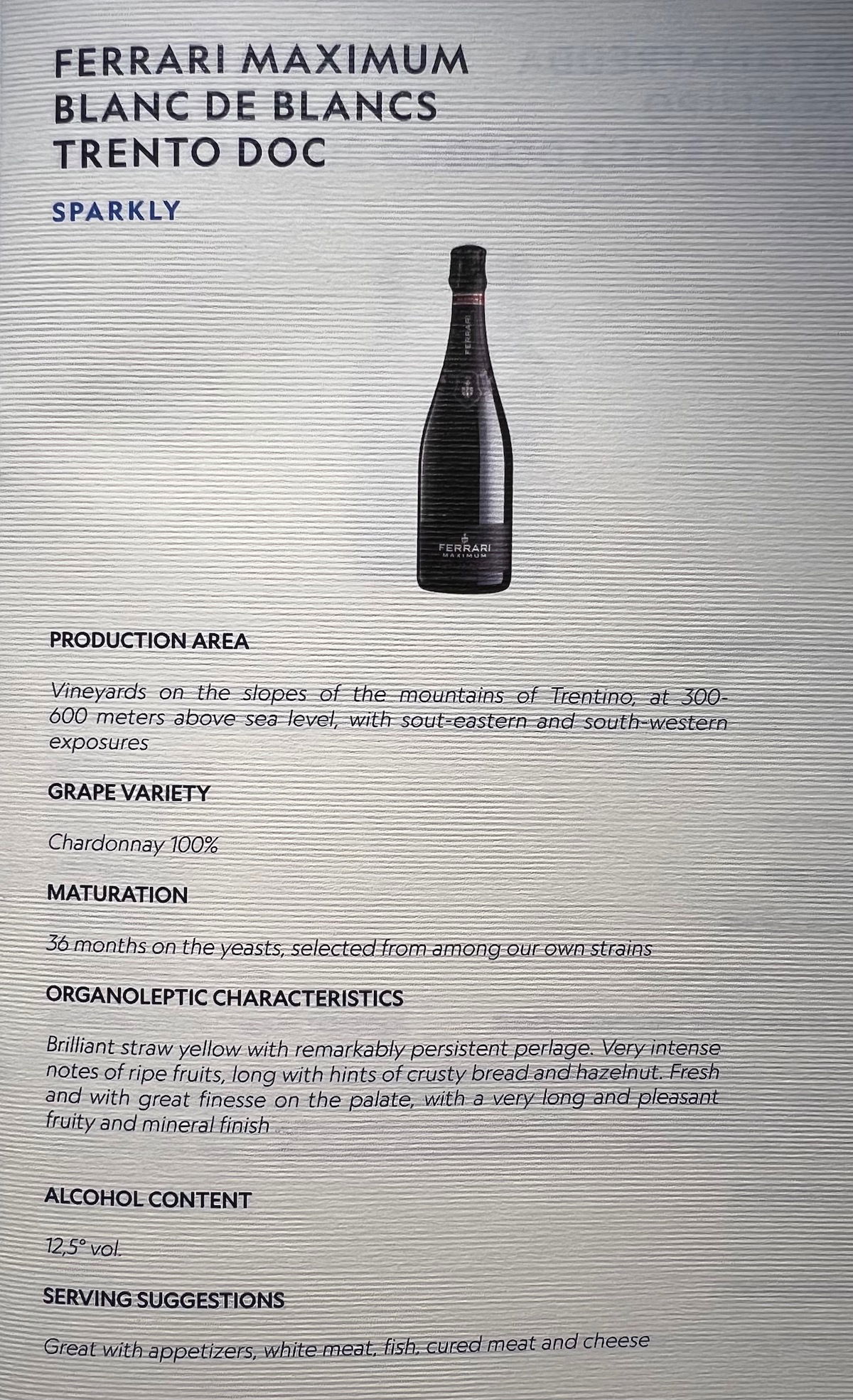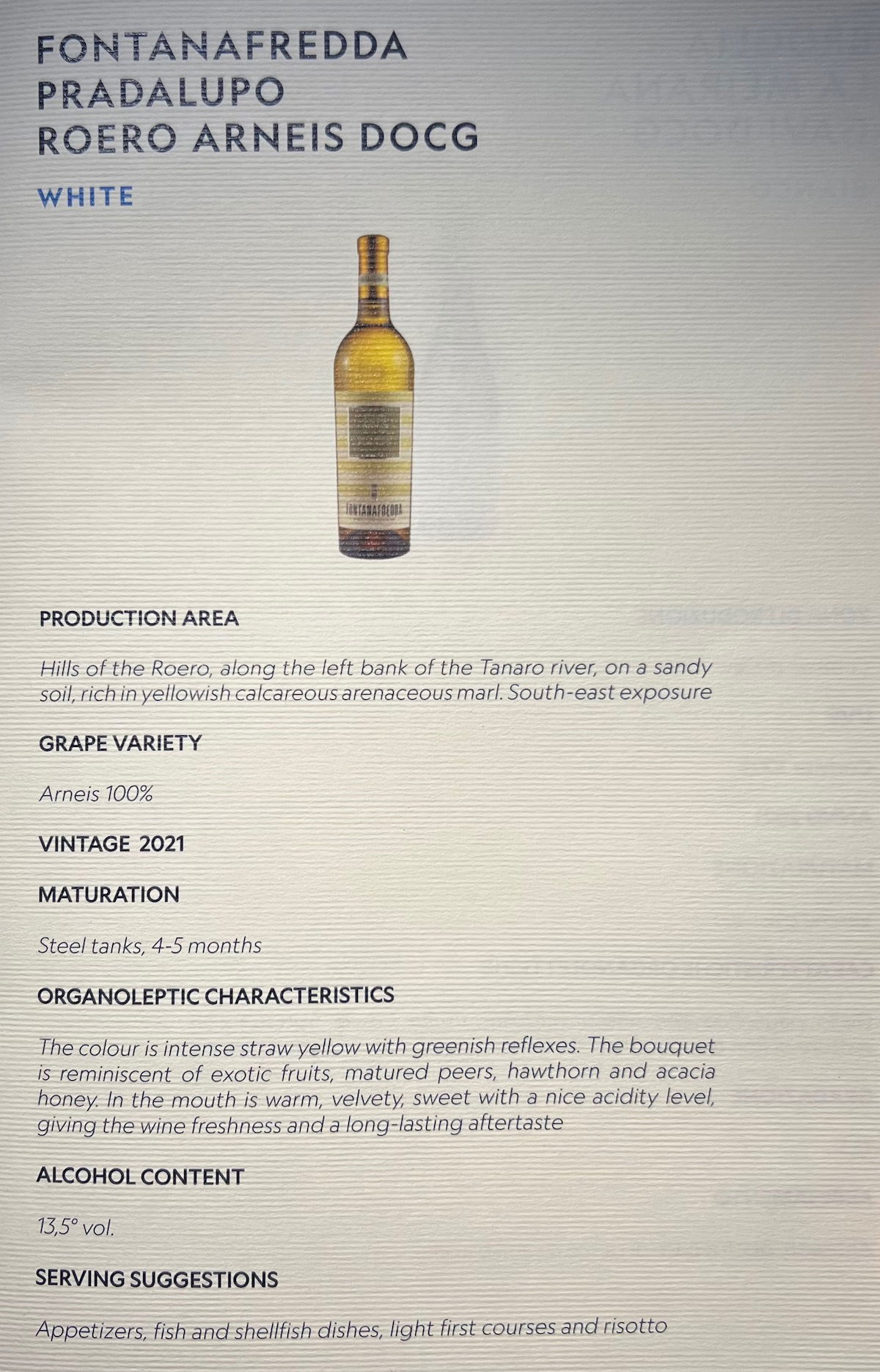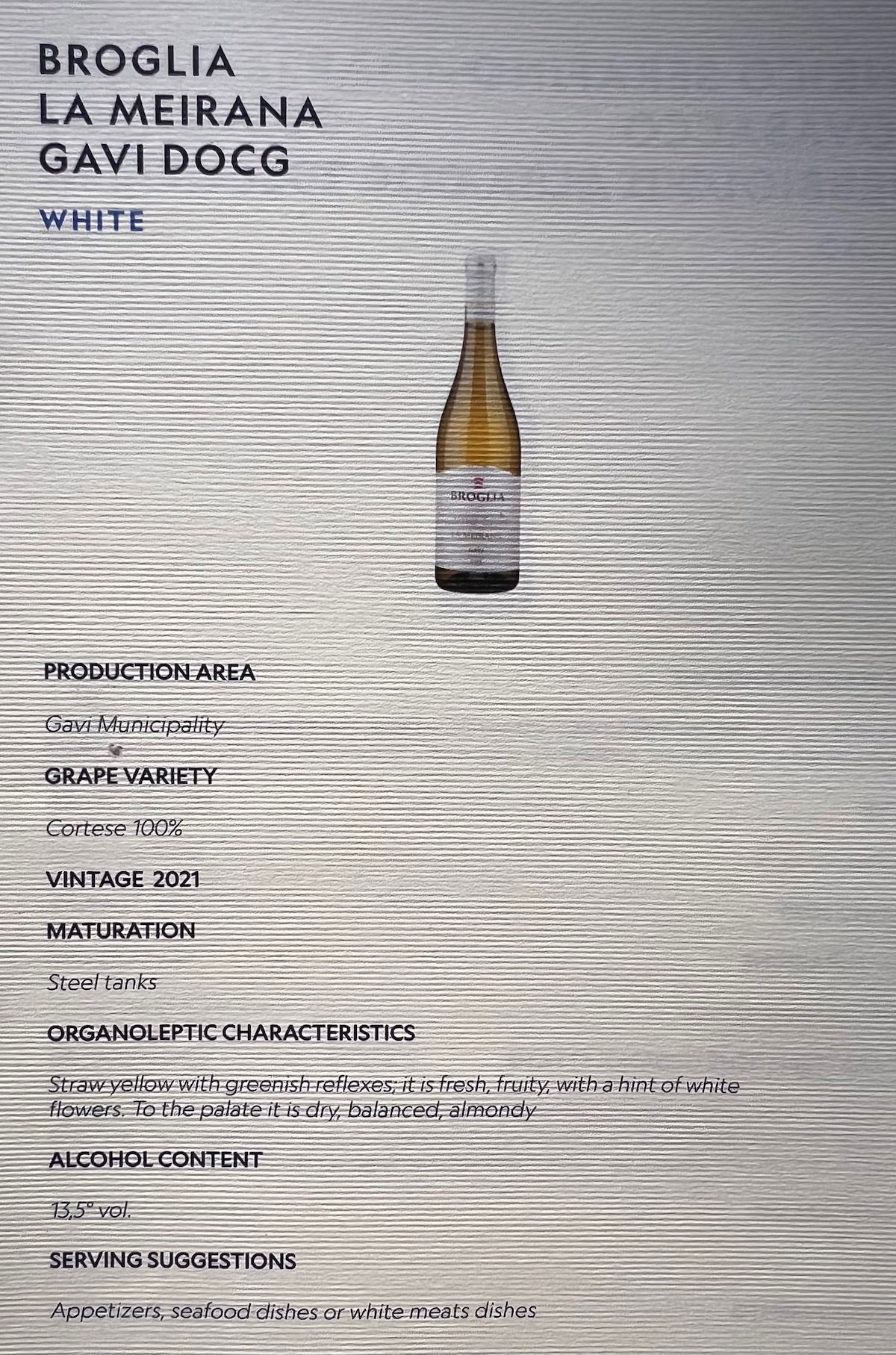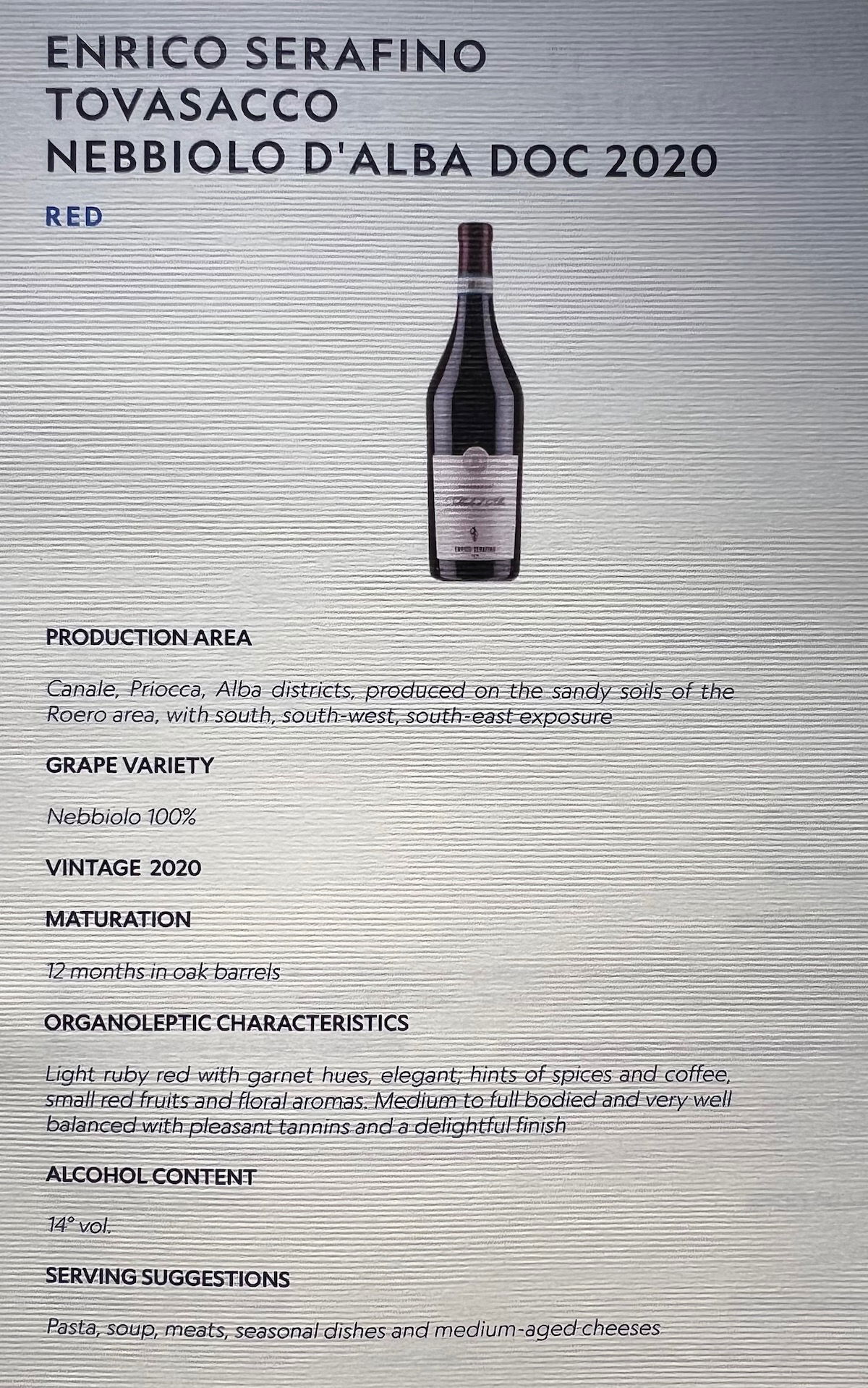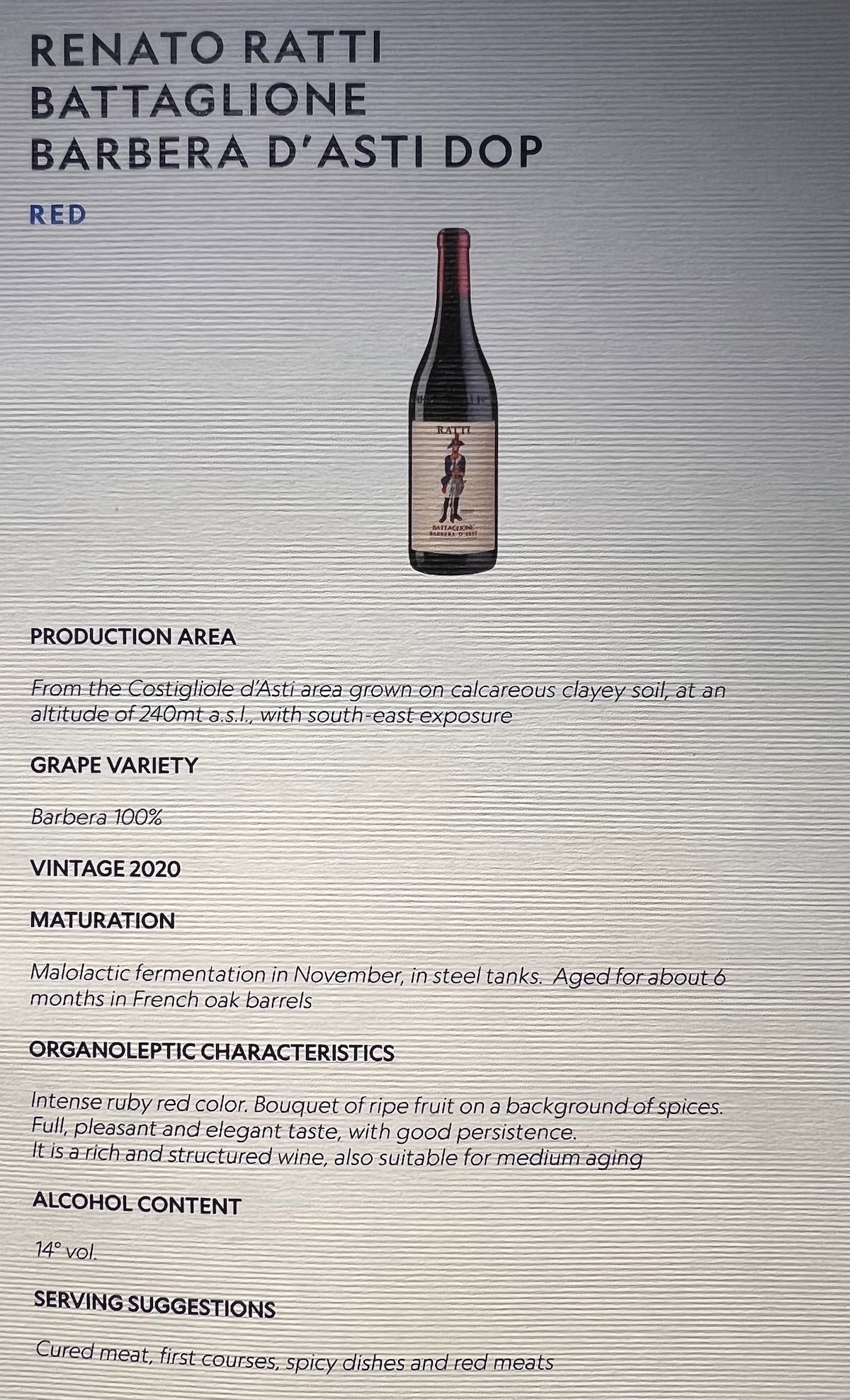 I appreciated just how efficiently the crew worked after takeoff, to serve a stellar meal while still trying to ensure each passenger got as much rest as possible. Service began with an aperitif, served around 40 minutes after takeoff — I ordered an aperol spritz, which was excellent. This was served with a side of walnuts, which I found to be an odd complement.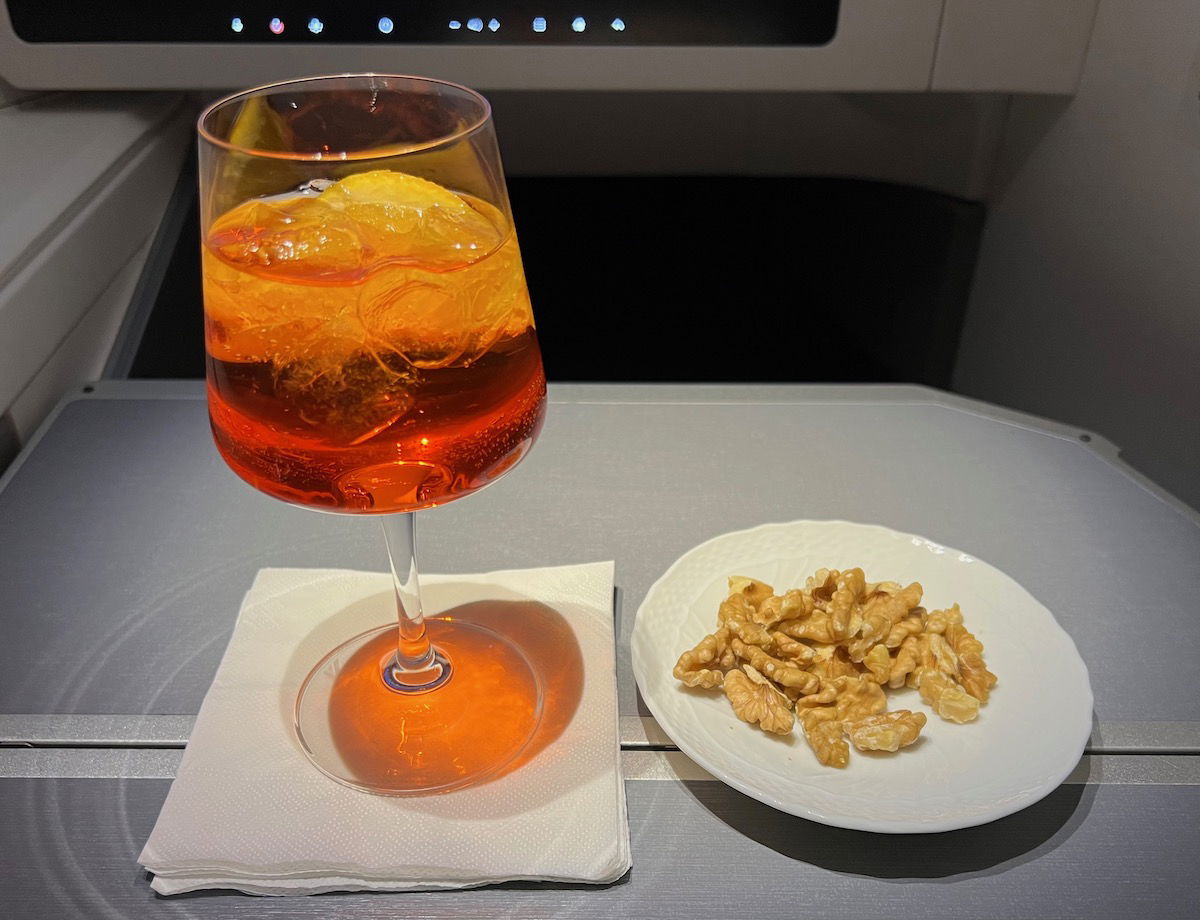 Around 25 minutes later the appetizer was served, which consisted of prawns with a potato and carrot salad. This was served with a side of bread. I also ordered a glass of the Broglia La Meirana Gavi Docg white wine, as well as some sparkling water.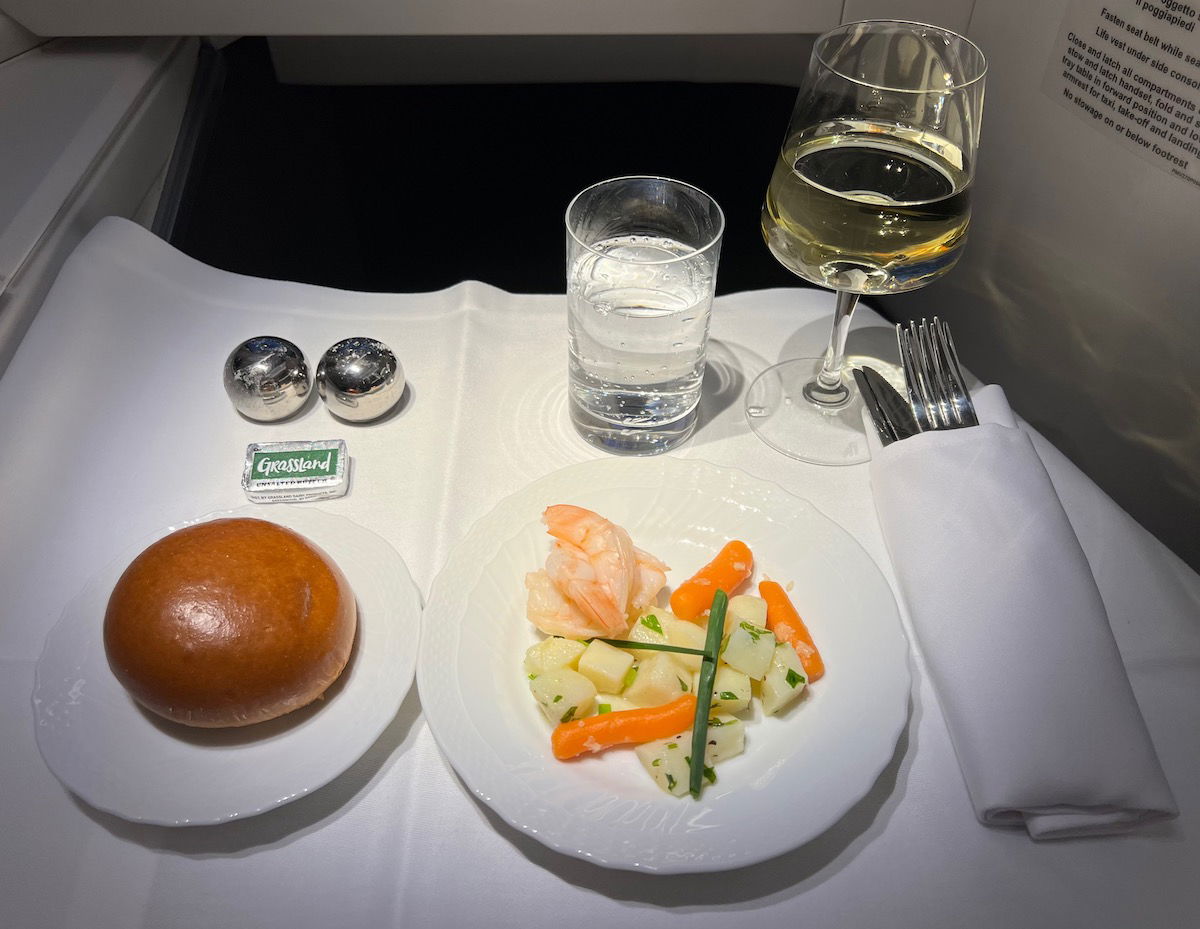 As soon as I finished my appetizer, I was served the primi. ITA really embraces its Italian culture by serving both a primi and secondi. There were two pasta options, and I selected the orecchiette pasta with broccoli sauce. This dish was excellent.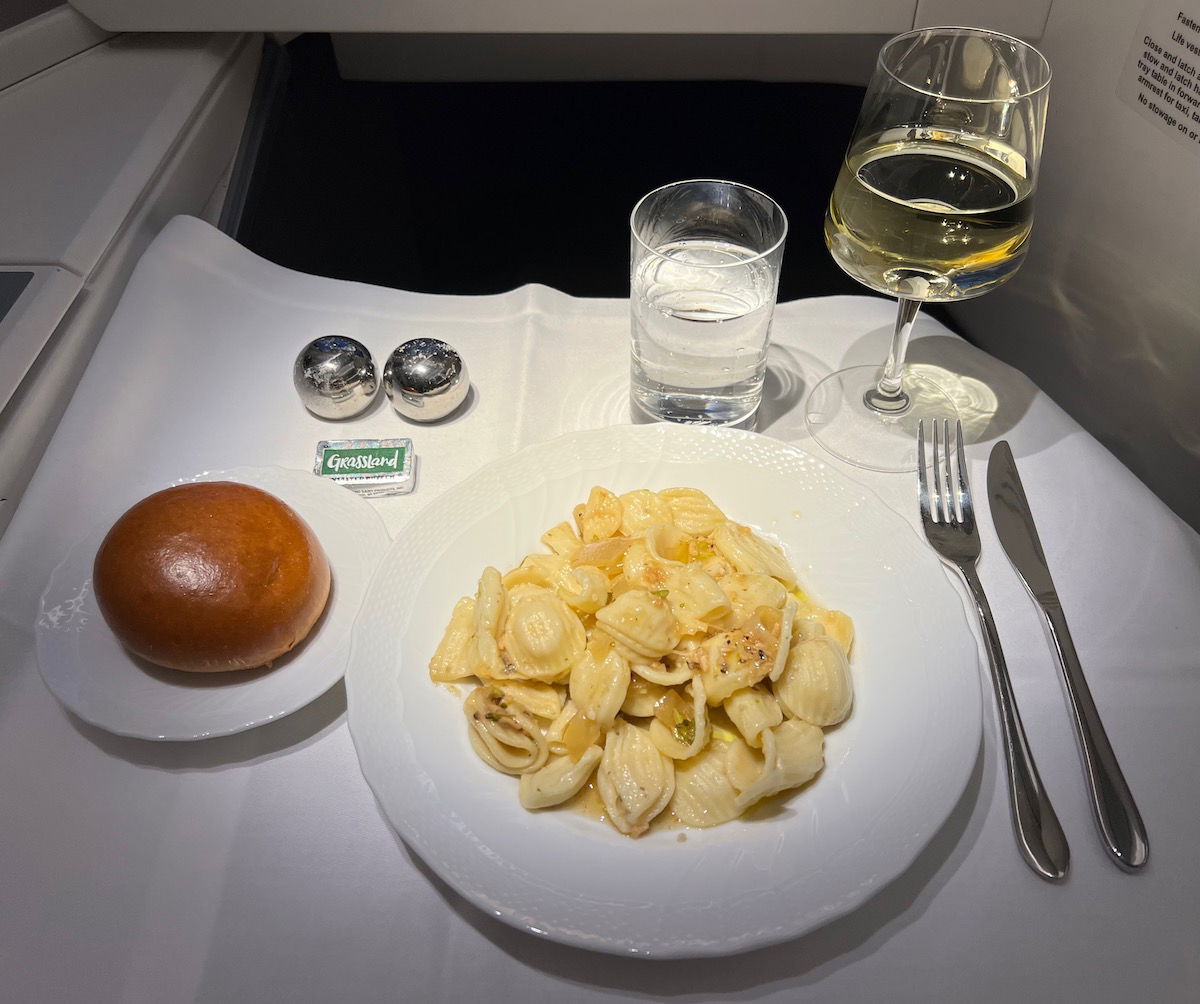 Next up was the secondi, for which I selected the "sanremese" style fish steak with zucchini, potatoes, and buttered spinach. This was also very good.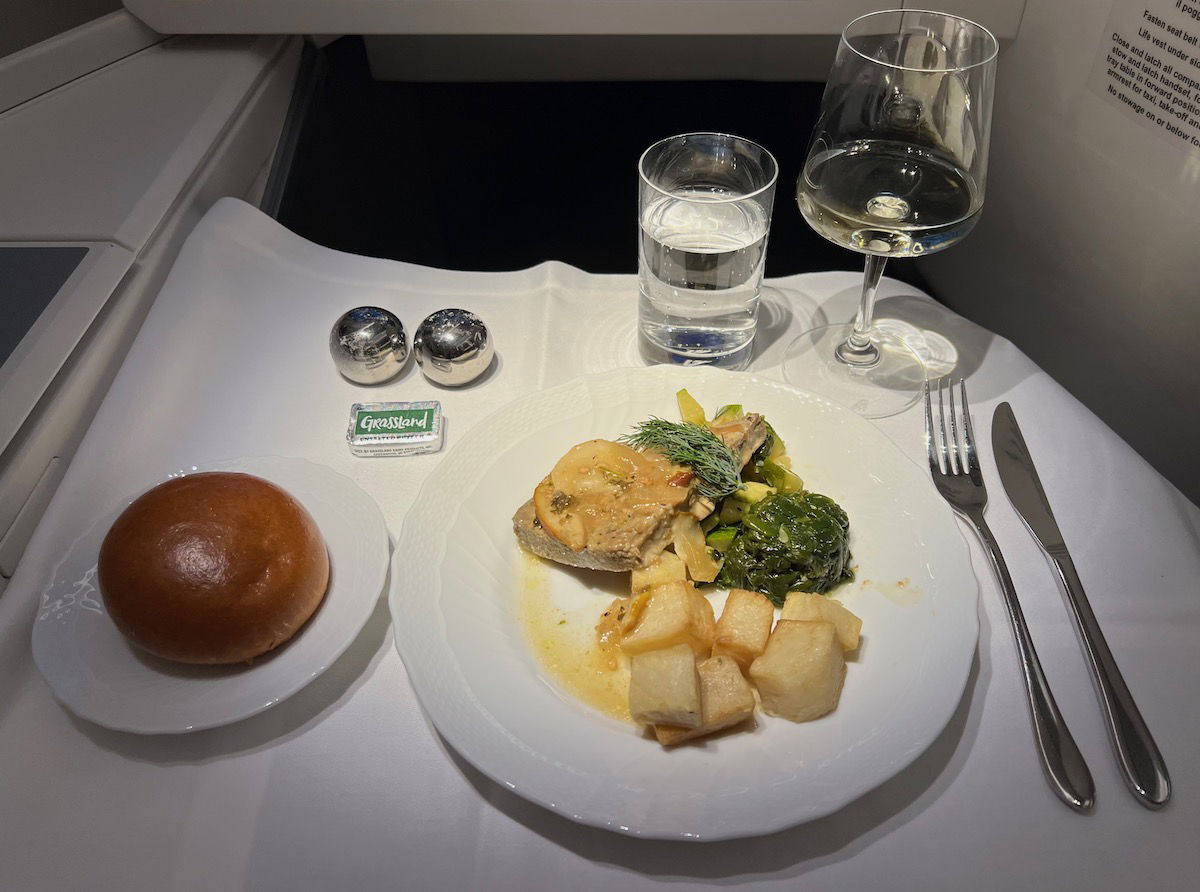 After that I was offered a cheese plate, which had one of the most interesting cheese selections I've ever been served in business class.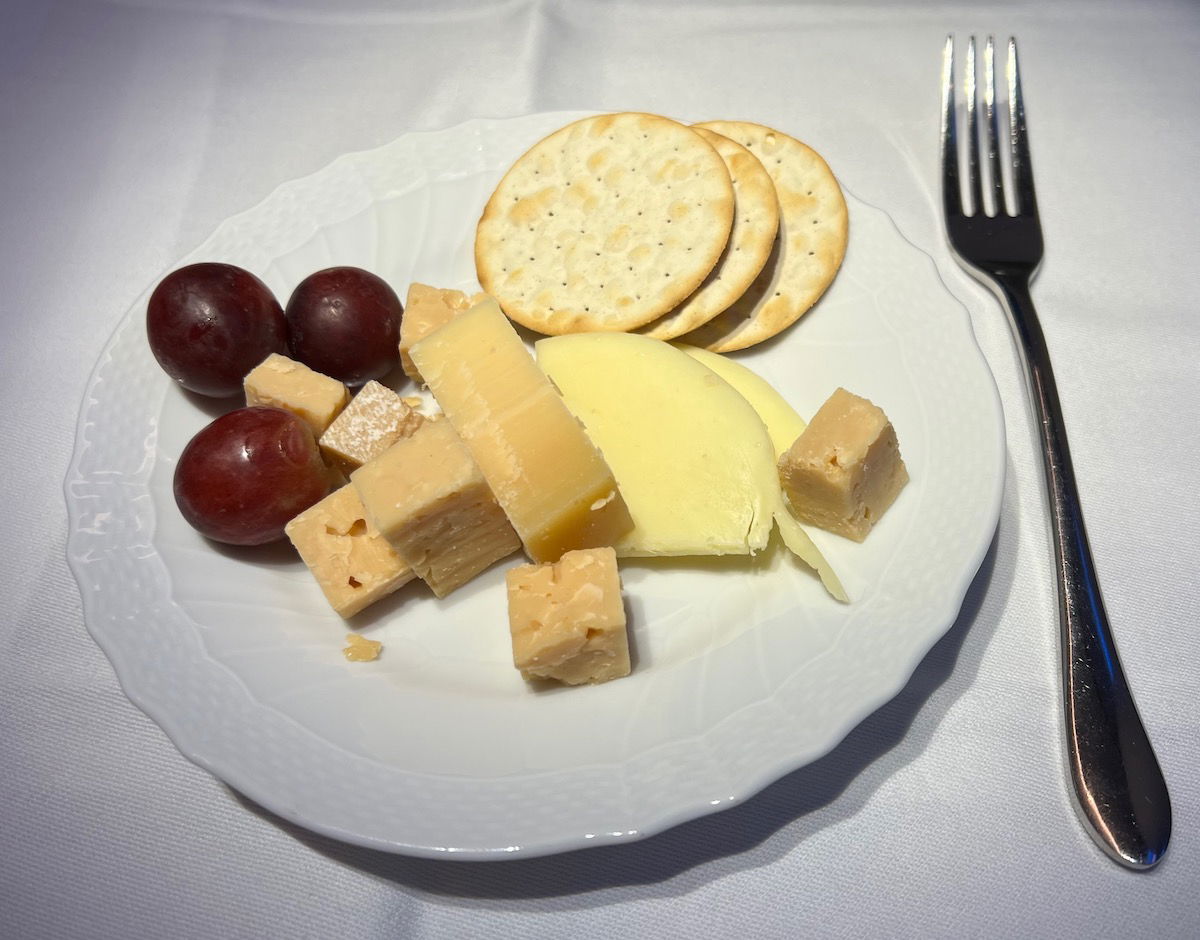 Last but not least, the meal finished with a couple of mini pastries.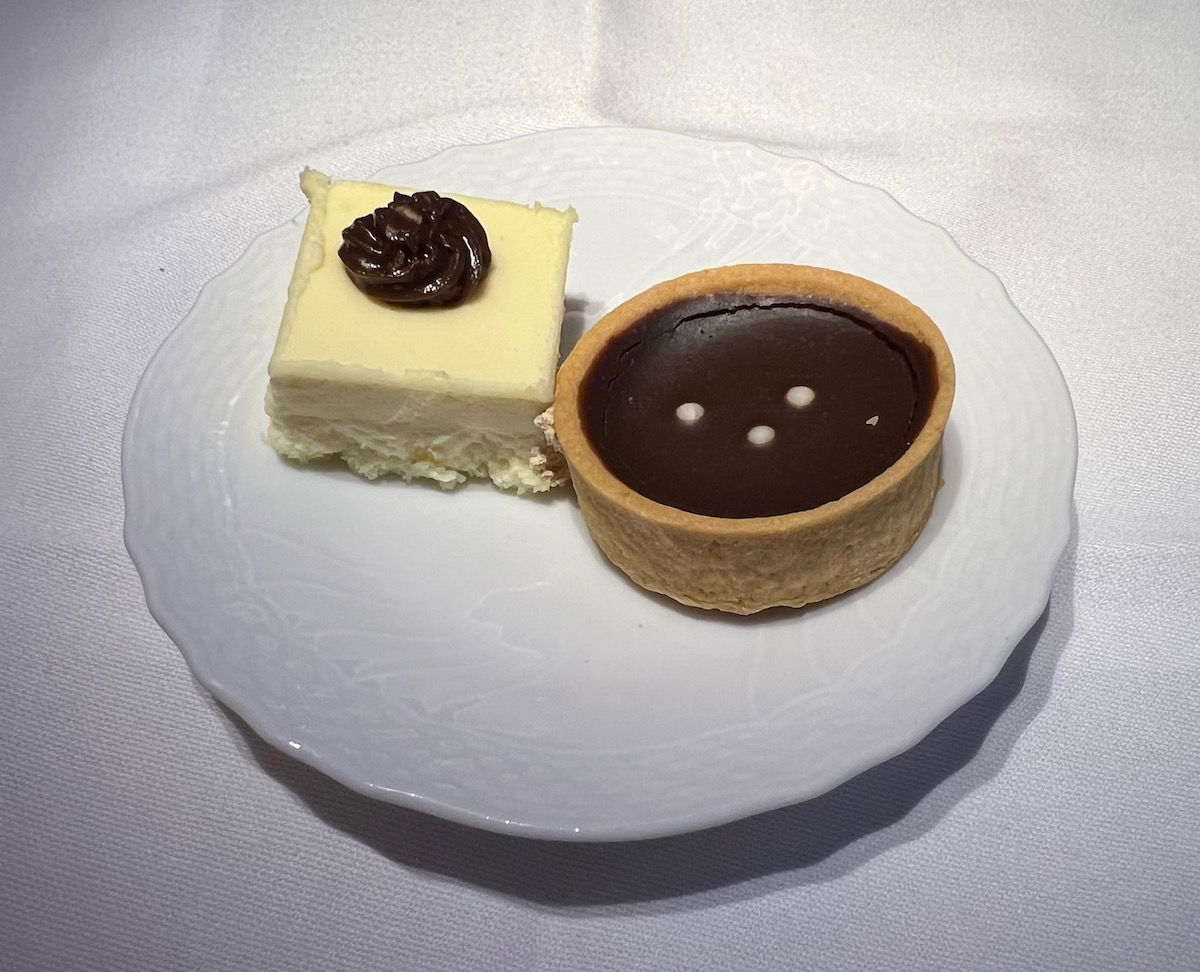 What a spectacular meal. Not only was the food quality excellent, but I also enjoyed the presentation, from the large wine glasses, to how the dishes were plated, to the meal being served directly onto a tablecloth, rather than on a tray. On top of that, I appreciated how efficient the service was, as the entire meal was served within two hours after takeoff, despite how many courses there were, and despite the full cabin.
ITA Airways A350 business class bed
After the meal I tried to get some shuteye, as I knew I'd have a long day ahead of me after landing in Rome. At this point we had roughly seven hours remaining enroute to Rome.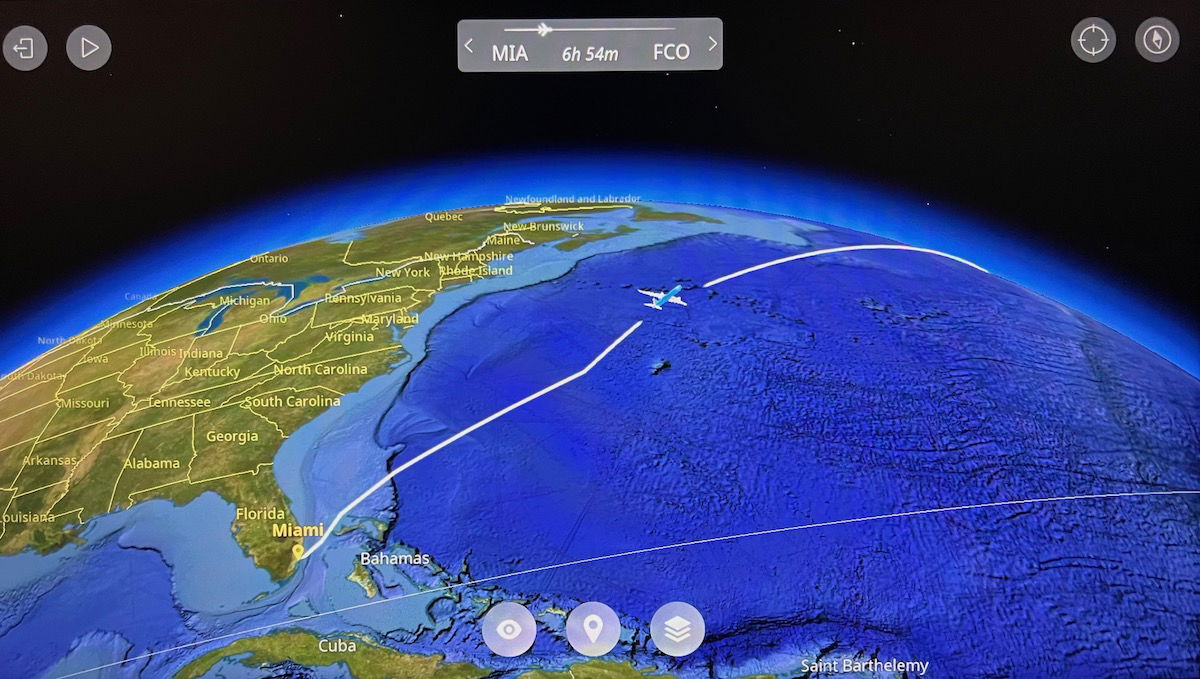 I reclined my seat, and tried to get comfortable. This seat was as comfortable as every other reverse herringbone seat out there, and I managed to get some solid rest. The pretty good bedding and air nozzles helped with that.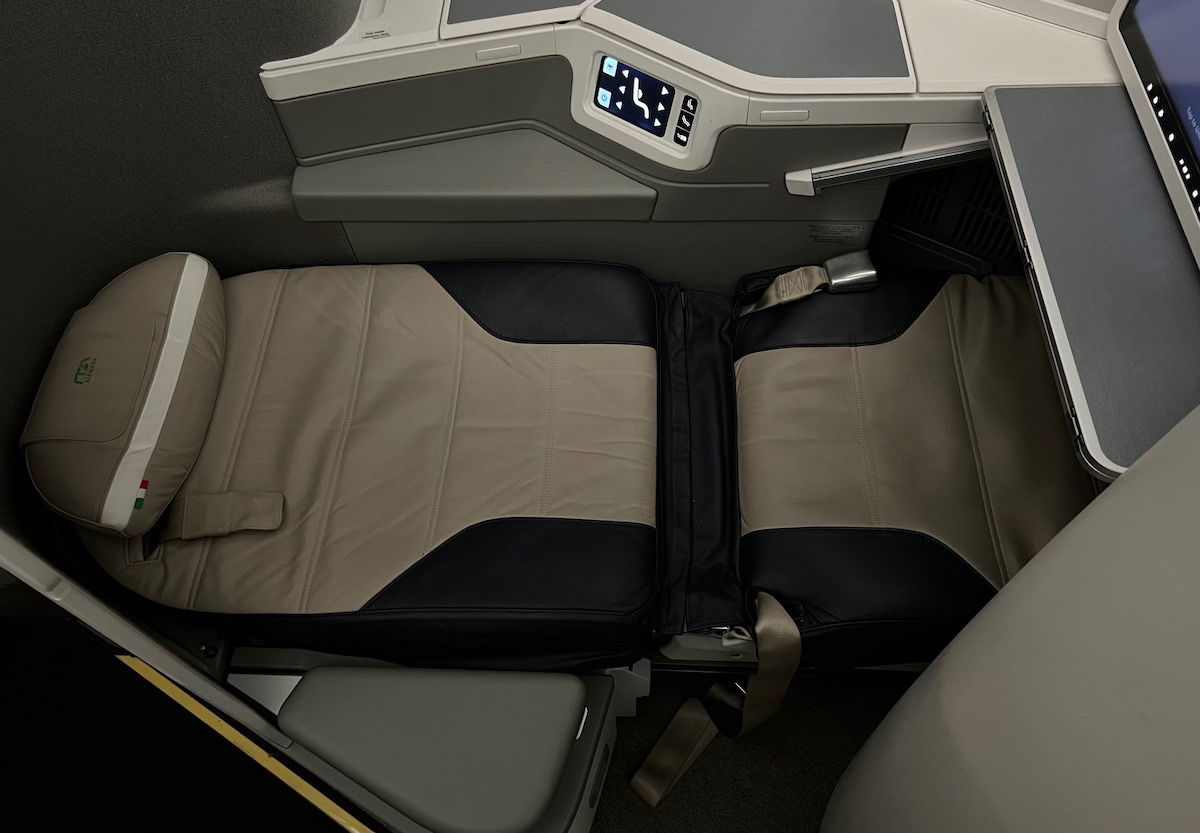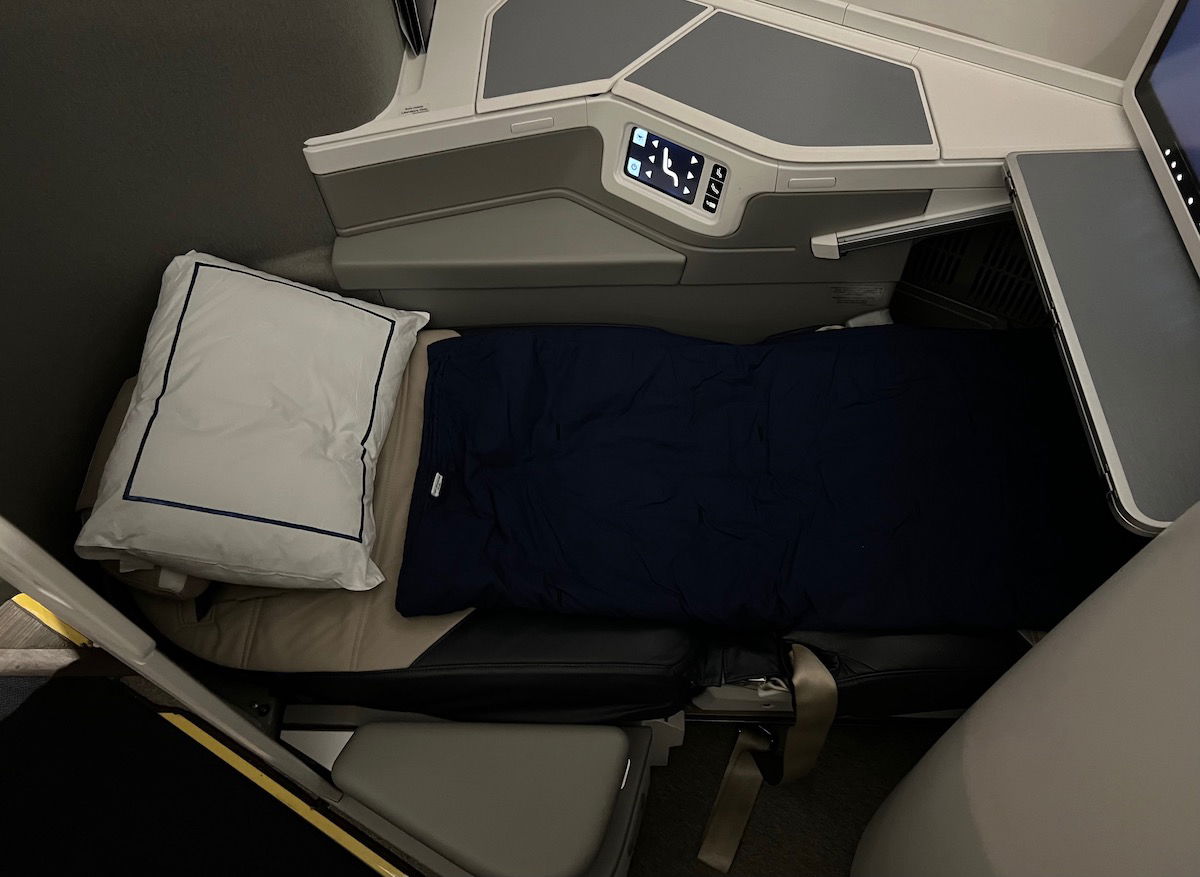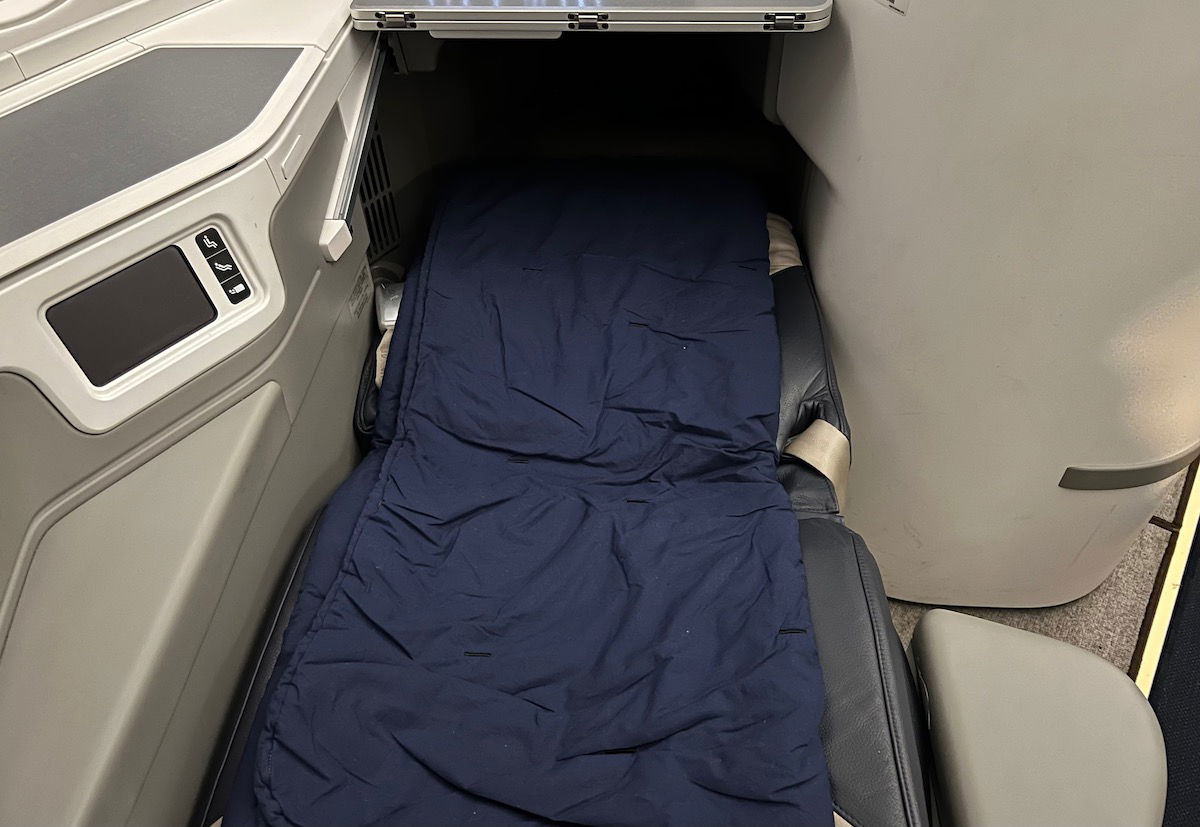 I ended up getting a bit over four hours of solid sleep (which for me is really good, as a bad airplane sleeper). Eventually I decided to get up when we had around 2hr15min remaining enroute to Rome, as we were just north of Spain and west of France.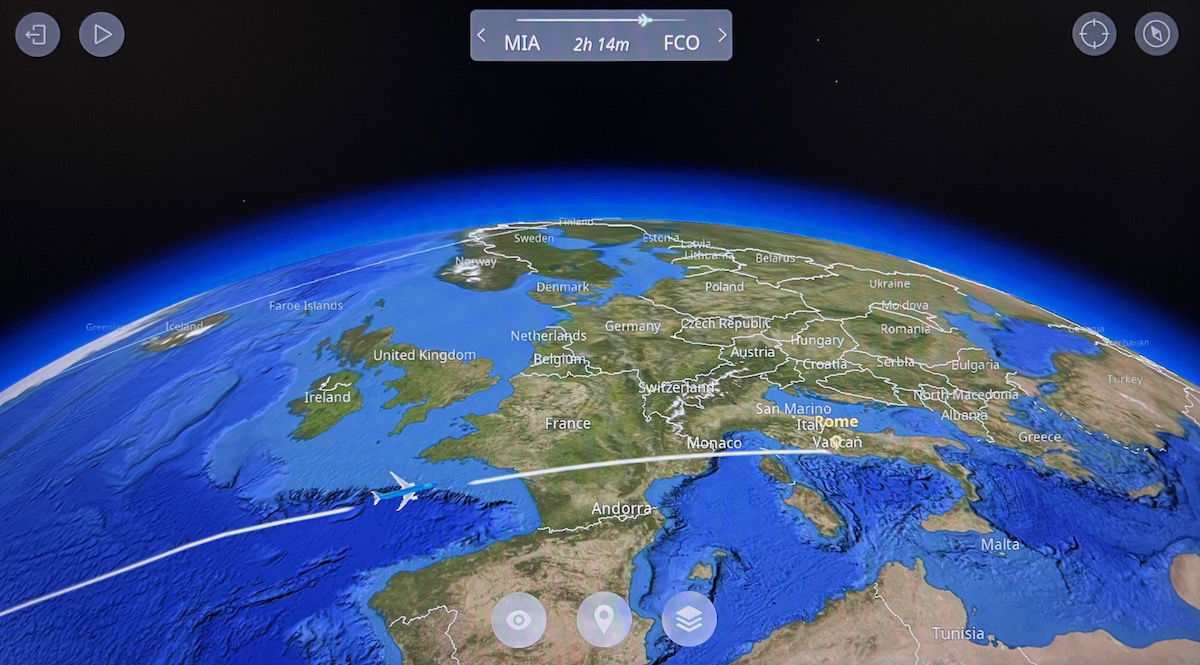 ITA Airways A350 business class lavatories
ITA Airways has two business class lavatories on the A350. Interestingly there are no lavs behind business class (by the second set of doors), but rather there's a lavatory by the cockpit, and one at the front right of the cabin. The lavatories were average, and didn't have any sort of premium amenities.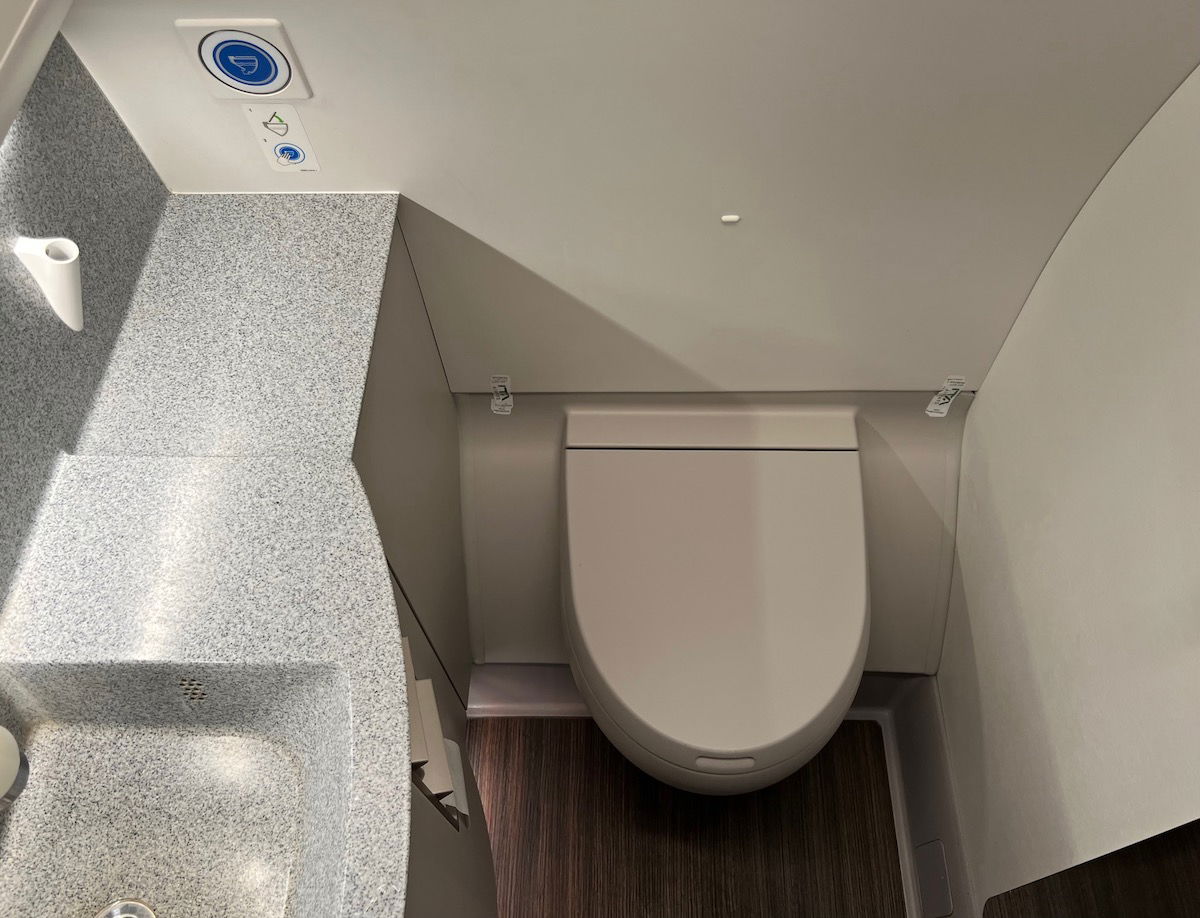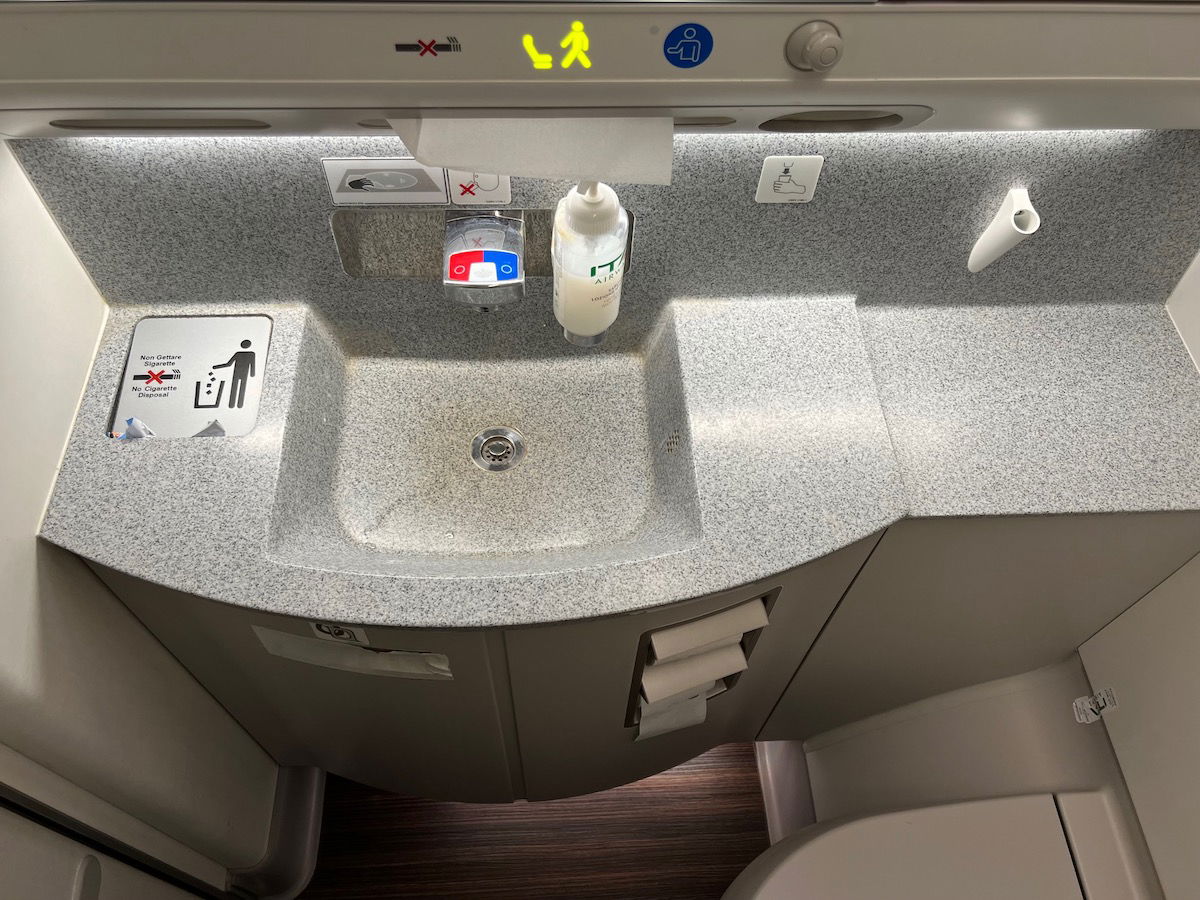 ITA Airways business class breakfast service
About 1hr40min before landing, the crew turned on the lights in the cabin, and started the breakfast service.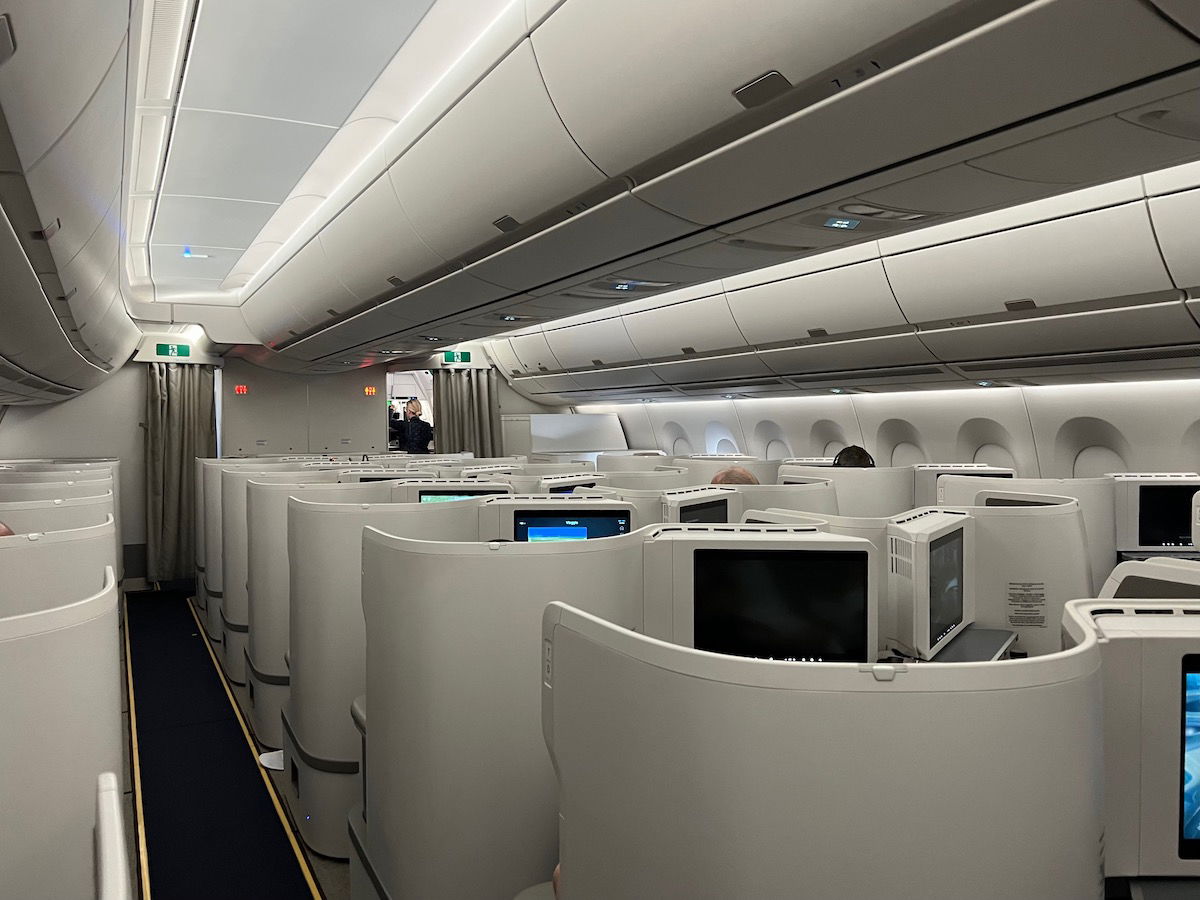 You can find the ITA Airways business class breakfast menu below (along with the snack menu, for anyone who was feeling peckish during the flight).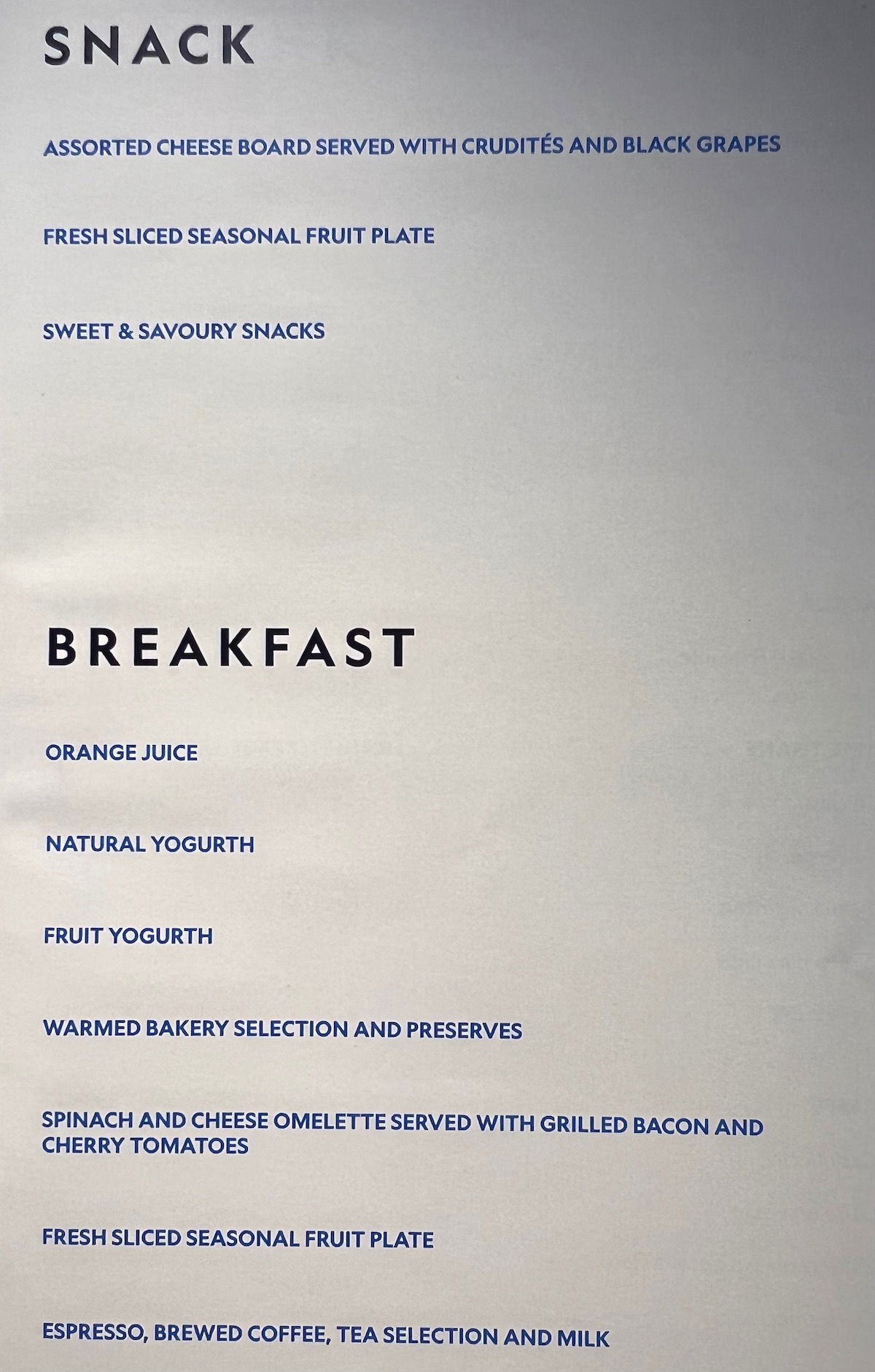 Before the breakfast service even began, I tried to order a cappuccino. The crew apologetically informed me that the espresso machine wasn't working, and instead offered me a brewed coffee.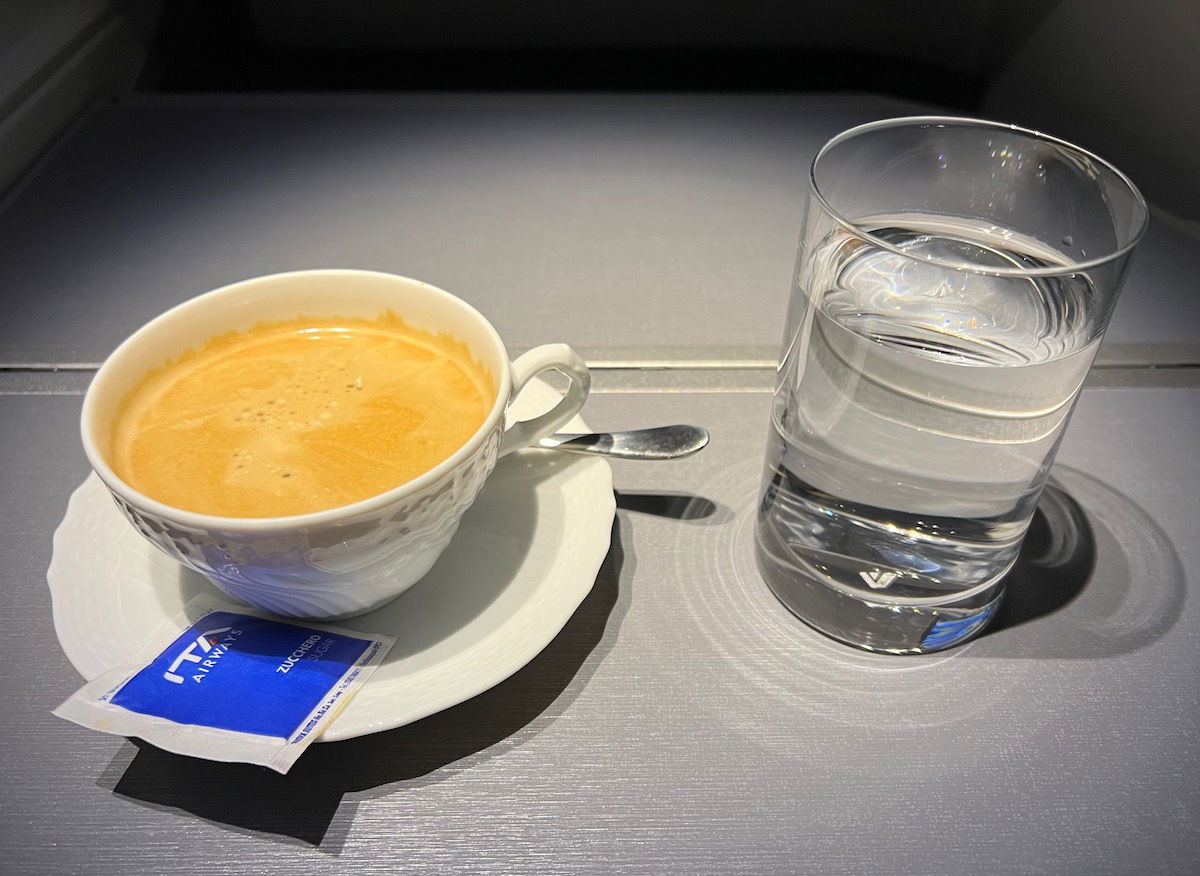 Warm towels were distributed once the cabin lights were on, and then a cart was rolled down the aisle with breakfast. Unlike dinner, breakfast was served on a tray. The hot option was an omelet with bacon, but since I don't eat pork, I went with the lighter option. This included a croissant (which was actually tasty, unlike so many airplane croissants), a fruit plate, some yogurt, and a bread roll.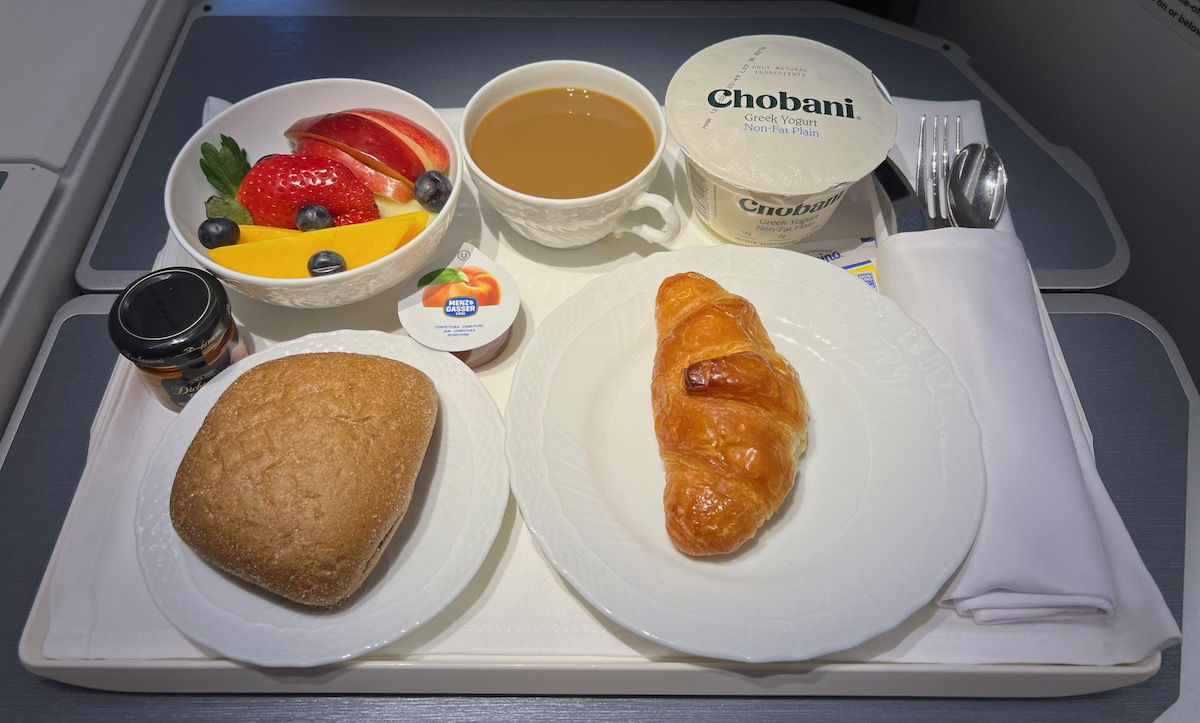 The breakfast was perfectly decent, and I appreciated that my coffee was kept filled up throughout the breakfast service.
ITA Airways business class service
The service on ITA Airways was probably what impressed me most about the experience. The crew working business class all seemed to me like veteran flight attendants who had likely been at Alitalia for decades. To me they struck the perfect balance between being professional and efficient, all while exhibiting Italian charm.
Look, don't get me wrong, this isn't Singapore Airlines, where you're addressed by name constantly, and the crew is through the cabin every few minutes throughout the flight. However, the crew genuinely seemed to enjoy their jobs, and they also had a great eye for detail.
So many of the things that have disappointed me about service on recent flights (like on Gulf Air and Bamboo Airways) weren't issues here. For example, when a course was cleared and I no longer had a fork or knife, the crew proactively acknowledged that, and brought me a new one. Similarly, when a glass was nearly empty, the crew would ask if I wanted something else to drink, rather than just clearing it or ignoring it.
As much as senior flight attendants at some airlines have an indifferent attitude, there's also no substitute for experience when it comes to having a good grasp of performing service efficiently.
ITA Airways A350 arrival in Rome
A little over an hour out, my breakfast was cleared. I opened my window, and my gosh was I treated to some amazing views of the Alps.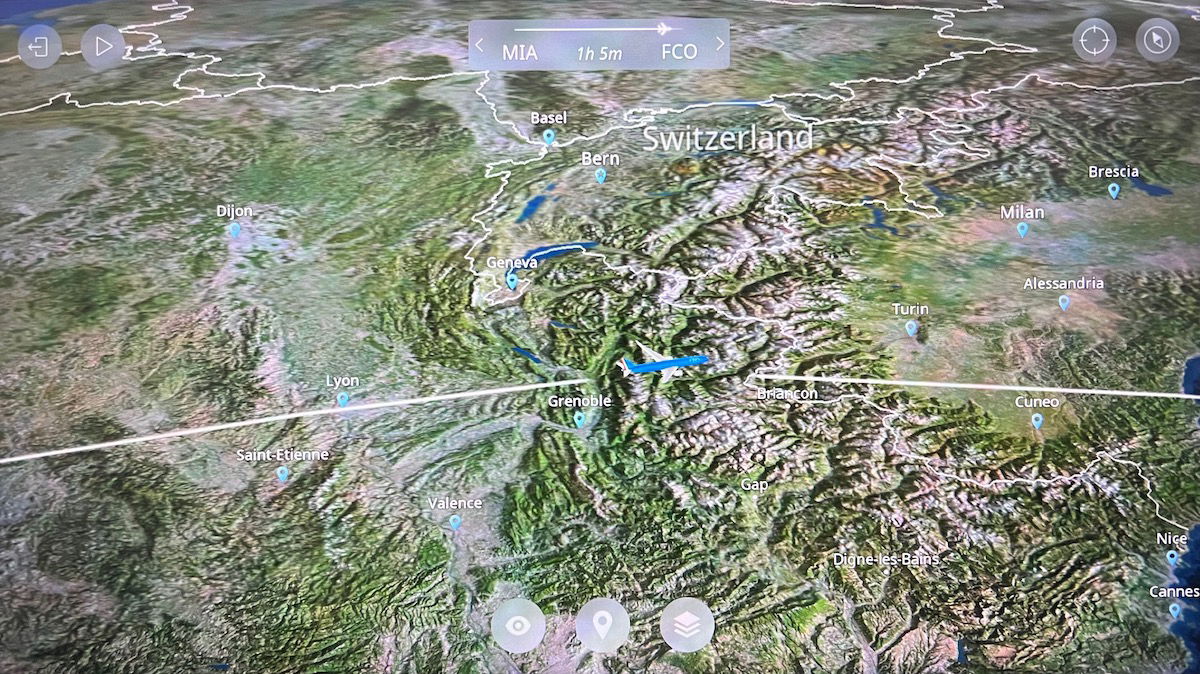 How stunning is this?!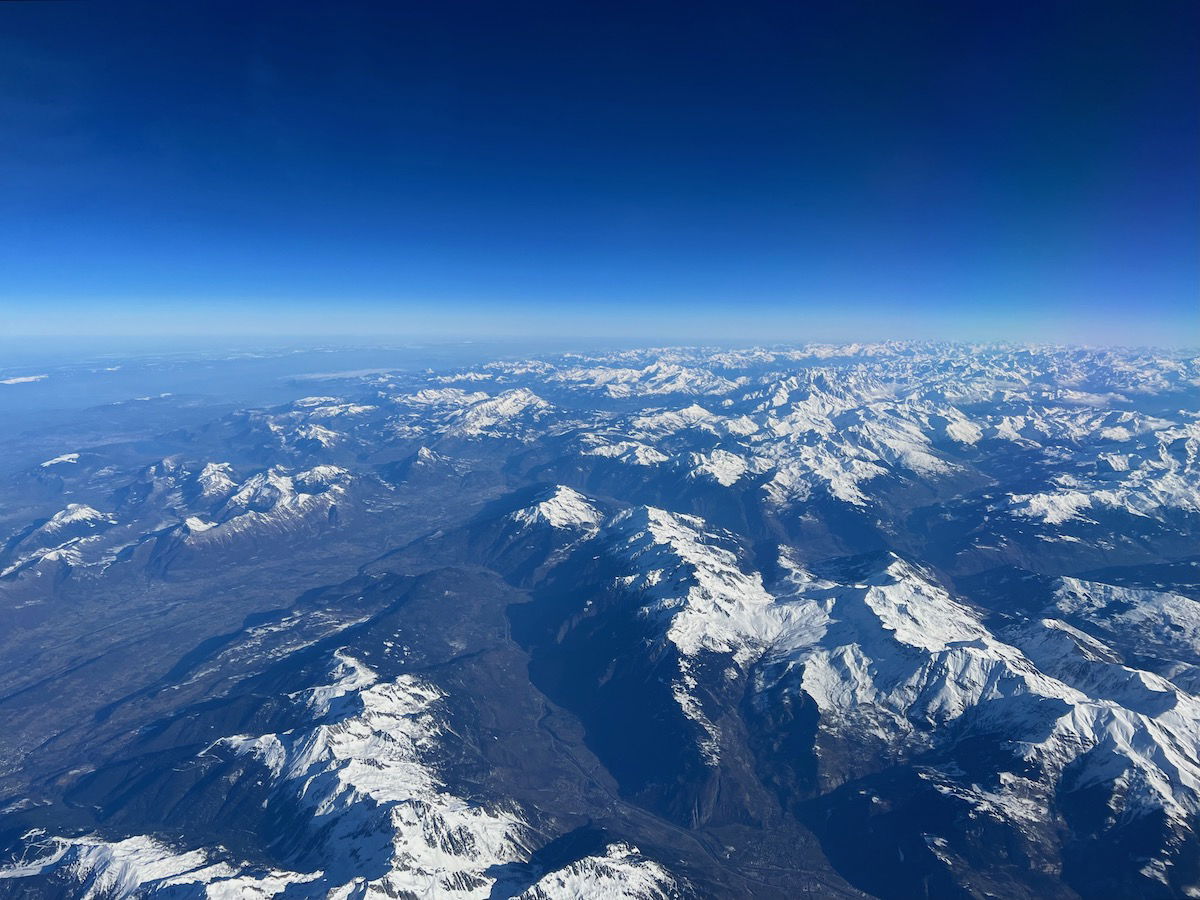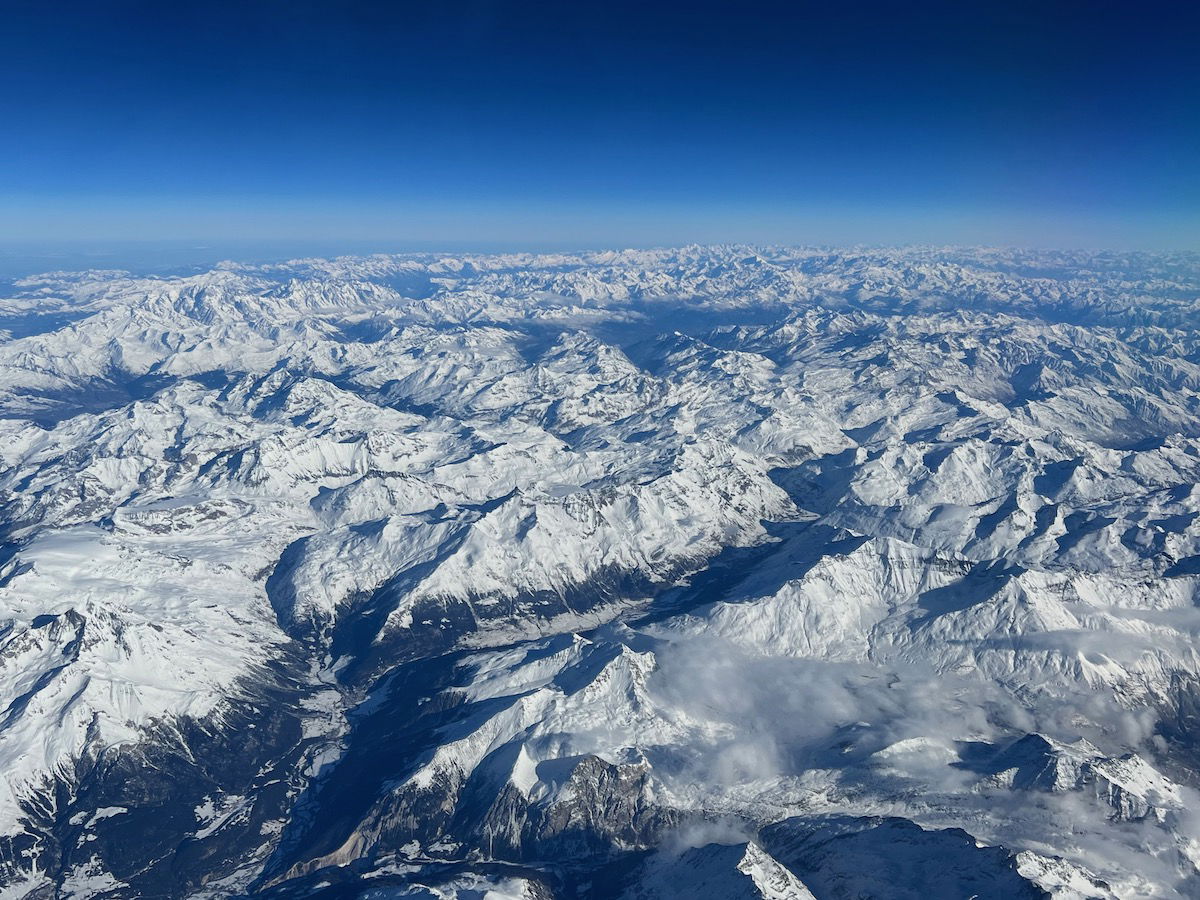 About 30 minutes before arrival we started our descent, and about 25 minutes before arrival the cabin manager announced that we'd soon be landing in Rome, and advised the crew to prepare the cabin for landing.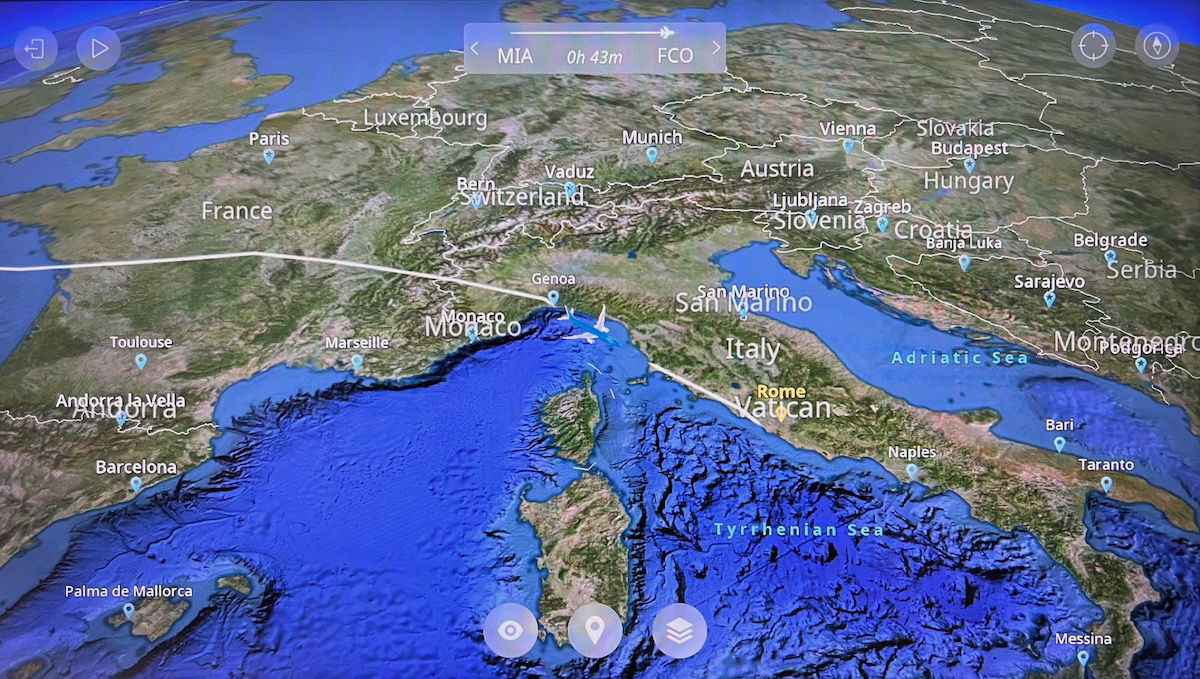 The views on the approach were beautiful…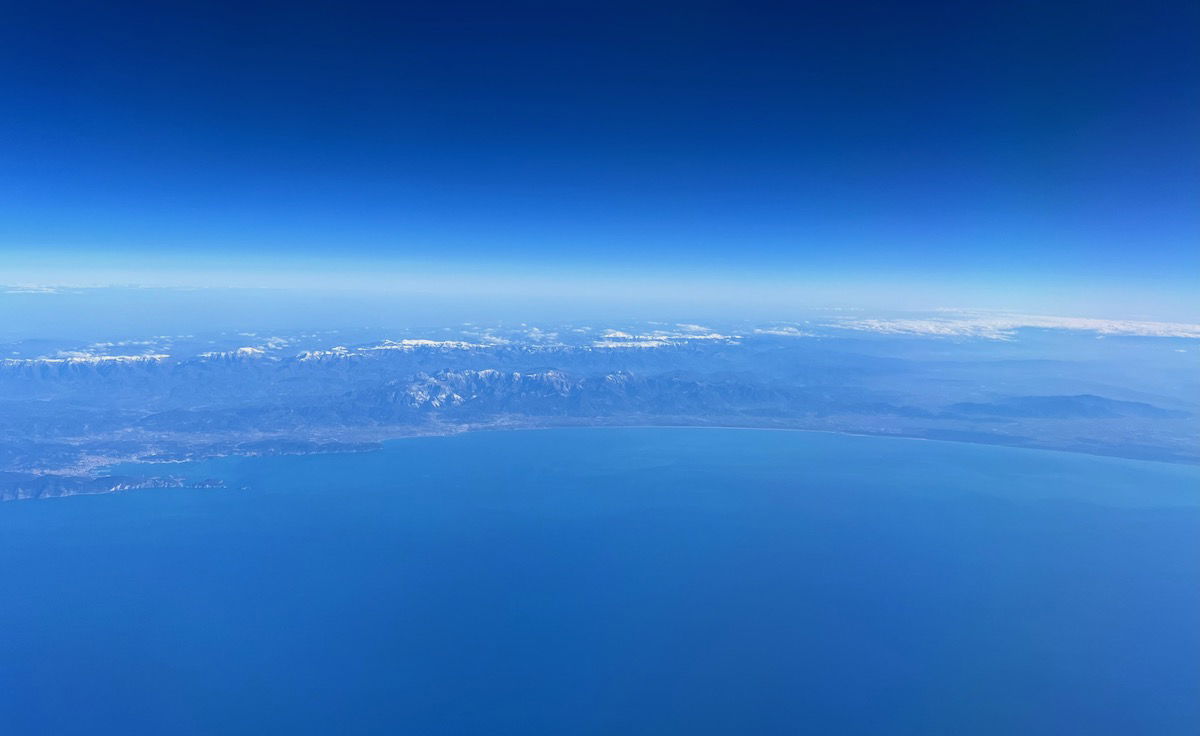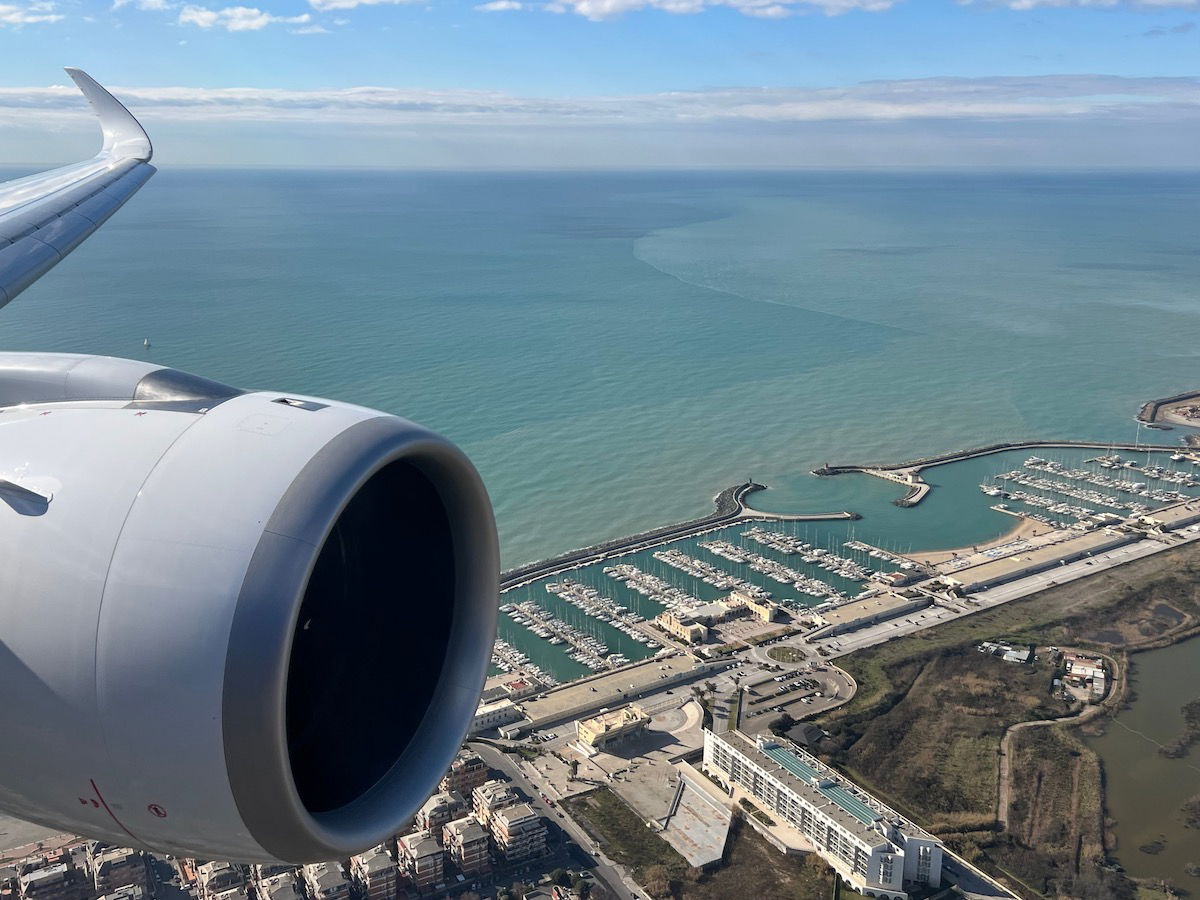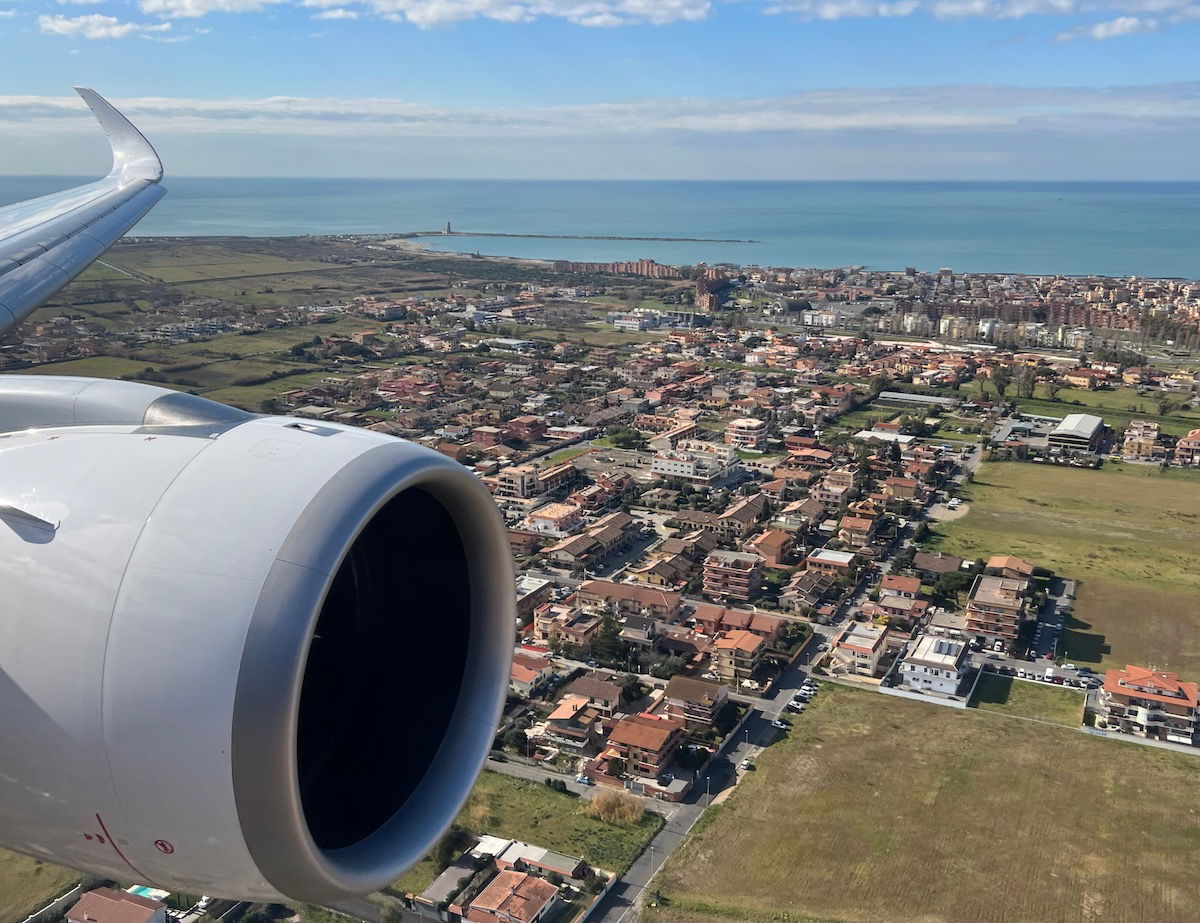 We touched down in Rome at 11:25AM local time. Funny enough, there was loud clapping throughout the cabin on arrival. Is this also an Italian thing, or was this some odd coincidence? I can't say I've otherwise noticed that frequently.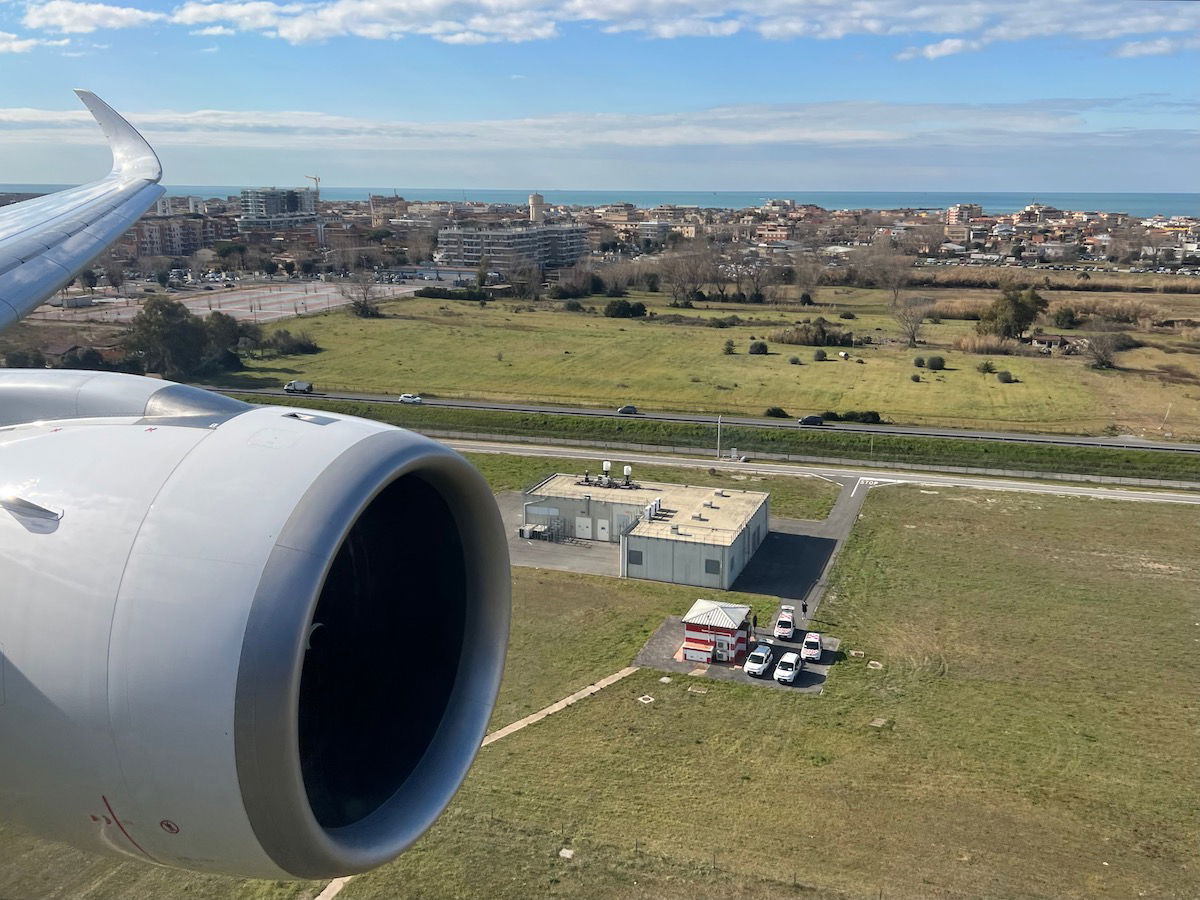 From the runway it was a roughly 10 minute taxi to our arrival gate, where we pulled in at 11:35AM, five minutes ahead of schedule.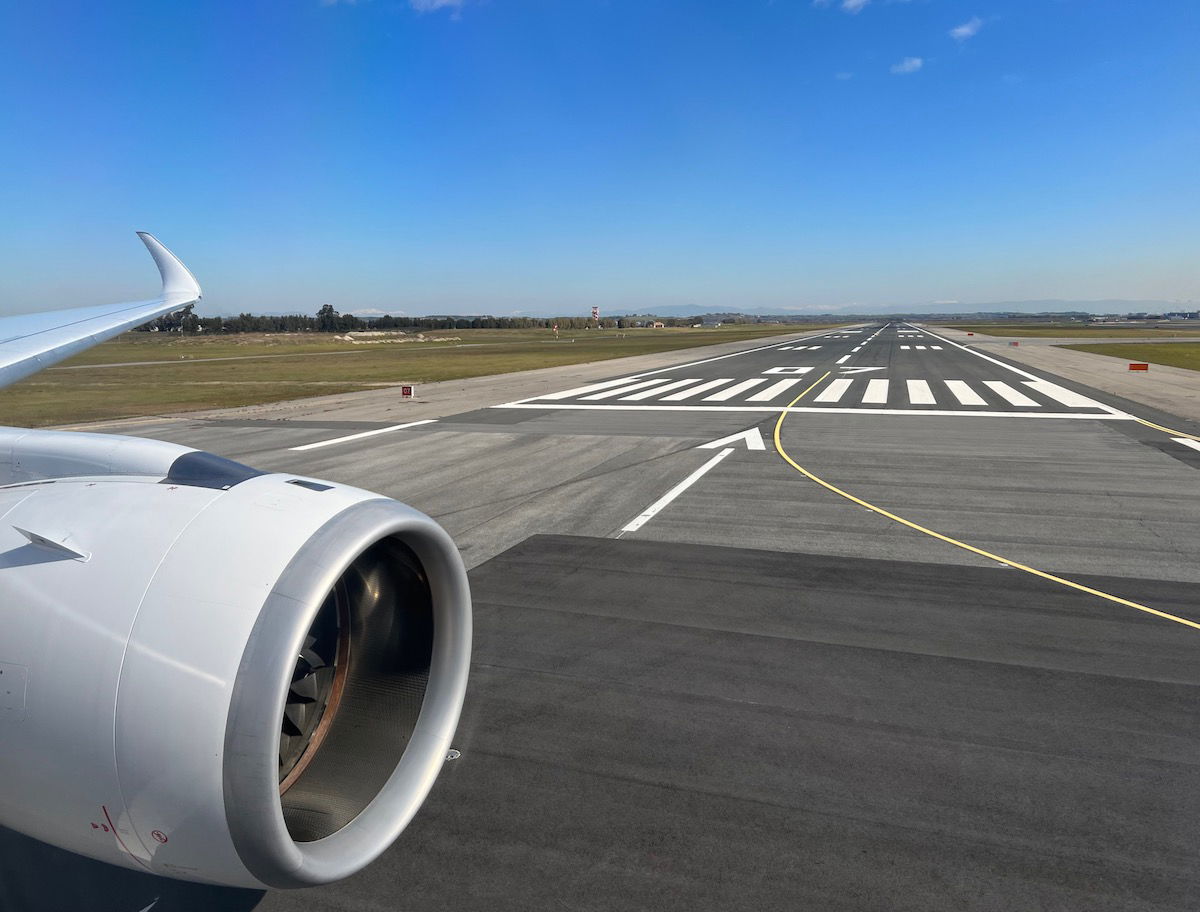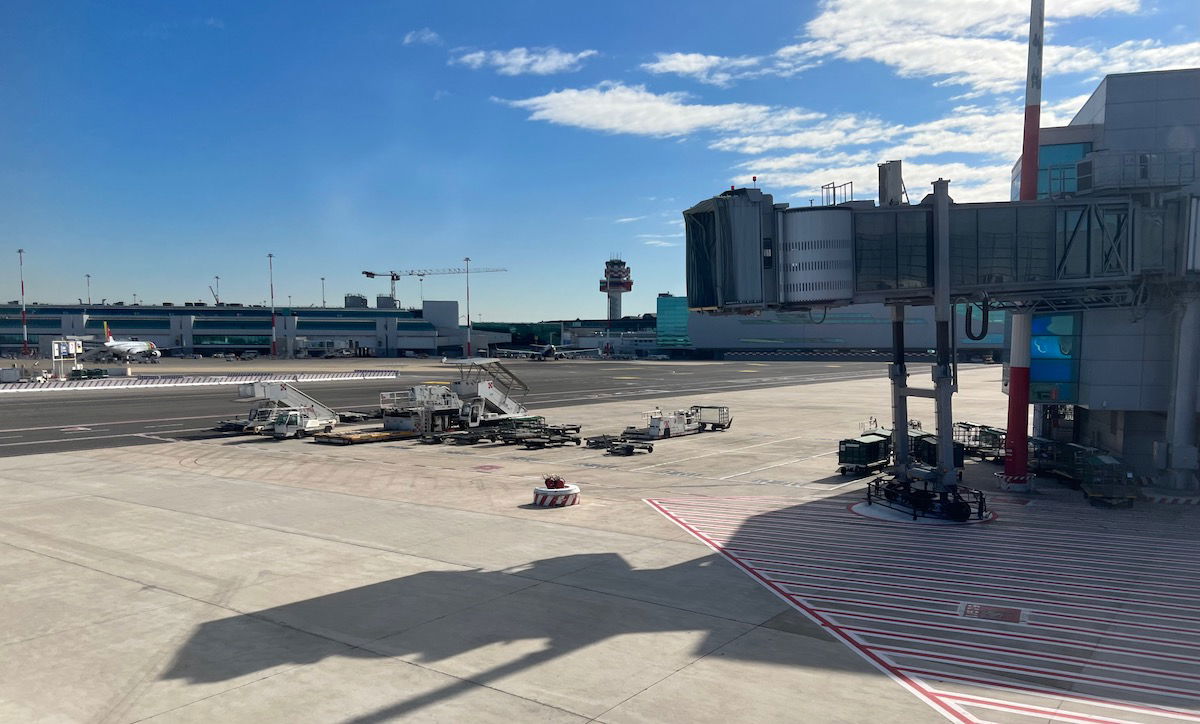 From there I headed to the ITA Airways Lounge, for my very long layover prior to connecting to Cairo.
Bottom line
The ITA Airways A350 business class experience was such a pleasant surprise. ITA now has reverse herringbone seats in business class, which are a significant improvement over Alitalia's old business class. On top of that, ITA had exceptional food and drinks, very nice amenities, and reasonably priced Wi-Fi. Most impressive of all, though, was the friendly crew.
I'd fly ITA business class again in a heartbeat, as I think it's one of the all-around best products across the Atlantic. It's too bad that there are no practical ways to redeem partner miles for ITA Airways business class. I guess we should hope that Lufthansa Group acquires ITA?
What do you make of ITA Airways' A350 business class?