In the interest of full disclosure, OMAAT earns a referral bonus for anyone that's approved through some of the below links. The information and associated card details on this page for the The Platinum Card from American Express card has been collected independently by OMAAT and has not been reviewed or provided by the card issuer. These are the best publicly available offers (terms apply) that we have found for each product or service. Opinions expressed here are the author's alone, not those of the bank, credit card issuer, airline, hotel chain, or product manufacturer/service provider, and have not been reviewed, approved or otherwise endorsed by any of these entities. Please check out our advertiser policy for further details about our partners, and thanks for your support!
---
To kick off my review trip I flew Delta first class from Miami to New York. Fun fact, which just occurred to me — I believe this was my first time in over a year flying an airline other than American out of Miami.
I was curious to see what Delta's concourse at the airport is like, including their SkyClub. That's especially the case in light of Delta's rumored expansion at the airport, due to their investment in LATAM.
Delta SkyClub Miami Location
The Delta SkyClub is located in Miami's Concourse H. That's one of the smaller terminals at the airport, and it's only connected airside to Concourse J.
Concourse H has TSA Pre-Check as well as CLEAR, so to access the lounge turn left as soon as you clear security.
Miami Airport Terminal H
This will lead down a hallway to Concourse J, so go in that direction.

Miami Airport Terminal H
Then you'll immediately see the entrance to the Delta SkyClub on the left.
Delta SkyClub Miami exterior
While the terminal is on level two, the lounge is on level four, so you have the option of taking one of two elevators, or of going up the stairs (it's 80+ steps). I went up the stairs, which was a surprisingly long walk (since I didn't initially realize the lounge wasn't just one level up).

Delta SkyClub Miami entrance
Interestingly reception isn't located immediately at the entrance, but rather it's inside the lounge and then way to the left. It's designed in a way that people could almost sneak into the lounge.
Delta SkyClub Miami Hours
The Delta SkyClub Miami is open daily from 5AM until 8:30PM.
That covers most, but not all, departures. For example, Delta has a 5:40AM departure from Miami to Atlanta, so the club doesn't really open early enough to visit the lounge when on that flight.
How To Access Delta SkyClubs
There are several ways you can access Delta SkyClubs:
You can buy a SkyClub membership, either with cash or miles (the cost varies based on your status)
Those with The Platinum Card® from American Express (review) or The Business Platinum Card® from American Express (review) can access SkyClubs when flying Delta same day, though guests cost $29 each
Travel on a Delta One ticket, either on an international long haul flight, or on a premium transcontinental flight
Delta Diamond, Platinum, and Gold Medallions receive SkyTeam Elite Plus status, which offers lounge access when traveling on many international flights the same day, regardless of the class of service
I was accessing the SkyClub using my Amex Platinum Card. I was flying first class to New York, but that doesn't get you access in and of itself.
Delta SkyClub Miami Review
With the above out of the way, let's get into the review of the Delta SkyClub. As usual, the SkyClub agents who admitted me couldn't have been lovelier — I was addressed by name, while the guy entering right after me was thanked for being a Million Miler.
Delta sure knows how to treat passengers.
It's also interesting to note that there was a sign about how the SkyClub Miami is being expanded in 2020, though I haven't seen much about the specifics of that.
Delta SkyClub Miami expansion sign
Delta SkyClub Miami Seating
This is one of the smaller SkyClubs I've been to, though still seemed to be sufficient given the capacity that Delta currently offers to Miami. Once you exit the elevators or come up the stairs, there's a small sitting area at the very end of the lounge.
Delta SkyClub Miami stairs & elevators

Delta SkyClub Miami seating
Then the rest of the lounge is in the other direction. The main part of the lounge consists of a few dozen seats in rows facing one another.

Delta SkyClub Miami seating
Along the windows is some high-top seating, with each table having two chairs.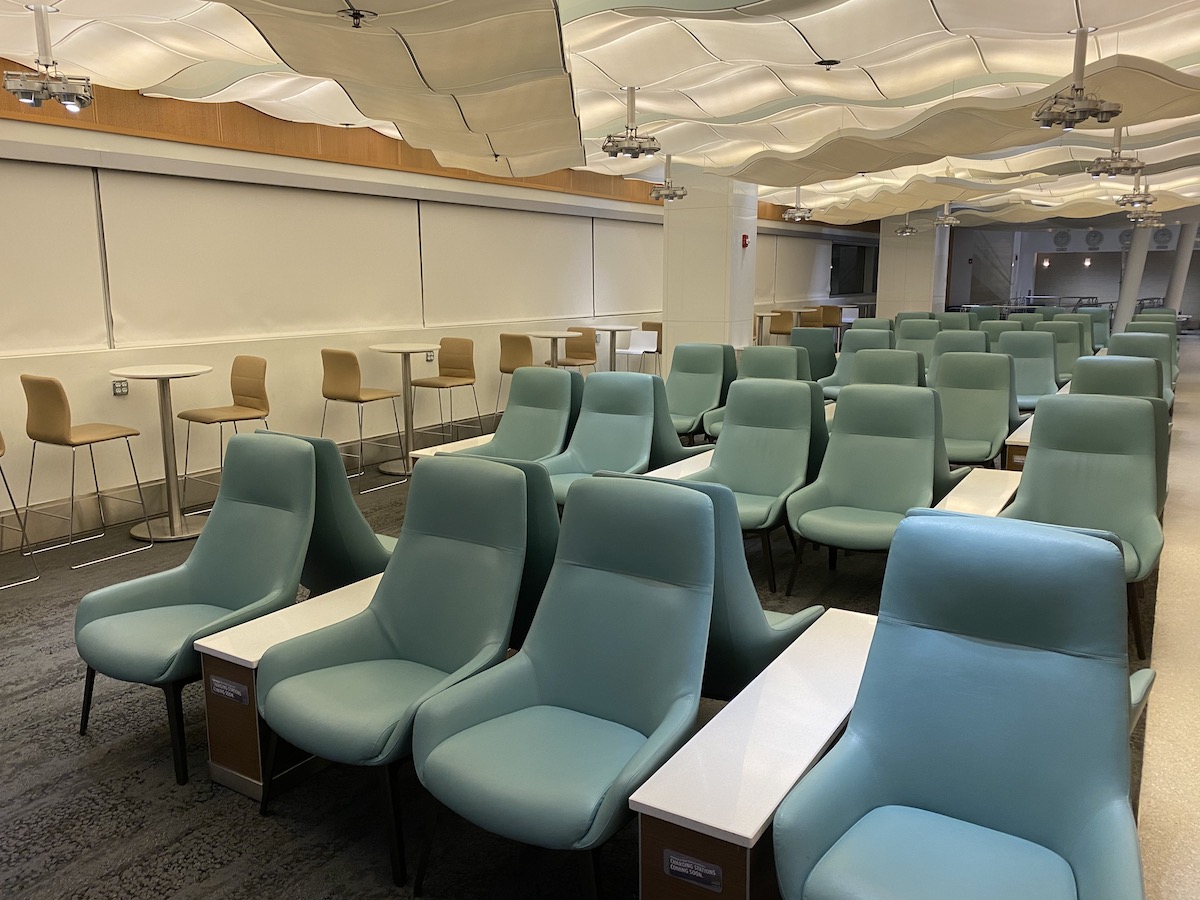 Delta SkyClub Miami seating
Deeper into the lounge is more seating, which felt a bit tired, so I hope a renovation of the existing space is happening as part of the expansion.

Delta SkyClub Miami seating

Delta SkyClub Miami seating
Delta SkyClub Miami seating

Delta SkyClub Miami seating
In the back right corner of the lounge is a business center with six cubicles. Each cubicle has a couple of outlets, and none of them have computers (which I prefer).
Delta SkyClub Miami business center

Delta SkyClub Miami business center
Also in that area is the bar & dining area, which has four dining tables.
Delta SkyClub Miami bar

Delta SkyClub Miami dining area
In the back corner of the lounge is a luggage storage area.

Delta SkyClub Miami storage
Delta SkyClub Miami Food & Drinks
Breakfast is hardly the most exciting meal of the day when it comes to lounge food. The selection was alright, though frankly seemed to not be as good as I've seen at Delta hubs (which I guess isn't surprising).
Delta SkyClub Miami buffet
Cold breakfast options included fresh fruit, salad, hardboiled eggs, muffins, bagels, toast, cream cheese, yogurt, and cereal.
Delta SkyClub breakfast

Delta SkyClub breakfast

Delta SkyClub breakfast

Delta SkyClub breakfast

Delta SkyClub breakfast
Hot options included some scrambled eggs, some sort of potato side (or something?), and some oatmeal.

Delta SkyClub breakfast

Delta SkyClub breakfast

Delta SkyClub breakfast
The egg dish was pretty good, at least by self serve domestic lounge standards.

Delta SkyClub breakfast
All the coffee was from Starbucks, with both filtered coffee as well as an espresso machine. Then there was "Pure Leaf" tea.
While I do think the espresso machine is better than average, I'm not a fan of the Starbucks filtered coffee, and prefer the La Colombe coffee that American has in their clubs.
Many will appreciate the variety of milk, syrup, and sweetener, that Delta has in their lounges.

Delta SkyClub breakfast
As far as alcohol goes, there's a variety of beer, wine, and liquor that's complimentary:
On top of that there's an extensive selection of alcohol for purchase:
As I've noted in the past, the value of redeeming SkyMiles for alcohol is exceptional, as you're getting two cents of value compared to their retail prices. If you want to consume a whole bottle of champagne, I'd argue that's one of the best uses of SkyMiles.
For example, you can get a bottle of 2009 Dom Perignon for 10,000 SkyMiles or $200. The $200 price isn't even that crazy — a good retail price for that would be $155 plus tax. So you're getting well over 1.5 cents of value compared to the usual retail cost.
Delta SkyClub Miami Showers & Bathrooms
The bathrooms in the lounge are off a hallway behind the elevators. In the mens restroom there two stalls and two urinals, which seemed to me like a rather limited bathroom setup.
Delta SkyClub Miami bathrooms

Delta SkyClub Miami bathrooms
I do love how Delta has Malin+Goetz toiletries in their lounges (and in their premium cabin lavatories, for that matter).
Delta SkyClub Miami Malin+Goetz amenities
The SkyClub Miami has a single shower suite as well (which is nice for an outstation lounge), though I didn't have a chance to check it out
Delta SkyClub Miami Bottom Line
The Delta SkyClub Miami is nothing to get excited about, though is decent. The food selection wasn't as extensive as at some hub airports, but was still decent.
What stood out to me was the friendly service, and the good value of redeeming SkyMiles for premium alcohol.
I can't wait to see what the expanded SkyClub Miami looks like later this year.
As a point of comparison, you can find my review of the American Airlines Admirals Club Miami here. Personally I think the Admirals Club probably still has the edge, in terms of views and space, though it can get crowded certain hours of the day.
If you've visited the Delta SkyClub Miami, what was your experience like?