For the next portion of my review trip, I checked out the three "new" American Airlines & British Airways lounges at JFK's Terminal 8, prior to my British Airways first class flight to London. In this post I'll review the Soho Lounge, and then in separate installments I'll review the Greenwich Lounge and the Chelsea Lounge.
The Soho Lounge is intended to be somewhere between a first and business class lounge, as it's primarily for oneworld Emerald members, which is the top-tier elite status in the oneworld alliance. Overall, this lounge impressed me. It has gorgeous decor, an elevated selection of food & drinks (including a limited a la carte menu), and some further amenities, like a relaxation area and shower suites.
Basics of American & British Airways JFK lounges
To provide a bit of background, in late 2022, British Airways moved to Terminal 8 at JFK. American Airlines and British Airways have a lucrative transatlantic joint venture, and New York to London is one of the most important air markets in the world. As a result, this terminal move was a big development for the two airlines.
Given how big the combined presence of the two carriers is at JFK, we've seen major lounge investments at Terminal 8. There are now three premium lounges in the terminal — the Greenwich Lounge, the Soho Lounge, and the Chelsea Lounge.
While it's cute that they're named after neighborhoods that exist in both New York and London, the names don't do a whole lot to tell you which is most premium, and which you have access to.
To briefly summarize the basics of the three lounges:
The Chelsea Lounge is the most exclusive lounge, and is roughly 10,000 square feet with seating for 128 passengers, and it's an all-new space; it's open to select first class passengers on American and British Airways, and it replaces the former Flagship First Dining facility
The Soho Lounge is the next lounge, and is roughly 12,000 square feet with seating for 282 guests, and it's an all-new space; it's open to oneworld Emerald members on select itineraries
The Greenwich Lounge is the final lounge, and is roughly 27,000 square feet with seating for 590 guests, and it replaces the former Flagship Lounge; it's open to select business class passengers on all oneworld airlines, plus oneworld Sapphire members on select itineraries
I'll go into more detail on each of the lounge's entry requirements with the individual reviews, but wanted to provide a basic overview. Note that in addition to this there's the Admirals Club, which has standard Admirals Club access rules.
Soho Lounge New York location
The Soho Lounge New York is easy to find. Once you clear security at JFK Terminal 8, just walk down the main pathway toward the gates, past the Bobby Van's Grill (which is on the right).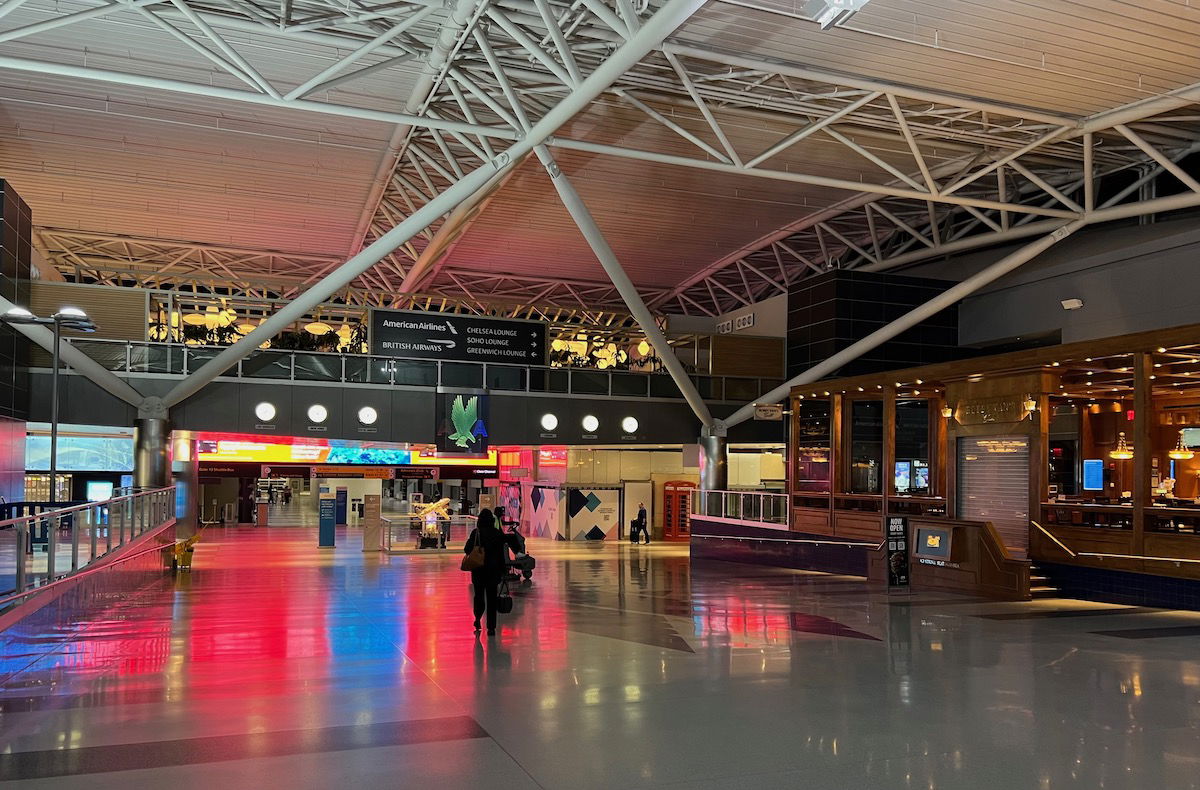 You'll see signage above the walkway pointing in the direction of the various lounges, and as you can see, the Soho Lounge and Chelsea Lounge are to the right.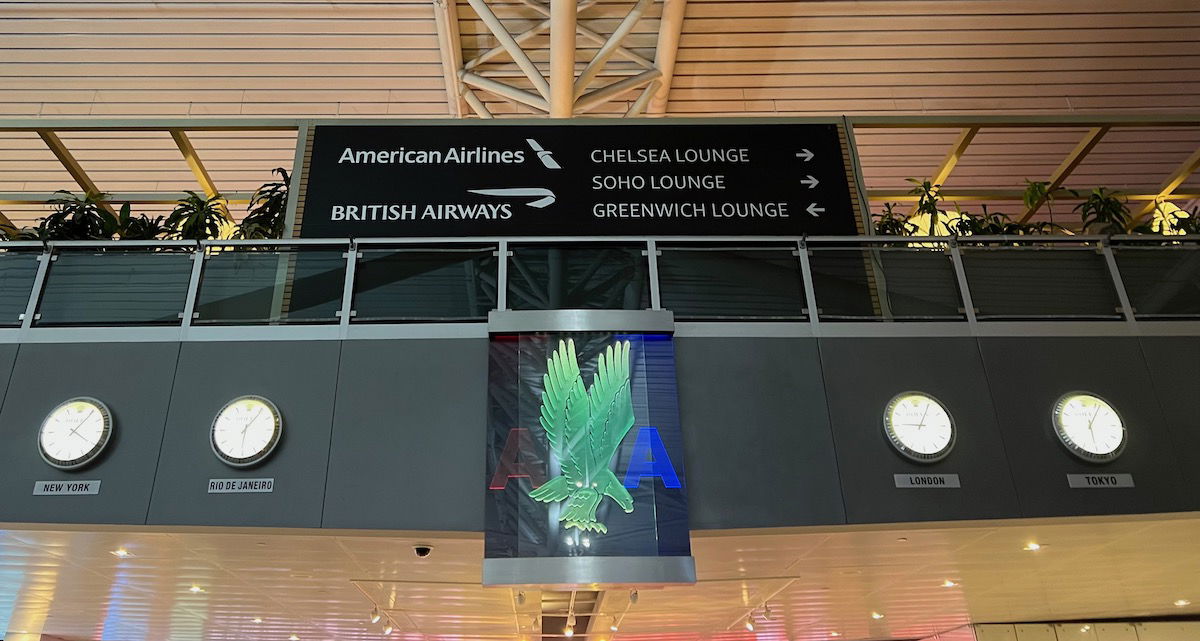 When you turn right toward gates 14-20, you'll immediately see the elevators to the Soho Lounge and Chelsea Lounge to the right (meanwhile if you turn left, you'd immediately see the elevators to the Greenwich Lounge to the left).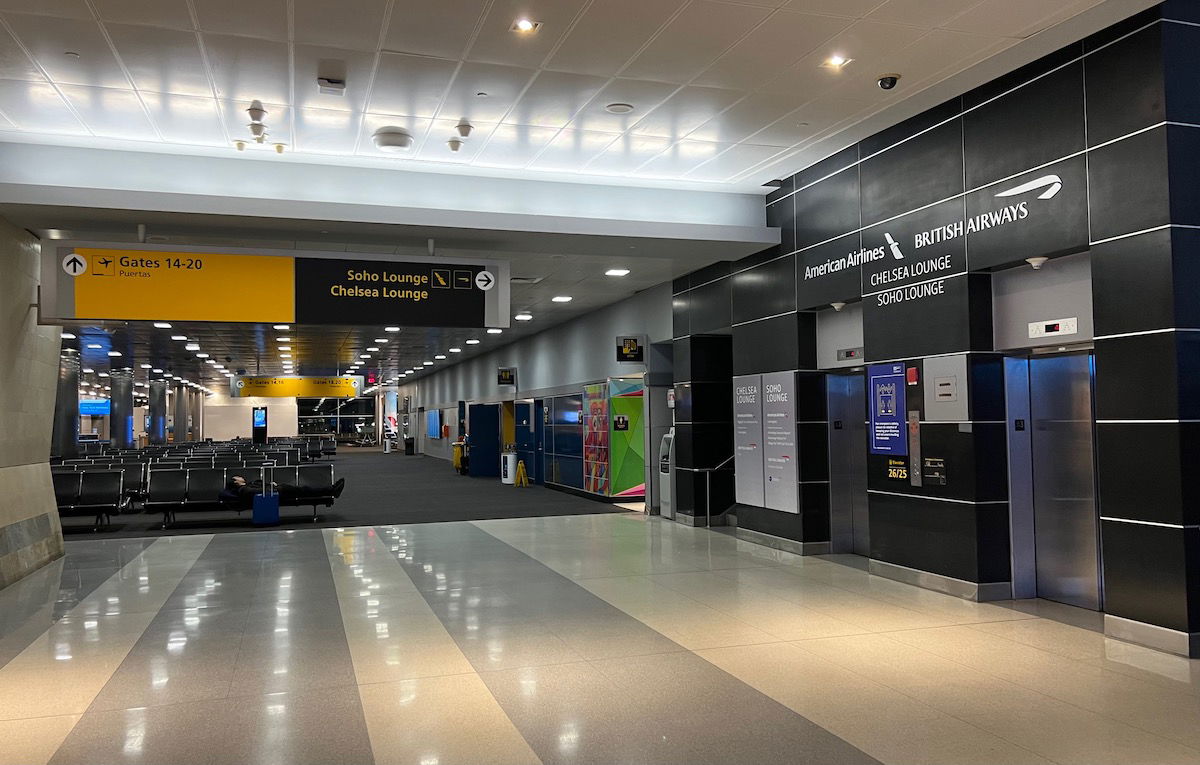 There are signs on the terminal level explaining the access requirements for the two lounges, since this can obviously cause some confusion.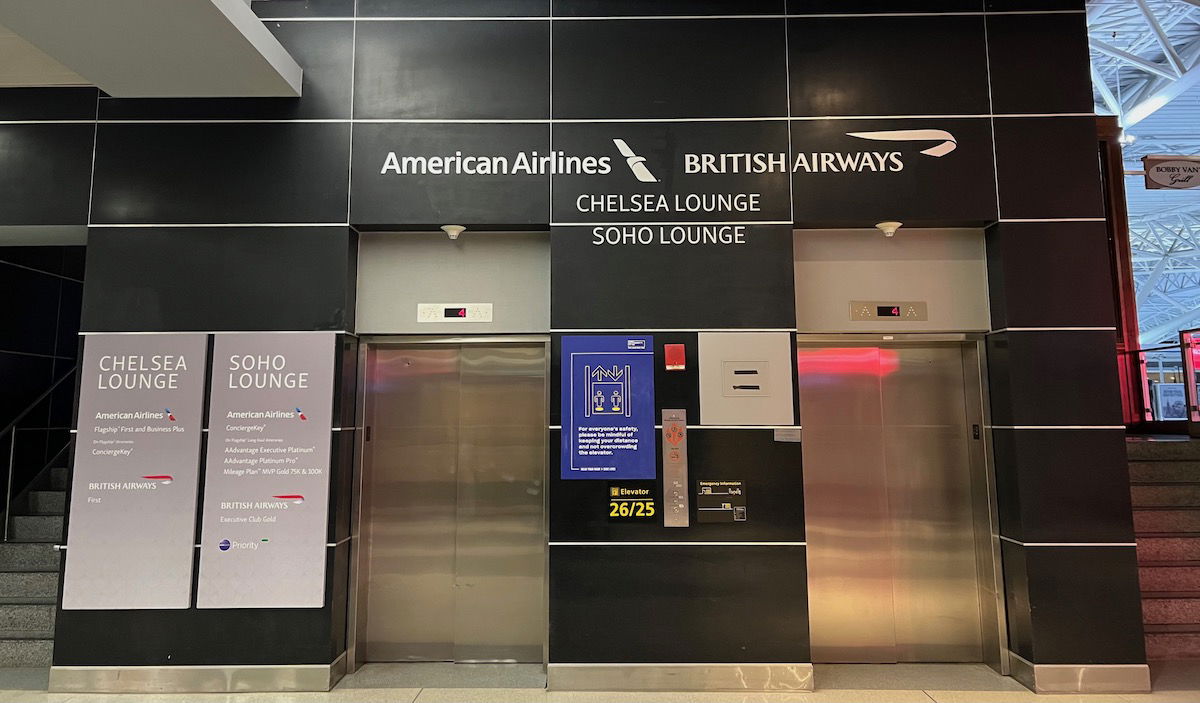 Once you're up a level, you'll see the entrance to the Soho Lounge straight ahead, and the entrance to the Chelsea Lounge to the right. I have to acknowledge that the staff working the front desk were super friendly during my visit. They took time answering each guest's questions about the new lounges, and even provided tours, to give guests a sense of the layout.
I also couldn't help but laugh at how one of the employees described the new lounges to a passenger — "yeah it's all a bit elevated compared to before, you could say we married British Airways, and they classed us up a bit."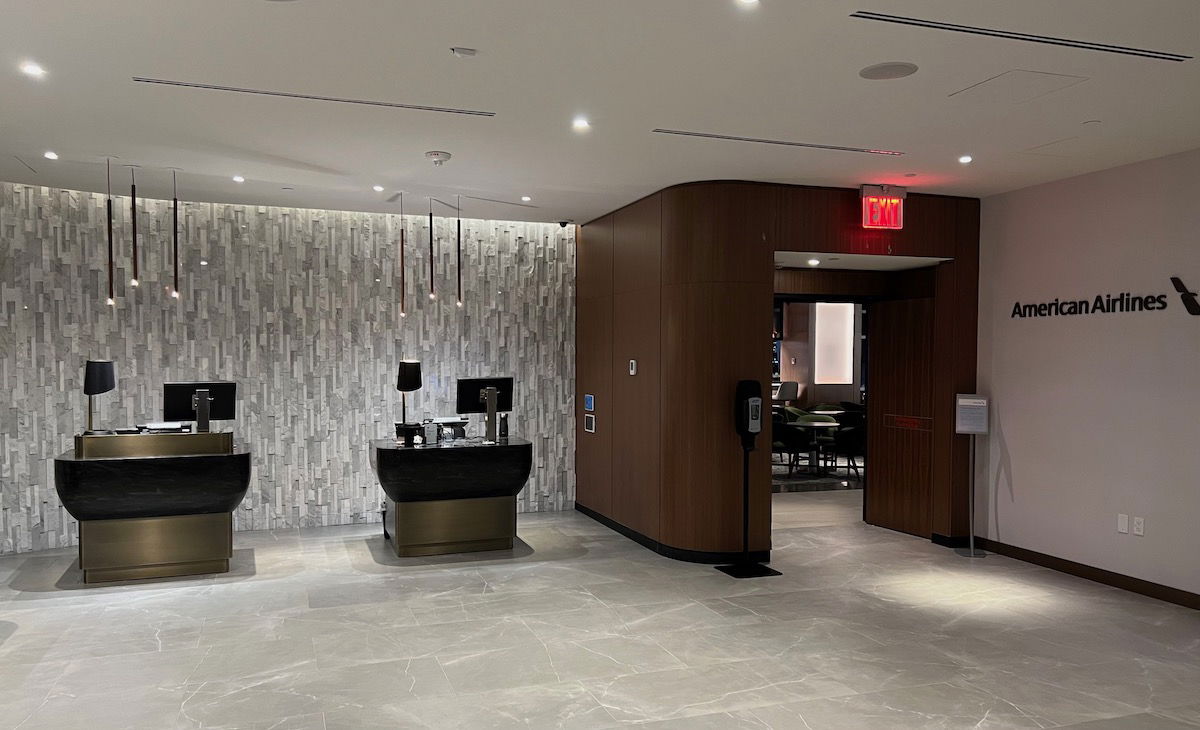 Soho Lounge New York hours
The Soho Lounge JFK is open daily from 4:30AM until 11PM, covering virtually all departures from the terminal. If you're departing on a oneworld flight, then the Soho Lounge should be open.
Soho Lounge New York entry requirements
The Soho Lounge New York is a totally new concept for Terminal 8 at JFK. While the Greenwich Lounge is for premium business class passengers and the Chelsea Lounge is for premium first class passengers, the Soho Lounge is somewhere in the middle, and is intended primarily for top-tier elite members. The Soho Lounge can be accessed by:
American AAdvantage Platinum Pro and Executive Platinum members, as well as Alaska Mileage Plan MVP Gold 75K and MVP Gold 100K members, on any same day long haul oneworld itinerary
American Concierge Key members on any same day oneworld itinerary, even if it's domestic
oneworld Emerald members with foreign frequent flyer programs on any same day oneworld itinerary, even if it's domestic
Passengers traveling in oneworld first class on the same day (however, those flying on American Airlines and British Airways in first class can use the Chelsea Lounge, so I can't imagine many people access the lounge using this method, given how few other oneworld first class products there are)
Anyone eligible to access this lounge can also bring one guest with them.
Soho Lounge New York layout & seating
The Soho Lounge JFK is 12,000 square feet, with seating for 282 guests. Physically this is my favorite of the three lounges, as I love the combination of the elegant decor and the great views (the decor is much nicer than in the Greenwich Lounge, and the Chelsea Lounge doesn't have any windows or natural light).
When you enter the lounge, you'll first find the bar area, featuring a variety of cafe-style tables, booths, and even high-top seating at the bar counter.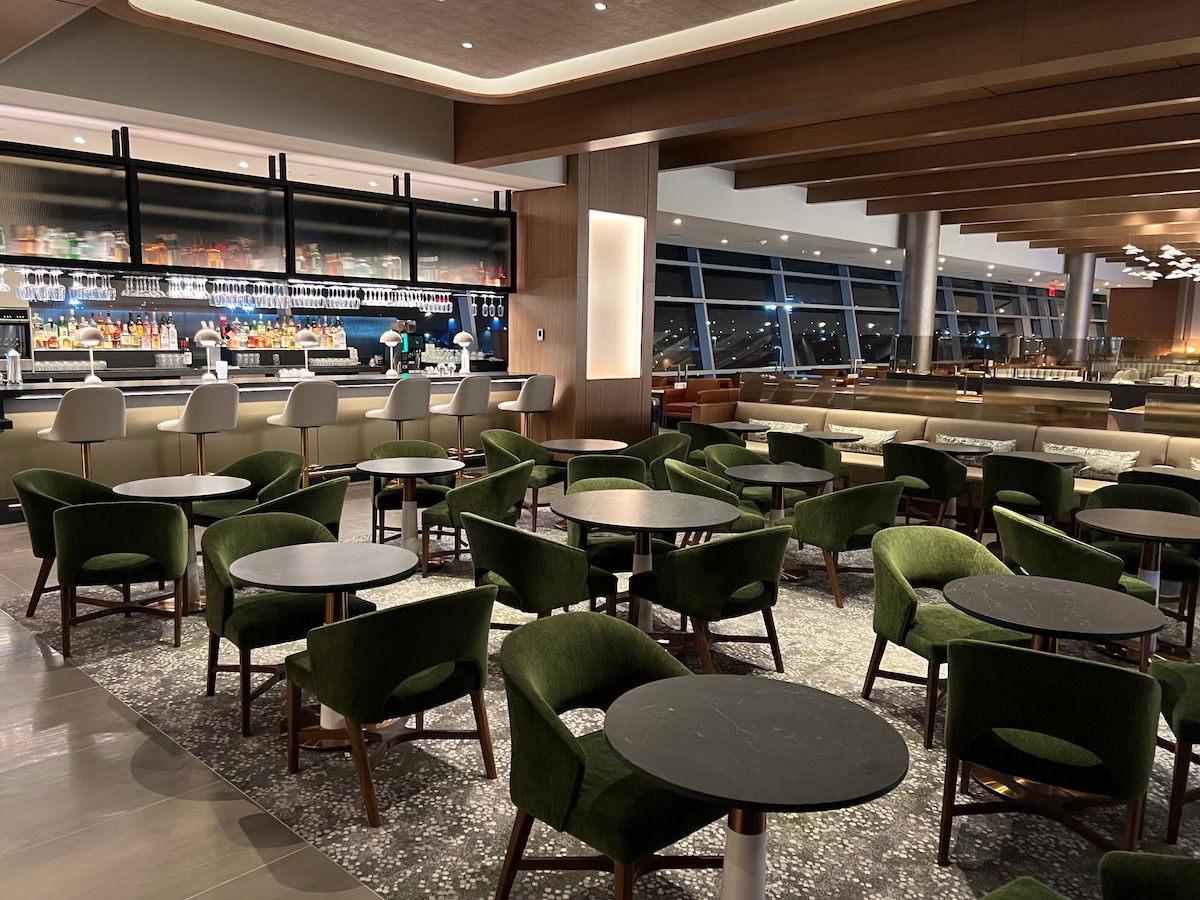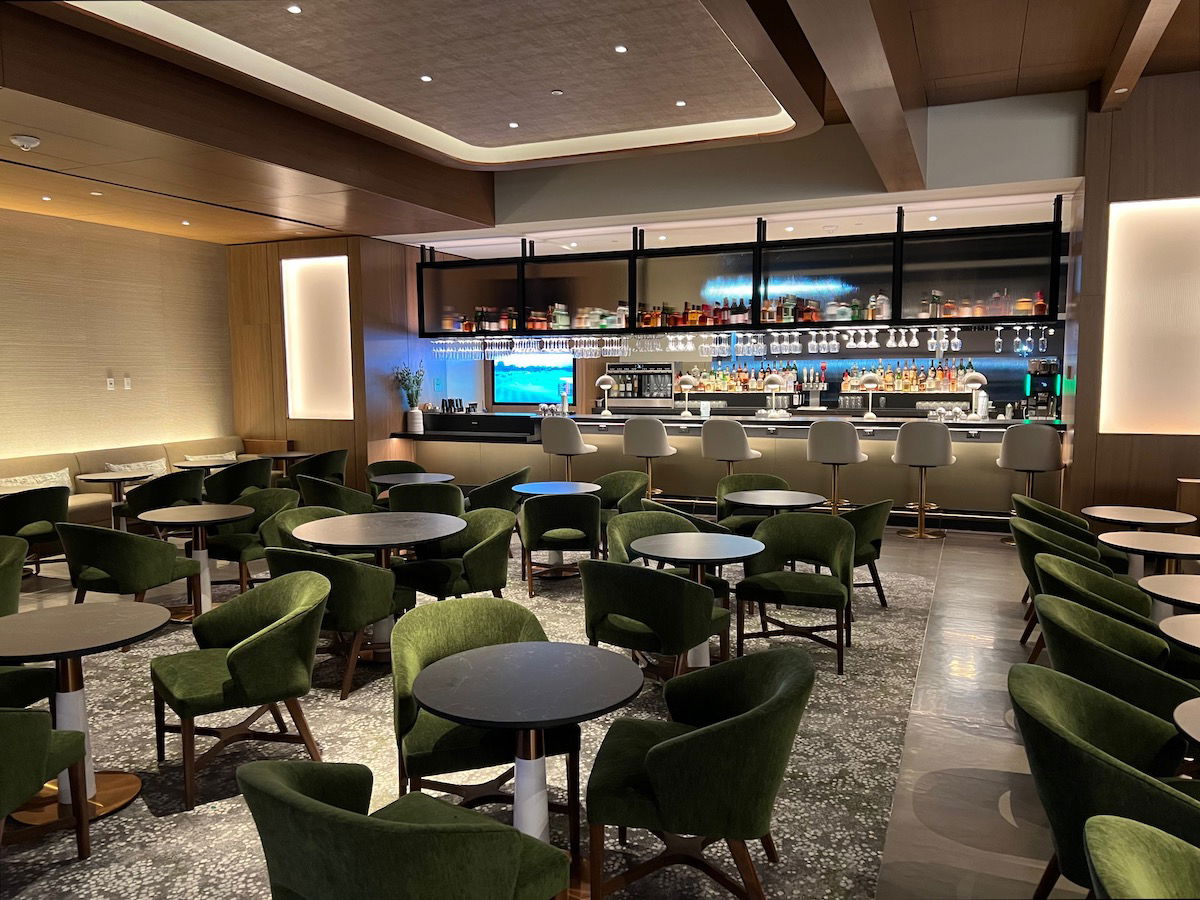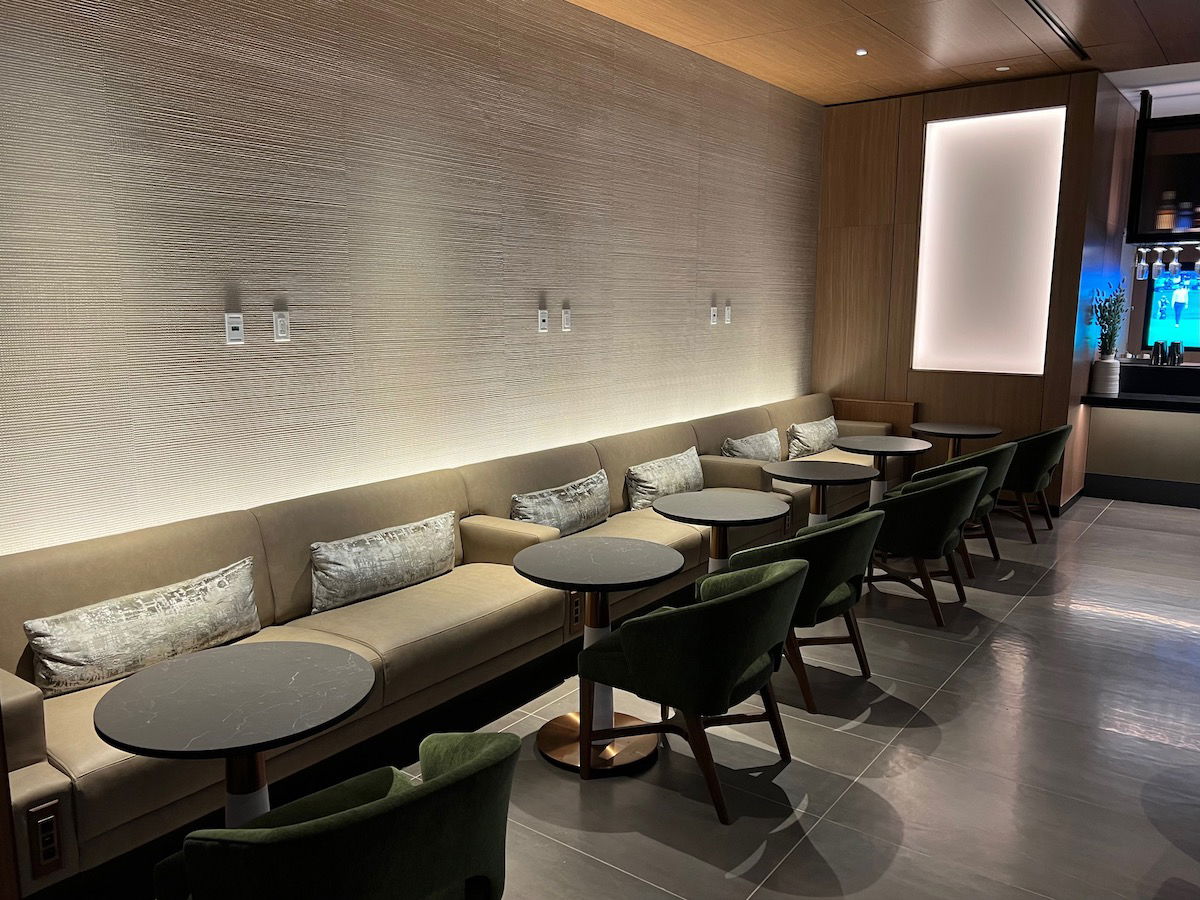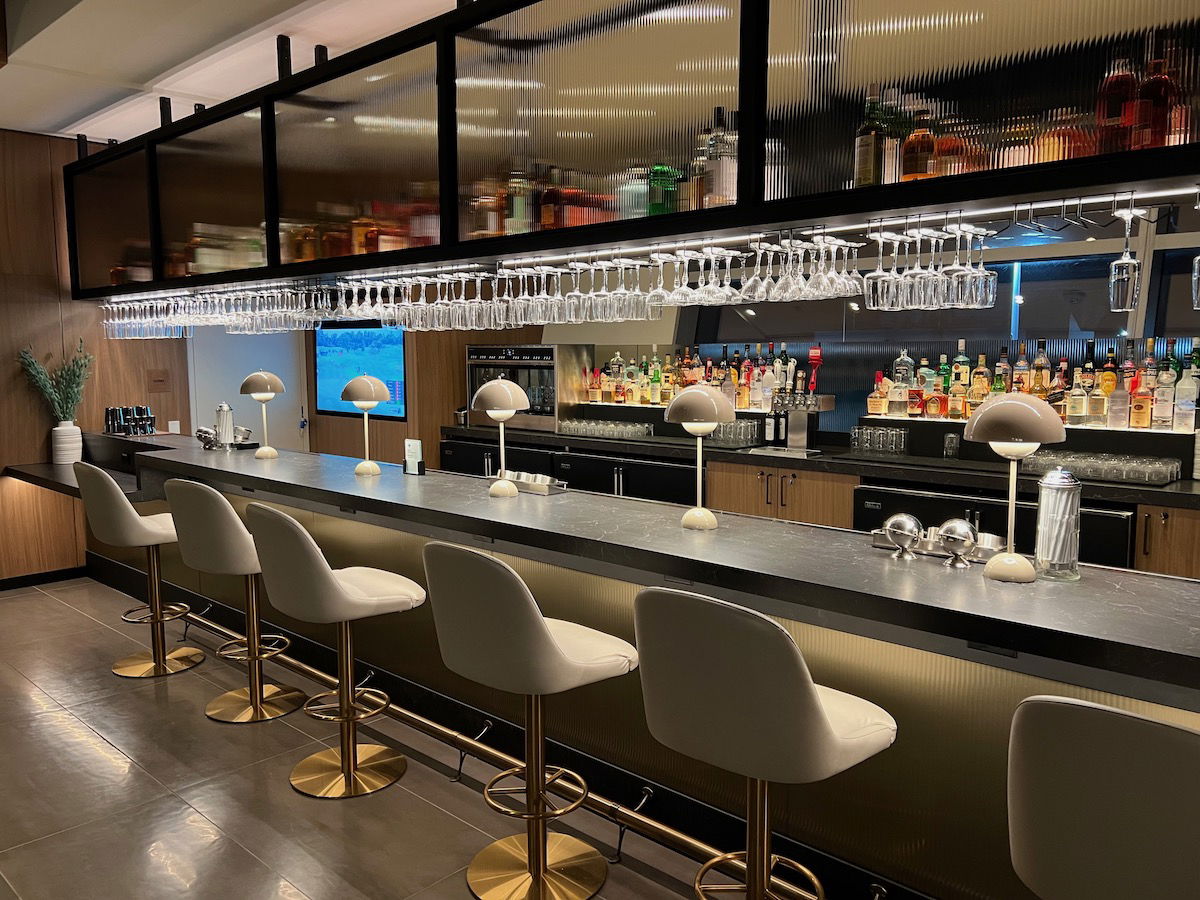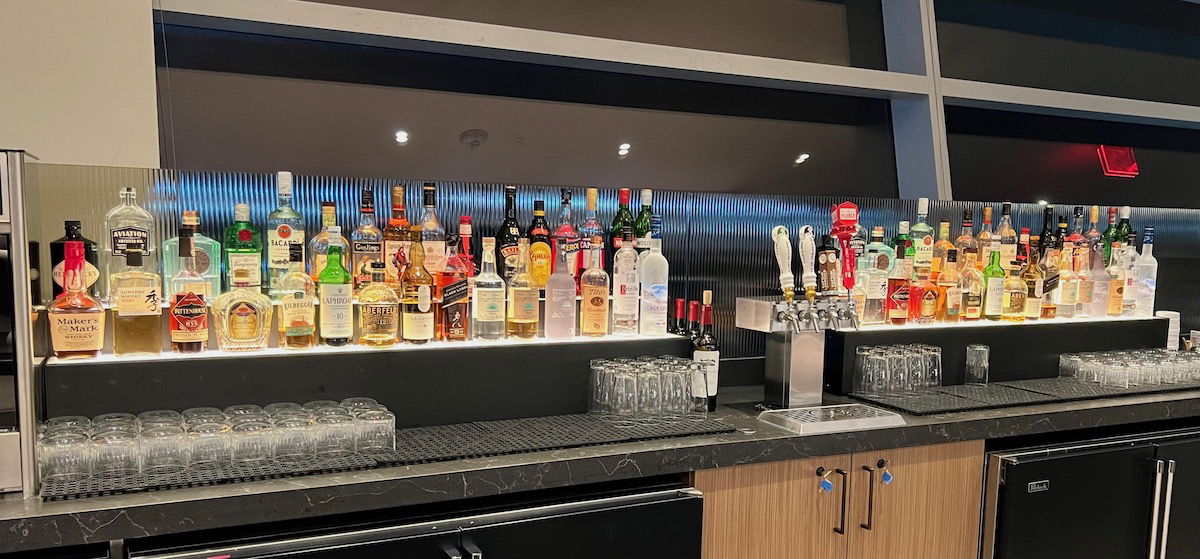 When you go a little deeper into the lounge, you'll find some communal tables, as well as rows of seats by the windows, which are of course the best for plane spotting.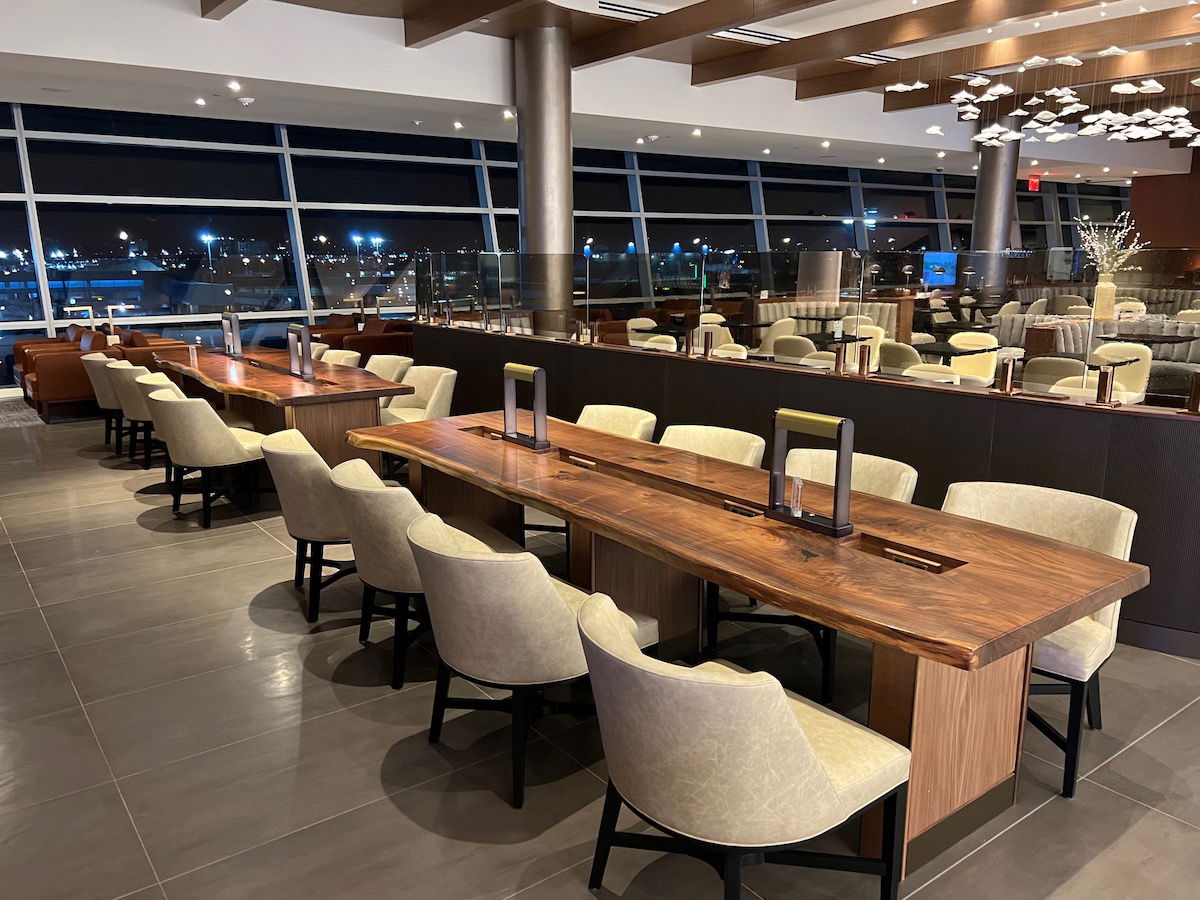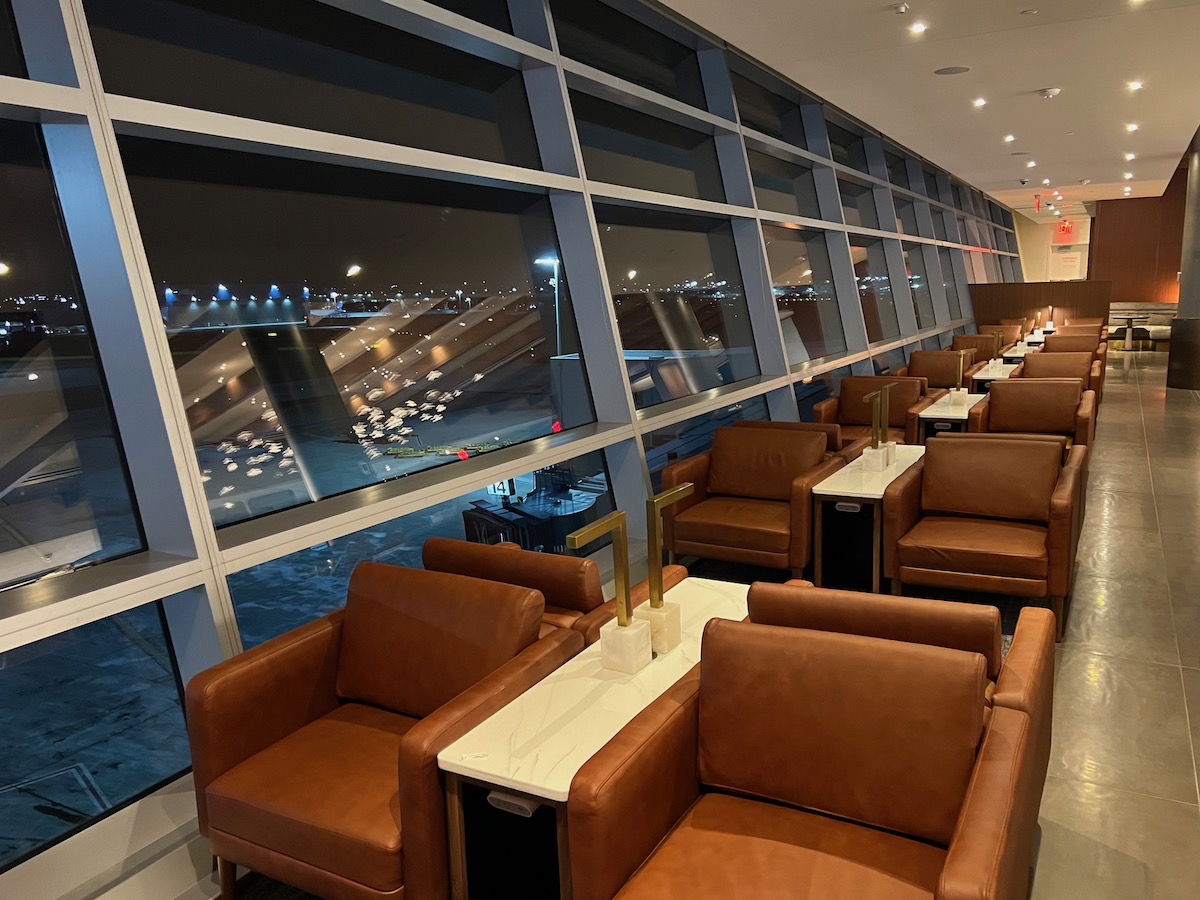 Next in the lounge is the dining area, featuring both tables and booths that seat anywhere from two to four people. As you'd expect, this place tends to get the busiest, since most people have at least something to eat.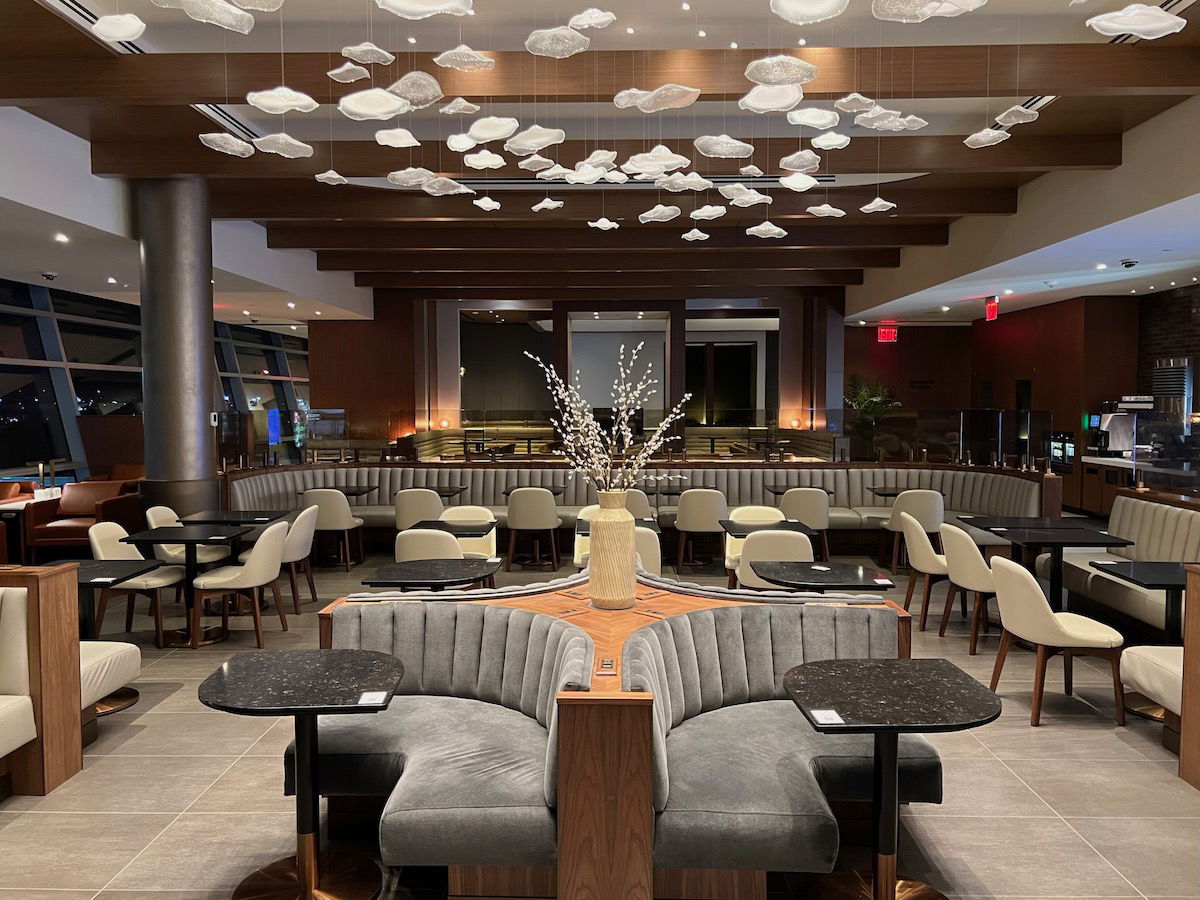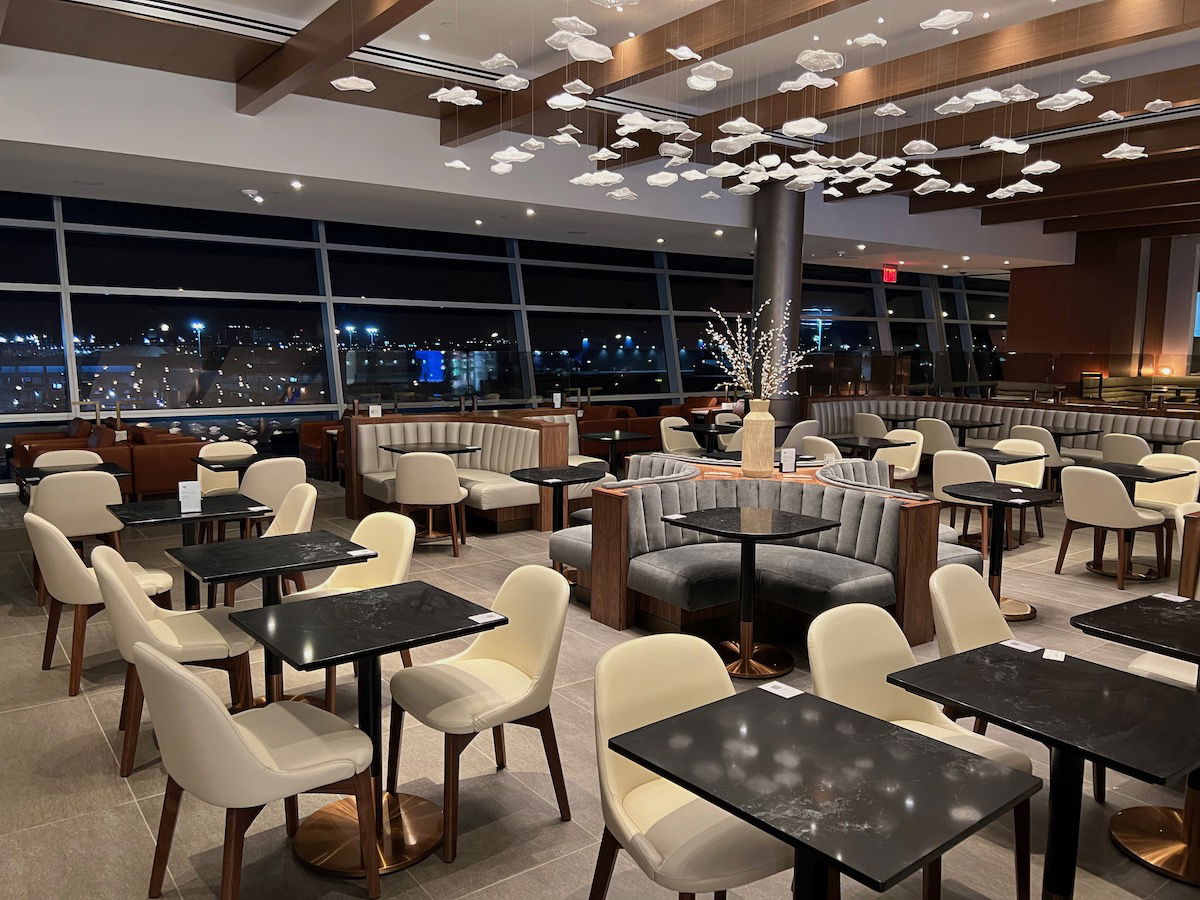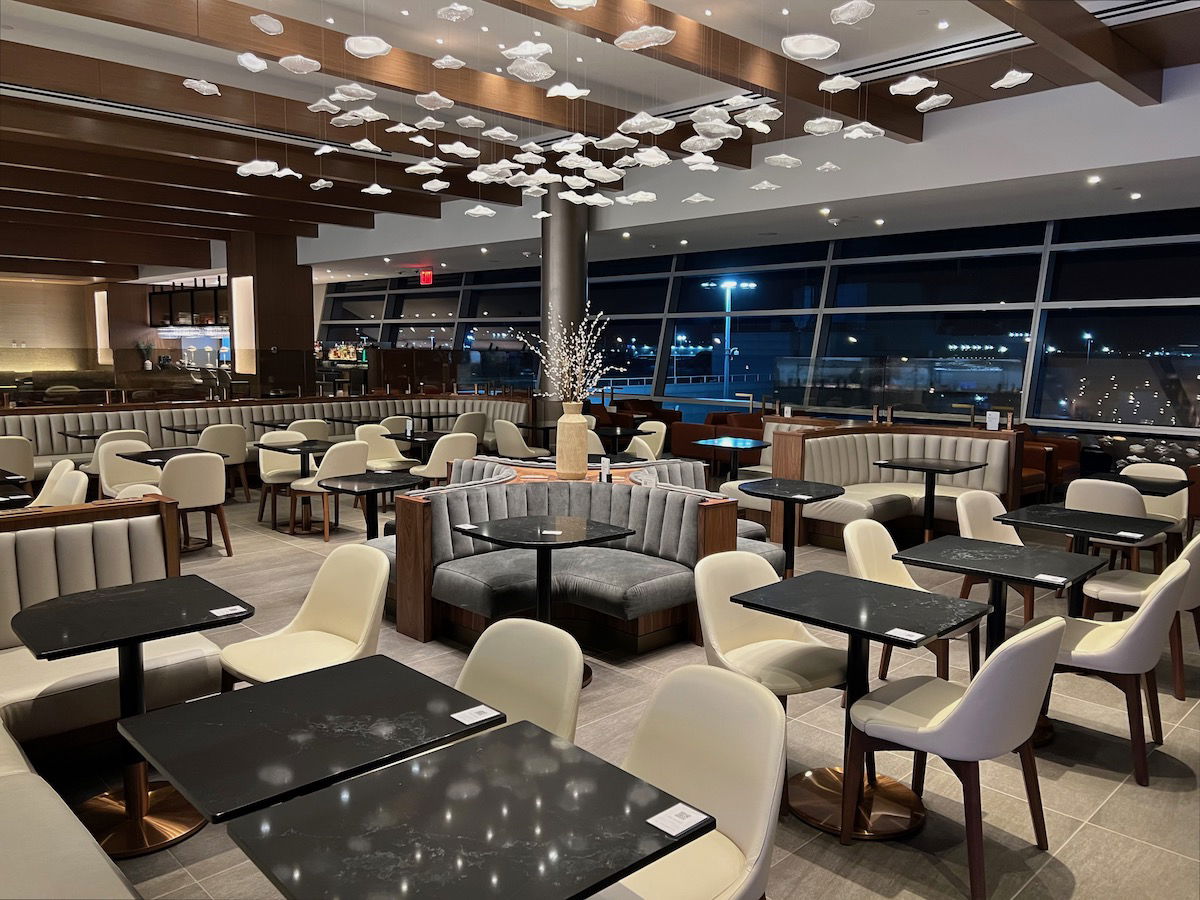 Past the dining area is another space with more seating, including communal tables, booths, and more.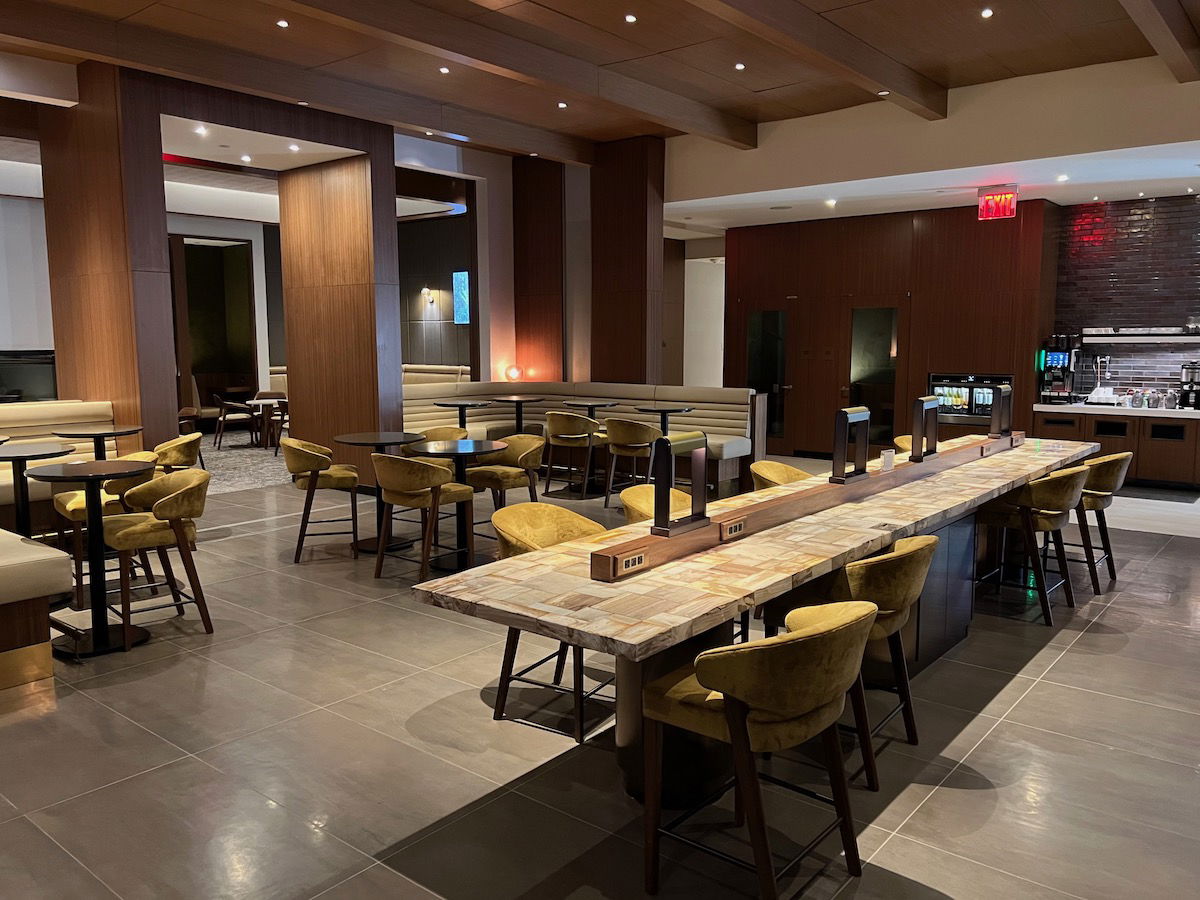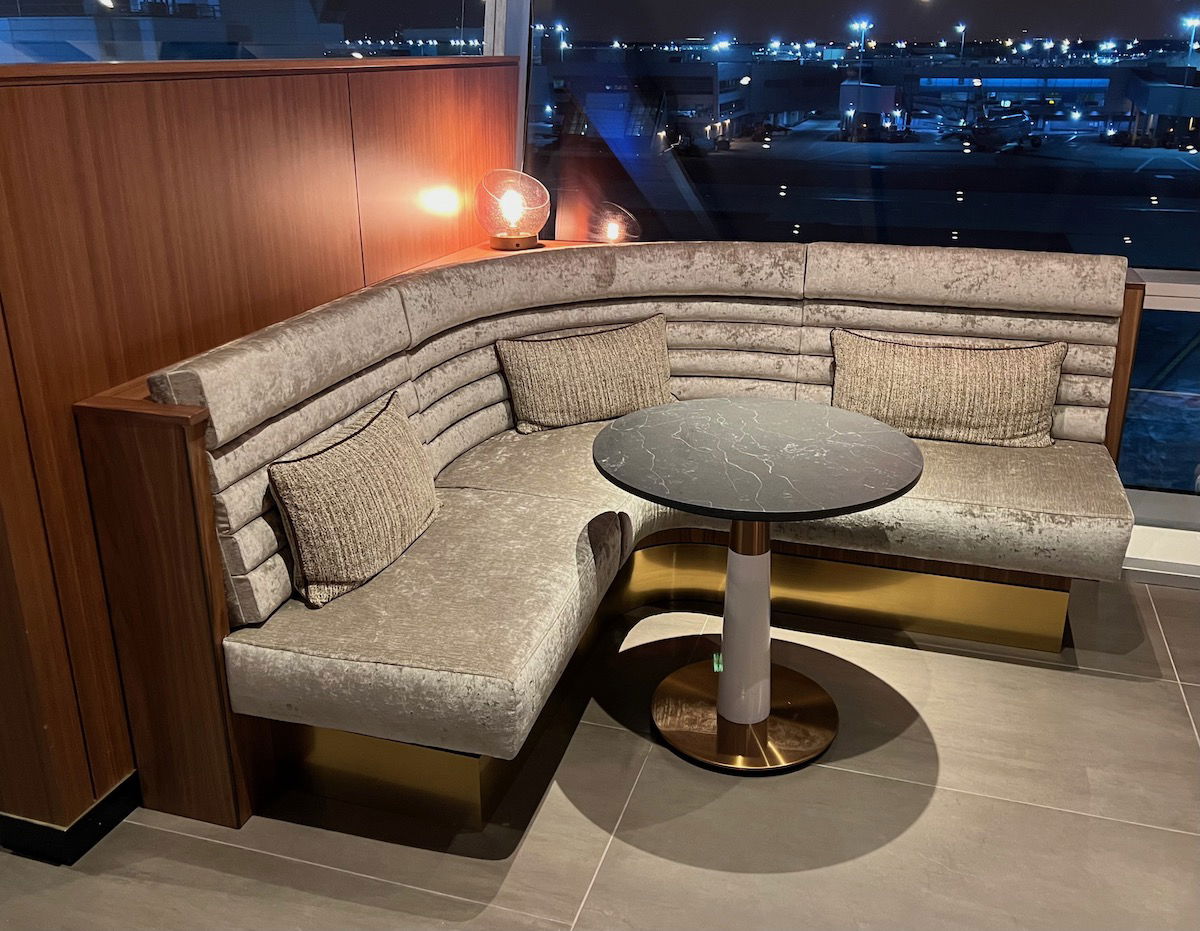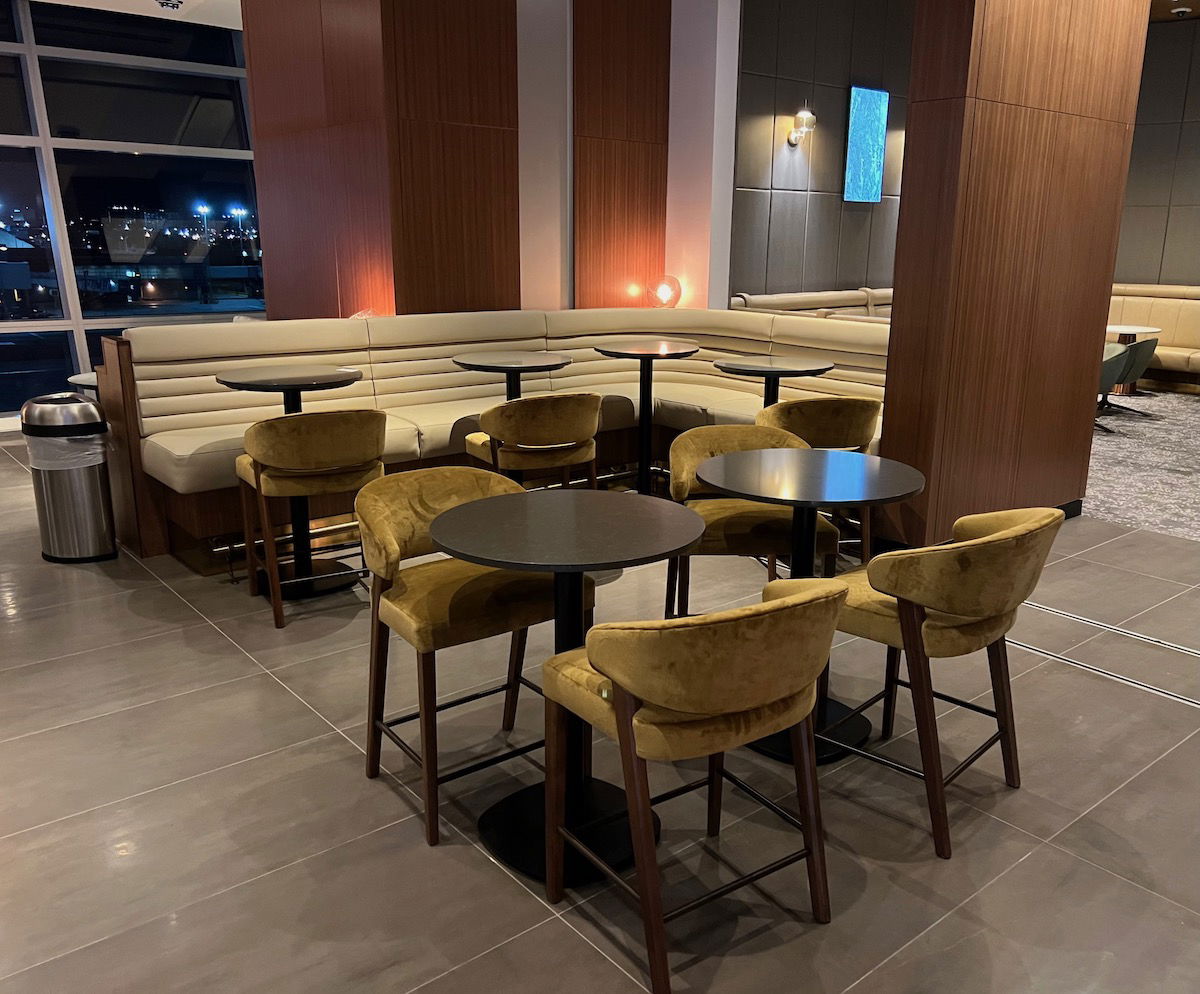 Lastly, there's a cozy room in the very back of the lounge with a fireplace.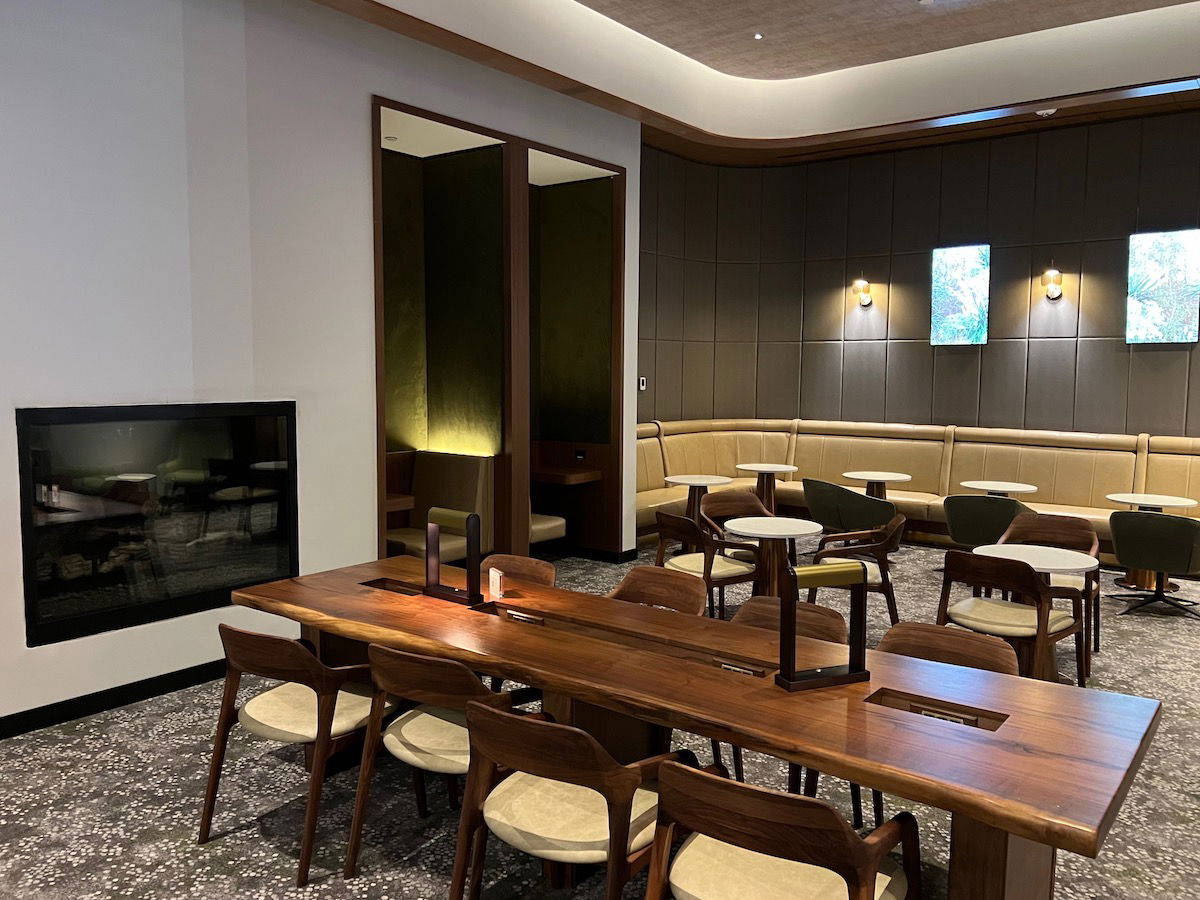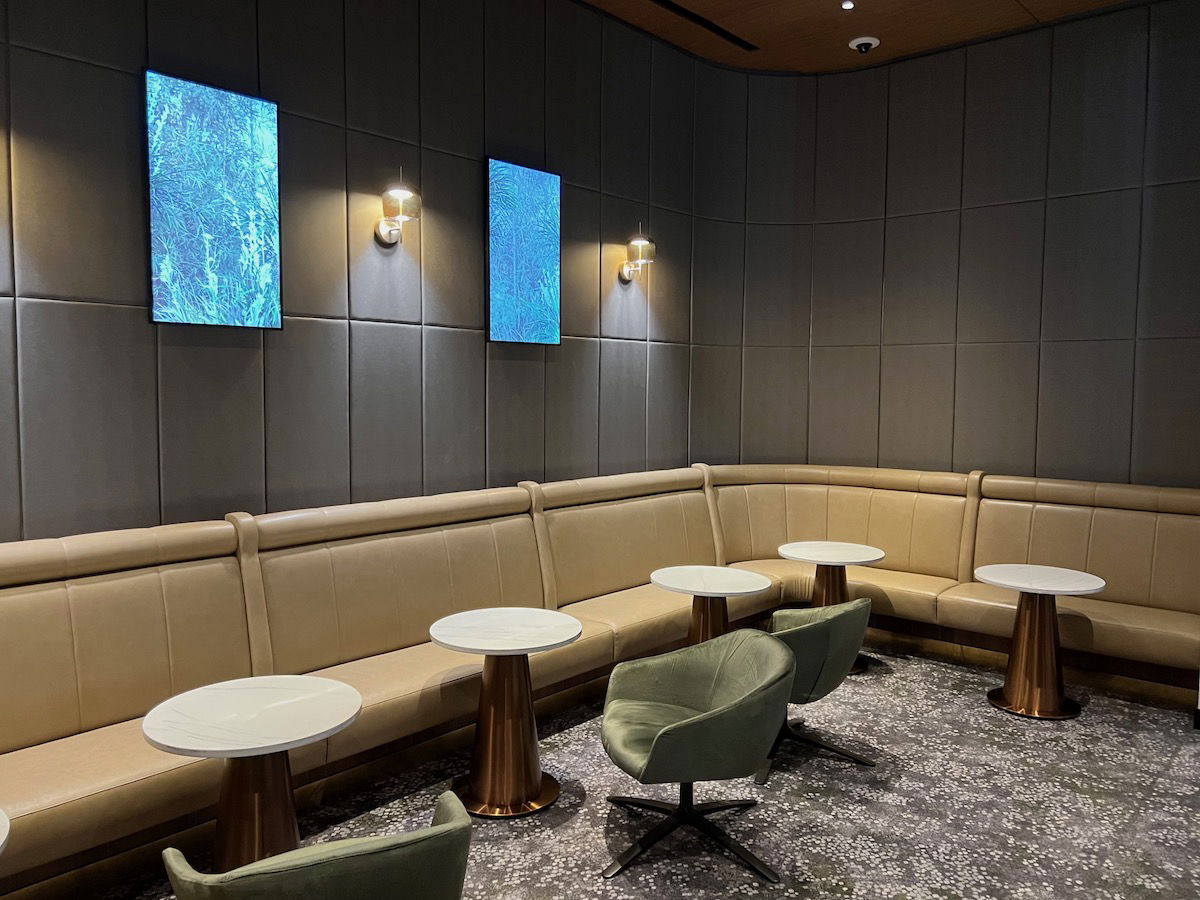 There are also a couple of workstation booths in the back, as well as some phone booths.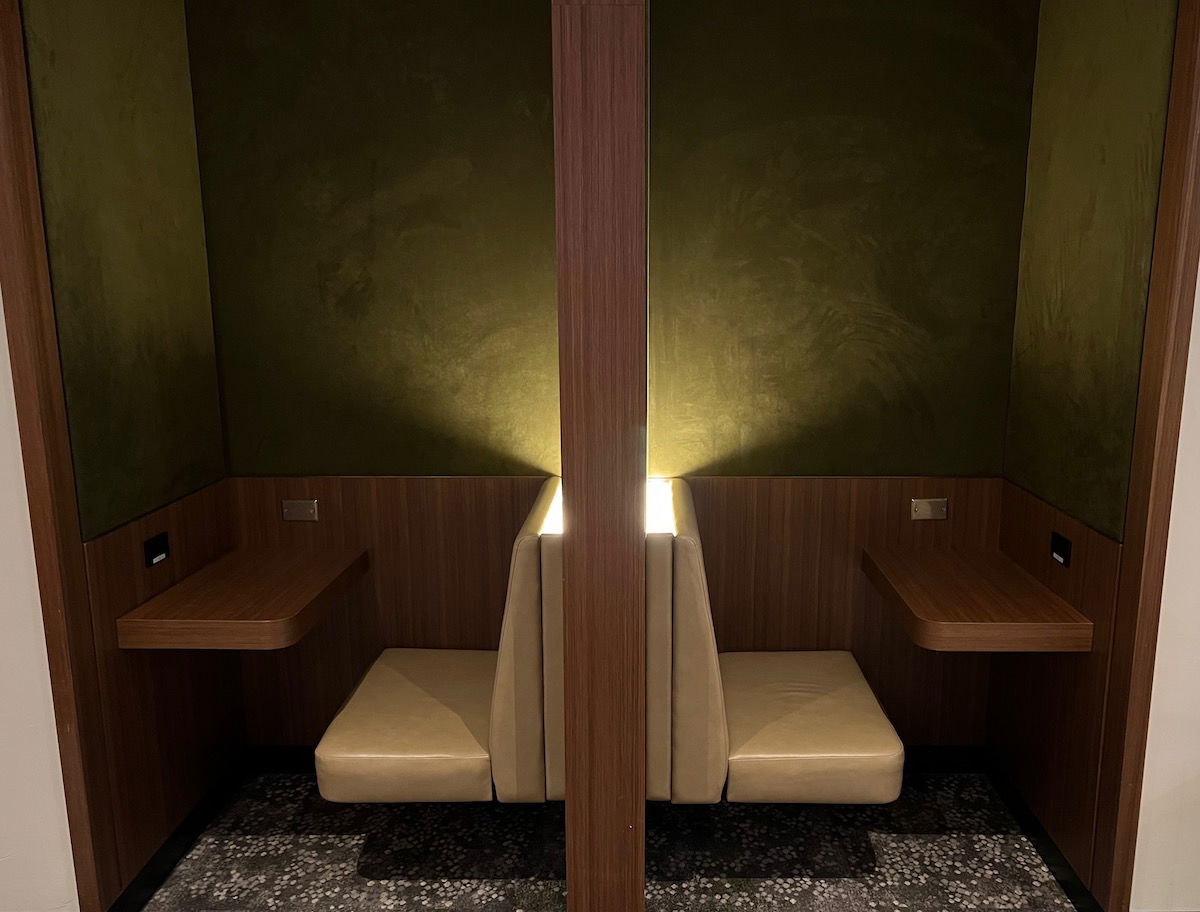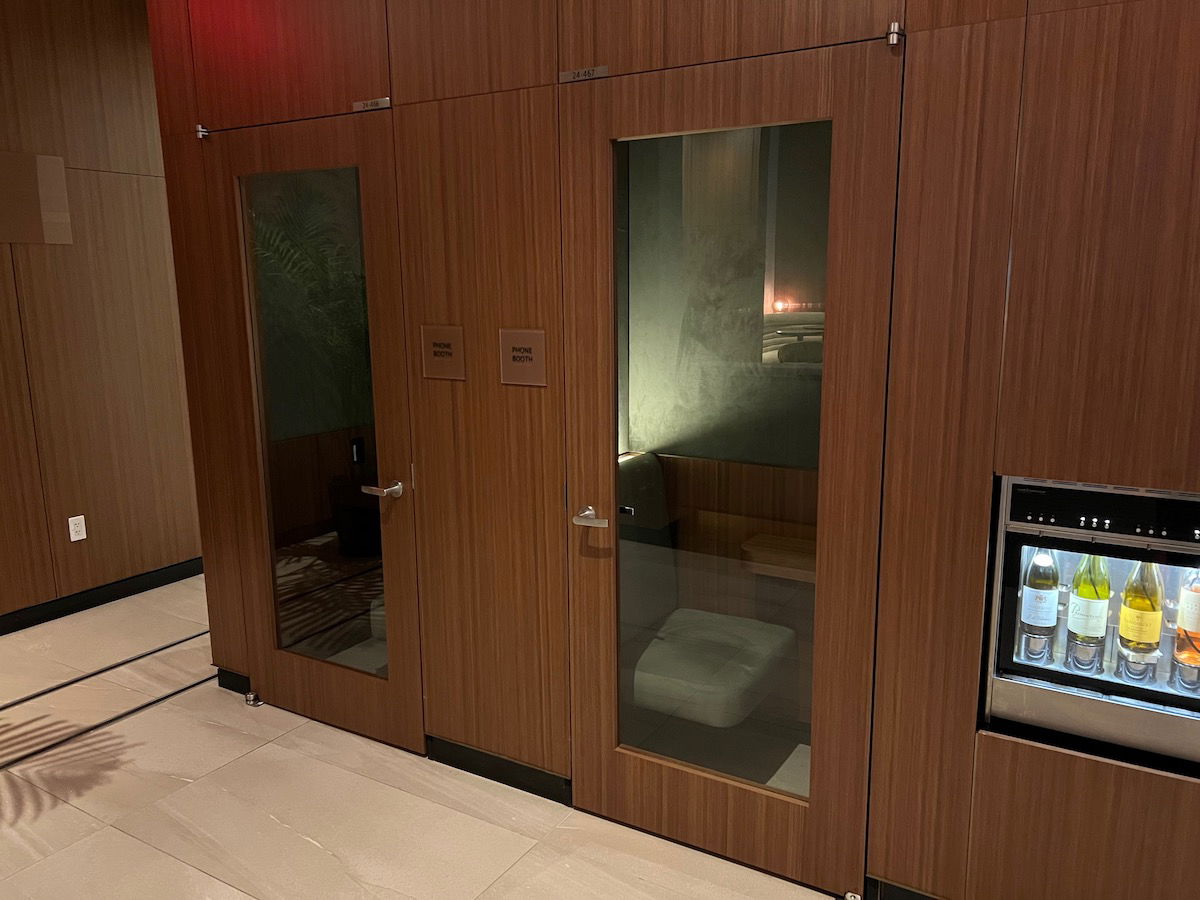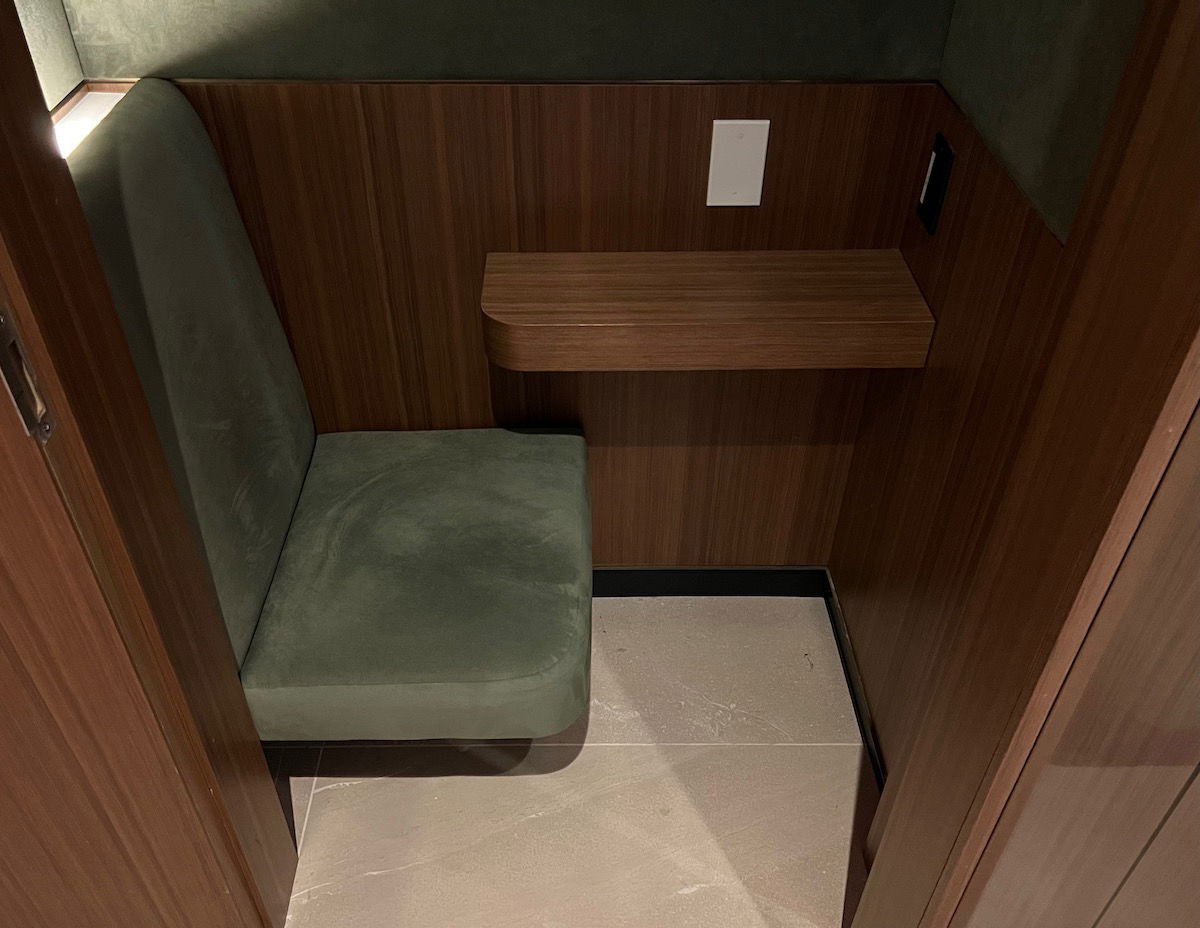 The Soho Lounge also has a hidden relaxation area, which you honestly wouldn't find unless you knew to look for it. The door to this is just inside the entrance and to the right (in front of the buffet). There are day beds as well as a couple of chairs, with drapes between each of them. It would be nice if there were some kind of bedding here that could be borrowed, even if it was just the standard business class pillows and blankets you get onboard.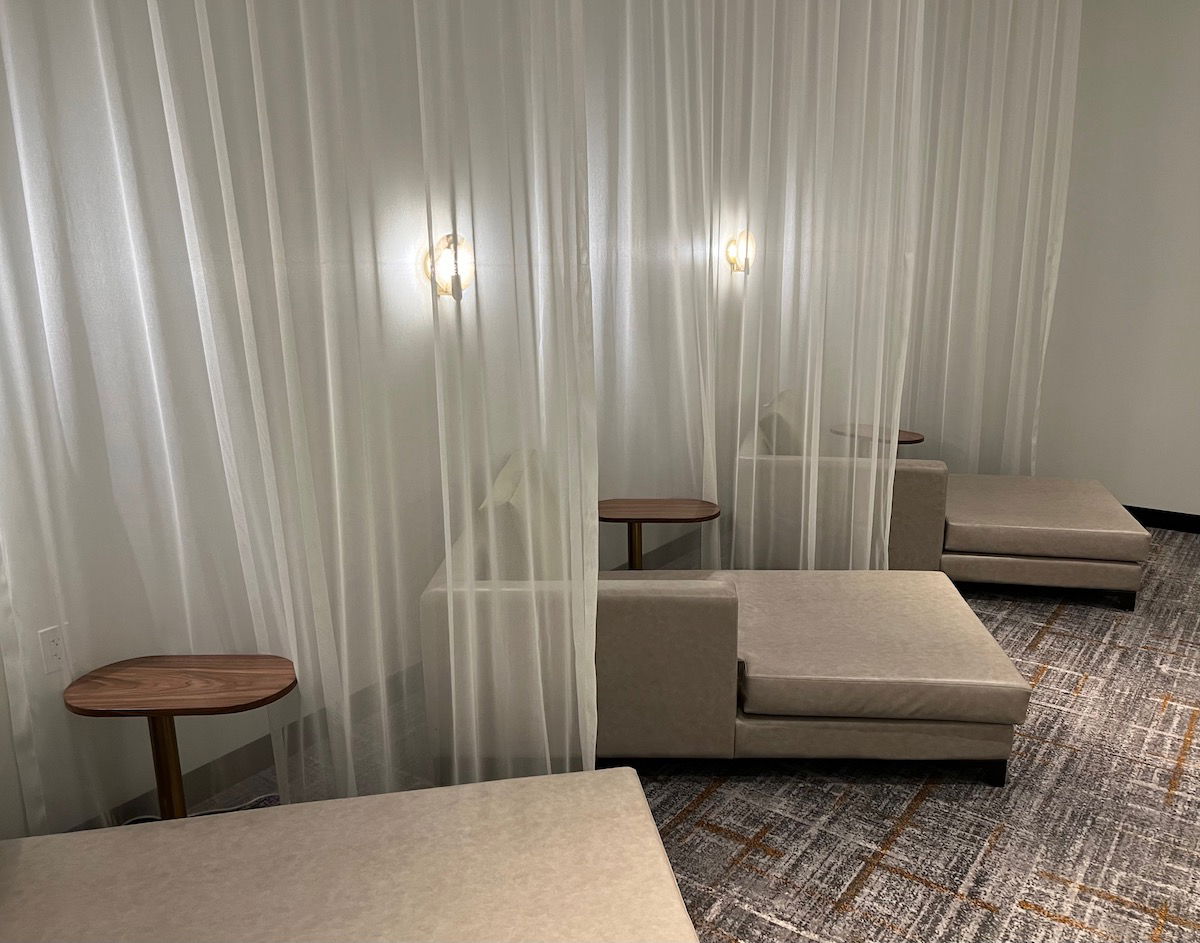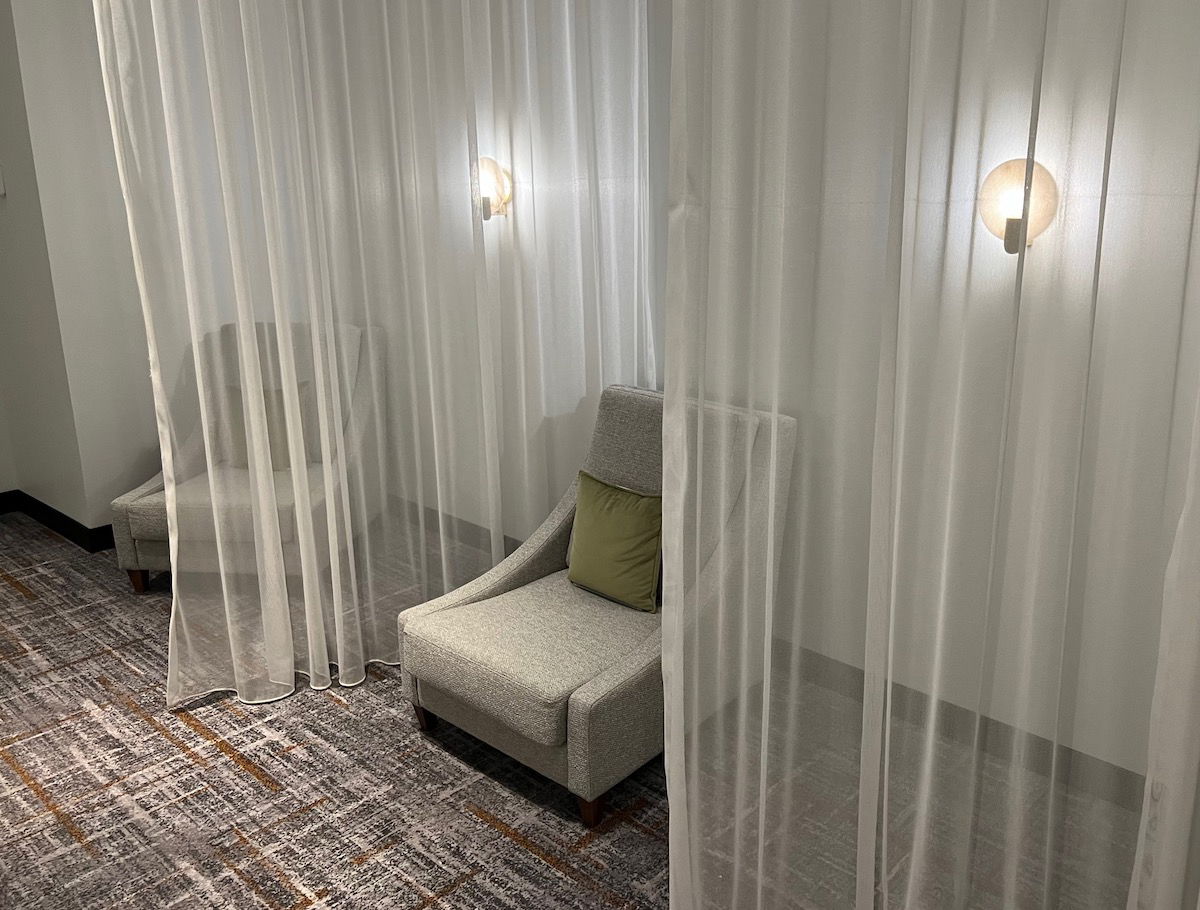 Avgeeks will love the views from the lounge, as you're right on top of gate 14, which almost always has a heavy aircraft parked there.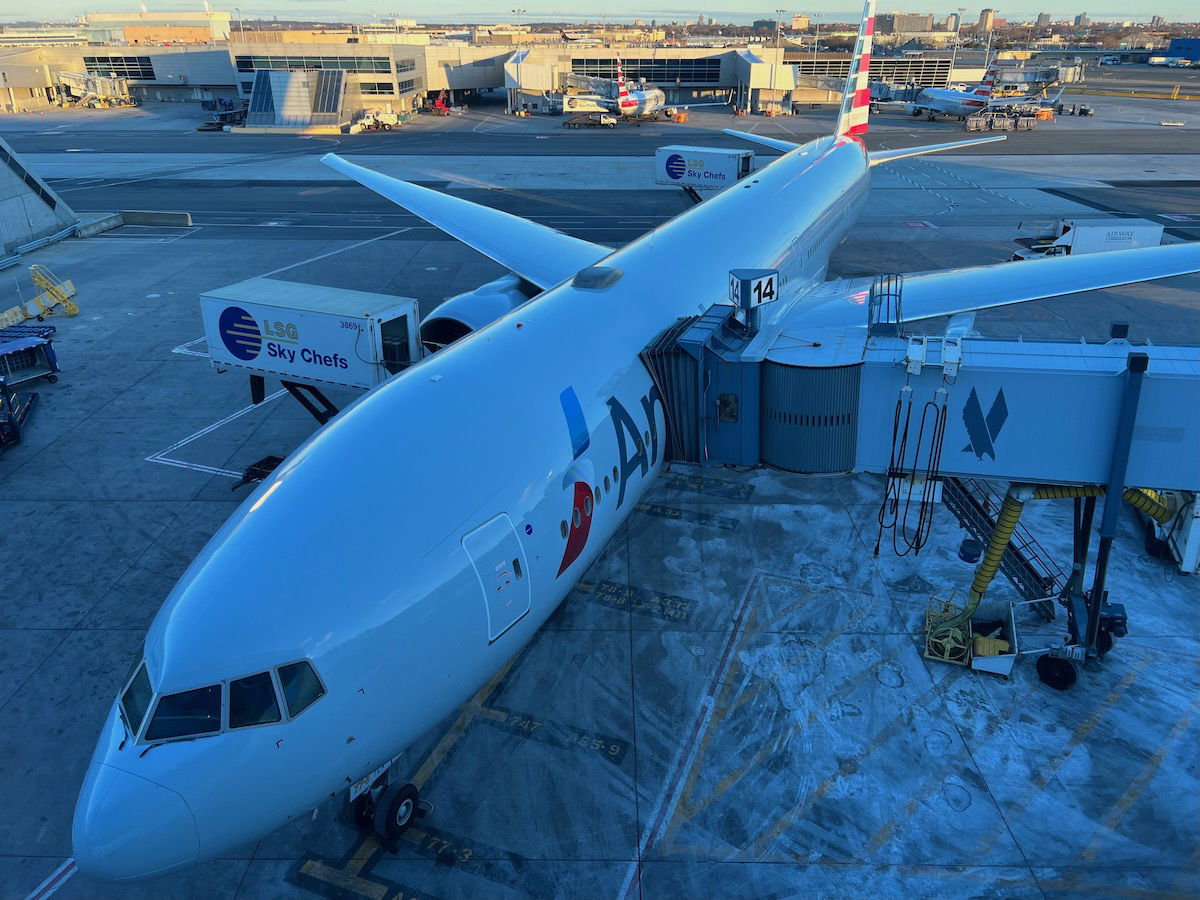 Honestly, what a gorgeous lounge. I'd note that for the mornings and afternoons, this lounge remains ridiculously quiet, since there are fairly few passengers eligible for access to the lounge during those times.
However, in the evenings the lounge gets busy, given the number of oneworld Emerald members traveling on long haul flights from Terminal 8, especially to Europe. So you'll have a very different experience if you're visiting this lounge at 8AM vs. 8PM.
Soho Lounge New York food & drinks
The Soho Lounge JFK has an elevated food & beverage selection compared to what you'll find in the Greenwich Lounge. As far as food goes, there's both a buffet, and a limited selection of a la carte options. I had the chance to check out both breakfast and lunch.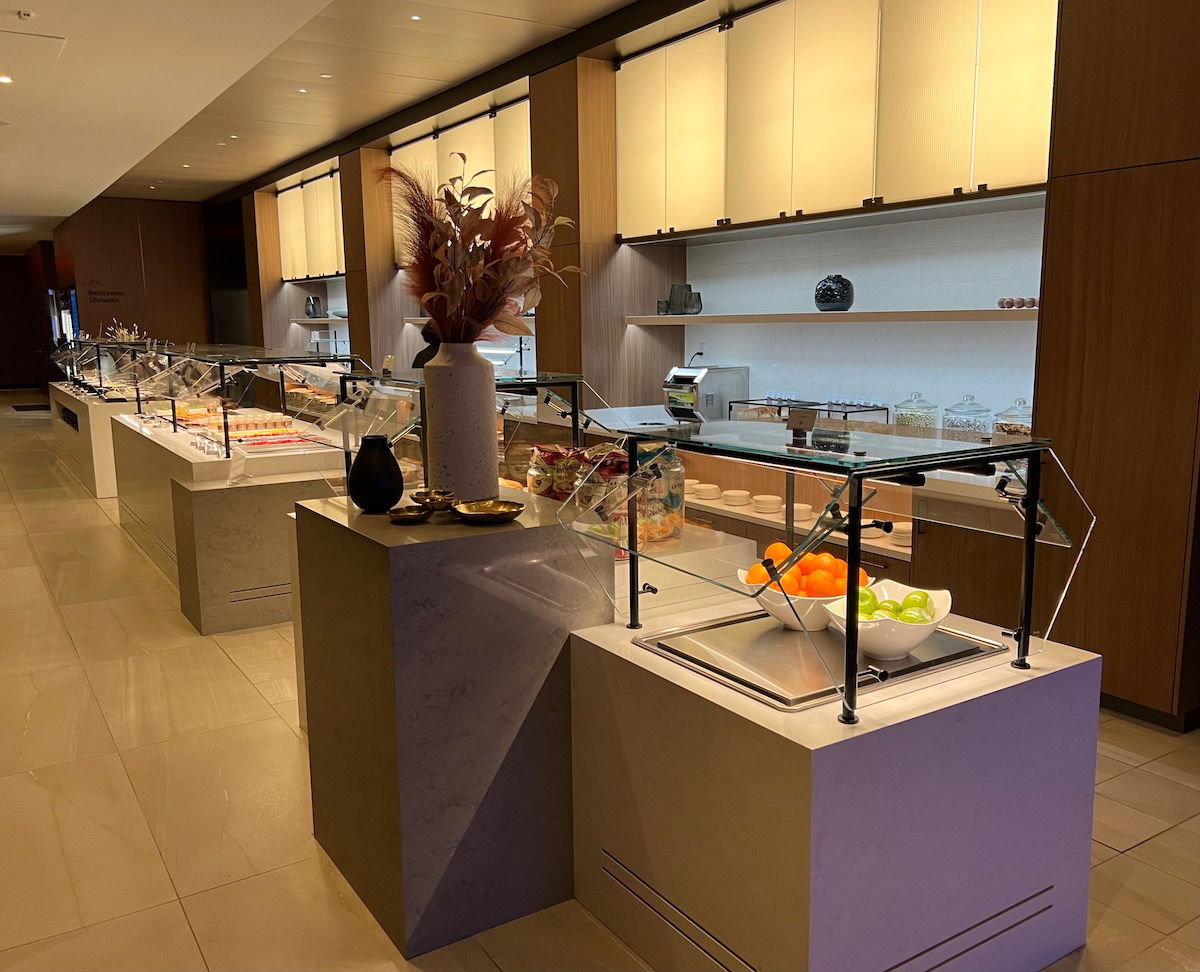 Breakfast included a variety of fresh fruit, yogurt, cold cuts, smoked salmon, salad, cereal, bagels, bread, pastries, oatmeal, mixed nuts, chocolate, and a handful of hot dishes, including scrambled eggs, potatoes, sausage, and more.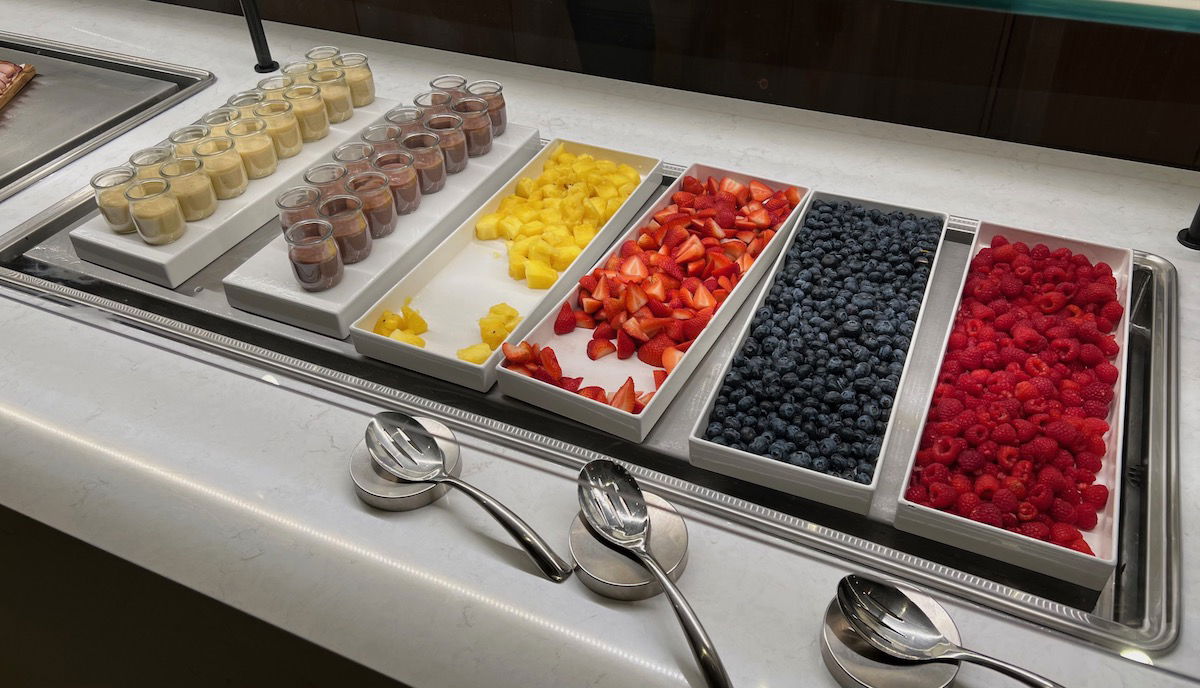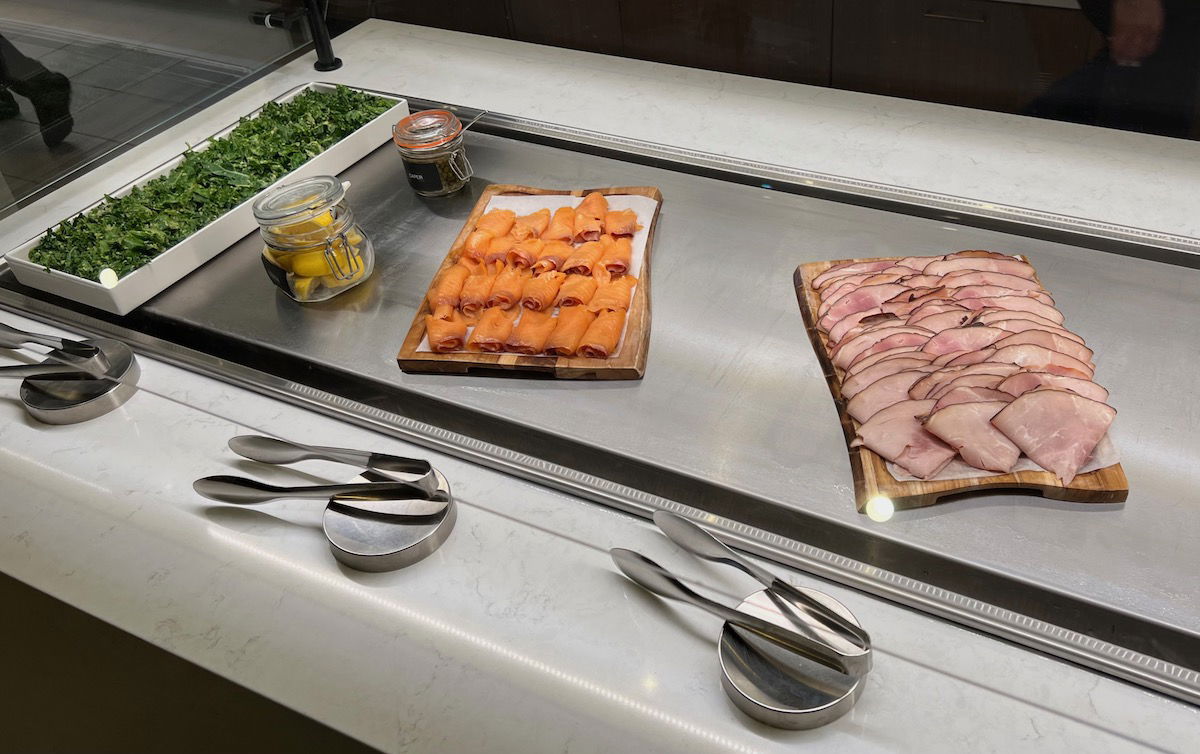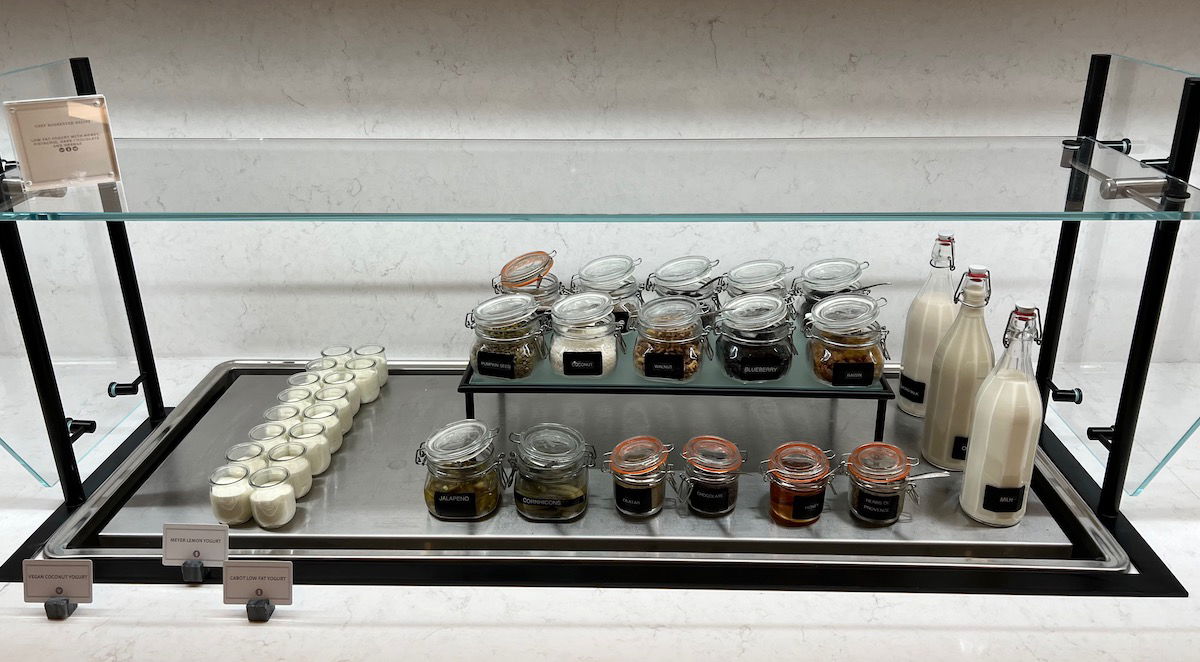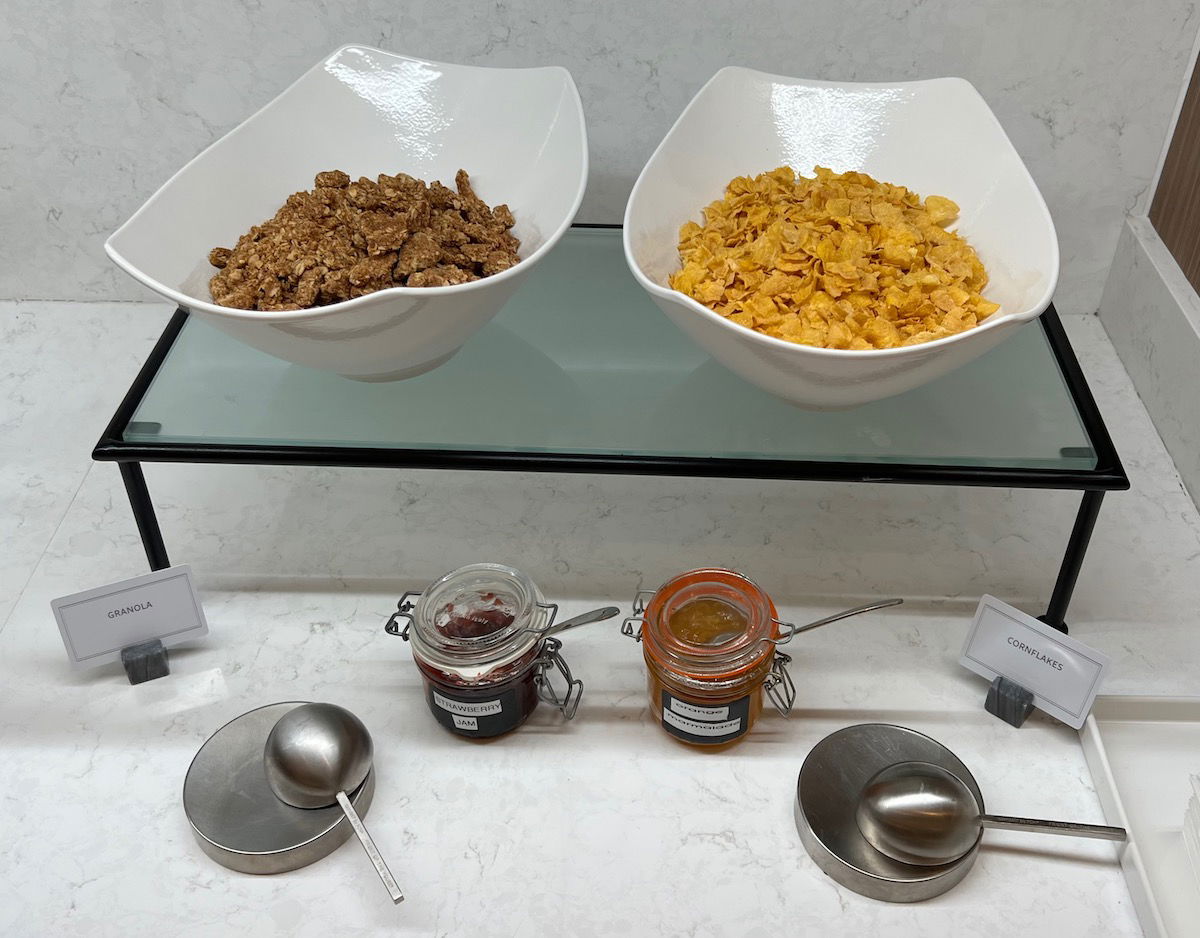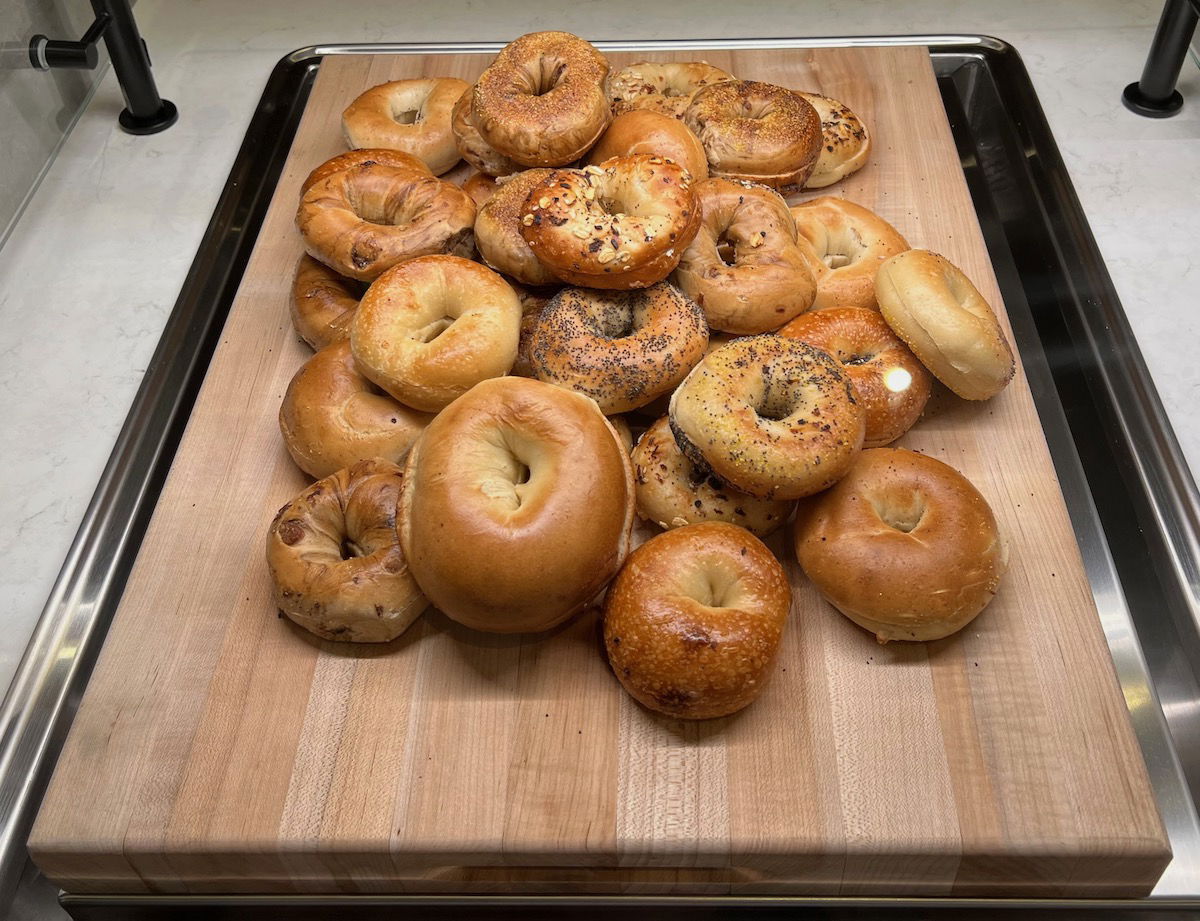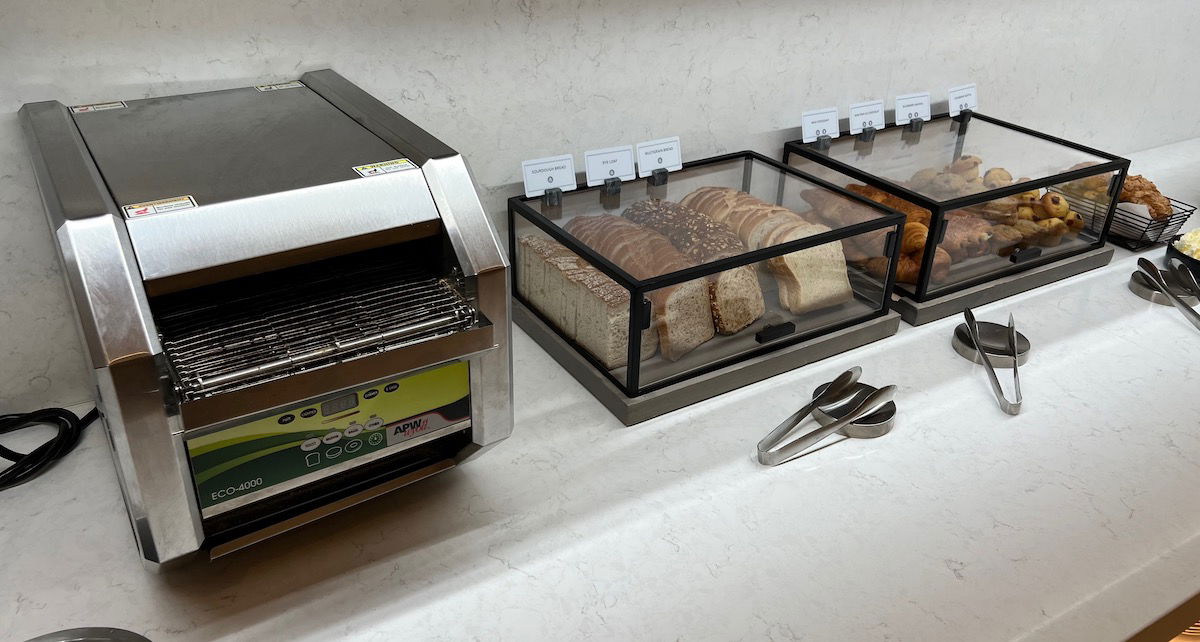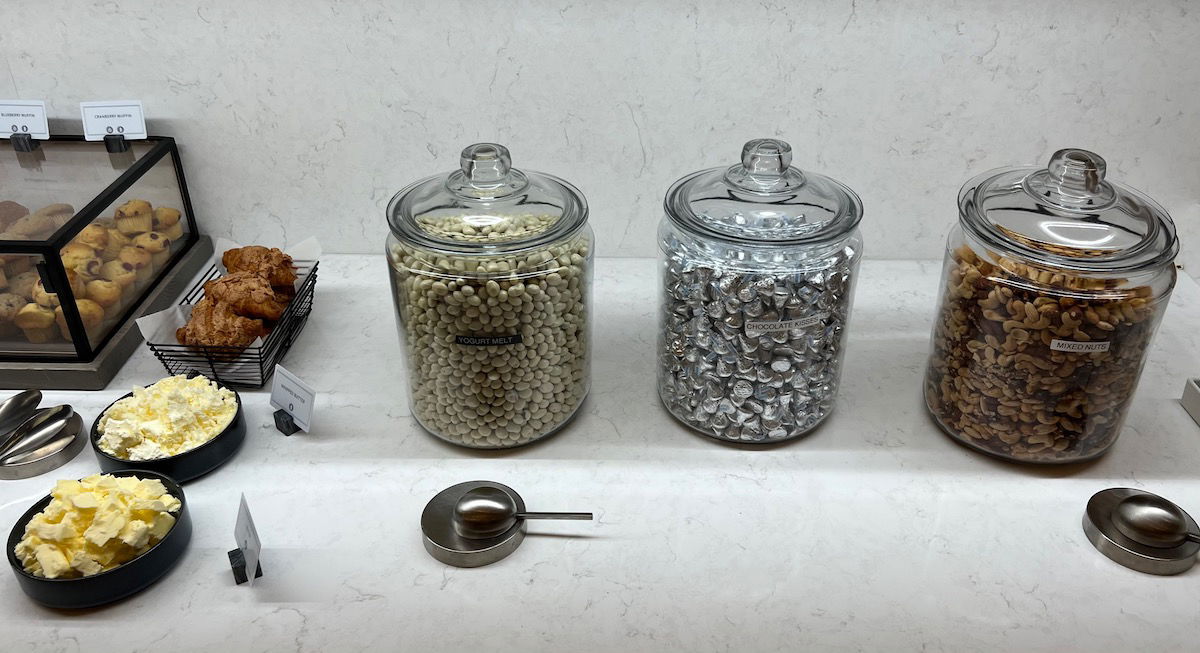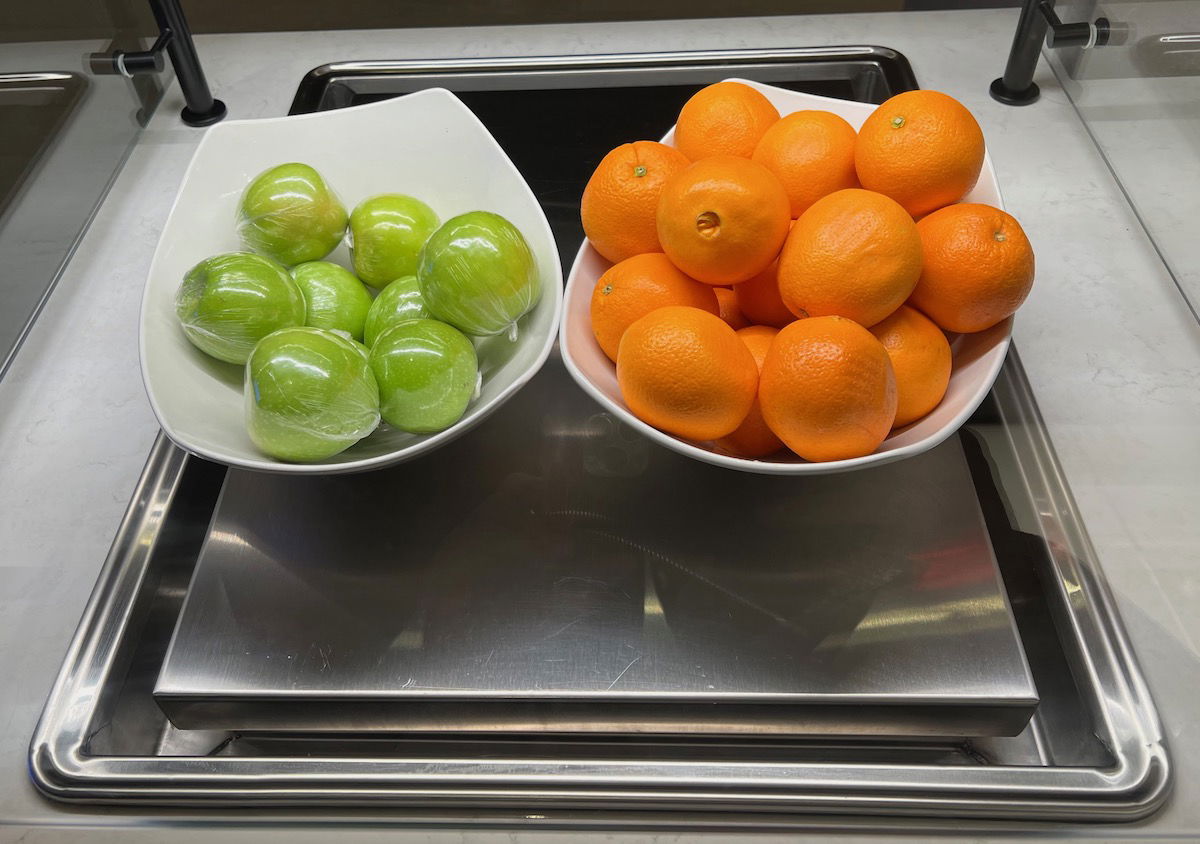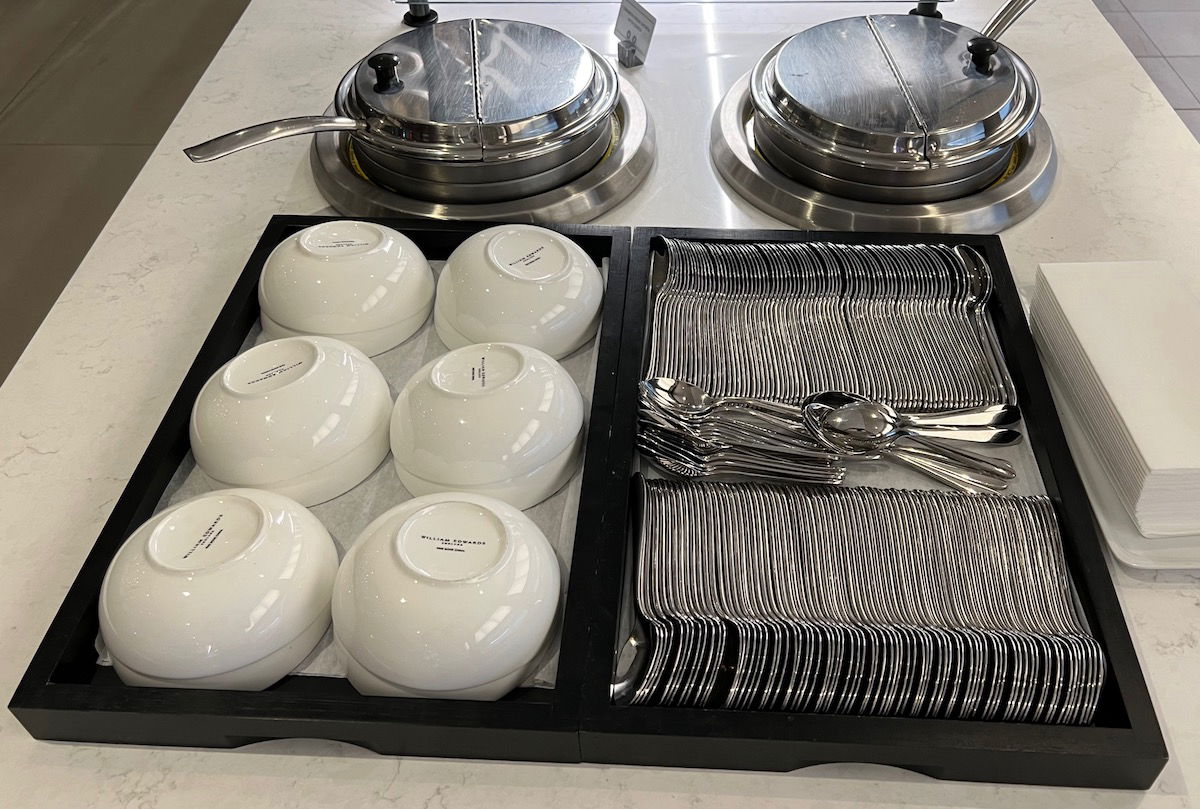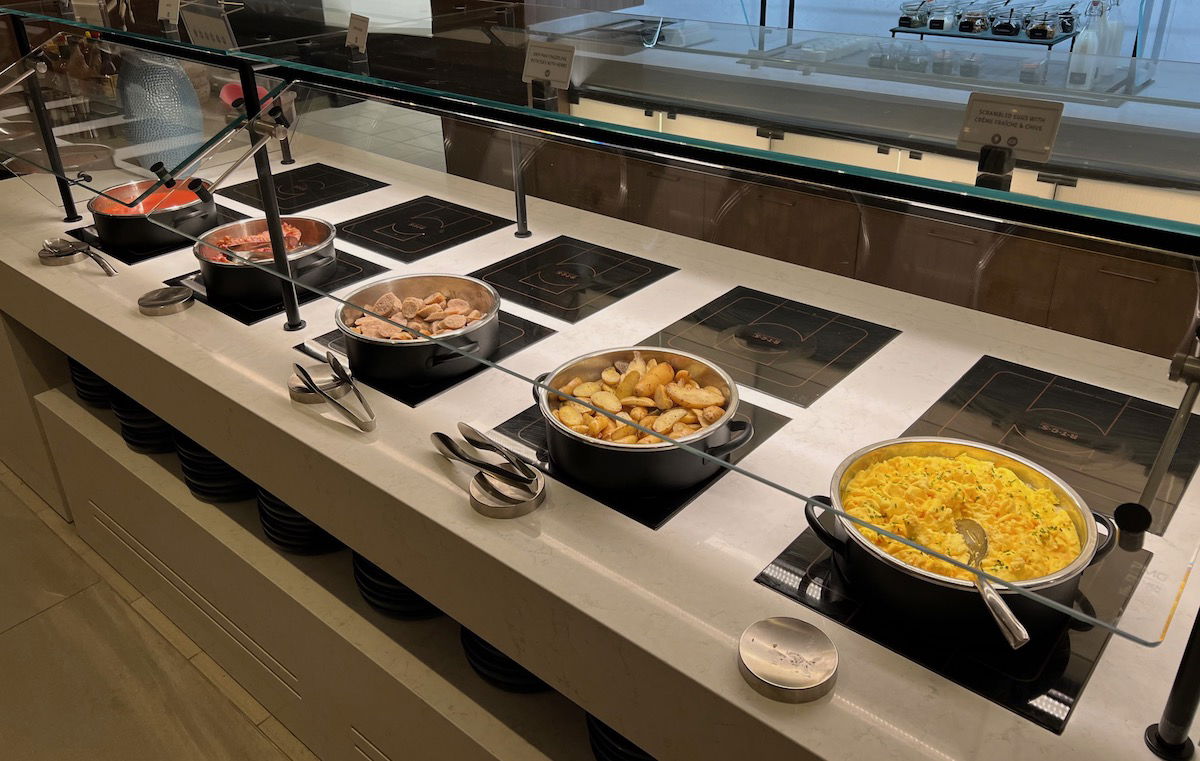 Lunch included a variety of salads and veggies, cold cuts, cheese, a handful of hot dishes, lemon squares, chocolate cake, and cookies.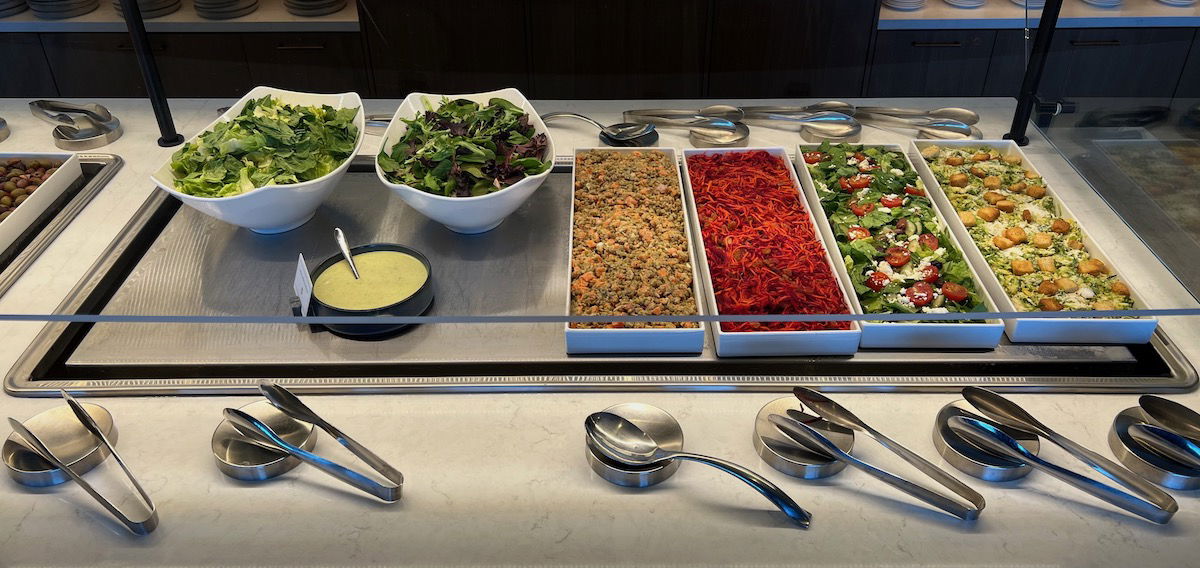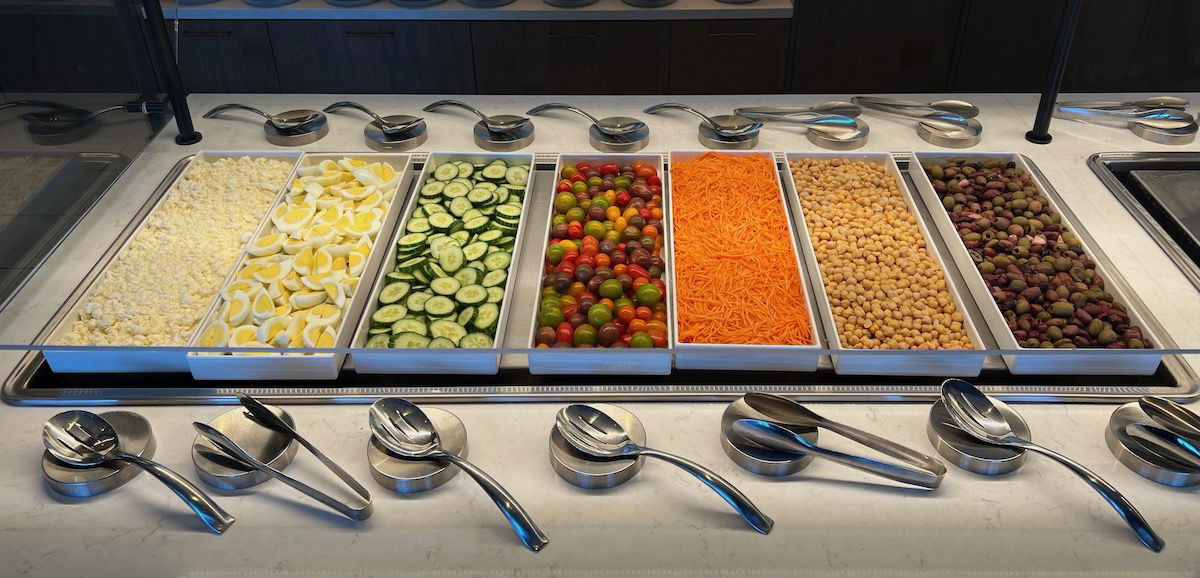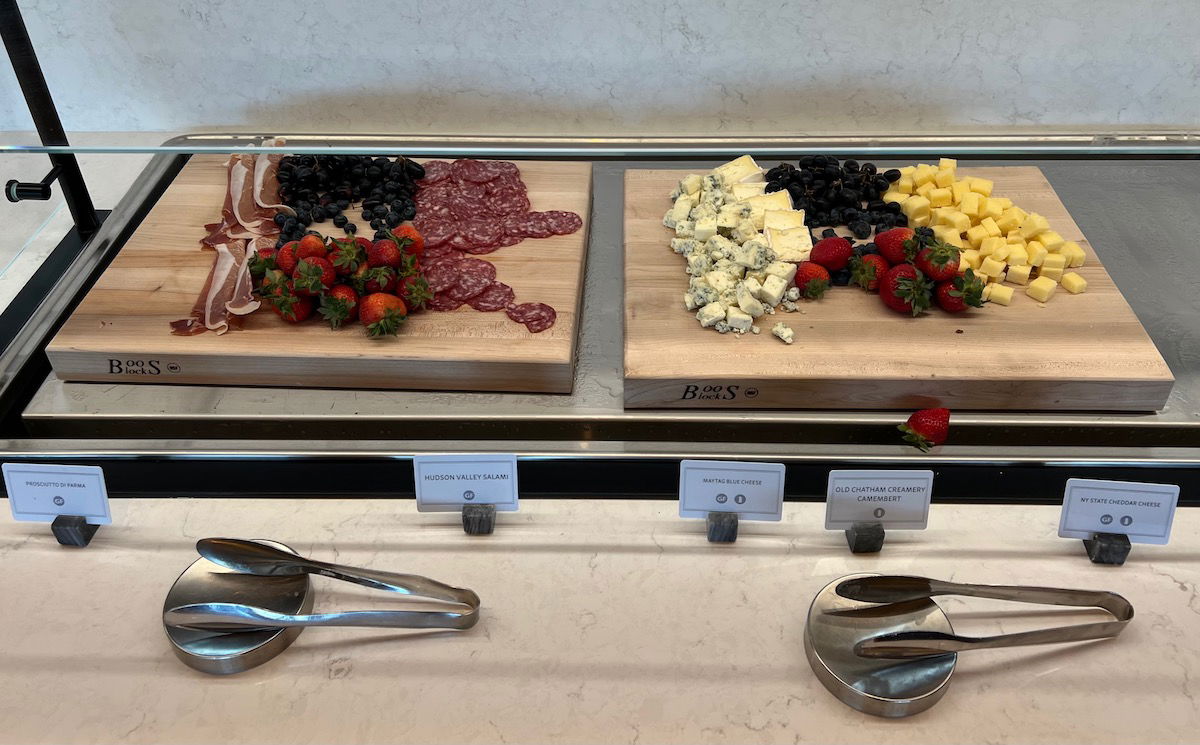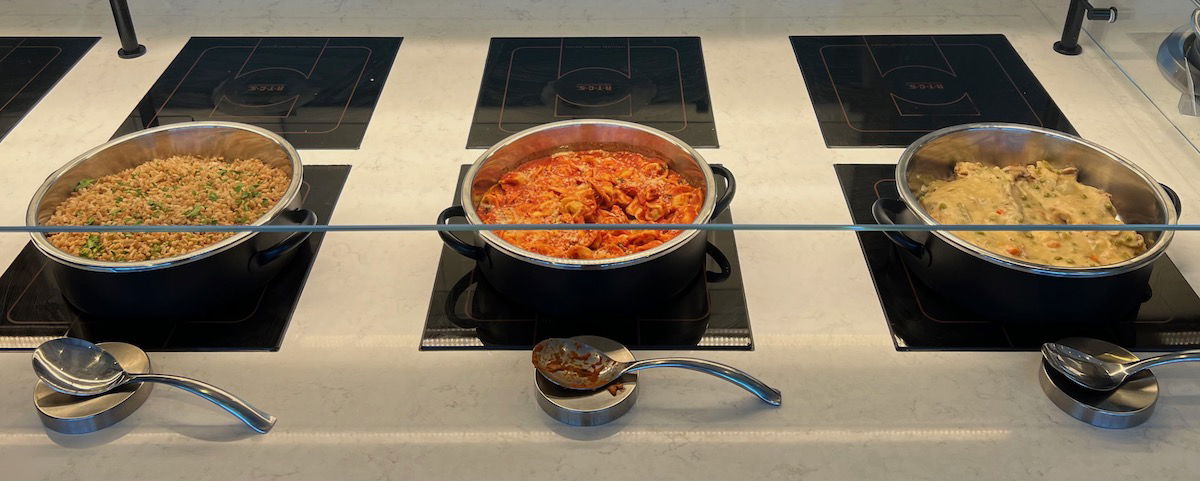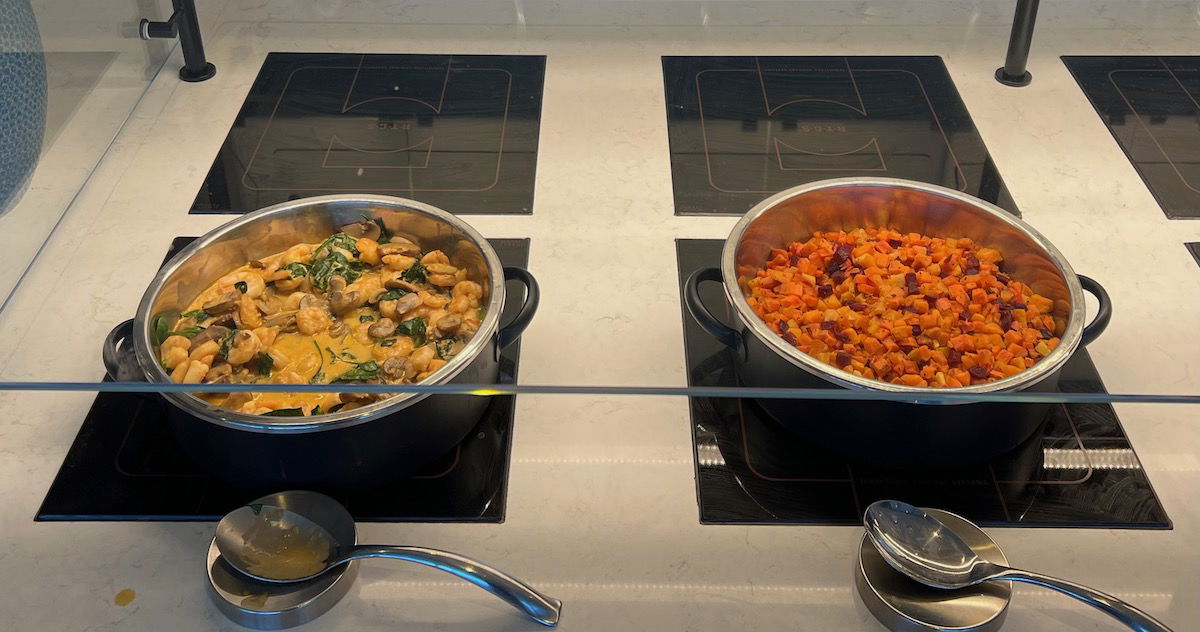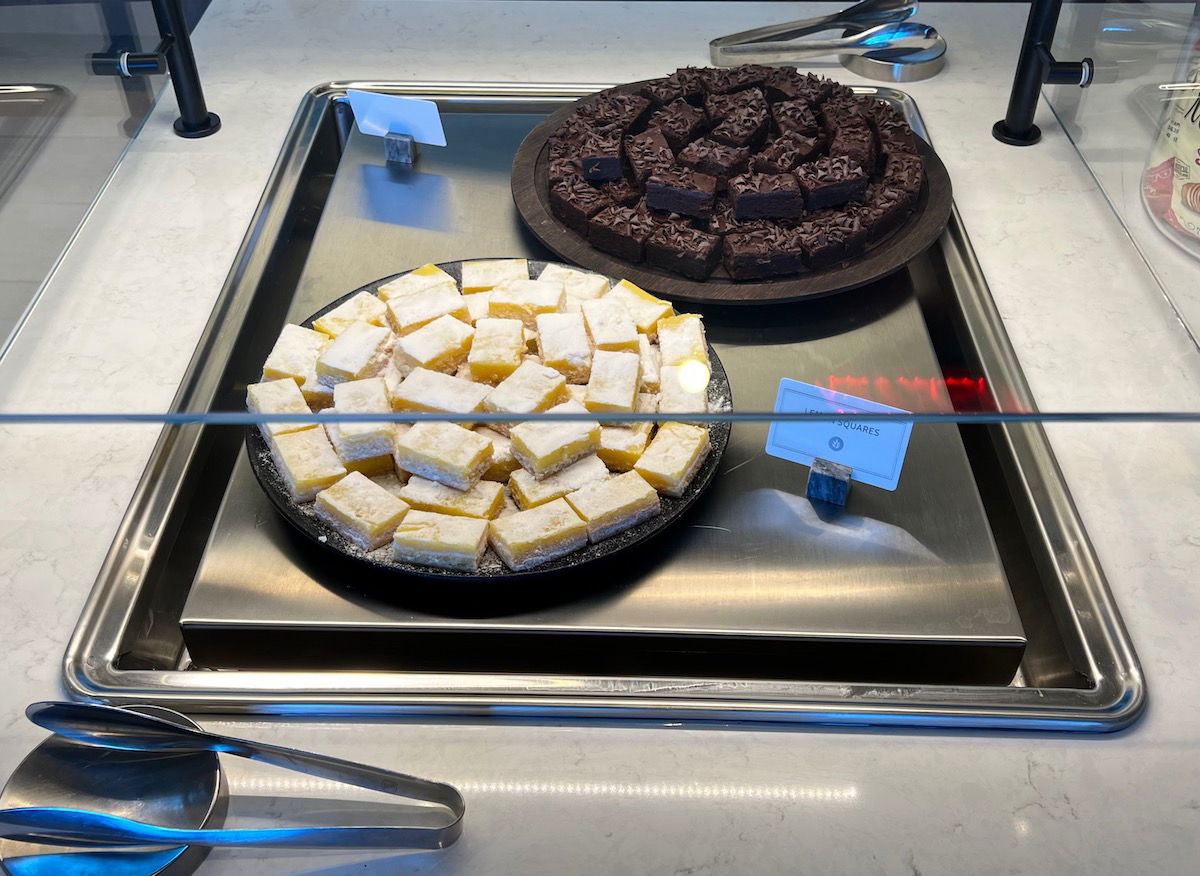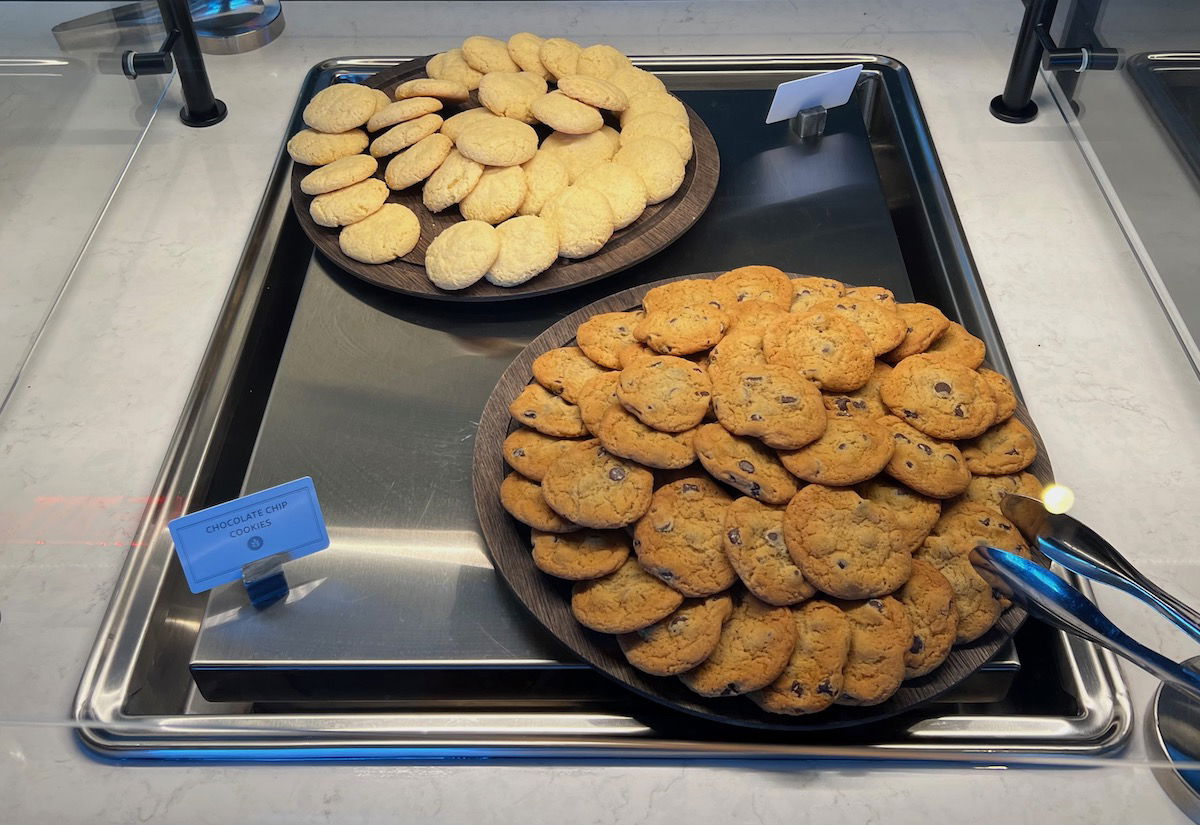 In addition to the buffet, there's also a small selection of a la carte dining. When you're in the dining area, each table has a sticker with a QR code and a table number. You can open that website, enter your table number, and then you can order something.
The options change over time, but during my visit included battered cod and mushy peas, burger and fries, butternut squash curry, a kale salad, a pastrami sandwich, and more.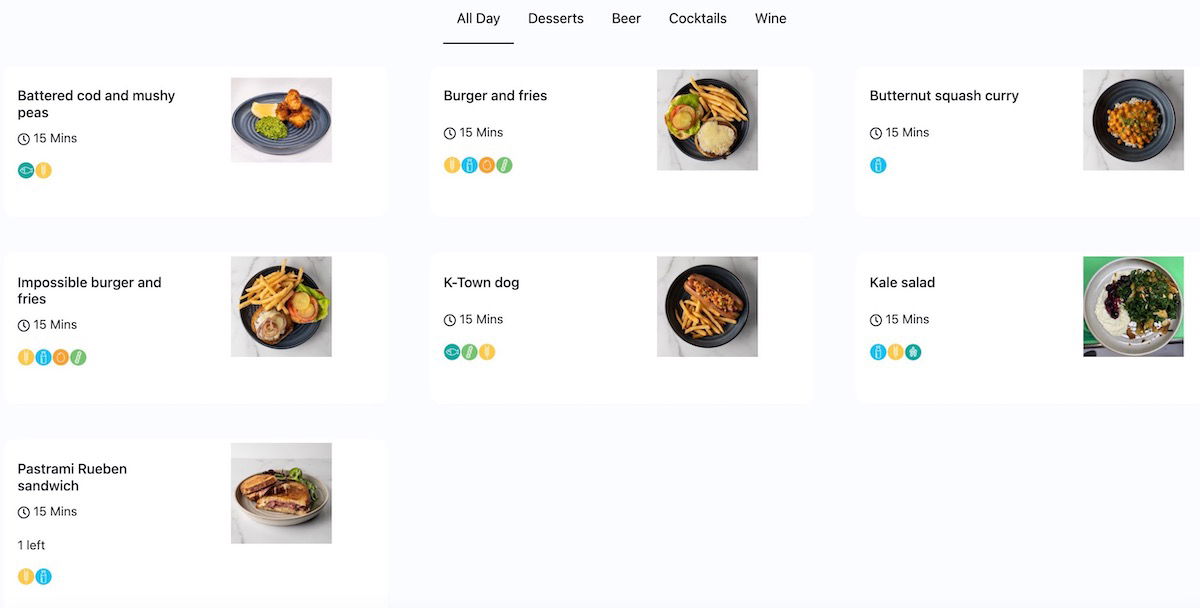 I decided to order the kale salad and the build your own ice cream cookie sandwich. I found the ordering process to be easy, and within 10 minutes both items were correctly delivered. Both dishes were fairly tasty.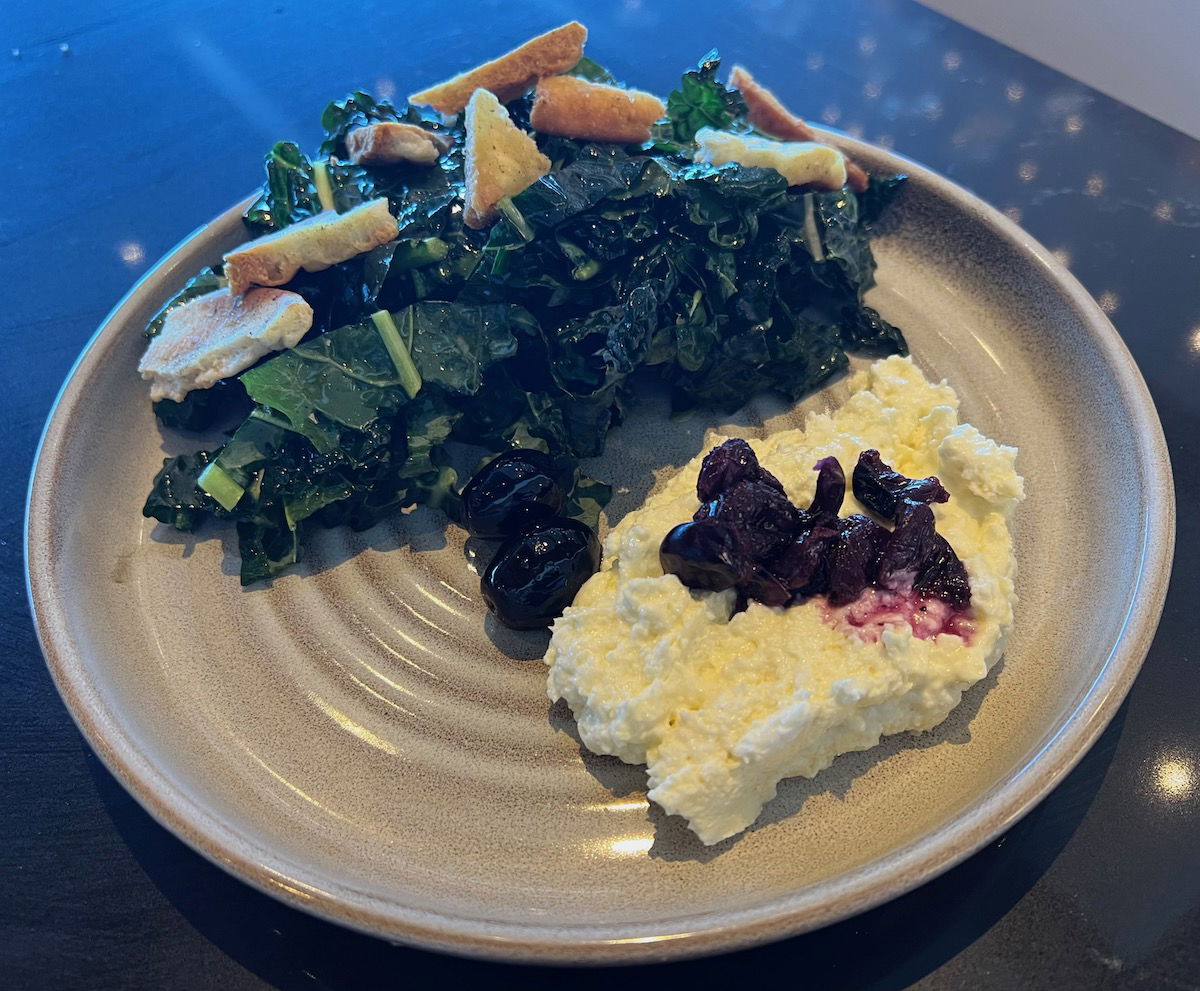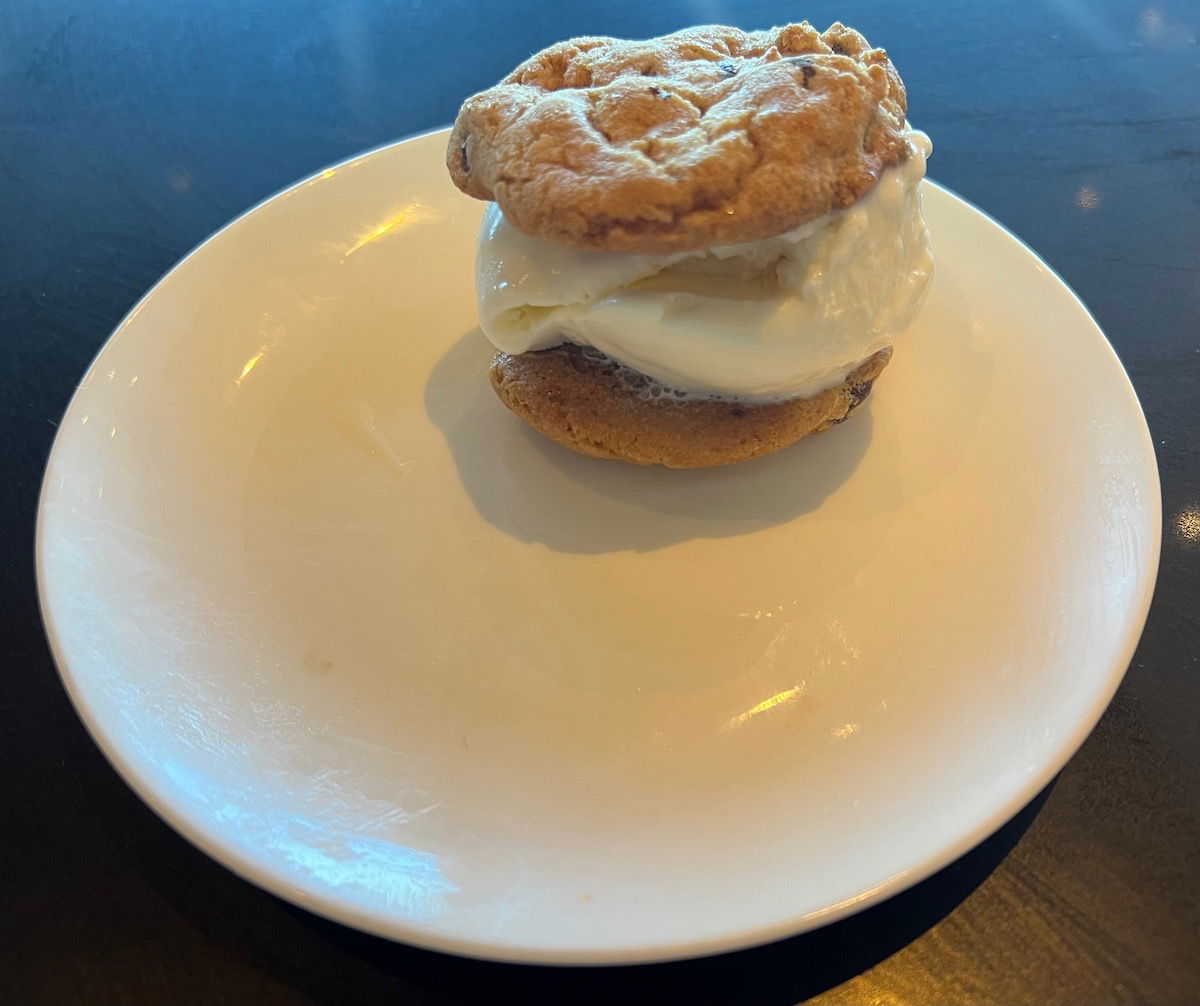 I found service in the lounge to be friendly. For example, the server proactively brought me silverware when delivering this food, and also asked if she could get me something to drink.
As far as drinks go, all wine and liquor are available at the bar, unlike at the Greenwich Lounge, where it's self-serve. While there's one of those wine fridges in the back of the lounge, this seems to be for display purposes only.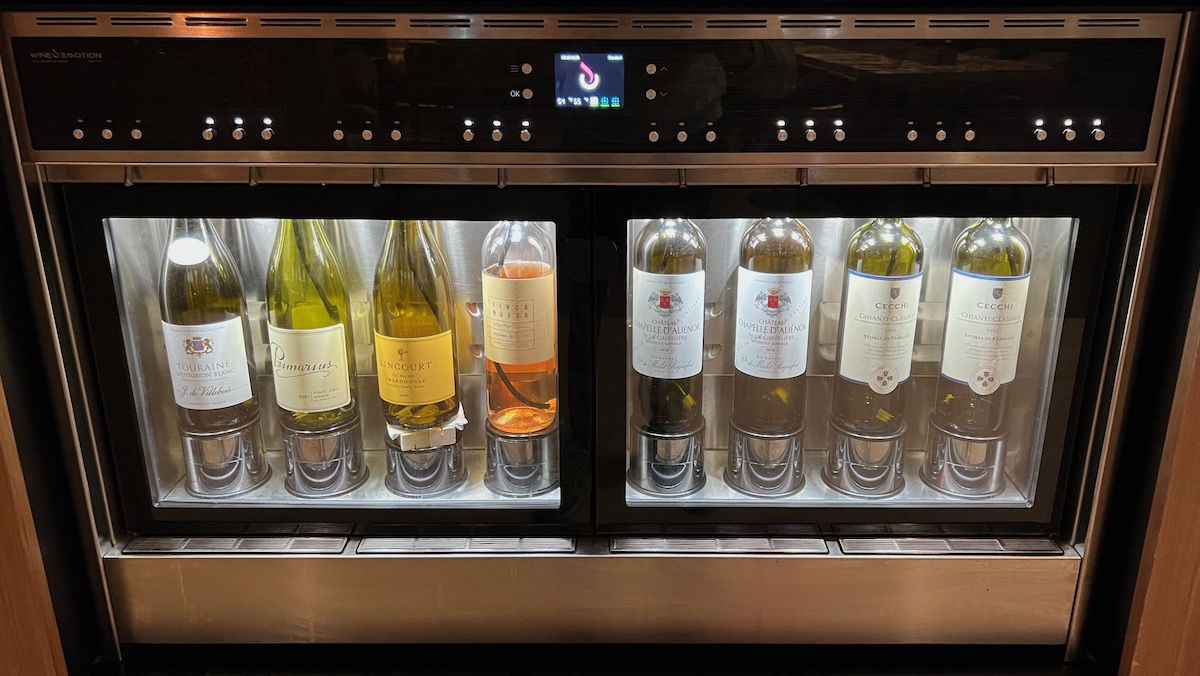 You can either go to the bar to order a drink, or you can order drinks to be delivered to your table via the QR codes on the tables. Below is the drink selection that was displayed via the ordering system.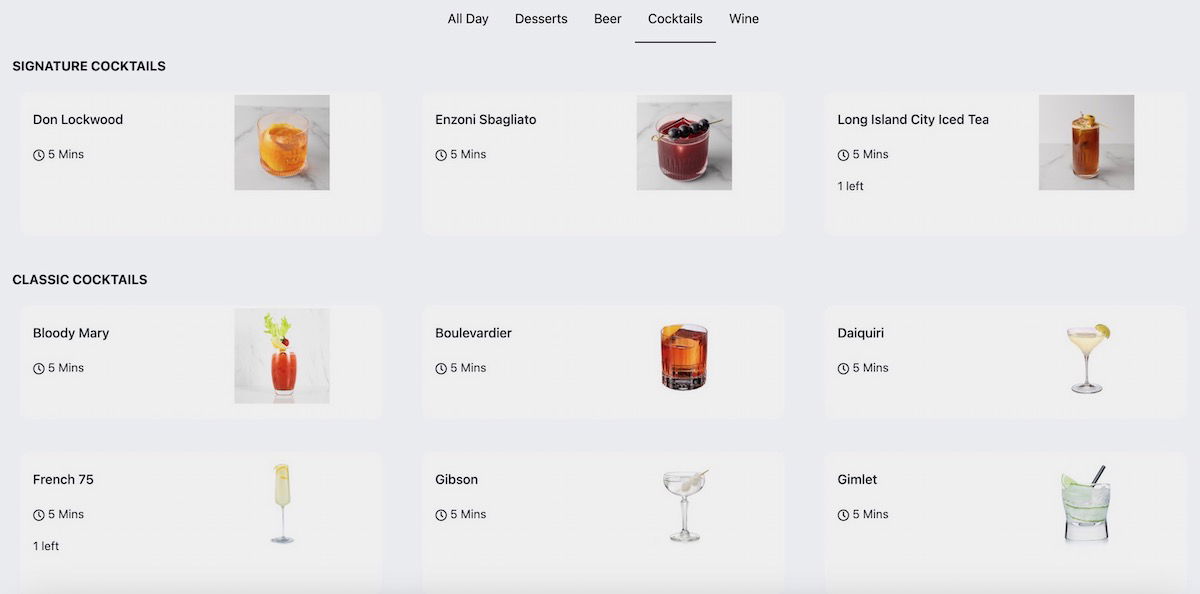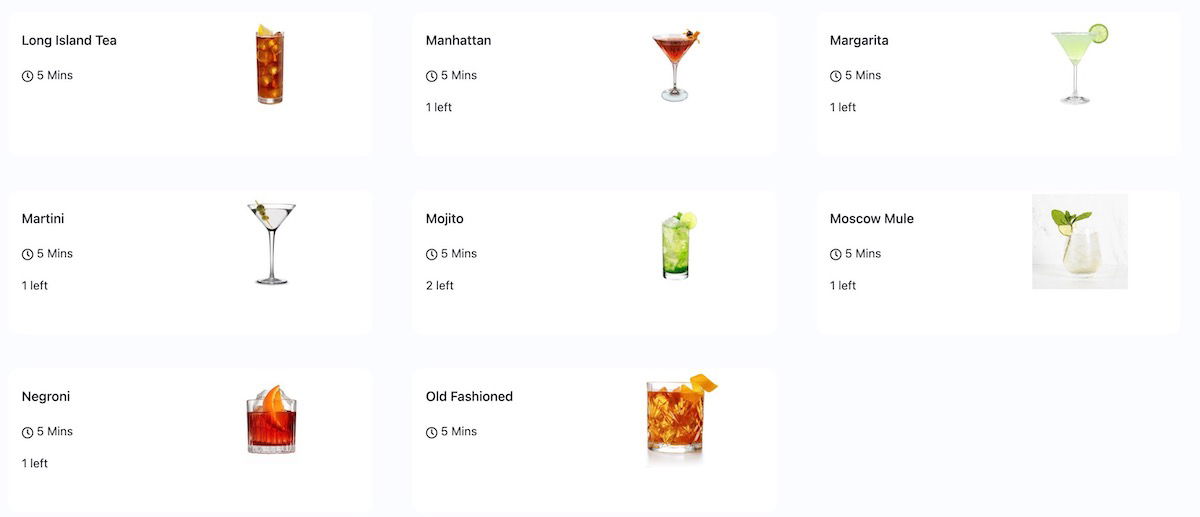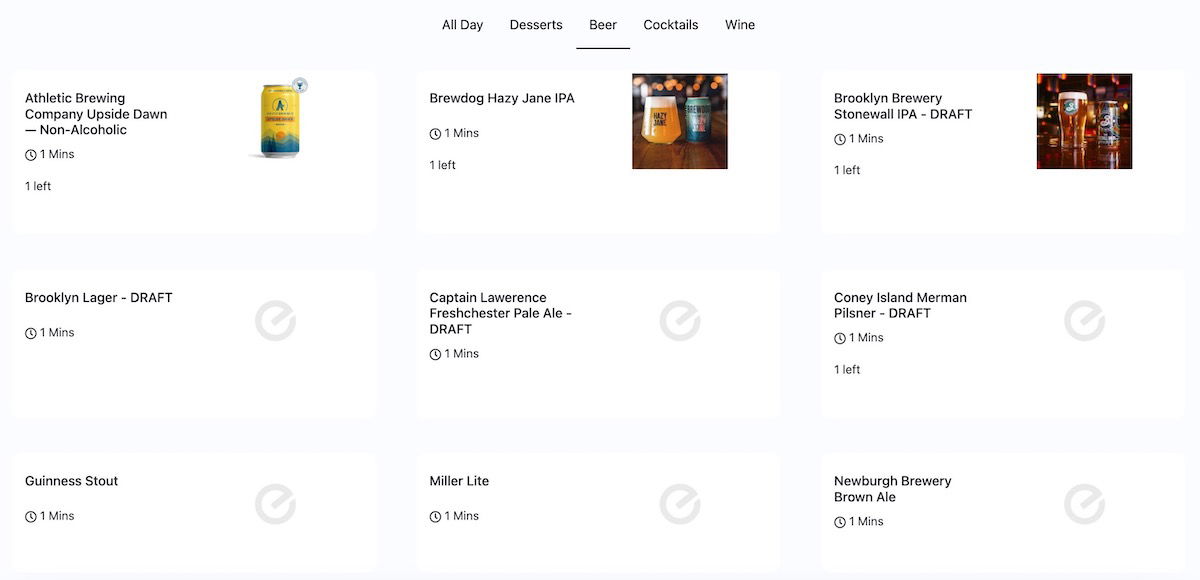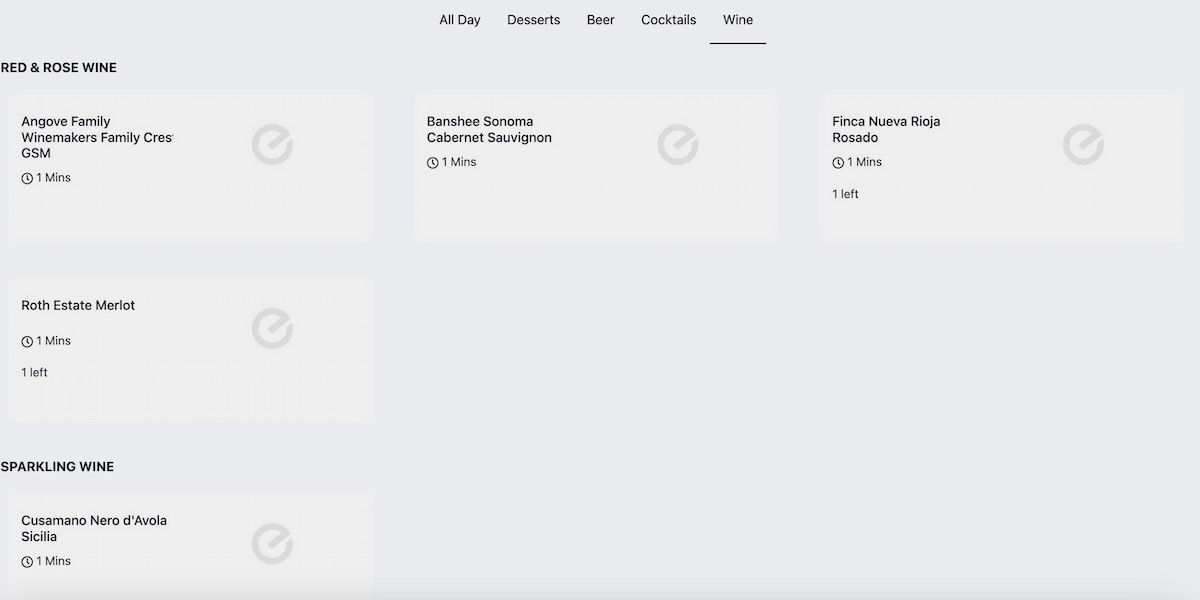 It's bizarre that there's only sparkling wine in the Soho Lounge, while the (inferior) Greenwich Lounge serves Piper-Heidsieck. I have to imagine that's a fluke, or something.
Beyond that, there was a coffee machine, some juice, drip coffee, tea, and a fridge with beer, soda, and soft drinks.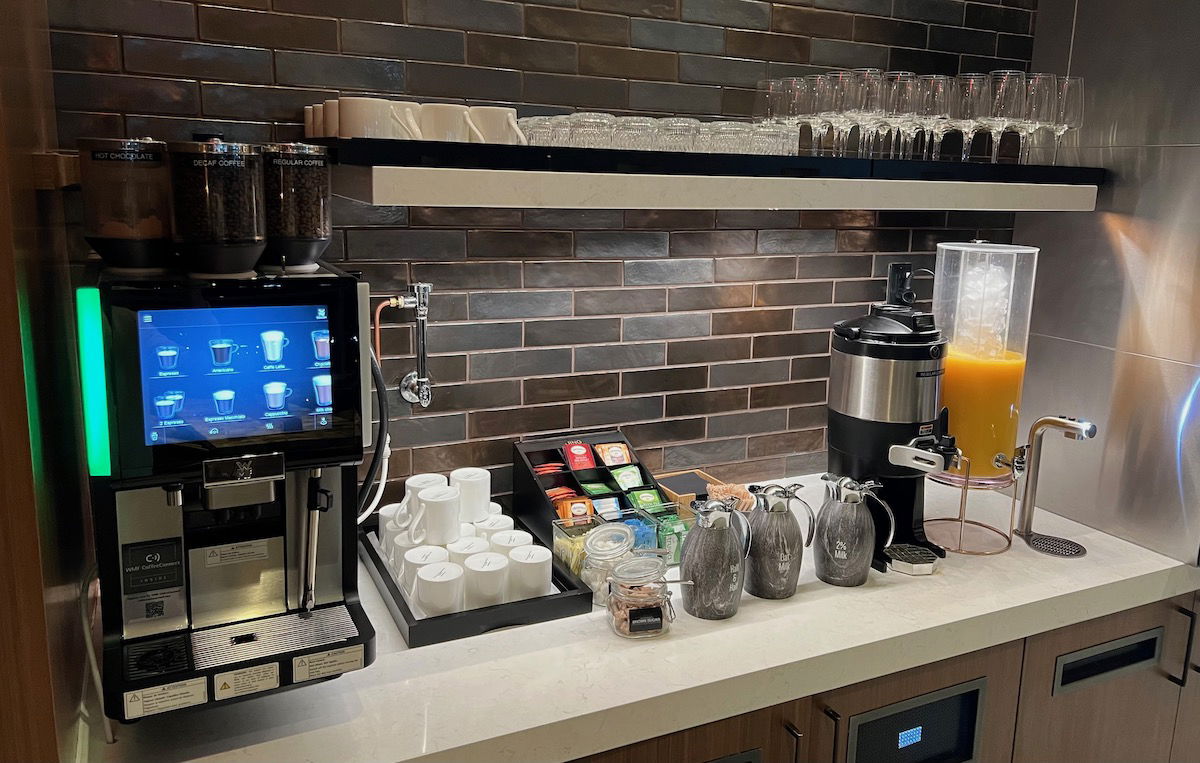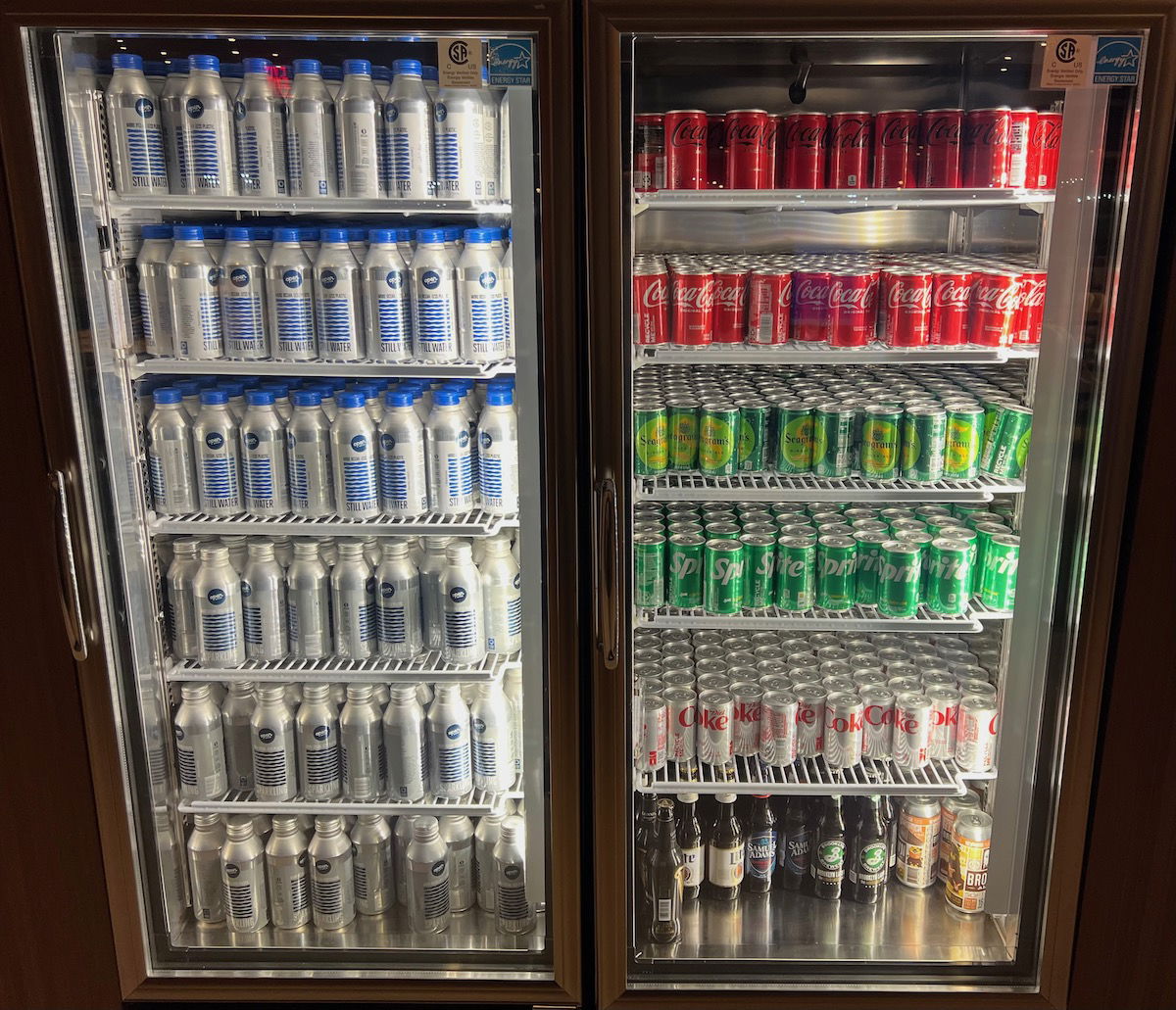 All-in-all, I thought that the selection was marginally better than what you'd find in the Greenwich Lounge, so I was impressed. My only real critique is how American seems to hate decent coffee. None of the carrier's new lounges have barista-made coffee, which seems like a reasonable expectation for a premium lounge.
Soho Lounge New York bathrooms & showers
The Soho Lounge JFK has bathrooms and shower suites in the very back. The bathrooms are quite elegant, in terms of the lighting and sinks, though I didn't find the sinks to be particularly practical to use.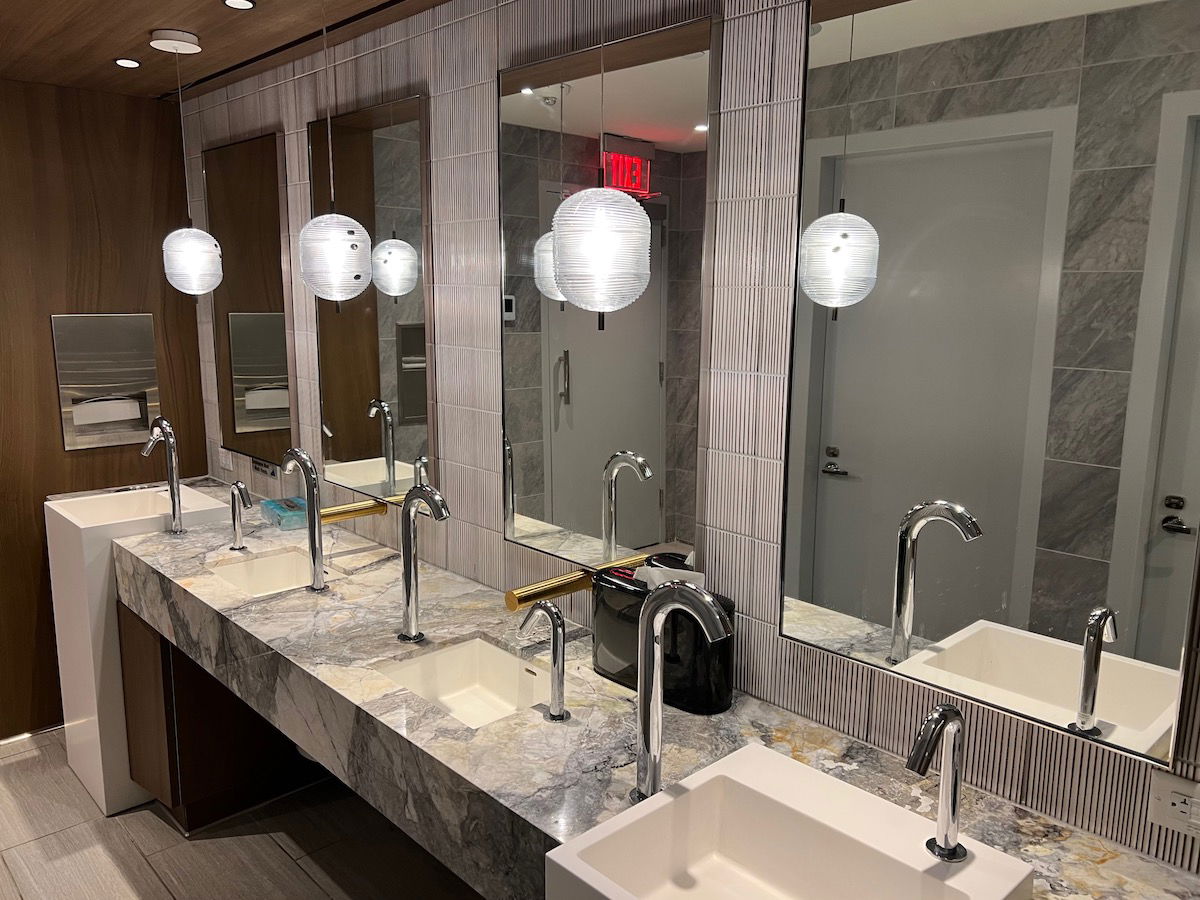 There were also several stalls and a few urinals.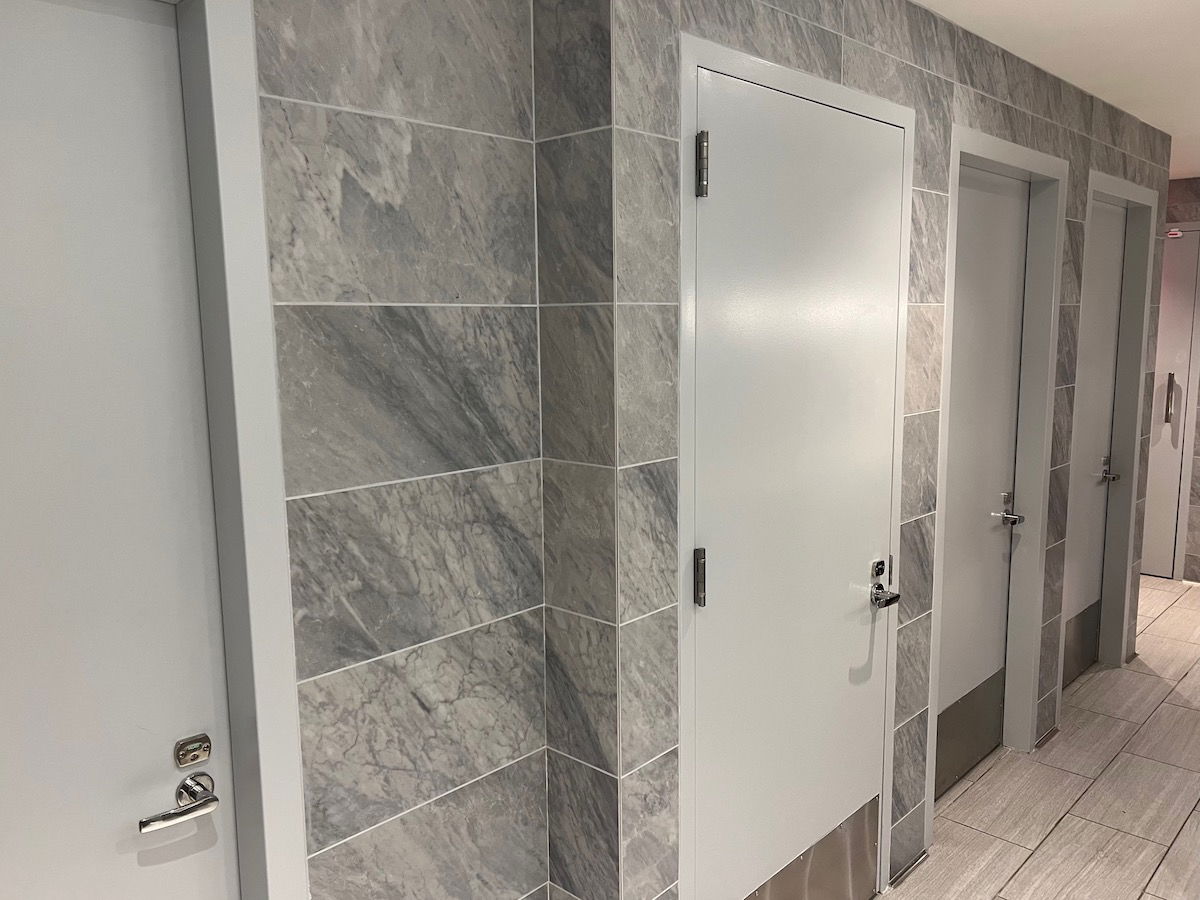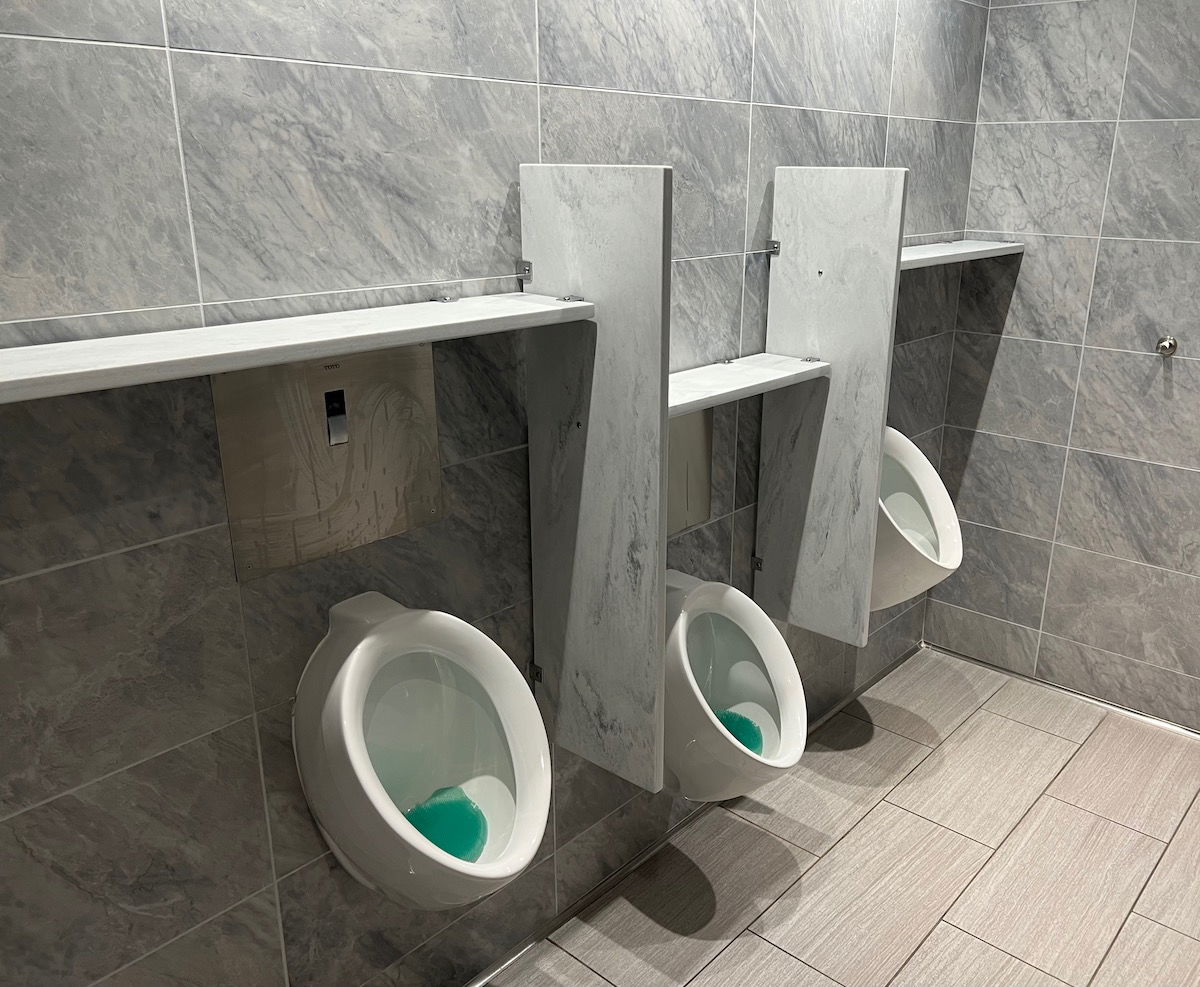 The Soho Lounge also has a few shower suites, each featuring a sink, toilet, and walk-in shower. While the shower suites are different than in the Greenwich Lounge, I can't say that one is necessarily better than the other.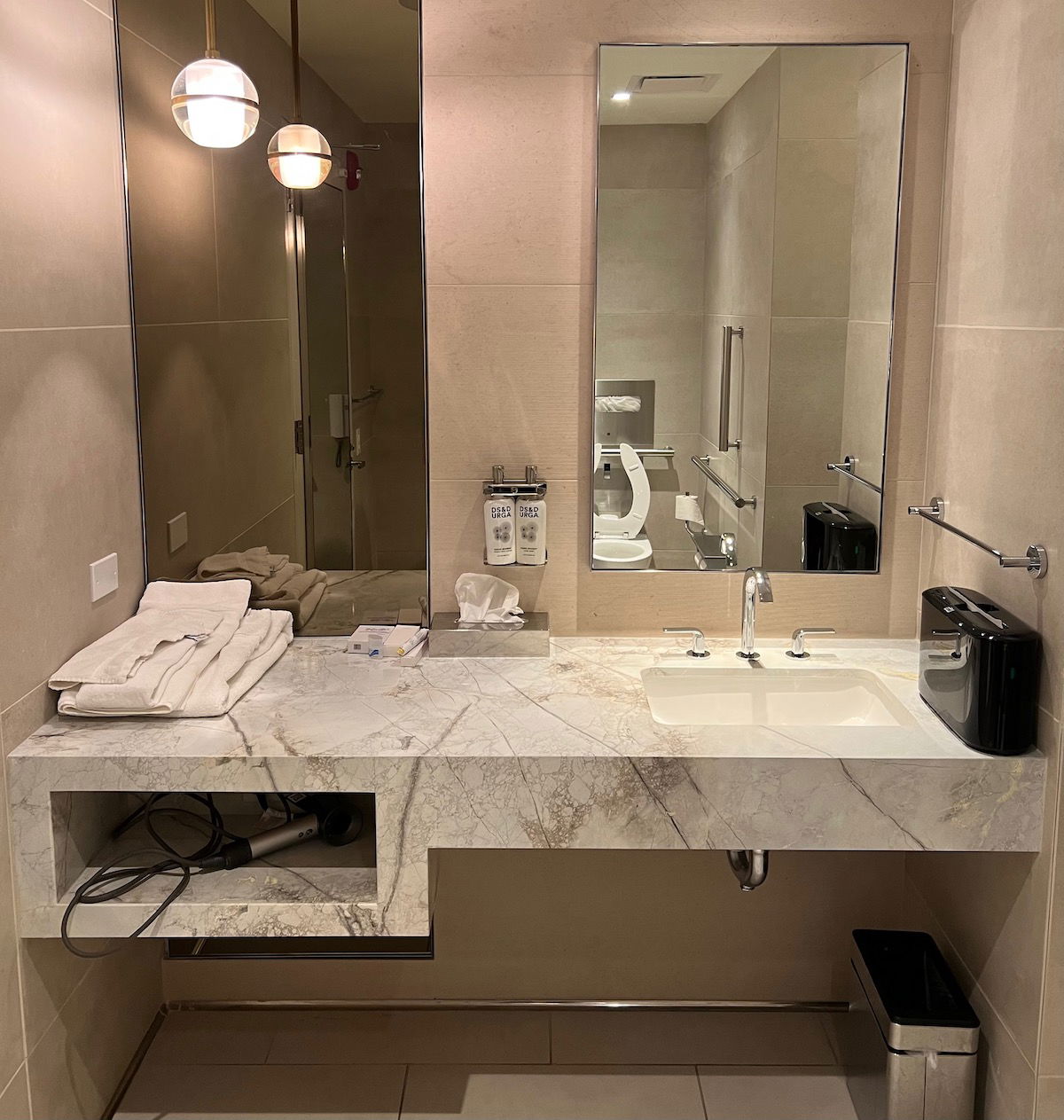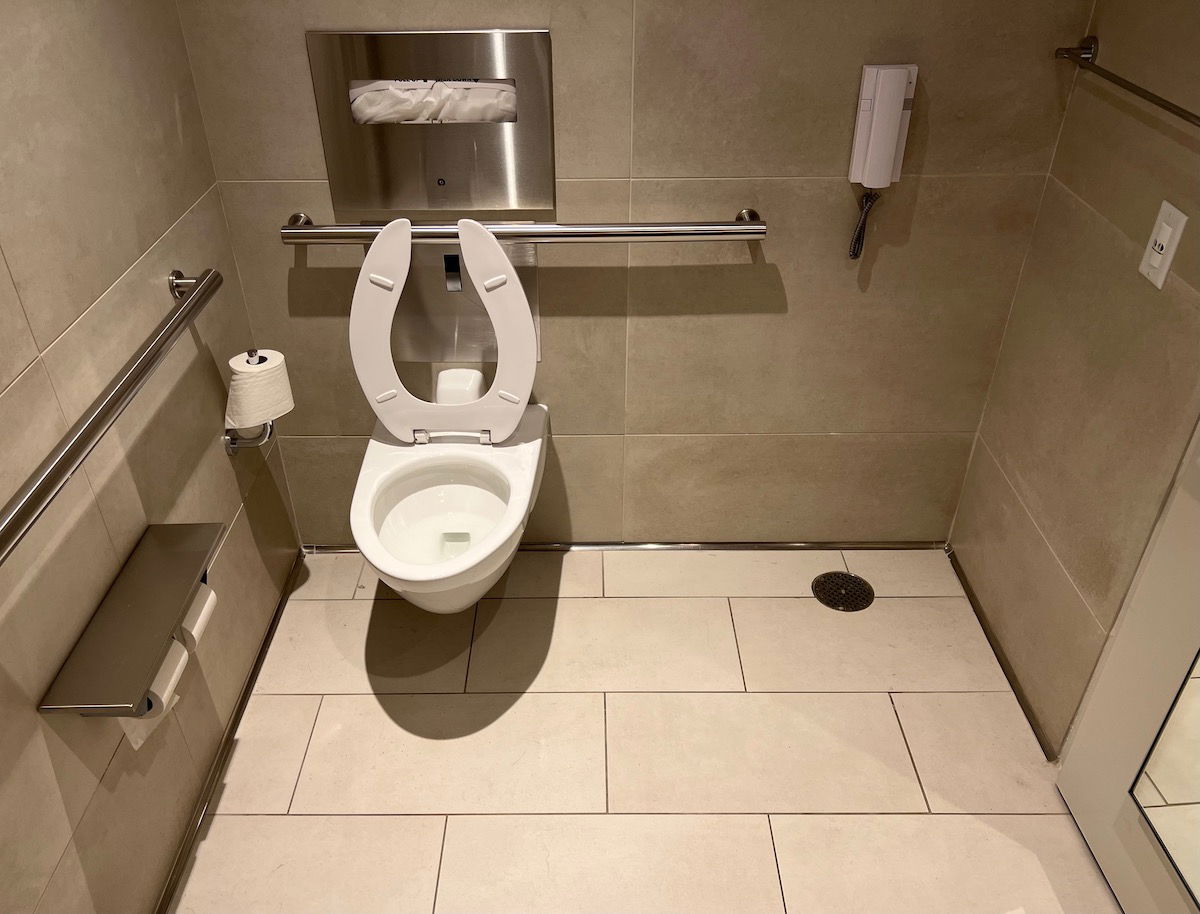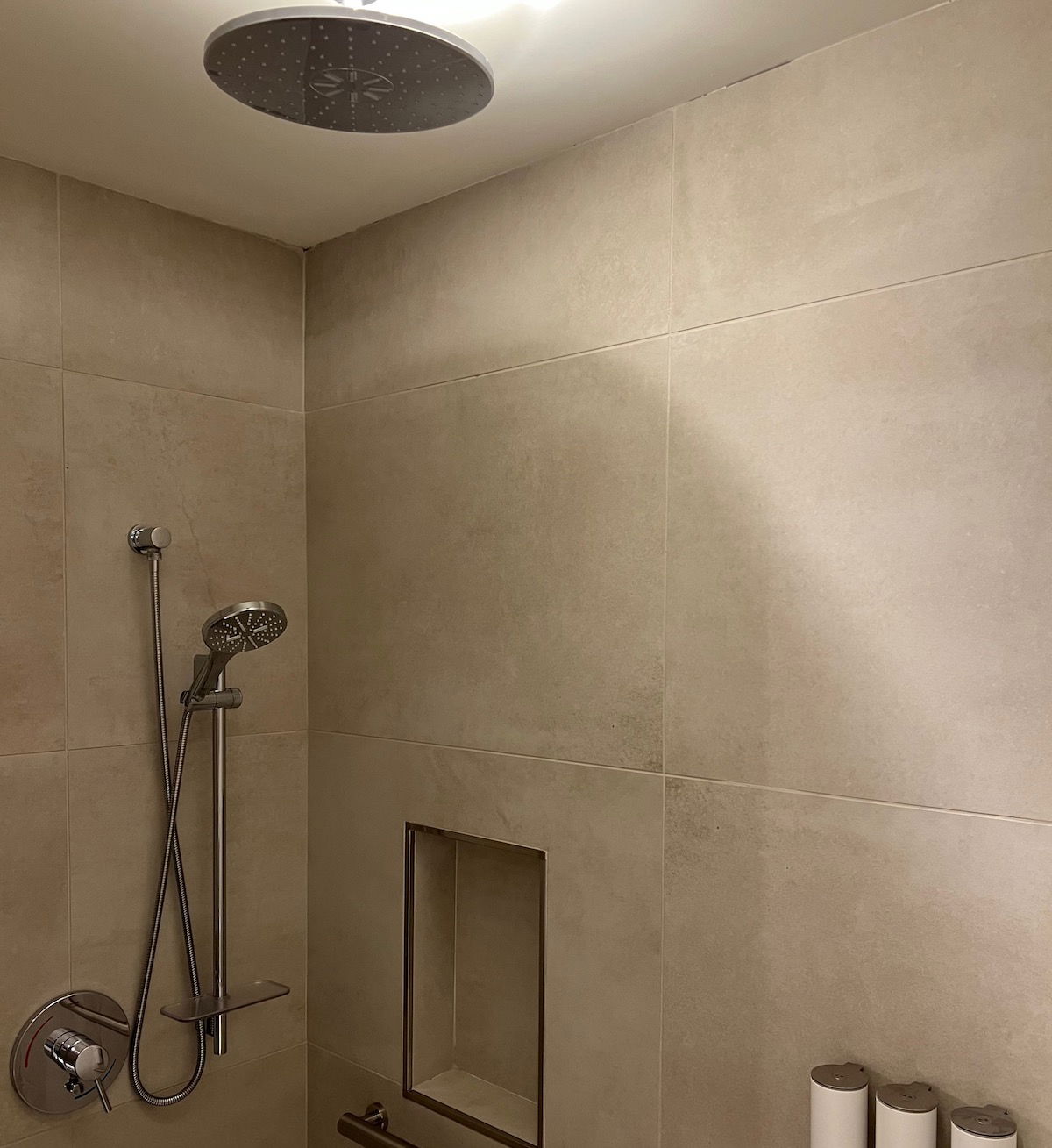 Given how much effort airlines put into having branded products, I was a bit surprised that the reusable toiletry containers weren't branded.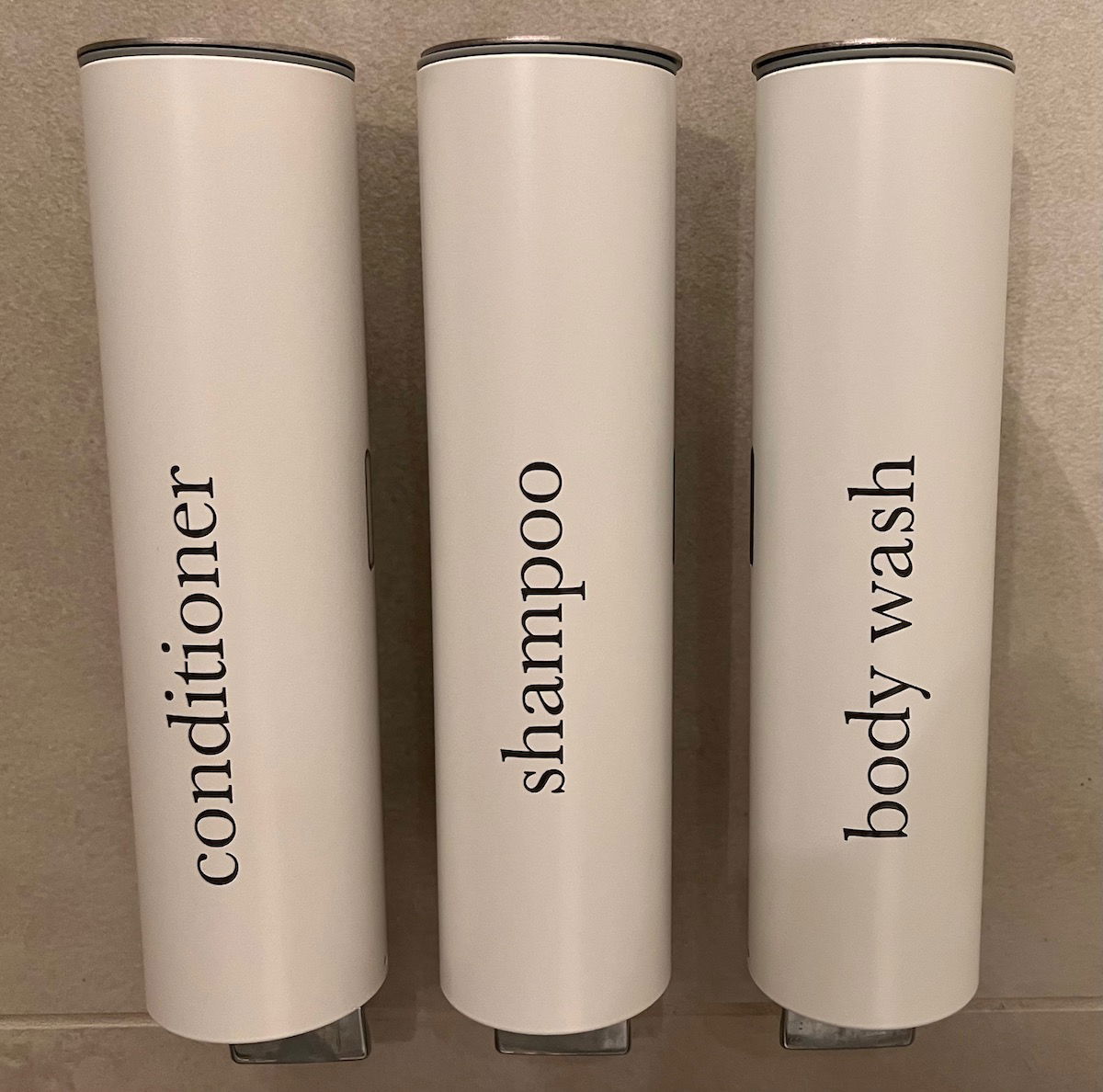 Bottom line
I had a great experience at the Soho Lounge, both in absolute and relative terms. The lounge has a gorgeous and luxurious design, lots of natural light, an extensive selection of food (including a menu you can order off of), cocktails made by bartenders, a comfortable relaxation area, and great shower suites.
Also, I think it's important to note what an incremental improvement this lounge represents. Terminal 8 didn't previously have a dedicated lounge for oneworld Emerald members, so it's nice for these members to have access to a special space. Furthermore, this is way better than the oneworld Emerald section that British Airways used to have in its Terminal 7 lounge.
I do want to acknowledge that both the Soho Lounge and Chelsea Lounge seem to be really polarizing among frequent flyers. I've seen people rave about these lounges, and I've seen people heavily critique these lounges. I imagine that also largely reflects the time of day that you visit.
What do you make of the Soho Lounge JFK?