During my four trips across the Atlantic, I had a night at Paris Airport. I was arriving in EgyptAir's 787 business class from Cairo in the early afternoon, and departing in Air France's new 777 business class to New York early the following morning.
As much as I would have loved to go into the city, I tried to be practical, and just booked the most convenient option, to maximize my ability to rest and work. I decided to book the 252-room Sheraton Paris Airport, which ended up being an excellent option.
This is the most convenient hotel at the airport, as it's connected directly to Terminal 2. While the hotel's decor is nothing to get excited about, you can't beat the location, and the amazing plane views. I'd recommend staying here, assuming it's within your budget.
Booking the Sheraton Paris Airport
For the night I was staying, the Sheraton Paris Airport was running 240 Euro per night, or alternatively could be booked with 44,000 Marriott Bonvoy points. Based on my valuation of Bonvoy points, paying cash was the better value here, so that's what I did.
While this is of course a steep price for an airport hotel, I'd note that most other airport hotels were charging just over 200 Euro, so that seemed like a reasonable premium to pay for the convenience of not having to take a shuttle or pay for a taxi.
Sheraton Paris Airport location
While location is always important for hotels, it's especially important for airport hotels. In my opinion it's worth going out of your way to stay at a hotel connected directly to the terminal. That way you don't have to deal with unreliable or infrequent shuttle service, saving a lot of time, hassle, and potentially even money (in Europe, shuttles often aren't free, and/or operate with limited hours).
The Sheraton Paris Airport is connected directly to Terminal 2 at CDG. I was arriving at Terminal 1 and departing from Terminal 2. To get to the Sheraton from Terminal 1, I had to take the CDGVAL train service between terminals, which is free and has frequent service.
As much as people have mixed opinions on Charles de Gaulle Airport, can I just for a moment share my appreciation for some of the terminal's retro touches, which I kind of love?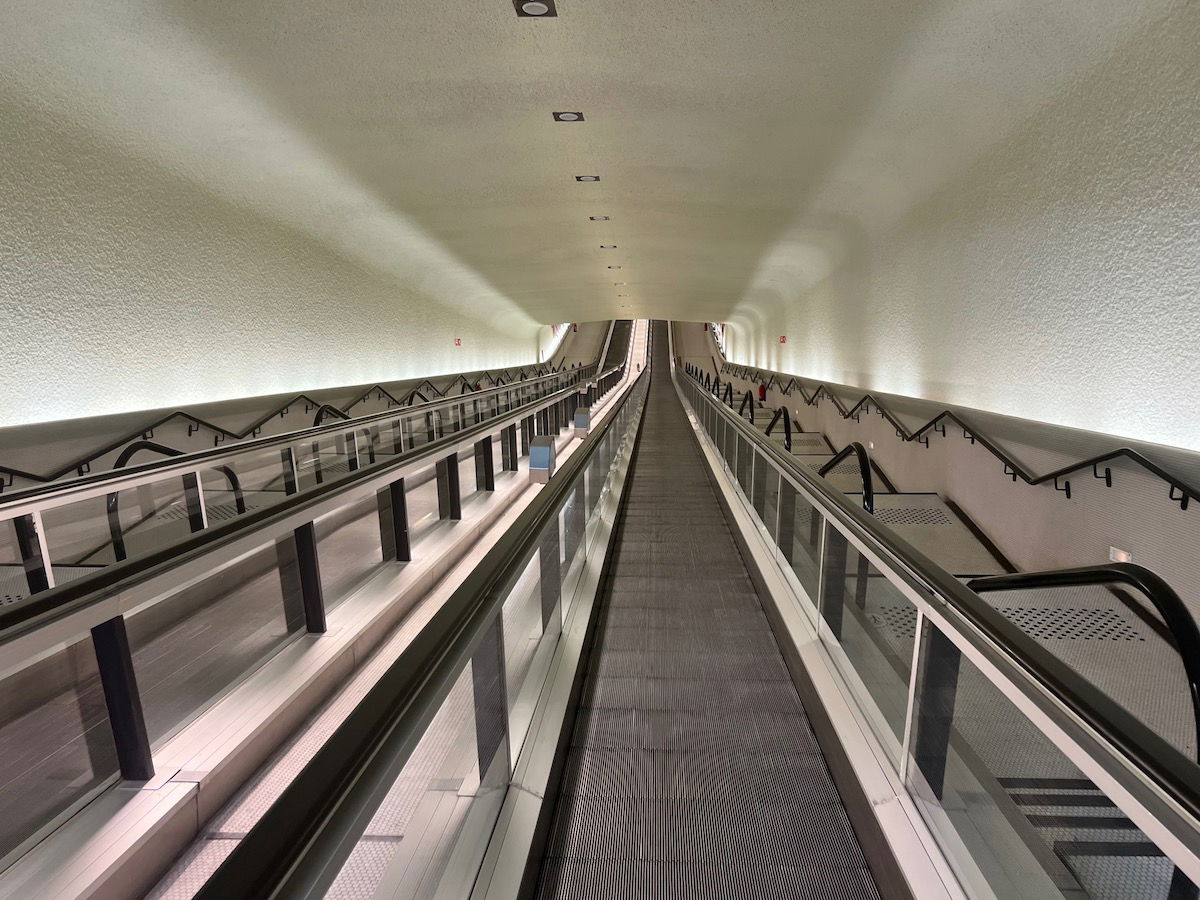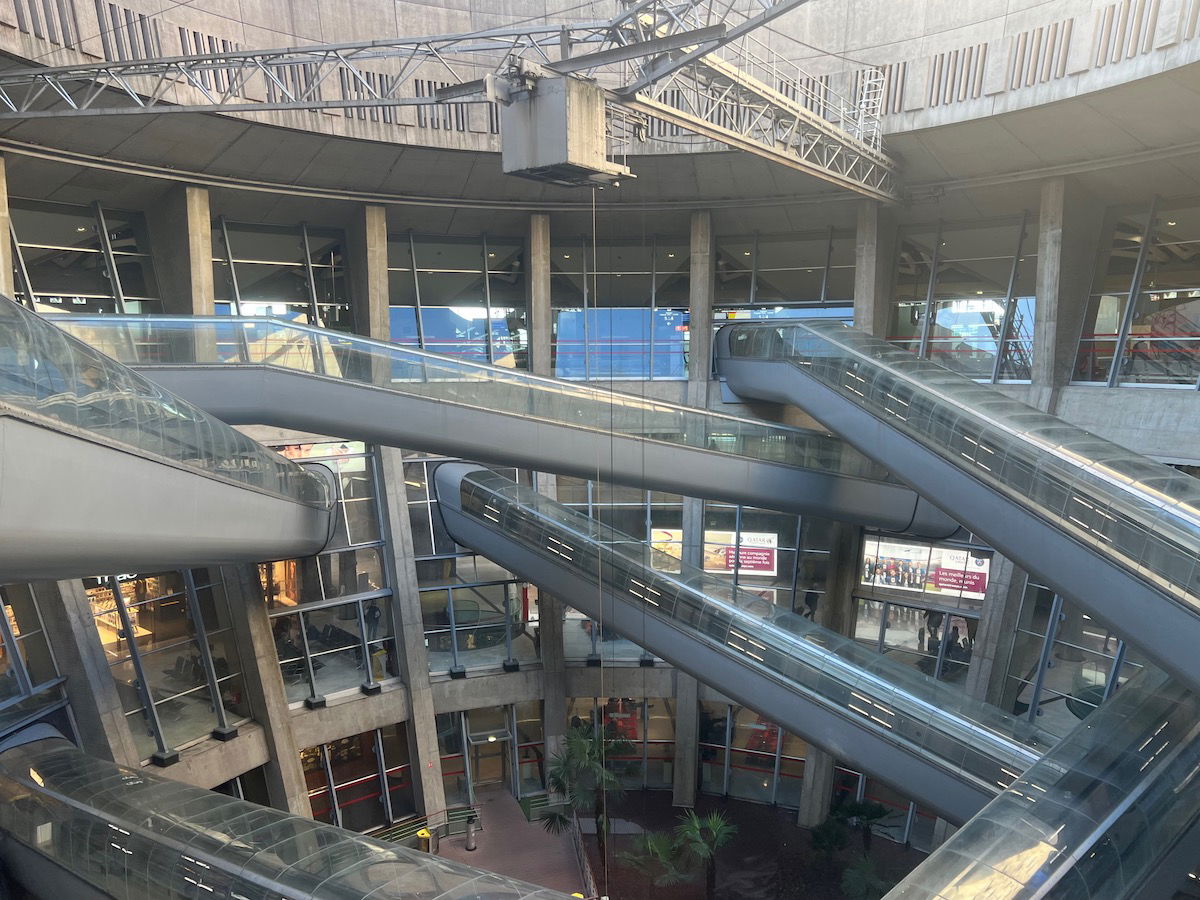 Anyway, once through immigration, I easily found the signage for the CDGVAL to Terminal 2.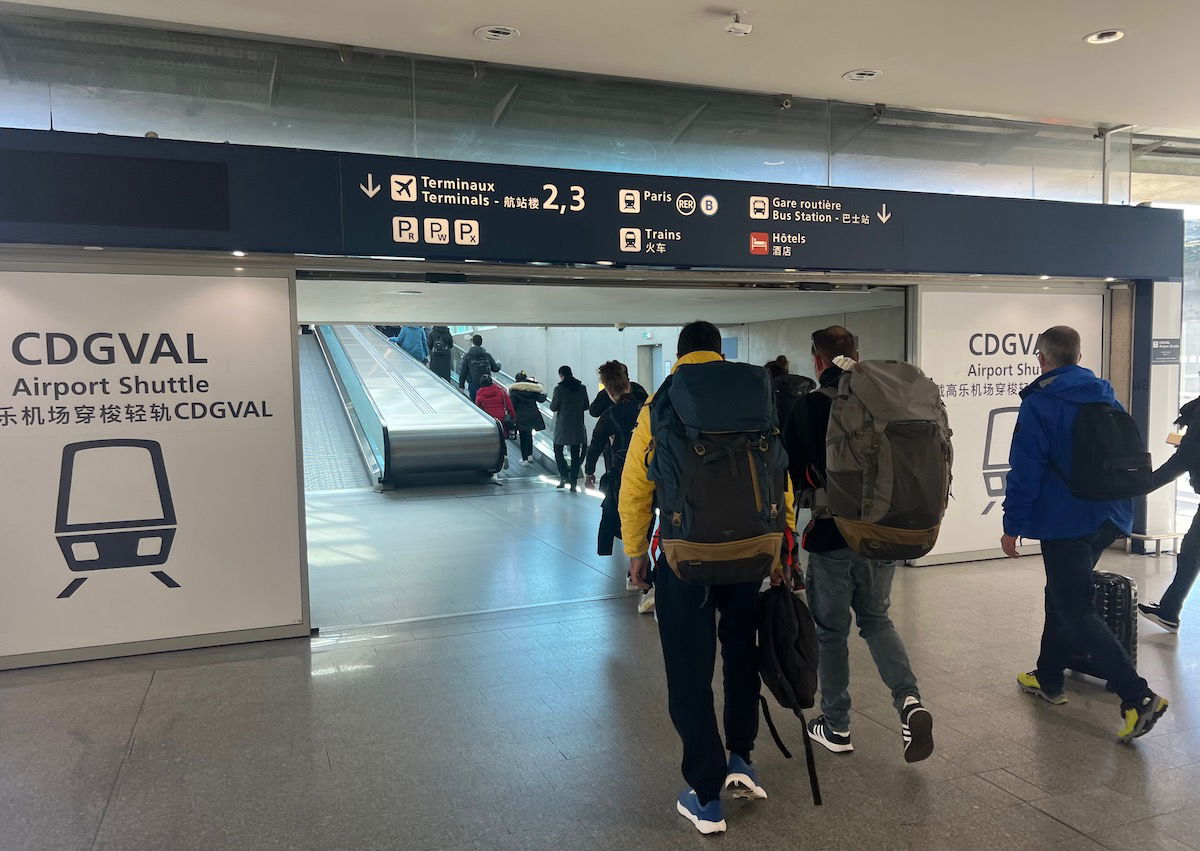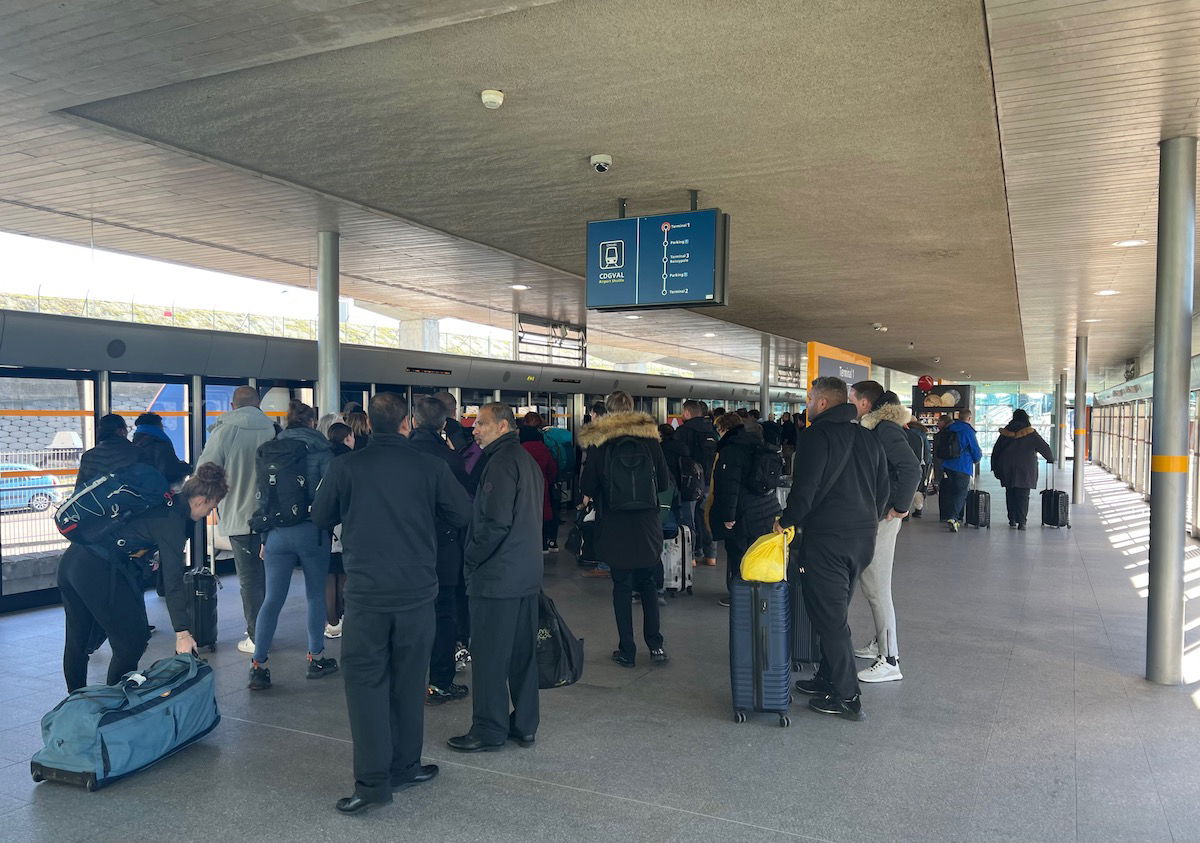 It was super easy to get there. Once in Terminal 2, there was good signage for the Sheraton, so I had no problem locating the hotel.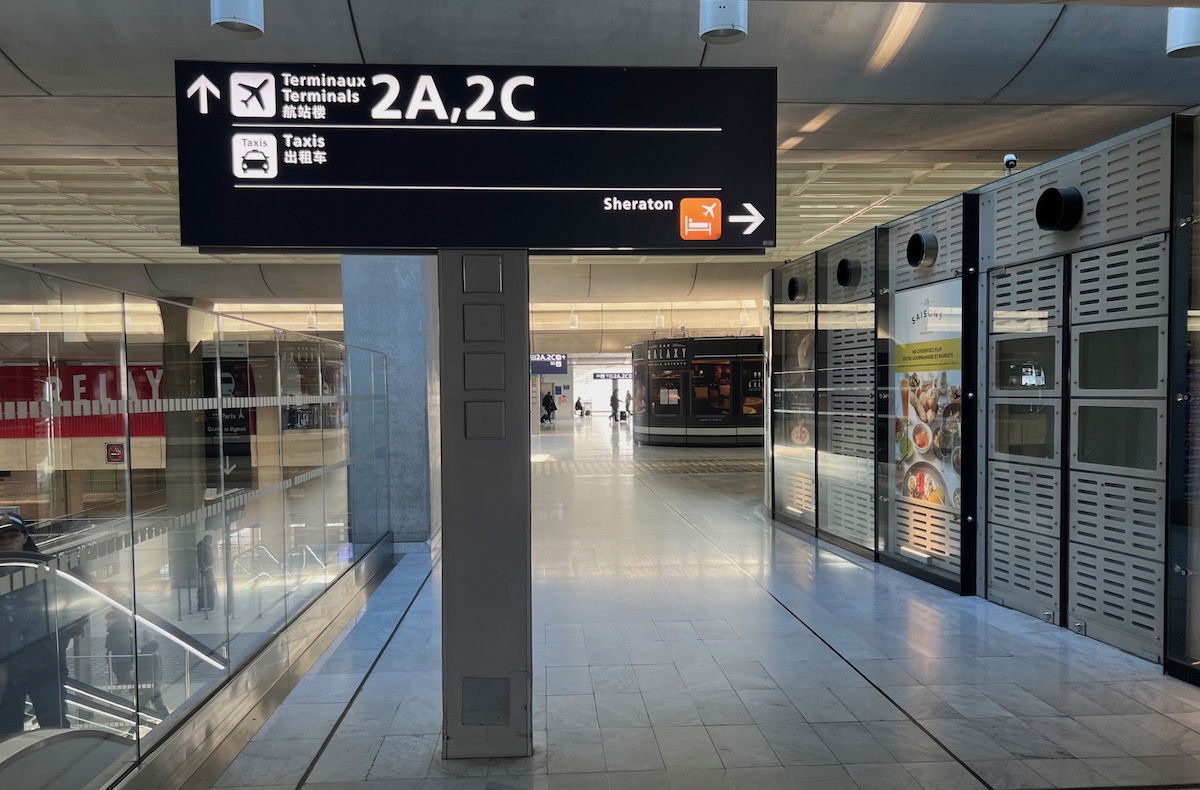 The entrance to the hotel is in the terminal. Since I was departing from Terminal 2 the following morning, that meant I could just walk straight to my gate.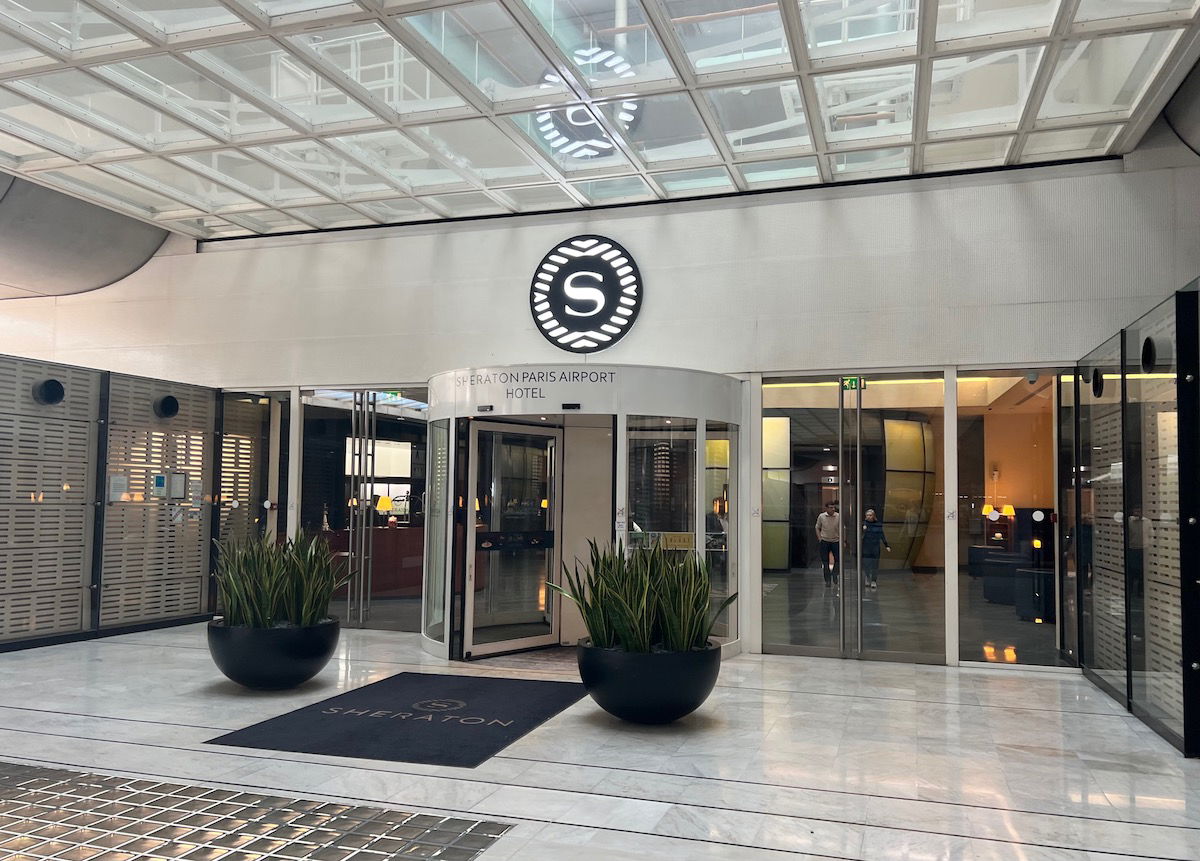 Sheraton Paris Airport lobby & check-in
Once inside the hotel, the Sheraton Paris Airport has a pretty modern lobby, with the elevators straight ahead, some lobby seating to the right, and reception and the concierge desk to the left.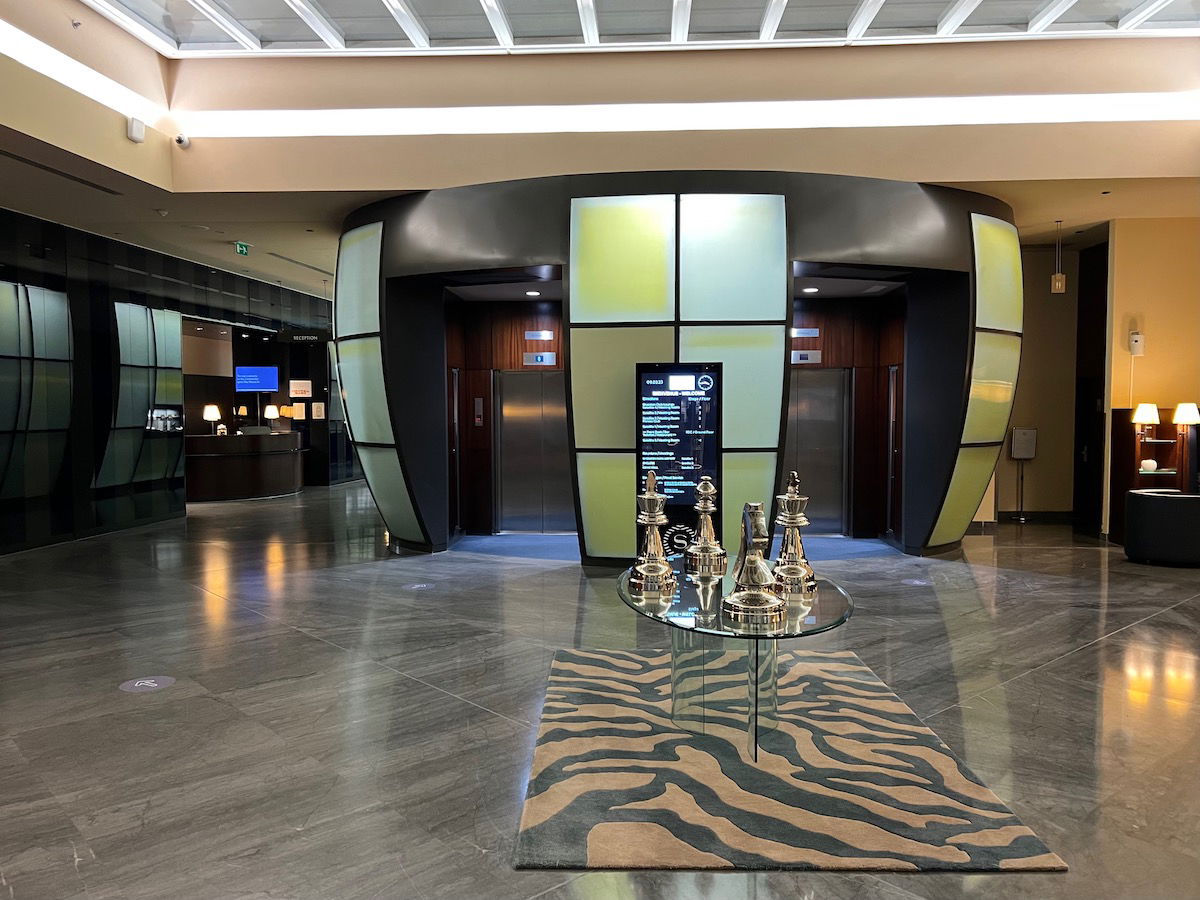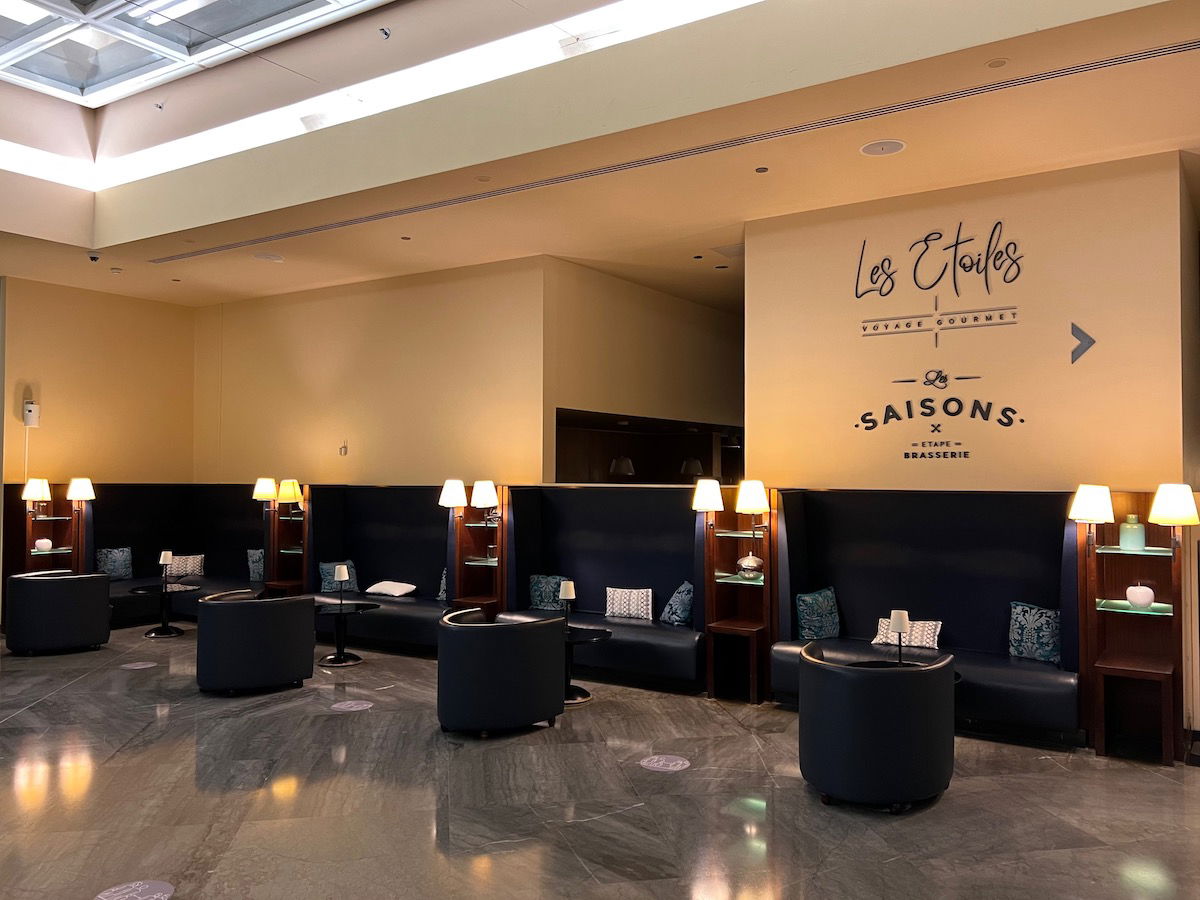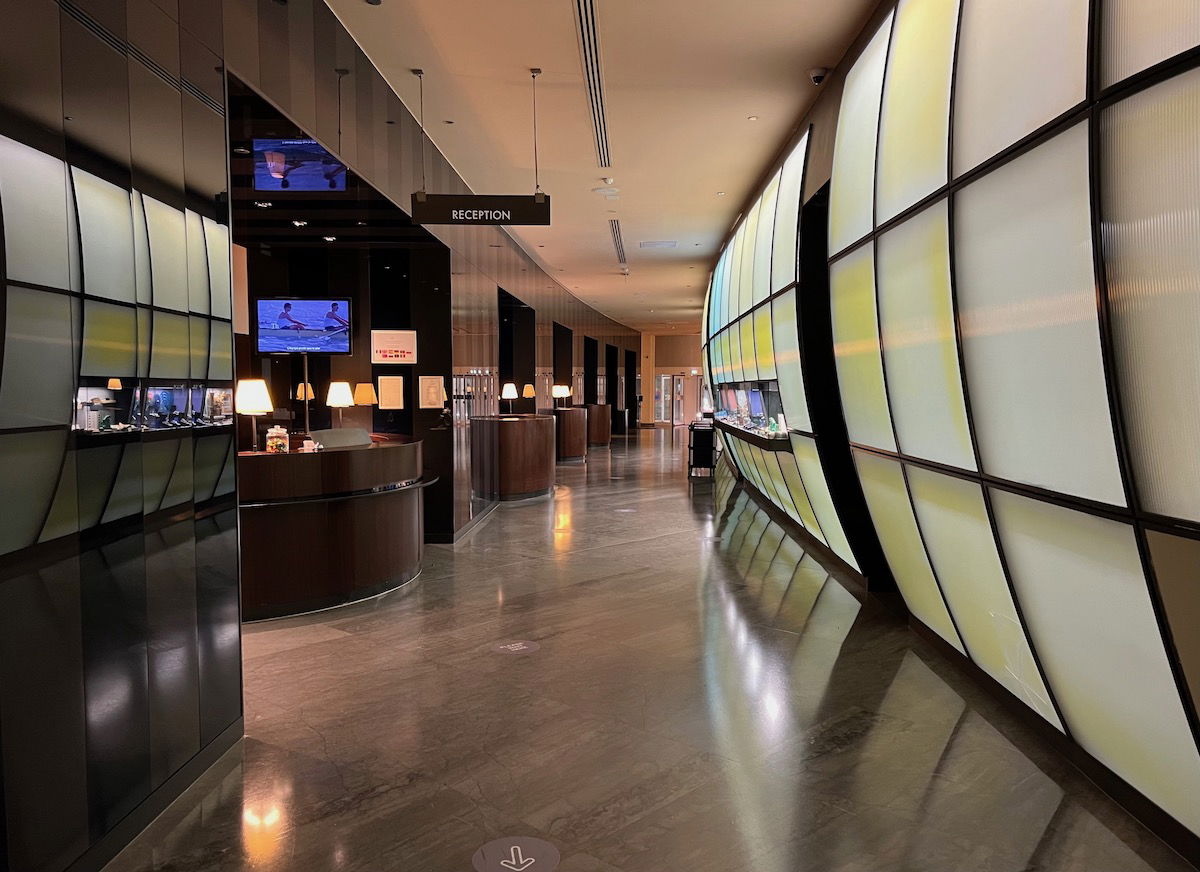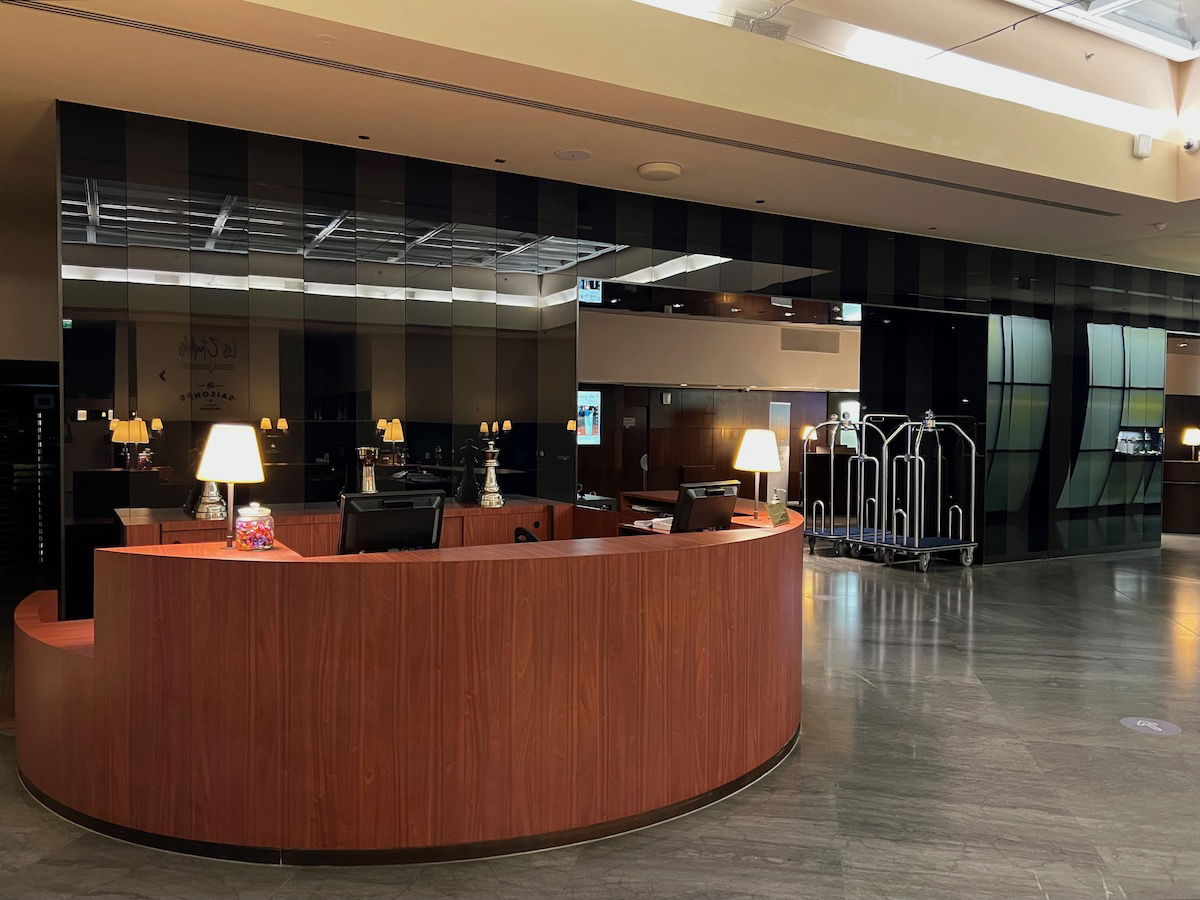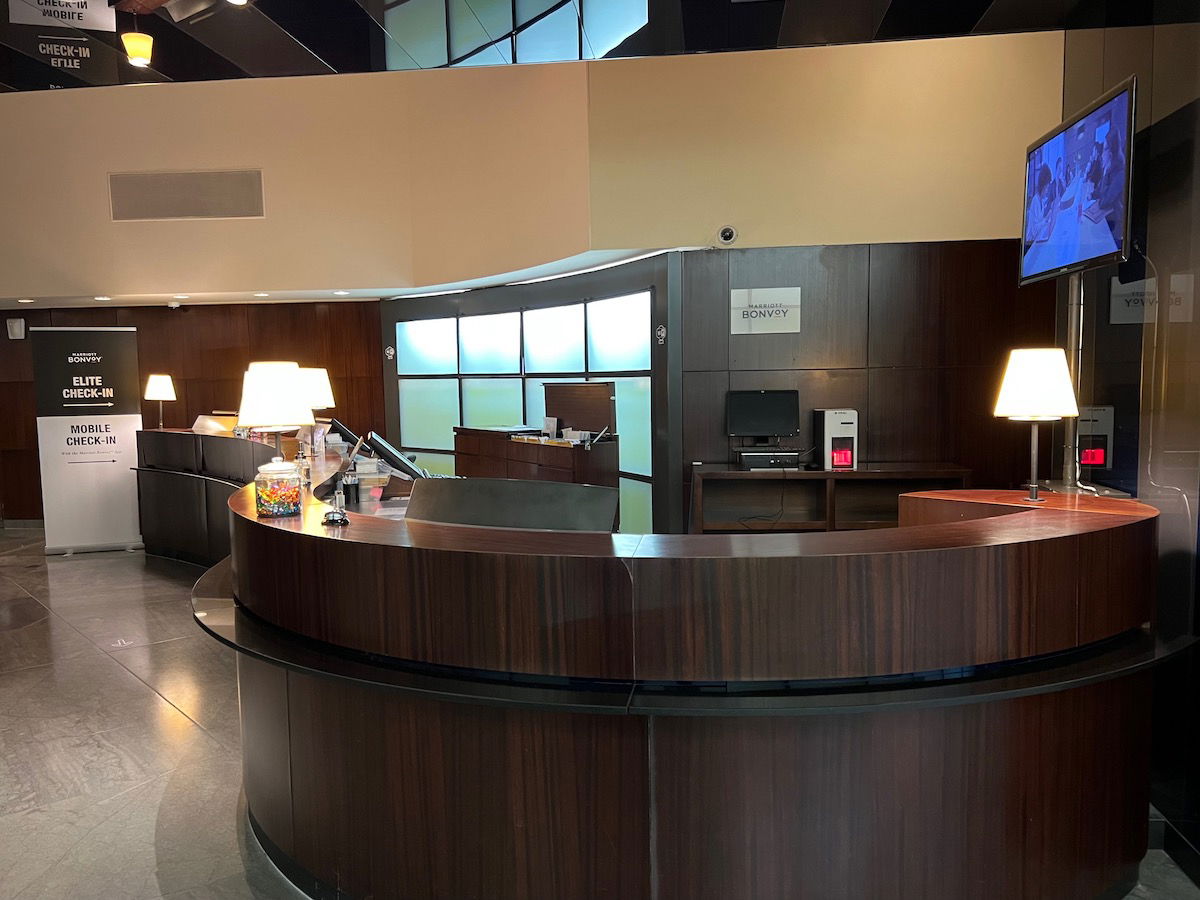 Once at reception I was immediately helped by a friendly associate, who thanked me for being a Bonvoy Titanium member. She said that I had been upgraded to a club room, and also explained the hotel's facilities (including the hours for the club lounge evening happy hour, plus that restaurant breakfast would be included).
Within a few minutes I had my key to room 465.
Sheraton Paris Airport guest room
The Sheraton Paris Airport has four floors with guest rooms, and my room was on the top floor. The hotel is kind of shaped like a ship, as it gets narrower on both ends, with a bow-shape at both ends.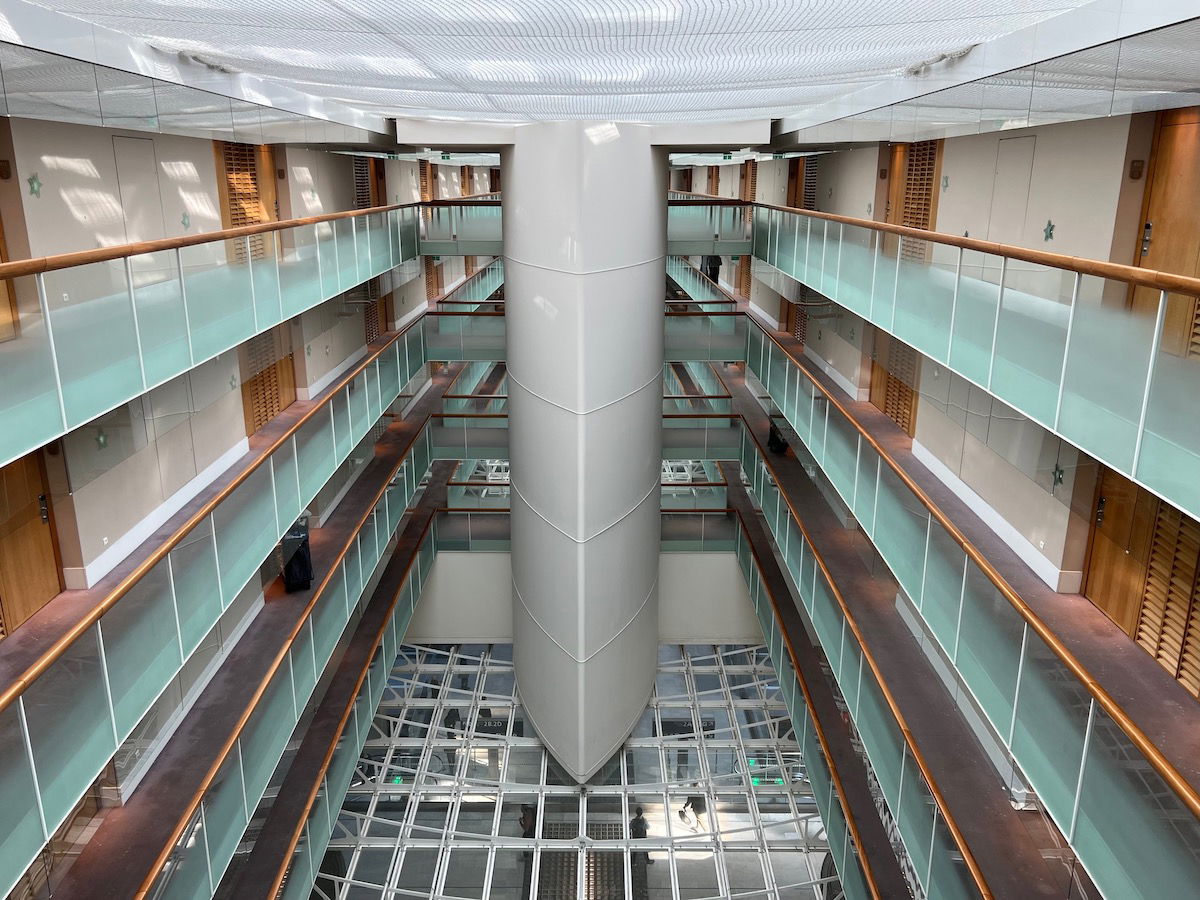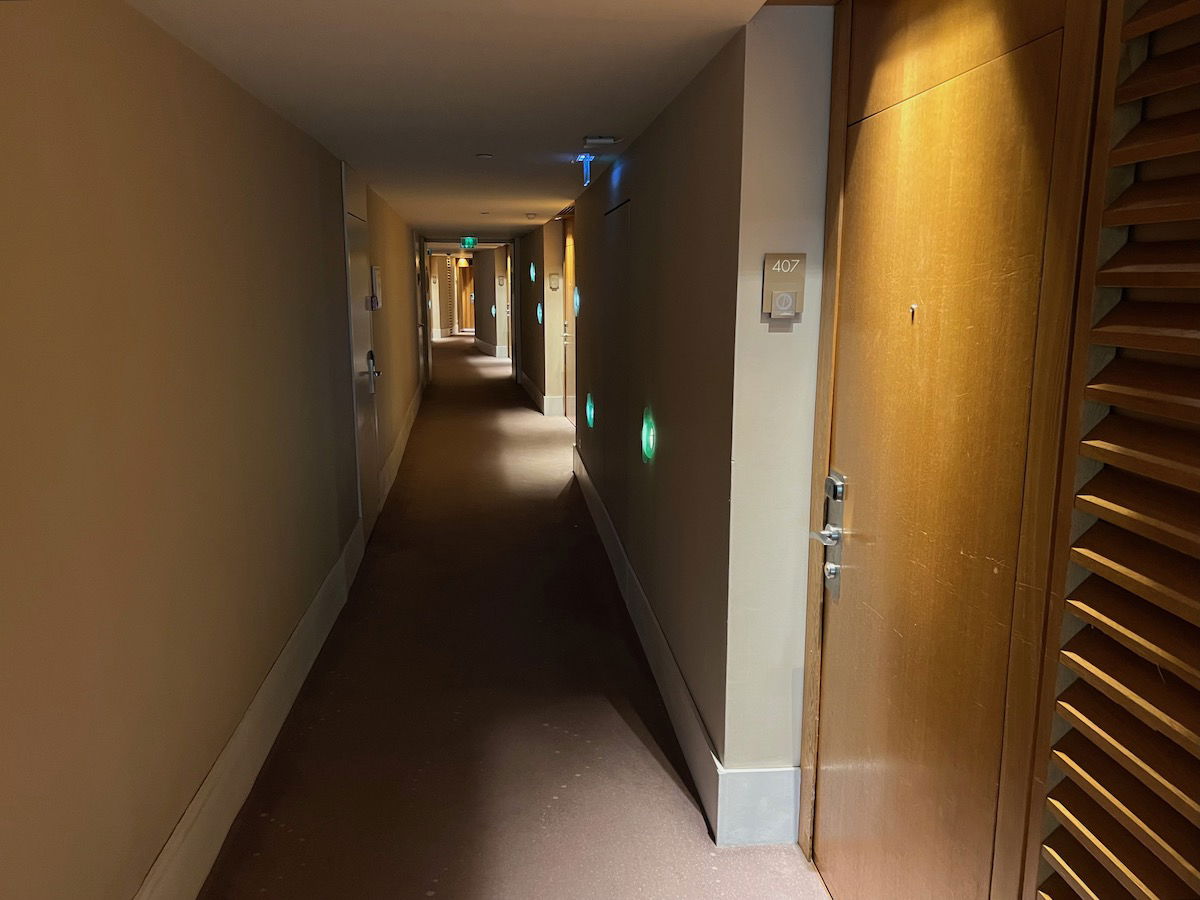 My room, 465, was located toward the end of the hallway.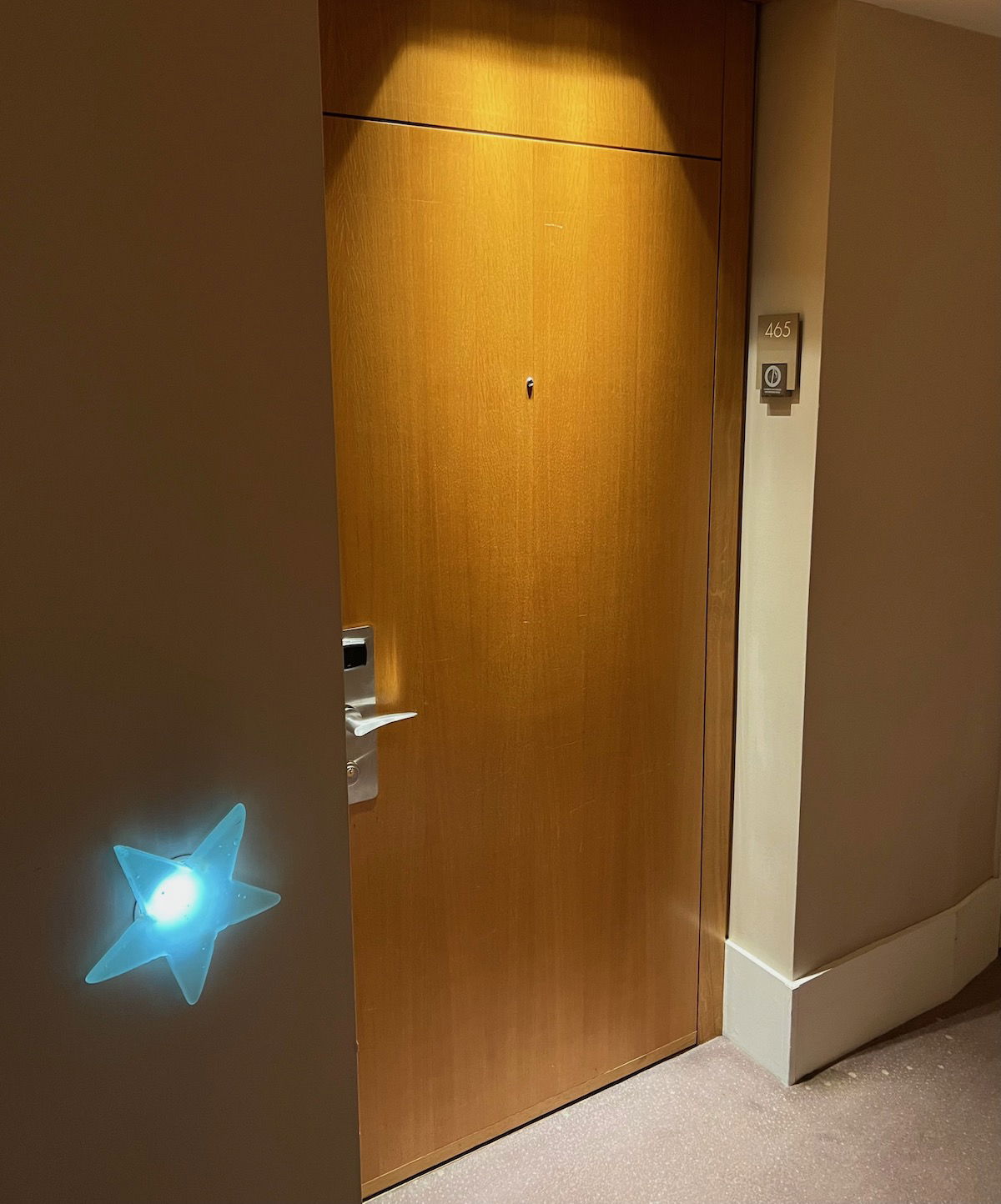 Don't get too excited about the room decor here, as it's definitely a bit past its prime. However, I actually thought the decor in the rooms was a bit better than how the pictures on the website made it look. The rooms here are on the small side, and measure 250-300 square feet.
The room featured an entryway with a luggage rack to the right, and the bathroom to the left.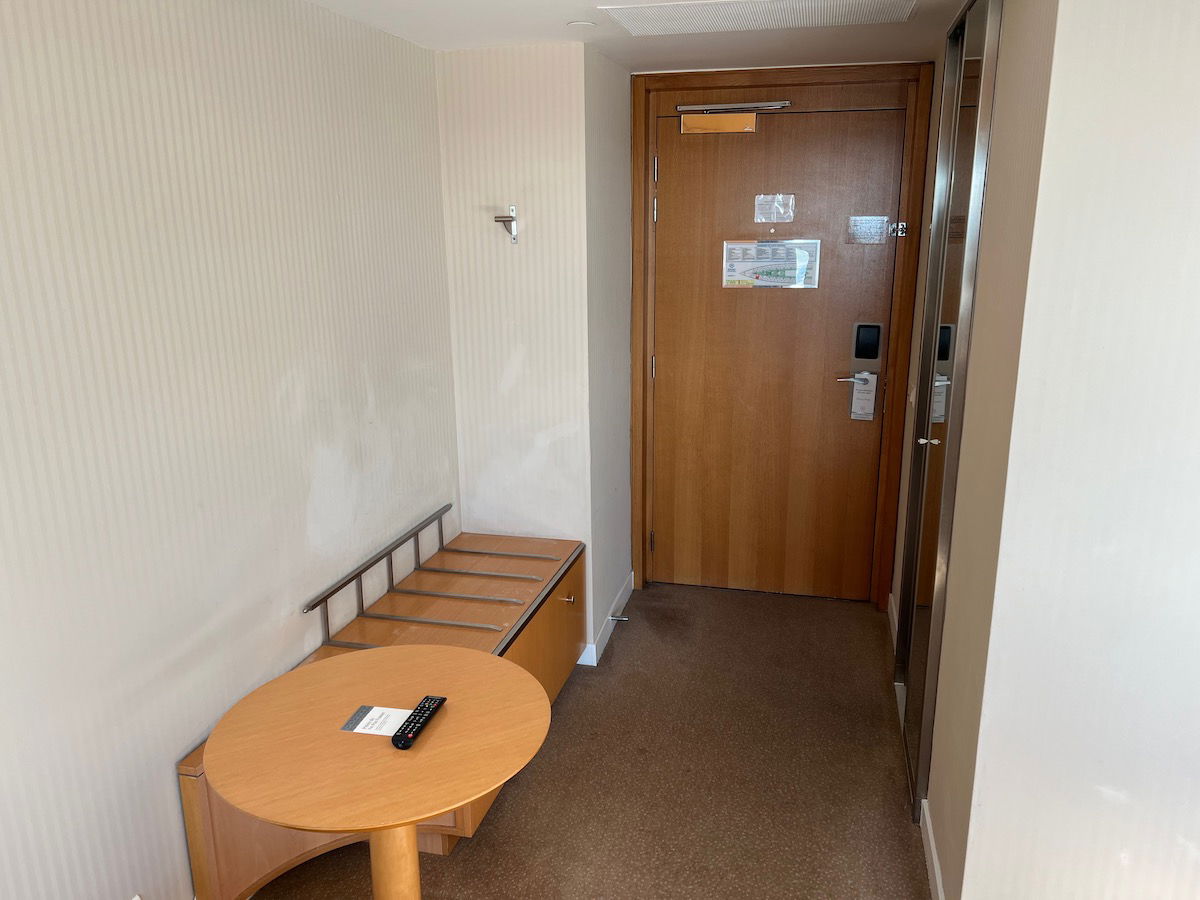 The room had a bed, though I'm not sure if this is a double or king bed (it felt to me like a queen, but the Sheraton's website suggests that the hotel only has double or king rooms). The mattress was comfortable, and I also appreciated how there were four substantial pillows (unlike at the Sheraton Frankfurt Airport, which has just two pillows).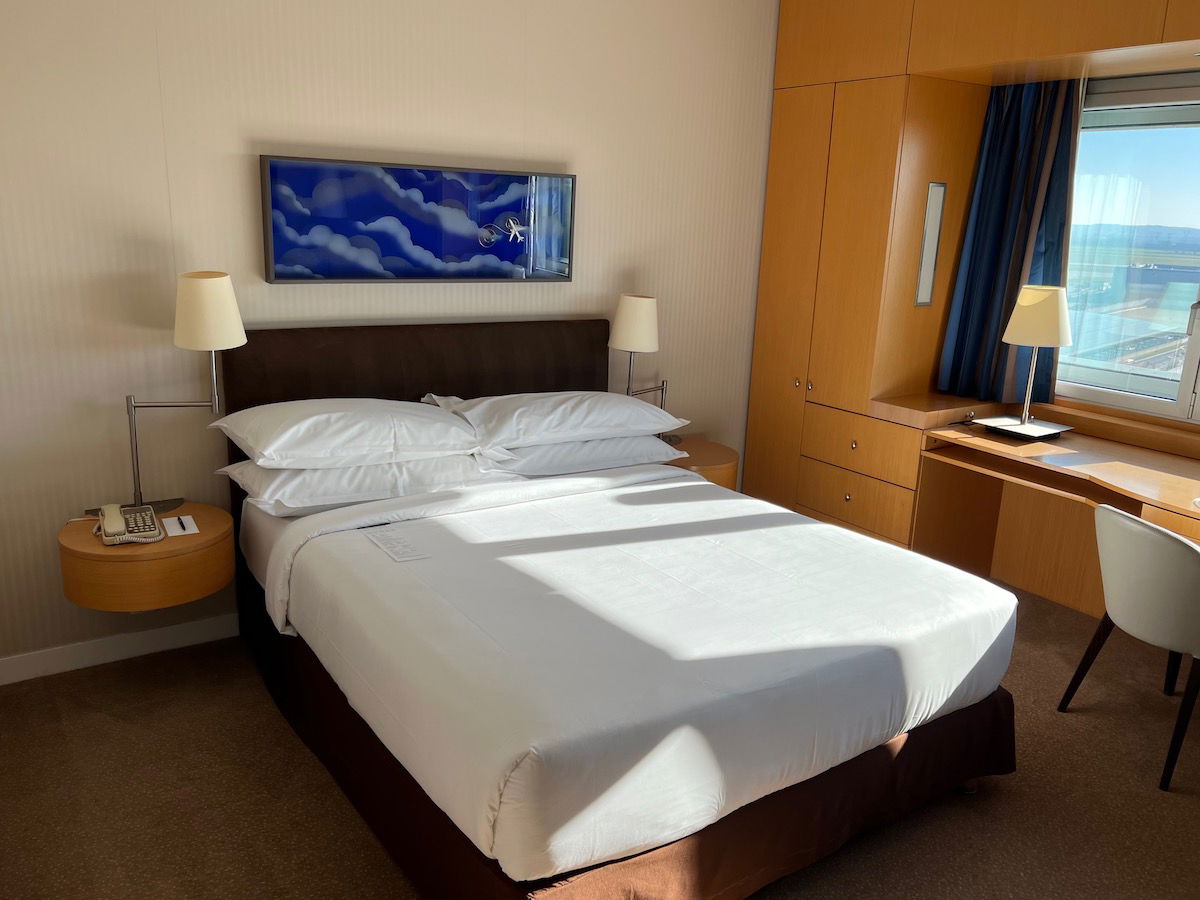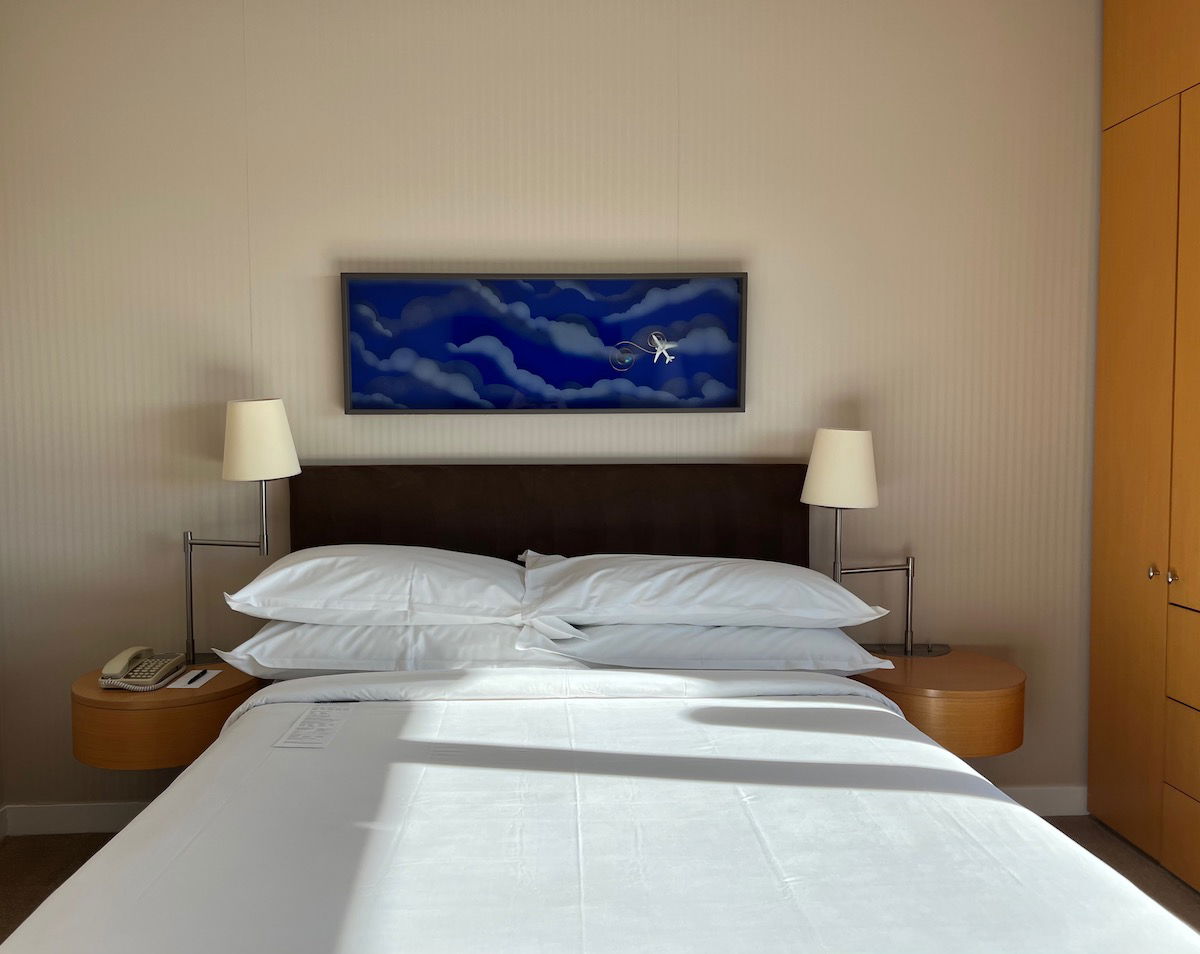 The room had a desk by the window with a chair.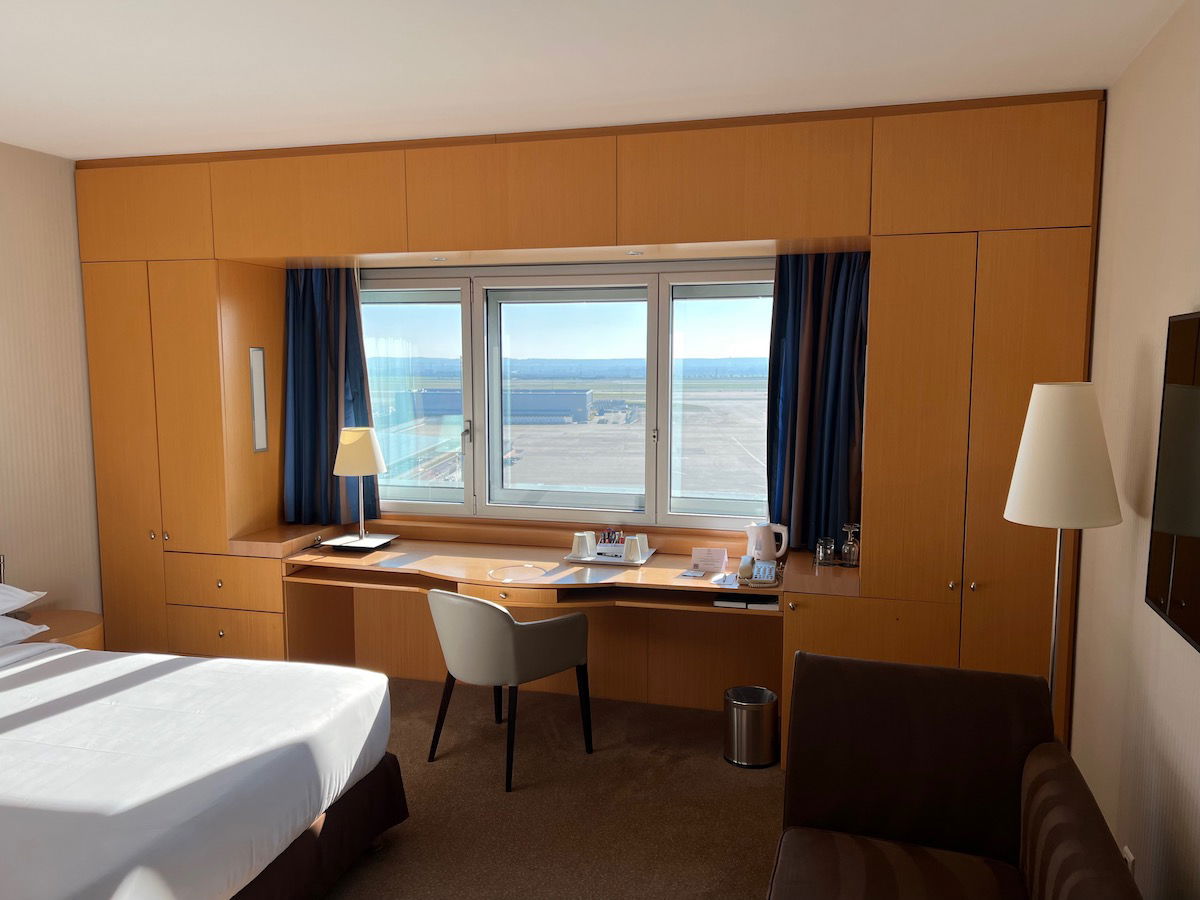 On the desk was a kettle and an instant coffee setup, and underneath the desk was an empty mini-fridge.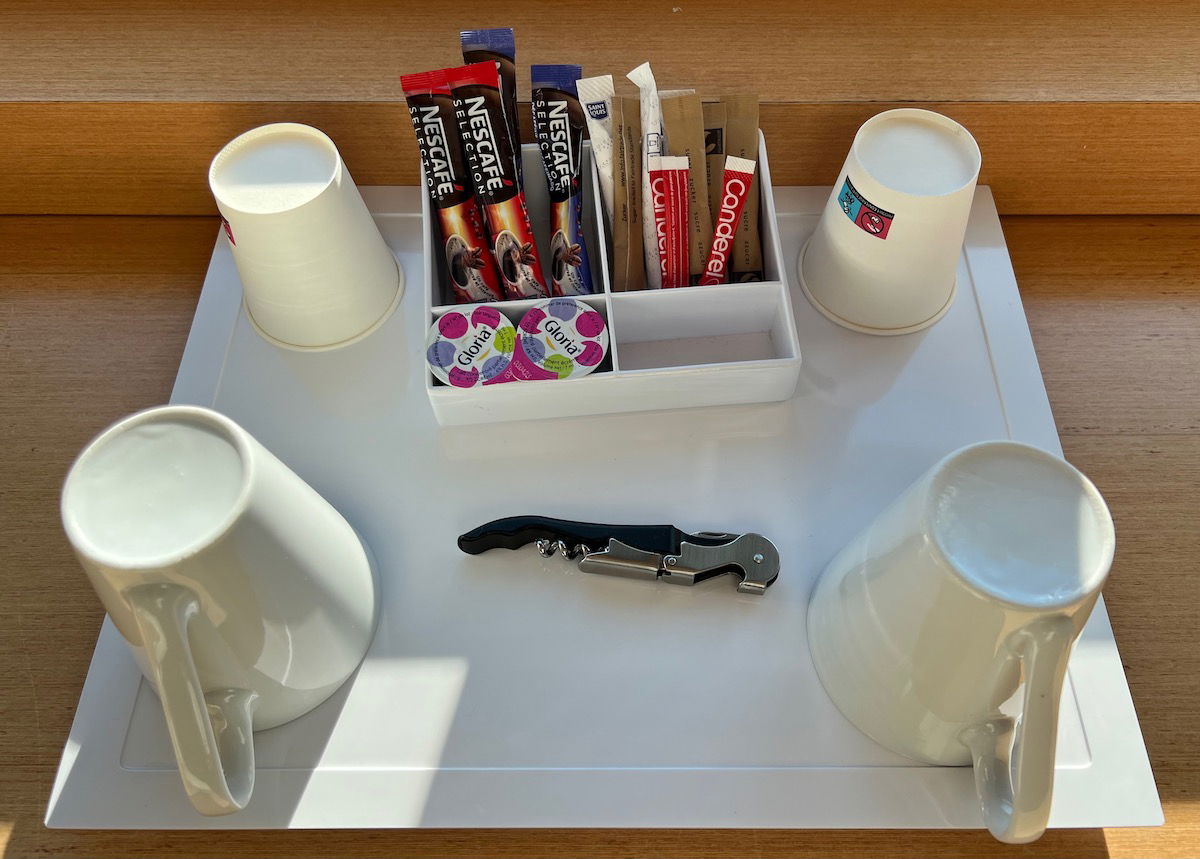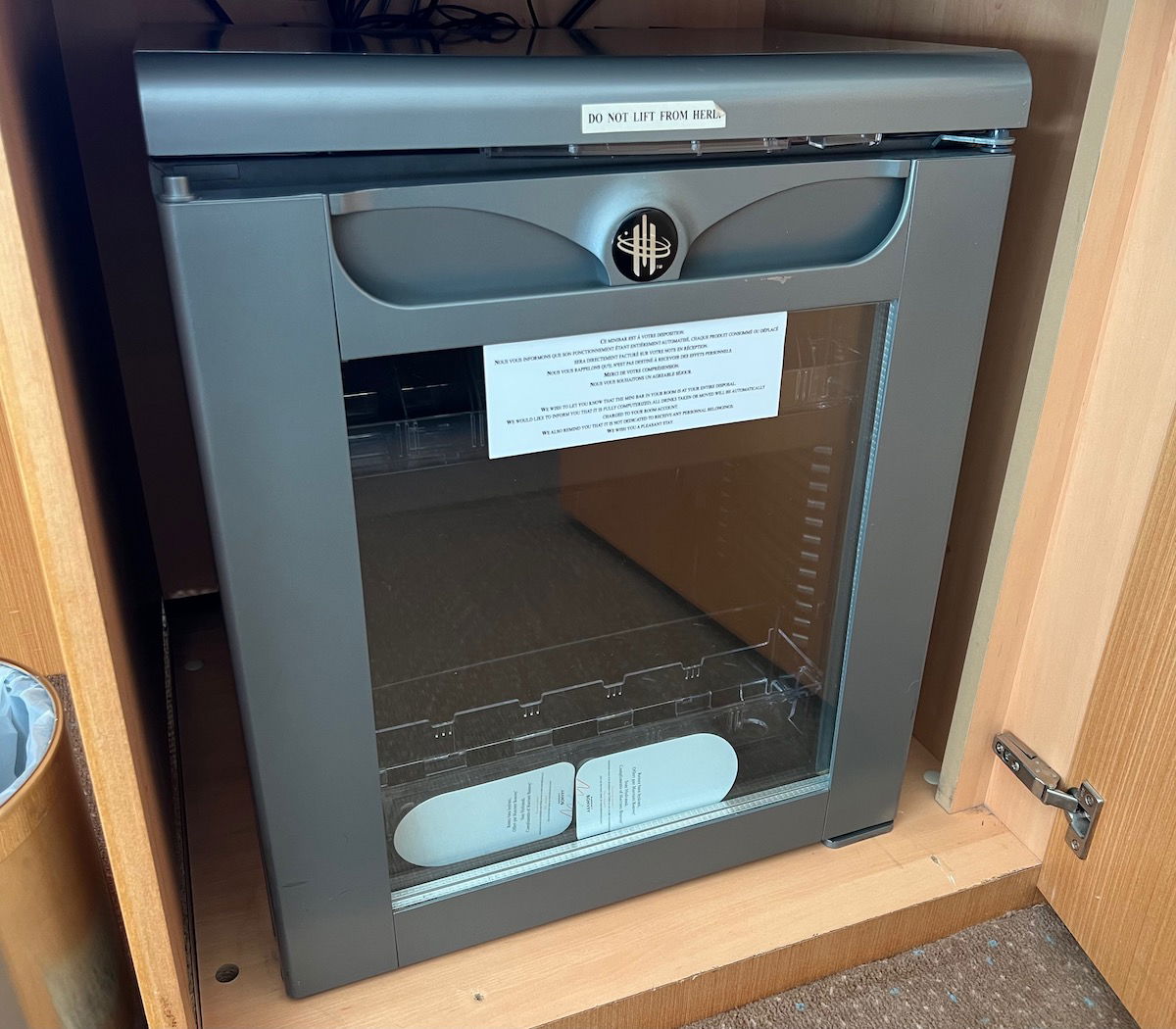 Across from the bed was a TV on a stand, as well as a chair with an ottoman. The placement seemed odd — I guess space-wise there's nowhere else this could go.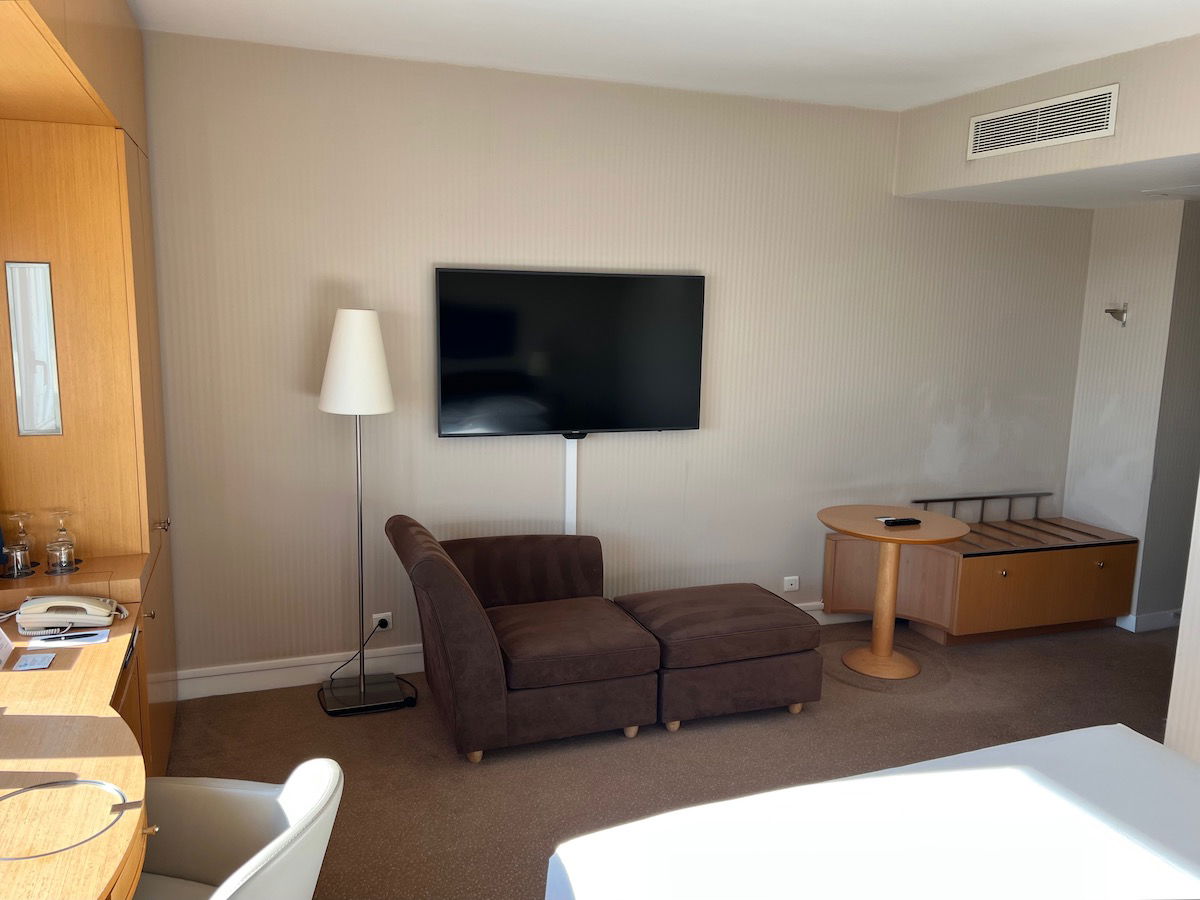 The bathroom was compact, yet had a sink, toilet, a bathtub, and a walk-in shower.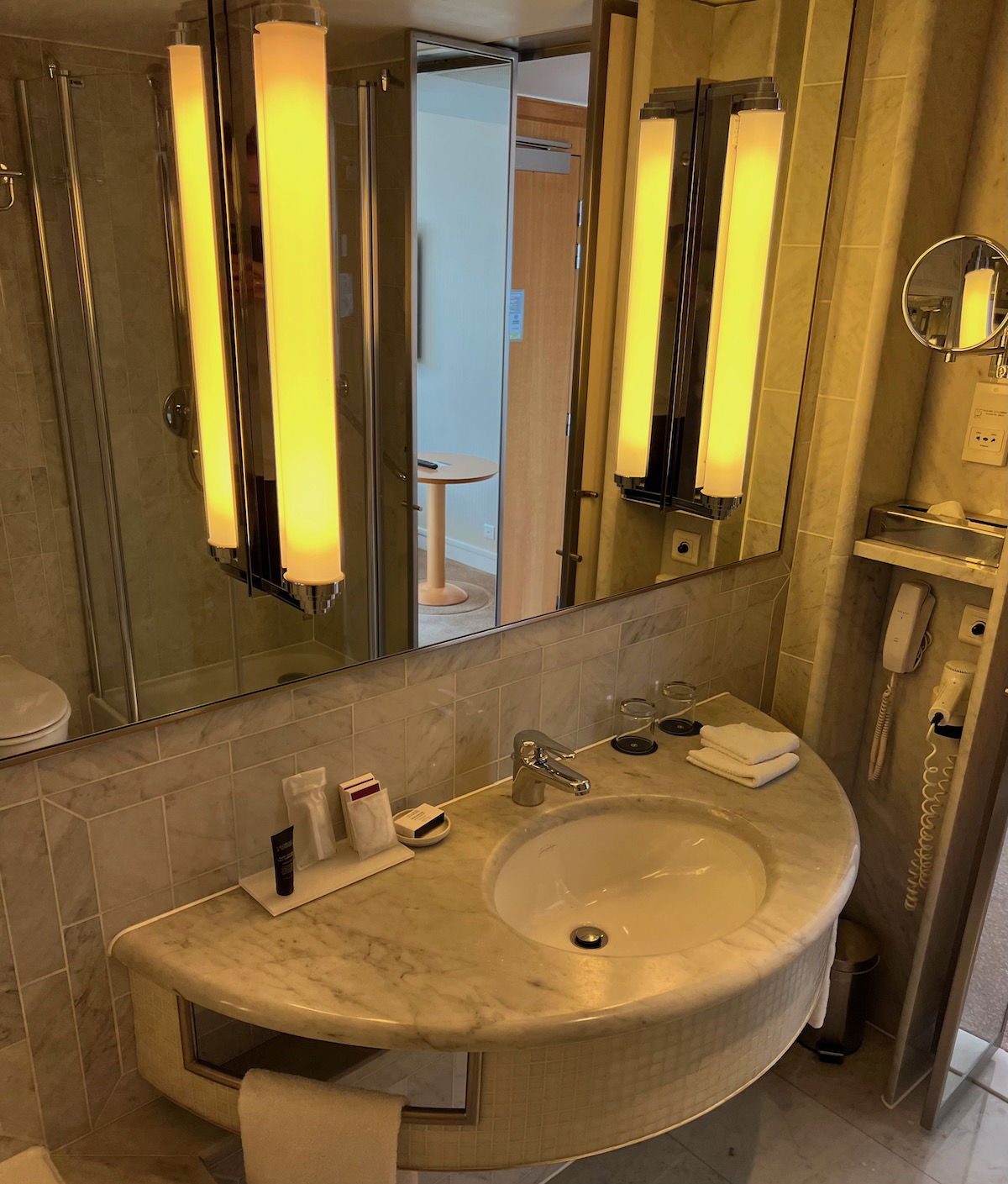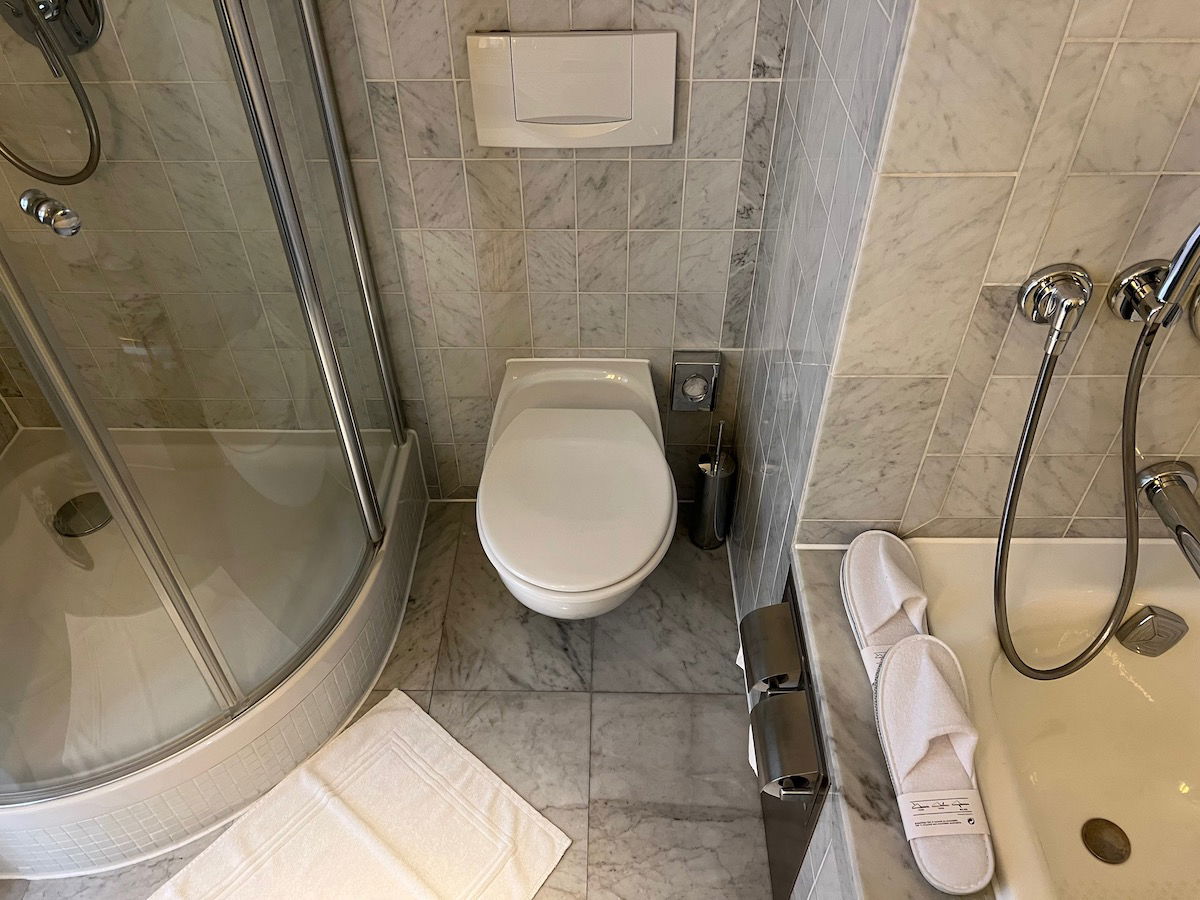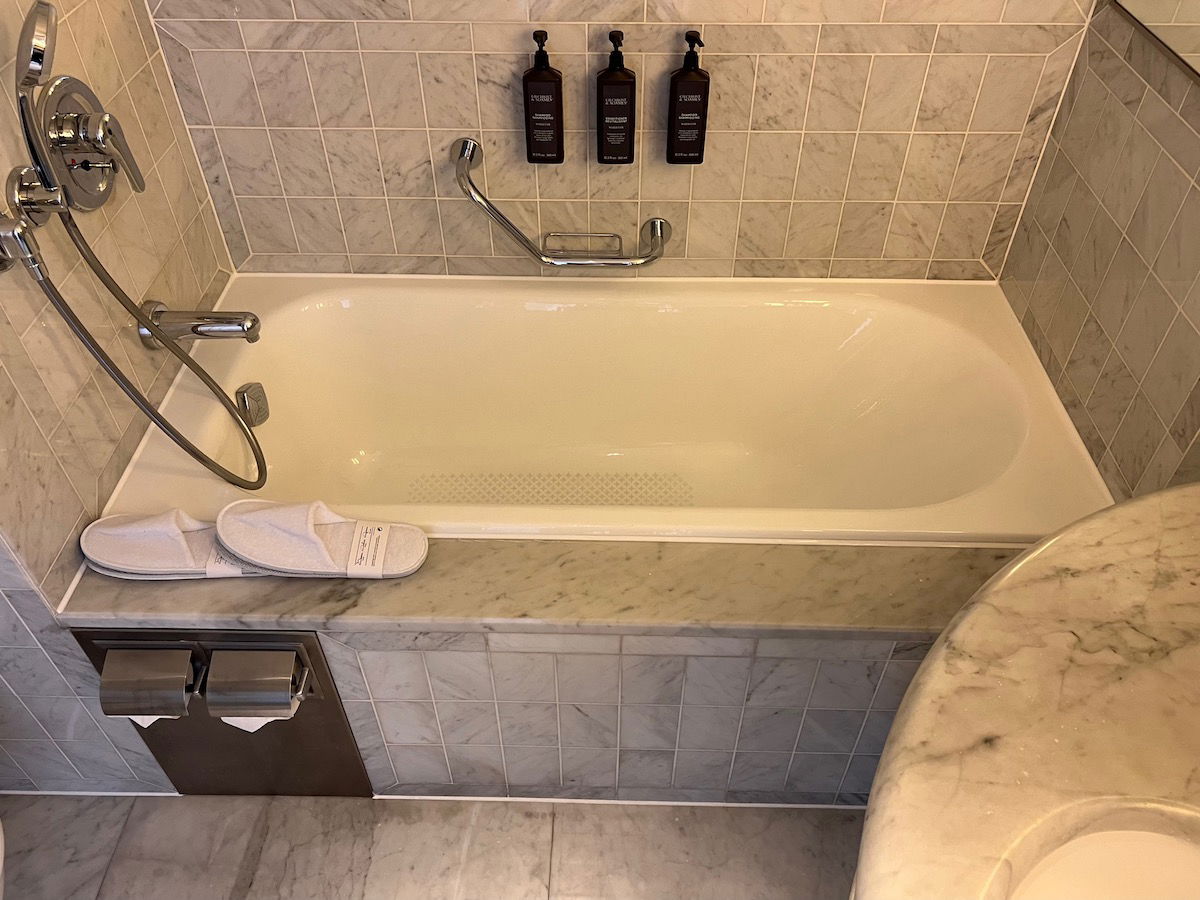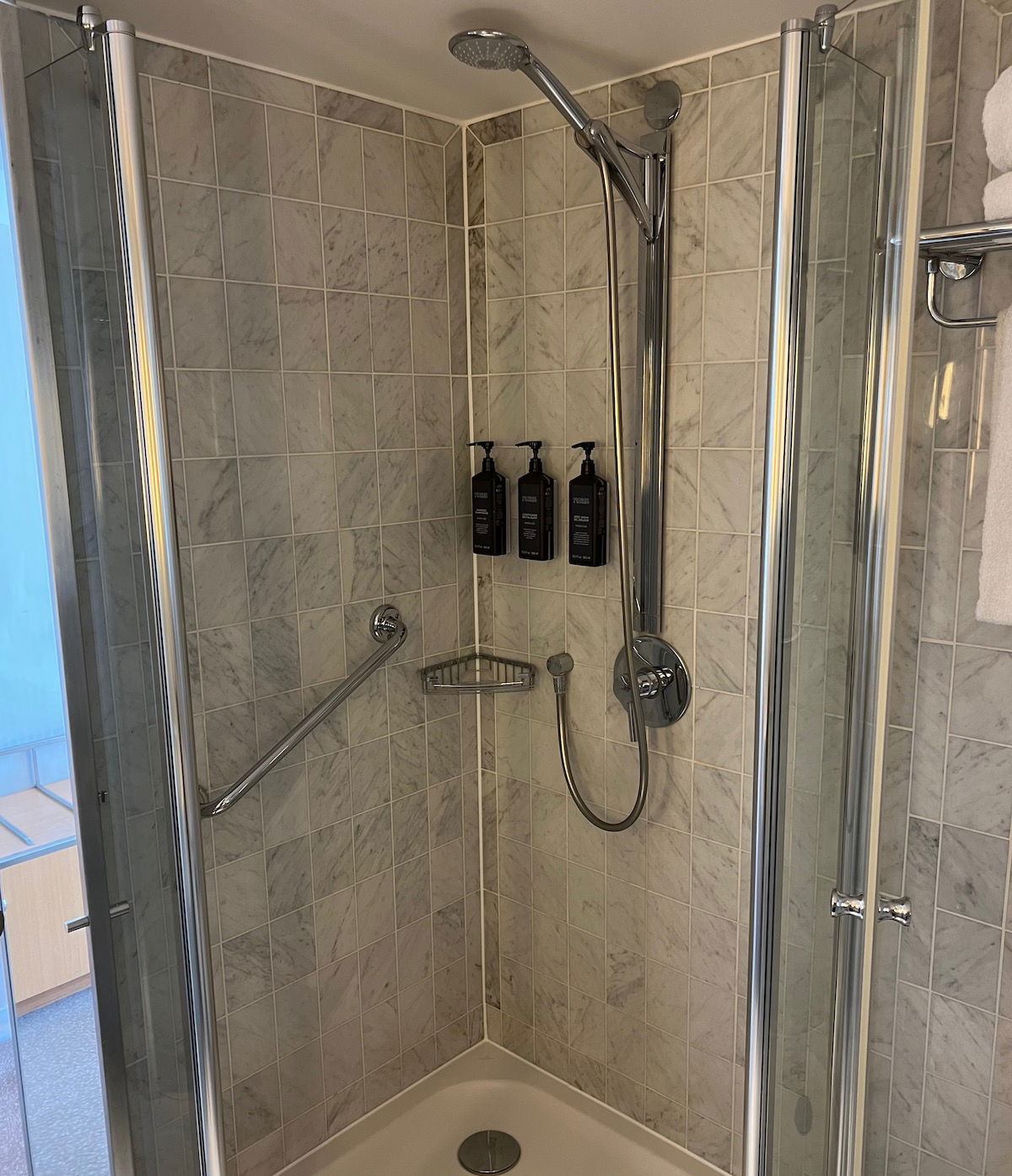 Toiletries were from Gilchrist & Soames, and were in reusable, wall-mounted containers.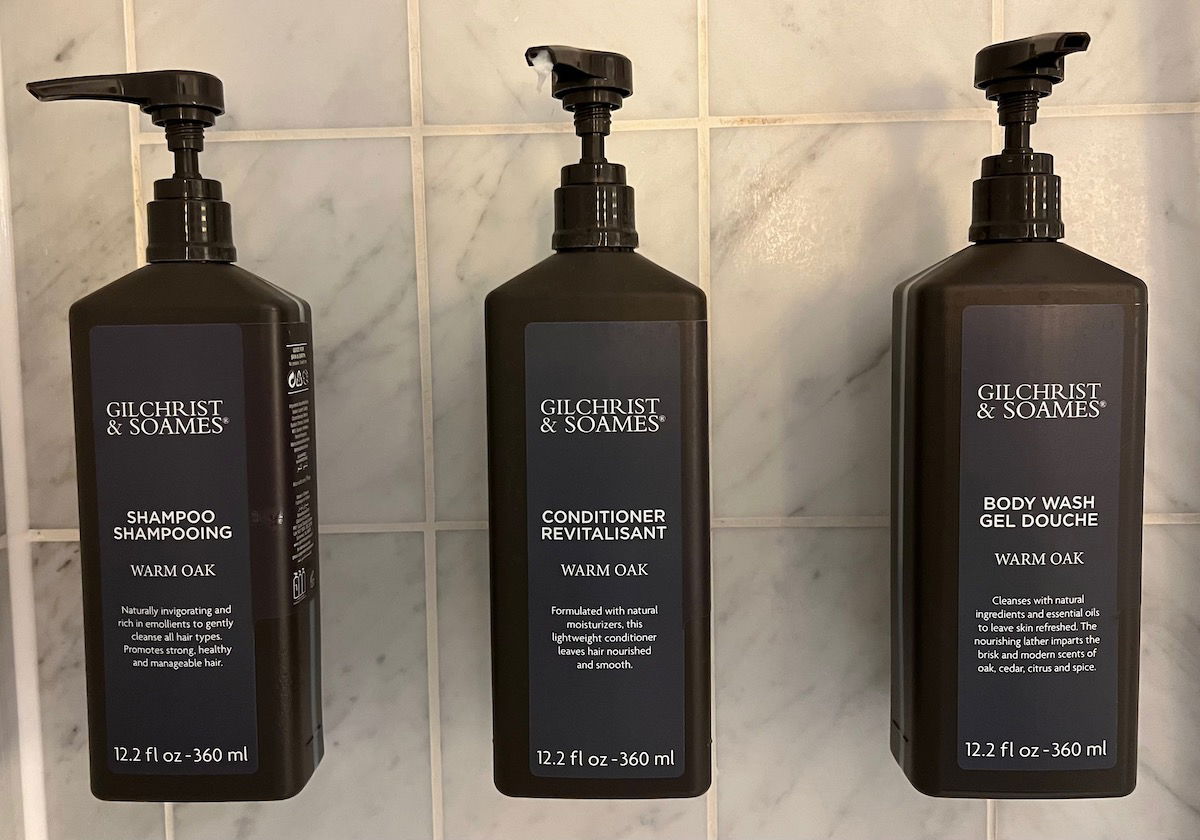 One thing I absolutely loved about the room was the views. This hotel has amazing views of Terminal 2, as well as the apron and runways. If you're an avgeek, you'll absolutely love just gazing out the window all day (I know that's what I did!).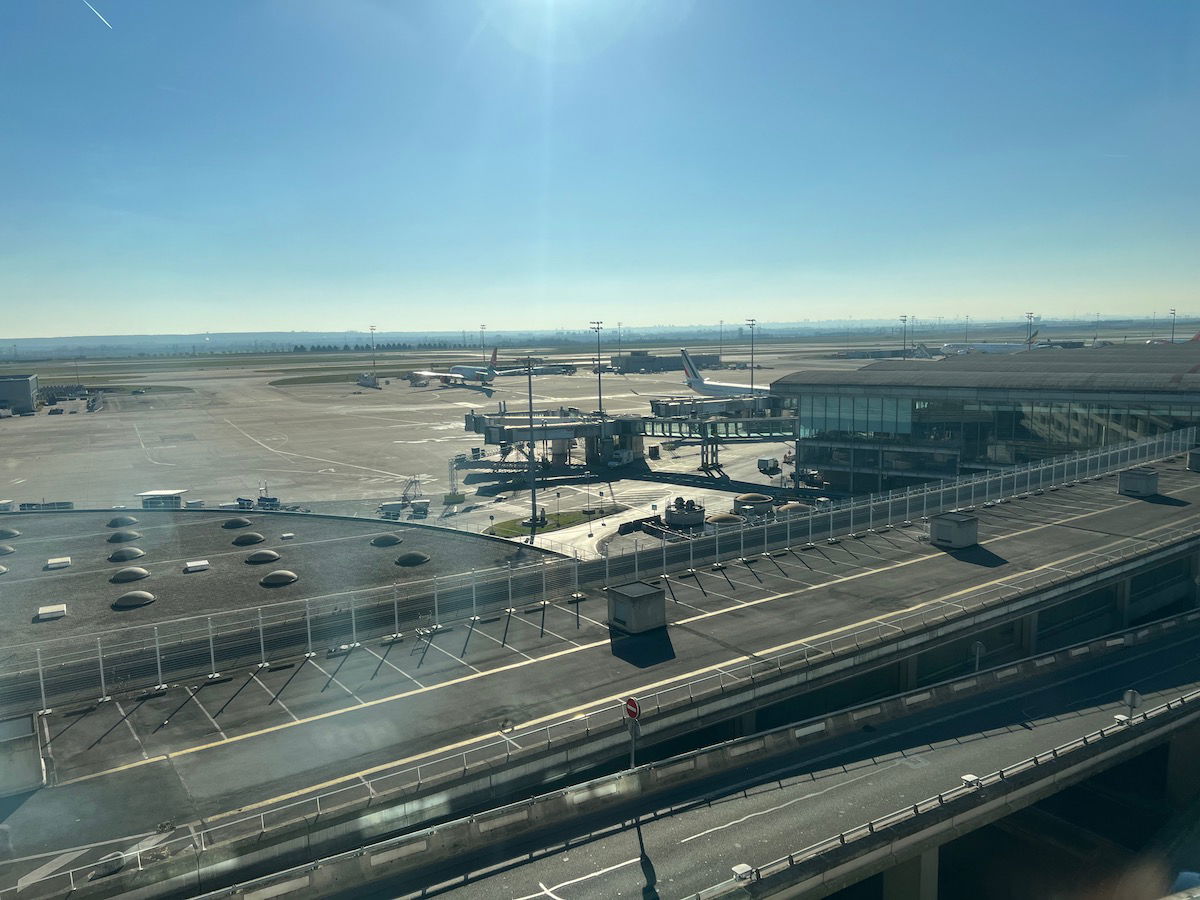 All-in-all, the room was perfectly fine. It wasn't huge, but was well maintained, clean, had a comfortable bed, and had excellent views.
Sheraton Paris Airport club lounge
The Sheraton Paris Airport has a club lounge, which you can either buy access to, or you can receive complimentary access if you have Bonvoy Platinum status or above. The lounge is located on the fourth floor, and I was given a letter at check-in explaining what was on offer:
The club lounge can be accessed daily from 6AM until 11PM, offering non-alcoholic drinks throughout the day
The club lounge serves afternoon tea from 3PM until 5PM
The club lounge serves evening snacks from 5:30PM until 7:30PM, and evening alcoholic drinks from 5:30PM until 8:30PM
The club lounge doesn't serve breakfast, so club guests can enjoy breakfast in the hotel's lobby restaurant, daily from 6:30AM until 10:30AM
I was leaving the hotel before 6:30AM, so I wouldn't be able to make it to breakfast. It is worth noting that the front desk agent at check-in offered that I could order complimentary continental breakfast via room service, since I was departing so early. However, I had been eating enough on this trip, so didn't take advantage of that. It was a generous offer, though.
The club lounge was on the opposite end of the fourth floor of my room, and was on the small side. However, it was never crowded, as you don't find as many elite members in Europe as in the United States. The club lounge consisted of several smaller rooms, with a variety of seating options.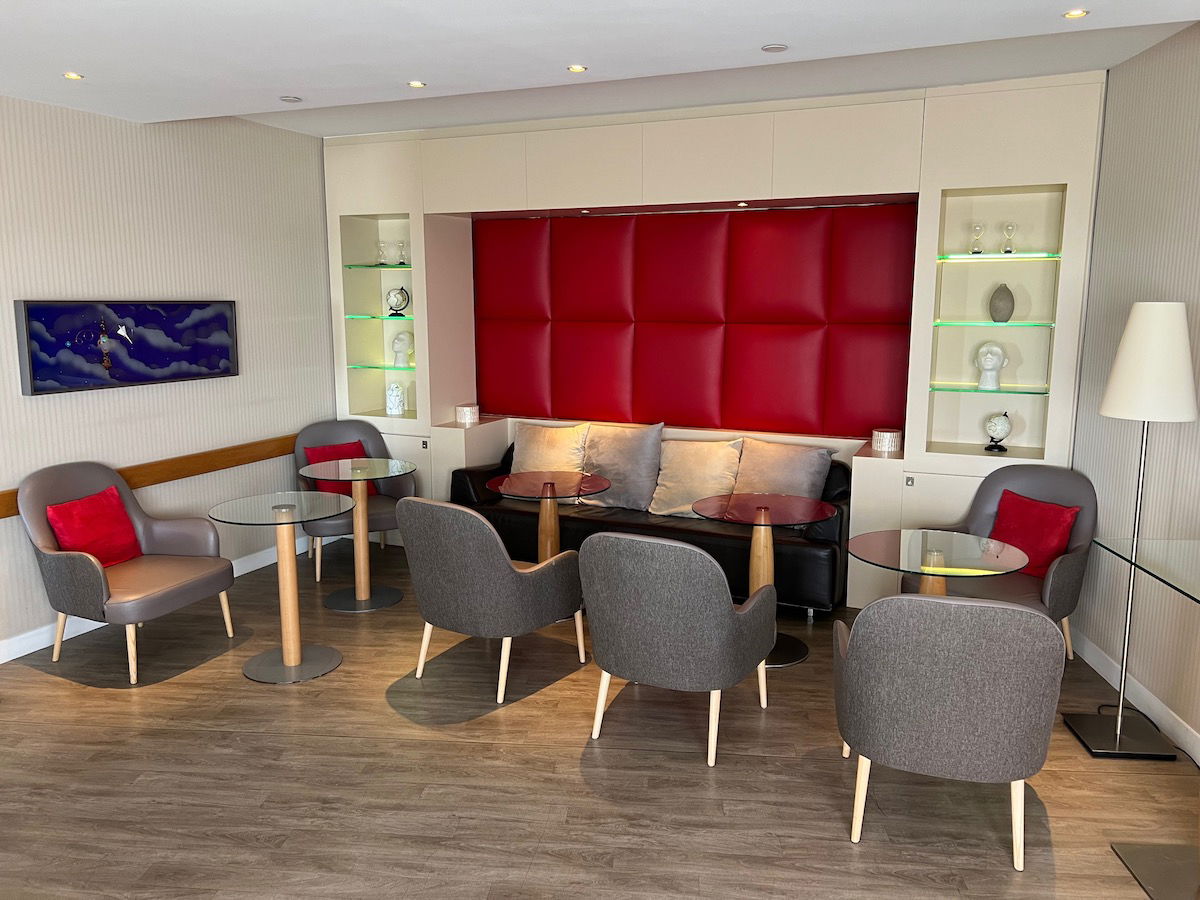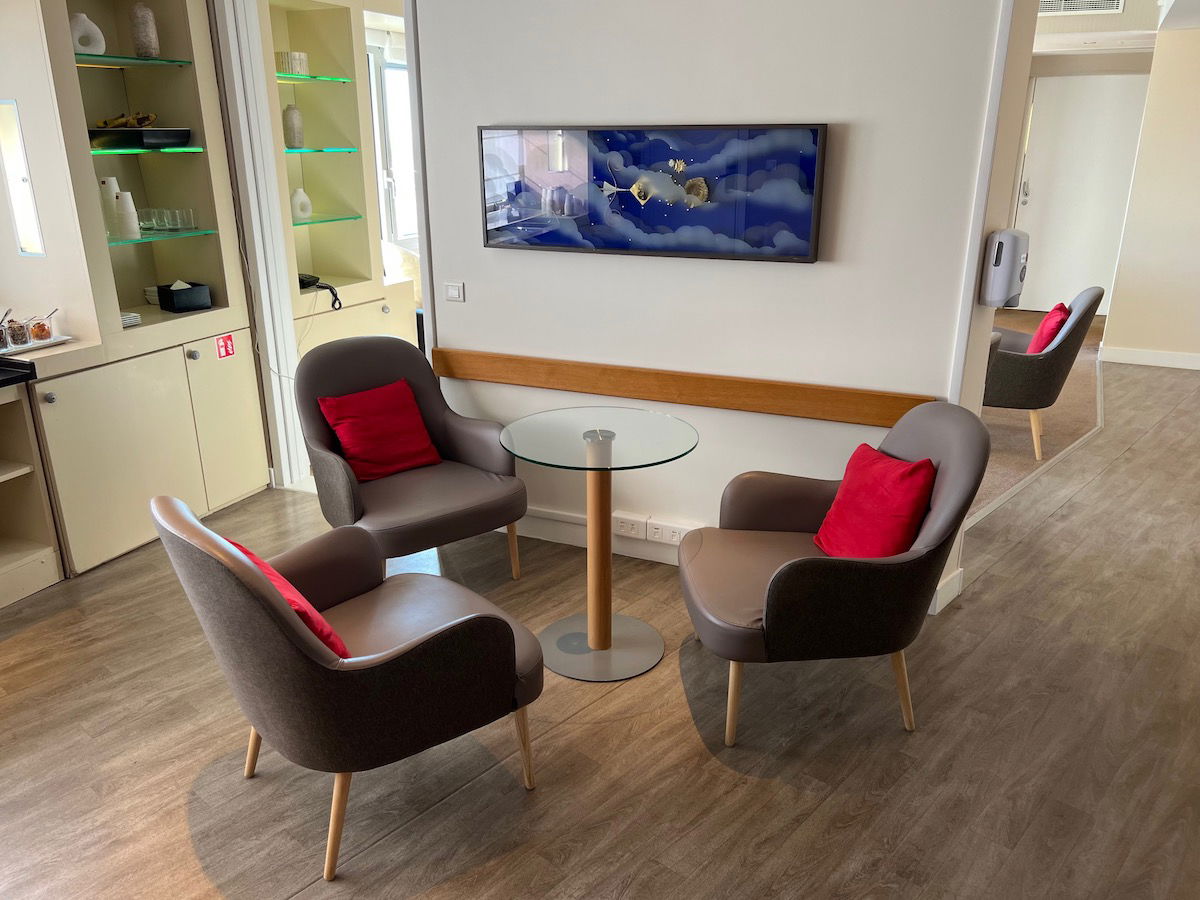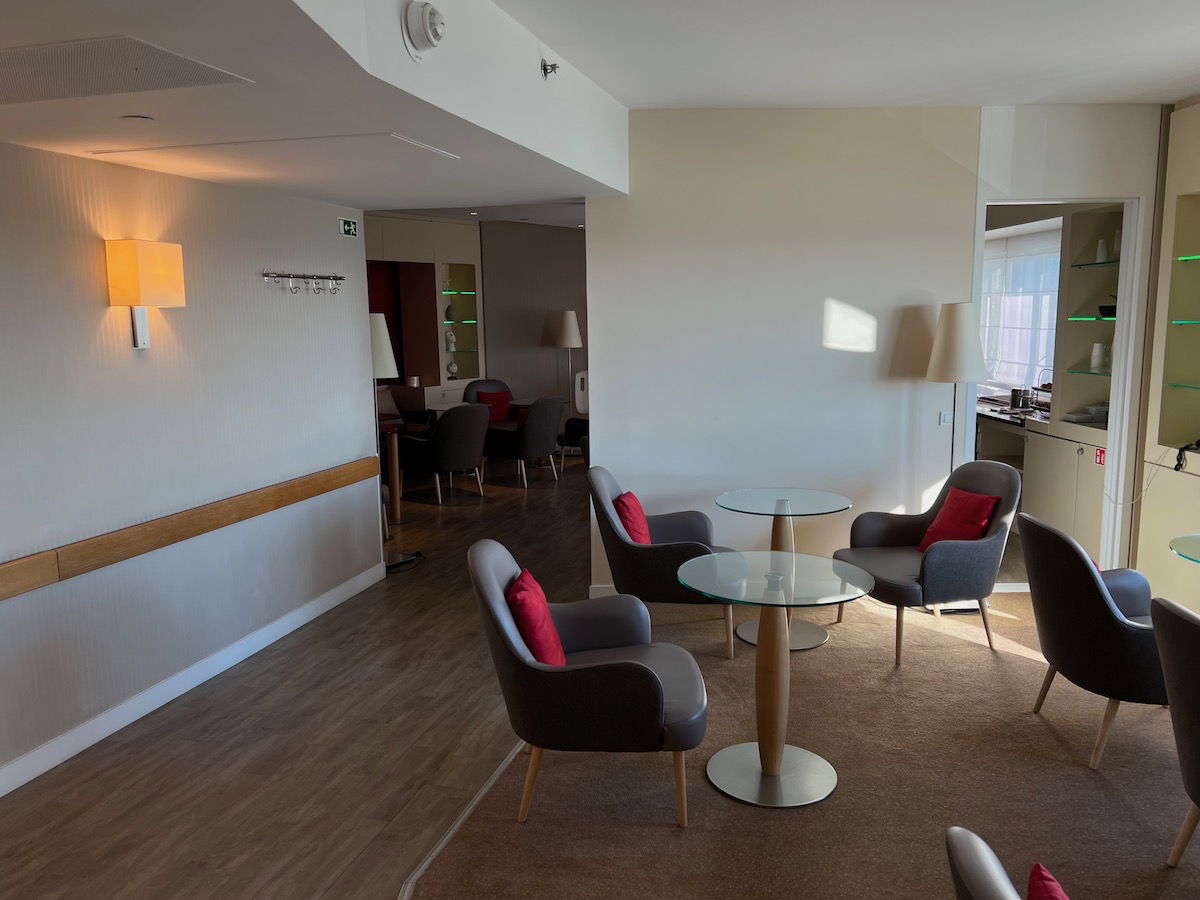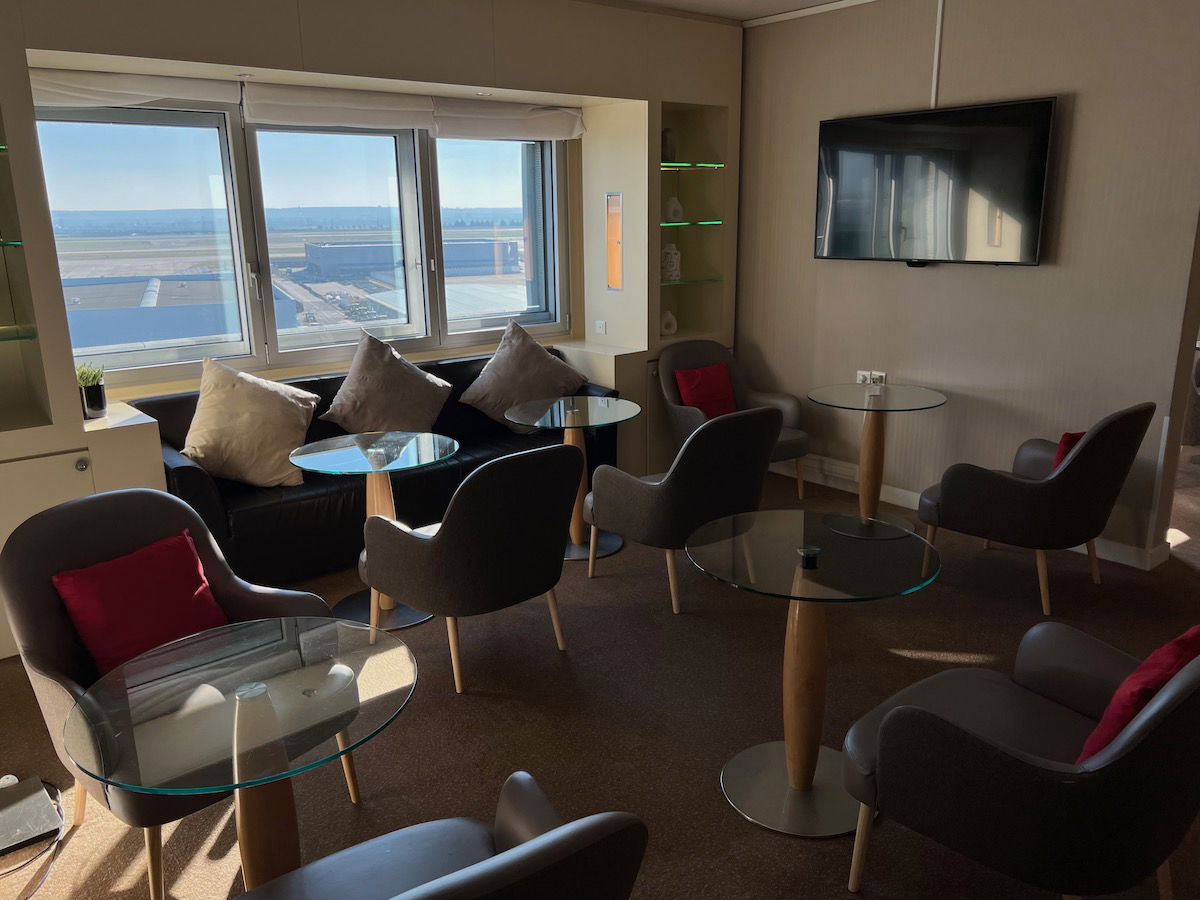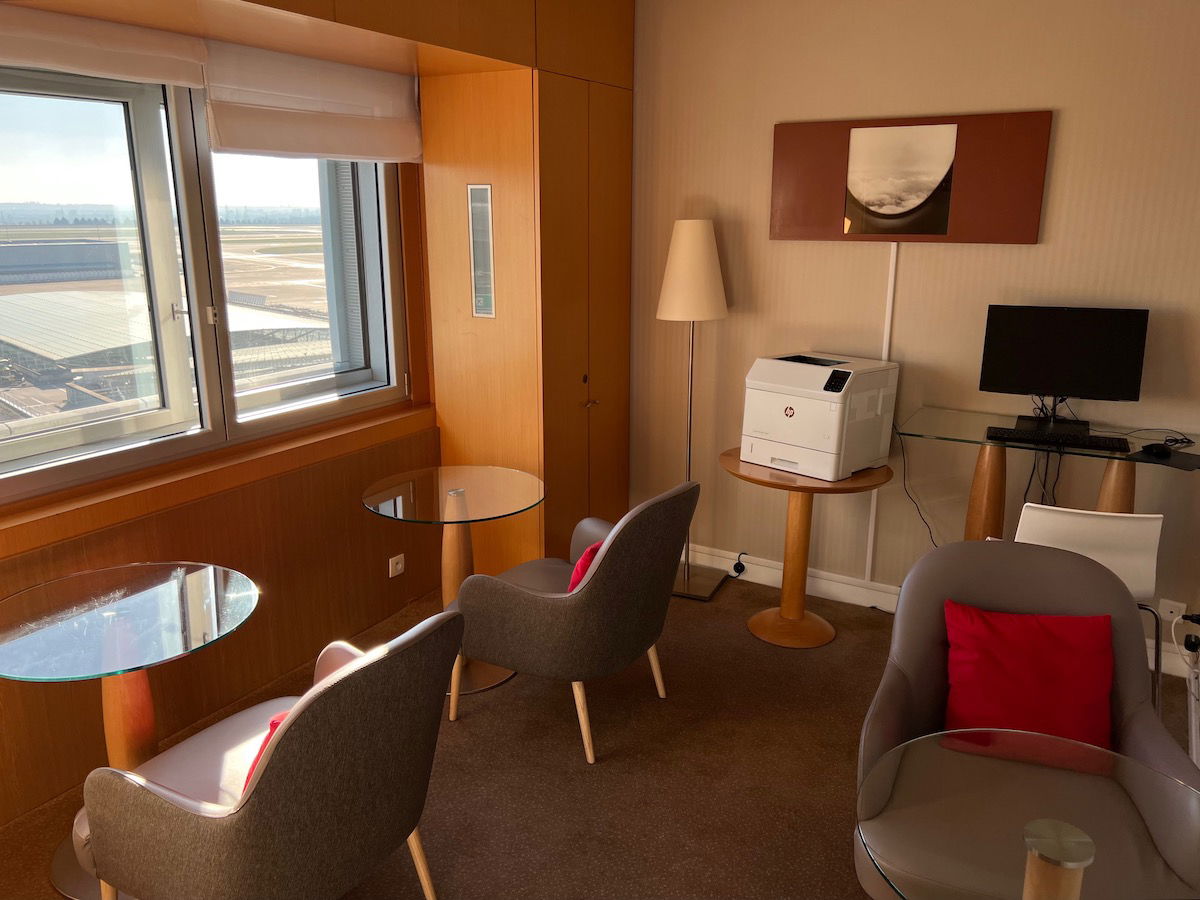 Much like my room, the club lounge had amazing views of the airport, so it was fun to watch all the planes taxiing, taking off, and landing.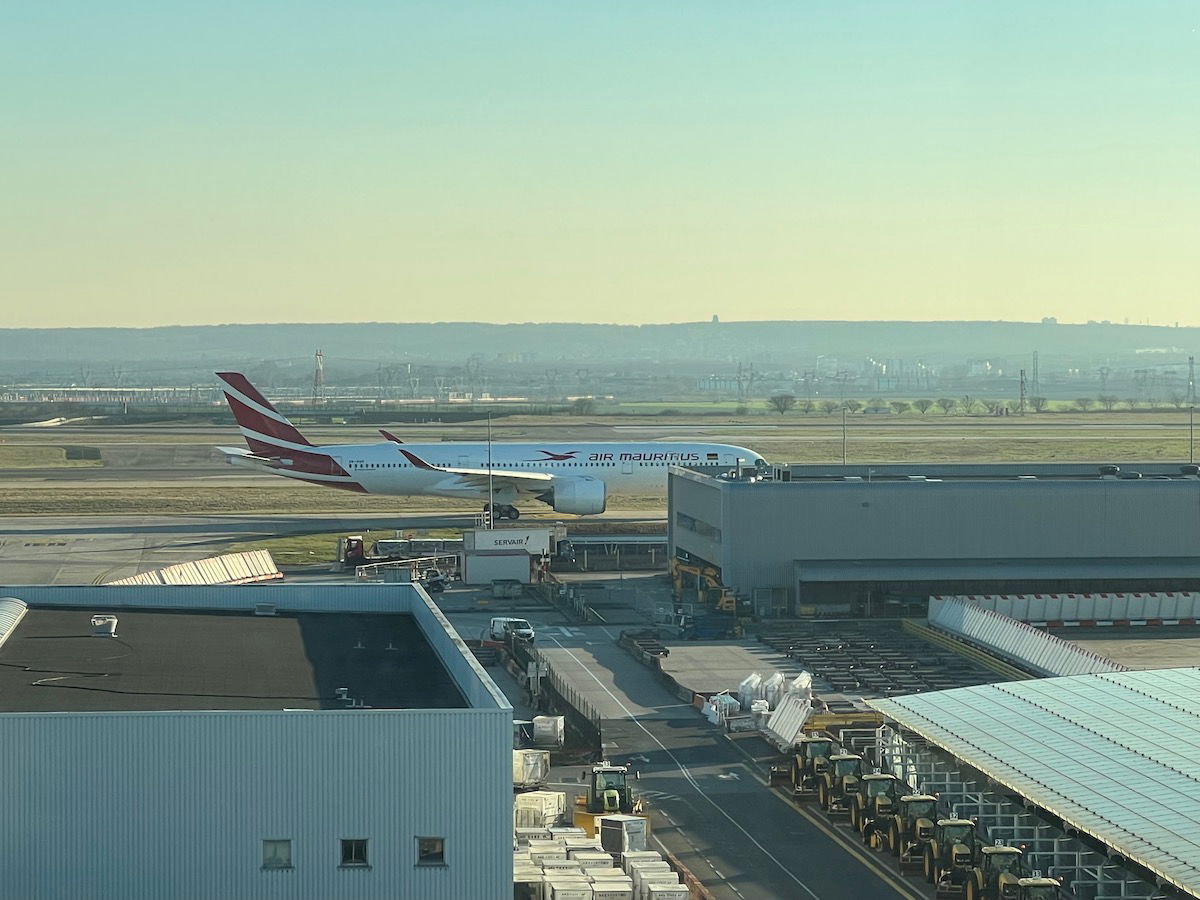 The afternoon tea from 3PM until 5PM was pretty simple, and really just consisted of some pound cake. There were also some packaged sweets, as well as snack mix.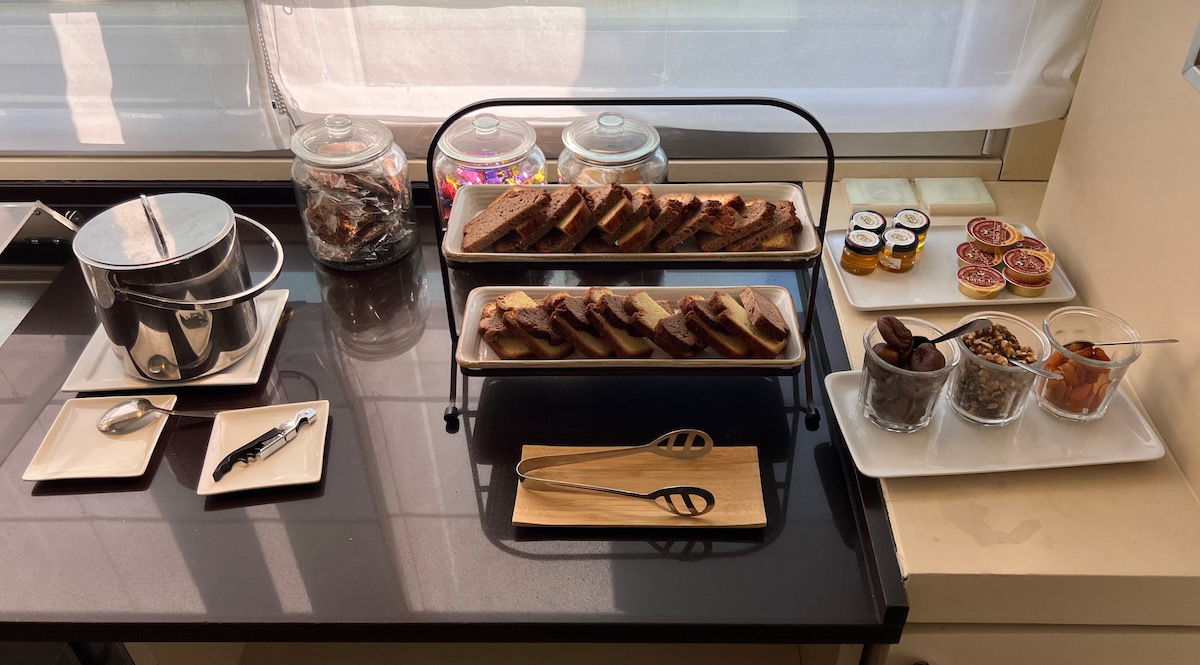 There was a coffee machine, plus water, soda, and juice, available throughout the day.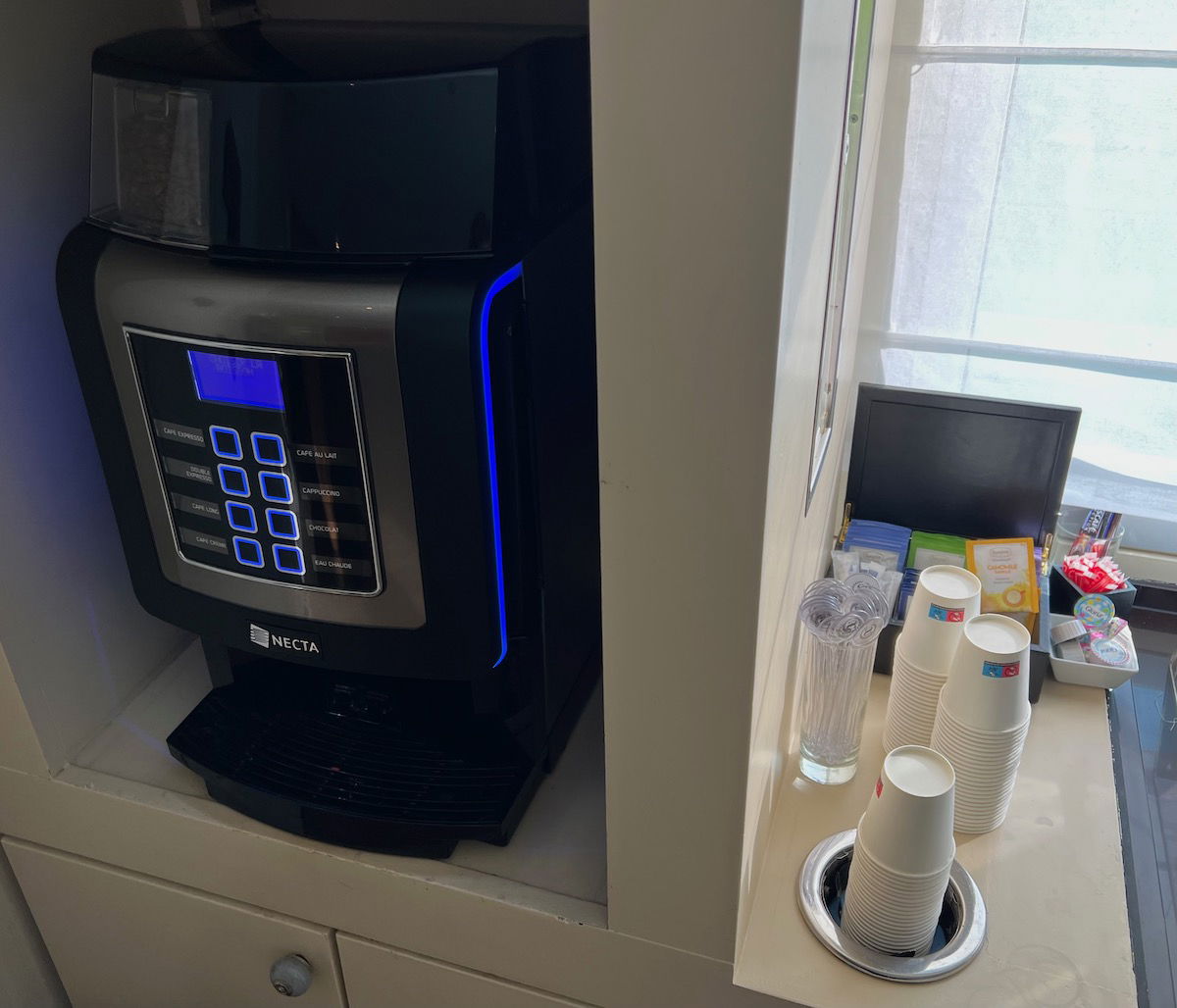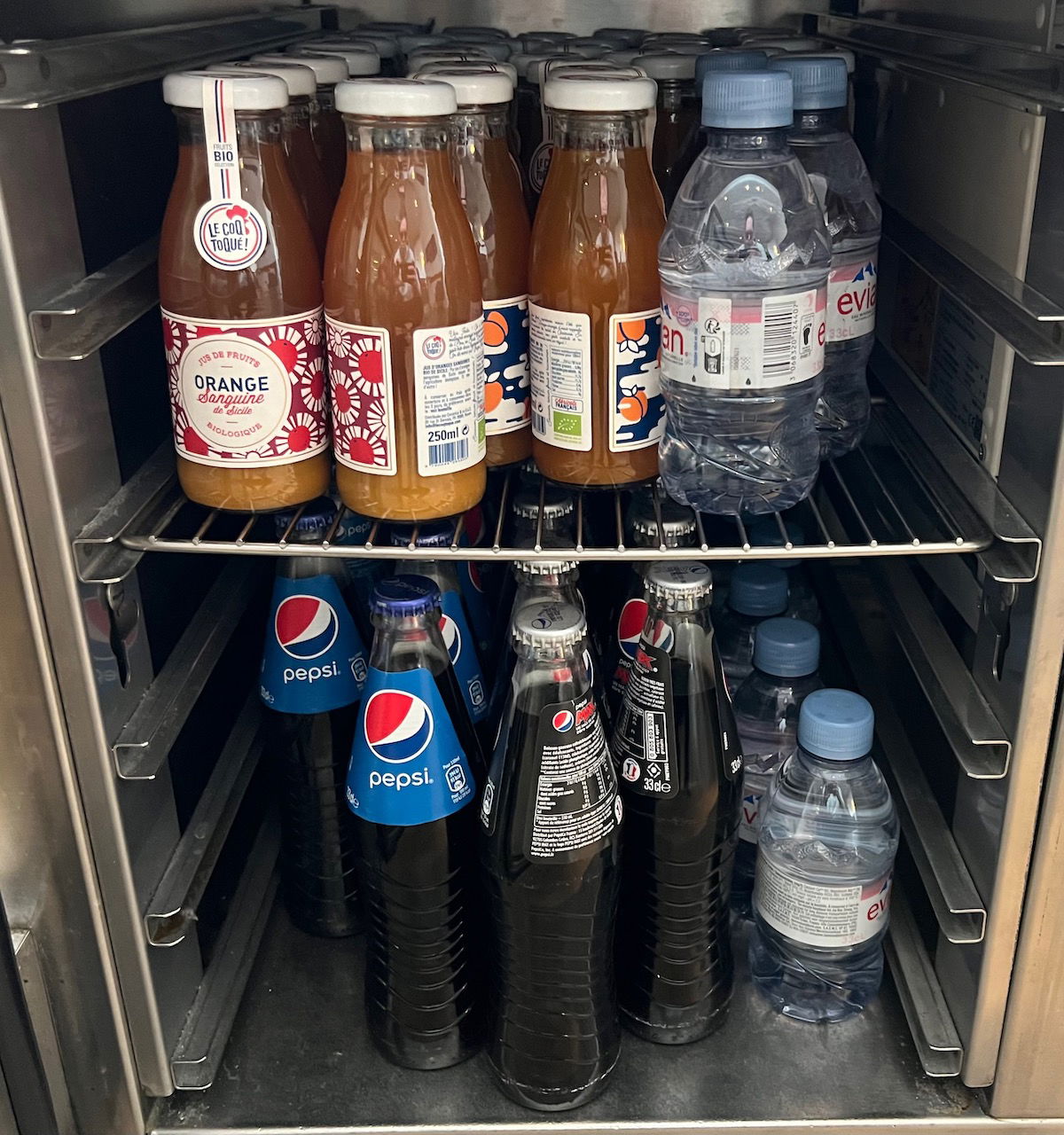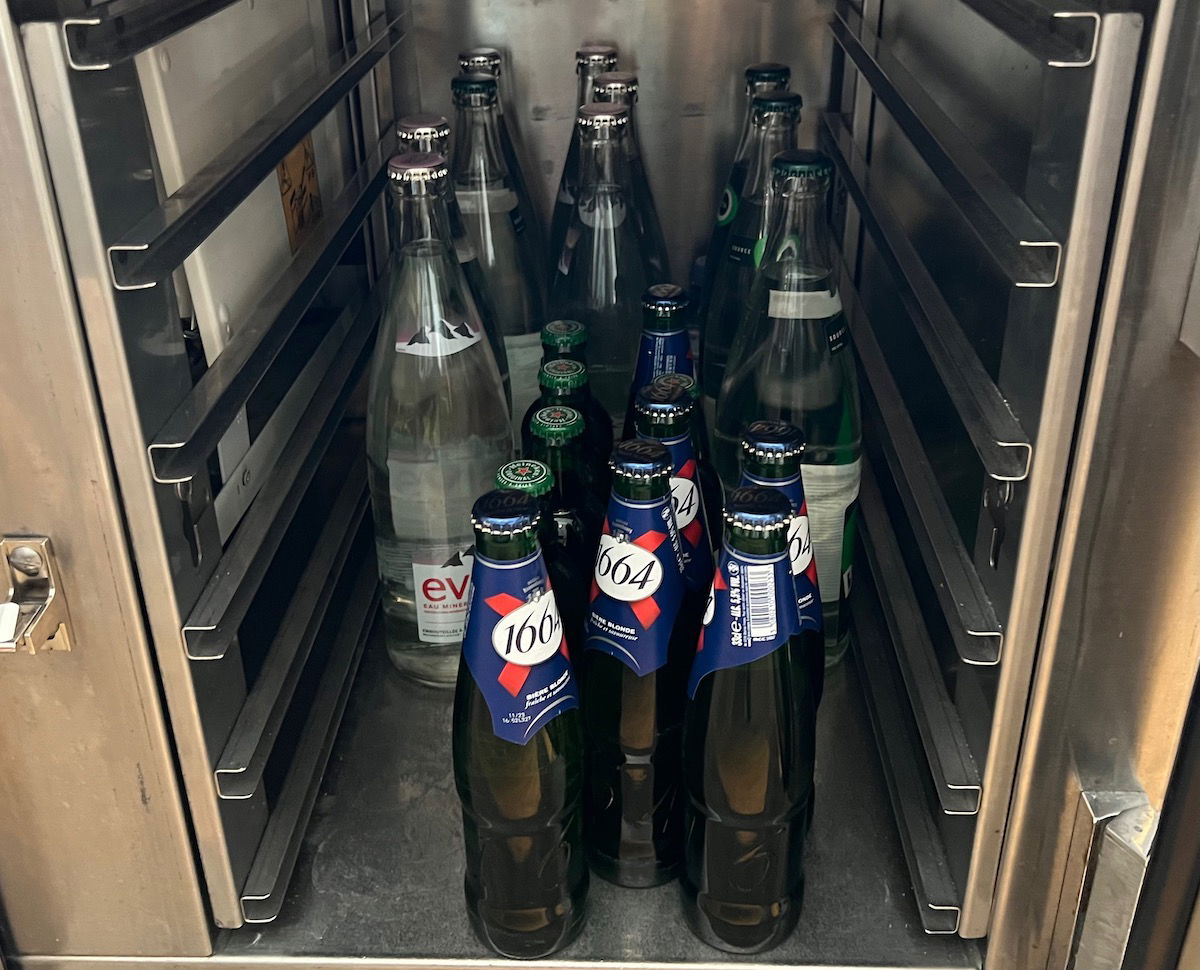 Then from 5:30PM until 7:30PM there was a light selection of snacks.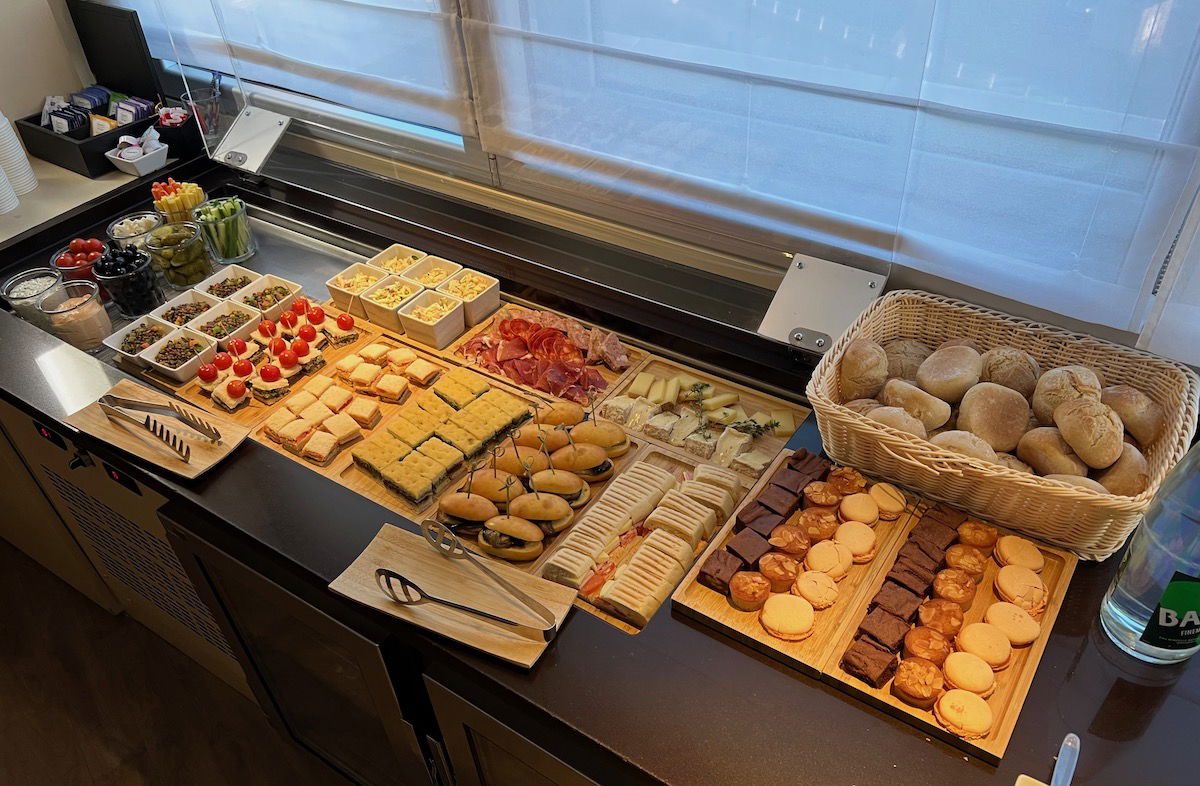 This included veggies, cold cuts, lentils, finger sandwiches, bread rolls, and some sweets.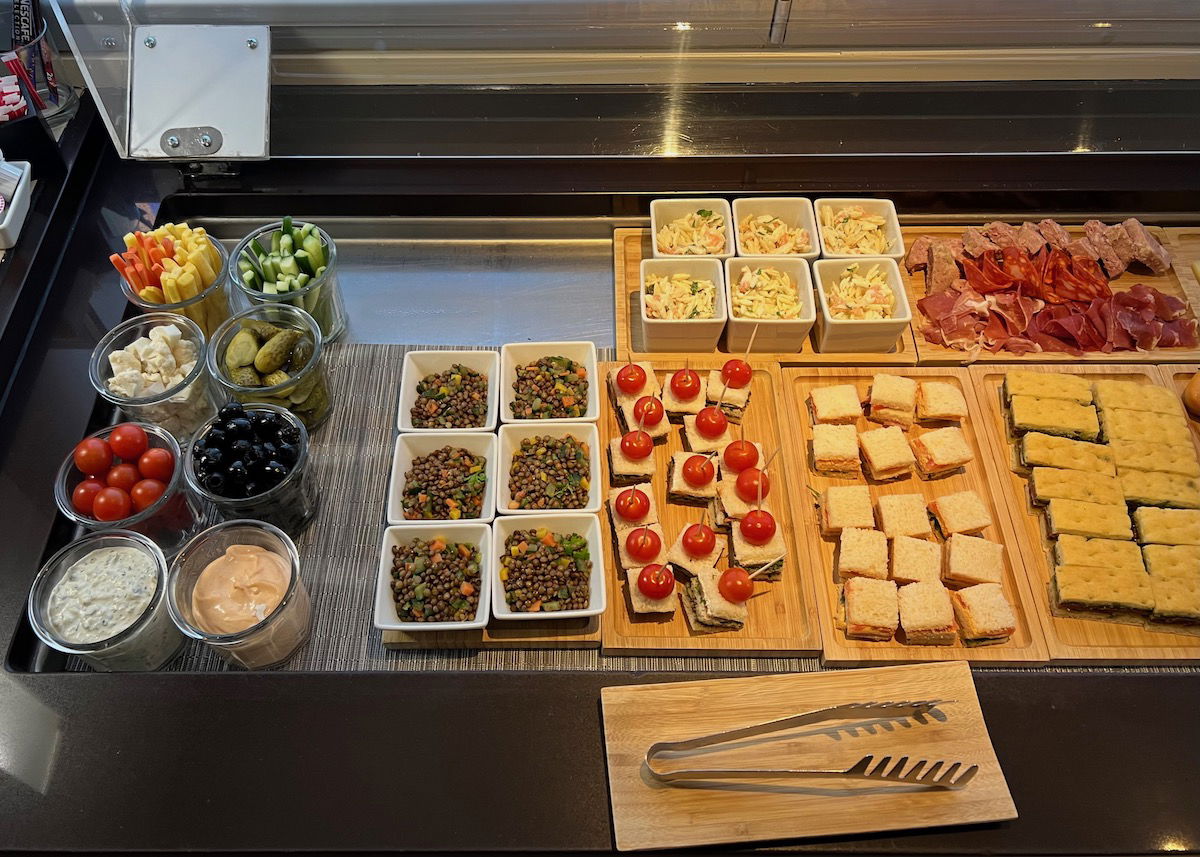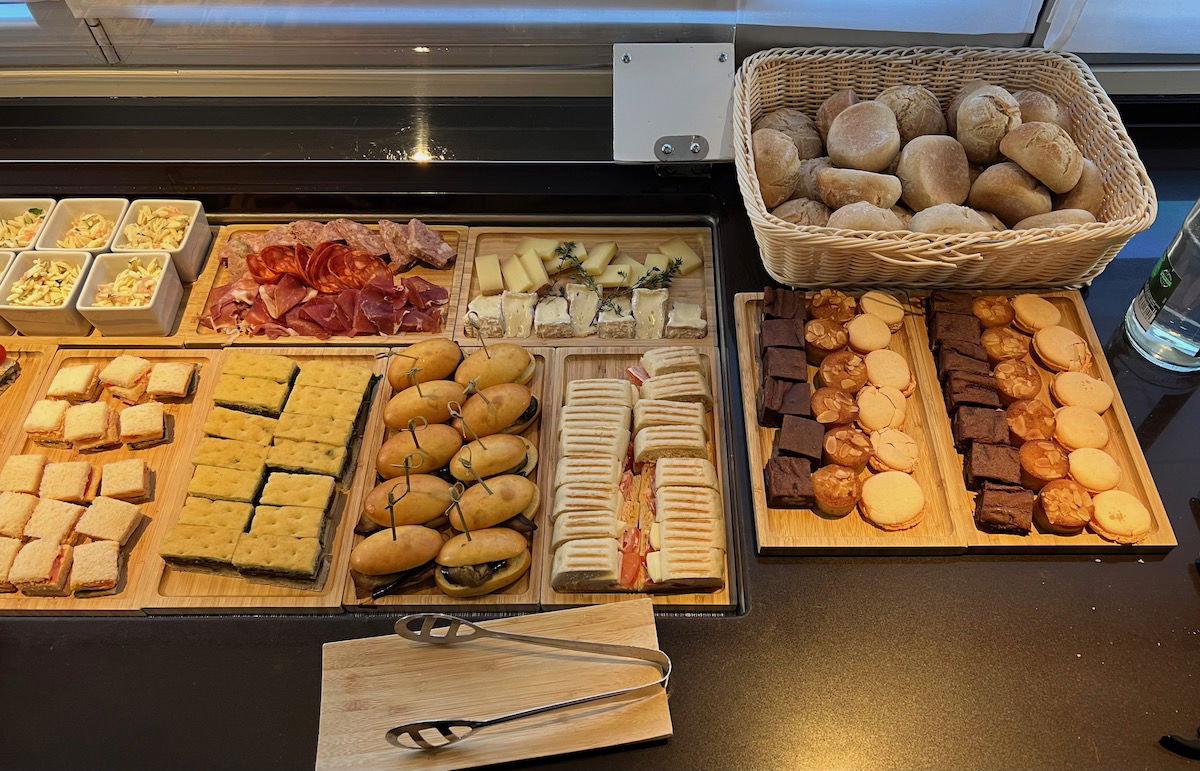 There was also a small selection of wine (available for an extra hour beyond the food).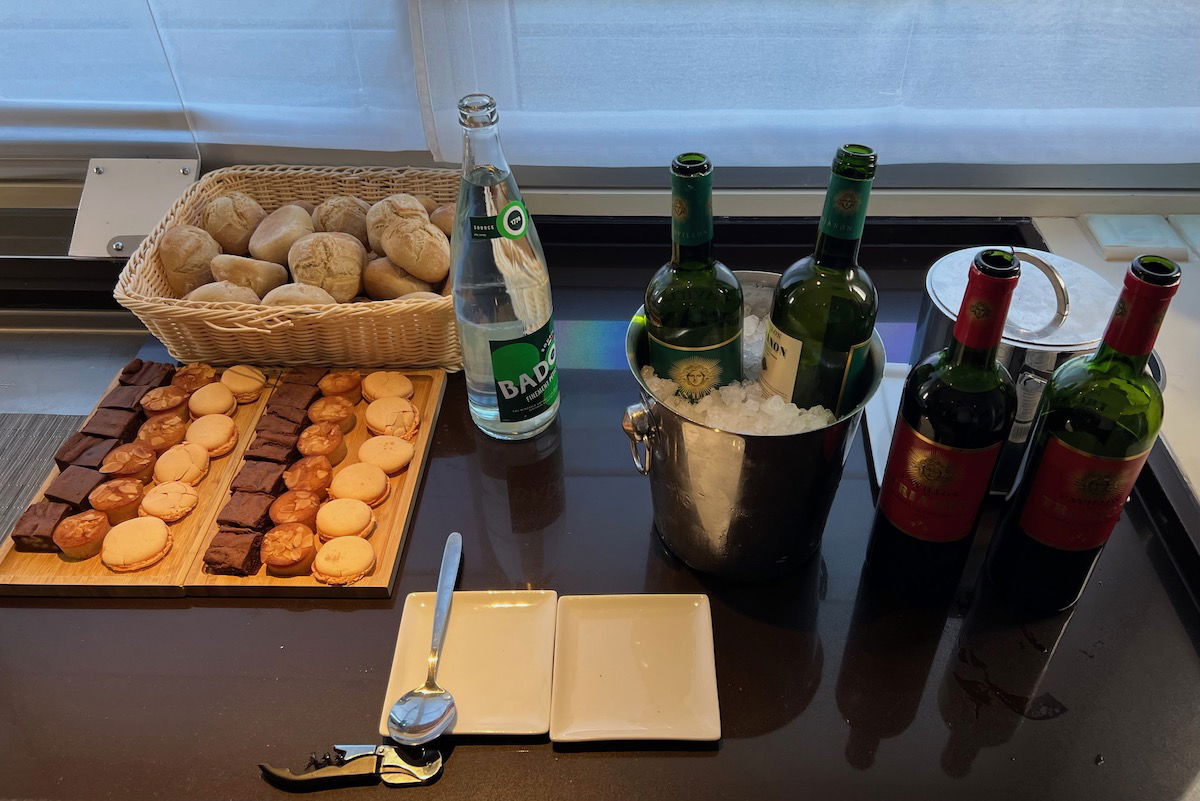 While probably not a dinner substitute, the attendant in the lounge was friendly, and I quite liked the ambiance (okay, maybe I just liked being able to plane spot).
Sheraton Paris Airport gym
The Sheraton Paris Airport's gym is located on the second floor, and is open 24/7 to hotel guests. The gym has a similar footprint to the club lounge, and features a couple of treadmills and ellipticals, a bike, and a variety of weight machines and free weights. Much like the rest of the hotel, the gym had airport views.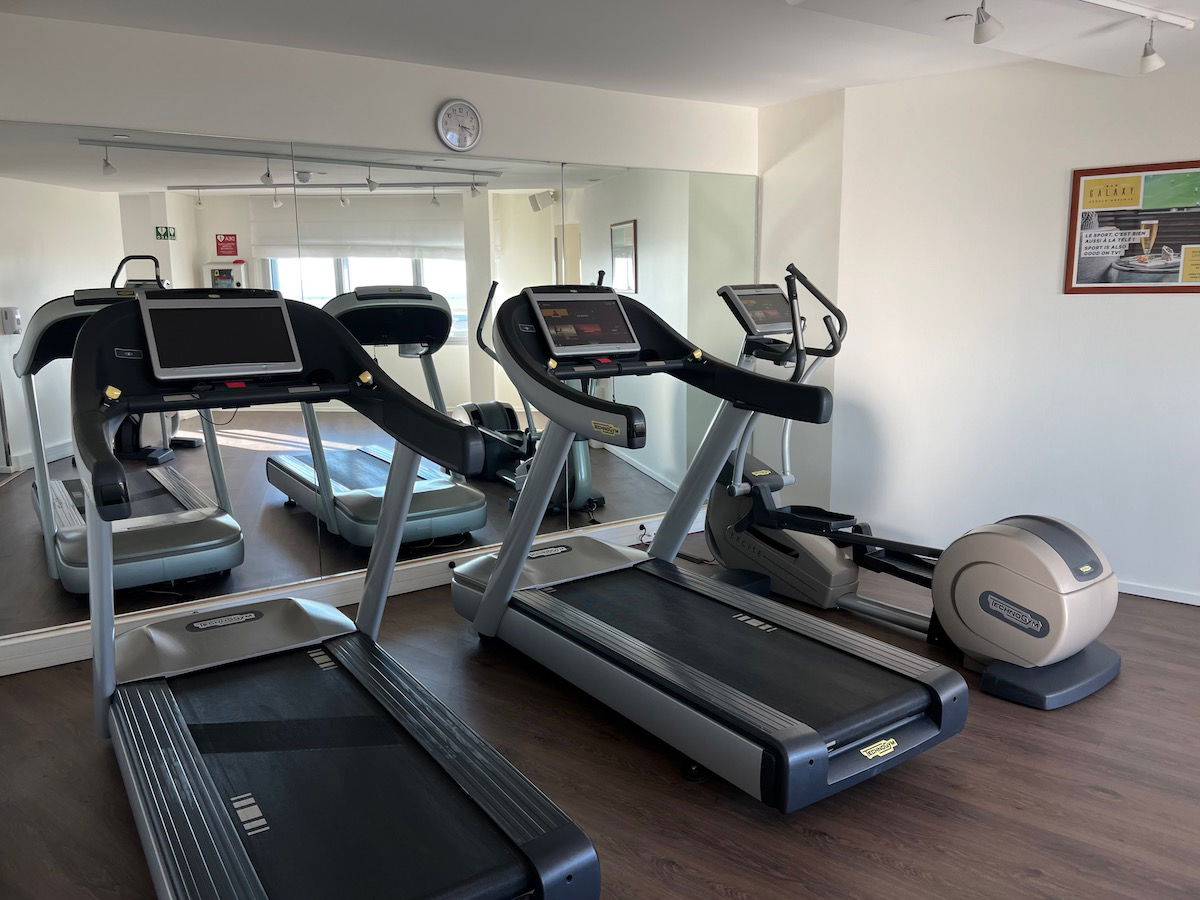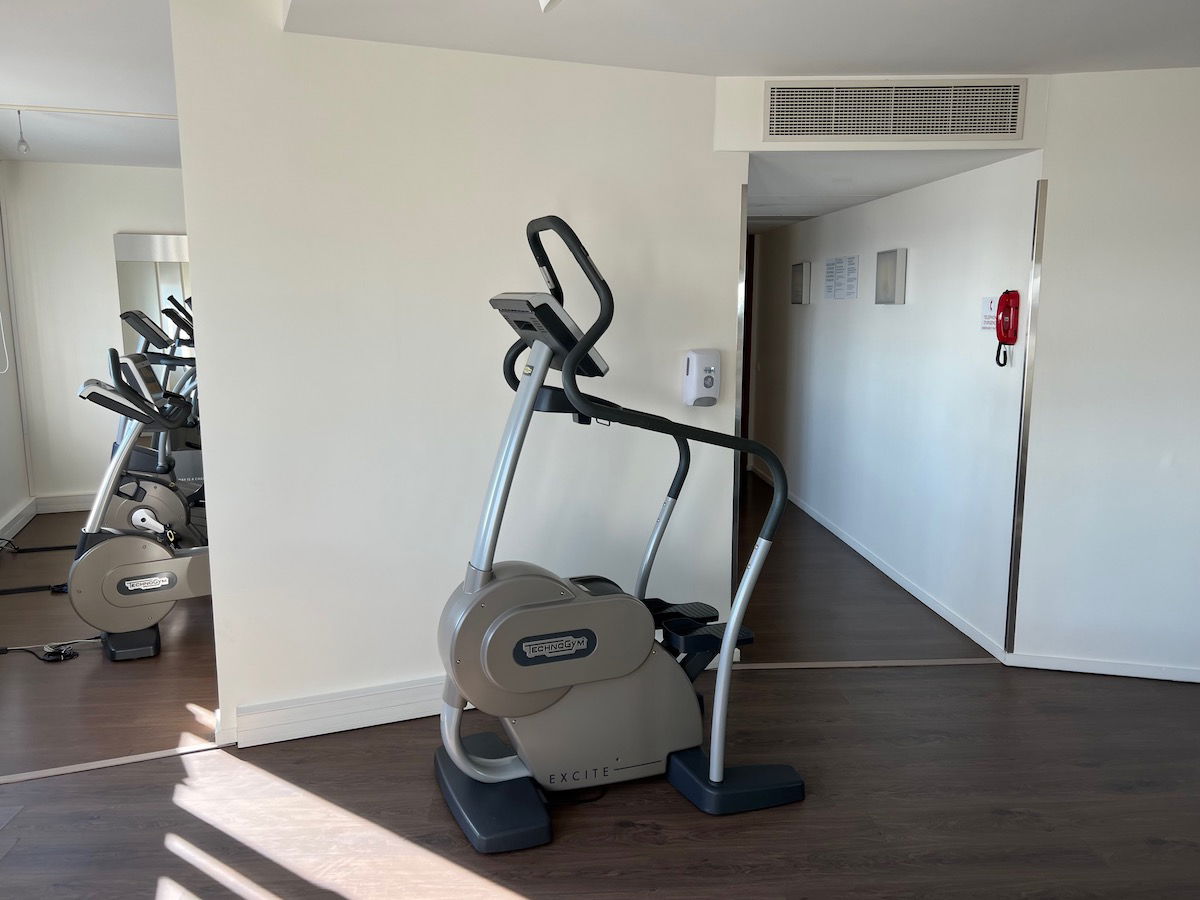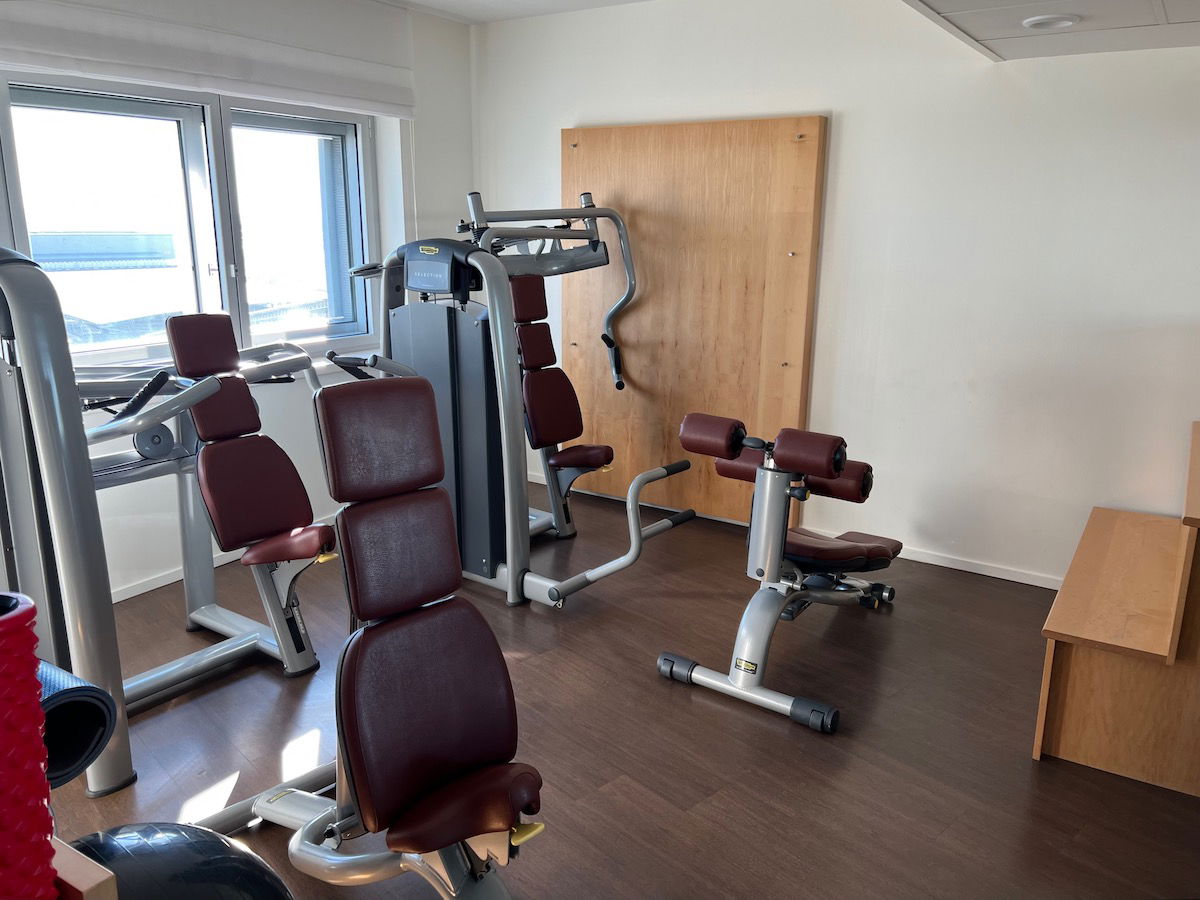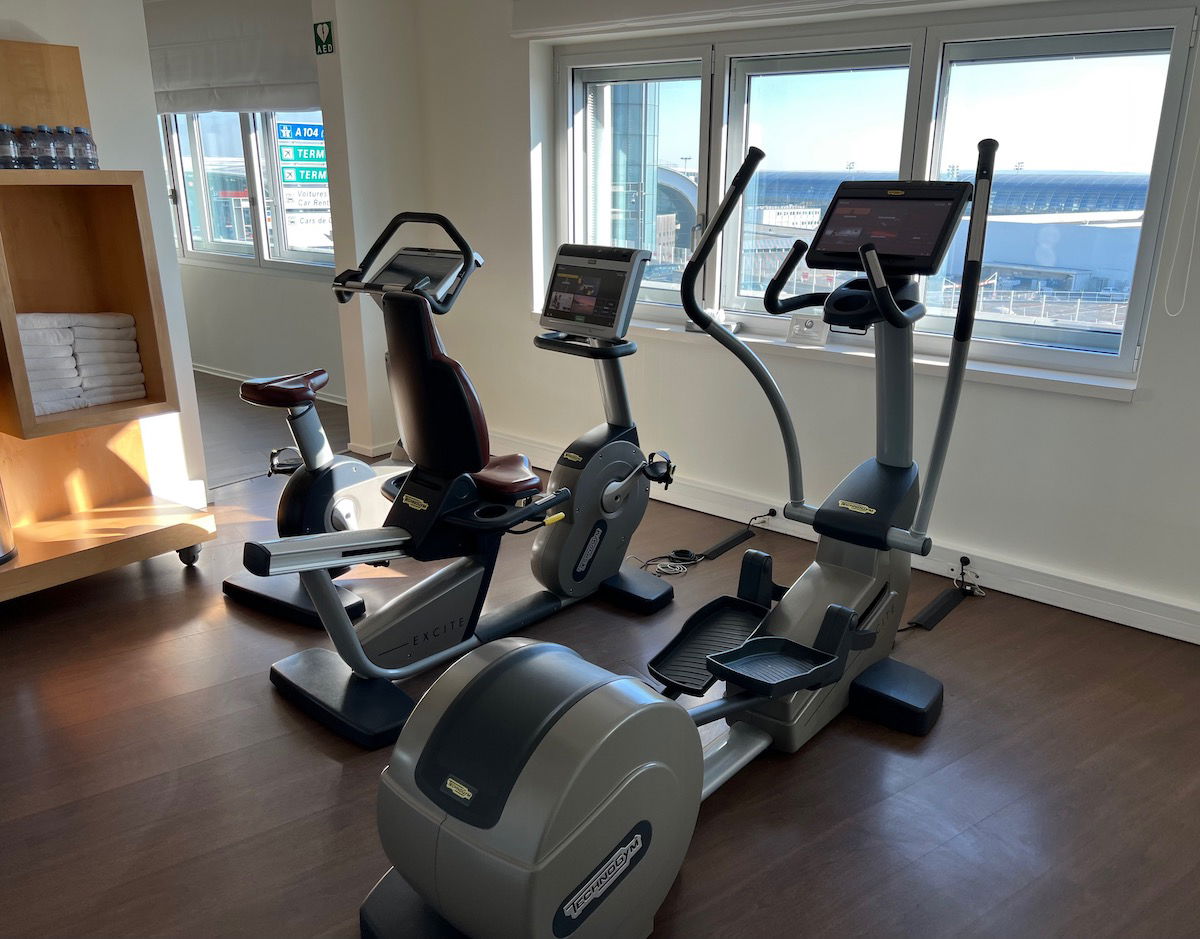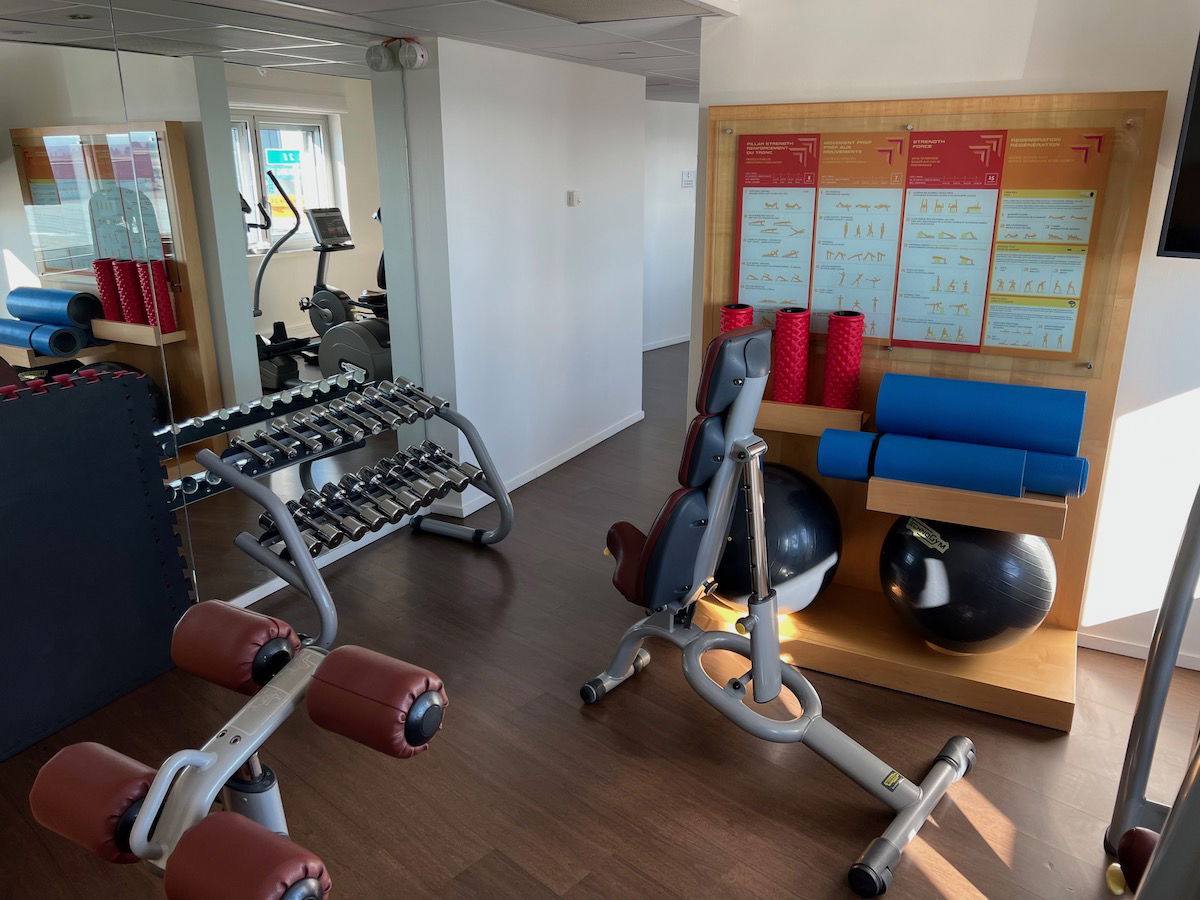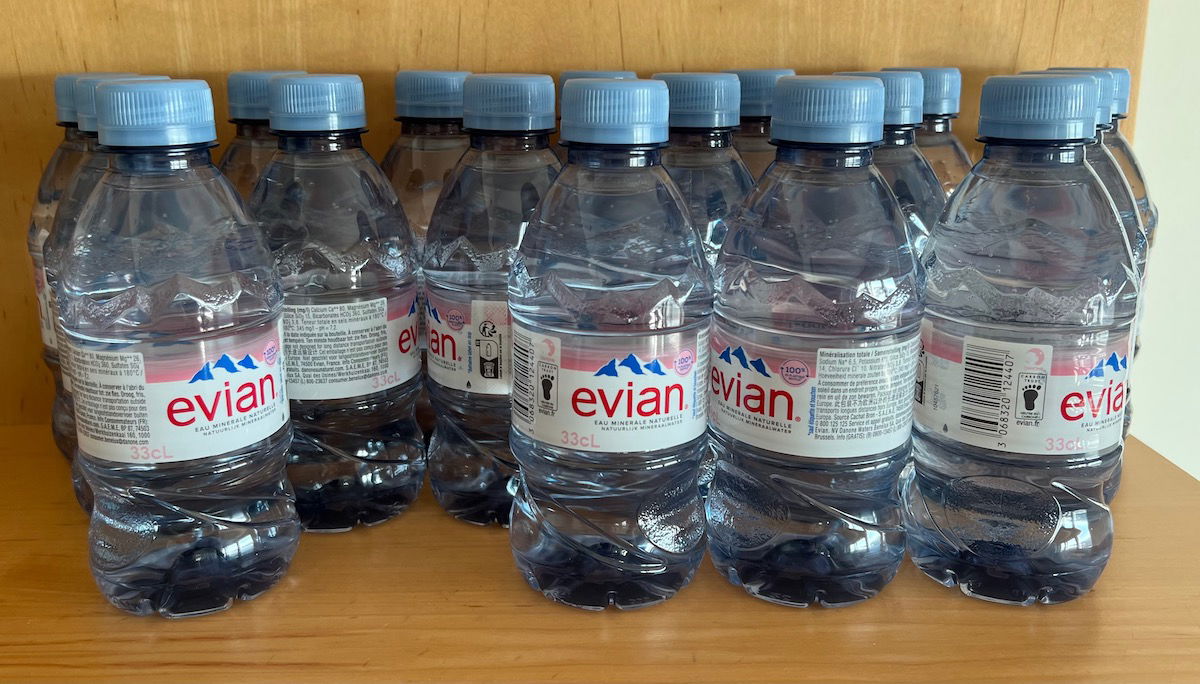 Sheraton Paris Airport restaurant & bar
While I didn't have a chance to use either, the Sheraton Paris Airport has both a restaurant and bar on the lobby level:
Galaxy Bar is open daily from 7:30AM until 12AM, and offers drinks and snacks
Restaurant Les Saisons is open daily for breakfast, lunch, and dinner; breakfast is served from 6:30AM until 10:30AM, and then lunch and dinner are served from 12PM until 10:30PM
One further benefit of being in a hotel connected to the terminal is that there are all kinds of coffee shops and bakeries you can visit, should you want something not offered by the hotel.
Bottom line
The Sheraton Paris Airport offers unbeatable convenience, as it's connected directly to Terminal 2 at Charles de Gaulle Airport. Thanks to the hotel literally being on airport premises, the airport views are also amazing, for those of us who are avgeeks.
Beyond the location and views, this is a pretty average hotel. The rooms are serviceable (though not exactly modern), the club lounge was reasonably nice (though didn't have a huge selection), and the gym was sufficient.
When spending a night near the airport, I greatly value not having to take a shuttle or other transportation, so for that reason I'd stay at this property again in a heartbeat.
What do you make of the Sheraton Paris Airport?